Thinking of visiting Alte village in the Algarve region in Portugal, but are not sure what to expect and if it's worth a detour from the coast? In this guide, we share a brief overview of the best places to see and things to do in Alte, coupled with lots of pictures from our recent visit. Take a look!
Alte is a picturesque little village nestled in the Algarvian Serra, the mountainous countryside of the region which is mostly known for its coastlines and beaches. It's just 30 minutes drive from Albufeira, yet, only a tiny fraction of tourists even think of visiting here.
I have to admit that it also took us multiple journeys to the Algarve until we finally made an effort to visit Alte. And now that we finally did, all I can say is go – it's totally worth it!
With its narrow cobblestone streets, whitewashed buildings adorned with colorful flowers, and a laid-back atmosphere, Alte offers a glimpse into the authentic Algarve. It's totally different than any of the best towns in Algarve, but absolutely charming and well worth a short detour.
Good to know: Alte is best visited by car since public transport options are limited. You could also opt for an Uber/Bolt. Alternatively, consider a countryside tour. There are several great guided tours that – among other places in the Algarve hinterland – also include a visit to Alte. It's a great way to experience yet another facet of the stunningly beautiful and incredibly diverse Algarve region.
This highly-rated jeep safari is one of the most popular tours that includes a stop in Alte and an opportunity to go for a swim in the natural pools here.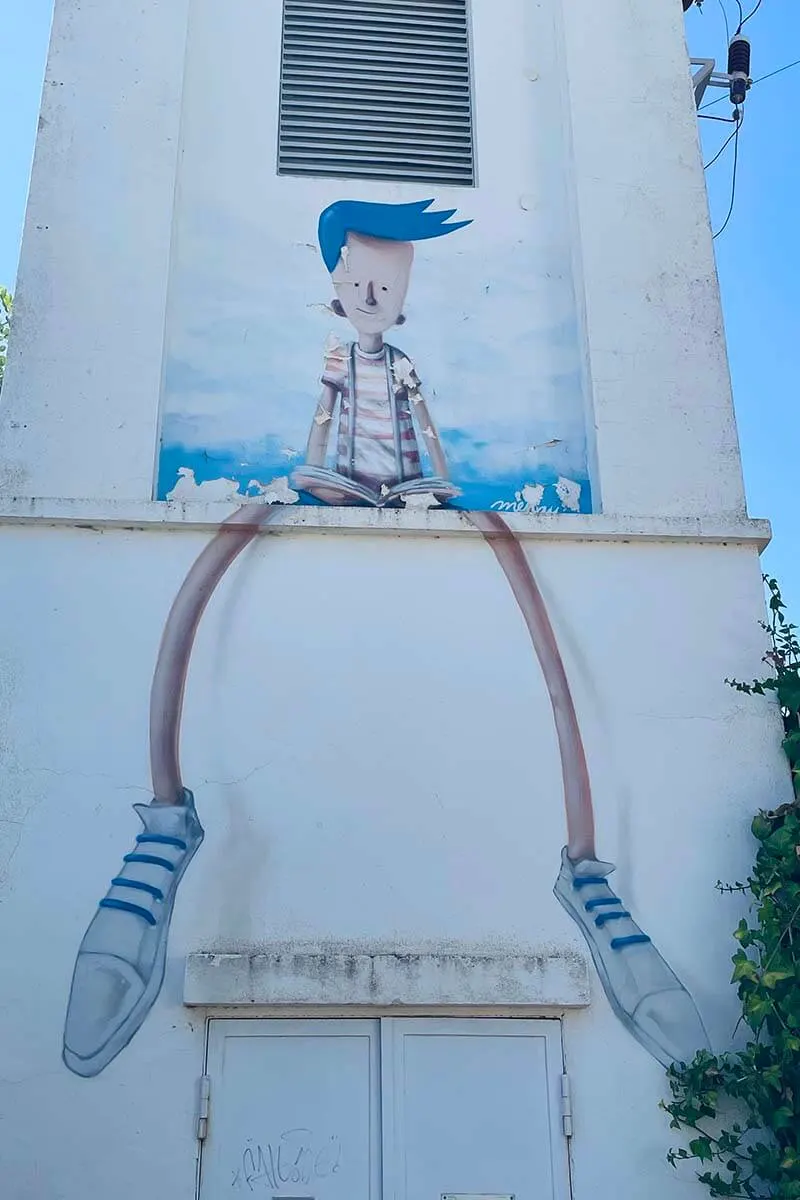 Before we continue with the main sights in Alte, let's set the expectations straight. This is a tiny village in a rural area, so don't expect grand monuments or world-class landmarks here. But if you like traditional towns and are looking for an authentic experience in rural Algarve, you'll absolutely love Alte.
Here are some of the main places to see and things to do in Alte:
1. Fonte Grande de Alte
Let's start with the main attraction of Alte – Fonte Grande. This is a man-made swimming area fed by a natural spring. If you have seen pictures of Alte, the chances are high that it was from here.
We also came here purely because we were intrigued by this swimming area. It was the main reason why we decided to visit Alte and I didn't even know there was more to see and do here than this…
And indeed, even if you don't have the time for anything else and just take a dip in the ice-cold waters of Fonte Grande de Alte, it's still worth visiting. This place is absolutely unique.
The water coming from the natural spring has been 'contained' by a sort of stone-paved canal. It's not very long but has two stone bridges and there are several staircases where you can easily access the water. This is a very popular swimming area with lots of locals coming here on weekends and during the summer.
The water inside the fonte is about knee-deep and is surprisingly cold. We visited here on a hot day at the beginning of October. It was 29°C at the coast and 35-37°C in Alte, but you really had to gather all the courage to go in for a swim here. Not many people dared to try, but once you were in the water, it was bearable. I even went swimming twice – first as we arrived and then again, after exploring the area.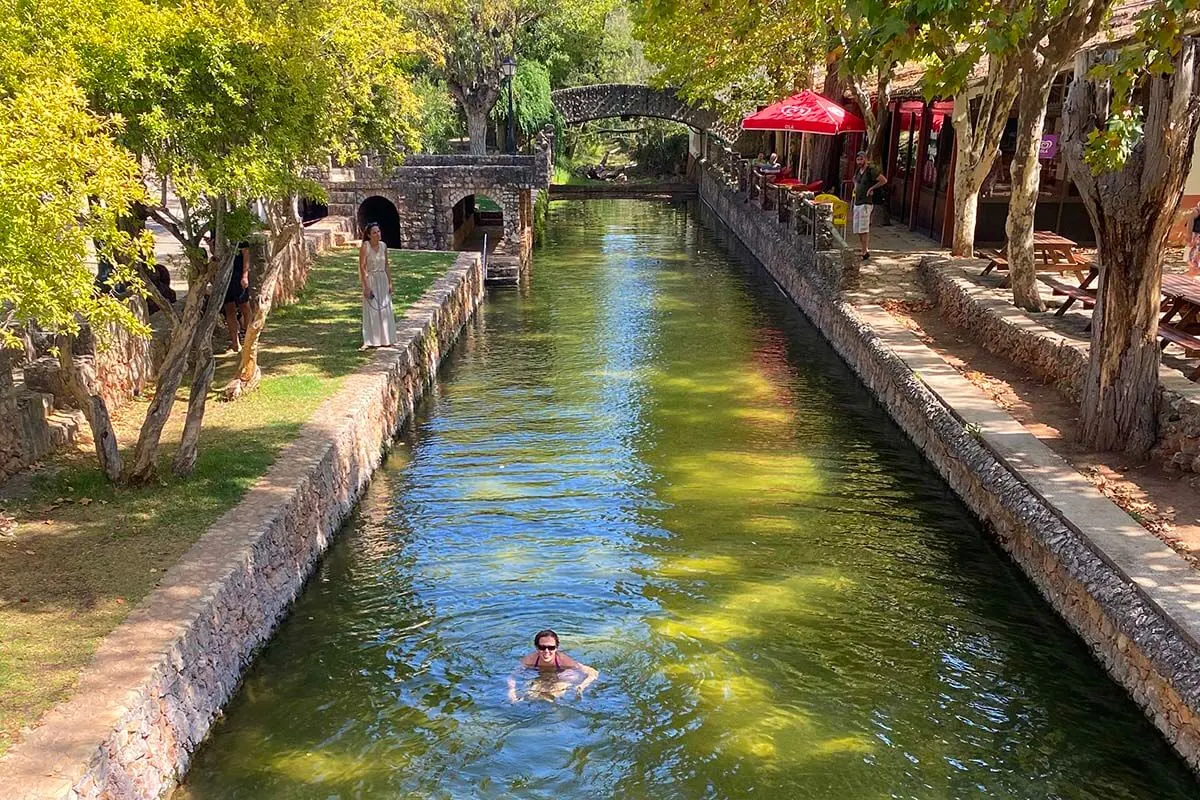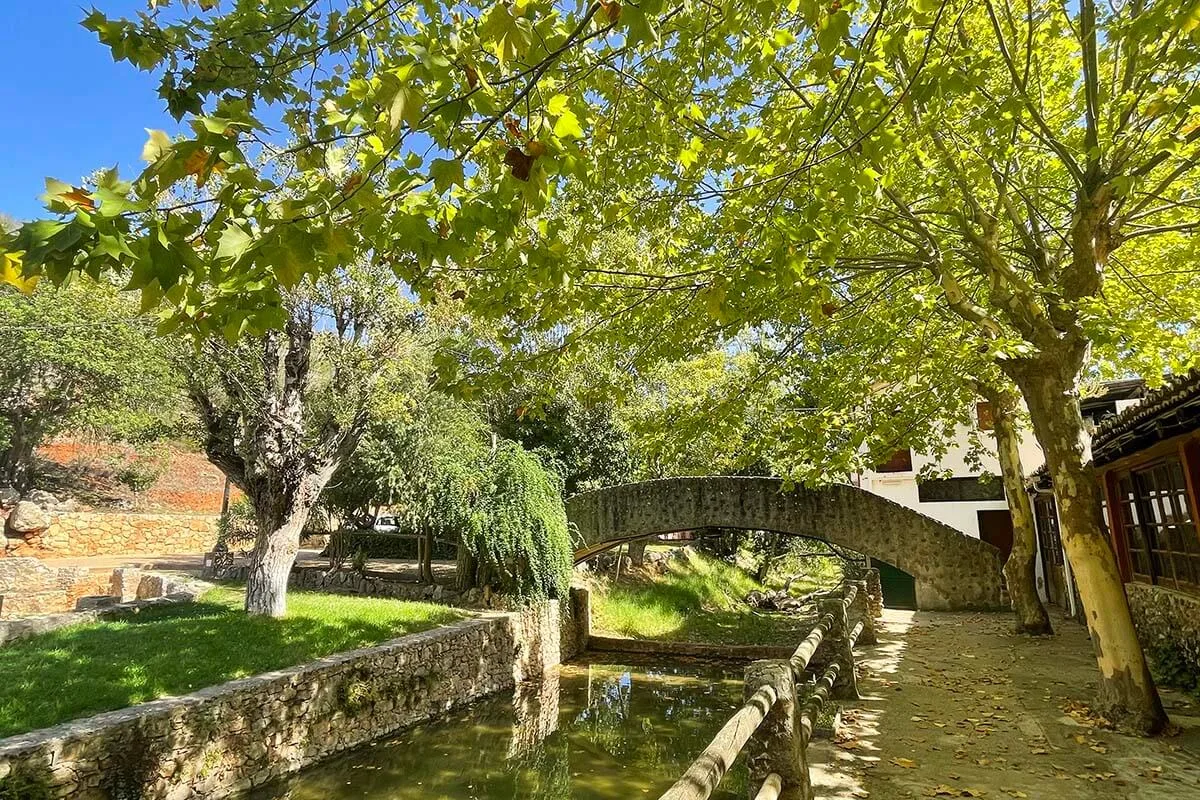 Good to know: Fonte Grande de Alte is located about 800 meters from the town center. You can get here by car driving on a narrow road, and there are a few parking spots available right at the swimming area.
However, it gets absolutely crowded in the summer. So if you are visiting in the peak season, you may have to leave your car further away and walk. Once you turn on this road, it's not easy to turn back.
Facilities: There are lots of picnic tables and a simple restaurant here. You can get some drinks, ice-cream, and they also have some small snacks (cash-only!).
There are also bathroom facilities, but when we visited, out of four bathrooms, only one was open. There are no changing facilities so either wear your swimming clothes or be prepared to change in the car.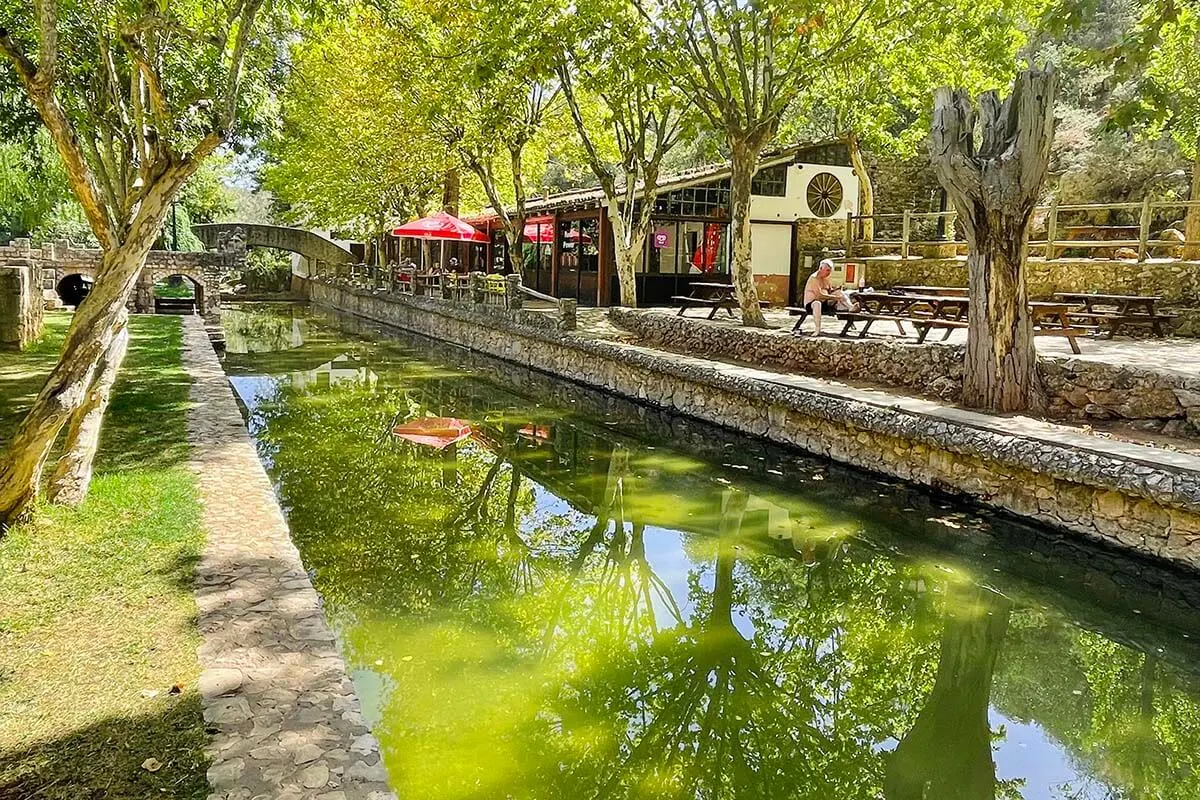 2. Fonte Pequena de Alte
Fonte Pequena de Alte is located a bit closer to the village center and is a river that is fed by the same natural spring as Fonte Grande. This area is surrounded by lush greenery and centuries-old trees.
There are several monuments here and a shady picnic area. We also saw lots of ducks in the water, but nobody was swimming here when we visited. I'm not sure if it's allowed – most people seem to go to Fonte Grande (and it's certainly more adapted for that).
There is also a restaurant/events venue at Fonta Pequena. It was closed when we visited in October, but it seems to be open for walk-ins in the high season.
Good to know: Fonte Pequena is located along the same road as Fonte Grande, a few hundred meters closer to town and close to a larger parking area before the bridge.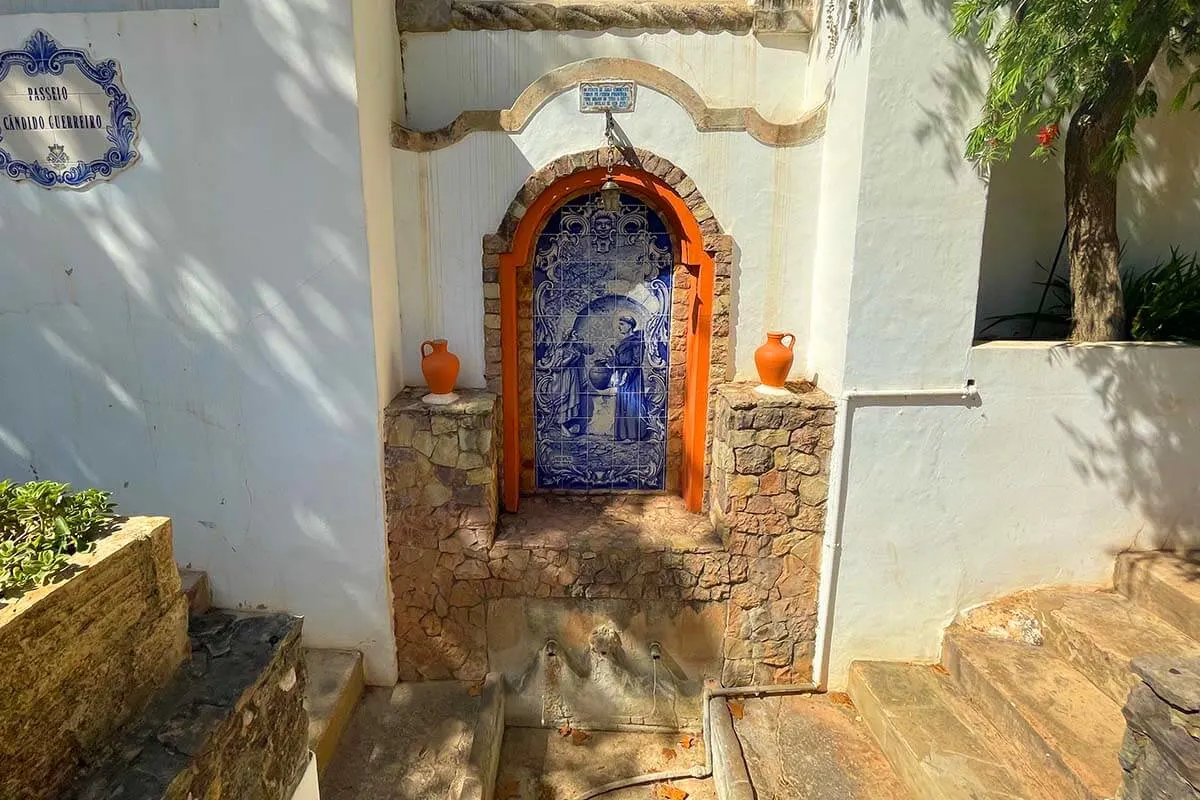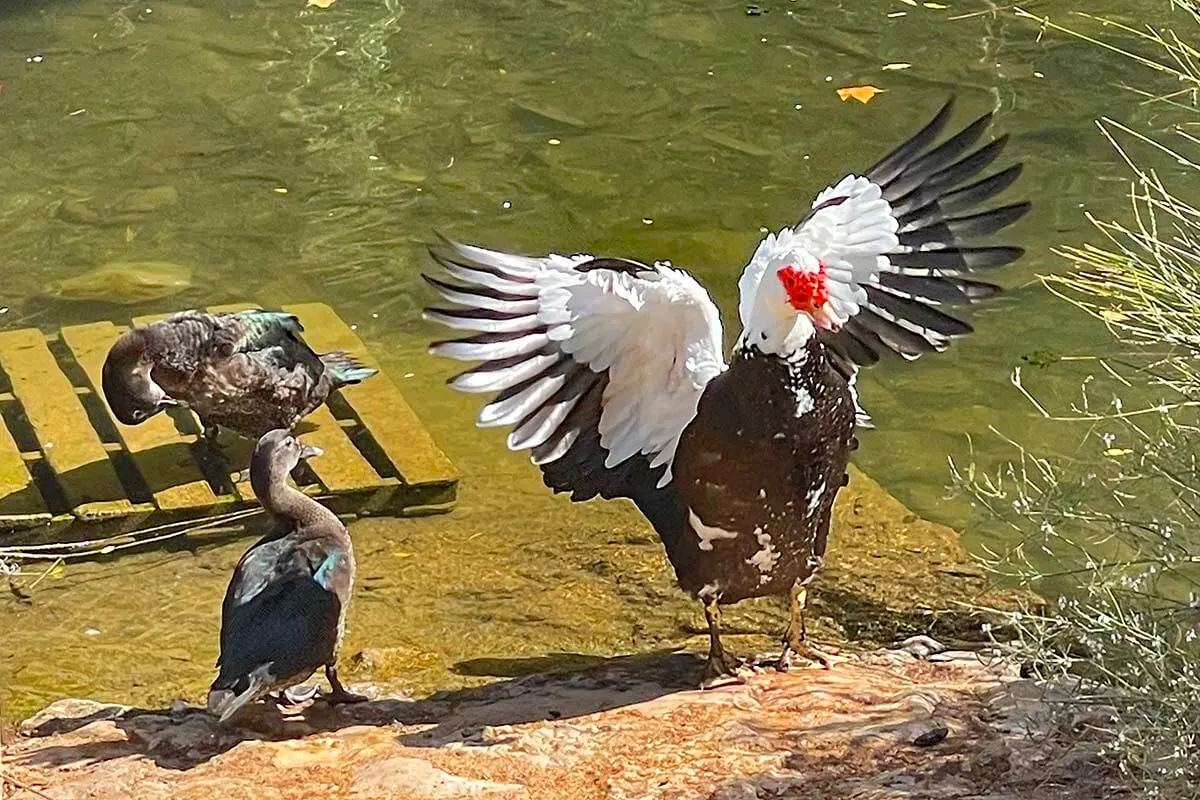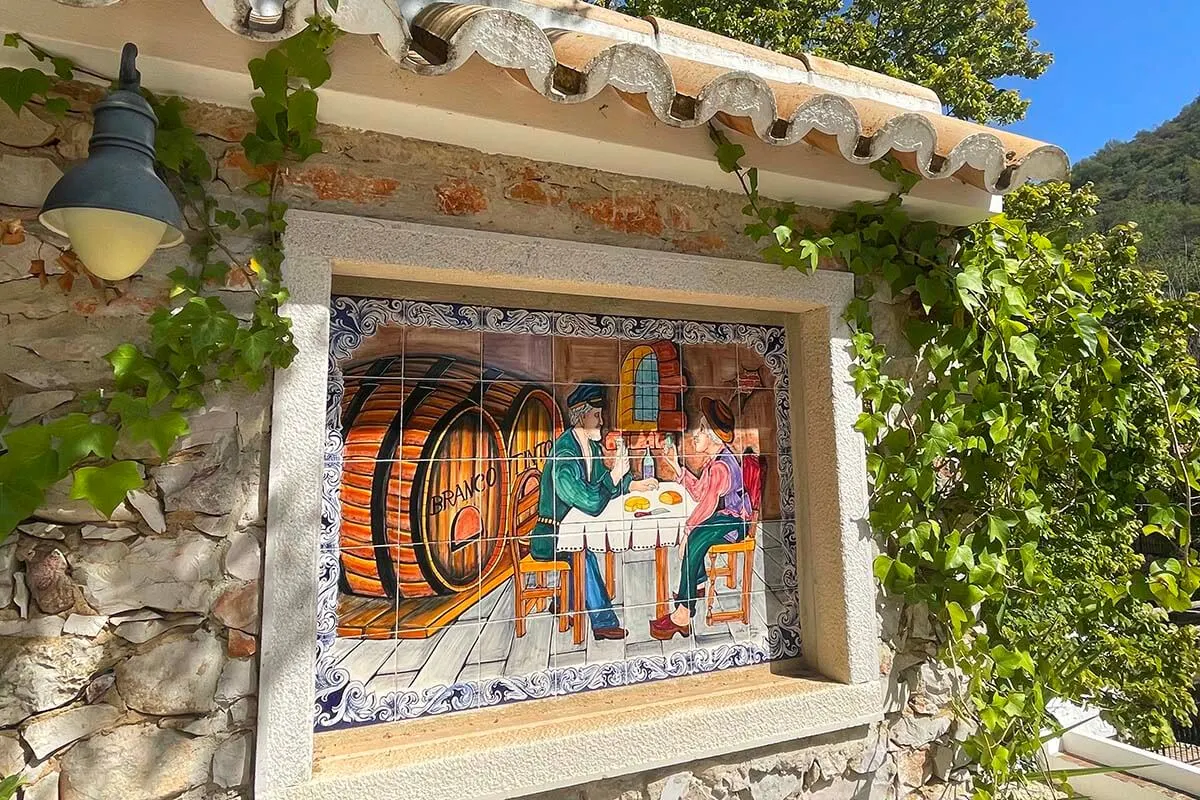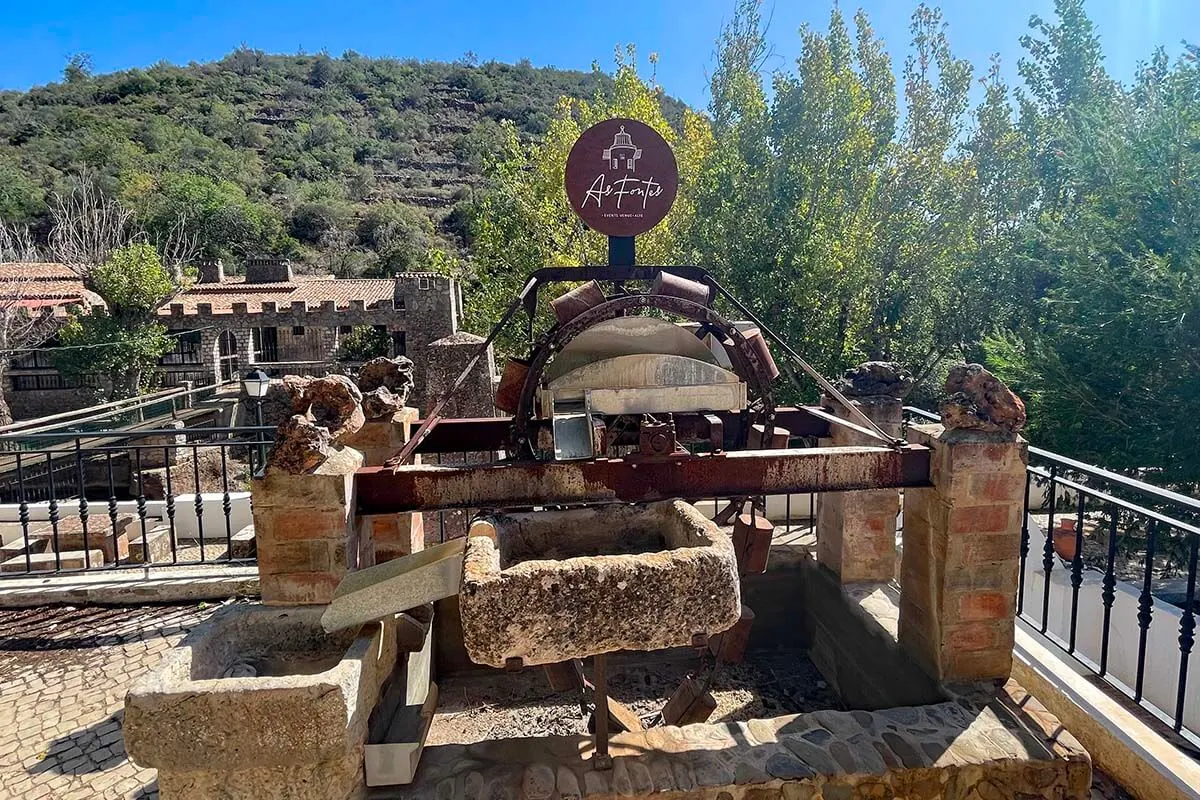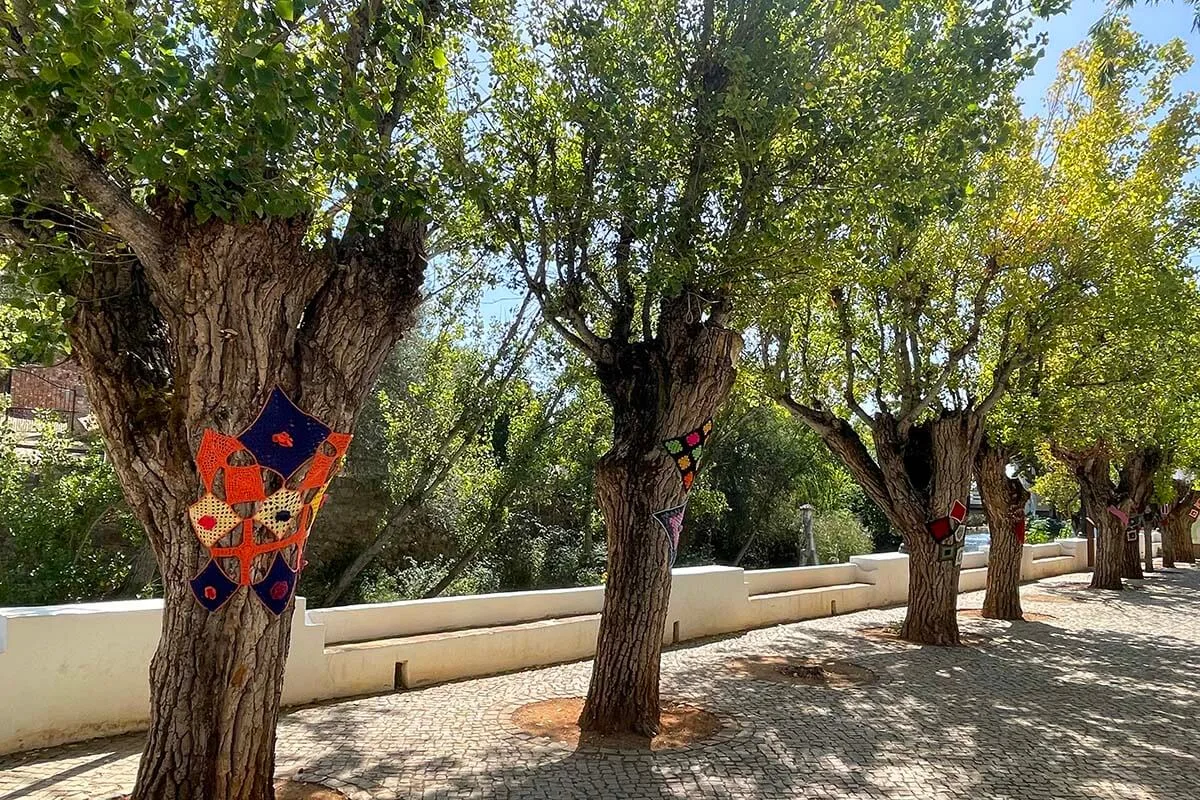 3. Alte Historic Center
If you have some time to spare, don't leave Alte without taking some to wander through the charming streets of the old town. The main center is concentrated south of the church.
Here are some places that we recommend checking out in the center of Alte:
The street art around Galleria D'Arte Daniel Vieira.
The 'O Regional' restaurant and an adjacent souvenir/ceramics shop.
'Doçaria Água Mel' pastry shop/ café. They have a small terrace with nice views over the countryside.
Mercado de Alte – a small fish market.
Polo Museológico Cândido Guerreiro e Condes de Alte – the House of the Counts of Alte, now a museum featuring the collection of the poet Francisco Xavier Cândido Guerreiro. You can find a bit more info here.
We indicated all these places on the map below, but you really can't get lost. The town center is very compact and everything is next to each other.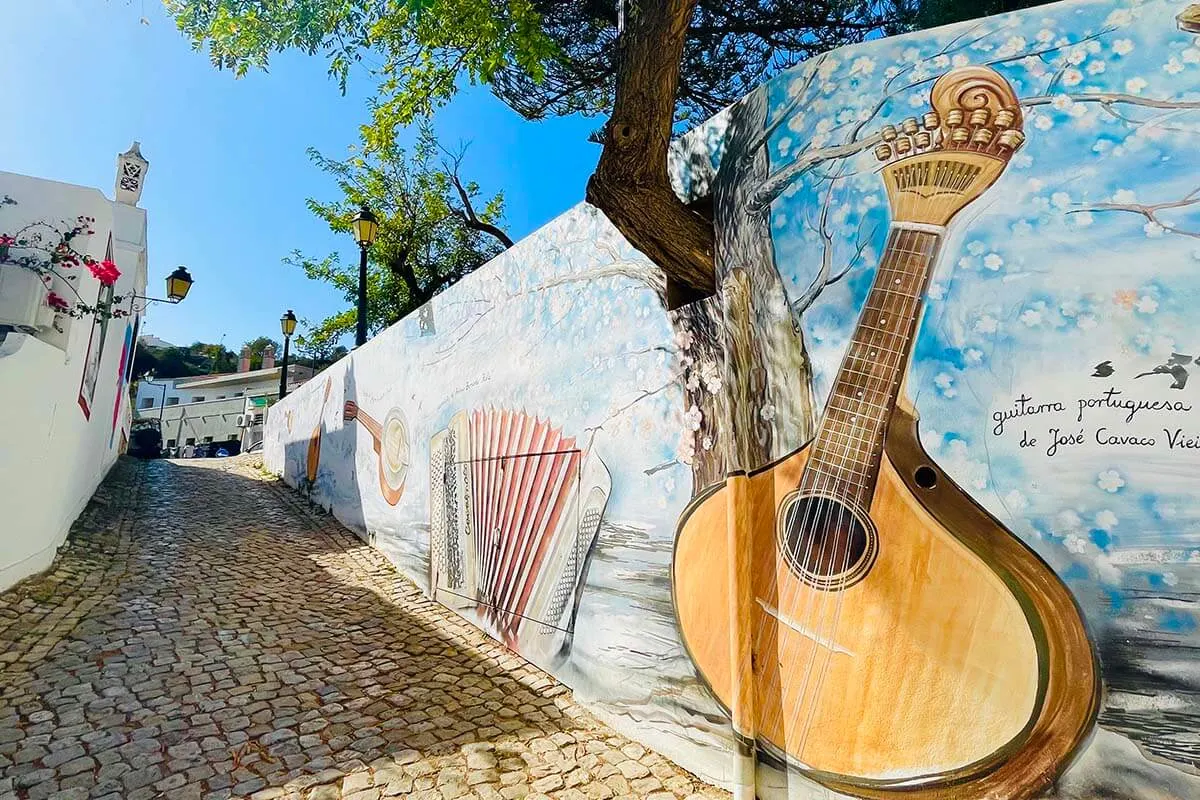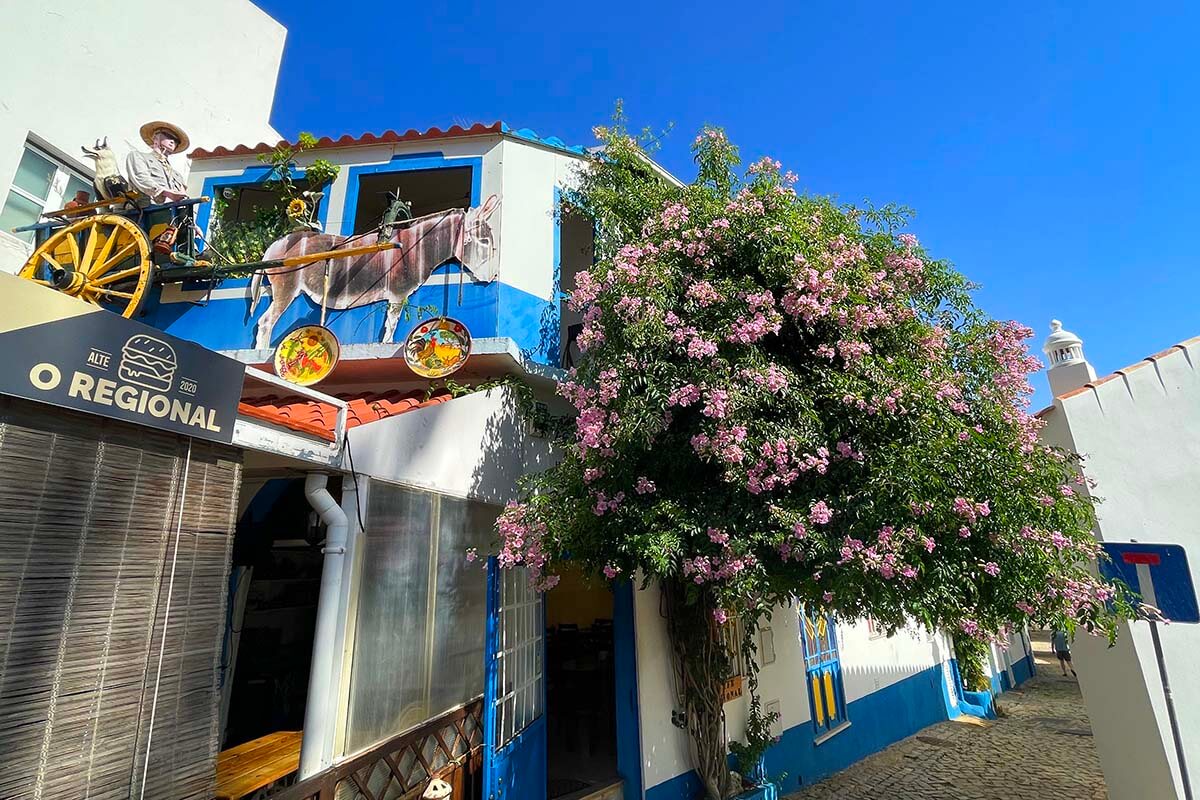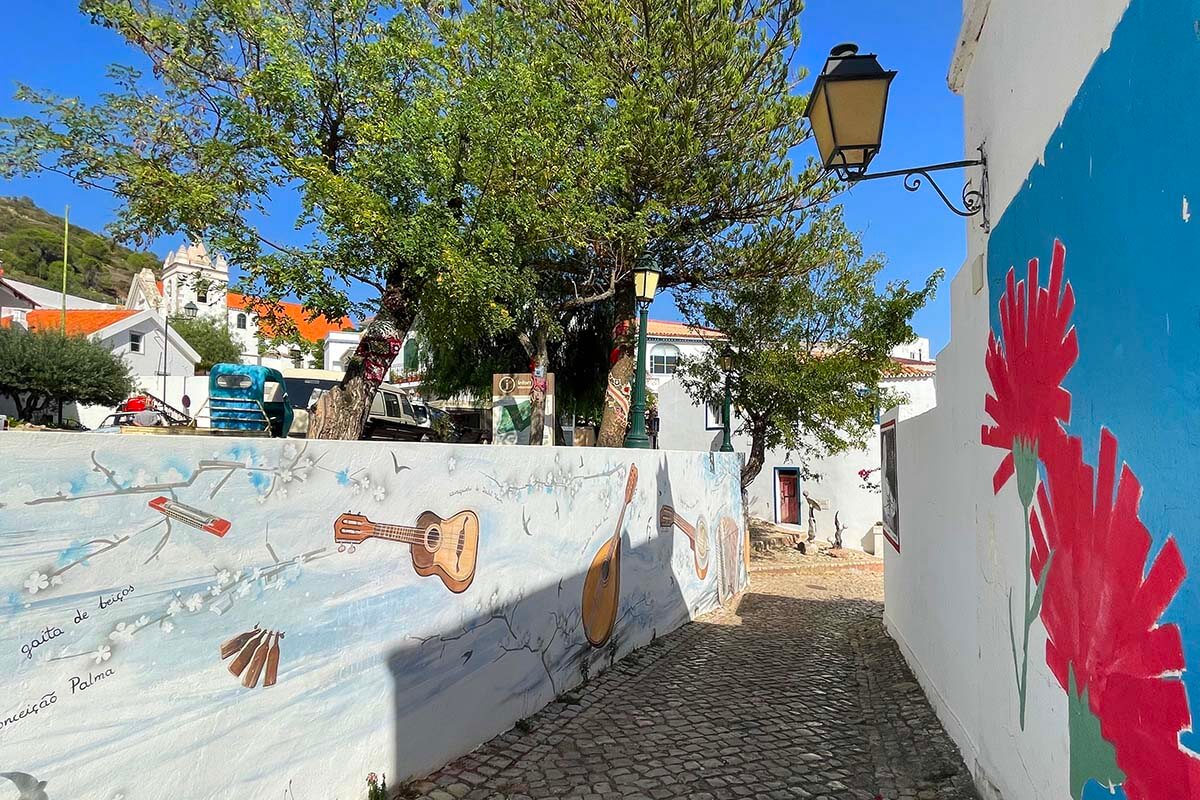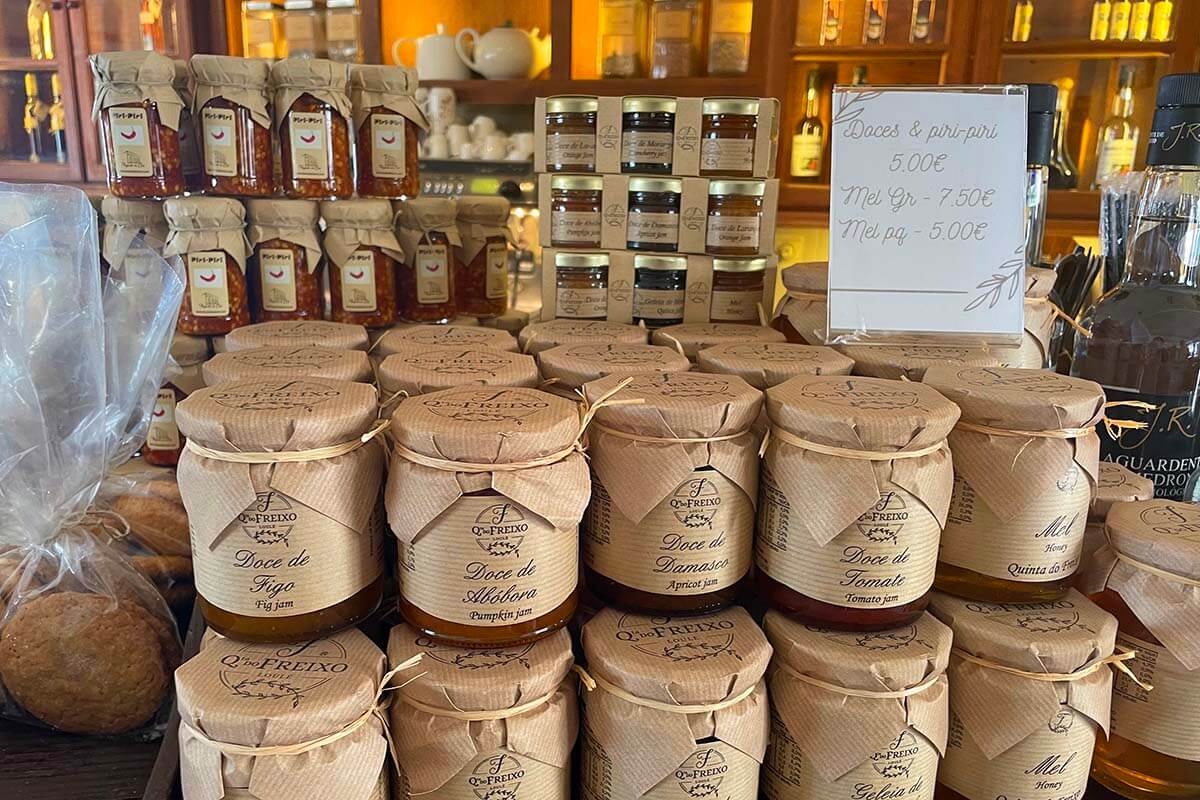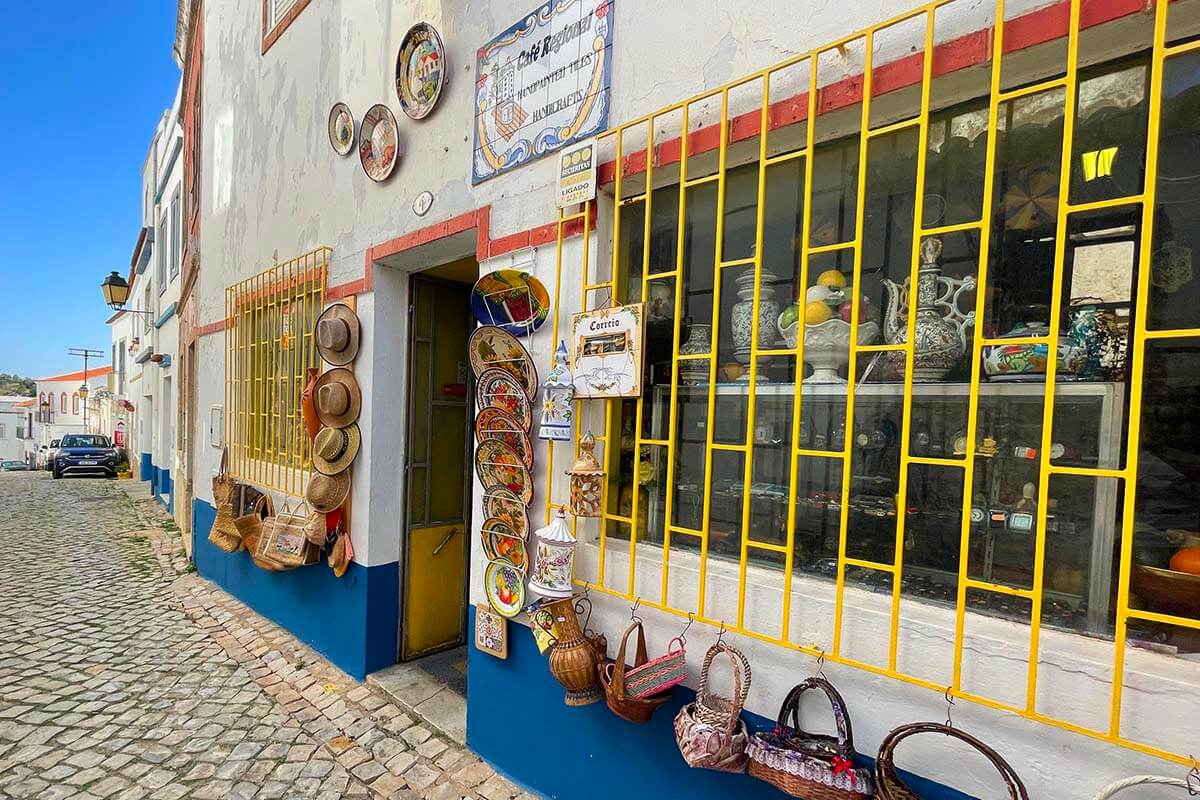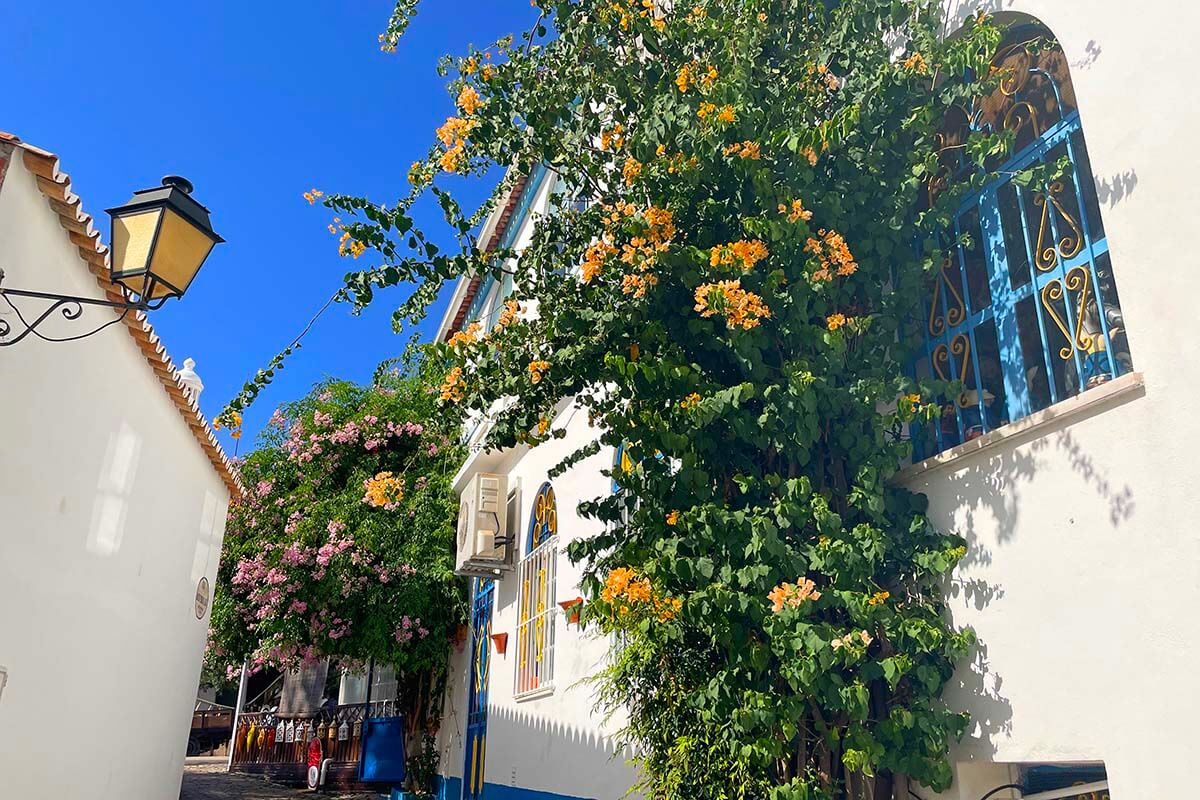 4. Igreja Matriz de Alte
Igreja Matriz de Alte (aka Igreja de Nossa Senhora da Assunção) is the main church of Alte. It dates from the 16th century.
The main highlight here is the altar and several chapels that are completely decorated with Azulejo tiles.
The church is normally open daily except Sundays, in the morning (10 am – 1 pm) and in the afternoon (2 – 5.30 pm). There is a small fee to visit. Just check if it's open when you get there and otherwise, simply see it from the outside. When we visited, it was closed.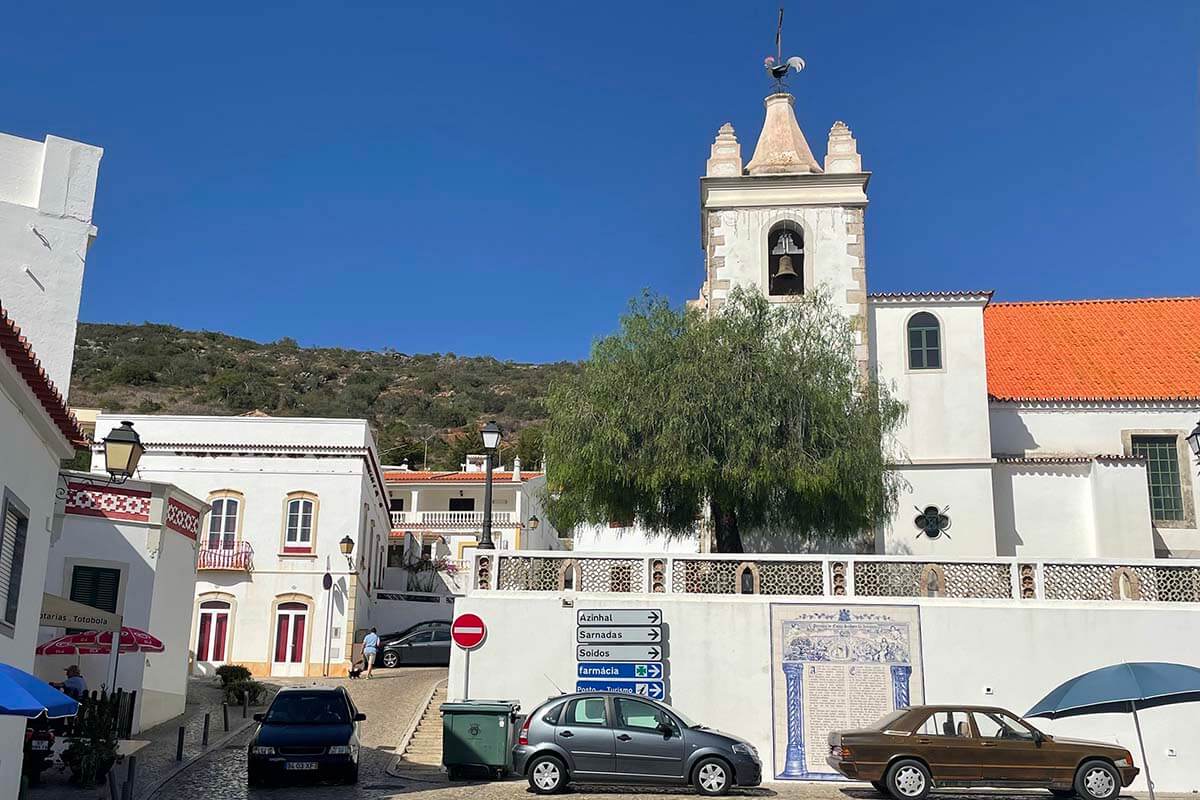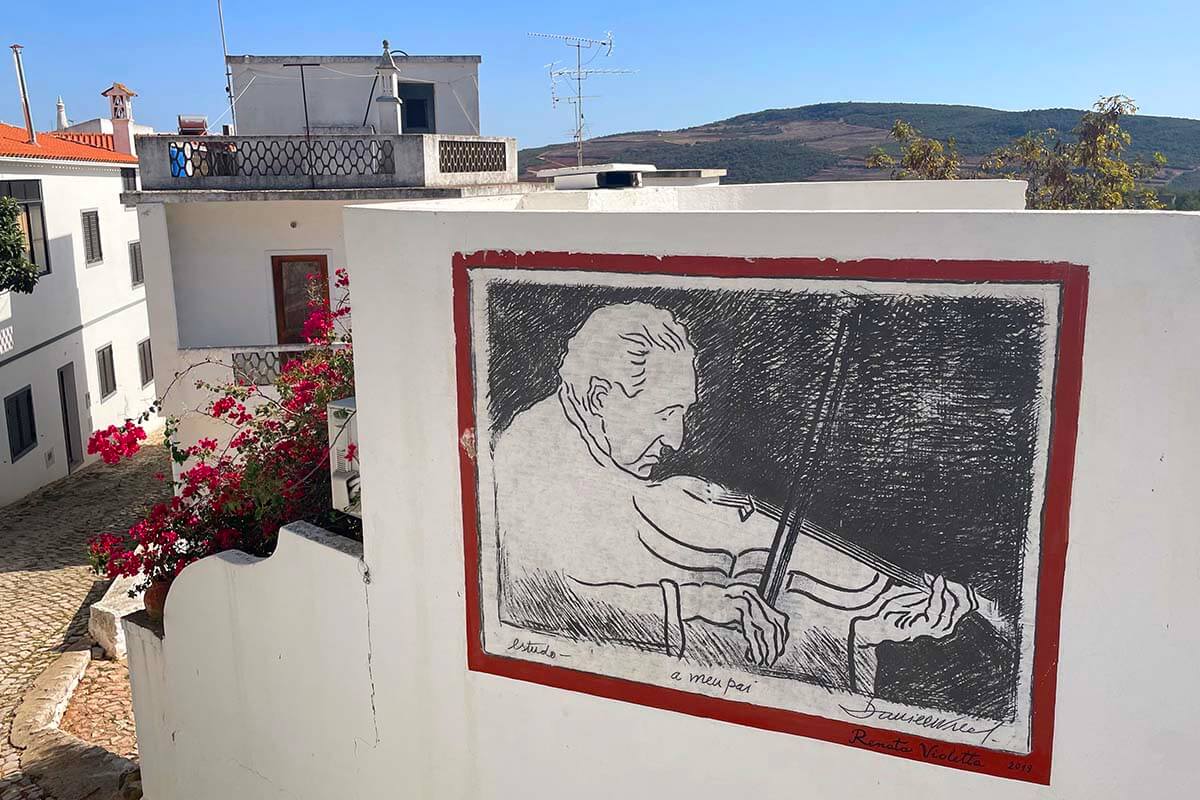 5. Queda do Vigário Waterfall
Queda do Vigário is a small waterfall located south of Alte town, close to the cemetery.
In the winter and after heavy rains, this waterfall can be beautiful. When there's lots of water, it's a very popular bathing spot. In the warmest months, however, it's often completely dry, and there isn't much to see…
If you are lucky to visit when the waterfall is running, it can be quite a nice experience. You can also go for a swim at the natural pool here. But if it's dry, there's not much to see and you may wonder why you even went out of your way to visit…
Getting there: Park your car near the cemetery and take the wooden staircase to get here.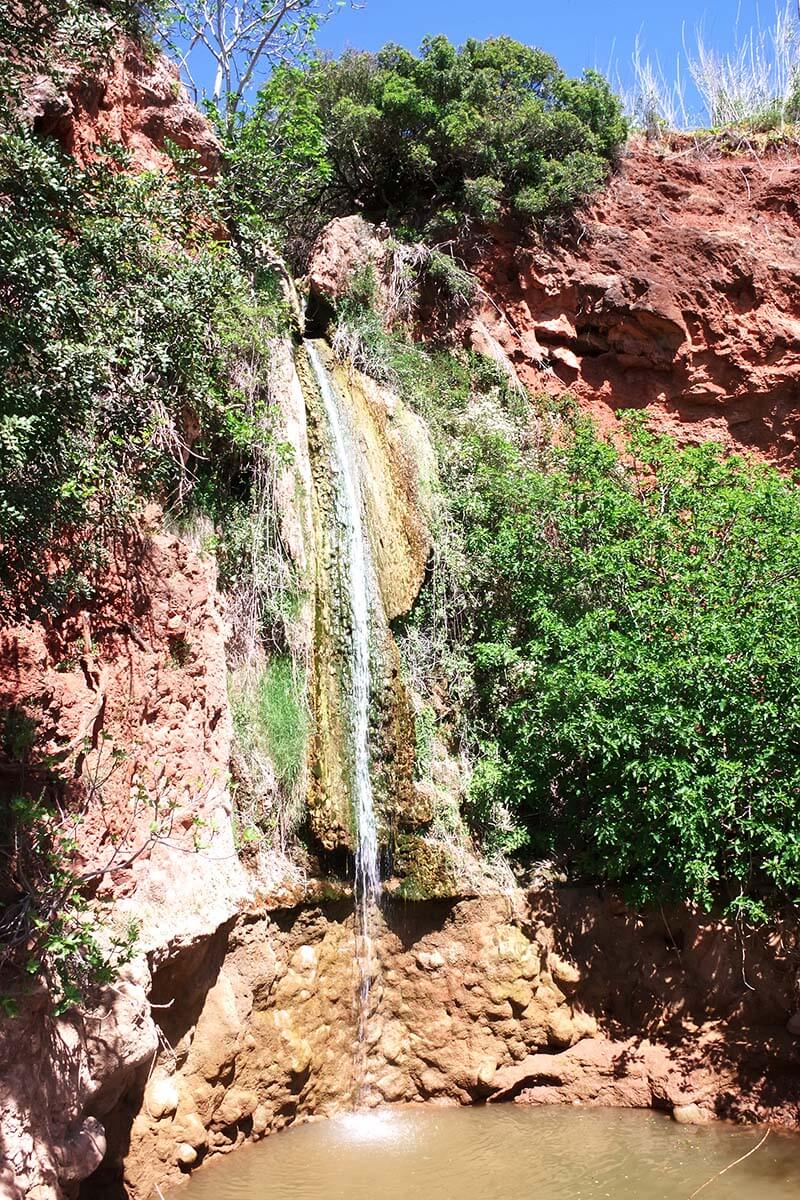 Map
To help you orient, we indicated all the places mentioned in this article on the map.
In the high season, you'll likely have to leave a car at one place and walk everywhere. In the low season, you should be able to drive between different areas and park closer to everything, but Alte is very walkable, so if you have plenty of time, you can just explore on foot.
Alte Tours
As already mentioned, if you don't have a car, the best way to visit Alte (and explore more of the Algarve countryside) is by joining a guided tour.
Most of the rural Algarve tours from Albufeira include a stop in Alte. Some tours also include a visit to one or two other villages, and/or wine tasting, a visit to fruit plantations, or a tasting of some local liqueurs and jams.
Our experience: We visited Alte by car and spent a few hours exploring the village and swimming in the natural pools. On the same day, we also booked a winery tour at Quinta da Tôr vineyard near Loulé, about 20 minutes drive from Alte. Drinking and driving is not the best idea, of course, so if you don't have a dedicated driver and want to taste some local wines, you may want to look for a tour instead.
These tours visit Alte and also include some wine tasting (but not at a vineyard). If you are more interested in wine, check out these winery tours in Algarve.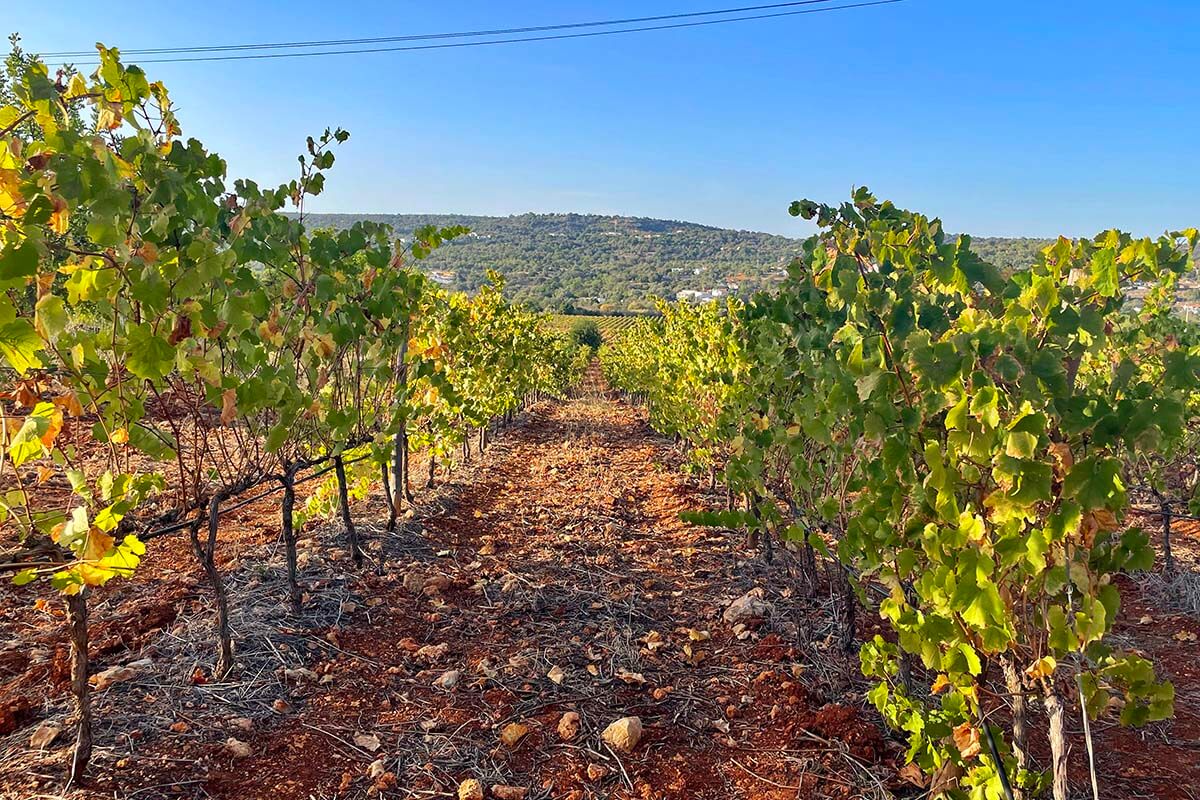 Where to Stay
You don't really have to stay in or near Alte in order to visit this area. The closest big town is Albufeira, from where you can visit by car or with a tour.
If, however, you are looking for a nice place to stay in the Algarve countryside near Alte, you can find an overview of the available accommodations here.
READ ALSO: Where to Stay in Albufeira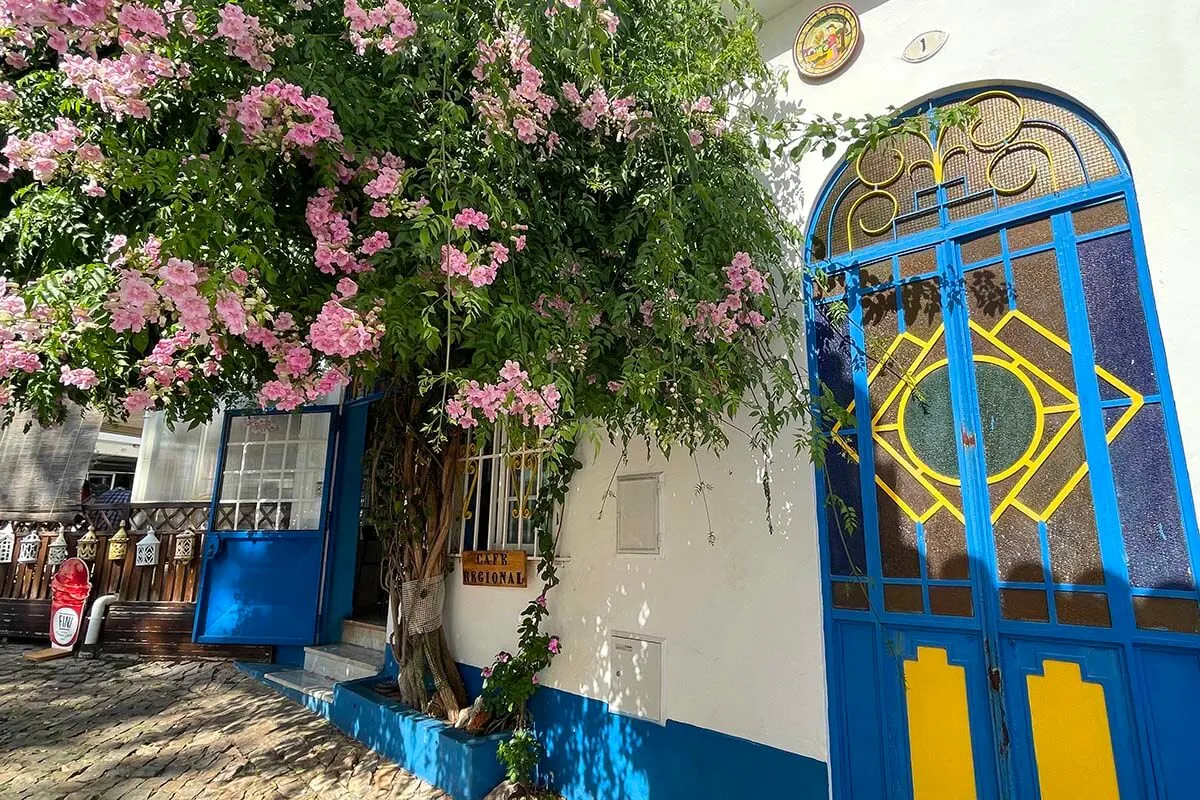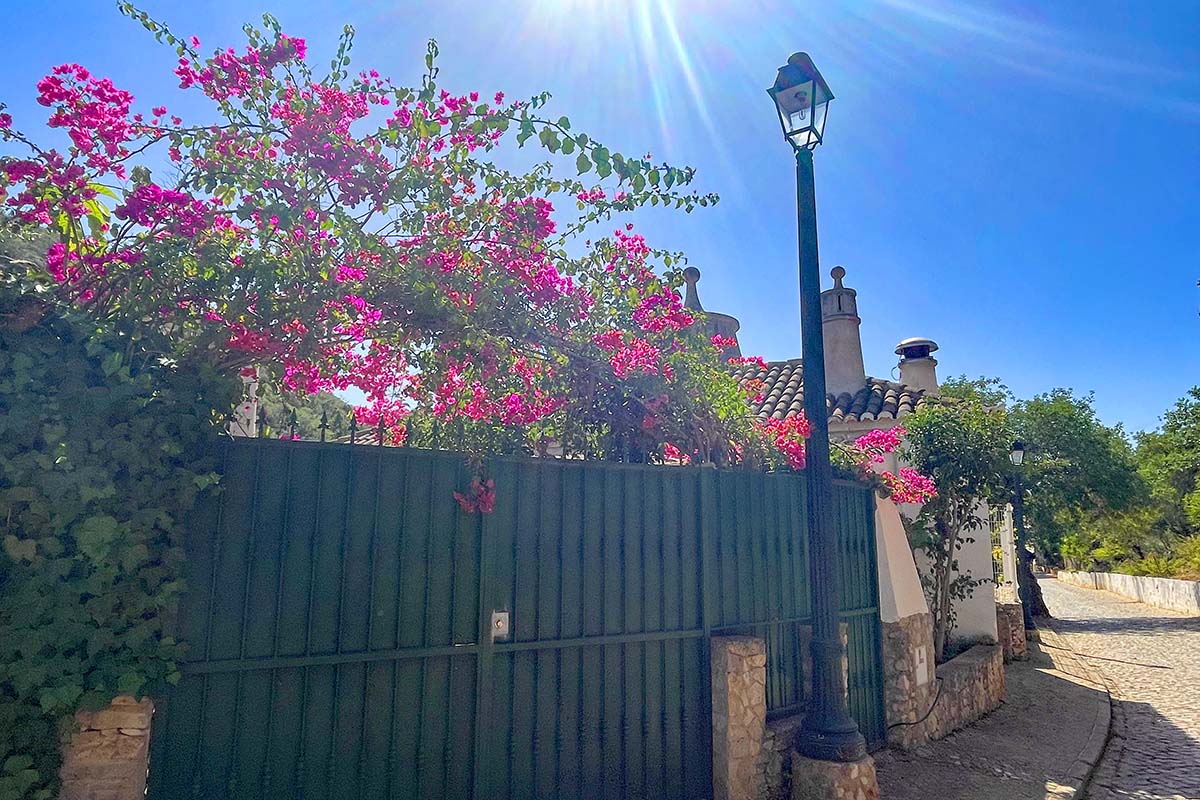 So, this is our guide to visiting Alte in Algarve.
This village may not be as well-known as the most famous destinations in the Algarve, but it's precisely its off-the-beaten-path charm that makes it a hidden treasure worth discovering. Whether you're seeking a tranquil escape, an authentic cultural experience, or simply a chance to unwind in a stunning natural setting, Alte will surely surprise you.
Good to know: If you are short on time, you can see all the nicest places in Alte in about an hour. If you want to see 'everything', enjoy some time at the natural springs, and have lunch, count on spending 2-4 hours here.
READ ALSO: Top Places to Visit in Algarve
More travel inspiration for the Algarve:
Algarve Coastline:
Lagos:
Albufeira:
Eastern Algarve:
Water Parks:
Seasonal Guides:
If you found this post helpful, don't forget to bookmark it and share it with your friends. Are you on Pinterest? Pin this image!