Thinking of visiting Algarve in November and wondering what to expect?
What is the weather like in Algarve in November? Is everything open? What to wear? How busy is it? Is November a good month for beaches or sightseeing in the Algarve? Can you still swim in the ocean and are outdoor pools warm enough in late fall?…
Below, can find answers to all these questions, as well as our experience-based tips for your fall visit to southern Portugal. We also share the advantages and disadvantages of visiting the Algarve in November.
Find out!
Top 3 Experiences & Tours in Algarve:
Zoomarine (in November, only open from Thursday to Saturday).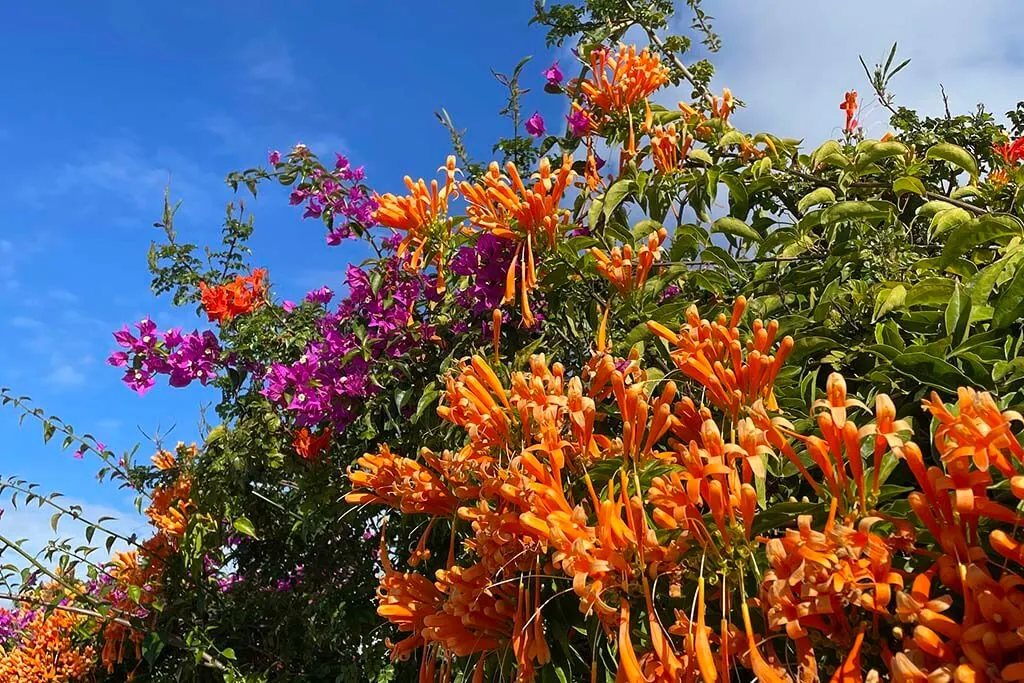 Algarve Weather in November
Benefiting from the Mediterranean climate, Agarve has warm dry summers and mild winters. The region also has more sun than southern California. But since November is a transitional month between the warm summerly weather and cooler 'winter' weather, many travelers are wondering if it's a good idea to visit Algarve in November…
As you can imagine, nobody can predict the weather for your exact travel dates months and weeks in advance, but here are some numbers to give you an idea of what to expect.
Average high temperatures in Algarve in November are around 20°C (68° F) and average lows are around 12°C (54° F). On average, it rains on 5 days in the month of November.
But these average numbers don't always tell you much. Plus, you can also expect much warmer weather at the beginning of November than at the end of the month. In addition, even on 'rainy' days, it usually only rains for a few hours, and before you know it, the sun is out again.
Depending on where you live, November weather in Algarve can feel a bit like late spring – early summer at home. In comparison, this is the kind of weather you would expect in London in June, only that there is even less chance of rain in the Algarve in November than in London in June.
TIP: Don't stress about the weather forecast showing rain during your visit. It's hardly ever correct and even if it rains, it's usually not more than a few hours.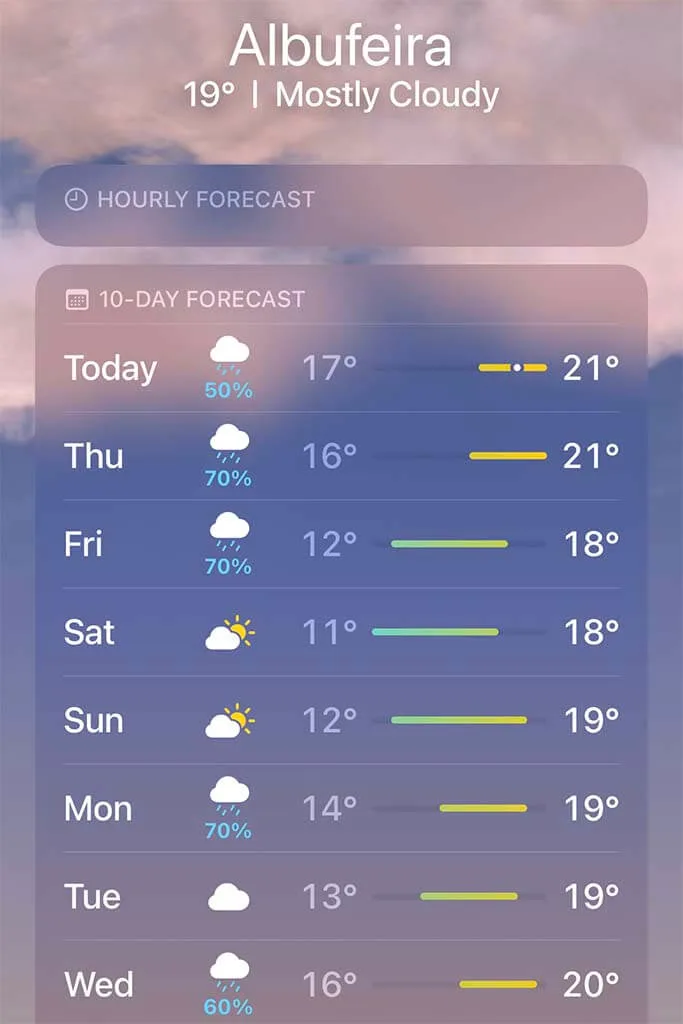 Our experience: We visited Algarve in November several times. Both – at the beginning of November and toward the end of the month.
In the first week of November, we had temperatures of 20-22 °C and it was dry and sunny most of the time. We even went swimming in the ocean and used outdoor pools several times during the week too. It rained for about an hour one day.
At the end of the month, it was a few degrees cooler (18-20°C (64-68° F)). Also here, it rained just one day for about 2-3 hours. However, even though it didn't rain much, the skies were often cloudy and grey. It was a bit too cold to swim outside on most days, but the temperatures were perfect for sightseeing.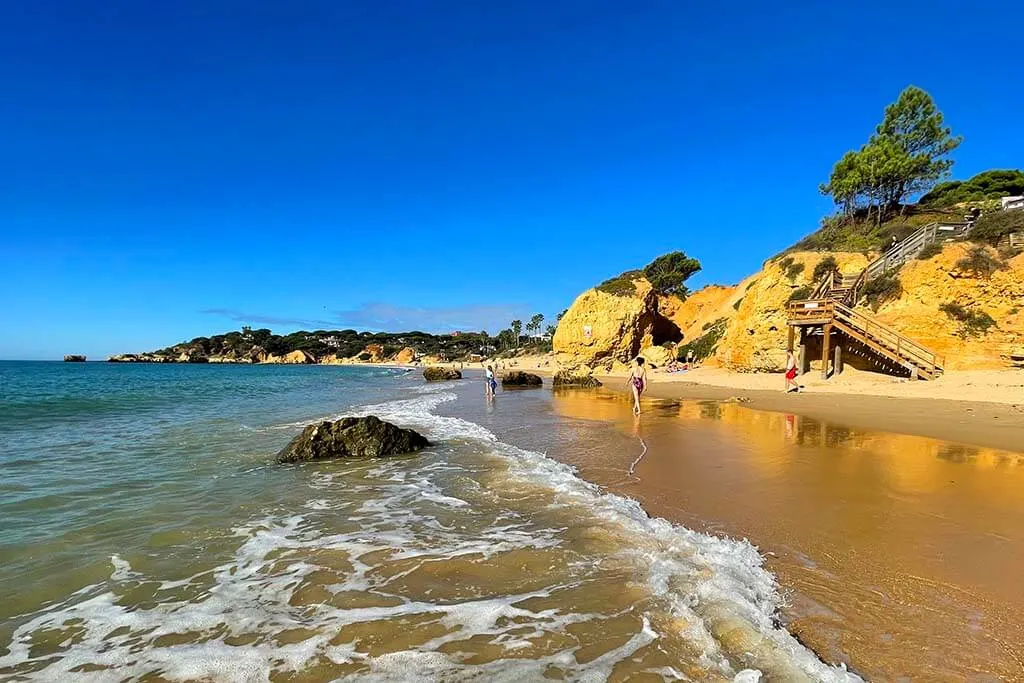 What to Pack for Algarve in November
When packing for an Algarve holiday in November, in addition to summer clothing and swimwear, be sure to also take a sweater, long-sleeved shirts, long pants, and a light rain jacket.
It might be warm enough for shorts and T-shirts on most days (definitely at the beginning of the month), but you should also be prepared for cooler weather and cold wind if visiting the Algarve in November. You will usually need warmer clothes in the evenings and often also for boat excursions.
That being said, on our visit at the beginning of November, we only wore sweaters in the evenings and the kids were in shorts almost the whole week. At the end of November, I wore long pants and a sweater every day, although, on a few occasions even a T-shirt felt too warm…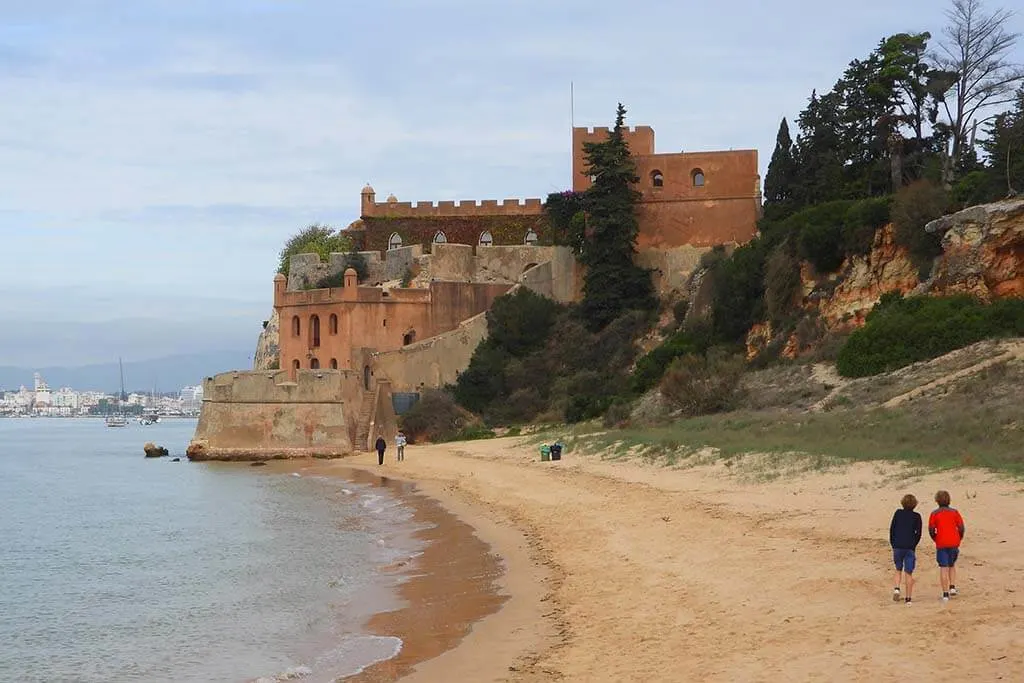 Is Everything Closed in Algarve in November?
If you are wondering whether everything closes in Algarve in the winter, remember that people actually live here all year round. So no, not everything is closed and there are plenty of shops and restaurants in the Algarve that are open the whole year round.
However, a lot depends on the specific place you are visiting. All the beach bars and beach restaurants, most seasonal businesses like kayak tours or water parks, and many restaurants in smaller villages start to close at the beginning of November.
Some take it very literally too – 31/10 is the last day of the season, no matter if it's a weekday or the start of a long sunny weekend. It's actually quite funny to see – on October 31 everything is open, but when you arrive at the exact same place on November 1, it looks completely deserted…
Many hotels also use the opportunity to carry out all kinds of maintenance work in the lower season. When we woke up on the morning of November 1, we saw that the main pool of our hotel had been emptied at night, the sun loungers were gone, and the pool was full of workers breaking out the tiles… Luckily, we could use other pools at the resort because it was over 22°C that day ("real feel" HOT), and it definitely didn't feel like low season…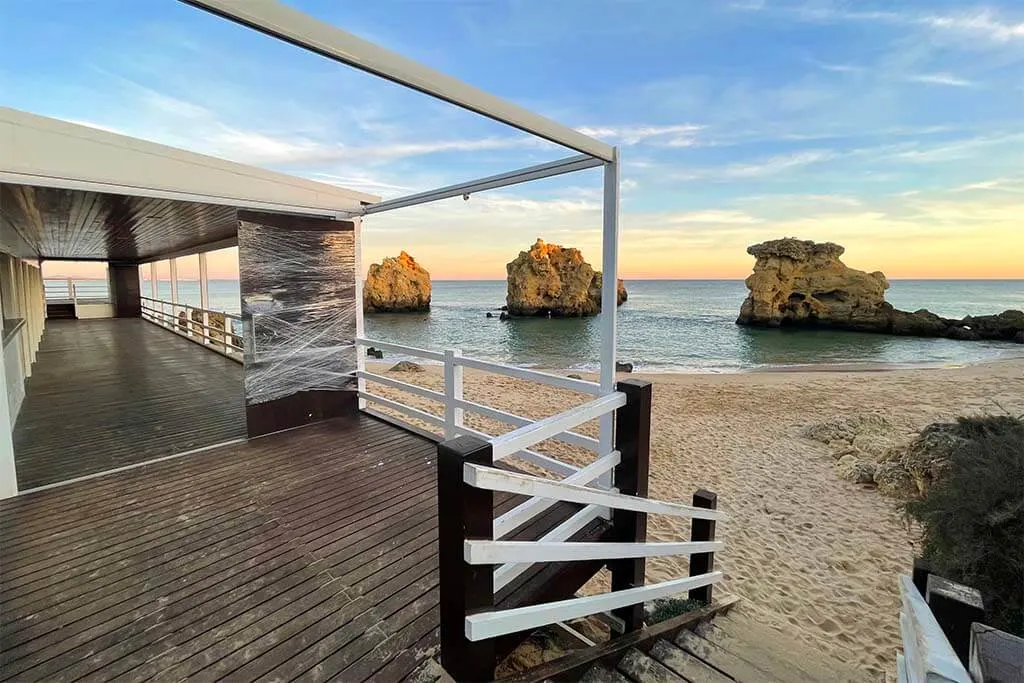 If you are in Algarve at the beginning of November, you will see more and more businesses starting to shut down for the season.
Some of the best water parks in Algarve like Zoomarine remain open in November, but usually only several days a week (Thursday to Saturday). Slide & Splash is only open during the first few days of November. The others are closed, except for the indoor section at Aquafun.
By mid-November, many smaller villages and even the most popular beaches will look very sleepy.
Good to know: Don't rely on Google Maps to show that a place is open. Many seasonal businesses such as water parks or restaurants simply forget to update this info. So if you are driving to a specific place, you may want to call them to confirm that they are actually open. And if they don't answer, that's definitely a sign that you shouldn't go out of your way to get there.
But no worries! You will find plenty of shops and restaurants that remain open year-round in all the bigger towns in Algarve. This brings us to the next question – where to stay when visiting Algarve in the low season. Read on!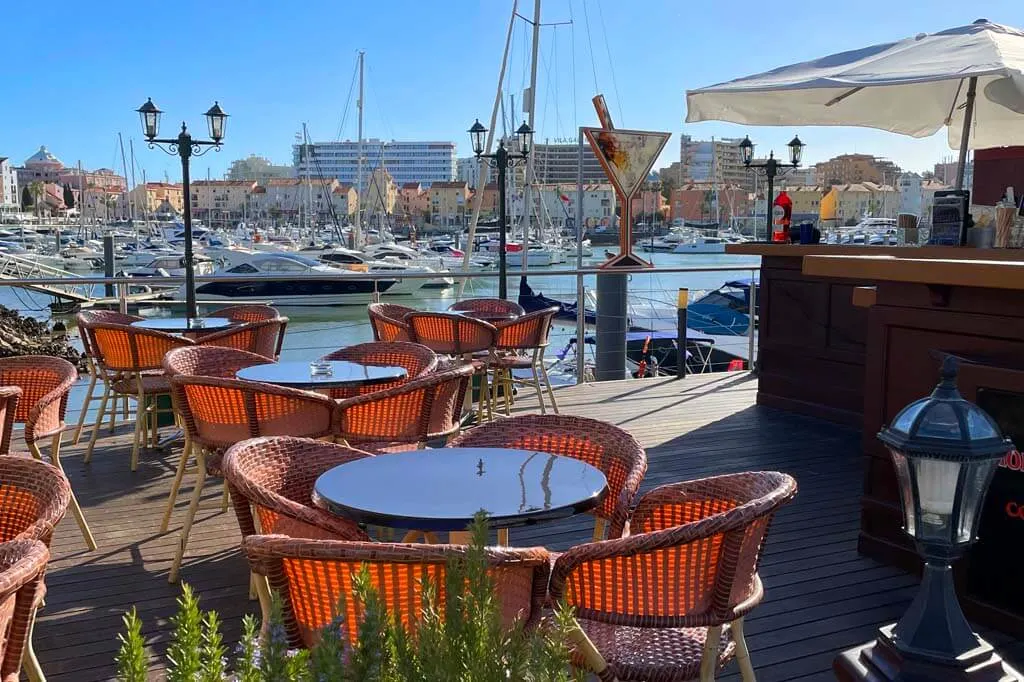 Where to Stay
Of course, a lot depends on the reason why you are traveling to Algarve in November. But for tourists who are mostly interested in a relaxing vacation or sightseeing, we recommend staying in bigger towns or hotel resorts that have all the facilities you may need.
If you are visiting Algarve in the lower season and are looking for lively places to stay, consider towns like Tavira or Faro in the eastern Algarve, Albufeira in the center, and Portimão or Lagos in the west. Also in these towns, remember that not everything will be open, but you will always find plenty of options.
Alternatively, look for a really nice resort that has its own restaurants. That way, you don't have to drive far looking for a place to eat every evening.
TIP: When traveling to Algarve in the low season, look for a hotel with an indoor pool! Swimming outside in November is often too cold, so it's good to have a backup option, especially if you are traveling with children.
Here are just a few recommendations for places to stay in the low season – these are all nice seaside resorts that have restaurants and indoor pools:
LEARN MORE: Best Places to Stay in Algarve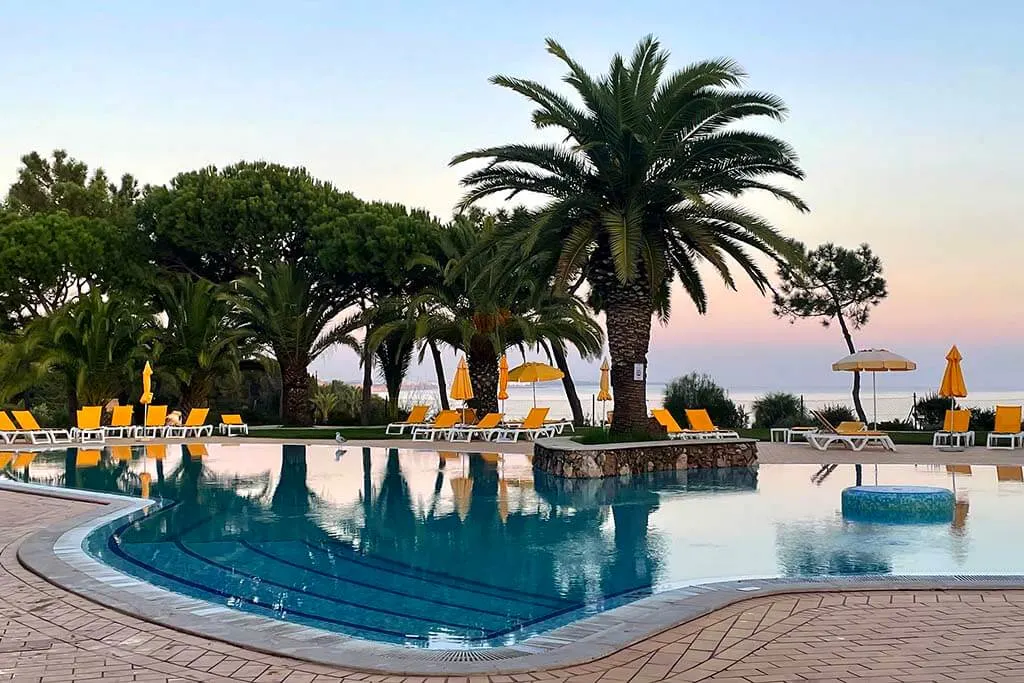 November 1 Public Holiday
Just as in many Catholic countries, Portugal celebrates All Saints Day (Dia de Todos os Santos) on November 1. It is a bank holiday and many businesses are closed on this day.
However, as a tourist, you won't notice it much. Simply plan some outdoor activities, a fun tour, or a day by the pool if you are in the Algarve on the 1st of November. Visiting towns may not be ideal on this day since some landmarks will be closed.
Most restaurants in the Algarve are open as usual on November 1, except – obviously – those that already closed for the winter season.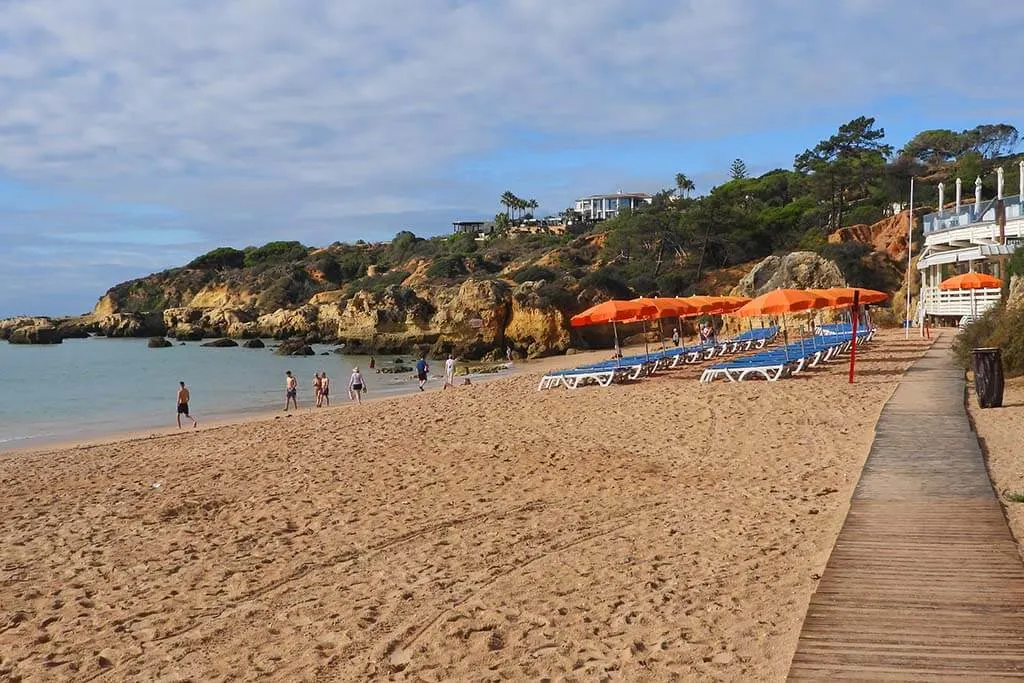 Algarve Beaches in November
If you are wondering what the beaches look like in Algarve in November, I can only say – quiet. How quiet, depends on the specific beach, the weather, and the day of the week. But in general, it varies from quiet to deserted.
Most beaches have no facilities available at all anymore in November. There are no lifeguards at this time of the year either.
Some beaches still had sunbeds and parasols for rent at the beginning of November, but we only saw this at very few places and only at the most popular beaches like the Albufeira Fishermen's Beach or Praia da Oura. The main beaches in Vilamoura or in Lagos didn't have any facilities open in November at all.
All the beach restaurants we saw in Algarve in November were closed (and we visited lots of beaches). All the places renting water sports equipment on the beaches were closed too. Most kayaks were stowed away for the winter.
The only place where you could go parasailing at the beginning of November was Albufeira Marina (and we saw quite some people doing that). The only place where we saw kayak tours still running was Benagil Cave and Ponta da Piedade kayak tours from Lagos. All these activities are weather-dependent, of course.
READ ALSO: Top Spots for Kayaking in Algarve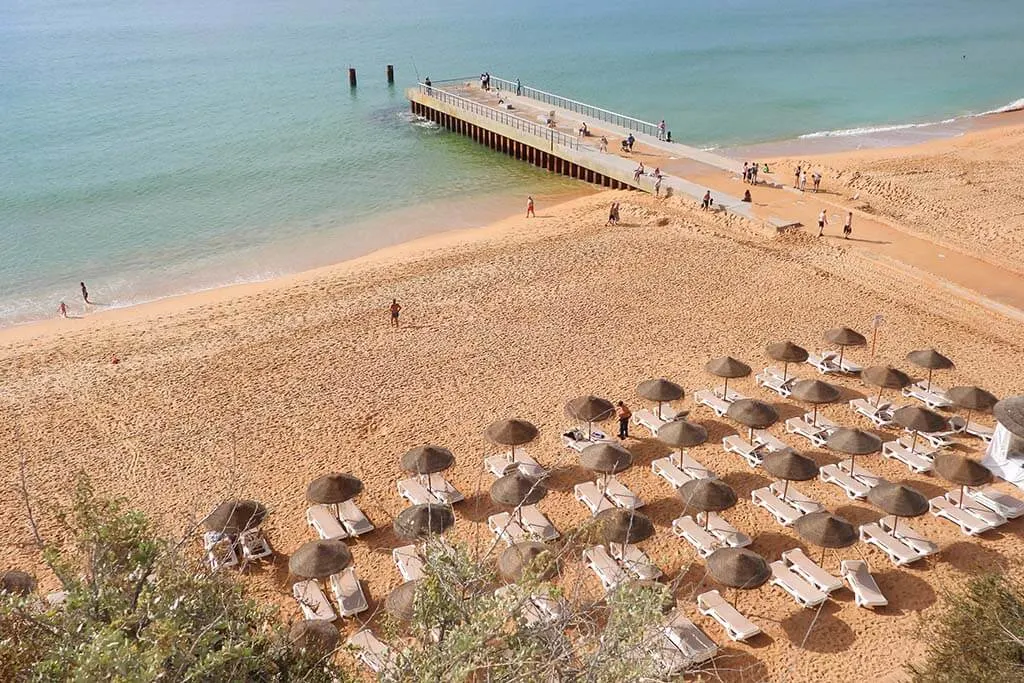 What to See & Do in Algarve in November
While not the best month for beaches or water activities, November is the perfect time of the year for sightseeing in Algarve.
That being said, if the weather is good, you'll still find all kinds of water activities available, definitely at the beginning of the month. When we were in Algarve in the first week of November, we saw people kayaking, parasailing, etc. We ourselves went swimming in the ocean on a few occasions too.
Because the temperatures in November are usually rather mild, it's a perfect month for sightseeing, hiking, and outdoor activities. Golf, biking, and surfing are popular, and you can also find all kinds of boat tours, jeep excursions, quad tours, etc.
November is also one of the best times of the year to see some of the most beautiful sunrises and sunsets in Algarve. Since the nights are usually much colder than days, the colors of the sky can be absolutely incredible. For that, ideally, you stay at a seafront hotel so that you can enjoy amazing views every morning and every evening without having to travel far.
November is also a good month to see all kinds of birds in Algarve since many of them come to spend the winter in the region.
There are just a few things that November is not ideal for – beaches, outdoor pools, and waterparks. If you are looking for a beach holiday with guaranteed sunshine, then November is just a bit too late. For that, you may want to consider coming in October; even a few weeks can make a big difference in this season.
TIP: November is a great time to explore the nicest towns of Algarve. I also highly recommend doing the coastal walk – Seven Hanging Valleys Trail.
READ ALSO: Top Places to See & Best Things to Do in Algarve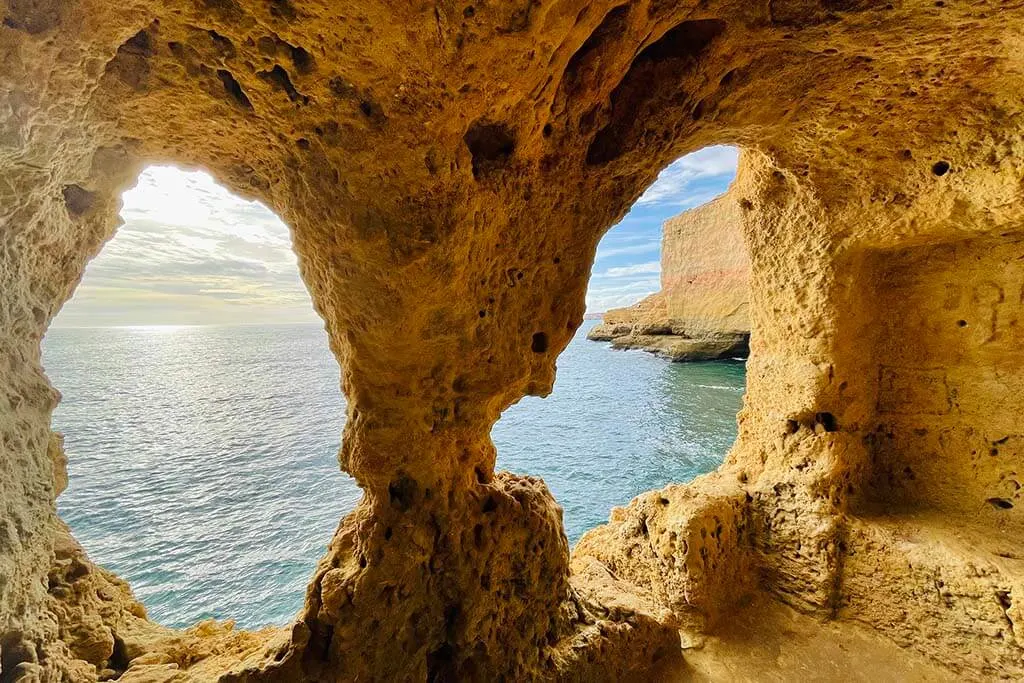 Benagil Cave in November
Reachable only from the water, Benagil Cave is one of the most popular places to visit on the Algarve coast.
If you are wondering whether you can visit Benagil Cave in November, the answer is yes, normally you can. However, sea caves may not always be accessible if the ocean is a bit too wild. While this can happen in any season, the waves are indeed bigger in the late fall and in the winter.
Weather permitting, you can take a boat tour to Benagil Cave the whole year round. Some kayaking tours are available in November as well, but whether you can actually do them will depend on the ocean on the day of your visit.
TIP: Since there are fewer companies running boat tours in the lower season (and not that many departure times), it's best to book in advance. We always use and recommend booking all tours via GetYourGuide, also because most tours are available with a free cancelation option for up to 24 hours before the starting time. Also, if the tour gets canceled because of the weather or sea conditions, it's simple to reschedule or get a refund.
LEARN MORE: How to Visit Benagil Cave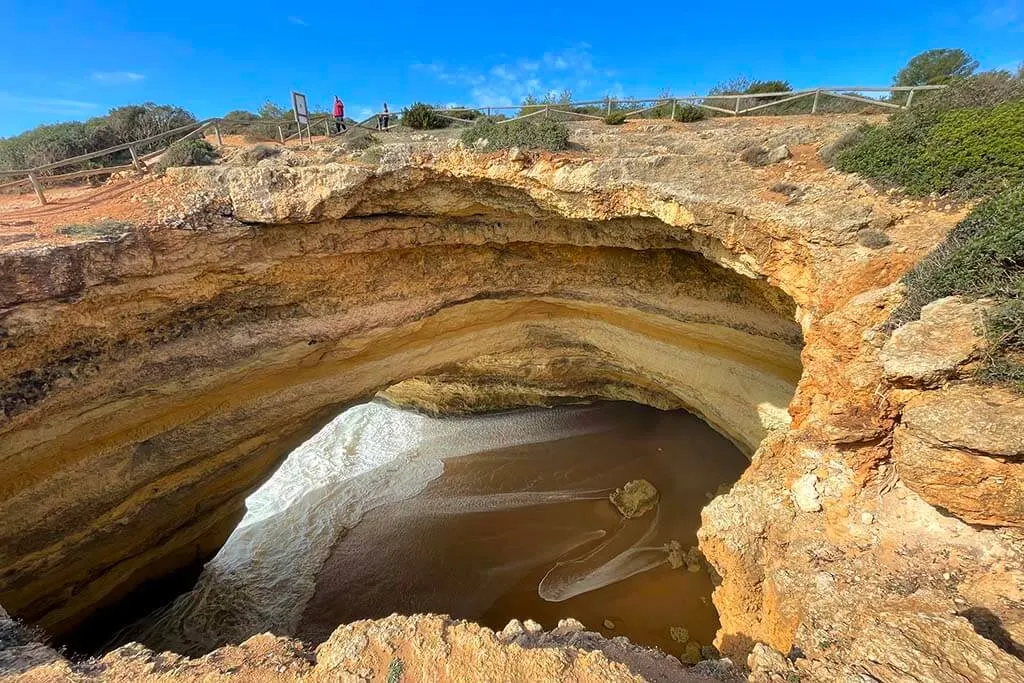 What to Do in Algarve When it Rains
If you are worried about not finding enough to do when it rains, here are some ideas of things to do if the weather doesn't look great:
Visit churches, museums, or attend a Fado concert. See our Algarve town guides for some inspiration:
Visit a local market or take a food tour:
Spend a day at the SPA of your hotel. Many of the nicest resorts in the Algarve have excellent SPA facilities and indoor pools.
Go shopping. MAR shopping center near Faro is the biggest one (there is also a designer outlet just next to it), but there are also many other options. There are also places where you can go bowling, indoor karting, cinemas, etc.
As you can see, there are plenty of options and these are just a few ideas for things to do if it rains. Also, remember that it hardly ever rains for more than a few hours in one go. And if you have other plans, simply put on your rain jacket and go – the Algarve coastline can be very beautiful in stormy weather too!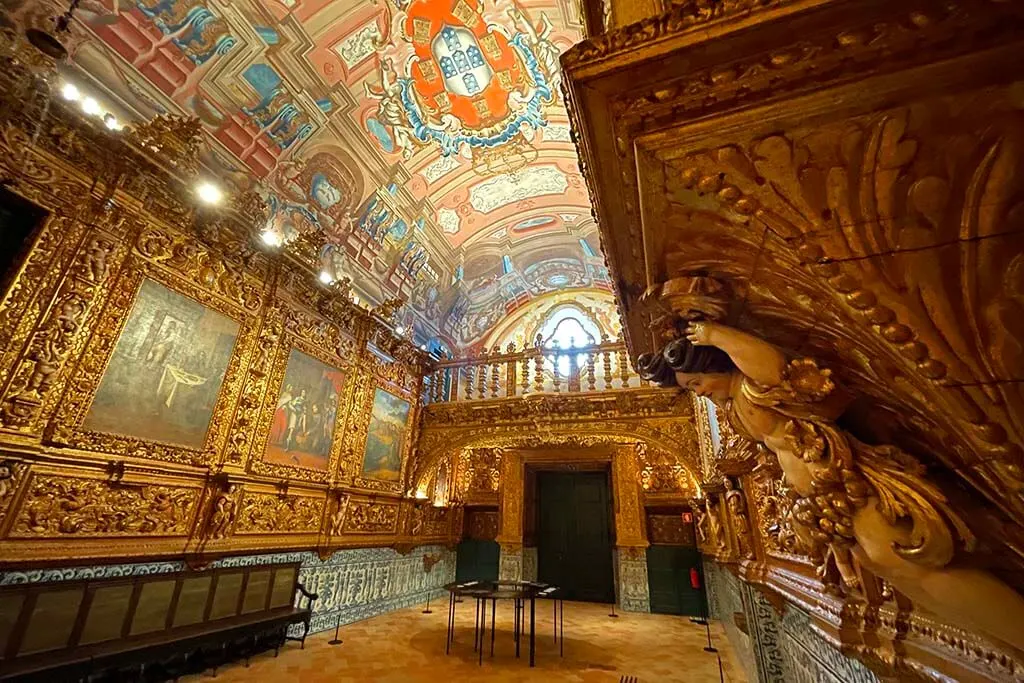 Advantages of Visiting Algarve in November
There are many advantages of traveling to the Algarve in November. Here are some of the main ones:
The weather is generally nice and temperatures are mild – ideal for sightseeing.
It's very calm everywhere, so finding parking at the most popular places shouldn't be an issue.
You don't have to make reservations at most restaurants in November. It's usually so quiet that they'll be very glad to see you.
You can see lots of birds (Ria Formosa Nature Reserve is the best place for that) and there are lots of beautiful flowers/ blooming bushes in November.
Accommodation is much cheaper than in the high season.
You can see beautiful sunsets and sunrises. Plus, the days are shorter so you don't have to get up very early or stay up late in order to see them.
READ ALSO: Our Favorite Restaurants in Albufeira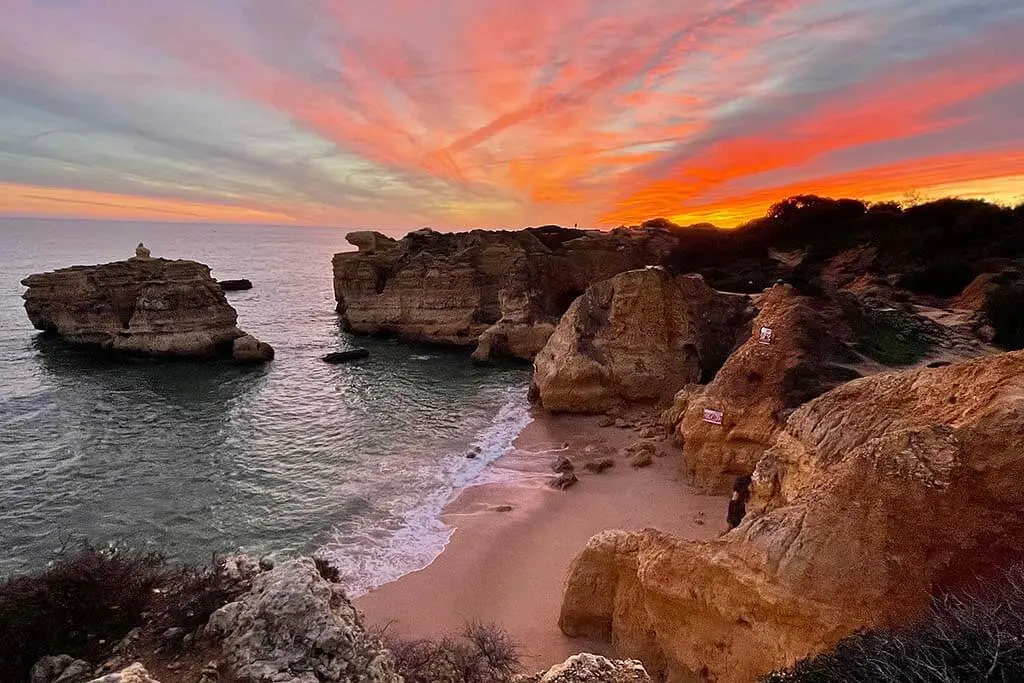 Disadvantages of Visiting Algarve in November
Of course, there are also some disadvantages to visiting Algarve in November.
Here are some things to consider:
The weather is a bit unpredictable and warm temperatures are not guaranteed. This is especially the case in the second half of November.
November is not the best month for a beach vacation, outdoor pools are too cold, and most waterparks are closed.
Many seasonal restaurants, shops, and attractions are closed.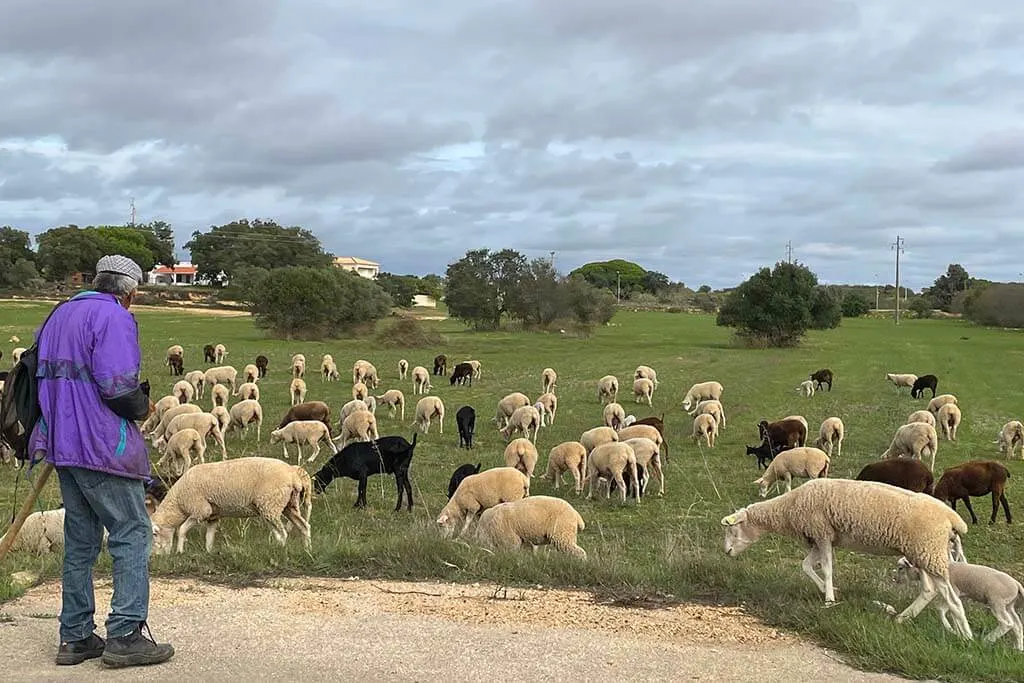 Conclusion
We visit Algarve a lot, in different seasons, and the shoulder season is our favorite time to be in the region.
November is just past the best season, but it's great if you are looking for a quieter vacation and want to experience the more authentic Algarve. It's warm but not too hot and quiet but not deserted.
If you are looking for a beach holiday, then November is not the best month to visit Algarve. If, however, you want to explore the region deeper and don't mind a bit more uncertainty in terms of the weather or a more limited choice of restaurants, then November can be a really nice time to visit.
If there is one tip I can give you is don't worry about the weather when planning your trip. There is no way to predict it anyway. Simply prepare a list of things you want to do and places to see, and then adjust your plans for the day based on the weather you get. There is enough to see and do in any weather – see our list of 'things to do when it rains' for some inspiration.
Have a great trip!
READ ALSO: Algarve Travel Tips
More travel inspiration for the Algarve region:
Top places:
Exploring the coast:
Towns:
If you found this post helpful, don't forget to bookmark it and share it with your friends. Are you on Pinterest? Pin this image!