Ponta da Piedade in Lagos is one of the most beautiful coastal regions in the Algarve region of Portugal and one of the most impressive coastlines in Europe.
With its towering cliffs with hidden grottoes and sea caves surrounded by crystal-clear waters, Ponta da Piedade is one of the absolute must-see places in Algarve.
But what to expect, how to visit, and what exactly is there to see and do at Ponta da Piedade?
In this guide, you can learn about the best things to do at Ponta da Piedade, including boat and kayak tours, viewpoints, but also beaches and restaurants nearby. We also share the best ways to explore this beautiful area and our experience-based tips to help you make the most of your visit.
To help you plan your time, we also included a map and a sample half-day itinerary for your first visit to Ponta da Piedade. Find out!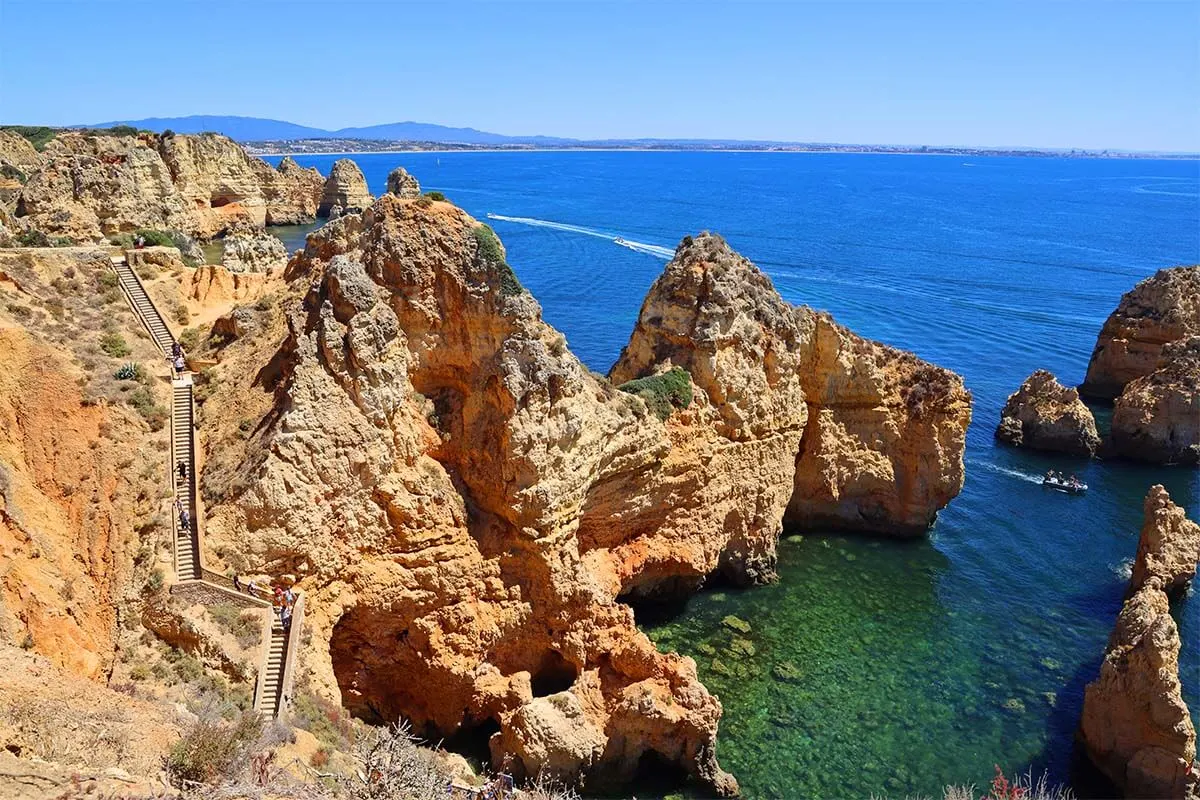 Location & Getting There
Ponta da Piedade is located in Lagos, one of the most beautiful towns in Algarve. The headland is just 2-3 km south of the old town – see the map below for the exact location.
If you want to see the coastline from above, you can visit Ponta da Piedade from the land. In that case, you can get there by car, taxi, bike, tourist train, or on foot from Lagos.
If you decide to walk, count about 35-45 minutes one-way, depending on where exactly you are coming from. It's also a bit uphill – not the easiest or most pleasant walk, definitely if it's warm. Without a car, I'd catch a taxi or get an Uber instead.
Another way to visit Ponta da Piedade is by boat or kayak. In this case, you'll see the sea cliffs from the water. In our opinion, this is even more impressive than just seeing it from land, but we really recommend doing both.
Below, you can find more information on the best ways to visit as well as the best boat tours at Ponta da Piedade. Read on!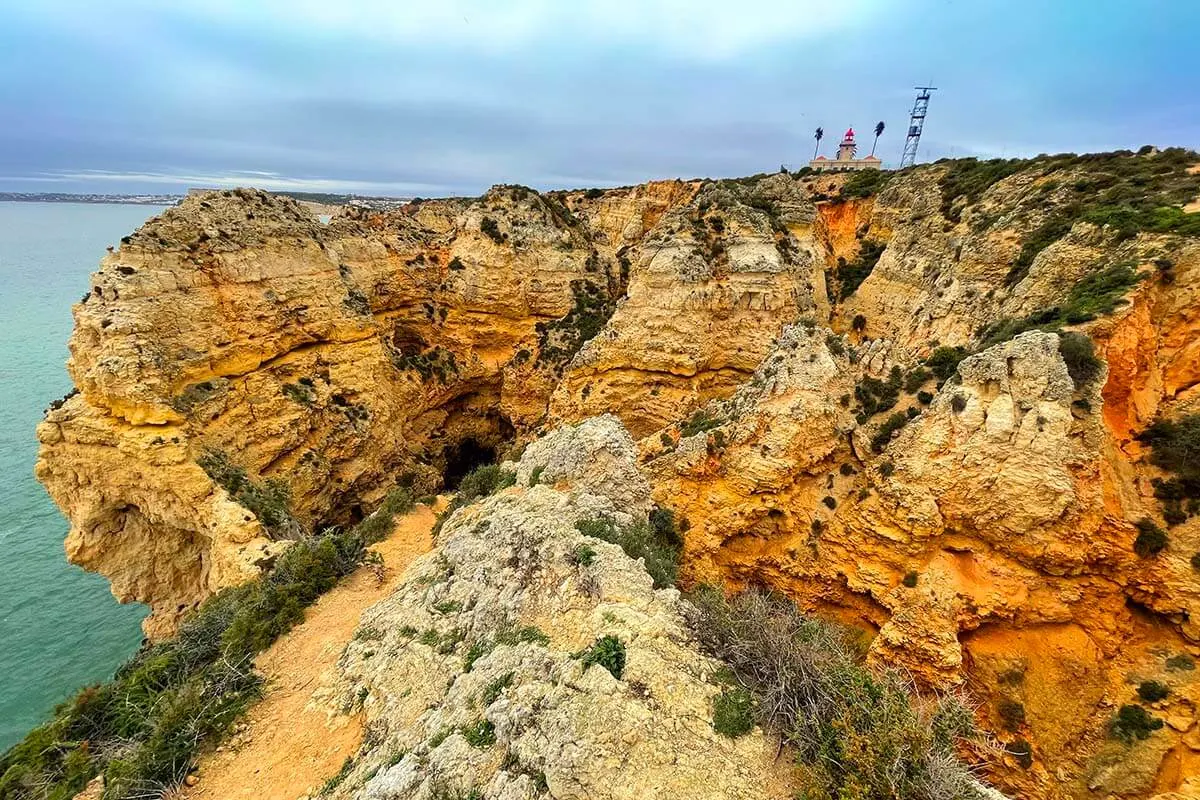 Best Ways to Visit Ponta da Piedade
There are basically three ways to visit Ponta da Piedade: (1) by a small boat which is specifically designed to enter the sea caves in this area, (2) by kayak or by SUP, and (3) by exploring the boardwalks and viewpoints on foot enjoying the views from above.
The highlight of Ponta da Piedade is its dramatic cliffs that plunge into the ocean, creating a remarkable landscape. This area has many sea caves and grottos that you cannot see without going on the water. Therefore, sea conditions and tides permitting, the best way to explore this incredible coastline and enter various sea caves is by boat or kayak.
Good to know: Some bigger boats and catamarans also pass this area on the way to Benagil Cave or Sagres, but they are too big to enter any of the sea caves at Ponta da Piedade. So while you'll see the impressive coastline from a distance, it's really not the same as visiting by a small boat or a kayak.
TIP: Weather- and time permitting, we recommend visiting Ponta da Piedade from land as well as from the sea. It's a totally different experience and you get to see completely different views, so it's really worth doing both.
Whether you opt for a boat or a kayak, that's another story. We did both on two different occasions and loved each experience for different reasons. Below, you can find more information about each option, as well as more info on the other things to do in the area.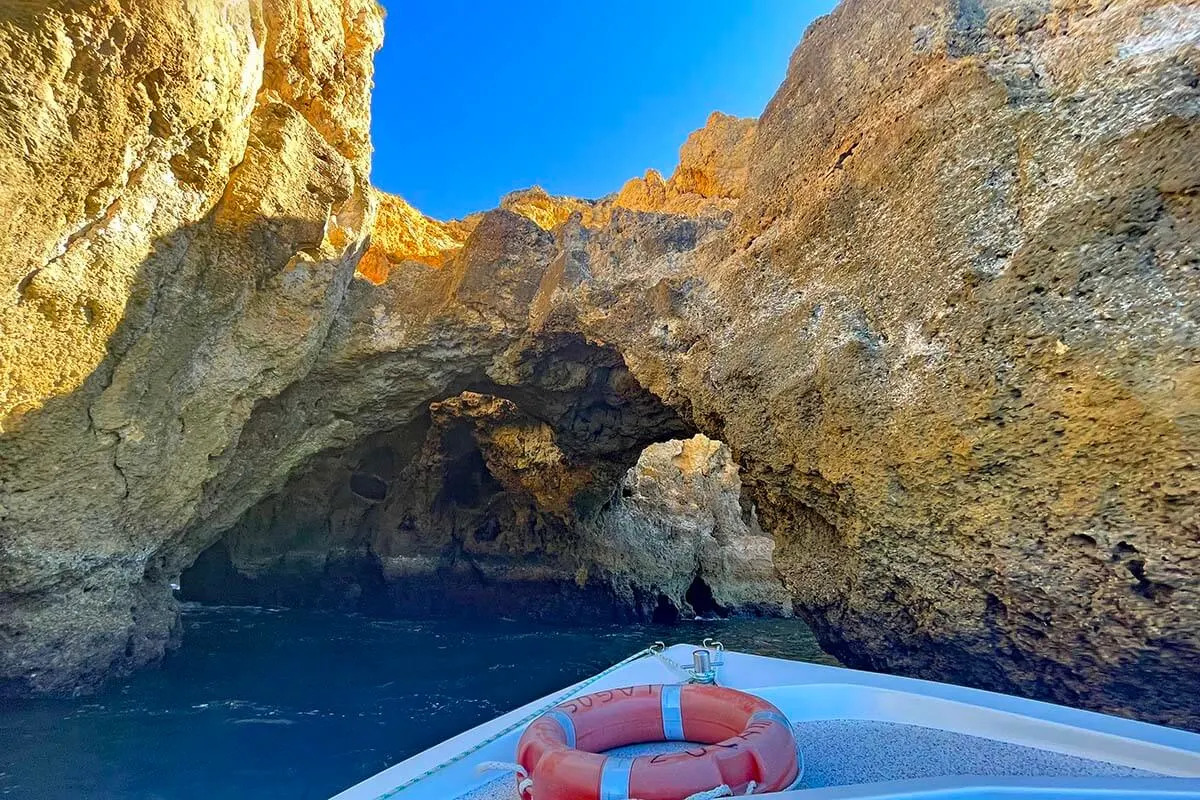 Here are the best things to do at Ponta da Piedade:
1. Kayaking at Ponta da Piedade
Kayaking at Ponta da Piedade is an unforgettable experience and one of the very best ways to explore this stunning coastline.
Here are the main advantages of visiting Ponta da Piedade by kayak:
Sea conditions permitting, you can enter all the sea caves and grottos at Ponta da Piedade.
You can get really close to the cliffs and visit the tiniest grottoes that the boats cannot enter (at certain tides or not at all).
Kayaking is a really fun experience for the whole family. Plus, in the summer, many kayak tours also foresee some time for a swim in the ocean at Ponta da Piedade.
If you are visiting Ponta da Piedade in the warm season, are physically fit, and have 2 hours to spare, I highly recommend kayaking at Ponta da Piedade. It's a wonderful experience and the scenery is stunning!
Important: Be sure to book a kayak tour at least a few days in advance as that's the best way to guarantee that you can go on the day and the time that you want. In the summer, the most popular time slots sell out several days upfront.
TIP: We recommend booking a kayak tour in the morning – as early as possible. First, the ocean is usually calmer making it easier to kayak and enter the sea caves. And second, the earlier you go, the fewer boats there are in the area. In the summer, it gets really busy after 10 am and you'll have to queue in order to enter the sea caves, not even to mention that all the boat traffic makes it more challenging to kayak.
Our experience: We opted for this highly-rated kayak tour starting at Lagos Marina and it was absolutely fantastic. We later did the small-boat tour with the same company and it was excellent too – more info below.
For more tips and info about kayaking at Ponta da Piedade, see our detailed guide via the link below.
LEARN MORE: Kayaking at Ponta da Piedade
2. Ponta da Piedade Grotto Cruises
A grotto cruise on a small boat is another nice way to see the impressive coastline and explore the grottos at Ponta da Piedade.
In terms of the scenery, it's almost as good as kayaking, because the small boats are designed in such a way that they can also enter most of the sea caves at Ponta Piedade. However, a lot also depends on the tide and on the sea conditions, but this will be the same no matter if you are going on a small boat tour or on a kayak.
In addition, there are also several advantages of going by boat vs kayak:
Boat tours are cheaper and take just about 1 hour (vs 2-2.5 hours by kayak).
Everyone can take a boat tour, whereas kayaking is more physically demanding.
You don't need any special clothing or footwear on a boat tour.
It's more relaxing and you can just sit and enjoy the scenery. Plus, you can bring any camera with you and it's easier to take pictures.
Also for boat tours, we highly recommend booking in advance. That way, you can be sure to be able to do the tour on the day and the hour that best suits you.
There are several other companies in Lagos Marina that offer boat tours to Ponta da Piedade – see here. Simply pick a tour that best suits your schedule or has the best price for the day of your visit. There is no difference in terms of what you see and all Ponta da Piedade boat tours will all do their best to show you as many sea caves as possible, depending on the sea conditions on the day of your visit.
Important! Make sure that you choose a small-boat tour as bigger boats will not be able to enter the grottos or go under natural arches, etc.
Our experience: We personally did this highly-rated tour and it was excellent. Very good value price-quality wise as well.
TIP: Early morning is the best time to take a boat tour at Ponta da Piedade. There are fewer boats and kayaks, so it's easier to explore all the sea caves. When we went, the first tour of the day was also slightly cheaper.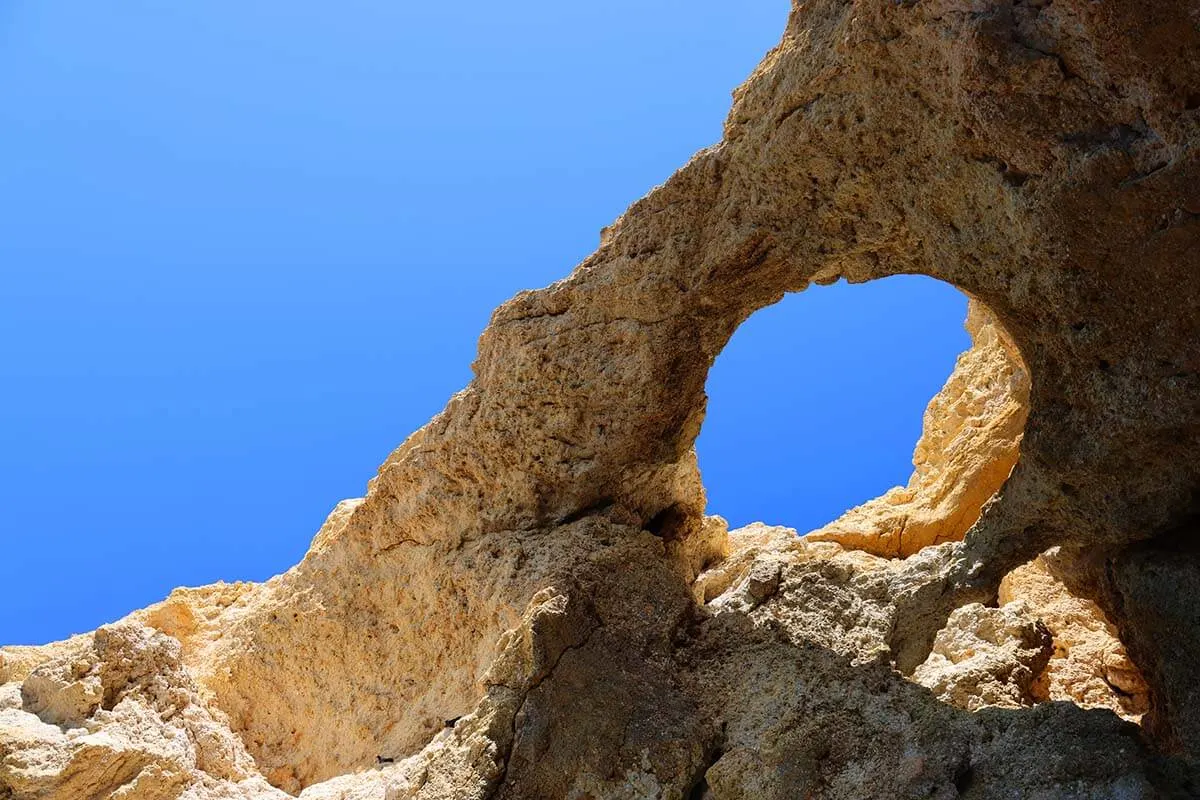 3. Boardwalks & Viewpoints at Ponta Da Piedade Lighthouse
In addition to seeing Ponta da Piedade from the water, we highly recommend driving to the lighthouse – Farol da Ponta da Piedade – and exploring the headland on foot as well.
The lighthouse itself is not open to the public and cannot be visited. But the views from the top are very scenic. You get a very different perspective from here than from the water.
In the past, you could explore Ponta da Piedade via a series of pathways on the cliffs, some really close to the edge. However, the area is very fragile and unstable, and as the number of tourists increased, the city of Lagos decided to take measures to protect the environment and to increase safety.
Nowadays, there are quite a few boardwalks at Ponta da Piedade, and they are currently building several new ones. They are all interconnected and also lead you to some viewing platforms for a better view of the coast.
In all honestly, the views from most of these platforms are not as spectacular as you had in this area in the past. This is because the majority of viewpoints don't go all the way to the edge. They are also not high enough to give you a good elevated view. But I think they did it because of safety concerns. The edges are really unstable and you can even see some places where there has been some rockfall…
Anyway, the nicest view can still be easily seen, and it's safely accessible – see below for more info.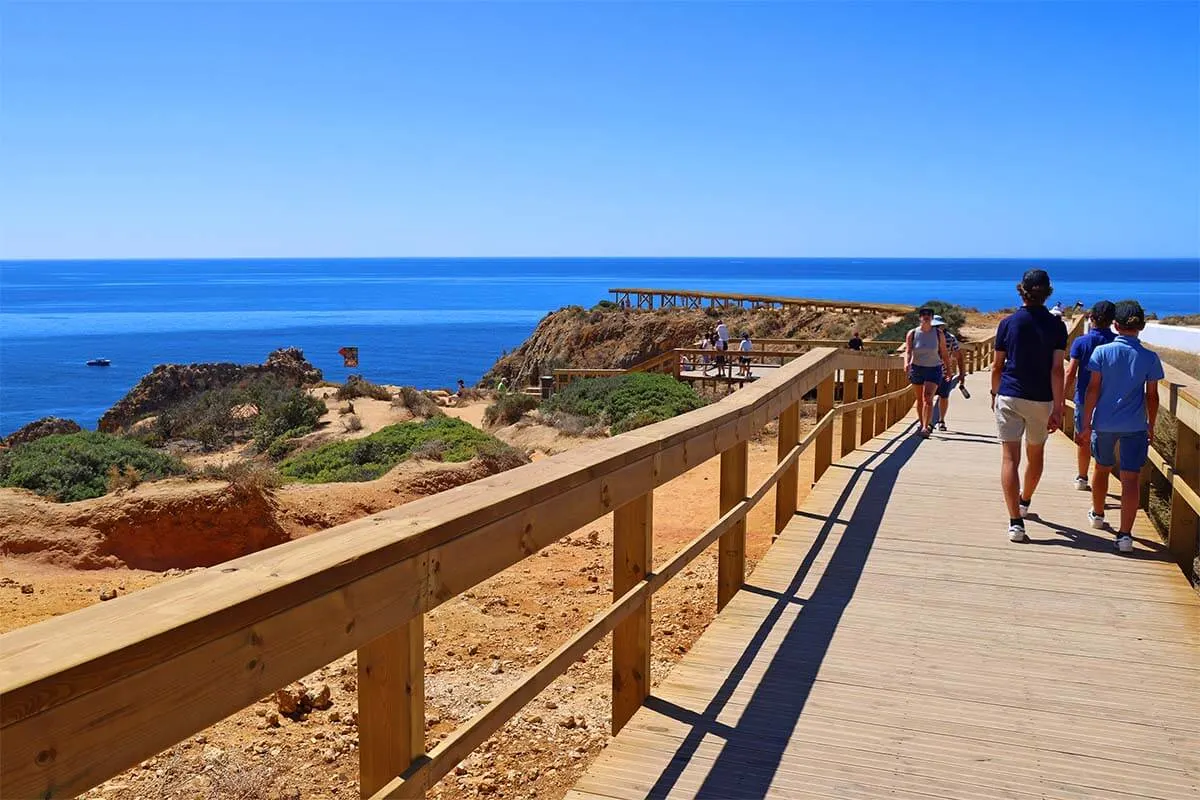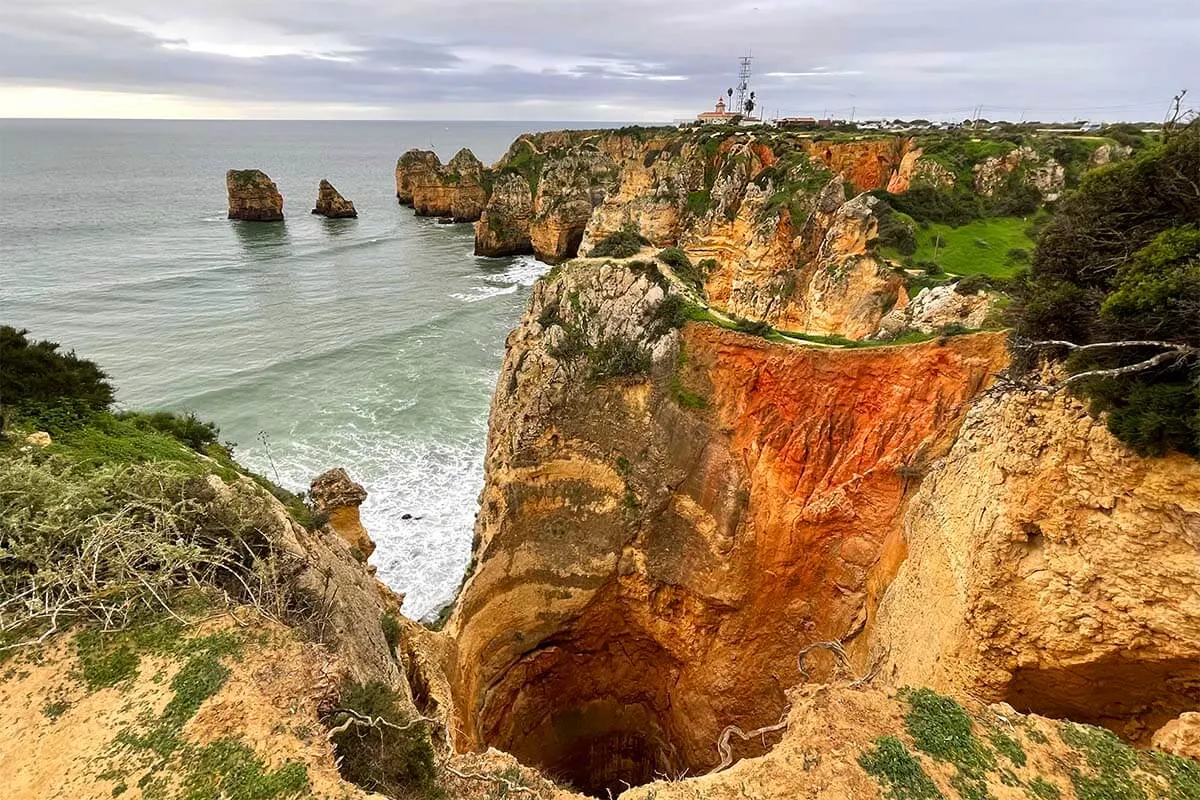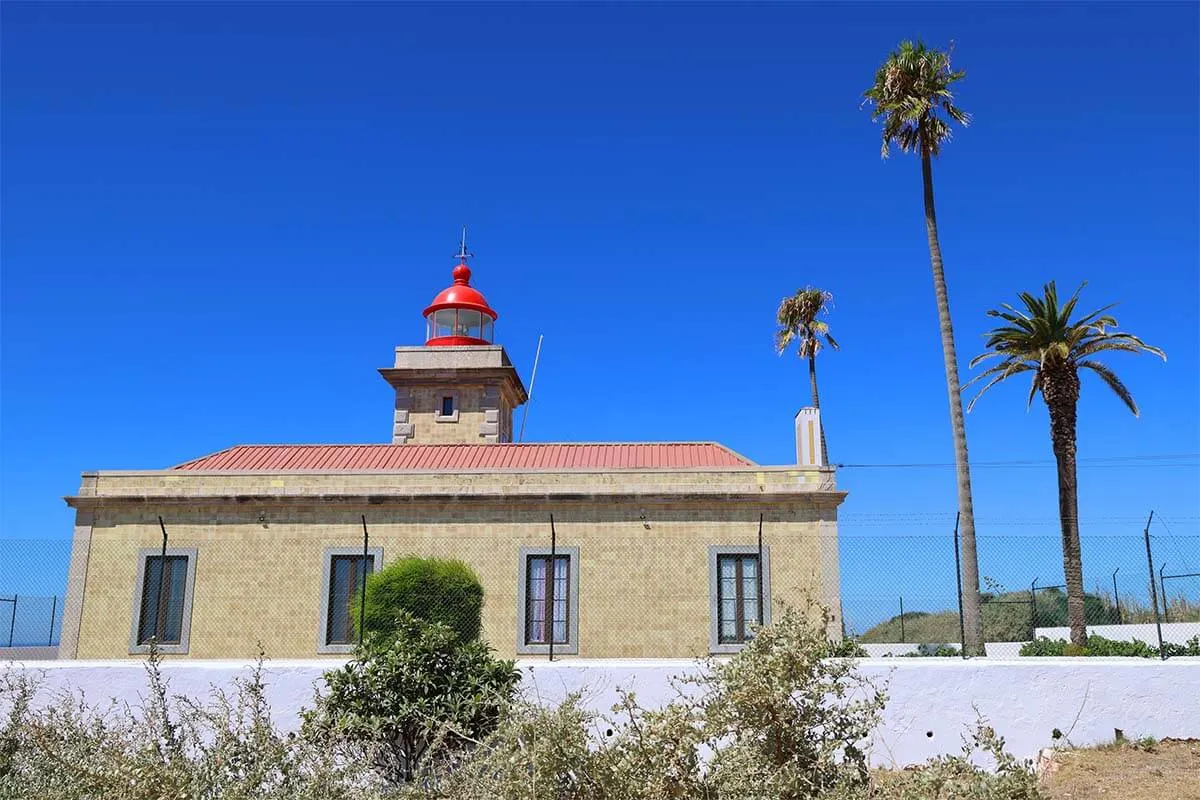 4. Ponta da Piedade Viewpoint
Ponta da Piedade Viewpoint (Miradouro da Ponta da Piedade) is the spot where you can enjoy the most impressive view of the area.
It's indicated on the map under this name and is really easy to find (see also our map further below). As you walk from the car park to the lighthouse, keep left. After you pass the lighthouse, you'll soon see a stone pathway on your left. It leads to a steep stone staircase that takes you all the way down to the sea.
The nicest views of Ponta da Piedade can be enjoyed from this staircase – at the top and about halfway down. If you feel like it, you can also walk all the way down to the water (just remember that you'll have to get back up).
You will see boats and kayaks in the sea here. This is one of the bigger sea caves that you'll also visit if you take any of the boat tours. But this is also the only sea cave that you can actually reach from land. Whereas if you take a boat trip, you'll see many of them – it's simply incomparable.
Good to know: In the high season, there are sometimes little boats waiting for tourists at the bottom of these stairs. They offer to take you on a boat tour of the coastline (pretty much like the tours we described above). This could be a good way to explore the sea caves at Ponta da Piedade if you didn't pre-book a boat or a kayak tour.
However, you never know if there will be any boats here, how much they'll ask, and how long you'll have to wait for the next one. We have visited Ponta da Piedade countless times, and I only saw boats running tours here once – in the middle of the day, on a weekend in August. Also, by the time we were down the stairs, the boat was gone and we saw that several other people were queuing as well.
So while it could be a nice experience, it's so much easier to book a tour starting from Lagos Marina in advance. Not only you can be sure you'll be able to do it and what it costs, but you can also see more of the coastline.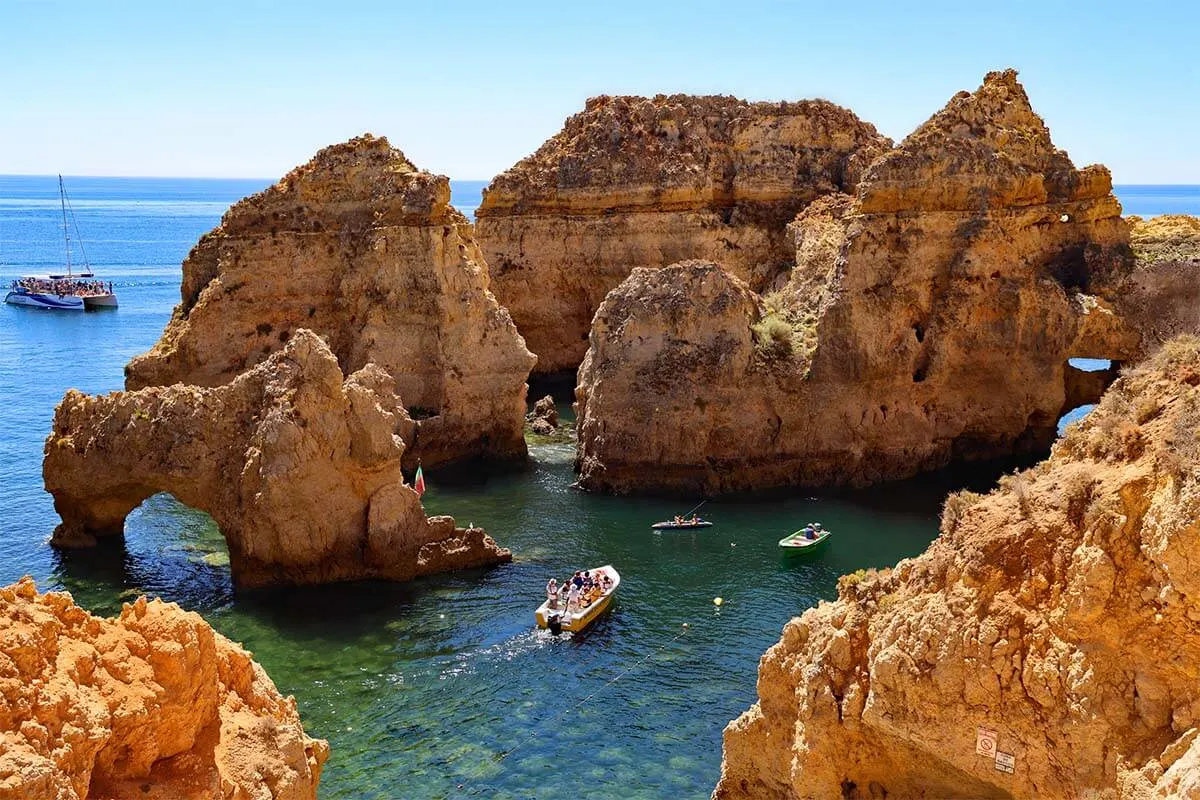 5. Praia do Camilo
There are several beaches at Ponta da Piedade – some more impressive and easier accessible than others. If you visit just one of these beaches, make it Praia do Camilo. It's the most scenic beach in Lagos and one of the most remarkable beaches on the entire Algarve coastline.
Praia do Camilo is located a bit more inland, between the Ponta da Piedade Lighthouse and the city of Lagos. You'll actually pass here on your way to Ponta da Piedade.
Camilo Beach itself can be accessed via a steep wooden staircase behind Camilo Restaurant. You also see a very nice view from the top of the stairs and the viewing areas nearby. But it's also really worth going all the way down to the beach – it's such a beautiful place.
Just keep in mind that the beaches here tend to get very very busy in the summer, and the parking areas are often full too.
TIP: Once you are at Praia do Camilo, look for a small tunnel on your left. It leads you to the second part of the beach, which is just as lovely.
Good to know: You can either leave your car close to Camilo Beach or at Ponta da Piedade and simply walk between the two areas via the boardwalks enjoying the nice views along the way. The walk is about 10 minutes, but you can easily spend half an hour if you take all the detours to each and every viewpoint along the way.
At the moment of the last update in the summer of 2023, there are construction works at Ponta da Piedade parking, and you have to leave your car close to Camilo Beach anyway. There is a big parking on the right side, so no need to try to squeeze into the tiny parking area closer to the beach.
READ ALSO: Most Beautiful Beaches in Algarve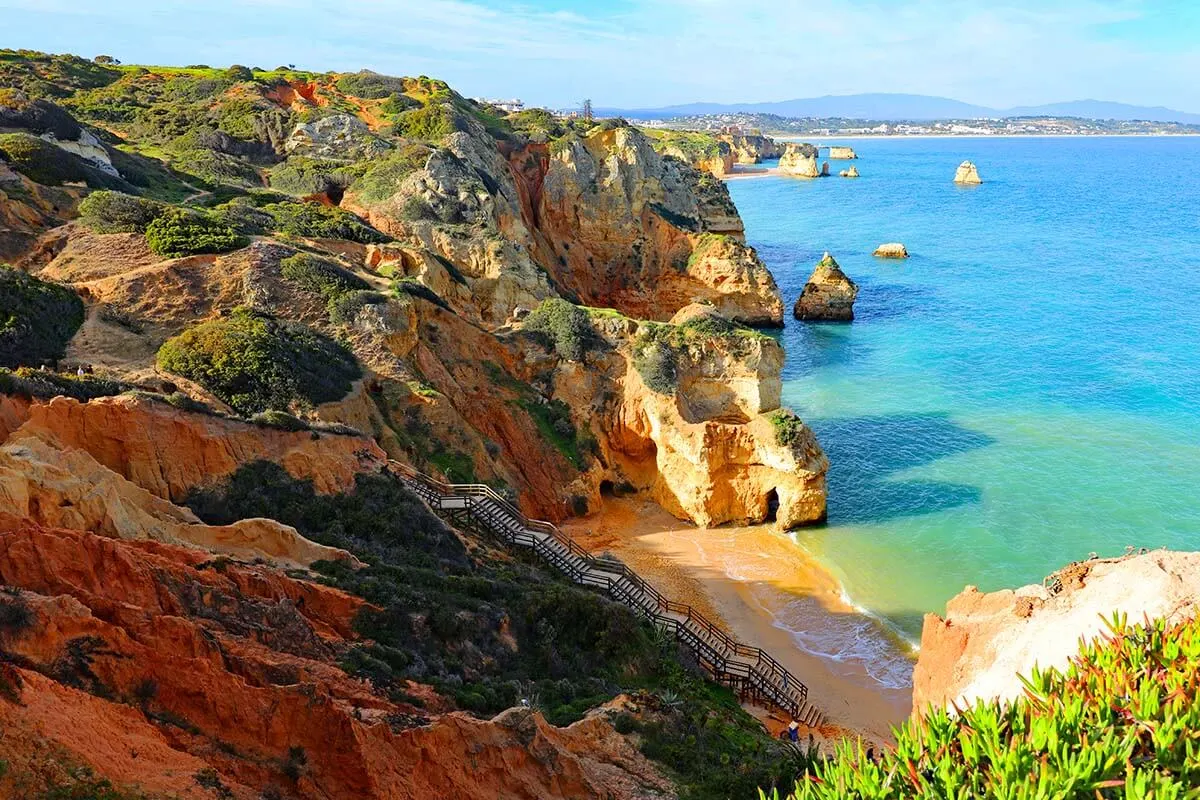 6. Camilo Restaurant
There are several restaurants at/ near Ponta da Piedade. One of the best choices is a Restaurante Camilo located at the top of the cliffs above Camilo Beach. It's been run by the same family for more than 40 years and is a locals' favorite.
If you are looking for a nice place for lunch or dinner with sea views, Camilo Restaurant is a wonderful choice. They serve fresh fish and seafood, but there are other options too. You can also choose fresh seafood at the fish stand and they prepare it to your liking.
The prices are very reasonable too, especially for the location and the quality that you get.
Locals recommended this restaurant during our Ponta da Piedade kayak tour, so next time we were in Lagos, we booked it for lunch. We were here with a big family and everyone loved it.
TIP: Book a table in advance, especially in the high season. If you didn't book, you can always try on the day itself, but the chances of finding a table at the most popular times are very low. Alternatively, you can get a drink at their bar.
There is now also a new restaurant just nearby, Monte Mar Lagos. It's actually a bit closer to Ponta da Piedade. The reviews look good, but we haven't tried it yet, so I cannot comment on how it is.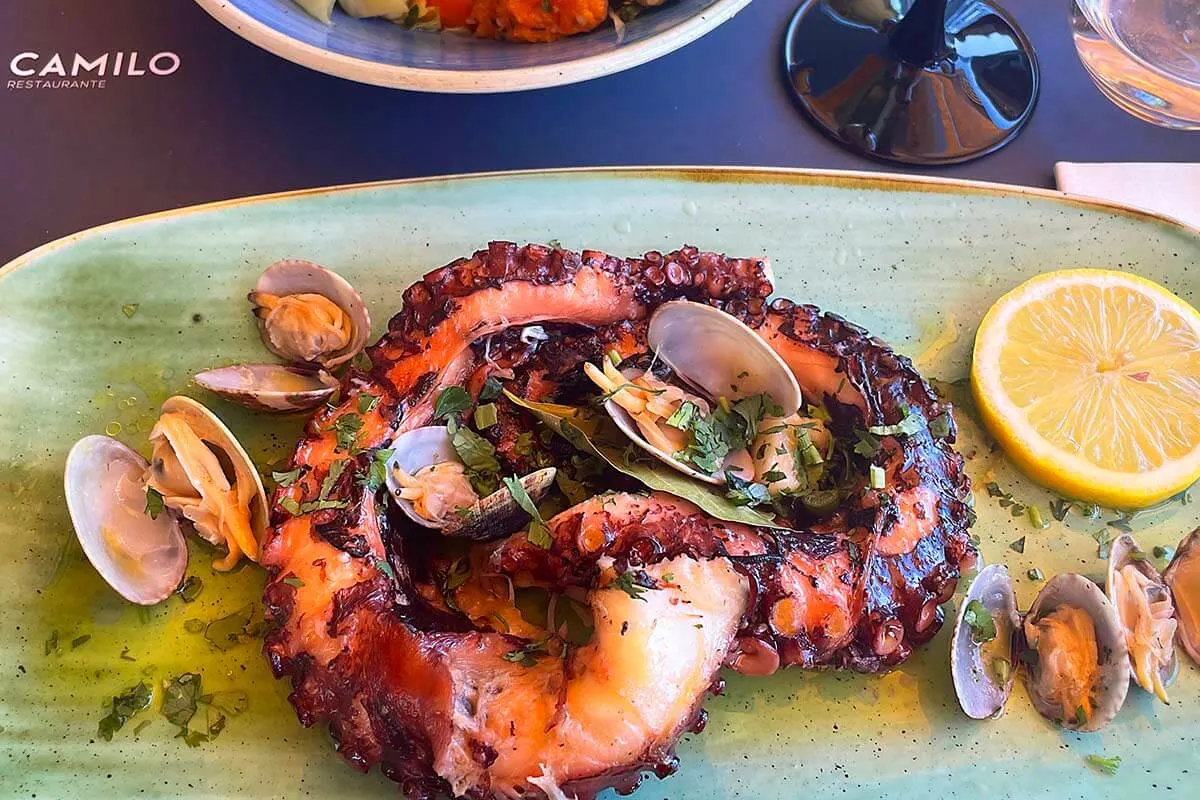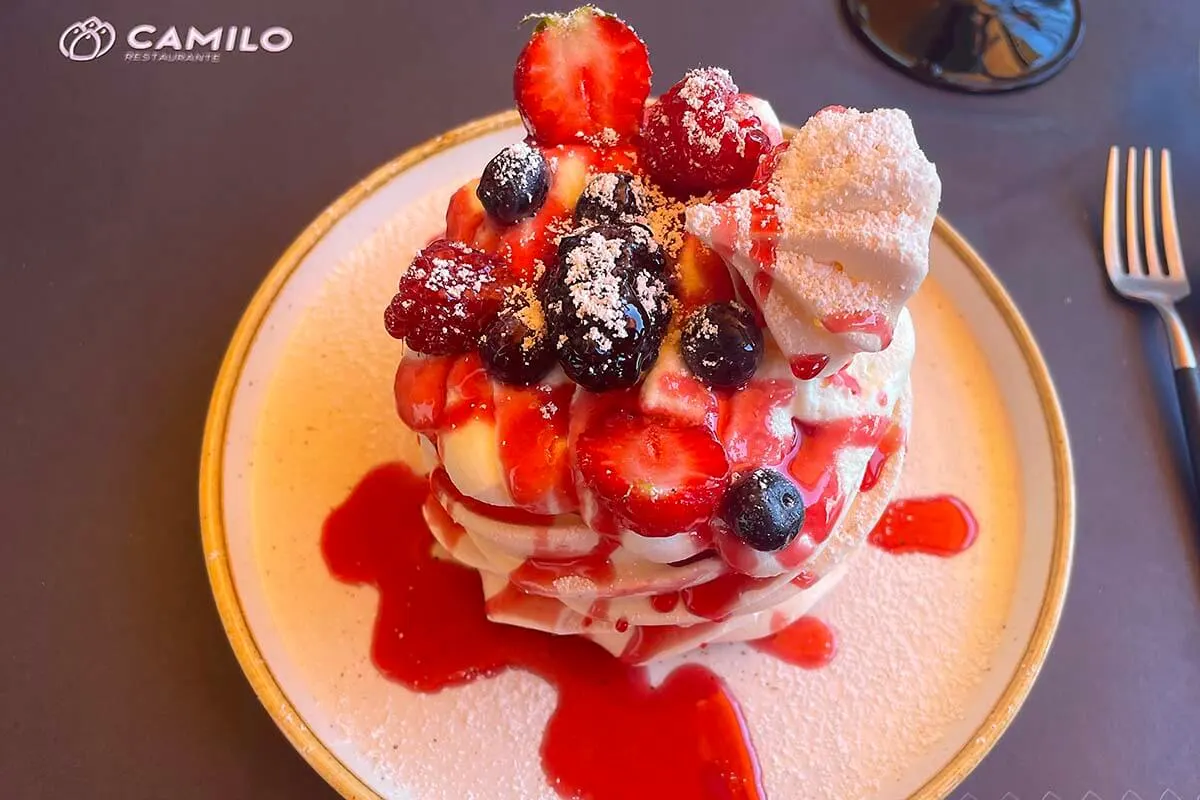 Ponta da Piedade – Lagos Itinerary
Whether you are visiting Ponta da Piedade as part of a road trip in Algarve, or are coming here for a (half) day, be sure to also plan some time to explore Lagos. If you just want to walk around, you don't need more than an hour, but if you also want to visit a few museums, a market, or have lunch, etc. you may want to plan 2-3 hours in town.
Here is our recommended itinerary that will give you an idea of how you could plan your time:
Early morning: Boat tour to Ponta da Piedade. We recommend booking the earliest possible time slot – see here what's available for your travel dates. If you take a boat tour at around 9 am, you'll be back in Lagos Marina at around 10-10.15 am.
10 – 11.30 am. Explore Lagos old town. From Marina, walk over the pedestrian bridge to the waterfront area, visit the market, walk around the city center, and visit Lagos Museum (from which you can access the beautiful Igreja de Santo António church). See our guide to the best things to do in Lagos for more information.
Noon: Make your way to Camilo Beach (by car, taxi, tourist train, or on foot), visit the beach, and have lunch at Camilo Restaurant.
Early afternoon: Explore Ponta da Piedade on foot. Count at least half an hour for a visit. If you have more time, you can also check out Praia Dona Ana, another very scenic beach just nearby.
Good to know: Use this itinerary just as an indication of what can be done and adjust as needed. For example, if you take a kayak tour instead of a boat tour, it will likely be around 11 – 11.30 am by the time you are back in town.
If you are planning on visiting more museums in Lagos, you may want to foresee a bit more time, you can also have lunch in town and go to Ponta da Piedade after lunch or even in the afternoon. It's beautiful at sunset as well.
Or you can just take a boat tour, quickly visit the town in an hour, explore Ponta da Piedade and Camilo Beach, and be done by noon. It really depends on your travel style, interests, and how much time you have.
READ ALSO: Best Things to Do in Lagos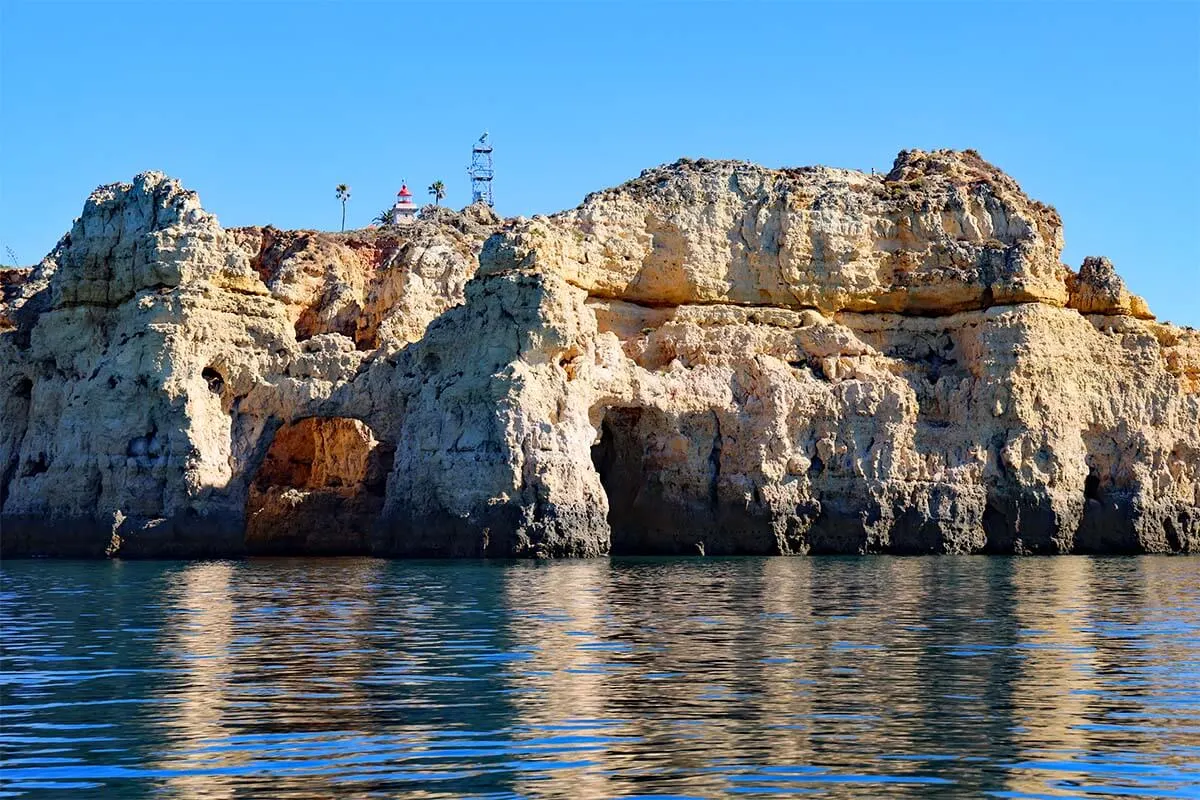 Map
All the places mentioned in this guide are really close to each other and are very easy to find.
Nevertheless, here is a map indicating the exact locations of all the places we mentioned. This will give you a better idea of how it all fits together.
Further below, you can find some practical tips for your visit to Ponta da Piedade – read on!
How to use this map: Use your computer mouse (or fingers) to zoom in or out. Click on the icons to get more information about each place. Click the arrow on the top left corner for the index. Click the star next to the map's title to add it to your Google Maps account. To view the saved map on your smartphone or PC, open Google Maps, click the menu and go to 'Your Places'/'Maps'. If you want to print the map or see it in a bigger window, click on 'View larger map' in the top right corner.
Tips for Visiting Ponta da Piedade
Best time to visit. The best time for sightseeing anywhere on the Algarve coast is during the shoulder seasons of spring (March to May) and fall (September to November). The weather is pleasant and the crowds are thinner. Summer (June to August) can be quite busy, so aim to arrive early in the day or later in the afternoon to avoid peak crowds and the scorching midday sun.
Early morning is best for boat tours and sunset is the best time for the viewpoints. So if you are staying nearby, you may want to come (back) in the evening too. But Ponta da Piedade is worth a visit at any time of day and in any season.
By boat or on foot? As already mentioned, the stunning scenery at Ponta da Piedade is best appreciated from the water and from land. So try to do both. If, however, you only have the time to do one, we find that it's more impressive to explore the sea caves and see the steep cliffs from the sea.
Respect the natural environment by staying on designated paths. The area is really fragile.
Bring some cash to tip your guides if you are taking a boat/kayak tour.
Wear comfortable shoes for visiting Ponta da Piedade. In the summer, you'll definitely need a sunhat as well. In the colder season, it can be quite windy here, so dress accordingly. You may also want to bring some water with you, especially if visiting in the summer.
Don't forget your camera! If you are going kayaking, bring a smartphone and a waterproof bag for your phone. If you are taking a boat tour, you may want to bring a wide-angle lens as well. Take a look at our travel photography tips for some simple tips for better photos.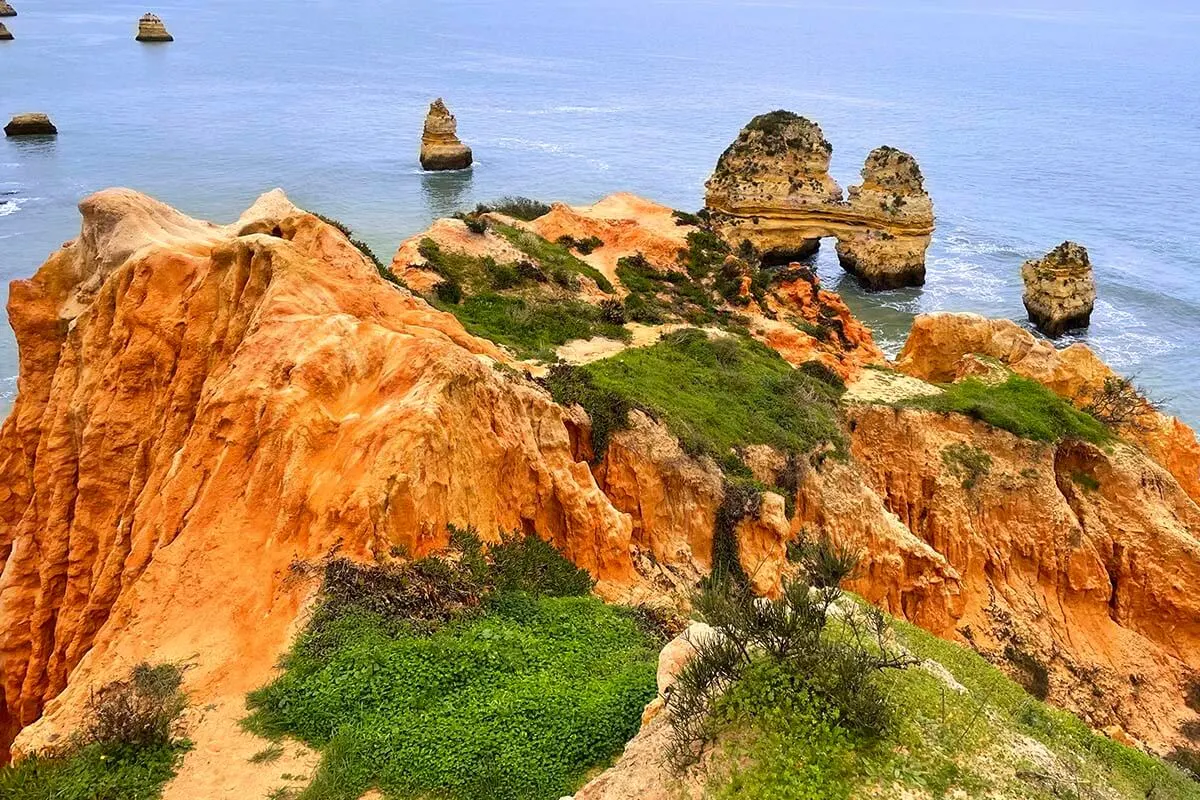 So, this is our guide to Ponta da Piedade. I hope that it gives you a better idea of what to expect and helps you plan an unforgettable visit.
Have a great trip!
TIP: If you are looking for more information for your trip, take a look at our Portugal travel guide for more inspiration and useful tips. We go to Portugal and especially Algarve quite often and have many guides to help you plan your trip. See also several highlighted articles via the links below!
More inspiration and tips for your trip to Algarve:
If you found this post helpful, don't forget to bookmark it and share it with your friends. Are you on Pinterest? Pin this image!