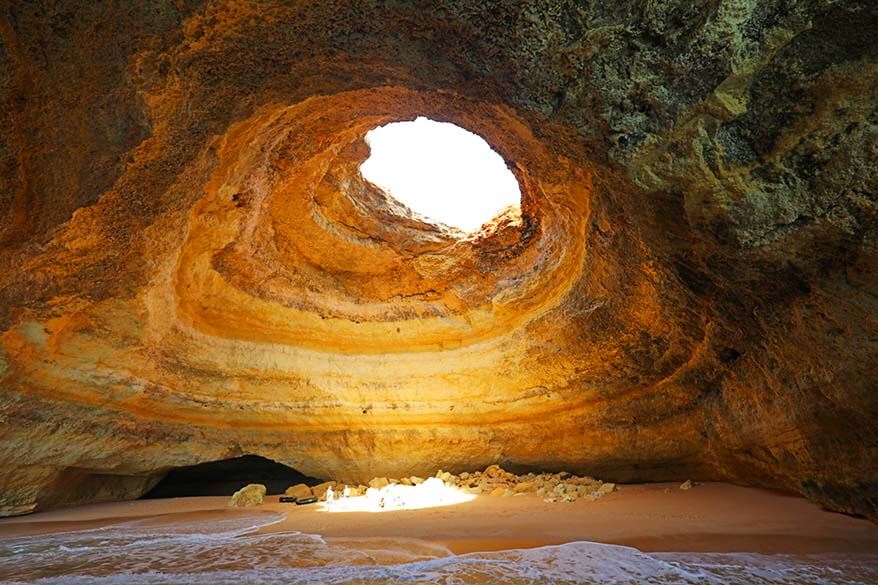 Are you planning to visit the Benagil Cave in Algarve, Portugal, and looking for information and tips on how to do it? This article is for you!
In this post, we cover all you need to know about how to see the Benagil Cave in Portugal: where it is, how to get there, tips for best tours, and also our personal experience with visiting Benagil Cave. I also included the map of the area and some practical tips to help you plan your trip. Read on!
We only had two days in Algarve during our recent Portugal stopover. So because our time was very limited, we had to be very selective in what to see and do. On this first-time visit, we wanted to see the very best that Algarve has to offer.
After some research, we chose several of the very best beaches in Algarve and when we stumbled upon a picture of the Benagil cave, we just knew we had to see it as well!
If there is one thing you must do in Algarve is take a boat tour to see the amazing sea caves in Cabo Carvoeiro area! Benagil Cave is just one of them.
Benagil cave, also known as Algar de Benagil, is probably the most famous of all the sea caves of Algarve. And yes, it is as beautiful as it looks in the pictures. However, there is so much more to see along the coast of Algarve than just the Benagil sea cave – the whole coastline is beautiful and it's full of stunning sea caves.
TIP: One of the best ways to see the most beautiful Algarve sea caves, including the Benagil Cave, is to take a boat tour. We took and recommend this highly-rated boat tour. You can read about our experience further below.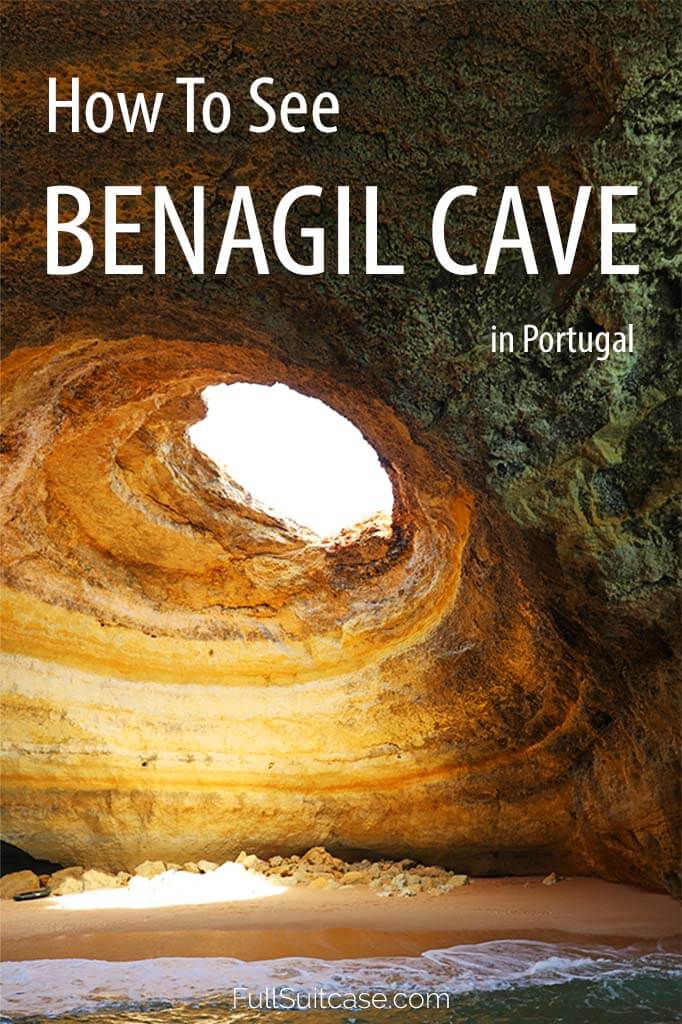 Where is Benagil Cave in Portugal
Benagil cave, Grutas de Benagil, is located next to Praia de Benagil (Benagil Beach), between Portimao, Albufeira, and Lagoa. See the map below for the exact location.
How to Use This Map: Use your computer mouse (or fingers) to zoom in or out. Click on the icons to get more information about each place. Click the arrow on the left top corner for the index. Click the star next to the title of the map to add this map to your Google Maps account. To view the saved map on your smartphone or PC, open Google Maps, click the menu button, and go to 'Your Places'/'Maps'.
How to get to Benagil sea cave
While it's located just around the corner from the nearby Benagil beach (Praia de Benagil), the Benagil cave can only be reached via the sea. You can drive to the top of the cave and walk up to the hole in the ceiling of the Benagil cave and see it from above, but there is no way to get inside the Benagil Cave itself on foot.
To get to the Benagil cave you have to either swim (beware that the ocean is rough and even the best swimmers should be careful), kayak, or take a boat tour.
Boats don't really stay inside any of the caves longer than a few minutes and leave to make place for the others. Therefore I would advise going as early in the morning as possible.
We couldn't believe the number of boats that were queuing to enter the Benagil cave when we left. There was just one other boat when we arrived there; where did they all come from all of a sudden?!
Good to know: We were told that it is now forbidden to disembark in the Benagil cave if you come by boat, even though a lot of people who come there with their own boat still do so. If you want to walk inside the caven it's probably best to go there by kayak or by paddle-board – that way you can also get out of the boat and walk inside the Benagil caves.
TIP: Beware that the sea can be very rough and so it's best to go with an organized kayak tour or with an organized paddle-board tour.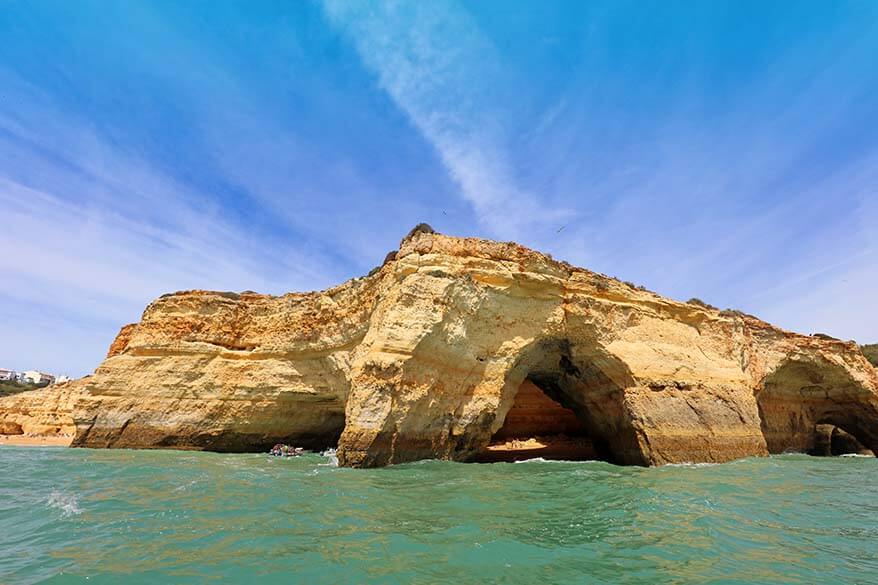 Benagil Cave boat tour – the best way to see the Algarve coastline
One of the best ways to get to the Benagil sea cave is by joining the Benagil caves boat tour. There are many companies running boat tours in Algarve and especially in high season, you'll probably be able to find a boat going to Benagil cave in every village nearby.
It's hard to say which tours are best and what exactly they offer and a lot depends on where you get on the boat – the more coastline you cover, the more sea caves you'll see. We noticed that the closer we got to the Benagil cave, the more boats we met. So it seems that no matter which Algarve sea cave tour you are on in Portimao – Albufeira area, Benagil cave is always on the itinerary.
We chose this highly rated boat tour departing from Portimao because it not only gave us a possibility to visit the famous Benagil Cave, but also see the whole beautiful coastline on the way to it. We also read that this particular stretch of Algarve coast between Portimão and Armação de Pêra is the most beautiful part and most worthy to see from the boat.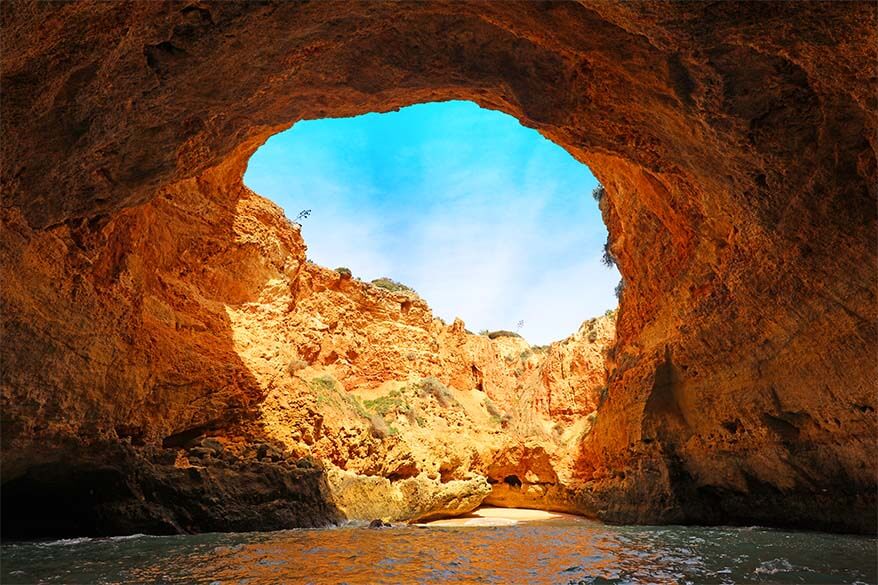 We saw the coastline between Portimão and Praia de Benagil, whereas boat tours starting in Albufeira visit the other side – between Albufeira and Benagil. Judging from the customer reviews, both sides are probably just as nice.
As our guide said before we departed, you'll see so many beautiful villages and so many stunning sea caves, that Benagil cave is just a cherry on the cake. And it's true – the scenery along the coast and the many sea caves near Cabo Carvoeiro are simply stunning.
There is always a possibility that due to rough sea conditions the boats can't enter one or the other cave. Benagil cave is not always accessible either. However, it doesn't even matter and don't think you missed much if you can't enter the Benagil Cave due to very rough conditions. You'll see so many other beautiful places and sea caves that it's always worth a trip anyway.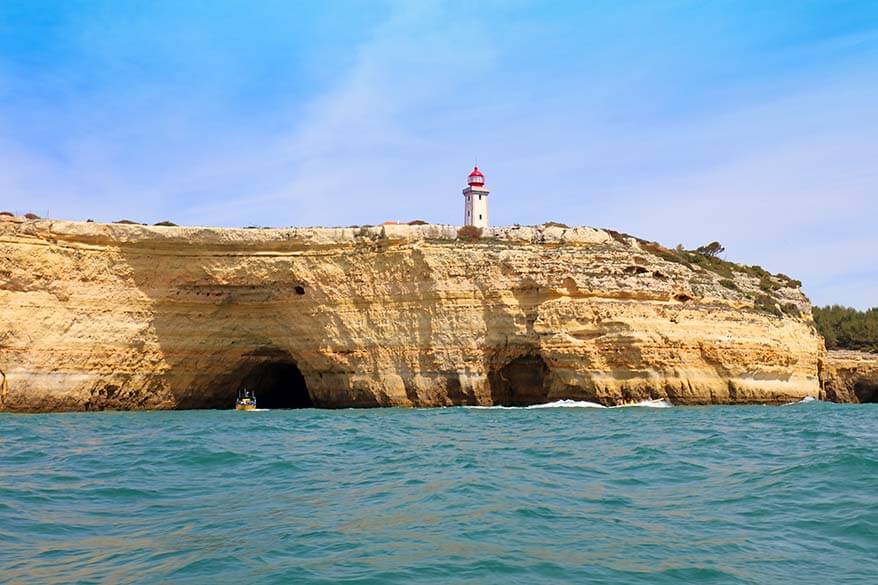 Our experience with the Benagil Cave boat tour
As I said, we took this highly-rated small boat tour on a speed boat departing from Portimao. The whole trip was just a sequence of one highlight after another.
There were just 12 people on the boat and everybody was super excited and mesmerized by the beauty of the places that we visited.
The sea was quite rough on the day we did this boat tour (we were in Algarve in April) and we were happy to be on a small speed boat. These boats go faster, you never get seasick in them, and they also have much bigger chances to be able to enter the sea caves.
We visited so many sea caves that I lost the count of them all. Despite the rough sea, we could enter every single one of them. Our guide was extremely well trained and he made sure that we had a safe ride with lots of thrills along the way. He also told us a lot about the places that we saw and gave quite some tips on the best places to visit along the Algarve coast by car afterwards.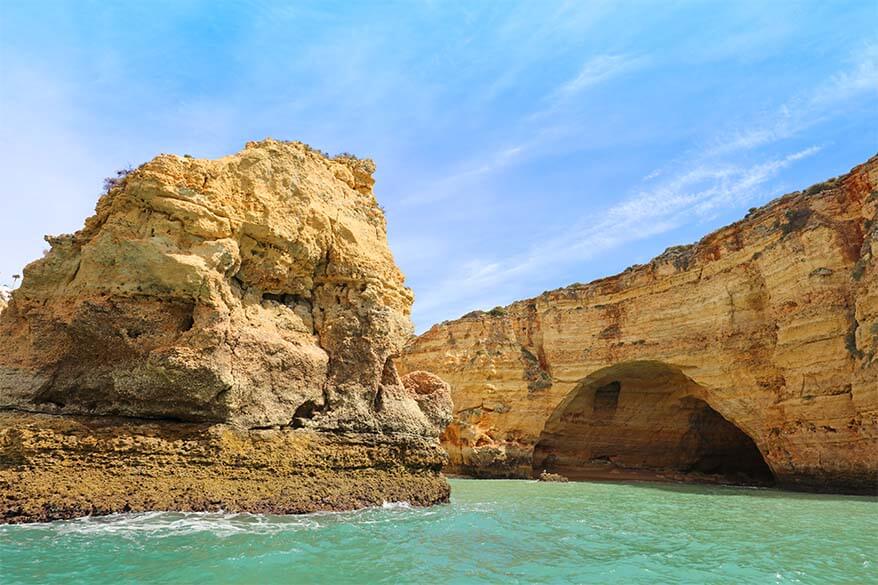 Benagil Cave boat tour with kids
We did the Benagil cave boat tour in Algarve with our three kids (ages 7, 7, and 9) and at first, we were a bit worried that they might get bored. But the kids were all just as excited as we were!
All three boys loved the fast and bumpy boat ride and were super excited about the boat entering the caves and passing through the narrow openings in the rocks. None of them got bored and they kept on saying that this was the best boat ride ever. In fact, they loved it so much that a few days later we did a whale watching tour in Madeira with a speed boat as well.
From what I see, there is no age limit for kids on this tour, so it's a fun activity that the whole family can enjoy together.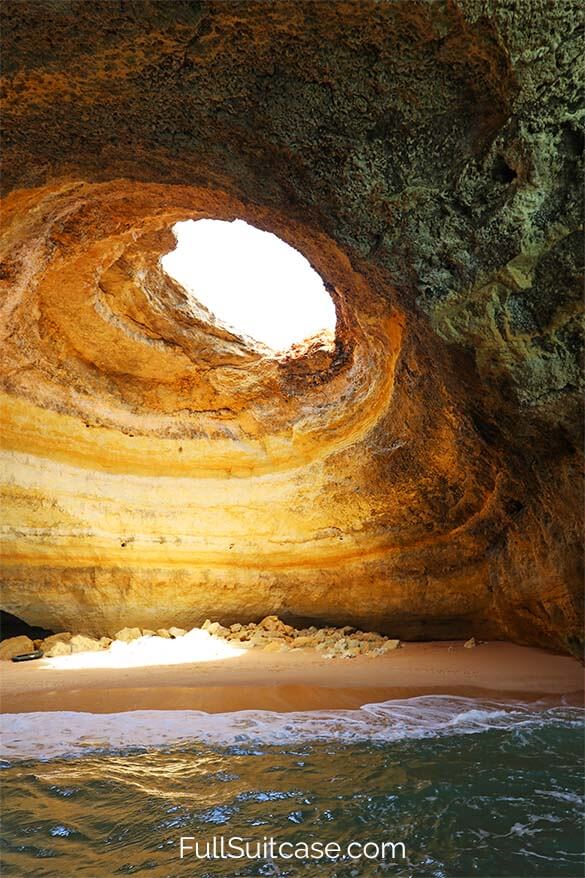 Is it possible to visit Benagil Cave from Lagos?
The best way to get to Benagil Cave is by taking a boat tour from Portimao or Albufeira – the two biggest towns nearby. However, it's also possible to visit the cave from Lagos. It's a bit further and boat tours take just a little bit longer (and cost a bit more), but it's definitely possible.
The price difference is just 5-10 EUR, so it's not worth taking a car to Portimao first. If you are staying in Lagos, just take a boat tour to Benagil cave from there.
TIP: Here you can find the best Benagil cave tours from Lagos.
Practical information for visiting Benagil Cave
If you want to see Benagil Cave from above, you can do it by yourself, no need to take a tour. But if you want to see it from the inside, it's best to take a boat or a kayak. While swimming is theoretically possible, I really wouldn't advise it.
Most Benagil cave boat tours take 2 to 3 hours and cost around 30-40 EUR/pp (price varies depending on the season, duration of the tour, size of the boat, etc.). You can find and book Benagil cave tours here.
Make sure to do your research and book a small boat tour. Smaller boats have fewer people, they go faster, and they can enter the caves easier.
If you are traveling in summer and have plenty of time, consider a kayaking tour.
Go early in the morning for fewer crowds.
In summer, some tours also offer an option to swim, so you may want to wear your swimsuit and take a towel.
Don't forget sunscreen lotion. We didn't think to apply any as it was a rather grey and cool spring day and we all got red noses in just two hours.
There are many more possibilities to explore the Algarve coastline by boat: kayak trips, a combination of sea caves and dolphin watching, etc. Here you can find the best deals for Algarve boat tours departing from many different towns.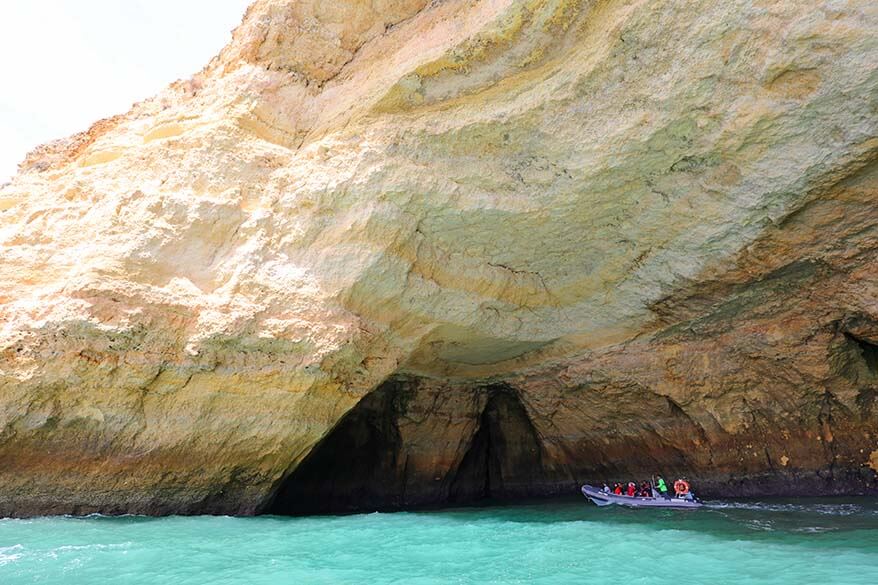 Taking the boat tour to Benagil cave was one of the absolute highlights of our short trip to Algarve. Whether you are in Algarve for just a day or a week, seeing the sea caves and the beautiful coastline from the water is really a must. Highly recommended!
READ ALSO: Best Beaches in Algarve
Benagil Cave FAQ
How do you get into Benagil Cave?
The best way to get inside Benagil Cave is by taking a boat tour from one of the nearby towns. Kayaking from one of the nearby beaches is also a good option if the waves are not too high. We do not recommend swimming into the caves unless you are a very good swimmer and the sea is exceptionally calm.
Can you walk to Benagil Cave?
There is a big hole at the top of the Benagil Cave and it's possible to walk to that hole from the shore. You cannot access the cave itself on foot, but you can see the cave via this hole from above. Just be careful!
Where is Benagil Cave?
Benagil Cave is located in Algarve, Portugal, along the coast between the towns of Portimao and Albufeira. The closest beaches near Benagil Caves are Praia de Benagil and Praia da Corredoura.
When is Benagil Cave open?
Benagil Cave has no opening hours and is always open. However, depending on the sea conditions and the wind, sometimes it's very difficult to enter the caves via the small opening. So it does happen that boats cannot get inside the cave and that you cannot visit, but that is normally difficult to predict in advance.
When is the best time to visit Benagil Cave?
Depending on the weather and sea conditions, Benagil Cave can be visited the whole year and in all seasons. The best time to come is when the sea is calm and there are few boats/people. For that, it's best to go very early in the morning or very late in the afternoon.
READ ALSO: Best Things to Do in Lisbon – complete guide, with all the must-sees, best viewpoints, and some really cool suggestions by an insider. Check it out!
If you found this post useful, don't forget to bookmark it and share it with your friends. Are you on Pinterest? Pin this image!