Are you thinking of visiting Portugal in April and wondering what it's like? We have been to Portugal in April several times, both on the mainland and also on Madeira Island. In this article, we share our experience and tips for your visit.
What to expect, where to go, and what to know when planning a trip to Portugal in April. Find out!
Weather
Portugal has relatively mild winters and hot summers. Spring is a shoulder season and is a great time to visit!
In April, average daytime temperatures in Portugal are around 18-20°C (65-68°F). Rain isn't uncommon, but mostly, you can expect beautiful sunny skies. Sometimes temperatures rise to summer-like 25°C (77°F), which is almost too warm for exploring the cities.
Our experience: We visited Portugal in April several times. During one of those trips, in the first half of April, we had sunshine for 10 days non-stop, and it was warm enough to wear t-shirts and shorts.
Another time, in the middle of April, we had a bit colder weather and it rained once or twice over the course of two weeks. Usually, we needed a sweater during the day and even a rain jacket on a few occasions in the evening.
Yet another time, we spent several weeks in the Algarve region in April and we only wore a sweater twice. The kids even went swimming in the sea several times.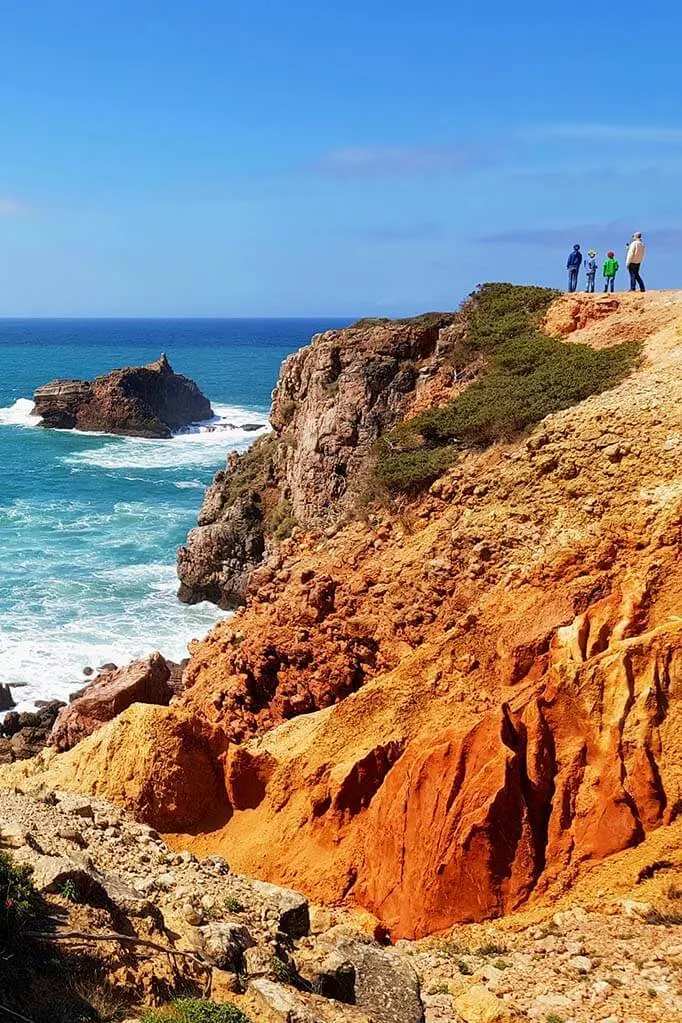 Best Places to Visit
The whole of Portugal can be visited in the spring, however, some places are nicer this time of the year than others.
When traveling in April, you can't go wrong with Portuguese cities and towns. Lisbon, Porto, Coimbra, and also smaller towns like Sintra, Evora, or Obidos are all great this time of the year. Everything is open, it's not too hot for sightseeing, there are fewer tourists, and there are also all kinds of local events.
Spring is also a wonderful time to visit the famous monasteries of central Portugal. Alcobaca, Batalha, but also Tomar and Fatima are all worth a visit. What's great is that the monasteries are very quiet and you can truly appreciate these architectural masterpieces. We were told that it might get busy around Easter, so check if there's anything special going on. However, we were there just before Easter and there were hardly any tourists at all.
April is also a great time to visit parks and forests, with so many flowering plants everywhere. Don't miss the gardens of the Sintra castles and Mata du Busssaco in Luso.
The weather is also usually pleasant for exploring the beaches of Algarve or the Alentejo coastline. However, it's often still a bit too cold for swimming and beach activities. But there are many warm days and so most waterparks in the Algarve region open for the season in April already.
Good to know: April is not the best time to visit the vineyards of Douro in Northern Portugal. Most vines are still leafless and the whole area looks very dry and brown after the winter. The views and the scenery are still impressive but don't expect the beautiful green vineyards that you see in the travel brochures.
READ ALSO:
Best day trips from Lisbon (most are perfectly doable in April!)
Sintra Itinerary & Tips for Your Visit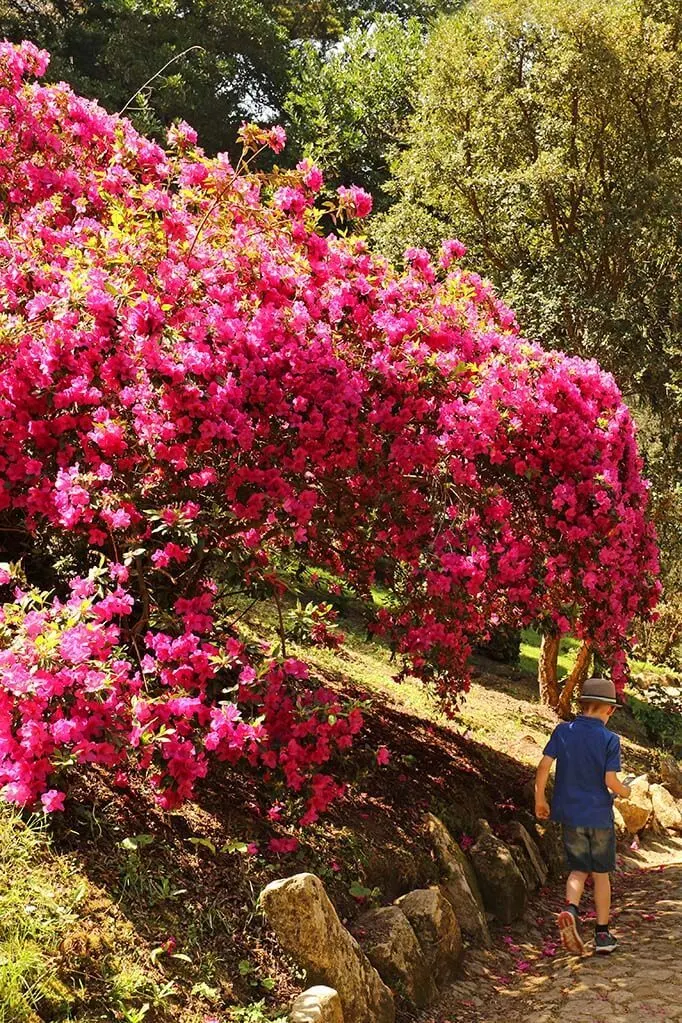 Advantages of Visiting in April
There are several advantages of visiting Portugal in April, and here are the main ones:
There are fewer tourists. April is still a relatively quiet season for tourists in Portugal, and even the most popular landmarks are not too busy yet. Lisbon, Sintra, and Porto are already quite lively at this time of the year, but everywhere else, it's still very quiet.
Flowers. Lots of plants are blooming at this time of the year, so spring is a really nice season to visit Portugal. All over the country, there are flowers, bushes, and trees blooming already.
It's cheaper. Portugal is already one of the most budget-friendly destinations in Europe, but if you visit during the shoulder season, it's even more affordable. It's quite easy to find really good deals for car rental. Also accommodations, especially outside the most popular areas, are quite affordable this time of the year.
Almost everything is open. While this is not an issue in bigger towns any time of the year, many seasonal businesses – especially at the coast – close for the winter. April is the start of the summer season in Portugal when those places start to open up. Even some of the best water parks in Algarve are already open in April.
Perfect weather for sightseeing. If you visit Portugal in order to explore the country and not for its beaches, then April is a wonderful time for that. In summer, it's really too hot to explore cities, whereas spring temperatures are ideal for sightseeing.
All this makes Portugal a great spring break destination in Europe. It's not as busy, not as hot, and not as expensive as in the summer – a perfect combination for families.
READ ALSO: Portugal with Kids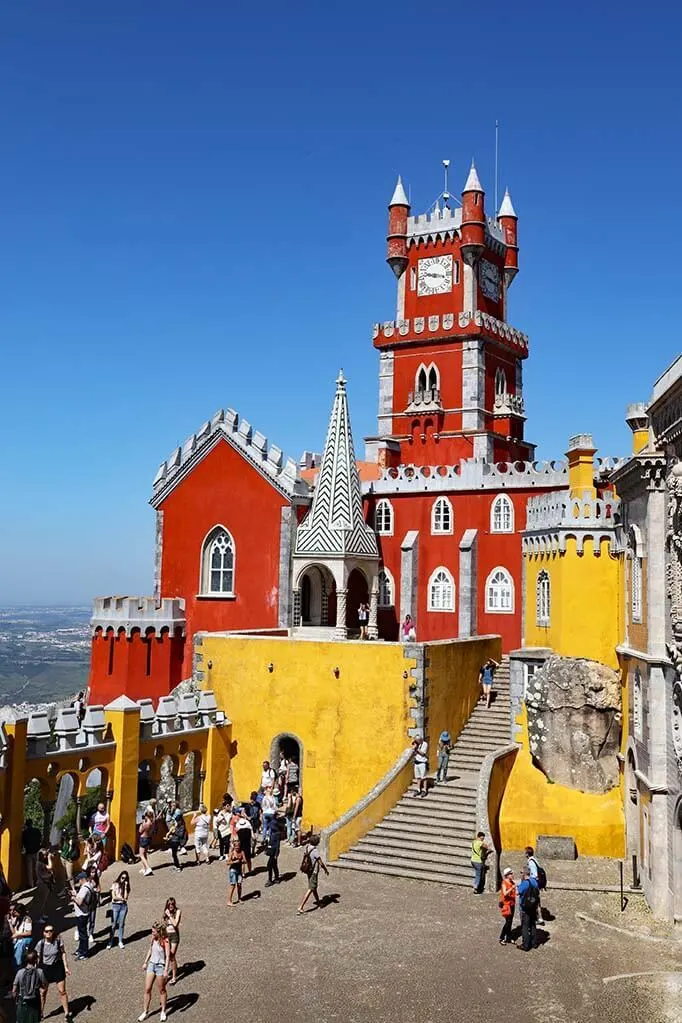 Disadvantages of Visiting in April
Since it's shoulder season, there are also some disadvantages of visiting Portugal in April:
Unpredictable weather. As already mentioned, the weather in Portugal is quite mild and spring can be beautiful. But it remains a bit of a gamble and you may get some colder, windier days with some rain as well.
It's a bit too cold for swimming. April is usually a bit too early to enjoy the beaches and the outdoor pools of the hotels to the fullest. We saw some people on the beaches in Portugal on the warmest April days, but only very few of them went in the water. The seawater is still quite cold after the winter. But if you get really lucky with the weather, you might be able to enjoy the beaches to the fullest, especially in the Algarve. It really varies year by year and even week by week.
In some places, nature isn't awake yet. While most places we visited in Portugal in April, were green and beautiful, some were not awake after the winter yet. The famous Douro Valley close to Porto was a big disappointment in the first half of April because all you could see were dry vine plants.
Lisbon & Porto in April
We love exploring big cities in Portugal in April. It's lively, but not too busy, mostly because there are not too many cruise ships in the area at this time of the year. So you can truly enjoy city life and tourist attractions without huge crowds.
That being said, the most popular places in Lisbon and Porto are already busy. This is especially the case if your visit coincides with two or three big cruise ships visiting on the same day.
Another thing that makes a city trip to Portugal more pleasant in April is that you can truly enjoy the cities and the weather is great for sightseeing. In winter, it's colder and it's wet, and in summer, it's often so hot that it's not pleasant. That's why April is the perfect month to visit Lisbon or Porto.
READ ALSO: Best Things to Do in Lisbon & How to See the Best of Lisbon in One Day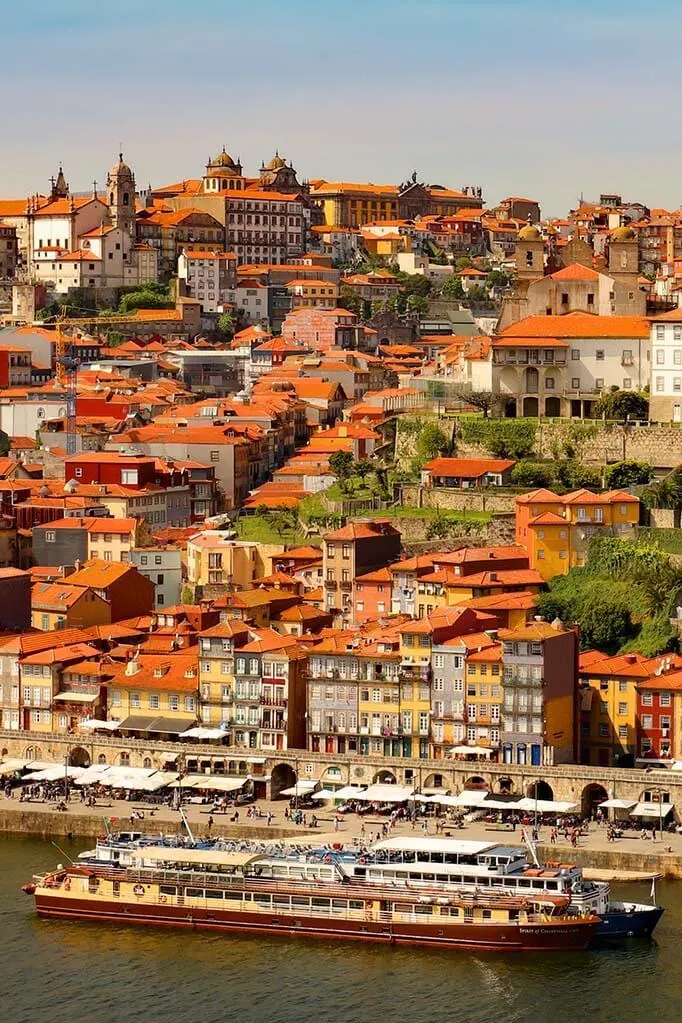 Algarve in April
The Algarve region in southern Portugal is best known for its stunning beaches and the most beautiful coastline. Because most people come here for the beaches, April is still a quiet season here. Although, most popular resorts see more and more tourists, especially around the Easter holidays.
The bigger towns with more full-time inhabitants (like Faro, Tavira, Portimao, Albufeira, or Lagos) are quite lively and most places here are open in April. Most hotels in Albufeira are open the whole year round, but even those that close for the summer, start to open in April again.
Also, boat tours to the most popular places along the coast, such as Benagil Cave or Ponta da Piedade run more frequently in April.
However, the smaller towns that live mostly from tourism (e.g. Sagres), seem to just start waking up after the winter break. So some smaller places along the coast can still be closed in April, or have somewhat limited opening times.
April is perfect for exploring the coastline and most beautiful beaches in Algarve, long walks on the beach, bike rides, or surfing.
So if you like the somewhat quieter, off-season feeling and outdoorsy activities, you'll love Algarve in April. If, however, you want to go swimming and sunbathing every day, and enjoy nightlife and other touristy activities, then it's best to come between May and September – October.
READ ALSO: Algarve in April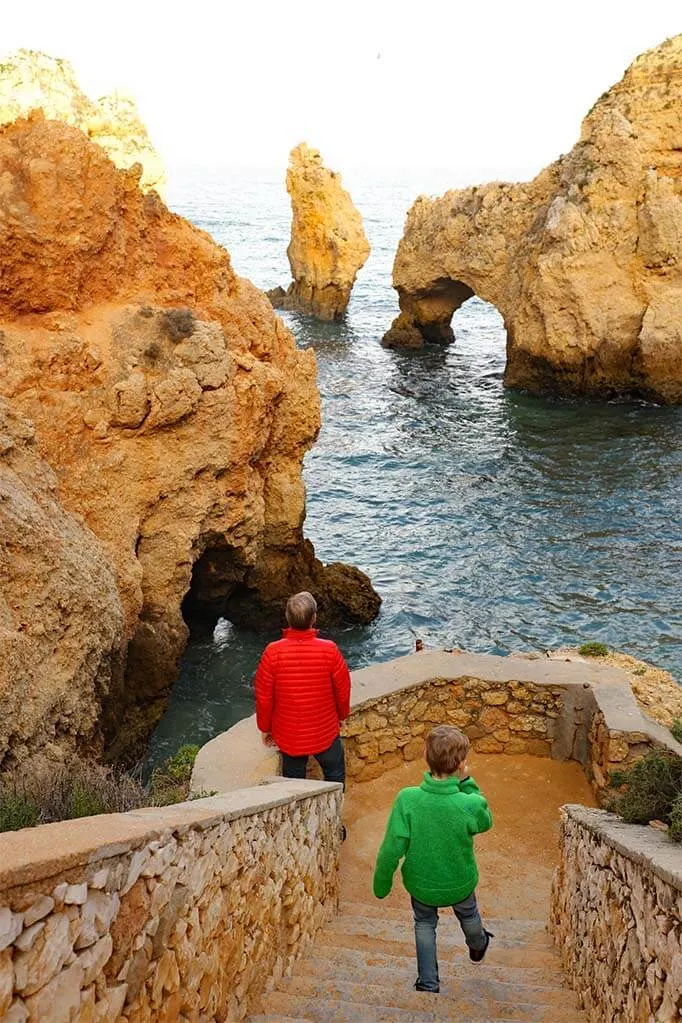 Central Portugal in April
Of all the places we visited in Portugal in April, we enjoyed Central Portugal the most.
There were hardly any tourists in the smaller towns, but also at the abbeys, which are a major draw in the area. Furthermore, the weather was great for sightseeing and since the tourism season was just starting, locals were relaxed and had time for a chat.
Also, there were plenty of nice local restaurants open in smaller towns where we could enjoy some really good food (at very low prices).
We saw so many beautiful places and it was just busy enough to not feel alone. There were more locals than tourists everywhere we went and it was a really relaxing vacation, as a vacation should be.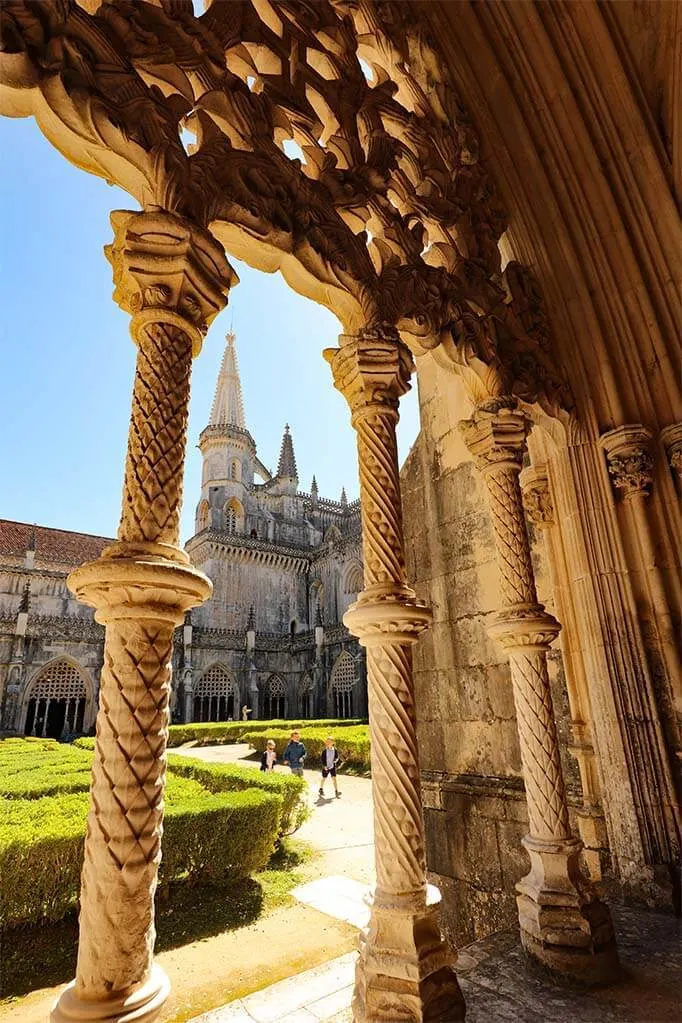 Madeira in April
Portuguese Madeira Island is a year-round destination, with mild weather during the entire year. In April, you can expect daytime temperatures of 18-20°C (64-68°F) and lots of sunshine. It's common to have temperatures of 25°C (77°F) or more as well. However, if you are a bit less lucky, it can also be a few degrees colder and you might get some rain.
In general, it should be warm enough for t-shirts and shorts in Funchal. But you'll definitely need a sweater and sometimes also a light jacket in the mountains. We found the April weather perfect for hiking in Madeira.
The good thing about Madeira is that because of its hilly interior, the weather can be very different in various places across the island. So you can usually find sunshine somewhere on the island, even on rainy days.
Our experience: When we visited Madeira in April, we had less-than-perfect weather. It was about 15-16°C (60°F) on most days, the rain was on the forecast almost daily, and there were quite some clouds in the mountains making one hike we wanted to do impossible.
However, by checking the weather forecast for various locations on the island, we managed to avoid rain during the entire stay of over 10 days. On a few occasions, we wore shorts and t-shirts, but most of the time, we needed a sweater and sometimes even a jacket.
The locals told us that the weather was 'as bad as it ever gets in Madeira, even in winter'. So apparently it's normally much warmer and sunnier in Madeira in April than what we experienced. My parents visited Madeira in April a year after we did and they had beautiful summer-like weather on most days.
READ ALSO: Best Things to Do in Madeira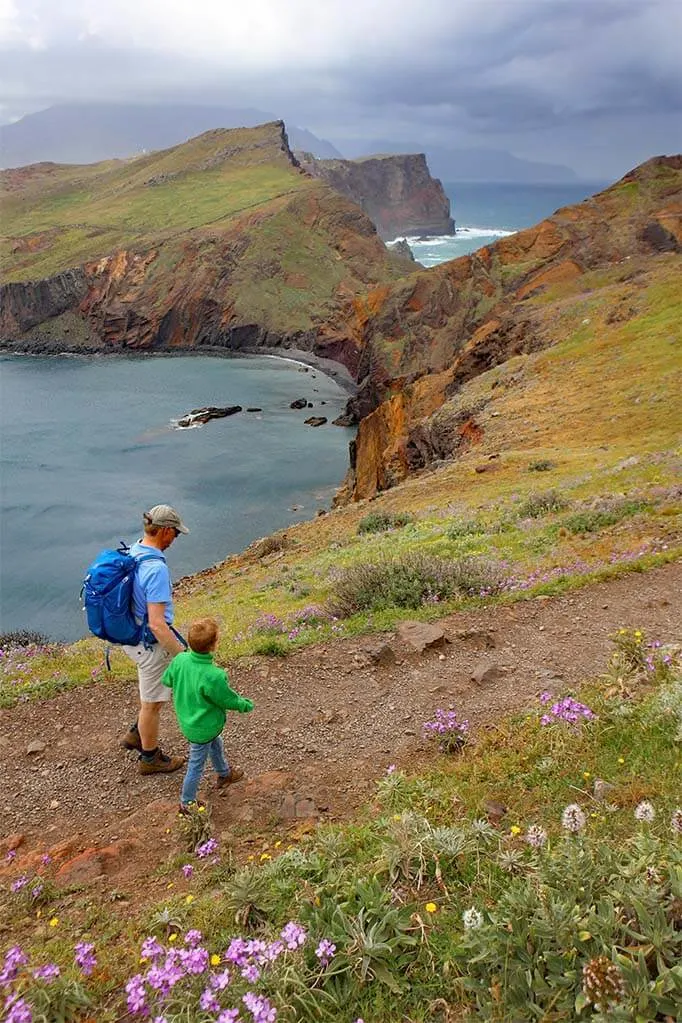 Azores in April
The best time to visit the Azores Islands is in summer, between June and August. May and September are a bit of the shoulder months, and in April, it's still quite rainy and not very warm yet.
Average high daytime temperatures in Sao Miguel in April are around 15°C (59°F), and it rains one day out of the three. On the other hand, it can also get as warm as 20° (68°F), and you might have more sunshine.
So if you are prepared for the less stable and less predictable weather and keep some flexibility in your schedule, April might be a nice time to experience the more local side of the Azores, without many tourists.
TIP: If you decide to visit the Azores in April, I'd recommend focusing on the main islands, such as Sao Miguel. On the smallest islands like Flores, even in high season, facilities are rather limited.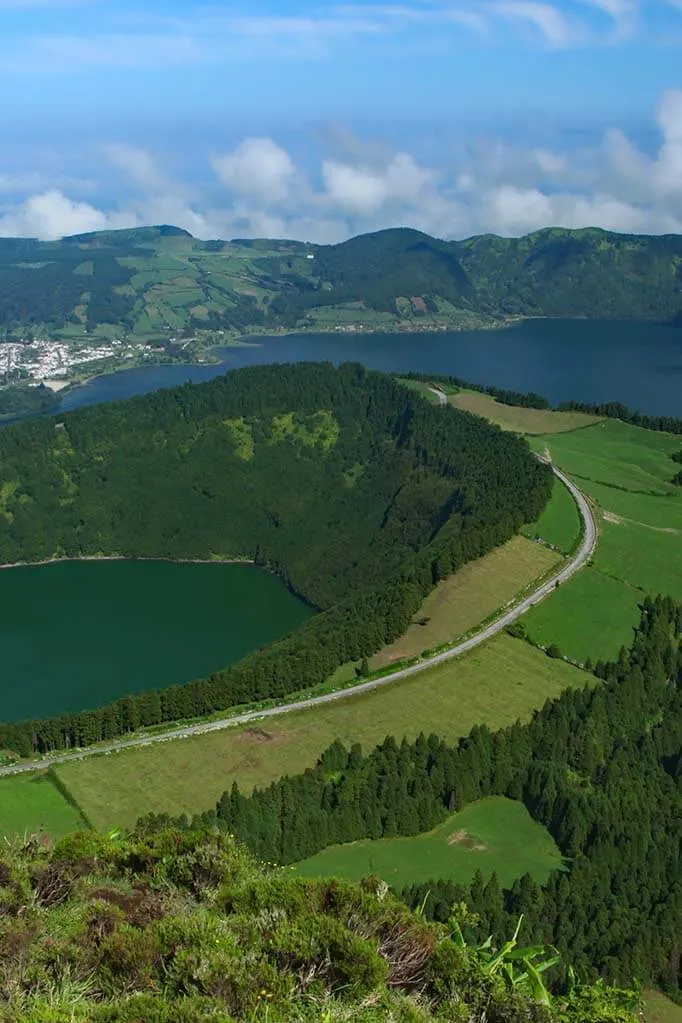 So, this is an overview of what you can expect when visiting Portugal in April.
As you can see, April is a great time to visit Portugal for sightseeing and outdoor activities, but not ideal for a beach vacation. All in all, it's a wonderful month to visit!
I hope that our experience gives you a better idea of what to expect and helps you plan a wonderful trip and enjoy the very best that Portugal has to offer in spring.
For more inspiration and information about various places in Portugal, please check our Portugal Travel Guide. It contains all our articles from various trips to different regions and useful tips for planning your trip. Check it out!
READ ALSO: Best Time to Visit Europe
If you found this post useful, don't forget to bookmark it and share it with your friends. Are you on Pinterest? Pin these images!