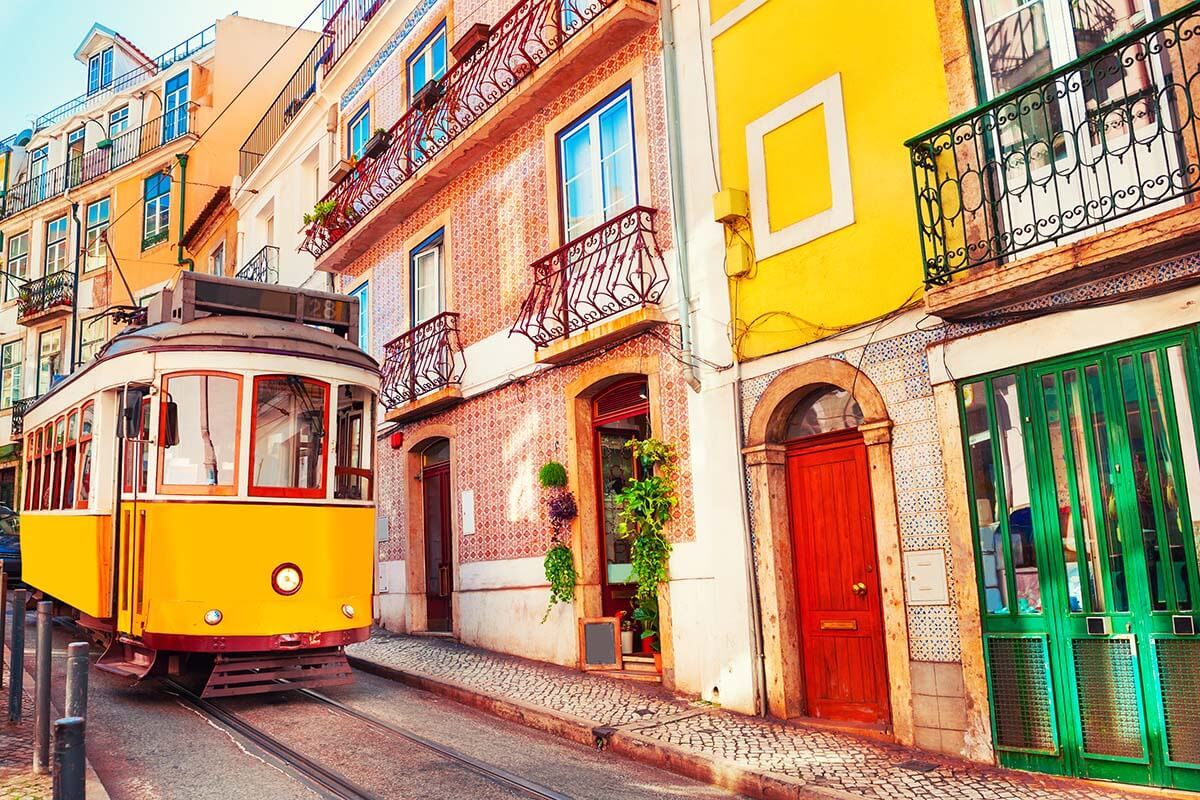 Visiting Lisbon for the first time and curious about the best things to do in Portugal's capital city? In this article, we share our top tips for the very best things to do in Lisbon. Find out!
While we have been to Portugal and Lisbon several times, for this 'Best of Lisbon' guide, we also asked for some top suggestions from an insider. Antoine from Bug in Our Bag travel blog lived in Lisbon for almost a year and knows the city inside out. So this article not only covers all the must-see Lisbon attractions but also includes lots of local tips and personal recommendations that should help you make the most of your visit and explore this beautiful city a bit deeper.
TIP: To help you plan your trip, we also created a map indicating all the best things to do in Lisbon. You can save it to your Google account and use it during the trip. This map also includes our personal recommendations for where to eat that you'll find mentioned in this guide. Take a look below and scroll down for our complete list of the best places to see and things to experience in Lisbon!
How to Use This Map: Use your computer mouse (or fingers) to zoom in or out. Click on the icons to get more information about each place. Click the arrow on the left top corner for the index. Click the star next to the title of the map to add this map to your Google Maps account. To view the saved map on your smartphone or PC, open Google Maps, click the menu button, and go to 'Your Places'/'Maps'.
Good to know: While not always easy, we tried to sort this list starting with the must-see places in Lisbon first, but so much also depends on your interests and the time that you have. In addition, some places are really close to each other and can be easily visited together, even if not an absolute 'must'. So use this list as an inspiration, take a look at the map, and see how you can best plan your itinerary and see the best of Lisbon in the time that you have.
We also include a few of the very best places to visit near Lisbon that you really shouldn't miss if you have at least a day to spare, plus info on how to best get there. At the bottom of this article, you can also find some practical information for your visit to Lisbon.
Without further ado, these are the very best things to do in Lisbon:
1. Praça do Comércio
Located in Baixa Chiado, Commerce Square (Praça do Comércio) is the main town square in Lisbon, and it is a must-see. This is one of the largest squares in Europe. In the past, it was home to the Royal Palace that was destroyed by an earthquake in the 18th century. Nowadays, it houses several government buildings and is lined by cafes and restaurants.
In the middle of the square, there is a statue of the former King Joseph I (José I) riding a horse. At the back, there is a triumphal arch – Arco Triunfal da Rua Augusta – with statues of Vasco da Gama and Marquès de Pompal, two remarkable Portuguese figures. There is also a small viewing platform at the top of this arch that can be visited for a small fee.
If you walk under the arch, you can't miss Rua Augusta, a pedestrian street with shops, restaurants, street artists and performers, and many vendors selling all kinds of souvenirs. This is probably the most touristy street in Lisbon…
On the southern end of the square, next to the river, you'll see Cais de Colunas, a marble flight of steps flanked by two impressive columns. This is a great place to take pictures. Do not miss the amazing walk alongside the river, from Praça do Comércio to Cais do Sodré (turn right if facing the river). This is a nice place to be, especially if you are visiting Lisbon in the summer.
TIP: There is an amazing bar on the square which is called Museu da Cerveja (the Beer Museum). They serve beers from all over Portugal and their beer sangria is absolutely delicious too. If you manage to get a seat outside, it is the best way to enjoy Praça do Comércio.
Good to know: Praça do Comércio is right next to the river, so it can be very windy here, even more than the rest of Lisbon. It can get quite cold here in winter, but in summer, it's often nice to enjoy a breeze.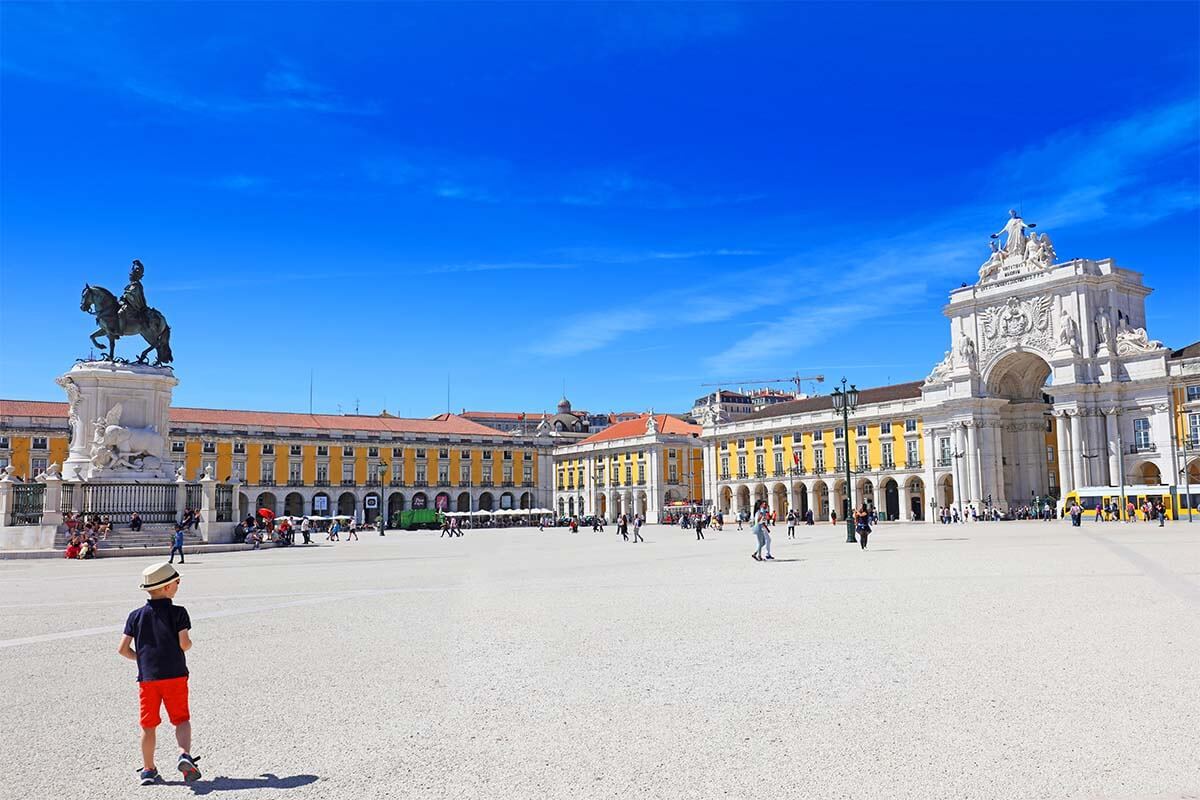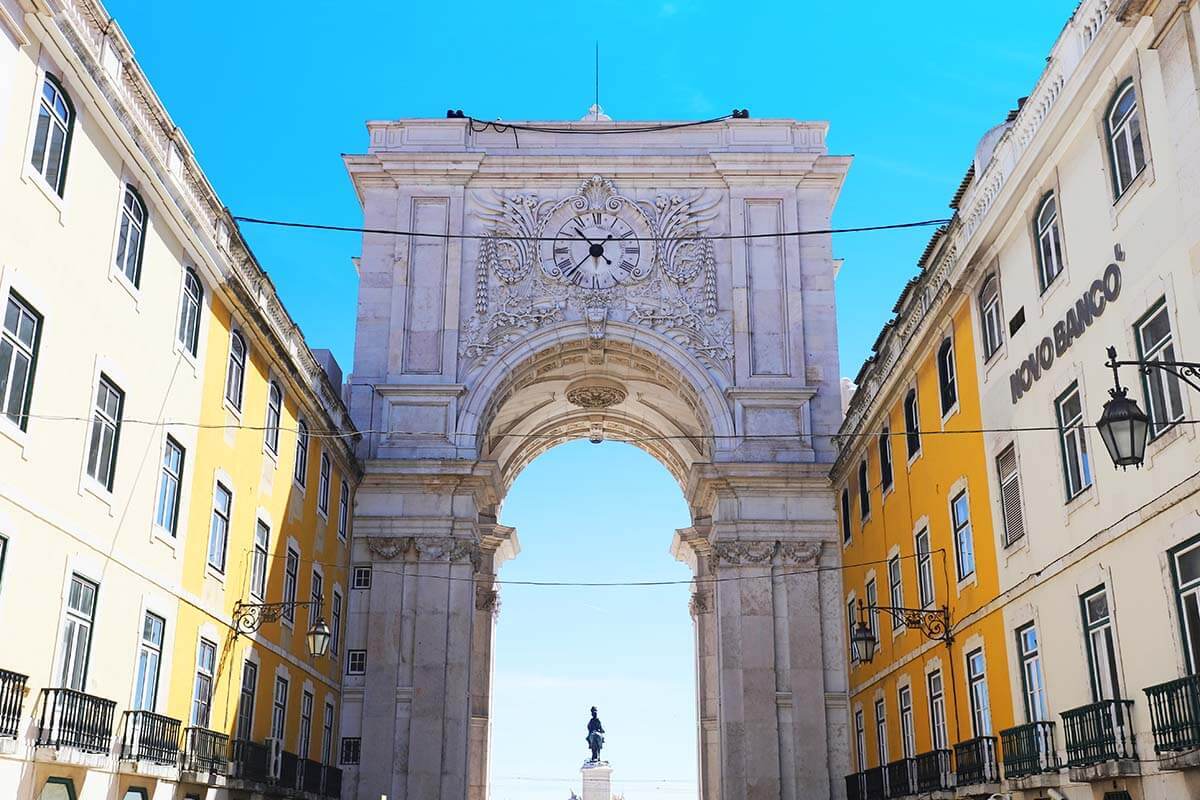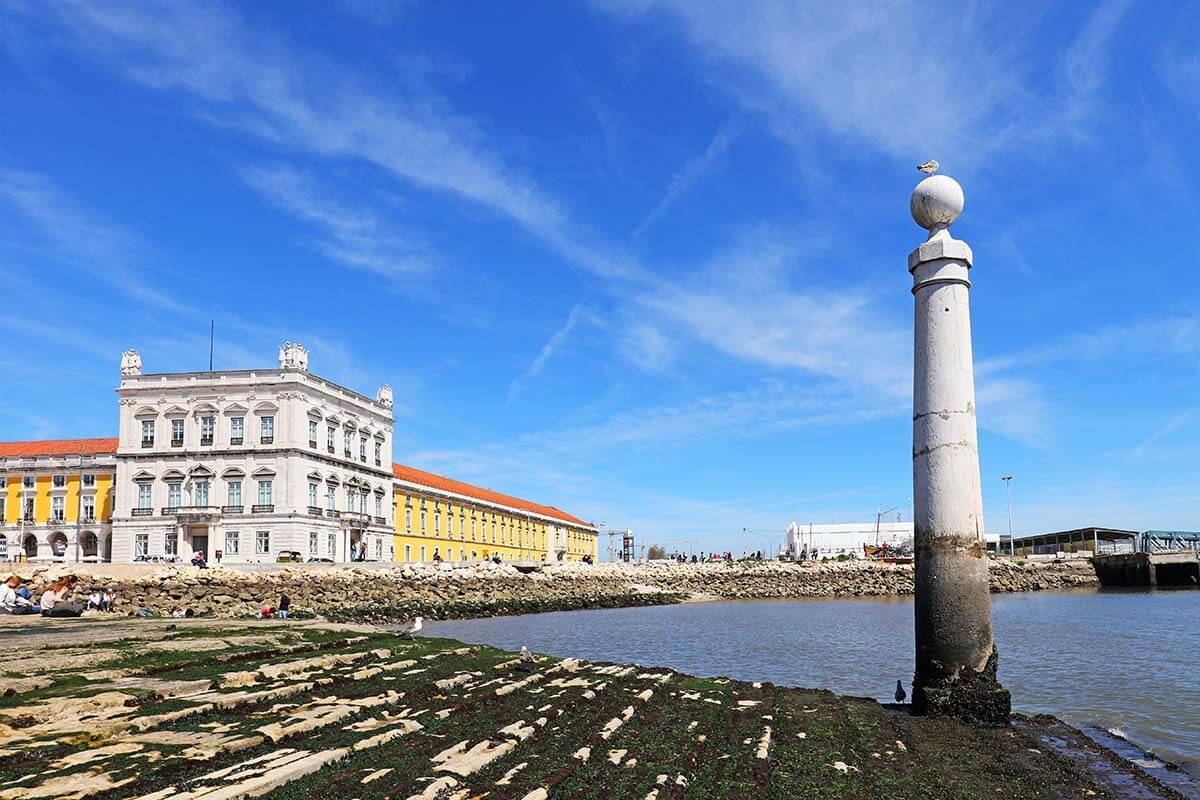 2. Alfama
Walking through the historic Alfama district may be the very best thing to do in Lisbon! This is such a picturesque part of town and a beautiful area to just wander around without a plan. All the small alleys are worth taking a picture of!
Alfama is one of the oldest and most authentic districts in Lisbon and a place where you should really take the time to explore deeper. You can easily visit on your own, but prepare to get lost in the maze of narrow streets, staircases, and passages.
As you wander through Alfama, put your map aside and simply enjoy the area. There are nice viewpoints, cool street art, local cafes, and boutique shops. You'll likely come across some local food stands in the narrow streets. The old ladies offer Ginja and Licor de Pasteis de Nata for 1 or 2 Euros. It's totally worth it!
TIP: If there is one place in Lisbon where it would be interesting to go with a local guide, it's probably Alfama. It's so easy to get lost and lose track of time… So if you don't have the time to 'get lost', you may consider joining a walking tour of Alfama or discover Alfama with this highly-rated segway tour.
Good to know: This area is very hilly, with lots of staircases as well. So if you have some walking difficulties, you may want to stick to the main areas and bigger streets. Just as Rome, Lisbon is often called "the city of 7 hills" and you'll quickly know why.
Interesting to know: Together with the other historic neighborhoods in Lisbon center, Alfama also hosts the best party in town. Indeed, every year, on the 12-13th of June, Lisbon enjoys the famous 'Lisbon Sardine Festival' (officially, Santo Antonio Festival). The whole district is filled with music and dance and transforms into a sardine-grilling open-air restaurant.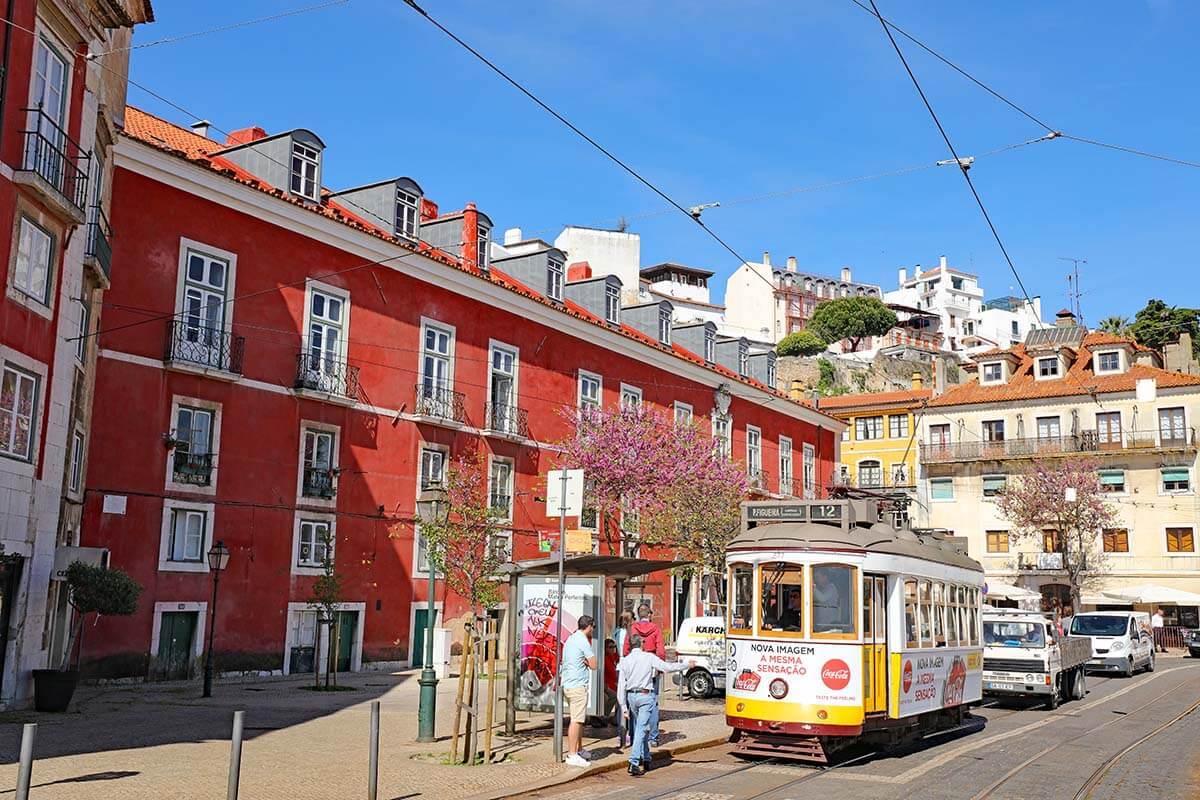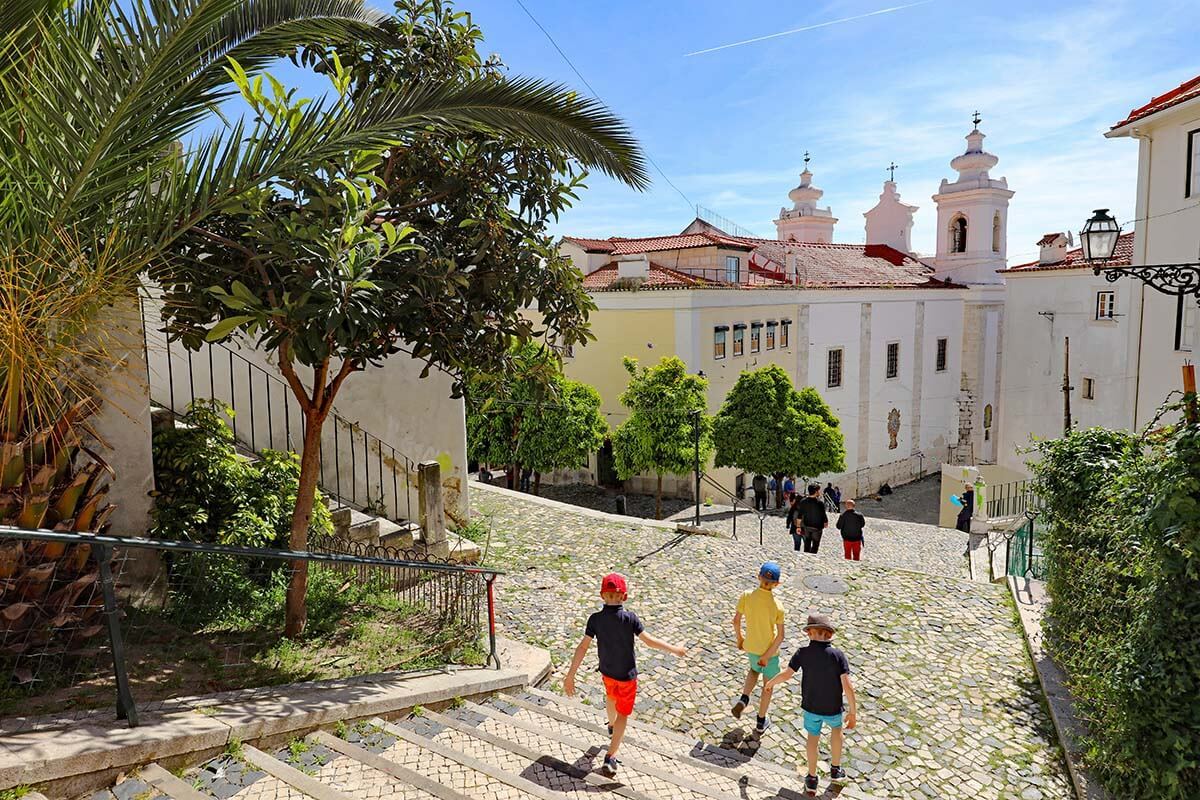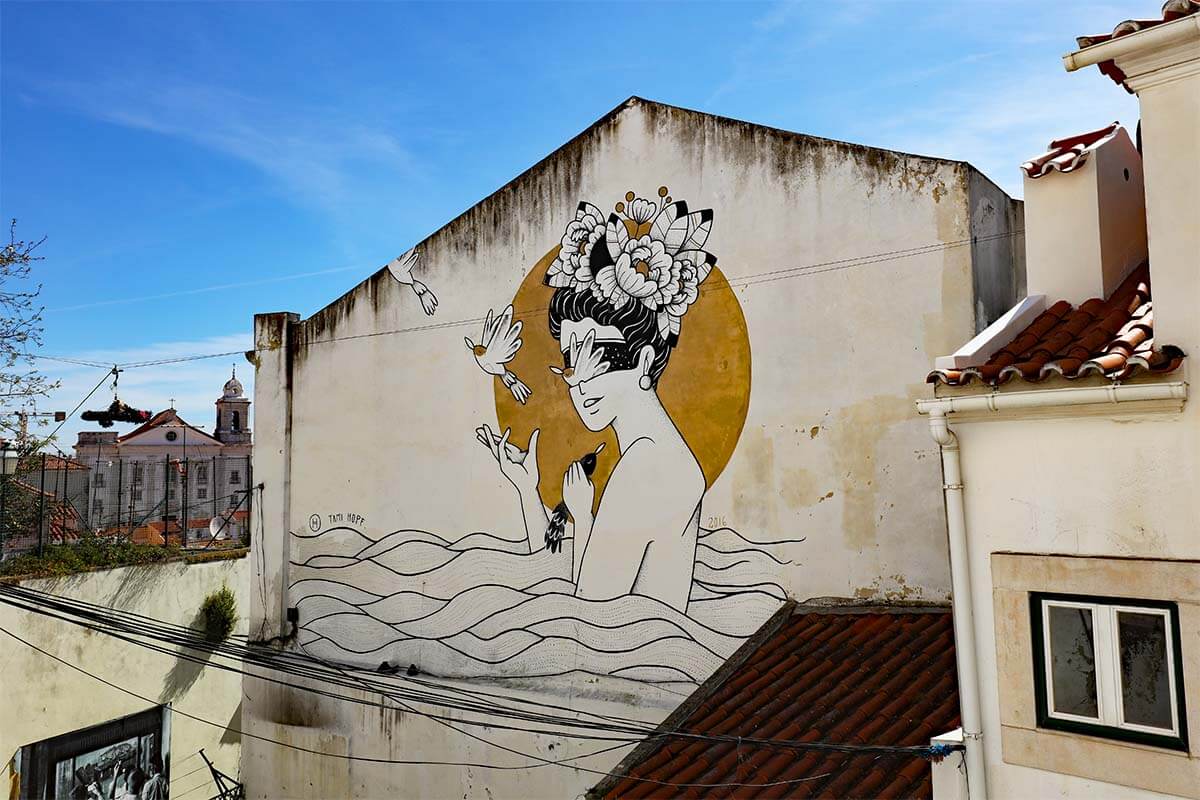 3. Miradouro de Santa Luzia & Miradouro das Portas do Sol
Miradouro Santa Luzia is the best viewpoint in Alfama and it's one place you really shouldn't miss! Here, you can enjoy one of the best views of the rooftops of Alfama and the cruise ships passing by in the distance.
This is a bustling, picturesque area where you will find lots of cafes. It's also a good place to see colorful city trams and also azulejos, traditional ceramic tiles of Portugal.
TIP: Right next to Santa Luzia, there is another viewpoint called Miradouro das Portas do Sol. The view is very similar, but since you are here anyway, it is worth checking out.
Good to know: This area is extremely busy and can get crowded during the day (especially between 11 am to 5 pm when day tourists from cruise ships are in town). So if you can, visit here in the morning or in the evening. Also, be careful for pickpockets. There are also people who offer wristbands and small 'gifts'; avoid them as they ask for money later!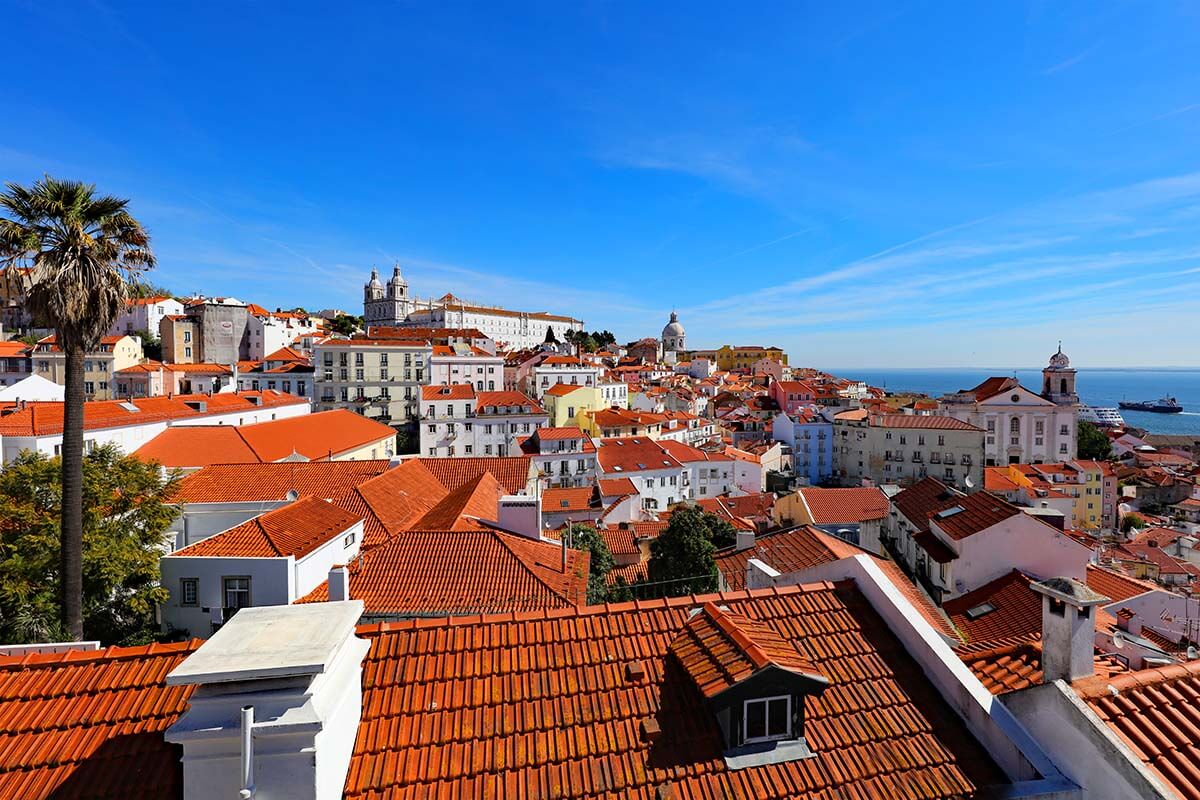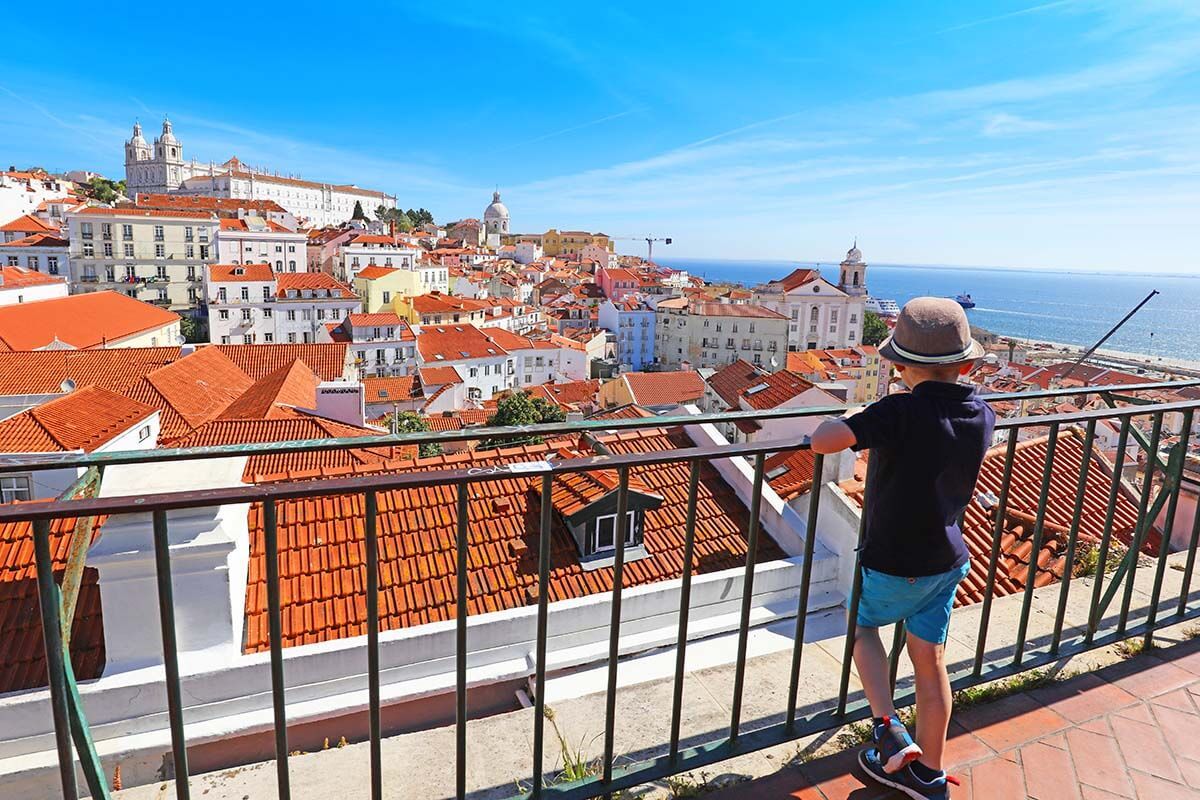 4. Lisbon Cathedral – Sé de Lisboa
Located in Alfama, Lisbon Cathedral (Sé de Lisboa) is the oldest and most iconic church in the city. And while it's not as grand as many other famous cathedrals in major European cities, it's definitely one of the must-sees in Lisbon and well worth a few minutes of your time.
Built by Alfonso I in 1147, the Cathedral has witnessed many earthquakes, including Lisbon's famous earthquake in 1755, and it has been renovated and rebuilt many times throughout the centuries. This resulted in a mix of Romanesque, Gothic, and Baroque architecture, but you'll also find some remains from Medieval times.
In addition to the Cathedral itself, it's well worth visiting its cloister and upstairs treasury where you can see all kinds of jewels and historic relics. You also can enjoy a nice view of the city if you go up here.
The Cathedral tends to be very busy during the day, so if you don't feel like going inside, at least check it out from the outside. Taking a picture of the Cathedral and the iconic Lisbon tram 28 is a must!
Good to know: The Cathedral is open daily from 9 am to 7 pm, but there's a mass on Sunday mornings so do not visit at that time. The entrance is free, donations are welcome. If you want to visit the cloister and/or treasury, there's a small fee and they also have somewhat shorter opening hours that vary per season. The cloister is open daily from 10 am to 6 pm, and from 2 pm to 6 pm on Sundays. Treasury is open daily from 10 am to 5 pm and is closed on Sundays.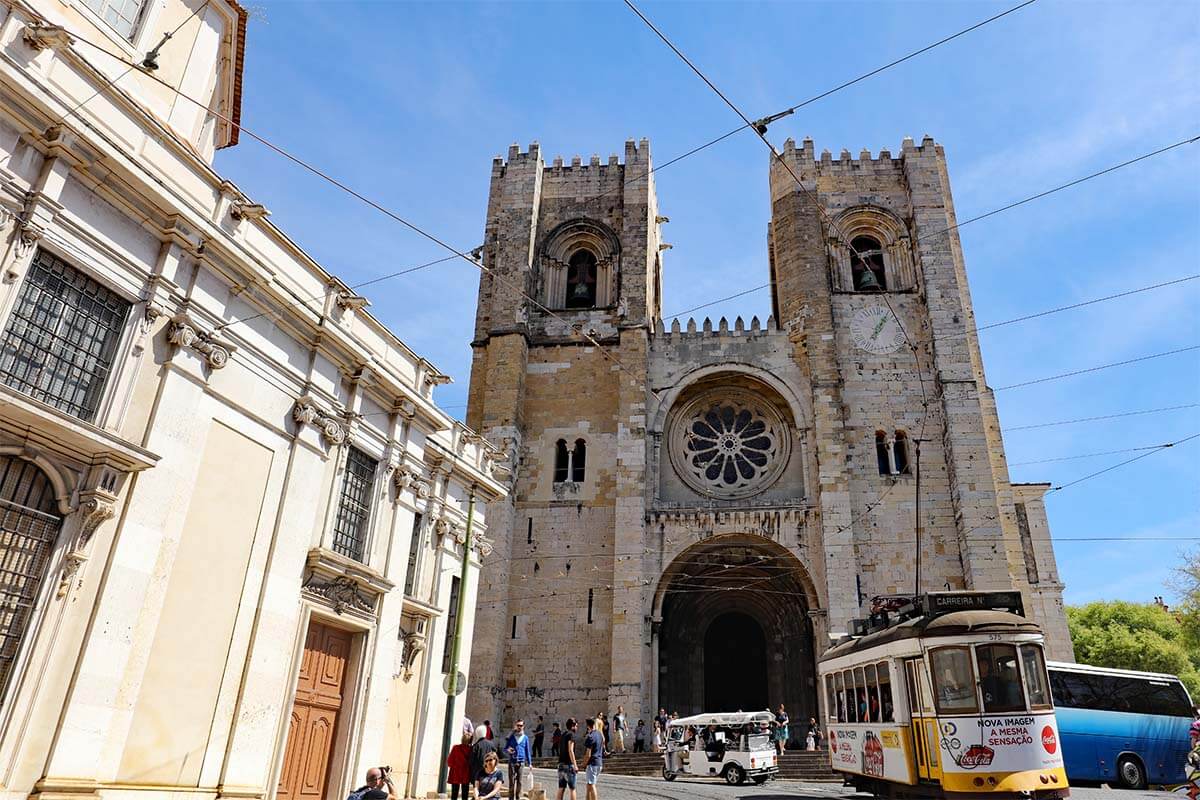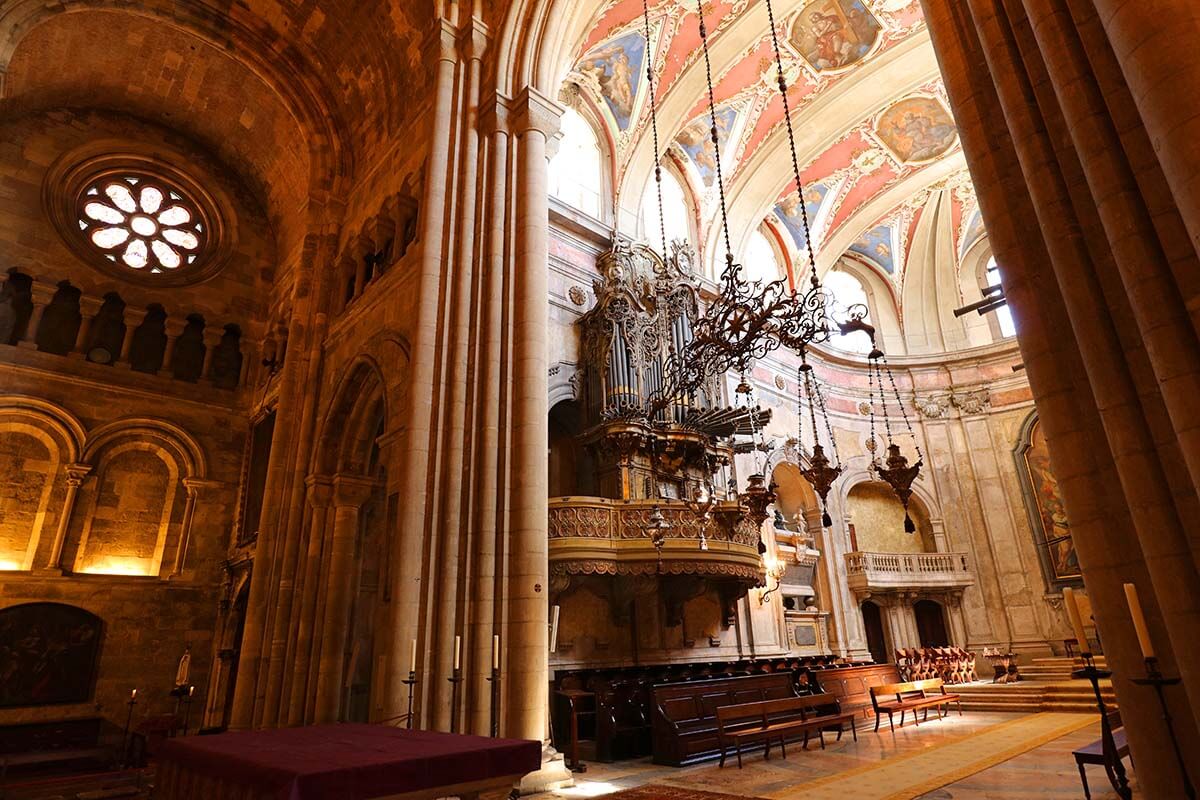 5. Rossio Square (Don Pedro IV Square)
Praça Dom Pedro IV (aka Rossio Square) is located in the Baixa Chiado neighborhood. Rossio is the historical name of Don Pedro IV Square. Its new name is a tribute to the first emperor of Brazil. In the middle of the square, you can also see his statue.
It is said that at Rossio Square, a waitress offered red flowers to rebel soldiers who were fighting against the Salazar dictatorship. Those flowers became the symbol of the 25 of April revolution against Salazar.
Rossio Square dates from the 18th century and has always been a popular meeting point in the city. Be sure to check out the historic Café Nicola. Just keep in mind that the food and the service is very tourist-oriented, so maybe just visit for the atmosphere and stop here for a drink.
There are also several other traditional shops here where you can buy and/or taste typical Portuguese food or drinks. Don't miss the Fantastic World Of Portuguese Sardines (O Mundo Fantástico da Sardinha Portuguesa), a shop dedicated to canned sardines. It's really cool to see and you can buy sardines with your birth year on the box. If you are looking for some unusual souvenirs or gifts to take home, check them out!
TIP: The nearby Rossio train station is a stunning building. It looks particularly impressive at night as the whole square and the building are beautifully lit.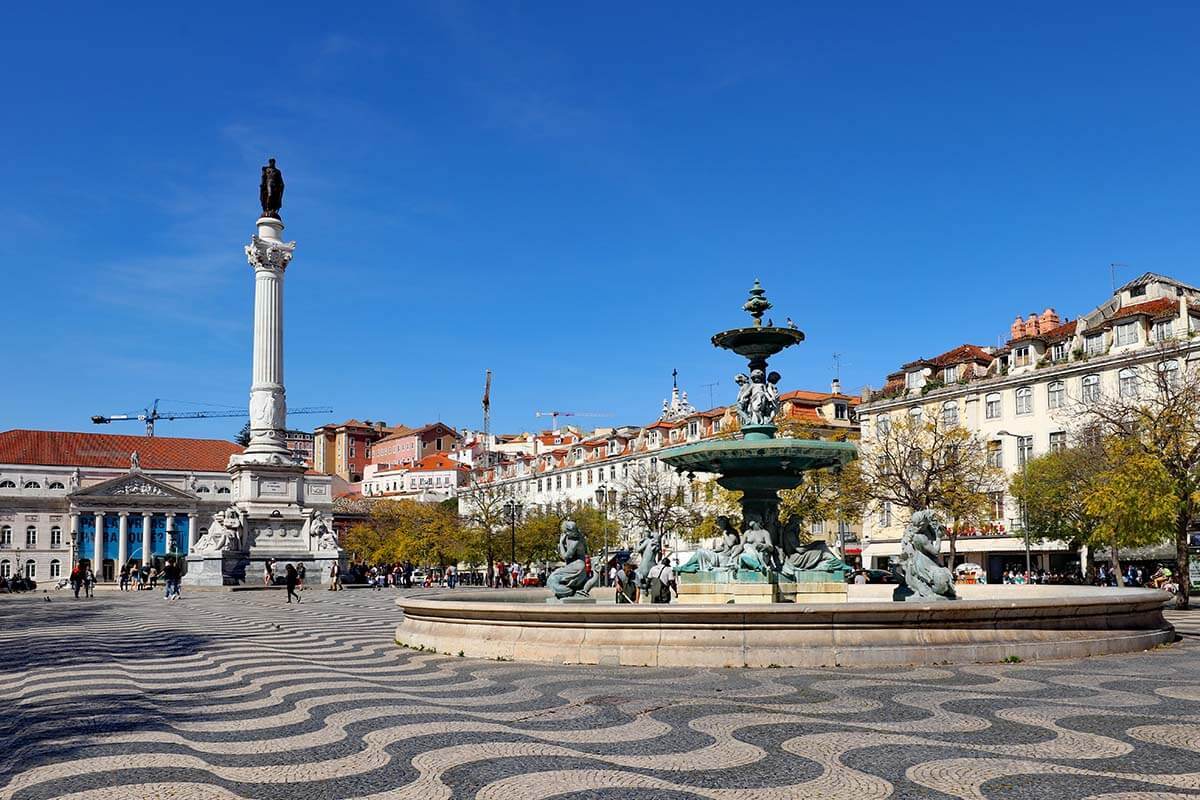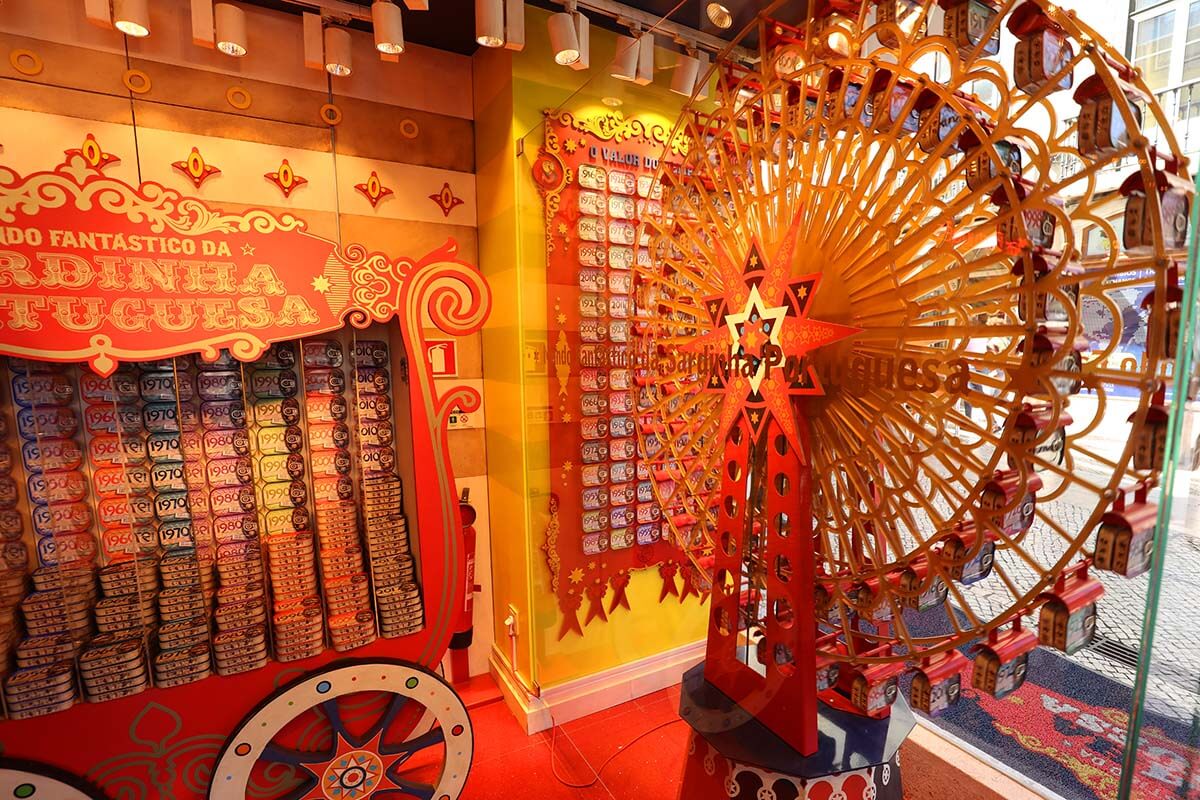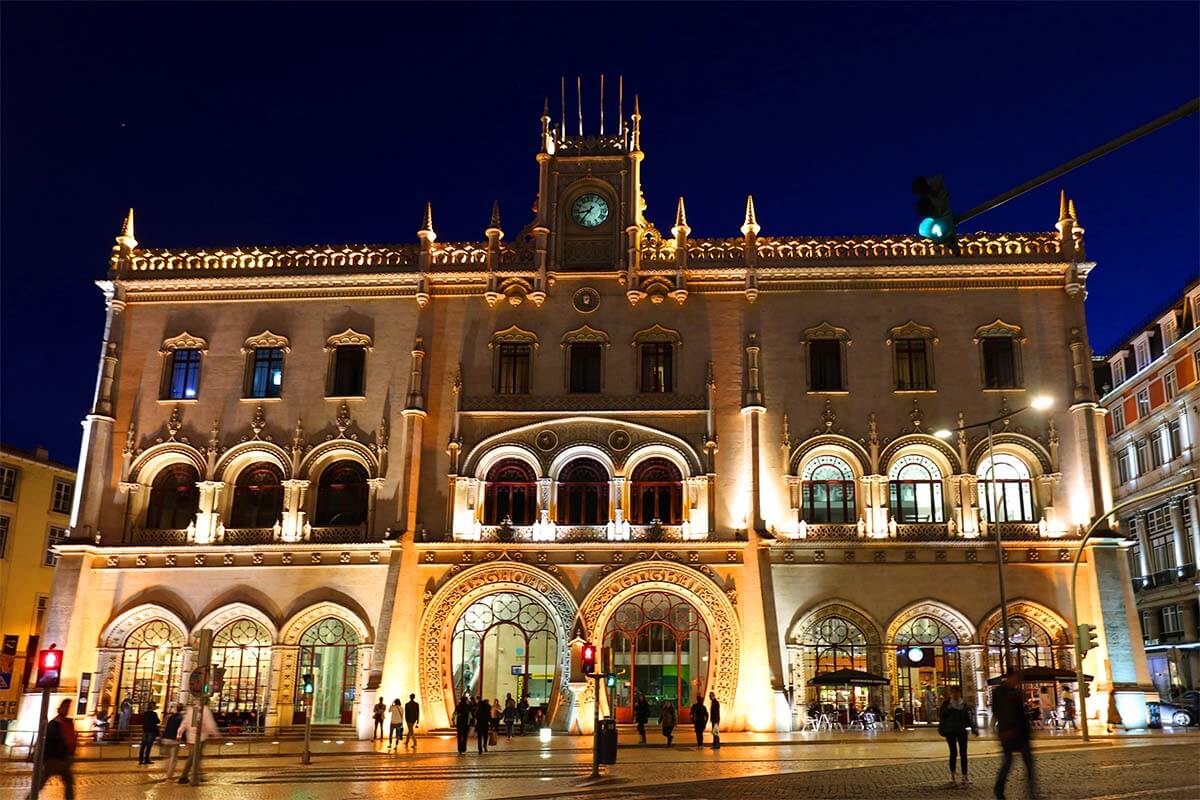 6. Jerónimos Monastery
Jerónimos Monastery or Hieronymites Monastery (Mosteiro dos Jerónimos) is one of the absolute must-sees in Lisbon! This monastery is located in Belem, a bit outside of the city center, and was built during the 16th century. It is a marvelous example of Gothic and Baroque architecture and a UNESCO World Heritage Site. This is also where the historic Treaty of Lisbon was signed.
The architecture of the Monastery is stunning and the huge building is already very impressive from the outside. But once you step inside, it's absolutely breathtaking! Take your time to walk around and enjoy all the details! Inside, there are also tombs of Vasco da Gama and Luís de Camões. The church is even more beautiful than Lisbon Cathedral and definitely worth a visit!
Good to know: This is one of the most popular Lisbon attractions, so expect big crowds. If you want to make the most of your visit, go as soon as it opens in the morning (arrive at least half an hour before opening) or about an hour before closing time. Also, get your tickets in advance – even then, you'll have to pick up your ticket up at the National Museum of Archaeology located right next to the Monastery. So be sure to do this first, before you start queuing at the entrance.
Practical information: Jeronimos Monastery is open daily except from 10 am to 6.30 pm (to 5 pm between October and April). On Sundays and during religious holidays, it's only open in the afternoon, from 2 pm. Closed for Easter, Christmas, and New Year.
Getting there: The Monastery is a short ride from the city center. You can reach it by boat, taxi, or by public transport. Tram 15 connects this part of the city to the center.
TIP: Lisbon Card includes all public transport in Lisbon and – among many other attractions – also entrance tickets to the Monastery and Belem Tower (see below). It's a good investment if you are in the city for a few days and are planning to do a lot of sightseeing. Unlimited free access to public transport will also save you lots of walking and time trying to figure out how and where to get bus/tram tickets.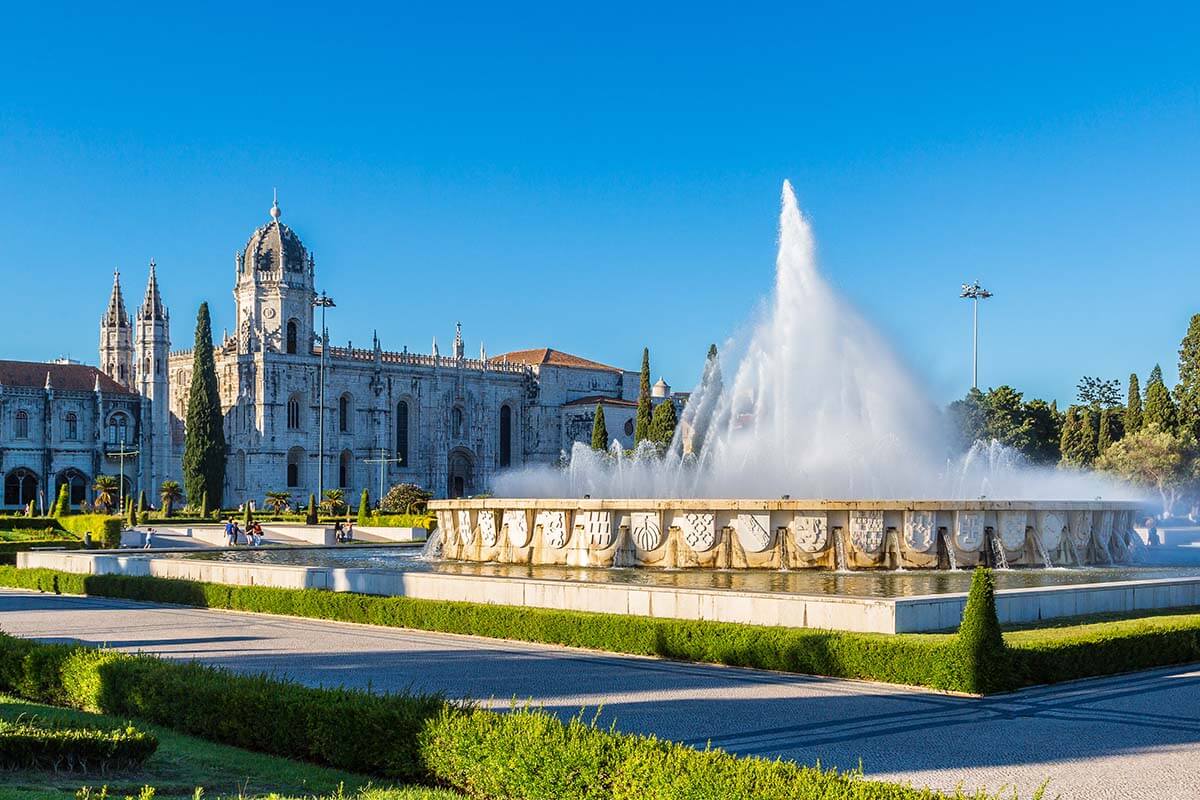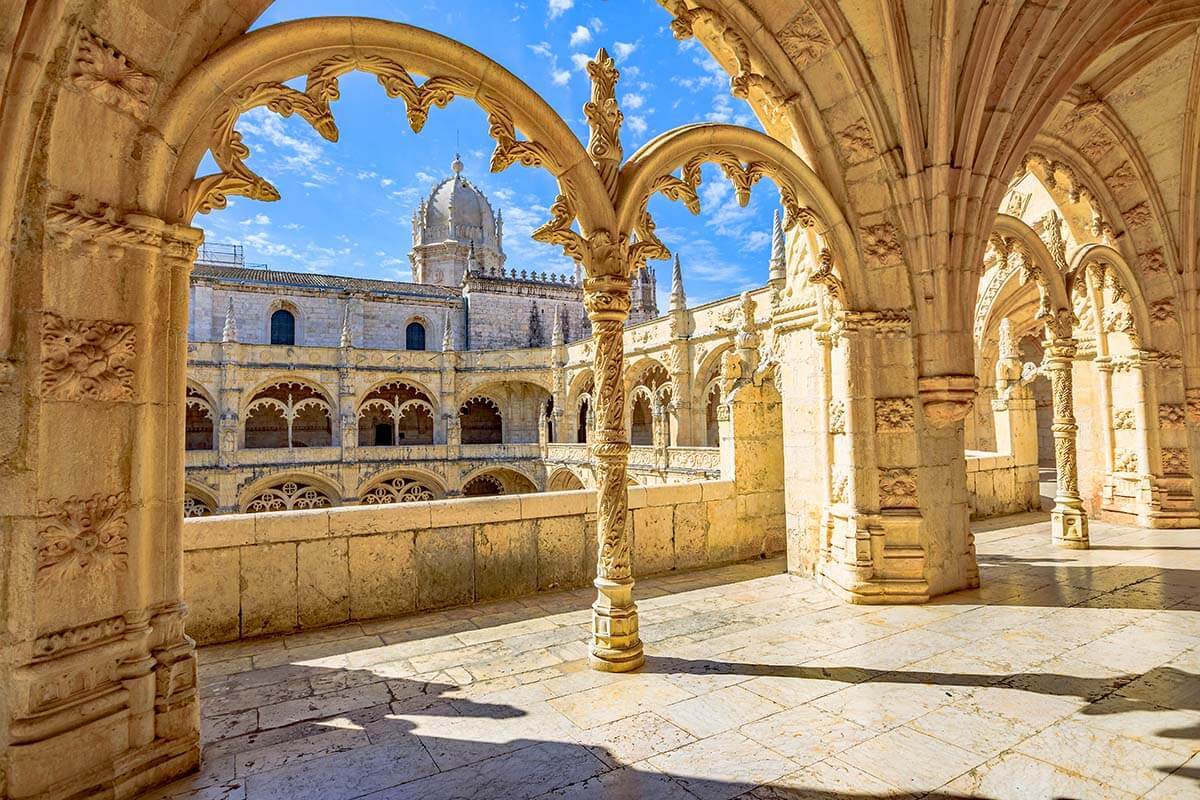 7. Belém Tower & Riverside
Belém Tower (Torre de Belém) is one of the most iconic landmarks of Lisbon. It was built next to the Tagus River in the 16th century as an advanced fortress to protect Lisbon Harbor and as a symbol to the Age of Discovery (15-16th centuries). After the Lisbon invasion by the Spanish in 1580, the tower was used as a prison.
Just as the nearby Jerónimos Monastery, it was classified as a UNESCO World Heritage Site in 1983.
The tower is probably most impressive from the outside, but you can also visit inside and climb to the top if you feel like it. However, it's usually very busy here and the queues can be very long. Furthermore, there is not much shade and you might have to wait for a long time, so make sure you have some sun protection, sunscreen, and water.
Good to know: Belem Tower has the same opening times as Jeronimos Monastery. The two landmarks are also often combined in one visit and – if you get your ticket – you can save a few Euros by buying a combination ticket. In that case, it might be easier to start your visit at the Belem Tower and head to the Monastery afterwards – this way you can get your combi-ticket at the tower and avoid going to yet another ticket desk before you visit the monastery.
TIP: As already mentioned, Belem Tower visit is included with Lisbon Card. If you are planning to visit both of these places, it's probably easier to just get this card, also because it has so many other benefits.
If you are visiting this part of Lisbon, take some time to walk by the river as well. There are some nice sights, in addition to the two main landmarks that everyone visits. To start with, the impressive Monument of the Discoveries (Padrão dos Descobrimentos), but also Belem Lighthouse (Farol de Belém), and also MAAT Museum is well worth a visit if you have more time. And even if you don't go inside, the architecture is really impressive and well worth seeing (both the modern part as well as the old power station).
Just nearby, there are many more sights and museums that might be worth it if you have several additional days in Lisbon. In that case, you may want to check out the National Coach Musuem (Museu Nacional dos Coches), contemporary art Museu Coleção Berardo, and several others.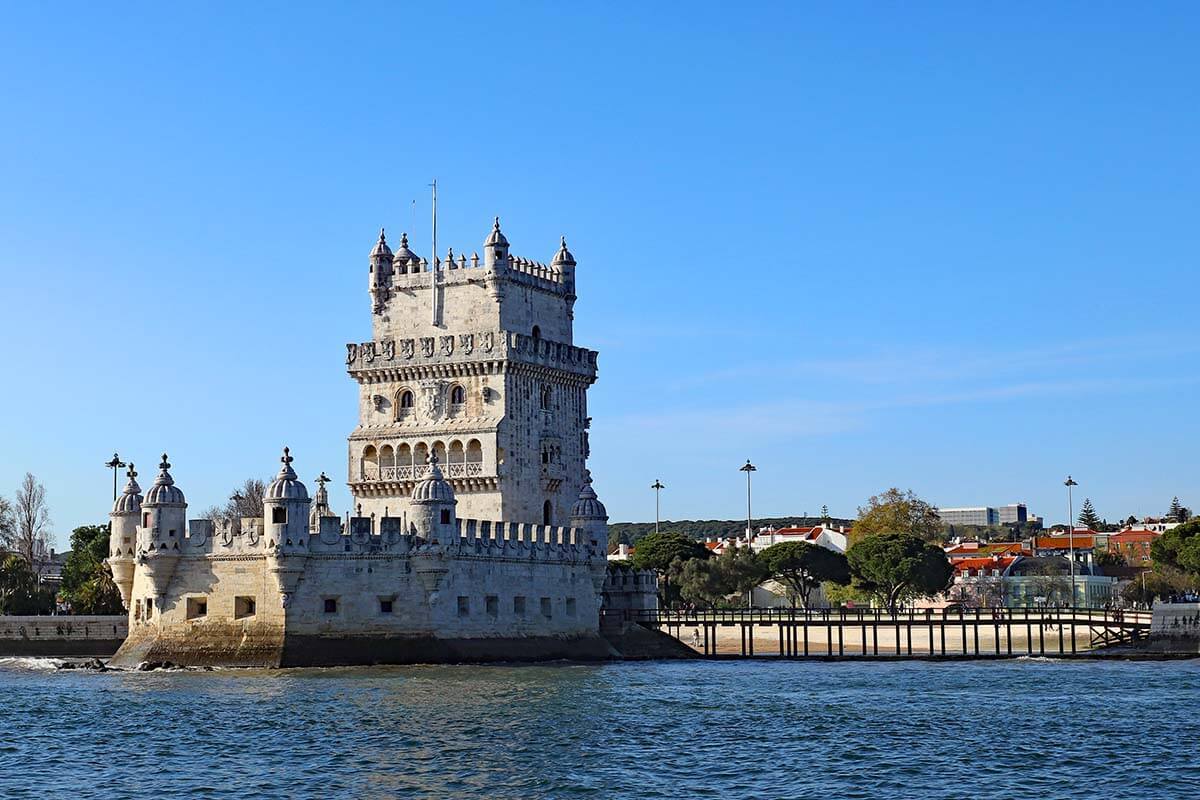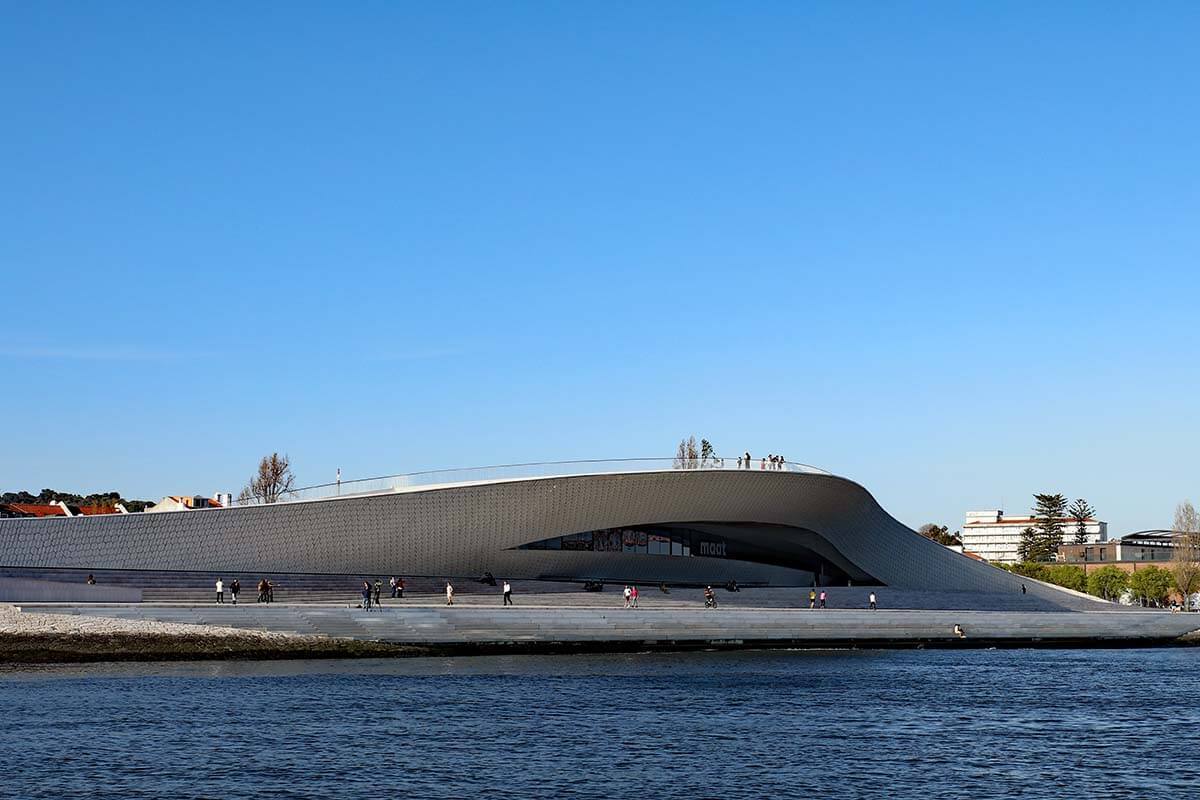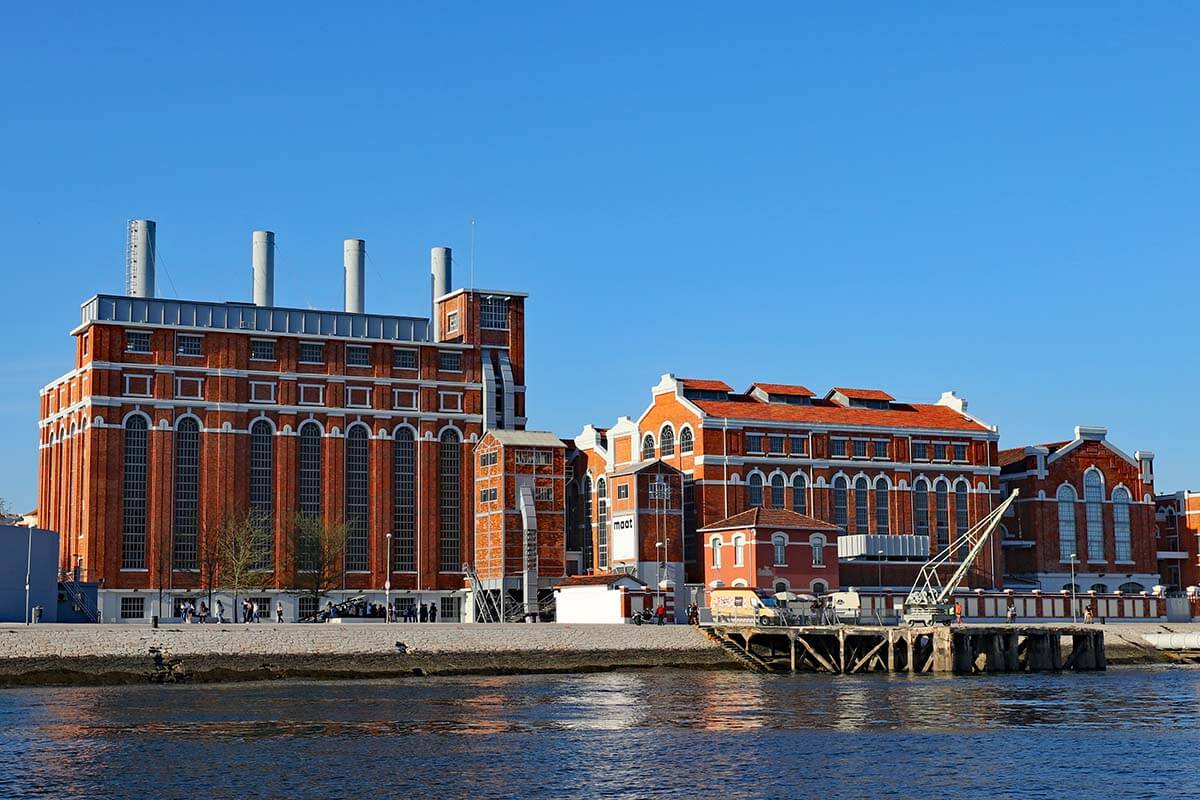 8. Castelo de São Jorge
St. George Castle (Castelo de S. Jorge) is an impressive Moorish castle set high on one of the hills in the center of Lisbon. Located in the Alfama district, it has some of the best views over the entire town. And because it's so close to all the other main sights in Lisbon, this castle is extremely popular and very busy, especially during the day.
The castle was built by the Moors in the mid 11th century. It then served as the Royal Palace (13-15th century) and later was used for military barracks. The castle was also largely destroyed by the Lisbon earthquake, and the area was taken over by military installations. It was only in the 1940s that the castle was rebuilt and was opened to the public to enjoy.
Though there is not much to see inside the castle, the buildings are impressive and the views from here are absolutely stunning. You have an amazing panorama of the city, with the Christ statue and Ponte 25 de Abril bridge in the distance.
Practical info: The castle is open daily from 10 am to 9 pm. Regular tickets cost 10€, kids under 12 – free, and there are discounts for students and seniors. Count about 45-60 minutes for a visit (not including the time to get in).
Good to know: The queues here can be very long so getting this skip-the-line ticket with a short guided introduction to the castle is one of the best ways to visit if you are short on time. It's more expensive than a regular ticket but it will save you so much time. And it's nice to have a local guide to guide you through the crowds and also tell you some history of the place. After the short tour, you also have free time and can explore the castle on your own.
TIP: Wear sensible shoes – there are lots of staircases and walls to climb for the best views. For fewer crowds and nice sunset views, visit in the evening.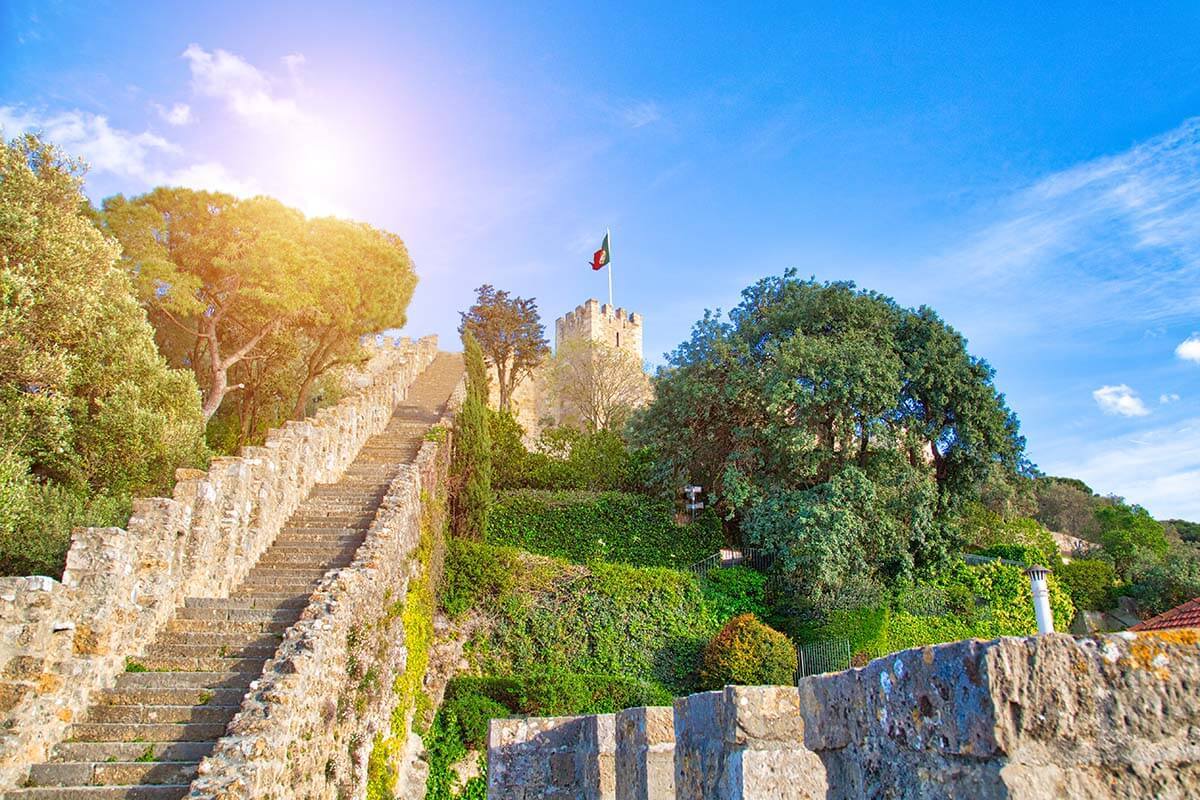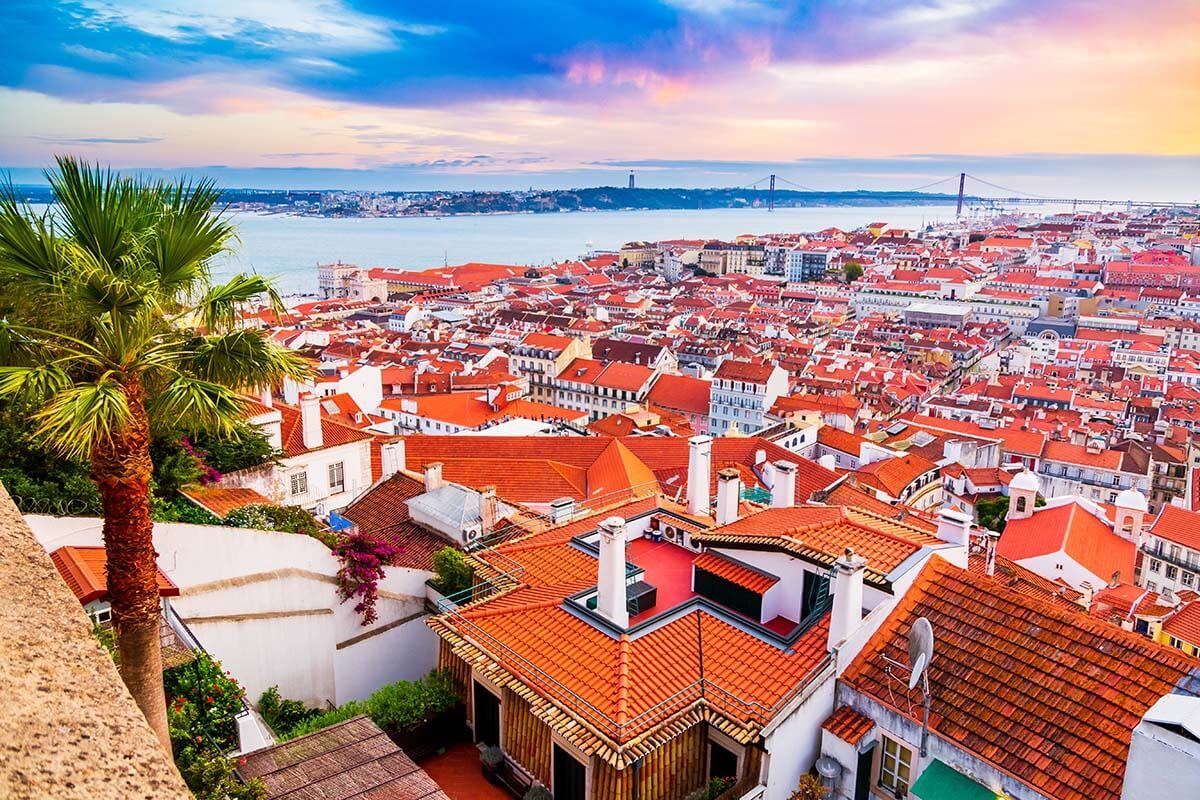 9. Miradouro da Senhora do Monte & Miradouro da Graça
Being such a hilly city, it will come as no surprise that Lisbon has many amazing viewpoints. We already mentioned a few of the most popular viewpoints above, and further down this list, you'll find quite a few more. But if you are looking for the highest point where you can see almost the entire city, then definitely don't miss Miradouro da Senhora do Monte. The views here are amazing!
The best time to come here is early in the morning or at sunset. During the day, the sun will be right in front of you, making it difficult to enjoy the best views or take pictures.
This viewpoint is located a bit further away from most other attractions, but it's within walking distance to Castelo de S. Jorge and there's also another nice viewpoint between the two places – Miradouro da Graça, so if you plan well and combine these three places together, it doesn't feel like it's out of the way.
TIP: The best way to visit is to take a taxi or a tram to Miradouro da Senhora do Monte and then walk down to Miradouro da Graça (about 10-15 minutes walk) and on to the castle from there (another 10-15 minutes). This is how we started our day in Lisbon when we visited the very first time and it was a great introduction to the city. Also, the walk is really nice, you get to see some local areas and lots of buildings with traditional Portuguese tiles azulejos.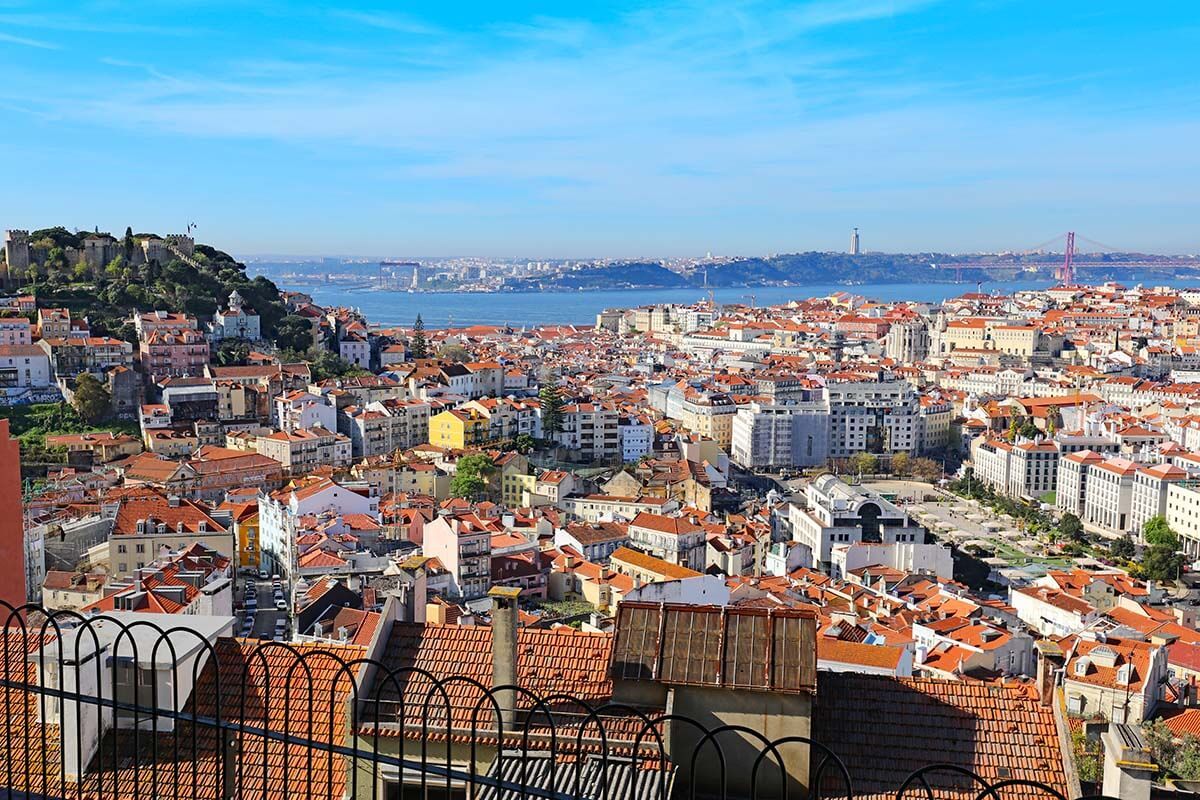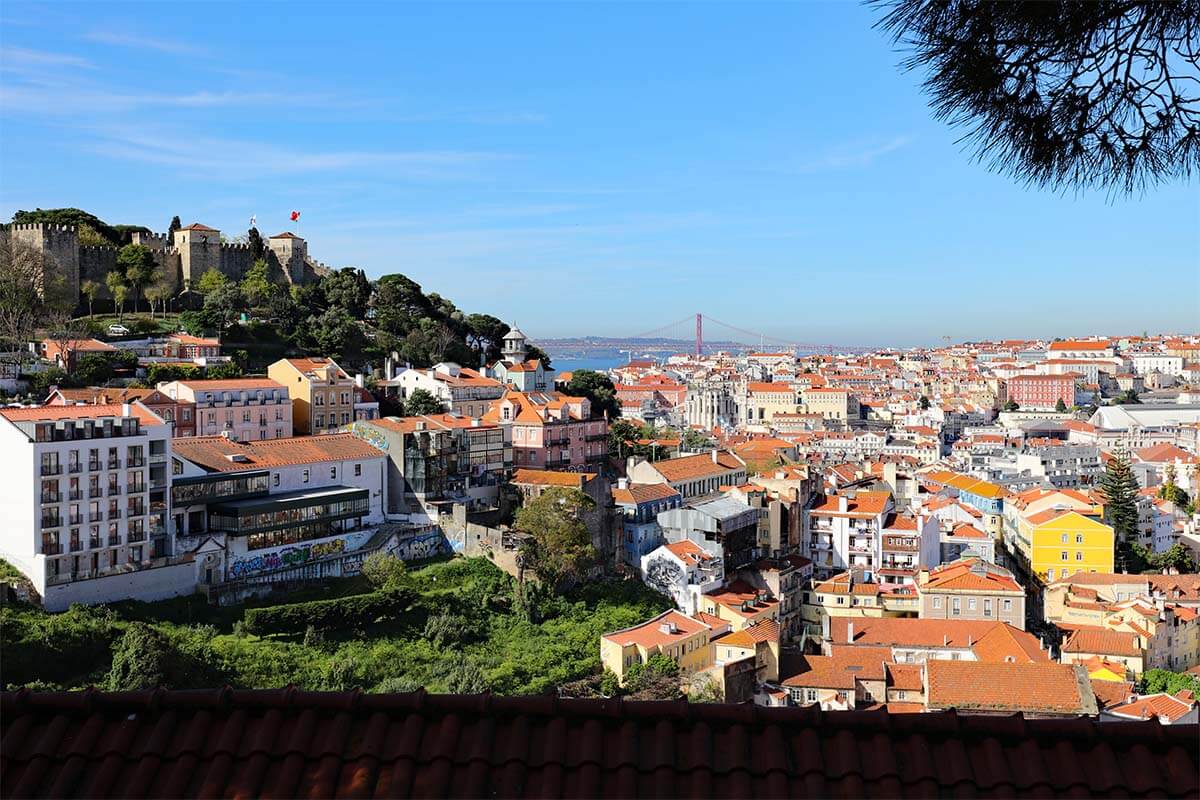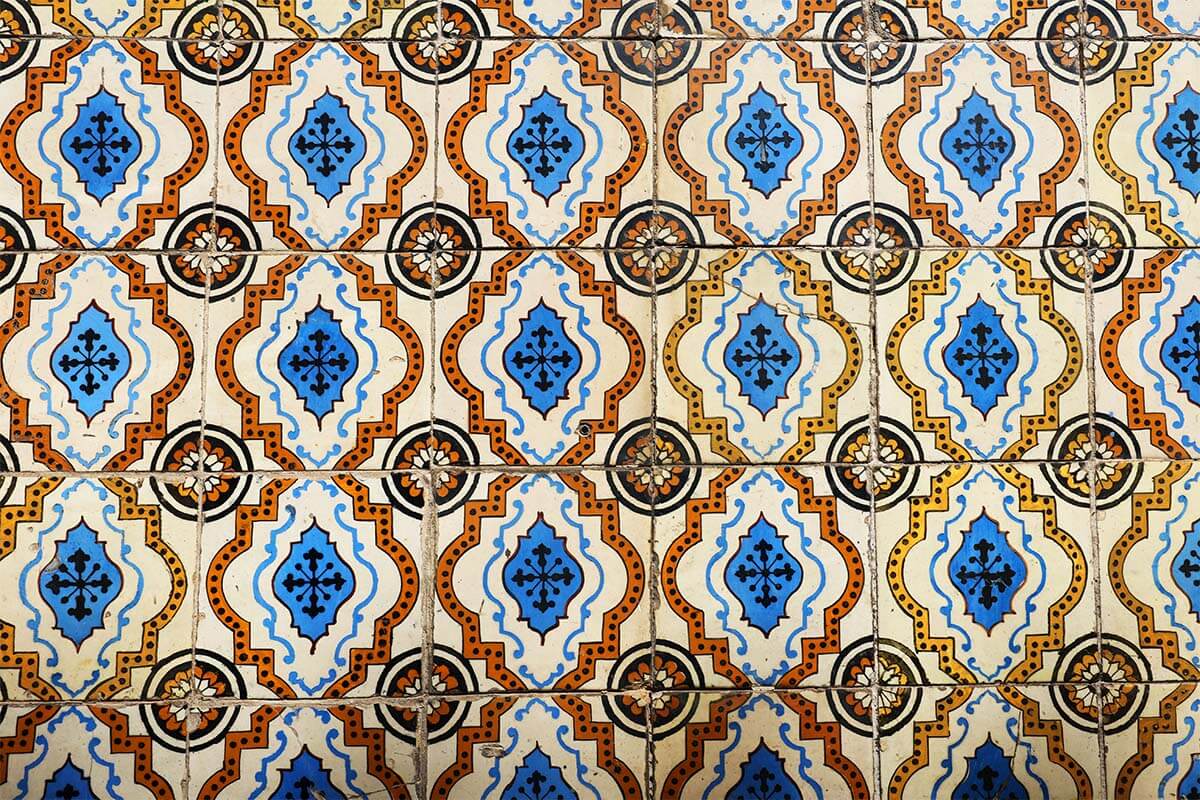 10. Santa Justa Lift
Santa Justa Elevator (Elevador de Santa Justa) is one of the coolest things to do in Lisbon! Located in Baixa Chiado, this elevator was built in 1902 to link the lower part of town to Carmo Square in Bairro Alto. It is now one of the most famous tourist attractions in town!
Once on top, you have access to a stunning viewing platform with an amazing 360° view of Lisbon. And while Lisbon has so many great viewpoints, this is one you really shouldn't miss! Also the experience of riding this historic lift is something you won't quickly forget.
Good to know: The Santa Justa Lift is open daily from around 7 am to 10.45 pm. The ticket costs 5.5 Euro. This includes a trip up, access to the viewing platform, and the trip back down. Kids are free of charge.
TIP: There is always a big queue here during the day, but since the lift is open until late in the evening, consider coming later in the day when most day tourists have left.
Good to know: Santa Justa Lift is part of the public transport network in Lisbon so it's also included with Lisbon Card and also with the hop-on-hop-off bus tickets. However, you may have to pay an additional 1.5-2 Euro to access the viewing platform.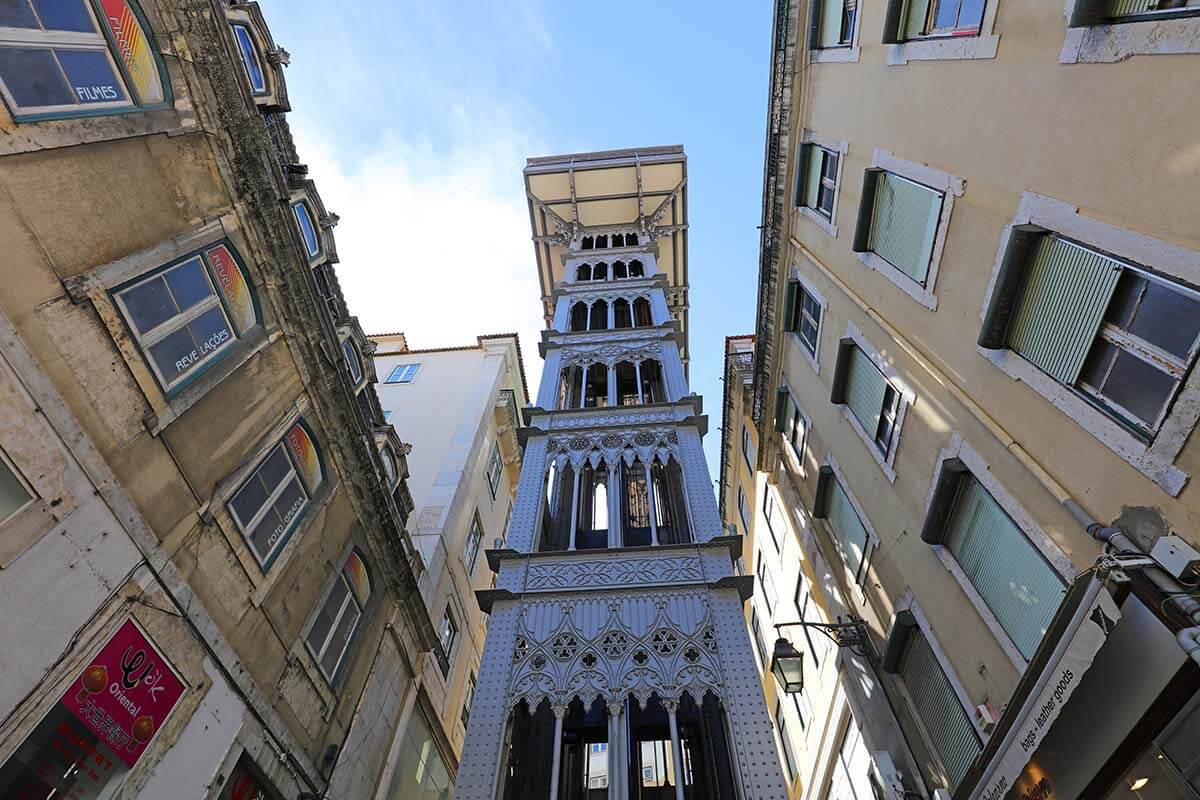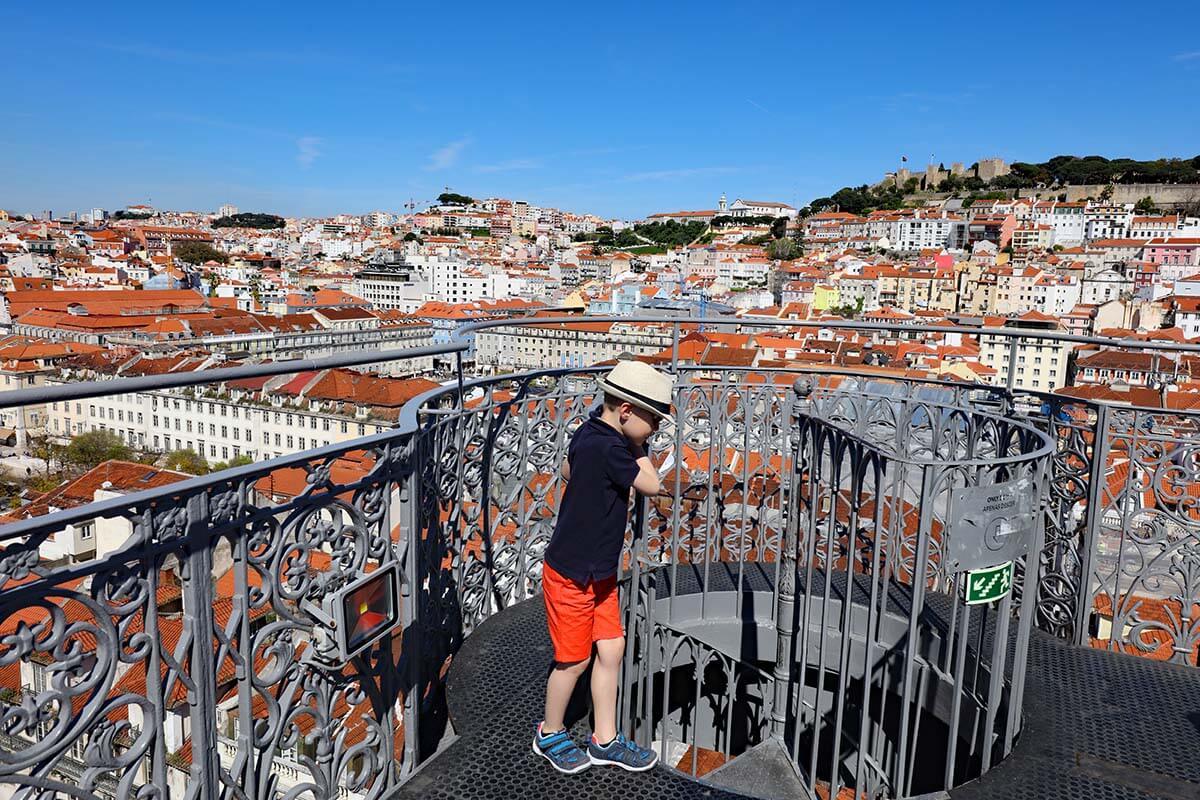 11. Carmo Convent
Just near the top station of Santa Justa Lift, you'll find one of the nicest museums in Lisbon, Carmo Archeological Museum located in Carmo Convent (Convento do Carmo).
Built in the 14th century and enhanced and richly decorated over the centuries, Igreja do Carmo was one of the most impressive churches in Lisbon, rivaling the Lisbon Cathedral. However, the 1755 earthquake caused serious damage and almost completely destroyed the church. Reconstruction was started but was interrupted in the 19th century. It was later decided to leave the 'romantic' look of this roofless chapel as it is. And indeed, it's a very impressive ruin, and probably even more so because it doesn't have a roof…
The building now houses an impressive archeological museum, but its biggest charm remains the architecture of the church ruins. You can get a free audio tour or join a guided tour and learn all about the building and its turbulent history. Well worth a small detour if you are taking the Santa Justa Lift anyway!
Practical information: The museum is open daily except on Sundays and some public holidays. Tickets are just 5€ for adults, and kids under 14 visit free of charge. For more info, see their website.
TIP: On summer evenings, don't miss the wonderful light show at Carmo Convent. It's called "Lisbon Under Stars" and is an extraordinary way to experience this unique place.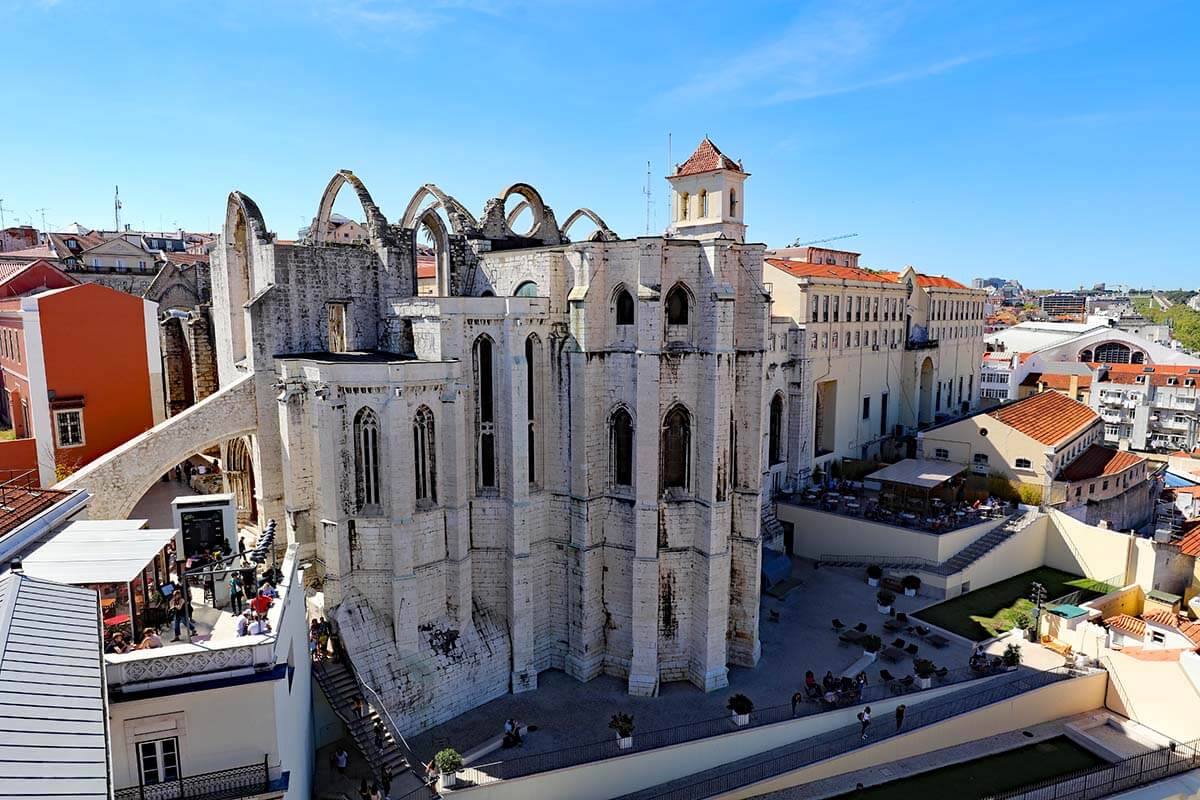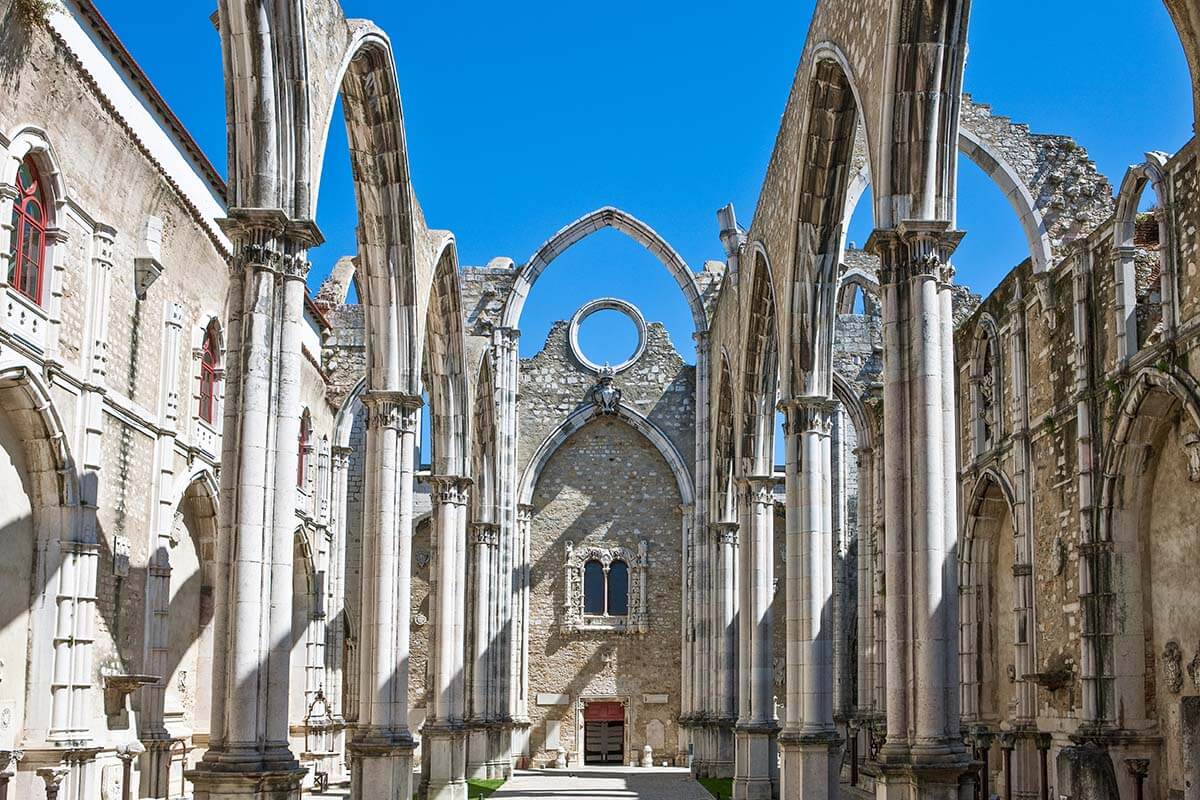 12. Tram 28
Historical Lisbon tramway lines were built in 1873, and the first trams were pulled by horses. The electrification of the tramway started in the 20th century and Lisbon's tramway network had 27 lines in the 1960s. Today, there are still 6 of the original lines and the most famous of them all is line 28.
No journey to Lisbon would be complete without seeing the famous tram 28! It's usually yellow, but you'll see red trams as well, and also colorful trams covered in ads… This historic tramline connects Martim Moniz with Campo Ourique and passes through the districts of Alfama, Baixa Chiado, Graca, and Estrela. If you have the time, it might be worth it to do at least part of this journey. However, the tram is often really crowded and it's also a popular place for pickpockets… So for the best experience, avoid traveling during the day (it's much quieter in the morning or in the evening). Also, board the tram at one of its end stations (indicated on our map) if you want to be sure to get a seat.
If you are planning to make an entire journey, it's easier to get a 1-day public transport ticket (or the earlier-mentioned Lisbon Card). This will save you the stress of having to buy tickets on the crowded tram.
Insider recommendation: The tramway depot is located next to LX Factory in Alcantara (more about this cool place further below). It is perfect to take pictures while they are empty and not moving. There is also a museum called Carris Museum which used to be a depot of tramways. This is a good opportunity for the children to see the trams and the metro up close, without the crowd in the city.
TIP: If you find it all a bit overwhelming, some Lisbon walking tours (like this one) include a short ride on Tram 28. There's also a very nice tuk tuk tour that covers the entire route of tram 28, allowing you to see the same places in a much more relaxed way and without the crowds. Unless you absolutely want to sit (more likely stand) in the original tram, this is probably a better alternative. And you get to see plenty of trams along the way! It's also much easier to take pictures from a tuk tuk than from a window of a moving tram.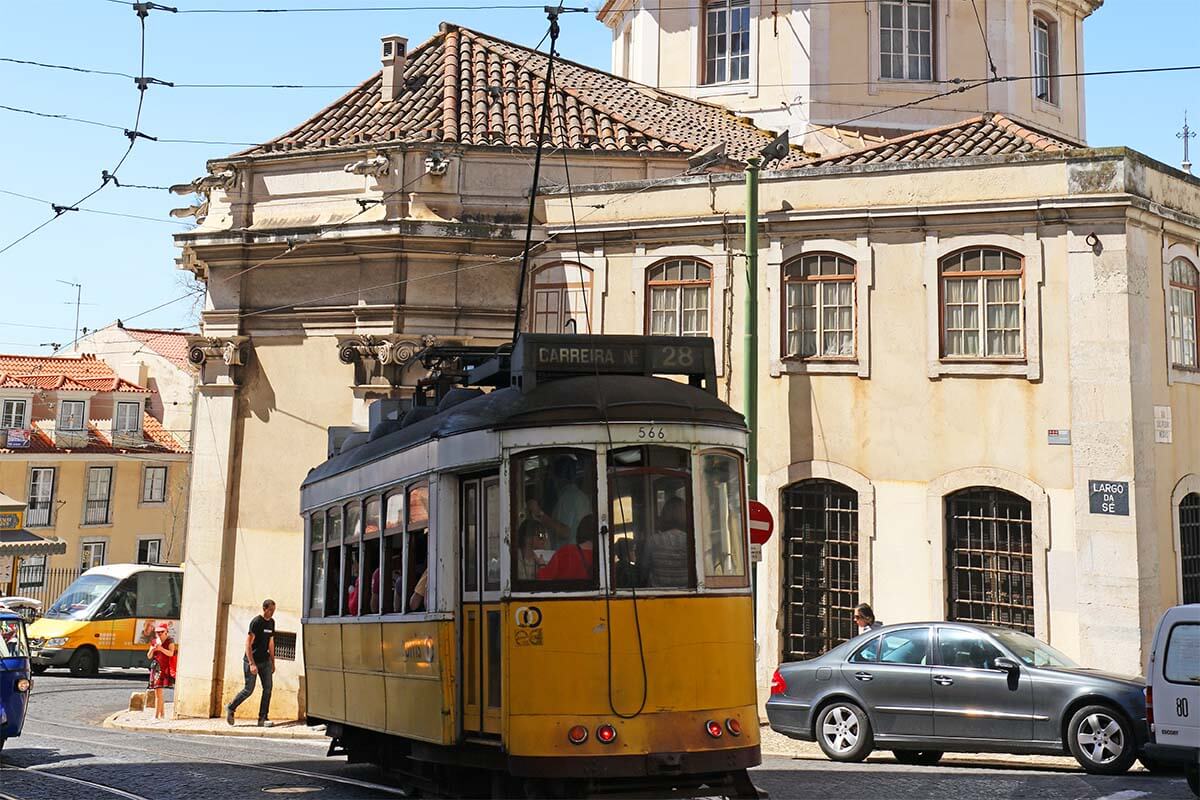 13. São Vicente de Fora Church & Monastery
São Vicente de Fora Monastery (Mosteiro de São Vicente de Fora) and its church – Igreja de São Vicente de Fora – sits high on the hill in Alfama district and you'll see it from various viewpoints in the city. But it's well worth taking your time to actually visit the church as well.
It is called Fora (which means 'outside' in Portuguese) because the monastery was originally built outside the city walls. Nowadays, this area is the heart of Lisbon… The monastery was founded in the 12th century and was then reconstructed in the late 16th – early 17th century, but most of its rich decorations date from the 17-18th centuries.
You can visit the church, the monastery museum, and be sure to climb the towers for an amazing view from the rooftop terrace. Yes, one more viewpoint in Lisbon, but that's what Lisbon is all about.
Good to know: The monastery is open daily from 10 am to 6 pm, except Mondays and some public holidays. Count at least an hour for a visit, plus the time to get there. Adult tickets cost 5$ and kids under 12 visit for free. For more info, please check their website.
TIP: The museum entrance door is hidden from the view and it's really easy to miss it if you don't know about it (and miss the best part and the view). The door is on your right when you are looking at the church.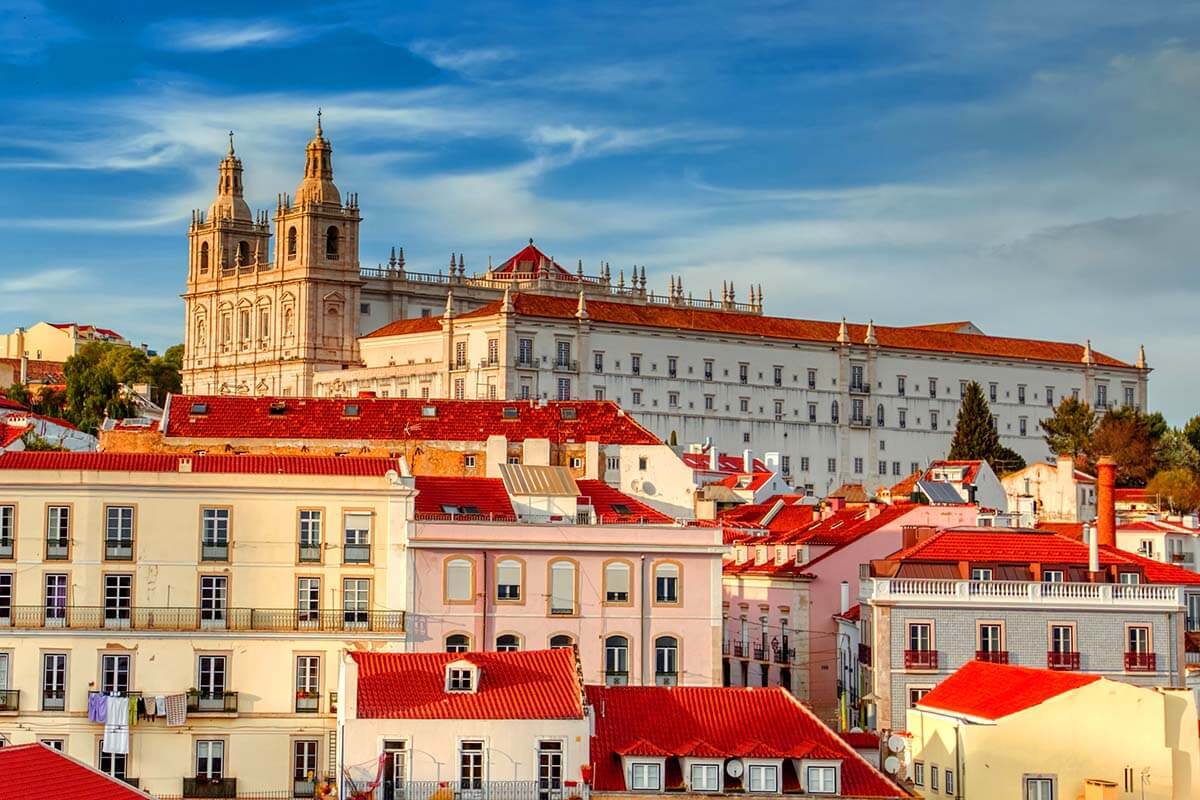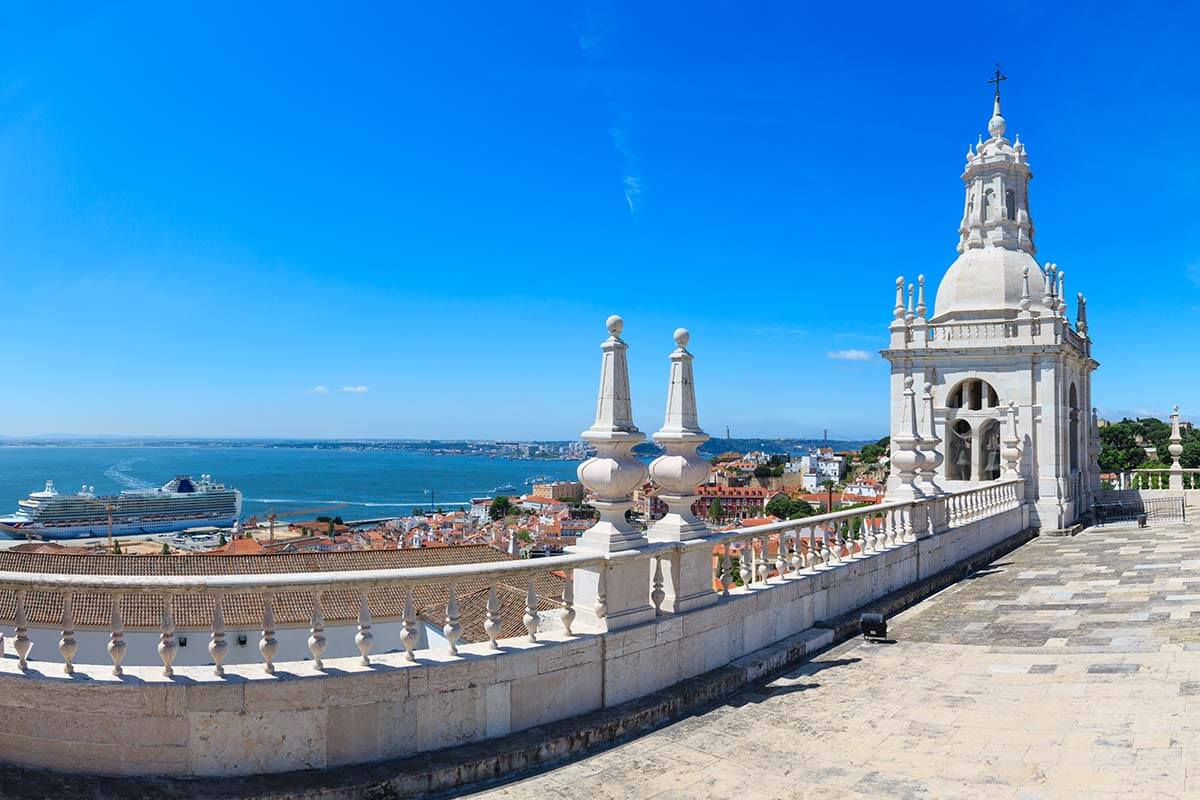 14. Tagus River Sailing Cruise
Taking a river cruise on the Tagus River is one of our personal recommendations for anyone visiting Lisbon! It's such a great way to see a different side of the city, relax, and rest your legs from all the walking while taking in some amazing sights along the river.
We did this on our first trip to Lisbon and booked a private sailing cruise for our family. It was an unforgettable experience that I highly recommend to anyone, no matter how much time you have in the city. It will make your visit so much more special!
There are many different sailing tours in Lisbon, and I really think you can't go wrong with any of them. For the best experience, I recommend going in the evening. The light is beautiful (there are sunset cruises as well), it's easier to plan your day this way, and it's such a great, relaxing way to end your day in Lisbon. Also, prices for sailing cruises start at around 20-30€ per person and are well worth it. If you are with a bigger family or group of friends as we were, private tours are a great option too!
TIP: If you prefer 'regular' and more budget-friendly boat tours, there are also sightseeing boat tours available on the Tagus River. But sailing trips are truly a very unique experience, so if you do just one of the two, go sailing!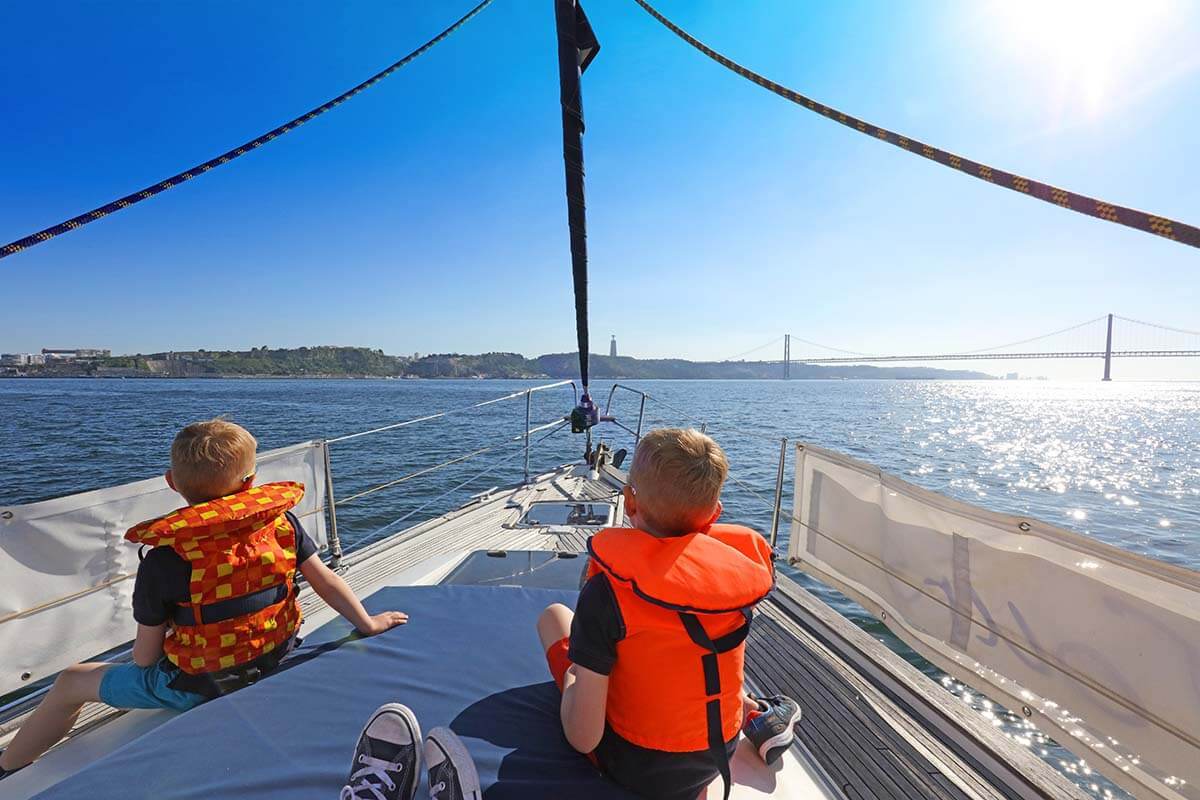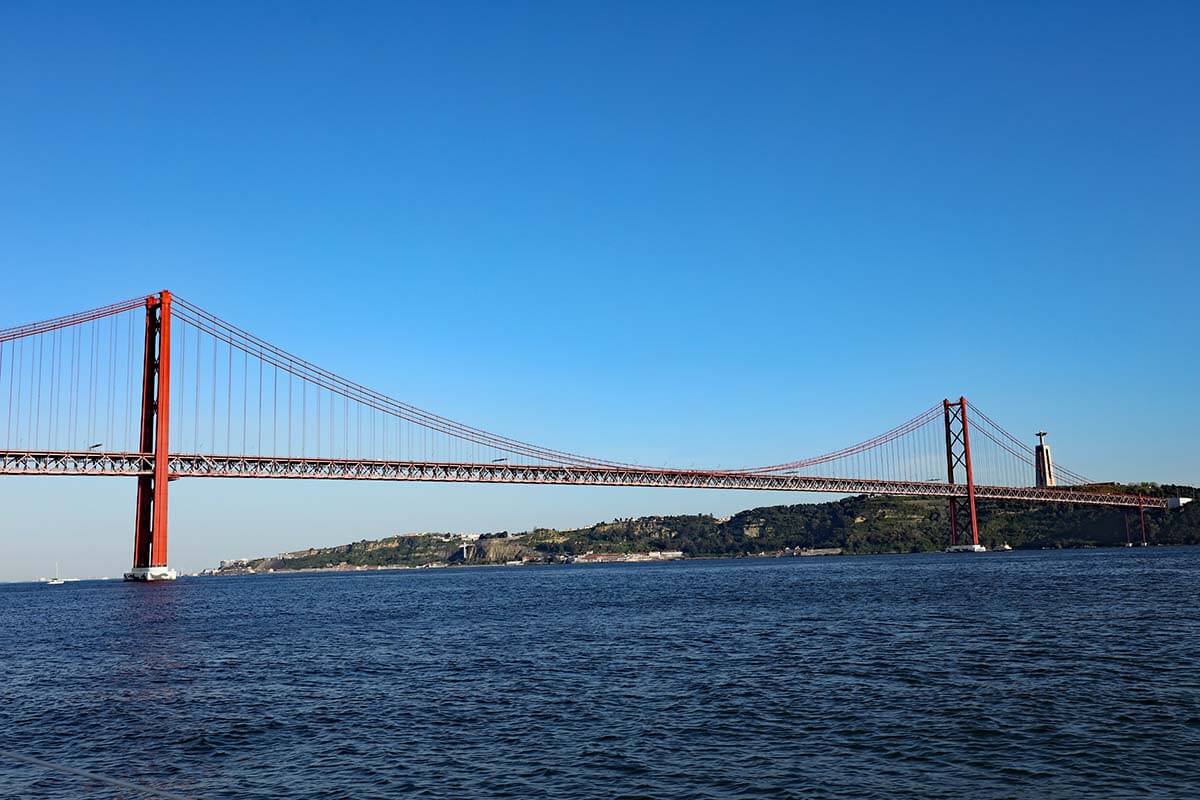 15. Praça da Figueira & Mercado da Baixa
Just one minute walking from Rossio Square, there is another really nice town square that you have to see in Lisbon – Praça da Figueira (Square of the Fig Tree). It has a perfect square shape and used to have the statue of King John I (Dom João I) right in the middle. Now, however, the statue has been moved to the corner because there is a local market – Mercado da Baixa – that takes place in Praça da Figueira every day.
Baixa market is a bit touristy, but it's still a great place to get familiar with some traditional foods, try some local products, and maybe buy some hand-made crafts. Even the locals go here during the weekend to get some fresh fish or cheese, although it's not very common to see locals in Baixa Chiado.
TIP: Try to time your visit in such a way that you can have lunch at the market. It is a very local experience.
Good to know: The market is open daily from 9 am to 9 pm.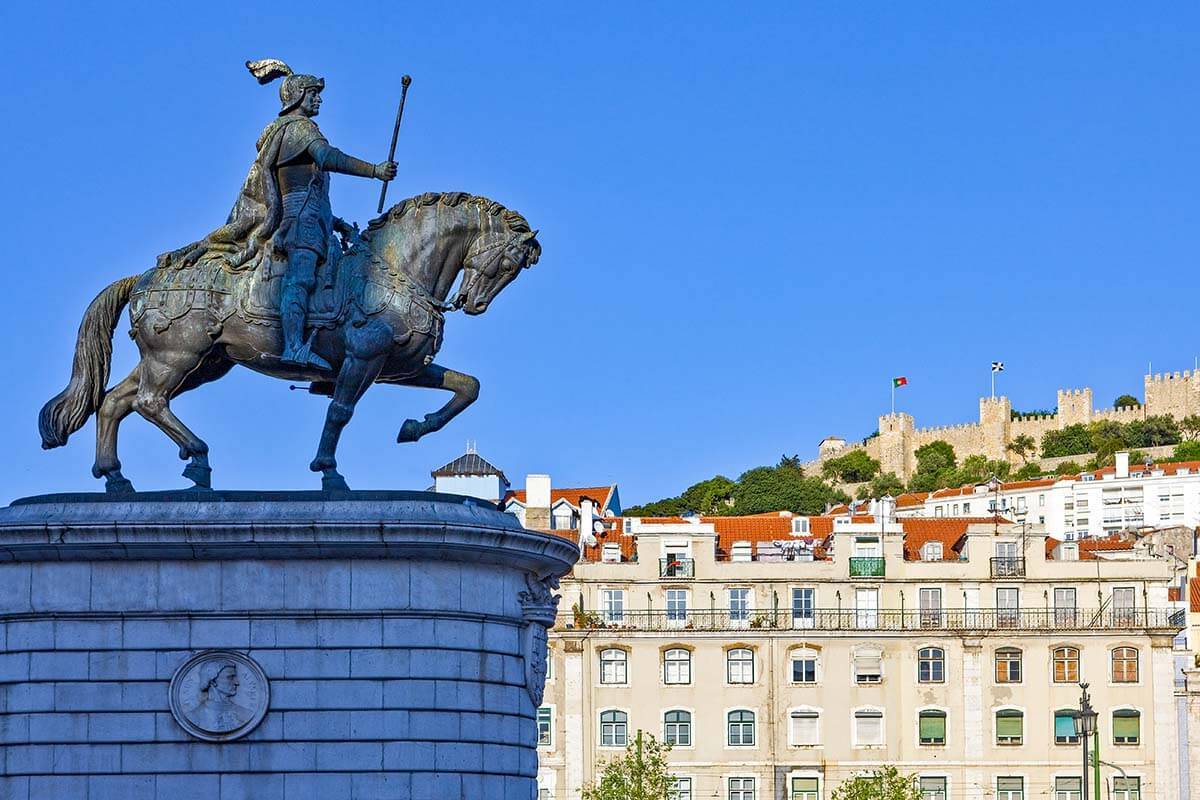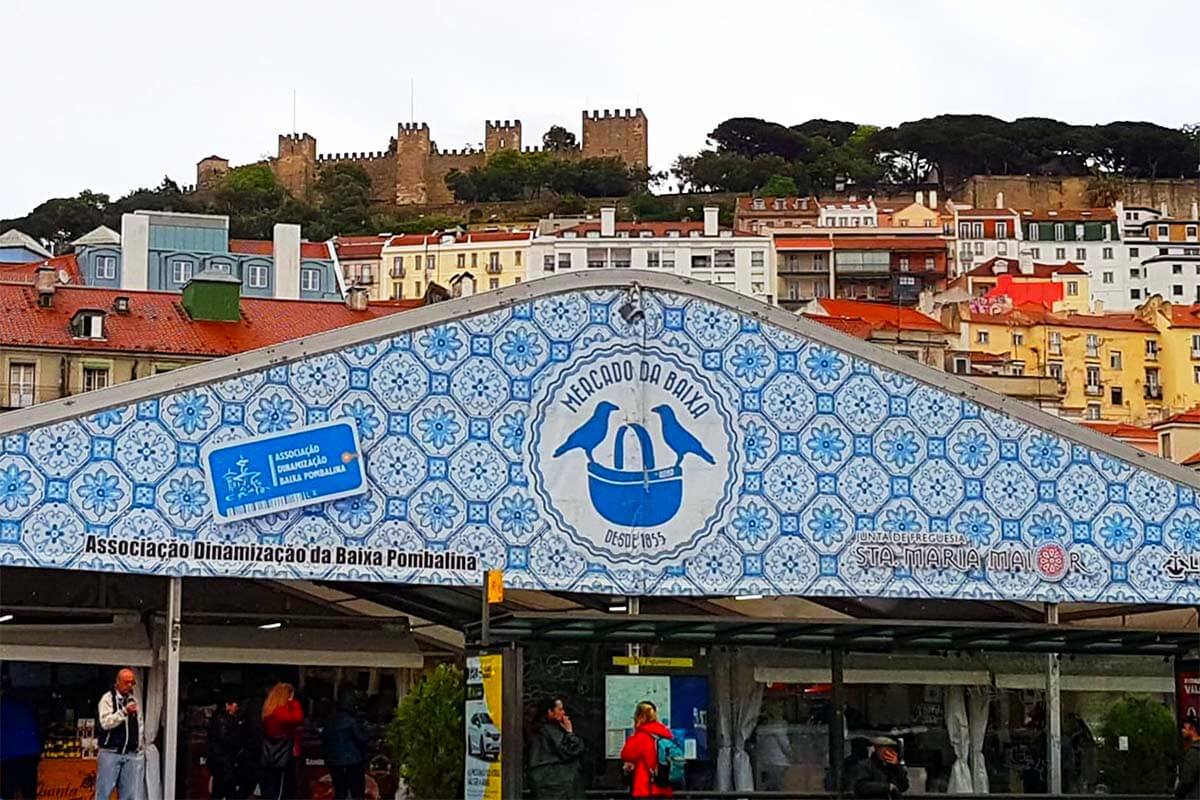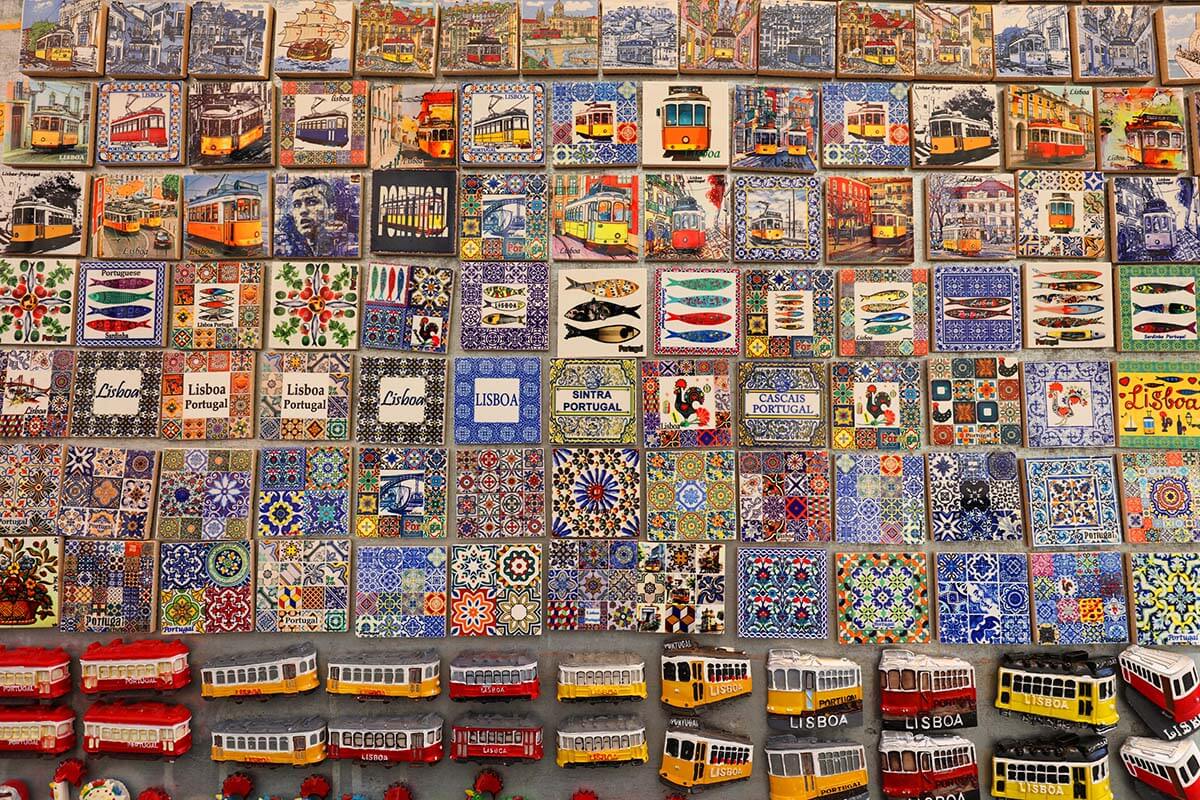 16. Try Pastéis de Belém & Pastéis de Nata
Pastel de Nata is a traditional Portuguese egg custard pastry that you really have to try when visiting Portugal! And there's no shortage of bakeries selling these delicacies all over Lisbon!
There is only one difference between Pastels de Nata and Pastels de Belem. The recipe of Pastels de Belem is kept secret and is only known to Antiga Pastelaria de Belem. They have been baking original Pastéis de Belém since 1837, following an ancient recipe from Jeornimos Monastery, which is located just nearby. If you want to try some of the very best Pastel de Nata in Lisbon, this is the place to be (and the queue outside is worth it)!
Any other custard cream cake you find in Lisbon would be Pastel de Nata, which can have many variations as everyone can make a different version of the recipe. This means that you can find some amazing ones, but also some that are mediocre, to say the least…
Personal tip: In addition to Antiga Pastelaria de Belem, other best places to taste Pastel de Nata are Manteigaria and São Antonio. We indicated all of these places in our map.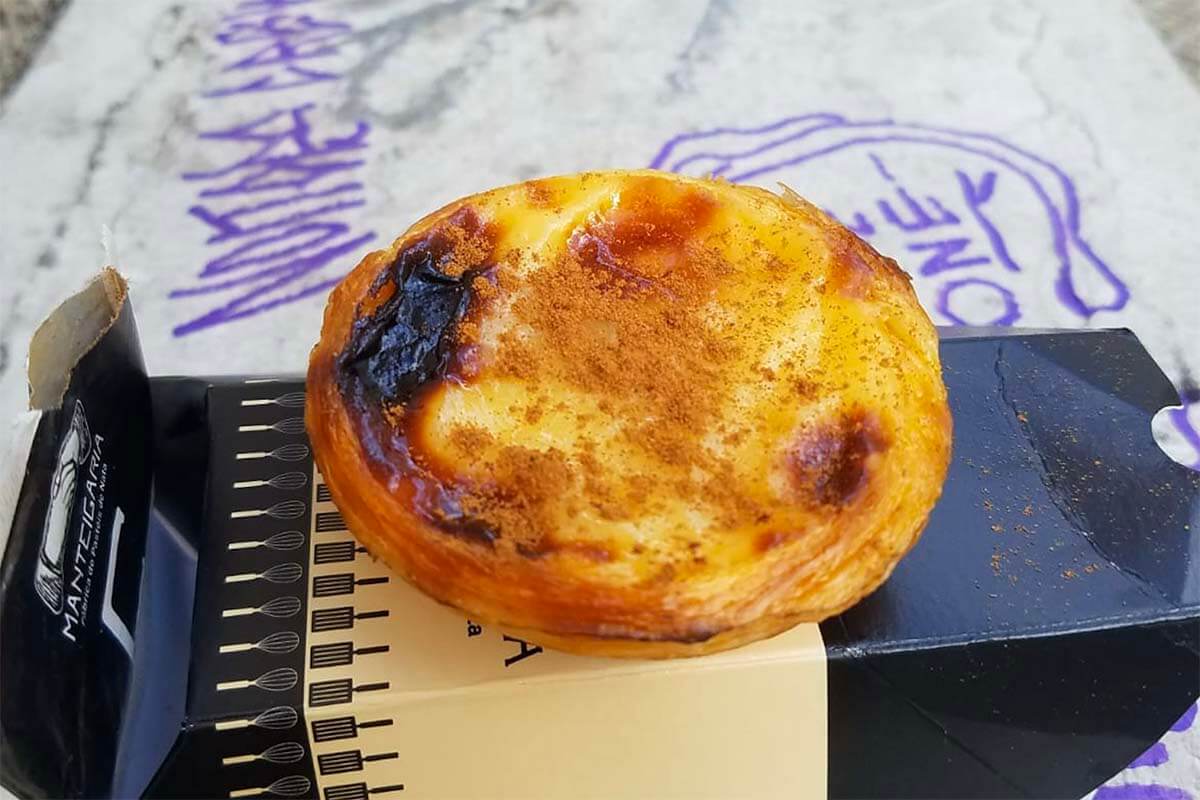 17. Attend a Fado Performance
Fado is a Portuguese music style with melancholic singing and traditional string instruments. The singer often uses themes like sadness, lost love, or the famous Saudade (Portuguese word to express sadness, the fact of missing something or someone and melancholia). Fado is believed to have originated in the early 19th century and it was the national music during Salazar's Dictature.
There are several ways to have a Fado experience in Lisbon: go to a bar or a restaurant with a Fado performance or attend a Fado concert. Going to a restaurant is probably more relaxing, but if you are mostly interested in the music and the singing, there's a nice 'Fado in Chiado' concert as well.
Good to know: There are many restaurants and bars where you can just pop in and listen to a Fado performance in the evenings. Fama d'Alfama is a great choice and they offer delicious food and amazing Fado performances (only between Thursday and Saturday after 8.30 pm).
Or you can also opt for a Fado concert and dinner tour. The best price-quality tour is this Alfama neighborhood & fado tour (this tour goes three times a week) and there is also a very highly-rated tour in the Baixa neighborhood, in one of the most typical Fado houses in Lisbon (this tour goes daily).
TIP: If you are interested in learning more about Fado music and its history, check out Museu do Fado. They have many instruments and costumes on display, and also audio recordings of Fado singers. And they also organize concerts.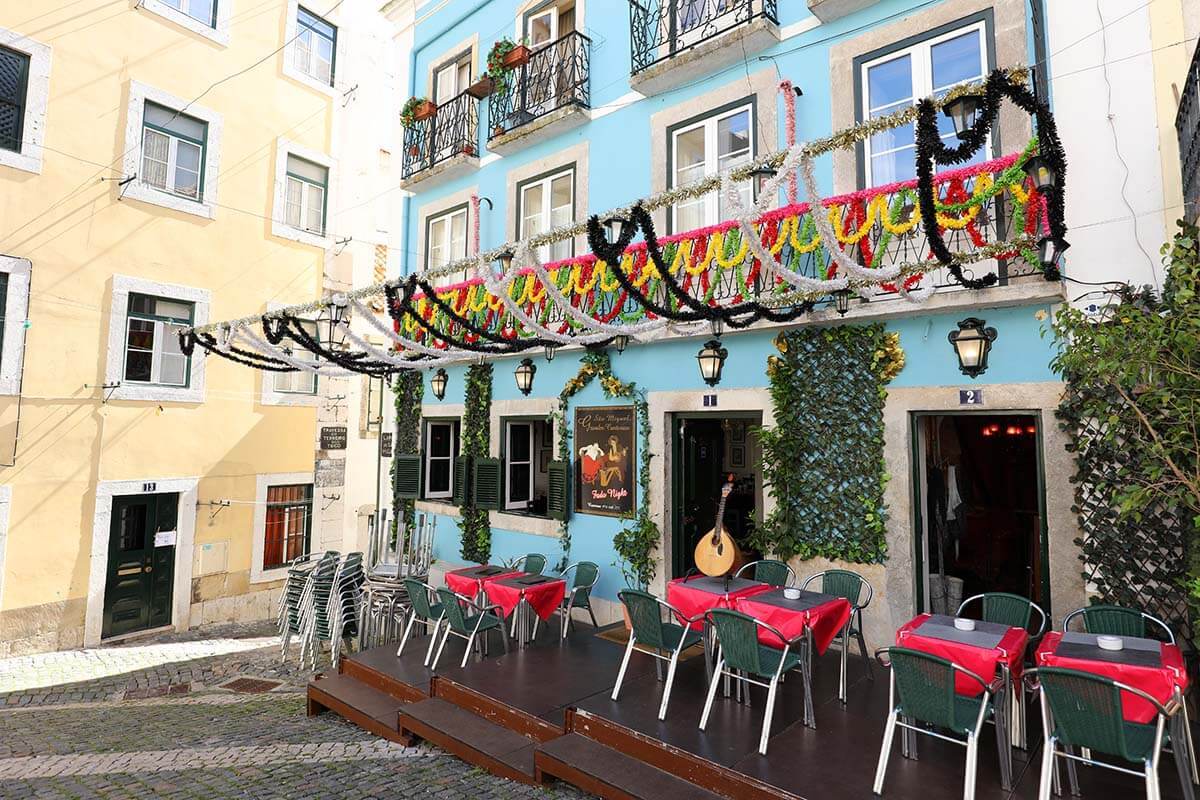 18. Time Out Market
Located in a popular dining area Cais do Sodre, Time Out Market is a giant food court, and a very popular place to visit in Lisbon, for locals and tourists alike. There's a big selection of food stalls where you can find food from all over the world.
Seafood is exceptional at Time Out Market as they have chefs from all around the world and fresh products coming straight from the sea.
They also organize various events and even cooking classes, so if you are looking for a special experience, take a look at their website in advance to see what's going on. And otherwise, you can just go there for lunch or dinner, and you'll always find a great meal.
Good to know: Time Out Market is open daily from 10 am to 10.30 pm.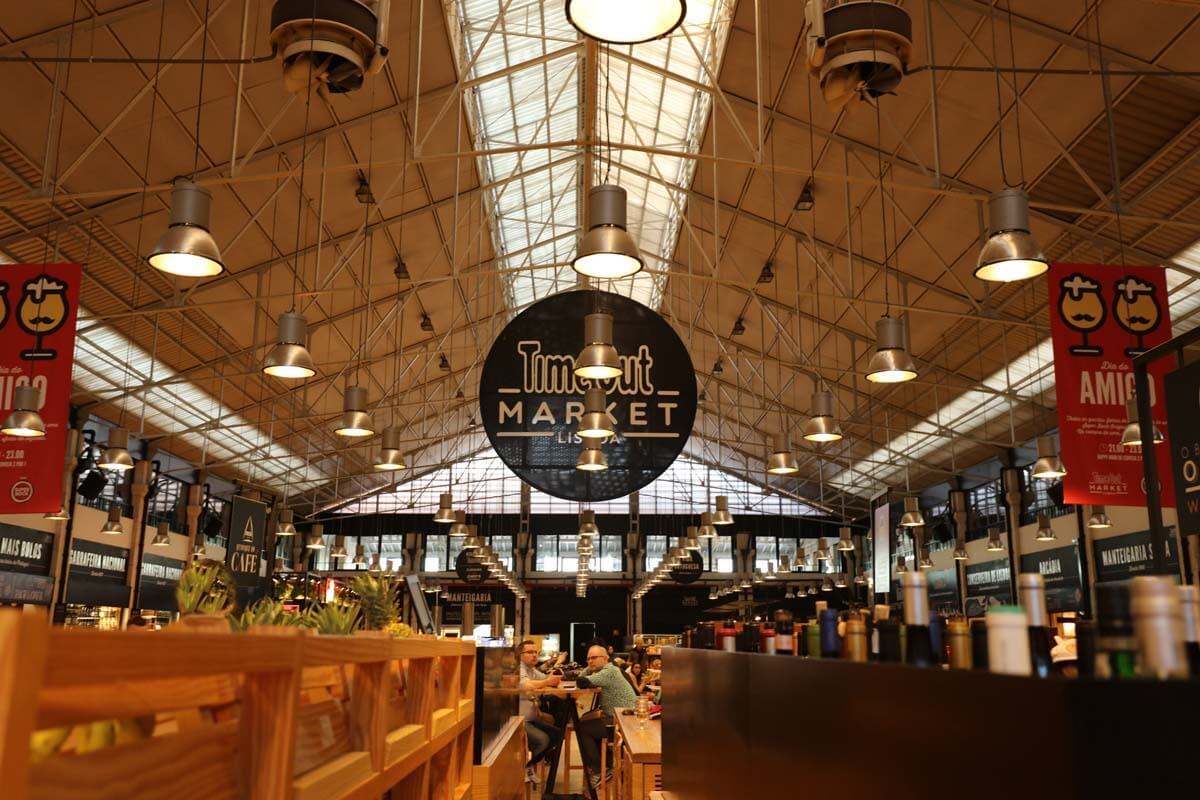 19. Lisbon Oceanarium
Located in Nations Park (Parque das Nações), Lisbon Oceanarium was built for the International exposition in 1998. It is one of the biggest aquariums in the world.
Each aisle of the oceanarium represents an ocean. The five aisles represent 5 different ecosystems: North Atlantic, Antarctic, Temperate Pacific, and Tropical Indian Ocean, and a Global aquarium in the middle. You can see about 500 different species of sea creatures including sharks and the only two existing sea otters in Europe.
This is truly one of the most impressive aquariums you'll ever see and it's well worth your time. If you are visiting Portugal with kids and have a few days in Lisbon, it's really a must!
TIP: Since this is a popular attraction for locals as well as tourists, the queues can get very long as well. So it's best to get your tickets in advance.
Good to know: Lisbon Oceanarium is open daily the whole year-round. From the city center, it is best accessible by using the red metro line. One of the hop-on-hop-off bus routes also covers this area.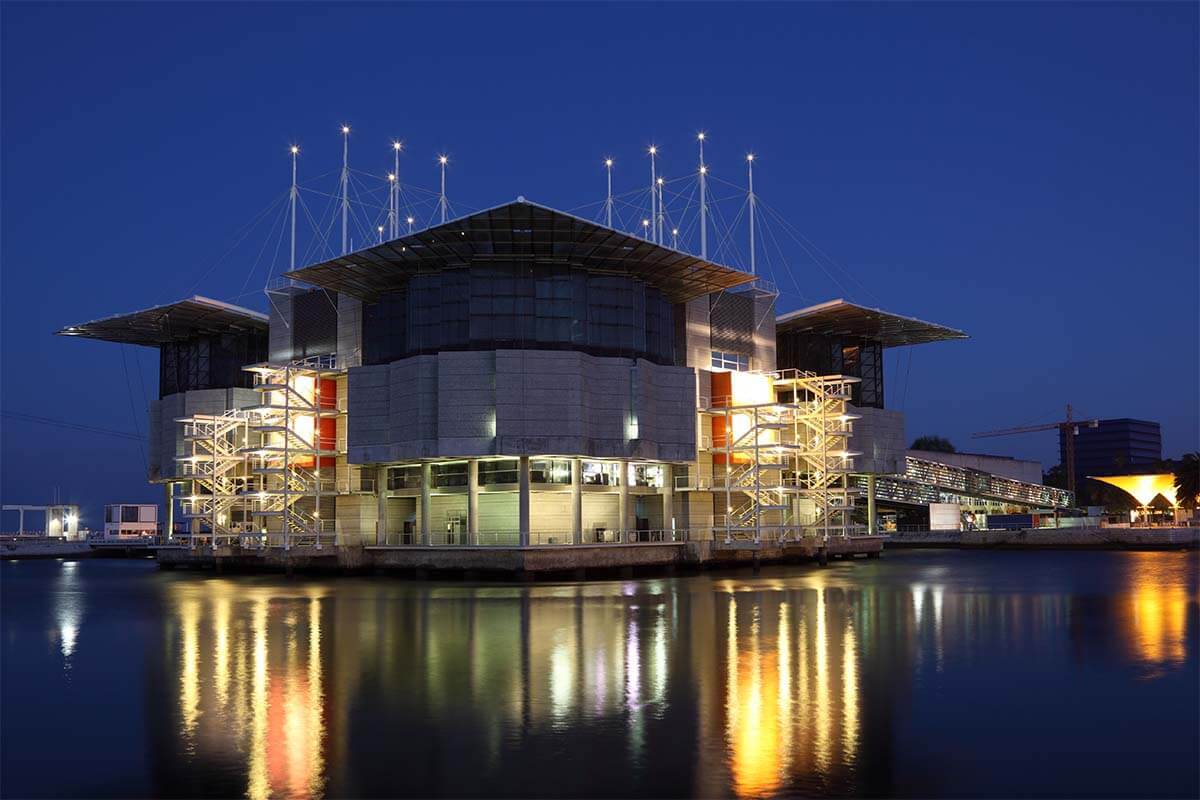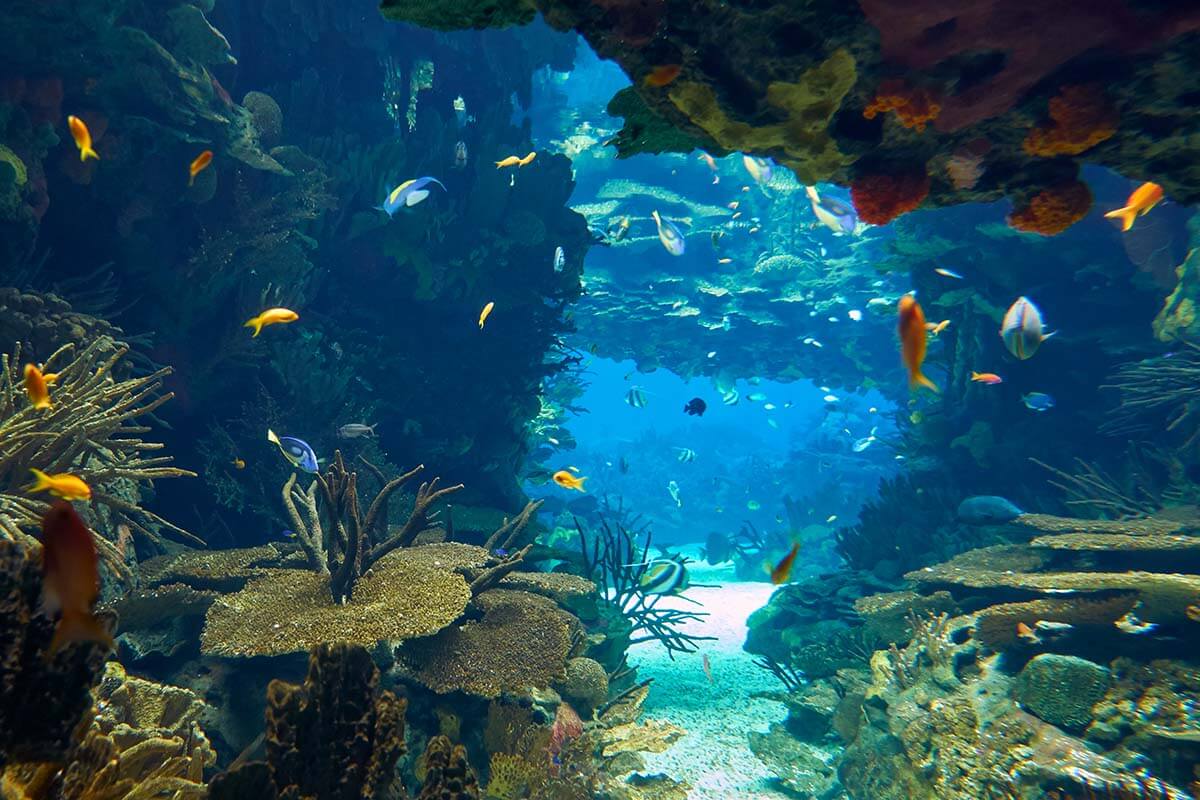 20. Nations Park Gondola
If you are looking for something nice to do in Lisbon away from the most popular attractions in the old city center, definitely consider a scenic ride on Telecabine Lisbon, aka Nations Park Gondola. Located in the Parque das Nações district, its south station can be found by the river, just next to Lisbon Oceanarium.
The ride on the gondola takes about 10 minutes one way, and ends at the Vasco de Gama Tower, which is an interesting architectural masterpiece that looks like a giant sail. This is a great way to see the more modern side of Lisbon that most tourists never get to.
Good to know: Gondola runs daily throughout the year, with varying hours depending on the season. You can get tickets and find more info here.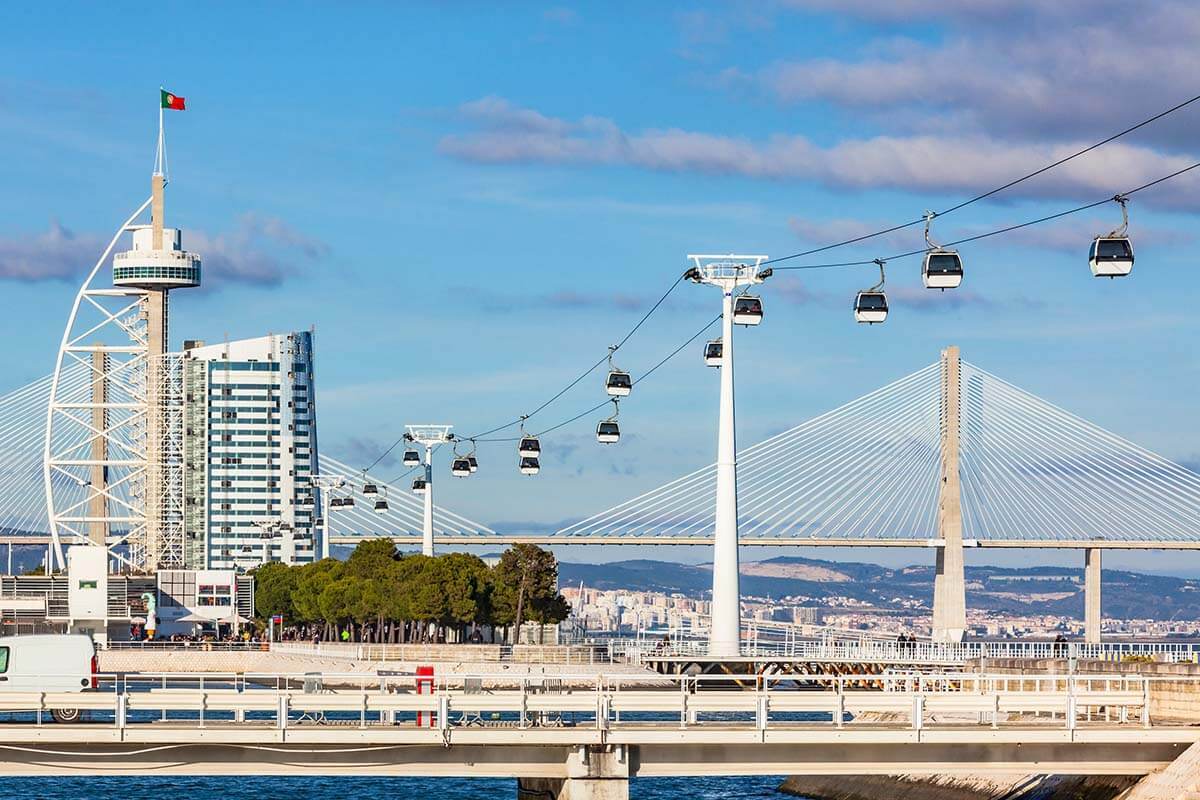 21. LX Factory
LX Factory is located next to the famous 25th April Bridge in the Alcantara area. It is an old industrial factory refurbished into a building consisting of shops, bars, restaurants, and art galleries. They also host various events on the weekends and in the evenings, such as concerts or art presentations.
This is one of the coolest places to visit in Lisbon! It's a kind of hipster place with a great atmosphere. Well worth a small detour from the city center!
TIP: There are lots of restaurants and cafés (most with really good food) that offer a very nice view of the Tagus River, the 25 de Abril Bridge, and also the Christ Statue. This is a great place to come for lunch or for dinner!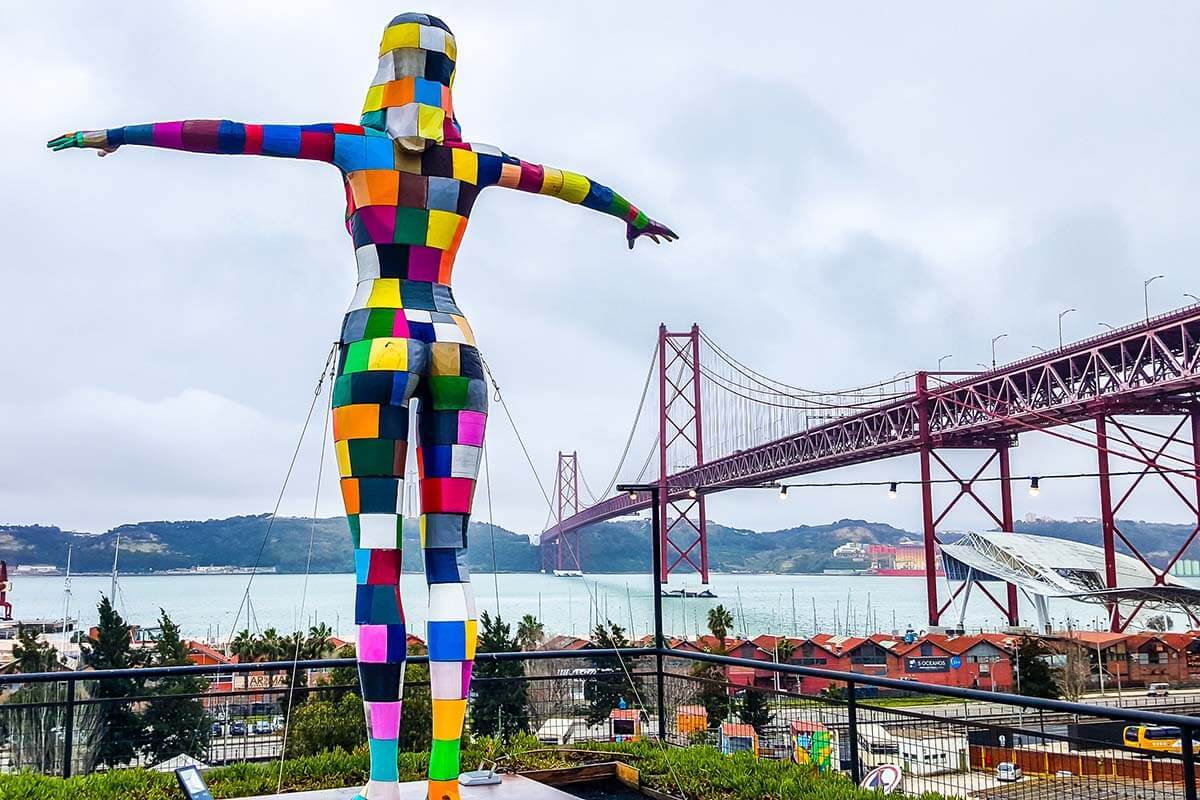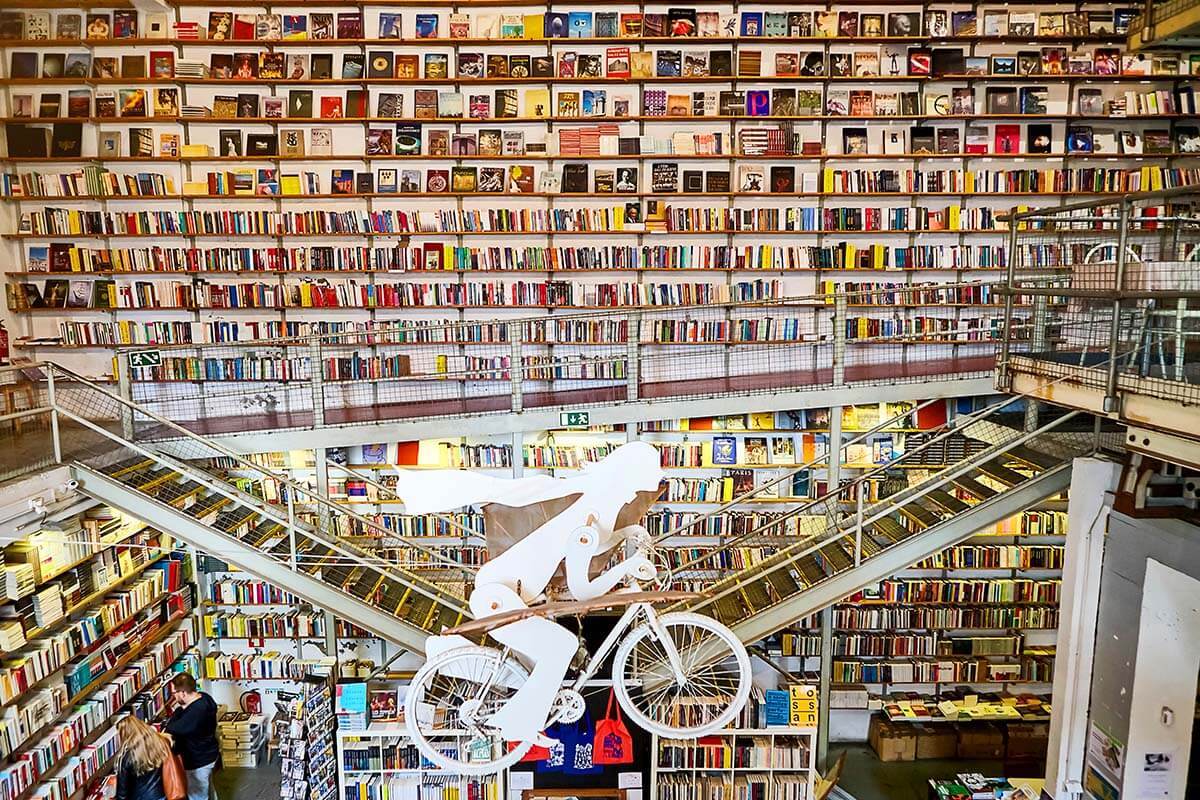 22. Lisbon's Traditional Funiculars
Being such a hilly city, Lisbon has lots of stairs, elevators, and funiculars to help people travel between different parts of town. In addition to the earlier-mentioned Santa Justa Lift, you may also want to chek out some of Lisbon's famous traditional funiculars.
Two of the best-known funiculars are Ascensor Glória and Elevador da Bica. We indicated both of them on our map. Riding on these old funiculars is one of the more local things to do in Lisbon and something that most people love to experience. However, you sometimes have to wait longer for the ride than what it takes and it can get very warm inside.
But even if you don't ride these old funiculars, it's well worth going to see them. They are very picturesque and you can get some nice pictures of the more traditional side of Lisbon.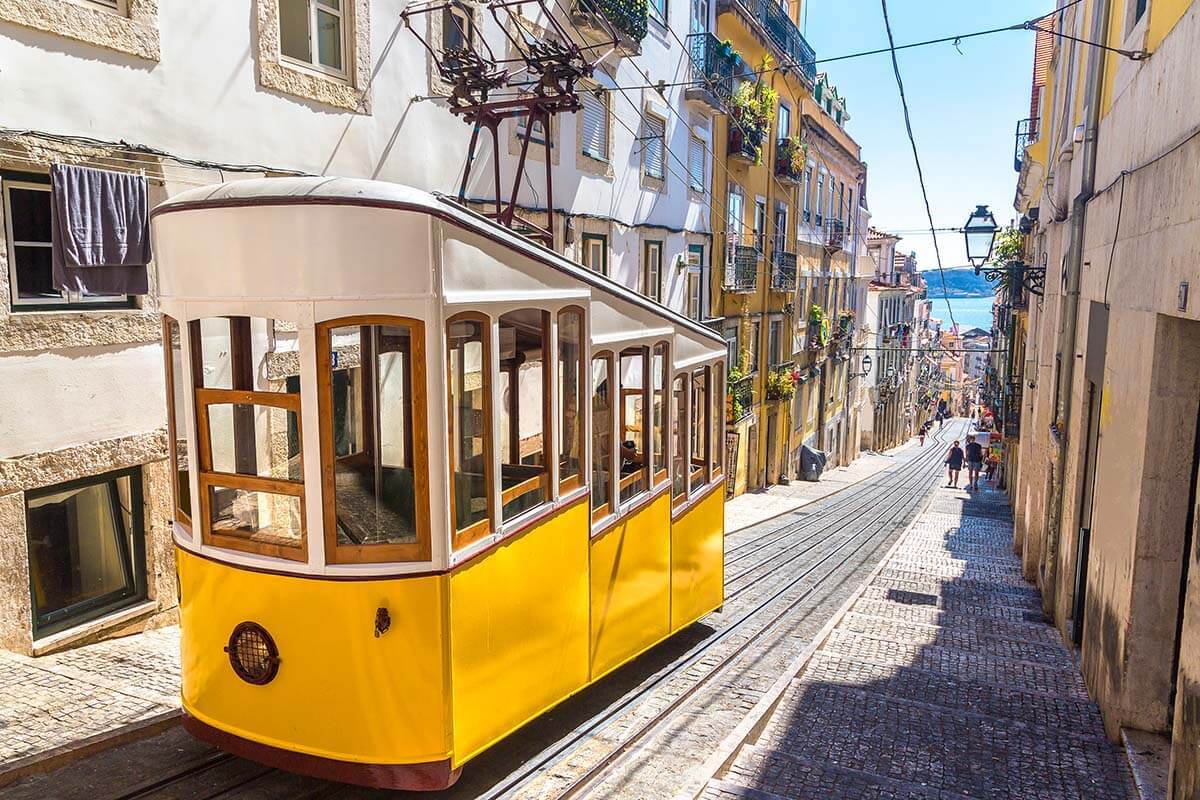 23. Cristo Rei Statue
Christ the King statue (Cristo Rei) is located on the other side of the river and you can see some of the best views of Lisbon from here. This statue was inspired by the Christ the Redeemer statue in Rio de Janeiro and was built in the 1950s.
Good to know: The best way to reach the statue from Lisbon city center is to take the ferry from Cais do Sodré to Cacilhas. Once you arrive at Cacilhas, take bus 101. This journey takes about an hour, bus and ferry combined. If you rather walk, it takes about 40 minutes from Cacilhas and the walk is uphill.
If you are short on time, taking a taxi or an Uber is also a good option. It takes less than half an hour and costs about 12-15€.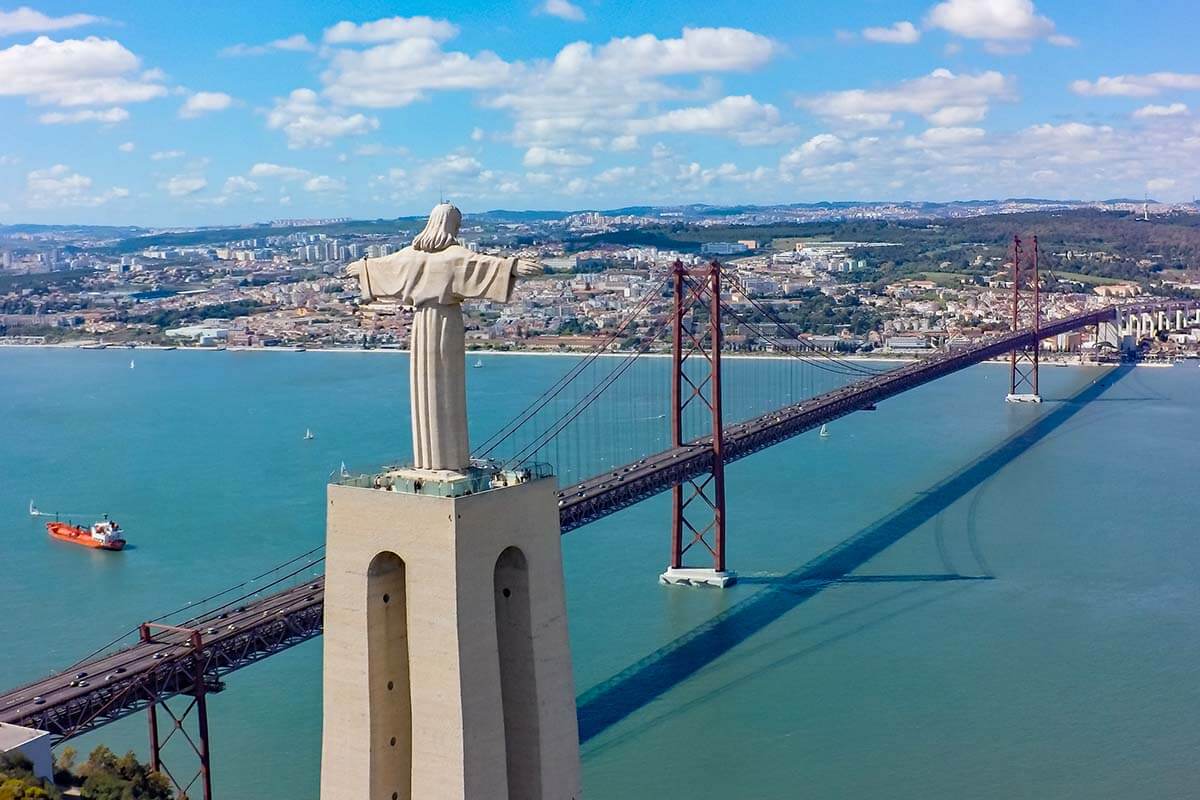 24. Benfica Stadium & Museum
Soccer fans will need no introduction to SL Benfica, one of the best football teams in Portugal. If you are a football fan, you'll definitely want to visit Benfica's stadium (Estádio Sport Lisboa e Benfica) in Lisbon. But even if you are not familiar with the team and their achievements, it's a very impressive place that's really interesting to see.
If you've been to the Camp Nou stadium in Barcelona, this is a similar experience, but even better because you go with a guide who tells you all about this place.
You get to see the impressive modern stadium that can seat 65,000 people, visit the press rooms, locker rooms, and of course, see all the trophies and learn more about the team and its history at the stadium museum.
Good to know: The stadium is a bit outside of the city center, but can be easily reached by metro. You can get tickets here. In principle, you can visit every day except Monday, and no visits are allowed on match days and – for big international matches – also a few days before and a day after the game.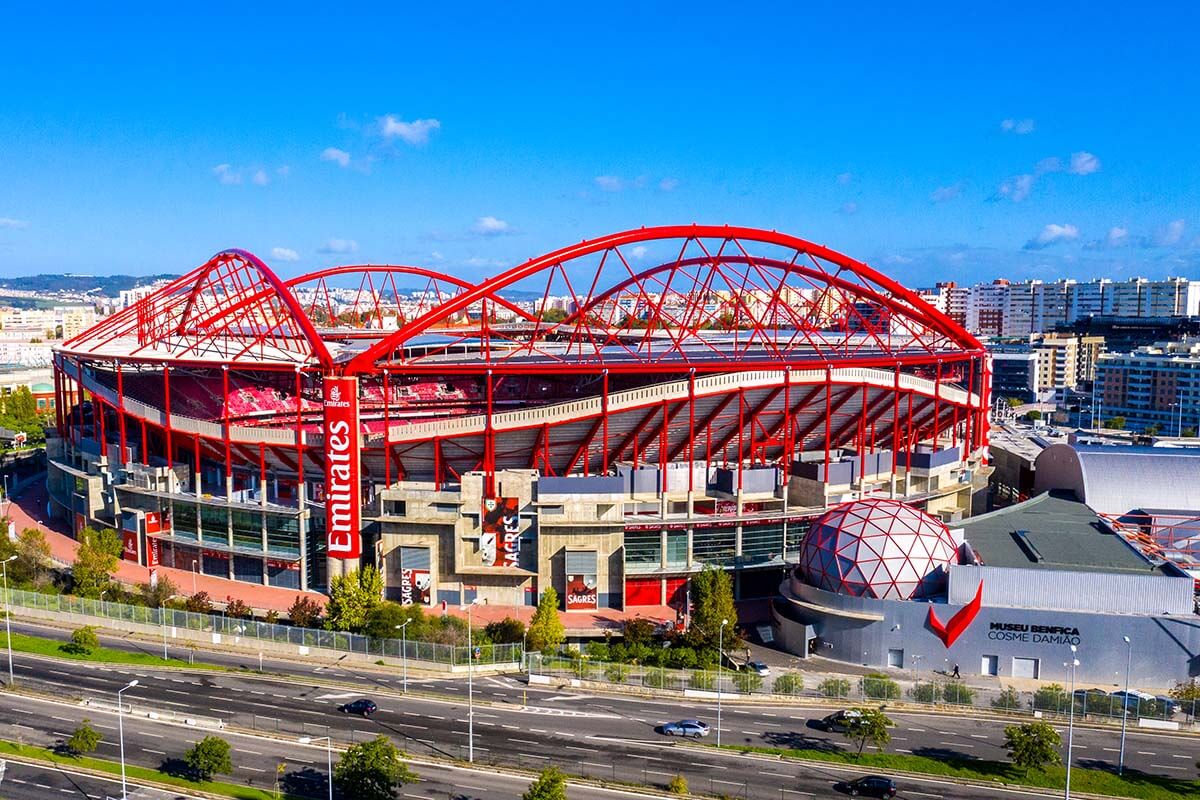 25. Avenida da Liberdade
Avenue of Liberty (Avenida da Liberdade) is one of the grandest boulevards in Lisbon, and the most expensive shopping street in Portugal and in the top-10 of the most expensive streets in Europe. This avenue is about 1.5 km long and links Restauradaures Square and Marques Pombal.
If you want to do some (window) shopping in Lisbon, this is the place to be. You'll find brands such as Hugo Boss, Gucci, Prada, Chanel, and many more. Even though expensive, it's likely that you'll pay less here in Portugal than in most Western European countries. There are also some Portuguese designer shops that are more than worth it.
TIP: After shopping, enjoy a walk at the Parque Eduardo VII (near Marquis of Pombal Square, at the northern end of the Avenue of Liberty). In the summer there are some nice local festivals here.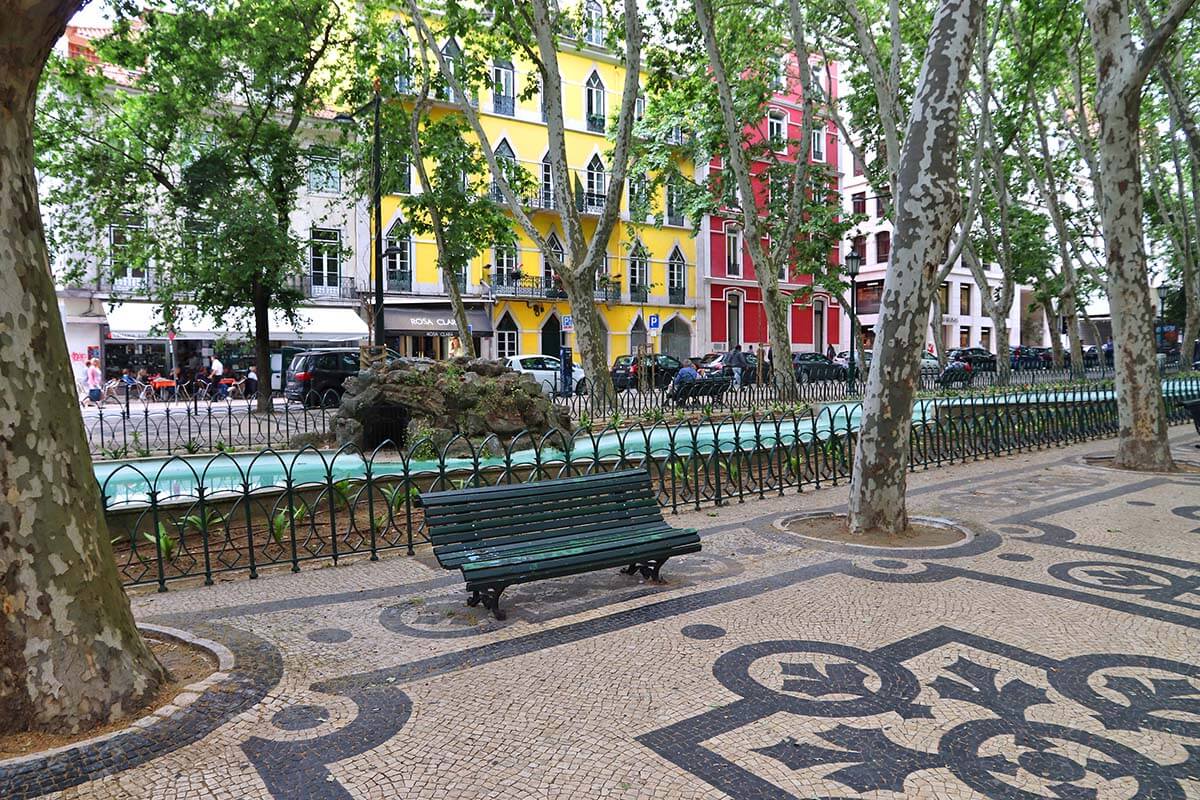 26. Enjoy even more great viewpoints of Lisbon
As already mentioned, there are countless amazing viewpoints all over Lisbon. If you are looking for somewhat more local places and want to get a bit off the beaten path, check out Miradouro São Pedro de Alcantara in the Bairro Alto neighborhood and Miradouro de Santa Catarina, which is not too far from the Time Out Market.
Miradouro São Pedro de Alcantara has a nice little park and offers an amazing view over the city, right opposite from most other viewpoints mentioned earlier. From here you can see the castle, Praça do Comércio, and the church of São Vincente de Fora. The best way to get there is by taking the Funiculario de Gloria from Restadaures Square.
Miradouro Santa Catarina is one of the best spots to enjoy the sunset in Lisbon! It's much closer to the water and offers an incredible view of the Tagus River and the bridge. The area has been recently renovated and is a favorite sunset spot for many locals. In the middle of the square, there is a statue of the famous creature Adamastor, a mythological creature that symbolizes the dangers of the sea, and has been overcome by the Portuguese discoverers. This square is a bit hidden. The best way to get here is to take the Elevador de Bica.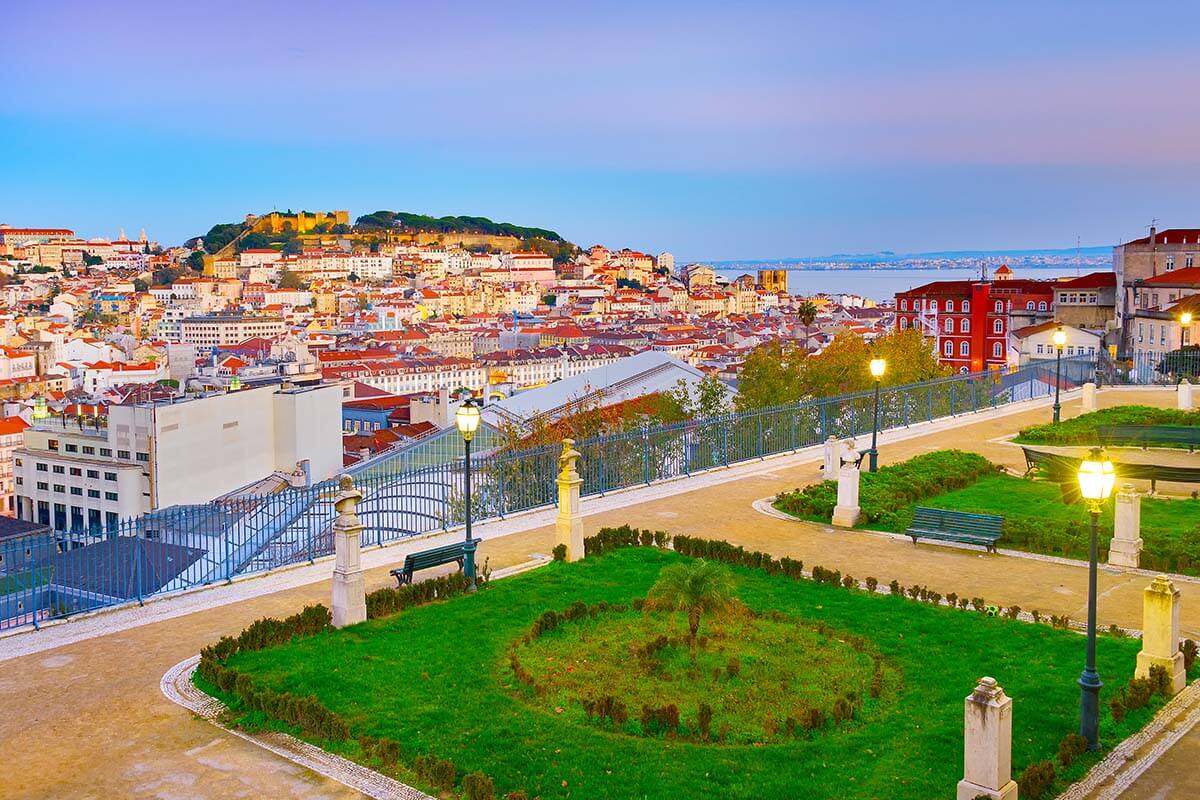 27. Take a train to Cascais
Cascais is a small coastal town west of Lisbon and one of the nicest places to visit if you want to get out of the city for a while. It's also the easiest-to-reach beach near Lisbon and can get crowded on weekends.
We recommend taking a train from Lisbon to Cascais. This whole train ride on the Linha de Cascais offers great views of the Lisbon coastline from the bridge to the sea. If you don't have the time to visit Cascais, you can also just stay on the train up to Alcantara (for LX Factory) or Belem (for Jeronimos Monastery and Belem Tower).
TIP: If looking for a beach, get off at Carcavelos train station. Carcavelos Beach is one of the best beaches on the coast and also a great place to take surfing lessons. For sightseeing, continue to Cascais where you can walk around the historic town center before heading back to Lisbon.
If you are looking for some off-beat places, local recommendations, and beaches near Lisbon, check this guide to its surroundings, beaches, etc.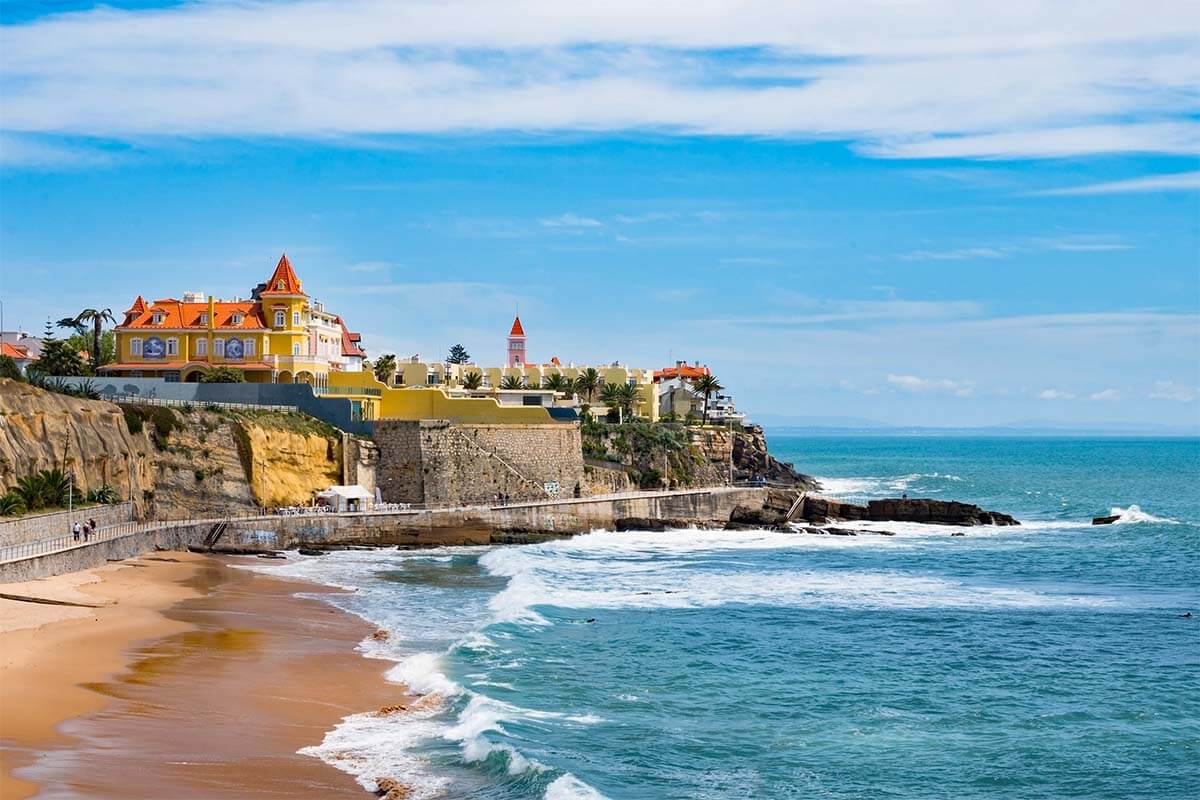 28. Take a day trip to Sintra
No trip to Lisbon would be complete without visiting one of the must-see places in Portugal, Sintra. This area has so many amazing castles, one more beautiful than the other, and is listed as part of the UNESCO World Heritage site.
There are three main castles/palaces that you absolutely have to see: Quinta da Regaleira, the Moorish Castle, and the Pena Palace. But there are many more! Quinta is like a fairytale garden with secret passages and an impressive Initiation Well. The Moorish Castle is more like a fortification with lots of staircases along its walls and jaw-dropping views. And the Pena Palace is like a real-life Disney Castle, with the brightest colors, and most impressive exterior. The gardens are not to be missed too!
Good to know: Sintra is extremely busy on weekends. So if you can, go during the week. Also check if there are any local holidays when everything might be closed. And do not take a car – driving to and in Sintra is crazy and will take you forever and parking is limited.
You can easily get to Sintra from Lisbon by train (Linha de Sintra) from Rossio train station. There are trains every 40 minutes and the tickets are cheap. Once you get to Sintra, there are taxis and tuk-tuks that can bring you to the castles. It's best to start at the Pena Palace which is on the highest hill and then walk back to the other castles and to town.
TIP: If you want to see a lot in a short time, it's easiest to visit Sintra with an organized tour. There are many tours, and if you take a longer, day tour to Sintra, you can also visit Cascais and Cabo da Roca at the same time. We recommend this highly-rated tour.
LEARN MORE: What to see in Sintra + Itinerary & Tips for Your Visit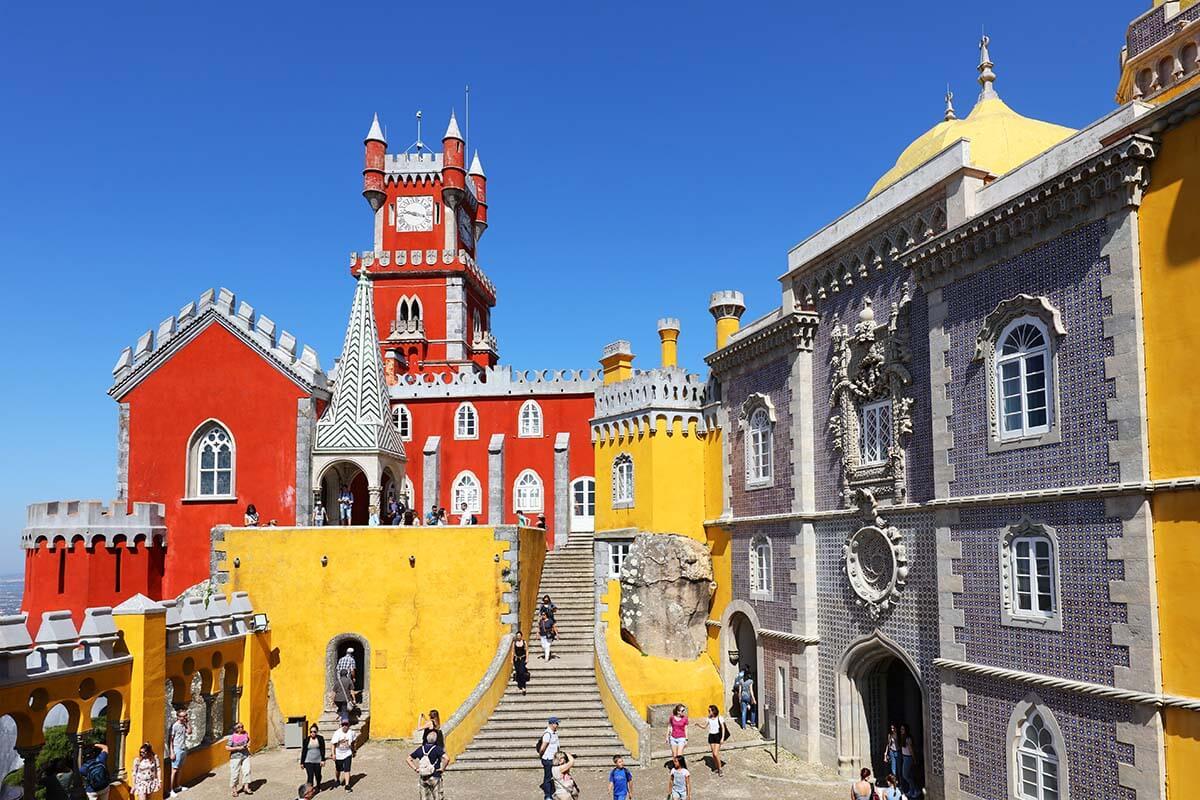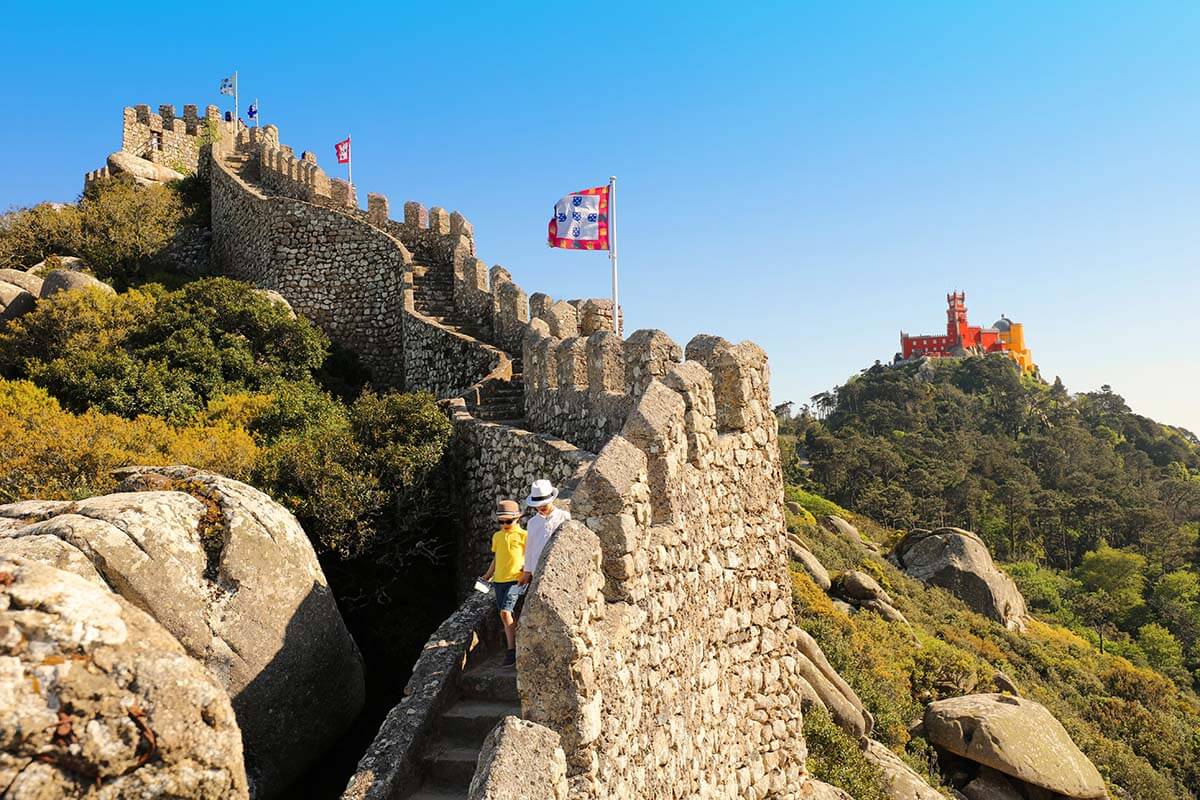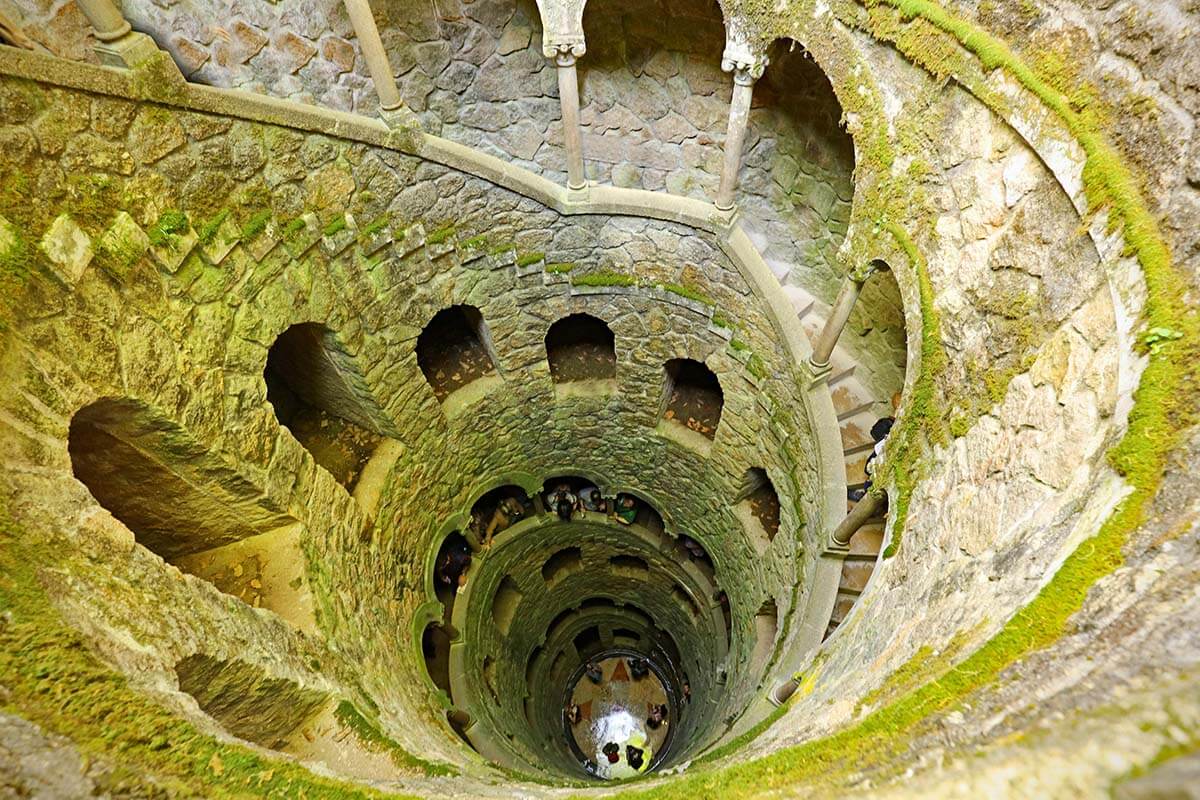 Some Practical Tips for Visitig Lisbon
Best time to visit
The best time to visit Lisbon is in the spring and in the fall. That's when the weather is mild and perfect for sightseeing, and it's not too busy. Read also our guide to Portugal in April.
Getting around
The best way to get around Lisbon is by walking. Every main attraction in the city center is accessible on foot and by walking, you discover more of Lisbon. Just keep in mind that the city is quite hilly and so it requires some effort. Wearing comfortable shoes is a must!
For longer distances, the metro is the best solution. The trains to go outside of town, e.g. to Cascais or Sintra are also reliable. In general, it's not recommended to take buses, they don't always go where you wish even though it's written on the bus. Trams can be good for shorter distances.
Taxi and Uber are cheap as well, and we used them in Lisbon all the time. This is also the easiest way to get from the airport to your hotel, but beware that they often overcharge tourists. If you want to avoid this, you can prebook a very correctly priced private airport shuttle in advance.
There are also tuk-tuks that will offer you rides everywhere you go. They can be nice for sightseeing but are quite expensive compared to the other transport options.
If you want to visit many of the main tourist attractions in Lisbon, there are also hop-on-hop-off buses. It's a good way to see more of the city without walking too much. There are various tickets available, for 1 or 2 days, and also combination tickets with public transport and/or boats. You can see the entire selection here. The earlier-mentioned sightseeing boat between the city center and Belem is also a good – scenic – option!
Day tours
If you want to see the best of Lisbon in just a couple of hours and are not sure where to start, you can join one of the many guided tours. Even if you just take a short tour with a local guide it will give you a better idea of the city, where everything is, and you can then come back to the places that appealed to you the most and explore deeper. So if you take a tour, do it at the beginning of your visit!
There are walking tours, food tours, street art tours, tuk tuk tours, bike tours, segway tours, etc. Here are some of the best introductory tours to Lisbon:
Where to eat
We already included some recommendations on where to eat in Lisbon in our article. Time Out Market and LX Factory are great areas with lots of good options. But if you are looking for the best Portuguese food, be sure to check out traditional local Portuguese restaurants called Tasca. They mainly serve food for lunch, but also dinner is available.
The best Tascas in Lisbon are usually found in the old neighborhoods and away from the most touristy areas. In Baixa Chiado, there will be a lot of people showing you menus, trying to convince you to go to their expensive restaurants. Say no to those and try one of the Tascas instead.
Tascas may look a bit sketchy, but they really have the best food in Lisbon! The best traditional dishes to try are Secretos de Porco Preto, Bacalhau a Bras, or simply ask for the dish of the day.
Personal recommendation: The most authentic tasca is in the center and it is called Cervejeria Paço Real (it's open for lunch only). Another good option is O'Farnell (open until late at night). The price for a meal is usually between 5-10€.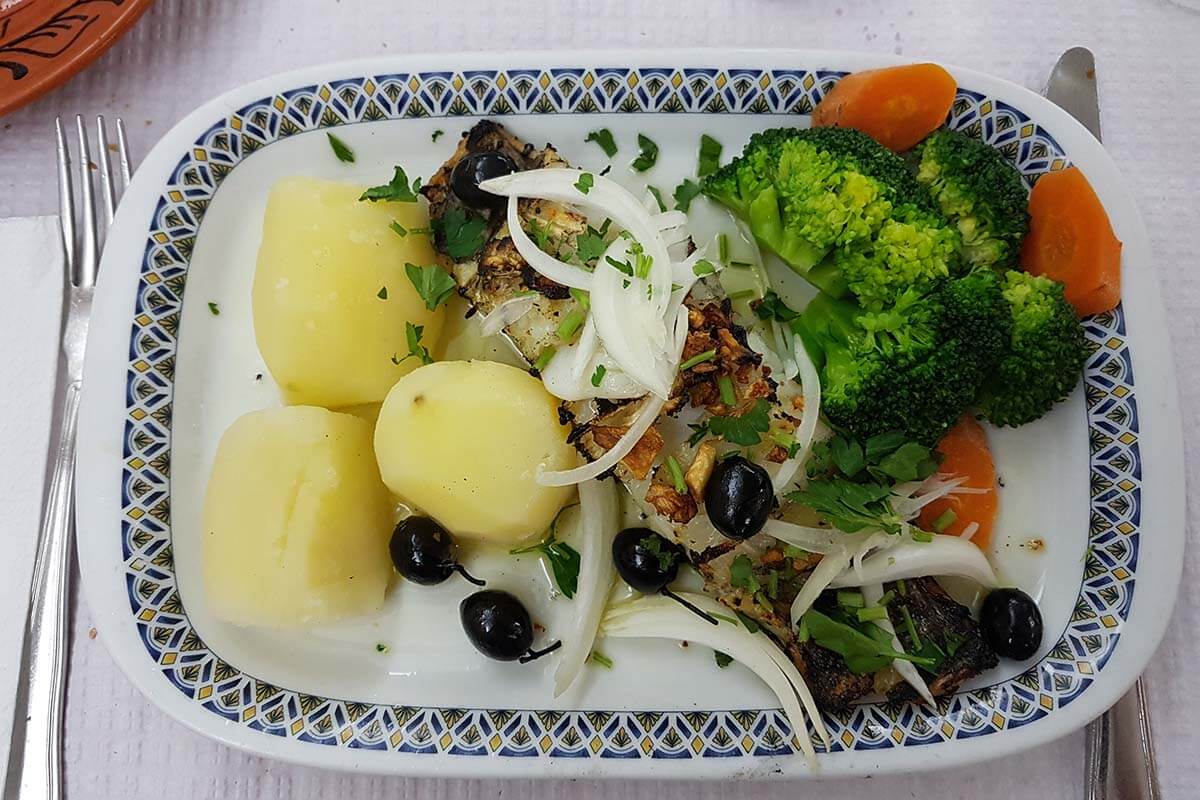 Where to stay?
We recommend the area close to Rossio Square – Praça da Figueira as one of the best places to stay in Lisbon. It's very centrally located, has great transport connections, and you can walk to most Lisbon attractions from here as well. There are many nice restaurants, shops, and a local market. We stayed in this area and the location was perfect for everything.
Here are some recommendations for the best hotels in this area for all budgets: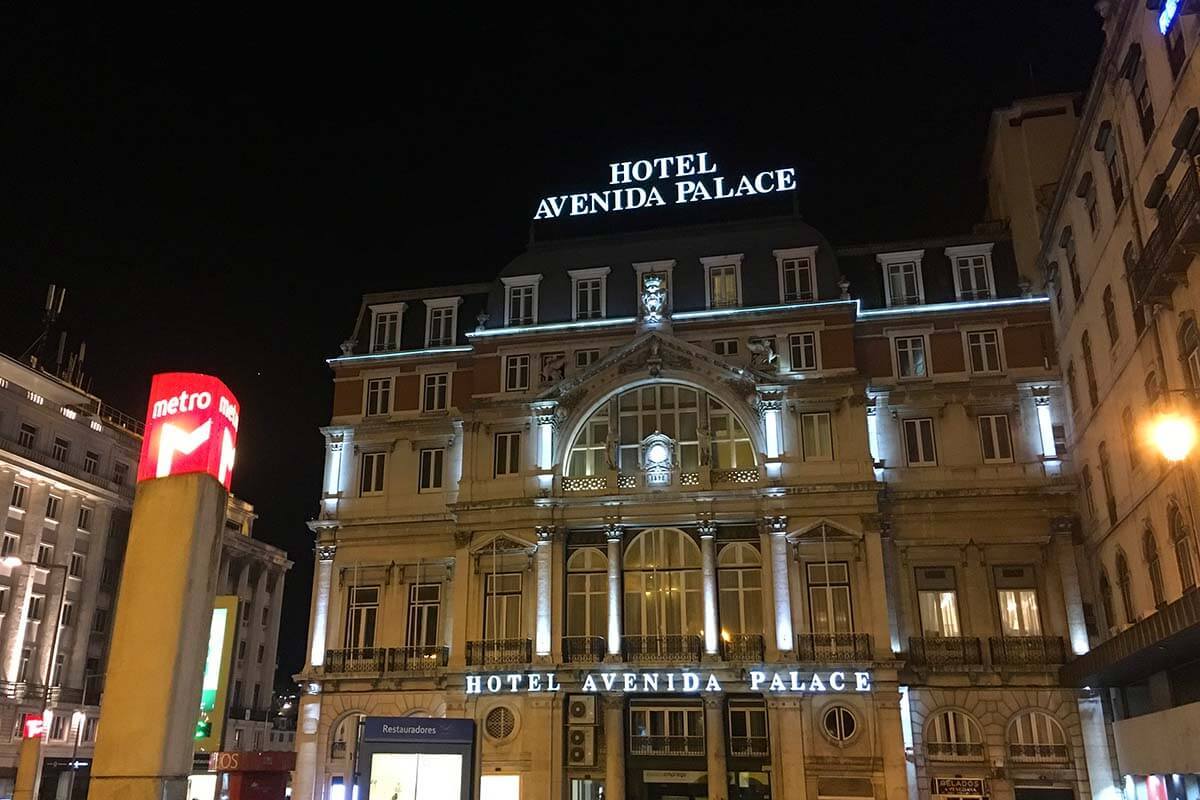 So, this is our guide to the very best things to do in Lisbon. If you are not sure how to plan your trip, take a look at our suggested 1-day Lisbon itinerary. It covers a lot of the must-see places in a day and includes a walking map to help you plan your day. Plus, it has some suggestions for a longer visit as well. Check it out!
More travel inspiration & tips for your trip to Portugal:
If you found this post useful, don't forget to bookmark it and share it with your friends. Are you on Pinterest? Pin these images!