With a big variety of hiking trails for all levels Madeira is considered a true hikers' paradise. But if you are visiting Madeira for just a few days, there is no way you can (or want to) do them all. So before our trip I was researching the best hikes and levada walks in Madeira and here's my selection based on our experience hiking in Madeira.
This is in no way a complete list of hiking trails of Madeira. In fact, it's a rather small selection of the very best hikes and walks of Madeira that bring you to some of the most beautiful places on the island. This selection includes a variety of the most beautiful hikes and walks that let you experience the incredible diversity of Madeira.
We visited Madeira with our three children (age 7 to 9) and so for each hike described below I also share our experience when hiking these trails with kids. At the end of this post you can also find a map of Madeira with the precise location of each hike.
TIP: If you are looking for more inspiration for your trip, check our guide to the best things to do in Funchal, the very best places to visit and things to do in Madeira, and our selection of some amazing hidden gems of Madeira. Also, don't miss the chance to see whales and dolphins in the wild!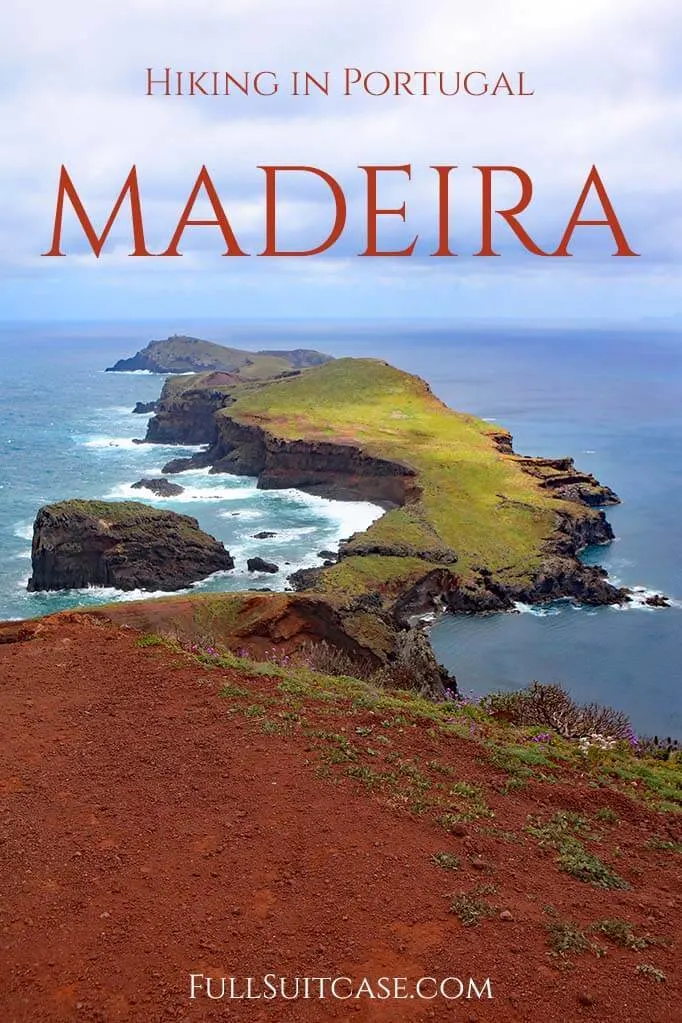 These are the best hikes in Madeira:
Vereda do Areeiro – PR 1
Without a doubt the most beautiful hike of Madeira, Vereda do Areeiro (PR1) connects two of the highest peaks of Madeira – Pico do Arieiro and Pico Ruivo. This trail takes you along the mountain peaks high above the clouds. The mountains here are so steep that you feel like walking on top of the world. The scenery is simply breathtaking!
Vereda do Arieiro is a strenuous long hike that will take even the most experienced hikers at least 6-8hrs. However, you don't have to hike all the way to Pico Ruivo to experience the stunning landscapes. Even if you hike just a small part, you'll be able to admire some of the most beautiful landscapes of Madeira.
Due to the weather (the clouds closing in the view) we walked just a small part of this hike. Even then, we all agreed that this was the most impressive hike we had ever done (and we have done quite a few truly stunning hikes all over the world: Oeschinensee in Switzerland, Pulpit Rock and Florli 4444 in Norway, Delicate Arch in the USA, just to name a few).
So if you are lucky with the weather and are in good shape, try to do this walk (or a part of it) when in Madeira. It's an unforgettable experience!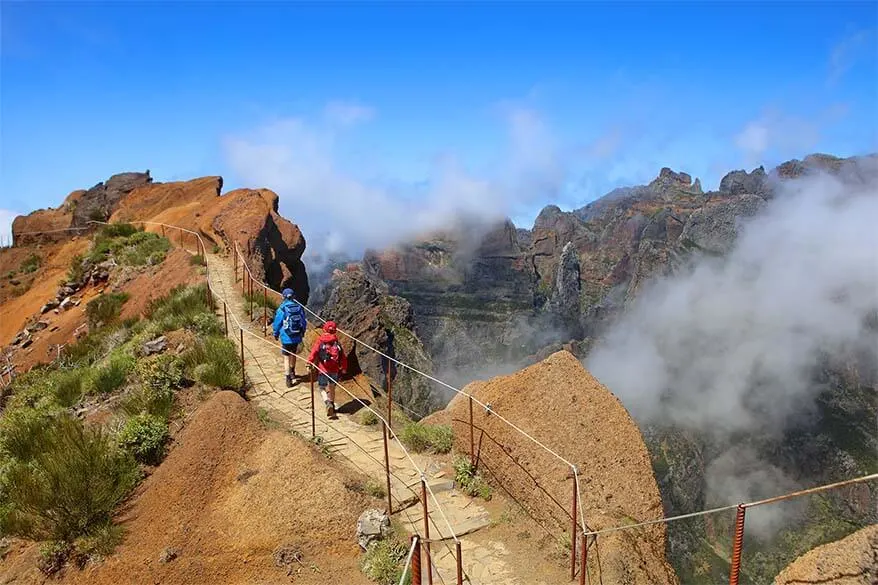 PRACTICAL INFORMATION
Starting point: Miradouro do Pico do Arieiro (arrive early as the parking lot fills up quickly and there are less clouds in the morning).
Accessibility: You'll need a car to get to the starting point. If you can arrange transportation, it is possible to do this walk in one direction. After reaching Pico Ruivo continue on PR 1.2 to Achada do Teixera and have someone pick you up there. In this case, the walk will be about 3km shorter. However, both places are rather far from anything else and there isn't public transport available. One of the best options I found is this guided hike with transfers from Funchal included.
Total distance: 12-14km depending on the side you take (and if you return to the same starting point).
Duration: 6-8 hrs (for the entire hike starting and ending at Pico do Areeiro).
Difficulty: Moderate/strenuous.
Biggest challenge: There are lots of stairs and sheer drops, so this is not a hike for those with a fear of heights. Also, this hike is not always possible due to the clouds covering the mountain peaks.
What to pack: Hiking shoes, hiking poles might come in handy as well, water, day backpack with a picnic, a sweater and a rain jacket, sun protection, and a pocket light or a headlamp for the tunnels.
Hiking with kids: This is not the best hikes for families with young kids. However, if your children are experienced hikers, I think it should be doable with kids from about 8-10 years. With younger kids you could try to walk just the first section, to Ninho da Manta viewpoint.
Facilities: Bathrooms and a café at Pico do Arieiro.
Vereda do Pico Ruivo – PR 1.2
Vereda do Pico Ruivo hike together with the nearby PR 1 described above is one of the most beautiful hiking trails in Madeira. It climbs to Pico Ruivo – the highest peak of Madeira (1,862m.) and if you are lucky with the weather you will be rewarded with a spectacular view above the clouds.
It's not as difficult as the PR 1 walk and much shorter too, so can be a good alternative. On top of that, the views are said to be simply amazing.
We spent 9 days in Madeira and have attempted to do this hike three times. And every time we found it covered in clouds (we were visiting Portugal & Madeira in April). It's really cold on top as well – while it was sunny with temperatures over 20°C in Funchal and other areas, the temperature at the starting point of the trail was just 4°C. On top of that, it was raining on top of the mountain and the wind was just too strong for us to even attempt this hike.
So even if the weather is really nice, you never really know how it is here till you actually get to the top. Keep an eye on the weather forecast specifically for Pico Ruivo as the nearby towns or mountain peaks have very different weather. If you see a day with nice sunny weather in the forecast, head straight here.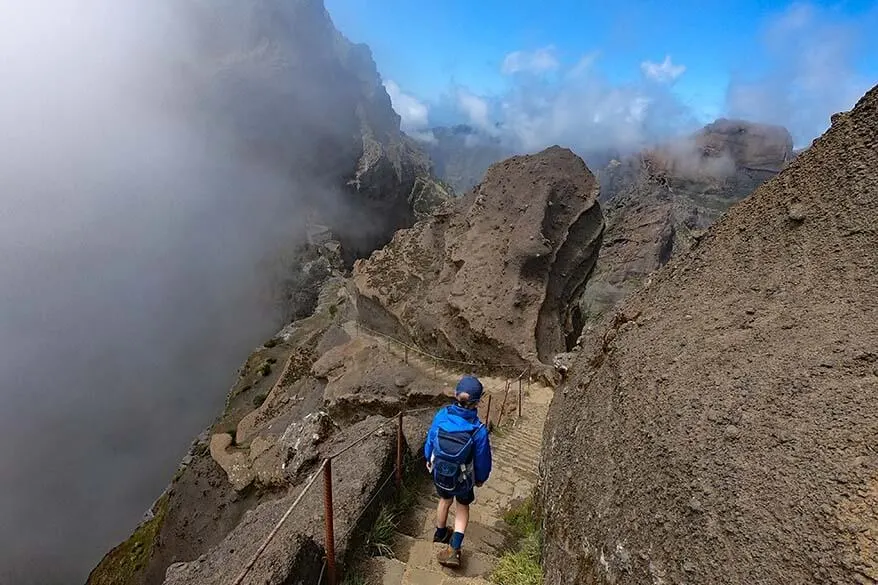 PRACTICAL INFORMATION
Starting point: Achada do Teixera.
Accessibility: by car only. Or as a part of this hiking tour that visits Pico Ruivo.
Distance: 2.8 km one way, so 5.6 km there and back.
Duration: 3 hrs (1.5 hrs each way).
Difficulty: Moderate.
Biggest challenge: The weather. It can change any time, so be prepared (there are several shelters along the trail in case you get caught in really bad weather).
What to pack: Hiking shoes, water, day backpack with a picnic, a sweater and a rain jacket, sun protection.
Hiking with kids: This hike can be done with kids from around 6 years and older.
Facilities: There are no facilities here.
Vereda das 25 Fontes – Levada do Risco – PR 6 – PR 6.1
Vereda das 25 Fontes – Levada do Risco hike deep inside the interior of the island is probably the most popular levada walk in Madeira. It follows the famous irrigation channels – levadas – and brings you to two different places in Rabaçal Valley: Risco waterfall and the lagoon of 25 Springs (Lagoa das 25 Fontes).
Many travel guides and brochures say that this hike is a must-do in Madeira. It's also one of the most popular hiking tours on the island because it's quite easy and is suitable for all ages.
Vereda das 25 Fontes is so popular among the locals and tourists alike that by noon the hiking paths are crowded with big groups of tourists navigating the narrow path.
If you want to enjoy this hike, try to get here early in the morning. The only disadvantage of coming early is that the shuttle bus that brings people to the start of the hike from the parking lot doesn't start running till 10 AM. On the other hand, the road goes down and in about 20 minutes walking you reach Rabaçal, which is the starting point of the hikes. So you don't really need the shuttle bus.
The hike may look a bit confusing at first, with so many signs pointing to the trail from various starting points. Don't worry – no matter which path you take, you'll still get to the same hiking trail after a while. You can start your hike with a visit to Risco waterfall and then hike to the 25 Springs, or vice versa.
We started our hike with the longer section first – we hiked to the Lagoon of the 25 Springs. And luckily so, because there isn't that much space there and we were lucky to experience this place pretty much alone. As we walked back towards the intersection to Risco waterfall, we passed at least 6-8 groups of 20-30 people each…
It seems that all the tour groups arrive here at around 10-11 AM. However, the levada trails are really narrow and not suitable for mass tourism. If you have to go with a group, try to at least look for a small group tour and avoid the days when the biggest cruise ships are in Funchal.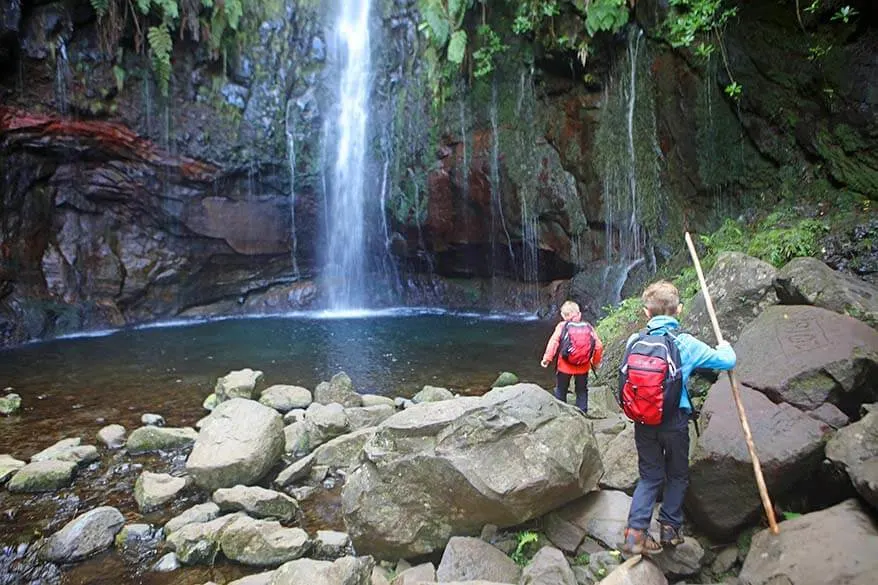 PRACTICAL INFORMATION
Starting point: Parking lot along E.R. 110 road near Rabaçal. From here you have to either walk down to the starting point of the hike or take a shuttle. You can also walk down and take the shuttle back up after the hike. Beware that shuttle busses only take 8 people and have a very peculiar schedule. We ended up waiting for almost an hour after one bus didn't have enough place for our family and didn't return to pick up the waiting passengers. We could have easily walked back up in that time.
Accessibility: You can only get here by car or with an organized tour.
Distance (not including the walk from and back to the parking lot): 9,2km.
Duration: 3-4 hours.
Difficulty: Moderate.
Biggest challenge: Narrow muddy paths and lots of tourists.
What to pack: Waterproof hiking shoes, water, day backpack with a picnic, a sweater and a rain jacket.
Hiking with kids: Kids from +-4 years old should be able to do this hike. Beware that the paths are narrow, there are some steep sections, and often you walk really close to the water. One of our boys slipped in the mud and fell in the levada. Luckily he wasn't hurt, but he had to finish the hike with soaking wet clothes and shoes.
Facilities: there are bathrooms and a café at the starting point of the hike – Rabaçal.
Vereda da Ponta de São Lourenco – PR 8
Vereda da Ponta de São Lourenco is a very different hike from anything else you will experience in Madeira. The trail follows the rocky coastline of the Easternmost peninsula of Madeira. Along the way, you pass many viewpoints with the most unexpected spectacular views behind every corner.
Numbers might make this hike look easy, but don't be misled – it's not a walk in the park. The biggest challenge here is the burning sun (there is no shade at all), strong winds (strong is an understatement – we were literally blown off the path several times), and a constant change in elevation (you go up and then again back down quite a lot).
The weather here changes constantly too. We were hiking in T-shirts and then a few minutes later we needed a sweater and a jacket, and then just a T-shirt again.
If you walk all the way to the end to Ponta do Furado you will be rewarded with the most unique view of Madeira. It's definitely worth the effort!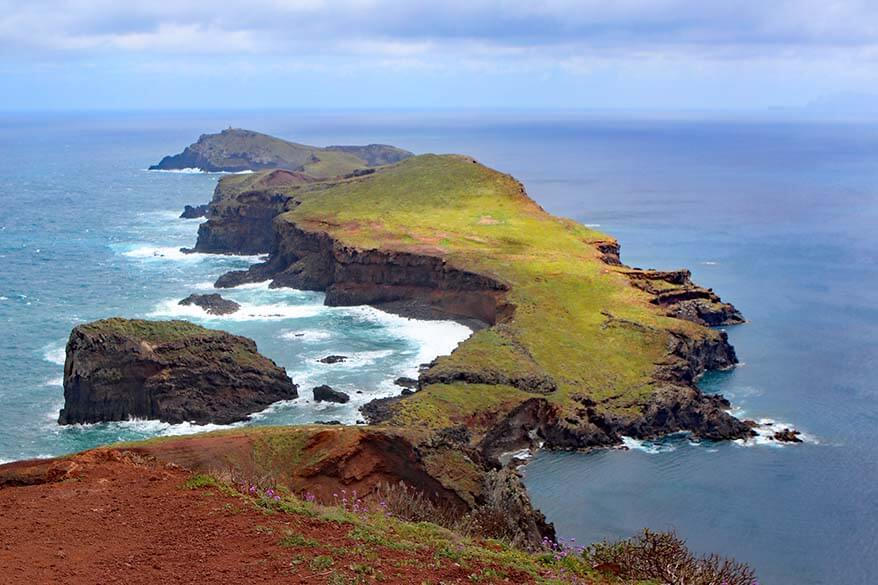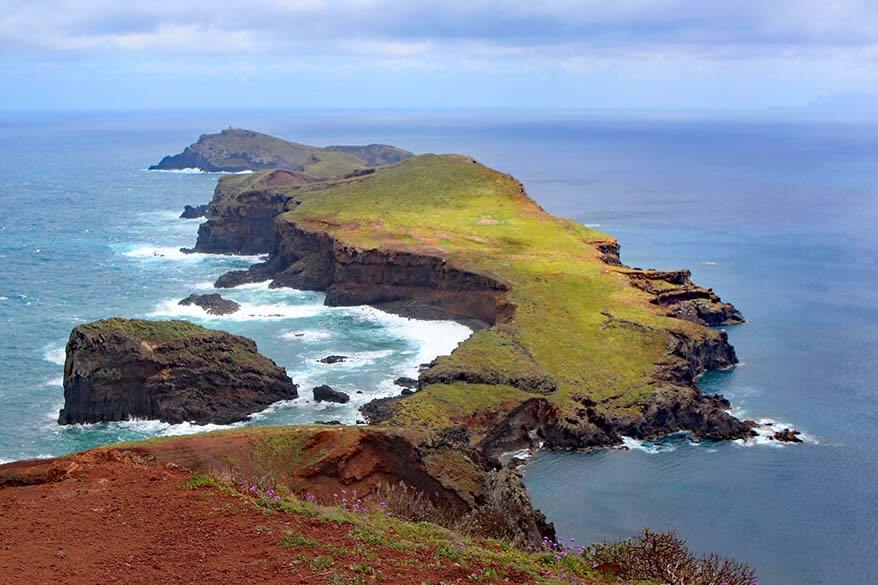 PRACTICAL INFORMATION
Starting point: Ponta de São Lourenco near Canical – parking lot at the end of the road.
Accessibility: By car, taxi, or bus 113 (Canical). You can also do this hike with a small group guided tour from Funchal.
Total distance: 8km.
Duration: 4-5hrs.
Difficulty: Moderate.
Biggest challenge: Wind, sun, and lots of stairs.
What to pack: Hiking shoes, water, day backpack with a picnic, a sweater, a rain jacket, and sun protection are a must.
Hiking with kids: We did this hike completely with our kids. While challenging, it's definitely a hike that kids from 5-6 years should be able to complete.
Facilities: There is now a small cafe and bathroom facilities on this trail.
Levada do Caldeirao Verde – PR 9
Let's be honest. The beginning of this trail doesn't look as beautiful or as exciting as the other hikes in Madeira. Queimadas Forest Park itself is a really nice area with blooming azaleas, a small river, and a couple of ducks, but soon you find yourself walking on a muddy forest path with nothing interesting to see. Keep on going! You'll be glad you did.
The biggest reward of the Levada do Caldeirao Verde hike is towards the end. As you pass a few smaller waterfalls, you reach four tunnels (bring a torch!) and from then it just gets better and better. We all loved hiking through these tunnels! Our kids thought it was the coolest and the most adventurous hike ever.
Towards the end of the hike, the path becomes really narrow. At a certain point, you walk in between the levada full of water to your left and a steep ravine to your right (luckily there are some railings here). Try to not look down and don't fall into a levada! The views of the surrounding mountains are amazing, but it's difficult to admire them and navigate this narrow path at the same time.
Finally, you reach the end of this hike – Caldeirao Verde waterfall that's just mesmerizing. The sheer drop of the wall is so high that it seems that there is no end (or beginning) to this narrow stream of water in front of you. It's a perfect place for a picnic and if it's warm I think you could easily go for a swim here too.
It was raining and cold when we did this hike in April, so no swimming for us. But in a way the Levada do Caldeirao Verde is probably the best bad weather hike in Madeira. It can be easily done when it rains. The biggest part of the hike is in the forest and the trees protect you from the rain.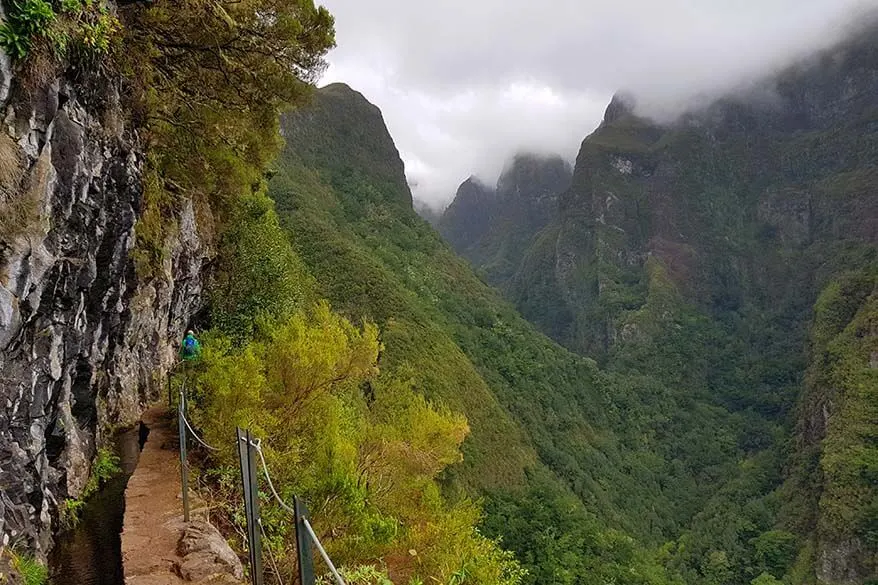 PRACTICAL INFORMATION
Starting point: Queimadas Forest Park – this parking lot has been recently expanded and it's now much easier to park here than when we visited. Alternatively, you can leave your car at the Pico das Pedras parking lot and start from there. You can also do this hike with an organized small group tour from Funchal.
Distance: 13km.
Duration: 5-6 hours.
Difficulty: Moderate.
Biggest challenge: Mud and narrow sections with steep drops. The hike itself doesn't have much elevation so it's quite easy (but long). However, muddy slippery paths and narrow paths make it really challenging at times.
What to pack: Waterproof hiking shoes, water, day backpack with a picnic, a sweater and a rain jacket, and a torch or a headlamp for the tunnels. In summer you may want to carry a swimsuit if you fancy a dip in cold water at the end of the walk.
Hiking with kids: This is one hike I found really quite dangerous to do with young kids. Our boys did it well, but you better hold on to your kids when the path gets really narrow. I wouldn't take really small kids on this hike.
Facilities: There is a public bathroom and a small café at the start of the walk.
Vereda dos Balcoes – PR 11
Vereda dos Balcoes is by far the easiest and the shortest of all the most beautiful levada walks in Madeira. Furthermore, it lets you experience some of the best landscapes that Madeira has to offer AND walk along the levadas at the same time.
Wide forest paths follow a levada and lead to a stunning viewpoint overlooking the highest mountain peaks of Madeira. The views are well worth a short leisurely walk that can be done by anyone in a reasonable physical shape.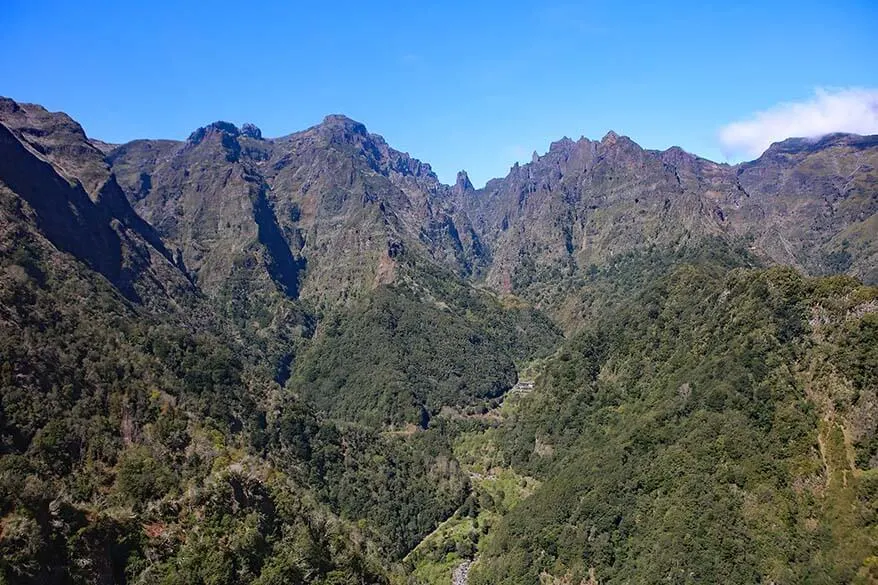 PRACTICAL INFORMATION
Starting point: Ribeiro Frio (E.R. 103 road)
Accessibility: by car, a bus (56, 103, 138), or with this organized Madeira East Island tour.
Duration: 0,5-1hr.
Difficulty: Easy.
Biggest challenge: Parking. This hike is really popular and there is limited parking available next to the road.
What to pack: Walking shoes and some water.
Hiking with kids: This hike can be easily done with young kids.
Facilities: there is a public bathroom at the small restaurant nearby. There is a tiny café/ souvenir shop along the trail itself too.
Good to know: The times and distances shown in the practical information above are for the entire hike.
Map of Best Hikes in Madeira
As promised, here is a map of Madeira indicating the starting points for each of the hikes described in this article.
Unless done in an organized group (where sometimes they drop you off at one place and pick you up somewhere else), all these hikes start and end in the same place and are not circular walks.
So you walk the same path in two directions. The only exception is the 25 Springs – Risco waterfall hike where you have some alternatives for parts of the hike.
How to use this map: Use your computer mouse (or fingers) to zoom in or out. Click on the icons to get more information about each place. Click the arrow on the top left corner for the index. Click the star next to the map's title to add it to your Google Maps account. To view the saved map on your smartphone or PC, open Google Maps, click the menu and go to 'Your Places'/'Maps'. If you want to print the map or see it in a bigger window, click on 'View larger map' in the top right corner.
Where to Stay for Hiking in Madeira
Madeira is a rather small island, so if you have a car, you can stay pretty much anywhere and make day trips. Still, we recommend staying on the south coast and ideally not too far from the highway as that will make it so much easier and quicker to get everywhere.
Without a car, stay in Funchal, where most sightseeing and hiking tours will pick you up from your hotel.
Here are some of the best-rated resorts in Funchal. Staying in a resort is a perfect way to combine a relaxing holiday with some sightseeing and hiking.
TIP: If you are planning a trip to Madeira and are looking for a place to stay, take a look at this handy map below. Using it, you can compare hotels, B&Bs, and short-term rental accommodations in Madeira. Simply insert your travel dates and group size, and you'll see what's available for your stay. Check it out!
So, these are the most beautiful hikes in Madeira. Of course, there are many more walking trails and thousands of kilometers of levada walks on Madeira island. But if you are visiting Madeira for the first time and want to do the very best hikes, then pick any trail out of this selection and you won't be disappointed.
Have you been hiking in Madeira? What was your favorite hike? Feel free to share your experiences by leaving a reply below.
READ ALSO: Hidden Gems of Madeira
More travel inspiration for Madeira and the Azores:
If you found this post useful, don't forget to bookmark it and share it with your friends. Are you on Pinterest? Pin these images!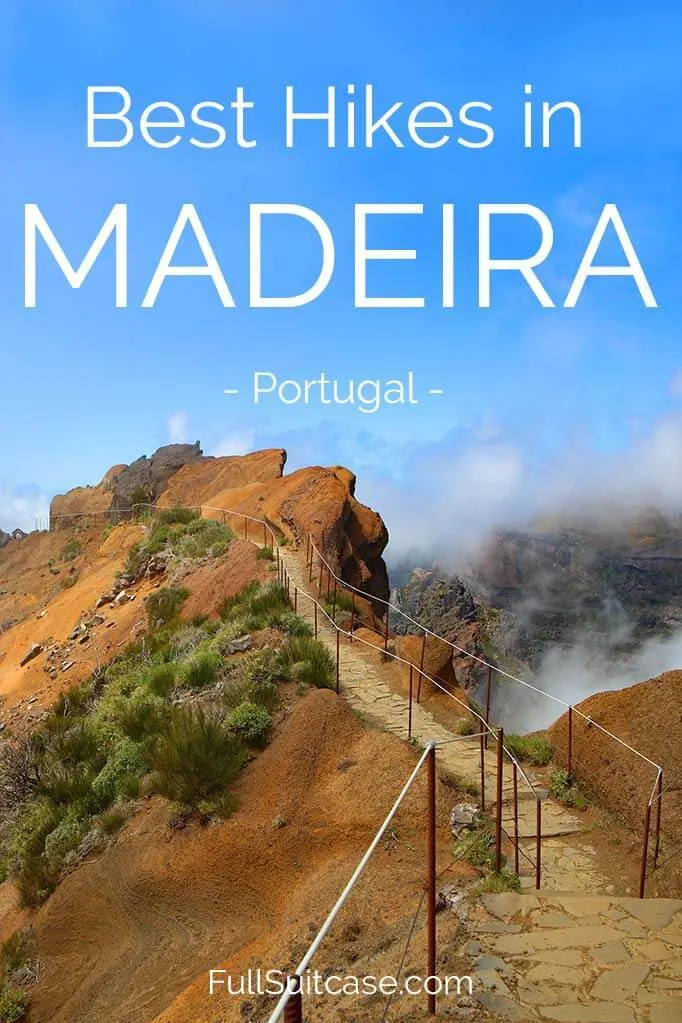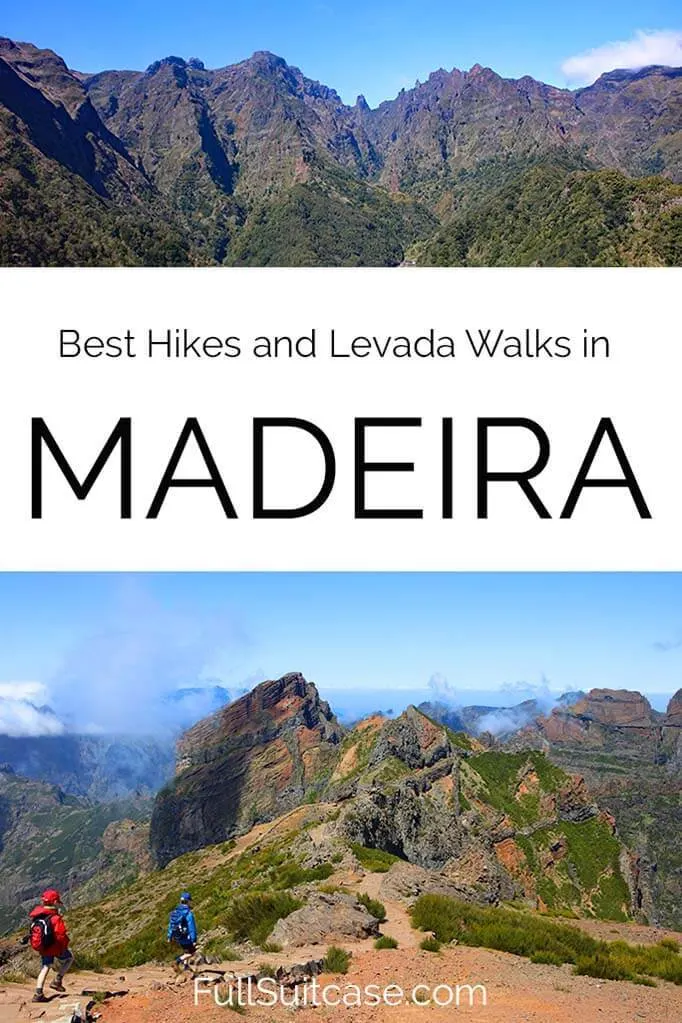 Some travel inspiration for mainland Portugal: