Achadas da Cruz cable car brings you to one of the most unique spots in Madeira – Fajã da Quebrada Nova. It's a tiny place on the northwestern coast of the island that is isolated from the rest of the world by the tall mountain cliffs on one side and the ocean on the other.
If you like remote locations and off the beaten path destinations, then this is as good as it gets!
Spectacular, amazing, incredible… no epithets are strong enough to describe this place, our favorite of the hidden gems of Madeira. In fact, it's so beautiful and so unique that it deserves to be very high on the list of the best places to see in Madeira.
On the other hand, places like this are becoming more and more scarce. So let's hope that it manages to escape from mass tourism and keep its authenticity, despite the fact that tens of tour busses come to the area daily on their way to the famous natural pools of Porto Moniz that are located just a few kilometers further.
Achadas Da Cruz
As we arrived at the tiny village of Achadas da Cruz and followed the signs to the cable car, we had no idea what to expect.
It was a windy and rainy day in April and locals told us that despite the season it felt like winter to them. When we saw how tiny the cable car was and then looked down to the beach far below us, we had no intention to go down in such weather.
Furthermore, we had read that the cable car would be closed for lunch and we were there just after noon. All the good reasons not to go down, we thought.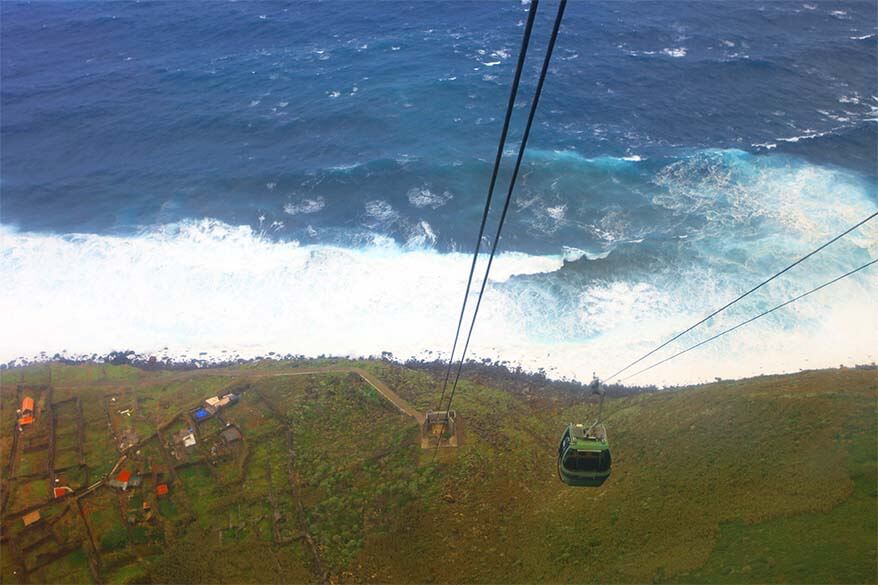 While the kids played with the local cats and we were looking at the vertical drop and hardly visible small pebbled beach below us planning to just take a picture and move on, a cable car operator came to us and suggested that we go down.
He didn't speak much English but assured us that the wind wasn't a problem and that the opening hours didn't matter either. And so after some hesitation, we decided to give it a try.
For just a few euros a little cable car takes you down to what looks like a tiny village by the sea. In fact, it's not really a village and nobody lives here full time. Some local farmers have a tiny piece of land here and come down to work on their land once in a while. Up to a few years ago only accessible by boat, it feels like one of the most remote places in the world.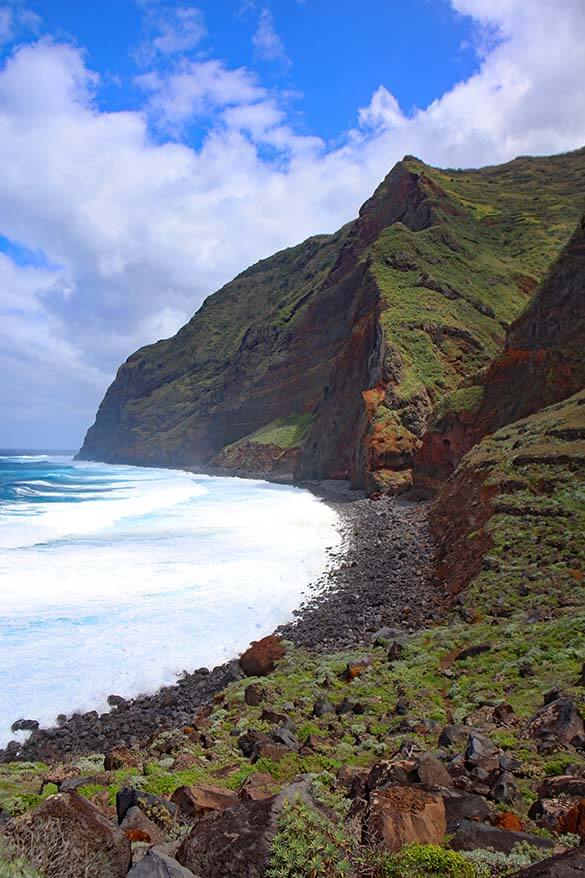 We expected to spend just a few minutes down by the beach. But almost two hours flew by wandering around this beautiful coastline dotted with colorful wildflowers.
Apart from a few cats, we didn't see a soul in the tiny houses. Just the pebbled beach, the waves, and incredible nature that makes you feel small and humble. It's our kind of paradise!
Below are a few pictures from Achadas da Cruz that will give you some idea of what to expect. It's a rugged, but very beautiful place, and can't be compared to anywhere else we've been to before. Truly one of a kind!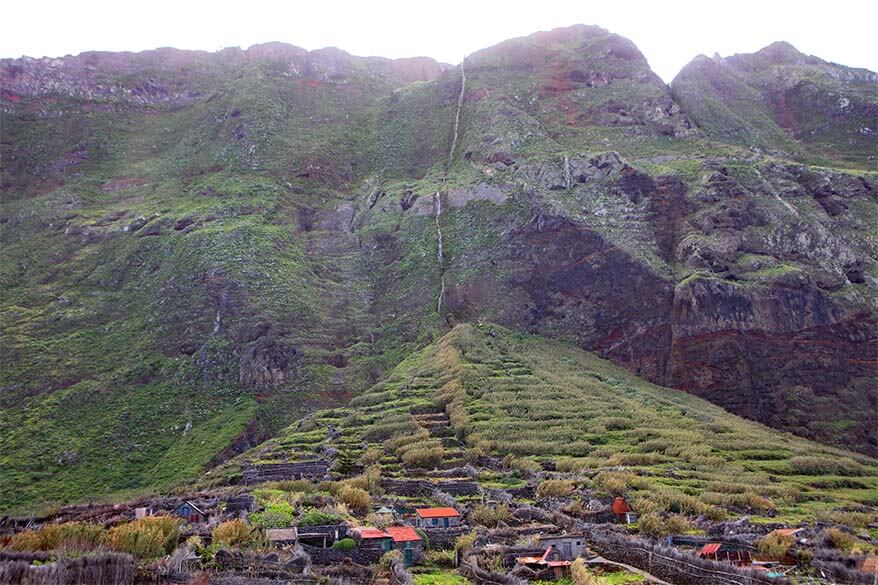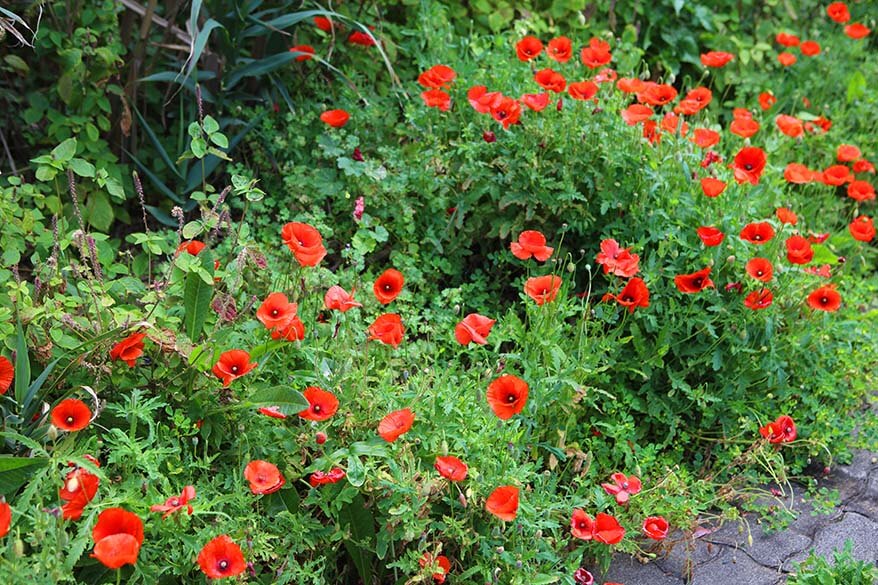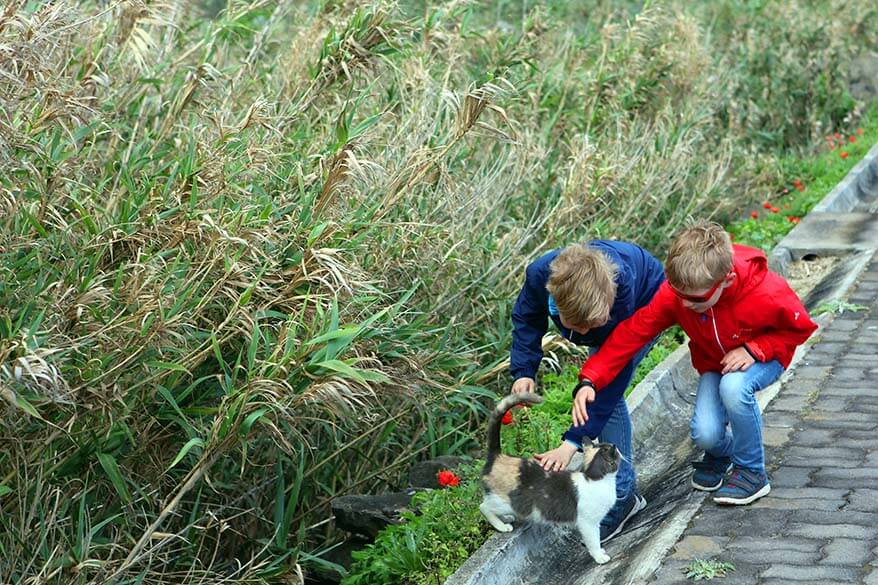 On the way back up, we met a man who has a little 'vacation house' as he called it and goes down here every day. He said that only a handful of locals come here daily, a few more people stay here in summer. And when we asked what they do down here, he laughed and said 'we grow wine and then we drink wine'.
He then added that some people go fishing, some do farming, and in summer it's also used as a very low key vacation place to swim, fish, and just enjoy life and nature.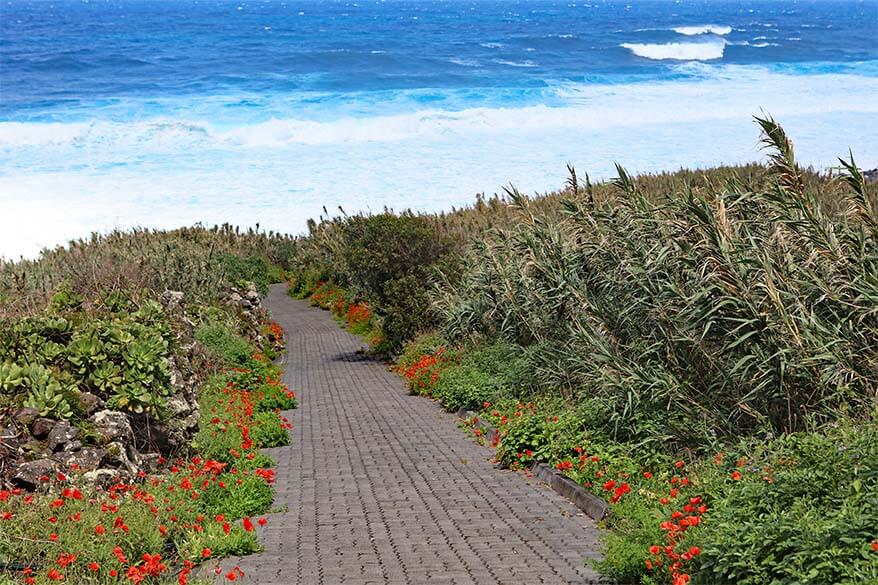 One of the fun parts of taking this cable car is that you have to operate it yourself when you decide to go up. It's not more than a push on the button, but it's a small detail that makes the place even more special I suppose. The kids loved it!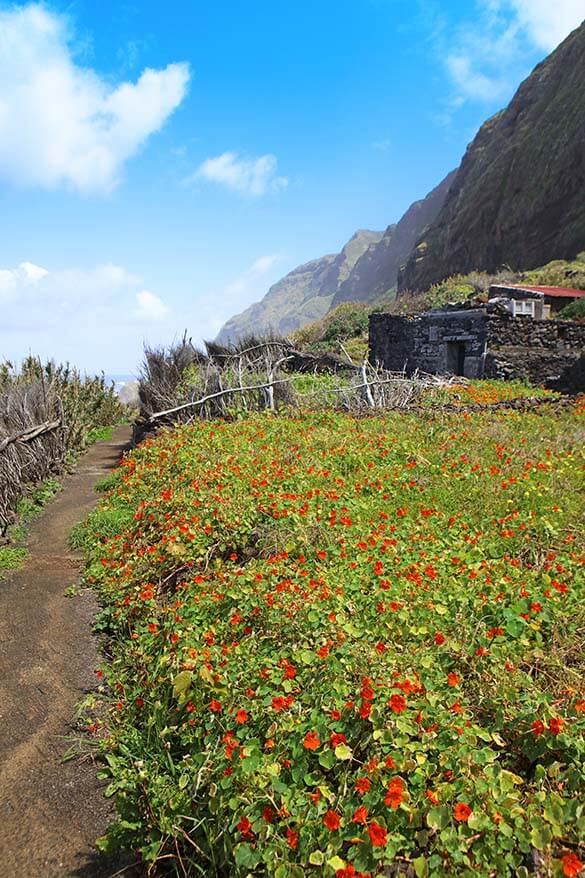 P.S. It was actually one of our blog's loyal followers who told us about this hidden gem of Madeira. So now I want to give back by sharing this secret place with you. At the same time, I have mixed feelings about it and a fear that too many tourists would ruin it. So don't tell the whole world about it, but don't miss this unique place when visiting Madeira. You'll love it!
Practical information for Achadas da Cruz cable car
Location: North of Madeira in Achadas da Cruz village just 10km from Porto Moniz. See also the map here.
Opening hours: 10AM to noon and 1PM to 6PM
Cost: 3 EUR for adults. Kids travel free.
Facilities. There are public bathrooms and a small cafe at the upper cable car station. There are no facilities down by the beach.
How much time do you need? Count at least 30min for a visit (we spent almost two hours).
So, this is our short guide to one of the most unique places in Madeira. If you love rugged landscapes and remote places that give you the feeling of being alone in the world, then definitely check it out!
For us, it became one of the fondest memories of our trip.
READ ALSO: Best Hikes and Levada Walks in Madeira
More travel inspiration and tips for Madeira:
If you found this post useful, don't forget to bookmark it and share it with your friends. Are you on Pinterest? Pin this image!