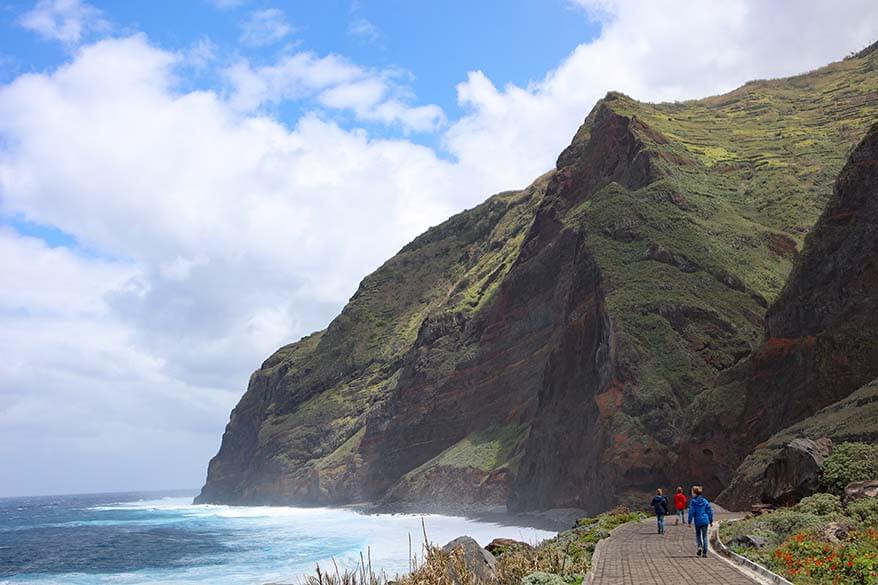 When doing my research about the best places to see on Madeira island in Portugal, it seemed like the whole island is overrun by tourists. Travel guides and blogs would warn 'to go early' or 'avoid cruise ship days', etc…
Yes, Madeira is a popular destination and indeed some of the main tourist attractions can get quite busy. But for the biggest part, Madeira is still very quiet and undiscovered. Or at least not visited by the big groups of cruise ship passengers…
So if you are looking to get off the beaten path in Madeira, you'll be glad to know that there are quite some really nice places that aren't busy at all. In this post, I share some of our favorite unexpected finds and hidden gems of Madeira.
These are all places that lie a bit off the beaten path and are still under the radar of most Madeira visitors. While not completely unknown, they all have managed to keep their authenticity and offer a glimpse of the less known side of Madeira that you won't find in most travel guides and trip itineraries. So if you are looking to escape the crowds and get to know the more authentic side of Madeira, you'll find plenty of inspiration in this article. Read on!
To make your trip planning easier I created a map indicating all the hidden gems of Madeira from this list – see at the end of the post.
1. Achadas da Cruz Cable Car
Achadas da Cruz cable car brings you to Fajã da Quebrada Nova by the beach (see also featured image). This place should actually be very high on the best places to visit in Madeira list, but it's a true hidden gem not mentioned in most travel guides and overlooked by most tourists. And I guess it's better if it stays that way.
Up to a few years ago only accessible by boat, it feels like the most remote place in the world. To us, it was one of the best unexpected discoveries and one of the most special places of Madeira.
We expected to spend just a few minutes here, but almost two hours flew by exploring this beautiful coastline undiscovered by tourists. We had this hidden gem all to ourselves. Just the pebbled beach, the sea, and spectacular nature that makes you feel small and humble. It's our kind of paradise!
Here you can read more about this beautiful place that can be reached by Achadas da Cruz cable car.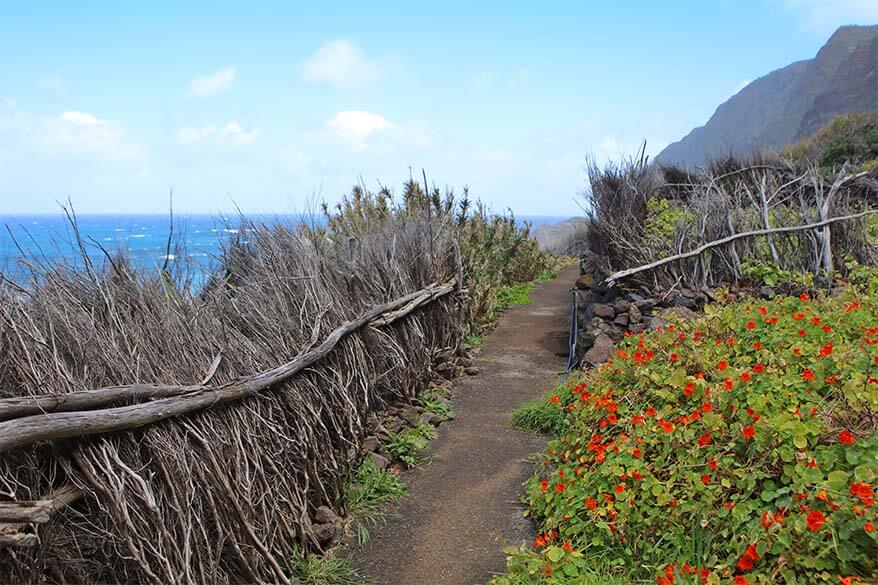 2. Tiny Pebbled Beach near Illheus da Janela
Tucked away behind a big rock, this tiny nameless beach near Illheus da Janela on the Northern coast of Madeira is truly hidden from the sight of the passers-by. If you aren't looking for it, the chances are small that you'll just stumble on this place by coincidence.
See the exact location on our map below. Leave your car at the parking lot opposite a small power plant and walk towards the staircase leading to the hole in the middle of the mountain (don't worry, it's just a few steps). Once you reach the top, a fantastic view opens up to you with impressive rock formations in the sea. You can also reach the beach just by walking next to the river, but it doesn't have the same wow effect.
Chances are you will be completely on your own here. It was one of our favorite beaches of Madeira where the kids could play with the rocks and we just sat there watching the waves crash against the rocks. It's a great place to take a picnic and spend an hour or even more.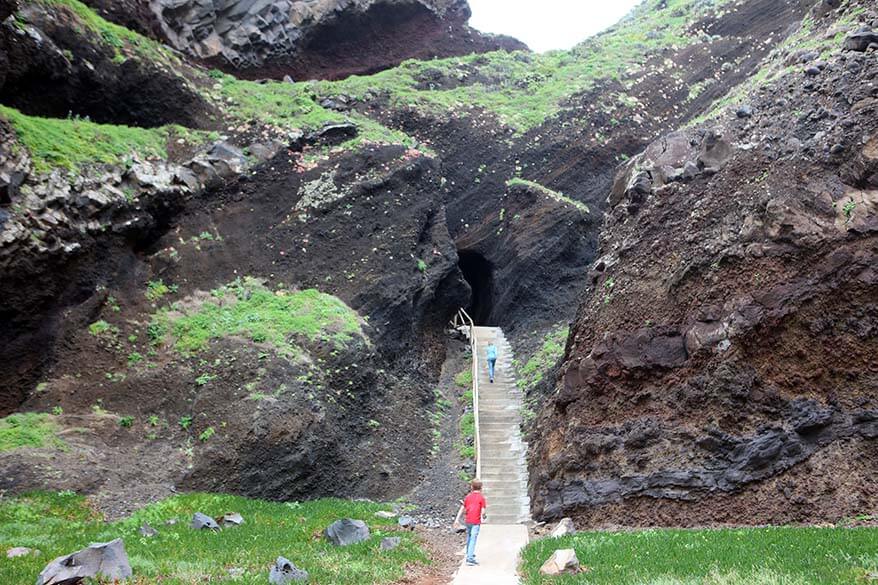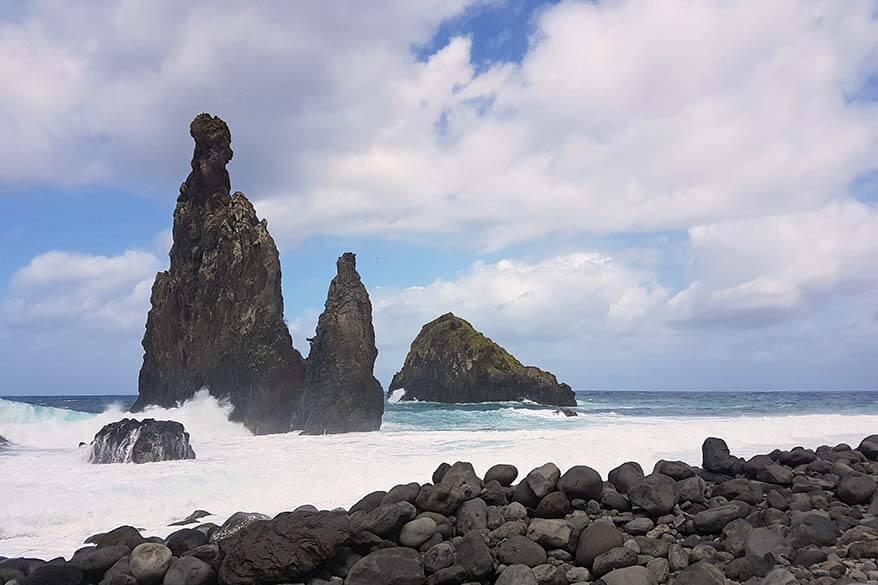 3. Miradouro Garganta Funda
When you see the narrow roads leading towards the coast to Miradouro Garganta Funda, you will understand why this place isn't on the radar of most Madeira travelers. Obey the signs that forbid to drive further (you'll be glad you did when you see the road further down), leave your car, and walk the last couple of hundred meters to the viewpoint.
At first sight, there isn't much to see here. Just a few abandoned old buildings and one or two cows. Keep walking all the way to the small viewing platform in the direction of the coast and completely unexpected you'll see a beautiful waterfall in the distance.
Don't miss this place, even if just for the experience of getting there. You'll get to know a little piece of Madeira where time truly stood still.
TIP: If you are in the area anyway, make sure to also visit the nearby Ponta do Pargo Lighthouse.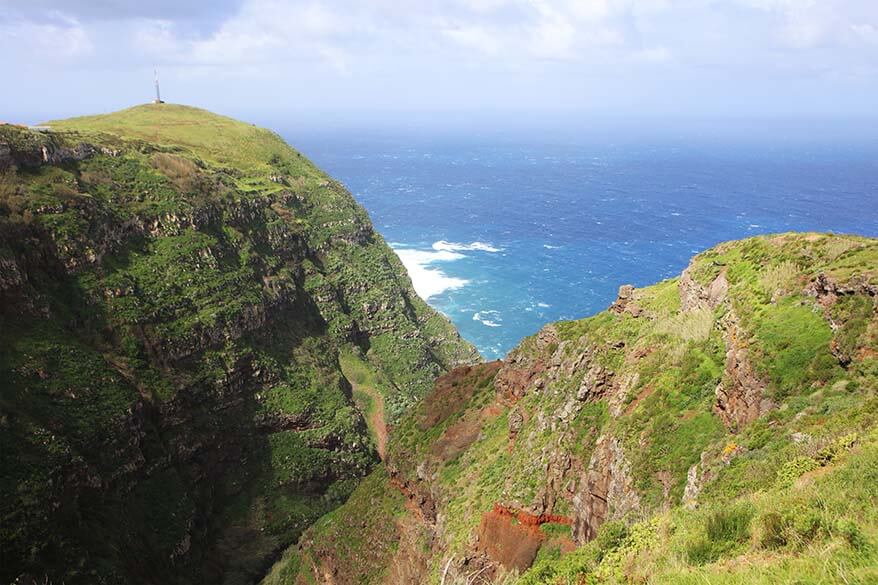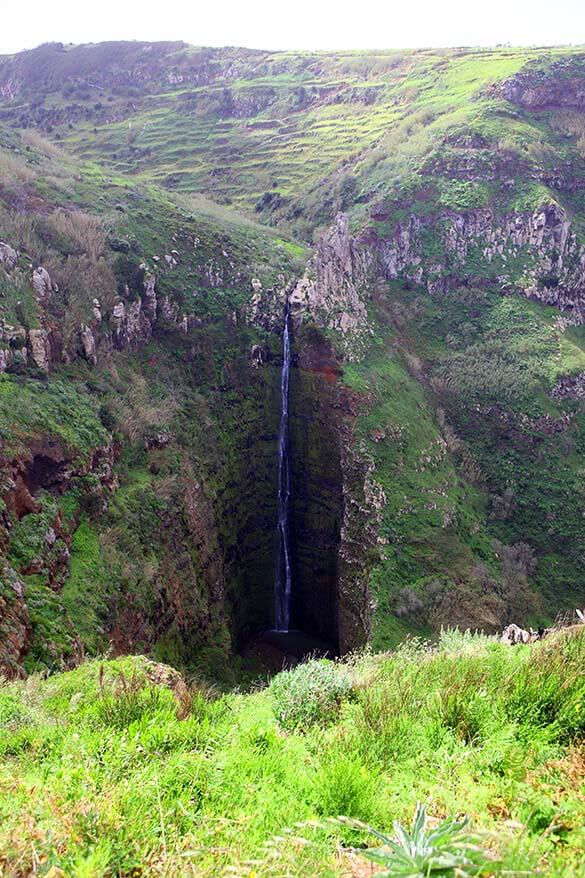 4. Miradouros do Paredão
Located on a very scenic road in between the popular tourist spots Curral das Freiras (Nun's Valley) and Pico do Areeiro, are the two viewpoints of Paredao. Both these viewpoints are not only quieter but probably even more spectacular than the extremely popular nearby Eira do Serrado viewpoint.
While at Eira do Serrado you will be surrounded by loud groups of tourists traveling in big busses, you'll only find one or two cars at the small parking lot of Miradouros do Paredão.
Just a short walk leads you to a viewpoint overlooking the Nun's Valley. And if you take a path to the left, you'll soon arrive at the viewpoint looking towards the Southern coast of Madeira. I can't really tell you what you'll see there as that side of the mountain was covered by clouds when we visited. But what a feeling – walking above the clouds!
The first section of this scenic nameless road without a number is so steep that it probably keeps all the big busses away from here forcing them to drive around and take a detour to Pico do Areeiro. However, this is one of the most beautiful roads in Madeira, so don't miss it.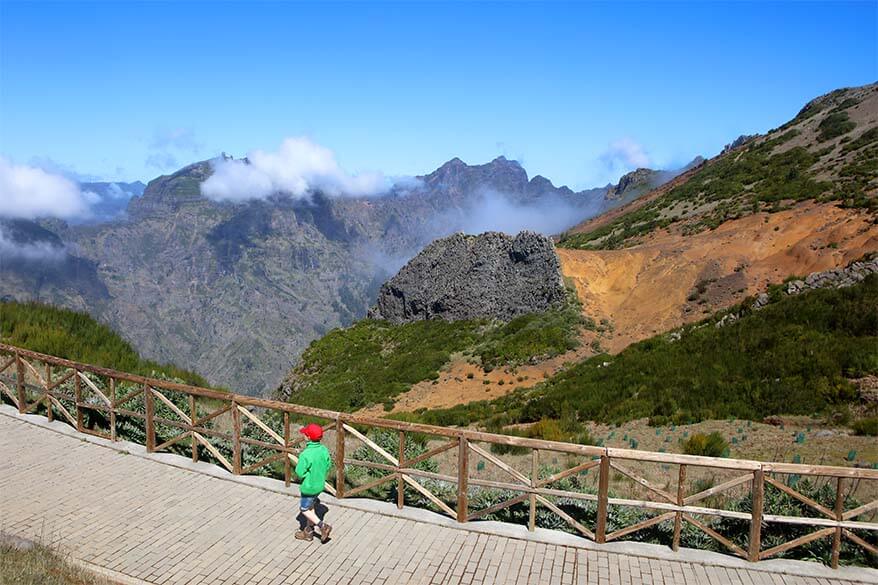 5. Scenic Inland Roads of Madeira
You haven't experienced Madeira to the fullest unless you drove at least a couple of the inland routes. The mountain roads in Madeira are like nowhere else and you truly have to see it to believe it.
Here are some of our favorite roads in Madeira (I also indicated them on the map below). I think you can try just any of them and you'll see what it's all about (it's not always about the scenery as much as it is about the experience).
TIP: Don't rent the biggest car in Madeira.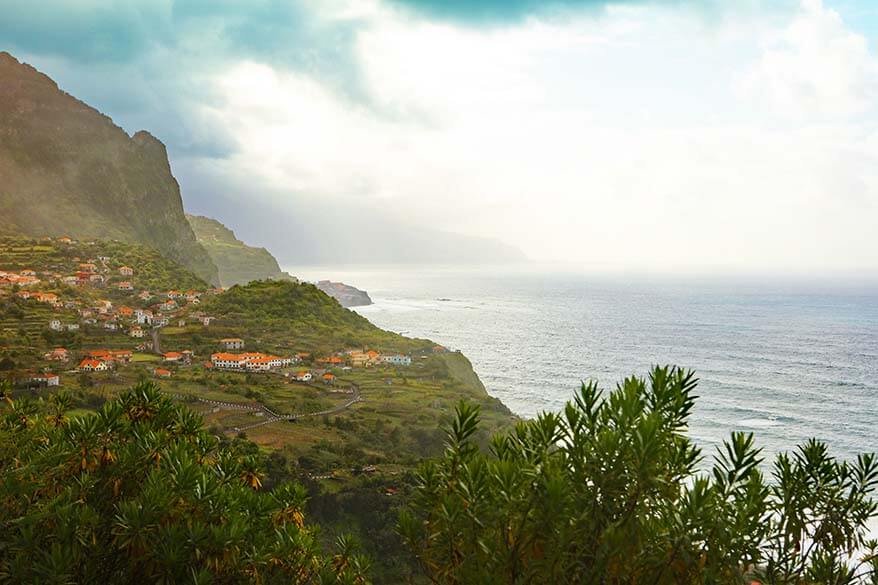 6. Sugar Cane Factory in Calheta
Sociedade dos Engenhos Da Calheta is an old sugar cane factory in the village of Calheta that truly takes you back in time. We were lucky to visit in April, the season when sugar cane is harvested, and we could see this plant in operation. The steam from the chimney, the smell of honey, and the roaring noise of the machines – it's an unforgettable experience, to say the least.
The factory is only open for a few weeks in April and May since the sugar cane juice has to be squeezed very quickly after harvesting or else the plants dry out and become useless. You can see the whole process from unloading the truck by crane to the crushing of sugar cane, and finally boiling the juice in huge steaming pots.
There is no entrance fee and visitors can roam freely around this little factory. For just 0,6 EUR you can taste some of the sugar cane rum, sugar cane honey, and other produce.
The factory is open the whole year round. But of course, the best time to visit is during the sugar cane harvest season when you can see it in full action.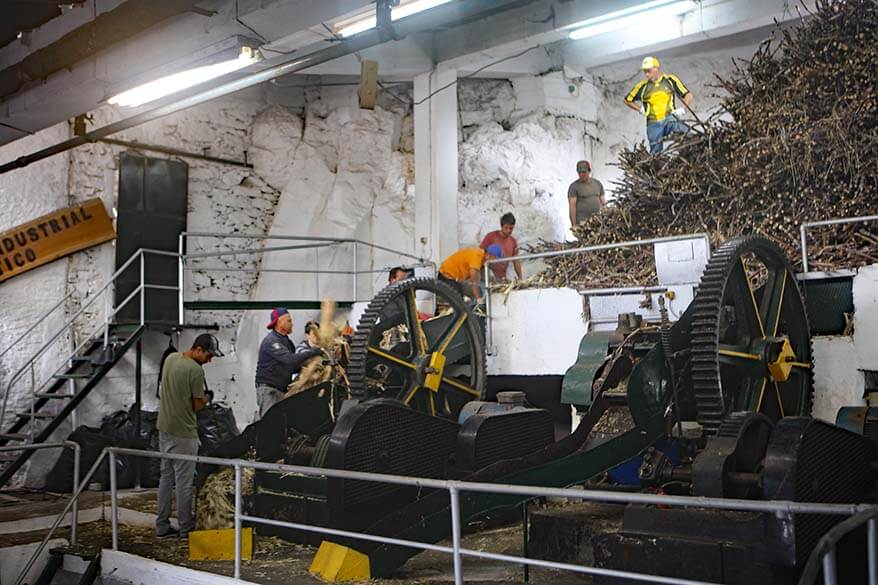 7. Funchal Street Art
Most visitors to Funchal seem to follow just one route – to the Monte cable car and the famous Mercado dos Lavradores farmers market. But the part of Funchal we enjoyed the most had nothing to do with the most popular tourist areas.
Some of the little streets of the Old Town have been turned into true outdoor art galleries. Every old window, every door has become an artists' canvas. If you love street art, you'll find some truly amazing pieces of art in Funchal Old Town, in the area around Rua de Santa Maria.
Of course, you don't want to miss the main attractions of Funchal either. For that, please read our ultimate guide to the best things to do and places to see in Funchal.
TIP: For more creative street art, visit also the nearby fishermen's village Câmara de Lobos.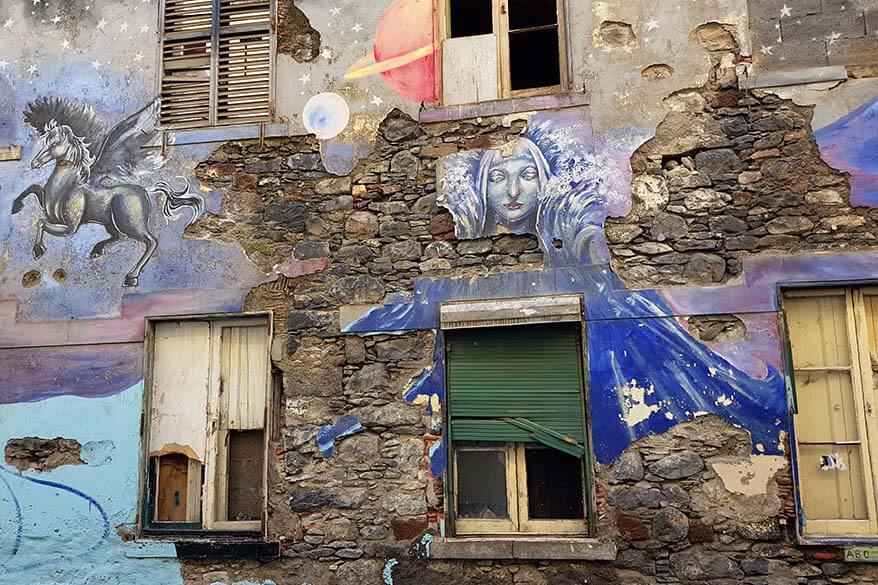 8. Local Restaurants and Shops
Madeira has some really good food. So do yourself a favor and walk past by the tourist places selling deep-freeze pizza and tasteless food and look for a local restaurant.
Below are just a few suggested restaurants that we loved the most: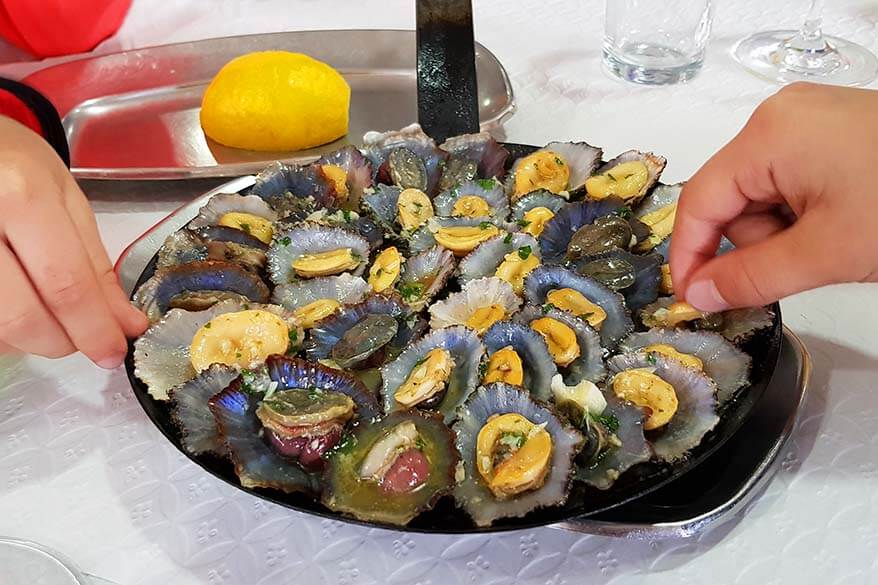 Map of Madeira's Hidden Gems
To make your travel planning easier, we created a map indicating all the hidden gems of Madeira that are mentioned in this article. You can save it to your smartphone and easily consult during your trip.
How to Use This Map: Use your computer mouse (or fingers) to zoom in or out. Click on the icons to get more information about each place. Click the arrow on the left top corner for the index. Click the star next to the title of the map to add this map to your Google Maps account. To view the saved map on your smartphone or PC, open Google Maps, click the menu button, and go to 'Your Places'/'Maps'.
READ ALSO: Our complete guide to the best hikes of Madeira.
If you found this post useful, don't forget to bookmark it and share it with your friends. Are you on Pinterest? Pin these images!