Planning a trip to the Azores and wondering where to stay in São Miguel Island? In this article, we share some of the best places to stay in Sao Miguel and our experience-based tips on how to choose the best area/ hotel for your stay. Find out!
Sao Miguel is the biggest and the main island in the Azores archipelago, Portugal. And while all the 9 islands are worth a visit, if you visit just one of them, it will likely be Sao Miguel. The reason is simple – this island has the very best of everything that the Azores has to offer in one place.
Sao Miguel isn't very big. It takes about 1.5 hours to drive from the eastern to the western side of the island, and just 15-30 minutes to drive from south to north. However, there are many sights and attractions scattered all across the island, that sometimes it might make sense to stay at a few different places rather than backtracking to the same hotel every day…
In this guide, you can find our suggestions on where to stay in Sao Miguel depending on the duration of your visit, whether you are renting a car or taking tours, and also depending on your interests and travel style. We also share the best towns/areas to stay on Sao Miguel island, together with the advantages and disadvantages of each of them. Find out!
TIP: If you don't have the time to read the entire guide, here are our top picks for your stay in Sao Miguel:
Where to stay in Sao Miguel – OVERVIEW
How much time do you need in Sao Miguel?
You need about 4-5 days to see just the main attractions in Sao Miguel (and your days will be quite packed). We recommend staying at least a week as that will give you time to enjoy not just the main sights, but also take a nice tour (e.g. whale watching or canyoning), soak in the geothermal waters, visit natural pools, take a few hikes, and get a bit off the beaten path.
If you are looking for a place to spend your summer holidays with a family, Sao Miguel in the Azores is a great vacation destination as well. If you love nature and outdoor activities, you can easily stay here for a week or two and you'll find plenty to see and do. Add to that nice resorts, countless swimming opportunities, and good cheap food, and you really cannot go wrong with booking a longer vacation on the island.
We recently spent two weeks in Sao Miguel with kids and we never ran out of ideas of things to do.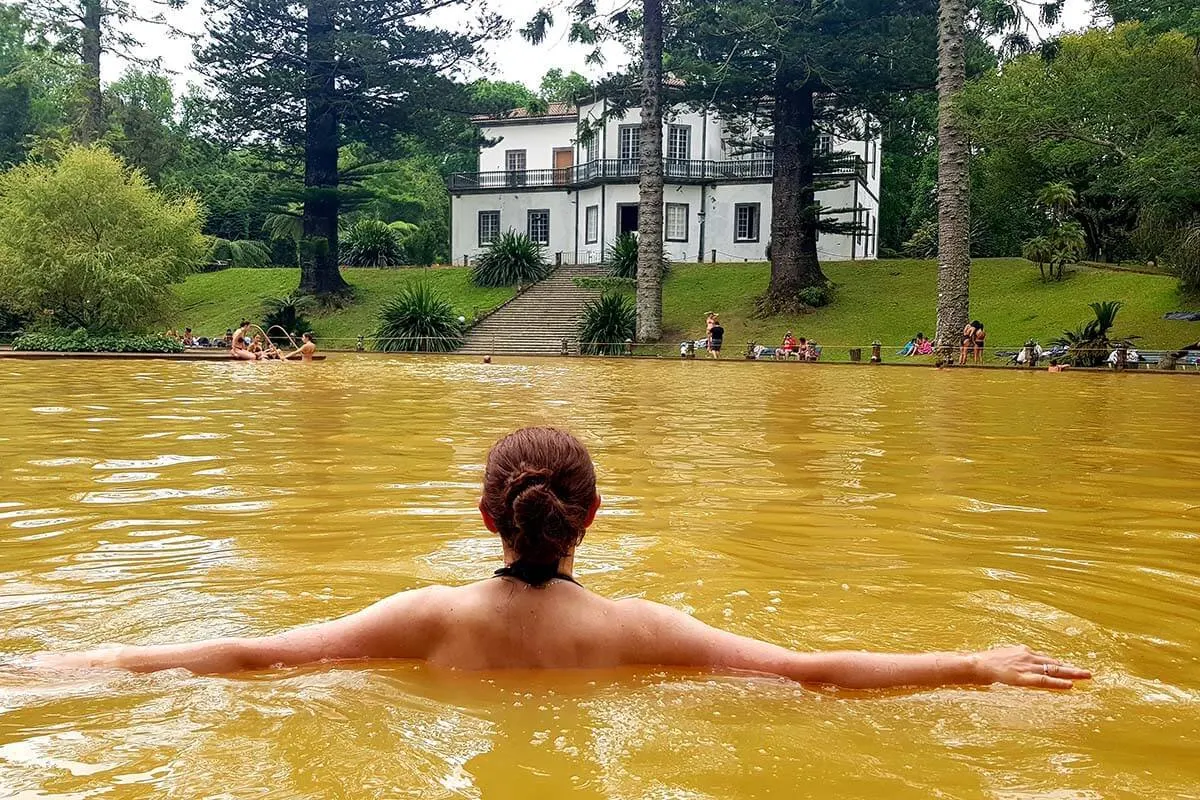 Staying in one central location vs. different places on the island
Sao Miguel island is not that big and you can explore the entire island from just one place. However, choose the location wisely! You don't want to be stuck in a place that requires over an hour's drive on narrow winding roads every time you want to go somewhere.
If you are staying in Sao Miguel for less than 4-5 days and choose centrally-located accommodation, staying in one place is by far the best option for you.
Here are the advantages of staying in one centrally-located accommodation in Sao Miguel:
Driving distance to most points of interest is just 30-60 minutes.
You can choose where to go each day depending on the weather.
You don't have to pack/unpack and can maximize your sightseeing time.
You can rent a smaller car since you don't have to travel around with your luggage every day.
You can take the time to explore the area deeper.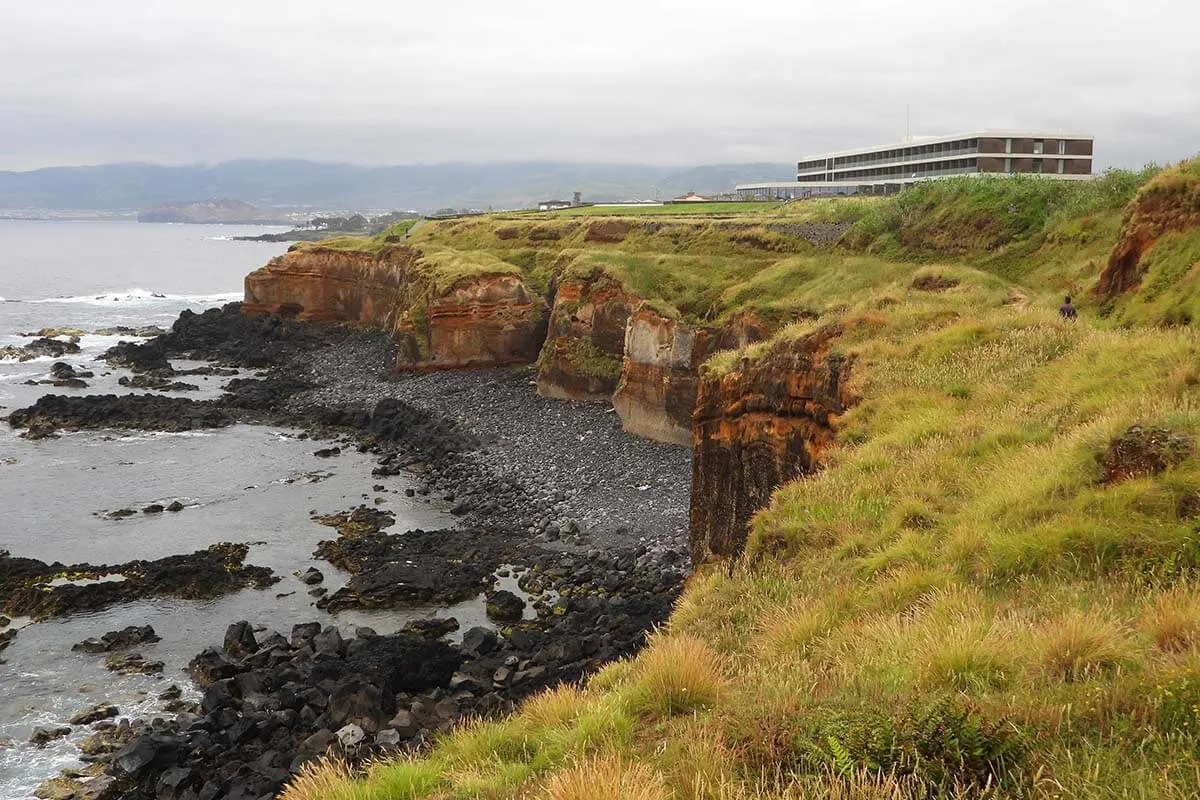 However, if you are staying in Sao Miguel for a week or longer, it might be nice to stay in several different areas on the island.
Here are the advantages of staying in several different areas in Sao Miguel:
Driving distances to most areas can be minimized. Depending on your accommodation choice, sometimes you can just walk to some local attractions.
You get to know more places deeper.
You can visit local pools and some popular sights in the morning or in the evening when there are no day-trippers.
You can try various local restaurants without having to worry about driving back to your accommodation after drinking a glass of Azorean wine or tasting the pineapple liqueur.
You can save some money by staying in smaller towns for sightseeing and then stay at a really nice resort for the rest of your vacation, when you have the time to actually take advantage of the facilities they offer.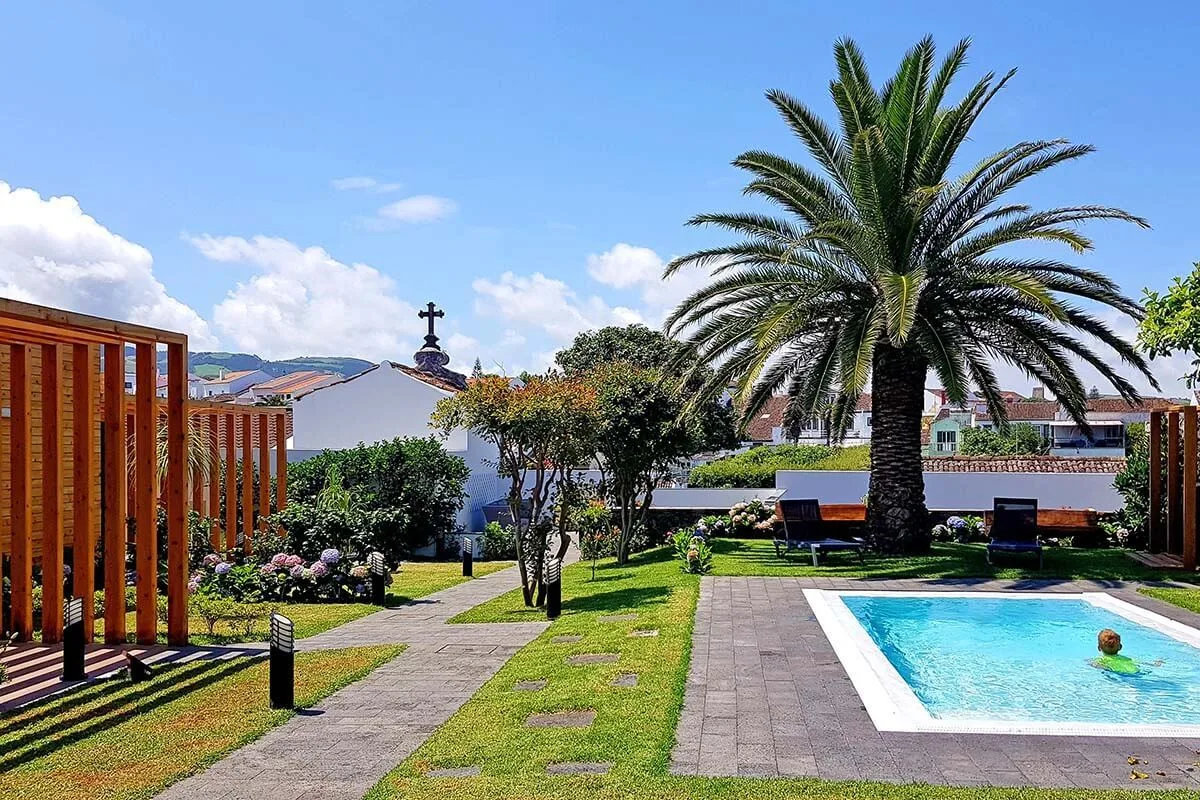 Where to stay in Sao Miguel: Info & Map
Here you can see the map indicating some of the best areas to stay in Sao Miguel. See further for more explanation on where to stay depending on how you travel (by car or without a car), and how long your trip is.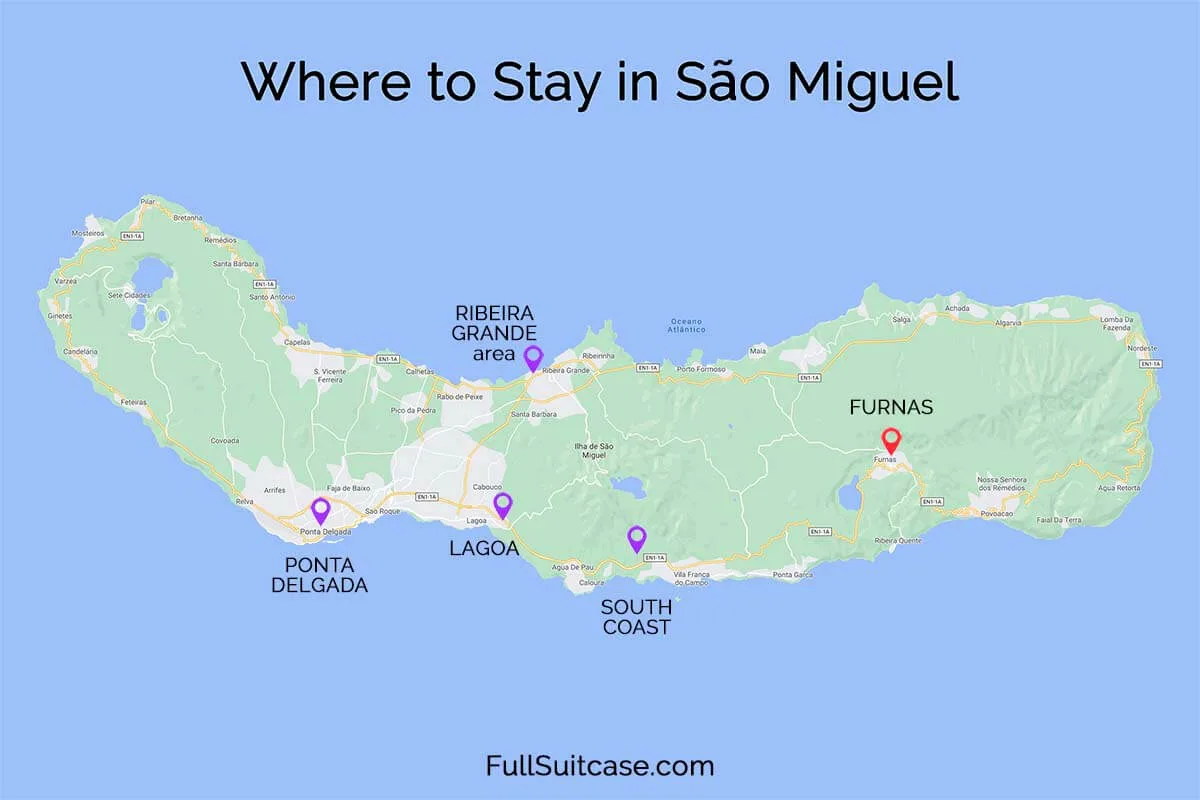 Best place to stay in Sao Miguel without a car
If you are not renting a car in Sao Miguel, then by far the best place to stay is Ponta Delgada, the capital city of the island. You can easily get to the city from the airport and there are plenty of amazing day tours that can bring you to all the most popular sights and attractions in Sao Miguel.
Another place where you can see and do quite a lot without a car is the town of Furnas (see the red dot on the map above). You could get there by bus from Ponta Delgada, then stay for a day or two, and then take the bus back to the city.
Here you can find the best deals for accommodations in Ponta Delgada and lodging in Furnas. Further below, you can find more information about these towns and our hand-picked suggestions for the best hotels.
Best centrally-located areas in Sao Miguel (if you have a car)
If you decide to stay in just one location during the entire trip to Sao Miguel and you have a car, we recommend staying either on the south or the north coast in the center of the island.
In the south, you can stay anywhere between Ponta Delgada and the area around Caloura. And in the north, stay in the area around Calhetas – Ribeira Grande. So basically, all the points indicated on our map above, except the red one (Furnas).
All these places are really conveniently located for sightseeing in Sao Miguel. Just make sure that your accommodation has easy parking (or that there is public parking or a garage nearby). Trying to find a parking spot on the narrow streets in the tiny villages in the Azores is really not the best idea if you want to have a relaxing holiday.
Where to stay for a longer vacation in Sao Miguel
As already mentioned, if you are staying in Sao Miguel for a longer holiday, it might be nice to split your stay between two different places. In that case, we recommend Furnas for 2-4 nights and the area around Ponta Delgada or the central north- or south coast for the rest of your stay.
Further below, you can find our recommended hotels for all these areas. Read on!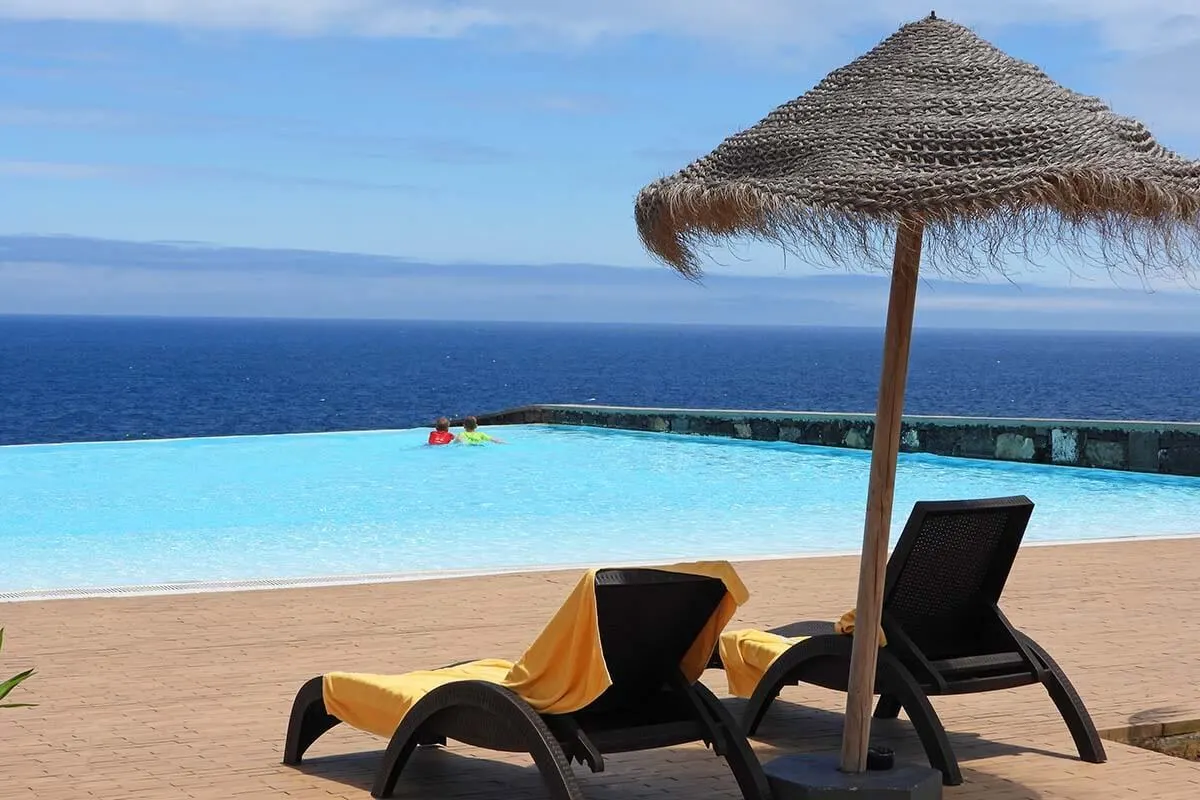 Sao Miguel Airbnb vs. Booking.com
If you are looking for an Airbnb in Sao Miguel, be sure to check the prices on Booking.com as well!!! Every single accommodation that we found on Airbnb, was significantly cheaper on Booking. It saved us hundreds of euros for the exact same places and the same travel dates.
Below, I made a comparison using the screenshots of some of the accommodations that I was researching for our stay in Furnas. The exact same accommodations, the exact same dates, and a big difference in prices. See the picture below and let the numbers speak for themselves.
I'm not sure why there is such a big price difference and whether it's always the case or not, but this is not the first time I saw this when researching accommodations for our vacation. It's also just one of the many reasons why we book all our hotels and short-term rental accommodations via Booking.com and why we always recommend it to our readers.
And while the price difference is even bigger with the 'Genius' discount on Booking.com, it was still quite significant for the places that didn't offer this discount as well.
The accommodation that we ended up booking – InSide Furnas – had a price difference of 445 EUR for 6 nights! In the end, we only booked 3 nights, but even that was more than 200 EUR cheaper on Booking.com than on Airbnb. And the situation was similar for the place we booked in Ribeira Grande as well.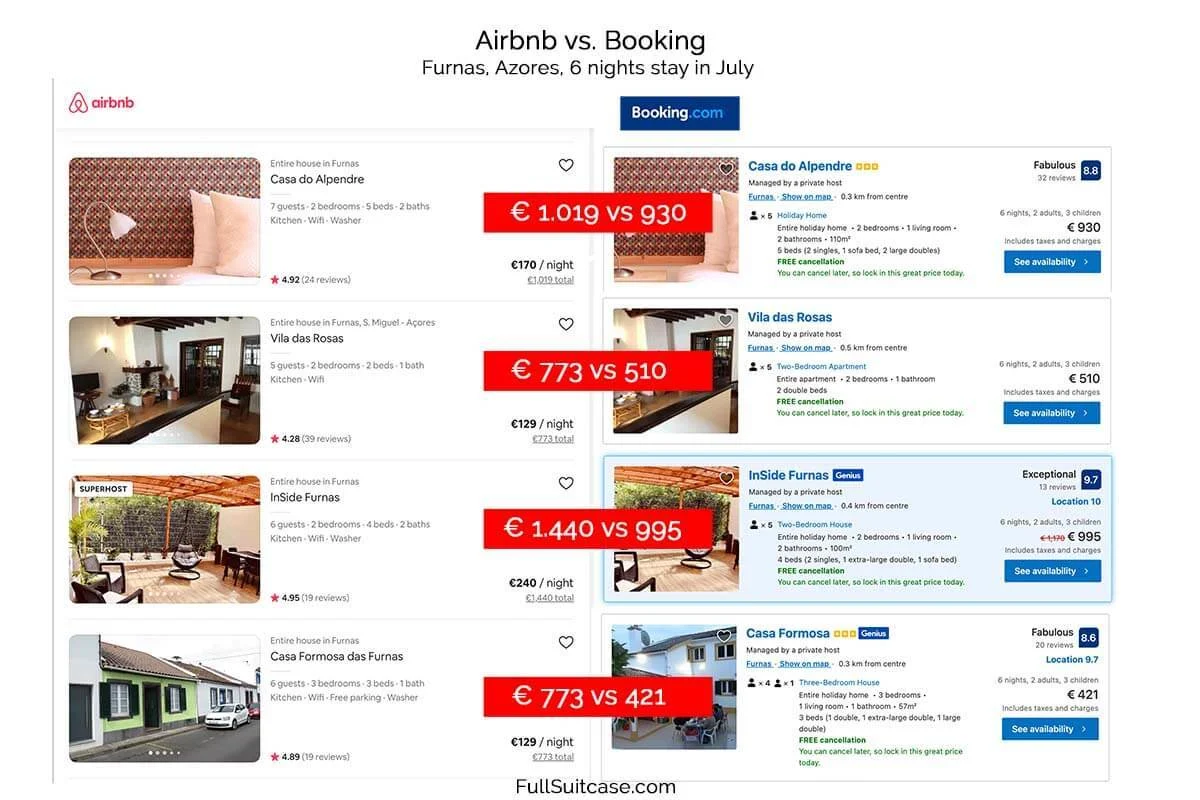 Where to stay in Ponta Delgada
Ponta Delgada is the main town of the island and if you are looking for a place that truly has it all, you can't go wrong with staying here. Despite being the capital city, it's actually a rather small town, with a cozy old town and a lively waterfront area. You'll find lots of hotels and accommodations here for all budgets and plenty of nice restaurants.
The biggest disadvantage of staying in Ponta Delgada is parking, so be sure that your hotel has easy parking available if you are renting a car.
The main advantage is that you don't even need a car if you don't feel like driving, because there are plenty of tours to all the main destinations on the island, including more adventurous outdoorsy activities like hiking or canyoning.
And while the nicest hotels in Ponta Delgada aren't cheap, there's more competition here, so you can sometimes find really good deals. In addition, there are lots of smaller hotels and private short-term rentals, and you can really find something for every budget.
Here are some of the best hotels in Ponta Delgada for all budgets:
5* LUXURY Octant Hotel (previously known as AZOR). This is one of the most luxurious waterfront hotels in Ponta Delgada. It's located about 5 minutes walking distance from the Portas do Mar waterfront area and within 10-15 minutes walking distance to all the main attractions and restaurants in town. They have a beautiful rooftop pool, a very good restaurant, and on-site parking is available too.
4* MORE SPACE Hotel Gaivota. This hotel has one of the very best central locations at the waterfront. They have sea view apartments and luxury suites, but also budget rooms available, and price/quality is usually very good. However, there is no swimming pool and they don't have their own parking, so you'll have to use an underground parking garage across the street (charges applicable).
4* HISTORIC/ CHARM Hotel Talisman. This is one of the most charming historic hotels in Ponta Delgada city center. If you are looking for something a bit more boutique-style rather than a big modern hotel, then definitely check it out! In addition to its unique interior, this hotel features a nice rooftop pool. Despite its location in the heart of the old town, it also offers parking nearby.
4* GREAT VALUE VIP Executive Azores Hotel. This is a nice and very affordable luxury hotel on the outskirts of the city center. If you don't care about being close to the sea (you can see the sea from the rooftop pool) or being right in the center of all the action, then this is a good choice in terms of quality, price, and location. You can easily park your car and you can also walk to the city center in about 20 minutes. It's also much cheaper than comparable hotels at the waterfront.
3* BEST BUY MS Vila Nova. This simple hotel is one of the best-value accommodation options in Ponta Delgada. It has a good waterfront location, a swimming pool, and convenient parking.
2* BUDGET Hotel Alcides. This simple hotel in the heart of the old town is one of the best-rated budget accommodations in Ponta Delgada.
HOSTEL Change The World Hostels – Açores. This is one of the best choices for those on the lowest budget. Located a bit outside the city center, it has free parking nearby.
This is just a small selection of Ponta Delgada hotels for various budgets. If you want to see everything that's available (including the private short-term rentals), check here for the best deals for your travel dates.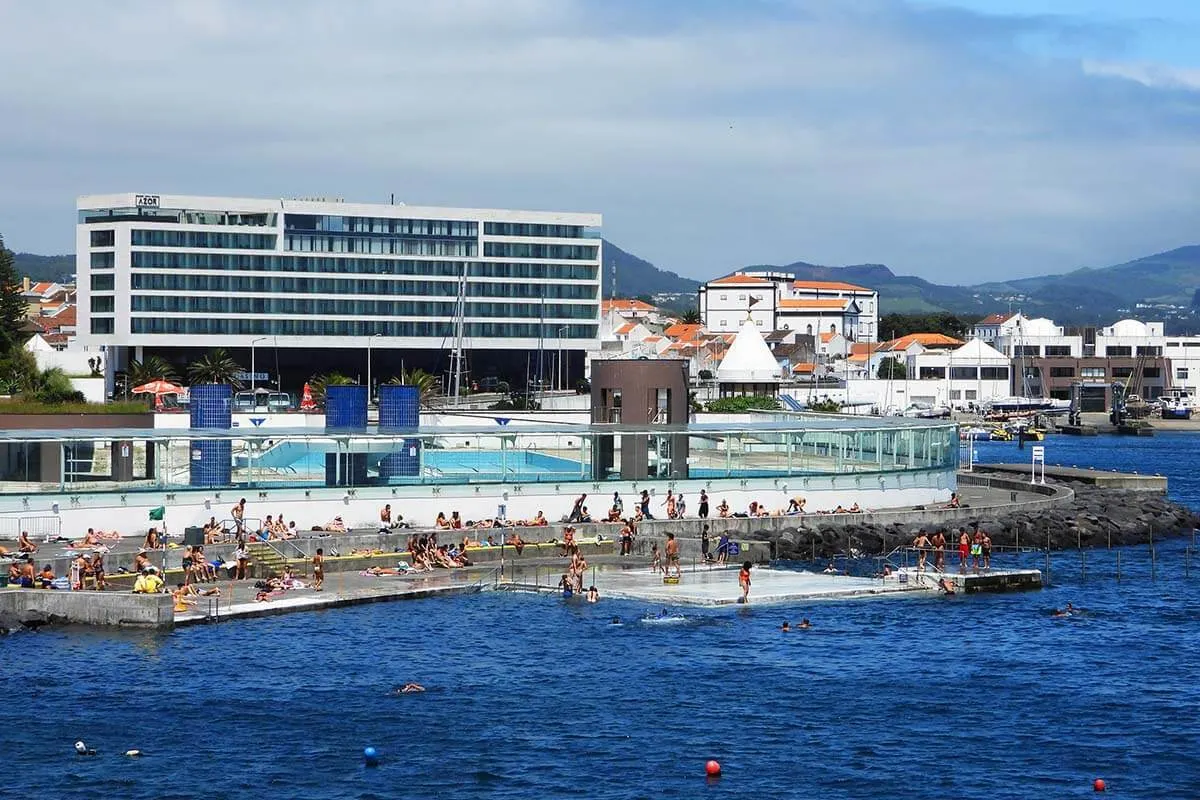 Where to stay in Furnas
Furnas is a town in the eastern part of Sao Miguel and is the only place in this selection that is not located by the sea. While I wouldn't recommend staying here for your entire trip, it's actually a really nice place to stay for a couple of nights. I recommend 3, or a maximum of 4 nights here, which is plenty of time for Furnas and the northeast coast.
There are just a couple of hotels in Furnas, but there are some nice apartments and villas too.
The most popular and best-known hotel in town is Terra Nostra Garden Hotel. This is a historic hotel with direct access to Terra Nostra Park, world-famous for its geothermal pool, one of the 'musts' in the Azores. You don't have to stay at the hotel in order to visit the park or the pool, but they close it to the public quite early (4.30 PM when we visited), and after-hours it's only available to the hotel guests.
Another nice hotel in Furnas is Octant Furnas (previously Furnas Boutique Hotel – Thermal & Spa). For the quality of the hotel and the facilities, this is one of the best price/quality choices in town. They also have two geothermal outdoor pools and a great restaurant, plus free private parking.
Traveling with a family of 5 in high season, none of these hotels had suitable rooms for us, so we opted for a short-term rental. We stayed at this beautiful house InSide Furnas. Its location is excellent, with big public parking just next door, and everything in town within walking distance.
Good to know: There are quite a few short-term rentals in Furnas, but most places don't have any decent parking, and the narrow streets are already more than full, so keep this in mind when looking for a place to stay here.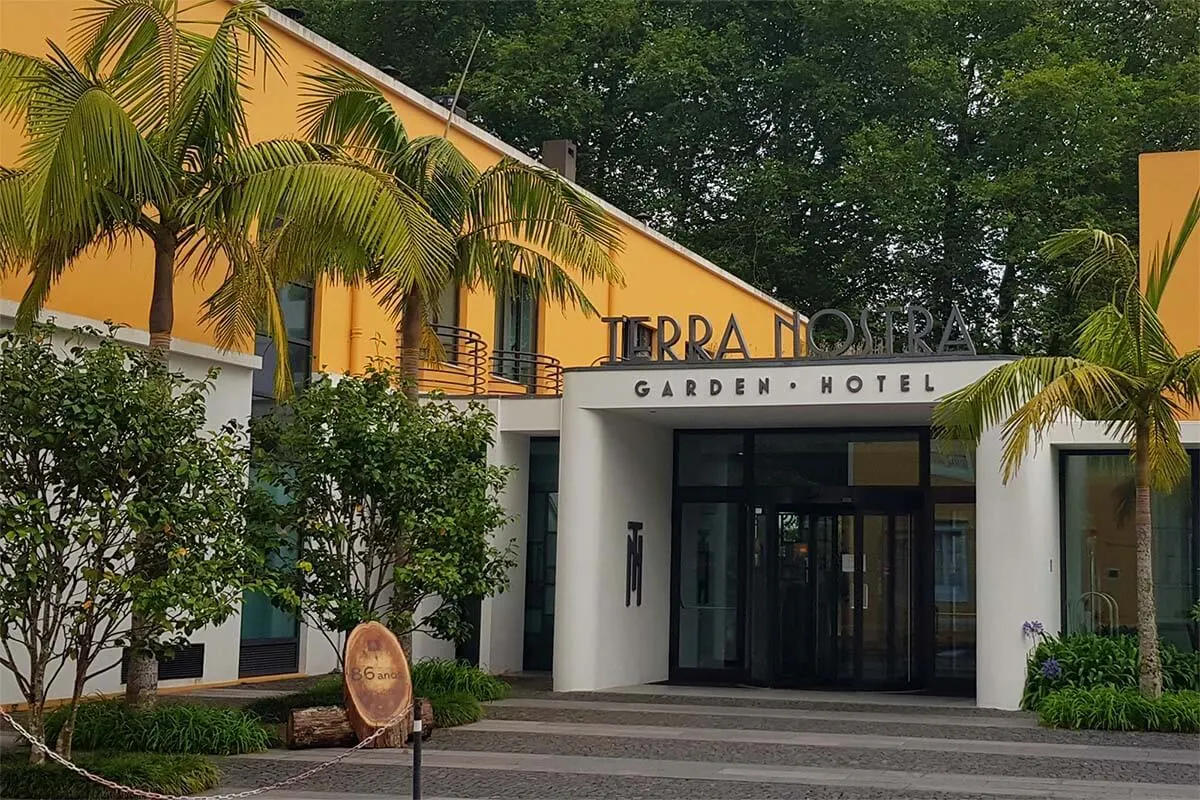 Where to stay in Ribeira Grande
Ribeira Grande is the second-largest town in Sao Miguel. It's not really a place that many tourists visit, but it's actually a really nice town with a great local atmosphere, a cozy old town center, a nice beach (perfect for surfing), outdoor swimming pools by the sea, and some of the most amazing sunsets.
Because the biggest part of Sao Miguel island's coast is either facing south or north, there are just a few towns on the island from where you have the possibility to see a nice sunset. Ribeira Grande is one of them.
The biggest advantage of staying in Ribeira Grande – in addition to sunsets – is its central location for sightseeing, local charm, and good facilities in town. Because it's not as touristy as Ponta Delgada or Furnas, dining out in Ribeira Grande is also not expensive.
You can have a simple meal for lunch or dinner for 5-10 EUR and order the most expensive wine at a restaurant without giving it a second thought – the best bottles at most restaurants cost just 10-15 EUR. And yes, there are also more expensive restaurants with 25 EUR wine bottles too, if you're looking for something a bit more special… 😉
The biggest disadvantage of staying here are narrow one-way streets and limited parking. So be sure to check that your accommodation offers convenient parking!
There is just one really nice hotel in Ribeira Grande, but there are also some really nice villas and apartments. The best hotel in town is Hotel Verde Mar & SPA – an excellent option for those who want to have it all (town, beach, sea views, pool, and convenient location for sightseeing).
We stayed at one of the beautiful Quinta do Passo villas in the heart of Ribeira Grande's old town.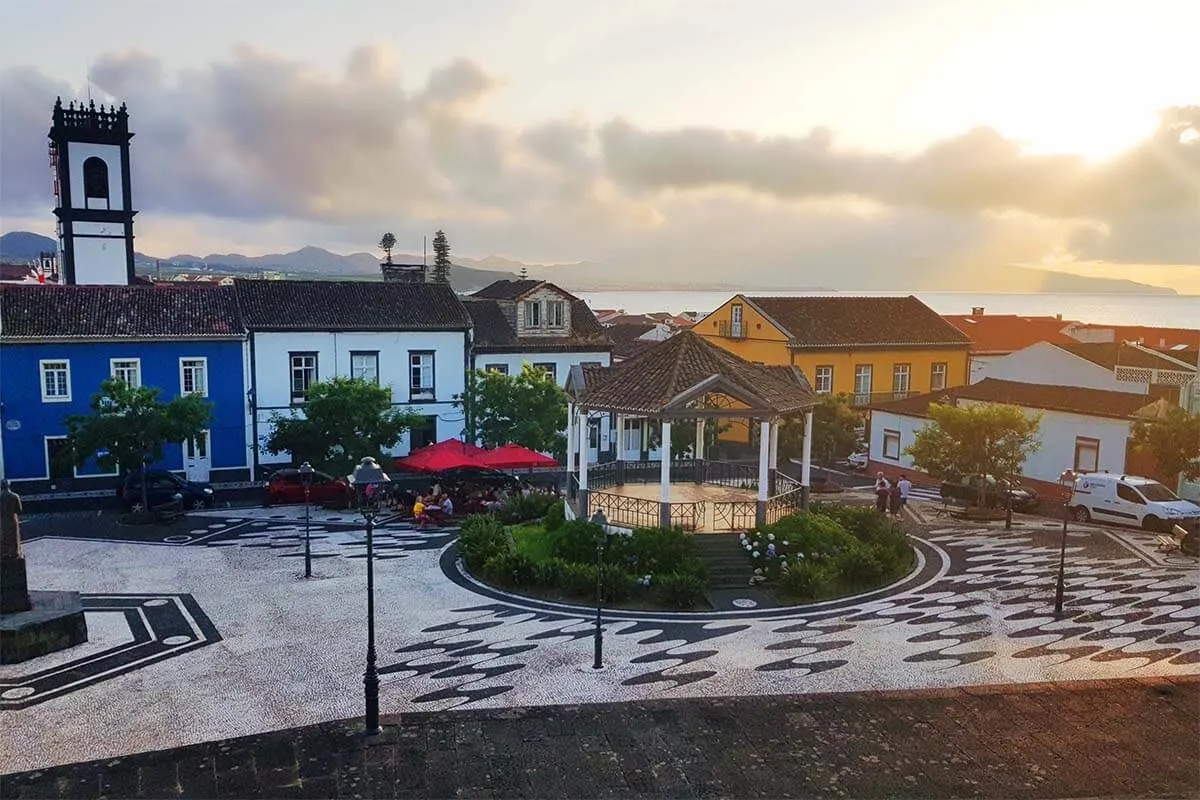 Where to stay on the North Coast of Sao Miguel
In the area west of Ribeira Grande, there are a few other really nice hotels with amazing sea views. These are luxury sea-view resorts with great facilities, pools, and restaurants. They are located outside of town, so parking is easy and their location is excellent for visiting pretty much any place on the island.
The driving distance from here to Ponta Delgada is just 20 minutes and about 40 minutes to either Sete Cidades (west) or to Furnas (east).
Just west of Ribeira Grande, you'll find one of the best hotels in Sao Miguel – Santa Barbara Eco-Beach Resort. It has an amazing location, wonderful sea views, beautiful studios for couples, and villas for families. This is truly one of the nicest places to stay on the north coast and was our first choice for our most recent vacation in the Azores. However, it wasn't available… So we looked for a nice alternative nearby.
We stayed at Pedras do Mar Resort & Spa, between Fenais da Luz and Calhetas village. One of the most beautiful coastal hikes of Sao Miguel passes right at the hotel and the coastal scenery here is amazing! This is a beautiful 5* resort with great facilities and wonderful sea views. However, it's not perfect for sunset, because the sun is usually just behind the mountains… But you can see some wonderful sunrises if you make an effort to get up early.
Good to know: Keep in mind that if you stay at one of the bigger resorts by the sea, you'll need a car for everything. They always have nice restaurants of their own, but if you want to dine elsewhere, you'll have to drive (or take a taxi).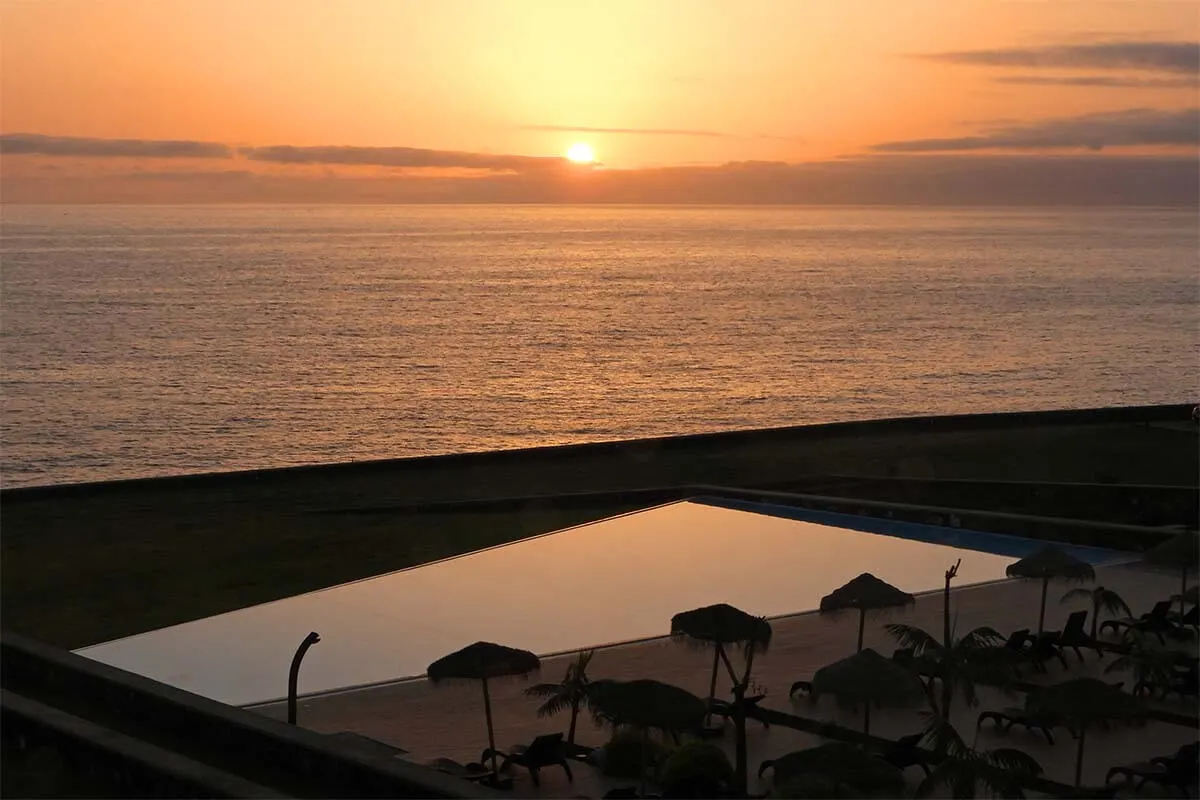 Where to stay on the South Coast of Sao Miguel
The southern coast of Sao Miguel is probably the most popular place to stay on the island. There are several small towns here, including Lagoa, Água de Pau, Água de Alto, and more. If you are looking for a good location in Sao Miguel, this area truly has it all. You'll find nice resorts, hotels, and countless short-term rental accommodation options here.
The driving distance from here to Ponta Delgada is about 15-20 minutes, depending on where exactly you stay. It's about 30 minutes drive to Furnas, and 45 minutes to Sete Cidades.
The very first time we visited Sao Miguel, we stayed at Caloura Hotel Resort in Água de Pau. This is a nice 4-star seafront resort with good facilities and an excellent location for visiting all the sights in Sao Miguel.
Probably an even better choice in this area nowadays is Pestana Bahia Praia Nature & Beach Resort which wasn't yet available at that time but looks absolutely amazing. It's one of the nicest sea-view resorts on the southern coast of Sao Miguel. Because of its location, you can see some nice sunsets from the hotel as well.
Good to know: Also here, if you stay in one of the big seaside resorts, be prepared to dine at their on-site restaurants or take a car. If you rather stay at a place with some restaurants within walking distance, you'll have to look at staying in the smaller towns where you'll usually only find smaller hotels or privately rented accommodations.
One of the nicest towns on the south coast with quite a few accommodations is Lagoa, just a short drive from Ponta Delgada.
Sul Villas & Spa is one of the nicest hotels in Lagoa. It's a small resort boasting amazing sea views and great facilities, but it's also located close to the town center and you can also walk to several local restaurants nearby. Another really nice place in Lagoa is White Exclusive Suites & Villas, also with a few other restaurants nearby if you prefer to dine out once in a while.
There are many other accommodations in Lagoa, for all budgets. This is one of the most centrally-located places in Sao Miguel, perfect for sightseeing if you have a car.
Good to know: Staying in towns, be prepared for some more noise (church bells, roosters, dogs, and also traffic, depending on the place). Also, parking might be an issue, so be sure that you do your research.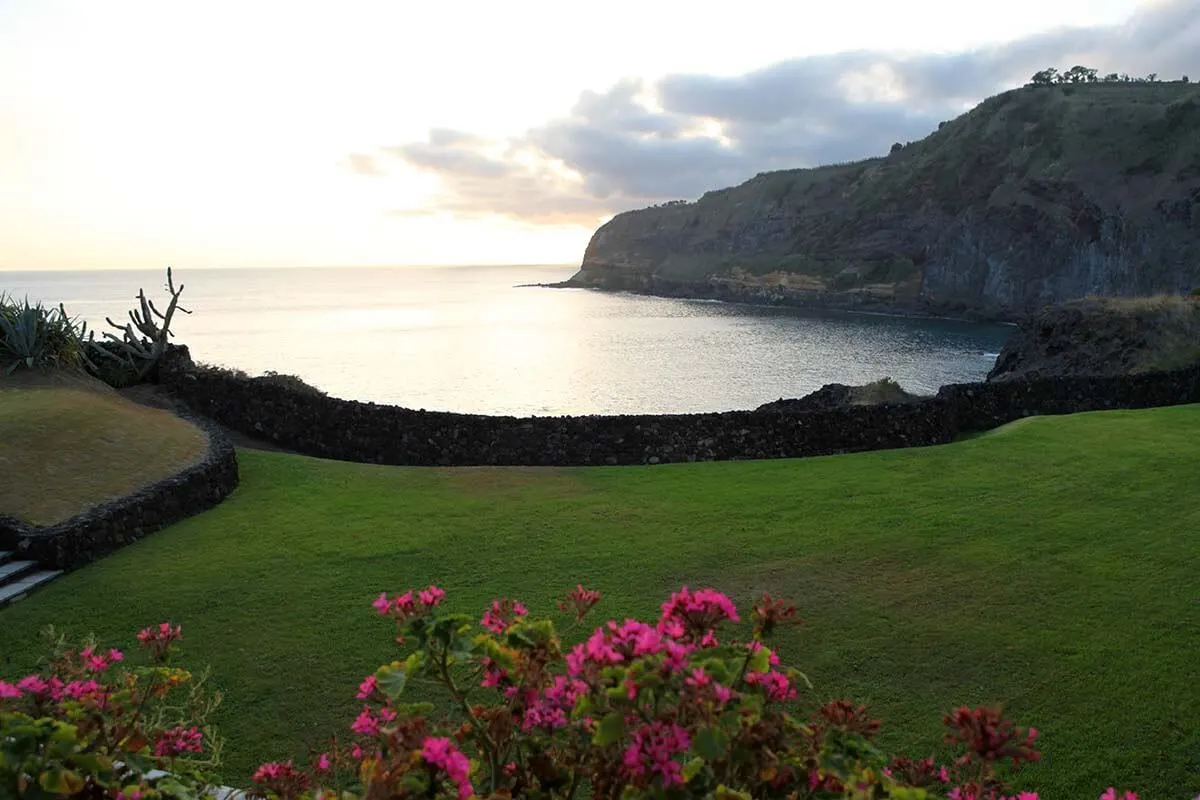 Our experience
We have been to Sao Miguel a few times. On one of those trips, we spent 5 nights in Sao Miguel and stayed at Caloura Hotel Resort on the south coast. The hotel was nice, the views as well, and the location was great for everything, but we hardly had time to enjoy our beautiful hotel because we were out sightseeing all the time…
So on our second trip, we decided to take it easier and booked a 2-week holiday in Sao Miguel. We decided to stay in three different places for various reasons.
The best hotel and best base for sightseeing we chose was Pedras do Mar Resort & Spa on the central north coast, where we spent 8 nights. We still did a lot of sightseeing, but usually, just about half a day every day, so that we had plenty of time to enjoy the facilities of the hotel (indoor and outdoor pools, bar, restaurant, amazing sea views).
TIP: If you book a nice sea-view resort in Sao Miguel, I highly recommend spending more time on the island so that you can actually enjoy what you are paying for. Otherwise – if you are just interested in sightseeing and are planning to be out and exploring the whole day – you can just as well save your money and stay at one of the simpler accommodations.
There is really no shortage of accommodations for all budgets in Sao Miguel, and some short-term rentals often offer great price-quality, self-catering possibilities, and more space. See below for some places where we stayed at.
We also spent 3 nights at this private house in Furnas and it was a great choice for everything in town and the area. It was so nice to be able to just walk to all the main sights, geothermal pools, and restaurants in Furnas, and that gave us a really nice vacation feel as well.
We then moved back to Ribeira Grande where we rented one of these beautiful villas for the rest of our stay. We loved this town as well, as it gave us a much more local experience than any other place we stayed at in Sao Miguel.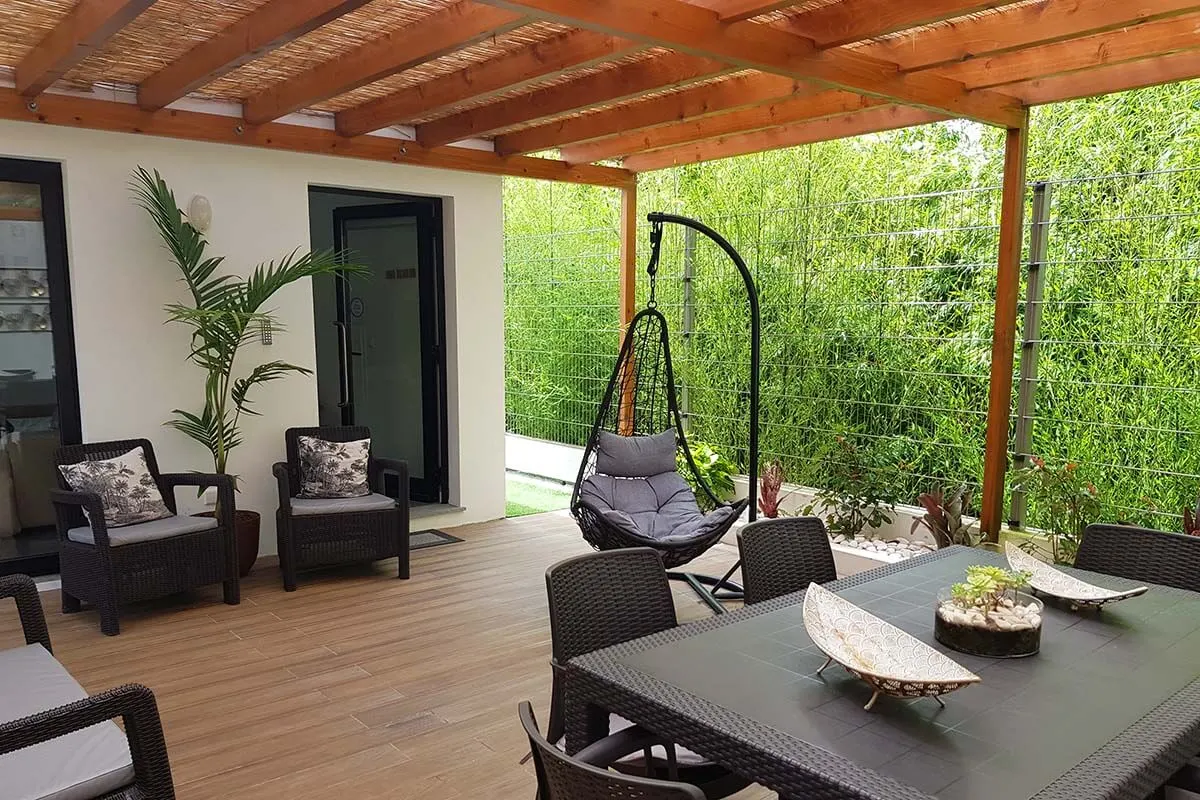 Our recommendations
If you are visiting Sao Miguel for just a few days and your main purpose is sightseeing, stay in Ponta Delgada or other centrally-located places on the island indicated on our map.
If you are in Sao Miguel for a longer vacation, stay at one of the beautiful seaside resorts and book a sea-view room! We recommend either Pedras do Mar Resort & Spa or Santa Barbara Eco-Beach Resort on the north coast OR Pestana Bahia Praia Nature & Beach Resort on the south coast. Staying in these places has many advantages, including things like swimming pools, excellent food, easy parking, and no town noise at night (but the sea can be windy and noisy too).
In addition, you could also stay in Furnas for a few nights, but it's not really a must, with the short driving distances.
If you rather stay in town where you can walk to restaurants, but still want a really nice hotel with sea views, then you can't go wrong with Hotel Verde Mar & SPA in Ribeira Grande or Octant Hotel in Ponta Delgada.
TIP: If you are flexible with your travel dates, visit Sao Miguel in the lower season. The weather is usually very mild during the entire year, and accommodation prices are significantly lower outside the busiest summer months. September-October is said to be very nice.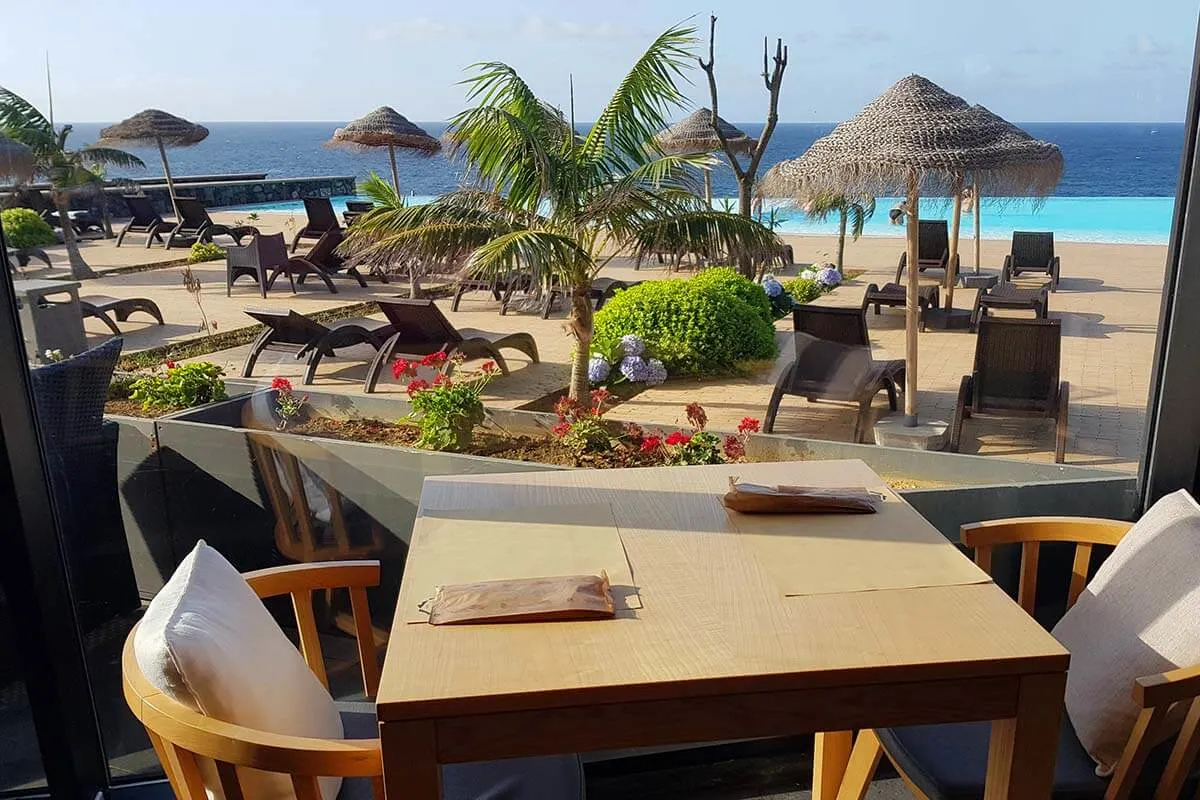 So, this is our guide to some of the best places to stay in Sao Miguel island in the Azores, Portugal. If you have any questions about the places we stayed at or some general questions, feel free to leave a reply below and we'll try to help.
If you are planning a trip and are looking for more information and inspiration for visiting Sao Miguel, please see our other guides as well:
YOU MAY ALSO LIKE: What to See & Do in Madeira
If you found this post useful, don't forget to bookmark it and share it with your friends. Are you on Pinterest? Pin these images!