Somebody recently asked me if we had travel insurance and whether you really need it. I answered that of course, we do have travel insurance. Who doesn't? But apparently many people still travel without it…
So if you don't have travel insurance and are wondering whether you need it, or how to find travel insurance that's suitable for any trip, read on! This article should answer your questions.
In this article, we also talk about one of the best international travel insurances, World Nomads. We share some first-hand experiences and you can also read several World Nomads reviews by real travelers who use this company and have made several insurance claims.
Find out!
Why you always need travel insurance – our experience
We travel a lot. And since we live in a small country like Belgium most of our trips are international. Basically, the moment we leave our house we may need international travel insurance.
So we have annual coverage, insurance that covers all our trips. That way we don't need to worry about going to Amsterdam for one day, visiting European Christmas Markets, or going dog sledding in Northern Norway… We focus on our trips without even giving a second thought to what happens if we have to cancel it or how much will it cost if we need medical assistance abroad.
We never had to cancel a far trip at our own expense, we never lost luggage or broken any travel gear beyond repair, we were even lucky enough to not have encountered any pickpockets during our travels… So isn't holiday insurance just wasted money…
But then I think of how we spent half of our vacation in Corsica with a daily visit to the hospital to treat our son's foot. And how I got a terrible allergy with my eyes so swollen that I couldn't see a thing when I was just a student traveling in the U.S., where every doctor's visit quickly costs you hundreds of dollars.
Or how a stone cracked a windshield of our expensive 4WD rental in Namibia… Or when I ended up in an emergency room after an unfortunate incident with a hotel wardrobe in Lithuania… Or our recent trip where we had a flat tire in the Westfjords in Iceland and the replacement would have cost us over 400 USD, if not for our insurance…
It took quite some digging in my memory to find these few examples and the reason is quite simple. All these incidents were easy to forget because they didn't cost us anything – our travel insurance covered all the expenses.
And I am not even talking about all the near-misses like when our car slid off the icy road in Iceland (with surprisingly no damage at all), or how we almost hit another car on the way to the airport in Melbourne… Or all those times when our kids got sick during the trip, sometimes on the road in the middle of nowhere in the most remote places like Namibia or Australia's Red Center, luckily to wake up completely healthy again the next morning…
I could go on and on, but I know that my mom is probably going to read this… So for her sake, I will share some other people's stories instead. This will show you that good travel insurance is really a must!
Other travelers' experiences with travel insurance
I recently saw somebody share their story on the Lonely Planet travel forum about a huge car damage repair fee they had to pay in Iceland. Full car insurance would have cost them a few extra dollars, but they didn't take it. After a tiny accident slightly hitting a wooden barrier they ended up paying 3,450 USD for the car repair, not to mention all the frustration that came with it.
This made me realize once more that not having good travel insurance might have serious financial implications. When in doubt, pay a few dollars extra and enjoy your trip without having to worry all the time.
Yes, most of the time you pay for nothing and you will not need travel insurance. But that one time when something happens you may end up with a bill higher than the cost of your entire trip.
Here are a few more travel insurance stories by my fellow travelers. Coincidentally, both examples are about tooth pain. It's something you cannot foresee, cannot avoid, but it sure can ruin your whole trip and leave a deep hole in your pocket as well.
'I had almost been overseas for a year when I all of a sudden got an extreme swelling and toothache, I had to go to the emergency dentist to have my wisdom tooth removed and it wasn't cheap.. luckily I had travel insurance and I managed to get it all back very quickly and without any dramas!' Nathalie from A Piece Of My Pie.
'We looked into travel insurance early in the planning process for our 13-month trip around the world. Sarah has a rare lung disease so nailing down travel insurance with medical coverage was a high priority. We had to do extensive research because all plans don't cover pre-existing conditions. Luckily, we never had to use it for anything related to Sarah's condition. But… we did use it when Justin was hit with excruciating tooth pain in Japan. We were so happy to discover that our policy covered emergency dental services! The insurance company was very supportive throughout the ordeal. It was great to not have to worry about finances in such a distressing situation. We filed the claim when we got home and all of our expenses were processed and paid without issue a few weeks later.' Sarah and Justin from Travel Breathe Repeat.
Now that we hopefully convinced you that you do indeed need insurance, the next step is to find the best travel insurance for your trip. Whether you travel internationally or just make a short domestic trip, good travel insurance is a must!
What to look for in a good travel insurance plan
There are so many options when it comes to travel insurance. Depending on the destination, your way of travel, or pre-existing conditions you may need different coverage. But there are two things that are a must in any good travel insurance plan: medical expenses and emergency medical evacuation & repatriation.
This is not negotiable and you should never travel anywhere, and definitely not internationally, without travel health insurance. Here is a more complete list of the criteria that good trip insurance should have:
Cover medical expenses and repatriation in case of an accident, injury, or sudden illnesses.
Worldwide coverage. Most policies will exclude the most dangerous countries, which 99,9% of travellers will not need anyway. But you should always check the geographical coverage to make sure that the region you are traveling to is covered.
24 hour emergency assistance.
Cover trip cancellation fees in case of illness, death in the family, or even loss of employment.
Cover emergencies in the destination country that lead to cancelation during the trip. Think of earthquakes, hurricanes, etc.
Cover loss or damage of valuables and documents.
The above is just the most standard coverage you should always look for, but it doesn't mean that every holiday insurance plan on the market covers it. So make sure to do your research and get the best travel insurance plan that fits your needs.
Know before you go
No matter how cheap or expensive your travel insurance policy is, there are always exclusions and loopholes. A pre-existing condition, a disease you already have, is usually not covered.
Lost baggage insurance will probably not cover all that cash you claim to have had in your suitcase… Drinking and driving is another good example. No insurance will cover the costs of an accident if you were drunk.
It's just as important to know what is covered as to know what is not covered! So make sure you are well informed. It also helps to keep copies of all your travel expenses including flights, accommodation, but also travel gear, etc.
Are you planning to do more adventurous activities during your trip? Don't forget to check whether your policy covers injury as a result of an accident that occurred while exercising those kinds of activities.
It may be something very innocent as going on a hot air balloon ride, snowmobiling, camping or trekking in certain altitudes, diving, or even doing some volunteer work… You will be surprised to find that most standard travel insurance plans don't cover it.
Get your travel insurance as soon as you book the trip
The moment you spend money to book your trip, you should make sure that you are insured. You may get sick or an accident may occur and you cannot get the coverage after the fact. If something happens while you wait, you will not be insured!
If you travel often, as we do, you may want to get annual multi-trip coverage. However, annual travel insurance plans are usually not as good in terms of coverage as the regular single trip travel insurance.
Most insurance companies require that you buy holiday insurance before the trip. There are just a few, like World Nomads, that also offer a possibility to get travel insurance during the trip. Needless to say, it will not cover any expenses or accidents that occurred before you bought the insurance. But if you are reading this while already on the road, you can still purchase your travel insurance and get protect going forward.
How to find cheap travel insurance
The insurance market is a huge business. There are so many companies and even more different coverage options. On top of that, it's practically impossible to compare one travel insurance to the other.
Sure, you could spend a week or two reading hundreds of pages with small letters, comparing every holiday insurance you can find on the market, and looking for the cheapest deal. But the reality is that the price difference is not worth your time and effort.
As you will see from my example below, good travel insurance can be very affordable. So instead of looking for cheap travel insurance trying to save a few dollars, you better focus on looking for a good travel insurance company with an impeccable reputation. Making sure that it offers all the trip coverage that you need.
World Nomads – one of the best international travel insurance companies
Depending on where you live, where and for how long you travel, and the coverage you need, there are so many ways to get good travel insurance. Single trip or multi-trip insurance, annual travel insurance, worldwide travel insurance, backpacking trip around the world or a luxury cruise… you can get any trip covered.
As I said, it's impossible to compare all the travel insurance that is available on the market. Therefore, I want to talk about just one company that offers one of the best international travel insurance policies I have ever seen – World Nomads.
World Nomads have an excellent reputation. Furthermore, they have a very easy and clear online booking process. In just a few clicks, you can see exactly the coverage you are getting and how much it will cost you.
On top of that, everyone can get insurance with World Nomads, no matter where in the world you live or where you travel. This means that you can probably get much better rates and often also better coverage than in your own country, where competition in the insurance market is much less fierce than online. Furthermore, their rates are very competitive.
As an example, I got a travel insurance quote online on the World Nomads website. I checked a quote for a 30-year old American resident traveling to Iceland for one week in winter. In just a few seconds, I could see that this travel insurance would cost 54 – 76 USD depending on the chosen coverage.
You can see that the World Nomads Standard Plan includes, amongst others, emergency medical insurance with a value of 100,000 USD, emergency dental treatment, emergency evacuation, trip cancelation, and even trip or baggage delay. This is very good coverage as many of these things are not included in most standard travel insurance policies that I know.
The more expensive package, the Explorer Plan at just 21 USD extra, even covers your car rental CDW (remember that example above with the people who ended up paying over 3,450 USD for their damaged car in Iceland?!) and more adventurous sports and activities.
You can click on 'view' and immediately get the full details of the coverage. It's written in clear and understandable language and it's very easy to find what exactly is or is not covered. See the screenshot below as an example.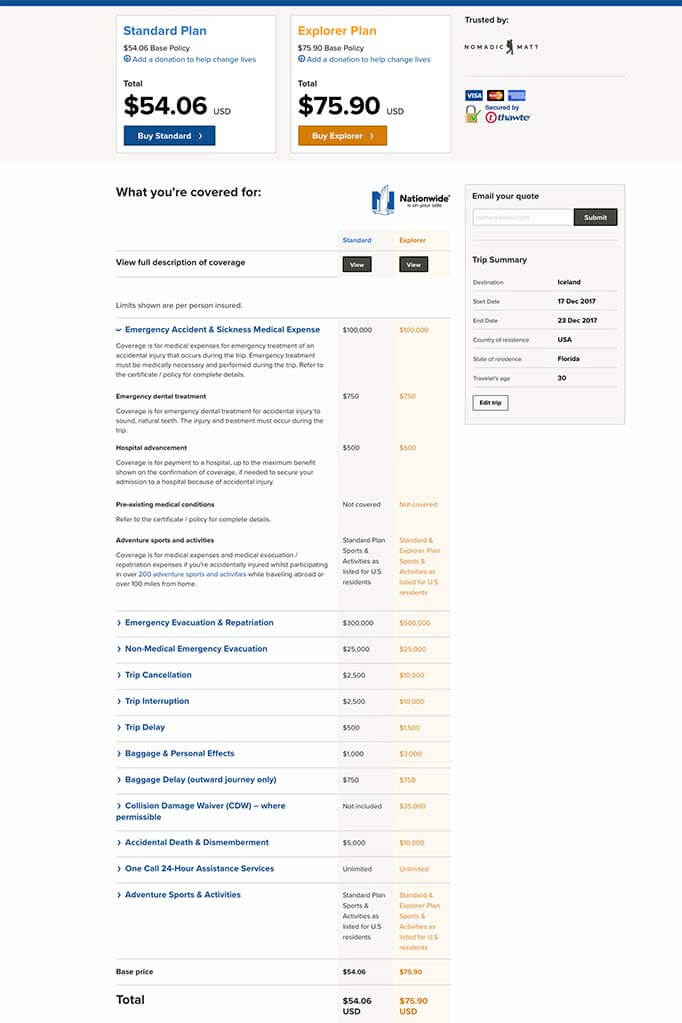 After looking into the World Nomads coverage, I actually decided to cancel our annual travel insurance plan we have had for many years with a company here in Belgium.
It doesn't have such good coverage and costs much more. Not to mention all the nice extras like travel delays or rental car insurance excess that most standard policies don't offer.
Take a look at the calculation I made for myself for a 2-week trip to Norway: 79 EUR for the most expensive plan. On our recent road trip in Norway, the CDW for our rental car alone cost us three times more than the complete travel insurance, and it had 1,500 EUR car damage excess.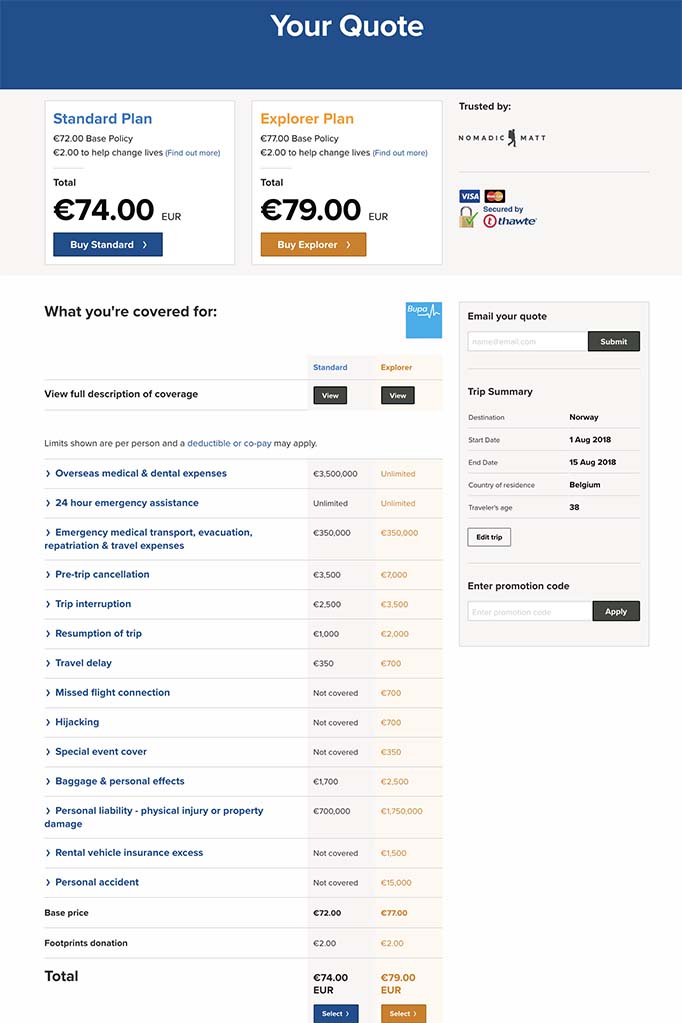 Experience with World Nomads & customer reviews
In my daily communication with many avid travelers, I have seen so many of them talk about World Nomads as the best international travel insurance on the market. It's used by all types of travelers: adventurous travelers, backpackers, budget travelers, luxury travel bloggers, traveling families, even seniors looking for cruise travel insurance…
Over the years, not once have I heard one negative comment about this company. So I asked in a Facebook group if people wanted to share their experience with World Nomads and here are some of the responses I got.
'I used World Nomads insurance when I spent six months in Africa traveling from Cairo to Cape Town. If you haven't heard about the 'African massage', it refers to the bumpy African roads. On one such drive, my camera flew against the table of the truck. It shattered the lens and broke my camera – it really is that bumpy.
As I was in Africa with terrible wifi, so I waited until I returned home two months later to make a claim. I contacted World Nomads and told them what had happened. They asked me to take the camera to a camera shop to confirm it was broken. I then sent the certificate to them along with the receipt for my camera.
In about a week, I got a response from them saying that it was covered and that they would deposit the money into my account. Of course, the value of my camera had depreciated since I bought it, but it was nice to get most of the money back so that I could buy a new camera!' Nicole from Travelgal Nicole.
'At a busy market in Kampot, Cambodia, I was elated to find a food stand with a smiling lady serving up vegetarian food. We ate while trying to communicate with her and observing our surroundings. So much was going on. It was one of the most interesting markets we've visited in our 4+ years in Asia.
We paid, thanked her, and navigated the maze out to our bikes only for me to realize that my phone is missing. I ran back inside, but she didn't see it. I'm sure someone took it while I was eating because I set it down next to me after I took a photo of her stand.
Thankfully my traveler's insurance, World Nomads, reimbursed me for the loss. I went to the police station in Kep and filed a report. That was a story in itself. I also sent a photo of my phone's receipt and some photos of the phone (I kept all of these just in case of an incident like this. Always keep this information for your valuables!).
Within a few weeks, I was sent a check to replace my phone. Thankful to World Nomads! I have always used them and will continue to do so.' Lianne from Lianne Bronzo.
'We were prepared, we were aware, or, so we thought. My husband and I were on a train in Athens to the Parthenon. When we reached our stop, a woman stopped in front of my husband, blocking the way. While he was distracted trying to get around her, another person reached into his pocket, wiping his phone.
By the time we got off the train and realized it was missing, the doors were closed and the phone was long gone. Thankfully, we had travel insurance. Once we arrived back home, we easily filed a claim online with World Nomads.
Their portal is simple and easy to use and their staff is very prompt. Be prepared though, the claims process is thorough and can take several weeks. You will need to provide a trip itinerary, receipts, proof of payment, etc. After five weeks, we received a check in the mail to cover the cost of the phone.' Jessica from Sweet + Savor.
'As an adventure traveler often engaged in outdoor activities, World Nomads is my go-to travel insurance. I learned my lesson the hard way. I once traveled solo to Mongolia and ended up nearly dying from a horrible bout of food poisoning. I woke up in the hospital thankful to be alive, but also with a large medical bill on my hands and no insurance to cover it.
Ever since I've used World Nomads to keep me covered. This past March my boyfriend and I traveled to Nepal for some trekking. We had a 36-hour layover in Dubai. When we arrived, our bags, filled to the brim with trekking gear, had not. Here we were, with nothing but desert clothing, about to embark on a three-week journey through the Himalayas in March.
We immediately called World Nomads. They were on point, explaining the process to get reimbursed and what our per-diem was to purchase the gear we needed for our trek. They even explained how to obtain proof of payment from a place like Nepal, where shops usually only deal in cash transactions without a formal billing system.
Their reassurance calmed our nerves a bit. With a stroke of luck, our bags arrived about six hours prior to our departure, but I was thankful to be covered by World Nomads.' Meg from Fox in the Forest.
Get a travel insurance quote for your trip
Using the form below, you can quickly get a travel insurance quote for your trip online. It takes less than a minute and can save you a lot of time, money, and needless worrying.
And yes, we get a small commission if you buy your travel insurance with World Nomads using these links. But this is not the reason I recommend it.
It's simply the best international travel insurance option that I came across during all my research. It's also highly recommended by the big names in the travel industry such as Lonely Planet or Intrepid, etc.
So, this is our guide to travel insurance. No matter where you travel or which insurance company you use, travel insurance is one thing that you really should take care of before you leave. You never need it until you do and then even a small incident can cost you a small fortune.
READ ALSO: Travel Photography Tips
If you found this post useful, bookmark it for later reference and share it with your friends. Are you on Pinterest? Pin this image!