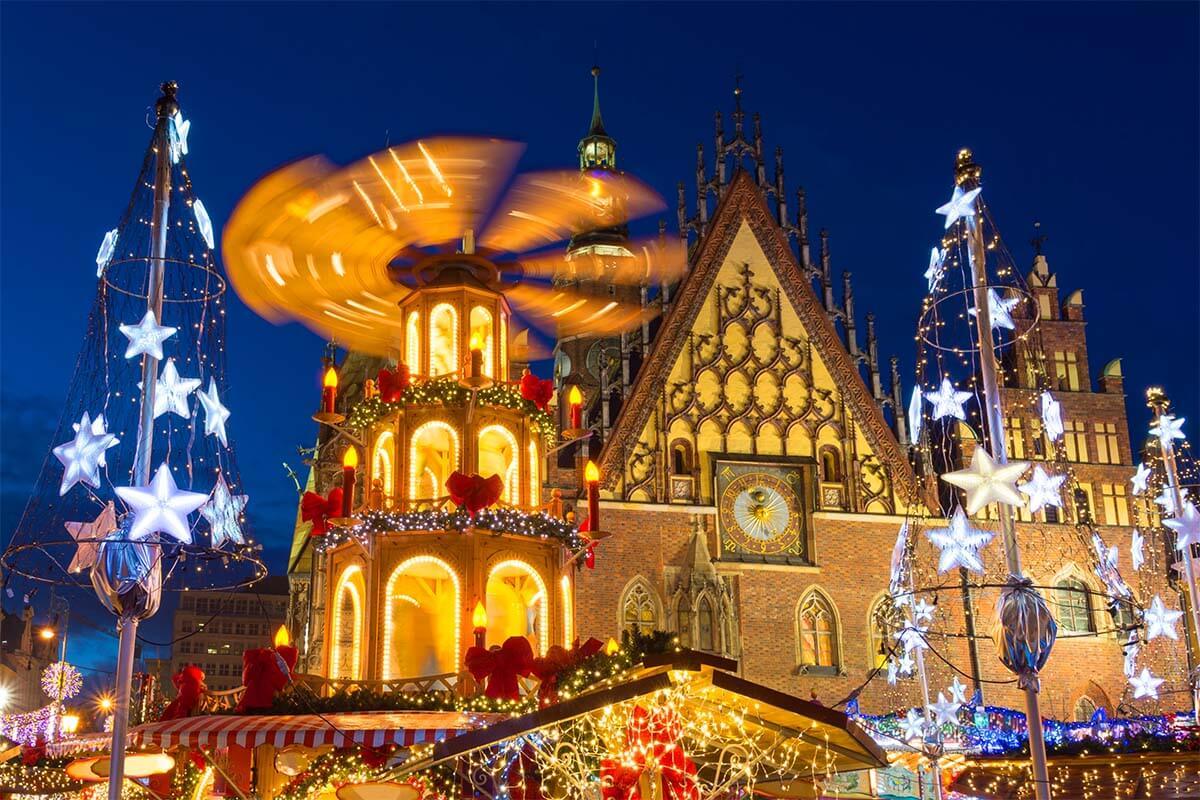 There are probably thousands of Christmas markets in Europe. But when doing your research and trying to decide which places to visit, you'll often come across the same lists of the 'very best Christmas markets in Europe' that 'everyone should see'…
But why not get just a little bit off the beaten path and look for somewhat lesser-known European Christmas markets instead!
There's so much more to the European Christmas tradition than just the world-famous German Christmas markets like the ones in Cologne, in Nurenberg, in Munich, or in Frankfurt… And while one could argue that all European X-mas markets are somewhat similar, there are different settings, local celebrations, quirky traditions, and regional foods that make each of them unique…
So if you are looking for some really nice Christmas destinations in Europe and would like to discover something new, you'll find plenty of inspiration in this article.
We asked our fellow travel bloggers to share their favorite Christmas markets in Europe that are somewhat lesser-known and bundled all the best recommendations in this article. We also included a few of our personal suggestions.
Some of these destinations will be familiar to you, but it might not have occurred to visit them in winter. Many of the European Christmas markets in this selection are quite popular and well known among locals, but not to a wider international audience. And none of these Christmas markets are truly hidden or unknown, but they can definitely count as hidden gems of Europe's Christmas markets.
Let's just say that all the Christmas markets in this selection are just as great as their more famous counterparts, have something unique, and are not yet discovered by the biggest crowds. Find out!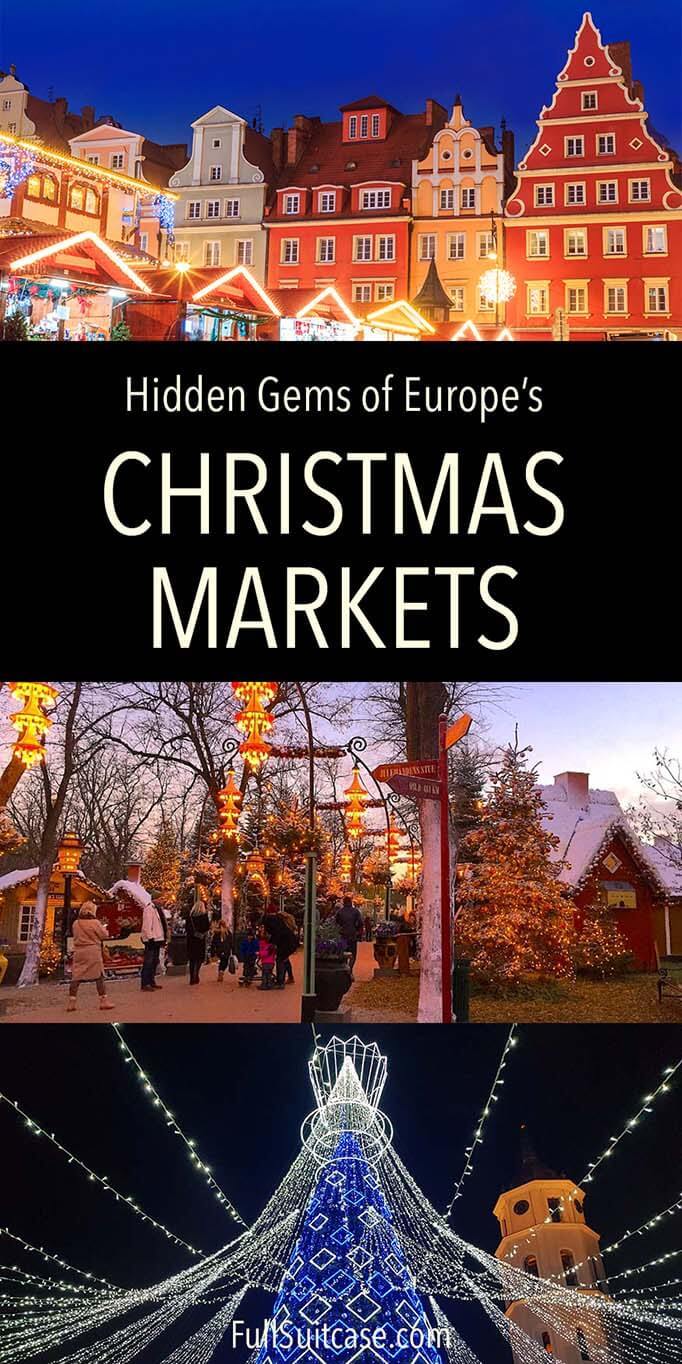 These are the best Christmas markets in Europe that not everyone knows about (yet):
1. Vilnius, Lithuania
Our personal suggestion
If you are looking for a really cozy European Christmas market without the crowds, then definitely consider visiting Vilnius at Christmas time! This beautiful city has everything for an unforgettable winter break: great Christmas spirit, cozy atmosphere, local traditions, winter concerts, ice skating, and some of the most beautiful Christmas trees not just in the Baltic region, but in Europe.
Every year again, Lithuania surprises with the most original Christmas trees like nowhere else you have ever seen. Furthermore, Vilnius has not one, but several Christmas trees. They can be found at all the main town squares in the city center and each is more beautiful than the other.
The main Christmas tree on the Cathedral Square is always surprisingly unique and that in itself makes a trip worthwhile! In addition, there's usually a stunning 3D light show at the Cathedral Square in the evenings between Christmas and New Year.
Vilnius Christmas market is spread out in several different locations in the city center. That makes the whole downtown really cozy and it feels festive everywhere you go. Traditional wooden chalets and glass igloos make a beautiful setting and everything is nicely lit. There's a Christmas Train connecting the main Christmas markets, but the city center is easily walkable too.
In addition to the 'usual' Christmas market delicacies, you'll also find lots of typical Lithuanian specialties and hand-made crafts. Make sure to try kisielius (a sweet warm non-alcoholic drink) and šližikai/ kūčiukai (traditional Christmas pastry). Bulviniai blynai (potato pancakes) can often be found at the Christmas markets as well.
When to visit: Vilnius Christmas markets run between the last Saturday of November until January 7.
LEARN MORE: Vilnius Christmas Market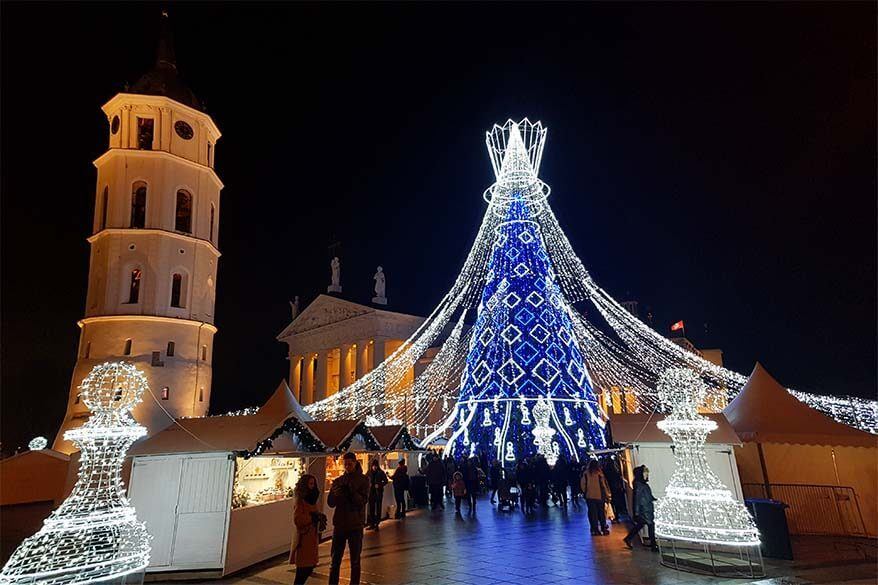 2. Chatsworth House, Peak District, UK
Suggestion by Jenny from Peak District Kids
A Christmas in the Peak District can make you feel like you've stepped into a Dickens novel. Quaint limestone villages decorated in festive cheer, the warm inviting glow from the local pub with holly framing the log fire, and a dusting of snow on the hilltops. But the heart of Christmas in the UK's oldest National Park is Chatsworth House.
Just outside the historical town of Bakewell, Chatsworth House, home to the Duke and Duchess of Devonshire, is one of the grandest estates in the UK. And when it comes to Christmas, they pull out all the stops.
Entry is free, but you do have to pay for parking. Visitors can browse over one hundred stalls offering a range of Christmas gifts and decorations, sample delicious treats (including Bakewell Tarts!), and enjoy a mulled wine at one of the outdoor bars.
If you visit later in the day, ideally at dusk, the setting feels even more magical with the twinkling lights set against the impressive Chatsworth Estate and live music filling the air.
Whilst visiting the markets, you must venture inside the house to marvel at the festive transformation. Each year Chatsworth picks a specific theme and it takes a year of planning. Alternatively, take a walk around the grounds (which is free) either along the River Derwent to spot deer, or head up to the Hunting Tower and through the woods.
To make a weekend of it, combine your visit to Chatsworth with some winter hikes along the Peak District's impressive escarpments, such as nearby Curbar Edge or Stanage Edge.
When to visit: The Chatsworth Christmas markets generally run from the second week of November to the beginning of December. The beautifully decorated Chatsworth House is open for visits until the first weekend of January; for that, you have to pre-book tickets on their website in advance.
LEARN MORE: Peak District Christmas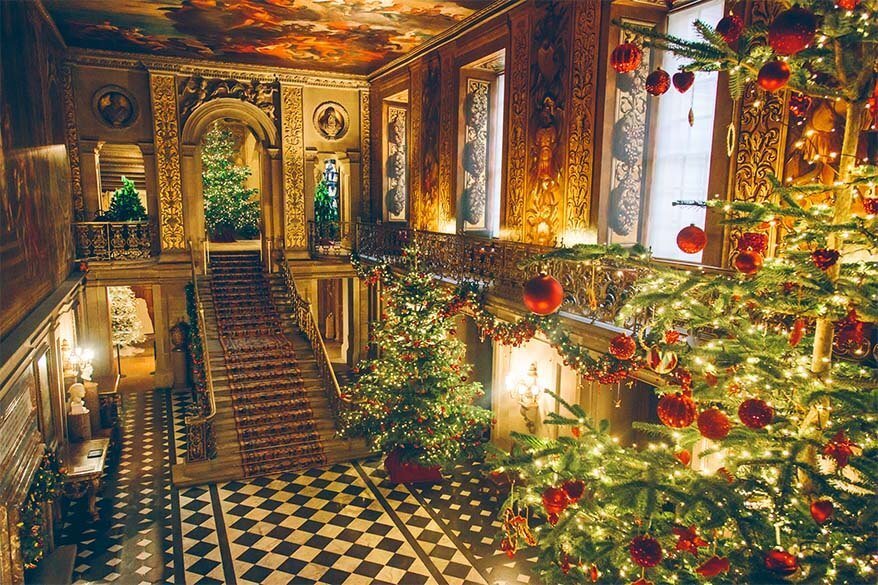 3. Graz, Austria
Suggestion by Alina from World of Lina
Although Graz is Austria's second-largest city, many foreigners haven't even heard of it. That's a pity because Graz really has a lot to offer in any season. But it's especially charming if you visit in winter when the streets are filled with mulled wine smell and magical Christmas decoration is everywhere. And, of course, there are also some great Christmas markets in Graz!
The biggest and most popular of Graz Christmas markets is the one at the main town square, Hauptplatz. It's right in front of the City Hall, where you'll also find a big Christmas tree. Moreover, it features a lovely carousel for children and light projections on the roofs of the market stalls give it a special touch.
Another great and unique Christmas market in Graz is the Aufsteirern market at the Schlossberg Hill. The Schlossberg is the iconic hill with the city's landmark – the famous clock tower Uhrturm. On top of the Schlossberg and only a few footsteps from the Uhrturm is a former castle moat called Kasematten. In summer mostly used as open-air stage, this place turns into a festively decorated living room for Christmas. Besides typical Austrian dishes and mulled wine, you can find a lot of stalls selling different types of crafts.
Last but not least, don't forget to visit the Christmas market at Färberplatz. It's the perfect place to find handmade goods from local but also international craftspeople and designers. Most of the things they sell here are made of wood, clay, glass, textile, or metal. From clothes to pet accessories and beautiful decoration stuff –you'll find plenty of holiday gift ideas here!
When to visit: Graz Christmas markets are usually open from the third or the fourth Friday of November to just before Christmas Eve.
LEARN MORE: Christmas Markets in Graz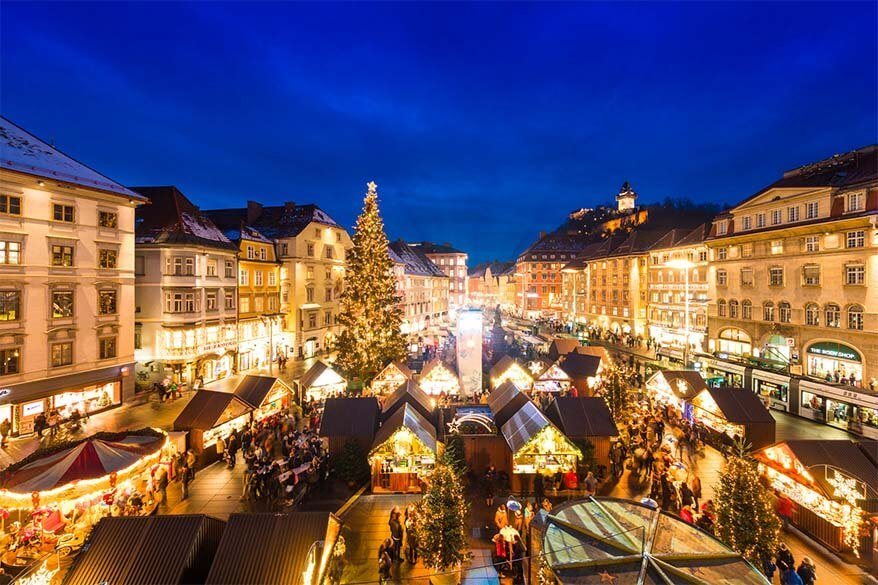 4. Copenhagen, Denmark
Suggestion by Derek and Mike from Everything Copenhagen
Copenhagen is a wonderful European city that's a delight to visit during the Christmas season. While this Scandinavian gem is often overlooked as a winter holiday destination, it's full of festive Christmas markets and winter activities. The moment you arrive in Copenhagen, you'll feel the holiday spirit. The city is covered in bright Christmas lights and there are Christmas markets in almost every square in town.
Copenhagen Christmas Markets are the best in the region. A great choice is the smaller yet charming Hans Christian Andersen Christmas market. It can be found at the Old City Hall Square. The market stalls are nicely decorated and are all named after famous H.C. Andersen's fairytales. This is the best place to enjoy holiday foods and drinks in the city. You'll find hot waffles, seasonal beer, mulled wine, warm cider, and hot chocolate.
Many people know about Tivoli Gardens, the famous amusement park, but don't realize that they also host a Christmas market each year. It's a wonderful place to visit because their rides operate all through the Christmas season.
The gardens are elaborately decorated and the pathways are lined with vendors. At the Tivoli Christmas market, you can purchase handmade holiday gifts, Christmas ornaments, traditional crafts, and local Danish treats. One of the best things to try are æbleskiver, traditional Christmas pastries. Please note that there is a fee to enter the Tivoli Gardens Christmas market.
One other Christmas market to visit in Copenhagen is the Christmas market at Kongens Nytorv, the famous town square that's home to the Old Royal Opera House, French Embassy, and Hotel D'Angleterre. The hotel has incredible Christmas decorations and they even turn the facade into an advent calendar. It's a perfect backdrop for walking through the Christmas market.
When to visit: Most Christmas markets in Copenhagen are open from mid November until just before Christmas. Tivoli Christmas Market remains open until the first weekend of January.
LEARN MORE: Copenhagen Christmas Markets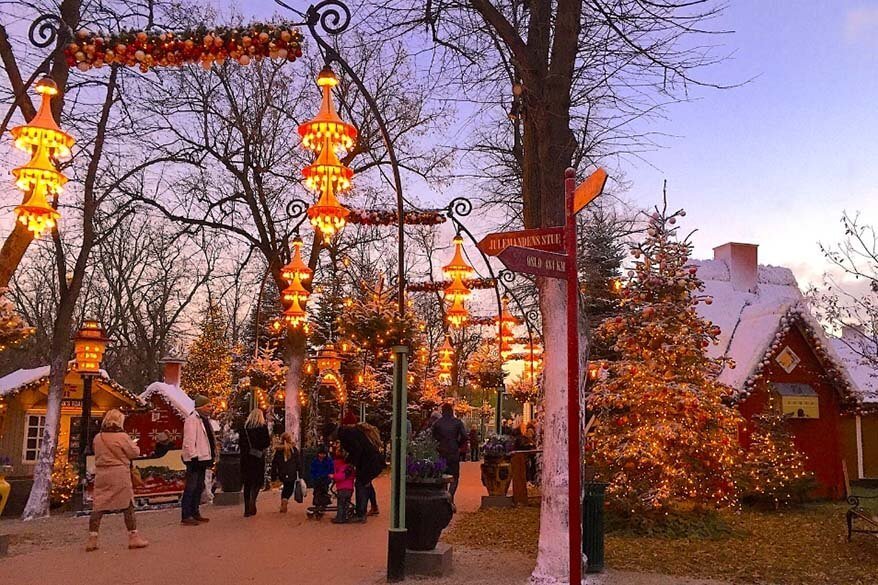 5. Wrocław, Poland
Our suggestion (see also the featured image on top of this article)
Wroclaw city in western Poland hosts a beautiful Christmas market that could be described as a true hidden gem among the best Christmas markets in Europe. It has all the ingredients for a perfect winter getaway: stunning setting, intimate festive atmosphere, great food, and affordable prices.
Despite the fact that this is Poland's fourth-largest city, it manages to maintain a very cozy feel of a smaller town. The Wroclaw Christmas market is set in the main Market Square (Rynek), one of the most beautiful town squares in central Europe. It creates a wonderful setting for the Christmas market! The Town Hall looks like a fairytale-house, but also the colorful buildings around the square are so pretty!
There are no thrilling rides at this Christmas market, just a few smaller rides for the little children. So it doesn't feel like a country fare like many Christmas markets in the bigger cities. Instead, you'll find a really cozy and family-friendly market with beautifully decorated stalls selling gifts, Christmas decorations, quirky local crafts and delicacies.
You'll find all the traditional foods and drinks here, just like at other European Christmas markets. In addition to mulled wine, roasted pork knuckle, chestnuts, and candy, you should make sure to try traditional Polish food as well. The famous Wroclaw gingerbread houses are really cute and make for a great gift (if you manage to transport them without breaking).
In addition to the Christmas market, this lively student town has a lot to offer and is a really nice winter weekend getaway. You'll find many cultural sights, but there's also shopping, lots of cool coffee shops and restaurants. If you are visiting with children, they'll love looking for Wroclaw Dwarfs. There are around 350 (!) statues of the little dwarfs spread out all over the town center.
When to visit: Wroclaw Christmas market is usually open from the third Friday of November until December 31.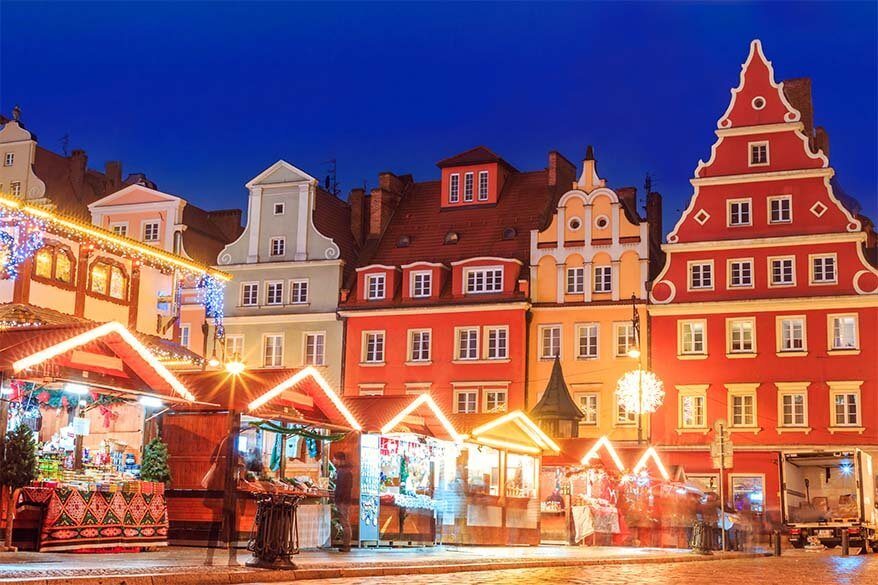 6. Lille, France
Suggestion by Katja from Globetotting
Lille is the capital of the Hauts-de-France region in northwestern France and is well-known in the wide region as a brilliant destination for a city break. But not many international visitors have heard about Lille, let alone its wonderful Christmas market.
Home to world-class museums, pretty cobbled streets, and a charming town center, Lille also offers great shopping. Oh, and don't forget delicious local pastries! But the most magical time to visit Lille is December!
This is when the picture-perfect city transforms into the kind of scenes usually reserved for Christmas cards. Vieux Lille, the old town, sparkles with Christmas lights and shops compete to have the most original window displays. Evergreen garlands decorated with red and gold ribbons hang gracefully between buildings. Cake and sweet shops double their orders, specialist cheese stores such as Philippe Olivier see queues of people outside, matched only by those waiting for a waffle from Meert.
The heart of all this Christmas festivity, however, can be found in Place Rihour. Lille Christmas market is the largest in Northern France. You'll find close to 100 stalls selling local arts and crafts, regional food specialties, Christmas decorations, nativity scenes, traditional toys, and more.
Make sure to buy some Babeluttes de Lille toffees – the perfect stocking stuffer. The Saturday before Christmas, Santa 'falls' from the nearby 80-meter-high Belfry – a popular (and mildly terrifying?!) spectacle! Once Santa is recovered, he's on hand to take photos with kids.
In the Grand Place, the neighboring plaza, there's an enormous 164ft-hight Ferris Wheel, which is a wonderful way to get a bird's eye view over Lille at Christmas.
When to visit: Lille Christmas market is usually open from the third Friday of November until the end of December.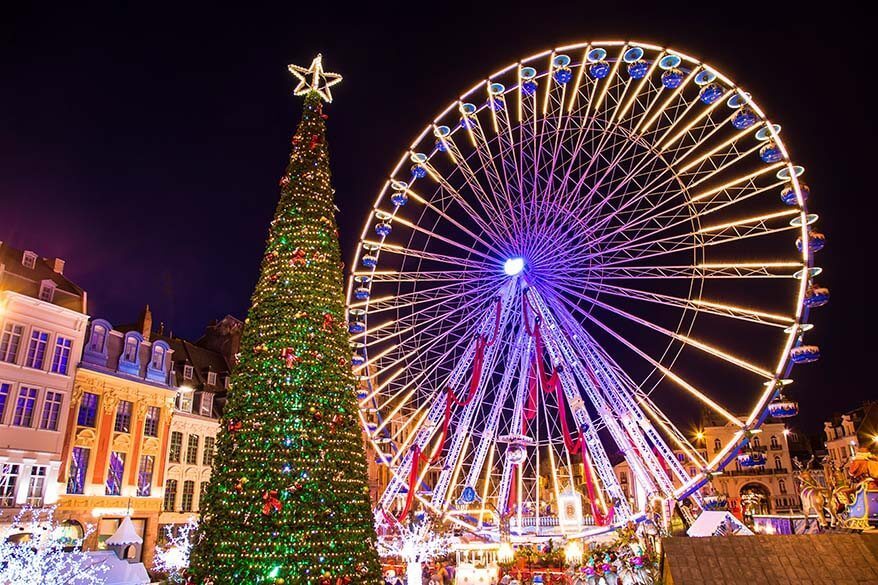 7. Innsbruck, Austria
Suggestion by Linda from Travel Tyrol
A historic center with narrow cobbled lanes against a magnificent mountain backdrop makes the Innsbruck Christmas Market in Austria a feast for the eye as well as the senses. This picturesque town in the mountainous Tyrol region is a real gem in any season, but simply magical in winter!
What makes the Innsbruck Christmas market experience a real treat, is that it's spread out across the city in the form of smaller markets each with their own unique character. The old town market around the famous Golden Roof is where you'll hear traditional Christmas music and find local arts and crafts to buy. Families with kids gather on the Market Square with its old-fashioned carousel and giant Swarovski Christmas tree. And Maria Theresa Street is where young people gather for a Glühwein after work.
For a view of the city from the mountain slopes, there's a small market at the Hungerburg station of the Nordkettenbahnen, the cableway that leaves from the city center.
A local treat you have to try when visiting this market in the Capital of the Alps, as Innsbruck is often referred to, is Kiachl (fried dough topped with Sauerkraut or cranberry jam).
If you'd love to combine your Christmas market holiday with some skiing, the Stubai Glacier ski resort is just a 40-minute drive away and is open from October. Most other smaller resorts around the city start opening from mid-December. They include Schlick 2000, Axamer Lizum, and Seefeld.
When to visit: Innsbruck Christmas market opens around November 15 every year and stays open until the day before Christmas. For those who still crave Glühwein and Christmas market delicacies after Christmas, the stalls in Maria Theresa Street are open until January 6.
LEARN MORE: Innsbruck Christmas Markets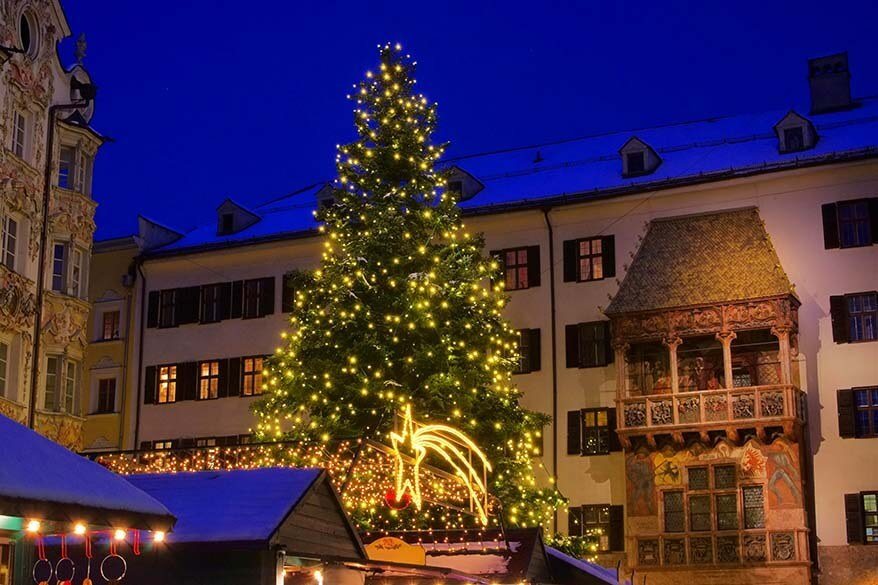 8. Trento, Italy
Suggestion by Emily from 'London City Calling'
If you're looking for an under the radar Christmas market in Europe, then check out the charming Alpine town of Trento. This cozy city which sits nestled within the Dolomites in the Trentino–Alto Adige region of northern Italy, has been nicknamed 'Città del Natale', or 'Christmas Town'.
Trento's picturesque setting with the snow-dusted peaks of the surrounding Dolomite mountains peeping out from behind its grand Romanesque-Gothic Cathedral is pretty magical at any time of the year. But Trento really comes alive when the annual Christmas market is held. The city becomes a real-life winter wonderland, with one of the most charming traditional Christmas markets in the whole of Italy, if not Europe.
Traditional wooden huts line Piazza di Fiera and Piazza Cesare Battisti. Here, you'll find all kinds of artisanal products and local delicacies in keeping with local alpine traditions. This region used to be a part of the Austrian-Hungarian empire, so local specialties include delicacies such as apple strudel and pretzels.
Don't miss Babbo Natale at his Grotto in Piazza Santa Maria Maggiore and take the Christmas train on a journey around the city's historical center. End the day with a mulled wine as you watch the giant Christmas tree and light show illuminate Piazza del Duomo.
Trento is certainly one of the best places in Europe for a magical and traditional Christmas market experience, but without the crowds and inflated prices of many of the better-known cities. Furthermore, it's located just over a 1-hour drive from Verona and 2 hours from Venice and can easily be reached by train.
When to visit: Trento Christmas market is usually open from late-November to January 6.
LEARN MORE: Trento Christmas Market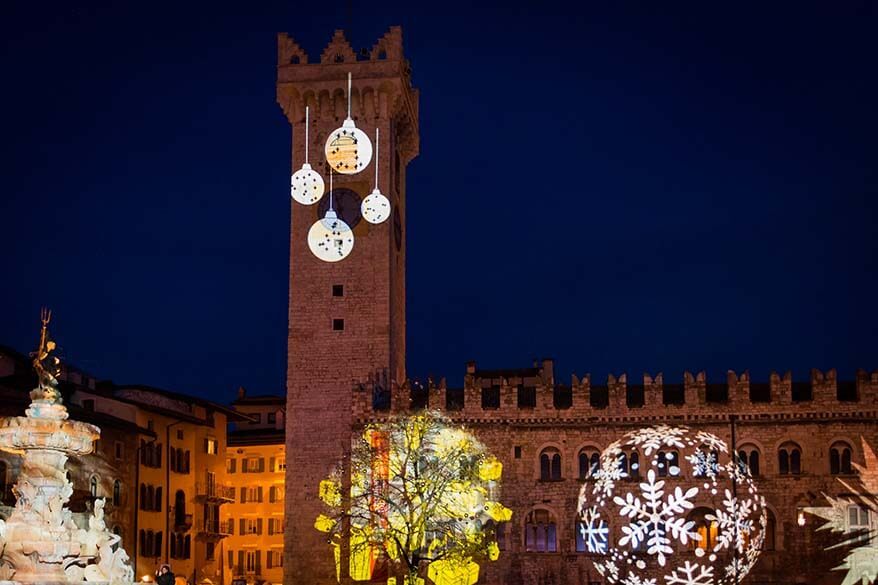 9. Lübeck, Germany
Suggestion by Mal from Raw Mal Roams
Lübeck (Luebeck) is a charming medieval old town located in northern Germany about 1hr drive from Hamburg. The old town is also a UNESCO World Heritage Site recognized for its architectural marvel dating back to the medieval times and prominent gothic churches.
If you're looking for an off beaten track Christmas getaway in Europe, look no further! Luebeck is a true hidden gem that turns into a real winter wonderland during the holiday season. Traditional Christmas huts spread over the old old town center and create such a cozy atmosphere.
Take a stroll around St Mary's Church where the main Christmas Market is located. The entire street here is decorated with fairy lights and Christmas trees. Don't forget to check out the city's most iconic building Holstentor, the red-brick gothic gate that guarded the entry to the Hanseatic city of Lubeck in the medieval times.
The city is famous for producing mouth-watering Lübeck marzipan that comes in all different shapes and flavors, and is certainly not to be missed from your shopping list! Indulge in a steaming cup of mulled wine and eat your way through the market. The market is packed full of tasty eats such as German sausages, fried potato cakes, doughnuts, gingerbread, and roasted chestnuts.
If you're visiting with kids, head to the family Christmas market by the river where there are plenty of fun activities for the whole family. And for the crafts market, go to St Peter's Church.
When to visit: Lubeck's Christmas Market is open daily between the last weekend of November through to 30th of December.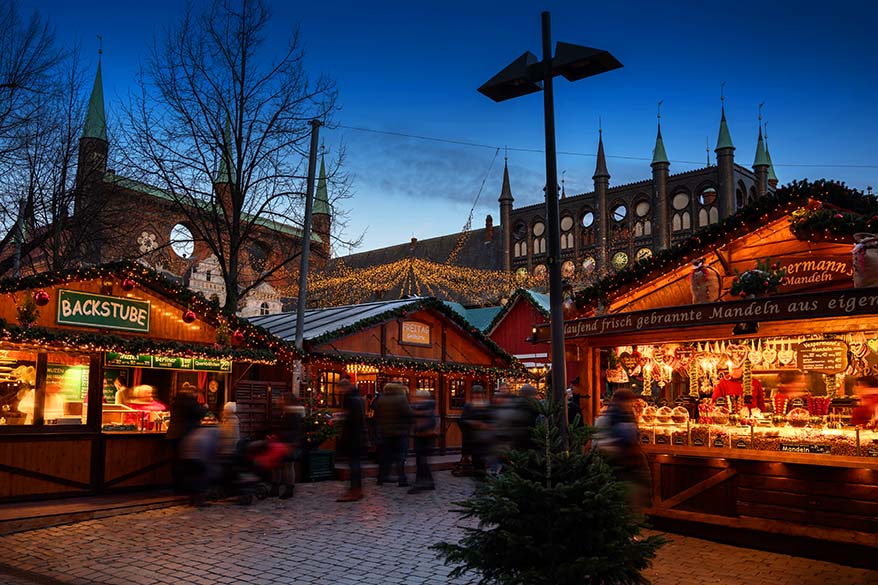 10. Český Krumlov, Czech Republic
Suggestion by Samantha from The Wandering Wanderluster
Located in the South Bohemia in the Czech Republic, the small and enchanting fairy-tale town of Cesky Krumlov is a popular day trip from Prague or Vienna. If you brave the crisp cold air and visit in December, you'll find a small and family-friendly Christmas market and perhaps even catch a glimpse of the town covered in snow!
Cesky Krumlov's main Christmas market can be found in the heart of the old town which is a UNESCO World Heritage Site. The Christmas market in Svornosti Square has a magical and welcoming atmosphere.
Since the town is small and winter isn't the prime tourism season, the market isn't overly crowded. So you can enjoy a casual stroll around its advent stalls that feature local hand-made gifts, crafts, and delicious home-made gingerbread cookies that are beautifully decorated. They make great gifts too!
Children can enjoy a ride on the merry-go-round whilst listening to Christmas carols sung by locals. In the meantime, adults can indulge in a cup of hot mulled wine.
While many people visit Cesky Krumlov's Christmas Markets as a day trip, if you stay overnight, you can enjoy the markets by night, lit by twinkling fairy lights and the beautiful Christmas tree.
There's a lot to see and do in Cesky Krumlov. Since the days are short in winter, it's well worth staying overnight. That way you can explore the State Castle Český Krumlov, some of the town's cozy cafes, and enjoy browsing through some of the small shops. Don't miss the small Christmas market located in the courtyard of the Hotel Ruze as well.
When to visit: Cesky Krumlov Christmas market typically runs from the last Friday in November through to the first week of January.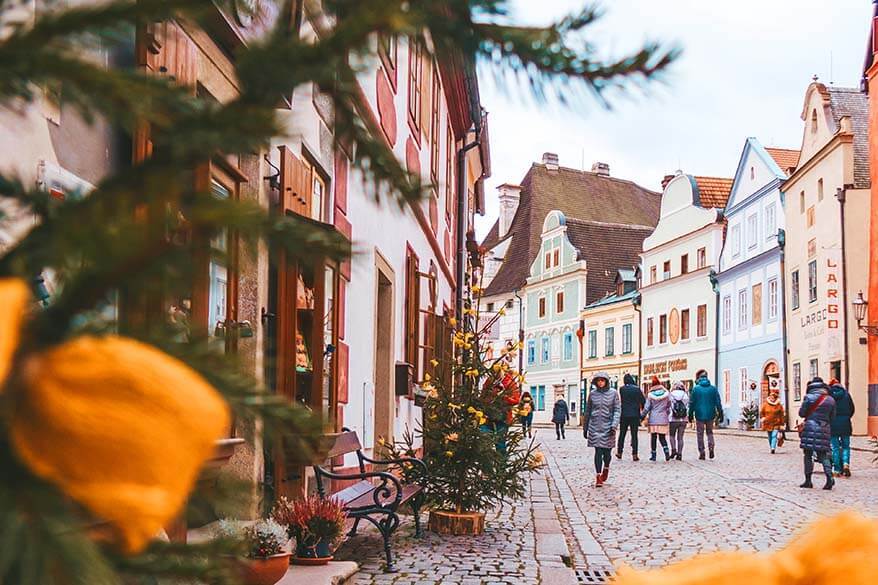 11. York, UK
Suggestion by Nikki from Yorkshire Wonders
York is one of the most beautiful cities in the UK and a fabulous place to visit at Christmas! Wandering its fairytale-like narrow winding streets, you can imagine yourself within a Dickens novel!
The award-winning York Christmas market is overlooked by the magnificent York Minster, the largest Gothic cathedral in Northern Europe. You can attend Christmas carol services there too.
Your first port of call needs to be The Shambles, a tiny, narrow street in the center of the city. The timber-framed buildings date back to the 14th century and overhang above you. Originally a row of butchers, it's now more of a tourist destination and the inspiration for Harry Potter's Diagon Alley.
Indeed, there are four Harry Potter shops in the Shambles as well as a Ghost Shop. At Christmas, in the evening, 'snow' is created and blown from the rooftops for a fun seasonal atmosphere.
The Christmas Market in York is lovely and festive with lots of wooden style chalets lining the streets. You can buy all manner of things from Christmas decorations to clothes and toys. I particularly like the food stalls selling local cheeses, pickles, and jams. You can also treat yourself to mulled wine or a hot chocolate with a nip of something warming in it.
If you are looking to try some traditional British food, you'll find some nice local pubs here. And if you are a fan of afternoon tea, it does not get much better than the Lady Betty's Afternoon Tea in the Belmont Room of Betty's Tearooms. It's a lovely and indulgent way to spend the afternoon after you have tired yourself out with all the Christmas market shopping!
When to visit: York Christmas market is usually open from mid-November until just before Christmas.
LEARN MORE:
York Christmas Market
Best Places to Visit in Yorkshire
12. Gothenburg, Sweden
Suggestion by Roshni from 'The Wanderlust Within'
Gothenburg on the west coast of Sweden is the country's second-largest city and hosts some of the best Christmas markets in Scandinavia. Scattered across the city, there are four Christmas markets in Gothenburg. That makes the entire city feel like a festive winter wonderland.
The largest and most popular Christmas market is based in Liseberg Theme Park. It combines thrilling roller coaster rides and festive ice skating shows with over 80 traditional Christmas stalls. There is also a fairytale treasure hunt at the medieval village, and of course Santa's workshop. Don't forget to check out the singing Christmas tree, a choir arranged on a platform in the shape of a Christmas tree.
On top of the festive activities, Liseberg also has plenty of Swedish Christmas foods to try out. Don't miss glogg (a sweet mulled wine) and Pepparkaka (Swedish gingerbread biscuits). If you want to experience Swedish Christmas, try a traditional four-course Christmas buffet dinner (just make sure to book it well in advance!).
Gothenburg city itself is also a great place to visit during winter. You can explore the city on a canal cruise, shop at the local designer boutiques, and visit the free botanical gardens. You can also get into the Swedish Fika culture by enjoying everything that the Haga neighborhood has to offer, including the largest cinnamon rolls in the country.
If you want to explore more of the area, Gothenburg is a great jumping-off point to discover the West Sweden islands and immerse yourself in Swedish nature.
When to visit: Gothenburg Christmas markets are usually open from mid November to the end of December.
LEARN MORE: Christmas Markets in Gothenburg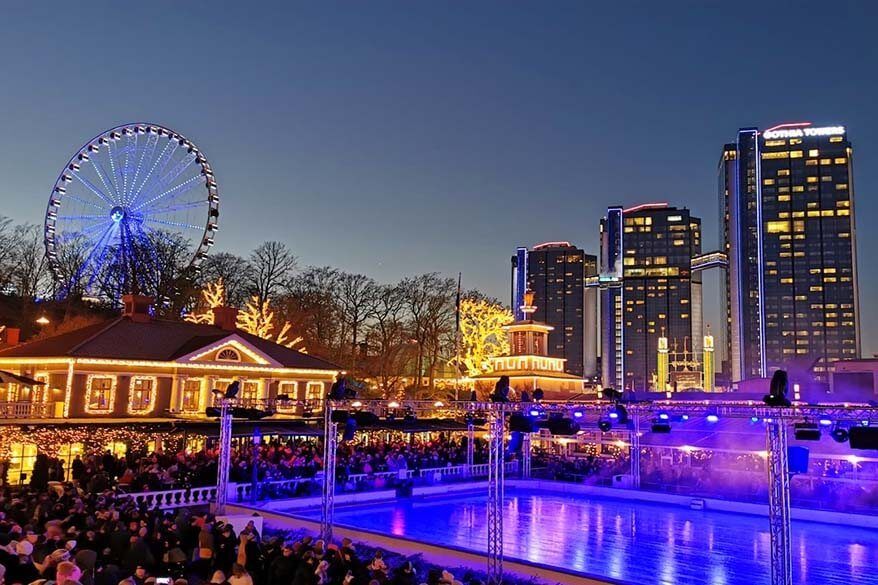 13. Barcelona, Spain
Suggestion by Vicki from 'Vicki Viaja'
Most people considering to spend Christmas in Europe usually think of Central European countries with the classic snow-covered traditional Christmas markets. But did you know that the south of Europe has some great Christmas markets too?
And don't worry about the Christmas spirit not immediately arising in sunny weather and mild temperatures. Barcelona is home to some great Christmas markets that will quickly get you into the holiday mood!
The largest and the most popular Christmas market of the four is the Fira de Santa Llúcia. It's located in the city center, next to the Cathedral of Barcelona. You may not easily find mulled wine here, but there are plenty of typical Catalan specialties, Christmas decorations, and handicrafts on offer.
One of these handicrafts is the Tió de Nadal or also called Caga Tió. It's a small log with a red cap and a painted face. Caga Tió has a long tradition in Catalonia. He brings presents to the kids at Christmas, just as Santa does in most Western countries. However, the only difference is that Caga Tió poops out the gifts instead of simply delivering them. In order for him to do this, the children have to hit him with sticks and sing the Caga Tió song.
Another great Christmas market in town, the Fira de Nadal, can be found right next to the famous Sagrada Família. In addition to its fantastic view of the city's most famous Gaudí building, this Christmas market is best known for selling Christmas trees and festive decorations. Also here, you'll find plenty of local food and drinks to try.
When to visit: Barcelona has several Christmas markets and they usually take place from the end of November until Christmas. Some are open until January 6th.
LEARN MORE:
Barcelona in Winter
Best Things to Do in Barcelona in 2 Days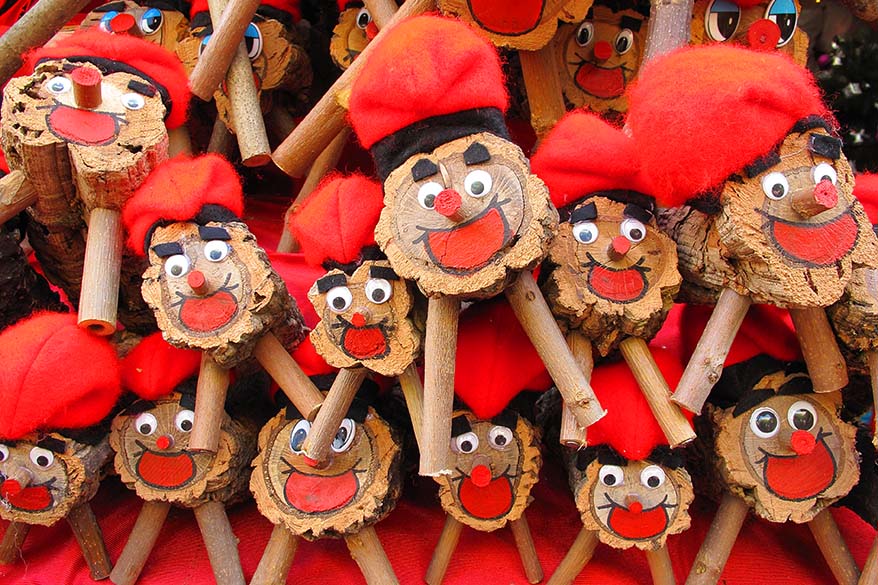 14. Zagreb, Croatia
Suggestion by Alexandra from The Mindful Mermaid
While most people don't think of Croatia as a winter destination, the in-land capital city of Zagreb is an ideal city to visit during Christmas time in Europe. Locals throughout Croatia flock to see the annual Zagreb Advent Festival that has been awarded by European Best Destinations as the Best Christmas market in Europe for three years in a row.
Zagreb Christmas market is known for having a funky atmosphere and Advent festival reflects this with lots of retro and hipster decor. This is especially noticeable in the Upper Town in Zagreb, specifically in the Caffe de Matos area that is filled with string lights, vintage home decor, and retro-inspired huts selling hot wine and other treats.
Each year the festival picks a theme, such as the 'Nutcracker' and 'A Christmas Carol' in year's past. You can check out the theme display in Gric Tunnel, a WWII tunnel converted into a pedestrian tunnel under the city. The National Theatre also puts on many ballets and plays, though you have to get tickets in advance.
For a unique souvenir, pick up one of the licitar hearts in Zagreb. It's an embellished heart ornament traditionally given to women by men on Valentine's Day. But nowadays it's mostly given during Christmas. For food, try the Burek pastry, which is made from thin and flaky dough, and can be sweet or savory! If you like meat, you'll also love the domestic sausages from Eastern Croatia sold at the Christmas markets.
Zagreb has countless trendy coffee shops, boutique movie theatres, and live music venues to explore as well. It is also home to the Nikola Tesla Technical Museum, and the famous Museum of Broken Relationships. So you'll find plenty to do in the city beyond the Christmas market as well.
When to visit: The Advent festival in Zagreb begins at the end of November and ends in mid-January.
LEARN MORE: Zagreb Christmas Market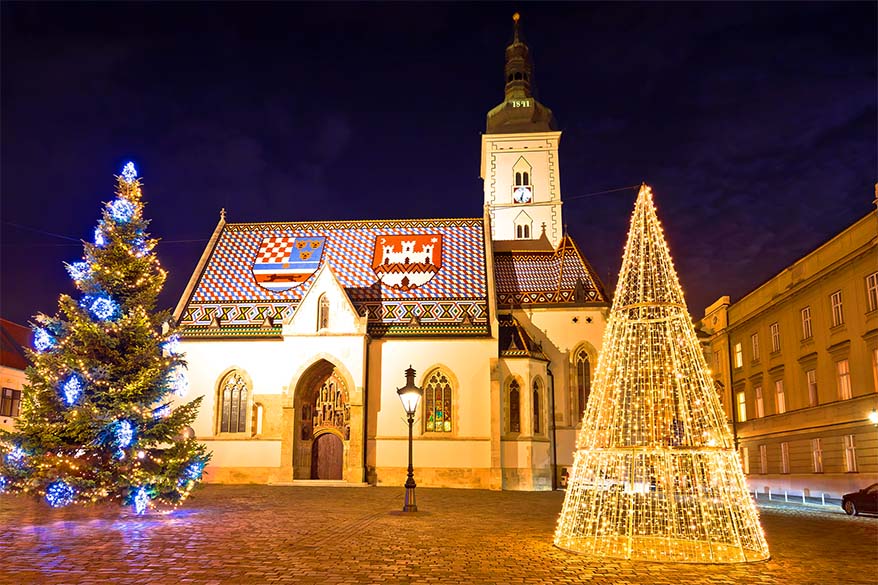 15. Monschau, Germany
Suggestion by Daniela from 'Ipanema Travels'
The Christmas market in Monschau is one of the most romantic Christmas markets in Germany! This small town at the Belgian border hosts one of those incredibly cozy Christmas markets that you could truly describe as a hidden gem. It's well known among the locals and many Belgians and it's also a nice place to visit from Luxembourg, but it remains under the radar of most international visitors.
The festively decorated little town with its half-timbered houses and the Rur River meandering through the Eifel hills looks just like one of those snow-globe villages that you will find for sale at the European Christmas markets.
Monschau Christmas market is famous for the local music bands playing on the squares and the streets of the town. On Fridays, you can listen to the traditional alphorn blowers.
When visiting Monschau at Christmas, you should try the local Printen – a type of lebkuchen (traditional German Christmas cake) that originates from nearby Aachen. The obligatory Glühwein (mulled wine) is also everywhere. Other typical treats to try at the Christmas market include roasted chestnuts, Reibekuchen (a type of small rösti), Bratwurst (roasted sausage), sautéed champignons, and Apfelpfannkuchen (a type of apple pancakes).
The Christmas market is also the perfect place to buy Christmas presents for your loved ones and there's plenty to choose from. You'll find lovely Christmas ornaments, hand-carved nutcrackers, mouth-blown glassworks, and lots of other handcrafted souvenirs.
TIP: For the loveliest view over the little town and the Christmas market, climb the panoramic road that goes to the ruins of the medieval tower Der Haller. You can also visit the Historic Mustard Mill (Senfmühle) and the Red House (Das Rotes Haus). The historical part of the town is car-free and you can wander the cobbled streets from one bridge to the other, from one little square to the other, enjoying the special Christmas mood radiated from this dreamy place.
When to visit: Monschau Christmas market is held annually on the last two weekends of November and December until before Christmas. It's open only from Friday till Sunday.
LEARN MORE: Monschau Christmas Market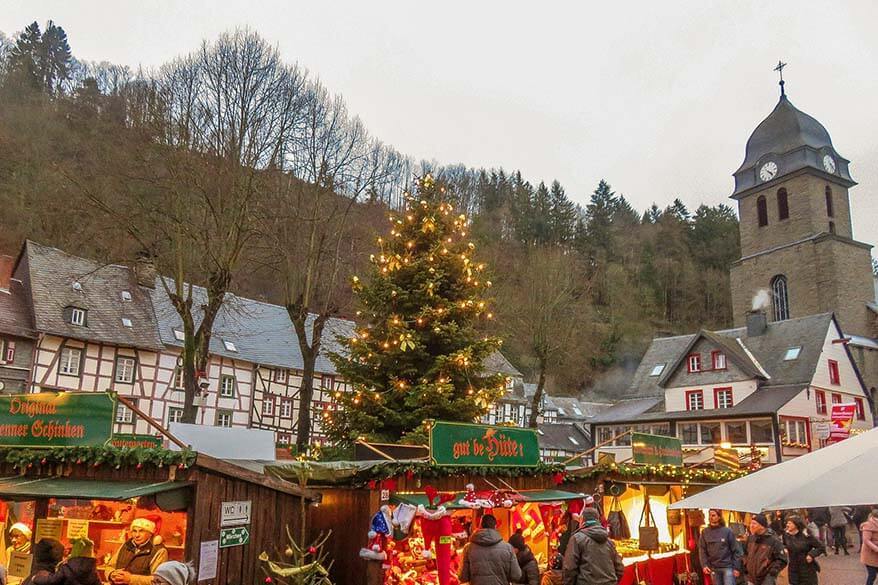 16. Prague Castle, Czech Republic
Suggestion by Veronika from 'Travel Geekery'
Prague has a number of great Christmas markets, but the majority of tourists flock to the largest one in the Old Town Square. In the meantime, the often-overlooked Prague Castle Christmas Market is actually a lot more charming and cozier!
You can find it within the Prague Castle complex, on a small square right by the St. Vitus Cathedral. This is the best setting for a lovely Christmas market!
The location and the atmosphere that the vicinity of Prague Castle brings about are the most special things about the market. It's a rather small market with just a few stands, a large Christmas tree, and a stage where musical performances are held on some days.
The prices are slightly higher here than in the city center since it's such a special setting. You can have mulled wine or hot mead, a grilled sausage, or, if you get a sweet tooth, Trdlo (or Trdelník) – a chimney cake with cinnamon. It's not an original old Bohemian specialty, but still, it's beyond delicious. You can also buy local souvenirs such as little wooden handicrafts.
There are many reasons why you should visit Prague in winter and the enchanting Christmas markets are just one of them. The city looks amazing when adorned with Christmas decorations and lights! And straight out of a fairy tale when it snows. You'll get amazing views of the snow-covered roofs from the Prague Castle tower, or even just from the Hradčany Square in front of the Prague Castle gates.
When to visit: The Prague Castle Christmas market opens at the end of November (usually around the 23rd) and lasts until January 6th. It's open every day until late, with the exception of December 24th, the most festive day for the Czechs.
LEARN MORE: Prague in Winter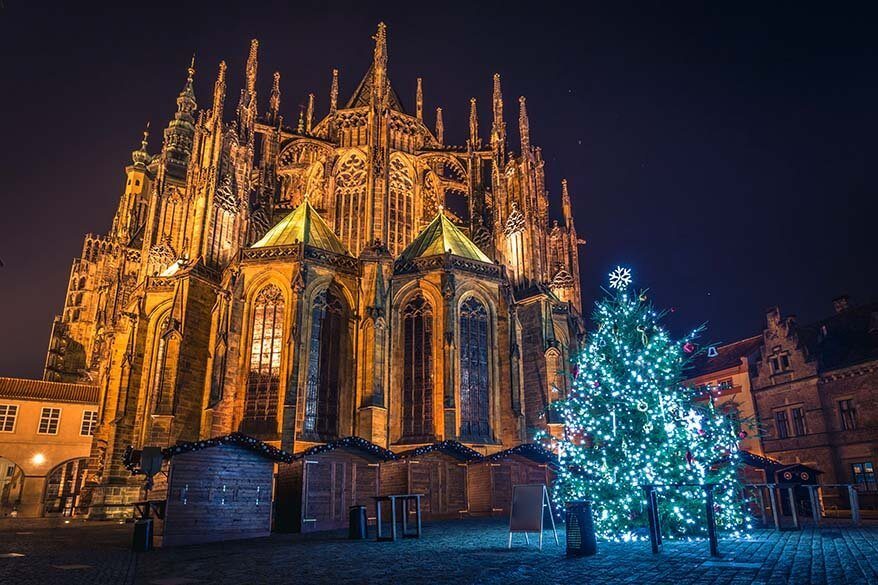 17. Belfast, Northern Ireland
Suggestion by Allan Wilson from 'It's Sometimes Sunny in Bangor'
Belfast is often overlooked as a city destination despite being the capital of Northern Ireland and one of the most affordable cities in the U.K. But this works to its advantage as the city is still calm and serene even at the busiest times of the year. The same goes for the annual Belfast Christmas market.
Holiday festivities are centered around the central Belfast City Hall. The buildings here make for a perfect picture for the event and it's also worthwhile taking a tour of the grounds and the museum inside the City Hall. And while the Belfast Christmas market is smaller compared to those of continental Europe, it is compact and well-planned which makes it quite cozy.
It has all the English Christmas essentials like the hog roast, mulled wine, and two heated beer tents that mark the center of the market. Some of the local favorites include marshmallow toasting and Santa's Grotto for the kids. If you are a meat-lover, the 'Meats of the World' food stand offers a unique burger experience with patties Kangaroo and Ostrich Burgers.
Belfast itself is buzzing at this time of year with traditional Northern Irish pubs and bars which are a must for immersing in the local life of the city. A great area to explore is the Cathedral Quarter. For something more laidback, take a walk along the Lagan riverside to the connecting Titanic Shipyard. It's like an open-air museum celebrating the origins of the world's most famous ship.
When to visit: Belfast Christmas market is usually open from mid-November to Christmas Eve.
LEARN MORE: Belfast Christmas Market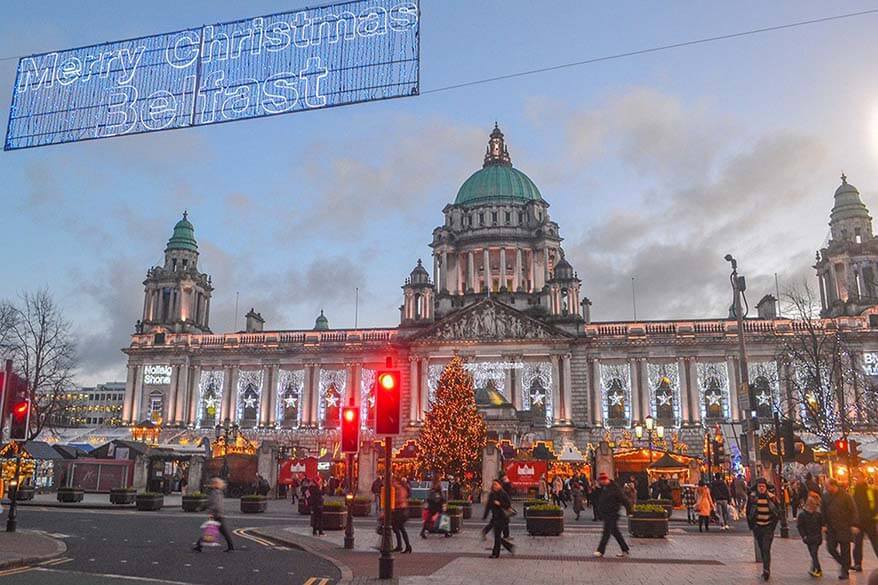 18. Dortmund, Germany
Suggestion by Arabela from 'The Spicy Travel Girl'
The industrial city of Dortmund may not be known for beautiful castles or half-timbered houses, but its Christmas market is definitely worth a visit for a good number of reasons. And while it's huge and extremely popular with the Germans, it's not widely known beyond Germany.
The most important attribute of the Dortmunder Weihnachtsstadt, as the market is known in German, is without a doubt its enormous Christmas tree. Not only is this tree easily visible from all parts of the city center with its impressive 45 meters in height, but it's also officially the tallest Christmas tree in the world.
Every year, this tree is constructed in the middle of the Hansaplatz yet the best place to admire its beauty is from the glass bridge connecting the Karstadt department store with the Karstadt Sport building.
Another specialty of Dortmund's unique Christmas market is its authentic representation of the local Westphalian heritage. Although the market annually hosts vendors from around the world selling Italian specialty foods, Moroccan teas, and even Tibetan winter clothing, the true spirit of the Dortmunder Weihnachtsstadt lies in the Westphalian bread and sausages and the traditional German Christmas decoration that you can find in every corner.
Most of the shops represented are small family businesses that have practiced the same craft for centuries. So you can be sure that with every purchase you are investing in high-quality products. My top recommendation is to try a traditional Westphalian roast ham sandwich and hot honey milk from a small booth near the Christmas tree.
Although the market is usually crowded every evening, expect it to be even busier on Advent weekend when everybody is out for Christmas shopping. So it's best to visit on a weekday at the end of November or the beginning of December.
Other activities to do in Dortmund during this time include visiting the Westphalenpark and Rombergpark to enjoy a beautiful winter landscape, especially after it snowed.
When to visit: Dortmund Christmas market is usually open from the third weekend of November until December 30.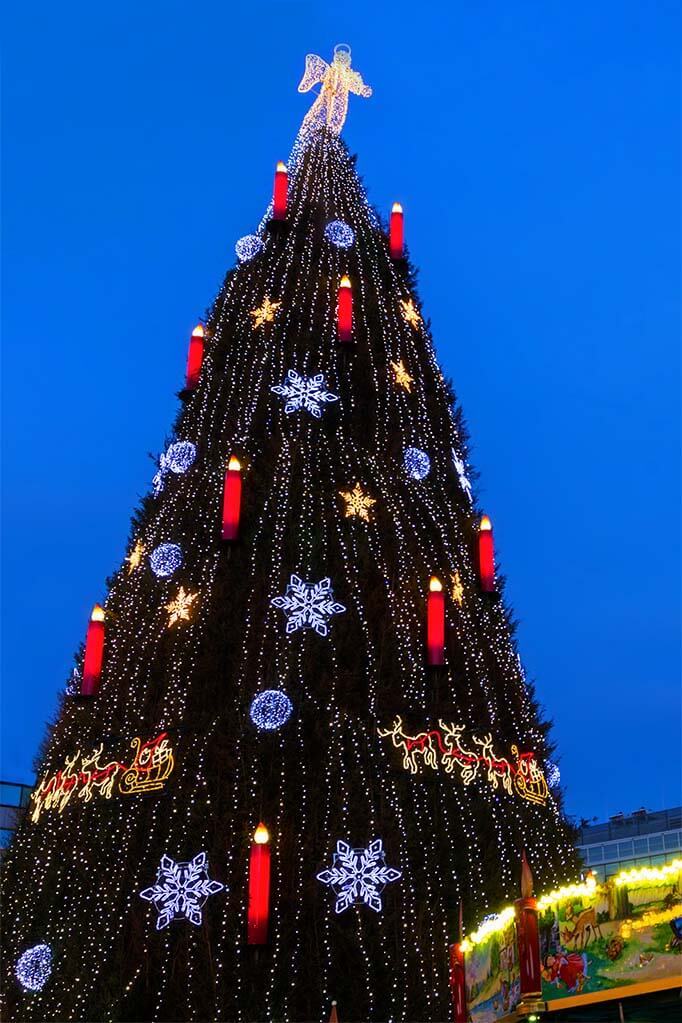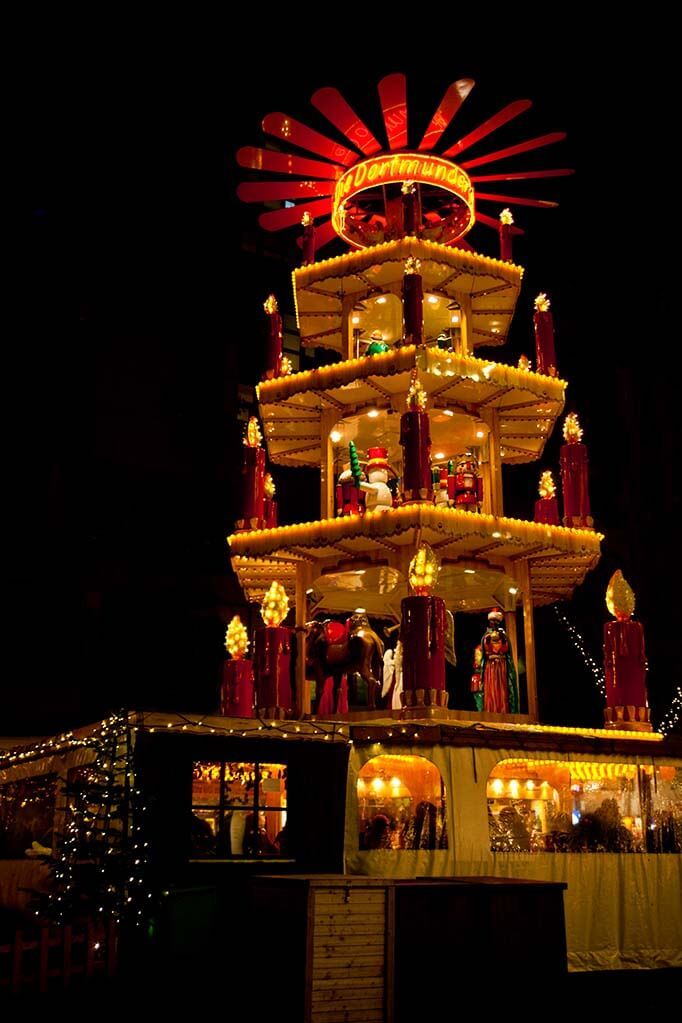 19. Bruges, Belgium
My personal suggestion
The fairytale-like medieval town of Bruges hosts probably the most 'Christmassy' of all Belgian Christmas markets. While many bigger cities have so much going on that a Christmas market sometimes feels like a country fair in winter, the Bruges Christmas market manages to create a really cozy holiday atmosphere.
The beautiful buildings of the Old Town are nicely lit and the market stalls are set in several different locations in town. But don't worry, everything is very close to each other and you just stroll from one place to the other…
The main place to be is the Markt Square, where you'll usually find an ice skating rink surrounded by nicely decorated wooden chalets selling local delicacies, Christmas gifts, and decorations. If you climb the Belfry Tower, you can admire the beautifully lit city from above.
Locals' favorite seems to be the Christmas market at Simon Stevinplein. It's always very lively here. This town square is much smaller, so it feels as if you are entering a large room where everything around you smells, tastes, and feels like Christmas.
Belgian waffles are a must and also mulled wine. Other sweet delicacies to look for are cuberdons or neuzekes (little noses) and nougat cake. Make sure to also try at least a few flavors of traditional Belgian liquor jenever – it's a must at any Christmas market!
And while the main shopping street and the areas around the Bruges Christmas market are bustling with activity, the biggest part of the city is usually really quiet in winter. So be sure to go for a stroll along the narrow streets and the famous Bruges canals. December is a magical time to be in Bruges, especially in the evenings when everything is nicely lit and there are very few people around!
When to visit: Bruges Christmas market is usually open from the third Friday of November until the first weekend of January. There is so much to see and do in Bruges in addition to the Christmas market that you can easily spend a nice long winter weekend here.
LEARN MORE: Best Christmas Markets in Belgium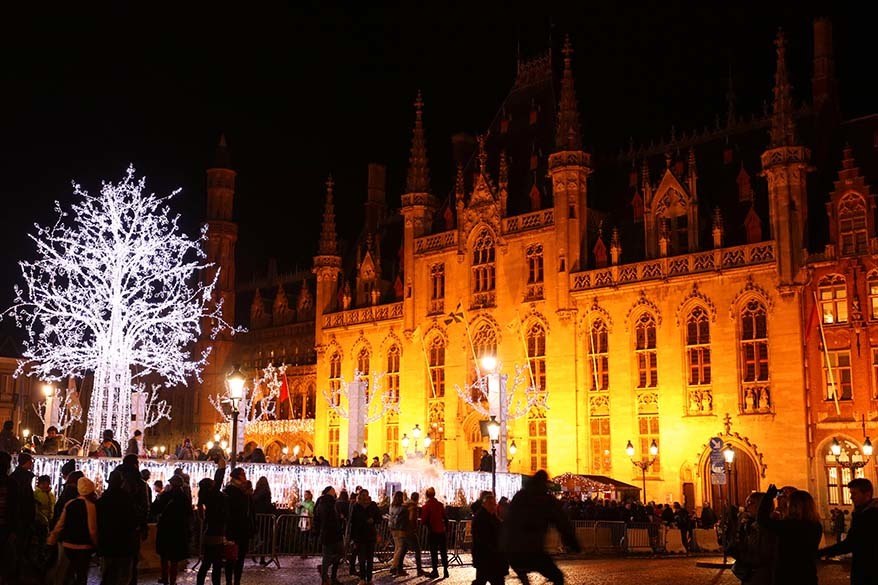 So, this is our small selection of some really nice European Christmas markets that are still under the radar of most international visitors.
If you are looking for a great holiday atmosphere and want to visit some lesser-known Christmas markets in Europe, I hope that you found plenty of travel inspiration in this article.
READ ALSO: Best Time to Visit Europe (& Where to Go When)
If you found this post useful, don't forget to bookmark it and share it with your friends. Are you on Pinterest? Pin these images!