Are you planning a trip to Croatia, but are not sure where to start and how much time you need? Or maybe you are looking for the best Croatia itinerary that covers all the highlights and must-see landmarks, but also includes some extra experiences that make the trip truly memorable? Then read on!
In this article, we share our self-drive Croatia itinerary for 14 days. It covers some of the most popular tourist places in Croatia like Dubrovnik, Split, and Plitvice Lakes. It also includes a visit to Kotor Bay in Montenegro and also to Mostar in Bosnia and Herzegovina. In addition, we also visited some of the most beautiful islands and National Parks that are often more special than the most popular tourist destinations…
I spent many hours and days planning this Croatia itinerary, because when we visit any country for the first time, we want to make sure that we see the absolute-best places that are worth the trip the most.
As I'm writing this on the plane on our way back home from Croatia, I have a feeling that it's an itinerary worth sharing. We saw many amazing towns, stunning islands, and some truly beautiful nature destinations. We drove scenic roads and also visited some lesser known gems that you won't find in most other Croatia travel itineraries…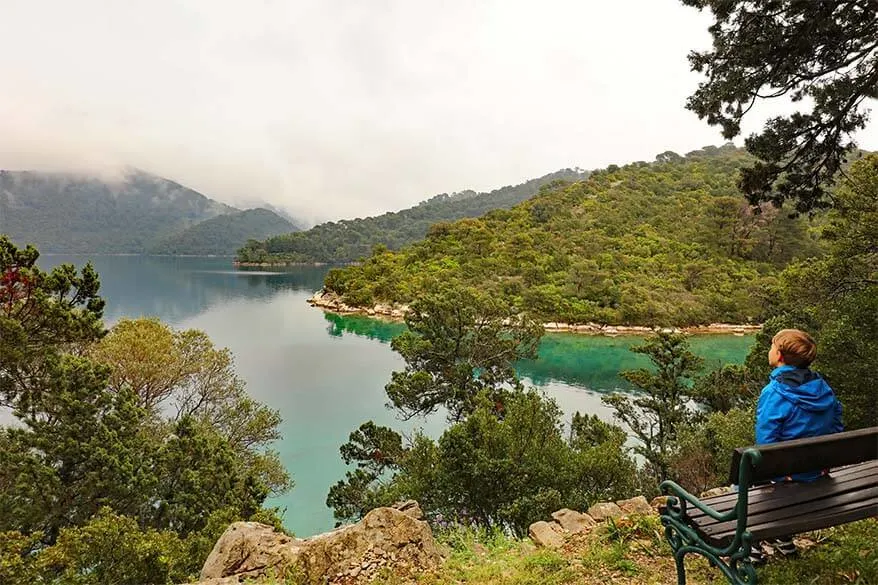 Our Croatia itinerary will not bring you to all the best places in Croatia – 2 weeks aren't enough for that. However, if you want to make the most of your first trip to Croatia and travel just a little bit deeper, then this itinerary will show you how to see most of the very best places in Croatia in 2 weeks. Find out!
Good to know: On most days of this Croatia itinerary, driving distances aren't big. So you can easily adjust it depending on your flight times and also make a shorter trip by skipping some places that interest you less.
To make it easier to plan your own perfect Croatia itinerary, I also included some experience-based tips and practical information. You can find them at the bottom of this article, together with a map indicating every place mentioned in our Croatia itinerary.
We also share some tips for the best Croatia itinerary that you can do without a car.
But first – our detailed day to day itinerary for up to 2 weeks in Croatia. Read on!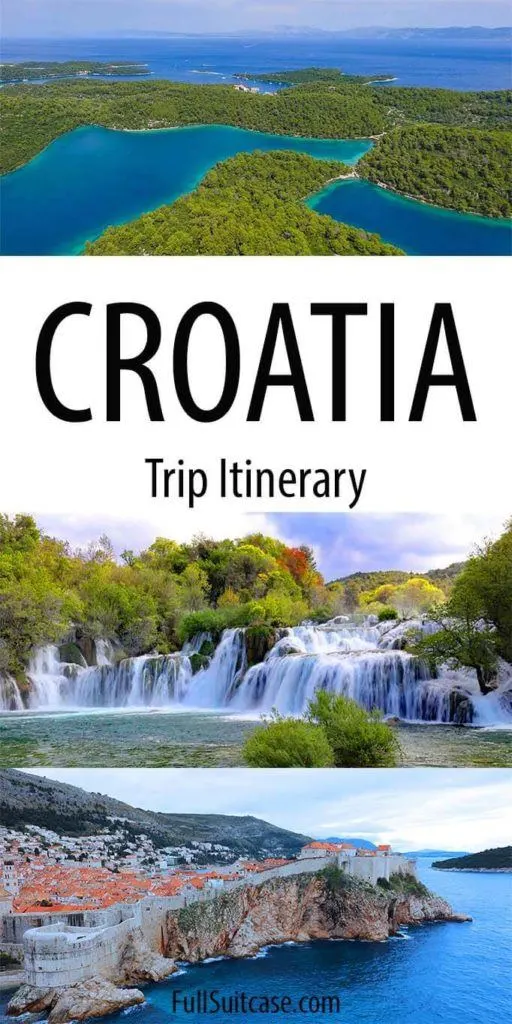 Here's a suggested 2-weeks Croatia itinerary:
Day 1 – Arrival and Dubrovnik
If you start your Croatia itinerary in Dubrovnik, you'll need to pick up your rental car immediately after landing in Dubrovnik airport. It's located half an hour drive from the city, so unless you are planning to take organized day trips from Dubrovnik, you'll need a car from the first day.
TIP: For the best price, rent a car well in advance. Prices vary a lot depending on when you travel and how long in advance you book. We were lucky to find an incredible deal and paid just 182 EUR for a big family car for 11 days, full insurance included. We use and recommend this search engine for the best car rental deals. Just keep in mind that the prices have increased a lot in the last few years…
Depending on what time your flight lands and how much time you have in Dubrovnik, you can already do some sightseeing on the first day. Here are some suggestions on things you could do in Dubrovnik in half a day, based on what we did upon arrival in Dubrovnik.
View from Fort Imperial
Fort Imperial is located high on the mountain above Dubrovnik and offers the best view over the city and the surrounding coast. It can be reached by the Dubrovnik cable car.
Alternatively, you can also drive up the mountain by car, but the road is extremely narrow. We did this and even in April it was very busy, so I really don't know if it's advisable in high season. The view from the top is simply incredible!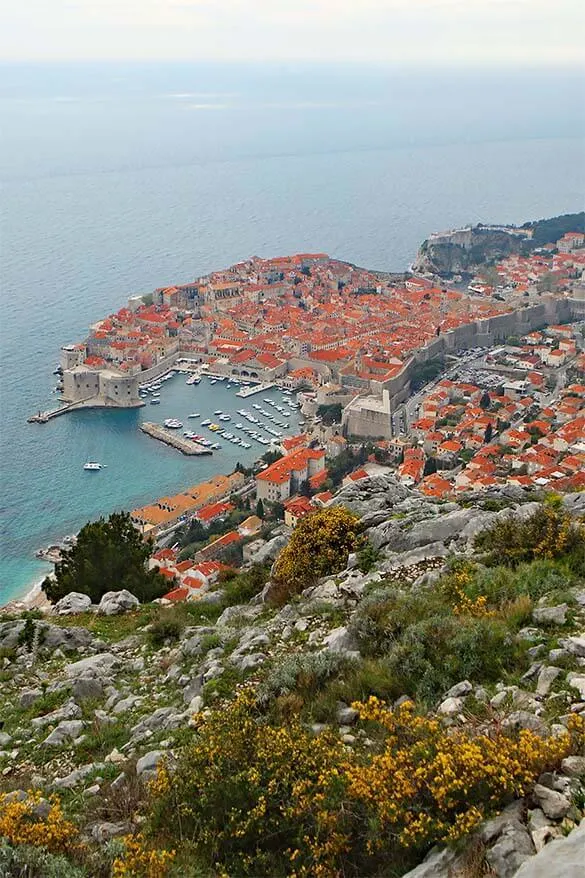 Dubrovnik City Walls
If there is one thing you absolutely have to do in Dubrovnik, it's walking the City Walls. The whole walk will take at least 1-1,5hrs, but you can also just do part of it. There are several entrances where you can enter or exit the walls, but your ticket only gives one access and I really recommend doing the entire tour.
We were there just before the closing time and were lucky to have the City Walls all to ourselves, but it can get really crowded in summer. For fewer crowds and cooler temperatures, you may want to do this early in the morning instead. TIP: Don't throw away your ticket – it includes the entrance to Fort Lovrijenac.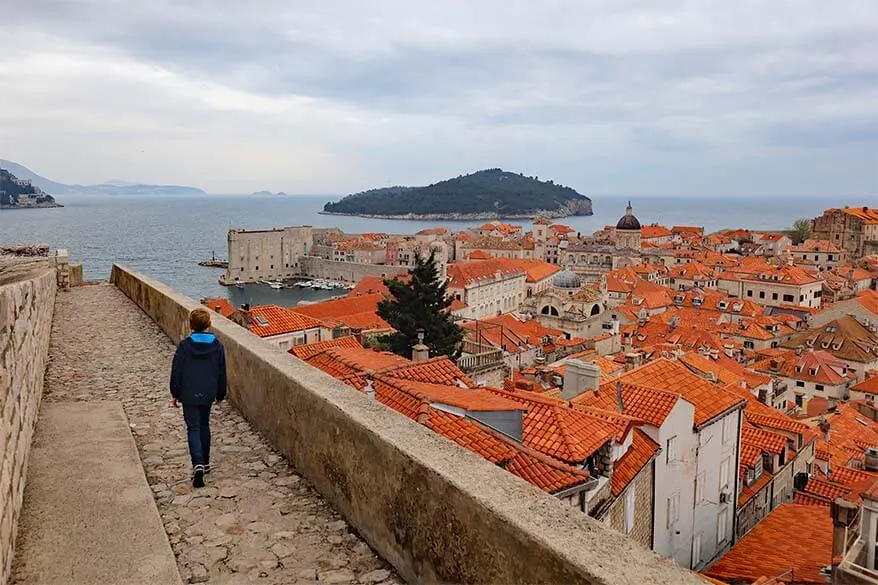 Accommodation. We stayed in Dubrovnik for 3 nights. For sightseeing, I recommend that you stay within walking distance of the Old Town. Look for a place that has car parking, as parking is really expensive in Dubrovnik. We stayed at Apartments Villa Falkoni and would do it again – the location is great and the apartment – spacious and extremely well equipped. With 3 kids, we opted for self-catering apartments for this entire Croatia trip. If you rather stay in a hotel, Hilton Imperial Dubrovnik is by far the best-located hotel in Dubrovnik, but it comes with a serious price tag.
Day 2 – Dubrovnik
No matter how long your Croatia trip is, I recommend spending at least one full day in Dubrovnik. As already mentioned, the City Walls are a must and the view from Dubrovnik Cable Car is amazing (see day 1 of this itinerary).
Below are some other things I recommend to do in Dubrovnik.
Dubrovnik Old Town
Take at least half a day to explore the Old Town of Dubrovnik. Don't miss the beautiful Pile Gate, Jewish fountain, Sponza Palace, Dominican and Franciscan monasteries, and the main old city square Luza.
Dubrovnik old town is a labyrinth of narrow picturesque streets. To us, strolling these narrow steep streets was one of the best things to do in Dubrovnik.
TIP: At the tourist office, you can get a free map that has some suggested walking itineraries.
Old Port of Dubrovnik is also a nice area and many boat excursions and day trips to the nearby islands depart from here. If you are visiting Dubrovnik with kids, Dubrovnik Aquarium might be worth a short visit.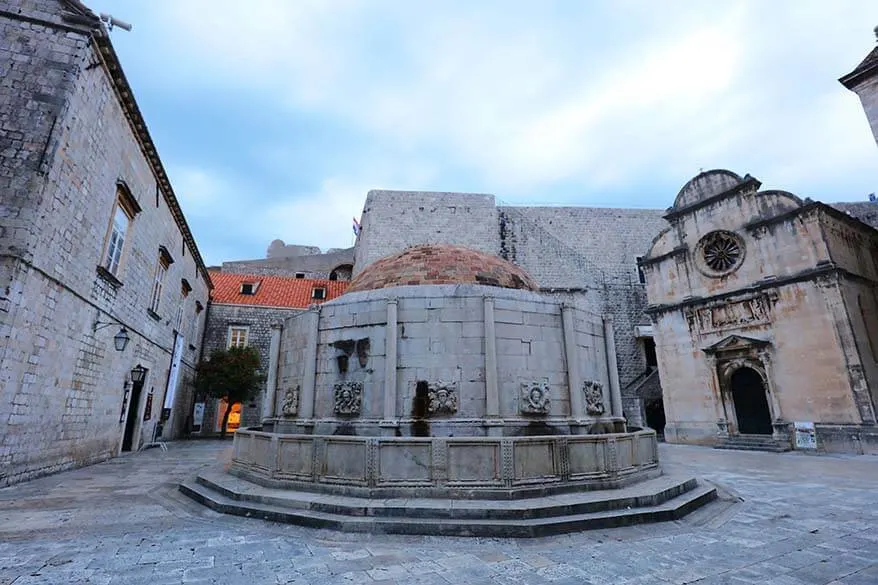 Fort Lovrijenac
Fort Lovrijenac has become famous as one of the Game of Thrones filming locations. The fort itself isn't that impressive, but the views over the Old Town of Dubrovnik and the coastline are well worth the climb. Note that Dubrovnik City Walls ticket also includes entrance to Fort Lovrijenac, so hold on to those tickets.
TIP: To many, Dubrovnik is an ultimate Game of Thrones destination. If you are a fan, consider joining this 2-hr Game of Thrones walking tour.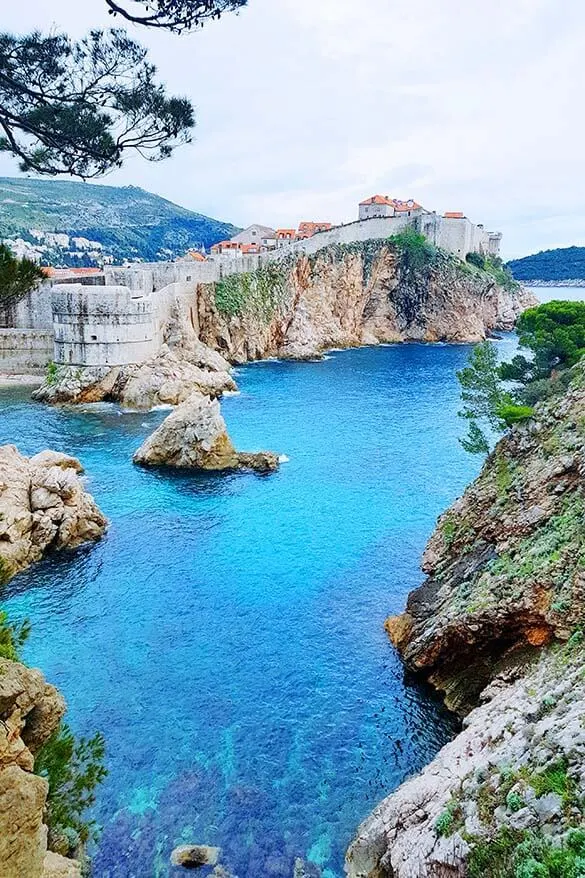 Dubrovnik West Harbor and Kayaking
Dubrovnik West Harbor, between the Old Town and Fort Lovrijenac, is extremely picturesque. In summer, you can rent kayaks here. If the weather is good and you have some time to spare, I think that kayaking is one of the nicest ways to explore Dubrovnik's stunning coastline.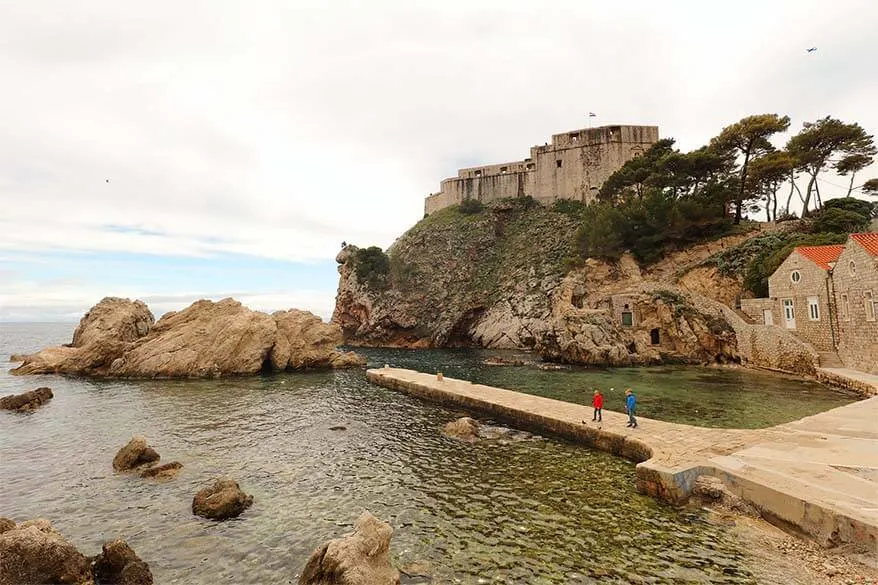 Short boat trip from Dubrovnik
If you feel like escaping the hustle of the city, consider taking a boat to the nearby Lokrum island. Cavtat town is also a nice half-day excursion from Dubrovnik.
Boats depart from the Old Port of Dubrovnik, where there are many companies selling tickets for all kinds of short excursions by boat.
Restaurant recommendation. If you can secure a table, I can highly recommend a Bosnian restaurant called Taj Mahal. We had lunch there based on the fantastic reviews on the internet and it was absolutely amazing. For the best views in town, try Above 5 Rooftop Restaurant.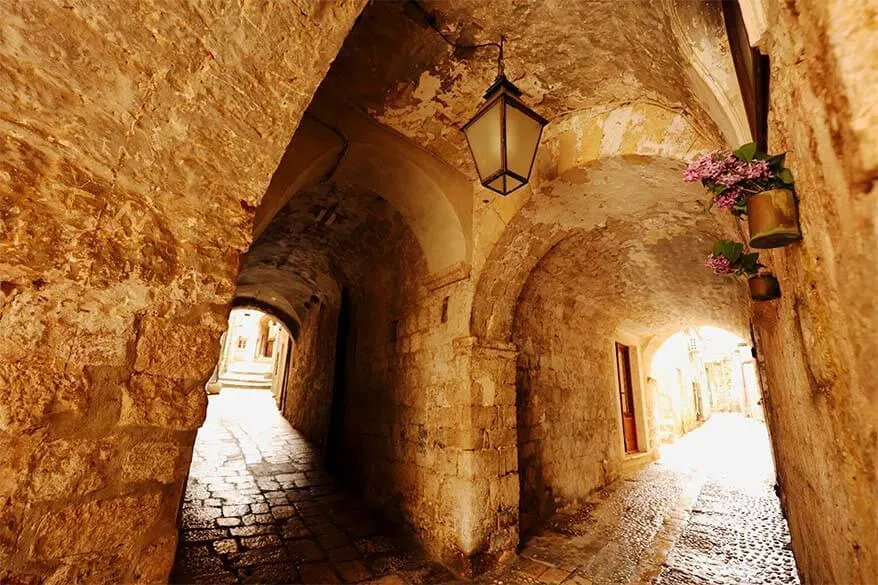 Day 3 – Day trip to Kotor, Montenegro
There are countless day trips that you can take from Dubrovnik, but probably one of the best ones is that to Kotor Bay in Montenegro. Below is a short summary of places to visit.
Perast
Perast is a small picturesque village along the Bay of Kotor. The main thing to do in Perast is to take a boat to the nearby island Our Lady on The Rocks. Little taxi boats charge around 5 EUR per person and the whole trip takes less than half an hour.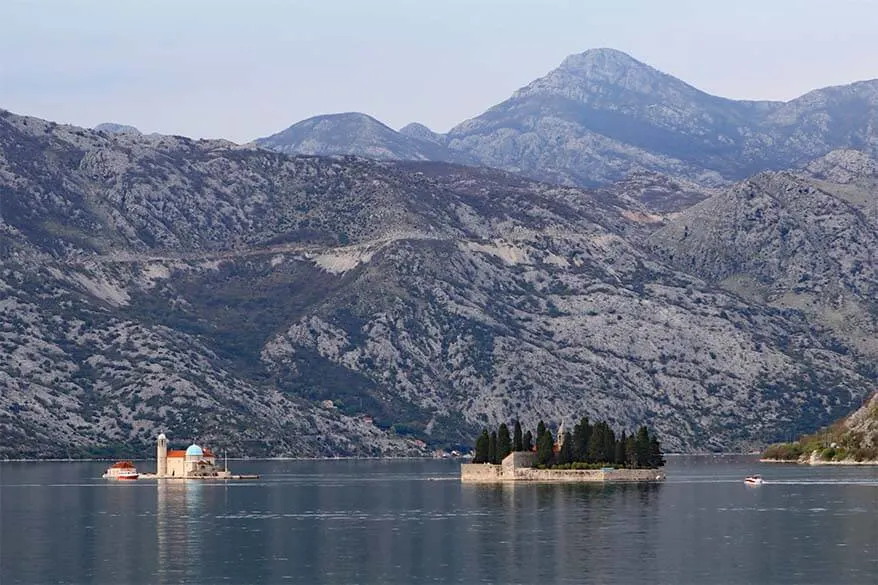 Kotor
Kotor is a well-preserved medieval town and a UNESCO World Heritage Site. It's a much smaller town than Dubrovnik, so you don't need more than half a day here.
The Old Town is absolutely lovely and not to be missed. However, the best thing to do in Kotor is to climb the city walls. The steep path leads you to the Castle of San Giovanni (Fort of St Ivan) and the incredible views from the top are well worth the climb.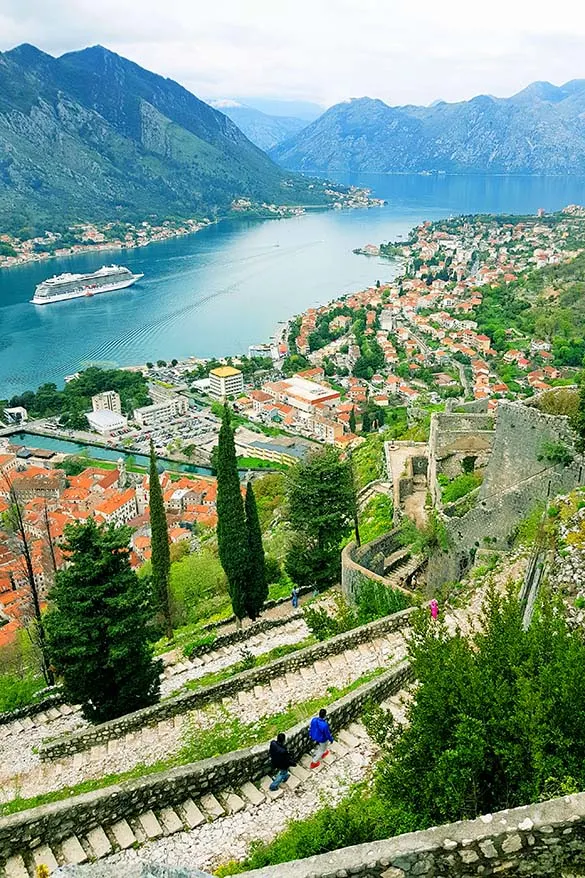 Budva
Depending on how much time and energy you have, you can opt to visit Budva, one of the oldest cities on the Adriatic Coast. The days were still quite short in April and so we didn't go that far.
Most organized Kotor day tours from Dubrovnik include Budva in their day itinerary and they all mention a ferry that they take back, but I wasn't able to find any information about the direct car ferry from Budva to Dubrovnik. Maybe they mean the car ferry that we took (see below).
Southern part of Kotor Bay
After visiting Kotor, we drove along the Southern coast of Kotor Bay, passing the little town Prčanj.
Afterwards, we took Lepetane car ferry that saved us quite some driving on the way back to Dubrovnik.
Good to know. Montenegro isn't part of the EU, so check if you need any special travel documents or a visa for this day trip. Strangely enough, they do use Euro as their local currency and most places will only accept cash.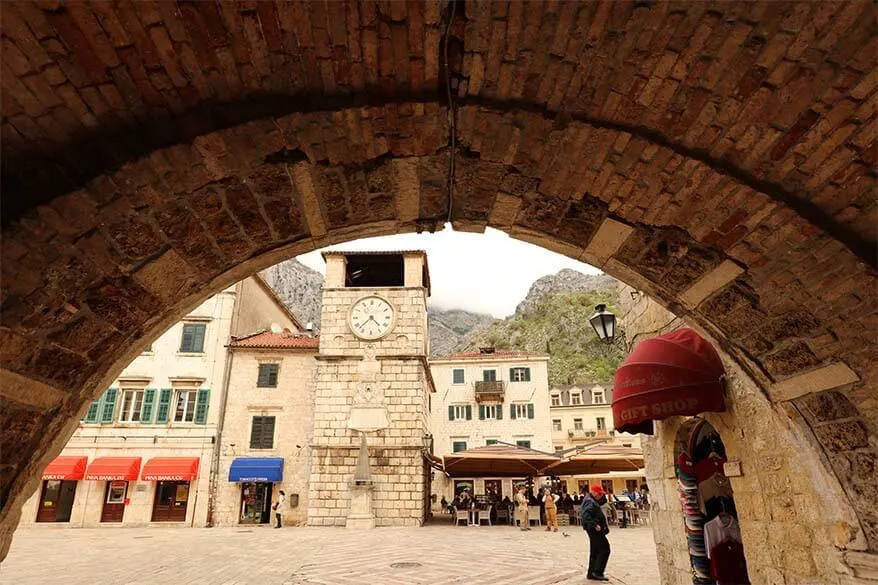 Day 4 – Dubrovnik area, Ston, or Korčula Island
There are many ways to spend this fourth day of your Croatia itinerary. If you rather stay in Dubrovnik a bit longer, you can hit the beach, or visit one of the islands from there.
Below are several suggestions of places that you could consider visiting today. For example, Trsteno Arboretum and Ston or Ston and Korčula island. If you want to do all three, it might be possible, depending on how early you start your day and on where you stay the night.
TIP: If you rather just take an organized day trip from Dubrovnik, I recommend this Korčula & Peljesac Day Tour.
Trsteno Arboretum
Trsteno Arboretum is a popular half-day excursion from Dubrovnik. It's located about a 30-minutes drive from Dubrovnik, about halfway on the way to Ston.
Korčula island
Korčula is one of the nicest island destinations that you can easily visit from Dubrovnik. If you come by car, you'll need to take a car ferry 634 from Orebić to Dominče (Korčula island) – check the ferry schedule here.
By far the best place to visit on Korčula island is Korčula town itself, the jewel of the Adriatic coast and the place where (supposedly) Marco Polo was born.
Half a day is enough to see the main highlights in town. Because ferries are frequent and only take 15-20 minutes, Korčula is an island that you can easily include in your Croatia itinerary.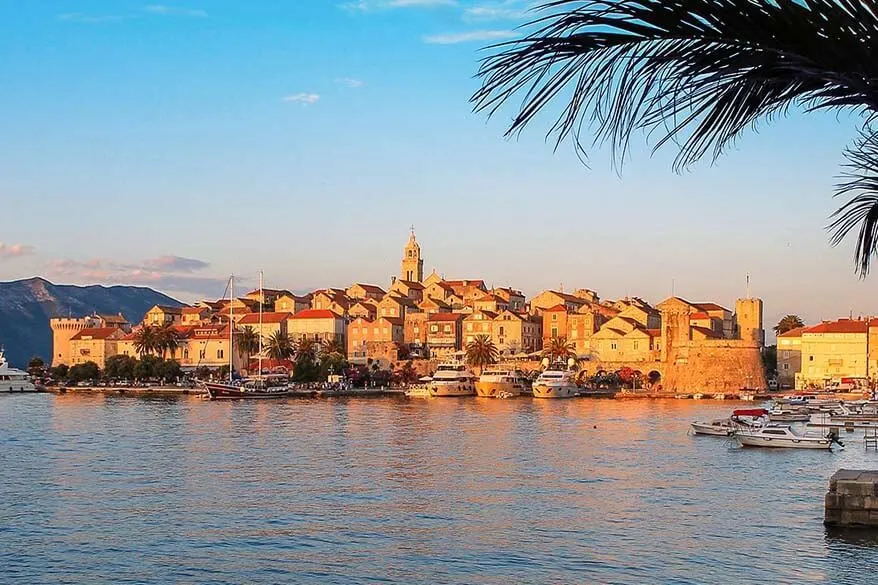 Ston & Mali Ston
Ston is a small medieval town dating from the 14th century. It's popular with tourists for – you'd never guess – city walls. You can also visit Fort Kaštio – it's included in the same ticket price as the city walls
The walls in Ston are nowhere as impressive as the walls of Dubrovnik or Kotor, but the area and the views are really nice. The walls follow the mountain and lead you to another village nearby – Mali Ston. You can hike there on the walls and come back via the main road.
Mali Ston is a nice little town by the inlet of the sea. You could easily make a half-day trip if you decide to visit both these towns and walks the City Walls between them.
Accommodation. If you follow this itinerary by car, I recommend staying in the Ston area for 2 nights. It's a good location for both – Korčula and Mljet islands, and also to continue your trip to Mostar afterwards. We stayed at Apartment Ston. Alternatively, Hotel Ostrea in Mali Ston is the only hotel in the area and it has very good reviews.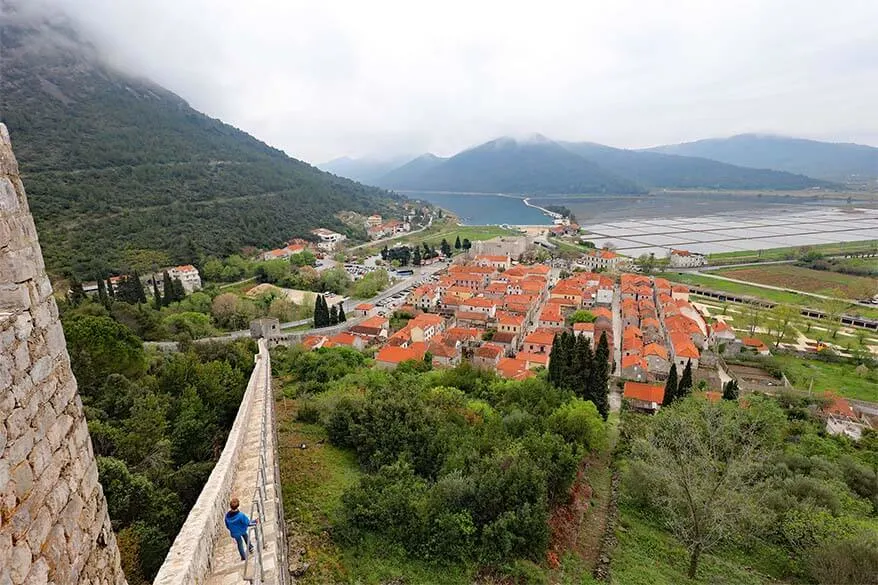 Day 5 – Mljet Island
Mljet island was described in our guidebook as one of the undiscovered gems of Croatia. An island you must visit before the rest of the world finds out – just the right place for us!
In summer, you could spend a few days on Mljet and the island is becoming more and more popular with locals and foreigners alike. But in low season, Mljet is deserted. We were visiting in April on a cold rainy day and we hardly saw any people at all.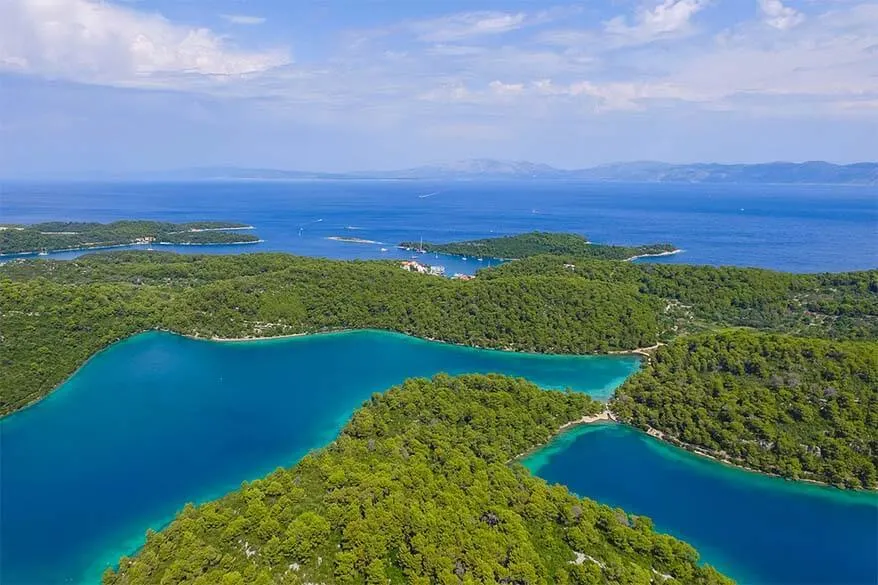 Mljet National Park
If you come to Mljet island just for a day, as we did, the main thing to do here is to visit Mljet National Park. There are lots of hiking and bicycle trails, and two lakes where you can swim in. A popular thing to do is visit the church and Benedictine monastery on St Mary's island on one of the lakes. There is a boat that brings you there in just a few minutes and it's included in your National Park entrance ticket price.
If you have some time to spare, you can also hike to the top of Montokuc mountain. It's the highest point of Mljet island offering great views over the azure-blue lakes below.
In the evening take the ferry back to the mainland, to your accommodation in Ston.
Practical information: If visiting Mljet island by car, you'll need to take car ferry 832 from Prapratno to Sobra. It takes about 45 minutes one way, but only runs a few times a day, so make sure to check the schedule in advance. TIP: In high season you can also visit Mljet island as a day trip from Dubrovnik.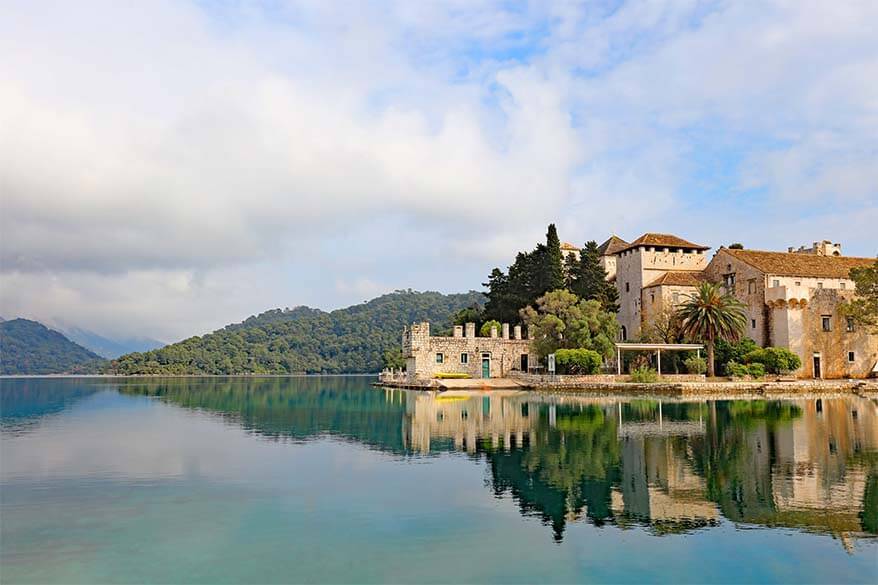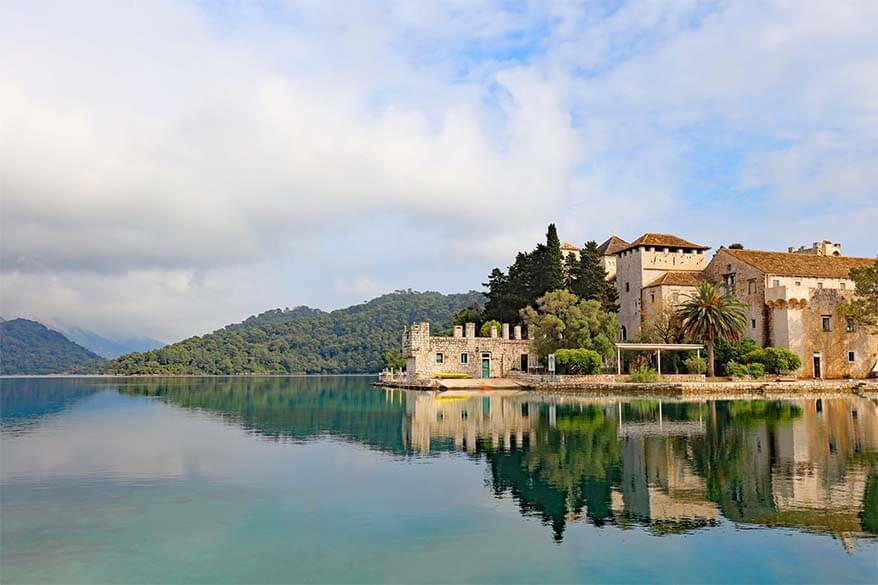 Day 6 – Day trip to Mostar
One of the most popular day trips in this part of Croatia is a visit to Mostar in Bosnia & Herzegovina. From Dubrovnik, you could take an organized day trip to Mostar and Kravica waterfalls (a private day trip is also possible).
If you are driving, as we did, below you can read more details about visiting Mostar and other landmarks of this part of Bosnia and Herzegovina.
It takes about 2 hours to drive from Ston to Mostar, but do yourself a favor and don't follow Google Maps as we did (unless you're feeling very adventurous and want to try some narrow gravel mountain roads through a very barren landscape). Instead, follow the signs to Mostar and drive via Neum and Komarna and via E73 and then the same way back in the evening again.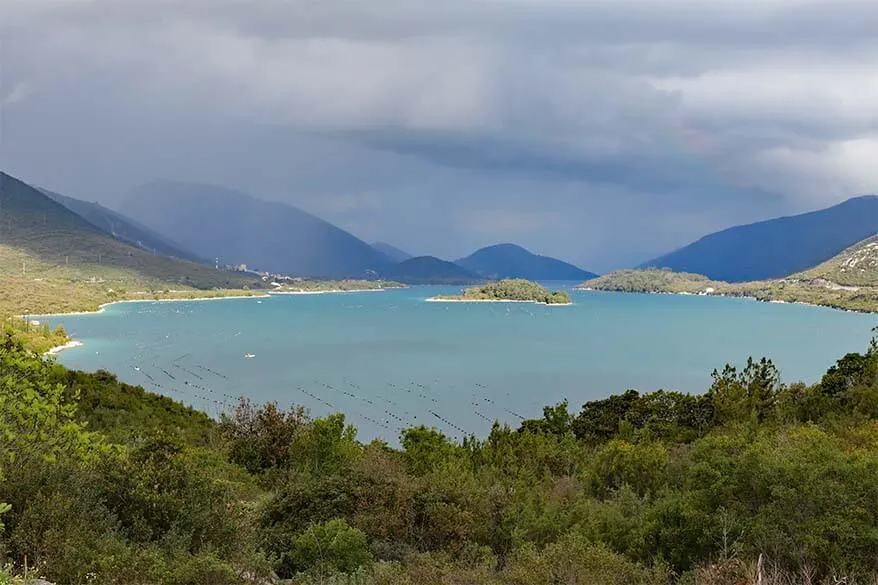 Mostar
The main reason to visit Mostar is to see the famous Old Bridge. The 15-16th-century bridge was completely destroyed in the recent Balkans war in 1993. Ten years later, it has been restored to its former glory and is now a UNESCO World Heritage Site.
Mostar Old Town is quite small and there isn't all that much to do there. Walk around, admire the bridge from various vantage points, and make sure to also check the historic Kujundziluk street with its colorful Bazar.
I highly recommend visiting Koski Mehmed Pasha Mosque. The view from the minaret of this mosque is without any doubt the best view over the Old Bridge in Mostar!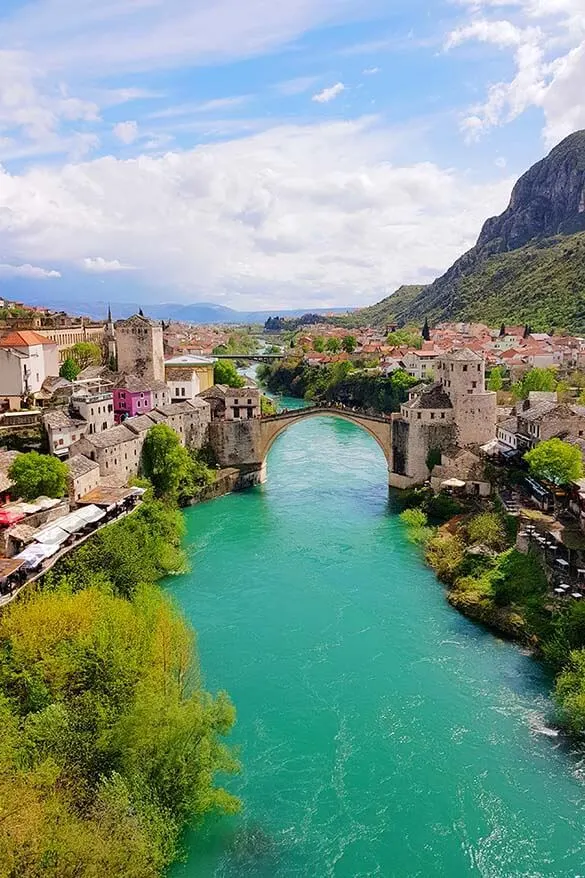 Blagaj Tekija & Vrelo Bune
Since you don't need more than a few hours in Mostar, you can easily visit a few other places in Bosnia & Herzegovina on this day trip from Croatia. I recommend Blagaj Tekke, just a few kilometers outside of Mostar.
Blagaj Tekke, Blagaj Tekija, or simply Tekija is a historic Sufi monastery perched in between the high mountain cliff and Buna River. The tiny monastery has a mausoleum and an old Turkish bath and only requires a short visit – a perfect addition to Mostar.
Vrelo Bune – the spring of the Buna River is the strongest karst spring in Europe. It looks as if the river comes out of nowhere, but if you look well, you see an opening in the mountain from where water runs with huge power. It's an impressive and a bit scary sight, especially if you happen to visit in spring when the water is at its highest. Part of the area was submerged under water when we visited.
In April, the season was just starting, so it was still very quiet in Tekija. However, judging by the number of restaurants and souvenir shops, it's an extremely popular place where many tourist groups visit as well.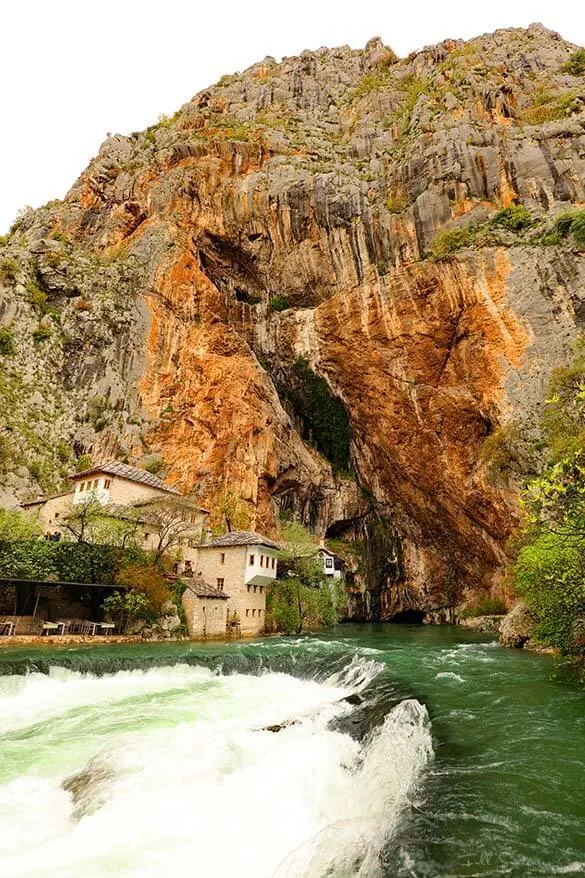 Počitelj
Located along the main road to Mostar, Počitelj is another popular stop that most organized Mostar day trips include in their itinerary. You can stop here either on your way to Mostar or when driving back in the afternoon.
Počitelj is a historic medieval village that suffered a lot in the Balkan war at the end of the 20th century. It's considered one of the most endangered monuments in the country and efforts are being done to restore and preserve it for future generations.
You can hike up to the citadel for nice views of the area and the whole visit will probably not take longer than 30-45 minutes.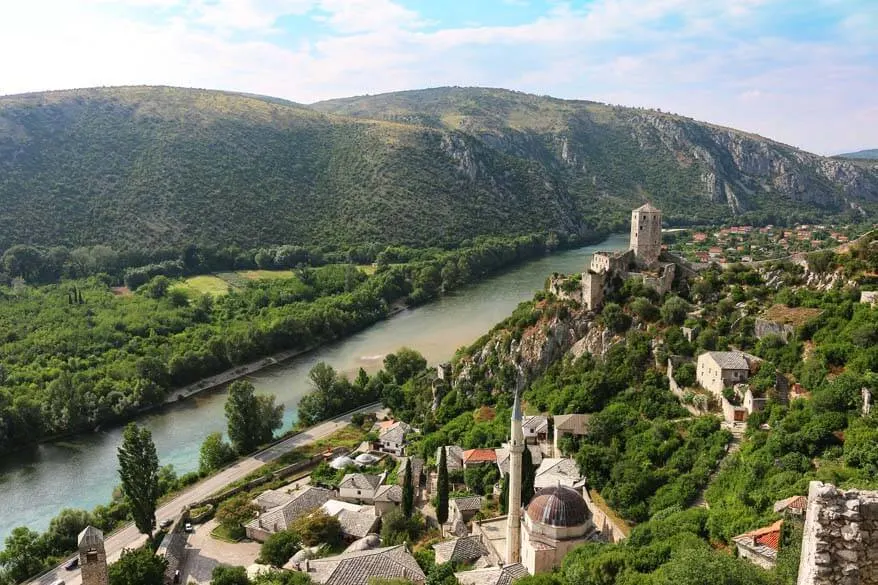 Kravica waterfall
Kravica waterfalls might not be as well-known as those of Plitvice or Krka NP in Croatia, but they are absolutely stunning and definitely worth a short detour on this Bosnia and Herzegovina day trip from Croatia.
We left this waterfall for the end of the day and had it practically to ourselves. In summer, bring your swimwear and towels – it's a great place to relax and cool off after a long day of driving and sightseeing.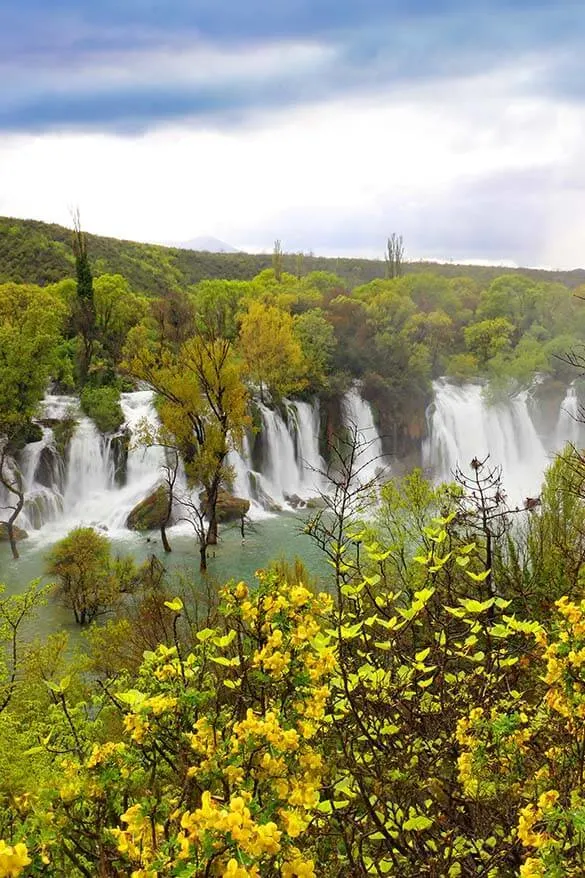 Good to know: Bosnia and Herzegovina isn't part of the EU, so check if you need any special travel documents or a visa for this day trip. They have their own currency, but all the places I mentioned here accept cash payments in either Croatian kuna or in Euro.
To Makarska
After visiting Mostar and the other landmarks of Bosnia and Herzegovina, we drove back to Croatia. We chose to stay in Makarska, because that's the place with a direct ferry connection to Brač island – next stop on our Croatian itinerary.
Makarska is a very cozy seaside town with a very picturesque harbor area. There are several roads leading to Makarska and the fastest way to get there is probably by taking the main road E65, followed by a local road #76. We – once again – followed Google Maps and, since some local roads were closed for construction, ended up with yet another very adventurous drive (it was just one of those days…).
Luckily, the last part of the road that we took (#512) was absolutely spectacular and well worth the crazy drive we had to endure due to road works.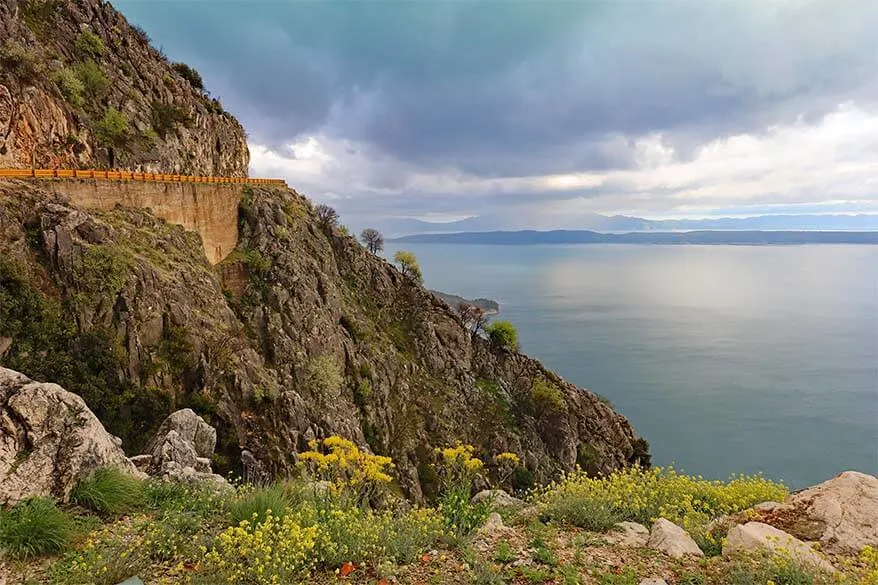 Accommodation: Spend 1 night in Makarska. We stayed at Apartments Elda, but there are also a lot of really nice hotels in town as well. In fact, Makarska is a popular vacation destination, so if you are looking for a more relaxing trip, you could add a day extra to your itinerary here. Valamar Meteor Hotel or Hotel Park Makarska both have great reviews and a good price-quality ratio.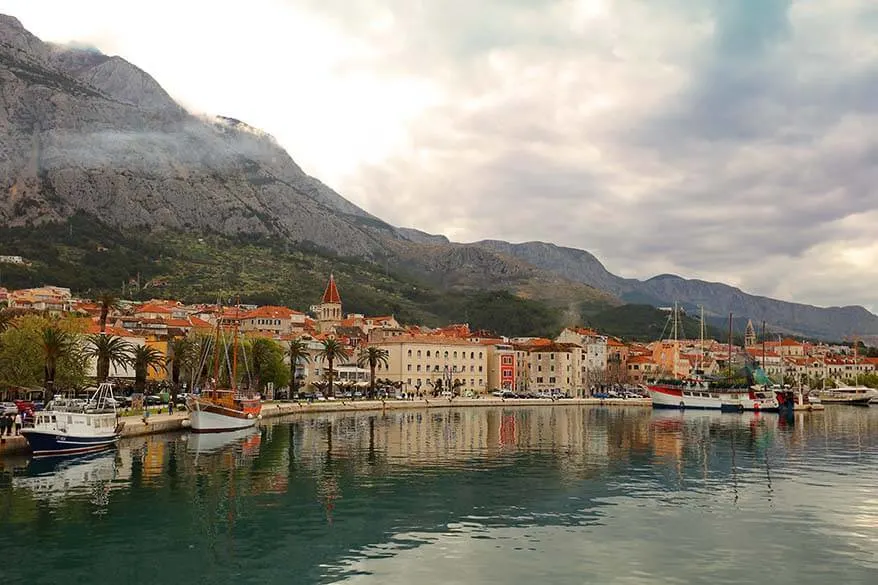 Day 7 – Brač Island
The most popular way to get to Brač island is by taking a ferry from Split, but – as already mentioned – there is also a ferry from Makarska and it fits this itinerary better. Car ferry 638 from Makarska to Sumartin takes 1 hour and there are usually three ferries a day. We took the one at 9 am, which gave us plenty of time to explore Brač island.
Brač island is probably one of our favorites of all the islands that we visited on this Croatia road/island-hopping trip. It just felt so local, so authentic, so untouristy… To be completely honest, I think that it mostly has to do with the choices that we made and the places that we visited. It helped that it was low season as well.
I have a very detailed article about visiting Brač Island (check it out!).
So here is just a short summary of the places that are worth your time the most: Zlatni Rat beach, view from Vidova Gora, Blaca monastery (absolutely must-do), Škrip, Milna, and Supetar (very touristy, but the cemetery is absolutely worth a visit).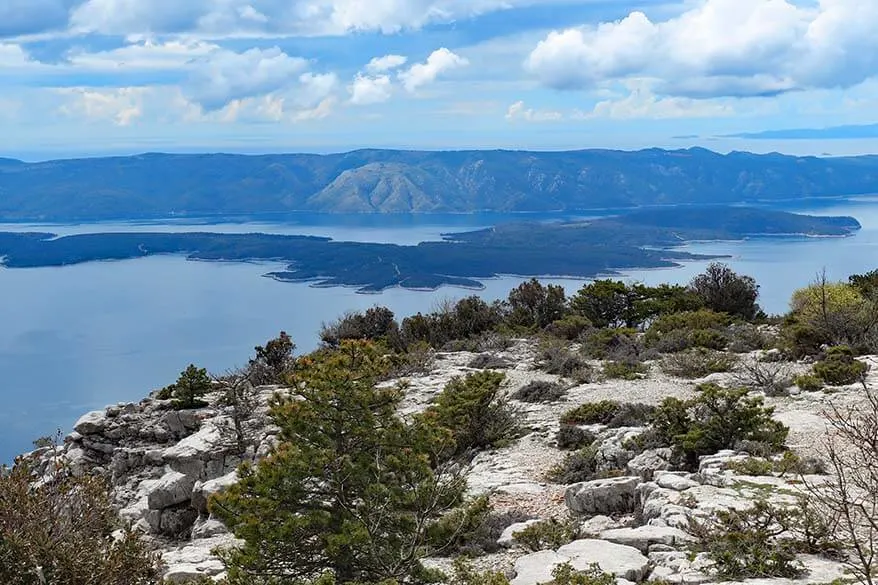 Accommodation: We stayed in Milna for 1 night and couldn't have been happier with the choice. It's the nicest, coziest of all the towns we visited on Brač island. Alternatively, if you prefer busier places, there are many more hotels in Supetar.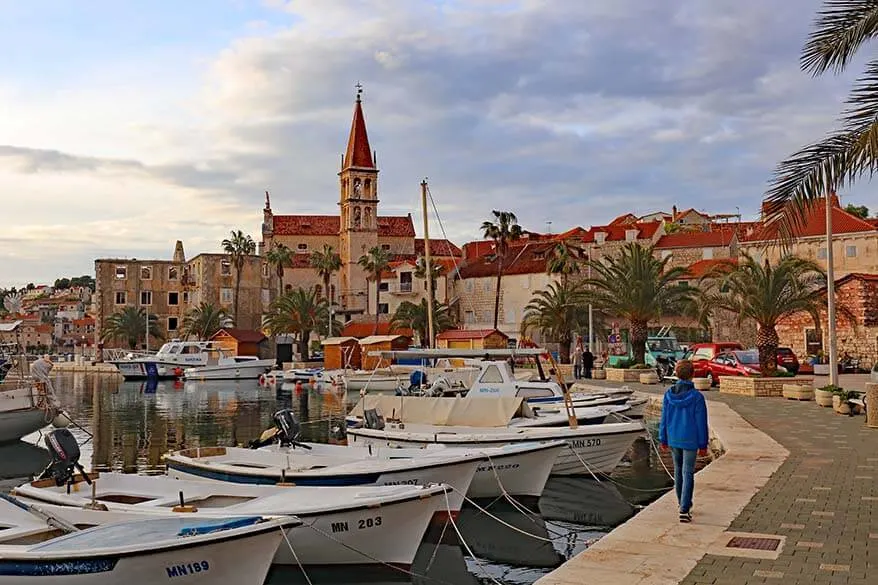 Day 8 – Split
After a short visit to the earlier mentioned cemetery in Supetar, we took a 10.30 am ferry to Split. Ferry 631 from Supetar to Split takes 50 minutes and runs multiple times a day.
It's a very popular route and when we saw the number of cars, buses, and trucks waiting for it, we thought we'd have to wait for the next one. Luckily, it's a very big boat and it's incredible to see how many vehicles can fit inside.
Split is the second-largest city in Croatia and it just looks too big to be enjoyable, but luckily the looks are deceiving. The waterfront area and the Old Town are absolutely lovely. It's such a good mix of historic architecture and modern city life. Countless cafes and restaurants are just as popular with the locals as with tourists, which is always a good sign.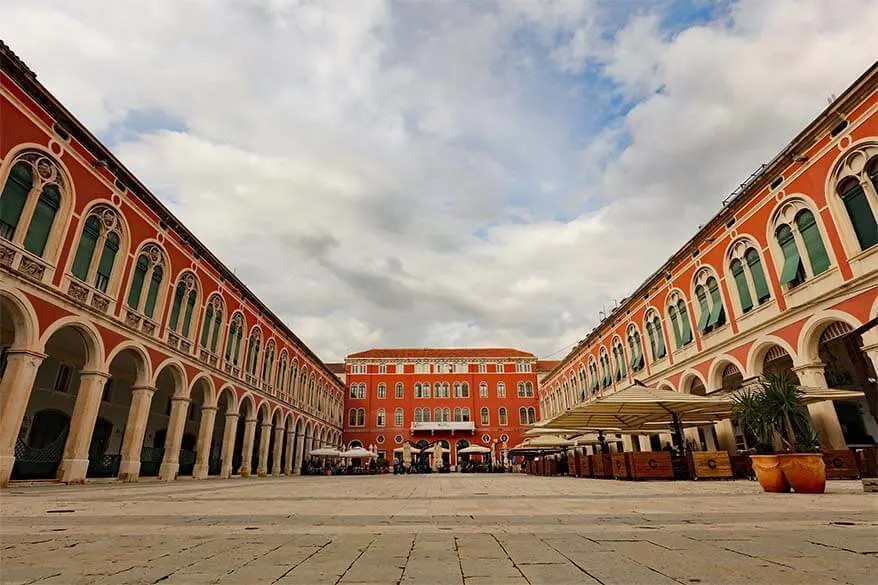 Split Old Town
Count at least 2-3 hours to visit the Old Town of Split, with Diocletian's Palace as the main highlight. The palace takes up the biggest part of the Old Town itself – there is not one entrance or building – the whole area is the palace.
Don't miss the Cellars of Diocletian's Palace and the Cathedral (you'll need a ticket for both), but also Peristilium, Vestibule, and just walk around and explore this incredible place.
If there is one place that I really would have wanted to have a guide, it's in Split. There is so much history and so much to see that it feels like you are missing a great deal by not knowing what you see (and yes, we had a good guidebook, but in Split, it just wasn't enough).
TIP: I highly recommend that you book a city walking tour or a guided Diocletian's Palace walking tour. GOT fans might want to consider this highly-rated Split: Games of Thrones Locations Tour instead. Just make sure to book upfront, especially if you only have half a day in Split town, as we did.
Republic Square – a beautiful example of Venetian architecture – is also not to be missed in Split. If you like local markets, I also recommend you visit a market just outside the Eastern walls of Diocletian's Palace. The market is called Zelena tržnica, the Green Market.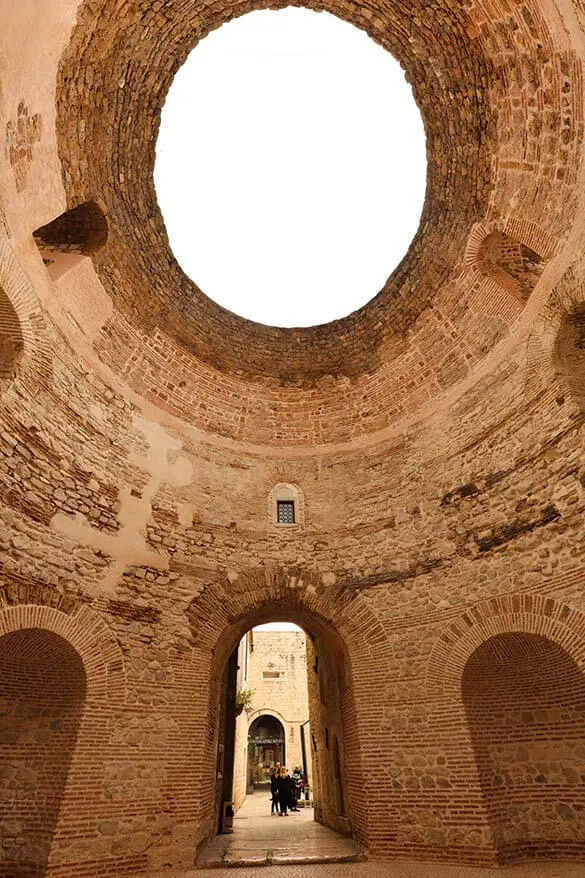 Marjan Hill
Marjan Hill or Marjan Park is not to be missed when visiting Split. You'll have to climb quite some stairs, but the panoramic views over the city and the Adriatic sea are well worth it. On top, there is a café where you can have a drink and enjoy the views.
While most people just visit the viewpoint, there is actually much more that you can see here. Marjan Park is a popular place with locals, but we met just a few tourists. Yet, it's such a beautiful area to explore – don't miss it when in Split!
The walking path to the West from the viewpoint (the road called Marangunićevo šetalište – see map) was mentioned as the Chapel Walk in our guidebook. It became our favorite place in Split. If you follow it all the way to the end, it will lead you to the end of the peninsula, but the entire walk will probably take at least 3 hours.
We walked past St. Nicholas chapel, then on to Bethlehem Chapel, and finally to the last and the most impressive of them all – St. Jere Chapel. It took us a bit less than 2 hours in total (there and back, including all the photo stops) and if it wasn't for the fact that the sun was starting to set, we would have stayed much longer…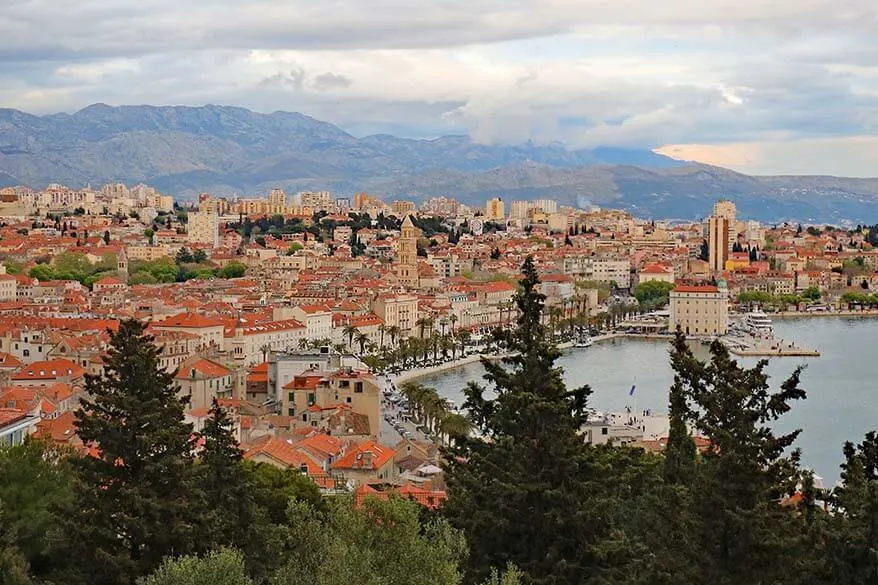 Accommodation: Stay in Split for 2 nights. I recommend a hotel within a walking distance to the city center. We stayed at Apartments Vinko and the location couldn't have been better (e.g. Heritage Hotel 19 and Hotel Agava Split are in the same area). Here you can find a selection of other well-located hotels in Split.
Day 9 – Split day trip to Hvar and the Blue Cave
We really wanted to include Hvar in our Croatian itinerary. After all, it's the most famous, most popular, and most sought-after island destination in Croatia…
After some research, we found that the easiest way to visit Hvar in just a day was by taking an organized day trip from Split. It came with a bonus – the Blue Cave, Vis island, and also many other amazing stops nearby. At the end of the day, we even saw dolphins…
We booked this highly-rated Blue Cave, Hvar, and 5 islands day trip from Split and it was a wonderful day. We saw so much and there's no way we could have done it better ourselves.
Since it was one of our favorite days in Croatia, I have written a much more detailed post about it. Here you can read all about our Blue Cave tour from Split. If you have a day to spare in Split, I highly recommend this day trip.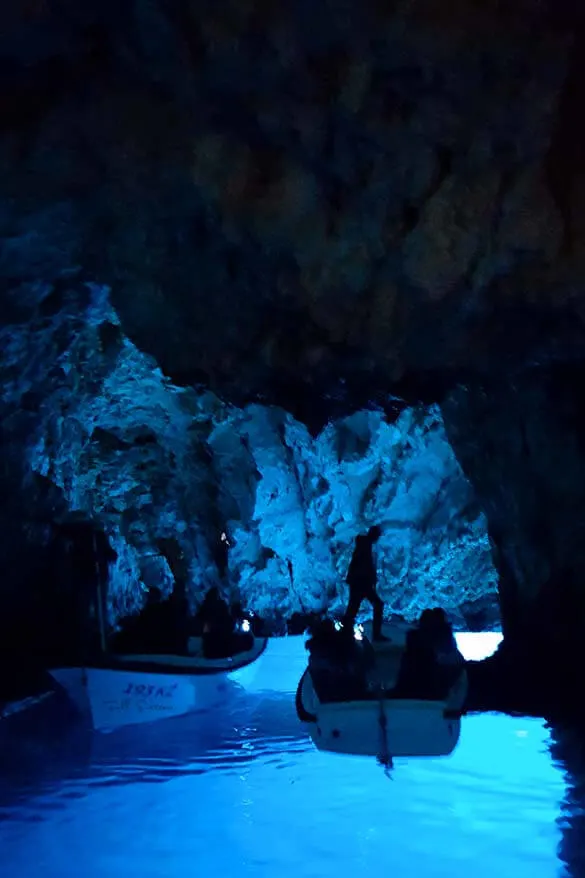 Day 10 – Krka National Park
Just an hour drive from Split, you can find one of Croatia's most beautiful National Parks – Krka NP. We loved it here, much more than Plitvice (but more about that later).
Due to its proximity to Split, Krka NP is a very popular day trip and can get really crowded especially on the days when there are cruise ships in Split. I, therefore, recommend arriving here as early as possible. That way you can visit the most popular place of the park – Skradinski Buk – first, before the crowds arrive, and then explore further later in the day.
There are two main entrances from where you can reach Skradinski Buk – by boat, bike, or on foot from Skradin town or by shuttle bus or on foot from the car parking in Lozovac. Once there, follow the boardwalks to explore this beautiful area.
We took a boat from Skradin (and wasted lots of time waiting for it), had lunch, and spent about 1,5 hrs walking around the area. We then walked back to Skradin (which took about 50 minutes – faster than waiting for another boat). In total, we spent about 4 hours in this part of Krka NP.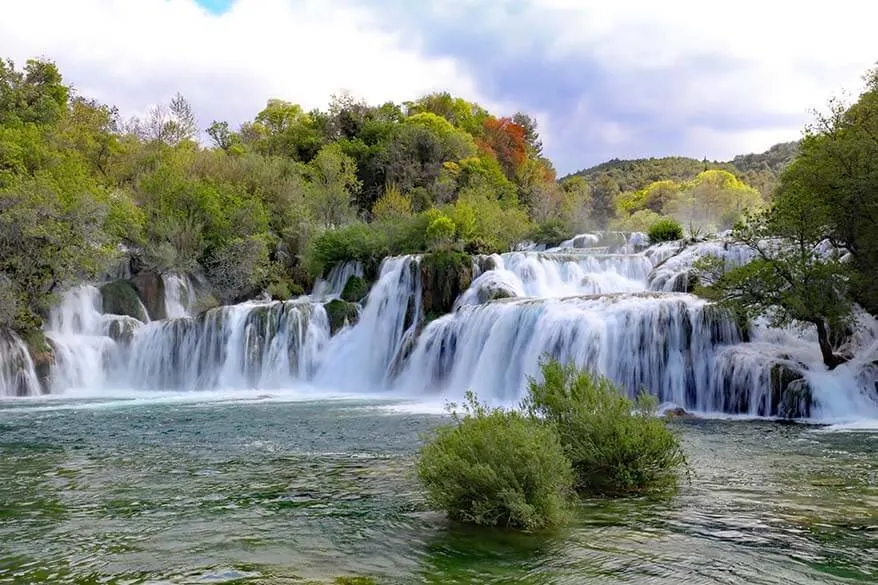 Other nice places to visit in the National Park include Roški Slap and also Visovac Monastery. You'll need to either take a boat or drive and then take a shorter boat in order to get to Visovac island.
Roški Slap is also quite far and will take at least half an hour to drive there from Skradin (plus the time there and the time to get back).
You can ask for more information and a map at the NP ticket office, but if you want to visit all these places, you'll have to start early and count an entire day for Krka National Park.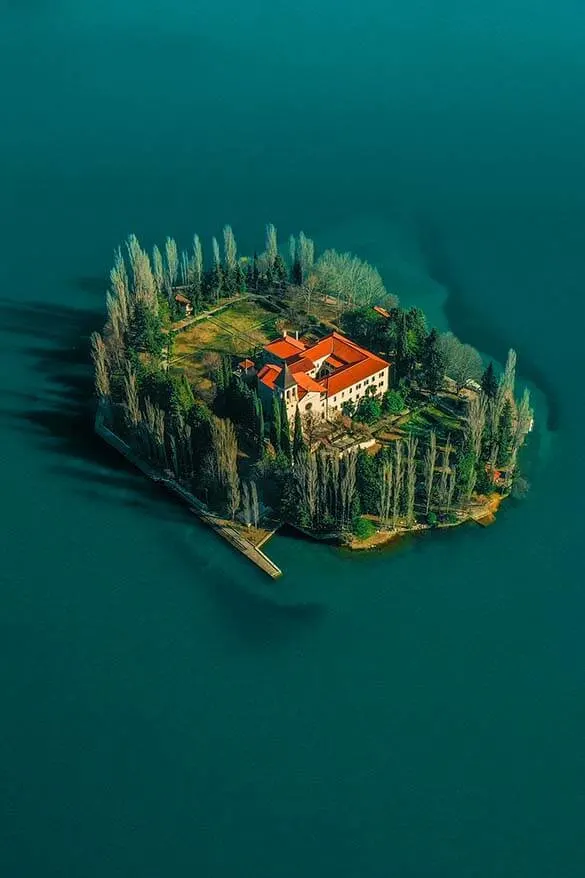 If you follow the same itinerary for your Croatia road trip as we did, you will have a long drive ahead. It takes at least 2 hours to get from Krka NP to Plitvice Lakes. So keep this in mind when deciding which parts of Krka NP you want to see, so that you are not too tired to drive.
Accommodation: Stay in Plitvice Lakes for 2 nights. Hotels here are scarce and get fully booked months in advance. There are some really nice apartments, B&B's, and villas as well, but they also sell out very quickly, so book your accommodation in Plitvice as soon as you have your trip itinerary planned. We stayed at Sweet home apartments, within an easy walking distance from Entrance 2 of the Plitvice Lakes NP. Hotel Plitvice and Hotel Bellevue are the best-located hotels in the same area.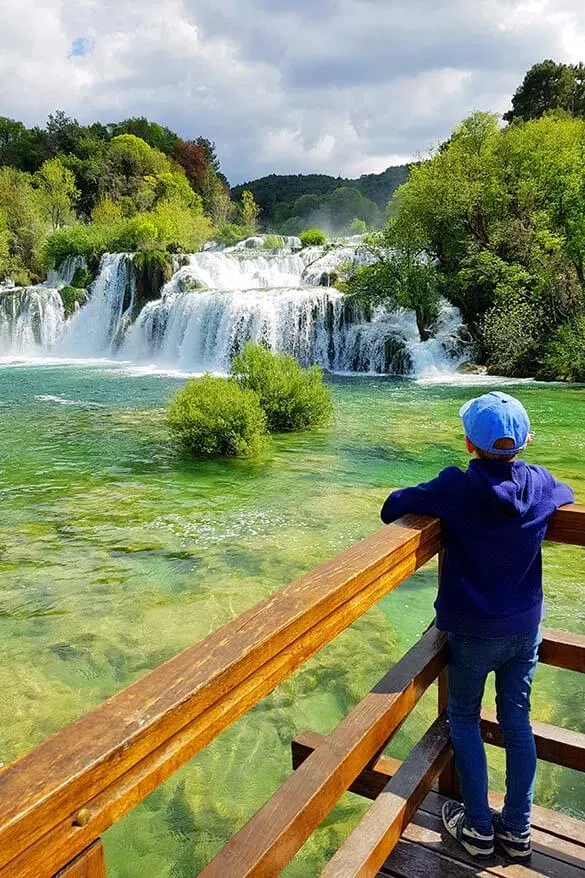 Day 11 – Plitvice Lakes National Park
To us, this was a no-brainer – any Croatia trip itinerary should include Plitvice Lakes National Park. Despite the long drive to get here from Split area and back, we thought it would be worth it. And I'm absolutely sure it will be for you, because most people say that Plitvice Lakes NP was an absolute highlight of their Croatia trip…
Unfortunately, it wasn't for us…
We had such high expectations of Plitvice Lakes National Park, but we were just really unlucky to be there on the day when the nicest part of the park was closed for maintenance.
Furthermore, nature in this (higher) part of Croatia was just starting to wake up after the winter… Everything was so grey and it looked nothing like the pictures we had seen… I mean, it was nice, some parts quite nice, but nothing that we would say wow to.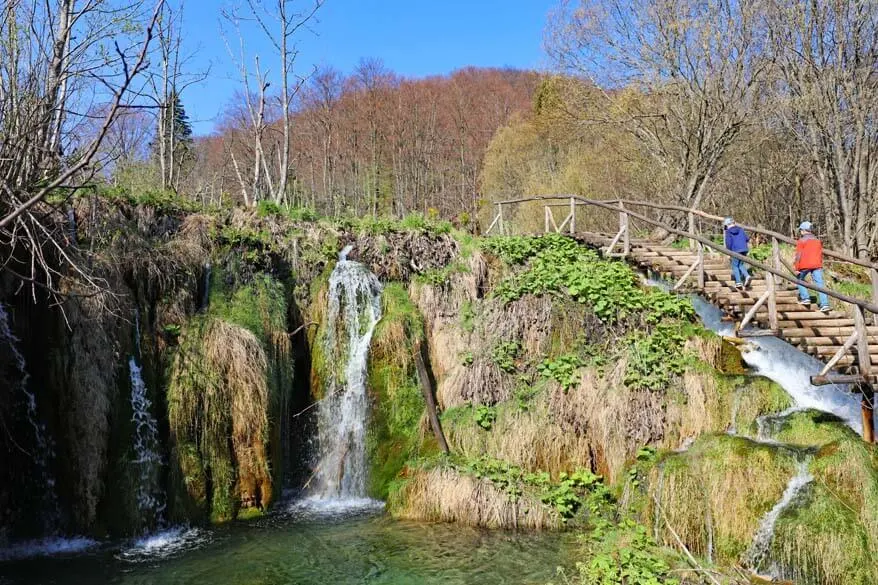 I can only conclude that April is too early and not the best time to visit Plitvice. I think that May to September are by far the best months to visit Plitvice Lakes NP. Yes, it will be busy (it was unbelievably busy even in April – I can't even imagine how busy it gets in the summer), but at least you'll get to experience the amazing beauty of this place.
Don't let our experience discourage you, but I wanted to share this, so that you know that the reality of travel is not always picture-perfect.
Staying near the entrance of the park gives you the advantage that you can start the day before day tourists arrive (and stay later in the evening). The nicest areas that you shouldn't miss in Plitvice Lakes NP are: the Lower Canyon with the Big Waterfall – Veliki Slap. Also the Upper Canyon is really nice – there I suggest that you take a shuttle bus to ST3 stop and walk back following the signs to ST2 – you'll pass all the nicest places along the way.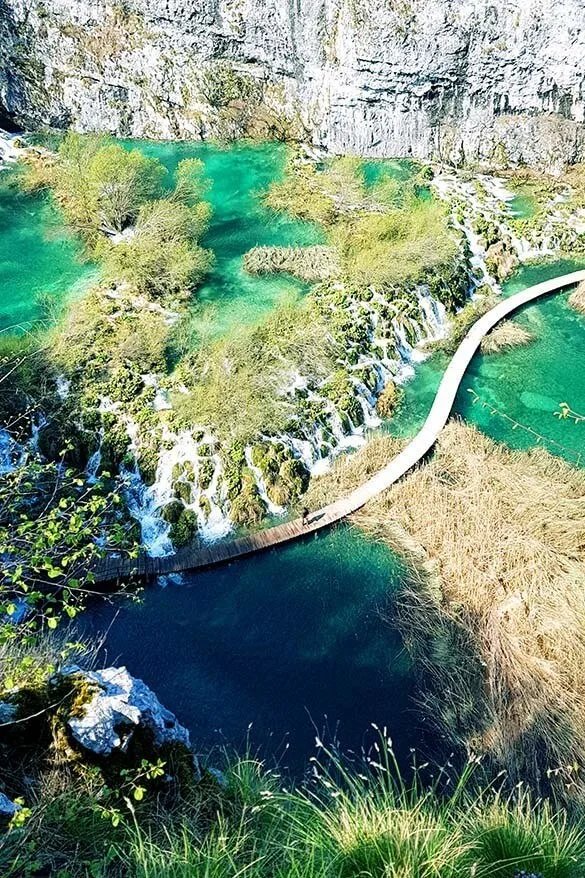 Day 12 – Zadar and Šibenik
Good to know: Since we were flying out from the Split airport, we drove back South after visiting Plitvice Lakes. If, however, you are flying out of Zagreb, you can go there from Plitvice – it's just a 2-hour drive.
In that case, you may want to visit Zadar, Šibenik, or Trogir before heading to Plitvice and not at the end of the trip, as we did… You can easily do that – just stay in Šibenik/Krka NP area a bit longer…
Before the trip, I wasn't sure how much time we would have on this day and was trying to figure out which town is better to visit – Zadar or Šibenik. In the end, we settled on Zadar as our first choice. It turns out, you can easily visit both towns in one day and that's what we ended up doing.
Zadar
I can't really describe what it is exactly about Zadar, but we really loved this town. It was less touristy, I suppose, with many locals in the streets and at the restaurants, and the atmosphere was great.
Start your visit at Land Gate (Kopnena vrata) – the main entrance to the Old Town. Don't miss the 5 Wells Square, the market, the People's Square, St. Chrysogonus Church, Church of St. Donatus, Saint Anastasia Church, and climb the Bell Tower for amazing views. There are also several interesting museums if you have more time.
One of the must-see (actually, must-hear) attractions in Zadar is the Sea Organ along the seaside promenade, Riva. It's a sort of alternative music instrument that makes sounds that vary depending on the wind and the waves. Take the time to just sit here and listen to the sea – magical.
Restaurant recommendation: We had lunch at Restaurant Bruschetta and it was the best meal we had in Croatia. In general, the food was very good everywhere, so it really says a lot about this place.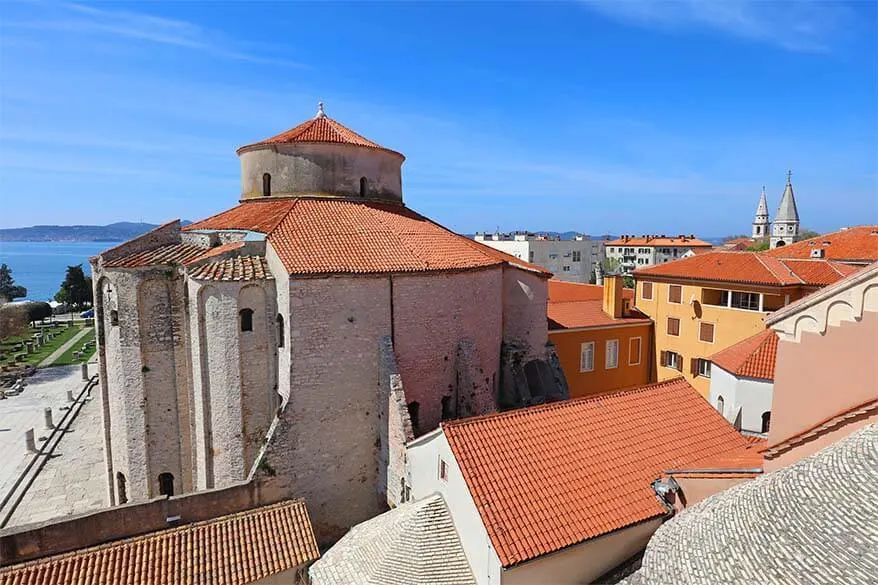 Šibenik
About 1-1,5hrs drive from Zadar you'll find another beautiful Croatian town, Šibenik. It's couldn't be more different than Zdar, but it's also very cozy and picturesque and is definitely worth a visit.
The biggest part of town is built against the hill and it's a real labyrinth of narrow and steep, but very picturesque streets. Some of the highlights not to be missed is the Saint James Cathedral and the beautiful town square around it, and also the St. Michael's Fortress. If you have more time, you can also visit the nearby Barone Fortress – there is a ticket that combines these two forts and it costs just a tiny bit more than a single entrance.
On the way to St. Michael's Fortress, we also passed the Medieval Mediterranean Garden of St.Lawrence Monastery. It's just a very small garden with a nice cozy café. Take a break here and ask them for lavender lemonade. It's just lavender syrup mixed with water, but it was so good…
We wanted to buy some of that lavender syrup to take home, but didn't find it anywhere. Once back home, we found it on Amazon… So now we have a taste of Croatia at home. Every time I drink it, it feels like we're back on vacation again…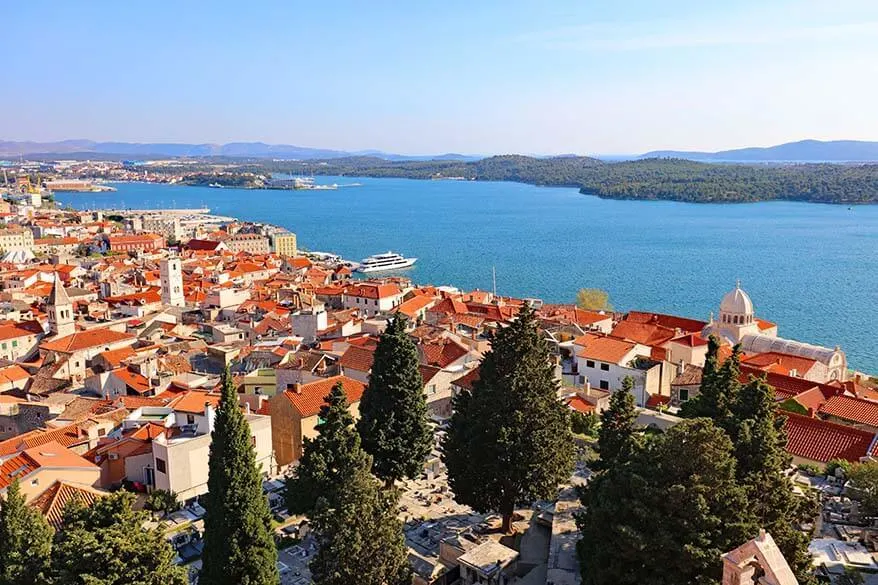 To Trogir
We spent about 3 hours in Šibenik and then drove on to Trogir – the last stop on our Croatia two week itinerary. It's a nice little town and is very well located for exploring more of the Split area. It's also just 5-10 minutes drive from Split airport.
Accommodation: Stay in Trogir for the last 2 nights. We stayed at Apartments Svjetlana – a big apartment with private parking, just outside the traffic-free town center. There are just very few hotels inside the Old Town; if you want to stay there, XII Century Heritage Hotel or Heritage Hotel Pasike are the nicest options. In my opinion, it's better to stay just outside the center (especially if you have a car). In that case, I recommend these hotels: Hotel Brown Beach House & Spa or Hotel Trogir Palace.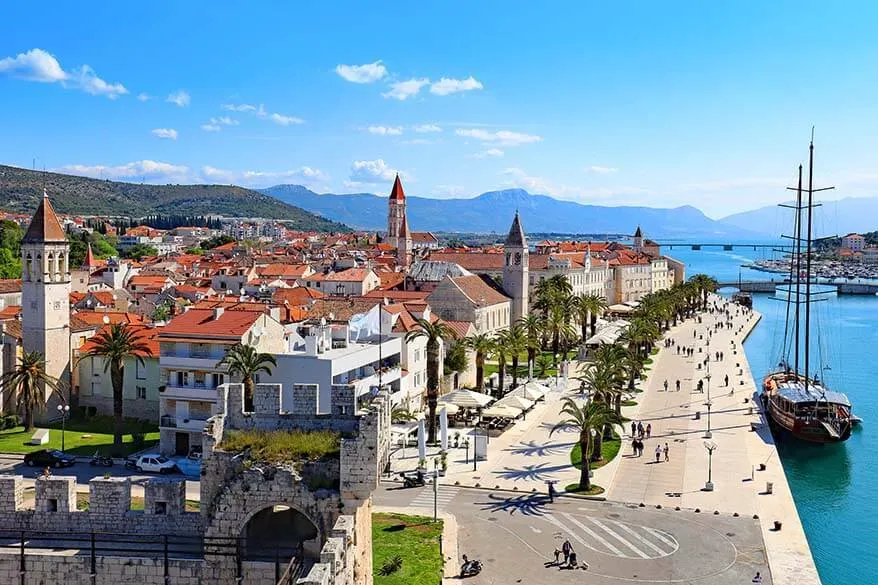 Day 13 – Trogir, Klis Fortress, and more
There are quite some nice towns and landmarks that you can visit in the Split area or you can just opt to relax and spend a few days by the pool or on the beach. We had a few places on our radar and ended up visiting Trogir and Klis Fortress, but I also included a few suggestions for if you have more time or if you really want to get the maximum out of your time.
Trogir
Trogir is a very nice historic town and a UNESCO World Heritage Site. Its main attraction is the beautiful traffic-free Old Town area. It sure attracts big crowds, so if you are staying in Trogir anyway, try to either visit it first thing in the morning or leave it for the late afternoon – evening.
Don't miss the Trogir Cathedral of St. Lawrence with its impressive and very decorative entrance door. Also the Ivana Pavla II square around the Cathedral has some other impressive buildings. Don't miss Cippiko Palace and the City Hall. You can visit Tower Kamerlengo for nice views over the town and surroundings. There are also several other churches, a monastery, and several museums.
Trogir is one of those typical European tourist towns with historic architecture and a web of narrow streets lined with all kinds of souvenir shops, cafes, and restaurants. You can see the highlights of Trogir in just 2-3 hours, or you can keep on coming back for the atmosphere and the lively cafés and restaurants… For us, half a day was more than enough here.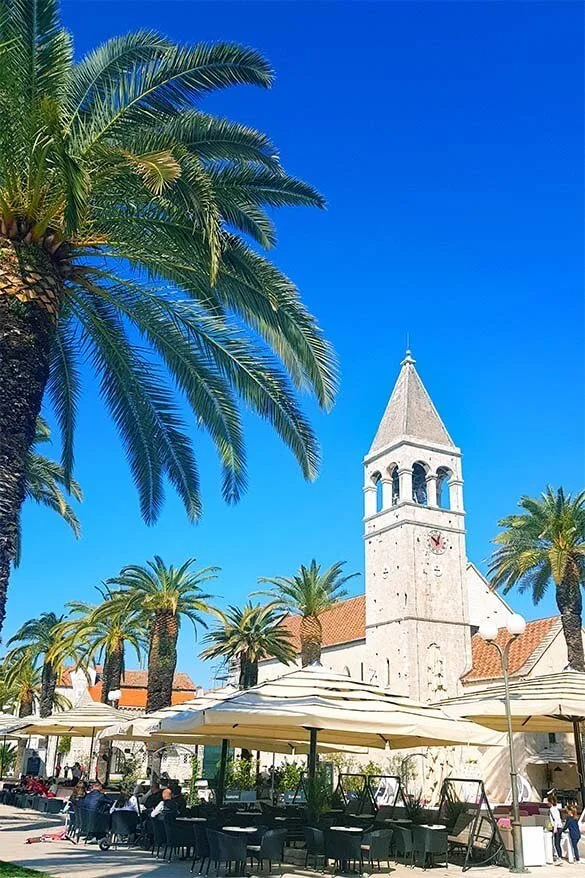 Klis Fortress
When you spend two weeks in Croatia and climb so many city walls and visit so many medieval forts, it's difficult to still get excited about them. So we didn't really have high expectations of Klis Fortress. However, since it was the peak of Game of Thrones last season madness when we visited Croatia, we decided to check it out. After all, Klis Fortress is one of the GOT filming locations in Croatia…
To tell you the truth, we haven't seen a single episode of Game of Thrones, but we are always in search for the nicest places where we travel. I'm so glad we decided to include Klis Fortress into our itinerary! It was the nicest, most special, and probably the most authentic of all of the forts that we visited in Croatia. It's definitely worth a visit!
Practical information: Klis Fortress is open daily, from 9 to 7 PM (might vary depending on the season). It's just a short drive from Split, from Trogir, or you can also just stop here for a quick visit on your way to Krka NP on day 10 of this itinerary. Count at least 30-45 minutes for a visit; we spent more than an hour.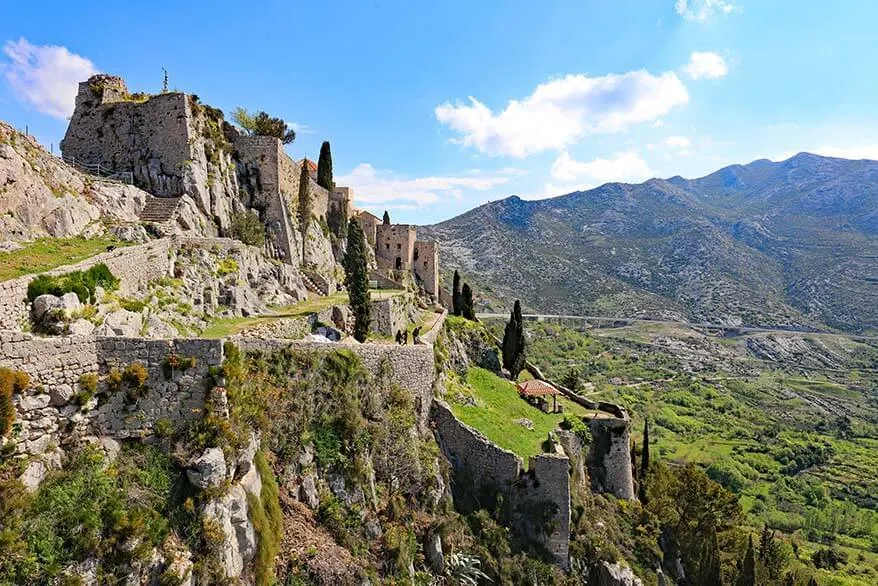 Vranjaca Cave, Solin & Kaštela
As mentioned before, there are many more nice places to visit around Split. We had shortlisted the following places, but didn't visit them. I think that they are each worth a short visit if you are looking for somewhat less touristy experiences near Split.
Vranjaca Cave is a family-owned colorful stalactite and stalagmite cave, some 40 minutes drive from Split (see location on the map below). Many people call it a hidden gem of Croatia.
Solin (or Salona in English) is a town that dates back to Roman times and was one of the biggest towns in the area in the 1st – 2nd centuries. Don't miss the city walls and the amphitheater.
Kaštela is located between Split and Trogir and consists of 7 smaller villages. They were built in 15-16th century as summer palaces by the rich families from Split. The nicest villages are Kaštel Gomilica, Kaštel Lukšić, and Kaštel Štafilić – well worth a short visit in this area.
Day 14 – Split area and departure
Depending on what time your flight leaves, you can visit some of the places mentioned in day 13 of this itinerary that you haven't seen yet.
To us, this was the last day of our two weeks in Croatia. We spent the morning in Trogir, where – luckily – we had some pancakes for brunch.
Split airport doesn't have any restaurants after you pass security, so it's best that you eat something in town. Apparently, there is a small restaurant at the airport, but you have to go there before you pass the security check. Lesson learned. For us, our last lunch in Croatia was a dry ham&cheese sandwich – the only food available in the departure hall…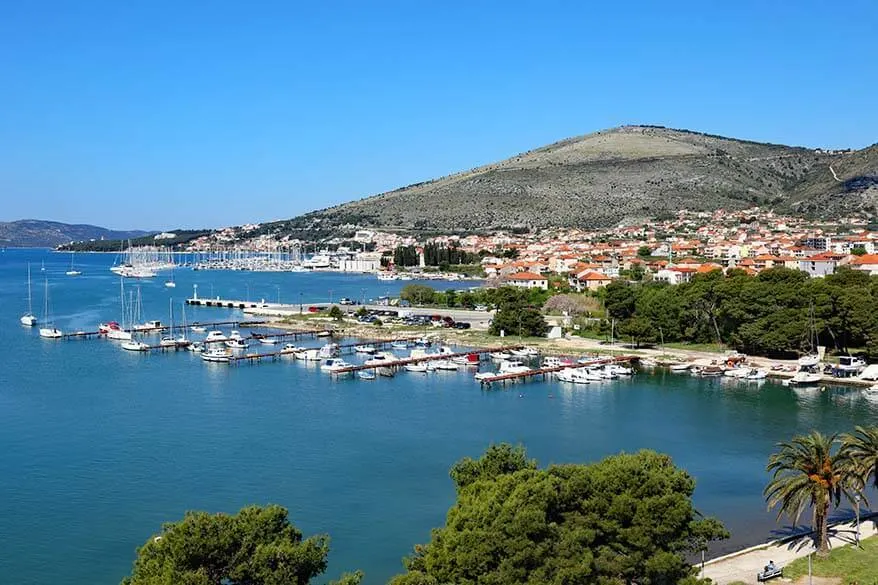 Practical tips for planning Croatia itinerary
Best time to visit Croatia
We visited Croatia in April and it was perfect for sightseeing, but too cold for the beach. Nature was also just waking up too. The biggest advantage of traveling in April was that we had so many amazing places to ourselves.
While this Croatia itinerary will fit any time of the year, I recommend visiting in May – June or in September – October.
July and August are the busiest and the hottest months. The rest of the year is perfect for towns, but too cold and sometimes too wet and too grey for nature destinations.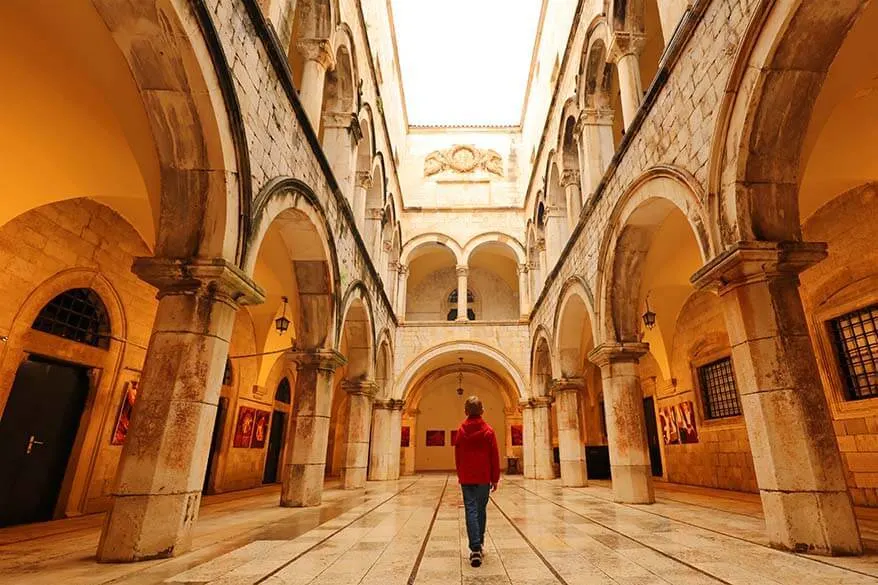 Which airports are best for this Croatia itinerary
Our 2-week Croatia itinerary starts in Dubrovnik and ends in Split, as that's where we found the best flight deals for. However, it's very easy to adapt this itinerary so that you start in Dubrovnik and end in Zagreb, or vice versa. Alternatively, you could also start and end in Split.
How much time do you need in Croatia
There are many ways to visit Croatia and there is not one best Croatia itinerary that fits everyone. Your trip will depend on your interests, the season, and of course on how much vacation time you have.
I'd say 5 days is about the minimum time you need in order to see just the main highlights of Croatia – Dubrovnik, Split, and Plitvice Lakes or some islands like Hvar.
7 days in Croatia will allow you to add several other places, like Kotor and Mostar. However, if you want to travel deeper and visit the country beyond the main tourist stops, I suggest 10-14 days for Croatia.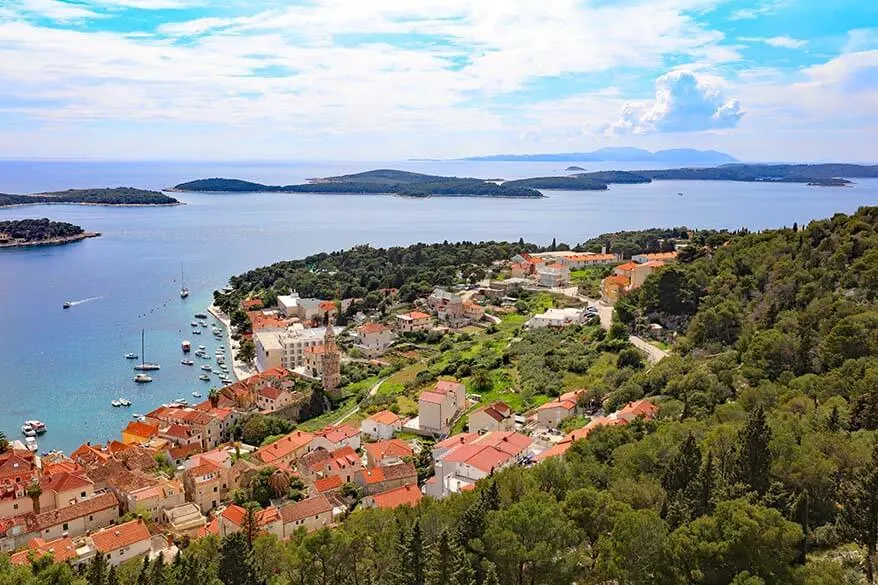 Getting around in Croatia
You can easily visit Croatia individually – driving in Croatia is quite easy. Some roads are narrow and the ever-changing speed limits can be a challenge to keep an eye on, but in general, nothing to worry about.
Parking can be a challenge in some towns; make sure you have some small change for the parking meters.
The easiest way to see all the places in this Croatia itinerary is to rent a car. You can find the best deals for car rental here. Don't forget to ask for a green card for your car if you'll be visiting Kotar or Mostar (it costs over 85 EUR extra).
If you want to visit any of the islands, you'll need to take a car ferry or book organized day tours. Jadrolinija website is the best place to check ferry routes and timetables and GetYourGuide website is the best place to find and book organized day tours. I really suggest booking tours upfront.
We didn't book any of the car ferries in advance. You can book them upfront, but the Jadrolinija website says that your place on the specific boat isn't guaranteed anyway. So it's best to just arrive at the ferry port well in advance and get your tickets there. I'm not sure if this applies for all the ferries and in all seasons though, so please check it yourself.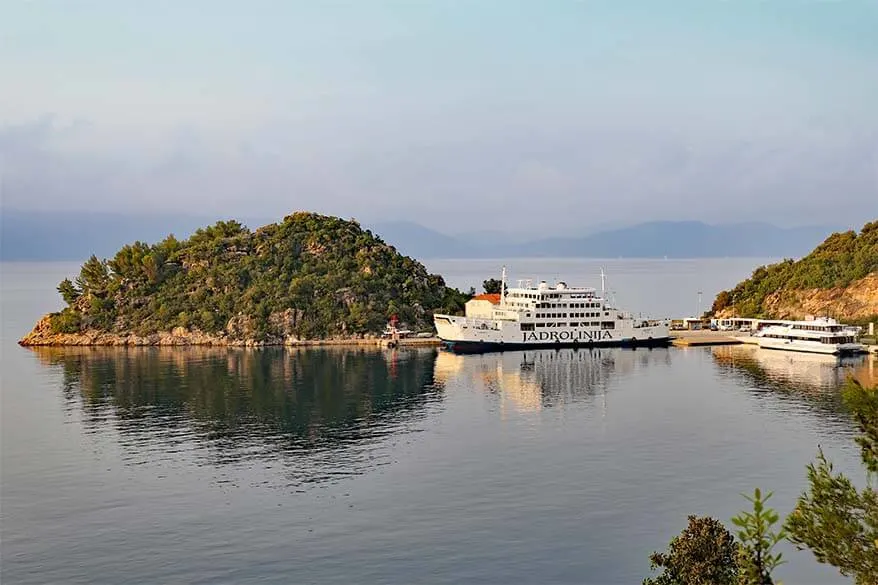 Croatia itinerary on the map
To make your Croatia trip planning easier, I created this Croatia travel map indicating all the main places mentioned in our 2-week Croatia itinerary. I gave each day a different color, so you have a better idea of what belongs together.
Please keep in mind that this is our itinerary that is based on our interests and the time that we had. Since we always try to make the most of every single trip, this Croatia itinerary reflects exactly that – it covers all the must-see places in this part of Croatia and also includes the best day trips to Kotor and Mostar. We also visited some really amazing lesser known places and I think they just made this trip even more memorable and special.
TIP: If you have less time in Croatia, just concentrate on the 'musts'. In my opinion, any Croatia trip itinerary should as a minimum include the following places: Dubrovnik, Kotor, Mostar, Split, Hvar & the Blue Cave, Krka NP, and Plitvice Lakes NP.
How to use this map: Use your computer mouse (or fingers) to zoom in or out. Click on the icons to get more information about each place. Click the arrow on the top left corner for the index. Click the star next to the map's title to add it to your Google Maps account. To view the saved map on your smartphone or PC, open Google Maps, click the menu and go to 'Your Places'/'Maps'. If you want to print the map or see it in a bigger window, click on 'View larger map' in the top right corner.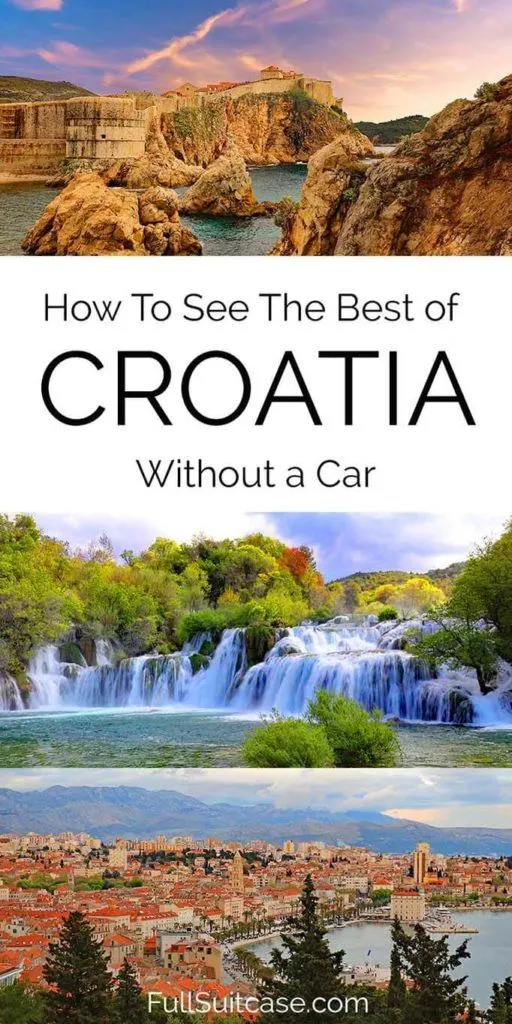 Croatia itinerary without a car
Pretty much all the places mentioned in this Croatia itinerary can be visited as a day trip from either Dubrovnik or Split. So you could easily visit Croatia and make a very similar trip without a car.
In that case, I suggest that you stay 5-7 nights in each Dubrovnik and Split, and take a ferry between the two towns. Jadrolinija ferry 9811S runs between Dubrovnik, Korcula, Hvar, Bol, and Split, but only in high season from June 1 till September 30.
You could easily stop at one or the other island along the way and turn it into a Croatia island hopping trip. Please note that this is not a car ferry – passengers only. There is just one ferry a day, so you should probably book in advance.
Here are some suggestions for the best day trips from Dubrovnik and Split that bring you to the same places as the ones covered in our Croatia itinerary, but without having to rent a car.
Best Dubrovnik day trips to places mentioned in this Croatia itinerary:
Split day trips to places mentioned in this Croatia itinerary:
So, this is our suggested Croatia itinerary for 2 weeks, but it will also fit any trip of up to 14 days. Whether you are planning a self-drive road trip in Croatia, an island-hopping trip, or want to see the best of Croatia without a car, it should help you plan your own dream vacation in Croatia.
If you have any questions about our Croatia itinerary, feel free to leave a reply below and I'll try to help.
READ ALSO: Blue Cave Tour from Split
If you found this post useful, don't forget to bookmark it and share it with your friends. Are you on Pinterest? Pin these images!