Thinking of visiting Brač Island in Croatia and not sure what to expect? Or maybe you are looking for some inspiration on what to do on Brač island, are researching practical information for your visit, or wondering if it's worth to visit Brač as a day trip from Split? This article is for you!
I hope that our guide to the best of Brač island will not only inspire you to visit Brač, but will also answer all your questions.
We spent just a bit more than one day on Brač island during our recent 2-week road trip in Croatia. Despite the short visit, we saw a lot and Brač is the island that we liked the most in Croatia. So in this post, I want to share our experience and tell you why Brač Island is absolutely not to be missed. Find out!
In my opinion, Brač island deserves a place on any Croatia itinerary! Brač has a very special local feel and an excellent mix of nature, culture, beaches, and local life. It felt much more authentic and truly Croatian to us than any other place we visited on this trip.
At the beginning of this article, you can find our suggestions for the best things to do on Brač island. Further below, I share our itinerary for one day on Brač island, a map indicating all the places mentioned in the article, as well as some practical information for visiting Brač. Read on!
Things to do on Brač Island
You are probably wondering what there is to see and do in Brač, in order to determine if it's worth a visit, and how long you should stay. Based on my research for our own trip and our personal experience, I made a list of places to see and things to do that I think are worth your time the most on Brač Island. Take a look!
Here are some of the best things to do in Brac:
Drive around the island
It might sound strange to list driving as one of the first things to do on Brač island… But exploring the island by car is – in my opinion – the best way to see Brač and some of its peculiar landscapes.
We arrived on the island by ferry from Makarska to Sumartin and were immediately greeted by a very different landscape than anywhere else in Croatia. There were stones and all kinds of stone constructions everywhere around us. If anything, it reminded us of stone walls you see all over Scotland or Ireland… We didn't see any sheep though…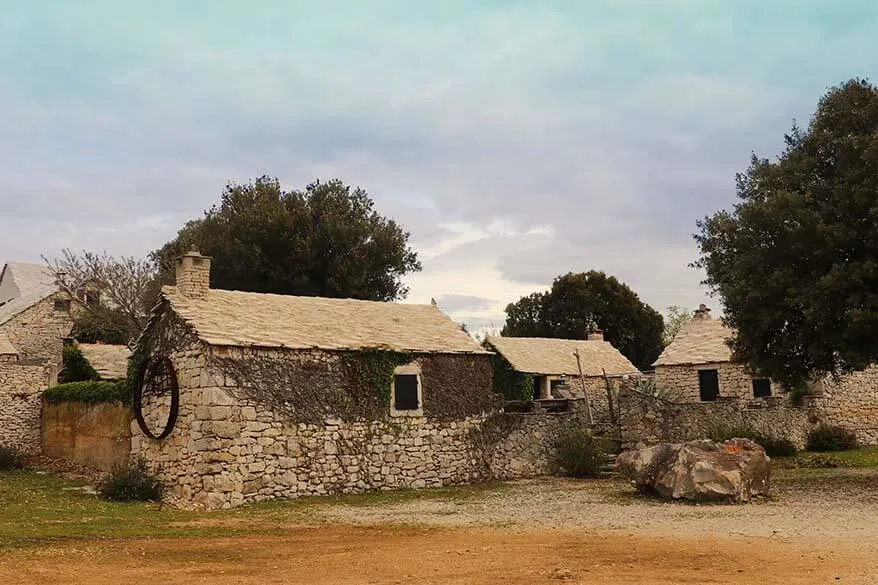 During the day, we drove almost around the entire island and couldn't believe how varied the landscapes were. I mean, it's not such a huge island, after all.
Hilly landscapes with far views around Škrip, azure blue waters along the coastal road north of Supetar, and narrow winding roads with picturesque little towns on the road to Milna…
Brač Island is a place that deserves to be explored, beyond the most popular beach towns…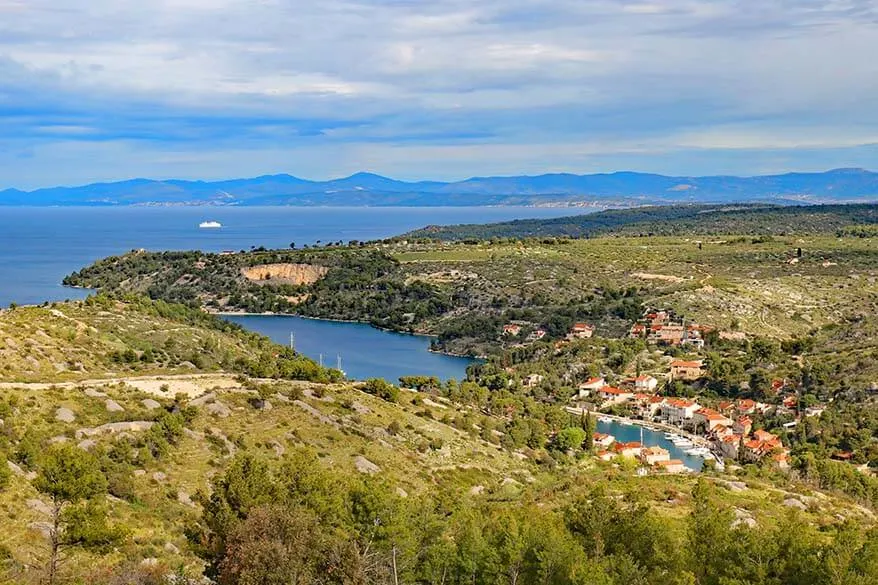 Zlatni Rat
Zlatni Rat (Golden Horn) is a very famous and extremely popular beach near the town of Bol on Brac Island. You will see pictures of the Golden Horn in most Croatia travel guides and of course on the postcards all over the island.
The Golden Horn gets its name from its golden color of the sand and the shape of the beach. The shape is really special and is constantly changing, depending on the wind and on the current.
I have to admit that the beach looks much more impressive in the pictures, photographed from above, than it looks from close by. When you are standing on it, it looks just like a regular beach… It's tucked in between a pine tree forest on one side and crystal clear blue waters on the other and is quite picturesque. However, despite its distinctive golden sand color, there is no actual sand on Zlatni Rat; only small stones.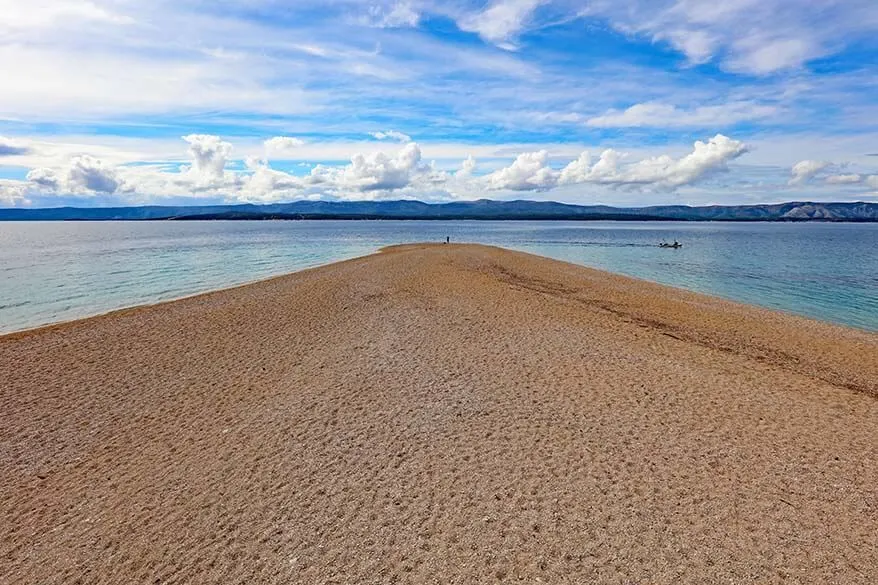 Croatia has a very long coastline, but there aren't that many actual beaches. For the most part, it's all rocks that are incredibly scenic, but not really appealing to beach-goers.
Zlatni Rat is by far the biggest beach we saw in Croatia. So I guess its insane popularity has a lot to do with the fact that there aren't many other beaches nearby, as well as with its distinctive shape, rather than with its quality as a beach.
It should be noted that we visited Zlatni Rat in April, which is the low season on Brac island. Apart from us, there were two other tourists on the beach and a couple of local workers who were preparing facilities for the summer opening.
If you come here in the summer, you will find a lively beach with lots to do. So if you are looking to spend a relaxing day at the beach or a true beach holiday in Croatia, Zlatni Rat is as good as it gets.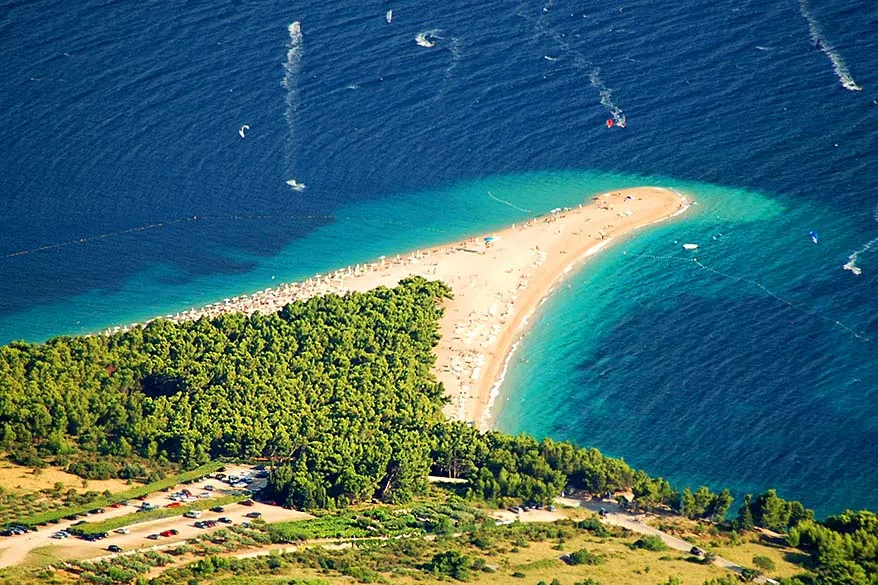 Bol
Bol is one of the most popular towns on Brač Island. Its popularity has everything to do with Zlatni Rat Beach, which is just a short ride from town.
Apart from the beach, you may want to visit an old Dominican monastery. However, you can only see a small part of it; the other side has been turned into a hotel.
Our travel guide said to not attempt driving into the old town by car, due to the risk of literally getting stuck in the narrow streets of Bol. So we just visited the monastery and the beaches near it (they're much smaller than Zlatni Rat, but also nice).
We didn't explore much of Bol town, but from the parts we saw, it looked like a typical vacation town that comes to life in summer and is very quiet the rest of the year…
Somehow it looked like the least authentic of all the towns we visited on Brač Island. But that might be just our impression…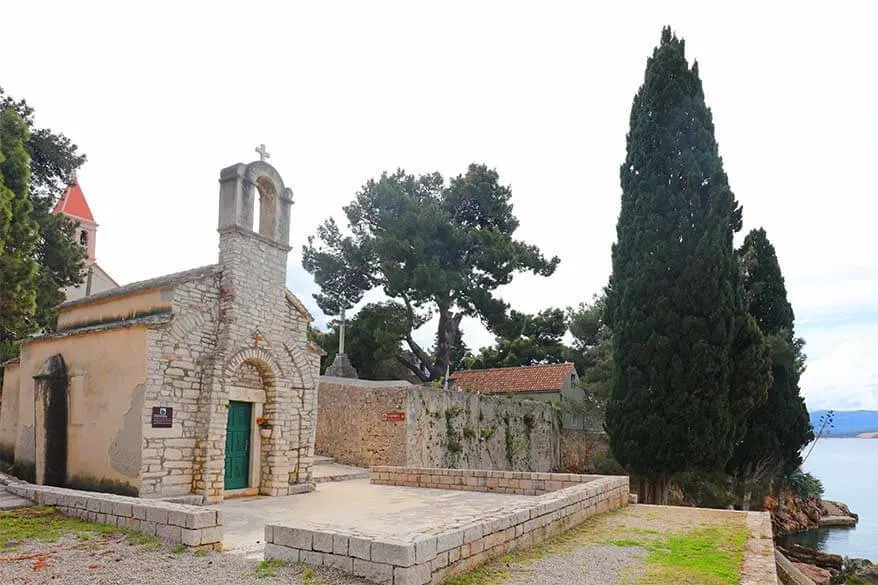 Vidova Gora
The highest point of Brač island, Vidova Gora (778m) offers incredible views of Zlatni Rat and Bol below, as well as the nearby islands of Hvar and Vis.
There are two ways to reach Vidova Gora – on foot or by car. The first option is hiking up the mountain from Bol. You should note that the hike is very steep and offers no shade. It takes about 2 hours each way.
Alternatively, you can drive to the top of Vidova Gora. Needless to say, this is a much easier and faster way to get there, especially if you are short on time and only have a day or two on Brač.
A narrow but good road leads you to a parking lot, from where you can walk the fast few minutes on foot – the last part is on a paved road as well, but it's closed for traffic. But even from the parking lot, the views are incredible.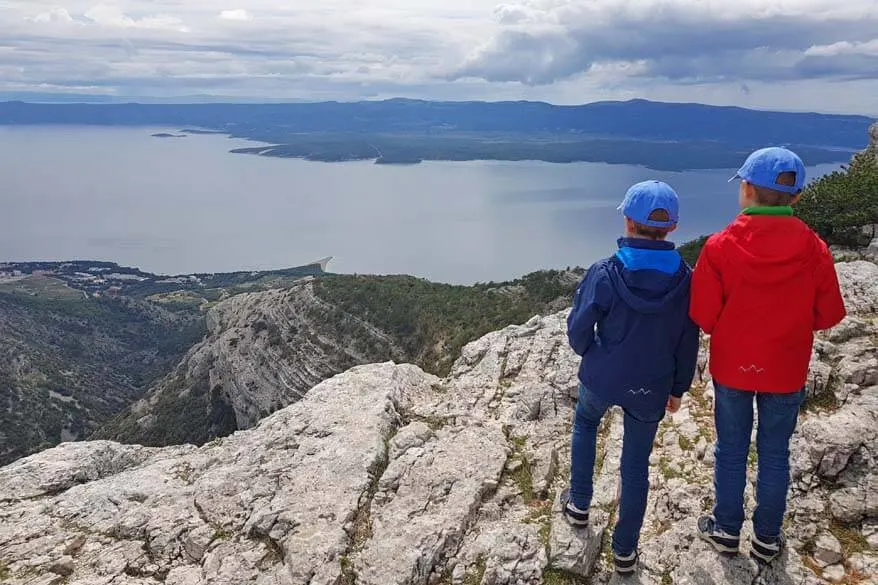 At the top of the mountain, there are some antennas and technical installations, as well as the remains of an old restaurant. Our guidebook said that you could have a drink there with a nice view, but the place was completely abandoned. We didn't meet anyone there and so couldn't ask if that restaurant is still operational in summer. But judging from the way it looked, it has been closed for at least a few years…
Luckily, we had packed a picnic with us and so we had lunch with an amazing view. We loved this place – it felt like we were completely alone on the whole island and the scenery was truly beautiful. Don't miss Vidova Gora when visiting Brač Island!
Practical information: You can get to Vidova Gora by car from the main road between Bol and Supetar. It's about 6 km/ 10 min drive off the main road. You can see the exact location of the car parking at the top of the mountain in the map that I created below.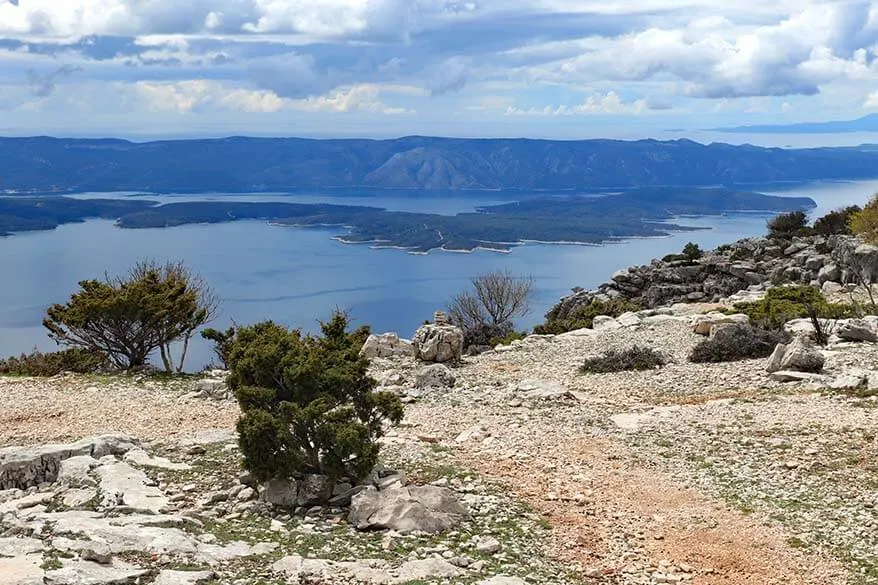 Pustinja Blaca
Pustinja Blaca (Blaca Monastery) was the highlight of our visit to Brač island. It's one of those places that are so special that you know you'll remember it for a very long time.
The 16th-century Blaca Monastery is located in the middle of nowhere and the only way to get there is on foot. This is one of those monasteries that you see in the movies or read in the books about: scenic but completely isolated location, barren ground that requires lots of effort to grow anything on it, and impressive buildings that are built to withstand the harsh climate and enemy attacks…
The last monk who lived there died over 50 years ago, and the monastery now serves as a museum. For a small fee, you get a personalized tour of the place. It's an extremely interesting and eye-opening visit.
If you visit just one place on Brac Island, make it Blaca Monastery. It's well worth the hike.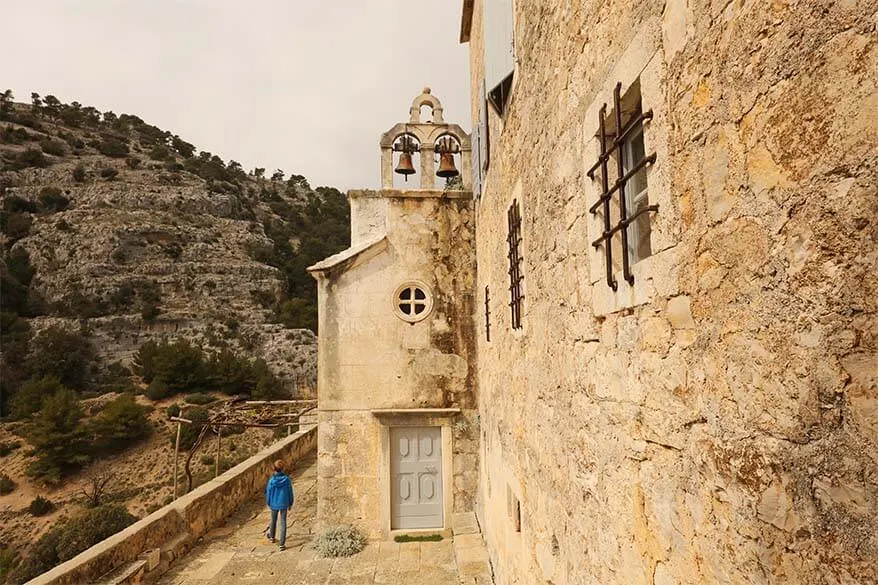 Practical information: Blaca monastery is open daily, except on Mondays. Opening times vary depending on the season. A bumpy gravel road of 4,4km leads to a small parking lot, from where you can walk the last 2,5 km to the monastery. Coming that way, you'll be walking downhill the whole time. It takes about half an hour one way.
Remember to wear sturdy walking shoes, because the path is covered with stones and is not an easy walk by any means. There is little shade and it can get very warm on this walk, so remember to bring plenty of drinking water with you.
Coming back to the car parking, you'll be climbing up, so it might take a bit longer than half an hour.
We were told that in summer, you can also visit the Blaca monastery by taking a boat from Bol. It drops you off at the coast, from where you can also reach the monastery via a hiking path. The walking distance is about the same as from the car parking on the mountain – 2,5 km. The only difference is that you'll first go up, and then walk back down to the sea after your visit.
TIP: I didn't find much information about the boat tour online, but we heard that in the high season there are organized tours to Vidova Gora and Blaca monastery from Bol. So if you have no car or don't feel like driving on narrow bumpy roads, you can still visit this amazing place – just inquire about the tour possibilities in town.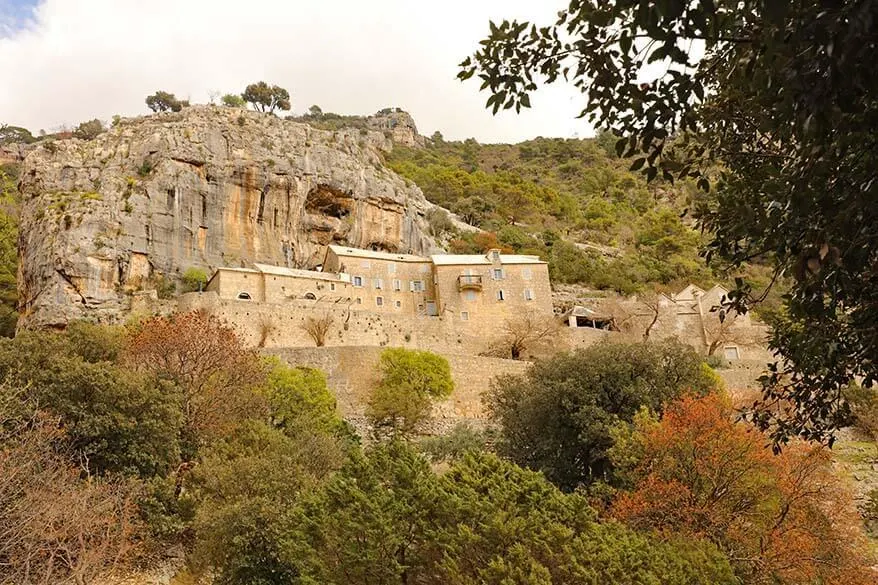 Škrip
Škrip is a tiny village with picturesque stone houses, the remains of an old castle, and a couple of other interesting buildings.
An old lady who lives inside the castle (or what's left of it), invited us inside. She spoke no English and we didn't understand a word of Croatian, but she showed us around and then ended the visit with all kinds of local produce we could buy there. The wine and the olive oil looked absolutely delicious, but we already bought some oil olive at the Blaca monastery, and there is only so much space in the suitcase, so we had to pass….
There are also two museums in the village. The first one, the Museum of Oil (Muzej Uja), has very good reviews on Google, but it wasn't open when we visited. If I understood it correctly, it's a family-run museum where they showcase the process of the making of oil olive. You can also taste some local snacks and olive oil at the end of your visit.
From everything we read, this is a great place to visit on Brač island, especially if you like to meet the locals and learn more about local traditions and their way of living.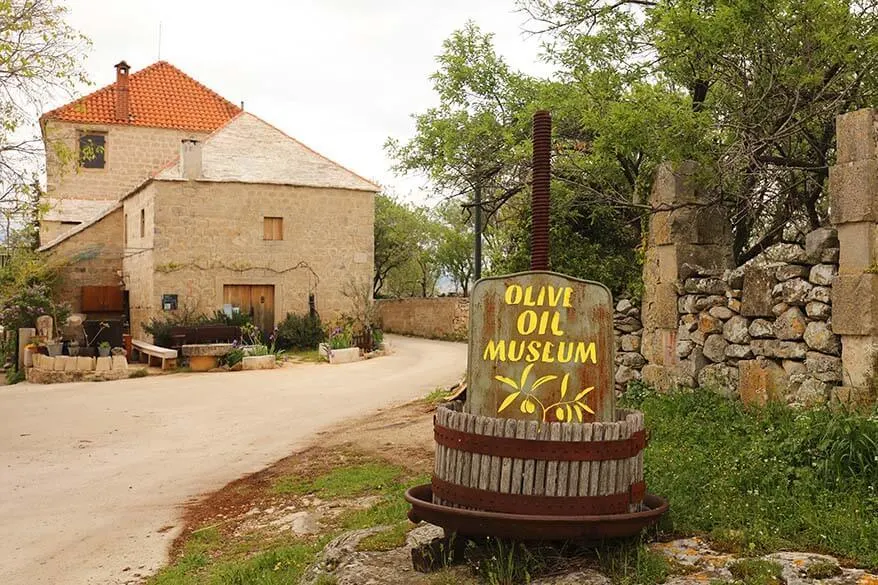 Since the olive oil museum was closed, we visited the Island of Brač Museum (Muzej otoka Brača), instead. It came highly recommended by our guidebook, as well as based on reviews on Google.
It's said that the place dates back to Roman times and you can see quite some artifacts from that period. There is also a mausoleum where, supposedly, emperor Diocletian's wife and daughter are buried.
Apparently, it's one of the most visited museums in Croatia. But to us, it wasn't worth the entrance fee of almost 10 Eur per person. The lady working there reluctantly opened the door for us and didn't speak a word in English.
If there is a guide available, then you may find the visit more interesting. But without the guide or any information, we felt that this museum wasn't worth the time. Not even to mention the ridiculous price for what you get.
Supetar
Supetar is the biggest and busiest town on Brač Island. It's a place where a car ferry from Split docks. It also has the biggest number of shops, restaurants, and hotels on the island.
If you have an hour to spare in Supetar, take a walk along the harbor to the western part of town. You'll pass the luna park and there is also a nice little beach with water slides.
If you walk further, you'll find an old seamen cemetery with a mausoleum. We don't normally visit cemeteries when we travel, but this one is really interesting to see. Surrounded by sea on three sides, this is one of the most scenic and idyllic located cemeteries we've ever seen.
It is filled with lots of big and really special tombstones, each more impressive than the other. Don't miss the grave of Croatian sculptor Ivan Rendic – you'll recognize it by a hat and a pair of shoes. Very simple compared to the other gravestones, some of which were actually made by him.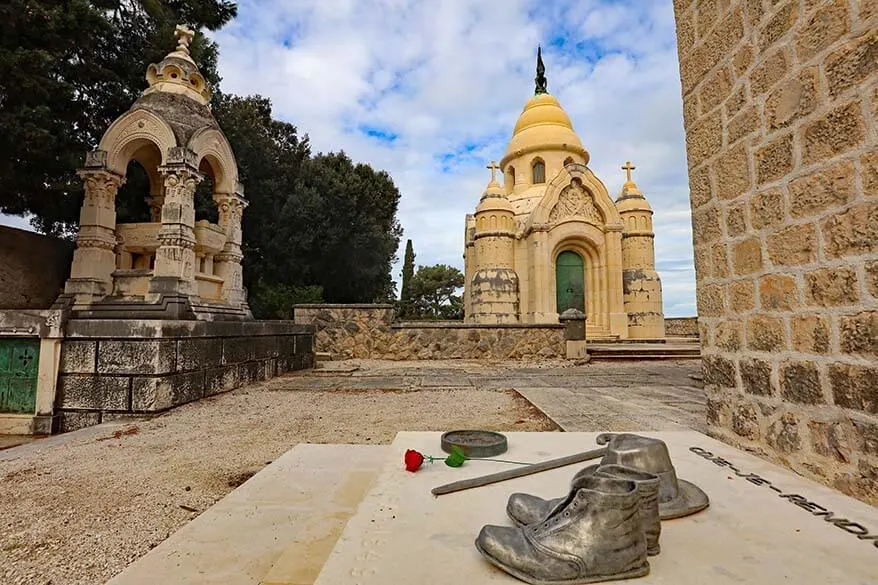 Milna
Milna is a small town with a very picturesque harbor. You don't need much time to visit and there isn't that much to do there. However, the road to Milna is really scenic and so is the town itself. There are many nice restaurants in Milna as well, so it's a great place to come for lunch or dinner.
Locals recommended the restaurant Konoba Gajeta and it was an excellent choice. We had one of the best meals of our 2-week Croatia trip here.
Milna is the town where we chose to stay to visit Brač Island, and we were very glad we did. It has much more character and is not as touristy as Supetar or Bol.
The only drawback is that there aren't many hotels in Milna. However, there are lots of privately rented accommodations (check the best Milna accommodation options here). We rented a beautiful apartment with a big sea-view terrace. Such a pity the weather in April was too cold to actually use it…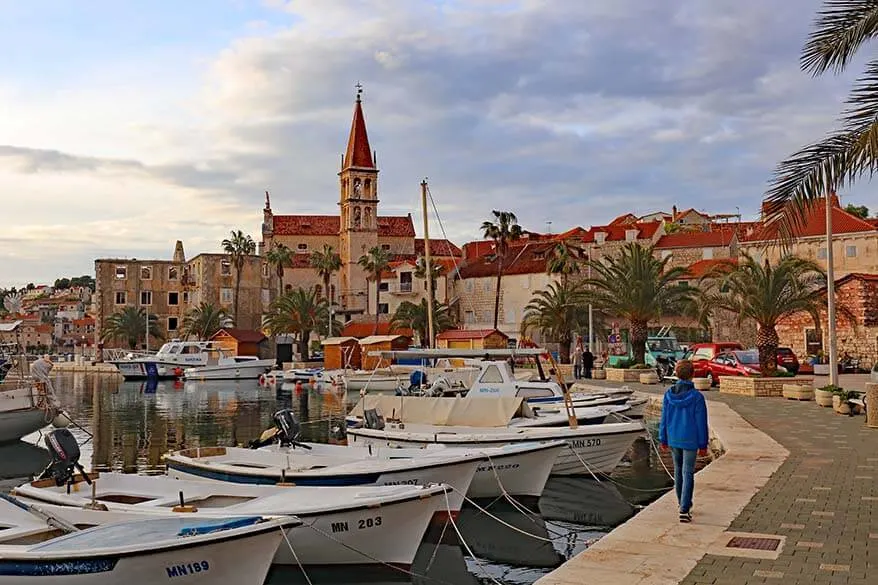 Dragon Cave (Zmajeva Spilja)
One of the most special and unique things to do in Brač is visiting Zmajeva Spilja (Dragon Cave). It's famous for its rock art showing dragons and other strange creatures. Historians aren't sure about the origins of this place, but this makes it just more mysterious and intriguing.
Together with Blaca monastery, the Dragon Cave is one of the most interesting places to see on Brač island.
Practical information: Count 4 hours for a visit and wear sturdy walking/hiking shoes. There is just one way to visit the Dragon Cave and just one person who holds the keys to it. His name is Zoran and he speaks English. If you want to see this cave, you have to schedule a tour with him in advance (at the moment, he can be reached at this number: +385-91-5149787).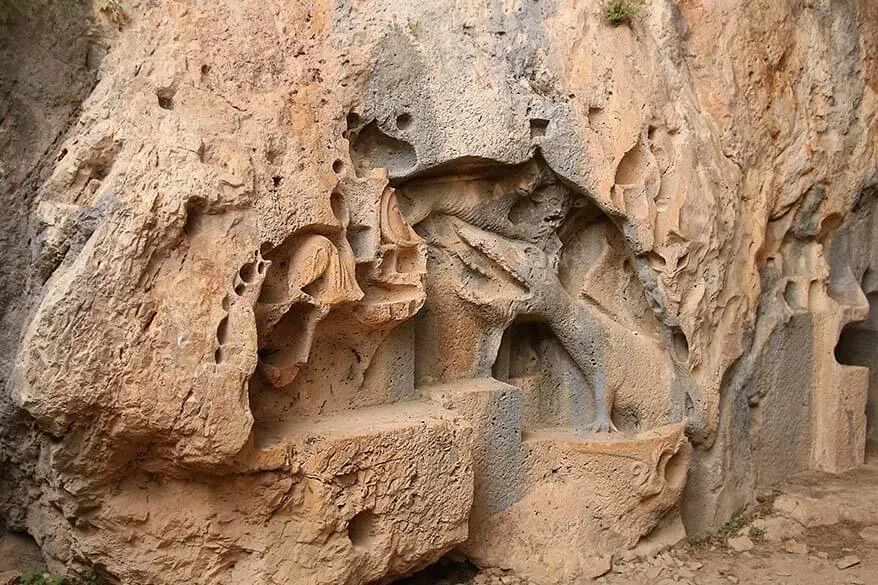 How to see the best of Brač Island in one day
Most people visit Brač island for a longer holiday and have plenty of time to explore all the must-see places, in combination with plenty of beach time. However, if you are like us and have allocated just one or two days for Brač in your Croatia itinerary, you should know that it's quite possible to see all the main highlights of Brač in one day.
Below you can find our suggested 1-day Brač itinerary.
Start your day with a short visit to Bol and the nearby Zlatni Rat beach. You can stay a few hours here or just make it a short visit – it really depends on how much time you have. We only spent a bit over an hour for both, the town and the beach.
You then have two options – EITHER visit Blaca monastery OR the Dragon Cave. Each of these visits will take you at least 3-4 hours, so if you only have one day, you'll have to choose just one. Since visiting the Dragon Cave requires an advance reservation, we went for the Blaca Monastery.
Afterwards, drive up to Vidova Gora for the best views of the island.
Continue to Škrip, walk around the town, and visit one of the museums.
Then drive to Milna, passing the picturesque village of Ložišća.
End your day with a short cemetery visit and dinner in Supetar.
Good to know: We arrived on Brač island via the car ferry from Makarska to Sumartin and left by ferry from Supetar to Split. But you can also do this the other way around. Alternatively, you can also start and end your visit to Brač island in any of these harbors – the distances on the island aren't big and the main roads are good. This itinerary is just meant to give you an idea of all the places that you can see in Brač in a day. It's up to you to decide how you plan your time.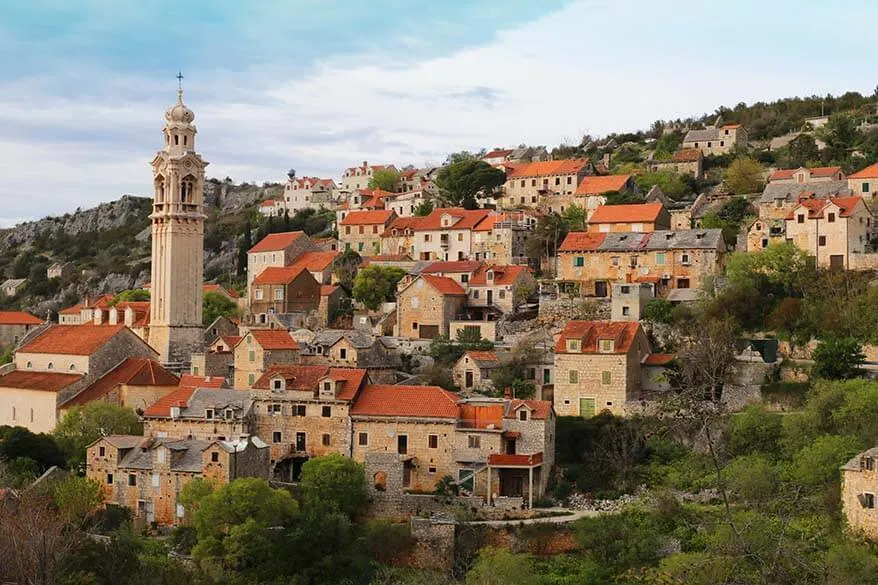 Map of things to do on Brač Island
In order to help you plan your time on Brač Island, I created a map indicating all the places mentioned above. Take a look!
How to use this map: Use your computer mouse (or fingers) to zoom in or out. Click on the icons to get more information about each place. Click the arrow on the top left corner for the index. Click the star next to the map's title to add it to your Google Maps account. To view the saved map on your smartphone or PC, open Google Maps, click the menu and go to 'Your Places'/'Maps'. If you want to print the map or see it in a bigger window, click on 'View larger map' in the top right corner.
Practical information for visiting Brač Island
Best time to visit
Just as with all the Croatian islands, the best time to visit Brač island is from May through September. We visited Croatia in April and Brac Island was just slowly waking up. We saw just very few tourists and many places were still closed.
Getting to and around Brač Island
You will need a car if you want to explore Brač Island. I'm not sure if there are buses on Brač and where or when they go. Renting a bike is also an option, but I would only suggest it for short day tours near the town where you are staying and not as a means of transportation to get around the hilly island.
There are two big harbors on Brač island that can be reached by a passenger and car ferry from the mainland. Sumartin is a 1-hour boat ride from Makarska, with – usually – 3 ferries a day. Supetar is about 50 minutes by ferry from Split and there are multiple ferries running throughout the day.
You can find the ferry schedule here. It's possible to buy ferry tickets online, but it's not possible to reserve a spot on the specific ferry in advance. So we just went to the harbor, bought a ticket there, and boarded the next available ferry.
Normally, it's not really a problem to find a spot for your car, as the ferries are big enough. But if you are traveling in high season and really want to be sure that you can take the ferry that you want, it's best to arrive at the harbor 30-60 minutes in advance. For Supetar, I would say an hour is about the minimum time you need.
Even in April, it was extremely busy. For a moment, we thought we'd never get on the ferry from Supetar to Split… But luckily it has several decks for cars and can fit an unbelievable number of vehicles.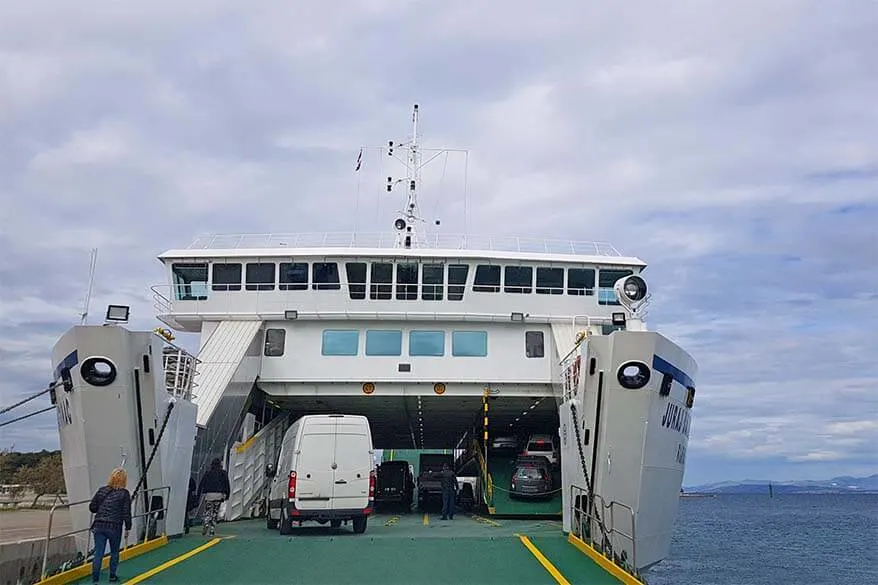 How much time do you need on Brač Island
One day is enough time to see the main highlights of Brač Island. Since there are so many ferries, you can easily visit Brač as a day trip from Split (see below).
If you have the time, however, I suggest that you stay on Brač Island for at least 2-3 days, especially if you are coming in summer. Two full days would give you time to see all the places mentioned in this article. Three days would also give you a bit more time for the beach.
Many people come to Brač for a longer vacation and judging from a big variety of things to see and do in Brač, you could easily spend a week here and never get bored.
Day trip to Brač from Split
It's possible to visit Brač as a day trip from Split. If you are coming by car, take one of the first ferries in the morning and leave with one of the last ones in the evening.
TIP: If you have no car, consider this private speedboat day trip from Split to Brac. It's a more relaxing trip focusing on the beaches and quite expensive unless you're with a big family or friends who can split the costs..
TIP: If you rather explore some of the landmarks of Brač Island, take a look at this Brac Island 4×4 tour. This tour visits most of the locations mentioned in this article and can pick you up from the harbor in Supetar, which you can easily reach by ferry from Split.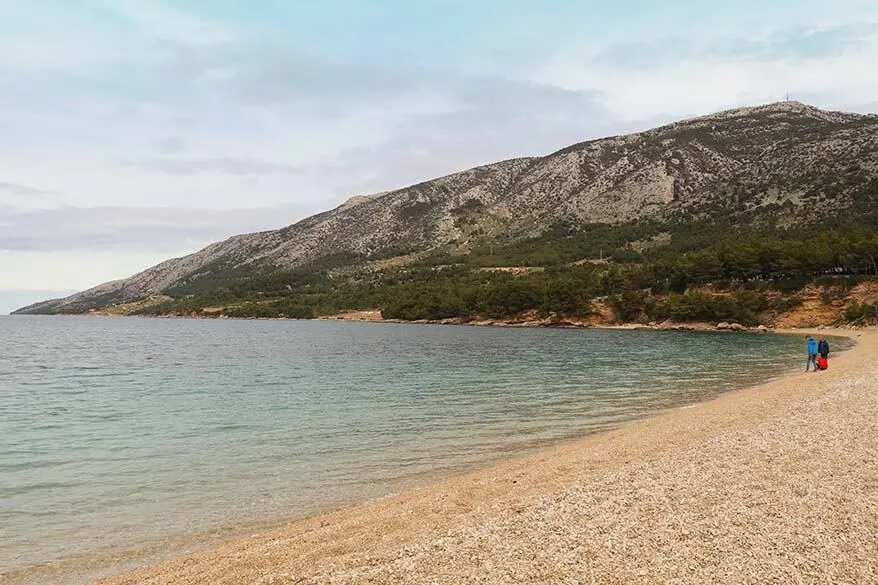 Where to stay on Brač Island
Driving distances on Brač aren't that big, so you can stay in one hotel the whole time and explore the island from just one location. So if you are mainly interested in sightseeing, it doesn't matter that much which town you choose.
However, if you like being in the center of the action or want the proximity to the beach, then Bol and Supetar are the best towns to stay on Brač Island.
In Bol, you have several long beaches, you can hike to the Dragon Cave or take a boat to the Blaca Monastery. You can even hike up Vidova Gora mountain if you feel fit. In summer, there are also boat trips and other activities available. In summer, you could stay in Bol for a week and never get bored. Here you can find an overview of Bol hotels.
If you are looking for a bigger town with all kinds of amenities, a big choice of hotels, or do not plan to rent a car, then Supetar is probably the best option. This town has the biggest number of hotels and is the liveliest place on the island. Here you can find Supetar accommodation.
TIP: Using the map below, you can find the best deals for hotels & accommodations on Brac Island. Simply insert your travel dates and group size, and you'll see what's available for your stay.
Where we stayed: We really loved staying in Milna for one night. I could see myself staying there for a few days, but I'm not sure if it's the best place if you are staying in Brač for a longer time.
I am sure it's much livelier and has more activities on offer in summer (it was really quiet in April). So if you are looking for a more authentic and low-key place to stay on Brač Island, then it might be a good choice for you. Here you can find Milna accommodation.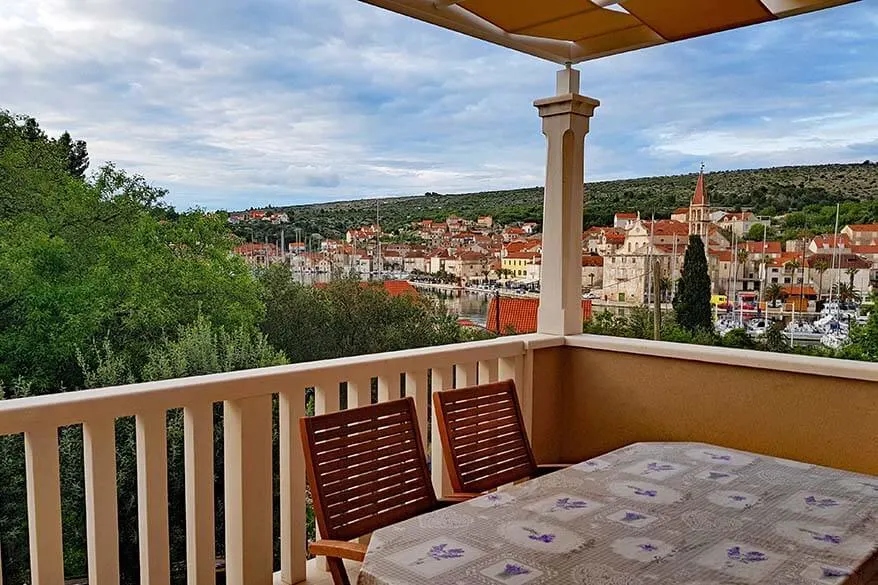 So, this is our guide to things to do in Brač and the best way to see the island. I hope that it inspires you to visit this beautiful Croatian island and explore beyond the most popular beaches. It will be worth it!
READ ALSO: Blue Cave Tour from Split
If you found this post helpful, don't forget to bookmark it and share it with your friends. Are you on Pinterest? Pin this image!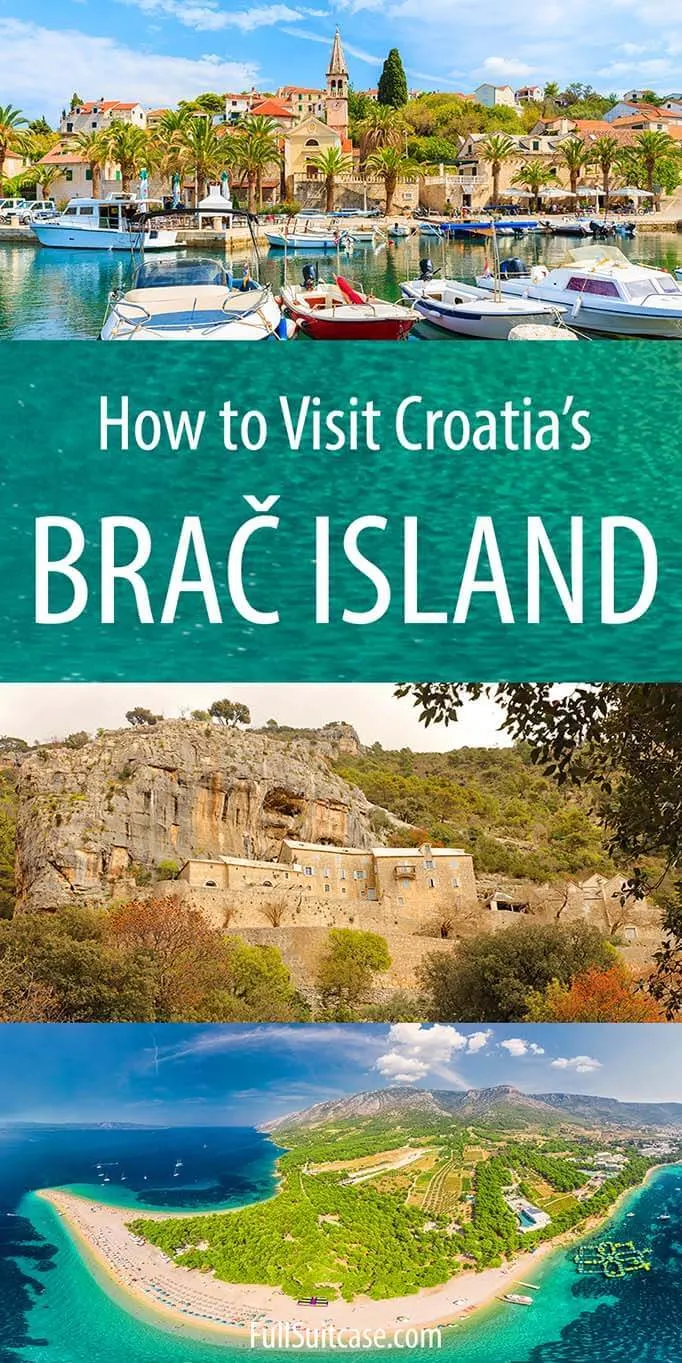 Additional image credits: Eva Bocek/Shutterstock.com, Pawel Kazmierczak/Shutterstock.com, and personal collection.