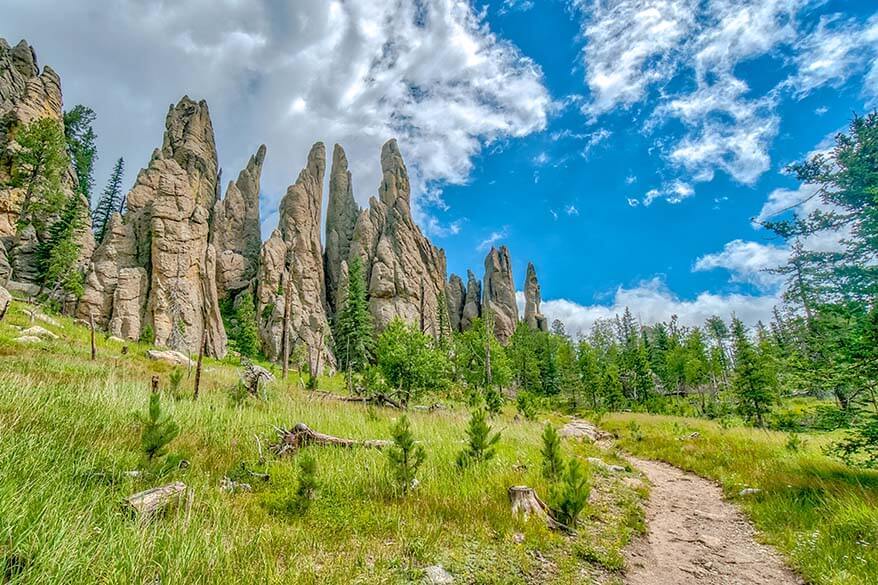 Traveling to the Black Hills in South Dakota and wondering what there is to see and do in Custer State Park? You came to the right place! In this post, we cover all the main landmarks, hiking trails, and animal sightings that you can experience in Custer – the best things to do in Custer State Park.
If you're headed to Custer State Park, you're in for a 'wild' adventure! Located in the heavily traveled Black Hills region of the U.S. State of South Dakota, Custer State Park is known for its awe-inspiring landscapes, scenic drives, and abundant wildlife.
However, this beautiful park is not as well known to the public as the nearby Mount Rushmore National Memorial or Badlands National Park. In fact, many people wonder if it's even worth visiting… (Spoiler alert – it absolutely is!)
To tell you the truth, I never even heard of Custer State Park before. But when our guest writer Jen from Travel With A Plan mentioned this amazing place in her article about the best things to do near Mount Rushmore, I immediately asked her if she could share a bit more information about visiting Custer State Park as well.
Hence this article. It's filled with so much travel inspiration, that it put the whole Black Hills region on our travel radar. I hope that it will have the same effect on you!
In order to help you make the most of your trip to Custer, we've included not just all the amazing things to do in Custer State Park, but also lots of practical tips for your visit.
At the end of this article, you can also find a suggested itinerary of how to see the best of Custer State Park in one day. We also included some practical tips and the best accommodation options. Find out!
TIP: If you stumbled upon this post wondering if it's worth visiting Custer State Park, but have no desire to do all the research and driving yourself, take a look at this organized day trip that visits Mt Rushmore as well as Custer State Park in one day. You can join the tour from Rapid City or from Keystone.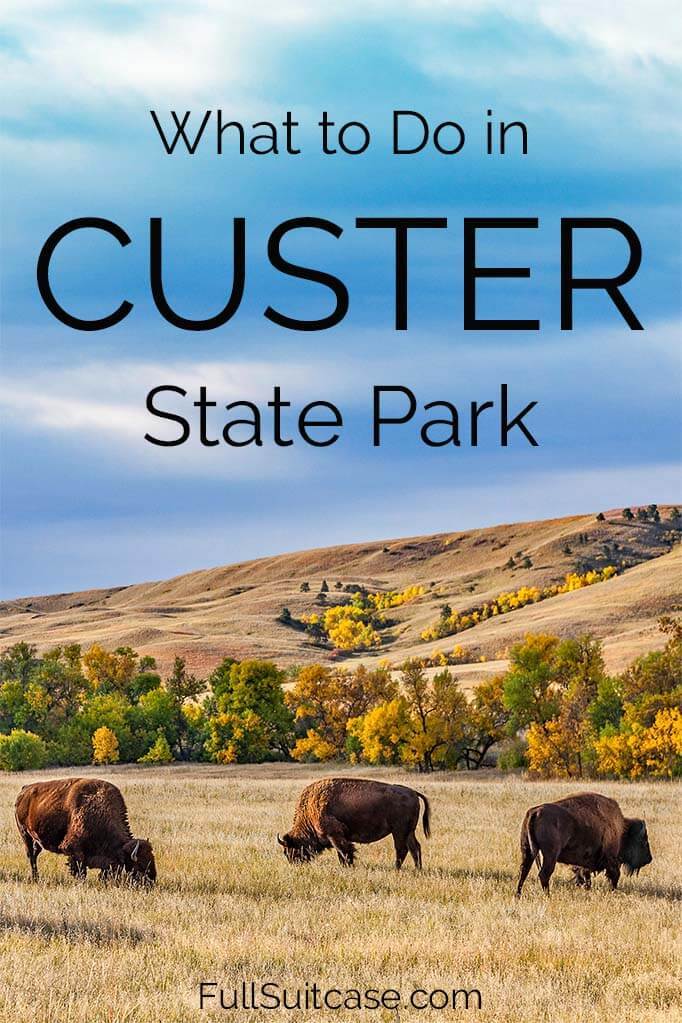 This comprehensive list of the best things to do in Custer State Park will have you winding through 'needles', hiking Harney's Peak, and greeting begging burros from your very own car window….
Though it would be impossible to see absolutely everything in this 71,000-acre wildlife oasis, this post focuses on all the must-see places in Custer State Park. It will help you plan your own perfect trip to Custer State Park. Read on!
These are the best things to do in Custer State Park:
1. Needles Highway
The absolute best thing to do in Custer State Park is to drive the impressive Needles Highway. As part of the South Dakota Hwy 87 toll road, Needles Highway is a 14-mile long National Scenic Byway that includes hairpin turns, narrow tunnels, and world-class views.
As its name implies, Needles Highway also provides access to the world famous granite pinnacles called "Needles". Projecting from out of the hillsides, Needles Highway is adorned with these massive, pointed rock formations found in the shape of pillars, towers, and spires. The Needles are so incredibly unique that you just won't be able to get enough of them!
As one of three scenic routes within Custer State Park, Needles Highway has several pull-offs that provide spectacular views and amazing photo ops of this incredibly unique landscape. If you happen to find that a particular pull-off is too busy to stop and park, travel a bit further along the road and you are sure to come across one that is less busy.
You'll want to take your time driving Needles Highway to not only enjoy the scenery, but to maneuver safely through its steep cliffs and narrow tunnels. Driving speed of 25mph or slower is recommended.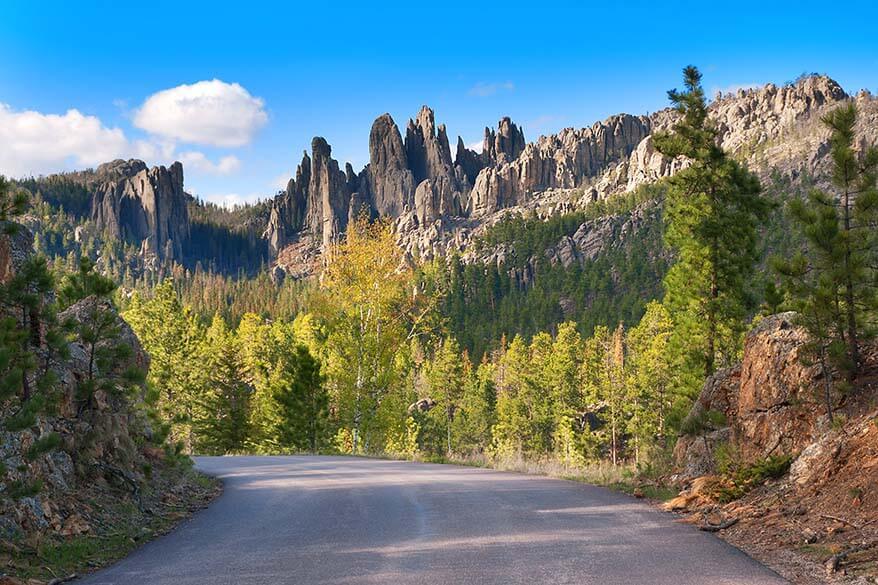 Interesting to know: Needles Highway was carefully planned by former South Dakota Governor Peter Norbeck, who marked the entire course on foot and by horseback. Originally thought to be impossible to build, Needles Highway was completed in 1922 after years of vigorous craftsmanship (and lots of dynamite!).
Practical information: Needles Highway is only open April through October, as driving conditions become hazardous in the winter months. Access requires a Custer State Park entrance license that costs $20 per vehicle and is good for up to 7 days.
An entrance license is required of all park visitors and can be purchased at any of the five entrance stations. Once inside the park, all attractions, roadways, and trails are free.
TIP: Expect a travel time of 1 hour to enjoy all of Needles Highway. Don't travel this highway if you're short on time or in a hurry, however, as sometimes traffic can be heavy due to large summer crowds or extra cautious drivers.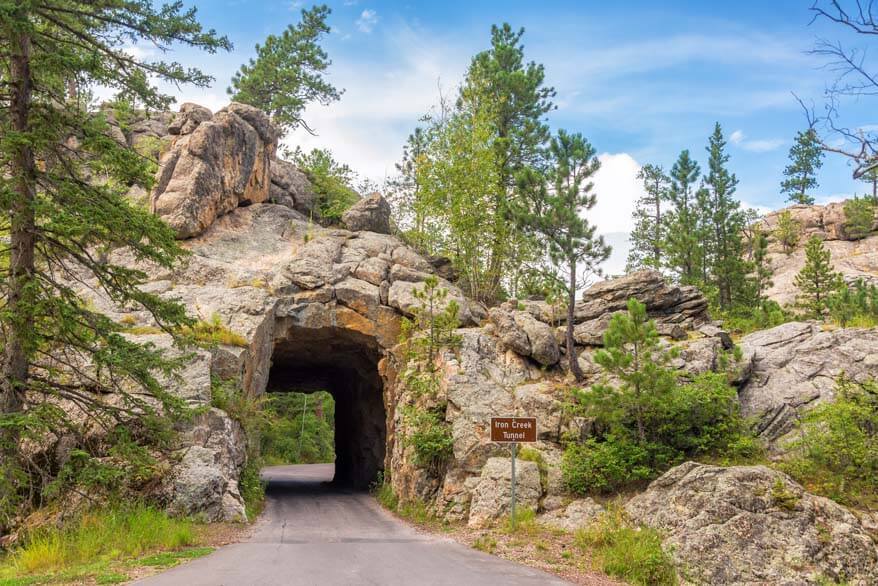 2. Needles Eye Tunnel
Though the entire drive is amazing, perhaps the coolest things to experience on Needles Highway is the Needles Eye Tunnel. Named for the adjacent granite spire that has a large hole similar to the 'eye of a sewing needle', Needles Eye Tunnel is absolutely one-of-a-kind!
This questionably narrow man-made tunnel was carved out of a huge chunk of granite. A one lane section of road passes through this 8'4" wide by 12' o" high tunnel and requires you to gauge the size of your vehicle to be sure that it will fit through. Once deemed passable, driving through Needle Eye Tunnel is truly an experience you'll remember!
Practical information: Do not attempt Needles Eye Tunnel with a large RV (size restrictions that I found online are: 8 feet, 4 inches wide; 12 feet high). Getting 'stuck' while on vacation would not be fun!
TIPS: Get out and explore! Spend plenty of time at the pull-offs adjacent to Needles Eye Tunnel in order to climb and crawl among the gigantic needle formations. Getting close to granite spire provides some amazing photo opportunities and a true appreciation for their grandeur.
Though the area around Needles Eye Tunnel can become quite congested, make sure not to miss this opportunity and instead, be patient with the crowds. Driving through this tunnel is something you have to do in Custer State Park!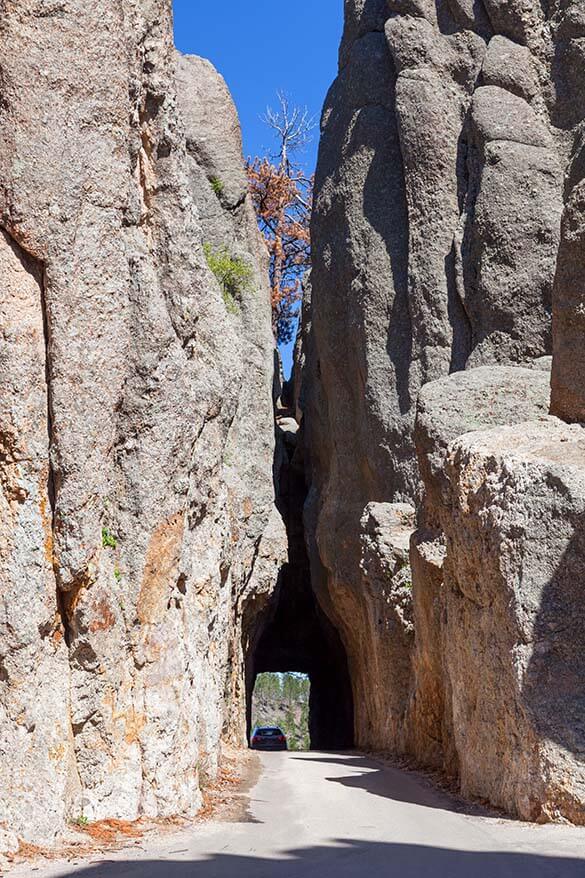 3. Wildlife Loop Road
Another absolute must in Custer State Park is driving the 18-mile long Wildlife Loop Road. Unlike its rocky counterpart, Wildlife Loop Road travels through open grasslands and pine-covered hills offering more serene and picturesque views.
The rolling prairies found along Wildlife Loop Road are home to the majority of Custer State Park's wildlife with its most famous inhabitants being a herd of 1400 free-roaming bison (aka buffalo). A common cause of 'wildlife jams' on the roadways, the park's bison herd has no problem making their presence known.
If you are lucky enough to come across one or more of these iconic park residents, their gigantic size and laid-back demeanor will amaze you. Though they appear as gentle giants, it's best to stay in your car and avoid any contact if you come across bison. They are deceptively fast and dangerous.
If you are lucky, you might also see bighorn sheep, elk, whitetail deer, prairie dogs, coyotes, eagles, and hawks along the Wildlife Loop Road. The high possibility of these various animal sightings will surely keep you and your kids entertained and on the lookout!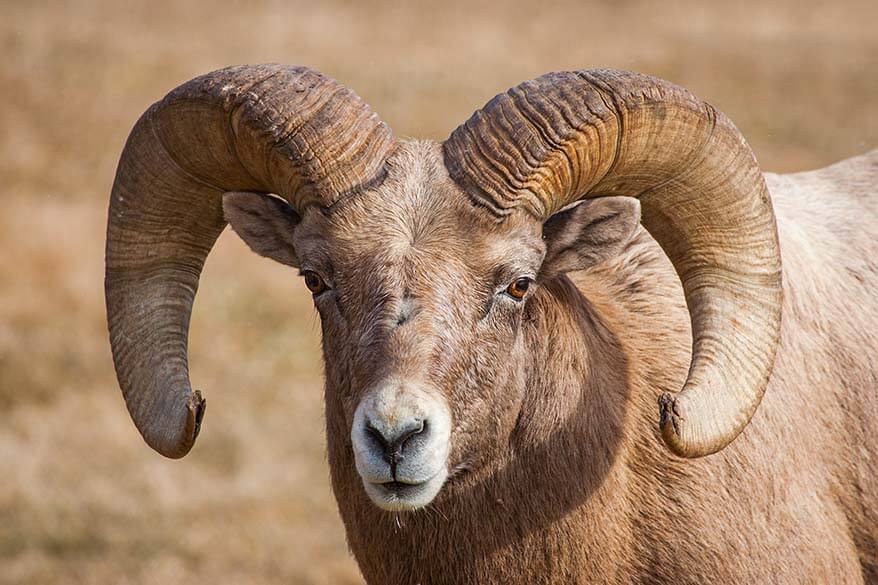 Interesting to know: Because of its large array of watchable wildlife, Custer State Park was named one of the World's Top Ten Wildlife Destinations. Custer State Park is also a dedicated wildlife reserve meaning that this habitat is set aside for wildlife and hunting is not allowed.
The park's bison herd is carefully counted and maintained each year via the Annual Custer State Park Buffalo Roundup. This event is open for the public and many wildlife enthusiasts come to Custer just to attend this yearly festival at the end of September.
Practical information: For your safety, and the safety of the animals, a similar speed of 25 mph is recommended for traveling Wildlife Loop Road. Depending on how many animals you stop to admire, expect to spend at least 1-2 hours driving the Wildlife Loop Road. Depending on how many animals stop you (wildlife jam!), you may want to add additional travel time to your Custer State Park itinerary.
TIP: It's best to ride on Wildlife Loop Road in the morning or in the evening hours as this is when the animals tend to be the most visible and active. Your best luck for a bison sighting is near the Peter Norbeck Visitor Center at the northernmost tip of Wildlife Loop Road.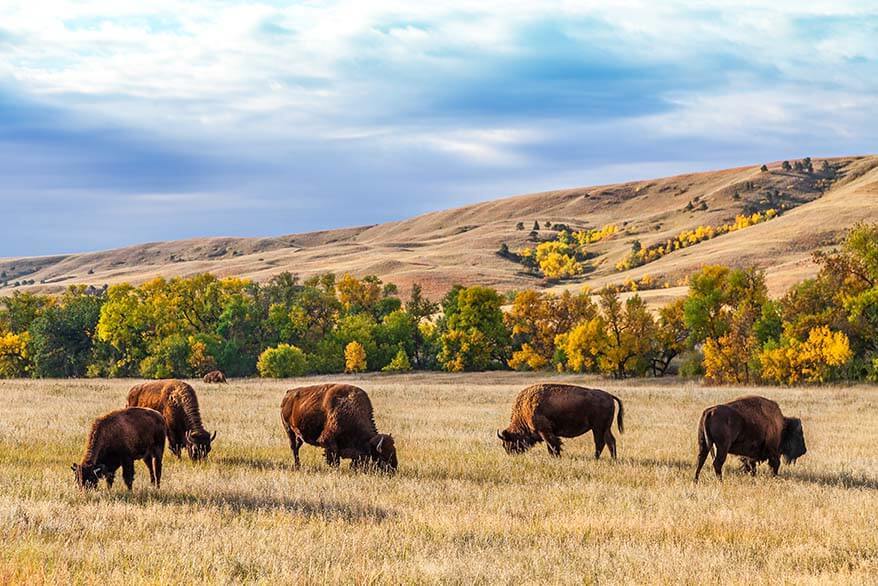 4. Begging Burros
Uncommonly friendly are Custer State Park's infamous and welcoming "begging burros". Typically found at the southeastern tip of Wildlife Loop Road, these small donkeys frequently clutter the roadways while stopping to say hello to every slowing motorist.
Totally accustomed to human visitors, don't be surprised if a new furry friend sneaks its head into your car window in the hopes of finding a snack. If you fail to roll your window down for them they will cover the glass with slobber or make funny faces in return. How's that for a hearty park "Hello!"?
Though park rules prohibit feeding wildlife in the park, generations of people have chosen to do so anyway in the form of apples, carrots, crackers, and bread. Use good judgement and understand the potential risks of interactions with the 'wild' burros.
Interesting to know: Although not a native species, wild burros have roamed the expanses of Custer State Park for the past 100 years. First used as pack animals to transport visitors to the top of Black Elk Peak, the working burros were then released into the park once these trips were discontinued. As descendants of this herd, the burros have continued to reproduce and retain their presence ever since.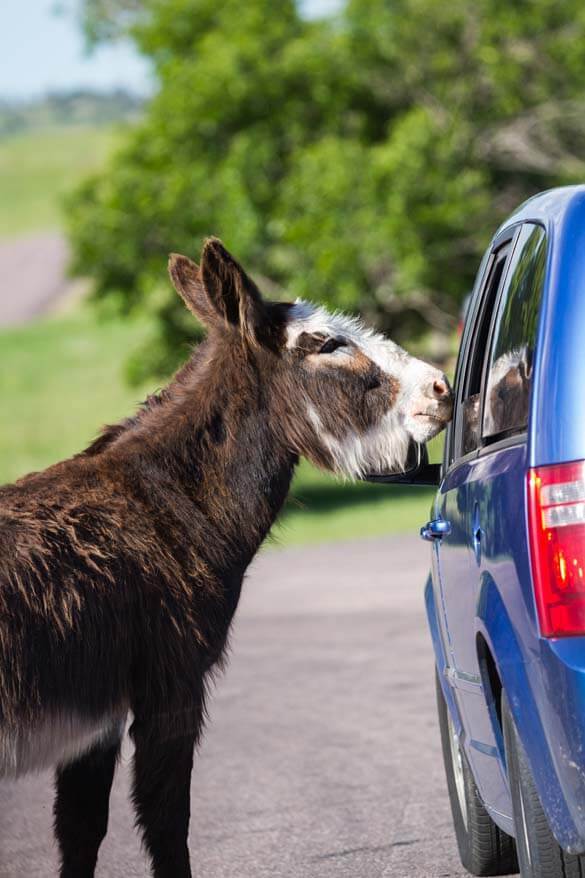 5. Sylvan Lake
Known as the "crown jewel" of Custer State Park, Sylvan Lake is one of the most popular spots in the park. This magnificent man-made lake is peacefully nestled between giant rock formations that look as if they are holding the water from spilling out. Dipping your toes into its pristine waters is something you won't want to miss!
While some people choose to 'just pass by' while driving the scenic Needles Highway, others prefer to spend an entire day at Sylvan Lake. There are a number of ways to pass your time here, so if you have more time in Custer State Park, this is the place you may want to spend more time at.
Sylvan Lake has both a swimming beach and a beautiful 1-mile walking trail that encircles it. You can rent paddle boats, kayaks, or paddle boards and spend several hours or even an entire day here.
Though motorized watercraft are prohibited, you are allowed to fish from the shoreline of any one of Custer State Park's lakes. You'll need a valid South Dakota fishing license that you can purchase at any General Store in the park.
Due to its popularity, Sylvan Lake has almost every amenity imaginable from access to hiking trails, campsites, a general store, and overnight accommodations and fine dining in the historic Sylvan Lake Lodge.
Practical information: Sylvan Lake is located along Needles Highway at the base of the Black Elk Peak trailhead.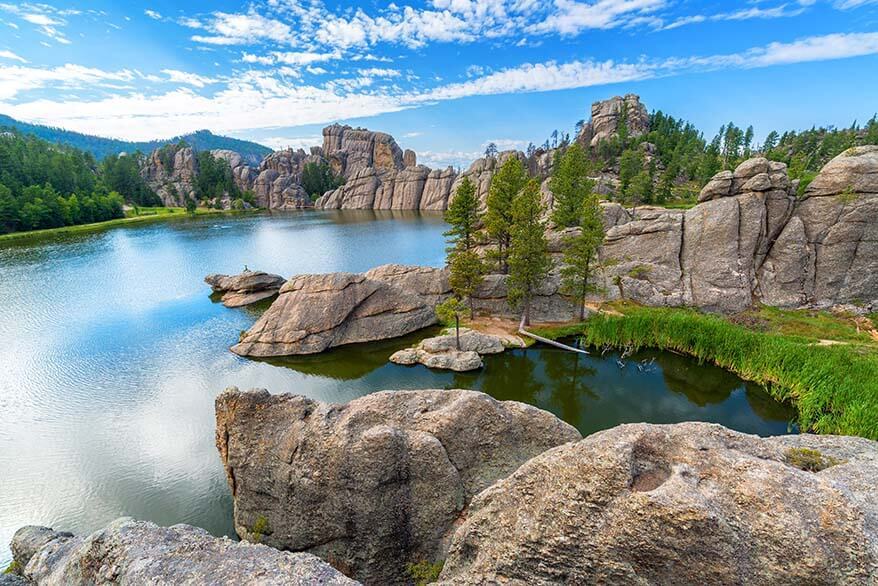 Interesting to know: Although much attention is directed toward Sylvan Lake, Custer State Park is actually home to 4 incredible lakes. For other fishing, boating, and swimming opportunities consider a visit to Legion Lake, Stockade Lake (largest lake at Custer and the only one that allows motorized boats), and/or Center Lake (the most secluded and often overlooked).
6. Sylvan Lake Shore Trail
If you are already visiting Sylvan Lake, I further recommend the Sylvan Lake Shore Trail as one of the best things to do in Custer State Park. This 1-mile trail is the easiest and most popular hiking trail in the park.
The Sylvan Lake Shore Trail makes a complete loop around Sylvan Lake and offers beautiful scenery and breathtaking views from every vantage point.
While most of this trail is relatively flat, a small portion contains steps and crosses over exposed rocks. Because of this, several sections of the trail are not suitable for wheelchairs or strollers.
If you only have time for one hike during your visit to Custer State Park, I would choose the Sylvan Lake Trail. It's the best hike suitable for all ages and abilities.
Practical information: Count 45 minutes to an hour to walk the entire Sylvan Lake Trail.
TIP: Our favorite part of this hike was stopping to climb along the huge granite rock formations that outline the trail. We also enjoyed watching the whitetail deer that can be seen walking around the lake as if not affected by their human visitors.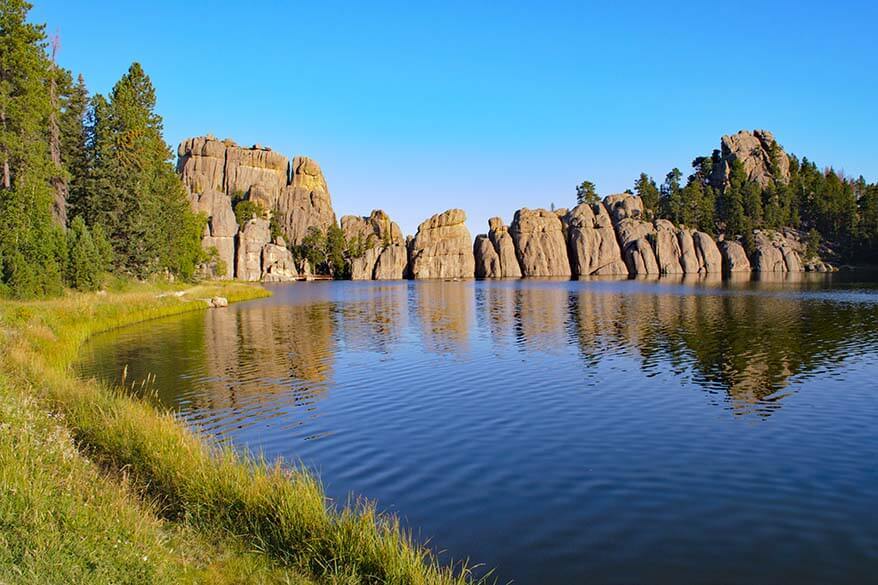 7. Black Elk Peak Trail
If you're more on the adventurous side, hiking Black Elk Peak Trail is another highlight of Custer State Park. To me, it's a definite 'must do' in Custer State Park!
Formerly known as Harney Peak (and still referred to as such by many to this day), this popular hiking trail is moderately strenuous but has a high payoff upon reaching the summit.
The Black Elk Peak Trail begins at Sylvan Lake and starts off as a somewhat easy stroll through aromatic pine trees. The 7-mile loop trail becomes much more strenuous as you make the final push to the summit. Luckily, you are then rewarded with tremendous views of the Black Hills.
Many visitors rank the beauty of this hike along the likes of trails in Yosemite, Glacier and Zion National Park.
Good to know: Make sure to bring along plenty of water and snacks for this hike. Please note that there are no bathroom facilities or water stations along the trail.
Practical information: Black Elk Peak Trail is a 7-mile hike. Count 4-5 hours in total, assuming that you spend 30-45 minutes admiring the views from the top. Not many people do this trail in parts, and instead, commit to all or nothing.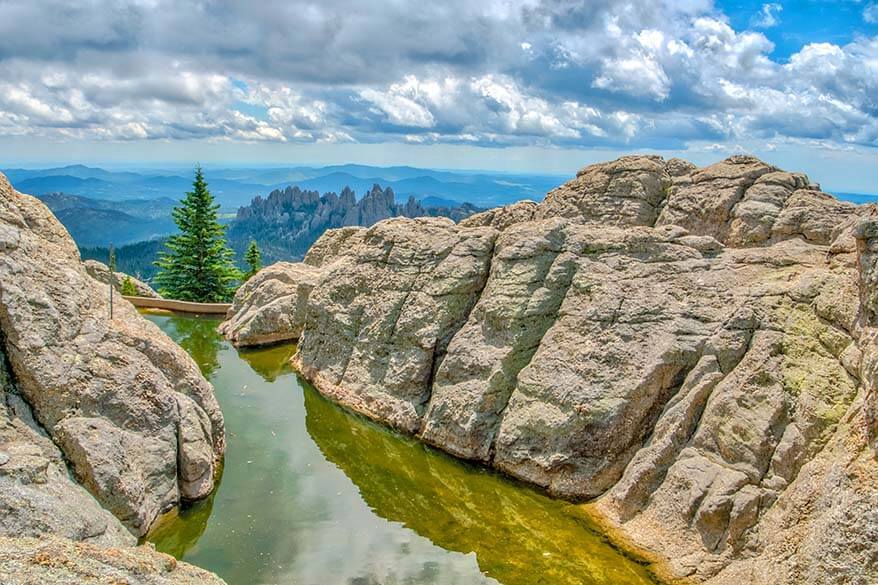 8. Harney Peak Fire Tower
Another reason to climb the summit of Black Elk Peak Trail is the chance to tour the historic Harney Peak Fire Tower.
Sitting atop the highest point East of the Rockies, you won't want to miss a chance to see the commanding 360-degree views from this impressive lookout.
Built in 1938, the mighty stone fire tower was specifically engineered for the granite summit to be used as a location to watch for forest fires. No longer in use, the Harney Peak Fire Tower is open to those who hike to the summit of Black Elk Peak Trail.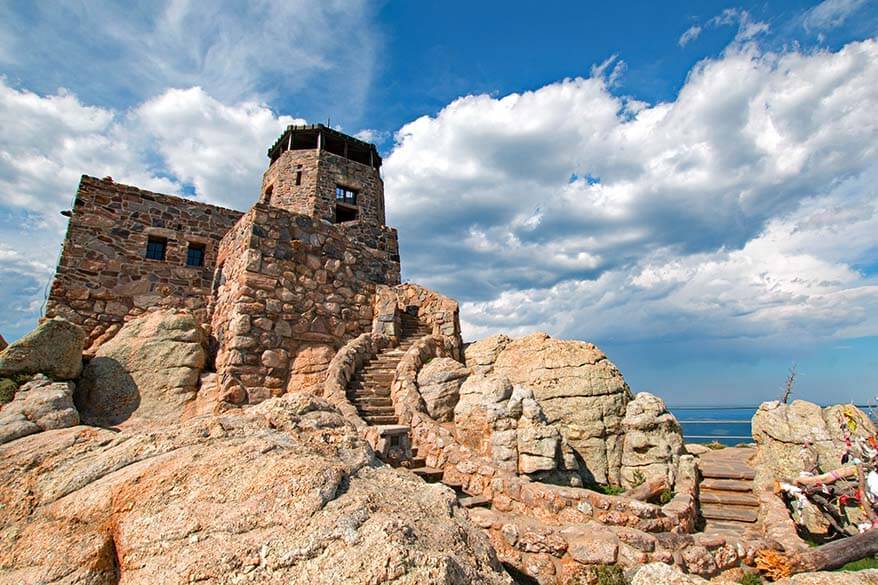 9. Iron Mountain Road
Another passageway that engineers once said couldn't be built, Iron Mountain Road is a 17 mile stretch through Custer State Park. Some people consider it as the most captivating road in America.
This scenic roadway was designed specifically to include multiple switchbacks, S-curves, pigtails bridges, and tunnels in order to require travelers to drive slow enough (25 mph) to enjoy the surrounding beauty.
Often referred to as 'the road to Mount Rushmore', Iron Mountain Road also offers occasional glimpses of this iconic U.S. National Monument as you near the end of its route.
You will find that every trip along this roadway provides a different experience. The changing landscapes and the chance of seeing bison, antelope, deer, or bighorn sheep turn driving this road into an unforgettable experience.
TIP: You'll need at least 45 minutes to navigate this road. It's best to drive this route from south to north, so that the tunnels face Mount Rushmore.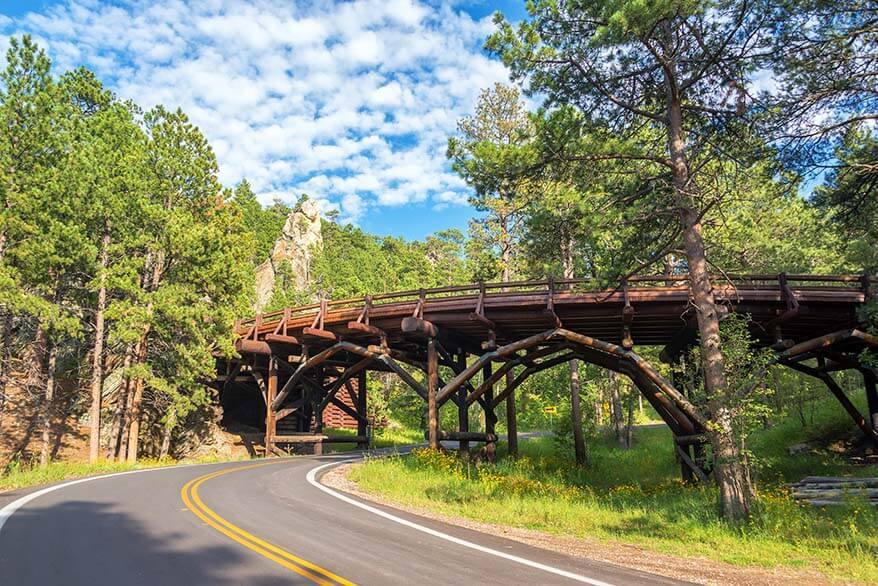 10. Custer State Park Visitor Centers
Another exciting and educational thing to do in Custer State Park is to visit one, or all three of the Custer State Park Visitor Centers. Take a break from the outdoors and chat with the knowledgeable staff at either of these fine locations. Allow 15-30 minutes at each location.
Custer State Park Visitor Center
Located at the junction of US Hwy 16A and Wildlife Loop Road, Custer State Park Visitor Center is a great first stop of the day. There is a 100-seat movie theater that plays a 20-minute informative movie every half hour.
Practical information: Open year-round except for Christmas and Thanksgiving.
Wildlife Station Visitor Center
Located 8 miles south of Hwy 16A on Wildlife Loop Road, Wildlife Station Visitor Center is an old herdsman's house that was converted to a visitor center in 1987. This is a great resting stop during your drive through Wildlife Loop Road.
Practical information: Only open Memorial Day-September 30th.
Peter Norbeck Outdoor Education Center
Located one mile west of Custer State Park Visitor Center. This is a place where indoor and outdoor interpretive and educational programs take place.
Practical information: Open 9 AM- 6 PM, from Memorial Day till the end of September.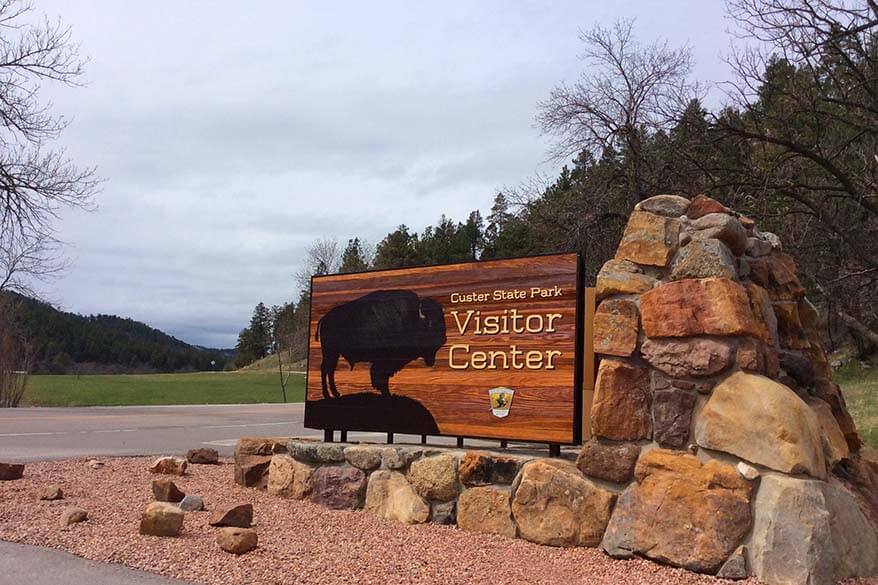 11. Cathedral Spires Trail
The last hiking trail to highlight in this 'best of Custer State Park' list is Cathedral Spires Trail. The most difficult of all the hiking trails mentioned in this article, Cathedral Spires Trail is deceptively easy at the beginning and incredibly rocky for its entire duration. The draw to this trail, however, is the ample wildlife viewing and plentiful rock-climbing opportunities along the way.
Cathedral Spires Trail is a short, but moderate/strenuous hike (see practical info below for trailheads and distances). Though fairly short, it goes up all the time. More advanced hikers will find this tricky route an inviting adventure as they are rewarded by beautiful views of the spires.
Although Cathedral Spires Trail is one of the best places to see in Custer State Park, if you're really short on time, I would skip this trail.
Practical information: The Cathedral Spires Trail can be accessed by multiple locations. The most commonly used trailhead is the Cathedral Spires Trailhead, but the small car parking fills up fast. From here, the hike (trail 4A) is about 2.2 miles round trip.
If you hike a bit further, to Little Devil's Tower, it's 2.8 miles round trip, plus a small detour to Cathedral Spires. This is the steepest and most challenging trail to Cathedral Spires. Some people do this trail in an hour, others take 2 hours or more. It really depends on your condition and how many photo stops or detours you take.
If you are coming from Sylvan Lake (trail 4), the hike to Cathedral Spires is about 1.5 miles one way (3 miles total). From the Little Devils Tower trailhead (also trail 4), it is about 1.2 miles one way (2.4 miles round trip).
This trail is a bit longer, but also much easier than if you hike from the Cathedral Spires Trailhead. There is just one more challenging section just before you reach the junction with the Cathedral Spires Trail. It will take approximately 1.5-2.5 hours to complete.
There is no bathroom and no water station on this hike, so be prepared before heading out.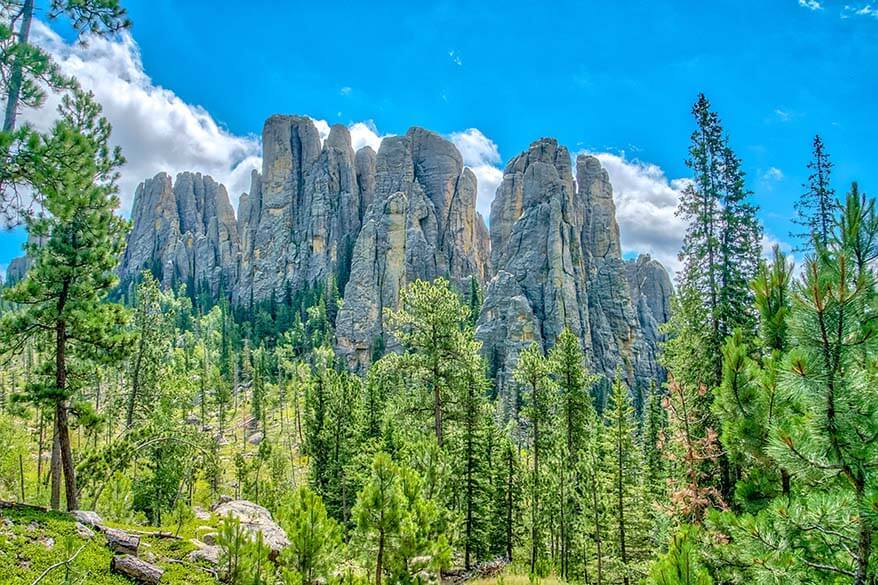 12. Junior Naturalist Program
A great family-friendly activity to complete while in Custer State Park is the Junior Naturalist Program. South Dakota's Junior Naturalist Program was designed to educate children on the importance of preserving and protecting state resources.
Likewise, they help teach about nature and history while encouraging kids to be physically active in the outdoors.
Youth ages 7-18 who want to participate can print off a free Junior Naturalist Program activity sheet and collect staff signatures after completing various activities throughout the park. Upon returning their completed form, children are awarded a Junior Naturalist Badge.
Good to know: You do not need to set aside a specific time to complete the Junior Naturalist Program, the activities are simply incorporated into the sights, landmarks, and trails that you are already out experiencing. You can find more information here and here.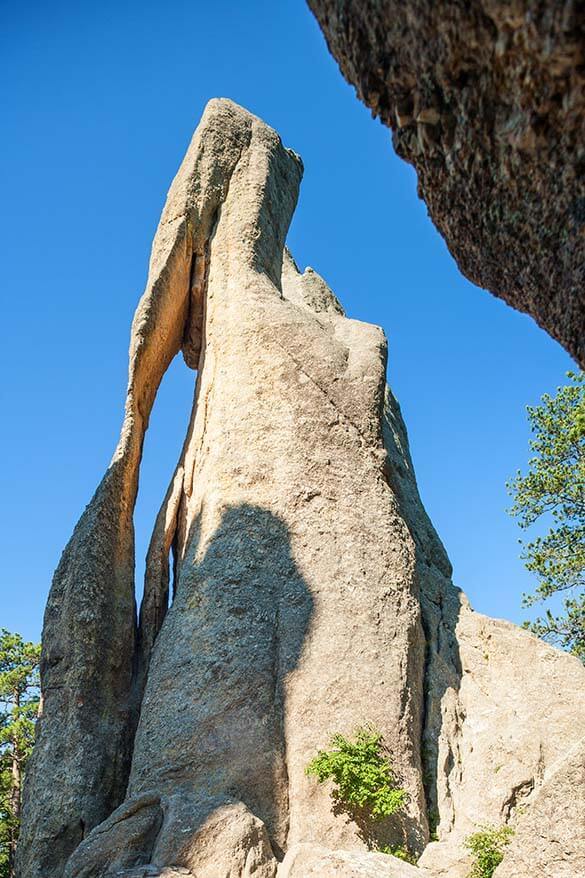 13. Guided Park Tours
There are multiple ways to enjoy Custer State Park and you could also consider some of their guided tours. Originating from various locations within the park, you can personalize your experience by choosing between a safari jeep tour, various lengths of guided horseback trail rides, or a combination of a couple of tours.
You can also visit Custer State Park with a private day tour from Rapid City. It involves wildlife viewing safari and some easy hiking. Check it out!
No matter which one you choose, either one of these adventures will be the icing on the cake to your already amazing experience at Custer State Park.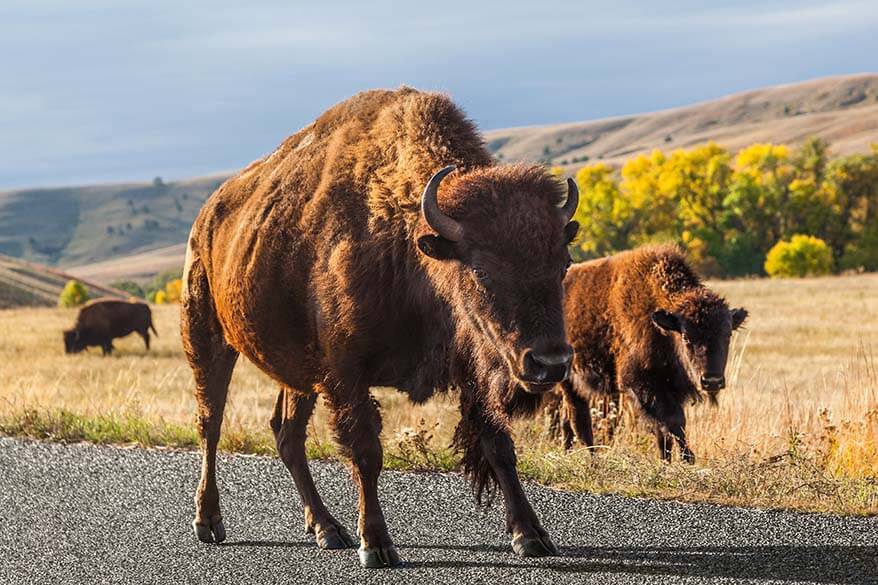 How to see the best of Custer State Park in 1 day – suggested itinerary
Following the suggestions above, I created a sample 1 day itinerary for Custer State Park. This itinerary assumes that you are staying near the park and are able to enjoy exploring for 1 whole day.
TIP: If you are looking for a very special way to start your day in the area, consider an early morning hot air balloon ride that leaves from Custer town.
Start your day at around 8 AM at the East Entrance to the park and visit the Custer State Park Visitor Center. Count 15 minutes for this.
Begin with the 1 hour trip along Wildlife Loop Road to see the animals in their morning splendor.
A short stop at the Wildlife Station Visitor Center.
Explore the Needles Highway, ending with rock climbing and exploration around Needles Eye Tunnel. Count an about an hour.
Have a picnic lunch at Sylvan Lake then walk the Sylvan Lake Trail. Afterward, cool off with a swim and/or watersport rental.
Take a hike on either Black Elk Peak OR Cathedral Spires Trail.
Experience a jeep safari OR visit the Peter Norbeck Education Center (count 15-30 min).
Drive the Iron Mountain Road and back to your hotel.
TIP: If you are staying in Keystone or in Rapid City and want to visit Mount Rushmore and Custer State Park with an organized day tour, take a look at this popular day tour. Alternatively, you can find more tour options here.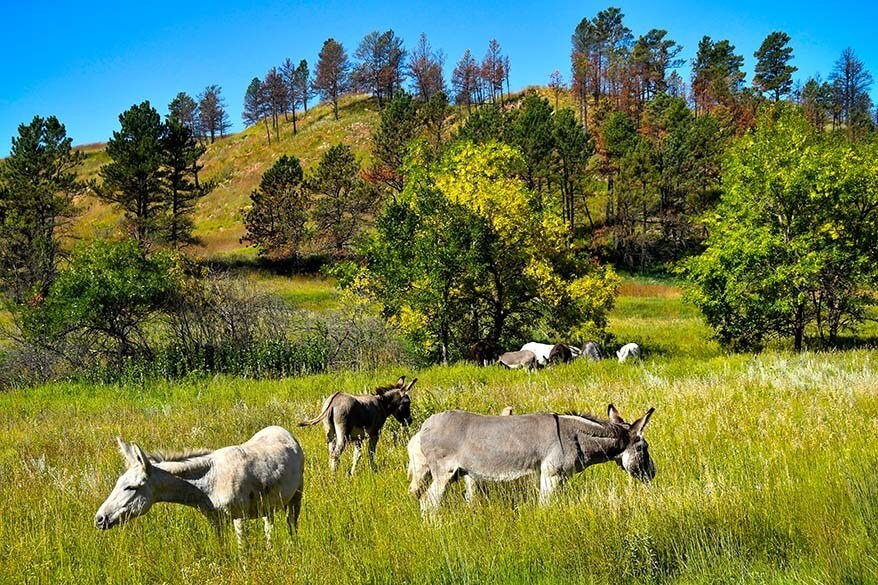 Practical tips for visiting Custer State Park
Exploring Custer State Park requires a lot of driving.
All of Custer State Park can be seen in 1 day, but you can also see the main highlights in just half a day. If you have more time and want to travel at a slower pace and/or add in multiple hikes or a guided tour, you'll need at least 2-3 days in Custer.
The best times to visit Custer State Park are during the months of May through September due to the seasonally warmer temperatures.
If you plan to do any hiking, you'll need good walking shoes to handle the rocky, uneven terrain. Hiking poles can come in handy as well.
Dress in layers. Sun protection is a must in summer!
Things to do near Custer State Park
There are many places to visit and interesting things to do near Custer State Park. Mount Rushmore is not to be missed, of course! However, there are many other places that are well worth your time in the Black Hills. See further…
Don't miss the Crazy Horse Memorial, Wind Cave National Park, Spearfish Canyon, the Mammoth Site, and of course the Badlands National Park.
In our guide to visiting Mount Rushmore, you can find more information about the best things to do in this area, as well as a suggested 1-3 days itinerary for the Black Hills. As I said, you can easily spend that much time in Custer State Park alone, so it really depends on how much time you have.
In any case, our Mt Rushmore guide is a good place to start if you are not sure of what there is to see and do near Custer State Park and Mt Rushmore. Take a look using the link below!
LEARN MORE: Best Things to Do Near Mount Rushmore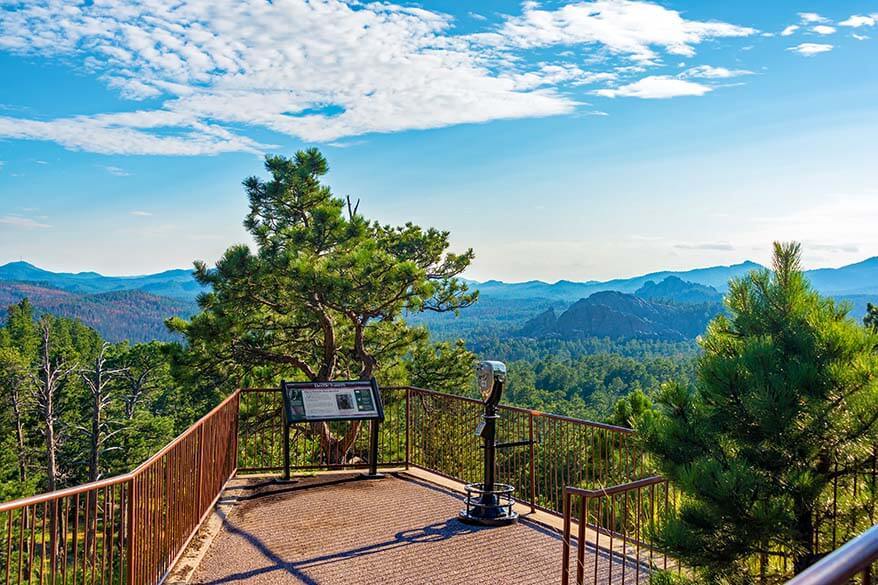 Where to stay – lodging near Custer State Park
There are four lodges (Blue Bell Lodge, Sylvan Lake Lodge, State Game Lodge, and Creekside Lodge) and nine campgrounds inside Custer State Park. Sylvan Lake Lodge and State Game Lodge are by far the nicest places to stay inside the park.
More accommodation is available outside the park, in Custer town and the nearby towns, and the rates are usually better. Here you can find our selection of the best Custer hotels.
Good to know: Popular lodging and campsites fill fast for the summer months, so it's best to book 6-12 months in advance for the best rates and availability.
TIP: Using the map below, you can easily compare hotels, cabins, and short-term rental accommodations in and near Custer town, close to Custer State Park. Simply insert your travel dates and group size, and you'll see the best deals for your vacation. Check it out!
READ ALSO: Our guide to Mount Rushmore hotels – it includes Custer lodging as well
If you found this post useful, don't forget to bookmark it and share it with your friends. Are you on Pinterest? Pin this image!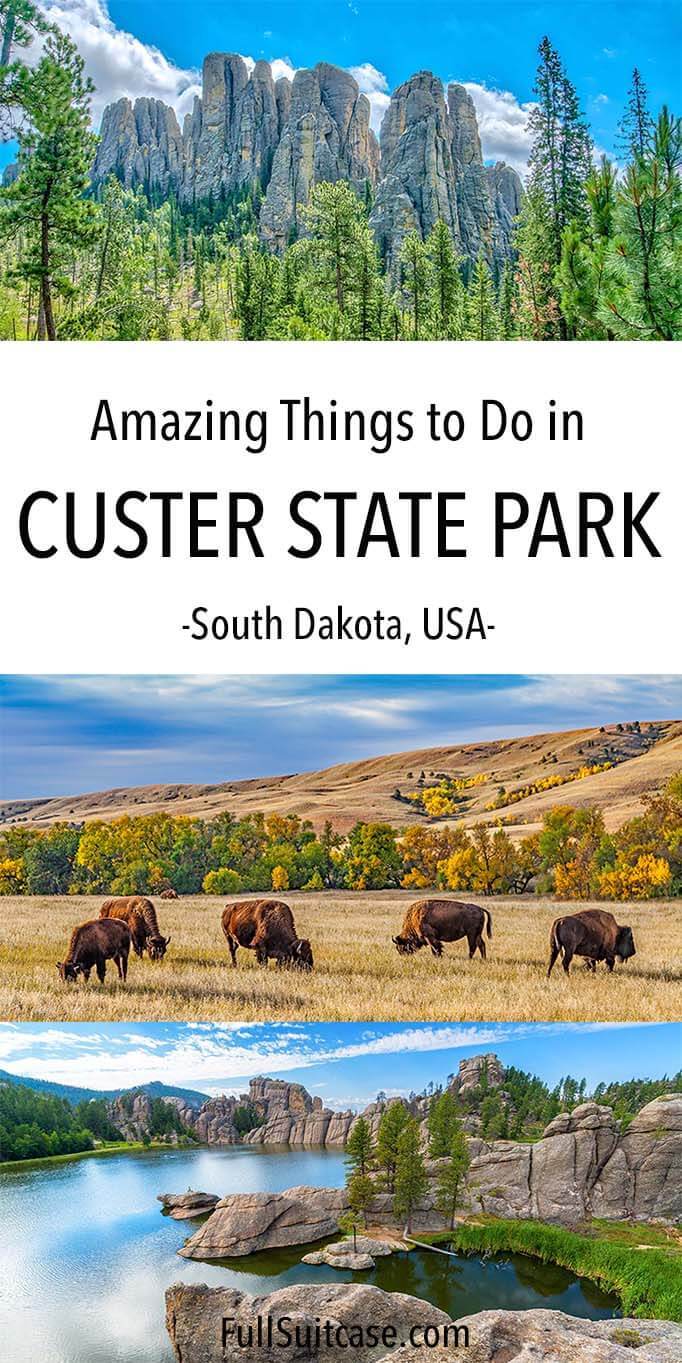 Image credits: Featured image & Black Elk Peak & Cathedral Spires – Adventures On Wheels/Shutterstock.com// Needles highway – Sharon Day/Shutterstock.com// Iron Creek Tunnel, Iron Mountain Road & Custer viewpoint – Jess Kraft/Shutterstock.com// Needles Eye Tunnel – Tami Freed/Shutterstock.com// Bighorn sheep – Thomas O'Neil/Shutterstock.com// Bison – turtix/Shutterstock.com// Begging burro – Wollertz/Shutterstock.com// Sylvan Lake – Jess Kraft/Shutterstock.com and Jeffrey M. Frank/Shutterstock.com// Harney Peak Tower – HTurner/Shutterstock.com// Visitor Center sign – Kwanchanog Noiinwong/Shutterstock.com// Wild burros – Don Fink/Shutterstock.com// Needles Eye – Laurens Hoddenbagh/Shutterstock.com