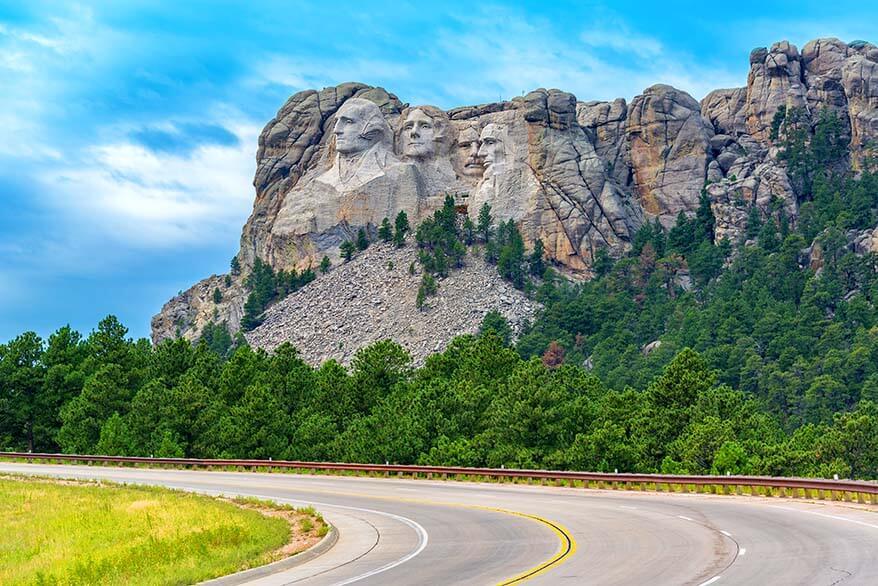 Are you planning a trip to Mount Rushmore and wondering where to stay for visiting Mt Rushmore and what are the best hotels near Mount Rushmore? This accommodation guide is for you!
If you have done some research for Mt Rushmore hotels or cabins, you probably already know that there is no overnight accommodation available at the monument itself. However, there are plenty of nice hotels, lodges, and cabins located nearby, giving you easy access not just to Mount Rushmore National Monument, but also to other places of interest in the Black Hills.
But what are the best places to stay near Mount Rushmore? I'll save you the time for research – the closest town to stay near Mt Rushmore is Keystone, SD. If you don't mind driving just a little bit further, then consider Hill City or Custer – both excellent options for a longer stay visiting Mt Rushmore as well as the Black Hills.
In this article, I'll mostly focus on the best accommodation options in Keystone, Hill City, and Custer. If you rather stay in a big city close to the airport and make a day tour to Mount Rushmore, then Rapid City is the best option for you. In that case, you can find the best deals for Rapid City hotels here.
Read on for the best places to stay near Mt Rushmore!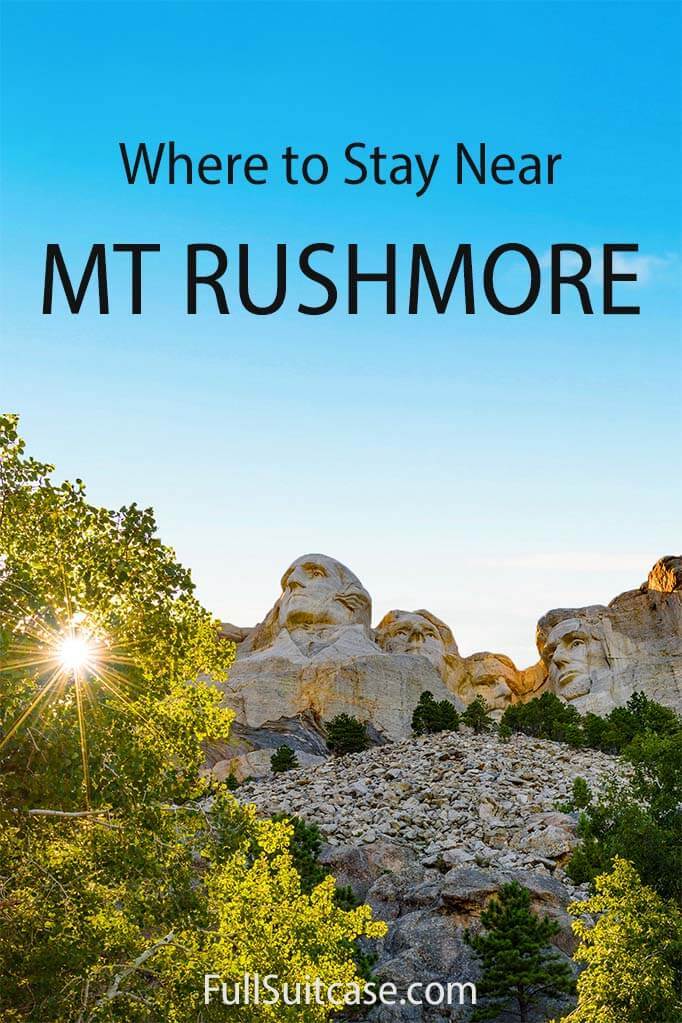 Best hotels near Mount Rushmore
With a big variety of accommodation and lodging near Mount Rushmore, finding the right hotel to suit the needs of your group isn't always easy. Not to mention that it takes a lot of time to research… The good news is that I've done the research for you. This Mount Rushmore accommodation guide is intended to help you find exactly what you're looking for.
Whether you are looking for the best price-quality hotel for your trip, budget accommodation or a luxury resort for a family vacation near Mt Rushmore, in this selection, you should be able to find the very best Mount Rushmore accommodation for your trip, travel style, group size, and budget. Find out!
Please note that this selection of the best Mount Rushmore hotels is made based on customer reviews on various websites, location, and facilities of accommodations, as well as the price and the ease of booking. This post is not sponsored and all opinions are solely my own and are meant to save you time and make your vacation planning easier. At no extra cost to you, we make a small commission if you book accommodation using the links in this post.
Godo to know: There is just one drawback when planning to stay near Mt Rushmore. There aren't many really nice, luxury lodging options in this part of the Black Hills. There are, however, plenty of really nice, excellent-value 2-3 star hotels near Mount Rushmore. So it's a perfect area to stay for everyone who's looking for a nice family vacation at affordable prices.
TIP: Mount Rushmore National Monument is extremely popular in the summer months, so if you are traveling between June and August, make sure to book your Mount Rushmore lodging well in advance.
Mt Rushmore Hotels – OVERVIEW
Keystone SD hotels – closest to Mount Rushmore
As already mentioned, the closest town to stay near Mount Rushmore is Keystone, South Dakota. It's located just 3 miles and less than 10 minutes drive from Mt Rushmore. Therefore, it doesn't really matter that much where exactly you are staying in town.
Whether you are only visiting Mt Rushmore National Memorial, or are staying in the Black Hills for a few days, Keystone is a very good home-base, right in the center of the Black Hills region.
It's a small town but has a lot more to offer than you'd think at first sight. With a big choice of restaurants, interesting shops, and a big variety of family-friendly activities, Keystone is one of those little American towns that make your vacation more memorable.
Below, you can find a selection of the best-rated hotels in Keystone that customers rave about. Take a look!
If you are looking for hotels closest to Mount Rushmore, you don't have look any further. Keystone is the best place to stay!
TIP: Using the map below, you can compare hotels and short-term rental accommodations in Keystone, SD. Simply insert your travel dates and group size, and you'll see the best deals for your stay. Check it out!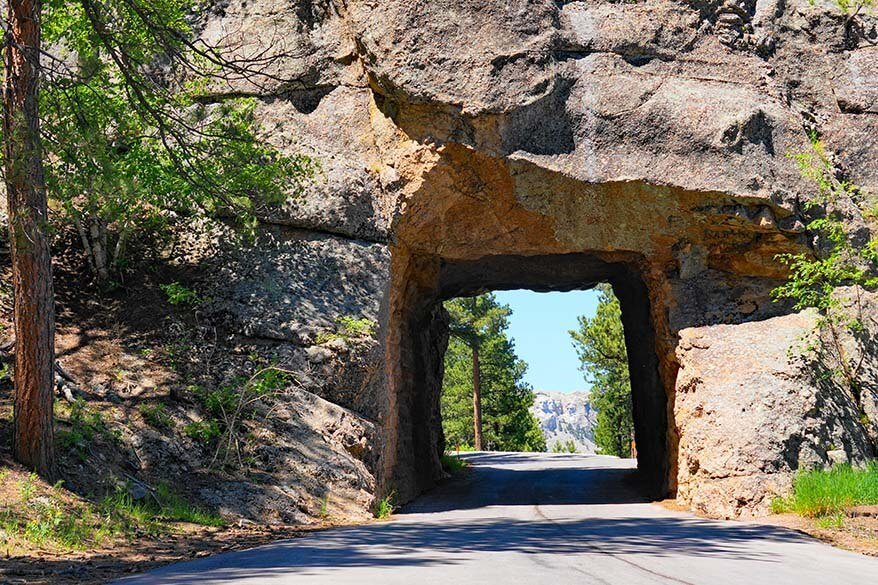 Hill City hotels
Hill City, SD is the second-closest town to Mount Rushmore. The town itself is about 12 miles, 25 minutes driving distance from the National Monument. However, some Hill City hotels are quite far from the town itself, so even closer to Mt Rushmore.
Hill City is the oldest existing city in Pennington County, SD and probably best-known for the Old West Shootout, 1880 Train that runs between Hill City and Keystone.
Just as Keystone, Hill City is a small town that comes to life in the summer season. There are several good accommodation options, and also some restaurants and shops. It's also very well located for visiting Mt Rushmore, Crazy Horse Memorial, and other popular areas in the region.
Below is my selection of the best-rated Hill City hotels. Accommodation choice is very similar to what you find in Keystone, but for some reason, Hill City hotels seem to have higher customer ratings than comparable Keystone hotels. A quick comparison also shows that you get more for your money when staying in Hill City vs Keystone.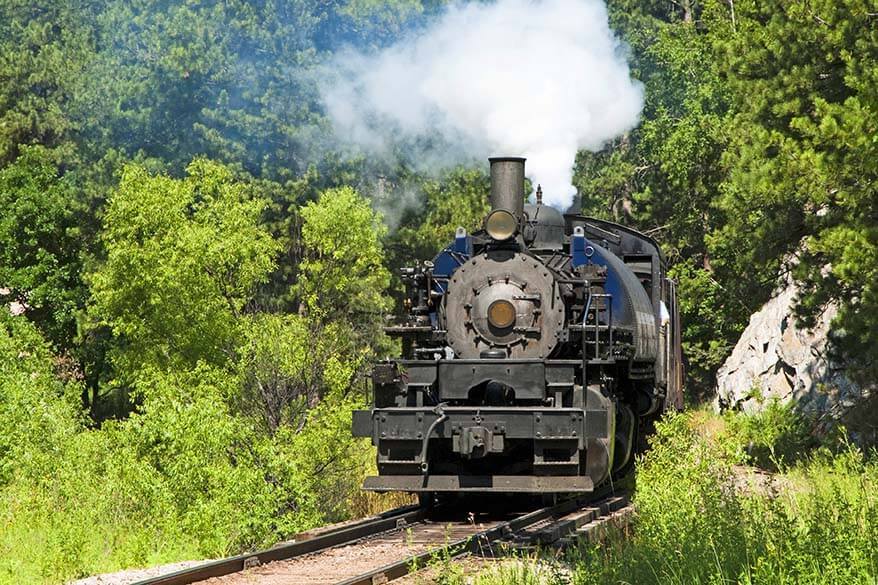 Custer hotels
Located 20 miles (30 min drive) from Mt Rushmore, Custer is not as close to the Mt Rushmore National Monument as Keystone or Hill City. However, it's very well located for Custer State Park, Crazy Horse Memorial, Jewel Cave National Monument, and Wind Cave National Park.
This charming mountain town is a bit bigger than Keystone or Hill City, but it's also a place that comes to life in high season. With a big choice of outdoor activities, Custer calls itself a 'playground for all adventure seekers'.
There are several nice dining options, a couple of nice hotels, as well as several motels in Custer. However, lodging prices seem to be higher in Custer than in the other two towns near Mount Rushmore. Below, you can find our selection of the best-rated Custer hotels:
In addition, there are also lodges inside Custer State Park – Sylvan Lake Lodge and State Game Lodge – but these lodges have to be pre-booked long in advance.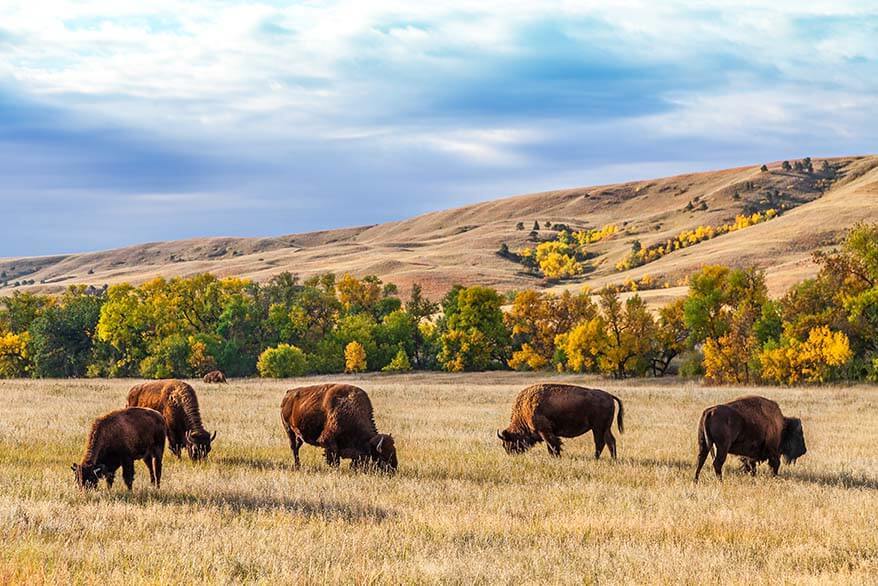 Family accommodations and cabins near Mt Rushmore
Big families or groups of friends will have no difficulties finding affordable quality lodging near Mount Rushmore. The choice is really big, with accommodations ranging from simple cabins and 3-star hotels to luxury lodges.
You can easily find rooms and cabins for a family of 6 or 8, and there are quite a few accommodations that offer apartments and cabins for up to 10-12 or even 14 people.
Keep in mind that some Mt Rushmore cabins have a minimum stay requirement, which can vary from 3 to 5 nights or even longer, depending on the season.
Below, you can find a selection of the best-rated and excellent price/quality accommodations with big family rooms and cabins near Mount Rushmore.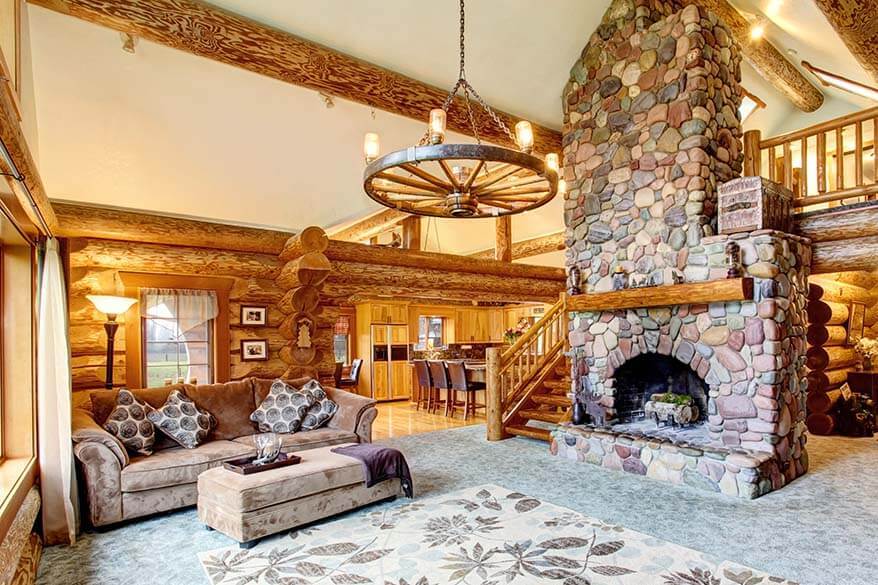 Mount Rushmore hotels with an indoor pool
There are lots of hotels near Mt Rushmore that have swimming pools. Here I selected the ones that have indoor pools – perfect for if the weather is less good.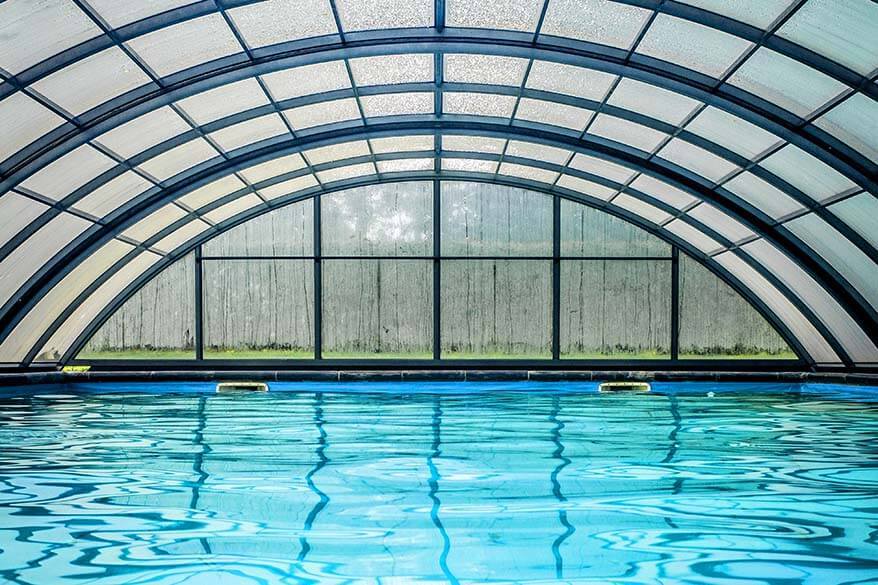 Cheap hotels near Mount Rushmore
I find that most hotels near Mount Rushmore are really quite affordable, but if you are traveling on a budget and are looking for the best cheap hotels near Mt Rushmore, take a look at our selection below.
These are all budget hotels, but I looked at the customer ratings as well and only listed the highest-rated cheaper lodging options. I think that everyone deserves good service and clean rooms, no matter the budget.
TIP: It's worth noting that also the more expensive Mt Rushmore hotels sometimes offer discounts, especially if you are traveling outside the high season. So if you want to visit Mount Rushmore on a lower budget, you should try coming in September. The weather is still nice and most places are open, but it's much quieter and more affordable than in the summer.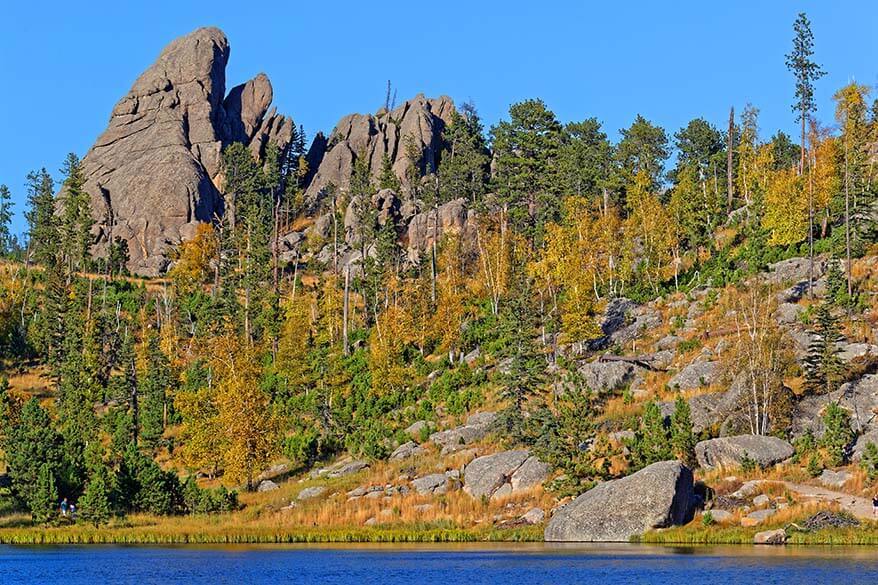 So, this is our guide to the best hotels near Mount Rushmore National Monument in the Black Hills. I hope that you find it useful and that this guide will help you plan your trip to the area.
Just please remember one thing – booking Mount Rushmore hotels well in advance is essential! The best price-quality accommodations near Mt Rushmore sell out months in advance, especially for the summer months.
READ ALSO: Complete guide to visiting Mt Rushmore and things to do near Mount Rushmore
If you found this post useful, don't forget to bookmark it and share it with your friends. Are you on Pinterest? Pin these images!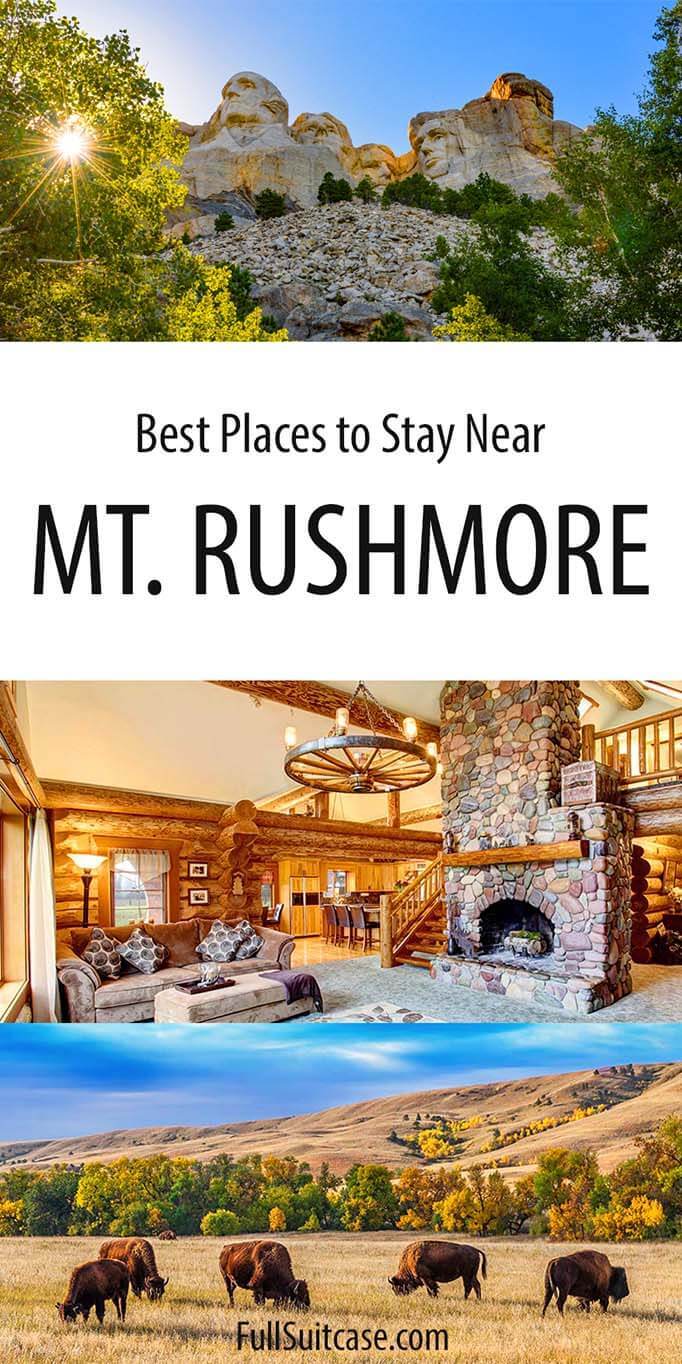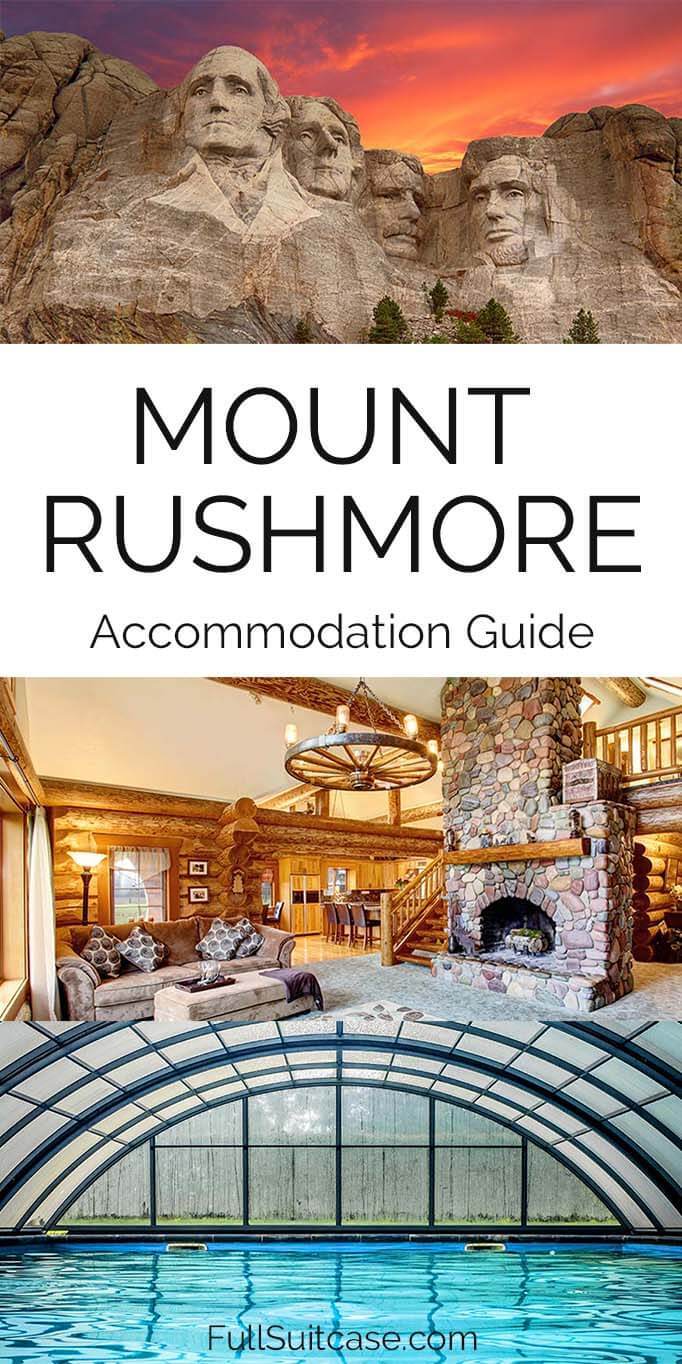 IMAGE CREDITS: Featured image: Jess Kraft/Shutterstock.com/ Robinson tunnel: Okiegals/Shutterstock.com / Old West Shootout 1880 Train: Jim Parkin/Shutterstock.com/ Bison in Custer: turtix/Shutterstock.com/ Log cabin: Artazum/Shutterstock.com/ Custer State Park in the Fall: Pierre Jean Durieu/Shutterstock.com/ Other: AMB-MD Photography/Shutterstock.com