Death Valley at the border of California and Nevada is one of the most visited National Parks in the USA. You may have heard that it's the hottest and driest National Park and that the lowest point of North America can be found here. But there's so much more to Death Valley than that. And there is more to see and do in Death Valley than it looks at first sight!
In this article, we share some of the most beautiful places to see in Death Valley and the best things to do for first-time visitors.
We only focus on the VERY BEST sites that are worth your time the most if you only have a few hours or a day in Death Valley. If you plan well and – depending on the season – you can easily see them all in a day. Although, spending at least one night here can be a special experience too!
Good to know: All these Death Valley must-sees are accessible in a regular car (so no 4WD is needed). However, some are not accessible for larger vehicles (RVs, motorhomes).
At the bottom of this article, we also included a few additional suggestions for places to visit and things to do in Death Valley if you have more time.
But if you are visiting for the first time and want to see the best that Death Valley has to offer, then this list will help you do just that. Despite covering just 6 sites and a rather small area, you'll see a big variety of landscapes and jaw-dropping sceneries that will make a long drive to Death Valley more than worth it!
To help you plan your time, we also include a map and practical info, as well as some useful tips for your first visit to Death Valley. Take a look!
Important update for fall 2023: At the moment, some roads in Death Valley NP are closed due to recent flooding and debris on the roads. If you are planning a trip soon, be sure to check the official website for up-to-date conditions.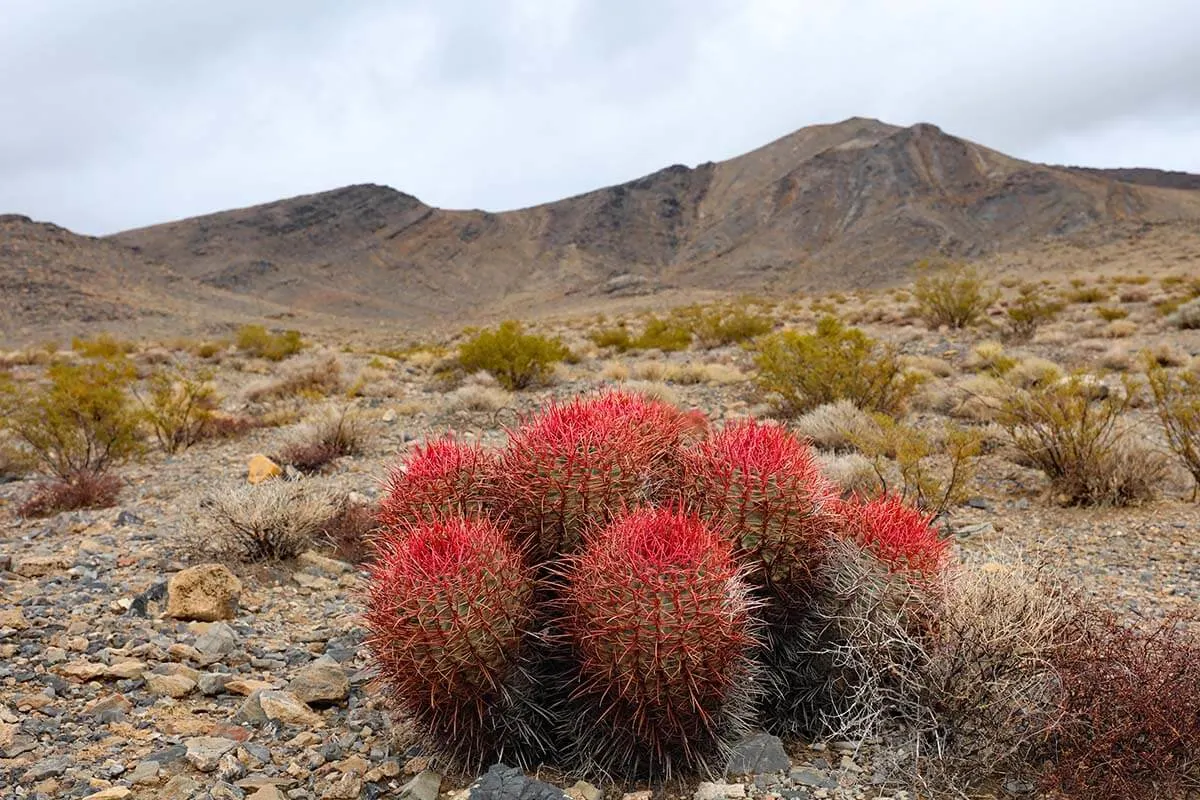 These are the best places to see and things to do in Death Valley:
1. Zabriskie Point
No matter how much time you have in Death Valley – just passing by, visiting on a day trip from Las Vegas, or staying for a few days – Zabriskie Point is not to be missed! This is one of the most beautiful places in Death Valley, with stunning views of multi-colored badlands all around you.
The scenery here is absolutely breathtaking and you can enjoy wide panoramic views of a very large area. This is a desolate and somewhat unearthly landscape, but it looks magical. Golden-brown mudstone hills have distinct shapes, which are formed by erosion and rare but intense water flows.
No two visits here will be the same because all the different shades and tints of color change depending on the light. If you are staying in Death Valley for a few days, consider coming here at different times of the day. Zabriskie Point is one of the nicest places for both – sunrise and sunset in Death Valley.
But there is one more reason why we list Zabriskie Point as number one among the best places to see in Death Valley, and that's its convenient location and ease of visiting. Located just next to the main road (I-190), the viewpoint is just a short walk from the car. Even though it's an uphill walk, it's really not strenuous and takes just a few minutes.
However, if you are visiting Death Valley in the hottest summer months, even this short walk can feel exhausting. Be sure to use sun protection and take some water with you! We once stopped here in July and the moment you step out of the car, it feels like walking into an oven…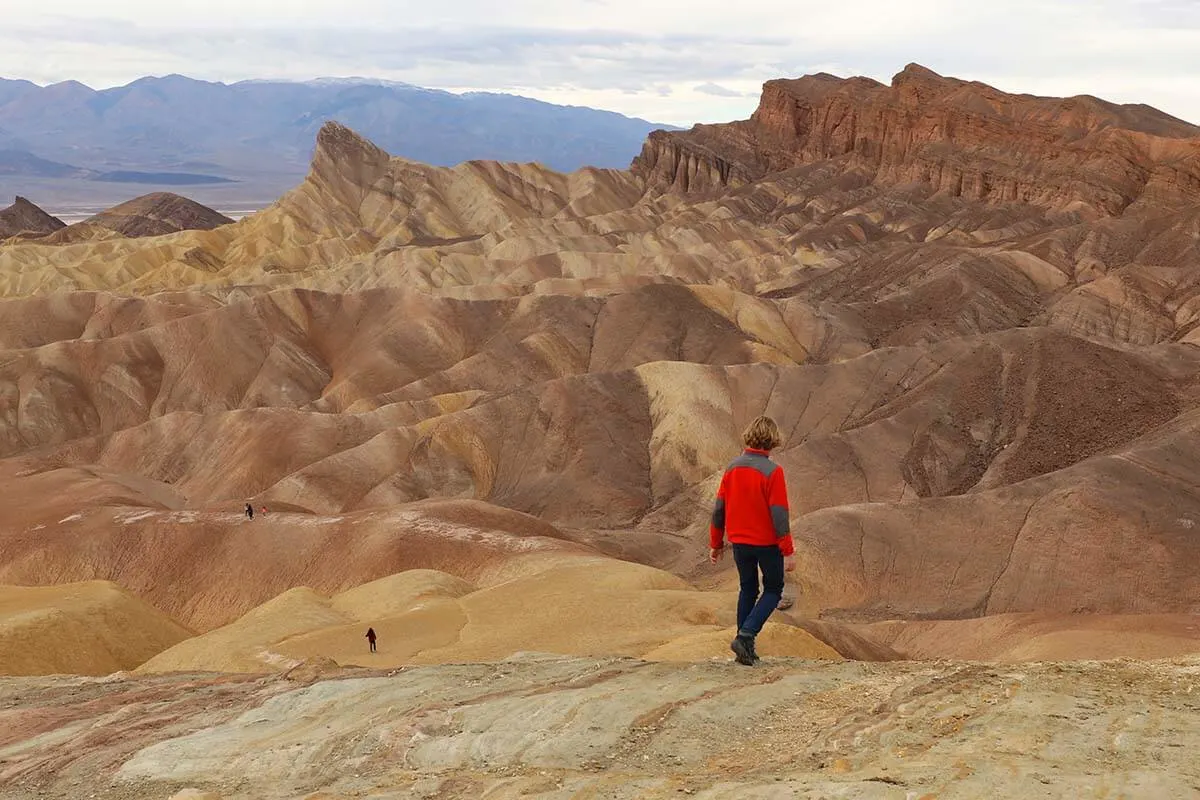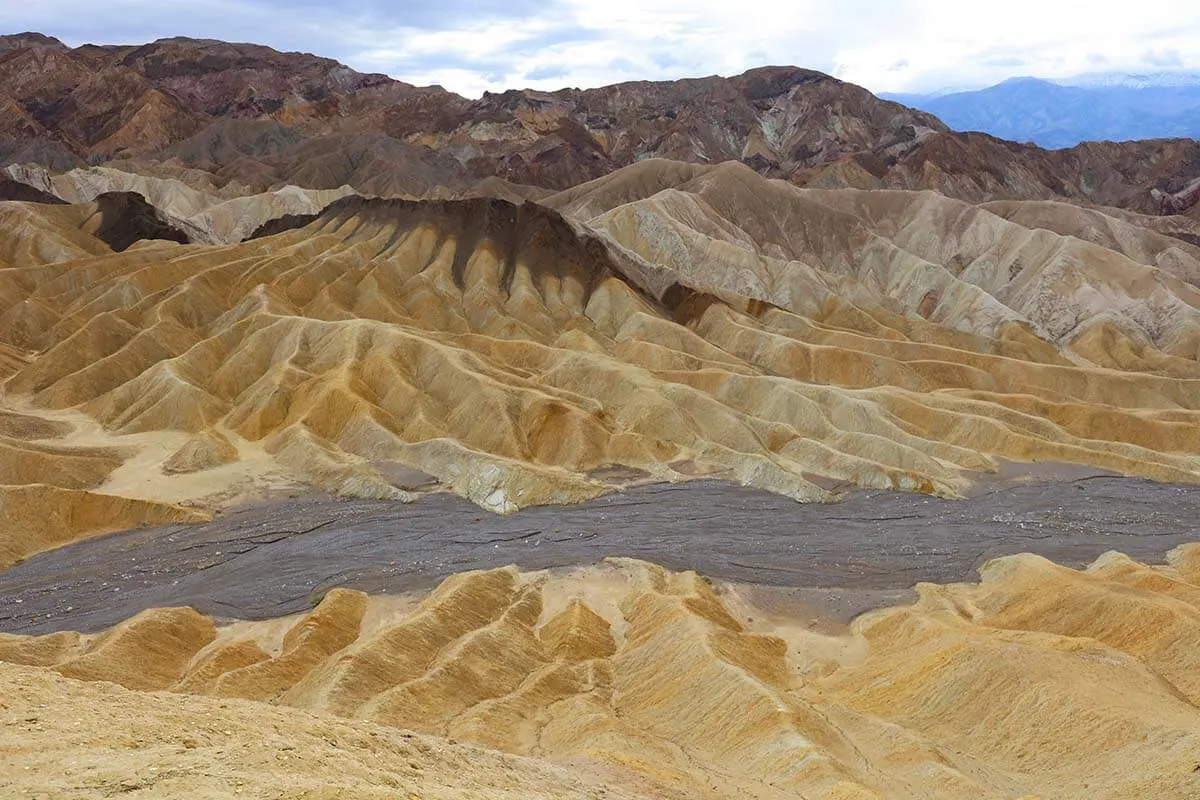 Good to know: Zabriskie Point is one of the most popular places to see in Death Valley. In the peak season (winter months), it can get really busy here.
That being said, we recently visited Death Valley on New Year's day and had no difficulties finding parking. Also, the area is so big that people spread out beyond the main viewing terrace and it doesn't feel crowded.
How much time do you need: You can spend as little as 10 minutes here, or you can stay much longer, hike around a bit, etc. The kids love walking up and down these 'strange' hills.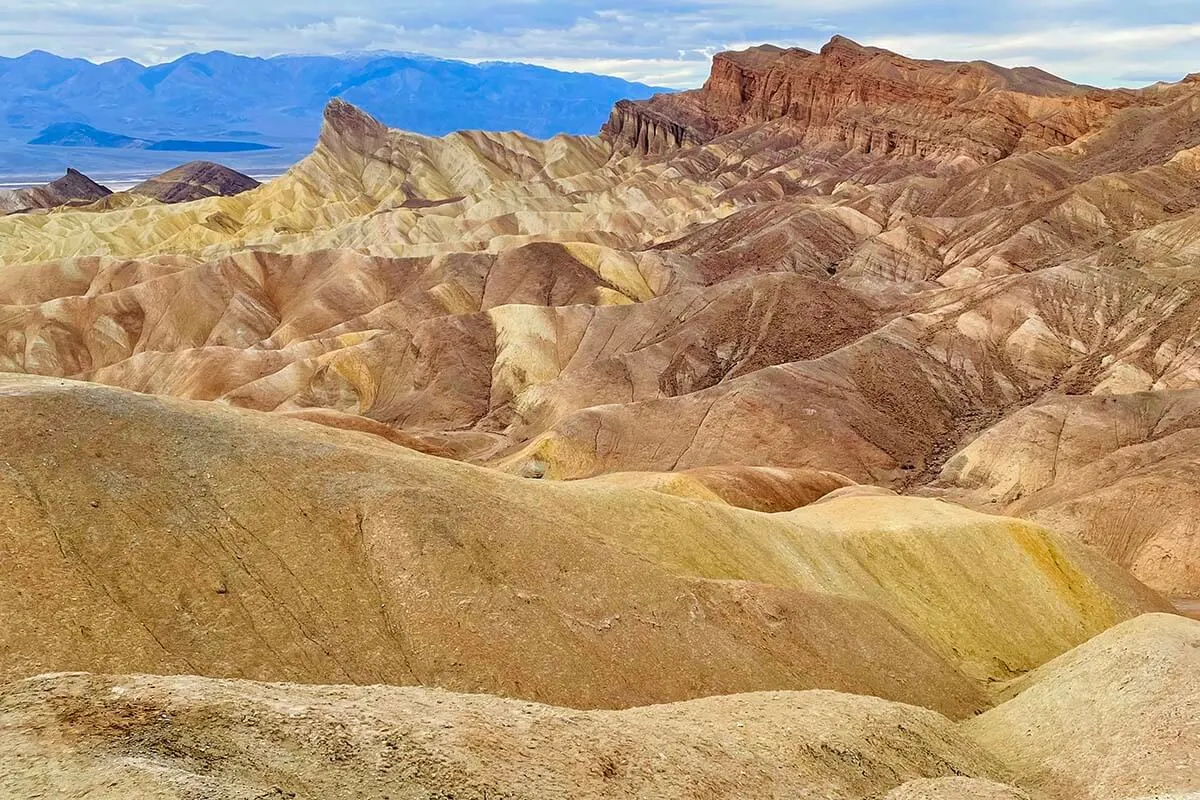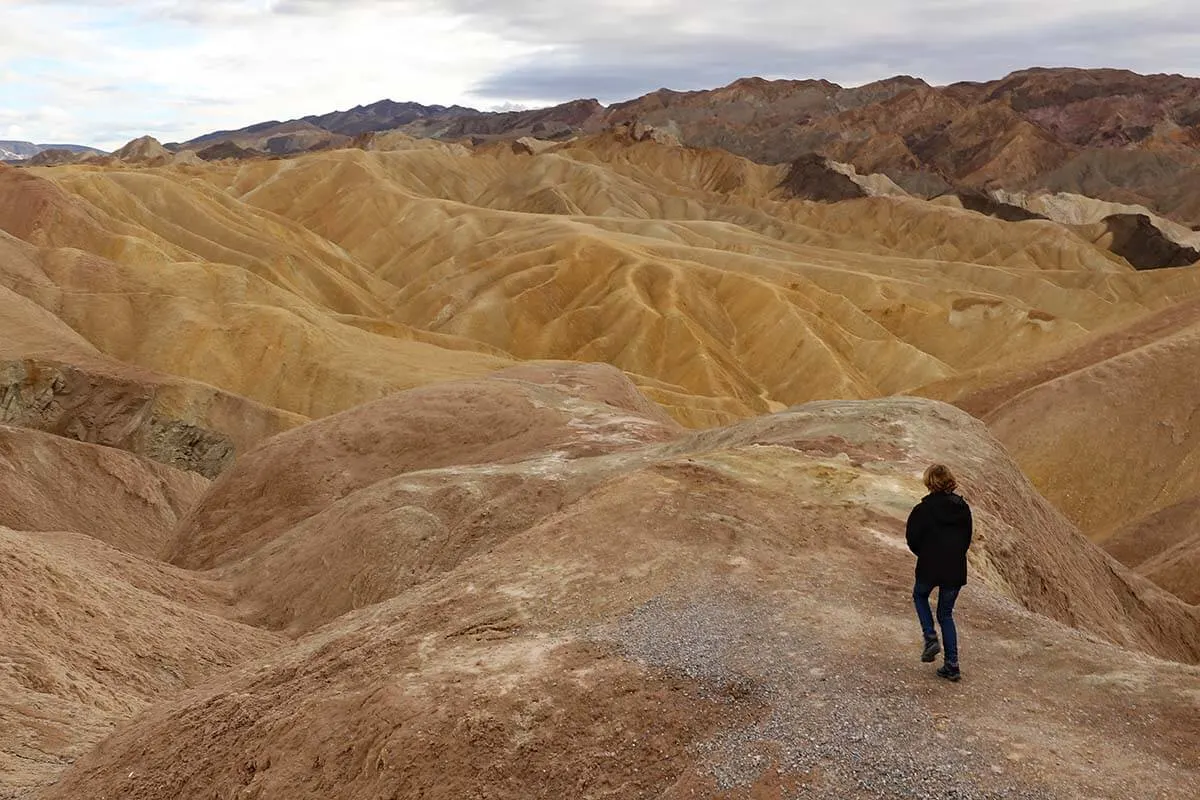 2. Badwater Basin
At 282 feet (85.5 meters) below Sea Level, Badwater Basin is the lowest point in North America and one of the lowest elevations on earth. This is the place that made Death Valley famous and is one of the most visited sites in the park.
And indeed, Badwater Basin is absolutely worth a visit. Not just to take a picture of the sign and say 'been there done that', but for some of the most unique landscapes you'll ever see in your life!
Just a few thousand years ago, this place was the site of a 30 ft (9 meters) deep lake. As it evaporated, it left a thick layer of salt. This is what you see here today – a vast salt pan stretching for several miles.
Interesting to know: Badwater Basin gets its name from a surveyor mapping the area. He was glad to find a water pool where his mule could drink, but the animal refused to because the water was too salty. So he wrote on his map "bad water" and the name stuck.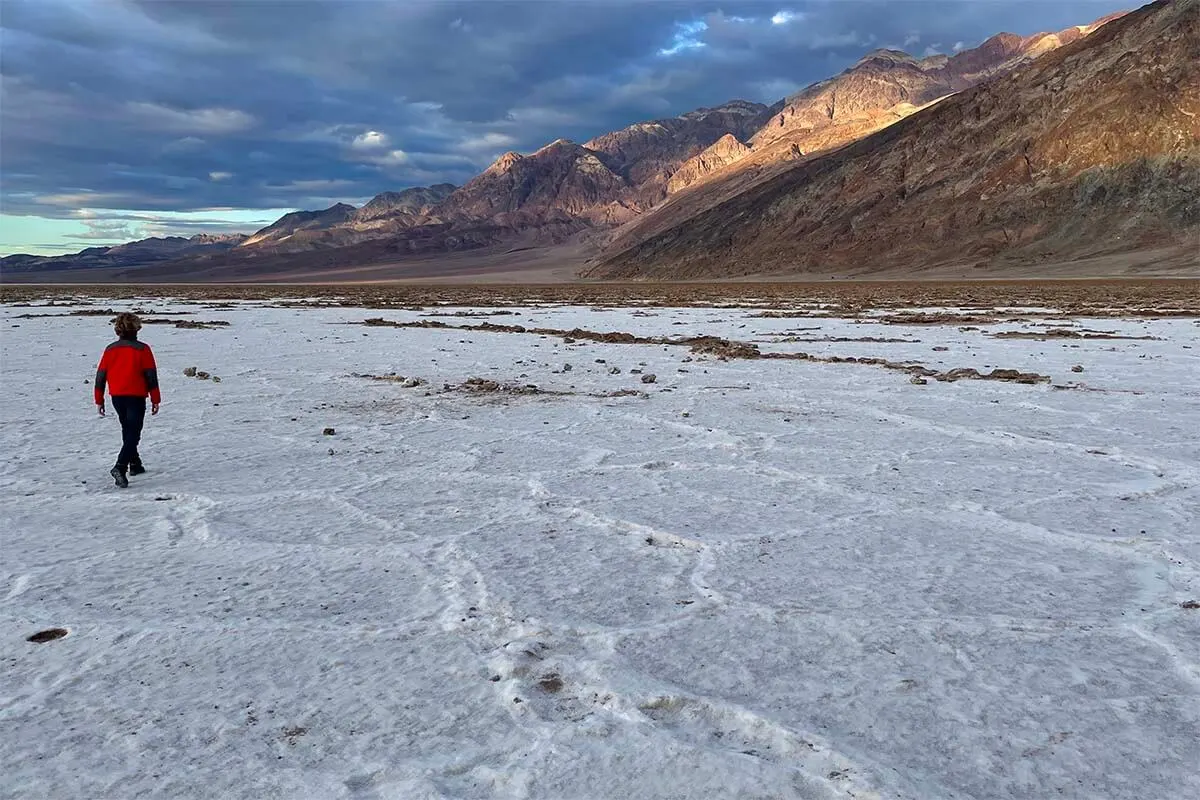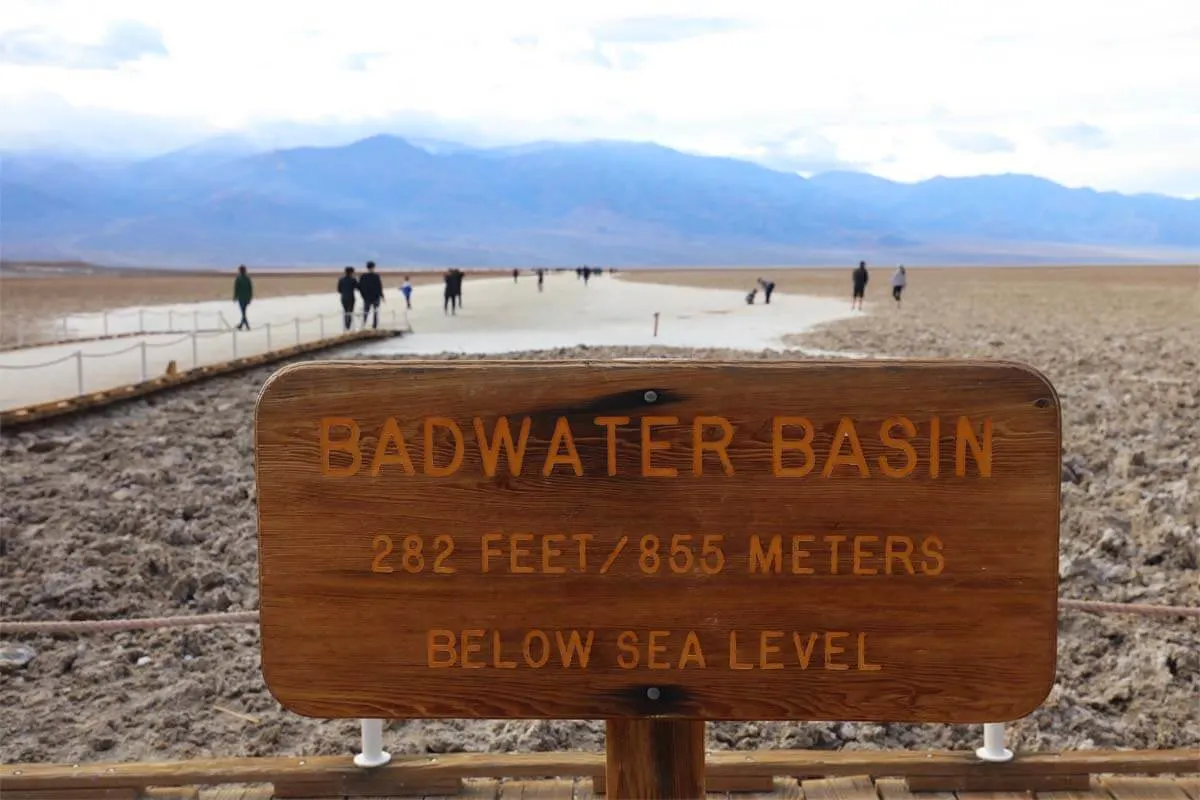 Good to know: Badwater Basin is large, but you shouldn't just walk anywhere you like. There is a designated parking area (I indicated it on our map). Here, you will find a few boardwalks and a nice straight path leading you to the saltpan.
How much time do you need: If you just want to take a picture of the sign and look around a bit, 10-15 minutes will be enough. However, keep in mind that you have to walk about half a mile in order to reach the main salt pan. If you walk really fast and it's not too hot, you need about 15 minutes to get there from the car parking. More realistically, you will need 20-30 minutes just to reach it. If you also count the time to look around, take pictures, and walk back, you need about 1 hour for a visit here.
This can be really daunting if it's hot and I don't think I would attempt this walk during the day in the summer months… Remember, this is the hottest place in the U.S.!
The good thing is that even if you don't go all the way, you can see plenty of salt crust closer to the car parking area.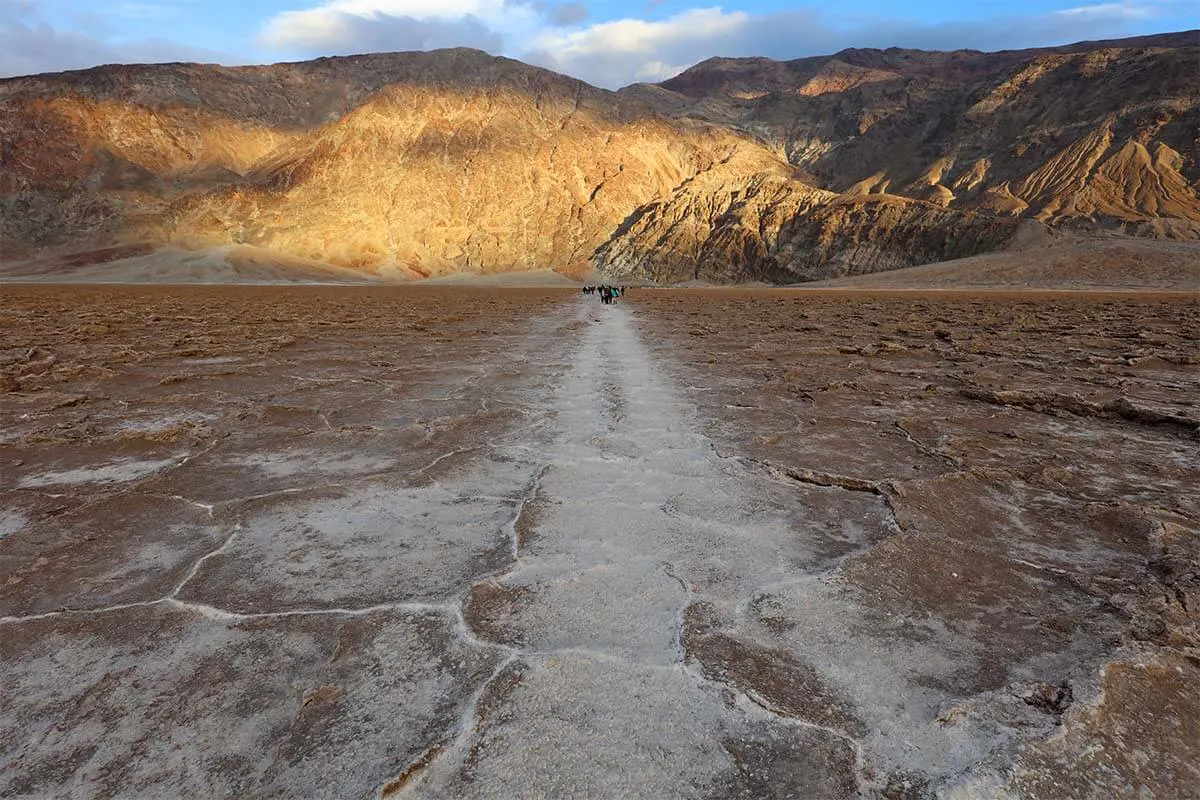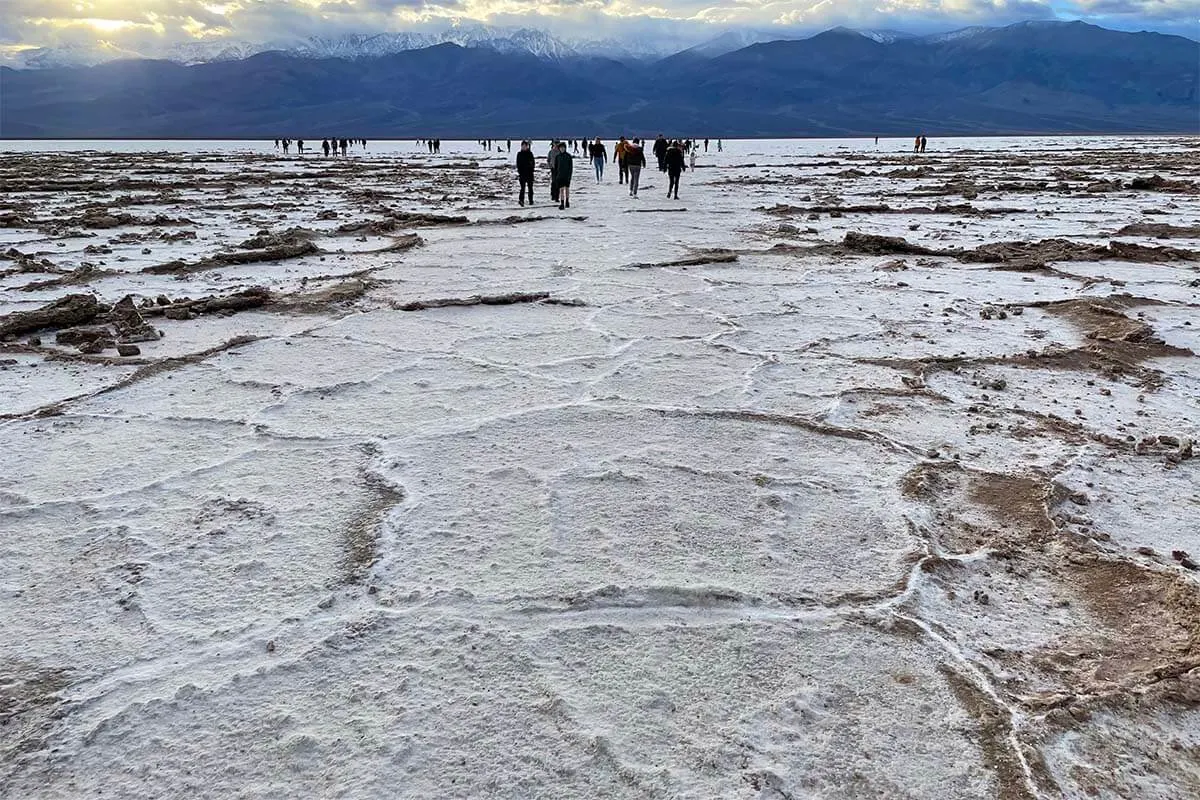 3. Artists Drive & Artists Palette
Artists Drive is another must-see in Death Valley. This is a scenic one-way drive just off Badwater Road. This road is about 9 miles (14 km) long and takes about 20-25 minutes to drive without any stops.
There are a few places where you can stop along the way, but it's really more about the surreal scenery and the thrill of the drive itself than about the stops. But since you are here anyway, be sure to stop at all the main viewing areas where you can get out of the car and enjoy the colorful scenery around you.
The nicest place here (and one of the must-sees in Death Valley) is Artists Palette, which is the second bigger stop that you'll come across. Parking is quite limited so you may need some patience.
But the reason why we list Artists Drive so high on this list of top sights in Death Valley is the road itself. With twists, turns, ups and downs, and narrow passages cut out between the rocks, driving here makes you feel like you are part of the unearthly scenery around you.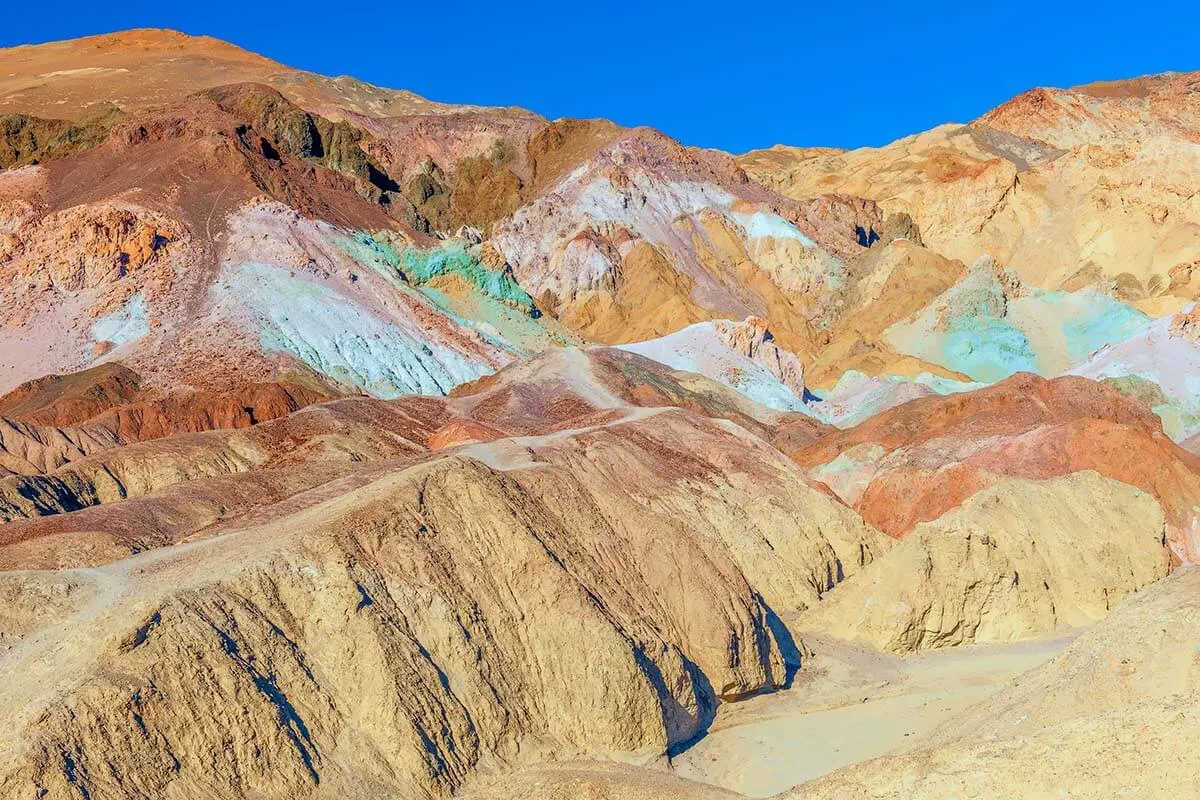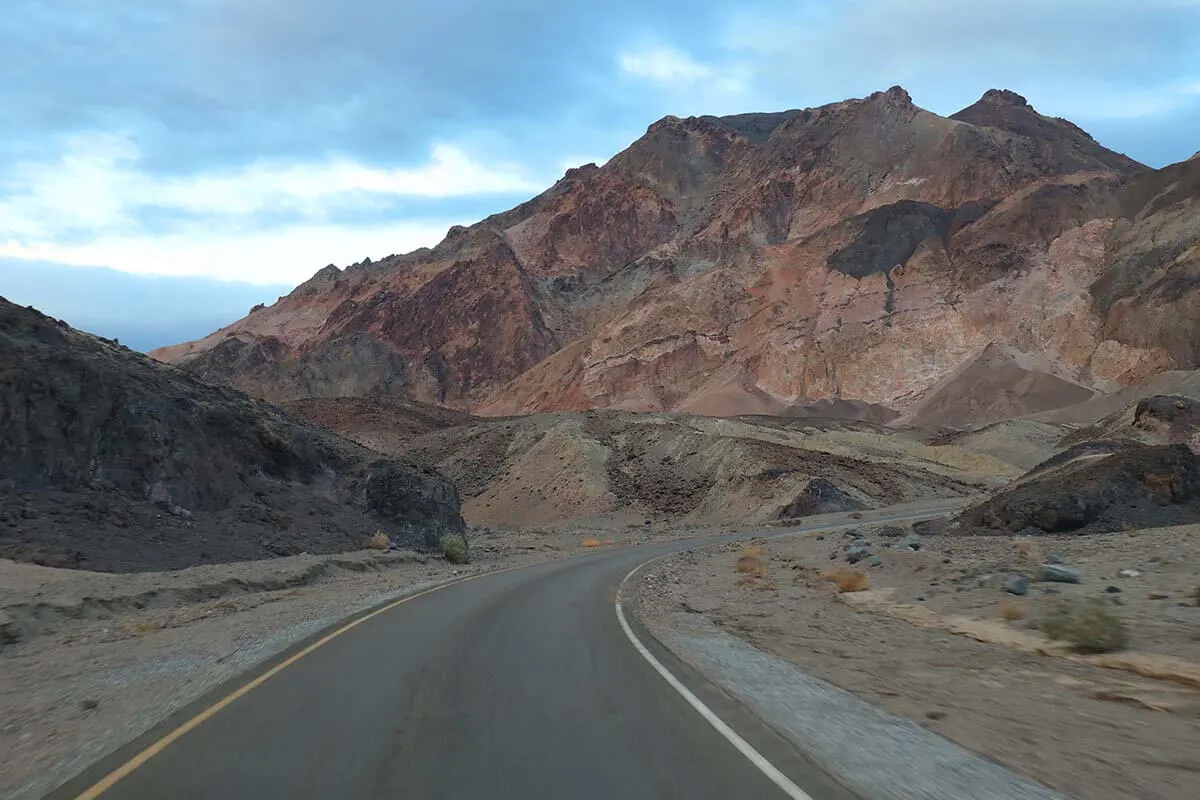 TIP: Take it slow – not just to enjoy the surroundings, but also for your safety. Also, don't stop on the road because there are some places where visibility is really limited as you emerge from a sharp corner or drive over a steep hill.
Good to know: Because you don't even have to get out of the car (or just for a quick photo stop), this is one of the very best things to do in Death Valley in any season. Also in the summer when it's too hot for anything else, Artists Drive is a great place to visit because you can enjoy it from the comfort of your car.
Important! Please note that cars over 25 feet (7.6 meters) are not allowed on Artists Drive. Even though the road looks perfectly wide at first, there is a good reason for this. The second half of the drive is really not suitable for longer vehicles.
How much time do you need: Count 30-45 minutes for Artists Drive with a few photo stops. Of course, you will need more time if you decide to go for a walk and explore more.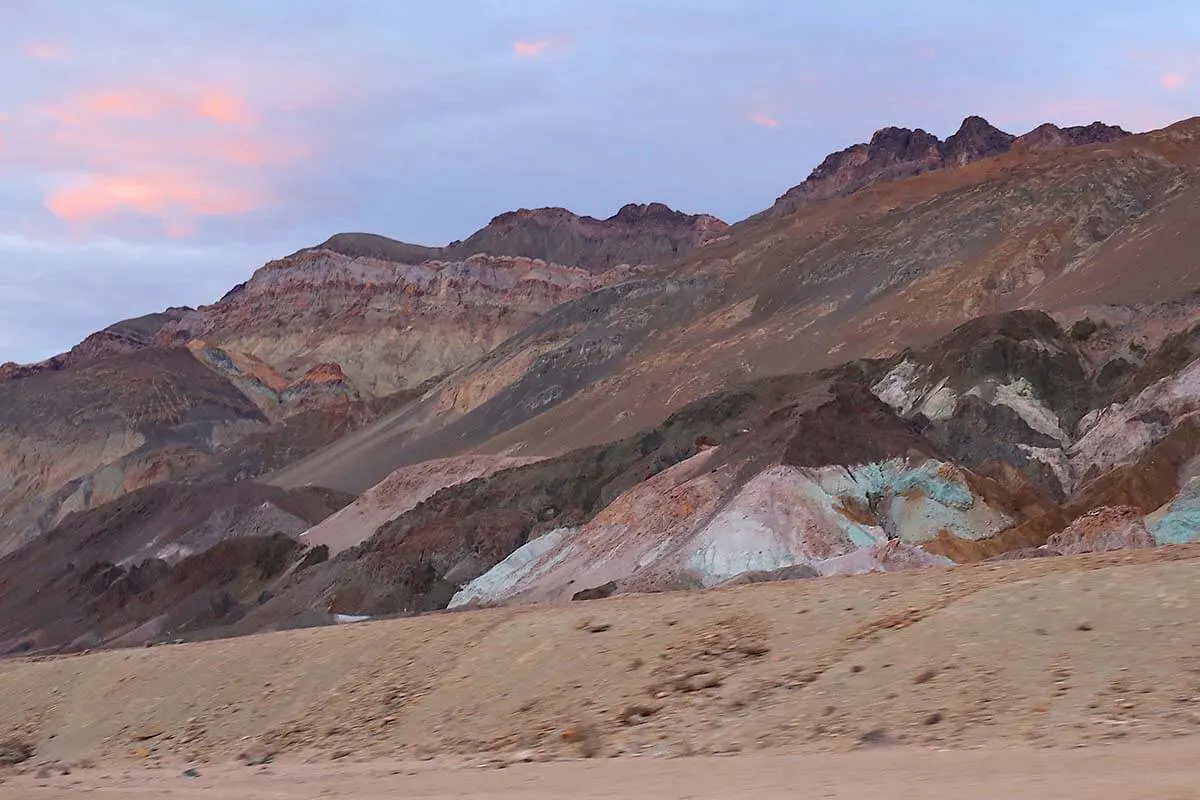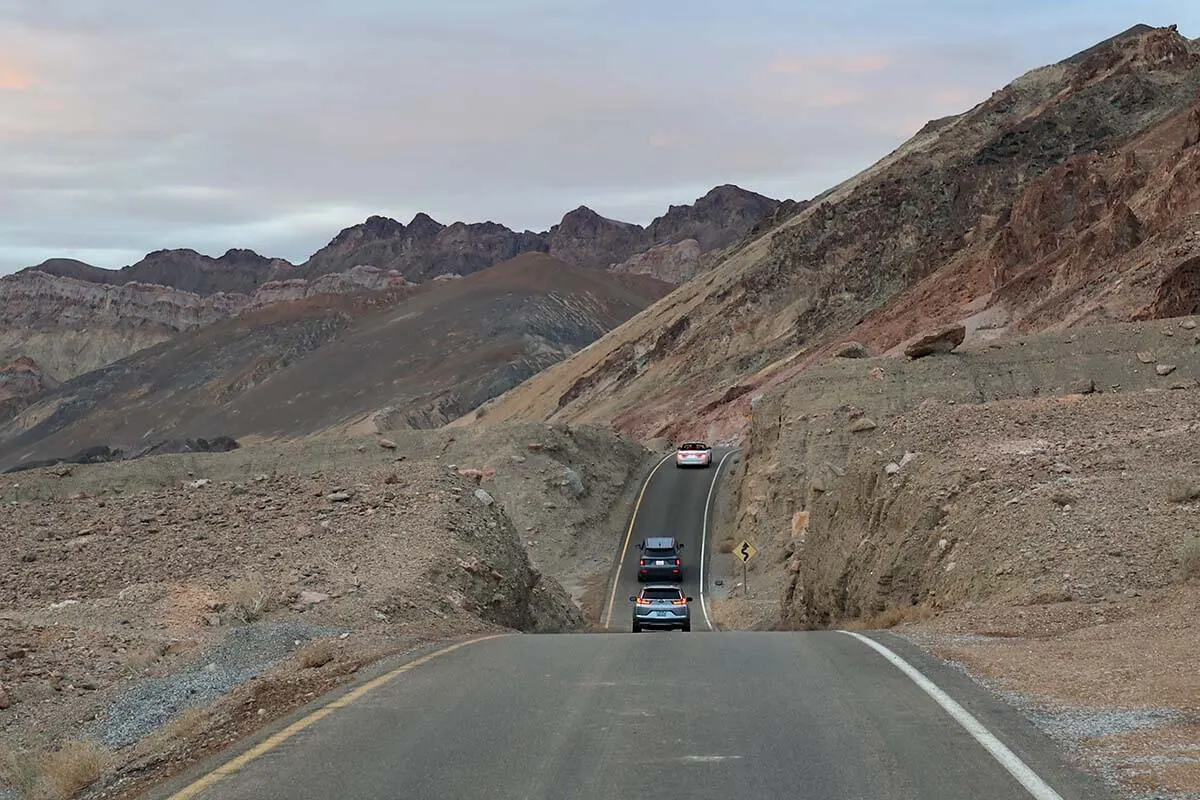 4. Mesquite Flat Sand Dunes
No visit to Death Valley would be complete without at least a quick stop at Mesquite Flat Dunes. Surrounded by mountains on all sides, some of these sand dunes are up to 150 ft (46 m) high.
This is yet another must-see place in Death Valley showing you yet another facet of the incredible diversity of landscapes in this desert park.
Also here, there is a designated parking area, from which you can walk straight into the dunes. The highest dune is about 1 mile from here, but you have to cross lots of sand and smaller dunes to get there, so it's not a quick walk. Even if it's not too warm, you should count at least 2 hours round-trip.
But you really don't have to go that far in order to enjoy the scenery. Even if you just walk 5-10 minutes from the car, it's a really nice stop on any Death Valley itinerary!
Keep in mind that the sand dunes will look quite different depending on the light. The white sand can turn bright orange with the rising or setting sun.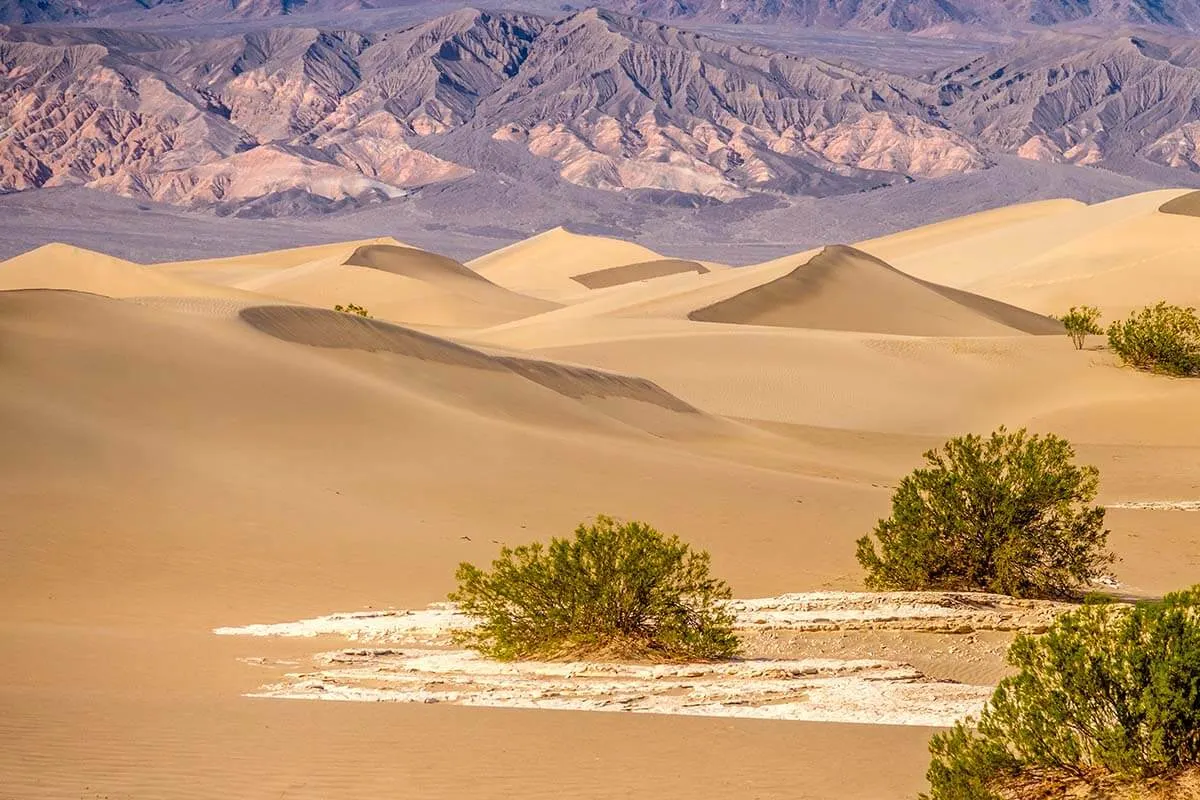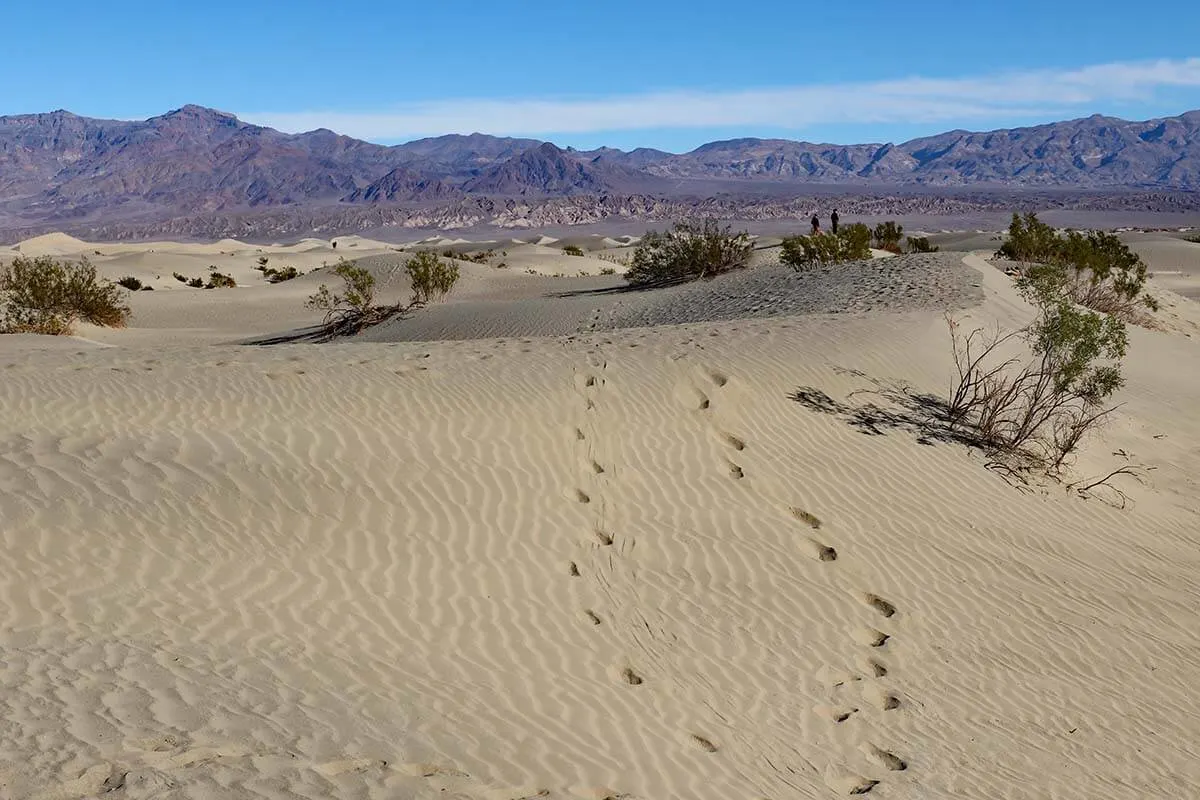 TIP: Sand dunes are spectacular at sunrise and at sunset. These are also the best times of the day to walk around here. It can be very dangerous when it's hot! If you hike, be sure to do it during the coolest times of the day and carry lots and lots of water.
You can also visit here at night and the dunes are a popular place for Full Moon hikes or stargazing when it's New Moon. However, be aware that desert wildlife is active at night, so watch out for sidewinder rattlesnakes.
How much time do you need: You can spend 10 minutes here or 2-3 hours – it's really up to you. Mesquite Flat Dunes are located just next to the main road near Stovepipe Village in the heart of Death Valley, so at least you don't need much extra time in order to drive here from all the other main sights in Death Valley.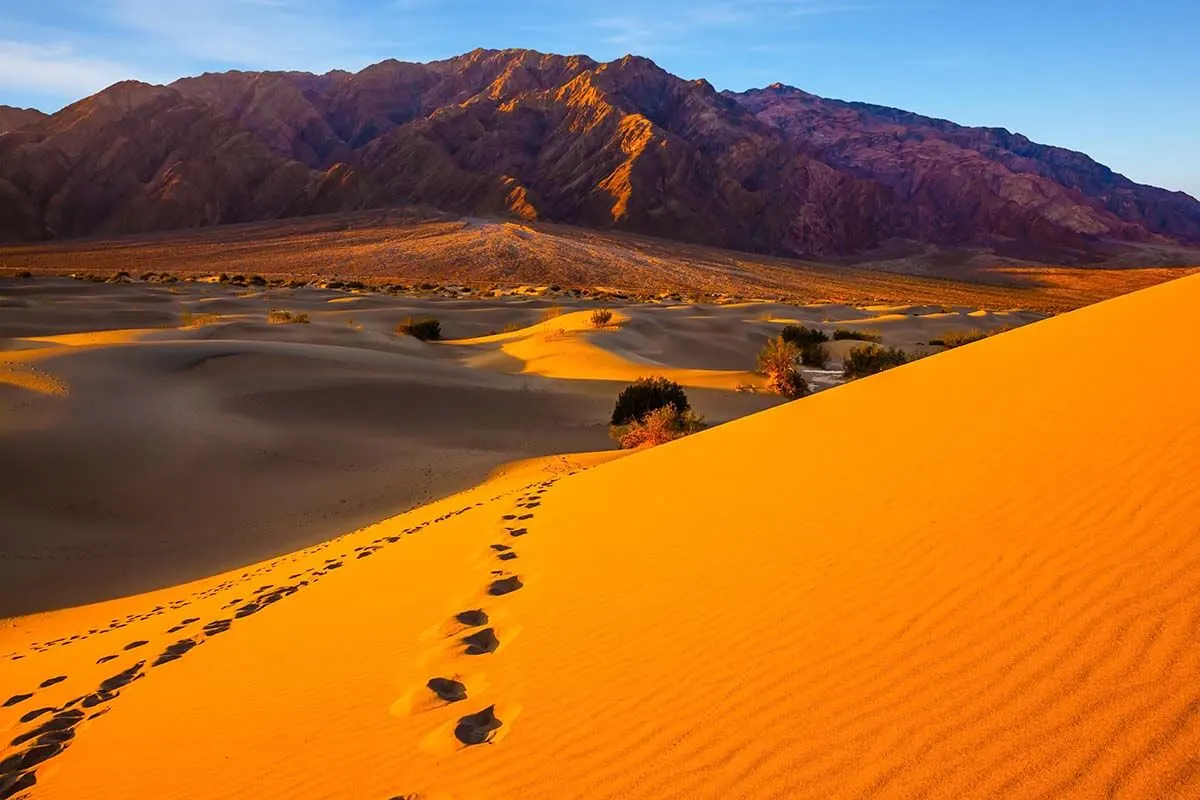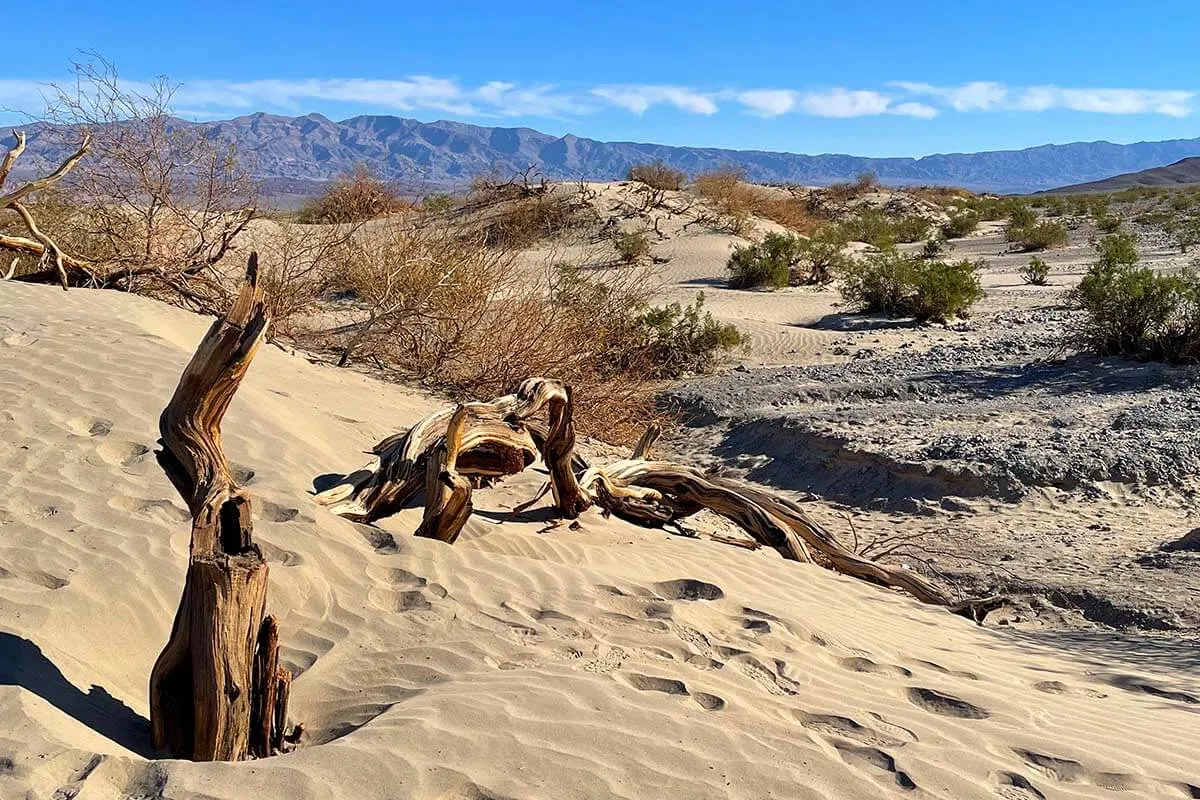 5. Mosaic Canyon
Mosaic Canyon, just near Stovepipe Wells and Mesquite Sand Dunes, is another place that should be high on your Death Valley bucket list. This canyon is a geologic wonder and walking inside it is a really special experience.
While the Mosaic Canyon hiking trail is about 2 miles one-way, you only need to hike about half a mile in order to see the most impressive part of the canyon. And because there is lots of shade from the rocks all around you, this short walk is even doable when it's warm (but avoid doing any hiking in Death Valley on summer days!).
Good to know: The first part of the trail is rather easy with a few knee-high stones/rocks to climb on the way. However, if you decide to walk beyond the narrow part of the canyon and all the way to the end, be prepared for some serious scrambling (you really need good hiking shoes!).
Because the trail goes a bit uphill, it takes more time to get there than to come back. We explored just the narrow part of the canyon and stopped where it got really wide. We walked for 20 minutes to get there and just 10 minutes to get back.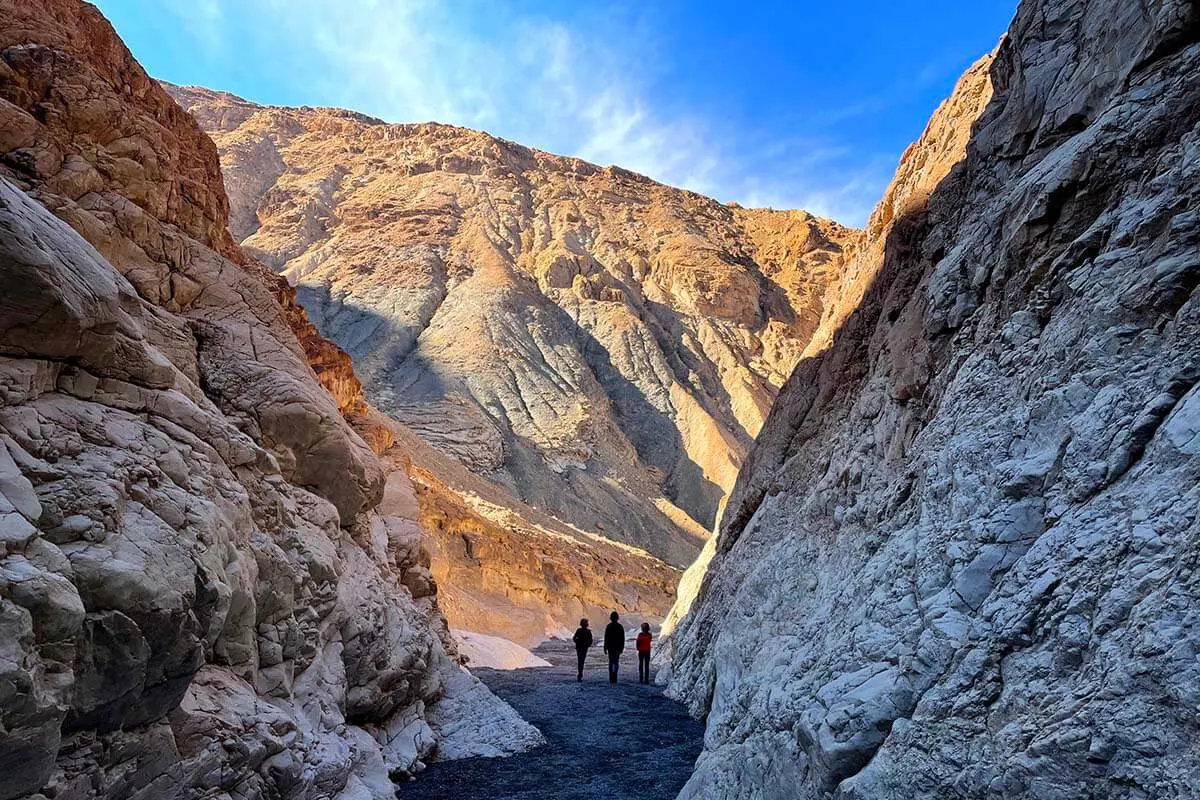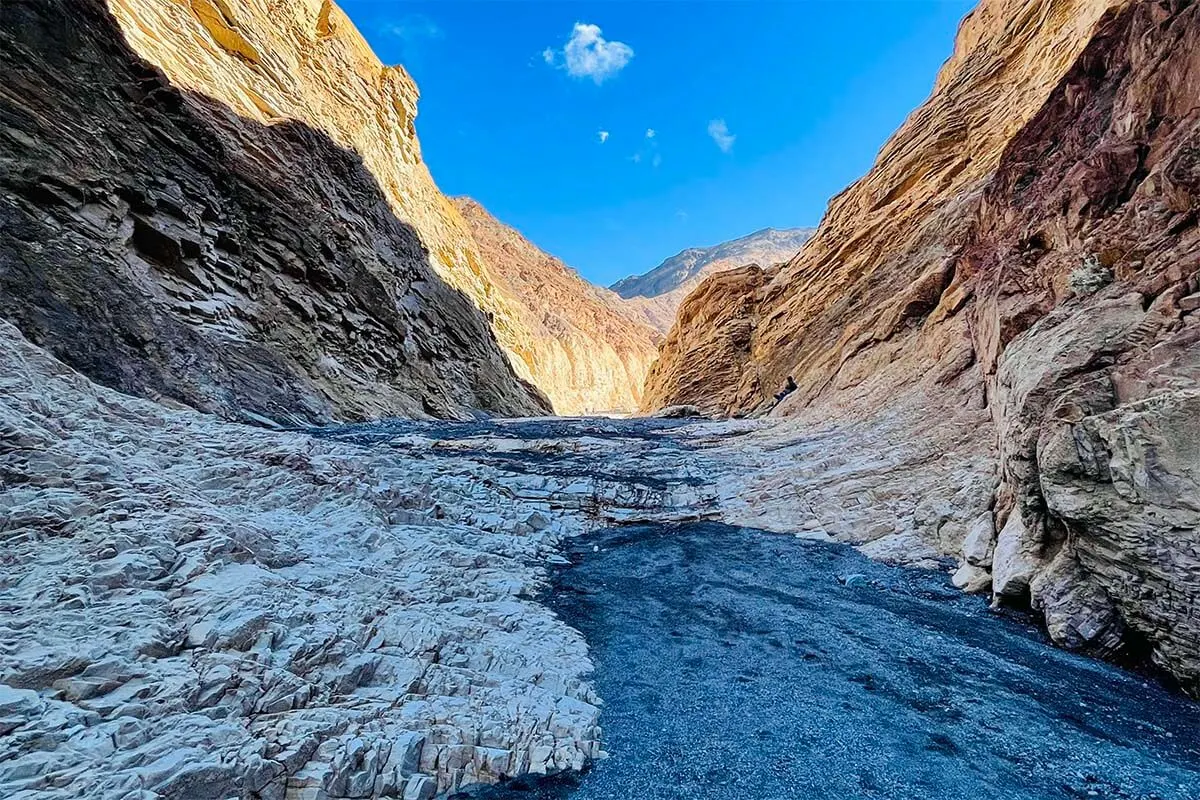 How much time do you need: If you only walk about half a mile, you need about 30 minutes for a visit here. If you decide to hike the entire trail (only recommended in winter), it can easily take 3 hours or even longer depending on the temperatures and your condition. Also here, be sure to pack plenty of water!
It's important to note that you have to drive the 2-mile Mosaic Canyon Road in order to reach the trailhead. This is a pretty rough gravel road. We saw a few regular cars here, but an SUV or a 4×4 would be better here.
Also, don't count on GPS or Google Maps for guiding you here. But Mosaic Canyon Road is really easy to find – it's just southwest of Stovepipe Wells. I indicated this road on our map below to help you find it.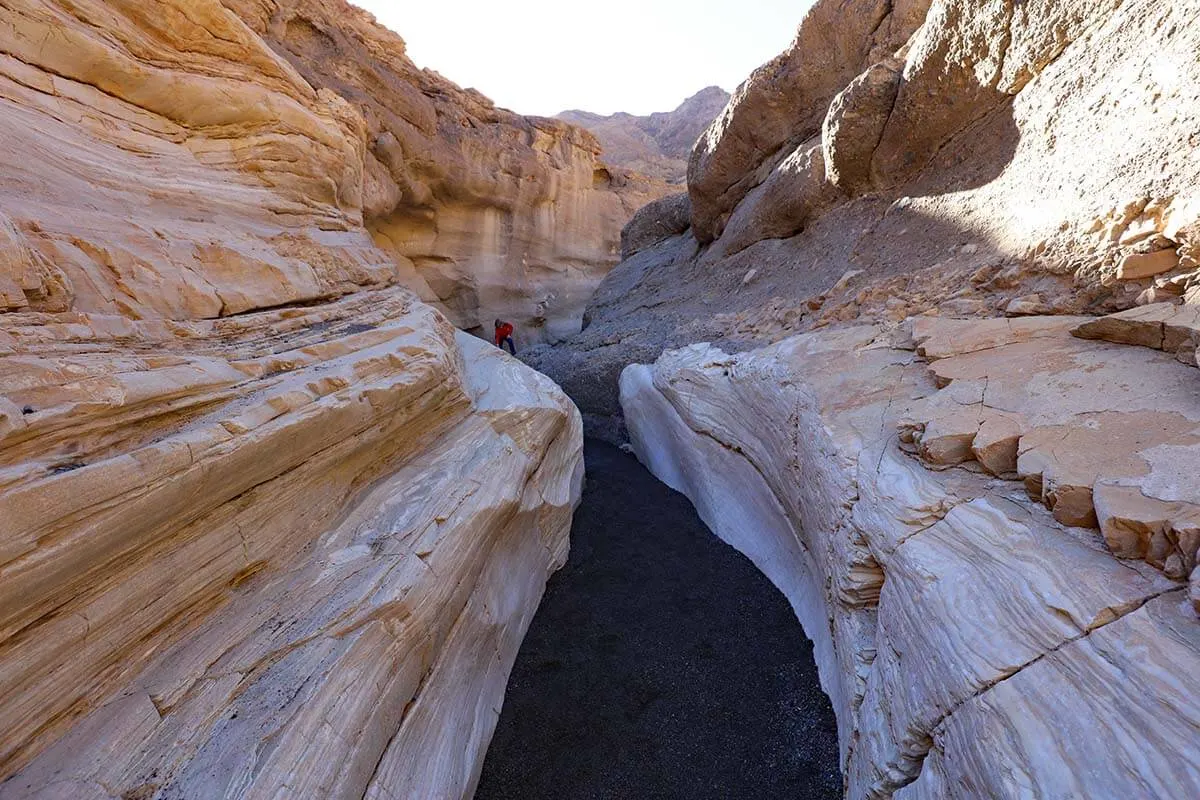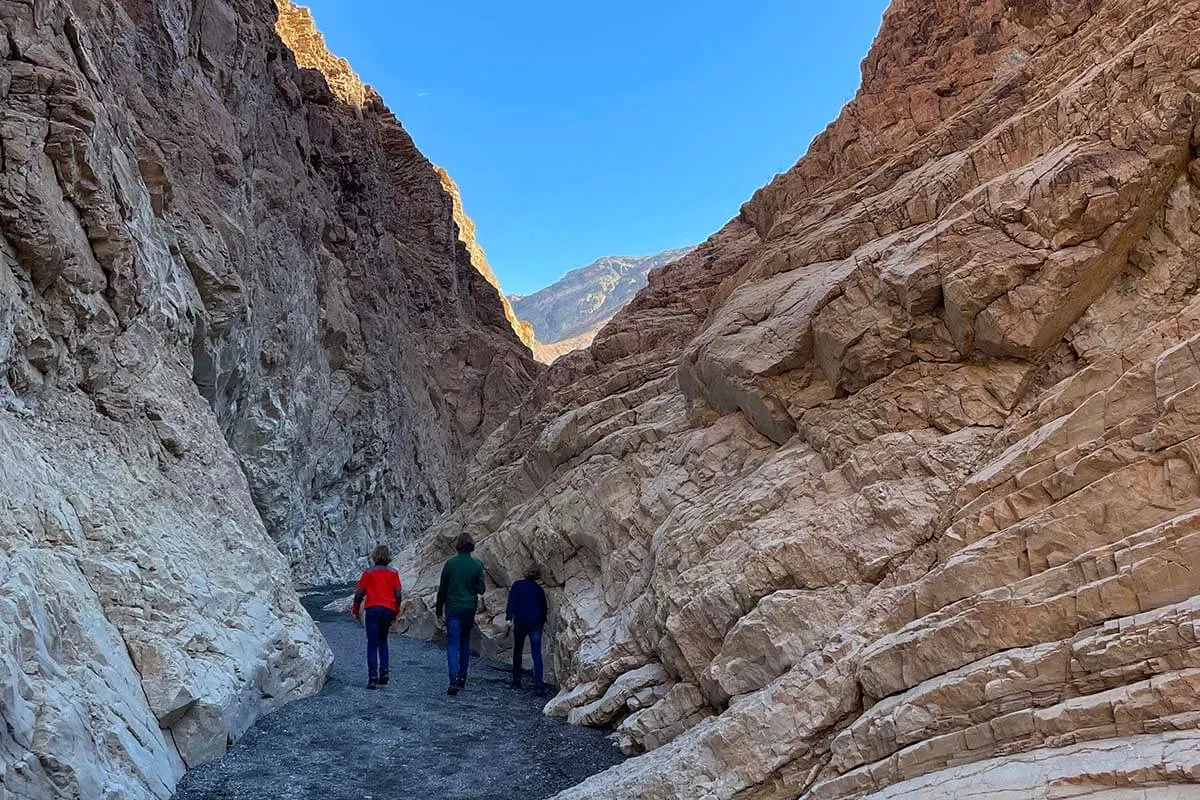 6. Dante's View
One of the highest easily-reachable viewpoints in the park, Dante's View is a lookout point offering stunning aerial views of Death Valley. From here, you can see mountain ranges and flat desert valleys stretching for over 110 miles.
The scenery here is truly impressive, giving you an even better appreciation of how much diversity there is in Death Valley.
There is a large car parking and viewing area, so you can see great views without having to walk much at all. However, if it's not too hot (or too cold and too windy as it was when we visited), you can also climb Dante's Peak, to the right of the parking. It's about 10-15 minutes hike to the top and the views should make up for it.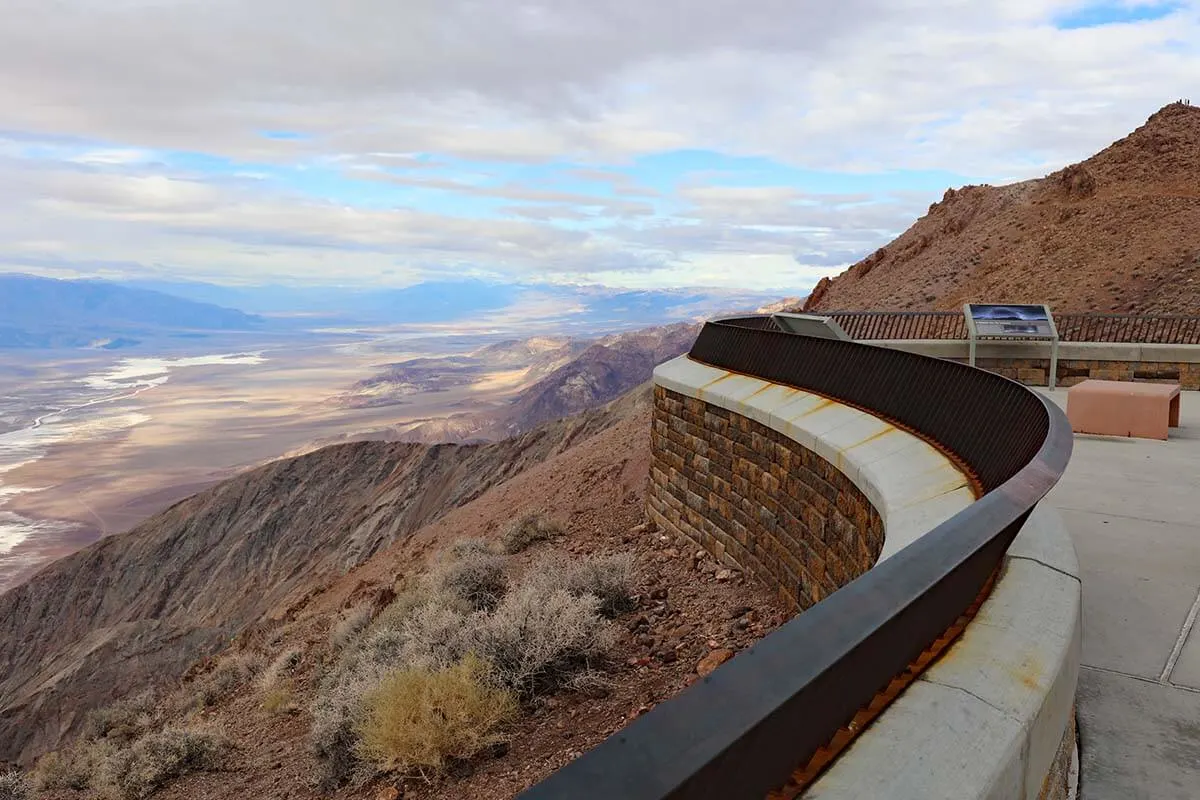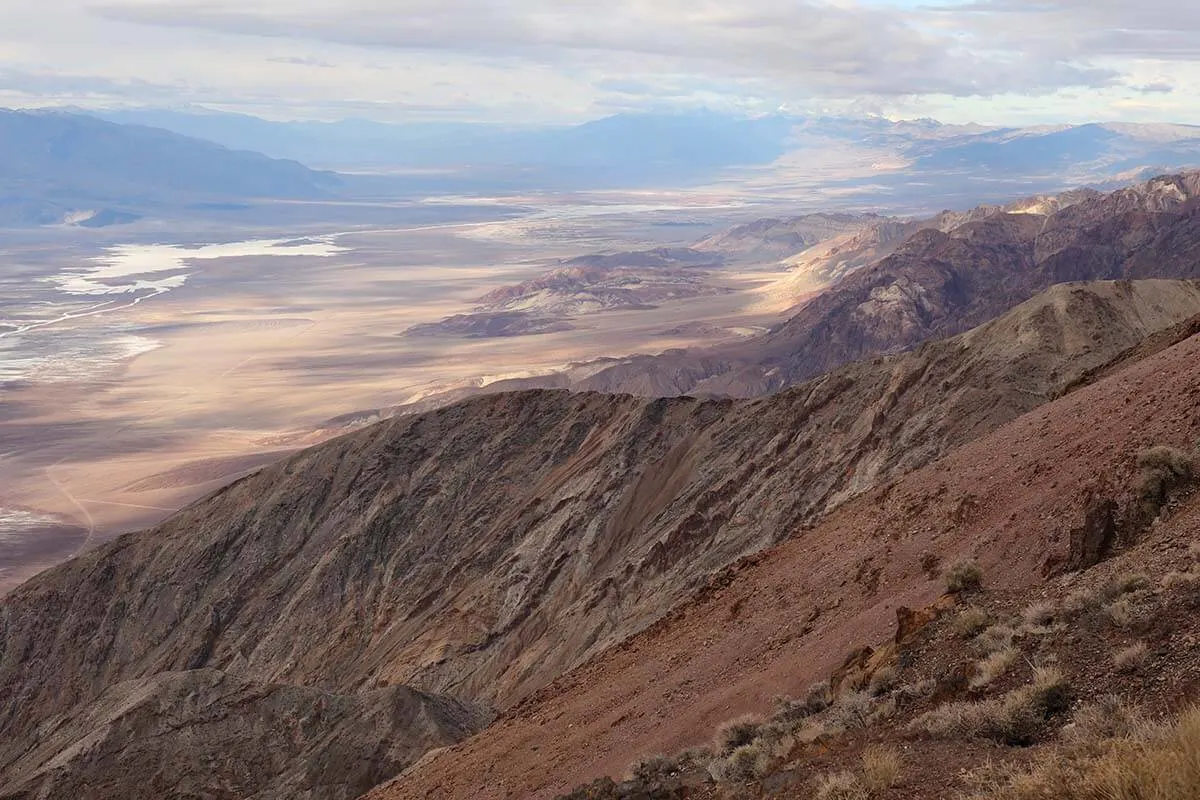 Interesting to know: Towering just above the Badwater Basin, Dante's View is 5,000 feet higher than the valley floor. That's a huge difference, not just in terms of elevation or scenery, but also in terms of temperature!
When we were here in January, it was FREEZING cold at Dante's View with temperatures of just 39 F (4°C) and such a strong wind that we could hardly stand on our feet. We needed winter jackets, gloves, and hats just to walk around at the viewpoint, not even to mention attempting a hike to the peak. In the meantime, it was 65 F (18°C) at Badwater Basin and we ended up in t-shirts after a walk…
How much time do you need: Dante's Peak is located 13 miles south of Hwy 190. It's quite a big detour to get here, and driving alone will take you at least 20 minutes one-way. In addition, if you just stop at the viewpoint, you should add about 10 minutes. If you also hike to the lookout on top of the hill, add at least 20-30 minutes extra. Obviously, you will need more time if you decide to do even more hiking in the area.
So realistically, you need at least 1 hour for a visit here. But it's totally worth it!
Good to know: Also here, the last part of the road is prohibited for vehicles over 25 ft (7.6 m). You can leave your RV/motorhome at the parking lot and walk the last bit, but whether you would want to do this, depends on the temperatures.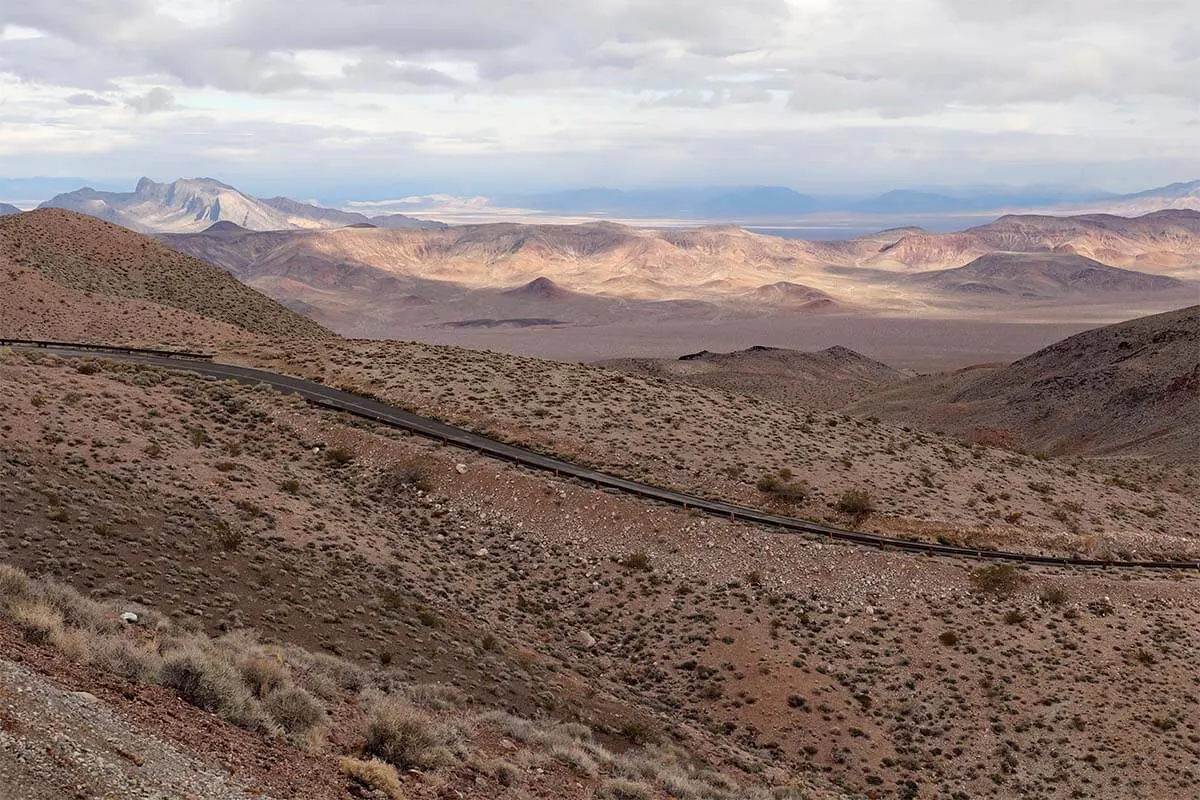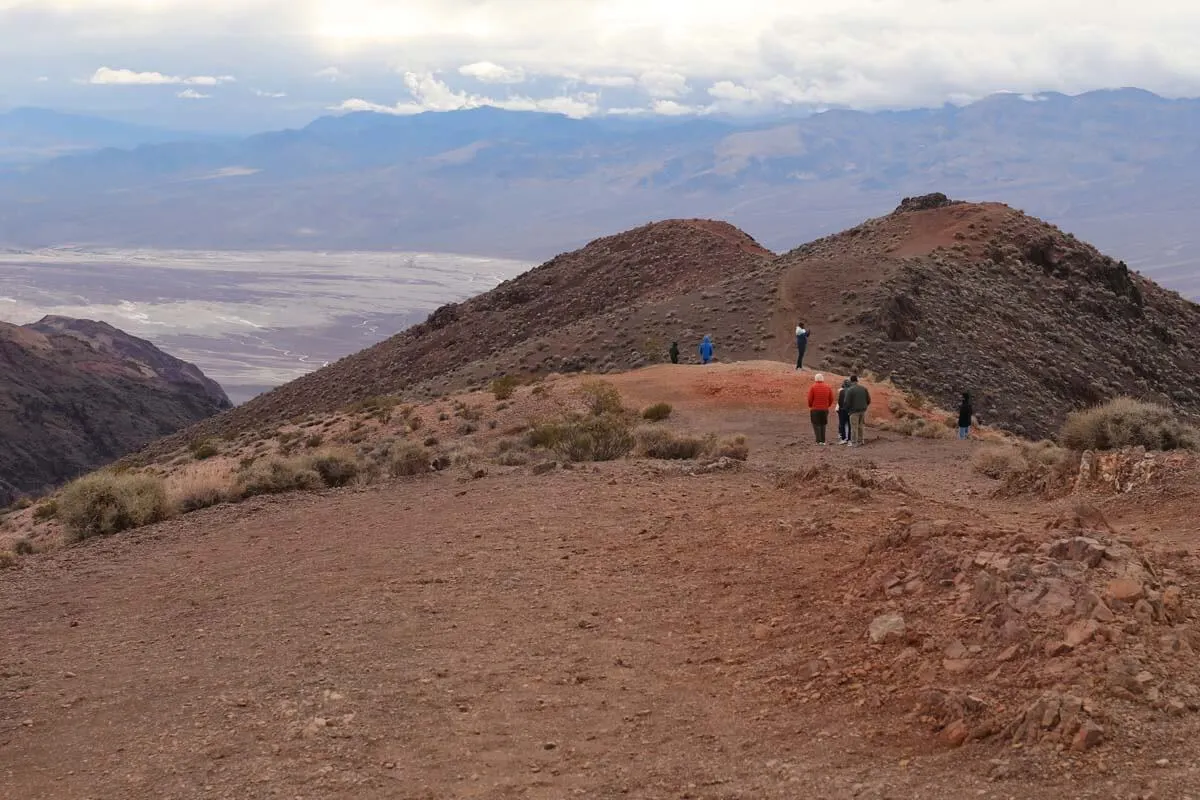 Now that we covered the must-sees in Death Valley, here are a few additional recommendations for places to see and things to do if you have more time.
More Places to See & Things to Do in Death Valley
Stretching over 3.4 million acres (almost 14,000 sq km), you can imagine that there is a lot more to see and do in Death Valley National Park than just the 6 top places mentioned above.
There are countless hiking trails, ghost towns, gold and borax mines (it's not the best idea to visit them inside though), sliding rocks, and even hot springs and golf (!)…
However, most visitors don't have the time to explore more, and often it's simply too hot as well.
Anyway, if you have more time and are looking for more things to do in Death Valley, here are a few additional suggestions.
Ghost towns, machinery, and the remains of the old mining operations
Harmony Borax Works. This is an old mining operation where you can still see some remains of machinery and buildings from over 100 years ago. It's a short interpretive trail close to the highway and makes a nice stop just a short drive north of Furnace Creek.
Furnace Creek. At Furnace Creek, just behind the general store, you can also find some old machinery and interesting objects from the mining days at Death Valley. There is an old train, carts, etc.
Wildrose Charcoal Kilns. These are old 'ovens' used to produce charcoal. They look like cute little houses and make for some nice photo opportunities. However, it's quite a bit of a detour. Also, the last few miles of the road are a bit rough. When we visited in the winter, we had to skip this because rangers told us that snow chains were needed because of recent snowfall (yes, also this is Death Valley!).
Ghost towns. In the past, Death Valley had lots of mining sites with small towns built around the mining activity. Today, you can visit some of these ghost towns (Ballarat, Leadfield, Panamint City, Rhyolite), but their conditions vary. Some of them have old dwellings and machinery, but there are also a few where there's hardly anything left…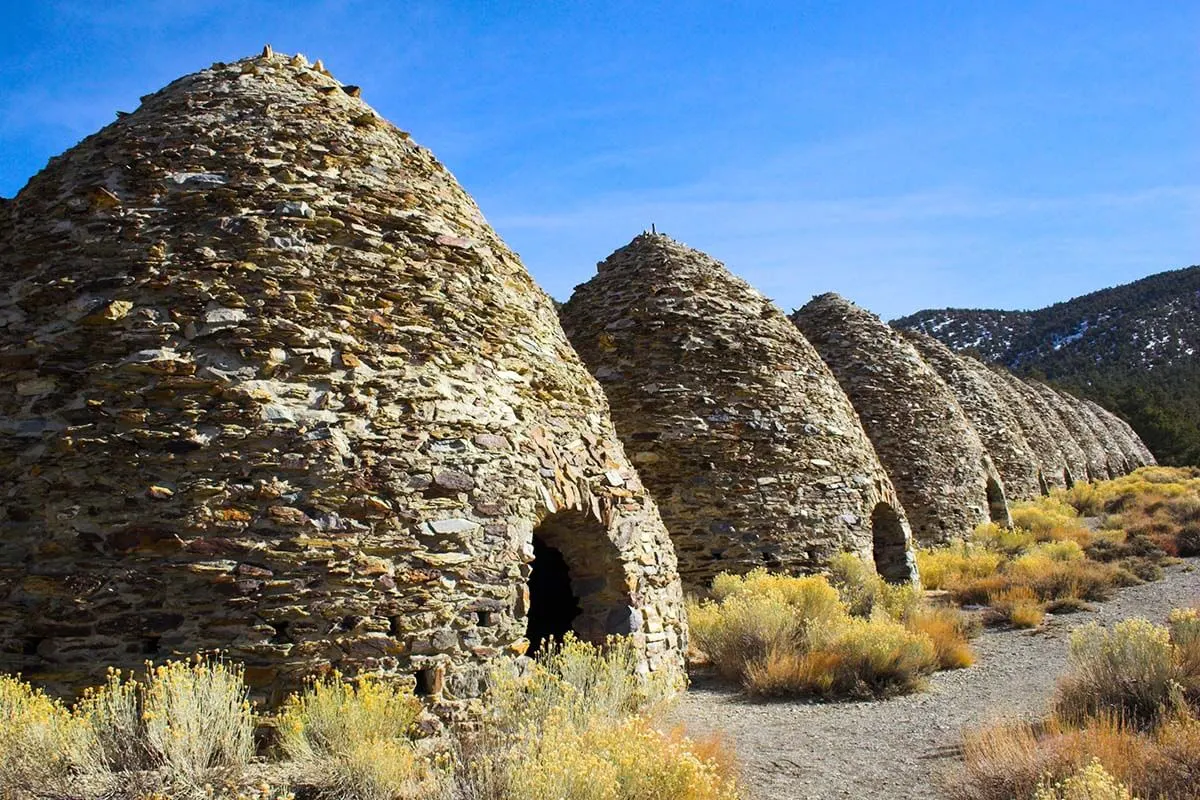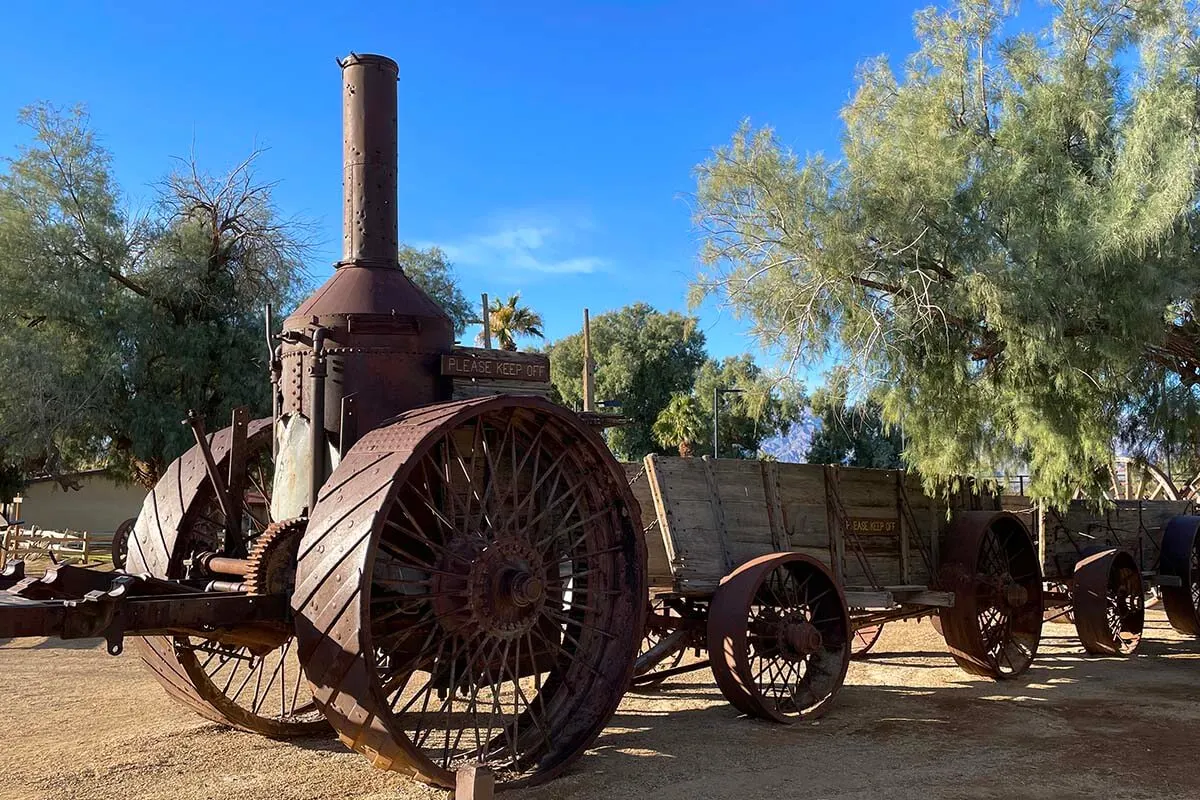 Scenic Views
Devil's Golf Course. Crystalized salts have formed some very strange jagged formations, sort of small salt spires. If you want to see some more unique scenery in Death Valley, this can be a nice quick detour on your way to Badwater Basin.
20 Mule Team Canyon. This scenic area is located right on I-190 just before you reach Zabriskie Point. There is a short gravel road that takes you into the canyon, which is quite nice (a high-clearance vehicle is recommended, but some people seem to do it in a regular car too). Since it's a loop road, you get back on the main road again soon. Most people just park next to the main road and walk around a bit.
Ubehebe Crater. This is a really impressive crater and you can see it straight from the parking area. However, it's located in the northern part of Death Valley, quite a bit out of the way from the main attractions.
Father Crowley Vista Point- Rainbow Canyon. This is a nice viewpoint to check out if you find yourself on the western side of Death Valley (e.g. if driving to/from Los Angeles or Sequoia NP).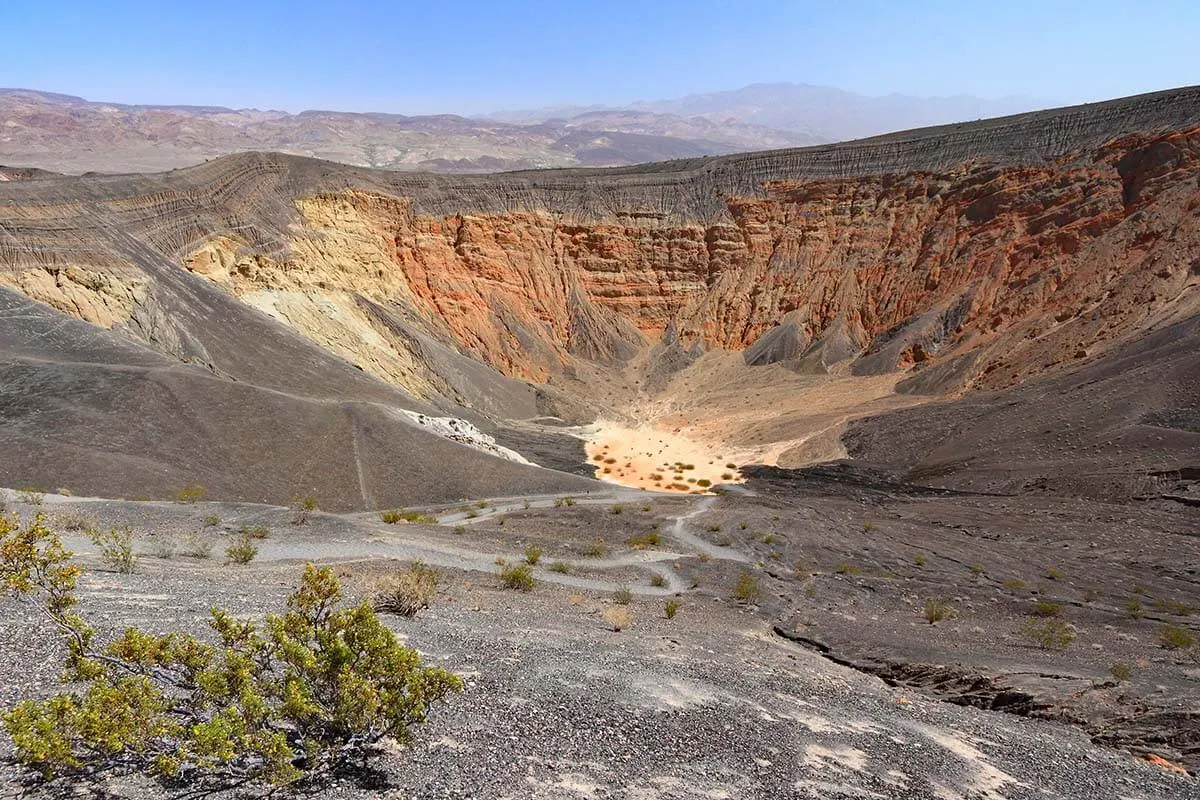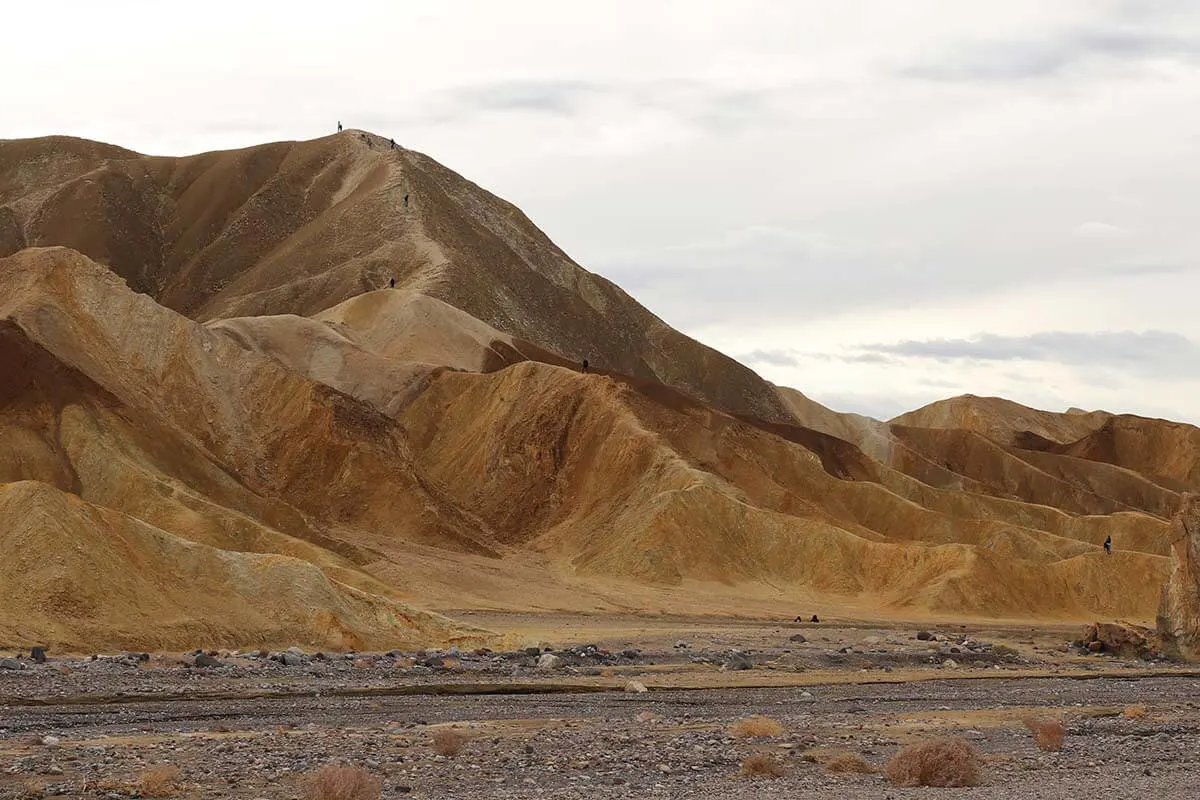 Active things to do at Death Valley National Park
Horseback riding. There are several places where you can go horseback riding in Death Valley. Especially in the winter months, this can be a great experience and a nice, easy way to explore more surreal landscapes. One of the best centrally-located horse stables can be found at Furnace Creek (next to The Ranch/Oasis Resort). They offer 1 or 2-hour rides.
Biking. If you like slow travel, you can also explore Death Valley by bike. Among several other places, rental bikes are available at the above-mentioned resort at Furnace Creek. You can choose between regular road bikes or e-bikes and rent them for half a day, a day, or even a few days. I'd only recommend this if you are visiting in the winter and have plenty of time. There are also bike tours available – you would have to do some additional research on that if interested.
Swimming. Death Valley has several hot springs. However, most of them are located further away from the main area with the most interesting sights. Anyway, the best places to go for a swim are The Inn At Death Valley and The Oasis/The Ranch Resort at Furnace Creek. Their pools are filled with spring-fed warm water. We were here at New Year and the outdoor pool was warm enough for a swim. It's not hot though, so perfectly enjoyable in the warmest months as well. However, the pools are only accessible to hotel guests. Another (very simple) accommodation with hot springs is Delight's Hot Springs Resort in Tecopa, just outside the southeast corner of the park, close to Shoshone.
Golf. In addition to Devil's Golf Course (which is obviously not a golf course at all), there is an actual golf course in Death Valley as well. You can find it at Furnace Creek. It's a bit surreal to see green grass in the desert, but avid golfers will enjoy playing golf on the lowest-elevation course in the world. In the summer, you have to start at 6-7 am or it gets too hot!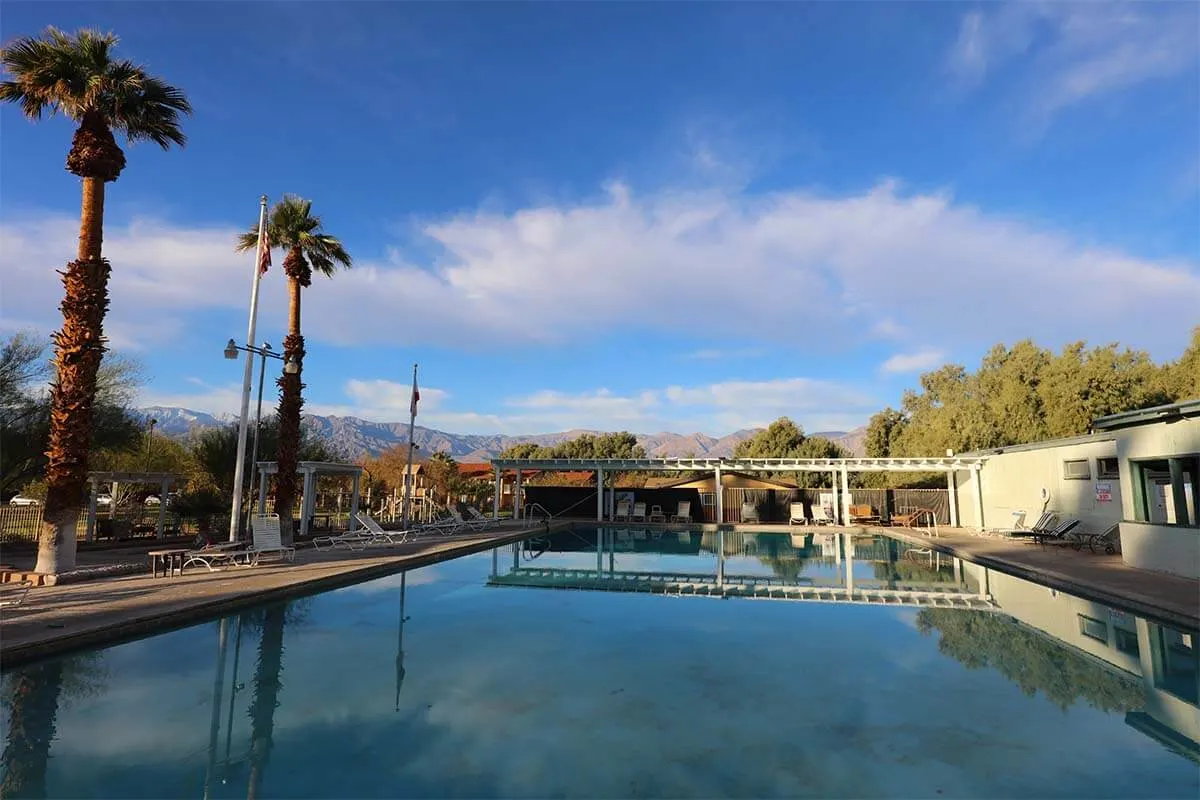 Map
To help you get a better idea of where everything is located, we created this map indicating all the sites mentioned in our article.
As you can see, all the very best places to visit in Death Valley are located rather close to Furnace Creek, in the center of the park.
This area is just a bit over 2 hours away from Las Vegas and so it's possible to see these top sights in a day (by car or with an organized tour). In fact, this is one of the best day trips you can do from Vegas!
How to use this map: Use your computer mouse (or fingers) to zoom in or out. Click on the icons to get more information about each place. Click the arrow on the top left corner for the index. Click the star next to the map's title to add it to your Google Maps account. To view the saved map on your smartphone or PC, open Google Maps, click the menu and go to 'Your Places'/'Maps'. If you want to print the map or see it in a bigger window, click on 'View larger map' in the top right corner.
Practical Information
Death Valley is the dryest and hottest place in the USA. If you are visiting in the summer, your feet can literally start to burn through your shoes! So adjust your expectations and itinerary based on the season when you visit and don't do stupid things like hiking in the middle of the day in the summer. Also, always carry plenty of water!
There is a fee to visit Death Valley and you can get a pass at the visitor center (so not at the entrance of the park). If you have the annual National Parks Pass (America the Beautiful Pass), it's also valid here.
Death Valley has limited facilities, but you can find fuel and food stores here too. However, everything is very expensive here. It's best to fill up your tank before you arrive, and you may also want to bring your own snacks/picnic. This will save you money, but also time.
Because of its size and limited facilities, you need a car (or a motorcycle/RV, etc.) in order to visit Death Valley.
While the main roads in Death Valley are really good, many side roads are unpaved and in varying conditions. It's always a good idea to check if your rental car insurance covers gravel roads (most don't) and it's even more important to ask park rangers for up-to-date information about the specific places you plan to visit! Also, driving off-road is forbidden!
When planning your sightseeing at Death Valley, keep in mind that in summer it's very hot during the day and you won't be able to do much after 10-11 am. And in winter, the days are short and it gets dark very early (it's pitch dark from +- 5 pm around New Year).
You can visit Death Valley in 1 day from Las Vegas, but it's a long drive (and lots to see when you get there). So be sure to leave early so that you can make the most of your time. If you are only coming for a day from Vegas, consider booking an organized tour. They will bring you to all the top spots in the most efficient way and you'll be able to rest on your way there and back.
If you want to, you can spend a night here (or a few, depending on what you want to do). The most conveniently located hotels are The Oasis Resort (aka The Ranch) and The Inn At Death Valley (former Furnace Creek Inn). They are both beautiful resorts with all the amenities you might need. But – like everything else in Death Valley – quite pricey. We stayed at The Oasis/The Ranch when road-tripping between Las Vegas and LA and it allowed us to explore everything at a slower pace.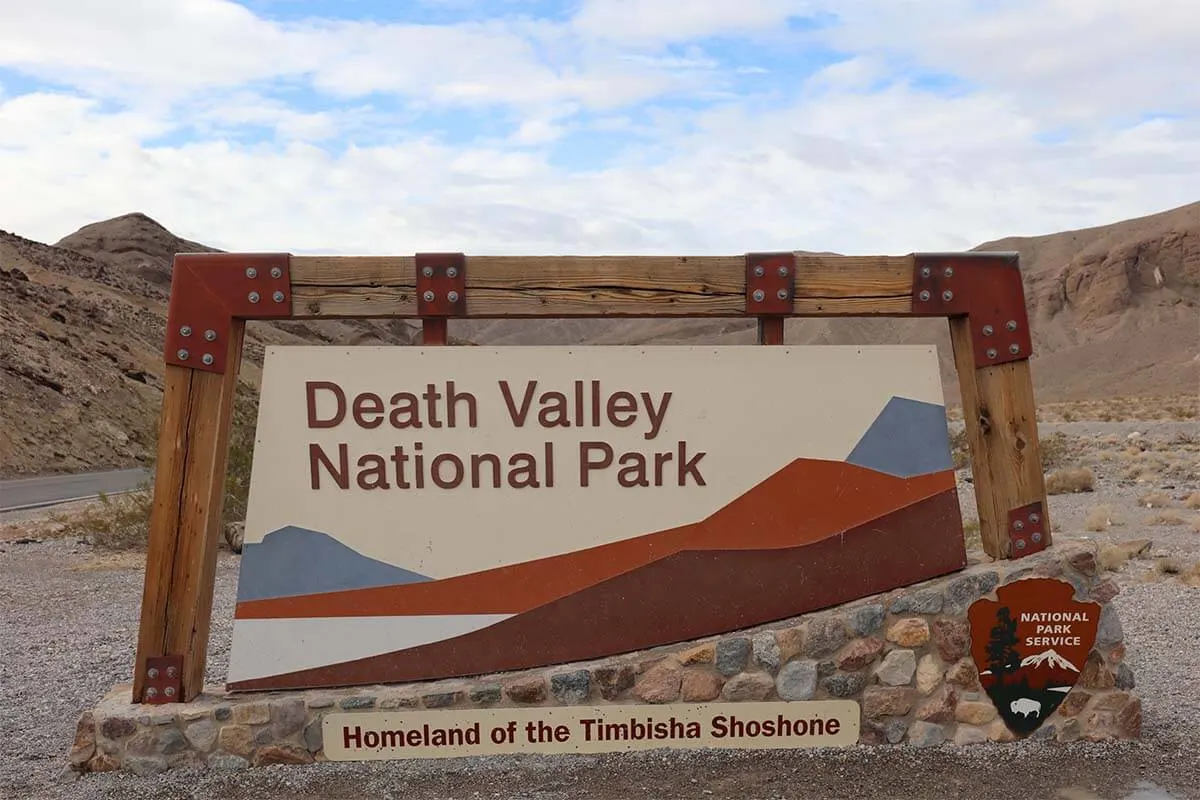 I hope that this guide gives you a better idea of what to expect and what to see in Death Valley National Park. Have a great trip!
TIP: If you are road-tripping in Southwestern USA, you may want to check our other travel guides to a big variety of destinations in the region. Take a look via the links below!
Las Vegas:
Grand Canyon:
More of Arizona:
Itineraries:
National Parks nearby:
If you found this post useful, don't forget to bookmark it and share it with your friends. Are you on Pinterest? Pin these images!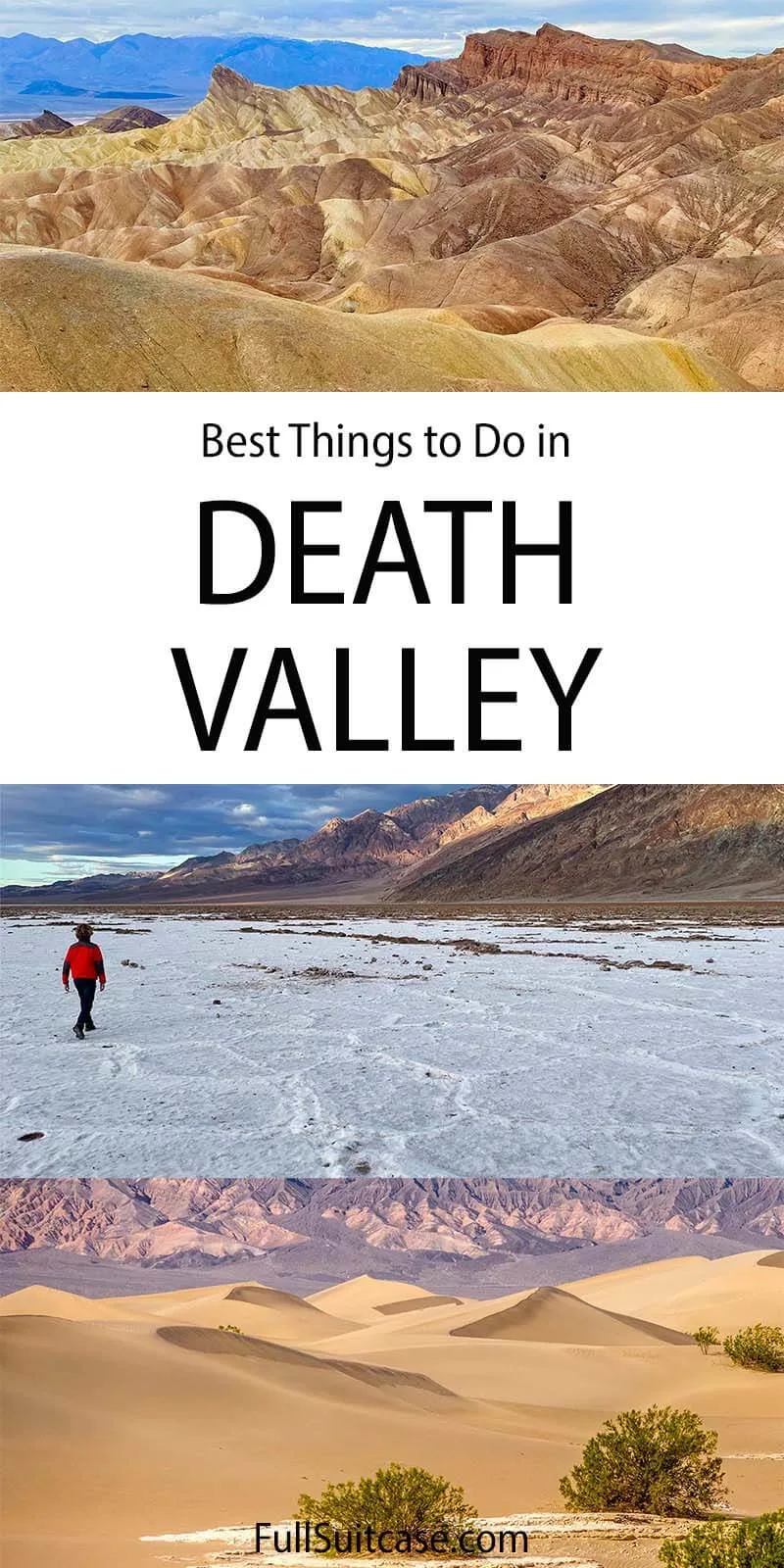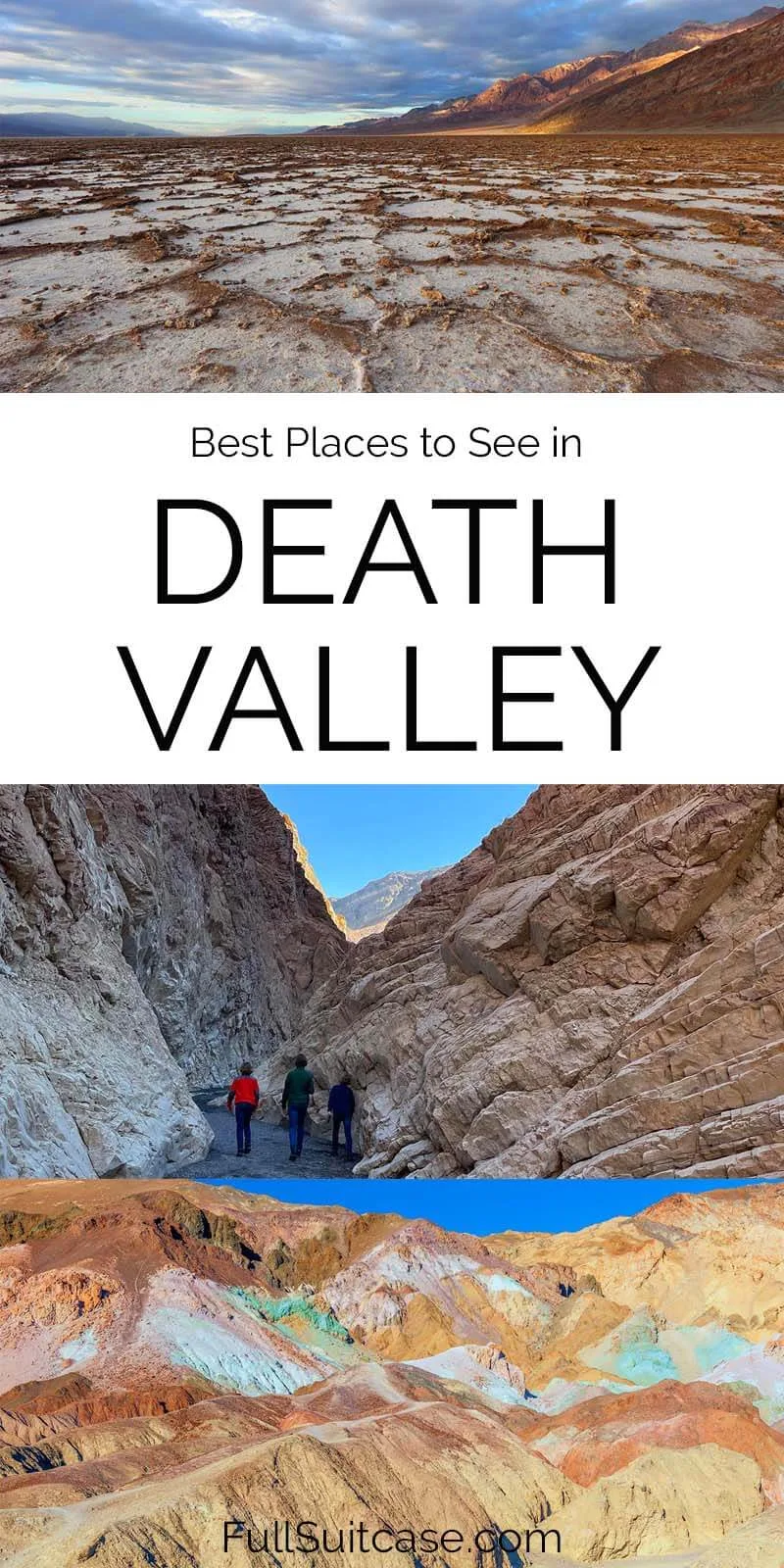 More travel inspiration for USA National Parks:
Seasonal guides: