Planning a trip to Acadia National Park in Maine, USA, and wondering what to see and do and how to best plan your itinerary? In this article, we share Acadia NP itinerary suggestions for any trip from 1 to 3 days and more. In addition, you can find some practical information and insider tips for your visit – the best time to travel, the most convenient places to stay, where to eat, and more. Find out!
Sweeping coastlines, rugged mountains, crystal clear lakes, and an abundance of wildlife biodiversity all make it easy to see why Acadia National Park ranks in the top 10 of the most visited national parks in the U.S. every year.
However, with endless hiking trails, numerous campgrounds, charming Bar Harbor, and dozens of exciting activities to choose from, it can be overwhelming trying to plan your Acadia National Park itinerary. Especially if you are visiting for the first time and only have a few days to see the best that Acadia has to offer.
But with this insider guide and useful tips, you are sure to have a wonderful trip to Acadia, regardless of the season or how much time you have. And don't worry, we understand that not everyone loves to hike, so while we include recommendations for the best hiking trails, you'll find plenty of other fun activities, as well!
Good to know: This guide is written by a guest author Emily from the Emily Embarks travel blog. She lives in Maine and has been to Acadia NP dozens of times, exploring the major hiking trails, beaches, scenic outlooks, and every nook and cranny of Bar Harbor. So all the recommendations in this article are based on her personal experience and she shares the very best tips that will help you make the most of your trip to Acadia National Park.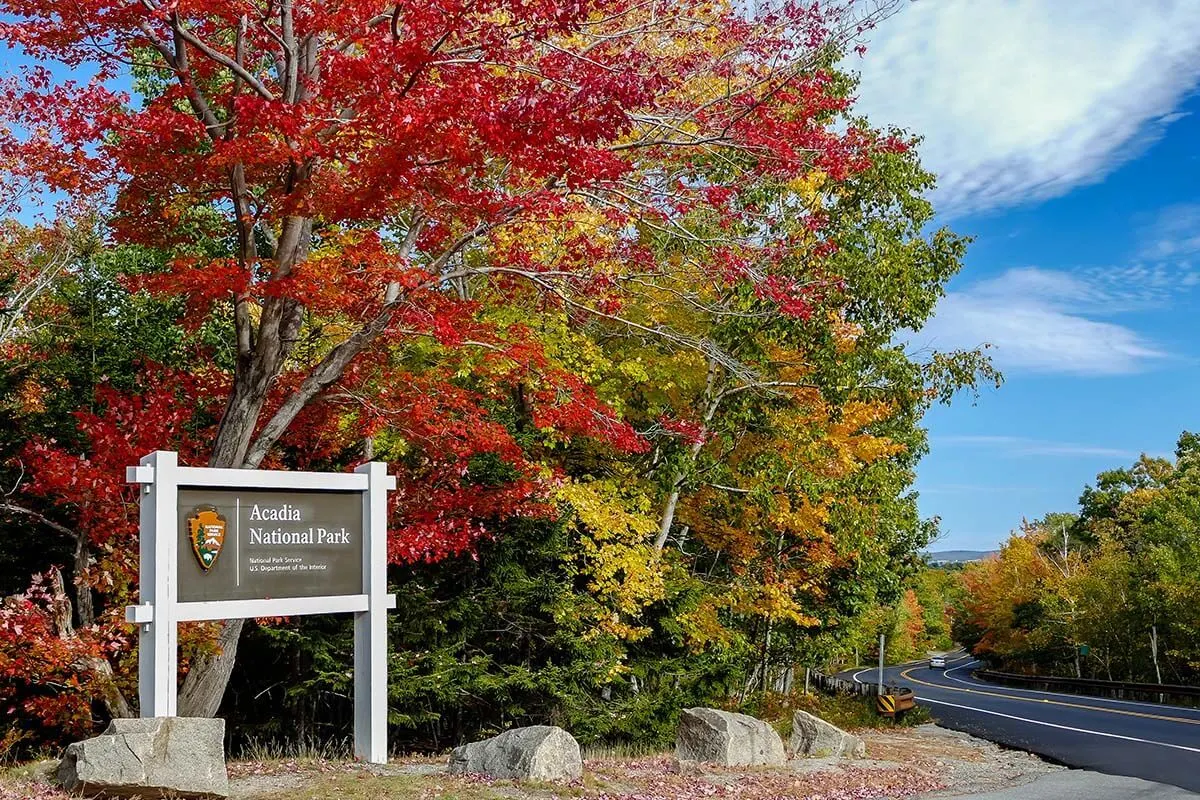 Acadia National Park Itinerary & Travel Guide – OVERVIEW
Acadia National Park itinerary suggestions:
One Day in Acadia National Park: Classic Tour
Further below, you can find our recommended self-drive itinerary for Acadia NP in a day. But first – our top recommendation for those who are short on time.
PRO TIP: One of the best ways to see a lot of attractions in a short amount of time and make the most of your day in Acadia NP, is to opt for popular bus tours that cover all the main landmarks. You'll get to see major attractions without having to worry about parking, getting directions, or buying a park pass. All you need to do is show up on time with your camera and some snacks.
These tours bring you to all the must-see sights including the Cadillac Mountain summit (the tallest mountain on the East Coast of the U.S.!), Sieur de Monts Nature Center & Wild Gardens of Acadia, Thunder Hole, and more.
The most popular way to see the main highlights of Acadia NP is by taking these narrated bus tours (run by the official organization Acadia National Park Tours). You can either opt for a 2.5-hour 'classic' tour that covers all the main highlights or – if you have more time – opt for the 'premium' 3.5-hour tour instead.
Both tours cover the same itinerary but the premium tour allows more time at all the best places. Furthermore, you travel in a smaller group and have more flexibility. In addition, there are some private tours as well, ranging from 3 to 5 hours. You can find more options here and this highly-rated private tour is by far the best option if you want to see the 'musts' in a short time.
Just be sure to book in advance because they often sell out, especially in the peak season!
Once you are back from your tour – and if you have some extra time – you can explore Bar Harbor, rent a bike, go kayaking, or check out one of the many restaurants in town.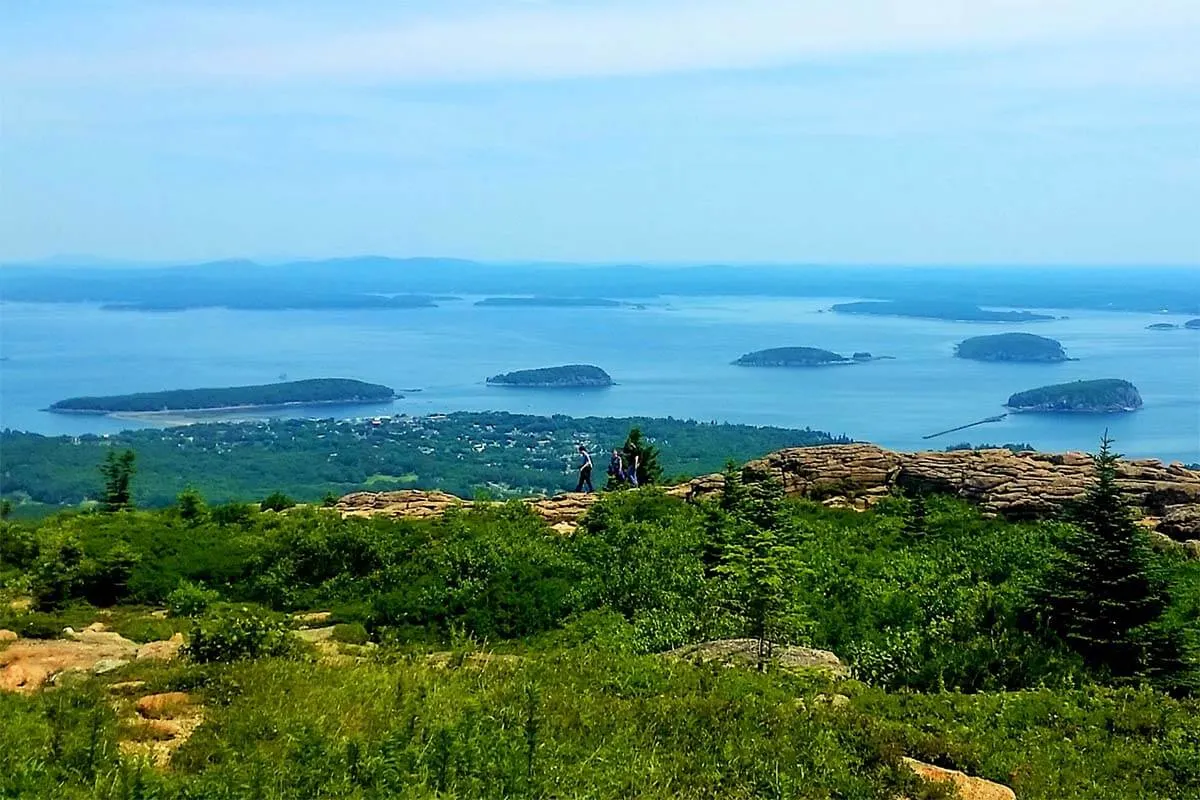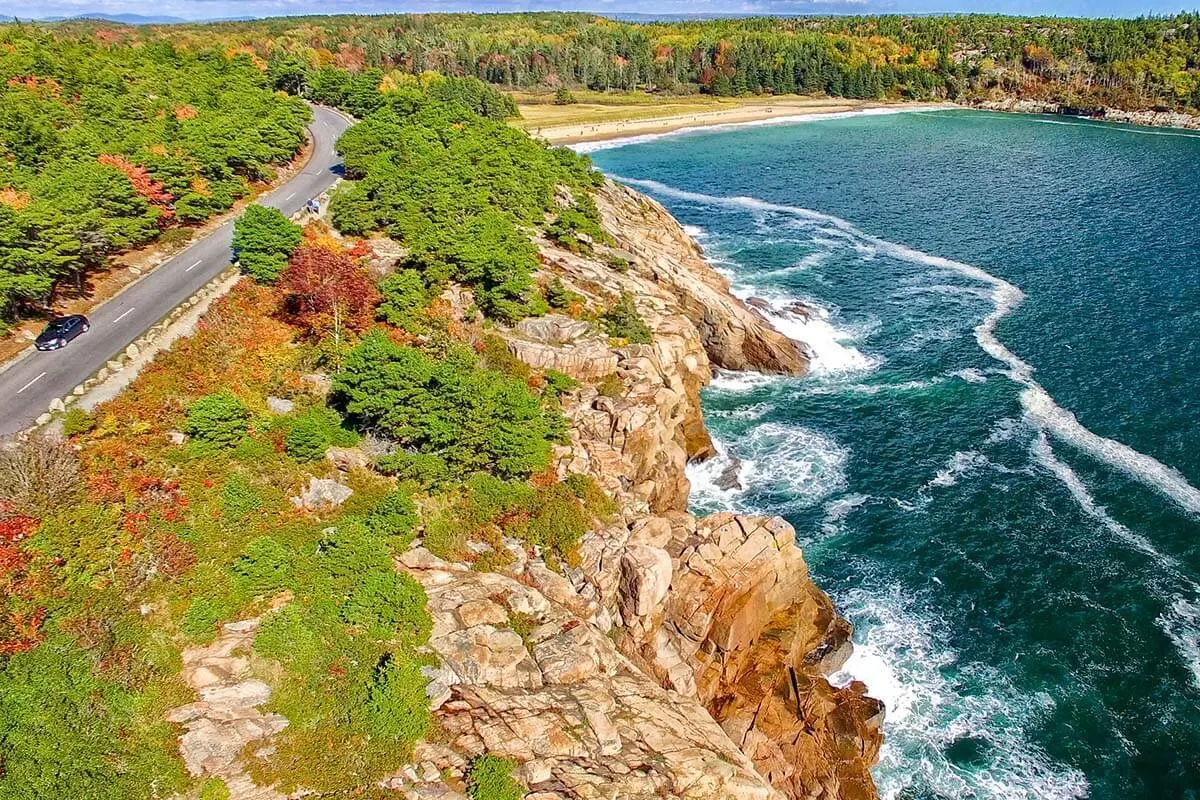 One Day in Acadia National Park: Self-Drive Trip
Good to know: Before arriving in the park, you'll need to make sure you have your Park Entrance Pass. Passes cost $30 for personal vehicles (not charged by the number of people) or $15 for people traveling by foot or bicycle. They are valid for seven days. If you have an annual America The Beautiful National Parks pass, it's also valid here. If you are visiting more than two parks over a 12-month period, it's a bargain at $80.
Thanks to the park's convenient road system, you can see and do a lot in Acadia National Park in just one day. But keep in mind that parking lots fill up fast and once the spots are gone, you'll be risking a ticket or tow by parking along Park Road.
So if you aren't taking an organized tour, then my best tip for those who have just one day in Acadia National Park is to get up at the crack of dawn and get to the park very early.
Below, is our recommended self-drive itinerary, or you can also opt for a self-guided driving tour that will lead you to all the best places without you having to prepare much.
Here's how we recommend spending 1 day in Acadia National Park:
Sunrise at Cadillac Mountain (via Summit Road and a short Summit Loop hike)
Jordan Pond Loop Trail & The Bubbles Trail (optional)
Thunder Hole & Sand Beach
Anemone Cave & Schooner Head Overlook
Sunset at Bass Harbor Head Lighthouse (optional)
Shopping and dinner in Bar Harbor
TIP: This one-day itinerary maximizes your sightseeing time by including the best short hikes in the park because many popular hikes take up to half a day and would really cut your time. If you are looking to do just one very short hike in Acadia, then I suggest doing the Cadillac Mountain Summit Loop Trail.
Below, you can find more information about each of these places. Read on!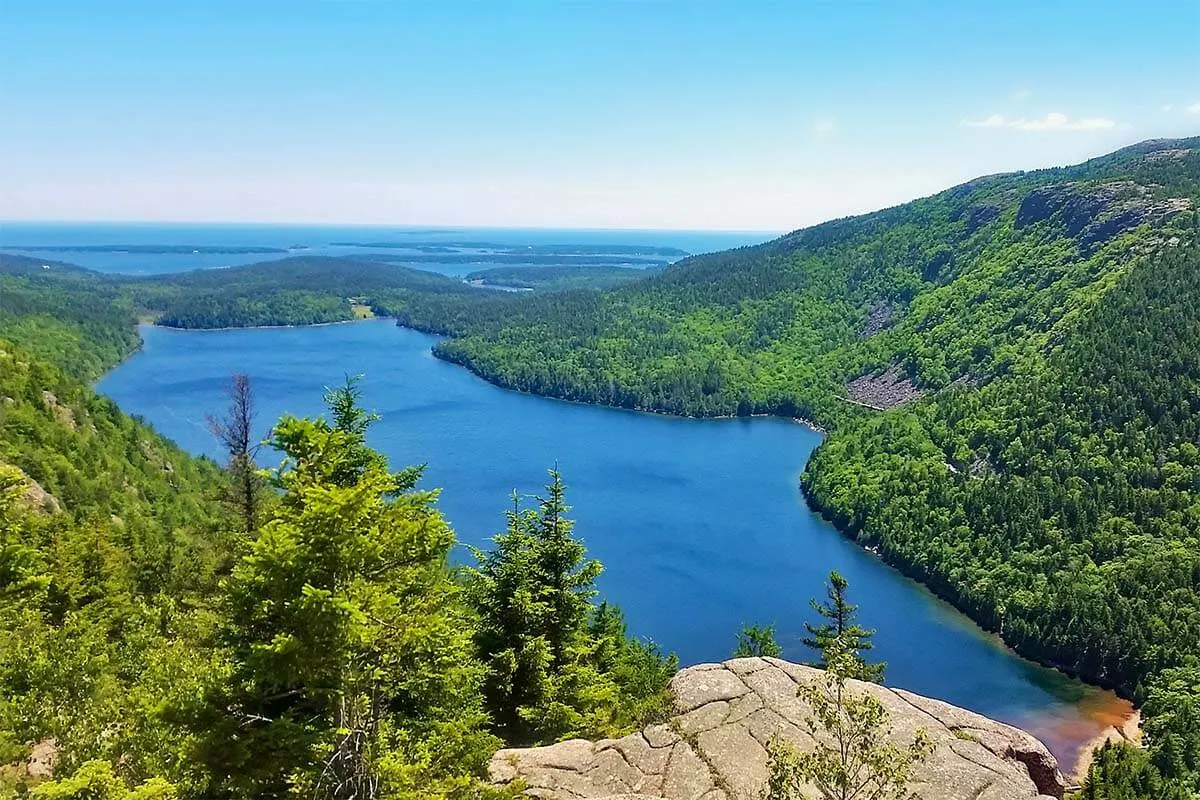 Cadillac Mountain Road & Summit Loop Trail
First thing in the morning, drive up Cadillac Summit Road for exceptional views of the Maine coastline and surrounding islands. Cadillac Mountain is one place that everyone visits in Acadia, so be sure to get to the top early. Not only is sunrise a great time to be here, but you will also avoid large crowds.
One of the best short hikes in Acadia National Park – Cadillac Mountain Summit Loop Trail – starts here. If you do just one hike today, make it this one!
Accessible by driving to the top of Cadillac Mountain, this trail is only about 0.5 miles long and provides exceptional views overlooking the surrounding islands. The hike can be completed in about 30 minutes and the views here are phenomenal. It's a great introduction to the park and a wonderful way to start your day in Acadia National Park.
Good to know: Acadia NP now works with timed-entry slots for Cadillac Summit Road in the high season. So you have to reserve your permit in advance (even if you come here for the sunrise!). More info here.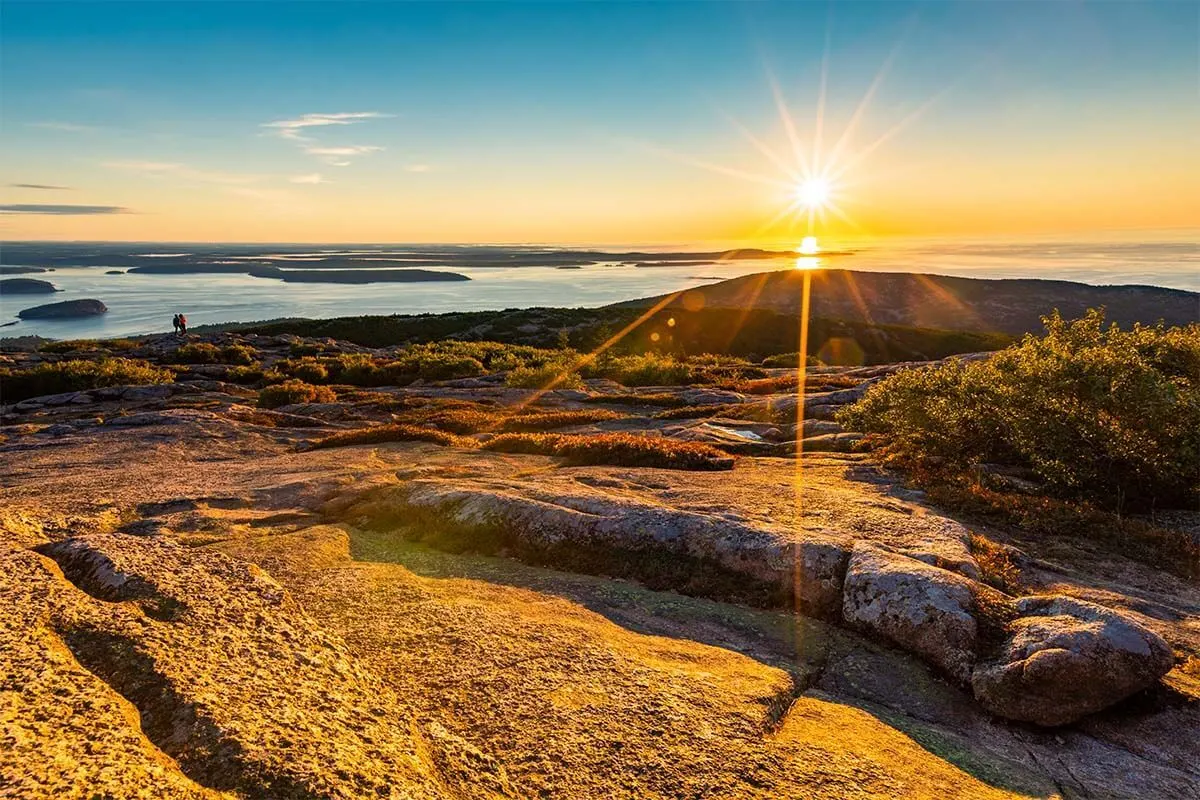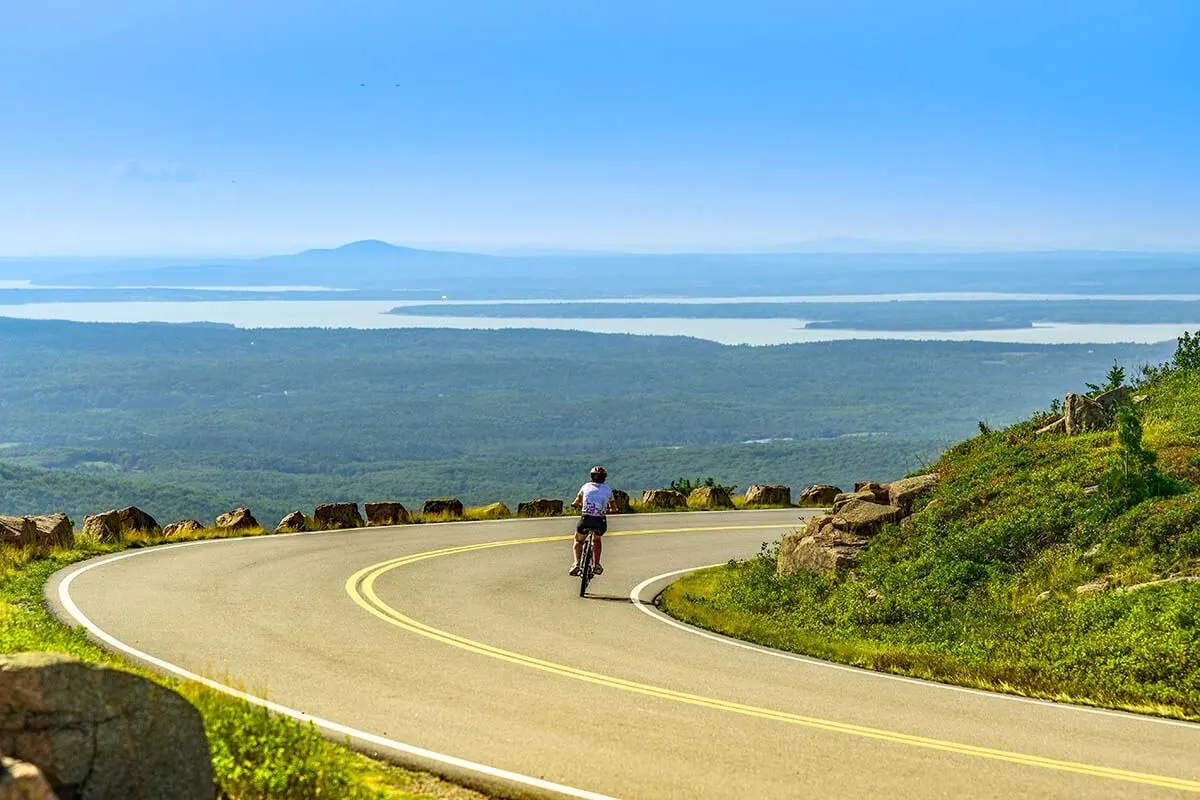 Jordan Pond Loop Trail & The Bubbles Trail
Afterwards, drive back down the mountain and make your way over to Jordan Pond, a little over 3.5 miles south of Summit Rd. from where you turn back onto Park Loop Road. The parking lot at Jordan Pond fills up very quickly, so if it's full when you get there, I suggest trying the North Parking Lot instead (there will be signs leading you there).
Jordan Pond is a beautiful lake and you can see some nice scenery without hiking much. But if you feel like it, you can take the scenic 3.4-mile Jordan Pond Loop Trail all around the pond. It's a relatively flat trail following the pond and offering several breathtaking vistas. On your way, you'll have a charming walk through the woods, but also stunning views of the popular North and South Bubbles.
If seeing the Bubbles makes you want to hike them, go for it! There's a short trail that forks from the Jordan Pond Loop and brings you along the North Bubble, the South Bubble, and Bubble Rock Overlook for outstanding views of Eagle Lake. You can then easily reconnect with the Jordan Loop Trail after taking this detour.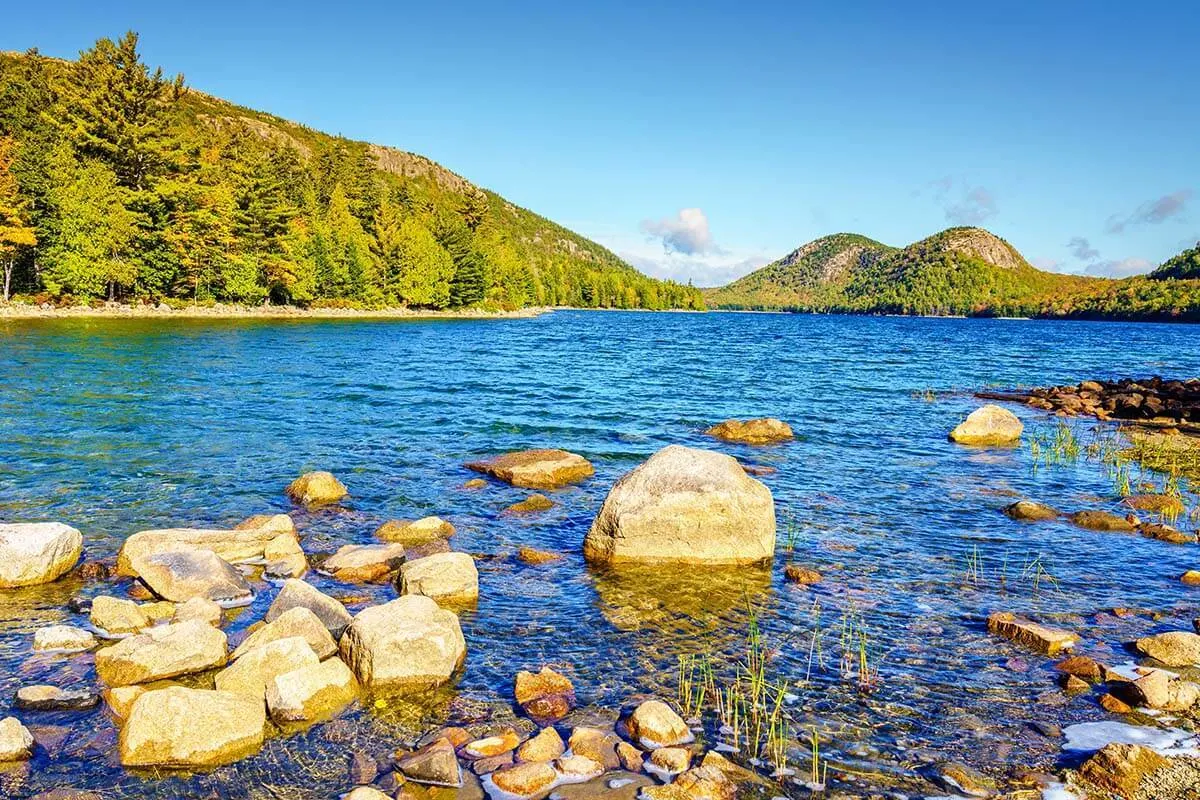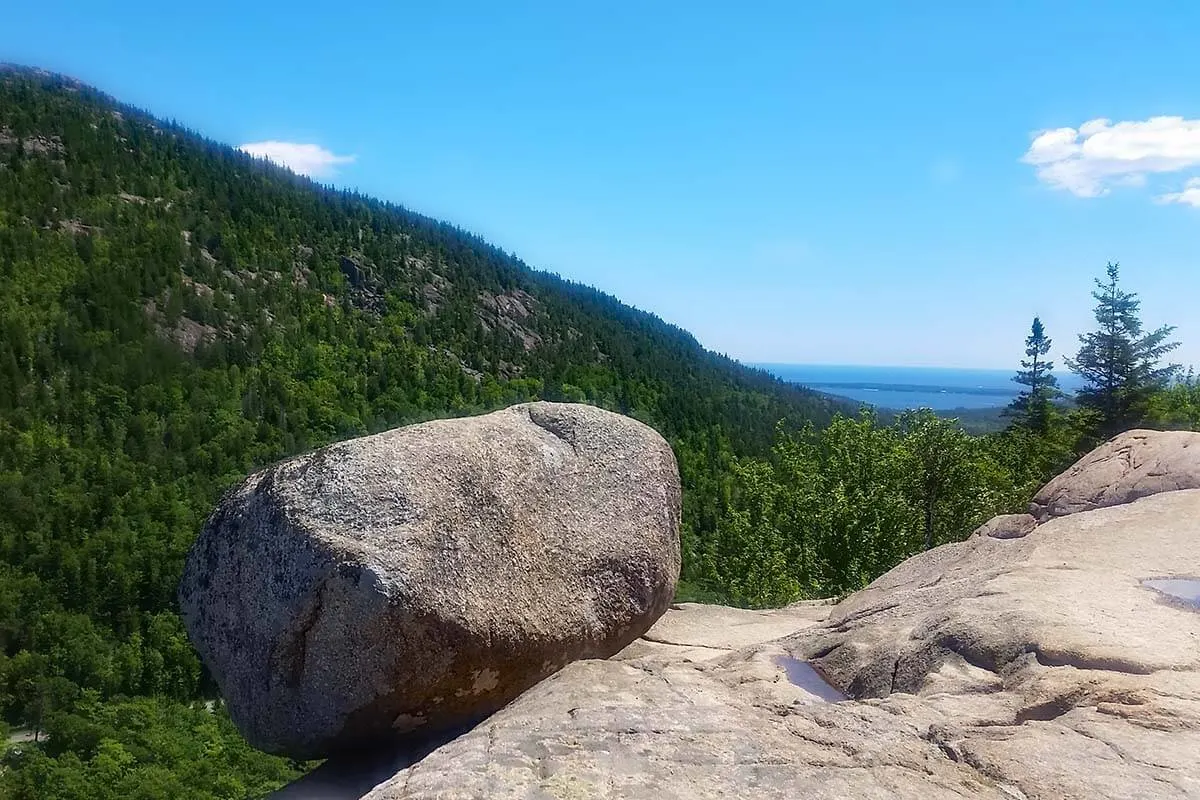 Thunder Hole & Sand Beach
After exploring this region, hop back in your car and head over to Thunder Hole via Park Loop Road. Thunder Hole is an inlet between the rocks where – when sea conditions are right – the water spouts out with a deep rumbling sound like a clap of thunder.
This is just a short scenic stop and the coastline is very nice, so check it out. If you could time it to be here an hour or two before high tide, it's the best time to see the thunder splash in action.
Next, head to Sand Beach. One of the most popular beaches in Maine, visits here are unparalleled. In summer, you can go swimming in crystal clear (and cold) Maine waters alongside striking cliffsides and pine trees. It's not your typical day at the beach, but the scenery is outstanding! And otherwise, it's a nice place to go for a walk, in any season.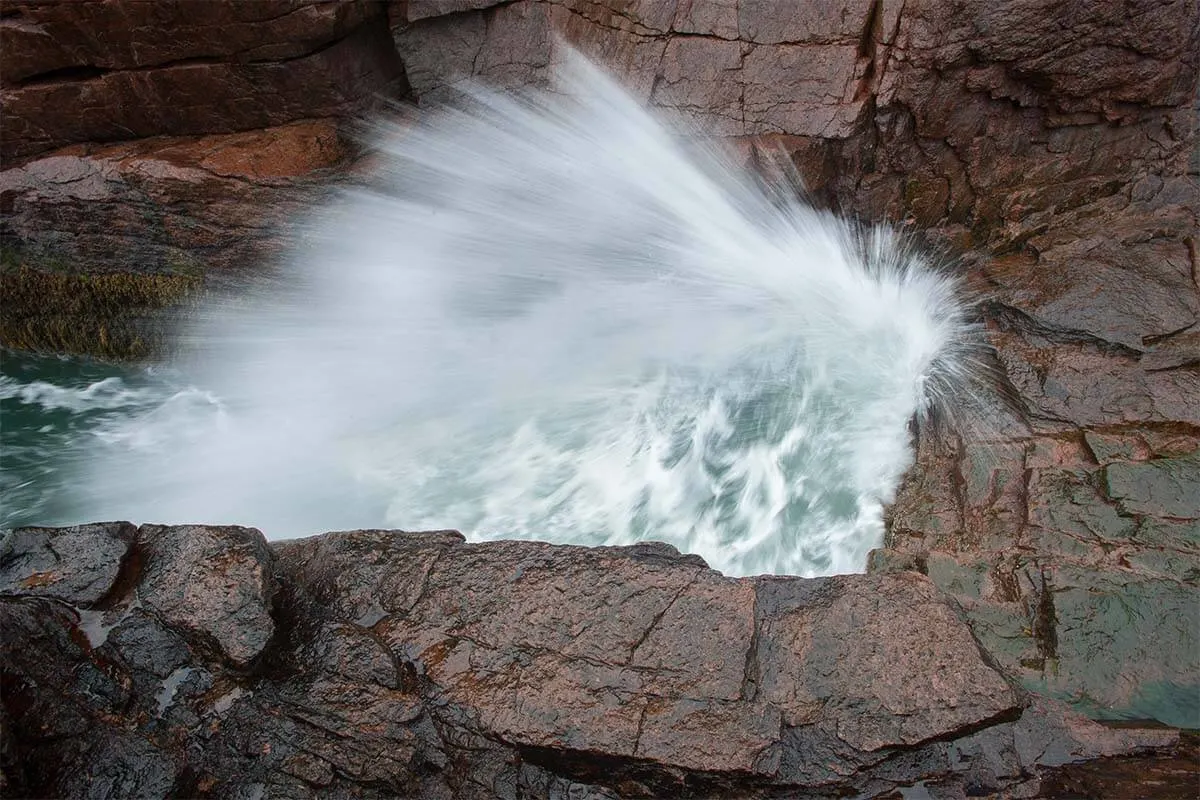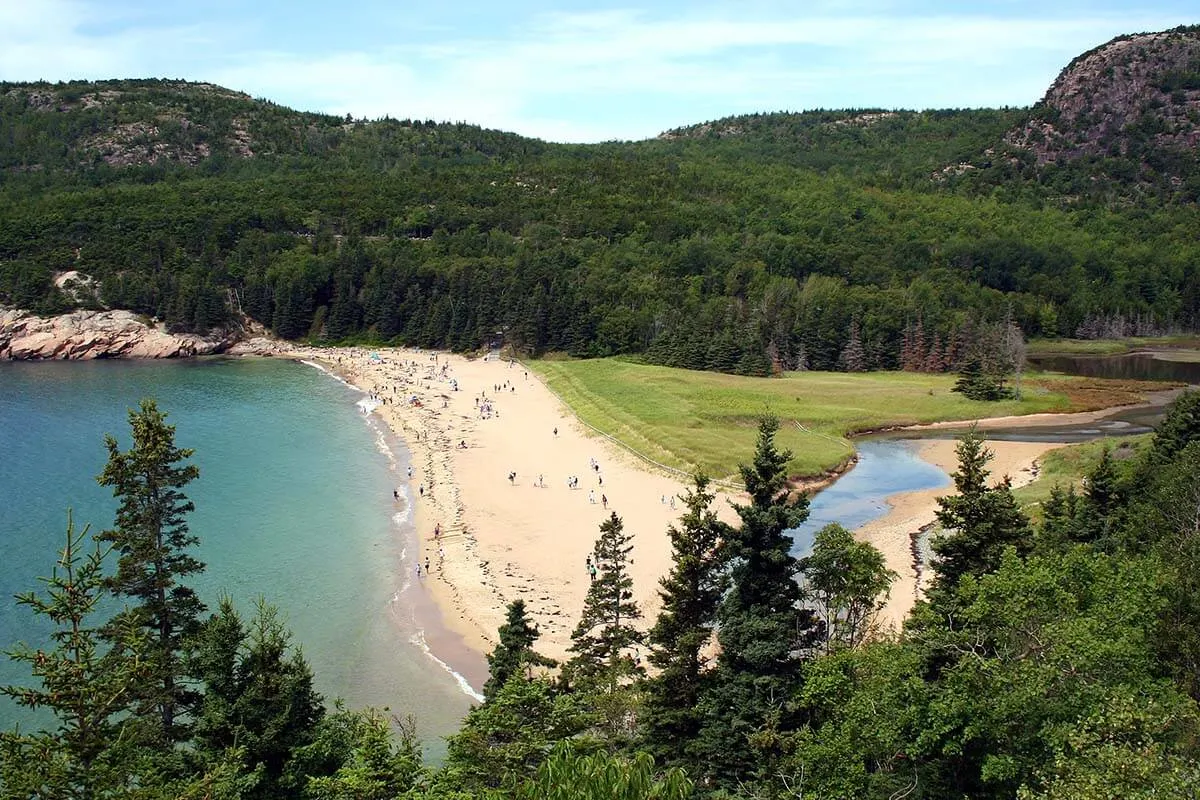 Anemone Cave & Schooner Head Overlook
Next, stop at Anemone Cave. This is my favorite secret spot in Acadia, only known to locals. Located a short walk through the woods from the Schooner Head Overlook parking lot, you'll find yourself standing atop a steep cliff with views of the glittering Atlantic Ocean.
At low tide, you'll be able to make your way into Anemone Cave, but be extra cautious. The cave is quite slippery and fills up quickly with an incoming tide! If you're worried about your safety or have children with you, the cave is clearly visible from the right side of the cliff and can also be enjoyed from a distance.
The cave is the prettiest during sunrise when you can watch a bright orange sun fill the walls of this hidden gem covered in starfish and other underwater wildlife. However, with just one day in Acadia, you can't be everywhere at the same time…
If the tide is low in the morning, this could be a nice alternative sunrise spot to start your day before heading to Cadillac Mountain. So check the tides before your trip and see what makes the most sense.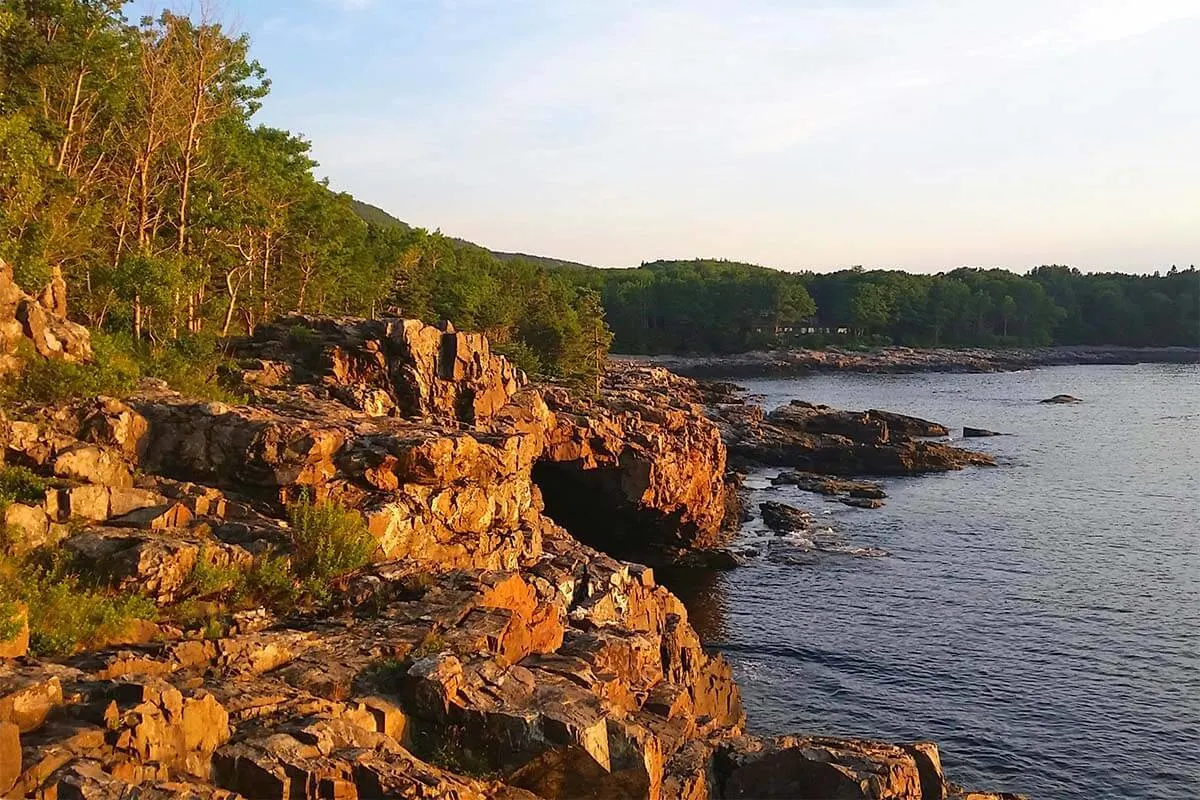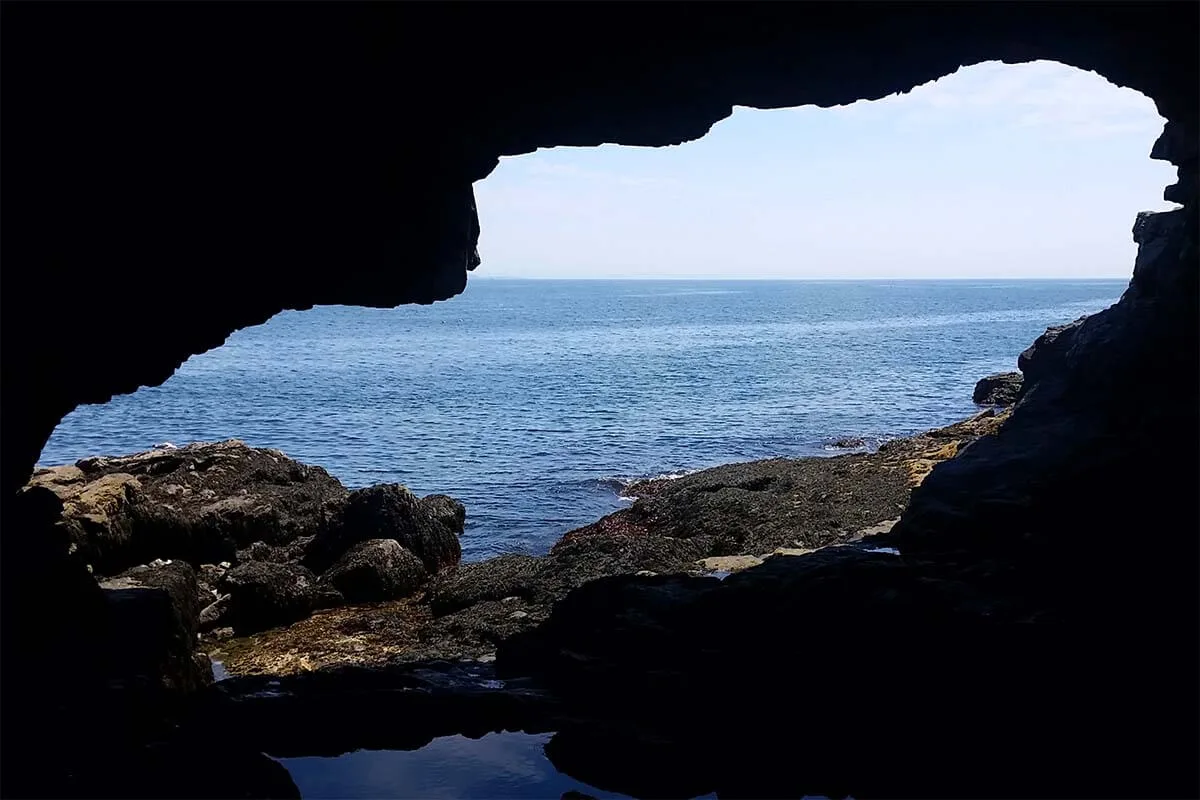 Sunset at Bass Harbor Head Lighthouse
Depending on the season – before or after going to Bar Harbor – you could also drive to Bass Harbor Head Lighthouse. This is one of the most photographed places in Acadia National Park and a great place to be at sunset.
It's about 20 miles, 30 minutes drive from Bar Harbor. And – frankly – there's not much else to do here than see the lighthouse. As long as you know what to expect – or are going for the iconic picture – it's worth it. However, the parking lot here is very small as well and you might have to wait for a spot.
If you drive here for sunset (when everyone lingers longer), it's best to arrive a few hours in advance. There's often a line of cars waiting for a spot long before sunset, even more so on the weekends.
Otherwise, head straight to Bar Harbor, go for a walk along Bar Harbor Shore Path, and have a nice dinner. It's a perfect place to end your day in Acadia National Park.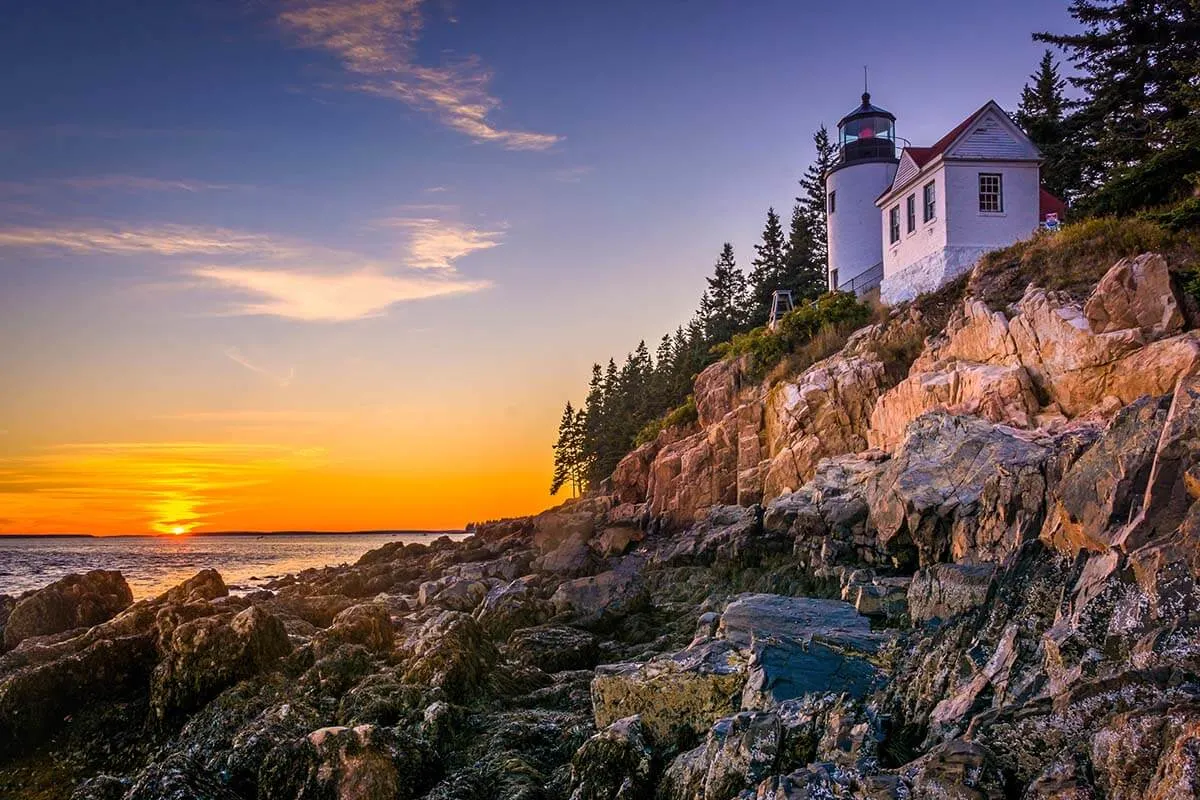 Bar Harbor
To finish off your Acadia National Park day trip, make your way over to nearby Bar Harbor where you'll find everything from unique souvenirs to delicious, local seafood.
At the end of the article, you can find some recommendations for where to eat and where to stay.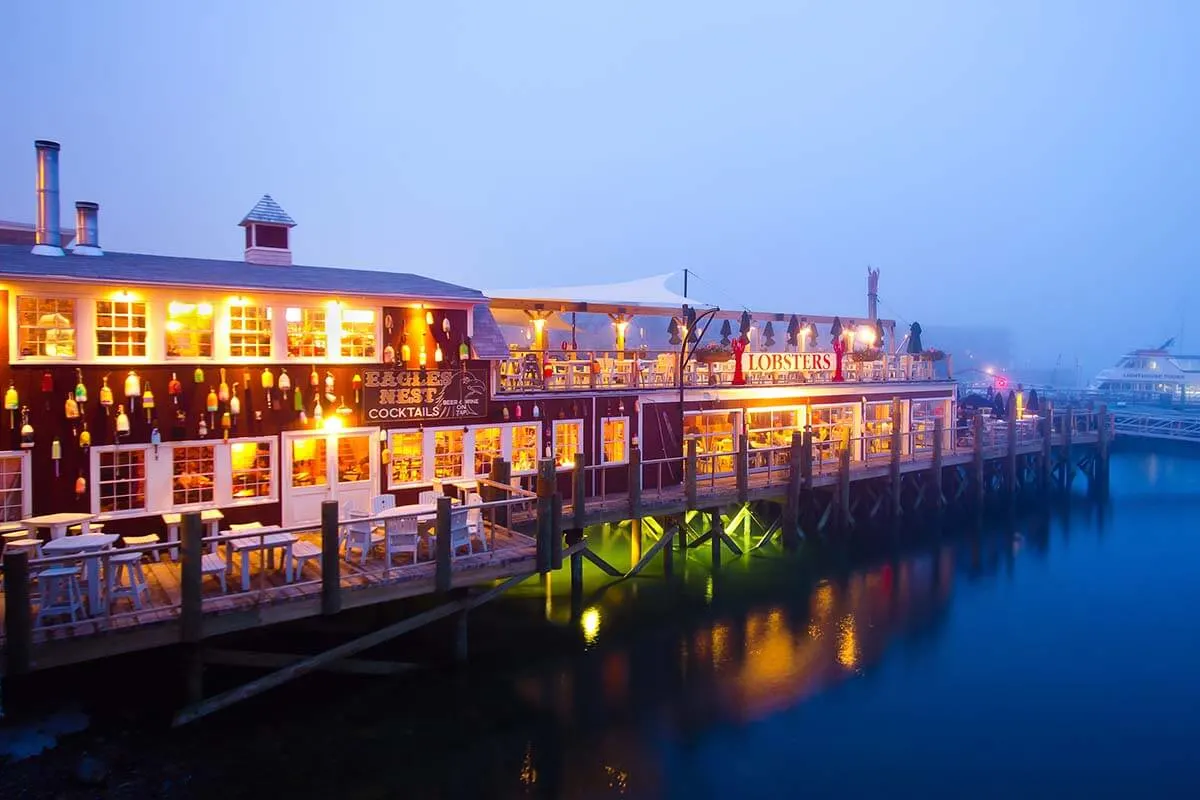 Two Days in Acadia National Park
With two days in Acadia National Park, you could follow a similar one-day itinerary as above. In addition, on day 2, you can choose between hiking, a day at the beach, or explore the historical carriage roads. See below for more information.
Here's how your 2-day Acadia National Park itinerary could look like:
Day 1
Sunrise at Cadillac Mountain (via Summit Road and short Summit Loop hike)
Jordan Pond Loop Trail & The Bubbles Trail
Thunder Hole & Sand Beach
Anemone Cave & Schooner Head Overlook
Shopping and dinner in Bar Harbor
Day 2
Today, you could opt for one of the longer hikes (see below), a beach day, explore the historical carriage roads of the early-1900s, or a combination of two of these. End the day with sunset at Bass Harbor Head Lighthouse.
Here are some of the things you could do on the second day:
The Carriage Roads & Bridges of Acadia National Park
Exploring the network of carriage roads, built from 1913-1940, is a great way to get a bit off the beaten path in Acadia and see some stunning scenery! Originally built for horse-drawn carriages, the roads are now open to pedestrians and cyclists. Be sure to check out Deer Brook Bridge or even hop off the carriage roads and follow the meandering network of trails that run alongside the carriage paths.
Here you can find the official National Park Service's Carriage Road Map. The best way to explore the carriage roads and see a lot in a short time is by bike. You can rent an e-bike in Bar Harbor, print the map via the link above, and you'll have a great day in Acadia!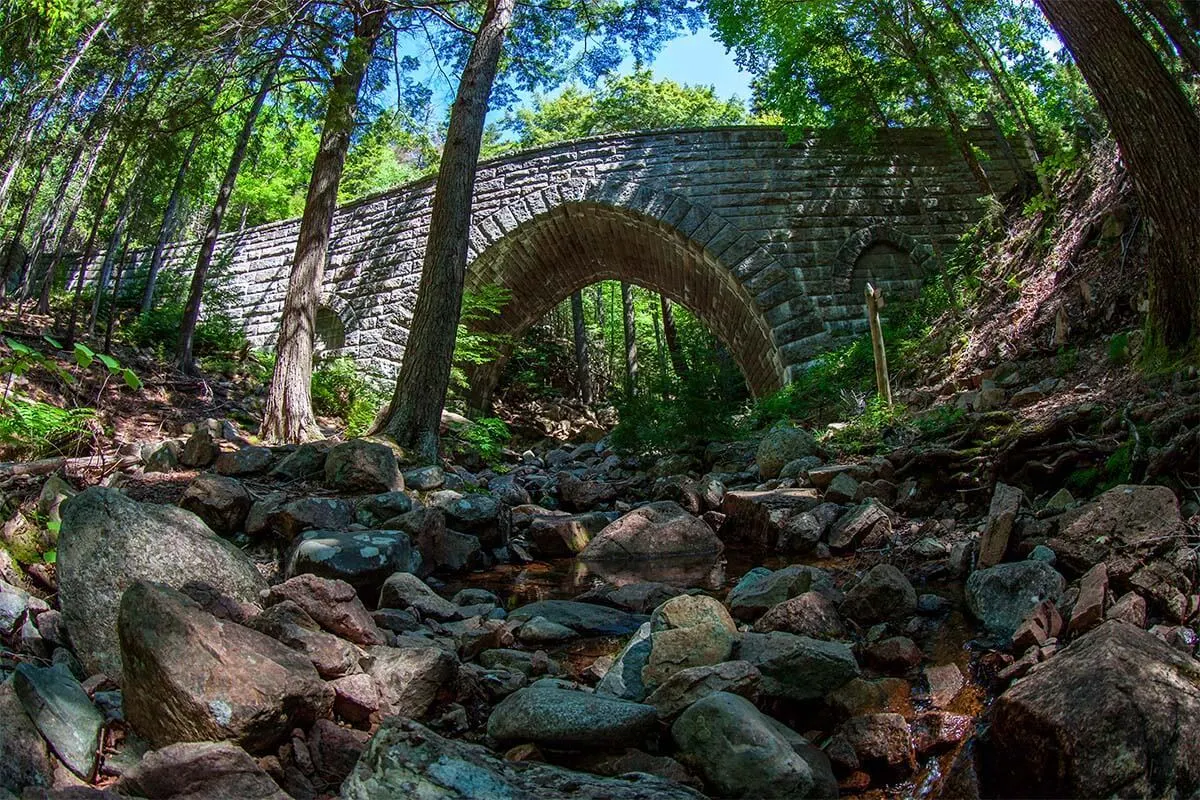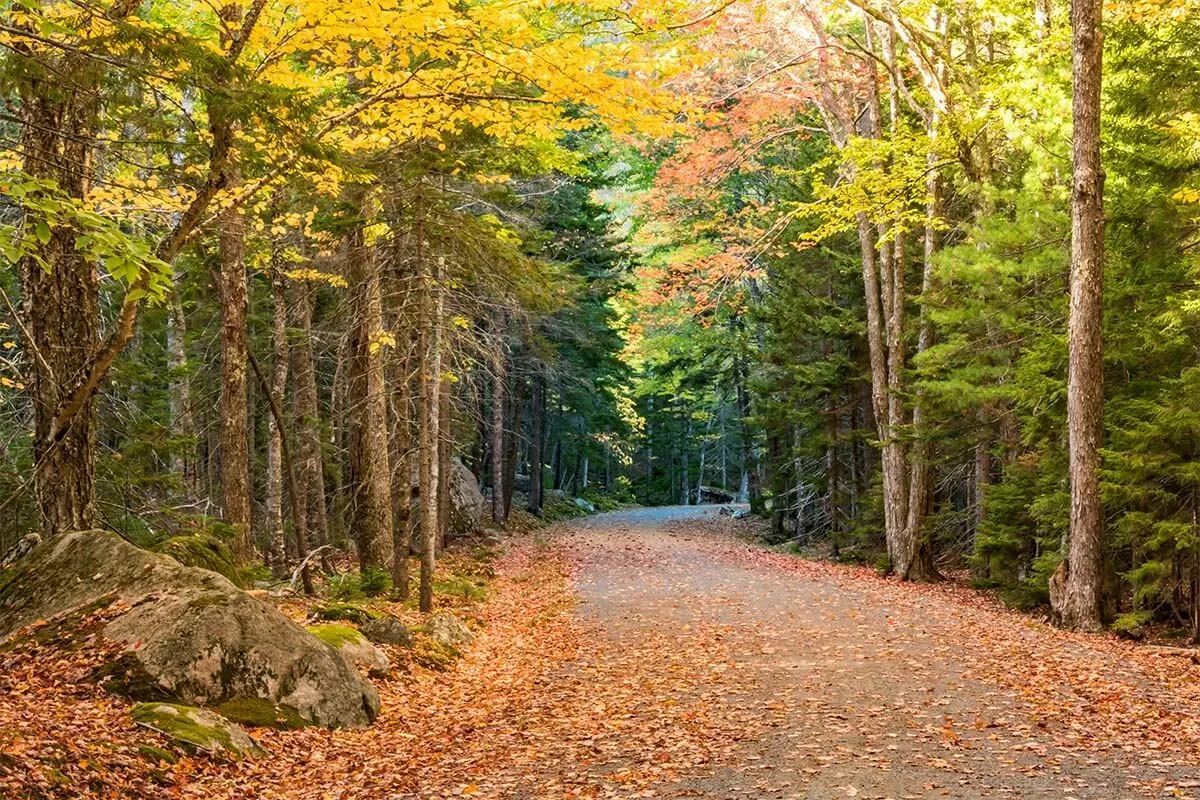 Best hikes
If you decide to go hiking in Acadia, here are some of the very best trails:
Beehive Loop. ~1.4 miles RT, 1-3 hours (moderate). This classic Acadia hike is considered a must and offers spectacular views. This is a highly exposed hike with multiple rock scrambles, but although challenging, it is well worth the effort. You take steep, granite steps up, followed by iron rungs for climbing up the rock face. Afterwards, there are a few narrow sections along the cliffside with rungs for support. From the top, you have amazing views of Sand Beach and the sweeping Maine coastline. It's a perfect spot for a picnic and also a great place to watch the sunset. More info about this hike here.
Cadillac Mountain via Cadillac South Ridge Trail. ~ 7 miles RT, 2-4 hours (moderate). This is a popular hike in Acadia National Park. The views are amazing and many people hike here in the dark to catch the sunrise from the top. More info here. Of course, you can just take the easy road to Cadillac Mountain via the Cadillac Summit Road and then it's just a short walk to the top, as described earlier. Or – if you do this hike – then you can skip Cadillac Mountain on day one of this itinerary.
Gorham Mountain Loop. ~ 3.5 miles RT, 1-3 hours (moderate). Or you can just opt for the easier section, Ocean Path which is very popular and quite crowded. More info here.
Champlain Mountain via the Precipice Trail. ~ 3.2 miles RT, 2-3 hours (very difficult). You can do this hike as an in-and-out hike or as a loop that takes about 3 hours. This is a very popular and heavily trafficked trail in Acadia National Park, but also an extremely difficult trail with a 1,000 ft climb and iron rungs for climbing, so not recommended for those with a fear of heights. If you are up for the challenge, however, this is one of the most rewarding hikes in Acadia National Park. More info here, or for the loop here.
Because most of these hikes don't require more than half a day, you could attempt two of them on the same day or go to the beach in the afternoon. See below for suggestions.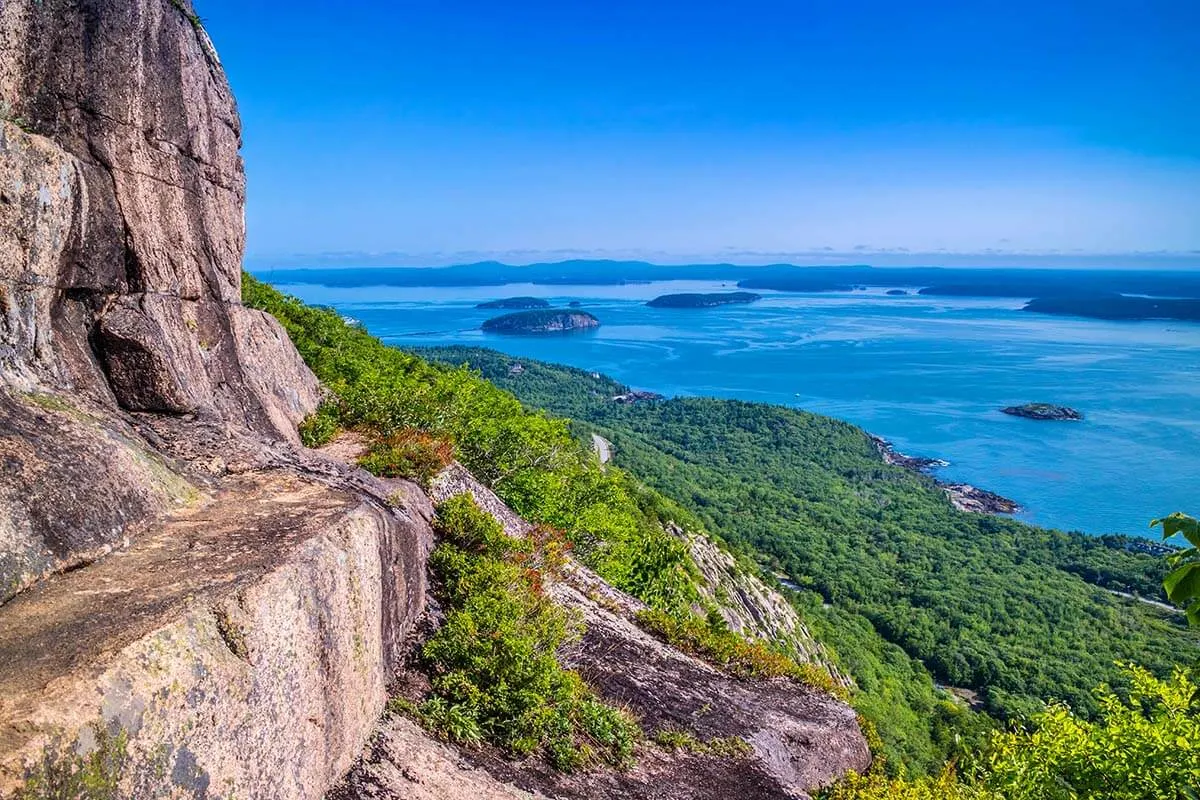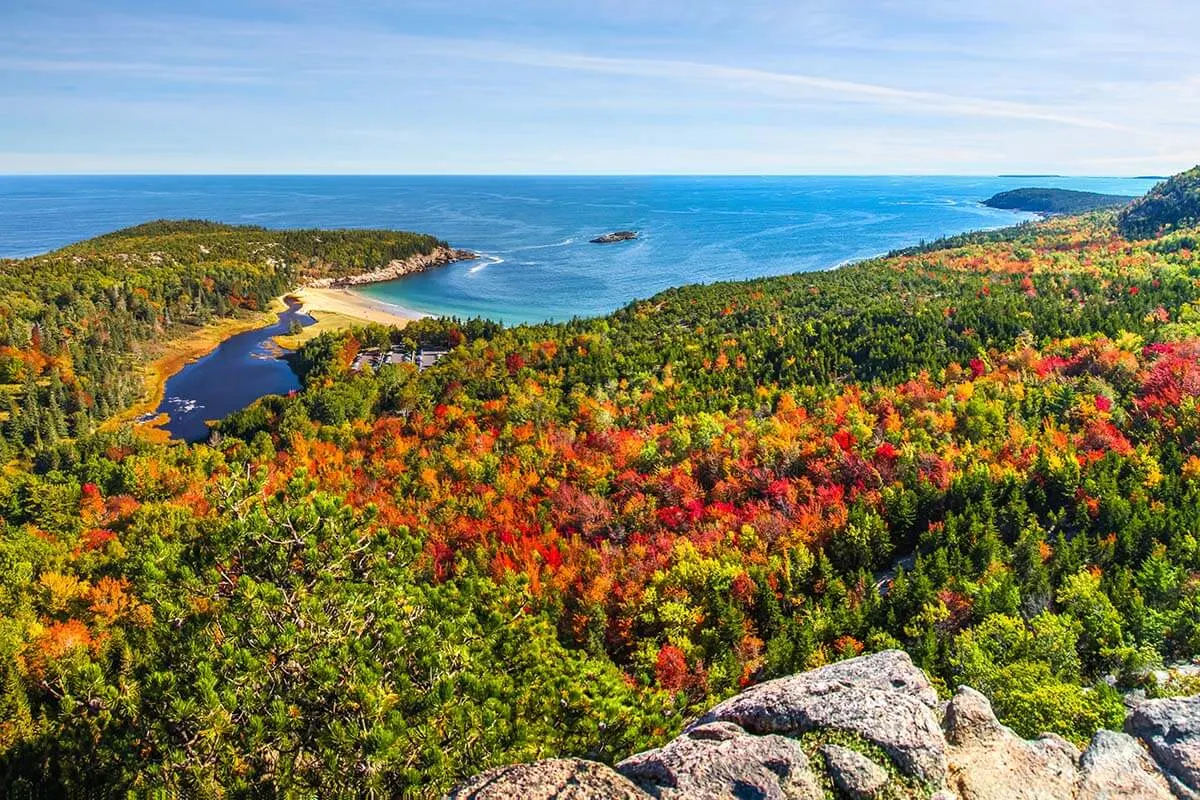 Beaches, gardens & sunset at Bass Harbor Head Lighthouse
We recommend one of the following beaches in Acadia National park: Sand Beach, Echo Lake Beach, or Seal Harbor Beach. They are all nice for walks, but if you want to go swimming, Sand Beach is the best option.
In addition, you could explore the various gardens of Acadia (e.g. Thuya Garden and Azalea Garden) and also stop for a picture in Somesville.
In the evening, heard to Bass Harbor Head Lighthouse for sunset. Be sure to arrive well in advance to secure a parking spot.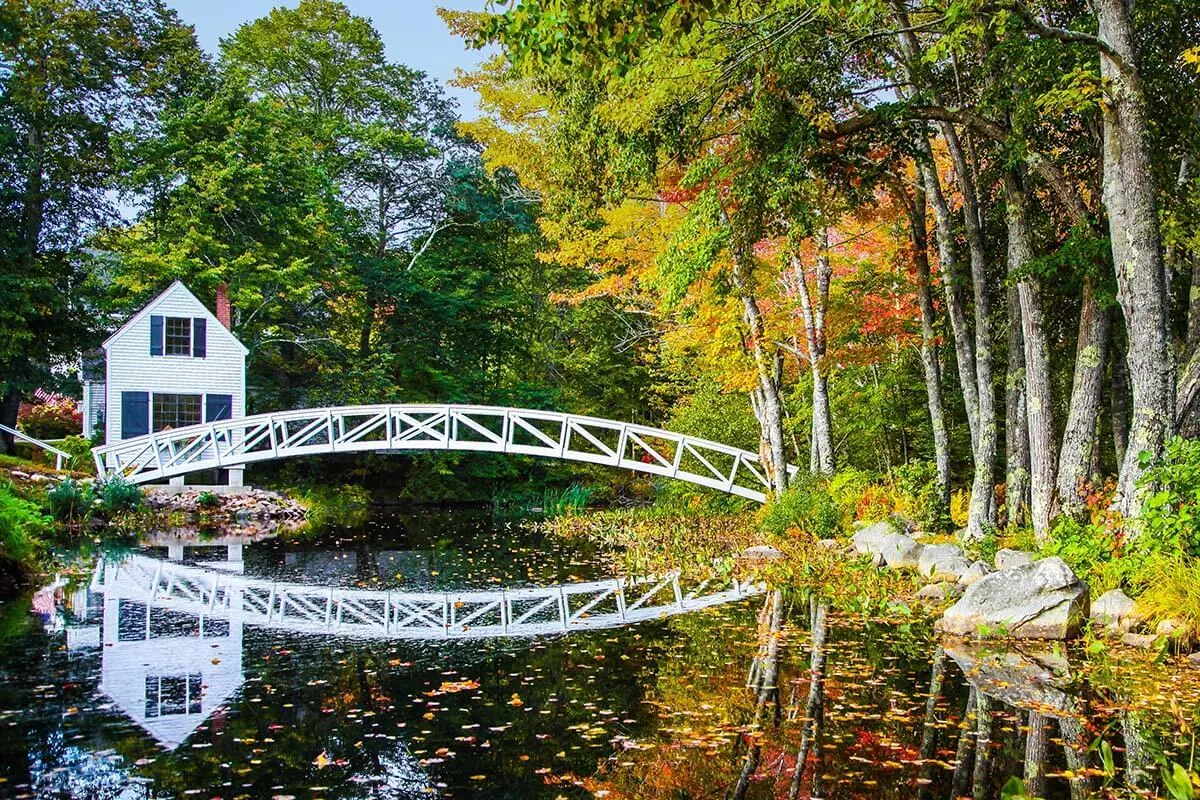 Three Days in Acadia National Park
Personally, I think three days is the perfect amount of time to spend in Acadia National Park. You'll have time for big and small hikes, can relax on the beach for a few hours, take in the scenery around the local lakes and ponds, stroll the carriage roads, explore the quaint shops of Bar Harbor, and maybe even take a culinary walking tour through town.
Here's how your 3-day Acadia National Park itinerary could look like:
Day 1
Sunrise at Cadillac Mountain (Summit Road & Summit Loop hike)
Jordan Pond Loop Trail & The Bubbles Trail
Thunder Hole & Sand Beach
Anemone Cave & Schooner Head Overlook
Shopping and dinner in Bar Harbor
Day 2
With three days in Acadia, you could opt for one of the more challenging hikes today (Beehive, Precipice, etc. – see above for details). Alternatively, rent a bike or explore the historic Carriage Roads on foot. See the 2-day itinerary above for more details.
In addition, after hiking or biking, you could explore more of Mount Desert Island. One of the nicest places for a quiet visit is Asticou Azalea Garden and also Thuya Garden. The gardens are especially beautiful in late spring – early summer, and also in the fall when the leaves change color.
Also Somesville Museum and Gardens are worth a short visit. This is one of the oldest settlements in the area and a nice photo stop between Bar Harbor and Bass Harbor.
End your day with sunset at Bass Harbor Head Lighthouse.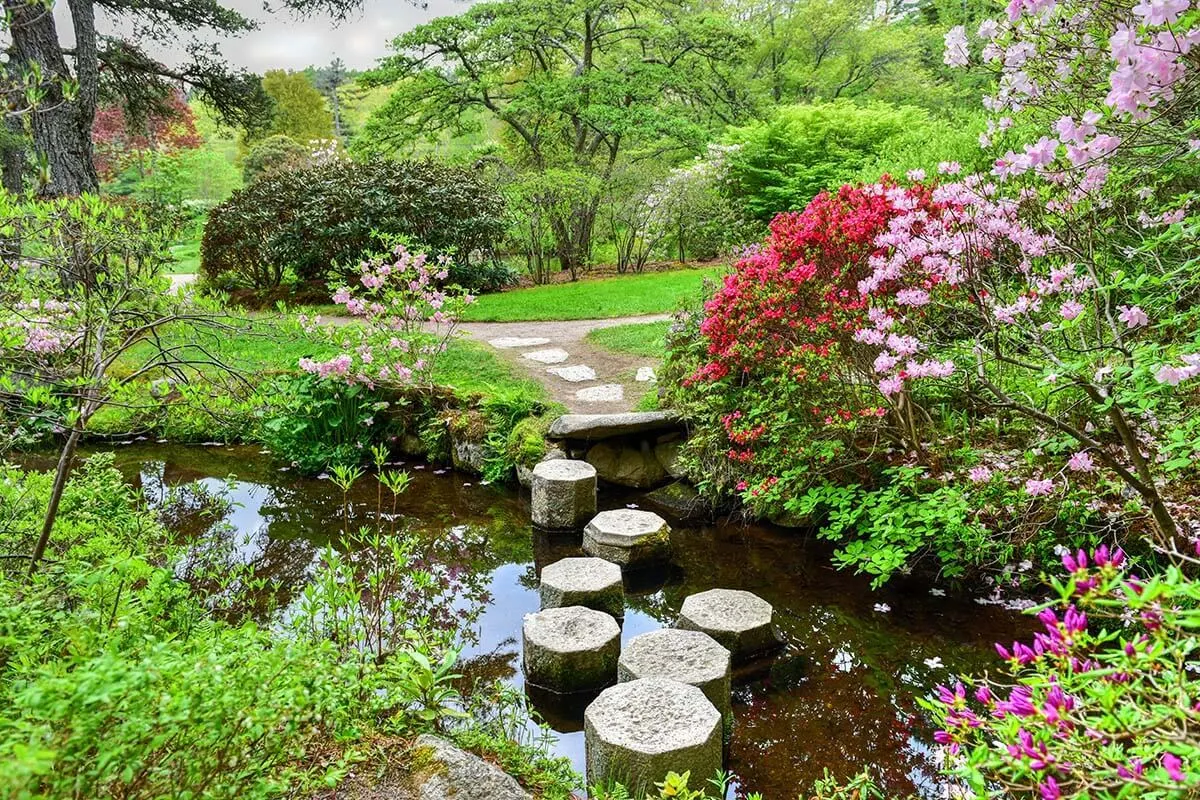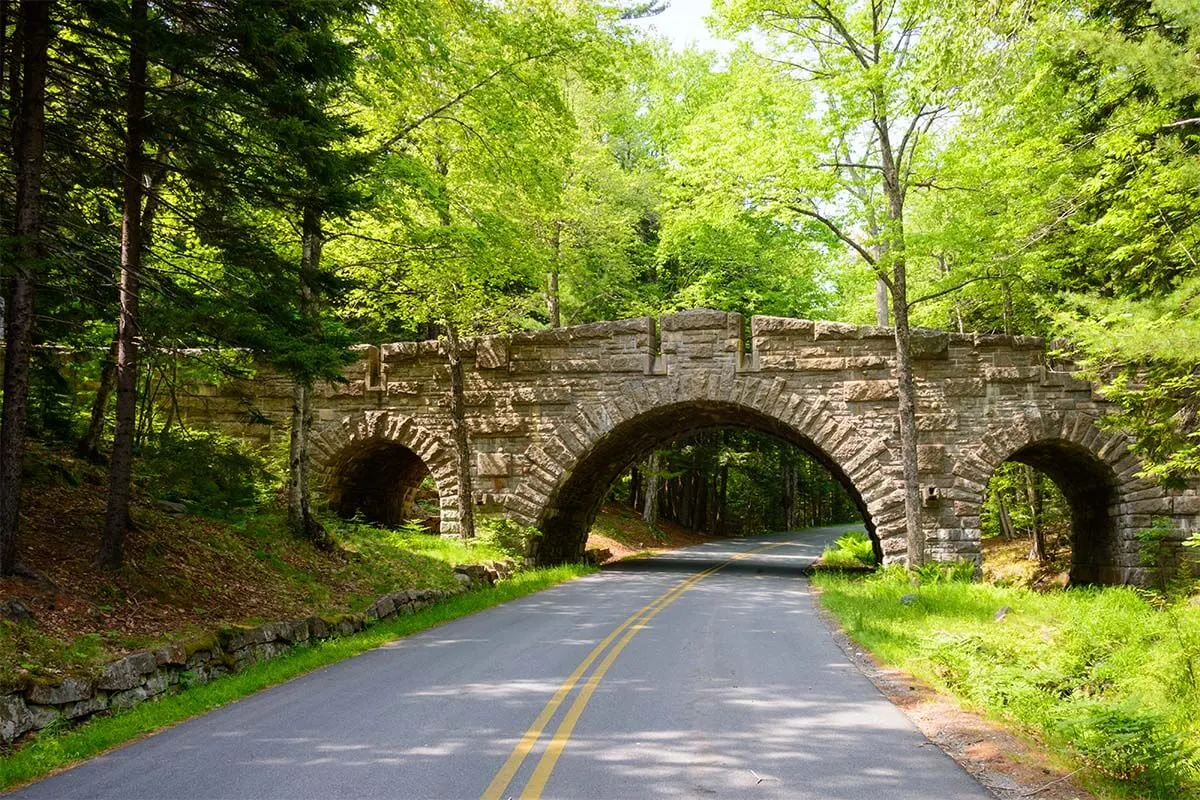 Day 3
On the third day, you could opt for something a bit quieter. Here are several options of nice things to do in Acadia National Park (and you could also combine several of these on the same day):
Beaches of Acadia. You could spend the entire day exploring one or several beaches of Acadia. We recommend Sand Beach, Echo Lake Beach, or Seal Harbor Beach. For all three of them, I suggest getting there by 9 am on weekdays and by 8 am on weekends. Parking gets difficult here during the day in summer, but if you are mainly looking to enjoy the scenery, you can also visit in the late afternoon when most people start to leave.
Local food. One of the most popular tours in Bar Harbor is this culinary walking tour (also on Viator). This is a great way to get to explore Bar Harbor a bit deeper, talk to the locals, and sample all kinds of local specialties. These tours usually run late morning – noon, so you'll still have time for other activities afterwards.
History. If you want to learn more about the history of Bar Harbor, there's also a guided historic tour. Tours usually start in the afternoon and take just 2 hours, so they can easily be combined with some other activities in the morning and in the evening.
Acadia NP is also known for its vast opportunities for spotting wildlife including peregrine falcons, humpback whales, dolphins, seals, moose, deer, foxes, loons, and countless others! You could opt for a sailboat tour to see the beautiful coastline and marine mammals, go kayaking or whale watching, hike to the top of The Bubbles to spot peregrine falcons soaring, or walk to the northern tip of Jordan Pond where loons are often seen nesting. Best time for wildlife is early morning or at around sunset.
TIP: Plan these activities ahead of time and if you decide to do any tours, be sure to book in advance.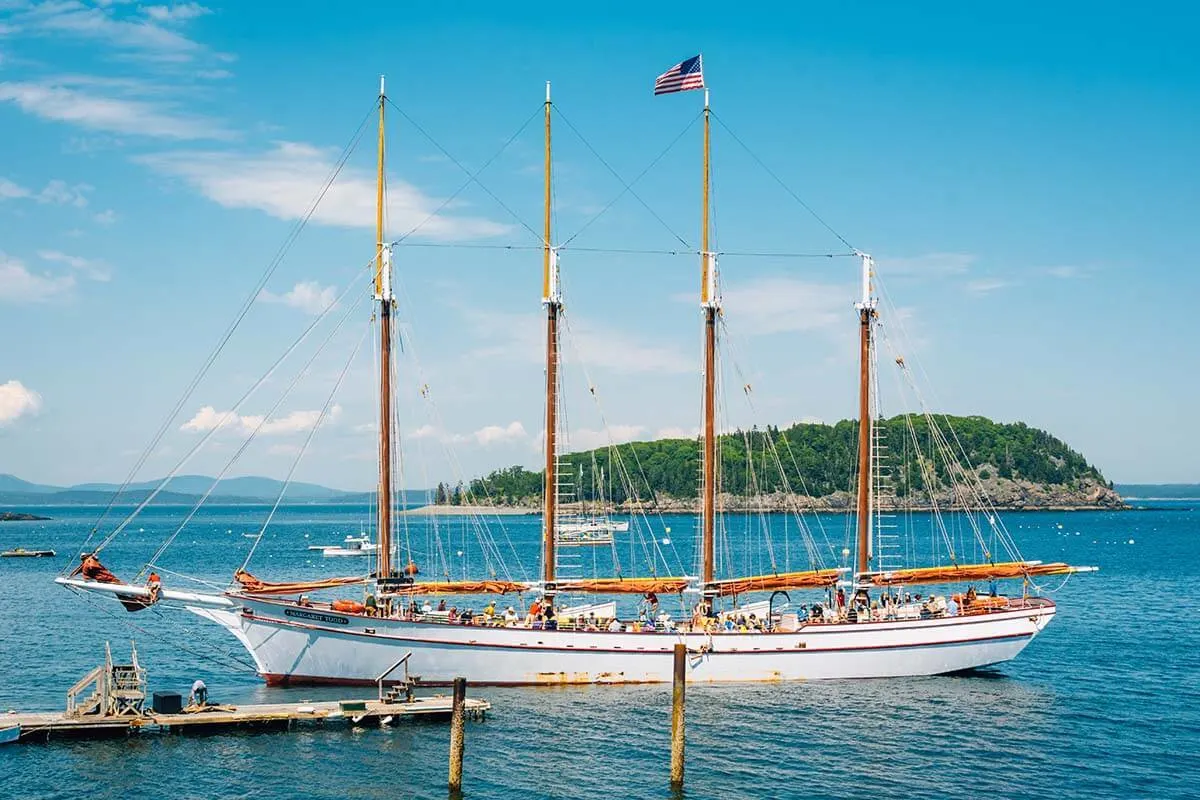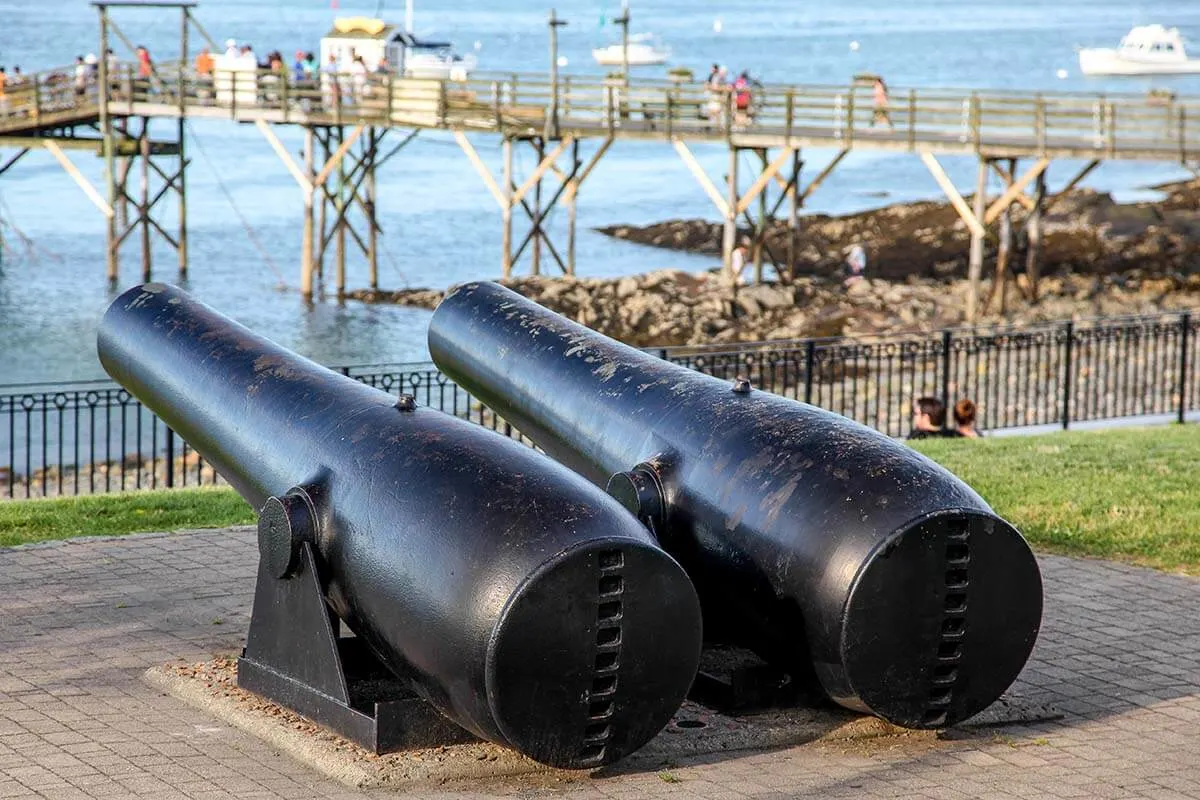 If you have more time…
In addition to the suggestions above, here are some more great options if you have 4 or more days in Acadia National Park and are looking to do more hiking or see the other parts of Acadia NP as well. Here are some more hikes that are well worth checking out if you have plenty of time and can't get enough of the amazing scenery in Acadia:
Dorr Mountain via Ladder Trail. ~3.5 miles RT and takes between 3-5 hours (moderate to difficult). This is one of the lesser-known trails in the park so you are likely to experience less crowded trails and uninterrupted views from the top. Hikers are also rewarded with a giant rock mound summit and views of the impressive Cadillac Mountain. It can easily be combined with Cadillac Mountain for those looking for a full day of hiking. This is one of my personal favorites, in addition to the most popular hikes such as Beehive Loop, Cadilac Mountain, and Champlain Mountain via the Precipice Trail. More info about this hike here.
Echo Lake & Beech Cliff Ladder Trail. ~2 miles RT and takes about 2-4 hours. This is a very nice trail with amazing views. Take the ladders up and the long way down. More info here.
Champlain Mountain via North Ridge Trail. ~ 1.9 miles RT and takes between 1-2 hours (moderate difficulty). This is an easier way to get to Champlain Mountain and the 360° views are amazing. More info here.
Sargent Mountain via Jordan Cliffs Loop. ~ 5 miles RT and takes between 3-4 hours (difficult with steep cliffs, not recommended for children or in inclement weather). This is also a beautiful hike to do in the fall – the views in combination with colorful foliage are amazing. More info here.
In addition to hiking, you could also visit Schoodic Point and Winter Harbor. Schoodic Peninsula is located in a totally different area of Acadia National Park and is out of the way from all the other places. Nonetheless, well worth visiting in its own right.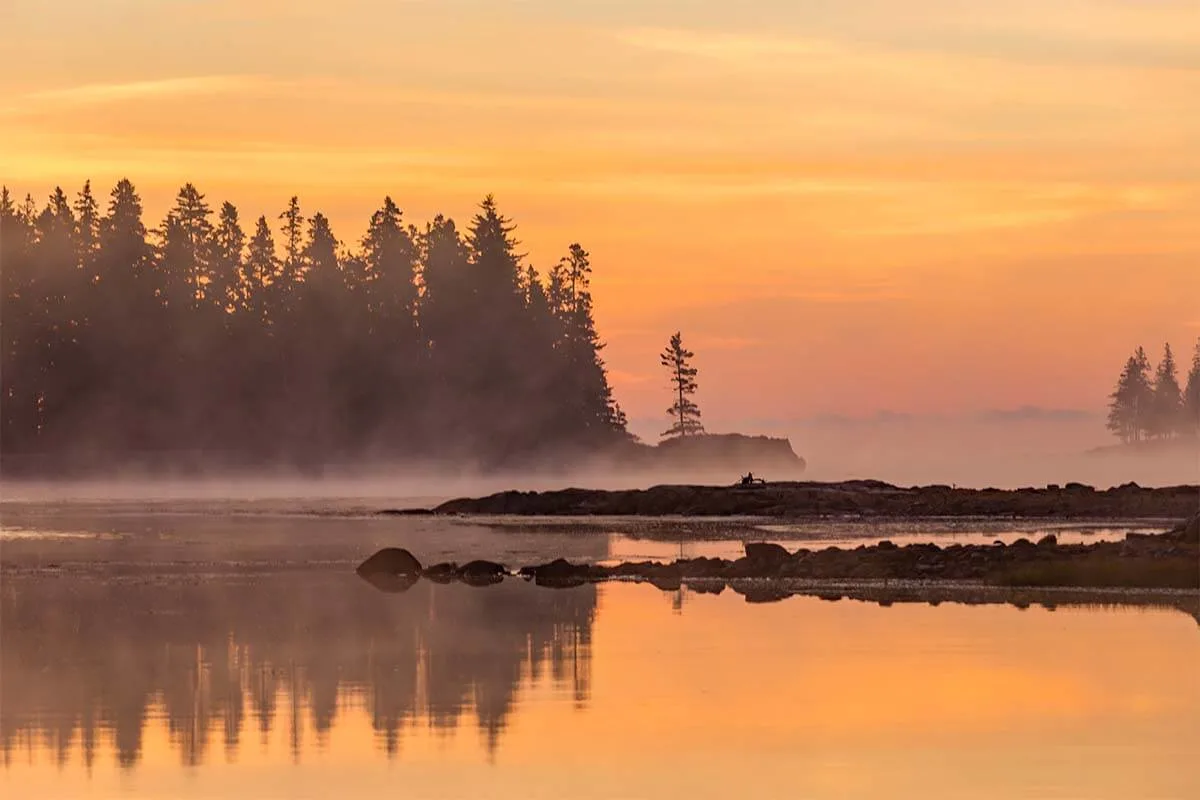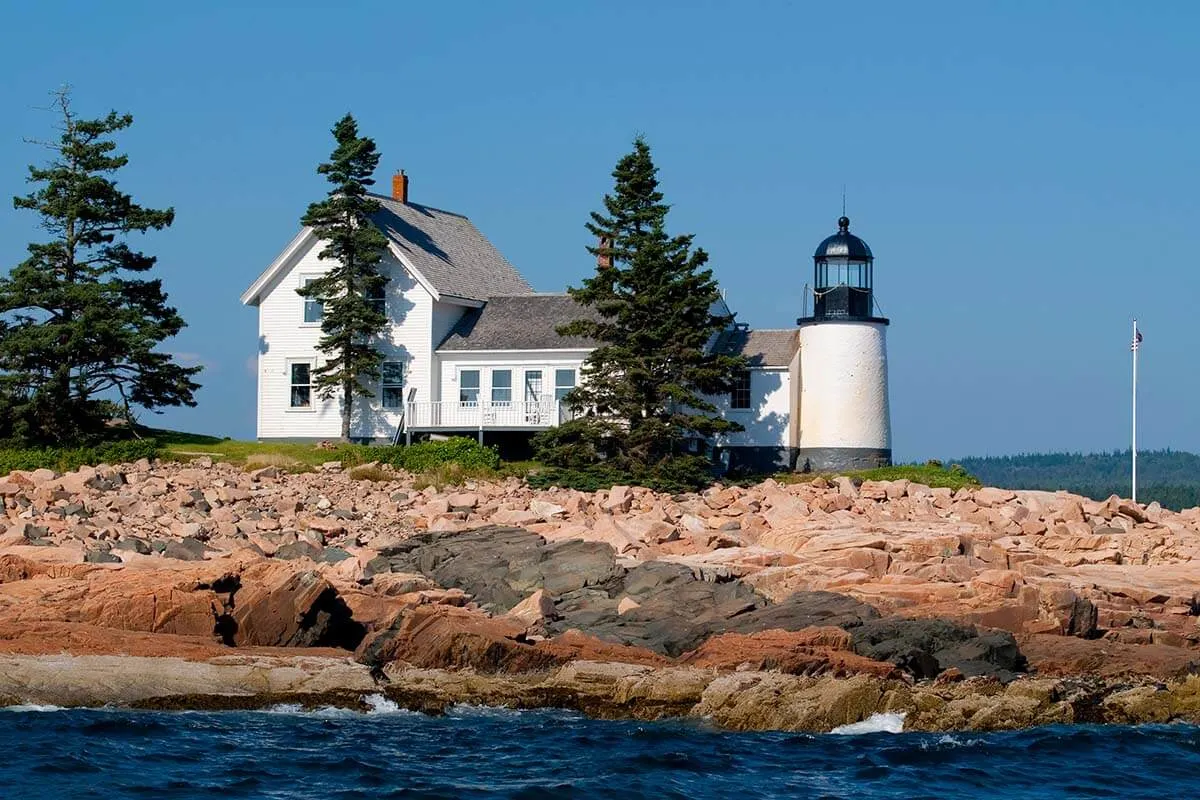 Best Time to Visit Acadia National Park
With over 3.5 million visitors flocking to Acadia every year, it can be tricky to plan your trip so you aren't elbow to elbow with tourists but still have nice weather. My personal recommendation is to plan a visit to Acadia in the fall. See below for more information on what to expect in each season.
Summer is by far the best time weather-wise, but also the busiest time to be in Acadia NP. June, July, and August are extremely busy with tourists flooding the hiking trails, parking lots, and the restaurants and shops of Bar Harbor. This is also when you'll experience the least chance of rain and beautiful, untamed wildflowers throughout the park, but you'll need to make your accommodation reservations a minimum of four months in advance (at least two months for popular campgrounds).
Maine boasts extreme temperatures throughout the year making the summer months quite unpleasant at times. To avoid the crowds and extreme heat, plan your visit to Acadia NP for the shoulder season months of April through May and late September through early November.
In April and May, you'll experience mild to cool weather and only serious hikers on the hiking trails. Bar Harbor is beginning to reopen its doors and camping conditions are decent (as long as you come prepared with proper rain gear!)
From late September to early November, the majority of tourists have left the park due to school reopening. This is my personal favorite time of the year to visit Acadia National Park, as the crowds have fleeted and the warm days and cool nights have set in. This is the ideal time for camping with a low likelihood of rain and popular campgrounds become vacant. Acadia National Park is one of the best national parks to visit in October when you can enjoy the most beautiful autumn colors.
Acadia National Park is also open in the winter boasting quintessential cold, rugged coastlines and snow-capped peaks. Between January and March, be sure to bring your crampons, snowshoes, and extreme winter gear. Temperatures drop into the negatives on chilly nights and snow creeps its way up the sides of houses (getting several feet of snow in a single night is not uncommon!).
In the winter, you'll have the park (almost) to yourself. The only other people you'll see will be the locals ice fishing on Jordan Pond or dog sledding through the woods.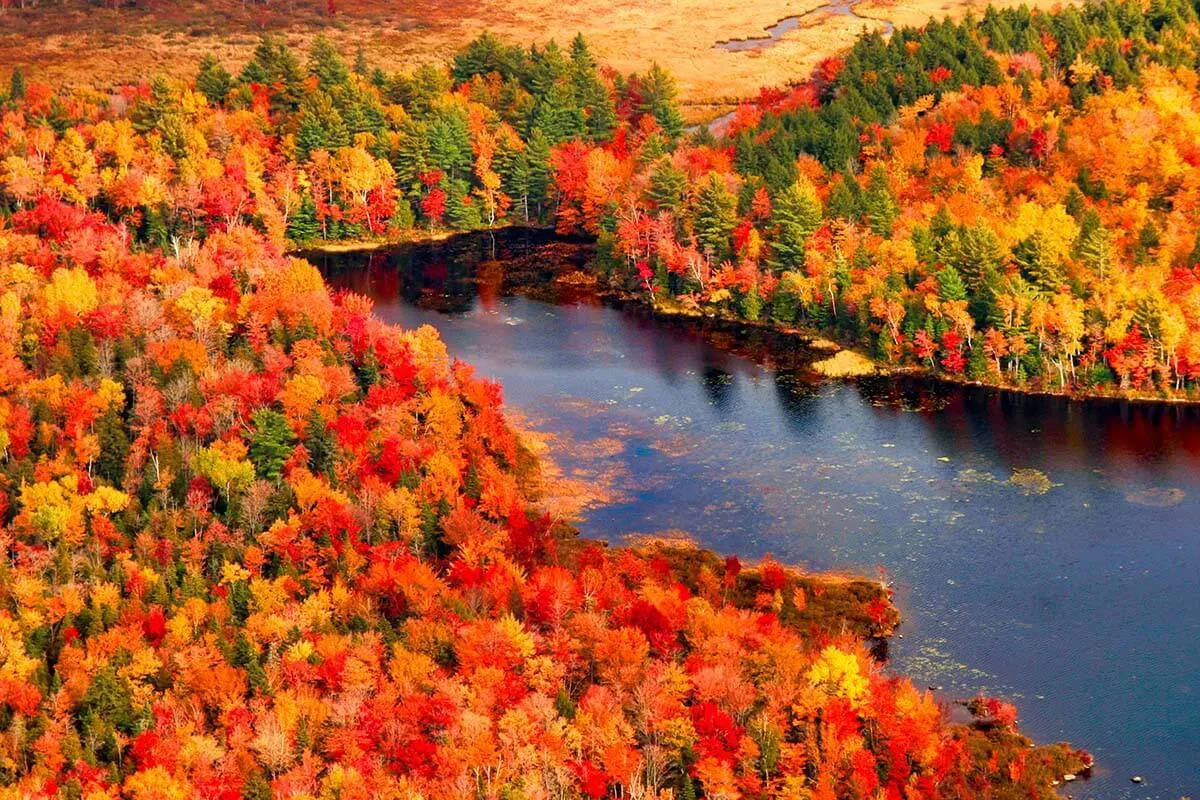 How Much Time You Need
Typically, visitors spend between 1-3 days in Acadia National Park. Since the park is on the smaller side and is easy to get around, you can explore some popular hikes, hit the beach, window shop in Bar Harbor, and go wildlife spotting in a relatively short amount of time.
While one day is enough time to see the main highlights, planning a trip for 2-3 days will also give you some time to go hiking and explore Acadia a bit deeper. However, if you're looking to tour the popular Park Loop Road, add a schooner trip around Mount Desert Island, or spend more time hiking in the 26 mountains the park has to offer, you'll definitely want to account for more time.
I recommend at least 3 days in Acadia National Park, but if you like to do more hiking, be sure to add a few extra days. Staying for 4-5 days will allow you to see all the highlights of Acadia NP, hike a few of the most popular trails, visit beautiful coastal areas and beaches, explore carriage roads and historic bridges, and see some of the most amazing sunrises and sunsets.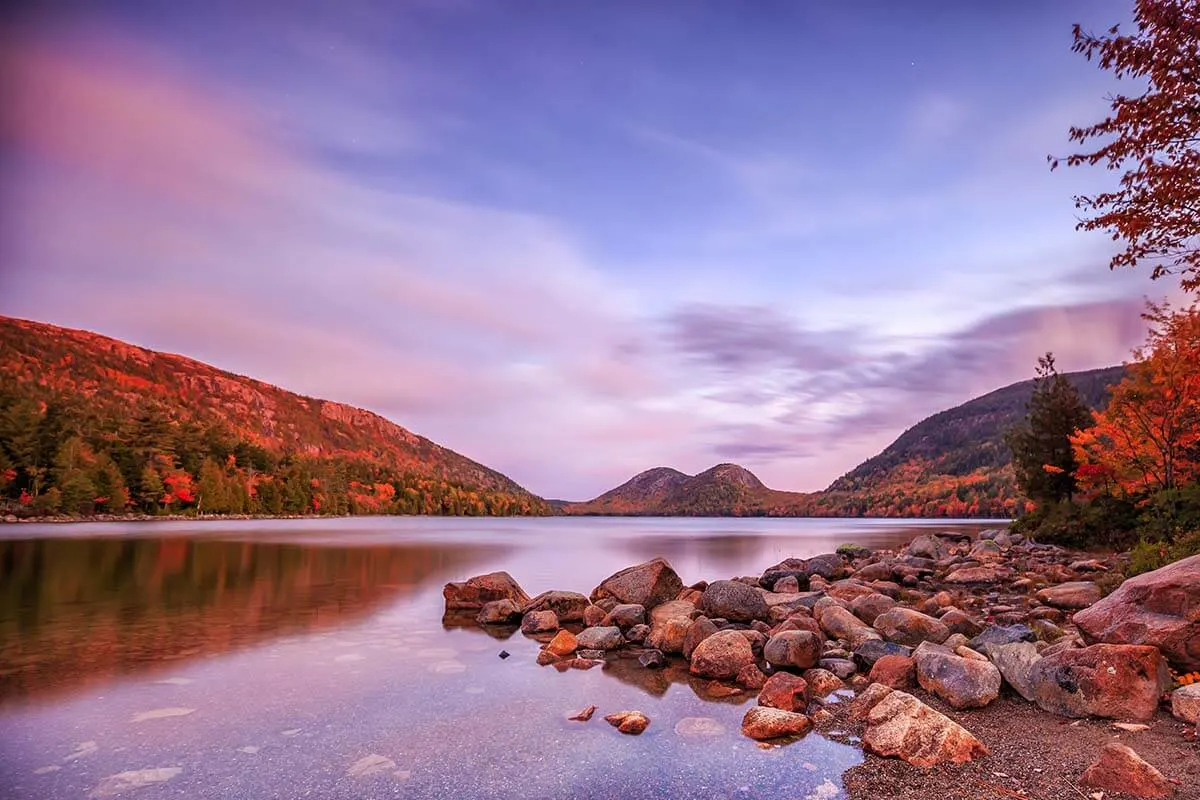 Where to Eat
When it comes to eating in Acadia National Park, there are plenty of good – and not so good – restaurants to choose from.
Avoid the tourist hotspots like the Jordan Pond House restaurant and instead make your way down to The Nor'Easter Pound & Market or to the eastern side of the island for Burning Tree Restaurant where you'll find fresh, local seafood.
For a larger variety of cuisines, head to Bar Harbor and check out Jordan's Restaurant for breakfast (be sure to try the blueberry pancakes with their homemade Maine blueberry syrup!), Side Street Café for the best burger in town, and Veranda Bar at Balance Rock Inn for small plates and decadent cocktails with a stunning view of the ocean.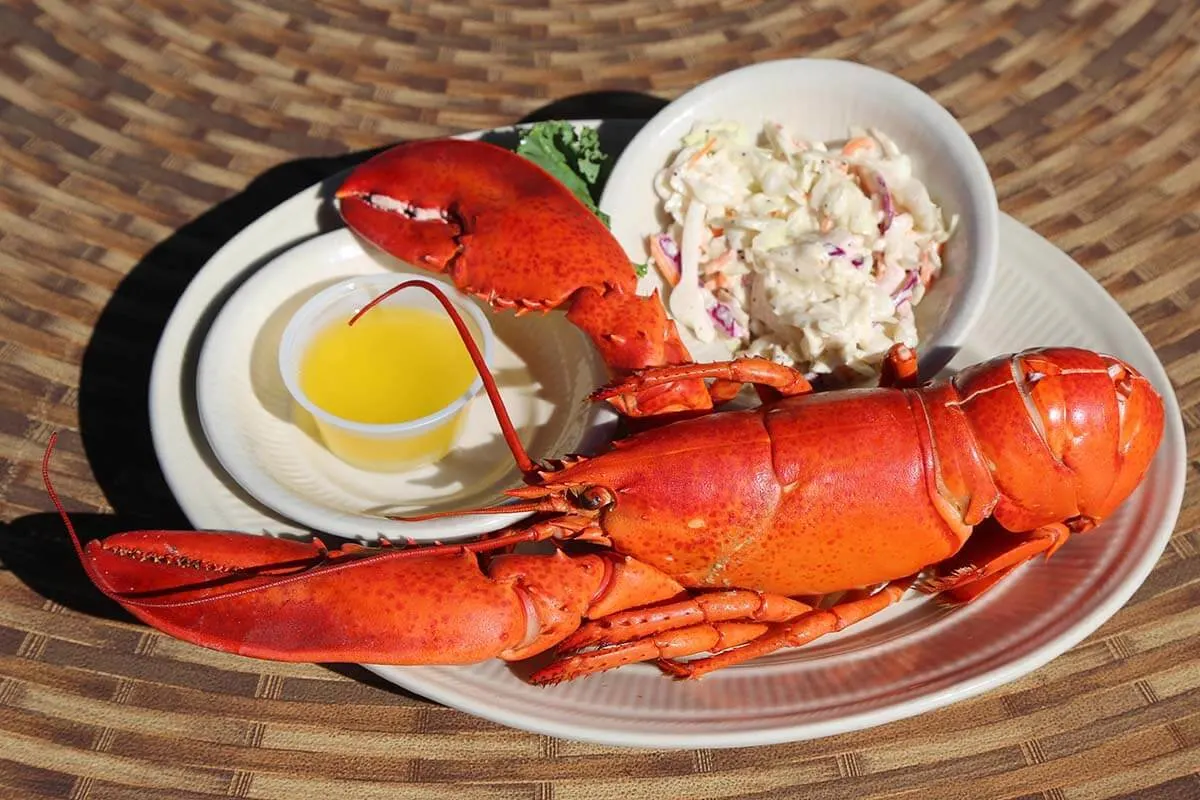 Where to Stay in Acadia NP
Bar Harbor
Bar Harbor is really the best place to stay for visiting Acadia National Park, where you'll have a good choice of bed and breakfasts, inns, cottages, and hotels. Still, it's a relatively small town and accommodations in high season sell out long in advance. So be sure to book well in time, especially if planning a trip in the peak summer months or during the weekends in autumn.
Here are some personal recommendations for places to stay in Bar Harbor:
Bar Harbor Inn & Spa (picture below) is one of the best places in the heart of Bar Harbor AND at the waterfront. Fabulous accommodation with an excellent location.
Atlantic Oceanside Hotel & Conference Center is a big waterfront hotel a bit outside of town. It's one of the most popular accommodations in the area. With a beautiful indoor pool and big family rooms available, this is a great choice for families as well. Sea views from the rooms, the restaurant, and the grounds are amazing!
For a quaint, homely hotel with a nice local atmosphere and good price/quality ratio, check out Acadia Inn, one of the top picks in Bar Harbor.
My personal favorite dog-friendly inn is the Quimby House Inn & Spa. It has a big variety of rooms and – among others – offers private apartments for those traveling with dogs. It is also within walking distance of all the shops and restaurants in Bar Harbor.
On Expedia, you can also find great deals for all Bar Harbor accommodations.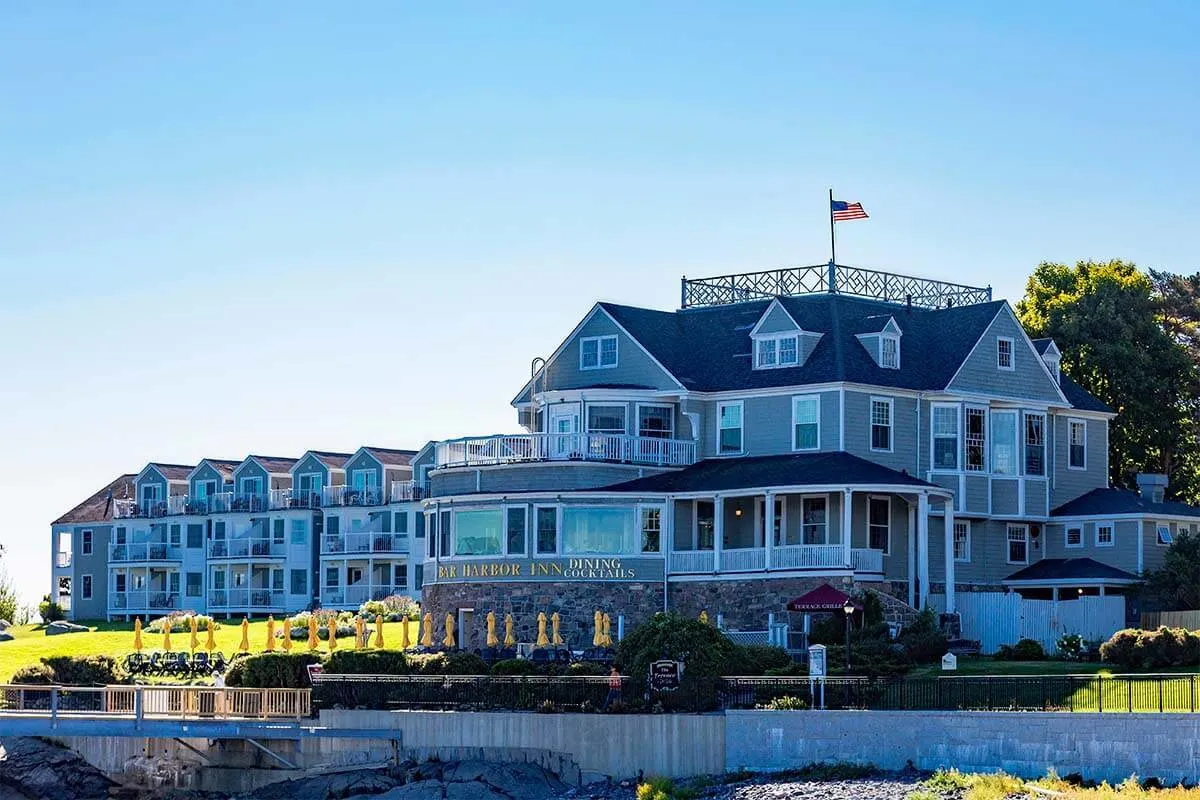 Camping
For a true Acadia National Park experience, I highly recommend staying in a campground for at least one night. With short walks to the ocean, hygienic bathroom conditions, and well-preserved roads, the campgrounds in Acadia are considered luxurious to the common camper!
Acadia National Park has two main campgrounds on Mount Desert Island: Blackwoods and Seawall. Personally, I prefer Blackwoods Campground as it is about 20 minutes closer to all of the main attractions in the park, allowing for you to get a better jump start on the parking spaces in the morning.
However, both offer great facilities, sites, and nearby ocean views. You'll find everything from "tent only" sites (no electricity) to deluxe RV sites with every water and power hookup you could need.
Here you can find all the information about the campgrounds in Acadia National Park.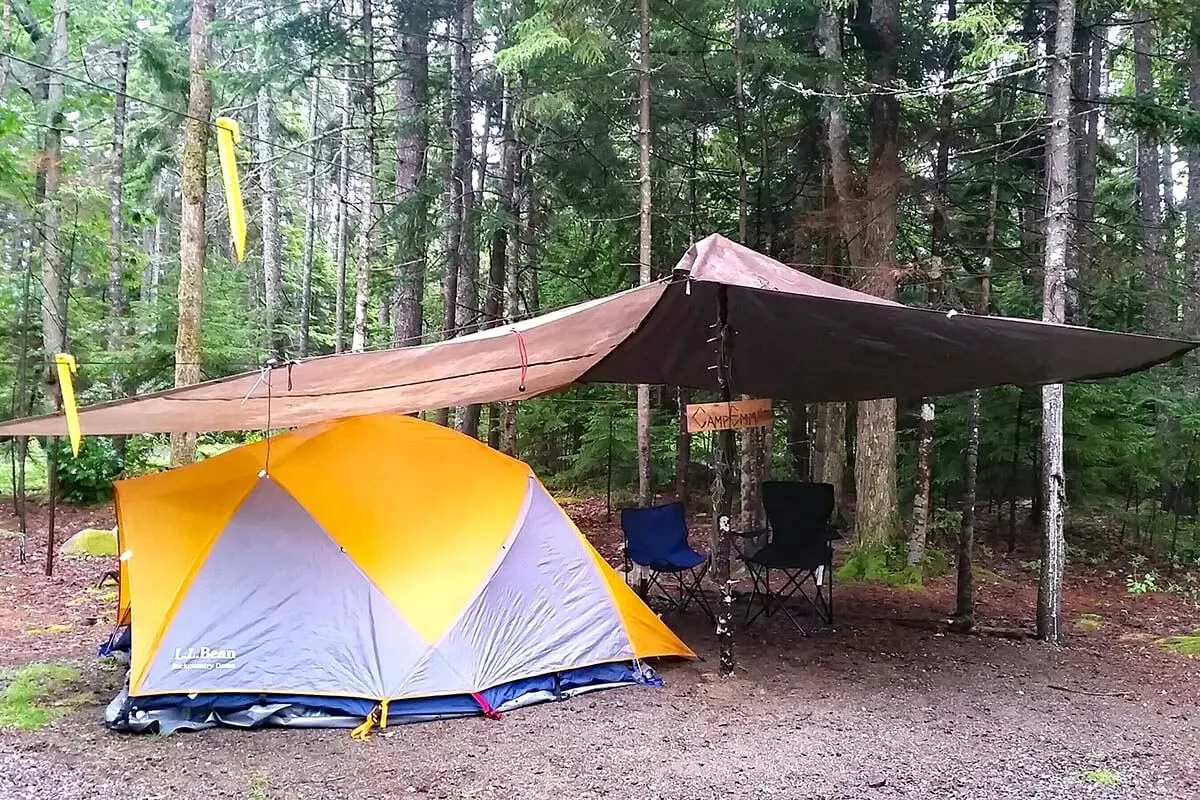 Practical Tips for Visiting Acadia National Park
Entrance pass!!! Be sure to reserve your park entrance pass online prior to arriving. Passes for Acadia can be booked here and are required for entry into all major parking areas and hiking trails. Or bring your National Parks pass.
Book your accommodations or campsites in advance. Campsites become available for booking two months in advance and disappear within hours. Once you know your travel dates, book immediately if possible.
Buy a trail map. Available for sale in Bar Harbor, online, and at most visitor centers, a trail map is essential if you are looking to do a lot of hiking in Acadia. Service is scarce on Mount Desert Island, so don't assume you'll be able to look up trails or directions once you're there.
Parking lots. If your itinerary starts to fall through because you got a late start to the park, don't sweat it! Parking lots fill up fast so if you get to one and it's full, just head to the next stop on your itinerary. Everywhere in Acadia is beautiful, so don't worry about doing things in a specific order.
Shuttle bus. During the peak summer months, you can also opt for a free Island Explorer bus. It's a good way to get to the popular hiking trails and you can also opt for one-way hikes instead of having to get back to the same place where you started.
Pack sunscreen and bug spray: In Maine, especially in late spring-summer, it's likely you'll experience swarms of mosquitoes and beaming sunshine. Pack accordingly!
Bring a tarp. If you're camping, camping tarps are essential for keeping your sleeping area dry and dirt-free. Before heading to Acadia, be sure to check out everything on our travel essentials list.
Firewood. The National Park Service does not allow any wood from outside the park to be brought in to avoid bringing in outside invasive bacteria. Firewood can be purchased with cash throughout the park along Park Loop Road and at all campgrounds.
Park closures. Park Loop Road is closed throughout the winter and it's not uncommon for some parts of the park to close during different seasons. Some hiking trails close for nesting peregrine falcons, and many places close during the muddy season to prevent unnecessary destruction of vegetation and alpine zones. It's essential to check the official website for the most up-to-date conditions when planning your trip to Acadia National Park, but also once you are there because the situation may change at any time.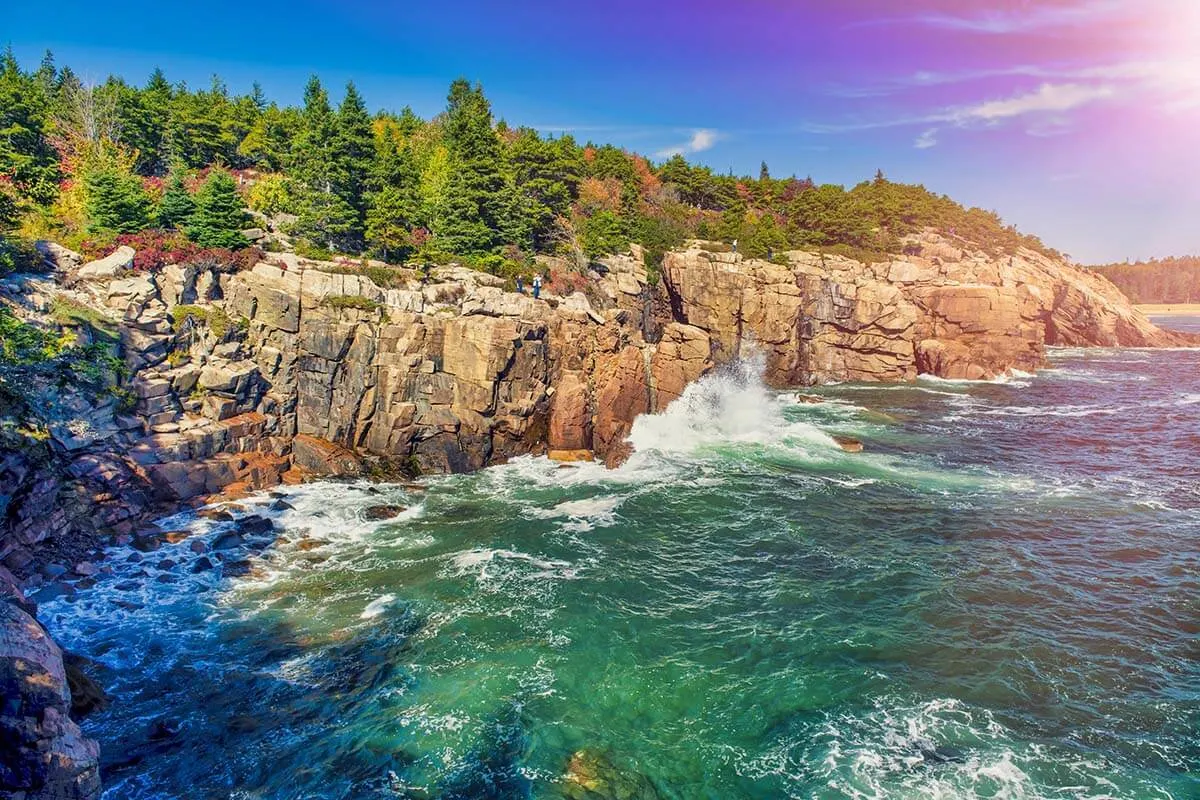 So this is our travel guide and itinerary suggestions for Acadia National Park. As you can see, there's no shortage of amazing things to see and do, especially if you love hiking.
Acadia National Park is full of stunning scenery, rolling landscapes, rugged coastlines, and exciting wildlife. No matter if you have one day or a few weeks, you can be sure you'll have a wonderful visit if you take part in our adventurous itineraries and follow our insider tips.
Have a great trip!
READ ALSO: Best National Parks to Visit with Kids
More U.S. National Parks travel inspiration:
If you found this post useful, don't forget to bookmark it and share it with your friends. Are you on Pinterest? Pin these images!