Looking for some inspiration for where to travel in January? In this article, we share some amazing American National Parks to visit in January!
At first glance, January might not look like a good month to travel to many U.S. National Parks. However, there are so many places that are absolutely great at this time of the year! Furthermore, after Christmas and New Years' crowds disperse, this is one of the quietest months to travel.
Whether you are looking for a winter break in the snow, cooler temperatures in order to explore rugged desert landscapes, or a real winter getaway in the sun, January can be a wonderful time to visit various U.S. National Parks.
In this article, we feature an inspirational mix of a variety of National Parks that you can visit in January. From the wintery sceneries of Rocky Mountain National Park in Colorado, surreal landscapes of White Sands National Park in New Mexico, to dreamy beaches in the south – there's truly something for everyone on this list.
Good to know: For this inspirational post for National Parks to visit in January, we also asked the opinions of other travel writers. They share some of their favorite American National Parks that they visited in January and offer experience-based tips for your trip. We also included some of our personal suggestions. Take a look!
PRO TIP: If you are visiting several National Parks, make sure to get an annual America the Beautiful Pass. You can buy it online or at any park. It costs 80 USD for the whole family traveling in the same vehicle. It's valid in all National Parks and 2,000 federal recreation sites across the United States for one year from the month of purchase.
READ ALSO: America's Most Visited National Parks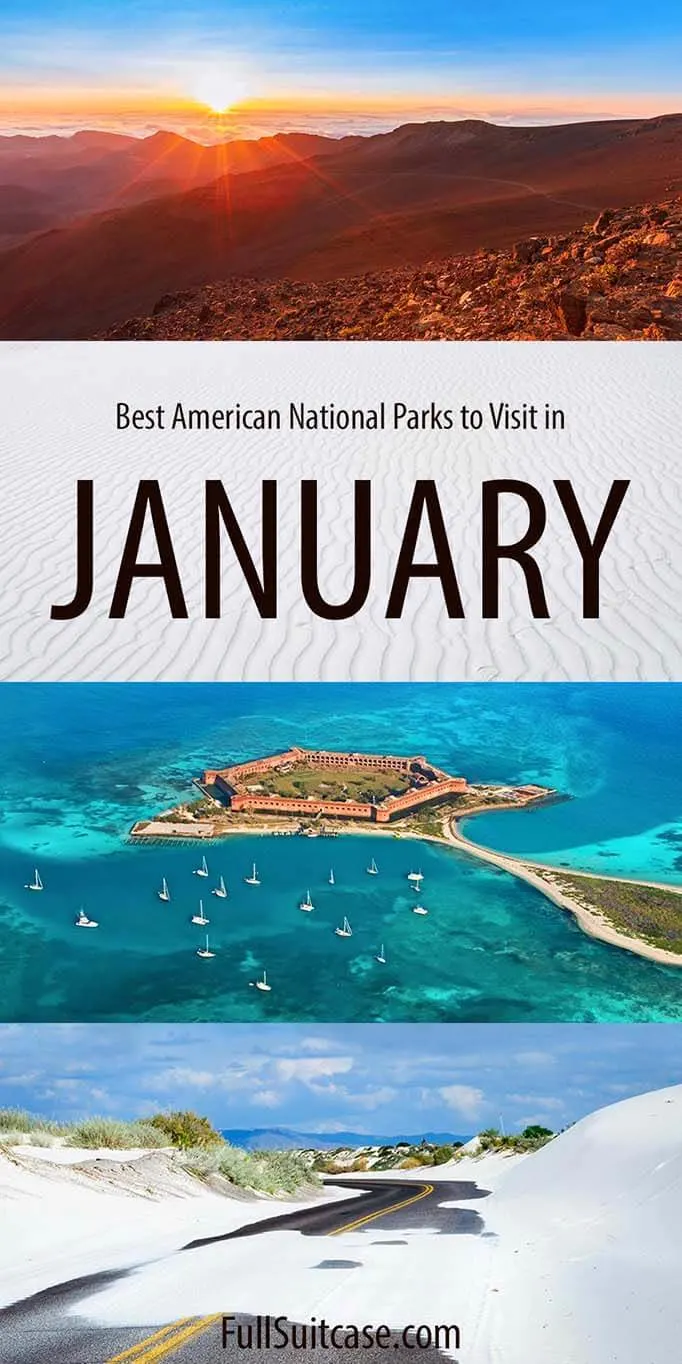 These are some nice National Parks to visit in January:
1. Biscayne National Park
Location: Florida
Where to stay: The closest place to stay is Homestead, FL from where you can take tours to the islands. Otherwise, stay in Miami, which is very close by.
January is one of the best months to visit Florida and its stunning National Parks. So it will come as no surprise that we included quite a few places in Florida in our selection of the best National Parks to visit in January.
Biscayne National Park is the first park in our selection. Not just because of the weather (which is perfect in January), but also because it's very close to Miami and quite easy to visit. Furthermore, it's a truly beautiful place that has everything – beautiful nature, fun outdoor activities, marine animals, but also historic lighthouses.
Located just 20 miles south of Miami, Biscayne is a unique National Park because 95% of it is actually underwater. So the best way to explore here is by boat!
You can go sailing or kayaking, opt for a snorkeling tour, or simply book a boat cruise that brings you to all the nicest places in just a few hours. Most tours start at Dante Fascell Visitor Center in Homestead, FL (more info). In addition, there are also tours from Miami that explore Biscayne Bay.
Biscayne National Park comprises several islands, stunning coral reefs, and mangrove forests. You can also expect to see dolphins, turtles, and pelicans.
TIP: Combine your visit to Biscayne with that of Everglades and Dry Tortugas National Parks and also Honeymoon Island State Park. You can find information for all these places further below.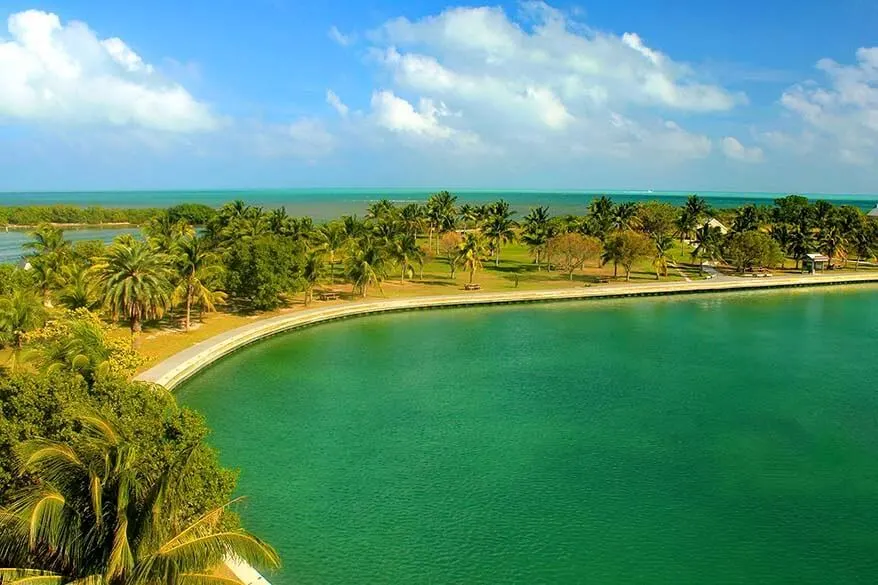 2. Channel Islands National Park
Location: California
Suggestion by Tom from Travel Past 50
Where to stay: There is only camping on the islands. It's best to stay in Ventura or in Oxnard and visit the Channel Islands by boat tour for a day or for a few days. On multi-day trips, you sleep on a (private) yacht.
Channel Islands National Park is truly one of the joys of the US National Park system. It's located just off the coast of densely populated Southern California, but you can't drive there. So because it's a bit more difficult to get to, this National Park is not as busy as most others. It's a great choice for those willing to get off the beaten path!
It's great to visit Channel Islands National Park in January for a few reasons. First, the weather is perfect for hiking, with average temperatures in the 50s (12-15°C). And while winter is the rainy season, it's usually dry with an occasional rainy day. January is also the start of the wildflower bloom season.
Furthermore, since the Channel Islands NP is usually visited as a day trip from mainland California, you can always check the weather forecast last minute and pick the best-weather day for your trip.
The crowds are much lighter here in winter or in spring than in summer. And because there are fewer people, the wildlife are more likely to show themselves. We saw plenty of island foxes and the ubiquitous crows. Also, when we were there, the seas were quite calm and ideal for kayaking, especially in the many sheltered coves.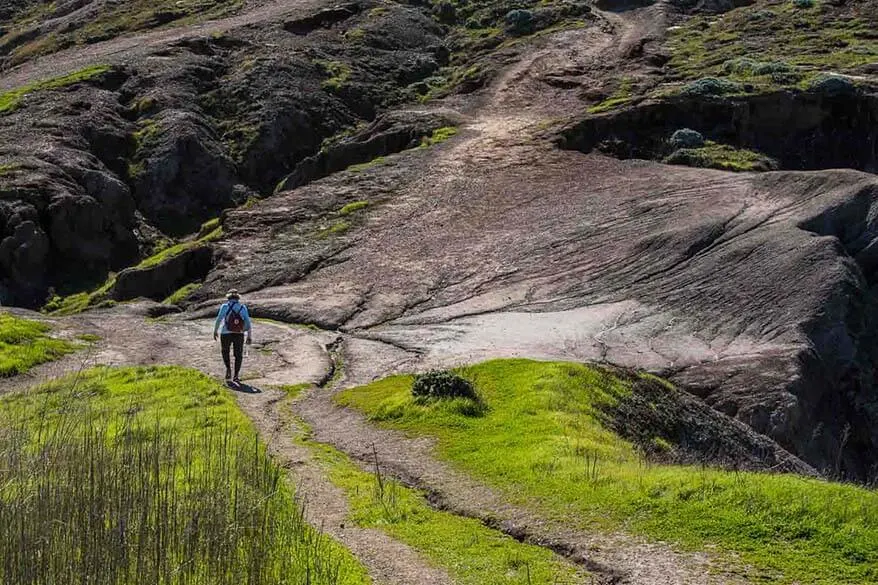 Getting there: The easiest way to get to the Channel Islands via the official ferry from Island Packers Cruises from Ventura. The trip to Santa Cruz, the closest island, takes about an hour and there's a good chance that you'll get to watch dolphins frolicking in the channel during your trip.
Once you get to Santa Cruz, you have a few choices of things to do. There's snorkeling, sea kayaking, and hiking. Any activity other than hiking should be arranged in advance through the official vendors. You can also camp on Santa Cruz, with a permit from the National Park Service.
If you decide to go hiking, you'll probably get an introduction from one of the National Park volunteer guides. They will explain the interesting natural history of the islands, the wildlife, and the ongoing recovery of the native species that had been almost lost when the island was an active farm.
Overnight stays: Overnight camping is probably a good choice if you really want to explore the island and do more than one activity. If you do the boat day trip, you'll only have about 5,5 hours on the island. Plenty of time for a nice hike or kayak trip, but not both. If you do decide to camp, be sure you're prepared. There are no facilities or supplies on the island other than toilets and water, and they are only in the landing area. Don't forget you have to take out anything you bring in.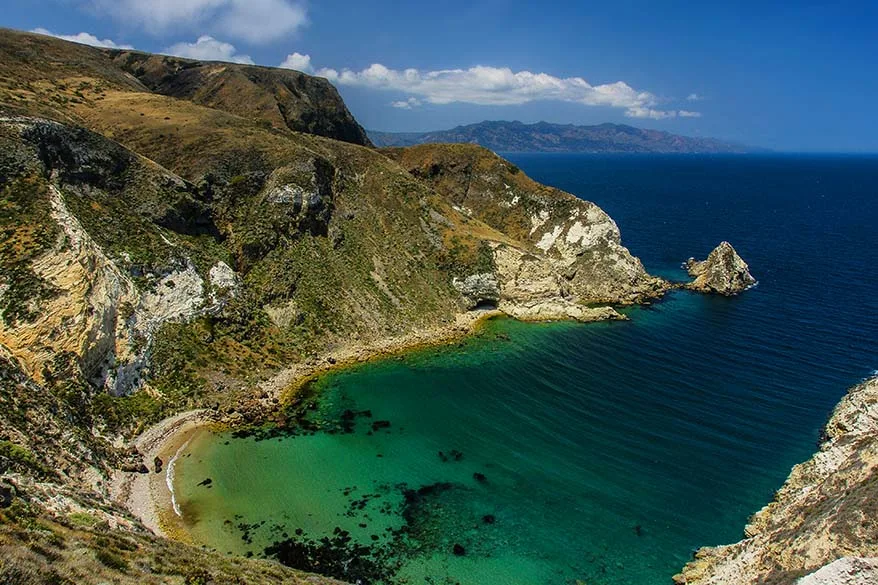 3. Haleakala National Park
Location: Maui, Hawaii
Suggestion by: Meredith from Chasing Abandon.
Where to stay: There's no lodging inside the park. Maui Island isn't that big, so you can stay anywhere on the island and visit the park for a day. We recommend staying in the Wailea area.
Located in Hawaii on the island of Maui, Haleakala National Park occupies a large portion of the island's southern edge. The namesake of Haleakala National Park is the extinct volcano, Haleakala. Climbing up over 3,000 meters from the Pacific Ocean, the barren summit of Haleakala is a sharp contrast from the rain forests at its base.
Haleakala's summit has become a famous sunrise spot on Maui. Popularity has grown so much that the Park now requires reservations for sunrise viewing to limit the number of vehicles each day. One of the easiest ways to visit at sunrise is to go on an organized tour.
Planning your trip to Haleakala in January, after the Christmas crowds have subsided, will offer a slightly less crowded experience not just in the park, but in all of Maui.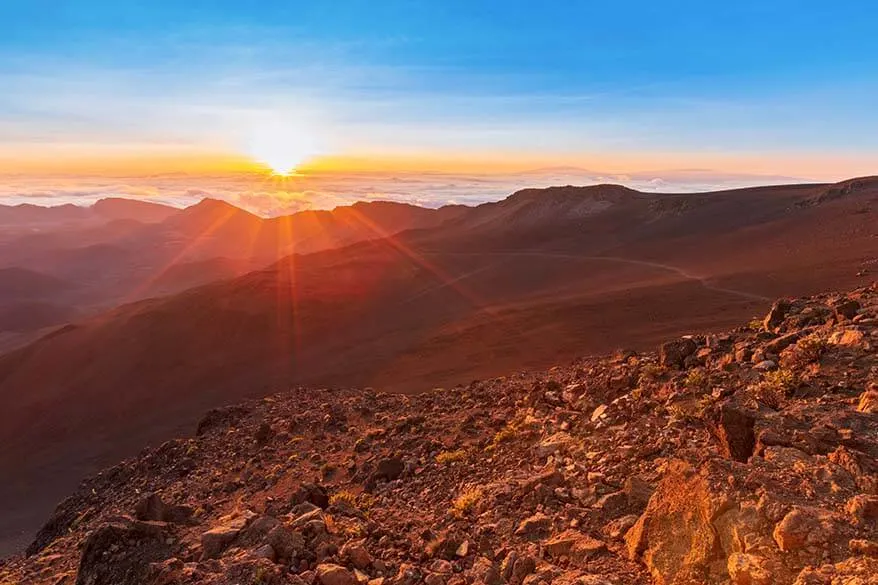 If you're comfortable with the summit elevation, make sure to pack your hiking shoes to (slowly!) explore the summit trails after sunrise. Head out for a short trek or go for the day, as you walk through the barren, cinder landscape of a once-active volcanic landscape. Bike tours from the summit down to the valley or zip-lining tours are also very popular.
Make sure to check in with the visitor center to learn about the delicate and beautiful Haleakala Silverswords, where to view them along the trails, and the conservation efforts in place to protect these special native plants.
If you have the time to explore beyond the summit, visit the coastal areas of the park when you drive the famous Hana Highway. The coastal Kipahulu visitor center offers a range of unique cultural programs highlighting the history of this area. Stretch your legs on the coastal trail before packing up in the car for the trip back to Hana.
January weather in Maui is usually pleasant with daytime temperatures in the high low 70s to 80s (20-26°C), but there are so many different climate zones that it's really difficult to predict. Also, it is much colder on the Haleakala summit, especially at sunrise. So to fully experience Haleakala National Park, pack for both warm, wet weather along the coast and sub-freezing temperatures at the summit.
TIP: January is also one of the best months to see humpback whales in Maui! For more tips on what to see and do, please check our guide to the best activities on Maui and also Maui itinerary suggestions.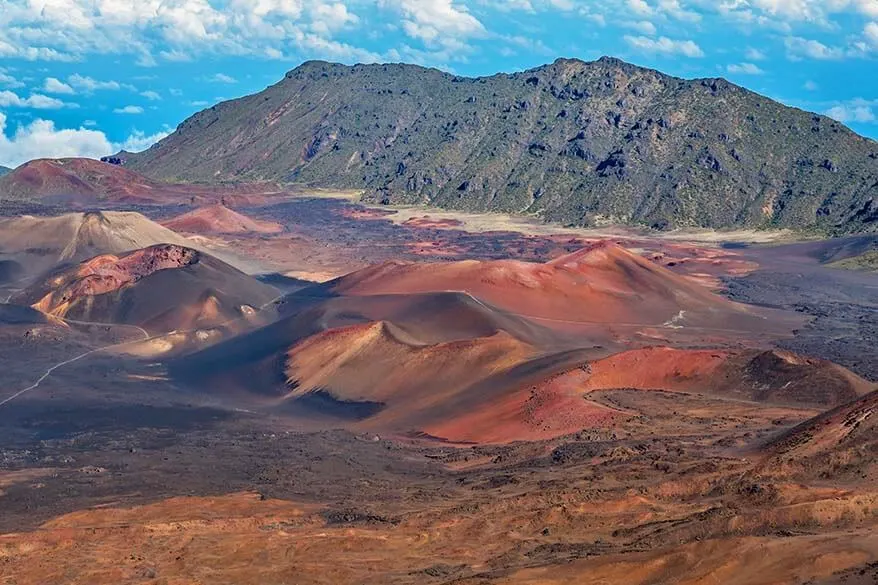 4. White Sands National Park
Location: New Mexico
Suggestion by: Margherita from The Crowded Planet
Where to stay: There's no lodging inside the park. Alamogordo is the best town to stay nearby.
White Sands National Park is in a remote part of Southern New Mexico, about 50 miles from Las Cruces and 16 miles from the remote town of Alamogordo. It's also one of the most recent national parks in the U.S., having been established only in December 2019.
Its remote location and the fact that it's still little-known are probably two reasons why White Sands is still relatively offbeat, despite its incredible beauty.
The most recognizable feature of the park (and the reason behind its name) are its blindingly-white gypsum sand dunes. They are so white that they seem to sparkle under the desert sun.
This part of New Mexico gets really hot. So winter months and especially January is the best season to visit White Sands. You can expect maximum temperatures in the high 70s (25°C), which makes for a pleasant visit. In summer, daytime highs routinely exceed 40°C!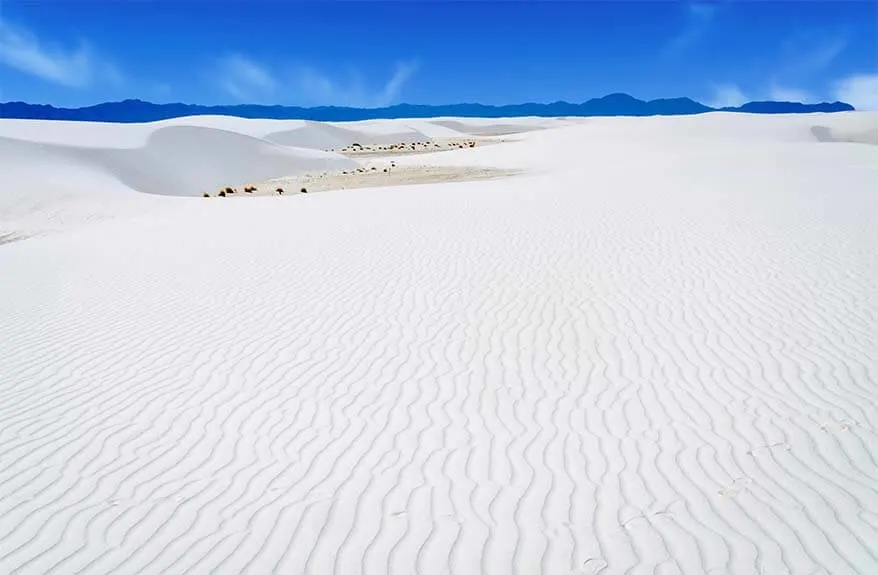 White Sands National Park is fairly small. The scenic loop drive reaching deep into the dunes is only 16 miles round trip from the visitor center, but you'll find yourself stopping over and over again to take pictures, as the shifting white sands are a true show of nature.
If you like hiking, there are also a number of hikes allowing you to get close to the desert environment. For something not too challenging, we recommend the 1-mile-long Dune Life Nature Trail, with information signs about life in the desert. Here you can find more suggestions for the best things to do in White Sands National Park.
January is also a great month to camp in White Sands. This is the best way to really immerse yourself in the white sands desert, and spend an unforgettable night under a blanket of stars. Trust me, it will be a night to remember!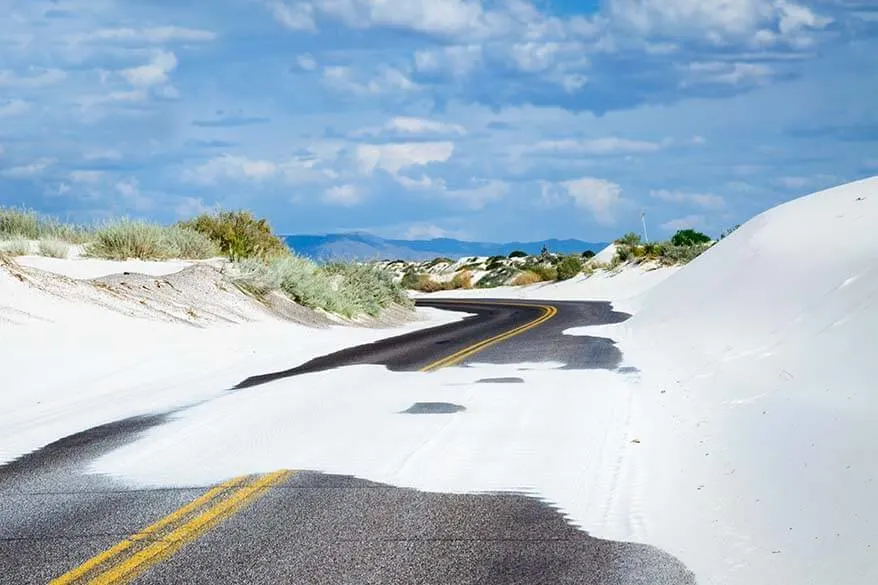 5. Everglades National Park
Winter (November through April) is the best time to visit Everglades National Park. It's a dry season with pleasant temperatures that range from 55 to 75°F (12-25°C). Furthermore, January is one of the quieter months, especially if you visit after the first week when most tourists who came here for Christmas and New Year holidays have already left.
One of the perks of visiting Everglades National Park in January is the low humidity. It means that there are almost no mosquitoes that are known to ruin any visit to Everglades during the wet season. Furthermore, as water levels are lower, it's easier to spot wildlife. January is also a good month to see birds in Everglades.
The best way to explore Everglades is by taking an airboat tour to spot wildlife. You can also go hiking, rent a bike or a canoe and explore the mangroves on your own.
TIP: If you are planning to visit Florida in the dry season, make sure to plan ahead of time and make reservations not just for your accommodations, but also for any tours you want to do.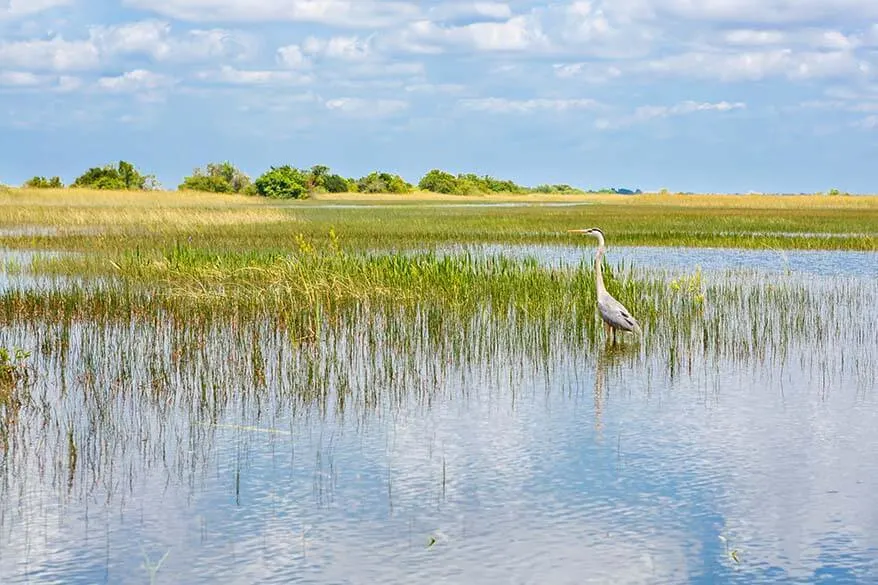 6. Virgin Islands National Park
Virgin Islands National Park is a wonderful place to visit in the month of January. Located on the Caribbean island of St. John in the U.S. Virgin Islands, it is a welcome respite from winter at home and a chance to kick back in gorgeous surroundings.
The weather on the Virgin Islands is perfect in January – hot enough for the beach, but with a cooling breeze in the air. You can expect temperatures in the high 70s-mid 80s (25-28°C). As at any time of the year, you can also get some rain, but in January, it hardly ever lasts longer than an hour or two and it remains warm.
January is high season in the Virgin Islands, so everything will be fully open and buzzing. The high season kicks off with New Year's, which is the island's busiest (and most expensive) week of the year. The fun continues from there, with vacationers flying, cruising, or boating in on mega yachts.
However, prices are somewhat lower in January, right after the school holiday is over and before the peak season in February. Still, December to April is the peak season here, so make sure to book your accommodation well in advance!
Here you can read more about what to expect and the best things to do in St John, USVI.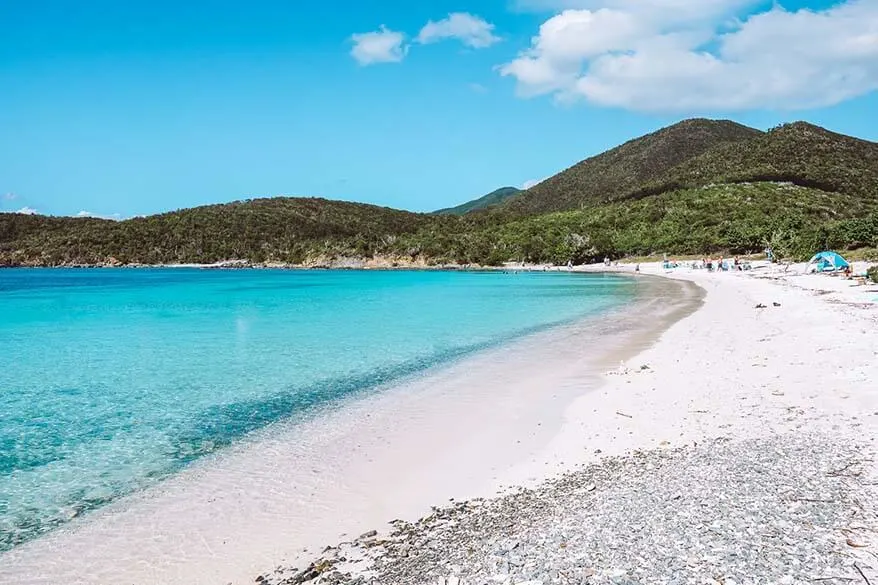 Virgin Islands National Park takes up two-thirds of tiny St. John island and there is plenty to see and do. The famous North Shore is lined with untouched pristine beaches, and there is hardly a resort or vacation rental in sight. You can choose from popular beaches, or hike to smaller ones. It's not hard to find a beach with hardly any people around.
The coast around the island has been designated as Virgin Islands Coral Reef National Monument, so snorkeling is the best activity here with great options at every beach. The coral is nice and there's a big variety of colorful fish and you may also get lucky and see some sea turtles.
You can also rent kayaks or stand-up paddleboards for some time on the water.
Finally, hiking is one of the most popular activities in the Virgin Islands National Park. Some hikes take you past old Danish plantation ruins and end at a lovely beach, while others offer up incredible views over the sea down below. Plus, a nice long hike earns you a 'Painkiller', which is the island's signature cocktail. Every bar and restaurant has its own version, so make sure to give it a try!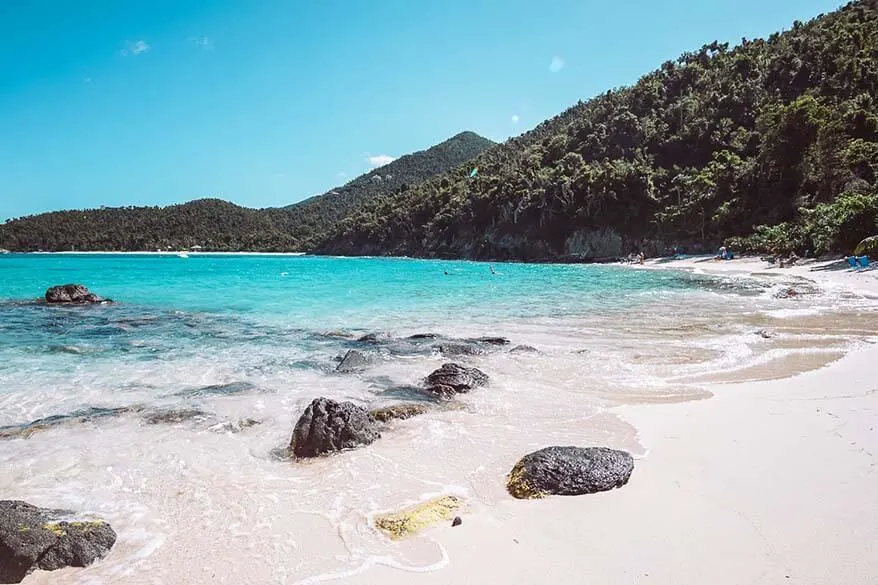 7. Pinnacles National Park
Location: California
Suggestion by: Dhara from Roadtripping California
Where to stay: Only camping is available inside the park. The closest town with the best facilities is Salinas (west side). If you want to visit both sides, try this hotel in King City, about 40 minutes drive from either side of the park.
If you are planning a trip to California in January and you love nature, put Pinnacles National Park on your itinerary!
The newest California national park features the stunning namesake volcanic pinnacles, but it is also home to some really cool talus caves. Much of the park is designated wilderness, so once inside, you really feel like you are in nature, far away from everything!
Pinnacles National Park is a haven for a wide variety of wildlife and birds. In fact, California condors that are bred in captivity are released into the wild at Pinnacles. So when you visit, be sure to look for the majestic birds with their giant wingspans!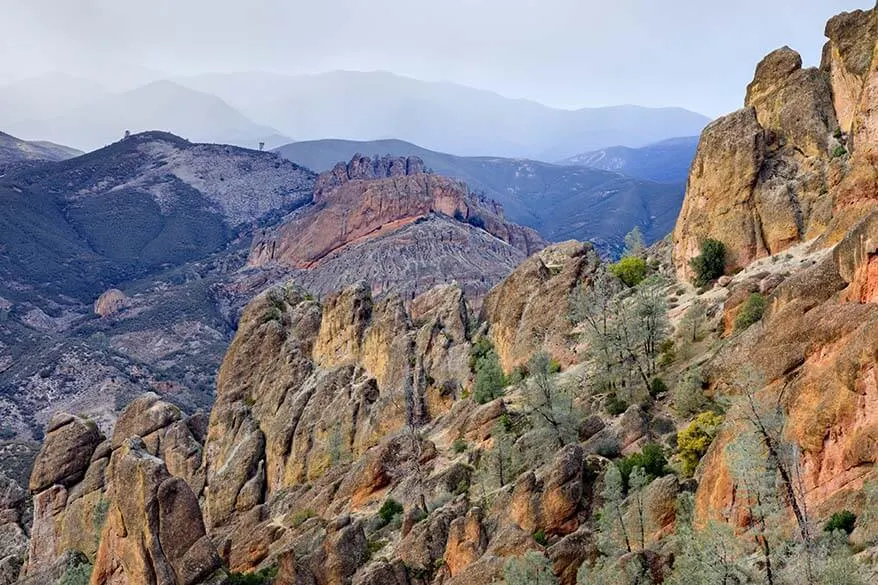 Hiking is the primary reason why you'd want to visit Pinnacles National Park. There is no road that runs through the park, so you have to get out and walk to experience it up close. Trails run the gamut from relatively easy to strenuous, and you can string several trails together to do a bigger loop.
We recommend picking a trail that includes one of the two major talus caves in the park, provided they are open when you visit. One or both caves are sometimes closed to protect breeding bats. So make sure to visit the Pinnacles Visitor Center before you set off for the hike.
From the East entrance, the Bear Gulch Trail takes you through the Bear Gulch Cave for a view of the Bear Gulch Reservoir. From there, you can take the Rim Trail for more pinnacle views. From the West entrance, the Balconies Cave Trail leads you to the other major talus cave in the park. It is a relatively flat and easy trail that kids will enjoy.
If you're up for a bigger challenge, one of the best hikes in the park is the High Peaks Trail. This strenuous loop passes the most beautiful parts of the park and takes about 4.5-5hrs, but you can also just do smaller parts of the trail, depending on your interests and abilities. Winter is one of the best times if you want to hike here and even then, make sure to pack plenty of water!
With daytime temperatures in the low 60s (15-18°C), January is the perfect time to hike Pinnacles National Park. You may even be lucky enough to see a dusting of snow on the tops of the tallest spires when you visit in January!
Bring layers so you can bundle up if you plan to explore early or late in the day, and a light rain jacket in the event of a shower. Good hiking boots or hiking shoes are a must! And take a flashlight if you plan to explore the caves.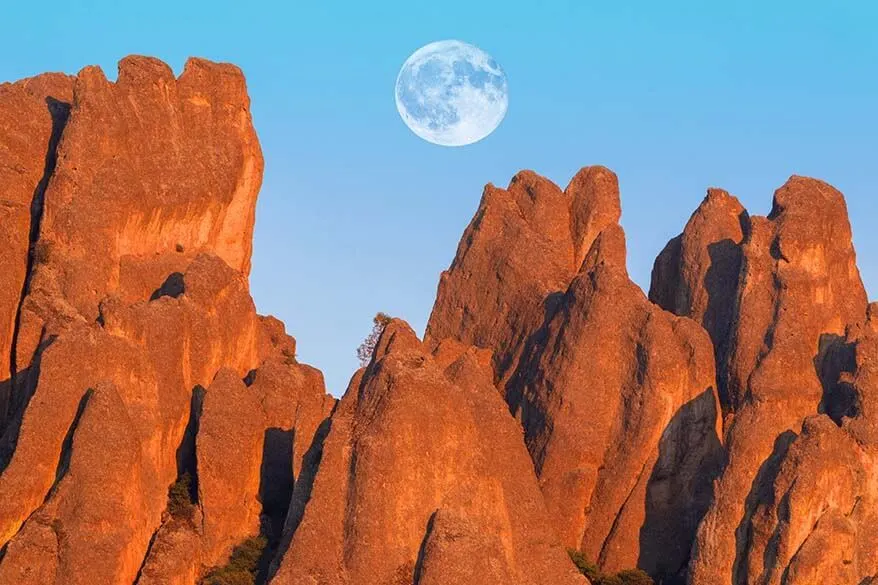 8. Honeymoon Island State Park
Among the best National Parks to visit in January, we just couldn't resist including the stunning Honeymoon Island State Park in Florida in our selection. While technically not a National Park, this State Park is an amazing destination for those looking to escape the winter in January!
This beautiful island is a great place for outdoor activities and beach lovers. It offers many options like soaking in the sun, swimming, fishing, kayaking, biking, and hiking. There are 4-miles of amazing beaches to explore and a 3-mile hiking trail through one of the last remaining virgin slash pine forests.
Even though the name sounds romantic, Honeymoon Island State Park is a great place to visit for the whole family. You can even bring your pets! Inside the park, you can find Pet Beach, a paradise for canine family members.
Honeymoon Island is a great destination to visit all year-round, but winter is the dry season and the weather is at its best. Furthermore, it's a good time for wildlife.
If you visit Honeymoon Island State Park in January, you have higher chances to see birds such as eagles, osprey, and great horned owls, and ground animals including gopher tortoises, raccoons, and armadillos.
This is also the best time of the year to spot manatees and dolphins close to shore, due to the temperate climate during this time of the year.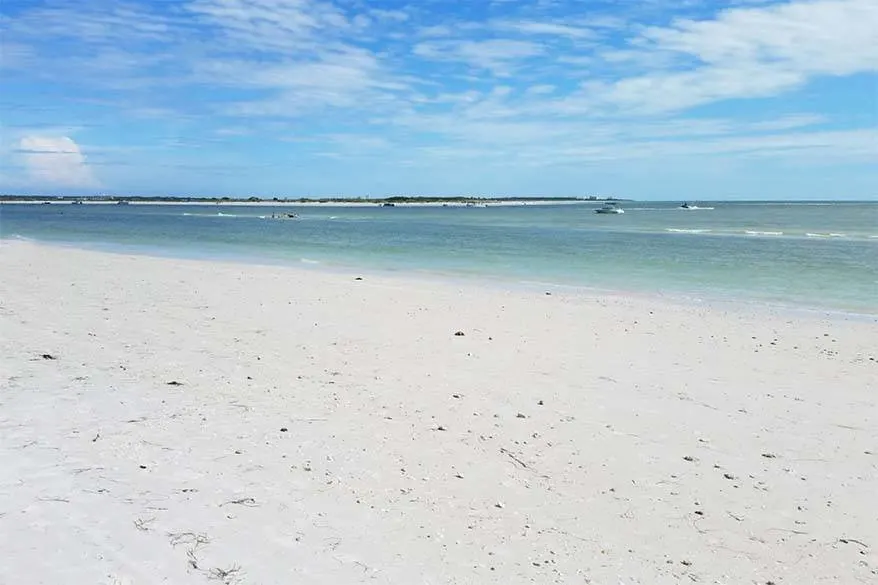 TIP: In addition to the Honeymoon Island, you can also take a ferry across the channel to Caladesi Island. This island has pristine beaches and turquoise water and is also less crowded and less rocky than the beaches of Honeymoon Island.
Practical info: The Park is open 365 days per year, from 8 am until sunset. To enter the State Park, you have to pay an entry fee of $8 per vehicle. Honeymoon Island State Park is located about 25 minutes north of Clearwater Beach in the Tampa Bay area on Florida's west coast, at the end of the Dunedin Causeway.
If you love nature and you are looking for a pristine beach with plenty of activities, and especially if you want to enjoy the sun of the sunshine state in the cold month of January, Honeymoon Island State Park is a perfect destination!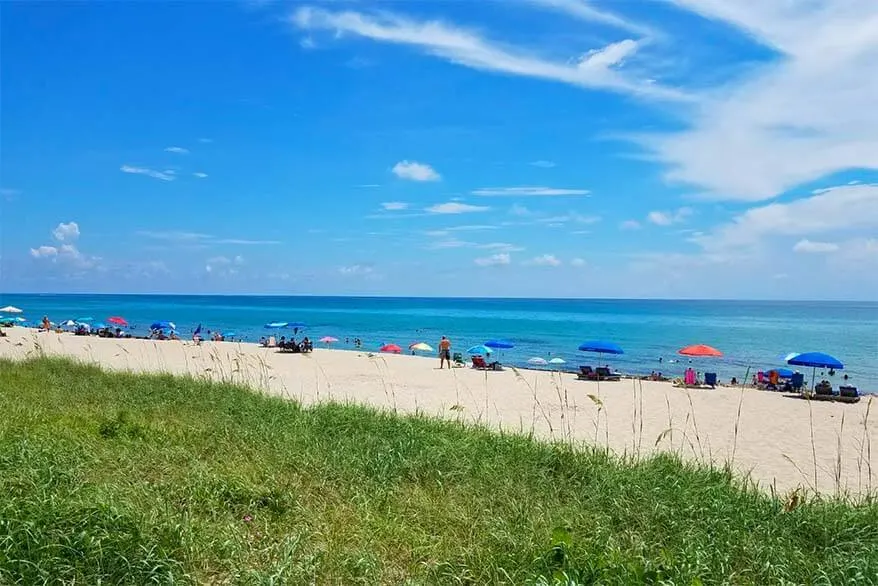 9. Rocky Mountain National Park
Rocky Mountain National Park is a perfect trip for winter lovers. The entire park transforms into a winter wonderland and you get to experience the most beautiful winter landscapes you can imagine.
Part of the park is closed during the winter months, but there is still plenty to see and do in the Rocky Mountain NP in winter. If you don't know where to start, check out our Rocky Mountain National Park itinerary suggestions (just keep in mind that not everything is accessible this time of the year). Here you can also find our suggested itinerary from Denver to Rocky Mountain National Park that can be easily adapted for a winter trip.
One of the prettiest winter trails is a hike to Nymph Lake, Dream Lake, and Emerald Lake. It starts from the Bear Lake area and continues to the first lake, Nymph Lake. From there keep going to Dream Lake and it opens up views of the peaks above and the frozen lake. If it's not too windy, you can continue on to Emerald Lake which is also worth the views. If you do the entire hike, it's 3.8 miles round trip.
You can also hike to Lake Haiyaha which is 4.4 miles round trip or the 2 miles round trip to Alberta Falls and see them frozen over. Both trails also start from Bear Lake.
Even in the winter months, you might also see lots of wildlife activity in the park. Elk and bighorn sheep are commonly seen in the Rocky Mountain National Park in winter. Just make sure to keep a safe distance from wildlife!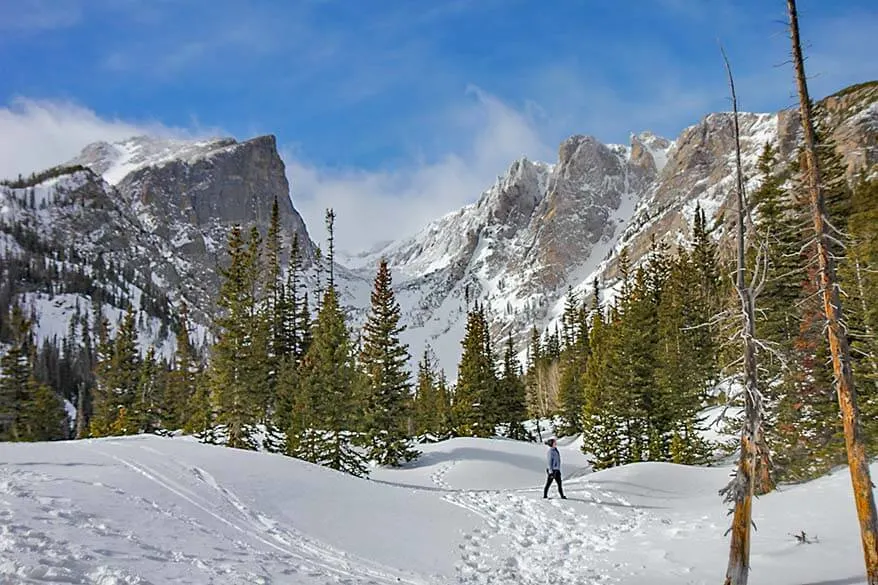 In January, you can expect relatively dry, but very cold weather. Average temperatures range in the 20s-30s (0 to-8°C), so be prepared for the cold. However, if you are dressed appropriately, you'll find the Colorado winters very enjoyable.
Make sure to dress appropriately so that you can truly enjoy your winter adventures to the fullest! Leave the sneakers at home and opt for insulated winter boots that will keep your feet warm and dry.
If you're going hiking, wear ice cleats or snowshoes to add some traction to every step. Hiking poles are also very useful! It will help keep you from slipping around on ice or slippery snow. Or if you don't want to hike or snowshoe, you can go backcountry or cross-country skiing.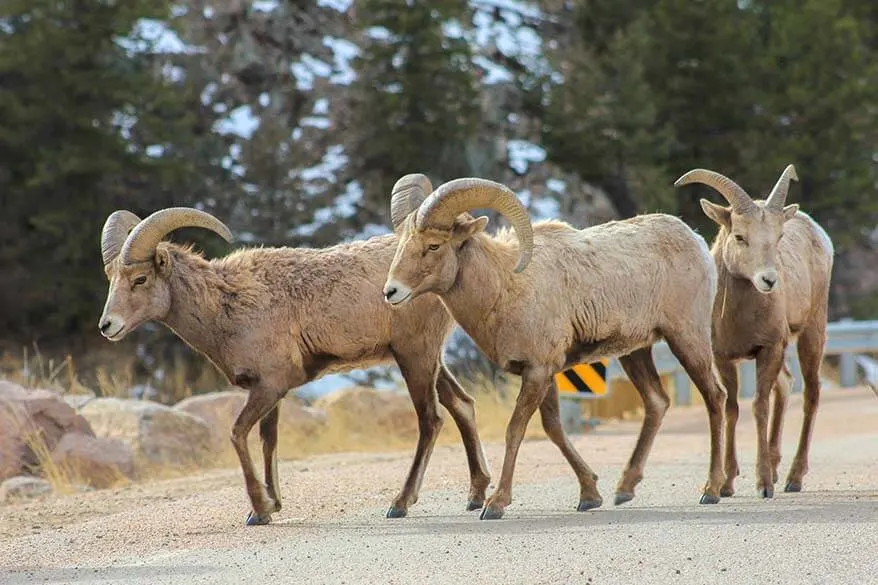 10. Shenandoah National Park
Location: Virginia
Suggestion by: Stephanie from History Fan Girl
Where to stay: There are several accommodations along Skyline Drive. Big Meadows Lodge is one of the nicest ones. Alternatively, stay in Luray north of Shenandoah.
Shenandoah National Park in the Blue Ridge Mountains is great in all seasons. But having been here in summer, fall, and winter, I especially enjoyed the January visit. It's actually one of my favorite US National Parks to visit in January because of the ease with which you can see the beauty of the mountains without needing to venture out into the cold Virginia winter.
The best way to experience Shenandoah in winter is by driving the Skyline Drive. This is a scenic highway that runs about a hundred miles through the park (see map). The Skyline Drive has 75 (!) separate overlooks where you can enjoy stunning views across the Blue Ridge Mountains.
In winter, the park is usually so quiet that you can just pull over and enjoy the views without even having to get out and step into the cold! And it sure is cold with average daytime temperatures just below the freezing point.
The drive takes 3 hours if you drive from end-to-end without stopping, as the speed limit is just 35 miles an hour. However, plan to spend a few more hours enjoying the various viewpoints along the way. Make sure to stop at Thorton Hollow (Mile 27.5) and Spitler Knowl Overlook (Mile 48) for stunning views. Of course, with so many overlooks to choose from, you really can't go wrong.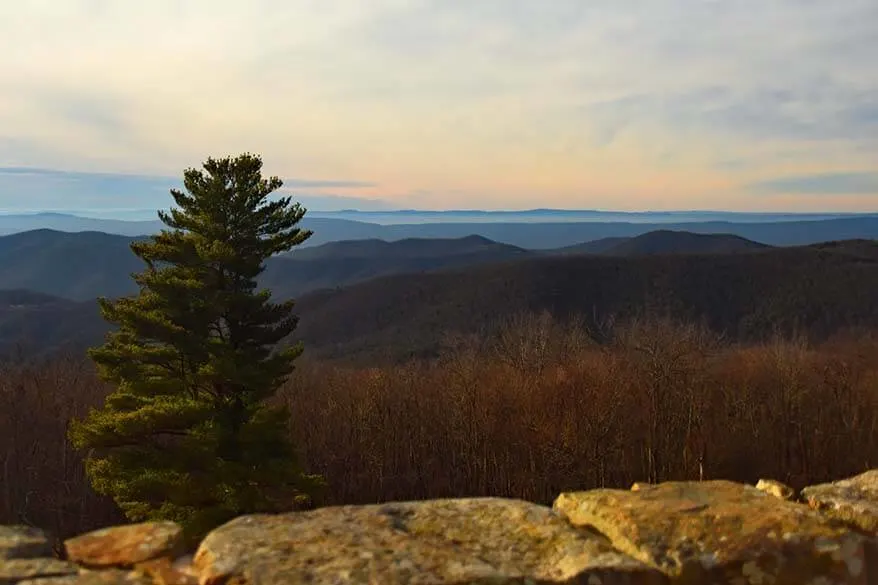 If you do want to get out and do some hiking, there are a few short hikes of less than two miles that you can enjoy in winter. Shorty Man (Mile 41.7), Frazier Discovery Trail (Mile 79.5), and Dark Hollow Falls (Mile 50.4) are all popular winter hikes in Shenandoah. Dark Hollow Falls even leads you to a gorgeous waterfall, so it's worth getting out of the car to enjoy.
Winter is also a great time to visit Shenandoah because the impressive sunrises and sunsets over the blue-tinged mountains provide a completely different viewing experience than you'll see the rest of the year. Don't get me wrong, Shenandoah is gorgeous year-round. But I do think it offers something special for those coming in winter.
Every four years, January is a very popular time to visit Shenandoah because many people pass through the park on the way to the Presidential Inauguration held in Washington DC.
Good to know: Certain stops and shops are closed in winter, however, the lack of crowds certainly makes up for it! Before you set off, make sure to check the official website of the National Park Service for any closures.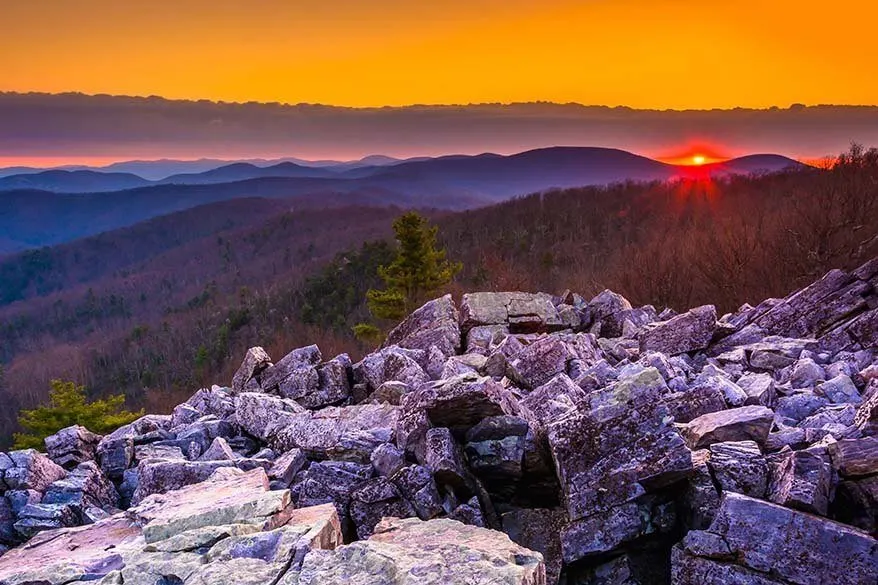 11. Dry Tortugas National Park
Location: Gulf of Mexico, just off the coast of Florida
Suggestion by: Victoria from Florida Trippers
Where to stay: There is only camping in Dry Tortugas. Most people stay in Key West, FL, and visit Dry Tortugas with an organized catamaran tour from Key West.
Dry Tortugas National Park is one of the best national parks to visit in January! It is the most remote National Park in Florida, and there are a variety of reasons why this is the best time to go!
First, January means that Florida is out of hurricane season so you don't have to worry about planning your trip around an impending natural disaster.
Second, January means that Florida is out of the rainy season so skies are clearer and there is less likelihood of an afternoon thundershower. Rains in January in south Florida are fairly uncommon.
Finally, the weather is amazing for exploring all that Dry Tortugas National Park has to offer! You can expect pleasant daytime temperatures in the 70s (21-25°C).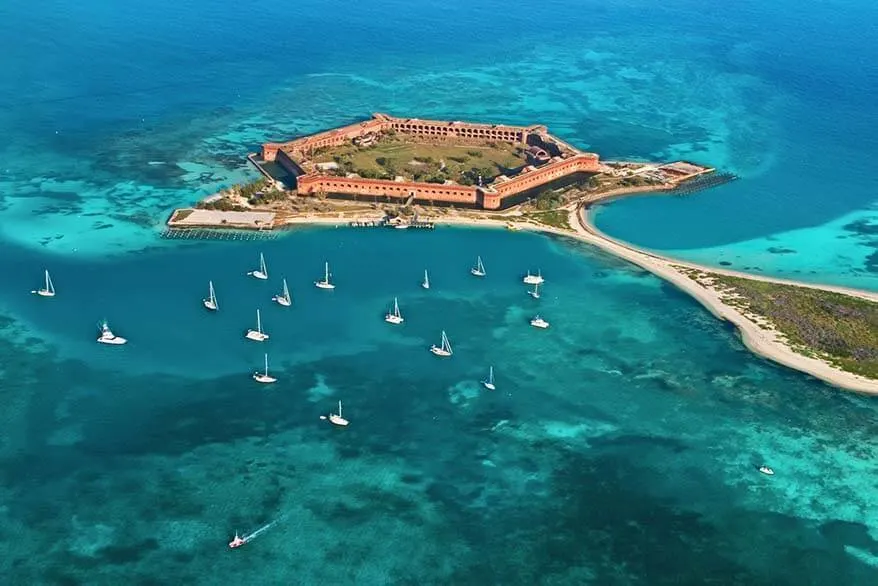 Dry Tortugas is an island chain of 7 islands and 100 square miles filled with sandy beaches, coral reefs, and marine life.
It is great for swimming and snorkeling and going in January means that the waters are less likely to be stirred up compared to other times of the year! It is also a great place to spot sea turtles!
Make sure to visit the 19th-century Fort Jefferson which was built to protect the southern coast of Florida. It was even a prison during the Civil War! January is also a great time to explore the fort as it is less hot and not as humid as in the summer months!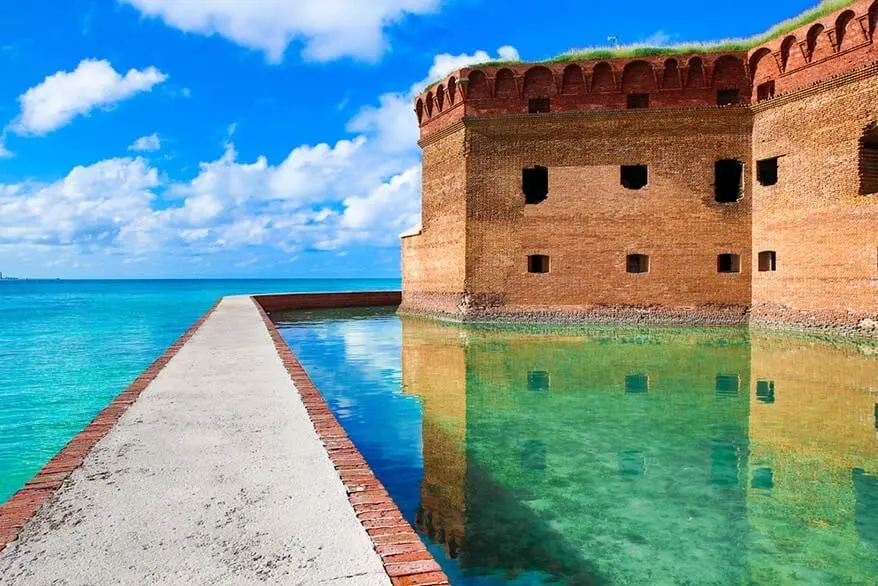 12. Death Valley National Park
Important update for fall 2023: At the moment, some roads in Death Valley NP are closed due to recent flooding and debris on the roads. If you are planning a trip soon, be sure to check the official website for up-to-date conditions.
January is one of the best months to visit Death Valley National Park! With the lowest elevation in Northern America, it's unbearably hot here in the summer. But come winter, the temperatures are cooler, and you can explore Death Valley to the fullest!
While it can get really cold at night, daytime temperatures are usually in the high 60s (15-20°C). A lot also depends on which part of the park you are visiting.
Higher elevations might even have snow in January! But the most popular areas of the park are located much lower and so you don't need to worry about snow if you just want to see 'the musts'.
We recently visited Death Valley at the beginning of January, just after New Year, and the weather was great for sightseeing and hiking. We needed jackets at the higher elevations and a light sweater at the lower elevations.
The main disadvantage of visiting Death Valley in January is that the days are quite short. So if you stay in bed too long, you have less time for exploring (it gets dark at around 5 pm at the beginning of the month). But shorter days have advantages too – you don't have to get up early in order to see some of the nicest sunrises. And you don't have to stay up late in order to see a sunset.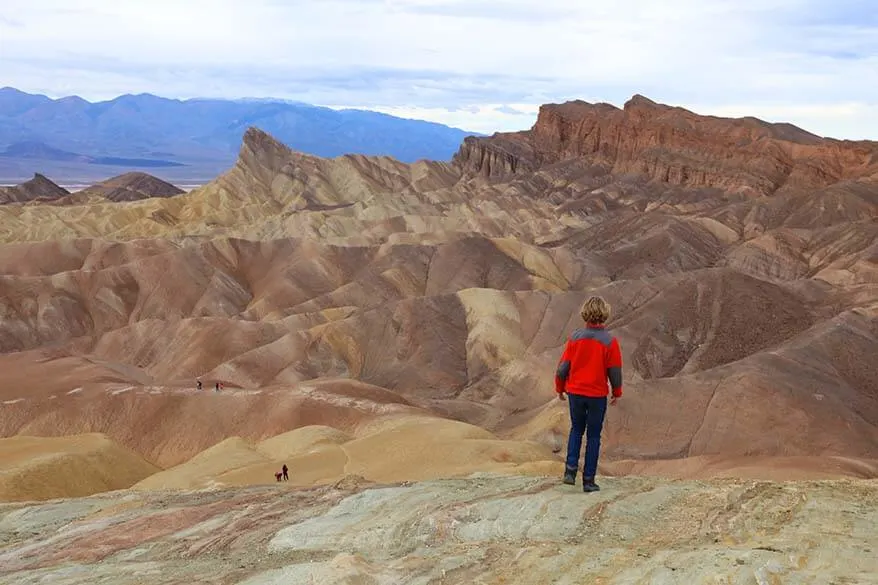 The park covers a huge area and is surprisingly diverse. From mountains to valleys and even sand dunes to ghost towns, gold and borax mines, or fun activities like horseback riding, biking, or swimming in hot-spring-fed pools, Death Valley has a lot more to offer than it looks at first sight!
Badwater Basin salt pan at the lowest elevation in the USA is an absolute must-see when visiting Death Valley. Make sure to also visit Zabriskie Point and Dante's View– the most beautiful viewpoints in the park. Artists Drive scenic road is another highlight, just as Mesquite Flat Sand Dunes.
If you want to do some hiking, Mosaic Canyon is probably the best short hike in the park (you only have to hike the first part of the hike – about 15-20 minutes – for the nicest scenery).
LEARN MORE: Must-See Places in Death Valley National Park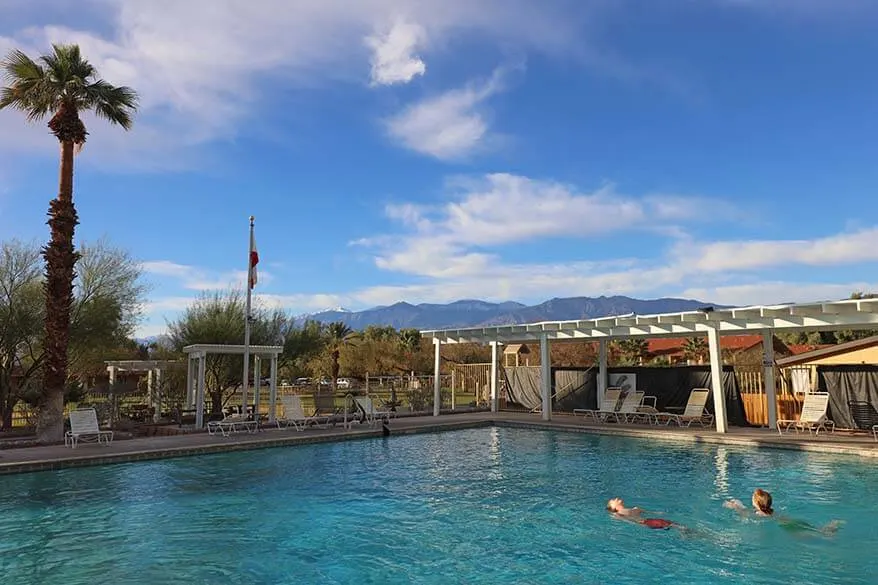 So, these are our suggestions for some really nice American National Parks to visit in January. Of course, there are many other great choices, but this should give you plenty of inspiration for some beautiful places to visit in winter.
Recently, we visited Zion NP and also Grand Canyon in winter. Both were absolutely magical, but you have to be flexible because the weather is difficult to predict. In the same area, Monument Scenic Valley and Lower Antelope Canyon were excellent choices at this time of the year – not too hot and not too busy.
TIP: If you are looking for more travel ideas, check out our guides for the other winter months via the links below. Most national parks featured there are perfect for a January trip as well. Check it out!
READ ALSO:
National Parks to Visit in December
National Parks to Visit in February
For even more inspiration for U.S. National Parks, please check our other articles below!
More travel inspiration for American National Parks:
If you found this post useful, don't forget to bookmark it and share it with your friends. Are you on Pinterest? Pin these images!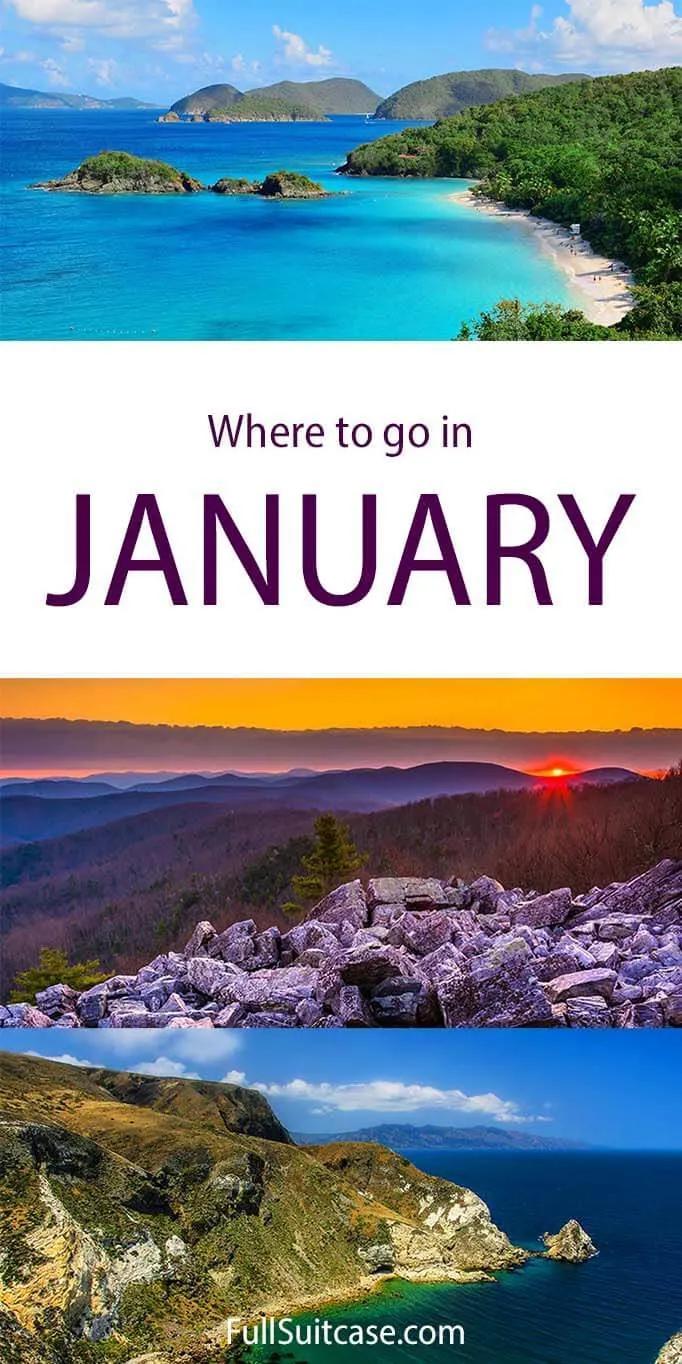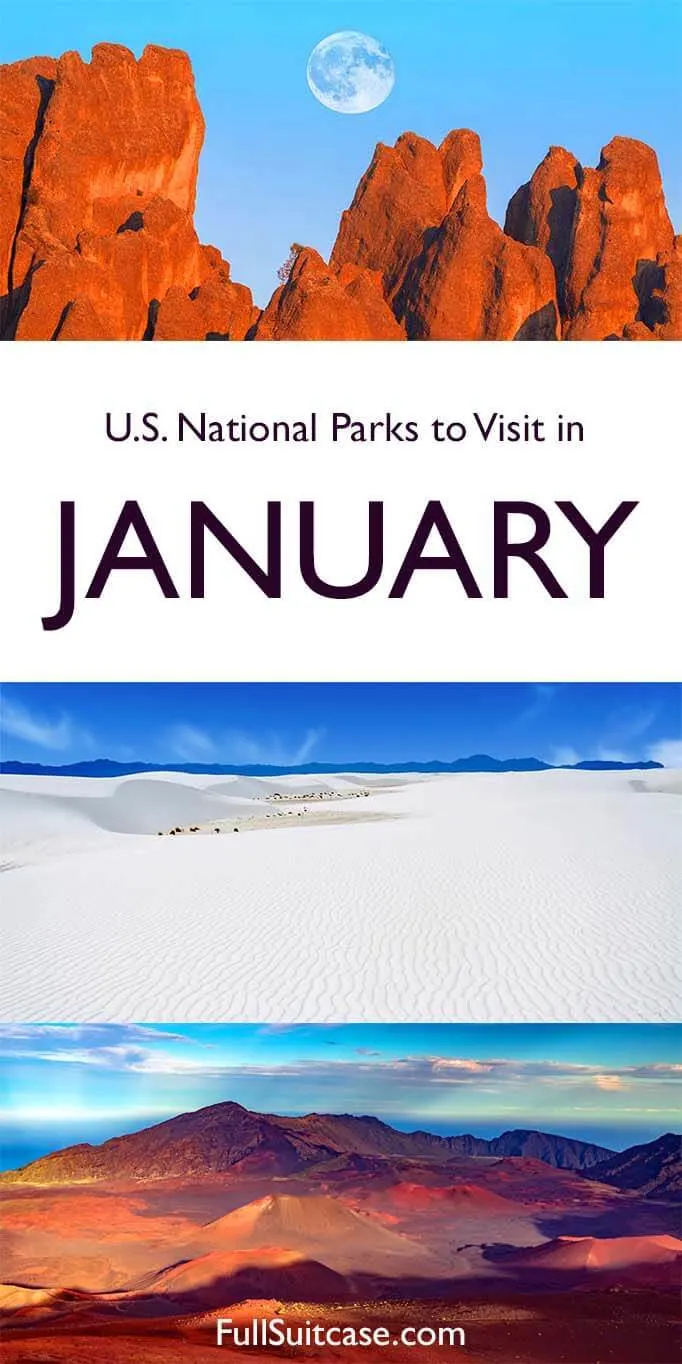 More travel inspiration for USA National Parks: