Wondering where to travel in December or looking for trip ideas for a Christmas & New Years' getaway? In this article, we share some travel inspiration for America's National Parks in December!
December is a beautiful month to travel to many National Parks. In some places in the northern states, it's already winter at its best. Whereas many of the warmer southern states are experiencing the dry season when the weather is perfect for outdoor activities.
So depending on what you are looking for, December can be an excellent time to visit various U.S. National Parks. Furthermore, if you are traveling between Thanksgiving and Christmas, you're likely to have most of these National Parks all to yourselves!
In this article, we feature an inspirational mix of a variety of National Parks that you can visit in December. From white Christmas in the Colorado Rockies or a perfect winter city trip getaway, to warm Florida beaches or hiking in California – there's truly something for everyone on this list. You'll also learn about a stunning National Park in the Pacific that many people don't even realize belongs to the U.S…
Need a rental car for your National Parks road trip?
We recommend renting your car via the Rental Cars website. You can compare different companies and their offers, and find the best prices for your trip. They also have an excellent cancelation policy and you can also get full insurance for a much lower price than at the counter. We personally always use them, also on a recent trip in the Southwestern USA.
Good to know: For this inspirational post for National Parks to visit in December, we asked the opinions of fellow travel bloggers. They share some of their favorite National Parks that they visited in December and offer experience-based tips for your visit. We also included some of our personal suggestions. Take a look!
PRO TIP: If you are planning to visit several National Parks, get an annual pass. It's called America the Beautiful Pass and costs 80 USD for the whole family traveling in the same private vehicle. It's valid in all National Parks and 2,000 federal recreation sites across the United States for one year from the month of purchase.
READ ALSO: Best National Parks to Visit in November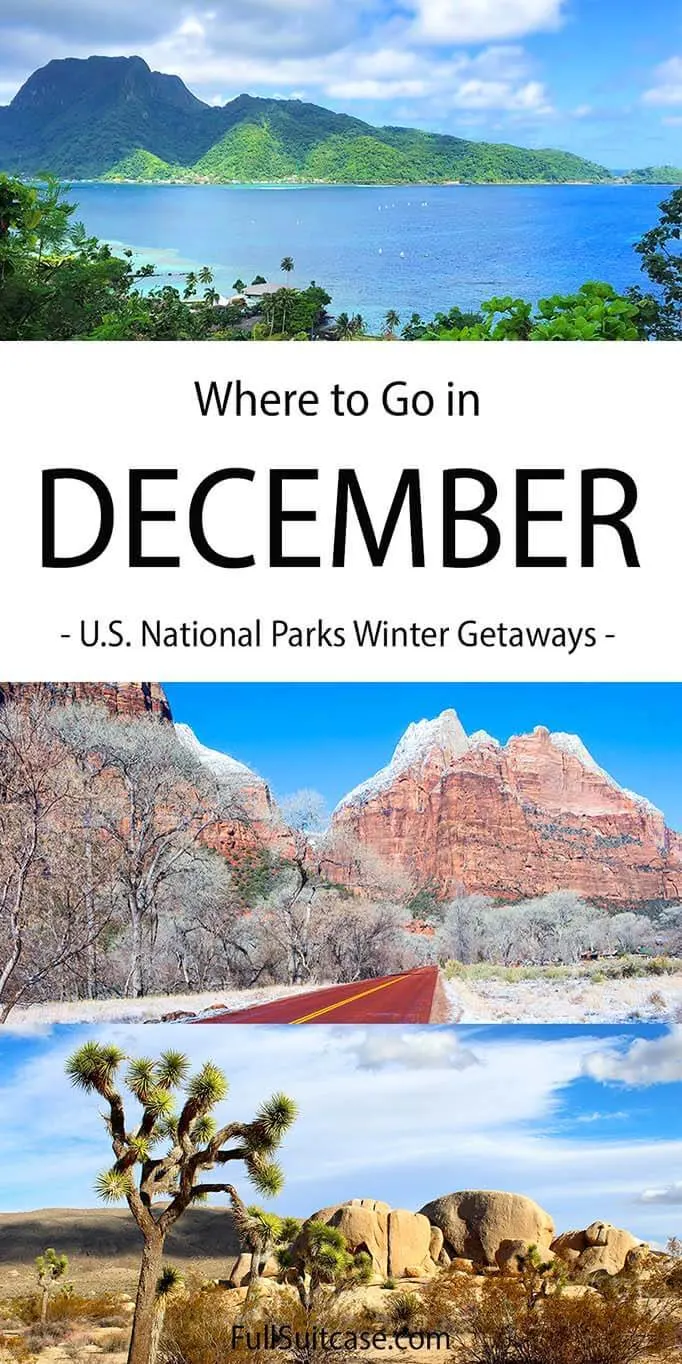 These are some great National Parks to visit in December:
1. Everglades National Park
Location: Florida
Suggestion by Paula from Paula Pins the Planet
Where to stay: Stay in Miami and visit Everglades on a day tour. If you are planning to visit the northern side of the park, you can also stay in Everglades City.
The Everglades National Park is an ecosystem and a World Heritage Site, located in the sunny state of Florida, just west of Miami and Fort Lauderdale. Everglades National Park is heaven for those who love outdoor activities. You have many hiking trails to choose from and also water activities like snorkeling and of course, the traditional airboat and wildlife show.
The best time to visit the Everglades is during the dry season, and the best month to visit the park is in December. This is the time of year when the temperature and the humidity levels are lower, the mosquitoes are not around, and hurricane season has passed.
December is one of the coolest and most pleasant months in Florida, with an average temperature ranging between 59-78°F (15-25°C).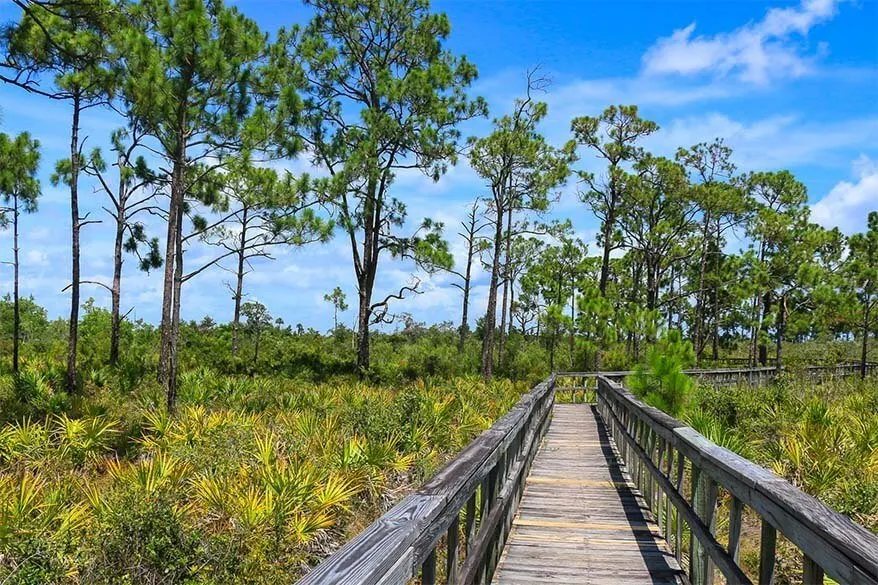 Another great reason to visit the Everglades during December is that it's the best time to see the local wildlife. This is the time when manatees migrate to the Everglades. As the water levels drop during the dry season, a large number of animals congregate around the water holes, making the wildlife viewing an easy endeavor.
Also for bird lovers, this is the best time of the year to be here, as many species migrate to South Florida to enjoy the warmth of this region.
Good to know: December is the busiest time of year to visit the Everglades. Many tourists come to South Florida to get away from cold, bitter temperatures up north. This is especially the case around Christmas and New Year. So if you can, try to visit at the beginning of December and make sure to book your accommodation well in advance.
TIP: Another must-visit place during your trip to the Everglades is the Ten Thousand Islands Wildlife Refuge. It's the second largest mangrove forest in the world forming fascinating labyrinths of water and islands with very rich wildlife, including some endangered species.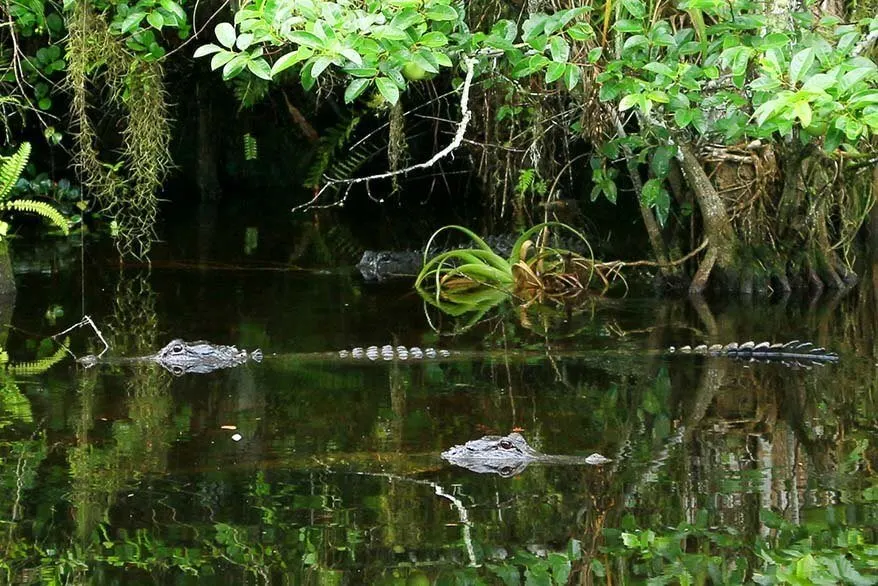 2. Rocky Mountain National Park
Rocky Mountain National Park is mostly known as a summer destination. But if you enjoy outdoor activities and are looking for a true winter break in December, you'll be glad to know that it's a fabulous place to visit in the winter as well! While during the warmer months, the park is where you'll find some of the best hikes near Denver, snowshoeing and skiing are favorites when it snows.
The weather in Colorado can be unpredictable year-round, with sudden drops in temperatures and snowfall even in the middle of summer. But come December and you're likely to find winter at its best, with the most powdery snow you can wish for and beautiful crisp winter weather.
That makes the Rocky Mountain NP the perfect place for those looking for a white Christmas in combination with winter sports. The average temperatures in Estes park in December are between 18 and 35°F (-8 to 2°C). But the good thing about Colorado winter is that the air is so dry that you don't really experience that bone-chilling kind of cold that makes it uncomfortable to stay outside.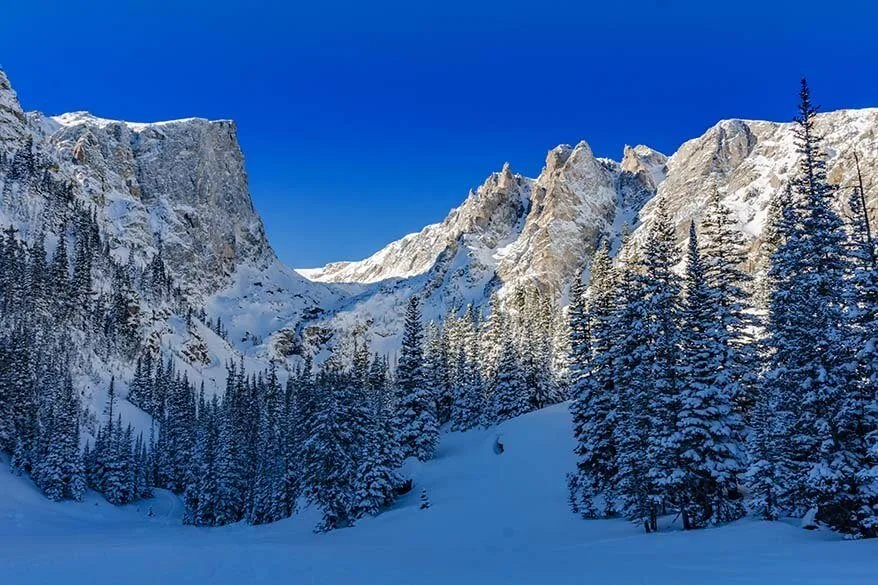 The best places for snowshoeing in the Rocky Mountain NP are Bear Lake, where you will find various trails, Glacier Gorge, and Hidden Valley. The latter is a former ski hub, and currently, the only place where you can go sledding.
If skiing is what you are looking for, then opt for Eldora, which is roughly one hour drive from Estes Park. The slopes are nice and easy, snow is powdery in perfect Colorado-style and if you are lucky and get a sunny day, the temperatures are actually quite pleasant and you'll find yourself ditching your jacket!
December and the rest of the winter is also the ideal time of year to spot wildlife in Rocky Mountain NP. You can expect to see elk, mule deer, coyotes, and other large mammals. When temperatures start to drop, many animals move to lower elevations, which makes it even easier to spot them.
Keep in mind that some popular drives – Upper Beaver Meadows Road, Old Fall River Road, and Trail Ridge Road – are closed during the winter months. But you'll still be able to explore some lookouts throughout the park. Just be sure to check the road and trail conditions on the RMNP website before you venture out each day.
Good to know: The best place to stay for exploring the park is Estes Park. Here you can find the complete guide to the best Rocky Mountain NP hotels and Estes Park lodging. It's also possible to visit Rocky Mountain National Park from Denver, and even on a short trip, you can still see a lot. There are also nice day tours if you don't feel like driving in the mountains in winter.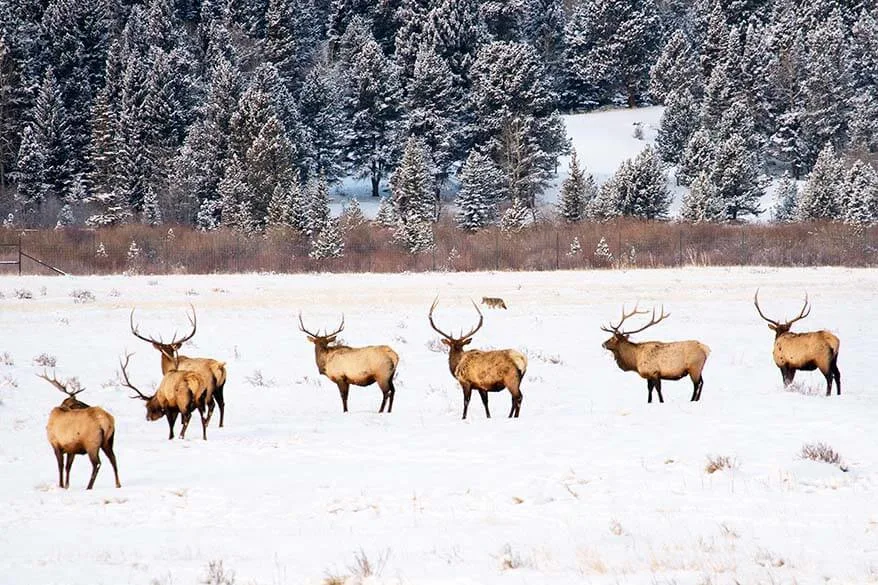 3. Joshua Tree National Park
Location: Southern California
Suggestion by Dhara from Roadtripping California
Where to stay: 29 Palms, a small town right outside the north entrance, is the best place to stay near the park.
Looking for a really nice National Park to visit in December? Consider Joshua Tree National Park, a desert park perched on two deserts: the Mojave and the Colorado. Joshua Tree's landscapes feature large boulder formations and diverse plant life, including many types of cacti and succulents. The famous Joshua tree, after which the park is named, is a succulent.
December is a wonderful time for hiking, bouldering, or rock climbing. But there are many more things to do in Joshua Tree National Park. It's also a great time to see birds, especially around the oases.
With daytime temperatures in the 60s (16-18°C), December is the ideal time to do some of the longer and more challenging trails in the park. We recommend the Lost Horse Mine Trail, to visit the remains of the richest gold mine in the area.
Alternatively, check out the 7-mile Lost Palms Oasis hike. They are both best tackled in cooler weather. If you don't like to hike far, check out the Cholla Cactus Garden (see the featured image of this article). It's especially beautiful at sunrise or sunset.
December is also a popular time for rock climbing in Joshua Tree. You will see professional rock climbers attempting vertical climbs and other visitors making their way to the tops of the flatter boulder formations.
If you enjoy birding and wildlife, try the short trail to Barker Dam, a dam built by early cattlemen in the region. In the winter, the dam attracts many species of migrant birds.
Nights in the park in December are cool to cold, so bundle up if you venture out to see the Milky Way or do night photography. It's a great time of the year for stargazing!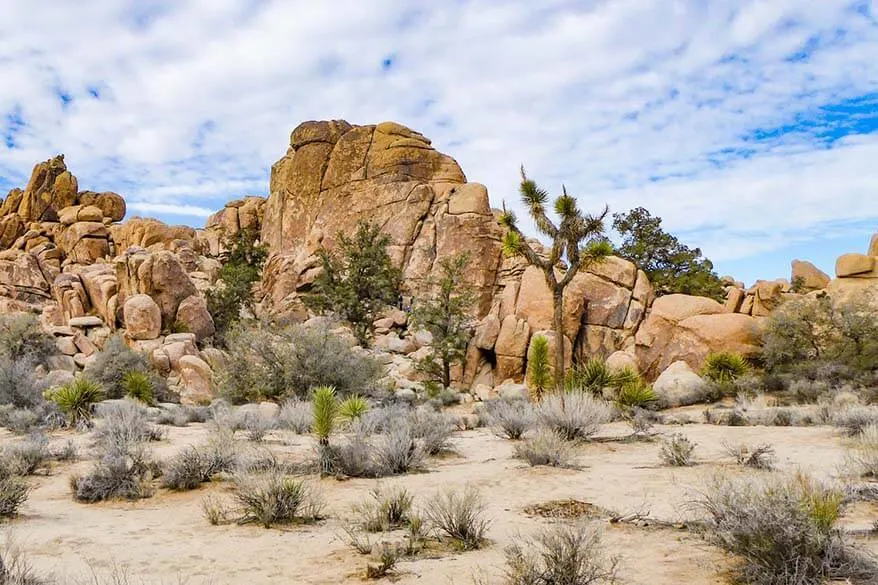 4. Zion National Park
Location: Utah
Our personal suggestion
Where to stay: See our guide to Zion accommodation.
December is a good time to visit Zion National Park for those who'd like to explore this famous Utah National Park without the crowds. You will meet hardly any people on the hiking trails and even the most popular places in the valley are quiet in winter. Furthermore, accommodation is much cheaper than at any other time of the year (except for the Christmas holiday).
Another big advantage of visiting Zion in winter is that you can drive the Zion Canyon Scenic Drive in your own car. In the high season, you have to take the Zion shuttle bus to get around the park, but in winter, you have complete flexibility and can easily drive to the starting points of the most popular trails in Zion. This is, unfortunately, not the case during the holiday season anymore.
However, December is also the coldest month in Zion and snow is not uncommon. But snow usually melts quickly at the lower altitudes and the main road in the park remains open year-round.
Average high temperatures in Zion in December are just under 50°F (10°C), but it can also freeze. So dress warm and wear sturdy waterproof hiking boots so that you can enjoy the stunning winter landscapes to the fullest!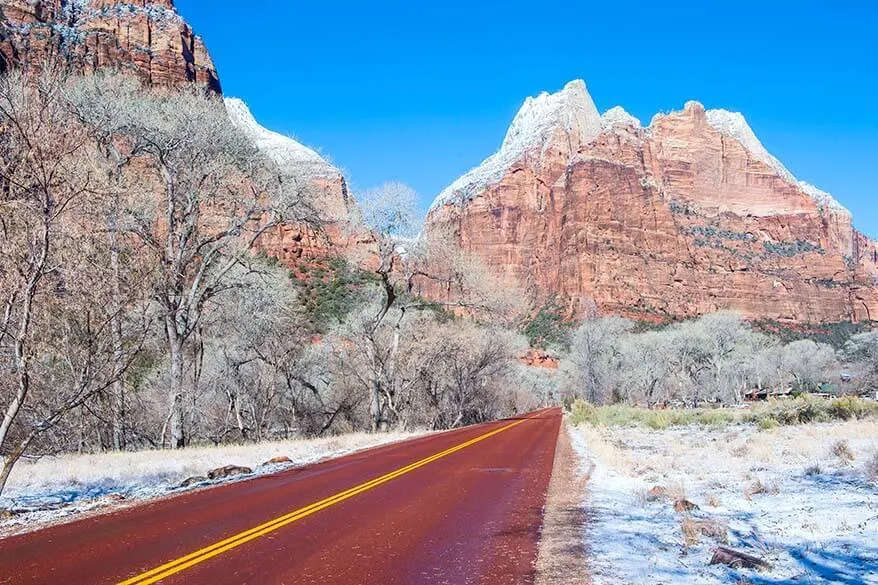 There are many incredibly beautiful hikes in Zion, but depending on the weather, some of them might get closed in winter once in a while. So make sure to check the official Zion NP website for up-to-date conditions. Ideally, you check it just before you set off to explore the park.
One of the most popular trails in Zion is Angels Landing. This is a strenuous hike involving using chains for support at the top. I would only recommend doing it in December if the weather and trail conditions are exceptionally good.
A better alternative at this time of the year is the Canyon Overlook hike. It's a much shorter and easier hike with a stunning view over the Zion Canyon. It's well worth in any season and simply magical if there's snow!
Other short and easy hikes include Riverside Walk, Pa'rus Trail, and Lower Emerald Pool. All absolutely stunning. Here you can find all our suggestions for hiking in Zion.
TIP: Also in December, you can find some unique activities here! Check out this amazing UTV/ hiking tour to a beautiful slot canyon. At the moment of writing, this tour also runs in winter.
Zion also has lots of wildlife and many animals come down to the valley looking for warmer temperatures and green grass to graze on. Mule deer are abundant and you can often see them right next to the Zion Lodge, along the river, and at many other places throughout the park.
Zion NP might not be an obvious choice for a December trip, but as long as you dress warm, know what to expect, and keep your plans somewhat flexible, you will love Zion in winter.
YOU MAY ALSO LIKE: Zion to Bryce Canyon Drive & Itinerary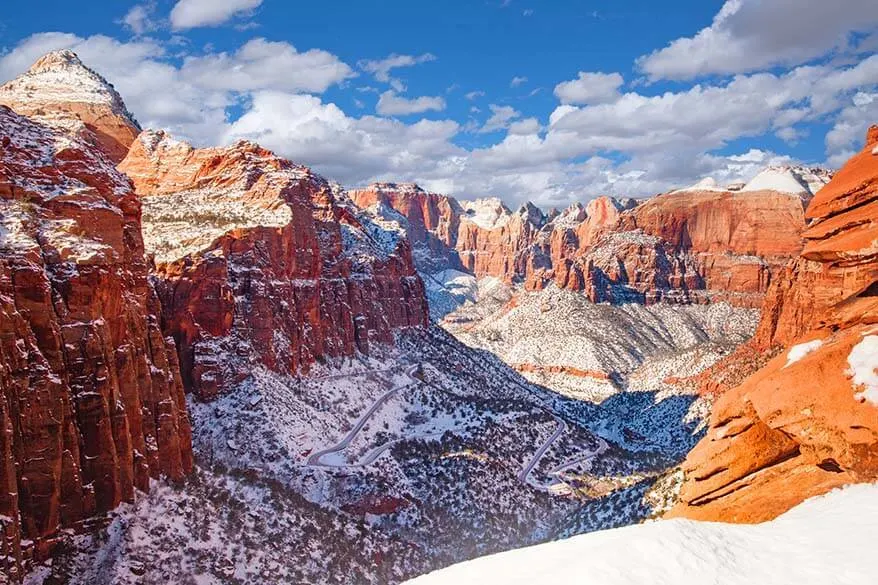 5. National Park of American Samoa
Location: U.S. territory of American Samoa in the South Pacific
Suggestion by: Meredith from Chasing Abandon Travel Blog
Where to stay: There are just very few accommodations on Tutuila Island where the national park is located. Tradewinds Hotel is by far the best option here. The nicest hotels can be found on the nearby Upolu Island (in Samoa, so not American Samoa).
The trip from the mainland USA to the tiny island territory of American Samoa is a huge undertaking. And so the National Park of American Samoa is one of the last on most people's list of National Parks to visit. But this hidden gem is absolutely worth a trip!
While it's possible to travel here any time of the year, planning ahead to visit in December will give you the best weather experience.
With the tropical weather of the South Pacific, there are no shutdowns at the National Park of American Samoa for winter weather. Instead, expect hot tropical weather, with a chance of daily rain, and high humidity.
December falls at the end of the trade wind season, so seas will be calmer for enjoying the beach and snorkeling. Come January and the local cyclone season begins that lasts until April/May, where you could experience not only a week-long tropical monsoon trough dumping rain over the islands but also the potential of a tropical cyclone (hurricane).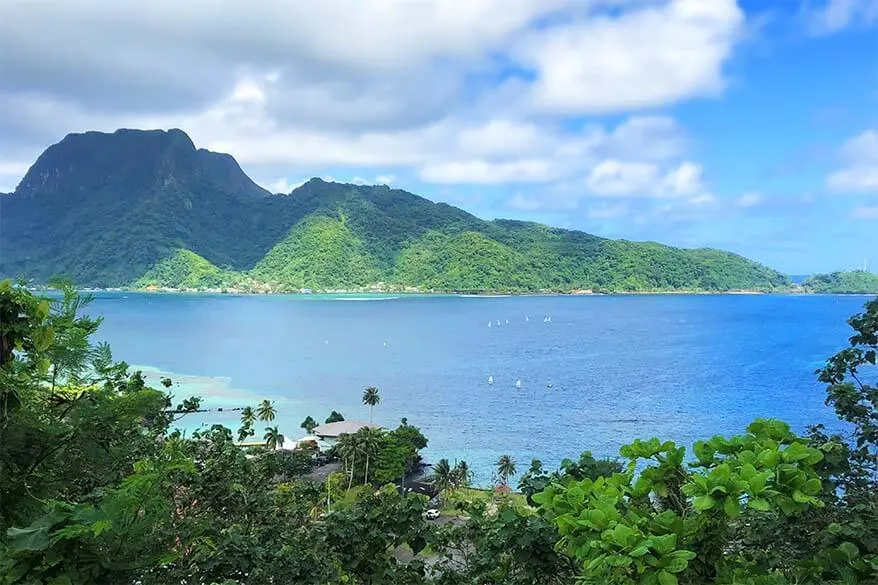 To fully experience the Park, come prepared to walk! The best way to explore is to hike the National Park of American Samoa's four maintained trails, which highlight different areas of the main island of Tutuila.
Pack your snorkel gear to visit the National Marine Sanctuary of American Samoa, with protected marine areas offering some of the best snorkeling on the island.
While much of the National Park is located on Tutuila Island, the rest of the parkland can be found on the neighboring Ofu Island, a short plane ride away. Ofu protects some of the most pristine corals in the South Pacific! With an epic long, white sandy beach likely free of other visitors, you will truly feel like you've found your slice of heaven.
If you are looking for a truly unique, off-the-beaten-path American National park for a winter getaway, the National Park of American Samoa is as good as it gets!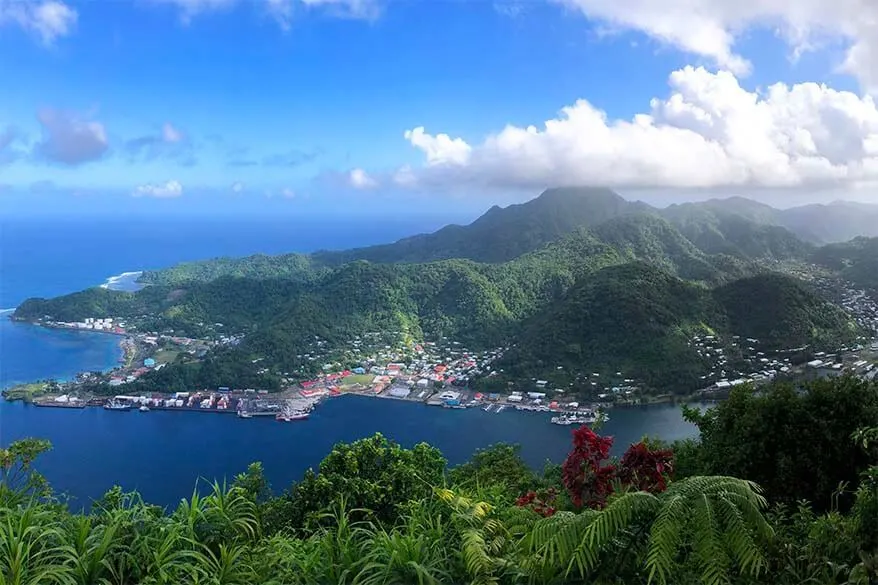 6. Great Smoky Mountains National Park
The Great Smoky Mountains National Park is a great winter getaway in the southern United States. There is so much to see and do in this beautiful park during the winter that you'll have difficulties choosing where to go first.
The good thing about the Smokies is that in addition to all the outdoor activities, this area also has some great local towns that offer plenty of things to do even when the weather doesn't cooperate. There's truly something for everyone!
In December, you can expect cold temperatures in the Smokies. It often freezes at night and daytime temperatures average at around 40°F (5°C). It doesn't snow much, but you might get lucky and experience white Christmas in the Great Smoky Mountains. However, the snow usually melts fast, especially at lower elevations.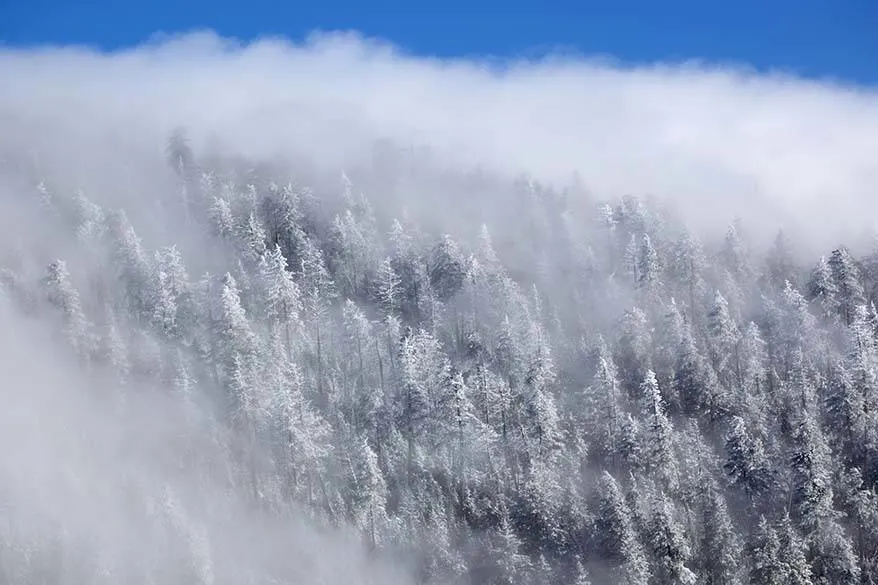 The Smoky Mountains is a top-rated and an incredibly busy park. However, winter is the low season here. So if you visit in December, you'll have easy access to the most popular places without the crowds.
The many waterfalls of the park are particularly nice in winter. One specific trail that is amazing during this season is the Laurel Falls Trail, where you can capture glimpses of ice formations throughout your hike. Make sure to also check out Grotto Falls and Abrams Falls, which have most likely frozen over into beautiful winter masterpieces. Cades Cove valley is accessible all year round and typically allows you to view some incredible wildlife.
Besides the National Park, you can visit many other sites nearby such as Ober Gatlinburg, where you can go ice skating, snowboard, or ski surrounded by stunning scenery.
Another amazing stop in the winter is the Gatlinburg Arts & Crafts Community, where you can see many amazing artisans displaying their skills such as candle making and woodworking.
You can also head over to Pigeon Forge, where you can soak in the Winterfest Tour of Lights. One of the best ways to see the twinkling Christmas lights is by taking a guided Pigeon Forge Trolley Tour of Lights that lets you admire the beauty of the holiday season throughout the Smoky Mountains.
The light displays in the area depict not only the holiday characters but also the famous animals found in Smokies such as coyotes, deer, black bears, bobcats, and elk.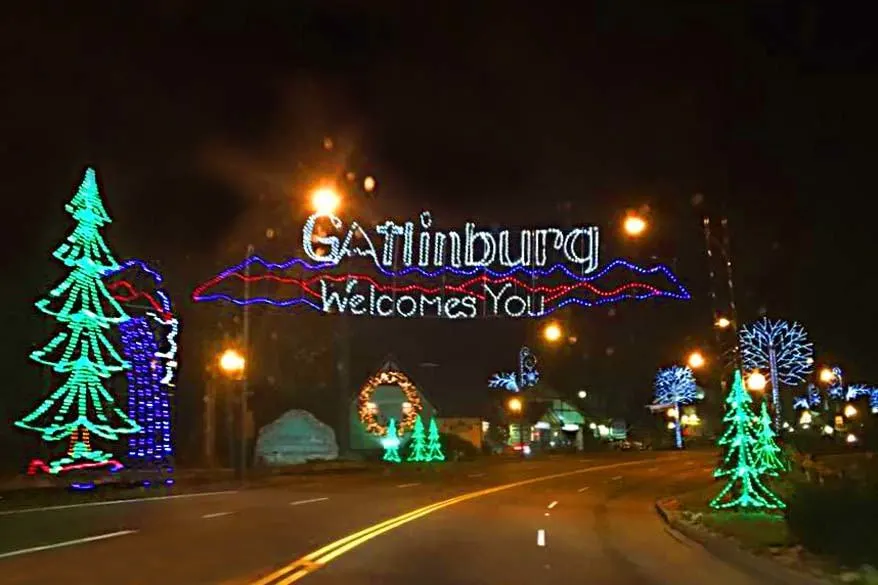 7. Grand Canyon National Park
The Grand Canyon is one of the most-visited national parks and is known for being super-crowded at most any given time of the year. However, I discovered that in December, there are no crowds. This isn't an exaggeration. I visited Grand Canyon in December twice and every time, I couldn't believe how few people we saw at the popular South Rim.
Not sharing the Grand Canyon with thousands of people provides uninterrupted views of one of America's most iconic attractions. The silence allows for peaceful and meaningful thoughts which make for quite an emotional impact. And there is no fighting for the best photo spots.
Good to know: South Rim is open the whole year. Here you can find our suggested itinerary on the best things to at the South Rim of Grand Canyon in one day. Also the West Rim's Skywalk is open year-round, but please take note of its shortened hours from October to April.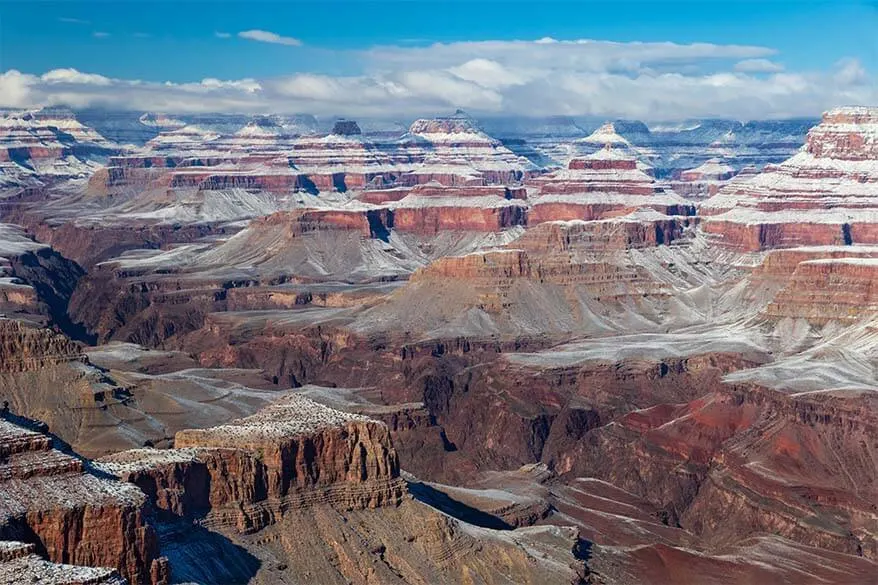 Now to be fair, there are a few cons to visiting Grand Canyon in winter. The North Rim is closed during winter and the weather is fairly chilly warranting the need for warmer clothing.
However, with average daytime temperatures in December ranging from 40-60°F (5-15°C), you never really know how wintery it will be. On my first visit in December, I only needed a sweatshirt. But on my second trip, I needed a coat. Neither time, though, was so cold I couldn't enjoy myself.
It does snow in Grand Canyon in December occasionally, but usually just enough to add a thin white layer and make the scenery even more beautiful. For a truly special experience, you can opt for a helicopter tour above the Grand Canyon – unforgettable at any time of the year!
For those who love nature and don't mind potentially colder weather, this is the perfect time to visit! If you avoid the Christmas period, its' really quiet, and Grand Canyon accommodation is quite a lot cheaper than in other months. Also, because it's the holiday season, the hotels and lodges in the nearby towns are beautifully decorated. All this makes Grand Canyon a perfect winter getaway!
TIP: December can be a nice time to make a trip to this beautiful part of the USA. Here you can find a suggested itinerary for how to see the Grand Canyon, Horseshoe Bend, and Antelope Canyon in 2 Days.
READ ALSO: Complete Guide to Visiting the Grand Canyon in Winter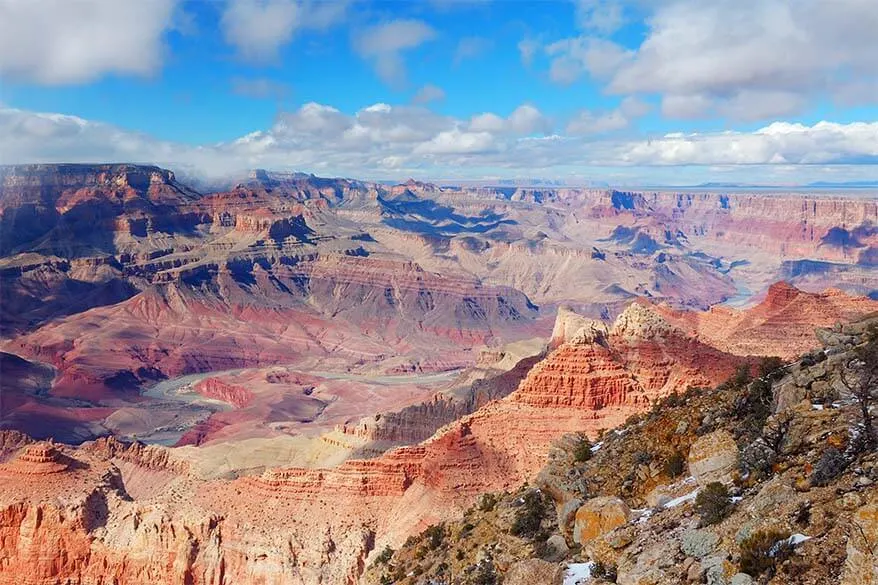 8. Gateway Arch National Park
St Louis, MO (STL) is the gateway between the eastern and western United States. This is signified by the 630-foot Arch along the Mississippi River which is the highlight of the Gateway Arch National Park. And while this is a very different place than all the others in this selection of National Parks to visit in winter, this unique National Park is a great choice for a city trip in December!
There's a lot to see and do at this Midwest National Park! Make sure to take a tram ride to the top of the Arch for great views. Visit the newly renovated Museum at the Gateway Arch where you can learn more about the history of the United States' expansion to the west. Stroll through the Old Courthouse to learn about the Dred Scott case and take a riverboat ride down the Mississippi River.
Visiting the Gateway Arch National Park is always an awesome experience that the whole family will enjoy. And because most of this National Park's attractions are indoors, it's a great place for those looking for something different to do during bitter cold Midwest winters.
Furthermore, you'll find a nice Christmas spirit in town and beautiful holiday decorations around the National Park grounds. There are usually several ice skating rinks in the city. Don't miss the Winterfest at the Arch ice skating rink that's located right in Kiener Plaza with the Old Courthouse and the Gateway Arch in the background!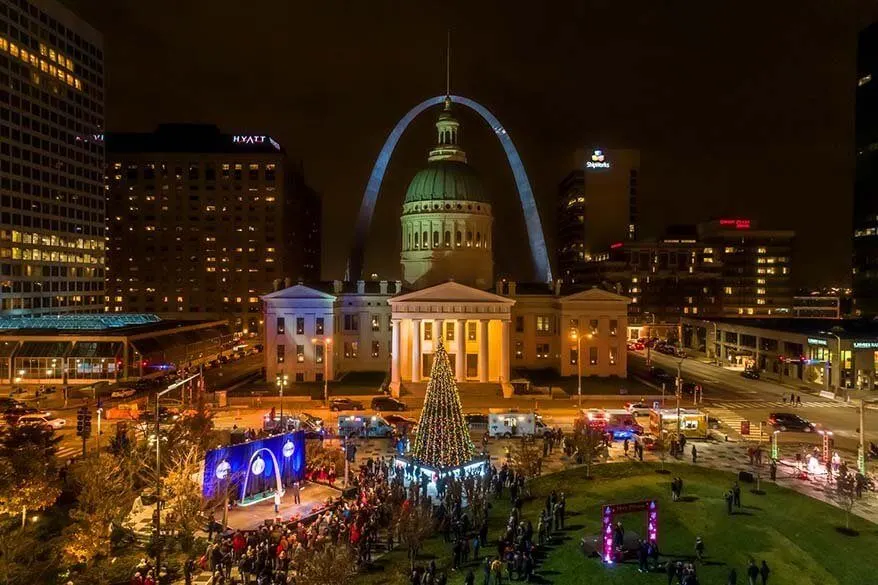 St Louis Arch is the tallest monument in any United States National Park. A ride to the top of the Arch gives you an amazing panoramic view of the park ground and the city skyline. In winter, this view is amazing on a clear day as you can see for miles the beauty of snow covering the city. Visiting on a night in December is a real treat as your view is lit up with amazing holiday light shows from throughout the city.
After your visit to the top of the Arch, make sure you spend some time in the museum at its base before heading across the park to the Old Courthouse.
This courthouse is recognized as where Dred and Harriet Scott fought for their freedom in the pivotal Dred Scott case. This case hastened the start of the civil war. You can learn all about it in the courthouse theater at the showing of the film Slavery on Trial: The Dred Scott Decision, and discover how 19th-century St. Louis fostered three Constitutional amendments.
Wrap up your visit to the St Louis Gateway Arch National Park with a trip down the Mississippi River on a dinner river cruise. These dinner cruises are a real treat as you go on a 19th-century replica steamboat. It's a perfect way to end your day at the Gateway Arch National Park!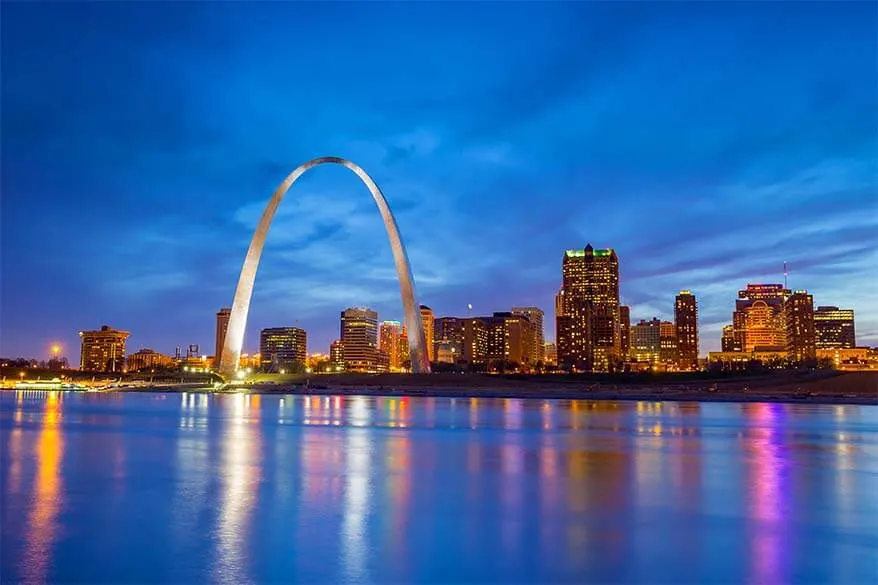 9. Death Valley National Park
Important update fall 2023: At the moment, Death Valley NP is closed due to recent flooding and debris on the roads. If you are planning a trip soon, be sure to check the official website for up-to-date conditions.
Death Valley National Park is known as one of the hottest places on our planet. So a visit here in summer is really not a good idea (take my word for it – we tried). But if you are looking to explore Death Valley to the fullest and without the crowds, December is one of the absolute best months to be here!
With average temperatures between 40 and 65°F (5-19°C) and zero days of rain, December is one of the coolest and driest months in Death Valley NP. Warm days are perfect for outdoor activities while cool nights are great for stargazing.
You can easily spend a few days at Death Valley, but even if you only have a couple of hours or a day, you can see and do a lot! We recommend at least one full day at the park, but because the days are short in winter, you may want to stay longer.
The must-sees are the Badwater Basin, a salt flat at the lowest elevation in North America, the 9-mile scenic road Artists Drive, and the views from Zabriskie Point and/or Dantes View.
Mosaic Canyon, Golden Canyon, or Mesquite Flat Sand Dunes are all excellent hiking options – perfect when visiting in December.
TIP: Several Death Valley accommodations like Inn at Death Valley or The Ranch at Death Valley have swimming pools that are filled from the natural hot springs in the area. So even in winter, the water temperature usually stays in the pleasant 80s (25-30°C). In addition, because of its proximity to Las Vegas, you don't even have to stay here – Death Valey can easily be visited on a day trip from Las Vegas (and there are also tours if you don't want to drive).
LEARN MORE: Best Places to See in Death Valley National Park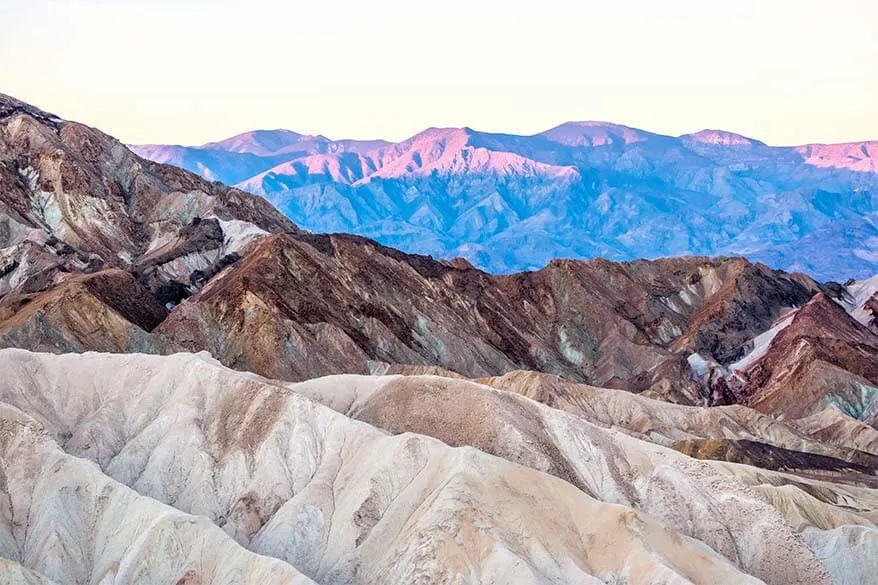 So, this is our selection with several suggestions for National Parks to visit in December. I hope that you found some new ideas and travel inspiration for your winter holidays!
For more inspiration, please also check our guide to the parks to visit in January via the link below. Many of those places are great in December as well. Check it out!
READ ALSO: Best National Parks to Visit in January
More travel inspiration for American National Parks:
If you found this post useful, don't forget to bookmark it and share it with your friends. Are you on Pinterest? Pin these images!