When I asked fellow travelers to share their favorite American National Parks for a family vacation, I received lots of suggestions of places I never even heard of. So in addition to my recently published post on the best National Parks to visit with kids, I also made this selection featuring 15 lesser known National Parks that families with children will love.
These are one by one amazing places often just as beautiful as their more famous neighbors. But somehow they manage to stay under the radar of most domestic and international travelers. Each National Park is unique, but they all have one thing in common – spectacular sights and great family-friendly activities without the crowds, and often with a much lower price tag.
So if you are looking for an off the beaten path destination, National Park vacation ideas for a family trip in the United States, then check these out. I'm sure you'll find plenty of inspiration!
I sorted these lesser-known hidden gems of the NPS alphabetically. At the very bottom of this article, you can also find a map of the United States where I indicate the location of each park. It will give you a better idea of where these places are located, so you can try and combine several National Parks in one trip. And maybe you'll even get to know some new places near you. Read on!
READ ALSO: Best Family Travel Destinations Worldwide
PRO TIP: If you are planning to visit several National Parks, get an annual America the Beautiful Pass. It is valid in all National Parks and 2,000 federal recreation sites across the United States for one year from the month of purchase.
If you visit more than two National Parks in the 12-month period, this is cheaper than getting passes for each park individually.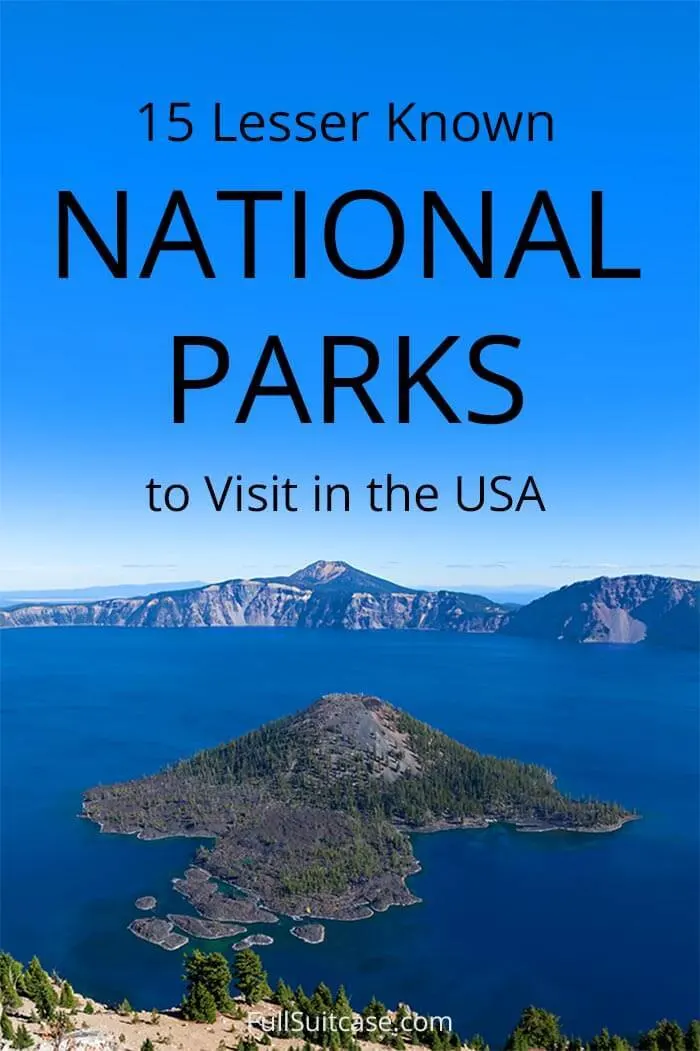 Without further ado, here is a selection of some cool lesser known National Parks that should be on your radar when looking for National Park vacation ideas. Take a look!
Canyonlands National Park
Despite being one of Utah's Mighty Five National Parks, Canyonlands NP (just as Capitol Reef – see further) seems to be left in the shadow of its more famous neighbors Arches, Zion, and Bryce Canyon National Parks. The biggest part of the park isn't easily accessible, but there are two main areas that everyone can visit – Island in the Sky and the Needles.
For families with children, I recommend the Island in the Sky area which can easily be visited in just one day. Drive the scenic loop and stop at many lookout points to admire the dramatic landscape carved by the Colorado River. Our family's favorite was a short hike to Mesa Arch. The whole family should be able to do this short and easy hike, so don't miss it!
The scenery of Canyonlands is phenomenal and some places will remind you a lot of the Grand Canyon, but without the crowds. It's a perfect family-friendly alternative to the more popular National Parks in the area.
TIP: Stay in Moab (45 min drive) and combine your visit to the Arches National Park with that of the Canyonlands NP. Also, time your visit so that you can see the sunset at the nearby Dead Horse State Park – it's worth a small detour!
If you want to explore other districts of Canyonlands, such as the Needles or the Maze, check out our guide to the best lodging and hotels near Canyonlands. Or simply book a 4×4 tour, which is the best way to explore the harder-to-reach parts of the park.
Canyonlands NP is our personal recommendation, a less-visited gem of Utah's National Parks.
LEARN MORE: Best Things to Do in Canyonlands National Park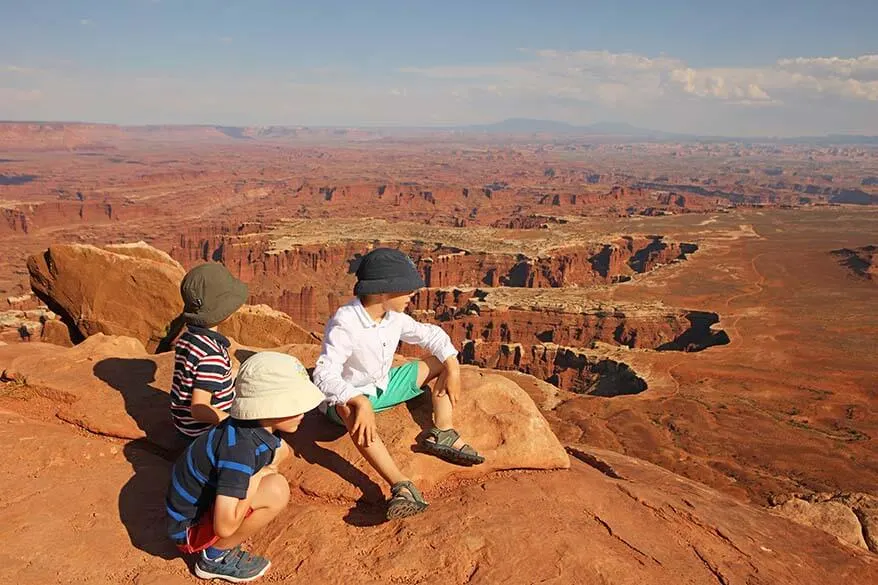 Capitol Reef National Park
When visiting Utah National Parks be sure to add Capitol Reef to your list. We love all of the Utah parks, but Capitol Reef is so much less busy than the other Utah NP's and also has amazing hikes and places to explore with your family. One of our favorites, though also a little scary, was Cassidy Arch where you can actually walk out on an Arch.
The gorges in Capitol Reef are one of the highlights and walking down a dried-up river bed on the Capitol Gorge Trail with huge gorges on either side of you is a fun experience for the whole family.
They also have a place where you can pick fruit (in season) and a shop to stop for some ice cream. Lesser known, Capitol Reef really is the perfect national park for a family trip a bit off the beaten path.
This park is recommended by Bryanna from Crazy Family Adventure. On her blog, you can read more about Capitol Reef and other great places to explore in Utah.
READ ALSO: National Parks to Visit in April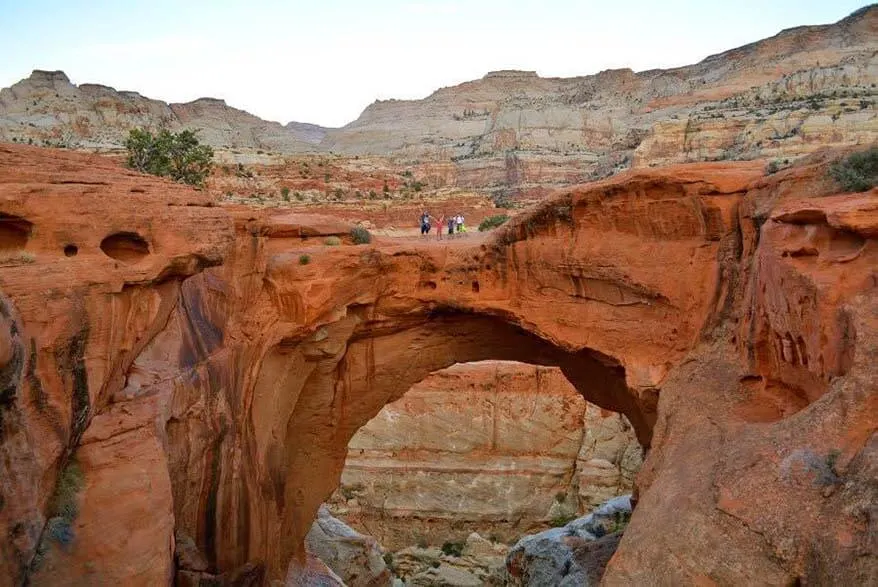 Channel Islands National Park
Next time you are visiting California, be sure to add Channel Islands National Park to your itinerary. The park, a lesser known gem of the National Park system, consists of five of the eight Channel Islands off the California coast. It is home to unique animal and plant species that you won't find anywhere else in the world.
The islands are only accessible by boat (or by private plane) from Oxnard or Ventura. For our family, it was an amazing day trip as part of our California road trip.
Favorite activities on Santa Cruz Island included taking a ranger-guided hike, where we were lucky to spot the channel island fox, along with a snorkeling adventure in the afternoon. Each island is different, but you'll find plenty of activities for kids, including the popular Junior Ranger program.
Recommended by Kath from Family Travels USA. Here you can read more about visiting the Channel Islands NP.
READ ALSO: Best National Parks to Visit in June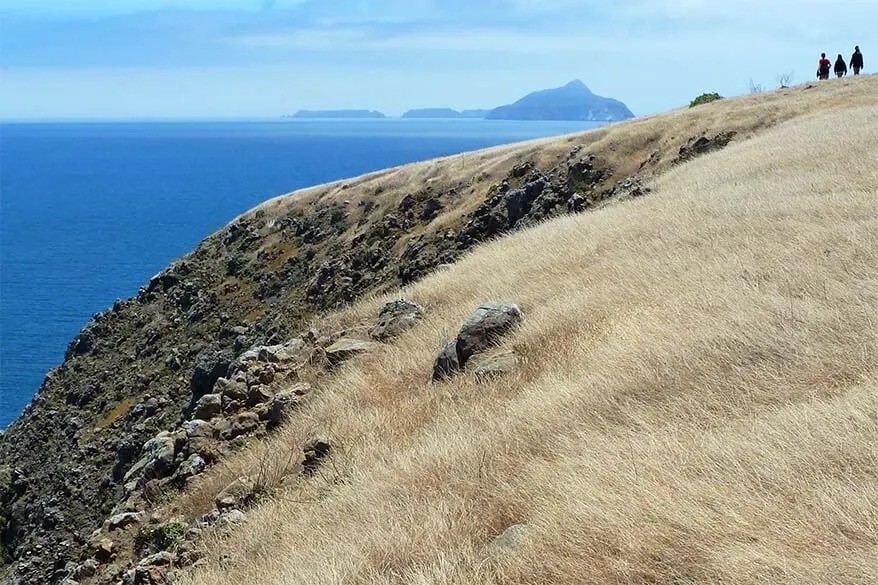 Crater Lake National Park
As many pictures as you may have seen of Crater Lake, absolutely nothing does it justice until you see that deep, shining blue lake in person. It is hard to capture in a single photo because the lake is so large (you may want to take a wide-angle lens for your camera). A few great photo overlooks include the Watchman and Discovery Point Lookouts and the Sun Notch Trail.
Crater Lake is a great park for kids of all ages because you can be perfectly happy driving the circumference of the lake in a day with younger kids and taking time for multiple photo stops.
Little kids will love to watch all the friendly ground squirrels. With older children, you can spend a couple of days in the park to get off the road and onto the trails. You can take a boat tour of the lake and hike back, but you need to book tickets in advance. Also, I'd only recommend this for older kids because the hike back up Cleetwood Cove Trail from the lakefront is long and steep.
Recommendation by Tamara from We 3 Travel. Here you can read more about visiting Crater Lake NP.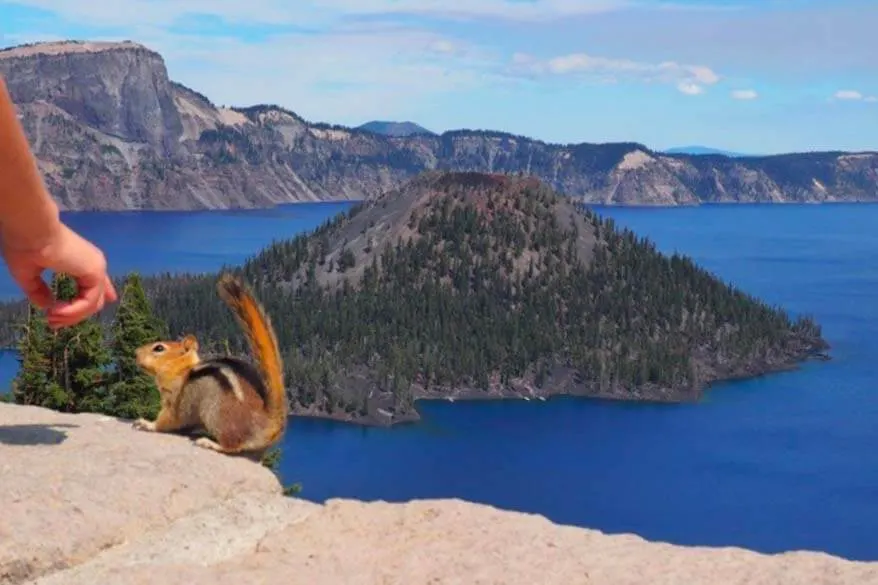 Dry Tortugas National Park
Dry Tortugas National Park is an island 70 miles off of Key West, Florida, and it is simply gorgeous. You can spend the day there (book a catamaran day tour from Key West), but overnight camping is also possible.
There is a 19th-century Fort Jefferson on the island to explore and beaches that are filled with conch shells to walk along. Kids will love it! The best part is how quiet and peaceful the island is and the natural beauty that you see at every turn.
If you want to learn more about the history of the island you can take a guided tour with one of the park rangers.
Alternatively, if you want to experience marine life then you can get in the water and snorkel right off of the beach!
No matter what you choose to do, you will love the beauty of this island out in the middle of the ocean. Dry Tortugas is a great place to visit for families looking to escape the crowds and enjoy the peace and quiet of nature.
Dry Tortugas is another recommendation by Bryanna from Crazy Family Adventure. Here you can read more about Dry Tortugas.
READ ALSO: Best National Parks to Visit in January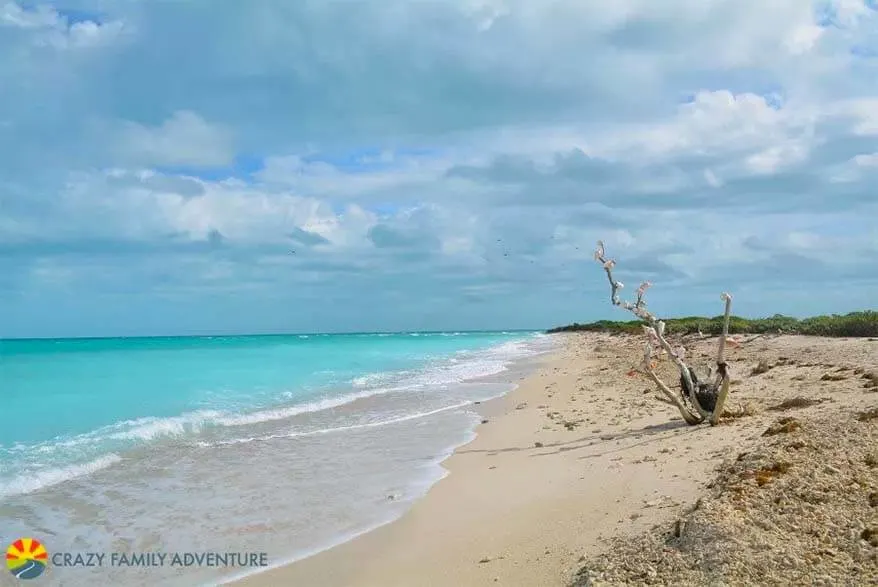 Great Sand Dunes National Park and Preserve
With the rugged Sangre de Cristo Mountains, the Great Sand Dunes National Park & Preserve seems out of place in the snow-peaked Colorado Rockies. But yet there they are, and surprisingly these are North America's tallest dunes, as high as 750 feet.
Located in southern Colorado, this all-season year-round family-friendly national park is perhaps the country's best-kept secret.
Depending on the season, families can camp, hike, backpack, backcountry ski, snowshoe, and more. My family's favorite time to visit is the end of May to the first of June, the brief window of time when the Medano Creek runs into the valley of the Sand Dunes before disappearing until next season. My grandkids love splashing in the creek waves to cool off after sledding on the sand dunes.
READ ALSO: Best National Parks to Visit in May
Recommendation by Diana from Traveling In Heels. Here you can read more about visiting Great Sand Dunes NP.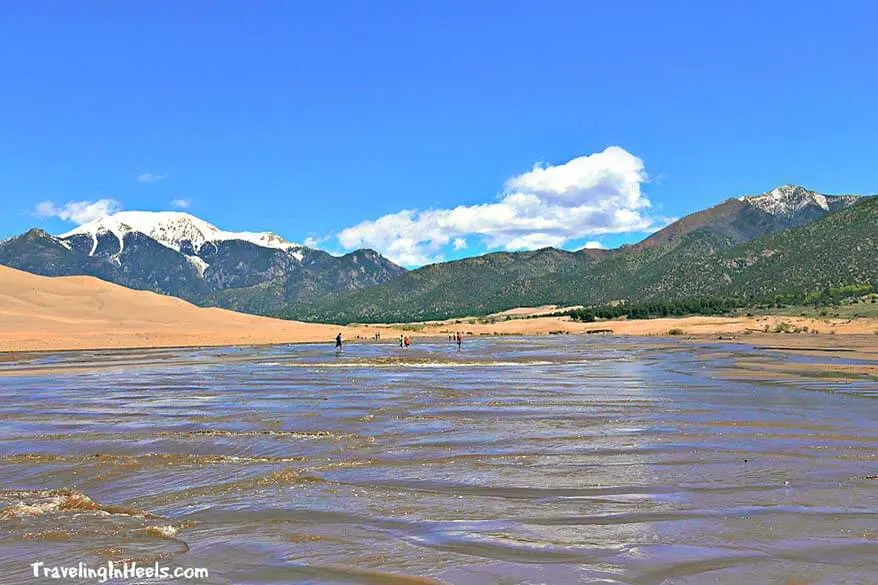 Independence National Historical Park
Independence National Historical Park is a 52-acre area in Philadelphia's most historic neighborhood where families can learn about the earliest days of the United States.
Independence Hall is the site of the signing of both the Declaration of Independence considered the birth of the United States government as well as the Constitution.
Timed entry tickets are required for this UNESCO Heritage site, but the rest of the buildings require less advance planning to experience.
Families will enjoy seeing the Liberty Bell and taking a 'bellfie', as well as participating in the National Park Service's Junior Ranger program available here in booklet form or as a mobile app. City Tavern, within the park, is an authentic 18th-century tavern to enjoy a meal serving an authentic Revolutionary era menu for adults with a more modernized menu for children.
For those seeking a different kind of vintage experience, try Jones, which feels like a set from the Brady Bunch known for great comfort food.
TIP: Kimpton Hotel Monaco Philadelphia is located across from Independence Hall, making it a great accommodation choice for families who can enjoy a short walk to most places.
This unusual National Park is recommended for families by Robin from Luxe Recess. Here you can find more information on their stay in Philadelphia.
LEARN MORE: One Day in Philadelphia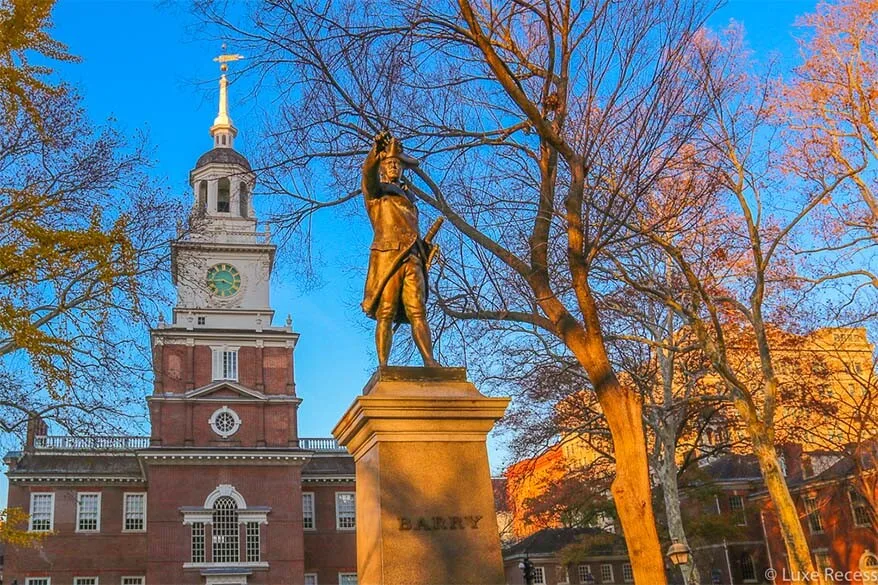 Joshua Tree National Park
Joshua Tree National Park is often described as 'otherworldly' and indeed, its peculiar landscape makes it one of the most unique places we ever had the opportunity to visit. Located in California, about 3h by car from LA, Joshua Tree National Park lies where two different desert systems meet: the Colorado and the Mojave.
The park's most distinctive traits are the Joshua trees, big yuccas stretching their arms to the sky, and giant boulders that erosion has carved into smooth yet elaborate shapes against the backdrop of vast, barren lands.
Despite the inhospitable climate, Joshua Tree is fantastic to visit with kids. Hikes such as Skull Rock discovery trail and Cholla cactus garden are suitable even for the youngest explorers and the rangers organize excellent kids activities such as Dr Seuss inspired 'I speak for the tree' events about conservation.
The best way to visit Joshua tree is to stay in the Palm Springs area and spend a few days exploring the different trails.
Recommendation by Marta of Learning Escapes. On her blog, you can find more information about visiting Joshua Tree National Park.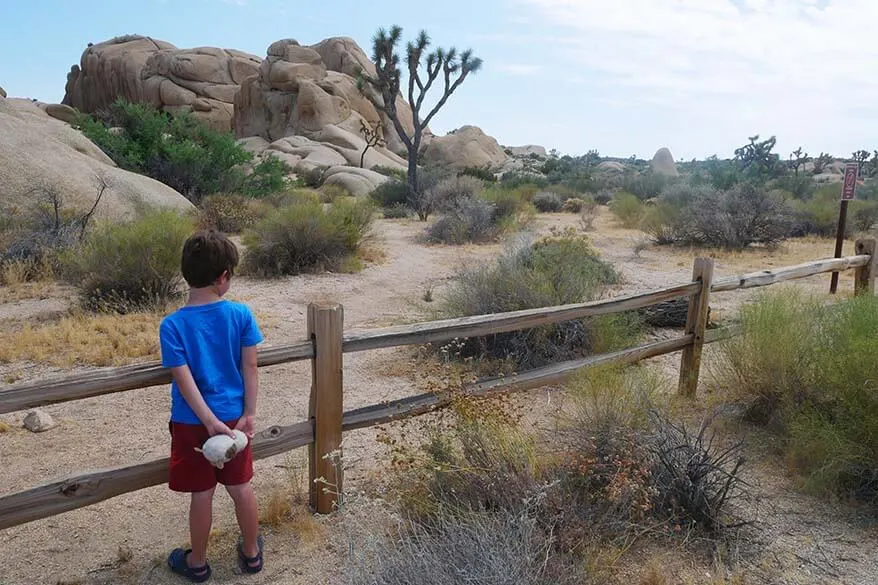 Lassen Volcanic National Park
Lassen Volcanic National Park in Northern California may be one of the country's least-visited national parks, but don't let its perceived lack of popularity fool you.
The park is like a mini Yellowstone, brimming with volcanic and geothermal activity, but without the crushing crowds.
The must-do hike for families is the 3-mile roundtrip to Bumpass Hell, where steaming sulfur vents and bubbling mud will captivate kids.
The park is impassable much of the year due to snow cover on the main road, so check weather conditions before visiting. The best times of year to visit are late summer and early fall.
The closest major city to Lassen and the best home base is Redding about an hour away, where families can find a variety of inexpensive accommodations.
This lesser known National Park is recommended for families by Leslie from Trips With Tykes. Here you can find more information about visiting Redding and the Lassen Volcanic NP.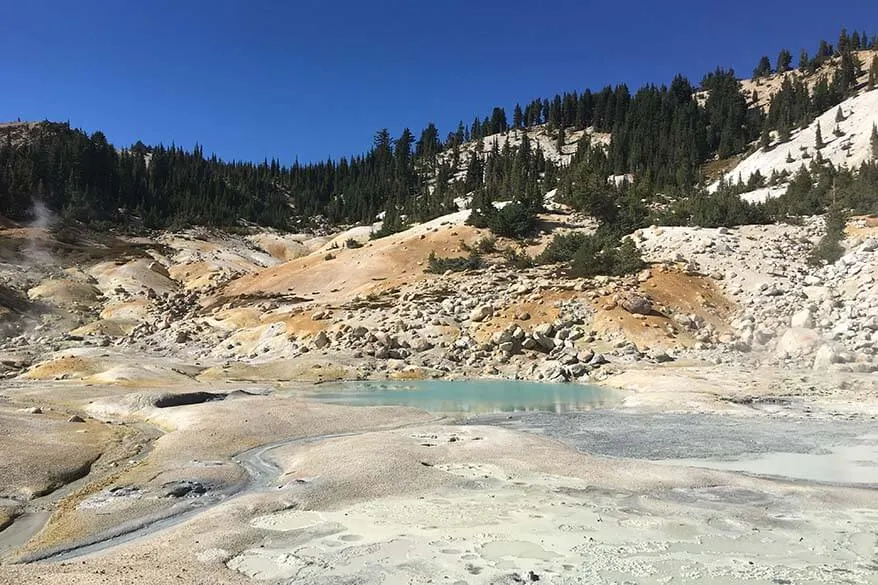 Mammoth Cave National Park
While there are a variety of activities available in Mammoth Cave National Park, this park is really all about the Mammoth Cave itself – as it should be. This cave system beneath the Green River Valley in Kentucky is the world's longest known cave system with some 400 miles explored (and many more still to be mapped).
Kids absolutely delight in exploring this aptly-named natural wonder, which is consistently 54 degrees – making it an accessible and comfortable activity whether it's blazing hot or snowing on the surface.
There are a wide variety of tours to take within this sprawling complex, including the Mammoth Passage Tour, tours of particular formations like Domes & Dripstones or Frozen Niagara, or the Historic Tour, which includes reviewing the promotional graffiti left by guides using candle soot from nearly 200 years ago.
Submission by Chez from Chez Connects. Here you can find more information about Mammoth Cave NP or book accommodation nearby.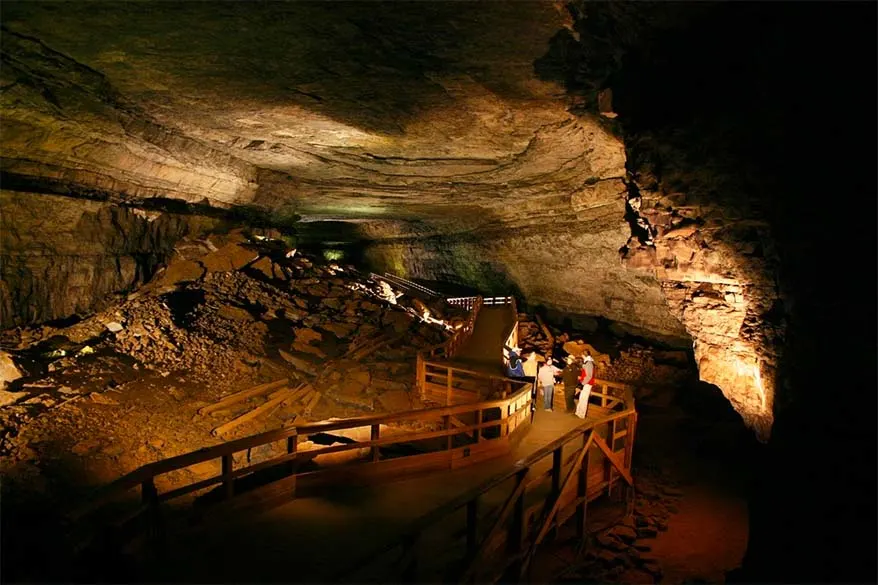 Mesa Verde National Park
Located in Southwest Colorado, Mesa Verde National Park has about 5,000 known archaeological sites including some of the country's best-preserved prehistoric cliff dwellings.
This UNESCO World Heritage Site protects the Ancestral Pueblo people's history who lived here for over 700 years.
Don't miss the Chapin Mesa Archaeological Museum for an insight into the ancient people's lives. We enjoyed exploring Spruce Tree House to see sandstone houses under a cliff overhang. The Mesa Top Loop Road is a beautiful drive with paved trails to explore archaeological sites.
Kids will love the Balcony House which includes climbing ladders and crawling through a tunnel. The park's largest cliff dwelling Cliff Palace with over 150 rooms is open to ranger-guided hikes from early spring to late fall. There are several family-friendly hikes in Mesa Verde. The most popular hikes, the Petroglyph Point Trail and Spruce Canyon Trail, are just 2.4 miles each and can easily be done with kids.
TIP: We stayed in Durango, Colorado just 30 minutes from the entrance of the park. The town is very charming and makes for a great base for exploring the area.
Suggestion by Mary from The World Is A Book. Here you can find more information about visiting Mesa Verde NP with kids.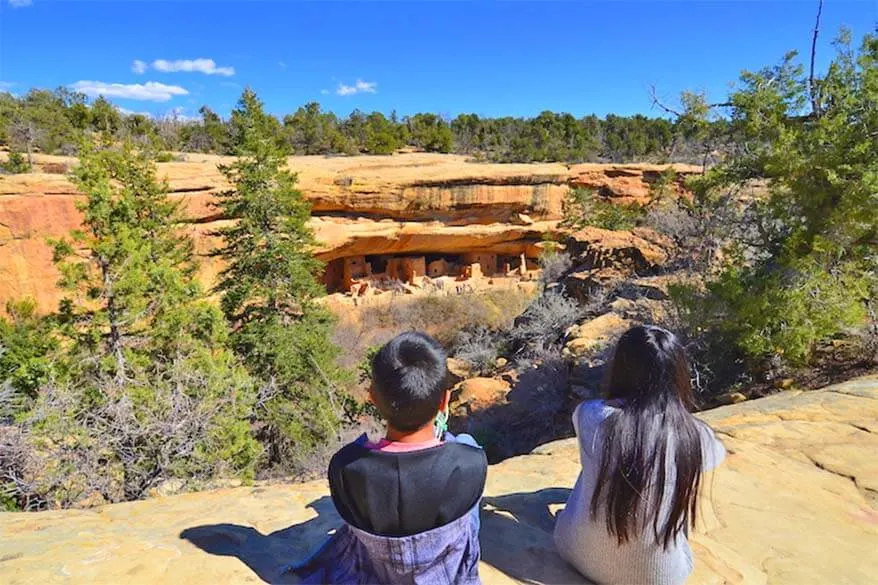 Presidio San Francisco National Park at the Golden Gate
There's nothing like a sunny summer day frolicking in the San Francisco Bay waters off West Bluff Beach in the Presidio. Magnificent views of the Golden Gate Bridge, Marin Headlands, Angel Island, and Alcatraz greet those lucky enough to be there when the famous Bay fog is not.
Families pack the former military base to ride bikes, fly kites, picnic and play. They walk in the footsteps of history – a time when it was important to keep an eye to the coastline watching for intruders; an era of frenzied preparation for battle in foreign lands; through moments from a family album of memories belonging to those once stationed in the cottages and duplexes on the property.
Where there were once planes and hangars, there are now walkers, joggers, and cyclists. In the buildings that used to administer to the practice of defense, educational efforts around the environment, preservation, and history have taken root. Welcome to the Presidio – San Francisco's best kept secret!
Recommended for families by Kristine from Trekaroo. Here you can find more information about taking the kids to the Presidio of San Francisco.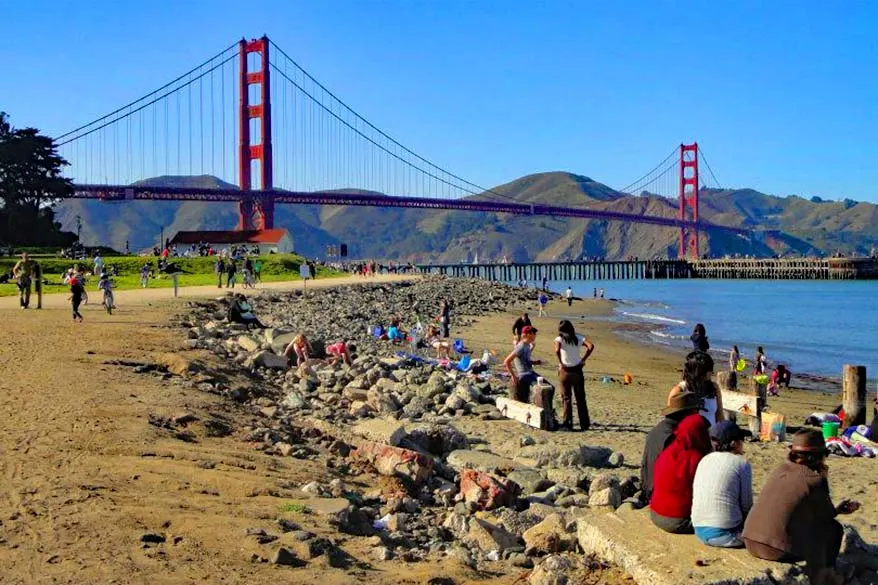 Shenandoah National Park
About an hour outside of Washington, D.C. is a stunning natural wonder that often flies under the radar. The fact it has escaped more fanfare is surprising.
Shenandoah National Park has over 500 miles of hiking trails where visitors can see waterfalls, wildlife, and spectacular views.
The main road, Skyline Drive, meanders 105 miles through the park. Along the way, there are 75 pull-offs, where visitors can enjoy views of the Shenandoah Valley on one side and rolling hills and grasslands on the other.
Shenandoah National Park has abundant wildlife including white-tailed deer, black bears, and wild turkeys so visitors need to be prepared when heading off to explore. Grab a map at the entrance and explore these favorite trails: Blackrock Summit, Doyles River Falls (featuring two waterfalls), or Hawksbill Mountain. Don't miss Skyland Resort, a historic lodge with delicious farm-to-table dining and spectacular sunset views.
TIP: You can stay near the park or visit from Washington D.C.
Suggestion by Kirsten from Kids Are A Trip. Here you can read more about visiting the Shenandoah NP with kids.
READ ALSO: Best National Parks to Visit in October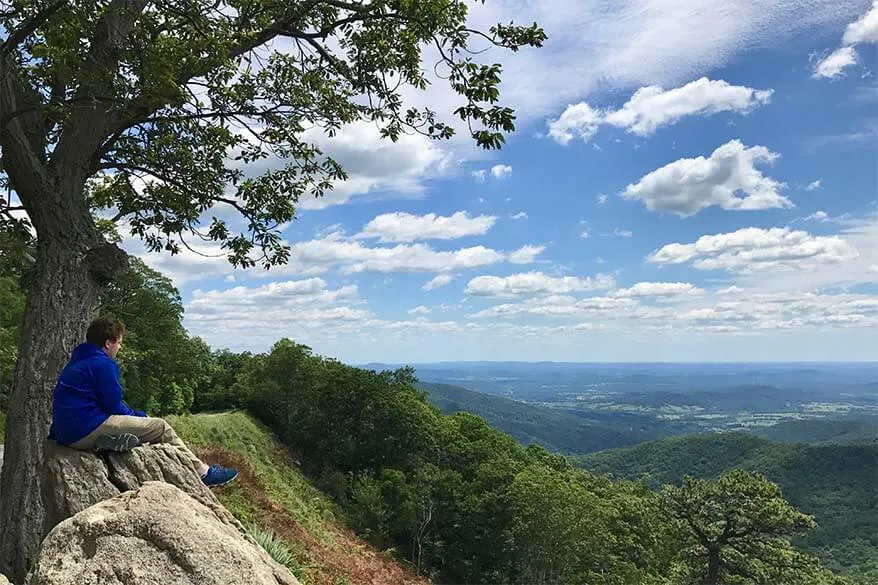 Theodore Roosevelt National Park
Theodore Roosevelt NP is a lesser-known national park that we almost passed by. We're so glad we gave it a chance because it ended up being one of our all-time favorite national parks.
North Dakota's only National Park, Theodore Roosevelt NP embraces all there is to love about the wild west, including Teddy Roosevelt himself who owned a ranch nearby. It's also a great destination for families with kids as there is plenty of wildlife. You can expect to see bison, pronghorn, wild horses, and prairie dogs.
There are plenty of hiking trails suitable for kids as well. Our favorite hike is the Petrified Forest Loop, which is fabulously remote, provides stunning views of the wide-open landscape, and allows you to check out massive, petrified tree trunks along the trail. For a shorter day hike, I'd recommend the Painted Canyon Nature Trail, which is just under a mile.
For family-friendly camping, check out Cottonwood Campground in the South Unit (or you can opt to stay outside the park). In the evening take a drive around the park loop as the sun is setting – it's the best time to see wildlife.
This family-friendly vacation idea is recommended by Tara from Back Road Ramblers. Here you can find more information about visiting Theodore Roosevelt NP.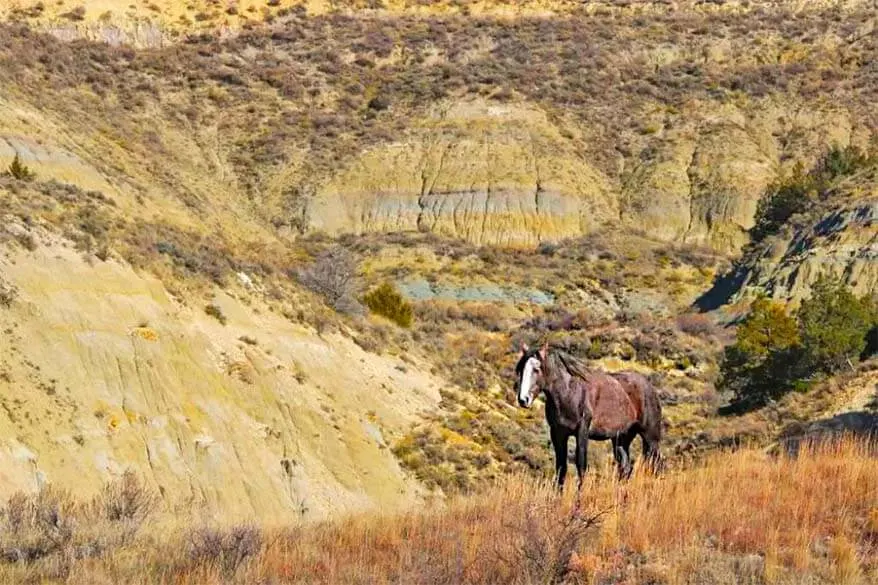 Wind Cave National Park
Looking to take the kids on an adventure in a National Park and possibly solve a mystery along the way? An excellent place to do is Wind Cave National Park near Hot Springs, South Dakota.
The park is so named because of a cave opening from which strong winds constantly blow.
The earliest explorers entered the cave through the small opening. Today's visitors enter through a carefully regulated, airtight door system designed to not interrupt the movement of the wind.
Looking at the tiny, original cave opening, there is no indication of just how intricate and extensive the Wind Cave system really is. Once inside the cave, it is as if you've entered a different dimension. The otherworldly feel is exaggerated by the abundant appearance of boxwork, a rare, honeycomb-shaped cave formation. The origins of boxwork remain a mystery; perhaps the kids in your family will be able to solve it!
All tours of Wind Cave's interior are ranger-guided, which protects the fragility of the cave system and ensures visitors' safety. Wind Cave truly is a hidden world beneath the prairie and is a worthwhile addition to a Black Hills/Mount Rushmore/Custer State Park/Badlands itinerary.
Suggestion by Francesca from The Working Mom's Travels.
TIP: Wind Cave National Park is in the same area as Mount Rushmore National Memorial and several other really interesting places. Here you can find our suggestions on what to see and do at and near Mount Rushmore.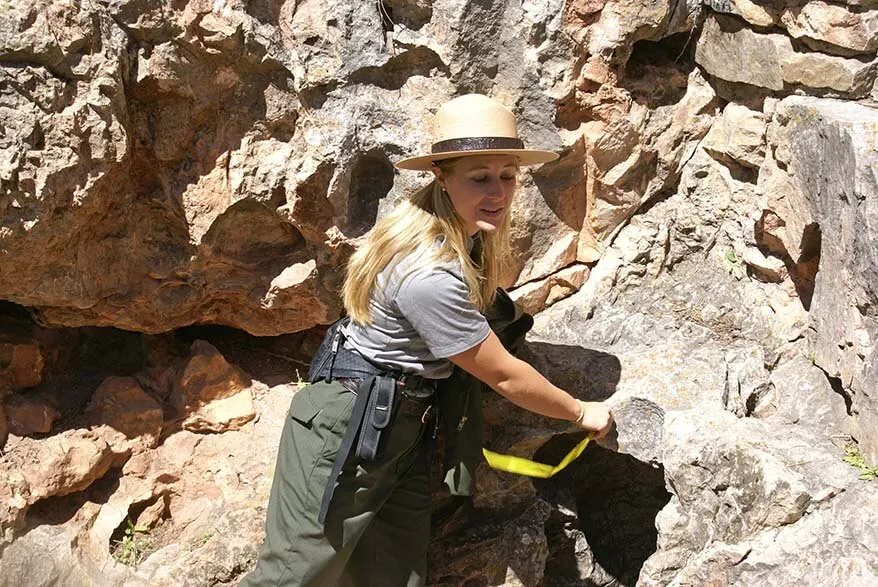 So, this is our selection of some interesting, but lesser known National Parks that are well worth a trip.
As promised, below you can find the map with all the national parks mentioned in this post.
As you can see, some of them are located close to each other, while some others are close to the other, more visited national parks. So you can combine several parks in one trip. There are plenty of places to plan a beautiful family road trip in the US!
READ ALSO: Most Popular American National Parks
How to use this map: Use your computer mouse (or fingers) to zoom in or out. Click on the icons to get more information about each place. Click the arrow on the top left corner for the index. Click the star next to the map's title to add it to your Google Maps account. To view the saved map on your smartphone or PC, open Google Maps, click the menu and go to 'Your Places'/'Maps'. If you want to print the map or see it in a bigger window, click on 'View larger map' in the top right corner.
More travel inspiration for USA National Parks:
If you found some travel inspiration in this post, don't forget to bookmark it and share it with your friends. Are you on Pinterest? Pin this image!