If you have been following our blog for a while, then you definitely know that road tripping is our favorite way to travel. And since we often get asked what our favorite road trips are, in this article, we share our all-time favorite scenic drives and road trips from all over the world.
This is just a small selection of the most beautiful roads in the world from two decades of traveling. If I were to include all the scenic drives we ever took, this list would probably contain at least a hundred of them…
Anyway, I hope that this article featuring some of the best drives in the world will help you find some inspiration for your own trips. Find out!
READ ALSO: Amazing Destinations Around the World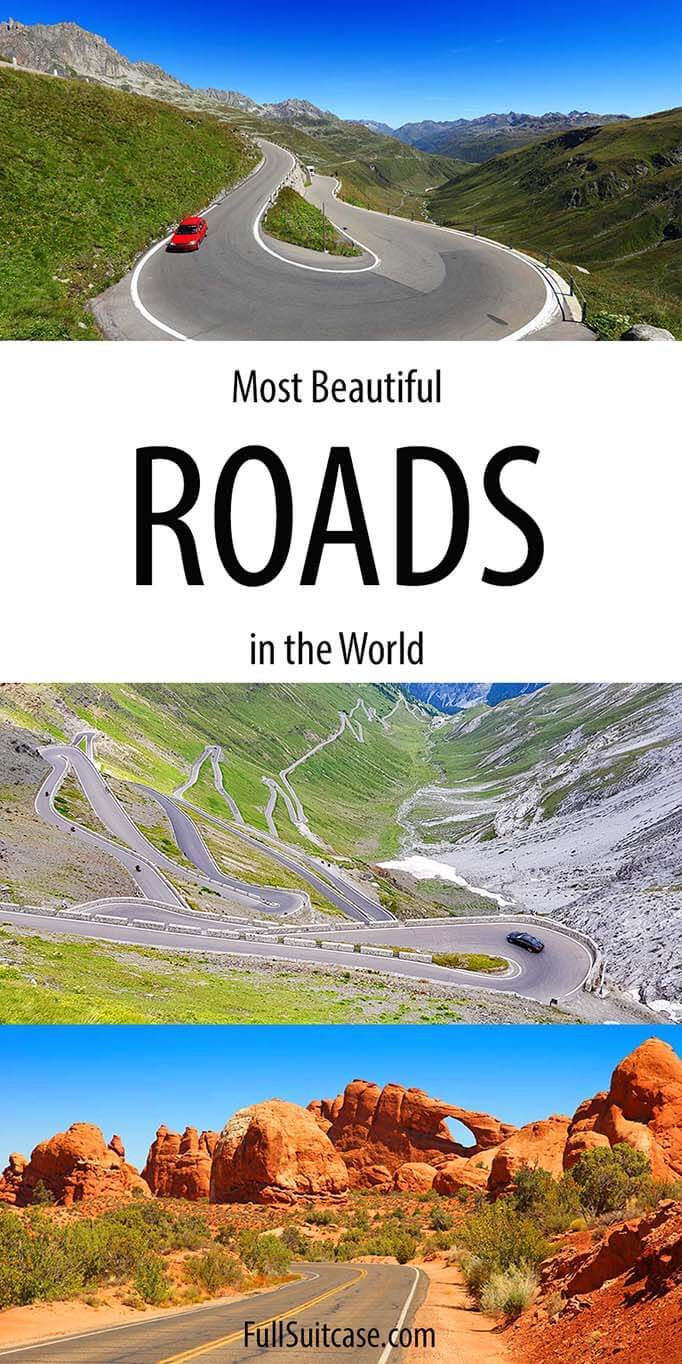 1. Chapman's Peak Drive, South Africa
We left our hearts in South Africa many years ago and so this selection of our favorite scenic roads features quite some beautiful roads from South Africa.
Chapman's Peak Drive is a short but extremely picturesque route along the coast between Cape Town city and the South Cape Peninsula. This is one of the most beautiful roads in the world. If you ever visit Cape Town, don't miss it!
TIP: The best time to drive this toll road is at sunset and it's best to go in the direction towards Cape Town city. If you continue along the coast, you will pass another stunning stretch of road, the so-called Twelve Apostles (Victoria Rd just before Camps Bay).
READ ALSO: Best Places to Visit in South Africa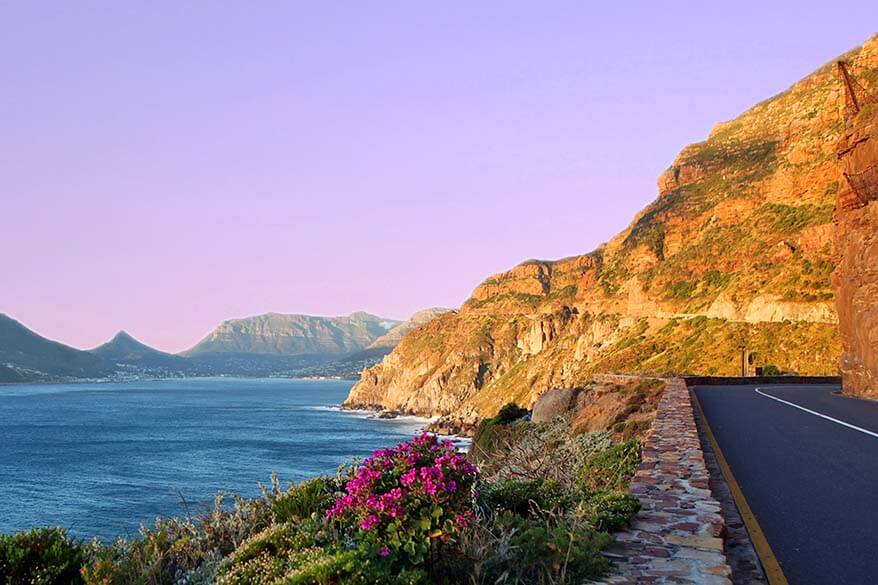 2. Grand Loop Road in Yellowstone, USA
Yellowstone National Park is our absolute favorite of all the American National Parks. And the best way to explore it is by driving the Grand Loop Road that connects all the main areas of the park.
The Yellowstone Loop definitely deserves a place on any list of the best roads in the USA and probably also in the world!
Of course, you'll want to stop at all the must-see landmarks such as the Old Faithful Geyser, the Grand Prismatic Spring, Mammoth Hot Springs, or the Yellowstone Canyon… But Yellowstone is just as much about the journey as it about the destination! Driving the scenic road through the park, you get to see the beautiful sceneries and a big variety of wildlife.
Our favorite parts of the scenic drive through the park were Hayden Valley, Lamar Valley, and the road leading from the Lamar Valley to the east entrance of the park. The scenery here is breathtaking and herds of wild bison and other wildlife next and on the road, make this drive an unforgettable experience.
READ ALSO: Best Things to Do in Yellowstone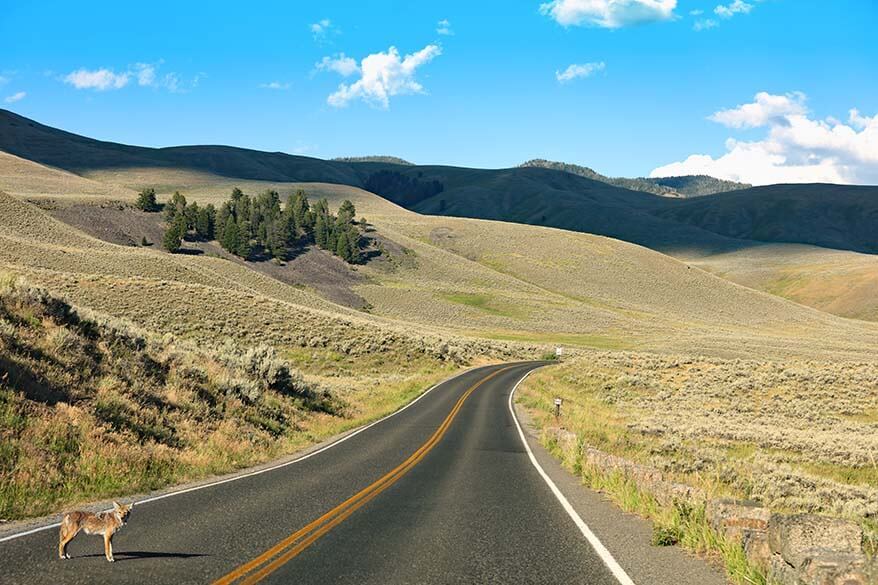 3. The Icefields Parkway, Canada
The Icefields Parkway is probably the most scenic road in Canada. Stretching from Jasper National Park to Lake Louise in Banff NP, the road is surrounded by more than a hundred glaciers, waterfalls, and the most beautiful landscapes, as far as an eye can see.
TIP: Take your time to explore the area rather than just drive by. Both Jasper NP and Banff NP, as well as the Icefields Parkway, have a lot to offer. Stay at least 3-4 days in each national park and plan one full day for this scenic drive.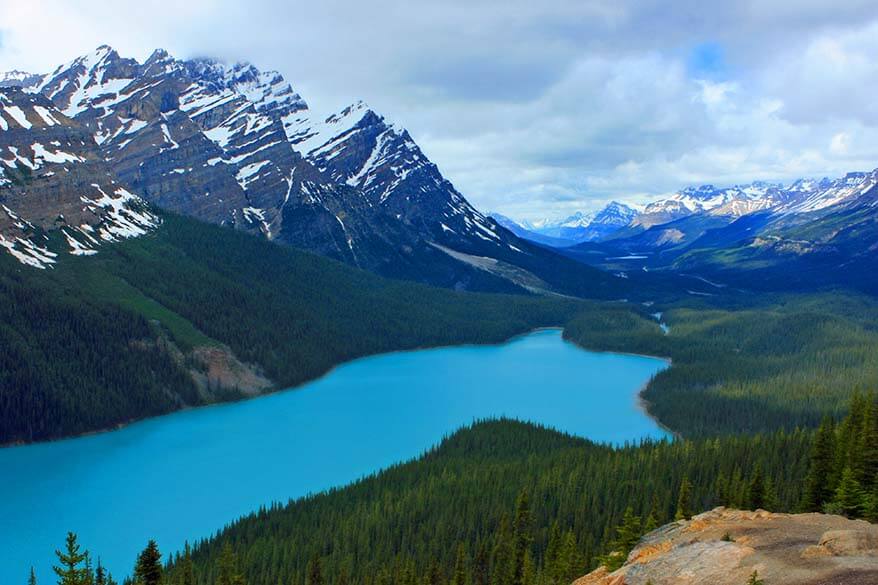 4. Arches National Park Scenic Drive, USA
With so many national parks and diverse scenery, the United States probably has more scenic roads than any other country in the world.
The scenic loop of Arches NP in Utah is one of our absolute favorites! Twisting and turning among the huge rocks rising in the otherwise rather flat landscape, you find the most phenomenal views behind every single turn.
With so many viewpoints, short hikes, and easily accessible landmarks, Arches National Park is a must if visiting Utah!
TIP: Stay in Moab for at least a few days and make sure to also drive the scenic Utah State Route 128 – see further below.
LEARN MORE: Arches Scenic Drive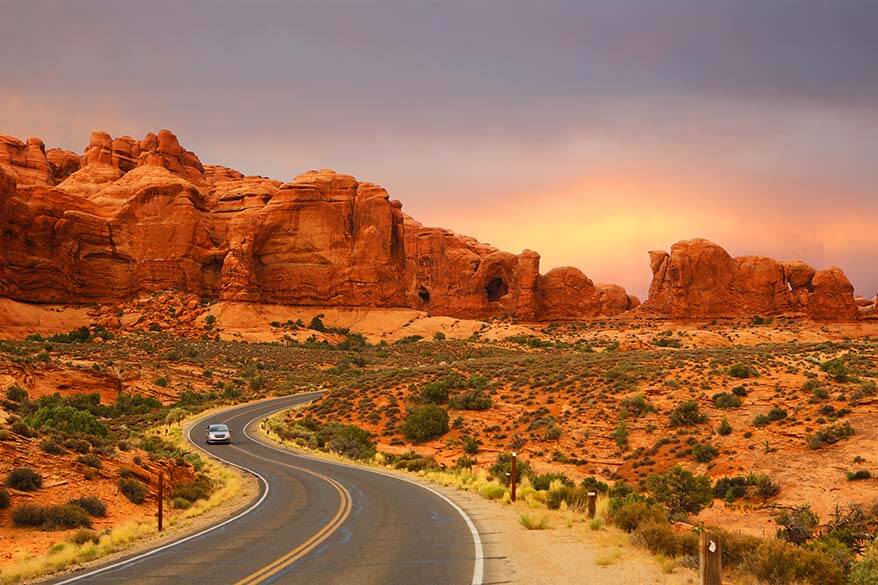 5. Trollstigen, Norway
No matter how many mountain roads you have driven before, the serpentine scenic road Trollstigen (Troll Ladder) in Norway will take your breath away.
It's one of the most popular tourist attractions in Norway, so if you can, try to come early in the morning or late in the evening. And don't miss the scenic lookout point from which you can see the whole road! Seeing the hairpin bends from above is probably even more impressive than driving them.
TIP: Trollstigen is only open in summer, from mid-May to October. If you are thinking of visiting Norway, take a look at our Norway road trip itinerary for more scenic roads and other stunning landmarks along the fjords.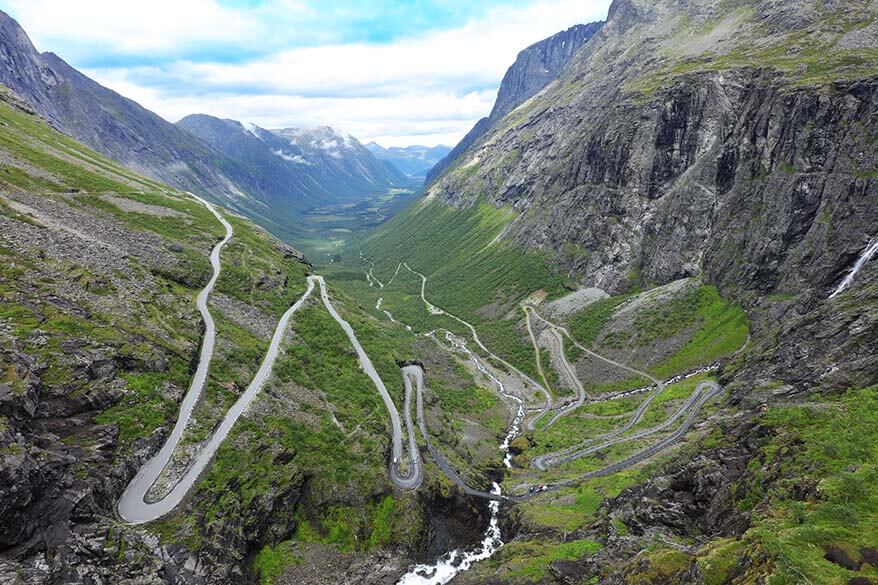 6. The Great Ocean Road, Australia
The Great Ocean Road is a 243 km (150 miles) scenic road along the south-eastern coast of Australia. Best known for the famous rock formations called 'Twelve Apostles', the road has a number of other incredibly scenic viewpoints that are worth a stop just as much.
Some of our favorite stops along the Great Ocean Road include the Bay of Islands, London Bridge, and Loch Ard Gorge. Don't miss the wild koalas at the Kennett River too!
TIP: Stay in Lorne, Apollo Bay, or Port Campbell and take at least two days to drive the Great Ocean Road. If you are really short on time, you can visit the Great Ocean Road as a day trip from Melbourne as well.
READ ALSO: Australia Itinerary Suggestions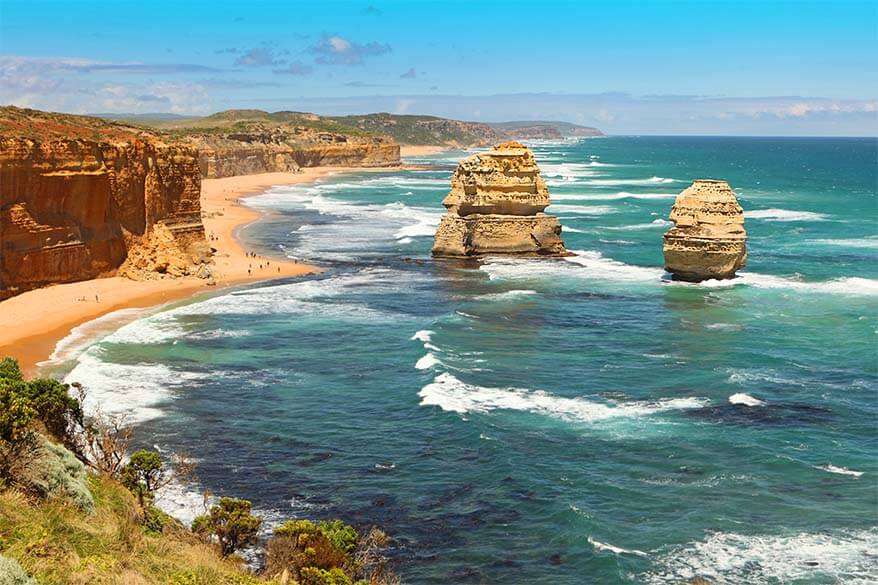 7. Flores Island in the Azores, Portugal
With just a few roads, one more beautiful than the other, Flores Island in the Azores, Portugal, is simply stunning. It feels so pristine and remote – a true hidden gem of the Atlantic…
The island is so small that you can explore all of its roads in just a day. But don't let its size mislead you. The landscapes here are jaw-dropping!
There are many beautiful islands in the Azores. The most famous and most visited of them all is the biggest island, Sao Miguel. But the undiscovered Flores was our favorite!
TIP: Visit in summer for the best weather and the blooming hydrangeas. Book your Flores accommodation and car rental in advance as options are really limited.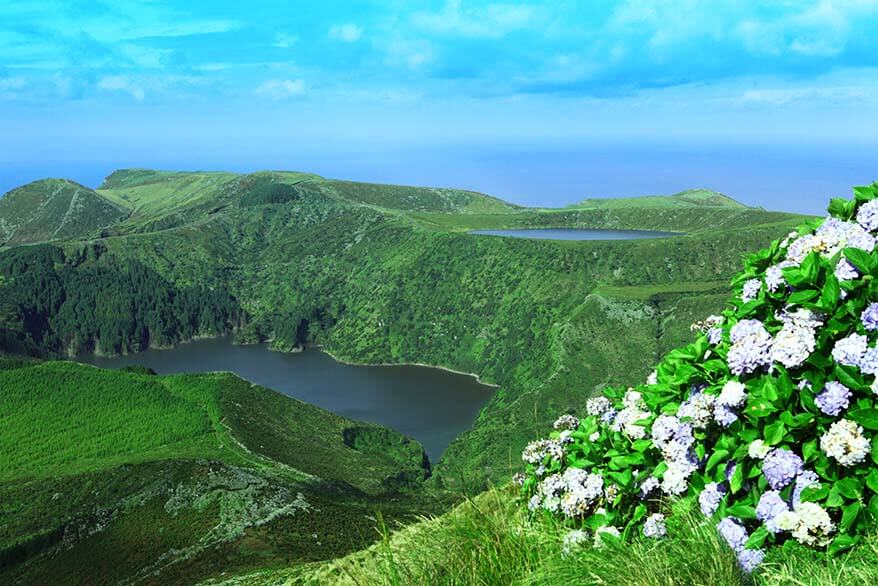 8. Calanques de Piana in Corsica, France
Calanques de Piana in Corsica (France) can easily be discovered by boat. However, I find that the scenic drive along the road D81 from Piana to Porto does more justice to this incredibly picturesque coastline of the UNESCO World Heritage Site of Gulf of Porto.
The roads are really narrow and driving here is not for the faint-hearted. But what an experience! This is without any doubt one of the most scenic drives in Europe!
TIP: While you can visit Calanques de Piana as a day trip from Ajaccio, it's better to stay nearby and avoid driving up and down the narrow roads. Corsica is not the best place to explore from one location, but makes for an excellent road trip destination (see road tripping in Corsica for a bit more info).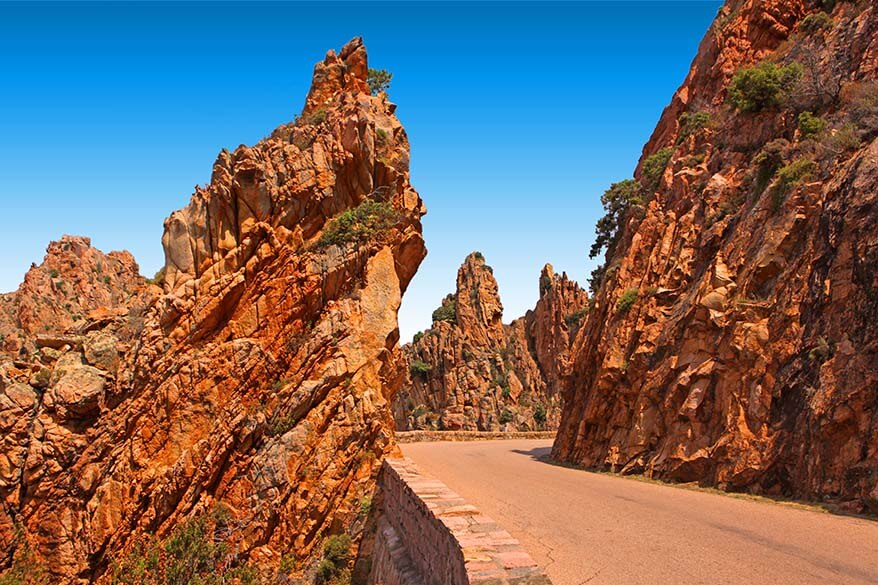 9. The Garden Route, South Africa
The Garden Route is a 300 km coastal road stretching from Storms River in the Eastern Cape to the Mossel Bay in the Western Cape in South Africa. You can drive it in one day, or you can spend a month here… I recommend spending at least a week – there is so much to see and do in the area!
Some of our favorite stops along the Garden Route are: Storms River and Tsitsikamma National Park, Plettenberg Bay, Wilderness, Oudtshoorn, and of course Knysna – our favorite town in South Africa.
TIP: Knysna area is the best base town to stay for exploring the Garden Route. You can visit the whole year, but spring (September-October) is the best time to go for the flowers. Although, we've seen plenty of flowers along this route in November, but also in July.
LEARN MORE: South Africa with Kids – Itinerary for the Garden Route and Cape Peninsula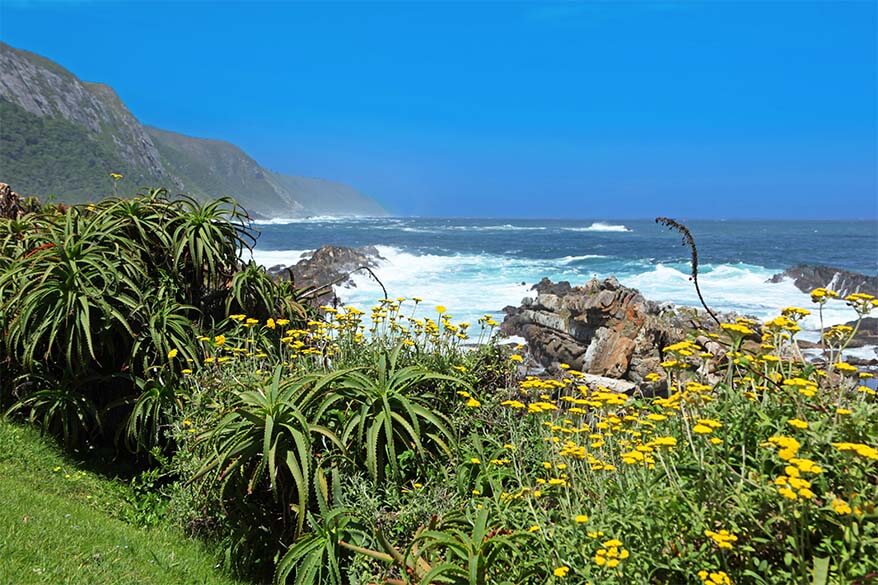 10. Scenic Hwy 80 to Mount Cook, New Zealand
Our road trip in New Zealand was one of the first trips my husband and I made together years ago. Exploring the North and the South Islands of New Zealand is still one of our absolute favorite road trips of all time!
Most memories of that trip have fainted during all the years, but we both remember Mount Cook road surrounded by the sea of blooming lupine flowers, azure blue water of Lake Pukaki, and spectacular mountain landscapes as one of the most beautiful roads in the world. The best scenery you can imagine!
TIP: Go in summer for the best weather and the flowers. We visited in December and it was amazing. Also, very little crowds if you avoid the busy Christmas – New Year's season.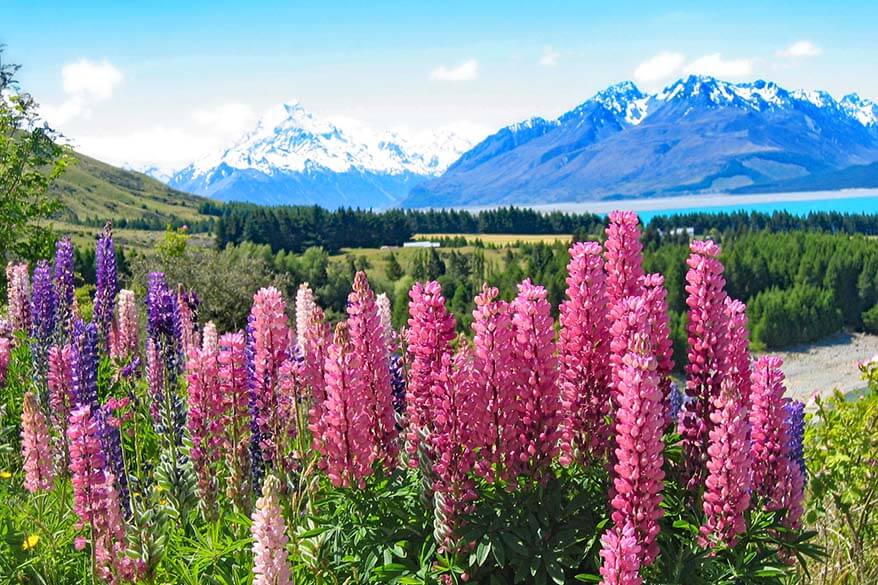 11. Stelvio Pass, Italy
Stelvio Pass in northern Italy at the border with Switzerland is one of the highest mountain passes in Europe. It has often been ranked among the best roads in the world and we wanted to drive this road ever since we saw a picture in the magazine.
And wow, what an experience! With 75 hairpin turns in total (48 on one side), and at 2,757 m (9,045 ft) elevation above sea level, driving Stelvio Pass is an experience you won't quickly forget.
This road is a favorite among bikers and motorbikes, so you have to be patient. But driving slowly, you can take your time to appreciate the scenery and the engineering skills that went into building this road. If you ever find yourself in this little corner of the Alps, driving this iconic road is a must!
READ ALSO: Best Places to Visit in Italy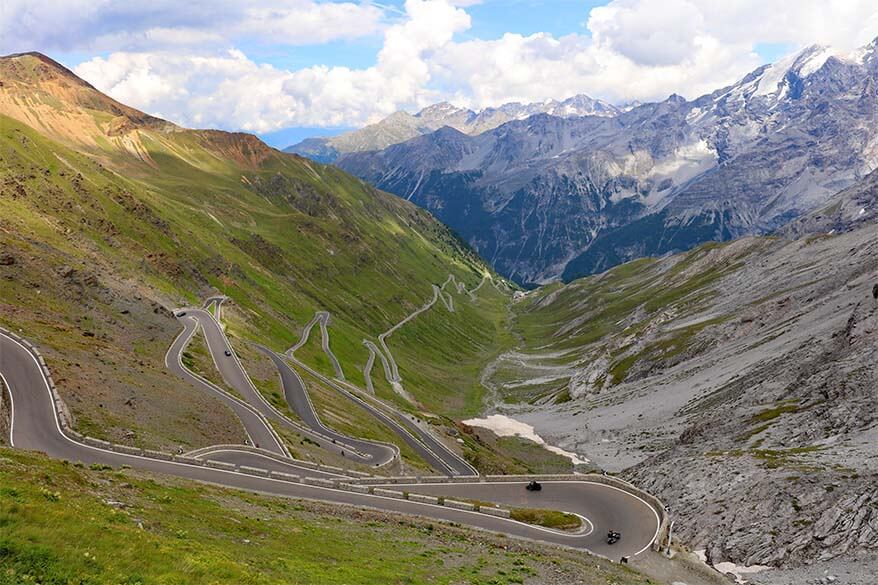 12. Ornevegen, Norway
Ornevegen (Eagle's Road) is just a short, but a very steep drive north of Geiranger village in Norway. Once you reach the top, you will find the most spectacular viewpoint offering breathtaking views over the UNESCO World Heritage Site Geirangerfjord.
TIP: You can only drive this road in summer. Stay in Geiranger for at least 2 nights to explore the area. The nearby road to the Dalsnibba lookout is also very beautiful.
LEARN MORE: Norway Itinerary – Fjords Road Trip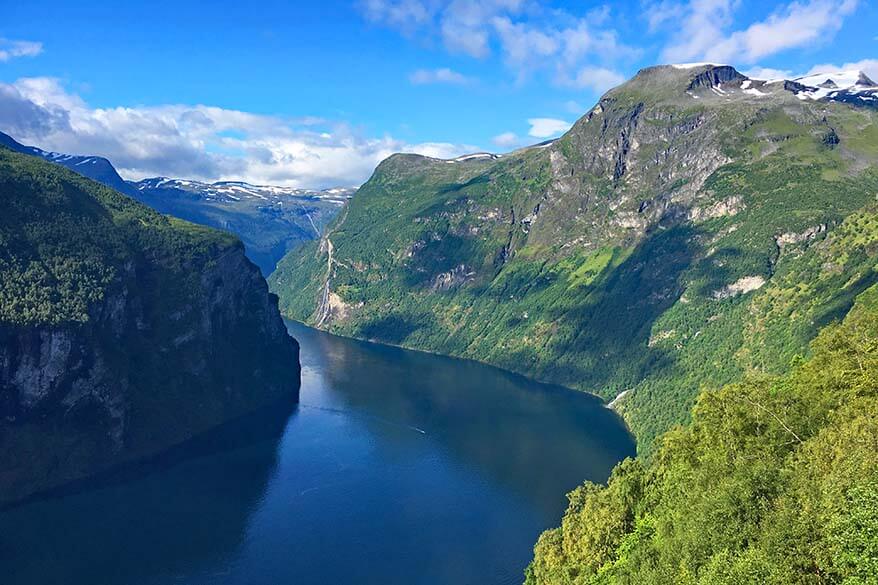 13. Sossusvlei, Namibia
A nameless road with no number that leads to Sossusvlei is one of the best known scenic roads of Namibia.
Surrounded by the world's tallest sand dunes, it's best visited early in the morning when the rising sun paints the landscape in bright red and orange tints.
We visited Namibia with kids and it's our favorite family road trip ever.
LEARN MORE: Namibia Road Trip Itinerary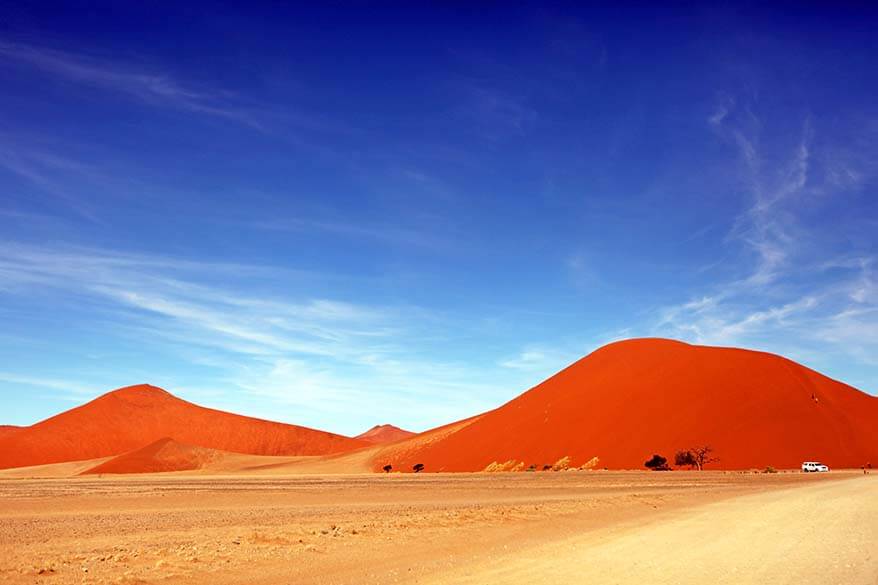 14. Tioga Road in Yosemite NP, USA
Yosemite National Park has many scenic roads, but the views along the Tioga Road are simply the best.
As you enter the park from the eastern side, you are very eager to get to Yosemite Valley and see Half Dome and El Captain as soon as possible. But don't rush! The 62km road stretch from Tioga Pass to Crane Flat is one of the absolute highlights of Yosemite!
TIP: Visit in summer as Tioga Pass is closed from November till May/June.
LEARN MORE: Yosemite Travel Guide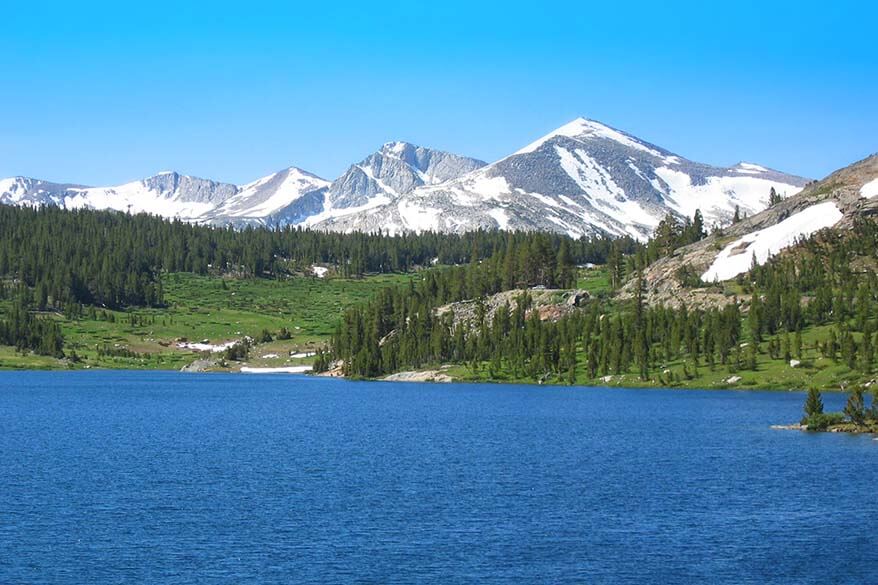 15. Panorama Route, South Africa
Panorama Route is located in Mpumalanga province in the Northern part of South Africa. It's very close to the world-famous Kruger National Park and so you can easily combine the two destinations in one trip.
The best stops along this scenic road include the Blyde River Canyon and Three Rondavels Lookout, as well as Bourke's Luck Potholes.
TIP: Stay in Hazyview – it's a great location for exploring both – the Panorama Route and Kruger National Park.
LEARN MORE: Complete South Africa Itinerary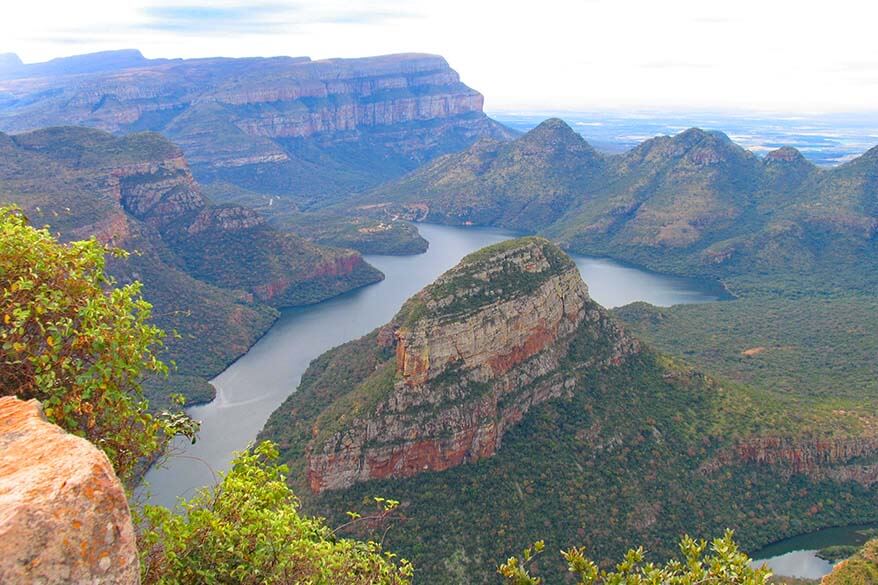 16. Three Passes: Grimsel – Furka – Susten in Switzerland
Switzerland has many scenic roads, but the real classic is the three road trip encompassing the three mountain passes: Grimsel, Furka, and Susten.
There are many viewpoints along the way, so take your time and don't rush. You can do the drive in either direction and should count at least one full day. Families with children will love visiting the ice grotto at the Furka Pass.
TIP: The Swiss mountain passes are only open in summer. Stay in either Interlaken or Lucerne area and start your road trip in Meiringen. We usually drive anticlockwise, so first Grimsel, then Furka, and finally Susten.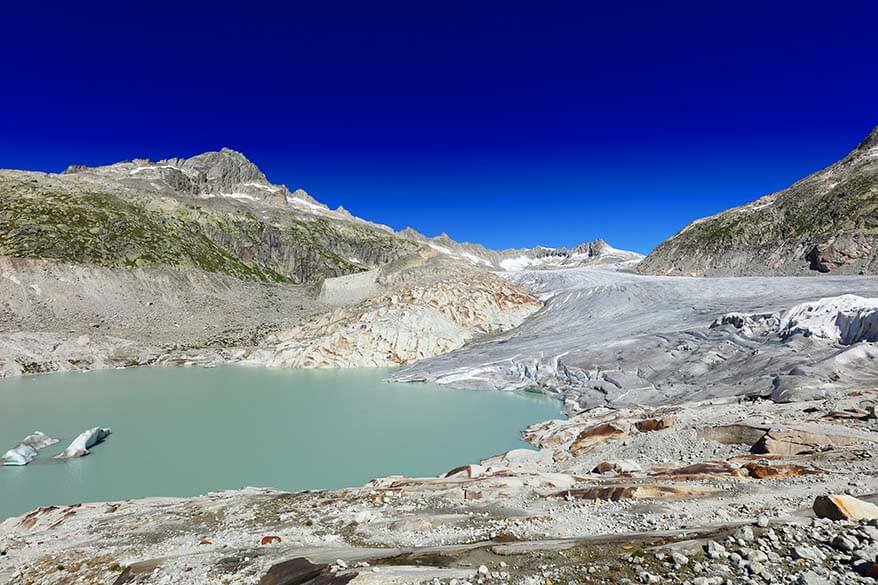 17. Trail Ridge Road in Rocky Mountain NP, USA
Trail Ridge Road, also known as Highway To The Sky reaches an elevation of 12,183 feet (over 3,7km) and is the highest continuous paved road in the United States. In a matter of minutes, you ascend above the tree line and the most spectacular 360° views open up in front of you.
Take your time to explore this 77km (48 miles) road stretch. It's one of the absolute highlights of any visit to Rocky Mountain National Park.
TIP: You can only drive the Trail Ridge Road in summer, and even in August you will find some snow next to the road. It's best to stay in Estes Park or in Grand Lake and take at least half a day for this road in one direction. If you are driving between Denver and Rocky Mountains, don't miss the nearby Peak to Peak Highway as well – the scenery is amazing too.
READ ALSO: Rocky Mountain National Park Itinerary
TIP: In this area, you can also find another really scenic mountain road – Independence Pass. You can read about it in our guide to the best things to do in and near Aspen, CO.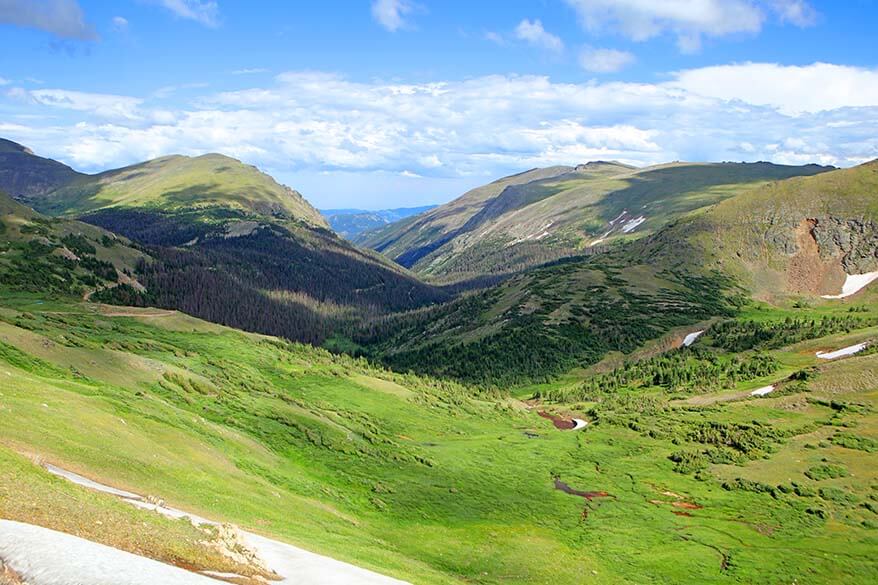 18. Uluru – Kata Tjuta National Park, Australia
If you visit just one place in Australia's Red Centre, it will probably be the famous Uluru. But don't leave the park without exploring the scenic roads in Uluru – Kata Tjuta National Park as well!
The road around the base of Uluru itself is a must, just as a very scenic drive to the Kata Tjuta rock formations.
TIP: Take your time to explore the area and also go hiking. We recommend an easy Walpa Gorge hike at Kata Tjuta.
LEARN MORE: Alice Springs to Uluru Itinerary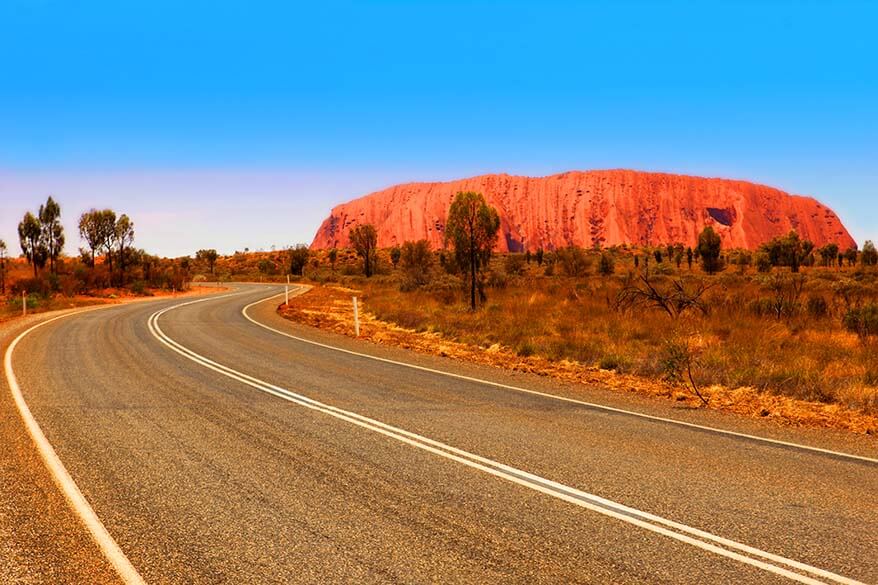 19. Utah State Route 128, USA
Scenic Utah Byway 128 between Moab and Cisco is one of the most beautiful roads we have ever driven. Surrounded by impressive steep red sandstone walls, you follow the Colorado River through the most spectacular landscapes. This rather short stretch of road (72km – 44 miles) has incredibly diverse scenery and you don't know where to look first.
This byway is a true hidden gem of Utah! We passed just a handful of other cars and not one of them were tourists.
You always hear about Monument Valley that is famous from the travel guides and Hollywood movies. We find that this scenic road SR-128 is even more beautiful, yet it somehow managed to stay under the radar. So if you ever find yourself in Utah, don't miss the scenic route 128! It's a road with a big WOW factor.
TIP: Travel in the direction from Cisco to Moab, that way you start with the least impressive part and it just gets better and better behind every curve. If you can, drive this road at sunset for even better views. There are two beautiful hotels along this road that are well worth staying at for a night or two: Red Cliffs Lodge and Sorrel River Ranch Resort & Spa. You could also base yourself here for exploring the nearby Arches National Park.
LEARN MORE: Best Things to Do in Moab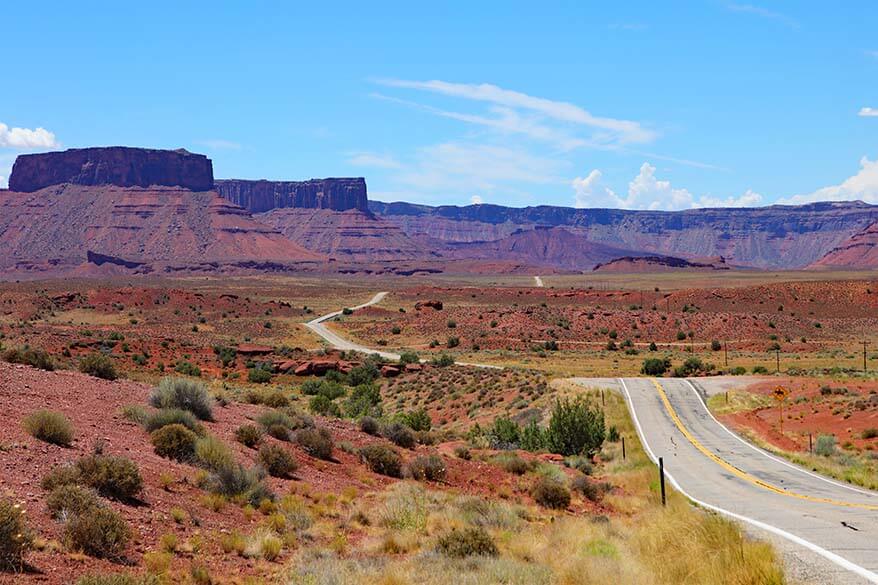 So this is our small selection of some of the most scenic roads from our trips. What are your favorite best roads in the world? Feel free to leave a reply below and share your experience!
For more inspiration and amazing travel experiences from all over the world, check out some of our year-review articles below:
If you found this post useful, don't forget to bookmark it and share it with your friends. Are you on Pinterest? Pin these images!