Namibia is a beautiful country that requires some slow traveling to truly appreciate it. It's also a place that requires quite some advance research in order to make the most of your trip.
Planning a self-drive road trip in Namibia might look overwhelming at first. Distances are big, the roads aren't great, and the accommodations are scarce and expensive…
So you are absolutely right looking for ideas for the Namibia itinerary and suggestions on how to best plan your road trip in advance!
We also struggled with the same questions before our trip. After a lot of research, we created an amazing itinerary and spent 4 weeks road-tripping in Namibia. It was the best road trip ever!
Below, you can find our detailed day-to-day Namibia road trip itinerary that covers all the must-see places and so much more. Our trip was very easy-going, so we also included suggestions for how you can see just as much in less time. You can also find Namibia itinerary tips for shorter trips. Find out!
Things to Consider When Preparing Namibia Itinerary
No matter how much time you have in Namibia, you will have to make choices when preparing your itinerary.
Here are a few things to consider:
There are very few highways in Namibia and most other roads are gravel. So you will – literally – need to slow down. That being said, it doesn't mean that you need a month to see Namibia. In fact, many 'standard' Namibia trip itineraries are no longer than 10 or 14 days.
The distances between the main highlights are very big, so you cannot just visit the 'top' places and skip all the rest unless you opt for a fly-in safari.
When planning your trip, you'll have to decide if you want to visit more places at a fast pace or travel slower and see more at fewer locations.
Before preparing your itinerary, consider if you also want to visit the South (Fish River Canyon) and/or the North (Caprivi Strip) of the country. Both these destinations are so far from all the rest that just driving there and back will add at least a few days to your trip.
Another possibility is to combine your Namibian road trip with Botswana and Victoria Falls. But only do this by car if you have a lot of time.
Or maybe you decide to just stick to the main highlights of Namibia and skip the less known locations… In that case, you can even see 'the musts' in a week.
The choice is completely yours to make depending on your interests, time, budget, and some other factors, like malaria risk, for example.
There are two main highlights that you absolutely shouldn't miss in Namibia and that is Etosha National Park and Sossusvlei. Other highlights include Fish River Canyon, Kolmanskop, Swakopmund, and Twyfelfontein. But there are many other amazing places.
Having said all that, some of the very best, memorable experiences from our trip to Namibia had nothing to do with the most famous places… In our itinerary below, you can read all about it.
LEARN MORE: Best Places to Visit in Namibia
Our Namibia itinerary for 4 weeks
Before we continue with our Namibia road trip itinerary, you should know that this is a custom-made 4-week road trip itinerary that covers all of Namibia except the north. We prepared this Namibia itinerary for our family based on our interests and taking into account the fact that we were traveling to Namibia with three young children under 6.
Of course, we included all the landmarks and made sure to visit all the best places in Namibia! But we opted for multiple nights at several locations and for shorter driving days when we could. Also, we didn't go to the Caprivi Strip in order to avoid malaria risk.
TIP: You could easily shorten this Namibia itinerary and still see about just as much as we did in about 3 weeks. And certainly, if you are camping and are less dependent on the location of accommodations. You can find some itinerary suggestions for 2 or 3 weeks in Namibia at the bottom of this article. Read on!
Here's our Namibia road trip itinerary exactly as we did it:
Day 1: Arrival in Windhoek. Windhoek – Kalahari Desert. Eningu Clayhouse Lodge for 1 night. 110 km – 2hrs.
After picking up the rental car where we also got a short instruction video about driving on gravel, we headed to Windhoek for a short city walk and to stack on supplies of food and drinks for the next few days.
TIP: Check this website for an overview of some of the best options for car rental and get a 4×4 for your Namibia trip.
We opted to spend our first night outside of the city. We stayed at Eningu Clayhouse Lodge in the Kalahari desert and I would recommend this to everyone. Not necessarily this specific lodge, but staying outside of the city.
We felt that we were in Africa the moment we left the highway. We saw wild animals next to the road and we spent our first afternoon in the hot tub. We saw an amazing sunset and spent our first evening dining under the stars.
TIP: Don't stay in Windhoek. Choose one of the many lodges outside the city. If you decide to go straight down to the south and rather stay closer to the main road to Mariental, I recommend checking Auas Safari Lodge. It's not too far from Windhoek and has great reviews!
Day 2: Kalahari desert. Drive to Mariental. Gondwana Kalahari Anib Lodge for 1 night. 270 km, 4-5hrs.
Long drive through the Kalahari desert today. The scenery is nice, but there are no major points of interest along the way here, so we drove straight to our next accommodation.
We arrived at our next lodge, Gondwana Kalahari Anib Lodge, just in time for a late afternoon safari ride and a sundowner. It was the first one during this trip and we loved it! We got bitten by a sundowner bug and tried to go on as many sundowners as possible during the rest of our trip.
TIP: Don't miss Namibian sundowners, do at least one! All lodges in Namibia organize sundowner/safari rides, so make sure you get to your lodge in time for the late afternoon ride.
Day 3: Mariental – Fish River Canyon. Canyon Lodge for 2 nights. 410 km – 6hrs.
Long drive from Mariental to Fish River Canyon, but luckily the first part was on a tarmac road.
We stopped at the Quiver Tree Forest and made a short walk around the Giant's Playground before continuing South towards the Fish River Canyon. The last couple of hours we were driving through the desolate and very uninspiring landscape, but the surroundings of our next lodge were so beautiful that we quickly forgot the long drive.
Our accommodation for two nights was a beautiful Gondwana Canyon Lodge – one of the nicest places we stayed during this trip!
A bit cheaper accommodation located in a similar spectacular setting is the nearby Gondwana Canyon Village.
TIP: If you are looking for accommodation with views over the Fish River Canyon, take a look at Fish River Lodge. It has an amazing location!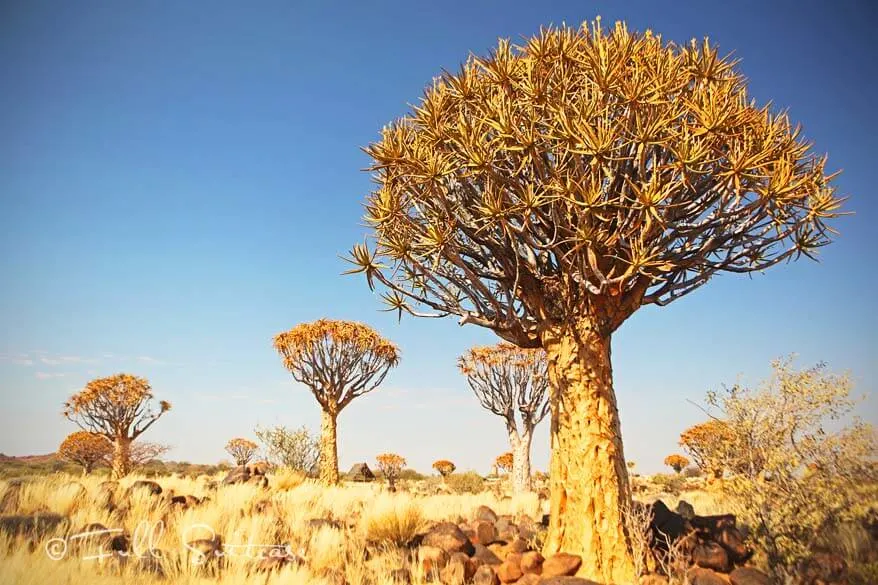 Day 4: Fish River Canyon
There are many possibilities to explore the Fish River Canyon. You can also opt for some other excursions in the area. We simply chose to drive to the canyon and explore several viewpoints.
In the morning, we drove to a couple of lookouts and made a walk on the rim of the canyon.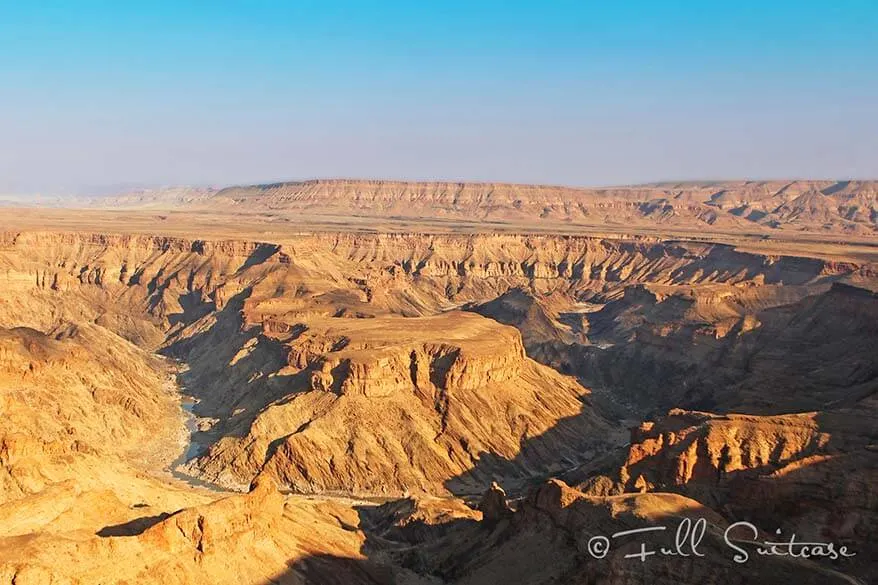 TIP for families traveling with children: In the afternoon we headed to a nearby Canyon Roadhouse for lunch.
We chose this place because we knew our kids would love it there. They have a big collection of all kinds of old vehicles. A paradise for our boys!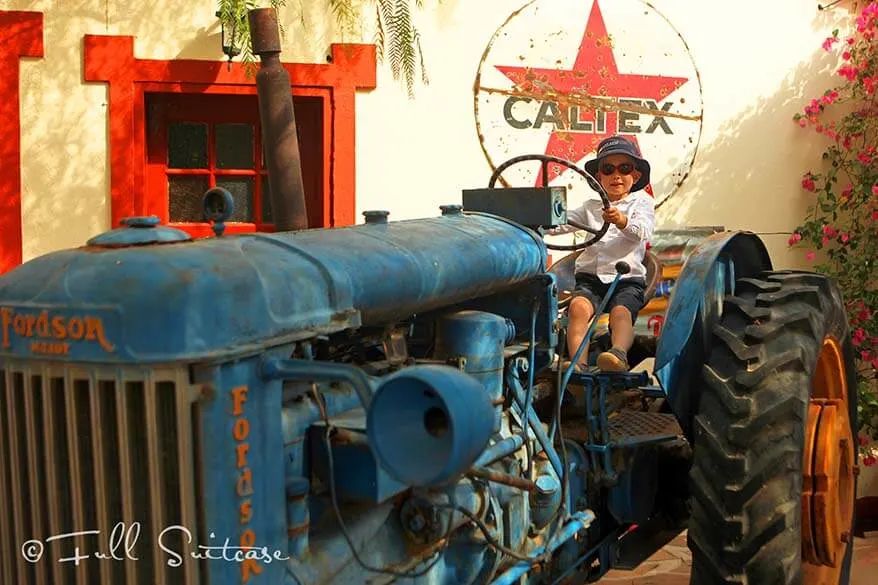 In the evening, we opted for a sundowner walk at our lodge and enjoyed the most beautiful Namibian sunset in style.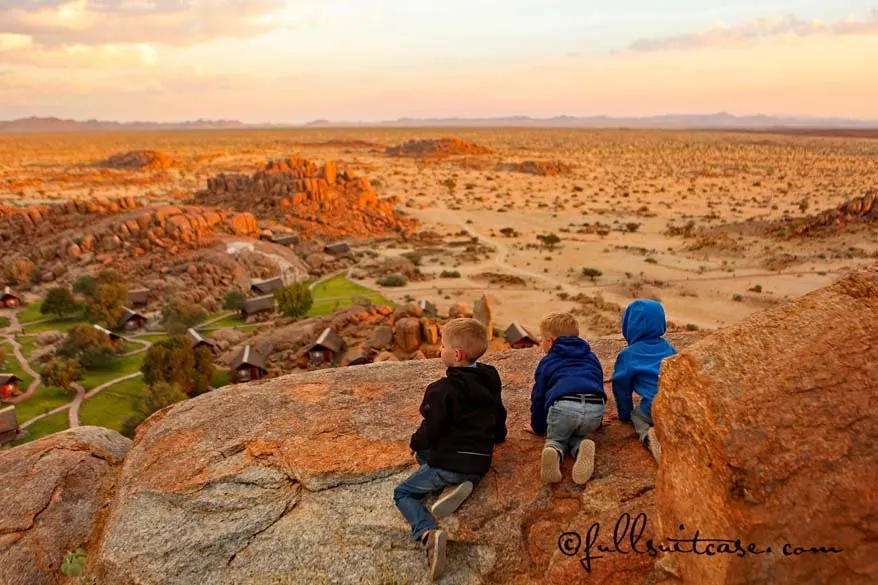 Day 5: Fish River Canyon – Klein Aus Vista. Desert Horse Inn for 2 nights. 290 km – 4hrs.
A long drive again with some beautiful landscapes along the way. Our lodge, Desert Horse Inn, was not half as nice as the previous one, but there wasn't anything better available in this area when we traveled. Now I'd recommend staying at the highly-rated Bahnhof Hotel Aus.
There are lots of hiking trails in the area and so we spent the afternoon hiking. The walk was much nicer than we had expected.
TIP: Go hiking in the area around Klein Aus Vista.
Day 6: Klein Aus Vista – Luderitz/ Kolmanskop – Klein Aus Vista. 115 km – 1,5 hrs in one direction.
The highlight of the day was our visit to Kolmanskop. It's a ghost town that was once the home to German diamond miners seeking to make their fortune in the Namibian desert.
Nowadays, Kolmansop is a real paradise for photographers. Our kids loved it too!
TIP: Go to Kolmanskop early in the morning for better pictures and fewer people.
We also paid a short visit to Luderitz, but found it a rather uninspiring little town. We also spent some time hoping to find the wild horses of Namib in Garub. No luck for us, but this place is known for that, so check it out if passing by.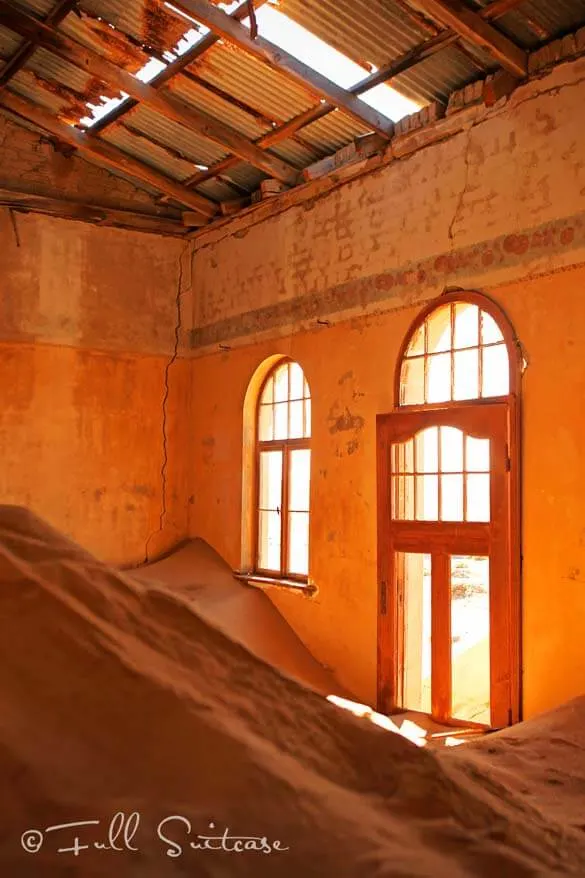 Day 7: Klein Aus Vista – Sossusvlei. Sossus Dune Lodge for 2 nights. 350 km – 5hrs.
Long ride from Aus to Sossusvlei, but it didn't feel that long since we took the scenic route and drove through the most amazing landscape. Red sand roads, oryx antelopes, ostriches, and all kinds of other wild animals added plenty of distraction for the kids along the way.
TIP: Take route C27 and not C14+C19 – it might be slower, but it's really worth it.
We opted to stay at the Sossus Dune Lodge as it's the only lodge that is inside the park allowing the guests to get to the Sossusvlei before sunrise and after sunset. We went to Elim dune to watch the sunset.
TIP: Sossusvlei Lodge, located just outside the park gates, is actually nicer accommodation and it's cheaper too. The only disadvantage is that you can't enter the park before sunrise.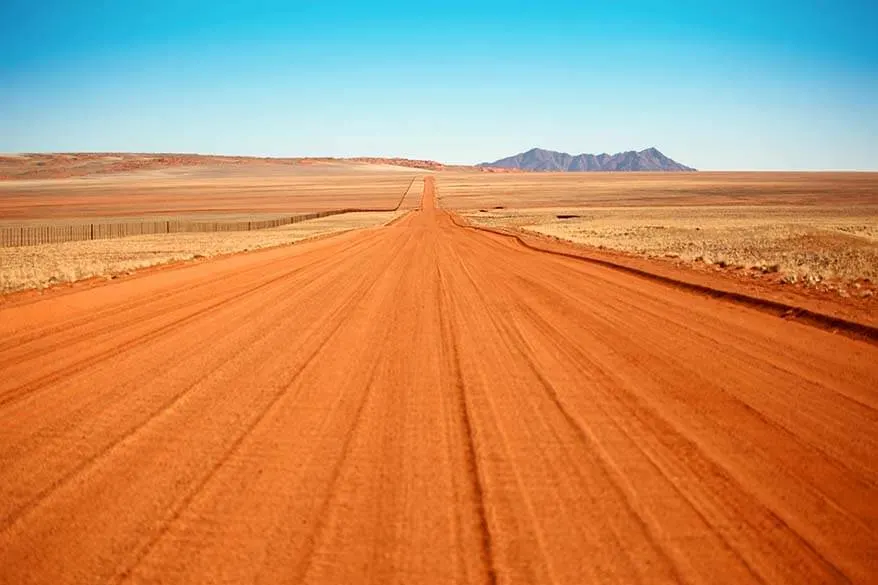 Day 8: Sossusvlei
Deadvlei, Sossusvlei, Dune 45, and the Sesriem canyon were the highlights today. Top day for the kids as well. They loved climbing the sand dunes and they loved rolling down the dunes even more…
We woke up very early and drove to Sossusvlei before sunrise. We then walked to Deadvlei in the dark and stayed there until sunrise. It was freezing cold, but an amazing experience. We had the popular Deadvlei all to ourselves.
TIP: If you are up for it, you can climb one of the dunes for sunrise views. Dune 45 along the way to Sossusvlei is a good place for that if you can't make it to Sossusvlei or Deadvlei before sunrise.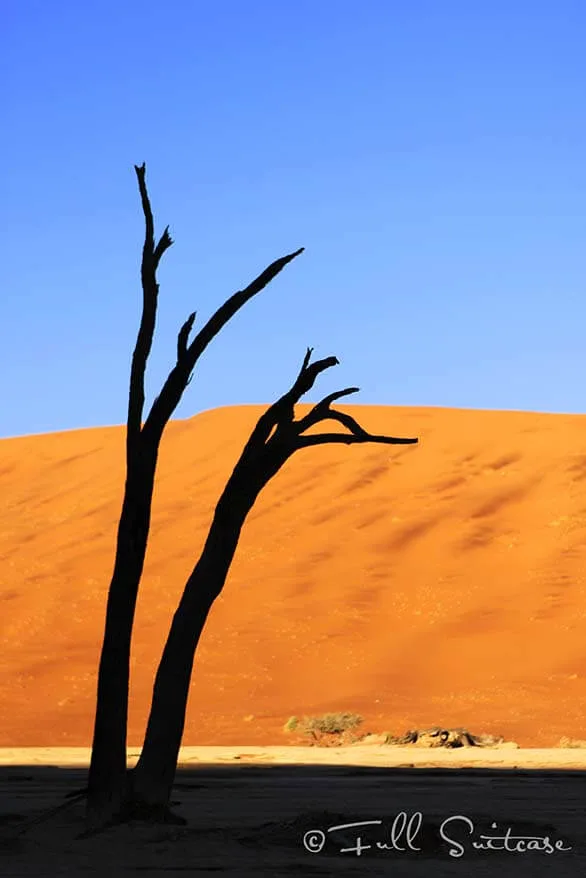 Day 9: Sossusvlei – Rostock Ritz Desert Lodge for 1 night. 140 km, 2 hrs.
TIP: When driving from Sossusvlei to the north, stop at Solitaire petrol station/restaurant for some of their famous apple pie.
Most people drive from Sossusvlei all the way to Swakopmund in one day. We opted to break the long drive between Sossuvlei to Swakopmund and spend a night in Rostock Ritz Desert Lodge.
The lodge itself is not very special, but there are lots of excursion possibilities in the area and they have a meerkat encounter, which was again one of the highlights for the kids.
We ended the day with another beautiful sundowner ride and some incredibly delicious food. The restaurant at this lodge was probably the best of our entire 4-weeks trip in Namibia!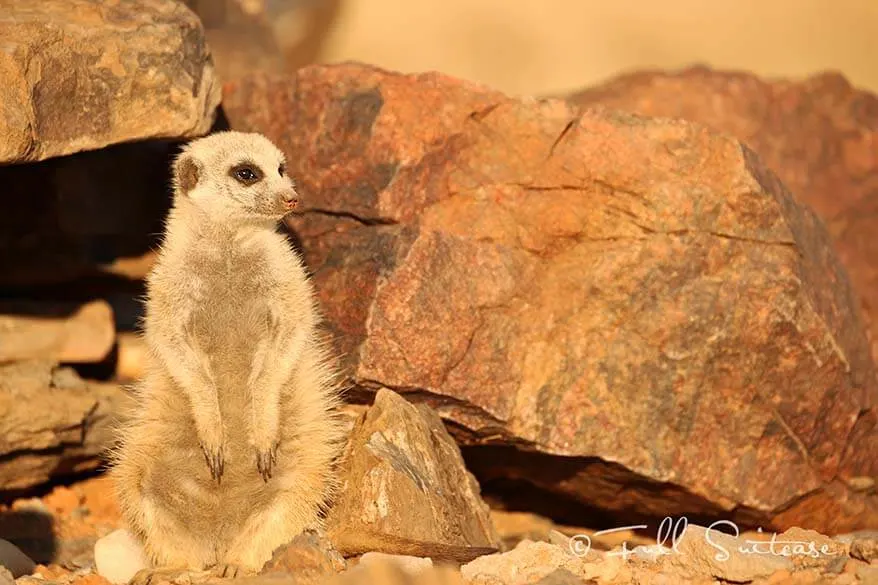 Day 10: Rostock Ritz Desert Lodge – Swakopmund for 3 nights. 230 km – 3,5 hrs.
After 10 days in the desert, we were so glad to be back in the living world again! We stopped in Walvis Bay for lunch. We could even choose from more than one restaurant! What a luxury.
TIP: Walvis Bay Lagoon with thousands of wild flamingos was absolutely the highlight of the day. Don't miss it!
We stayed in Swakopmund, alternatively, you can stay in Walvis Bay. The two towns are not far from each other, but we found that Swakopmund has a much nicer atmosphere, more hotel and restaurant choices, and more activities and day trips that leave from there.
We stayed at the Atlantic Sicht Apartment in Swakopmund and absolutely loved it. It was like a home away from home.
Here you can find the best deals for Swakopmund accommodation or Walvis Bay accommodation. This area is the only place in Namibia where you can find a big choice of quality accommodation for any budget.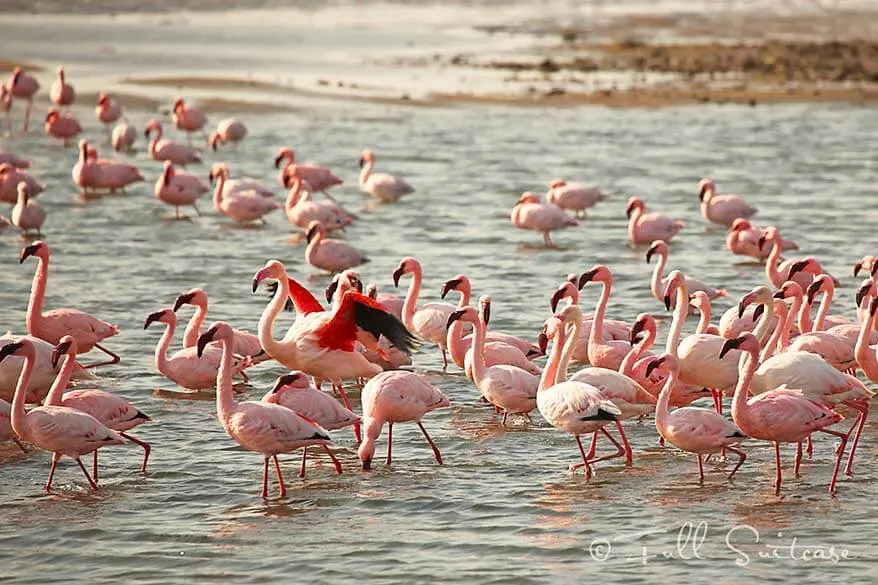 Days 11 – 12: Swakopmund and the area
Swakopmund is a nice little town with many shops, restaurants, and cafés. It's definitely the nicest town in Namibia and 3 nights is certainly not too much for a stay here. In fact, you could easily stay here longer and find plenty of things to see and do.
TIP: Have lunch or dinner at the Village Café (Sam Nujoma Avenue).
There are many excursion possibilities in and around Swakopmund, so you will have no difficulties finding something that interests you. Here you can find some of the most popular tours from Swakopmund.
The most popular tours are the dolphin- and whale-watching catamaran tour from Walvis Bay, Moon Landscape and Welwitschia Drive, and 4×4 tour to Sandwich Harbour (or this amazing kayaking and Sandwich Harbour combo tour). There are many more possibilities too, but the above are worth your time the most.
TIP (just for our readers – don't tell anyone ;)): Even though Spitzkoppe is not included in most Namibia trip itineraries, it's one of our absolute favorite places in Namibia. It's only 1,5 hrs drive from Swakopmund and you can make a nice half day-day trip to the area.
Take water, picnic lunch, and walking shoes with you and explore this beautiful area. If you are camping, Spitzkoppe has the most amazing campsites you could imagine. Don't miss it!
You can drive there or take a tour to Spitzkoppe if you want a more relaxing day or don't have a 4×4.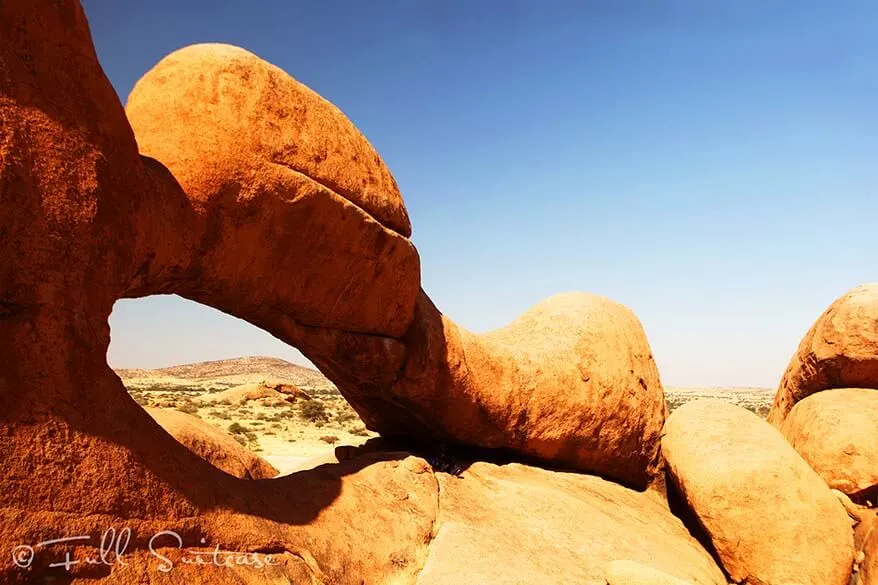 Day 13: Swakopmund – Twyfelfontein via Cape Cross. 411 km – 6+hrs. Twyfelfontein Country Lodge for 1 night.
TIP: Leave Swakopmund early in the morning if you want to go to Cape Cross first. It's a long drive to Twyfelfontein and Cape Cross is a bit out of the way. But it's absolutely worth it!
Cape Cross is home to a huge seal colony (tens of thousands of seals live here) and you can get amazingly close to them. An experience like no other!
If you have time left, you can visit Petrified Forest on the road to Twyfelfntein or drive to the Burnt Mountain for sunset.
We stayed at Twyfelfontein Country Lodge – one of the very few lodging options in this area. Alternatively, check out Malansrus or Madisa Camp – both very unique tented accommodations, but Malansrus is a bit closer to Twyfelfontein.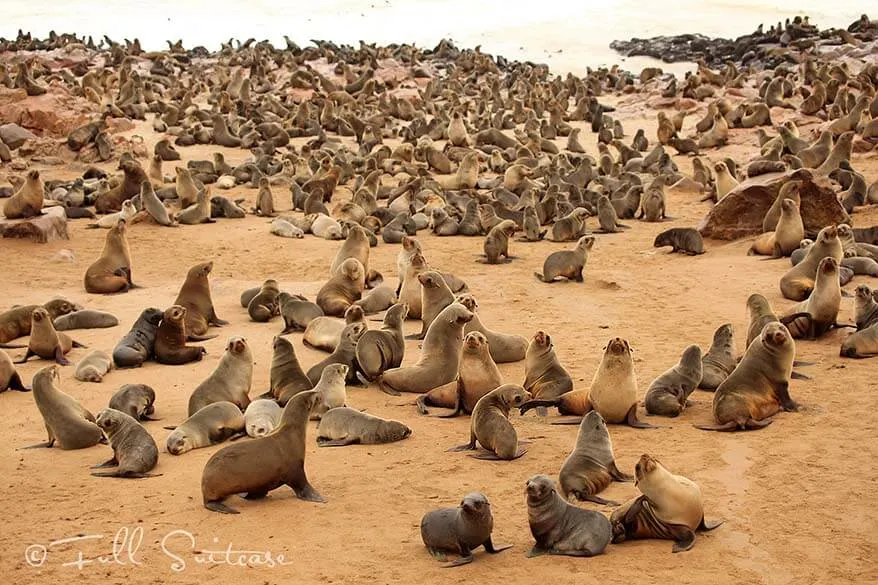 Day 14: Twyfelfontein – Palmwag. Palmwag Lodge for 2 nights. 115 km – 1h45.
Twyfelfontein UNESCO Heritage Site is absolutely worth the visit. You will be assigned a guide who will take you to the cavemen's paintings and will tell you all you want to know about ancient rock art.
TIP: Go to Twyfelfontein early in the morning before it gets busy. The most recommended walk is the Lion Man Route. Take water with you.
If you are interested in the local culture, pay a short visit to the Damara Living Museum. It's not an authentic experience as it's not a real village you are visiting, but one with paid actors, but it's still interesting to see how people used to live in the area.
We stayed 2 nights at Palmwag Lodge. A really nice alternative in this area is Grootberg Lodge, or otherwise a more simple accommodation – Etendeka Mountain Camp.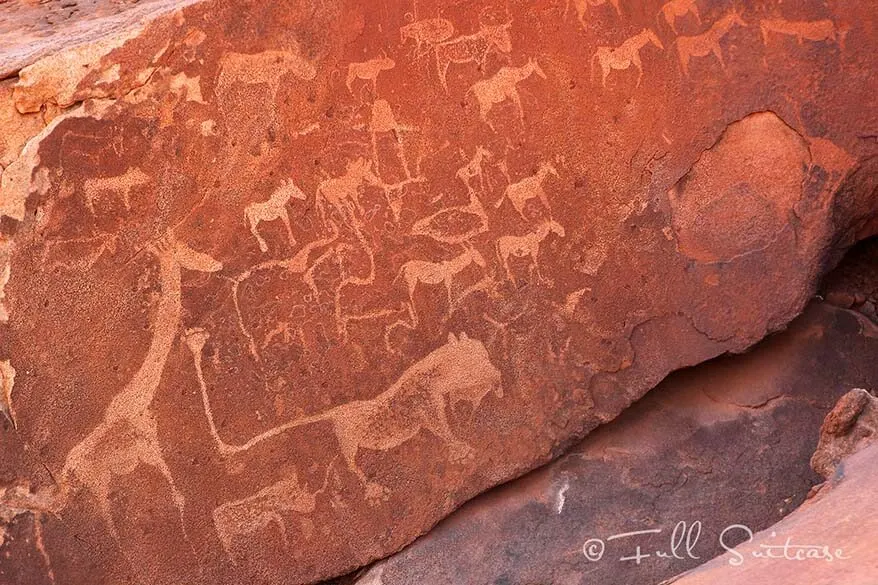 Day 15: Palmwag
Free day in the Palmwag area. There are several excursion and safari ride possibilities at the lodge.
We opted for the safari and Himba village tour and had the most amazing day. The Himba village we visited was not comparable to the Damara 'living museum' we saw the other day. We met a real Himba family, saw the way they really live, and the interaction with the people was real.
Our kids went to play with their children, they were chasing the goats and the chicken and seemed to be having the time of their lives. Safari in the Palmwag area was also one of the best ones of our whole trip.
TIP: Visit a local Himba village.
LEARN MORE: Visiting Namibia's Indigenous Tribes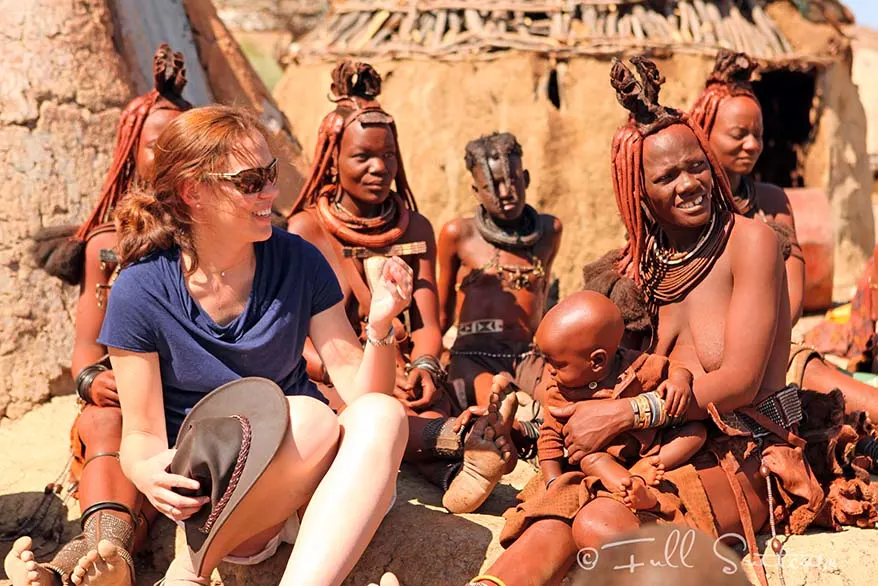 Days 16 – 19: Etosha National Park
Etosha National Park is one of the best places to see in Namibia. So make sure to plan at least 2-3 days here. Here's what our time in Etosha looked like:
Day 16 – Palmwag – Etosha. Dolomite Camp for 1 night. 230 km – 3.5hrs
Day 17 – Dolomite Camp – Okaukuejo. 180 km – 4hrs. Okaukuejo Rest Camp for 2 nights.
Day 18 – Etosha.
Day 19 – Etosha: Okaukuejo – Mushara. 153 km – 2h15
There are plenty of possibilities to see wild animals in Etosha. The best times are early in the morning or late in the afternoon, and the best places are around the waterholes. The very best place to see lots of animals without much effort is the Okaukuejo waterhole.
READ ALSO: Safari Tips & Safari with Kids
We stayed at three hotels in Etosha NP: Dolomite Camp and Okaukuejo Rest Camp – government-run properties inside Etosha, and a beautiful Mushara Lodge outside the park.
Etosha is absolutely the highlight of any Namibian trip, but I cannot say the same about the Dolomite Camp. It's a beautiful but completely mismanaged place.
Okaukuejo Rest Camp offers simple accommodation, but it has an amazing location that makes up for the simple rooms.
Mushara Lodge was absolutely incredible and we wished we had stayed longer there.
LEARN MORE: Best Places to Stay in Etosha National Park
TIP: If you are looking for the best location for Etosha, stay at Okaukuejo Rest Camp or at one of the beautiful hotels just outside the park gates at Okaukuejo. If you want to stay at the eastern side of Etosha as well, I cannot recommend Mushara Lodge highly enough.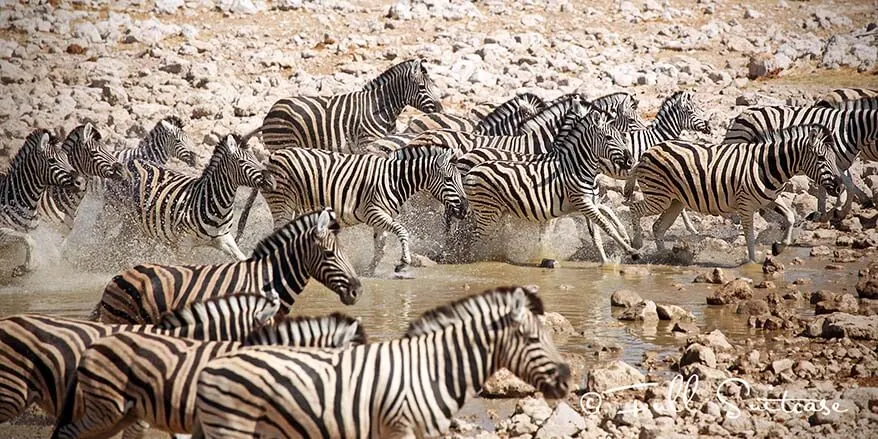 Day 20: Mushara – Otjiwarongo area. 300 km – 4hrs. Frans Indongo Lodge for 2 nights.
The only place that was somewhat worth a visit on this day was Lake Otjikoto. It's more of a place to stretch your legs a bit than anything else.
We stayed at the Frans Indongo Lodge for 2 nights. The area around Frans Indongo was not very spectacular, but it was well located for a day trip to see cheetahs next day.
There are several walking trails next to the lodge, but if I were to go to Namibia again, I would only stay here for one night (or find an alternative hotel).
Day 21: Cheetah Conservation Fund and Crocodile Farm
Cheetah Conservation Fund (CCF) is a place you shouldn't miss when planning Namibia road trip. It's a serious honest project helping the animals and you have several possibilities to see cheetahs from close by. Count half a day for the visit.
TIP: If you are traveling without kids, try to get there for the Cheetah Run early in the morning. With children, we could go on a jeep ride and saw plenty of cheetahs from the safety of the car.
We also visited the Crocodile Ranch in Otjiwarongo. You can see lots of crocodiles and even pet one so the kids liked it, but it's not something you absolutely have to do. A good stop for half an hour for families passing by, but not more.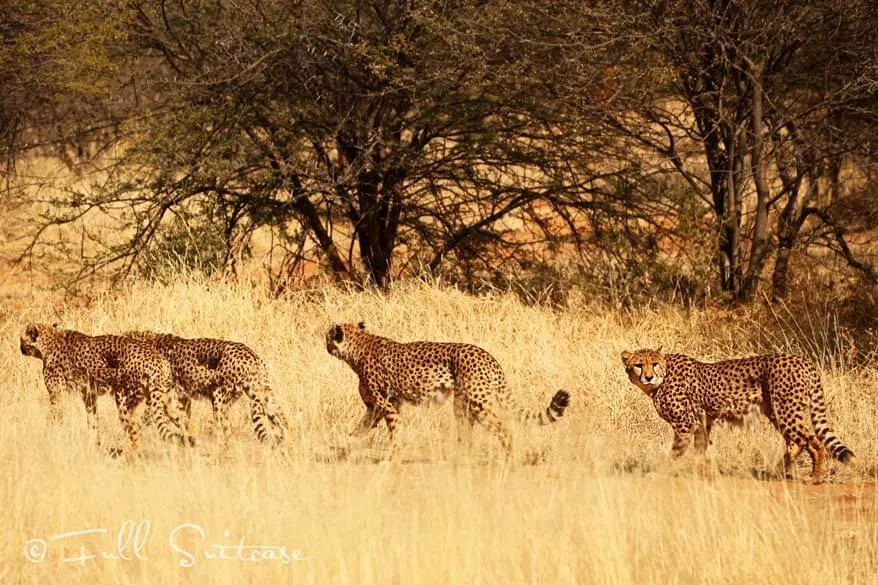 Days 22 – 23: Erindi Private Game Reserve. Old Traders Lodge for 2 nights.
These two days were among the most memorable of the entire trip of 4 weeks in Namibia! Erindi is an amazing all-in safari lodge that truly has it all.
Day 22: Otjiwarongo – Erindi Private Game Reserve. 270 km – 4 hrs. We drove to Erindi as early as we could so that we could join some of the activities on the first day already.
Day 23: Erindi. If there is one lodge I would love to go back to in Namibia, it's Erindi Old Traders Lodge!
It was also the most expensive lodge on our Namibia itinerary, but absolutely worth it. We had an all-in package with two safari rides per day and all the meals included. There are many other activities that you can do in Erindi. Visiting the local San tribe was one of them, and also various safari rides, etc.
What we loved the most about our stay in Erindi was the restaurant terrace at the Old Traders Lodge. It overlooks a waterhole where we spent many relaxing hours eating cake, sipping cold drinks, and watching wild animals come and go.
If Erindi is above your budget, you can also just visit here for a day. The restaurant with the terrace overlooking a waterhole is accessible to everyone and they also offer safari rides and other activities to visitors who aren't staying at the lodge. Erindi is a bit out of the way when driving from Etosha to Windhoek, but you'll absolutely love it.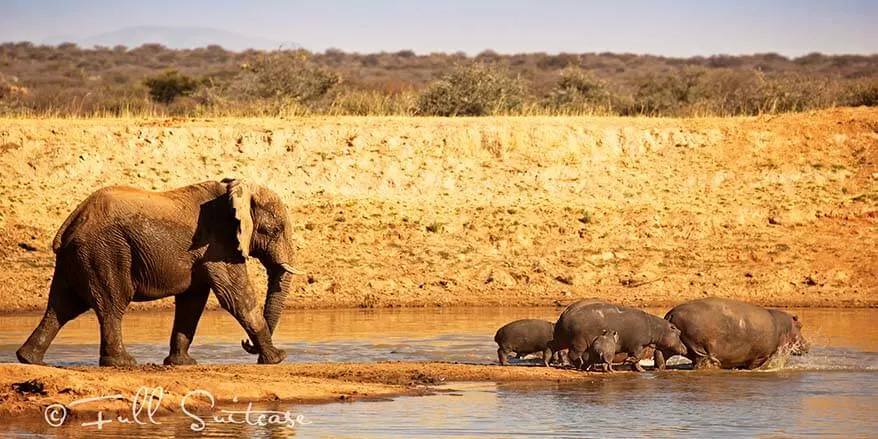 Day 24: Erindi – Windhoek. 220 km – 3hrs. Na'ankuse Lodge for 1 night.
Depending on your flight schedule, you could drive straight to the airport and skip Windhoek altogether on the last day.
We opted to stay at Erindi a bit longer and drove to Na'ankuse Lodge close to the airport towards the evening. The lodge proudly displays pictures of Brad Pitt and Angelina Jolie who visited here back when they were a couple.
This lodge also has all kinds of activities including wildlife watching and they also have cheetahs. But we only arrived here in the evening, too late for any rides. So we only had dinner at the lodge and I cannot comment on the activities, however, customer reviews are excellent.
Day 25: Windhoek and departure
Since we had plenty of time before our flight, we headed back to the center of Windhoek. It was a bit livelier than on the first day of our trip and we enjoyed walking around the Post Street Mall. It's a pedestrian mall lined with shops, restaurants, office buildings, and craft sellers and is probably the liveliest place in town.
We had a quiet late lunch at the famous Joe's Beer House in Windhoek and headed to the airport for the flight home.
As you can see, our Namibia trip itinerary was a mix of seeing a lot and a more relaxing vacation. As I said, you could easily visit all the same places in Namibia in less time.
What could you skip or shorten? See our suggestions for a shorter Namibia itinerary below!
Namibia Trip Itinerary Suggestions for 2 or 3 weeks
Following our 4-week itinerary above, here's how you could adjust it to make it shorter:
If Kolmanskop is not of much interest to you, you could skip day 6 of the itinerary.
You could visit Sossusvlei in the morning and leave the area that same afternoon. If you don't mind driving a lot (and I mean a lot), you could go straight to Swakopmund and skip days 9 and 10. In any case, you can easily skip one day here.
If you have limited time, you could stay just 2 nights in Swakopmund instead of 3, skip Palmwag altogether (it's a bit out of the way if you don't go to the Dolomite Camp), and spend less time in Etosha.
You could also stay just one night in the Otjiwarongo area, see cheetahs in the morning and drive straight to Windhoek.
If you opt to stay at Erindi or one of the many other private reserves in the area, you can stay there till the last day of your trip and go straight to the airport from there.
I know that planning the Namibia itinerary can be overwhelming and this is a lot of information to digest, so feel free to ask questions. You can leave a reply below.
TIP: When planning your trip, make sure to also take a look at our essential travel tips for Namibia via the link below. That article has all the information about driving in Namibia, what kind of car you need, and other tips for touring Namibia on a self drive trip. Check it out!
READ ALSO: Namibia Travel Tips
Planning a trip to Namibia? Get the most out of your trip with these tips:
If you found this post useful, don't forget to bookmark it and share it with your friends. Are you on Pinterest? Pin these images!