Are you thinking of going on safari with kids, but not sure what to expect? This post should answer all your questions about taking your kids on safari. Read on!
There is a common belief that safari and family travel doesn't go well together. Let me tell you that it's not true. I decided to write this post because of all the emails I get from readers asking me about taking their kids on safari. I hope this will help to answer some of your questions, ease your fears, and most important – show you that you can have an unforgettable African safari experience, also with young children.
We are in no way experts of traveling to Africa with kids. We are just a family who likes to travel, take the kids along, and share our experiences hoping to inspire others to do the same.
It just so happens that South Africa was our first far trip with all three kids. And so the twins went on their first safari game drive when they were just 2 years old. Our oldest was 4. A year and a half later, when our kids were 3, 3, and 5, we made a beautiful four-week road trip in Namibia.
We attended as many sundowners and game drives as we possibly could, we made self-drive wildlife viewing trips, watched animals at the waterholes, and had so many unforgettable safari experiences with kids.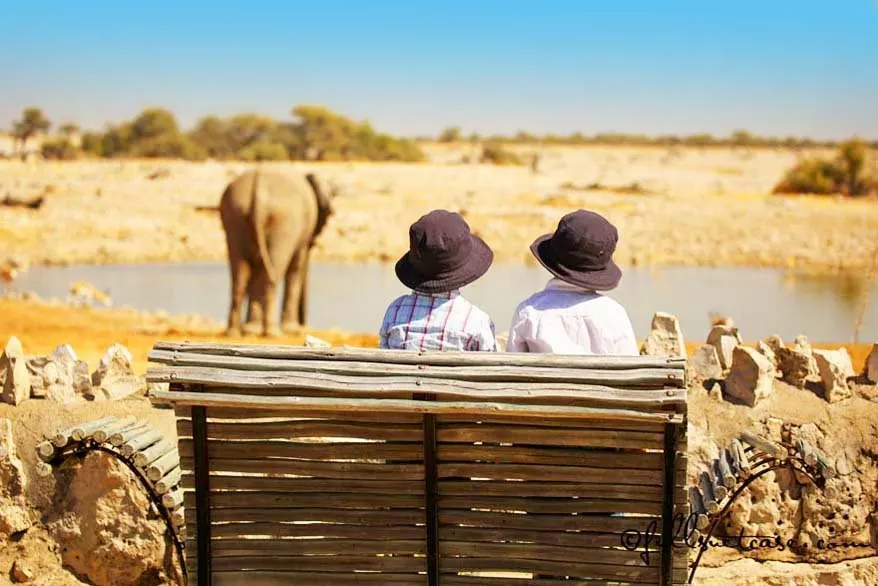 So here is some practical information you may want to know when planning an African safari with young children. I have compiled all kinds of questions that I have received from my readers about taking kids on safari in Africa.
If you don't find an answer to your question below, please feel free to leave a comment at the bottom of this page, and I will try my best to help you out.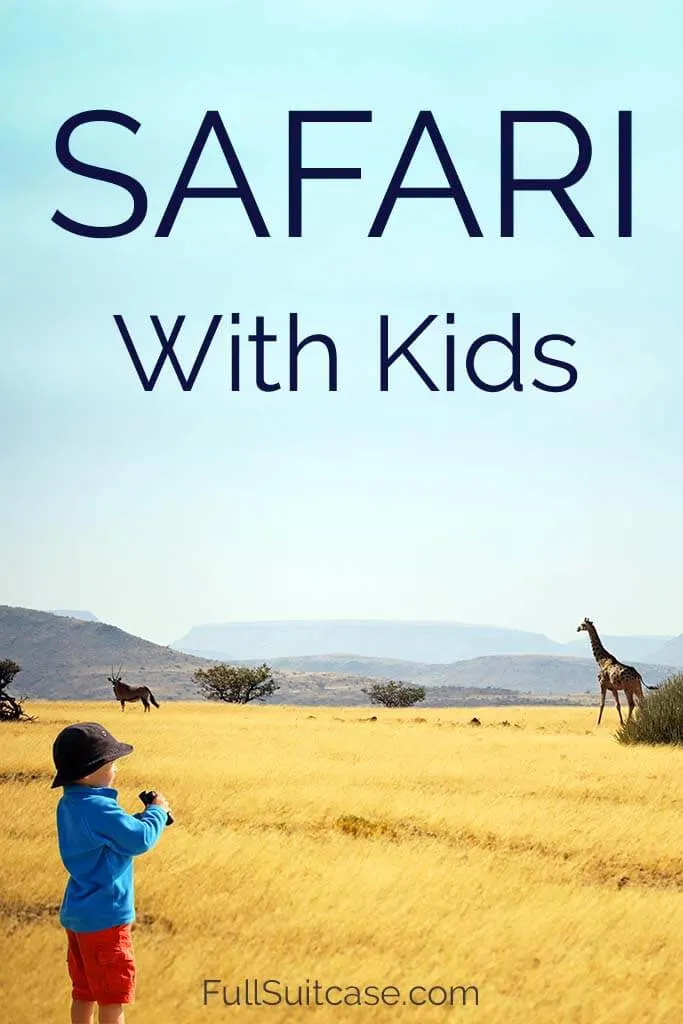 Which African countries are best for a safari with kids?
In my opinion, South Africa and Namibia are the best countries for families traveling to Africa. There are several reasons for this.
First, both countries have good wildlife viewing that is easily accessible. You can visit Kruger National Park or Etosha National Park with your rental car. This is not the case in most other African countries, where you need to have a guide/driver to visit national parks. Self-drive safari is always cheaper and it allows you to take kids of any age on safari.
Second, Namibia and South Africa both have very small malaria risk in certain periods. So you can take your kids on safari without having to take malaria pills. See question 4 for more information.
Third, both countries are relatively safe for an individual family trip. I say 'relatively', because, well, bad things can happen anywhere. As everywhere else in the world, you have to use common sense. We never felt unsafe anywhere in Namibia. As for South Africa, most places are completely safe, just be cautious around townships next to the big cities, like Johannesburg.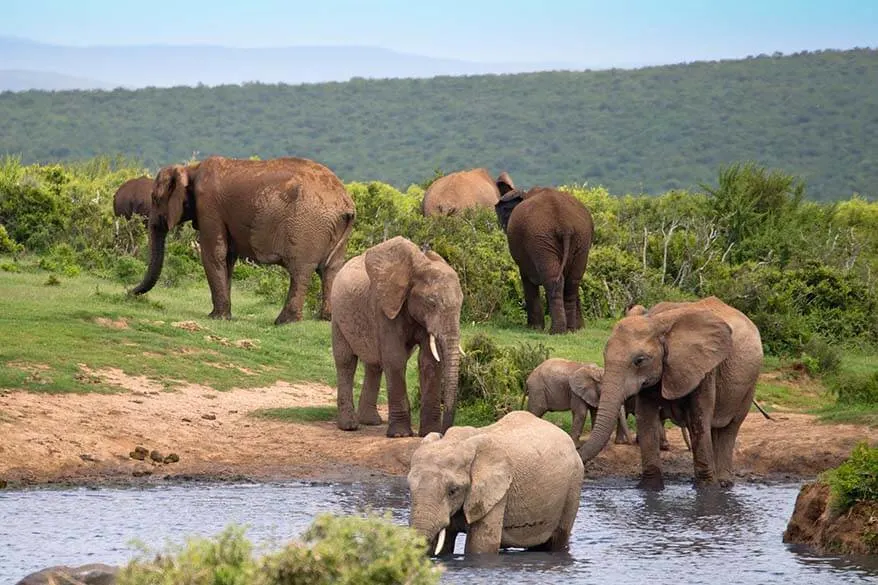 How old do my kids have to be to go on safari in Africa?
While most organized safari trips and game drives have various age restrictions, there is no age limit for a self-drive safari. Our kids' first safari experience was when they were just 2 years old. It was a guided game drive in a private game reserve on the Garden Route in South Africa. Here you can read more about our South Arica trip with young kids.
In Namibia, we could join several safari rides with a guide, but there were also other places that wouldn't take kids under 6 years. Some others would allow young kids on safari rides, but would warn you from the start that they would not stop anywhere near the 'cats' (lions, leopards, cheetahs) with such young kids in an open vehicle.
If you are thinking of taking a longer safari trip with nothing but animal viewing for a few days in a row, you better check with the organizing company what their policy is in regard to kids' ages. For Kenya or Tanzania safari trips, I think usually kids have to be at least 6 years old.
How many days do we need for safari with kids?
This will depend on the destination of your choice. In Kenya, Tanzania, Botswana, and many other African countries, the purpose of the whole trip is often nothing else but animal viewing. So you are in a safari vehicle for days and days in a row.
Honestly, I think that these kinds of trips are too long and too boring for young kids. Even most adults will probably have seen enough wildlife after 7 days, let alone children…
That's why – again- South Africa and Namibia are excellent choices to take your kids on safari. Both countries have so much more to offer than just animal viewing. So you can combine safari drives with many other sightseeing possibilities.
I think that 3-4 days of safari in a row is more than enough for any child. If you can add some variation to your trip and go watching animals every couple of days rather than a week in one go, you will have a much more relaxing and fun trip.
Can we go on safari with a 2 – 3 year old? 4, 5, 6 year old? And for how long?
I wouldn't advise long safari trips with kids younger than 6. Here is a breakdown per age of what I think is best when considering safari with young kids.
2-3 year old kids: Half-day game drives, self-drive safari and wildlife viewing at waterholes. You can do this for several days, but don't take a 2-year-old on a 3-day safari experience with nothing else on the program than wildlife viewing.
4-5 year old kids: Half-day to full-day safari drives, either with your own vehicle or on guided safari tours. I would advise against a long safari trip with nothing else than wildlife viewing at this age.
6-8 year old children: I guess it depends on your child, but most kids at this age should be able to sit still in a car for a day, and so a longer safari trip is possible. You have to be aware though that safari involves lots of driving and searching for animals, which is not always as exciting as the actual viewing of the animals.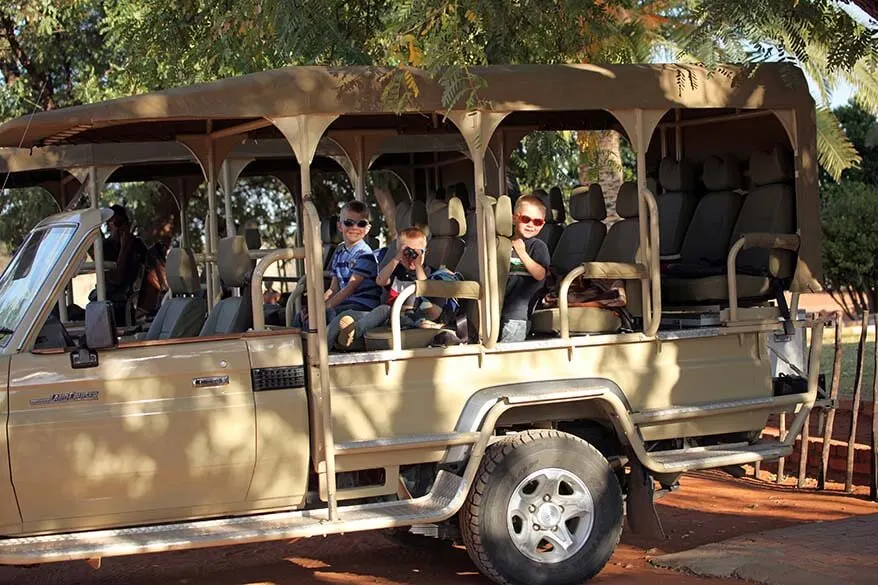 Is it dangerous to take young kids on safari?
As with everything, if done with caution, safari is perfectly safe with kids.
For self-drives, remember to stay in your vehicle at all times. It's not because you don't see animals, that they are not there. Don't make too much noise in the car when animals are nearby, and certainly don't stick your arms outside the window, not even to take a picture.
For guided game drives with kids, you have to remember that you are in an open vehicle. Kids shouldn't make noise, and the same rule applies here too – you shouldn't stick your head or arms outside the vehicle. Follow the instructions of your guide.
What about malaria pills for young kids?
I can't really answer this question, because we have always chosen to visit malaria-free areas with our kids up to now. I always read that malaria pills aren't advisable for young kids under 5-6 years old. And since there are perfectly nice malaria-free areas to take your kids on safari, why would you take the risk…
We visited Kruger NP and Etosha NP in July (African winter), when malaria risk is very low. We used mosquito sprays with DEET, but that's it. The southern part of South Africa is malaria-free all year round. There are several private game reserves in that area, and also Addo Elephant National Park is malaria-free. All perfect places for the first safari with kids.
If you are traveling to an area that has high malaria risk, make sure to talk to your doctor before the trip. For more medical information you can check the website of the Institute of Tropical Medicine in Antwerp, Belgium. You can find medical advice for any country you are traveling to.
Do we need any special vaccinations when going on safari with kids?
In most African countries you do need some type of vaccine, both for kids and for adults. Make sure to check the medical information for the country you are visiting before the trip.
Some countries require a yellow fever vaccination. It's not the case in South Africa and Namibia.
What to pack for kids on safari?
In one of my older posts, you can find safari tips, including a complete safari packing list.
You don't really need to pack anything special for kids on safari. Except – my best tip – pack one pair of binoculars for each child. It keeps them interested and engaged during the rides. Safari involves lots of driving and lots of patience. Binoculars are better than any toy. Just don't waste your money on toy binoculars, there are plenty of affordable decent quality binoculars that kids can use.
If your kids can read already, it might be interesting to take a book or an African wildlife guide, so that they can look up in the book what kind of animals they saw, etc. But don't count on doing much reading on the bumpy roads in Africa's National Parks.
Always take a sweater on safari, mosquito spray, sunscreen lotion, a sun hat, and sunglasses. Leave all the toys at home, unless you are doing a self-drive safari, in that case, pack whatever you would normally pack to keep the kids busy and happy in the car. For our kids, audiobooks do wonders!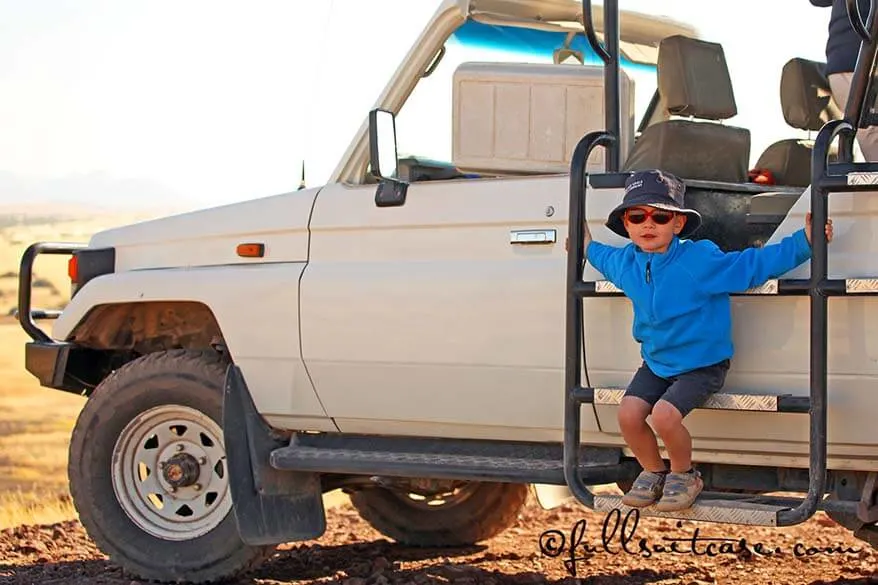 Do we need khaki color clothing when going on safari?
It's popular to think that you need to buy a whole new garderobe in khaki colors when going on safari. But in most cases, it's really not necessary.
It might not be such a good idea to go on a walking safari wearing a red t-shirt, but for a self-drive safari in a closed vehicle colors don't matter at all. After all, you are sitting in the car all the time.
For open-vehicle safari drives I would advise against bright colors, but then again – you don't need to buy ten new t-shirts for every kid. Just pick the ones that are less bright and that's it.
If you buy one thing, then it might be wise to invest in a light-brown safari shirt with long sleeves. You can wear it several times, also over other t-shirts, it protects against mosquitoes, and also against the sun.
As for the colors of sweaters and jackets. Our kids had very bright rain jackets that we packed for our trip to Namibia. I wasn't going to buy three new jackets just for that trip. And you know what, the only time we needed those jackets was early in the morning or late in the evening, when it was dark, so the color didn't matter at all.
If you are visiting Kruger in winter (July-August), you may need to wear a sweater or a jacket during the day as well. In that case, it might be wiser to pack something in a light brown or dark color. But you will see people wearing all kinds of colorful clothing on the game drives in Africa.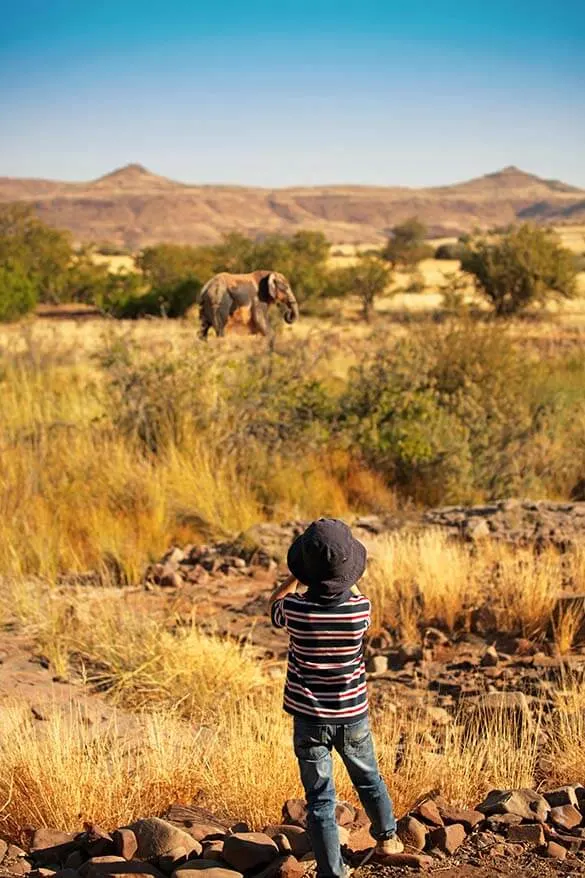 What kind of shoes to pack for kids on safari?
It doesn't really matter what kind of shoes you or your kids wear, as you will be sitting in the car all the time anyway. I would advise wearing closed shoes at all times if you are going in an open vehicle. It can get really cold during early morning and sunset game drives.
What if my child has to go to the bathroom during a safari drive?
In some areas, this may be a problem, yes. If you know that you are going to drive in an area where it's forbidden to get out of the car, make sure that the whole family goes to the bathroom before you leave. Also, be sure to plan some stops in the rest camps along the way.
For example, in Etosha NP, there are some fenced picnic areas with toilet facilities. They are indicated on the map of the park that you get at the entrance. Plan a bathroom stop every two hours or so. And always make your kids go to the bathroom when you can, even if they tell you they don't have to.
Having said all this, I know that sometimes kids 'just have to go'. In a way, it's easier with young kids who still have diapers. Ours were at a difficult age (3) when we were in Etosha. At one moment we just stopped and let our son pee through an open door of the car, while we were watching the area to make sure there were no animals nearby.
Once again, animals can be very well camouflaged, so try to avoid toilet stops in dangerous areas.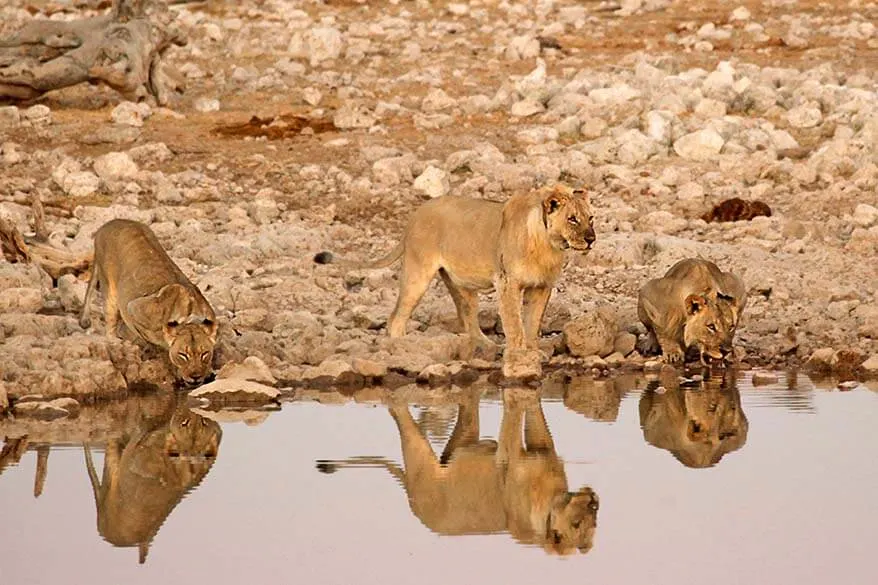 What about food – can we take snacks on safari?
Most organized safari trips have some kind of meal included. Usually, the guide will stop the vehicle in a safe area, set the table outside, and you will have an unforgettable meal in an African savannah.
Most guided safaris will include water and other drinks. But you should always take some water with you. I would definitely take some snacks for the kids. There is nothing worse than a tired, bored hungry kid, isn't it? Favorite snacks can be a life-saver during long safari drives with kids.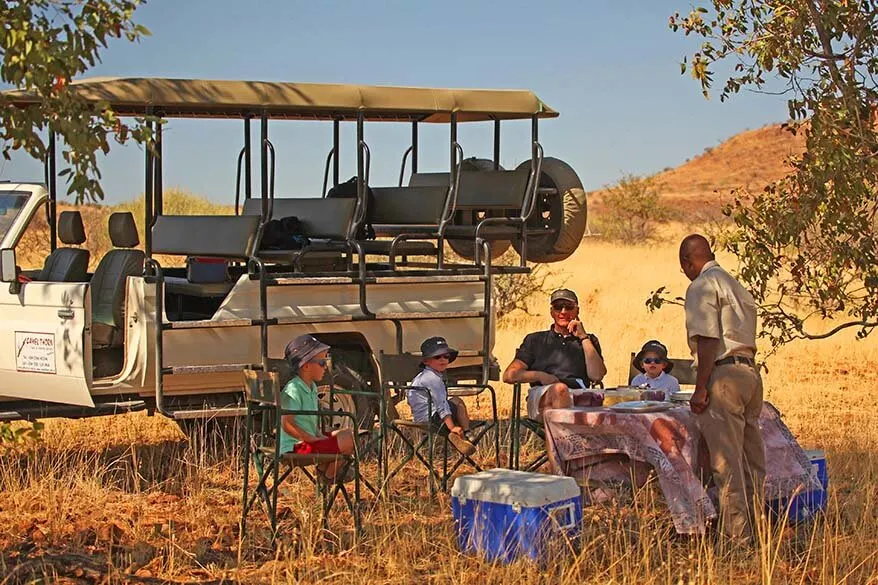 Are there better ways to see African animals with kids than sitting in a dusty vehicle driving on bumpy roads for hours?
As a matter of fact, there are. But you will need to do some research before the trip. One of the best ways to see African animals is by visiting waterholes or rivers.
Some lodges, hotels, or rest camps have beautiful waterholes with lots of animals visiting them during the whole day. Some others might have a waterhole where you hardly ever see any animals at all. And many others don't have waterholes at all.
One of the best waterholes we came across during our trips in Africa is the Okaukuejo waterhole in Etosha National Park in Namibia. Animal viewing was so good there that we stayed by the waterhole the whole day, in the evening, and also at night.
It's by far the most luxurious way to see safari animals with kids! They could even go to a nearby shop and get some ice cream to eat while watching hundreds and hundreds of animals. The best part is that Okaukuejo rest camp is a government-run place and the prices are really reasonable.
Another place that has a really good active waterhole is the Old Traders Lodge in Erindi private game reserve (also Namibia). Staying at the lodge is quite expensive though, but day visitors can sit on the terrace and watch the waterhole too. Still, if your budget allows it, I would advise staying at least one night in Erindi. It's one of our favorite lodges in Namibia, and no, this mention is not sponsored.
I am sure there are many more lodges that have good waterholes with plenty of wildlife viewing. So do some research and you might be rewarded with the most unforgettable experience!
If you are driving around a national park looking for animals and your kids get tired or car sick, why not take a break and stop by the river or at any waterhole you come across. If you just sit and wait, you might see more animals than by driving around and looking for them.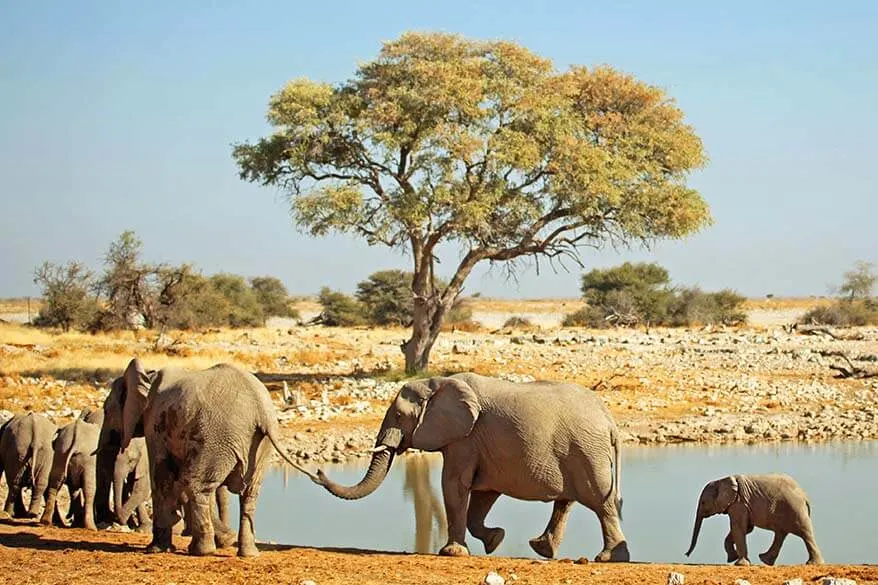 How expensive is it to go on safari with kids?
As with any trip, the cost can be just as low or as high as you want it to be. As I said, one of the cheapest ways to go on safari with a family is by doing a self-drive road trip in South Africa or in Namibia. Flights, rental car, and hotels are all you need. Park entrance fees are usually very reasonable, and often free for kids.
Here you can find the best accommodation deals for visiting Kruger NP, Etosha NP, and Addo Elephant NP.
You can also opt to do an organized day game drive, in combination with the self-drive safari. This is what we usually do. The price of these game drives depends on location and duration, and also if you are sharing the vehicle with others. It's really impossible to give an estimate of the price because so much depends on the location and the tour that you book (the duration, private or with a group, etc.).
Here you can find some organized game drives for Kruger National Park (South Africa), Etosha National Park (Namibia), or Addo Elephant National Park (South Africa). It will give you a good idea of the cost.
The good news is that very often kids under 6 travel free (if they are allowed). Older kids get discounts. We were often lucky to pay a shared rate for just 2 adults and have the whole safari jeep to ourselves.
This is not guaranteed (unless you pay the higher rates for a private trip), but from all the game drives we did, we only had to share a jeep with another family once. While most other vehicles departing at the same time usually had 8-12 passengers, we had the luxury of a private game drive for a very low price. You see, traveling with kids has some benefits.
If you are thinking of booking a private safari with a guide/driver in Kenya or Tanzania, then it can quickly cost you 2-3,000 EUR/week/person and even more (it all depends on the accommodation choices and the season when you travel). On the other hand, everything is then organized and arranged for you.
Do you have more questions about taking your kids on safari?
So, these are the answers to some of the most frequently asked questions about taking young kids on safari. My intention is to update this post with any other questions/answers in the future. So don't hesitate to let me know if I left something unanswered. You can do so by leaving a comment below.
READ ALSO: South Africa with Kids and Namibia with Kids
If you found this post helpful, don't forget to bookmark it and share it with your friends. Are you on Pinterest? Pin this image!