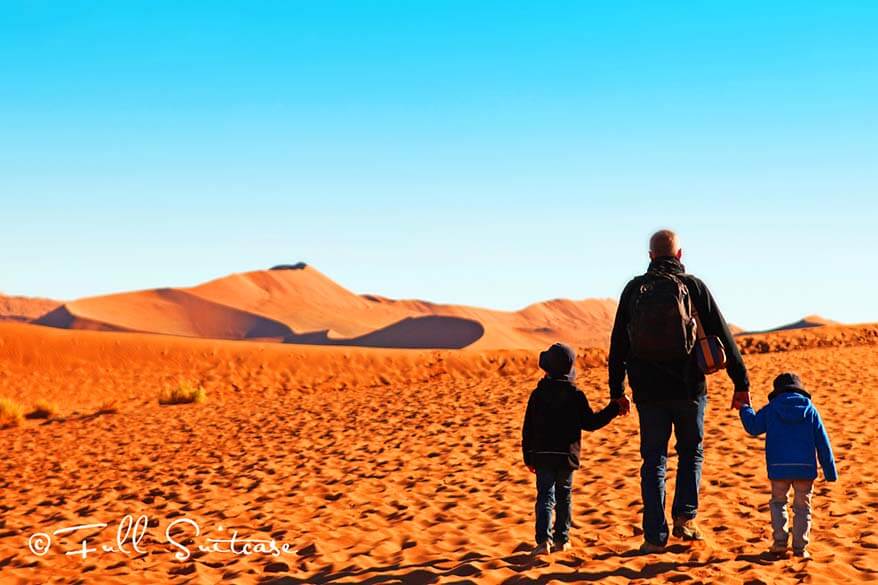 Wondering whether there are any benefits of traveling with your family? Definitely! You may have heard that kids who travel do better at school and grow up to be more open-minded, compassionate, and tolerant… But all those things aside, there quite a few other advantages of traveling with a family!
I asked my husband to share some of the more practical benefits of traveling with kids. He came up with so many advantages of family travel, but just couldn't stay serious…
It's not your usual 'travel with kids because of cultural awareness or learning opportunities' article. It will make you realize that there are so many more simple benefits of family travel, in addition to all the serious stuff. Find out!
I hear you say: 'Benefits of family travel? Are you crazy? What benefits??? It's expensive to travel with kids, they fight in the car, they cannot sit still, they make noise on the plane, they have to run to the bathroom at the most inconvenient moments, they don't like the food in the restaurants, you cannot go out late in the evening with kids…' Yes there is all of that. But hey, think positive. There are also some great benefits of traveling with children!
1. You travel slower and see more
One of the biggest benefits of family holidays is that with kids, you are forced to travel slower.
You spend more time enjoying the beautiful scenery. As a result, you see all the little things which would have remained unnoticed if you were traveling without kids.
Your kids will definitely notice lots of details that you didn't see. "Oh dad, look at that dead snake!". "SNAKE??? WHAT SNAKE? OMG, IT ISN'T DEAD!"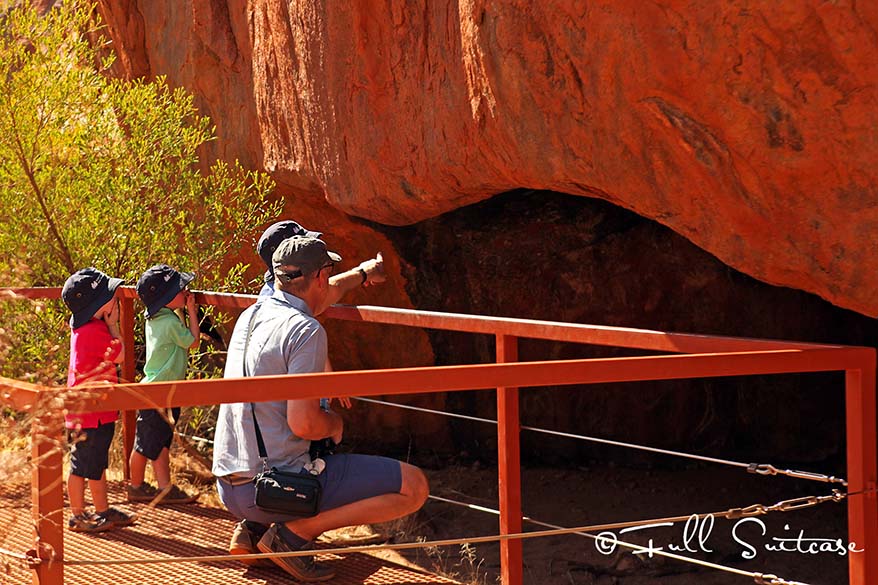 2. You make the most of your day
If your kids are young, you are likely to go to bed early when on holiday…
What else can you do, anyway? You cannot really go out, you cannot make too much noise in the hotel room… So you get a good night's sleep and feel well-rested and fit the next day!
And that is exactly what you'll need because the kids will wake (you) up early in the morning. And that's a good thing!
When traveling with young children, it's never a problem to get an early start of the day before it gets too crowded everywhere. You only have to find a place where they serve breakfast at 6 am….
And then because the kids just can't sit still, you'll be out and about exploring and doing all kinds of activities the whole day. That's the best way to maximize your vacation time and every minute is filled.
3. You meet new people
It's so much easier to meet other people when traveling with children!
Kids find other kids to play with and that gives parents a great opportunity to get to know other people too, whether it's other travelers or locals.
How often do you say 'Hi' to a stranger when traveling as a couple? Usually not before a drink or two… But when you travel with kids, it just happens. All the time.
We have talked to so many strangers during our trips simply because of the kids. And when you talk, you often get useful tips from locals or other travelers. Tips on the places to go to, hidden gems of the area, or a good restaurant nearby…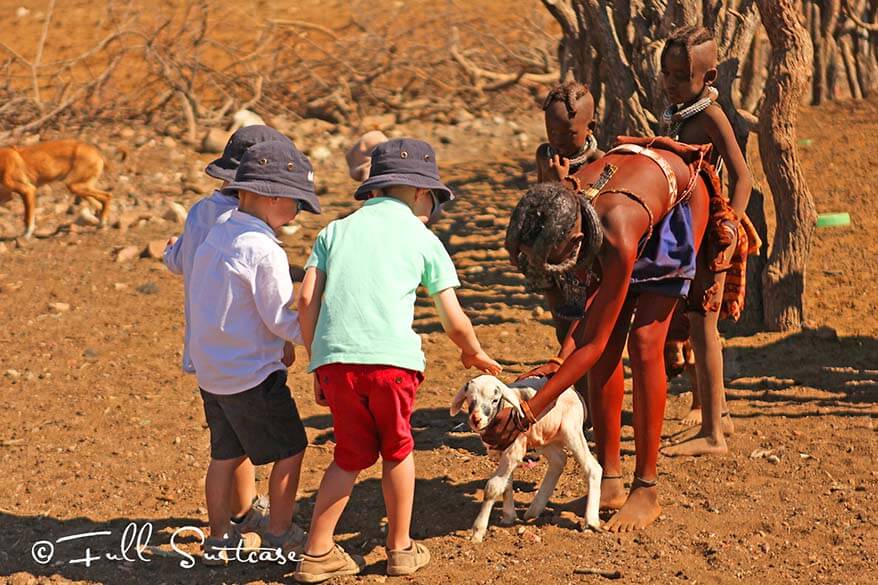 4. You get all kinds of privileges
One of the benefits of traveling with children is that you often get privileged access to places where you wouldn't have been able to come without kids…
With our kids (and purely because of them), we have been invited 'behind the scenes' at zoos, where the kids could feed and cuddle animals. We met many captains on various boats throughout our travels and sometimes the kids could even hold the steering wheel and wear the captain's hat.
Once, we had the pleasure of being invited to sit behind the controls in the cockpit of a huge Airbus. All we did was mention to the stewardess that it was our son's birthday… It was very impressive with all these buttons! He wants to become a pilot now – and I always remind him of that when he has to do his maths.
Because of the kids, we often got private vehicles on safari in Africa and an upgrade to a waterfront family villa with a private pool in a 5* resort in Thailand…
I could find many more examples, but you get the picture. Those cute little eyes sure open many doors!
5. Fun activities
When traveling with children, you have a great excuse to do all kinds of crazy or childish things that you are actually too old for.
You can join them on a small kids' train, a rollercoaster, get lost in a maze… You can feed and cuddle the animals, you can roll down the sand dunes or jump over the waves in the sea like a little boy…
You can spend hours climbing trees in an adventure park and instead of frowning their eyes, people will admire you for doing this 'for your kids.
You can even talk to cows when hiking in Switzerland… and no-one looks weirdly at you if you're doing all this together with your kids!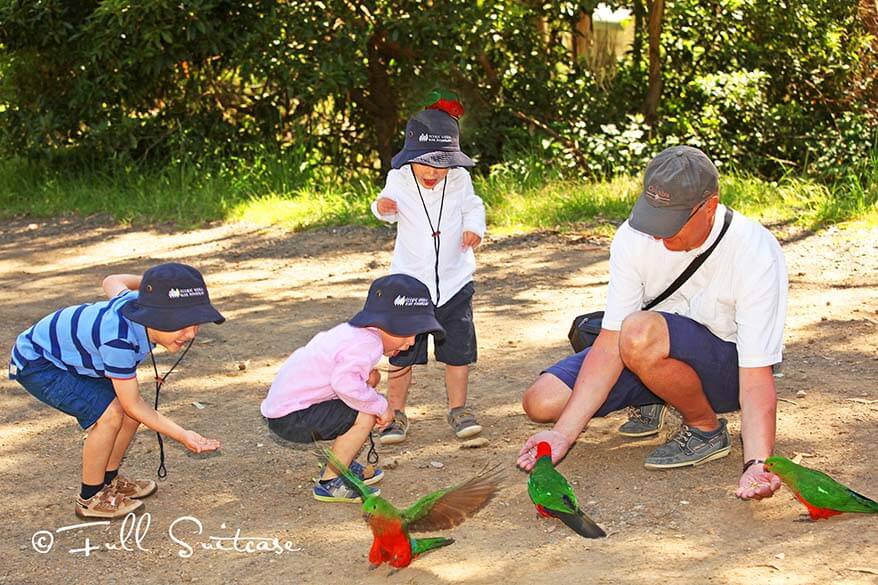 6. Kids travel free
We all know how expensive family travel can be. But don't forget that often children travel free!
They have free access to transportation (trains, buses, boats) and discounts at hotels (if you can all squeeze in one room, of course). There are usually no entrance fees for young kids and often all kinds of day trips and excursions are free for young children too.
While at times you have to sit on a crowded boat with the kids on your lap, sometimes it works to your advantage as well!
We have been on guided safari rides in Africa where the kids could come for free. And – because we were with so many – they wouldn't take any extra passengers in the same vehicle. So we often got a private guided safari tour for just our family at no extra cost. I'm still not sure if it was because there was a limit on the number of tourists per jeep or because the other tourists wanted to be 'quiet'. But hey, I'll take a private safari ride for the price of two regular adult tickets any time!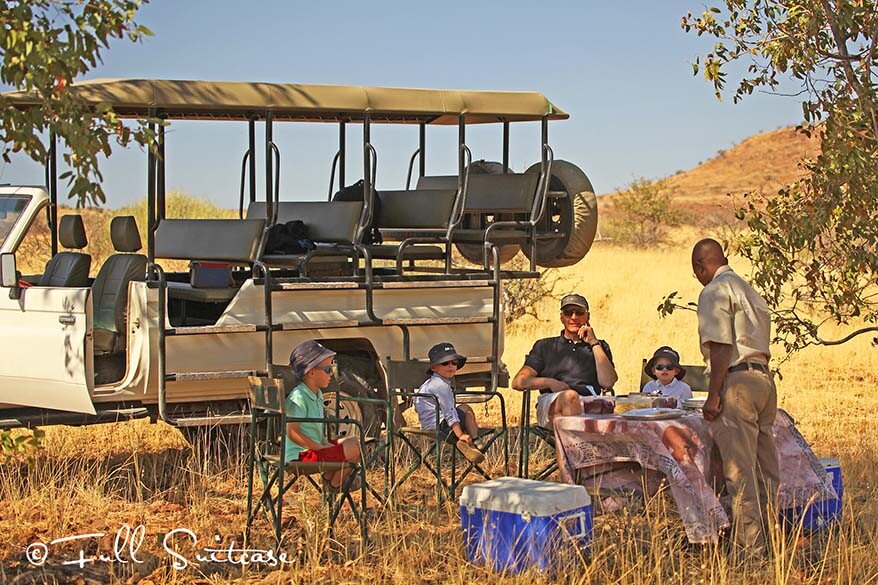 7. Fast lanes and priority boarding
When kids are young, you practically always get fast-lane access at the airports. It's always such a great feeling skipping an endless line and getting through the fast lane in a matter of several minutes!
Because we were traveling with kids, immigration at the airport of Dubai took us less than 10 minutes, while passengers without children spent up to 3 hours in line… Or we could have waisted more than 400 EUR for a fast track pass like some other people ended up doing…
Very often you can pre-board the plane if you are flying with young kids. Even though it's not always a good idea to add half an hour of sitting time to a long flight with kids, it still feels so great to be able to just skip the long queues of waiting passengers.
On the plane, the cabin crew welcomes you with a huge smile (have you seen many flight attendants smile at you lately?). You have plenty of time to find your seats (no stressed people behind you pushing their caddies and bags through the narrow aisles) and to store your hand luggage in the still empty overhead lockers.
By the time the other passengers board the plane you are already nicely installed and you can enjoy watching them struggle to get to their seats and store their luggage…
Also, if the plane isn't full you will notice that people whose seats are close to you are changing rows all of a sudden after the boarding is complete. Now you have plenty of room!
Are you anxious about taking your kids on the plane? Here you can find some of our best tips for flying with young children.
8. Small gifts
Somehow our kids always get all kinds of small gifts when we travel. And because of them, we often do too…
A free book about the place you are visiting, a piece of cake at a local bakery, or an ice cream which is too big for them… And guess who gets to finish it…
They got free souvenirs and chocolate in Switzerland, a pot of honey at a hotel in Italy, little toys in Austria and Norway, bags of beach toys in Thailand (that we ended up leaving at a hotel because we just couldn't fit it in our luggage)…
9. More food
Young kids hardly ever finish their plates at a restaurant and guess who gets their food… And, admit it – you secretly hope that they'll leave some of those chicken fingers and french fries for you…
When flying with kids, you can order special meals for them. Not only you get to eat long before everyone else does, but often the kid's meals are better than the 'adult' airplane food, especially the desserts…
10. More space
Traveling as a family is so much more comfortable!
You get bigger hotel rooms when traveling with children. Often, you either get a big family room, a junior suite, or two connecting rooms. It costs a bit more, obviously, but it has so many benefits. You have lots of space, you often have two bathrooms (so you can take that nice long shower), sometimes you have a kitchen and can save lots of money on food.
In addition, kids can play in one room while you have a quiet time in the other room. And if your wife and you are having an argument you can both sleep in a separate room – "I'll sleep with the kids tonight!" (yeah, right – it would be more like "you sleep with the kids tonight").
With kids, you also get bigger tables at restaurants. How often have you been seated at a small cozy table for two, the waiter brings a basket of bread and the table is full…
Well, when they see you arrive with little kids, they get into panic mode. That means you automatically get a bigger table, often a lot bigger. Now you have plenty of space to put your belongings, the kids can draw, and there is even some place left for food.
It is a bit unfortunate that these bigger tables are often in a quieter, more remote corner of the restaurant, but don't worry it won't remain quiet that long now that your kids are sitting there.
11. Bigger car
Another benefit of traveling with kids is that you are obliged to get a bigger rental car. While it can certainly be fun to drive around in a Fiat 500cc, a Mini, or a Smart… it's definitely more comfortable and safe to drive around in a big van.
A bigger rental car will cost you more, of course, but there are so many benefits again! You have extra space to put your luggage, you can separate the kids so that they don't fight too much. On top of that, you see the scenery better when sitting in a big car. For example, you'll see a lot more animals during your safari drive from a big 4×4 than from a regular car.
It's a pity they don't rent cars with a separation screen between the front and the backseats. That way you could enjoy the beautiful landscape while your kids are fighting in the back…
READ ALSO: Car travel tips for surviving long rides with young kids
12. No time to get bored
You'll never get bored on family holidays!
For example, kids keep you busy during long flights. They know that you find flying boring and because they love you, they will do all they can to save you from boredom.
Don't worry about that headset not working on a plane, you have no time to watch a movie anyway!
When a friendly flight attendant gives them some toys to keep them busy, they want to share it with you. .. 'Dad, what do I have to do here?' Dad, can you translate this for me?', 'Dad, I just dropped my pen', 'Dad, I am missing a piece of my puzzle'…
And when they're finished playing and risk getting bored, they decide they have to go to the washroom. Preferably when the stewards are coming through the aisles with their trolleys and it is impossible to reach the toilets without crawling over them… which the kids will do!
13. Quality time and shared memories
Throughout the year, your kids are at school and you are working. You see them only in the evening when they have to do their homework and you are cooking, or on weekends when you are taxiing them around from one activity or birthday party to another…
When traveling with your family, you get to spend the whole day (and night) with your children!
You do sightseeing together, you go hiking together, you have picnics together, you often even sleep in the same room with them… They love it and will never forget the experience. And neither will you!
READ ALSO: Family travel destination ideas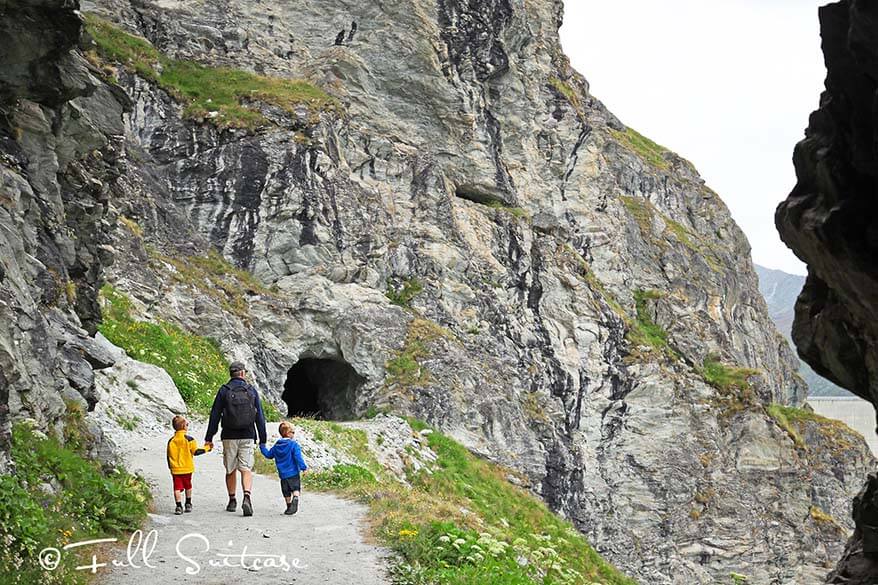 14. You can relax – the kids are with you
It's better to have your kids with you than to spend half of your vacation feeling guilty or worrying about them.
Take my word on this, you don't feel too relaxed when you call home from your vacation paradise and hear that 'everything is fine' and, 'by the way, your mother-in-law is not at home because she just had to drive your son to the hospital with a minor problem'… And 'by the way, the heating is fixed now and there is a good chance your kids didn't get a cold while it wasn't working…
It's so much more relaxed to have your kids with you! And if something were to happen to them, it gives you an excellent opportunity to get acquainted with the local healthcare system of your vacation destination… Another chance to meet locals!
So, now you see that there are many great benefits of family travel and going on vacation with young kids isn't that bad after all.
Actually, it's a lot better and easier to take your kids on holidays when they're young than when they are teenagers…Ever tried to get a teenager out of bed in the morning? 'I want to sleep… please let me sleeeep!' Or to get them to take off their headphones and watch the beautiful landscape? 'Oh, we've seen that mountain already'. Or to go for a nice long walk in a beautiful canyon… 'What do you mean there is no internet connection here???'
Still not convinced that there are many benefits of taking family holidays and traveling with kids? In one of our previous posts, we talked about why it's never going to be the perfect time to travel with kids. Check it out!
More tips for traveling with kids:
If you found this post useful, don't forget to bookmark it and share it with your friends. Are you on Pinterest? Pin these images!