Are you looking for some fun and/or educational travel books for kids, but are overwhelmed with all the choices? This guide narrows down the best options and will help you choose the most suitable children's travel books for your kids. Find out!
We love to travel and our kids love to read, so it will come as no surprise that we own lots of travel books for children. But when I first started looking for fun and inspirational travel books for kids, I couldn't believe that there are so many! From destination guides to inspirational travel stories, and from foreign language courses designed especially for kids to all kinds of activity books to keep the kids entertained during a road trip…
So how do you choose what to buy and what are the best travel books for children?
For this selection of the very best travel books for kids, I researched the top-rated most popular children's travel books and kids' travel guides on Amazon. On top of that, I also asked my fellow family travel bloggers to share their kids' favorite travel books and travel guides they love. And, of course, I also included our kids' favorites and children's travel books that I myself enjoy reading as well. Find out!
Best Travel Books for Kids – OVERVIEW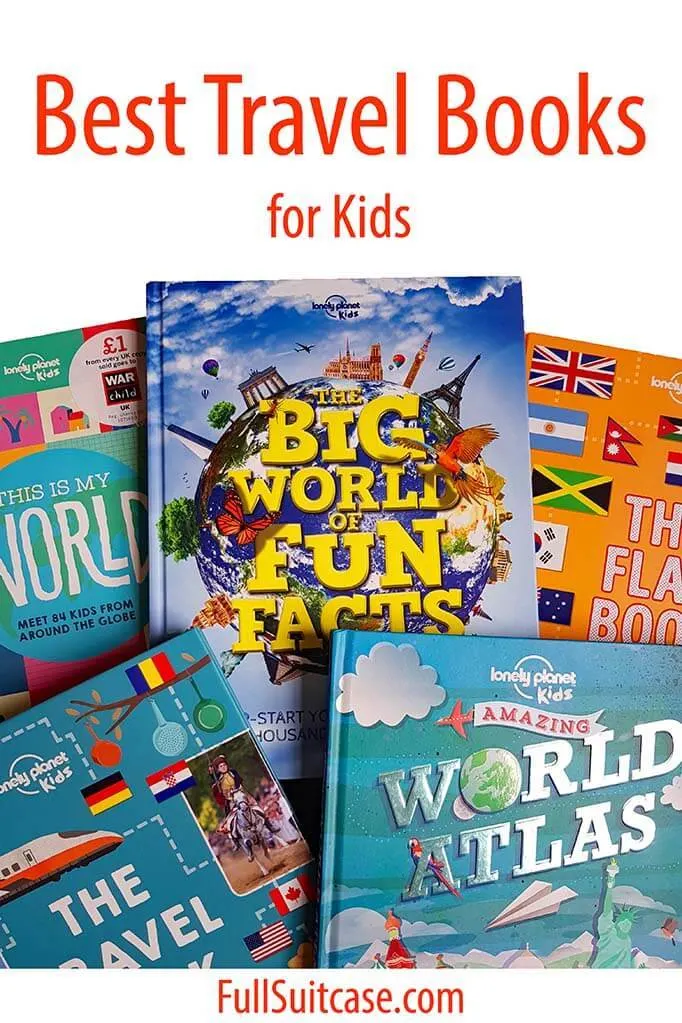 Best Travel Books for Kids Ages 7+
Lonely Planet Kids Travel Books
As I'm updating this list of the best children's travel books, I want to start with our family's favorite books at the moment – the amazing hardcover travel books for children by Lonely Planet Kids. They have a big selection of these great travel-inspired books for kids of different ages, and every single book is great in its own unique way.
In this selection, I chose to highlight a few of the books that we personally have, but there are so many more books in this series. All the LP Kids books are informative, written in a fun child-friendly way, and they are filled with stunning images that will take you on an amazing journey around the world without leaving your couch.
What I like about these travel guides for kids is that you can just open any page, read it, and learn something new. These books are great even for those kids whose attention span is rather short. They don't have to read pages and pages of boring introductions and read these books in their own way and at their own pace.
The LP Kids travel books make a wonderful gift for children from about 7 years old and also for teens. They are also great for homeschooling projects. Find out!
Take a look at our favorites in these series:
The Travel Book. This book devotes one page to one country, highlighting some fun places or facts about it. It contains some facts and numbers as well, but the whole point is that you get to learn new places in a unique way and learn something interesting even about the places you thought you knew well. TIP: If you like this concept, they also have a similar book for adults – The Travel Book (regular edition).
The Big World of Fun Facts. This is probably my own favorite among children's travel books at the moment. It's structured per topic, covering a big variety of different subjects. You can learn about the biggest, oldest, smallest… countries in the world. About the money or the symbols of different nations. But also things like strangest professions or the most unique schools, food, celebrations to fun sports facts and so much more. Kids, teens, and adults alike – everyone will learn so much from this book. And in a simple fun way.
Amazing World Atlas. This book is structured like most other atlases but it's written in a very child-friendly way. It has a short intro into our Solar system and the inner structure of the Earth. It also covers the climate around the world, time zones, world population, and many other interesting facts. Finally, it also covers all the different continents and shortly introduces different regions. The information is never overwhelming and the text is clear and understandable for kids. It's a great way for kids to learn more about our world without going into too many details.
The Flag Book. This book does exactly what the cover says – introduces you to the world of flags. You can learn amazing stories and meanings behind the flags of different countries, but there is so much more than that. From flag records and fun flag facts, to the history of the pirate flags, ships flags, semaphore flags and their meanings – this book introduces you to a fascinating world of flags. So much to learn!
This is My World. This is a very unique family travel book that took several years and lots of effort to compile. It contains stories by 84 kids from all over the world. If you are looking for a kids travel book that's like no other, this is it! It doesn't teach and it doesn't contain any dry facts; instead, it lets you meet children from different cultures and learn about their families, their daily lives, schools, hobbies, etc. Real children with real stories.
'This is…' series by Miroslav Sasek
We love the 'This Is…' series by M Sasek, says Eileen from Families Go!.
Sasek wrote them in the 50s and 60s about most major cities in the world. This is New York, This is Rome, This is San Francisco, This is Washington DC, etc.
Kids love facts and trivia, and he delivers lots of bite-size kid-friendly facts like how many people ride the NYC subway or how many steps in the Eiffel Tower. Fun books that kids will love to read and parents will definitely appreciate the retro artwork.
These travel guidebooks for children are big, picture book format, but despite a somewhat childish look, they are not meant for very little kids. I would say 7- 11.
City Trails by Lonely Planet
Our family loves the 'City Trails' series (previously known as 'Not For Parents' ) by Lonely Planet, says Megan from Wander Toes.
These children's travel guides are similar to Usborne or DK travel guides, but with lots of illustrations and fun photos with bite-sized information that is interesting to kids. Most of the books focus on a country or continent, but there are also two city-focused books that we used before visiting London and Paris.
We were planning our family London – Paris – Bruges trip and I gave the City Trails – London and City Trails Paris guides to my girls. I was hoping that the books would pique their interest in things like the history and practicality of the beautiful drinking fountains in Paris and the great plague in London.
After spending a few days perusing the books on and off, they even made their own requests to visit Marie Antoinette's peasant village and the hedge maze at Hampton Court Palace. The fact that the girls read these books before our trip made the visit so much more special for all of us.
The Adventures of Seymour & Hau by Melanie Morse and Thomas McDade
We love The Adventures of Seymour & Hau books, says Alex from My Life Long Holiday.
Seymour and Hau is an unlikely duo that travel the world and often get caught up in an adventure like a dog-sled race in Alaska or saving camels in Morocco.
The travel stories stick in the kids' imaginations and bring alive exotic destinations. Furthermore, they keep the kids entertained with in-house jokes about bad digestion!
The Adventurous Mailbox Adventure Books for Children
This series of adventure books not only introduces children to different countries, but they are also really well-written and fun to read. Even though the books are meant for kids, I just couldn't put them down. Intriguing adventures coupled with lots of fun and interesting facts about featured destinations, give you a better understanding of people and other cultures.
This series contains 8 books, one per destination (e.g. Finland, Greece, Peru…). The Adventurous Mailbox Adventure Books are different from most other children's travel books. They are not about the famous landmarks or dry facts, rather about the true essence of traveling, getting to know the culture, and exploring deeper. A fantastic and inspiring read, best suitable for somewhat older kids (I'd say ages 9-10 and up). Our 12-year old loves reading them!
What makes the Adventurous Mailbox series unique is that it comes in the form of a personalized adventurous package from abroad (with a beautiful box with foreign stamps and all).
Not only do you get the books, but you also receive a personal invitation to join the Crameye's World – a secure online community where young explorers can practice languages, follow the blogs of the characters of the books, play games, and even chat with other kids from around the world.
The Adventurous Mailbox is a perfect choice for those looking for a truly inspirational gift for kids! Make sure to check the Adventurous Mailbox website for more details!
We received these books as a free gift, but all opinions are my own.
Diary of a Wimpy Kid: Long Haul
Diary of a Wimpy Kid is a series of books for kids age 8 years and older. Our kids love these books and have read many of them multiple times…
While most of the books in this series aren't really travel-focused, the Diary of a Wimpy Kid: Long Haul has been the bestseller among thousands of children's travel books on Amazon for a long time. So if your kids want a somewhat different travel story that doesn't involve travel guides or learning, they'll definitely enjoy this one.
This book involves a family road trip with a broken-down car, hungry seagulls, and lots of craziness and fun for the whole family.
Best Travel Books for Kids Ages 4 – 8
Little Kids First Big Book of the World by National Geographic
Little Kids First Big Book of the World. Introduce your kids to the wide world with this beautifully illustrated book by National Geographic. Lots of facts and information – it will keep the youngest readers busy for a long time.
There are many more amazing travel-themed books for young kids in this series. Take a look at our selection of the most popular titles below.
'A Walk In…' series by Salvatore Rubbino
'A Walk In…' series by Salvatore Rubbino. This large-format picture book series will make you fall in love with different family-friendly travel destinations worldwide. Beautiful authentic illustrations and short text with some interesting facts that will get your kids planning a trip of their own.
Journey by Aaron Becker
This is not a typical travel book. Journey is a piece of art, a wordless storybook telling a beautiful story of a girl who uses a red crayon to draw her way into a magical adventure. It allows the reader to interpret the images and tell their own story however they want and in any language they speak. For kids of all ages.
You Rule! by Lonely Planet Kids
You Rule! by Lonely Planet Kids allows your kids to create a whole new nation from scratch. They can be a king or a queen, choose borders, make their own flag… While at the same time learning about the importance of land borders, happy citizens, and more.
Pop-Up books by Jennie Maizels
The beautifully made pop-up books by Jennie Maizels bring you to the main landmarks of London or New York. Fun, interactive, and informative at the same time. Not just for kids.
Best Travel Books for Toddlers
Even if your kids can't read yet, they can appreciate a good book with beautiful illustrations. Here's a small selection of some of the best travel books for young children.
All Aboard! series by Haily Meyers and Kevin Meyers
All Aboard! Colorful board books will best appeal to the youngest travelers in your family. Minimal text, just adorable little books that kids will read and re-read till they (and you) know every picture by heart.
Hello, World! series by Ashley Evanson
Hello, World! series by Ashley Evanson. Beautifully illustrated travel books for toddlers. From Paris to London, and from New York to San Francisco… These colorful board books will not only introduce young children to the main landmarks of the featured destination, but also teach them numbers, colors, shapes, etc.
Hello, World! (It's a Small World)
Hello, World! (It's a Small World). This charming board book for the youngest readers takes the kids on a world tour by teaching them to say "Hello" in 10 different languages. Furthermore, it's inspired by the designs of the famous Disney theme park attraction 'It's a Small World'.
Best Atlas for Kids
Looking for non-fiction informative travel books for your kids? In that case, consider a kids atlas. Take a look at the following best-selling titles.
National Geographic Kids Ultimate U.S. Road Trip Atlas
National Geographic Kids Ultimate U.S. Road Trip Atlas is a great book to keep your kids entertained during a long drive in the United States. Includes maps, cool things to do in every state, roadside attractions, games, activities, and many hours of backseat fun.
Amazing World Atlas: Bringing the World to Life by Lonely Planet Kids
I already mentioned this book in the beginning of the article, among the other great Lonely Planet Kids travel books and guides. Amazing World Atlas: Bringing the World to Life is a world atlas for kids aged 8 years and up that will bring the whole world to life for your children. A terrific book with illustrated maps and engaging stories for children who want to learn more about other countries and continents.
Atlas of Adventures
Atlas of Adventures is a big lavishly illustrated book featuring a collection of natural wonders, exciting experiences and fun festivities from all around the world. This is not an atlas with maps, rather captivating stories and interesting facts that will appeal to kids of all ages.
The 50 States
The 50 States: Explore the U.S.A. with 50 fact-filled maps! This book featuring all the 50 states of the US, together with their famous residents, historical moments, and beautiful illustrations is a great gift to any American child. Lots of unique facts that will keep the whole family entertained for many years to come.
Travel Activity Books
Activity books are a great way to keep the kids entertained when traveling.
Think about long hours waiting at the airport, sitting in the car, or getting bored at a table in a restaurant. We always carried activity books when traveling when our kids were younger.
Check this post for more tips on what we pack when flying with kids.
Some other great travel books for kids:
This is just a very small selection of the best travel books for kids, but it contains some of the very best ones. Do your kids have a favorite travel book that they keep reading again and again? Please share it by leaving a comment below.
If you enjoyed reading this post, you may also like our selection of the best travel-inspired gifts for kids. Check it out!
READ ALSO: Best Travel Gear for Kids
If you found this post helpful, don't forget to bookmark it and share it with your friends. Are you on Pinterest? Pin this image!