Traveling to London for the first time and not sure where to start? Planning a trip to London might be overwhelming indeed and especially so if this is your first time in the city!
How long do I need to spend in London? When to visit? What are the best places to stay in London? How to save time and money and still see the best that London has to offer?
To help you plan your first trip to London, I selected some of the best tips for visiting London. This no-nonsense practical guide will not only help you plan your London trip, but will also show you how to make the best of your visit, time, and budget. Find out!
Top 5 Experiences in London: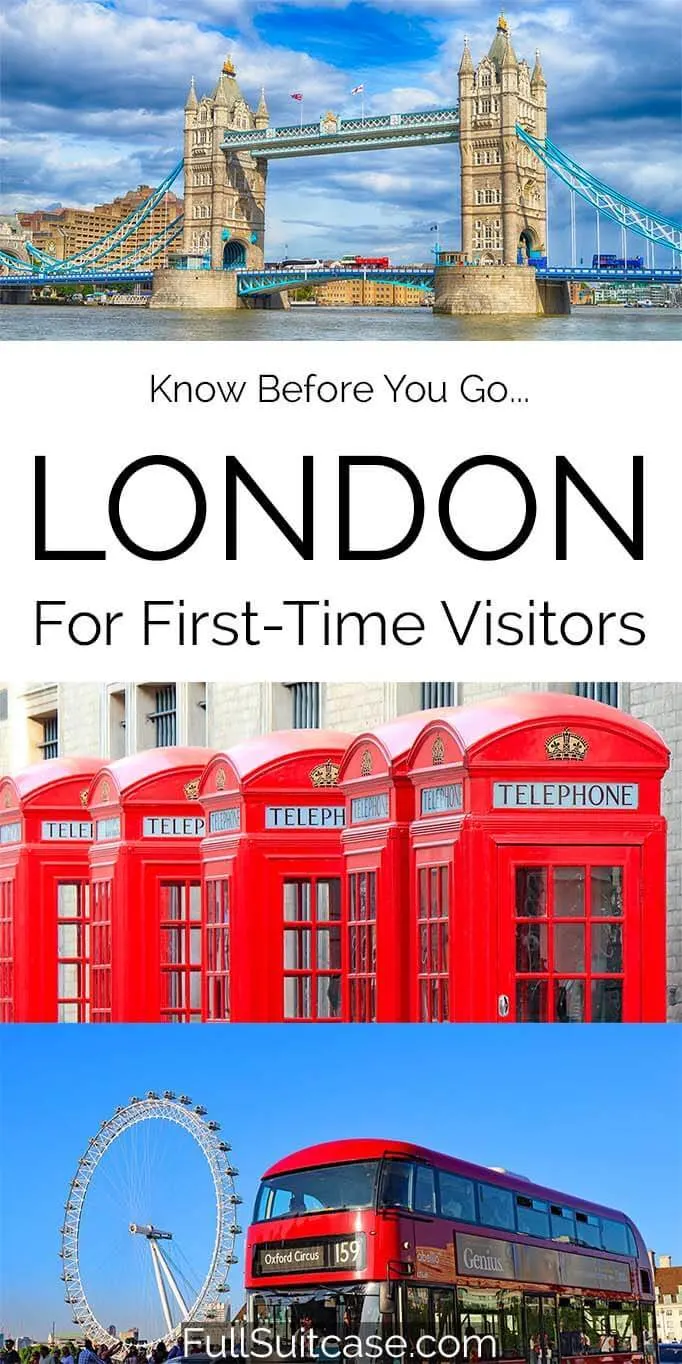 These are our top travel tips for visiting London:
1. Stay in Central London
The question that gets asked a lot by first-time visitors is what are the best places to stay in London.
Hotels in central London can be expensive, yet while it might be very tempting to choose cheaper accommodation outside the city center, it's a choice that you'll quickly regret. First, commuting into the city every day will cost a lot of money and time. Precious time, that you could otherwise use for sightseeing.
Visiting London for the first time? Stay in central London! By staying in central London you can see much more in less time. Ultimately this will save money not just on transportation, but also on your overall trip budget because you'll need fewer days in order to see just as much.
Now that we established that central London is the best place to stay when visiting London for the first time, you might be wondering which neighborhoods are the best for sightseeing.
There is probably no single best answer to this, but here is a short list of neighborhoods that we personally looked at when planning our recent trip to London with kids: Westminster, Trafalgar/ Covent Garden, Soho, Bankside, and South Bank.
Ultimately we chose the Park Plaza Westminster Bridge Hotel, which is located on the South Bank close to the London Eye. We loved being in the center of the action and being able to easily walk everywhere. Staying in the center makes visiting London so much easier because many of the main attractions are within easy walking distance or just a short bus/ tube drive away.
The area around Covent Garden/Trafalgar Square is another great choice. Check out Citadines Trafalgar Square if you are looking for a nice price/quality/location hotel.
TIP: Using the map below, you can also easily see what's available in central London for your travel dates and group size.
In general, I'd say just look for the best deals that you can find for your group and travel dates and as long as it's in Central London, you know you made a good choice.
TIP: If you are looking for a lower budget stay in central London (although 'budget' is a relative term here), check out the Waterloo Station area (10 minutes walk to London Eye). It's one of the few places in the center where you can often find good quality budget accommodation. Here are two of the best choices in this area: Nox Hotel Waterloo and Point A Hotel London Westminster.
If you go further from the center, accommodation gets a bit cheaper. But a lot also depends on the specific area. In general, west/ northwest of the River Thames is better than going further east/ southeast because most of the main landmarks and attractions of London are on the western side of the river. Unless you stay very close to the river, in which case, it's as good as it gets.
LEARN MORE: Where to Stay in London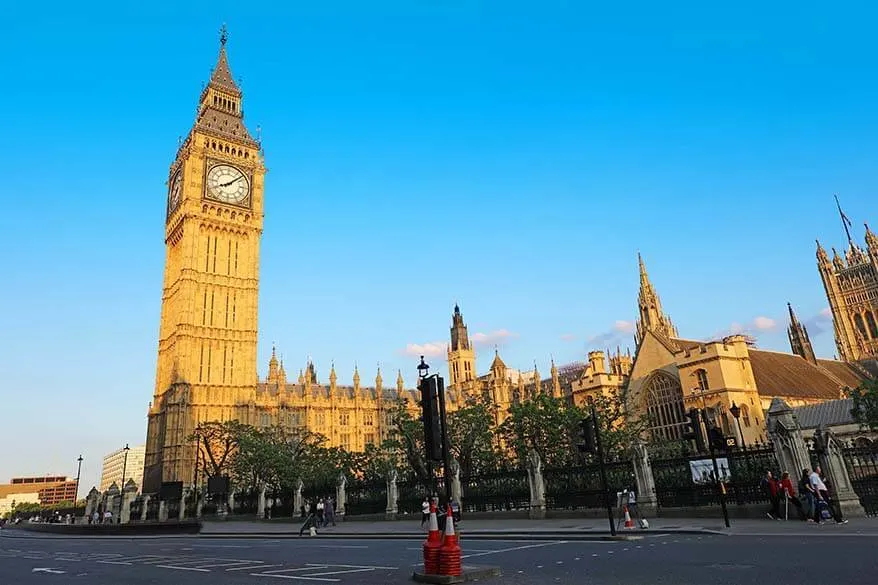 2. Avoid Bank Holidays and School Breaks
London is one of the most beautiful cities in the UK, and one of the most popular cities in Europe. It's an extremely popular destination that attracts millions of visitors from all over the world.
The busiest times to visit London are July and August, as well as European bank holiday weekends and school breaks. If you can, try to avoid these peak periods for fewer crowds and better prices.
If you plan to see London during Holiday Season, it's best to avoid the main shopping streets on the weekends and the last days just before Christmas.
TIP: Since spring school holidays in Europe usually fall later than in the U.S., London is a great European destination for spring break. It can also be very nice in June when most European countries still have school.
READ ALSO: Best Time to Travel in Europe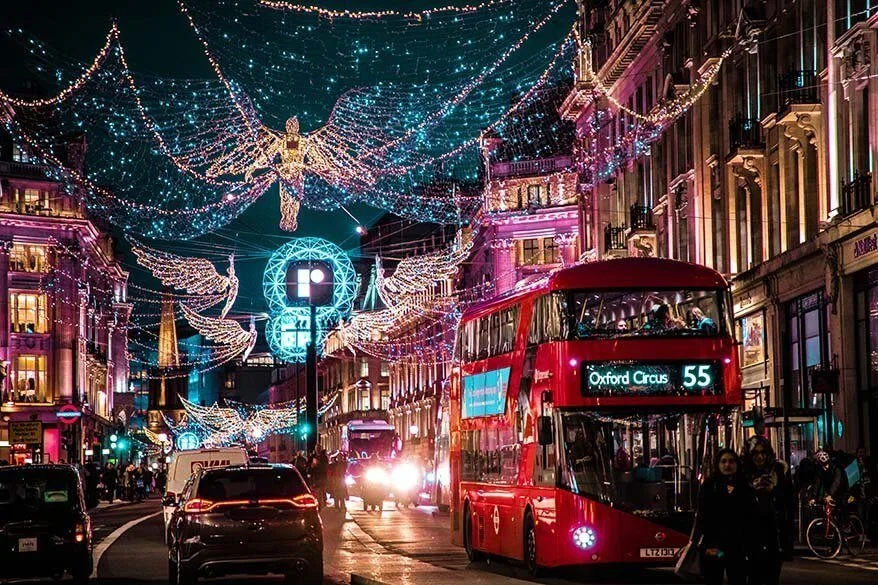 3. Foresee Enough Time and Don't Try to See Everything
If you are traveling to London for the first time, you are probably wondering how much time you need in London. You have to realize that London is huge and there is no way to see everything in just a few days or even a few weeks… So don't come to London thinking that you can see it all in just one or two days.
While you can see most of the main sights in London in one day or two days, for first-time visitors, I highly recommend spending at least 3-4 days in London. This should give you sufficient time to get acquainted with the city, see the main landmarks, and visit a few of the most popular tourist attractions in London.
However, we also suggest visiting at least a few places outside of the city as that will make your trip so much more special. In that case, you should really plan at least 5-7 days in London. More about day trip suggestions further below.
Also, don't try to see 'everything' in London. This is simply not possible and will leave you tired and frustrated. Plan to visit no more than two or three bigger attractions every day and leave some time for unexpected discoveries.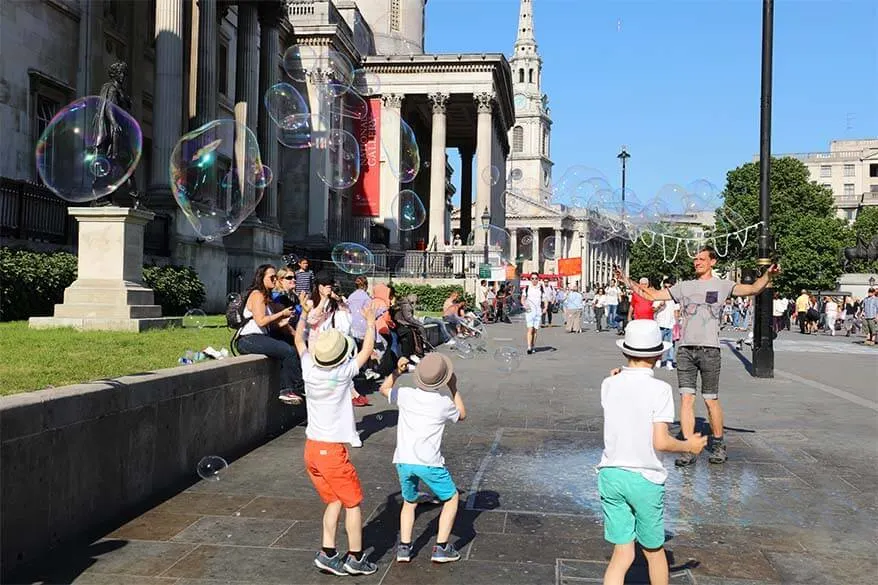 4. Book as Much as Possible in Advance
One of the biggest mistakes you can make when visiting London is not to plan your visit in advance. Starting with flights and accommodations and ending with London attractions and activities – booking in advance means more choice, better prices, and less time wasted queuing. After all, you want to make the most of your trip to London and not spend all your precious time standing in line.
TIP: Often tickets for the main London attractions are cheaper if booked online at least a day in advance. For example, you can usually get cheaper tickets for Madame Tussauds, The View from The Shard, or the London Eye online (not even to mention avoiding the biggest queues and actually being able to visit).
For some places like e.g. The View from The Shard, not reserving in advance usually means that you won't be able to visit at all.
If you want to go see a musical in London, book your theater tickets well in advance. There are sometimes last-minute tickets available as well, but not to the most popular shows, and the seats you get are usually far from great.
TIP: If you are looking for last-minute theatre tickets in London, check the TKTS ticket booth on Leicester Square. You can buy theatre tickets only in person for performances on the same day, or up to two days in advance.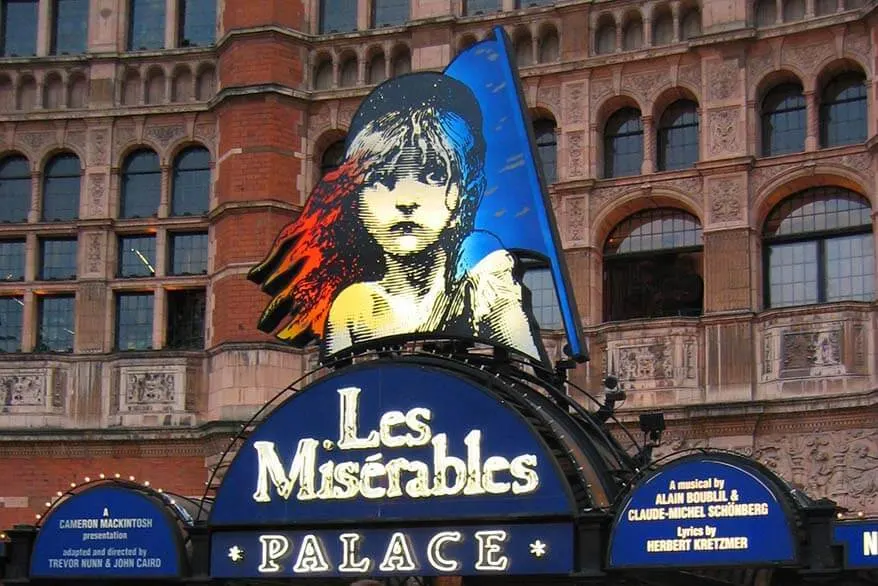 5. Save Time and Money on London's Major Attractions
Visiting London for the first time means visiting all the main landmarks and attractions in London. However, if you aren't prepared, it's very likely you will waste hours and days standing in lines.
If you want to make the most of your time in London, consider skip-the-line tickets and priority passes at the most popular attractions.
Yes, they are expensive but think of it this way. What's the point of paying all that money to travel to London to then spend all your time queuing instead of sightseeing…
The London Pass
One of the best ways to see a lot of the major attractions in London with a priority entrance is The London Pass. For example, it includes FREE entrance to places like The Tower of London, The View from the Shard, Westminster Abbey, London Bridge, or London Zoo and experiences like the Thames River Cruise or Hop-on Hop-off bus tour (to mention just a few)…
However, it only makes sense to get the pass if you visit at least 2-3 of the included attractions per day, so you need to decide if it's worth it for you.
If you are planning to visit a lot of major attractions in a very short time, then the London Pass is definitely worth it. But plan well and make sure you get the most out of your pass during its validity period.
TIP: If you are staying in London longer, buying a pass for multiple days is more beneficial than just getting a pass for one day. Note that there are several different choices of passes in London (The London Pass, London Explorer Pass). Our research shows that the London Pass is one of the best options.
Fast Track and Skip the Line Tickets
The London Pass includes free entrance to 60 top attractions in London, but some of the most popular attractions like the London Eye are not included in this pass. The queues here can easily be 2-3 hours long, so believe me, a fast-track ticket is a real lifesaver.
We visited London with our three kids and used fast-track tickets wherever we could. I can't imagine how different our experience would have been if we had to wait in line everywhere. We could have never seen half as much in the time that we had, not to mention our sanity, standing in line for hours with young children…
For example, you can buy fast-track tickets for the London Eye, St Paul's Cathedral, the Tower of London and Tower Bridge, Madame Tussauds, and many others.
A fast-track ticket to the most popular attractions like the London Eye or even Madame Tussauds can easily save you a couple of hours!
TIP: The London Eye also has several different prices depending on when you book and when you visit. For example, the early morning, late evening, or weekday tickets are usually a bit cheaper. Plus, you can save up to 20% if booking online and at least 24 hours in advance! You can find all the best ticket options for The London Eye on the official website.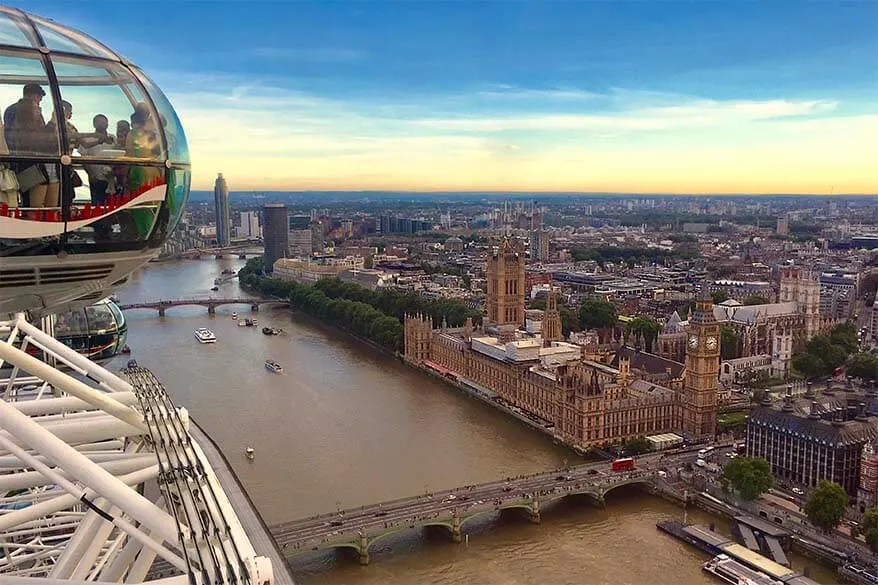 6. Visit London's FREE Attractions
Here are some places and activities that you should definitely add to your London travel list:
Free Museums in London
Visiting London is not cheap, but there are so many great things to see and do completely for free. Here are just a few London museums that can be visited free of charge: British Museum, Natural History Museum, National Gallery, Tate Modern, Victoria and Albert Museum, Science Museum, Museum of London and many more.
London's Parks and Gardens
London has many gardens, parks and playgrounds that are free to visit. It is also a great way to escape the hustle and bustle of the city.
London Views
While some places require a ticket, there are lots of great views in London that don't cost anything at all. For more information, please see our guide to the best views of London.
London's Shops
Don't get me wrong – shopping in London isn't cheap by any means. But visiting the shops is of course absolutely free and can be an attraction in itself. Don't miss Harrods and Oxford Street! Kids will love Hamleys (the world's largest and oldest toy store), the LEGO store, and the M&M store.
TIP: Try to avoid shopping streets and big department stores on the weekends and just before Christmas.
London Markets
London has lots of wonderful markets, scattered all around the city. With quirky, unique shops and food stalls that will leave you mouthwatering, it will likely be hard to resist buying something. But you can spend hours and days wandering around London's markets without spending anything…
TIP: Some of our favorite markets include Camden Market, Greenwich Market, Spitalfields Market, and Borough Market.
Changing of the Guard
The Changing of the Guard is one of the free things to do in London that are not to be missed. The ceremony is free to watch and takes place at Buckingham Palace at 10.45 AM on Mondays, Wednesdays, Fridays, and Sundays (weather permitting). It's very popular among tourists, so make sure to arrive early in order to secure a spot with a good view.
For the exact location and up-to-date schedule, please consult the website of the Household Division.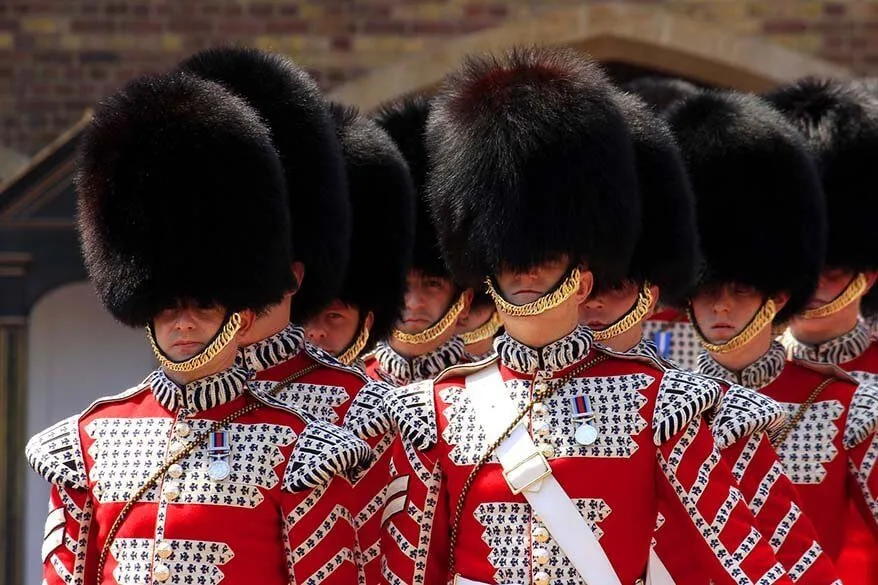 7. Use Credit Cards (or Smartphone)
These days, you hardly ever need cash for payments in the UK. Pretty much every place accepts credit cards and most places now also accept payments directly via your smartphone. You may want to get some cash for small purchases, but it's so much easier to just use your credit card or smartphone.
You can use all major credit cards in London, but VISA and Mastercard are by far the most accepted cards. Amex is not widely used in Europe and Diner's Club is pretty much useless. Debit cards (or cash-only cards) are also accepted pretty much everywhere.
One thing you should know is that if you use a card, often, you need one with a chip and a 4-digit PIN. Make sure that you know your PIN number by heart! You'll need a credit card with a PIN for most payments all over Europe. Some places might still accept a card with your signature, but often, they don't even know that they can or how to approach it because nobody in Europe uses that system anymore.
Good to know: When using an ATM or paying for purchases, you'll be asked to choose currency – either local currency (UK pound sterling) or your own currency (US dollar if you're traveling from the US, or Euro if you're from Europe). Always choose to pay in local currency (UK pound sterling) and let your own bank do the currency transaction, or you risk losing a lot of money. A lot.
TIP: If you don't have the right credit card with a chip and a 4-digit pin, check out this selection of the best American credit cards for travel. I recommend choosing a card with no foreign transaction fees.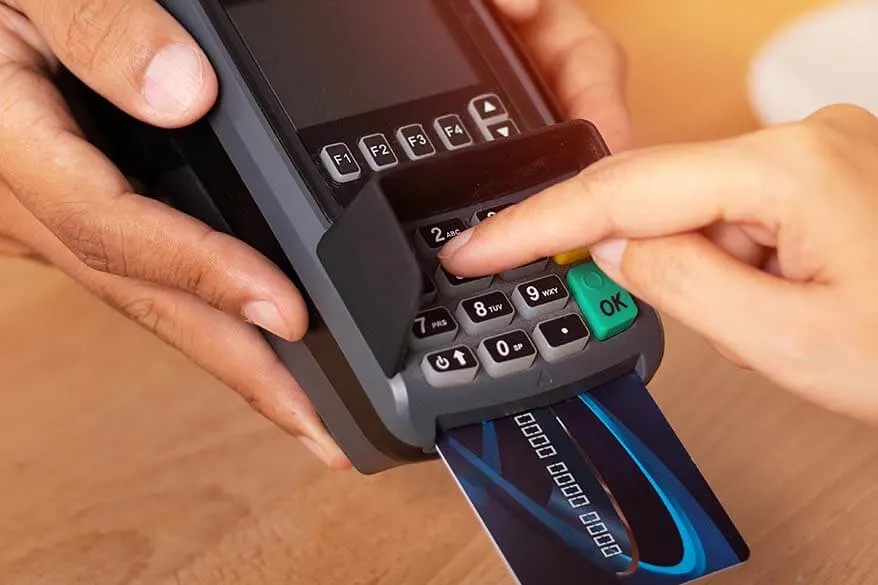 8. Use Public Transport & Use a Contactless Credit Card or Oyster Card
London is a big city and visiting everything on foot just isn't feasible. The good news is that London's public transport system is very efficient.
One of the best and quickest ways to get around in London is metro, aka the London tube. The biggest advantage of the tube is that you can quickly get to the other side of London without having to waste your time in the traffic. Here's a tip for you I once got from a local. Avoid the tube during rush hour and during Christmas.
However, while traveling underground, you don't see anything of the city, so for shorter distances, I recommend taking one of the city's buses. Riding these original red double-decker buses is a typical London experience you should try at least once.
TIP: Get the Oyster card. It's a sort of electronic ticket that can be used for all public transport in Greater London and is much cheaper than paying for single-ride tickets. You can find more information about the Oyster Card here.
Alternatively, just use your contactless credit card. You can scan it when entering the metro, then scan it again when you leave. It works the same way as the Oyster card and if you use public transport several times a day, the maximum amount you spend will be capped at a daily ticket rate.
Note that children often travel free of charge (more information here). However, for older kids where kids' tariff is applicable, you better get a ticket. Using your credit card for the kids as well would mean that you're paying adult rates for them. On top of that, you need one card per person anyway.
TIP: Since the recent Uber ban in London, a traditional London cab is the best option if you have lots of luggage. You really don't want to take the tube with young kids and big suitcases, take my word for it. We took a cab twice in London and it was much more affordable than we expected. Furthermore, riding a traditional English cab is part of the experience of visiting London for the first time.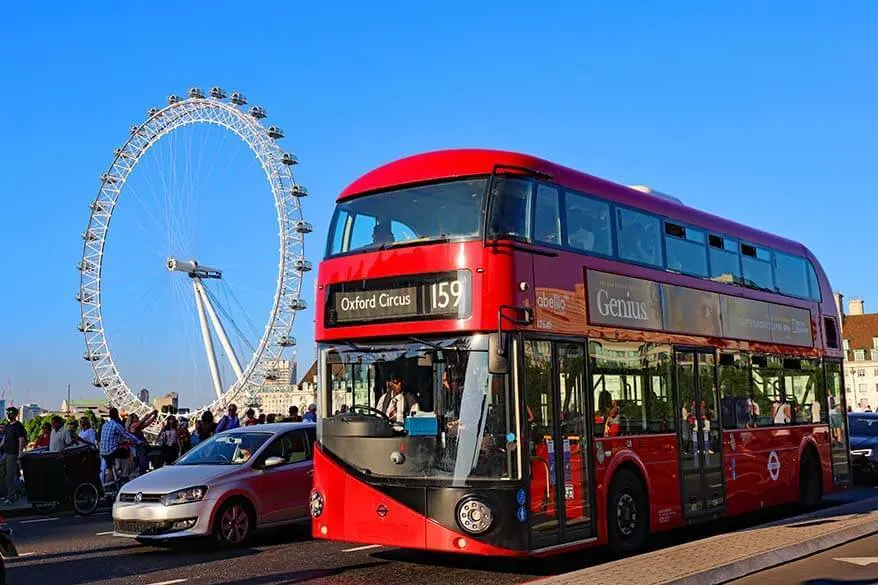 9. Walk or Rent a Bike
I know that I just told you that seeing London on foot isn't feasible. However, you'd be missing a great deal if you take a tube or a bus every time. After all, one of the best ways to see a new city is to explore it on foot. London is no exception.
Another great way to see London and easily cover bigger distances is by bike. There are lots of self-service city bike stands where you can rent a bike, or you can join a guided bike tour.
If you are visiting London for the first time and don't know the city well, renting a bike without a guide is maybe not the best idea, unless in the parks. London traffic is really busy, it comes (for most of us) from a different side than what we are used to, and if you also need to read the map, it can get quite dangerous.
TIP: If you want to explore London by bike, book a tour with a local guide. There are several great options, e.g. this half-day bike tour that covers the main highlights of London, or this bike tour that brings you to the less-known places of London.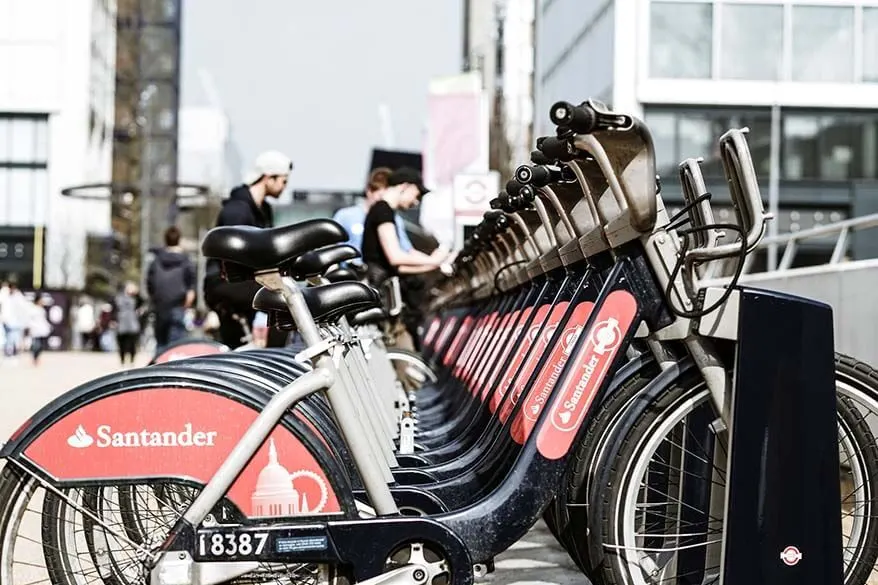 10. Use Hop-on Hop-off Buses and River Cruises
There are so many ways to see London! For the complete experience, I recommend you try as many different means of transport as you can during your London trip.
Hop-on hop-off buses are extremely popular and are a great way to see the city and major attractions.
One of my favorite ways to see any city is by taking a boat where possible. There are so many boat trip options in London, so you really have no excuse not to see London from the Thames. One of the most popular options is hop-on hop-off boat on River Thames. It allows you to see many attractions close to the river in an easy way.
TIP: Hop-on Hop-off bus tickets usually include one FREE Thames River cruise ride and a FREE walking tour.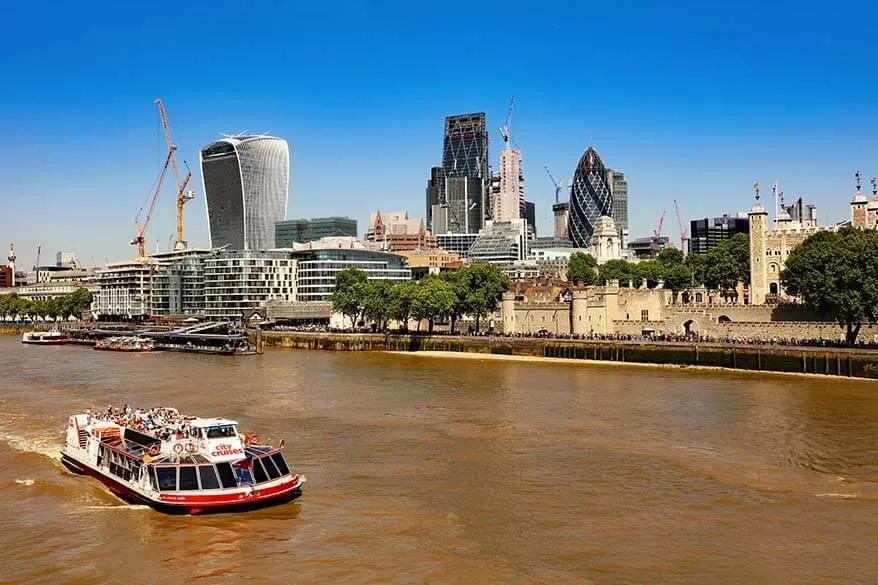 11. Get off the Beaten Path
It's understandable that you want to see the main landmarks when traveling to London for the first time. However, London is so much more than Big Ben or Buckingham Palace!
There are so many quirky neighborhoods, local markets, lesser-known museums, and beautiful gardens in London.
Visiting a few less known places like this will just make your first trip to London even more special and memorable.
TIP: Here you can find some great ideas for different things to do, the hidden gems of London. And here you can find some nice ideas for the best views and viewpoints in London.
READ ALSO: Camden Town – one of the coolest neighborhoods in London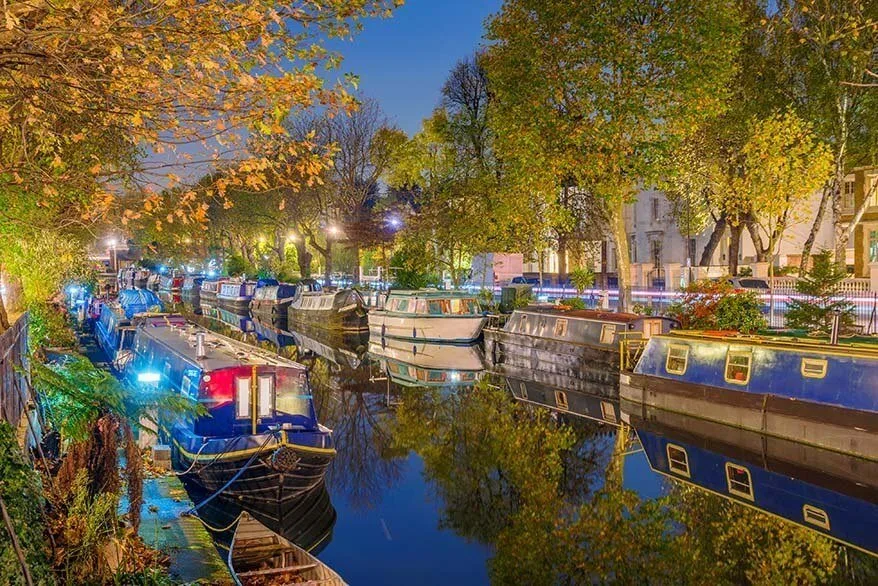 12. Eat Like the British
London is an expensive city and dining out can be a pricey experience. Furthermore, restaurants located close to tourist attractions don't always serve the best food, so researching restaurants in advance can be a good idea.
Here are some insider tips on where to find the best food in London and save money:
Try traditional Fish&Chips where locals eat (e.g. Poppies Fish&Chips or The Golden Chippy).
Local supermarkets offer lots of affordable options for sandwiches or salads – perfect for a picnic in the park.
Borough Market is the best food market in London, but there are also so many other smaller markets and food stalls.
Ottolenghi deli sells delicious packed lunches.
Harrods food hall is not to be missed.
Lots of fine restaurants cost a fraction of the price if you go there for lunch rather than dinner.
Traditional afternoon tea experience is a must in London and it doesn't have to cost a fortune. We had afternoon tea with kids at St. Ermin's and loved it! Nowadays, there are many easily accessible and very affordable high tea experiences all over London (see here for some of the best options).
READ ALSO: British Food to Try in the UK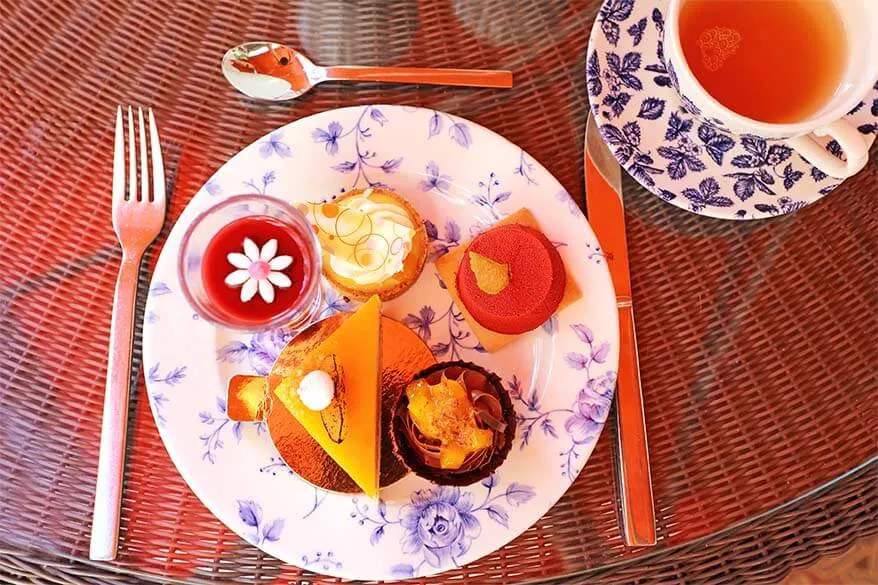 13. Take a Day Trip Outside of the City
While London has so much to offer, there are also so many nice places to visit outside the city as well! From the most popular destinations like Windsor Castle and bucket-list places like Stonehenge to the English countryside and charming villages of the Cotswolds, but also some of the UK's best towns and cities such as Bath, Oxford, or Cambridge – there are so many amazing possibilities near London.
So if you can, plan a longer stay in London and take at least a few day trips to explore more of England. This will make your trip so much more special!
TIP: If you are short on time, we recommend that you take organized tours that cover some of the nicest places in one day. That way you can see a lot in just a few days – much more than you'd ever be able to do on your own. And yes, it's not exactly exploring deeper, but if this is your first time in the UK, it's better than nothing.
Here are some of the best day tours from London that we recommend for first-time visitors:
READ ALSO: Best Day Trips and One Day Tours from London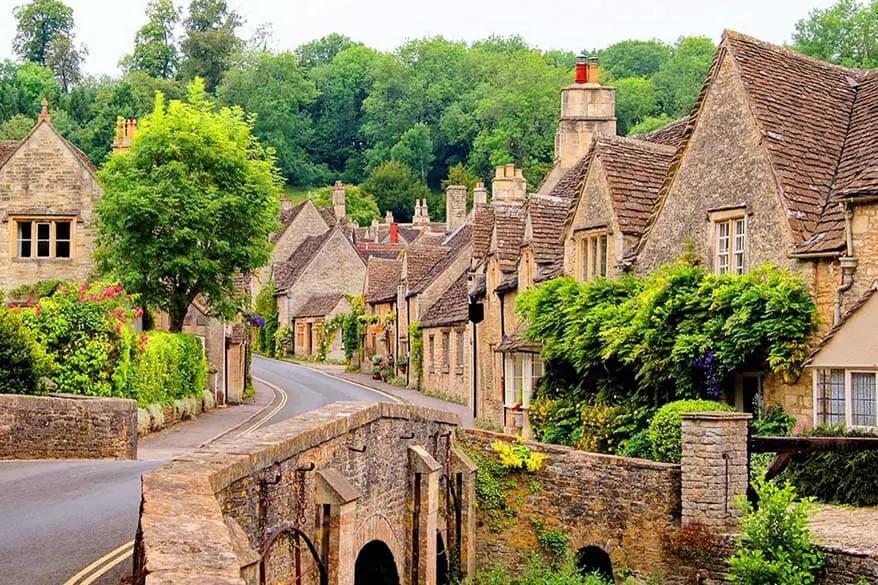 14. Don't Forget The Little Important Details
Here are some more practical tips to consider when traveling to London for the first time:
You can pay by credit card pretty much everywhere, but it's always useful to have some cash as well. And no, you can't pay in Euro or US Dollars in London, you really need to get Pound sterling from an ATM.
You are not expected to tip in the UK and service charge is often included in your restaurant bill. In most London restaurants, you'll get charged 10-15% in addition to your bill. Locals say they don't typically tip at the bar, but would usually leave a 10% tip at a restaurant if the service was good and not yet included in the bill.
Don't forget your travel adapter. UK uses Type G plugs, which are very different from other European countries, or the US.
You'll be walking a lot, so wear comfortable shoes. Nowadays, Europeans wear sneakers in the cities too, and London is no exception. However, we tend to wear more fashionable sneakers (something like this), not the ones you wear when playing tennis… However, some places in London still throw upon (and some doormen give you 'the look' or even refuse entry) if your clothing and/or footwear looks too casual…
Look right(!) when crossing a street in London. Yes, right, because they do drive on the other side of the road in Britain. If this is your first trip to the UK, it might take some getting used to. So be careful!
Pack an umbrella or a good rain jacket. It rains a lot in London, especially in the colder season. Although, as climate changes, the weather has gotten significantly drier here too. So check the weather forecast before your trip. Wearing layers is always the best way to go!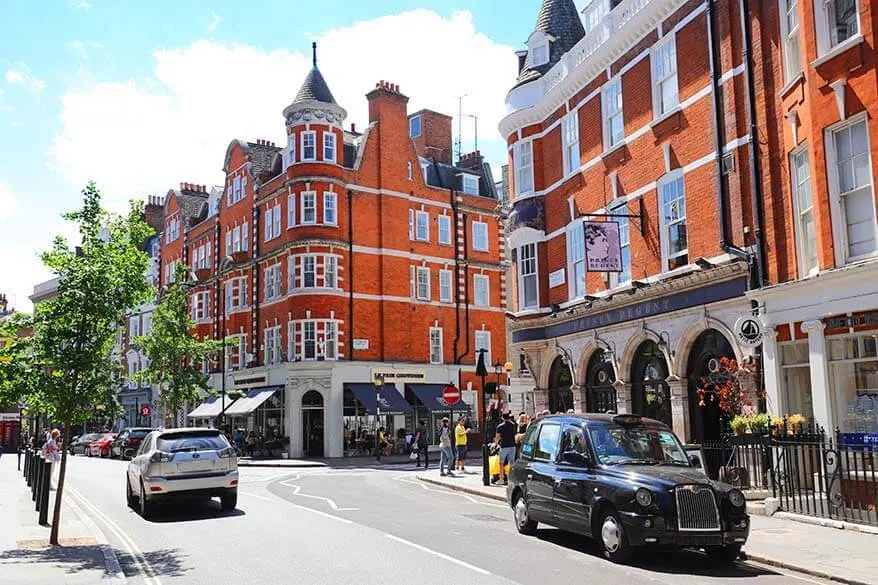 So, these are some of the most important practical tips you should know when traveling to London for the first time.
Do you have any questions or maybe want to share your experience and tips from visiting London? Don't hesitate to leave a comment below!
READ ALSO: Best Secret Places of London That Most Tourists Never See
London Travel FAQ
What is the best month to visit London?
The best time to travel to London is in the warm season between March and October. Summer is the peak season with big crowds. For mild weather and fewer people, come in spring or in the fall. The very best months to visit London are April-May and September-beginning of October.
How much time do you need in London?
London is huge and there's no way to see everything in one trip. If you are visiting for the first time, we recommend spending at least 3-4 days in London. This will allow you to see the main landmarks and visit a few tourist attractions. If you also plan to take day trips and see some of the UK from London, then plan to stay for at least a week.
What is the best way to tour London?
The best way to explore London is by focusing on one area at a time and walking between the main attractions that are located next to each other. For bigger distances, use the London subway, hop-on hop-off buses, or river cruises.
Where to stay for your first trip in London?
If you are visiting London for the first time and want to see all the main landmarks and attractions, we recommend staying in Central London. The areas around Big Ben – London Eye have the prime location for sightseeing. Staying here will save you lots of time for commute and will allow you to make the most of your trip.
Is London worth visiting?
London is one of the best cities in the entire world and definitely worth visiting! With famous landmarks, royal history and traditions, fun tourist attractions, world-class museums, theaters, and a unique cultural mix, London has something to offer for any type of traveler. It's a bucket list destination that everyone should visit at least once in a lifetime!
More inspiration for your trip to the UK:
If you found this post useful, don't forget to bookmark it and share it with your friends who are planning their first trip to London. Are you on Pinterest? Pin this image!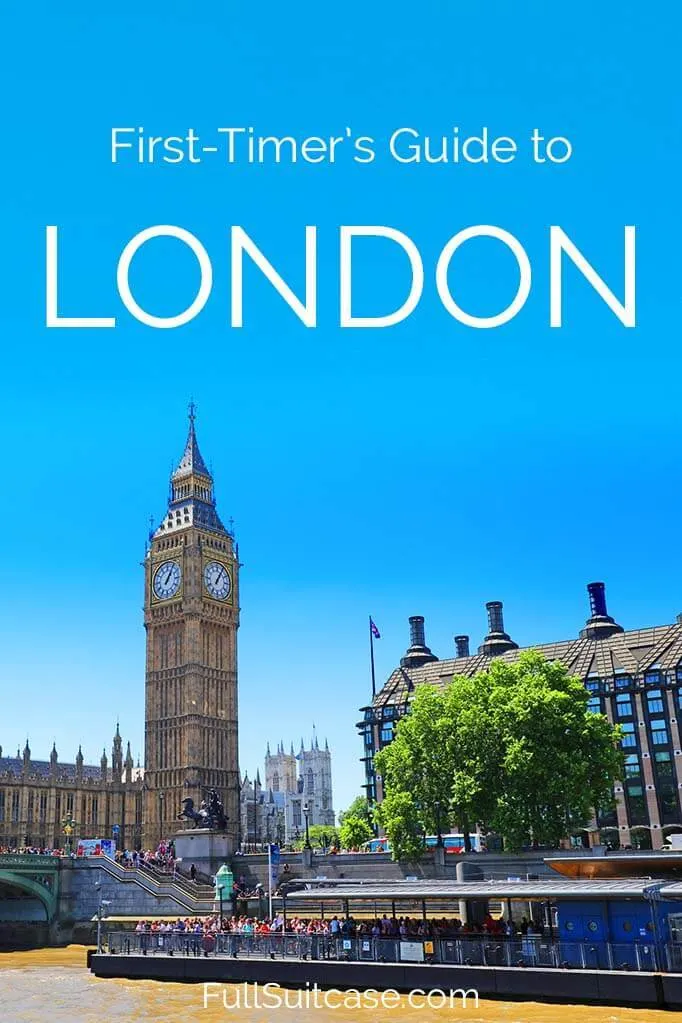 Travel tips for other major cities in Europe: