Visiting London, UK, for one day and wondering what to see and how to plan your itinerary for such a short visit? In this guide, we share a detailed London 1-day itinerary that allows you to see many of the top sights in the most efficient way.
London is a huge city that is filled with landmarks, world-class museums, entertainment venues, and tourist attractions. So trying to see the best of London in a day is not an easy task, especially if you want to make the most out of your time, but also keep it enjoyable and fun.
Yes, there are many amazing places to visit, great rooftop bars, and hidden gems in London that would make any visit more memorable… But unless you have much more than one day, you will probably not want to waste your time traveling to the other side of the city in search of a tiny museum or a cute local restaurant that someone recommended…
With just a day in London, you will probably want to see the major landmarks and at least a few of the top sights that London is famous for.
So this is our no-nonsense guide to the VERY BEST things to see and do in London in one day. At the bottom of this article, you can find a short overview of our recommended 1-day London itinerary as well as a map indicating all the places that we mention in this guide. We also include some practical tips for your trip. Take a look!
Top 4 Experiences in London: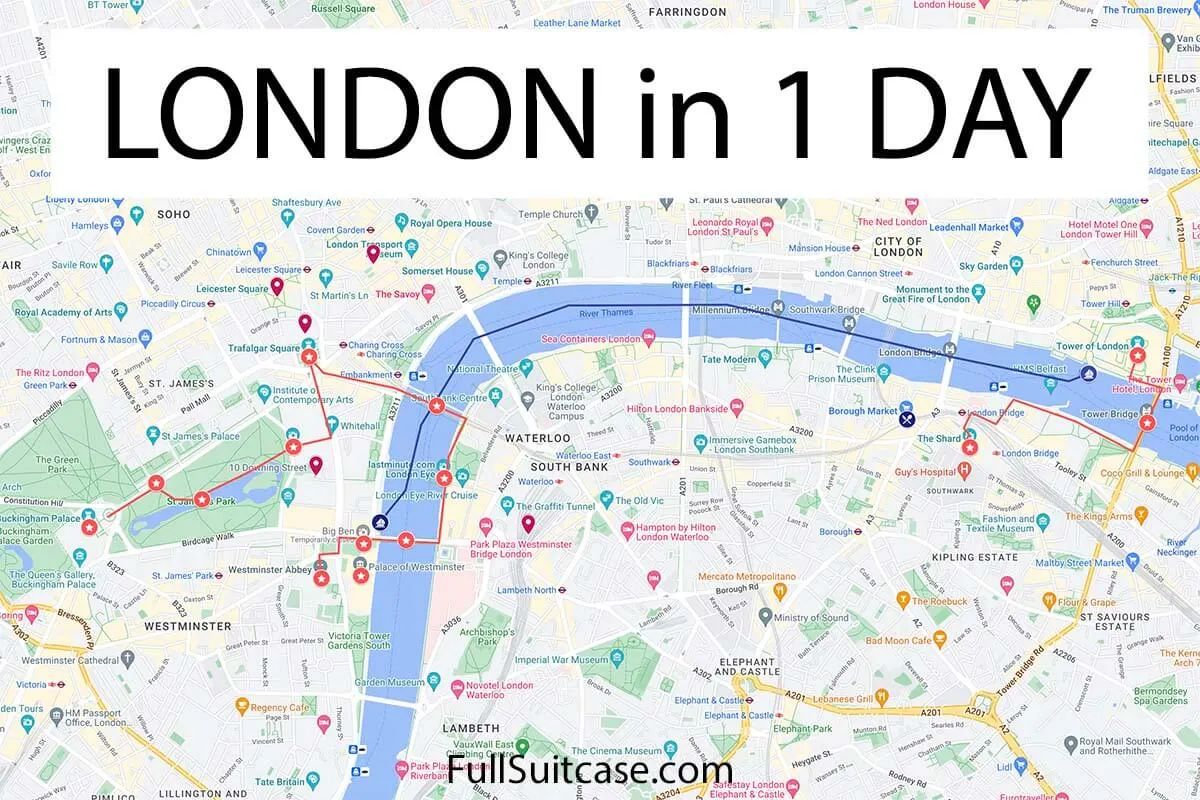 As you can imagine, there are millions of ways how you could spend a day in London. This is just one suggestion based on our personal experience. It includes some of the most important sights and must-see places that we think are worth your time the most if this is your first time in the city and you have less than 24 hours in London.
Good to know: Our recommended London 1-day itinerary takes into account the locations and the opening times of the main attractions so that you can actually visit some of them if you want to. Although, keep in mind that with just a day in London, you will have to be very selective about the places you decide to visit inside. As you can imagine, this takes much more time and planning compared to just seeing the landmarks from the outside.
TIP: As an absolute minimum, we recommend that you do a Thames Cruise, plus take a ride on the iconic London Eye and/or visit the viewing decks at The Shard. The views are amazing from both! And because you can get timed-entry tickets (or fast-track tickets at London Eye) it's well worth it, even if your time in the city is limited. You will find more information about these and other landmarks further below.
READ ALSO: London Travel Tips
Here's what you could do in London in one day:
1. Buckingham Palace
Buckingham Palace has been the official residence of the monarch of the United Kingdom since 1837 and is one of the must-sees in London.
Since you probably won't be visiting the Palace inside (it's only possible at the end of the summer/early fall – see here if interested), you can start your day in London here as early as you like.
The best place to be is Victoria Memorial, which is located right in front of the main gate of Buckingham Palace. From here, you can take a few obligatory pictures of the palace.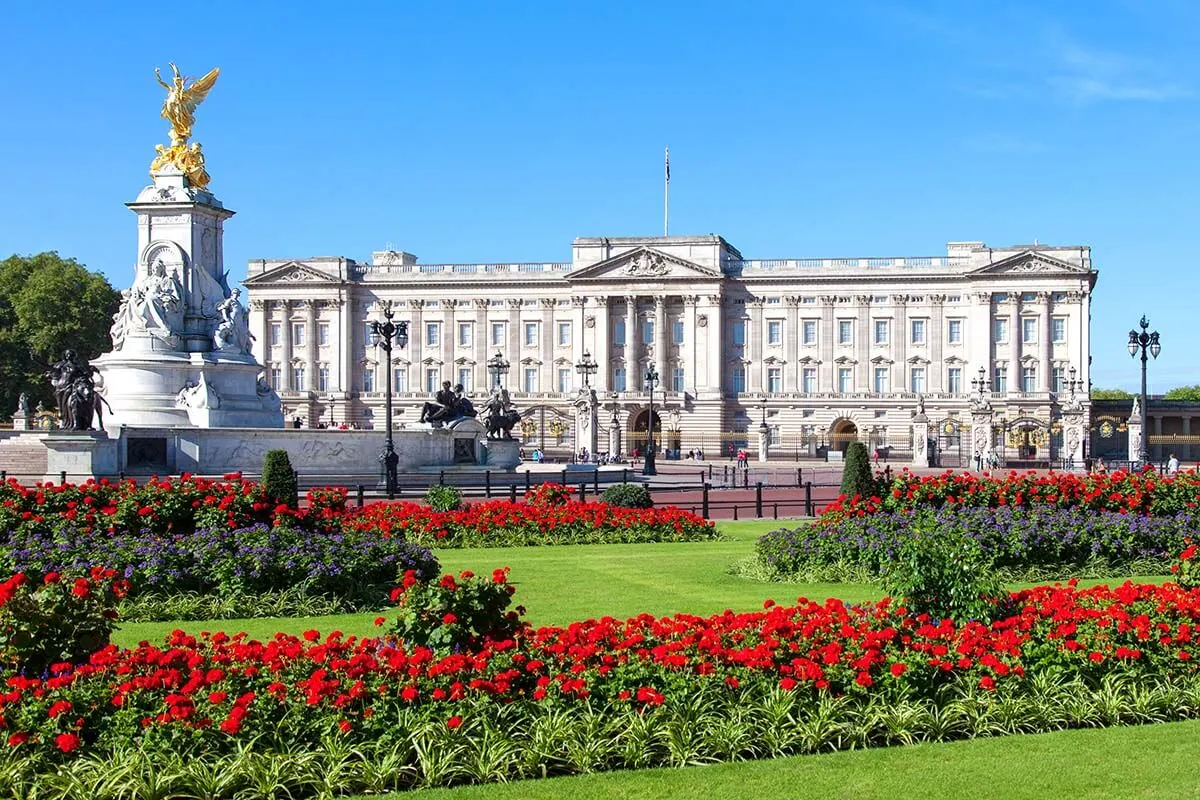 2. The Mall & St. James Park
Located right in front of Buckingham Palace, The Mall is probably the most famous street in London. If you have seen TV broadcasts of any of the official royal celebrations in London, this is the street where they start/end their trips with golden carriages and Royal Guard parades.
In fact, you could see the Changing of the Guards ceremony here, but it only takes place on certain dates and starts at around 11 am. So it's not something I would recommend if you only have a day in London.
Instead, simply walk down the Mall and/or take a detour via the adjacent St. James Park. The next destination on this itinerary – Horse Guards Parade – is about 15-20 minutes walk from Buckingham Palace.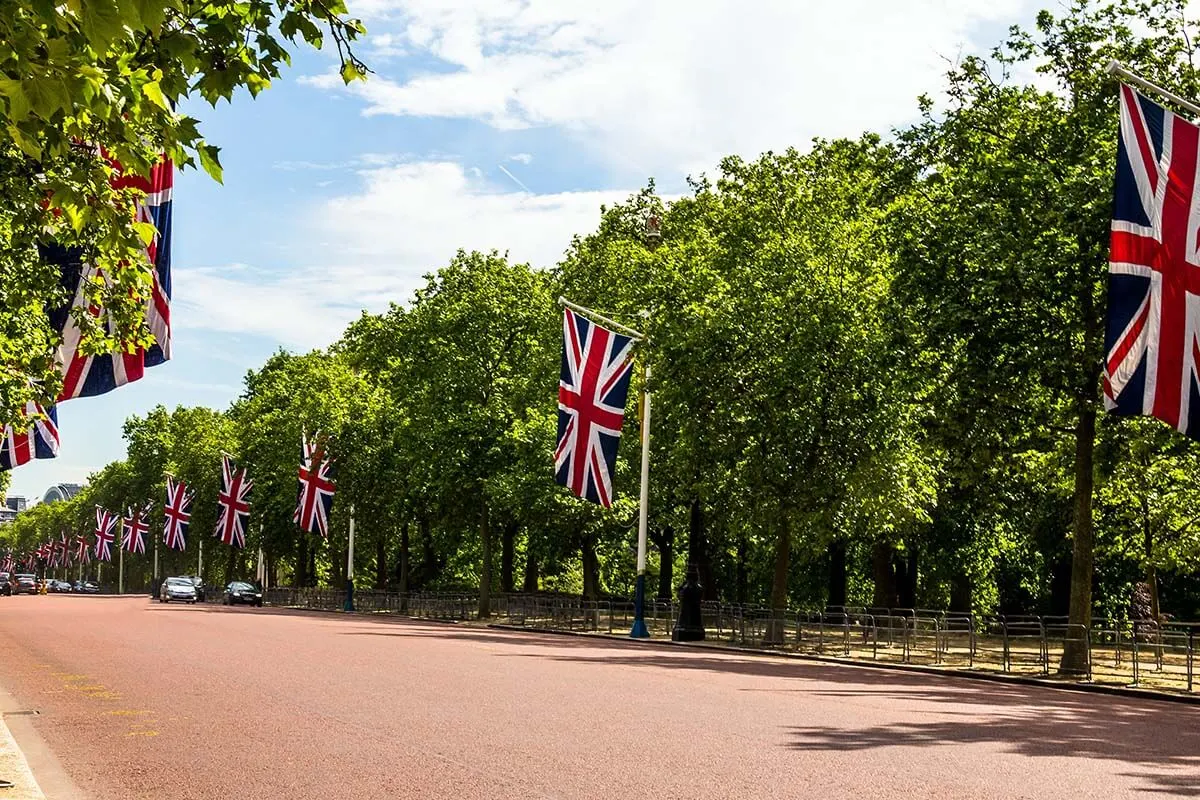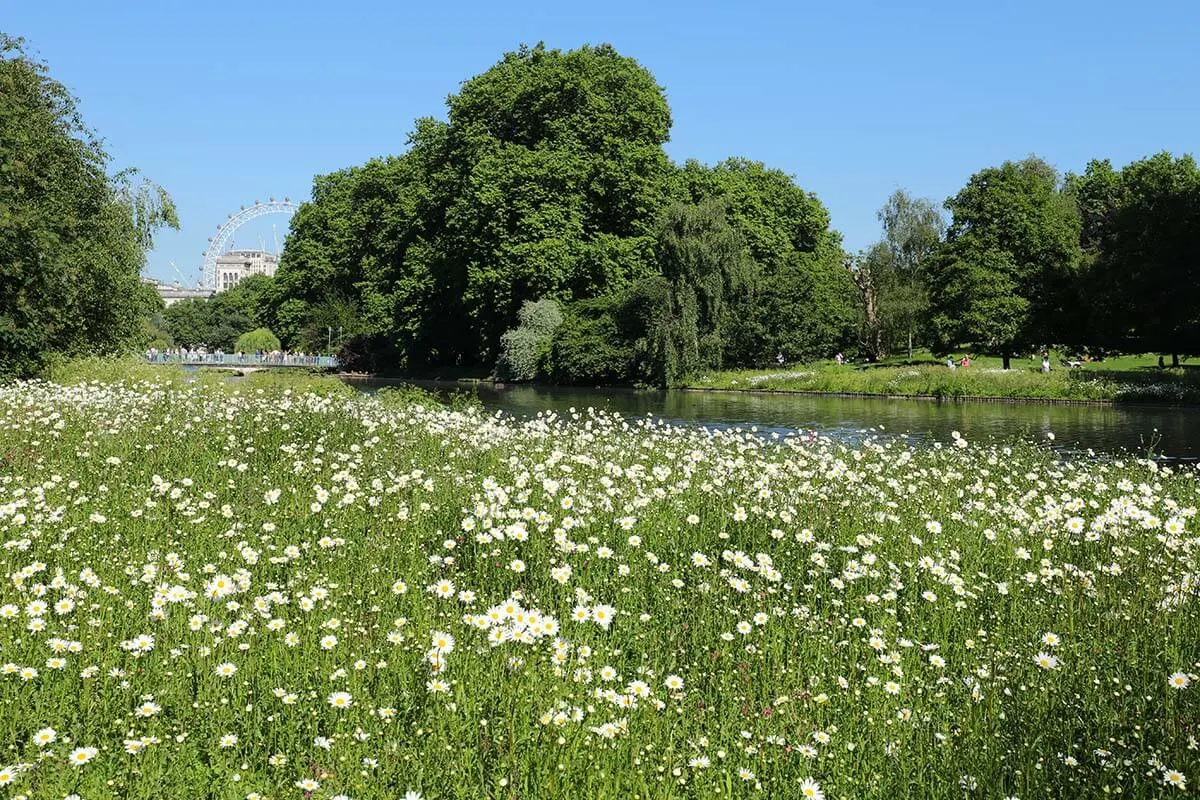 3. Horse Guards Parade
The Horse Guards Parade is a big parade ground at the end of the far east end of St. Jame's Park. This is also where The Household Cavalry Museum is located.
This is one of the best places to see the famous Horse Guards in London. They are always around, so you can take a picture of them if you like.
In addition, there is also a daily Changing of the Guard ceremony here at 11 am (at 10 am on Sundays). If your timing coincides with this, it's nice to see, but I wouldn't adjust the entire day's schedule just for this. There are better things to do with just a day in London!
TIP: If interested, you could take a quick detour to the famous 10 Downing Street, the official residence of the UK's Prime Minister. It's located just nearby here. However, it's now closed with high gates at the entrance of the street so you can only catch a glimpse of it in a distance.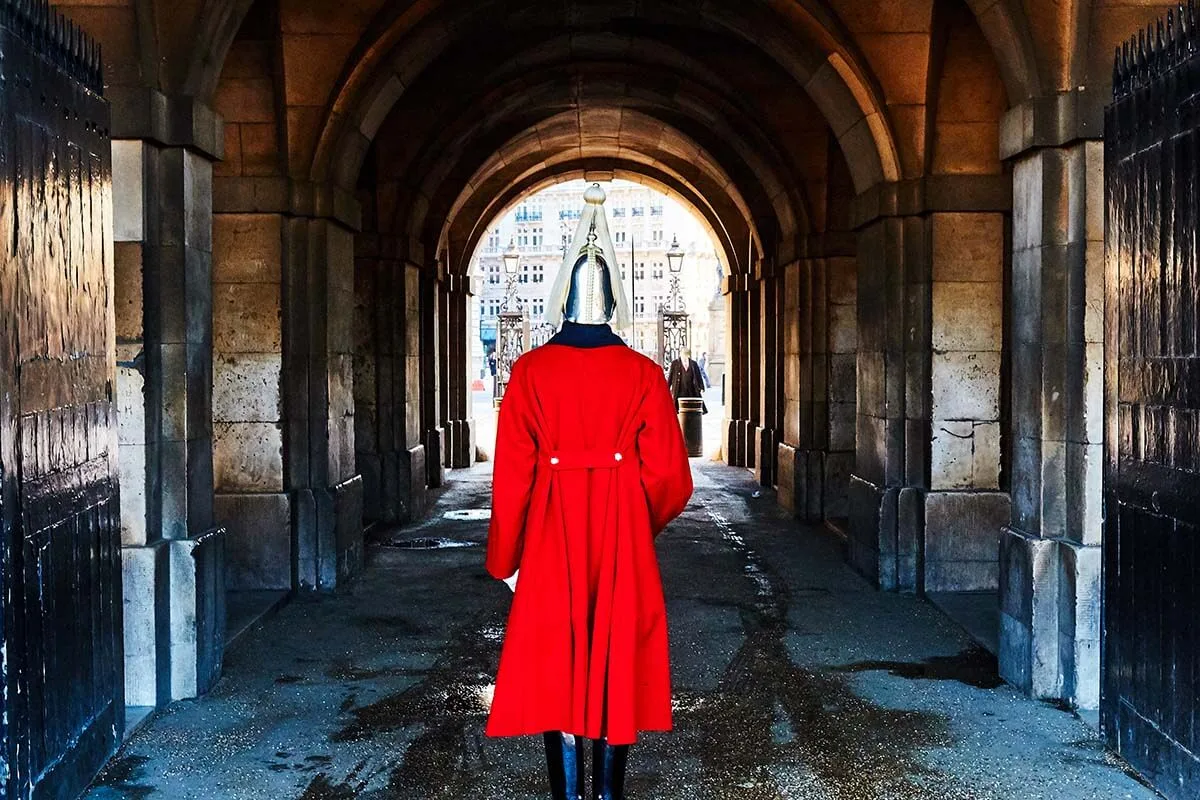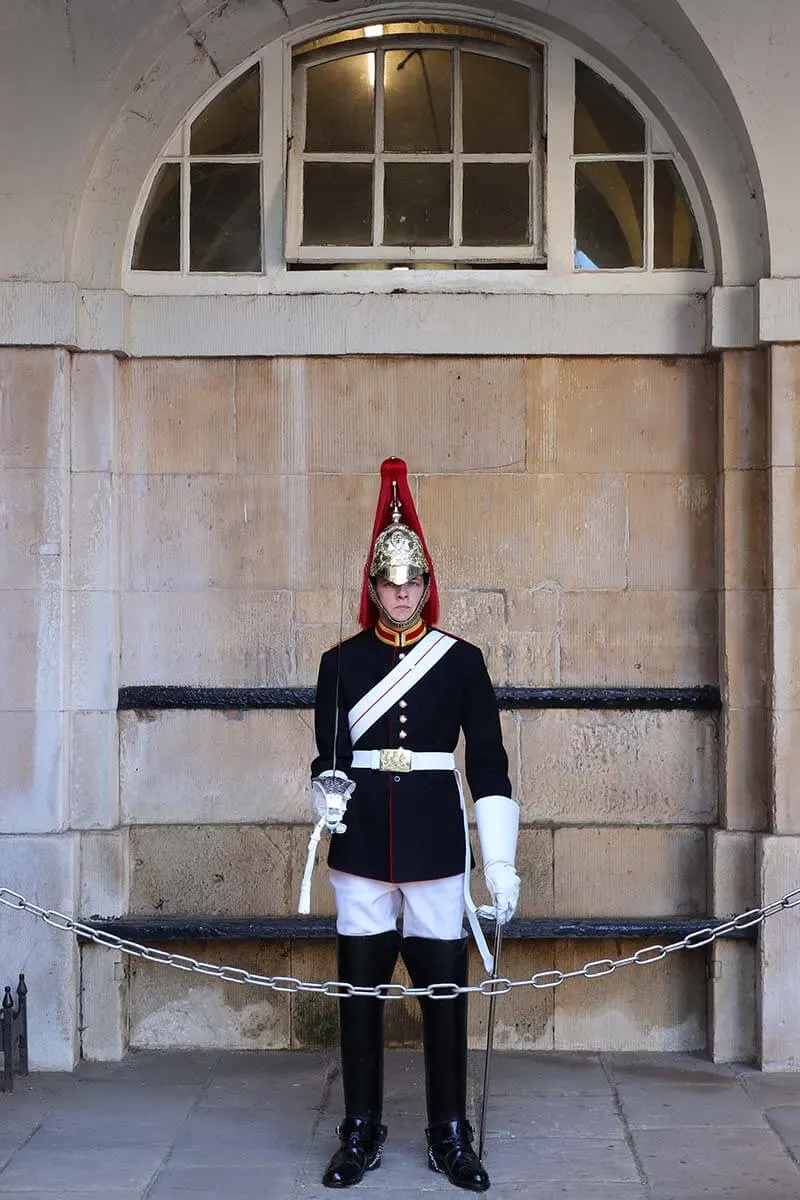 4. Trafalgar Square
Next, head to Trafalgar Square which is less than 10 minutes walk from the Horse Guards Parade. This is another must-see in London that you will probably recognize from many movies and travel guides.
In the center of the square, surrounded by fountains and waterfalls, stands a huge Nelson's Column which is guarded by four bronze lions. There are usually lots of pigeons here too, plus tourists, street performers, etc. The square is also a busy traffic center with red double-decker buses and traditional black cabs zooming in all directions.
It's a very lively place, but if you come here early in the morning, it can be very quiet. Either way, don't miss it as it's always worth a quick visit. It's a great place to simply sit back, do some people-watching, and soak in the typical London atmosphere.
Good to know: Trafalgar Square is also home to the National Gallery. It's free to visit and is usually open daily from 10 am. If you feel like visiting a museum during your short trip to London, check it out.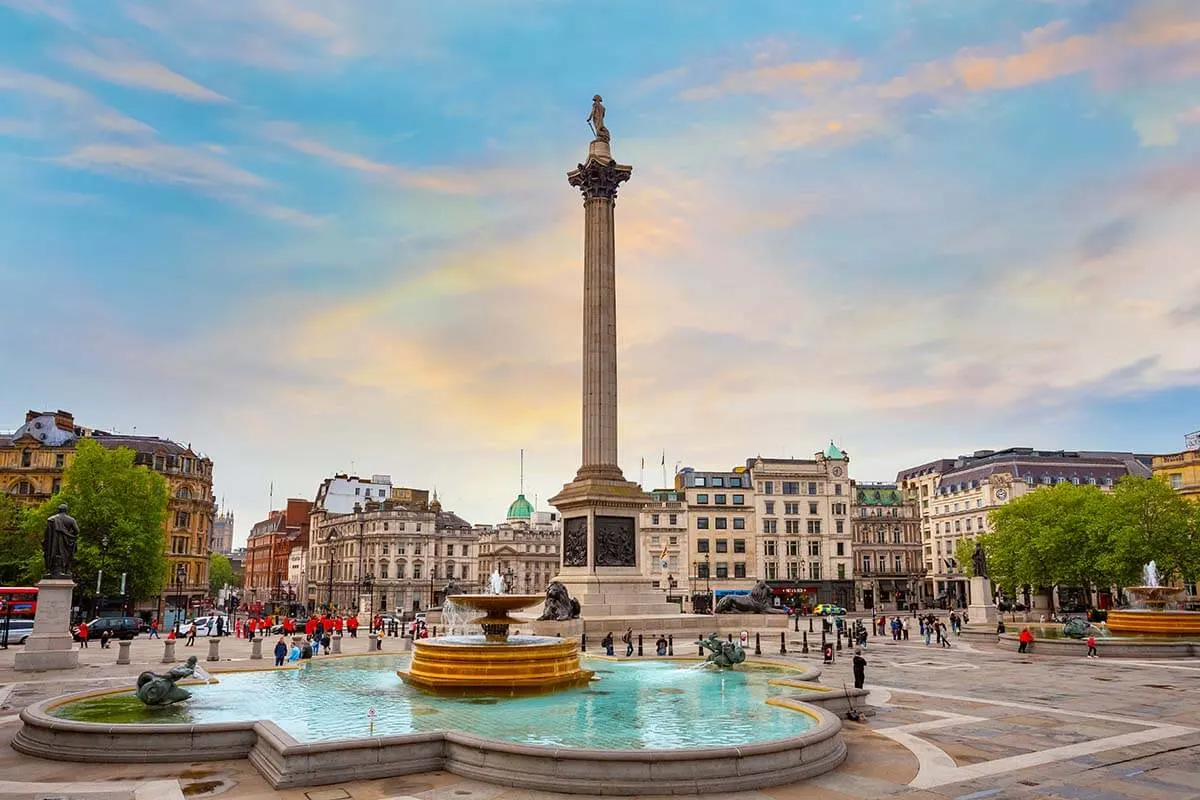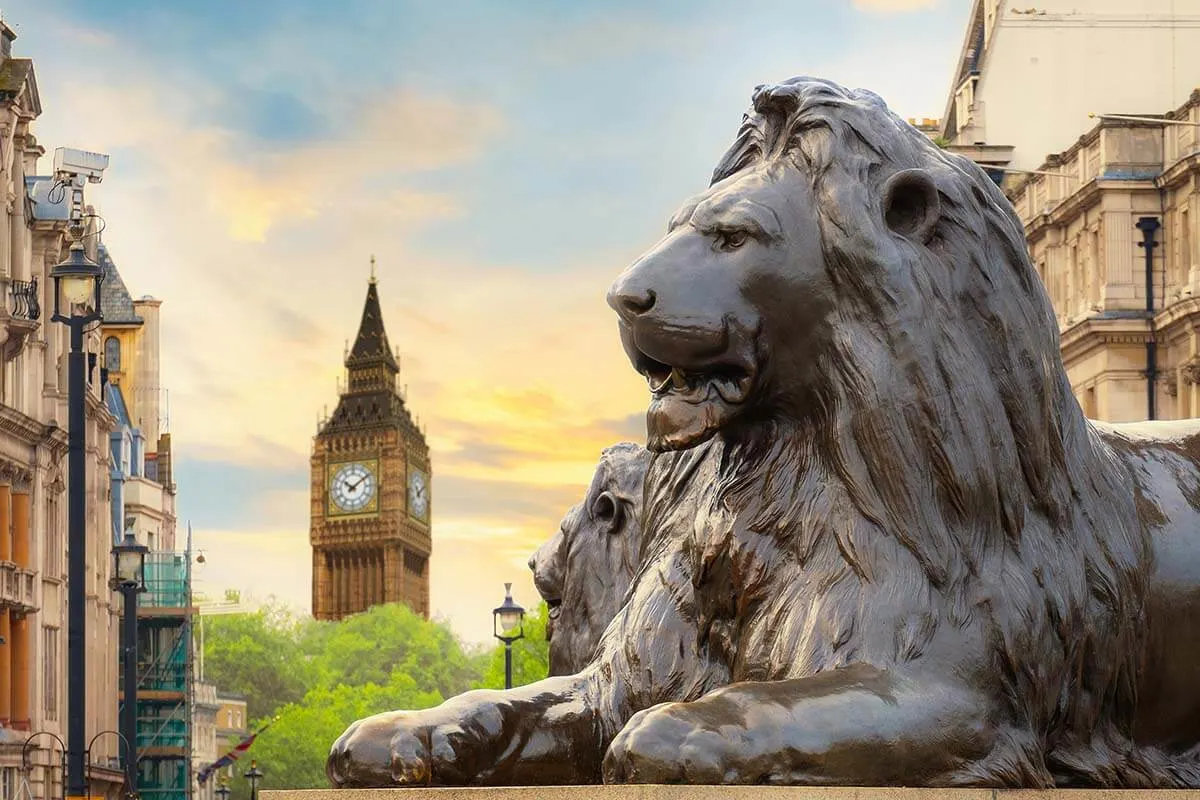 5. Leicester Square and/or Covent Garden (optional)
Depending on your interests and how early you start your day, you may want to take a quick detour and visit either Leicester Square and/or Covent Garden. Both of these areas are located just a short walk from Trafalgar Square.
Leicester Square is a vibrant hub with lots of big-name stores such as M&M's London or the LEGO Store. There is also a small green space in the middle where you can see all kinds of statues and sculptures, including the statue of Harry Potter flying on a broomstick. If you are visiting London with kids you won't want to miss this place! But this vibrant area is worth a quick look either way.
TIP: It's also in this part of the city that you will find some of the most famous London theaters. If you are interested in seeing a show or a musical, you could easily adjust this itinerary a bit and come back here in the evening. In that case, check what shows are available and book your tickets well in advance!
Covent Garden is a cool bustling area just nearby. Here, you can visit the famous Covent Garden Market, with its 19th-century glass roof and wonderful architecture. There are lots of restaurants and cafes here, so this could also be a good place for brunch or early lunch.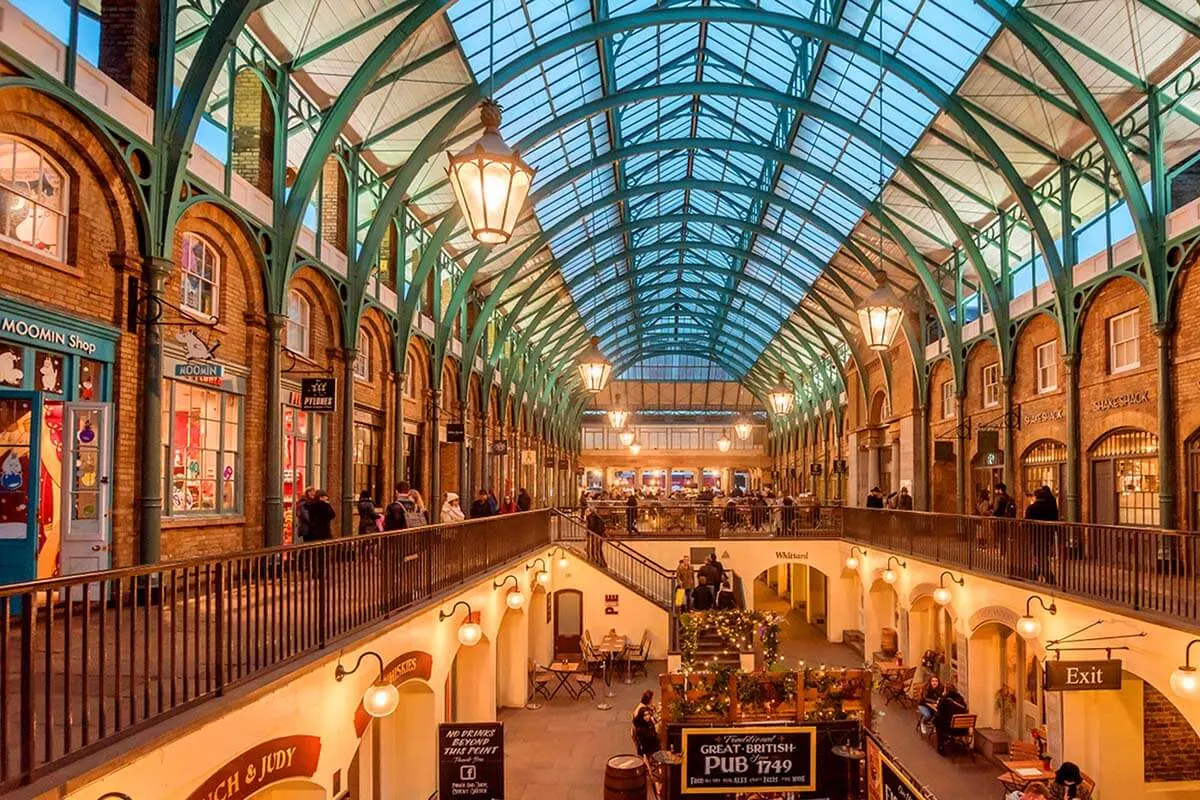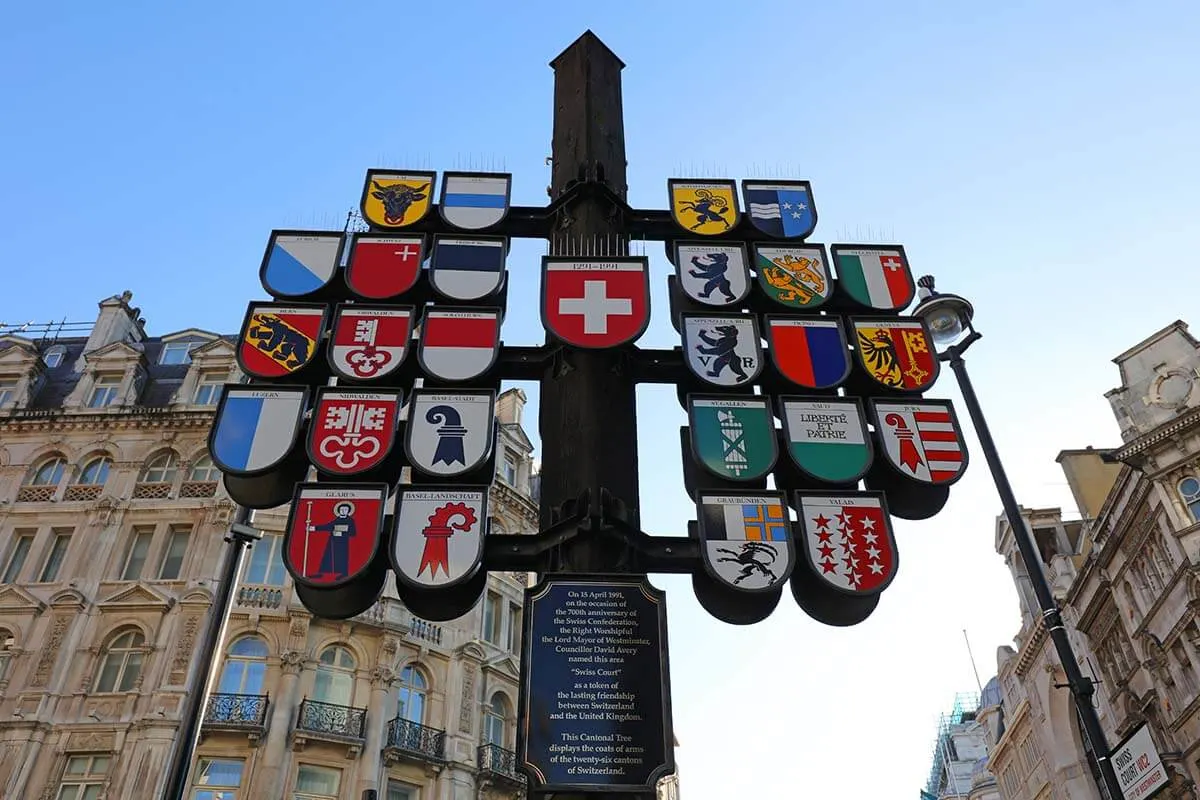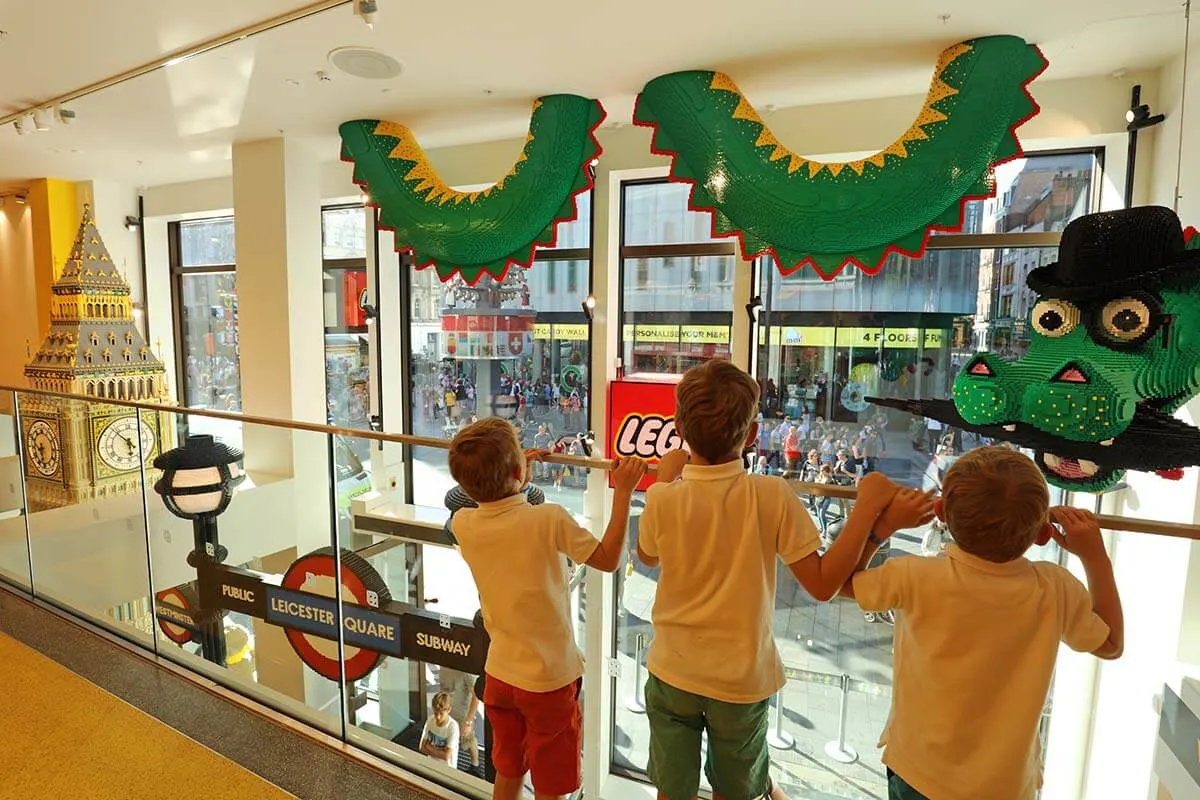 6. London Eye
Next, cross the river at Hungerford Bridge and Golden Jubilee Bridges and head to the South Bank of London. On the way, you can enjoy great views from the bridge and the riverside.
There is a lot to see and do in this part of the city. The most famous attraction is, of course, the iconic London Eye. The highest observation wheel in Europe, a ride here is a great opportunity to see some of the best views in London. From the top, you can see the entire central London. It also gives you a good overview of the city and many of its famous landmarks.
PRO TIP: The London Eye is one of the most popular tourist attractions in London, so be sure to get timed-entry tickets online in advance. We highly recommend choosing fast-track tickets as this can save you several (!) hours. Otherwise, just admire the structure and the views from the ground, and enjoy the views from The Shard at the end of the day (more info further below).
Additional suggestion: If you would like to get a glimpse of some cool places in London, beyond the main landmarks, make a short detour to the colorful graffiti tunnel, aka The Vaults. This is one of the hidden gems of London that is located so close to the popular sights but is overlooked by most tourists. I indicated it on our map below. Keep in mind that you'll need at least half an hour extra for a quick detour here (it's about 10-15 walk from the London Eye).
7. Westminster Bridge, Big Ben & Westminster Palace
Next, walk to the iconic Westminster Bridge just nearby. From here, you also have a good view of the famous Big Ben Tower (officially known as the Elizabeth Tower) and the Palace of Westminster (Houses of Parliament).
The view of the bridge with the beautiful gothic buildings of Westminster Palace is among the most recognizable images from London. This is the heart of the city that you really shouldn't miss, no matter how long or short your visit is.
It's not possible to visit the Big Ben Tower. There are tours of the Parliament, but – with just a day or even a few in London – it's probably not the best use of your time. So this is mostly a photo stop, to see some of the most iconic landmarks in the city.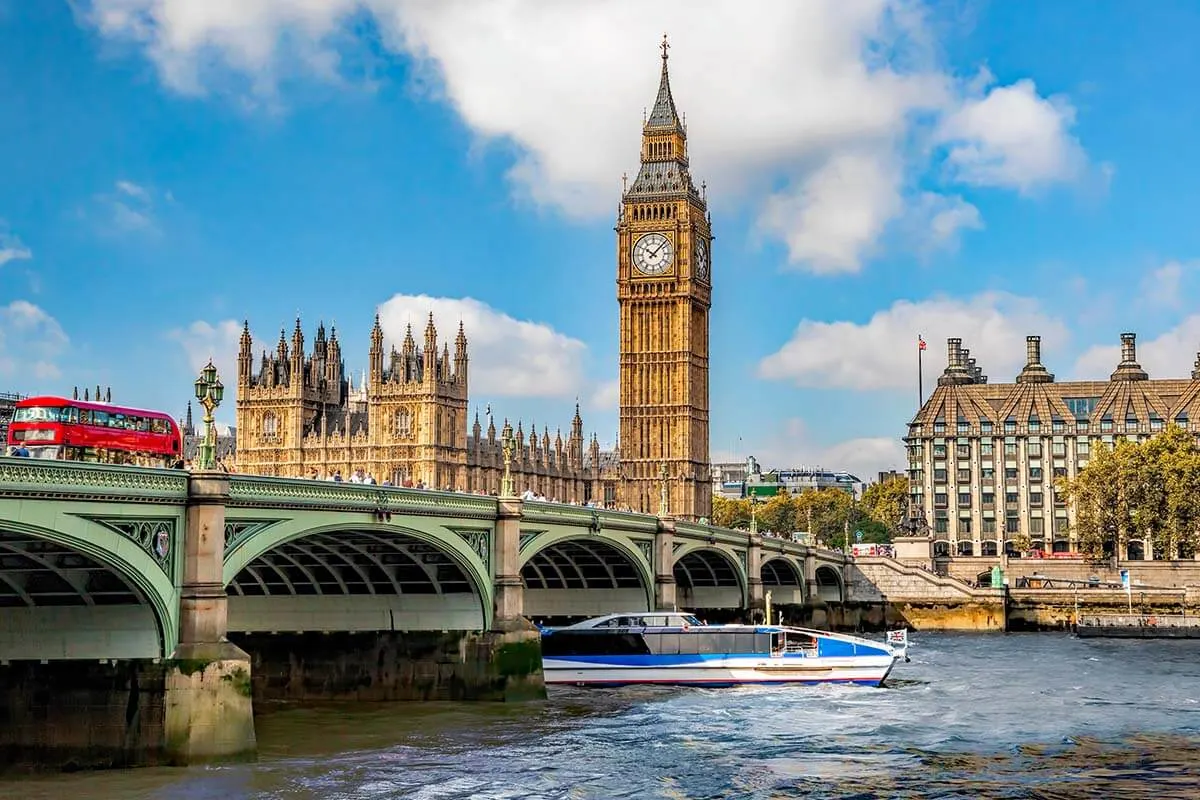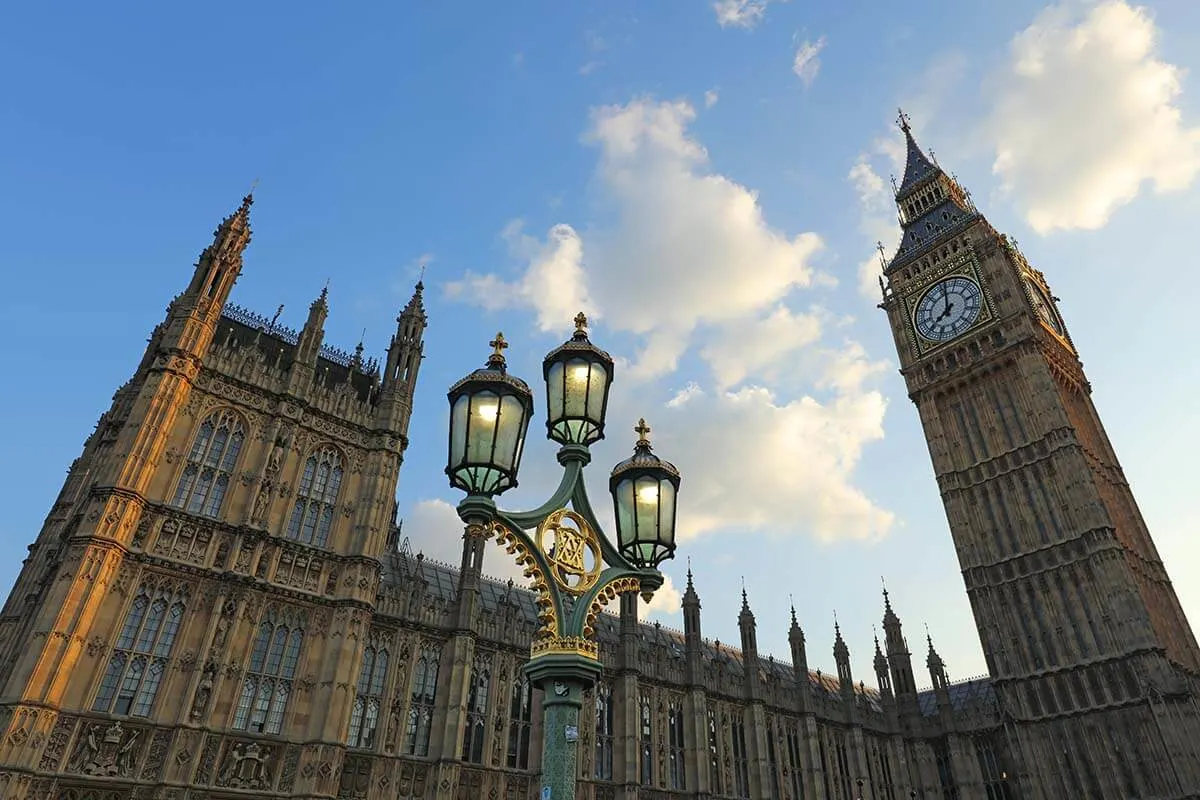 8. Westminster Abbey
If you cross the bridge and walk just a bit further past Big Ben, you will soon see the famous Westminster Abbey.
Westminster Abbey is the site of many of Britain's most important events. Every British monarch has been crowned here since the 11th century, many royal weddings and funerals take place here, etc. The Abbey is also the burial site of countless famous British historical figures, such as Charles Darwin and Isaac Newton, just to name a few…
This Gothic building is remarkably beautiful and you can visit it inside. If you decide to do this, be sure to book the timed-entry tickets in advance! Keep in mind that you will need at least an hour to quickly visit the Abbey. More realistically, you should count at least 1.5-2 hours for a visit.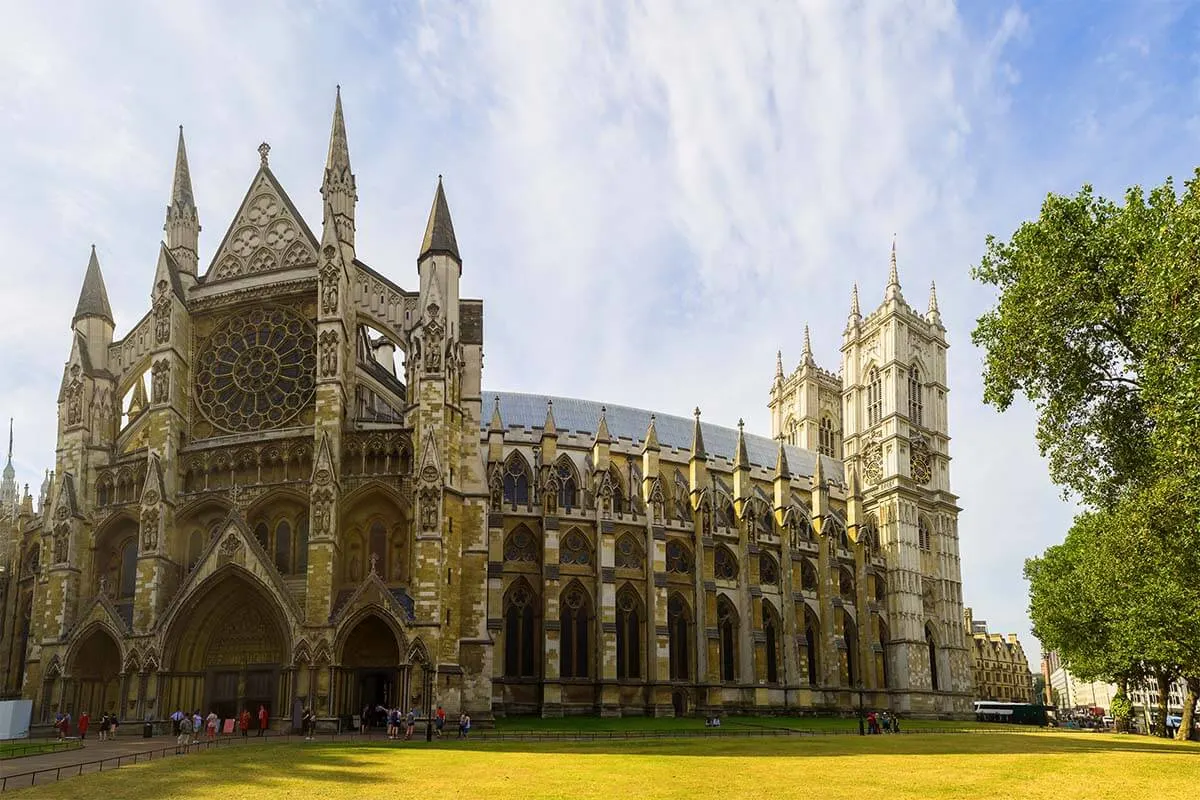 9. Thames Cruise
Next, take a river cruise on the Thames from Westminster Pier to the Tower Bridge.
This is a great way to see more of London, rest your legs a bit, and at the same time cover the big distance between the two main areas of the city that we recommend visiting if you have just 1 day in London.
Good to know: There are several piers and so many different Thames River cruise options that it can get overwhelming. This is the best ticket for this particular journey. The boat departs from Westminster Pier (we indicated the location on the map further below) and takes you to Tower Bridge. The journey takes about 30 minutes.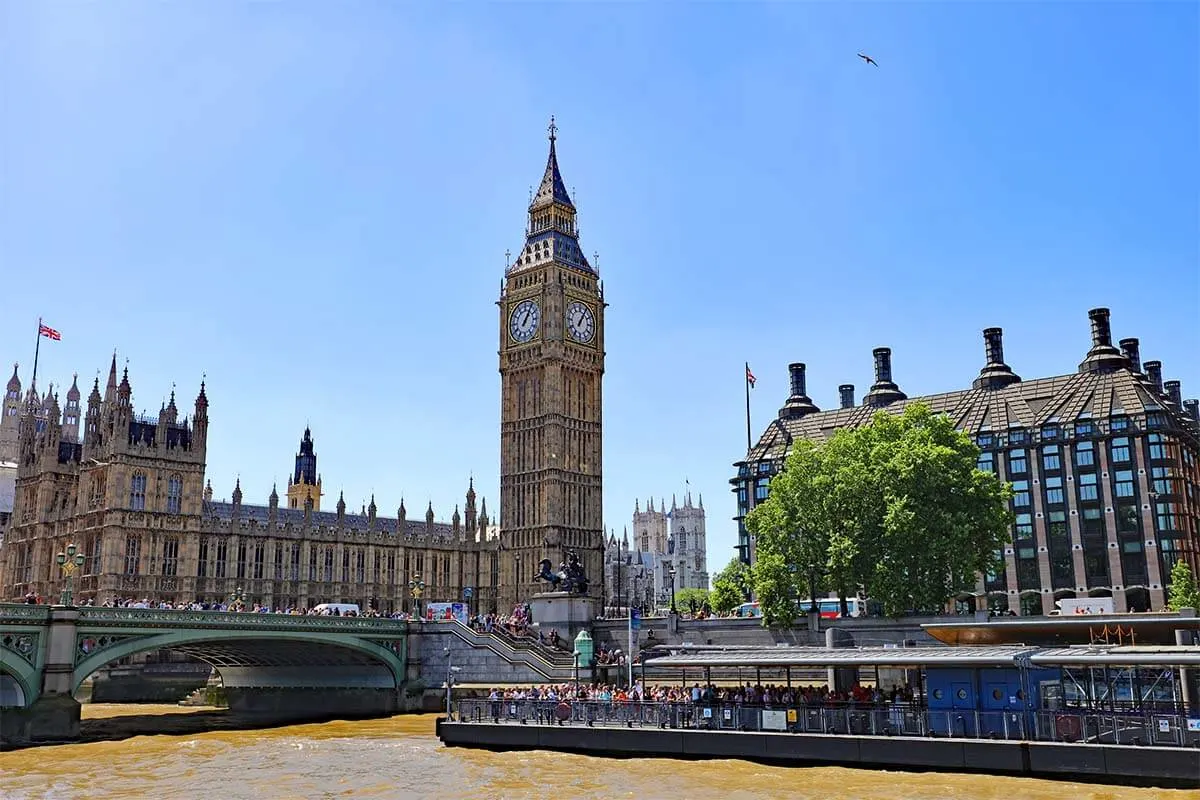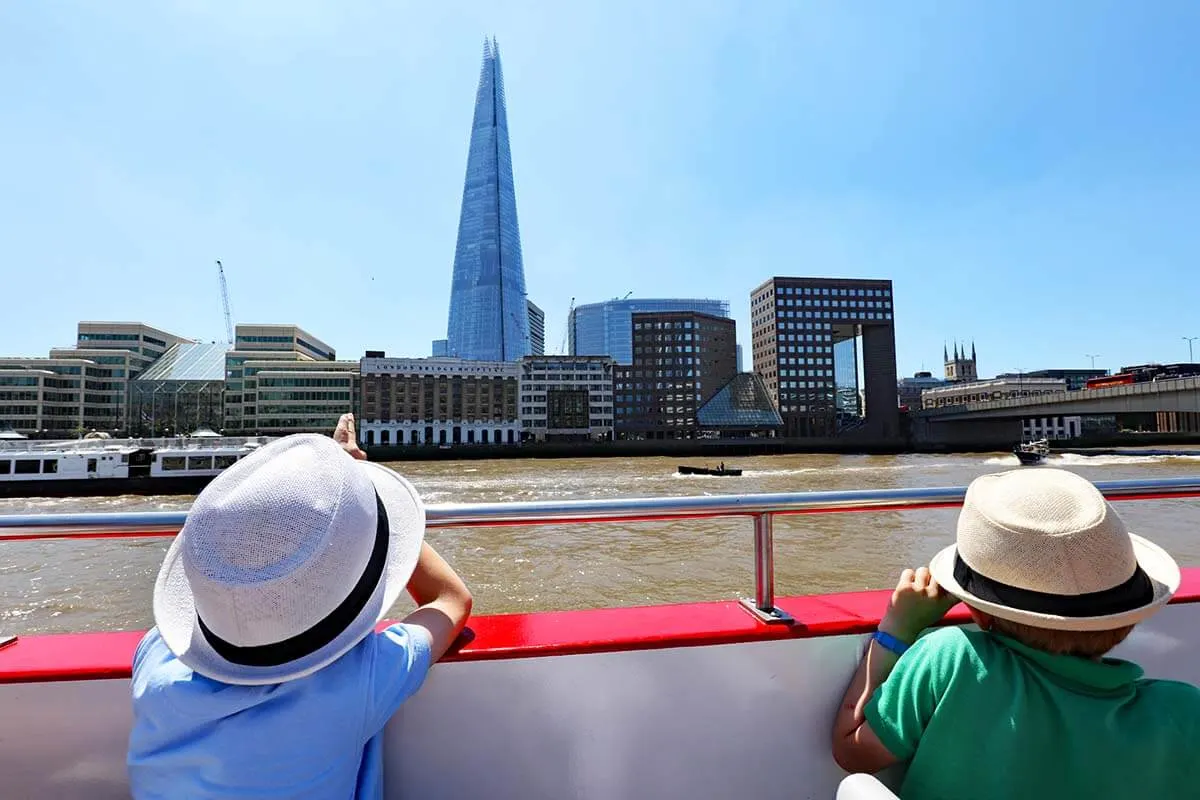 10. Tower of London
It will probably be late afternoon by the time you get to Tower Bridge and the Tower of London. These are among the most important landmarks in the city, so you absolutely have to see them.
Whether it's actually worth visiting any of them inside if you only have a day in London, I'll let you decide based on your interests and how you choose to fill the rest of this itinerary.
Don't take me wrong – they are both absolutely worth a visit. It's just that everything usually takes a lot more time than you anticipate. And your itinerary for a day in London will be packed…
If you visit just one attraction inside, the Tower of London is definitely among the top choices. Built in the 11th century, the building served as a fortress, a prison, but also as a palace over its centuries-long history.
This is where the Crown Jewels of the British Monarchy are kept (and can be seen inside, if you are prepared for an inevitable queue). The only way to avoid the queue is to come here first thing in the morning and run straight to the Jewels when the site opens.
Good to know: Be sure to get (timed-entry) tickets if you want to visit. Plan to spend at least 1.5 hours inside (and it will be rushed).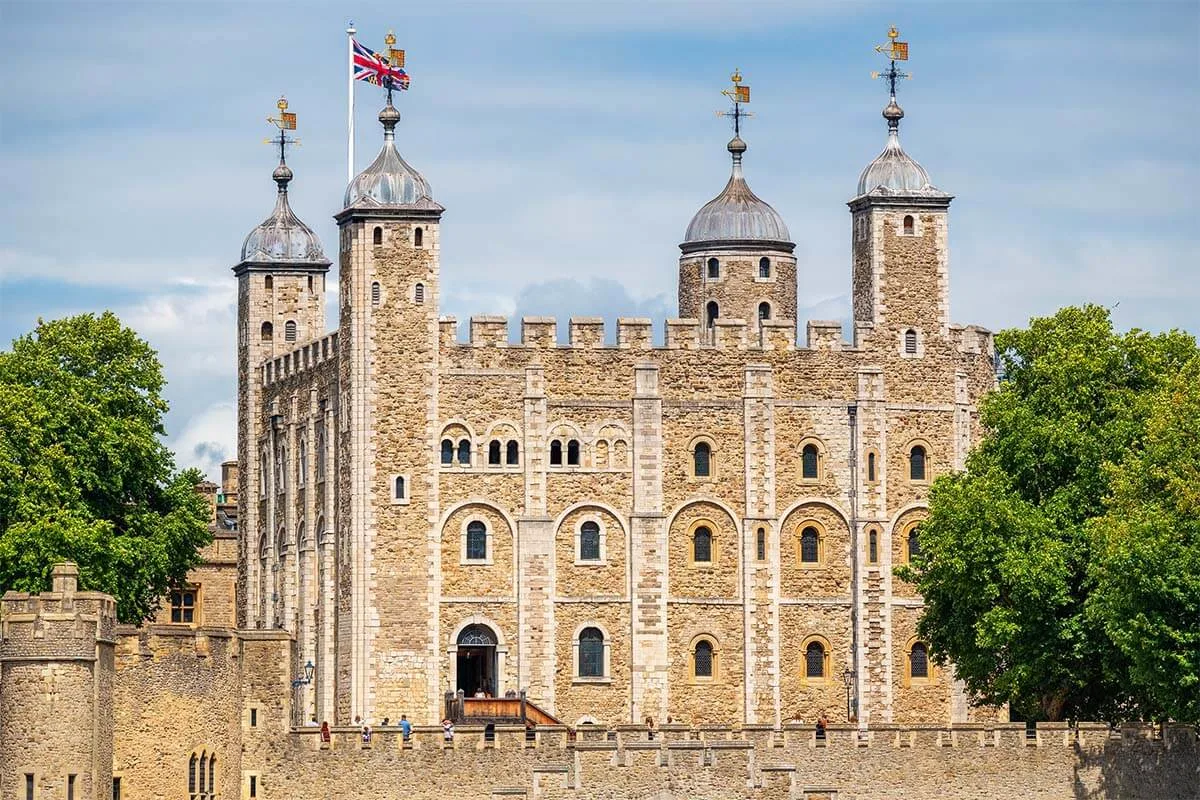 11. Tower Bridge
Tower Bridge is an iconic structure that you can simply admire from the outside (be sure to walk over the bridge too!).
It's also possible to visit inside, where you can see Victorian engine rooms or walk over the glass walkway and admire nice views of the river and the city.
Also here, if you decide to actually visit the Tower Bridge, be sure to get a timed-entry ticket in advance.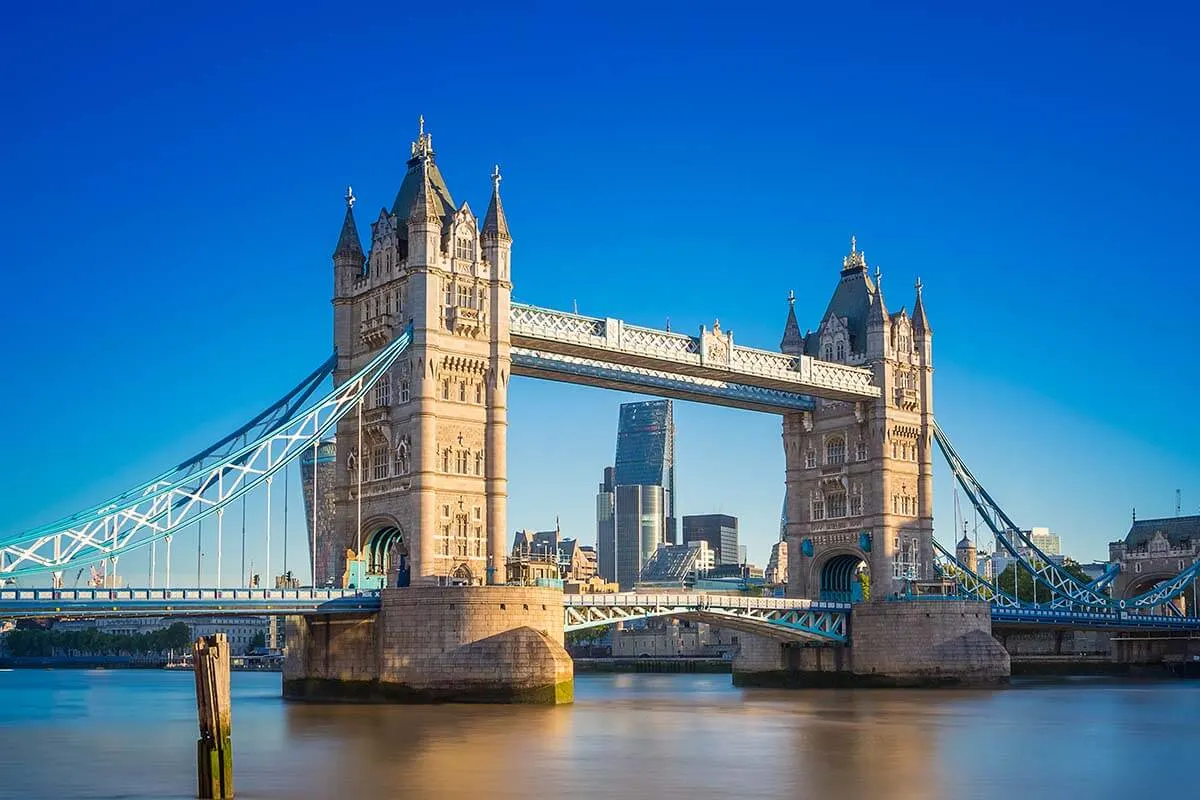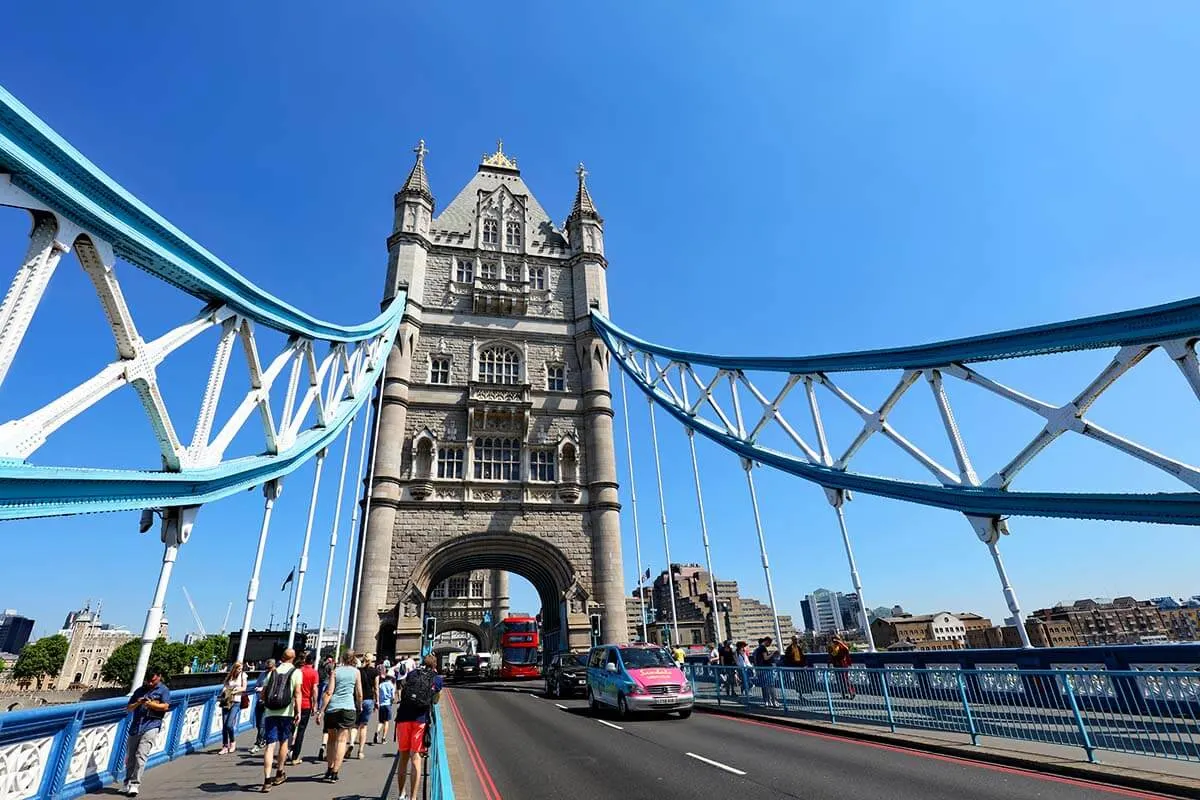 12. The Shard
After crossing the Tower Bridge, walk to The Shard following the river. It's a nice walk of about 15-20 minutes.
The Shard is an iconic London skyscraper, one of the tallest buildings in Europe, and in the top 100 among the tallest buildings in the world. A visit to its open-air viewing platform Skydeck on the 72nd floor gives you easy access to some of the best 360° views of London. In addition, there are indoor viewing platforms on the 68th and 69th floors.
From the top, you can see the River Thames with Tower Bridge and the Tower of London nearby, plus countless other landmarks in the distance and the entire city at your feet.
Good to know: The Shard is open late in the evening, so it's very easy to include a visit here at the end of the day. The views are great at sunset, but it's just as nice to visit during the day or after dark. It never disappoints.
And yes, also here, you really have to book timed-entry tickets if you want to be sure to be able to visit. While walk-ins are possible, they are not guaranteed. So if it's busy (and it usually is), the only way to visit is by booking in advance.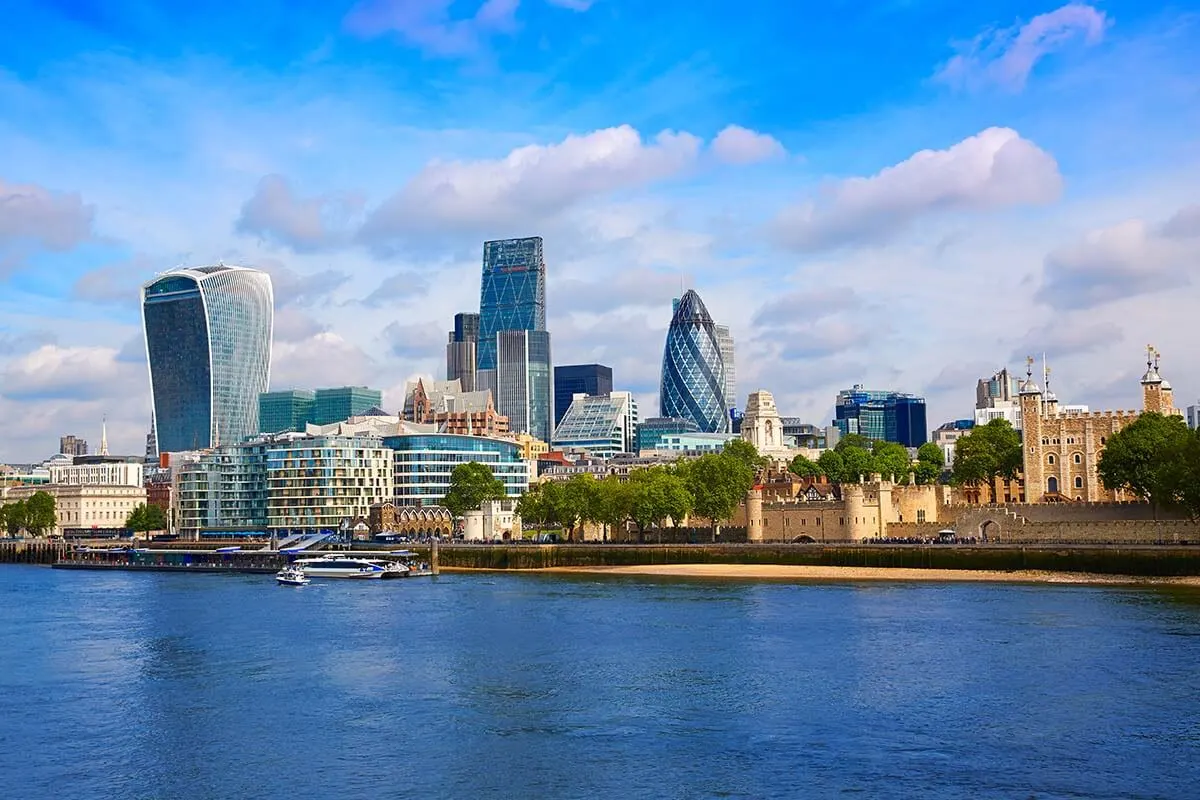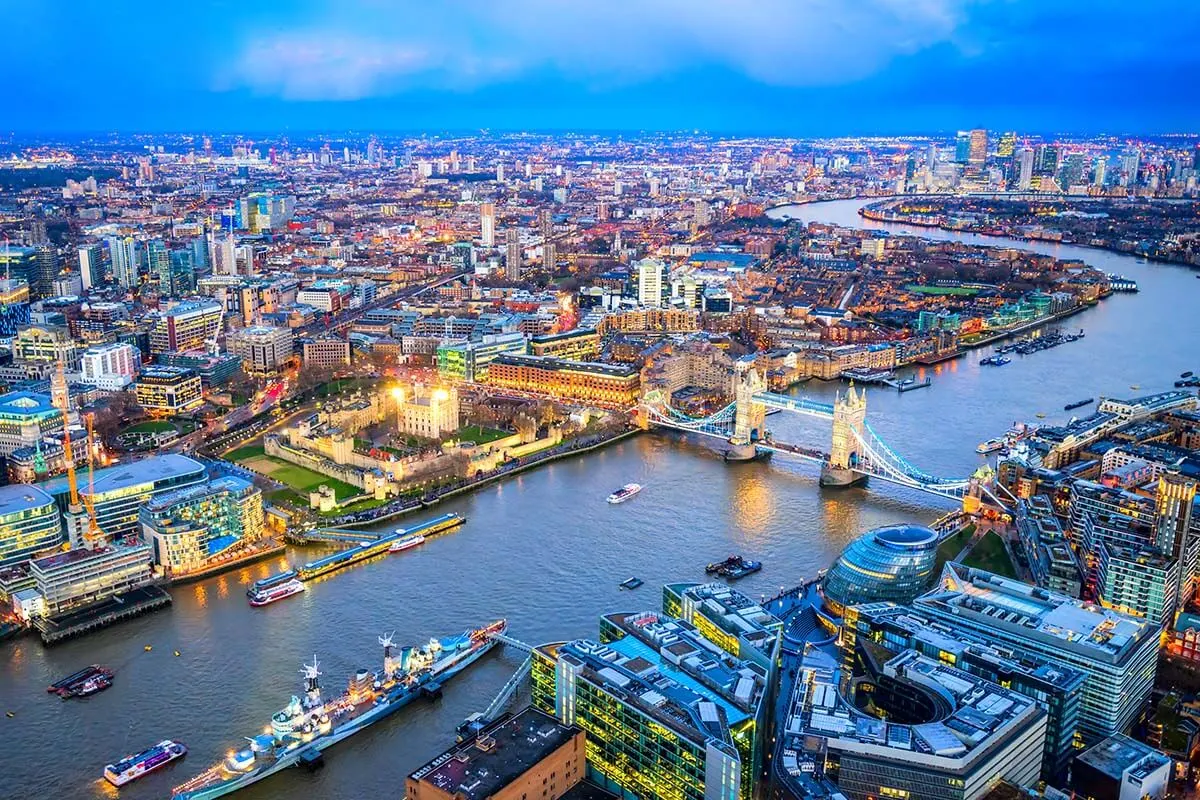 Dinner
There are a couple of restaurants in the Shard Tower itself, but they are all quite high-end and definitely have to be reserved.
For dinner, you may want to look for a restaurant in the area around Borough Market. The market itself is closed in the evenings, but there are many eateries nearby. Also here, if you want to dine at a specific place, be sure to reserve a table.
READ ALSO: British Food: best dishes to try in the UK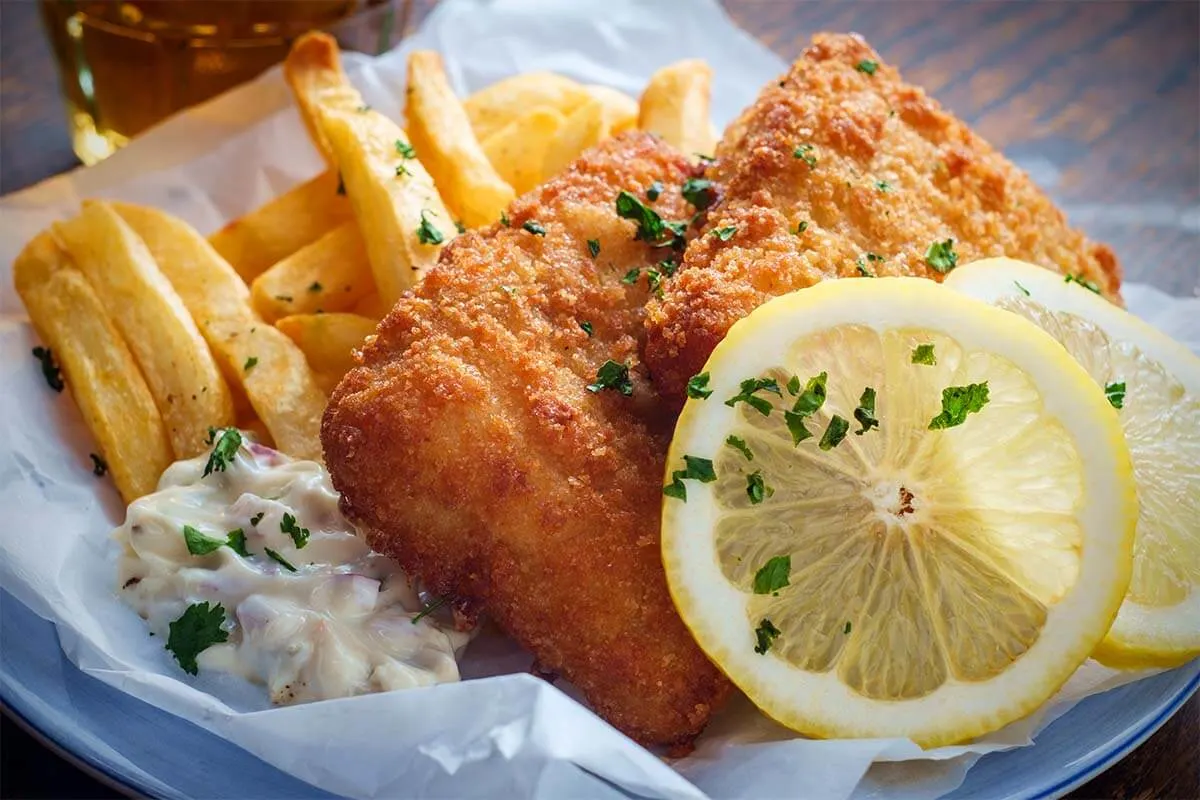 Theater (optional)
Just like Broadway in New York, London is known for its world-class musicals, amazing shows, and concerts.
While this 1-day London itinerary is quite packed as it is, many people travel to the city just to see a specific show or a musical. So yes, it's possible to add this experience to this itinerary as well.
In that case, be sure to first check what is available, at which theater, and at what time. Then adjust this itinerary to be sure that you can get there on time, and based on your interests.
Enjoy!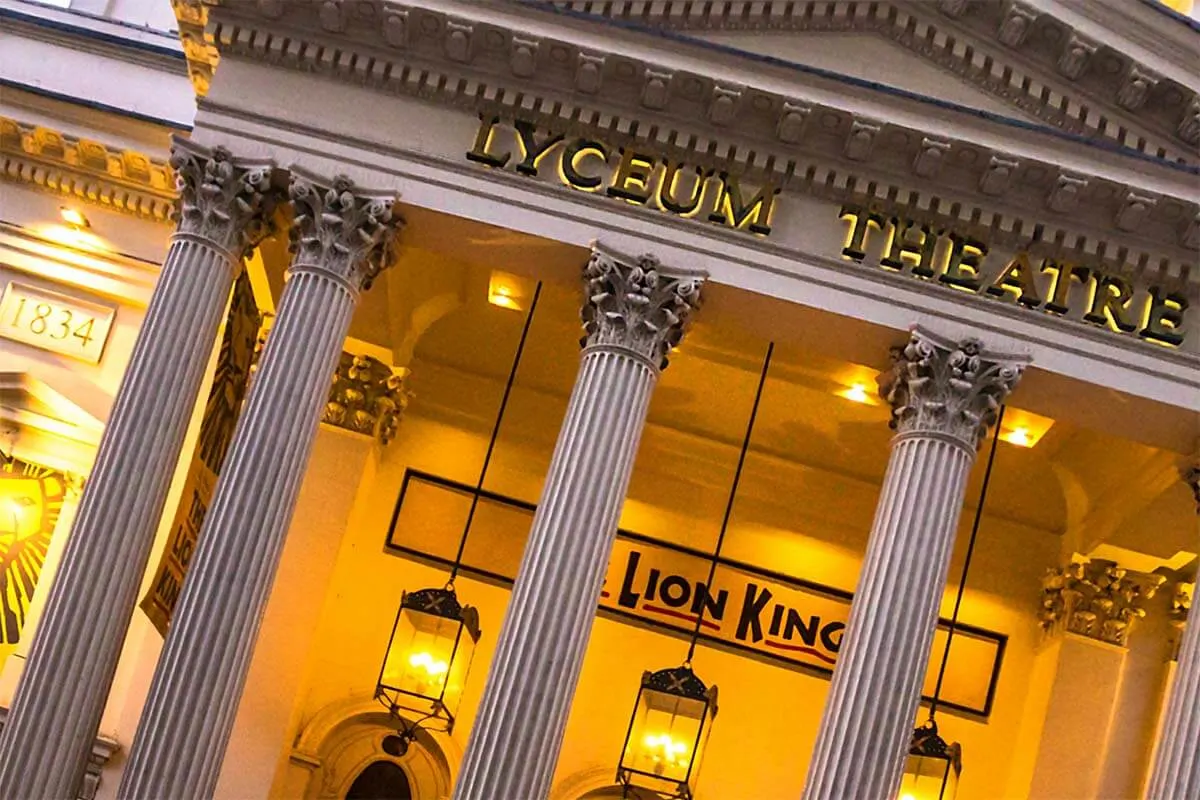 London 1-Day Itinerary Overview
Below is an overview of what your day in London could look like.
Important: Keep in mind that you'll need timed tickets for most of these sites – if you actually want to visit them inside. There is no way you can visit all of these in a day. But you can definitely see them all and visit a few (max 2-3, depending on the place). So you'll have to plan well and adjust this itinerary based on your interests.
Here's our recommended 1-day itinerary for London:
My personal recommendation would be to visit Westminster Abbey and/or the Tower of London and do the Thames River Cruise. I would also probably opt for The Shard rather than London Eye, simply because it's easier to plan it at the end of the day. The Shard is also open much later in the evening than anything else.
But everything is possible, so pick the sights that look most interesting to you, and plan your own perfect day in London!
Also, start your day very early! The sights that we recommend visiting first can be seen long before any of the landmarks even open.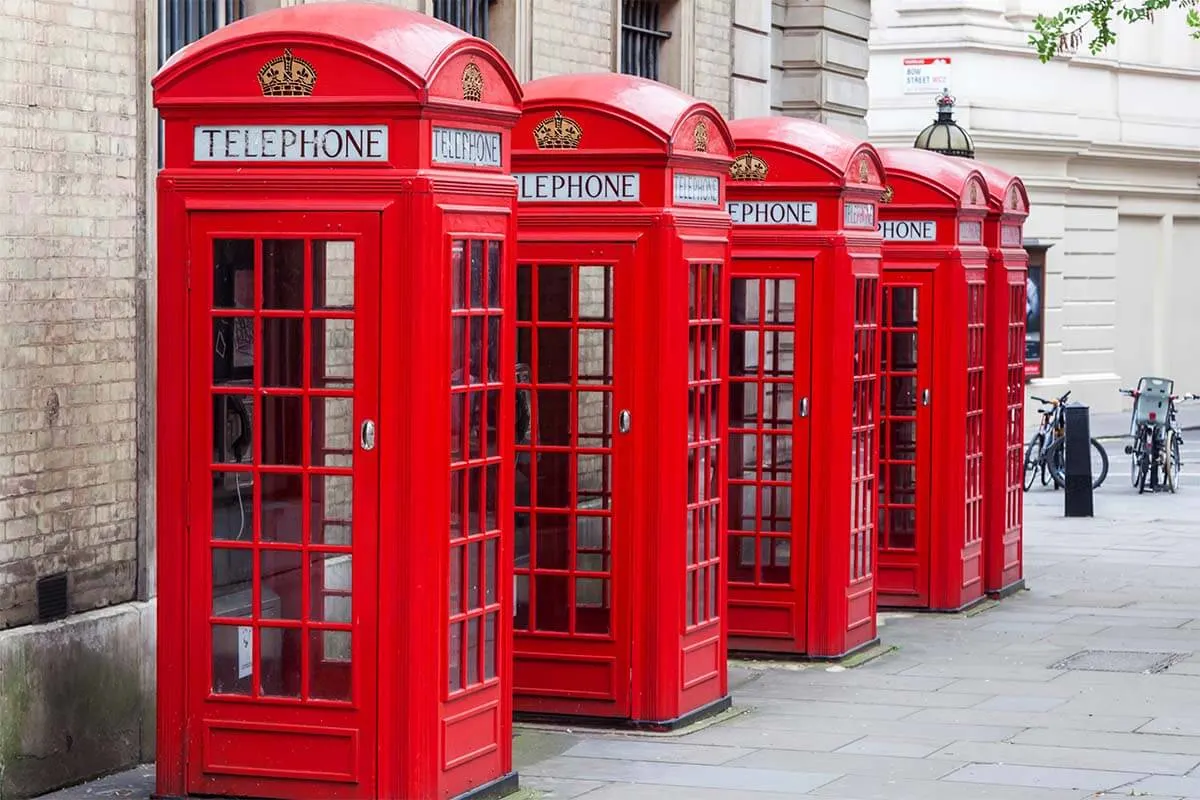 Map
London is huge but as you can see on the map, many of the major landmarks are located not too far from each other. So you can see and do quite a lot in one day.
To help you with the planning, we created this map indicating all the top places that we recommend visiting in London in a day. You can also see an approximate walking route suggestion. This should give you a better idea of where all these places are located and help you plan a perfect itinerary for your day trip to London.
If you decide to skip some sights or visit them in a different order, it's perfectly possible too. This is just one of the possibilities, taking into account the opening times of some of the places that we think are worth visiting the most.
How to use this map: Use your computer mouse (or fingers) to zoom in or out. Click on the icons to get more information about each place. Click the arrow on the top left corner for the index. Click the star next to the map's title to add it to your Google Maps account. To view the saved map on your smartphone or PC, open Google Maps, click the menu and go to 'Your Places'/'Maps'. If you want to print the map or see it in a bigger window, click on 'View larger map' in the top right corner.
Practical Info & Tips
If you follow this 1-day London itinerary exactly as it is suggested here, you will be walking a lot, so be sure to wear comfortable shoes. This itinerary focuses on the main landmarks, many of which are located too close to each other to take a metro every time, but far enough to give you a good exercise. You'll only take a boat to get from Westminster to Tower Bridge.
Use a metro to get to the starting point of this itinerary and back to your hotel at the end of the day. It's the fastest way to cover big distances in London.
Be sure to pre-book timed-entry tickets (choose fast-track tickets where available) for any of the attractions that you want to visit. Otherwise, forget it and just enjoy the sights from the outside. With just one day in London, you really don't want to waste time queuing at one or the other attraction for an hour or two before you can even get inside. Plus, in some places, walk-ins are not guaranteed at all.
With just a day in London, it doesn't matter that much where you decide to stay. Of course, it helps if you choose a hotel in a somewhat central location, also because you can explore a bit more of the days of the arrival/departure as well. A lot also depends on how you travel to/from the city. For example, Megaro Hotel is a good option next to King's Cross and St Pancras International Stations where the Eurostar train arrives from Paris, Brussels, or Amsterdam.
MORE INFORMATION: Where to Stay in London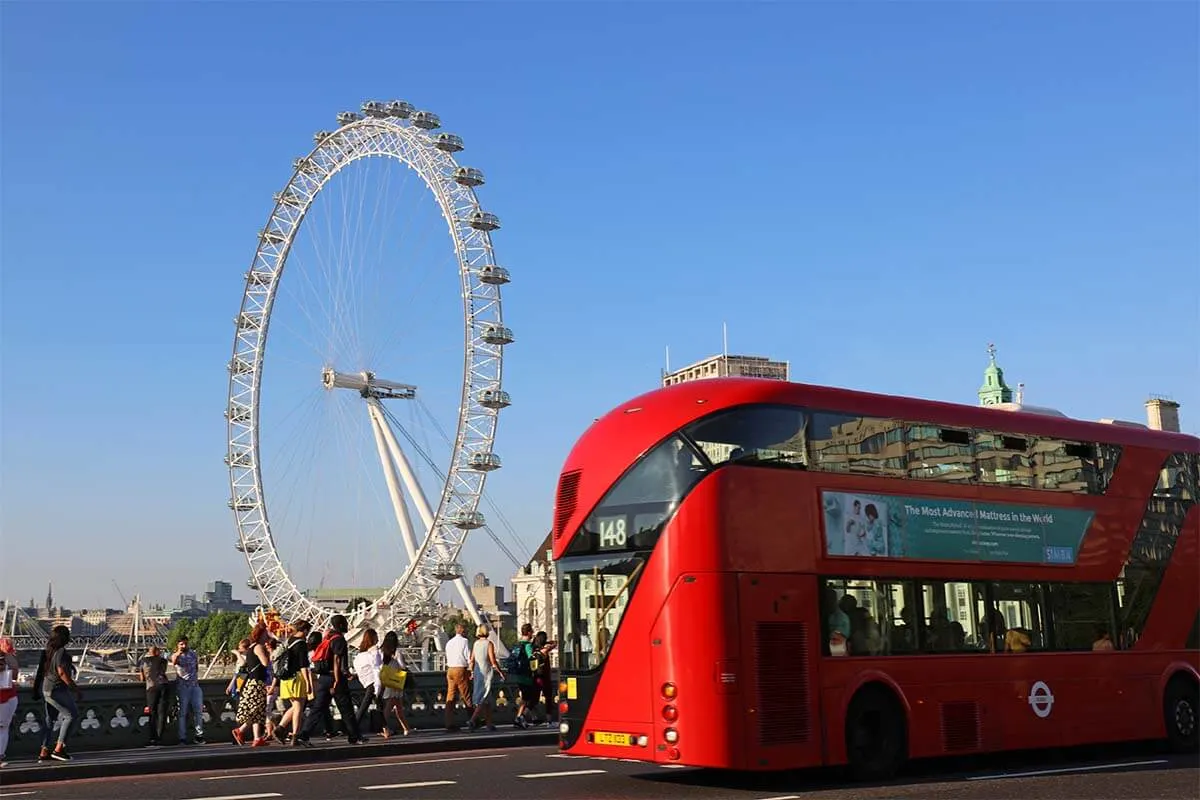 So, this is our suggested itinerary for one day in London. As you can see, there are many possibilities and options, so use this as an inspiration to plan your own perfect day trip to London!
If this guide inspires you to stay longer, check out this guide with our recommended 2-day London itinerary.
Have a great trip!
More travel inspiration for London:
If you found this post useful, don't forget to bookmark it and share it with your friends. Are you on Pinterest? Pin these images!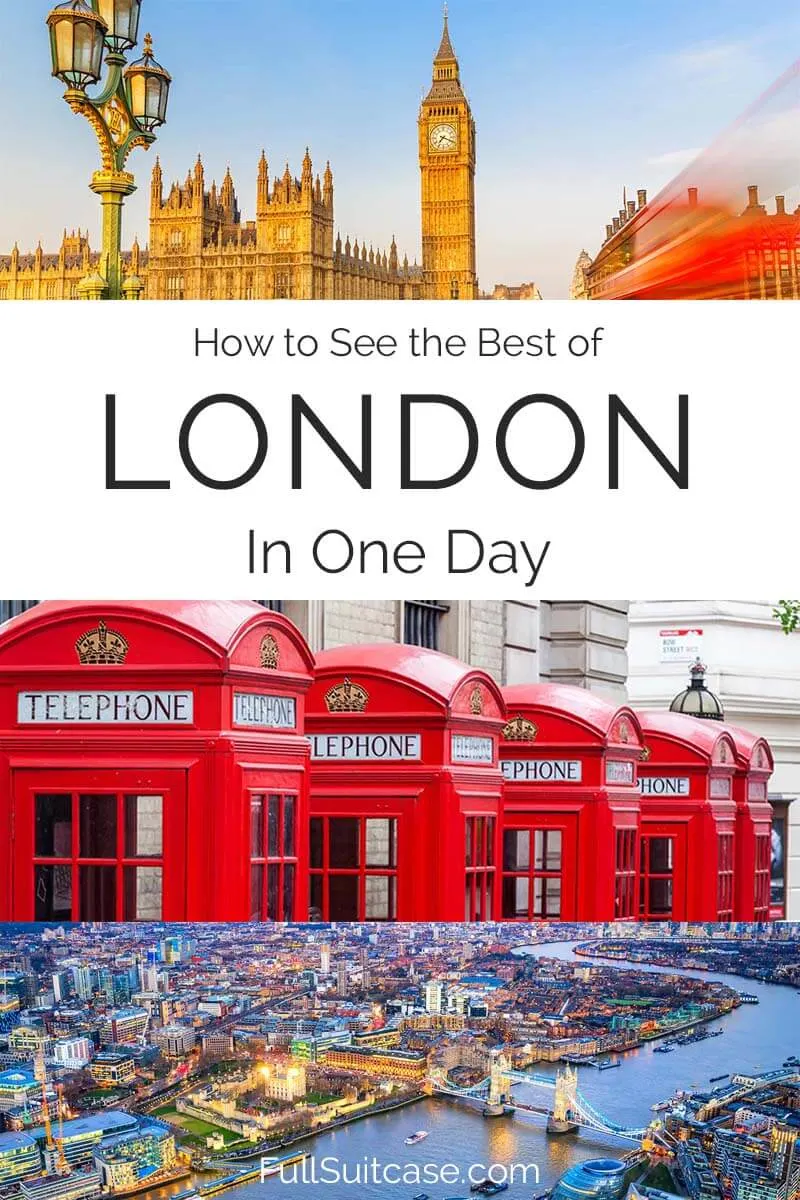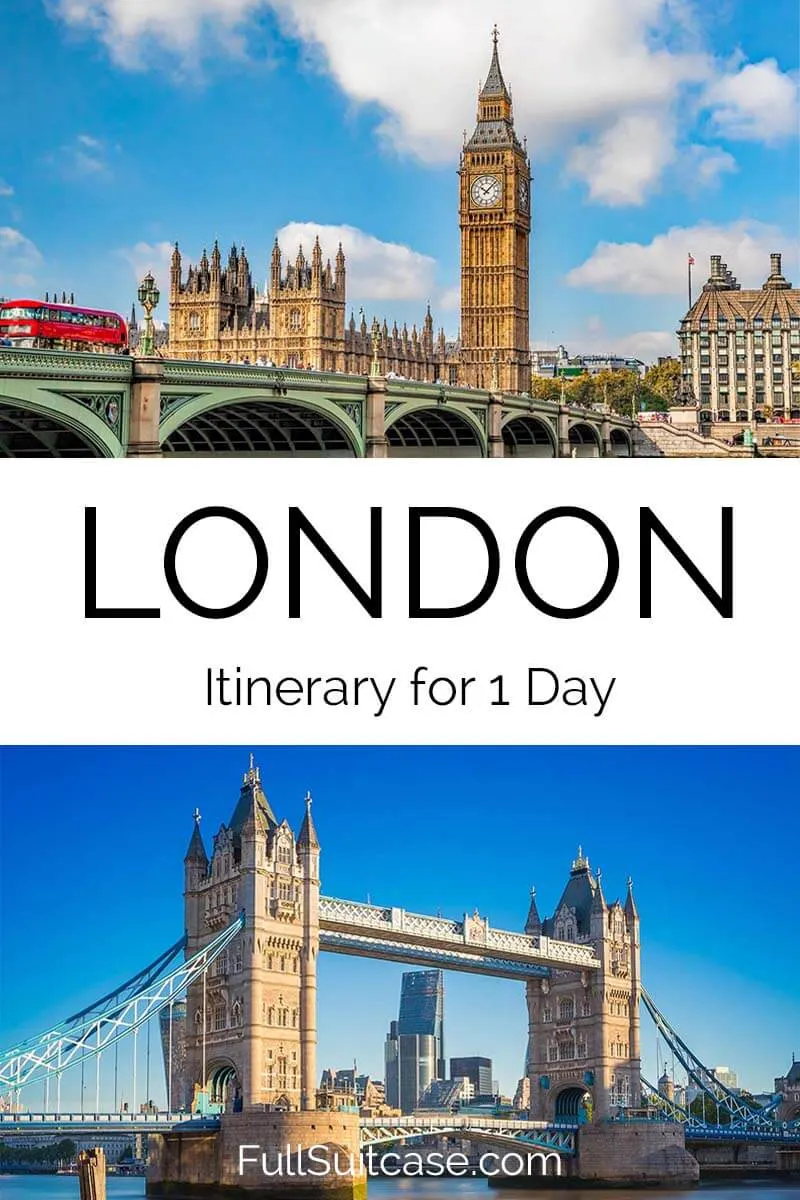 Images: personal collection and Depositphotos.com. Additional credits: ewelinas85/Depositphotos.com// cowardlion/Depositphotos.com// dvrcan/Depositphotos.com.
More 1-day itineraries for some of the nicest European cities: