Thinking of visiting the famous markets of Camden Town in London and wondering which Camden Market to visit, what to expect, and how to make the most of it? This article should answer all your questions. Find out!
Camden Town is one of London's hippest, most eclectic districts – its streets lined with quirky shops, indy music stores, and live venues. It has a distinctly Bohemian vibe, with an unconventional and edgy coolness, making it one of the best places for people-watching and the perfect location to pick up unique souvenirs.
It's also one of the coolest neighborhoods to stay in London (or just to visit for a few hours) if you want to experience the more local side of London!
But one of the best reasons to visit this part of northwest London is to spend a day at the Camden Market, aka Camden Lock Market.
Good to know: Camden Market now combines two former markets that have been merged into one: Camden Stables Market & Camden Lock Market. Nowadays, it's hard to tell where one began and the other one ended…
The Stables section features distinctive horse tunnels and stable blocks – reminders of when the area was used by the horses that shunted cargo along the canal. The Camden Lock section of the market features a seemingly endless maze of indoor and outdoor stalls located in and around a 3-story building.
So if you visit just one market in Camden, make it this one, located just around the bridge over Regent's Canal.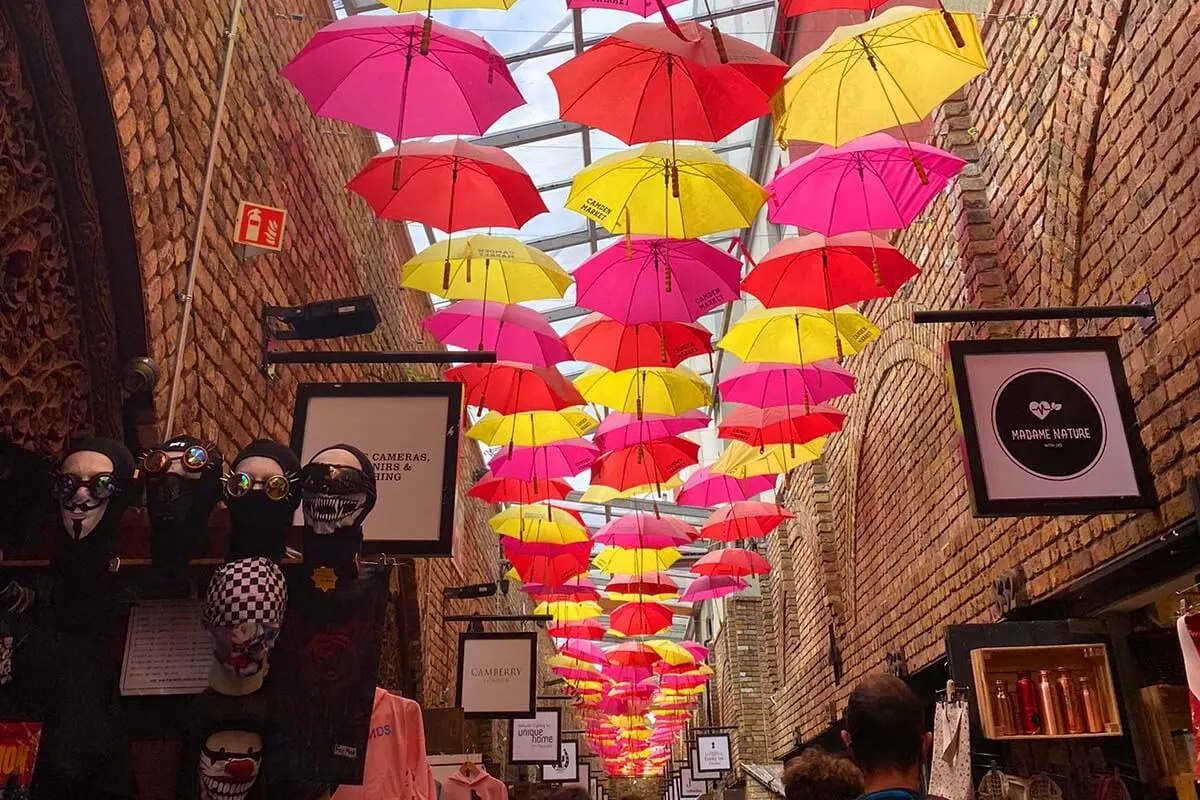 Selling everything from vintage clothing to handmade jewelry and from gothic clothing to vinyl discs, Camden Lock Market is about as diverse as they come.
As popular with locals as it is with tourists, Camden Lock feels a million miles away from the more sophisticated markets at Covent Garden and Greenwich. It's quite unlike any other market in the UK – and it's an incredibly fun place to spend anywhere from a few hours to an entire day.
In this guide, we share some top tips for visiting Camden Lock Market and getting the most out of your day. From how to avoid the biggest crowds to the highlights to look out for, this guide will help you make the most of the coolest, most chaotic market of London. Find out!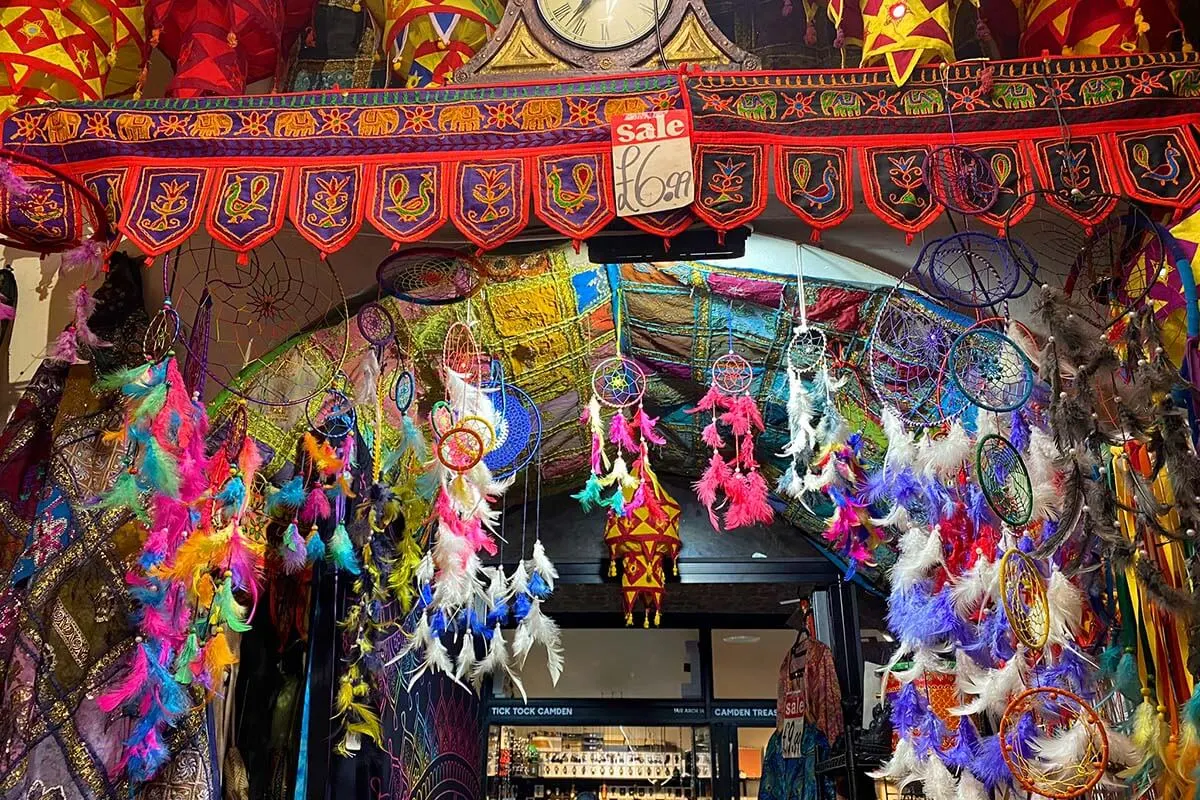 Top tips for visiting Camden Market:
1. Visit Camden Market on the Weekend
Best time to visit
'What??? Do you actually recommend visiting one of the most popular markets in London on the weekend?', I hear you say… Yes, and there's a good reason for this.
Camden Lock Market is almost always busy at weekends, whatever the weather, and somewhat quieter during the week. So your first reaction would be to go on a quieter day during the week… However, there are pros and cons to visiting at either time.
Whilst you'll have a lot more space to move around and browse at your leisure, not all of the stalls will be open on weekdays.
So to really appreciate everything the market has to offer, you need to visit Camden Lock on a weekend. But then you also have to accept the fact that it will be very crowded and pretty noisy, too. To many, though, that's all part of the attraction!
TIP: If you opt for a weekend visit, your best chance to avoid the worst of the crowds is to get to the market early. Camden Lock Market is open from 10 am to 6 pm every day (except Christmas), so you would really need to try to be there before 11 am. However, even then, you still risk a few stalls still being closed, particularly in the food area, so come back to those later. In the summer months, some traders will stay open after 6 pm, so this is another good time to enjoy the market without the biggest crowds.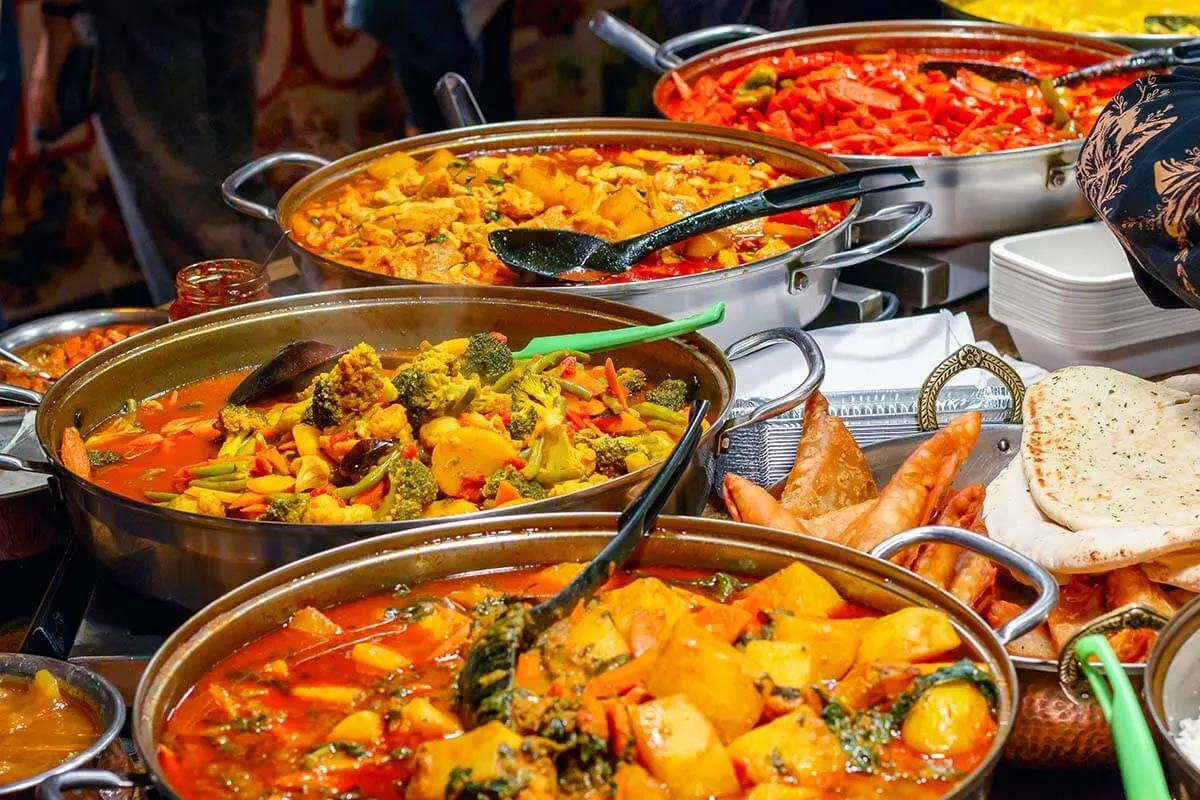 2. Take a Tube (but skip Camden Town Station)
Getting there
The easiest way to get to Camden is by tube on the London Underground. The closest station is Camden Town – just a 7 minute walk from the market.
So if you're coming just for the market Camden Town station is the best one to use for a weekday visit. If you plan to visit during weekends, I recommend using Chalk Farm station instead. The Camden Town station becomes so busy at weekends that escalator services are suspended for most of the day and you are forced to negotiate a spiral staircase instead.
On really busy days, Camden Town metro station is closed altogether.
This is important to know for your return journey, as unexpectedly finding the station closed could cause you to miss a connecting service for an onward journey. Chalk Farm station is only 10 minutes away on foot, so it's really not much further to walk anyway.
You can also reach Camden Market by bus – routes 24, 29, and 134 all run there from London's West End. And should you prefer to take the train, head towards St. Pancras railway station, which is a 25-minute walk away.
Alternatively, why not visit the market by strolling or cycling along the towpath of the Regent's canal! It's a great way to escape the traffic and makes a serene start to a busy day!
We strongly recommend NOT visiting Camden Market by car. Parking in the area is virtually impossible to find – and very expensive if you do!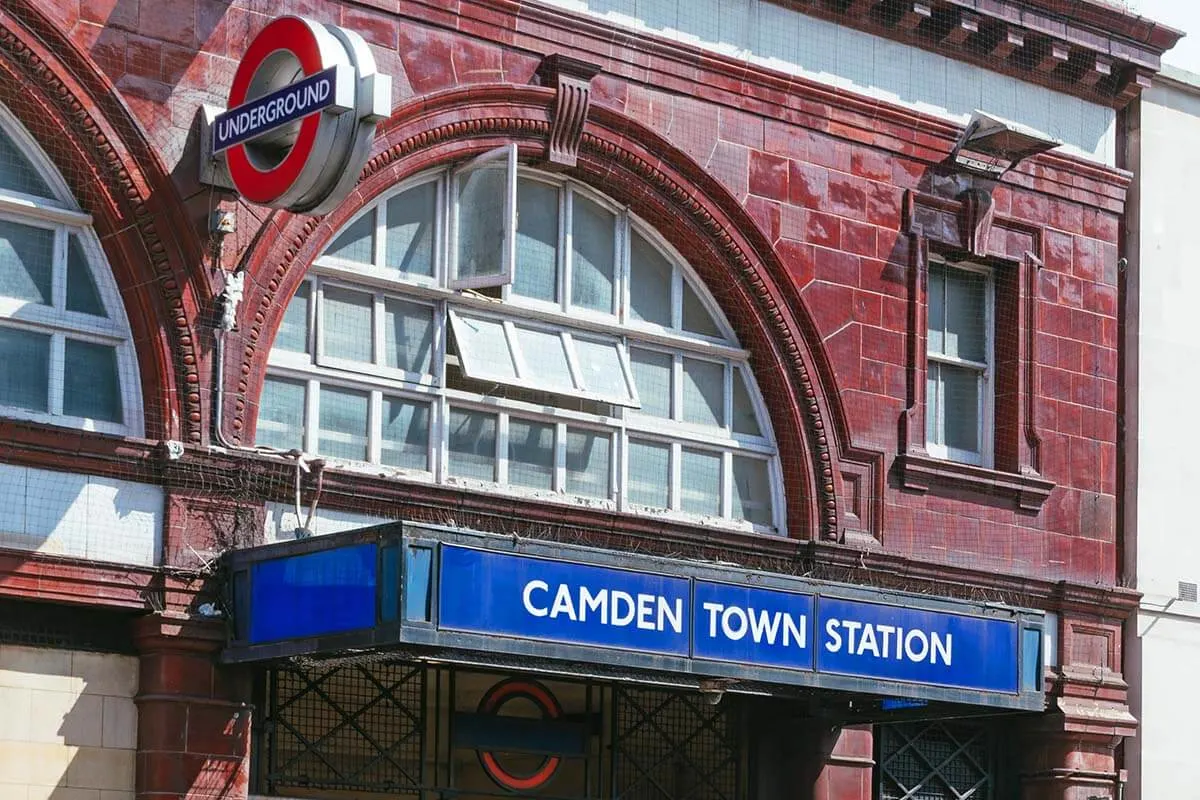 3. Shop Around Before You Buy
Shopping in Camden Market
It's probably not too much of an exaggeration to say that you can buy pretty much ANYTHING at Camden Market. You'll find clothing, antiques, jewelry, old books, perfume oils, classic vinyl records… the list goes on.
The items sold here tend not to be the mass-produced, generic items you'll find in the shops lining Camden High Street. And the fashions are certainly not your high street fashions! Most clothing and accessories range from vintage or goth to retro or steampunk, with some tie-dyed hippy styles too.
Whilst there are lots of unique items available at the market, don't automatically accept that all items are handmade, even if that's what the signs tell you. You will sometimes find the exact same products being sold at another store, or elsewhere in Camden.
So shop around before buying anything because quality and prices do vary throughout the market!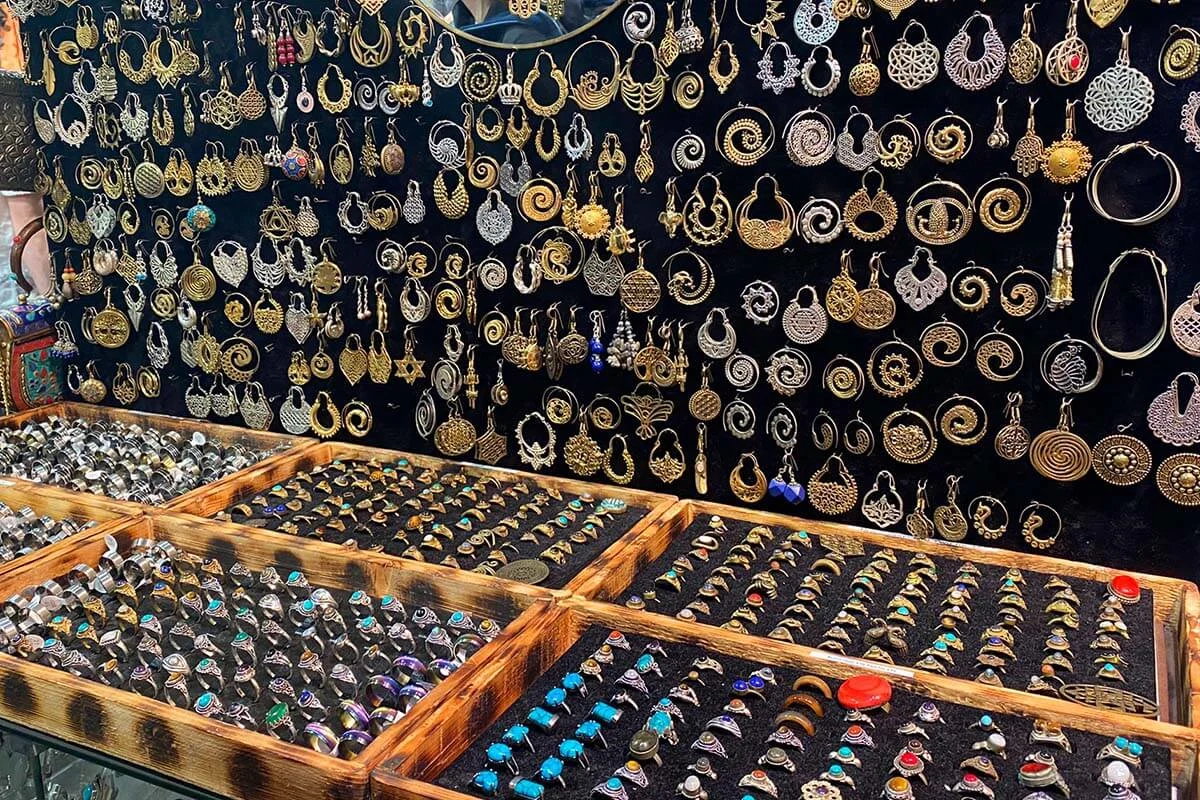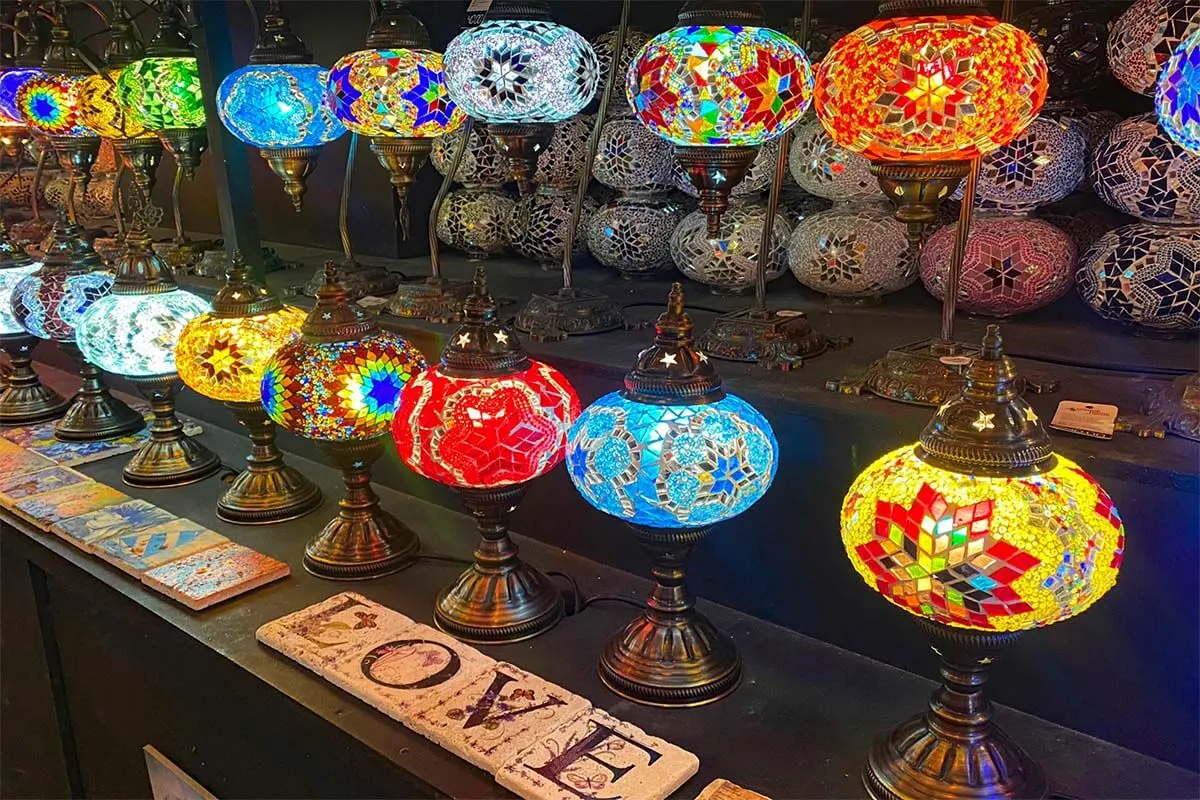 4. Visit Cyberdog
One of the coolest & quirkiest shops in Camden Market
For an eye-popping shopping experience you won't forget, be sure to pop into Cyberdog, located on Chalk Farm Road.
Guarded outside by two giant silver robots (that make it easy to spot), this store sells futuristic and rave-style clothing and accessories, including smaller versions for children.
There is a resident DJ and you feel very much as if you are in a rave itself, with the music booming and the assistants dressed in striking, fluorescent outfits.
Both adults and children are welcome and the store is arranged over multiple floors with escalators. However, the bottom floor is distinctly adult in nature, so give it a miss if you are traveling with under 18s.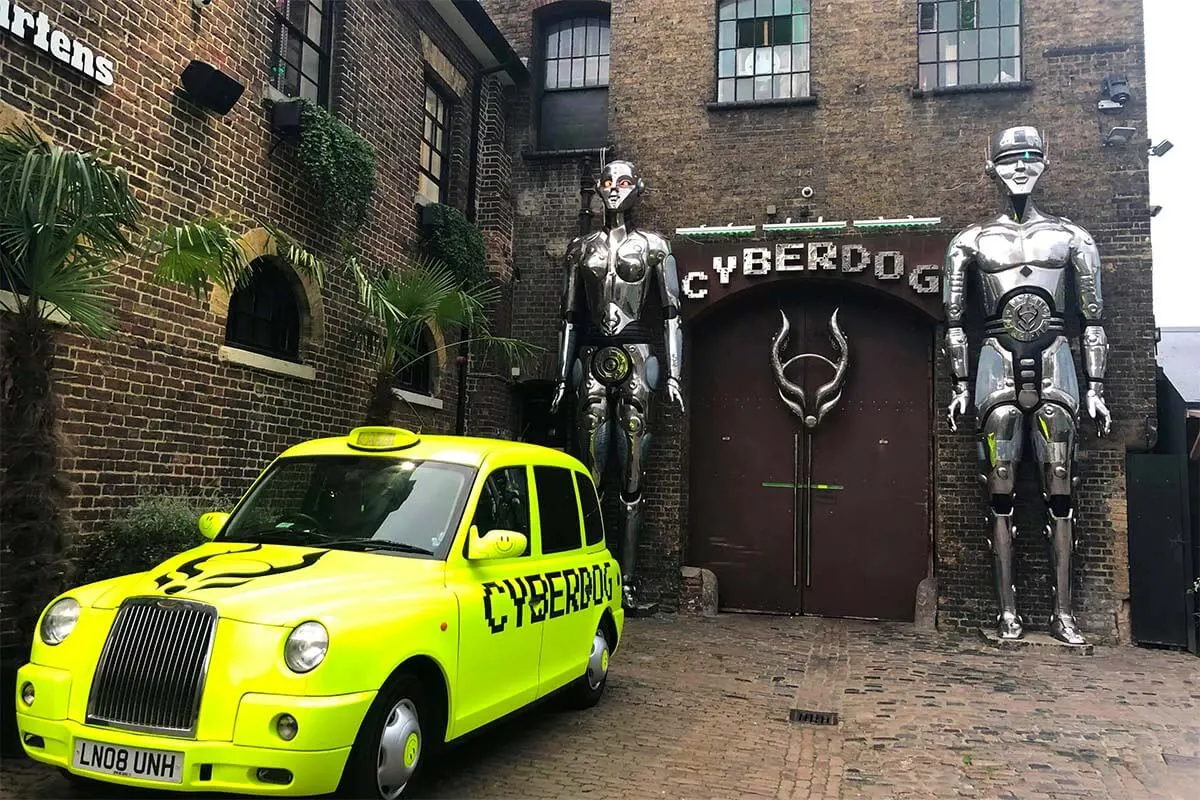 5. Enjoy the Food (but don't expect to sit)
Eating at Camden Lock Market
If you only visit this buzzing market for one thing, it has to be the food! You'll find regional specialties from all over the world here, from Spanish paella packed with seafood to incredible Colombian cuisine prepared before your eyes with the freshest ingredients. There are some interesting traditional British dishes too, including the 'Yorkshire Burrito', consisting of a traditional Sunday roast wrapped in a Yorkshire pudding burrito!
Also with food – don't be in a rush to buy the first tasty thing you see. Because you'll turn a corner and see something else delicious that you'll want even more!
Good to know: All the food stalls have a 'street food' vibe to them. And like most street food venues, these stalls tend to have no seating available. Although there are a few picnic tables scattered here and there and even a couple of open-air pods in the Stables area, most people tend to sit wherever they can squeeze themselves in. So prepare to climb over diners whenever you need to climb the steps to the upper floors!
You can also head to the canalside and eat there. But whilst relatively quieter than inside the market itself, there is still no seating and you'll need to be prepared to sit on the concrete towpath beside the water.
On my last visit, I found a very unique and enjoyable solution to this problem – check out the Regent's Canal section below to discover the very best way to enjoy your food in comfort!
TIP: Be sure to wander around the food stalls at the end of the day. Traders – keen to sell their remaining stock before they close – tend to offer food at big discounts!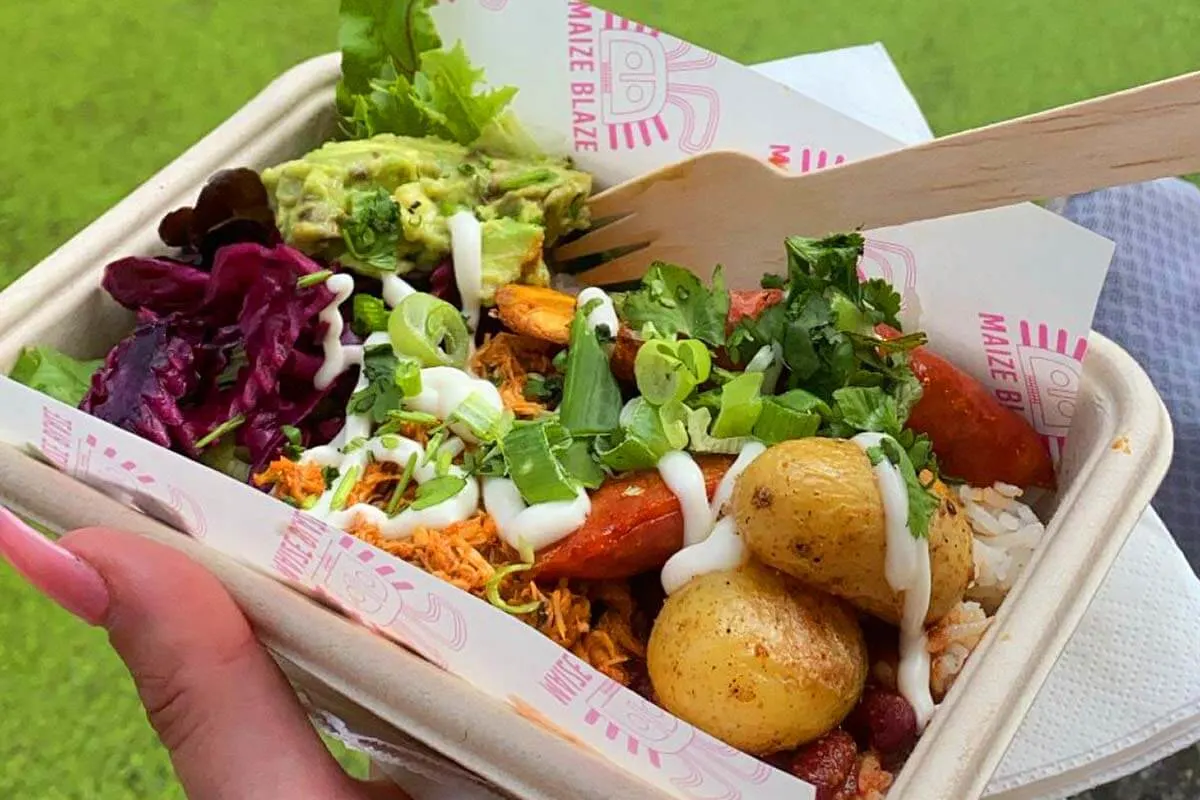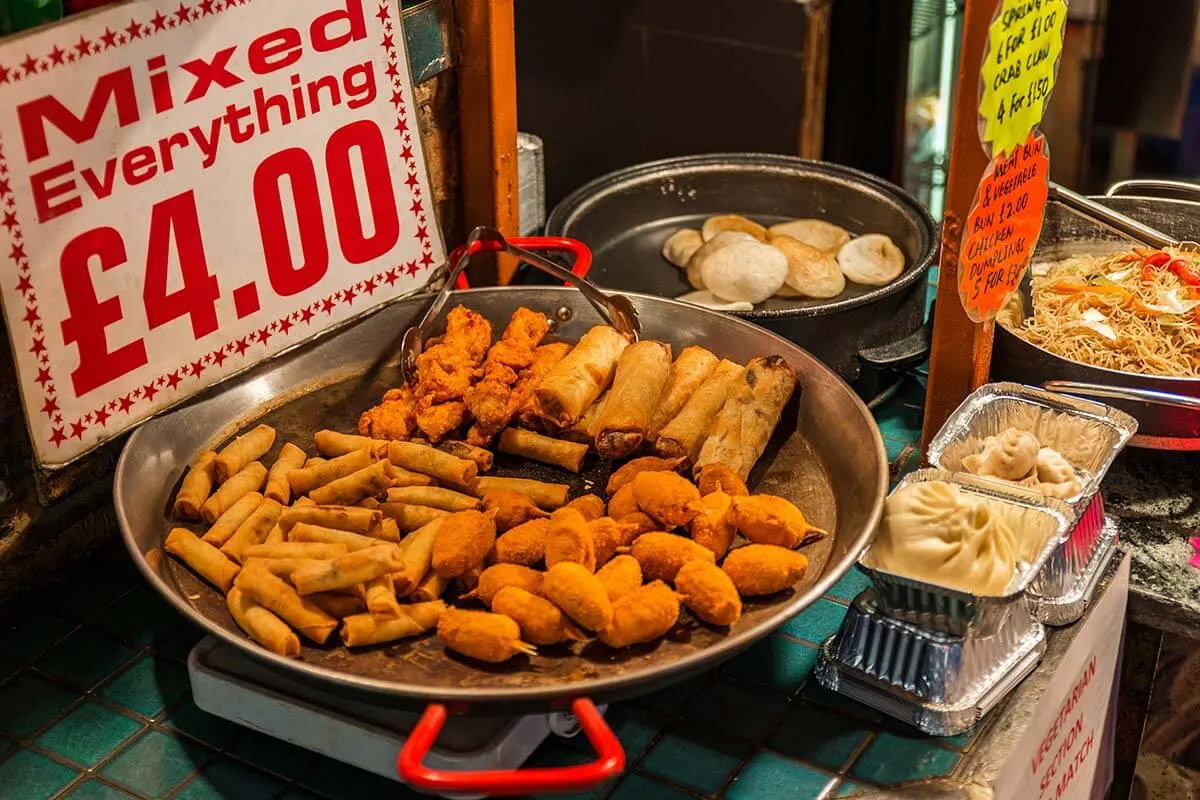 6. Bring Some Cash & Try Haggling
Money matters
In the past, Camden Market traders would only accept cash, but the pandemic has changed that a bit.
Since many people now prefer to pay contactless, there are now card machines at most market stalls, however even nowadays, some of them still only accept cash. Luckily, there are ATM machines available should you need to pay anyone in cash.
You can try a little haggling if you have the nerve, although most items have marked prices and many sellers won't go below them. Your best chance of success is if you buy more than one item, in which case you are more likely to receive a discount.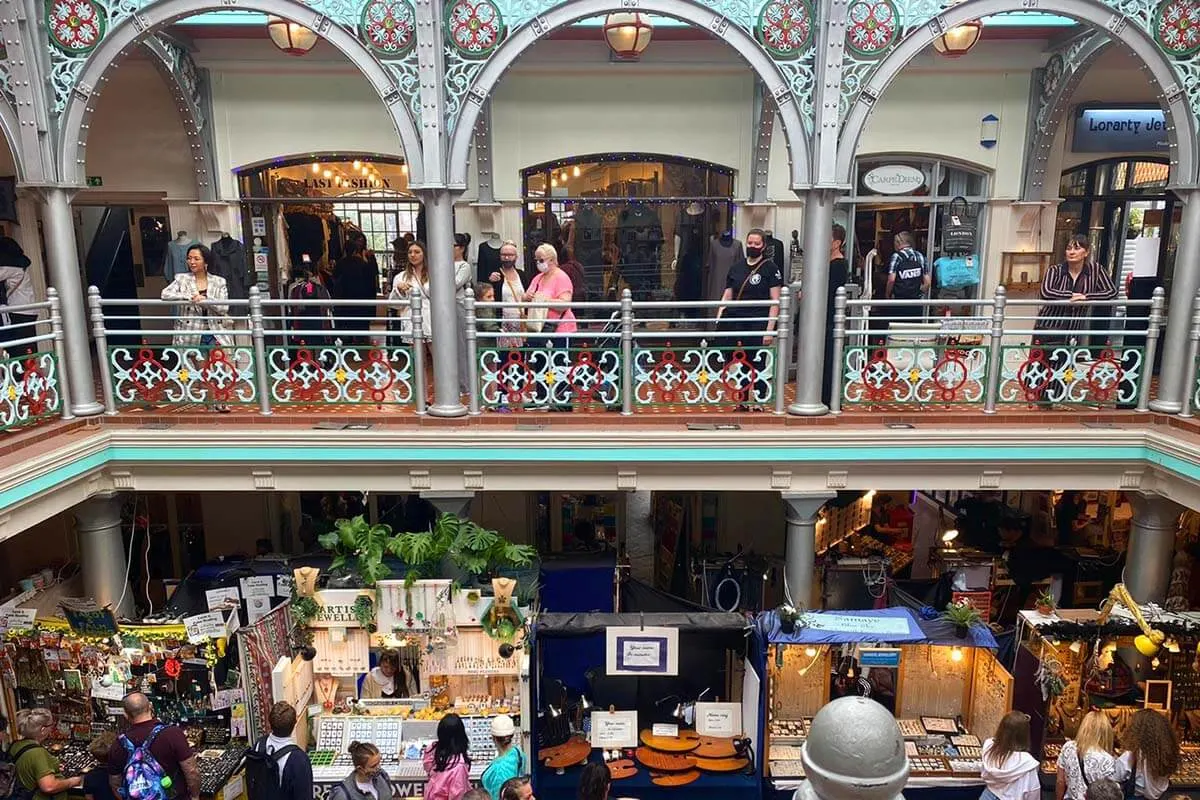 7. Beware of Pickpockets
Just like anywhere else, really…
As with all crowded places and all bigger cities, Camden is a hotspot for pickpockets. So keep a close eye on your wallet or purse. You should always be alert!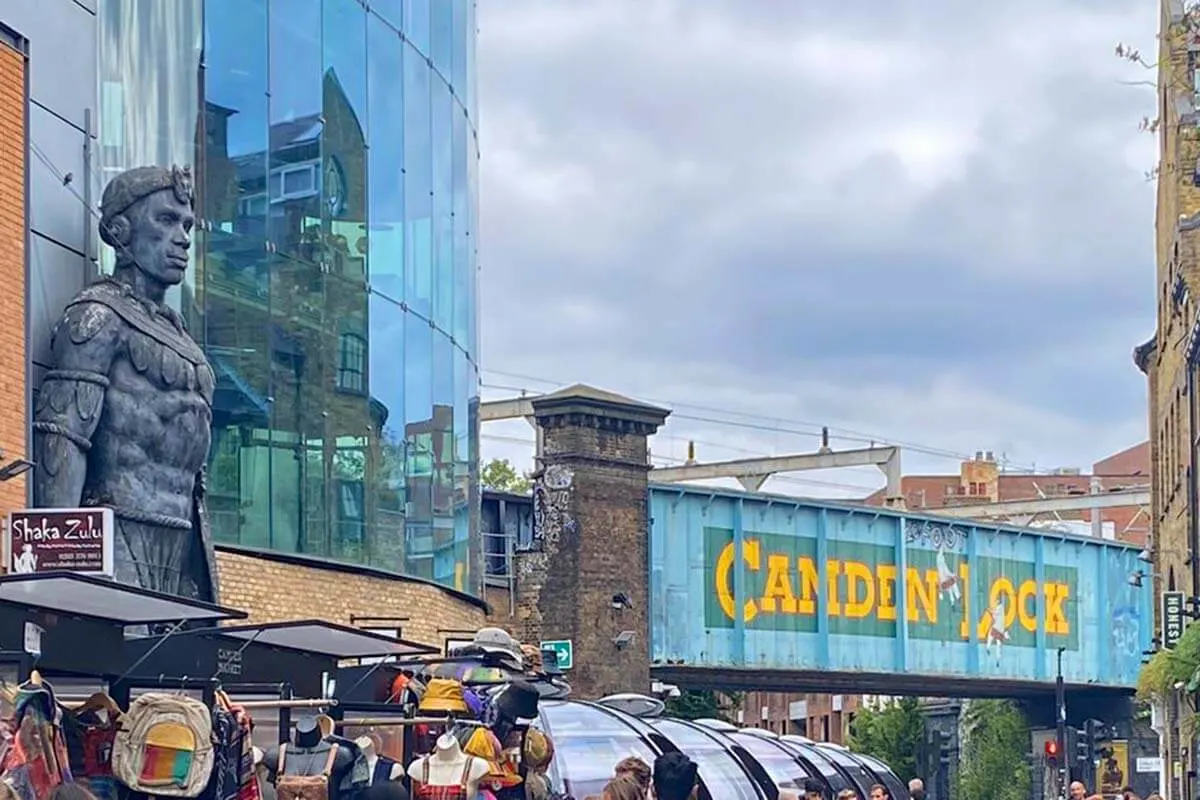 8. Discover Camden with a Local Guide
Best way to see all the top spots and local's favorites
If you want to see the best of Camden and explore the busy market without getting overwhelmed, consider visiting with a local guide.
This highly-rated private tour offers very good value and allows you to customize your itinerary based on your interests.
TIP: You can just take the shortest tour, get to know the area, learn some insider tips and recommendations, and then explore further on your own. This is really the best way to make the most of your visit to Camden Market!
So, for example, you book a 2-hour tour of Camden Market in the morning, then enjoy lunch on your own, and then explore the area further using all the additional tips and recommendations from your local guide.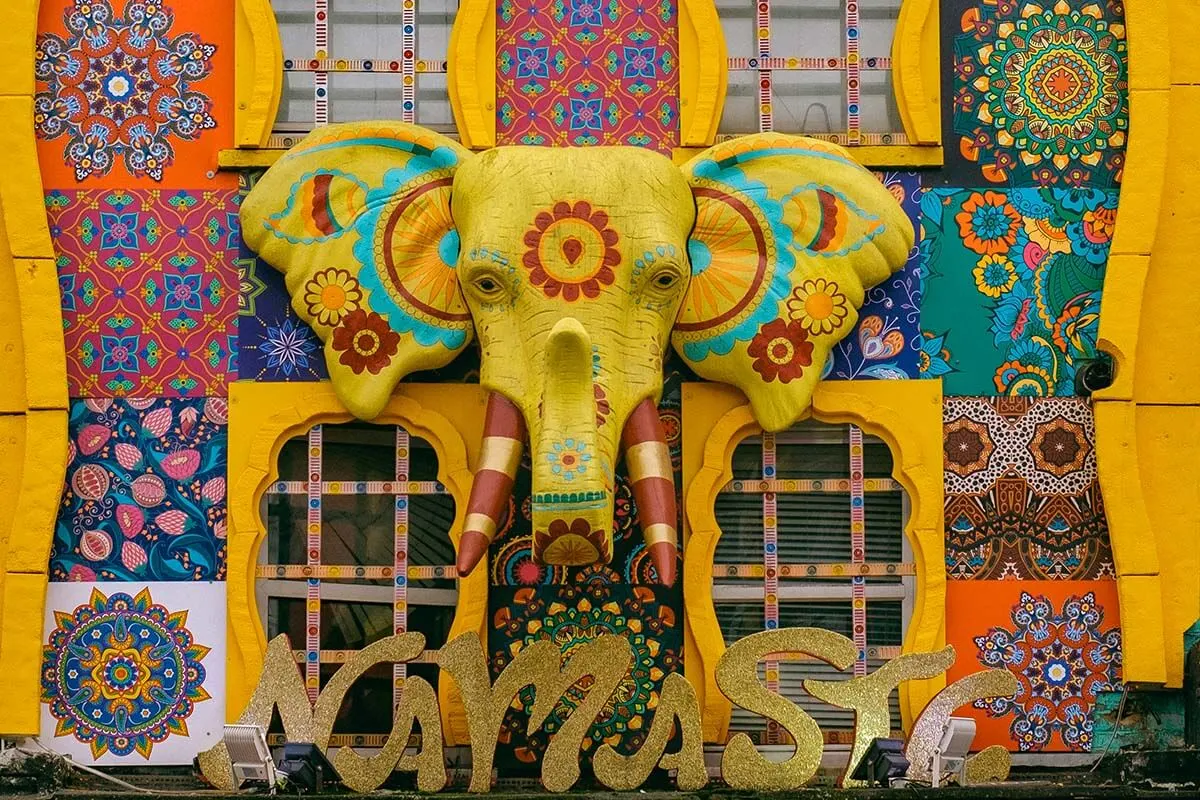 9. Check out Regent's Canal
Get off the beaten path in London!
A walk along Regent's Canal is an essential part of your visit to Camden. It's a great place to get a little break from all the hustle and bustle of the market! If you have time, you can even take a canal boat ride for a little tour.
But my recommendation is to take a ride on the music gondola that travels up and down the canal at regular intervals throughout the day. As you float along – comfortably reclined on the blankets laid out for passengers – you are serenaded by a live musical performance.
You are even allowed to bring a meal on board to eat as you travel – so this makes the ideal experience to enjoy at lunchtime when you have bought something delicious from one of the street food stalls and have nowhere to sit!
The gondola goes as far as London Zoo, where you can even see some of the animals from the water, then floats you safely back to Camden Market for more shopping.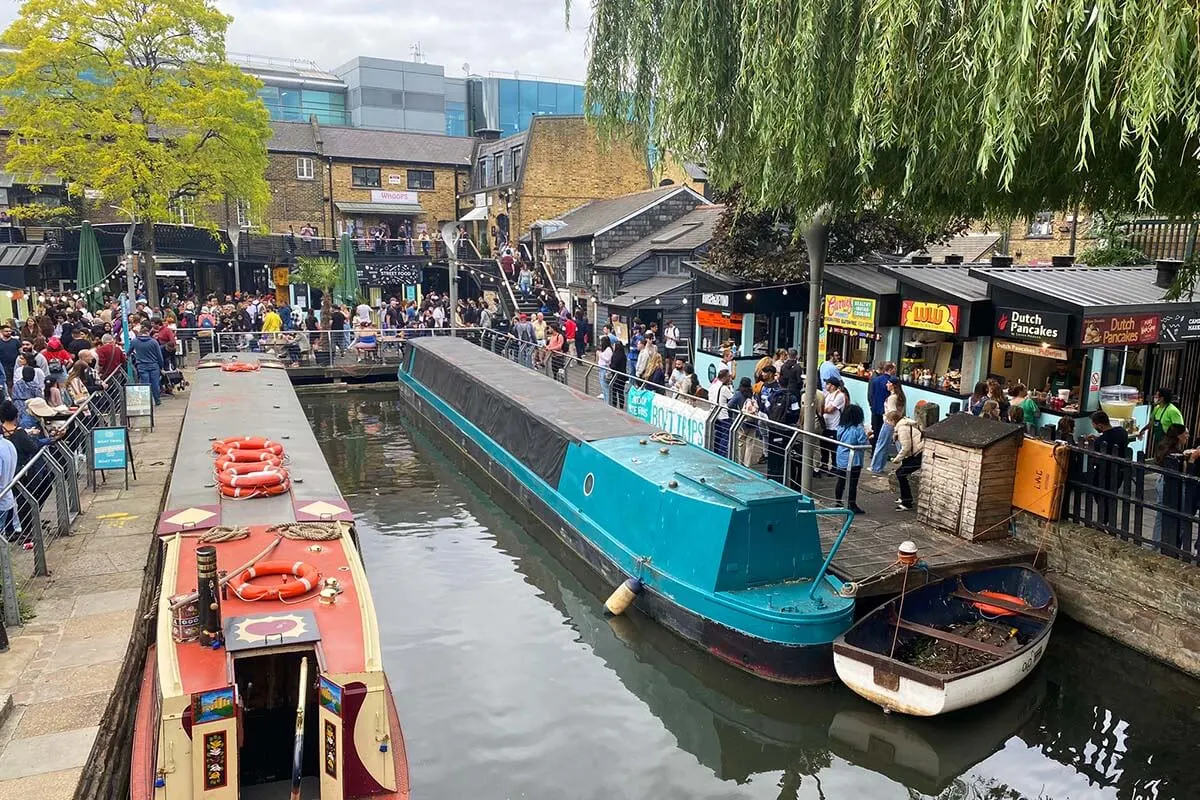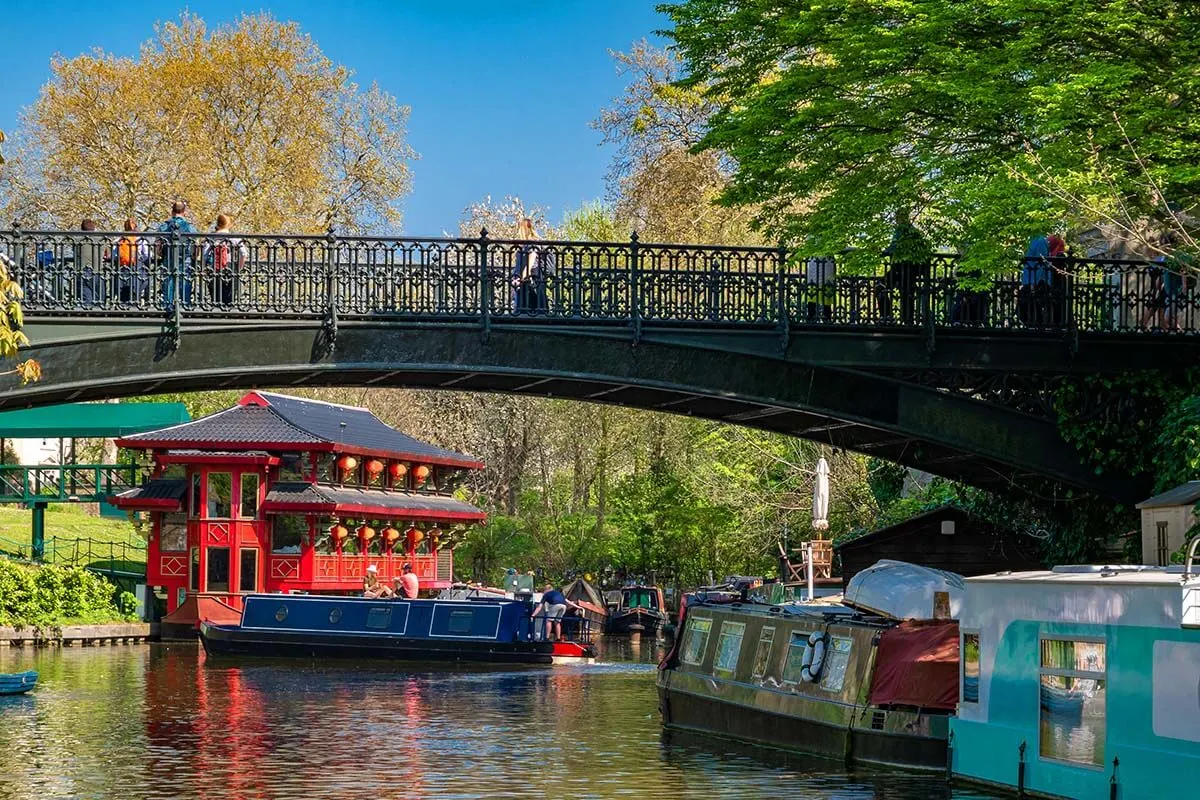 10. Visit Camden in the Evening Too
What to do at Camden Market at the end of the day
If you have any energy left and don't feel ready to leave Camden once the shops and stalls are closed, you have a couple of entertainment options within the market grounds.
For live music and comedy, head to PowerHaus (formerly Dingwall's). Once one of London's most popular venues for punk music, it is now offering a variety of performances.
Or for a memorable meal, book a table at Shaka Zulu, London's largest South African restaurant. Not only is the food excellent, but the decor is simply jaw-dropping, with heavy, wooden safari-style furnishings and faux wood carvings covering every surface. Easy to spot in the Stables section of the market because of the enormous warrior stationed at its doors, the restaurant is ideal for the whole family in the earlier part of the evening. It then transforms into a nightclub for adults late at weekends.
If you are over 18 and are looking for a more fun evening in good company, you may want to join this popular Pub Crawl tour. Usually, you can only book this tour for Friday or Saturday evening, but you'll also find some pubs open if you visit on other days as well.
Regent's Canal is also a nice place for a romantic walk in the evening.
There's really plenty to see and do in and around Camden Market at any time of day and every day of the week!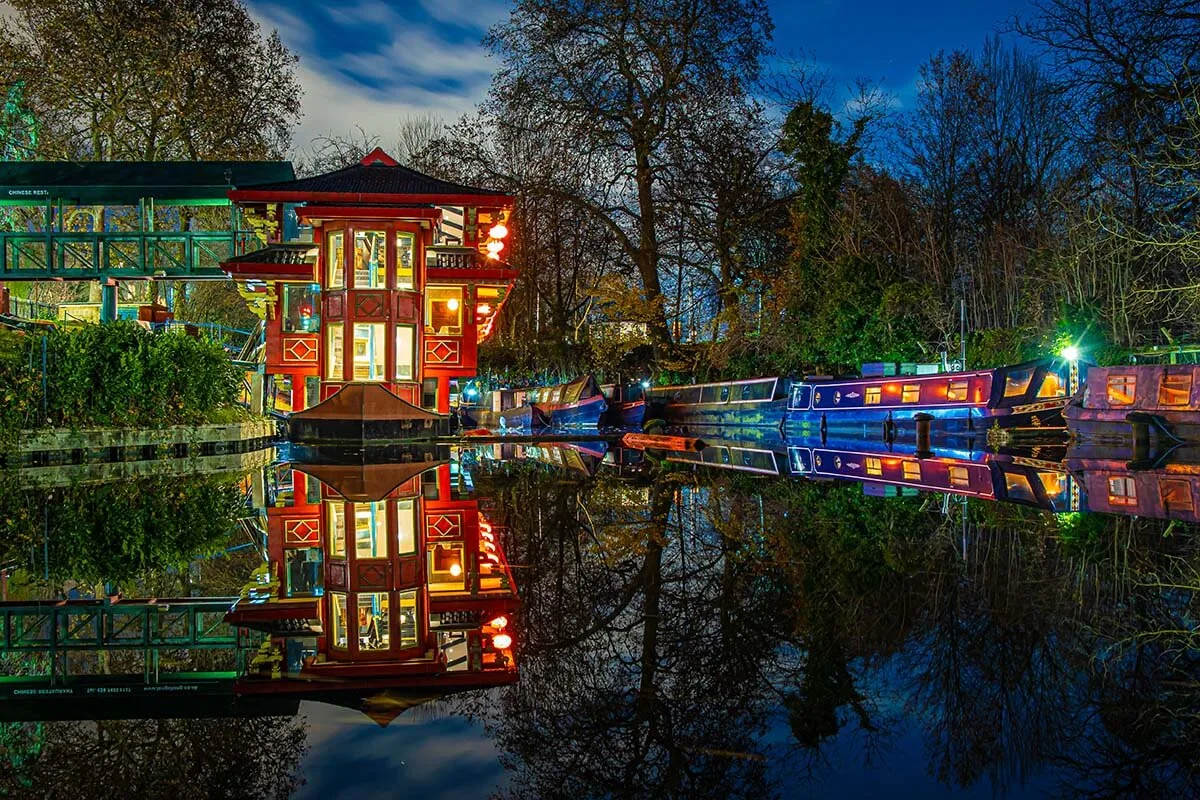 11. Take the Kids (but adapt your itinerary)
Visiting Camden Lock Market with children
Older children will love the sights, the sounds, and the tastes of Camden Market, but it can be hard work to visit here with toddlers or babies.
The sheer number of people – along with the many cobbled areas and steps – make it very difficult to get around Camden Lock with a stroller. There are also very few toilet facilities and they are not easy to find.
So if you want to visit Camden Lock Market with young children, we would definitely recommend coming on a weekday.
TIP: One shop in Camden Market loved by young and old alike – and definitely not to be missed – is Hans & Gretel – the Sweet Dream Factory. People queue around the block for the exquisite treats sold here, including cotton candy, waffles, cones, gelatos, and incredible combinations of them all. Setting foot inside the store is like walking into a fairytale and the atmosphere is both magical and lots of fun.
READ ALSO: Best Things to Do in London With Kids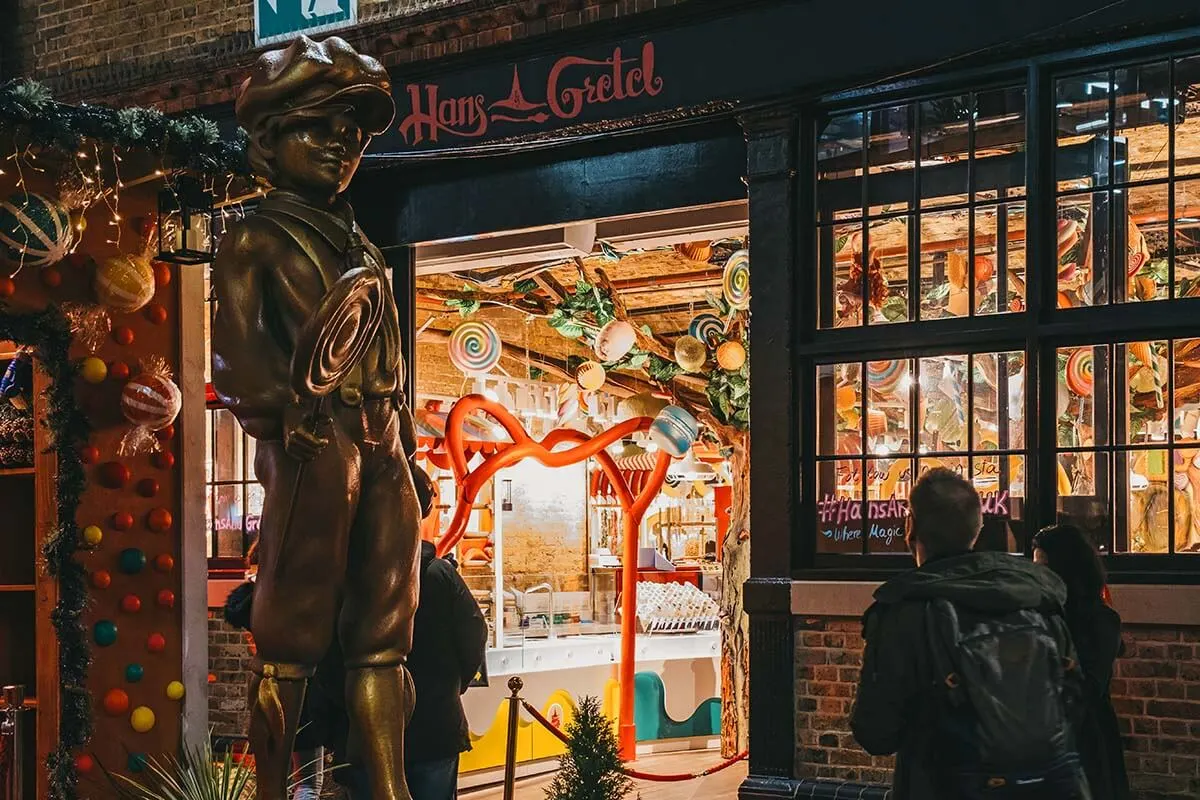 So here are some of our top tips for visiting Camden Market in London.
Whilst Buckingham Palace, Big Ben, and Tower Bridge are the main London attractions that every visitor to the city should see, nothing quite sums up the character of the 'real' London quite as much as a day spent at Camden Lock Market.
Furthermore – in addition to the market – there's so much more to see and experience in Camden. Take a look at our guide below for a complete overview of what to expect in this cool neighborhood!
LEARN MORE: Best Things to Do in Camden Town
TIP: If you like places like Camden, want to explore London a bit deeper, and get a bit off the beaten path, be sure to check out our guide to some of the nicest hidden gems of London.
More tips for your trip to London:
If you found this post useful, don't forget to bookmark it and share it with your friends. Are you on Pinterest? Pin this image!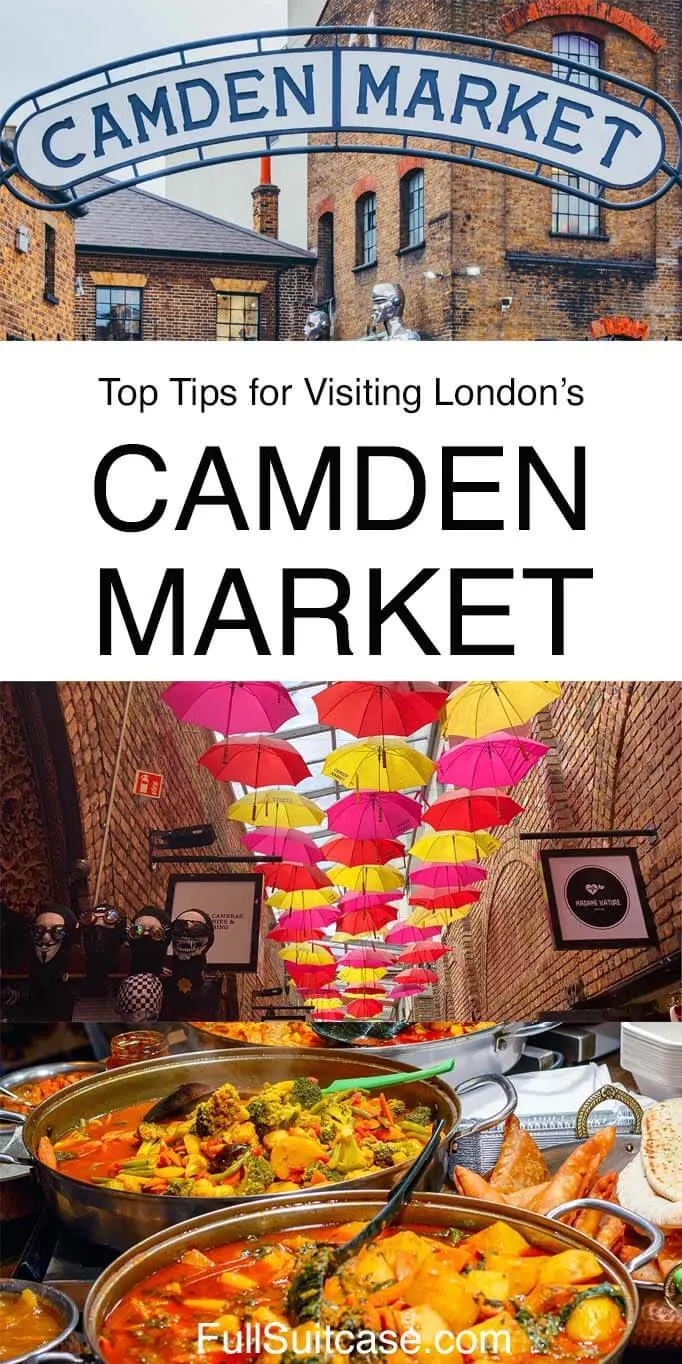 Image credits: personal collection, Depositphotos.com, Unsplash.com, and AlenaKr/Depositphotos.com.