London is an amazing city with so much to offer that you could spend weeks and still not see it all. But in addition to all the top sights and attractions in the city itself, there are also so many beautiful places near London, many of which can easily be visited as a day trip from London.
However, with such an array of possibilities, how do you choose the very best day trips from London that are worth your time the most?
In this article, we feature the absolute best places that you can visit as a one-day trip from London, England. This guide includes all the 'musts', the very best day trip destinations near London for first-time visitors, but also for local travelers who want to (re)discover some of the most popular sights near London.
In addition, for each place, we include recommendations on how to visit on your own and also the best day tours from London. Because even though you can visit many of these places by train, often, you will be able to see so much more if you go on an organized tour.
Many tours combine several major landmarks in one day, allowing you to make the most of your time and see a lot in a short time. Furthermore, going with a local guide is a great opportunity to explore deeper, scratch beneath the surface, and discover things you didn't even know existed…
Good to know: At the bottom of this article, you can find a map indicating all the places that you can easily visit as a day trip from London mentioned in this guide. It will give you a better idea of where everything is.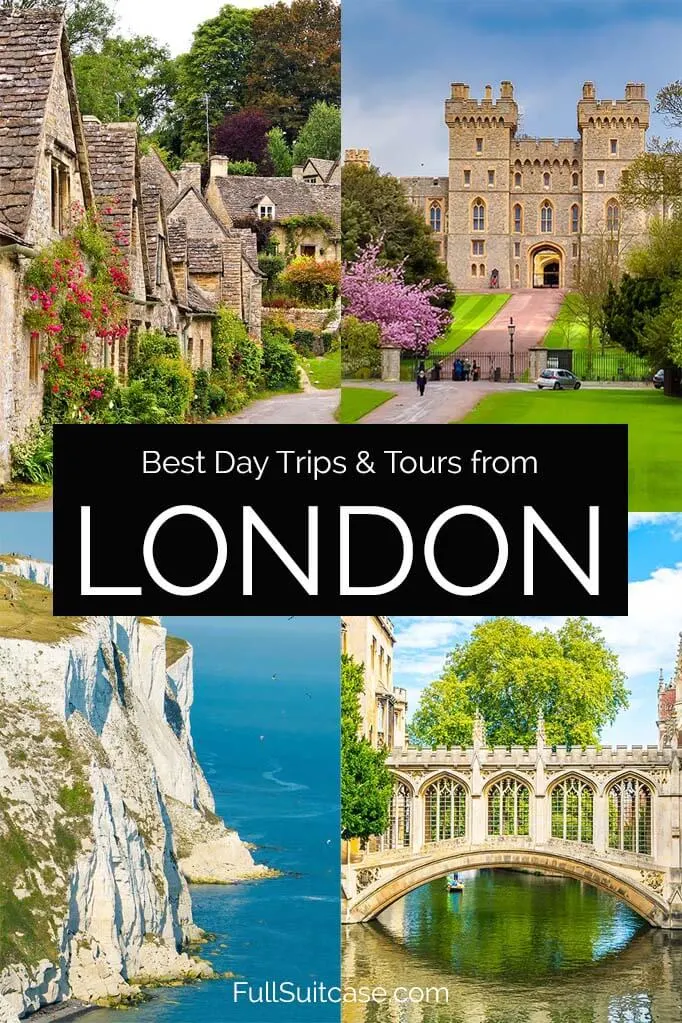 TIP: If you don't have the time to read the entire article and are looking for the best day trips from London, here are the most popular day tours among our readers:
Interesting to know: The overall most-visited day trip destinations from London are Windsor Castle and Harry Potter Studios.
These are the best & most popular day trips from London:
1. Windsor Castle
If you visit just one place outside of London city, make it Windsor Castle! Located just 20 miles (32 km) from the city center, a day trip to Windsor is a must on any London bucket list!
The spectacular Windsor Castle is one of the queen's official residences and has been home to the royal family for 900 years! Kings and queens have been buried here, including the infamous Henry VIII and Jayne Seymour, his third wife. Most recently, Prince Philip, Duke of Edinburgh, is also buried at St George's Chapel at Windsor Castle.
An excellent example of church architecture in medieval times, Windsor Castle is still used for royal receptions and state occasions. In recent years it has been the venue of the weddings of Prince Harry and Meghan Markle, and Princess Eugenie and Jack Brooksbank.
Open all year round, Windsor Castle is a great way to explore royal history, from touring the Castle Precincts to viewing the lavish staterooms and apartments. The Castle Grounds are both beautiful and peaceful and from there you can observe the iconic Changing of the Guard, which normally happens at 11 am on Tuesdays, Thursdays, and Saturdays, from April until the end of July.
Good to know. At the moment, Windsor Castle is open daily except for Tuesdays and Wednesdays. Because it's a working royal palace, sometimes parts of the castle or even the entire castle can get closed on short notice. Below, you can find all the practical information for your visit. Read on!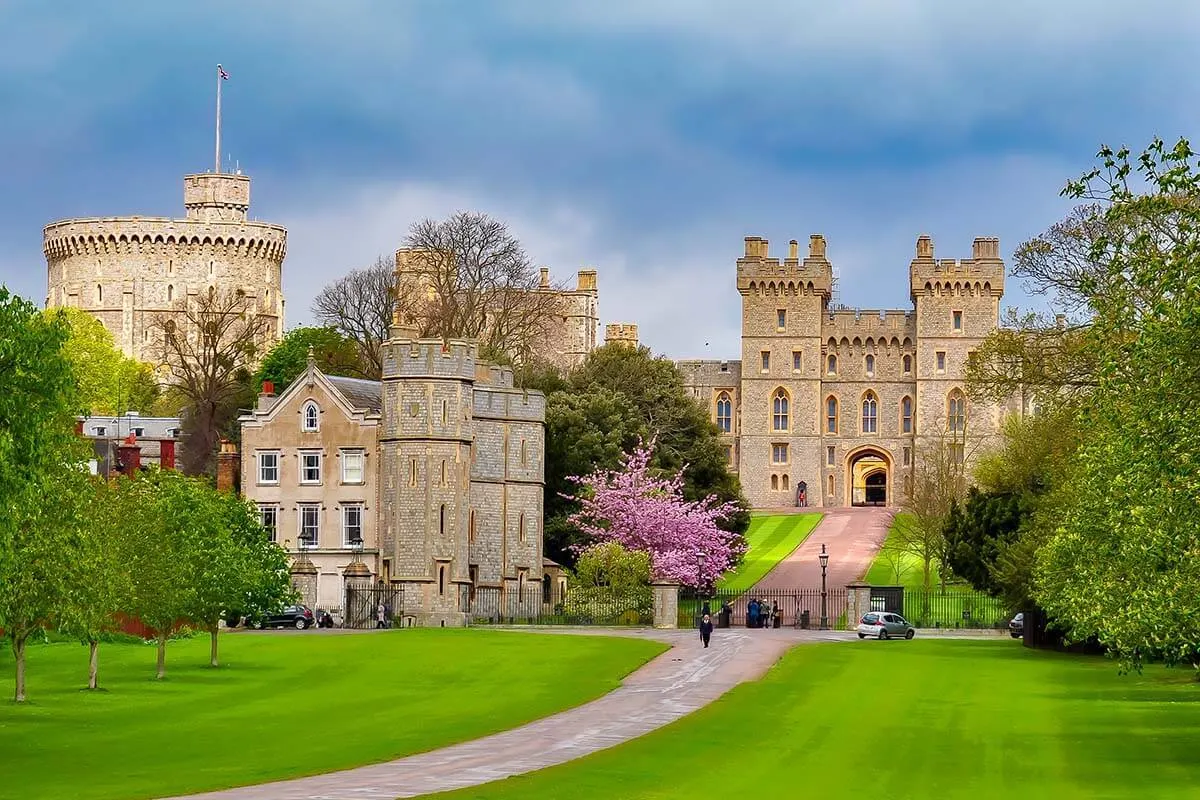 How to visit. You can easily get to Windsor by train from London. There's a direct train from London Waterloo Station and it takes about 1 hour. From Windsor & Eton Riverside station, it's just a short walk to the castle. Be sure to book your Windsor Castle tickets online in advance! This is a great option for those who prefer to take their time and explore the castle at their own pace.
If you come here for a day, be sure to check out Windsor and Eton towns as well! The best way to do this is by taking a hop-on hop-off bus in Windsor. Another nice thing to do is take a boat tour and enjoy different views of the castle from the river.
Good to know: Entry to Windsor Palace is also included with the London Pass, which only makes sense if you spend more time in London and plan on visiting many popular tourist attractions and museums.
Best tours from London. Windsor Castle is the most popular day trip destination near London, so there are many tours that can bring you here as well. Most tours that visit the castle also include one or several other nice places nearby – perfect for those who are short on time and want to make the most of their day. Here are the most popular day tours from London that visit Windsor Castle: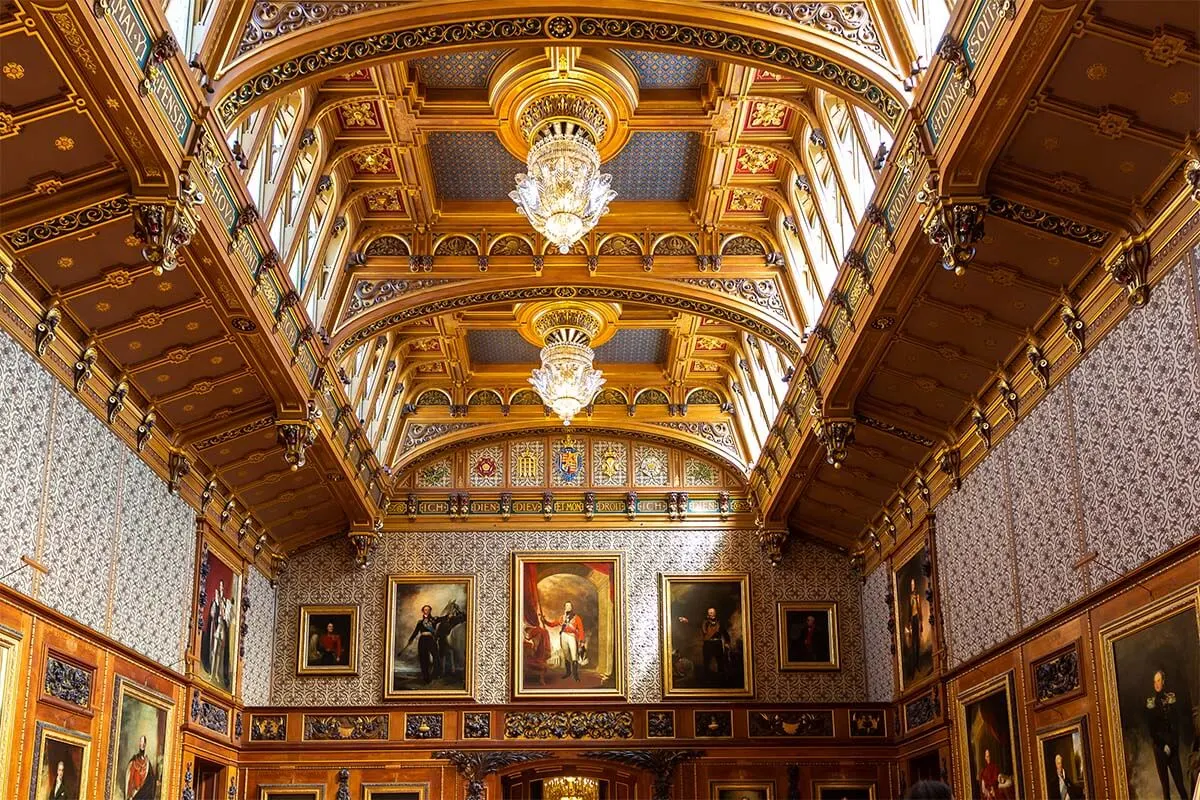 TIP: There is now an excellent new tour available that includes a visit to Windsor Town, Windsor Castle, and a river cruise in the area, giving yet another perspective of the castle.
This tour is run by one of our favorite tour companies in Europe. Each and every tour we had done with them was absolutely excellent. Plus, they are always a bit unique, offering something extra that makes your visit a bit more special.
Take a look if they have availability on your travel dates – it's well worth considering!
2. Stonehenge
Stonehenge is one of the world's most famous prehistoric monuments and another extremely popular destination for London day trips. Built almost 5000 years ago by farmers in the Neolithic period, this is a spiritual and architectural wonder that many people consider an absolute must-see in the UK!
Historians still debate its original purpose, although most agree that it was probably built for spiritual reasons. Meanwhile, engineers marvel at the extraordinary skill and size of the construction project, which must have involved hundreds of workers given the very simple tools they had available at the time.
Whilst the main attraction at this UNESCO World Heritage Site is the mystical Stone Circle itself, you can also view the 5 on-site Neolithic houses. Their design was based on the remains of houses from this period that were discovered during a nearby excavation in 2006.
You can step through the doors of these houses to see just how the builders of Stonehenge might have lived thousands of years ago, with each house equipped with replica axes, pottery, and artifacts.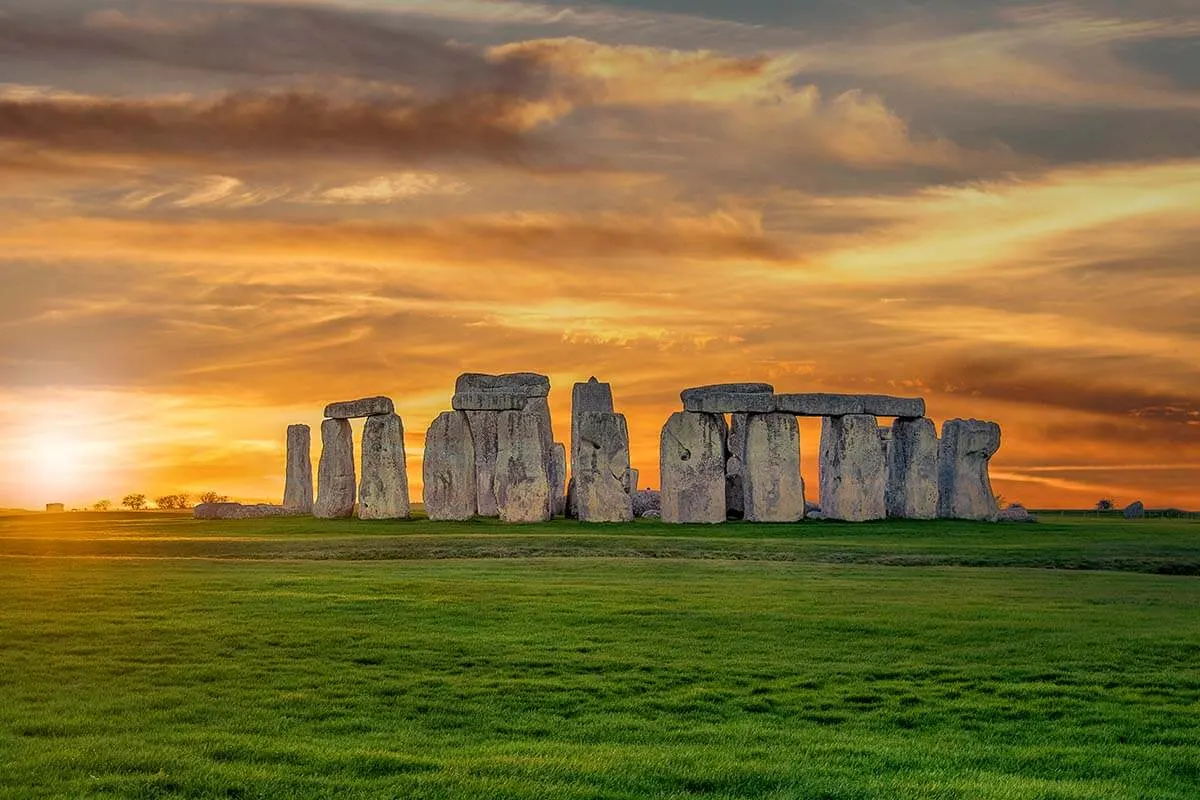 How to visit. Stonehenge is located about 90 miles (145 km) from London. There are no direct trains to Stonehenge, but you can take a train to Salisbury train station and then take The Stonehenge Tour Bus service from there. The easiest way to get here from London is either by car or by tour. If you drive, prepare for very busy traffic and count at least 2 hours one way. If you go without a tour, be sure to book your admission tickets online in advance!
Best tours from London. Since Stonehenge is quite a drive from the city, but it doesn't require that much time to visit, it's usually included as one of the sights of some of the most popular day tours from London. Here you can find all the tours to Stonehenge and here are the most popular tours that visit Stonehenge from London:
TIP: If you like places like Stonehenge, you may want to check out the nearby Avebury as well. Avebury henge and stone circles are among the most important prehistoric sites in Britain, and some tours that go to Stonehenge also include Avebury in their itinerary.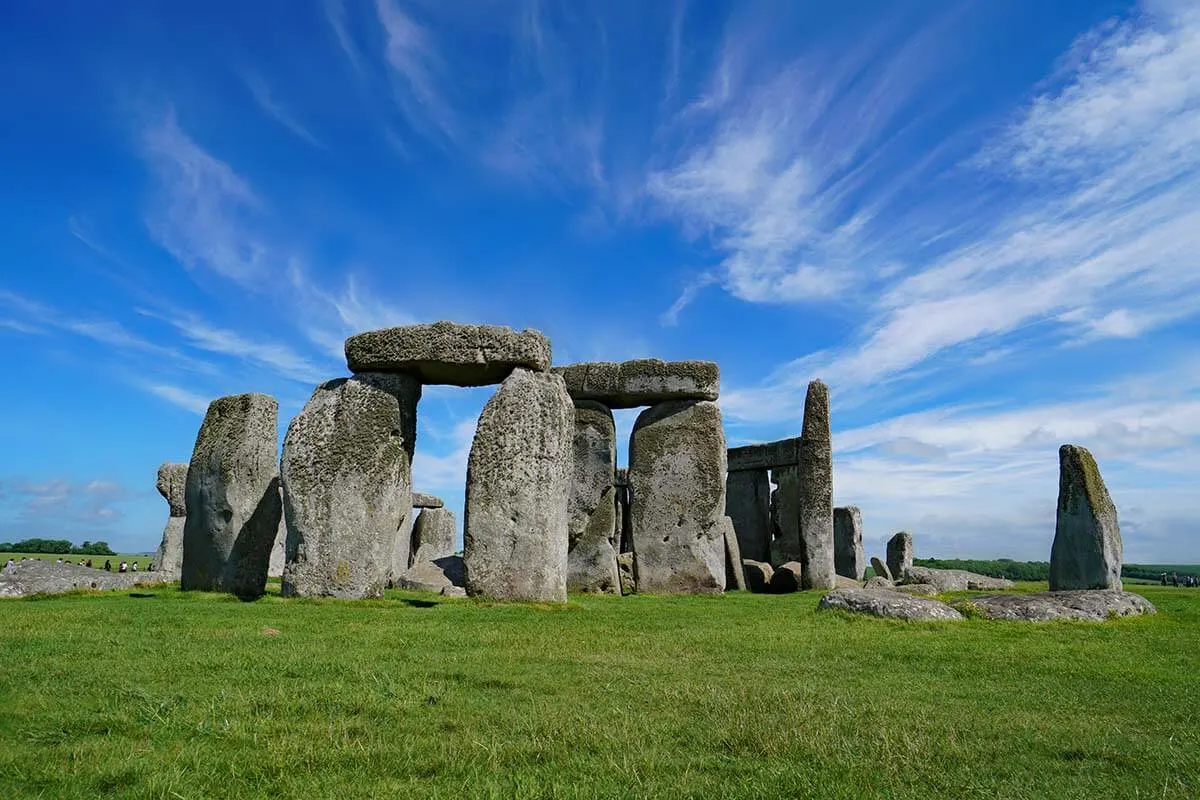 3. Bath
Bath is one of the most beautiful cities in the UK and the most popular town that you can easily visit as a day trip from London. This picturesque historic city is filled with stunning examples of honey-colored Georgian architecture and some of the most photographed buildings in the world.
Perhaps the most famous feature of this UNESCO World Heritage City is the ancient Roman Baths built around thermal springs and supplying water for over 2,000 years. Whilst the Baths are open for you to view, no bathing has been allowed there since 1978. Instead, the much more modern Thermae Bath Spa was opened in 2006, containing the only natural hot spring in England in which you are allowed to bathe.
In the city stands the magnificent Bath Abbey, with its unique 'ladder of angels' on the west front. This feature was inspired by Bath's Bishop at that time, who saw angels ascending and descending in a dream. You will also see the iconic 'Royal Crescent' – 30 Grade I listed terraced houses built in the late 18th century, arranged in a crescent around a verdant lawn overlooking Royal Victoria Park.
Another architectural gem is the Circus, also built in the latter half of the 18th century. This historic street of large townhouses forms a circle, which is how it got its name (Circus is Latin for a ring, circle, or oval).
And perhaps most beautiful of all is the romantic Pulteney Bridge, with its small, leaded domes, pilasters, and pediments. The bridge was named after the wife of William Johnstone Pulteney, an important figure in Bath at that time and owner of much of the surrounding land. A popular thing to do in Bath is to take a short boat trip on River Avon – it allows you to easily see some of the main sights of Bath in a short time.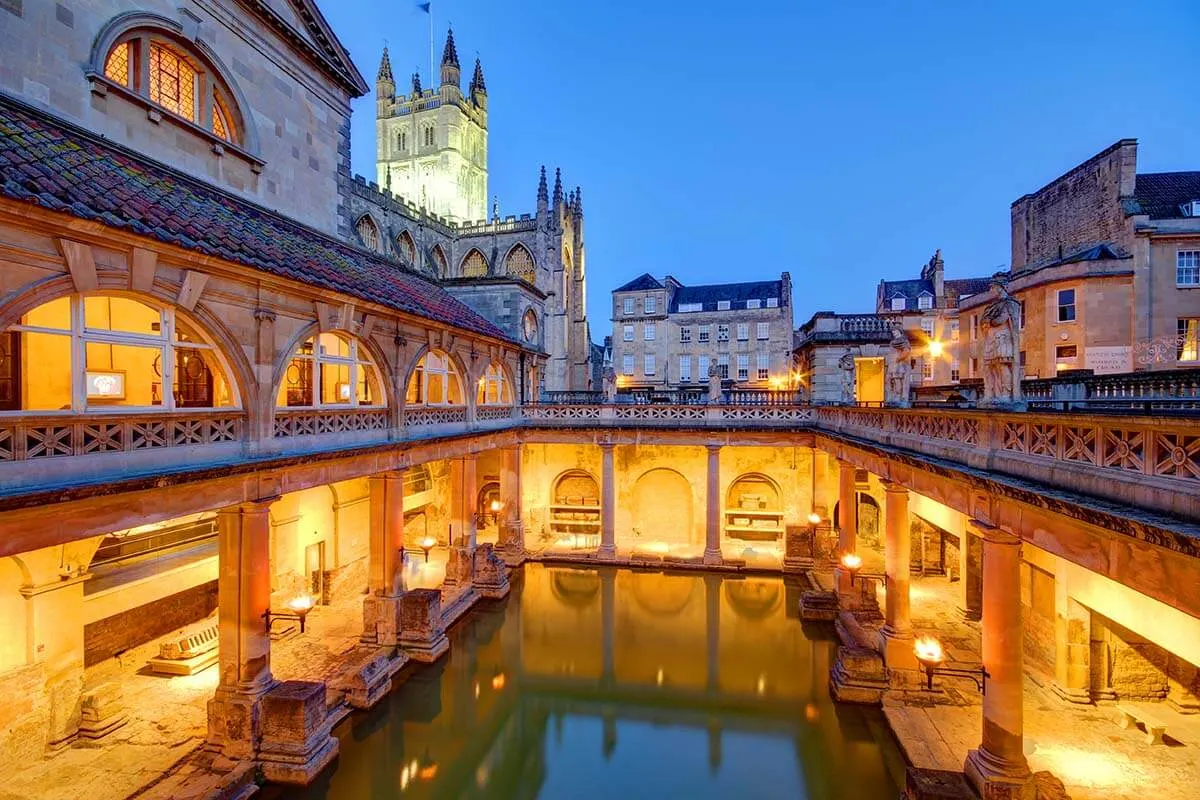 How to visit. Bath is about 120 miles (195 km), about 2.5 hours drive from London. If you drive, be sure to stop at Stonehenge along the way! The fastest way to get to Bath from London is by train – it takes less than 1.5 hours. And there are also many tours that visit Bath from London, usually in combination with other beautiful places nearby.
TIP. If you visit Bath on your own, you may want to take a walking tour of the city. It's the best way to see a lot in a short time – you'll be sure not to miss any important places, but it also gives you a better insight into the history and architecture of this unique town.
Best tours from London. Since Bath is so close to Stonehenge, most tours from London visit both of these places together. In addition, some tours also include one or several other places nearby. Here you can find the complete selection of Bath tours and here are the most popular day tours from London to Bath: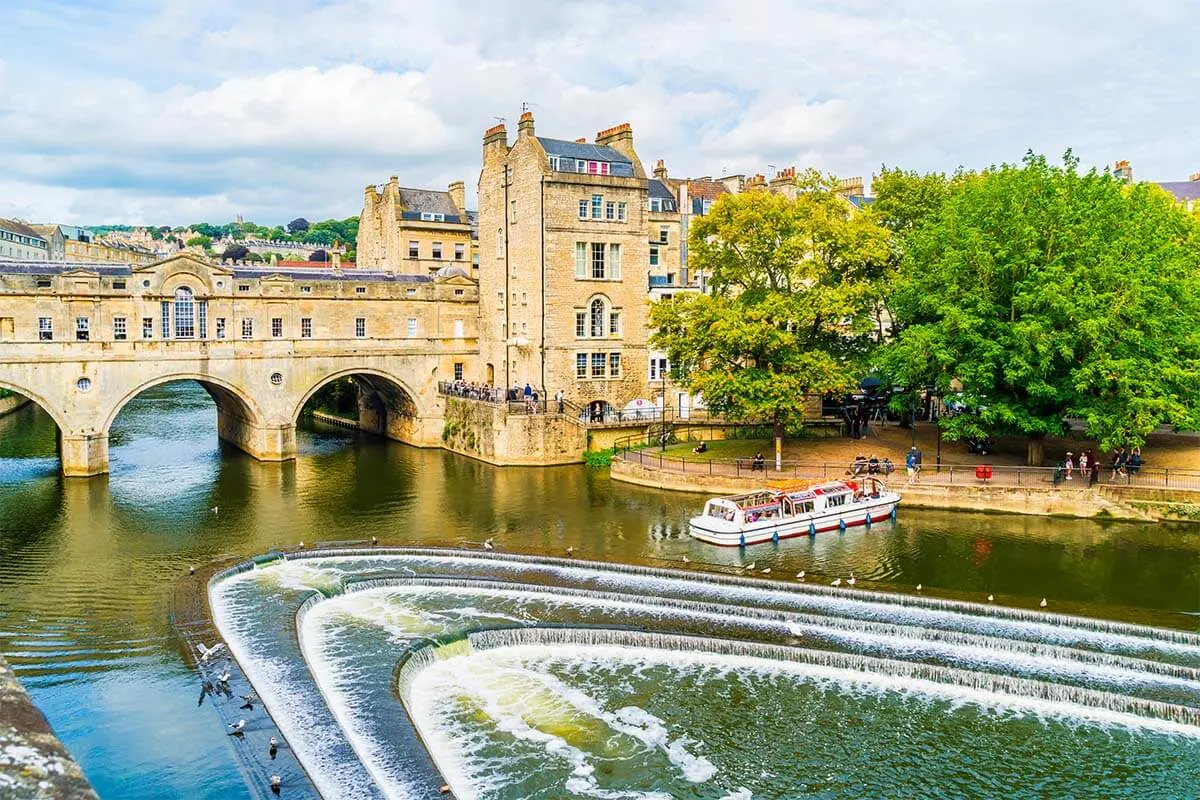 4. Oxford
One of the UK's most famous university towns, Oxford is also a place that you can easily visit as a day trip from London.
Oxford University was established in the 12th century and is one of the oldest universities in the world. The university is composed of 38 separate college buildings, whose architecture inspired the poet Matthew Arnold to name it the 'City of Dreaming Spires' (see the picture of the All Souls College below, and you'll understand where the name comes from).
Some scenes in the Harry Potter movies were filmed in Oxford, so it can be fun to try and spot them as your tour the city. Harry Potter fans can also opt for this popular walking tour of the filming locations.
In the heart of the city center is Christ Church College, home to the magnificent Hall and Christ Church Cathedral with its landmark spire and Tom Tower. The gardens of the 12th-century Cathedral inspired Lewis Carroll to write 'Alice in Wonderland'. You can hunt for features of the story, such as the Alice in Wonderland motives in one of the large windows in the Great Dining Hall.
The Cathedral also contains the shrine and tomb of Saint Frideswide, the patron saint of Oxford. Christ Church College – one of Oxford University's largest colleges – has lots more for visitors to see, from the famous Bodley Tower to the stunning Meadow Building.
There are two main museums that are well worth seeing during a visit to Oxford. Founded in 1683, the Ashmolean Museum is Oxford University's museum of art and archaeology. Free to enter, it's a great place to learn all about human culture and societies across the world and throughout time, with its collections including everything from Egyptian mummies to contemporary works of art.
The Oxford University Museum of Natural History, meanwhile, houses a captivating collection of natural specimens, covering everything from Earth's beginnings to a look inside an active beehive!
Connecting two parts of Hertford College is the Hertford Bridge, popularly known as the 'Bridge of Sighs'. Named after its resemblance to Venice's Bridge of Sighs, this particular bridge is a skyway that allows students to travel from one building to another. Designed by Sir Thomas Jackson and completed in 1914, this photo-worthy bridge is best viewed from the steps of the University's Bodleian Library (another must-see in Oxford).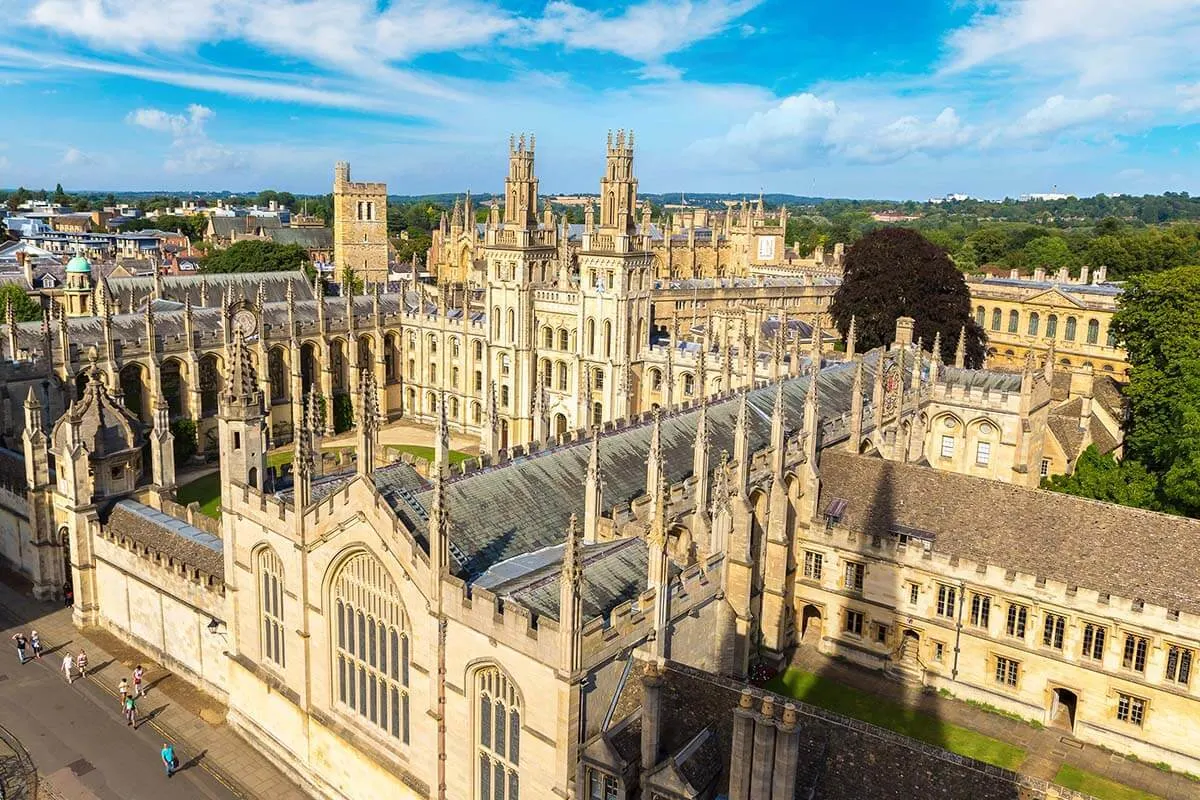 How to visit. Oxford is just 60 miles (95 km), 1.5 hours drive from London. There are also direct trains from London and the journey takes about 1 hour – this is the best way to visit Oxford on your own. There are also organized tours that visit Oxford from London – usually in combination with one or two other places nearby.
TIP: If you visit Oxford for a day, consider this walking tour. It takes just 1.5 hours and is a great way to learn more about the city and the university. River cruises are also very popular and are a fun way to explore Oxford!
Best tours from London. While you could easily fill an entire day in Oxford, most one day tours from London only spend a few hours here and combine a visit here with several other places. Here are the most popular tours that visit Oxford from London: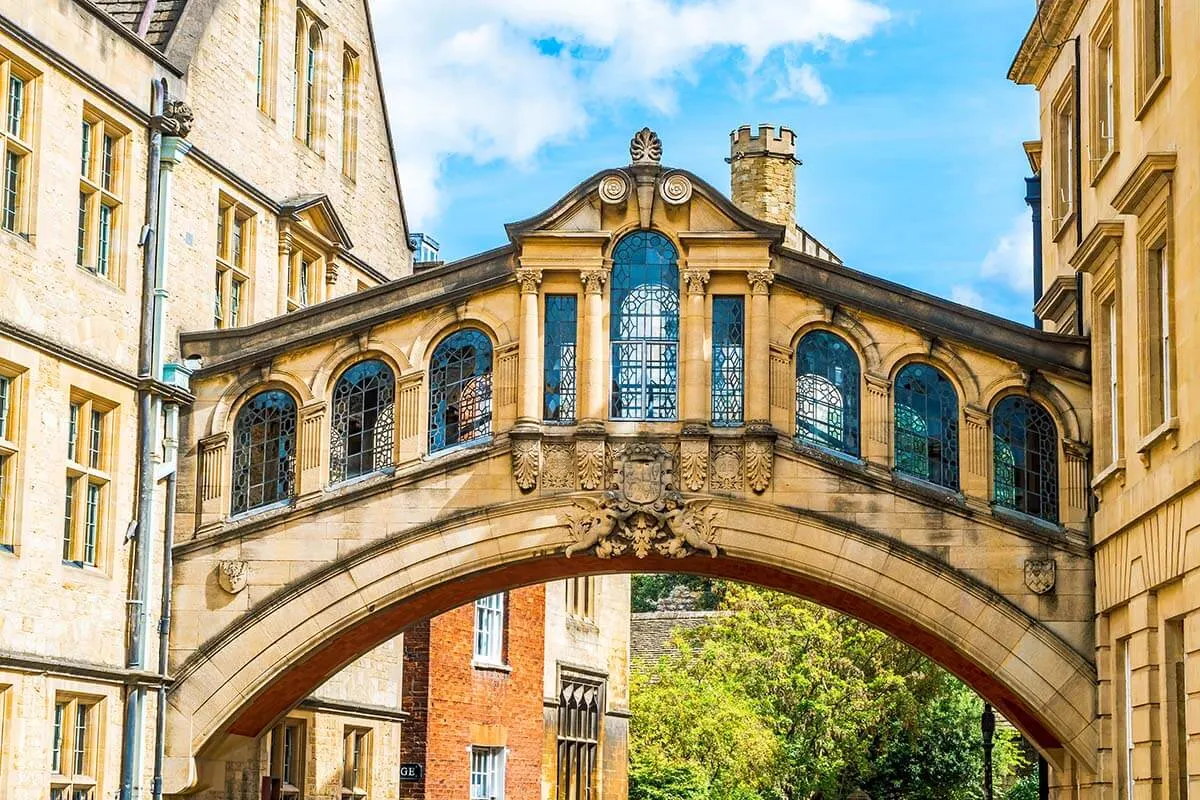 5. Cotswolds
The scenic traditional towns and stone villages of the Cotswolds is one of the most popular London day trips for those who want to experience the true English countryside. This area is so picturesque! Below, you can find an overview of the most beautiful places not to miss.
Minster Lovell village is the home of Minster Lovell Hall and Dovecote, which sits on the banks of the River Windrush. This 15th-century Oxfordshire manor house was built by William, Baron of Lovell and Holand – one of England's richest men at the time. The house was eventually abandoned and now only the substantial ruins remain, giving lots of wonderful photographic opportunities against their beautiful rural backdrop.
A Cotswold village of outstanding beauty is Bibury, with its gorgeous stone buildings that run along the banks of the River Coln. Here you can see the iconic Arlington Row – a series of buildings that were originally built as a monastic wool store but was later converted into cottages. Now owned by the National Trust, Arlington Row is considered to be so quintessentially English that its image appears on the inside cover of UK passports.
Another village well worth visiting is Buford, with its 3 arched medieval bridges across the River Windrush. Famous for its High Street which runs down toward the river, Buford is popular for antique shopping and boasts lots of good restaurants, pubs, and tea rooms. It's also home to a hotel in which King Charles dined with his mistress, Nell Gwynne.
Whilst there are many contenders for the title, most people will agree that Bourton-on-the-Water is the prettiest village in England. Also known as the 'Venice of the Cotswolds', this 'must-see' village is named for the many beautiful bridges that cross its river at the center. Located in a small valley, Bourton-on-the-Water has many charming tea rooms and restaurants, plus a range of eclectic shops including pottery and the Cotswold Perfumery. Don't miss the popular model village, which is a 1/9th scale replica of the entire center of the village.
If you are lucky enough to be visiting on the afternoon of the August Bank Holiday Monday, you'll witness one of the village's more curious traditions, in which a local team plays a full game of football right in the River Windrush. This bizarre game of soccer has been filmed and reported all over the world!
If you have more time in this area, here are some more really nice villages to see in the Cotswolds: Castle Combe, Stow-on-the-Wold, Cirencester, Chipping Campden, Blockley, and Stanton.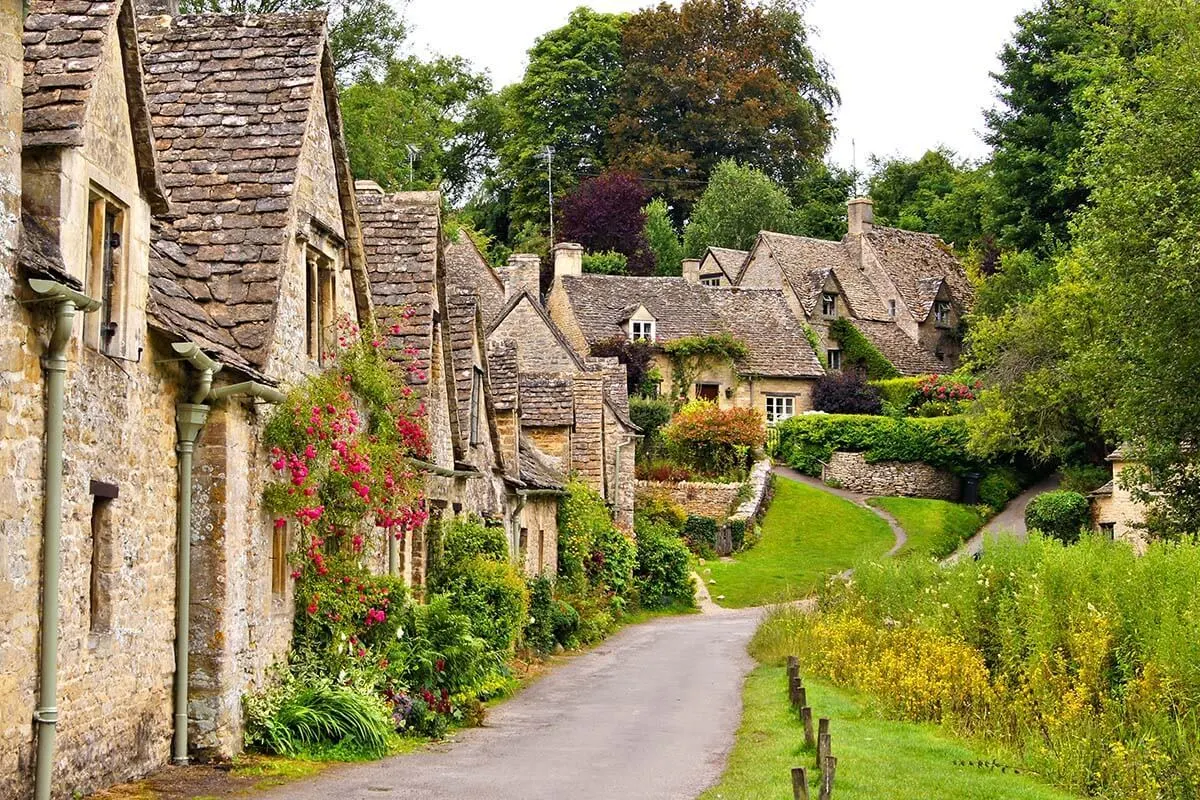 How to visit. The Cotswolds are about 30 west past Oxford, and about 2 hours drive from London. Since the main attractions of the Cotswolds are its various villages, the best way to visit here is either by car or with a tour. There are also several private tours available – this private tour is one of the best options from London.
Best tours from London. The beautiful Cotswolds region is just a short drive from Oxford, so many tours combine the two places. There are also popular Downton Abbey filming location tours that combine a visit here to that of the Highclere Castle, but because of time restraints, you usually only see one village on these tours.
Here is an overview of the most popular Cotswolds tours from London: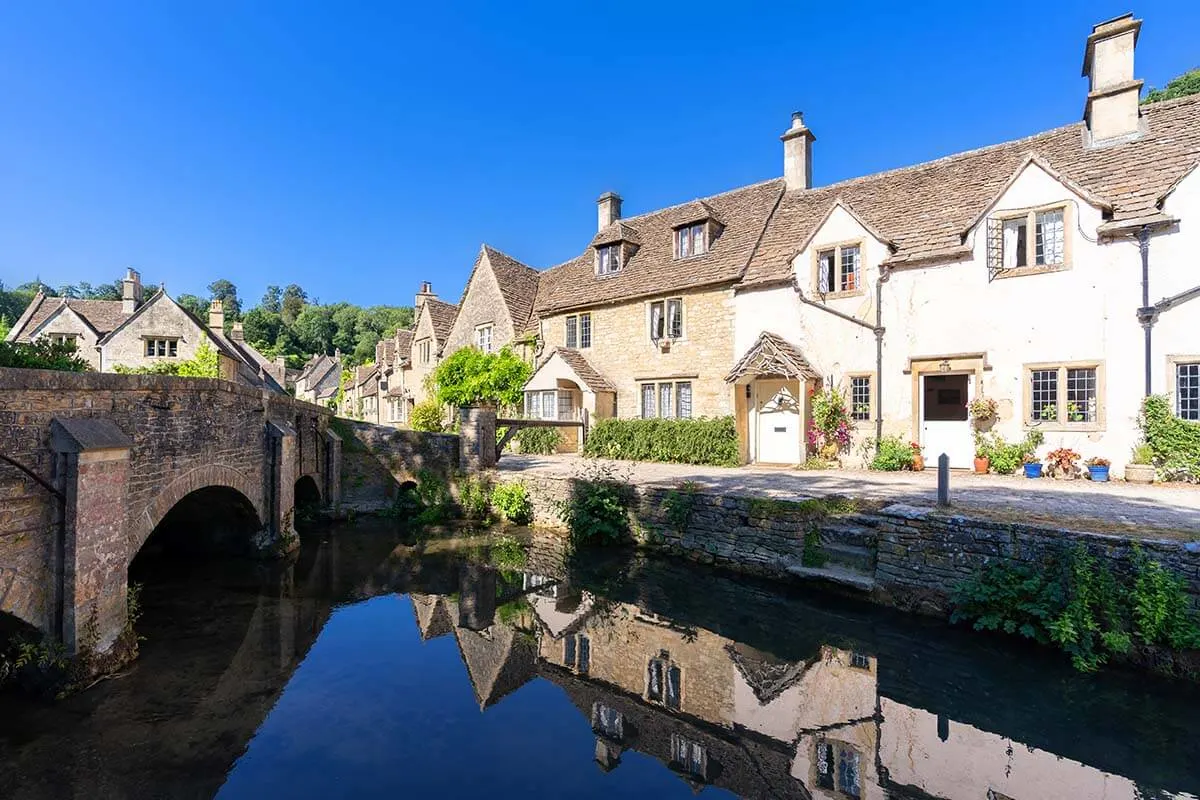 6. Stratford-upon-Avon
Stratford-upon-Avon is a small medieval market town and also a very popular place to see near London. The birthplace of William Shakespeare is probably at the top of most people's must-see lists and the main reason to visit here.
The timber-framed house on Henley Street is where Shakespeare not only spent part of his childhood but also the first 5 years of his marriage after his father's death in 1601. Live presentations from guides dressed in period costumes and the carefully restored Tudor rooms bring history to life.
In the many Tudor-style buildings of Stratford, you'll also find 3 theatres owned by The Royal Shakespeare Company. They perform plays by Shakespeare, his contemporaries, and other, later writers. The Royal Shakespeare Theatre is situated on the banks of the River Avon, panoramic views of which can be enjoyed from the theatre's tower.
Also on the River Avon is the Swan Theatre, built on the side of the Royal Theatre and offering a more intimate atmosphere. The third theatre – the Other Place – is smaller and used as a center for performing arts.
For a taste of old-fashioned romance, pay a visit to Anne Hathaway's Cottage a bit outside of town. This beautiful 500-year-old building was originally a farmhouse and was where William Shakespeare courted Anne, his future wife. Incredibly picturesque, the cottage still contains original features and furnishings and is surrounded by beautiful gardens.
Another must-see is the Hall's Croft, the house of Shakespeare's daughter, with stunning gardens. Inside, you can find original 16-17th-century furniture, paintings, and other items.
TIP: If you are visiting Stratford for at least a full day, taking a hop-on hop-off bus is the best way to see all the sights.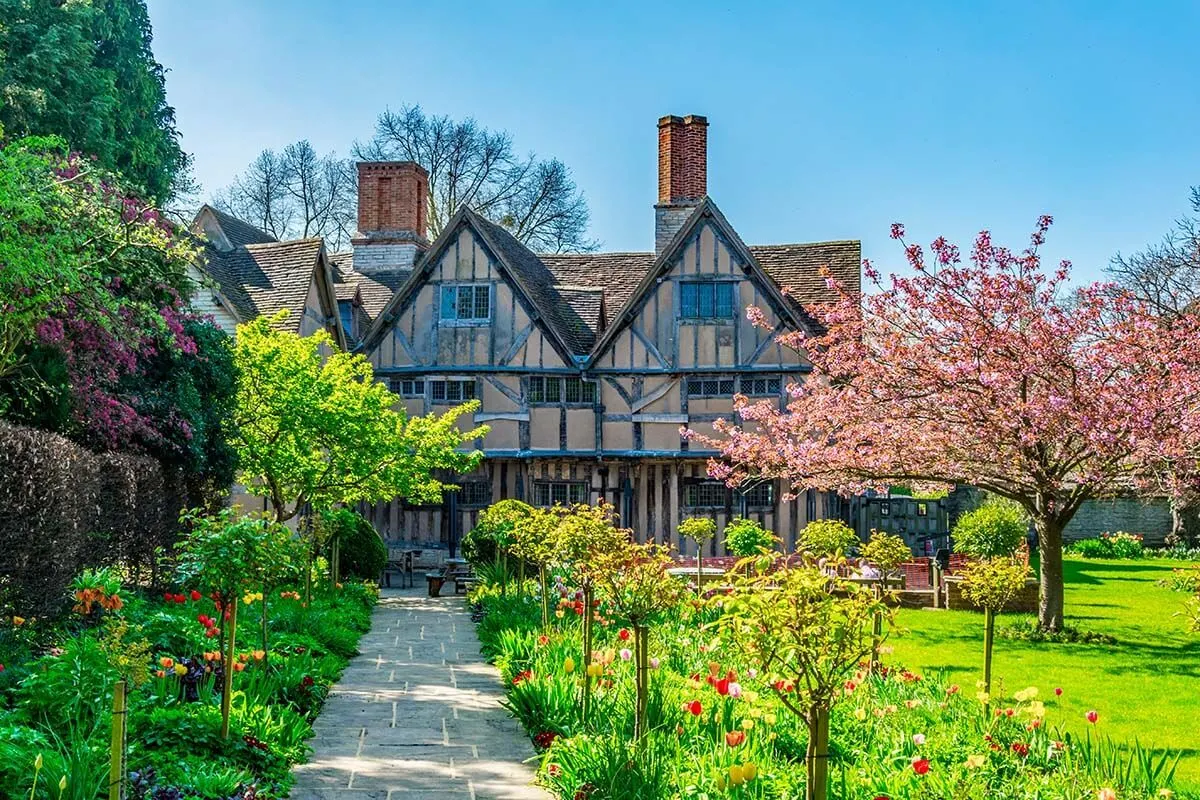 How to visit. Stratford-upon-Avon is about 100 miles (160 km), 2 hours drive from London. If you don't have a car, the easiest way to visit here on a day trip from London is by joining a tour.
Best tours from London. Most tours visiting Stratford-upon-Avon from London combine it with other places nearby and only spend a few hours here. They usually include a guided walk in the town center and sometimes a visit to Shakespeare's birthplace. Here you can find all the tours that visit Stratford and here is a small selection of the best day tours from London: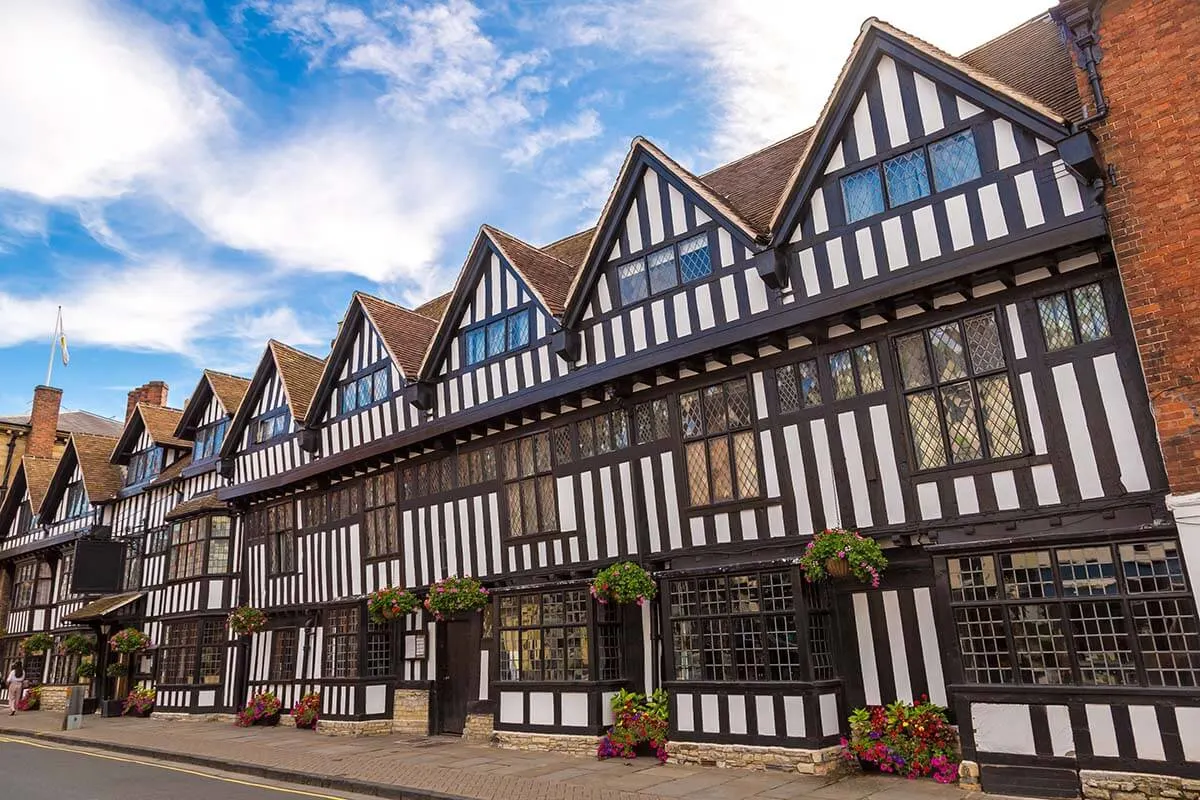 7. Harry Potter Warner Bros. Studio Tour
Fans of Harry Potter – and even those who have yet to experience the wizardly wonder of the movies – will enjoy a visit to the fascinating Warner Bros. studio near London. It's one of the most popular day tours from London (after Windsor Castle), and a must if visiting London with kids.
Here, you can see firsthand some of the amazing sets used in the film's production, including the Great Hall of Hogwarts (which went on to be used in 6 more films) and the Forbidden Forest filled with 19 trees, each with a diameter of over 12 feet. You can even see The Hogwarts Express locomotive at the elusive Platform 9¾.
There are prop rooms where you can take a close-up look at look at the elaborate props used in the Harry Potter movies. There are almost 2,000 potion jars and memory vials, all with labels hand-designed by the Graphics Department. You can also see Weasleys' Wizard Wheezes, which took 3 months to build and was intended to look as much as possible as a real 18th-century storefront.
If you have an interest in the making of movies, you will enjoy other parts of the studio as well. The Special and Visual Effects section reveals how some of the more incredible scenes were created, including how Harry and his friends were made invisible by the Invisibility Cloak and how they appeared to fly! Even more captivating is the Creature Effects section, where you can learn how the magical creatures in the Harry Potter films were created and brought to life.
A visit to the Making of Harry Potter Studio provides a magical and educational experience for adults and children alike. If you are looking for a fun relaxing day trip near London, this is a great option for the whole family!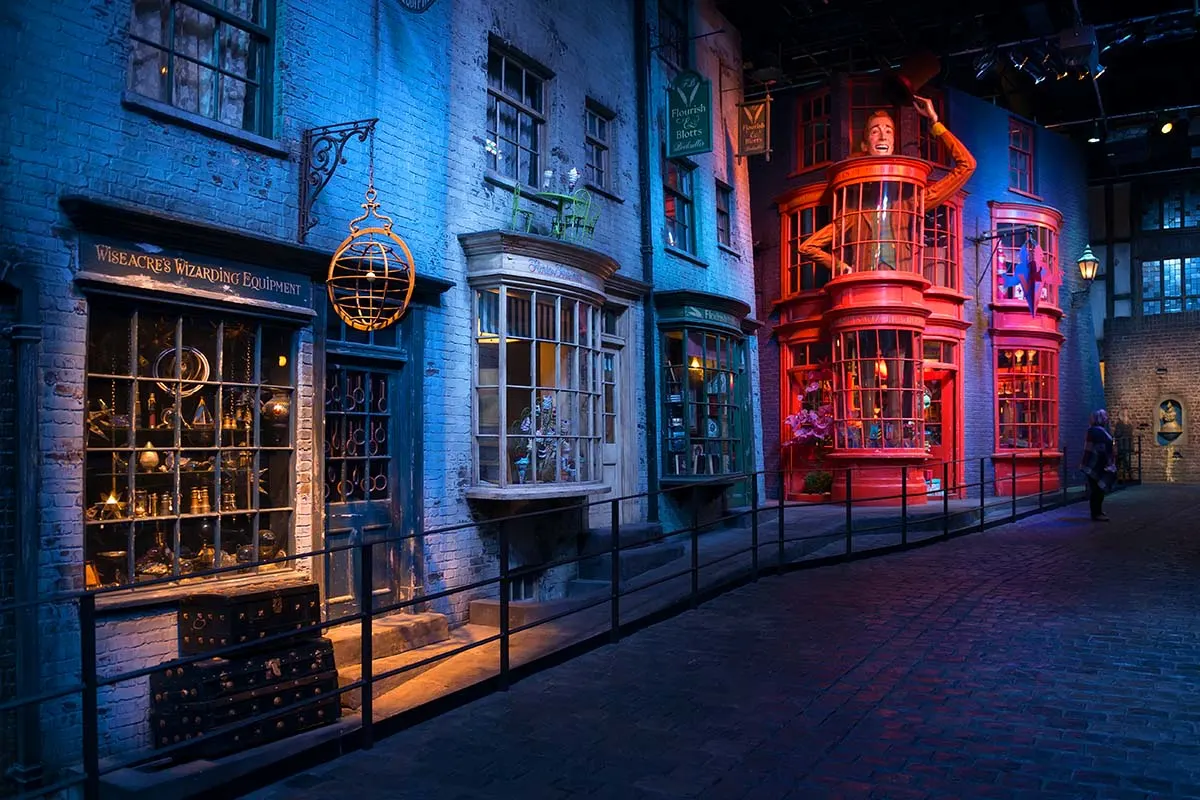 How to visit. Harry Potter Warner Bros. Studio is located in Leavesden, Watford, about 20 miles from London city center. But because of the busy traffic, it's quite a long drive. There's a train from London to Watford, from where you'll have to take a bus to the studios – the journey will take you over 1 hour not counting the time to get to the station. There are also several companies offering bus transfers from London – see below.
Best tours from London. The easiest way to get to Harry Potter Studios is by booking a transfer or a tour from London. That way you don't have to worry about the tickets either.
This highly-rated Harry Potter at Warner Bros. Studio Tour departs from Victoria Station, close to Westminster Catedral in the city center. There is also a popular tour that departs from King's Cross. The prices are usually exactly the same and all these 'tours' include a bus transfer and tickets. They take about 7-8 hours in total.
PRO TIP: One of the most popular tours from London is this popular tour that includes a visit to the studios and also visits Oxford. It's a truly magical day trip as Oxford is one of the places where Harry Potter movies were filmed.
This studio + filming locations in London tour is also a good option for Harry Potter fans. It includes a walking tour of some of the Harry Potter filming locations in London, in combination with the studio tour afterwards.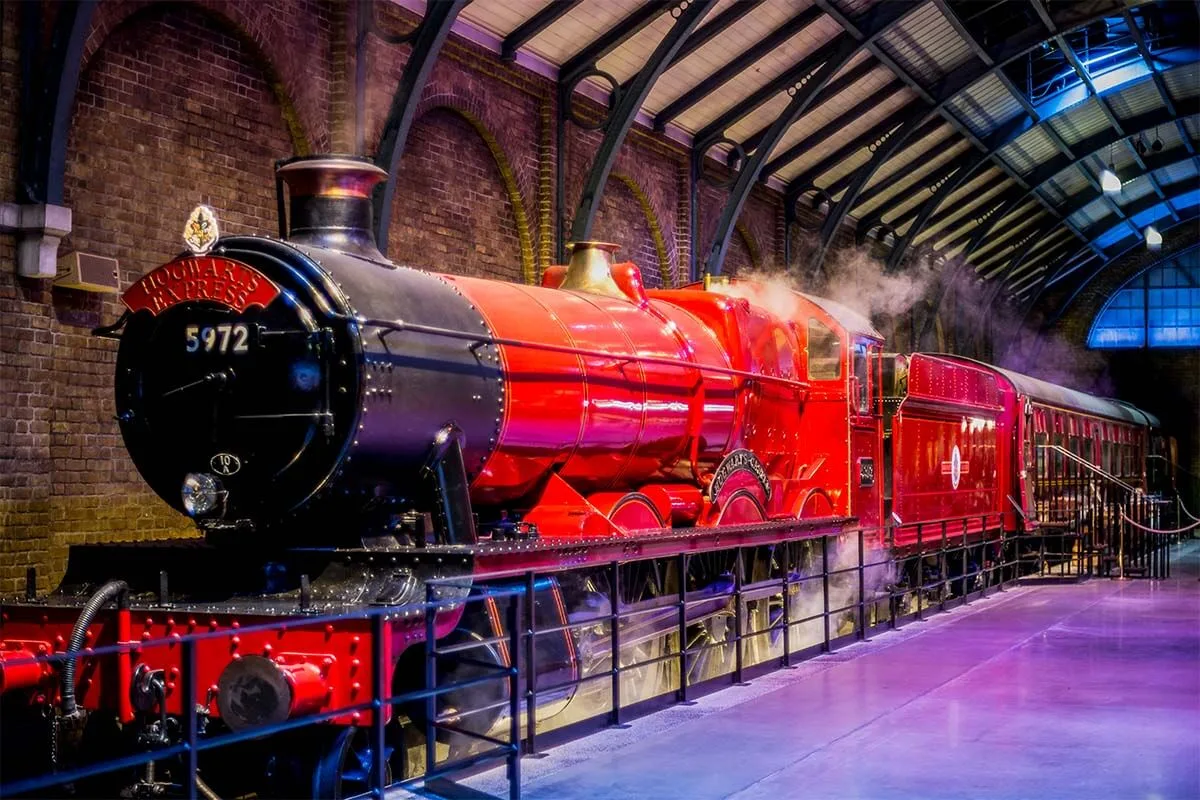 8. Hampton Court Palace
Hampton Court Palace, one of the Tudor Palaces, was the former royal residence of King Henry VIII. In addition to Windsor, this is another really nice place to visit near London, especially if you are a fan of royal history.
Hampton Court is a huge, impressive baroque-style palace located at the River Thames and surrounded by stunning gardens and parkland. If you visit in spring, you can see the magnificent tulip festival. But the gardens have something nice to offer in every season, and there are various events at the Palace throughout the year.
The interior of the castle gives you a chance to take a glimpse into the daily life of royals in the 16-17th centuries. You can visit the impressive State Rooms and private apartments of William III. Also, don't miss the kitchens of Henry VIII, where over 200 people worked in the past, cooking and serving more than 800 meals per day.
Another highlight is the magnificent Great Hall that was originally a dining room, but afterwards became a sort of theatre that was used for entertainment, plays, and dances. Back in the day, William Shakespeare performed his plays here. The highlights here include a series of tapestries showing scenes from the Book of Genesis and the impressive timber roof with Anne Bollaine's coat-of-arms.
This is also a very nice place to visit for families, with a maze in the garden, fantastic play areas for children, and plenty of places for a picnic. When the weather is nice, you could easily spend an entire day just exploring the gardens.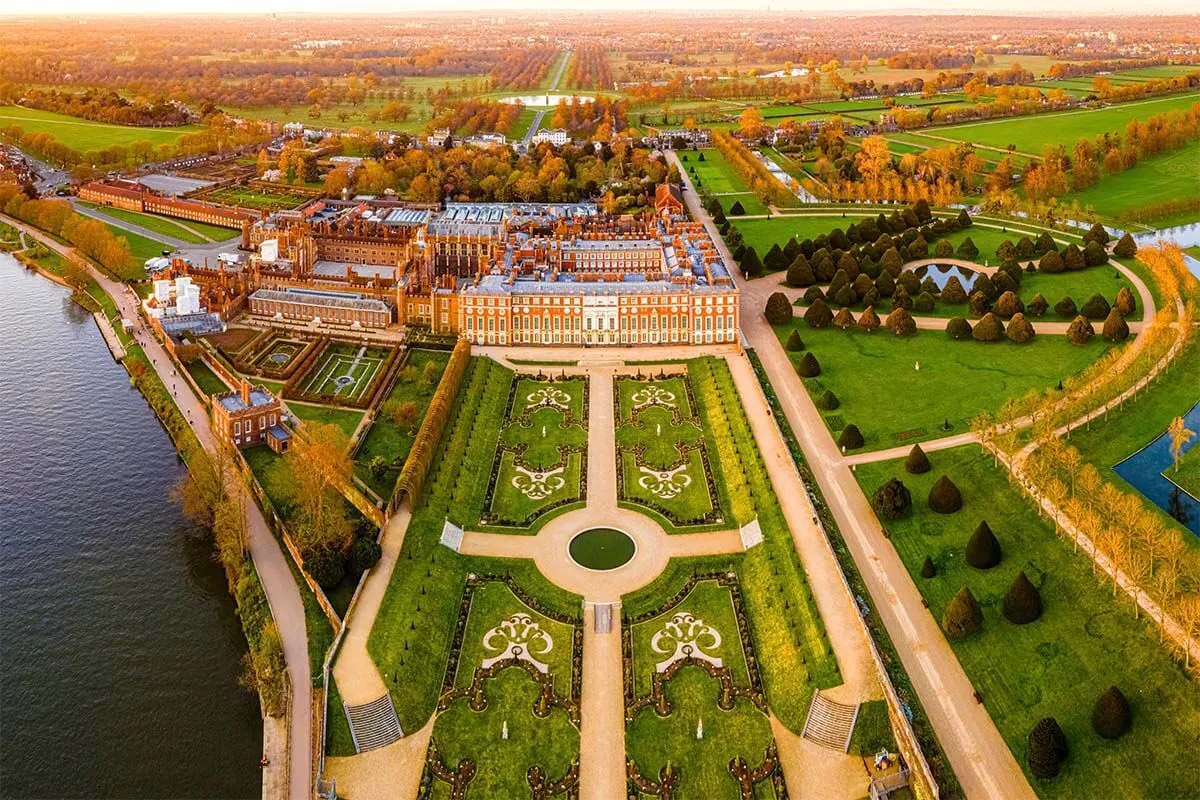 How to visit. Hampton Court Palace is located on the outskirts of London, about 15 miles southwest of the city center. You can easily visit Hampton Court Palace from London by train. There is a train from London Waterloo Station to Surbiton Station, and from there to Hampton Court. It takes about 40 minutes.
In addition, there are also several tours – see below.
Good to know: Hampton Court Palace entry is included with the London Pass and also London Explorer Pass.
Tours from London. Because Hampton Court is quite easy to get to and explore on your own, there aren't many organized tours. The best ones are private tours like this one; it combines a visit to Hampton Court Palace with that of Windsor Castle. That way, you get to see two of the most impressive royal palaces near London in one day.
There are also some nice bike tours or boat tours that explore the surroundings of Hampton, starting from different locations nearby.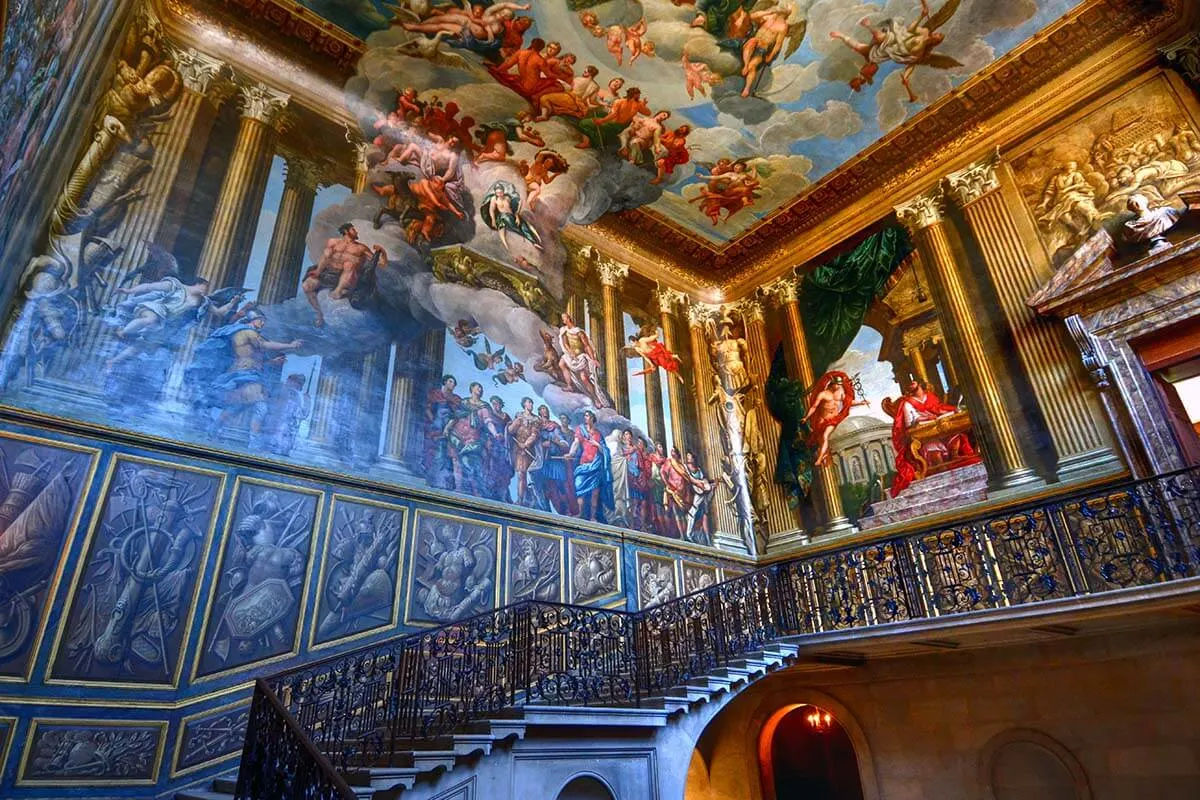 9. Brighton & Seven Sisters
If you are looking to escape the hustle and bustle of London and see some of the stunning nature of England, then definitely consider a day trip to the white cliffs of Seven Sisters and South Downs. At the same time, you can also visit one of the UK's nicest coastal cities – Brighton.
Brighton is worth a trip in its own right, with all the little pleasures that a lively seaside resort has to offer. If you have some time to spare, check out the Royal Pavilion, an Asian-style palace that looks like it belongs in an Indian fairytale…
But for a sightseeing day trip from London, you can also opt for something slightly different and explore some of the beautiful nature outside of town as well.
The rolling hills of the South Downs offer so much to explore and enjoy, with spectacular views and popular spots with their own unique legends. One of the most famous is that of the Devil's Dyke, a v-shaped dry valley whose creation was attributed to the work of the devil himself (although, as you will see, it's far too beautiful for that!). The South Downs is also home to the Long Man of Wilmington – a 235 ft tall chalk figure on the side of a grassy hill and one of only two human hill figures in England.
Be sure to check out Beachy Head, which – at 535 feet – is the highest chalk cliff on the southern coast of England. From the top, you can see miles of coastline in either direction, plus the candy-striped lighthouse that sits just out to sea. Nearby is the Birling Gap – one of the longest stretches of undeveloped coastline on the south coast. Here you can see coastal erosion firsthand, with the cliffs eroding up to a meter a year at certain points.
Another highlight of any visit to the South Downs is the Seven Sisters – an undulating line of white chalk cliffs, each hill with its own name. They are best viewed from Seaford Head, where you can see evidence of an 8th hill beginning to form from the erosion of the sea.
TIP: Any visit to the Downs must include a visit to the popular Middle Farm, which offers such delicacies as local cheese, sparkling wines, and traditional Sussex cider.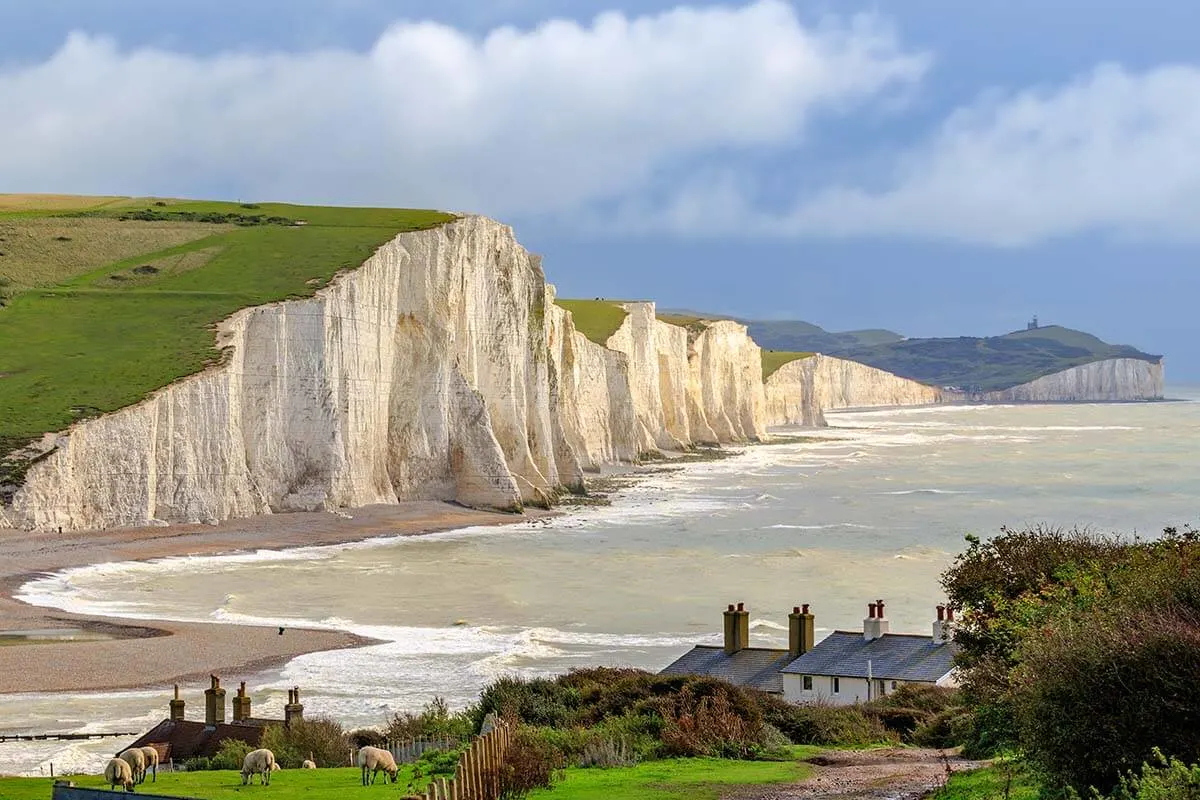 How to visit. South Downs and the Seven Sisters are located near Brighton in south England. While you can easily get to Brighton by train from London, you'll need a car for the other places. The best way to visit is with a tour – see below.
Best tours from London. There are just a few tours from London that visit this area. The best option is this highly-rated tour that includes a train ticket from London to Brighton and a small-group minibus tour of the sights along the coast. If you prefer to make your own way to Brighton, you can also book the same tour starting in Brighton.
TIP: If you rather book a private tour, there is one tour that offers a pick-up in your hotel in London and covers all these sights in and around Brighton.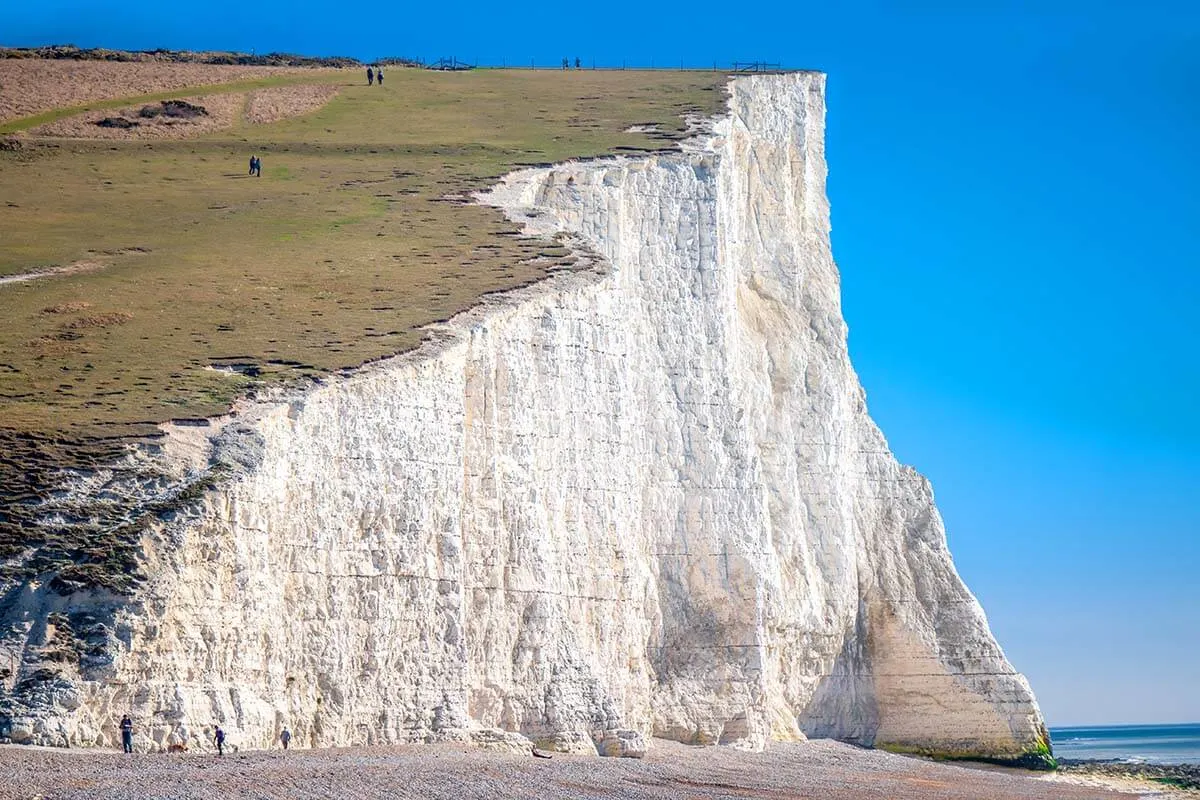 10. Cambridge
Less than an hour by train from London, Cambridge is another beautiful town to visit for a day. Just as Oxford, it's probably best known for its centuries-old University, and this beautiful town has lots of well-preserved historic buildings. But this medieval city is also a student town and has a very nice, relaxed atmosphere.
Don't miss the King's College Chapel, Queen's College, Trinity College, and Wren Library. You can also climb to the top of the tower of Great St Mary's Church for nice views over the city.
In addition to exploring the many colleges in the city (there are 31! of them), be sure to walk along the River Cam! Also Cambridge has its own Bridge of Sighs. This covered bridge at St John's College spans over the river and is a favorite photo spot for weddings as well as tourists visiting the town.
Other nice bridges worth seeing in Cambridge are the Mathematical Bridge, Clare College Bridge, King's College Bridge, and there are many others.
A great way to explore the beautiful river, see the bridges, the town, and the surroundings is a punt tour. This traditional boat ride is a very typical thing to do in Cambridge – don't miss it!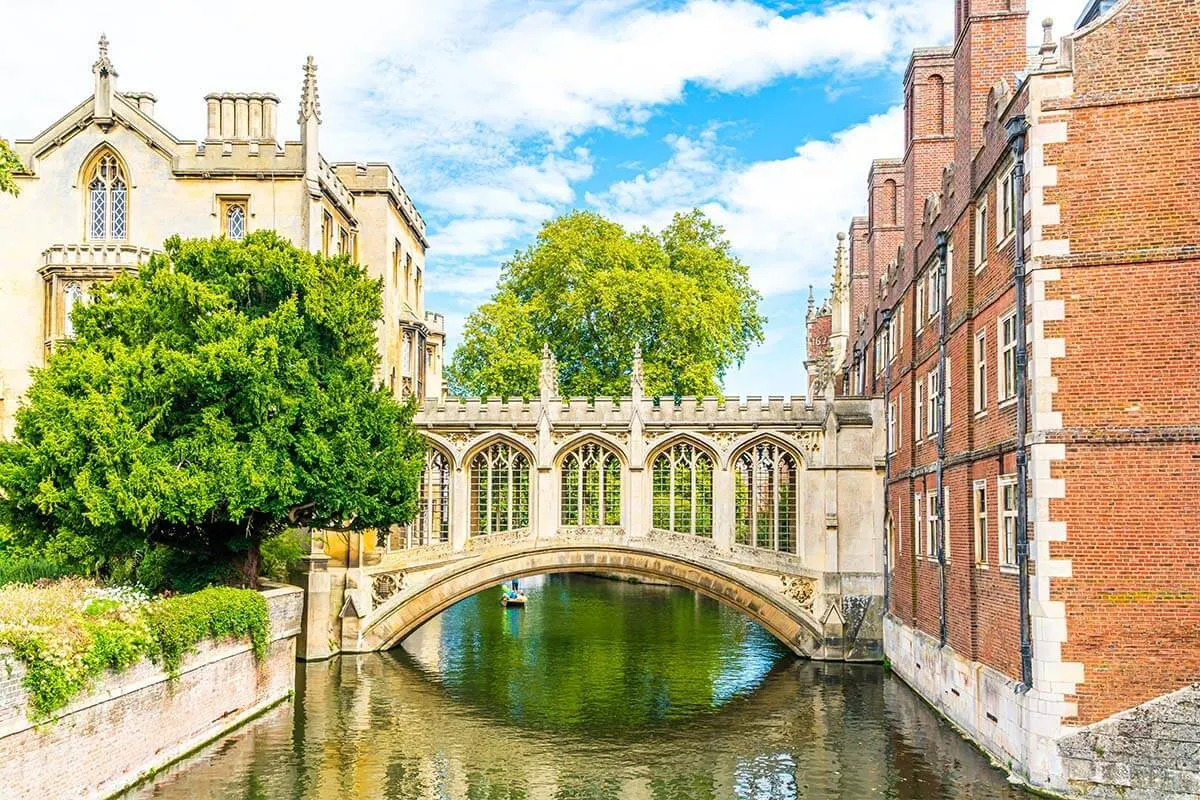 How to visit. Cambridge is just over 60 miles (95 km) north of London, and the easiest way to visit is by taking a direct train from King's Cross Station in London. It takes less than 50 minutes, so you can easily visit Cambridge on your own, without a tour.
Once in Cambridge, you can take a short walking tour with a local and then explore deeper on your own. The earlier mentioned punt tours on the river are also not to be missed.
Best tours from London. If you rather visit Cambridge with a tour from London, there are several options as well. If you decide to go this way, then this tour is one of the best options. Or you can see two university towns in one day with this tour that visits Cambridge and Oxford in 1 day.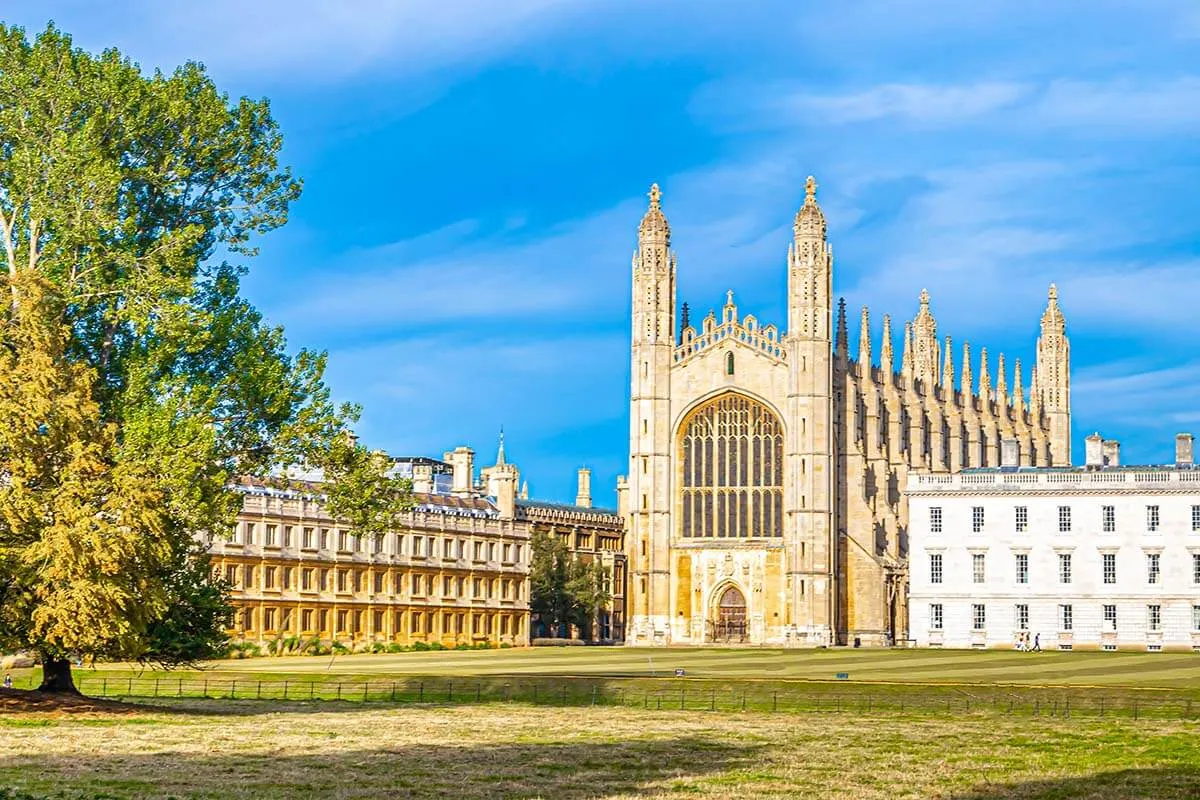 11. Canterbury Cathedral & Leeds Castle
While Leeds Castle and Canterbury Cathedral are over 20 miles apart, these two landmarks don't require that much time and so are usually visited on the same day. In fact, they are usually combined with a short visit to Dover too, but more about it further below.
After a visit to Leeds Castle, you will not be able to help but agree with Lord Conway, who described it as 'the loveliest castle in the world'. With a romantic, fairy-tale appearance, this 12th-century gem was built in the center of a natural lake, surrounded by 500 acres of beautiful gardens and parkland.
Leeds Castle was once used as a palace by Henry VIII and the private property of six medieval queens. Its rooms have been beautifully restored and give you the opportunity to learn all about its long and fascinating history.
In addition to the Lady Baillie Garden, which gives stunning views across the lake, the grounds also hold one of Kent's most popular mazes, with 2,400 yew trees. Once you reach the maze's center, a fascinating underground grotto takes you back to the real world!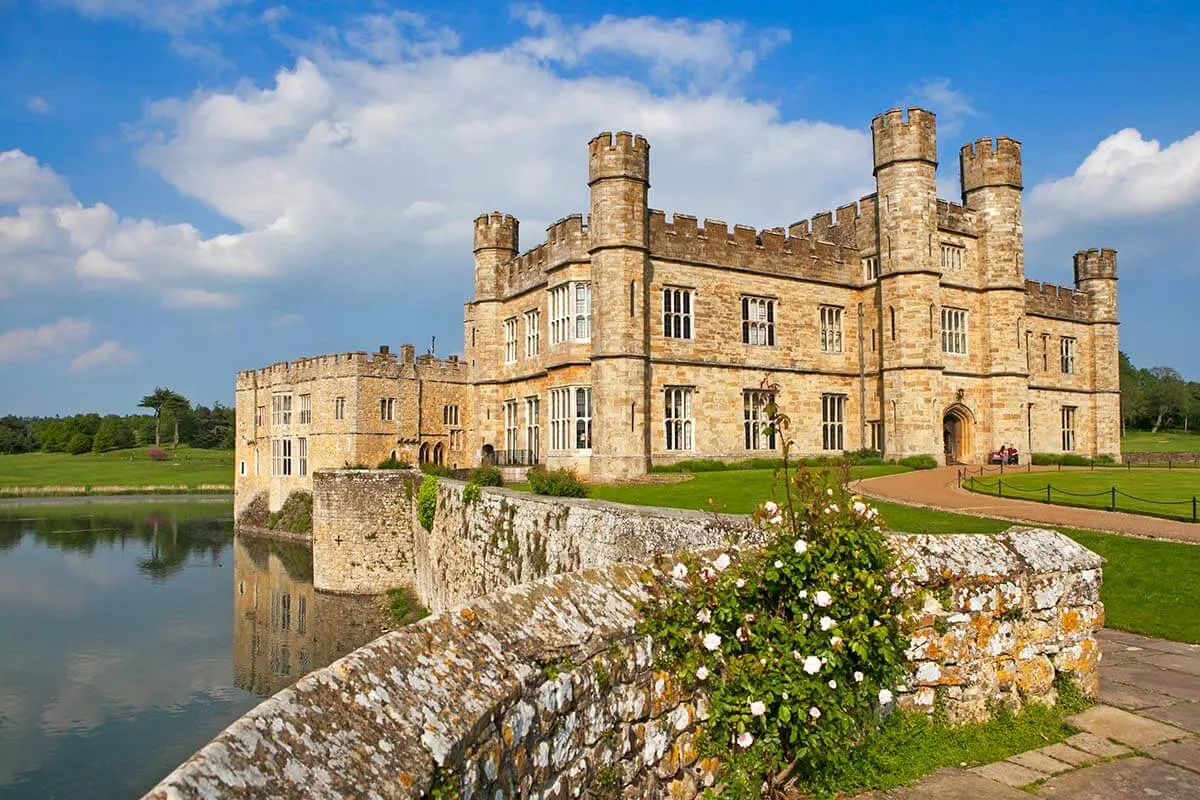 One of the most famous and picturesque Christian buildings in England, Canterbury Cathedral was founded in 597, then extensively rebuilt from 1070 to 1077. It is the Cathedral of the leader of the Church of England, the Archbishop of Canterbury, and is still used for active worship.
The Cathedral contains the shrine of Archbishop Thomas Becket and you can stand on the spot upon which he was murdered, as told in Geoffrey Chaucer's famous 'Canterbury Tales'.
Also the medieval town center of Canterbury, with its cobbled streets and timber-framed houses, is a nice place to see if you have more time. It's a popular day trip from London for locals. Also here, you can take traditional boat tours on the river.
How to visit. Unless you have a car, the easiest way to visit Leeds Castle and Canterbury Cathedral is by taking a tour. If you just visit one of these places, you could also get there by public transport. For Leeds Castle, you have to take a train to Ashford, followed by a bus trip to the castle. For Canterbury, there's a direct train from London, and you can make a nice relaxing day trip by visiting this picturesque town.
Best tours from London. There are several tours from London that visit these places. You can find them here and they are all quite similar in terms of itinerary.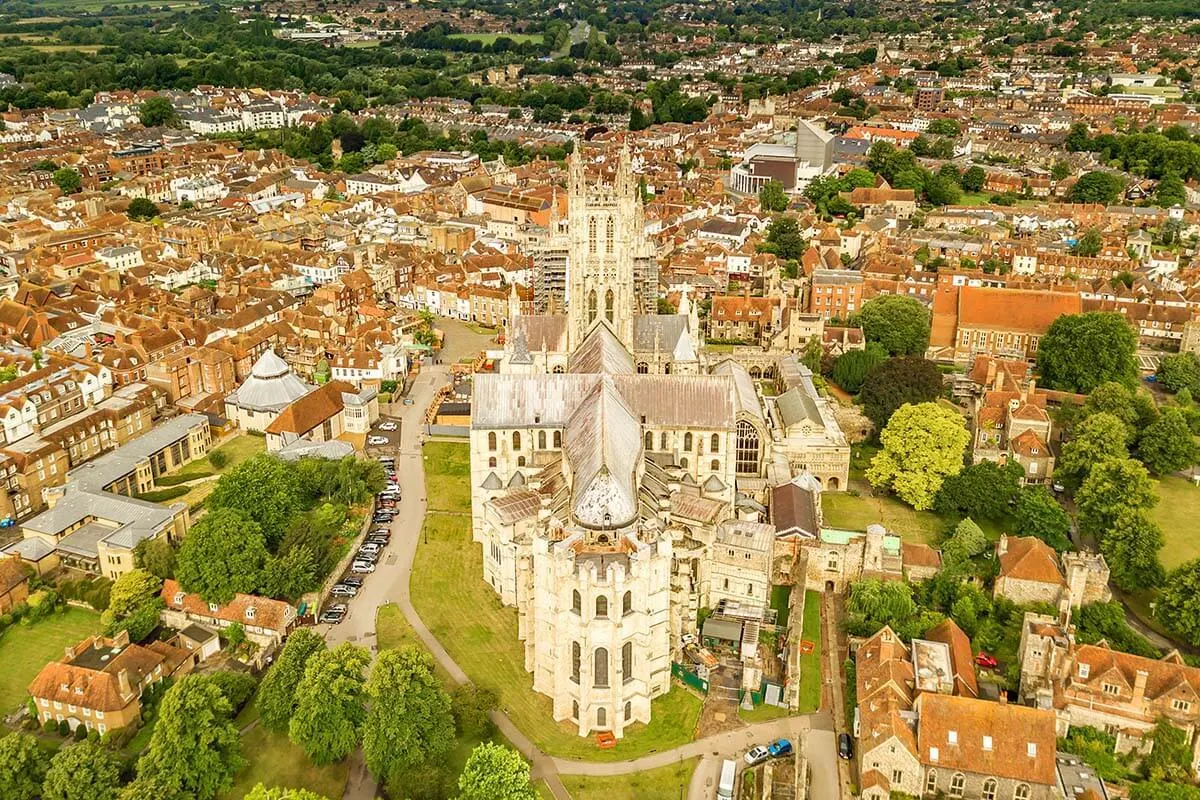 12. White Cliffs of Dover & Dover Castle
"There'll be bluebirds over the white cliffs of Dover" went the words to the popular wartime song – and if you're familiar with the song then it's quite incredible to see the inspiring white cliffs for yourself. If you are looking for something different to see near London than historic towns and villages, Dover is a wonderful place to visit!
Composed of chalk, Dover's cliffs are 350 ft high and stretch for 8 miles. They were on the front line of both world wars and were a critical part of England's defenses at that time. Now, they provide wonderful views across the surrounding countryside and the English Channel. On clear days you can even look across and see France!
The unique chalky grassland habitat of the cliffs means that they are abundant in wildlife and you can see all sorts of flowers, butterflies, and birds as you walk, including the rarely spotted peregrine falcon.
You can either spend your visit simply enjoying the cliff-top views, or take a short trip to see Dover Castle too. Dover Castle is one of England's biggest castles and was built in 1066 by William the Conqueror. Ironically, he built it to stop anyone from invading the country using the way in which he'd invaded it himself!
A visit to the Castle includes exploration of the tunnels that go deep into the cliffs, where you can learn all about the dramatic evacuation from Dunkirk and see the Underground Hospital that was used to treat injured soldiers in WWII.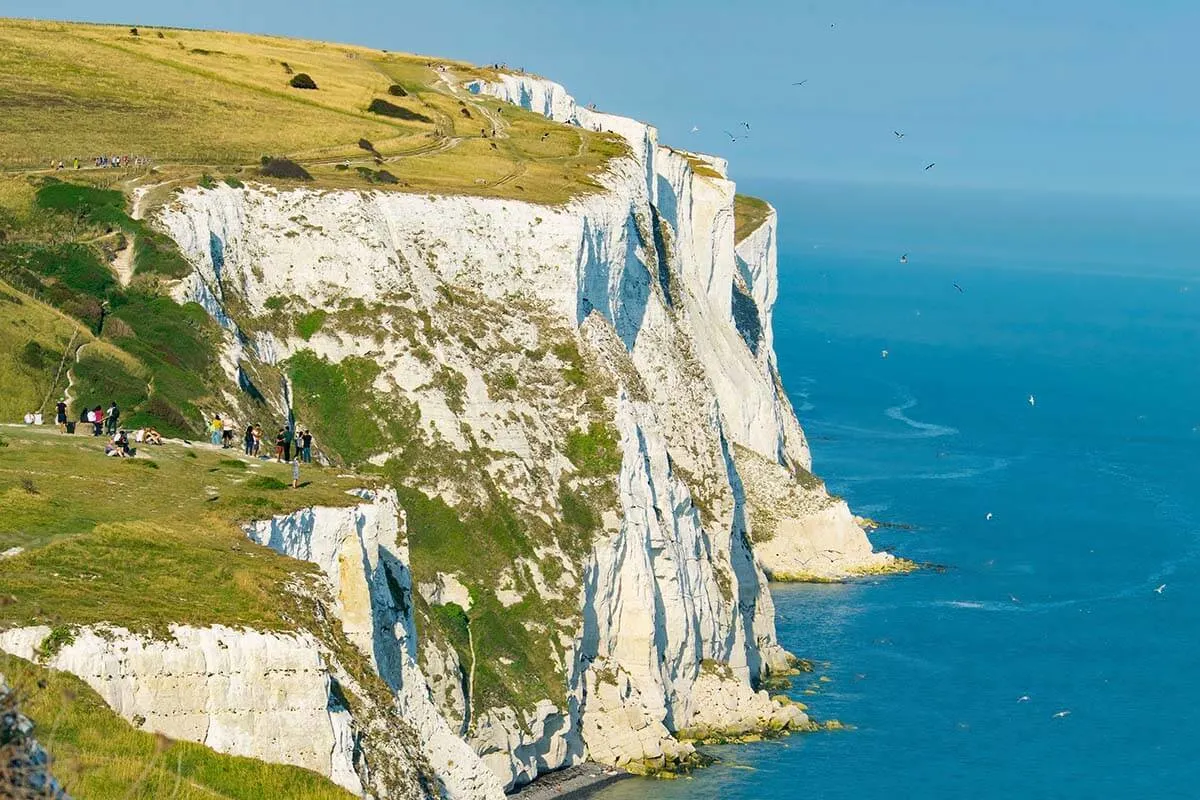 How to visit. Dover is about 80 miles southeast of London. You can take a direct train to Dover from London and visit the town, the castle (get the tickets here), and take a walk along the shore from where you can admire the beautiful white cliffs. Alternatively, you can also visit here with some day tours from London – see below.
Best tours from London. There are several tours that visit Dover from London, usually in combination with a few other places and Dover is often not more than a short photo stop. Here are the most popular day tours: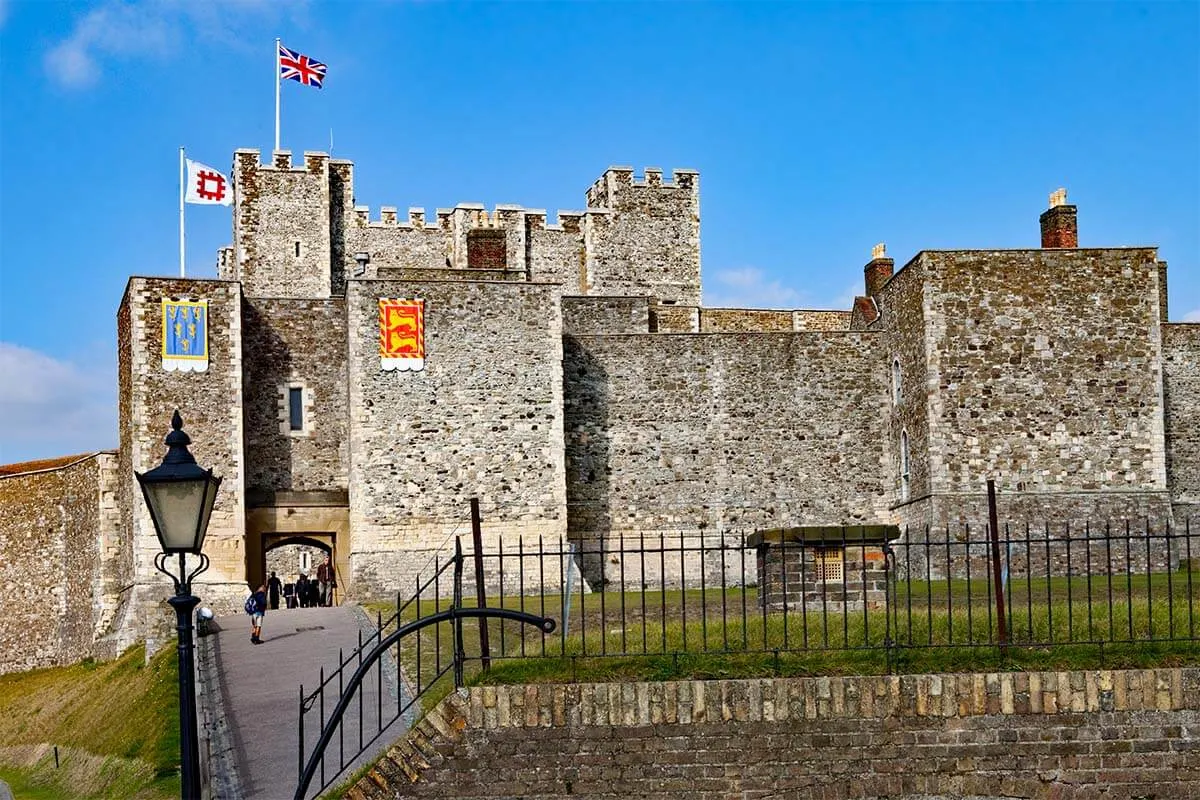 13. Blenheim Palace
Blenheim Palace is a very impressive country house in Woodstock, about 65 miles northwest of London. This is England's only non-royal country house that actually holds the title of a palace.
The birthplace of Sir Winston Churchill currently the home of the 12th Duke of Marlborough, Blenheim Palace is a stunning example of 18th-century Baroque architecture. During your visit, you will see the magnificent staterooms, which are filled with priceless works of art and beautiful tapestries. A grade I listed building and World Heritage Site, Blenheim Palace also contains the finest collection of antiques to be found anywhere in Europe.
The gardens – set within over 754 hectares of land – are particularly wonderful to explore. Designed by the English landscape architect Capability Brown, there are several formal gardens to enjoy. Don't miss the Rose Garden, the exquisite Water Terraces, the Secret Gardens, and the family-friendly Pleasure Gardens.
Historical monuments can be seen throughout, including the Column of Victory (built to commemorate the Duke of Marlborough's military successes), the Grand Bridge which spans the two lakes and The Temple of Diana, where Sir Winston Churchill proposed to his future wife.
There are also a few recommended walks to take. Possibly the most beautiful is The Lake and Grand Cascade walk, which gives you breathtaking views of the countryside.
Good to know: The Palace and the grounds are so big and have so much to offer that you can easily spend an entire day here. In fact, many people find that one day isn't even enough and many locals get a yearly pass for the Palace. However, many tours only spend a few hours here and just cover the main highlights. So how to visit depends on what you want to see and do here.
How to visit. The easiest way to visit Blenheim Palace is by car or with a tour, but you can also get here by public transport. From London Paddington Station, take a train to Hanborough (a bit over 1 hour), and from there, take a bus to the palace (it takes 7-10 minutes). If you want to spend an entire day at the palace, this is the best way to visit on a day trip from London. In that case, you can get your tickets for the Palace here.
Best tours from London. There are several tours that shortly visit Blenheim Palace from London. The best tour that spends more time at Blenheim Palace is this Blenheim Palace, Downton Abbey Village & the Cotswolds tour. This tour also includes a few short photo stops at other popular locations nearby.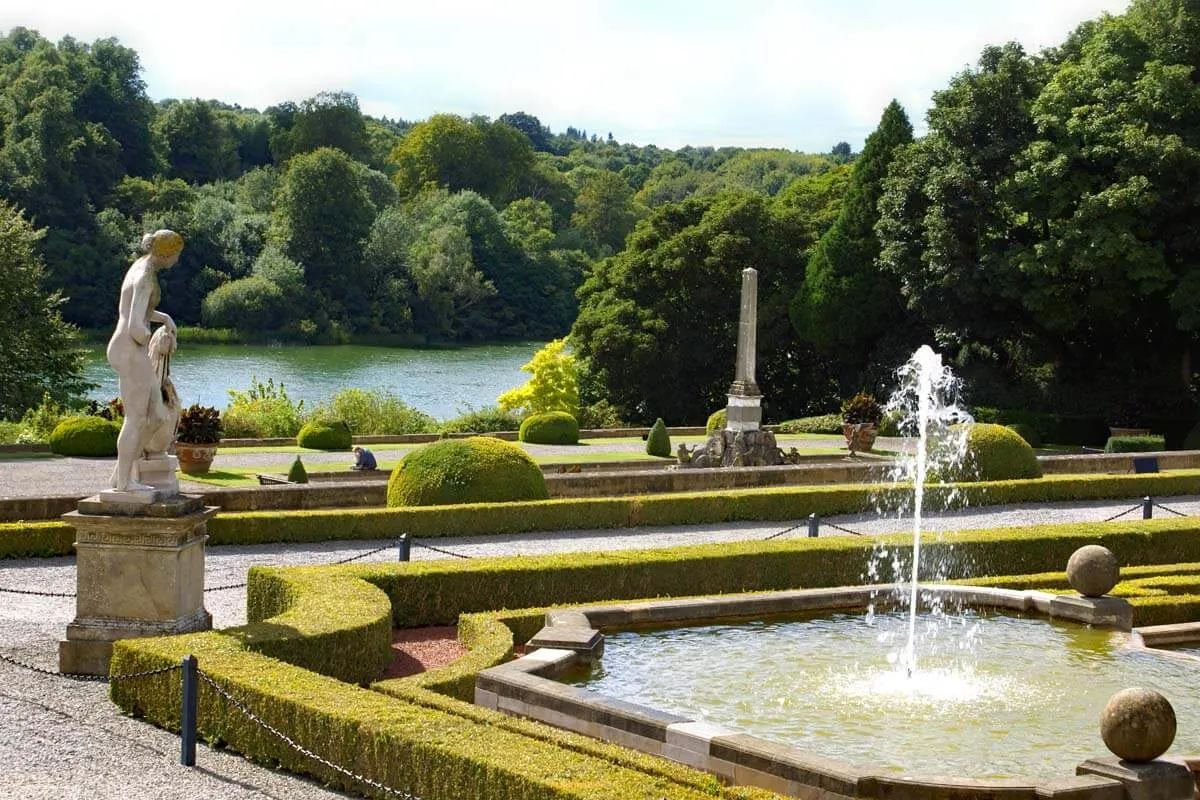 14. Downton Abbey Filming Locations
Downton Abbey filming locations close to Oxford and the Cotswolds make another popular day trip destination from London. There are two main places that you'll want to see here – Bampton village and Highclere Castle.
Highclere Castle is a beautiful building and another fine example of luxurious life in the English countryside. It has been used for various film sets but became hugely popular since the filming of the TV series Downton Abbey. It's now a very popular place to visit from Oxford or from London. The castle belongs to the Carnarvon family and is kept as it is, without turning it into a 'theme park' like some other castles in the area.
Another must-see for the Downton Abbey fans is the beautiful village of Bampton. You'll recognize many of the buildings here from the series, and it's great fun to try to spot them during your visit!
Be sure to locate the home of Isobel Crawley, the church (actually named St. Mary's), two fictional pubs – the Grantham Arms and the Dog and Duck – plus the Downton Cottage Hospital. The building used for the hospital is, in reality, the Bampton Community Archive, which houses a collection of old photos of the village and its people.
Bampton is a lovely village to visit in its own right. It is mentioned in the Domesday book of 1086 and was already a large settlement during the era of the Norman Conquest. On the other hand, it's so small that you don't need much time here.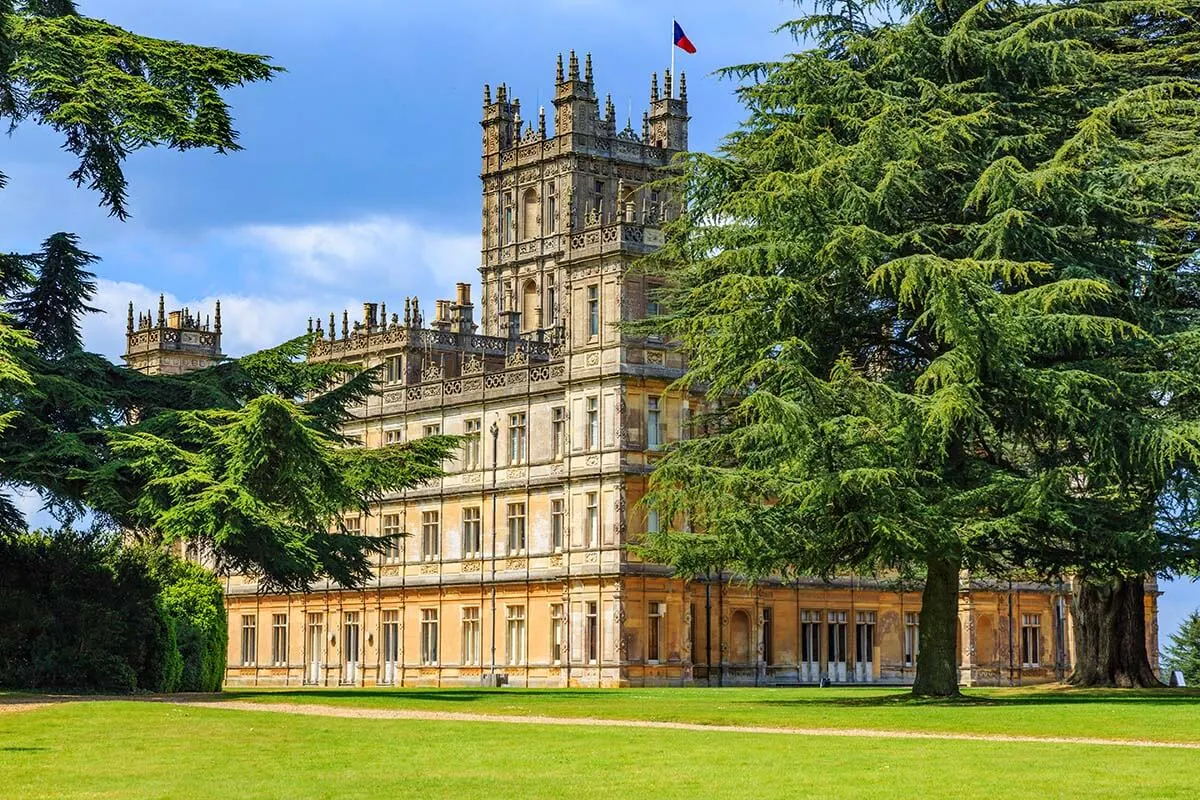 How to visit. Highclere Castle is located about 65 miles (105 km) west of London, whereas Bampton village is about 30-40 miles from here, very close to Oxford. The best way to visit these places is either by car or by taking a tour.
Best tours from London. There are several tours visiting Downton Abbey filming locations from London. Some of the tours also visit Oxford, some others pass several villages of Cotswolds as well.
Here you can see all the best options and choose the tour that interests you the most. This tour has the most complete itinerary covering most of the Downton Abbey filming locations.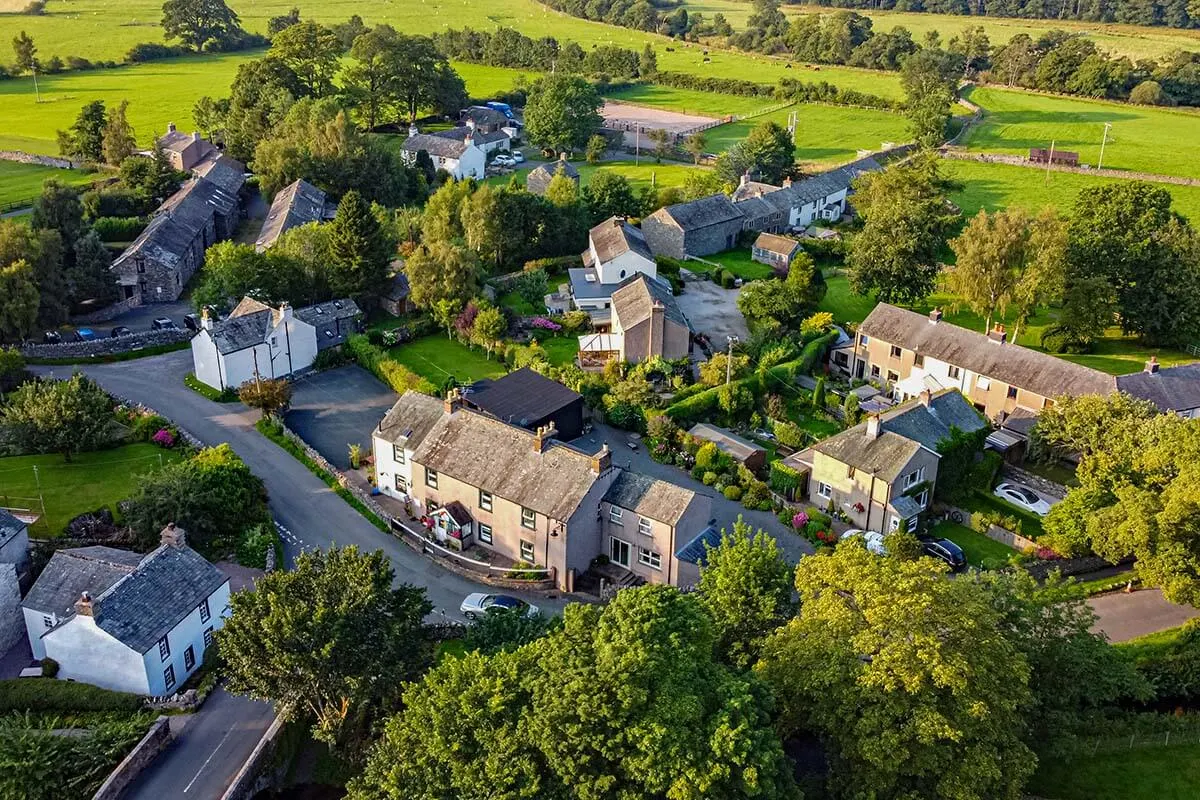 15. Lacock
The picturesque village of Lacock in rural Wiltshire near Bath is another place often visited on day tours from London. It's a small village and you don't need much time here, but it's well worth a stop if touring the area.
The historic village of Lacock looks much as it did two centuries ago. Founded in the Saxon era, Lacock's buildings originally made up part of a monastery complex (be sure to visit Lacock Abbey!). In the 19th century, it lost its main source of income from the wool industry, so very little development has taken place since then.
This means that this unspoiled little village gives an authentic look into days gone by. In fact, you can still see an old workhouse and medieval tithe barn in addition to the traditional stone cottages, with classic English pubs dotted throughout.
The village's beauty makes it a popular choice as a TV and film location. Scenes from Pride and Prejudice were filmed here and Lacock Abbey was also used to film parts of Harry Potter.
Lacock was also used in Downtown Abbey, but because of its location, it's usually a place you'd visit in combination with Bath and Stonehenge and not together with Highclere castle or Bampton. Unless you drive – in that case, you could make your own tour covering all three.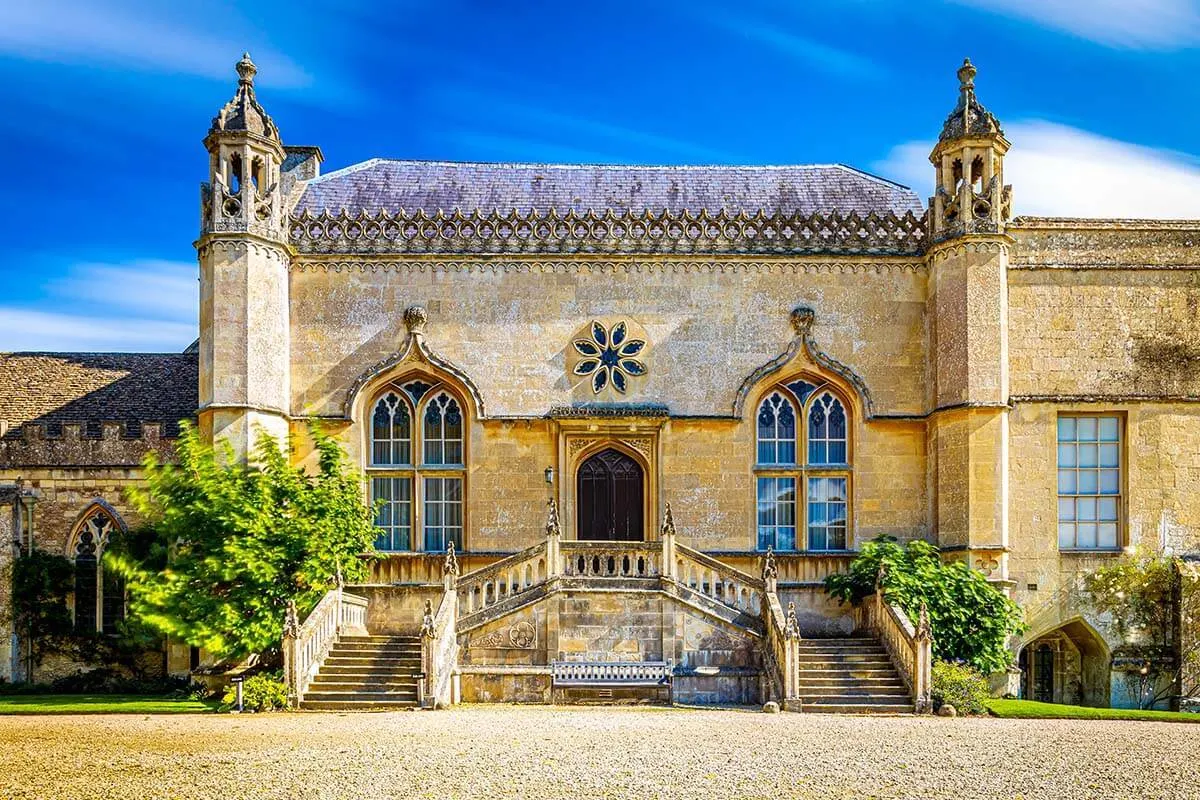 How to visit. Because of its rural location, Lacock is best visited by car or with a tour.
Best tours from London. There are many tours that stop in Lacock, usually in combination with a visit to Bath, Stonehenge, sometimes also with Windsor Castle. This is the most popular tour that also brings you to Lacock and here you can see all the other options.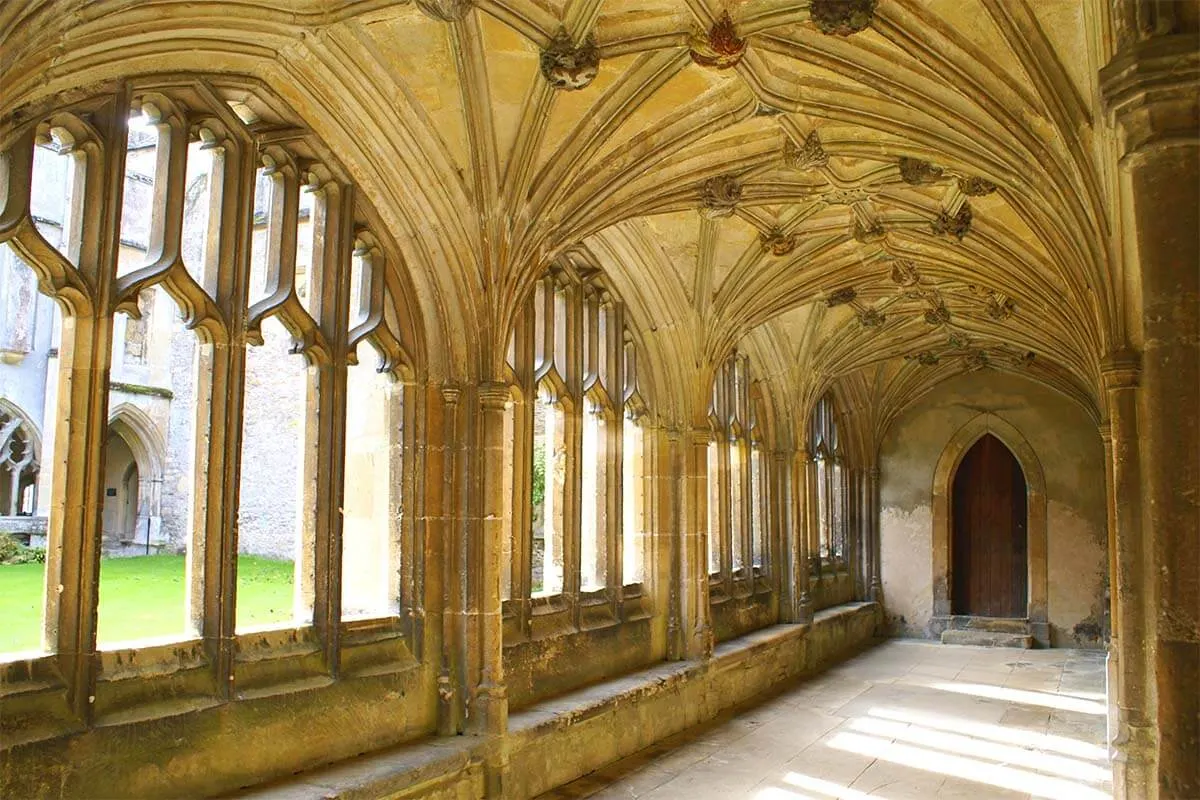 16. Warwick Castle
If you want to visit a real medieval castle near London, consider a day trip to Warwick Castle. With a history that goes back over 1000 years, a visit here takes you on a journey back in time, to a world of historic myths and battles for the English throne, but also lavish banquets, and royal splendor.
The castle was originally built as a wooden fort in 1068 and was rebuilt in stone in the 12th century. As you arrive, you enter over the footbridge and find an impressive medieval castle with ramparts and towers. You can climb the stairs of the castle walls and explore this impressive castle inside out.
A visit to Warwick Castle is very different than the others mentioned in this guide – it has something of a theme park feel if you like. There are various events, shows, attractions, archery and sword lessons, and lots of other fun experiences all year round.
This is one of those places where locals visit with their children during weekends and school holidays, but it's also fun and entertaining for tourists. Even more so if you are traveling with a family.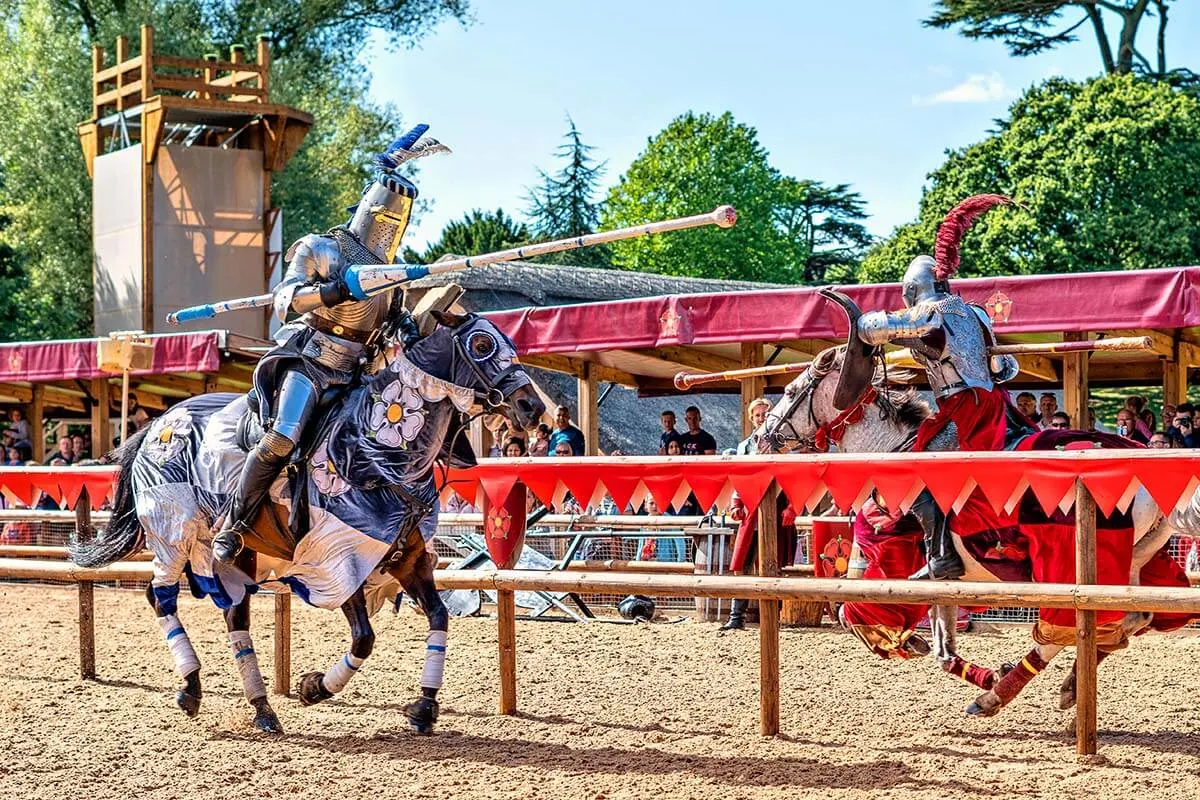 How to visit. Warwick Castle is located about 100 miles (160km), 2 hours drive from London. If you want to spend more time at the castle, by far the easiest way to visit Warwick from London for a day is by train.
There are direct trains from London Marylebone Station to Warwick Railway Station, the journey takes about 1.5 hours. From the station, it's about 20-30 minutes walk to the castle. Be sure to check the official website of the castle for more info and book your tickets in advance!
Best tours from London. Most tours from London that visit Warwick Castle do this in combination with Oxford and Stratford. Some also stop at one or two villages in the Cotswolds. Here you can find a selection of tours that include a visit to Warwick Castle.
17. Liverpool & The Beatles
While not exactly next door, we feel that Liverpool also deserves a mention as a place that you can visit on a day trip from London. If you are a fan of The Beatles, a visit here is a bucket-list experience and well worth the journey.
A visit to Liverpool gives a fascinating look into the lives and times of 4 local lads who formed what would become one of the most famous bands in the world. A good starting point from which to enjoy this vibrant Victorian city is the Royal Albert Dock, which is made up of refurbished dock warehouses and is now packed with restaurants, cafes, and many attractions.
The Beatles Story is an award-winning, permanent exhibition totally devoted to the Fab Four! Located on the Dock, it contains lots of authentic memorabilia and provides an immersive experience for visitors. Even children are catered for in the Exhibitions Discovery Zone. Be sure to reserve your tickets in advance!
Another interesting part of the visit for die-hard Beatles fans is the Magical Mystery Tour, which you take via a colorful tour bus that sets off from the Royal Albert Dock. In addition to the birthplaces, homes, schools, and original workplaces of the Beatles, you will also see the places that inspired some of their greatest hits, including Penny Lane and Strawberry Field.
READ ALSO: Best Things to Do in Liverpool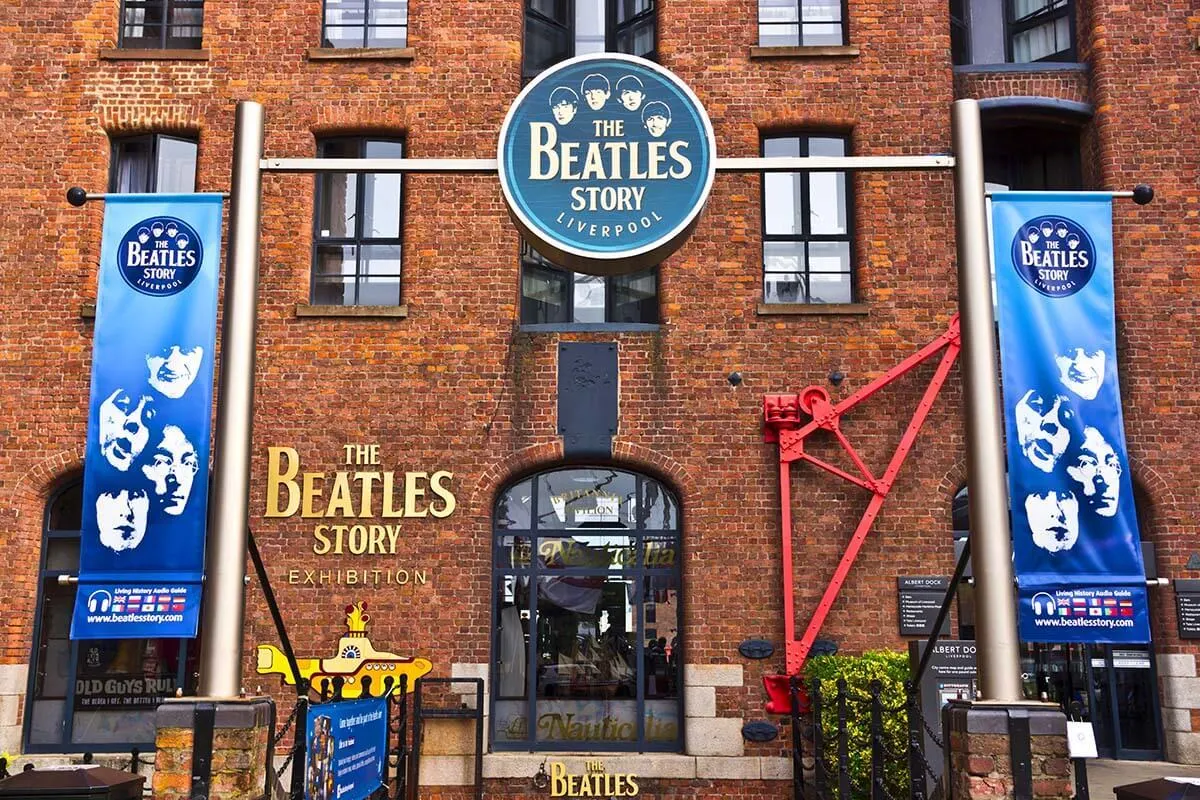 How to visit. The best way to visit Liverpool as a day trip from London is by taking a train (going by car would be about 4 hours one way). The journey by train takes 2 – 2.5 hours and there are many trains throughout the day, but be sure to book in advance and start your day as early as possible!
Once in Liverpool, you can take the earlier-mentioned Magical Mystery bus tour, a guided Beatles & city walking tour, or a private Beatles tour by taxi. Definitely visit the Beatles Story exhibition as well!
TIP: If you find it overwhelming to arrange everything yourself, you can also book a day tour to Liverpool from London. Most of these 'tours' are actually individual trips where everything from train tickets to all activities is pre-arranged for you. See below.
Best tours from London. This Liverpool and The Beatles day tour is the most popular and probably the best option. It includes reserved train seats, an entry to the Beatles Story exhibition, and also a ticket to the 2-hour Magical Mystery Tour!
Good to know: The above-mentioned tour from London to Liverpool starts at Euston Station in London and is normally available every day except Sundays. You'll have to meet their representative at the station at 6.30 AM, so prepare for this to be a long day!
LEARN MORE: How to Plan a Day Trip to Liverpool from London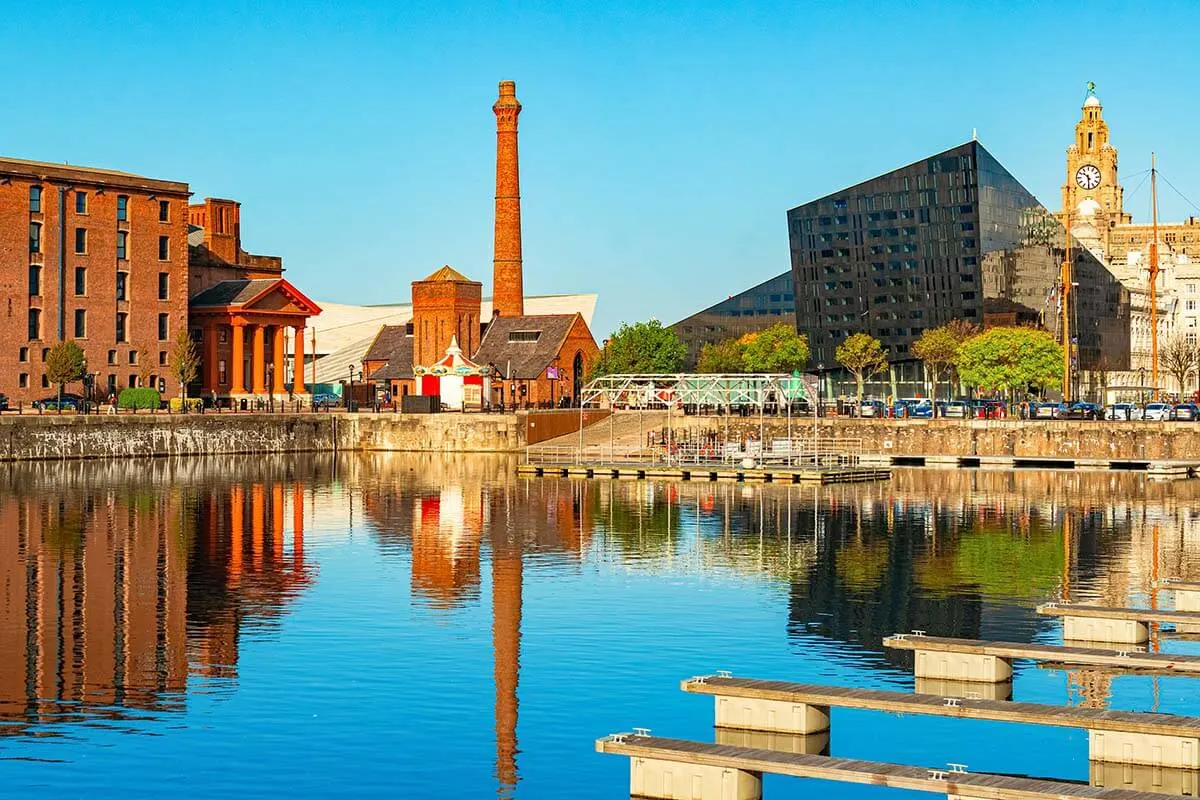 Map of the best places to visit as a day trip from London & practical info
To give you a better idea of where all these places are located, we created a map indicating all the best day trip destinations from London mentioned in this guide. You can click on the map below in order to see it on Google Maps.
Good to know: As already mentioned, many of the most popular day trip destinations from London can be visited with organized tours or by train.
We don't recommend renting a car if you are staying in London – the traffic is so busy in and around the city that it would be a nightmare for someone who's not used to it. Renting a car would only make sense if you are planning a longer road trip, outside of the cities.
For organized tours, we recommend booking via the GetYourGuide website. They have a great selection of tours at the most competitive rates and the best cancelation policy and customer service out there. We personally book all tickets and tours via this website when we travel anywhere in the world.
So, this is our guide to some of the most popular day trips and tours from London. I hope that this helps you choose a few nice places to visit near London and make your trip even more memorable.
For more travel inspiration for London and the UK, please see our featured articles below. Check it out!
More travel tips and inspiration for London:
Must-see in London: Top London Attractions
Off the beaten path:
London views and skylines:
Good to know:
Itineraries:
For families:
Greenwich:
READ ALSO: Traditional British Food & Where to Try It in the UK
If you found this post useful, don't forget to bookmark it and share it with your friends. Are you on Pinterest? Pin these images!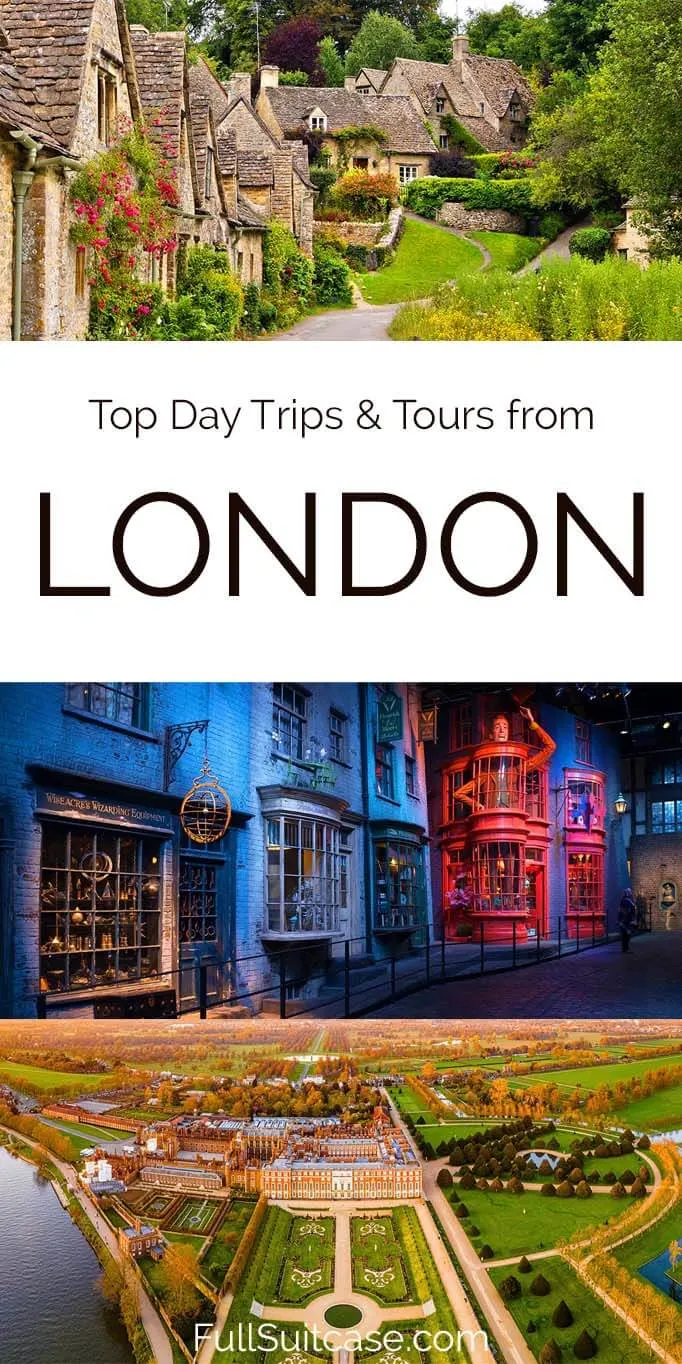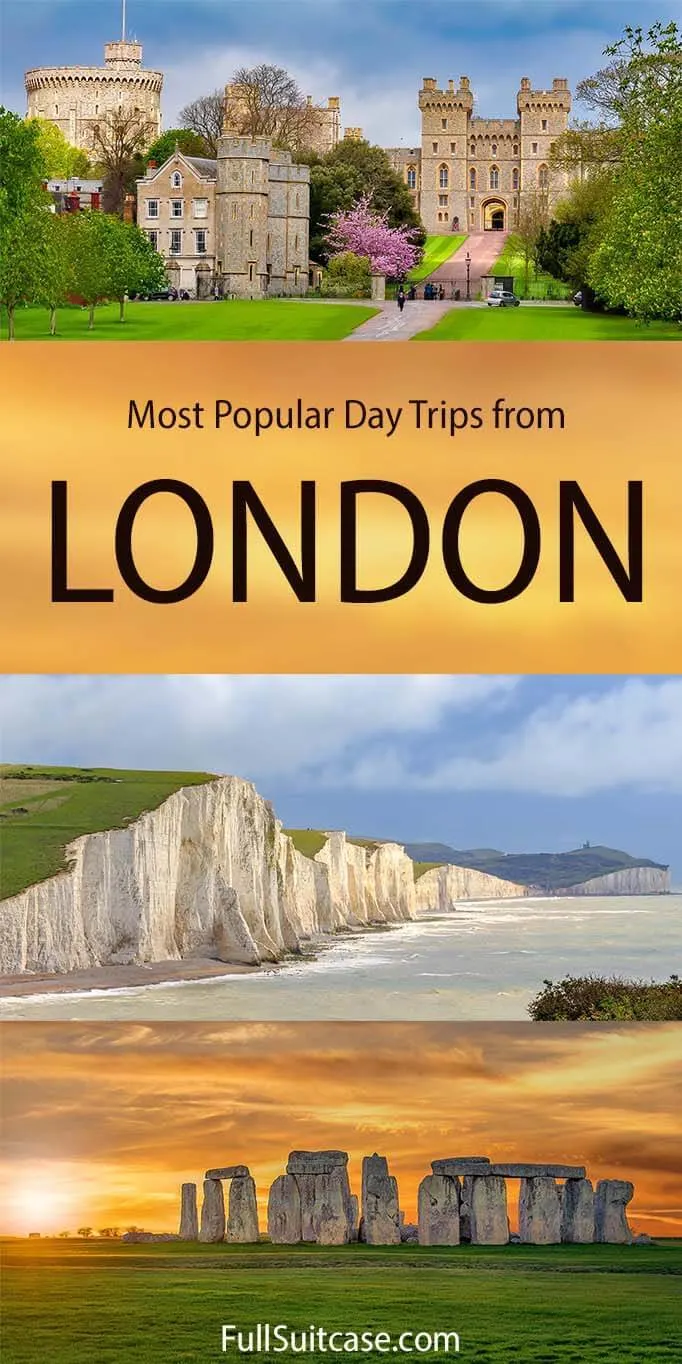 More travel tips and inspiration for all over the UK: