Thinking of visiting Liverpool, UK, and wondering what to see and do in the city? In this guide, we share all the must-sees in Liverpool, as well as the most popular tourist sights and attractions for those who have a bit more time to explore deeper. Find out!
One of the most visited cities in the UK, Liverpool is a great destination for any type of traveler. There is so much to see and do in Liverpool! The city is best known as the home of The Beatles but it offers so much more than just this legacy.
Liverpool has more museums and galleries than any city in Britain except London and is home to two of Britain's largest cathedrals. It has unique and historic architecture, leafy parks, and is just a short drive from sandy beaches. A trip to vibrant Liverpool will be varied, fun, and fascinating for the whole family. The city is known for its hospitality so you are sure to receive a warm welcome.
Good to know: In this guide, we share some insider tips and recommendations for the best places to visit in Liverpool. To help you plan your trip, we also include some practical information for each attraction. We also created a map indicating all the top sights in Liverpool. You can find it at the bottom of this guide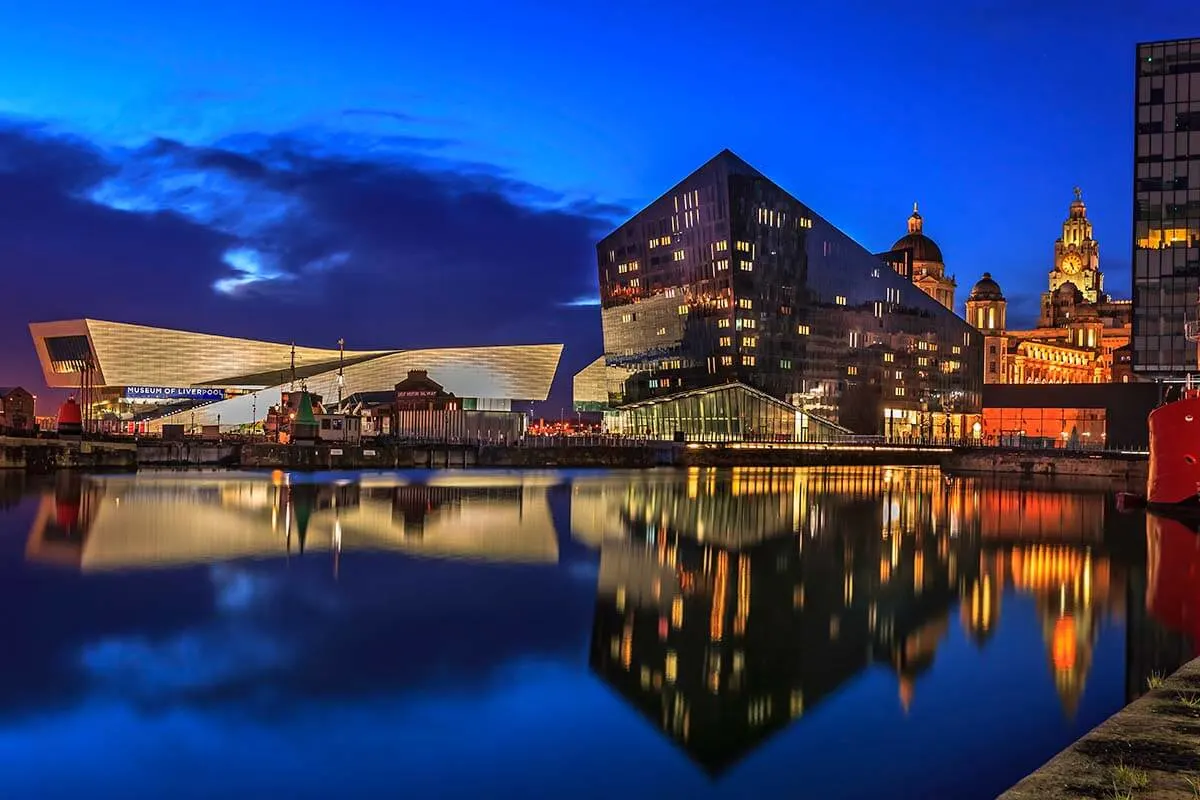 How to use this guide: There is so much to see and do in Liverpool that it would be impossible to list everything. (And who has the time for all of it, right?) So in this guide, we mostly focus on the top sights and attractions in Liverpool that are worth your time the most. And even then, there's a lot more to see in the city than you can cover in a few days. So our list is sorted starting with the must-sees at the top.
On the first visit, concentrate on the top 10 places to see in Liverpool. Based on your interests and the time that you have, check the rest of the list for some inspiration on what you can add to your itinerary.
At the bottom of this guide, you can also find some practical information, such as how to get around the city or the best area to stay for sightseeing in Liverpool.
TIP: There are various guided tours that you can do in Liverpool. It's a good way to get an introduction to some of the best places in the city, see the main Beatles' sites, etc. Depending on your interests and how much time you have, here are some of the best tours to consider: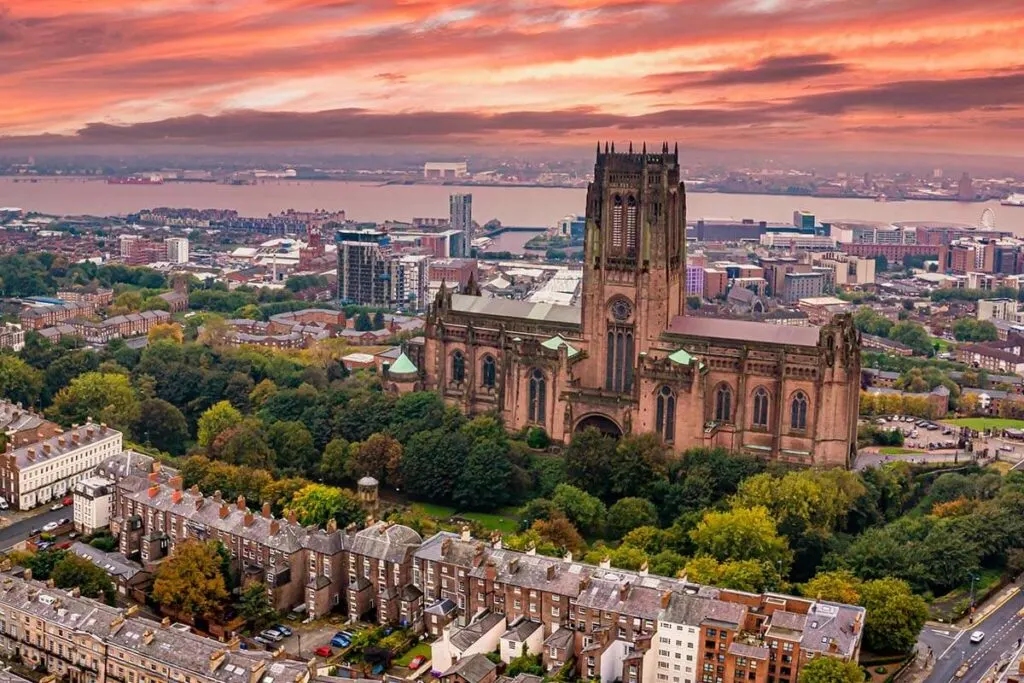 Here are some of the very best things to do in Liverpool:
1. Royal Albert Dock
No visit to Liverpool would be complete without a trip to the historic Royal Albert Docks, a UNESCO World Heritage Site. The warehouses and dock buildings lining the waterfront date back to the 1840s. They are the largest collection of Grade 1 listed buildings in the U.K.
Today, the buildings and covered walkways are home to boutique shops, cafes, restaurants, buskers, and street entertainers. It is a colorful, lively place to wander around. The docks are also home to several attractions including the Maritime Museum, Tate Liverpool, the International Slavery Museum, and the award-winning The Beatles Story (more about it below).
In addition, you can ride a Victorian carousel and enjoy views of the River Mersey. You can also get a birds-eye view of the city from the 60-meter-high Wheel of Liverpool with an audio commentary.
Practical Information: The Royal Albert Dock is free to enter and explore. There is a fee for individual attractions. You could easily spend an entire day exploring everything that this area has to offer, or just come here for The Beatles Story, walk around a bit, have lunch or dinner, and move on to explore more of the city. It really depends on how much time you have.
Getting there: The Royal Albert Dock is a 20-minute walk from Lime Street rail station or a 5-minute walk from the Merseyrail station at James Street.
TIP: Make time to see the Lovers Locks near the Pier. The uplifting (and also sad) messages scrawled onto the locks are moving. They give a glimpse into Liverpudlian lives.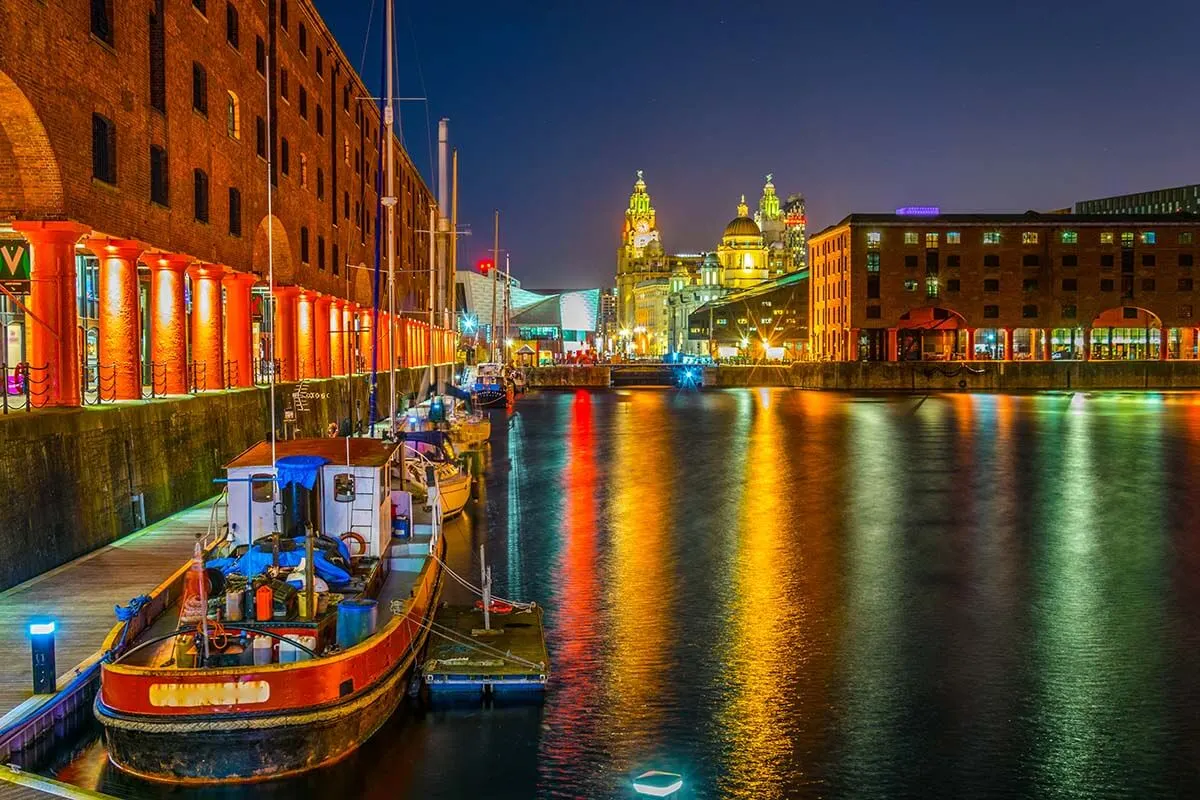 2. The Beatles Story
The Beatles Story is one of Liverpool's must-see attractions. Even if you are just visiting Liverpool for a day, this is one place that you absolutely shouldn't miss.
The Beatles Story is the world's largest Beatles museum, and it's so much more than a regular museum.
Inside, you can see clothing, instruments, and lyrics from The Beatles' early days through to their break up in 1970. A particularly poignant exhibit is John Lennon's baby grand piano topped with a pair of his famous round glasses. You will recognize it from the 'Imagine' video. Other highlights include recreations of Abbey Road Studios and The Cavern Club.
Kids will love the interactive exhibits in the Discovery Zone where you can sing karaoke and play a floor piano.
Getting there: The Beatles Story is located on the Royal Albert Dock. It can be reached on foot, by train, or by bus. The Liverpool ONE bus station is a 7-minute walk away.
Practical Information: The museum is open seven days a week, except on the 25-26 of December. This is one of the most popular places to visit in Liverpool and is always busy. It's best to get timed entrance tickets in advance. Plan at least 1.5 hours for a visit.
Good to know: Visits are by self-guided tours, with audio commentaries available in many different languages.
READ ALSO: The Beatles Attractions in Liverpool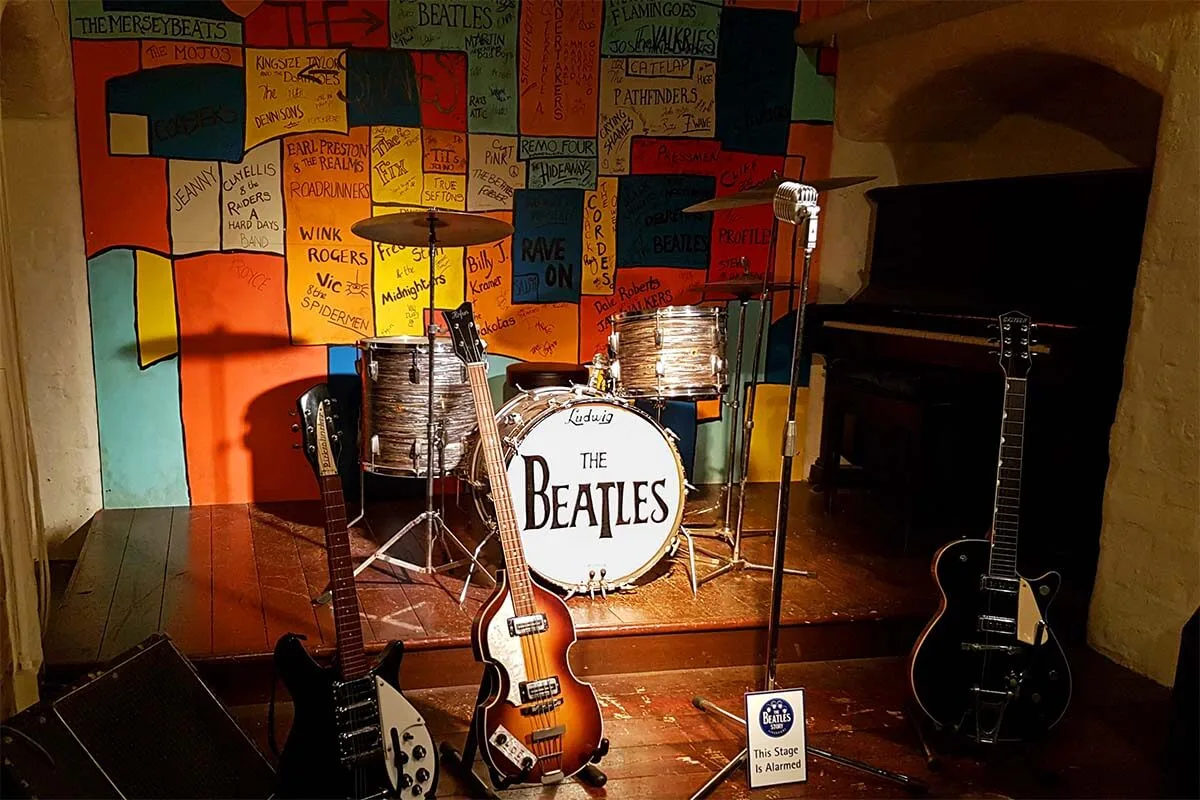 3. Royal Liver Building 360
The Grade 1 listed Royal Liver Building (LRB) is Liverpool's most iconic building. It stands at Pier Head on the waterfront. Together with two adjacent buildings (Cunard and Port of Liverpool), the LRB is known as The Three Graces.
The early 20th-century building is 13 floors high and 98 meters tall. It is topped by the famous Liver birds sculptures. It mostly contains offices, apartments, and cafes but it is also possible to take a tour of the towers.
There is a visitor center on the ground floor where you can learn about the building's history and construction. A guided tour will take you to the 10th and 15th floors. Here you can enjoy amazing views of the city from various outdoor viewing platforms and an audio-visual display inside the clock tower.
Practical Information: The visitors center is free, but if you want to do the tour (recommended), you'll need to get a ticket. A tour lasts approximately 70 minutes and is well worth it.
Good to know: A lift takes you to the 10th floor, but you will need to climb steps to reach the top floors.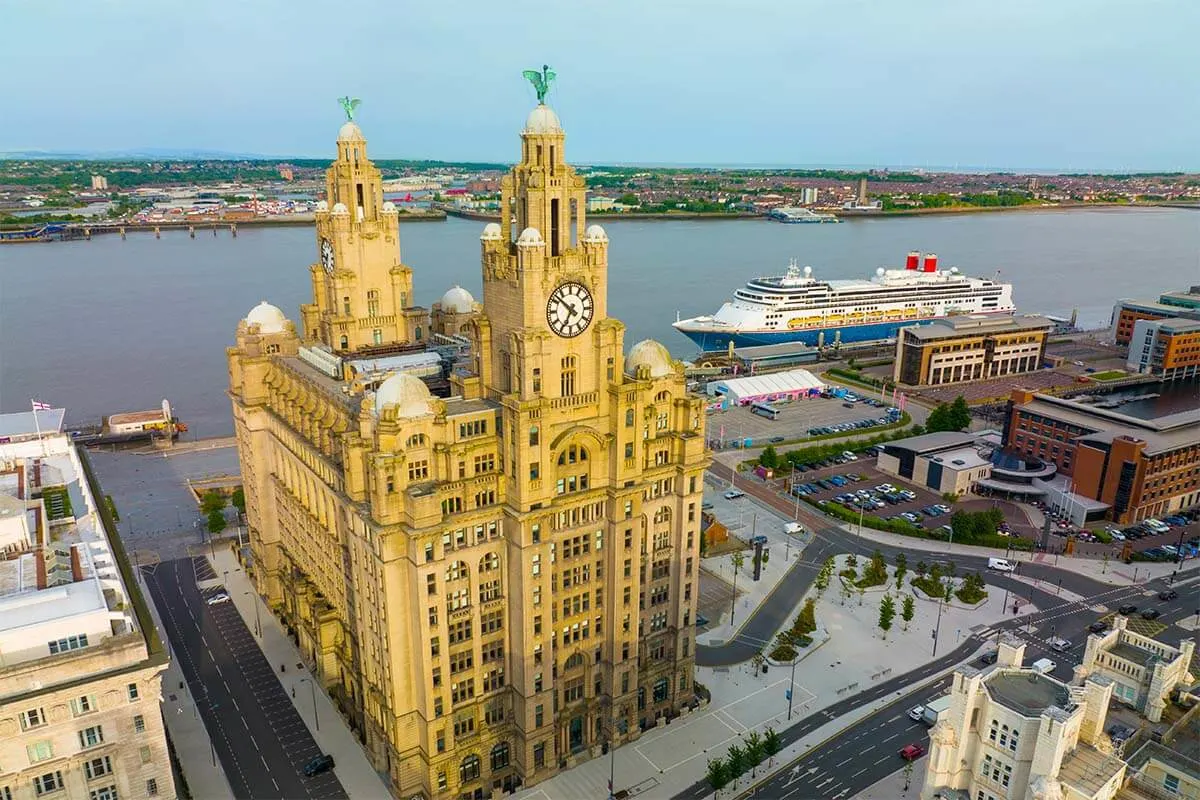 4. The Beatles Statue & Liverpool Waterfront
Opposite the Liver Building, you'll find another must-see in Liverpool – The Beatles Statue on Pier Head.
The bronze statues capture each member of The Beatles in the early days of their careers. The likenesses and relaxed look of the statues is uncanny. It feels like The Fab Four were out for a stroll and got frozen in time.
These statues were designed and made in Liverpool, weigh 1.2 tons, and were gifted to the city by The Cavern Club.
Good to know: It is free to view the statues and to take as many pictures as you like.
TIP: Look for the hidden detail on the figures. For example, George Harrison has Sanskrit on his belt and John Lennon is holding acorns, a symbol of peace.
And since you're here anyway, take a stroll on the Liverpool Waterfront. Many of the Liverpool attractions mentioned in this guide are located in this area, and you'll also find many other statues, colorful sculptures, etc.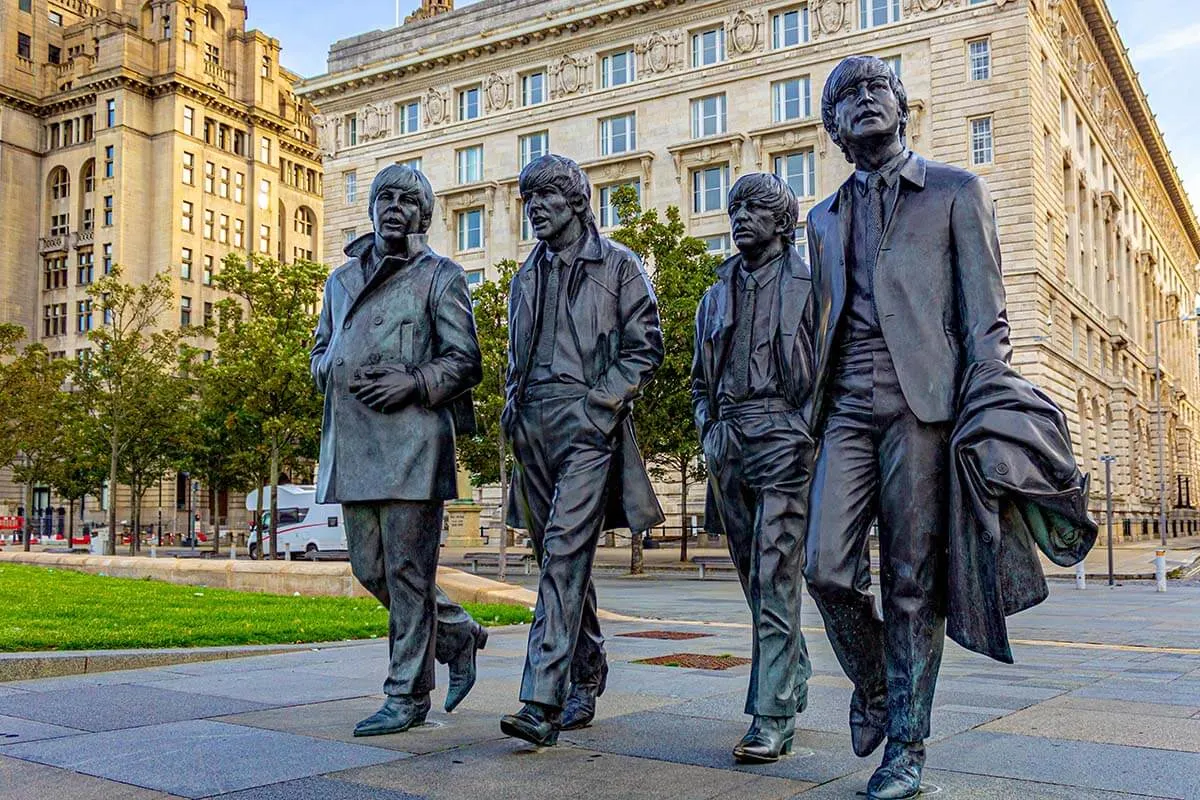 5. Liverpool Cathedral
Liverpool Cathedral is the largest religious building in the U.K and the 8th largest in the world. It is also the world's longest cathedral. So if you find yourself in this part of the city, definitely check it out! And yes, it's worth a small detour from the old town or the waterfront too.
This impressive 20th-century cathedral is built on a slight hill and dominates the city skyline. It is enormous! To truly appreciate its size, you have to see it from the inside. The interior is stunning too, with a very impressive ceiling. Other highlights include the tranquil Lady's Chapel, the ornate high altar, and the West Window.
Good to know: Don't miss the views from the top of the 152-meter-tall Vestry Tower. It has a 360-degree outdoor viewing platform with fantastic views over the city. You will also get to see the tower bells which are the highest and heaviest peal of bells in the world.
Practical Information: The Anglican cathedral is free to enter but donations are appreciated. The money goes toward the upkeep of the building. Sometimes they have some special events or expositions and require a ticket.
If you want to visit the tower, there's an additional fee. Normally, you can get the tickets on the spot, but if you absolutely want to be sure to visit, you can also pre-book the tower tickets online. The Cathedral is open daily from 10 am to 6 pm, with some exceptions (check their website for up-to-date info).
TIP: The cathedral stands at the southern end of Hope Street. At the northern end of this long street is Liverpool Metropolitan Cathedral, the largest Catholic cathedral in Britain. While not as famous, it is also worth a visit to see its unusual circular design.
Also, if you walk to Liverpool Cathedral, you'll pass Liverpool Chinatown, which is also nice to see in this area.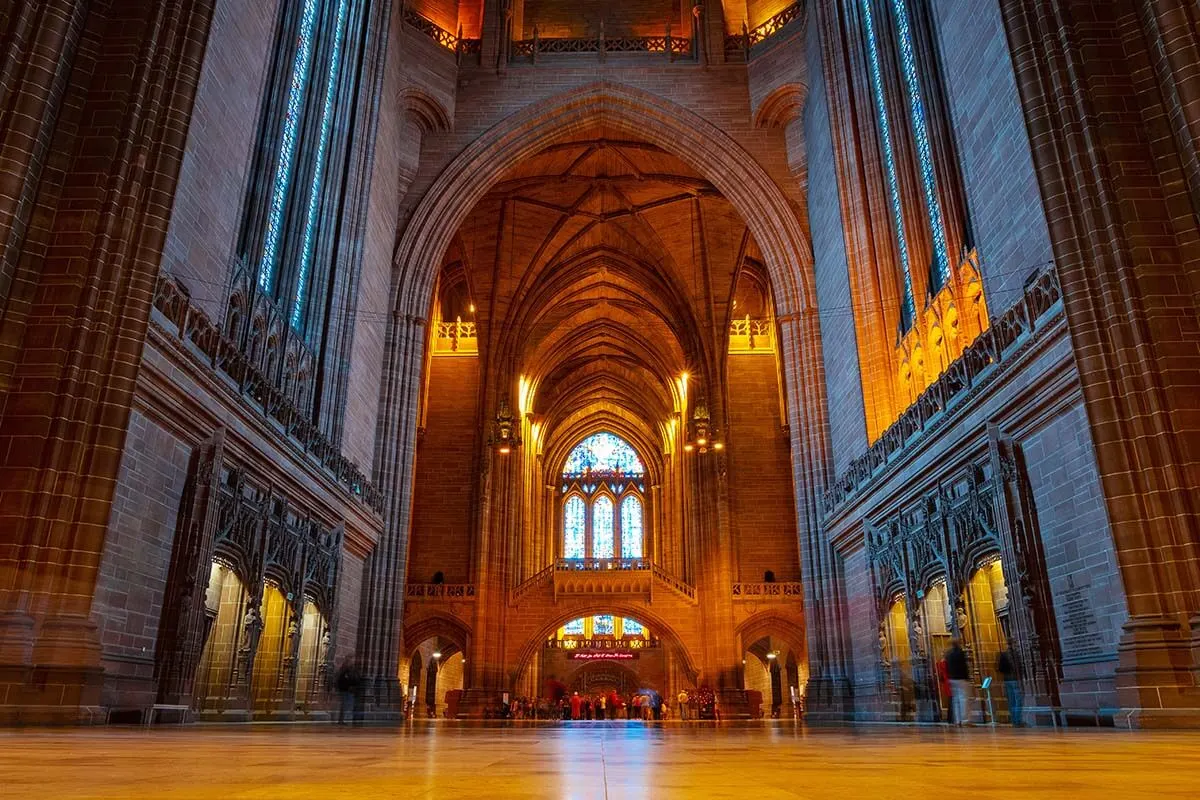 6. Cavern Club & The Wall of Fame
Dubbed 'the most famous club in the world,' The Cavern Club on Mathew Street in the city center is synonymous with The Beatles.
The band made their name in this cellar venue which still operates as a music club today. It feels as if you are stepping back in time within these atmospheric, famous walls. You can enjoy live music here daily. The Cavern Live Lounge often hosts special events and concerts too.
Practical Information: The Cavern Club is open daily from 11 am. The entrance is very affordable and you pay at the entrance. Children are welcome in the club until 8 pm. For more practical information and opening hours, check their website.
TIP: Be sure not to miss the Wall of Fame and the statue of John Lennon outside the Cavern Pub.
Good to know: The popular Beatles Magical Mystery Bus Tour is run by the same organization and includes the entrance to the club as part of the tour.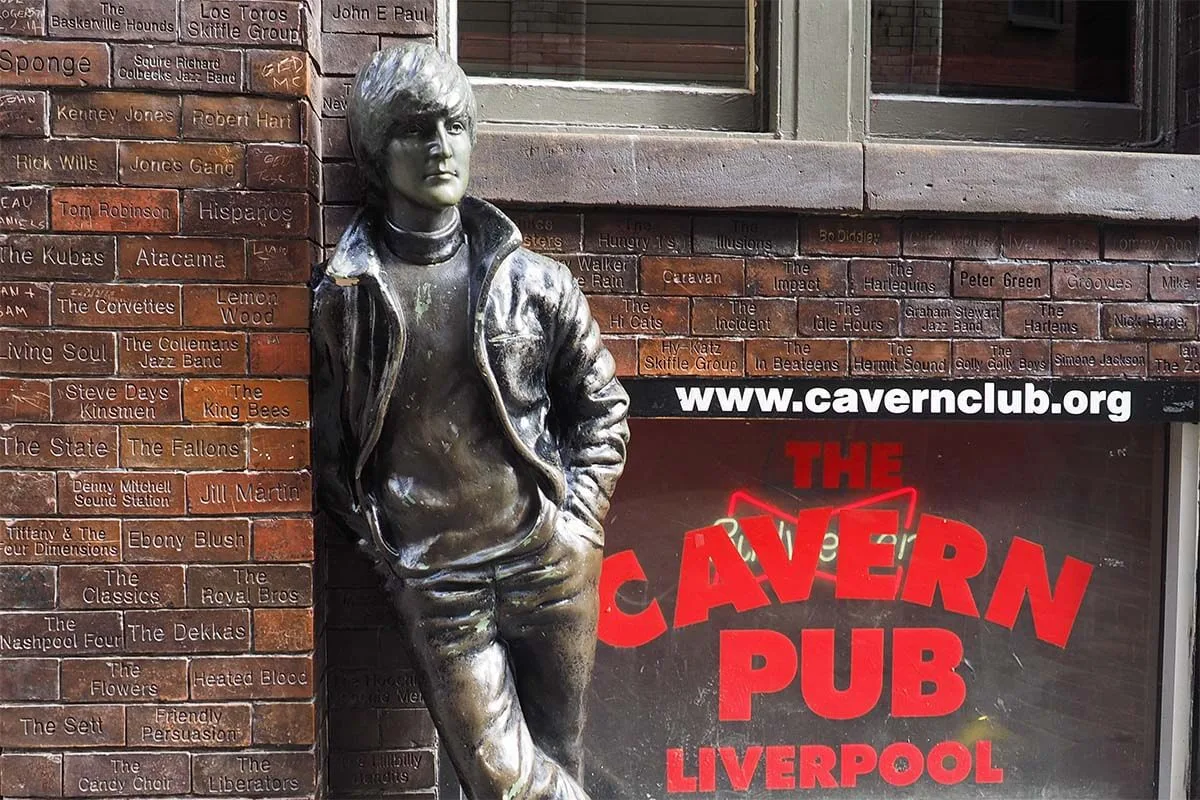 7. Sightseeing Cruise on the Mersey River
Another extremely popular thing to do in Liverpool is taking a sightseeing cruise on the Mersey River. This is a great way to see the city from a different perspective (and allows you to rest your legs a bit between all the sightseeing).
The 50-minute sightseeing cruises make a loop of the river giving fantastic views of the Liverpool and Wirral skyline. An audio commentary tells you about Liverpool's maritime history and the role the ferries played during the World Wars. It is a relaxing way to view and learn about the city.
Practical Information: Ferries run daily throughout the year and depart on the hour from the Pier Head Dock near the Royal Albert Dock. You can book your tickets in advance here.
Good to know: Dress warm as it can be very windy on the boat.
TIP: You are allowed to break your journey and get off the ferry at the Woodside Pier to explore the sights of the Wirral on the other side of the river. Check out Hamilton Square, which is a nice park surrounded by tens of Grade I listed buildings. If you have some time to spare, this is a very nice thing to do in Liverpool. You can easily hop on the next boat to get back to the city center with the same ticket.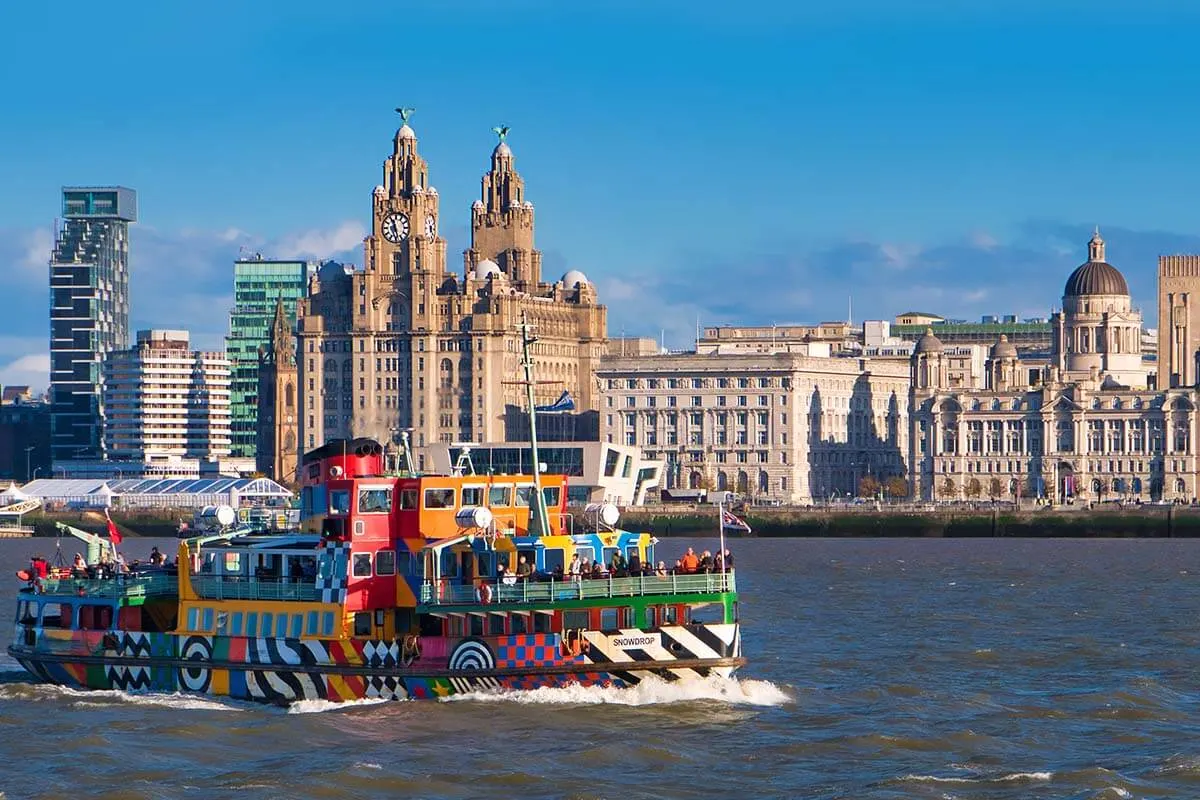 8. Anfield Football Stadium & Museum
Liverpool football club is known all over the world. A self-guided tour of their home ground, Anfield Stadium, is a must for football fans. But even if you are not that much into football, it's still a very interesting experience. In fact, the Anfield Stadium tour is among the most popular Liverpool attractions!
It is fun to see places that you will recognize from match footage. The size of the stadium is impressive.
On a stadium tour, you can visit the dressing rooms and media rooms, walk down the Players Tunnel, and sit in the dugouts. From the highest level of the Main Stand, you can also enjoy some nice views of the pitch and also of the city skyline. The tour also includes entry to the interactive museum.
Good to know: You can choose between a standard tour or the Legends Q&A tour with an ex-Liverpool player. Tours do not run on match days.
TIP: The Anfield Tour is a very popular Liverpool attraction so book in advance of your visit. If you cannot get a tour on the day you require, consider a tour of Goodison Park, the home ground of Liverpool FC's arch-rival, Everton.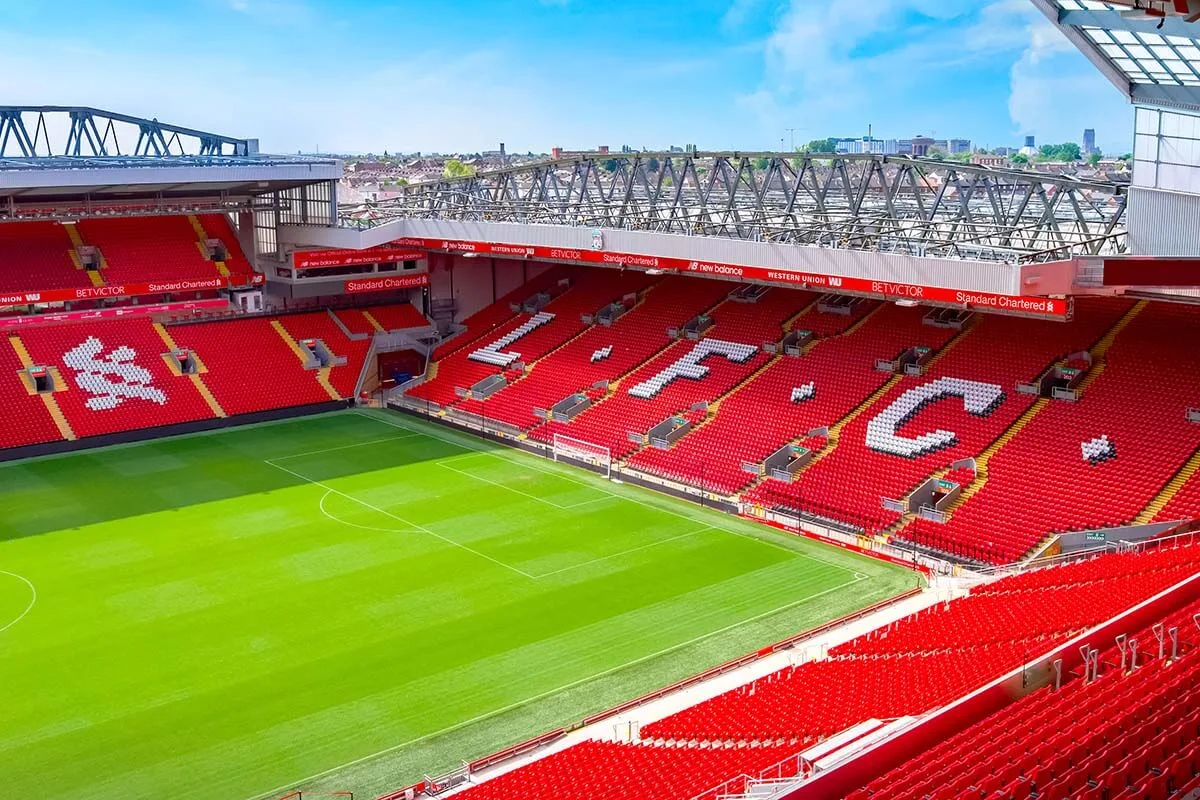 9. World Museum
World Museum is one of the most interesting and diverse museums in Liverpool. Established in the mid-19th century, this is the oldest museum in the city. It's also among the absolute best FREE things to do in Liverpool.
Set over 5 floors, each covering a different topic, World Museum is a place where you could easily spend an entire day. From antiquities in the Egyptian section to stunning art from all over the world, and from dinosaurs to rocketry and space instruments, this museum truly has something for everyone.
World Museum is really family-friendly, but it will appeal to young and old. And with such a big variety of topics and exhibitions, there is no way to get bored here.
TIP: If you can, avoid weekends and school holidays as it can get really busy.
Practical information: The museum is open daily except on Mondays and is free to visit (although donations are welcome). For more info, see their website.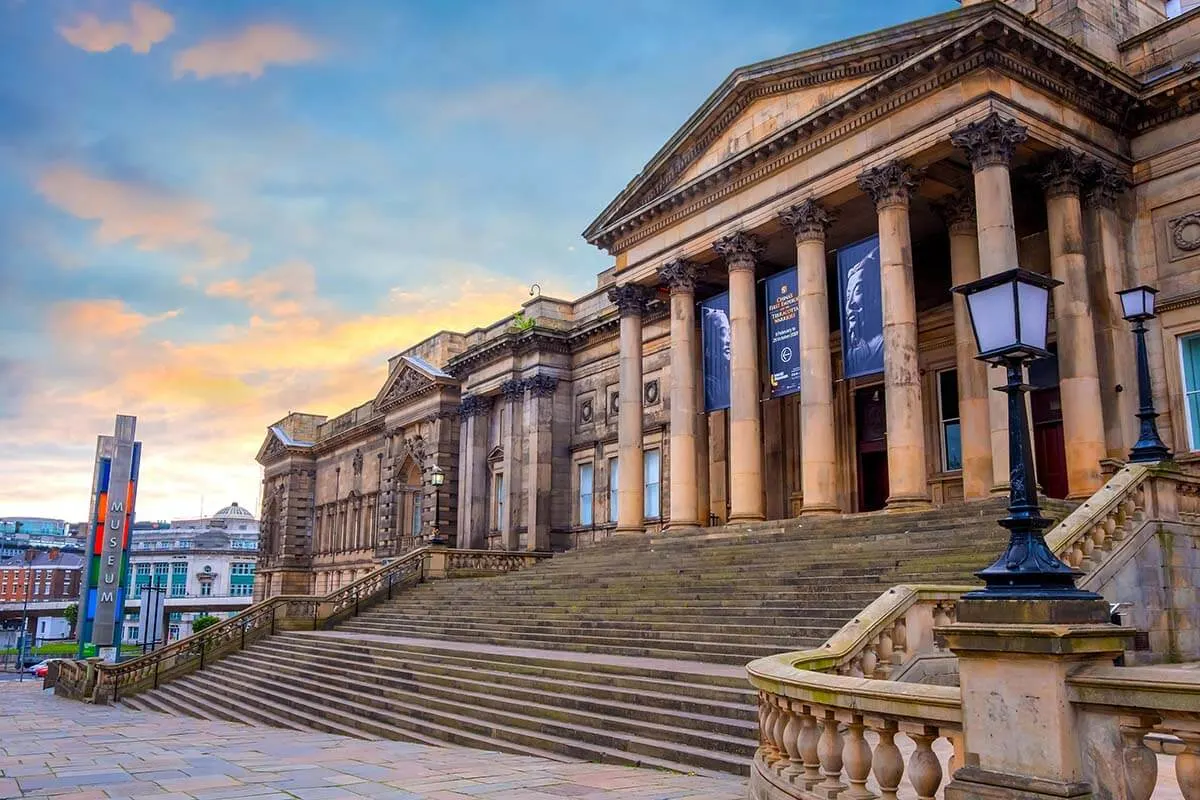 10. Tate Liverpool
Tate Liverpool is a modern art museum that has both permanent and temporary exhibitions. It features contemporary art and sculptures from well-known artists (including Matisse and Picasso) as well as emerging artists.
The Tate Liverpool is also worth visiting for the impressive, cavernous building it is housed in. The gallery is easily identifiable as it has a 10-meter, multi-colored stone sculpture out front called 'Liverpool Mountain.'
Good to know: Tate Liverpool is one of the best FREE places to visit in Liverpool. It's also located on Royal Albert Dock which you really should visit. So if you are here anyway, why not take a look inside?
TIP: If traveling with kids, check the kids' section on the Tate Liverpool website. It has downloadable activities and quizzes to use during your visit.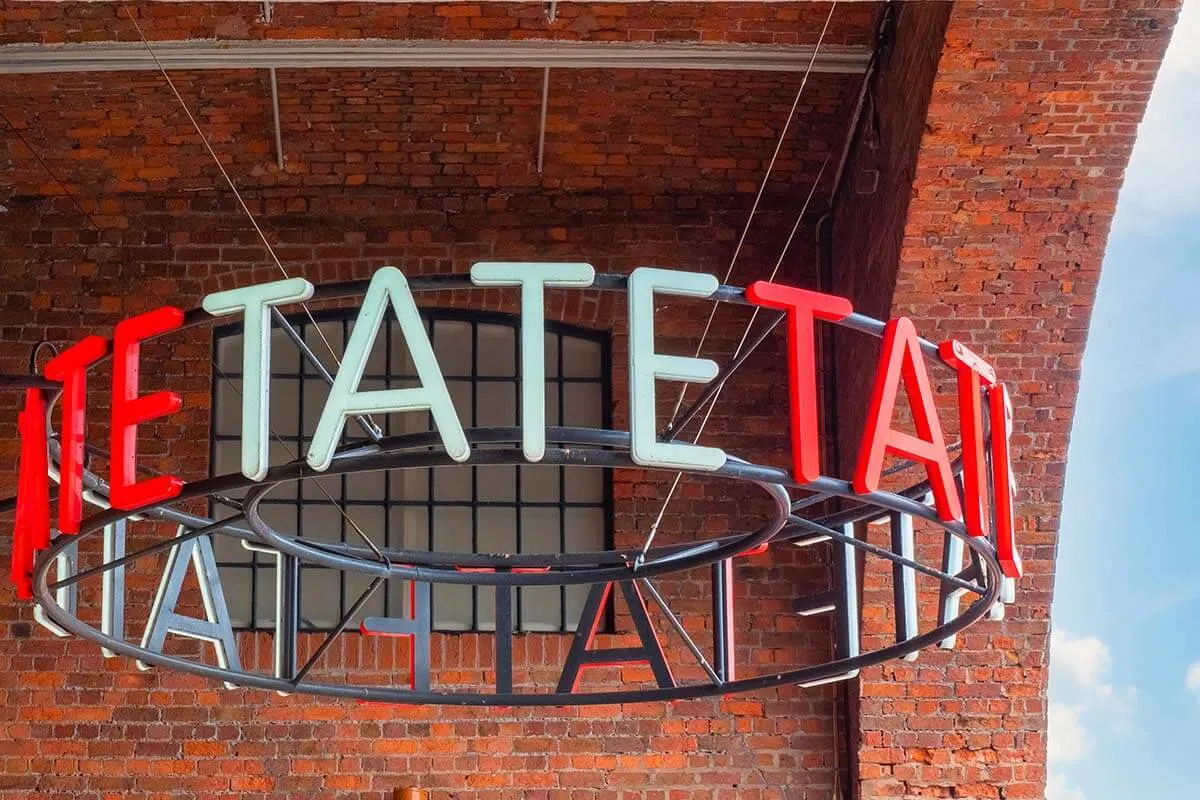 11. Strawberry Field
Strawberry Field is a rather recent Liverpool attraction. The site was made famous by The Beatles' song 'Strawberry Fields Forever' and has long been visited by Beatles fans.
There is a multimedia exhibition charting the history of the building and John Lennon's childhood in the area. You can spend time in the garden where John Lennon played and composed. You will also see the piano on which he wrote 'Imagine' which was donated to the museum by pop star George Michael.
Getting there: The site is 4.5 miles from Liverpool city center. You can drive or catch a bus from Liverpool ONE bus station. The bus ride takes 30 minutes. There are also some tours that visit here.
Practical information: Strawberry Field is open daily except on Mondays and some public holidays. You can find more info and get tickets here.
Good to know: Strawberry Field is owned and run by The Salvation Army. Ticket proceeds support local young people with learning difficulties.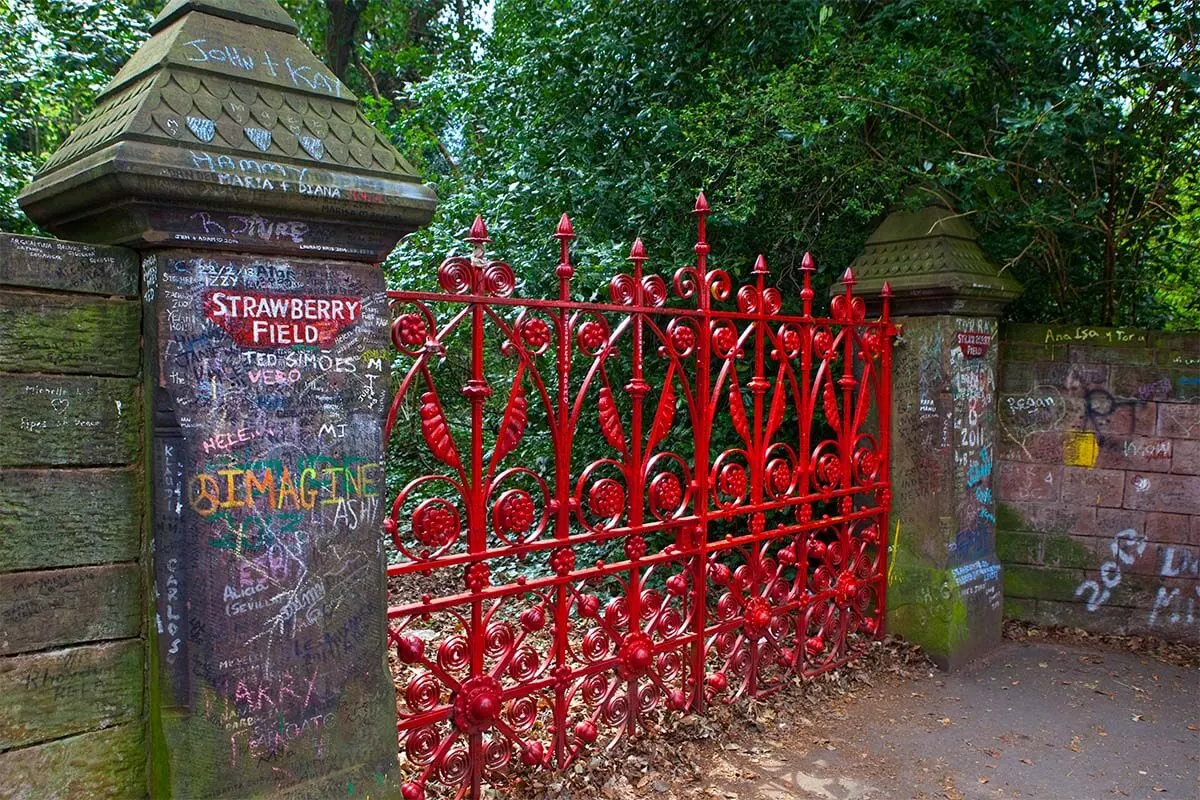 12. Western Approaches WWII Museum
Western Approaches Museum is set inside a top-secret underground bunker under Liverpools' city streets. It was used during WWII for intelligence gathering and planning by the British Armed Forces.
The remarkably preserved labyrinth of rooms and offices is like a snapshot of time. The furnishings are the same ones that were here when the site was abandoned. You can also explore offices and the Operations Room where Atlantic movements were monitored. This unusual museum has an eerie, stepping-back-in-time feel.
Good to know: The secret bunker isn't easy to find. It is in the basement of Exchange Flags and can be reached on foot from the Royal Albert Dock. Count at least 1.5 hours for a visit.
Practical Information: The museum is normally open daily, from 10 am to 6 pm, but it's best to check in advance in case there are any special closures. Children visit free of charge. You can get tickets here, but it's normally not a problem to get them on the spot either. Also, the ticket remains valid for 12 months, so you can come back here as many times as you like.
13. Liverpool Beatles Museum
Not to be confused with the Beatles Story by the water, the Liverpool Beatles Museum is housed in a historic building on the famous Mathew Street in the old town. This museum is not a must if you are really short on time in Liverpool, but it's worth it if you have more time.
Even the most die-hard fans of The Beatles will learn something new here.
The 3-floor museum is packed with over 1000 Beatle artifacts and memorabilia. You can expect the usual programs and newsreels but the museum also displays personal letters, interviews, and photographs. These items can be seen nowhere else. They provide insight into the thoughts and feelings of the band in the early days of their career.
Practical information: The museum is open seven days a week, but closes rather early. See their website for up-to-date info.
TIP: Combine Liverpool's Beatles Museum with a trip to The Cavern Club and a photo stop at the John Lennon statue. Both attractions are on the same street as the museum.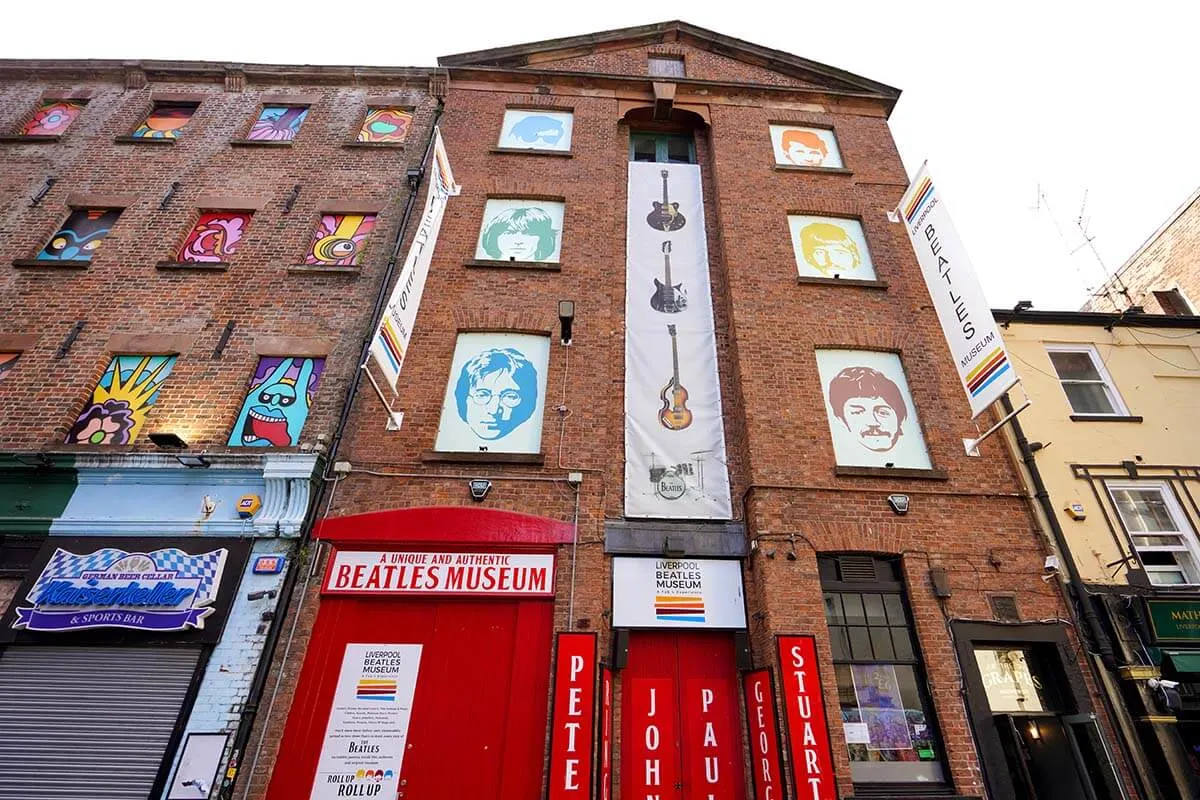 14. British Music Experience
Adjacent to the Royal Liver Building, the Cunard building is home to the British Music Experience (BME).
This comprehensive and interactive museum has hundreds of artifacts charting the history of British rock and pop. A highlight is the outlandish stage costume section.
With its excellent static and interactive displays, the BME is fun for young and old. You have the chance to play a range of instruments in an interactive studio. Kids will love the Dance Through The Decades Experience where you can learn 12 different dance styles.
Practical information: The museum is open daily in the summer season and Wednesdays to Sundays between September and March. It sometimes closes for special events. If you get your tickets online in advance, you can immediately see if it's open on the day of your visit.
Good to know: The BME is a non-profit charity and your entrance fee supports art and music education in Britain.
15. Central Library
Liverpool's Central Library makes it onto this list of some of the most interesting places to visit in Liverpool because of its Grade II listed Hornby Library and Picton Reading Room.
The elaborate 19th century circular Picton Reading Room is stunning. You will just want to look around rather than read a book. In contrast, the elegant Hornby Library is home to over 15,000 rare books.
The cozy and inviting kids section is also worth a visit, especially for foot-weary children.
TIP: Go all the way to the top and visit the rooftop terrace of the library for a unique view of the city.
Practical information: Central Library is open daily except on Sunday. See the official site for more info.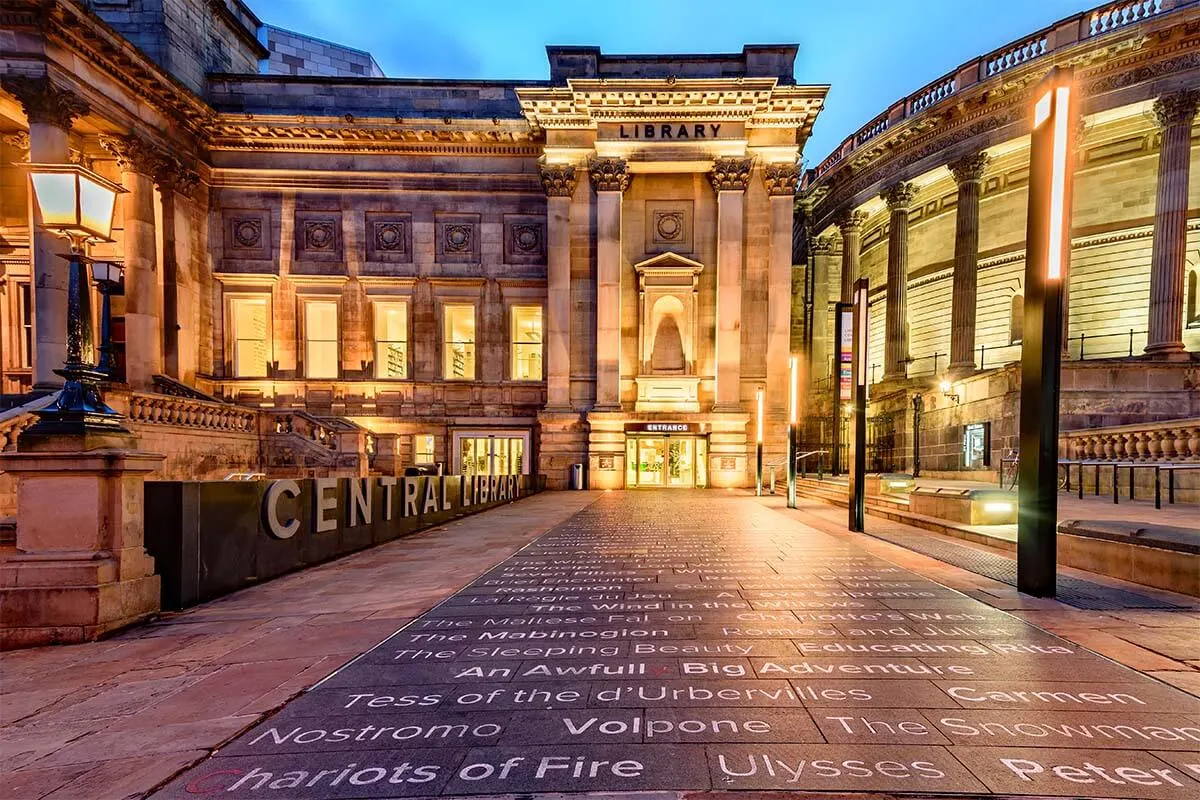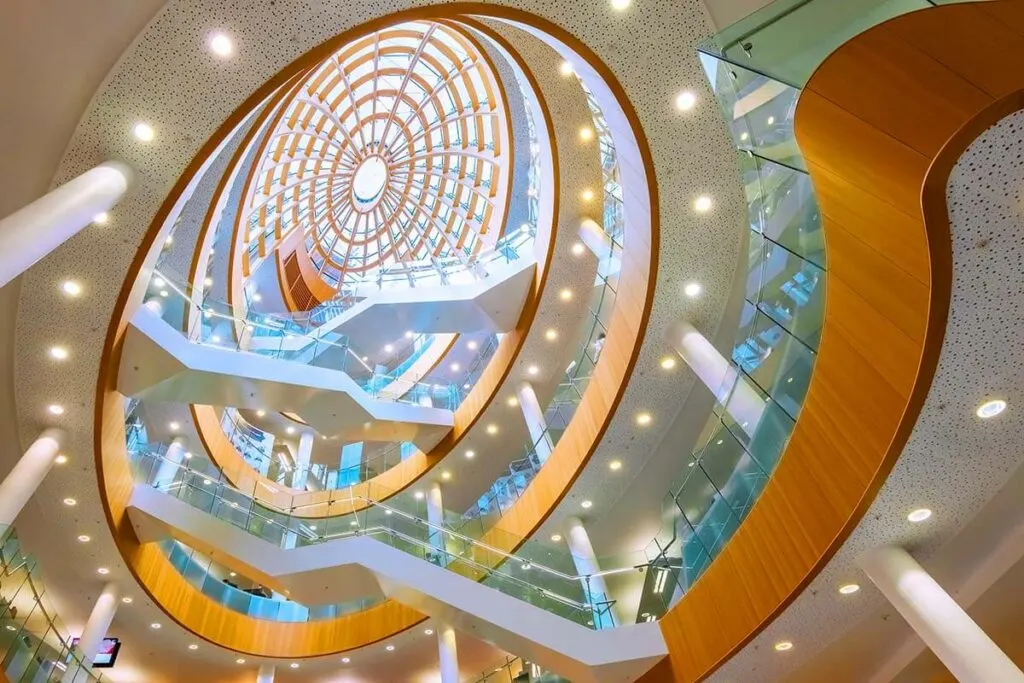 16. More Museums to See in Liverpool
Liverpool has a lot more museums than mentioned above, but we want to keep this list somewhat concise and so there's no way to mention all of them. Here are a few additional suggestions for museums to visit in Liverpool:
Maritime Museum. It has lots of vintage ship models, a very interesting Titanic exhibition with artifacts retrieved from the ship, etc. In the same building, you can also visit the International Slavery Museum with a very moving exhibition.
Liverpool Museum showcases the history of the city and its people. There are three floors of permanent and temporary archaeological and anthropological exhibitions including a Beatles collection.
And there are many more. The good thing is that most of Liverpool museums are free to visit and are open almost daily throughout the year. So you'll always find something interesting to do in Liverpool, no matter the day of the week or the weather.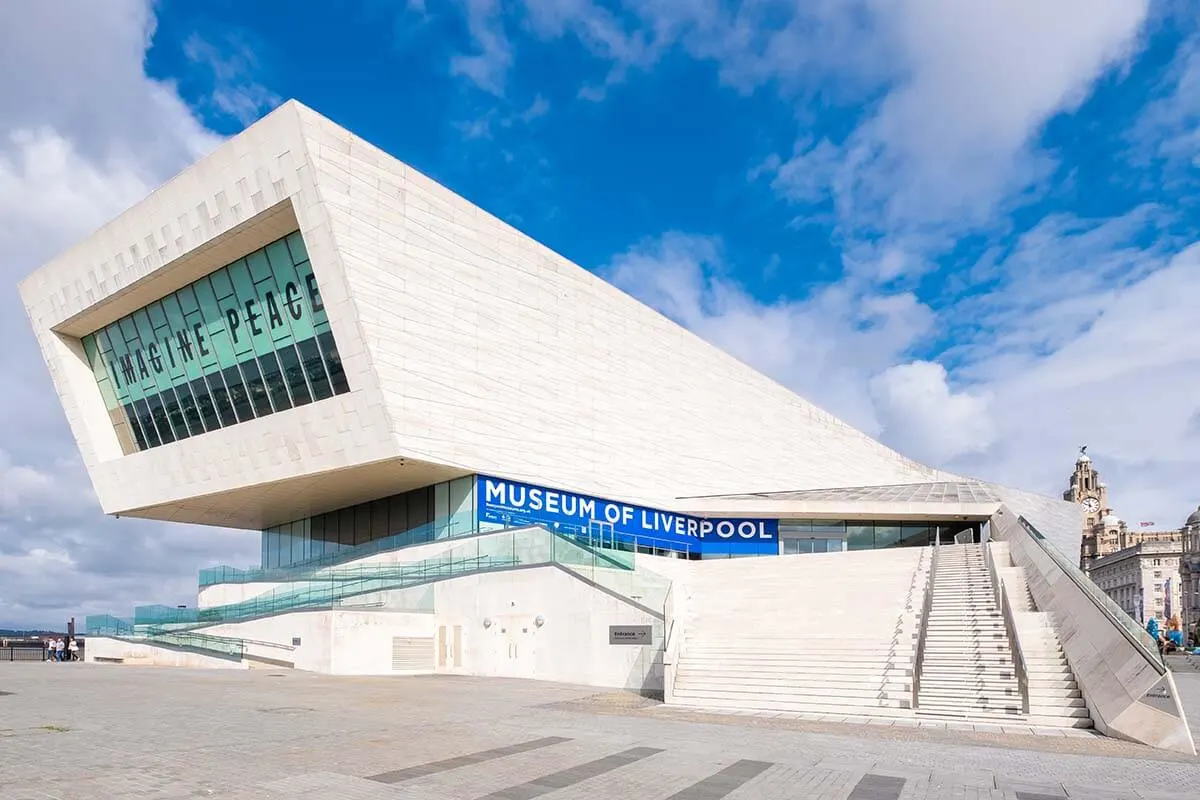 17. St George's Hall
St George's Hall is a large mid-19th century Grecian-style building in the heart of the city center. It hosts regular programs of events and concerts.
Its highly decorated Great Hall is worth a quick look. And since St George's Hall is opposite Lime Street rail station, it's quite likely that you'll pass here anyway.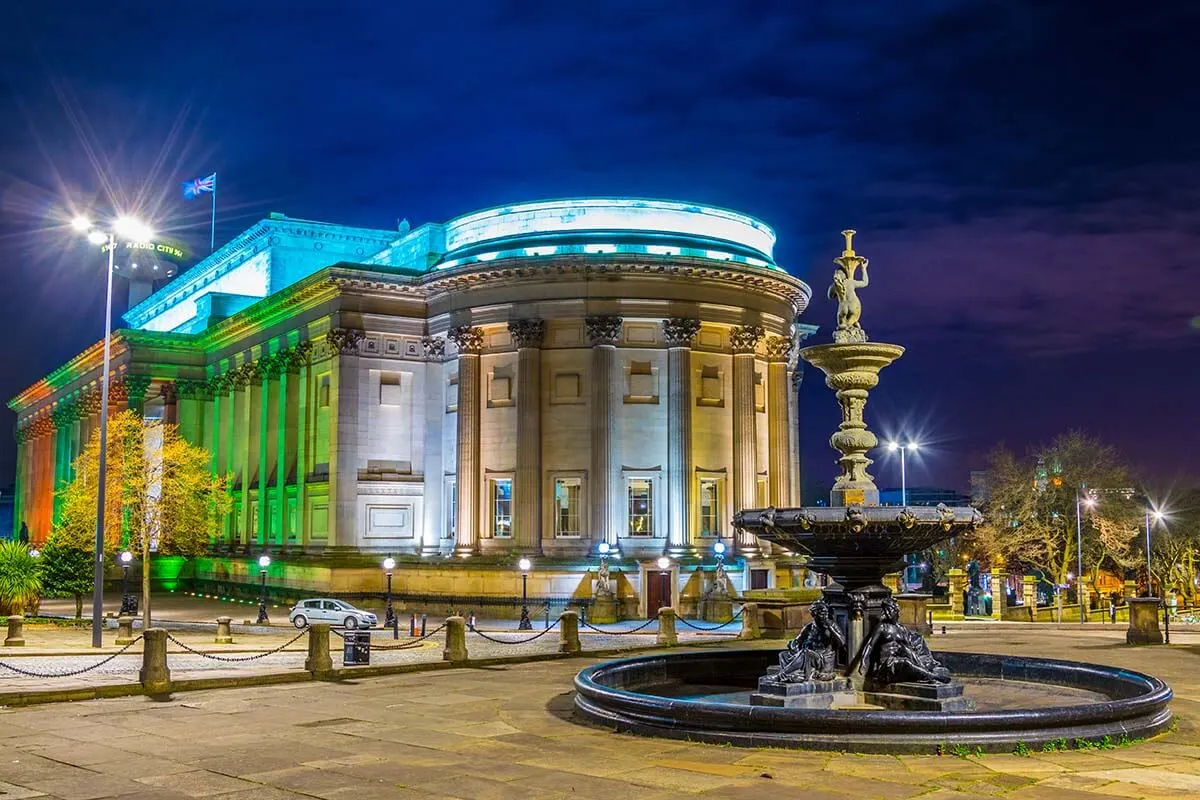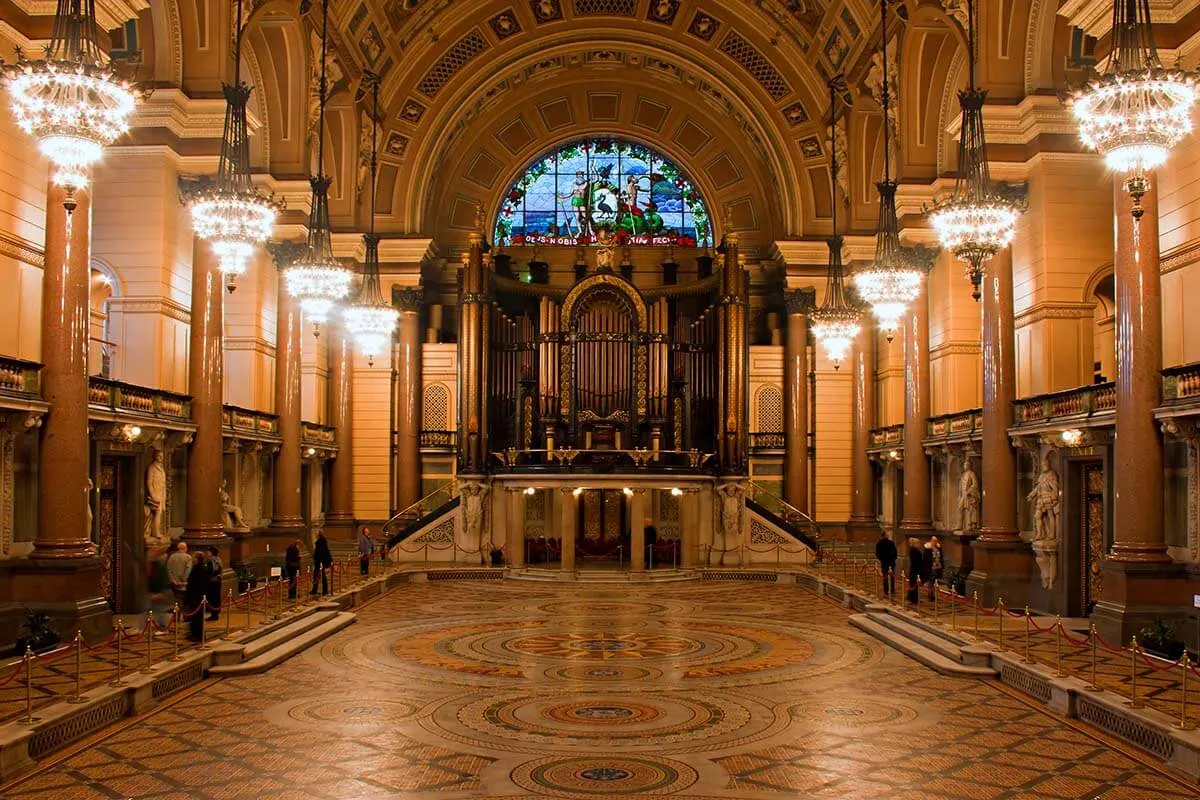 18. Georgian Quarter
Liverpool has a reputation as an industrial city but it has some hidden charms. One of these is its large Georgian Quarter.
This area has cobbled streets lined with grand 18th-century townhouses, pubs where you'll find traditional British food, and lots of good restaurants. It is also a popular area for foodies as there is a wide range of cuisines available here.
Highlights include the houses of Rodney Street and Philharmonic Dining Rooms, reputed to be John Lennon's favorite pub.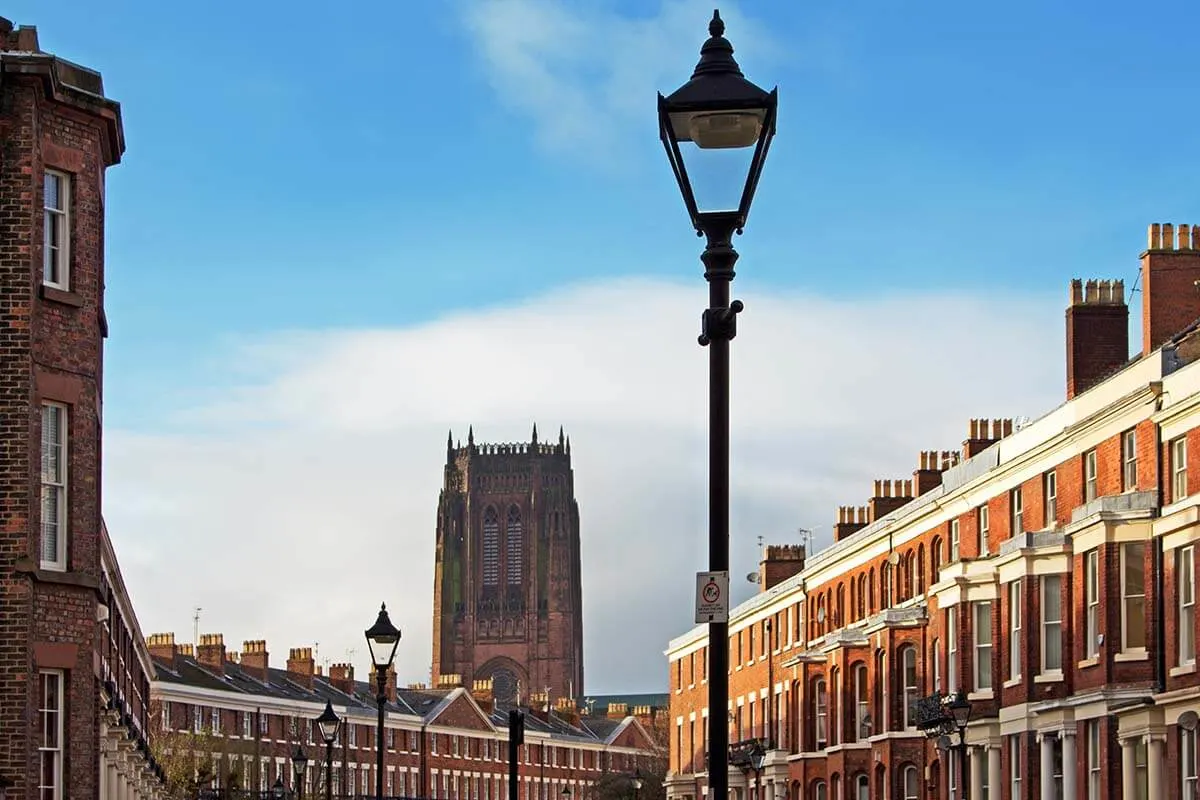 19. Liverpool Parks
Liverpool has several nice parks that might be nice to see especially if you are visiting in the summer or in the spring when everything is in full bloom.
One of the nicest and the largest is Sefton Park, a listed Grade 1 historic site. This 235-acre site is a tranquil, green oasis with woodland areas with native British trees and lots of open spaces. In addition, there is a large adventure playground, an impressive glass Palm House, a lake, and a cafe. It is a relaxing space to spend a few hours, especially nice if you are visiting Liverpool in the warmer months.
Just next to it, you can find the smaller Princes Park. Opened in 1842, this was one of the first parks in England to have public access. It's a cozy little park with a pond, kids' playground, a maze, etc.
You may also want to visit the award-winning, historic Birkenhead Park in The Wirral (on the other side of the river). It's rather big, with two fishing lakes, lots of walkways, and several interesting structures such as the Roman Boathouse or Swiss Bridge.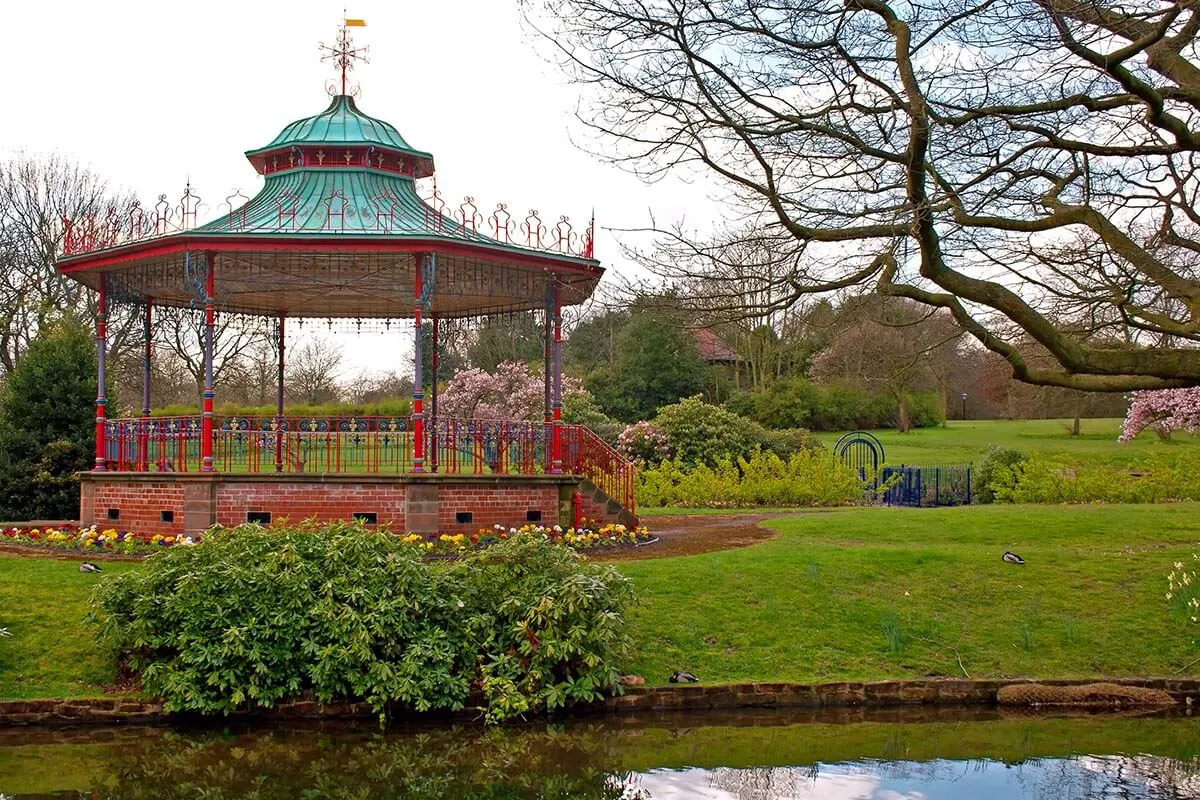 Map of Liverpool Attractions
As promised, here is a map of the best places to see in Liverpool mentioned in this guide.
Below, you can also find some practical information for your visit to Liverpool.
How to use this map: Use your computer mouse (or fingers) to zoom in or out. Click on the icons to get more information about each place. Click the arrow on the top left corner for the index. Click the star next to the map's title to add it to your Google Maps account. To view the saved map on your smartphone or PC, open Google Maps, click the menu and go to 'Your Places'/'Maps'. If you want to print the map or see it in a bigger window, click on 'View larger map' in the top right corner.
Getting around Liverpool
As in any big city, traffic in Liverpool is heavy and the roads get congested at peak times. There are a number of city center fee-paying car parks and there is limited roadside parking.
Avoid driving if you can as Liverpool has an excellent public transport network.
There is a reliable and affordable public bus system. Buses are run by a range of companies so prices, routes, and timetables vary. You can view routes and timetables here. Liverpool also has an overland and underground rail system which is quick and efficient. It offers a range of discounted ticket options.
And, of course, you can catch the Mersey Ferry to and from The Wirral.
There are two hop-on hop-off bus tours in Liverpool. The Liverpool Explorer covers 14 stops. Your ticket lasts for 24 hours so you can use it over two days. The City Sights tour includes city center attractions as well as stops in the suburbs. These stops include Penny Lane, Strawberry Fields, and The Beatles childhood homes.
However, the best way to explore Liverpool is on foot. City attractions are grouped in areas so plan your sightseeing to avoid backtracking and crisscrossing the city. Divide your time between the Royal Albert Dock, Pier Head, The Georgian Quarter, and the city center. By visiting these areas you will cover all the best things to do in Liverpool.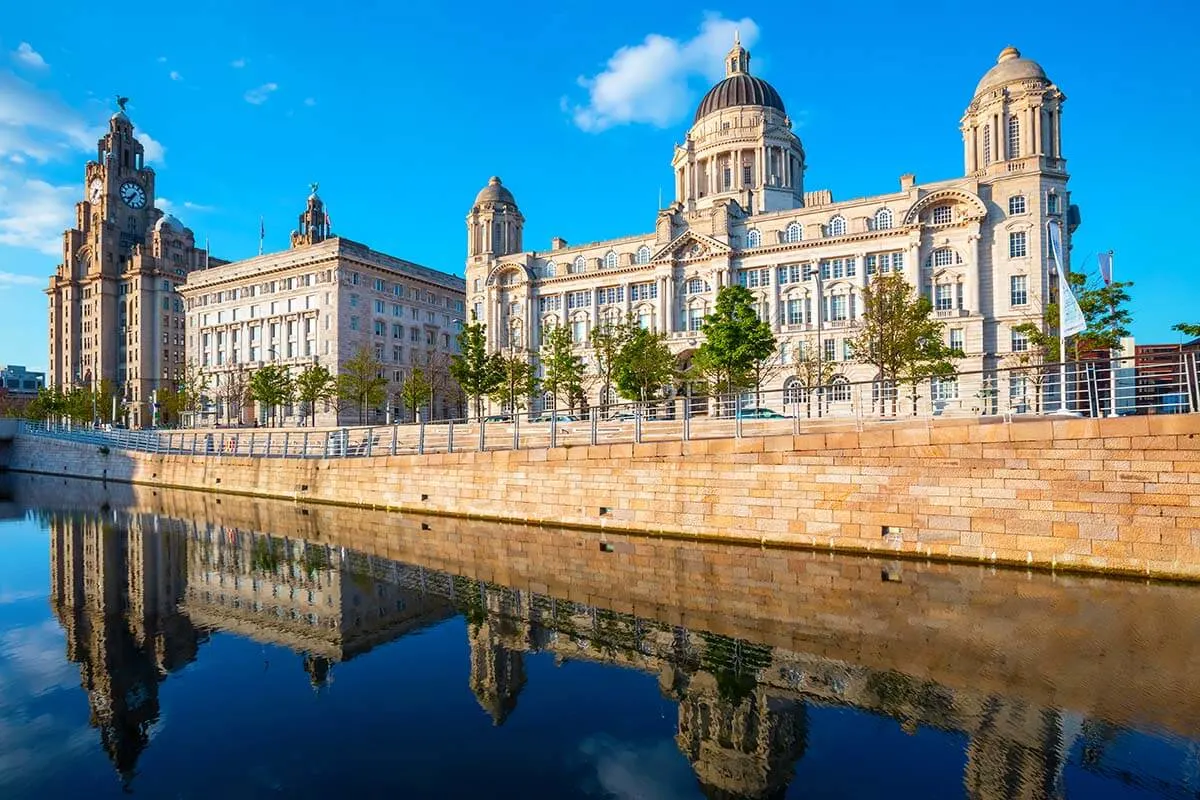 Where to stay in Liverpool
The best area to stay for sightseeing in Liverpool is not too far from the Royal Albert Dock and Pier Head.
These areas are easy to reach by car and public transport. You will find most of the major attractions within walking distance as well as all the cafes, bars and restaurants you will need.
There are several nice mid-budget hotels in this area. The most popular choices are Jurys Inn Liverpool and Pullman Liverpool.
On a slightly higher budget, Hilton Liverpool City Center is an excellent choice.
On a lower budget, check out ibis and Heeton Concept Hotel. The location is excellent.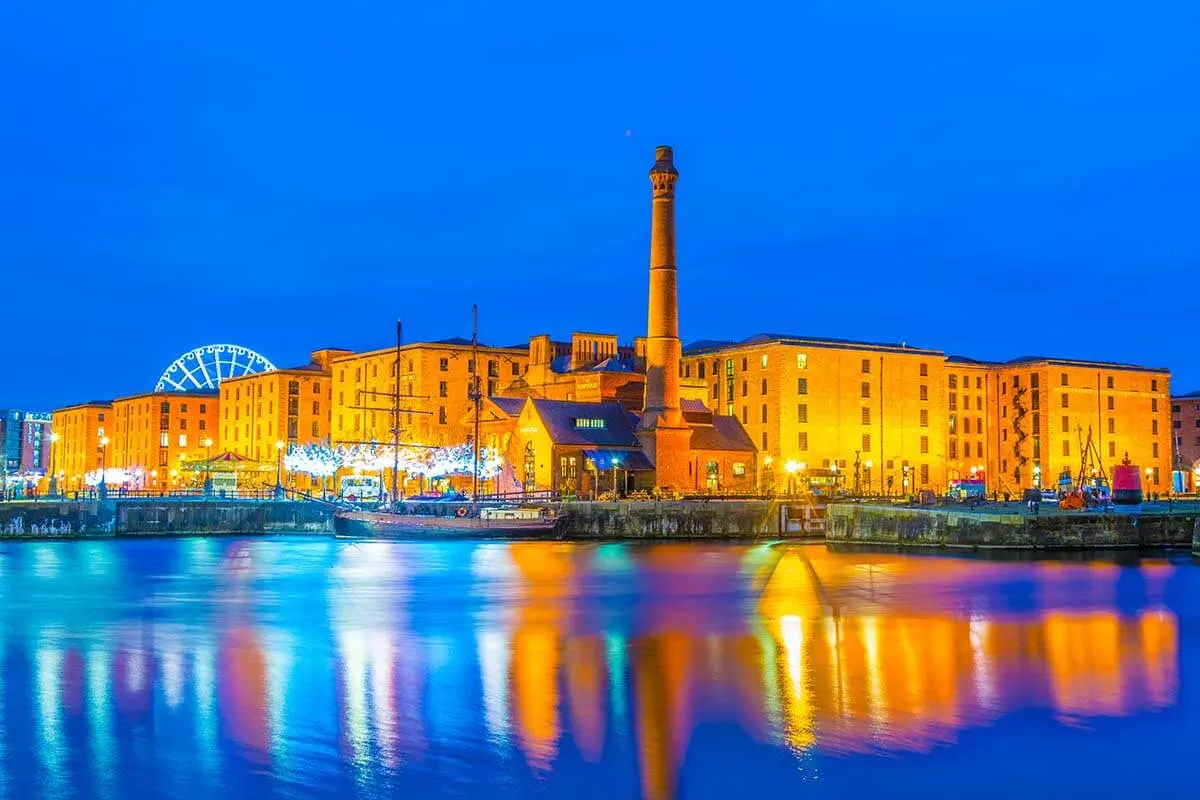 So, this is our guide to some of the best things to do in Liverpool. As you can see, Liverpool offers a great mix of activities and attractions for all ages and interests.
I hope that it gives you a better idea of what to expect and inspires you to spend a bit more time here.
Have a great trip!
READ ALSO: How to Visit Liverpool from London (+Day Trip Itinerary)
If you found this post helpful, don't forget to bookmark it and share it with your friends. Are you on Pinterest? Pin this image!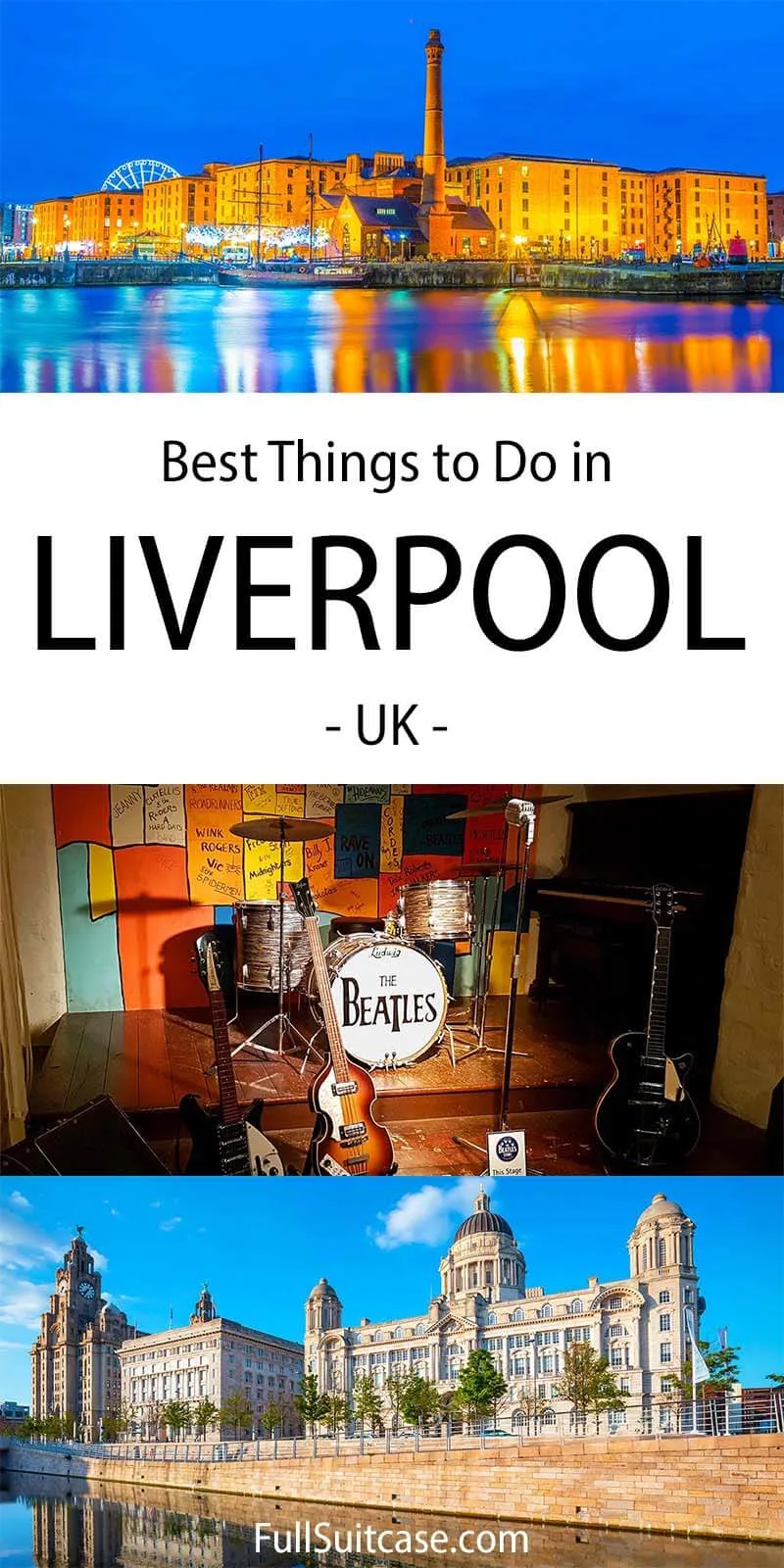 Image credits: Depositphotos.com// Unspash.com// claudiodivizia/Depositphotos.com// cowardlion/Depositphotos.com// kmiragaya/Depositphotos.com// sergio_pulp/Depositphotos.com// mx9uk/Depositphotos.com.
More travel inspiration for the UK: