Saint John is one of the three main islands that comprise the United States Virgin Islands (USVI) in the Caribbean: St. Thomas, St. John, and St. Croix. Saint John is the smallest, least developed, and most scarcely populated of the three. But it's also the most pristine island with stunning nature and a laid-back atmosphere.
If you're planning to visit and are looking for information on things to do in Saint John, this guide will give you a good idea of what to expect. Whether you love adventure, food, or history, you'll find a good mix of all of this on this beautiful island. Find out!
The total area of St John is just 20 sq mi (52 km2) and about two-thirds of the island is designated as a national park. And even though most people stay in St Thomas and simply visit St John with a day tour, it's a great vacation destination for nature lovers, outdoor enthusiasts, and avid adventurers. There is definitely more to the tiny St John than it might look at first sight!
In this article, you can learn more about this beautiful island, what to expect, and what there is to see and do in Saint John, USVI. This guide is written with the help of our guest author Martin from Travel Explorator. Martin recently spent quite some time exploring the US Virgin Islands, and he shares his tips and favorite things to do in Saint John.
TIP: To help you get a better idea of where everything is located, we also created a map indicating all the best places on Saint John mentioned in this article. At the bottom of this article, you can also find some tips on where to stay. Read on!
How to use this map: Use your computer mouse (or fingers) to zoom in or out. Click on the icons to get more information about each place. Click the arrow on the top left corner for the index. Click the star next to the map's title to add it to your Google Maps account. To view the saved map on your smartphone or PC, open Google Maps, click the menu and go to 'Your Places'/'Maps'. If you want to print the map or see it in a bigger window, click on 'View larger map' in the top right corner.
The island of St John is best known as home to Virgin Islands National Park, beautiful beaches, long hiking trails, scrumptious food, and historical places. The coast around the island has been designated as Virgin Islands Coral Reef National Monument, so snorkeling is one of the best activities and you can find great opportunities at any beach.
You can also go kayaking, boating, or explore the beautiful underwater world by going scuba diving. The good thing is that the majority of activities are laid-back and family-friendly, making St John an excellent vacation destination for families as well.
Good to know: Below, you can read about the best places to see and the most exciting activities to do when visiting St. John. Many places we mention in this guide are actually located inside Virgin Islands National Park. But, contrary to most other National Parks in the USA, there's no fee to enter this park. The only place where you have to pay for a daily pass is Trunk Bay – see below.
Here are some of the best things to do in St John, Virgin Islands:
1. Trunk Bay & Coral Reef Underwater Park Trail
Trunk Bay is the most photographed place in Saint John. This extremely scenic coastline is also one of the most popular beaches on the north coast of the island. It's a popular stop for many island tours and also can be reached by bus from Cruz Bay, so you will find lots of locals and tourists here any time you visit.
The beach has azure-blue waters, pearly white sand, and lots of greenery. There's a small island just near the shore with a marked underwater trail – Coral Reef Underwater Park Trail – which is perfect for snorkeling. The snorkeling path is 225 yards in length aligned with underwater plaques for guidance (although many of them aren't well maintained and aren't always easy to read). You can swim by many unique corals and see lots of colorful fish.
Trunk Bay Beach is considered by many to be one of the best beaches in the world and it's often featured in various publications as the most beautiful beach in the Caribbean. It's truly one of the top picture-perfect destinations, so don't forget your camera. If you want to take some underwater pictures (you'll have plenty of other opportunities for that in USVI as well!), a GoPro can be a good idea as well.
TIP: If you come here by car, get to Trunk Bay early as the small parking fills up fast. It's also a good idea to arrive early if you absolutely want to find a spot with some shade on the beach. It's one of the beaches
Good to know: There's a small National Park fee to enter the beach at Trunk Bay.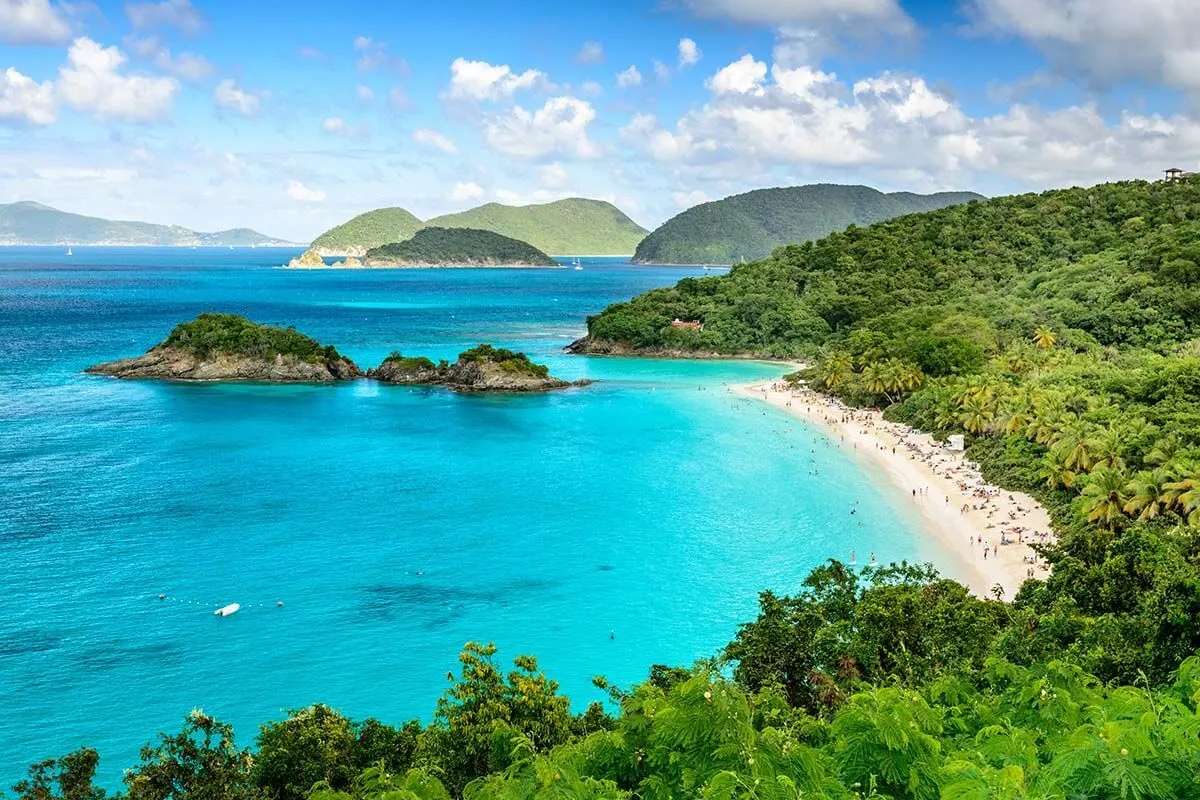 2. Maho Bay Beach & Snorkeling with Sea Turtles
Maho Bay Beach is one of the most scenic and serene bays of the famous North Shore of Saint Jonh. Here, you'll find turquoise waves, white sands, palm trees, and various opportunities to snorkel, kayak, and swim. Maho Bay is best known for its abundance of sea turtles. This is the best place to go snorkeling where you're almost guaranteed to see these beautiful creatures. You may get lucky and see stingrays here as well.
Since this is one of the most popular beaches on Saint John, you'll also find some facilities, such as beach chairs, and a few small places for drinks and some snacks, etc. There are also several places where you can rent glass-bottomed boats or snorkeling equipment.
While there are countless other nice beaches in St John, Maho Bay is one that you really shouldn't miss. It's a great place to relax and enjoy a laid-back day with friends and family.
Good to know: You can reach Maho Bay by car, by tourist bus, with some private beach-hopping day tours, or by taxi. The parking area is right nearby so there's no hiking involved. It's about 15-20 minutes drive from Santa Cruz, the main town on the island. You get some great views of the bay and various beaches on the road here, so be sure to stop for a photo if driving by car.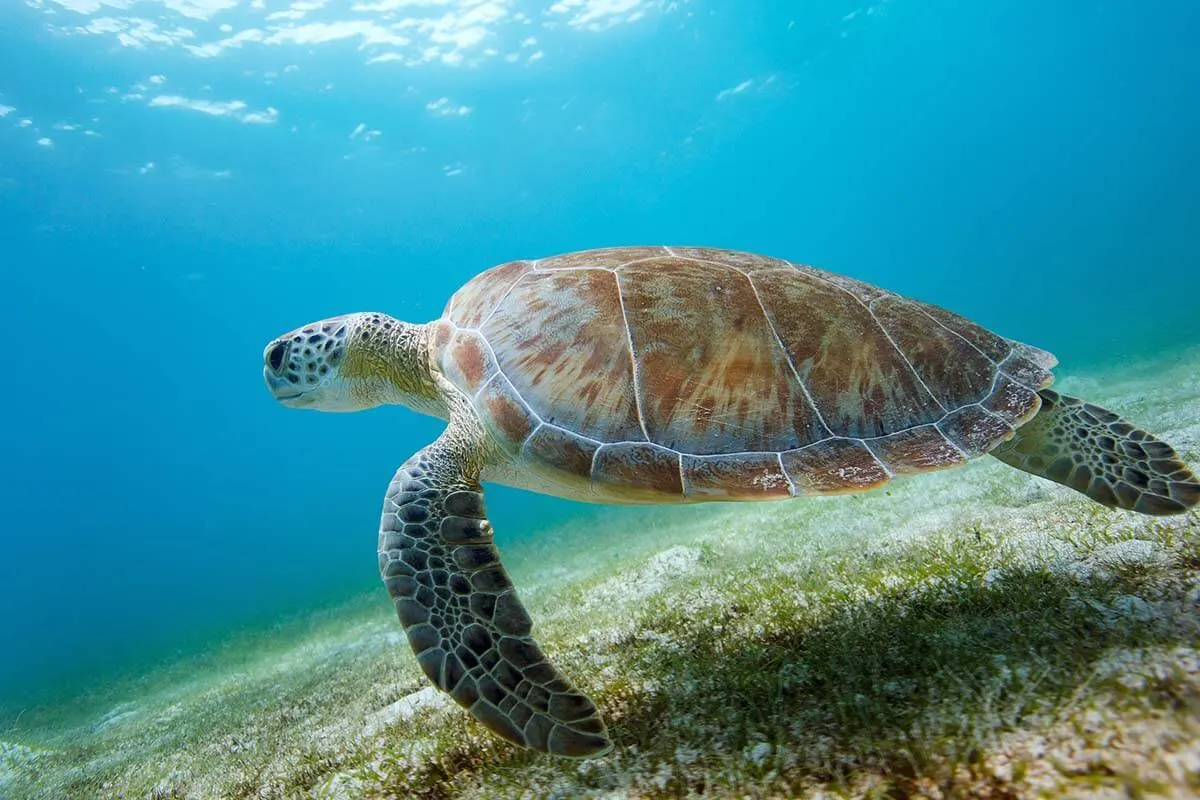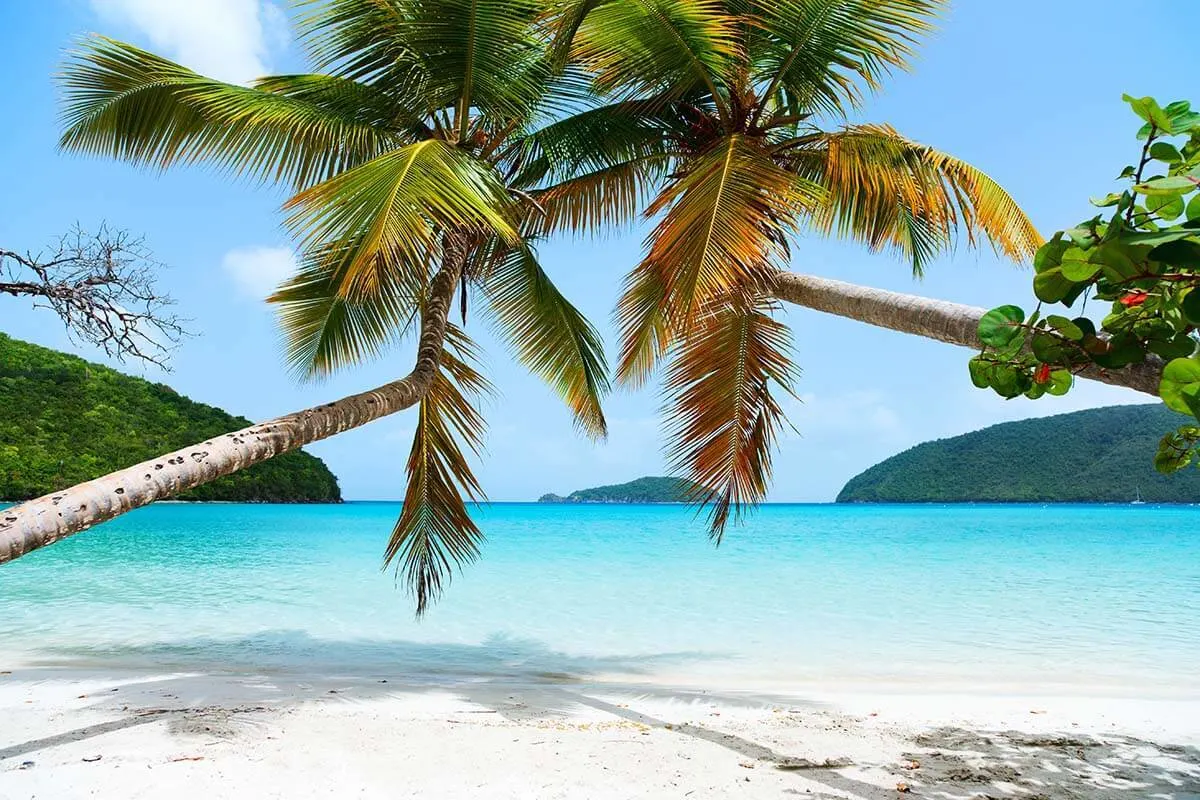 3. Annaberg Sugar Plantation
Established in the 18th century by Danish Colonists, the Annaberg Plantation is a popular tourist site in the USVI and one of the must-see places in Saint John! Many sightseeing tours of the island include this as one of the stops in their itinerary.
Annaberg Plantation is a former sugar factory and plantation which is well-known for its historical significance. This historic site has some impressive ruins and information panels. You can visit the old sleeping quarters, the defunct working sites, and the guardhouse, and learn how the factory operated. It's also the best place to learn more about the history of Saint John and about the plantation's part in the African slave trade. It's a real-life view of the brutality of the past. If you have a knack for history, this place should be on top of your list!
Going with a local guide of one of the organized tours that visit here, is the best way to learn more about this place. Otherwise, try to find one of the volunteer staff working here and ask for some more info.
Good to know: This is not the only historic sugar plantation located inside Virgin Islands National Park. In the past, the entire island was dotted with large plantation estates with big owner houses, sugarcane mills, and slave huts. There are still many ruins of these plantation enterprises all over St John. In addition to Annaberg Plantation, another interesting sight is the ruins of the Cinnamon Bay Plantation.
TIP: Be sure to climb the hill at the plantation – the views here are amazing!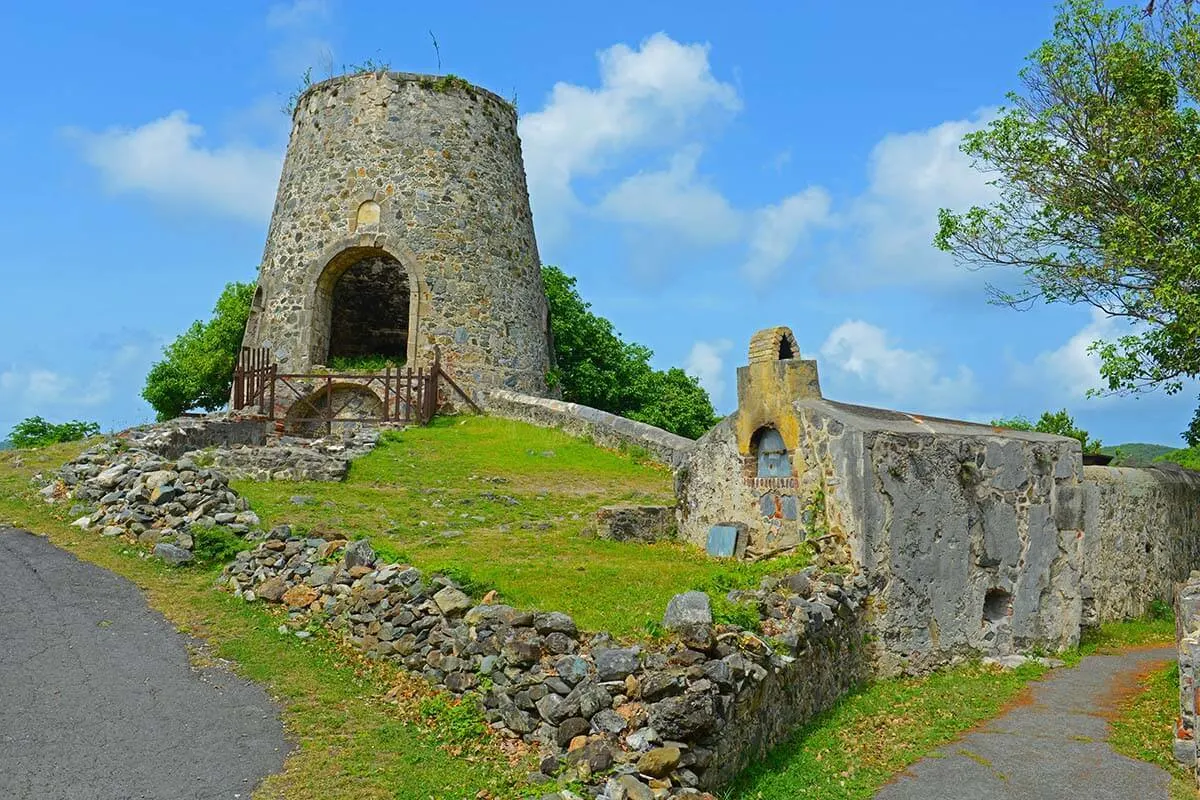 4. Hurricane Hole
The coastline of St John is stunning, with lots of bays and inlets, and beautiful scenery. And there's probably no better place to see some of that stunning landscape than at Hurricane Hole, on the eastern side of St John.
Hurricane Hole, close to Coral Bay, is also one of the nicest places to go kayaking in St. John. Located far away from the most popular places of the north coast, there aren't many tourists here. You can take a guided kayak tour or rent a kayak from Crabby's in Coral Bay. The waters are gentle and calm, so it's perfect for children and beginner kayakers who haven't done it before. The area is filled with wildlife like starfish, barracudas, snapper fish, and more.
There are also some mangroves circling the shoreline and it's a great place to go snorkeling too! If you get close to shore and loop around the inlets, you can see lots of fish and even coral between the mangrove roots. A good place for this is Princess Bay (part of Hurricane Hole).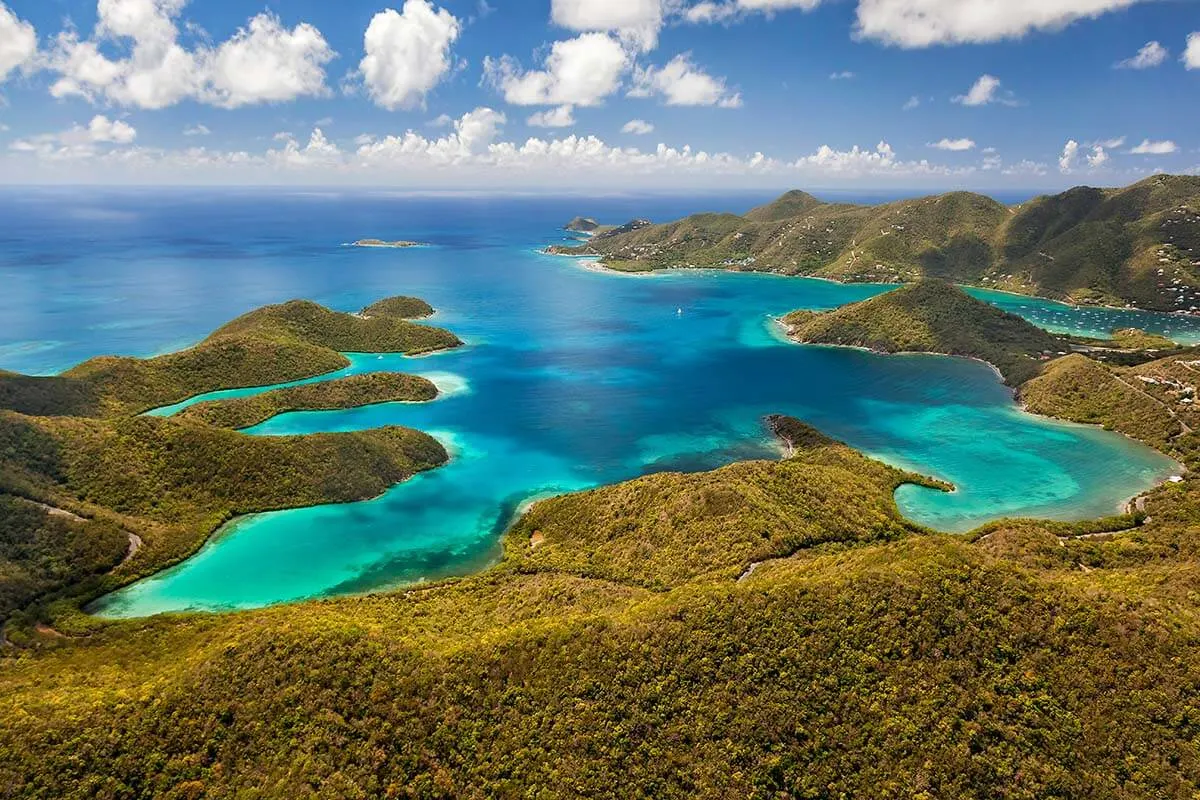 5. Kayaking & Snorkeling
There's no better way to explore the beautiful Virgin Islands Coral Reef National Monument than from the water! There are several really nice places where you can go kayaking in St. John and some of the most popular places are close to Cruz Bay, along the north coast.
Tourist infrastructure is more developed on this part of the island and you can rent a kayak and explore on your own or join one of the popular kayak tours.
Henley Cay is one of the prime snorkeling locations in St. John. Caneel Bay is another beautiful place for snorkeling in the heart of the Virgin Islands National Park. And there are many other great spots.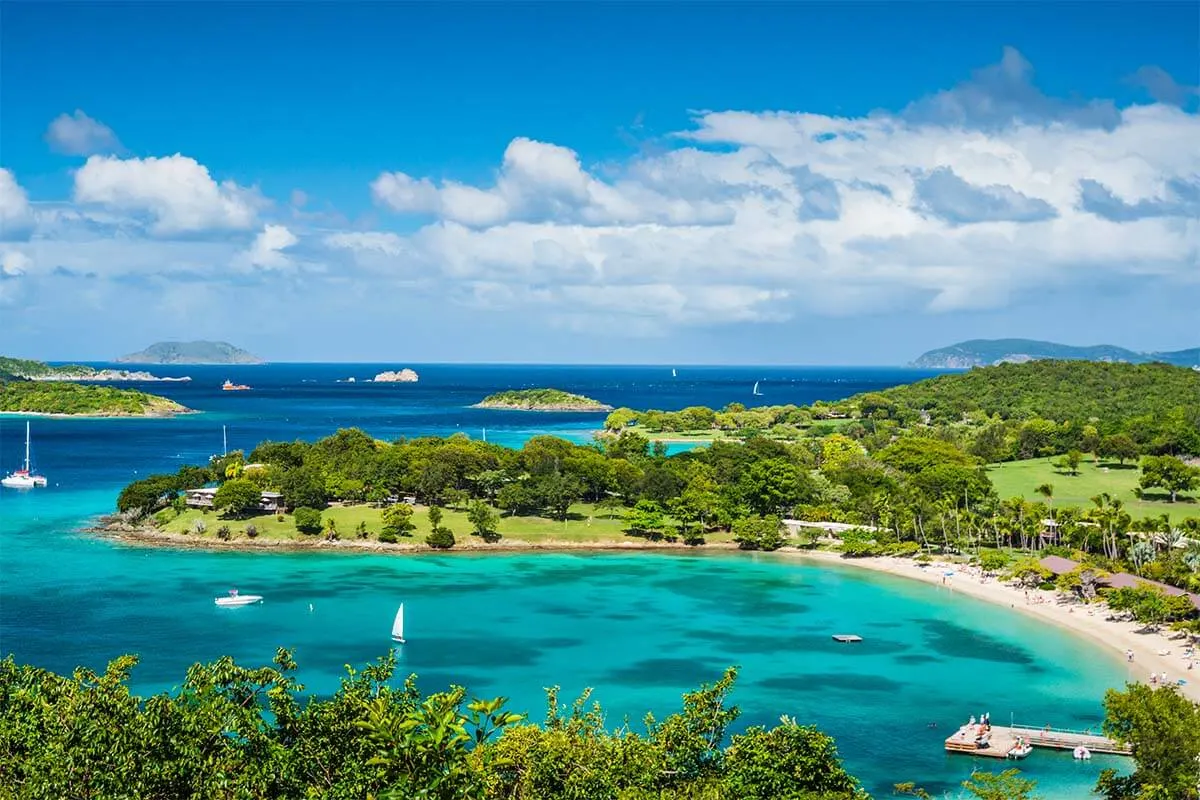 6. Reef Bay Trail in Virgin Islands National Park
There is more to St. John than just multiple, gorgeous beaches. And one of the must-dos is to explore the Virgin Islands National Park on foot. There are numerous hiking opportunities in the park and the majority of the hikes are short and easy (you can find an overview of all hiking trails on the NPS website).
There are also some historical sites like the earlier-mentioned plantation ruins that you can discover along the trails. It's also a great opportunity to see all sorts of birds. The most popular trails for bird watching are the Salt Pond Trail (see further below) and the Reef Bay Trail, which is considered the best hike on Saint John.
Reef Bay Trail is one of the longer and more strenuous hikes on Saint John, but it also offers the biggest variety of sights. It's an in-and-out steep hike of about 2.5 miles (4 km) each way with a 900 ft (275 m) elevation difference. You walk down to the sea and have to climb back up on your way back. Luckily, there's usually some breeze that makes it more bearable on the way back.
On the way, you pass various sugar plantation ruins, some of the oldest and tallest trees on the island, stone walls from cattle grazing, and ancient rock carvings by pre-Colombian Taino people. There is also a waterfall that is nicest during the rainy season. At the end of the hike, you reach a secluded beach, where you can go swimming and snorkeling (bring your swimwear and sun protection!). Reef Bay Sugar Mill ruins here are also not to be missed. You may also get lucky and see some birds and wild animals along the trail.
Good to know: While well maintained, this is a backcountry trail with uneven and rocky terrain, so you need good shoes. Be sure to pack plenty of water (take more than you think you'll need) and snacks or a picnic lunch since it will take you at least 2-4 hours. Many people stay on the beach for a while and make a nice day trip out of it.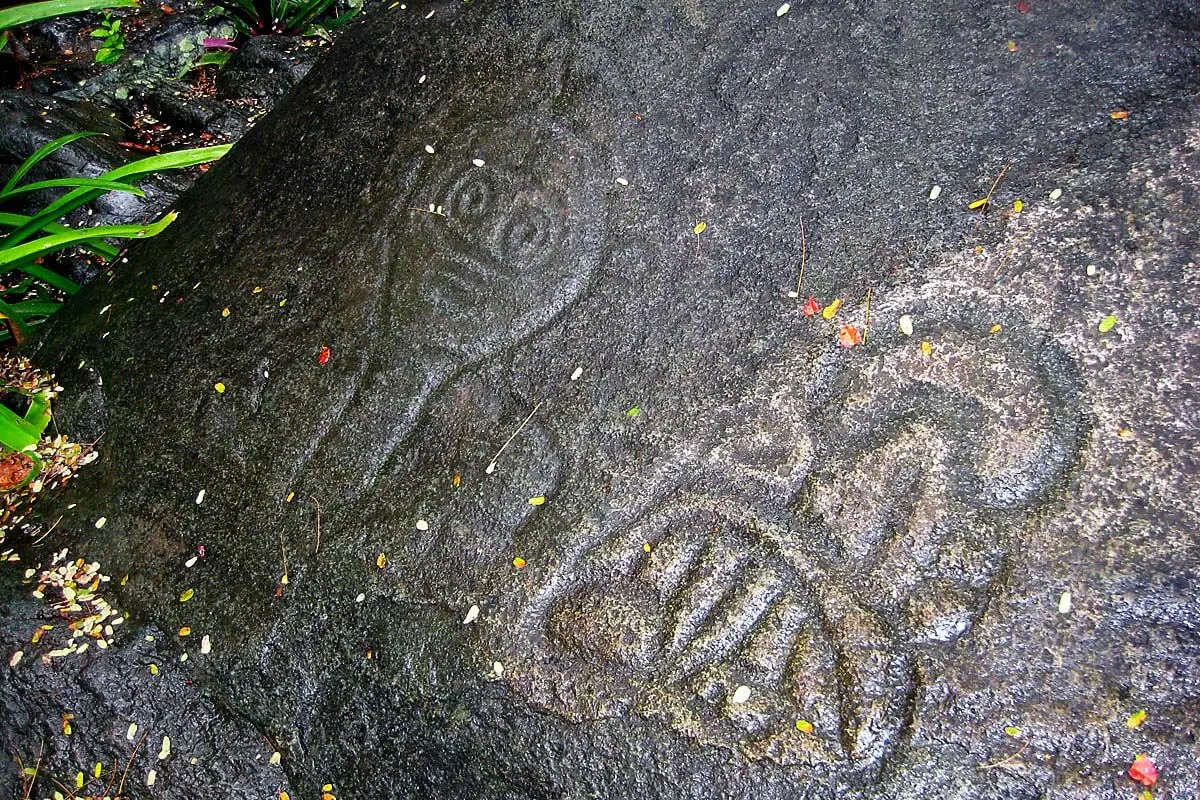 7. Salt Pond Beach & Ram Head Trail
If you want to see some beautiful scenery of St. John without much effort, head to the southernmost point of the island and visit Salt Pond Beach. In addition, you can do some hiking here – see below. This is a quiet, serene, and excellent place to enjoy the peaceful outdoors and the beauty of the island without the crowds.
Salt Pond Beach is an isolated beach that requires a short 5-10 minute hike to get to. It's a local's favorite, but in general very quiet and you won't find many tourists here. The scenery is nice and the beach provides various opportunities to snorkel, swim, and tan in the shiny rays of the sun. It's the perfect place to visit if you want a break from the hustling, bustling life of the more popular places on the island.
The beach also has a few picnic tables and an outhouse, making it an ideal picnicking spot. However, there is not much shade, so you may want to bring an umbrella along if you're planning to spend some time here.
Two hikes start at Salt Pond Beach – Drunk Bay Trail and Ram Head Trail. Drunk Bay is just a short hike of less than half a mile, whereas Ram Head Trail is somewhat more challenging and a bit longer. In any case, you can easily do both of them in combination with Salt Pond Beach in 2-4 hours (depending on how many photo stops you make). Count more time if you are planning to go swimming and snorkeling.
Ram Head Trail is about 1.2 miles (2 km) one way takes about 30-45 minutes without too many photo stops. It's not the easiest hike, so wear sensible shoes but is well worth it. This is one of the best hikes in Saint John, with great scenery along the way and rewarding views from the top of Ram Head at the southern tip of the island.
Along the way, you'll pass Blue Cobblestone Beach which is another nice place to snorkel. It's probably better to stop here on your way back so that you can relax after most of the hike is already behind you.
Good to know: To access the trail, go to Salt Pond Bay Beach first. You will have to follow a short path down to the water. After that, the path opens up, and you eventually end up in one of the most beautiful places found in the world. The trail's endpoint gives you breathtaking views of the south shore of Saint John, Salt Pond Beach, and even St. Croix Island in the distance.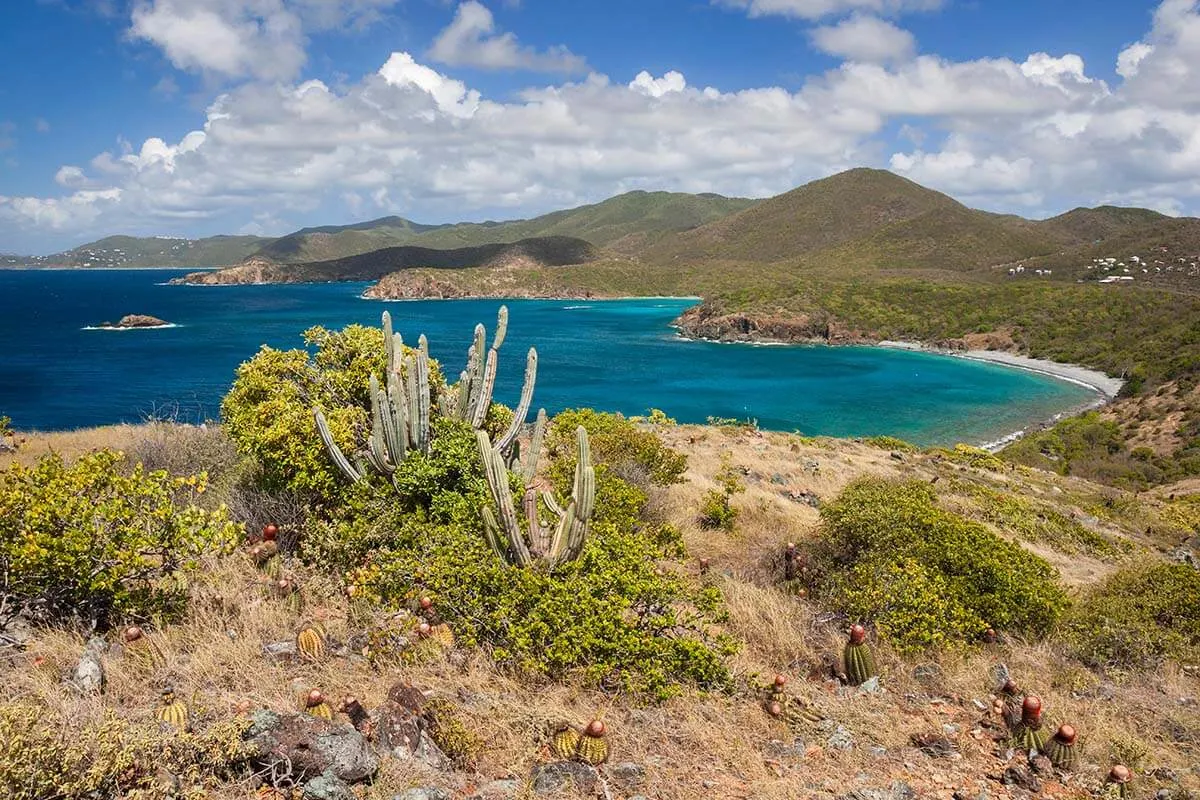 8. Lind Point Trail & Honeymoon Beach
Lind Point Trail is a relatively easy hike that starts in Cruz Bay and brings you to one of the most beautiful beaches nearby – Honeymoon Beach. Along the way, you have great views from Cruz Bay Overlook, and you can also stop for a swim at Salomon Beach.
There are in fact two trails that you can take – Lower Lind Point Trail or Upper Lind Point Trail, or you can hike one way and come back another way. There's also a short detour possible to Caneel Hill Overlook. Take a look at the map here or you can also get a map at the National Park Visitor Center. The Lower Trail is easier, but also less shade, whereas the Upper Trail is rockier and steeper, but has somewhat better views and plenty of shade. You could take the Lower Trail to Honeymoon Beach in the morning and take the Upper Trail Back in the afternoon.
This is an easy hike and the entire loop is just about 2.2 miles (3.7 km). It takes about 20-30 minutes one way. Many people take this route to go to the beach and spend the day there. But if you're only interested in visiting Honeymoon Beach, you can also get there by car or by bus.
However, keep in mind that you'll have to pay a 10$ fee for a golf-cart ride to the beach through the private property. Or you can get a day pass that includes the shuttle from Caneel Bay Resort Gate to Honeymoon Beach, beach chairs, snorkel equipment, and the use of other facilities at the beach. If you are planning to spend an entire day here, it's worth it.
Honeymoon Beach is one of the most popular beaches on Saint John and one of the few where you can find places that offer drinks, snacks, and rental chairs. Many tours come here as well. If you want to experience this beautiful beach without too many people, come here early in the morning or spend more time at the nearby Salomon Beach which is much quieter.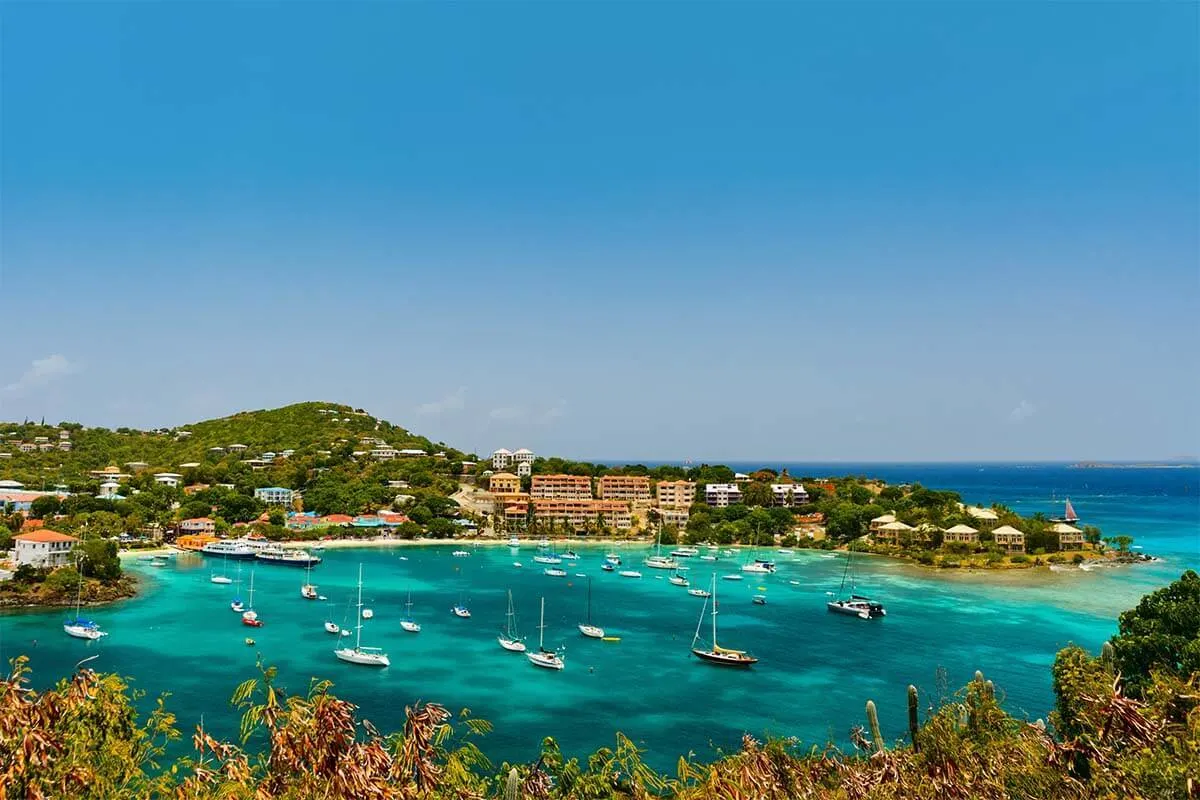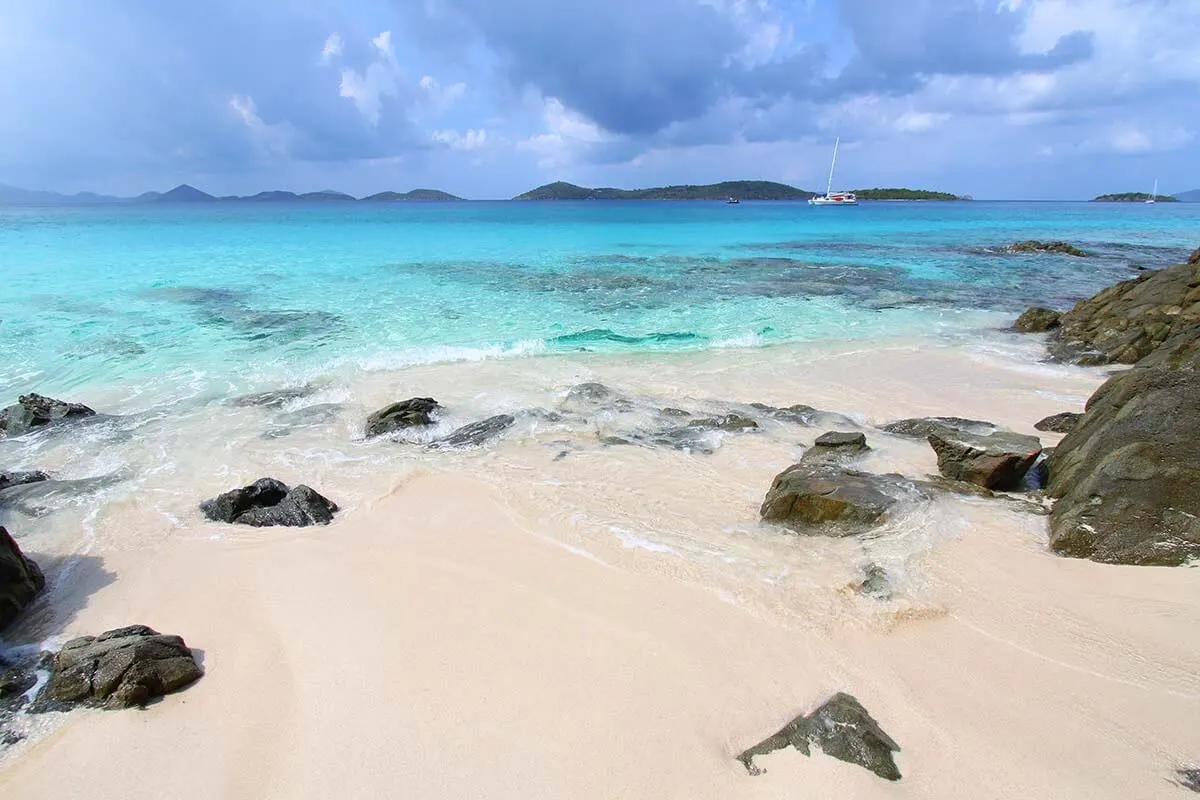 9. Waterlemon Cay
Waterlemon Cay is arguably the best place for snorkeling in Saint John. It's close to the Annaberg Plantation, so do both of these activities one after another. There are several different ways to reach the cay: you can hike here from the Sugar Plantation following the coast or hike from Coral Bay (this hike is longer and more challenging).
The place is rich with corals and marine life, which is easily seen through its crystal-clear waters. While swimming or snorkeling, you can see colorful fish, sea cucumbers, starfishes, turtles, and also stingrays, and other large fish. However, the area is very secluded and you have to be careful with the current and also sharks. It's best not to come here alone.
Because it requires hiking, Waterlemon Cay is not nearly as popular as other beaches on the north coast. It's a perfect place for those looking to explore Saint John deeper.
Good to know: This is not a sand beach, so it's best to bring water shoes. Also, don't forget to wear your sunscreen.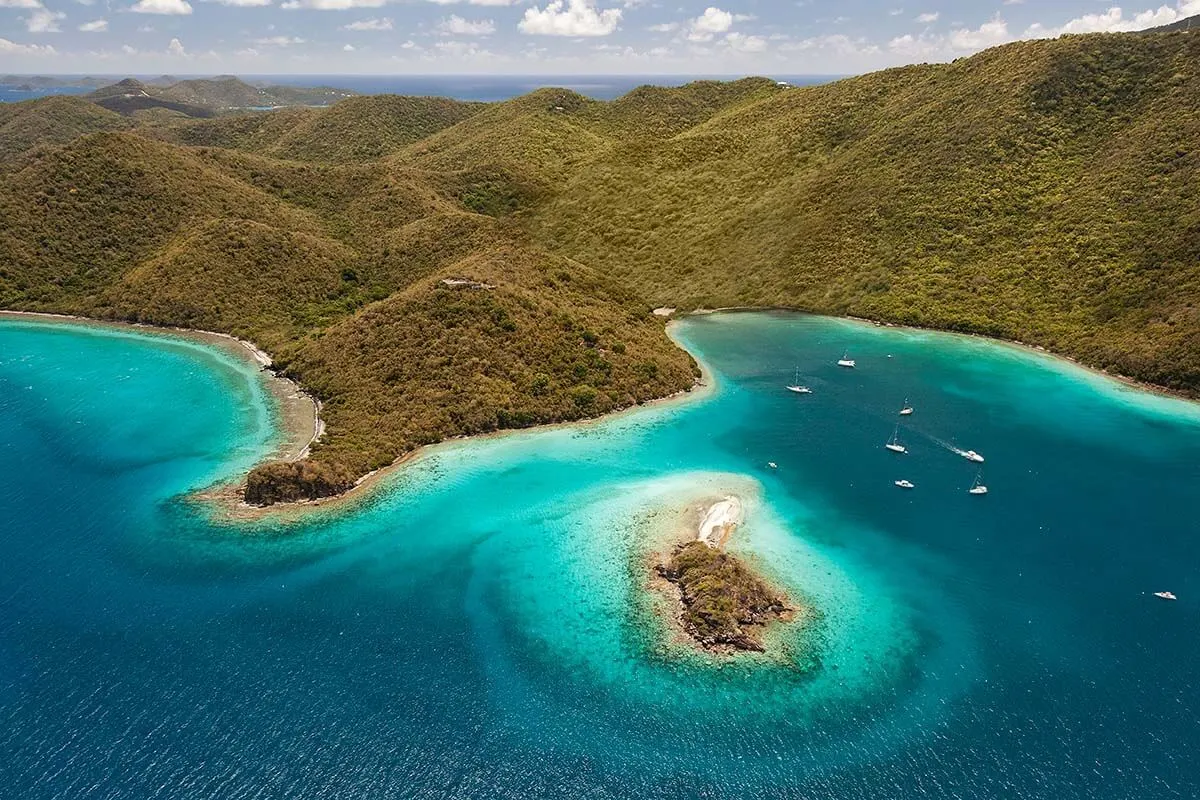 10. Floating restaurant, tropical drinks & local food
Besides the attractive beaches and scenic trails, Saint John has fantastic restaurants and bars scattered all over the island. Here are several of my favorite places:
Lime Out VI is a floating taco restaurant & bar in Coral Bay and one of the coolest places in Saint John. This restaurant is located in the sea, about 200ft from the shore. So you'll need a boat or a kayak to get there! You can enjoy some of the best tacos and margaritas straight from the water. The food is great and the experience – unforgettable. It's a great place to visit and you can easily spend several hours here.
TIP: There are several island tours that include a stop at Lime Out in their itinerary as well. This full-day island snorkeling tour comes here for lunch.
There are many local spots on the island that offer unique tropical drinks. If you're around Coral Bay, you can also visit Skinny Legs. They have some of the best burgers in the entire USVI. They also have other simple things like sandwiches and chips.
Aqua Bistro (also next to Coral Bay) is another favorite place for the locals. It's a small round wooden structured restaurant with an unobstructed view of the sea. Its specialty is seafood, so if you're craving some fried calamari or conch fritters, be sure to stop by.
High Tide Bar and Sea Food Grill is one of the most popular restaurants in Cruz Bay. After a long day of shopping or swimming in the waters, enjoy a meal under the open skies and the salty smell of the sea. Combined with live music, ice-cold drinks, and the calming sound of the waves, it's definitely a place worth visiting. If you come at the right time, you'll also get a stunning view of the Caribbean sunset. Since the site has a clear view of the sea, the sunset looks quite breathtaking due to how the water engulfs the sun.
TIP: No matter where you go, be sure to try rum-based cocktails, the specialty of the USVI. The most famous drink in Saint John is 'Painkiller'. It's a cocktail with local rum, pineapple juice, orange juice, coconut cream, and nutmeg. A must-try!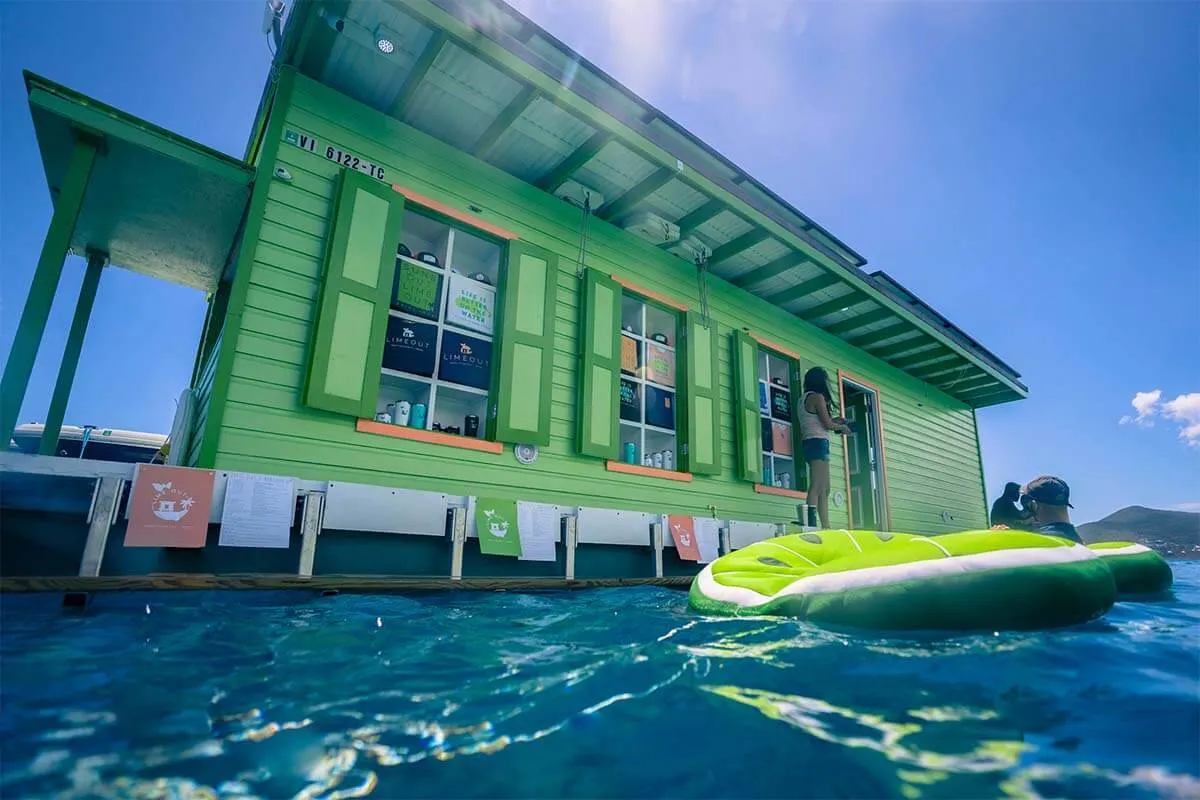 11. Cruz Bay
No trip to Saint John would be complete without spending some time in Cruz Bay, the main town on the island. So go for a walk and maybe even do some local shopping. Even if you don't plan to buy anything, it's just a fun way to get to know a place, do some people-watching, and experience some local lifestyle.
If you're looking for a place where you can buy souvenirs, clothes, or jewelry, visit the shops in Cruz Bay. It's one of the busiest and most lively places in all of St. John. It's also a good site to take a break from nature and buy some gifts to bring back home.
There are plenty of restaurants close by so it's convenient if you want to get some lunch or dinner here as well.
12. Carolina Corral
Carolina Corral in Coral Bay is a nice place to visit if you want to go horseback riding or simply interact with animals. It's a sort of animal shelter, a working farm that fosters many different animals like horses, goats, sheep, donkeys, hogs, cats, and dogs.
The place is run by one woman and is very low-key. It's an authentic experience, not a typical tourist attraction. It offers half-day bookings where you can spend time grooming, feeding, and just having fun while also helping out with the animals. They also offer lessons on how to properly saddle a horse and organize horseback riding tours along the many beautiful trails.
If you just want to visit here and pet a few horses and donkeys, you can stop by without any prior bookings. If you want to go horseback riding or book any other activities, be sure to check their website in advance.
13. Elaine Ione Sprauve Library
If you have some time to spare in Cruz Bay, you may also want to check out Elaine Ione Sprauve Library. Located just outside the city, it's housed in the restored plantation greathouse that dates back to 1757. In the past, this library was also home to the Museum of Cultural Arts, but it's no longer the case today.
Still, it's a nice place to learn a bit more about the history and culture of the US Virgin Islands. In addition to a nice interior and books, their collection also includes some interesting old photographs of St. John, newspaper clippings, and paintings.
For opening times and more info, please see here. It's not really a must-see, but can be a nice addition to other Saint John attractions for those who have lots of spare time and are looking to explore the more local side of St John.
14. Visit St. Thomas & St. Croix
It would be unthinkable to visit Saint John and not to see at least one of the other two main islands of the USVI. St. Thomas is just nearby and there are frequent ferries between these two islands that operate all day until 10 pm. A round-trip is only about 12$ and takes around 20-25 minutes to reach the other island. Plus, you also get terrific views on your way towards or back from the islands.
Saint Thomas is the most popular island in the USVI with lots to see and do. It's also where cruise ships dock, so it's much, much busier than Saint John. While visiting St. Thomas, check out some of the many museums there, like the Pirate Museum, and historical landscapes like 99 steps or Blackbeard's Castle. Be sure to take a gondola to Paradise Point! Also Coral World Ocean Park is a must and you can easily spend half a day here…
If you don't have a car, the easiest way to see the main sights of the island is by booking a tour with a local. Here are some of the best tours if you want to make the most of your time on St. Thomas:
There is a lot more to do on St. Thomas – kayaking, snorkeling, diving, mangrove tours, street food tours, etc. etc. Here you can find the most popular options.
Saint Croix is located further away and there is no direct connection to get to St. Croix from St. John. So you have to first take a ferry to St. Thomas and from there, you can take another ferry to St. Croix. Ferries between St Thomas and St Croix only run a few days a week, leave at 8 am, and take 1.5 hours. There's a ferry back to St. Thomas at 4 pm, so you can visit St Croix as a day trip, but it's quite an expensive and a long journey, so I'll leave it up to you to decide if it's worth it.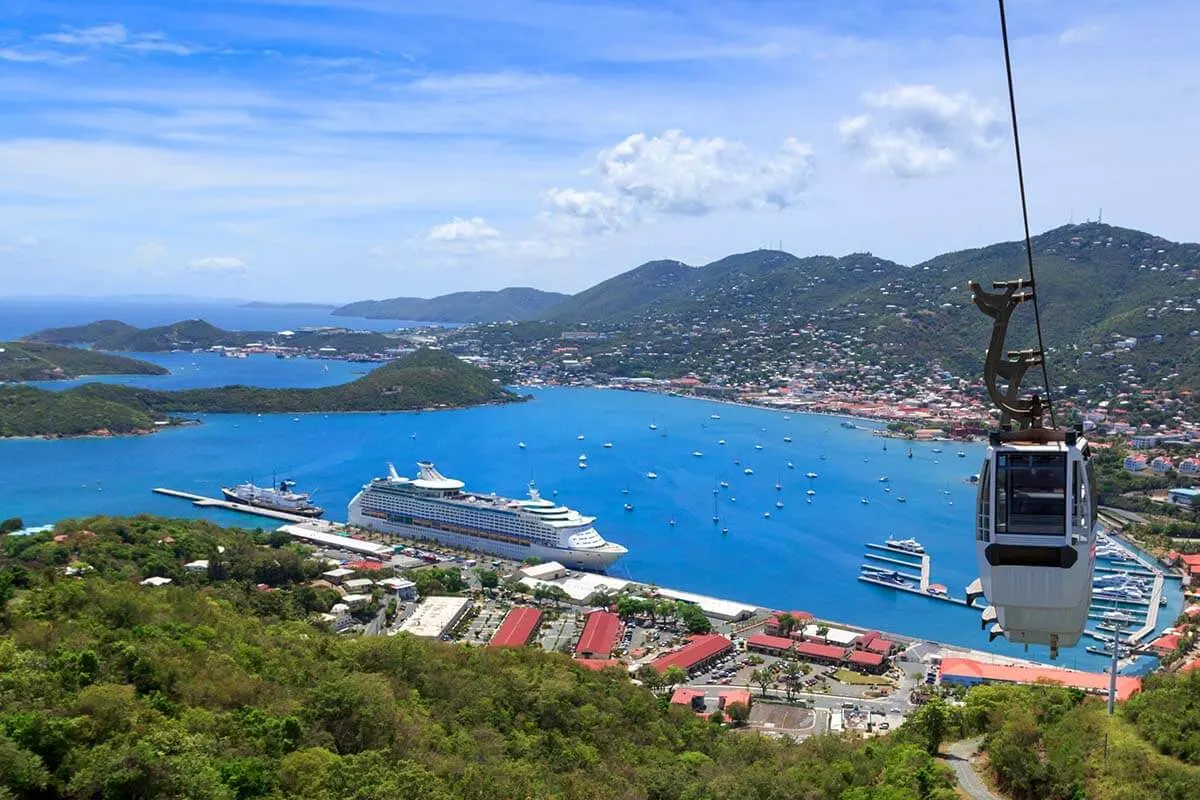 15. Take a day trip to the British Virgin Islands
Since some of the British Virgin Islands (BVI) are just near Saint John, this is a very popular day trip. Just as most other boat excursions in USVI, it's all about the sea, island scenery, swimming, snorkeling, local drinks and food. In other words, a fun, relaxing day out on the water.
There are several private boat companies that provide half-day, full-day, and even multi-day trips to the British Virgin Islands. They take you to stunning islands like Tortola, Jost Van Dyke, and Virgin Gorda (see the image of the Baths of Virgin Gorda below – it looks a bit like Seychelles islands!).
Good to know: Since you are leaving the country, you'll have to pass customs and also pay a BVI- and a returning U.S. customs fee of $75 per person. So keep this extra cost in mind if planning a day trip to BVI (and bring enough cash).
Here are some of the most popular tours from Saint John to BVI:
Boat tour to BVI from ST John. This is the most popular day trip to BVI from St John (or St Thomas). The scenery is amazing and it covers all the best places.
Private boat charter to BVI. This is a wonderful option for bigger families/groups or those who want more luxury and don't mind the budget.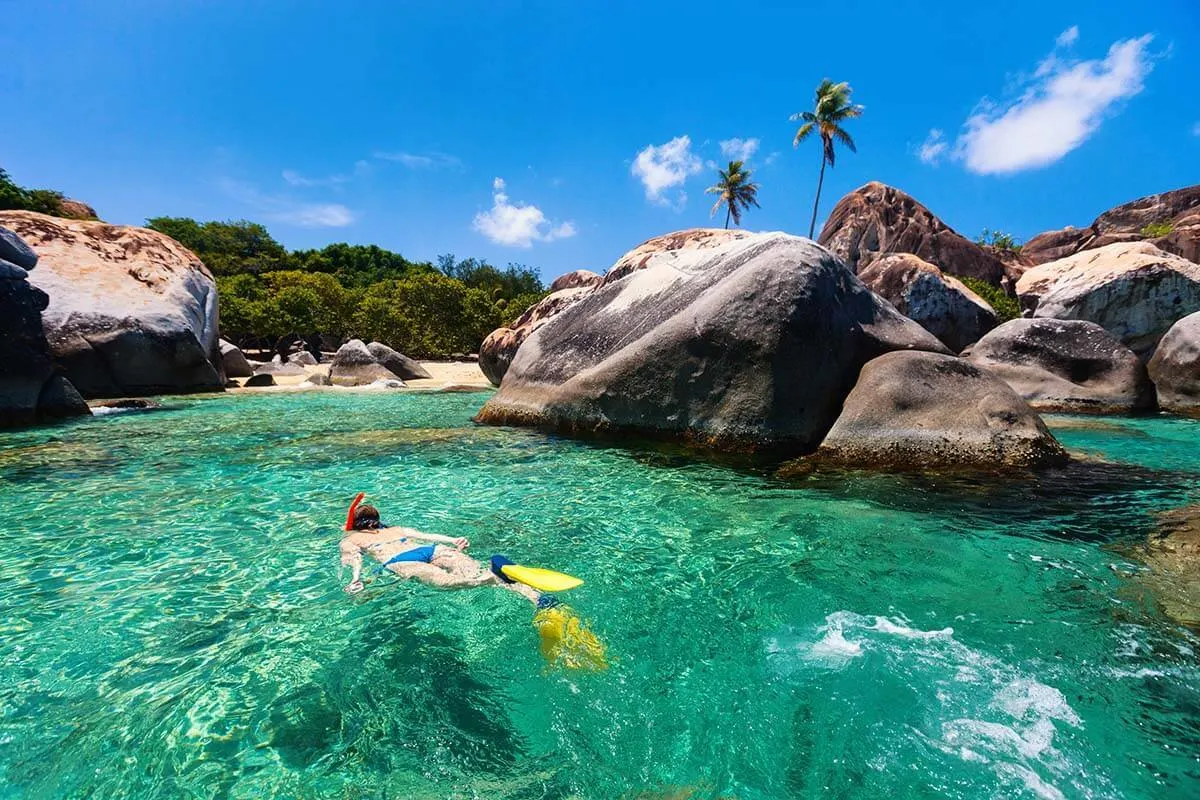 Where to Stay in Saint John
While not as developed as St. Thomas Island (or maybe because of it), staying in Saint John certainly has its charms! You won't find many huge resorts here and there are hardly any mid-range accommodation options at all, but there are several really nice places to stay on the island.
Here are the nicest and the most popular hotels on St John:
Luxury suites: Gallows Point Resort. This beautiful resort has the most beautiful location and all you need for a luxury beach vacation in USVI! You'll never want to leave.
Luxury villas: Westin St. John Resort Villas. This is one of the nicest places to stay on the island for large families or groups of friends.
More affordable luxury. Estate Lindholm. This is a great choice for those looking for somewhat more affordable luxury. The views are amazing and the location is very peaceful.
Here you can see some of the best options for St John accommodation. Keep in mind that availability is very limited here. Especially if traveling in the high season (December to April), you really should book well in advance!
If you are on a lower budget or are looking for some unique private accommodations, be sure to check short-term rentals on St John. There are many more choices than hotels and some of them are absolutely amazing! If you rather stay at a mid-budget hotel, there are many more affordable accommodations on St. Thomas Island (and you can visit Saint John from there).
So, this is our guide to some of the best things to do in Saint John, USVI.
As you can see, the majority of activities are centered around beaches, snorkeling, food, and drinks – all the ingredients for a laid-back vacation in the Caribbean. But there are also historic sites, more adventurous activities, and hiking trails to explore. So St John offers a really nice mix of possibilities for a nice vacation that truly has something for everyone.
READ ALSO: Best Family Travel Destinations Worldwide
If you found this post useful, don't forget to bookmark it and share it with your friends. Are you on Pinterest? Pin these images!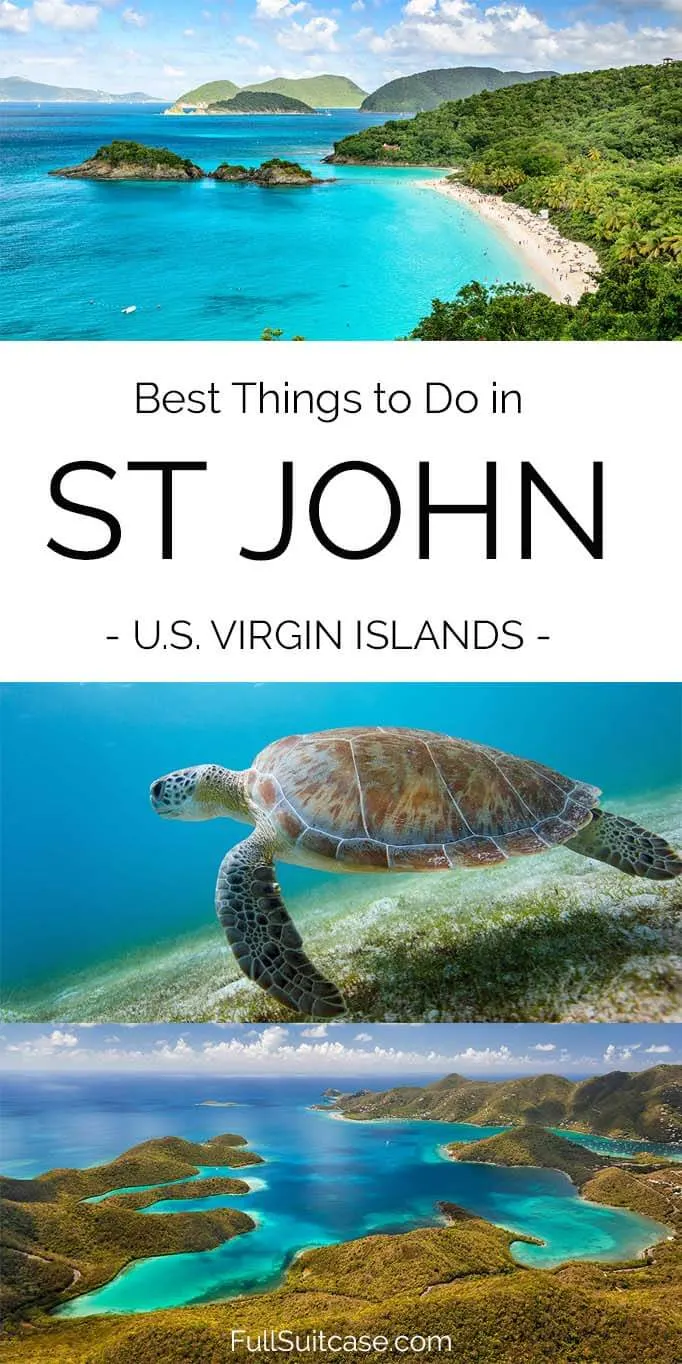 Additional image credits: Depositphotos.com