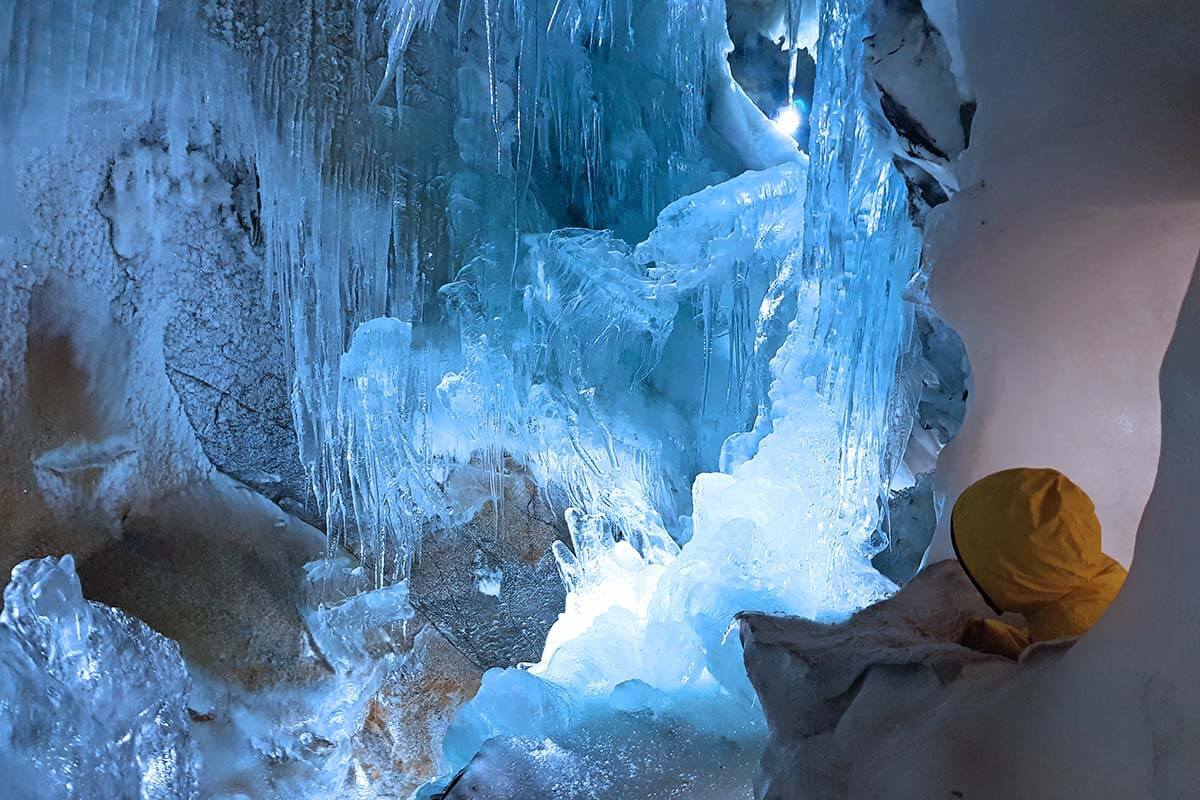 If you want to experience real winter in Austrian Tyrol in summer, Hintertux Glacier (Hintertuxer Gletscher) is the place to be! Not only can you find snow and winter sports opportunities here the whole year-round, but you can also visit an incredible Natural Ice Palace (Natur Eis Palast) underneath the glacier!
But there is so much more to see and do at Hintertux Glacier in summer! You'll find stunning panoramas, Alpine scenery, mountain lakes, waterfalls, and also plenty of family-friendly activities.
In this article, you can read about our experience when visiting Hintertux Glacier and its Nature's Ice Palace. We also included some essential tips that should help you make the most of your visit. In addition, you can find some other suggestions for an unforgettable day exploring one of the nicest places in Zillertal.
Disclosure: We visited Hintertux Glacier in cooperation with Zillertal Tourism Board. All opinions and tips are based on our personal experience.
READ ALSO: Things to Do in Zillertal in Summer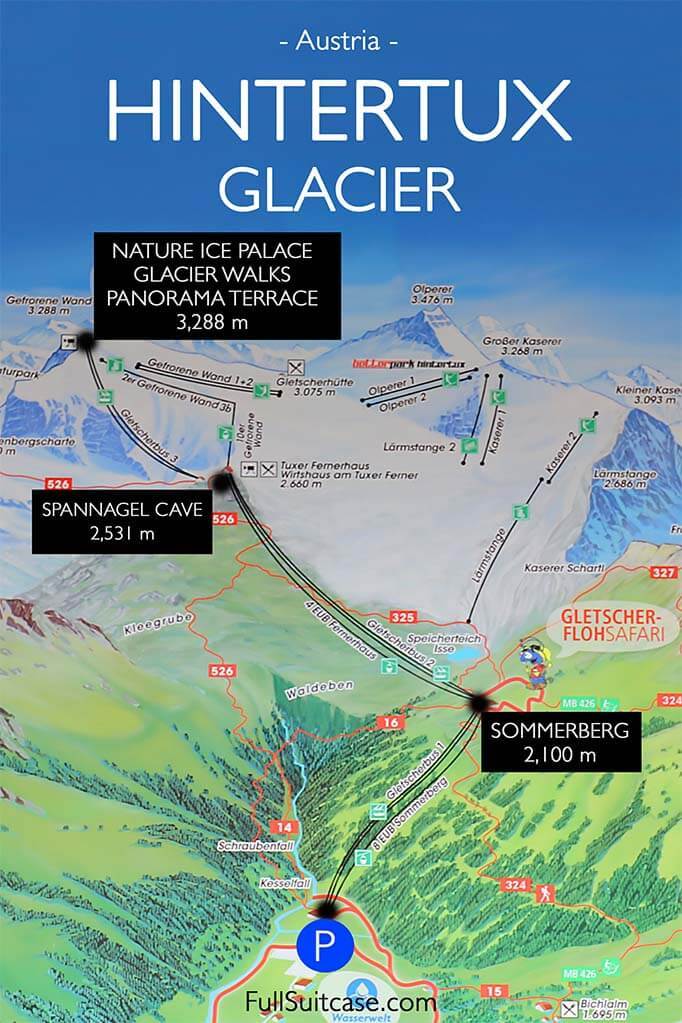 Why Visit Hintertux Glacier
Hintertux Glacier is one of the most unique mountain destinations in Austrian Tyrol. With up to 3.250 m (10.662 ft) altitude, there is snow here the whole year-round. You can go skiing, snowboarding, snow tubing, or hiking on a glacier even in summer.
TIP: If you are visiting just for a day and want to give summer-skiing a try, you can hire skiing equipment here as well.
Furthermore, you can visit the Nature's Ice Palace – a unique underground ice world created by nature and made accessible to visitors (more info below). This is also one of the most affordable places in Europe to visit a real ice cave!
When the weather is good and clear, you can also enjoy phenomenal views from the Panorama Terrace.
In summer, you can go hiking at the lower altitudes and explore some of the best Alpine scenery at the Sommerbergalm. There are many hiking trails, including some family-friendly options, playgrounds, etc.
And, of course, there are several restaurants where you can enjoy some of the best Tyrolean dishes while admiring the most beautiful mountain views.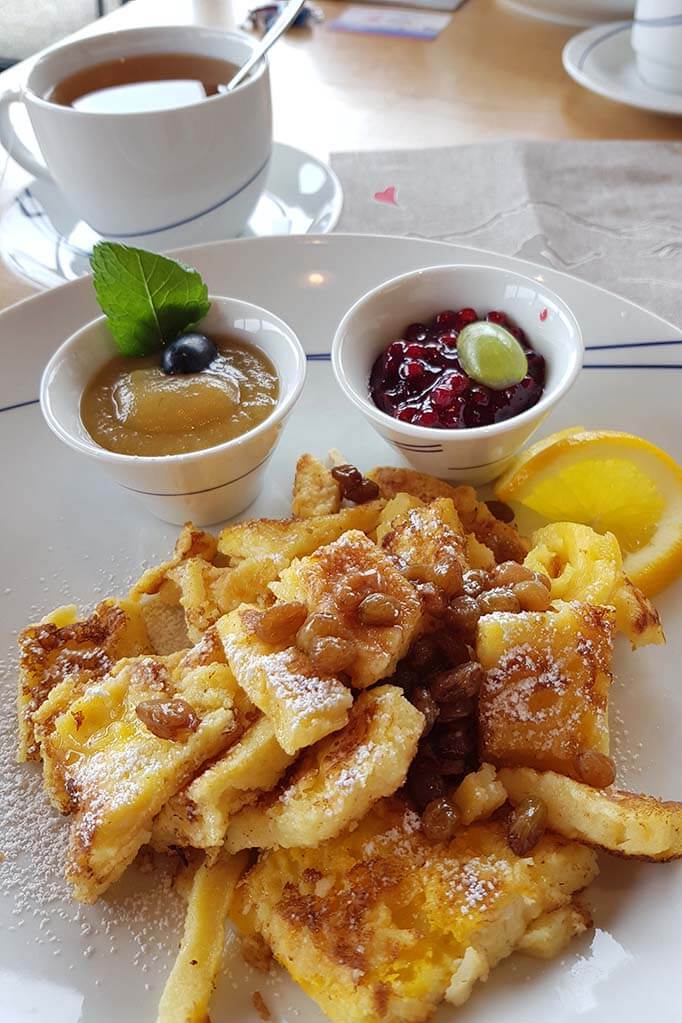 Nature's Ice Palace
Natural Ice Palace is one of the highlights of the Hintertux Glacier area. This natural ice cave has been discovered by coincidence and recently, more chambers and corridors have been made accessible to the public.
This Ice Palace cannot be compared to any of the man-made ice tunnels that are so popular in the European Alps (e.g. Stubai in Austrian Tyrol or Mount Titlis and Jungfraujoch in Switzerland). It's a very unique place where you can experience some of the most incredible natural ice creations deep under the glacier.
This is your chance to see what an inside of a glacier looks like, complete with ice chambers, enormous icicles, and even an underground river…
Normally, there are various activities and tours available inside the Ice Palace, from simple walking tours, photography tours, to more adventurous activities like ice swimming or paddleboarding on the icy underground river… However, everything was a bit different we visited in the summer of 2020 and no special tours were available. We explored the ice caves on our own and in the end, we also joined a short boat tour on the underground river.
On the website of HintertuxerGletscher, you can find up-to-date information with opening times and available tours.
And because pictures say more than a thousand words, here are some images that should give you a better idea of what to expect. Take a look!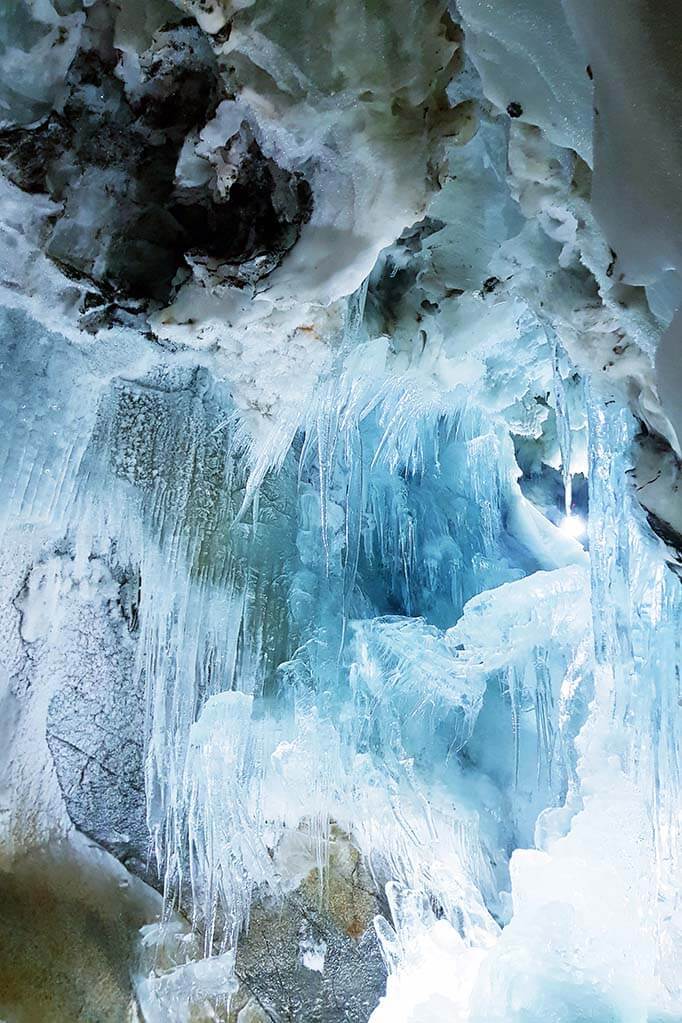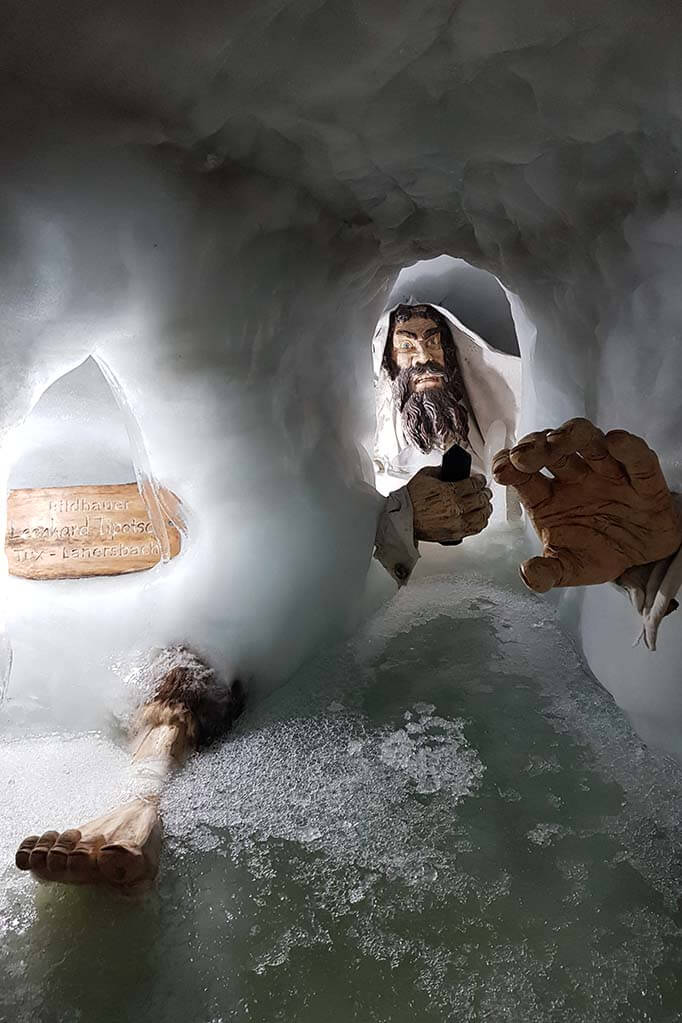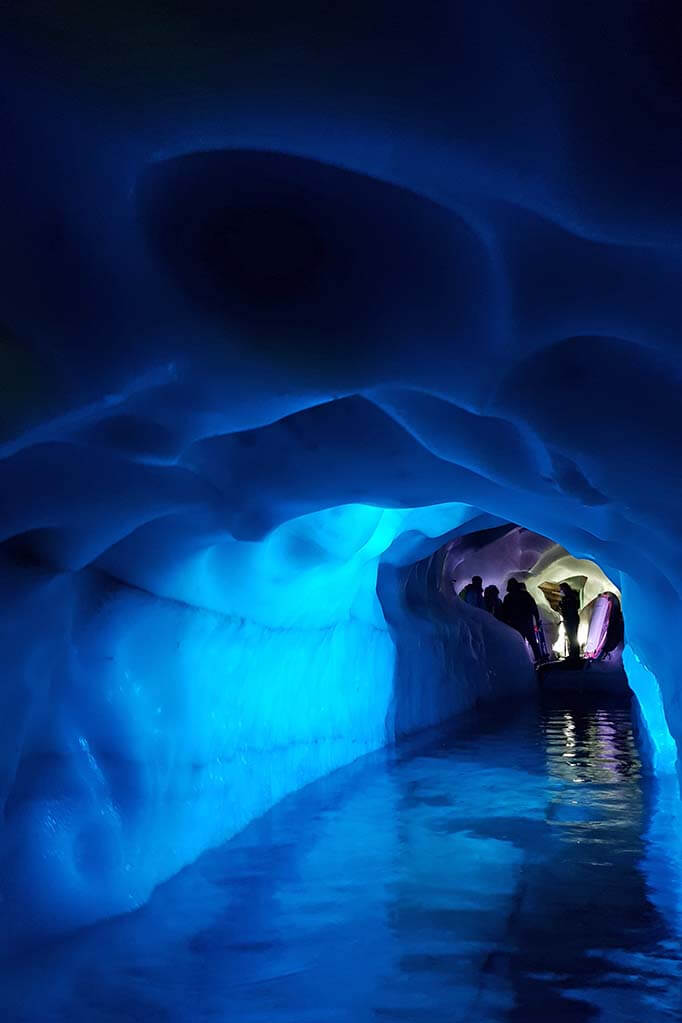 Practical Information for Visiting the Ice Palace
Location: Ice Palace is located just a few minutes' walk from the Mountain Station Gletscherbus 3 at Hintertux Glacier (3.250 m).
When to visit: The temperature inside the ice caves is always around 0°C (32°F). This is a year-round destination that can be visited in any weather (as long as gondolas operate).
Gondola: You'll need to get tickets for the gondola in order to get to Hintertux Glacier. In fact, there are 3 gondolas that you have to take to get here from the valley station. The first cable car takes you to Sommerbergalm, the second one – to Tuxer Ferner, and finally, the third one – to Gefrorene-Wand summit (Mountain Station Gletscherbus 3). When we visited, an adult ticket for a day cost about 38 EUR, kids – 24 EUR, and kids under 10 were free of charge.
Ice Palace Tickets: Upon arrival at the top of the mountain, you'll find a 'container' where you can get tickets for the Ice Palace. Ice Palace is not included in the cable car ticket price. When we visited, it cost 21 EUR for adults and 13 EUR for kids. This is just a tiny fraction of what it costs to visit natural ice caves in Iceland or other locations!
Who can visit: & what to wear Ice Palace can be explored via the man-made ice tunnels, staircases, and ladders. It's very slippery inside and you need good sturdy boots here. You also need a warm jacket and gloves. It's not a simple walk inside a tunnel, so be prepared to climb ladders, hold on to tows for support, bend in order to avoid icicles, and walk on ice.
That being said, it's something that most people in a regular physical shape should be able to do. It's also a family-friendly activity, possible with children from the age of 6.
How much time do you need: Depending on the tour you choose, you may need several hours to visit the Ice Palace. We spent about an hour inside. The entire visit took us about 4 hours, but if the weather would have been better, we could have easily spent an entire day here.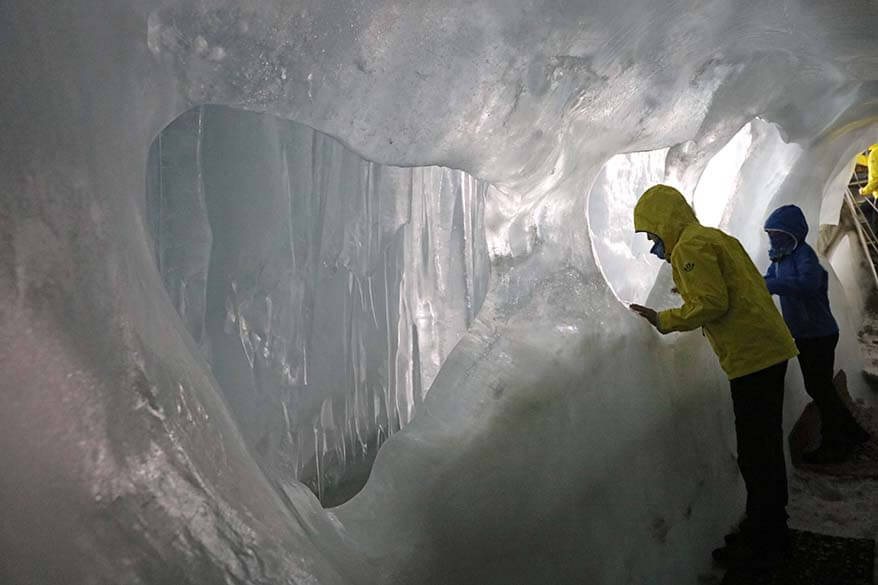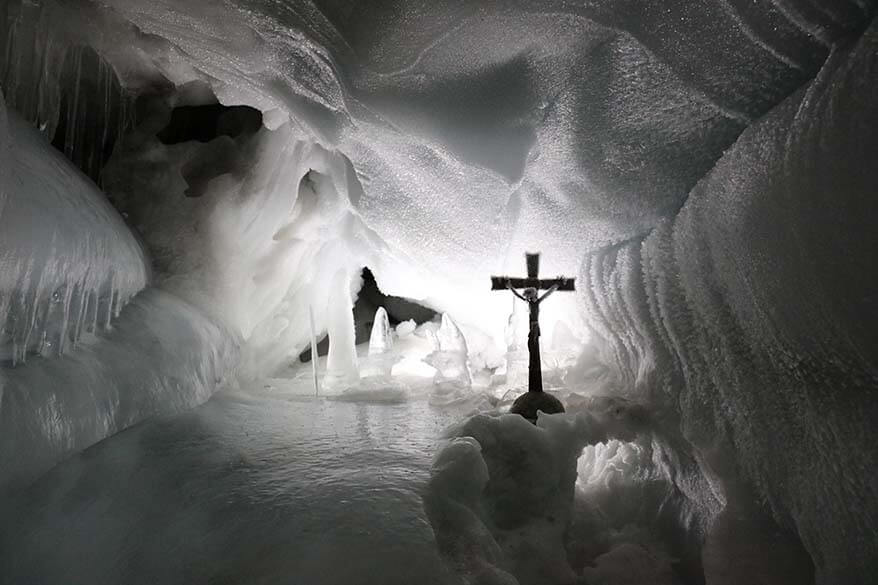 Other Hintertux Glacier Activities
In addition to the Ice Palace, there are more things to do and experience at the Hintertux Glacier!
As already mentioned, there's guaranteed snow here the whole year round. It's a great place for summer skiing or snowboarding. Obviously, there are many more ski runs open in winter than in summer, but there's still plenty of choices no matter when you come.
At the top cable car station of the Hintertux Glacier, you can find the 'Lui's Glacier Bug Park'. In summer, you can go snow tubing in summer (it's free for kids and there is a small fee for adults). There is also a snow-tire carousel for the very young children.
At the top cable car station, you'll also find a Panorama Terrace at 3.250 meters (10.662 ft). On a nice day, you can admire stunning panoramas here. So if you can, choose a nice sunny day for your visit to Hintertux Glacier.
We didn't have that flexibility and just went on the day we were in the area. Unfortunately, everything was covered in the clouds when we visited… But that didn't ruin the experience as we could still enjoy the ice cave which was the main reason for our visit anyway.
Guided Hintertux glacier tours are also available in summer. Everyone from the age of 6 can take part in these tours; all you need are good hiking boots and clothing appropriate for the weather. You should check on their website which tours are available when you visit as offered tours seem to change once in a while.
At the second cable car station on your way up (Tuxer-Fernerhaus), you can also access the Spannagel Cave. This Europe's highest altitude public-accessible underground cave and another great place to visit at Hintertux Glacier in any weather.
This is also a family-friendly activity, but you can only visit with a guide. In high season, they have regular guided tours available; in other seasons – upon request. For more information, please consult the official website.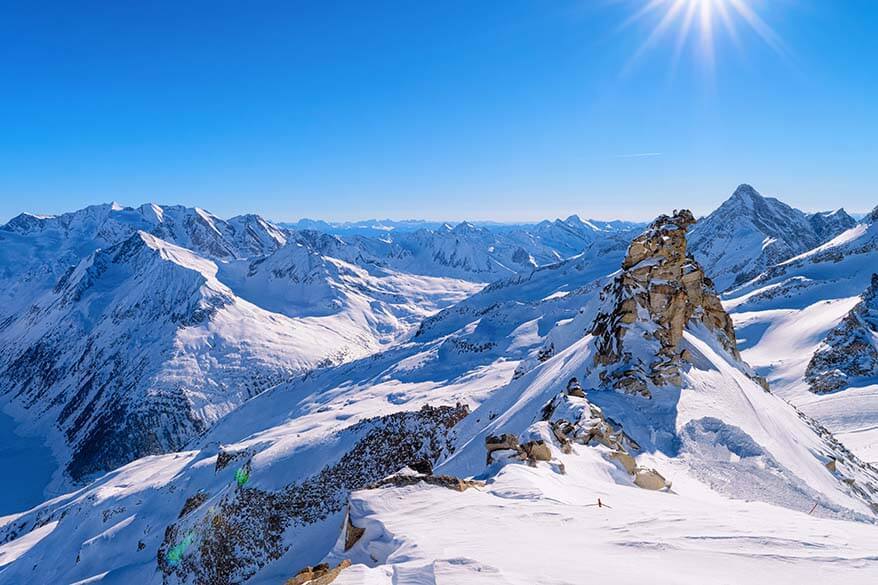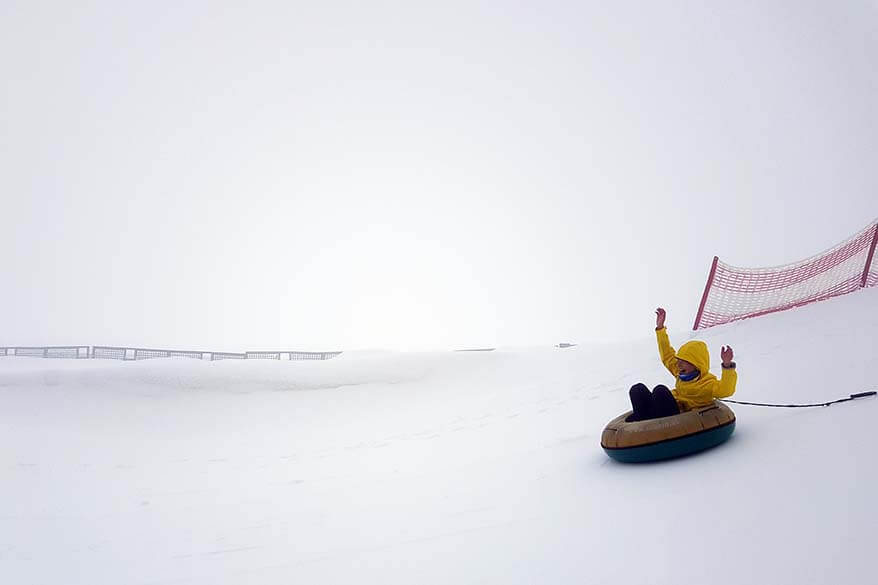 Family Fun at Sommerberg
Sommerberg Alm, as the name suggests, is a place where you'll find summer landscapes in summer. It can be reached by gondola from the valley station and is your first stop on the way to Hintertux Glacier.
It's surreal to see the difference between the green Alpine pastures here and the wintery landscapes on top of the glacier. In a matter of several minutes, you can go from summer to winter and back again.
There are several restaurants and playgrounds at the Sommerbergalm. If you are visiting Hintertux Glacier with kids, this place is not to be missed. There is a fun family hike with all kinds of informational panels and you can also get a booklet with questions before you start the hike. If you solve them all, you can afterward pick up a nice prize at the Sommerbergalm restaurant.
There is also a fun marble-run along this hike. Make sure you have some 2 EUR coins with you as there are machines where you can buy special marbles that kids can then use along the way. Fun guaranteed!
Nearby, there is also a small mountain lake that you can see from the cable car or from the family hike. If you feel like doing a bit more hiking and don't mind some up-hill climbing, you can easily hike to the lake from the Sommerberg Alm.
There are also nice mountain-biking trails here.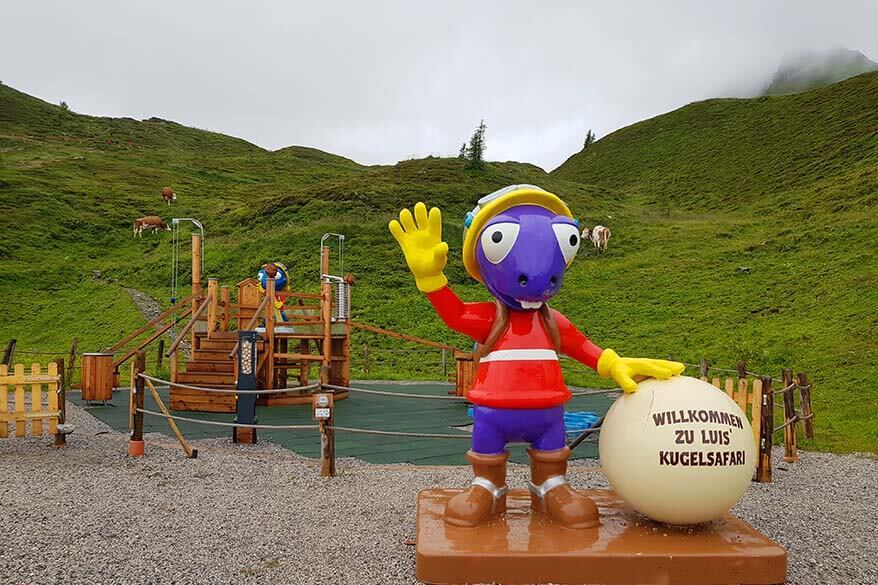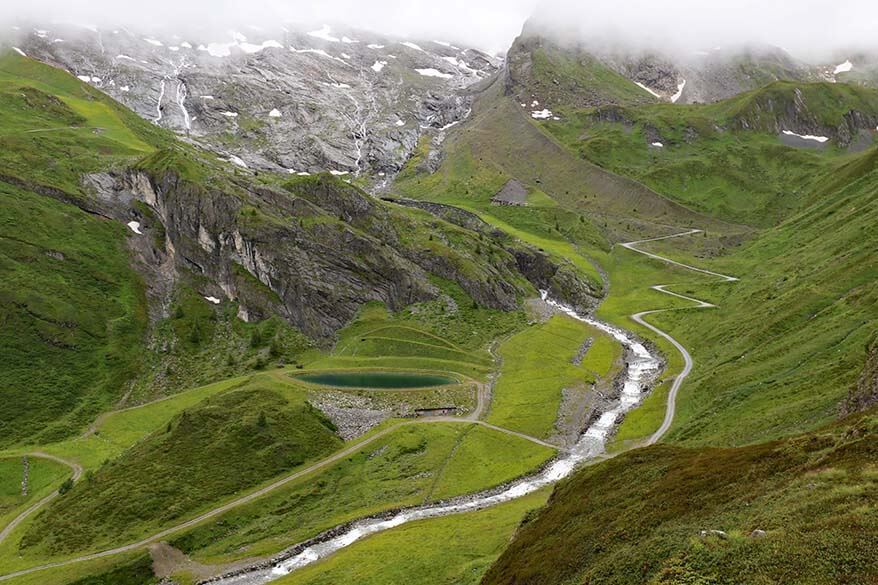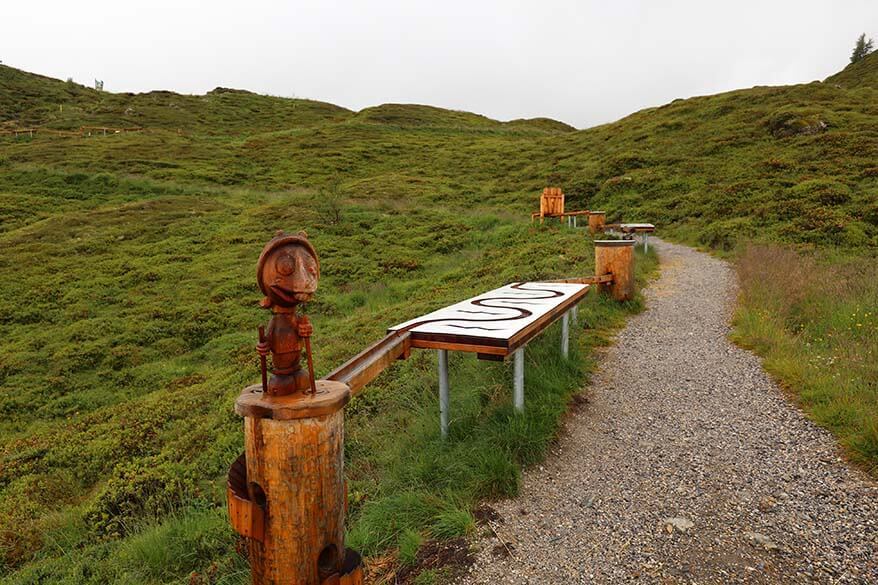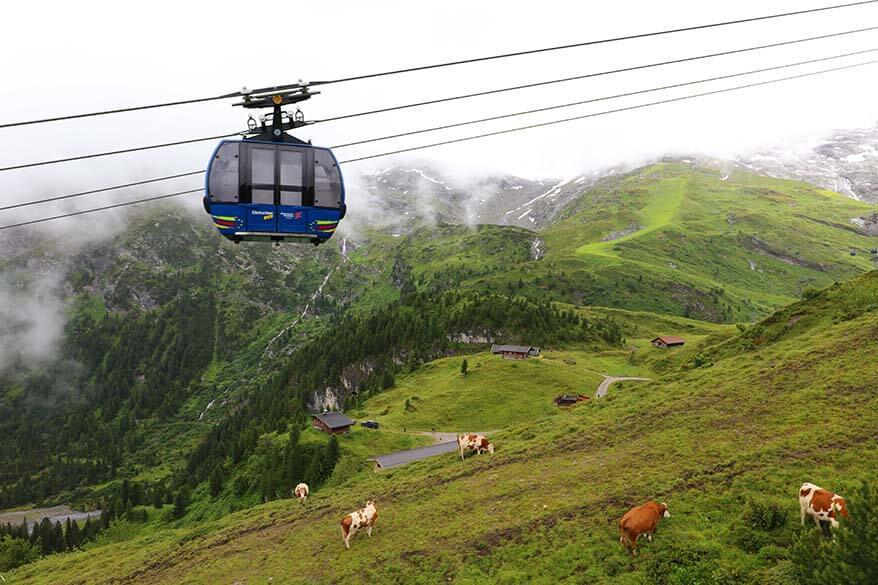 Hintertux Waterfall
This area also has many waterfalls that bring the discharge water of the glacier down into the valley. In fact, you can see many waterfalls from the cable car on your way to the top.
If you go hiking in the area, you can find several impressive falls. But for those of you who don't hike or don't have much time, there is also a really beautiful waterfall to admire right next to the car parking at the valley station of Hintertux Glacier. This impressive waterfall is called Hintertux Waterfall.
You can see this waterfall on the left side, behind the cable car station when looking towards the mountain. However, in order to access it, you have to walk to the right and all the way around the gondola station. It takes about 5-10 minutes to get there and 5 minutes to get back. Definitely worth it!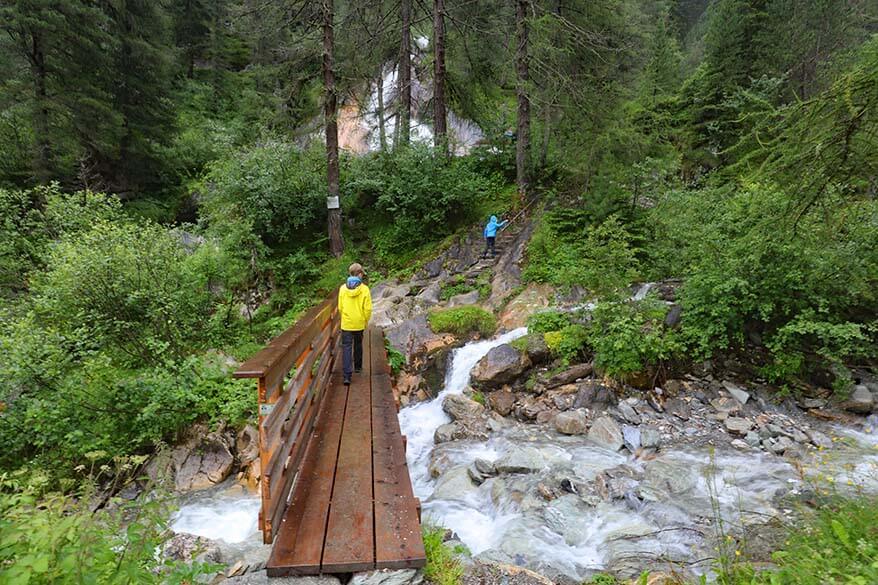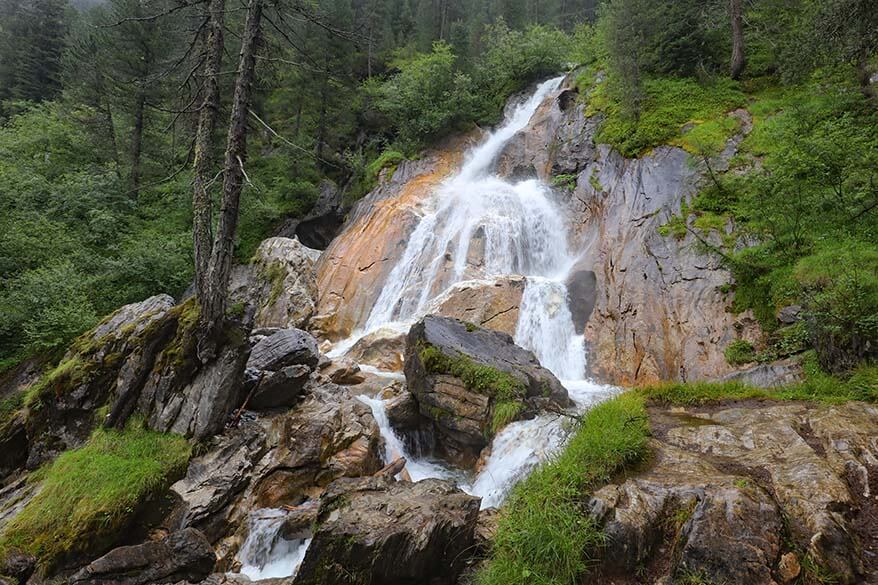 Info & Tips for Visiting Hintertux Glacier
Location & getting there: Hintertux Glacier is located in the Tux-Finkenberg area in the Zillertal region in Austrian Tyrol. It can be reached via the L6 road via the Tuxer Valley and is about 1.5 hrs drive from Innsbruck. See the exact location on the map. You can also get here using public transport – Tuxer Sportbus runs 365 days a year.
Parking: There are three large car parking areas at the Hintertux Glacier valley station and they are free of charge.
Opening times: Hintertux Glacier cable cars run daily, all year from 8.15 AM to 4.30 PM. You can get the tickets online or upon arrival.
When to go: Hintertux Glacier and Nature's Ice Palace can be visited in any season. For the ice caves, the weather doesn't matter much at all – you're underground and the temperature is just around the freezing point. But for the glacier, stunning views, summer skiing, or hiking, it's obviously better to come here on a nice sunny day. We had the worst possible weather than we visited in July (it was -2°C, snowing, and lots of wind on the glacier), but it was still a very enjoyable visit. So it's not that much about the weather as what you make of your day.
How much time do you need: Hintertux Glacier area has a lot to offer in summer. If you want to visit the glacier, the Ice Palace, the Panorama Terrace, have lunch, and do some hiking at the intermediate cable car stations, you should count at least 4-5 hours for your visit. If the weather is really nice, you could easily spend 6-7 hours here. Add to that driving times to get there, and you should count an entire day for your visit.
Facilities: There are several restaurants, shops, and bathroom facilities at different cable car stations. However, there are no facilities at the very top. So make sure you use bathroom facilities before taking the last gondola to the top of the mountain.
Where to Stay
If you are interested in Hintertux summer skiing or if you are visiting for a winter skiing holiday and are planning to stay here for a few days, then I'd recommend staying as close to the gondolas as possible. For example, Hotel Neuhintertux is a great option directly at the cable car station.
If you are visiting Hintertux Glacier in summer, have a car, and only come here for a day, then it doesn't matter that much where you stay, as long as it's not further than 1-2 hrs drive away.
If you are visiting by public transport, Mayrhofen town is one of the best centrally-located towns in the Zillertal area. It has a train station and good bus connections.
TIP: Using the map below, you can compare hotels, B&Bs, apartments, and short-term rental accommodations in Mayrhofen and the surrounding area. Simply insert your travel dates and group size, and you'll see all the best deals in one place.
For more things to do in the area around Hintertux, check our guide to Zillertal in Summer.
If you love hiking, then don't miss Olpererhütte hike. It's one of the most beautiful hikes in Tyrol and the scenery is absolutely spectacular.
More travel inspiration for Tyrol, Austria:
If you found this post useful, don't forget to bookmark it and share it with your friends. Are you on Pinterest? Pin these images!