The city of Mozart and 'The Sound of Music', Salzburg is one of the most popular travel destinations in Austria. And even though there's plenty to see and do in the city and its surroundings to fill a week or two, many people only have one day in this beautiful city.
If you are also visiting Salzburg for one day and wondering what to see and how to plan your time, this guide should help you to plan a perfect day trip to Salzburg.
In this article, we share a suggested 1-day Salzburg itinerary that covers all the main sights that you really shouldn't miss on your first visit.
At the bottom of this article, you can find a short overview of this itinerary with the approximate time indications to help you plan your day. We also include a map indicating all the places mentioned in our guide and share useful tips and recommendations based on our personal experience.
And while there's no way to see 'everything' in Salzburg in a day, if you plan well, you can definitely see the 'musts', soak up the pleasant atmosphere, and enjoy some local specialties. Find out!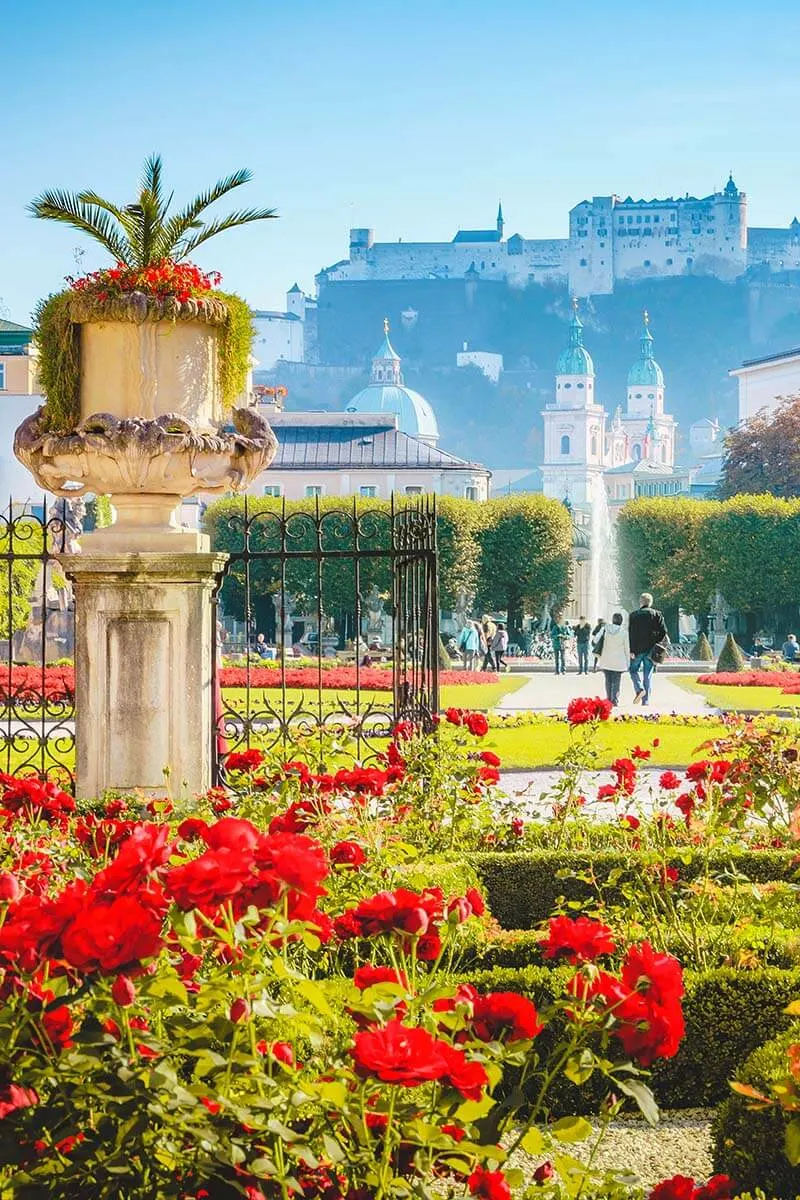 PRO TIP: Be sure to get the Salzburg Card for your visit. It offers free entrance to all the main tourist attractions and also includes public transport, funicular, etc. Even if you visit Salzburg for one day, this city card is totally worth it.
With just a day in Salzburg, you will probably be arriving in the city by train. In that case, you can pick up this card at the Tourist Office at the railway station. Alternatively, you can get it at the Mozartplatz in the old town. If you are staying in the city, you might also be able to buy this card at your hotel.
Good to know: The card's validity starts when you first use it, so not from the moment you buy it.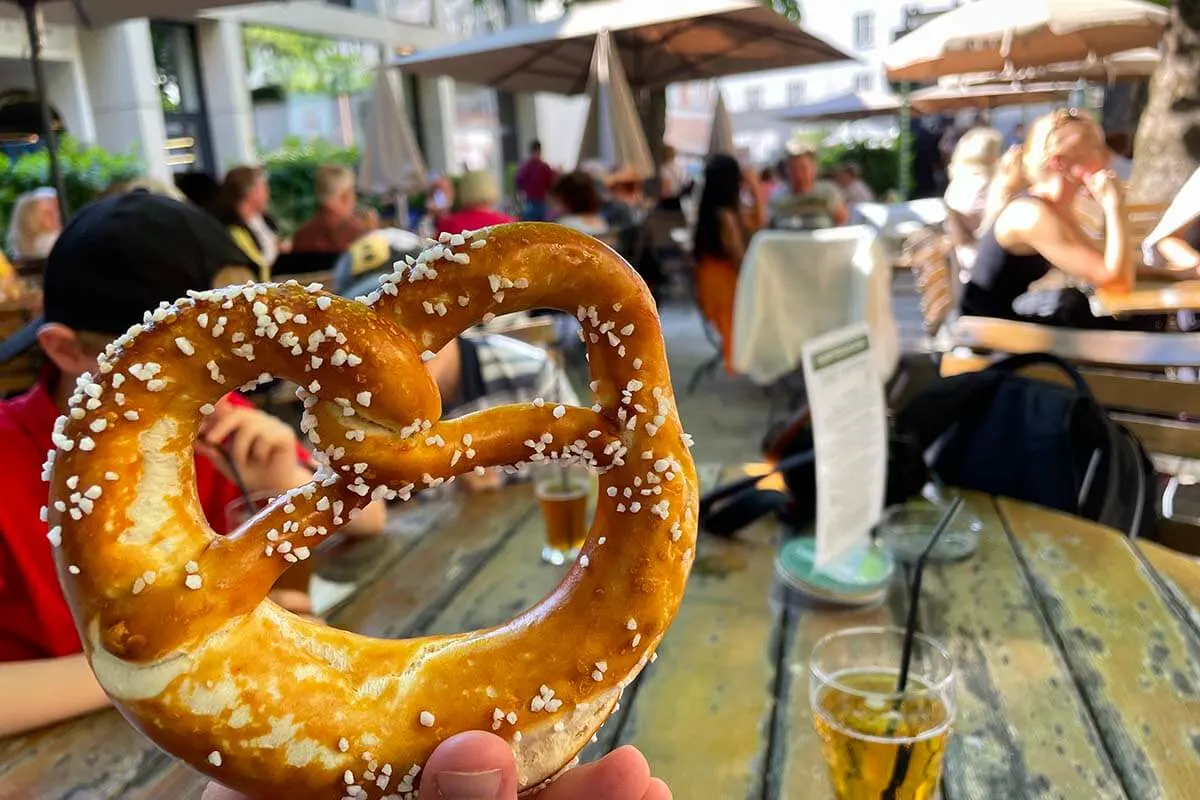 Here's how we recommend spending one day in Salzburg:
Mirabell Palace & Gardens
Start your day in Salzburg with a quick visit to Mirabell Palace and Gardens.
Built in 1606, Mirabell Palace is one of the most beautiful places in Salzburg, often featured in travel guides and postcards. It's also known as one of the 'Sound of Music' filming locations.
Nowadays, the beautiful palace is often used for weddings, concerts, and special events. Normally, you can visit the Angel Staircase (daily from 8 am to 6 pm) and the Marble Hall (Monday, Wednesday, and Thursday from 8 am to 4 pm and Tuesday and Friday from 1 pm to 4 pm). However, the palace can also close for special events, which was the case for several days in a row when we visited.
If it's open and you can, definitely take a look inside. And otherwise, enjoy the beautifully manicured gardens with fountains and statues. If you visit Salzburg during the summer months, you can also admire the beautiful rose garden and lots of other flowers – it's gorgeous!
TIP: If you want to see the interior of the palace, you can also come here for a Mozart concert in the evening. More about this further below.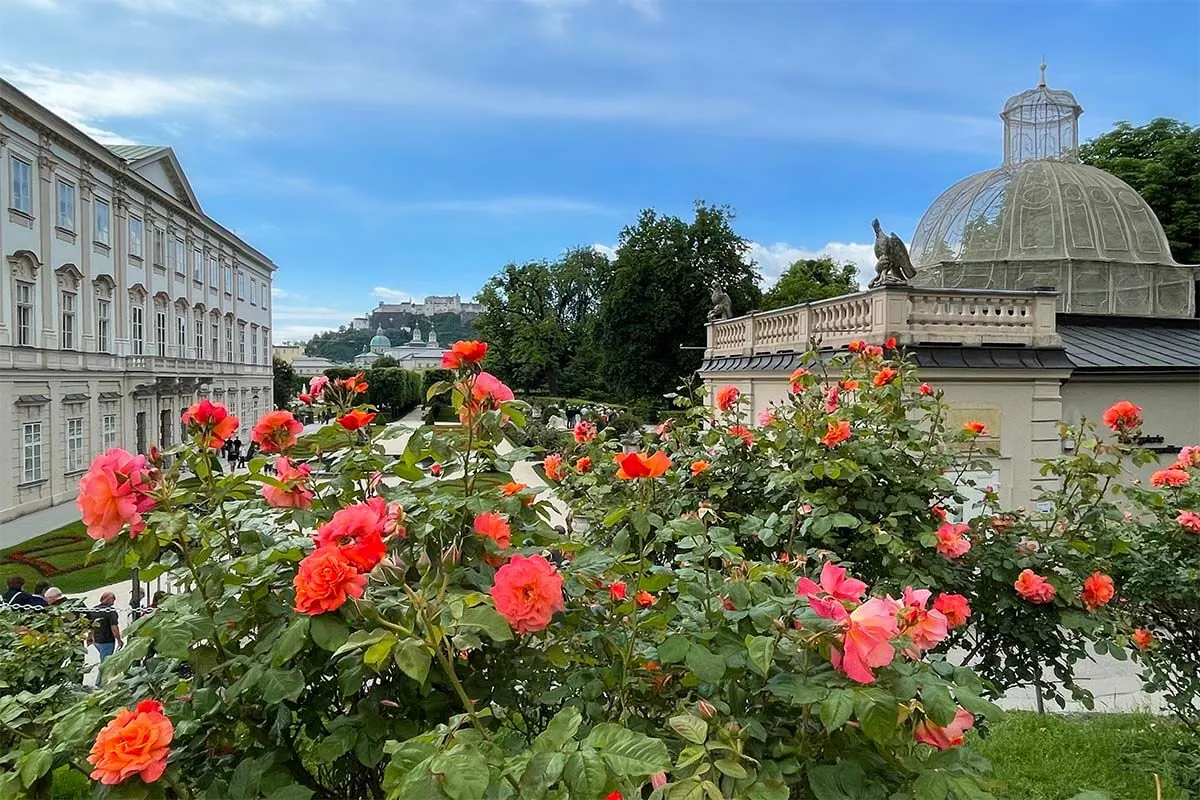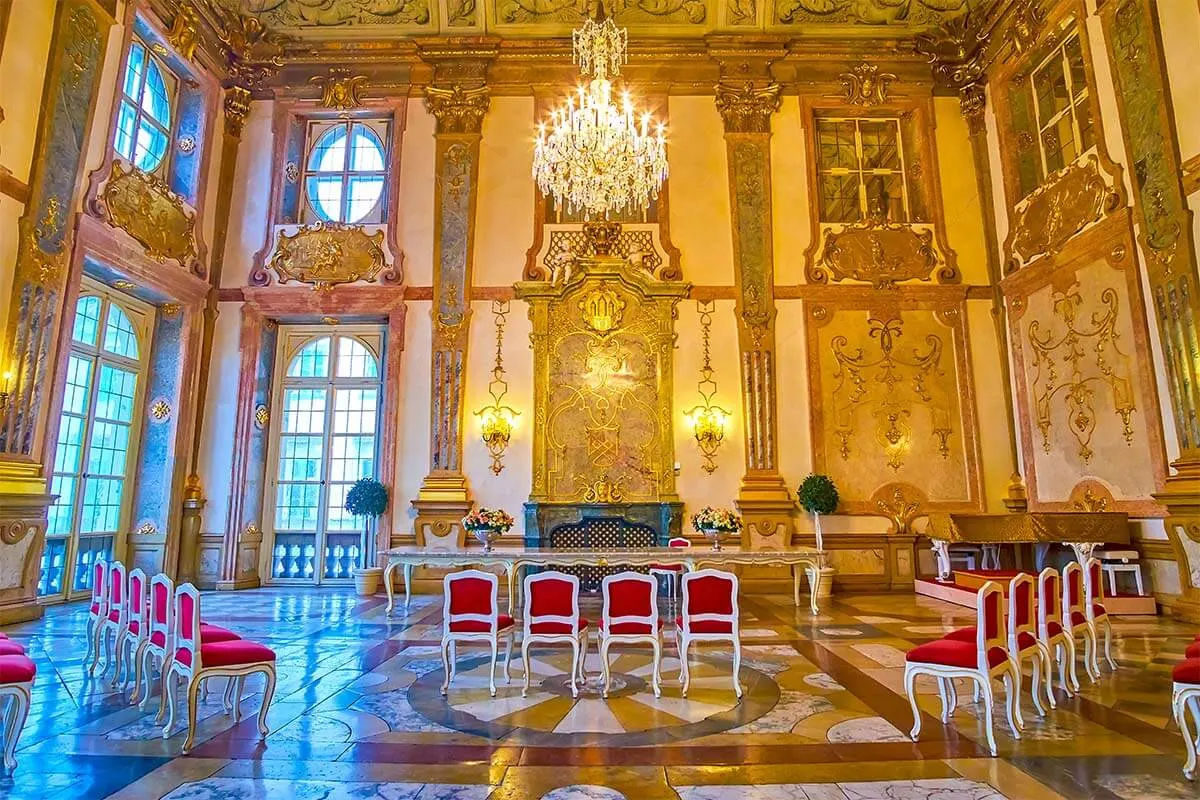 Mozart Residence
Just a stone's throw from the beautiful Mirabell gardens, you'll find the Mozart Residence. Not to be confused with Mozart's Birthplace in the old town, this is a house where Wolfgang Amadeus Mozart lived for a couple of years from 1773 until 1781, when he moved to Vienna.
The 8-room apartment on the first floor of the Mozart Residence is currently a museum. A visit here gives you a deeper insight into Mozart's life in Salzburg and also the life of his closest family members.
The exhibition includes a few family portraits, Mozart's original pianoforte, and lots of original documents. An audio guide is provided and if you take the time to listen to everything, you can learn a lot (in that case, count 1-1.5 hours for a visit).
Or you can just choose to listen to some info about a few of the exhibits and quickly see the museum in about half an hour. With just a day in Salzburg, I'd make it a quick visit – there's a lot more to explore!
Practical information: Mozart Residence is open daily from 9 am to 5.30 pm. In July and August, it's open from 8.30 am to 7 pm.
Good to know: If you visit just one of the two Mozart houses in Salzburg, most people choose Mozart's Birthplace. However, a visit to the Mozart Residence is probably even more interesting and it doesn't take that much time. While entrance tickets to both Mozart houses in Salzburg are quite pricey, both museums are free with the Salzburg Card. So if you get the card anyway, I recommend visiting them both.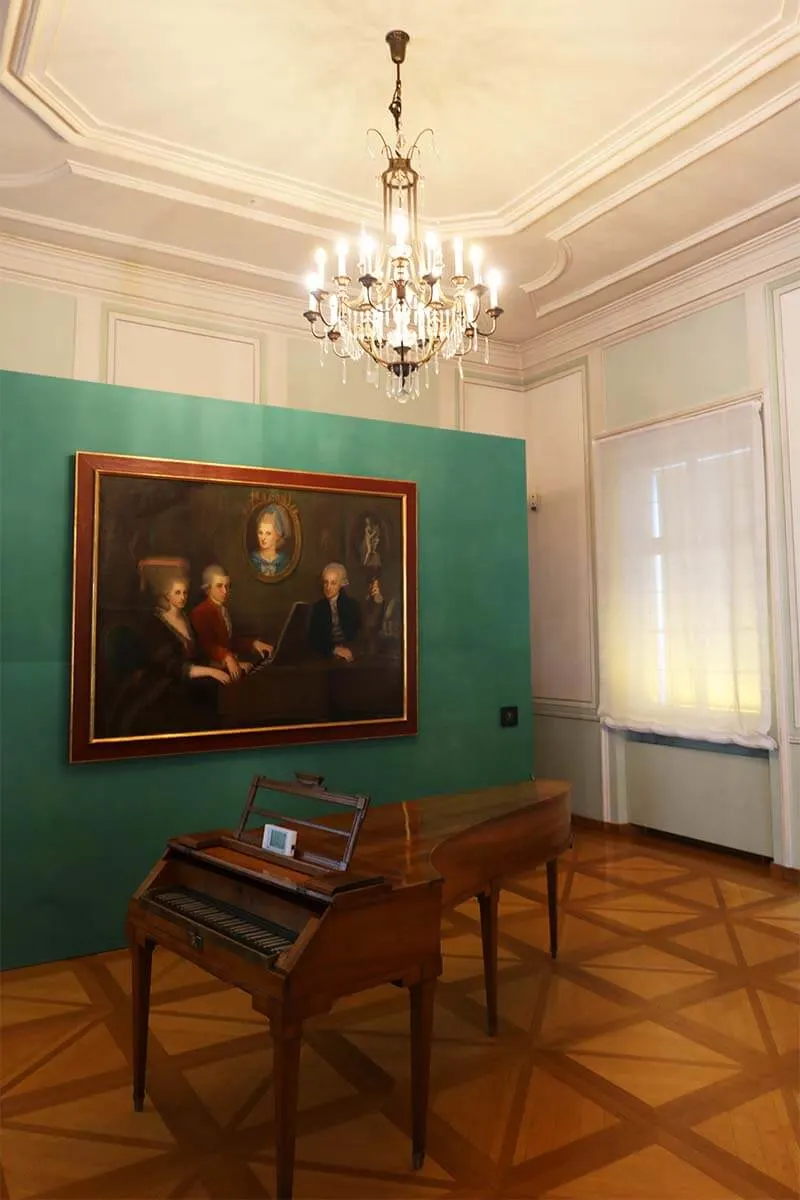 Pedestrian bridge to the old town
After leaving the Mozart Residence, head to the river and take one of the bridges to the old town. Despite a small detour, we recommend the pedestrian bridge – Marko-Feingold-Steg – a bit more to the right.
The city views from this bridge are really nice, and because there's no traffic here, you can actually take your time to enjoy them to the fullest.
This bridge is filled with love locks and is quite picturesque in itself. There are also some informational signs explaining the history of the Jews of Salzburg.
Good to know: On the right side of the bridge, you'll see a small boat dock. This is where the sightseeing river cruises depart. The standard cruise is also included with the Salzburg Card, so if you want to do it later in the day, make a stop at the ticket office to reserve a specific time slot (5 pm would work well for this itinerary). More about it further below.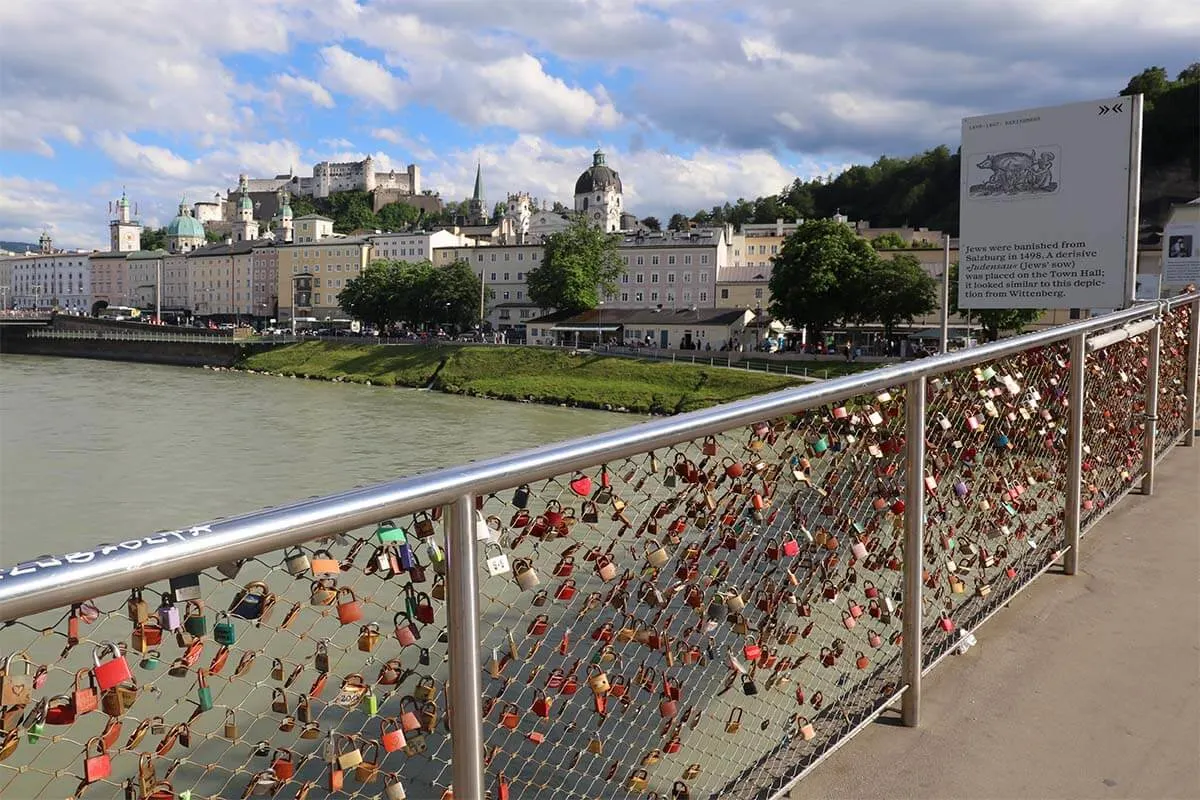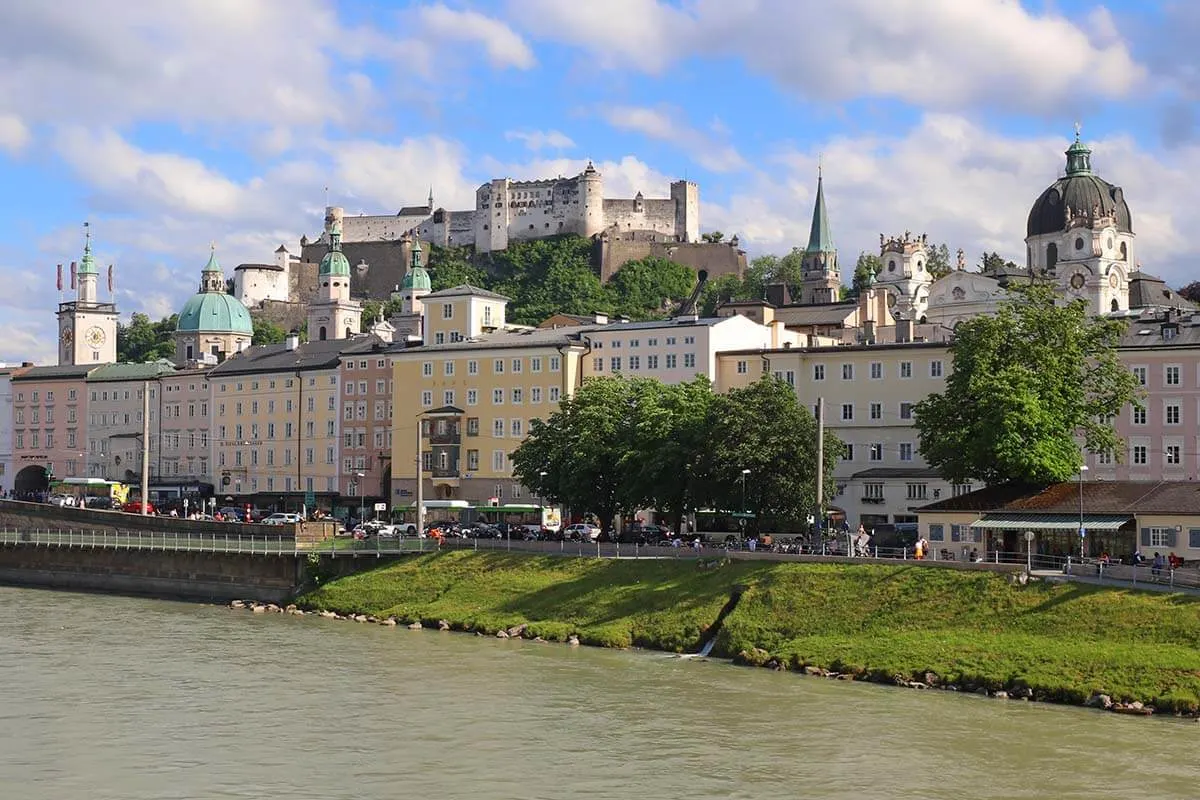 Mozart's Birthplace
Located just across the river, on Getreidegasse 9 in the heart of the old town, you'll see the bright yellow building with huge golden letters 'Mozarts Geburtshaus'. This is Mozart's Birthplace, one of Salzburg's most visited attractions.
Wolfgang Amadeus Mozart was born in this house in 1756. He spent his entire childhood here, until the age of 17 when the family moved to the bigger residence mentioned above.
On the ground floor of the building, you'll see a supermarket – what a location, right?! The upper floors now house a museum. Inside, you can see the apartments of the Mozart family and the very room where Mozart was born. It's an interesting place to learn a bit more about the childhood years of the famous composer.
The museum also contains a kitchen and several rooms that feature some 18th-century furniture; however, this is not the original Mozart-family furniture. There are also some portraits and other artifacts, including – supposedly – some of W.A. Mozart's hair.
Good to know: Mozart's Birthplace is a rather small museum and the expositions are limited, so you'll likely be in and out in about half an hour. Still, we found a visit here well worth it; even if just for the experience of being in the same room where Mozart was born.
Practical information: Mozart's Birthplace is open daily from 9 am. The entrance here is also included with the Salzburg Card.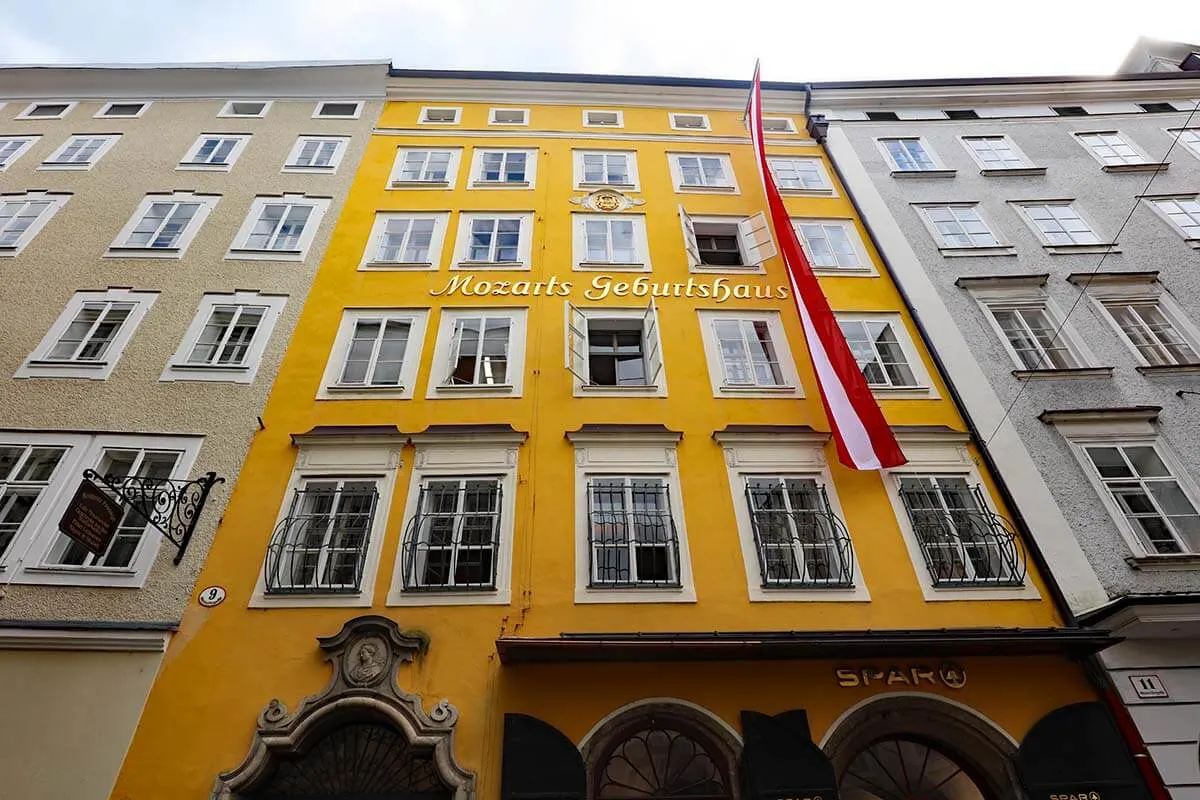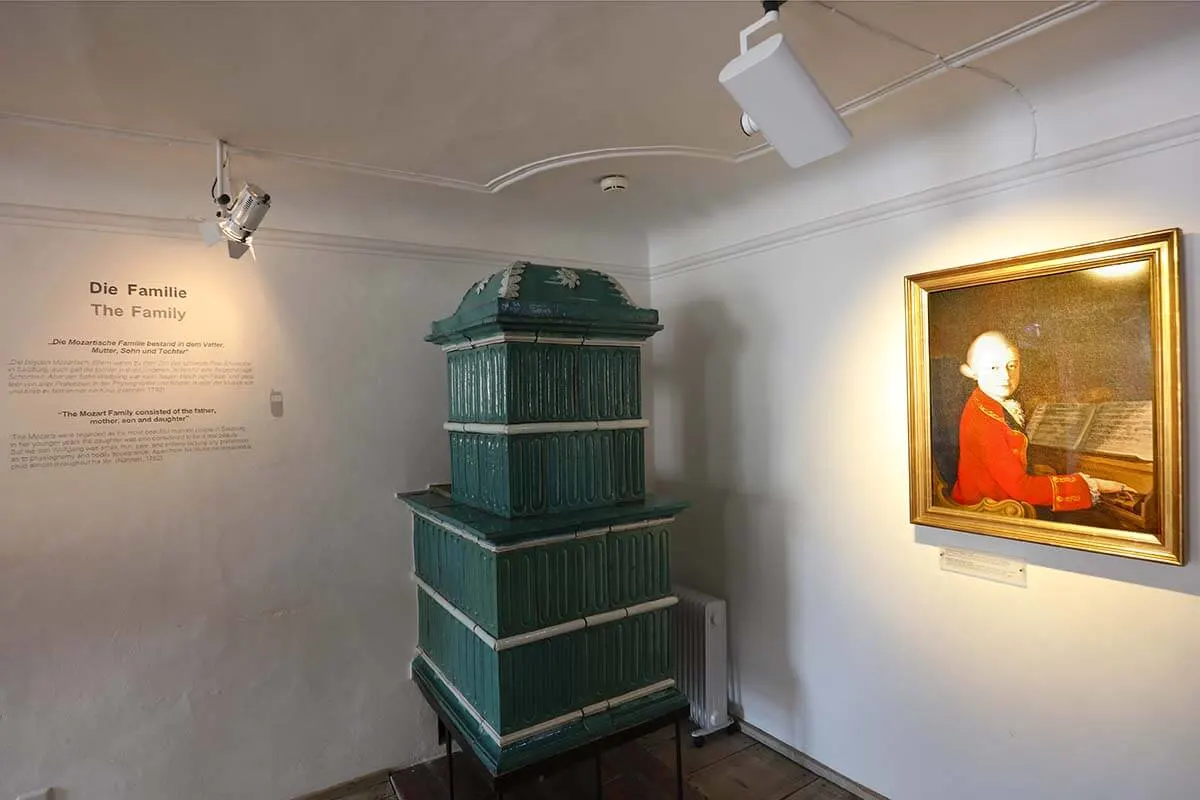 Getreidegasse
Getreidegasse is the main pedestrian street in the old town of Salzburg and an absolute must-see. So after visiting Mozart's Birthplace, take some time to stroll around and explore this beautiful street a bit more.
You'll notice that every shop has a really nice traditional-style shop sign hanging on the facade of the building. These signs make the entire street even more picturesque.
Be sure to also check out at least a few of the many side alleyways. They connect this street to other roads in the center, and some are really pretty with their own tiny shops located inside.
Good to know: While very quiet when the shops are closed, Getreidegasse can get extremely busy during the day, and especially on weekends. But the crowds are also part of the experience of visiting here.
TIP: If you want to escape the crowds and get just a little bit off the beaten path, check out the gothic church of the nearby Franciscan Abbey. In addition, you can also make a quick photo stop at Marstallschwemme – Pferdeschwemme. This fountain with a horse sculpture and big murals depicting horses was used to wash horses in the past.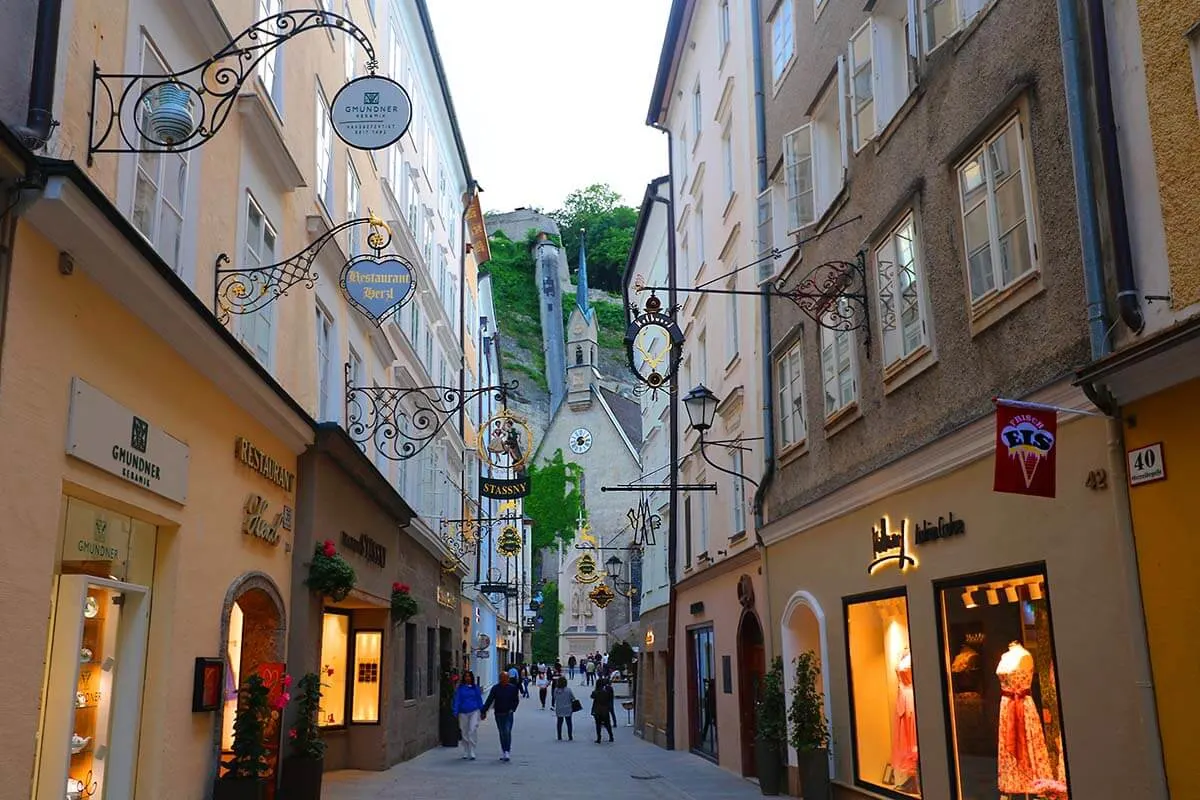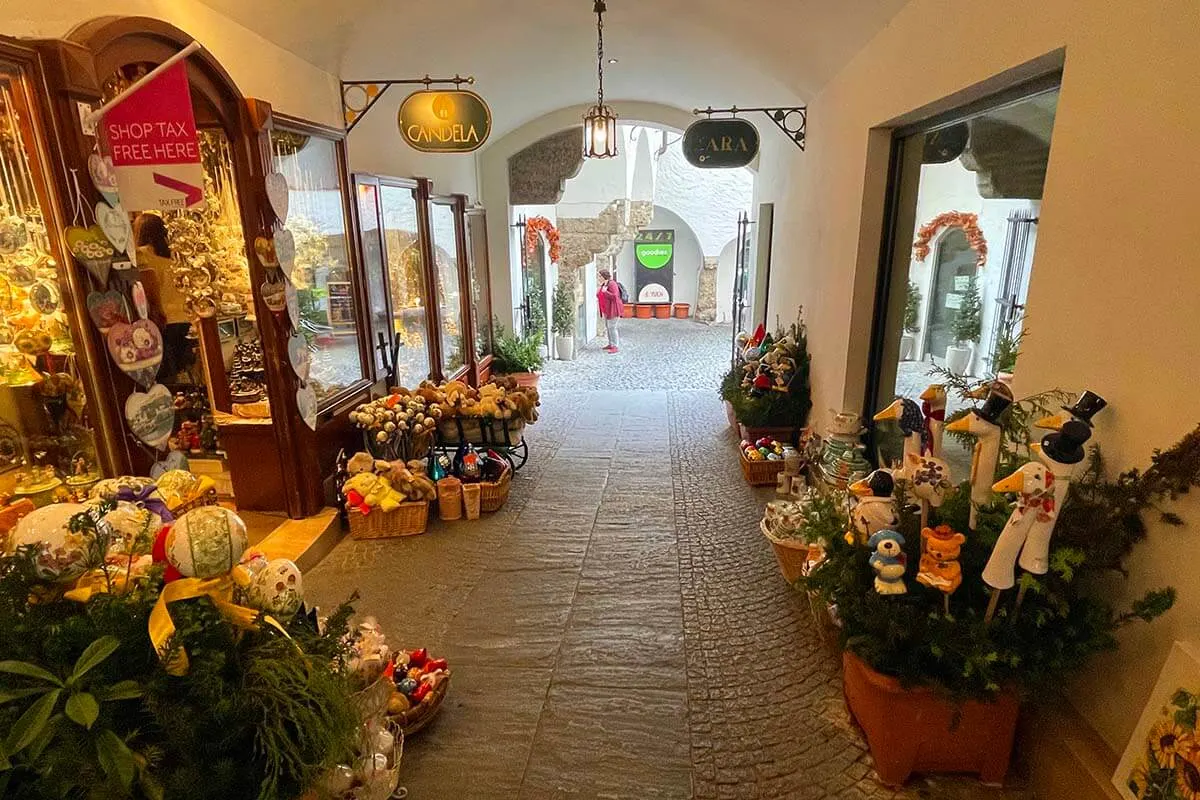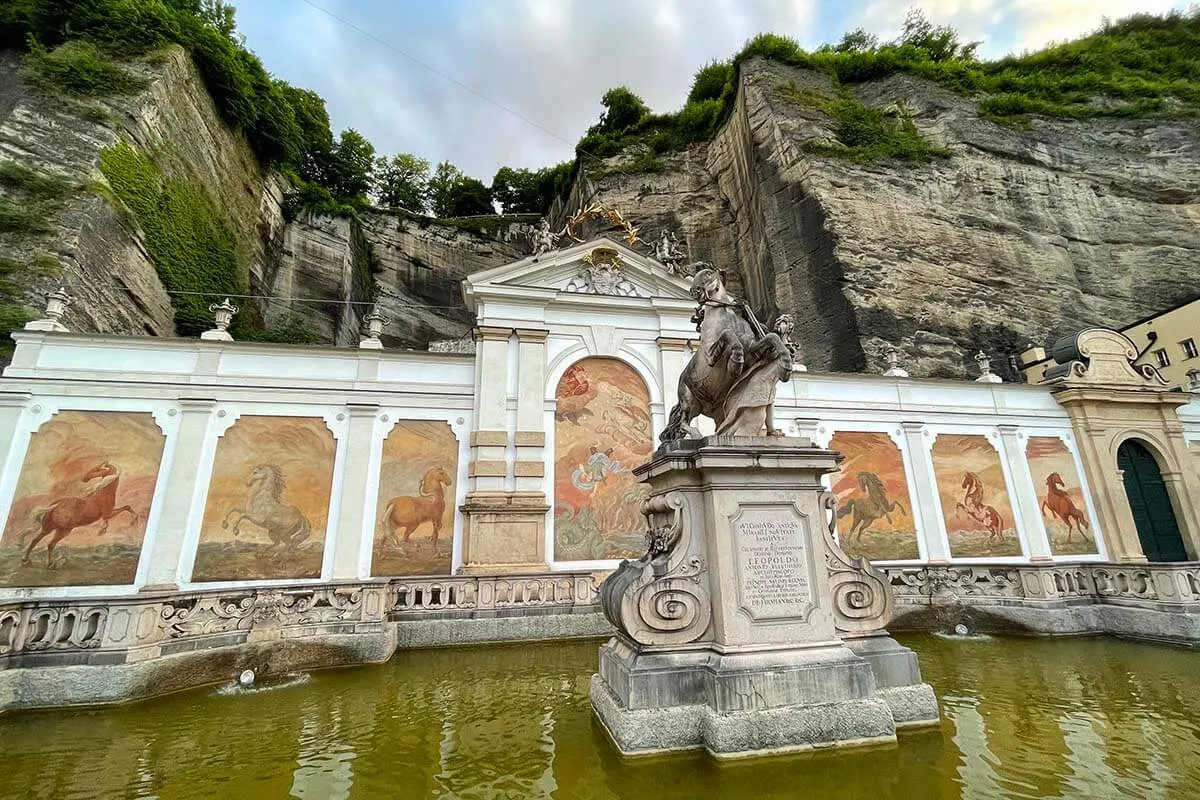 Alter Markt, Residenzplatz, Mozartplatz
Next, head towards the Cathedral of Salzburg. In this area, you'll find some of the most picturesque town squares and buildings in the city. There are lots of squares here with different names, but they all interconnect, so you don't need that much time to see them.
First, you'll pass the picturesque Alter Markt (the Old Market) square. You could also stop for a cup of coffee and some pastries at the historic Café Tomaselli, the oldest coffee house in Austria (its origins go back to 1700).
You can also walk through the Goldgasse, a picturesque little street that gets its name from the goldsmiths who used to have shops here.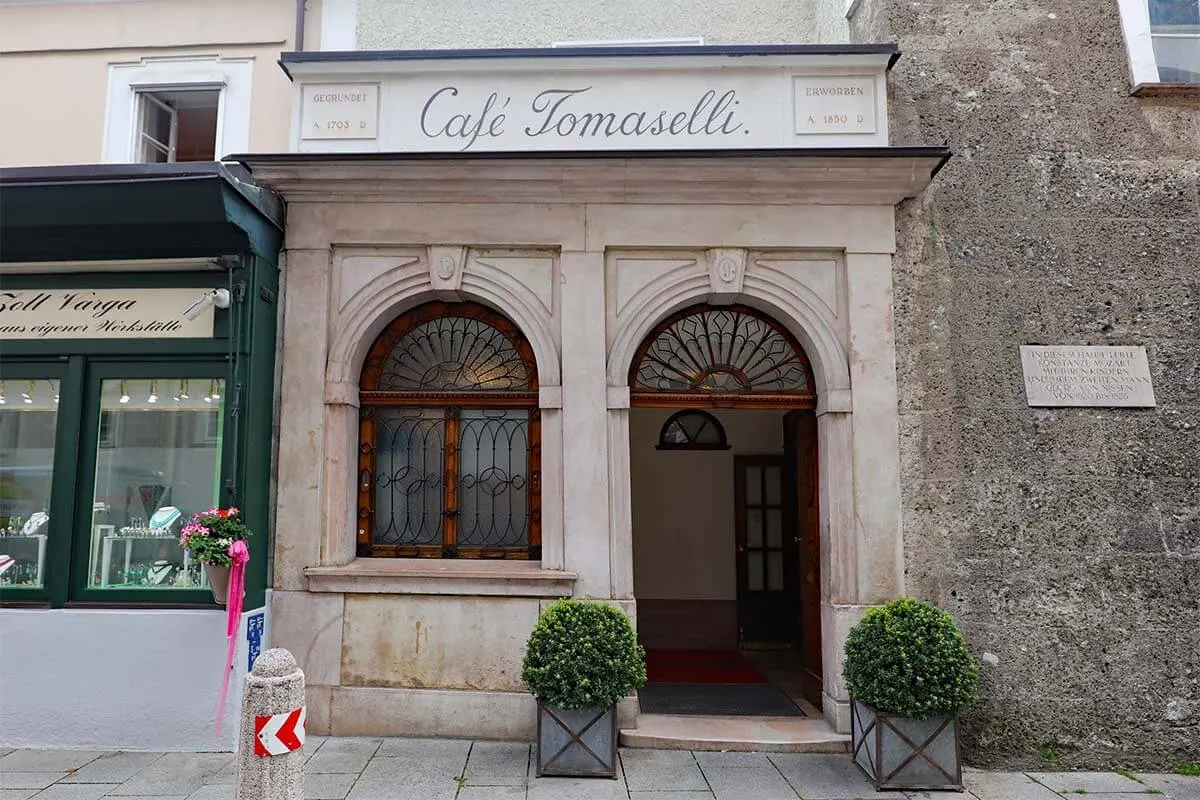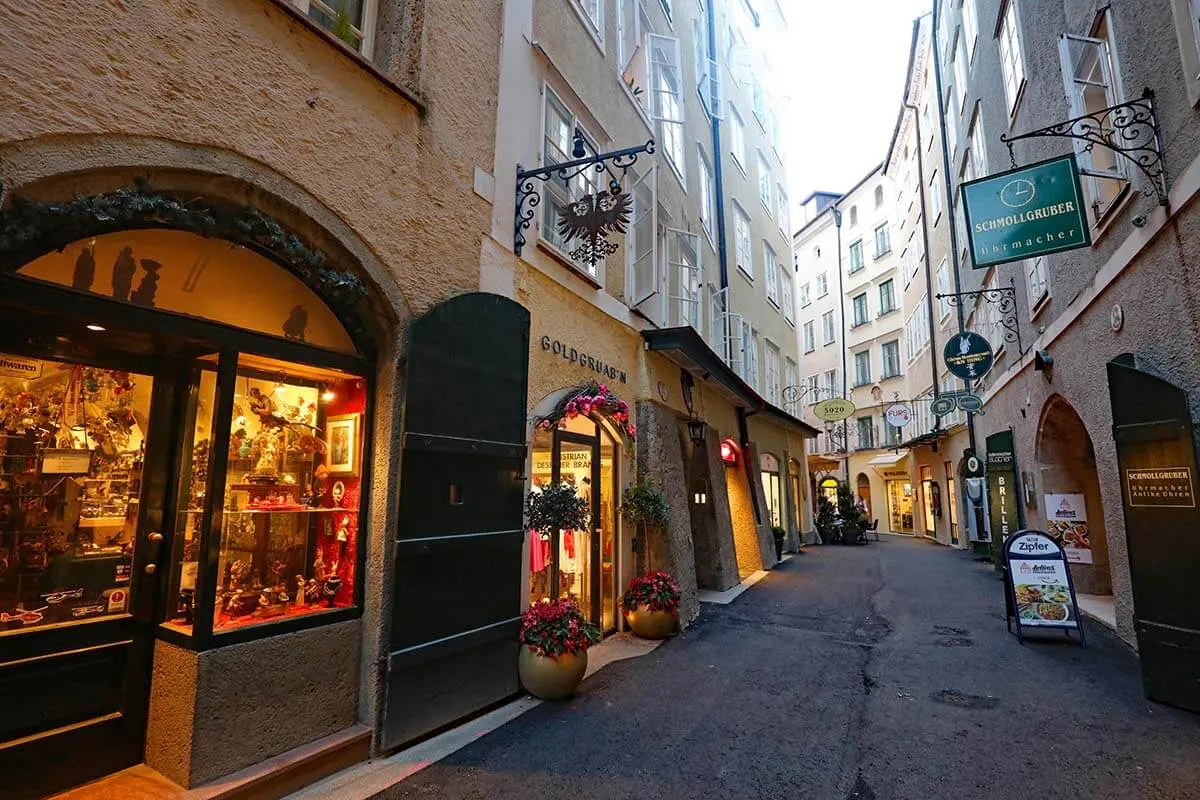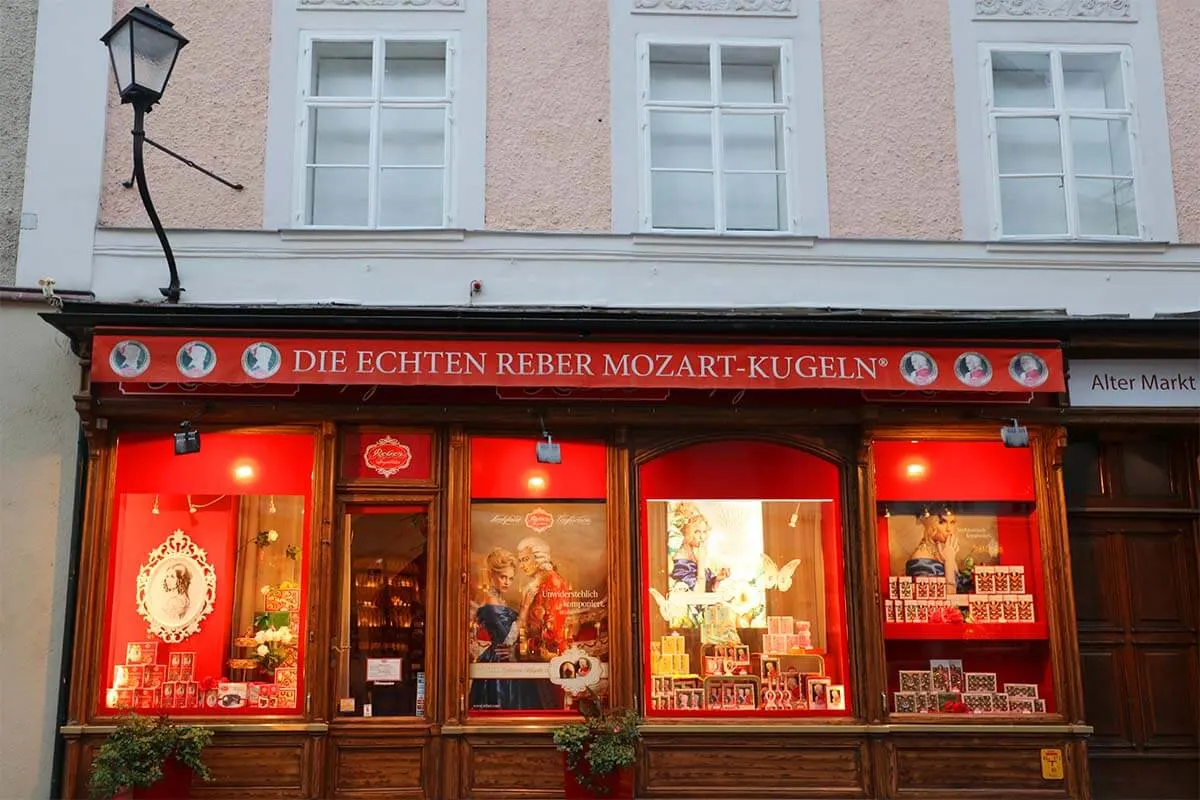 Don't miss the Mozart statue on Mozartplatz and the beautiful fountain in the middle of Residenzplatz. Horse-drawn carriages are also parked here and seem to be very popular with tourists as well. We never do horse-and-carriage city tours, but it makes for some nice pictures.
On Residenzplatz, you can also see the Salzburger Glockenspiel (the Salzburg Carillon), an impressive bell tower. Its 35 bells play different songs three times a day (normally at 7 am, 11 am, and 6 pm). If you absolutely want to hear it, you could probably time to be here at around 11 am.
There are also several museums here including Panorama Museum, Salzburg Museum, Christmas Museum, and DomQuartier Salzburg. All of them are free with the Salzburg Card, so – depending on your interests – you could quickly check them out.
If you have 15 minutes to spare, I'd potentially consider a quick look inside the Panorama Museum. The giant panorama painting is quite impressive. On the other hand, if you have the time to visit just one museum, skip all the others and head straight to DomQuartier Salzburg (more info below).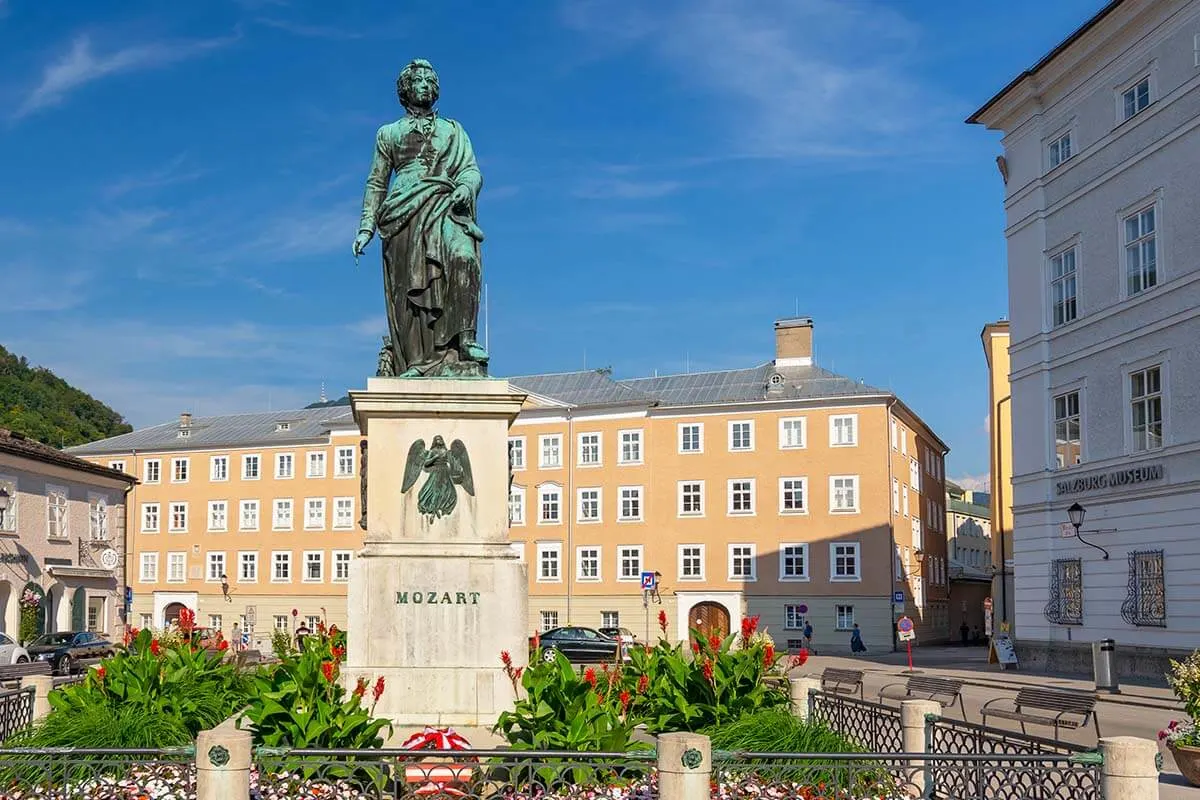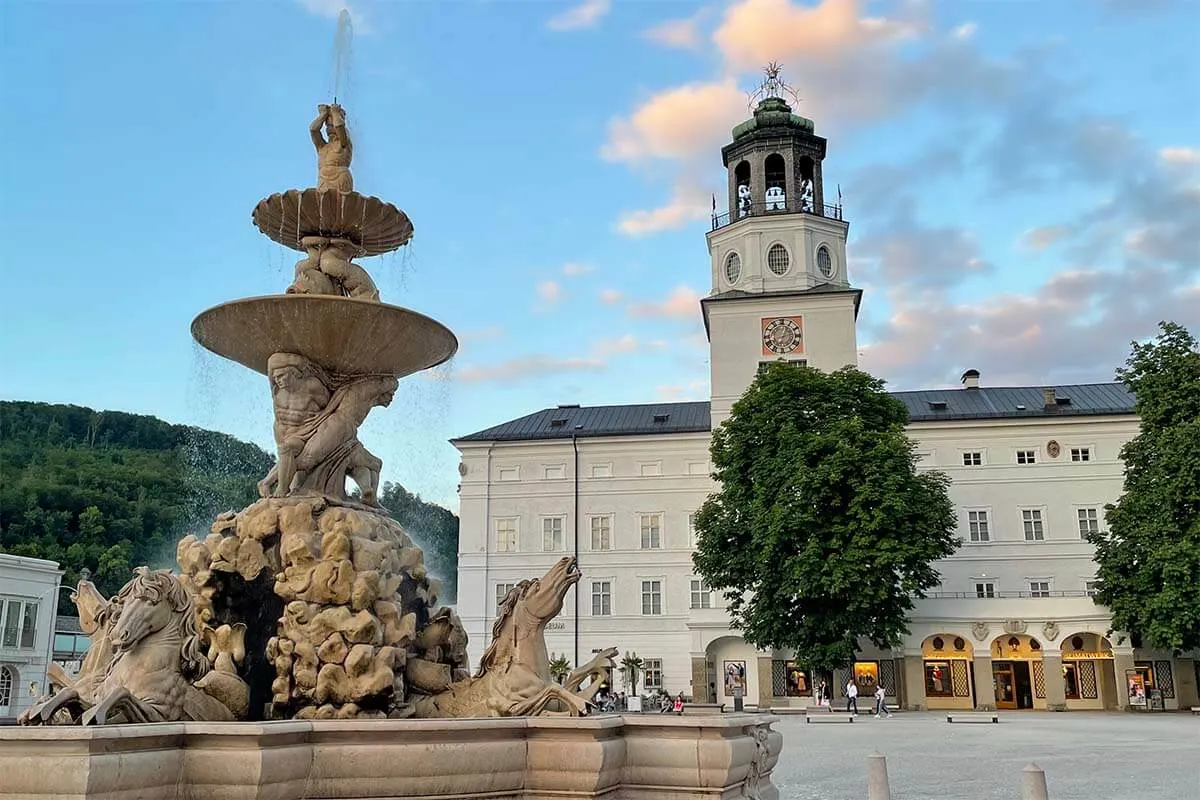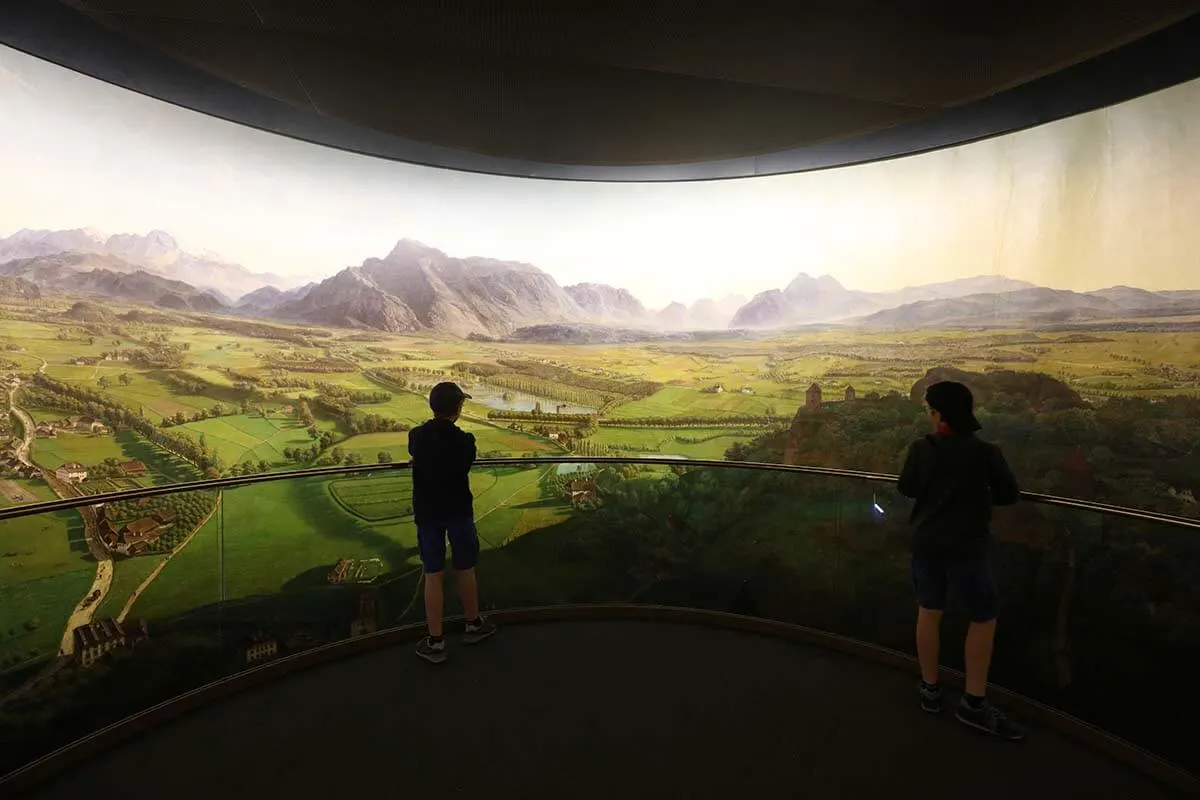 DomQuartier Salzburg
DomQuartier Salzburg is without any doubt the best museum in the city. So even if you just have one day in Salzburg and your time is limited, it's absolutely worth it.
The impressive complex of baroque buildings was built in the early 17th century and is now a UNESCO World Heritage Site. It was a former residence of the Prince – Archbishops that ruled over Salzburg.
DomQuartier was built and decorated by some of the best Austrian baroque artists of that time. It has 180 rooms and impressive halls that connect it with the Cathedral and the nearby St. Peter's Abbey.
There are three museums inside, and the way it's set up, you walk from one to the other in a circle. You could easily spend several hours here, but you can also quickly walk through the museum in about an hour.
Inside, you visit an art gallery that contains many masterpieces including paintings by Rubens and Rembrandt, to mention just a few. You can then enjoy beautiful views from the outside terrace which brings you to the upper floor of the Cathedral and the Cathedral Museum. The tour then continues to the Museum of St. Peter's Abbey, the Long Gallery, and brings you to the most impressive state rooms of the palace.
Good to know: The ticket includes all three museums and also an audio guide in different languages. And yes, a visit here is also included with the Salzburg Card.
Practical information: The museum is open daily from 10 am, except Tuesdays. You can find more practical information on their website.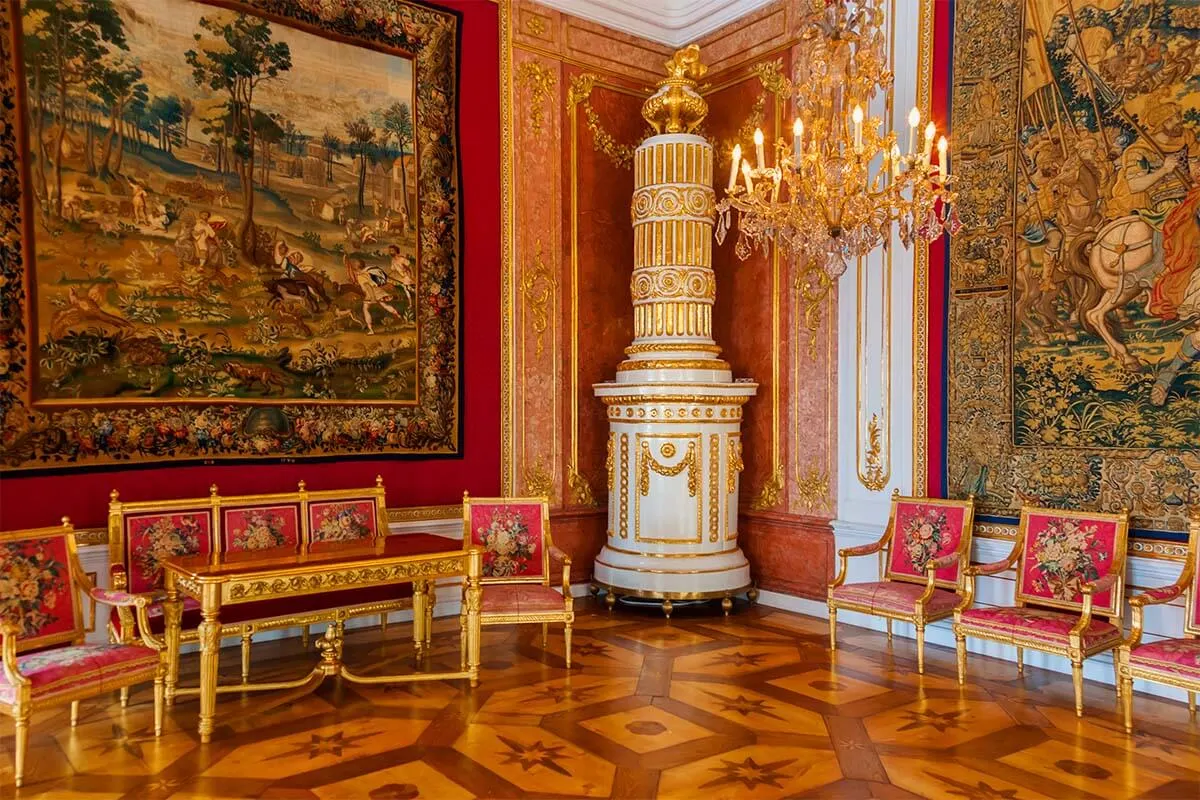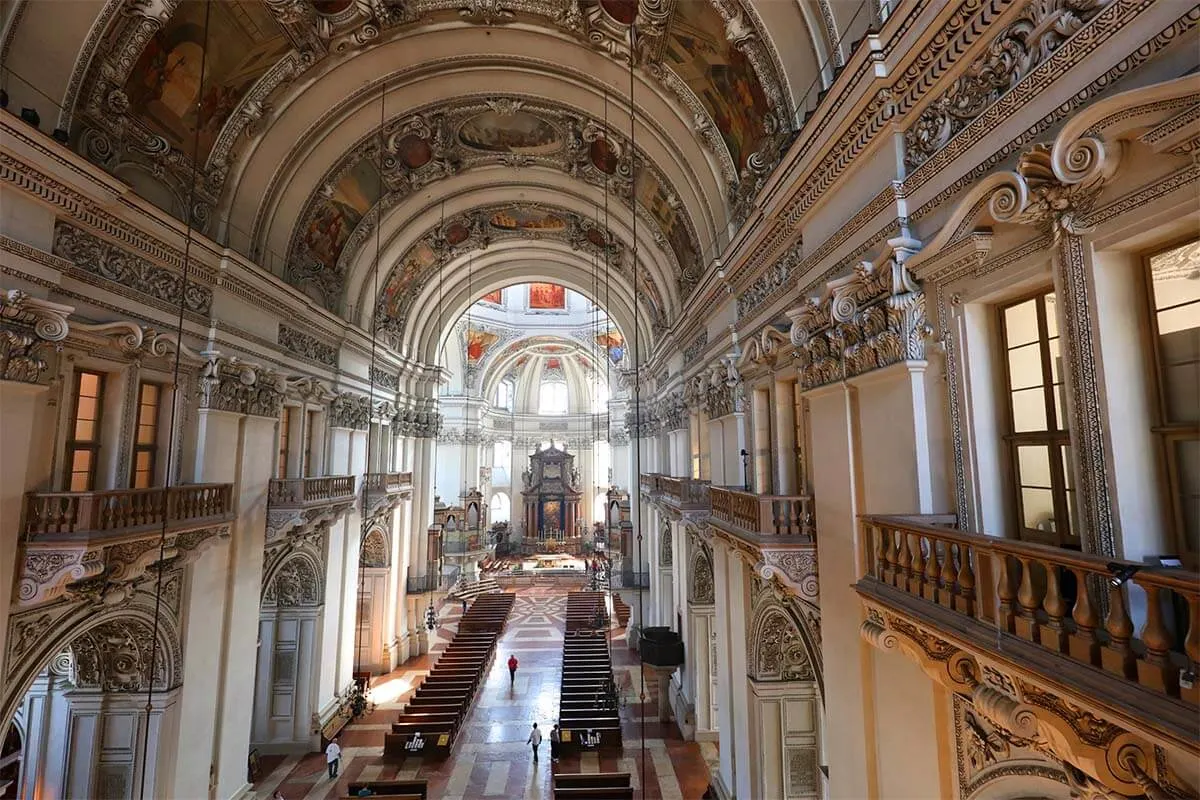 Salzburg Cathedral & Kapitelplatz
Located just next door is the Salzburg Cathedral. If you visit DomQuartier, you'll already be able to see the interior of the church (albeit from the balcony above). So you could just check out the exterior and the Cathedral Square, and move on.
Otherwise, for a small extra fee, you can also visit the inside of the Cathedral (this is one of the few places not included with the city card, but you get a discount). Its baroque interior is really impressive.
TIP: If you want to, you can also attend an organ concert at the Cathedral (and see the interior at the same time). Concerts run at noon every day except on Sundays and take just half an hour. You can find more information and get the tickets here. If it's not too busy, you can get a ticket on the spot as well.
Just behind the cathedral, you can't miss Kapitelplatz. This is yet another big town square, best known for the giant gold sphere with a statue of a man on top.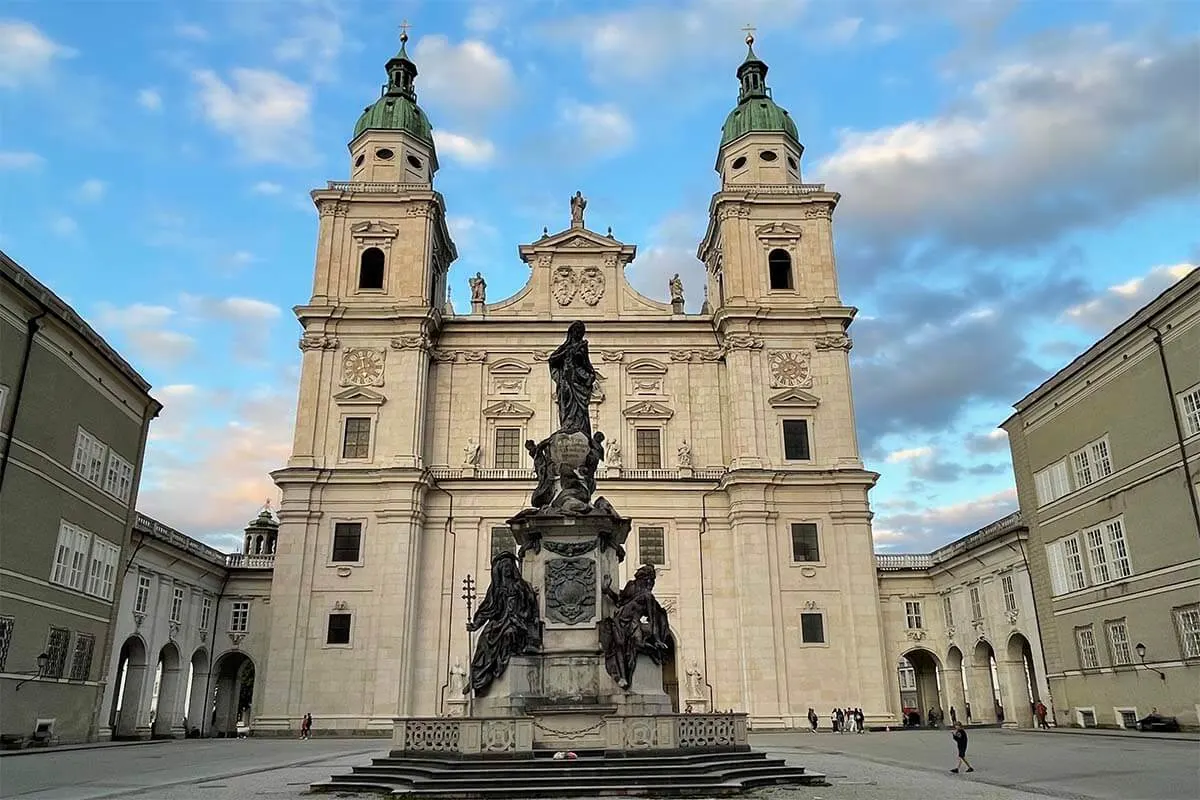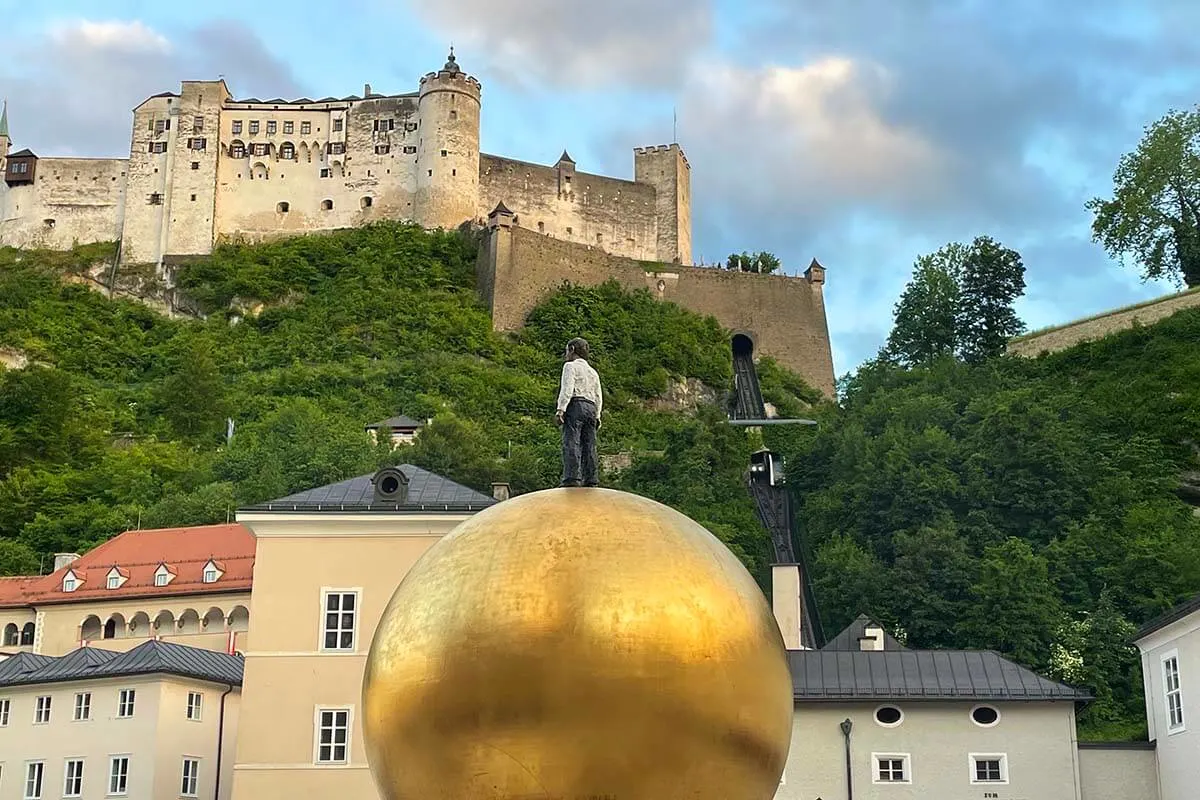 St. Peter's Catacombs & Cemetery
Just a few steps from the Cathedral is another place you can easily include in your one day Salzburg itinerary – the site of St. Peter's Abbey. Here, you can visit the old cemetery, St. Mary's Chapel, and the catacombs.
St. Peter's cemetery is really impressive, with old burial vaults and gated graves. Many famous citizens of Salzburg are buried here, including Mozart's sister Nannerl and her husband Michael Haydn.
You may recognize this cemetery from one of the final scenes of 'The Sound of Music'. The von Trapp family was hiding here as they escaped from the National Socialists after the concert.
At the back of the cemetery, you'll find St. Peter's catacombs. This Early Christian burial site was literally hewn out of the rock of the Mönchsberg mountain. The site is rather small and you can see everything in about 10-15 minutes, just be prepared to climb some stairs. The views from the terrace about halfway to the top are nice too.
Good to know: The cemetery is open to everyone and is free to visit. The catacombs require a ticket. They are open daily except for some public holidays. They usually close for half an hour between 12.30 and 1 pm, so keep this in mind since you'll likely be here around this time.
TIP: At St. Peter's Abbey site, you can also see an old water wheel and visit Salzburg's oldest bakery – Stiftsbäckerei St Peter. It's still operating today and the smell of fresh bread as you pass is irresistible.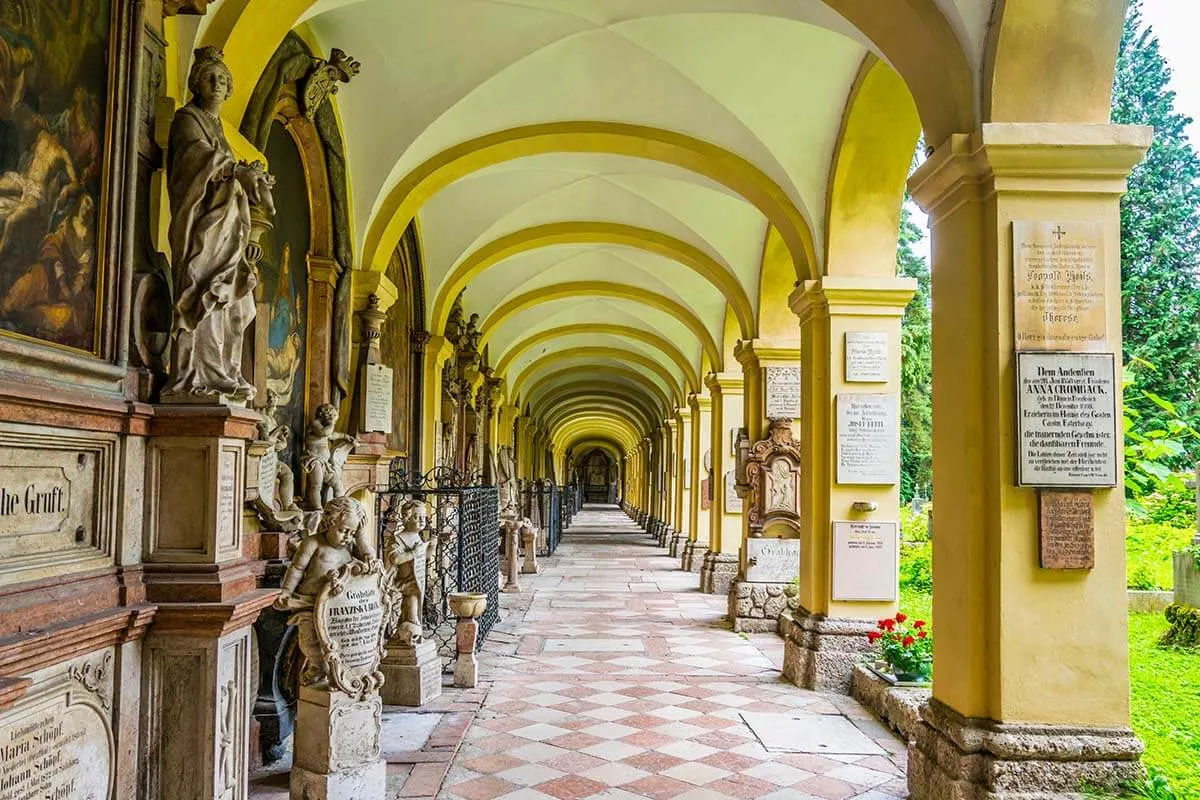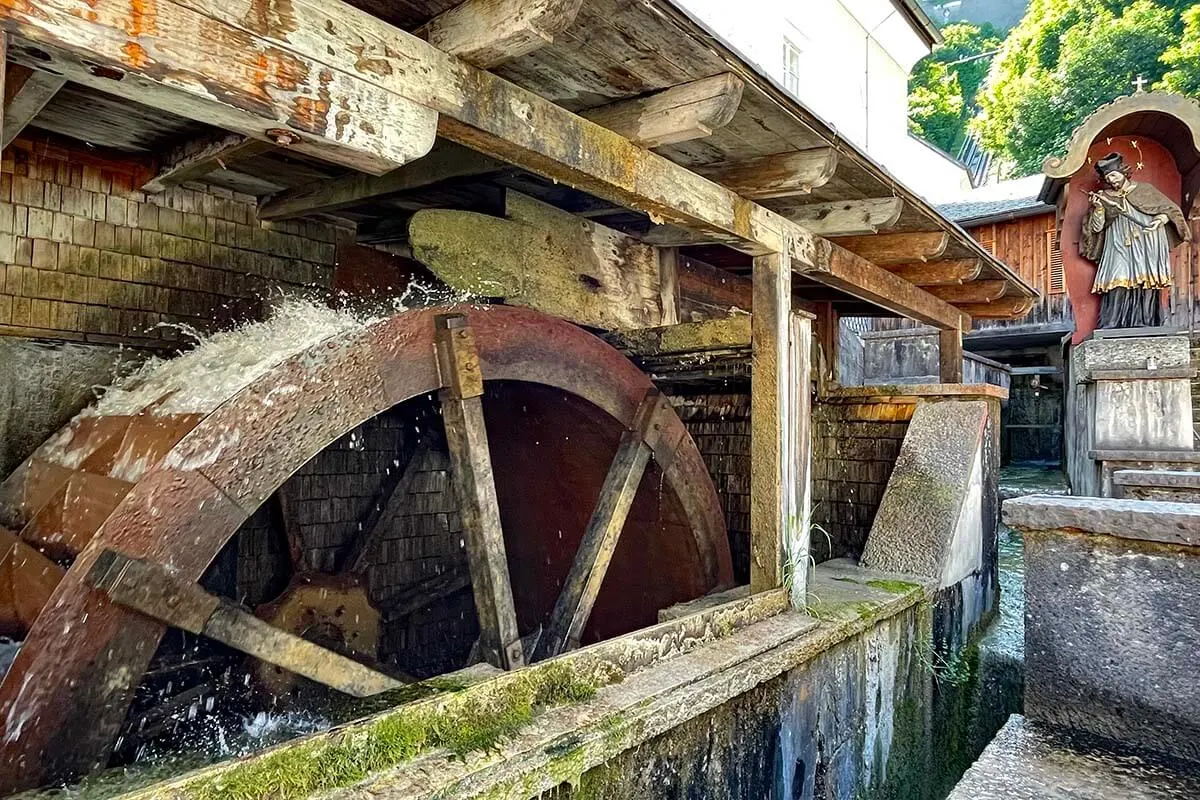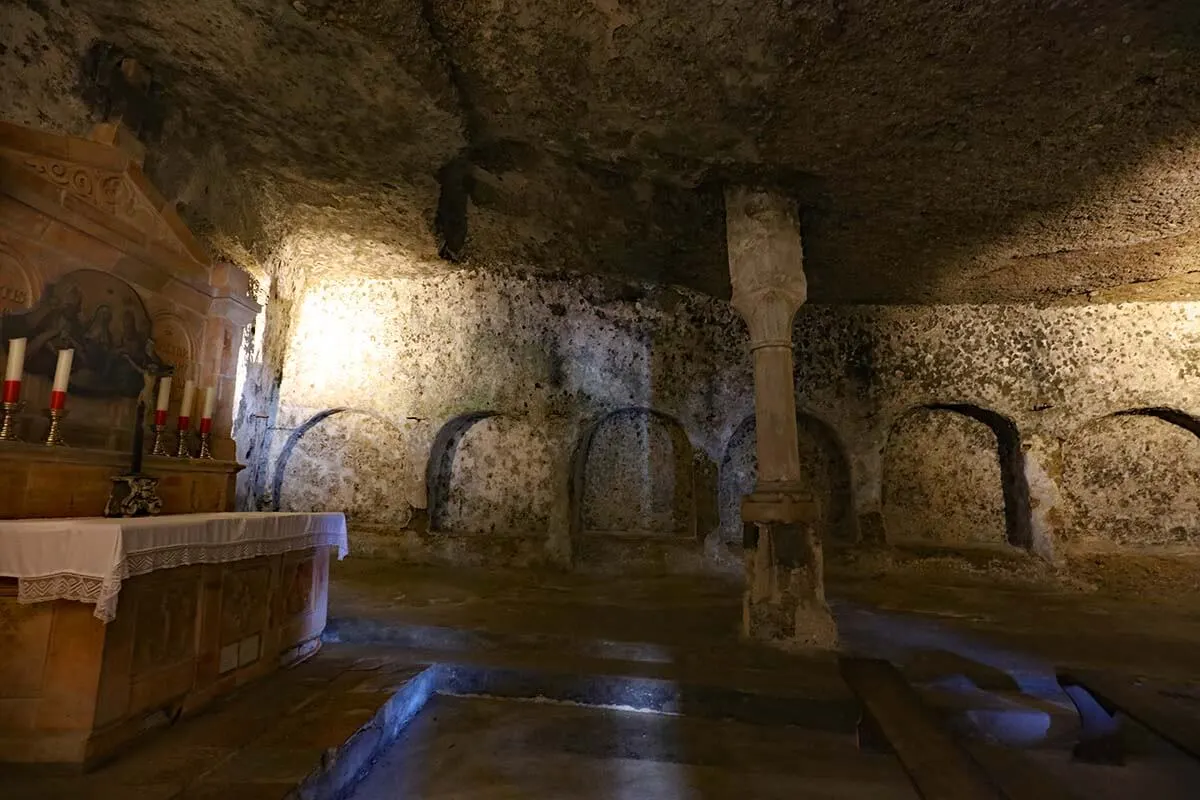 Lunch
By now, you'll probably be getting hungry. You have lots of great options for lunch.
You could get something small from the above-mentioned bakery (pretzels are a popular snack in Salzburg) or head to Sternbräu beer garden and try some traditional Austrian food there.
Alternatively, there are plenty of nice restaurants in the old town and in the area around the Old Market Square.
And finally, you can also head to Hohensalzburg Fortress which is the next stop on this itinerary, and have lunch at one of the panoramic restaurants there.
Having a quick snack (vs a long lunch) would save you time and allow you to make the most out of your day in Salzburg. At the same time, you'll likely want to sit down and rest a bit anyway. We opted for the panoramic restaurant at the top of the hill at Hohensalzburg Fortress. The views here are absolutely amazing and it was good to sit down and rest our legs after all the sightseeing. We decided to try some traditional Austrian desserts and save a long meal for dinner. Who said you can't have dessert for lunch…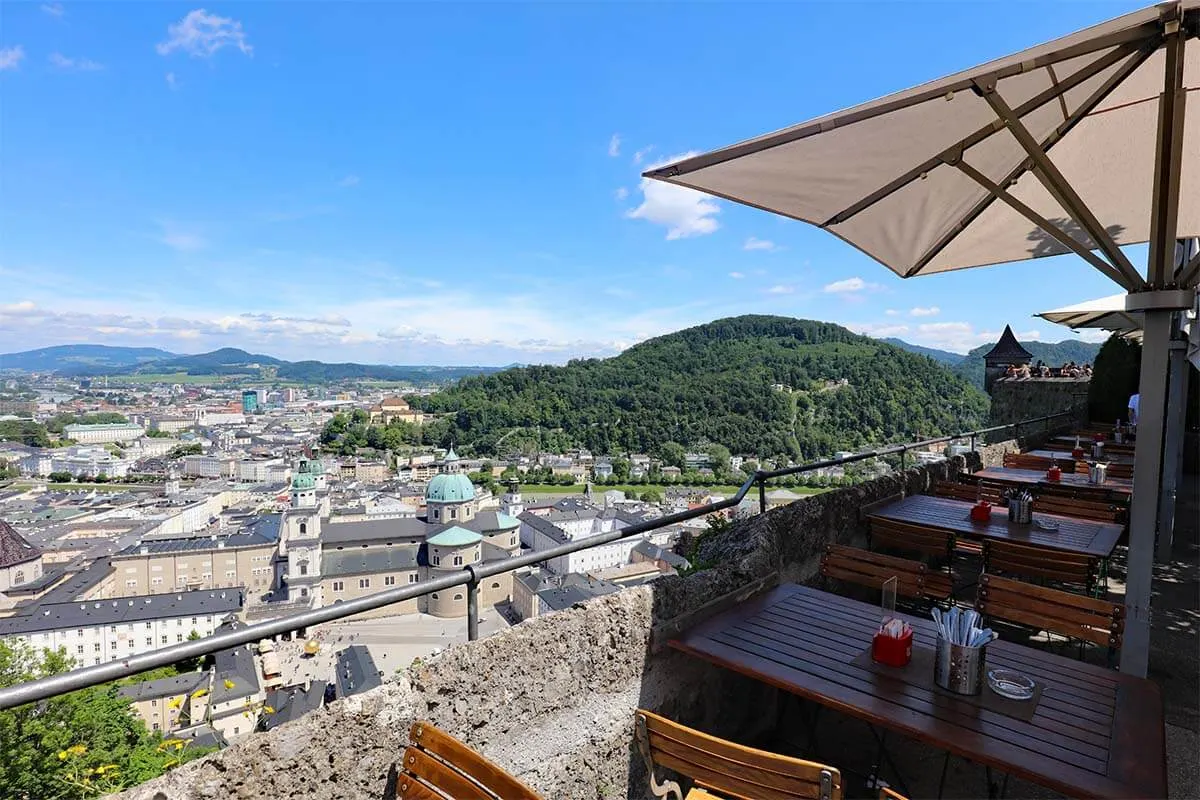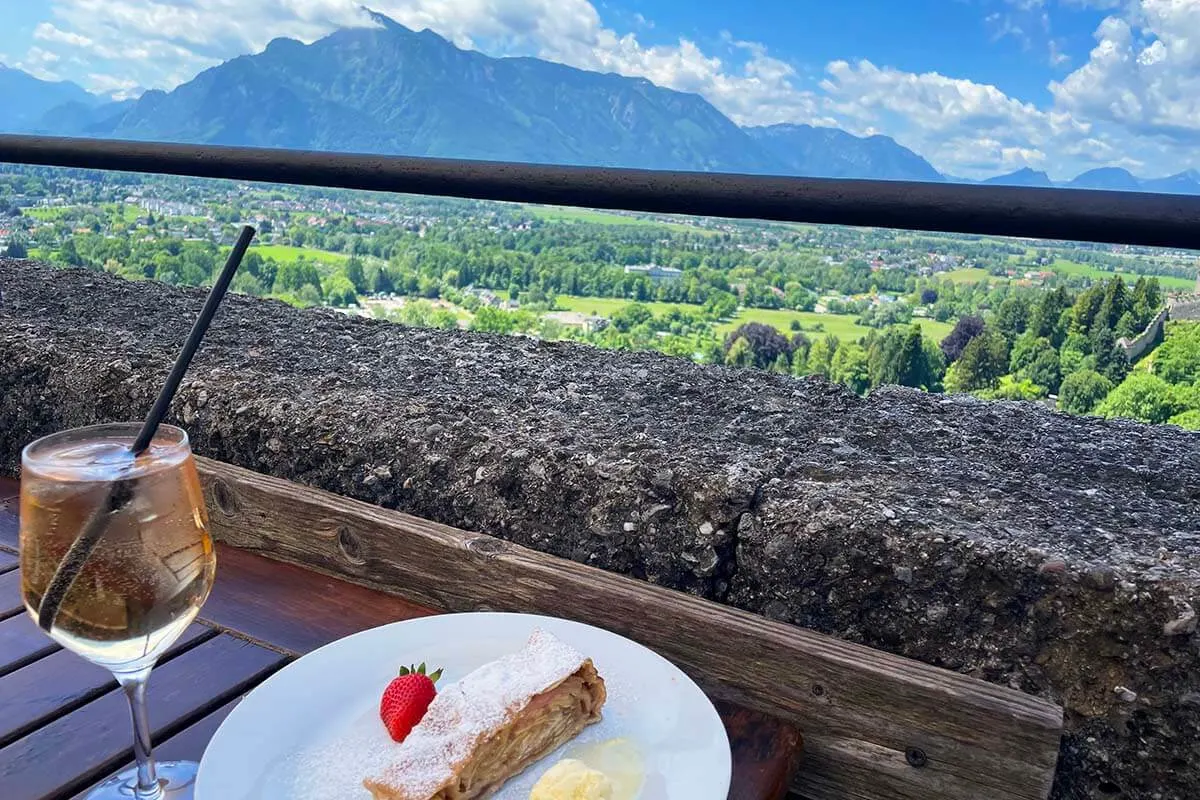 Hohensalzburg Fortress
No trip to Salzburg would be complete without a visit to Hohensalzburg Fortress. Dating from the 11th century, this is one of Europe's largest completely preserved fortresses.
The fort sits high on the hill overlooking the city center. You can either walk to the top or take a funicular, which is, of course, much faster and easier. The funicular ticket, as well as most of the museums on top, are also free with the Salzburg Card (which has more than paid itself off by now). And, if you already have the card, you can also skip the queue at the ticket office and go straight to the funicular.
While many people just come here for the views, there is a lot to see and do inside the Hohensalzburg Fortress as well. And even if you just have a day in Salzburg, you should still be able to have plenty of time to check out a few of the main attractions here.
If you visit just one place, make it Fortress Museum. Inside, there's also a smaller museum where you can see the impressive 16th-century state rooms of the Prince-Archbishops who ruled over Salzburg. Unless you come here early in the morning (before 11 am), this part of the museum isn't included with the city card and requires a separate ticket. But it's absolutely worth a few extra euros.
If you have more time, you can also do the 'Panorama tour' and visit the Arsenal which offers all kinds of interactive experiences (great for kids too).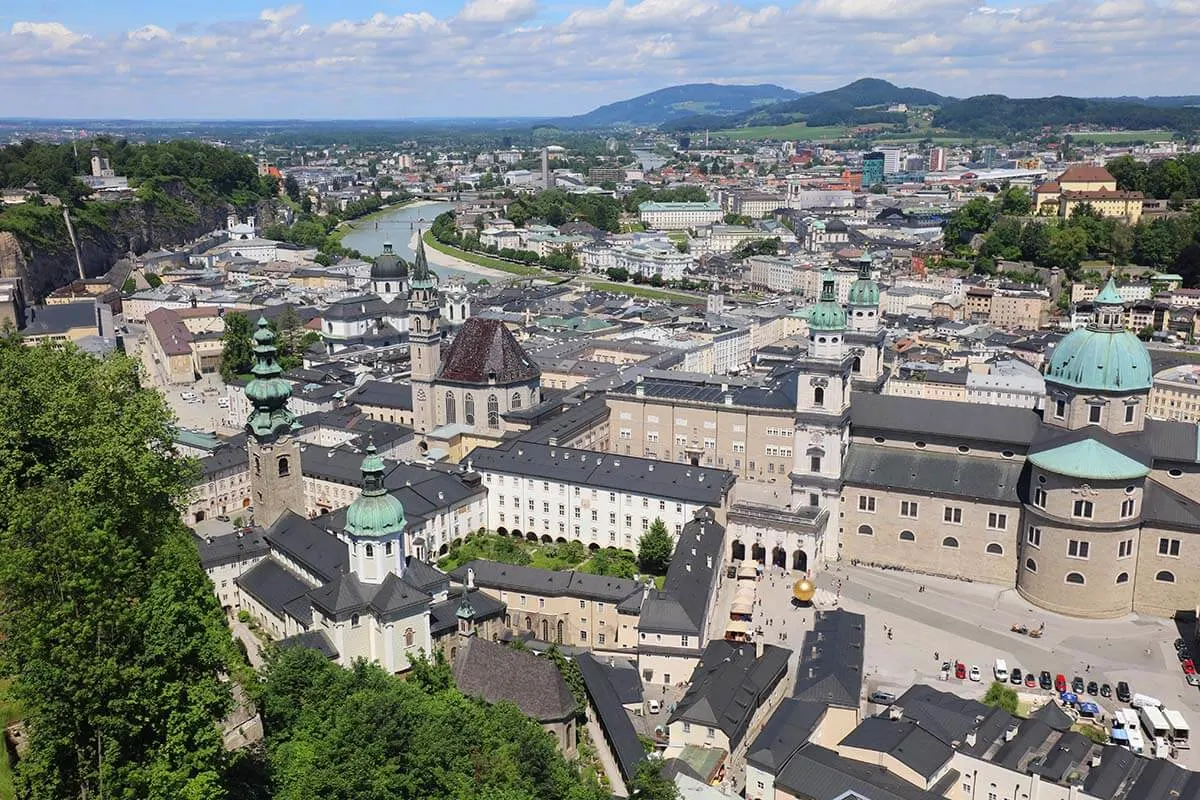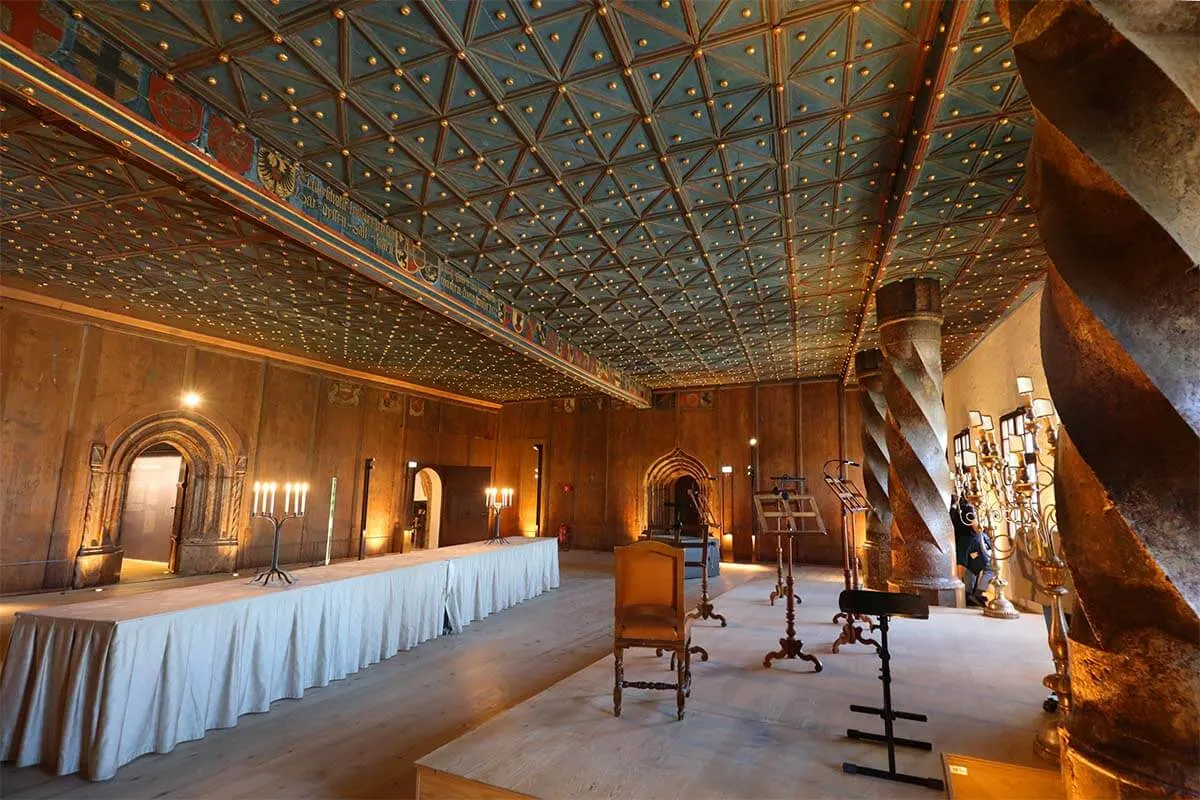 Practical information: Hohensalzburg Fortress is open daily. In summer (May – September), it's open from 9 am to 8 pm, the rest of the year – from 9.30 am to 5 pm. You could spend 2-3 hours here, but if you are short on time, you can see the musts in about 1.5 hours.
TIP: One of 'The Sound of Music' filming locations – Nonnberg Abbey – is located not too far from here. If you want to see it, you can walk there on your way down to the city center. Alternatively, simply take a funicular back down to the old town.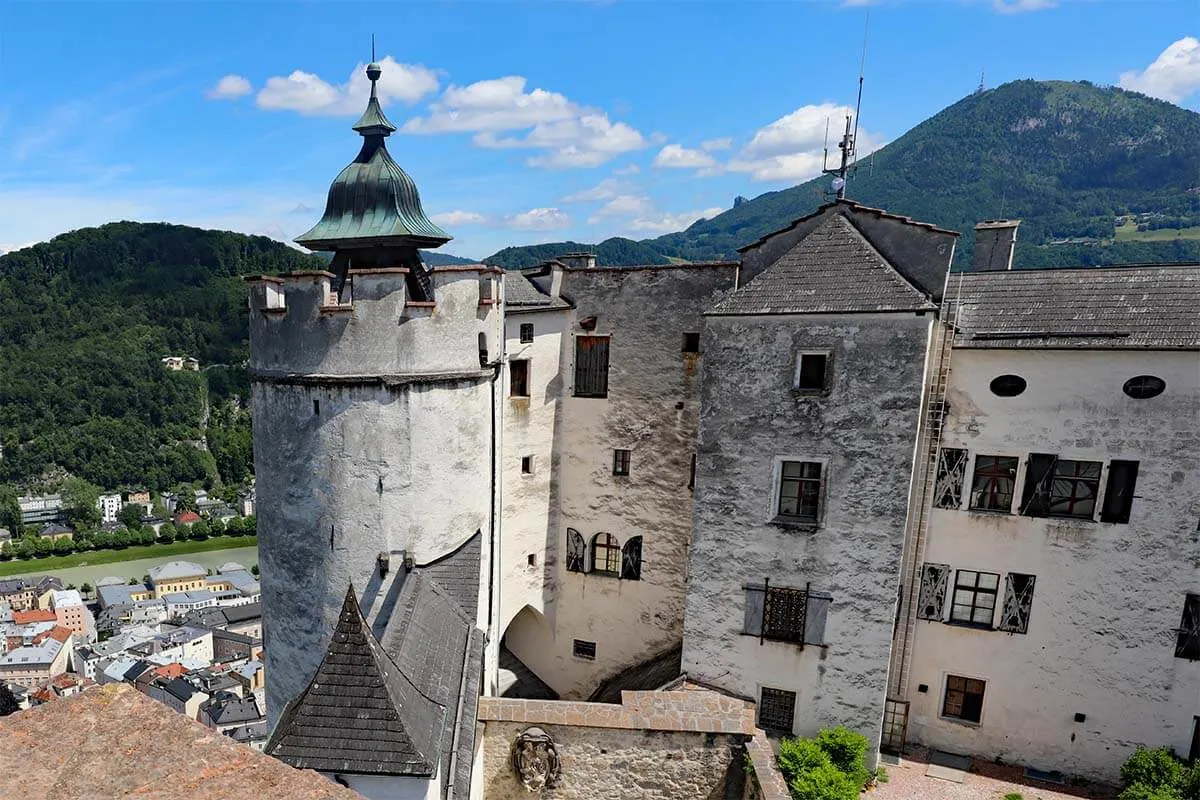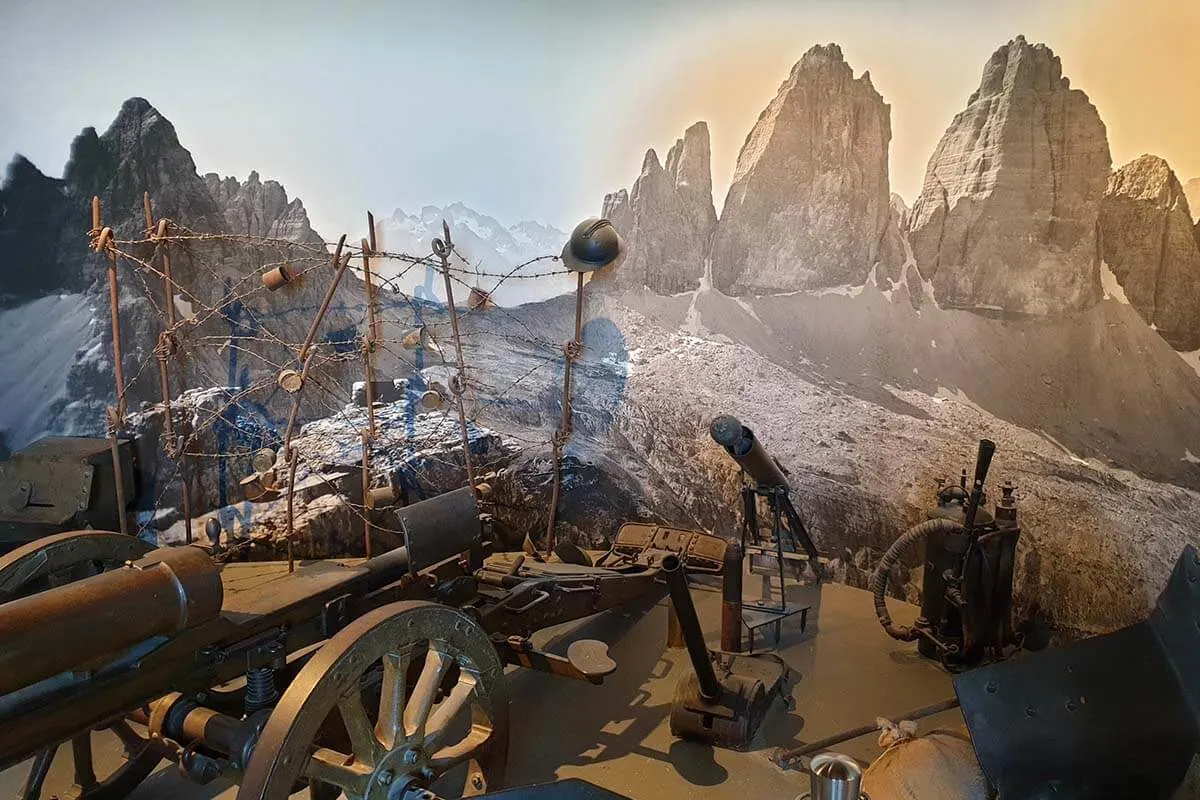 River Cruise (optional)
As mentioned higher above, if you want to do the Salzach River cruise in Salzburg, it's best to reserve a spot for one of the boats for the late afternoon. The standard ticket is also included with the Salzburg Card, but you have to reserve a specific time slot at their ticket office.
So if you did this when passing here in the morning, you could now come back and do the cruise after visiting the Hohensalzburg Fortress. I think you could plan to be here for the 5 pm cruise.
However, with just a day in Salzburg, I'll leave it up to you to decide if this boat tour is worth it. It might be a nice way to rest a bit after all the sightseeing, but you aren't missing that much if you decide to skip it. The boat ride takes almost an hour and the scenery is rather simple. In the meantime, there are so many other nice things to do that are probably worth your time more. For example, enjoying some amazing views – see below.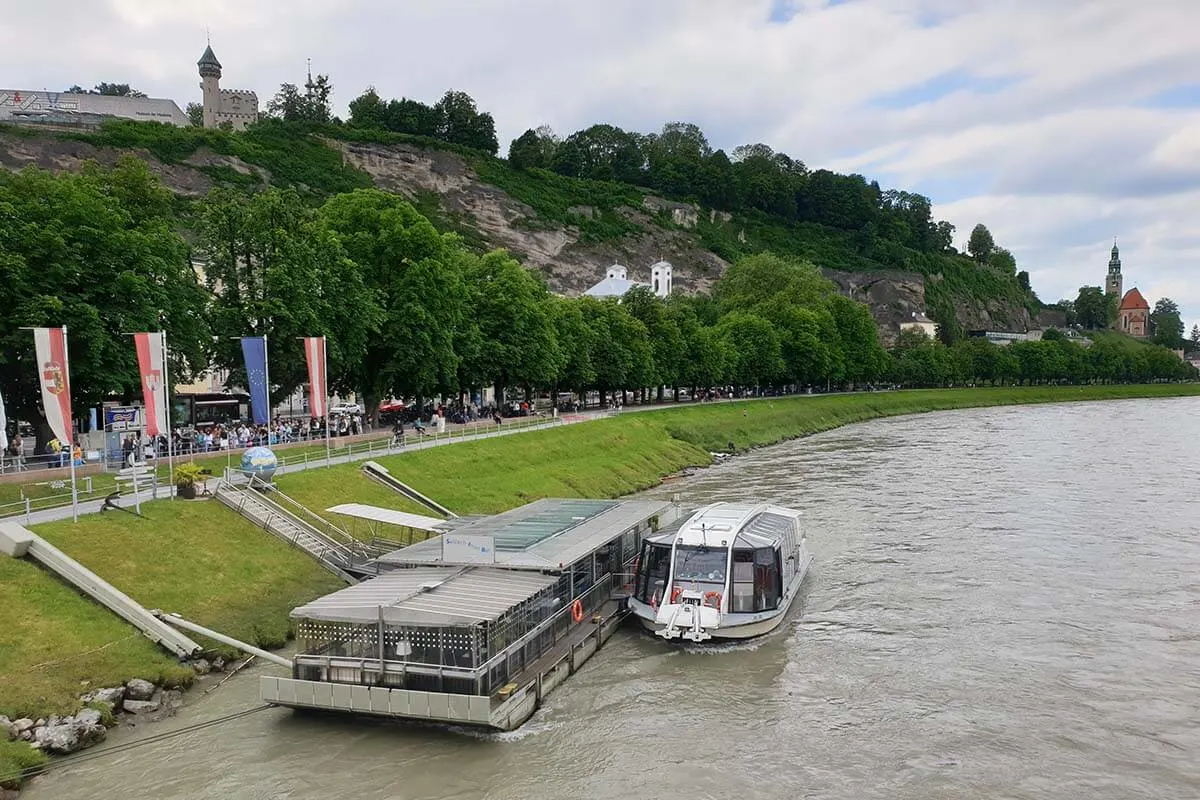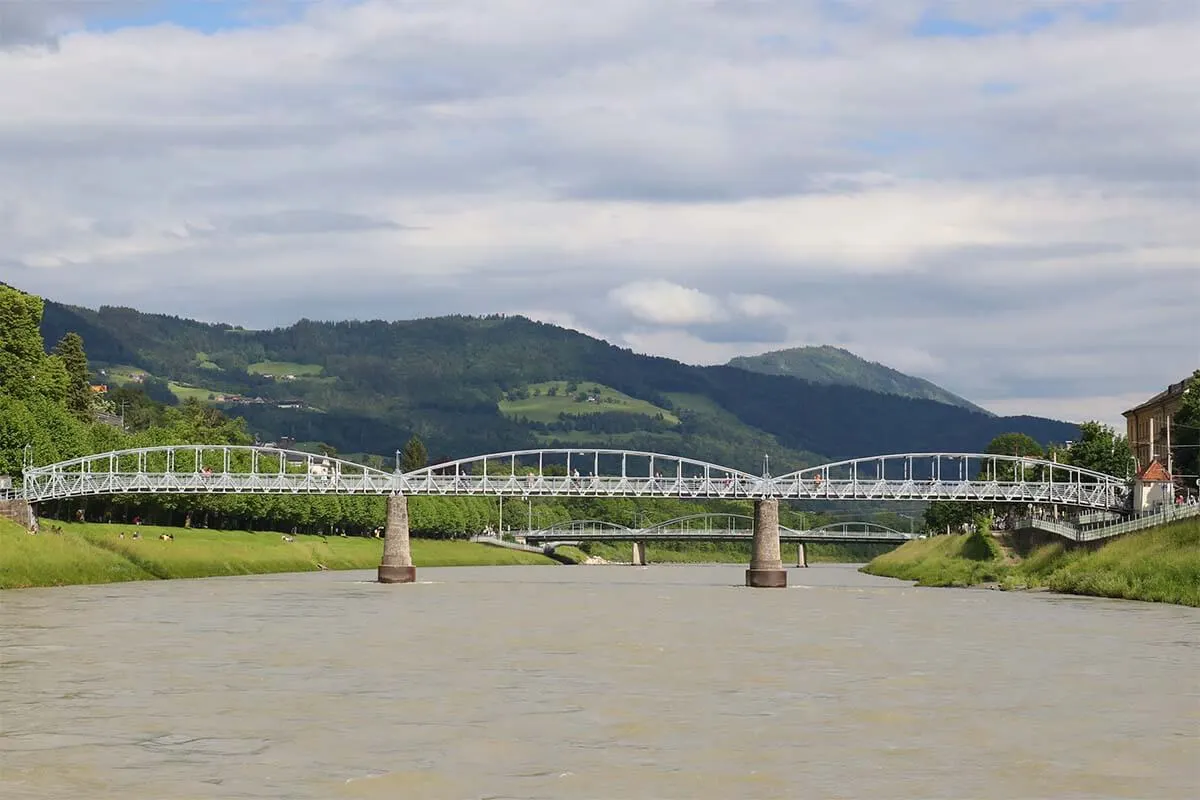 Viewpoints & rooftops
In addition to the amazing vistas from the terraces at the top of Hohensalzburg Fortress, there are many more nice places to enjoy spectacular views in Salzburg.
You probably won't be able to visit all of them with just one day in Salzburg, but you could certainly visit at least one or two. Here are some of the best options:
Kapuzinerberg. This is a smaller hill on the opposite side of the river from the fortress. There's a monastery and a church on top, as well as two viewing platforms overlooking the city center. It's a steep uphill walk (via the road or stairs), but it only takes a few minutes and the view is quite rewarding. This would be one of the best places to watch the sunset in Salzburg.
Mönchsberg. This hill is located on the same side of the river as the fortress, but is somewhat further away giving you a nice sidewards look at the entire city center and the river. It's very easy to get here by elevator, which is also free with the Salzburg Card. On top, you'll also find a museum and a restaurant with a panoramic terrace. TIP: Just a short walk on the dirt path behind the museum, there's a little hidden gem Humboldtterrasse. This viewpoint offers amazing city and river views from a slightly different angle.
Rooftop bar Steinterrasse. Located on the top floor of Hotel Stein right next to the river, this rooftop bar/restaurant offers some of the best views in Salzburg. If you don't feel like climbing to the top of Kapuzinerberg, this is a much more relaxing alternative. The rooftop bar tends to be very busy (and I'm not sure you can reserve a table for drinks in advance), but you can always give it a try and see if there's a table free when you pass here.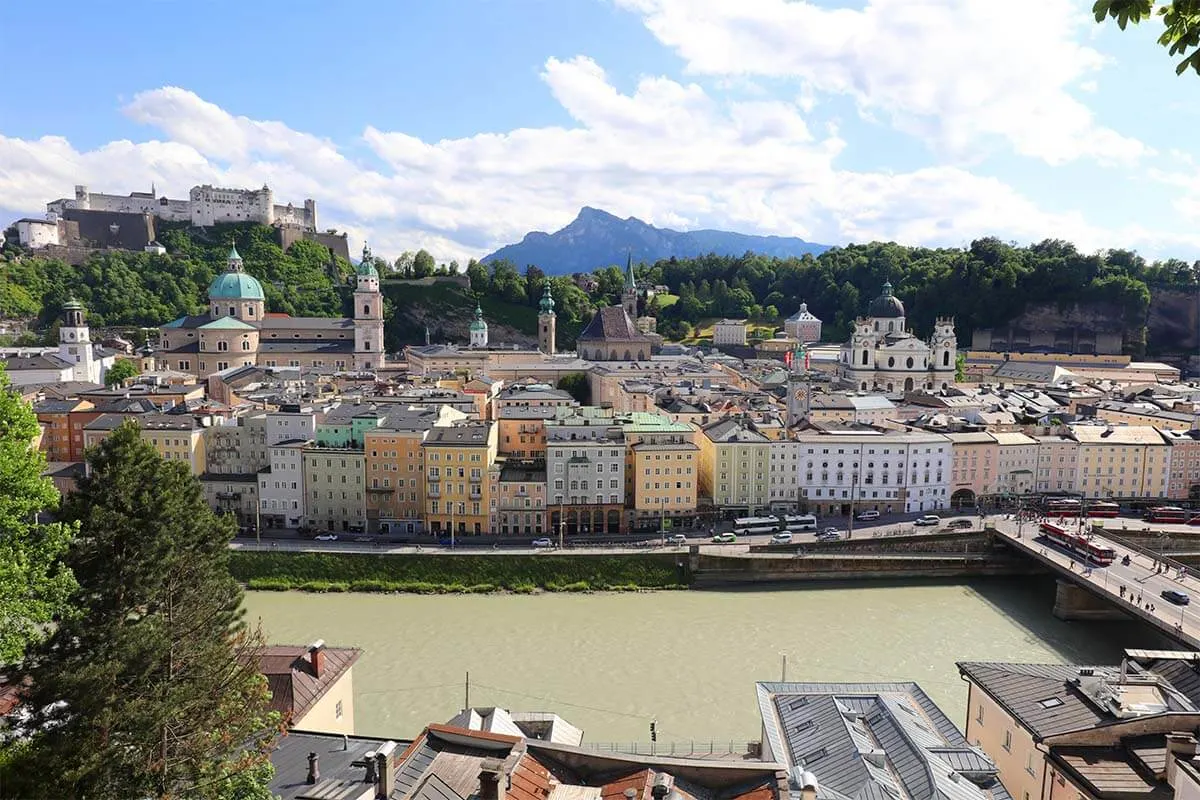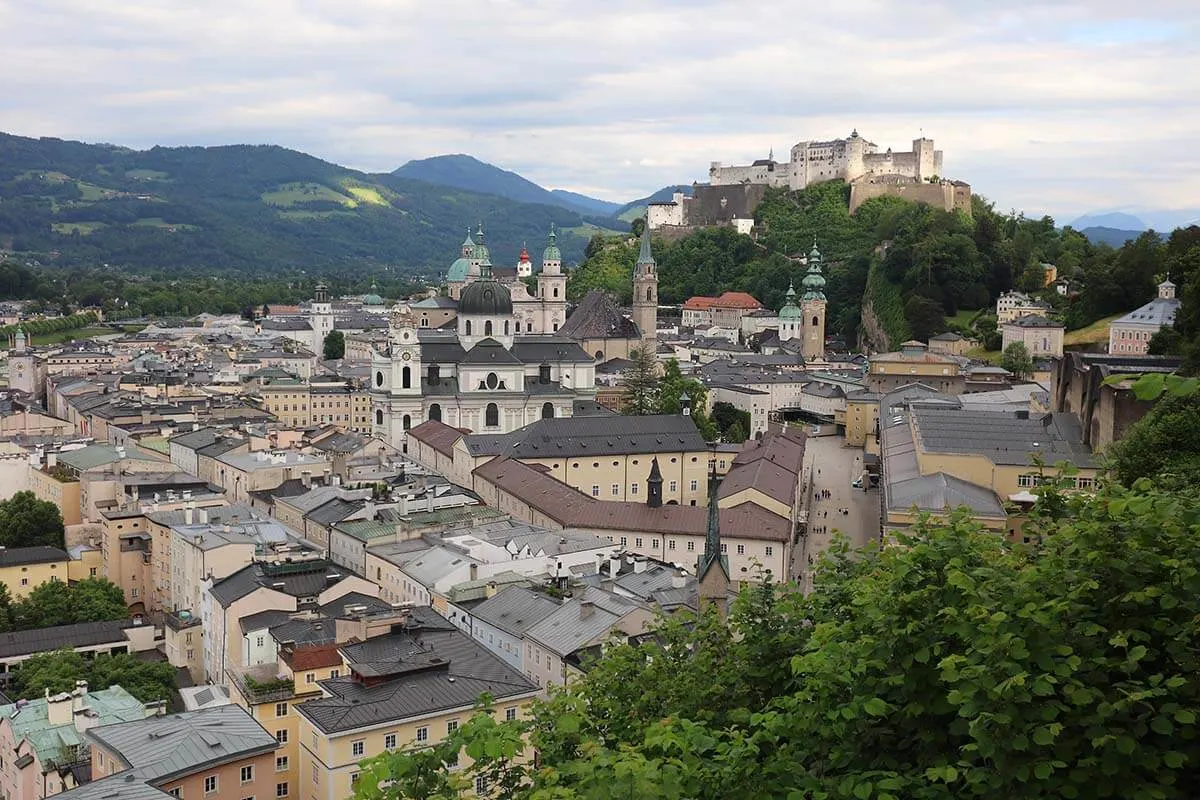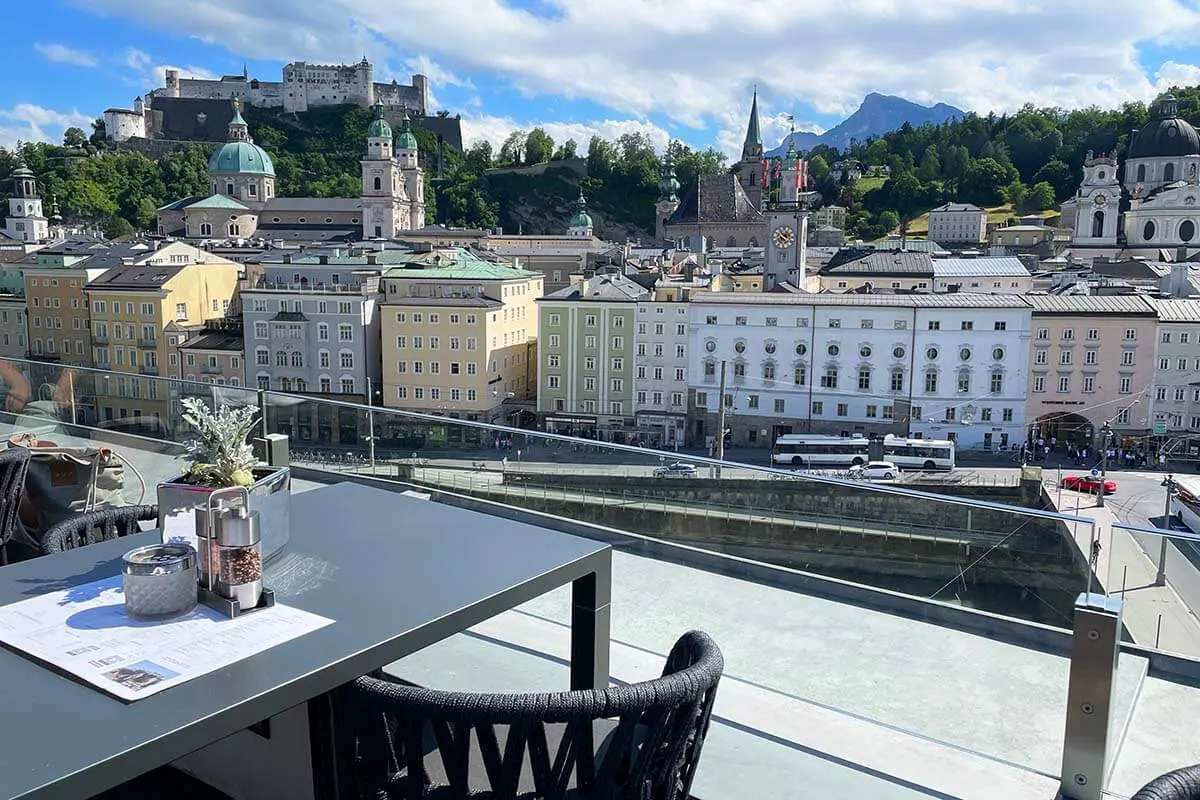 Dinner & Mozart Concert
If you want to make an absolute most of your day in Salzburg, you could end it with a Mozart concert (before, after, or in combination with dinner).
Here are some of the most popular options:
Mozart Concert with Dinner. This is a concert with opera singers in period costumes, and it includes a really good dinner. It takes place inside the Baroque Hall of St. Peter Abbey in the old town, close to the Cathedral.
Mozart Fortress Concert with Dinner at the state rooms inside the Hohensalzburg Fortress. You can also opt for the concert-only (without dinner). If you choose this concert, you could visit the fortress later in the day and just stay on top of the mountain for the concert in the evening.
For dinner, you could simply go to the traditional beer garden Sternbräu in the heart of the old town.
Alternatively, if you are looking for another special experience, you could also reserve a table at the rooftop restaurant Imlauer Sky-Bar at Imlauer Hotel Pitter. This hotel also has a nice traditional restaurant Pitter Keller in the basement.
Of course, there are many other nice restaurants all over the city. If you want to dine at a specific place and/or time, it's best to book in advance, especially if visiting on a weekend.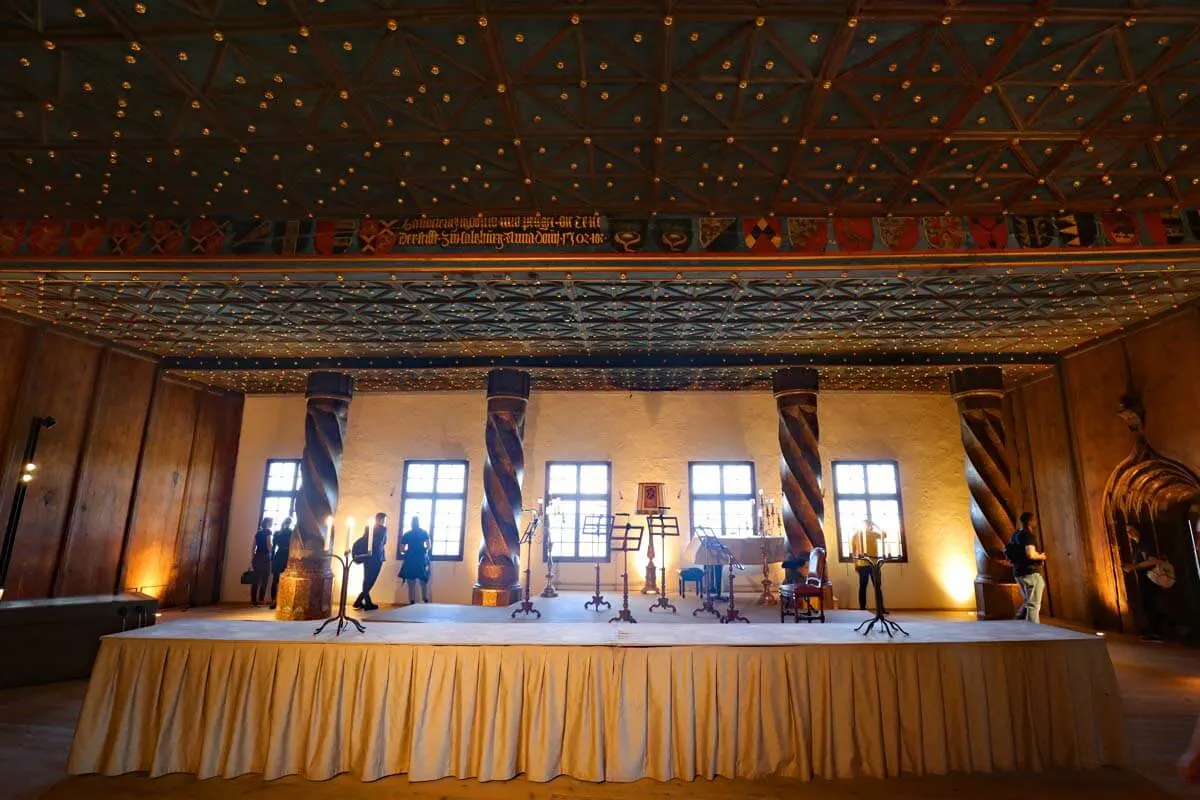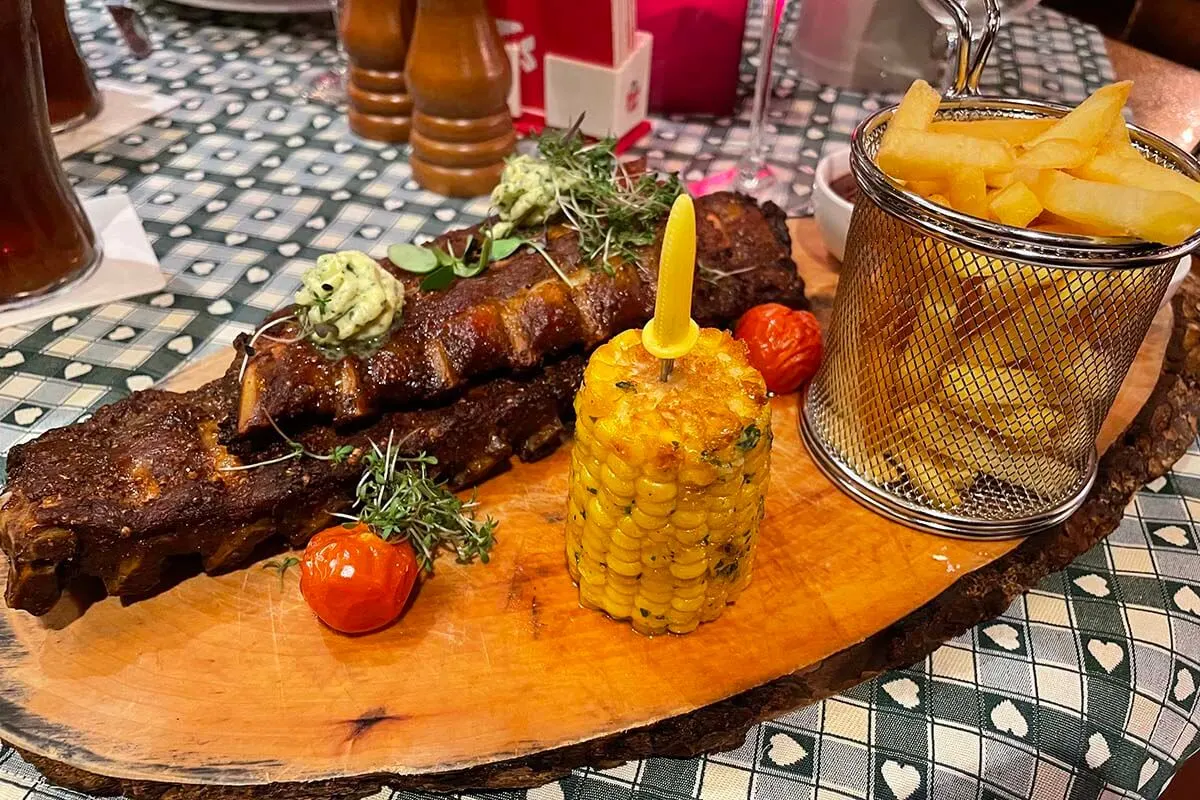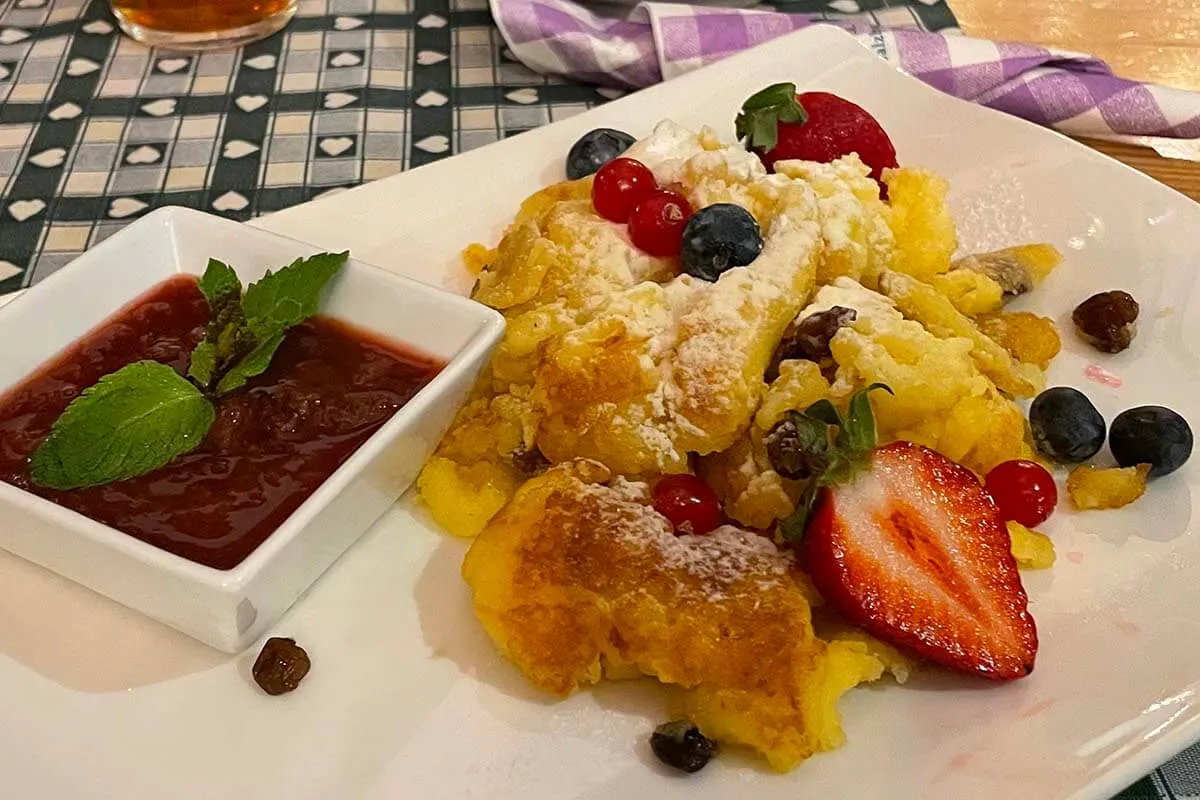 Salzburg 1-day itinerary: OVERVIEW & MAP
As promised, here is an overview of the suggested Salzburg day trip itinerary. Please note that the hours are just indicated for your reference, to give you a better idea of what's possible and how you could plan your time.
1 day in Salzburg itinerary:
8.30 am: Mirabell Palace & Gardens.
9 am: Mozart Residence.
9.45 am: Mozart's Birthplace.
10.15 am: Old town (optional – Salzburg Panorama).
11 am: Salzburg Carillon.
11.10 am: DomQuartier Salzburg & the Cathedral.
1 pm: St. Peter's Cemetery & Catacombs.
1.30 pm: Lunch.
3 pm: Hohensalzburg Fortress.
5 pm: Back to the city center. River cruise (optional) or some of the best viewpoints.
+-6-7 pm: Mozart concert with dinner or dinner and concert separately.
To help you plan your visit, here's a map indicating all the places mentioned in this 1-day Salzburg itinerary.
How to use this map: Use your computer mouse (or fingers) to zoom in or out. Click on the icons to get more information about each place. Click the arrow on the top left corner for the index. Click the star next to the map's title to add it to your Google Maps account. To view the saved map on your smartphone or PC, open Google Maps, click the menu and go to 'Your Places'/'Maps'. If you want to print the map or see it in a bigger window, click on 'View larger map' in the top right corner.
Some tips for visiting Salzburg
I already mentioned it a gazillion times, but here it is once more. Be sure to get the Salzburg Card, it's really worth it. We hardly ever buy city cards, but this one pays off after visiting just 2-3 places.
Wear comfortable shoes – you'll be walking a lot.
Reserve in advance. If you want to attend a concert or have dinner at a specific place, book in advance. It makes it so much easier to plan your day and you can be sure to be able to do the things you want to.
If you are feeling overwhelmed, just skip a few places and concentrate on those that interest you the most. You can't see everything in Salzburg in a day anyway, so just soak up the atmosphere, walk around the city center, and make it your own perfect day without trying to see every single place you read about. Also keep in mind that the days are much shorter in winter, so you'll likely have to adjust this itinerary a bit if traveling in the dark season.
If you don't want to walk a lot, you can also book the Sound of Music bus tour for half a day. It's also a very nice way to explore Salzburg and its surroundings (albeit different places), and you can still see a lot in the city center before or after the tour.
Stay in Salzburg for the night (ideally, at least two nights). The city is a very popular day trip destination and can get extremely busy during the day. In the evening, the crowds disappear and you can explore the beautiful old town without the crowds.
If you are staying in town, stay close to the old town so that you can simply walk everywhere. We stayed at Imlauer Hotel Pitter and I can highly recommend it (even if just for the most amazing rooftop terrace where they serve breakfast). Here are several other recommendations for all budgets: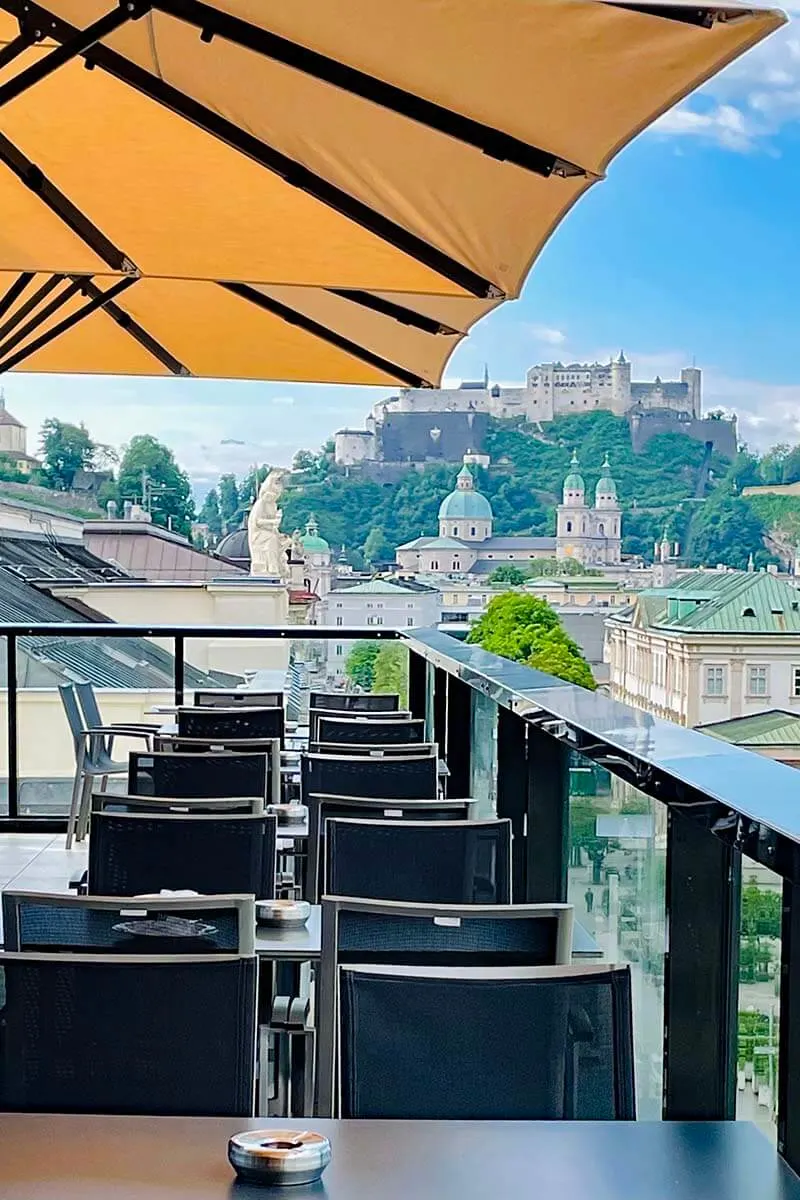 So, this is our guide to one day in Salzburg, Austria. I hope that this itinerary and our experience-based tips help you plan a truly memorable day in Salzburg.
Have a great trip!
TIP: If your trip isn't fixed yet and this article made you realize that there's a lot more to Salzburg than you may have thought, you may want to consider planning at least one extra day in the city. In that case, see our recommendations on what to see and how to plan your time via the link below.
READ ALSO: Best Things to Do in Salzburg & Salzburg 2-days Itinerary
If you found this post useful, don't forget to bookmark it and share it with your friends. Are you on Pinterest? Pin this image!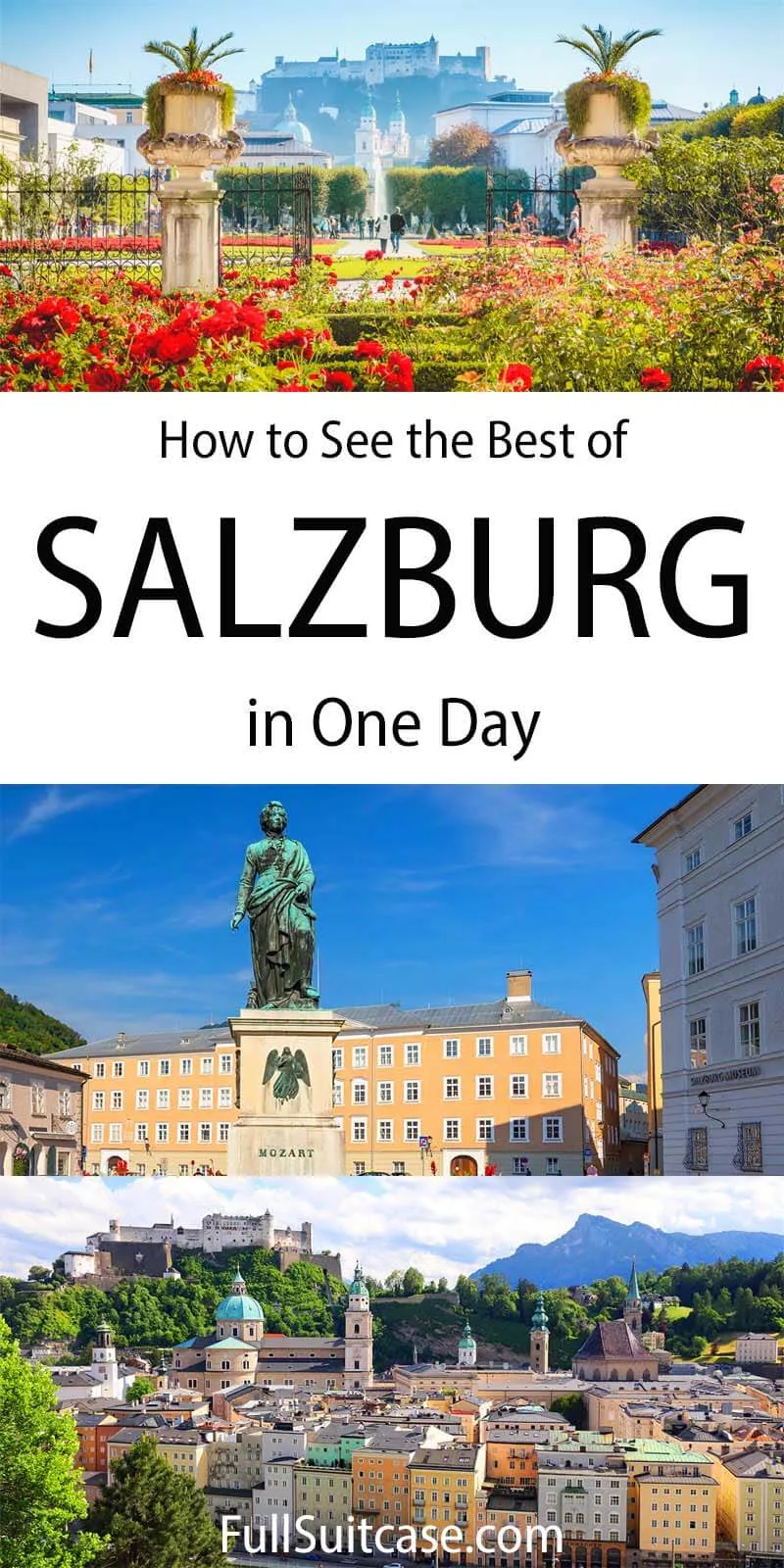 More travel inspiration for Austria:
More travel inspiration for European cities:
If you are visiting other European cities and are looking for in-depth information for your trip, take a look at some of our city guides: