Looking for the best things to do in Amsterdam in the Netherlands and feeling overwhelmed? Deciding which of the most popular Amsterdam attractions to see is indeed not easy, especially if you are visiting for the first time and your time in the city is limited…
So to help you figure out where to go and what to see in Amsterdam, in this guide we share the VERY BEST sights and TOP tourist attractions in Amsterdam that are worth your time the most. In addition, we also include a few fun Amsterdam experiences for those looking for that something extra beyond the 'musts'.
We also created a map of all the top places that should help you plan your Amsterdam sightseeing itinerary. You can find it at the bottom of this article.
Take a look!
Top 4 Activities in Amsterdam: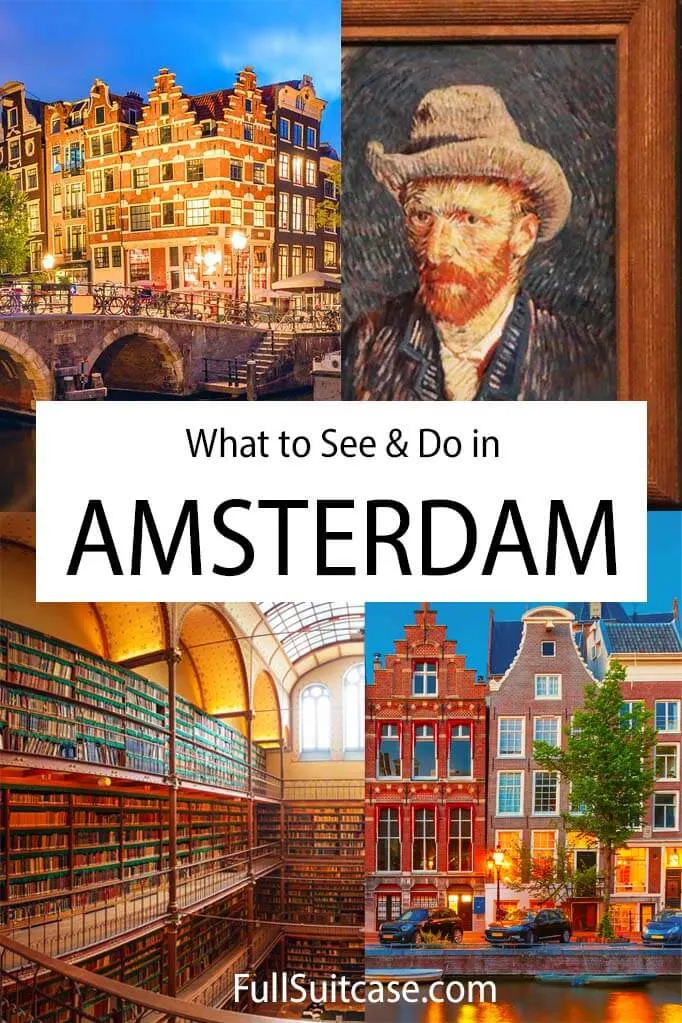 Famous for its canals, distinctive architecture, and liberal culture, the city of Amsterdam is full of interesting things to see and experience. The network of canals and narrow streets make it a wonderful place to walk or tour by boat. The city also has the highest density of museums in the world, with more than 60 to explore. And there is a natural beauty as well, with the city's Vondelpark covered in colorful blooms in the spring.
But with so many Amsterdam attractions to choose from, it can be difficult to know which of them to visit during your visit. So in this guide, we list some of our favorite places to see and things to do in Amsterdam – all the musts, and also a few extras, fun things to do in Amsterdam, that will make your visit a bit more special.
Whether you are visiting the city for the first time and want to be sure you don't miss any of the must-sees in Amsterdam, or are planning a repeat visit and looking to visit some sights and tourist attractions in Amsterdam that you might have missed before, this guide should give you plenty of inspiration for things to do in the capital of the Netherlands.
TIP: If you are planning on doing lots of sightseeing in Amsterdam, you should know that the city is quite large and the distances between some of the best attractions are rather big. To save time and money (and give your legs some rest), consider getting an all-in public transport ticket. You can buy it for any duration from 1 to 7 days and it includes all trams, buses, metros, and even ferries in the city. Taking public transport for bigger distances is the best way to get around the city and make the most of your time.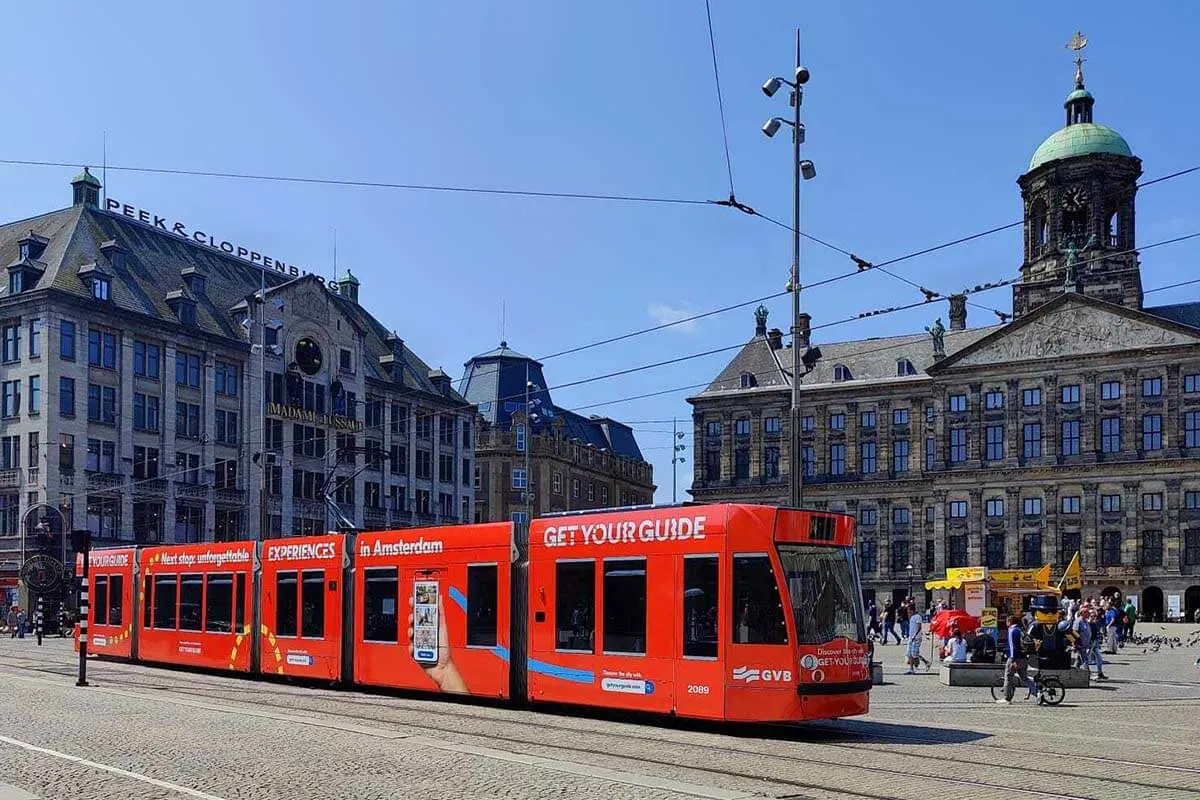 Good to know: We list the must-see places and experiences in Amsterdam first, followed by some fun things to do in Amsterdam further down the list. So if you are visiting the city for the first time, concentrate on the top 10-17 sights first. But if you are looking for more hands-on experiences and fun attractions beyond the most popular sights and must-see museums, then read further down as well.
In order to help you plan your visit, we also created a map of all the top sights and attractions in Amsterdam. You can find it at the bottom of this article. On our blog, you can also find two sample itineraries for 1 day, 2 days, 3 days, and 4 days in Amsterdam for first-time visitors.
Without further ado, these are the main landmarks, best sights, and top tourist attractions in Amsterdam:
1. Boat tour on the canals
Exploring the beautiful canals by boat is one of the absolute musts in Amsterdam that should be on top of any Amsterdam bucket list!
Mainly built at the end of the 16th – beginning of the 17th century, the city's waterways are lined with some of its most impressive buildings. Taking a boat tour on the canals also gives you a glimpse into the 'real' Amsterdam. What's more, viewing the city from the water gives you a whole new perspective and allows you to see a lot in a short amount of time.
It's a great first introduction to the city, so I recommend taking a canal trip at the beginning of your trip.
There are lots of different canal cruises to choose from, lasting from around 1 to 1.5 hours. It's a good idea to do your research ahead of time to find the one that's best for you, and not just hop on the first boat you come across and get disappointed that it's not what you expected it to be.
I also recommend booking in advance if you are visiting in the high season. This is a popular activity and the best boat tours sell out. Another bonus is that an advanced reservation allows you to go straight to the front of the line, ahead of those who haven't reserved their spot.
The choice of canal cruises in Amsterdam can be overwhelming. Here are some of the best options:
TIP: Amsterdam canals are also very pretty in the evening when everything is nicely lit. So be sure to come back and see them in the dark, or do an evening canals tour as well! This evening canal cruise is the most popular cruise in the dark.
LEARN MORE: Amsterdam Canal Cruise: Tips for a Better Experience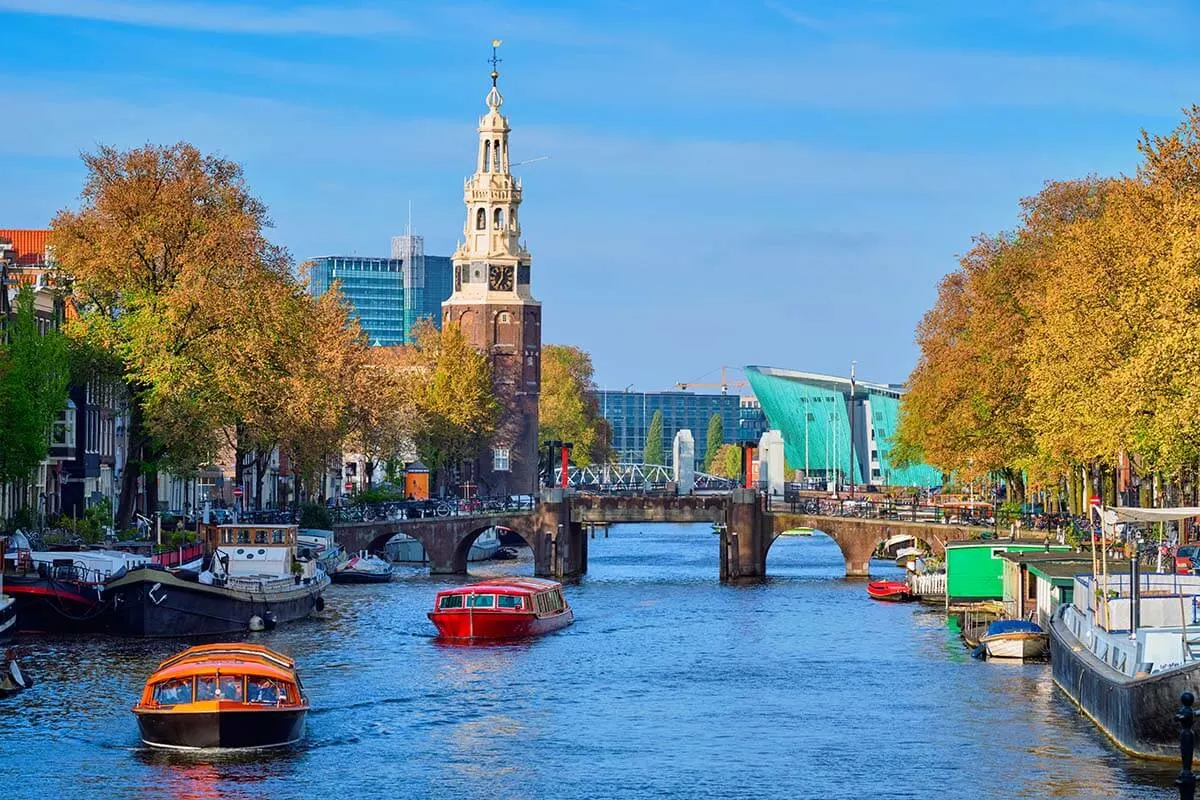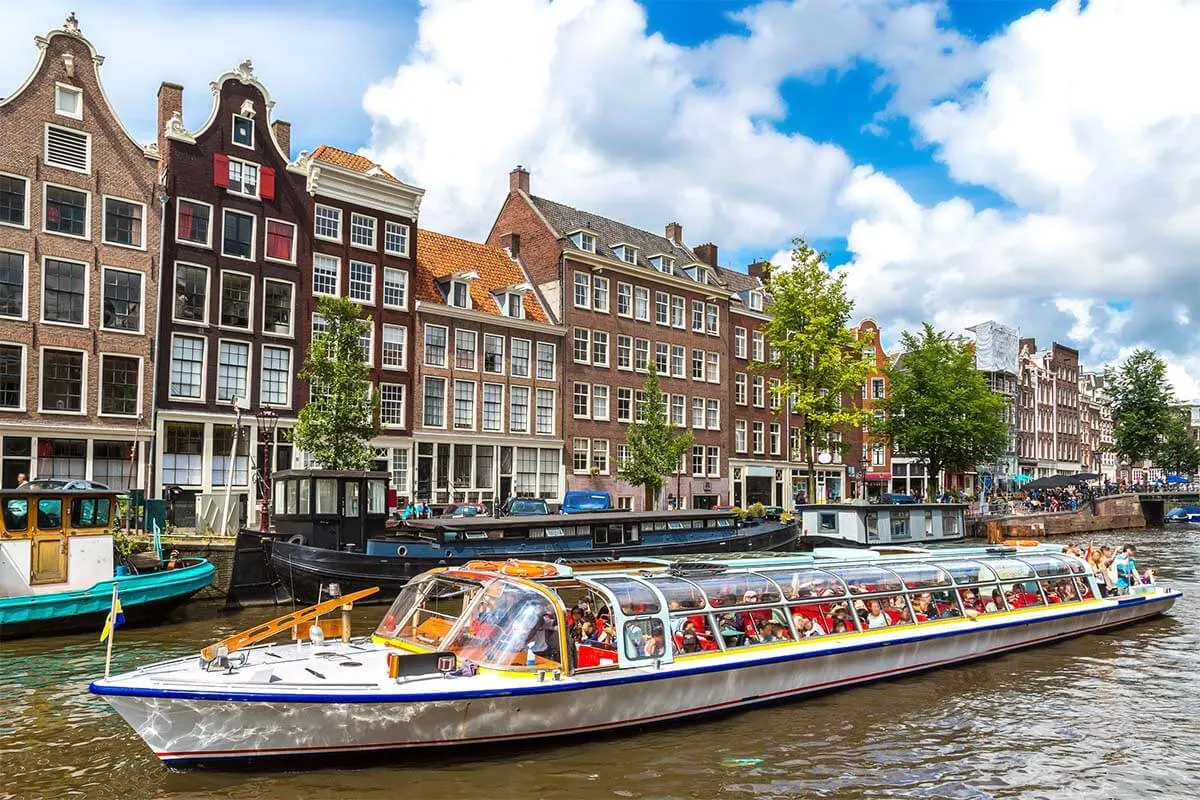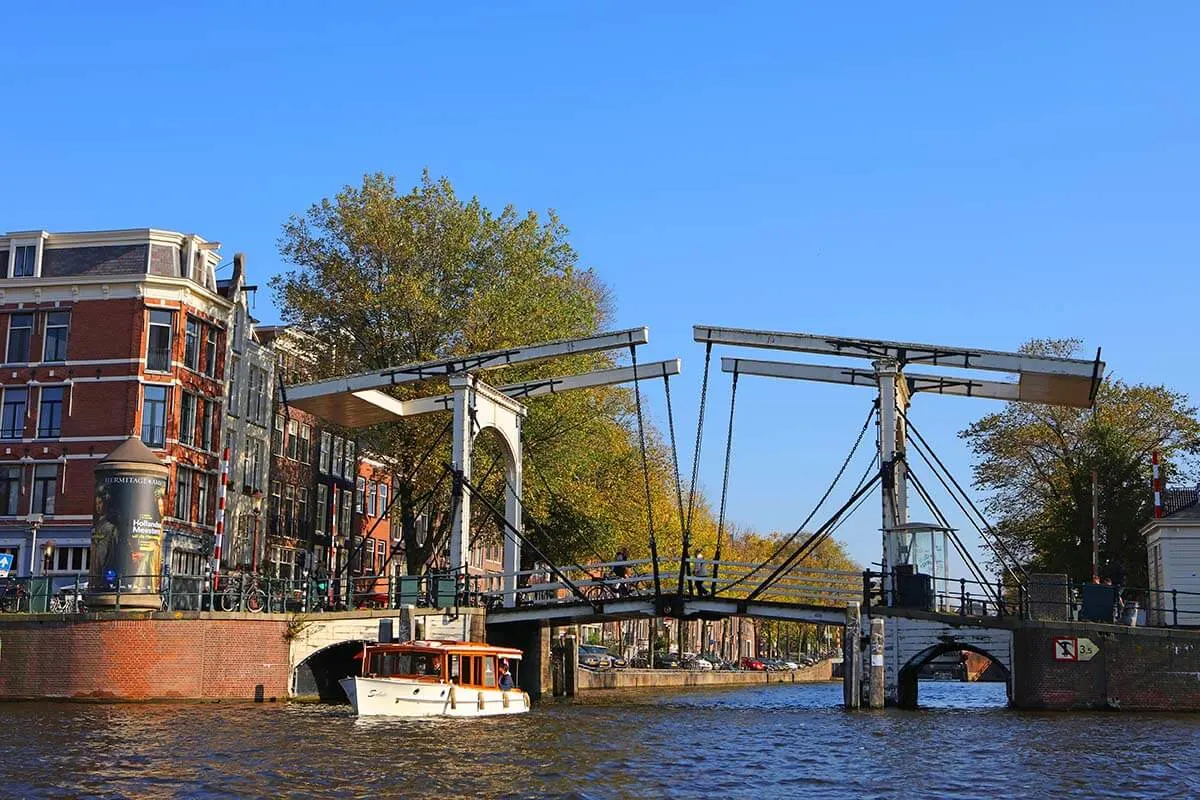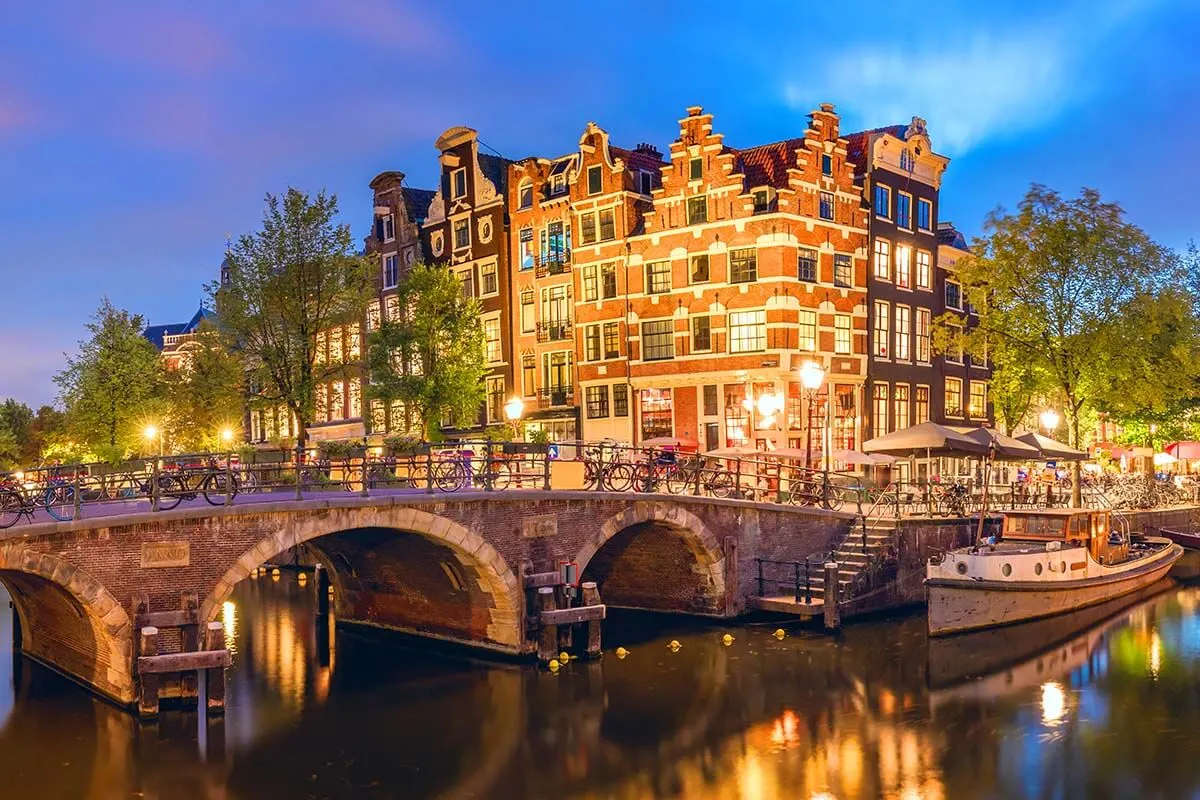 2. Grachtengordel – explore canals on foot
Amsterdam has many canals and whilst it's fun to explore them by boat, walking beside them is a totally different experience that you shouldn't miss either. So – in addition to taking a boat tour – be sure to explore the canals on foot as well.
Obviously, there are more canals to see in Amsterdam than you can ever manage on a single visit. So be sure to stroll along some of the best bits! These include the Grachtengordel (The Canals Belt) neighborhood – at least a few sections of the Keizersgracht and Prinsengracht, plus the Brouwersgracht and the Singel, which served as the city's moat until 1585.
The Herengracht Canal is absolutely worth a visit too. But you are likely to see it as part of a boat tour as well. That's also the reason why we recommend doing the boat tour first – you can then decide if you want to revisit some places on foot as well, or just focus on the areas you didn't see from the boat yet.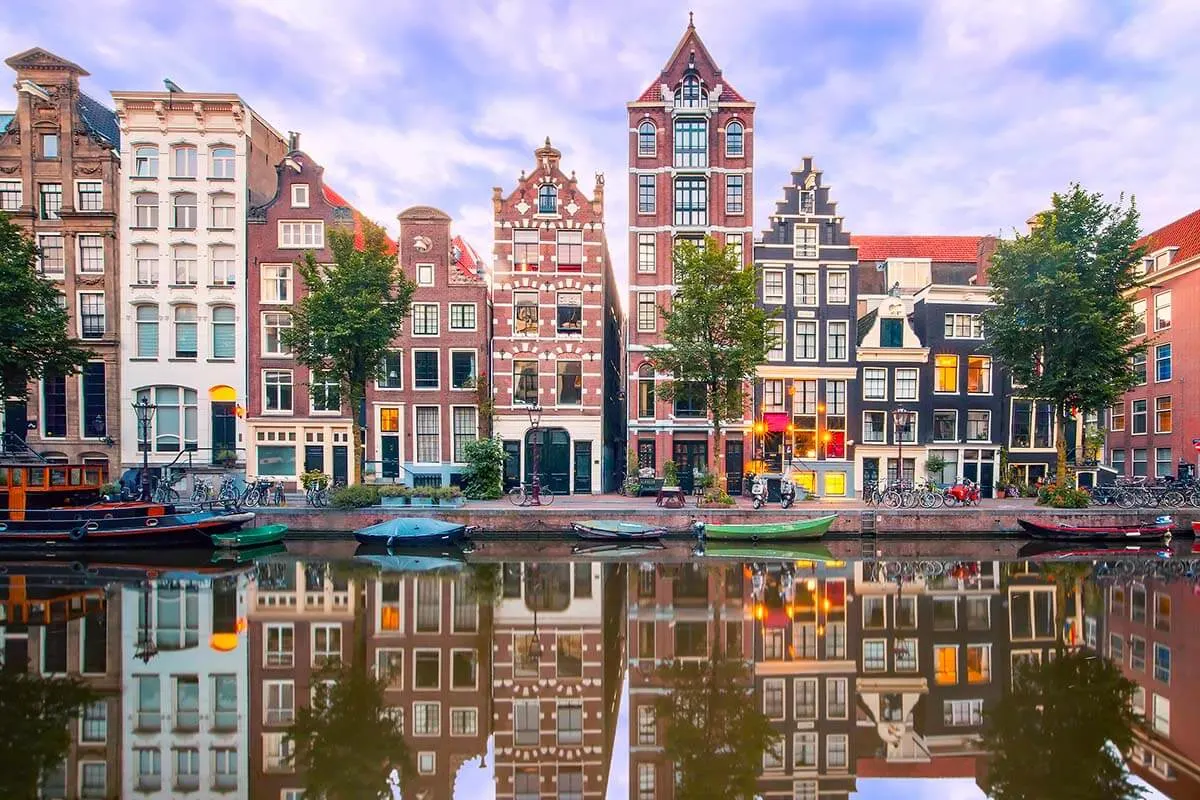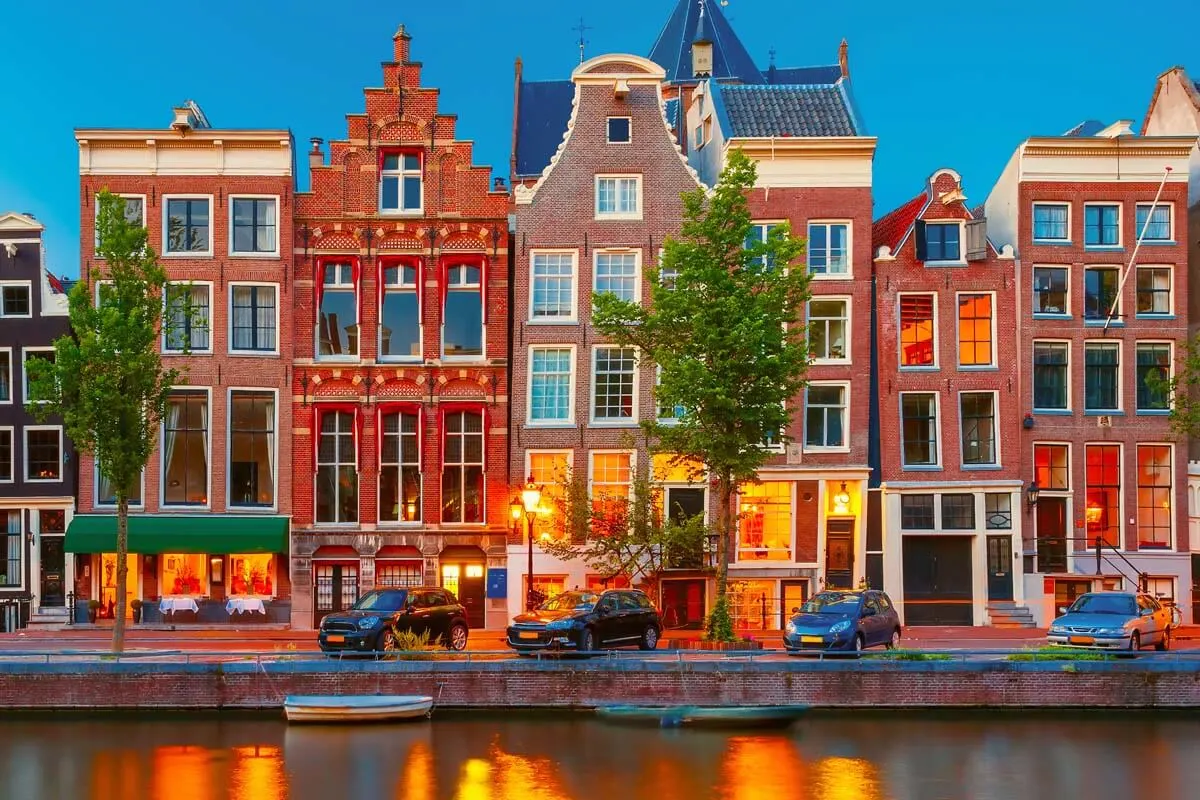 3. Rijksmuseum
The Rijksmuseum is the most visited museum in the Netherlands and one of Amsterdam's most popular attractions. If you visit just one of the best museums in Amsterdam, make it this one.
With around 8,000 historic exhibits and works of art, the Imperial Museum features world-famous pieces such as The Milkmaid and The Night Watch. You'll also find works by Vermeer and Rembrandt, along with important pieces by Vincent Van Gogh. There is an ever-changing rotation of temporary exhibits plus a variety of workshops, so it's always worth a visit, even if you have been before.
The museum is very large and it is easy to spend several hours here. If you decide to visit, try coming here early in the morning before the main crowds arrive. Head straight for the Gallery of Honour, which houses some of the most important pieces. The hall is a work of art in itself and this part of the museum is the most popular, so it's nice to see it before it gets too crowded.
Be sure to also check out the Cuypers Library, the Research Library of the Museum. It's one of the main art libraries in the world and a very impressive place to see.
TIP: We also strongly recommend booking timed-entry tickets for the museum online in advance. It will save you from having to join the lengthy queues and will allow you to see more of the city during the time that you have.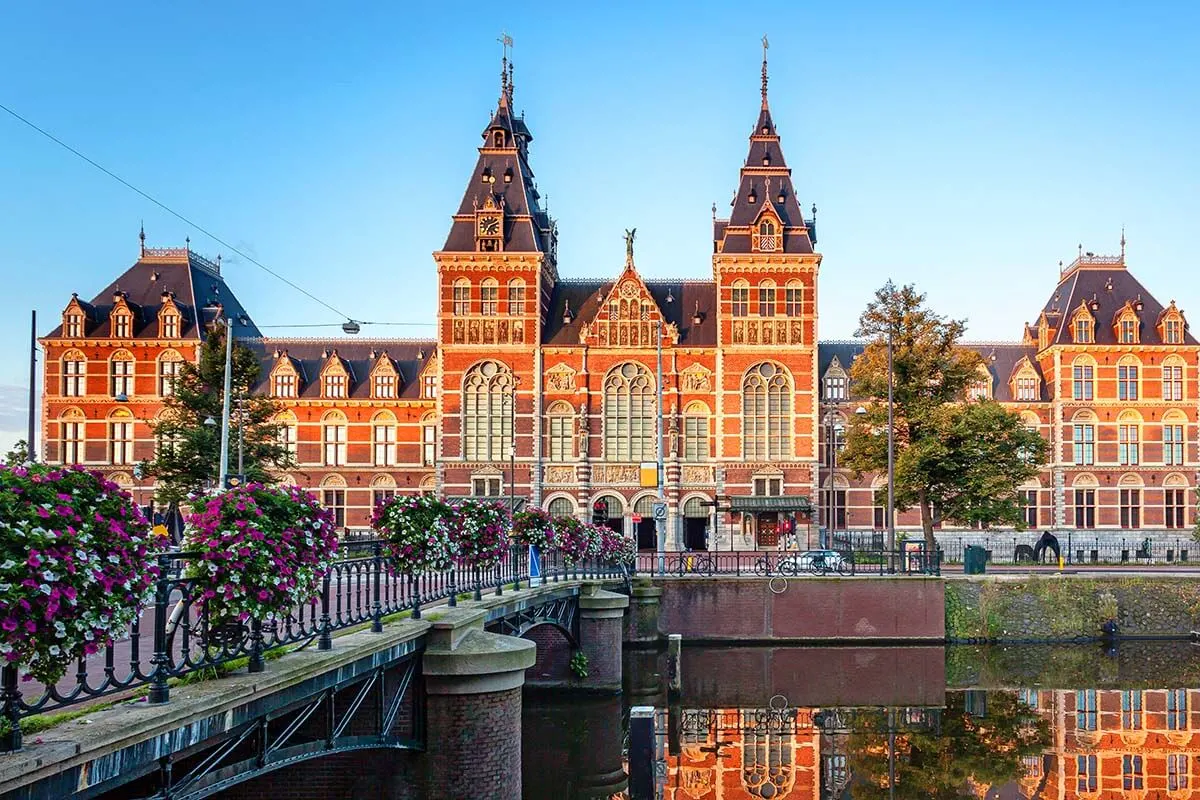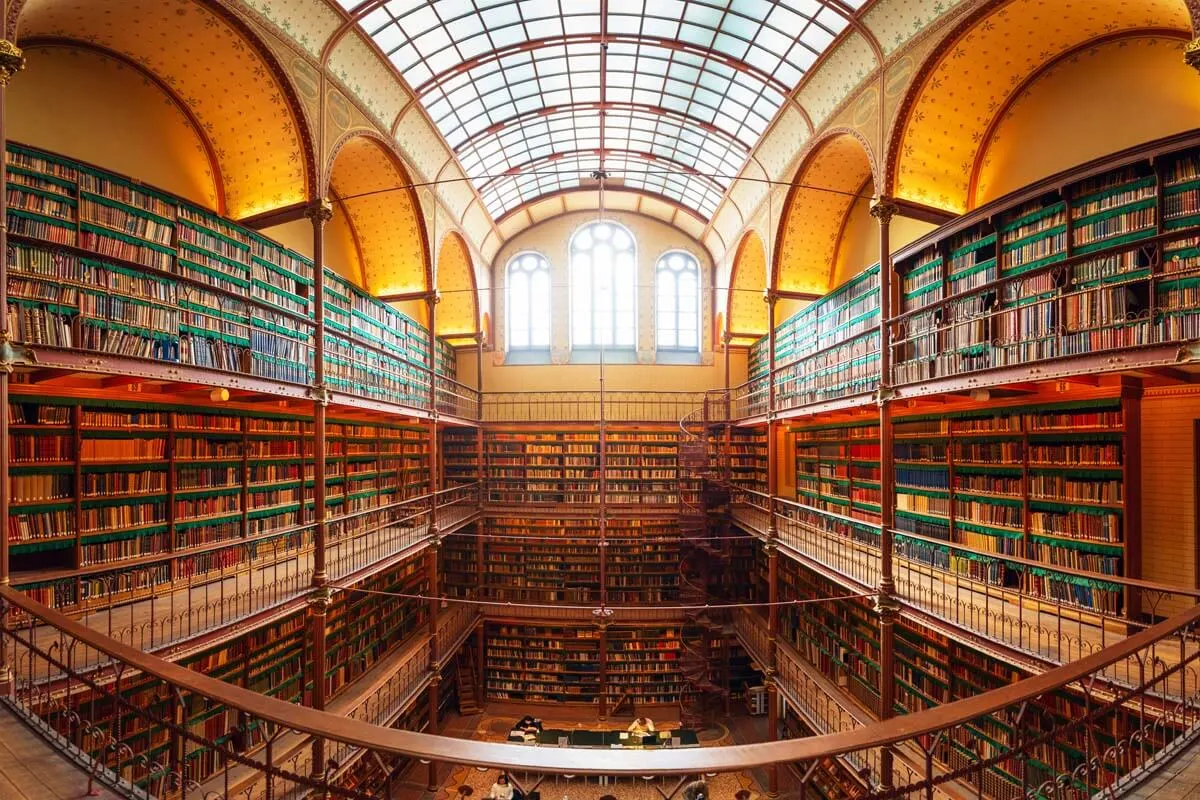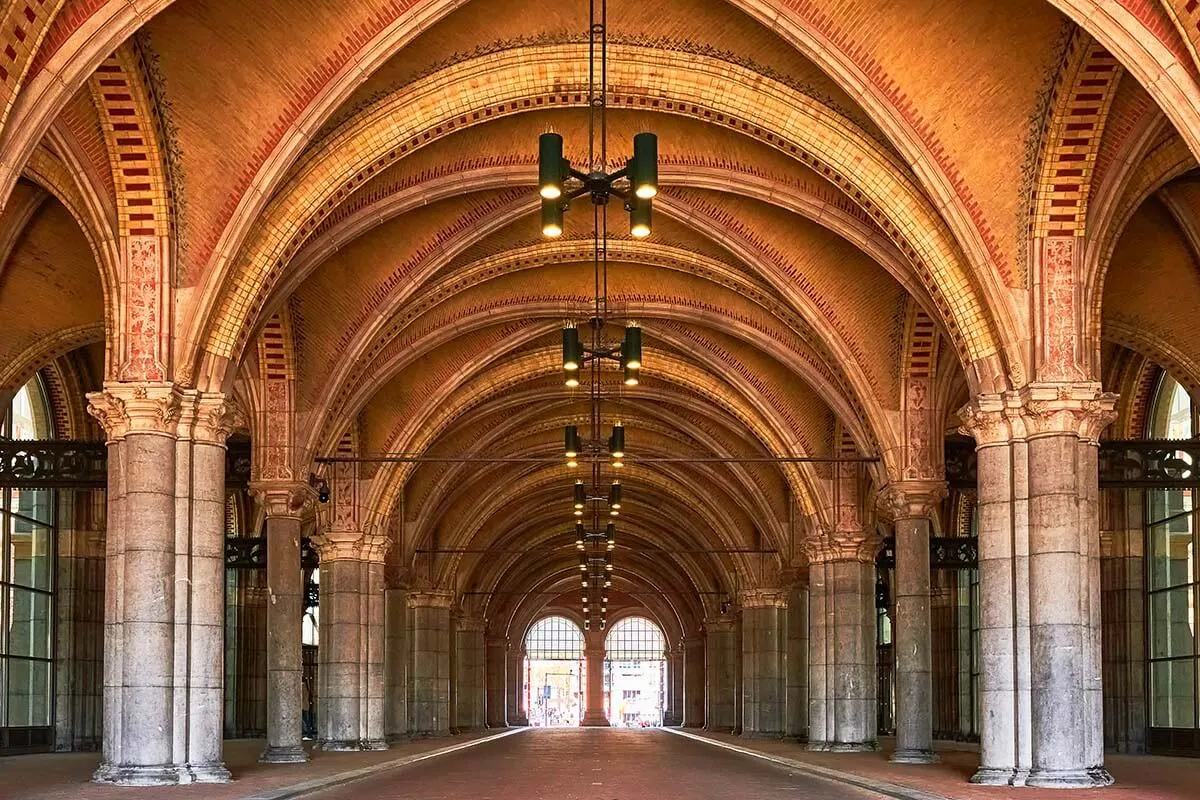 4. Van Gogh Museum
Located close to Rijksmuseum, the Van Gogh Museum is another must on the list of Amsterdam tourist attractions. One that will appeal to visitors of all ages too. So if you are looking for things to do in Amsterdam with kids, this is a great place to be too.
Along with the chance to explore the extensive collection of Van Gogh's masterpieces, drawings, and personal letters, you get to learn more about his life and the things that inspired him.
The museum can get very busy during the high season. But it is so spacious that you don't feel overwhelmed by the crowds. You can rent an audio tour on arrival and the exhibits are very well laid out. You'll need at least 1.5 to 2 hours to see the main collection.
TIP: Tickets are only available online and the numbers are limited, so it is important to book them in advance. Guided tours are also available, but quite a lot more expensive than a regular ticket. Still, it might be worth it if you want to be sure not to miss anything and learn more about Van Gogh and his masterpieces. This is one of the few guided tours of the museum that runs daily.
Good to know: Avoid bringing any very large bags with you as they are not permitted in the museum. Backpacks and umbrellas must be left in the lockers and there is a free coat check on entry. Jackets and small purses may be worn.
LEARN MORE: Info & Tips for Visiting Van Gogh Museum in Amsterdam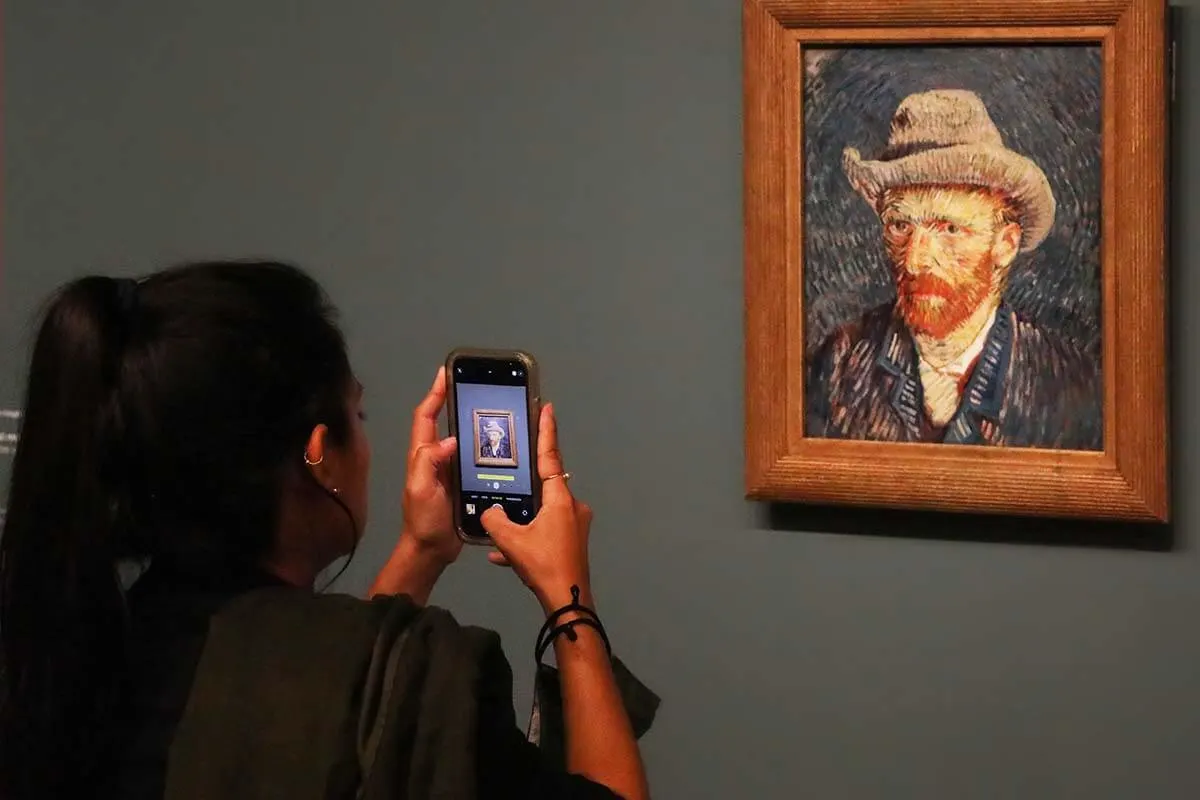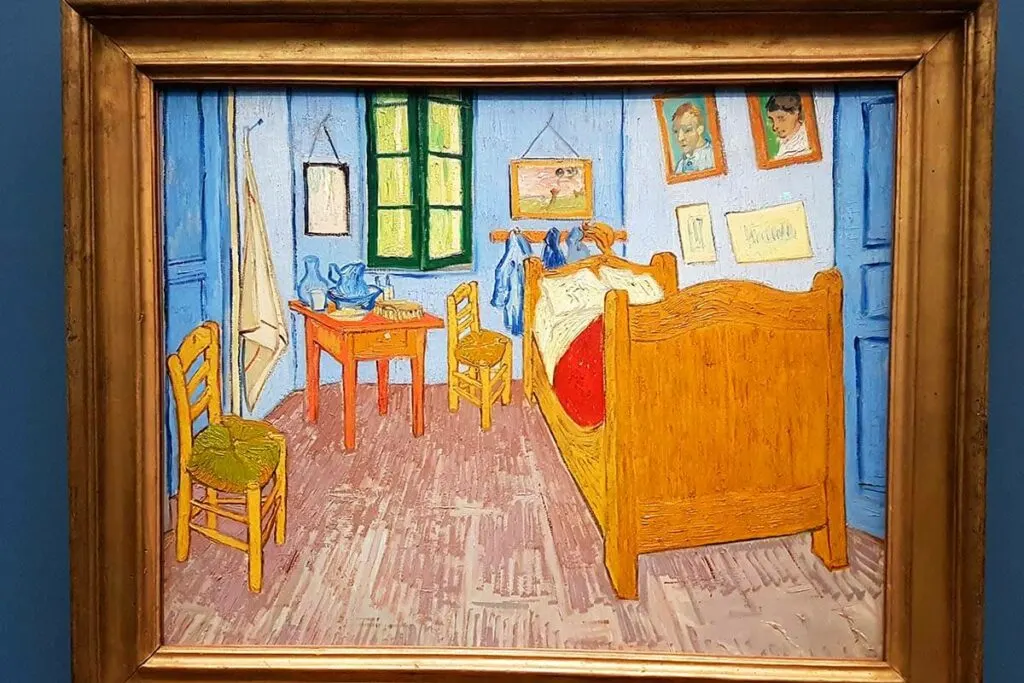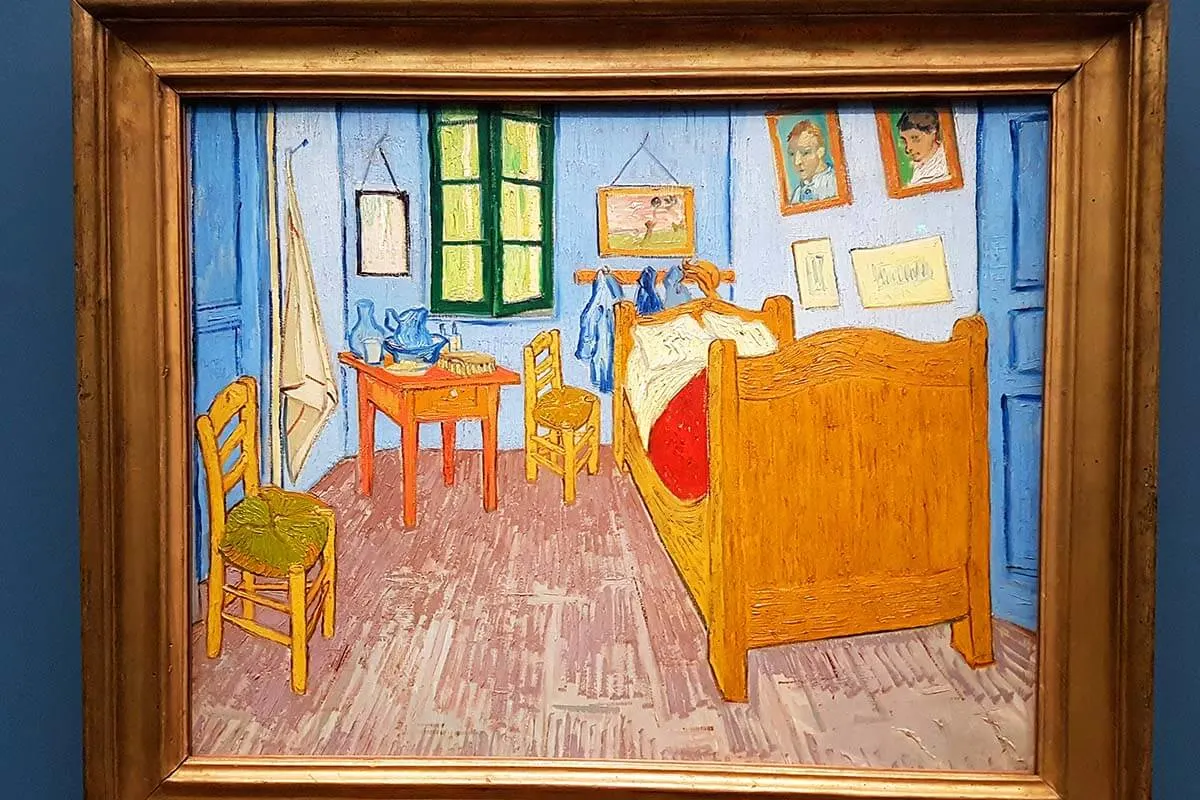 5. Anne Frank House
The Anne Frank House is next on the list of the most popular places to visit in Amsterdam. Once the building in which a Jewish girl Anne Frank and her family concealed themselves from the Nazis during World War ll, this is now a museum honoring her memory.
Anne and her family were discovered in 1944 and deported to Hitler's concentration camps, where all except her father died. It was he who later published her diary, which is well known across the world. Their house is very popular with visitors to the city, keen to see the place which she described in such detail in her diary.
At the Anne Frank House, it is possible to visit the exact location where they hid. Through videos, quotes, photos, and original items, you can learn more about the traumatic ordeal they endured there.
Good to know: Like many canalside houses in Amsterdam, the Anne Frank House has very steep stairs which might be challenging if you have mobility issues. There is no wheelchair access to either the Secret Annex or the old part of the museum.
TIP: Anne Frank House is very small so the number of visitors is extremely limited. It's essential to book your tickets online in advance, and you really need to reserve them as soon as they are released (usually 6 weeks in advance). In the winter, you may be able to get tickets a week upfront, but in the high season, they sell out several weeks upfront.
Check the official website for more info and – if you absolutely want to visit – try to reserve your tickets as soon as they are released (usually about 6 weeks before the date). Please note that the museum itself is the only official supplier selling these tickets so you can't get them anywhere else. And they always sell out!
TIP: There is now a wonderful guided tour of Jewish sights in Amsterdam that – among other highlights – includes a visit to Anne Frank House. This is the only tour that can actually take you inside this museum. It's only available on certain days, however, so try to book asap too! You can find more details and check the availability here.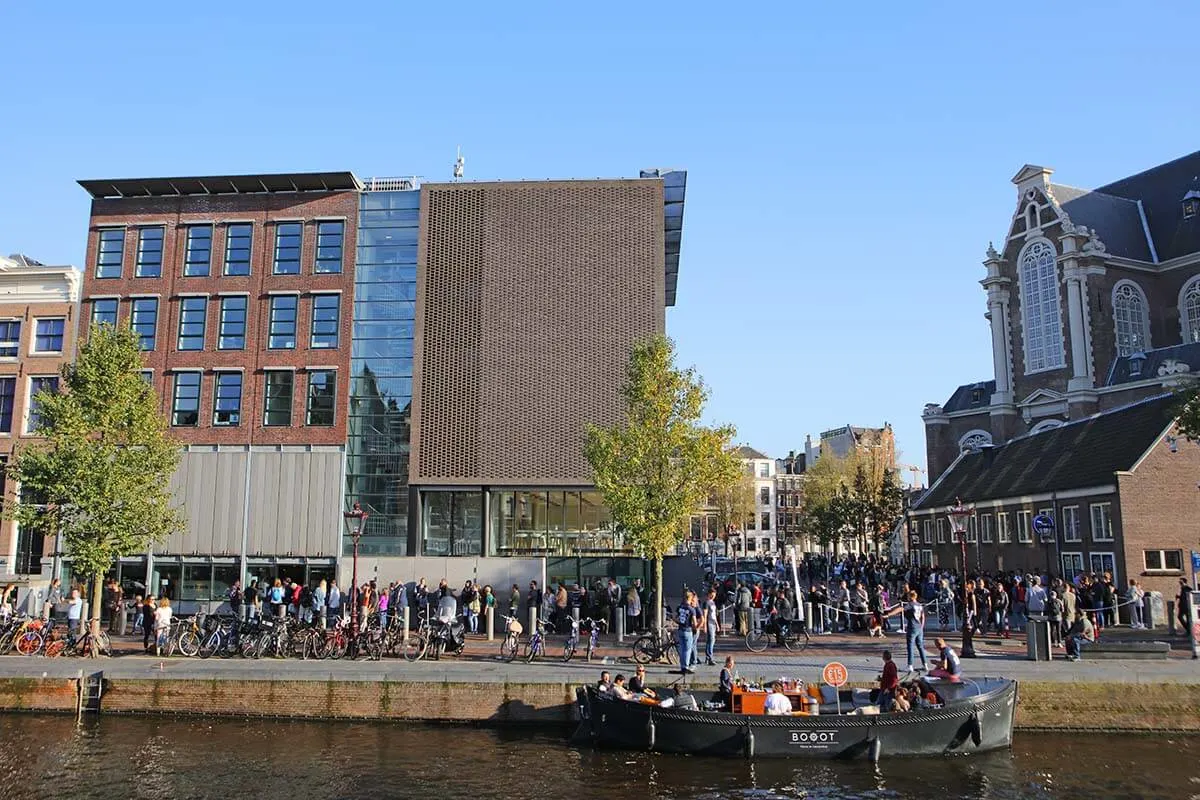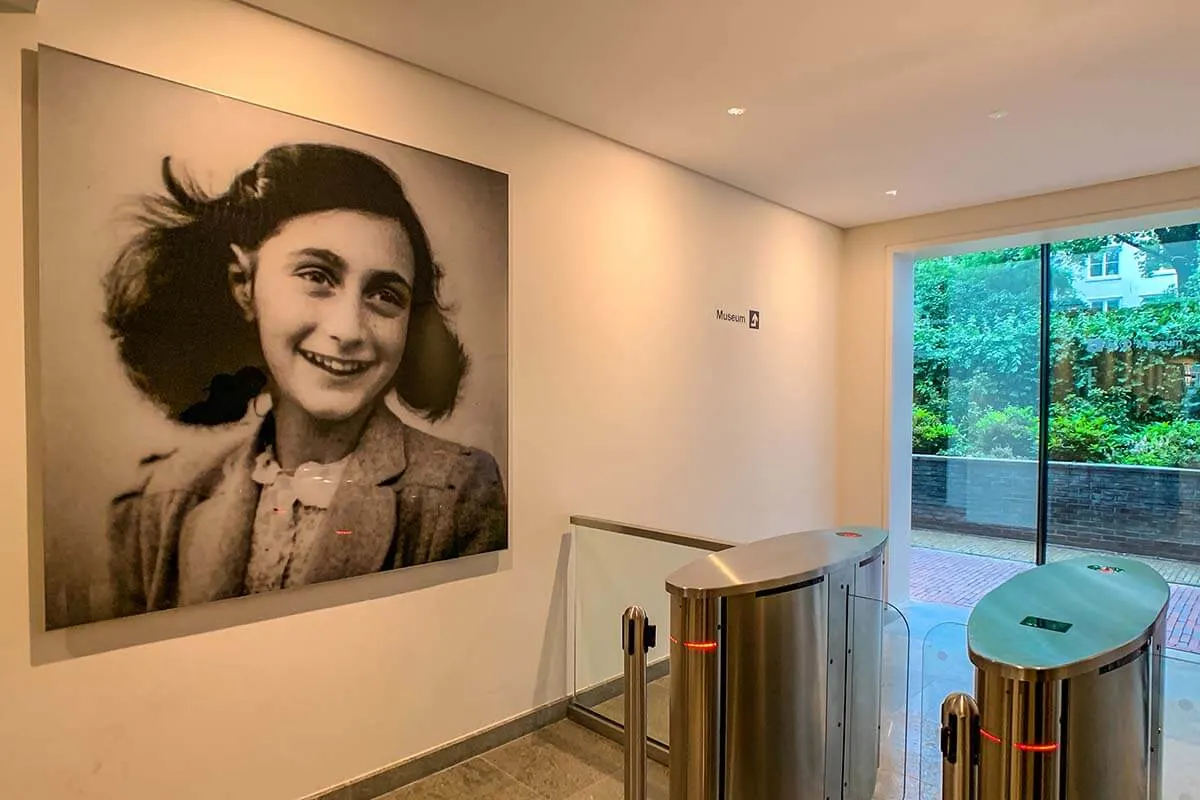 6. Royal Palace & Dam Square
As the city's main square, Dam Square is lively and a fun place to visit. It's a popular meeting place for locals, so it gives you a better feel for real Amsterdam. And there are lots of different events held here, from the National Tulip Day festivities to celebrations for the Chinese New Year!
In the past, funfairs were held on Dam Square as well, but the city council has decided that it's already busy enough in the city center and decided not to allow them at this location anymore.
On one side of the square, you can see the Royal Palace Amsterdam. This is the official reception palace of the Orange-Nassau Royal Family and is often open to visitors. The King and his family live in The Hague, and not in Amsterdam.
From the outside, it may look a little grim and unappealing, especially on dull days. But it's definitely worth a look inside if you have the time. It's quite beautiful, with marble floors, stunning chandeliers, intricate sculptures, and impressive paintings.
TIP: If you want to visit the Royal Palace, be sure to get your tickets in advance. That way, you can immediately see if it's open on the dates when you're in Amsterdam (it's normally open daily unless there are some official events in which case it can be closed for several weeks in a row).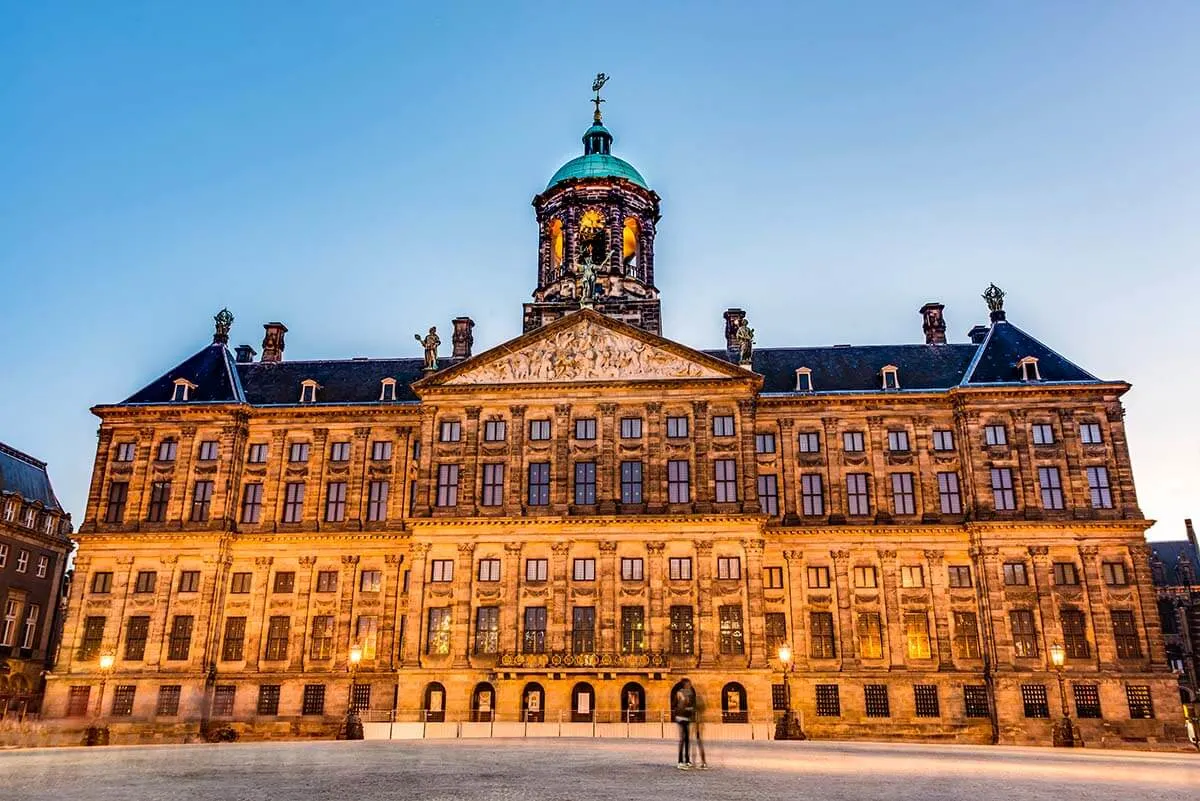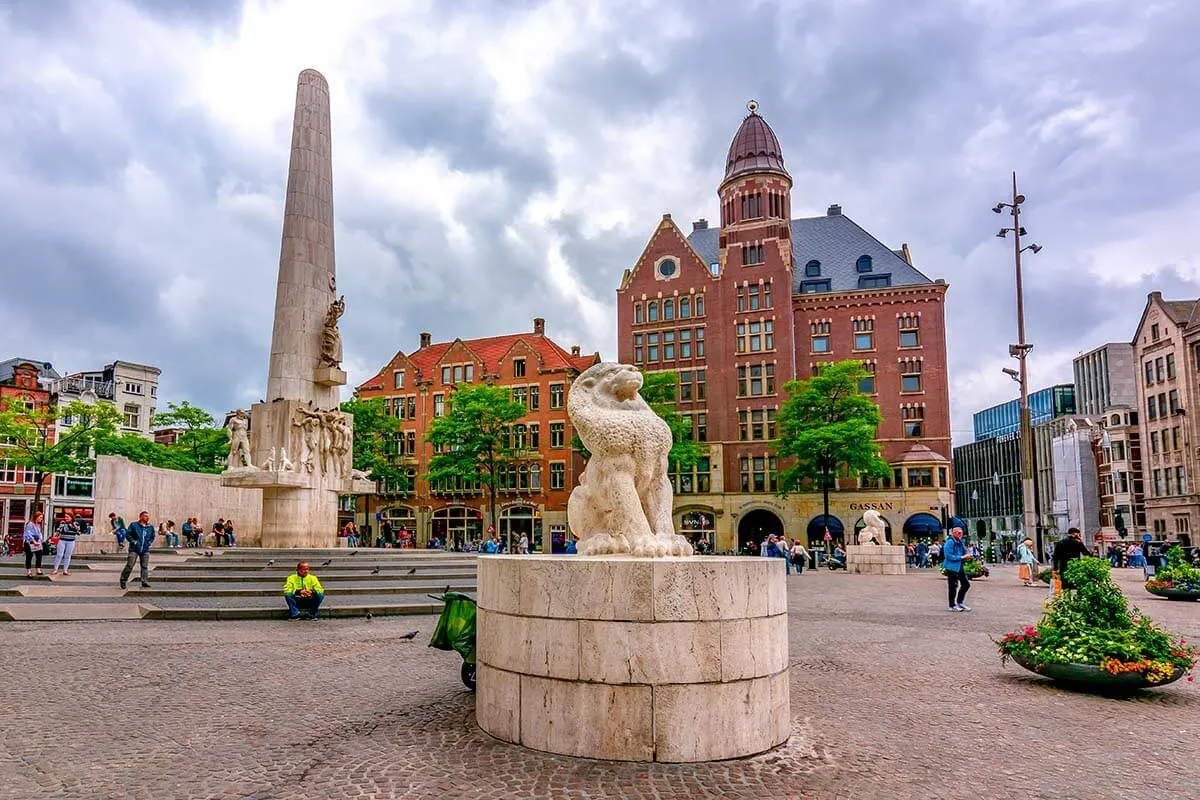 7. Damrak
Damrak is one of the main avenues in the city center of Amsterdam, running from the Central Station to the above-mentioned Dam Square.
It's filled with souvenir shops, chain stores, and cheap restaurants, and can feel a bit like a tourist trap. But if you look deeper, you'll find some stunning architecture. Indeed, more than 20 buildings on Damrak are designated as Royal Monuments, most dating from the late 18th – early 20th centuries.
The main place not to miss here for tourists is the Damrak Waterfront, part of the historic harbor in Amsterdam's city center. This is one of the most photographed places in Amsterdam that you'll see on many postcards and travel brochures.
And if you want to do some shopping in Amsterdam, be sure to check out Bijenkorf Amsterdam, one of the most popular department stores in the Netherlands.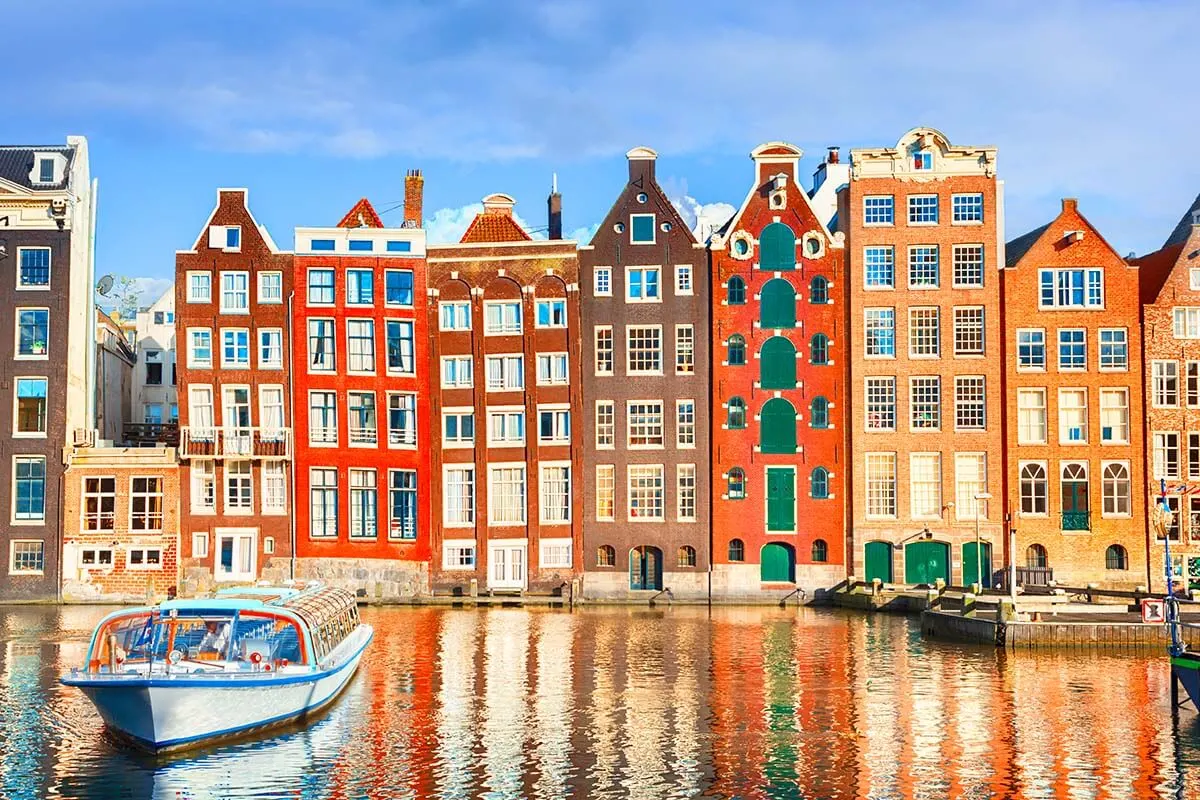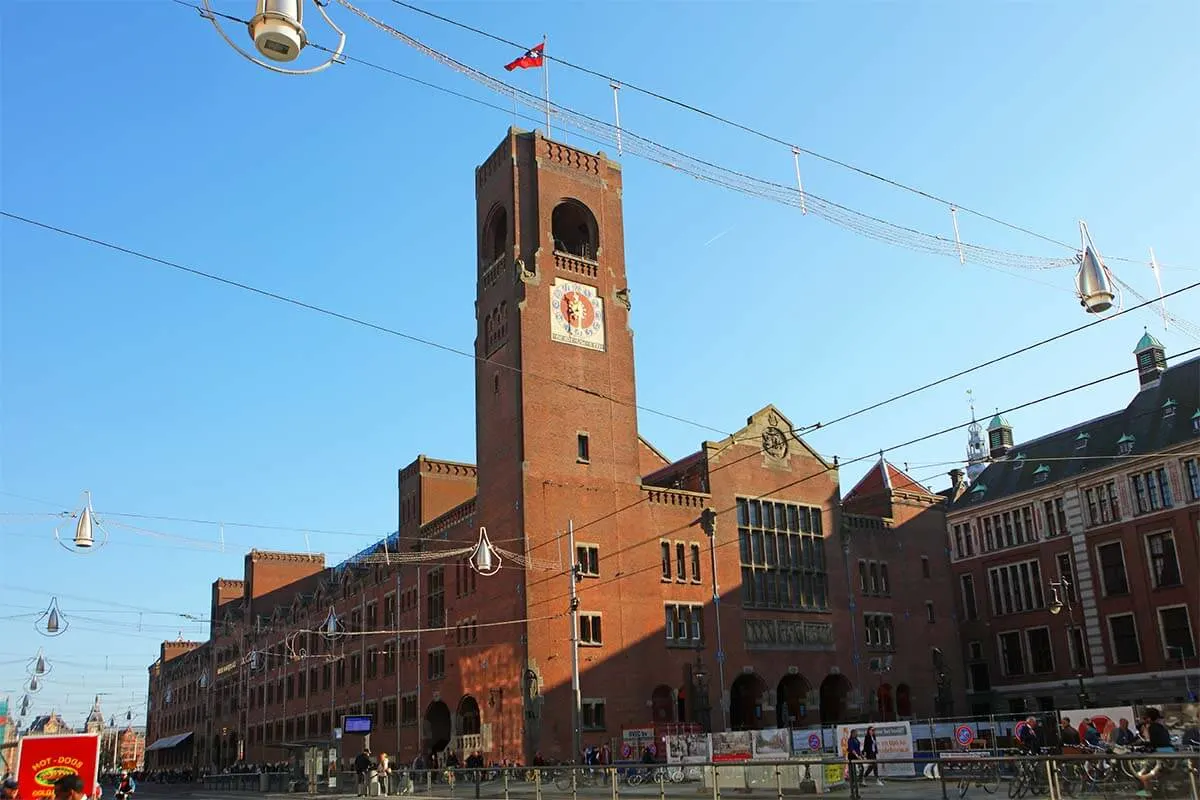 8. Floating Flower Market
One of the unique Amsterdam attractions is the Floating flower market (Bloemenmarkt). Located on the Singel Canal and established in 1862, this is the only market of its kind in the world. As the barges are fixed, once inside, it actually feels pretty much like any other flower market.
But that's not the only reason to visit the floating Flower Market, of course, and – since it doesn't require much time and doesn't cost anything – we recommend checking it out. Colorful, fun, and fragrant, it is one of the most lively spots in the city and a great place to get some truly memorable photos. It may not be an 'authentic' place in Amsterdam anymore, but it really is a must-see attraction nonetheless!
You can buy all sorts of things here, from flowers and flower bulbs to Dutch souvenirs like clogs and wooden tulips. If you visit Amsterdam during the peak tulip season in spring, the market will be much more impressive too. Do be aware though that the market is very much aimed at tourists and the prices reflect that.
Good to know: The flower bulbs you buy here are ready for export, so you are allowed to take them home to most destinations. Make sure that they are firm, free from mold, and with no signs of damage. It can be a nice Dutch souvenir to bring memories of your visit to Amsterdam, long after you have returned from your trip.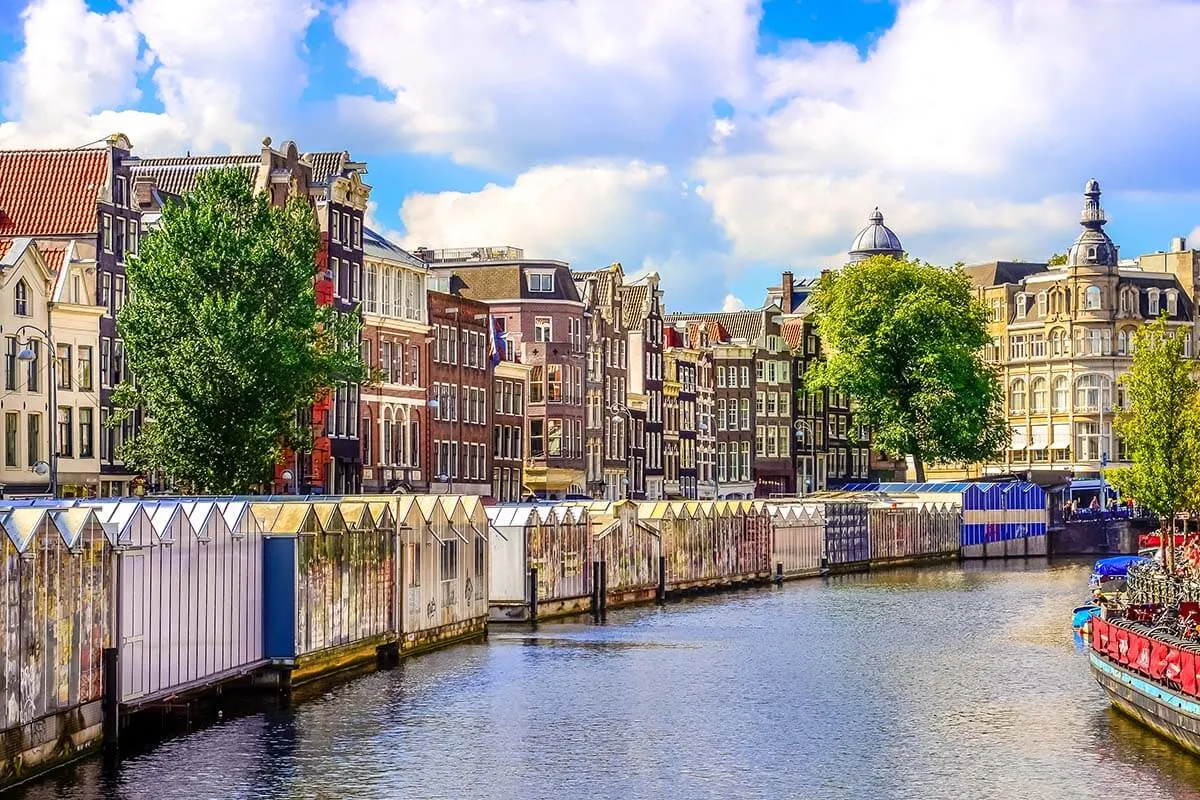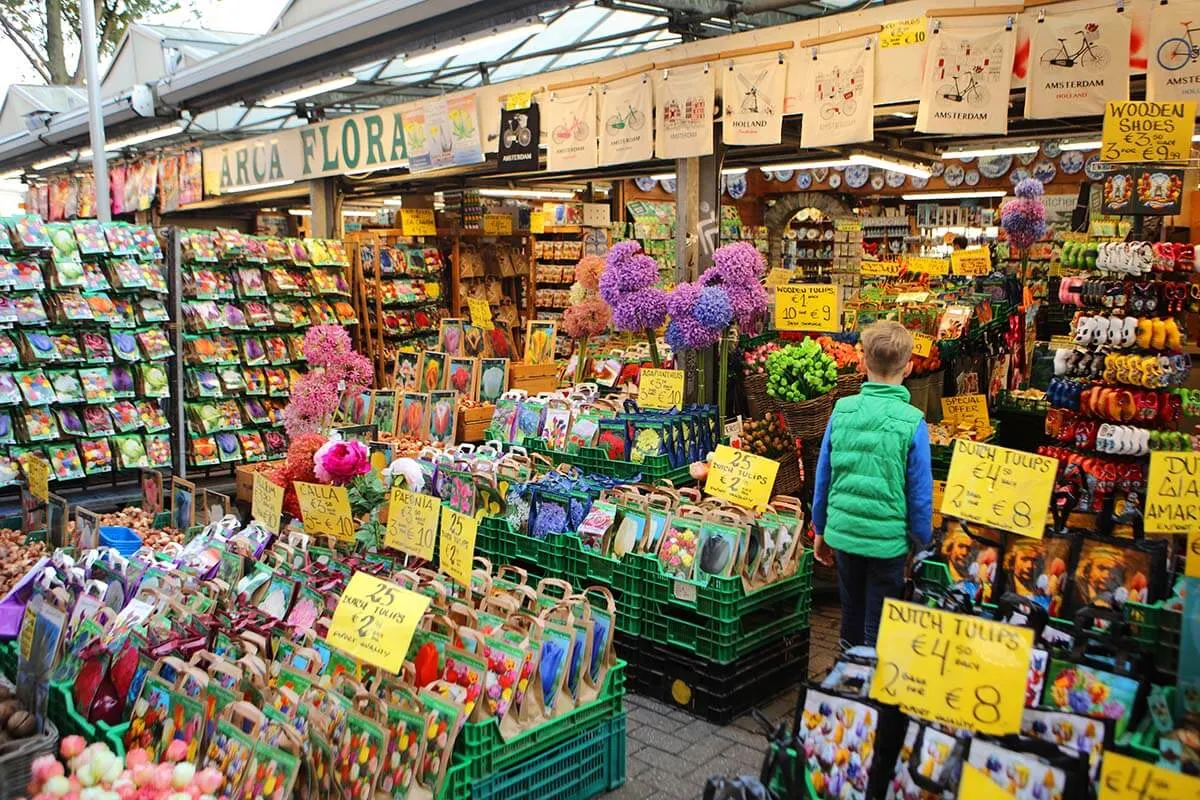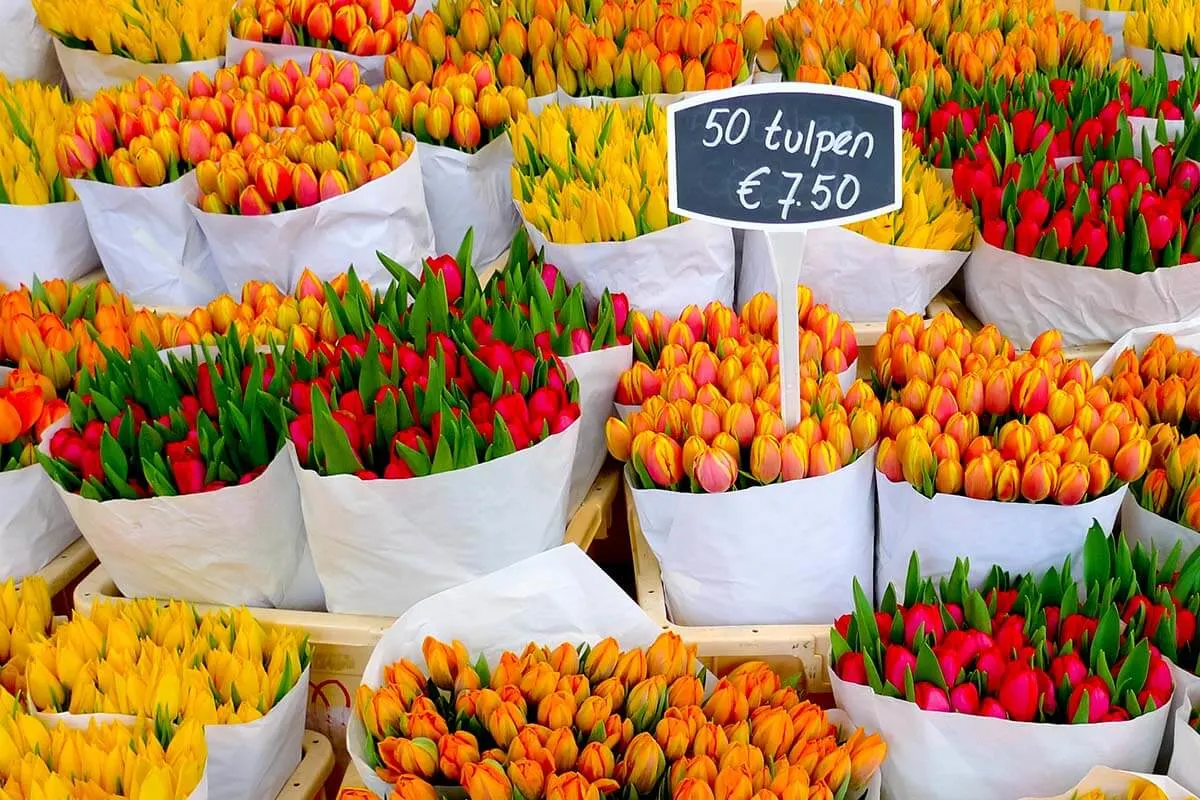 9. Rembrandt House Museum
Recently reopened after a significant renovation, the Rembrandt House Museum is now one of the best museums in the city!
Rembrandt van Rijn (17th century) is one of the most famous painters The Netherlands ever had. Rembrandt Museum is located on Jodenbreestraat, in the same house where he lived and worked during the peak of his career between 1639 and 1658.
The house has been restored as true to the original as possible including all the rooms where the family lived, plus artist studios, etc. It's a great place to see what life was like in Amsterdam during the Dutch Golden Age. Of course, you can also admire many paintings by Rembrandt. But what makes a visit here really special is that you also get to know the man behind his art.
This is now one of my personal favorite museums in Amsterdam. The cozy, homey setting takes you really close to Rembrandt. Their audiovisual guide (included with your ticket) is great too, giving you a deeper understanding of the artist and his life. And because you only need 1 hour for a visit here, it's really simple to plan a visit here, no matter how much time you have in the city. Highly recommended!
TIP: Set inside a 17-th century house, the museum is rather small, so be sure to reserve timed-entry tickets in advance!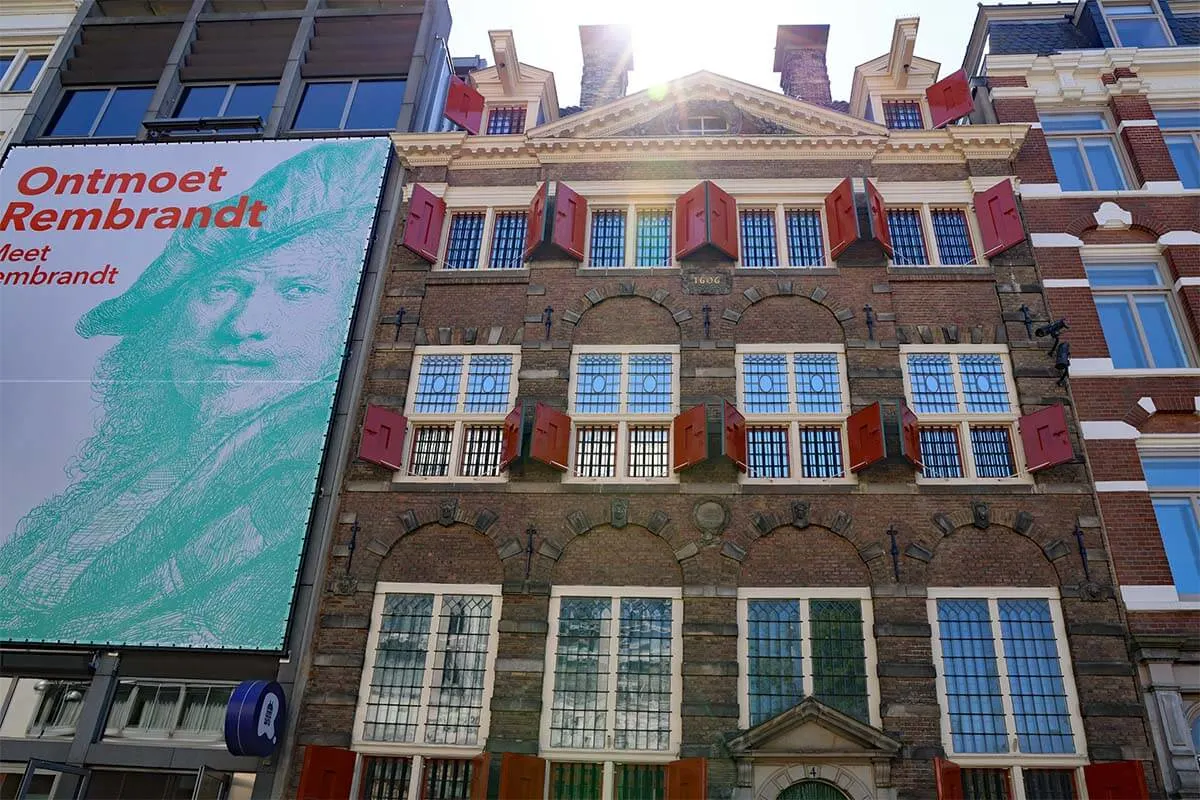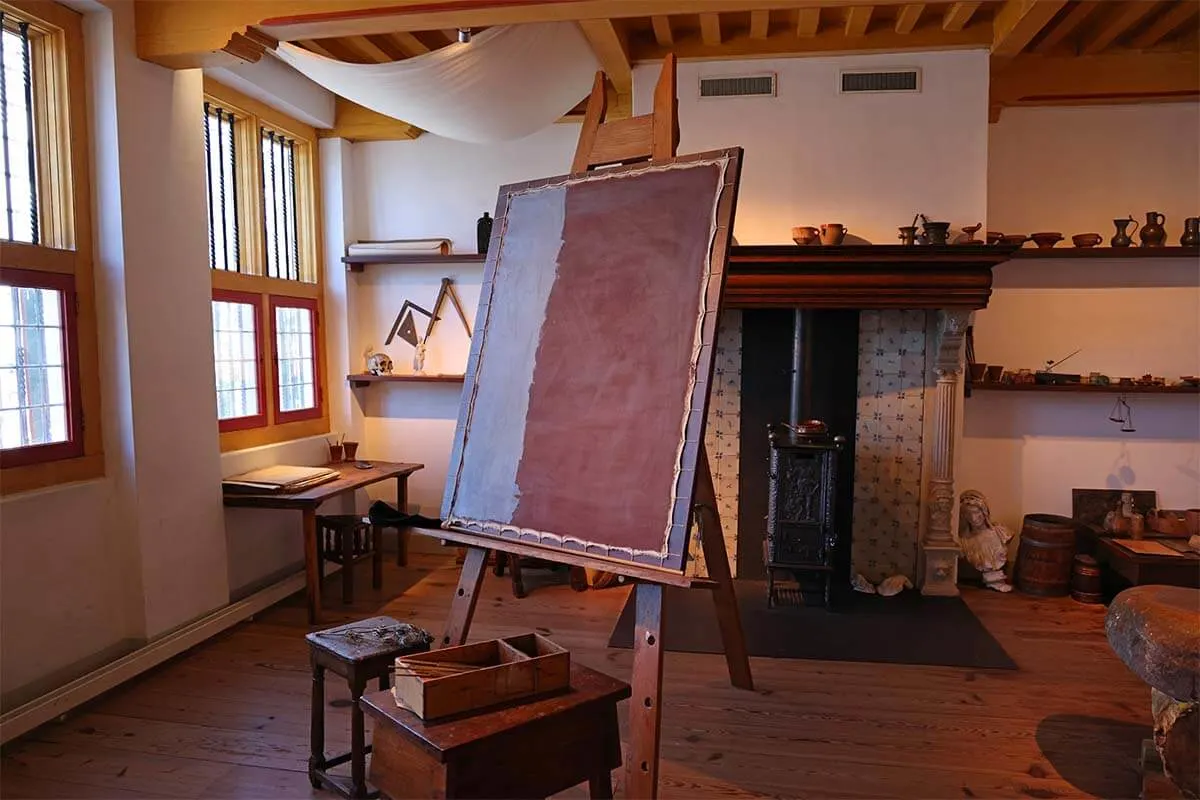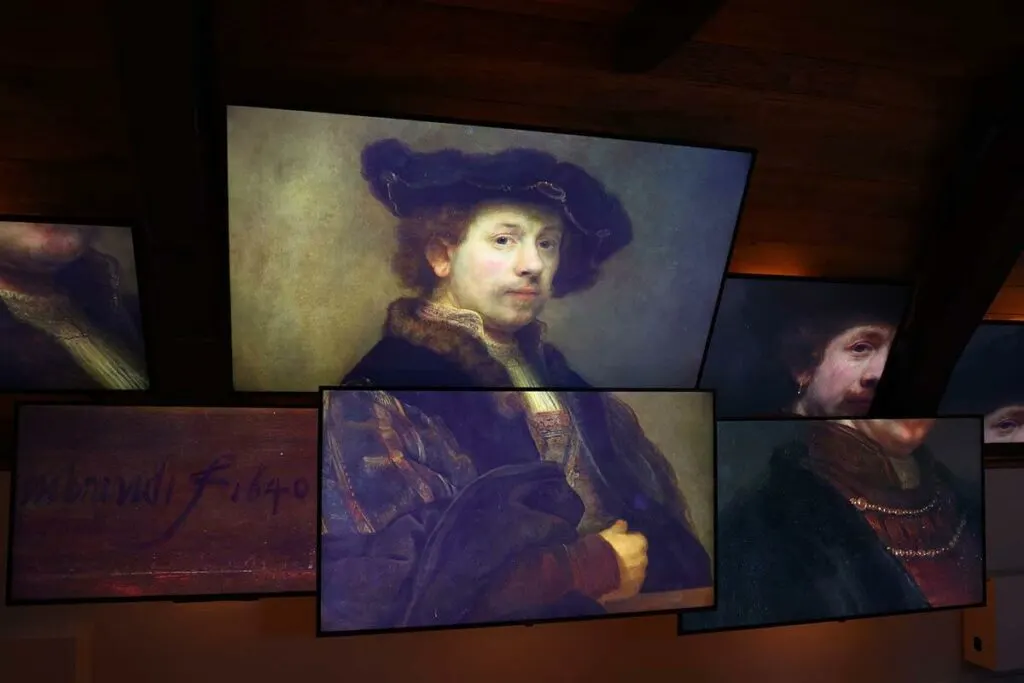 10. Leidseplein
If you're looking for some fun atmosphere or good nightlife in Amsterdam, head to the lively Leidseplein town square, a short walk from the Rijksmuseum, at the southern end of Leidsestraat.
By day and night, you can see street entertainers performing anything from jazz on the double bass to hip-hop dancing. The square is lined by cafes and bar terraces, which are very busy in the warmer months. In winter, the terraced area is replaced with an outdoor ice rink and there are hot food stalls dotted everywhere.
Within easy walking distance is everything you could want for a good night out, including cinemas, theatres, discos, and a casino. There are plenty of good restaurants serving international dishes, along with Holland's best-known cocktail bar, The Bulldog Palace (not to be confused with Bulldog Coffeeshop in the Red Light District).
Be sure to check out the impressive buildings of the "Internationaal Theater Amsterdam" or the Hard Rock Hotel known as 'Hotel Americain'. Btw, this is a really nice hotel to stay in for those who enjoy the nightlife or like being close to all the museums and the park. The location is very central indeed.
TIP: If you plan to spend the evening at the bars here, arrive early to get a table. An hour before sunset is a perfect time, as it gives you a chance to sit back and watch the square come to life!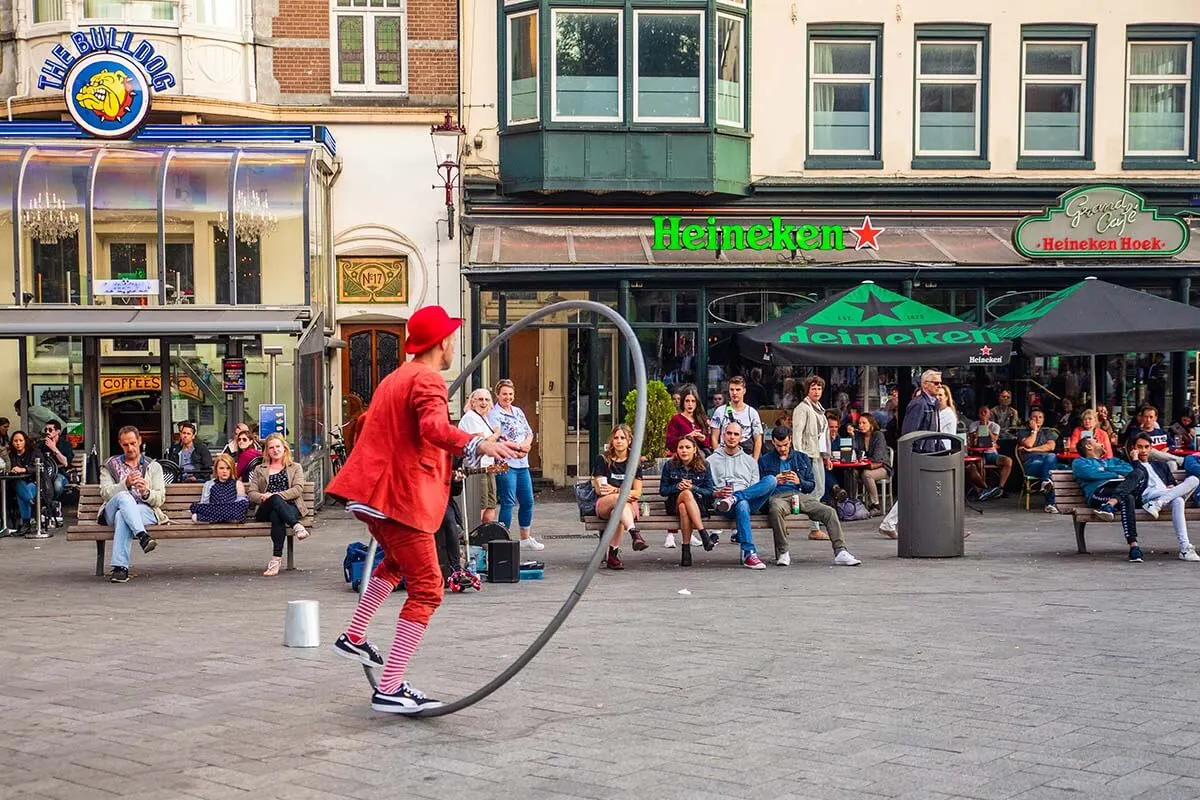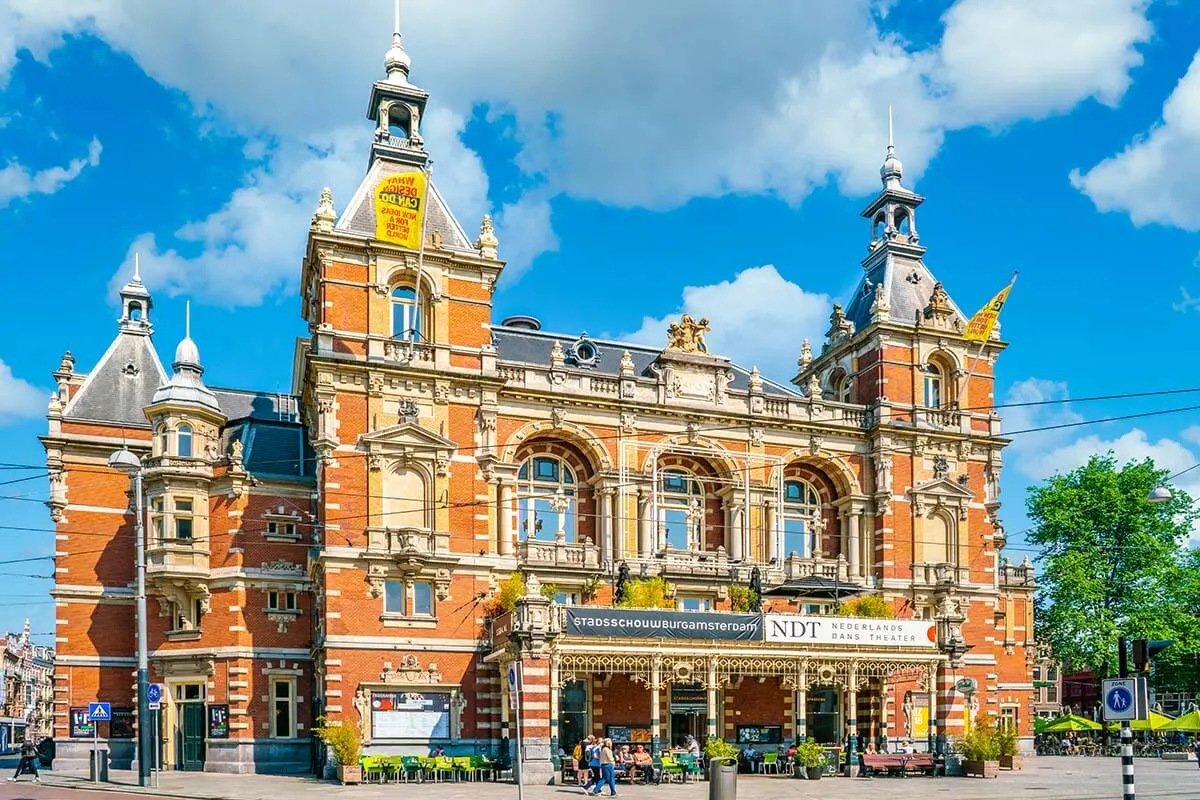 11. Vondelpark
Just a short walk from Amsterdam's most popular museums and Leidseplein is the beautiful Vondelpark.
The most famous park in the Netherlands, Vondelpark welcomes 10 million visitors every year. Yet it remains an oasis of calm in this vibrant city, covering 120 acres and never feeling crowded.
Here you can see lots of different plants, a scenic lake, and maybe even catch a free performance at the open-air theatre or bandstand. There is also a children's playground at the Groot Melkhuis, a statue of the poet Vondel, and a restaurant in the historical Pavilion.
There are bikes available to rent in the park (or you can book a guided bicycle tour of the city that also visits the park). This will allow you to learn more about the park's history and see every hidden corner.
Good to know: Springtime is the very best time to visit Vondelpark when it is covered in colorful tulips.
TIP: Because Vondelpark is so close to some of the best museums and main attractions of Amsterdam (Rijksmuseum, Van Gogh Museum, Heineken Brewery, etc.), this is a nice spot to stop for lunch and take a peaceful break from the crowds at the most popular sights.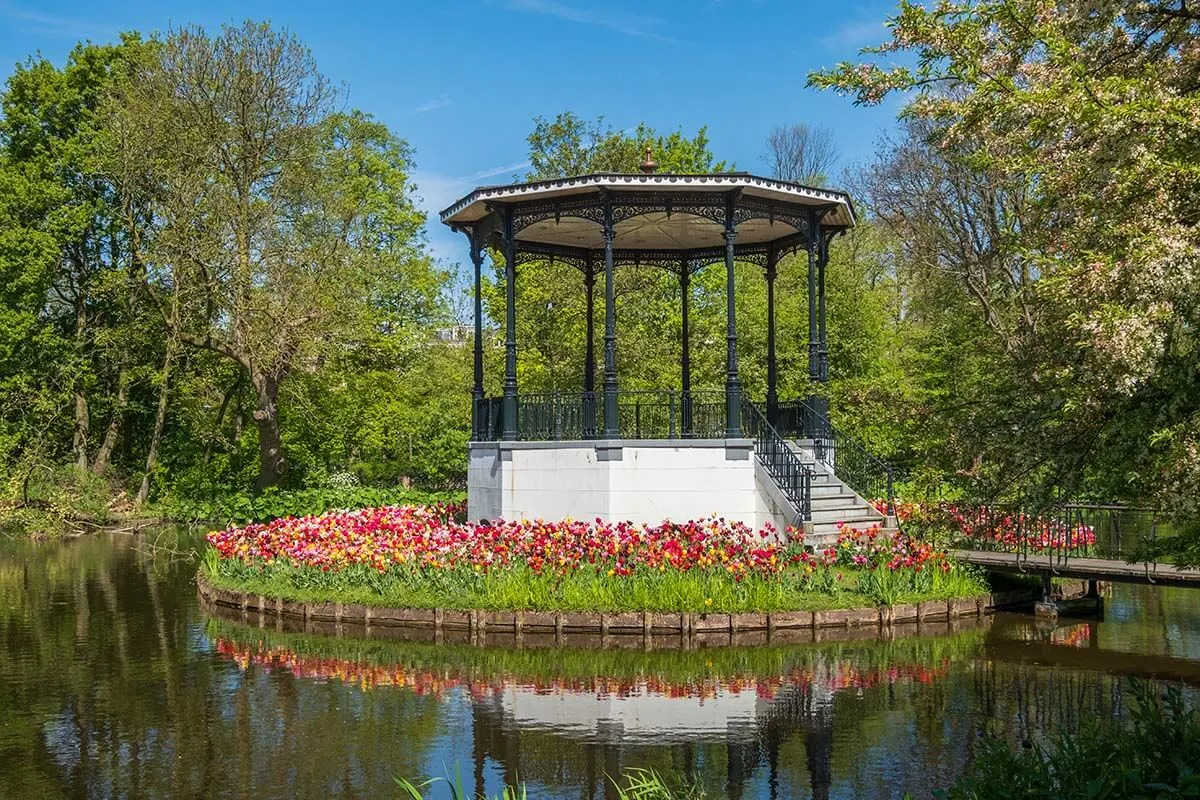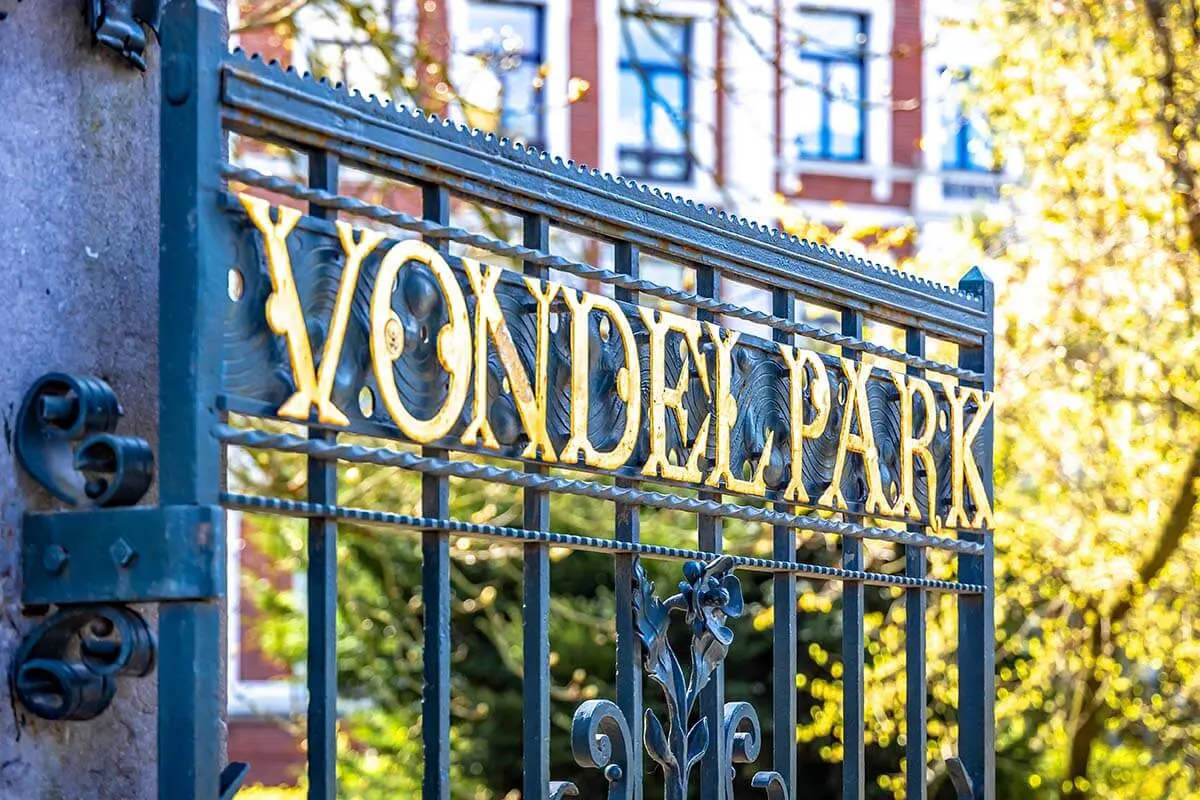 12. The Nine Streets
The Nine Streets (De Negen Straatjes) is the collective name of 9 old cobbled streets connecting the main canals between Leidsegracht and Raadhuisstraat, a few blocks south of the Anne Frank House. The names of the streets are: Reestraat, Berenstraat, Runstraat, Hartenstraat, Wolvenstraat, Huidenstraat, Gasthuismolensteeg, Oudespiegelstraat, and Wijde Heisteeg.
Don't worry about remembering the names – we indicated it in our map further below. And if you wonder what they mean, some of the streets are actually named after animals – Wolf Street, Bear Street, or Deer Street. Some other names are quite special as well, such as Old Mirror Street, or Heart Street.
Despite being surrounded by some of the most popular places in Amsterdam, and located between the most famous Amsterdam canals (Prinsengracht, Keizersgracht, and Herengracht), the 9 Streets have a very different atmosphere than the busy areas around Damrak.
They are quite charming, lined with specialty stores, unique shops, and independent boutiques. This area is a nice change from the chain stores of the main shopping street, offering vintage goods and authentic items instead.
If you're a music fan and into vinyl, be sure to check out Waxwell Records. They have a record player where you can try out their offerings and frequent sales that allow you to pick up a bargain!
TIP: For some of the best sweets and pastries you will experience in Amsterdam, visit the Chocolaterie Pompadour on Huidenstraat. It has a wonderful tearoom with marble-topped tables, and Insta-worthy arrangements of its creations in its window displays. Alternatively, drop by Het Koekemannetje bakery on Runstraat for some of the best cookies ever.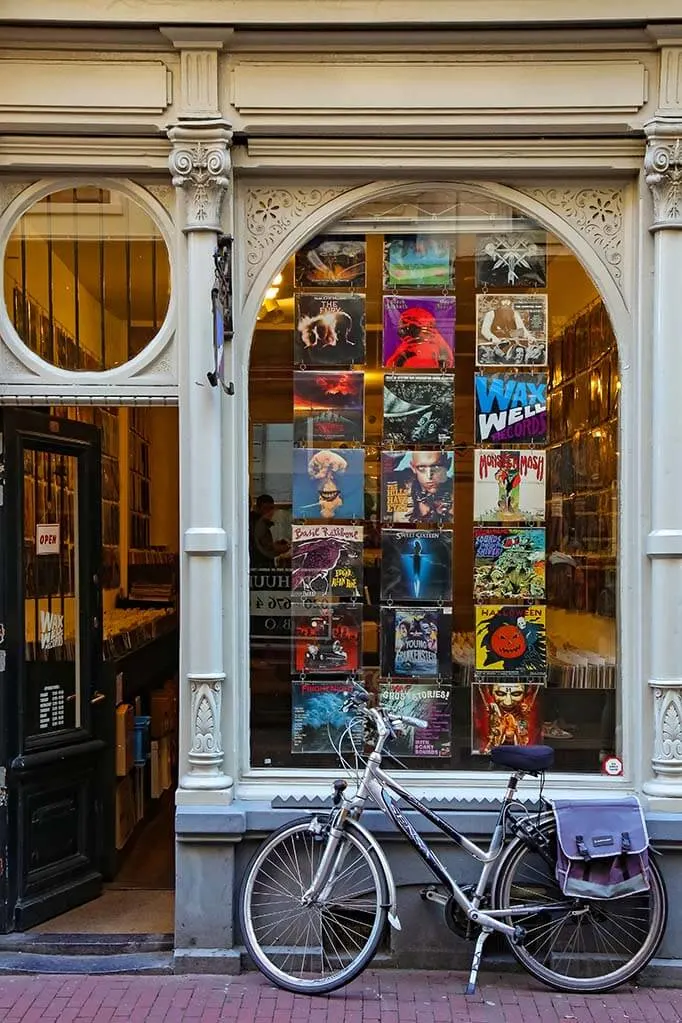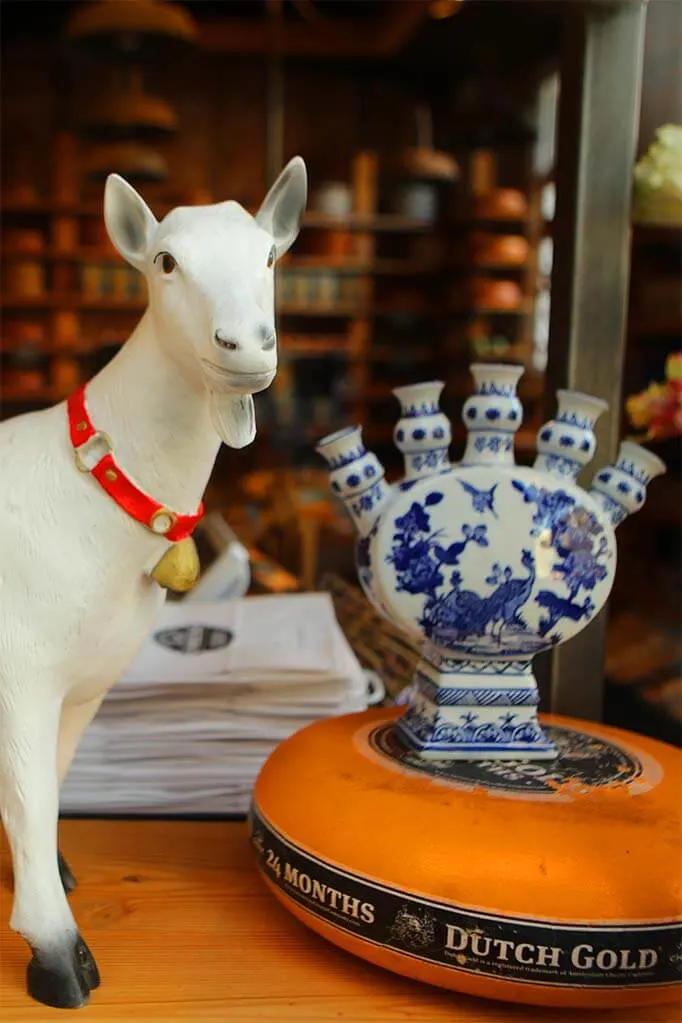 13. Jordaan Neighborhood
A network of narrow streets leading to flower-lined canals, the idyllic neighborhood of Jordaan is both peaceful and characteristically Dutch. There are lots of lovely little shops and boutiques to explore, plus artists' studios and a nice selection of cafes and restaurants.
Located to the west of Amsterdam's main ring of canals, it is just a short walk from the Anne Frank House or the 9 Streets.
Built early in the 17th century, it originally housed refugees and workers, attracted by its low rents. Over time it became quite run down and was scheduled for demolition after World War II. But some of its citizens begged for a reprieve, and from the 1970s onwards the neighborhood was completely regenerated. So much, in fact, that it is now one of Amsterdam's most desirable districts to live in.
Good to know: Saturday is market day, and the perfect time to visit. The Lindengracht Market is where the local residents buy their fresh produce. Or head to the Noordermarkt on Noordermarkt Square to buy organic food and shop for bargains at the flea market.
TIP: The Jordaan neighborhood is famous for good food! Taking a food tour is one of the best ways to explore this area and get to know the more local side of Amsterdam. Or call in for lunch at one of the local-favorite cafes. Check out Cafe de Tuin, Café Sonneveld, or 't Smalle (and there are many, many more).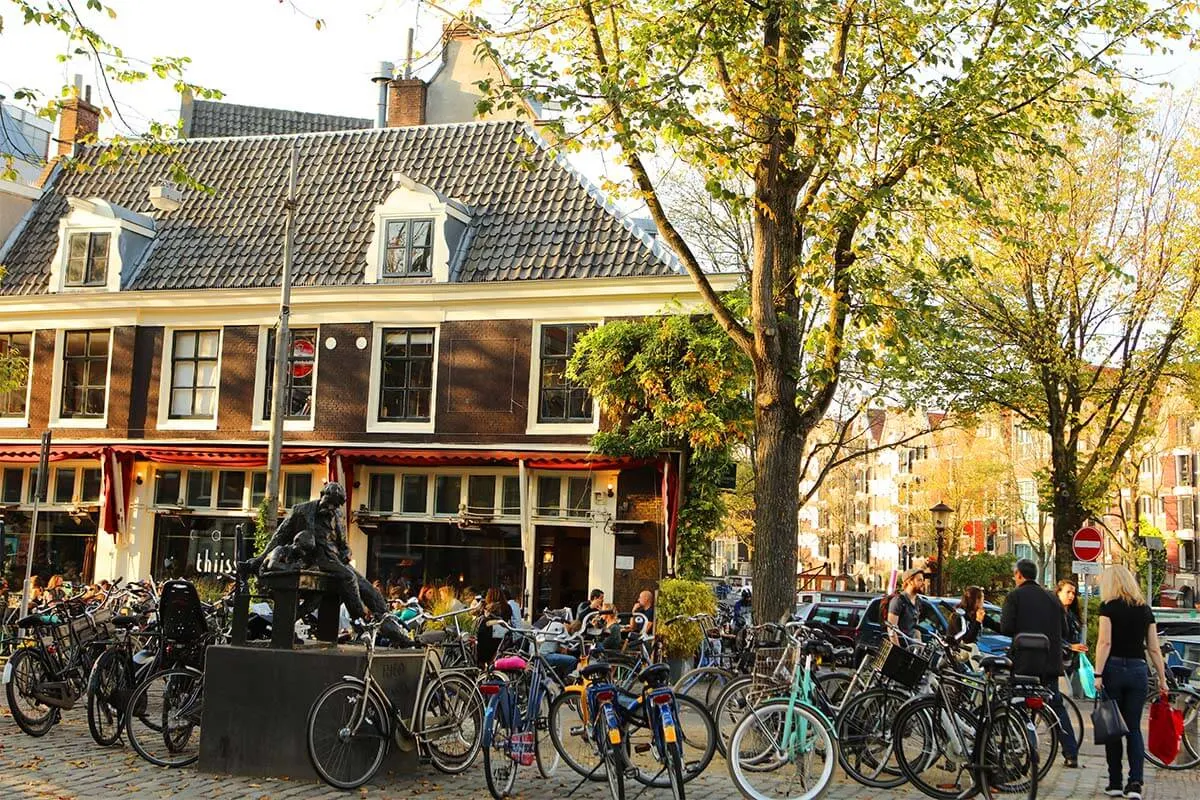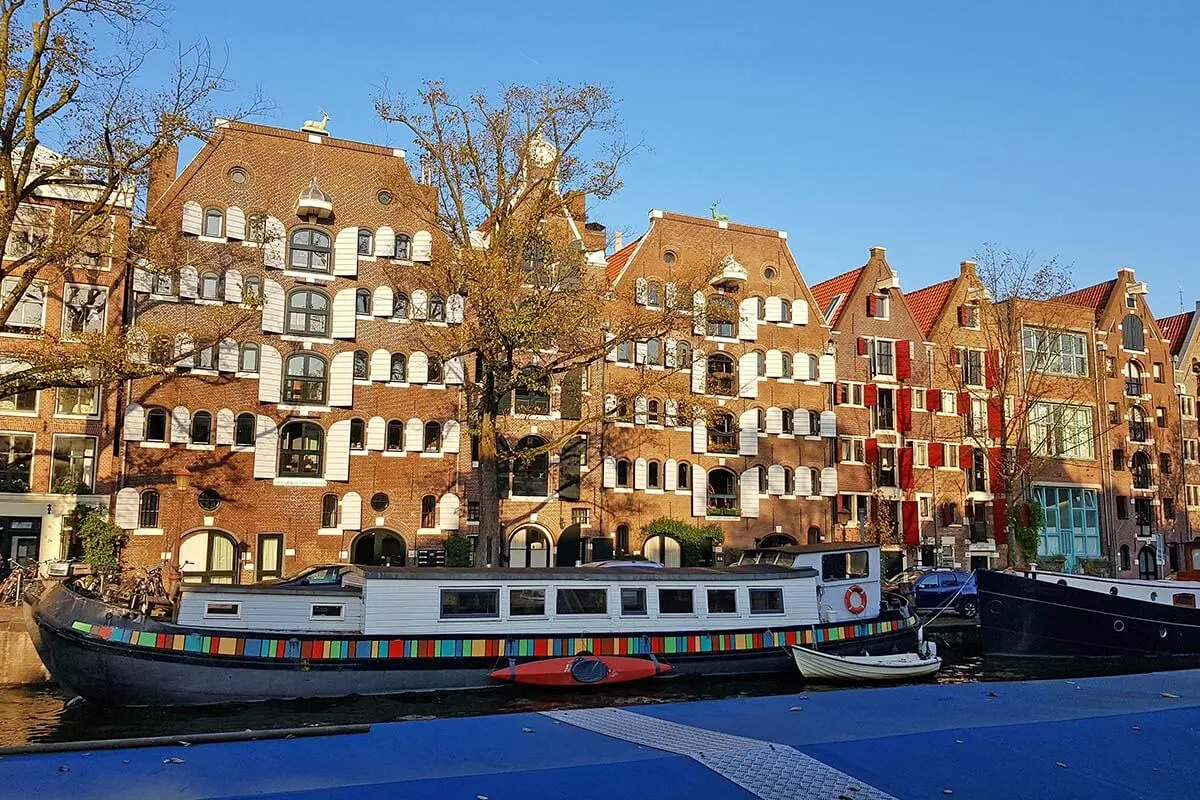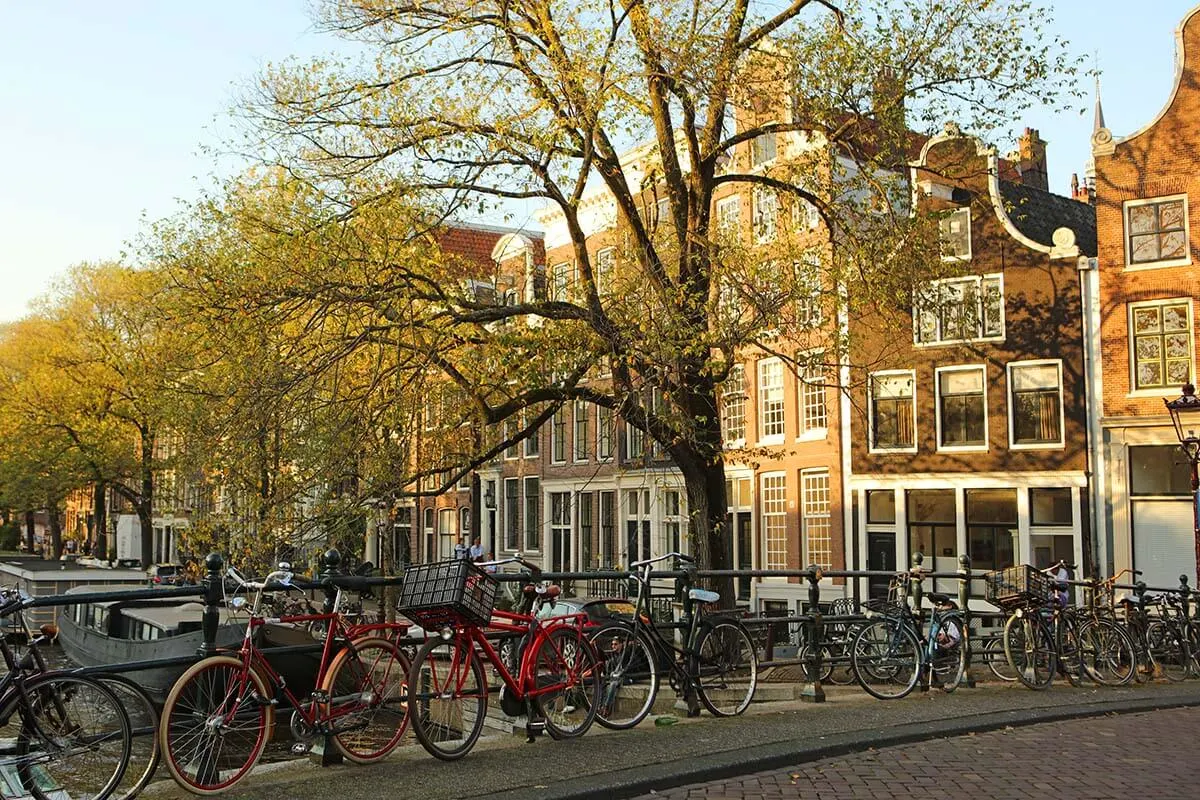 14. West Church & Tower
Located on Prinsengracht and just next to the Anne Frank House, the West Church (Westerkerk) is Amsterdam's largest church and the most important Protestant church in the city. Many of Amsterdam's citizens consider its bell tower – the Westertoren – to be the city's symbol.
The church was built from 1619 – 1631 and the tower was added in 1638. Rembrandt van Rijn is buried here along with other famous Dutch artists and the chimes of the clock tower were heard by Anne Frank, who mentioned them several times in her diary.
It is well worth a quick visit here if you have some time to spare in Amsterdam. The church has an austere charm and there are regular, free organ recitals to enjoy. We especially recommend visiting the tower, as the view of Amsterdam from the top is incredible.
Good to know: The climb to the top of the tower is very steep and at times little more than a ladder. It can be quite unnerving for some and definitely requires flat shoes. Free to enter, the church is open to visitors all year round, except on Sundays. The tower is normally open from April to October and requires a ticket. However, it's now closed for renovation that's expected to take a few years.
While the Westertoren remains closed, you could head to Zuiderkerk Tower instead. Or – for different views with less effort – visit the A'DAM Lookout (see below).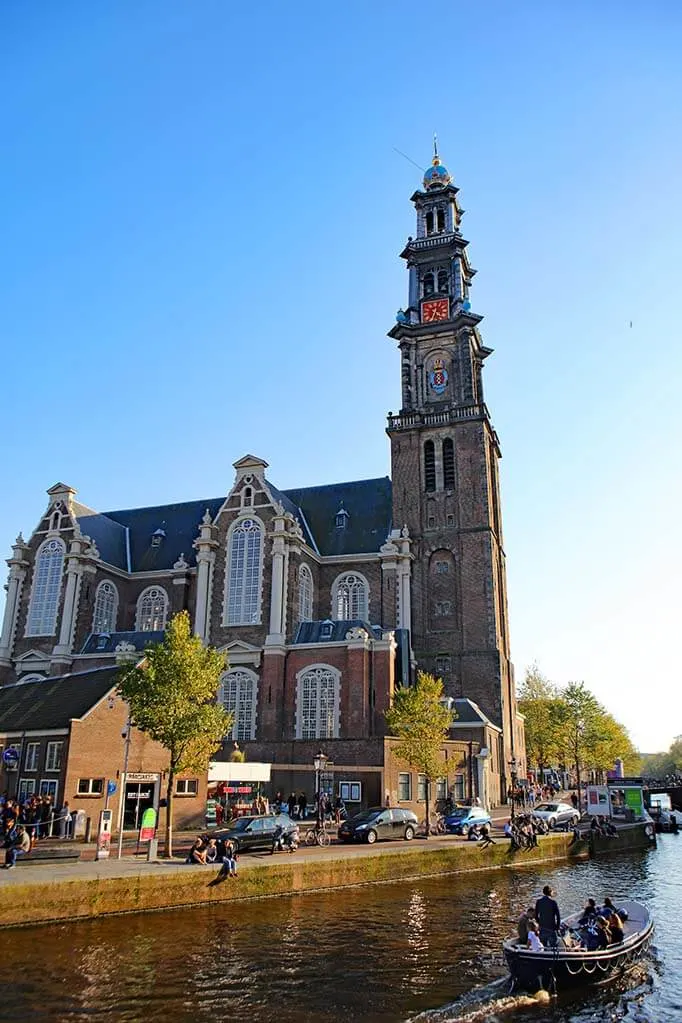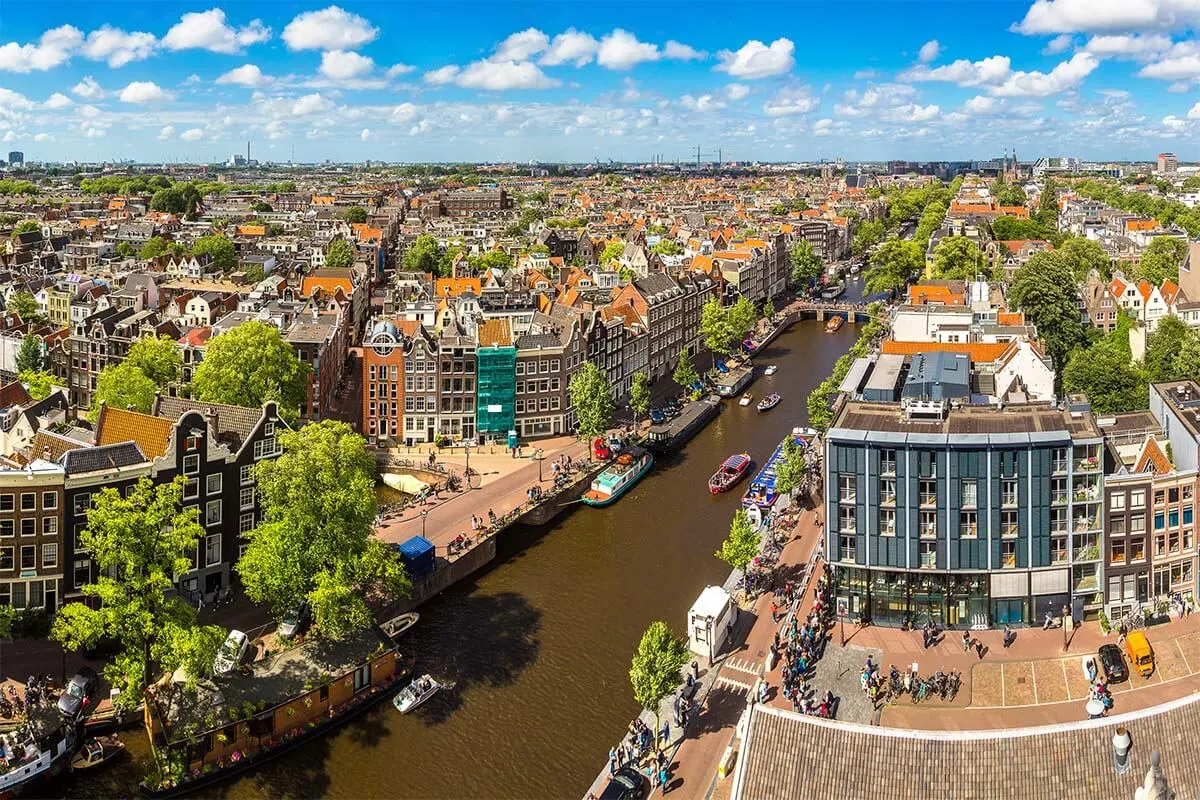 15. Central Station
Located in the heart of the city, Amsterdam Centraal train station is a bustling place with visitors and locals alike. Several of the city's buses and trams terminate here, along with the waterfront stations of the ferry lines that take passengers to Amsterdam North. You can also find the main Amsterdam Tourist Office here.
And while it might look strange to have a railway station mentioned among some of the landmarks of Amsterdam, it's well worth a quick peak even if you are not taking a train.
The style of the building itself is authentically Dutch and well worth a quick look while you are in Amsterdam. It originally opened in 1889 as the Netherlands' main railway transit center. Take a walk through its 19th-century entrance hall and you'll discover a modern shopping mall packed with trendy eateries.
Outside, you'll find the Central Railway Station Square, with towers on either side – one a weather vane and the other a clock tower.
TIP: For a truly unique experience, check out Grand Café Restaurant 1e Klas. This restaurant is located inside the beautifully restored 19th-century elegant 1st Class waiting rooms of the station, and feels like taking a trip back in time. You can book a 3-course lunch or dinner experience here, or just go for a quick drink and the atmosphere. Hidden in plain sight, this is one of the lesser-known gems of Amsterdam.
Good to know: If you are planning on taking any day trips from Amsterdam, most tours will start in this area. This is also where you can take a train to all the bigger towns in the Netherlands, and also direct trains to Antwerp or Brussels in Belgium, or to Paris in France.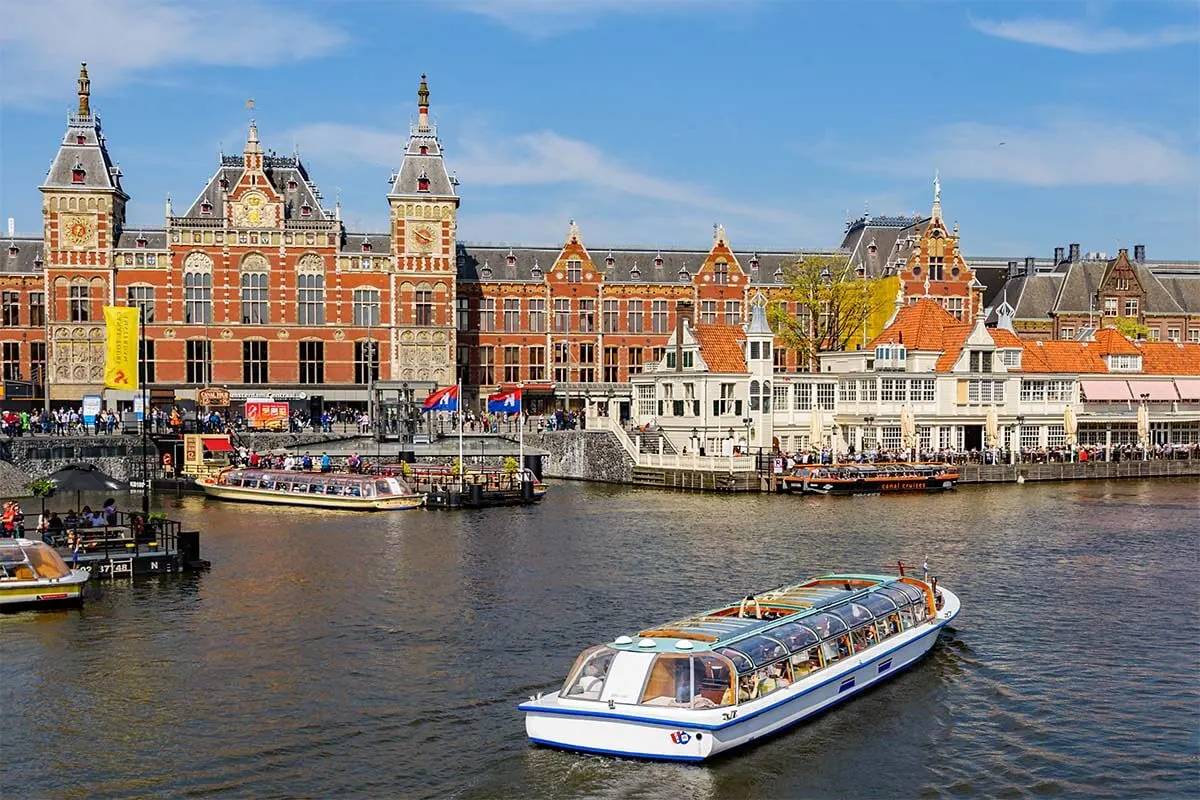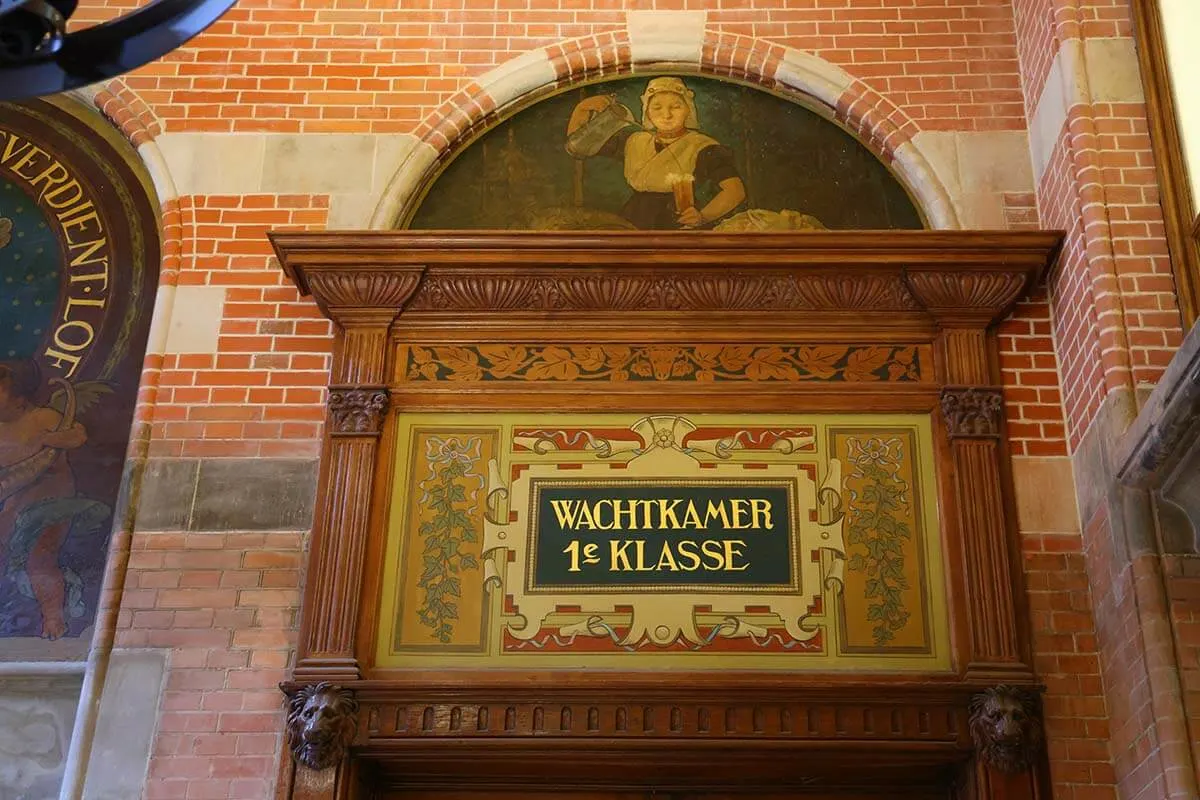 16. Red Light District & Coffeeshops
Amsterdam has a uniquely laid-back approach to drugs and prostitution which is what makes this area so fascinating to many international visitors. Its Red Light District is named after the line of windows and doors surrounded by red lights.
Here you can learn more about the city's coffeeshop culture (not to be confused with regular coffee shops or cafes) and the use of soft drugs. You can also see women dressed in very little, waiting behind the windows for customers. Just please don't stare at them or take pictures – that is forbidden.
This area isn't for everyone, of course. But if you want a more authentic experience and are not easily shocked, then you may prefer to visit at night.
Amsterdam's Red Light District has been a hot topic for years, with the city council trying to limit its appeal as a popular Amsterdam tourist attraction. Certain tours have been forbidden, and there have been talks of moving the district a bit further away from the city center…
Either way, it remains an interesting place to see in Amsterdam. But if you want to learn more about it without wondering where exactly to go or what the most interesting spots are, etc., we recommend going with one of the organized walking tours of the area.
We recently took this highly-rated tour and I can only recommend it. Despite having been to the area so many times before, we learned a lot. It gives you a much more complete picture of this unique area.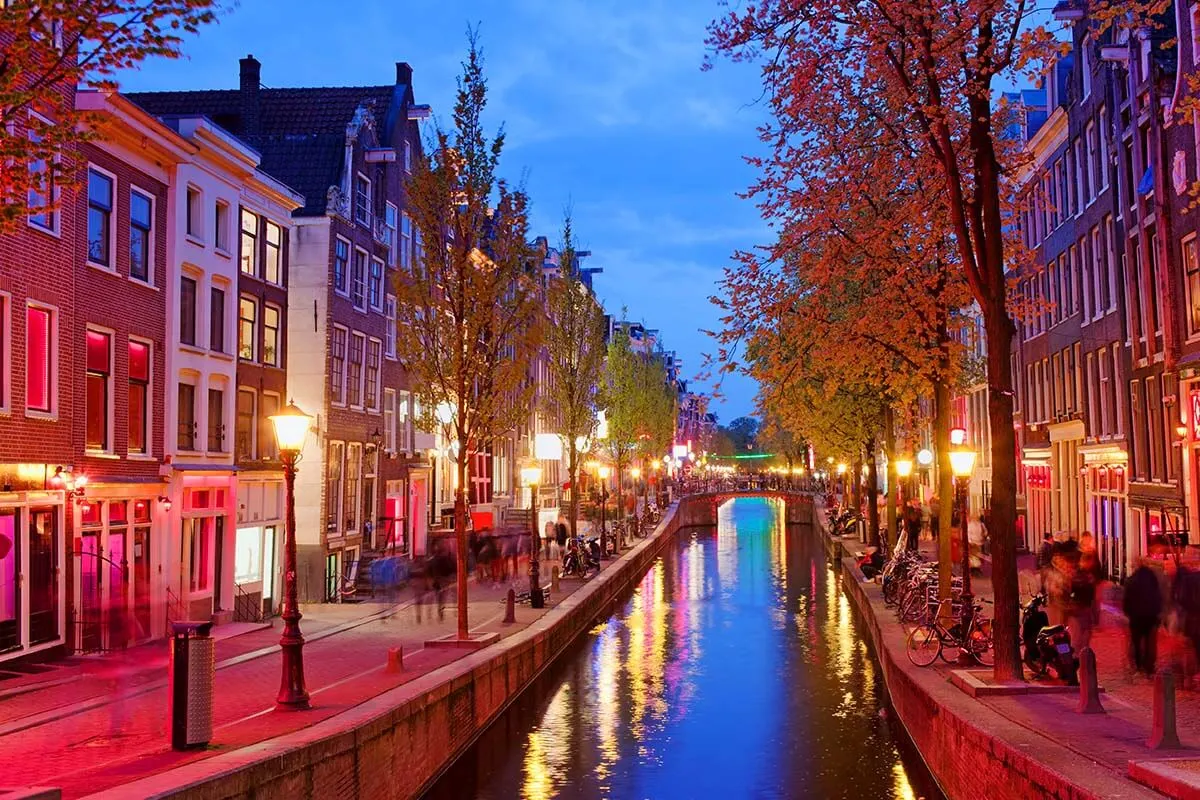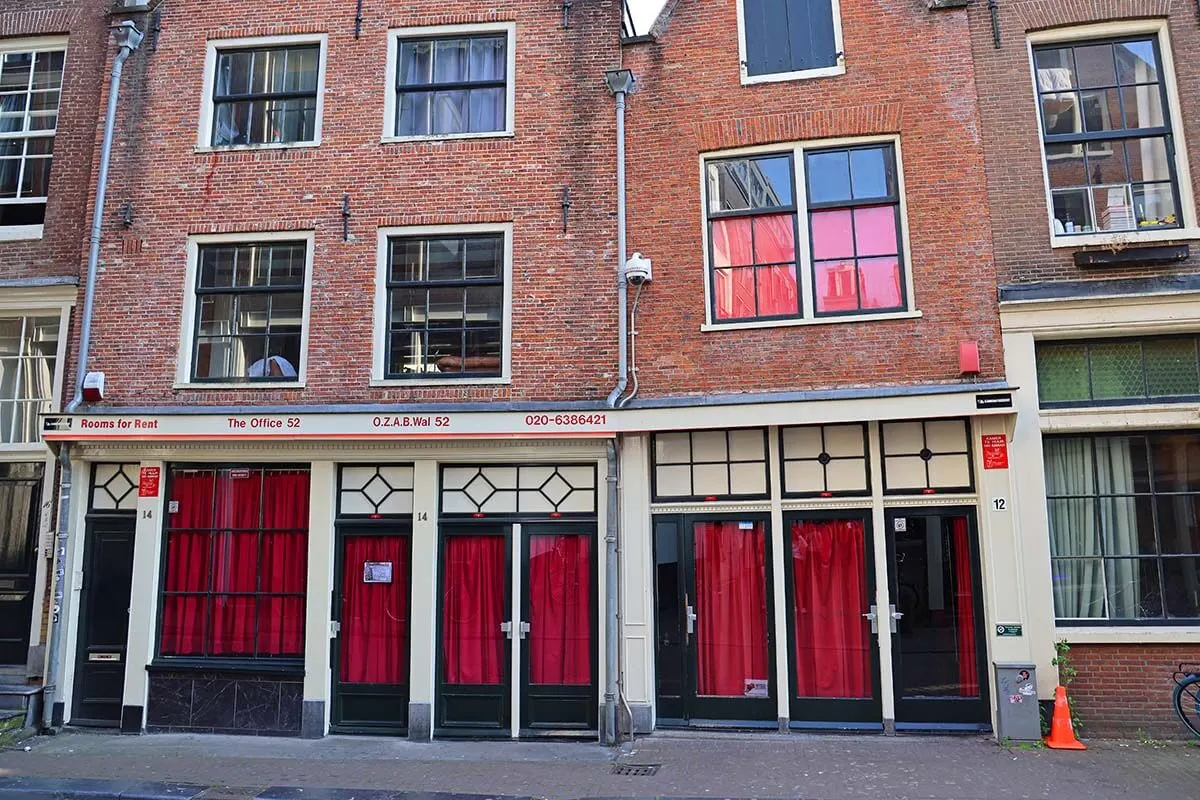 17. Heineken Experience
The award-winning Dutch Heineken beer is famous all over the world. So visiting its oldest brewery is something that's well worth doing during your visit to Amsterdam.
The tour is very enjoyable, informative, and ideal for couples or groups of friends looking for something fun to do in Amsterdam beyond the main sights and museums.
After an introduction from the staff, you can look around the brewery by yourself. It's interesting to learn about the process that goes into making the beer, right from reaping the hops to tasting the end result. And there are several fun, interactive elements, including the 'Brew U' game where you become a bottle of beer, to bottling your own personalized Heineken.
TIP: Just like all the other top sights in Amsterdam, Heineken Experience is another very popular attraction and the queues in the high season can get long. So if you absolutely want to do it, book your timed-entry tickets online in advance.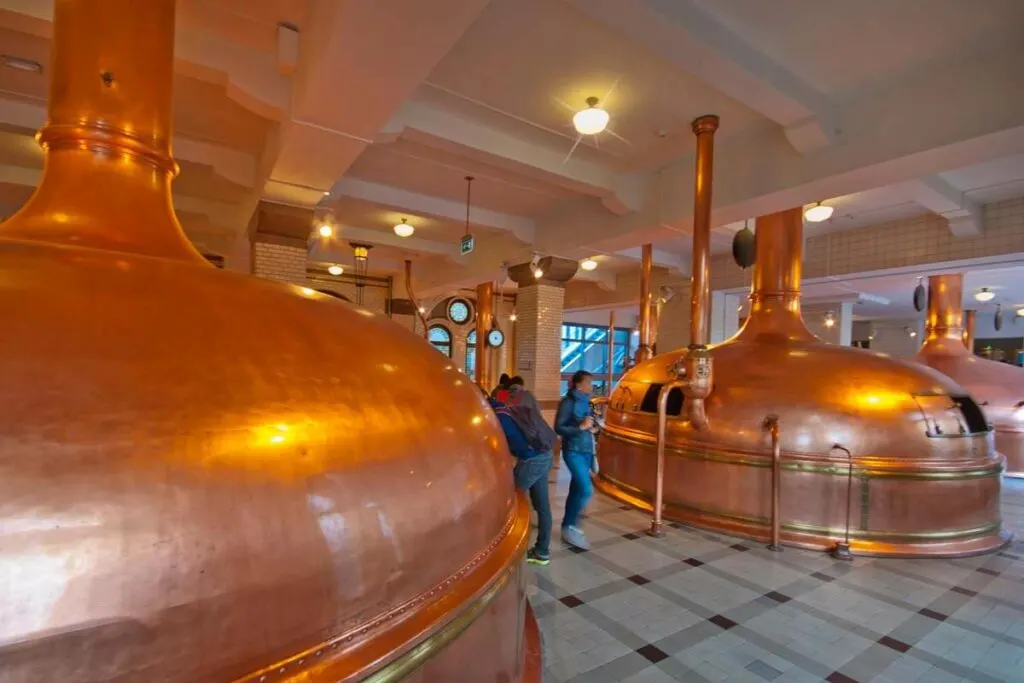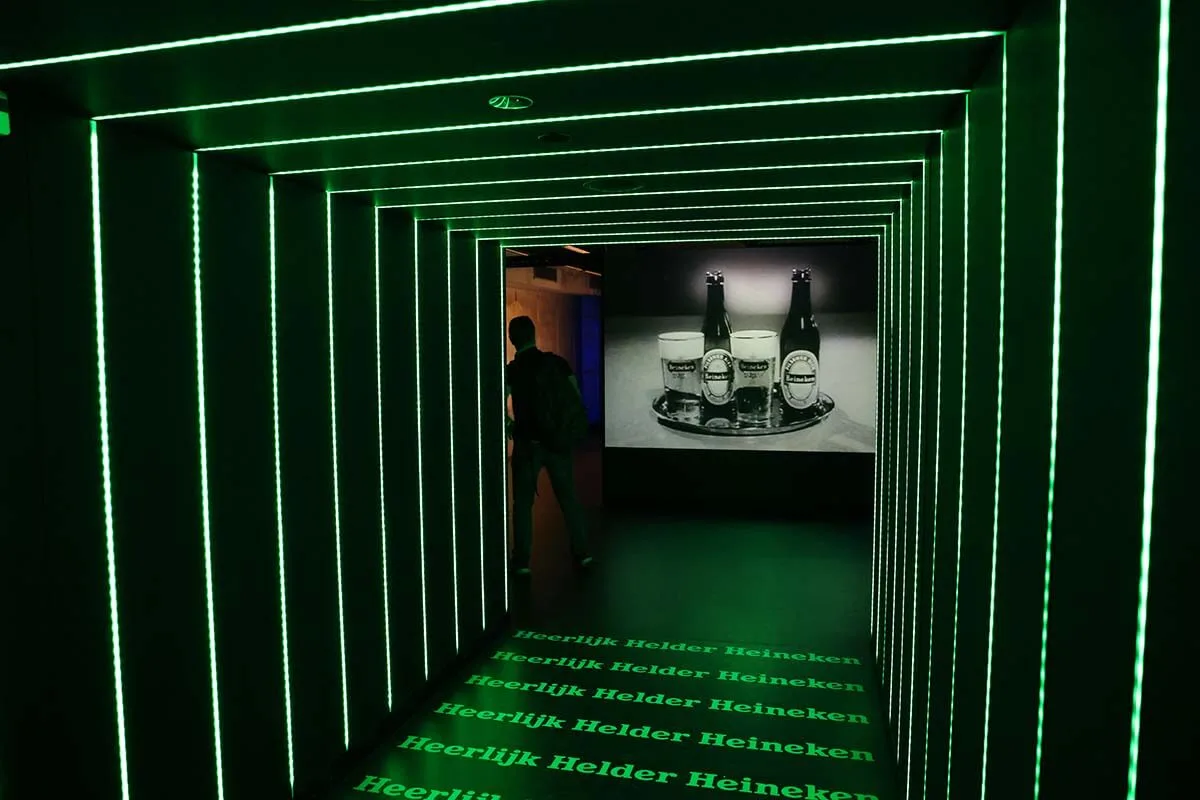 Now that we covered some of the most popular places to see and tourist attractions in Amsterdam, here are a couple more ideas of interesting places to visit and things to do in Amsterdam.
If you have more than 1-2 days in the city – or if you have seen all the 'musts' and are looking for more fun experiences in Amsterdam, check out the following attractions as well:
18. Albert Cuyp Street Market
Located in the lively De Pijp neighborhood, Albert Cuyp Street Market is the largest and most popular outdoor market in the Netherlands. It is also the best market to visit in Amsterdam, incomparable to the most popular Floating Flower Market.
It's a bustling and vibrant place that offers a truly immersive local shopping experience. You will find a big variety of market stalls, offering all kinds of household goods and clothing, but also souvenirs, fruit, vegetables, Dutch cheeses, and all kinds of delicacies.
This is a great place to try some typical Dutch food, like herring sandwiches, mini-pancakes (poffertjes), or syrup waffles (stroopwafels).
A visit to this market provides a unique opportunity to soak up the vibrant atmosphere, interact with friendly locals, and discover a diverse array of traditional foods and products.
Albert Cuyp Market is a fun place to visit in Amsterdam, for both locals and tourists alike. It's a fun experience and gives you a memorable taste of Amsterdam's dynamic and multicultural spirit.
Good to know: The market is open daily except Sundays from 9.30 AM to 5 PM.
TIP: If you would like to taste all kinds of Dutch specialties at the market, but are not sure where to start, consider this highly-rated street food tour with a local guide.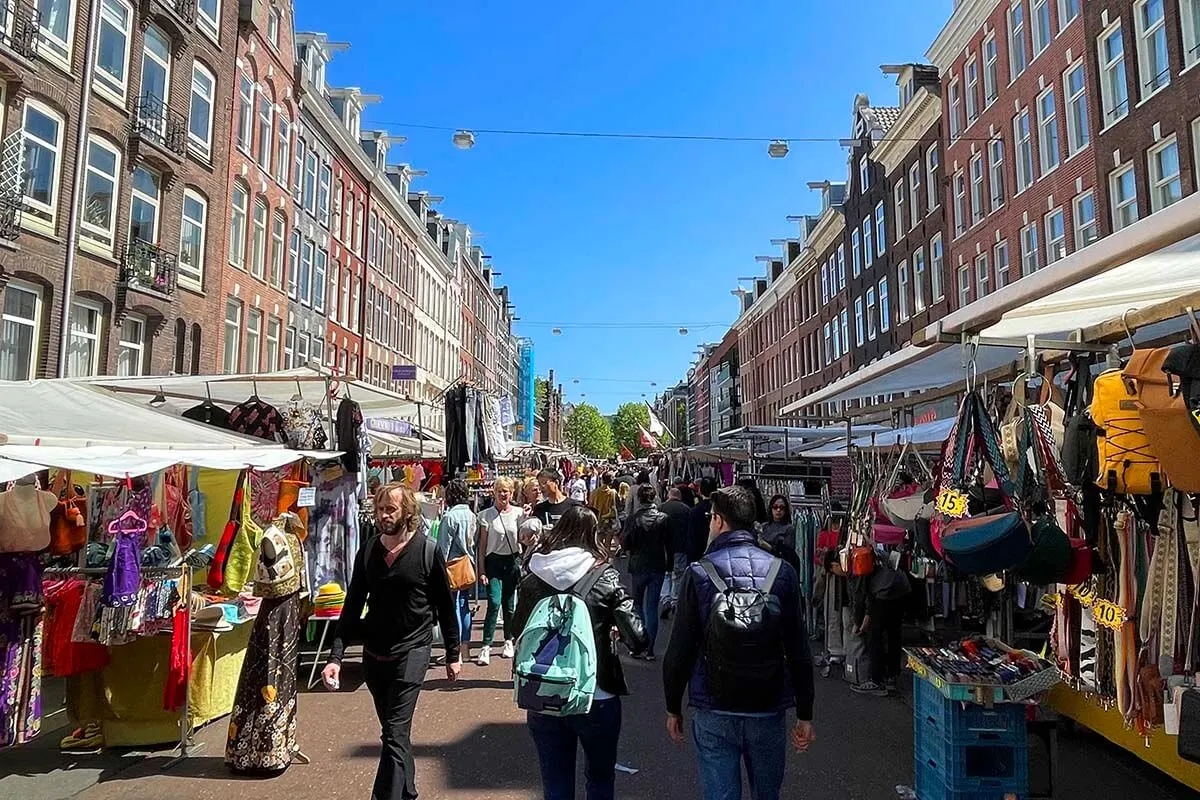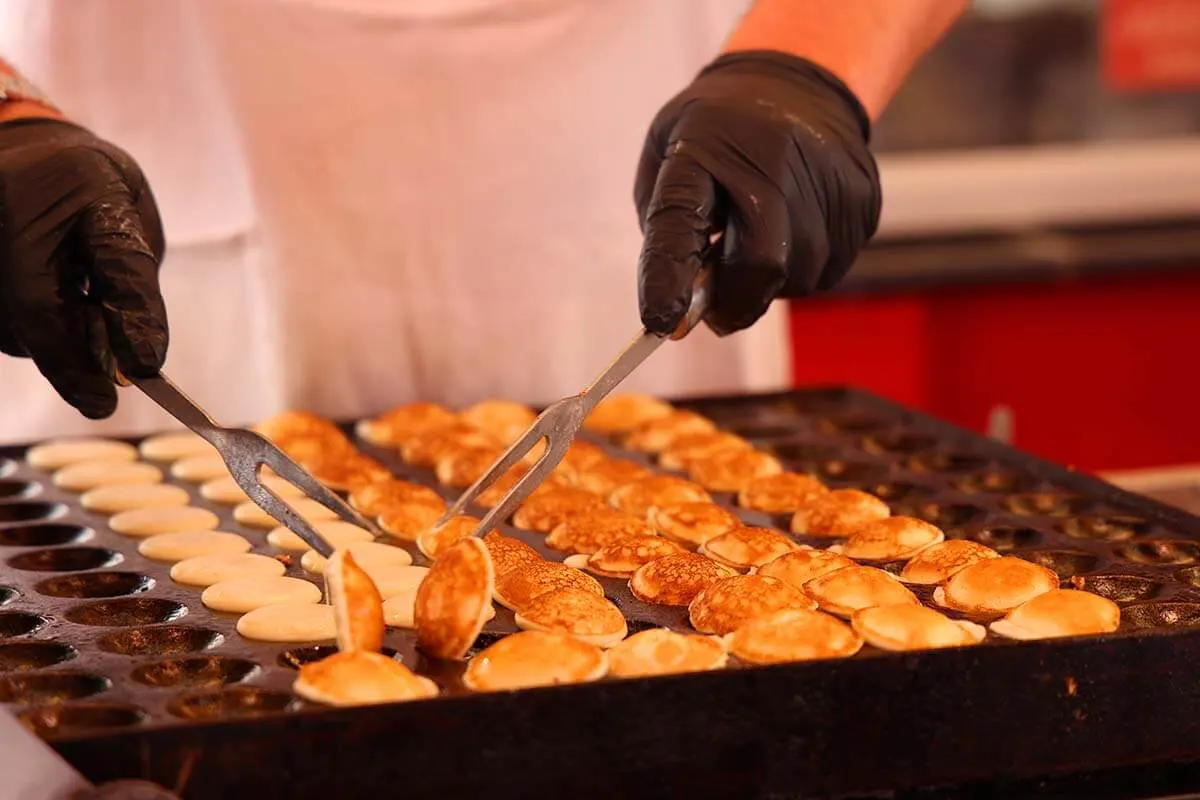 19. ARTIS Royal Zoo
ARTIS is the oldest zoo in the Netherlands and one of the oldest zoos of mainland Europe. It was founded in 1838 and is home to 200 varieties of trees and around 700 species of animals. It also has three listed buildings on its grounds – the Large Museum (1855), the Library building (1867), and the Aquarium (1882).
There are so many interesting parts to this zoo, making it a great place for the whole family. So it will come as no surprise that ARTIS is one of the most popular family-friendly attractions in Amsterdam.
Visit the aquarium zone to see what lives in the city's canals. See exotic plant species in the greenhouses of the Botanical Gardens and learn about another world in the zoo micropia, which is dedicated to microorganisms. There is a planetarium where you can enjoy a virtual tour of the solar system. And there is also a zoological museum with some of the 19th century's most interesting scientific collections.
It's a great place to spend a few hours away from the hustle and bustle of the main tourist sights. In addition to the big park, the zoo has various indoor areas as well, so it's also a good place to visit in Amsterdam even if it rains.
Good to know: If you don't want to buy tickets to the zoo, visit the Artisplein which is free to enter. It's a lovely spot to sit and rest, with a water table fountain, stunning trees, and views of the Dutch polder aviary and flamingo pond.
You can bring your own food, or have lunch at one of the restaurants inside, but it tends to be very busy, with high prices too. There are lots of benches and picnic areas you can use when the weather is fine.
TIP: Buy your tickets online in advance as the zoo can get very busy, especially during weekends or school holidays. The entrance to the zoo is also included with the I Amsterdam City Card.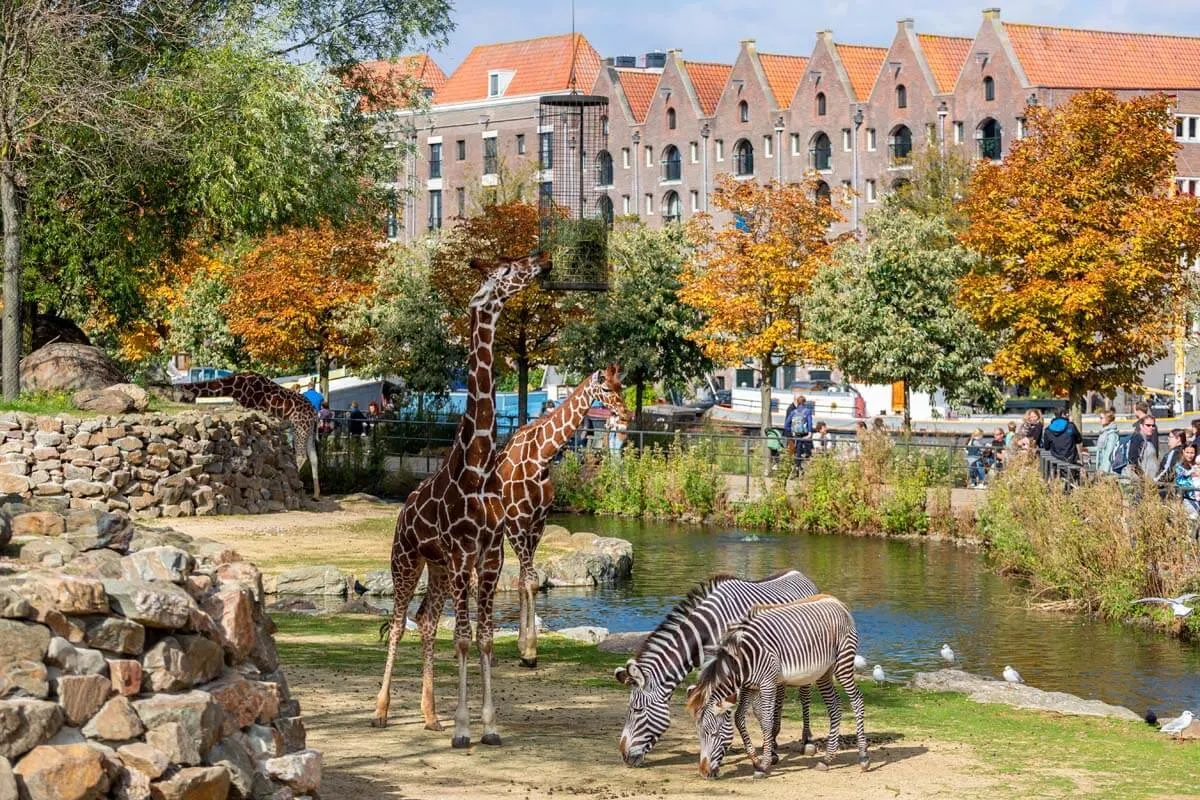 20. A'DAM Lookout
Located on top of the A'DAM Tower, the A'DAM Lookout used to be the headquarters for Shell. Nowadays, it's a popular tourist attraction and one of the best spots for an amazing high-angle view of Amsterdam.
Getting up there is half the fun – you'll travel in a glass-ceilinged elevator that takes just 22 seconds to reach the 20th floor!
The view isn't the only reason to come here, though. A'DAM Lookout also has an interactive exhibition, with a free audio tour of the city's history and culture. And if that rapid ascent in the elevator didn't get your heart racing, perhaps the 'Over The Edge' swing will! Dangling 100 meters above the ground, it takes you to and from over the edge of the tower.
Alternatively, you can enjoy some slightly less terrifying fun in the Amsterdam VR ride, a virtual reality rollercoaster through the city.
Good to know: The Lookout also has a nice rooftop bar, and a nice restaurant for a special dinner. The restaurant – called Moon – revolves on one rotation of its axis in an hour, and all tables are next to the window. A ticket here is also included with the I Amsterdam City Card.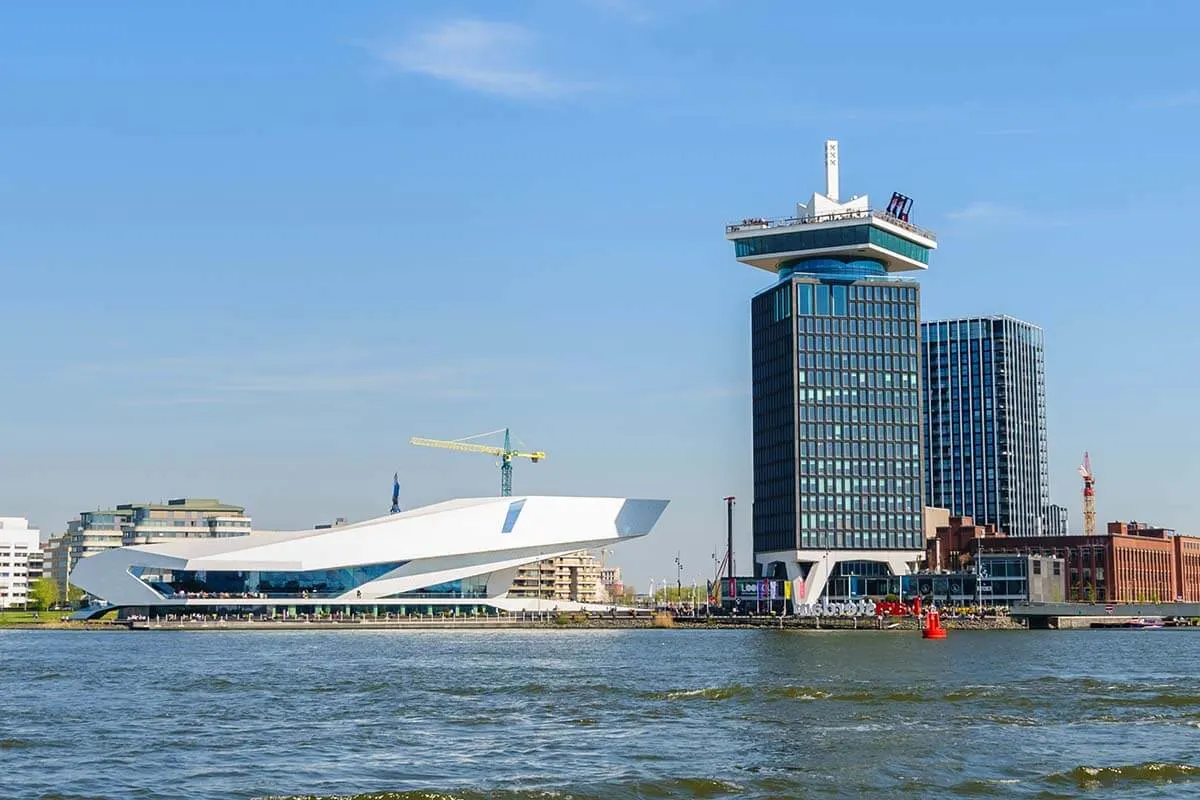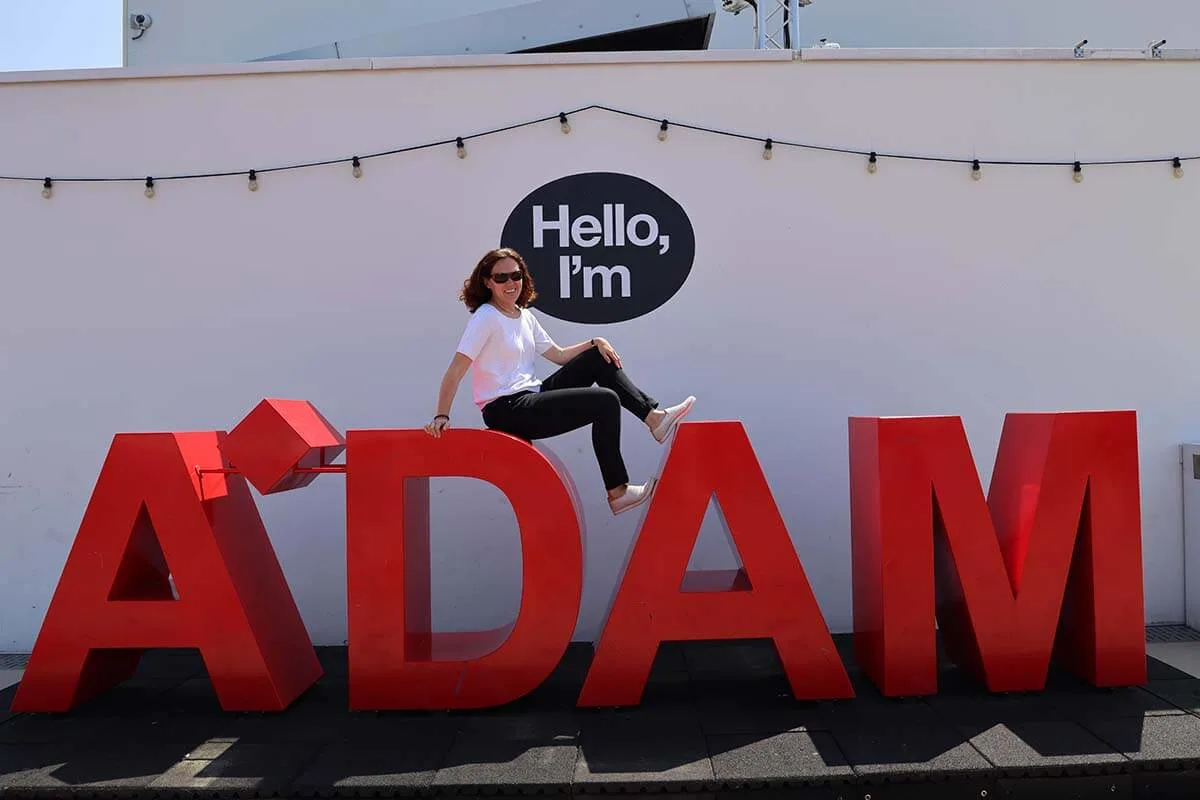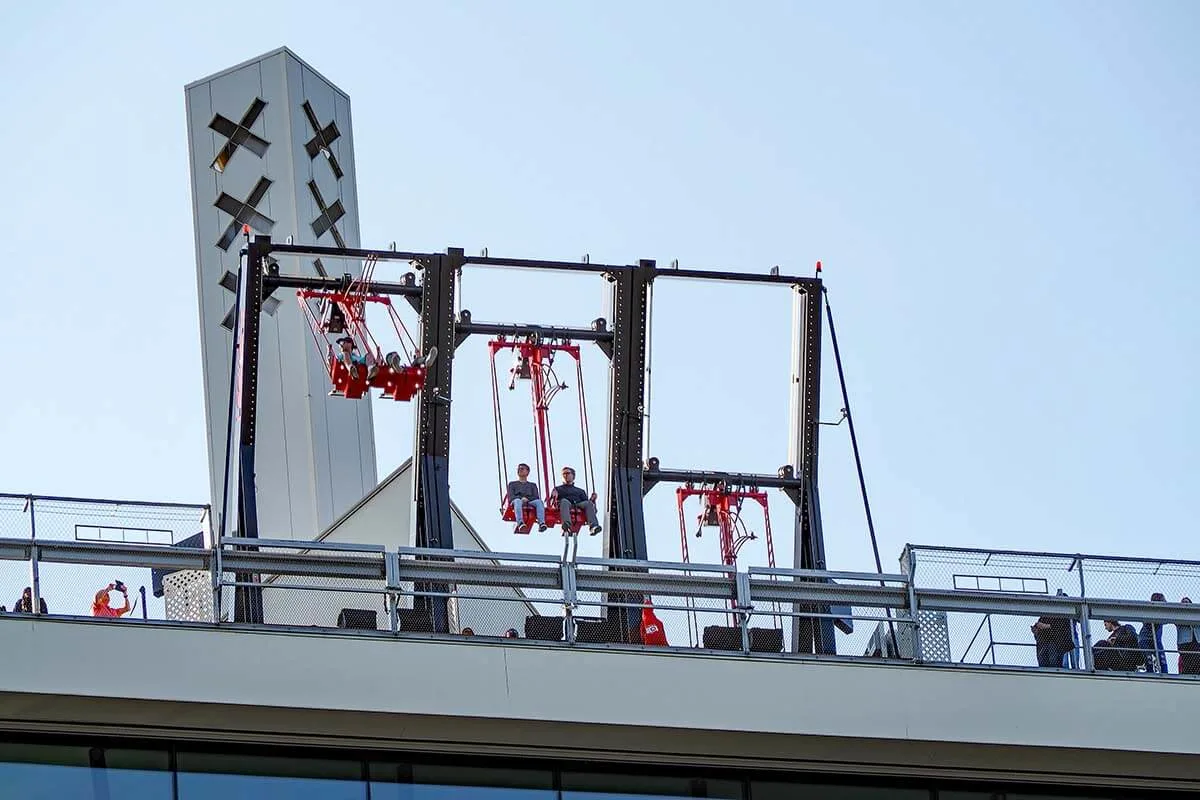 21. NEMO Science Museum
The largest science museum in the Netherlands, NEMO is something nice to do in Amsterdam for the whole family. While it's fun for adults too, NEMO is an absolute must if you are visiting Amsterdam with kids and are looking for something a bit more entertaining and hands-on than the 'regular' museums.
Through displays, workshops, videos, and interactive exhibits you can discover more about the things you see and experience every day.
From human anatomy and behavior to discovering how mathematics influences the world around you, there really is something here to interest everyone. And who can resist the chance of trying a hands-on experiment?
Good to know: The exhibits are in Dutch and in English. The first two floors are directed mainly towards children, whilst the upper two are more suitable for adults. If time is short you may prefer to spend the majority of it on the floors that will interest you most. Be sure to visit the rooftop, too – it gives you great views of the city!
TIP: Bring some change with you. There are free lockers, but you need to pay a small returnable deposit. Also, you can visit the rooftop restaurant without having to buy a museum ticket. And talking about tickets, also here, it's best to get a ticket in advance. Or you can use the I Amsterdam Card here too.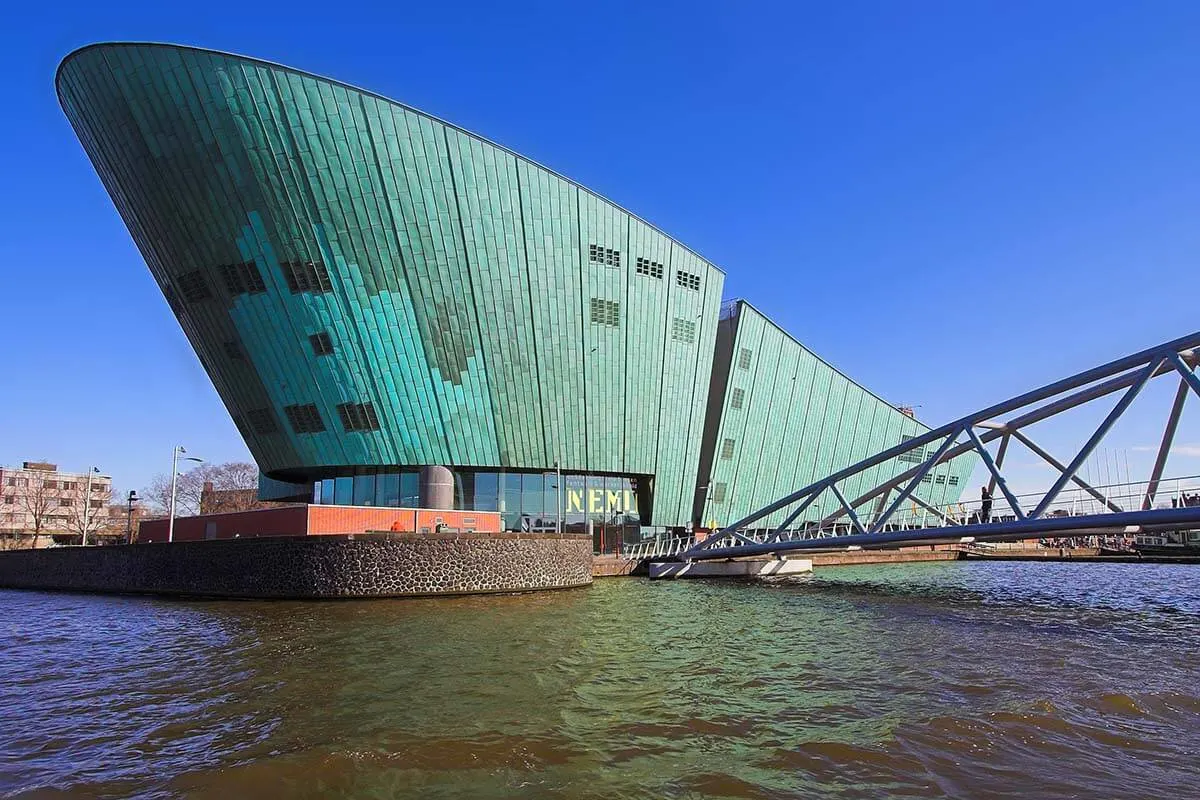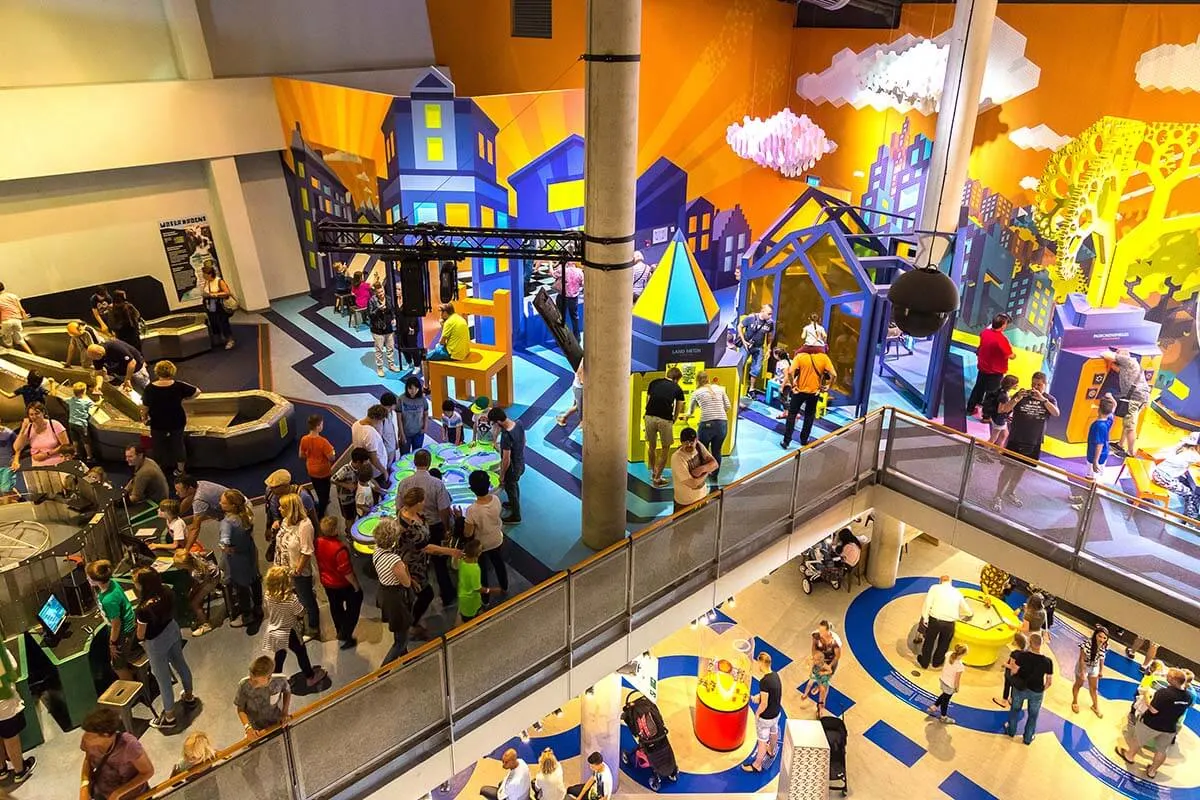 22. Johan Cruijff ArenA Stadium Tour
Football fans will not want to miss a chance to visit the stadium of Amsterdam's top-tier club, AJAX. However, keep in mind that it's located a bit outside of the city center, so count some extra time to get there and back.
The Johan Cruijff ArenA Stadium tour gives you access to the players' areas of Amsterdam's top-tier club. Conducted in either Dutch or English, it takes 75 minutes and includes the dugout, pitch, and official Ajax dressing room.
You can opt for the 'standard' or 'VIP' tour. The latter gives you access to some exclusive areas, a drink, and some other extras that die-hard fans will find more than worth it.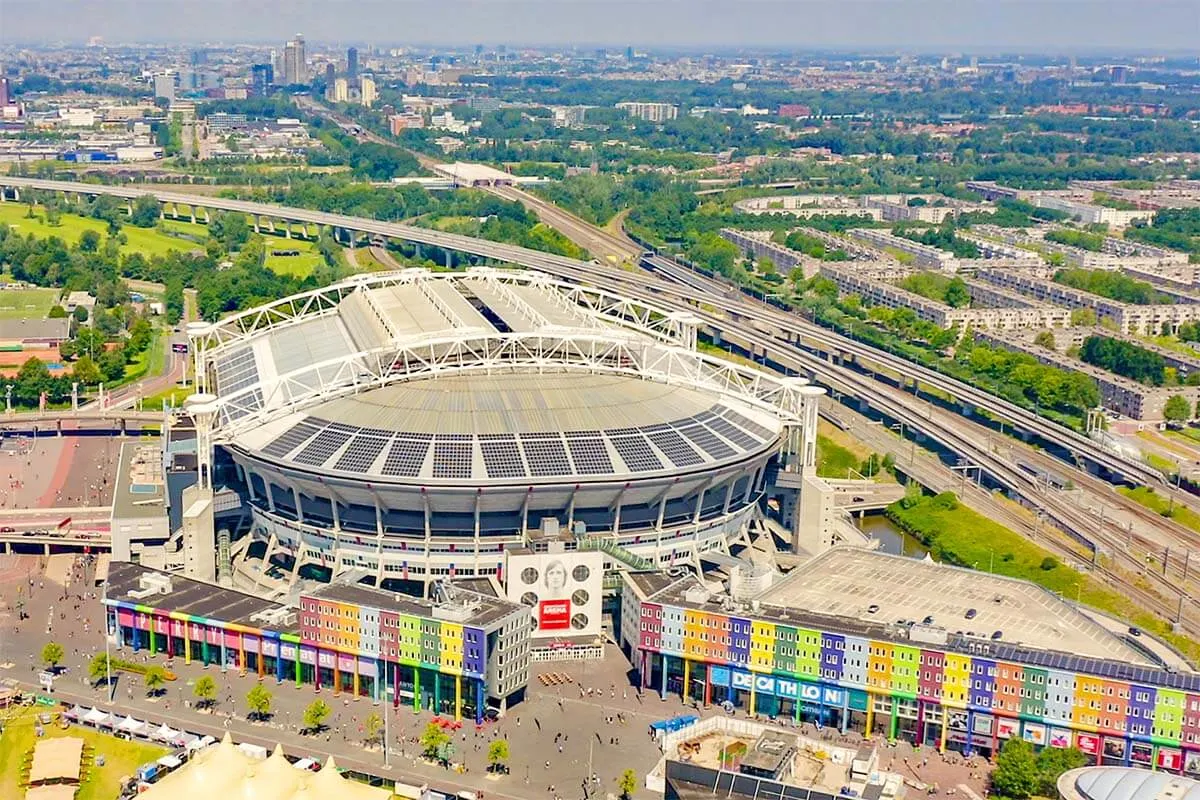 23. Madame Tussauds
Madame Tussauds is another popular place to visit in Amsterdam that keeps on reinventing itself and is well worth a visit.
Here, you can come face-to-face with everyone from Anne Frank to Van Gogh, and the exhibits are presented in a fun and interactive way. It's not just about taking pictures with some wax figures anymore, but a really fun experience for all ages.
This world-famous wax museum is located in the heart of the city, on Dam Square, and you only need about 1-1.5 hours here. So it's quite easy to add a short visit here to any Amsterdam itinerary.
Good to know: The museum is open daily, and it also stays open quite late in the evening when many other places close already. It's also something good to do in Amsterdam when it rains. Booking your ticket for this museum online in advance not only saves you time but is also cheaper than same-day tickets.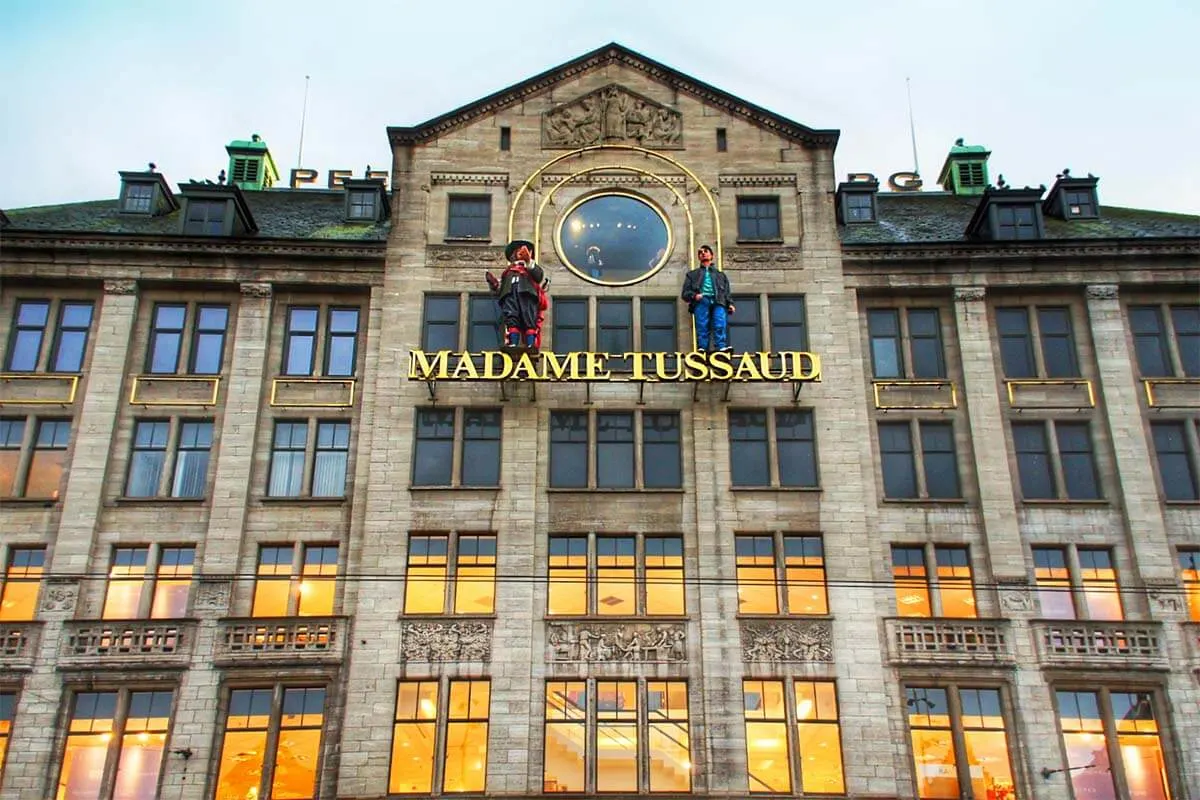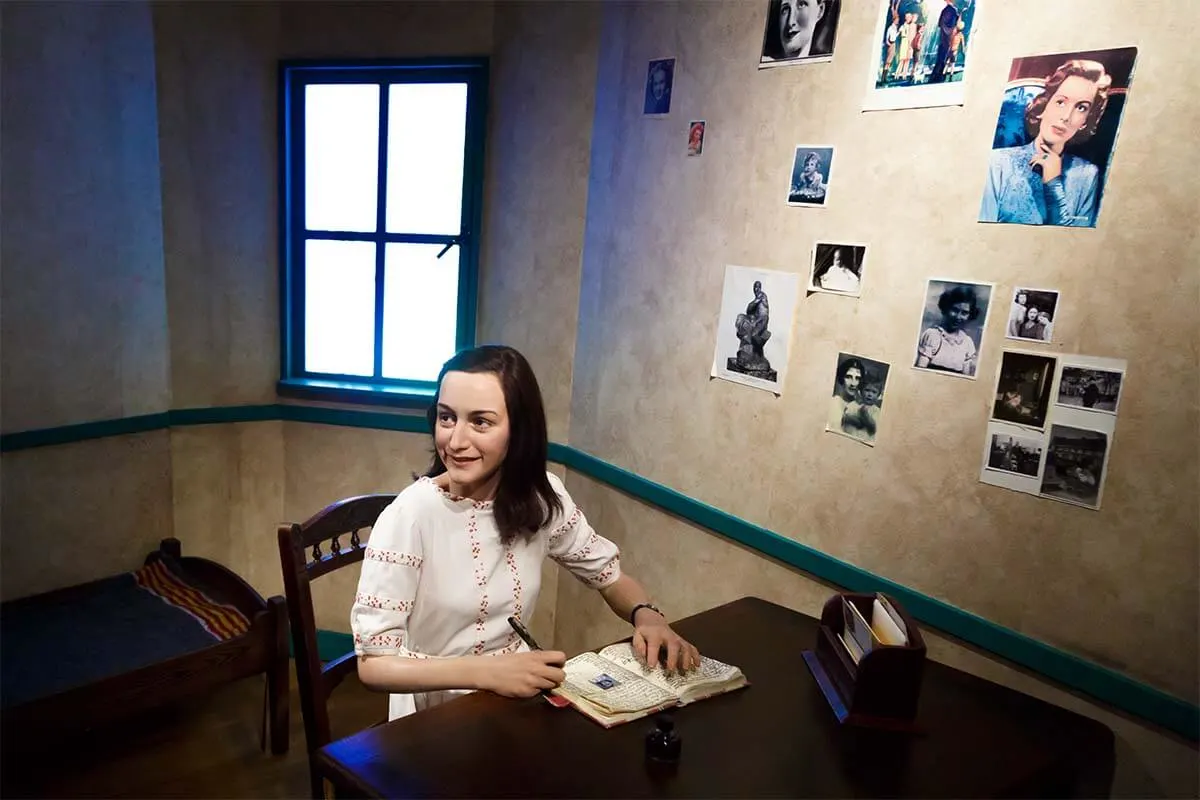 24. Moco Museum
Moco Museum is a small independent museum of modern, contemporary, and street art.
Located on the Museumplein just in between the Rijksmuseum and Van Gogh Museum, it's often overlooked by international tourists rushing from one top landmark to another. However, it's well worth a quick visit, especially if you like contemporary art.
The museum might be quite compact, but the artwork here is truly unique. You can see some works by the world-famous street artist Banksy, and many other modern artists from all over the world. It also includes an immersive 3D gallery on the lower floor. It's also a nice place to get some fun and unique pictures in Amsterdam (and Instagrammers' favorite).
Good to know: The museum is open daily, from 8 AM to 5 PM, but – unless you come very early in the morning – be prepared for it to be busy. Because it occupies a small area, this museum can get quite busy in the high season. You can find more info and get your tickets here.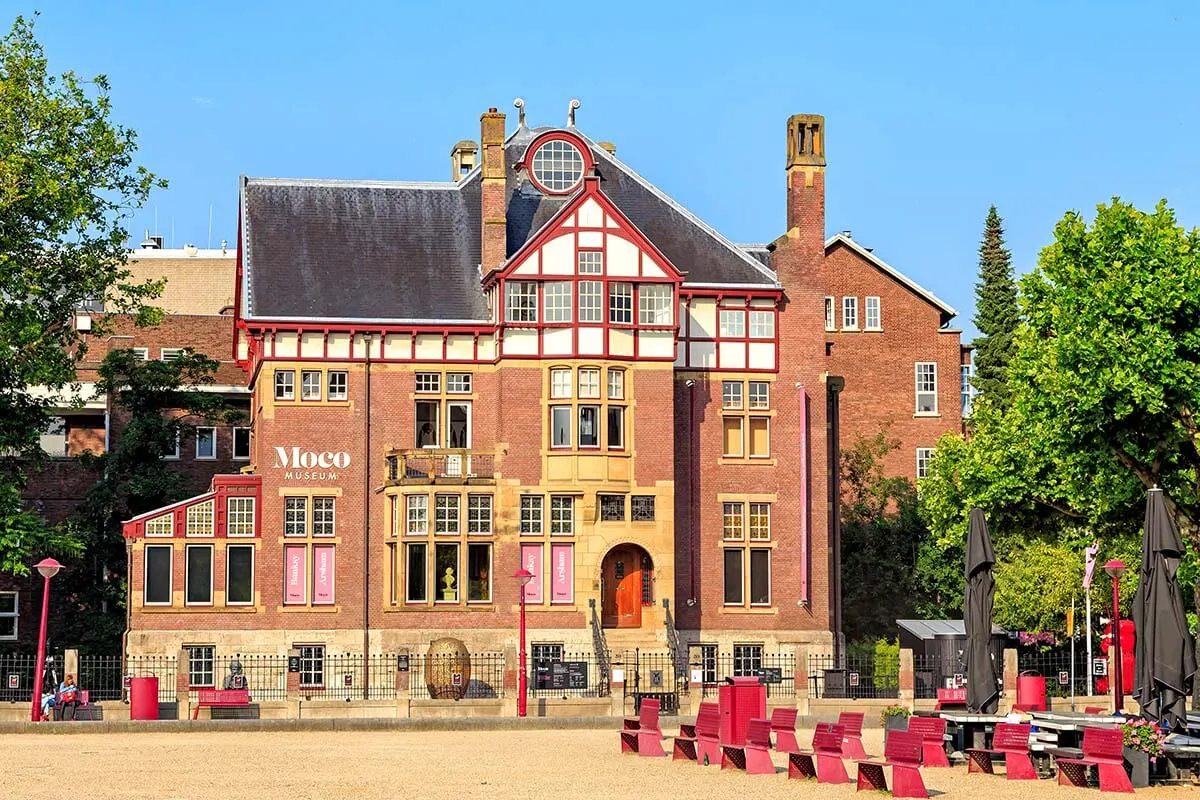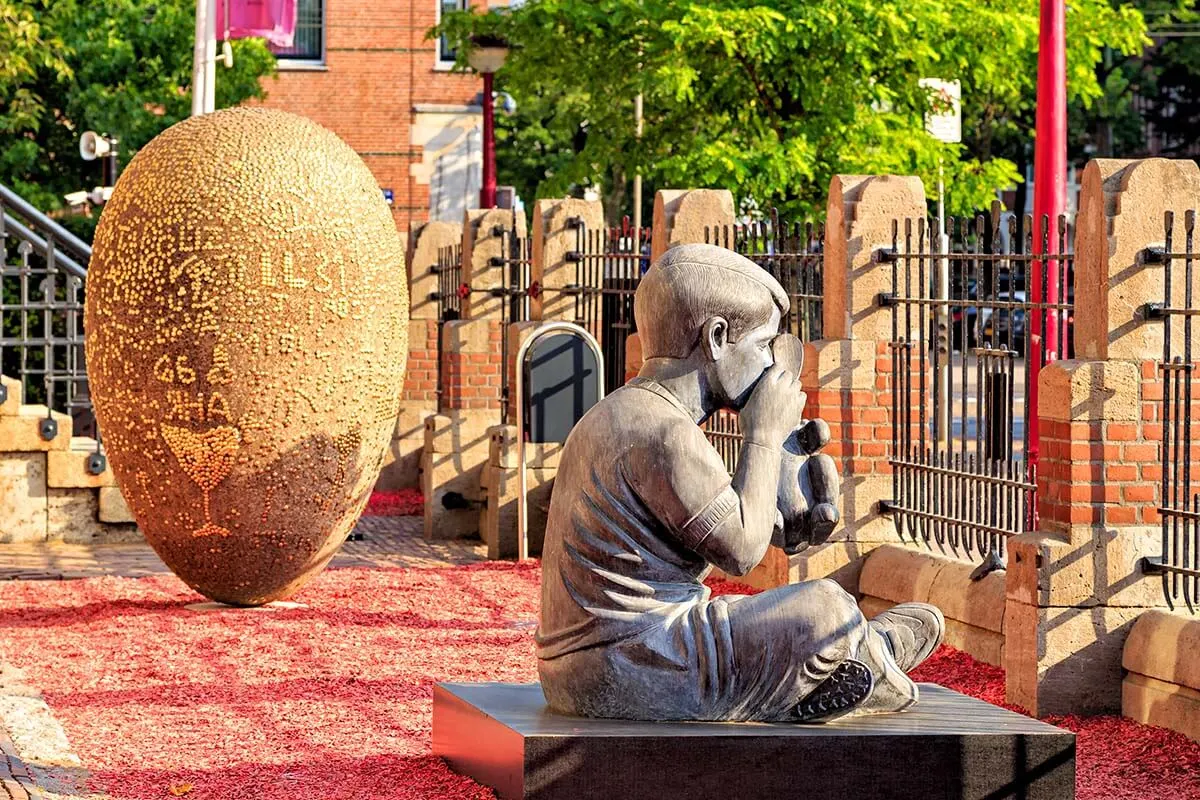 Map of Amsterdam Attractions
To help you get a better idea of where all the main Amsterdam attractions are located, we created a map indicating all the points of interest and sights mentioned in this article.
This should help you plan your time a bit better. Just please keep in mind that you'll need several hours for the main museums. So – if you decide to visit a few of those – plan the rest of your time around it.
Here you can find some sample itineraries to help you plan your trip:
TIP: For more information and useful tips for your visit, please also see our guide with top travel tips for Amsterdam via the link below. It's an essential read when planning your trip!
LEARN MORE: Top Tips for Visiting Amsterdam
How to use this map: Use your computer mouse (or fingers) to zoom in or out. Click on the icons to get more information about each place. Click the arrow on the top left corner for the index. Click the star next to the map's title to add it to your Google Maps account. To view the saved map on your smartphone or PC, open Google Maps, click the menu and go to 'Your Places'/'Maps'. If you want to print the map or see it in a bigger window, click on 'View larger map' in the top right corner.
In addition to the main sights in Amsterdam city itself, don't forget that there's so much more to the Netherlands than just its famous capital! So try to plan some time to visit at least a few other places as well.
One of the most popular tourist attractions in Holland (very easy to visit from Amsterdam) is Zaanse Schans, where you can see some traditional Dutch windmills.
In the spring (March – April), the Lisse tulip fields and Keukenhof Gardens are a must too!
In the summer, check out the picturesque village of Giethoorn which has canals instead of streets… And if you want to visit a smaller town, check out Delft – it's absolutely charming!
For more information on these and other places to visit near Amsterdam, take a look at our detailed guides via the link below.
LEARN MORE: Best Day Trips from Amsterdam & Dutch Countryside (Top Places Near Amsterdam)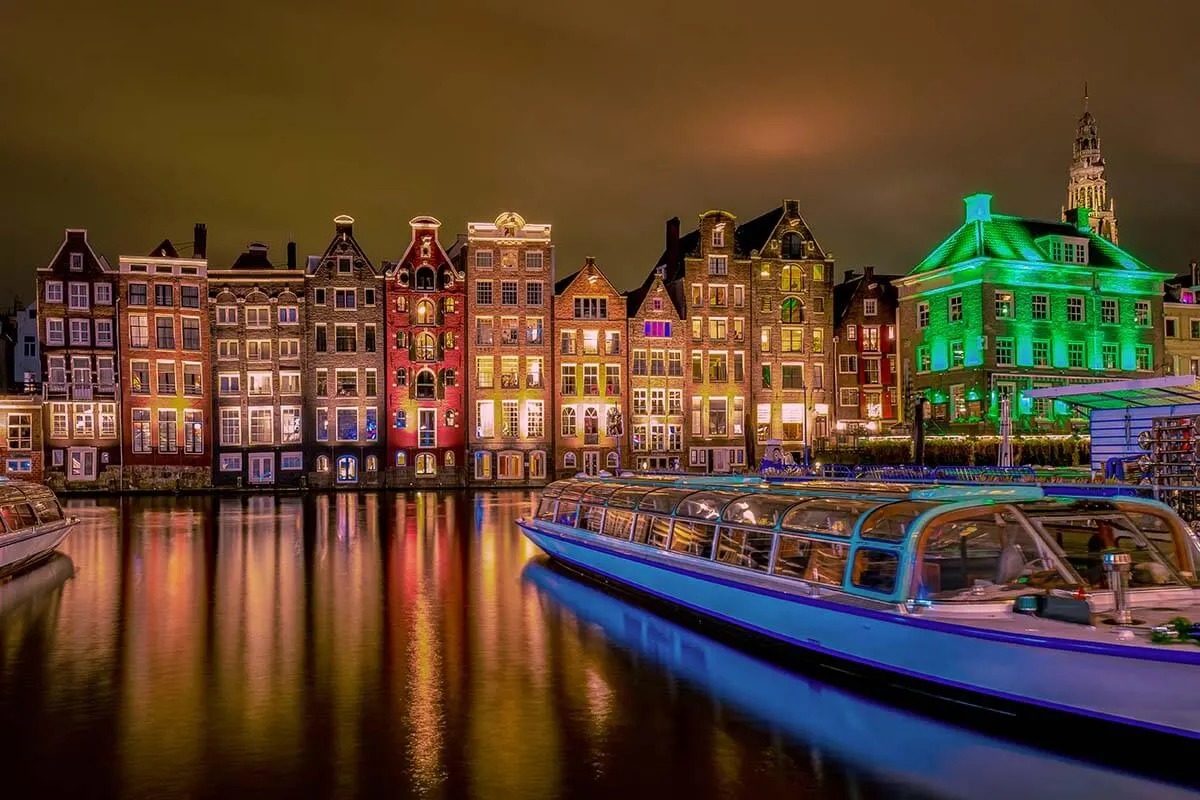 Where to Stay for Sightseeing in Amsterdam
In order to make the most of your visit to Amsterdam, we recommend staying in the heart of the city. Our favorite area to stay for sightseeing in Amsterdam is in the wide surroundings around Dam Square, southwest of the station and north of Rijksmuseum.
There are some fabulous hotels in Amsterdam, but the prices are usually quite impressive too. It's often really not easy to find a nice place to stay in the city center on a lower budget, but the longer in advance you book, the more (affordable) options you'll have. So book your accommodation as soon as you know your travel dates!
Here are some of the best-rated hotels in central Amsterdam for different budgets:
LEARN MORE: Where to Stay in Amsterdam (Best Areas & Tips)
So, these are our recommendations for some of the best places to see and things to do in Amsterdam.
I hope that this list of Amsterdam's very best attractions and experiences will help you plan the perfect itinerary for your visit. Enjoy your stay in this tolerant, diverse, and exciting city!
More travel inspiration for your trip to the Netherlands & Belgium:
If you found this post helpful, don't forget to bookmark it and share it with your friends. Are you on Pinterest? Pin these images!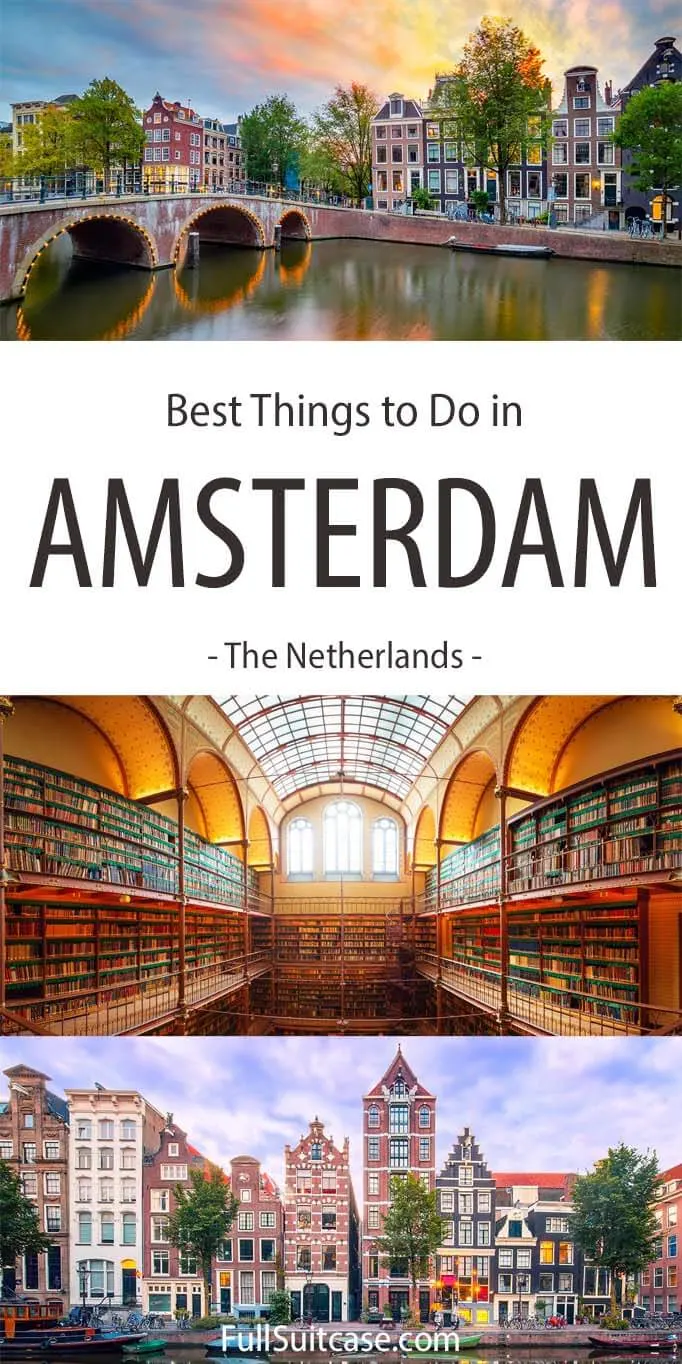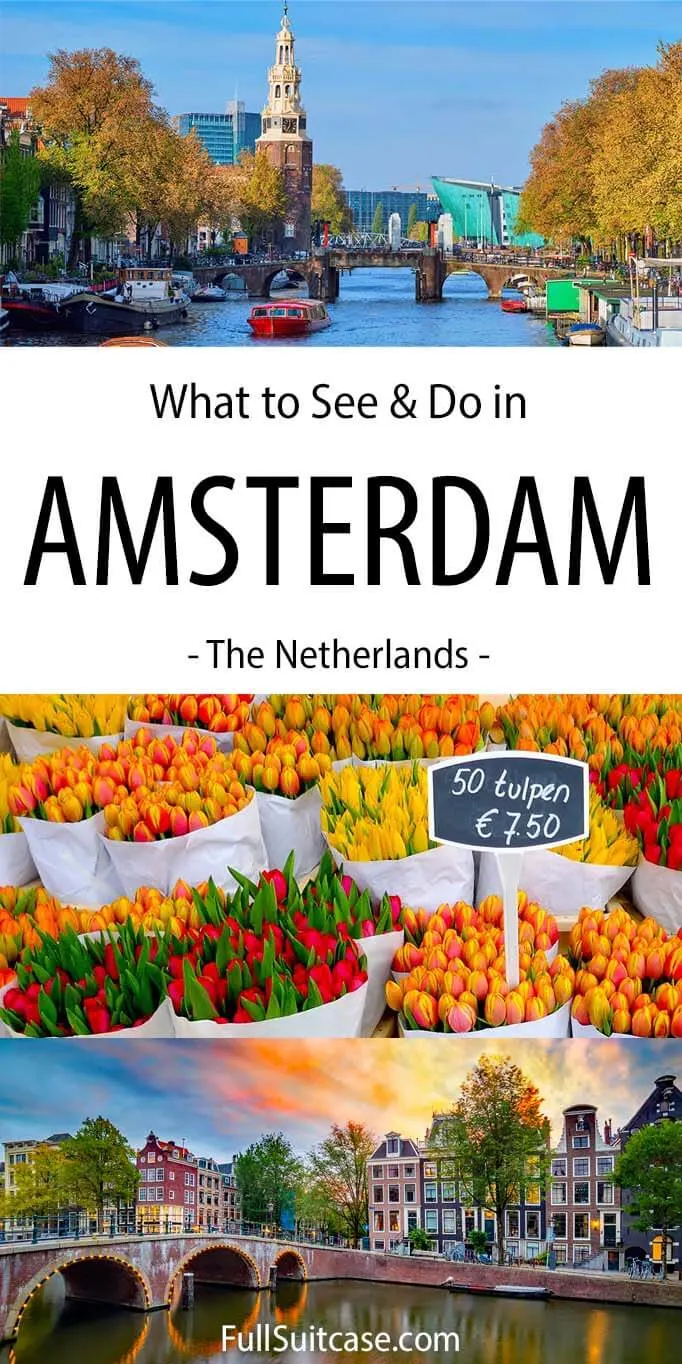 Photos: personal collection, Depositphotos.com, Unsplash.com. Additional image credits: Maarten_Zeehandelaar/Depositphotos.com; littleny/Depositphotos.com; niglaynike/Depositphotos.com; starush/Depositphotos.com; carmenmsaa/Depositphotos.com; MaykovNikita/Depositphotos.com; AGVDepositPhotos/Depositphotos.com; [email protected]/Depositphotos.com; bloodua/Depositphotos.com;
More travel inspiration for European cities:
If you are visiting other European cities and are looking for in-depth information for your trip, take a look at some of our city guides: