Are you looking for some ideas for day trips from Amsterdam? Excellent choice! Amsterdam is a beautiful city that attracts millions of visitors every year, and there's so much to see and do in Amsterdam… But don't forget that the Netherlands has so much more to offer than just its lively capital!
So if you can, plan at least a few day trips or excursions from Amsterdam and see the Dutch countryside, or visit several other towns… It will make your trip to the Netherlands so much more special and memorable!
You can easily see the very best of Amsterdam in one or two days and then spend some more time exploring the rest of the country. We live in Belgium and often visit Holland for short day trips. In this post, I am sharing some of the best day trips that you can make from Amsterdam in the Netherlands. I also included the two most popular day trips from Amsterdam to Belgium.
Most of the places mentioned here can be easily visited by public transport, in less than an hour from Amsterdam. In addition, we also feature several must-see places in the Netherlands that can easily be visited as a day trip from Amsterdam, but where you would need to take a car or join an organized tour, since using public transport would probably make it too difficult to visit in just a day.
This selection of the best day trips from Amsterdam includes some of our favorite places in the Netherlands. In addition, I asked my fellow travel bloggers to share their favorite day trips from Amsterdam as well. I want to show you the other side of the Netherlands and to inspire you to get a bit more off the beaten path. Find out!
TIP: Do you want to take organized day trips and tours from Amsterdam, but are not sure where to start? Here is my hand-picked selection of the most popular and highly-rated day trips from Amsterdam. Do any or all of them and you'll see the very best of the Netherlands without having to worry about the practical side of planning your trip:
Further below you can find more details about these and other great day trips from Amsterdam. But, these four Amsterdam day tours listed above will bring you to the nicest places in the Netherlands.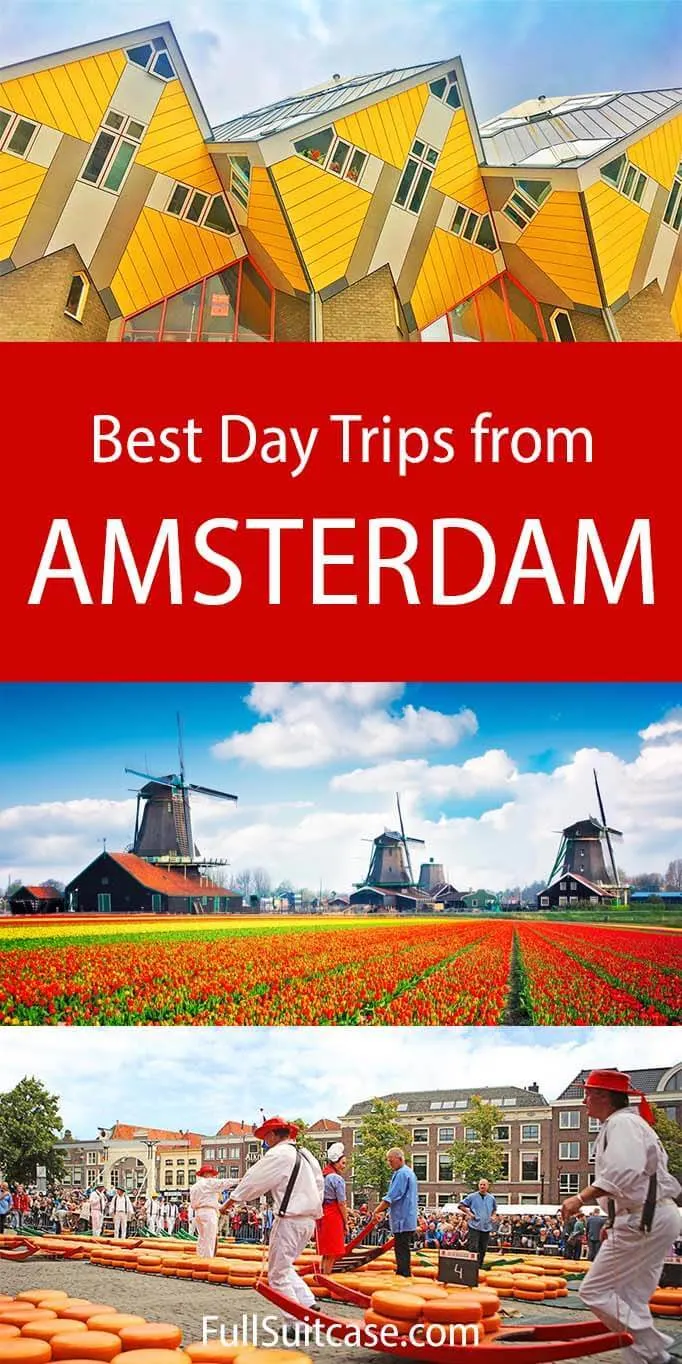 Below are some of the best day trips from Amsterdam, starting with the most popular day trips first. Some places like Zaanse Schans, Keukenhof Gardens, Volendam, or Giethroorn are very popular with tourists. While some others are rather quiet and less visited, yet definitely worth a short trip if visiting Amsterdam for a few days. Take a look!
The very best Amsterdam day trips:
1. Zaanse Shans
Zaanse Schans is a wonderful day trip from Amsterdam where you can experience quintessentially Dutch things like windmills and wooden clogs. The village is actually a residential area that feels like an open-air museum that showcases the industrial past of the region, including the ubiquitous windmills.
You can wander through the picturesque village and experience a Dutch town like it would have looked in the 18th-19th century. Just please be respectful to the locals who live there and don't just walk on somebody else's property!
In addition to the operational windmills that you can visit inside, there is a cheese-making shop, a lumber mill, a wooden clog maker and a restaurant serving Dutch pancakes. The Zaans Museum located right next door tells the story of the industrial past, with particular attention to the biscuit and chocolate maker Verkade.
How to visit: Getting to Zaanse Shans is easy – you can join a tour (see below) or take a 15-minute train from Amsterdam's Central Station and then it is a 20-minute walk to the village. You can wander around the village for free, but will need to pay to enter the windmills and the Museum. In that case, it's best to get a Zaanse Schans Card that includes an entrance to all the main sights here.
TIP: Zaanse Shans is the most popular destination for organized half-day and day trips from Amsterdam, often in combination with other nice locations nearby. It's a great option for those short on time or not willing to deal with the practical aspects of planning a day trip from Amsterdam. If you only have half a day, I recommend this highly-rated Zaanse Schanse tour. If you have a bit more time, I recommend a Zaanse Schans tour that also includes a visit to Volendam, Edam, and Marken.
Suggestion by Dawn from 5 Lost Together. You can find family tips for visiting Amsterdam on her blog.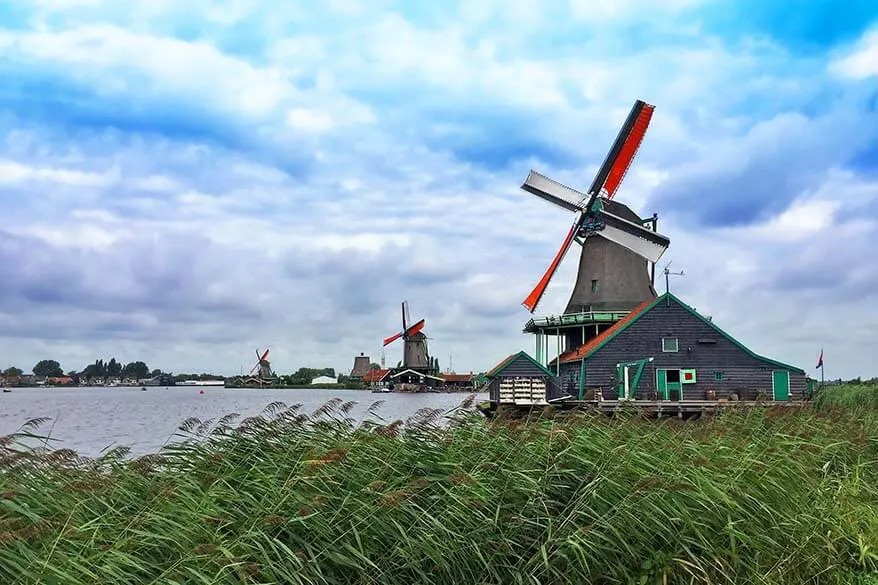 2. Volendam, Marken & Edam
Located just north of Amsterdam city, these traditional Dutch towns make a great day trip from Amsterdam, popular among locals and tourists alike. You can visit one, two, or all three places in a day and there are many different ways to do it.
Volendam is an old fishing village and is extremely picturesque. Nowadays, it's very touristy, but that's why tourists seem to like it. To many foreigners, Volendam is a symbol of what the Netherlands looks like. The colorful buildings of the old harbor, old Dutch ships, and locals wearing traditional black Volendam clothing – it all makes Volendam a very popular destination. It's the place to see all things typically Dutch and stock up on souvenirs.
Near Volendam, on the Markermeer Lake, lies a tiny island of Marken. This peninsula has been separated from the mainland by a storm in the 13th century and only reconnected back to the mainland in the mid 20th century. It can be reached by boat from Volendam or by car or bike via the embankment. You can also leave your car on the mainland and walk there.
Because of its isolation from the mainland, Marken's fishing community has managed to keep a more authentic historic character. Still, it's a place very much oriented towards tourism, but in a more enjoyable way. A popular thing to do here is to visit a traditional shoemaker where you can learn more about the craft or even get a pair of shoes to take home with you.
Edam is a charming medieval town that is best known for its cheese with the same name (Edamer in Dutch). The small red ball of semi-hard cheese can be easily transported without losing its taste. It has, therefore, been a famous Dutch export product for many centuries.
In July and August, there is a traditional cheese market held on Wednesday mornings attracting many visitors. You can also take a boat tour on the canals.
How to visit: As already mentioned, there are many ways to visit these towns – on your own, or with a tour from Amsterdam. Here is one of the best tours that visits Marken, Volendam, Edam, and Zaanse Schans as a day trip from Amsterdam. There are also private tours like this one, that visit all these three towns as well.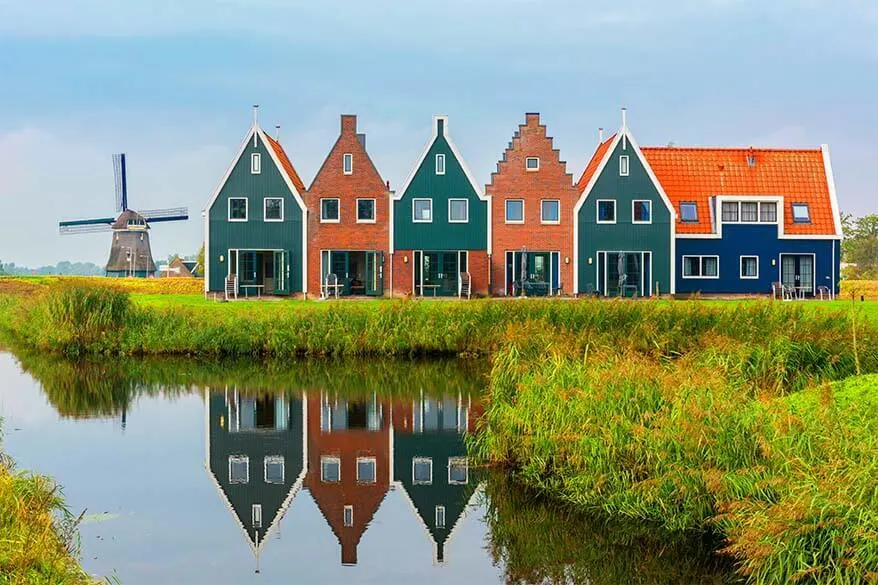 3. Giethoorn
Giethoorn is a picturesque little village 1,5hrs drive from Amsterdam. It has canals instead of streets and boats instead of cars. Giethoorn is one of the most special places in the Netherlands and one of the best day trips you can do from Amsterdam.
Expect it to be extremely busy, especially if you are traveling in the summer. Still, it's a place that is so typically Dutch that I think it's well worth the trip.
How to visit: Unless you have a car, the best way to get to Giethoorn to Amsterdam is by taking an organized tour. I recommend this highly-rated day trip to Giethoorn.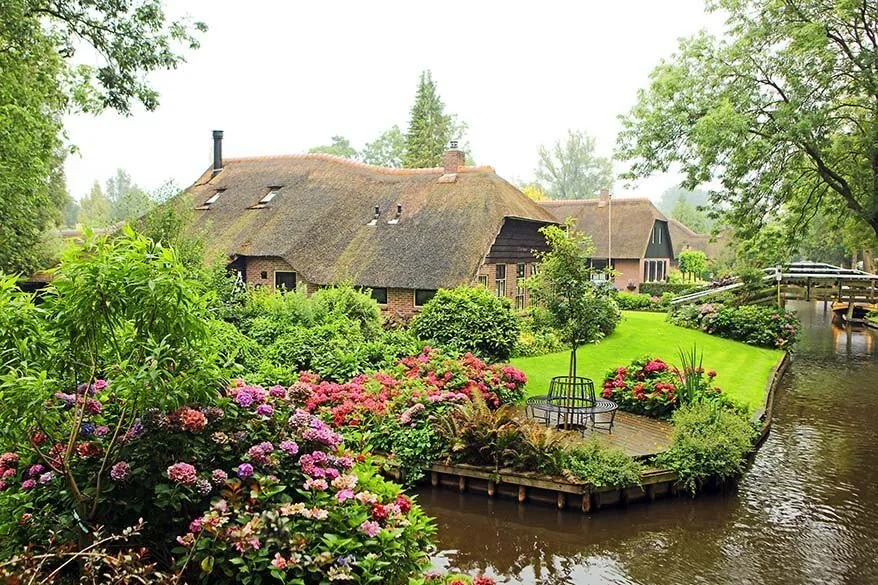 4. Keukenhof Gardens & Lisse Tulip Fields
Keukenhof is an impressively large flower garden boasting up to seven million flowers. It is only open for two months of the year and is filled with amazing collections of flowers in every color imaginable. I'm definitely no gardening enthusiast and at first, this sounded like something that would appeal more to my grandmother. But we ended up spending a good few hours wandering through the brightly colored displays.
There are cafes located throughout the gardens for a coffee break. Entrance costs are a little steep, but it's worth it. Make sure to also take your time to also explore the adjacent tulip fields in this area!
The best time to visit is mid-April when most of the flowers are in bloom along with the tulips in the surrounding fields. Arrive early in the morning to avoid the heavy crowds that build up throughout the day.
Keukenhof is a popular springtime day trip from Amsterdam with many options varying from private transfers to small group tours. If you are visiting Amsterdam from mid-March till mid-May, don't miss it!
LEARN MORE: Lisse Tulip Fields & Tips for Visiting Keukenhof Gardens
How to visit: The garden is about a 40-minute drive from Amsterdam, but it's not very easy to reach it from Amsterdam if you don't have a car. There is a shuttle from the airport, but if you are coming from the city center, it's probably easiest to take a transfer or a tour. You can find the best Keukenhof tours and transfers here!
Good to know: Keukenhof has recently introduced timed-entry tickets. So if you want to visit the gardens this spring, you really have to book your tickets in advance. (This is the most popular day trip from Amsterdam in March-early May!)
Suggestion by Rohan from Travels of a Bookpacker.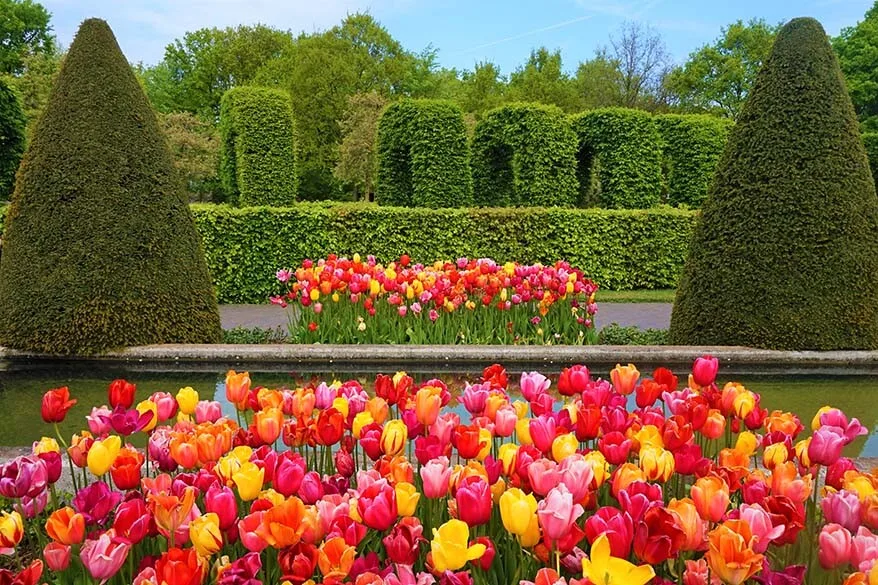 5. Bruges (Belgium)
Bruges is the most picturesque town in Belgium, often called 'The Venice of the North'. With pretty canals, a maze of narrow medieval streets, and a big variety of Belgian specialties to taste or take home with you, Bruges is a very popular destination, also from the Netherlands. In fact, it's one of the most popular day tours from Amsterdam.
Don't miss the Markt – the main square of Bruges with impressive architecture, colorful buildings, and the medieval bell tower Belfort. You can climb all the way to the top for amazing views of the city and surroundings.
There are several churches and museums in Bruges that are worth a visit if you have more time. But if you are short on time, just stroll the picturesque streets, visit the famous Minnewaterpark, and take a look inside the beguinage Ten Wijngaerde. No trip to Bruges would be complete without taking a boat tour on its famous canals.
LEARN MORE: Best Things to Do in Bruges
How to visit: Bruges is located in Belgium, about 3 hours drive from Amsterdam. While it is possible to get there by car or by train, if you go to Bruges from Amsterdam for just a day, I recommend that you take an organized tour.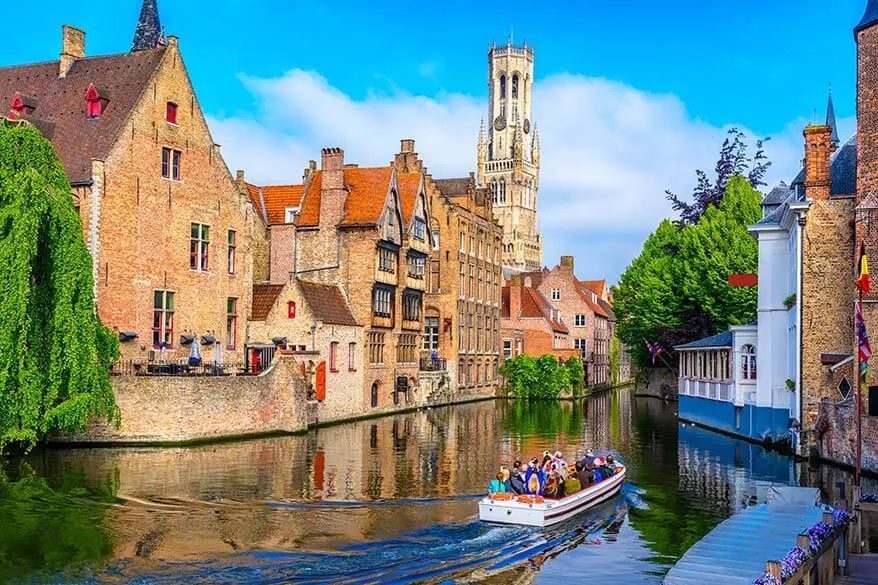 6. Rotterdam
Rotterdam is an amazing city that sometimes gets overshadowed by its bigger sister city, Amsterdam. However, Rotterdam is extremely up-and-coming and is not to be missed on a trip to The Netherlands. The best part is that it just so happens to be a 35-minute train ride from Amsterdam which makes it the perfect day trip! If you have more time, I recommend staying for the weekend to immerse yourself in the cool architecture and hip city vibes.
Be sure to start your day trip in the city center! Go to the massive Markthal, check out the cube houses and walk down the cute street of Pannekoekstraat! Then, check out the art wall and Luchtsingel Bridge before walking over to have a drink outside on Witte de Withstraat.
If you have time, check out the Delfshaven area which has some of the only buildings that weren't destroyed by WWII! I recommend renting a bike or joining a guided bike tour – it's the best way to see the highlights of Rotterdam in just a few hours. You won't regret a day trip to Rotterdam!
TIP: The Port of Rotterdam is the largest port in Europe. Don't miss the chance to see the harbor in action – join a harbor cruise.
How to visit: Rotterdam is easy to visit from Amsterdam by train. There are also guided tours, most including a visit to several other towns in one day. This is the most popular tour to Rotterdam from Amsterdam – it brings you to Rotterdam, Delft, and The Hague in one day.
Suggestion by Katie from The Traveling Spud.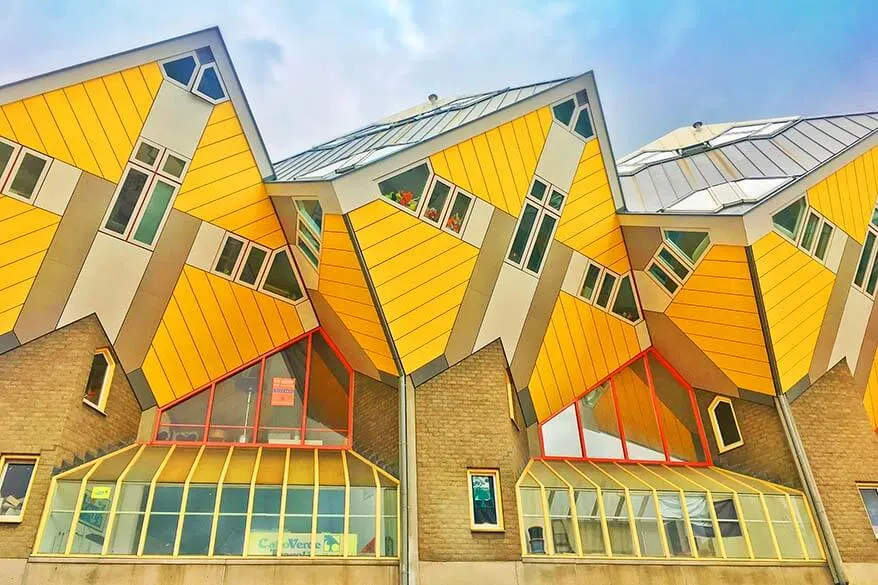 7. The Hague
Most visitors to the Netherlands only visit Amsterdam, but there are so many reasons to visit The Hague (Den Haag), only 50km away from Amsterdam and next to the beach! The city is home to The Girl with the Pearl Earring and the art collection at the Mauritshuis Museum is only rivaled by the Rijksmuseum in Amsterdam.
Take a stroll through the country's seat of parliament, the Binnenhof and take in the architecture. Visit the gorgeous Peace Palace, which presides over international law – take a tour, or admire this impressive building from the outside.
Explore the world of M.C Escher at the permanent exhibition of the Het Paleis. The beach terraces on Zwarte Pad at Scheveningen are the place to be on a warm summer day. Chill out on a lounger while a DJ spins tropic-house in the background. You can extend your day trip to The Hague by staying for an all-night beach party.
How to visit: The Hague is just a short train trip from Amsterdam and you can easily visit on your own. The earlier-mentioned and highly-rated Grand Holland Tour visits The Hague in combination with Rotterdam and Delft in just one day from Amsterdam.
Suggestion by Gabrielle from Boarding Call Blog. You can find more tips for the Hague on her blog.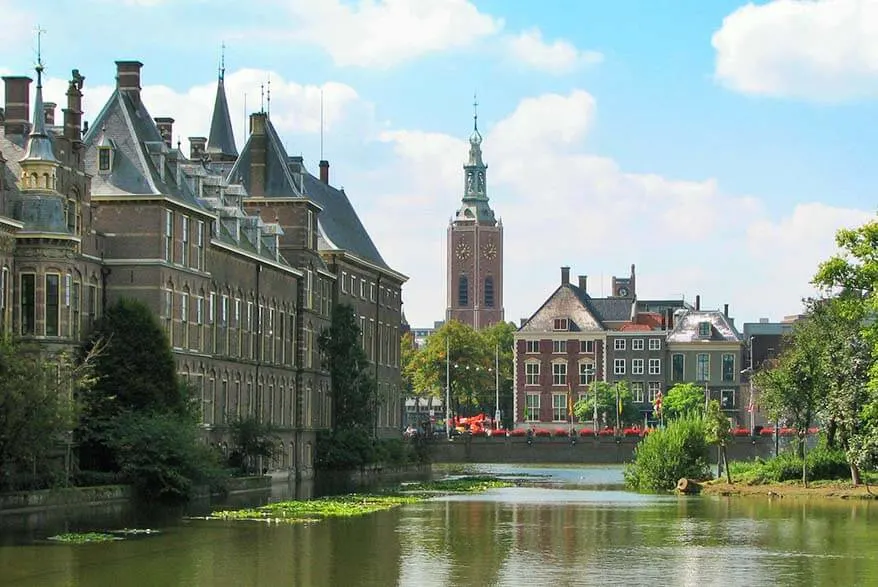 8. Delft
Best known for its blue & white 'Delft Blue' pottery (Delftware), Delft is another popular day trip from Amsterdam, often visited in combination with other nearby towns (such as The Hague and/or Rotterdam).
Delft is probably one of the most typical old-Holland style towns and one of our personal favorites in the Netherlands. It managed to keep its unique character from bygone days. It's a small town and you don't need much time to explore Delft, but it's absolutely worth a visit!
Stroll the picturesque shady canals with old-style hump-backed bridges and visit the old city with the Old Church, the New Church, and the Market Square with the impressive City Hall building. Don't miss the view from the tower of the New Church – it's one of the best things to do in Delft!
If you have more time and interest in arts, you may want to visit Vermeer Centrum. Otherwise, walk around the historic town center, take a canal cruise, and check out some of the souvenir shops for Delftware and traditional Dutch souvenirs.
We also highly recommend visiting the Royal Delft Factory where you can learn more about traditional Delft and see how it's still made and painted by hand today.
How to visit: If you have the whole day, simply take a train from Amsterdam to Delft. Alternatively, if you are short on time and want to make the most of it, you can take one of the organized tours that visit several towns in a day.
LEARN MORE: Best Things to Do in Delft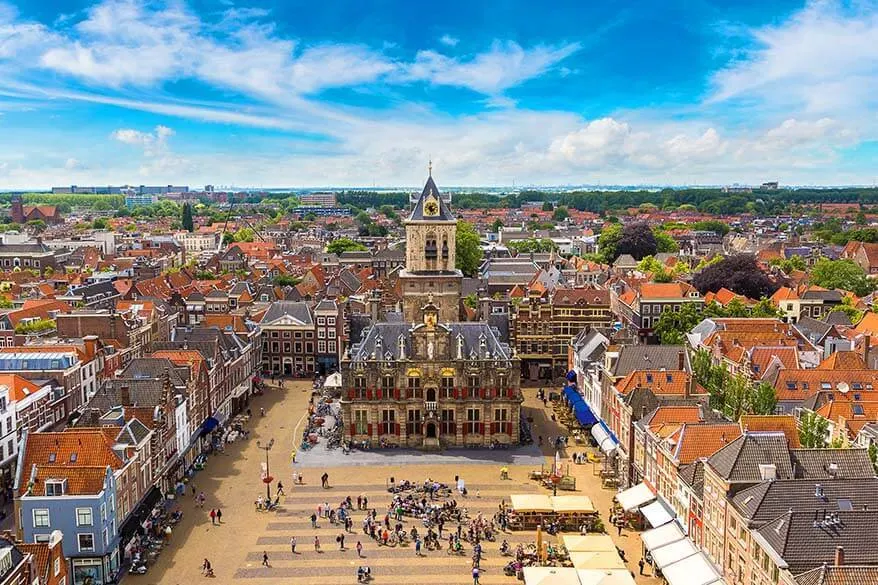 9. Brussels (Belgium)
Brussels, the capital city of Belgium, is also a popular day trip from the Netherlands. Direct train connection makes it possible to visit Brussels from Amsterdam, but prepare for it to be a long day!
The main landmark that you absolutely have to see in Brussels is the Grand Place – the main town square with the impressive City Hall and the 17th-century guild houses. Considered one of the most beautiful town squares in the world, It's a UNESCO World Heritage Site worth a trip in itself.
Other places of interest include the world-famous statue Manneken Pis, the Royal Galleries, the Royal Palace of Brussels, and the St Michael's Cathedral.
With just one day in Brussels, it's probably best to just stay in the city center, visit the sights I mentioned above, and indulge in Belgian chocolates, waffles, and beer. There are great food tours that you can join in Brussels – see the selection here – it's a fun way to experience the city.
LEARN MORE: Best Things to Do in Brussels
How to visit: There is a direct train from Amsterdam to Brussels and it takes about 2 hours one way. Alternatively, you can join an organized tour. It's really easy to visit Brussels on your own by train. It gives you more flexibility and it's really easy to do. A guided tour will, of course, save you time and you won't have to do any research or advance preparation.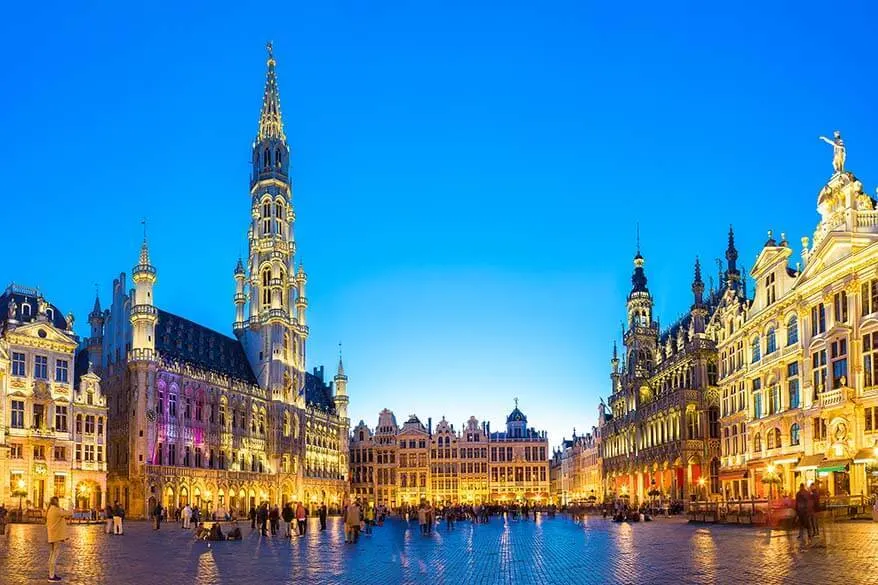 10. Kinderdijk
If you want to see traditional Dutch windmills in the original setting, then you should definitely consider a day trip to Kinderdijk, just 1,5 hours' drive from Amsterdam.
Kinderdijk is a UNESCO World Heritage Site with historic 19 windmills, dating from the 16-18th centuries. A visit here is a very unique opportunity to get acquainted with how life in the Netherlands was centuries ago and learn more about their centuries-old struggle against the rising water levels.
Furthermore, the scenery at Kinderdijk is truly picture-perfect. No matter when you visit – summer or winter, morning or evening – Kinderdijk is as picturesque as in the postcards.
How to visit: The easiest way to reach Kinderdijk from Amsterdam is by car or an organized tour. Alternatively, you first have to take a train to Rotterdam, from where you can get to Kinderdijk by waterbus.
LEARN MORE: Visiting Kinderdijk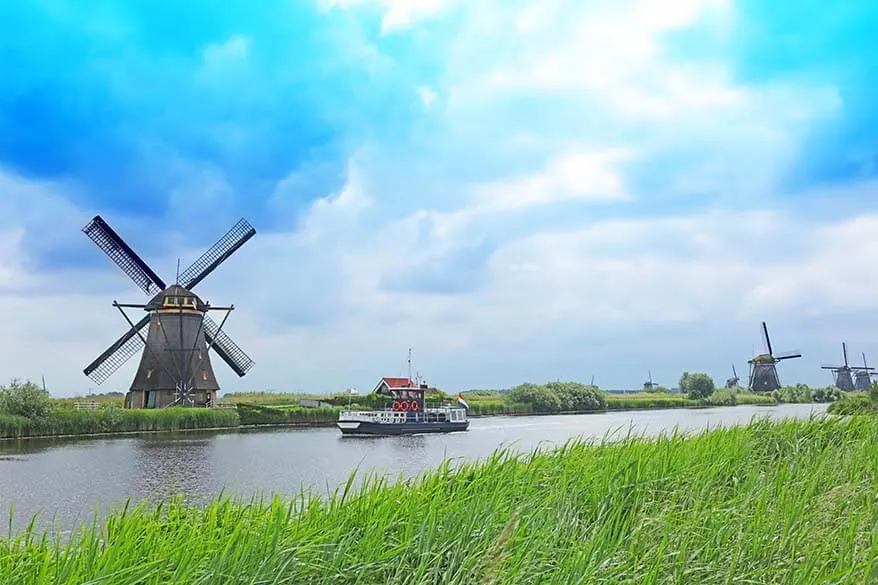 11. Alkmaar Cheese Market
Alkmaar, just 30 min ride by train, is one of my personal suggestions for an unforgettable day trip from Amsterdam.
It's a charming little town, best known for its centuries-old traditional cheese market. Don't miss it, especially if you find yourself in Amsterdam during the summer months.
Alkmaar cheese market takes place on Friday mornings, weekly, between April and September.
LEARN MORE: Alkmaar Cheese Market
Howto visit: Take a train from Amsterdam to Alkmaar where you can either explore the town individually or book this guided tour of Alkmaar and the Cheese Market.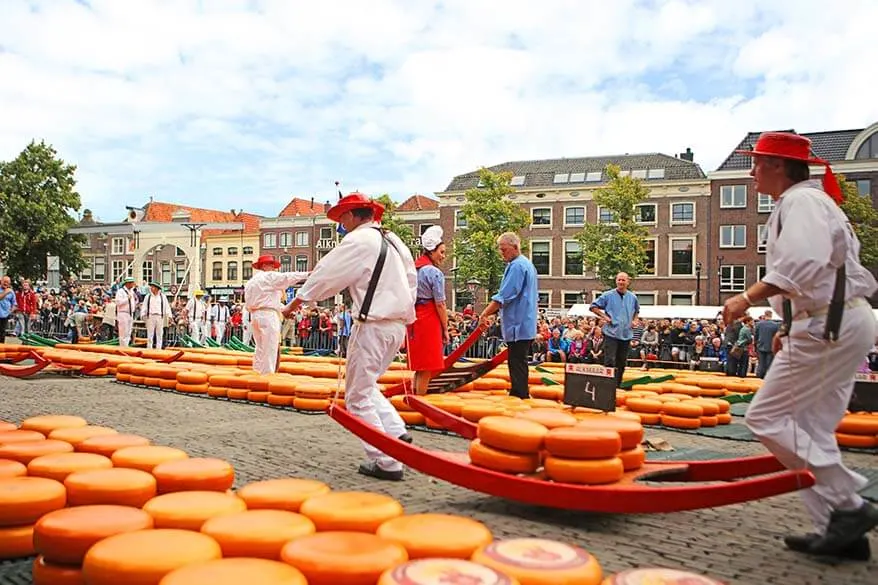 12. Gouda
Gouda is much more than just a famous cheese town. With its compact size and a 55 minutes train ride from the Dutch capital, Gouda is a great day trip from Amsterdam. These are my recommendations for a visit:
Explore Gouda's rich history and architectural delights:
The Town Hall on the central market square is an impressive monument that can not be missed.
St Jan church with its stunning stained glass windows is the tallest church in the Netherlands.
Courtyards, some yards even date back to 1449!
Admire the facades of the Gouda houses with special bricks, some even date back to 1609.
Try Gouda Cheese, Stroopwafels and Beer:
The Gouda cheese market occurs from April to the end of August. On Thursday mornings you can witness cheese making, cheese trading and weighing cheese in De Waag.
Stroopwafels are syrup waffles and my favorite Dutch treats. Try the waffles at the traditional Van Vliet bakery, where thousands are freshly baked daily.
If you are a beer lover, visit Den Gouwen Aar and get yourself a local Gouda beer.
TIP: If you don't have the time to do any research in advance, join a guided monument walking tour of Gouda and see the best of this beautiful town in just 2 hours.
How to visit: Gouda is best reached by train from Amsterdam. There is now a guided tour from Amsterdam that includes a visit to Gauda as well as a few other popular places in a day.
Suggestion by Maartje from Quokka Travel. You can find more information about visiting Gouda on her blog.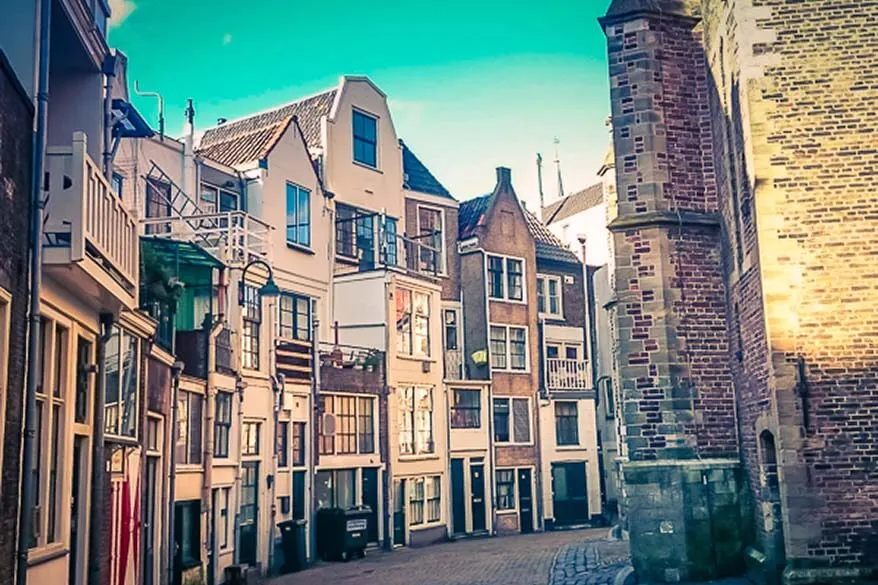 13. Utrecht
Utrecht is a smaller and more laid-back version of Amsterdam and one of the must-do day trips in the Netherlands. With many more canals than Amsterdam, Utrecht is less touristy which will instantly make one fall in love with the picturesque streets laden with small cafes that are located right on the edge of the water.
The city has a vibrant student culture as it is home to the largest university in the Netherlands and also has many beautiful churches, marvelous galleries, and museums. Furthermore, you'll find plenty of amazing yet inexpensive shopping options.
Do not miss the spectacular view of the city from the Dom Toren, but keep in mind there are over 450 steps to climb to get to the top!
TIP: If you have more time, make sure to visit the De Haar Castle in Utrecht.
How to visit: You can reach Utrecht by a direct Sprinter train from Amsterdam which takes just 40 minutes. A small selection of guided tours is also available.
Suggestion by Ketki from Explore With Ecokats.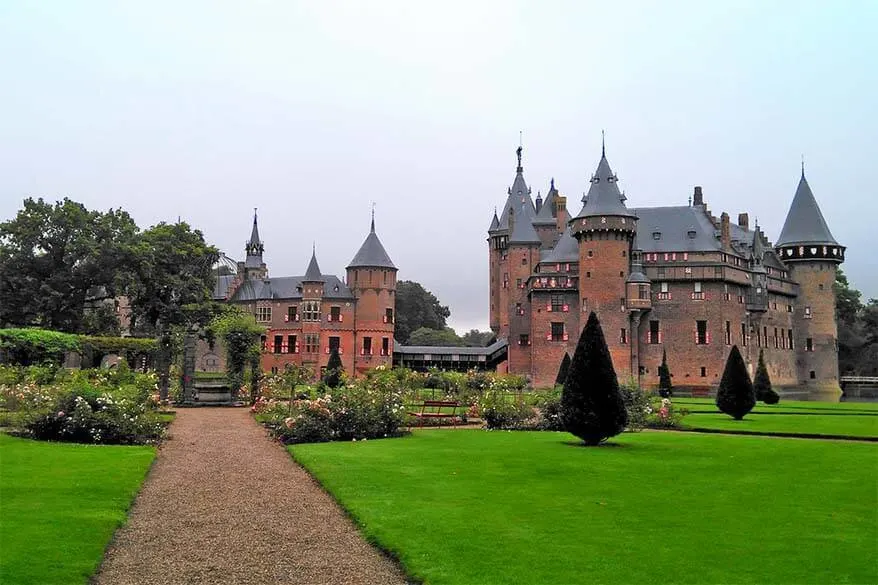 14. Haarlem
If you're looking for a short day trip from Amsterdam, Haarlem is by far the easiest choice. Only 15 minutes away by train, Haarlem is the quintessential fairy-tale Dutch city, but without the hordes of tourists that you'll see in Amsterdam.
It's mandatory to stroll around Haarlem's Grote Markt central square (which hosts a lively market on Saturdays) and visit the stunning St. Bavo church, where Mozart once played. If you're into museums, the eccentric collection at the Teyler's Museum is worth anyone's while. If not, there are several small canals near the central square, if you allow yourself to get a bit lost.
Once you've worked up an appetite, head to either De Overkant for the best sandwiches in the city, or De Friethoes for the best fries and mayonnaise. Finish it off with a round of craft beer and bitterballen at Jopenkerk, a hip church-turned-brewery, and you have the perfect day in Haarlem!
How to visit: By train from Amsterdam (just 15 minutes). If you rather explore Haarlem with a local, you can also book a walking or a boat tour of Haarlem.
Suggestion by Alex from Lost With Purpose.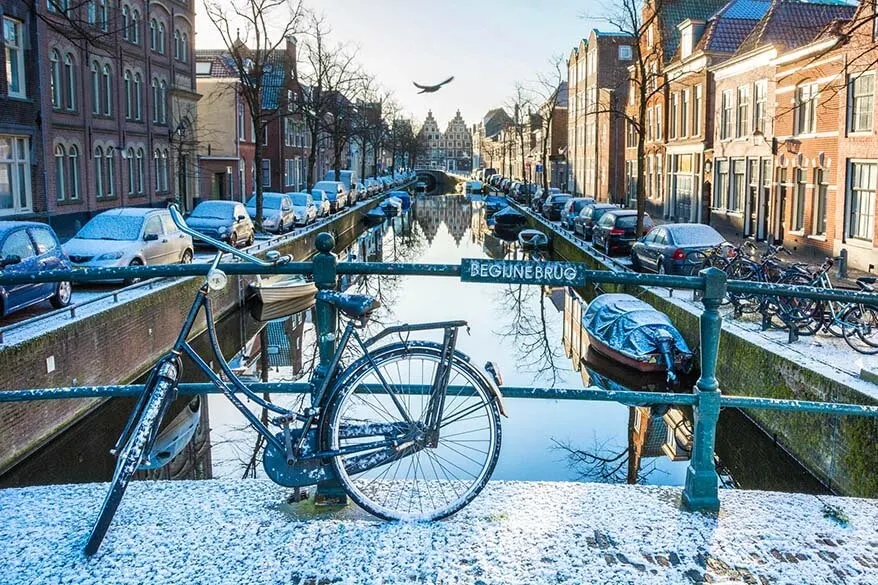 15. Leiden
Located a short 30-minute train ride away, Leiden provides all the charm of Amsterdam with less than half the tourists! Recognized locally as a University Town, they have a harbor, canals, gorgeous restaurants and coffee shops.
Furthermore, Leiden is home to some world-class museums. Their wing of the Rijksmuseum even has an Egyptian Temple gifted to the Netherlands in 1971! And don't forget the city's windmill museum – Molen de Valk – which is still operated by amateur millers today and offers the most incredible view above Leiden from its upper stories.
How to visit: By train from Amsterdam.
Suggestion by Vicki from Make Time To See The World. Check her blog for the top things to do in Leiden to help plan your trip!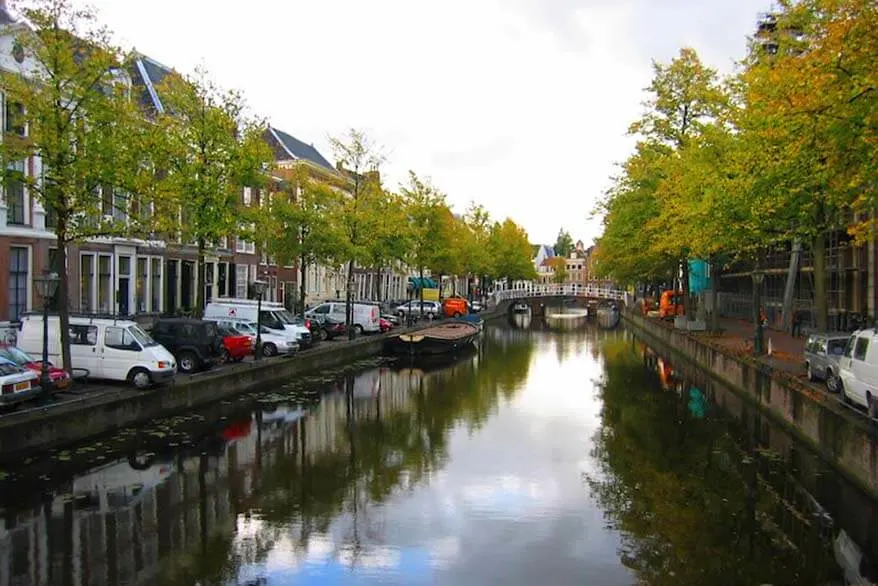 16. Muiderslot Castle
If you're obsessed with castles, you need to take a day trip to Muiderslot Castle! This castle, only 40 minutes from Amsterdam by bus, dates back to the 12th century and even has a proper moat.
It is also the perfect day trip with kids as Muiderslot includes many interactive exhibitions (including knight-inspired games) for children, costumes for kids to try on, and even falcons on the weekends.
The castle is free with the iAmsterdam City Card (or you can get a ticket just for a visit to the castle). It's at its best in summer when the garden is in bloom, but it's actually quite a nice place to see near Amsterdam in any season!
The town itself is also very cute and typically Dutch. This is a great and less touristy day trip from Amsterdam!
How to visit: Muiderslot Castle is located just 18km from Amsterdam and it's best visited by car or by bike (see the biking route map here). You can also take a train + bus or a private tour that visits several castles in the Netherlands in a day.
Suggestion by Karen from WanderlustingK. You can read more about Muiderslot and other Dutch castles on her blog.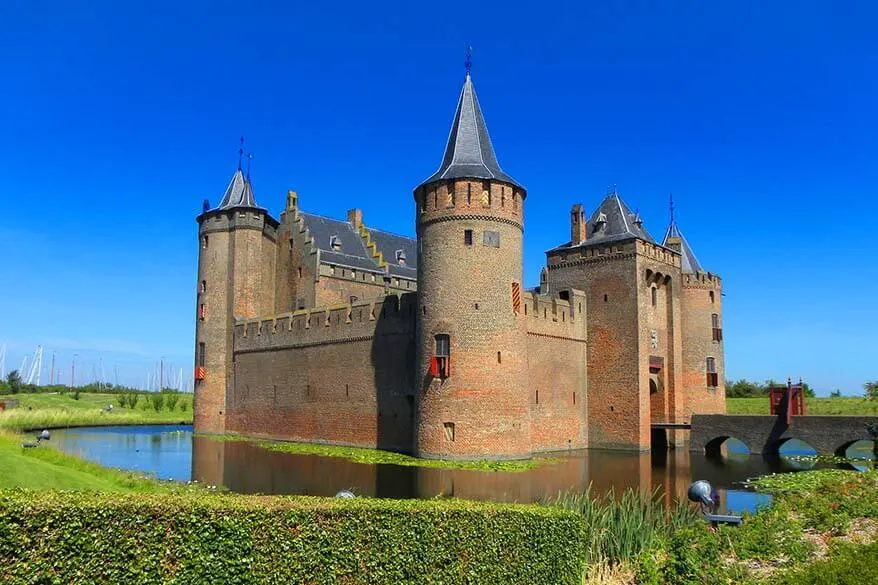 17. Amsterdam Forest
This is more of a low-key local day trip from Amsterdam. I wouldn't necessarily recommend this for tourists, but if you are in Amsterdam for a longer time, it's definitely worth checking out.
Visiting Amsterdam Forest is one of my favorite day trips from Amsterdam. The forest is a huge artificial park and just a 15-minute bike ride south of the city.
The park offers something to all of us! Amsterdam Forest is great for walking, cycling, spotting Scottish highland cows and there are many activities for kids. If you visit in spring, the cherry blossom park is worth a visit. I try to inspire travelers to leave Amsterdam for (half) a day and explore the stunning Dutch landscapes.
My favorite spot in Amsterdam Forest is Goat Farm Riddammerhoeve where kids can feed baby goats and cuddle with chickens. Although I don't have kids, I love to go there too to spend some time with the animals and eat delicious Dutch apple pie with whipped cream.
Suggestion by Maartje from Quokka Travel. Check her blog for more information about visiting Amsterdam Forest.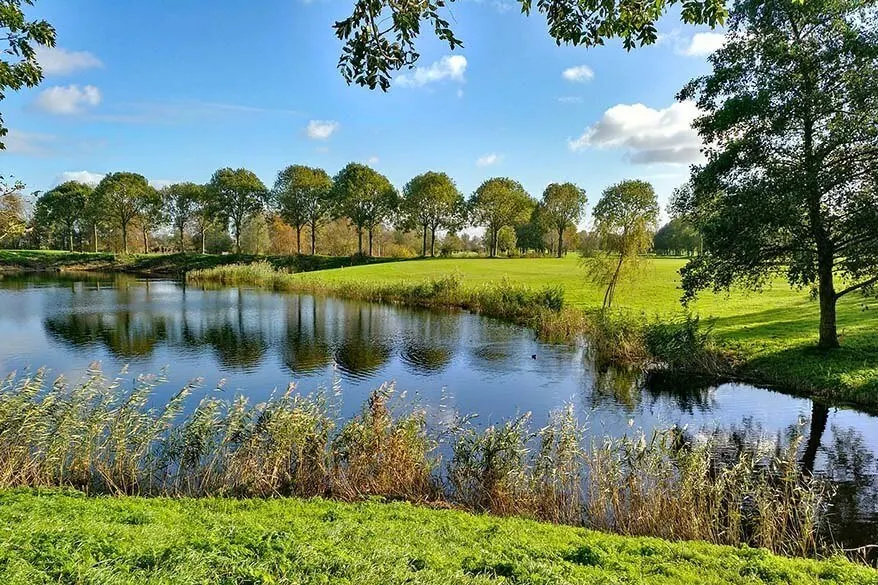 More Suggestions for Day Trips from Amsterdam
Here are some additional suggestions for a few more Amsterdam day trips to consider:
Efteling – the best theme park in the Netherlands and one we visit with kids at least twice a year. Don't miss the Fairytale Forest!
Planning Tips
If you are just planning to visit the cities in the Netherlands, you don't really need a car. The traffic is really bad and parking is very expensive. The easiest way to do day trips from Amsterdam to other cities is by taking a train.
However, in addition to the above-mentioned day trips that you can easily make from Amsterdam, there are many more incredible experiences that are worth considering in the Netherlands, and also over the border in Belgium.
Some of these places are a bit more difficult to reach by public transport and are best visited either by renting a car or as a part of an organized tour. Still, I would only recommend renting a car in Benelux for those days when you will not be visiting the main cities and towns, and definitely not for the entire trip.
PRO TIP: Amsterdam is an extremely popular year-round travel destination, so be sure to book your hotels, tickets, and day trip tours as soon as possible. Accommodation prices skyrocket when availability is scarce, and some tours get sold out very quickly as well.
Where to Stay
If you are planning on doing several day trips from Amsterdam, we recommend staying close to the central railway station. Whether you are traveling on your own by train or taking organized tours, you will likely start and end your day at Amsterdam Centraal.
Here are a few of the best-rated hotels for various budgets, within a very short walking distance from the station:
€€€€€ Anantara Grand Hotel Krasnapolsky
€€€€ Park Plaza Victoria
€€€ Room Mate Aitana
€€ A-Train Hotel
€+ The Flying Pig Downtown
READ ALSO: Amsterdam Travel Tips & Best Things to Do in Amsterdam
How to plan your time in the city:
1 Day in Amsterdam
2 Days in Amsterdam
If you found this post useful, don't forget to bookmark it and share it with your friends. Are you on Pinterest? Pin these images!