Planning a visit to Amsterdam and wondering if two days are enough and how to see the best of Amsterdam in 2 days? This guide covers all the must-see places that you can see in the city in two days. In addition, we share a suggested 2-day Amsterdam itinerary and insider tips for your trip. Find out!
Amsterdam, the capital city of the Netherlands is a lively, vibrant place. With its beautiful canals, historic buildings, world-class museums, and lots of cultural attractions, a visit to Amsterdam is always an extraordinary experience. One you won't quickly forget.
If you are planning to spend 2 days in Amsterdam and are wondering what to see and do in the city, this article should give you a good idea of how to best plan your time. For a shorter stay, please check our guide to the best of Amsterdam in 1 day, whereas if you have a bit more time, check out our 3-day itinerary for Amsterdam.
Rain or shine, there are endless things to do in the city! In this itinerary, we included all the 'musts' and our best suggestions for what you can see and do in Amsterdam in two days. In addition, you'll also find some alternative tips and ideas to suit your interests or the season when you travel.
This guide will also be perfect for those looking to spend a weekend in Amsterdam. To help you plan your trip, we also include a map of all the places we recommend visiting – see further below.
Good to know: We live in Belgium and have been to Amsterdam many times, but it's always nice to get a local's perspective as well. So for this guide, we also included tips from bloggers at Ask The Dutch Guide. They are from the Netherlands and helped us create this guide that will help you to see the very best of Amsterdam in two days.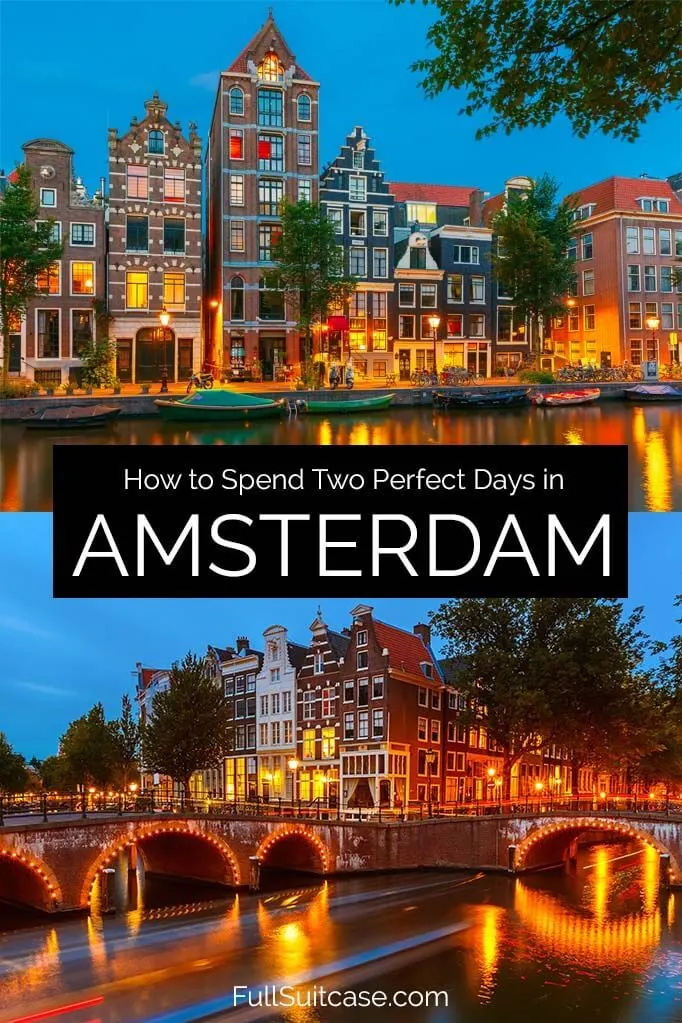 To help you plan your Amsterdam city break, we indicated all the locations and places of interest mentioned in this article on the map. That way, you have a better idea of where everything is and how to plan your time.
Take a look at our suggestions, pick the places that interest you the most, and use this guide as an inspiration to help you plan your own dream trip to Amsterdam. Of course, you can switch things around and create your own perfect itinerary that best suits your interests.
At the bottom of this article, you can also find some essential tips for your visit (or check out our Amsterdam travel tips for even more info). Find out!
TIP: If you are planning on exploring Amsterdam for a few days, you might want to consider getting a multi-day public transport ticket. It includes all trams, buses, metro, and even ferries and makes it simpler to get around the city and make the most of your time.
How to use this map: Use your computer mouse (or fingers) to zoom in or out. Click on the icons to get more information about each place. Click the arrow on the top left corner for the index. Click the star next to the map's title to add it to your Google Maps account. To view the saved map on your smartphone or PC, open Google Maps, click the menu and go to 'Your Places'/'Maps'. If you want to print the map or see it in a bigger window, click on 'View larger map' in the top right corner.
Here's our suggested Amsterdam 2 day itinerary:
Day 1
On your first day in the city, we suggest visiting one or two popular museums, going on a canal cruise, exploring the canals on foot, and visiting the main areas of central Amsterdam. This will give you a good introduction to the city.
Here's what your first day in Amsterdam could look like:
Anne Frank House
Anne Frank House is one of the most popular places to visit in Amsterdam. Many people come to Amsterdam just to see this house where a young Jewish girl and her family hid from the nazis during WWII. During that period (1942-44), she kept a diary where she described the daily life in their hiding place, her thoughts, and feelings.
In 1944, their hiding place was discovered, and Anne was deported to Auschwitz concentration camp and later to Bergen-Belsen camp. She died in 1945, a few months before the war ended. Of the whole family, only Anne's father survived. He later published her diary which has been translated into 70 languages and is now known all over the world.
Good to know: As you can imagine, the original part of the Anne Frank House is a rather small place. So the number of visitors is very limited. If you are planning to visit here, you'll have to reserve your tickets online in advance. Tickets are available 6 weeks in advance and in the high season, they always sell out at least a few weeks upfront.
That's why we list Anne Frank House as the very first thing to do on this Amsterdam itinerary. If you can, get the tickets for a time slot first thing in the morning. That way, you are more flexible during the rest of the day. But you can always make this itinerary work out depending on the availability of the tickets.
TIP: If you can't get the tickets for the museum anymore – or if you also want to learn more about Anne Frank's life and WWII history in the Netherlands – consider this guided tour. This brand new tour is the only one that includes a visit to Anne Frank House.
Alternative: If you are not interested in the Anne Frank House or cannot get the tickets anymore, visit one of the other best museums in Amsterdam. More info on day 2 of this itinerary below.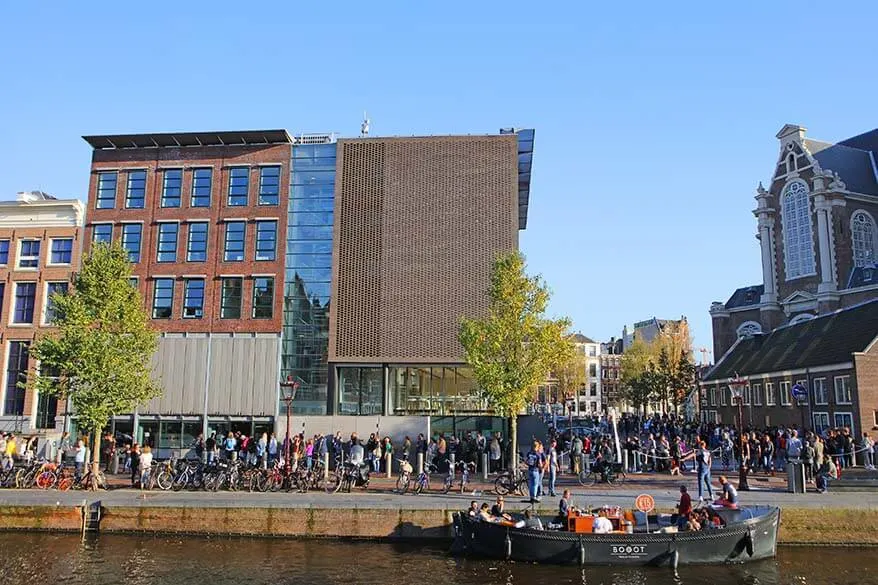 Amsterdam Canals & Canal Cruise
No trip to Amsterdam would be complete without exploring its magnificent canals. Dug in the 17th century during the Dutch Golden Age, Amsterdam canals are lined by some of the city's most impressive buildings. Nowadays, the canals are where you can catch a glimpse of authentic Amsterdam. Beautiful, chaotic, lively, and vibrant.
There are many ways to explore Amsterdam canals – on foot, by boat, or by bike. Keep in mind that there are many kilometers of canals and there's no way to see them all on such a short visit. We recommend walking at least a few sections of the Prinsengracht and Keizersgracht and taking a canal cruise to explore more.
This is something you can do after visiting a museum in the morning. It's a great way to get a quick view of the city. It will also give you a good overall perspective of where everything is.
All the boat tours last about 60-75 minutes and usually pass Herengracht, one of the most impressive canals in the city. During the boat ride, you will see a lot of landmarks and popular buildings as well.
TIP: There is a very nice canal cruise that starts right next to Anne Frank House (see here). This is also an excellent option if you are visiting Amsterdam in the warmer months as the boat they use in the summer season is open.
Alternative: If you start your day in the vicinity of the railway station, you can also take this canal cruise that starts in that area. You can easily walk to Anne Frank's House from there (so you could visit the museum after the cruise). It's a nice 20-30 minute walk along the beautiful Prinsengracht and the old town. After the tour and the museum, you can then explore the Jordaan neighborhood nearby.
LEARN MORE: Info & Tips for Best Canal Cruises in Amsterdam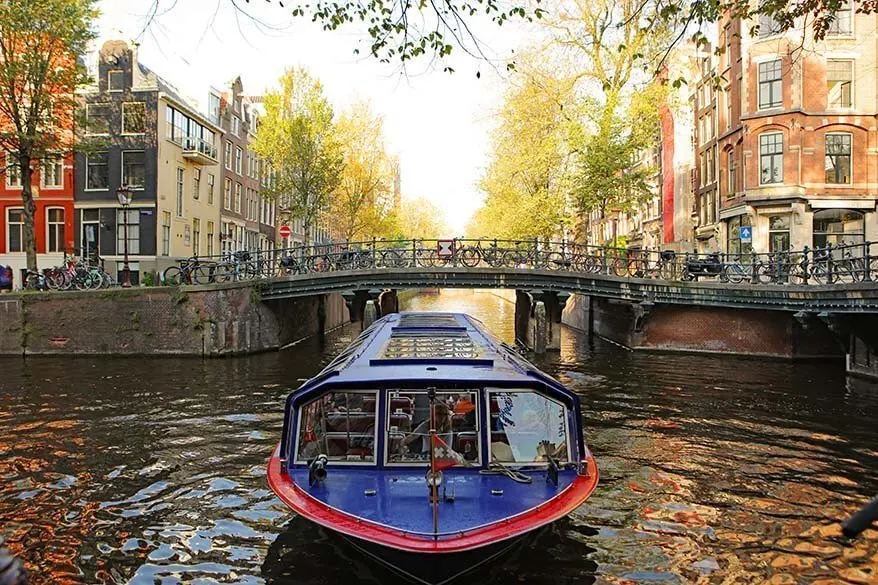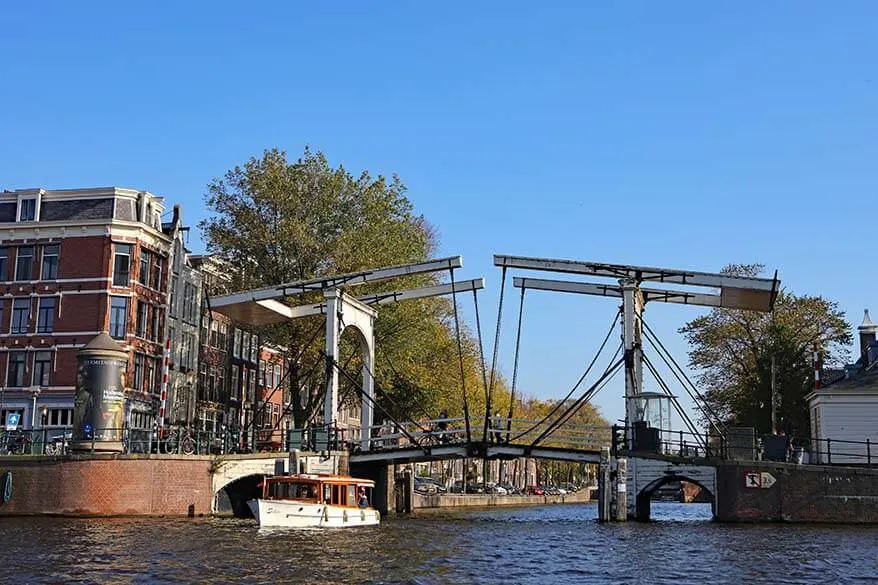 Jordaan Neighborhood
After your visit to Anne Frank House and the canal cruise, it's time to explore the city deeper. Get to know the real character of Amsterdam by checking out the side streets of the main canals! The best way to go about this is to explore Jordaan, a popular neighborhood in the city center.
Grab a cup of coffee or get some lunch at one of the cafes in this quirky neighborhood. This will give you that extra jolt because you will be walking a lot more here before you retire for the night. You should definitely try Dutch pancakes in this neighborhood!
You can easily explore this neighborhood on your own. Jordaan is famous for its arts, food, and architecture. Some parts of it are quite touristy, but if you head just a bit further away from the main canals, you'll find a very local feel and authentic Amsterdam where there are (luckily) more locals than tourists.
TIP: Most walking tours also come to this neighborhood and there is an excellent Dutch food tour that starts in this area at around 11 am. But with just two days in Amsterdam, you'll have to choose what's worth your time and money the most. If you want to explore the city center with a local guide, probably a better way to see a lot in a short time is by taking a bike tour.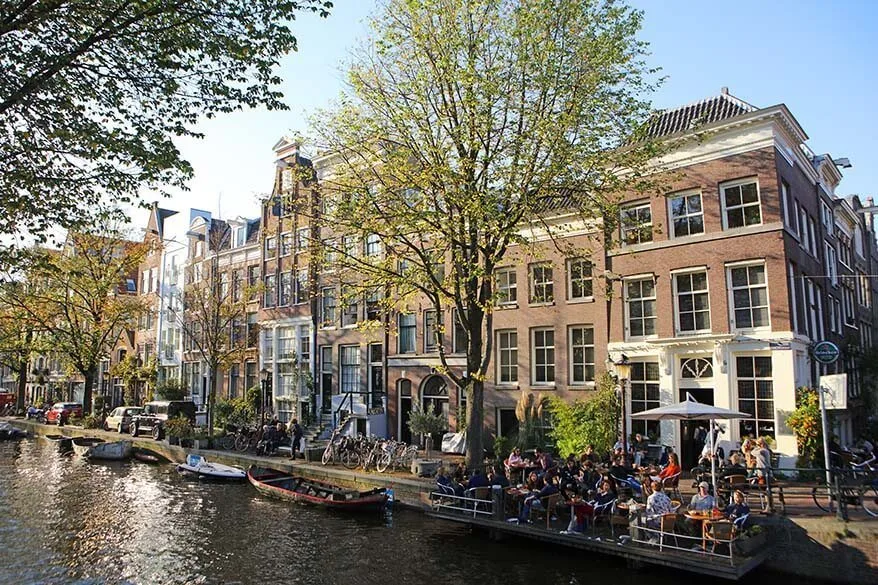 The Nine Streets
Another nice place to see in central Amsterdam is the area called the Nine Streets (De Negen Straatjes). This is a series of old cobbled streets that connect the main canals between Leidsegracht and Raadhuisstraat.
The 9 Streets area is famous for its narrow streets, charming houses, and indie boutiques. Here, you can still find a touch of authentic Amsterdam and quirky stores that haven't been taken over by big groups that have forever changed so many other places in the Netherlands.
No visit to Amsterdam would be complete without spending some time exploring the nine alleyways and the surrounding canals.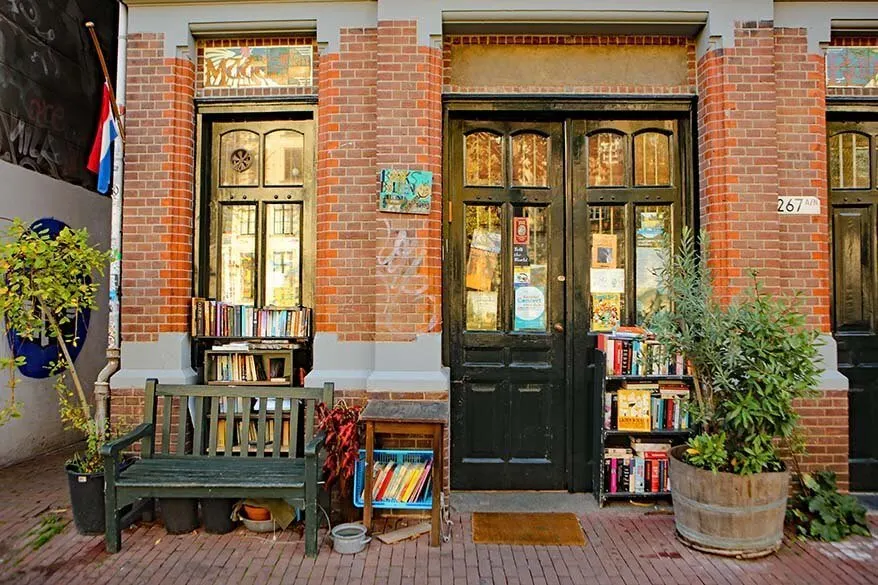 Amsterdam Begijnhof
If you are looking for another more authentic experience in Amsterdam, don't miss the Begijnhof (Beguinage). This medieval inner courtyard where the women of the Catholic sisterhood lived is one of the hidden gems in the city center.
The last Beguine who lived here passed away in the 70s and the houses are now private residences.
This small area houses a church, a few historic houses, and one of the original wooden houses in Amsterdam. This black house is the oldest in the city and just one of the two that survived the big fire.
It is not entirely unknown, but not nearly as busy as all the main attractions of Amsterdam. It's a nice place to escape the hustle and bustle for a few minutes.
Practical information: In order not to disturb the residents too much, Begijnhof is open daily from 9 AM to 5 PM. You can visit free of charge. It has two entrances, but it looks like recently you can only enter via Gedempte Begijnensloot (at the end of the Schuttersgallery).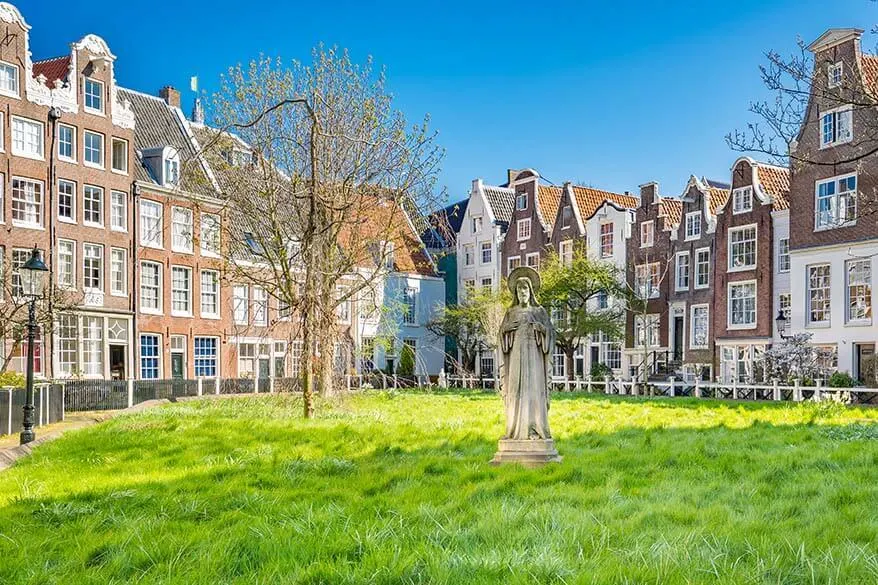 Damrak, Dam Square & the Royal Palace
Afterward, head on over to Dam Square, the main square of the city. On one side, you'll see the Royal Palace Amsterdam, and on the other – a National Monument.
This is a popular place to meet and there are often all kinds of events taking place here. It's always crowded. Nevertheless, it's worth a quick visit for a couple of pictures, just beware of pickpockets.
After that, continue northwards along Damrak, an avenue that connects Dam Square with the Amsterdam Central Station. Here, you'll find the former stock exchange Beurs van Berlage, and some of the typical houses that you often see on postcards from Amsterdam.
TIP: Don't miss Damrak Waterfront. It's one of the most photogenic places in Amsterdam. Behind it, in the direction of the Red Light District, you'll also find lots of restaurants. This is a good (although touristy) place for dinner.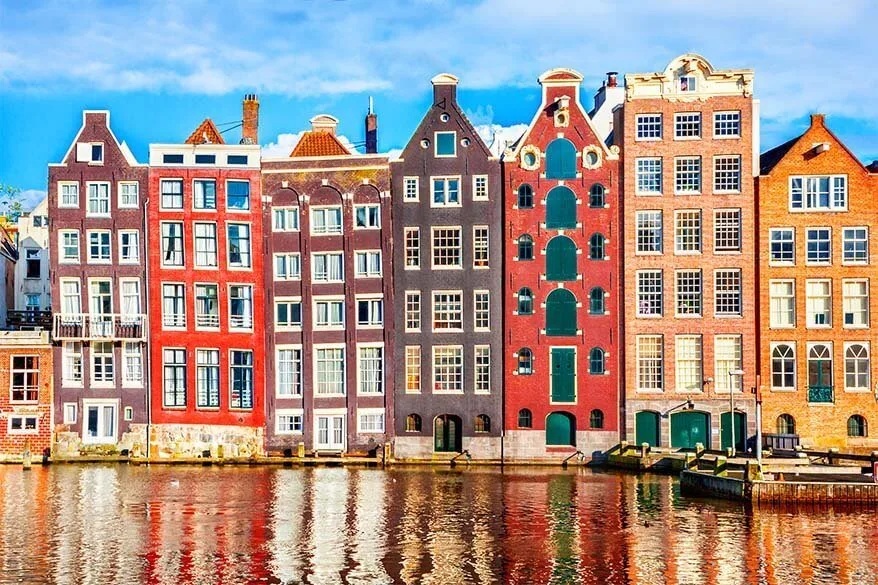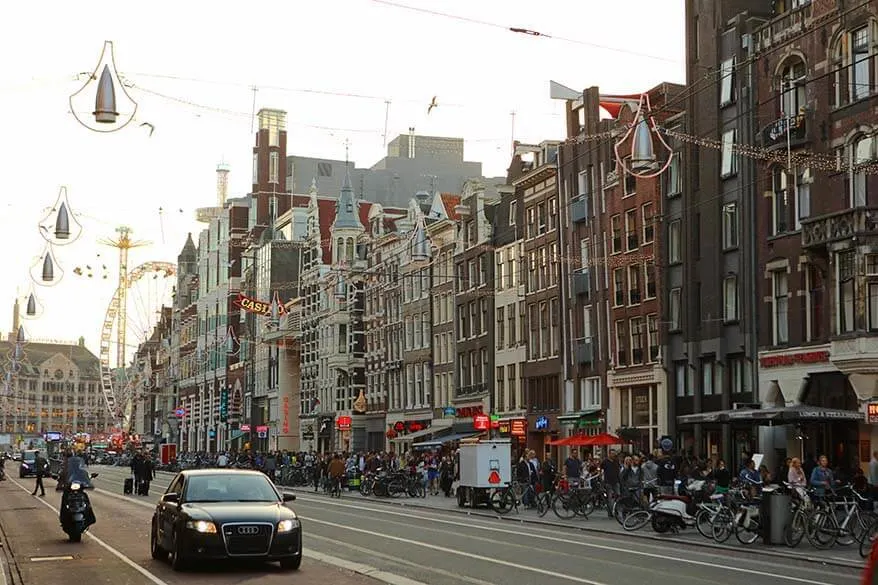 Red Light District
Towards the evening, it's time to hit the popular Red Light District.
In this area, you will find about 400 red-light and blue-light windows, a lot of 'coffee' shops, and bars. Be mindful that the area gets really packed at night. Grab a drink and bask in the party scene before you call it a day. Just note that alcohol consumption or smoking is no longer allowed in public areas.
For a few years already, there are talks of moving the Red Light District out of the city center altogether. And indeed, some women working here have moved to the quieter streets a bit away from the sight of tourists.
Many people find a visit here a bit intimidating, so they prefer to go with a local guide. You can visit with a guided walking tour through the area and I have to say that the tours are really good. We recently took this highly-rated tour and – despite having been to the area many times before – we learned so much. If you want to get some background information about this historic area in Amsterdam, I highly recommend this tour.
Of course, you can always go and wander around on your own or book a private tour. There are also several museums in the Red Light District. The best one by far is the Museum of Prostitution where you can learn some history and interesting facts.
TIP: In addition to the Red Light District tours, there are now also 'cultural' Ganja tours of coffee shops. So if you want to get to know this alternative side of Amsterdam but don't know where to start, this popular tour might be something to consider.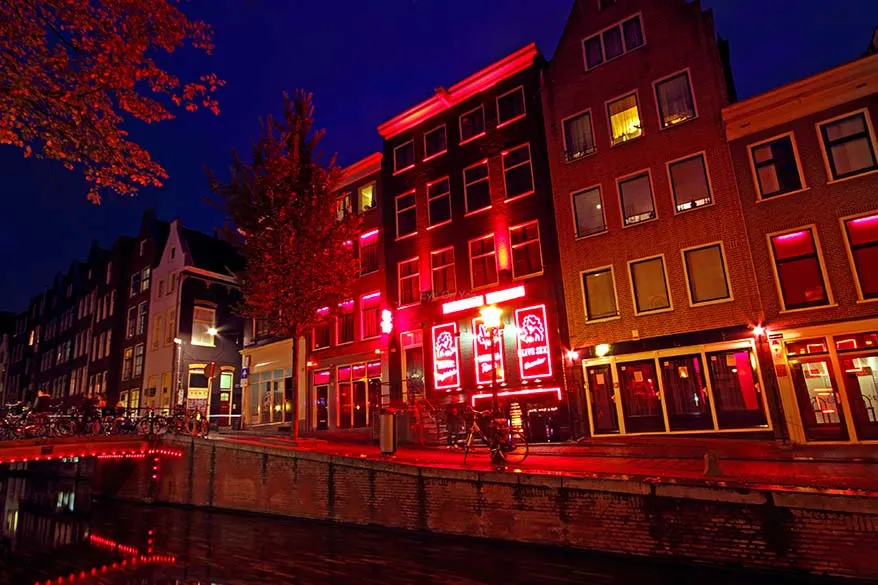 Day 2
There are so many ways to spend your second day in Amsterdam! You can opt to see more of the top Amsterdam attractions and visit the floating flower market, check out some of its world-class museums, have a relaxing time in a park, or even take a 15-min train ride to Haarlem for dinner. Or you can end your trip with a relaxing canal cruise in the evening… This is the itinerary described in detail further below.
Alternative: You can also start your second day in Amsterdam with a visit to the flower market, followed by a short half-day tour to the Windmills of Zaanse Schans. After that, you can still visit one of the museums and the park.
If you're not interested in the museums at all, then consider taking a day trip from Amsterdam and explore more of the Netherlands. Here you can find our selection of the best day trips from Amsterdam. In that case, visit the floating flower market on day 1 of this itinerary.
TIP: If you are visiting Amsterdam in the spring, you should definitely consider taking a trip to Keukenhof Gardens and Lisse tulip fields, just outside the city. You can book a transfer with the tickets (go first thing in the morning!) and then explore more of the city after you get back in the early afternoon.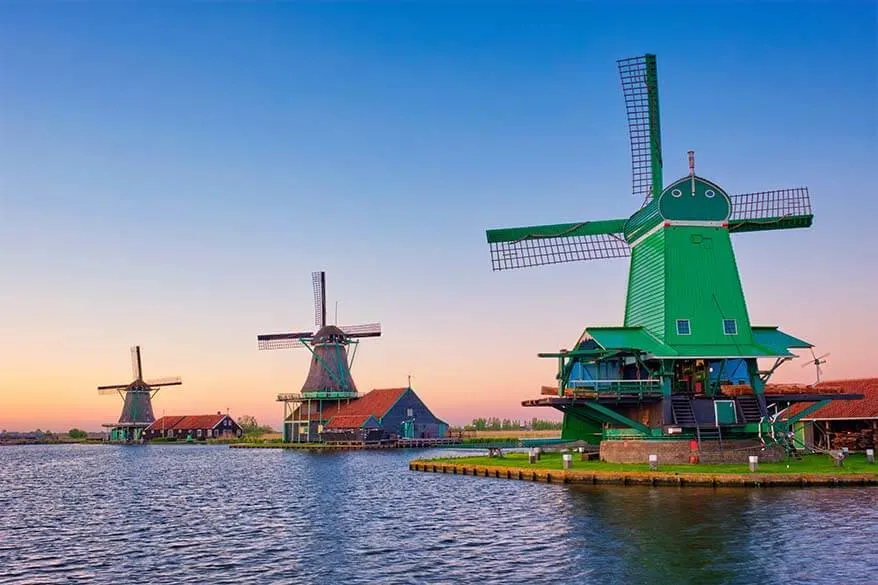 Here is what your second day in Amsterdam could look like:
Bloemenmarkt – Floating Flower Market
Start your day with a visit to the famous floating flower market of Amsterdam. The Bloemenmarkt has various florist shops that sell many types of flowers, flower bulbs, and all kinds of Dutch souvenirs.
This is the best place in the city to find the beautiful flowers that the Netherlands is so famous for. And, of course, the tulips. It's also the most colorful of the Amsterdam attractions!
The flower market is a really touristy place with so many souvenirs and tourist groups flocking the area. But it's also one of the places that are so typical to Amsterdam that you really shouldn't miss it. Furthermore, if you don't want to spend anything, you don't have to! Just take in the beautiful views of flowers and make sure you take plenty of snaps for the 'gram.
TIP: Come here in the morning before the tourist groups arrive. The market is usually open from 9 AM (from 11.30 AM on Sundays). If you buy flower bulbs, make sure that they feel firm. Don't buy flower bulbs that feel soft, show signs of mold, or are damaged.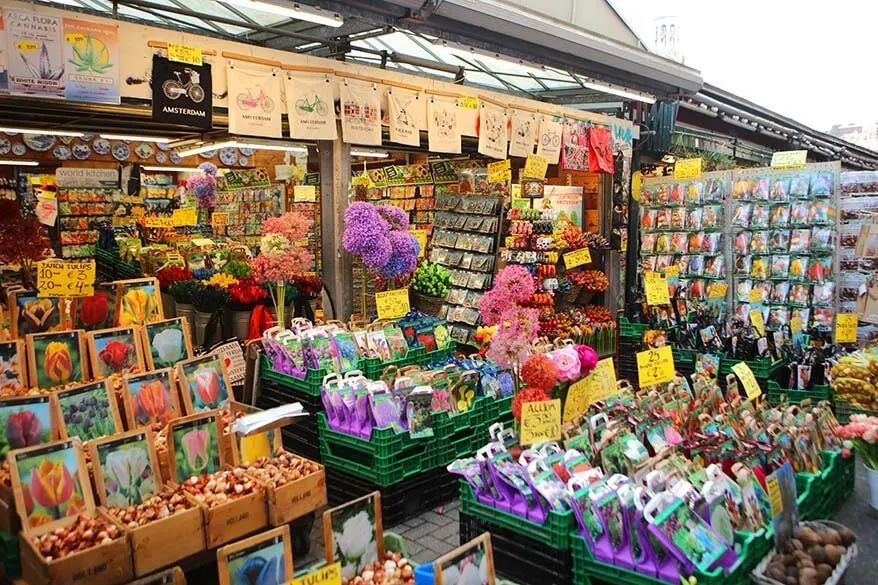 Van Gogh Museum
If you are looking for a nice museum to visit in Amsterdam, in addition to Anne Frank's House, we suggest the Van Gogh Museum. Here, you can see the world's most extensive collection of Vincent Van Gogh masterpieces. They also have about 500 drawings and over 750 of personal letters on display.
The museum is not your typical art gallery—instead, it tells the story of Van Gogh's life through his art. You will gain a personal insight into his life and where he drew his inspiration from. Even if you're not a big fan of Van Gogh and his art, the museum is so well done that it's really enjoyable!
Count at least an hour for your visit to the Van Gogh Museum in Amsterdam. Ideally, you plan 1,5-2 hours for a visit. If you plan well and get your tickets in advance, this will be the time well spent.
Good to know: The museum is open daily all year round, from 9 AM. Tickets are only available online and the number of visitors is limited. So make sure to get your museum tickets online in advance! With an online ticket, you can visit both the permanent collection and any of the temporary exhibitions.
READ ALSO: Tips & Tricks for Visiting Van Gogh Museum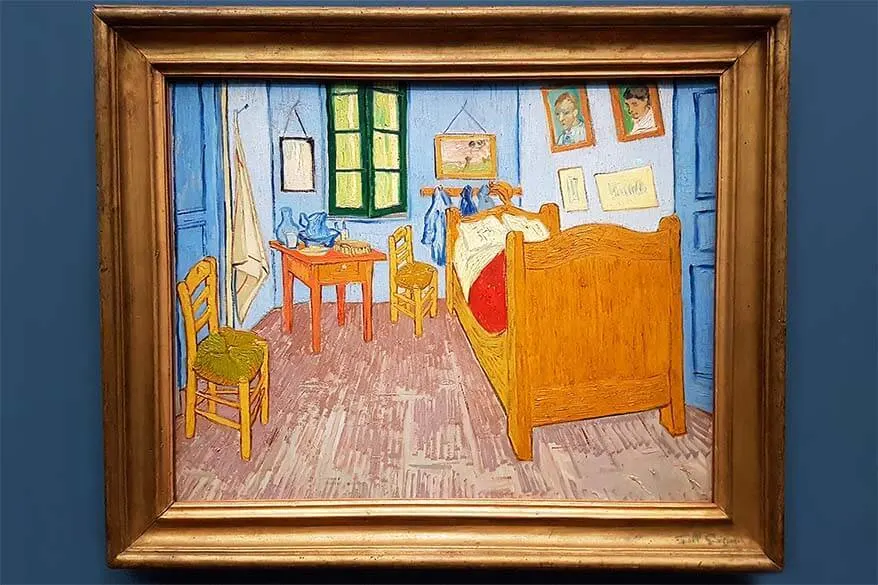 Rijksmuseum
Another extremely popular museum in Amsterdam (and the most visited museum in the country) is the Rijksmuseum. This is one of the main attractions in the city and is definitely worth a visit as well.
You can find world-renowned artworks on permanent display here, such as The Night Watch, The Milkmaid, and also some important paintings by Vincent Van Gogh. You will also find masterpieces by Rembrandt, Frans Hals, and Johannes Vermeer. Moreover, they regularly change their exhibitions throughout the year.
Most of the people who come to the museum spend two to three hours here. But you could easily spend half of the day here. Rijksmuseum is enormous, with approximately 8,000 objects of art and history.
TIP: If you are really into art and you think that you might need more time here, then it's probably best to come here early in the morning. That way it's easier to plan your day and the museum is not that packed yet. After that, have lunch and then visit the nearby Van Gogh museum in the afternoon.
Practical information: The museum is open daily from 9 AM to 5 PM. Also here, it's best to book your tickets online as that will guarantee you a timed entry and will allow you to skip the ticket line.
Alternative: Instead of the more traditional Rijksmuseum, you may want to check out the nearby Moco Museum. It's a great modern museum that – among many others – at the moment of writing features works of Banksy, the most famous street artist in the world.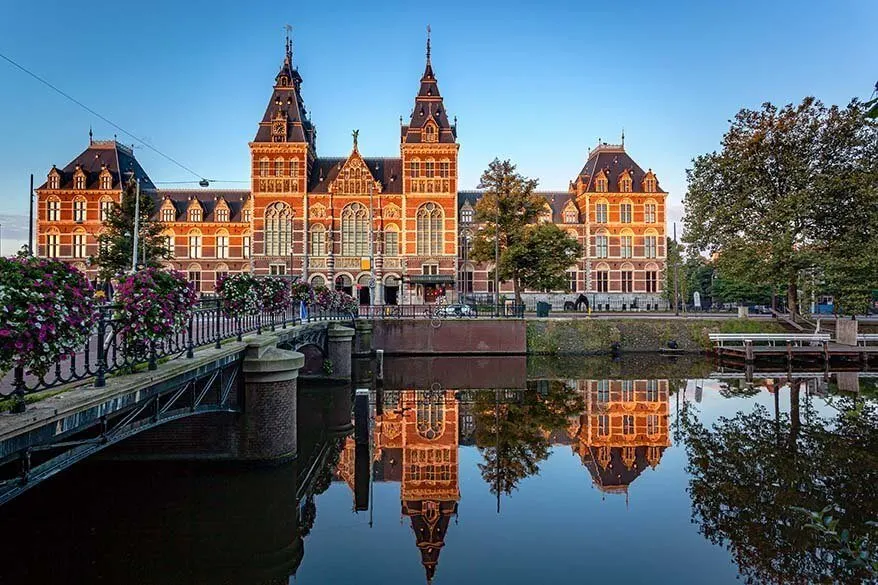 Vondelpark & Heineken Experience
After your museum tour, check out Vondelpark. This beautiful park is just a few minutes walk from the Museumplein (where Rijksmuseum, Van Gogh Museum, and many other museums are located).
The park is a scenic spot with a lake and a big variety of plants. It's especially beautiful in spring when there are tulips everywhere. And while it's very popular with locals and tourists alike, the park is so big that it never really feels crowded.
If you feel like it, you can even rent a bike to get around the park. Or simply go for a relaxing stroll.
TIP: There are several cafés in the area, so this is also a good place for you to have lunch. If you are visiting two museums on the same day, you may want to take a relaxing walk in the park in between your museum visits.
In this same area, you can also visit Heineken Experience. Located inside Heineken's oldest brewery, this is now an interactive museum. If you like this famous Dutch beer, this is a must! But even if you are not fond of beer, it's really impressive. We recently visited here and I can highly recommend it. It's another typically Dutch experience that you won't find anywhere else.
Alternative: If you prefer to learn about (and taste) other traditional drinks, check out the House of Bols, the world's oldest distilled spirit brand experience. It's also located in this area.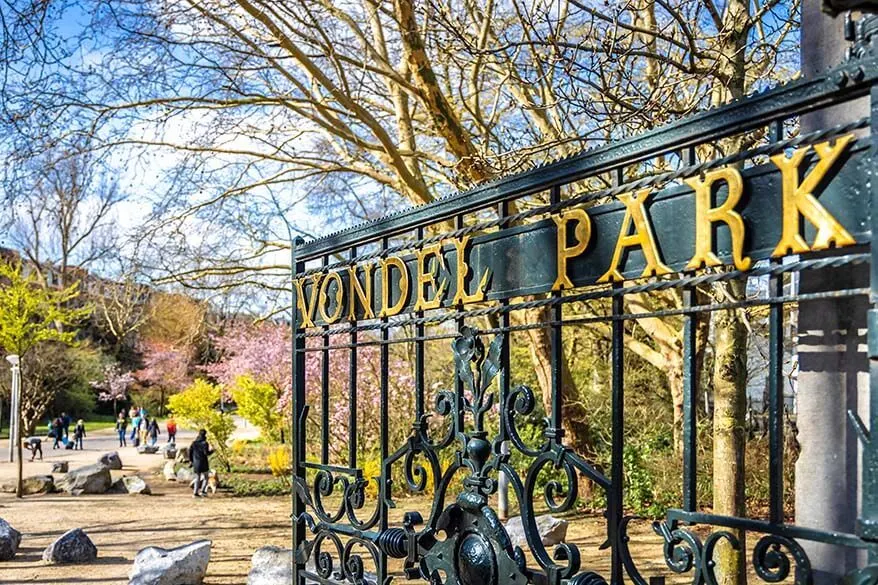 Haarlem OR…
If you want to see a bit more of the Netherlands, for dinner, you could visit the nearby town of Haarlem. It's only 15 minutes from Amsterdam by train, but you'll first have to get to Central Station, etc.
In Haarlem, have dinner in the main square, stroll around the city center, and just relax. It's a beautiful medieval town surrounded by a defensive wall, with old buildings, cobbled streets, and winding canals.
Haarlem is a very picturesque place. It is also referred to as a "scaled-down" version of Amsterdam. It deserves more time than just a few hours, however, but if you absolutely want to see as much as possible in just two days in Amsterdam, it can be done.
TIP: If you decide to go here, install the NS Railway app and check if the trains are running normally before heading to the station. Just recently we were in Amsterdam and wanted to go to Haarlem for a couple of hours. Luckily, we checked the app first because the trains were not running due to a technical problem, so it saved us quite a walk to the station.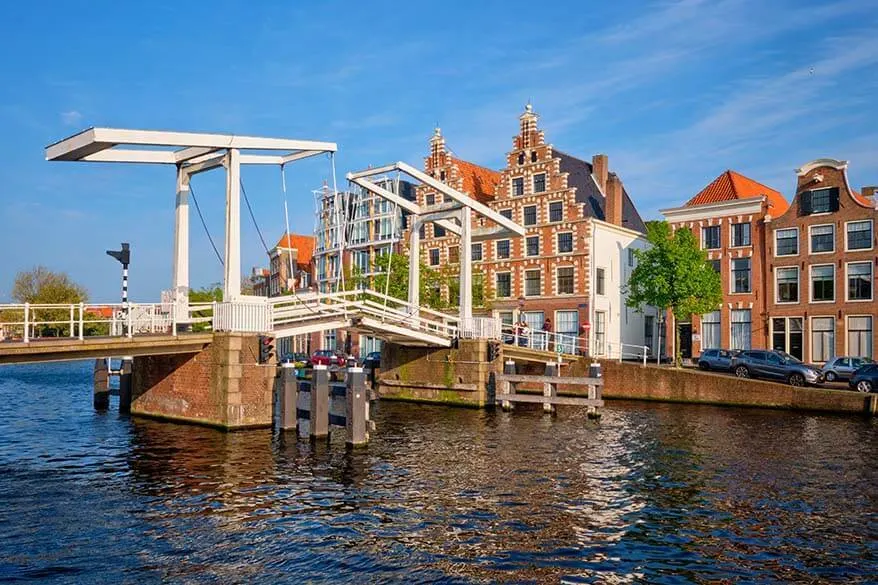 … OR Amsterdam Canals at Night
If you find the practicalities of getting to Haarlem not worth the trouble, just stay in Amsterdam and have a relaxing evening in the city.
You can go for a walk along the beautifully lit canals, find a nice restaurant for dinner, and you can also opt for an evening canal cruise. This way, you can rest on the boat after a long day of walking in the city and you can see the canals in a very different light.
Yet another alternative would be to visit A'DAM Tower. Located just across the water and easily reachable by a free ferry from behind the Central Station, a visit here takes you to a more modern part of Amsterdam. The views from the top of the tower are amazing and you can have a drink at their rooftop bar before (or after) dinner.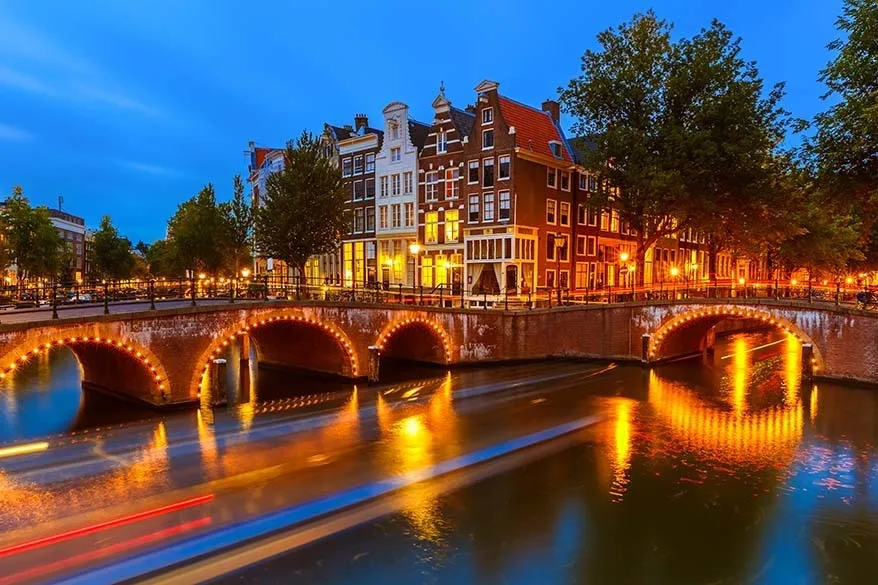 Where is the 'I Amsterdam' Sign?
You might have seen pictures of the famous white and red letters – 'I Amsterdam' and want to take a similar picture during your visit. And now you wonder why we didn't mention the iAmsterdam sign as one of the landmarks to see in the city…
The reason is simple – the I Amsterdam sign that used to stand behind the Rijksmuseum has been removed in December 2018. It became the symbol of overtourism in Amsterdam and all the bad things that come with it. So the city council decided to get rid of it.
TIP: If you are flying to Amsterdam, you can still find a similar sign at the Schiphol International Airport.
Recently, the city installed STOER letters at the location of the old Amsterdam sign. STOER means 'COOL' in Dutch.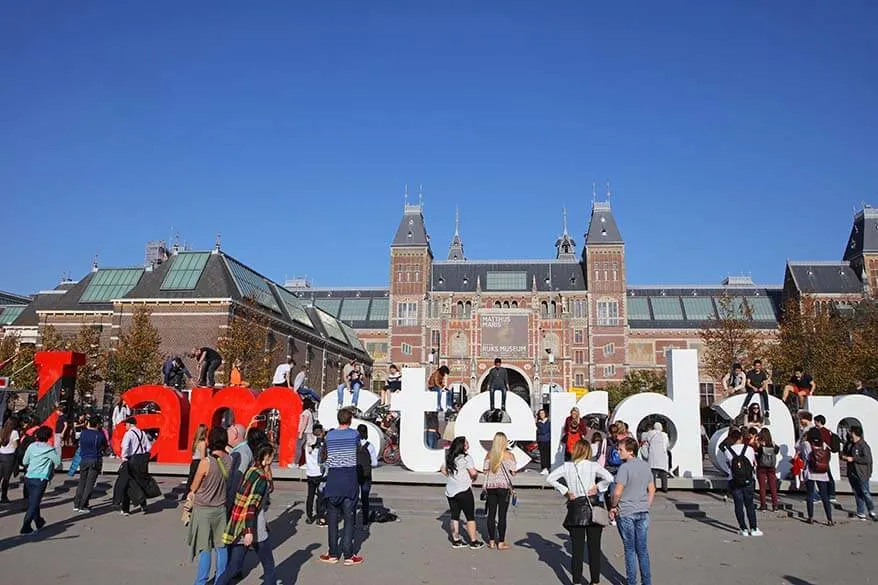 Are two days enough for Amsterdam?
Yes, two days are enough for all the main landmarks of Amsterdam. You can see all the 'musts', visit several of its best museums, and a few lesser-known areas. In addition, if you plan well, you can even take a short half-day excursion outside the city. Amsterdam is, therefore, also a perfect destination for a weekend trip!
With these activities and places to visit, your two-day trip in Amsterdam will surely be worth it! And even though two days are not enough to explore the city thoroughly, you'll get a very good view of what Amsterdam is truly about.
TIP: If you have more than 2 days in Amsterdam, take a look at our recommended 3-day itinerary or 4-day Amsterdam itinerary. I also suggest getting out of the city and exploring some of the Dutch countryside or other beautiful towns in the Netherlands. You can find all our best suggestions via the link below!
LEARN MORE: Best Day Trips from Amsterdam
Practical Tips
Book in advance! Amsterdam is an extremely popular destination, one of the most-visited cities in Europe. So make sure to book your hotels and tours in advance. By doing so, you can look forward to a smooth two-day visit to the city.
Pack comfortable walking shoes – you will be walking a lot.
Get a city card. With two days in Amsterdam, it might be interesting to consider the IAmsterdam city card. You can get a card for 24 hours, 48 hours, or longer. It includes free entrance to 60 museums, public transport, a canal cruise, big discounts for many other attractions and some restaurants, and many other perks. The longer your stay, the more sense it makes.
If you are not keen on walking more than necessary, use public transport. You can get (multi) day tickets online in advance and use them for all buses, trams, ferries, etc. If you are just taking a tram occasionally, it is now possible to pay by simply scanning your debit card or smartphone payment method on the tram.
If you want to explore Amsterdam by bike, it's best to go with a guided bike tour and a local guide. If you rent a bike, I'd try to stick to the parks and avoid the busy roads. Biking in Amsterdam can be very chaotic and stressful if you don't know where exactly to go as locals use bikes for commute and don't have much patience with anyone interrupting the steady flow of bikes all over the city.
If you don't absolutely have to, don't come to Amsterdam by car. We live in Belgium, and with a big family, and on a weekend, it's cheaper and easier for us to simply drive to Amsterdam. But the parking fees are crazy. Last time we paid over 50 EUR for (not a full) day.
Beware of pickpockets. As in any other bigger city in the world, beware of pickpockets. Be mindful of your belongings and don't carry around anything you don't absolutely need.
Check the weather forecast before you leave for the day. The weather can be very changeable in this part of Europe, especially during the shoulder season. Also, adapt your plans to the weather a bit if you can, but don't stress about it too much. Even in the rain, Amsterdam is amazing! And it hardly ever rains the whole day anyway.
Stay in the city center – more info below.
LEARN MORE: Tips & Tricks for Visiting Amsterdam
Where to Stay in Amsterdam
If you are visiting Amsterdam for the first time and want to make the absolute most of your trip, stay as close to the city center as possible.
The best location to stay for sightseeing in Amsterdam is southwest of Central Station. It's a nice area with lots of shops, restaurants, and within easy walking distance of all the main attractions.
You can find see our hand-picked selection for all budgets below.
Here are some of the best hotels in the most central part of Amsterdam, for all budgets, sorted from high to low:
Our personal recommendation close to the station is Park Plaza Victoria Amsterdam – one of the best price/value/location 4* hotels in the city center.
If you don't mind taking a tram/taxi to your hotel, check out Park Centraal Hotel close to Rijksmuseum. We recently stayed here for a few days and absolutely loved it. This part of town is perfect for the best museums in Amsterdam, sightseeing, etc. It's not ideal if you are planning on taking day trips and have to go to the station a few times during your stay, but the tram ride is only 12 minutes, so even that is doable.
READ ALSO: Where to Stay in Amsterdam on Your First Visit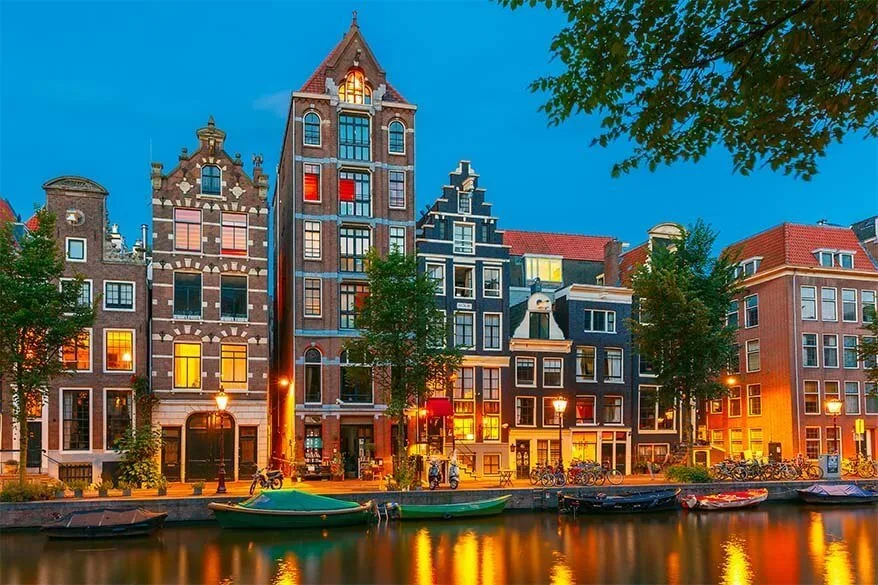 So, this is our guide to the best of Amsterdam in two days.
We hope that it will help you experience the bustling capital city of the Netherlands and get the absolute most of your short visit. It's a place that you will never forget!
If this itinerary inspired you to spend more than two days in Amsterdam, be sure to check our guide to some of the most popular sights and tourist attractions in the city as well (link below). There's so much more to see in Amsterdam that you could easily fill a few extra days here as well, not even to mention all the nice places to see outside the city…
LEARN MORE: Best Things to Do in Amsterdam
More tips for visiting Benelux:
READ ALSO: Travel Photography: Simple Tips for Better Pictures
If you found this post useful, don't forget to bookmark it and share it with your friends. Are you on Pinterest? Pin these images!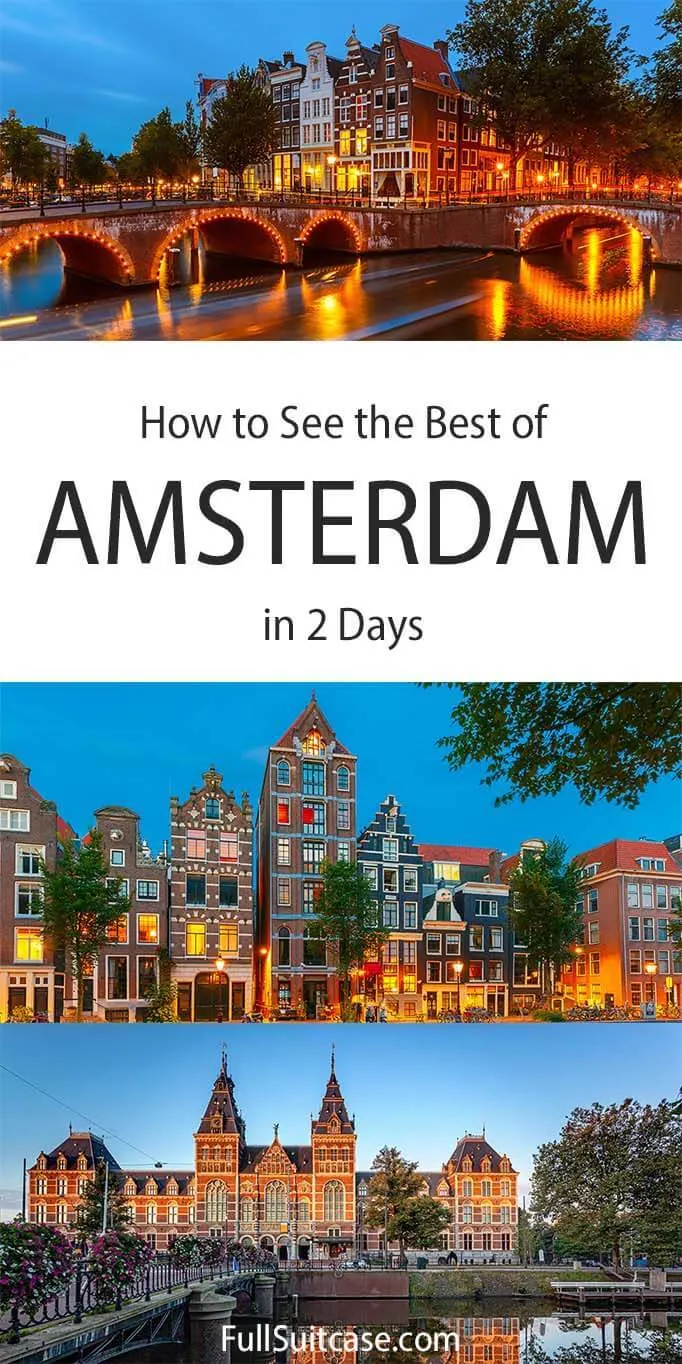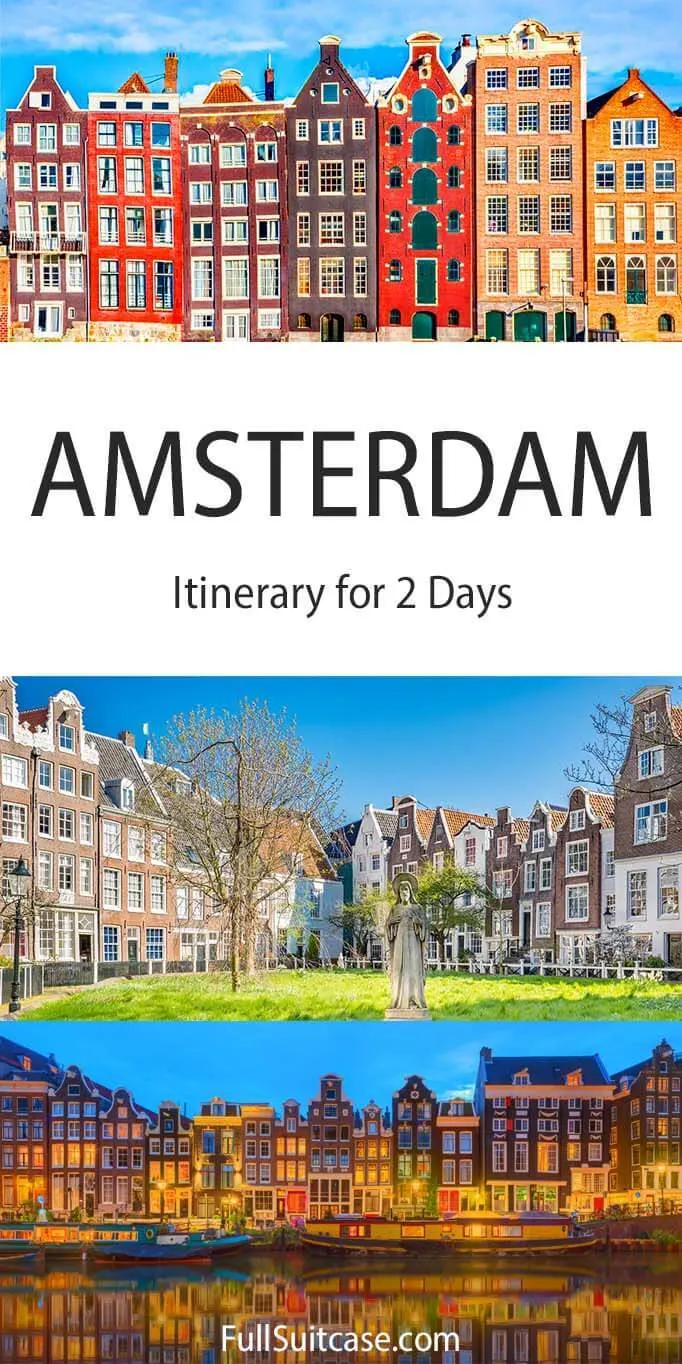 Image credits: personal collection and Depositphotos.com