Amsterdam in the Netherlands is a vibrant city with so many amazing places to discover and things to do. When visiting the city for the first time, you'll likely want to see some of its famous museums.
But with dozens of choices, how do you know which Amsterdam museums are worth your time the most? And how to visit them if you didn't think to book in advance and the tickets for your travel dates are all sold out?
In this guide, we share a small selection of the VERY BEST museums in Amsterdam, including our experience-based tips and useful information to help you plan an unforgettable visit.
Good to know: As you can imagine, there are way more museums in Amsterdam than you could ever visit in one trip. Options range from world-famous artists like Van Gogh or Rembrandt to popular tourist attractions like Madame Tussauds to quirky museums dedicated to cats, Amsterdam canals, or the secrets of the famous Red Light District…
In this article, we only focus on the must-sees, and top museums in Amsterdam to prioritize if your time in the city is limited. These are one-by-one world-class museums and experiences that will make your visit to the Netherlands so much more memorable. You really cannot go wrong with either of them, but we highly recommend visiting at least 3-4 places from this list. Find out!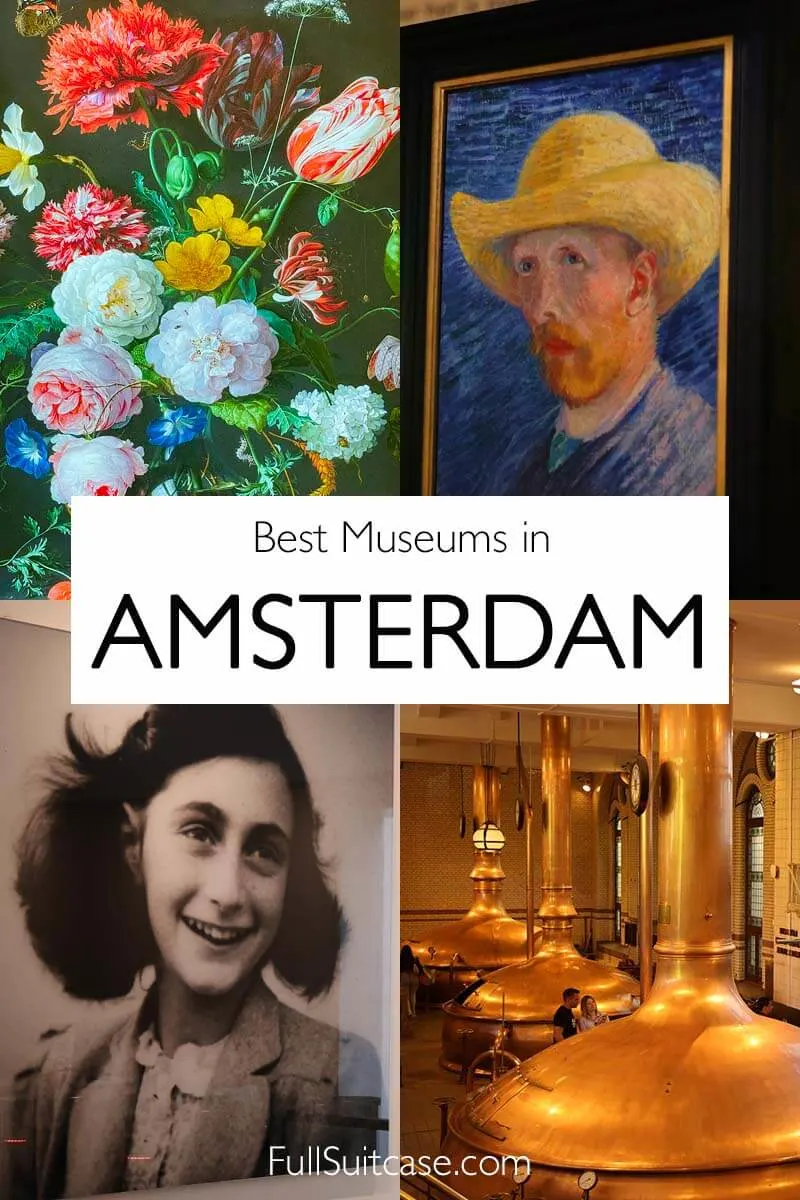 These are the very best museums to visit in Amsterdam:
1. Rijksmuseum
First on the list is the iconic Rijksmuseum (Empire Museum), a true gem showcasing Dutch art and history. If you visit just one museum in Amsterdam, make it this one!
Rijksmuseum is located inside a stunning 19th-century Renaissance- and Gothic-style building that looks more like a palace. The impressive building was designed by Dutch architect Pierre Cuypers, who also built the Central Station in Amsterdam.
Stepping foot into this grand institution is like entering a time capsule of the Netherlands' Golden Age. The Rijksmuseum holds an unparalleled collection of masterpieces, including some of the most famous works by world-famous Dutch painters such as Rembrandt, Vermeer, Van Gogh, and many others.
Some of the must-sees here include the "Night Watch" and "The Jewish Bride" by Rembrandt, "The Milkmaid" by Vermeer, and one of Van Gogh's self-portraits. In addition, you can't miss the remarkable Great Hall and the museum's impressive library.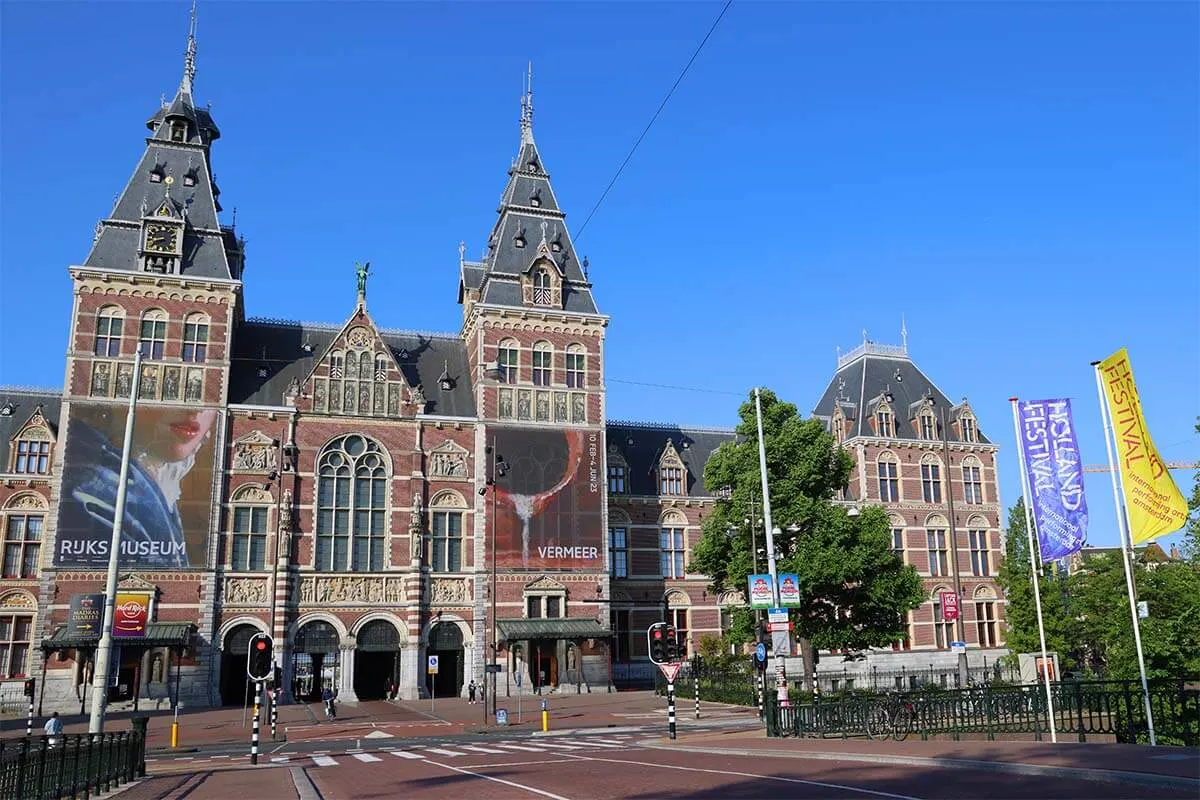 Info & tips for visiting Rijksmuseum
Tickets: The Rijksmuseum is the most popular museum in Amsterdam. So plan your visit and book your tickets online in advance! That way, you can head straight to the entrance, scan your ticket, and you are inside in a matter of minutes.
For an extra fee, you can get an audio guide which also has a selection of the 'must-sees' for the first visit. They often also have temporary exhibitions; those are not always included with the regular ticket and require a bit more time too.
Entry is free for ages 18 and under.
Opening times: Rijksmuseum is open daily from 9 AM to 5 PM. To avoid the biggest crowds, we recommend visiting first thing in the morning or late in the afternoon.
TIP: If you want to learn more about the most important artworks of Rijksmuseum, consider visiting here on a guided tour. There are quite a few options available; we recommend small-group tours for the best experience. There is now this wonderful tour that includes a visit to two best museums in Amsterdam and a canal cruise – it's a great option if you have limited time and want to see all the musts with a local guide.
How much time do you need: You will need at least 1.5 hours to see the highlights of Rijksmuseum.
Practical information: There are elevators and the museum is wheelchair-accessible. They also have free lockers, bathroom facilities, a cafe, and a gift shop.
The gardens of Rijksmuseum are open daily from 9 AM to 6 PM and can be visited free of charge.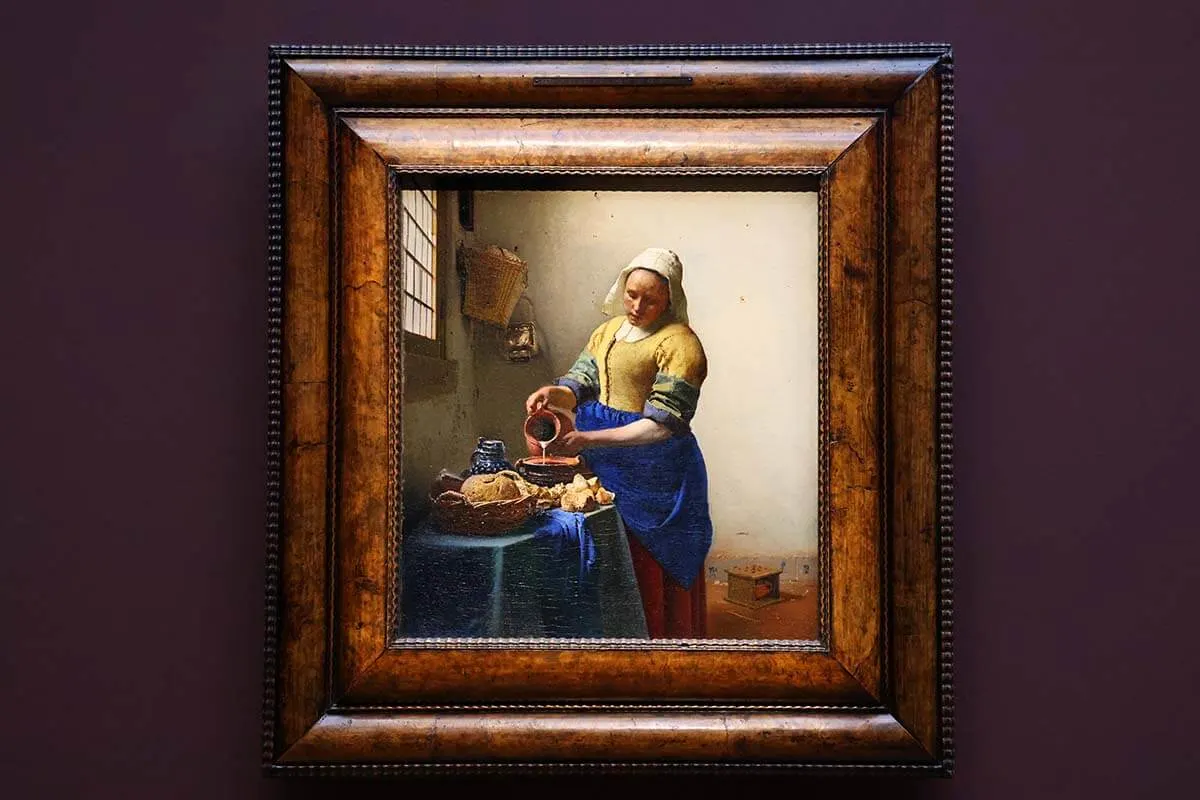 2. Van Gogh Museum
Located on Amsterdam's Museum Square (just a few steps from Rijksmuseum), the Van Gogh Museum is another must-see in Amsterdam.
As the name suggests, this museum is dedicated entirely to Van Gogh and it features the largest collection of Van Gogh's artwork in the world.
Here, you can see several of his famous self-portraits and impressive portraits of other people, plus many iconic paintings including "Sunflowers" and "Almond Blossom" to mention just a few.
You can also learn a lot about Vincent Van Gogh's life and relationship with his brother Theo. It was actually thanks to the widow of Theo and their son that this museum was opened in Amsterdam over 50 years ago.
The Van Gogh Museum is much smaller than the Rijksmuseum, but somehow we managed to spend twice as much time there. It's captivating!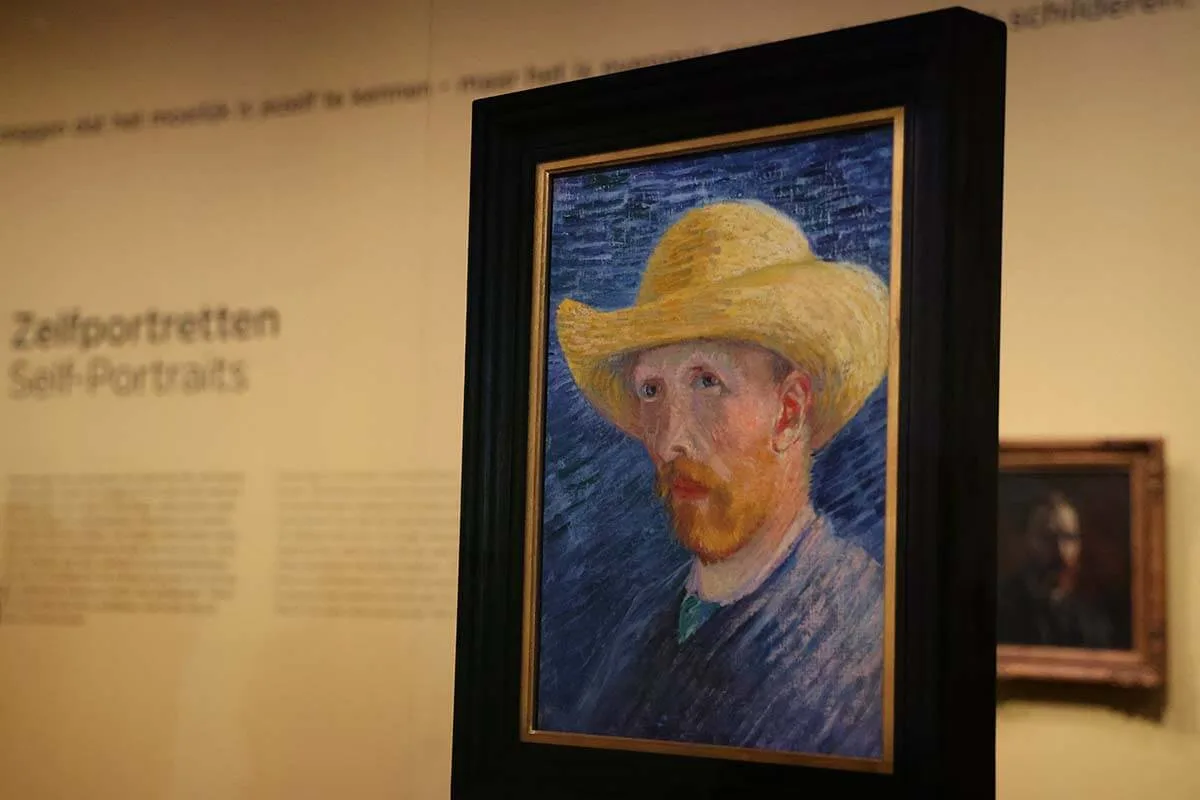 Info & tips for visiting Van Gogh Museum
Tickets: As one of Amsterdam's most popular attractions, the tickets for the Van Gogh Museum always sell out. So if you want to be sure to visit, you really have to book your tickets online in advance! Tickets are only sold online and all visitors – including those that can visit for free – are required to pre-book a timed entry ticket.
All tickets include not just the permanent collection, but also temporary exhibitions. When we visited, they had an amazing exhibition highlighting the last works of Van Gogh. It's always worth checking out if there is anything special at the time of your visit!
For a small extra fee, you can get an audio guide which is available in several languages. It really helps to navigate the museum and get a better understanding of Van Gogh's art and his life.
Opening times: The Van Gogh Museum is open daily, with hours varying a bit per season. In the main season (February – November), the museum is open daily from 9 AM to 6 PM.
TIP: The Van Gogh Museum can also be visited with a guided tour. If you are booking last-minute and the museum tickets are sold out, you may be able to visit the Van Gogh Museum with a tour! There are a couple of tour options. If it fits your schedule, this 'closing-time' museum tour is by far the best option.
How much time do you need: Count at least 2 hours for a visit to the Van Gogh Museum. We recently spent 3 hours here visiting the museum and the temporary exhibition.
Practical information: Entry is free for ages 18 and under. The museum is wheelchair accessible. There are bathrooms, free lockers, a gift shop, and a café.
LEARN MORE: Tips for Visiting Van Gogh Museum in Amsterdam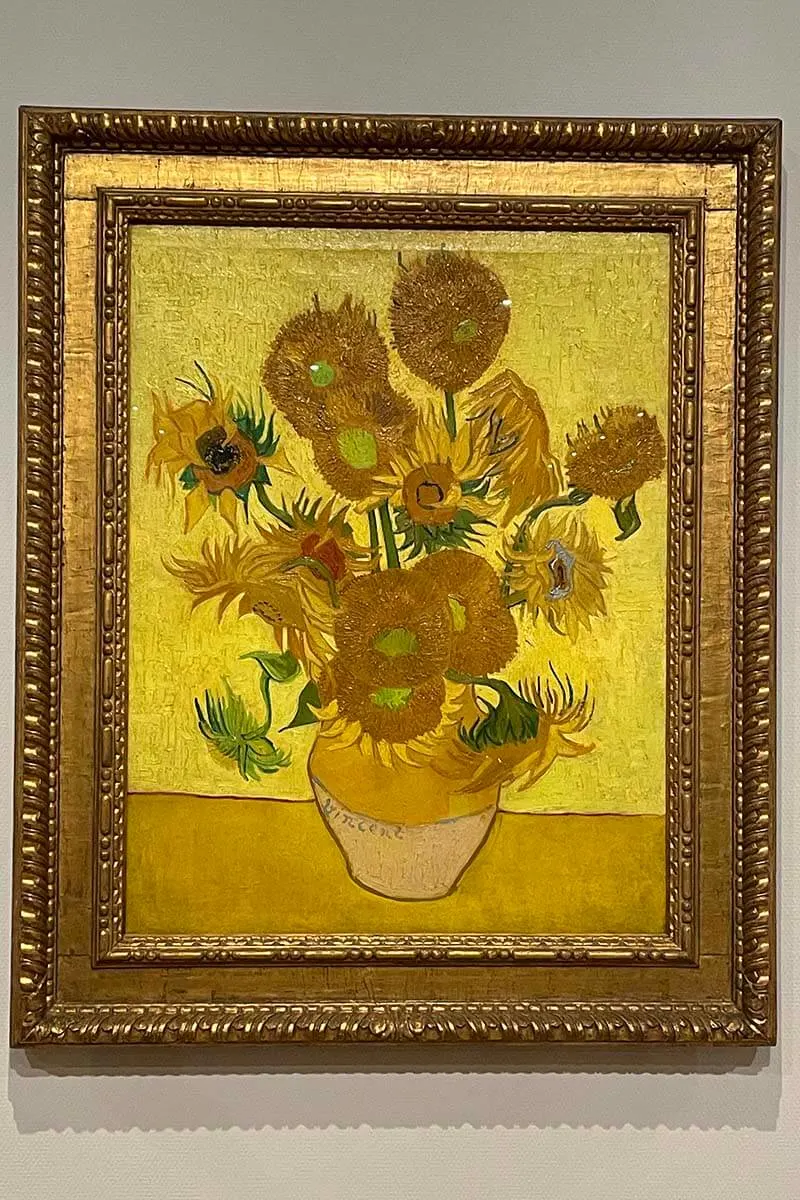 3. Anne Frank House
Anne Frank was a Jewish girl who kept a diary where she documented her family's everyday life in a secret space in a house in Amsterdam while hiding from the Nazis during WWII. Out of 8 people who were hiding here together, only her father Otto Frank survived. After the war, he published Anne's diary and it has been translated into 70 languages.
Anne Frank House is a museum dedicated to this world-famous diary and the life of Anne Frank. In the museum, you can visit the actual hiding place, a secret annex, aka 'Back House' where Anne Frank and her family and their friends spent two years in hiding.
As you walk through a secret door hidden behind a bookshelf, you immediately step back in time. The story really comes to life as you walk through the small apartment where 8 people lived for 2 years, afraid to move or make any kind of noise.
You can see the tiny room that Anne shared with a family friend and where she wrote her famous diary. The museum also showcases her original hand-written diary and other manuscripts (she re-wrote parts of her diary hoping to publish it as a book after the war).
A visit to the Anne Frank House is a poignant and humbling experience. It will be even more special if you have read Anne Frank's Diary. But even if you haven't read the book, it's more than worth it as it gives you a deeper understanding of some of the gruels of WWII. This might be a story of just one girl, but it's also a story of millions of others…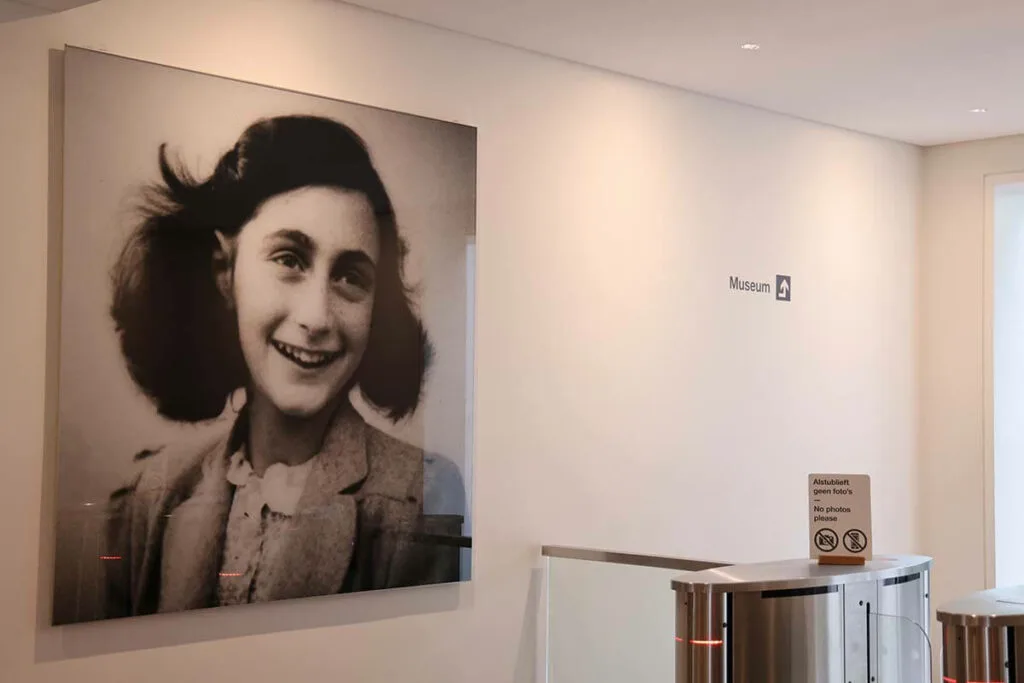 Info & tips for visiting Anne Frank House
The entry to Anne Frank House is the most sought-after museum ticket in Amsterdam. This has not only to do with its fame but also with the fact that the actual house where Anne Frank was hiding with her family during WWII is very small. Therefore, the number of people allowed inside is limited, and the museum tickets sell out long in advance.
Tickets: You can only buy tickets for the Anne Frank House online, on the official website of the museum. Ticket sales start approximately six weeks in advance and in high season, you really should book as soon as they become available. All tickets are timed so be sure not to miss your time slot!
Tickets include a free audio tour which is available in different languages. Be sure to take it as it's really an essential part of the visit!
TIP: There is now a new tour that includes a visit to Anne Frank House. If you haven't booked your tickets to the museum in advance, this may be your lucky chance to visit inside. However, this tour has very limited availability and it only runs a few days a week. In addition to the museum, this tour also takes you to all the most important Jewish sights in Amsterdam.
There are also other 'Anne Frank' tours and they are excellent if you want to learn more about the topic, but none of them will take you inside the museum. We recently did this walking tour focused on the life of Anne Frank and it was amazing. We visited the museum on our own. The tour that includes a visit to the museum wasn't available at that time.
Opening times: Anne Frank House is open daily from 9 AM to 10 PM. It's closed on certain Jewish holidays and has shorter opening times on some public holidays.
How much time do you need: You need about 1 hour for a visit to Anne Frank House.
Good to know: There are lockers (for small bags), bathroom facilities, and a gift shop at Anne Frank House. Note that the museum has steep stairs and narrow hallways, so it's not suitable for visitors with limited mobility.
Photography is not allowed inside Anne Frank House.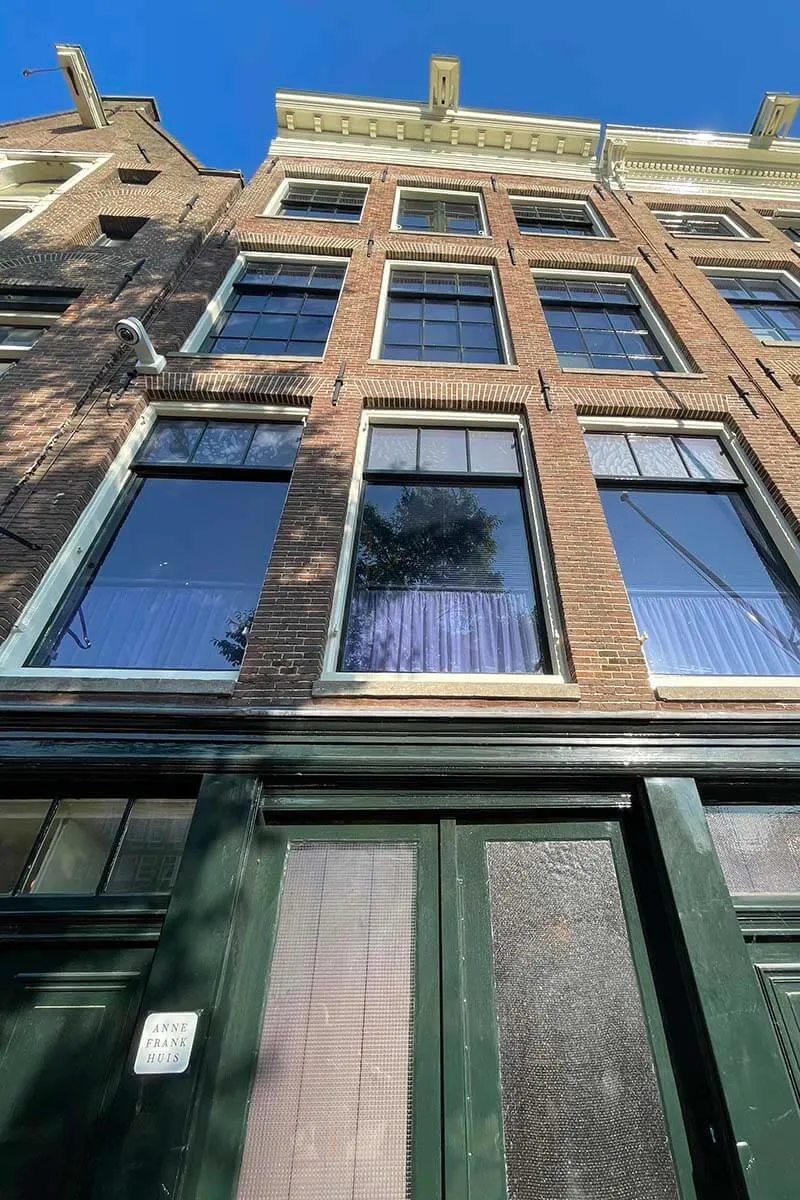 4. Rembrandt House Museum
Rembrandt House Museum is focused on the life and works of Rembrandt van Rijn, a 17th-century painter. If you are not familiar with the name, Rembrandt is one of the most famous Dutch painters of all time, and you will find some of his most famous works in Rijksmuseum too.
However, we highly recommend visiting the Rembrandt House Museum as well! It offers a very different experience than other top museums in Amsterdam.
Recently reopened after an extensive renovation and not yet discovered by mass tourism, this museum provides an intimate and immersive experience. It's located on Jodenbreestraat, in the very house where Rembrandt lived and worked during the peak of his career.
Rembrandt lived here between 1639 and 1658 when he was forced to sell all his belongings and move out to a cheaper place. His possessions had to be sold due to debts, so the inventory was made documenting everything he owned. It's thanks to this list that the house has been restored as true to the original as possible, including many objects that belonged to Rembrandt.
Not only can you see what life was like during the Dutch Golden Age, but you also get to know the man behind the art. Wander through the meticulously reconstructed rooms, admire his studio, and marvel at etchings and paintings. There are also daily demonstrations of traditional printmaking techniques as well as painting, offering a deeper appreciation for Rembrandt's craftsmanship.
In a way, this is one of my personal favorite museums in Amsterdam. Not only do you get to know the art of Rembrandt, but also the person and the family behind it. Being set in an actual home where Rembrandt lived and worked, you really feel like you take a trip back in time here. Plus, you only need an hour for a visit, so it's really easy to add this museum to any Amsterdam itinerary. Highly recommended!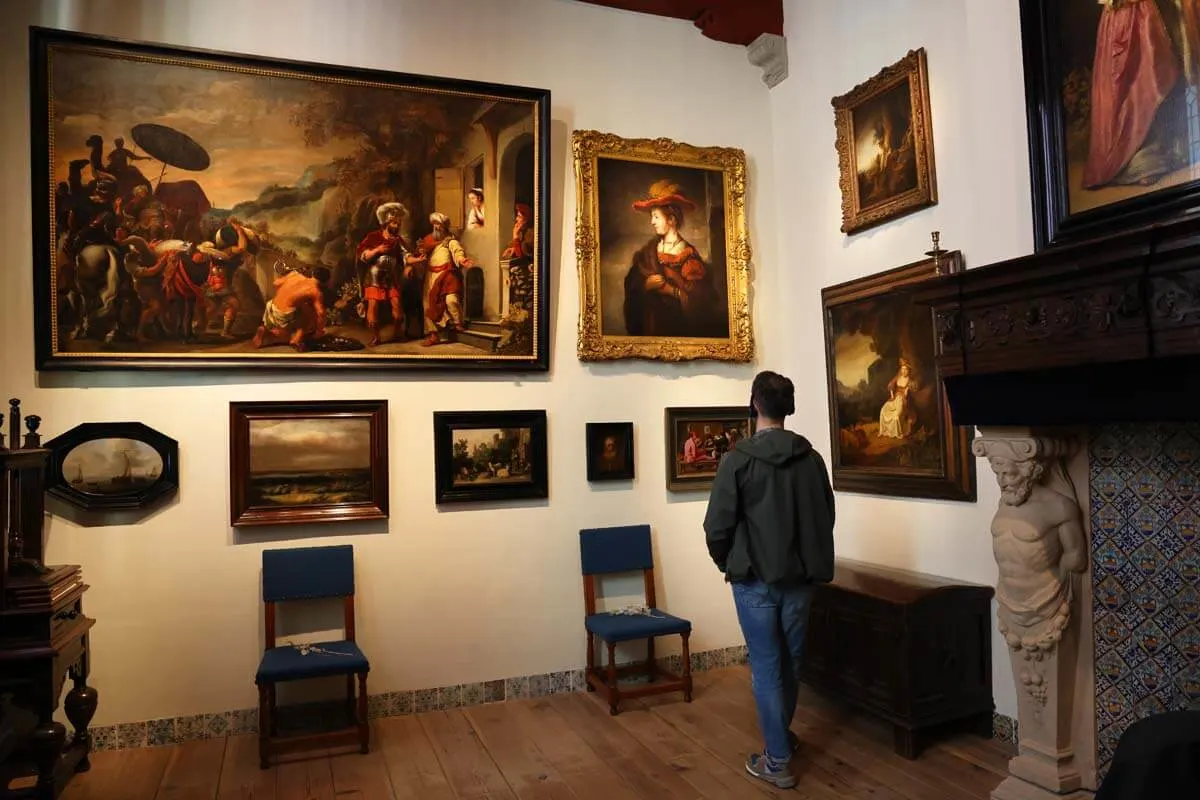 Info & tips for visiting Rembrandt House Museum
Tickets: Rembrandt House Museum is not (yet) as popular as the top-3 museums in Amsterdam mentioned above. But it's also much smaller because the main part is located in an actual 17th-century house. So they can only admit a limited number of visitors. We, therefore, highly recommend booking timed-entry tickets in advance.
Children under 6 are free of charge, and kids 6-17 pay a discounted price.
Tickets include an excellent audiovisual guide, which makes it really easy to visit this museum on your own.
Opening times: The Rembrandt House Museum is open daily from 10 AM to 6 PM. It's closed on Christmas Day (25/12) and on King's Day (27/4).
How much time do you need: You need about 1 hour for a thorough visit to the Rembrandt House Museum.
Good to know: Parts of the museum are accessible. However, Rembrandt's old home has many steep stairs, and it's not accessible by wheelchair.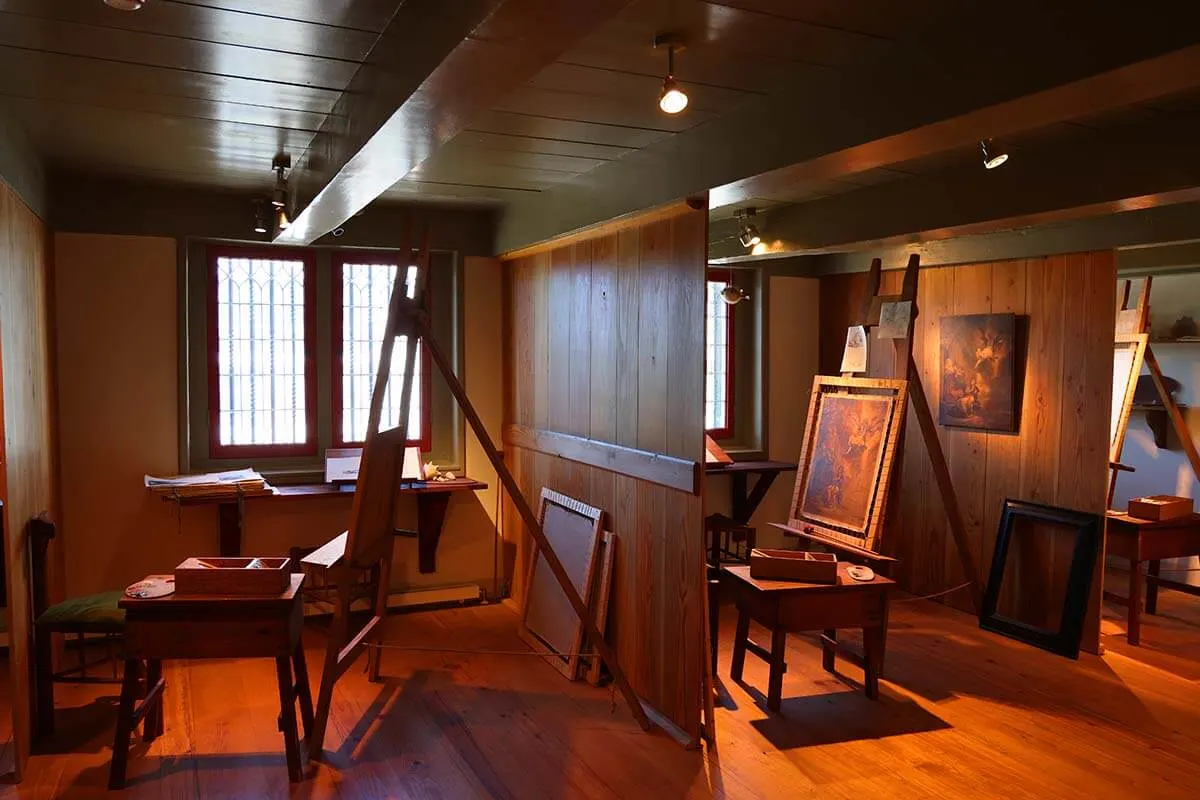 5. Heineken Experience
While Amsterdam is renowned for its art and history, the Heineken Experience offers a refreshing and unique museum experience centered around the world of beer. Whether you're a beer enthusiast or are simply looking for some of the best museum experiences in Amsterdam, a visit here is a must.
This interactive museum takes you on a captivating journey through the history, brewing process, and global influence of Heineken beer.
Unlike traditional museums, the Heineken Experience offers an immersive and engaging visit that appeals to all your senses. From interactive exhibits and virtual reality experiences to beer tasting, a visit here goes way beyond showcasing artifacts. It's a truly fun and entertaining museum that is even better thanks to the knowledgeable and passionate guides that you meet throughout your visit.
Needless to say, you can also taste some Heineken beer during the visit. One small tasting during the tour and two drinks at the bar are included with your entry ticket. In addition, for a small extra fee, you can visit their rooftop bar where you can enjoy beautiful city views (and even more beer – or other drinks – if you like).
The highlight for me was being able to explore the historic room of the original brewery. But the entire experience is so much better than I ever imagined! Even if you are not a fan of (Heineken) beer, this place is absolutely worth a visit.
Granted, this museum is not like any other, but it absolutely deserves a mention on any list of the very best museums in Amsterdam. Cheers to an unforgettable experience!
I have to add that despite living in a country of beer (and waffles and chocolate…), I never drink beer. But I enjoyed this experience and it exceeded all my expectations. Highly recommended.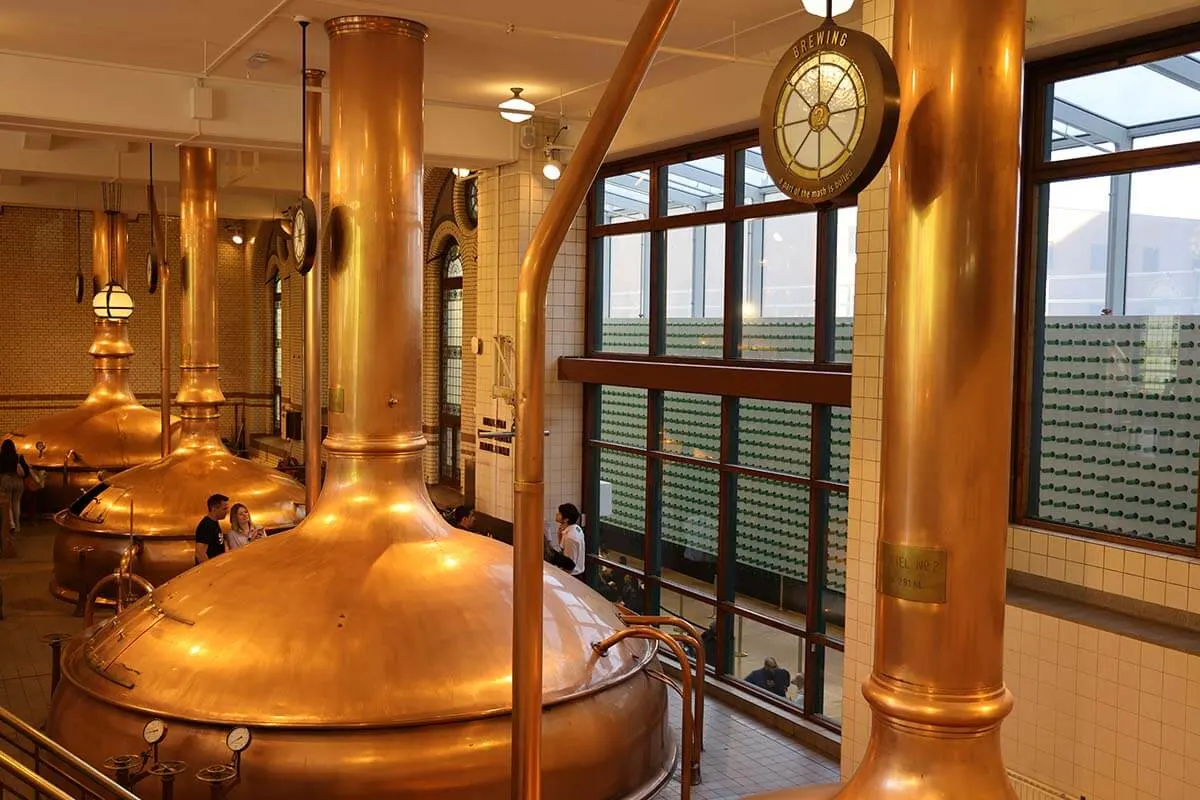 Info & tips for visiting Heineken Experience
Tickets: Given its popularity, it's highly recommended to book your tickets online in advance to secure your preferred time slot and avoid waiting in long queues.
Don't forget to bring your ID (especially if you are very young), as the museum has an age restriction. You must be 18 years or older in order to visit the Heineken Experience. Kids are not allowed inside, not even if accompanied by parents.
TIP: If you are looking for an even more immersive experience, consider an exclusive VIP tour. In addition to everything that's included with a regular ticket, a VIP experience takes you behind the scenes, includes more tastings, etc.
Opening times: The Heineken Experience is open daily from 10:30 AM to 7:30 PM. On Friday and Saturday, it's open until 9 PM. The last entry is 2 hours and 15 minutes before the closing time (5.15 PM and 6.45 PM respectively).
How much time do you need: You need at least 1 hour for a quick visit, but you can easily spend 2-3 hours here. We spent 1 hour and 15 minutes inside.
Good to know: The busiest days are Saturdays. If you want to avoid the biggest crowds, visit on weekdays. Mornings are much quieter than afternoons. There are bathroom facilities and lockers.
Heineken Experience is wheelchair accessible, but since it's a historic building, it's not straightforward. If you are visiting with a wheelchair, try to go during the quietest times of the day and contact them in advance for the arrangements.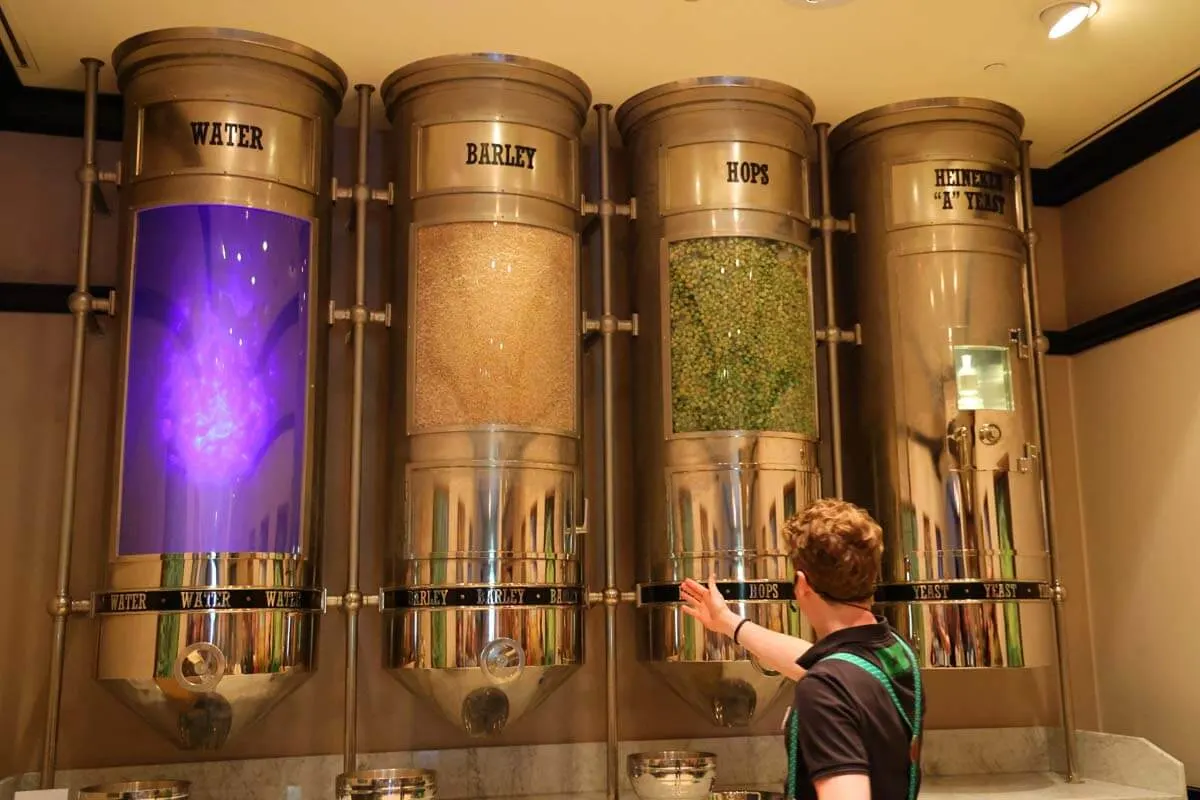 6. NEMO Science Museum
If you are looking for the best Amsterdam museum to visit with kids, then look no further! NEMO Science Museum is the best place to be for families with children.
Located in a striking green building in the shape of a ship, this museum is dedicated to inspiring and engaging visitors of all ages with the wonders of science and technology. It's totally different from any other museum on this list, but it's educational, colorful, interactive, and most importantly, it's fun!
A visit here offers a refreshing and interactive approach to the world of science. From exploring the principles of physics through interactive experiments to unraveling the mysteries of the human body, NEMO Science Museum offers a wide range of engaging exhibits. You can create your own lightning, build dams, or investigate the wonders of DNA.
What makes the NEMO Science Museum special is that it encourages you to touch, play, and experiment with the exhibits, making it a perfect destination for families.
With five floors of interactive displays, workshops, and demonstrations, you can easily spend half a day or even an entire day here!
Good to know: While adults will have fun here as well, NEMO is primarily designed for families with children. If you are looking for a similar experience for adults, consider visiting NEMO Science Museum's Studio at an off-site location at Marineterrein.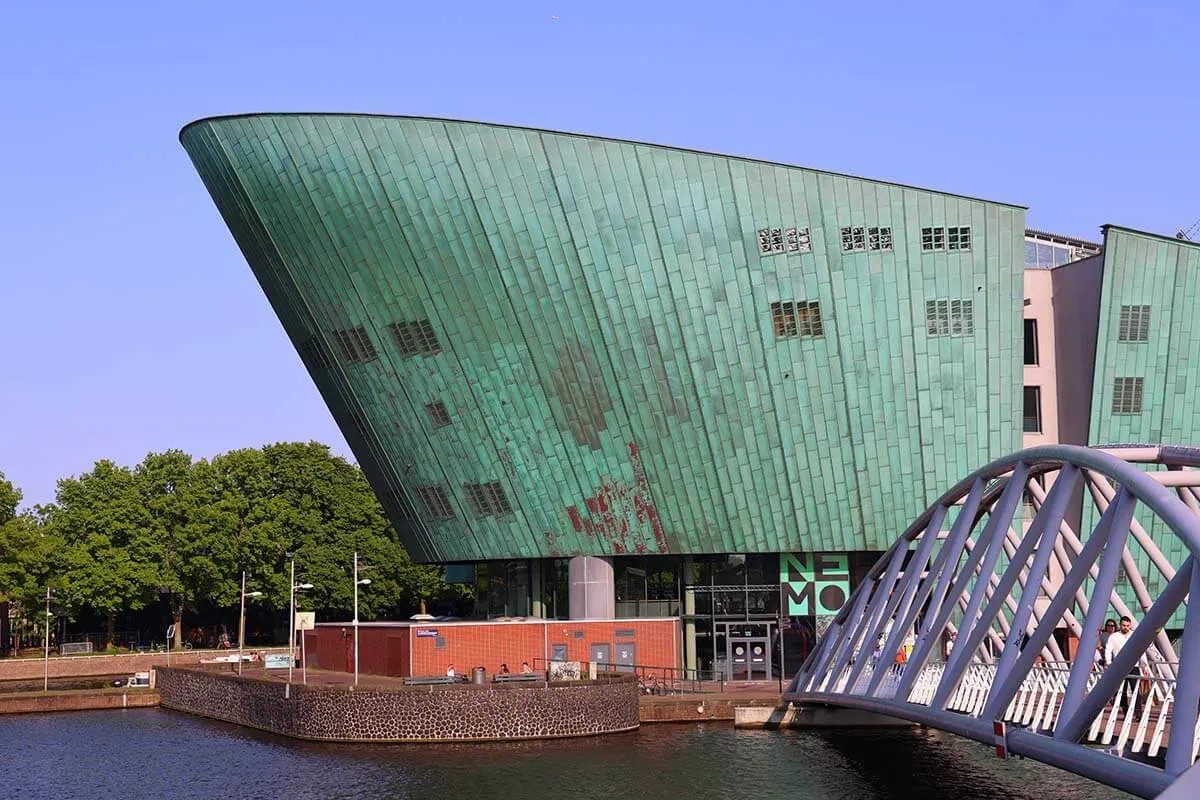 Info & tips for visiting the NEMO Science Museum
Tickets: Just like pretty much all of the most popular museums in Amsterdam, NEMO Science Museum also works with a timed-entry system. So to avoid disappointment and be sure that you can visit at the time when it suits you best, reserve your tickets online in advance.
The museum can get quite busy, especially during weekends and school holidays. It's also popular with school groups. For a more relaxed experience, consider visiting on weekdays in the afternoon.
Opening times: NEMO Science Museum is open daily except on Mondays from 10 AM to 5.30 PM. During school holidays, public holidays, and in the summer season (April to September), it's open daily. It's exceptionally closed on King's Day (April 27).
TIP: The rooftop of the museum provides stunning panoramic views of Amsterdam, making it a great spot to relax and enjoy the scenery. You can also visit the rooftop café without a museum ticket.
How much time do you need: With kids, you can easily spend more than half a day at the NEMO. As a minimum, count 2-3 hours for a visit here.
Good to know: NEMO is wheelchair- and pram friendly. The rooftop square is not wheelchair accessible. There are bathroom facilities, lockers, and a restaurant.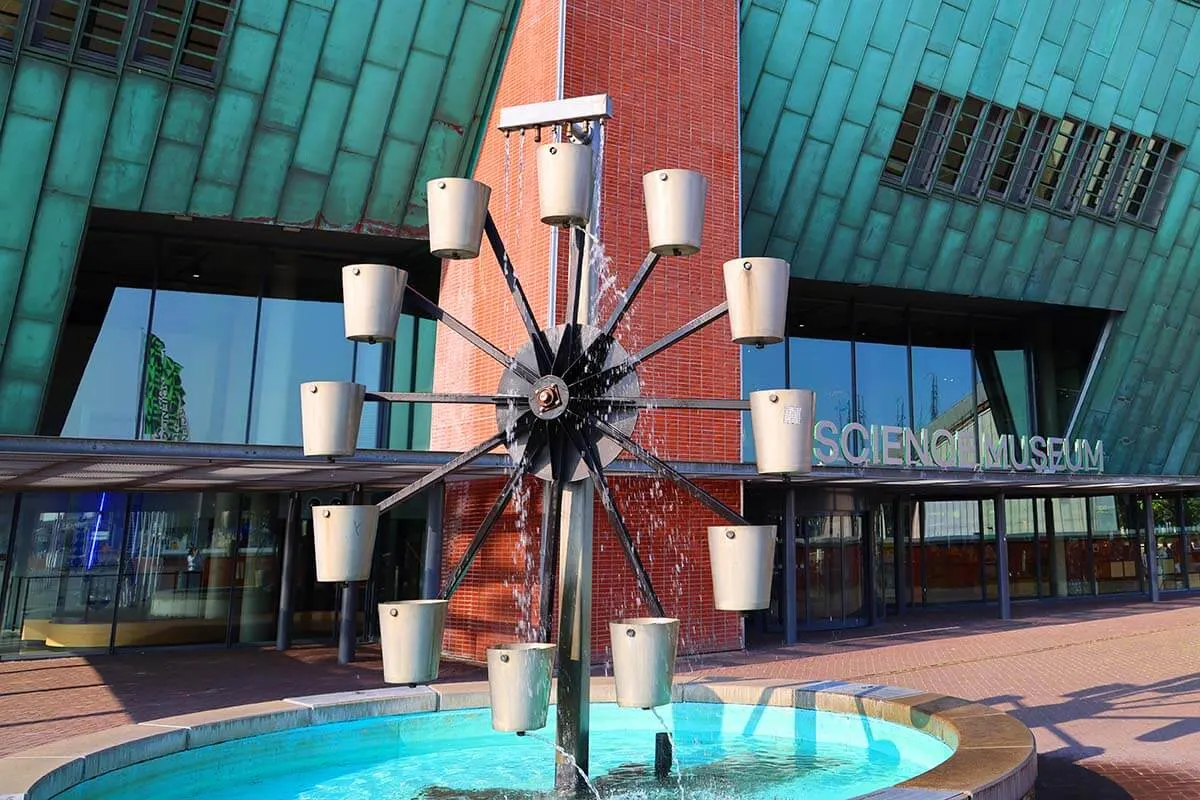 More museums to visit in Amsterdam
As you can imagine, there are many other museums in Amsterdam than the top choices in our selection. Depending on your interests and how much time you have, you may want to visit a few more.
Here are a couple of additional recommendations for Amsterdam museums:
Royal Palace Amsterdam – the official reception palace of the Dutch monarchy. On most days, it can be visited as a museum. The Royal Palace is very centrally located on the Dam Square.
Moco Museum – modern and contemporary art museum featuring – among others – the works of Banksy, Kusama, Hirst, and many more. This museum is located right next to Rijksmuseum and Van Gogh Museum.
Jewish Museum – this museum is focused on the history of the Jews in the Netherlands. The ticket also includes entry to the Portuguese Synagogue which is especially impressive in the dark when all the candles are lit. So if you are visiting Amsterdam in the dark season, definitely check it out toward closing time.
National Maritime Museum – focused on Dutch maritime history, this museum is a true gem usually overlooked by first-time visitors. It's located very close to NEMO Science Museum.
Madame Tussauds – a world-known wax museum with a Dutch twist. Whether you want to see the Dutch Royal Family, Van Gogh, or famous Dutch DJ's, you'll find them all here. This museum is located on Dam Square, next to the Royal Palace.
Diamond Museum – learn more about diamonds and see them sparkle. This museum is located on Museum Square, next to Van Gogh Museum and Rijksmuseum.
Cat Cabinet – a quirky museum for all cat lovers. And yes, they have a couple of cats hanging around, just don't pet the black one.
… This list could go on and on. There are truly too many museums in Amsterdam to be able to visit in just one or even two trips. So pick the ones that peak your interest and check them out. Even if you just visit a few museums in Amsterdam, it will make your trip so much more special and more memorable!
Below, you can find some practical tips for Amsterdam museums – read on!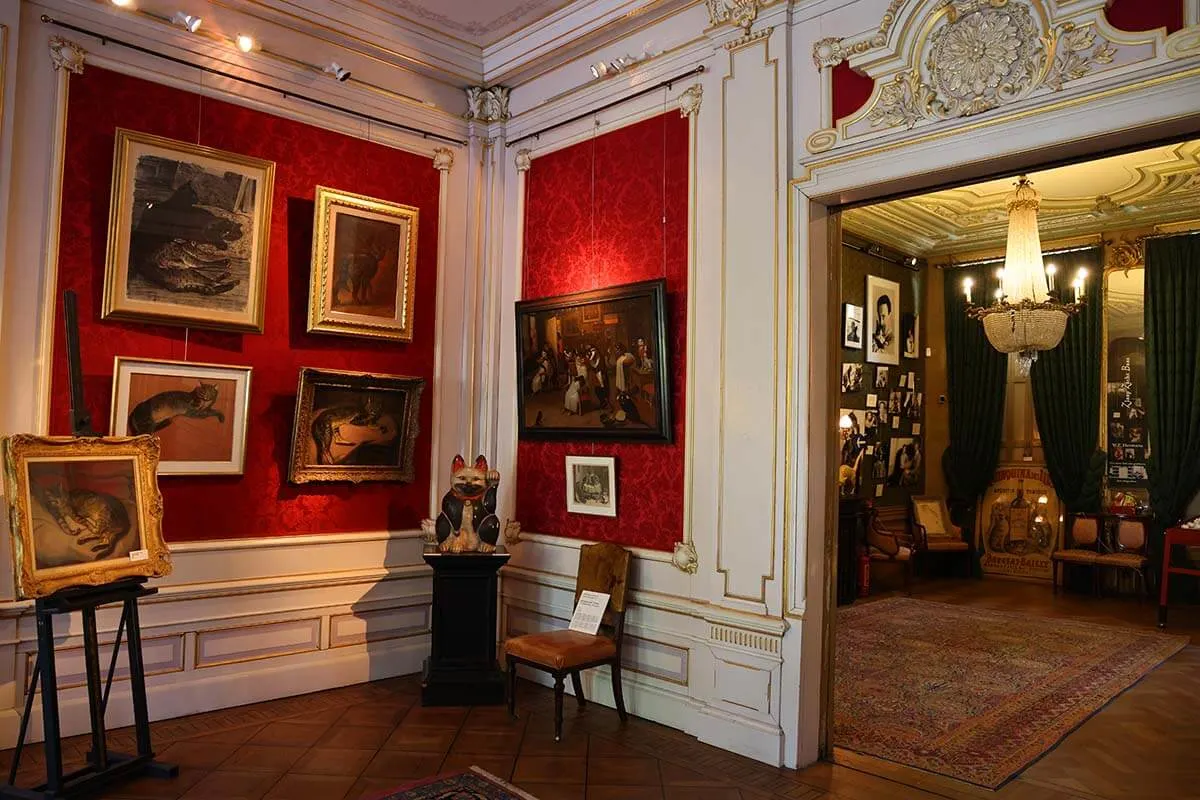 Tips for Amsterdam Museums
Here are some useful tips for visiting museums in Amsterdam:
Book your tickets in advance!!! If you want to be absolutely sure to visit a specific museum in Amsterdam, try to book your tickets as soon as you know your travel dates (or the day the tickets become available, like e.g. Anne Frank House). This is especially the case for the most popular museums at the top of this list, but we recommend getting tickets for all of them. By booking in advance, you can also see if a museum is open on the day of your visit and adjust your plans accordingly.
Use GetYourGuide or Tiqets to reserve Amsterdam museum tickets whenever you can. They are official resellers working with the museums directly, and you have one big advantage – you can usually cancel or amend your ticket up to 24 hours before your visit. GetYourGuide has the most flexible booking conditions on all tickets. Plus, you get electronic tickets which you can simply scan directly from your phone. We always book all our Amsterdam experiences through these two websites.
Consider combi tickets or city passes if you are planning on visiting a couple of museums in Amsterdam.

For example, this Amsterdam Pass (digital) includes a visit to Van Gogh Museum, Rijksmuseum, a canal cruise, and a city audio guide. The biggest advantage of this pass is that it allows you to book timed-entry slots for everything in one go.
The iAmsterdam Card (also digital) is a good option if you are staying in the city for multiple days as it includes most museums (not the Van Gogh Museum though) and most popular attractions in and near the city, plus public transport, bike rental, etc. Timeslots for the most popular museums can be booked in advance (before activating the card), but it requires a bit more work on your side.
Visit the most popular museums first thing in the morning or late in the afternoon.
Don't try to see 'everything'. Many Amsterdam museums are located really close to each other so it can be tempting to see a few of them in one go. But we really don't recommend visiting more than two big museums on the same day. You'll get really tired (and get back pain) from all the slow walking.
Check if there are any special events or temporary exhibitions during your visit. We were lucky to visit two amazing temporary exhibitions at both – Rijksmuseum and Van Gogh Museum during a recent trip to Amsterdam. The one at Van Gogh Museum was included in the regular ticket, but the one at Rijksmuseum required a separate ticket and those got sold out in no time. So it always pays to do some research.
Don't bring big bags with you! While most museums have lockers, they are usually just big enough for a purse or a small backpack. So take as little as possible.
Use audioguides where available. Many museums in Amsterdam have really good audio(visual) guides. They'll make your visit so much more interesting!
Wear comfortable shoes – you'll be walking a lot!
READ ALSO: Amsterdam Travel Tips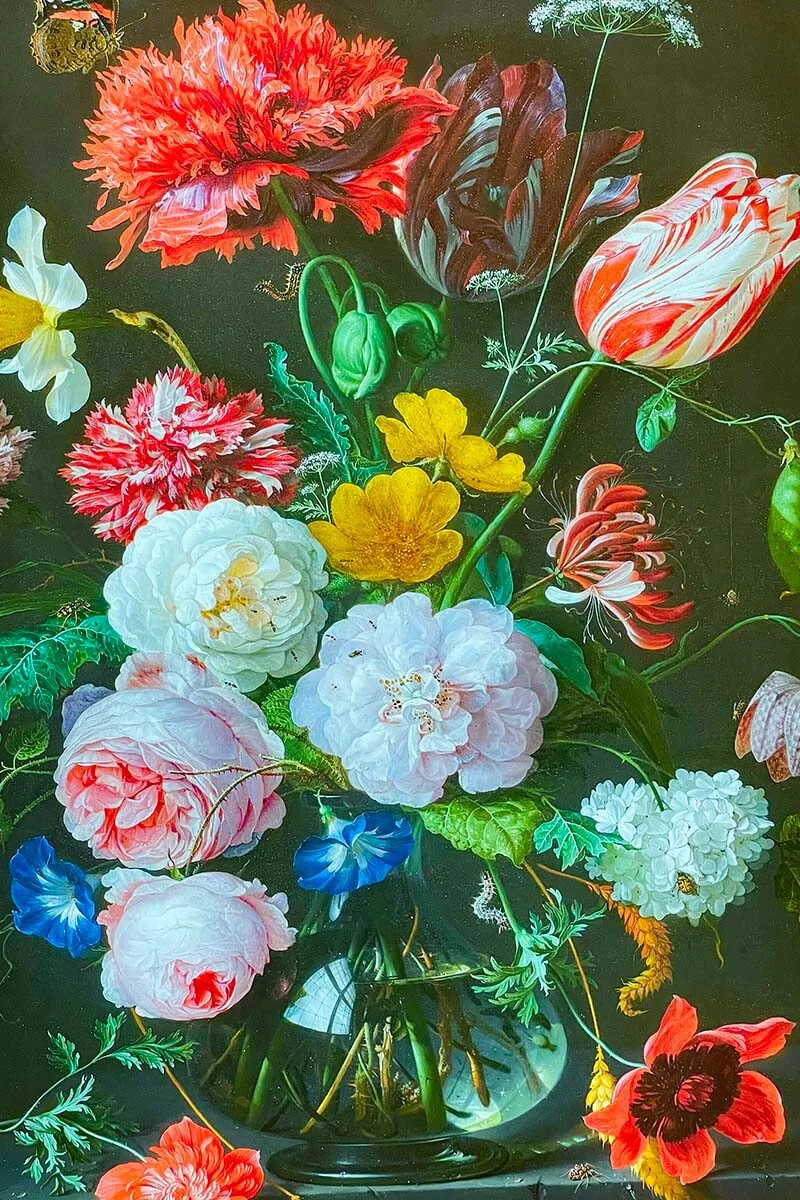 So, this is our guide to the best museums in Amsterdam. I hope that it gives you a better idea of what to expect and helps you plan a great trip!
TIP: If you are looking for some ideas on what to see or how to plan your time in Amsterdam, take a look at our guides below for more inspiration and information for your trip!
More travel inspiration for visiting Amsterdam:
What to see & do:
Where to stay:
Itineraries:
Day trips and places nearby:
When to visit:
If you found this post helpful, don't forget to bookmark it and share it with your friends. Are you on Pinterest? Pin this image!