Home to the world's largest collection of Vincent van Gogh's masterpieces, the iconic Van Gogh Museum is one of the must-sees in Amsterdam.
A visit here is not only a unique opportunity to see many of Van Gogh's artworks in one place but also gives you a better understanding of the man behind the art. You can learn more about the troubled life of Vincent, his last years in France, his relationship with his brother Theo, read fragments of his personal letters, etc.
As you can imagine, the museum is extremely popular. That means that your experience will highly depend on when you visit and how well you are prepared.
If you are also wondering whether Van Gogh Museum is worth it, what to expect, and how to make the most of your visit, this article should answer all your questions.
To help you make the most of your experience, we have compiled a comprehensive guide with useful tips and insights for first-time visitors. These tips are all based on our personal experience and include everything we wish we knew before our first visit. Find out!
These are the best ticket & tour options for Van Gogh Museum in Amsterdam: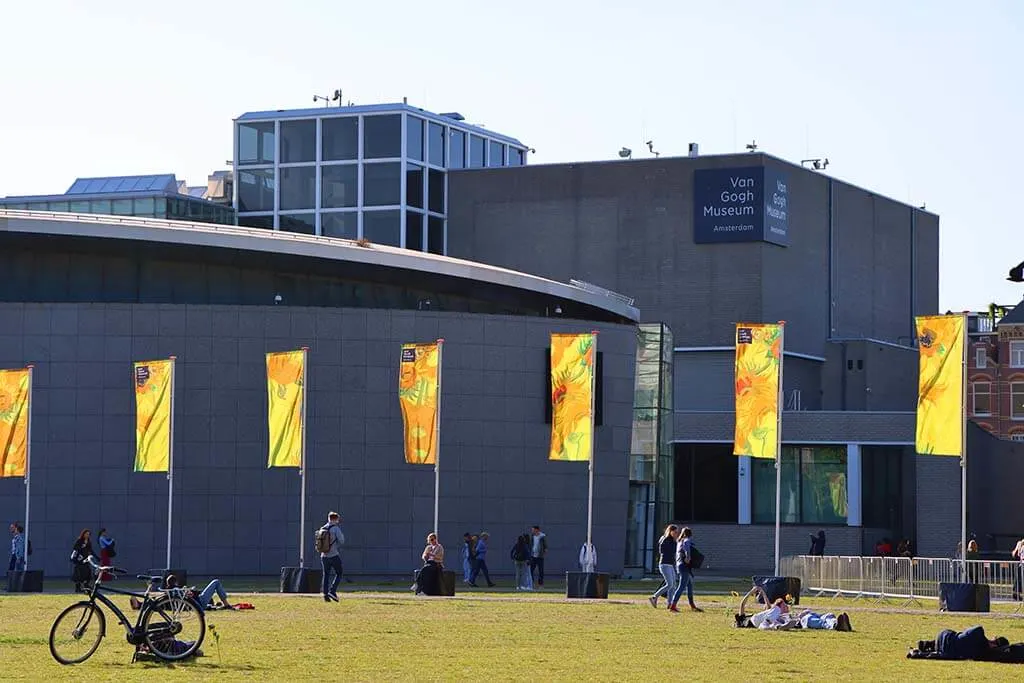 Here are our top tips for planning a visit to Van Gogh Museum in Amsterdam:
1. Plan ahead & book tickets in advance!
With over 2 million visitors per year, the Van Gogh Museum is the second most popular museum in Amsterdam, after Rijksmuseum. However, it's incomparably smaller, so it can get very busy. In order to ensure that visitors get the best experience, the museum limits the number of people per day. Furthermore, all tickets are now sold with timed-entry slots.
Planning ahead is therefore absolutely essential!
Nowadays, you can only book your tickets for the museum online. They no longer sell them at the museum itself. In the high season (+-March to October), these tickets usually sell out at least 7 – 10 days in advance. But if you want to be able to choose a time slot that best fits your itinerary, you really should book at least a month or two before your visit!
Our experience: We recently visited Van Gogh Museum in the summer, and we booked our tickets without any issues several months before the trip. On the day of our visit, we were talking to people standing next to us in line and they told us that this was their second time in Amsterdam. They came back especially for this museum because they couldn't get the tickets the first time.
We also met several other families who all told us that they were not able to visit the Van Gogh Museum (and several others in Amsterdam) because they didn't think about booking ahead.
TIP: Book your tickets for the Van Gogh Museum as soon as you know your travel dates. While you can book your tickets on the museum website, we recommend purchasing them on GetYourGuide. It's the official reseller and the only one that allows free cancelation up to 24 hours before your visit (be sure to check the conditions when you book in case it changes). We bought almost all our Amsterdam tickets on GetYourGuide.
Good to know: The museum offers free admission under the age of 18. However, also free tickets require a time slot. So you have to reserve a time slot for the free tickets as well!
You can check the ticket availability here. That way, you can immediately see if tickets are not available for a specific date and adjust your plans if needed.
Where to go instead: If it turns out that Van Gogh Museum tickets are sold out for your travel dates and you are looking for alternatives, we recommend the following museums in Amsterdam: Rijksmuseum, Moco Museum, Rembrandt House Museum, or – with kids – NEMO Science Museum. While all of these are also very popular, it's usually much easier to get tickets for them even if booking at the last minute.
READ ALSO: Best Museums in Amsterdam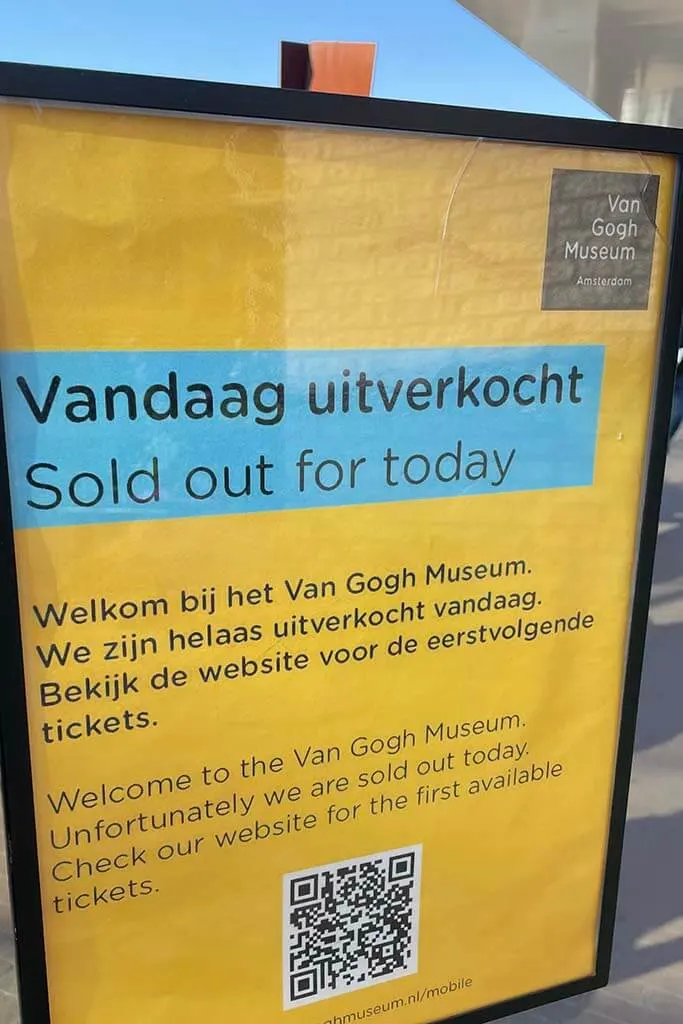 2. Visit early in the morning or late in the afternoon
To fully appreciate the museum without the crowds, plan your visit either very early in the morning or later in the afternoon. Avoid weekends and public holidays if possible!
This way, you can navigate the exhibits at your own pace, enjoying Van Gogh's artwork in a more serene and contemplative atmosphere. You will never be alone here, so don't expect that. But there is a huge difference between visiting at 9 AM or at around noon!
TIP: Book the earliest time slot available, usually 9 AM, and arrive at the museum at least 15-20 minutes in advance. Alternatively, consider this Closing Time Museum Tour. It starts in the late afternoon just as the biggest crowds are starting to clear out.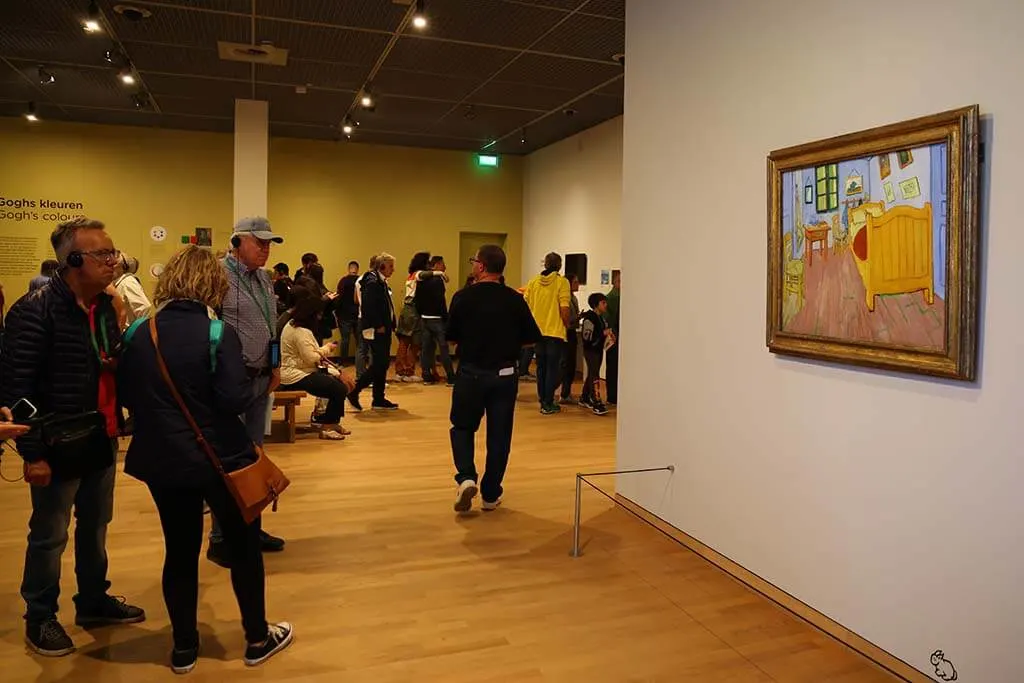 3. Get an audio guide
When you buy the tickets for the museum, you have the option to upgrade to a ticket with an audio guide. It costs just a few euros extra and is absolutely worth it!
The audiovisual guide will make your visit to the museum so much more special. If you are not sure where to go or what to see, simply choose the 'See the highlights' option. It will then show you the most important works on the screen, making it easy to navigate the museum and learn more about the 'musts' along the way.
If you have more time, you can listen to the explanation about any exhibit that you see. You'll find numbers indicated next to every painting or exhibit to help you out.
It's really simple to use and the audio guide is available in 11 different languages.
Good to know: If you forget to upgrade your ticket with the audio guide option, don't worry. It's normally possible to simply get one at the museum too. The price is the same, but it takes a bit more time since you have to pay for it first.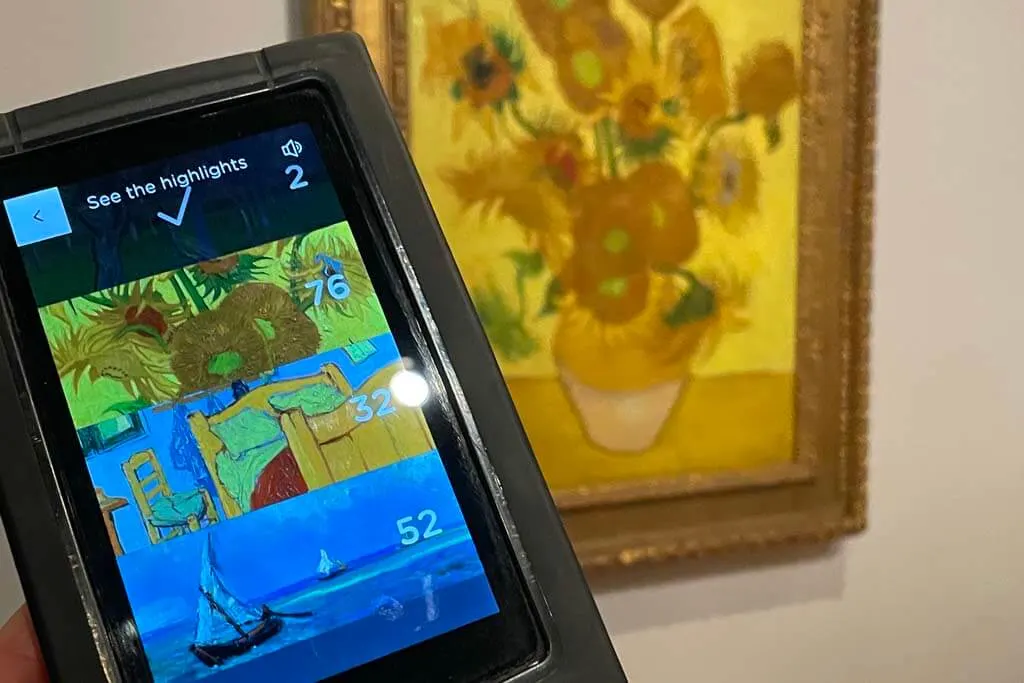 4. Don't miss the highlights
The Van Gogh Museum boasts an extensive collection, featuring over 200 paintings, 500 drawings, and 750 letters. So figuring out where to go or what to see might be a bit overwhelming.
The audio guide helps immensely, but it's a good idea to familiarize yourself with some of Van Gogh's most famous works before your visit.
While every artwork in the museum holds its significance, there are a few iconic pieces that you really shouldn't miss. These include several of Van Gogh's iconic self-portraits and his world-famous paintings such as 'The Bedroom', 'Sunflowers', 'Irises', and 'Almond Blossom'.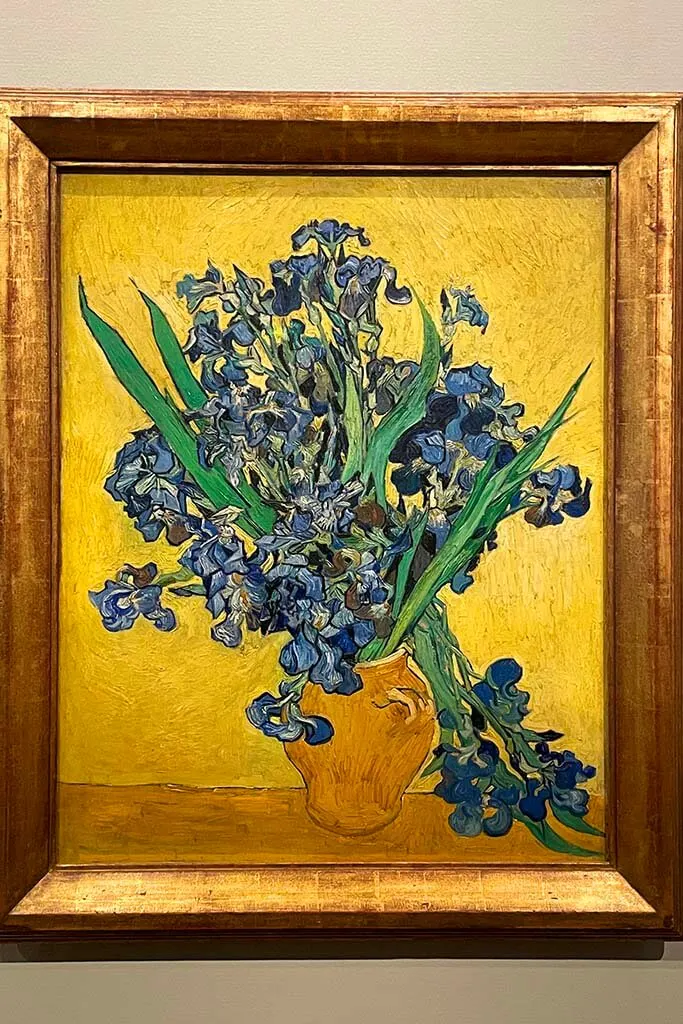 5. Follow the thematic layout (or not)
The museum is organized chronologically, allowing visitors to trace Van Gogh's artistic journey from his early works to his later, more renowned pieces. Each floor of the museum is dedicated to a different period and a different theme.
This thematic layout allows you to follow the artist's development, exploring the different periods of his life, influences, and evolving style. This approach provides a deeper understanding of Vincent Van Gogh's creative genius and his profound impact on the art world.
However, this approach is best if you come in the late afternoon, before the closing time. The visit ends at the most important masterpieces, and by then, it's already much quieter at the museum, so you can enjoy them without the biggest crowds.
Whereas if you visit in the morning, following the thematic layout means that by the time you get to the most important works, it's already really busy in the main room. So if you want to Van Gogh's most popular paintings without the crowds, I recommend going to the top floor first. You can easily get back to the lower levels and restart your visit from there afterward.
I really wish we knew this in advance! We went to the museum really early, nicely followed the layout, and then by the time we got to the main room, it was already really busy. For that, this closing-time tour would be perfect. They know the most logical way to visit the museum and bring you to the most important masterpieces when it's a lot quieter.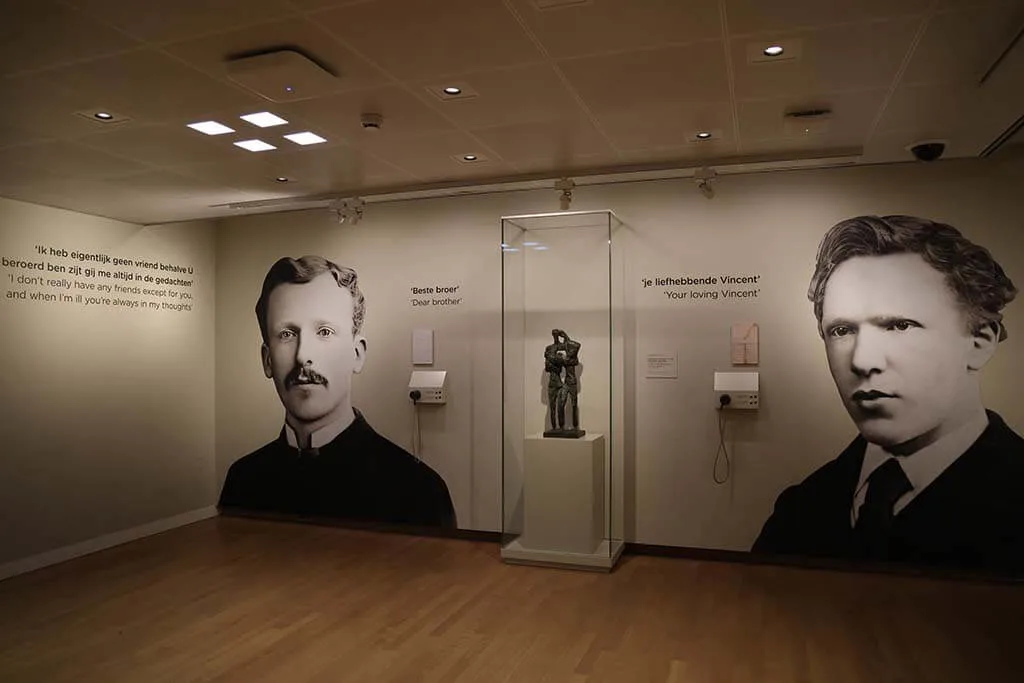 6. Don't miss the temporary exhibitions
The Van Gogh Museum often hosts temporary exhibitions. Normally, the regular ticket includes entry to the temporary exhibitions as well. So be sure to check if there is something special going on when you are there!
For example, when we visited in 2023, they had an exhibition called 'Van Gogh in Auvers'. It was dedicated to Van Gogh's last years that he spent in this little village south of Paris. This exhibition included some of the last paintings that he painted just before his death. It was such a nice addition to the main collection!
So if the museum has a temporary exhibition, don't miss it! If visiting in the morning, go see the main collection first and come here later. If visiting in the afternoon (and if you have enough time), you could start with the temporary exhibition and end with the main collection when it gets quieter already.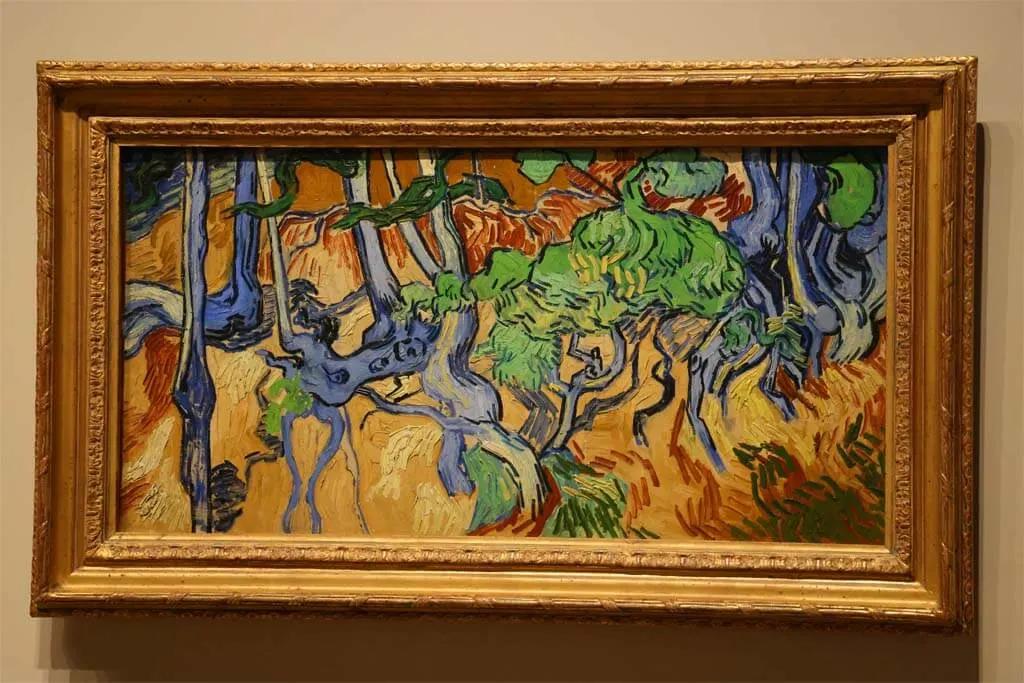 7. Foresee enough time
Visiting the Van Gogh Museum is not about rushing through the exhibits but about immersing yourself in the artist's world.
If you want to listen to the audio guide and explore the collection thoroughly, allowing time to absorb the details of just the main works, you really need at least 1.5-2 hours for a visit.
Good to know: Plan at least 1.5-2 hours for the highlights of the main collection at the Van Gogh Museum. In addition, add 30-45 minutes for a temporary exhibition (if there is one). Plus, you may want to spend some time at the gift shop or the museum café.
We really underestimated how much time you need for the Van Gogh Museum. Since it's much smaller than Rijksmuseum (where you need about 1.5 hours), we thought that 1-1.5 hours would be plenty. In the end, we spent 3 hours at the museum and could have easily stayed longer.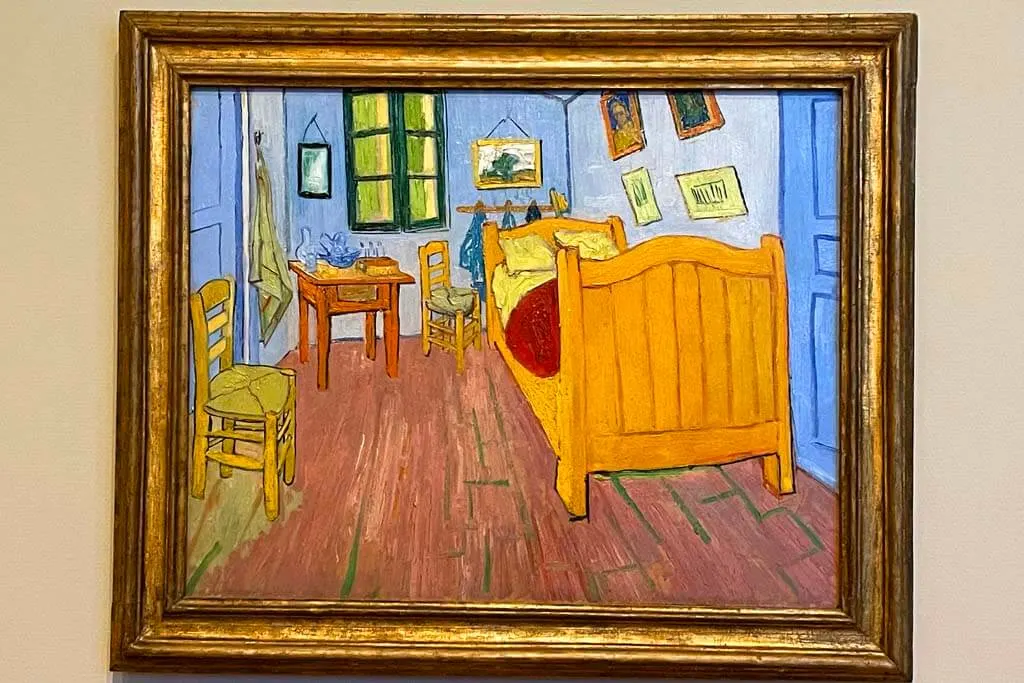 8. Consider a guided tour
For a more immersive experience, consider joining a guided tour of the Van Gogh Museum.
Knowledgeable guides provide additional insights into Van Gogh's life, techniques, and the historical context of his works. They can offer a unique perspective, allowing you to delve deeper into the mind of the artist and gain a comprehensive understanding of his artistic legacy.
Going with a local guide, you don't have to worry about tickets, museum layout, or where to find the most important works. You are sure to see all the musts in the most efficient way.
TIP: Booking a guided tour can also be your chance to visit the Van Gogh Museum if you were not able to get tickets for your travel dates. However…
Good to know: Because of the limited availability of tickets, there are also not that many guided tours. There are a couple of amazing options, but most tours only run a couple of days a week. So you'll have to check several options to see what's available. And if you find a tour that you like, book asap!
Here are some of the best options for the Van Gogh Museum guided tours: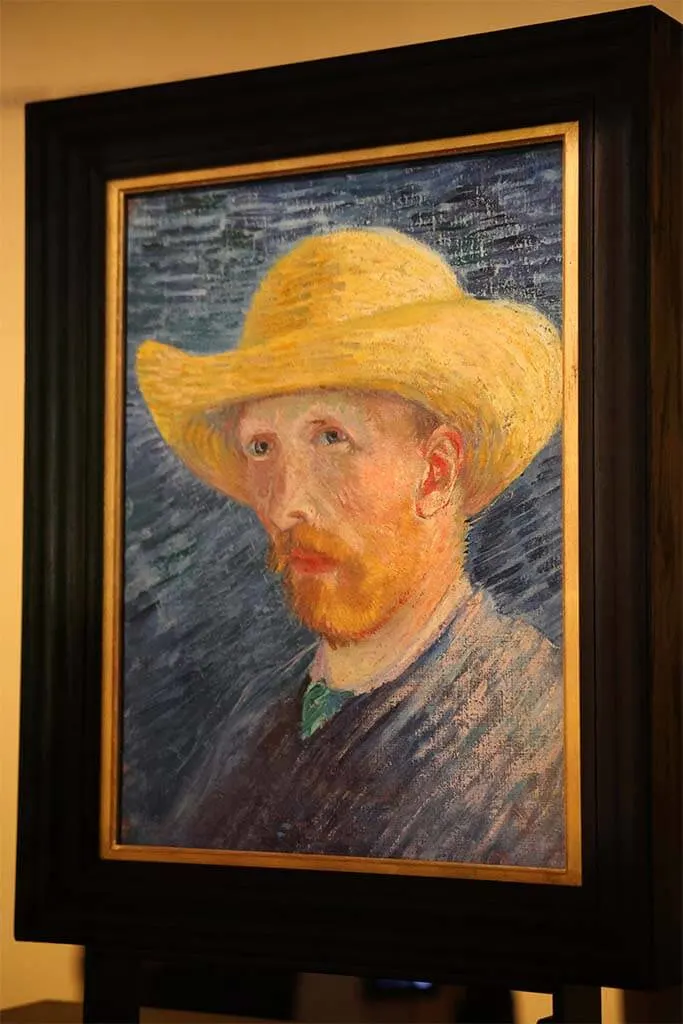 9. Use the main entrance
The Van Gogh Museum has two entrances – one for individual visitors and one for groups.
Depending on which way you come to the museum, you may not even realize that you are standing at the wrong entrance (speaking from experience – and we were not the only ones :)). And no, they won't let you in… Even though the signs indicating that it's a group entrance are only visible if you come from the other side and there are no signs at the door at all…
Good to know: The main entrance for individual visitors is located on the Museum Square – at the big oval-shaped building with big glass windows. Whereas the group entrance is located in the grey building on Paulus Potterstraat.
Normally, it's not a problem to locate the main entrance since you'll likely arrive at Museum Square straight away. But if your hotel is nearby (like ours), you might be taking the shorter route via the side streets. In that case, keep walking to the square.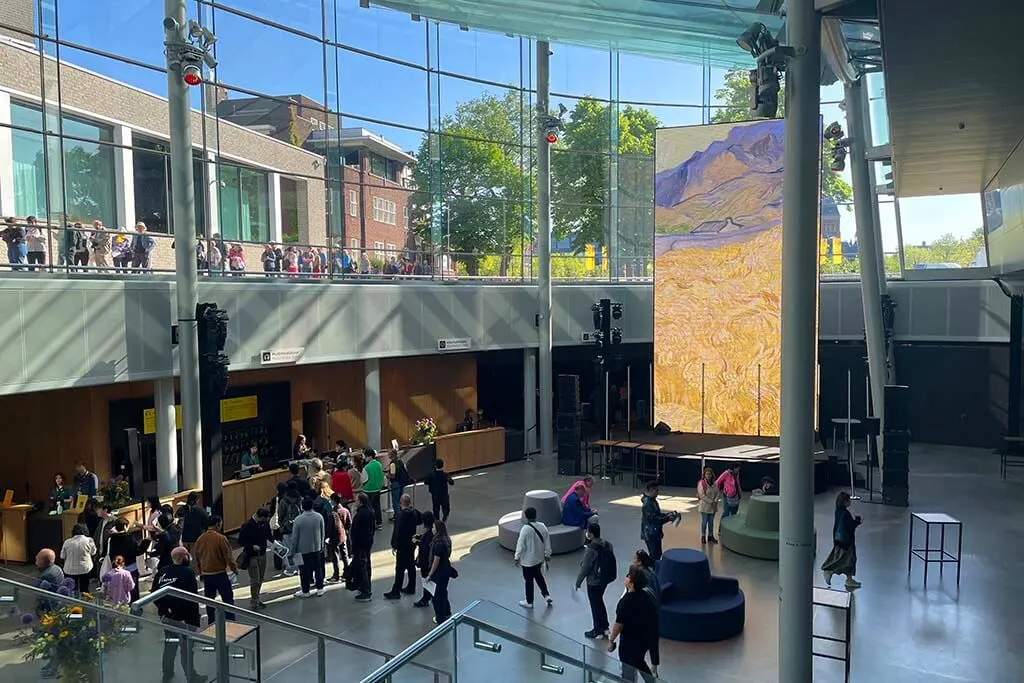 10. Don't bring big bags
While there are plenty of lockers at the Van Gogh Museum in Amsterdam, we recommend leaving all your big bags at the hotel. Most lockers are quite small – more suitable for a purse or a small backpack than a big bag.
Good to know: Lockers can be used free of charge. You'll need to create your own pin code for your locker. So be sure that you remember both – your locker number as well as the pin you chose.
TIP: If you want to keep your bag with you, take a very small crossover bag. My friend had a tiny leather backpack, more like a purse, and was asked to leave it behind.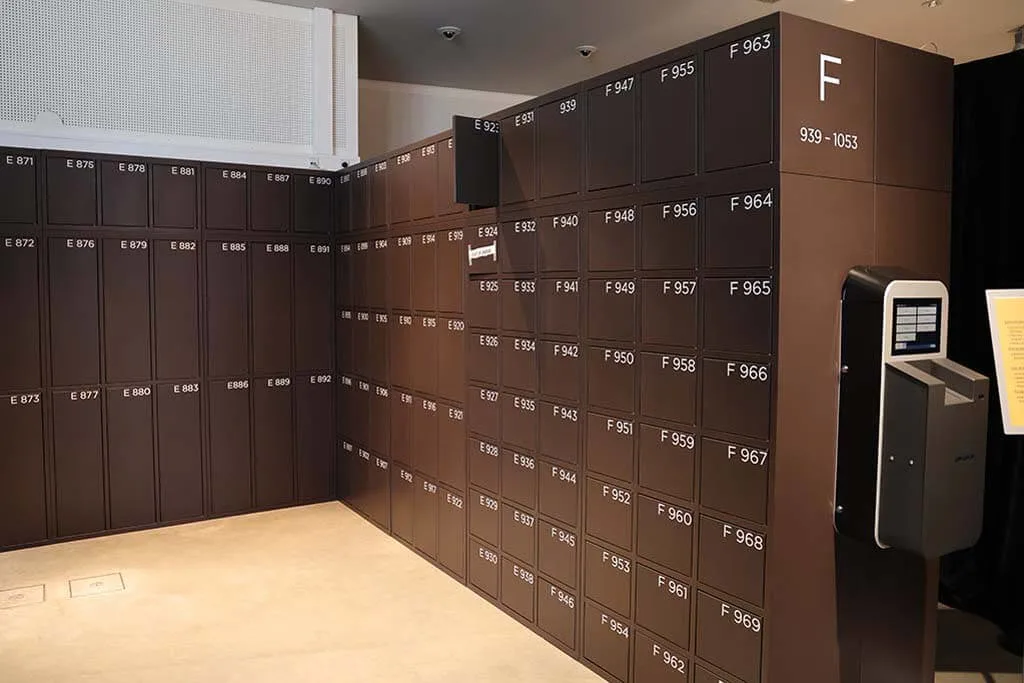 11. Check out the gift shop
Before you leave, don't forget to visit the museum's gift shop, where you'll find an array of Van Gogh-inspired merchandise, books, and prints. It's an excellent opportunity to take a piece of his artistry home with you.
There are some really nice souvenirs here and we found that the prices are quite reasonable compared to many other museum shops.
12. Save time & money with combination tickets
If you are planning to visit several of the most popular Amsterdam attractions, you can save a bit of money by purchasing combination tickets.
The Van Gogh Museum tickets are usually combined with Rijksmuseum tickets and/or an Amsterdam Canal cruise. This museum is no longer included with the iAmsterdam city pass, however.
Here are some of the most popular ticket combinations:
READ ALSO: Amsterdam Canal Cruise: Tips & Useful Info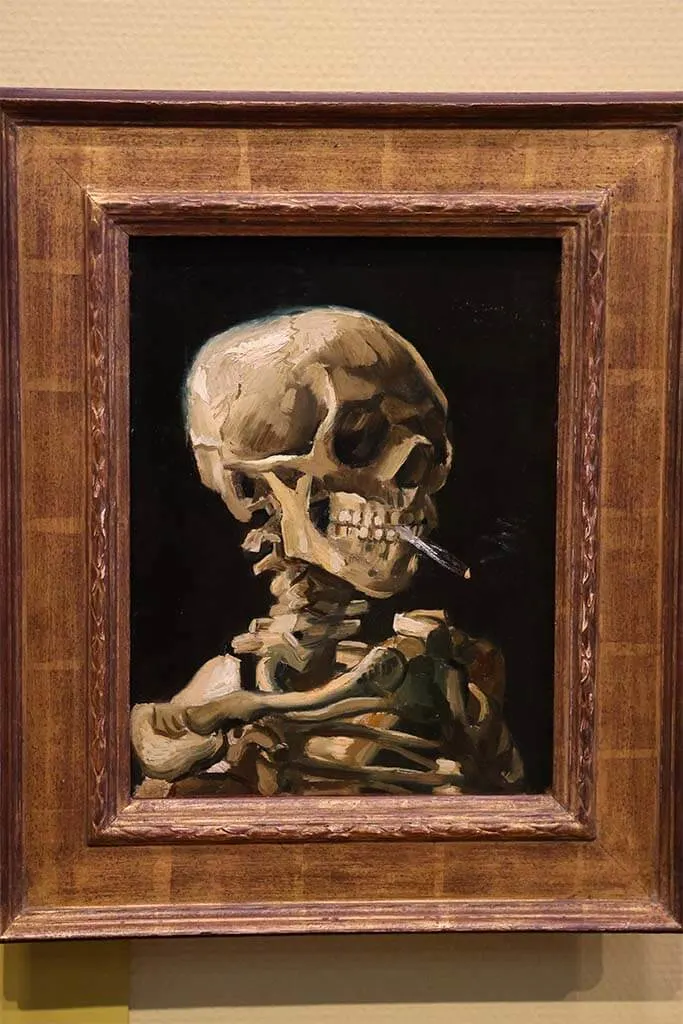 FAQ: Van Gogh Museum in Amsterdam
Is Van Gogh Museum Amsterdam worth it?
Showcasing the world's biggest collection of Vincent Van Gogh's work, the Van Gogh Museum in Amsterdam is absolutely worth a visit. It's a unique opportunity to see various Van Gogh's masterpieces in one place, and to learn more about the man behind the art and his life.
How much time do you need at Van Gogh Museum in Amsterdam?
As an absolute minimum, you need 1.5 hours for a visit to Van Gogh Museum in Amsterdam. We recommend planning 2 hours for a visit to the main collection. Add another 30-45 minutes for the temporary exhibitions.
When is the best time to visit Van Gogh Museum in Amsterdam?
If you want to avoid the biggest crowds, visit the museum early in the morning or late in the afternoon on workdays. If possible, avoid weekends and public holidays.
Is Van Gogh Museum accessible by wheelchair?
Yes, the museum can be visited with a wheelchair, wheeled walker, or mobility scooter weighing up to 500kg. In addition, visitors with a disability can bring a companion for free. You can find more information here.
Do you need to book Van Gogh Museum tickets in advance?
The tickets to Van Gogh Museum in Amsterdam are timed and can only be purchased online. Furthermore, in the high summer season, they often sell out at least a week or two in advance. If you want to be sure to visit the museum on the day and the time slot that suits you best, you really have to reserve your tickets at least a couple of weeks before your visit. You can see the availability and book your tickets here.
READ ALSO: Amsterdam Travel Tips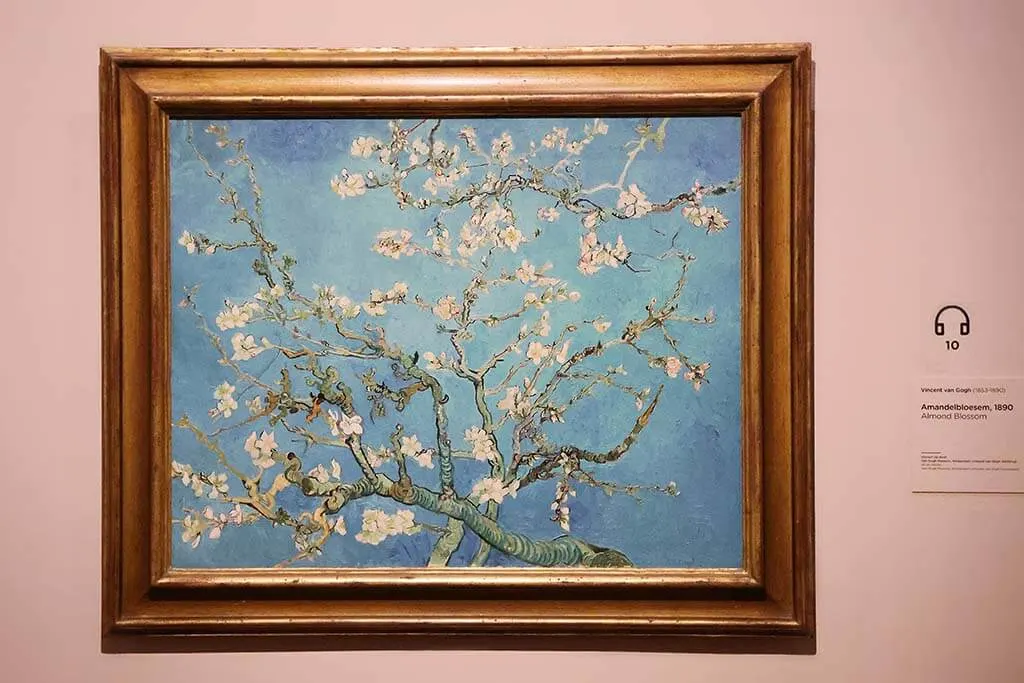 So, these are our top tips for visiting the Van Gogh Museum in Amsterdam. I hope that this gives you a better idea of what to expect and helps you plan a truly memorable visit.
Have a great time in Amsterdam!
More travel inspiration for Amsterdam & The Netherlands:
If you found this post helpful, don't forget to bookmark it and share it with your friends. Are you on Pinterest? Pin this image!