Keukenhof Gardens near Amsterdam in the Netherlands are world-known as one of the best places to see tulips and other spring flowers in the world. So it will come as no surprise that it's a very popular destination attracting big crowds.
With a short opening season and over 1.5 million visitors coming to see the flowers every spring, the park can get extremely busy.
So if you are planning to visit Keukenhof and enjoy it to the fullest, there are quite a few things that you may want to know before you go.
Good to know: We live just over the border in Belgium and visit Keukenhof Gardens in Holland almost every spring. In this guide, we share our experience-based tips to help you make the most out of your day.
You will find all kinds of useful information, tips, and tricks for your first visit to Keukenhof. With some preparation, you can make your visit so much more enjoyable, even if traveling during the peak tulip festival season. Find out!
TIP: If you don't have the time to read the entire article, here are the best Keukenhof ticket options (you have to pre-book since they work with timed entry slots these days!):
READ ALSO: Dutch Tulip Fields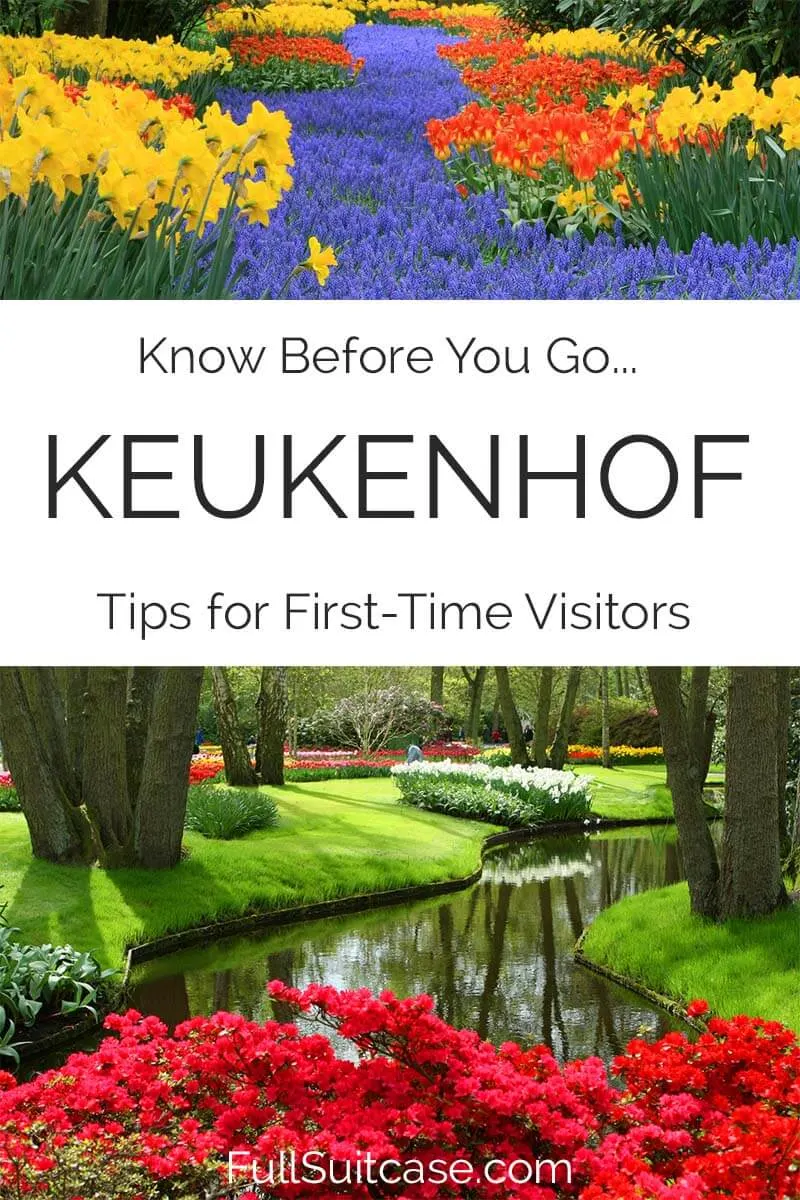 Here are some of our top tips for your visit to Keukenhof:
1. Plan your visit in advance
If you are reading this article, it means that you already have a head-start compared to the majority of other visitors. Doing some research and planning in advance is essential!
First, you should know that Keukenhof Gardens are only open for about 7-8 weeks in the spring. So if you want to see tulips, hyacinths, daffodils, and other spring flowers in what some refer to as the 'Tulip Festival in Holland', you'll have to plan a visit to the Netherlands between the end of March and the beginning of May.
You would be amazed at how often I get a question about where to see tulip fields or gardens from people planning a visit to Amsterdam in the summer or even at Christmas… No, that is really not possible!
The Keukenhof Gardens will be open again from March 21 until May 12, 2024.
Also in this short 'flower season', there is a big difference in what you'll get to see in Keukenhof depending on when you visit. Some flowers simply bloom earlier than others, plus, you never know in advance how the weather will be this spring.
If you visit at the beginning of the season, you can expect to see crocuses, hyacinths, daffodils, and early tulips. If you are mostly interested in tulips, then it's better to come in April. By the end of the park's opening season, some flowers may already be gone.
But – as long as Keukenhof is open – you can be sure that it's worth visiting. There is always so much to see and their gardeners do an amazing job making sure that the gardens look stunning throughout the entire opening season.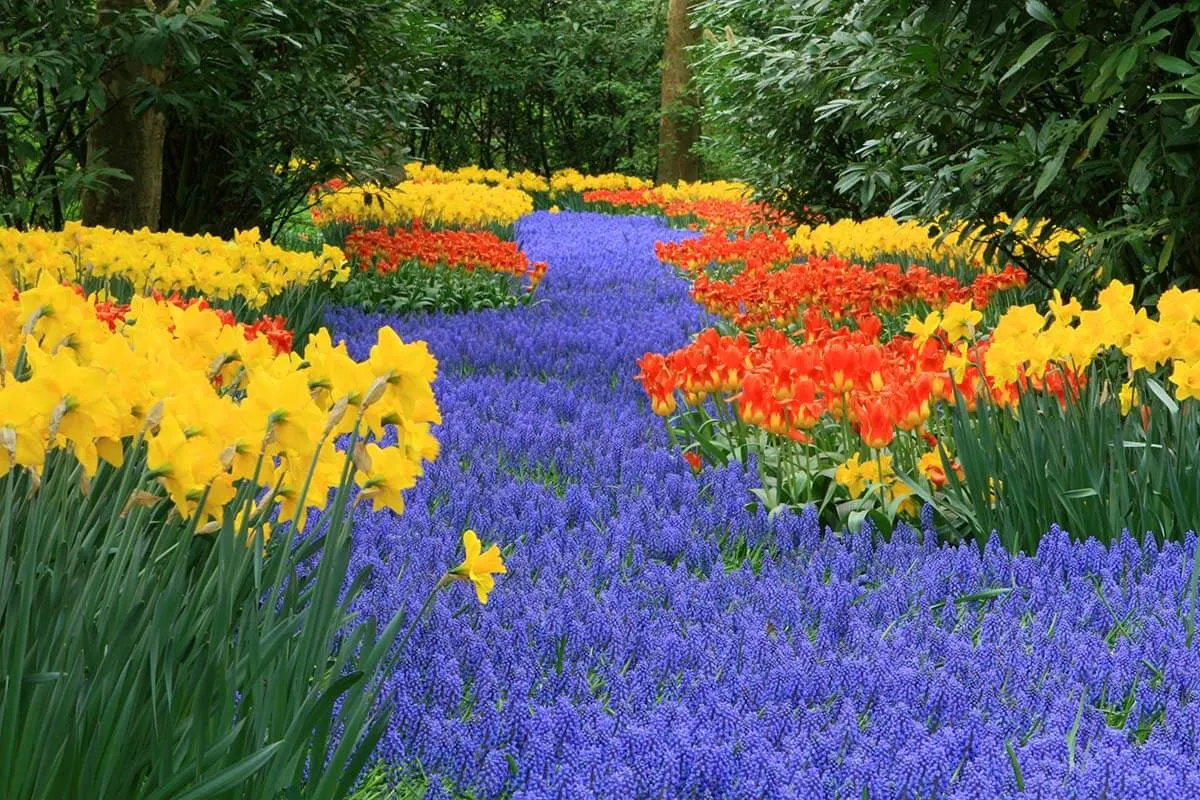 2. Avoid weekends
As you can imagine, with such a short opening season and so much interest from locals and international visitors alike, Keukenhof can get extremely busy. To give you an idea, on peak days, Keukenhof gardens get over 45,000 visitors a day…
We once visited Keukenhof on a sunny Saturday at the end of April. There were queues everywhere – starting with a traffic jam to get to the park, car parking, flower pavilions, restaurants, and bathrooms. It was so busy that by the early afternoon, you could hardly move on the main paths around the pond. At one point it got so bad that we decided to leave and head to the nearby tulip fields instead (those were busy too, btw)…
So consider this when making your travel plans. If you can, avoid visiting Keukenhof on the weekends and public holidays. And there are quite a few public holidays in the Netherlands and the surrounding countries in the spring! Try to avoid Easter weekend, King's Day in the Netherlands (April 27), Labor Day (May 1), etc.
Good to know: The quietest days to visit Keukenhof are Mondays and Tuesdays (unless it's a public holiday weekend). Wednesdays are usually not too bad as well.
TIP: If you can't avoid the busiest days, try to at least avoid the busiest times of the day – see below!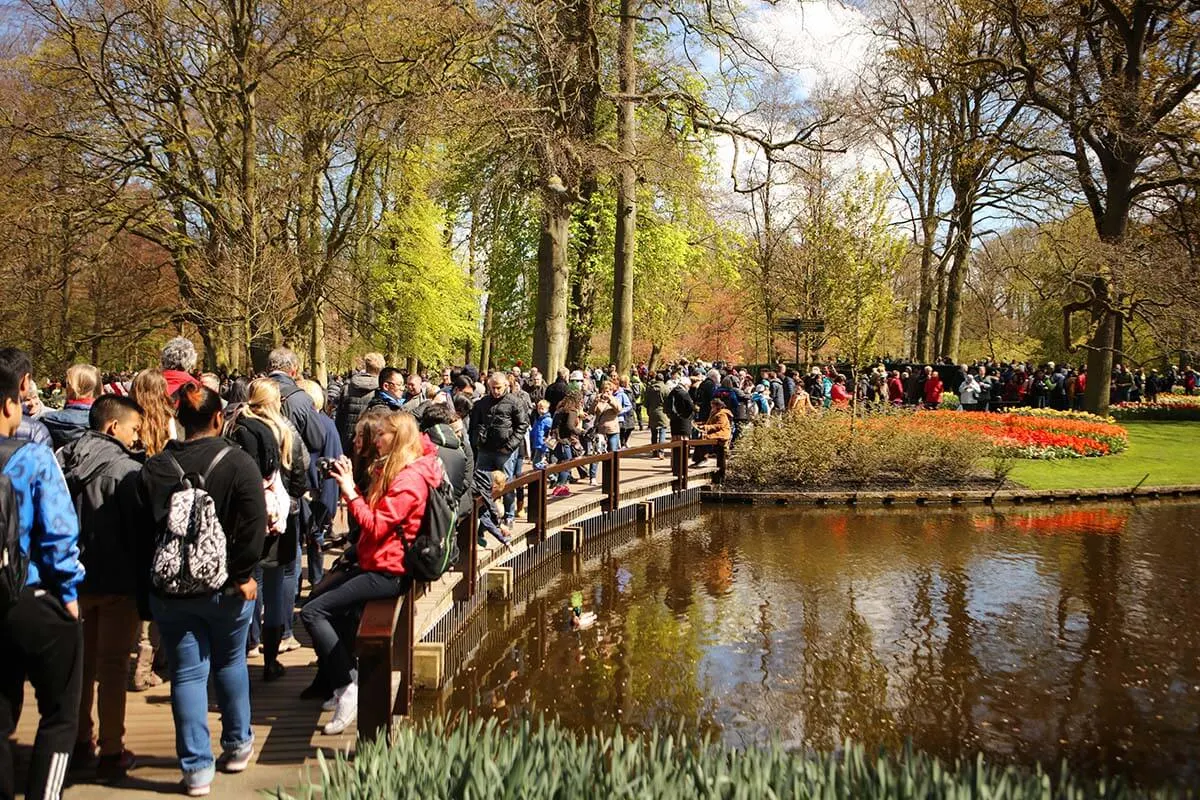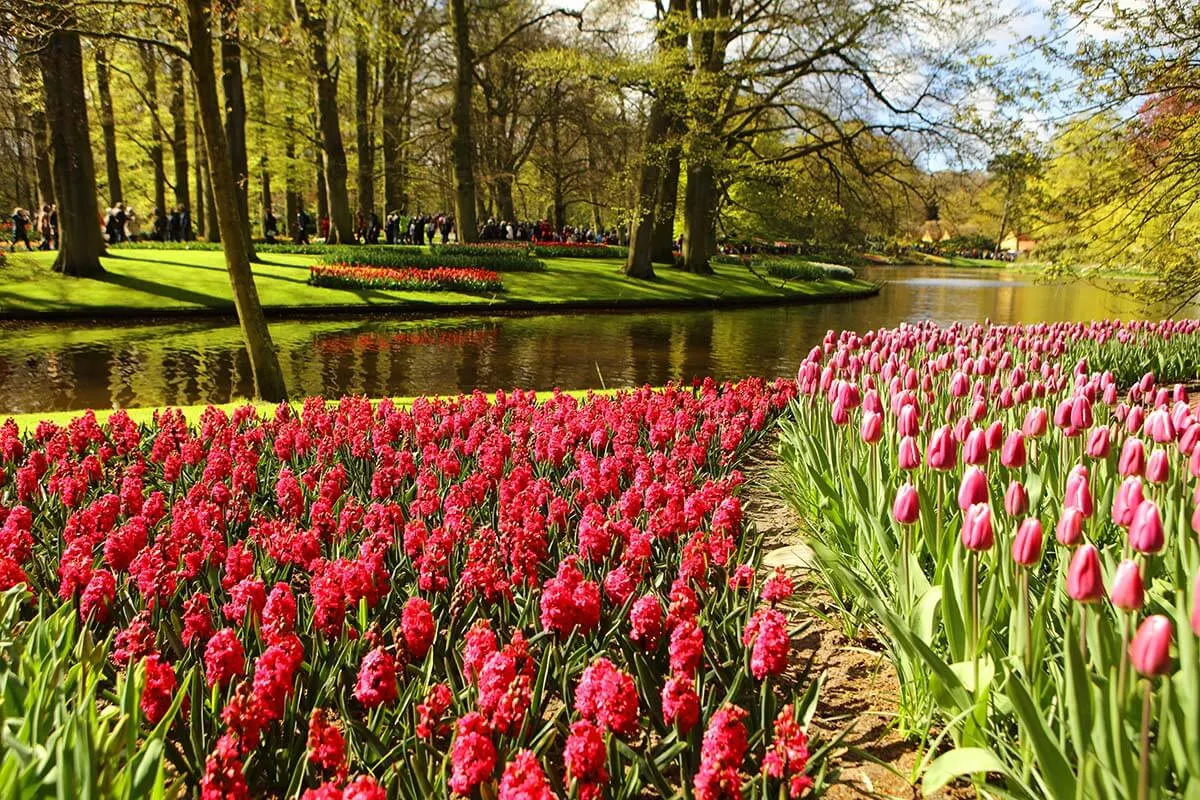 3. Visit early or late
Since most people visit Keukenhof on a day trip, the busiest times at the park are between 10.30 am and 4 pm. The absolute peak time seems to be around noon – early afternoon (12-2 pm). Most 'morning' tourists aren't gone yet and all the others have arrived by then too, so it can get really busy.
If you want to avoid the biggest crowds, try to visit early in the morning or late in the afternoon. Not only will it be much less busy, but the light for photography is better as well.
Good to know: Keukenhof Garden is normally open from 8 am to 7.30 pm. If visiting in the afternoon, keep in mind that you'll have to leave the park at 7.30 pm. So it's probably not the best idea to book the last time slot as you'll only have an hour inside (and that is really not enough – more info below).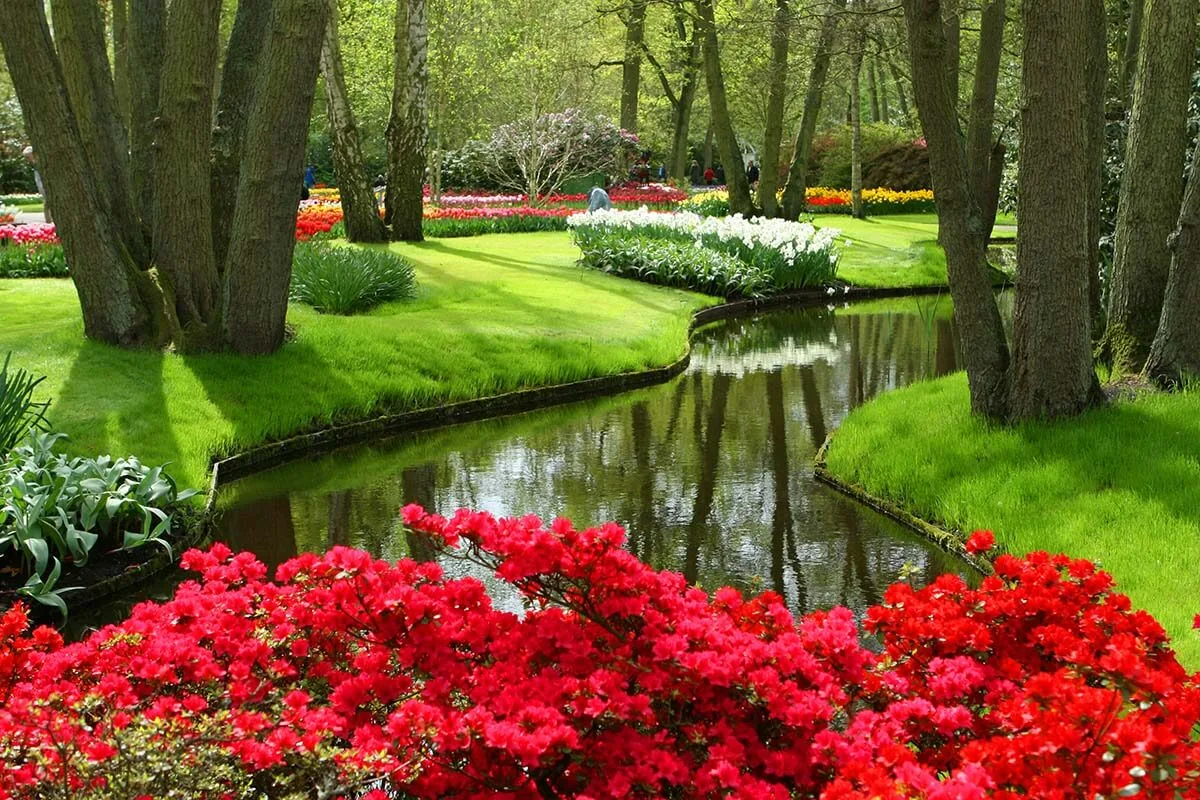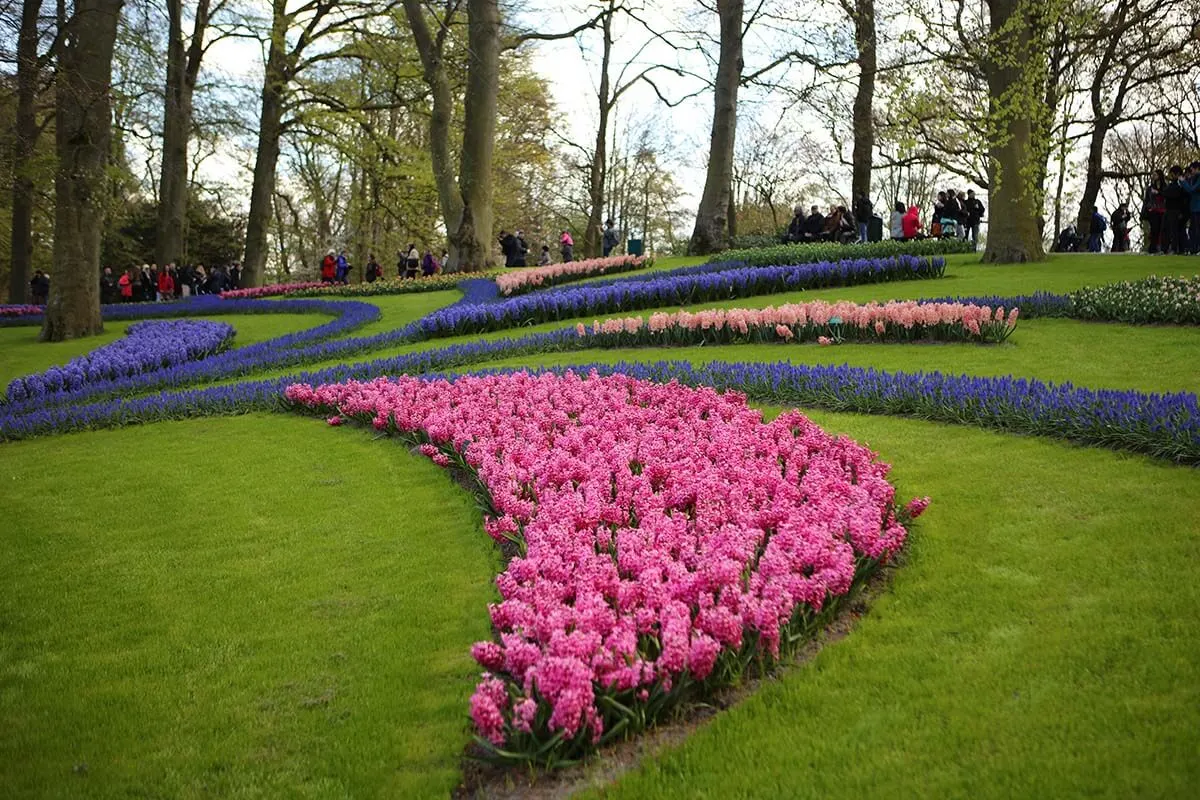 4. Take your time
Keukenhof Garden is huge and there is a lot to see. To give you an idea, they plan about 7 million flower bulbs each year! The park has countless little paths, a big pond, lots of smaller canals, fountains, a windmill, and several big pavilions where you can find more exotic flowers as well.
In addition, they also work with various artists and you can find all kinds of sculptures and artworks all over the park.
If you want to, you can also take a 'whisper boat' and see some of the tulip fields. It starts close to the windmill and takes about 45 minutes (not counting the queuing). However, while nice to do, it's always so busy and it's not really the best way to see the tulip fields (but more info about this further below).
Anyway, even if you just want to walk through the park and get a good feel of what it's like, you should count at least 2 hours for a visit to Keukenhof Gardens. If you want to see 'everything', have a quiet lunch, etc., you could easily spend 3-5 hours here. And quite likely, you would still have to skip a few places (definitely on the busiest days). So take this into account when planning your visit to Keukenhof.
TIP: We recommend that you foresee 2-3 hours for a visit to the park. This doesn't include the time to get there or the time to explore the nearby tulip fields if you choose to. So if you are visiting Keukenhof in the late afternoon, you should probably get there no later than 5-5.30 pm. This would give you about 2-2.5 hours inside the park before it closes.
Talking about the visiting hours, be sure to read our next tip!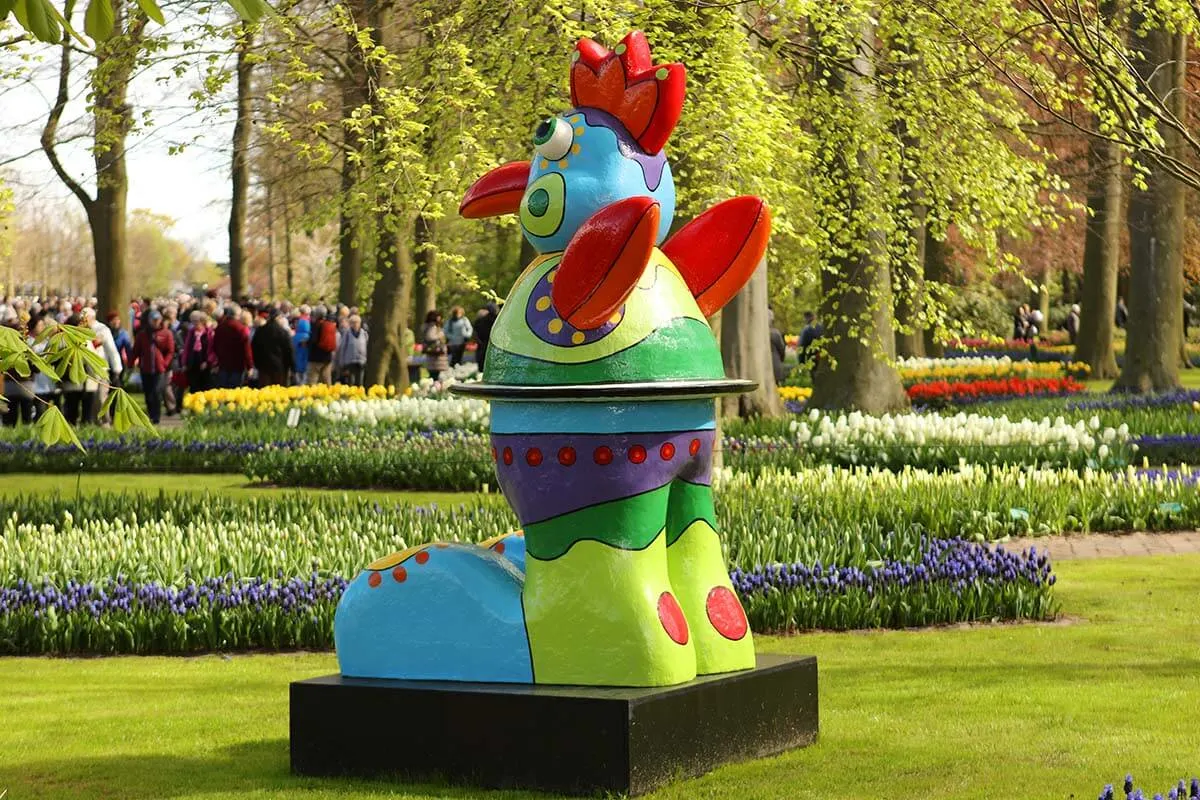 5. Reserve Keukenhof tickets in advance!
While in the past, you could just arrive in Keukenhof and get your tickets at the entrance, nowadays, they work with timed entry slots. I'm not sure if they are still taking any walk-ins at all, but they strongly encourage you to book a ticket in advance and say that entry cannot be guaranteed without a booking.
You can book your tickets here. First, choose the date when you want to visit, then choose the time slot, and finally, the number of people.
If you are visiting Keukenhof by car, you can add a parking reservation during the next steps in the booking process. In addition, you can choose to order a park guidebook as well.
TIP: If you don't have a car, instead of booking an entry ticket, it's better to opt for the tickets that also include transportation (more info further below as well).
Good to know: Normally, Keukenhof tickets can be canceled or modified up to 4 days before the original date for which you purchased them. You can also choose to pay a tiny bit more to be able to cancel up to the evening before the date. You cannot easily do this if booking via the official website.
That's why we recommend booking Keukenhof tickets via Tiqets – they have all the best options and make the entire process really simple. Plus, you don't have to print anything – tickets can be scanned directly from your smartphone. If you are wondering about the price, it's just 50 cents more expensive than on the official site (the price I gladly pay when reserving our own tickets – just for the ease of booking and the modifications if needed).
Keep in mind that Keukenof tickets for the most popular time slots will sell out. If you are planning a trip a few months in advance, it might look like the possibilities are endless, but the moment the park opens and the tulip season starts, it can go very quickly. So be sure to reserve your ticket in advance!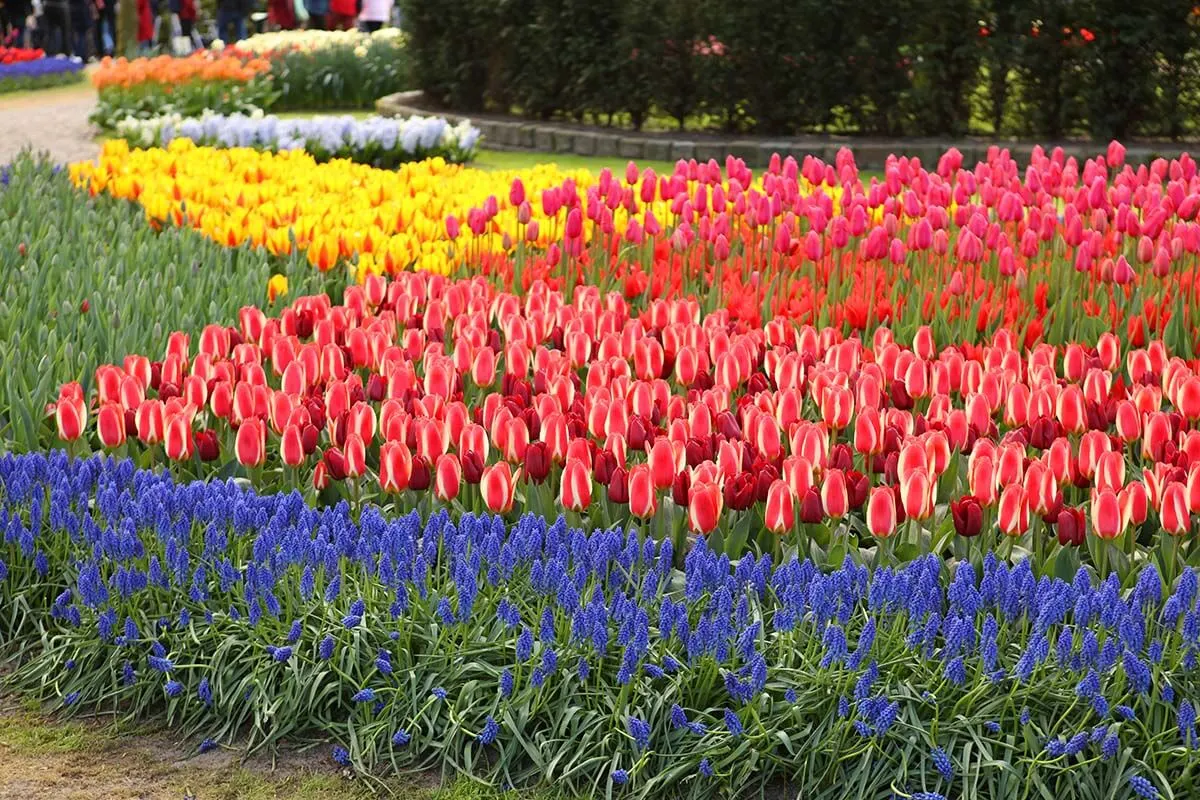 6. Book all-in tickets if you also need transportation to Keukenhof
Keukenhof is located in Lisse, about 40 km (25 miles) southwest of Amsterdam. There is no simple way to get there using public transport. So unless you are visiting Keukenhof by car, the best way to get there is with shuttle buses from Amsterdam.
Here are the best options that include Keukenhof park entry and round-trip transportation from Amsterdam:
In addition, there are also organized tours that visit Keukenhof in combination with one or two other places near Amsterdam. If you want to make the most of your day and see more of the Netherlands in a short time, then definitely consider going with a tour. If you are interested in this option, here are the best organized tours to consider:
READ ALSO: Amsterdam Countryside: Top Places to Visit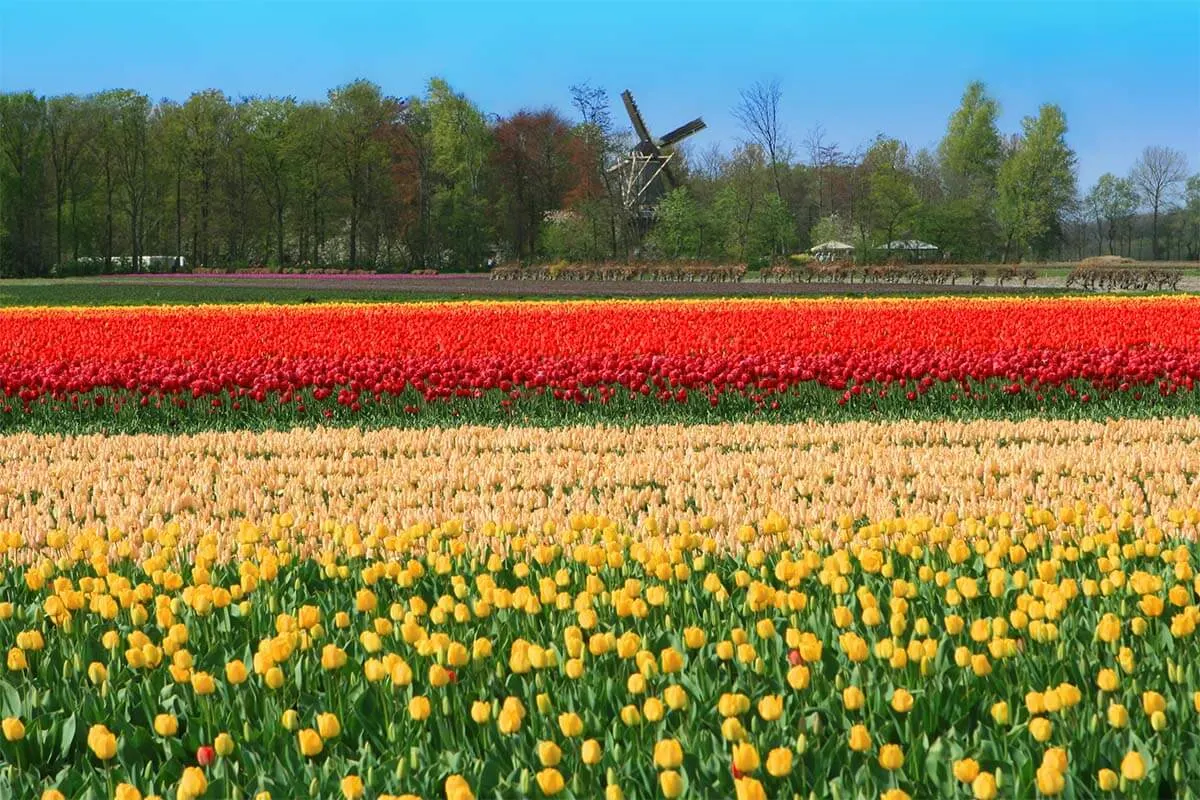 7. Don't bring anything you don't absolutely need
Keukenhof is a big park that can only be explored on foot. So do not bring any large bags or anything else that you don't absolutely need.
Good to know: There are small lockers (25x55x45 cm) in Keukenhof. You can find them next to the main entrance. As you can imagine, a suitcase will not fit in a locker. We once saw several groups of international visitors dragging their huge suitcases on the park trails – you really don't want to do that!
Bikes are not allowed in Keukenhof (you can rent them for exploring the tulip fields nearby though). Drones are also not allowed in the park.
Dogs are allowed in Keukenhof (not inside pavilions), but I really wouldn't recommend bringing your dog here! Every time we visit, we see people carrying their dogs in their hands (smaller dogs could even get trampled if it's really busy). It's not fun for your dog or for you.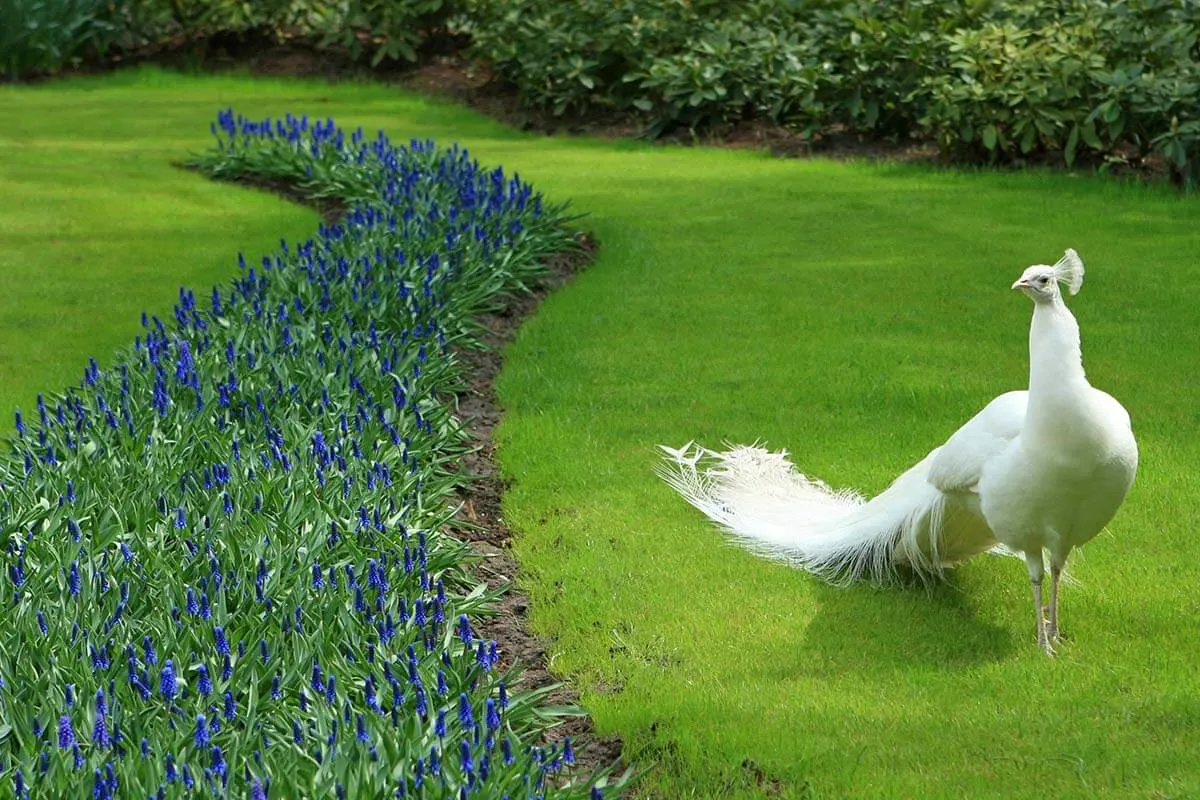 8. Bring a picnic and some water
While Keukenhof Park has several restaurants and places where you can buy snacks or drinks, you will save a lot of time (and money) if you don't have to rely on that.
Often, it's so busy that you can waste an hour or even more of your precious time just queuing for some food.
So if you can, bring some water and some small snacks with you. There are also picnic areas in the park if you want to bring a picnic lunch.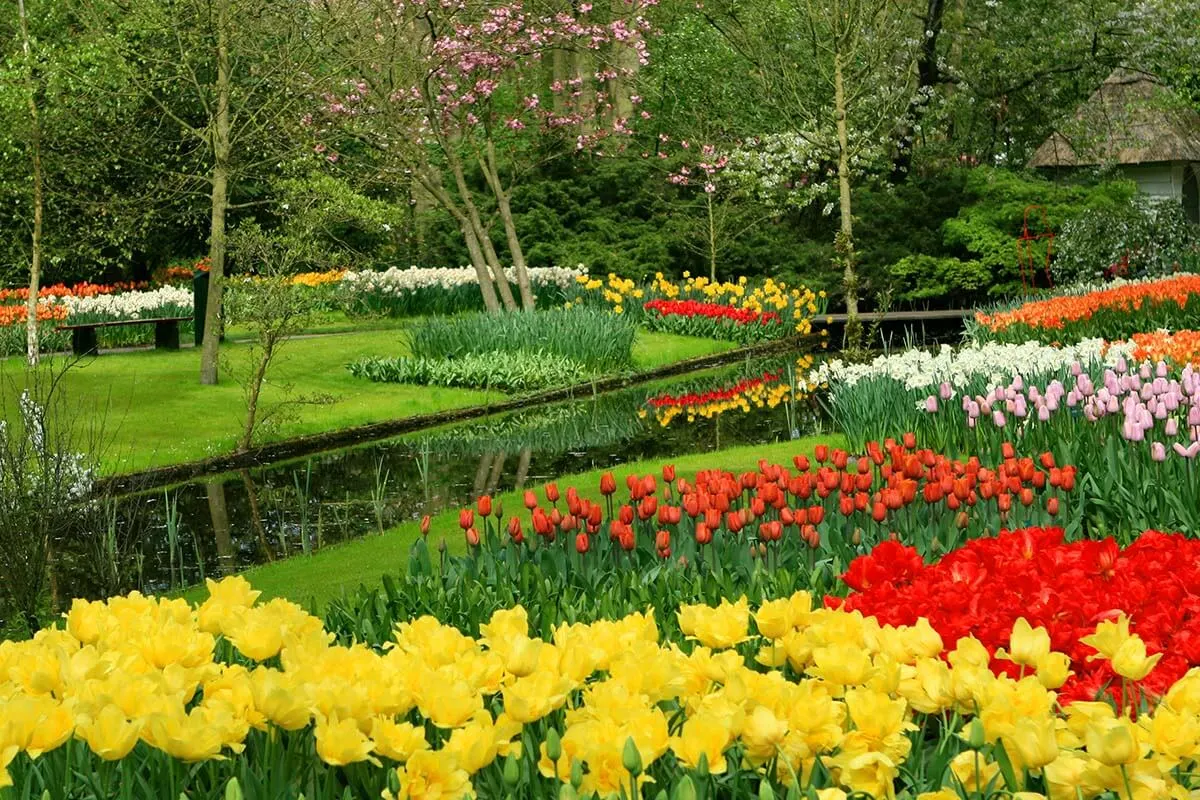 9. Dress comfortably
While there are a few pavilions with indoor flower displays, the biggest part of your visit to Keukenhof will be spent outdoors. So be sure to check the weather forecast and dress appropriately.
It can be windy and it can even rain (it's spring after all), so if in doubt, better take an extra layer. And don't worry if rain is on the forecast – usually, it doesn't last long.
Also, be sure to wear comfortable shoes because you will be walking a lot. Sneakers will be just fine. It's really not the best idea to wear shoes with high heels.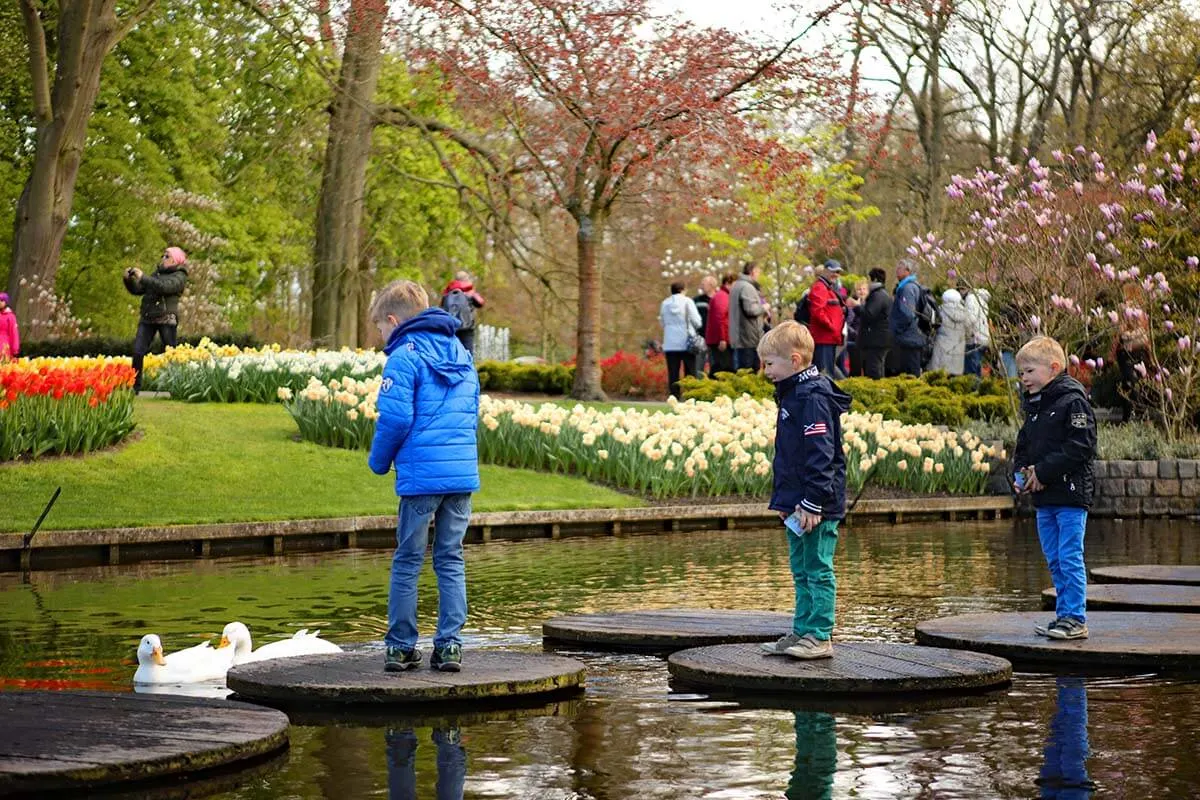 10. Don't walk through the flowers
You would think this goes without saying, but just in case you doubt: No, it's not allowed to walk through the flower beds in Keukenhof.
So please stay on designated paths and let's keep the park enjoyable for everyone!
If you want to get closer to the flowers and take pictures between them, you should consider visiting the tulip fields nearby – more info below.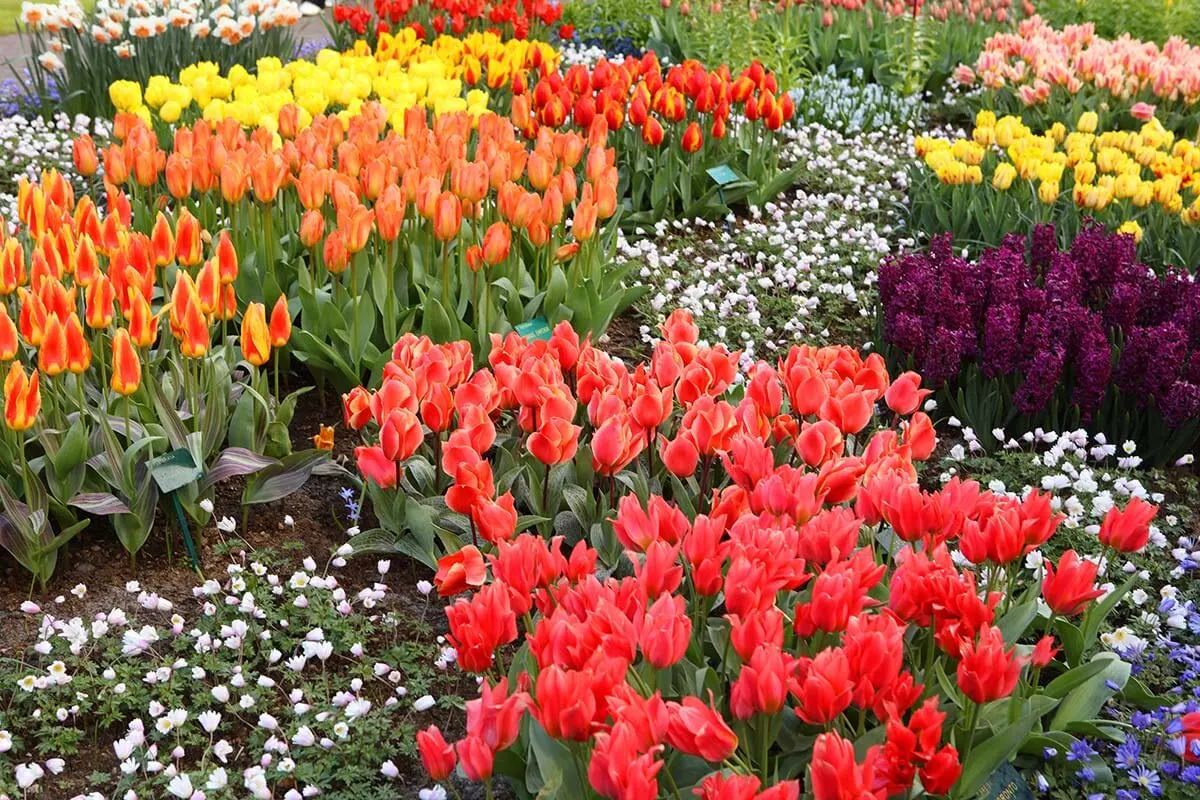 11. Don't miss Lisse tulip fields!
The area around Lisse (the town where Keukenhof Garden is located) is famous for its tulip fields. So if you have some time to spare, in addition to visiting Keukenhof, you should also visit the tulip fields nearby.
There are many options – by bike, by car, or even by helicopter if you want to see the aerial view of the colorful tulip fields.
If you have a car and are not sure where to go, it's best to simply drive to one of the 'tulip farms' near Keukenhof – we recommend Tulip Experience Amsterdam or The Tulip Barn (either one is fine – you don't have to see both).
If you don't have a car, then consider a guided bike tour or this self-drive tour with a tiny car and a set GPS route.
TIP: Whatever option you choose, be sure to book it well in advance. As already said, the tulip season is short and everything sells out very quickly. This is especially the case for small-group or individual tours like the ones mentioned above.
You can find more information about all these options in our detailed guide via the link below. That article has a bit more general info about what you can expect to see and do in and near Keukenhof. Check it out!
LEARN MORE: How to Visit the Best Tulip Fields in the Netherlands (Lisse)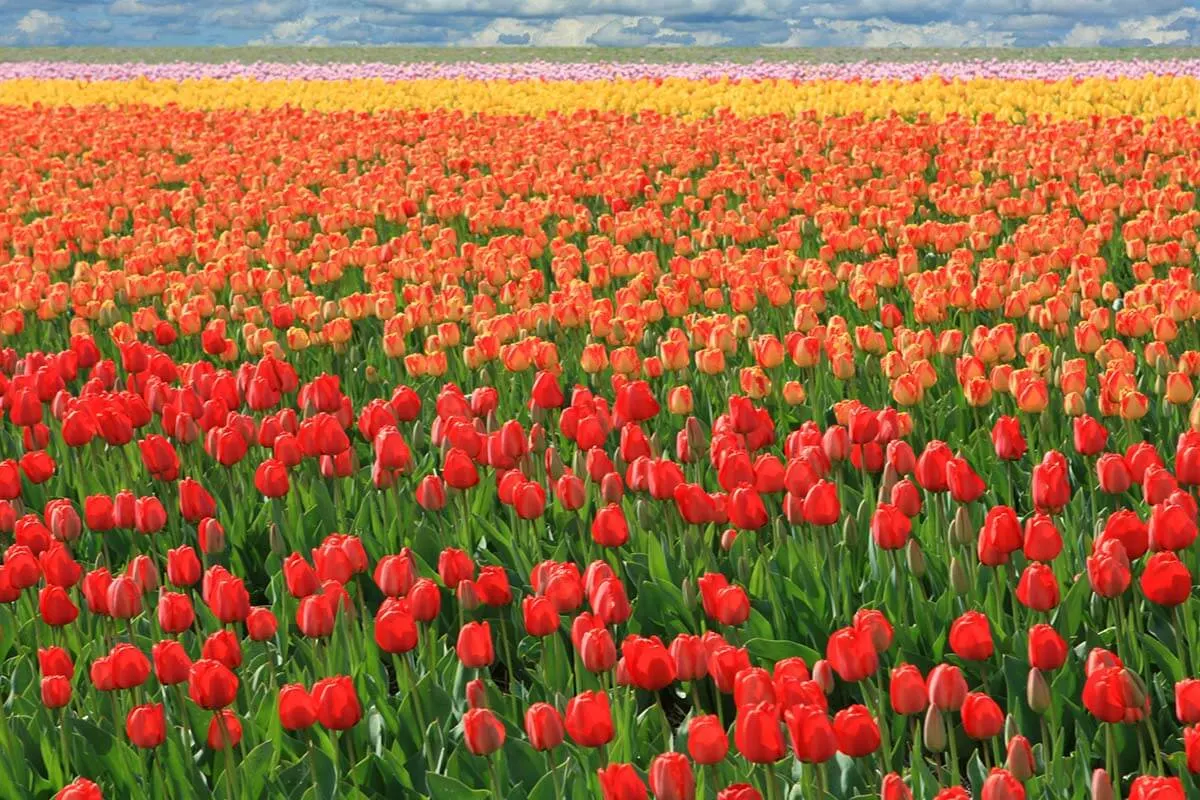 Where to stay near Keukenhof?
Since I get this question a lot, let me quickly address this quickly.
Lisse is located close to Amsterdam and visiting Keukenhof only requires a few hours. So most people just come here for (half) a day.
Even if you take the time to explore the tulip fields nearby, a day trip is more than enough for this area. So you don't absolutely have to stay near Keukenhof.
That being said, some of our readers come by car and want to stay longer and explore the area to the fullest. In that case, you should know that accommodation options around Lisse are really limited. Plus, during the peak tulip season, those few hotels usually sell out months in advance.
So if you want to stay near Keukenhof, you'll have to book long in advance (or you may get very lucky, but you really can't count on finding something last minute).
Here are a few of the best hotels near Keukenhof:
About 15 minutes drive away, you can also find some nice hotels at the nearby seaside resort Noordwijk. We recommend Alexander Hotel.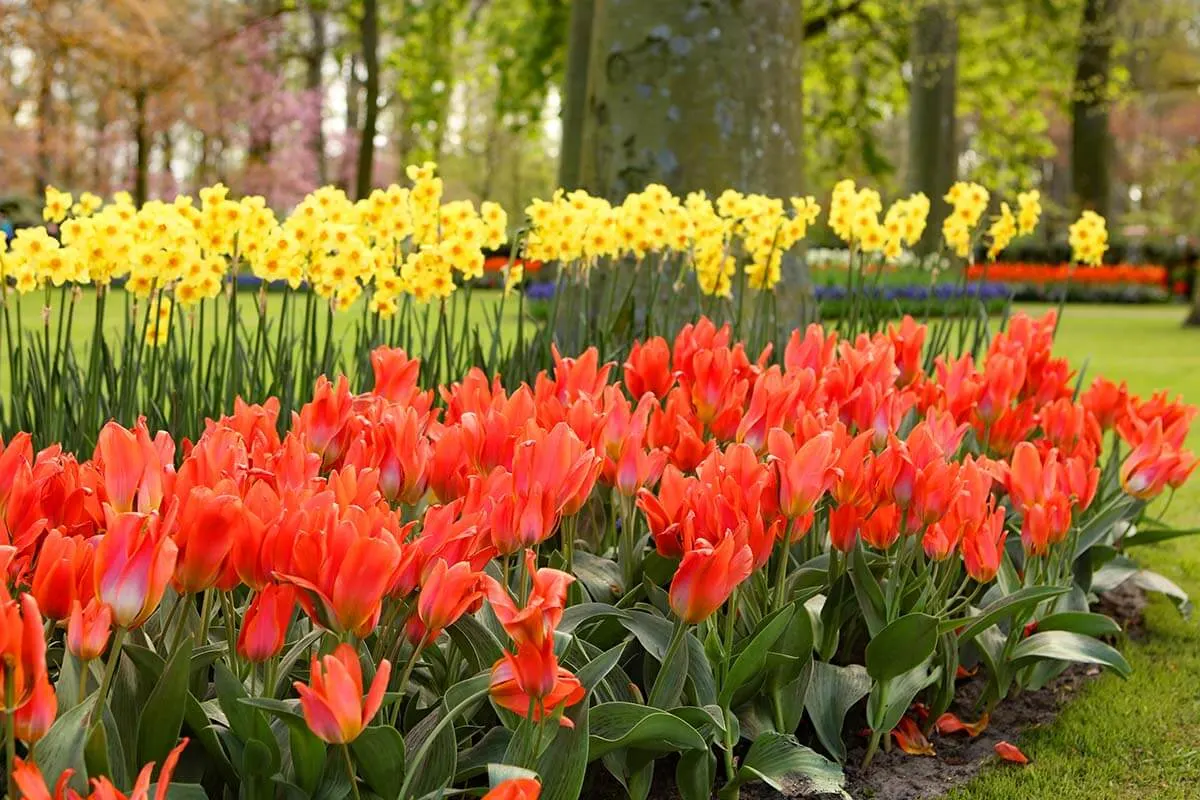 So, these are our tips for visiting Keukenhof garden near Amsterdam.
I hope that this gives you a better idea of what to expect and helps you make the most out of your visit to this unique park.
Have a great time!
More inspiration and travel tips for the Netherlands and beyond:
If you found this post helpful, don't forget to bookmark it and share it with your friends. Are you on Pinterest? Pin this image!