Thinking of visiting Universal Studios Hollywood in LA and wondering what to expect? In this guide, you can find some of our top tips to help you make the most out of your day. Find out!
Universal Studios Hollywood is one of the most popular attractions in Los Angeles, California, and one of the top 10 most visited theme parks in the USA. Millions of people visit Universal Studios every year. During peak times, the park receives up to 30-40,000 visitors in a day.
While planning your first visit to Universal Studios in LA can feel overwhelming, it's actually a lot simpler than it might look at first sight. And with some advance preparation, you can be sure to make the most out of your visit.
Recently, we visited Universal Studios Hollywood during one of the busiest seasons of the year (Christmas – New Year). In this guide, we share all the things that we wish we had known before our visit. While it will not always be as busy, these tips will give you a better idea of what to expect and will help you make the most out of your time and money no matter when you go. Find out!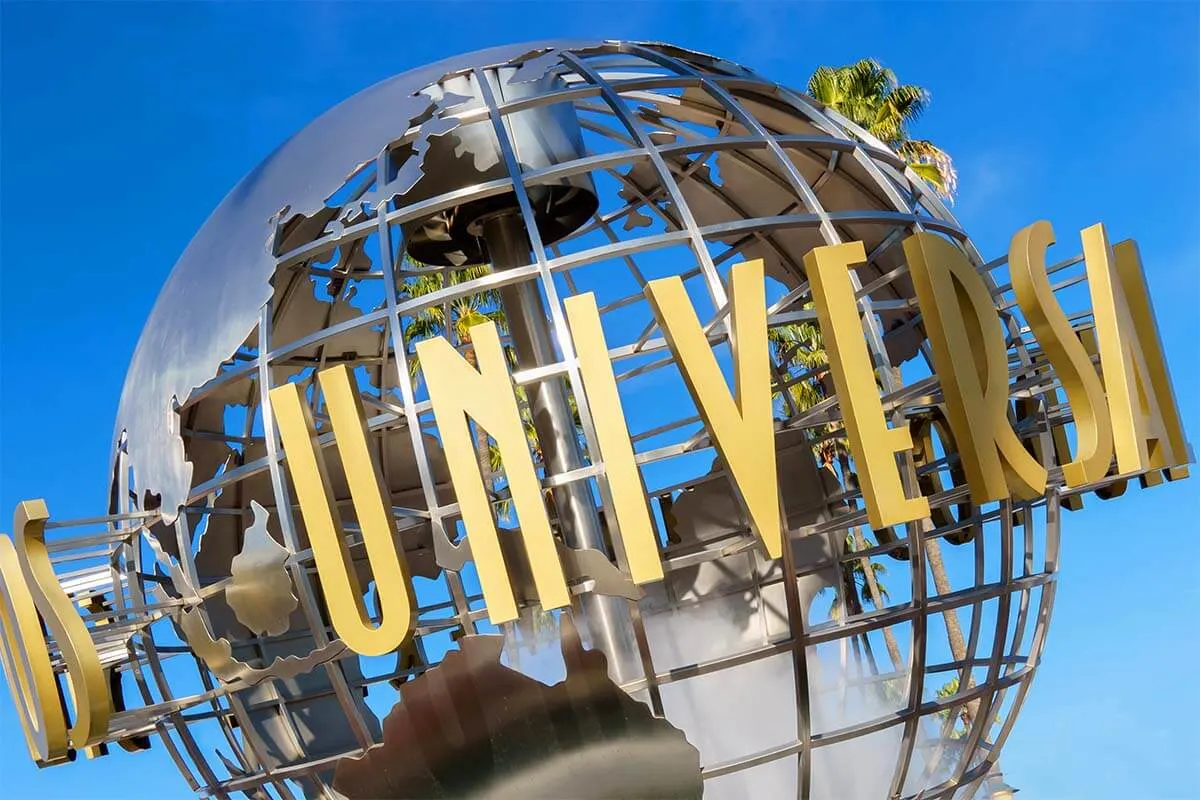 Here are some of our top tips for visiting Universal Studios Hollywood in LA:
1. Avoid Weekends and Public Holidays
Of course, it's not always easy to adjust your travel plans, but if you can take this into account when planning your visit to LA, try to avoid visiting Universal Studios on weekends and during school holidays.
Even if you are traveling in the high season as we were, some days will be busier than others. For example, we had three full days in LA, so we chose the beginning of the week for our visit to Universal Studios. It was still busy, but visiting on a Tuesday was relaxed compared to coming on Friday or Saturday…
Big crowds are not the only reason to visit Universal Studios Hollywood on a weekday. They work with flexible ticket prices, which usually means that entrance tickets are cheaper on weekdays than on weekends or school holidays.
The prices also depend on the season in general. During the busy weeks around Easter break or Christmas, the ticket prices are at their highest – no matter if you come on Saturday or on Monday. Whereas if you visit on a regular weekday in late January or February, you'll pay much less.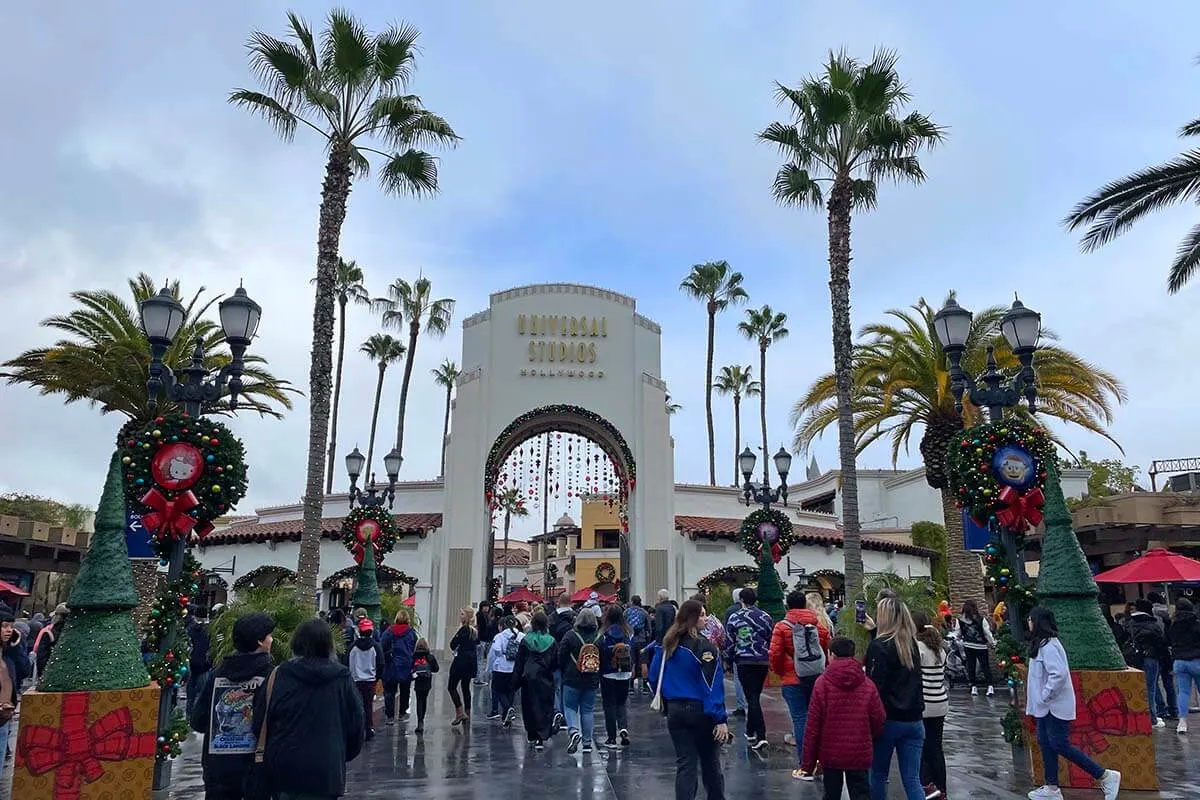 2. Arrive Early & Stay Late
Our next tip will help you to make the most out of your day at Universal Studios Hollywood.
If you want to visit as much as possible in a day, be sure to arrive as soon as the park opens and stay until it closes. The actual opening times depend on the season. But no matter the season, the quietest time at the park is the first hour or two after it opens.
TIP: If you arrive at the park early in the morning, head to the most popular rides first. These are usually 'wilder' attractions and rollercoaster rides.
Another trick is to leave some of the most popular rides for last and do them a few hours before the park closes. On those days when the closing time is at 6 pm, you can't really expect it to be quiet an hour before the closing time. But on some days, the park remains open until 9 pm or even later, and by that time, it definitely gets quieter.
In addition, if you stay later, you might be able to see a beautiful light show!
Our experience: We started our day at Universal Studios with the 'Harry Potter and The Forbidden Journey' ride. The wait time was just 20 minutes. When we left, there was already a 50-minute wait and a few hours later, people were queueing for over an hour. We also decided to go to the Lower Lot (where some of the most popular rides are located) in the evening. Most of the attractions here had wait times of 50-70 minutes during the day. In the evening, we didn't have to wait anywhere longer than half an hour.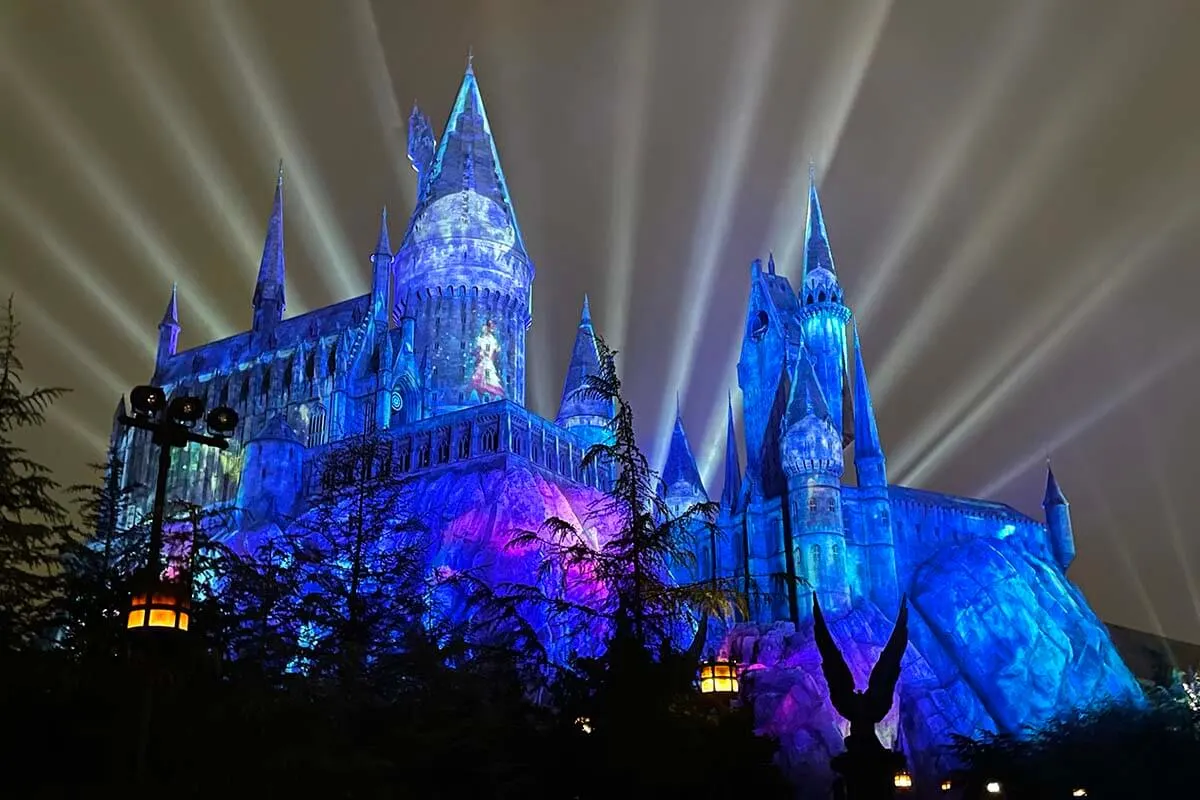 3. Skip the Lines with Express Tickets
If you hate the idea of having to spend hours and hours queuing at each and every single ride, show, and attraction, upgrade to an Express ticket. It's quite a lot more expensive than a regular ticket, but it gives you fast-track access everywhere (once per attraction and per day).
If you want to have unlimited express access everywhere and as many times as you like, then you'll need a VIP ticket. It costs quite a lot more than a regular ticket, but it also includes so much more (parking, snacks and refreshment, gourmet lunch, guided behind-the-scenes studio tour, etc.)
You can find more information on different ticket options further below.
TIP: Some attractions at Universal Studios sometimes offer fast-track access to single riders. So if you don't mind sitting separately from your group, this might save you some time. However, this is not always available and we saw it open and close again at a few rides without any explanation why.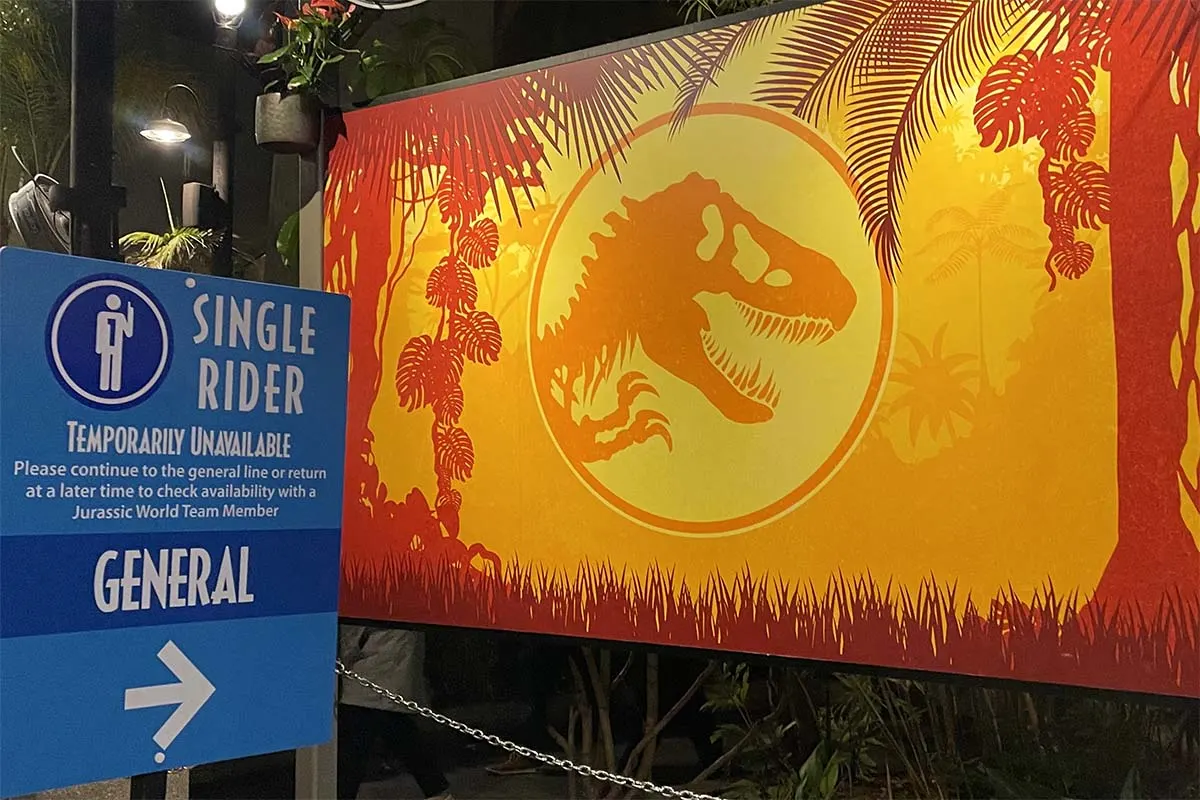 4. Book in Advance
Normally, you can just get your tickets at the entrance of Universal Studios LA. However, the lines are usually so long that you can easily waste half an hour or even more just to get a ticket. This doesn't include the security check or the lines to actually get inside the park.
So we highly recommend that you book your tickets in advance. You receive an electronic ticket with a QR code and can just go straight to the entrance skipping the lines at the ticket desk.
TIP: We booked our tickets through GetYourGuide and it was a great experience. The price you see is the price you pay (so no additional sale taxes are added at checkout or similar). In addition, they normally offer free cancelation/rescheduling of your ticket, which is a big bonus if your plans would change unexpectedly. Plus, the whole booking process is so simple; not comparable with the official site where you get overloaded with all the unnecessary options and way too much information.
Talking about tickets, there are basically three options to consider:
1. Standard entry tickets give you access to the park and all the attractions. More details and info here.
2. Express tickets can be booked as an upgrade to the regular ticket. Universal Express™ includes fast-track access to all rides, shows, and attractions (once per attraction).
3. VIP tour has lots of additional perks including unlimited fast-track access, behind-the-scenes film studio tour, free Valet Parking, and even some meals. More details and info here.
In addition, you can opt for 2-day tickets. This will give you much more time inside the park, and if you want to try every single ride and attraction without getting express tickets, then you will indeed need two days. However, we found that one day was more than plenty to see and do everything we wanted.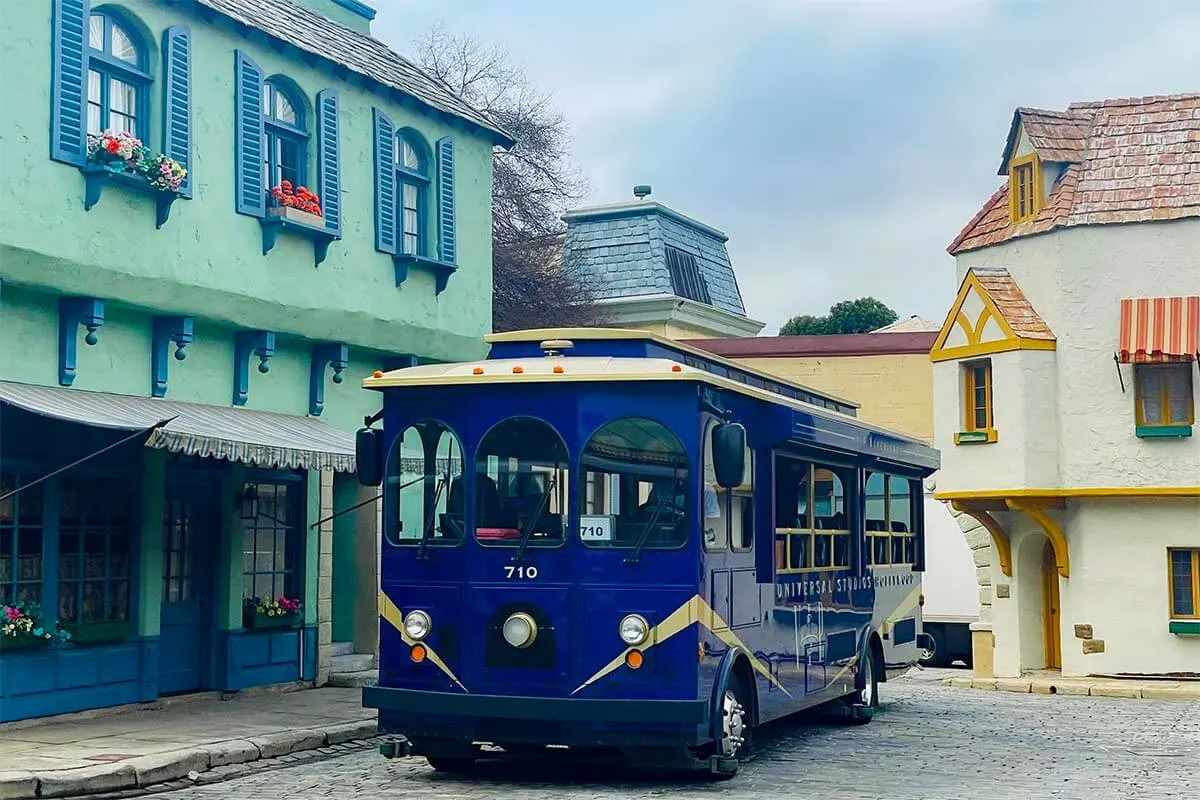 5. Don't Bring Big Bags
If you want to enjoy your day at Universal Studios Hollywood to the fullest, bring as little stuff with you as possible. As you will see below, we do recommend packing some items, but for the rest – don't take anything you don't absolutely need.
First, they have an airport-style security check at the entrance. They check your bags and even make you take off your belt. But that's not a big deal compared to the rides and attractions.
For most 'wilder' rides, you'll have to leave your backpacks in a locker, which means lots of wasted time (every single time).
TIP: If you need to take a bag, pack something small that you can easily keep with you without using your hands. I had a (not-so-small) crossbody purse and could take it on all the rides without any problems.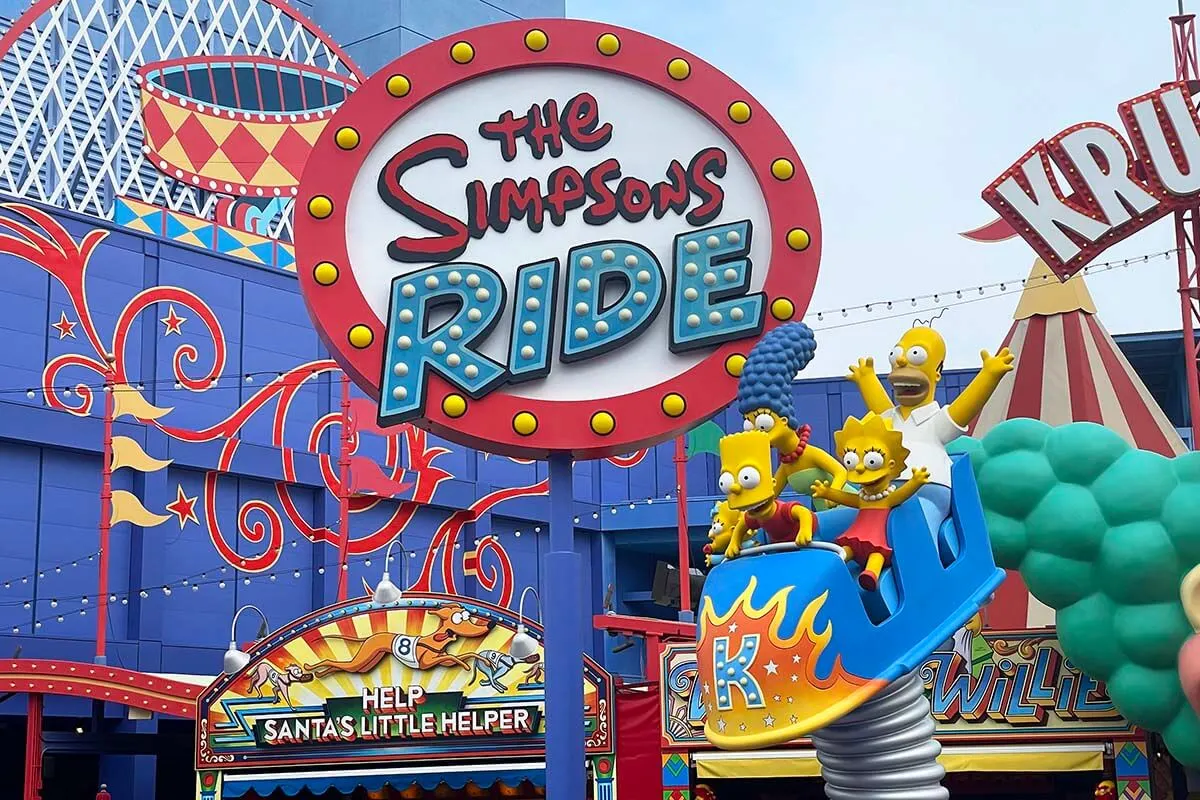 6. Bring Water & Some Snacks
Now that I told you not to take a big bag, I have to add that it's helpful to have some water and snacks with you.
Ideally, you take a refillable water bottle and some snacks for a quick lunch. Of course, you won't survive the whole day on just a few snacks. But if you can avoid having to eat during the peak lunchtime hours, you will – again – save a lot of time.
Plus, it will be a bit quieter at the attractions when most people are having lunch. So ideally, you go and eat a few hours later than the majority of people. It's probably never really calm at any restaurant at Universal Studios in the afternoon, but it sure helps if you can avoid the peak dining times.
TIP: If you are traveling on a lower budget, you should know that food and drinks are very expensive at Universal Studios (just like everywhere at theme parks). So if you want to save some money, you may want to bring a picnic with you. You could store your bag in a locker when not in use.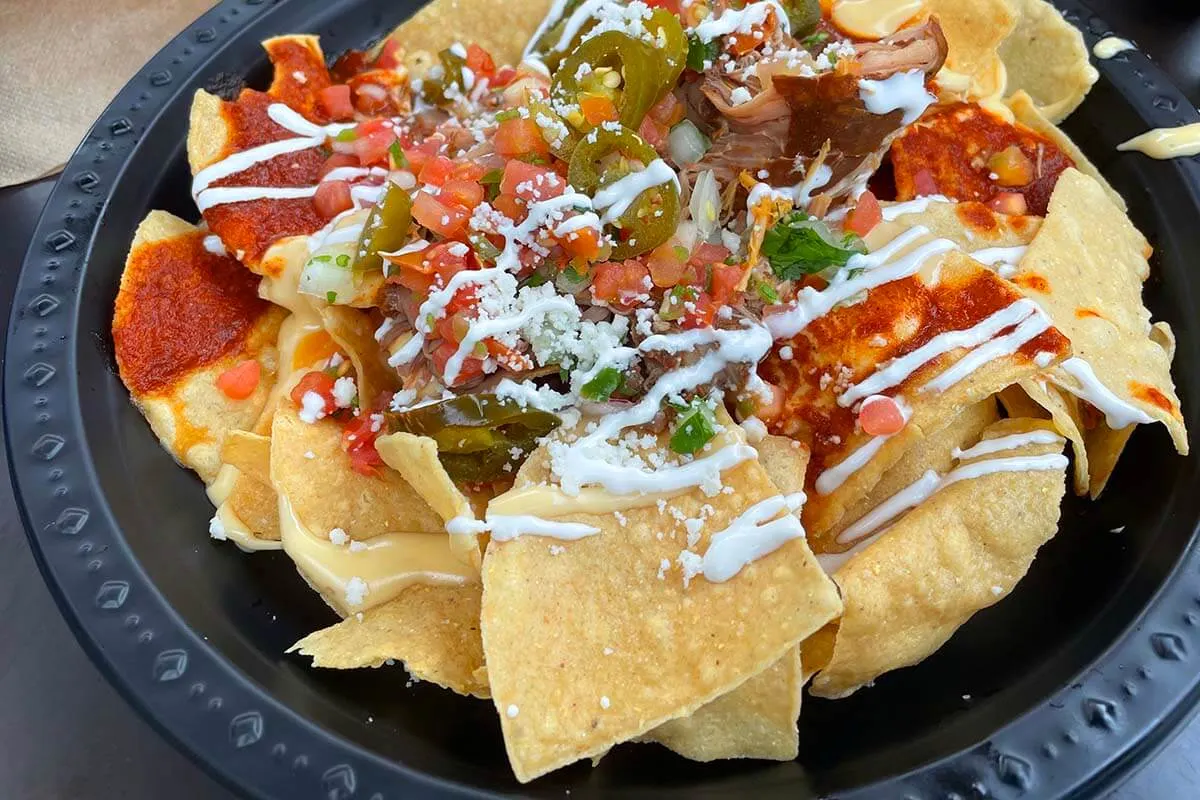 7. Research Which Shows & Attractions You Want to Do
There are lots of things to do at Universal Studios. Unless you are visiting on an extremely quiet day or pay extra for the fast-track tickets, it's quite unlikely that you will be able to see everything in a day. On the other hand, you may not really be interested in everything either…
So be sure to do some research on which shows, rides, and attractions you absolutely don't want to miss, and concentrate on those first.
If you are wondering what to choose, it all really depends on your interests and the ages of your kids (if visiting with children).
With young kids, you may want to spend most of the time at the Upper Lot, and mainly the 'Super Silly Fun Land'. There, you will also find family-friendly rides such as 'The Secret Life of Pets' or 'Despicable Me Minion Mayhem', etc.
With somewhat bigger children, head to the Wizarding World of Harry Potter and check out the nearby Simpsons Ride.
If you are looking for thrill rides, head to the Lower Lot where you will find 'Revenge of the Mummy', 'Jurassic World', and 'Transformers'.
In addition to the rides, there are also some shows that you may want to see at Universal Studios Hollywood. This can depend on the season and on the day, so be sure to double-check what's available on the day of your visit. This brings us to the next point…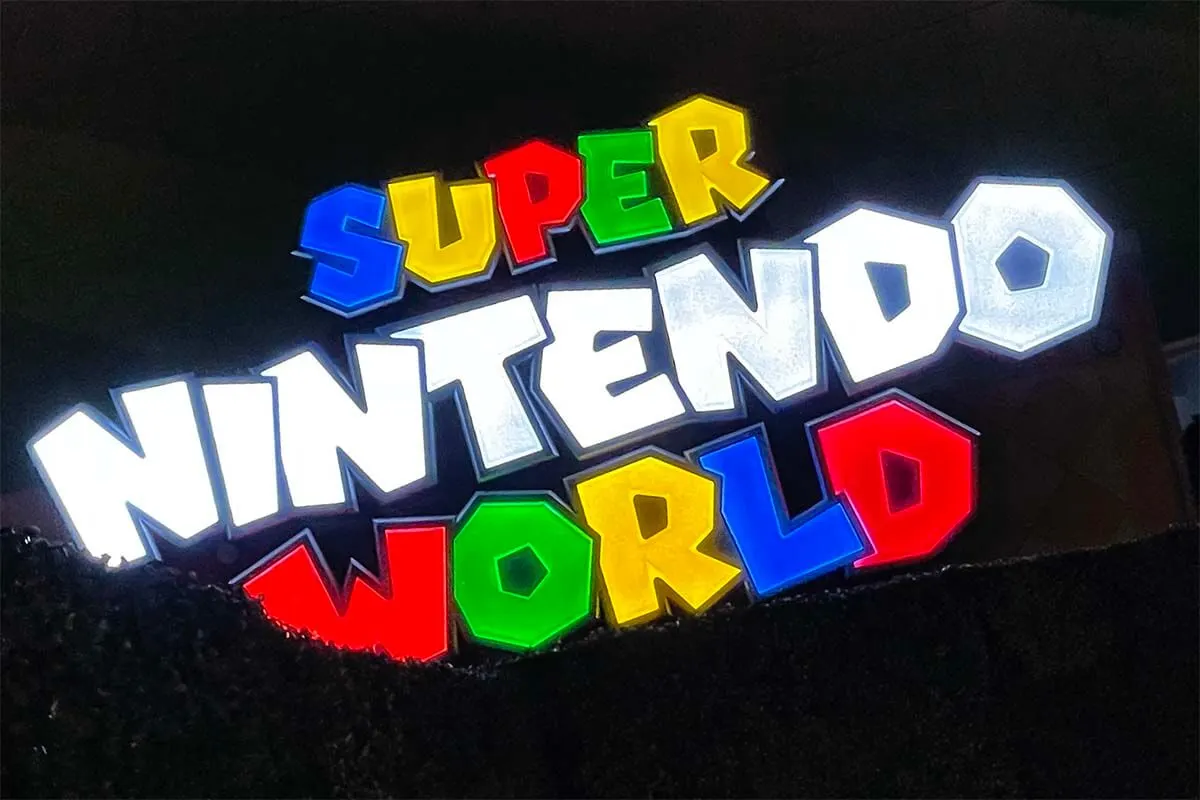 8. Don't Miss the Studio Tour
If there is one thing that distinguishes Universal Studios Hollywood from all other theme parks, it's the World Famous Studio Tour (aka The Backlot Tour).
You would almost forget it these days, but Universal Studios Hollywood is a working film studio where movies are made. So no visit here would be complete without getting a bit behind the scenes and seeing where the magic happens.
Universal Studios Hollywood has been running their iconic Studio Tours since the 1960s. And while some parts of the tour haven't changed for years, there is always something new to experience as well. It's now much less about actual film sets and more about entertainment, 3D experiences, etc. But one thing remains constant – it's always super fun!
I won't tell you much more about the things you get to see and experience because I strongly believe that you enjoy it more if you just go there without any expectations and with an open mind. But no matter when you visit, how much time you have, and whatever your interests are, do not miss the studio tour!
TIP: If you want to explore the film studios deeper beyond the standard tour that everyone does, you can only do this with the VIP tour. I wouldn't pay that much more just for this, but if you are already considering it for other reasons (like the unlimited skip-the-line entry everywhere), then their behind-the-scenes studio tour is definitely a nice extra perk.
YOU MAY ALSO LIKE TO READ: Universal Studios Hollywood vs. Warner Bros Studio Tour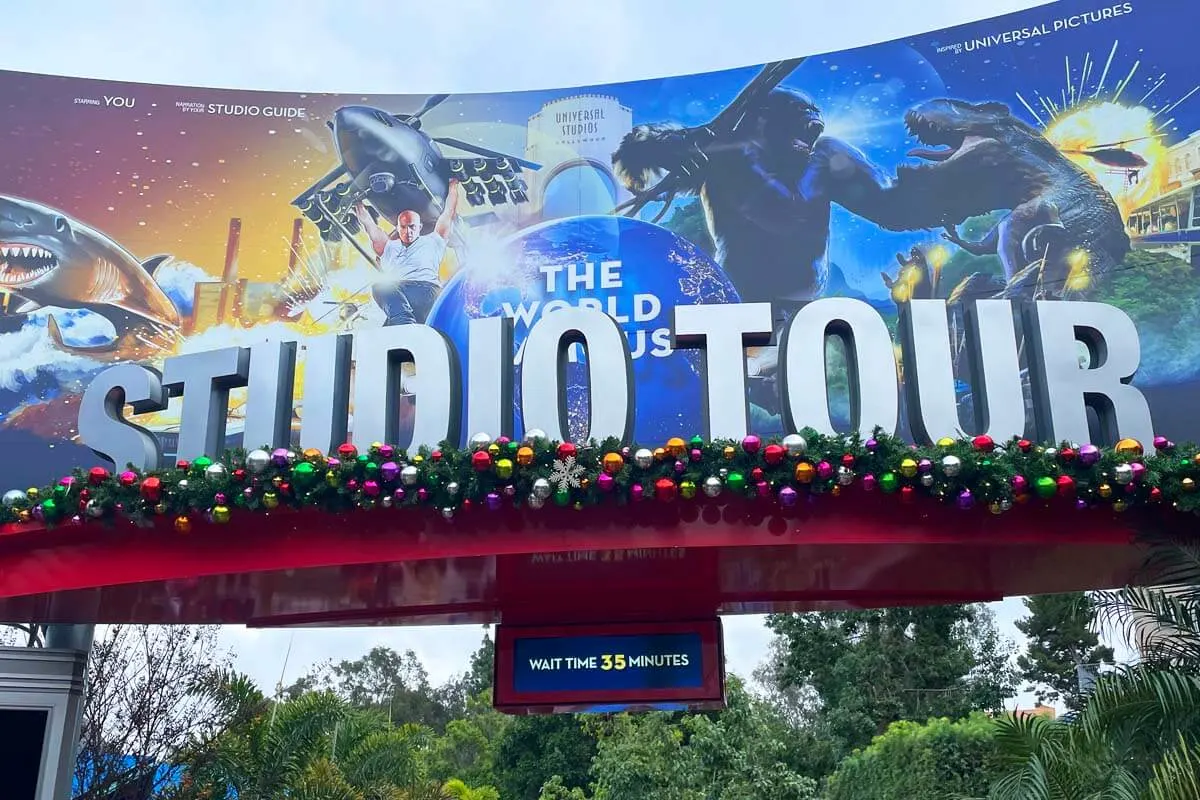 9. Prepare to Get Wet
One of the must-sees at Universal Studios Hollywood is their most popular show – WaterWorld. It's a really cool show with lots of action and special effects and is always fun to see. However, there is always a big chance that you will get wet.
They have seats in two colors indicating the area where you are guaranteed to get wet. But it doesn't work the other way around – there is no guarantee that you won't get wet if sitting outside the splash zone.
If the weather is nice, it's warm, and you don't mind getting wet, then it's not a big deal at all. But if you want to be sure that you remain dry, try to sit as far from the stage as possible.
On our most recent visit to Universal Studios Hollywood in the winter, it was rather cold and we were all wearing jeans and warm jackets. The last thing you want on a cold grey winter day is getting wet. So we made sure to sit well outside the splash zone. But that wasn't enough.
One of our kids and I got soaking wet (not just a little, but as if someone would throw a bucket of water on you). It took us 4 hours to get dry… The rest of the family found it very amusing and it sure made our visit more unforgettable, but it's not something we would have willingly chosen on a cold day…
'Jurassic World: The Ride' is another attraction where you are almost guaranteed to get wet.
TIP: We saw lots of people bring disposable rain ponchos to these shows and attractions. It might be a good idea, indeed. Another option is to wear quick-drying clothes when visiting Universal Studios. That way, if you do get wet, at least it doesn't take you hours to get dry again.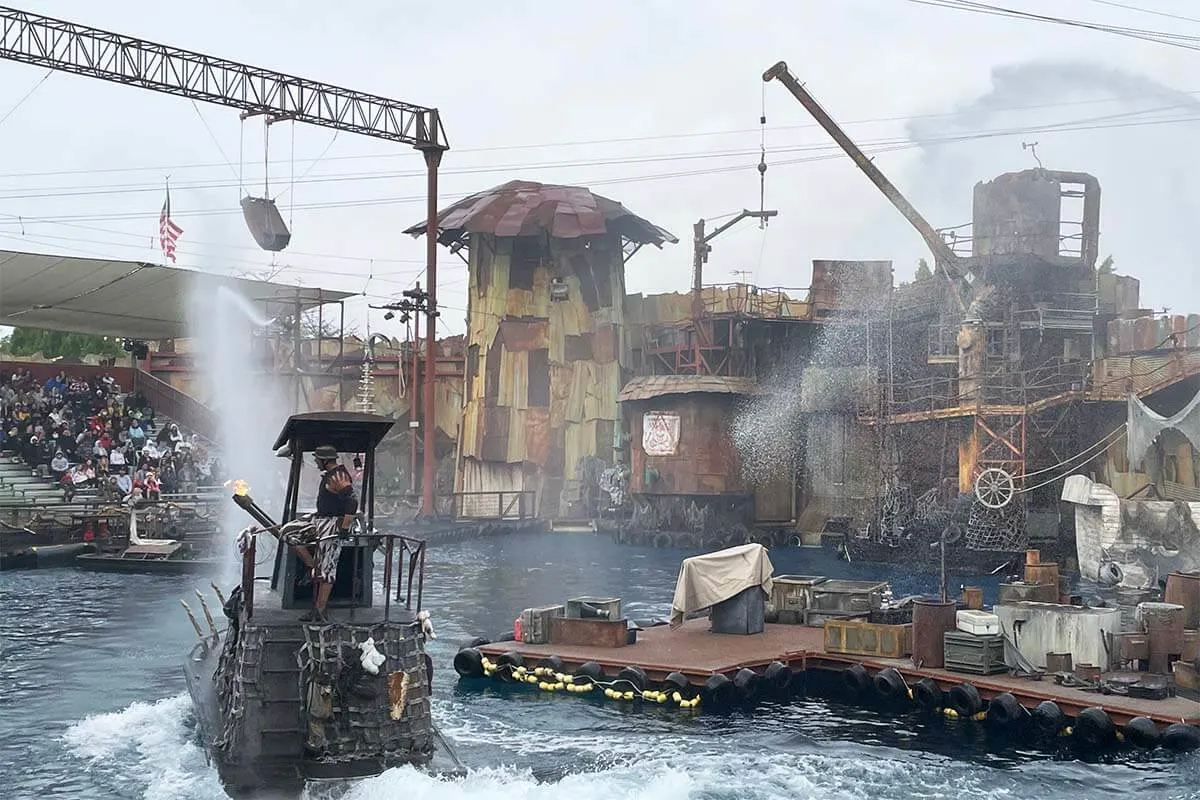 10. Wear Comfortable Shoes
Universal Studios Hollywood is a very big theme park. So prepare to walk a lot. At the end of the day, you will have done well over 10,000 steps…
So be sure to wear comfortable shoes! Also, they should sit tight on your feet so that you don't have to worry about losing them on one of the rides.
It's definitely not a good idea to wear flip-flops when visiting a theme park.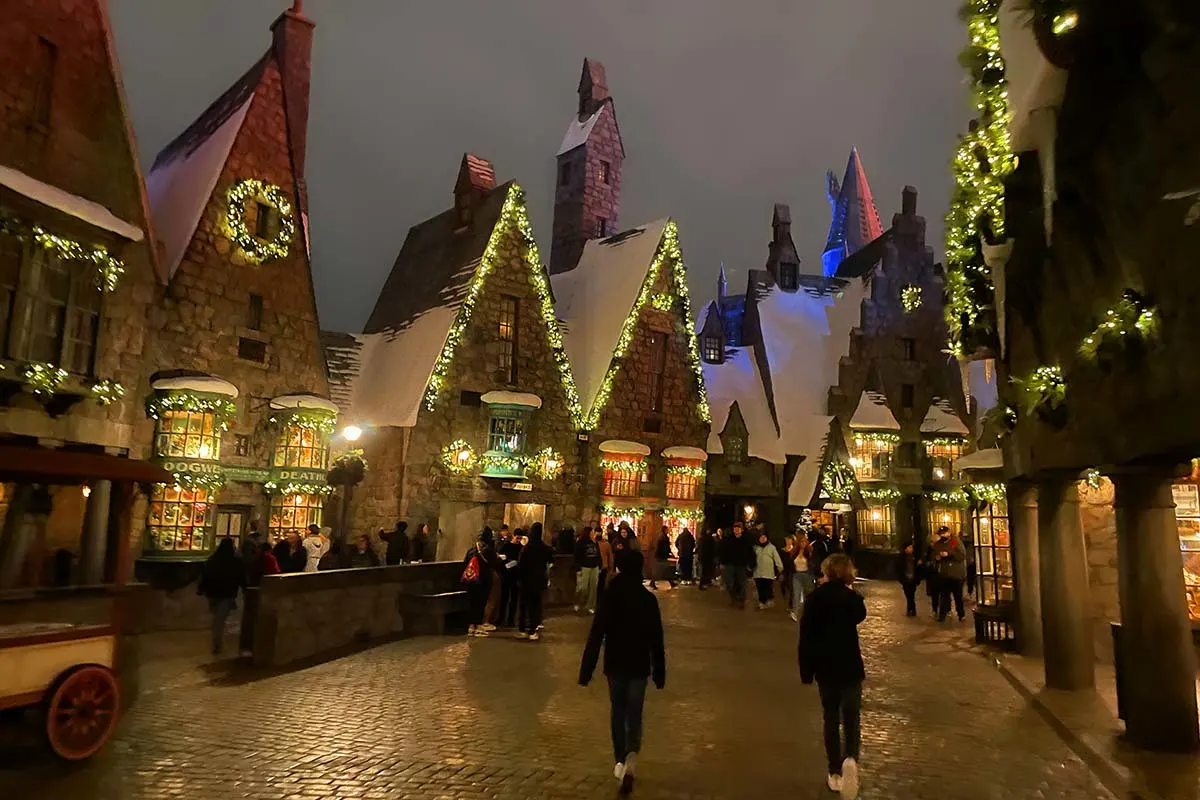 11. Install the Universal Hollywood™ App
One of the best ways to make the most of your time in the park is to install their mobile app. You can do it in advance or upon arrival in the park.
You can use the app to check the show times or to see live data about the waiting times at all the rides and attractions. Sometimes, you can also reserve a virtual line ticket for some rides via the app.
You will find all this information at different places throughout the park as well, but we found the app really handy.
Good to know: Universal Studios Hollywood offers free Wi-Fi throughout the park.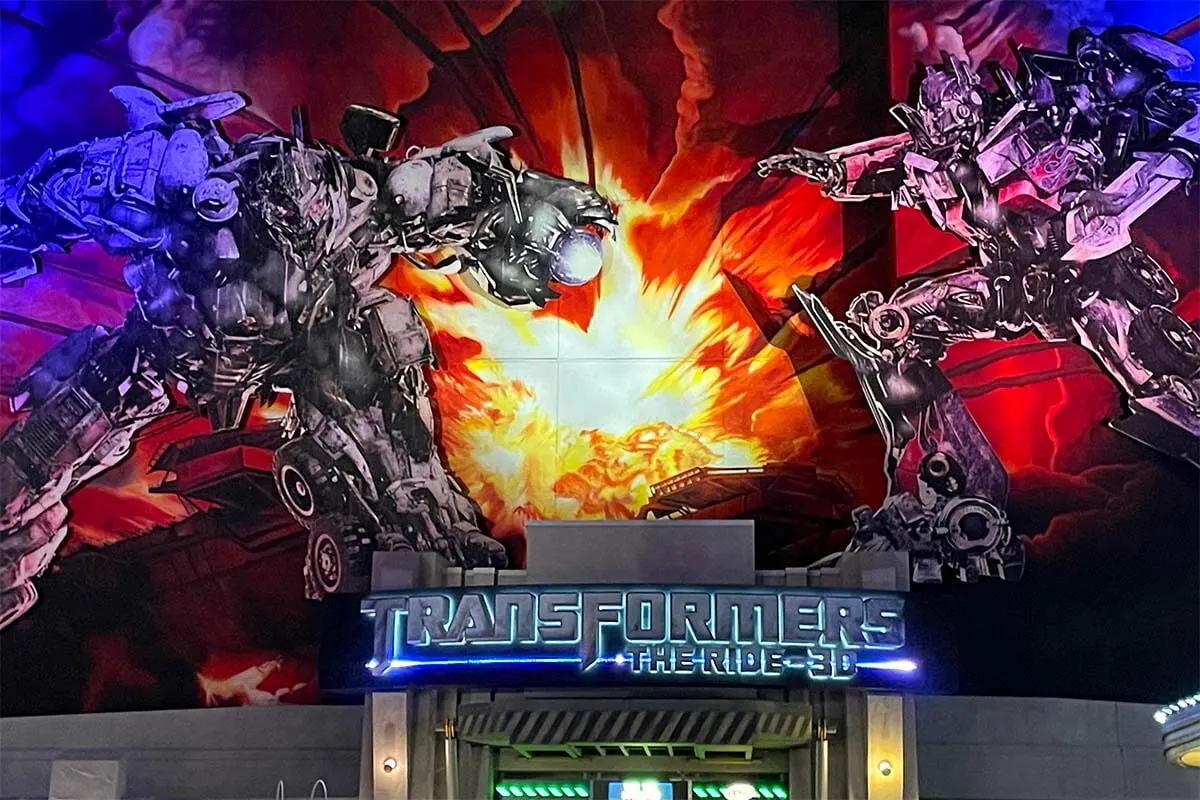 12. Don't Come by Car
Just to make things clear, you can easily drive to Universal Studios Hollywood by car. They do have huge parking garages, so you can easily come in your own car.
However, parking is really expensive and it can also get very busy. So depending on where you are coming from, it might be simpler to just leave the car at your hotel and take a taxi or a metro here.
If you come by metro, you can walk to the park entrance in about 10-15 minutes. There is also a shuttle between the metro station and the park entrance, but it's so slow that – unless it's standing there as you arrive – it's quicker to just walk.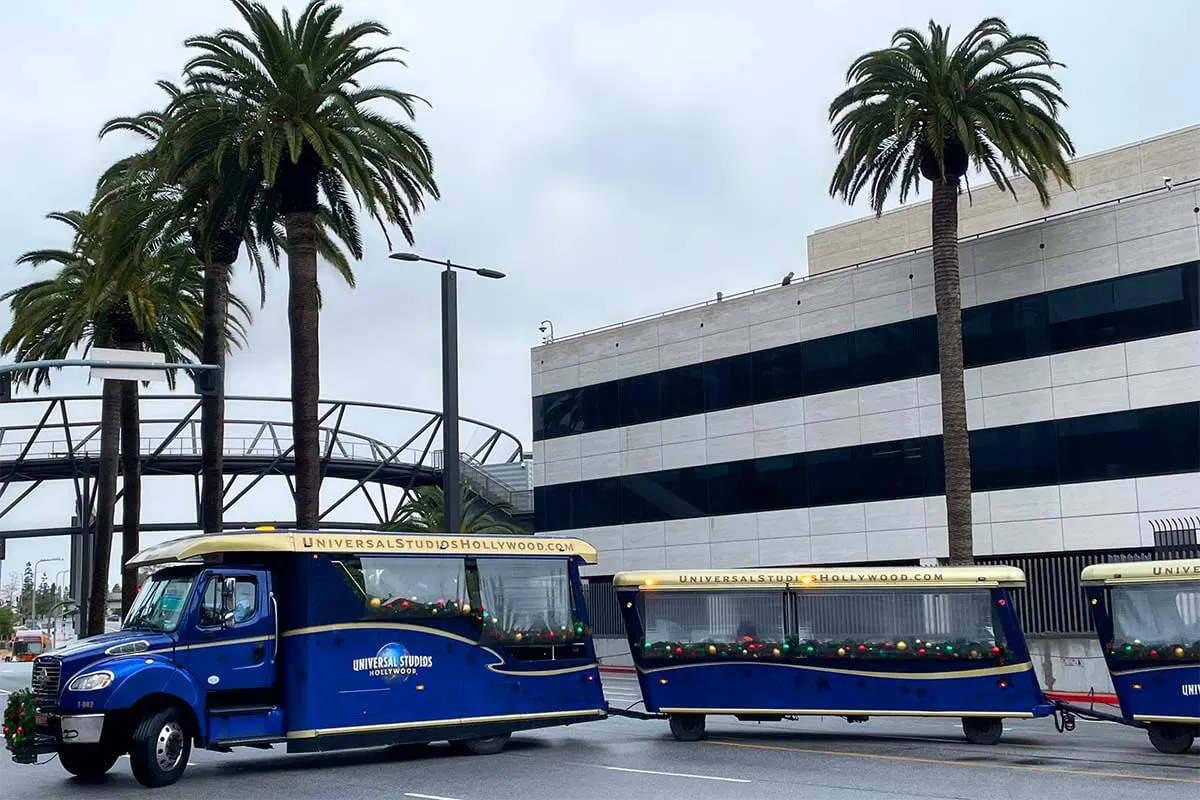 13. Stay Nearby
If you want to make the most of your visit to Universal Studios, you may want to stay at one of the hotels just near the park entrance.
That way, you can start your day as soon as the park opens and stay until it closes. Plus, you won't have to pay for a taxi or parking. You'll likely have to pay for parking at your hotel, but that is the case everywhere in LA.
Good to know: The two best hotels just near the entrance of the park are Hilton LA Universal City and Sheraton Universal.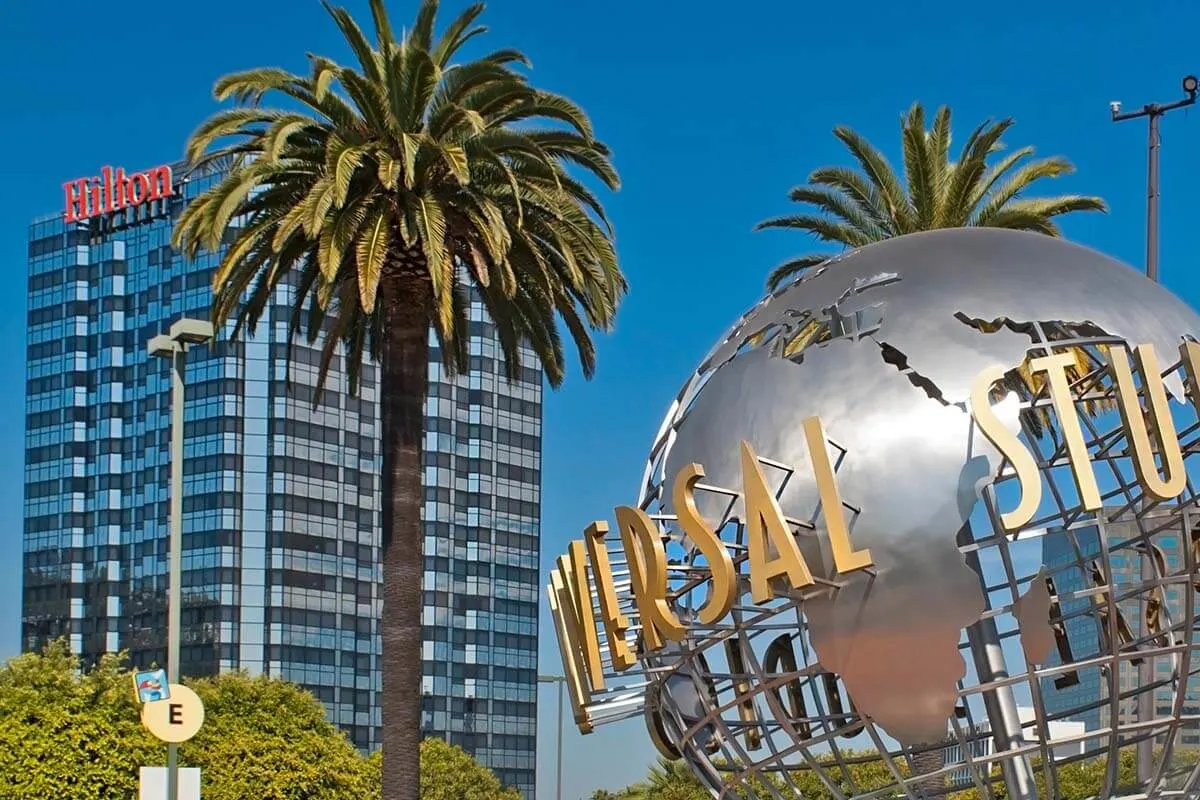 So, these are some of our tips and things we wish we had known before visiting Universal Studios Hollywood.
I hope that this gives you a better idea of what to expect. Enjoy your visit!
READ ALSO: 3-day Itinerary for Los Angeles (including a day at Universal Studios) & San Diego Itinerary
If you found this post helpful, don't forget to bookmark it and share it with your friends. Are you on Pinterest? Pin this image!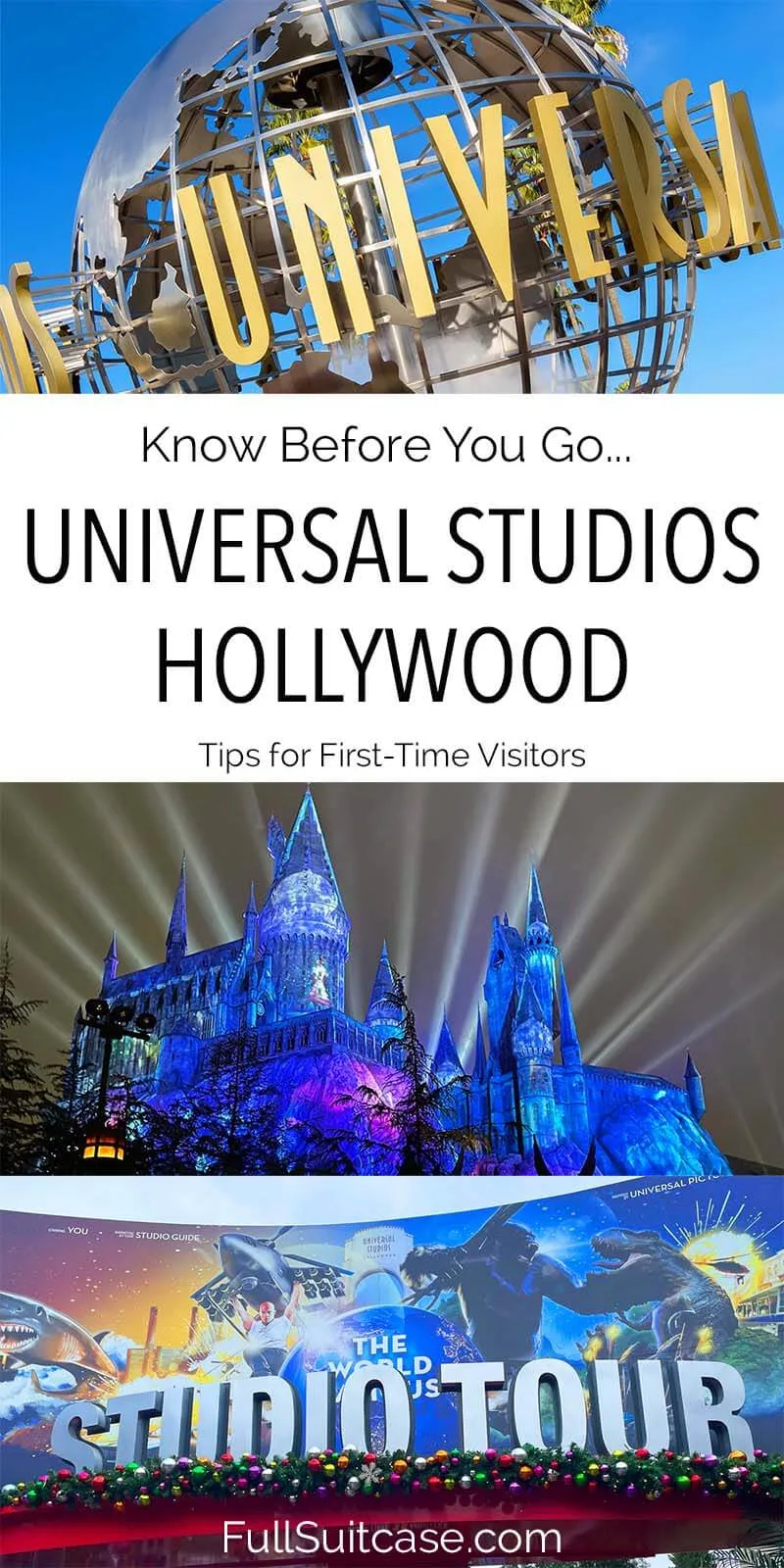 More travel inspiration for Southwestern USA:
Las Vegas and surroundings:
Grand Canyon:
More of Arizona: