Planning a trip to Utah and wondering what there's to see and do in Canyonlands National Park? This guide covers all the top places in Canyonlands that are worth your time the most. Find out!
Canyonlands is the hidden gem among Utah's National Parks. Despite being the largest National Park in Utah, it's often overlooked and overshadowed by its more famous counterparts such as Arches or Zion. But Canyonlands National Park has a lot to offer and is well worth a visit! It's also a great place for those looking to get a bit off the beaten path.
We visited Canyonlands National Park in the peak tourist season in summer and there were hardly any people around. While even the more difficult hiking trails in Arches were packed, we had some of the most famous and easily accessible viewpoints of Canyonlands almost to ourselves…
Good to know: Canyonlands is a very large park. It's divided into four different districts: Island in the Sky, the Needles, the Maze, and the Rivers. They are all accessible from different sides of the park, with several hours of driving time between different districts. Island in the Sky is the easiest section to visit on your own. So in this article, we only focus on this area.
TIP: If you want to visit The Needles, I recommend taking this great 4×4 tour from Moab. The Maze and The Rivers are for the more adventurous travelers. Those areas are even more remote and require much more time and preparation. If you want to see these remote areas of Canyonlands, then take a look at this amazing helicopter tour!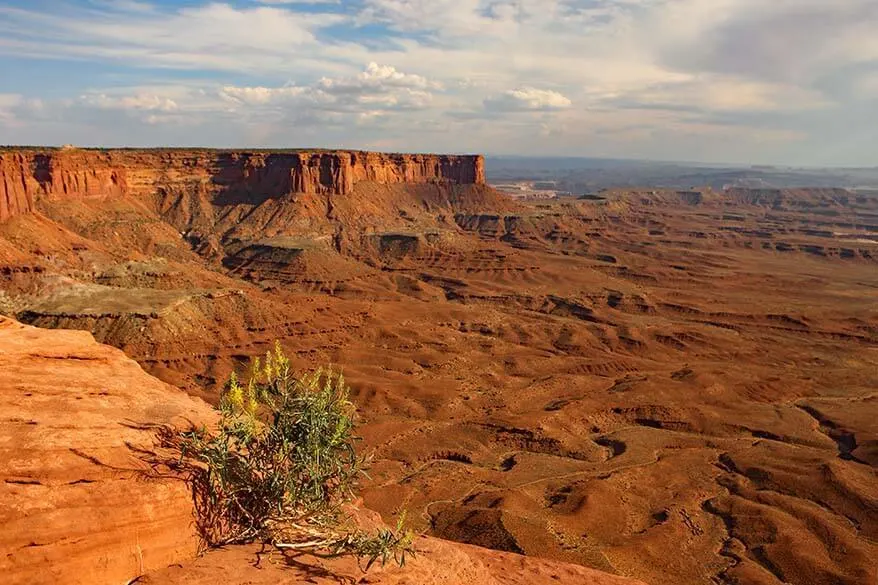 We sorted the list of the best places to see and things to do in Canyonlands starting with the very best ones first. And while we put our favorites at the top, it's really not easy to say which viewpoint or short hike is 'better' or 'nicer'.
The good thing is that the Island in the Sky district is quite compact and you can do most of the things mentioned in this article in a day.
To help you plan your trip, we also created this map of the best things to do in Canyonlands mentioned in this article. See below.
How to use this map: Use your computer mouse (or fingers) to zoom in or out. Click on the icons to get more information about each place. Click the arrow on the top left corner for the index. Click the star next to the map's title to add it to your Google Maps account. To view the saved map on your smartphone or PC, open Google Maps, click the menu and go to 'Your Places'/'Maps'. If you want to print the map or see it in a bigger window, click on 'View larger map' in the top right corner.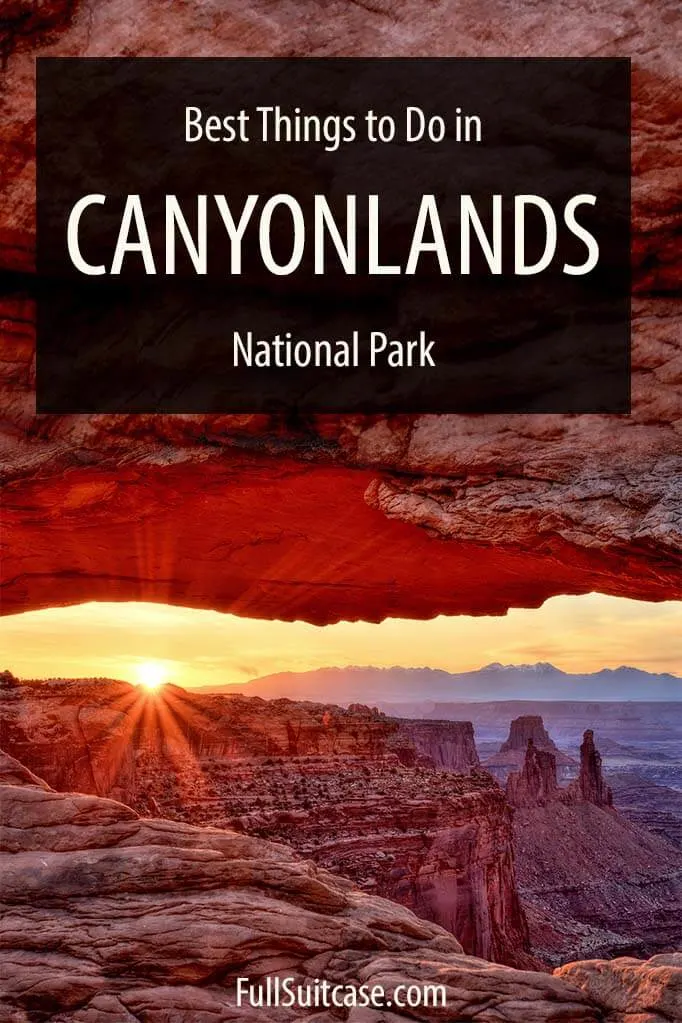 These are the best things to do in Canyonlands National Park, Island in the Sky district:
1. Grand View Point
Grand View Point (6,080ft) is one of the most impressive viewpoints at Canyonlands Island in the Sky. The views over the vast canyon stretching far into the horizon are absolutely jaw-dropping. From here, you can also see the Needles district of the park.
The mighty Colorado River to the east and Green River to the west have carved and shaped the scenery here into an endless labyrinth of canyons. Being here, you understand where the park – Canyonlands – gets its name. And because you're standing high above the sweeping vistas stretching below you as far as an eye can see, it sure feels like an island in the sky…
This viewpoint is one of the most popular places to see in Canyonlands National Park. An easily accessible short path leads from the car parking area to the viewpoint. You only need 10-15 minutes for a quick visit here. This is also a very nice place to be at sunset! But we have a better recommendation for sunset – see all the way at the bottom of this article.
Good to know: If you are up for a short hike, take Grand View Point Trail to Grand View Point Overlook. More info further below.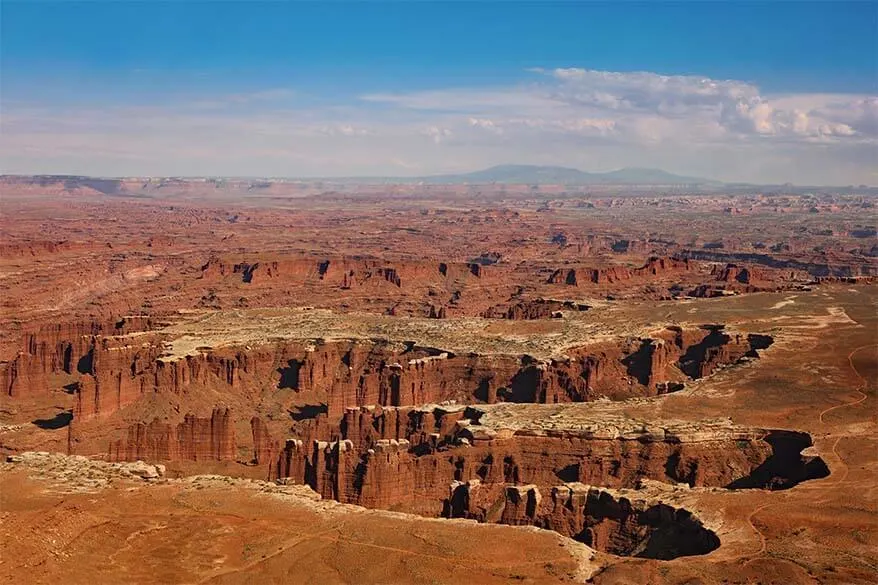 2. Mesa Arch
Mesa Arch is probably the most famous landmark in Canyonlands National Park. Even after seeing some stunning natural arches in the nearby Arches National Park, we all agreed that this natural arch is still very much worth a visit!
The arch sits at the edge of a cliff with a 1,200ft drop into Buck Canyon below. Standing here is like looking through a gigantic window, with a beautiful view of the White Rim and the La Sal Mountains.
Getting to Mesa Arch is easy, but it requires a short hike. The circular Mesa Arch loop is just 0.5 miles and takes about 20-30 minutes. If you do just one short hike in Canyonlands, make it this one!
Good to know: Hiking to Mesa Arch is the most popular thing to do in Canyonlands National Park. So no matter when you visit, expect it to be busy. Luckily, the parking area is quite big. And because the hike is short, people come and go all the time, so it doesn't take too long to find a parking spot here. We could just park without any issues at all.
TIP: Best time for photography at Mesa Arch is at sunrise. So if you want to get some iconic pictures and don't mind sharing the view with dozens of other photographers and their tripods, you may want to start your day in Canyonlands here.
LEARN MORE: Hiking to Mesa Arch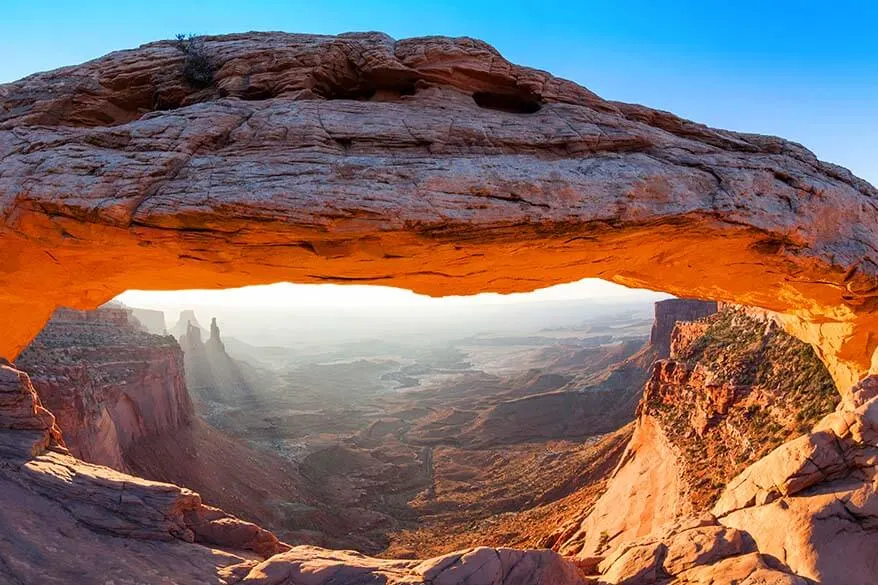 3. Green River Overlook
Green River Overlook (6,000 ft) is another stunning viewpoint that deserves to be on top of any list of the best things to do in Canyonlands.
The view here is somewhat different from the scenery at Grand View Point, and the canyons look wider. From here, you can actually see the Green River that carved its way through the canyon below. You can also see the White Rim Road, Ekker Butte, Orange Cliffs, and the Maze district with Elaterite Butte in the far distance.
This viewpoint is also very easy to reach. It's just a short walk from the parking area, so don't miss it!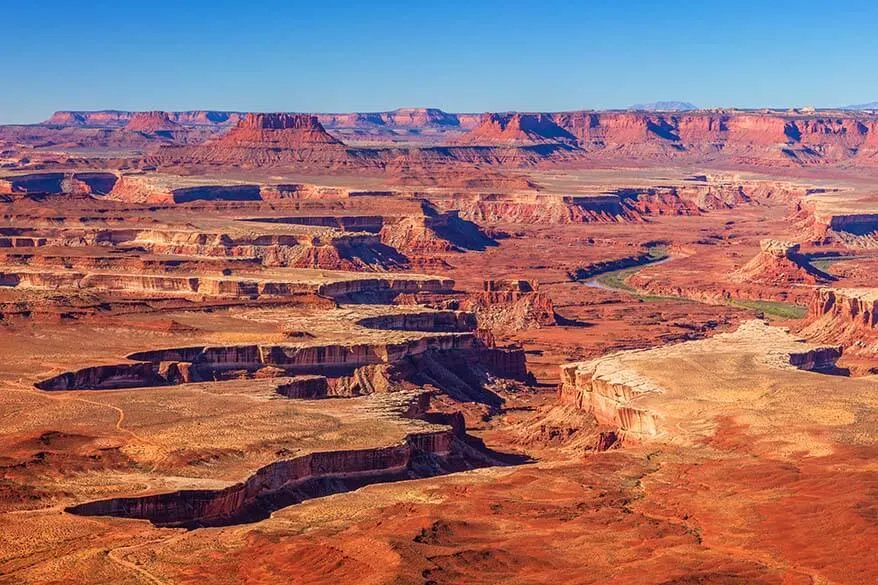 4. Shafer Canyon & Shafer Trail Viewpoint
There are two viewpoints into the Shafer Canyon that are worth a quick stop – Shafer Canyon Overlook and Shafer Trail Viewpoint.
The canyon overlook requires a short walk of about 0.1 mi. It takes just 5 minutes and offers nice views of the canyon.
The Shafer Trail Viewpoint has a much more impressive view! It's here that you can see the hairpins of the Shafer Road leading deep down into the canyon. Sometimes, you can see bikes and cars driving this crazy-looking road.
Good to know: If you have a good 4×4 vehicle, you could consider driving Shafer Canyon Road as well (a day-use permit is required). The road was made for mining trucks and is wider than it looks!
Alternatively, if you don't have a suitable vehicle or were too late to reserve the permit for your travel dates, you can also experience the thrill of driving this road by visiting Canyonlands with an organized 4×4 day tour. If you are looking for adventure, but don't feel like sitting in the car on bumpy roads the whole day, then consider this highly-rated half-day 4×4 tour that – among others – also drives the Shafer Trail.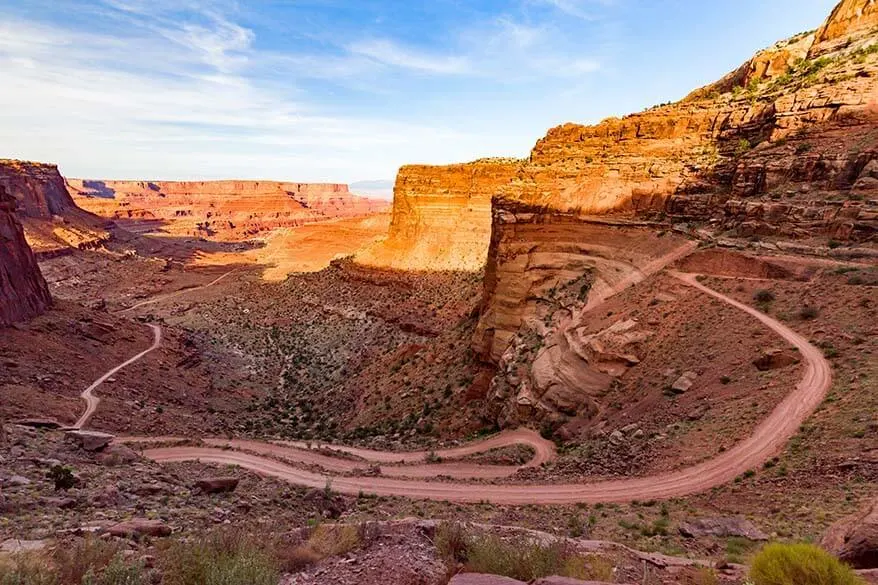 5. Viewpoint at the Visitor Center
This is the first (or the last) viewpoint you'll come across when entering or leaving Canyonlands. Located right next to the Island in the Sky Visitor Center, this viewpoint isn't indicated on any map. I'm not even sure if it even has a name, but the views here are excellent.
For us, this was our first introduction to the Canyonlands. Stunning views made us fall in love with this place at first sight.
Good to know: You can find this viewpoint just across the road from the visitor center. It's well worth a quick stop! And since you're here anyway, you can also talk to the rangers or check out the little gift shop inside.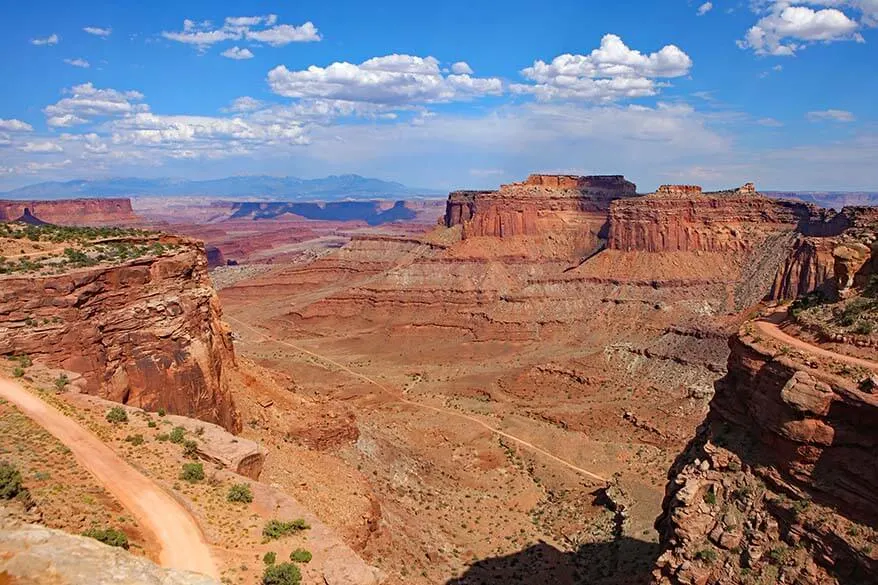 6. Grand View Point Trail
Considered as one of the best short hikes in Canyonlands, Grand View Point Trail is well worth an hour of your time. This 1-mile hike (2 miles round trip) starts at the Grand View Point and leads to Grand View Point Overlook.
It's an easy family-friendly hike that follows the rim of the canyon offering stunning 360° views all along. Just be careful while hiking here with kids as there are no protective fences.
On the way, you can see different layers of the canyons, with views worthy of the Grand Canyon (minus the crowds). This hike brings you to the southernmost point of the Island in the Sky mesa and towards the convergence point of the Green and Colorado rivers.
Good to know: Hiking there and back takes about 1 hour. You can locate the trailhead on the right side of the main viewpoint area. It's a popular trail, so the path is quite clear and you'll likely see people hiking along the rim.
TIP: If you are short on time or are visiting with young kids in the heat, you can also just opt to hike a part of the trail. That's what we did when we visited in the summer.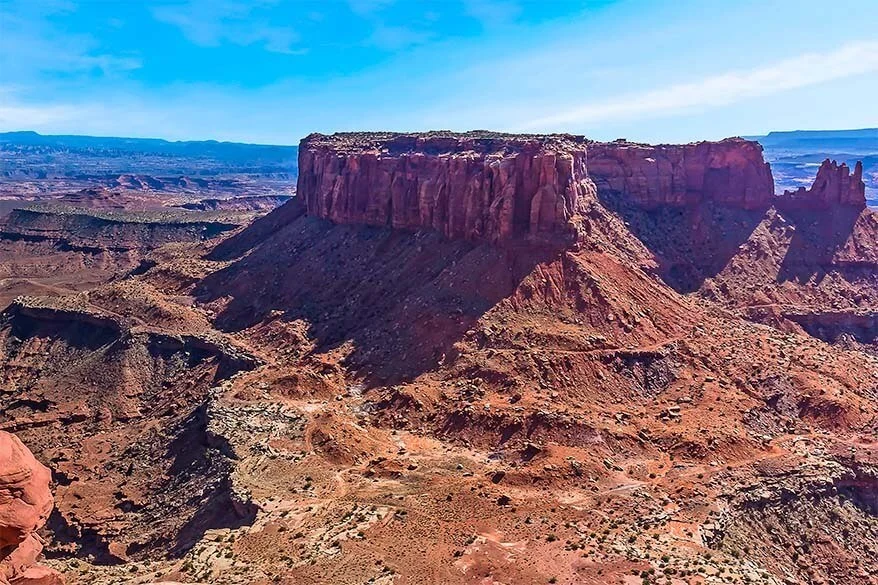 7. Buck Canyon Overlook
Buck Canyon Overlook is another great viewpoint that deserves a mention as one of the nicest places to see in Canyonlands NP. And while you may think that one view is similar to the other, this overlook gives you yet another perspective of Canyonlands.
Even if you already saw all the best viewpoints of Canyonlands indicated above, this one is definitely worth a quick visit as well! It only takes a few minutes.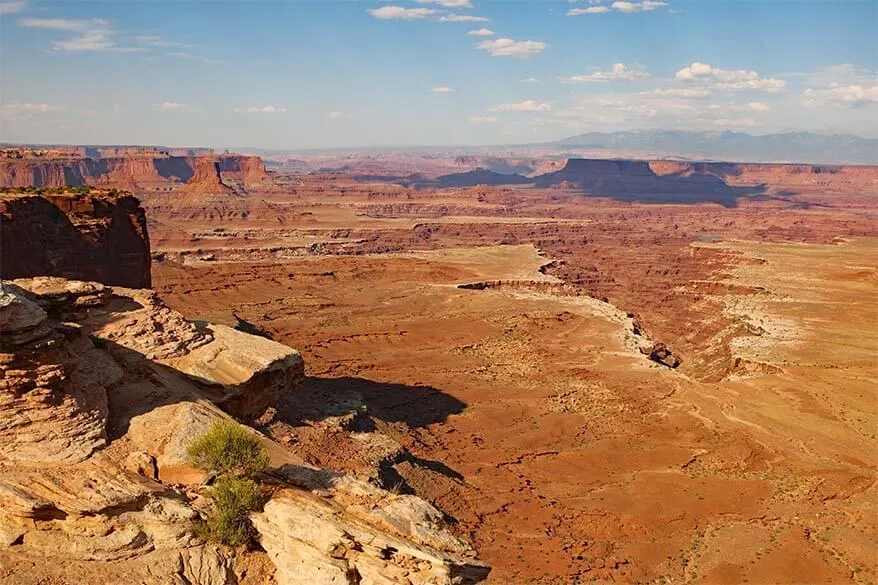 8. Upheaval Dome
Upheaval Dome is a very unique place to see in Canyonlands. The scenery here is very different from anything else you see in this National Park. This huge crater is peculiar and was – most likely – formed by a meteorite. The different shades of colors inside the crater are surreal!
There are two viewpoints overlooking the Upheaval Dome. They can be reached via the well-indicated hiking trail at the very end of the Upheaval Dome Road.
The first overlook is easy to reach and is 0.3 miles from the car parking; the second – another 0.5 miles further. However, the views from the second viewpoint are incomparably better. So make an extra effort to hike up there if you can. The hike is a bit steep at parts, but is quite short and takes about 1-1.5 hours in total for both overlooks.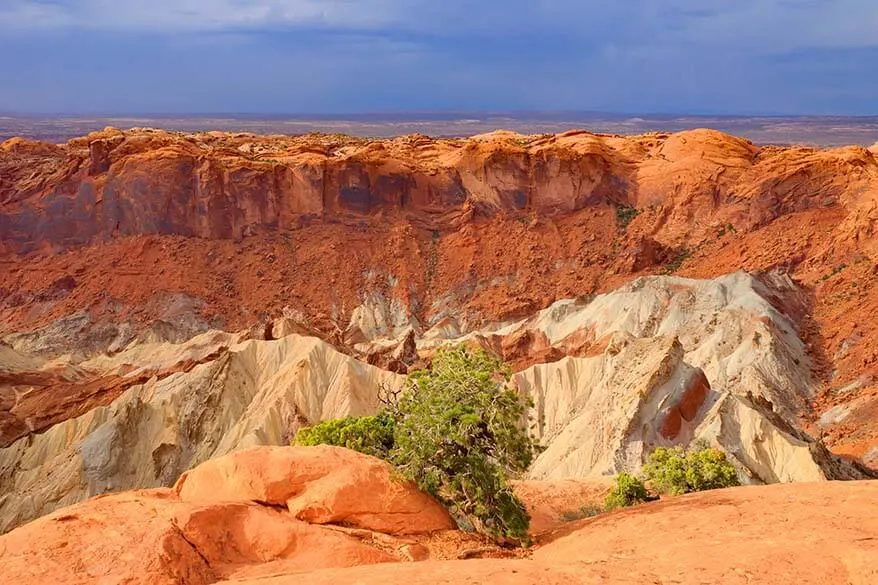 9. White Rim Overlook
White Rim Overlook is another short hike with rewarding views and a wide sweeping panorama at the end. It's an easy hike with little elevation change and less than 2 miles in total. It only takes about 1 hour to complete.
Somewhat similar in effort and duration as the earlier-mentioned Grand View Point Trail, this hike is less popular. It feels more like a hidden gem in the park. The reason why it's less busy here is simply because there is no grand viewpoint just at the car parking lot, so only the people who are actually prepared to hike a bit come here.
If you have an hour to spare in Canyonlands, definitely check it out!
It's difficult to say which hike is better – White Rim Overlook or the Grand View Point Trail. You can't go wrong with either! While the Grand View Point Trail offers somewhat better views, White Rim Overlook has extraordinary views as well, but without the crowds.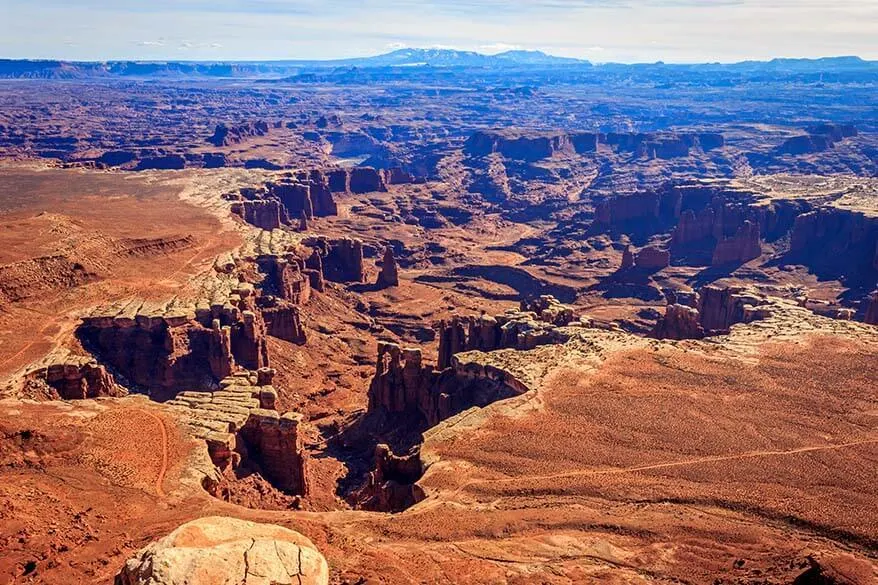 10. Aztec Butte
Aztec Butte is a dome-shaped butte and a more unique place to visit in the Canyonlands.
This is a short, but moderate hiking trail of 1.3 or 1.8 miles with an elevation change of about 250ft. It takes 1-1.5 hours. The hike involves some Slickrock scrambling and several steep exposed sections. There is practically no shade and it can get really hot here in summer.
Hiking here offers far open views of Trail Canyon and the Island in the Sky mesa. The loop around the top of Aztec Butte brings you to the ancient Puebloan granaries, tucked into alcoves beneath the butte. You can also take a spur trail that climbs a smaller dome where you can see another granary (storeroom for grains).
TIP: If the Aztec Butte hike looks too strenuous for you, you can also walk to Whale Rock. That's an easier hike where you also get to climb a Slickrock dome with nice views of the surrounding area. This hike is about a 1-mile round trip and takes about 40 minutes in total.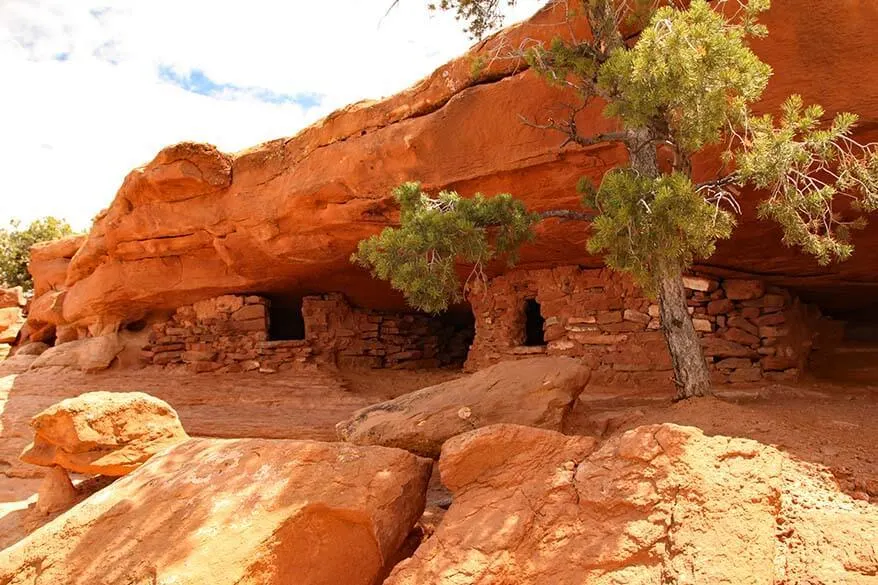 11. White Rim Road
White Rim Road is a scenic dirt road that loops around the Island in the Sky mesa. If you want to experience Canyonlands off the beaten path and visit places that are inaccessible otherwise, then driving this road might be something to consider.
The total loop is 100 miles and takes at least 2 days by a 4×4 vehicle and at least 3 days by mountain bike. That's why many people just drive sections of this road, such as the earlier-mentioned Shafer Trail.
Good to know: Driving this road requires a high clearance, a 4×4 vehicle, a motorbike, or a mountain bike, and lots of experience. For more information and permits, please check the official website of the National Park Service.
TIP: The easiest way to experience the White Rim Road without any worries or advance preparation is by joining this highly-rated day tour.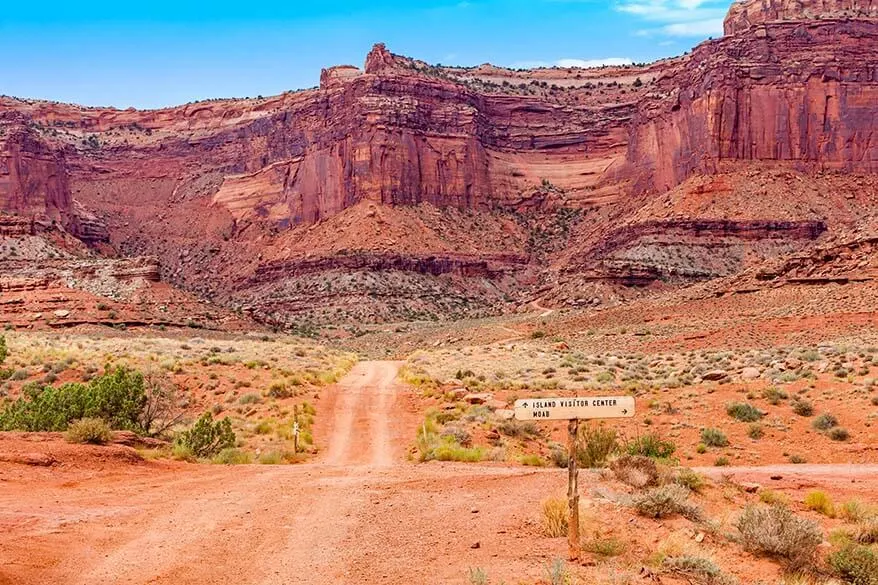 So, this is our overview of the very best things to do in Island in the Sky District of Canyonlands National Park. But don't rush away just yet! There is a really nice place just nearby that's worth a visit just as much as any of the places mentioned above. And it can easily be included in any Canyonlands itinerary. Read on!
Sunset at Dead Horse Point State Park
Dead Horse Point State Park is located just 14 miles (20 minutes drive) from the Island in the Sky Visitor Center. It's the most beautiful place to visit at sunset in the entire Moab area, so don't miss it!
We visited Dead Horse State Park at sunset and it's absolutely breathtaking! There are two main viewpoints here and you'll have difficulties choosing where to go.
Meander Overlook has stunning views of the big bend in the Colorado River that could be compared to the famous Horseshoe Bend in Arizona. Whereas the Dead Horse Point all the way at the end of the road, offers phenomenal views that would make the Grand Canyon jealous.
If you have the time, make sure to stop at both of these overlooks. And no matter which one you choose for sunset, it will be the best imaginable way to end your day at the Canyonlands!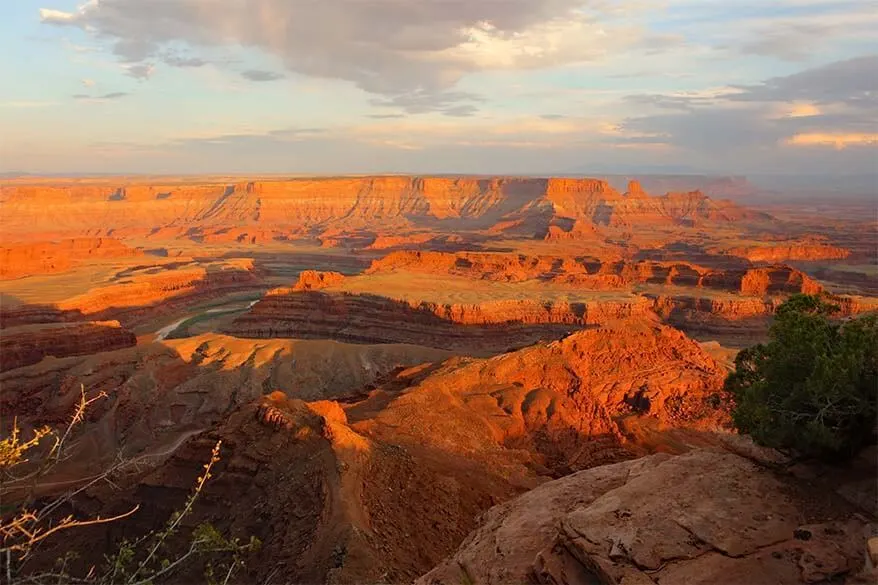 Tips for Visiting Canyonlands
Start early and stay late! If you can start your day in Canyonlands with sunrise at Mesa Arch and sunset at Dead Horse Point State Park, it will be the most unforgettable experience!
Pack food, snacks, and lots of drinking water, especially if visiting in summer. At least one large reusable water bottle per person is a must. If you are planning to go hiking, I would take some bottled water with you in a car so that you can refill your bottles when needed. Drinking water is only available at the Visitor Center and there are no restaurants or food stores in Canyonlands.
Fill up your car in Moab. There are no petrol stations in or near Canyonlands!
Sun protection is a must when visiting Canyonlands in summer.
You can visit Canyonlands NP any time of the year. For the most pleasant weather and lesser crowds, visit in spring or in the fall. In winter, it's not uncommon to find snow and temperatures around the freezing point, but most parts of the Island in the Sky remain accessible. Whereas in summer, it gets very hot. Temperatures of over 100°F (38°C) are common in July and August.
Recharge your batteries. If you are using your smartphone for photography, you'll want to recharge your phone during the day. We always carry a power bank and a few long fast-charging cables in our backpack. And we also have a car charger with multiple USB connections to charge all our electronic devices while driving. If you are using a camera, make sure to pack an extra battery as well. You'll want to take pictures everywhere!
It costs 30 USD to visit Canyonlands by car. TIP: Get National Parks Annual Pass if you are planning to visit more National Parks in the same year. It costs just 80 USD for the whole family and is valid for one year from the month of purchase. Alternatively, consider Southeast Utah Parks Pass that includes Arches, Canyonlands, and Natural Bridges and costs 55 USD. Dead Horse Point State Park requires a separate pass and is not included in any of the annual passes mentioned above. So you'll need to get a separate pass for it upon arrival at the entrance gate. It costs 20 USD per car.
Canyonlands Tours
If you find that planning a trip to Canyonlands National Park is a bit overwhelming or if you would like to experience some of the more remote areas of the park by 4×4, then you might also consider visiting with a tour. Most tours start and end in Moab, UT.
Since recently, there are also helicopter tours that fly over Canyonlands and also amazing airplane tours. It's not cheap, but if you are looking for a real bucket list experience, this is it! You get to see some of the most incredible scenery and some of the most remote areas that you'd never see otherwise. Check it out!
Both – GetYourGuide and Viator offer the best selection of available tours and excursions to the Canyonlands and the most flexible cancelation policies. For a complete overview, please take a look at our article featuring the best tours in this area below.
LEARN MORE: Best Tours & Day Trips from Moab
More travel inspiration and information for the Moab area:
You may also like the following guides for the Southwestern USA:
If you found this post useful, don't forget to bookmark it and share it with your friends. Are you on Pinterest? Pin these images!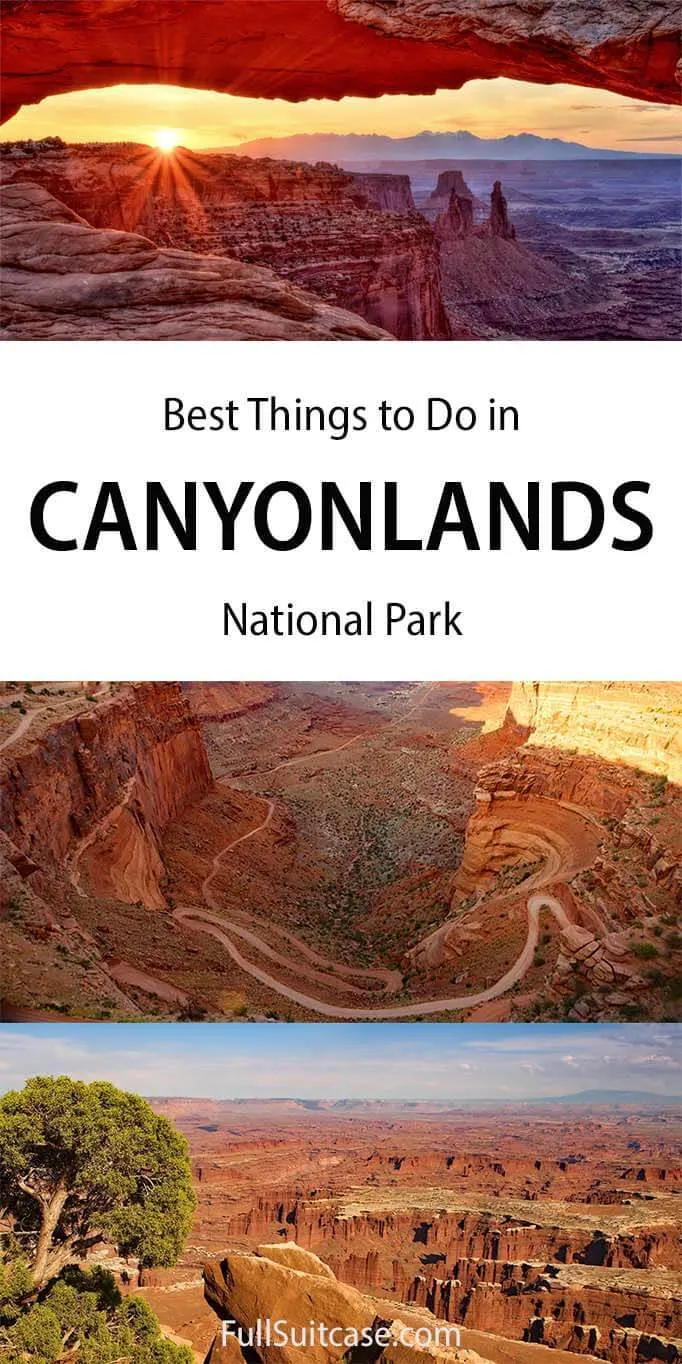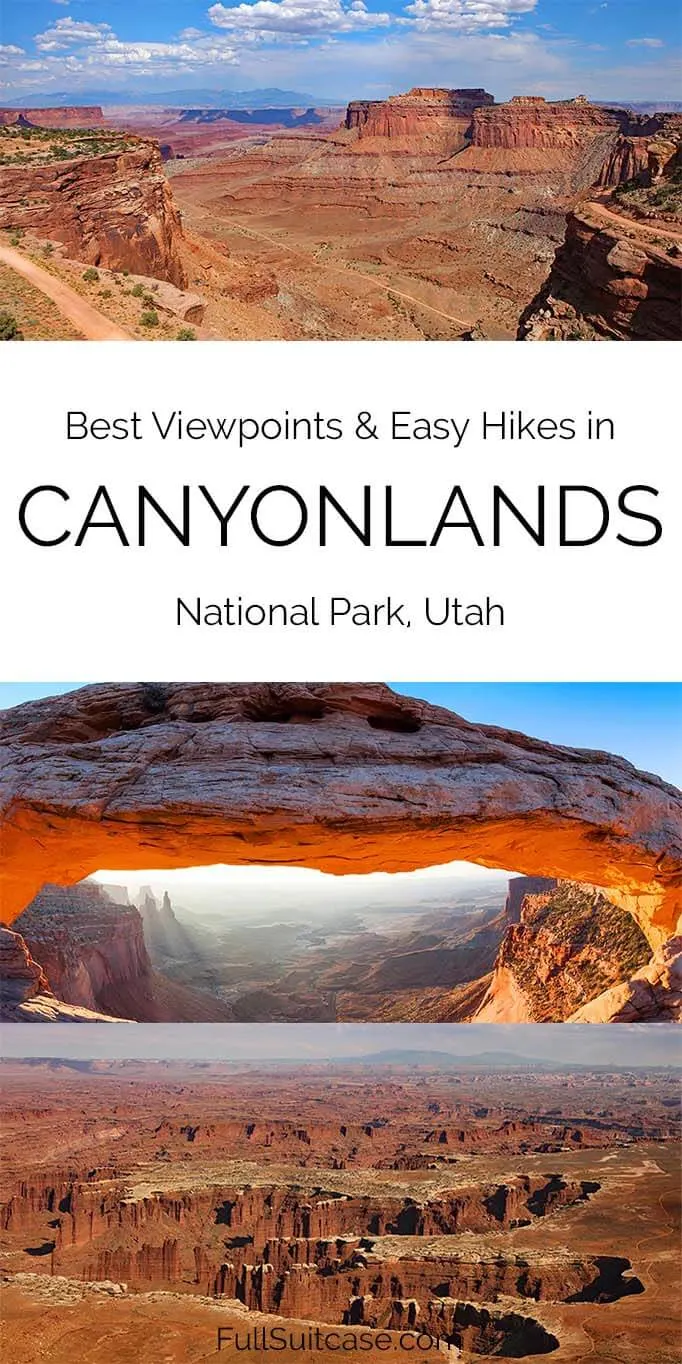 Images: Personal collection and Depositphotos.com