No trip to Los Angeles would be complete without visiting some of its famous film studios. But which one to choose – Universal Studios Hollywood or Warner Bros Studio Tour?
We recently visited both of LA's most famous film studios – Warner Bros and Universal Studios Hollywood. In this guide, we compare the two giving you a good overview of the main things you can see and do at each place and what the main differences are.
That way, you know what to expect and can choose the one that looks the most interesting to you, or the one that best fits your LA itinerary.
Spoiler alert: Visiting Universal Studios or Warner Bros are two totally different experiences. So if you have time, we highly recommend you do both. You can even get a combination ticket for both studios.
But if you have to pick just one, there are quite a few things you may want to know before deciding which one to visit. There are big differences in price, but also in what you get to see, how much time you need, etc. Find out!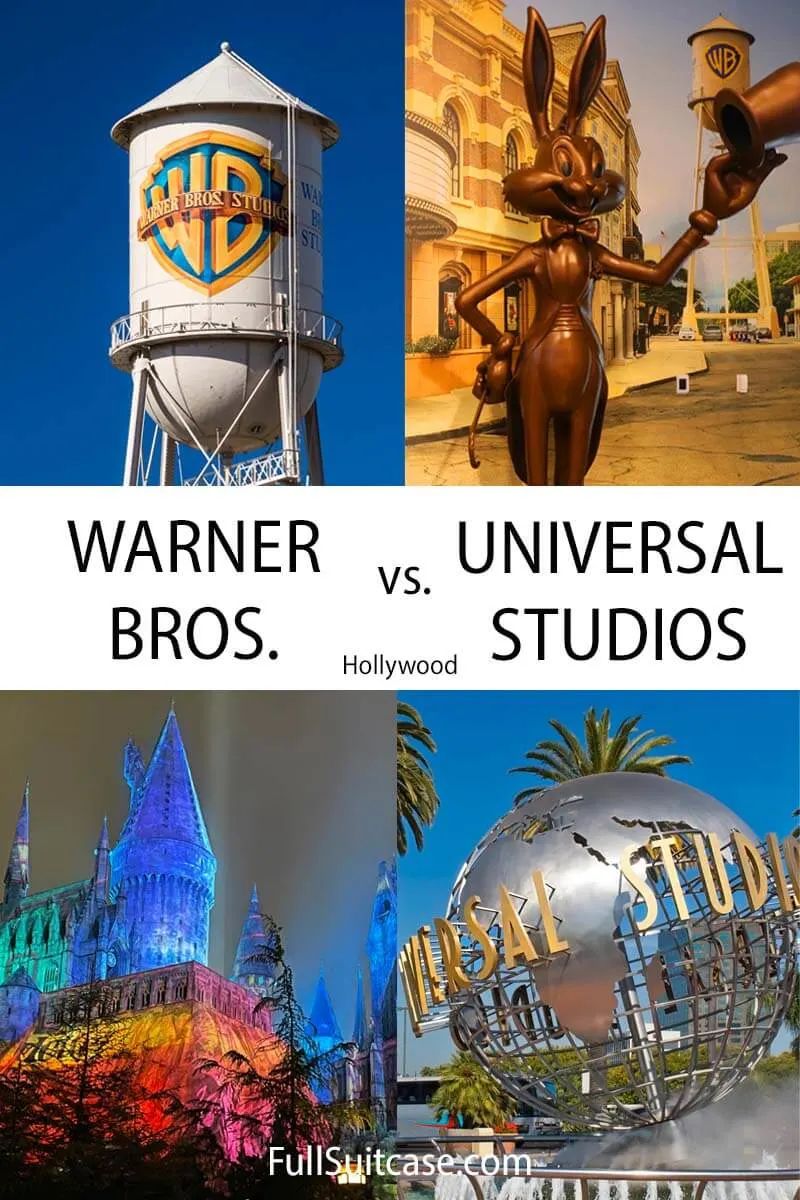 Tickets & Prices
Let's start with one of the biggest deciding factors on which place to visit – the ticket prices of the Warner Bros Studio Tour vs Universal Studios in LA.
Good to know: Visiting Warner Bros Studios is significantly cheaper (further below, you will learn why there is such as big difference in price).
At the moment of writing, a regular ticket for Warner Bros. Studio Tour Hollywood costs $69. Whereas the prices of Universal Studios Hollywood tickets vary per day and per season. Even on the cheapest dates, a regular ticket here costs almost twice the price compared to Warner Bros.
Also, at Universal Studios, you can upgrade to an 'Express' ticket or even opt for a VIP experience, which is obviously, a lot more expensive.
Parking: Parking at Warner Bros Studios costs $15 and it's located just at the entrance. Parking at Universal Studios costs $30-60 per day depending on how close to the entrance you park. In most cases, you'll have to walk about 5-10 minutes to the entrance.
For families: Warner Bros has small discounts for children between 5 and 10 years old (children under the age of 5 are not allowed on their studio tours!). At Universal Studios, infants can visit for free, and kids between 3 and 9 get a small discount. In both cases, discounts for children are just a few dollars.
TIP: Both – Warner Bros and Universal Studios Hollywood – are among the most popular things to do in Los Angeles. To save time and money, book your tickets in advance! That way, you just walk straight to the entrance and can skip the lines at the ticket desk (or have to wait for hours for the next available tour). Also, if you can, visit Universal Studios on a weekday and ideally outside of the school holidays.
Good to know: You can book tickets for both studios on various websites and the prices are normally the same everywhere. We booked all our tickets via GetYourGuide and recommend them for several reasons. First, the booking process is simple and takes just a few clicks. Second, you pay the price that you see, so there are no extra sales taxes or other costs added at check out. And finally, they normally offer free cancelation up to 24 hours before your visit, so it's very simple to cancel or amend your visit times if you have to.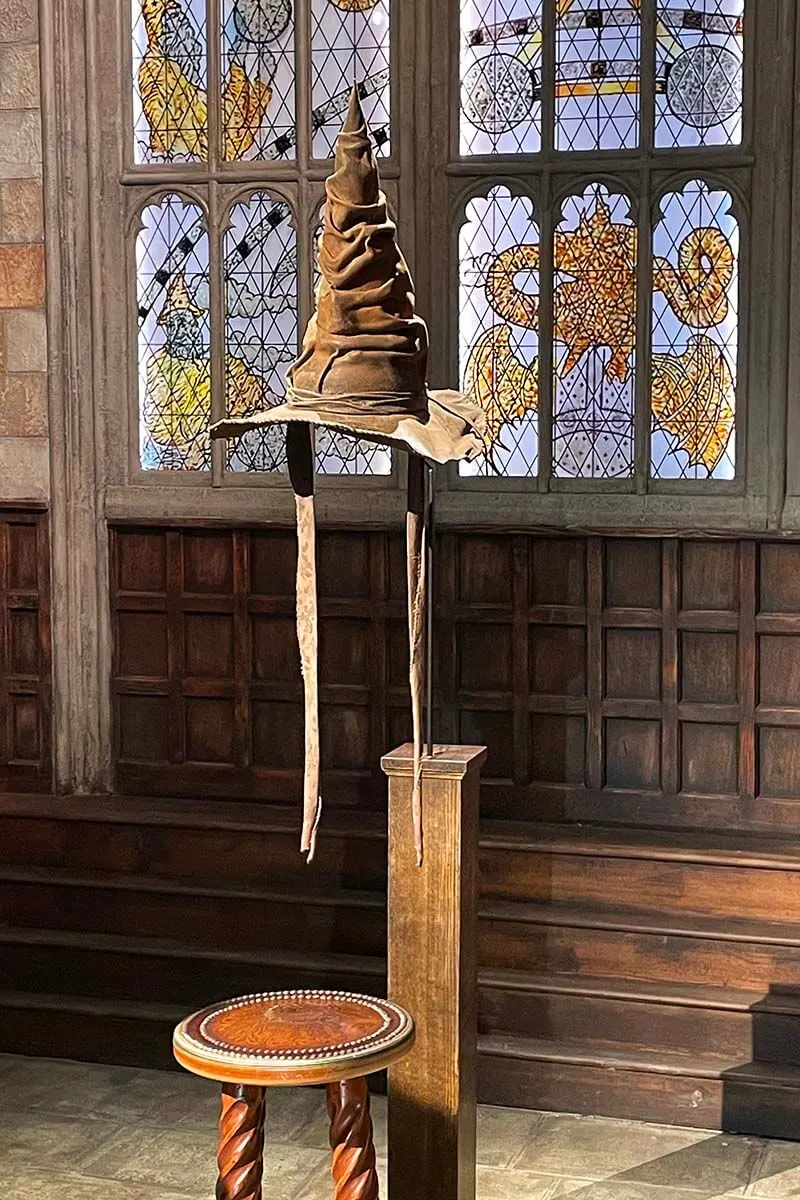 What to Expect & How Much Time Do You Need
Both – Universal Studios Hollywood and Warner Brothers Studios in Los Angeles – are working film studios. In both cases, you can see some film sets and the actual studios where movies are being made. However, that's also pretty much where the similarity ends.
Universal Studios Hollywood is first and foremost a theme park where a studio tour is just one of the many activities on offer. Whereas Warner Bros Studios are exclusively movie studios, so everything you see and do here is focused around their film sets.
Further below, you can read more about each place and what exactly you can see and do there. But first, some practical information about how much time you need at each place.
Universal Studios Hollywood ticket is valid for the whole day, and indeed, you can easily spend an entire day here. The studio tour itself takes just 1 hour. The rest of the time is spent on various rollercoaster rides and some shows.
Unless you upgrade to an 'Express' ticket or opt for a VIP experience, a visit here includes lots of queuing (just like any other theme park, really).
Whereas Warner Bros Studio Tour takes only around 3 hours, and the tickets can be booked for various time slots throughout the day. You start with a guided tour of the studios which takes about 1 hour. You then spend about 1 hour at some of their most famous film/sitcom sets and the rest of the time exploring costumes and vehicles from famous movies, plus various Harry Potter-themed experiences.
If you rush through everything, you could probably visit in about 2 hours. And if you take it easy, you can spend a bit more time. All in all, you should plan 2.5 to 3.5 hours for a visit to Warner Bros Studios.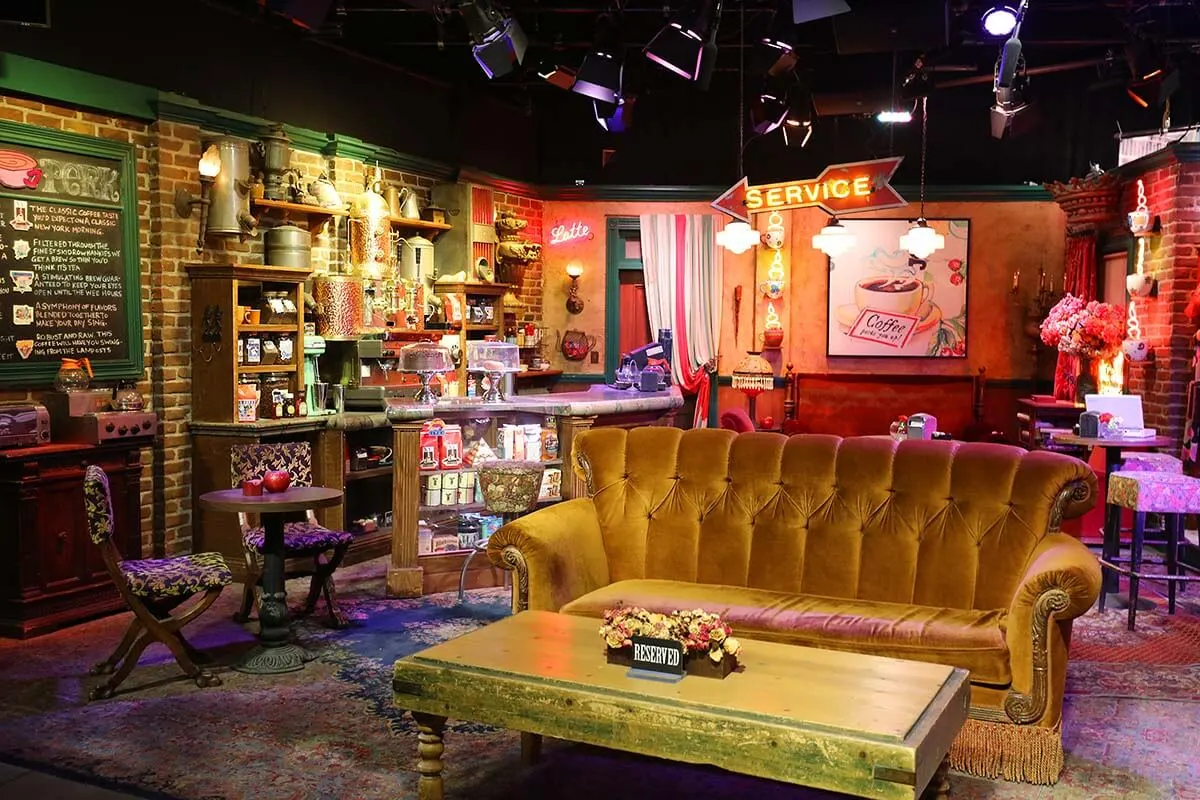 Crowds
While both studios are very popular, it feels significantly busier at Universal Studios than at Warner Bros. This has several reasons.
Universal Studios Hollywood is a huge theme park, so there are simply many more people who can visit the park at any given time. Also, most people spend the entire day here and try to do as many of the most popular attractions as possible.
Wait times at the most popular rides during the peak hours of the day can often exceed 1 hour. If you want to avoid this, try to visit on weekdays in the low season, or upgrade your tickets that allow skipping the lines (you can see the prices for both – regular and express tickets when you choose your travel dates).
Whereas at Warner Bros Studios, the visits are timed, and they all start with an introductory film and a 1-hour guided tour of the film studios. This part is where you go with a guide and the number of seats in a vehicle is limited. When you book your ticket, you choose a specific time slot, so there is hardly any wait involved.
Once the guided tour is finished, you do the rest at your own pace. You may have to wait a few minutes to take pictures of yourself sitting on the 'Friends' couch or similar, but it's not comparable to the wait times at Universal Studios.
Our experience: We visited both – Warner Bros Studios and Universal Studios Hollywood during the peak holiday season right after New Year. While it was crazy busy at Universal Studios, it was rather quiet at Warner Bros Studios. The longest wait at Warner Bros was to order lunch at their cafe, and it was literally less than 5 minutes.
Whereas at Universal Studios, we were glad to find an attraction or a restaurant where we 'only' had to queue for half an hour. Many popular rides had waiting times of 40-60 minutes, and some even required to make timed reservations for the queue via their app.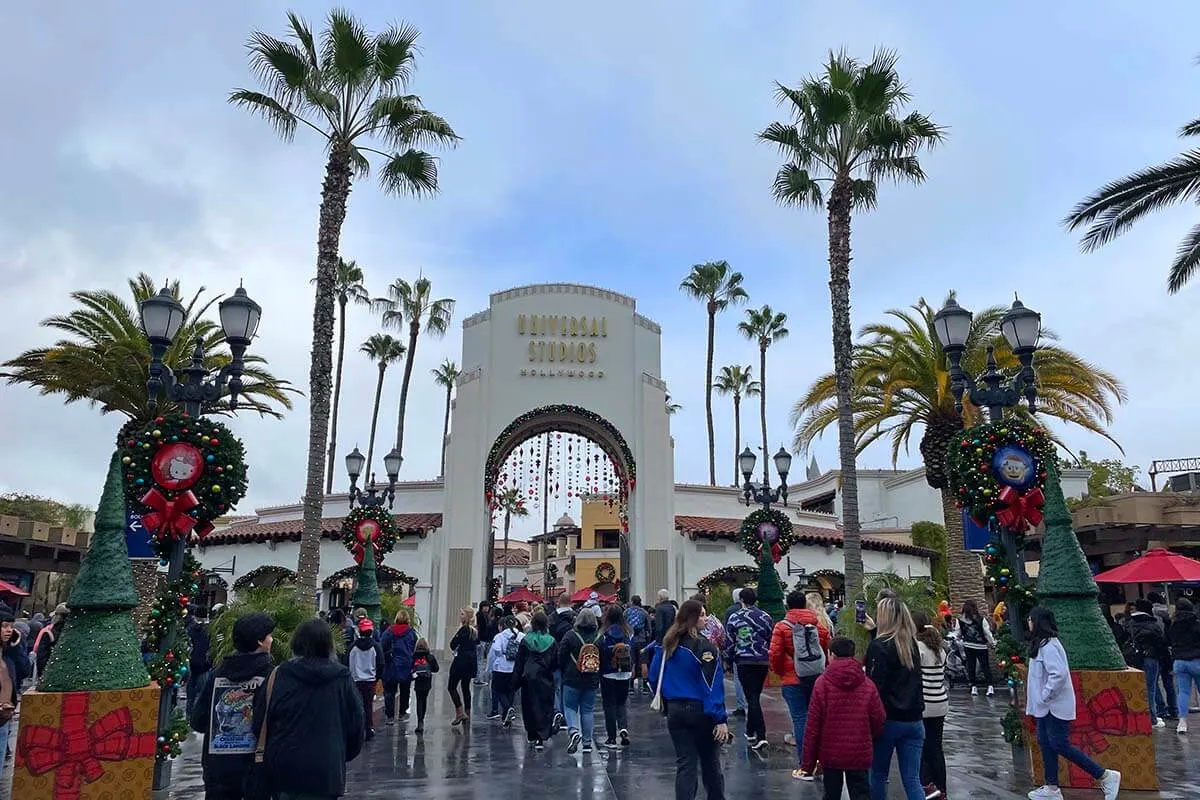 Shopping & Dining
Both studios have a few dining options and both have gift shops where you can find all kinds of movie-themed souvenirs.
Universal Studios are much bigger, so you will find countless restaurants, cafes, and food stands. They also have souvenir shops at each attraction and pretty much all around you.
Warner Bros. has a cafe at the entrance and also a small restaurant at the studio where you stop for a self-guided tour of 'Friends' and other film sets.
Good to know: Souvenir and food prices at Warner Bros Studios are significantly lower than at Universal Studios. Just to give you an idea. Our kids wanted to buy Harry Potter wands. They were about 30-40% cheaper at Warner Bros than at Universal Studios (and yet quite a lot cheaper on Amazon – often a small fraction of the price we paid at the studios).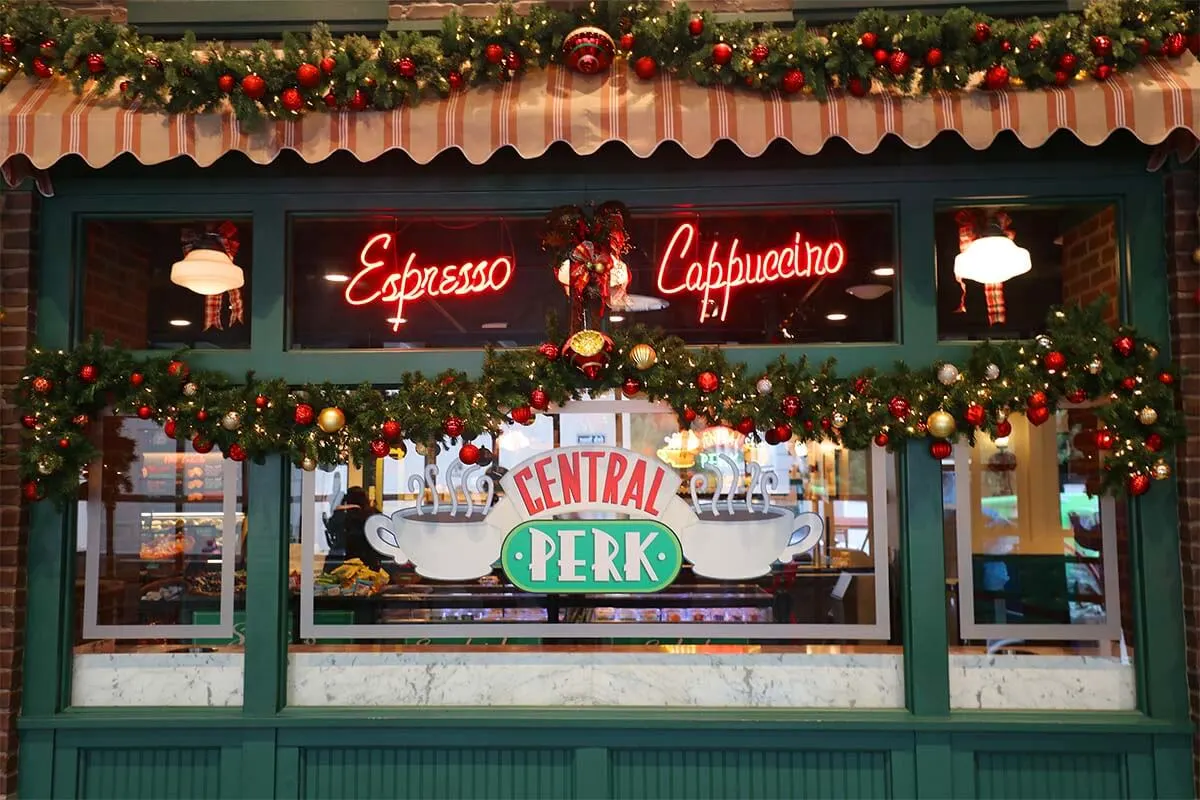 What to See & Do at Universal Studios Hollywood
Universal Studios Hollywood is a theme park/film studio. As a visitor, you spend most of your time at the theme park which seems to get bigger and bigger every year.
In the past, the whole experience was much more focused on film studios and shows, whereas now there are more and more rides and attractions. Just recently, they discontinued a few of their film-themed shows and are planning to build yet another rollercoaster on that location…
Still, the main reason to visit Universal Studios Hollywood is their world-famous studio tour. It's something unique to Hollywood and is not available in any other Universal Studios theme parks in the U.S.
This studio tour takes about 1 hour and brings you to the actual film studios. On a standard studio tour, you remain seated inside an open-air bus and drive through various film sets and even studios, but you don't step out of the vehicle at all.
On this tour, you pass several iconic movie sets from War of the Worlds, Jaws, or Psycho (Bates Motel). In addition, you 'take part' in some exhilarating high-speed chases, 3D experiences, etc.
You can find more information about this online, but I recommend that you just go and experience it for yourself. It's much better and more surprising that way.
Good to know: If you want to explore the studios deeper, you can only do it with a VIP ticket. Among many other perks, it includes a visit to the Universal Backlot which is not open to the general public.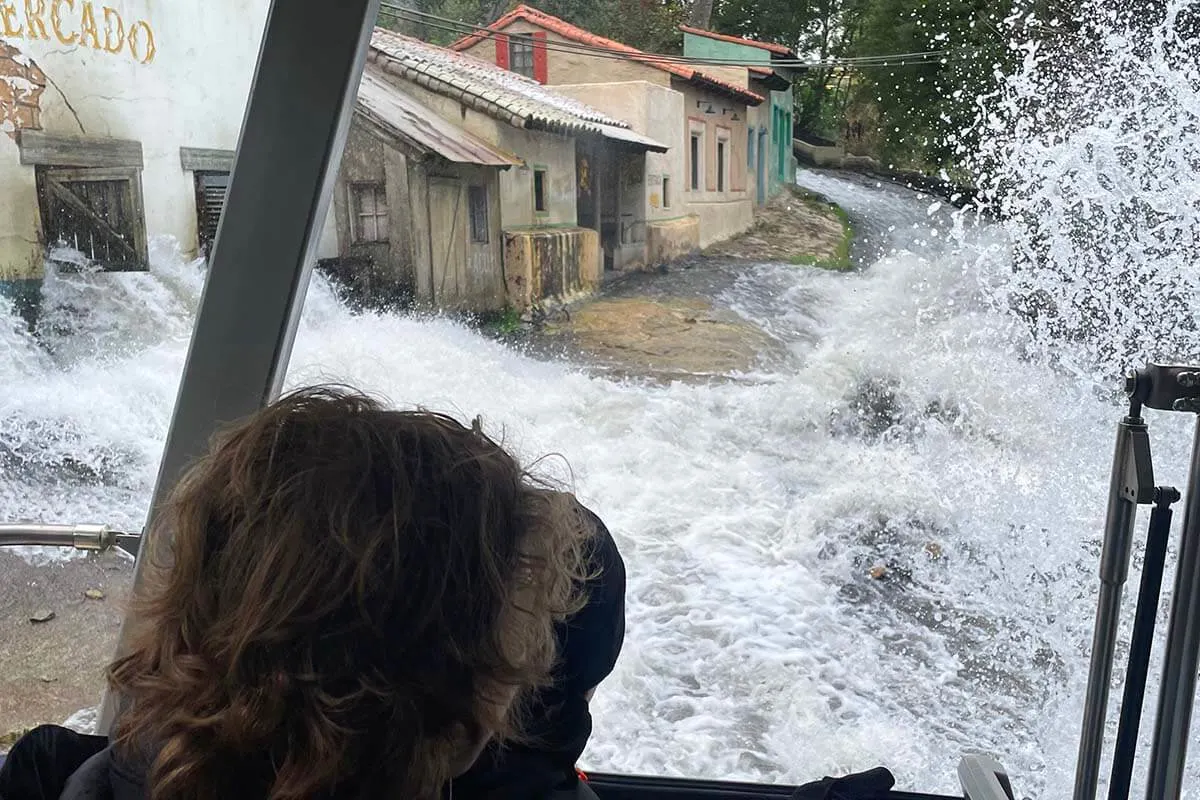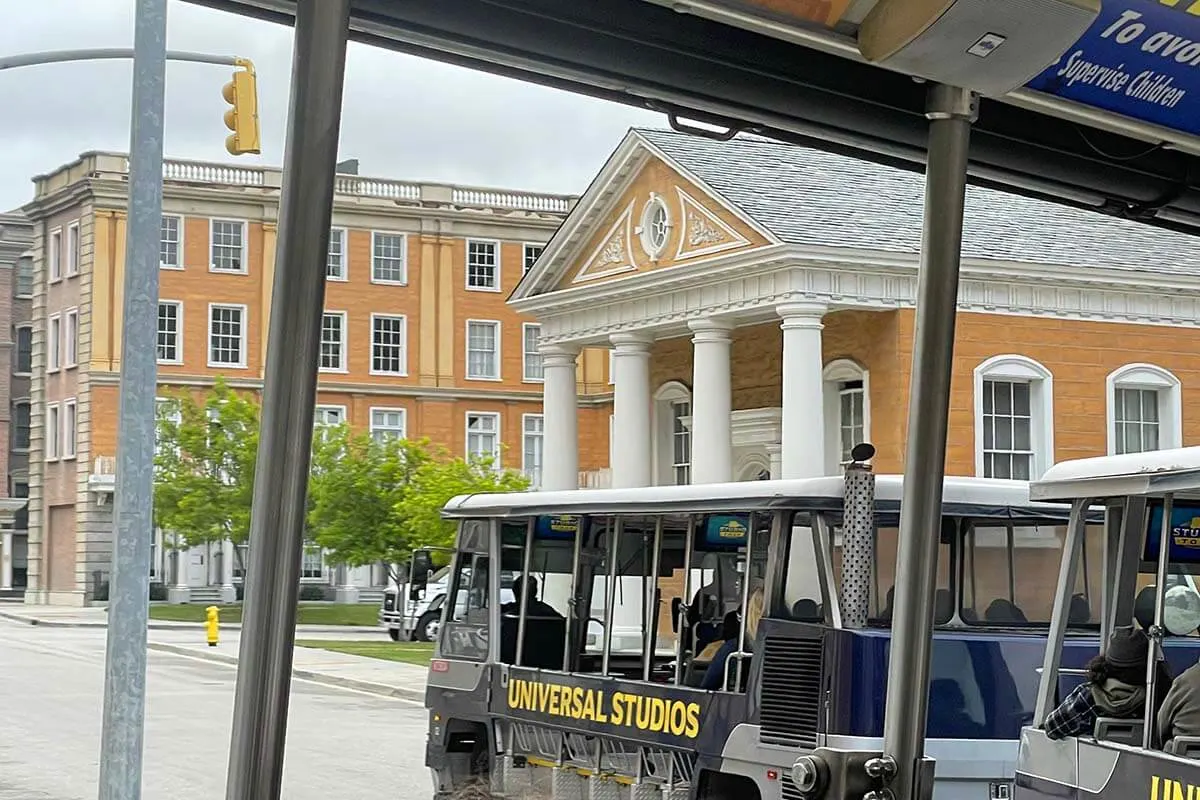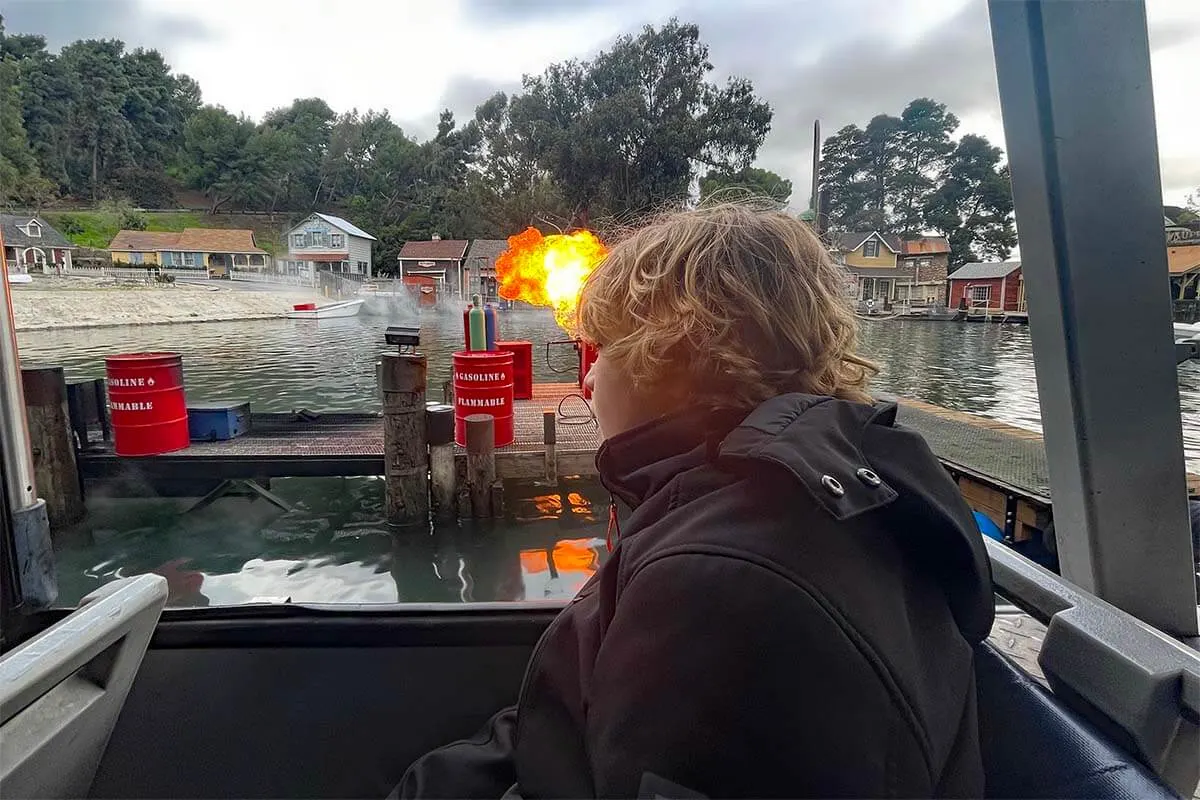 Further, be sure to also see the WaterWorld show. The movie was a total flop, but the show is really good. It's been the most popular show at Universal Studios Hollywood for decades. Oh, and prepare to get very wet (even in a so-called no-splash zone).
Other attractions that are probably worth your time the most include The Simpsons Ride and the Wizarding World of Harry Potter. The best ride here is Harry Potter and the Forbidden Journey, but also the Flight of the Hippogriff can be fun if you like rollercoasters.
Some of the 'wildest' rides are located on the lower lot of the studios. We highly recommend Transformers: The Ride-3D experience, the Jurassic World Ride, and the Revenge of the Mummy Ride. And the most recent addition – Super Nintendo World – is fun too.
With younger kids, concentrate on the upper loft and don't miss The Secret Life of Pets, Despicable Me Minion Mayhem, and Super Silly Fun Land.
TIP: Check if there are any shows or extra activities on the day when you visit. When we were there, they had a wonderful light show at Hogwarts Castle.
READ ALSO: Tips for Your First Visit to Univeral Studios Hollywood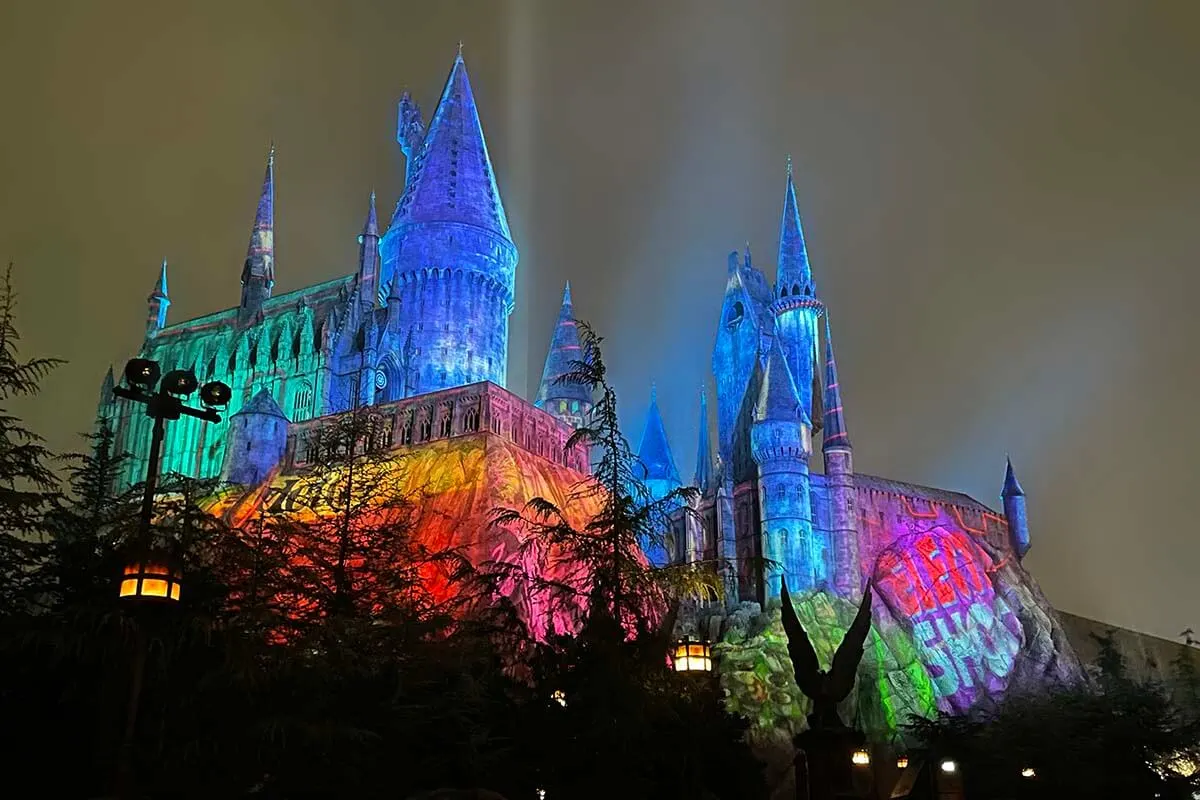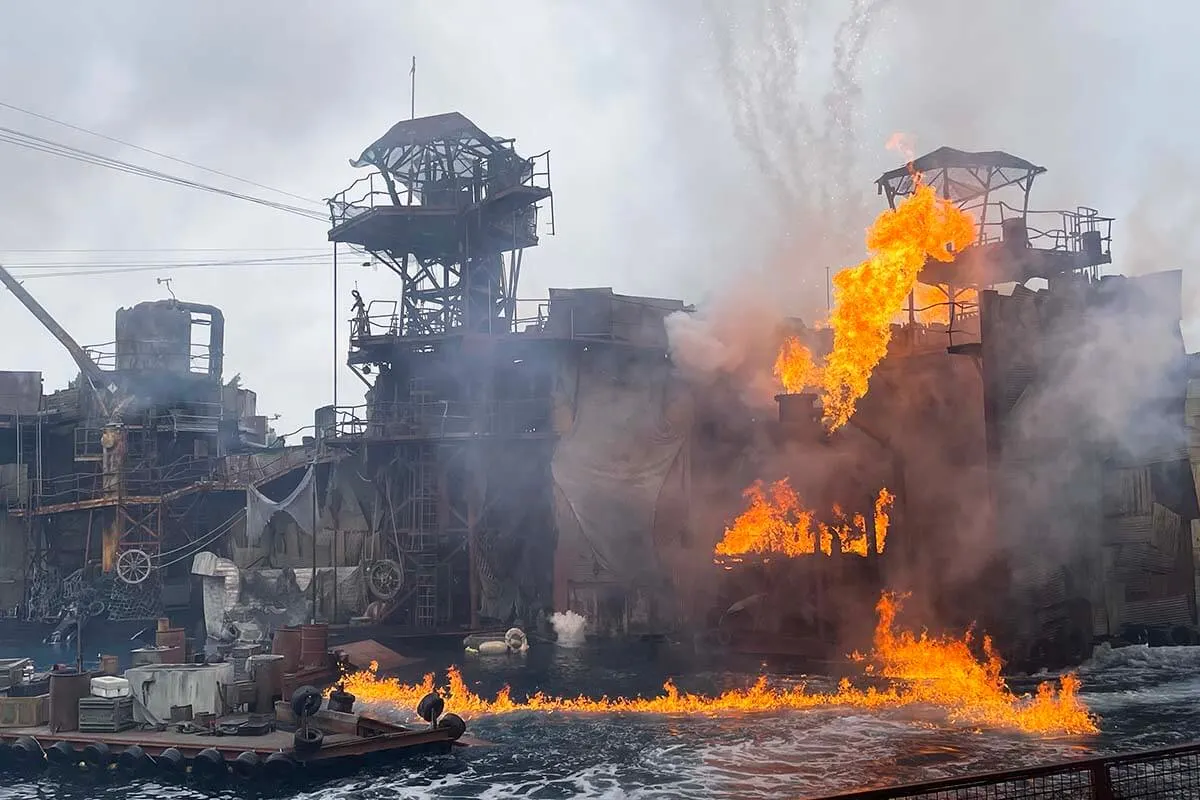 What to See & Do at Warner Bros. Studios Hollywood
Warner Bros. Studios Hollywood are the actual studios where movies are being made. While at Universal Studios, you mostly drive through the old film sets that are not used anymore, here, you drive through a working studio and might even spot a famous actor.
Plus, you also get out of the vehicle and walk around some movie sets and might even be able to visit an actual studio (an empty one).
They have several tour options available. The Studio Tour is the most popular option that most people do. This is also what we did and what is described below. If you are more interested in the Hollywood classics from the 1900-1970s, you may want to opt for their 'Golden Age of Hollywood' tour instead.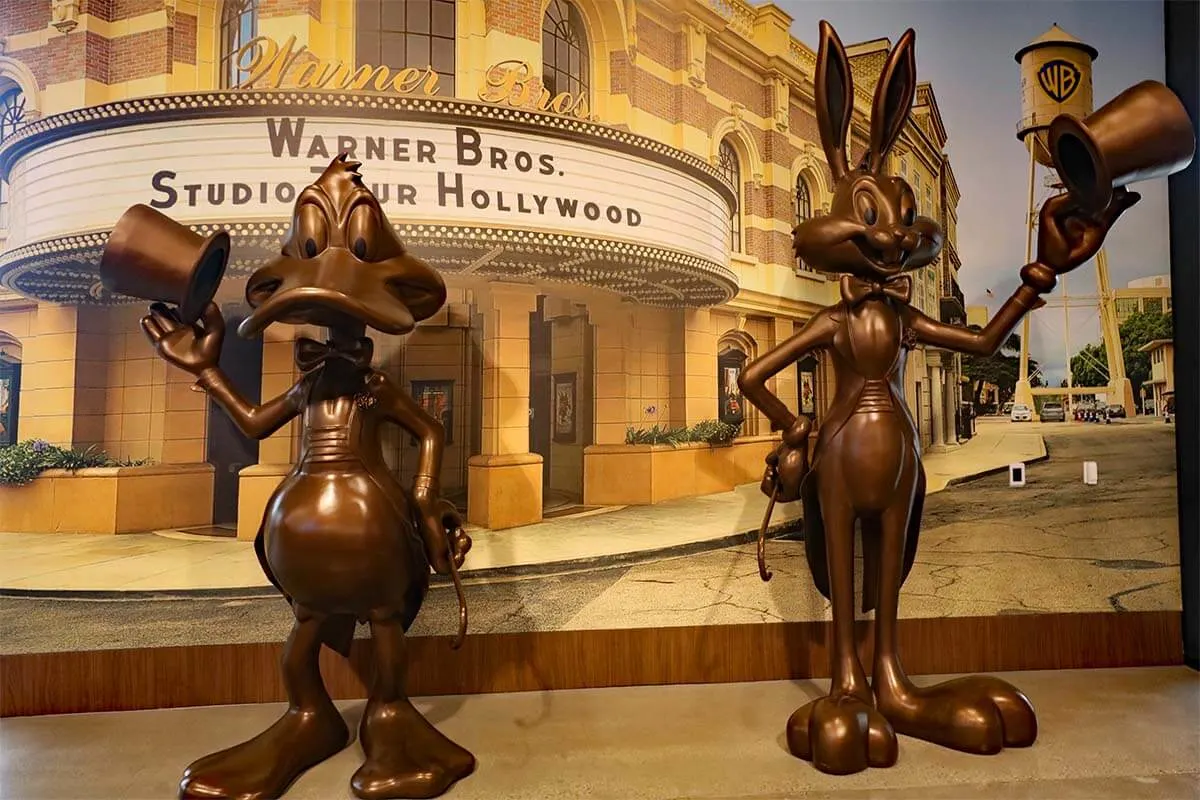 As said, the Warner Brothers studio tour is the most popular option and the one we did. So in this article, we focus on that.
This tour is divided into three parts, out of which only the first one is guided. After a short introduction, a guide will take you to the film studios. This takes about 1 hour.
Our tour involved a short walk through a 'New York City street' where we could also enter one of the buildings. We then also visited one of the stages inside. Usually, tours also stop at the famous Friends couch at the fountain in a tiny patch of greenery that serves as NYC's Central Park… Ours didn't because of the torrential downpour at that moment (yes, it does rain in LA (like once a year :)).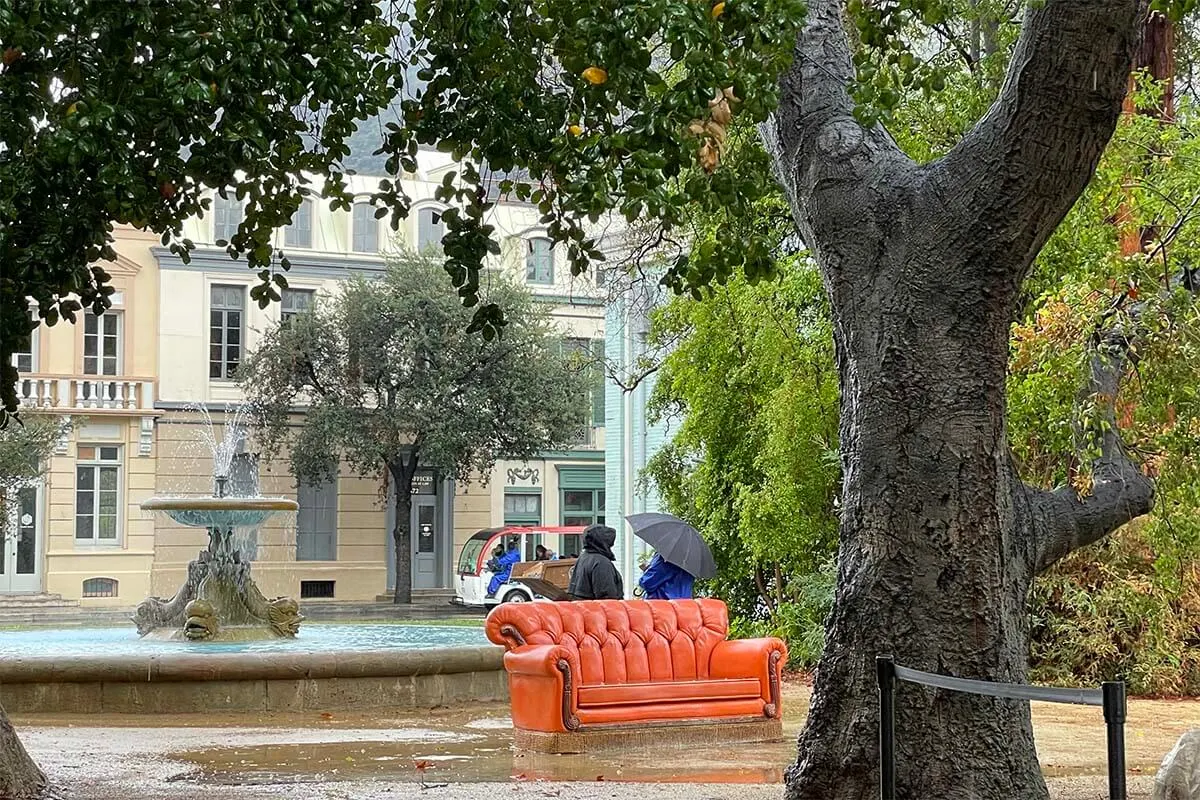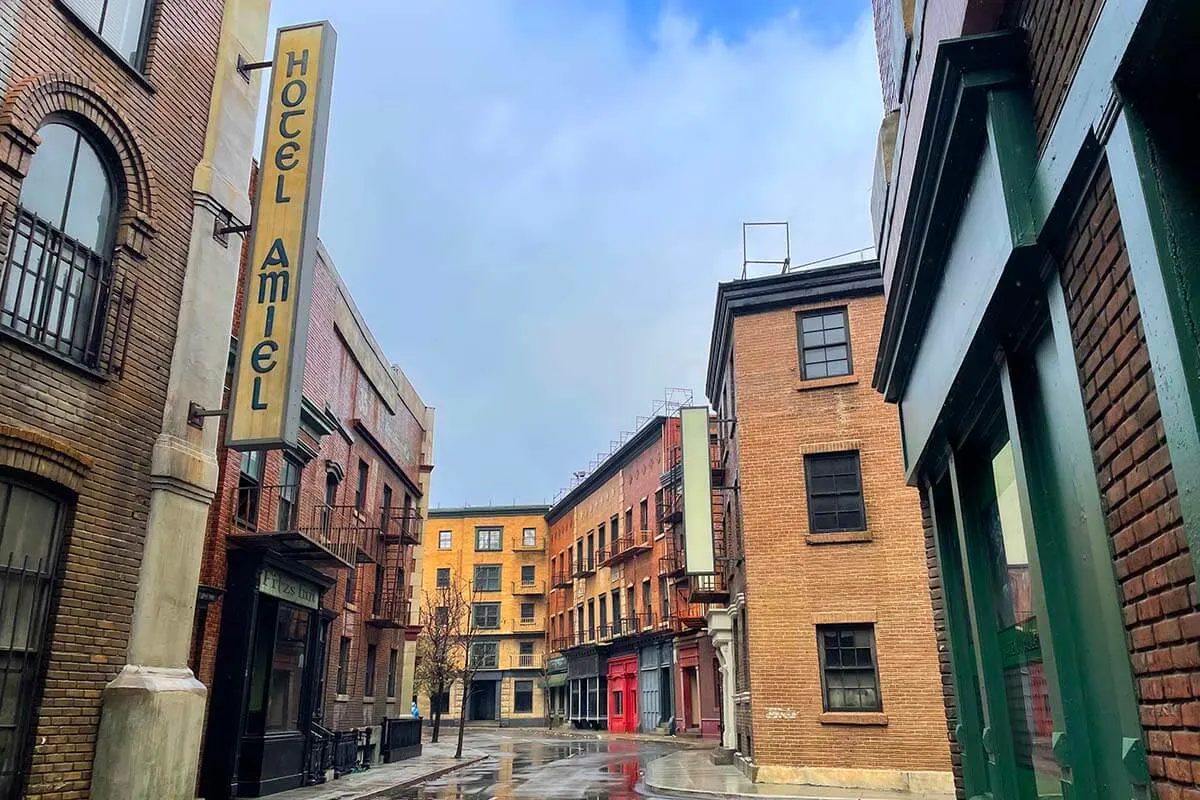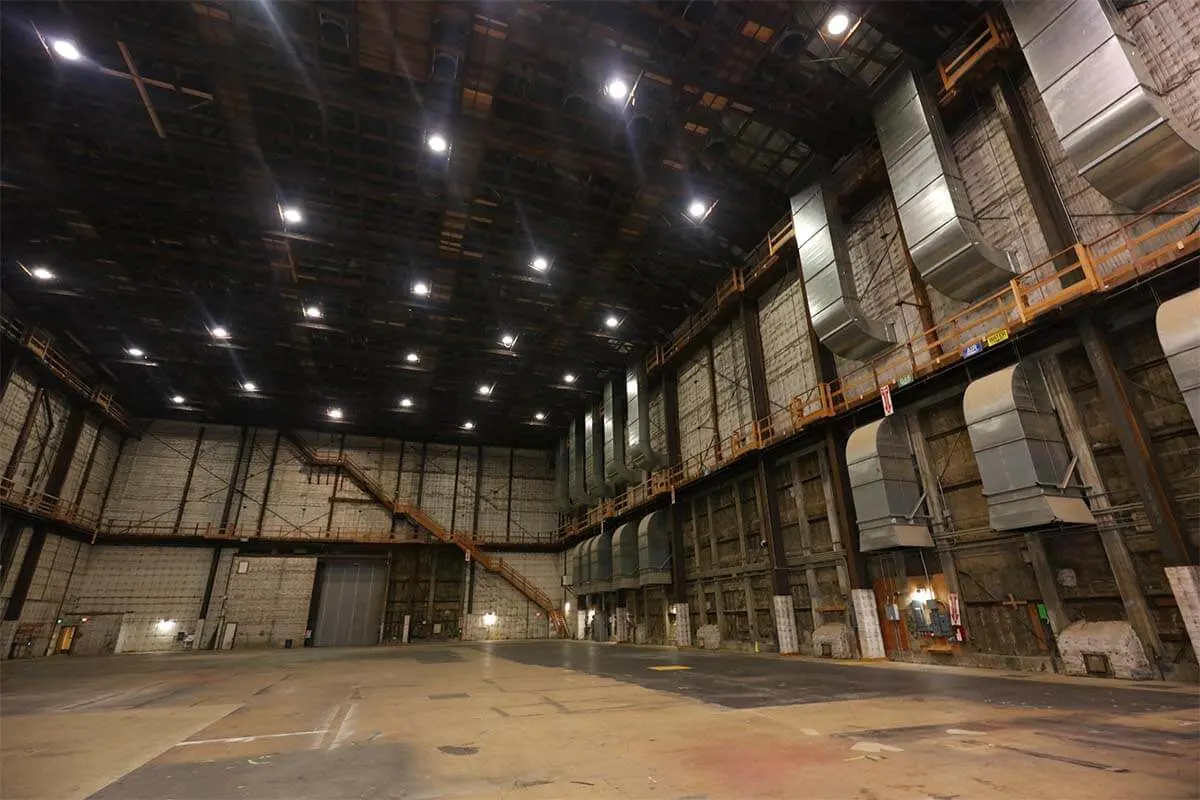 The second part of the tour is self-guided. You visit the studios with the reconstructions of the original film sets from 'Friends', 'The Big Bang Theory', and others. You can also see costumes from movies, design your own Batmobile, or fly on the Harry Potter broomstick.
This studio is now purely used for tourists and you can take as many pictures as you like. They also have a professional photographer to take pictures of your group (and you can purchase them if you like).
There is also a 'Friends'-themed gift shop and Central Perk café where you can get some small snacks or have lunch. You can even have your coffee or lunch inside Monica's kitchen or on the Friends' couch if you like.
This part of the tour can take as long or as short as you like, but you should probably count about an hour for a relaxed visit. We spent 1.5 hours here including lunch.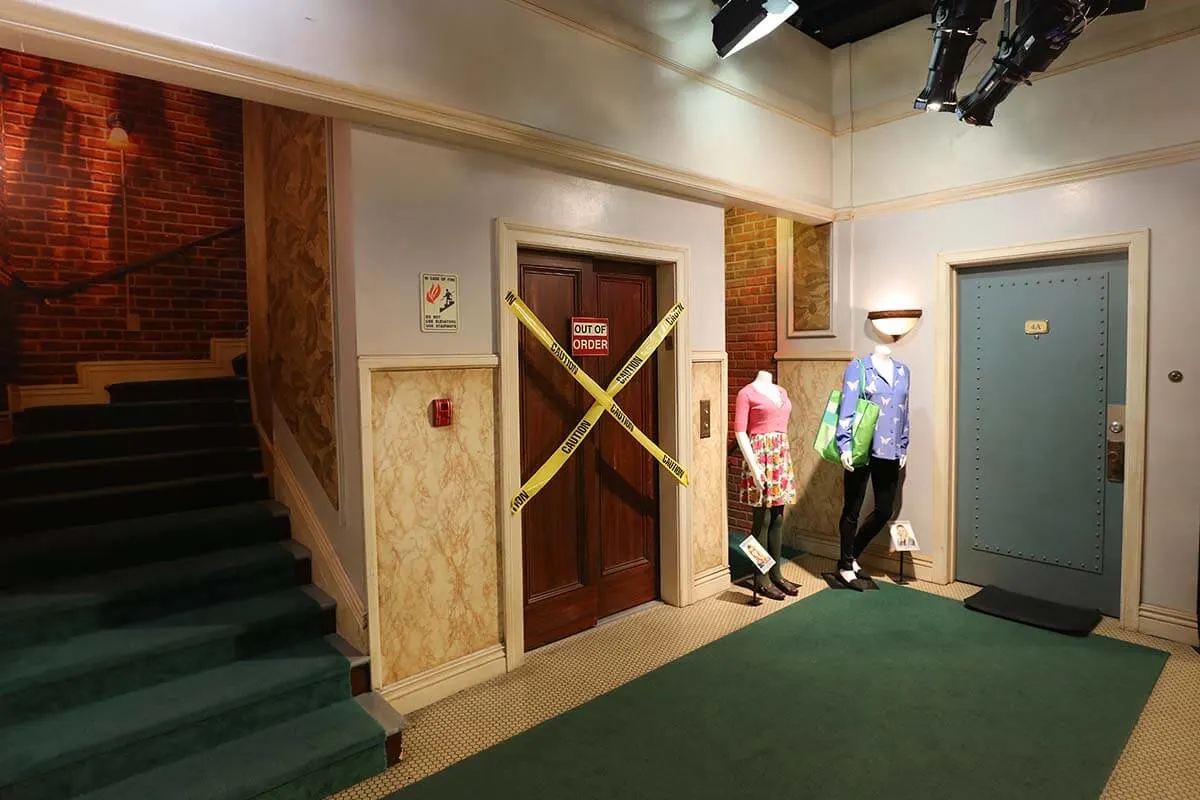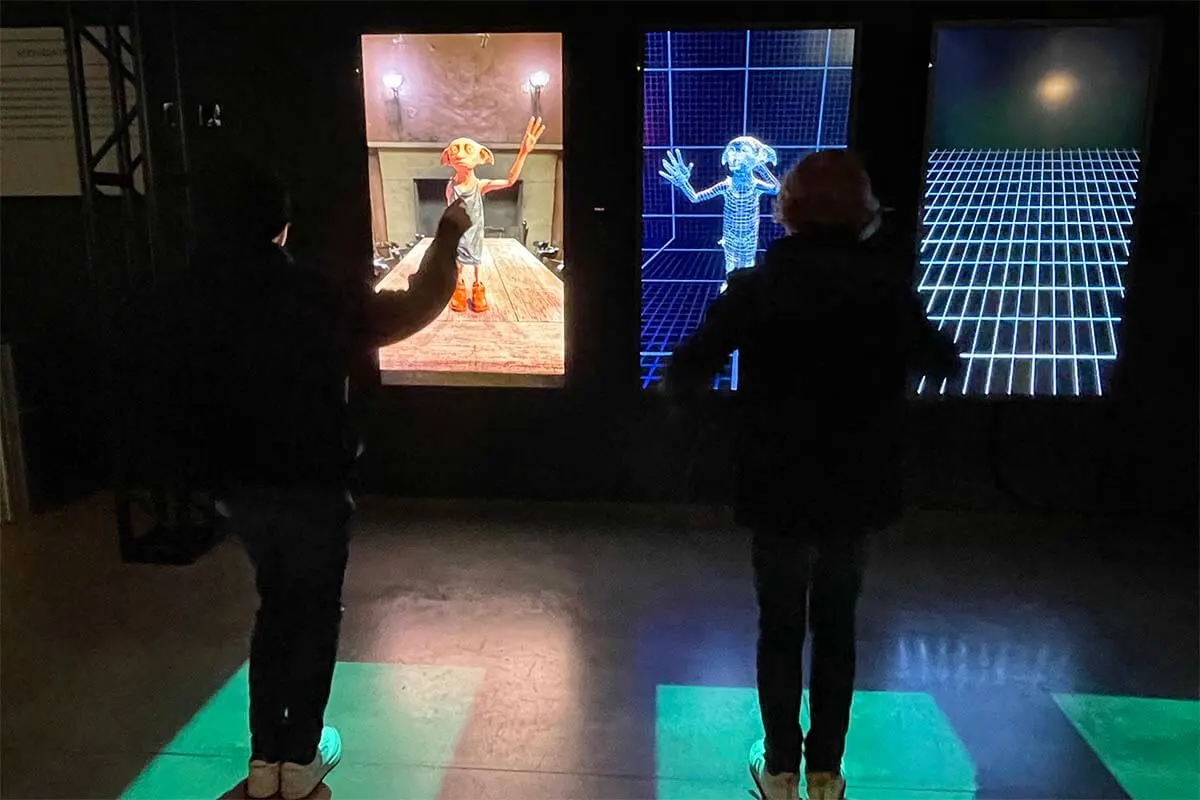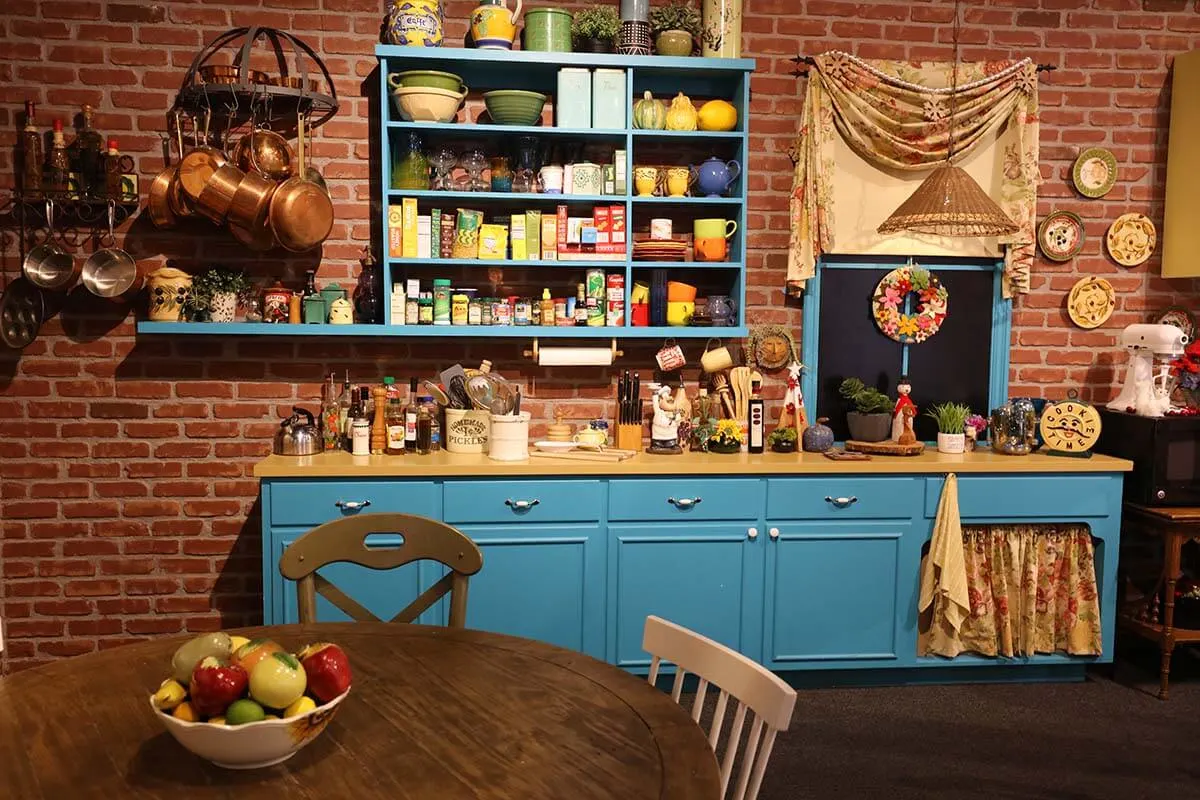 The last part of the tour is also self-guided and you'll probably need about half an hour here. It's a bit like a museum where you can see various costumes and vehicles from Warner Bros. Studios' blockbuster movies.
They also have a big section dedicated to Harry Potter films. You can see his tiny bedroom under the stairs, make a magic potion, or sit under the Sorting Hat. You'll also find attributes from the Fantastic Beasts movies, and so much more.
Just before you leave, you also get to hold a real Oscar statuette and take a picture with it if you like.
At the exit, you'll find a big gift store where you can buy all kinds of WB movie-themed souvenirs. There is a Starbucks café here as well.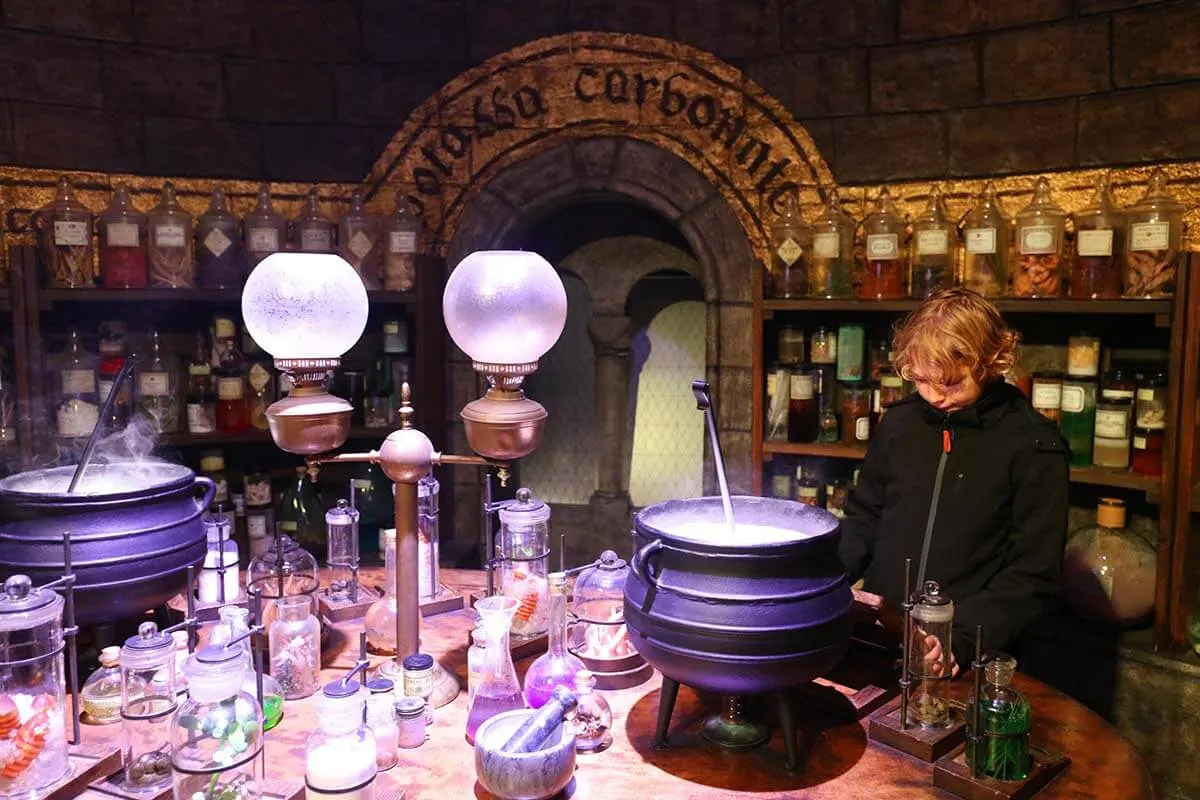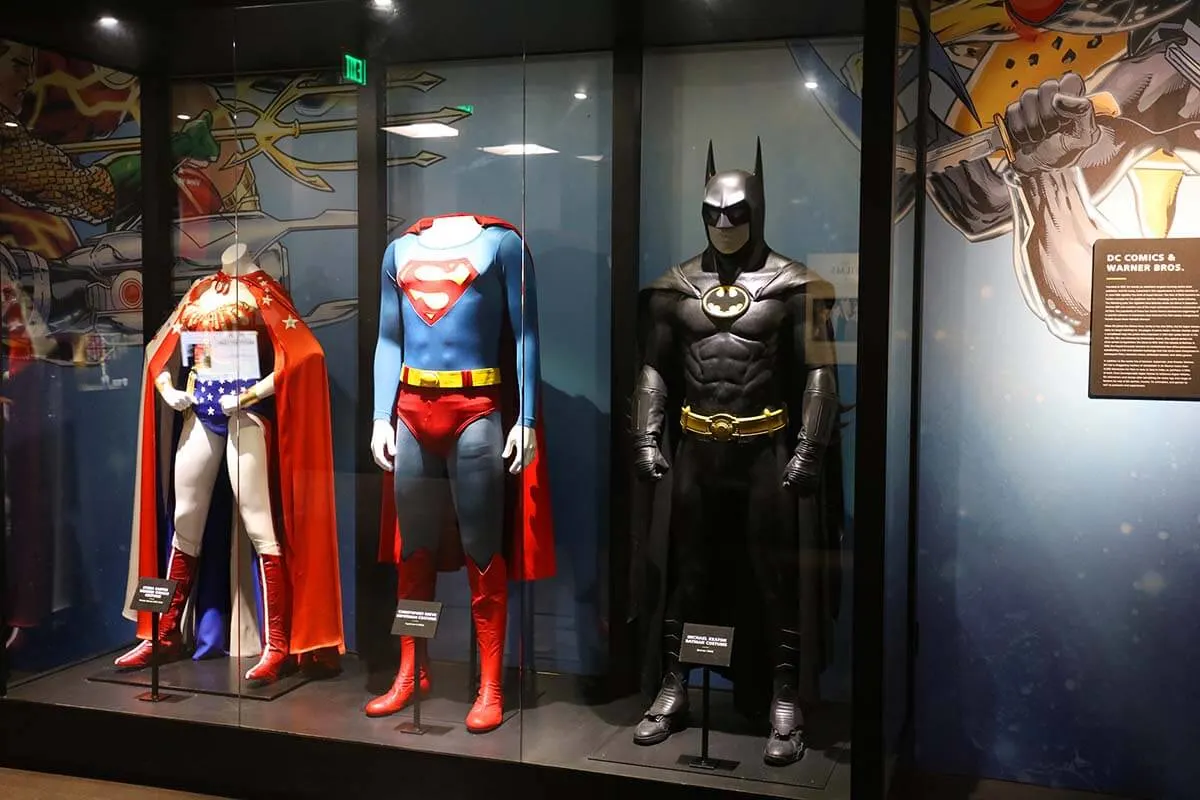 Which Hollywood Studios are Better Suited for Families
Quite frankly, younger kids will not be able to appreciate (or have the patience) for the Warner Brothers Studio tour. In addition, as already mentioned before, children under the age of 5 are not even allowed at Warner Bros.
Universal Studios Hollywood is definitely a better option for families with younger children since there is so much to do for all ages. That being said, there are quite a few rides where small kids are not allowed. Some rides offer a 'child switch' room where one adult can wait with the kids until the other one rides and then switch around without having to wait in line again.
We visited Warner Bros and Universal Studios with our teenagers and they really enjoyed both experiences. At Warner Bros Studios, it sure helped that they all had seen Friends and The Big Bang Theory, and – of course – Harry Potter, Batman, etc. Universal Studios theme park is also a paradise for teens since there are so many cool rides for that age group.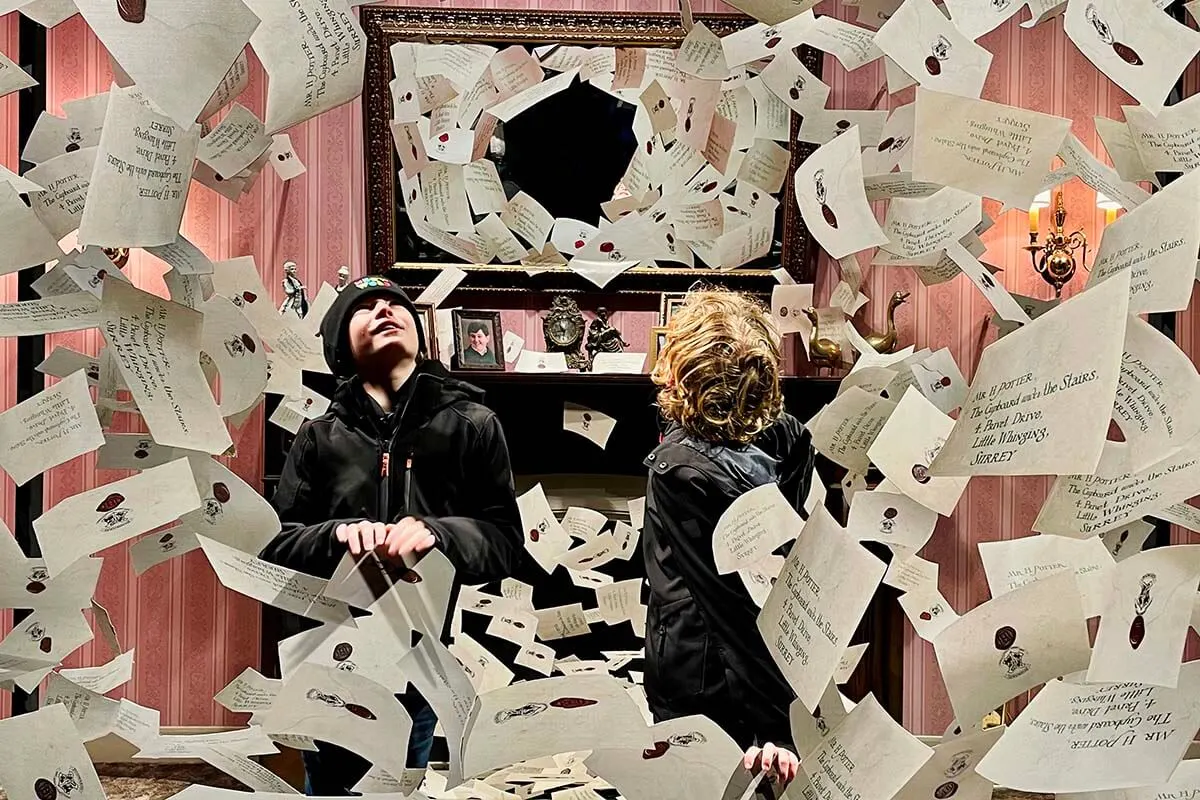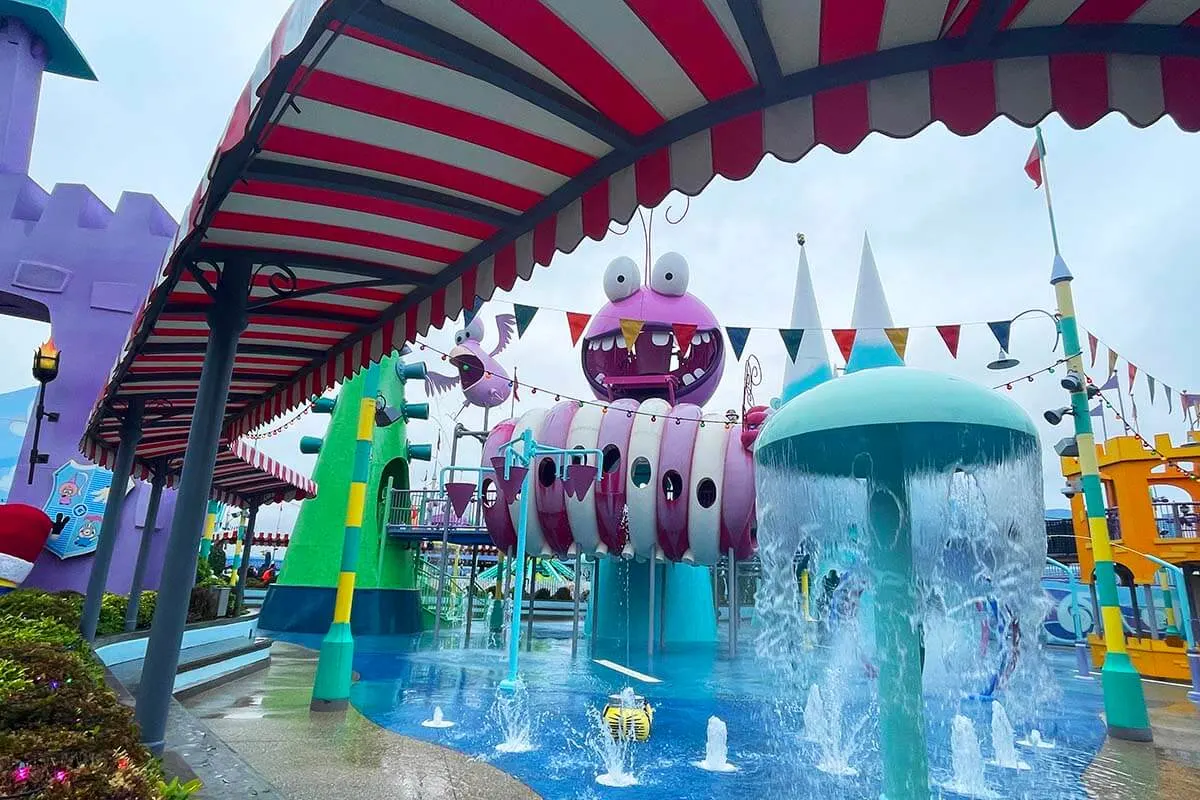 Conclusion: Warner Bros. Studios OR Universal Studios Hollywood
So now that you know what to expect, you probably already realize that both places are very different and each is worth a visit for different reasons.
If you are still doubting which film studios to visit in Los Angeles – Universal Studios or Warner Bros – here are a few things to consider:
If you are short on time and can only visit one of the two studios, opt for Warner Bros Studio Tour. It's cheaper, it only takes a couple of hours, and you get to see real working film studios and film sets. If you want to get behind the scenes and get a better idea of how movies are made, this tour is also a much better option than Universal Studios.
However, if visiting actual film studios is not the main focus and you are just looking for a fun day, then Universal Studios Hollywood is a better option. Yes, it's more expensive, but you can stay inside the park from early morning to late evening and get to experience not just their iconic studio tour, but also many amazing rides and attractions.
Universal Studios Hollywood is also a better choice for families with young children.
Our recommendation: Visit both! As you can see, both – Warner Bros Studio Tour and Universal Studios Hollywood offer completely different experiences. Even the actual studio tours are very different. So if you have the time, try to visit them both. See below for more details on how you could plan your itinerary if you only have a day.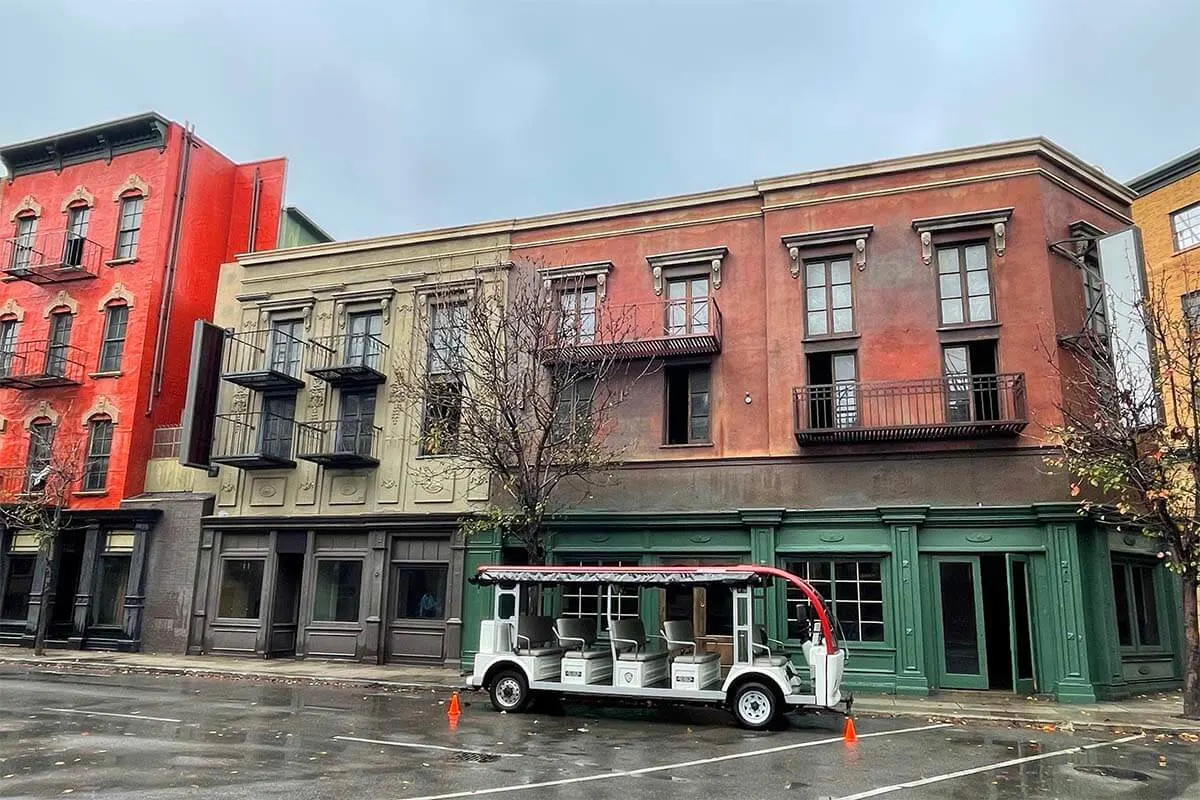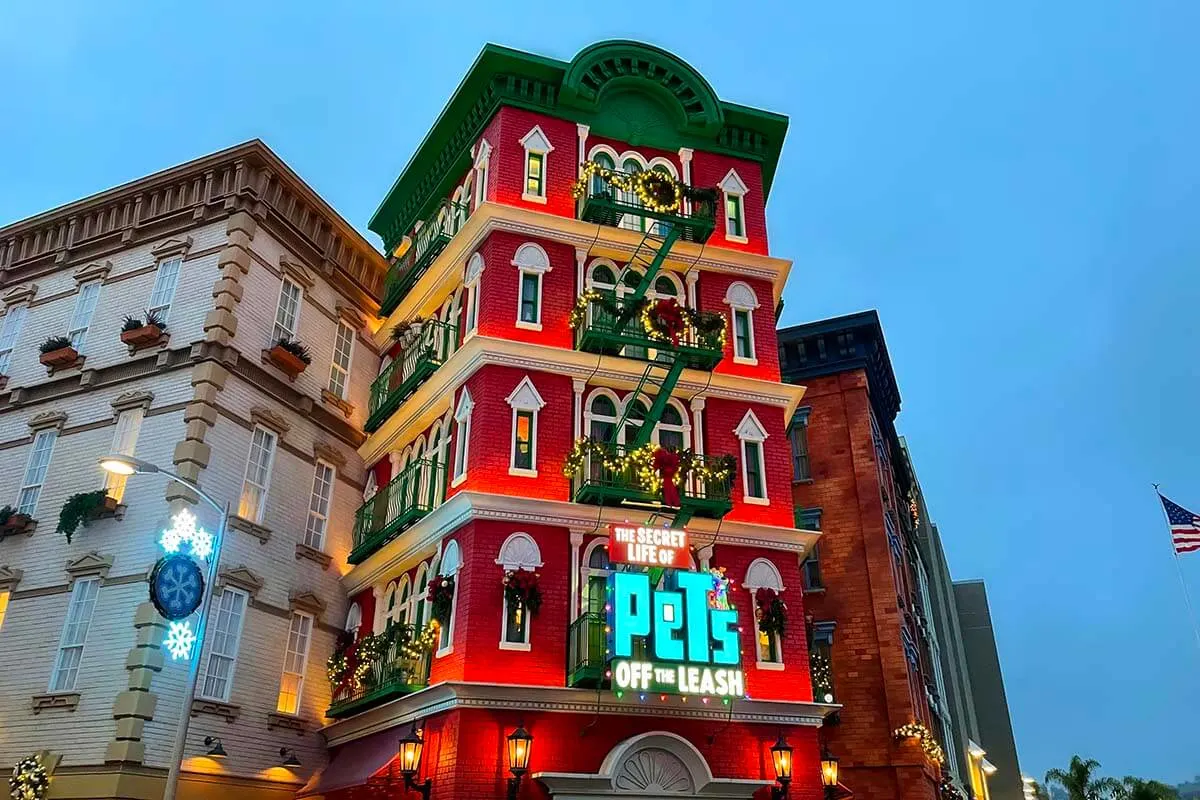 How to Visit Universal Studios & Warner Bros Studios in 1 Day
Ideally, you visit the two film studios on two different days and make the most out of the expensive Universal Studio tickets. But if you only have a day and don't mind the budget, it is also possible to visit both – Warner Bros and Universal Studios – in one day.
In that case, get this combination ticket for both studios, and start with Warner Bros as early in the morning as you can. Then spend the rest of the day at Universal Studios. At Universal, do the studio tour first (that's one thing you really shouldn't miss), and then choose a few other shows or rides depending on your interests and the time that you have.
The reason to start at Warner Bros is that they have shorter opening hours and work with timed entry slots. Whereas at Universal Studios, your ticket is valid for the whole day and you can stay until late in the evening. Their opening hours vary per season and day of the week, etc, but in any case, Universal Studios stay open much later than Warner Bros Studios.
Good to know: As you can see on the map below, the two studios are located just 3 miles – less than 10 minutes driving distance – from each other.
TIP: If you stay at one of the hotels near Universal Studios, you could just take a taxi/Uber to Warner Bros and back. This would save you parking fees at both places. In the evening, you can simply walk to your hotel.
READ ALSO: Los Angeles in 3 Days: Best Places to See & Itinerary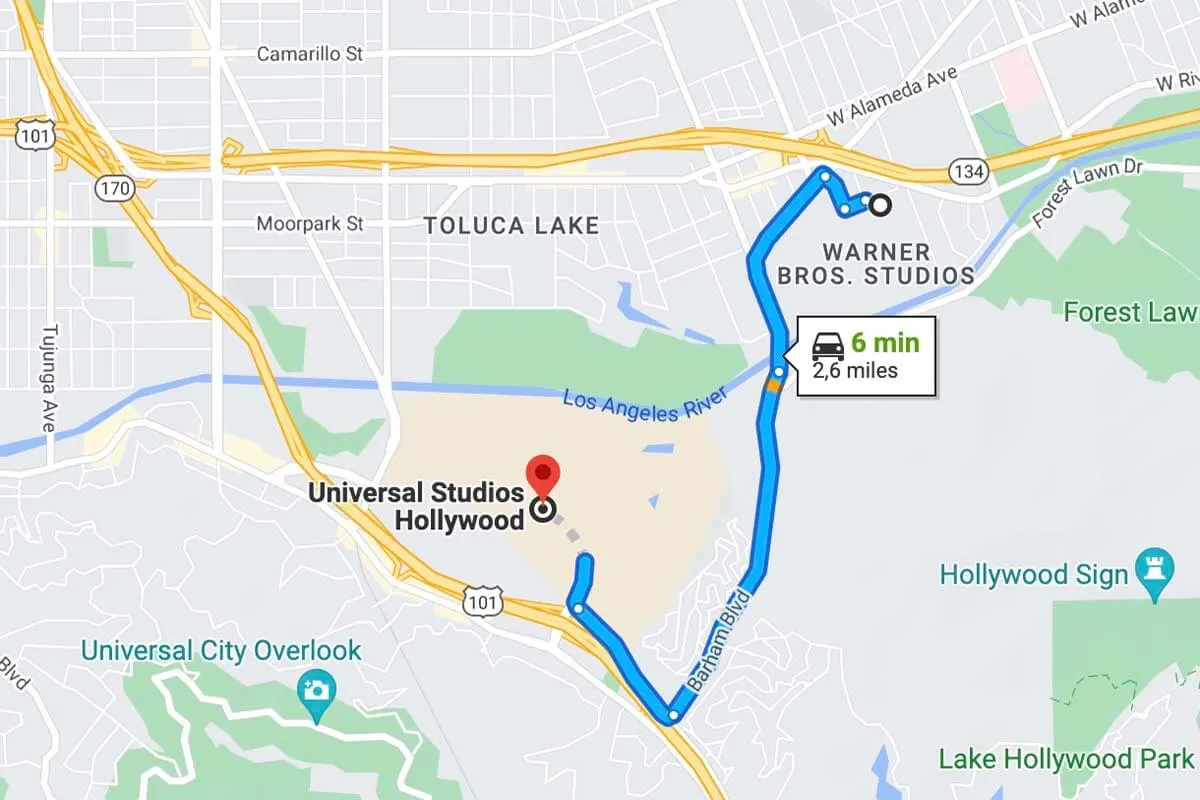 So, this is our guide for visiting Universal Studios Hollywood and Warner Bros. Studio Tour.
I hope that it gives you a better idea of what to expect and hopefully, inspires you to visit both places. After all, the film industry is what made LA world famous, so no visit to the city would be complete without checking out at least one of the biggest film studios.
Don't forget to get your tickets for the studios in advance and enjoy your visit!
YOU MAY ALSO LIKE: San Diego Itinerary
If you found this post helpful, don't forget to bookmark it and share it with your friends. Are you on Pinterest? Pin this image!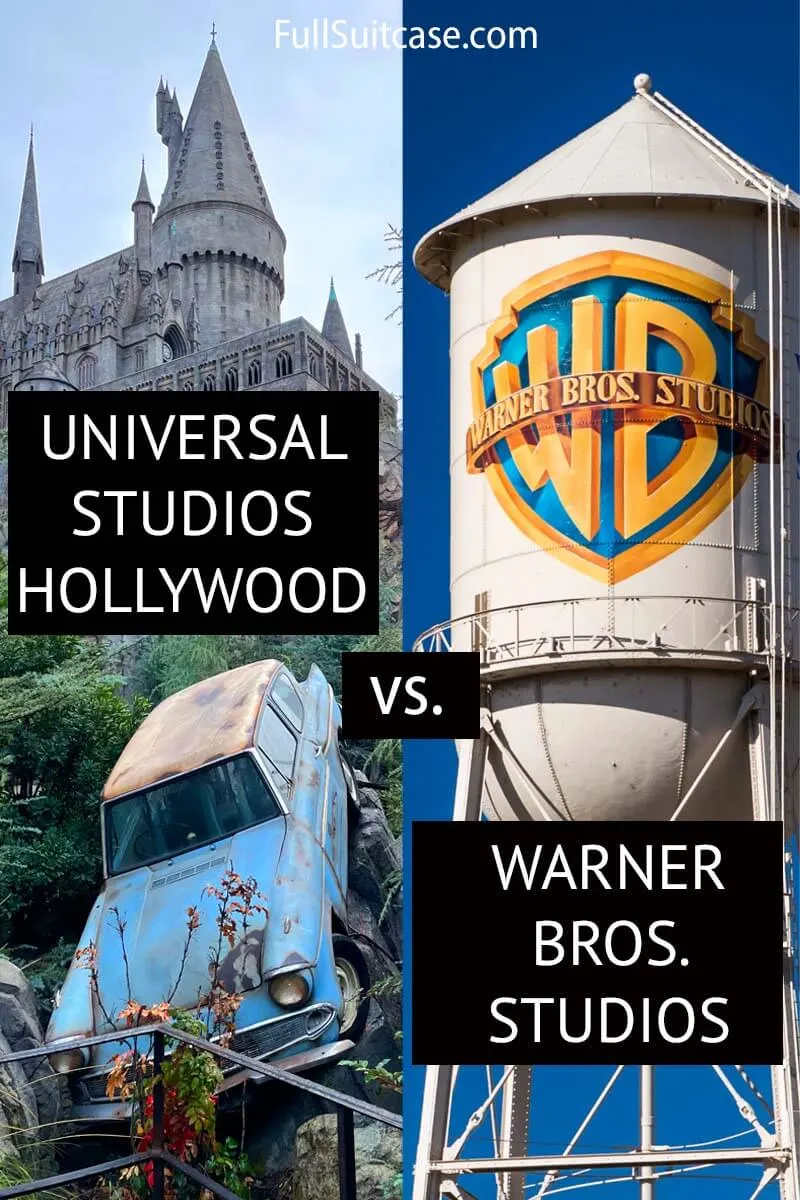 More travel inspiration for Southwestern USA:
Las Vegas and surroundings:
Grand Canyon:
More of Arizona:
National Parks: