Montserrat Monastery is one of the most popular places to visit near Barcelona, Spain. However, if you are visiting Montserrat for the first time, it might be a bit confusing to figure out what exactly there is to see and do in Montserrat, or how to best get there.
In this post, we cover all the essential information for your visit to Montserrat from Barcelona. You will learn a bit more about what Montserrat Monastery is, what to expect, and whether it's worth visiting Montserrat.
We also include a list of the best things to do in Montserrat, as well as practical tips and advice for each place/ activity. You can also find the most concise guide to hiking in Montserrat highlighting the best hikes for all difficulty levels.
Finally, at the bottom of the article, you can find practical information that will help you plan your Monserrat day trip from Barcelona: how to get there, how much time do you need in Montserrat, where to eat, where to stay, best day tours to Monserrat from Barcelona, and more. Take a look!
TIP: If you don't have the time to read through the entire guide and just want to know how to best visit Montserrat from Barcelona, check out this popular and highly-rated tour. Depending on the options you choose, it takes half a day to a day.
If you rather go on your own, the Tot Montserrat ticket is a great all-in option that includes all the transportation, entry fees, and even meals.
Complete guide to visiting Montserrat – OVERVIEW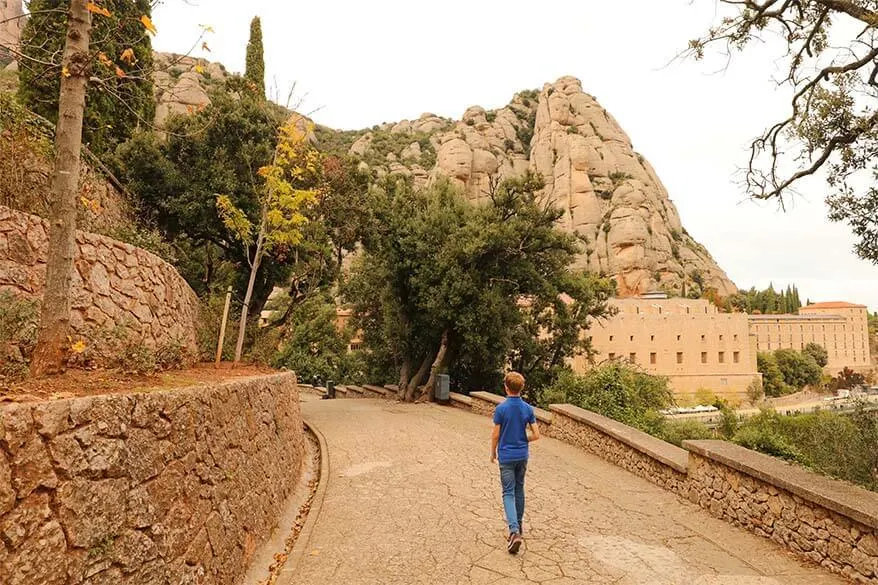 Why Visit Montserrat & What to Expect
Montserrat is a mountain range located about 50km northwest of Barcelona. If you look at it from a distance, its shape looks a bit like a handsaw, thus the name Mont Serrat. Its literal translation means something like the 'serrated mountain' or 'saw mountain'.
The reddish color makes these mountains even more impressive, especially at sunrise and sunset. The entire area is a protected Natural Park and many people come here simply for the stunning scenery and hiking.
In addition to the impressive landscape, Montserrat is best known for the 11th century Abbey of Santa Maria de Montserrat and the statue of Our Lady of Montserrat.
Montserrat is a very important place for the Catalan people and a popular pilgrimage site. Every Catalan is expected to walk to Montserrat on foot at least once in their lifetime. When you see where it's located and how high it is, you realize that it's not an easy task. Our guide said that he did it once, at the age of 16, together with his father, and that it would never occur to him to do it again…
Luckily, there are easier ways to visit Montserrat, and you don't have to worry about climbing the mountain on foot (unless you want to). Nowadays, you can come here by car, by train, or by cable car – more information further below.
But first, let's take a look at what there is to see and do in Montserrat. Find out!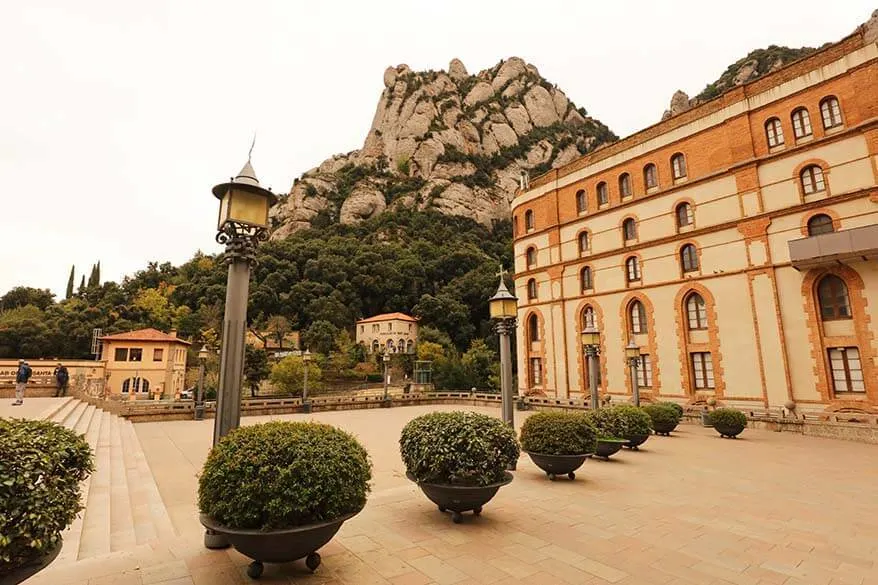 What to Do in Montserrat
There are quite some things that you can do in Montserrat:
Montserrat Monastery
One of the main reasons people travel to Montserrat is to visit the Montserrat Monastery. It's really impressive, but – depending on the choices you make – doesn't require more than half an hour – an hour of your time.
There is no fee to visit the Abbey of Montserrat and the actual monastery is not open to the public. You can visit the grounds on the outside of the abbey, take a look inside the impressive church, see Our Lady of Montserrat, or listen to the world-famous Montserrat boys choir. More information further below.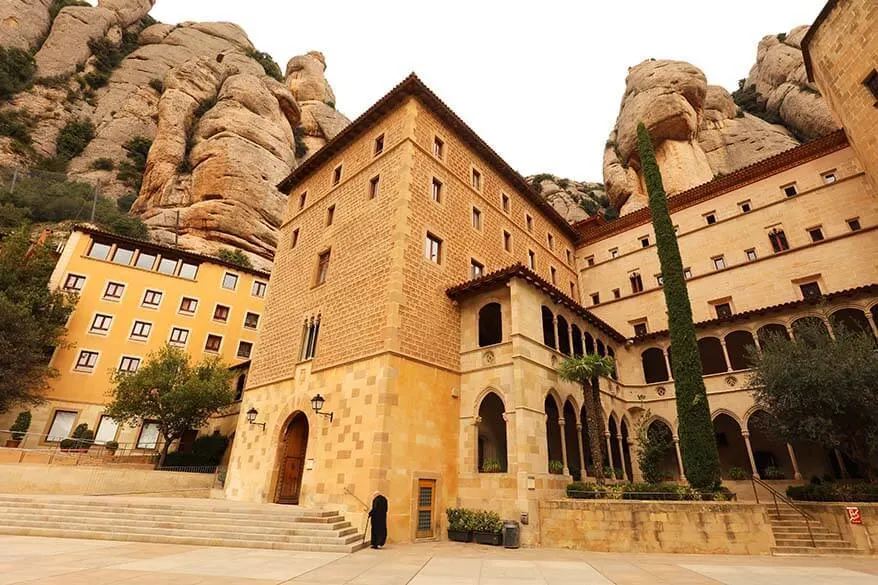 Interesting to see: On the right side, just before you enter a little inside square in front of the Montserrat Monastery church, you can see an impressive doorway that is depicted on the 10 EUR note.
It might be difficult to see because of the long queue of people who are queuing to see the Black Madonna and standing in front of this beautiful doorway without even realizing that it's any special…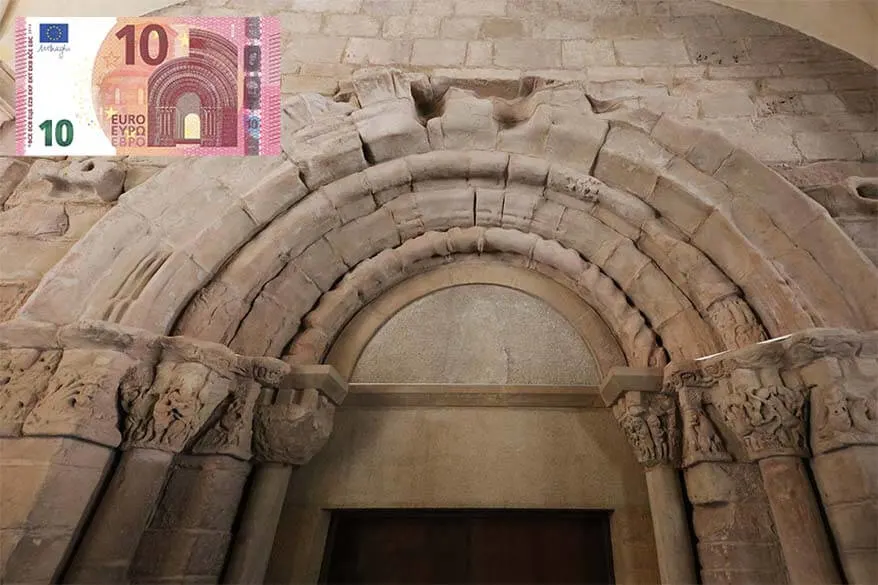 Montserrat Church & Our Lady of Montserrat
Inside the church of the Montserrat Abbey, you can find the famous Black Madonna statue, also known as Our Lady of Montserrat or La Moreneta. This 12th-century statue has been discovered in a grot nearby and has been moved to the monastery. It's the patron Saint of Catalonia and the symbol of the Catalan identity.
Needless to say, the Black Madonna is the most popular pilgrimage site. Many pilgrims and tourists queue here for hours just to be able to touch the sphere that the Black Madonna is holding in her hand.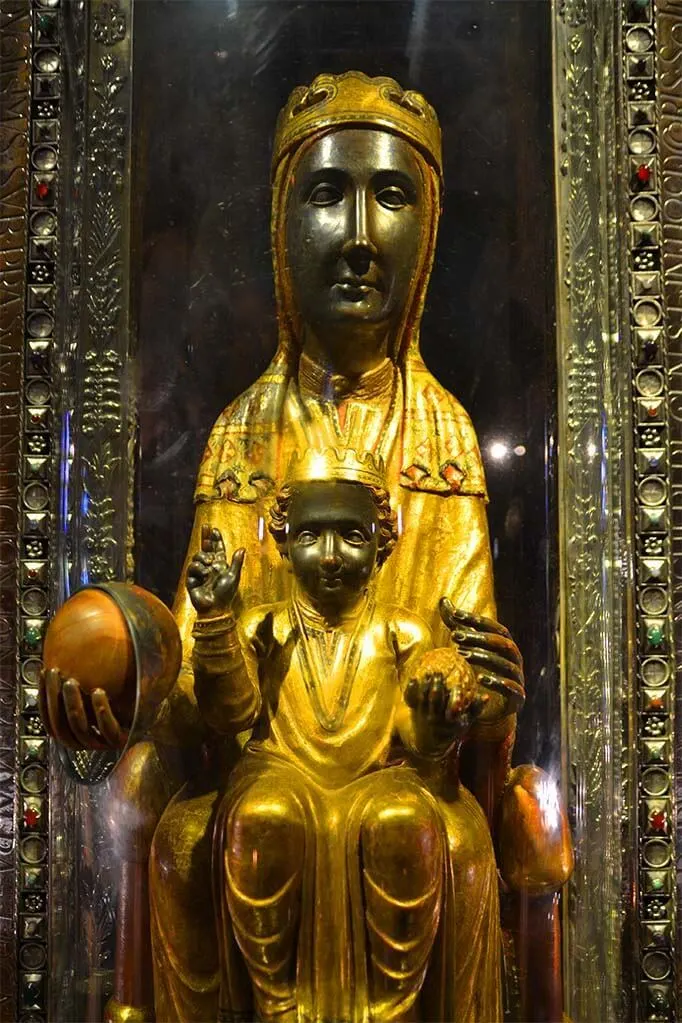 PRO TIP: You'll see a long queue of people standing at the right side of the church entrance. It seems that most tourists strat queuing without realizing that this queue is not for the church itself, but just for the famous Black Madonna…
Unless you absolutely want to see the Virgin of Montserrat from close by and touch the sphere that she is holding, don't start queuing or you'll waste half a day here!
Instead, you can visit the church and see the Black Madonna and the altar from a distance. For most people, this should be more than sufficient. It definitely was for us. This will take just a few minutes vs. hours.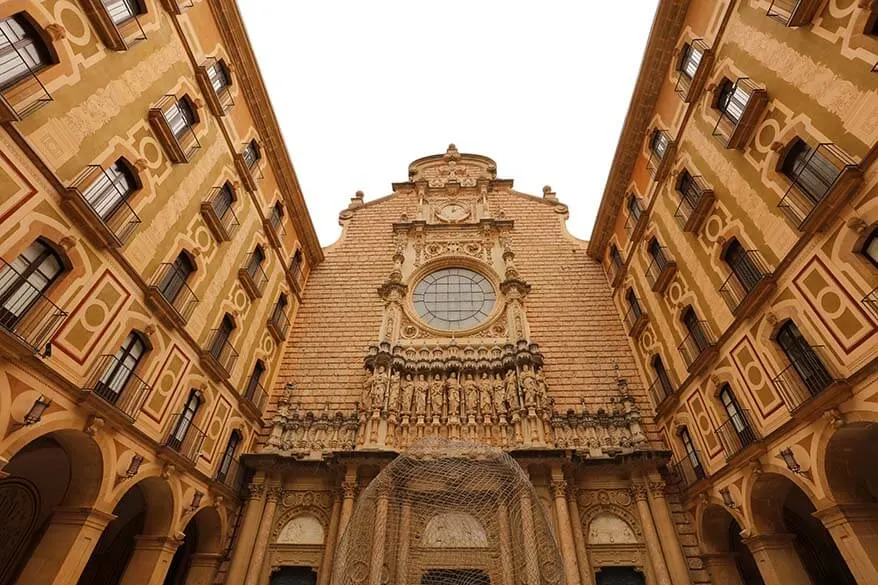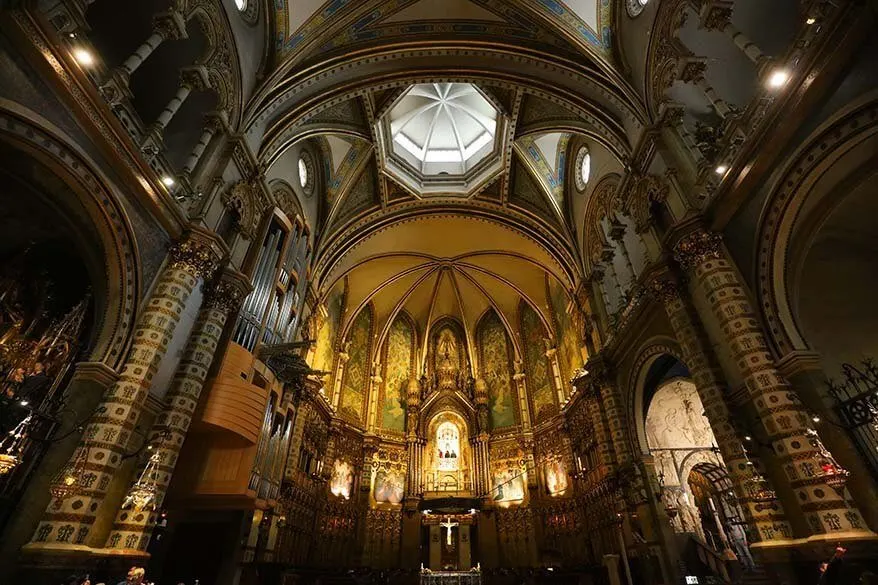 Good to know: Make sure to wear appropriate clothing when visiting Montserrat Monastery. Your shoulders and knees should be covered if you want to visit the church.
Interesting to see: Inside the church, you'll notice a collection of interesting metal lamps. These are all offers left here by different people and Catalan organizations. On the left side, closest to the altar, you can find a lamp that has been left by the football club FC Barcelona.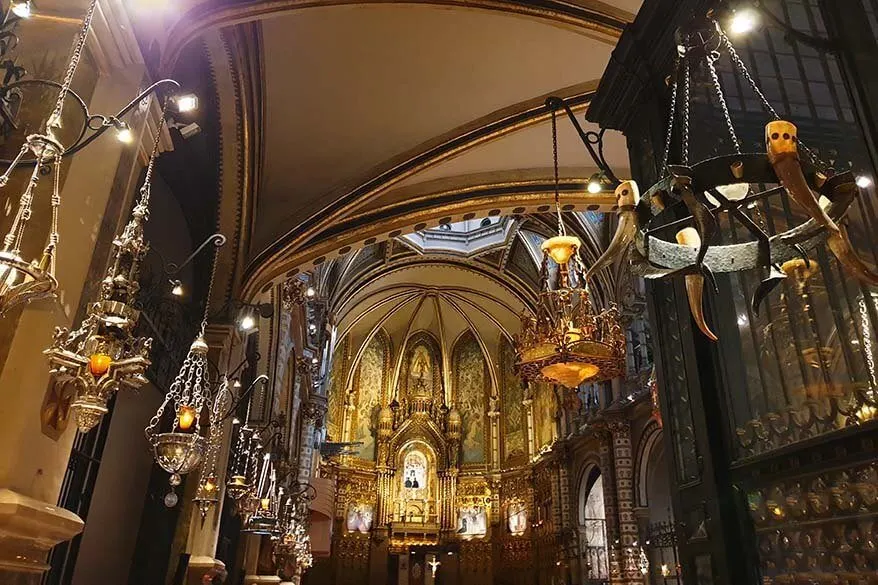 Montserrat Boys Choir – Escolania de Montserrat
Montserrat Monastery is home to one of the oldest boys' choirs in Europe, Escolania de Montserrat. Its origins go back as far as the 13-14th centuries…
The famous boys' choir sings in the church of Montserrat Monastery every day (except school holidays) at 1 pm and at 6.45 pm. On Sundays, there is also a short performance at noon. You can find more information and schedule here.
TIP: If you want to see and hear the Montserrat boys' choir at noon or 1 PM, make sure you arrive at the church at least half an hour in advance. You'll probably have to be here an hour in advance if you want to be able to sit. It gets really busy!
Below, you can see a video of the choir's performance. To some people, it's the highlight of their visit to Montserrat Monastery, while others prefer to spend their time hiking and exploring the area. So it's up to you to decide if it's worth it for you.
Museum of Montserrat
If you have plenty of time in Montserrat and you like art museums, you may want to visit the Museum of Montserrat as well. It has a nice collection of Catalan art, but also a collection of archaeological finds of the Ancient World and Middle East (Ancient Persia, Mesopotamia, Egypt), and some masterpieces including paintings by Caravaggio, Picasso, Dali, and other famous painters.
Because the monastery was destroyed in the 19th century, the biggest part of the museum's collection has been privately donated or recently acquired. The exposition of the museum is nice, but it has nothing to do with the monastery itself.
Good to know: The museum is air-conditioned, making it a great place to escape the heat if visiting Montserrat in the hot summer months.
Practical information: Museum is open daily, hours vary by season. Regular tickets cost 8 EUR; various discounts available. More info on the official website.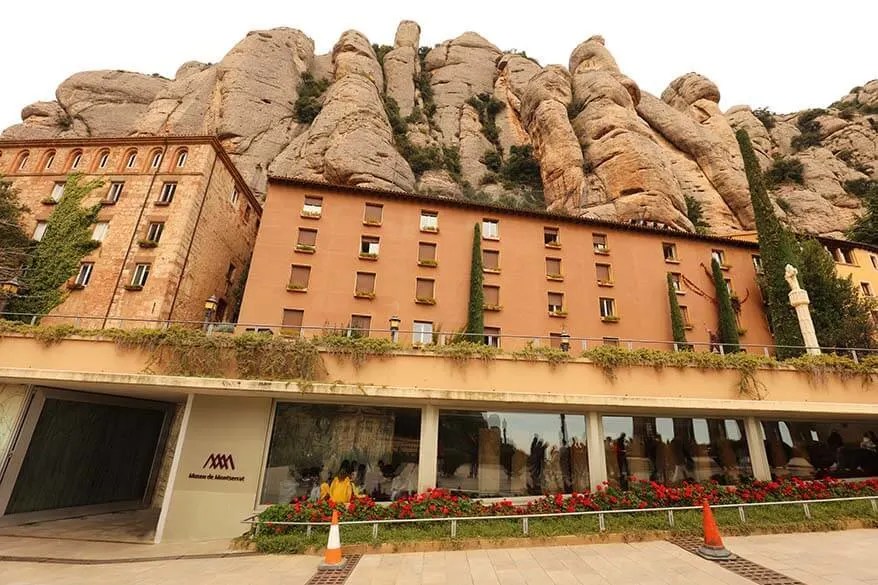 St. Michael's Cross – The Best Viewpoint in Montserrat
If you have a bit more time, you really should take the time to explore the Montserrat area on foot. One of the most rewarding hikes in Montserrat is to St. Michael Cross, Creu de Sant Miquel. It's a short trek (1-1,2km) that takes just 15-20 minutes one way and brings you to the nicest viewpoint in Montserrat.
If you are walking from the abbey (so not from the bottom of the mountain), this hike to St. Michael's cross is relatively easy, with just a small ascent. Since you're always walking on a wide gravel path, you don't need hiking boots here, but it sure helps if you are wearing good walking shoes or sneakers with some support.
Look for signs to St. Michael's Path. This hike starts following the wide gravel path on the way to Sant Joan funicular (don't turn off at the funicular but continue straight, following the ridge of the mountain). You'll quickly see the cross in the distance. Just follow the wide gravel road and you'll get there sooner than you think.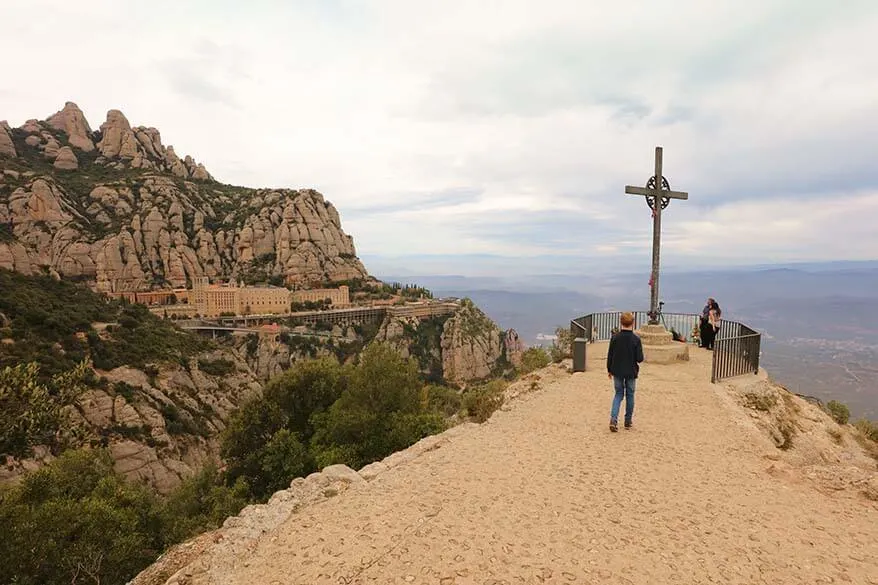 Santa Cova Funicular & Santa Cova de Montserrat
It's important to note that there are two funiculars in Montserrat. While the Sant Joan funicular (see more info further below) goes even higher up the mountain, the Santa Cova funicular goes down the mountain. It brings you to the starting point of the walk to the Santa Cova Cave, an important pilgrimage site.
Santa Cova, aka The Holy Grotto of Montserrat, is a place where holy visions of the Virgin Mary appeared to shepherds multiple times. This legend dates from the 13th century. At the end of the 17th century, a chapel has been built at this location. Inside the grotto, you can see a reproduction of the statue of Our Lady of Montserrat. Found in this grotto, the original statue is now kept in the Basilica of Montserrat Monastery, as mentioned above.
TIP: If you have plenty of time and want to explore the area on foot, you can walk down to the chapel. It's 2.7km 1,5-2hrs (return) walk following a winding mountain path with stunning views of the valley. You can also take a funicular back up if you don't feel like hiking back up the mountain.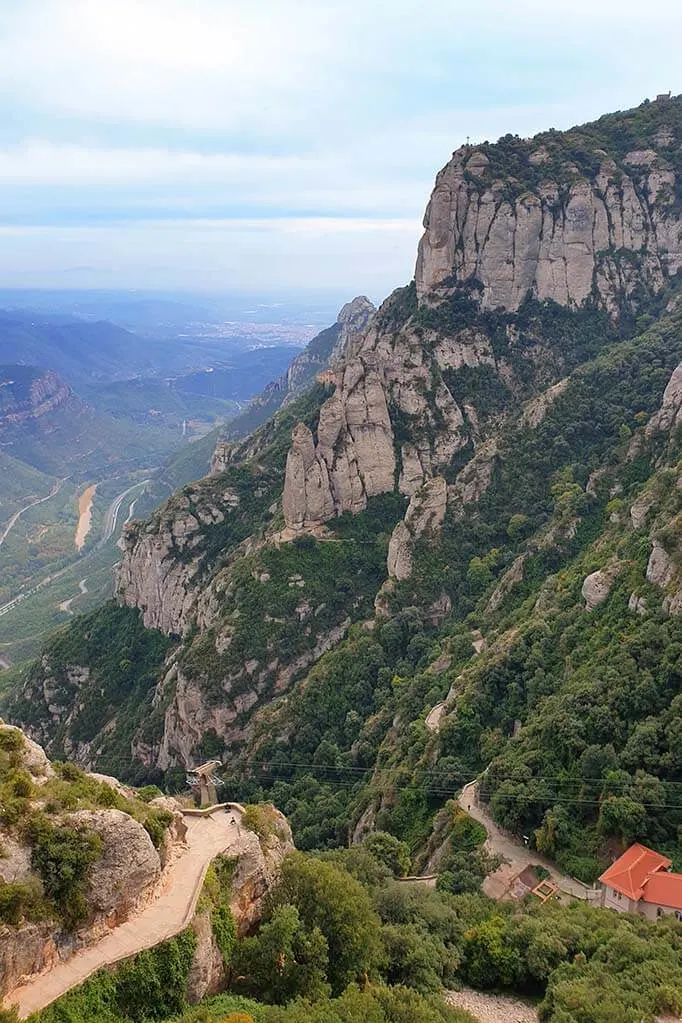 Sant Joan Funicular & Sant Jeroni Hike
If you are visiting Montserrat for a day and have plenty of time to explore the area, you can also take the Sant Joan funicular higher up the mountain. From there, you have a different perspective and nice views of the area.
Our guide said that the views from the top of Sant Joan funicular are not as impressive as the ones you get from the walk to St Michael's cross. So it's not worth going there if you are short on time.
However, it's a nice thing to do if you have plenty of time. It's definitely worthwhile going there if you can also hike to Sant Jeroni peak (the highest peak of the Montserrat area). The views from that hike are incredible. However, keep in mind that it's a serious hike that will take you at least 2,5-3 hours (total time there and back).
We didn't do any of this, so I cannot comment on it from personal experience. From everything I read and hear, it's well worth it if you have an entire day at Montserrat and can hike to the Sant Jeroni peak. However, if your time in Montserrat is limited (or if you are not up to a 3-hr hike), don't feel bad thinking that you missed much by not going up the Sant Joan funicular.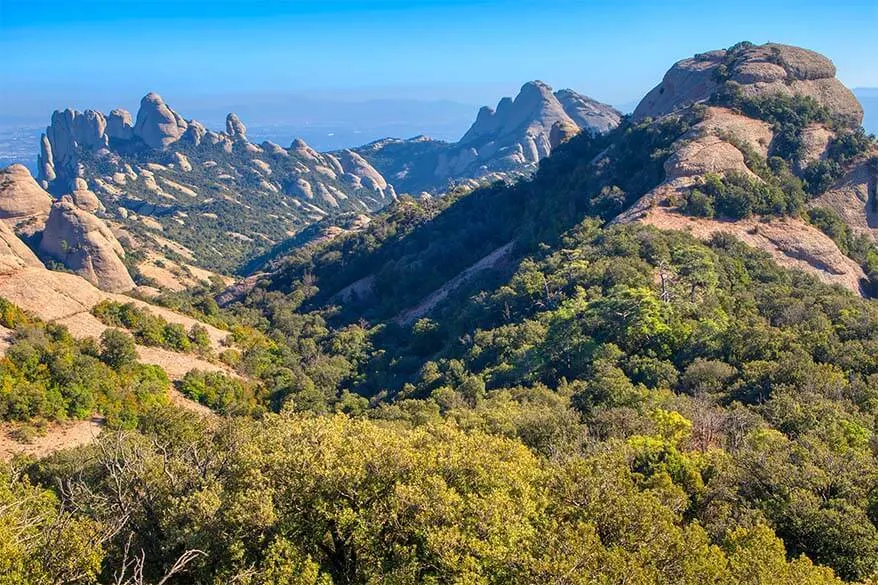 Local Food & Liquor
Outside of the abbey, there are some souvenir shops, restaurants, and a local market. Make sure to check them out because they sell some traditional local produce that you won't find in Barcelona. Tasting some of the local food or drinks will make your visit to Montserrat even more memorable and special!
A small food store (Queviures Supermarket) that is located on the left side right before the entrance gate leading to the Monastery of Montserrat offers local liquor and pastry tasting. It's well worth the 5 EUR fee, as it gives you the chance to taste four different kinds of Montserrat Liquor that you would probably never taste otherwise.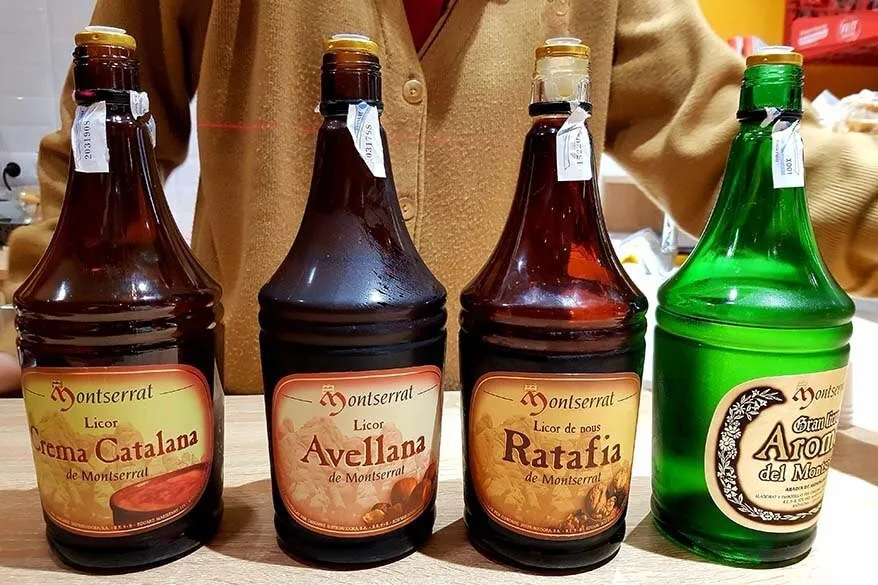 The little local market that is located a bit down the road behind the restaurants is also well worth a short visit. Some sellers will offer you a free tasting of their products, especially if you make an effort to speak some Catalan. Make sure to try Mató cheese with honey. It's a local specialty that has been recommended to us by our guide and it's really good.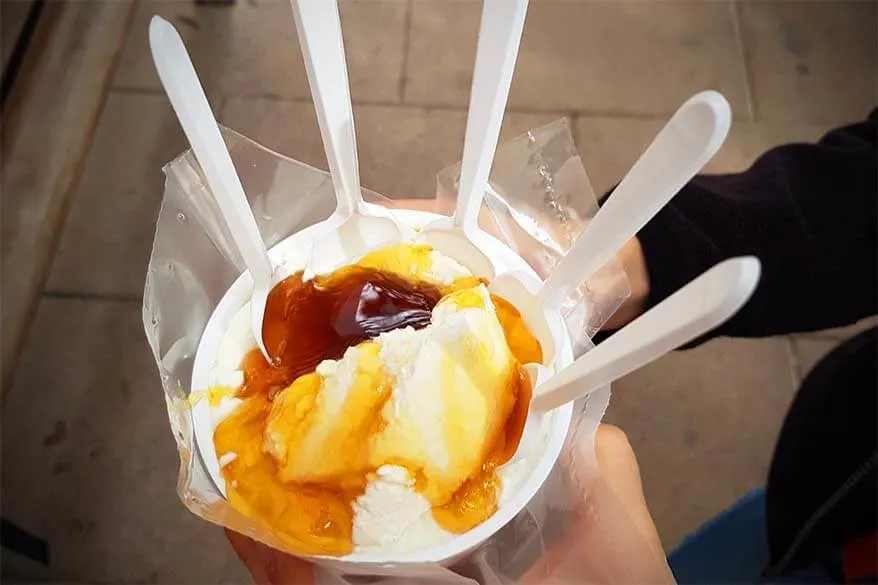 Stairway to Heaven
The Stairway to Heaven is often mentioned among the best things to do in Montserrat. It's a rather simple-looking modern piece of art located at the bus parking of Montserrat Monastery, past all the restaurants and the market.
The main reason for its popularity is the fact that some daredevils posted some impressive Instagram pictures of themselves standing on top of the large concrete 'staircase'… And so people started coming to Montserrat just to get that same Instagram picture…
Good to know: You should note that it is now illegal to climb the statue. Sadly enough, a simple ban is not enough, so the statue has also been closed by an ugly fence, making this impressive piece of art into something that looks like a construction site… It's sad how Instagram tourism can have such a negative impact on so many places…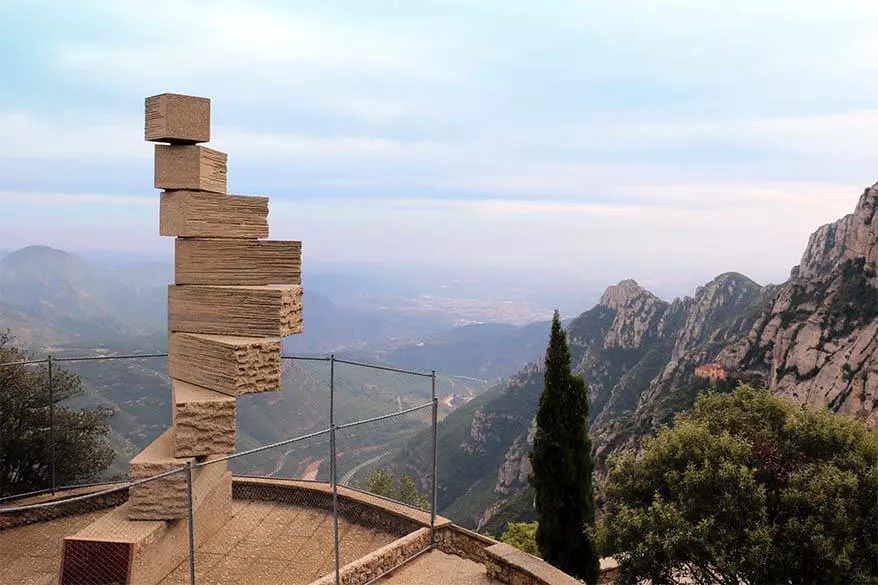 Montserrat Arch Windows
Just near the Stairway to Heaven, you'll find another interesting structure, Montserrat Arch Windows. The views from here are really nice and if you really want to, you can take some creative pictures here. Just please be respectful and don't climb on any of these structures.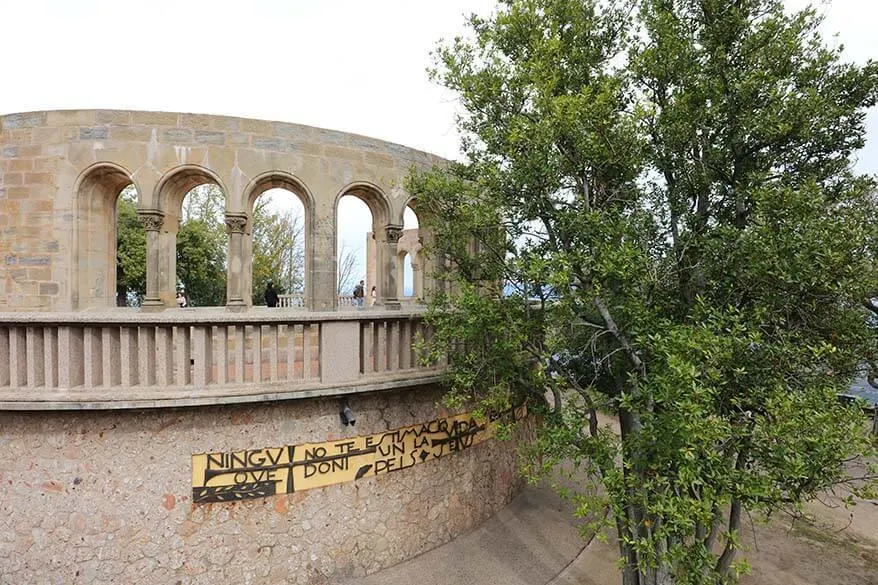 Hiking in Montserrat
There are many hiking trails in the Montserrat area. To start with, you can choose to hike up to Montserrat itself (vs. taking a cogwheel train or cable car). Once on top of the mountain, there are even more hiking trails. Most Montserrat hiking trails on the mountain are quite well-developed and well-marked.
Below is a short summary of the best hikes in Montserrat:
EASY – Montserrat Monastery hike to St. Michael's Cross. This is an easy and relatively flat walk that takes you to one of the nicest viewpoints in Montserrat. It's about 2,4km in total and takes about 30-45 minutes. For more information, please refer to the 'St. Michael's Cross' section above.
MEDIUM – Santa Cova de Montserrat hike. This is a moderate 2,7km hike that will take 1,5-2hrs to complete. For more information, please check the 'Santa Cova de Montserrat' section above.
DIFFICULT – Sant Jeroni hike. This is a difficult, but rewarding hike with 360° views. With a total length of about 7km, it will take you 2,5-3,5 hrs to complete. For more information, please check 'Sant Joan Funicular & Sant Jeroni Hike' section above.
In addition to these popular hikes, there are also 5 'hermitages trails' of Montserrat. All these trails start at Pla de les Tarantules, the top station of the Sant Joan funicular. Don't forget to get a pocket guide to these Montserrat hiking trails before you set off. Below, you can see a picture of these hikes on the map.
TIP: If you want to go hiking in Montserrat, but rather do it with a local guide, take a look at the guided Montserrat tours that also include hiking. You can find the best selection of hiking tours here.
How Much Time Do You Need to Visit Montserrat from Barcelona
You'll need at least half a day in order to visit Montserrat from Barcelona. Travel time alone is about 3 hours (1,5 hours each way), and you should count at least an hour for the visit to the Montserrat Monastery.
Add half an hour to an hour if you also want to see a little bit more of the surrounding area and walk to St. Michael's Cross.
If you are also planning to take one of the funiculars and do more hiking in Montserrat, you should plan an entire day for your visit.
TIP: If you are short on time, the quickest way to visit Montserrat is by taking this early morning half-day tour from Barcelona.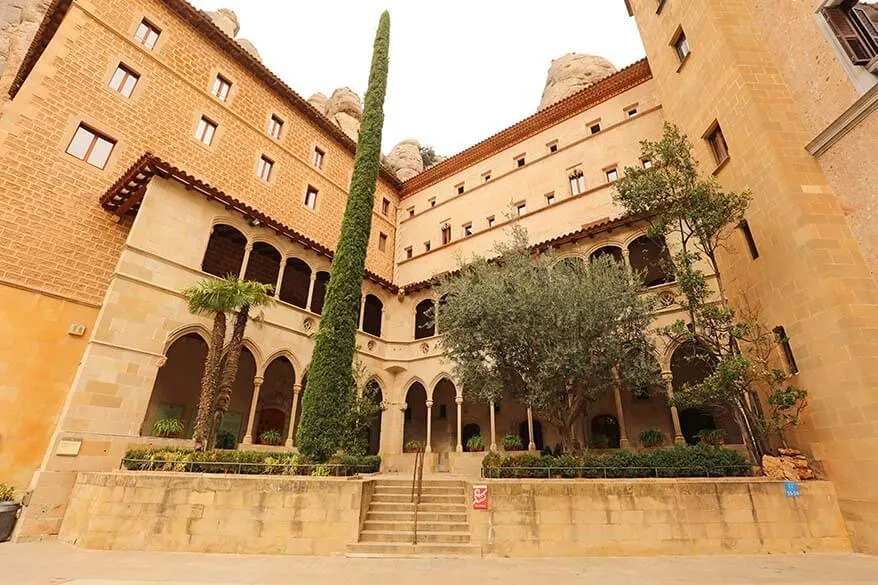 How to Get to Montserrat from Barcelona
As already mentioned, there are many ways to get to Montserrat and it's really easy to visit the monastery from Barcelona.
Below, are the most popular options on how to get to Montserrat:
By car. It's possible to visit Montserrat by car and you can drive all the way up to the parking relatively close to the monastery. However, unless you are visiting in a very low season, I wouldn't advise driving all the way to the top – the road is narrow, parking is very limited and also expensive. An alternative is to leave your car at the bottom train station of Monistrol de Montserrat and take a train to Montserrat abbey from there.
By train. From Barcelona Plaça d'Espanya station, take the train line R5 in the direction of Manresa. You then have three options on how to get to Montserrat itself:

Get off at Aeri de Montserrat, from where you can take a cable car to the top of the mountain.
Stay on the train one stop further, to Monistrol de Montserrat. There, you have to change to another train (Montserrat rack railway) that will take you up to Montserrat Abbey.
Hike. If you feel really fit and are up to the challenge, do as pilgrims do and walk up to Montserrat from Monistrol. Beware that this is a strenuous uphill hike.
TIP: The Tot Montserrat ticket includes all the public transport (and more!) and is one of the most popular options for a self-guided visit to Montserrat from Barcelona.
By bus. From Barcelona Estació Sants bus station, take a bus to Montserrat Monastery. It takes 1h25 one way.
With a guided tour. This is by far the easiest option to visit Montserrat without having to worry about any practicalities. Just get to the starting point in Barcelona and enjoy your day. Here you can find the most popular tours. We visited Montserrat with this guided tour that included lunch and wine tasting at a nearby winery. Further below, you can find a list of the best Montserrat tours from Barcelona.
TIP: Here you can read all about our Montserrat tour: why we chose to go with a guided tour, our day trip itinerary, and more. Check it out!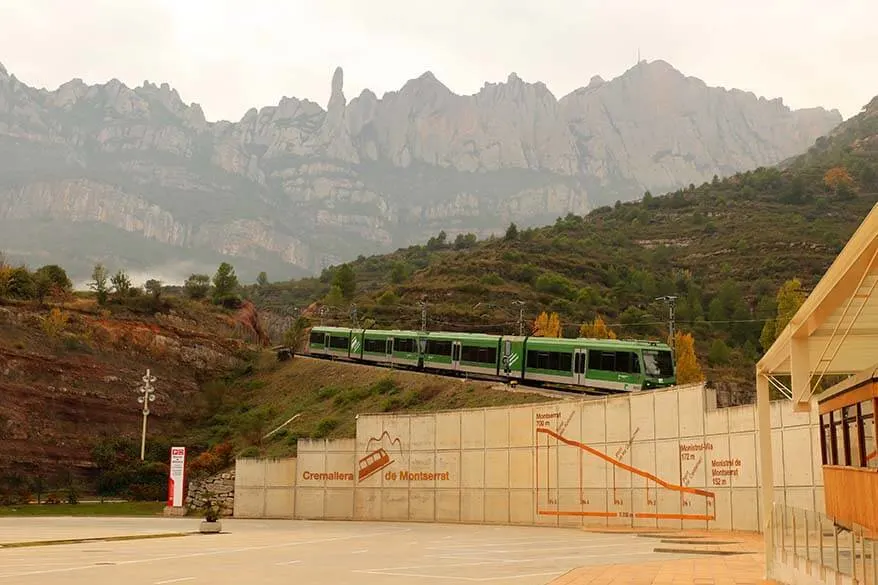 Best Montserrat Tours from Barcelona
There are so many Montserrat tours that it might be really hard to choose. We traveled to Montserrat in low(-ish) season and most tours weren't available, but even then, we had plenty of choices. If you are traveling in the high season, there are countless options…
Because I already did the research for our own trip, I'll save you some time. Below, you can find our hand-picked selection of some of the best Montserrat tours from Barcelona: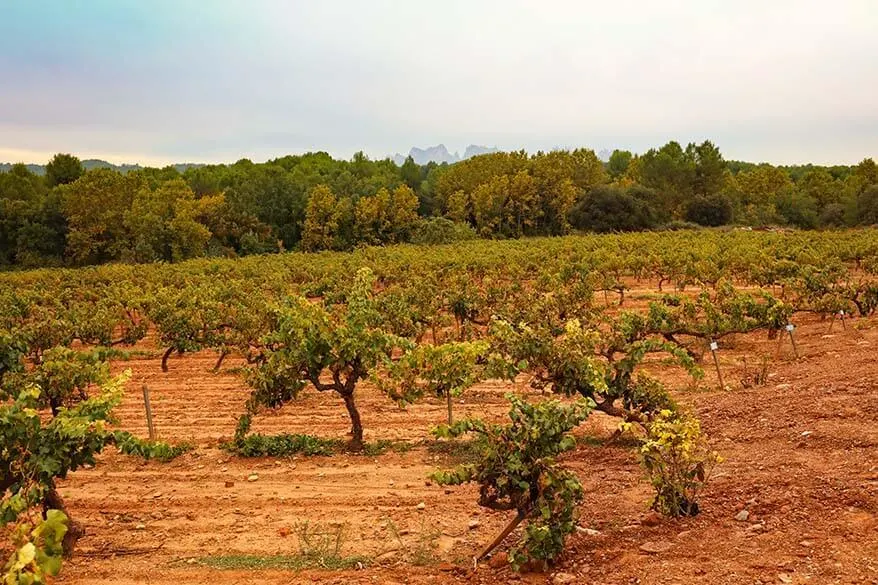 Visiting Montserrat with Kids
You may be wondering if Montserrat is a good place to visit with kids? Yes, absolutely. If you are looking to escape the crowds and the heat of the city, Montserrat makes a great family day trip from Barcelona.
Kids will love train and funicular rides, hearing the boys' choir, tasting local food, and nice walks with amazing views… Depending on their age, you can always find a suitable family hike in Montserrat. I suggest walking to St. Michael's Cross (more information in the article above). It's an easy walk that you could even do with a stroller (ideally one with big rubber wheels).
We visited Montserrat with our three boys and they really enjoyed it.
Good to know: It's often about 10°C cooler in the Montserrat mountains than in Barcelona. Still, if you are visiting in summer, make sure to have sun protection and take plenty of drinking water with you. It can get really hot in Montserrat, especially if you are hiking.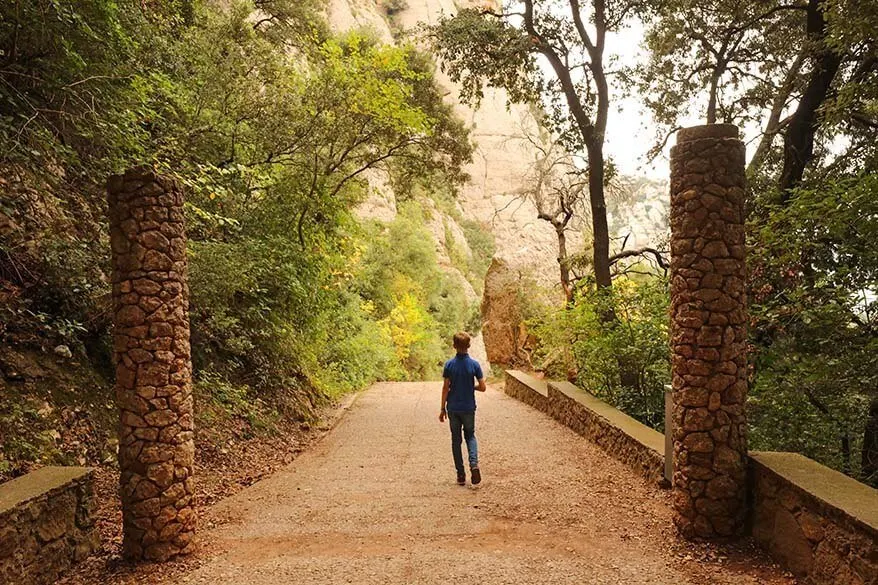 Where to Eat in Montserrat
There are several restaurants and a cafeteria in Montserrat. However, don't expect amazing food here – all these places cater to tourists and the food is mediocre and overpriced.
Instead, you can get some local food at the Montserrat market (see above) or bring your own picnic. Note that the food you can buy at the market is mostly local produce – Catalan cheeses, bread, honey, etc.
TIP: Some guided Montserrat tours include lunch and in most cases, it's not served in Montserrat but at a nearby winery. The tour we did included a winery visit with lunch by a Michelin-star chef and it was very good. The wine was excellent too.
You can also book a Montserrat tour that includes lunch at a nearby farmhouse or a tour that includes tapas & wine lunch. All three tours mentioned above have hundreds of excellent reviews.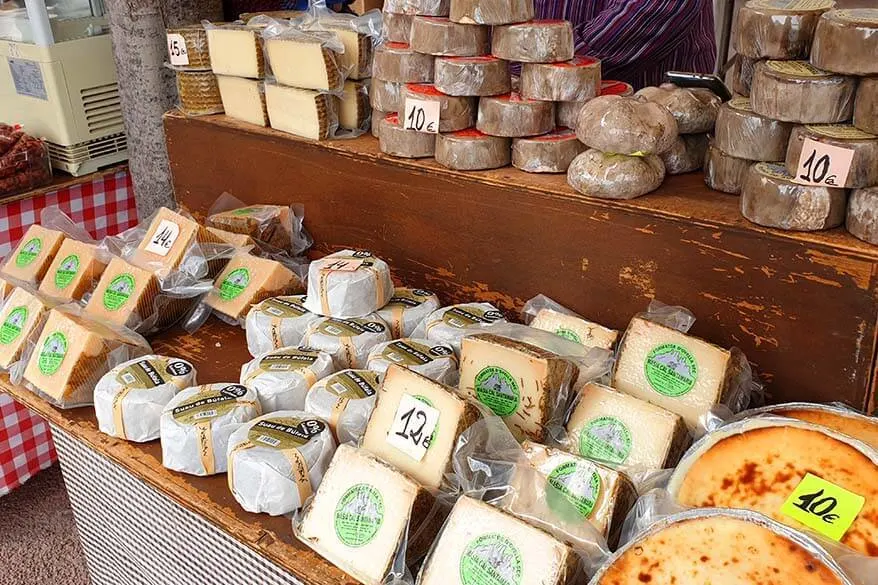 Where to Stay in Montserrat
Montserrat is an easy day trip from Barcelona and there is no need to stay on the Montserrat mountain itself. However, if you really want to have the place all to yourselves early in the morning or late in the evening, you can stay in Montserrat.
There is just one hotel on the mountain – Hotel Abat Cisneros. It's a simple 3-star hotel and guest reviews are very good. It's by far the best place to stay in Montserrat. The views are great and guests say that it's an incredible feeling to be able to explore the Montserrat area without the crowds of the day tourists.
Other accommodation options in Montserrat include Alberg Abat Oliba, a very simple budget accommodation, and self-catering Apartamentos Montserrat Abat Marcet. Parking is also available on the mountain.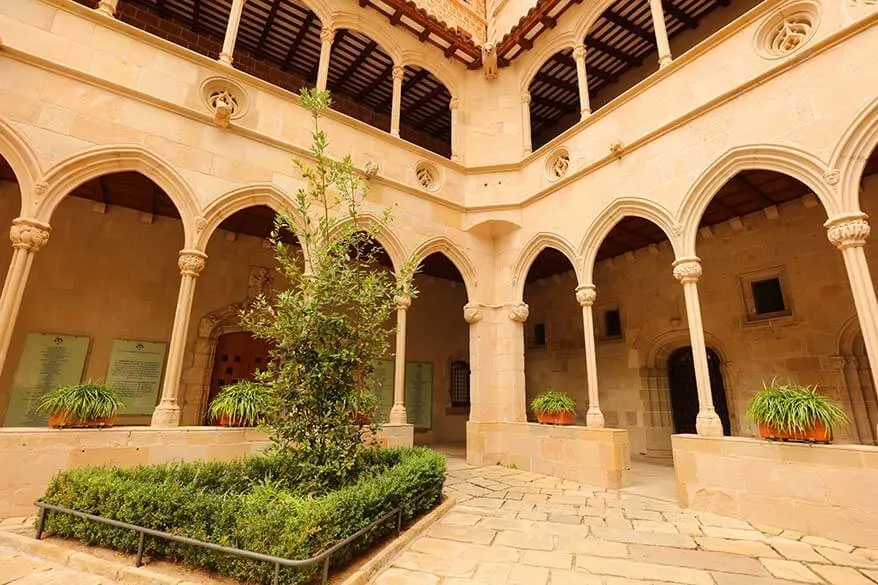 Is Montserrat Worth it?
With so many choices and a huge variety of things to do in and near Barcelona, you might be wondering if Montserrat is worth a visit. I think, it really depends on how much time you have in Barcelona…
If you are visiting Barcelona for just a day or two and have never been to the city before, then no, I don't think Montserrat is worth the whole day. In that case, you're better off taking a Gaudi tour and exploring the historic city center of Barcelona. For more tips, please see our guide to 1 day in Barcelona and also 2 days in Barcelona.
If, however, you have at least three days in Barcelona and like to get out of the city and see something different, then yes, Montserrat is definitely worth a trip.
TIP: If you are short on time and still really want to see Montserrat Monastery, then take this early-morning half-day tour from Barcelona.
READ ALSO: Top Sights Not to Miss in Barcelona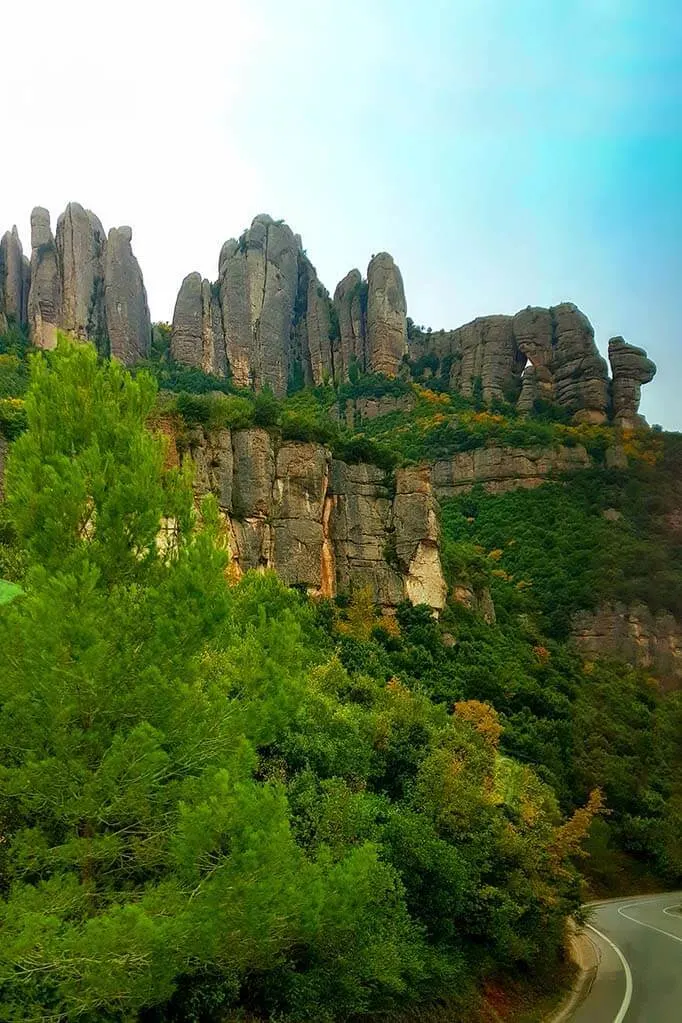 Visiting Montserrat: FAQ
How far is Montserrat from Barcelona?
Montserrat is located 60 km (40 miles) northwest of Barcelona. It takes about 1 hour to get from Barcelona to Montserrat by car or by train. However, most of the time, you won't be driving all the way up to the abbey and will have to take a train or a cable car up, which makes the total journey about 1.5-2 hours one way.
How do I get to Montserrat?
Montserrat Monastery is located on the mountain and can be reached by road, by train, or by cable car. Most people visit Montserrat with an organized tour or by train from Barcelona, followed by a train ride or a cable car to the top. It's not the best idea to drive all the way up the mountain by car as parking at the top is very limited (and expensive).
Is there a dress code for Montserrat?
From everything I saw during our visit, there is no specific dress code requirement to visit Montserrat. However, for the abbey and the church, you should wear more respectable clothing (so no super short shorts, mini skirts, or tank tops) or you might be asked to leave. Make sure to wear comfortable shoes and always pack a sweater as it's much colder in the mountains in Montserrat than it is in Barcelona.
How much does it cost to visit Montserrat?
Montserrat Abbey can be visited free of charge and requires no ticket. You do have to pay if you want to visit the museum and for all the transportation, but visiting the Montserrat Monastery itself is free.
Is Montserrat is worth visiting?
Montserrat is a very unique place in Spain and definitely worth a visit. The location of the monastery and the surroundings are very impressive, and also the buildings of the Abbey and the interior of the Church are interesting to see. That being said, I'd only recommend visiting Montserrat if you have at least 2-3 days in Barcelona. Otherwise, there are more impressive sights to see in the city that are worth your time more.
So, this is our guide for visiting Montserrat Monastery and the area. If you are planning a visit to Montserrat and have any questions that we haven't covered in the article, feel free to comment below and we'll try to help.
More tips for your trip to Spain:
If you found this post helpful, don't forget to bookmark it and share it with your friends. Are you on Pinterest? Pin this image!