If you are visiting Barcelona soon and are looking for the best walking tour that brings you to all the famous Gaudi buildings in Barcelona, then look no further. This article should answer all your questions and help you find the best Gaudi tour for your visit!
We recently visited Barcelona and, before our trip, we did a lot of research trying to find the very best Gaudi tour in Barcelona.
In this guide, you can read about the Gaudi architecture tour we chose and why we think that it's the best Gaudi tour that you can do in Barcelona. Find out!
Good to know: If my enthusiasm about this Gaudi tour seems a bit exaggerated, it's only because we truly loved it. It made our whole trip to Barcelona so much more memorable and I wish you the same unforgettable experience!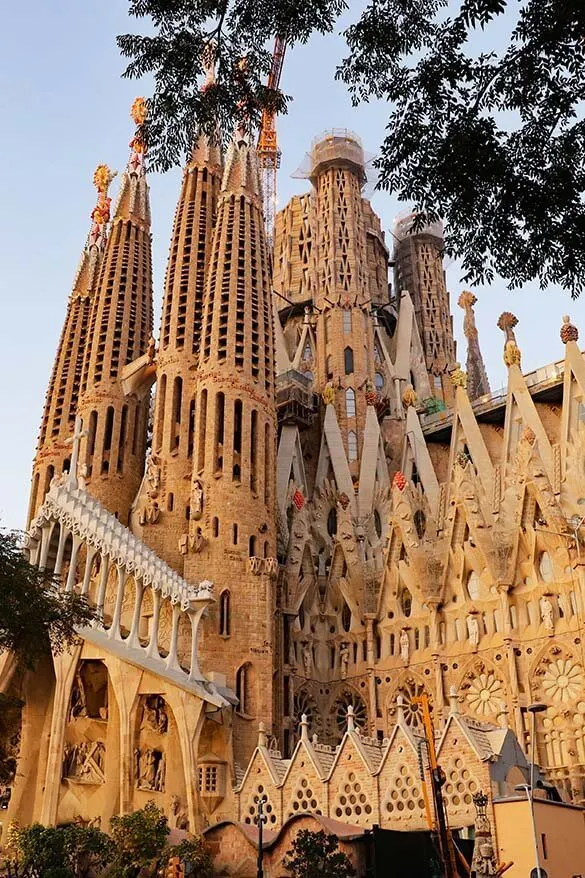 How to Choose Your Gaudi Tour in Barcelona
There are so many Gaudi tours in Barcelona (over 140! different tours on our favorite tour booking site at the moment of writing). At first, it looks overwhelming… How do you choose?! But when you look closer, you'll see that most of these tours aren't really complete and it's actually very hard to find a tour that brings you to all the famous Gaudi buildings in Barcelona.
Most 'Gaudi tours' actually only include visiting 1 or 2 Gaudi buildings in the city. Below is an overview of the most popular Gaudi tour options like that (they include just one or two Gaudi buildings):
If you want to take it really easy, then the above options will give you a chance to explore Gaudi buildings to the fullest.
However, if you want to make the most out of your time and see as much as possible in one day, you may want to look for a more complete Gaudi tour. One that covers more Gaudi attractions.
When doing my research, I realized that just a handful of quality tours actually visit multiple Gaudi buildings in Barcelona, beyond the Basílica de la Sagrada Familia and Park Güell. These are the tours that I ended up looking at when trying to choose the best option for our trip. Because we wanted to see as much as possible in as short a time as possible. And out of 140+ Gaudi tours, there were just a handful of options left…
Below you can read about the Gaudi tour that we chose and what it covers. Take a look!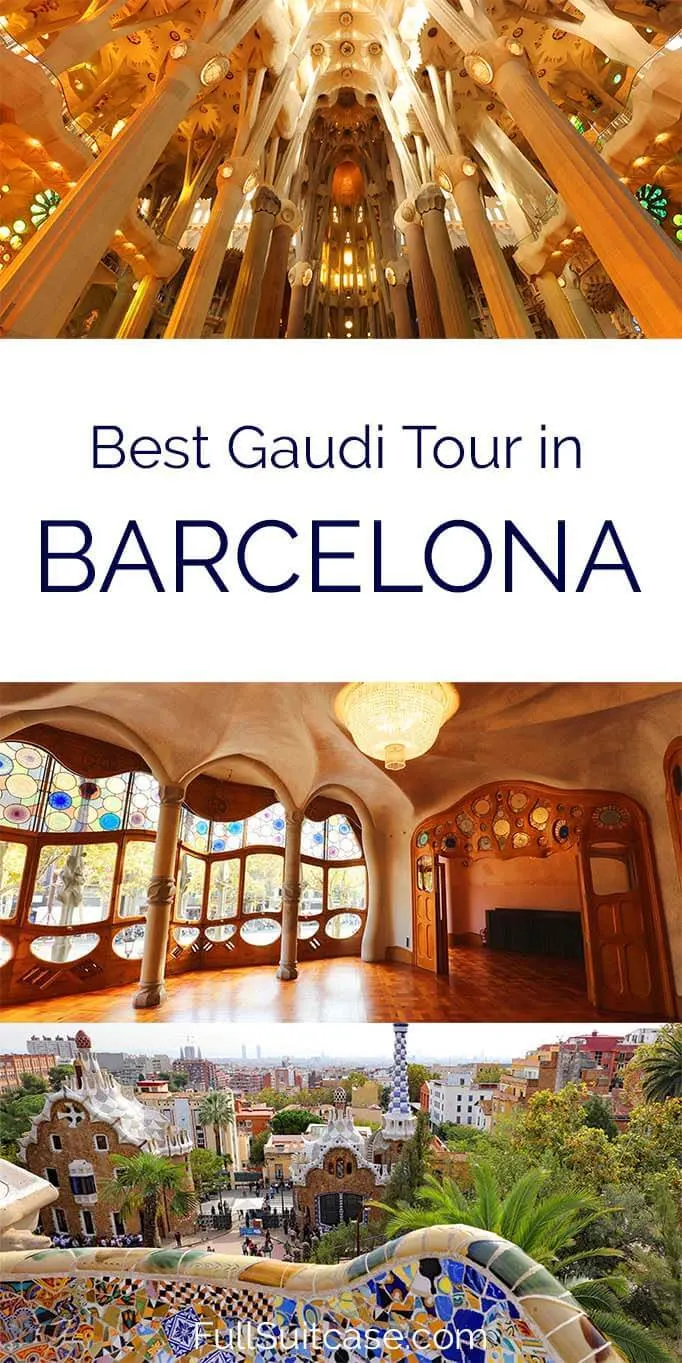 The Most Complete Gaudi Tour in Barcelona
The Gaudi tour that we ended up choosing features some of the very best Gaudi buildings in Barcelona. It includes Casa Batlló, Park Guell, and of course the Sagrada Familia with fast-track tickets. (Update: the pre-reserved La Sagrada Familia Tower climb is no longer included with this tour, so if you want to visit the tower, you would have to buy a separate ticket for that at the end of the tour.)
In addition, it also passes a few other architectural masterpieces of Gaudi's Barcelona. You get to see the Casa Milà (La Pedrera) and also the very first building Gaudi designed, Casa Vicens.
Further below you can read about our experience and what we saw on this complete Gaudi tour. But first, some practical information.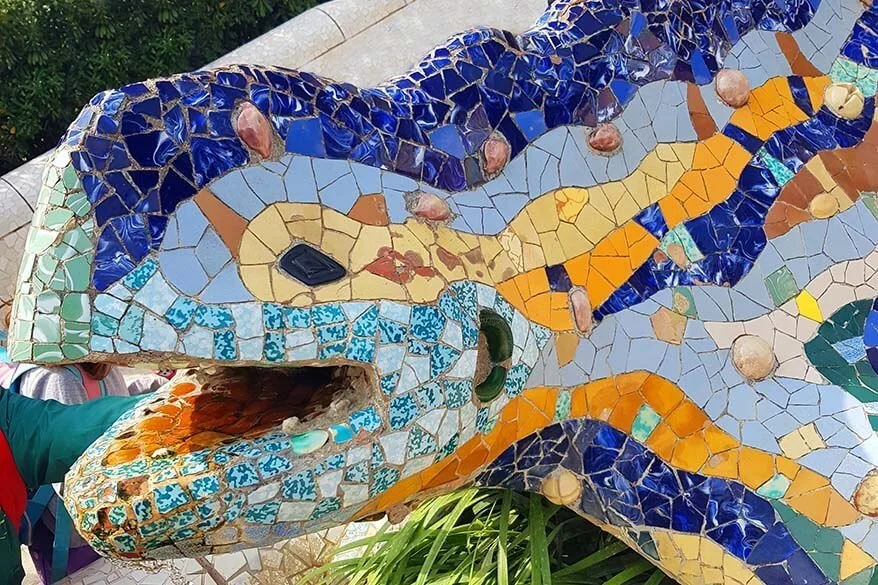 Where to book: If you are interested in doing the exact same Gaudi tour as we did (and that's described below), you can check reviews and availability on GetYourGuide. This is our favorite one-stop shop for all tour and ticket bookings when we travel. If you rather book directly with the company that runs this tour and read even more details about it, take a look here. Normally, the prices should be the same on both websites and they both offer free cancelation up to 24 hrs before the tour.
Good to know: The Gaudi walking tour that we took has limited availability, especially in the low season (Nov-March). And because it's such a small group tour, it also sells out fast. So make sure to book well in advance. To give you an idea, we did this tour at the end of October and it was fully booked more than a month in advance.
The best alternative Gaudi Barcelona tour: If you are traveling in winter and the above tour is not available (or if it's sold out), the very best alternative tour that I found is this day tour. It includes fast-track tickets to La Sagrada Familia, Park Güell entrance, and a visit to Casa Mila – La Pedrera (instead of Casa Battló).
In addition, this tour is a bit longer than the one we did and includes a walk through the Gothic Quarter in the Old Town of Barcelona. It's also a small group tour, it has good reviews and runs the whole year-round, so it's a very good alternative option.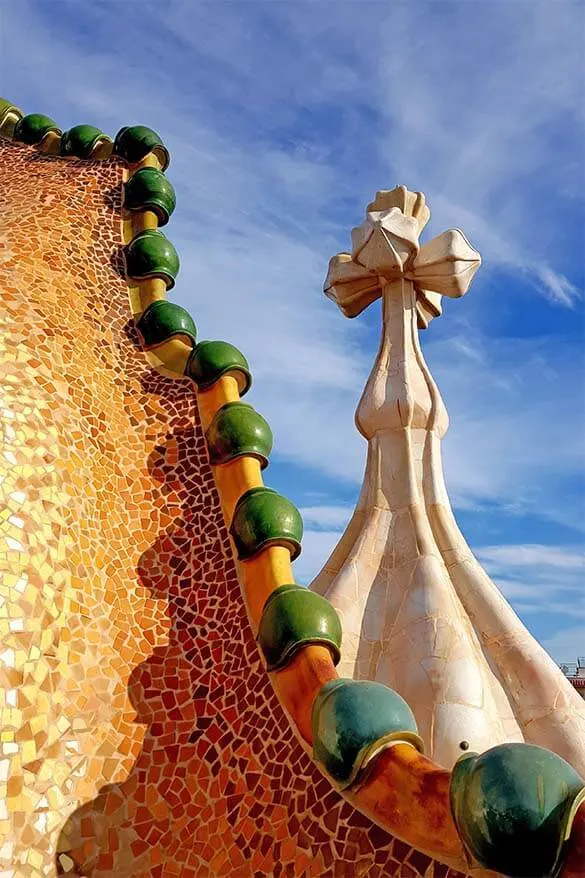 What to Expect From This Barcelona Gaudi Tour – Our Experience
If you are familiar with our blog and the way we travel, you know that we don't often book guided tours if we can avoid it. However, in Barcelona, we booked a few of them and didn't regret it once.
Here are the main reasons why we chose this Gaudi tour:
We wanted to see as many Gaudi buildings in Barcelona as possible in a short time without having to deal with crowds and long queues.
It's the most complete small-group Gaudi tour that we found and it has the best customer reviews by far.
We loved the fact that this tour starts early in order to give you priority access to Casa Batllo before anyone else is in the building.
We also love the fact that this tour ends inside La Sagrada Familia, giving you plenty of time to explore this incredible masterpiece at your own pace if you want to and you can then stay inside as long as you want.
It was great to have a guide to explain the history and all the symbolism behind the architectural details. We would have never been able to appreciate the genius behind Gaudi's work the same way without these insights from a very knowledgeable guide.
It allowed us to see the best of Gaudi's Barcelona buildings in just one day without having to worry about any practicalities.
Good to know: Despite this being a walking tour, the big distances such as between Casa Mila and Casa Vicens, Casa Vicens to Park Güell, and from Park Güell to La Sagrada Familia are actually covered by minibus. This makes it possible to see so much of Gaudi's Barcelona in a short time without having to walk too much.
Therefore, this tour is suitable for anyone in a reasonable physical condition. The hardest part is coming down the stairs of the tower at La Sagrada Familia (you go up using an elevator).
Below, you can read about all the places we visited on this Gaudi tour and more details about each landmark. Take a look!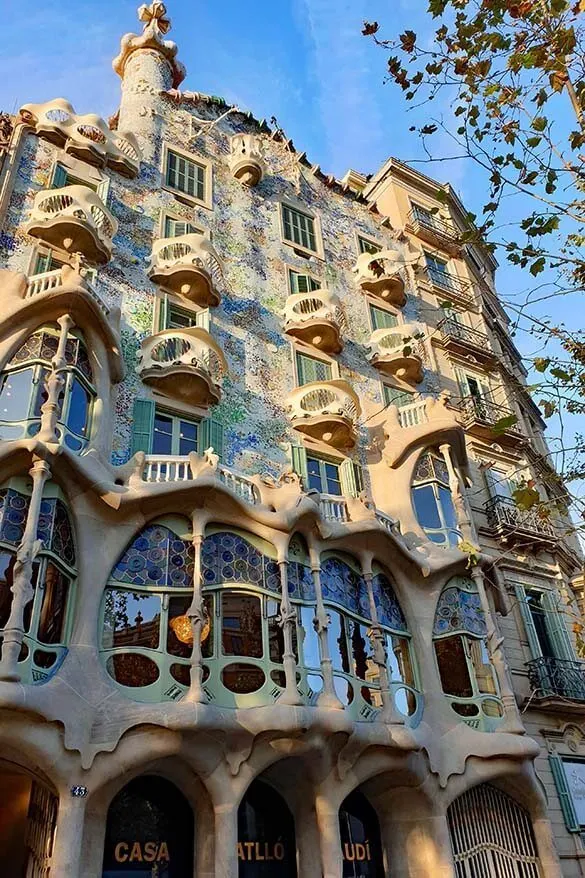 Casa Batlló
The very first place we visited on this Gaudi architecture tour in Barcelona, was Casa Batlló. This iconic building is now a UNESCO World Heritage site and one of the must-see places in Barcelona.
With some magic powers, our guide made sure that we entered the building before anyone else did. We had it completely to ourselves for at least five minutes before other visitors started to come in. I'm not sure if they always manage to do this, but it's a huge advantage of booking this tour over the others because it allows you to see one of the busiest places in Barcelona without the crowds.
In any case, the tour starts with Casa Batllo's visit, so you'll be one of the first ones inside the building either way.
Casa Batllo gets its name from a rich textile industrial who owned this house at the beginning of the 20th century. He hired Gaudi to demolish the old building and build a new one, but Gaudi managed to keep the original structure while transforming it into the real masterpiece that we see today.
The works took place between 1904 and 1906 and the result was this unique and very modernistic building that many people couldn't really appreciate back in those days. In fact, Barcelonians jokingly called Batllo's house 'The Bone House'.
I'll spare you more details and stories so as not to ruin the excitement of your visit. But I have to say that this is one of the most unique places that you can visit in Barcelona. If you visit without a guide, as a minimum, make sure to book tickets with an audio guide. Because otherwise, you'll miss the whole context.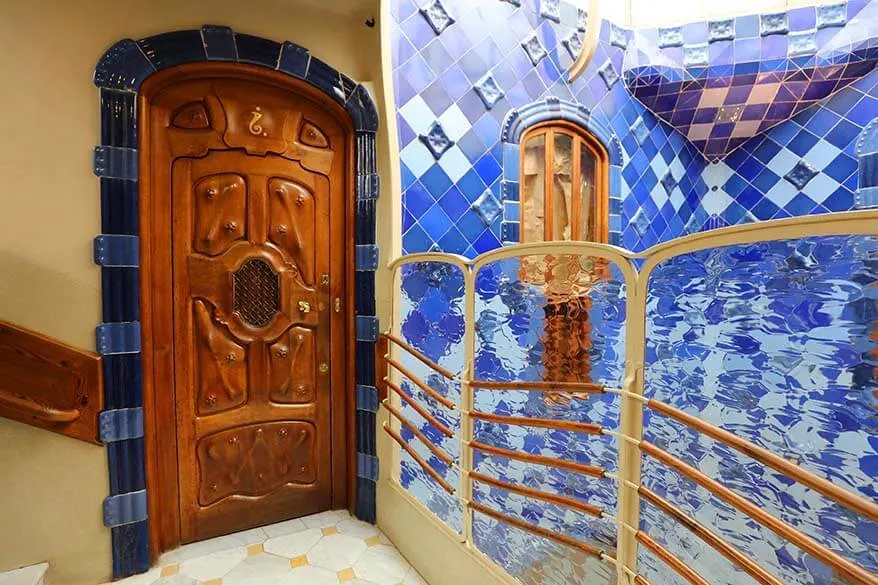 Casa Amatller, Casa Lleó Morera, and others
As you visit Casa Batllo, you'll notice that it's standing next to four other beautiful buildings: Casa Amatller, Casa Lleó Morera, Casa Mulleras, and Casa Josefina Bonet.
While these buildings aren't Gaudi's work, they were reformed at the same time by other prominent Barcelona architects who were competing for the urban awards by the Barcelona City Council. Spoiler alert – Gaudi didn't win.
The most impressive buildings are Casa Amatller by the architect Josep Puig i Cadafalch and Casa Lleó Morera by the architect Lluís Domènech i Montaner. The latter also designed the impressive Palau de la Música Catalana, as well as Hospital de la Santa Creu i Sant Pau, and many other architectural masterpieces. You really should try to see at least a few of his buildings if you have more time in Barcelona.
I'm glad that our tour guide took the time to highlight these other buildings as well. It was great to learn about the development of Passeig de Gràcia – one of the major avenues in Barcelona.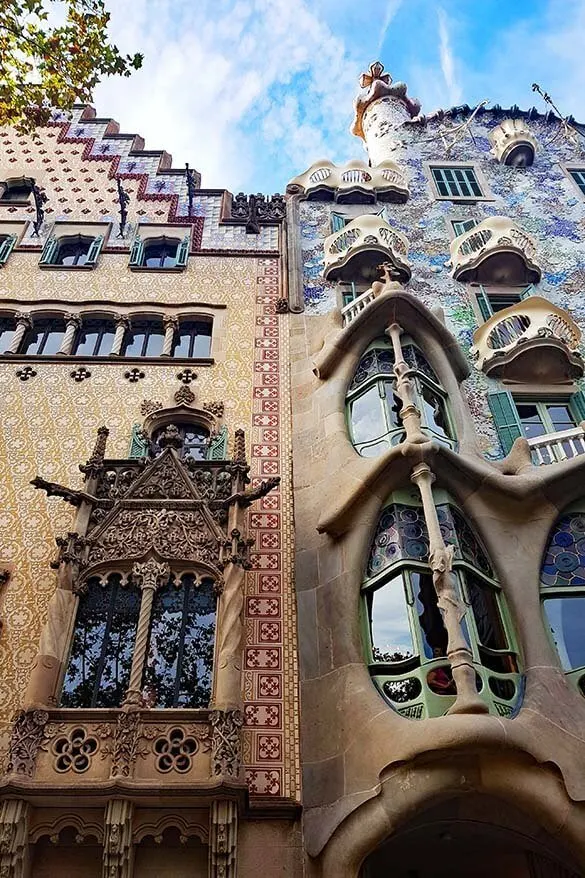 Casa Milà
One more of the Gaudi sights in Barcelona is the famous Casa Milà. This building is also known as La Pedrera or 'The Stone Quarry'. Built right after Casa Battlo, from 1906 to 1912, it's considered one of Gaudi's most iconic residential buildings. It was also the last one he designed.
Despite the fact that ours was the most complete Gaudi tour we found, we didn't visit the inside of Casa Mila. However, since it's located just a few minutes' walk from Casa Battlo, we went to see the exterior of the building.
Our guide gave us some explanation while we could admire the building from the outside. But the queues here are so long that it would require a few additional hours to visit Casa Mila. It would, therefore, make it difficult to see the other Gaudi buildings on the same tour.
If you have the time, by all means, Casa Mila is definitely worth a visit as well. Just make sure to book your skip-the-line tickets (with audio guides) in advance and plan 2-3 hours to visit this building another time.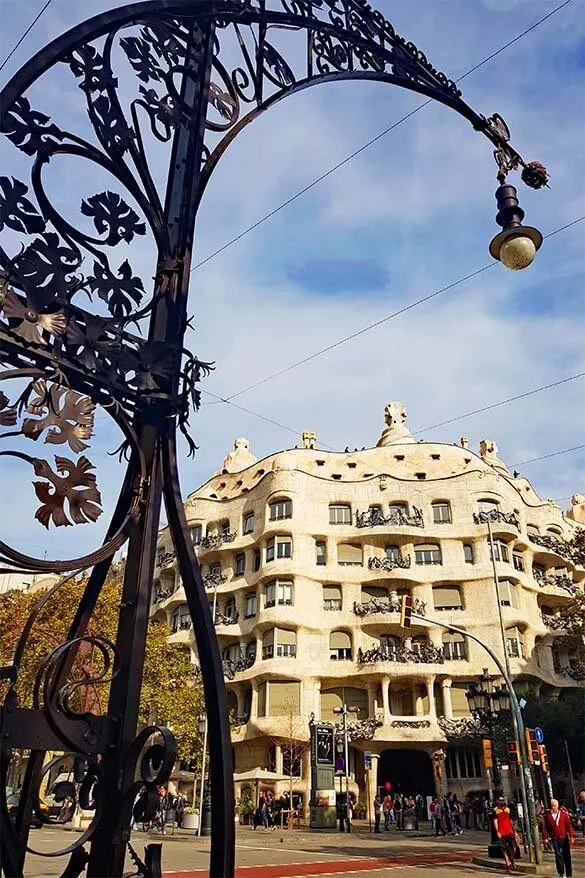 Casa Vicens
The very first house designed by Gaudi, Casa Vicens looks nothing like the other Gaudi buildings in Barcelona. If anything, it seems to have a lot of Asian influence, with a touch of Japanese influence. Casa Vicens was a complete surprise to us. We had never heard about this building or seen it mentioned in any Barcelona travel guides.
Built by Gaudi between 1883 and 1885, this was Vicens' family summer house in the former village of Gràcia. The building has been expanded in 1925 by another architect because Gaudi was devoting all his time and attention to Sagrada Familia by that time. Amazingly enough, the original style was kept incredibly well. It's now hard to tell that this building has been more than doubled in size 40 years after it was originally built.
Casa Vicens remained private property for over 100 years. The building has been declared a UNESCO World Heritage Site and just recently restored. It only opened to the public at the end of 2017. That's probably the reason why it's not as well known as the other Gaudi buildings in Barcelona…
From what I saw, none of the Gaudi architecture tours that include most other buildings visit Casa Vicens. Most of them don't even go to see it (probably because it's located quite far from the others). The Gaudi tour that we did doesn't go inside either (again, it would require much more time). However, you can see the building from the outside and learn about it from your guide.
TIP: If you are visiting Casa Vicens on your own, and especially if it's high season, make sure to also book your skip-the-line tickets in advance.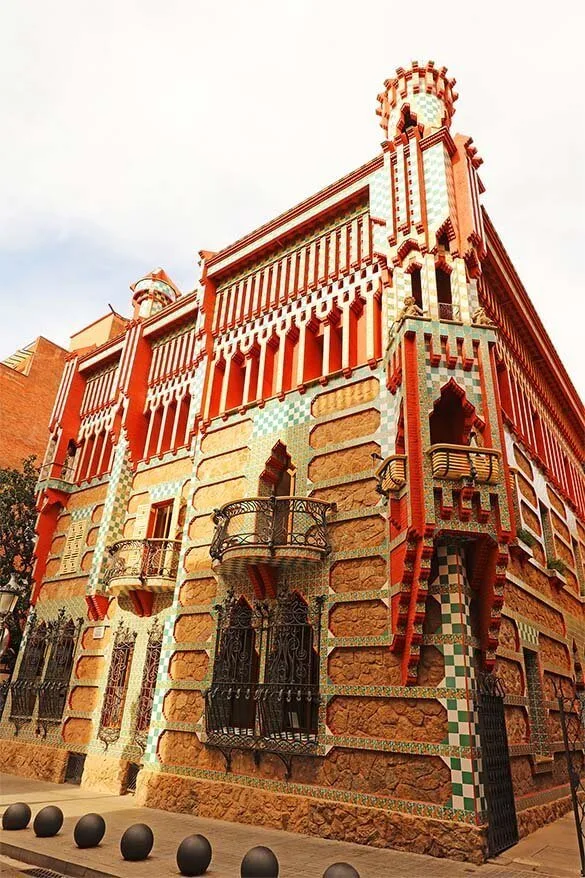 Park Güell
Probably the most-visited Gaudi attraction in Barcelona after La Sagrada Familia, Park Güell is a peculiar place.
Initially, it was designed to be a private and exclusive residential area. But the rich and the powerful of pre-war Barcelona didn't want any privacy. They wanted the whole world to see their beautiful houses! And they wanted to live in the middle of the action… So nobody bought land here.
In the end, only three houses were built in this park: that of Mr. Güell, his lawyer, and a model-house where Gaudi moved in. I find it fascinating that such a famous architect ended up living in a model house…
There are also two impressive buildings at the main entrance of Park Guell that were designed by Gaudi. They were meant to be used as Guard's House and a waiting room for the guests.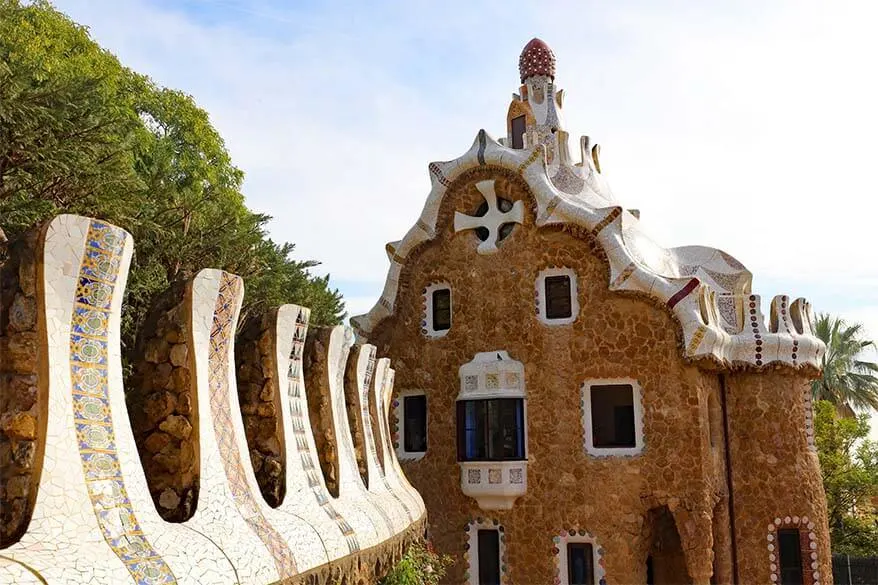 Gaudi also designed the public spaces, a beautiful lizard fountain, a market, and the stunning gardens of Park Guell. It's a real masterpiece that shows how much ahead of time this genius was.
The biggest part of Park Guell is open to the public and can be visited freely. However, the nicest parts of Park Guell are enclosed and require a ticket.
After our tour, I heard from one of our followers that they didn't get to see Park Güell when they visited Barcelona. Because, apparently, you have to book tickets online several days in advance.
Good to know: Park Güell tickets seem to always sell out at least a few days upfront, so you can't just show up at Park Güell and expect to visit it. What a shame, but at least now you know… You can either get a park entrance ticket and explore the park on your own or book a ticket that includes a guided park visit. Either way, be sure to book in advance!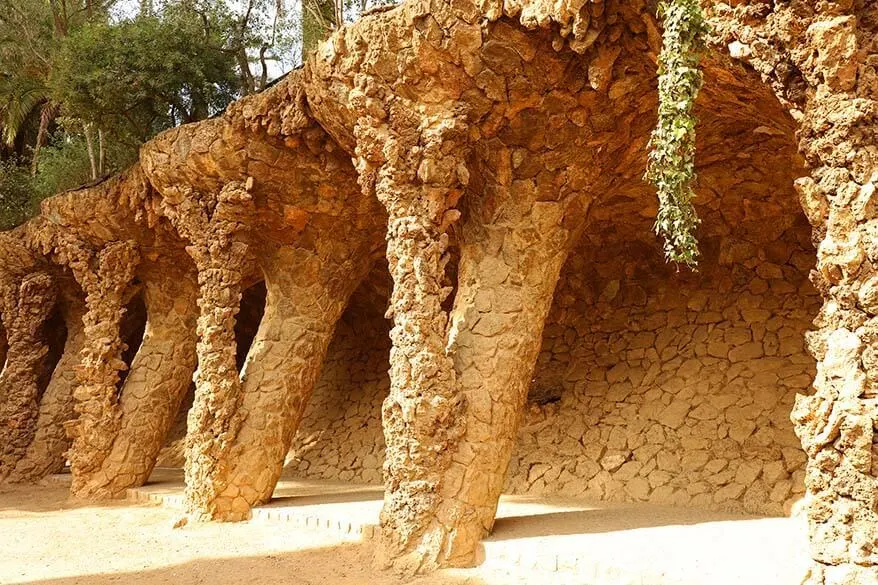 I have to admit that to us, Park Guell felt a bit like a tourist trap. Countless street vendors line the pathways of the park. Between them, huge crowds of tourists, and warnings to watch out for pickpockets, it was hard to appreciate the beauty of this place.
At the same time, I'm really glad we visited it. It's such a unique place and no visit to Barcelona would be complete without seeing Gaudi's Park Guell.
Once again, I'm glad that we came here with a guided tour. First, we would have never thought to buy tickets for a park in advance. Second, it's so busy and overwhelming that it would have cost us lots of time just to figure out where to go… Now, we just followed the guide who safely navigated the crowds and brought us to all the best places in Guell Park.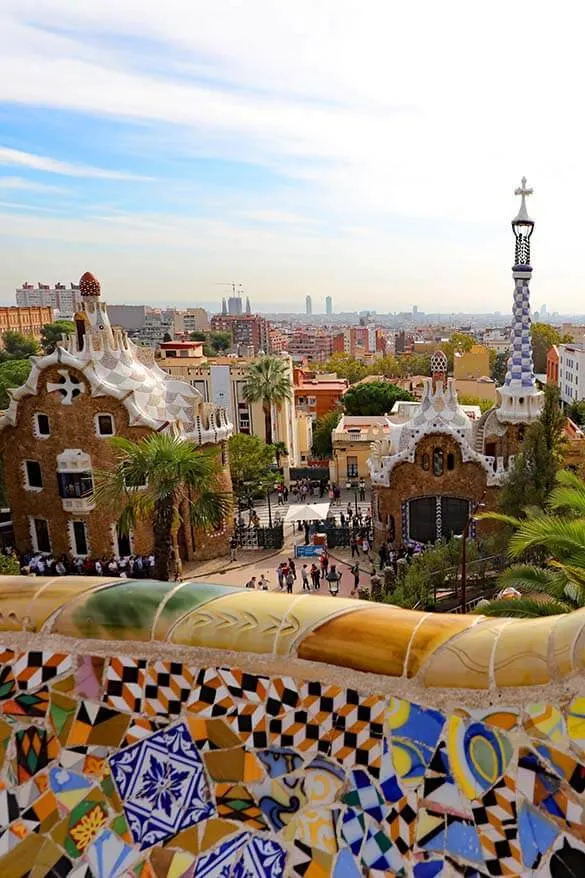 After an introduction, we had some free time here and could explore the park without the group as well. I wish we had done that! But… we took this tour with kids and it was lunchtime… And, as you can imagine, hungry kids and sightseeing is not the best combination…
So we ended up spending our extra time queuing at a café. The good thing is that the food served inside the park turned out to be really delicious. As touristy as it looks, food quality was actually top.
TIP: If I were to do this Gaudi tour again, I'd pack something small for lunch. You can eat it while exploring the park. It would save you quite some time. Also, it would save you quite some money because the food prices here were the highest we had seen in Barcelona.
Is Park Güell worth it? To many, Park Guell is one of the nicest places in Barcelona, to others – a crowded touristy place that they couldn't appreciate. Either way, it's a real Gaudi masterpiece and I think that it's definitely worth visiting. It would be a shame to come to Barcelona and not see one of its main landmarks. On the other hand, it really depends on how much time you have. For example, with just one day in Barcelona, I wouldn't do it.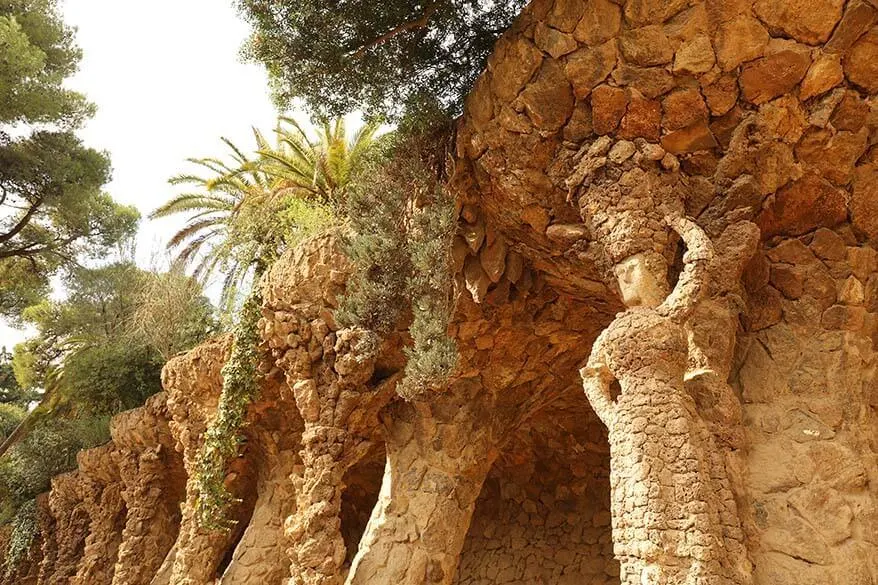 La Sagrada Familia
We kept the best for last and visited Gaudi's Sagrada Familia at the end of our Gaudi walking tour. I think it's also the best way to do it. This architectural masterpiece is so spectacular that you wouldn't appreciate the other buildings the same way if you would have seen the Sagrada Familia first.
Who hasn't seen pictures of this iconic Basilica in Barcelona? But no matter how many pictures you have seen, it will literally take your breath away! There is so much symbolism in this building, so many details, so much genius… It's impossible to show it in pictures or to describe it in words.
If there is one place you visit in Barcelona, make it La Sagrada Familia! It's also a place that you really should visit with a good local guide. You'll never look at this building with the same eyes after you hear all the stories and explanations behind each and every single detail… It's simply fascinating!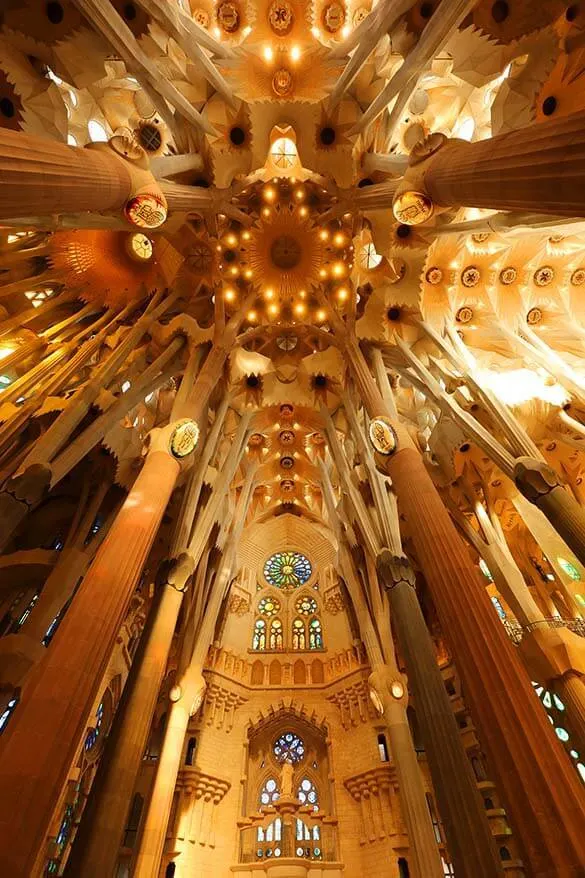 There is nothing that can prepare you for how it feels to enter Sagrada Familia and see its interior for the first time. Wow! Just wow!
We visited Sagrada Familia on a sunny autumn day when the sun was low, and the warm light falling through the colorful glass windows turned the interior of the church into a colorful kaleidoscope.
It's like stepping into a fairytale, a dream… The most extraordinary experience that's really impossible to portray in words…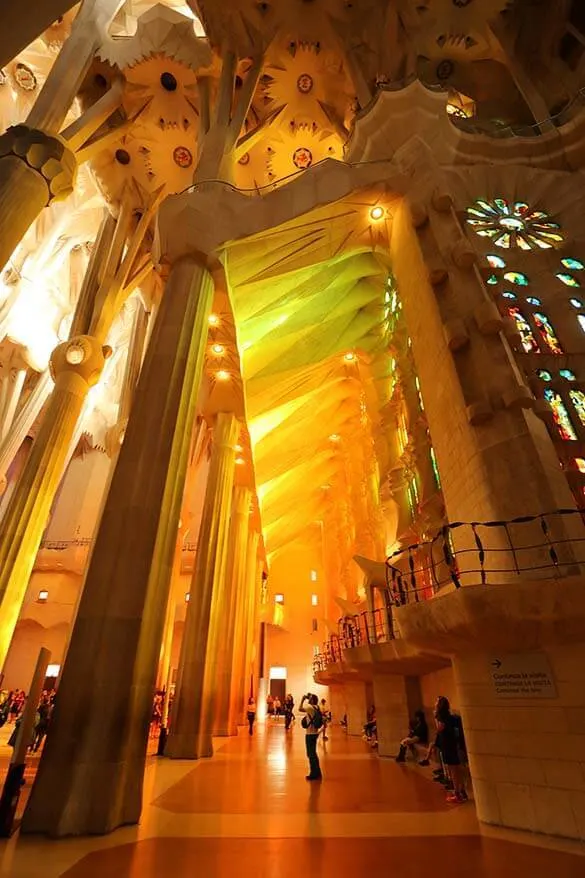 We spent more than two hours inside La Sagrada Familia, including the tower visit. There is also a museum and you could easily spend another hour there. The good thing about this Gaudi tour is that it actually ends inside the Sagrada Familia. So you are free to stay inside the church as long as you want. Also, now that the tour no longer includes tower access, you could try and get a ticket for the tower separately and visit it after the tour.
Some facts: La Sagrada Familia is a work in progress that's taken over 130 years already. The interior of La Sagrada Familia is practically finished and has been opened to the public over ten years ago. Whereas the exterior is still being built.
If all goes as planned, La Sagrada Familia should be finished by 2026, when Barcelona will be celebrating the 100th anniversary of Gaudi's passing. But even as it is now, La Sagrada Familia is a phenomenal building that has no equals. It's worth a trip to the other side of the world, just by itself.
Good to know: The practical side of visiting La Sagrada Familia might look a bit overwhelming. The church is huge and there are several entrances and exits. There is also very strict security control. And, of course, there are huge crowds of people…
Visiting with a guide, we didn't have to worry about any of that. The only waiting time we had was the time that it took all 15 people to pass the security control. That's it. In less than 10 minutes, we were inside the building.
TIP: If you are planning to visit the Basilica without an organized tour (or if you book a Gaudi tour that doesn't include entrance tickets to Sagrada Familia), make sure to get Sagrada Familia skip-the-line tickets in advance.
Here you can get priority access tickets with a guided tour. Here you can get tickets that also include tower access. It will save you a lot of time and guarantee that you can actually visit the church.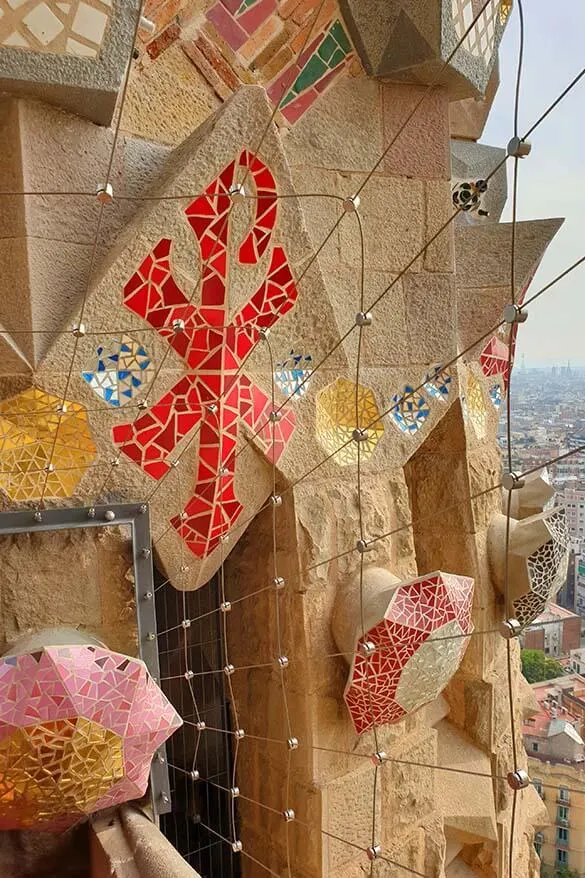 Gaudi Walking Tour in Barcelona – Conclusion
So, this was our experience with a great Barcelona Gaudi tour. It allowed us to see all the most beautiful Gaudi buildings in Barcelona in just +- 6 hours. I hope that this write-up gives you a better idea of what to expect from a Barcelona Gaudi tour. Hopefully, it will also help you choose a tour that's the right tour for you.
Once again, for visiting any Gaudi attractions in Barcelona, I really recommend joining an organized tour with a local guide. Having a guide makes your visit much more complete because you see more, notice more, and learn so much.
The history of the city, the way of life back at the beginning of the 20th century, and many stories give all these buildings a historical context and help to put things in a very different perspective.
After this excellent tour, we also visited many other incredible buildings in Barcelona. But even with audio guides, it was not comparable to having a knowledgeable local guide.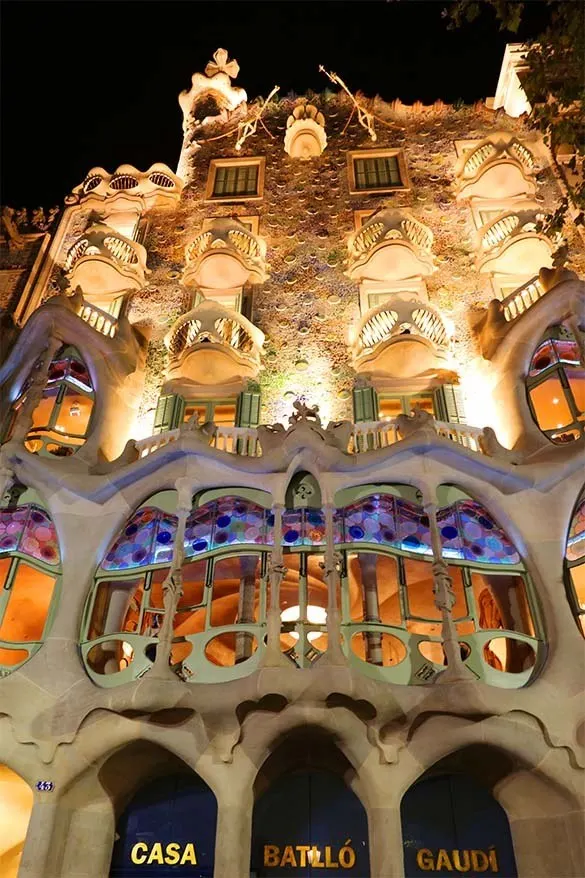 Is the complete Gaudi tour worth it? At first, this Gaudi architecture tour that we did looks quite expensive. But when you add the ticket cost of all the attractions, it's actually not exaggerated at all. Furthermore, you get fast-track access everywhere and save lots of time. Not even to mention the convenient minibus that quickly brings you from one place to the other…
If you were to visit all these Gaudi buildings in Barcelona on your own, there is no way you could do it all in just 6 hours… Not even in a day. So yes, to us, it was absolutely worth it! I think it's one of the very best walking tours that you can do in Barcelona.
How to book this Gaudi tour. If you want to do the same Gaudi tour as we did as described in this article, you can check availability and book it here. If this tour isn't available for your travel dates, the very best comparable alternative is this day tour. Either way, make sure to book it well in advance!
So, this is our experience with visiting the most famous Gaudi buildings in Barcelona with a tour. Have you been to Barcelona? Feel free to share your experience by leaving a reply below. Planning a trip and have any questions about this Gaudi tour or Gaudi attractions that we visited, don't hesitate to leave a reply below and I'll try to help.
READ ALSO: Barcelona Top Sights & Tourist Attractions
More tips for your trip to Spain:
If you found this post helpful, don't forget to bookmark it and share it with your friends. Are you on Pinterest? Pin this image!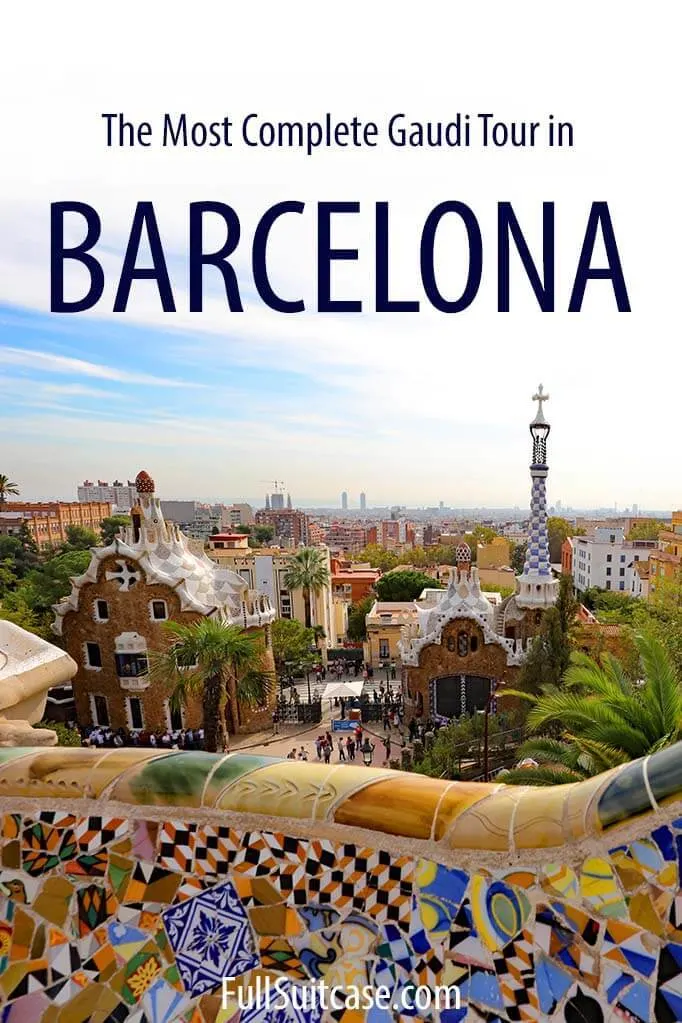 More travel inspiration for European cities:
If you are visiting other European cities and are looking for in-depth information for your trip, take a look at some of our city guides: