Planning a visit to Bern, the capital city of Switzerland, and wondering what there's to see and do in Bern, or whether it's worth a trip? In this guide, we share the best things to do in Bern and some tips for your visit. I hope this will inspire you to visit!
Beautiful Bern is quite unlike any other city in Switzerland. From its covered arcades to its prestigious title as a UNESCO World Heritage Site, it is uniquely charming and very relaxed. Bern is rather small (at least for a capital city) and has a totally different feel than all the major capital cities in Europe.
Bern is really picturesque, with its medieval architecture lovingly preserved. There are cultural and historic gems scattered throughout. The city is also very easy to get around and is so compact that you can comfortably tour on foot. In fact, almost all the main landmarks and sights in Bern mentioned in this guide are within short walking distance from each other.
With so many attractions to visit, it can be difficult to know which ones to include in your itinerary. So in this guide, we focus only on the VERY BEST places to see and things to do in Bern that are worth it the most if visiting Bern for the first time.
To help you plan your time, we also created a map of Bern attractions (you can find it at the bottom of this article), together with some practical info for your visit.
Top Experiences & Tours in Bern:
Top Hotels in Bern: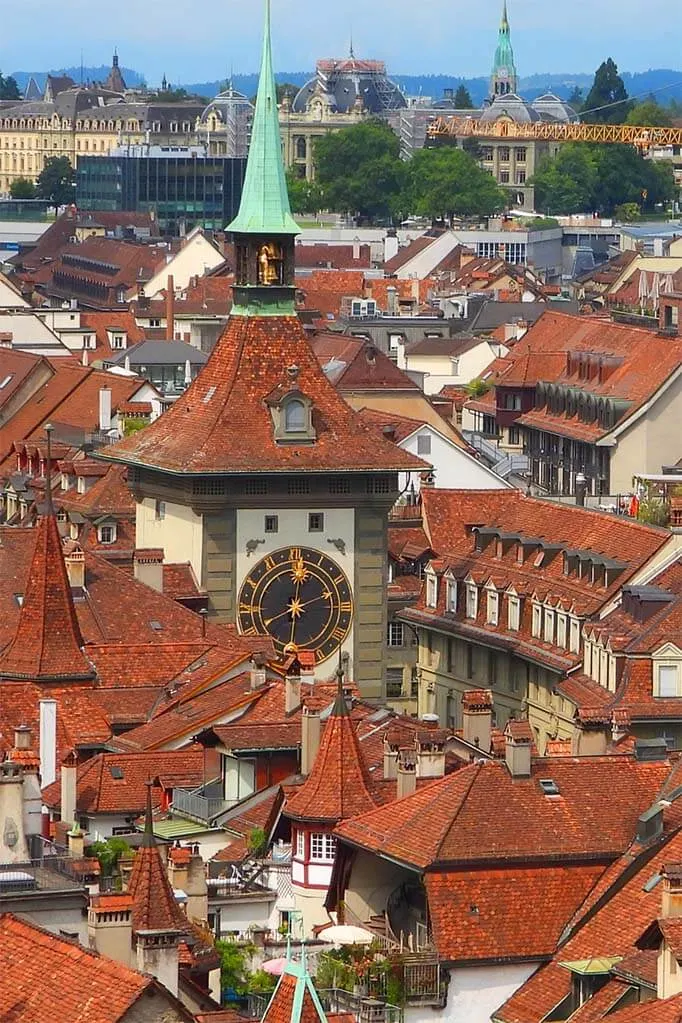 Here are the main sights and things to do in Bern:
1. Bern Old Town
One of the first places to see in Bern is its medieval Old Town, a UNESCO world heritage site. It is beautifully located, high on a cliff with the sparkling blue waters of the Aare River on three sides. But it's the beautiful buildings, colorful flags, and traditional fountains that make it picture-perfect.
You'll find most of Bern's main landmarks in this part of town, along with numerous fountains, the famous Clock Tower, old statues, and impressive bridges that cross the Aare. Indeed, it is easy to spend many happy hours in the Old Town as there is simply so much to see and do.
Originally filled with wooden structures, Bern Old Town was devastated by fire in 1405. Tall sandstone buildings were built to replace them, uniform in appearance and most with arcades on the ground floor. These arcades are filled with cafés, restaurants, and shops. They run for several miles and the local tourist office describes them as the 'longest covered shopping promenade in the world'.
There are four main streets in the Old Town – Spitalgasse, Marktgasse, Kramgasse, and Gerechtigkeitsgasse – running east from the city's central station. When you walk them, you hardly notice when one street turns into the other – it looks almost like one long road. It's not entirely reserved for pedestrians, but there's usually little traffic and it's wide enough to stroll along comfortably, (just look out for buses when you cross!).
Be sure to check out the rest of the Old Town as well and don't miss the Rathausplatz where the Bern Town Hall and the Church of St. Peter and St. Paul are located. Lots of smaller streets are just as picturesque and usually not as busy as the main road, and you'll find some really pretty buildings and town squares that are well worth seeing too.
TIP: If you want to see the very best of Bern in a short time, check out this popular old town walking tour. It takes about 1.5 hours and is a great first introduction to the city!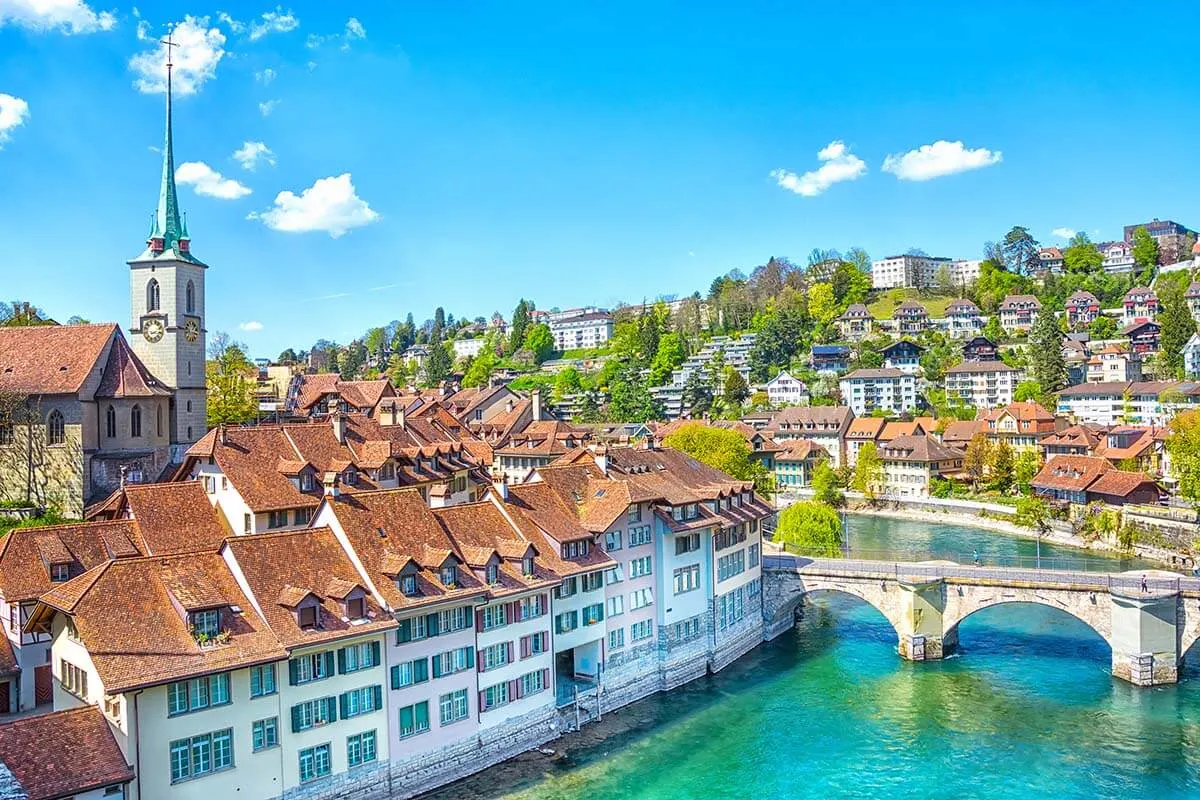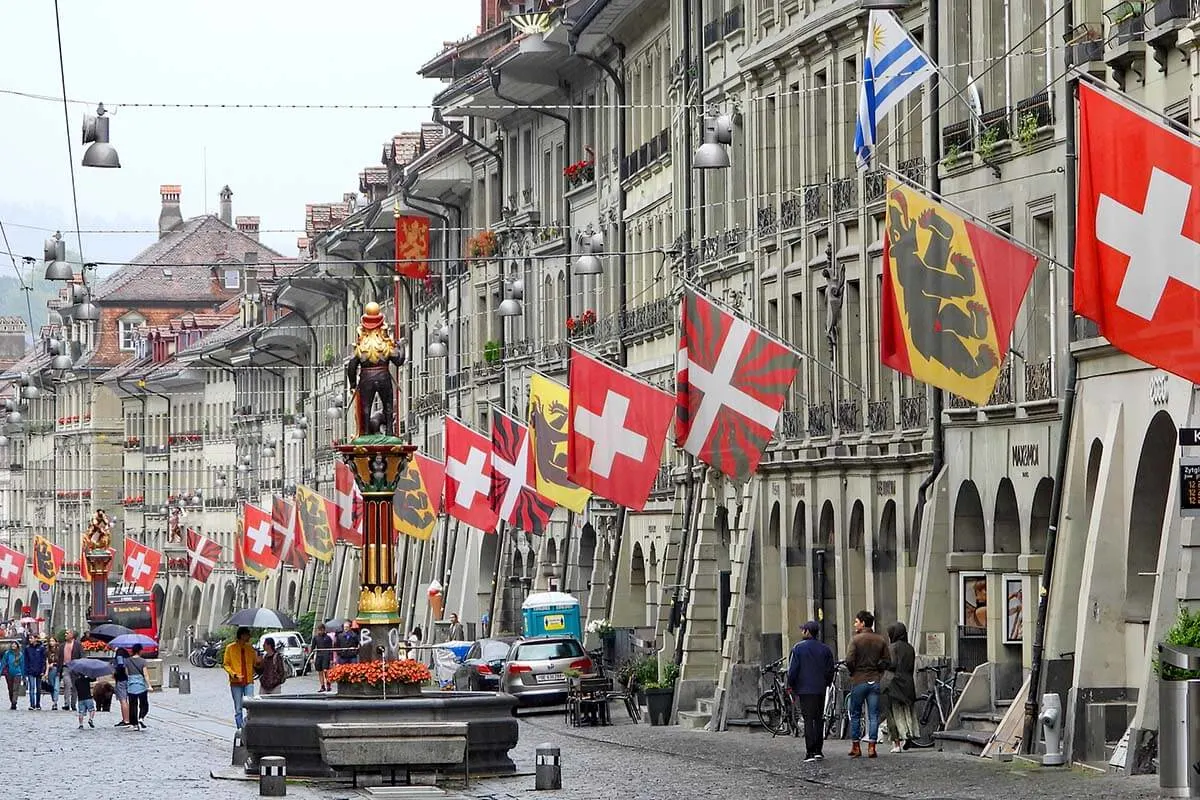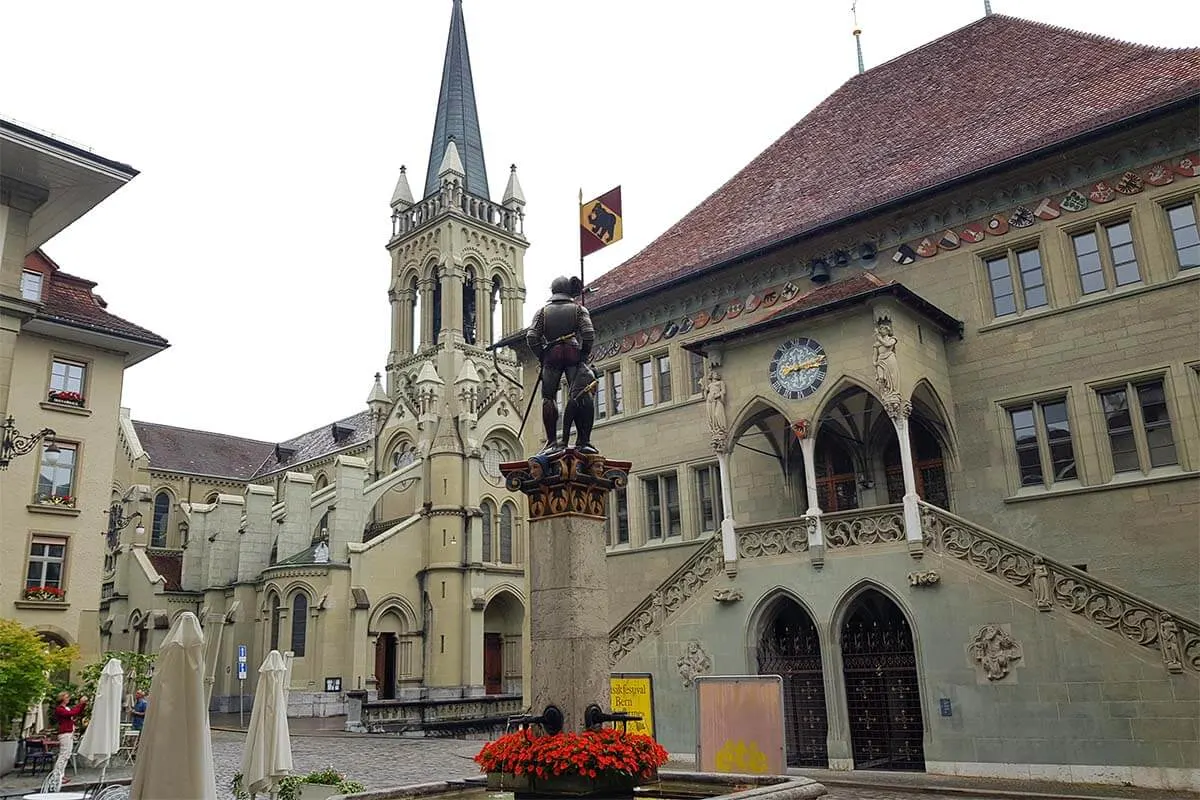 2. Bern Fountains
Bern is home to a staggering 100 public fountains. Many have interesting histories behind them and some offer free, drinkable water to thirsty passers-by.
But the most famous of them all are the 11 Renaissance fountains in the city center. Attributed to the Swiss sculptor Hans Gieng, these fountains date back to the 16th century. They all feature polychrome sculptures on a pedestal.
Some sculptures are of some dignitary from Bern's past, some others – of a historic figure like Moses (Mosesbrunnen), or a symbolic figure like Lady Justice. The latter can be seen atop the Gerechtigkeitsbrunnen (Fountain of Justice).
The Zähringerbrunnen (Zähringen Fountain) – close to the Zytglogge clock – is worth a special mention too. It is topped with the statue of a bear in full armor, with weapons. The Läuferbrunnen (Runner Fountain) is another popular attraction, built in homage to Bern's power.
The city originally had wooden fountains and these elaborate stone fountains were built to replace them. They played an important role in society and provided a place for locals to meet up and exchange gossip. They are still a focal point of Bern today, with some used as sites for Christmas markets and others used for gatherings like political demonstrations.
Good to know: Kronenbrunnen in the Postgasse is a sculpture known as a fountain without a sculpture on top. It's a popular spot to pose for a photo – you can climb the stairs to the top and stand where the statue would be.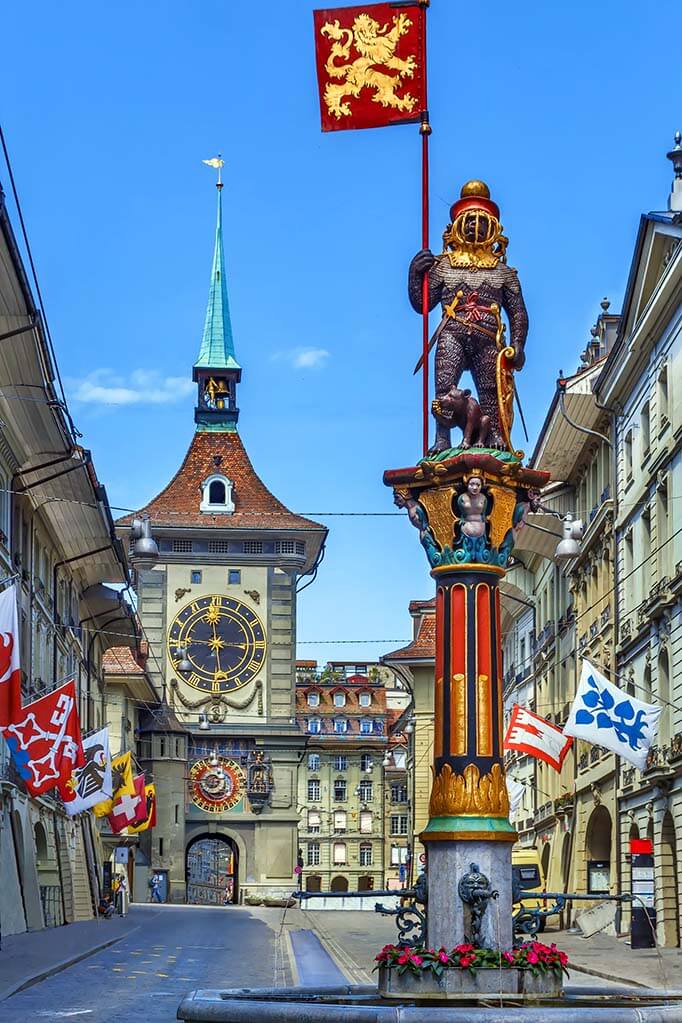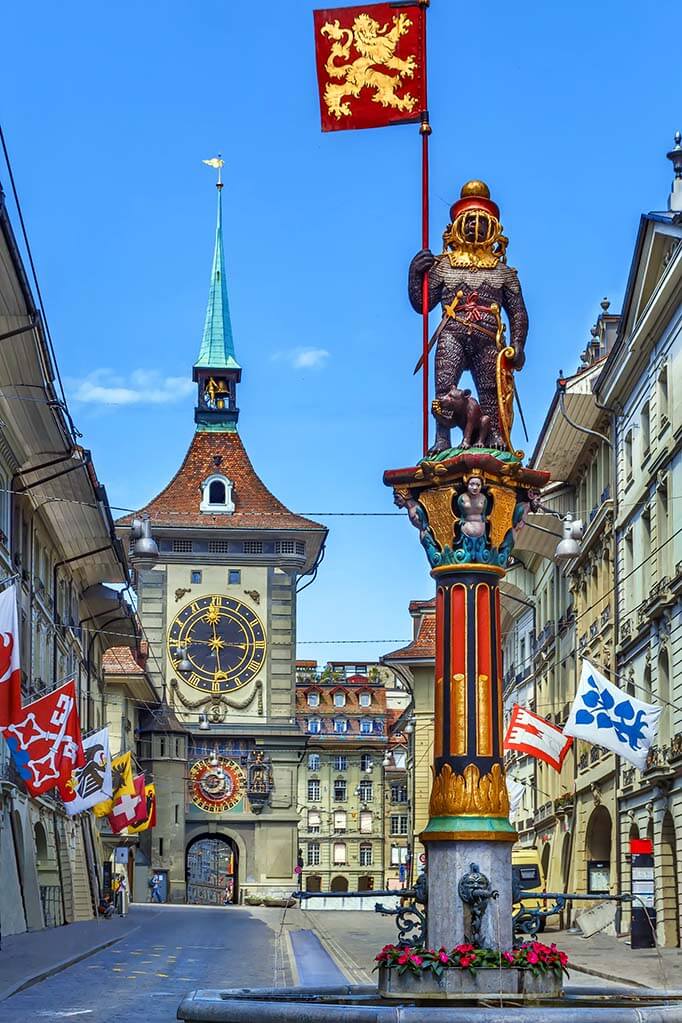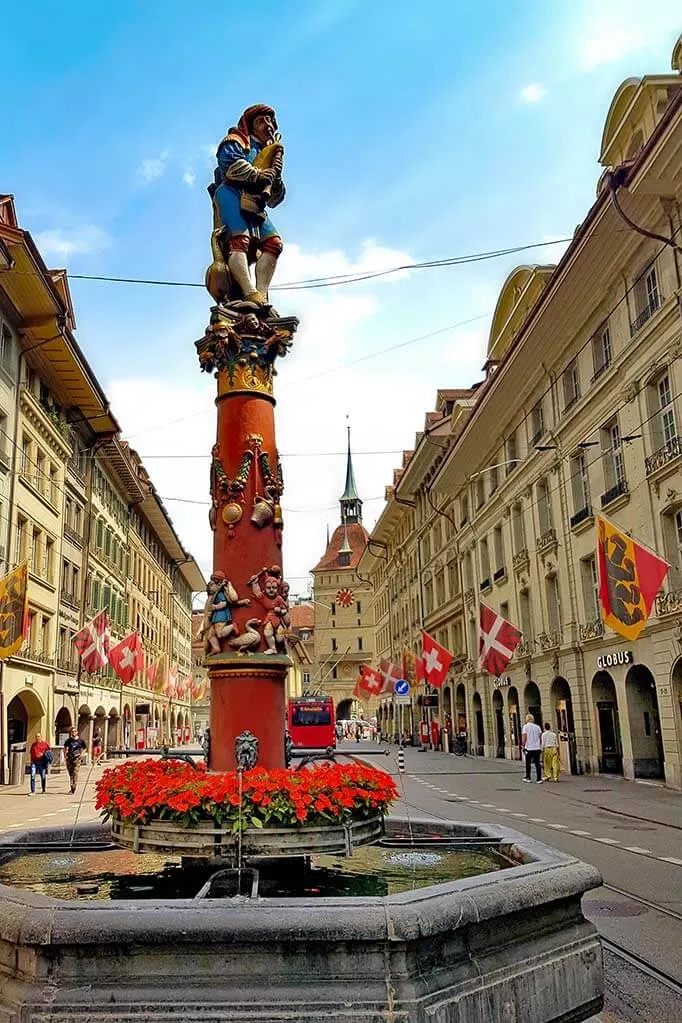 3. Cathedral of Bern
Also known as Berner Münster or the Cathedral of St. Vincent, the Cathedral of Bern is located right in the heart of the Old Town. Built from the 15th century onwards, Bern's Cathedral is the tallest in Switzerland.
This beautiful Gothic building is made from sandstone and its chief attraction is its magnificent spire, which was only completed in 1893. It is more than 100 meters tall and you can buy tickets to climb all the way to the top – up an eye-watering 254 steps!
There is a lot to see inside the Cathedral too. As you enter, you come across the Last Judgement. This is a collection of stone and wood sculptures depicting naked sinners and clothed righteous gathered around Michael the Archangel. The stained glass windows are exceptional too, with the most memorable being Matter Chapel's Dance of Death.
Also note the ornately carved choir stalls dating back to the 16th century, a Gothic font in the apse, and a magnificent Baroque organ from the early 18th century.
Bern Cathedral is an active place of worship and services are held every Saturday and Sunday.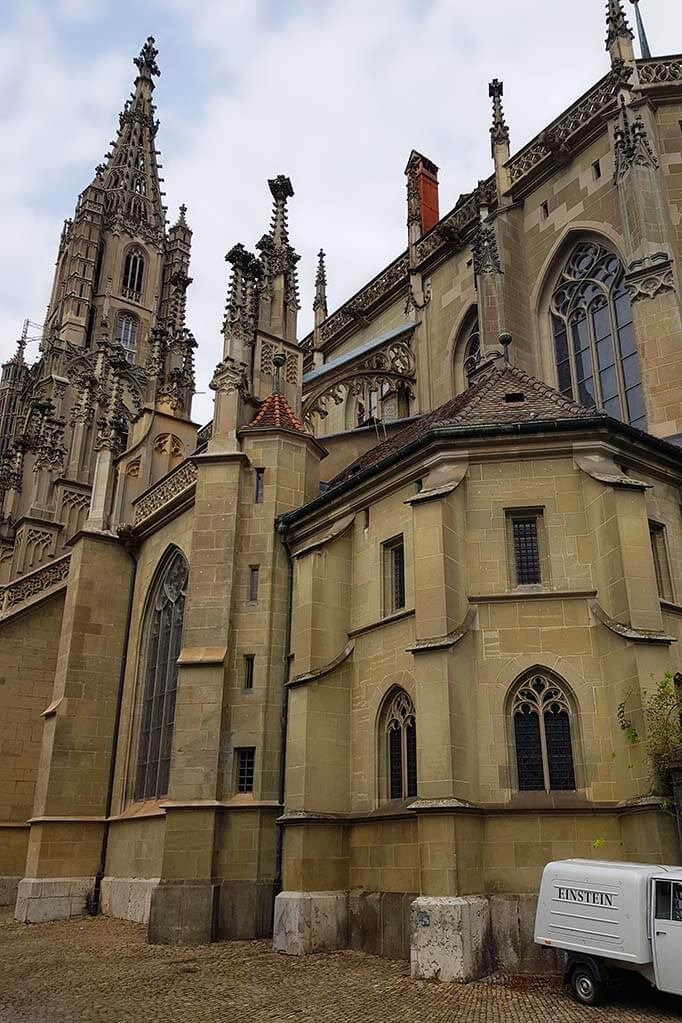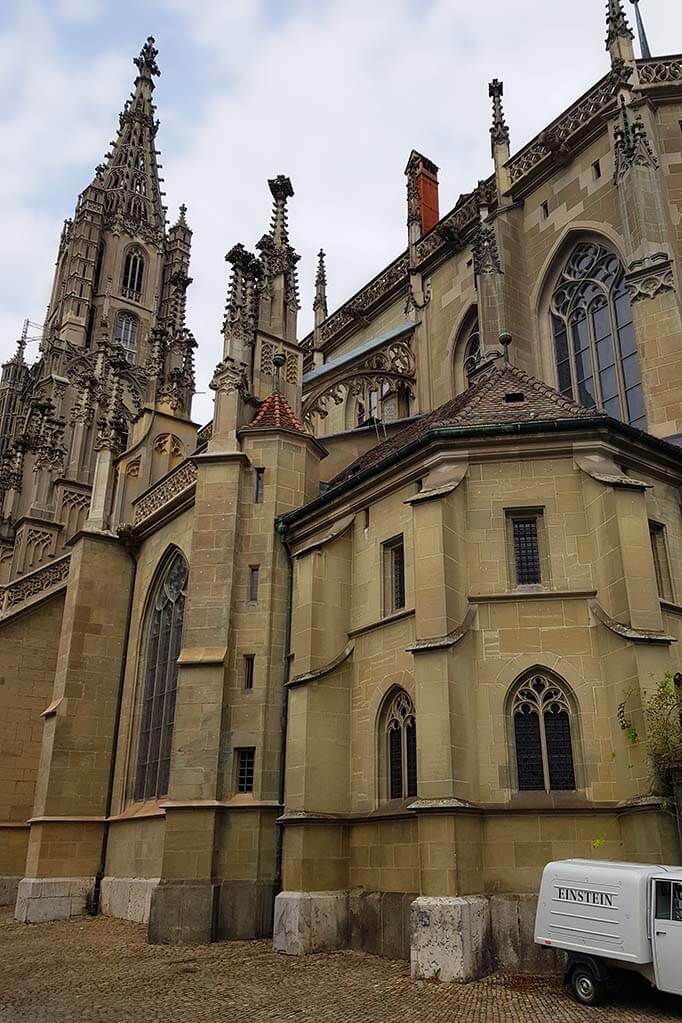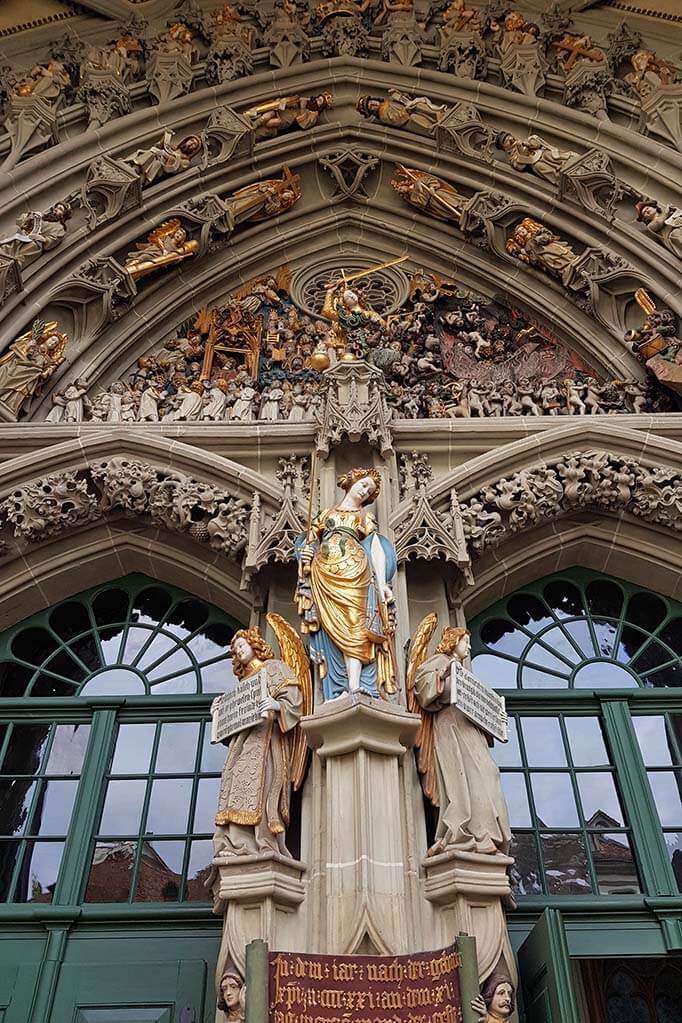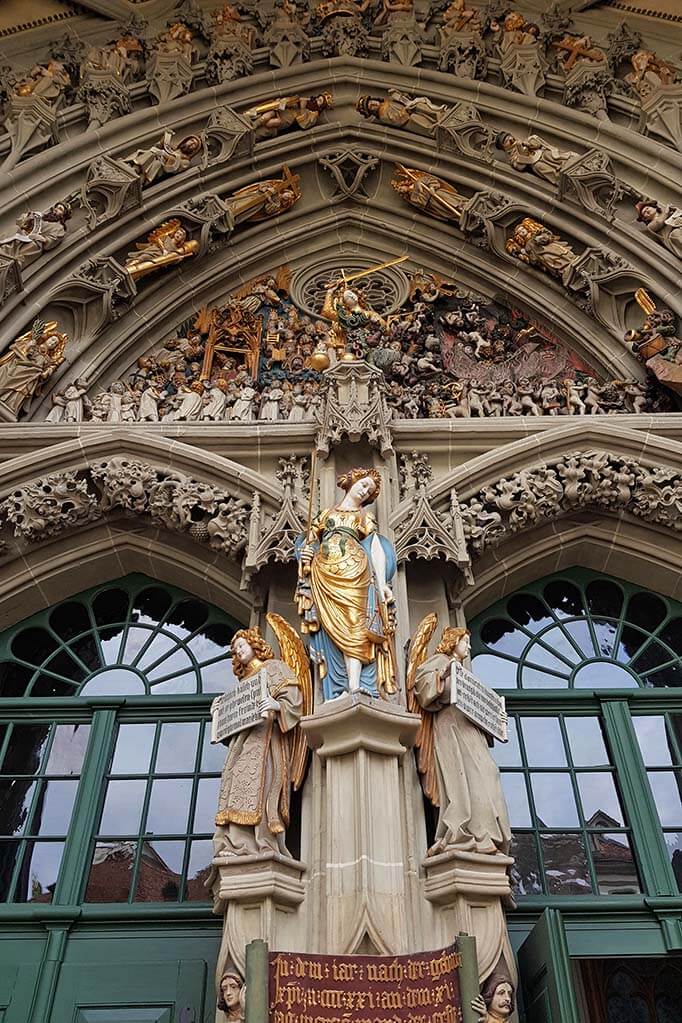 If you are feeling energetic, it's well worth the effort to climb the tower of Berner Münster. The 360° views from the tower are wonderful. The entire city of Bern is under your feet – this is really the place to be for the very best views in Bern!
Inside the tower, you can also see the largest bell in Switzerland – "Grosse Glocke" (Big Bell) which weighs 10 tons. There are also several other bells, dating from the 14-19th centuries.
Good to know: No bags or backpacks are allowed inside the Cathedral tower. I had a really small purse with me and even that wasn't allowed. Luckily, they have secure lockers where you can leave your (not too large) bags behind.
TIP: For some nice views without the climb, head to the Münsterplattform behind the Cathedral. From this pretty terrace, you can look right across the Aare river and the city.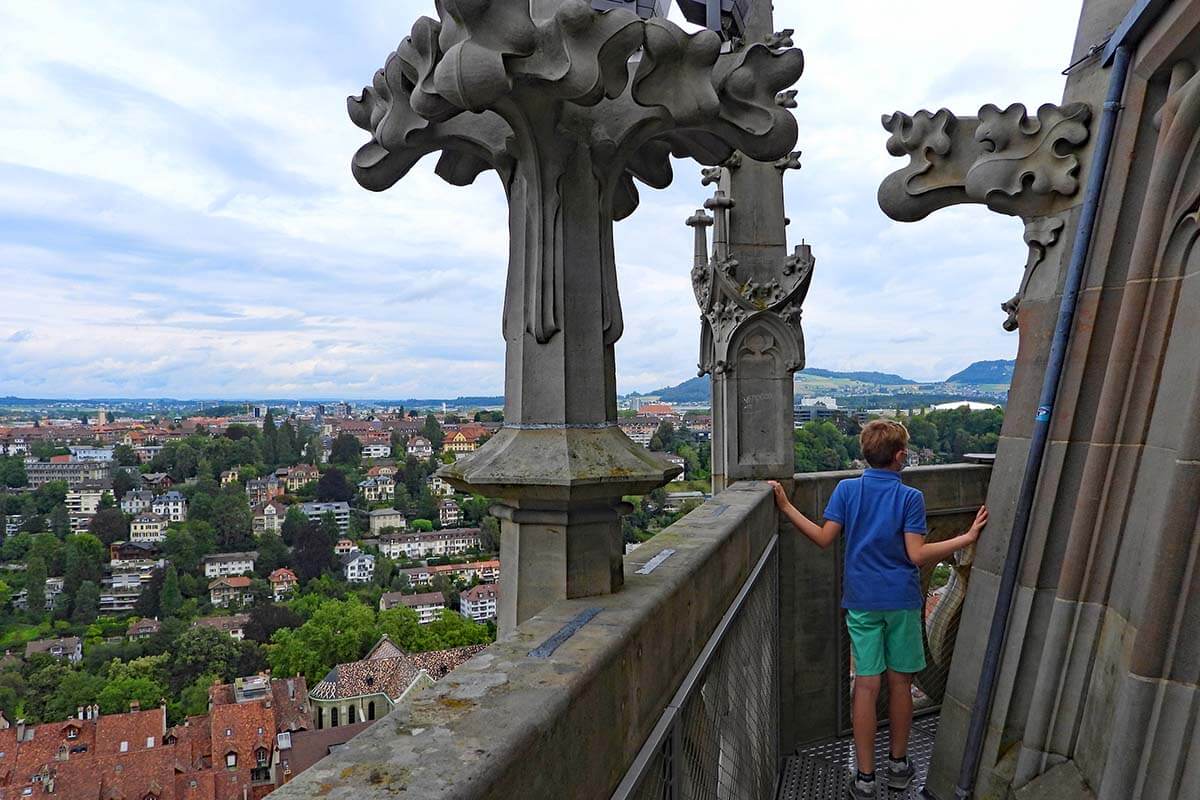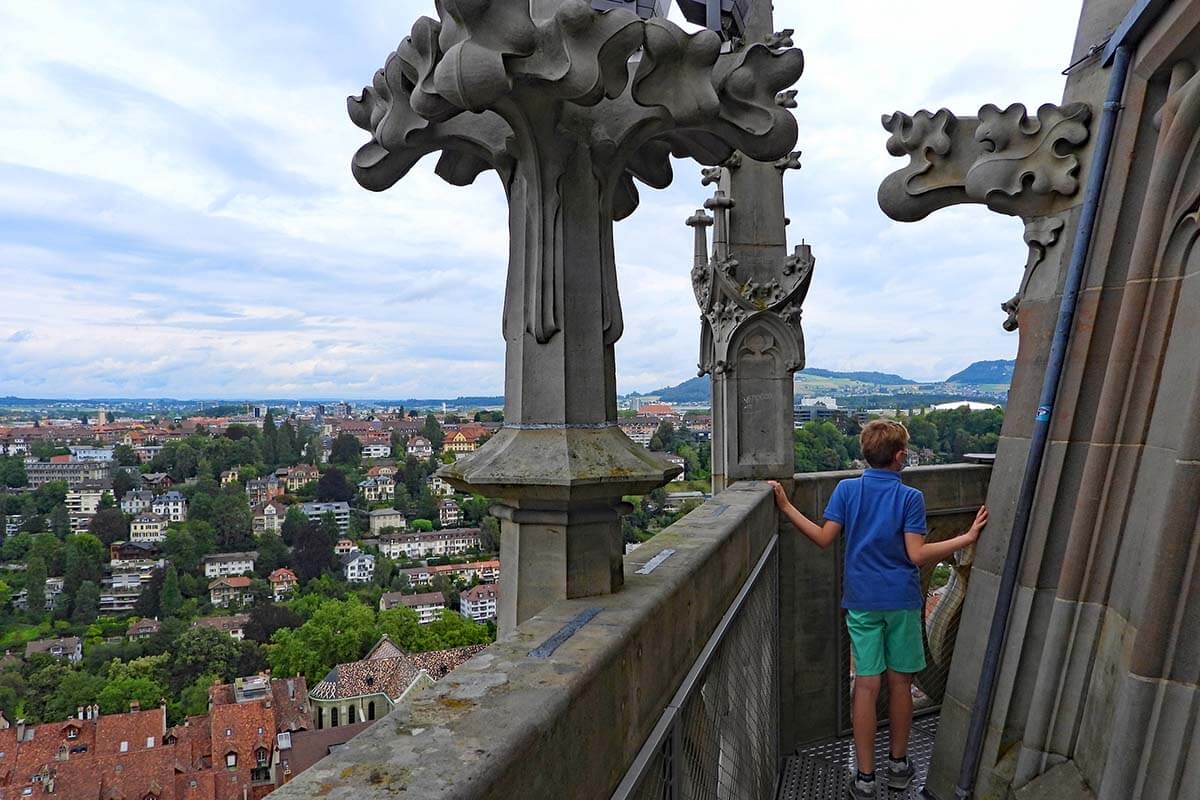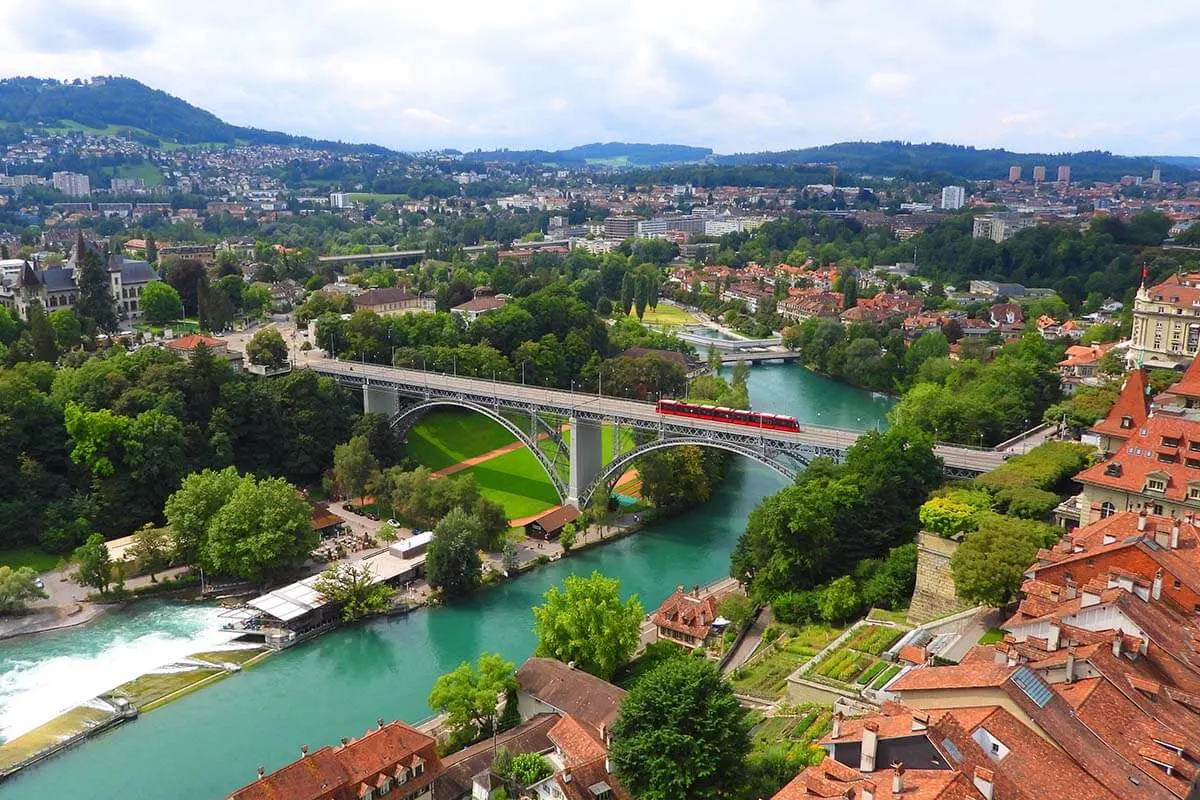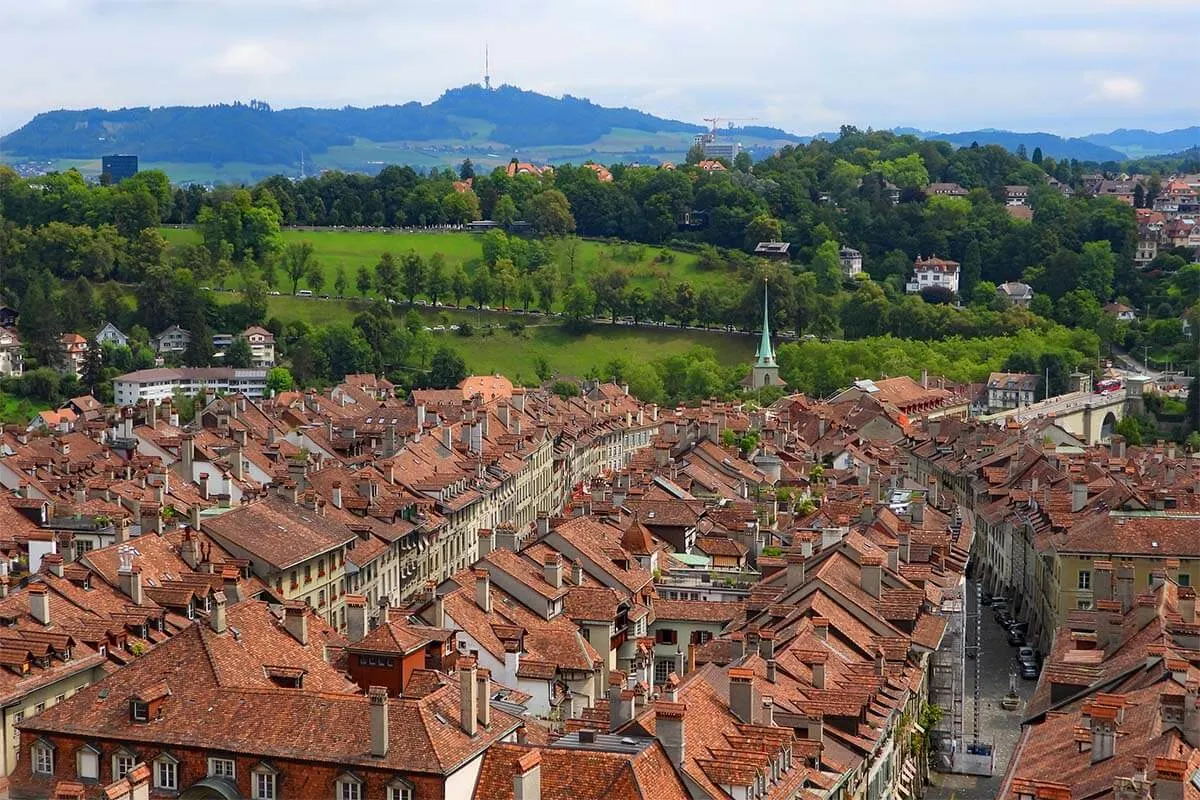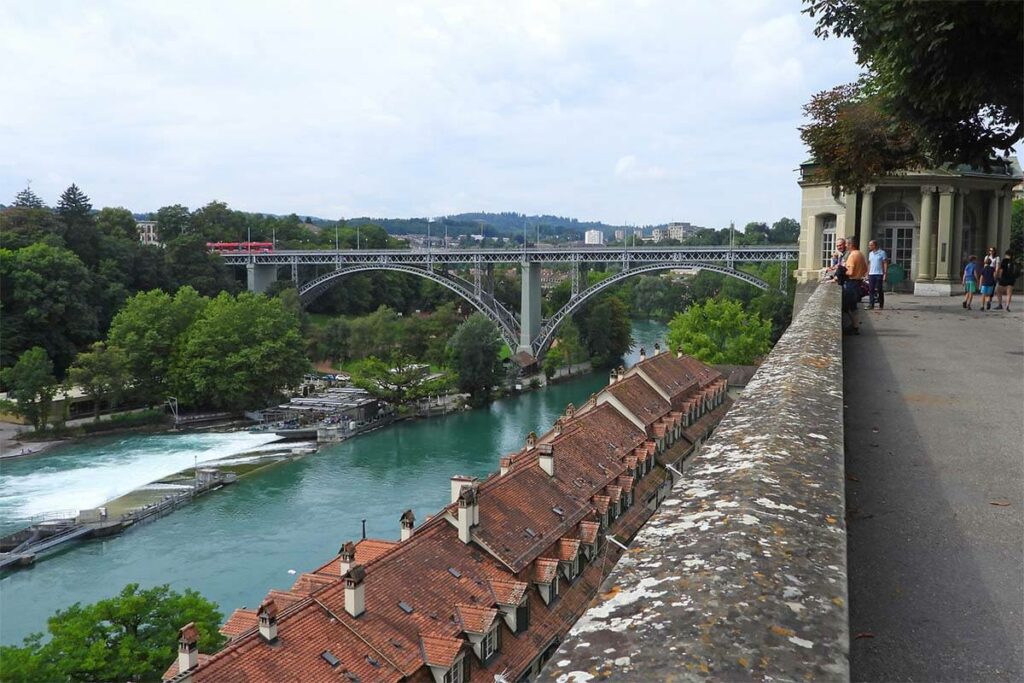 4. Zytglogge Clock Tower
Zytglogge is one of the most famous landmarks in Bern. This clock tower dates back to the 12th century and is one of the remainders of Bern's first city walls. In the early part of the 16th century, an astronomical clock was added which has struck on the hour ever since!
Be sure to arrive at Marktgasse several minutes before the hour and you'll be rewarded with a fun sight when a circus of mechanical creatures appears and performs a little show.
PRO TIP: If you want to visit the Clock Tower inside, I highly recommend booking this highly-rated clock tower tour. It takes you inside the tower and behind the scenes to show you the mechanism controlling both the figures and the clock.
On this 1-hr tour, you can also climb the 130 steps of the spiral staircase to reach the lookout platform at the top. There are some nice views across the city's rooftops. This is the most popular tour in Bern, so be sure to book in advance!
Good to know: In the high season (April-October), the tour inside the Zytglogge clock tower runs daily except on Tuesdays and Thursdays. In the low season, it usually only runs on Saturdays. Here you can check the availability and reserve your spot.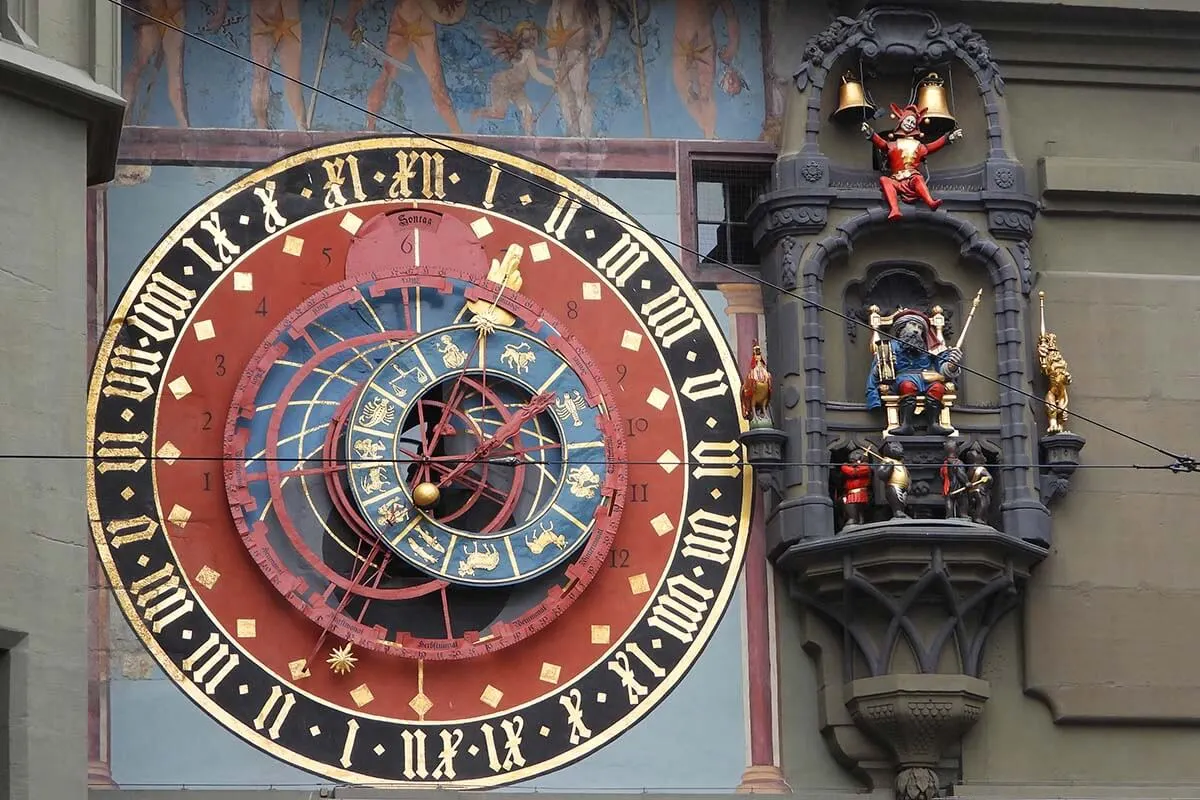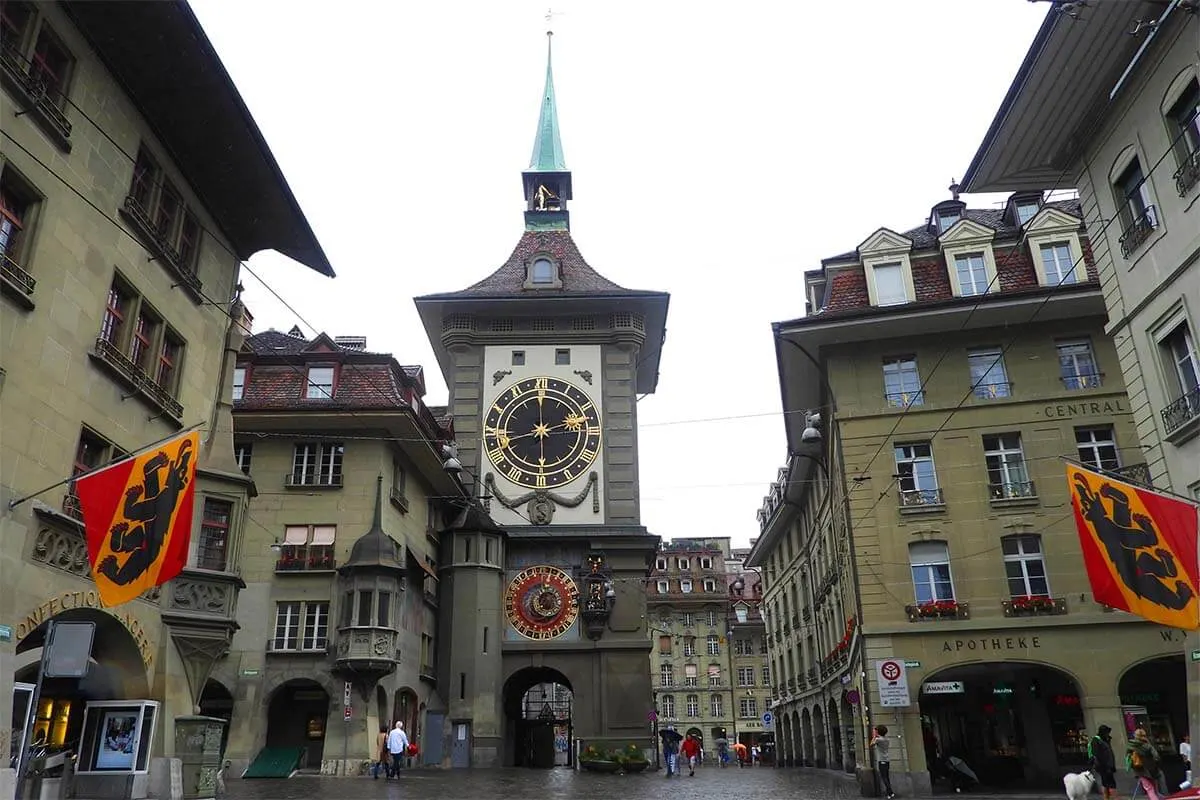 5. Käfigturm
Käfigturm is another medieval tower in Bern, part of the old city gate. Featuring a clock at the top, its architecture is quite beautiful. Nowadays, trams pass directly through the arch at the base of the tower, where the city gate used to be. It's always fun to see a tram drive under the tower.
This picturesque tower has a rather grim history. Built early in the 13th century, it was first used as a defense tower but later became a prison where criminals were interrogated and then locked away! Rumor has it that you can still see things the prisoners scribbled onto the doors of their dungeons…
Happily, the Käfigturm tower is now less forbidding and is used for political discussions instead.
Good to know: On request, free guided tours of the tower are available from Polit-Forum Bern – see their website (in German) for more information. But it's really not a must to visit inside – you can just admire the tower from the outside.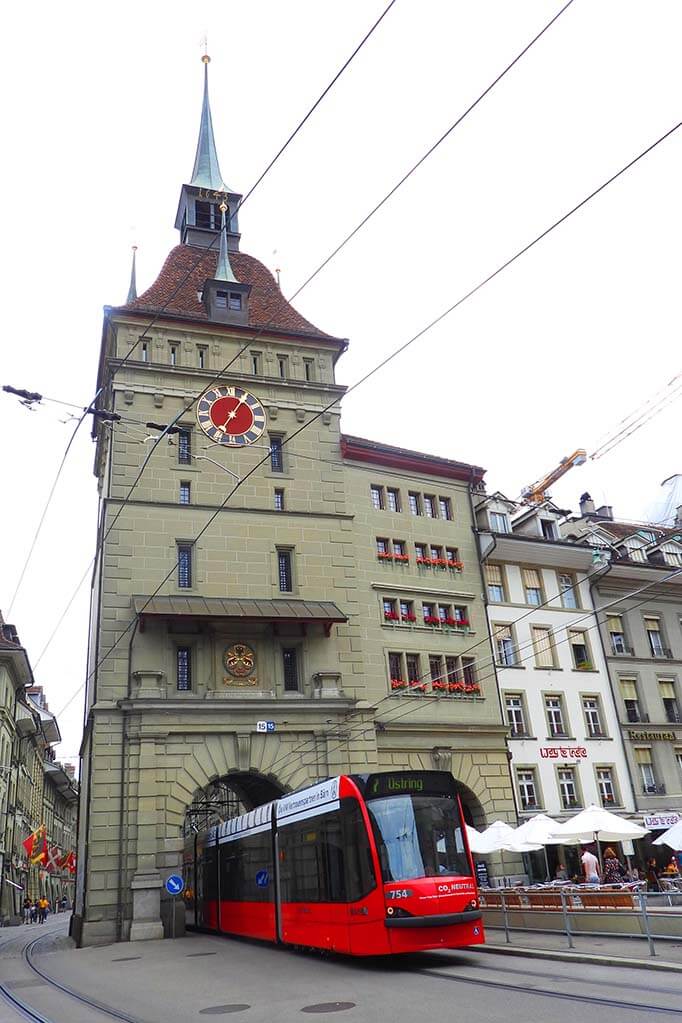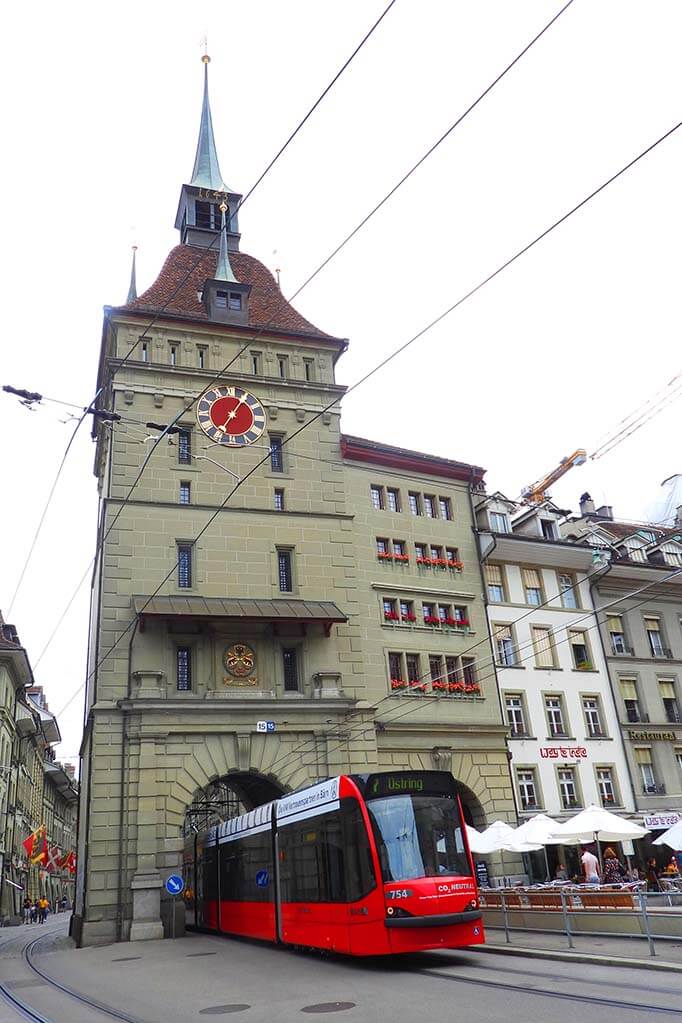 6. Bear Pit
Bears are the symbol of Bern and one appears on the city's coat of arms. Legend has it that the founder of the city – Berchtold V. von Zähringen – went on a hunting expedition in the surrounding forest and a bear was the very first animal he caught. It was to this bear that the city owes its name!
The very first bear to be kept in Bern was brought home as the spoils of war after a battle. It was kept in front of the Käfigturm, in the city's moat. Bears have continued to be kept in Bern ever since, and they were moved to the Bärengraben (or Bear Pit) in 1857.
Bear Pir is free to visit and is one of the most popular Bern attractions. You can't come to Bern and not see its bears!
Covering a big area next to the river, the Bear Pit comprises two enclosures connected by a tunnel. One is the older, original pit which was rather basic and didn't give the bears a very pleasant environment in which to live. The second – which you can also view from above – is far newer, richly forested, and much bigger.
The area surrounding the Pit has several scenic walkways and there is an elevator connecting the upper and lower levels. The best views are from the top.
At the moment, there are four bears kept here – Byörk, Finn, and their cubs Ursina and Berna. If you are lucky, you can see them play-fighting or eating their favorite foods – melons and apples. When we visited, the bears were hanging around in the forest part of their large enclosure. Even then we could still see them, but a bit of patience was required.
Good to know: The bears hibernate between October and March. So if you are visiting Bern in winter, you can only see them through a webcam.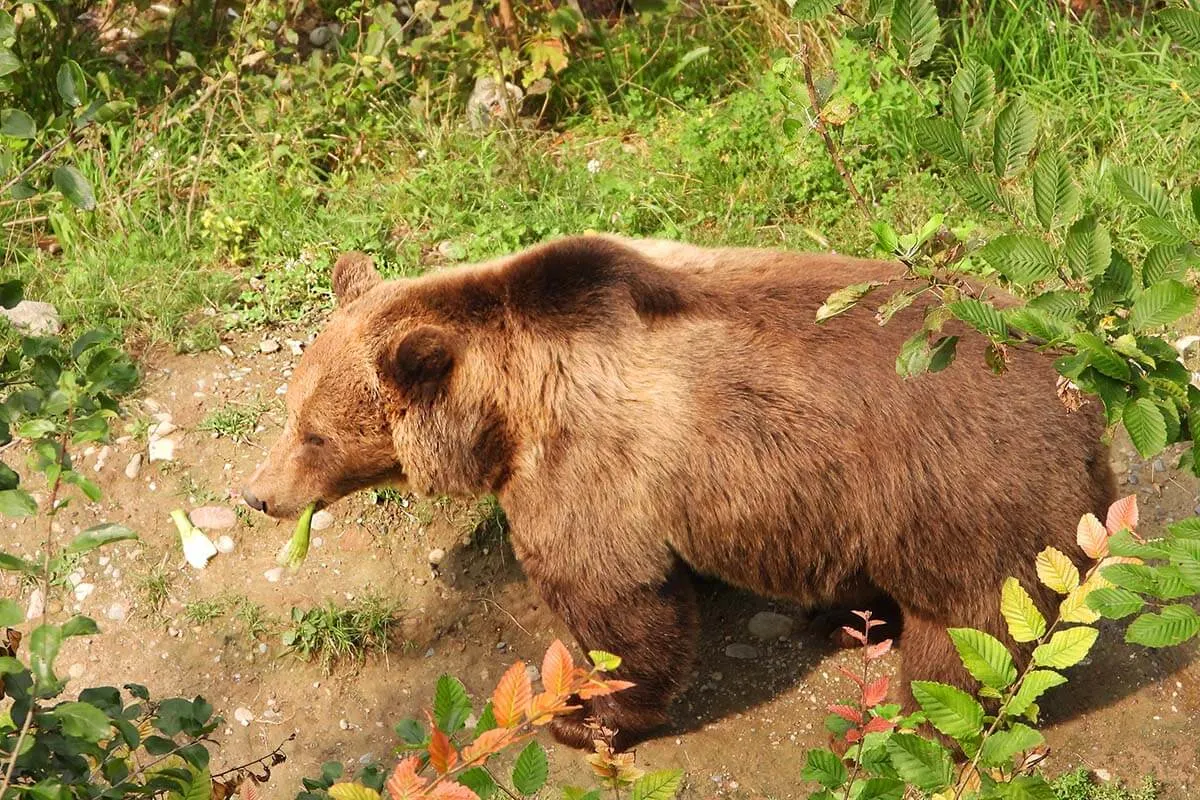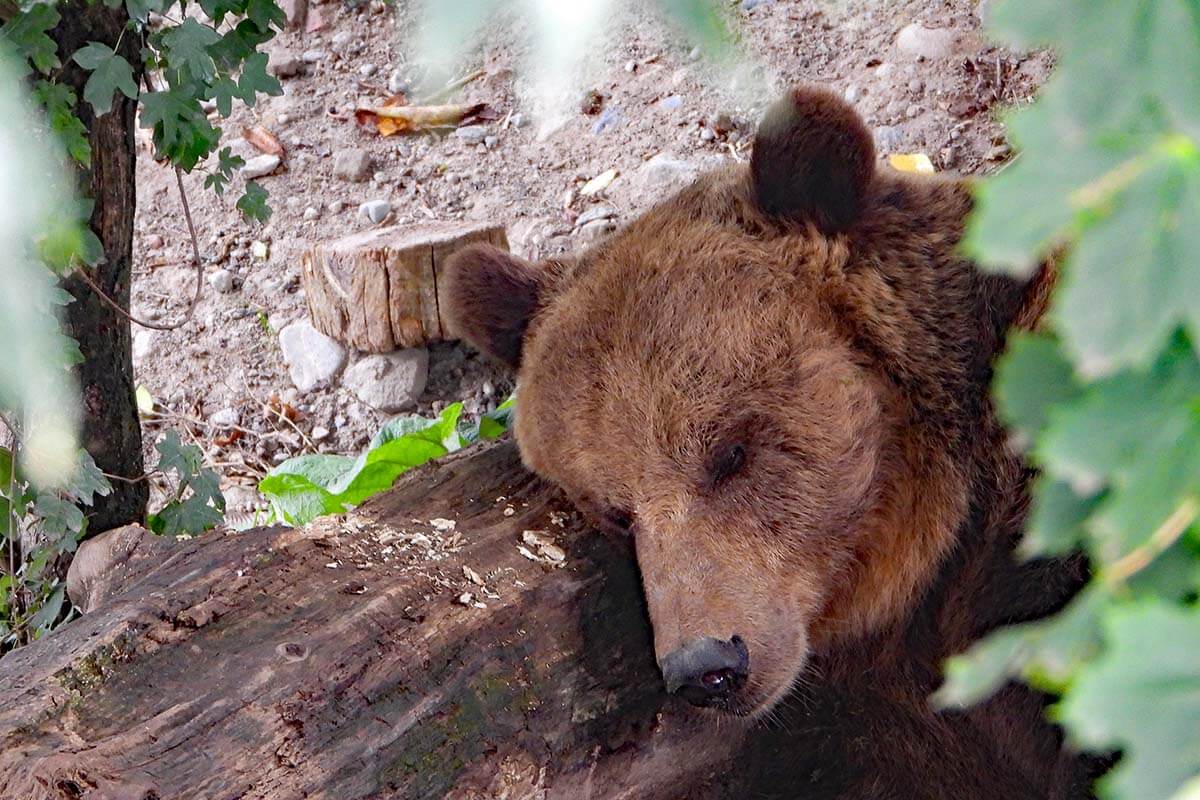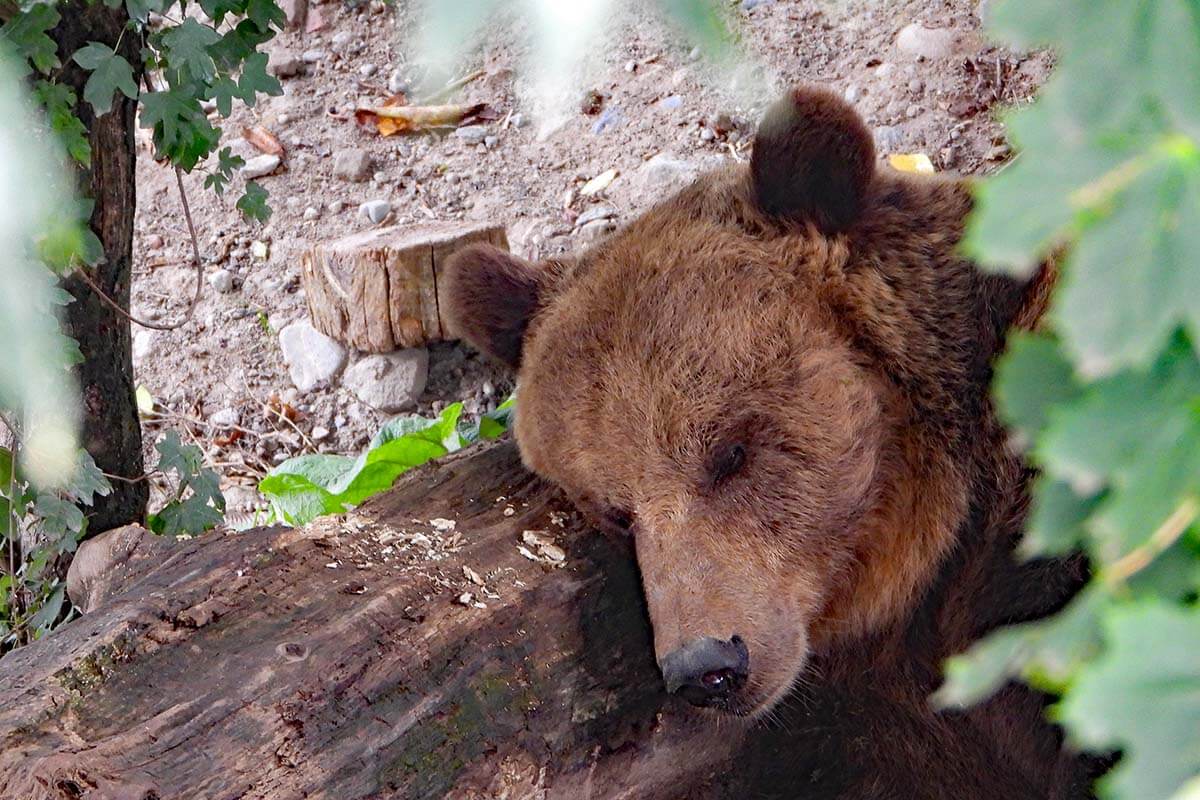 7. Rosengarten
Not too far from the Bear Pit is Bern's beautiful Rose Garden Park (Rosengarten). Located high on a steep hill, it affords exceptional views of the Old Town and across to the Alps.
Once a cemetery, Rosengarten became a public park in 1913, with its very first roses planted a few years later. Now, it has over 200 kinds of roses plus hundreds of different types of rhododendrons, azaleas, and irises. You'll also find a pond (which is dotted with gorgeous lilies in July), plus sculptures, fountains, and a pavilion.
Green and tranquil, it is a favorite spot with local families and couples. When we visited, there was even a morning yoga class on the big lawn with the most amazing city views. And there's a big playground here as well, so if you are visiting Bern with kids, this might be a good place to blow off some steam…
The best time to visit the Rosengarten is, of course, in spring and in summer when all the flowers are in bloom. It's also a nice spot to watch the sunset in Bern.
You can bring a picnic and stop here for lunch, or enjoy a meal at the lovely Restaurant Rosengarten. It is reasonably priced and has a large sun terrace with some fabulous views.
TIP: Don't miss the Einstein bench close to the restaurant and overlooking the city. This is one of the four Einstein benches in Bern and a nice spot for a picture… Another Einstein bench that you can easily see is located at the Bern Historical Museum/Einstein Museum mentioned below.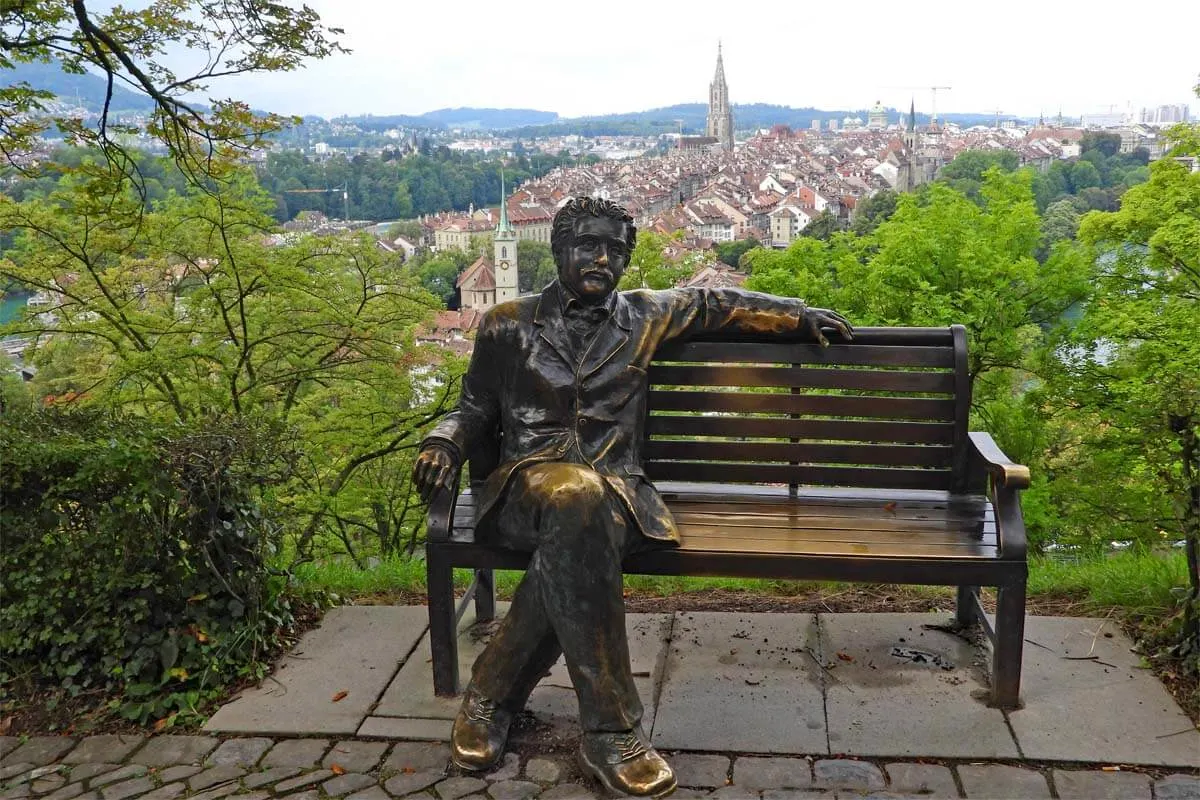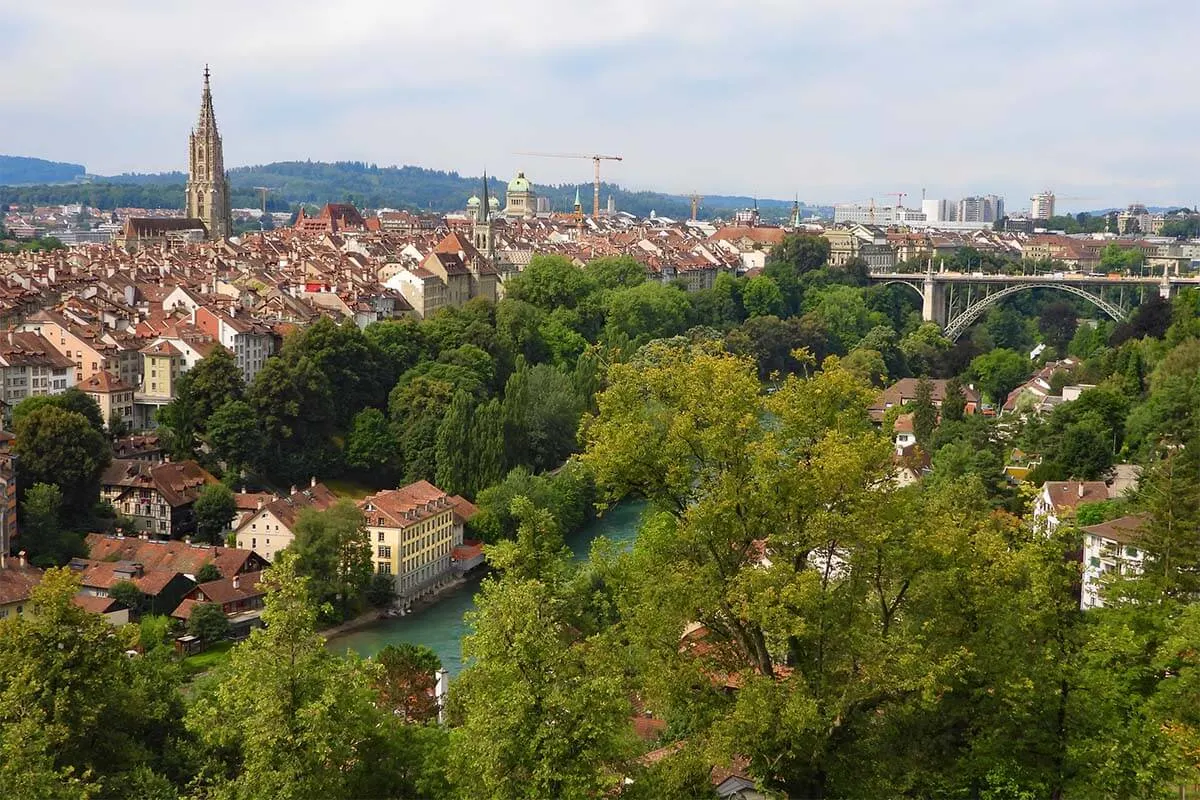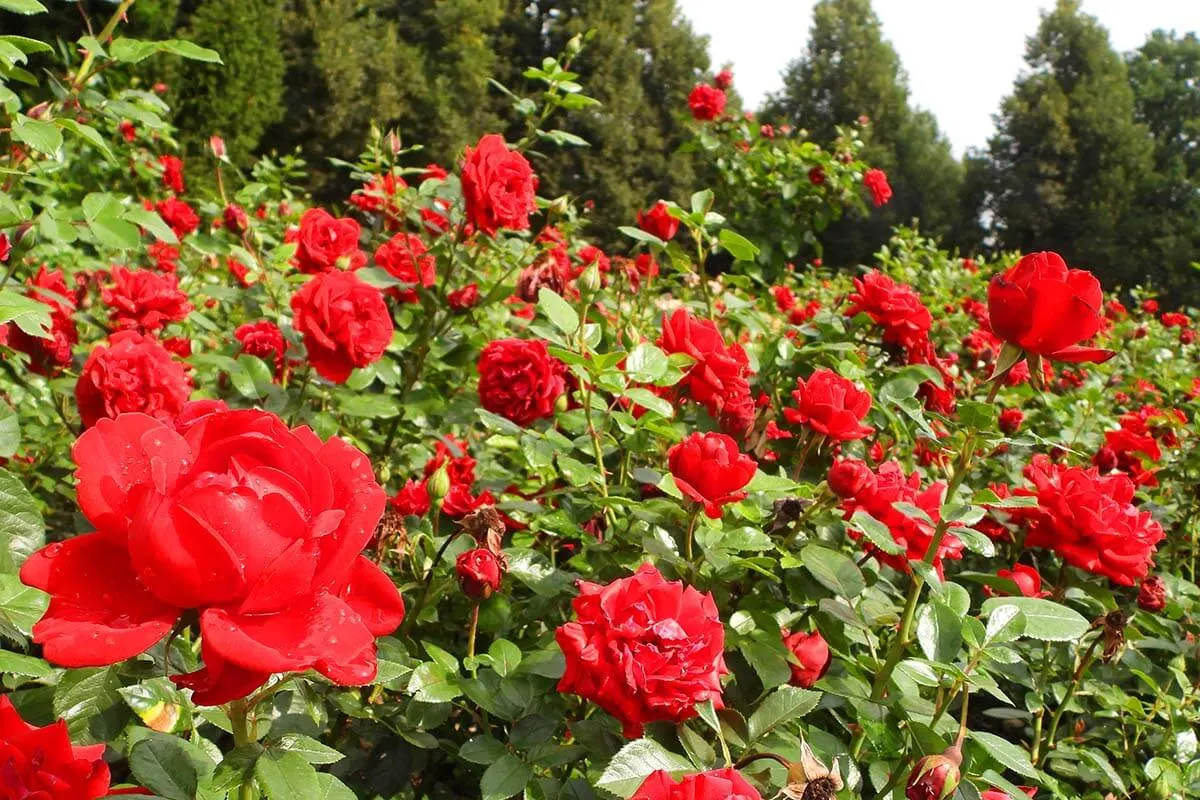 8. Einstein Museum/ Bern Historical Museum
Albert Einstein's link to Bern is strong – he lived here for 7 years at the beginning of the 20th century. What's more, Bern is where he developed his famous Theory of Relativity and published some of his most important papers. He also lectured at the University of Bern.
This link is celebrated at the Einstein Museum. It's part of the Bern Historical Museum (Bernisches Historisches Museum), Switzerland's second-largest institution of its kind.
Bern's Historical Museum focuses on ancient history, archeology, and ethnography. The Einstein Museum is a fascinating place too, with lots of photos, footage, and documents connected to his time there.
Highlights include a letter from Einstein to President Roosevelt, warning him of Germany's nuclear capabilities, and Einstein's 1921 Nobel Prize certificate. You can even see his (somewhat unimpressive) school reports. There is also a great deal of information about his private life – some of it quite surprising!
And if you've always wondered what the Theory of Relativity actually is, you can find out through an animated film designed for non-scientific minds!
Good to know: The Einstein Museum is open daily except on Mondays (see their website for more practical info). You need at least 1.5-2 hours for a quick visit to the Bern Historical Museum/ Einstein Museum. But you can easily spend half a day here too. It's also a good place to visit in Bern when it rains.
TIP: It's well worth coming here even if you don't have the time or interest to visit the museum. The 19th-century castle-style building of the museum and the park are really beautiful and well worth seeing.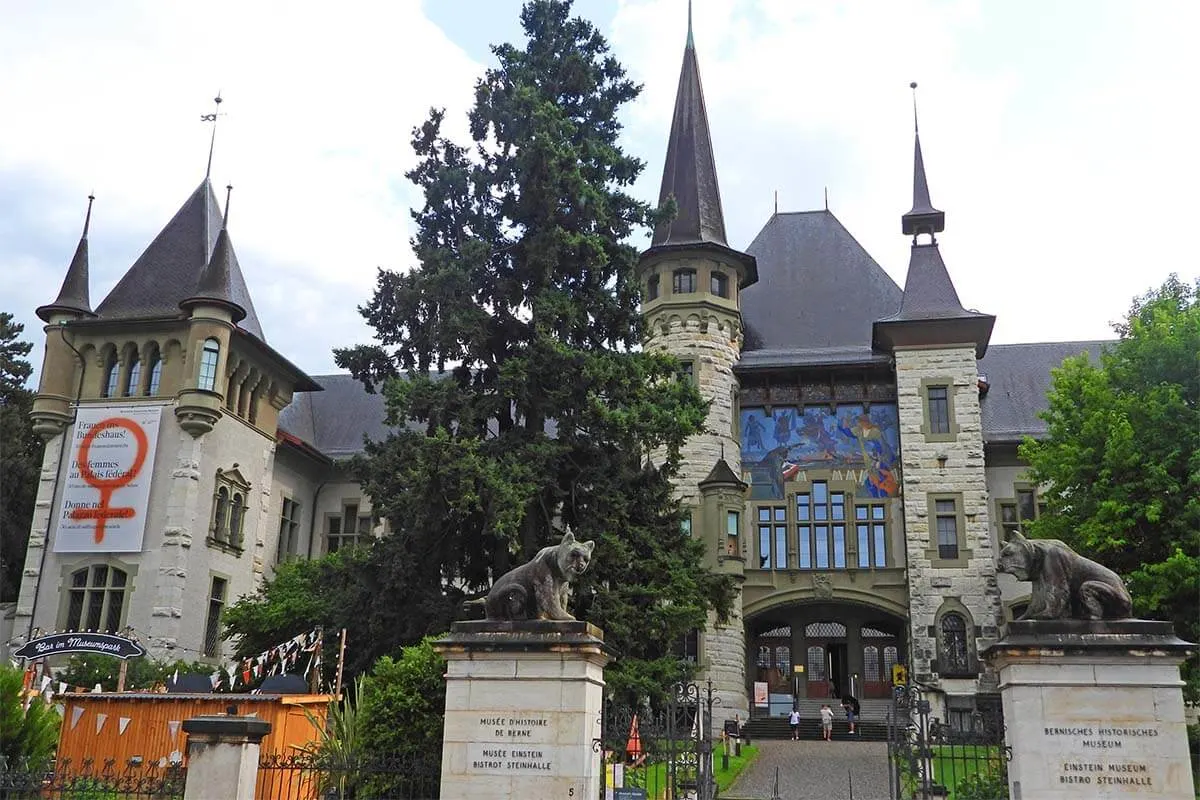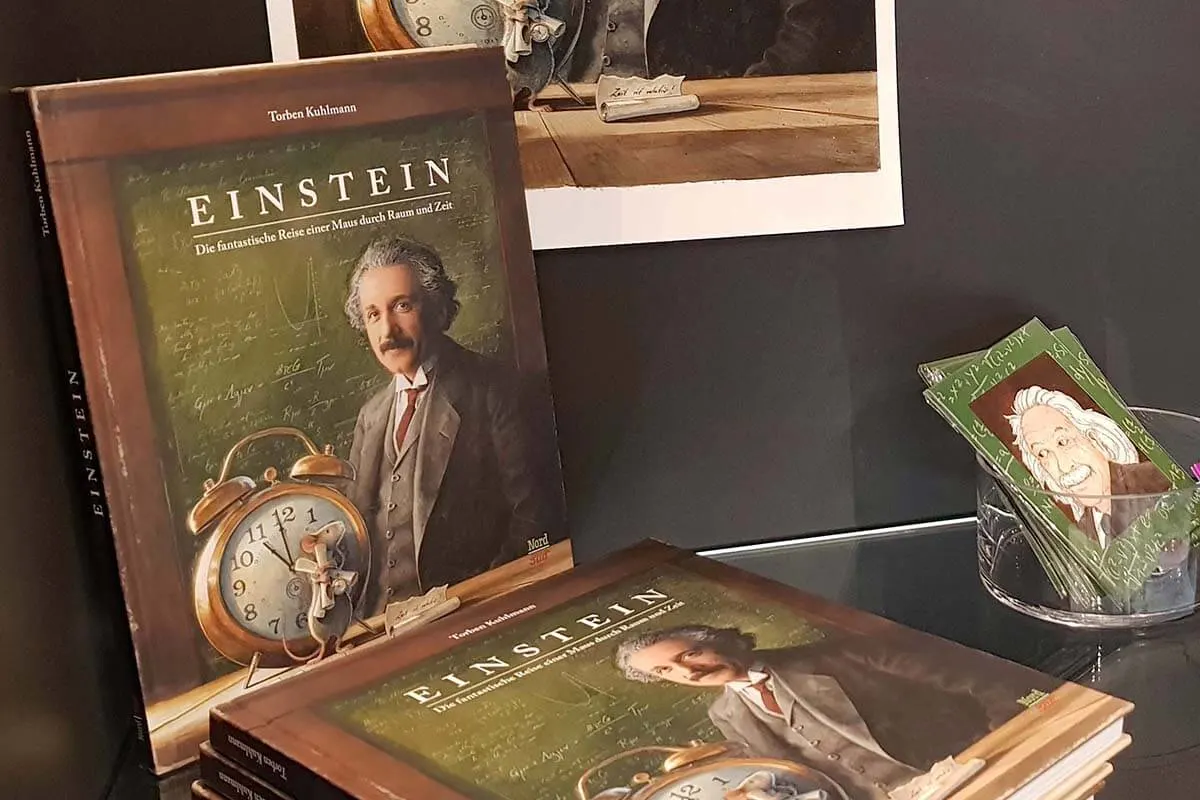 9. Einstein House
Einstein House in the old town is another popular place to visit in Bern. If you don't have the time for the Einstein Museum, this might be a good alternative. Einstein House is located in the city center and you only need 15-30 minutes for a visit. But you can't really compare the two museums in any way.
At the Einstein House, you can see the third-floor flat where he lived from 1903 to 1905 with his wife Mileva Marić and son Hans Albert. At the time, Einstein was working for the Swiss Federal Institute of Intellectual Property. More importantly, it was where he wrote the Annus Mirabilis papers which revolutionized the scientific community's understanding of the universe.
There are two floors to explore at this museum – one scientific in nature and the other decorated to look as it would have done when the family lived here.
Good to know: Access is via a steep flight of stairs and there is no elevator, so this attraction is not suitable for anyone with mobility problems.
Practical info: Einstein House is open daily, except for a few weeks at the end of December and in January. It has rather short opening hours – usually from around 11 AM to 4 PM.
TIP: Considering its popularity and the very small area this flat occupies, it can get very crowded here! Try to visit just as it opens or late in the day when there are fewer tourists.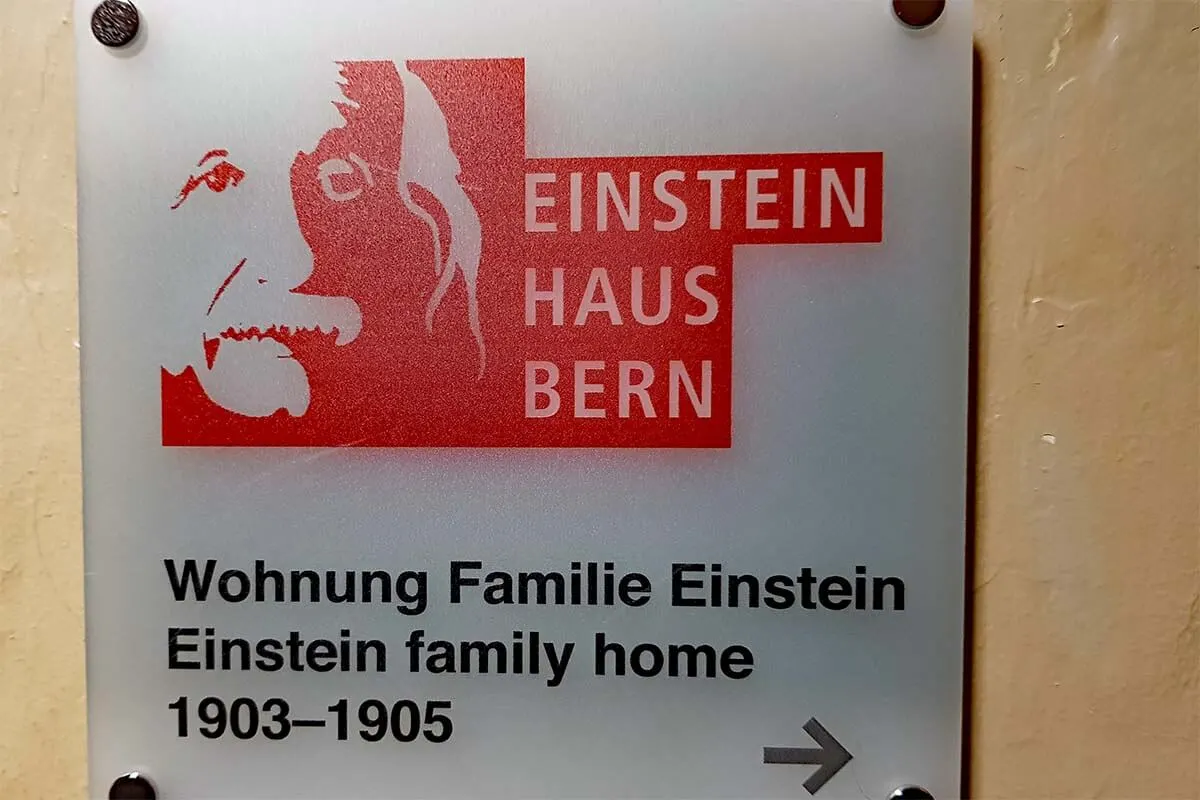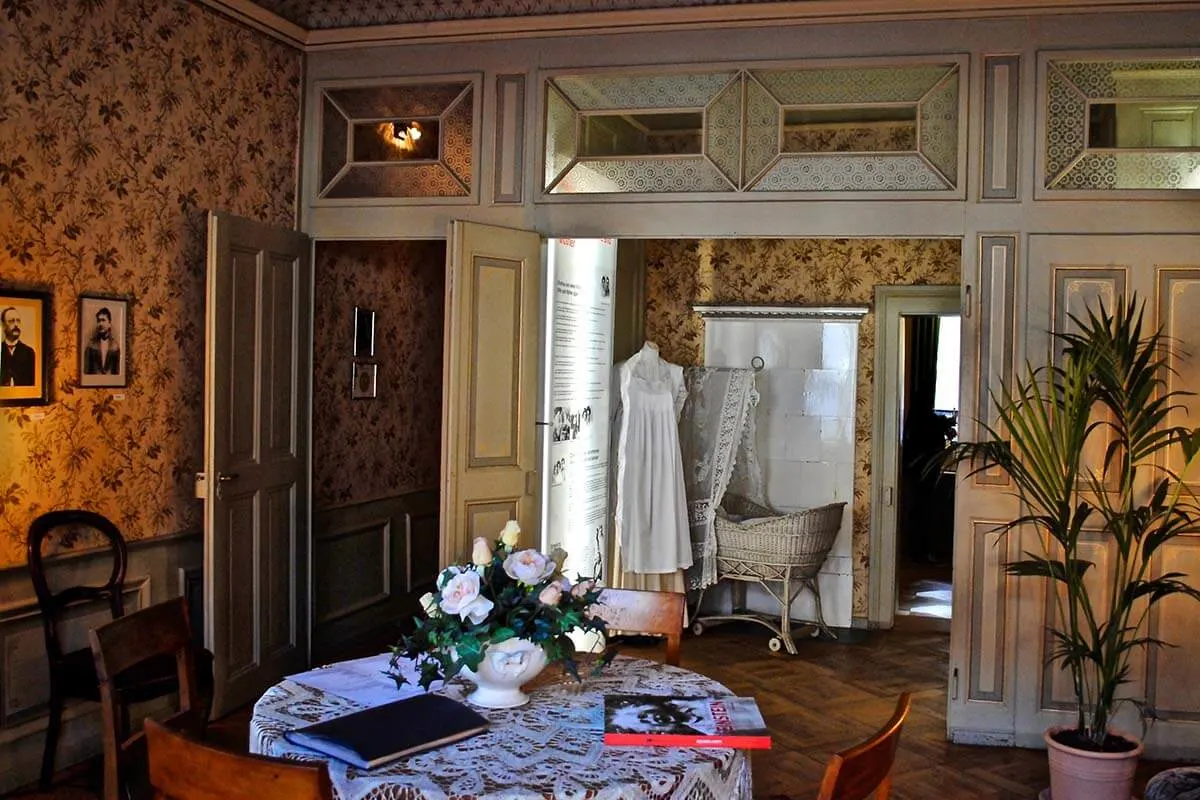 10. Swiss Parliament Building
The Swiss Federal Assembly is one of the oldest democracies in the world. Its home in Bern's Renaissance-style Parliament Building (Bundeshaus) is a must-see attraction. Not only is the building's facade quite beautiful, but its interior is breathtaking, with stunning stained glass, elegantly carved wood, and magnificent sculptures.
The two chambers of the Swiss Parliament are housed in the domed block in the center, whilst the wings are used for different federal agencies and the federal library. Everything is open to the public, although access is restricted when Parliament is in session.
Good to know: Guided tours of the Parliament Building are free of charge and take around an hour. You have to book well in advance, as they are extremely popular. More info here.
Don't miss the spectacular fountain on the Bundesplatz (Parliament Square) outside. It has 26 jets symbolizing the 26 cantons of Switzerland (the member states of the Swiss Confederation). The atmosphere here is relaxed and friendly. It's a spot where locals come to socialize and you can sometimes catch a market by day, or a spectacular light show on the Parliament building at night.
TIP: Just beyond the Bundeshaus is the Bundeshausterrasse. This is a popular viewpoint with a small park where you'll find some benches to relax. There are also a few giant chess boards where you can often see locals play. Here, you can also see a 3D model of the Parliament Building and there's an orientation sign highlighting all the mountain peaks you can see in the distance.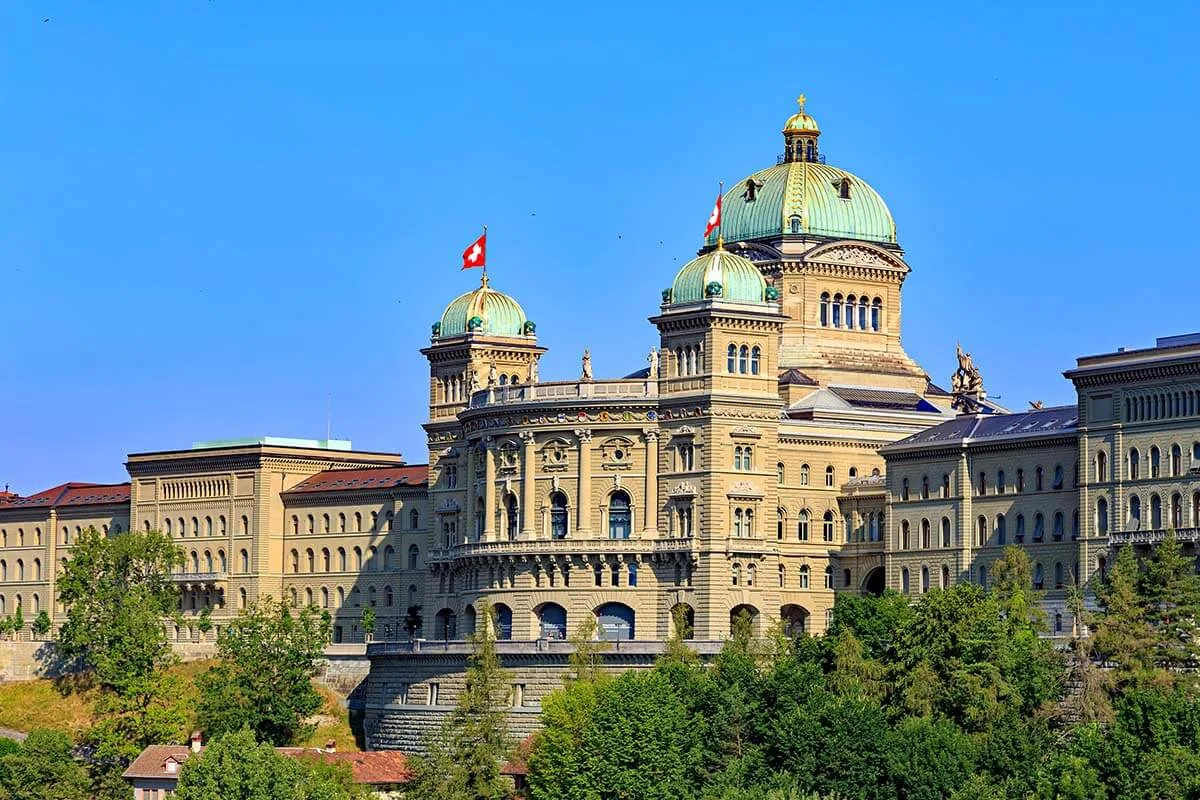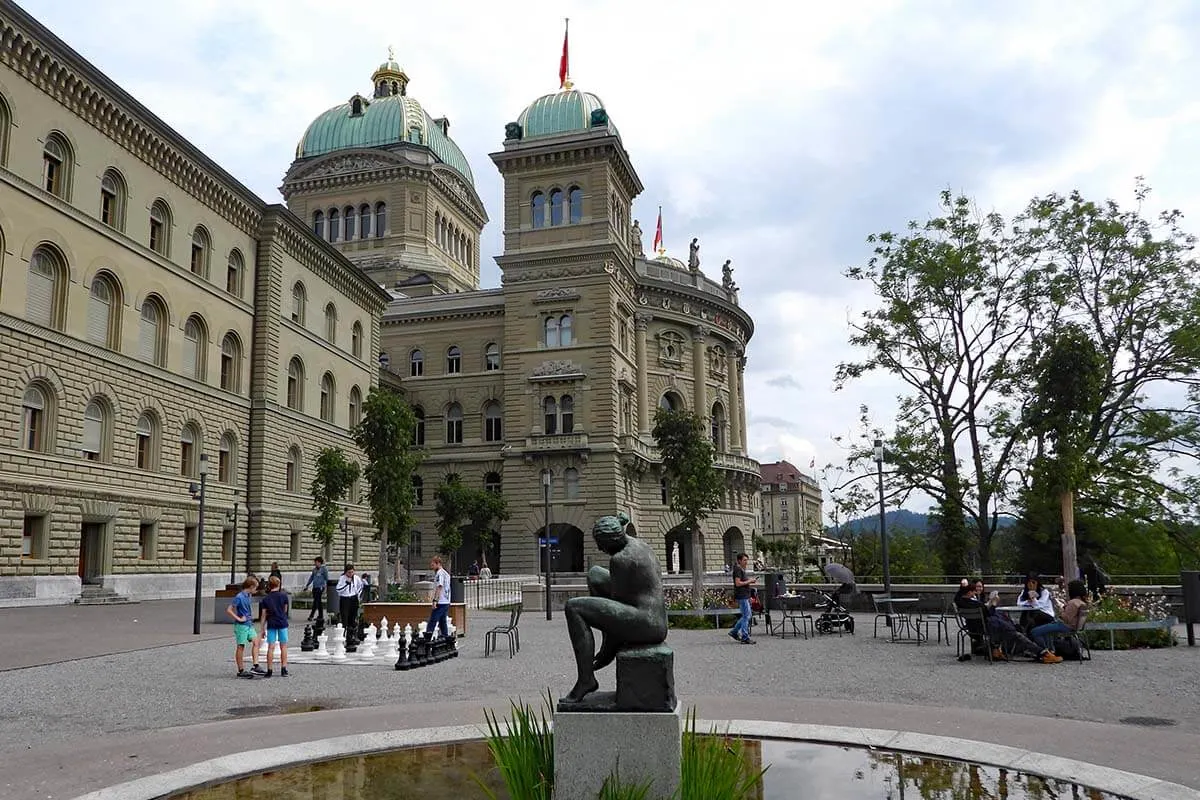 11. Nydeggbrücke & Untertorbrücke
Nydeggbrücke is a bridge in the eastern end of the old city of Bern. The bridge is a Swiss heritage site of national significance, but it's mostly worth visiting for the very picturesque view across the city and down to the Bear Pit.
From here, you can also see the older stone bridge Untertorbrücke which was originally the only bridge crossing the Aare.
Both bridges are quite picturesque – and the surroundings even more so. If you walk to/from Bear Pit or Rosengarten Park, you'll likely cross Nydeggbrücke anyway. But even if you are not planning to visit those places, it's worth coming to these bridges for the nice views of the city and the Aare.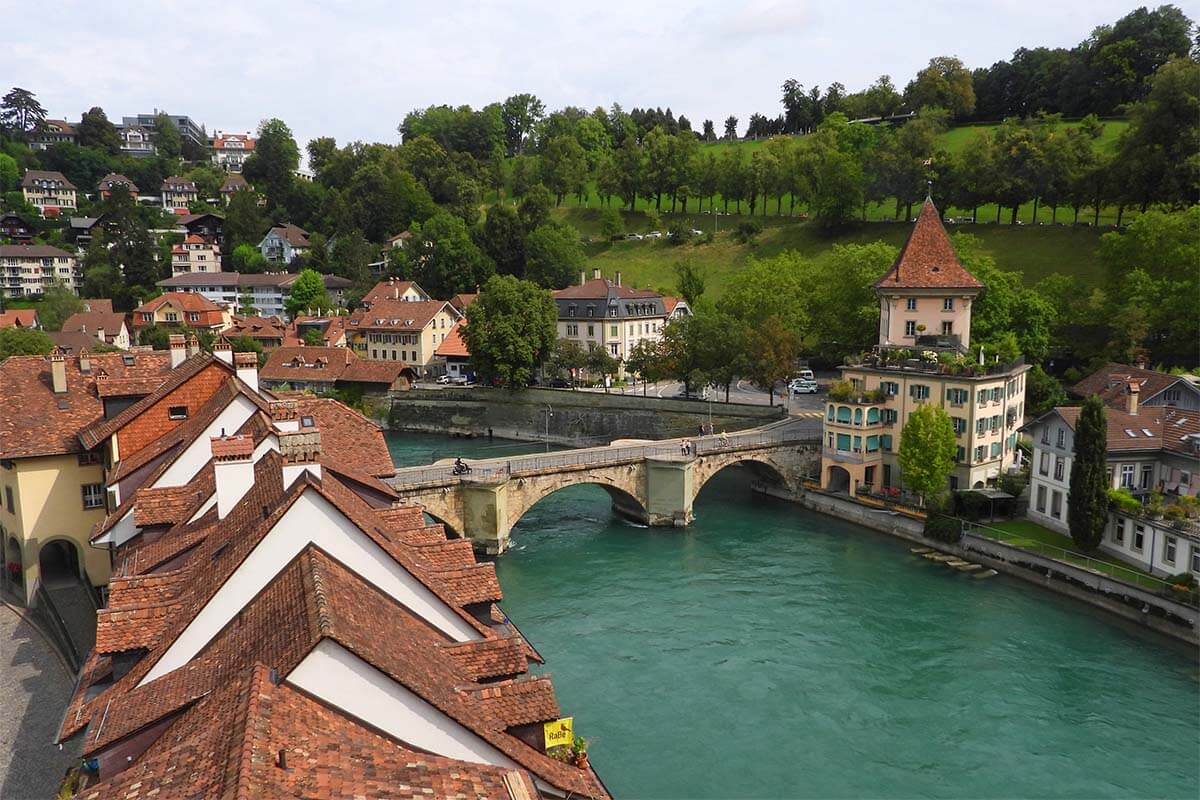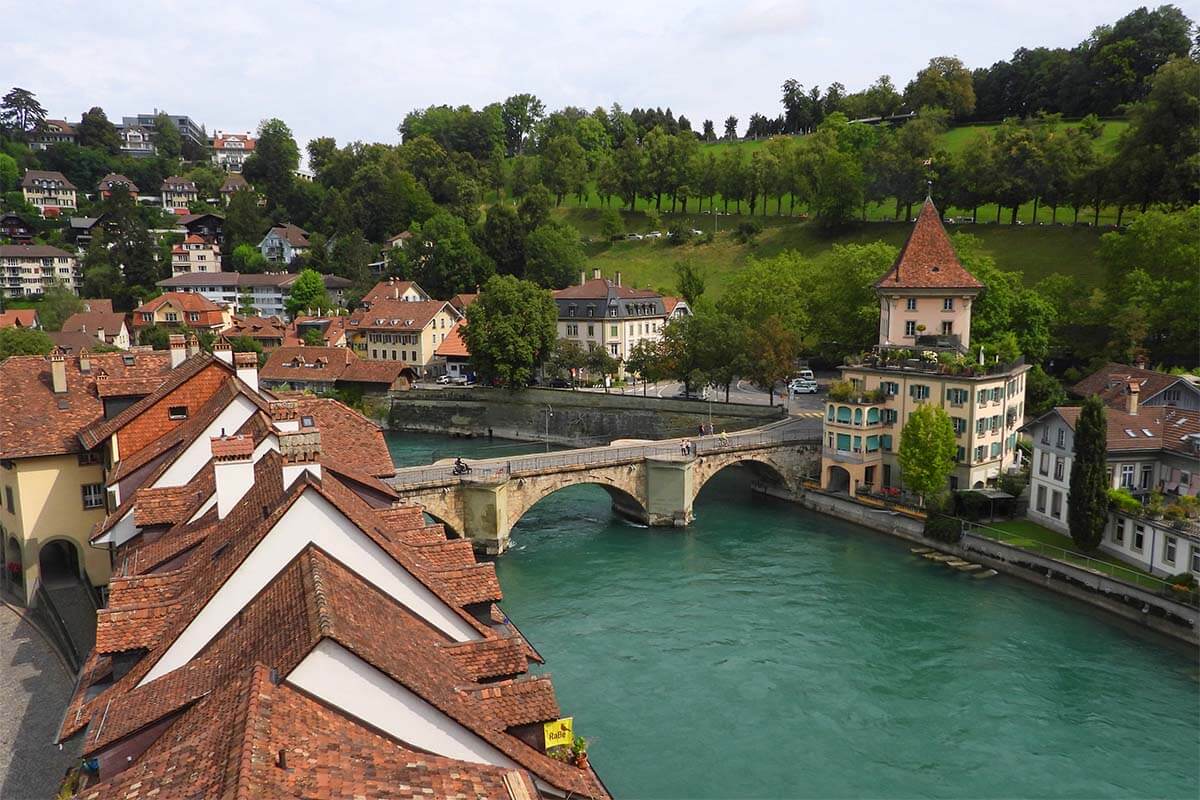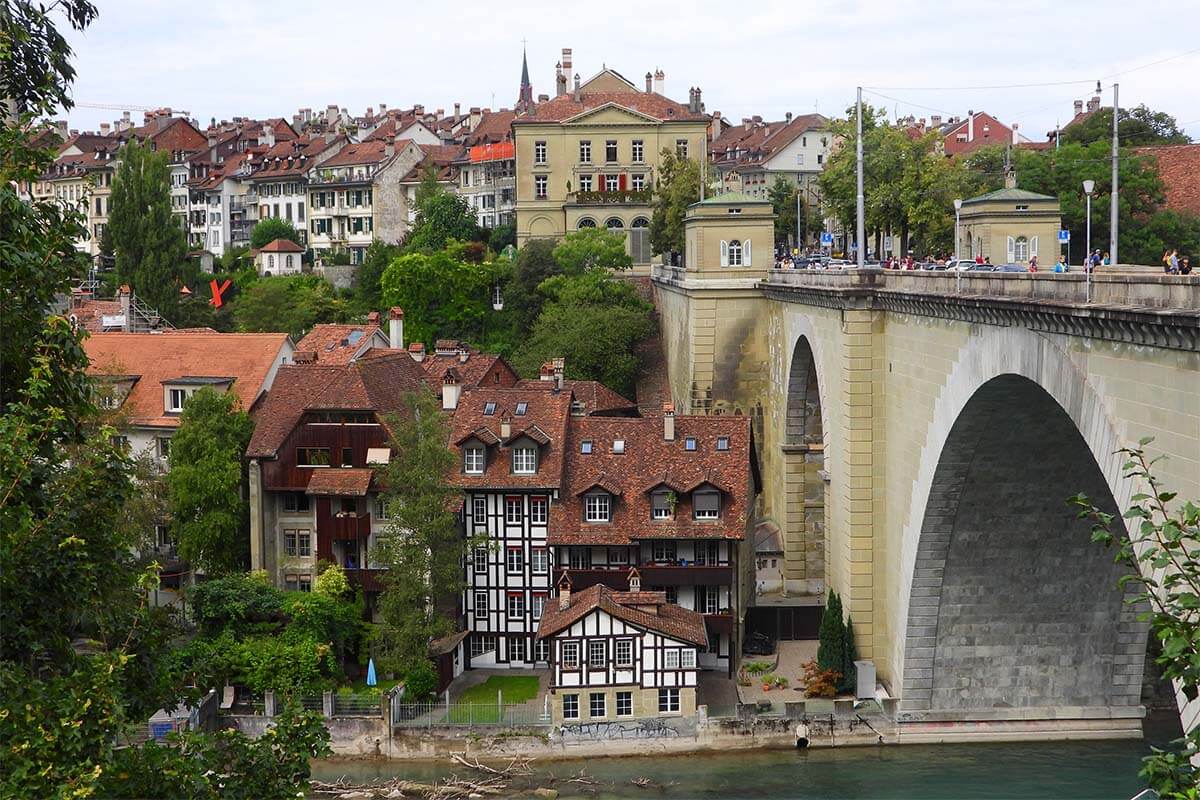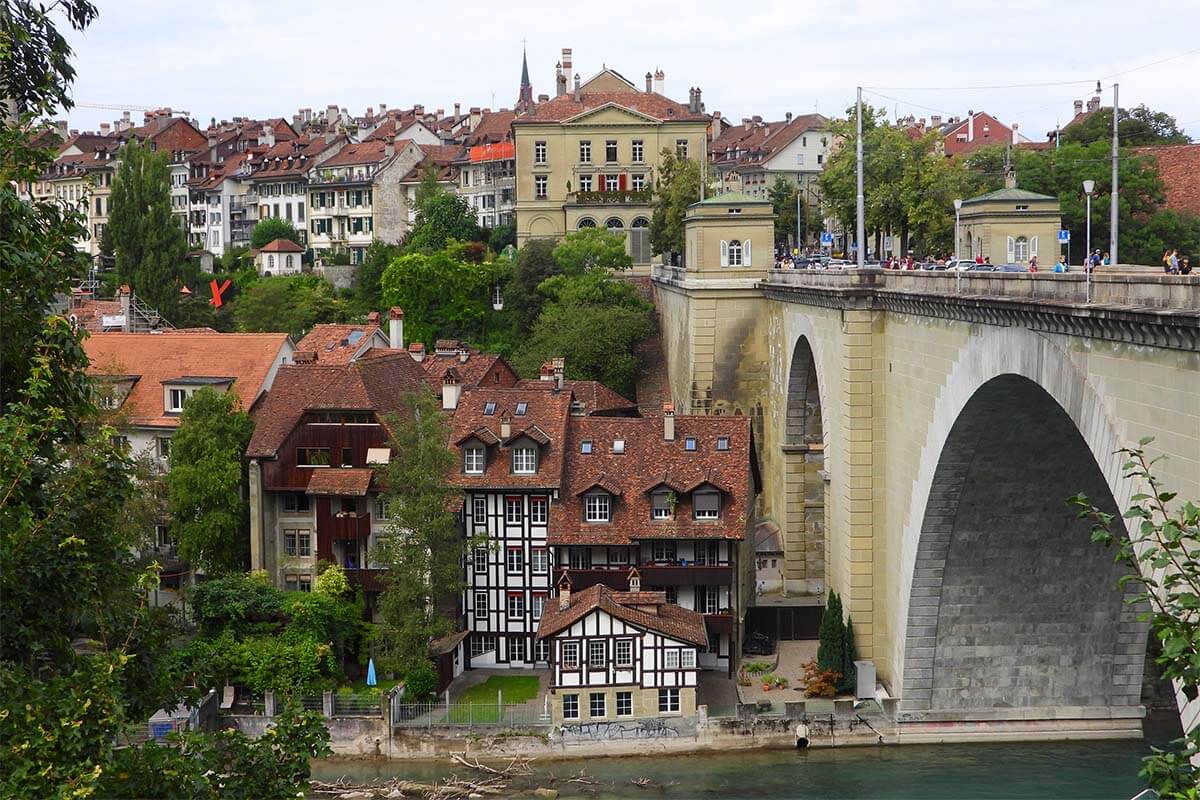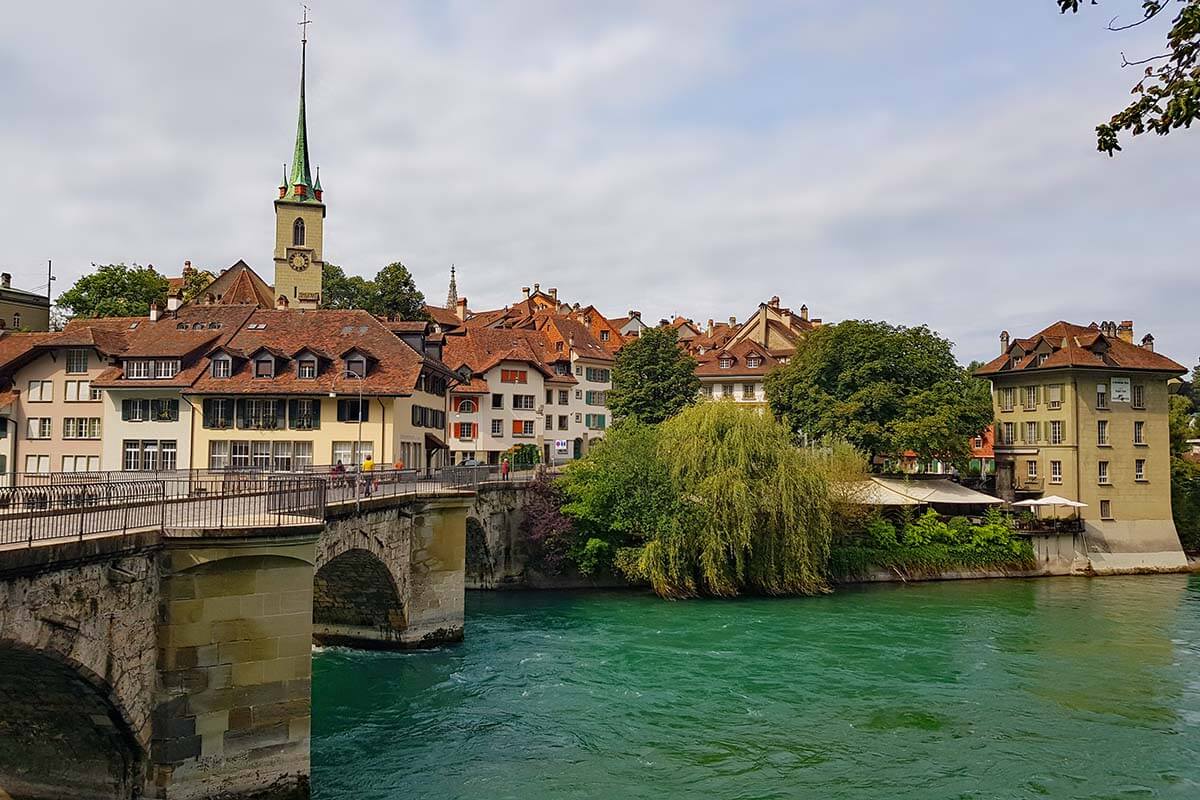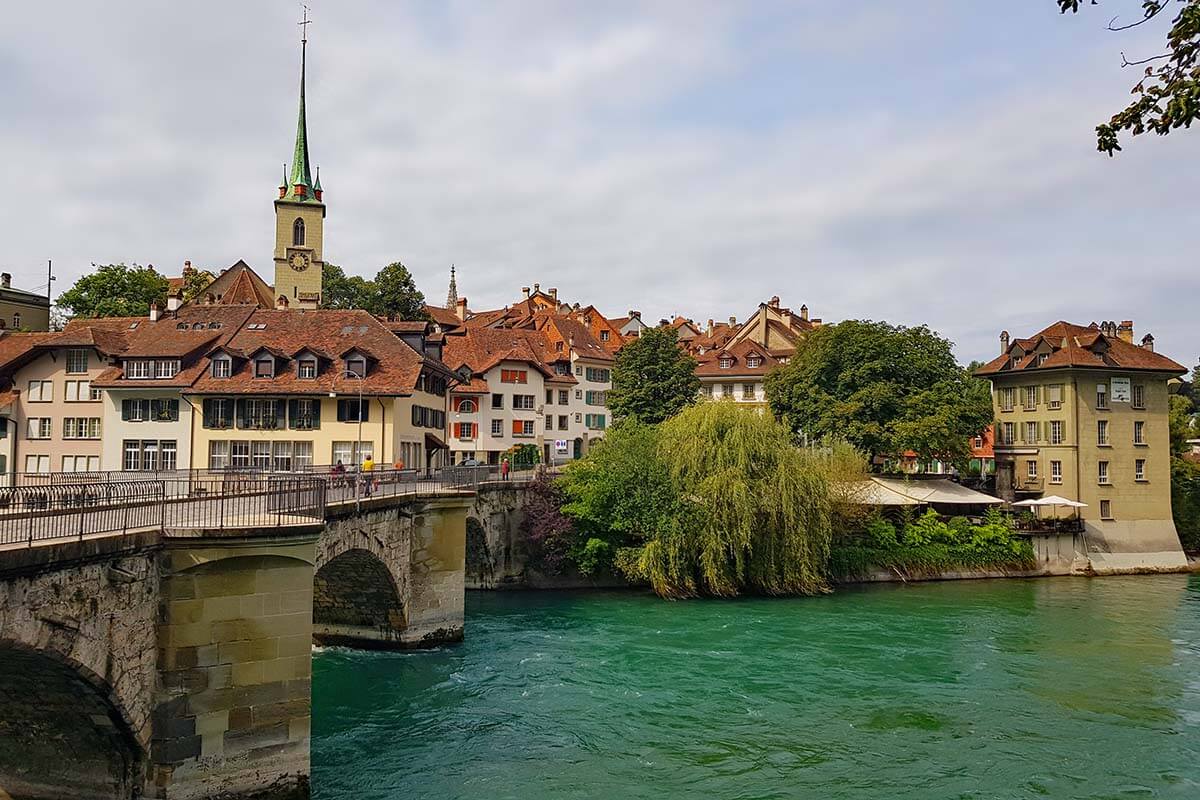 12. Zentrum Paul Klee
Located on the eastern outskirts of Bern, Zentrum Paul Klee is the best art museum in Bern.
This outstanding museum contains about 4,000 works by the German-Swiss painter Paul Klee, one of the early 20th century's most influential artists. In this museum in Bern, you can see some of his most recognized works.
Because many of Klee's works are very sensitive to light, they are shown on a rotational basis along with pieces from other artists. There are usually some 120 to 150 works of Paul Klee on display at any given time and the collection changes on a regular basis.
The building housing the museum is worth a visit in its own right! It was designed by Italian architect Renzo Piano and commissioned by Klee's daughter, who donated all of her inheritance to the city of Bern. Airy and light, it resembles a rolling landscape and is quite stunning!
Good to know: The museum is open daily except on Mondays and some public holidays. They run guided tours and creative workshops for all ages. For more information, check their website.
Getting there: If you don't have a car, you can easily get here by bus #12 in the direction 'Zentrum Paul Klee' from the old town. It takes just 10-15 minutes.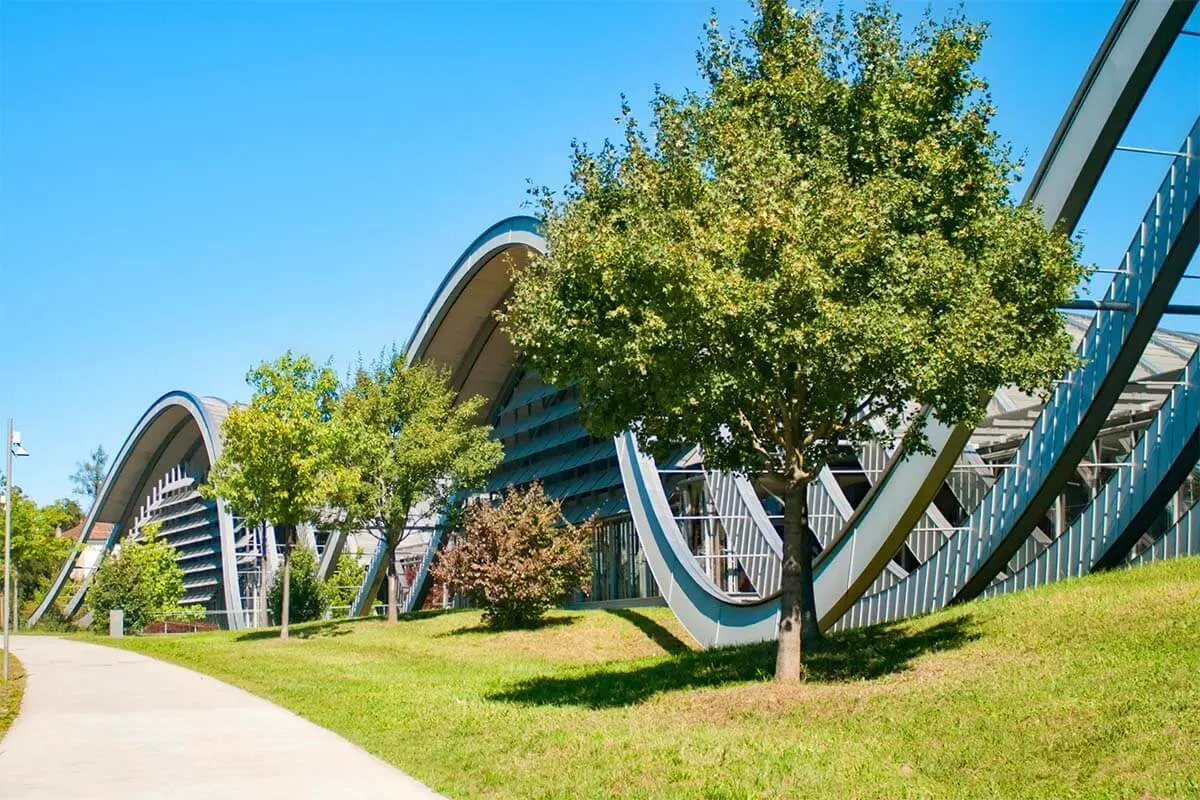 13. Hammam & Spa Oktogon
For a relaxing break from sightseeing in Bern and something different to do in the city, why not book a bathing ritual at the city's Hammam & Spa Oktogon.
Spread over four floors, this unique spa is housed in a beautiful building that was once the home of Switzerland's first gas boiler. It offers a really special experience that follows a fixed course, involving warming, cleansing, exfoliation, a bath, and a steam room.
Good to know: The culture in Bern is a little less body-shy than you might be used to, so be prepared to witness some nudity during your spa experience. It's an adults-only experience (from 16 years), except a few days a year when they organize a special kids' day.
TIP: The quietest time to visit is in the morning or around noon. You can find more info and opening times here.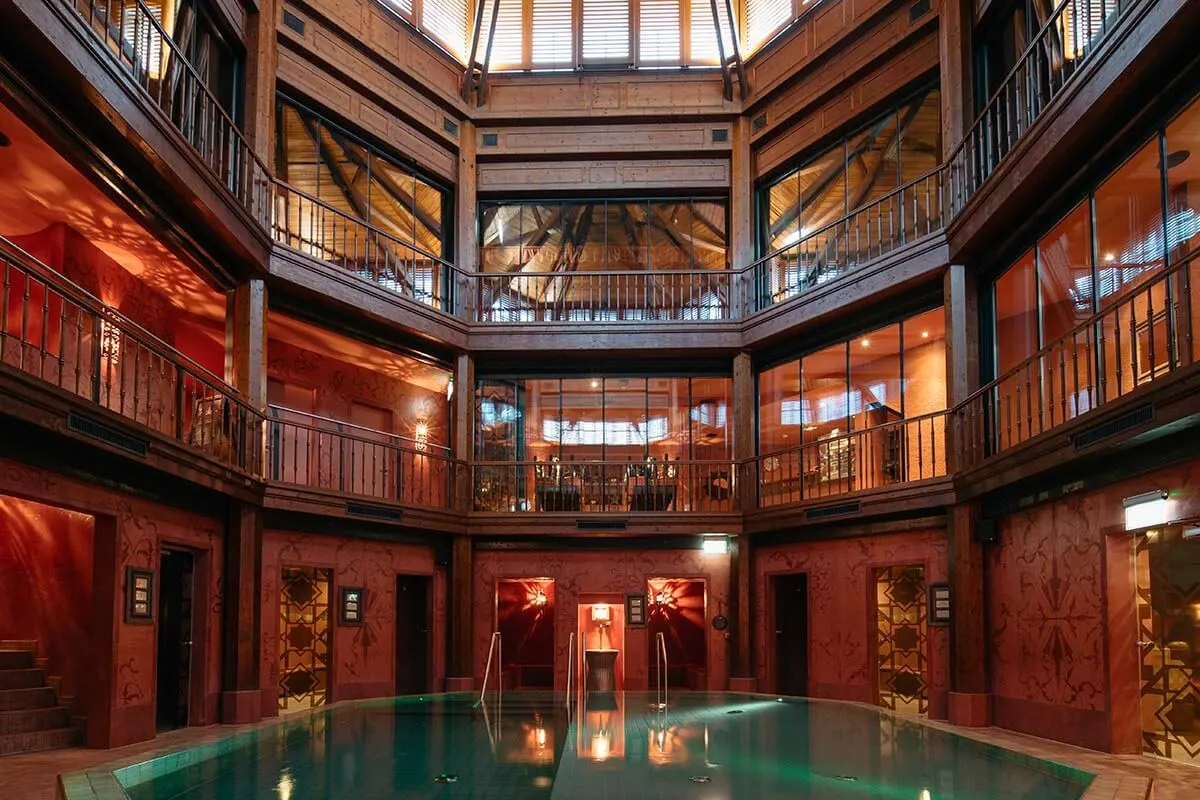 14. Shopping & Dining
If you are looking for a more relaxing city trip, Bern offers some great shopping and dining too!
Its 6 km (almost 4 miles) of covered arcades in the Old Town protect you from the weather while you peruse the high-end boutiques and stores within. You'll find everything from luxury goods to traditional Swiss knives and Einstein-themed souvenirs.
And everywhere you go, you'll find brown bears – the symbol of the city. From irresistible cuddly bear toys to bear-shaped cookies, bear chocolates, etc.
If you like to check out some local markets, you have some choices in Bern, too. You'll find a vegetable and flower market on the Bundesplatz every Tuesday and Saturday morning. On the third Saturday during the warm months, head to the Mühleplatz for Bern's largest flea market. And if you're lucky enough to be visiting at Christmas, check out the festive markets at the Waisenhausplatz and the Münsterplatz.
And as far as food goes, you'll find plenty of nice restaurants in Bern, with lots of Swiss and also Italian restaurants. In summer, check out the restaurant terraces close to Käfigturm. It might be a bit touristy, but the atmosphere is great and the food is usually very good too.
TIP: If you are a chocolate lover, check out one of the Läderach chocolate shops. It offers some of the best Swiss chocolate you will ever taste, available in every flavor you can imagine!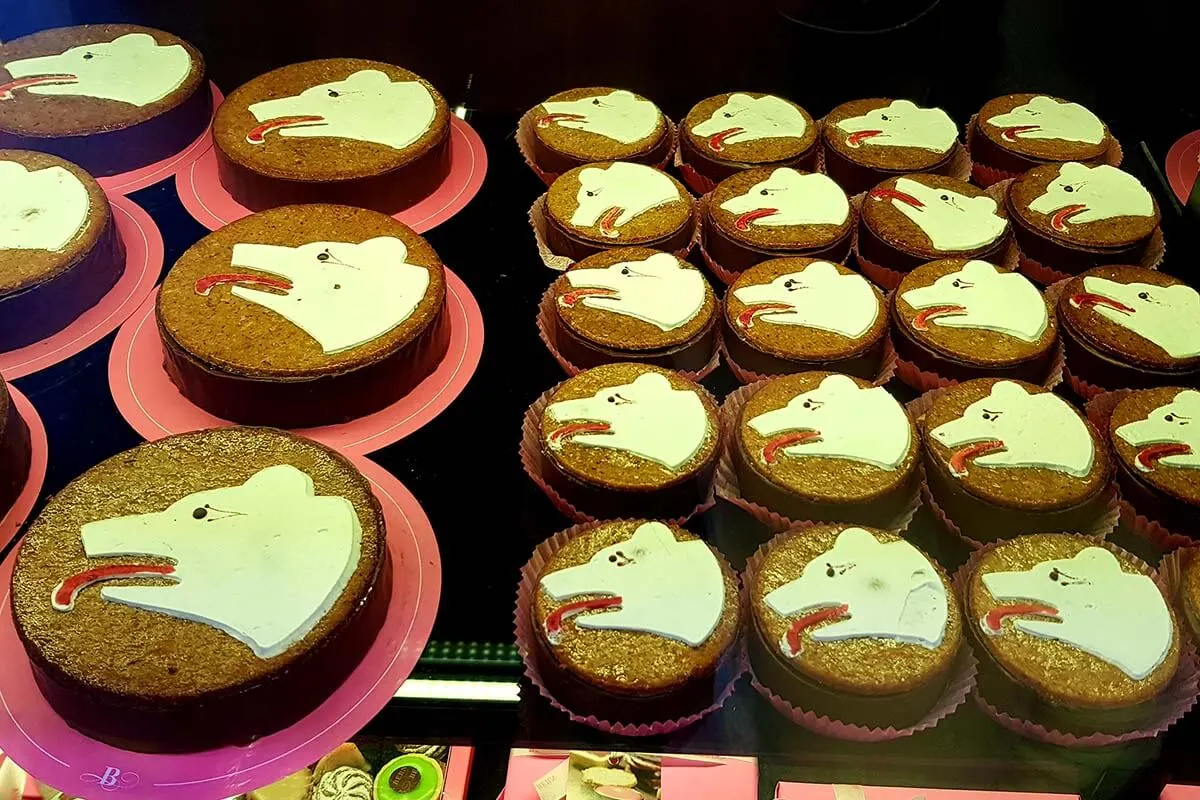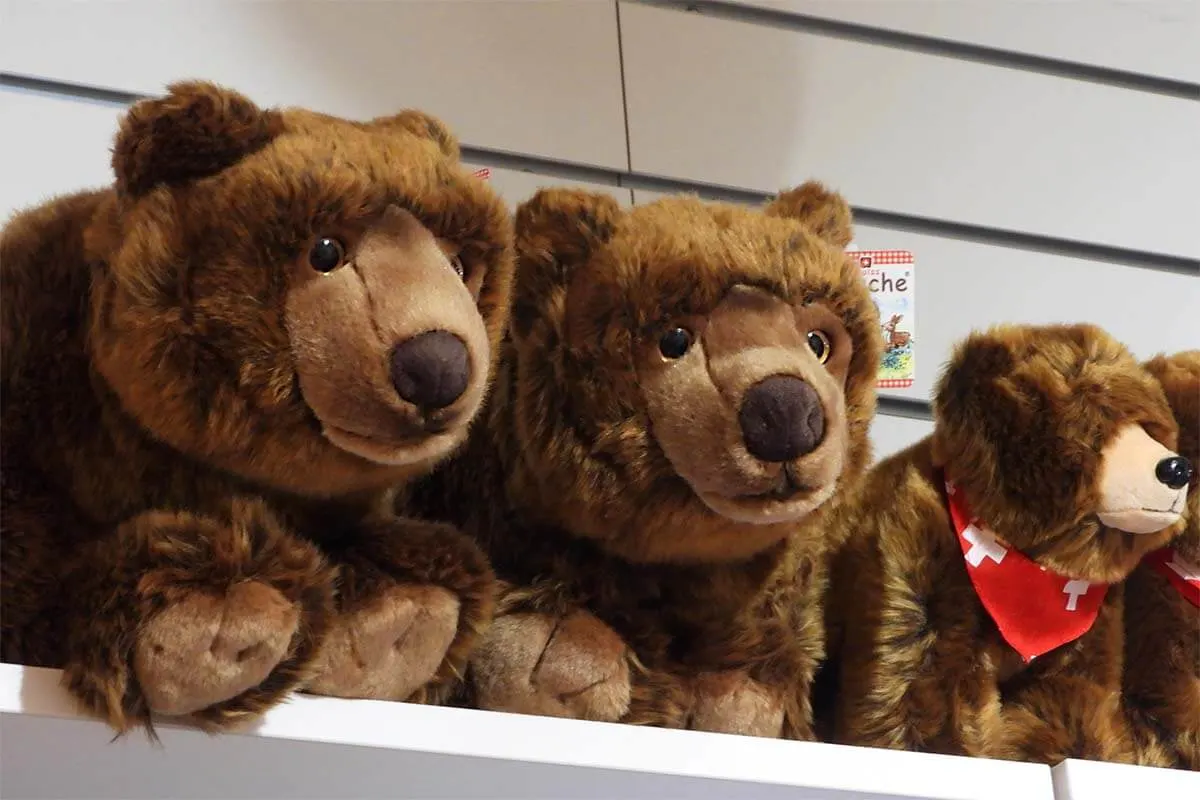 15. Gurten
Gurten – or "Güsche" as locals call it – is a mountain located just to the south of Bern city. Even though Gurten is not that high (858 m (2,815 ft)) and is rather a hill than a mountain, it offers nice 360-degree views across the city and the Alps.
However, don't expect the views like at Mt Titlis, Matterhorn Glacier Paradise, Gornergrat, or Mt Pilatus – it's simply not high enough for that. This is a more low-key experience in Bern where you'll find more locals than tourists.
At the top of Gurten Kulm, there is a free tower to climb (Gurten Observation Tower) and lots of scenic trails, taking in the dense forests and flowery meadows. There is also a charming miniature railway for children. The fun doesn't stop in the winter. If there is enough snow, then you can enjoy a toboggan run and there is even skiing for kids.
TIP: There are several excellent dining options on Gurten, including the buffet-style offerings at Tapis Rouge and tasty brunches at the Pavilion. For a gourmet treat, dine at Gurtners, which is a great place to watch the sun go down over a truly stunning landscape.
Good to know: The Gurtenfestival is held in mid-July and has attracted some big names in music in the past. This means that the area can be very busy, so if you are visiting in this period, be prepared for long queues.
Getting there: Gurten is easy to access by tram no. 9 which takes just about 20 minutes from Bern city center. Once you get there, you can simply take the funicular to the top of the mountain. More than a century old, the funicular departs every 15 minutes and only takes a few minutes to get to the top.
Practical information: Gurten funicular runs daily the whole year round, except for a few days of annual maintenance. It usually starts at around 7 AM and runs until late in the evening. For more information, see the official website. Normally, you don't have to plan much or book anything in advance – you can simply get tickets once you get there. If you have the Swiss Travel Pass, it's valid here too.
READ ALSO: Swiss Travel Pass (& Is It Worth It)
16. Emmental Valley
Located about 30km east of Bern, Emmental Valley is one of the places that might be worth visiting if you have more time in the area.
Less than an hour from Bern by car, Emmental has a quintessentially Swiss landscape. Its verdant hills are dotted with cows and farmhouses, set against a breathtaking backdrop of the Bernese Oberland.
You may recognize the name of this area by the cheese for which it is famous. If you are just passing the area by car, you can stop at Kambly Experience in Trubschachen, where you can taste Switzerland's best-known premium biscuit brand, and the show dairy, where you can learn all about the history of Swiss cheese. Emmentaler Schaukäserei in Affoltern also organizes guided tours of a show dairy farm.
TIP: Some day tours that visit Bern from Zurich or Lucerne also include a stop here (see this popular tour – it has the most complete itinerary for a day trip to Bern including Emmental Valley).
If you have more time, it is really worth visiting for its magnificent valley for hiking and biking too. Should you choose to visit in winter, then the terrain is completely covered in snow, with skiing and snowshoeing available too.
Good to know: E-bikes were invented here and they are ideal for exploring the uphill trails in the region. You can rent them locally but do some more research as to where exactly to go and what to see if you decide to spend more time here.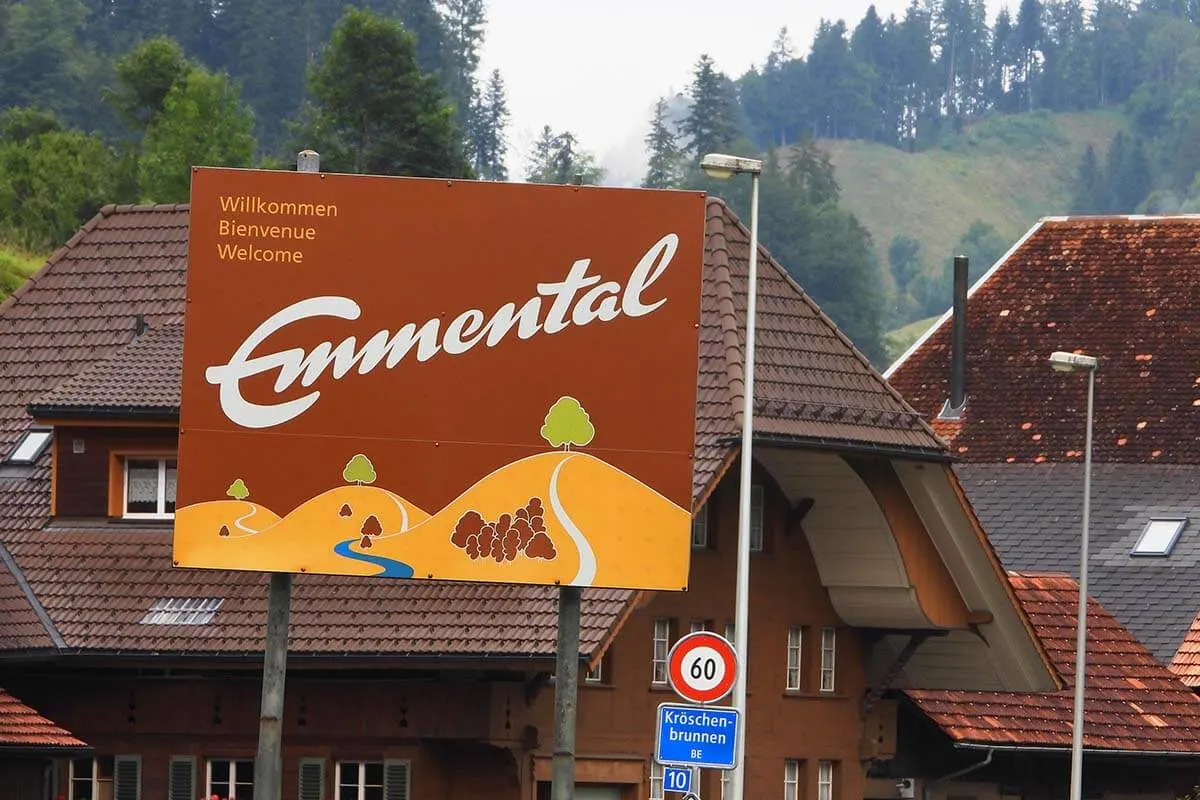 17. Helicopter Tours
If you are looking for something truly unique to do in Switzerland, you may want to consider a scenic helicopter flight above the Swiss Alps. Bern is a great place for that – with the central location and a small airport where helicopter flights depart from.
Because of its great location, you can choose from a big variety of helicopter tours from Bern.
There are shorter tours focusing on the Bern area (this is the most affordable option) or somewhat longer ones to Interlaken or the famous mountains of the Jungfrau Region (see this tour).
TIP: If money is not an issue and you are looking for something truly unique, you can take the longest scenic flight over the Swiss Alps and even get to see the Matterhorn in Zermatt. You can find more information about this helicopter flight and book it on Viator.
Good to know: Helicopter tours from Bern run the whole year. The tours we recommend above normally offer free cancelation up to 24 hours in advance, so you don't risk much and can cancel if the weather isn't great.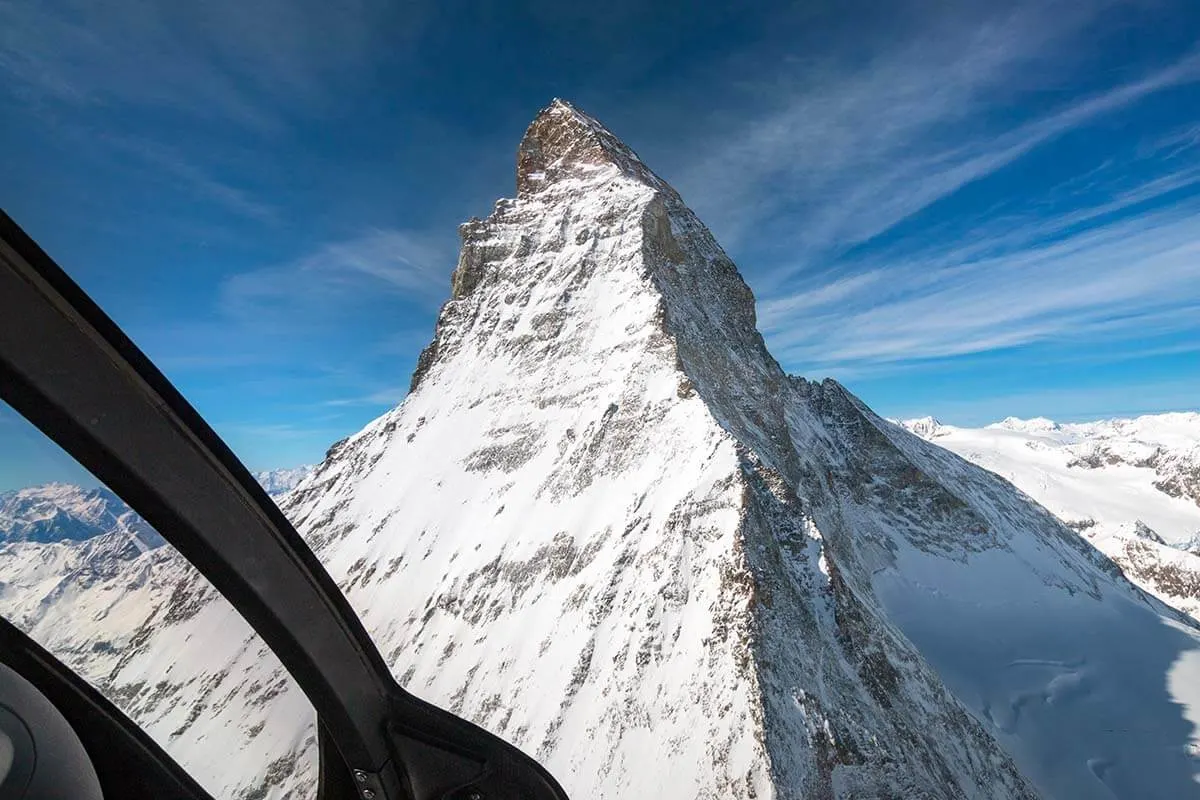 Map of top places to see in Bern
To help you orient, we created this map indicating all the places and attractions in Bern city that are mentioned in this article. In addition to the main sights, we also indicated all the fountains, viewpoints, etc.
Further below, you can also find some practical information for your visit to Bern.
How to use this map: Use your computer mouse (or fingers) to zoom in or out. Click on the icons to get more information about each place. Click the arrow on the top left corner for the index. Click the star next to the map's title to add it to your Google Maps account. To view the saved map on your smartphone or PC, open Google Maps, click the menu and go to 'Your Places'/'Maps'. If you want to print the map or see it in a bigger window, click on 'View larger map' in the top right corner.
Is Bern worth visiting?
With so many amazing places to see in Switzerland and limited time, you might be wondering whether Bern is worth it… Indeed, a lot depends on how much time you have.
But in itself, yes, Bern is absolutely worth seeing. With its beautiful location, picturesque old town, and cozy atmosphere, Bern is one of the nicest cities in Switzerland. Furthermore, it has good transport connections so it's easy to get to, AND you can see most of the main landmarks of Bern in just a day. This makes it easy to include Bern in any Swiss itinerary.
How much time do you need in Bern?
As already mentioned, you can see the best that Bern has to offer in one day. So the majority of tourists visit Bern for a day, and there are also some day tours to Bern from other major cities in Switzerland.
TIP: One of the best options for a day trip is this Bern and Emmental Valley day tour from either Zurich or Lucerne.
If you spend at least one night/ two days in Bern, you should be able to cover all the places on this list.
Where to stay in Bern
If you are planning to spend a night or two in Bern and are traveling by train, you can stay pretty much anywhere in the old town. Bern station is located in the heart of the city center and you can walk to most hotels in just a few minutes.
Here are some of the best centrally-located hotels in Bern for all budgets:
TIP: If you are visiting by car, check out Swissotel Kursaal Bern – it has private parking and is within easy walking distance from the old town.
I hope this guide to the best attractions in Bern has been helpful. Have a wonderful time in Switzerland's scenic and tranquil capital city!
More destination guides to some of our favorite places in Switzerland:
If you found this post useful, don't forget to bookmark it and share it with your friends. Are you on Pinterest? Pin these images!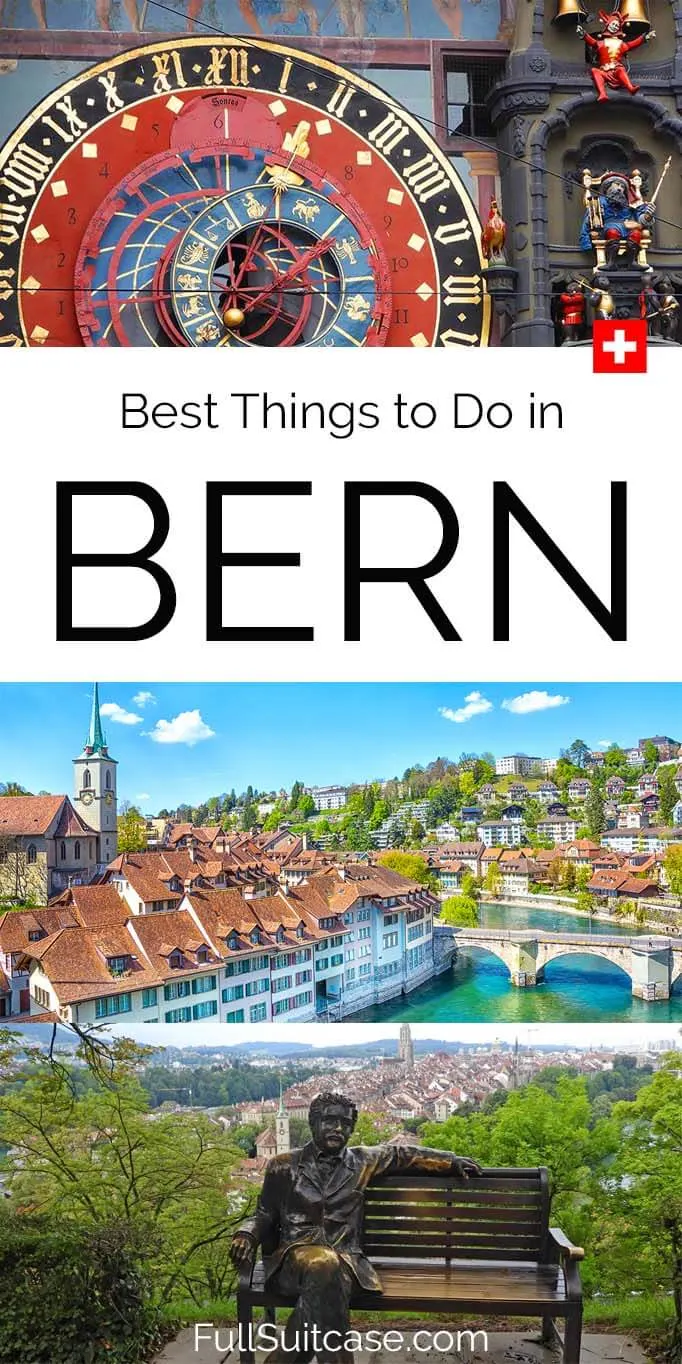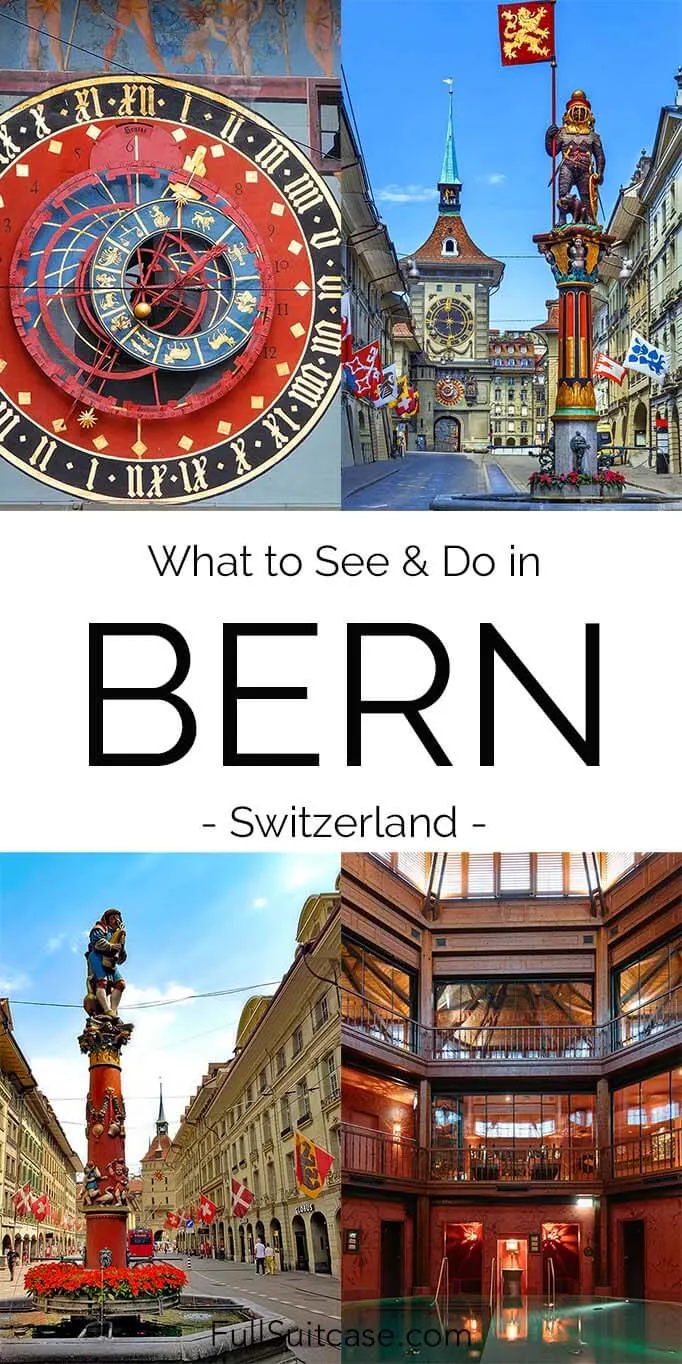 Read also – some of our favorite hikes in Switzerland: