No trip to Zermatt in Switzerland would be complete without visiting Gornergrat and riding the famous Gornergrat Railway. But what exactly can you see and do at Gornergrat and how to plan your time? This guide should give you a good idea of what to expect and how to plan your time. Find out!
Gornergrat is a mountain ridge near Zermatt, with an altitude of 3,089 meters (10,132 ft) above sea level. From various viewing platforms at the top, you can see the Gorner Glacier, 29 mountain peaks above 4,000 meters including the famous Matterhorn, and countless other mountains – too many to count.
Gornergrat is one of the most popular mountain destinations in Switzerland, together with places such as Matterhorn Glacier Paradise, Jungfraujoch, Mt Titlis, Schilthorn James Bond World, Glacier 3000, or Mt Pilatus. Most visitors come to Zermatt just to ride on the famous Gornergrat Railway and, of course, for the views and the Matterhorn.
However, there is more to do at Gornergrat than just riding the train and taking some pictures from the viewing platform at the top station. In this article, you can find an overview of what you can experience at Gornergrat. We also include a recommended itinerary and useful tips to get the most out of your visit. Take a look!
Complete Guide to Visiting Gornergrat – OVERVIEW:
Good to know: Gornergrat is accessible in any season, 365 days a year. Your experience, some activities, and the scenery will of course be different in summer than in winter, but it's always worth a trip. The best way to explore the area is to get a day ticket that allows you to hop on and off the train as much as you like.
TIP: If you are somewhat flexible, try to visit Gornergrat on a sunny day. While some clouds will make the scenery even more interesting, you won't be able to see much when it's really cloudy. Sometimes, you may get lucky on an overcast day as well and find that the top is above the clouds – this can be a unique experience as well.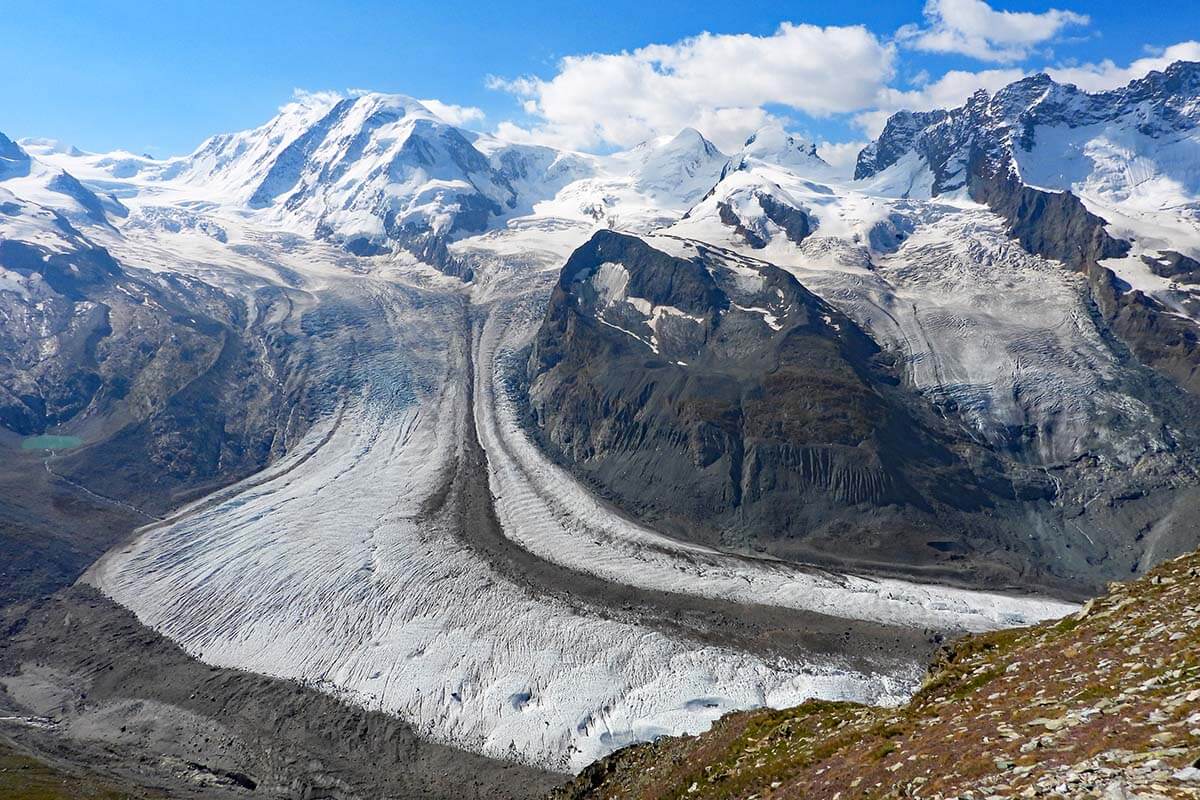 Here are the best things to do at Gornergrat:
1. Gornergrat Railway (= best way to get to Gornergrat)
Built in 1898, the Gornergrat Railway (Gornergrat Bahn) is the highest open-air cog railway in Europe. The 9.4 km line connects Zermatt town (1,620m) to Gornergrat (3,089 m). The train ride takes 33 minutes and the steep climb is one of the most spectacular railway journeys in the world.
Along the way, you can see some of the most beautiful mountain panoramas in the Swiss Alps. The Matterhorn is by your side during almost the entire ride as well, offering picture-perfect photo opportunities behind every corner.
The journey on the Gornergrat Railway is spectacular in itself. But this is also the best way to reach Gornergrat ridge and some really nice places along the way – Riffelsee Lake, Riffelberg, and more.
Good to know: Gornergrat Railway is one of the most popular excursions in Switzerland. Many people come here for a day, so it can get quite busy. For the best experience and fewer crowds, stay in Zermatt for at least two nights and take one of the first trains to Gornergrat in the morning (in summer, trains start running at 7 AM, then at 8 AM, and afterwards every 20 minutes). Here you can get a day ticket for the railway.
If you are really short on time, you can also visit Gornergrat (+ Zermatt and Matterhorn Glacier Paradise) with a tour from some bigger cities in Switzerland. See also our suggested 1-day Zermatt itinerary.
TIP: Try to get a seat on the right side of the train (when going up, or on the left when going down). This is the side of the Matterhorn and has the best views. Or take one side on your way up and another side on your way down. Also, see if the windows next to your seat can be opened – it will be easier to take nice pictures that way.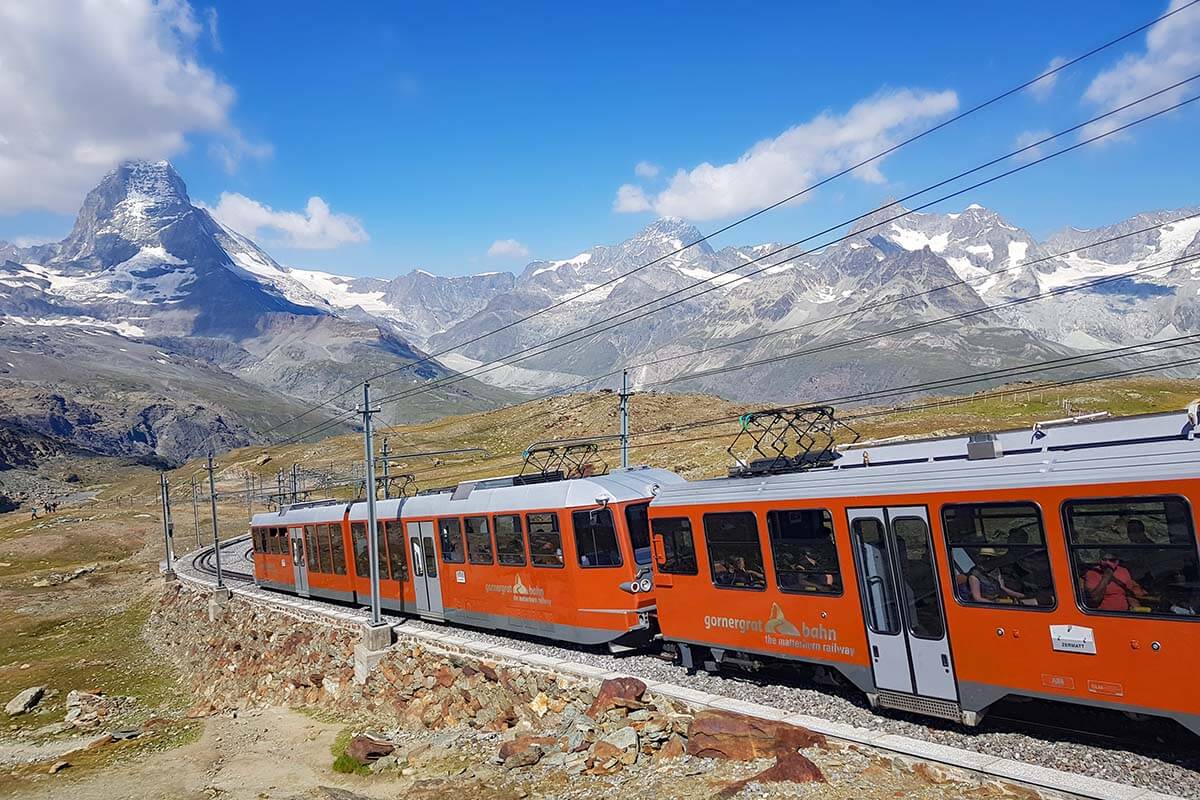 2. Gorner Glacier
There are several different viewpoints at Gornergrat and if the weather is nice, we recommend that you do all of them – more info below.
The first and the easiest to visit is the viewing platform right at the railway station. You leave the train and immediately have the jaw-dropping view of the Gorner Glacier right in front of you. It looks like a giant frozen river trapped between the mountains. And because you are standing so high, you even look down at the glacier – it's a really unique experience.
The first glimpse of the Gorner Glacier after you leave the train is immediately a real WOW moment! Afterwards, you get 'used' to this amazing view, but this first glimpse gave us goosebumps.
After so many years of travel and so many amazing destinations visited, these WOW moments are becoming quite scarce and it's usually difficult to get really impressed by something. But this view here at Gornergrat was one of those moments that I won't quickly forget. Absolutely dazzling!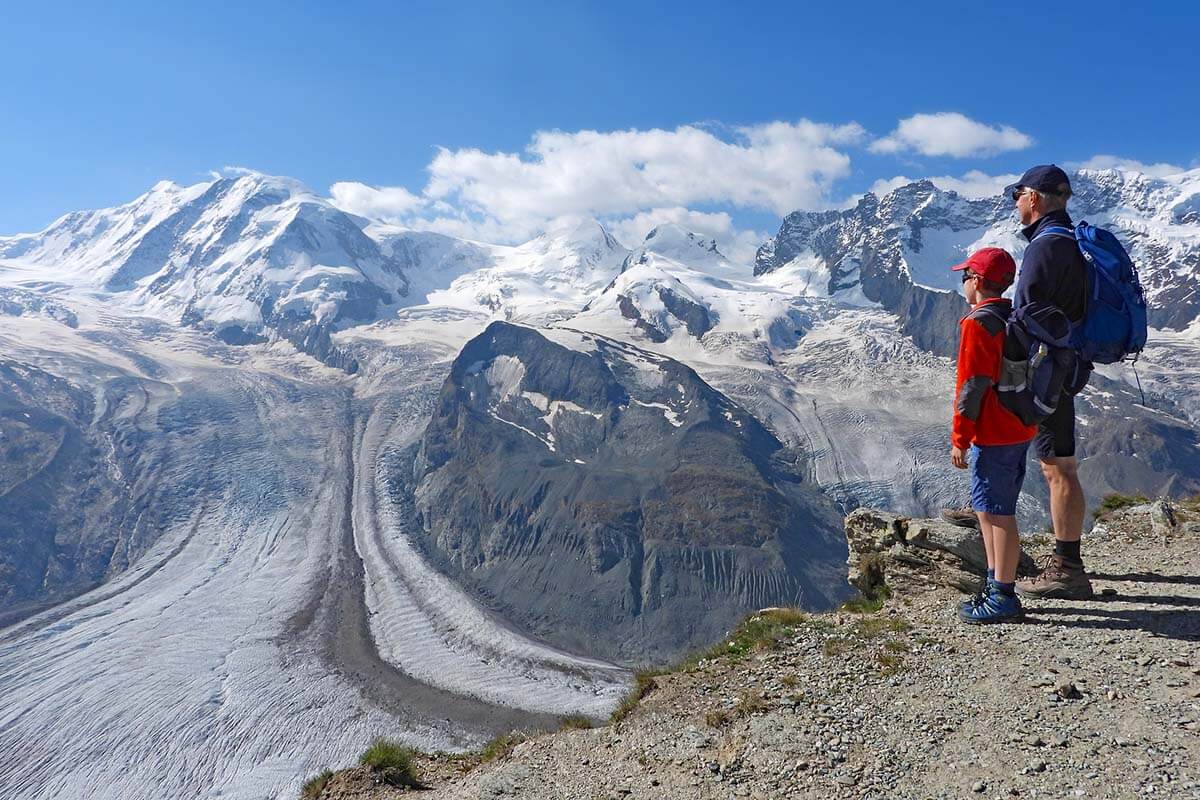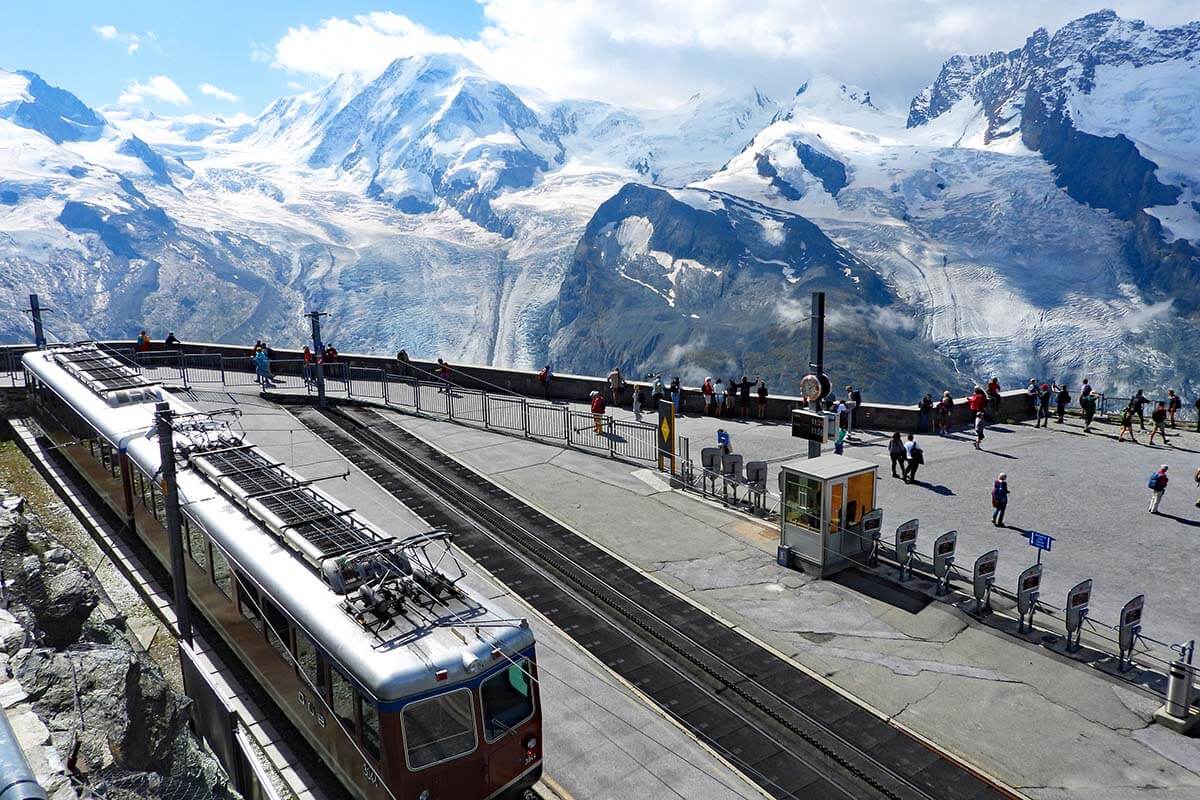 3. Gornergrat Viewpoints
After visiting this viewing platform, walk in the direction of the 3100 Kulmhotel and take a winding walkway up. Soon, you'll have another viewpoint, at the back of the hotel and looking in the other direction. Here, you can also see a small lake just below Gornergrat hotel – Ruinsee.
Continuing further up, you'll eventually reach the highest viewing platform at Gornergrat at 3,131 meters. Here, you have panoramic views with the most stunning scenery in all directions. It's truly breathtaking – one of the very best views in the Swiss Alps!
Most people turn around afterward and go back the same way they came, but don't rush back just yet – see below why!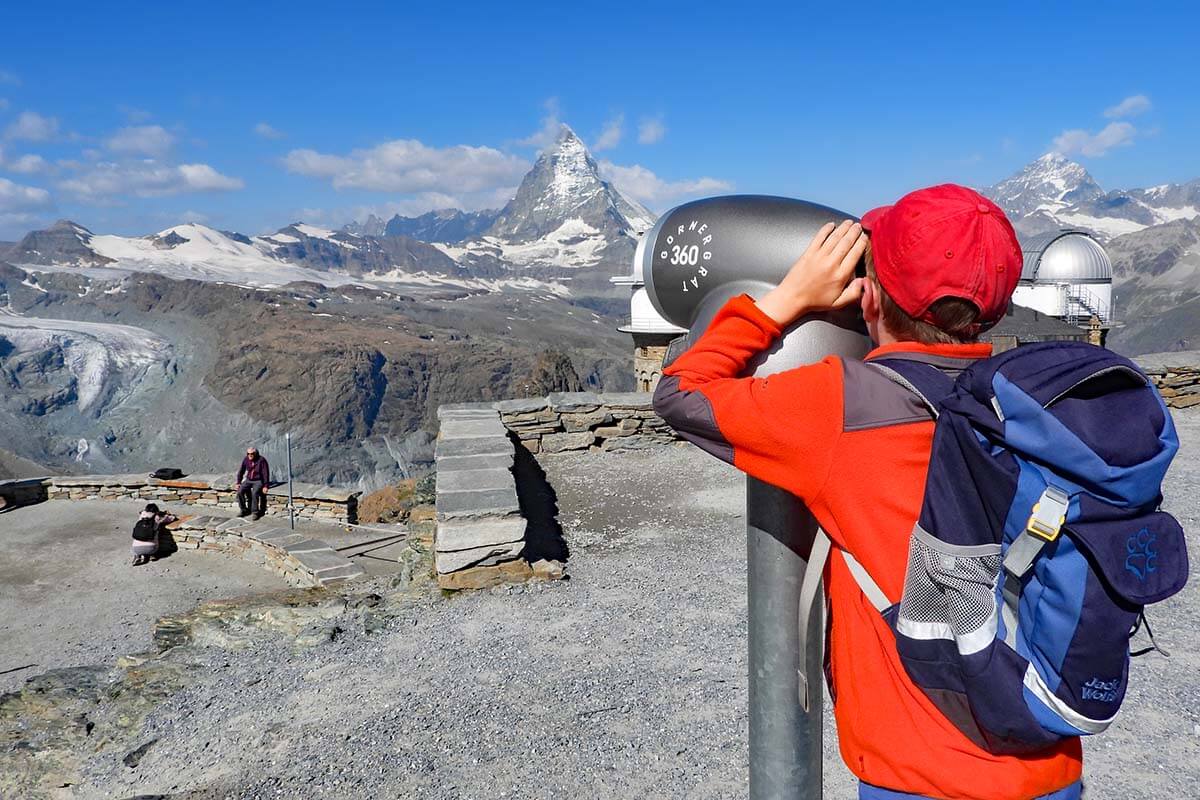 4. 360° Scenic Loop at Gornergrat
At the far end of the highest viewing platform (with the glacier to your right and the hotel behind you), you'll see a rather narrow hiking path. If you turn here, you quickly see the signs indicating a short Scenic Loop hike. The signs differ a bit along the way, some say 'Gornergrat 360', some – 'Rundwanderweg', and others 'Hiking Loop'. But it's quite self-explanatory and you can't go wrong.
The whole 360° Scenic Loop at Gornergrat is just about 0.5 km long and takes about 20 minutes. But since you are already at the viewing platform when you start 'the hike', you are actually about halfway through the loop. So instead of walking back the same way you came, simply complete this circular loop.
At first, you take a short steep trail a bit downwards and then very quickly, the trail splits in two. The Scenic Trail loops back to the left in the direction of the hotel.
Here, you are walking on the other side of the peak and get other angles and somewhat different views than at the viewing platforms before. And before you know it, you are back at the Gornergrat hotel where you started.
This is really such a short walk that you can't even call it a hike. It's absolutely worth a few extra minutes of your time. Yet, surprisingly enough, not many people seem to do it. Maybe because the indications aren't very clear and people don't realize that this hike is really short…
But now that you know that you can connect to this loop hike from the highest viewing platform, just locate the path at the far end of it and you can't really go wrong from there.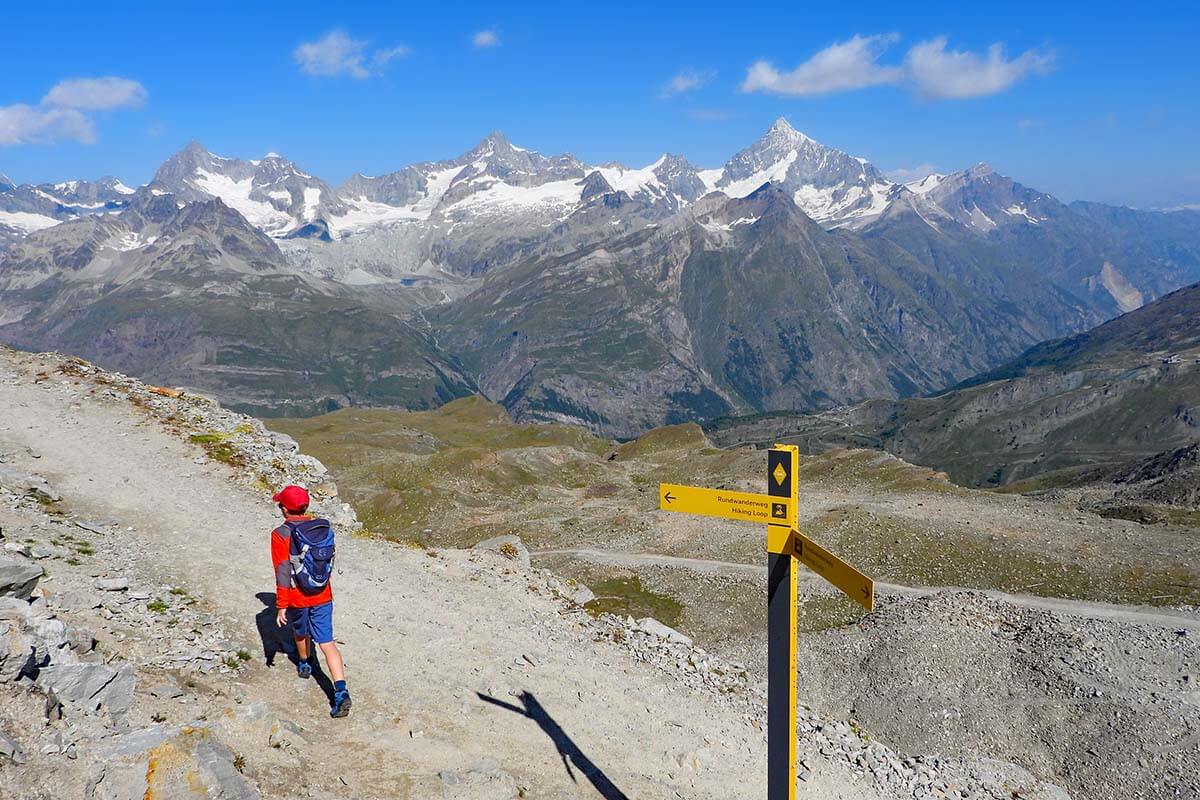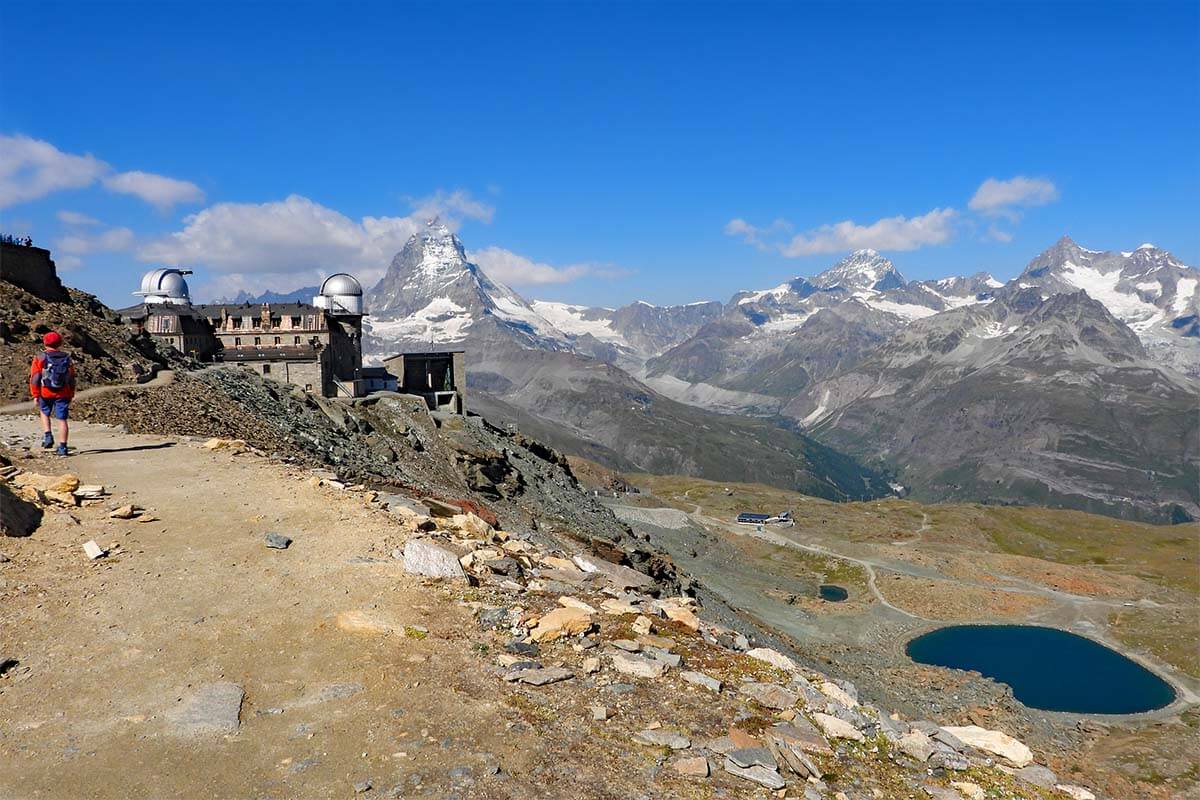 5. Matterhorn Photo Point
At the Gornergrat Railway Station, behind the building and to the right, you can find the Matterhorn Photo Point. This is a place with a good view of the Matterhorn, a red 'frame', and a camera where you can take free pictures of yourself with the iconic Matterhorn mountain.
You can, of course, just use your own camera as well. But you can also scan your ticket at the photo point camera and have it take a picture of your entire family or group for you. You can afterwards download the pictures for free on the internet.
It's all really straightforward and explained there too. Just don't forget to keep your ticket because you'll need the ticket number in order to find your pictures. We simply took a picture of our tickets with the smartphone so that we couldn't forget it and we only downloaded the pictures long after we were back home.
The pictures aren't of the best quality and have some publicity watermarks on them, but it's a nice (and free) souvenir from your visit to Gornergrat.
Good to know: You'll find several more of these photo points in Zermatt (e.g. with the ZERMATT sign at Schwarzsee) and you can take as many pictures as you want. We did this at a few different locations in Zermatt, but not at Gornergrat because it was quite busy at the photo point. So you might have to wait a bit as well.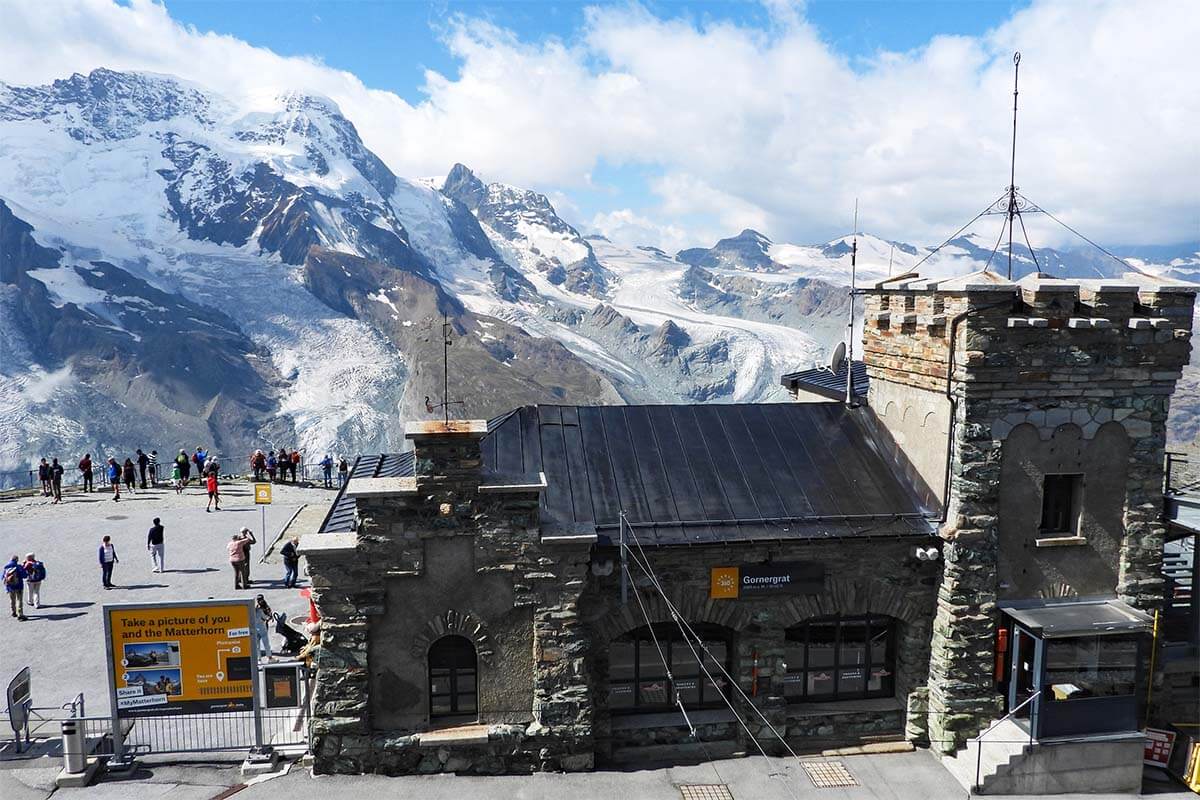 6. Zooom the Matterhorn
Zooom the Matterhorn is a relatively new attraction at Gornergrat. It's located in a small building on the hill behind the railway station and left from the hotel – you can't really miss it. There will be an extra small cost for this experience, but you can just get a ticket there.
The most interesting attraction at Zooom the Matterhorn is the virtual reality 'flying' experience where you are gliding over the mountains around Gornergrat. You can choose from two different experiences – the scenic ride or the more thrilling ride, and it feels as if you are paragliding indeed. This is such a wonderful concept and it gives you such a unique opportunity to see the amazing scenery in a way that only very few people experience in real life.
However, when we visited, there were just 4 chairs with these VR glasses. So on a busy day, you might have to wait for a while. Furthermore, two out of the four VR glasses weren't functioning well when we visited, which is really a pity because it's such a wonderful experience. This was their first year, so maybe things weren't yet functioning as they should. I really hope that they get the technical issues sorted and maybe even install more chairs so that more visitors can enjoy this unique experience.
In addition, there's also a short movie inside, a mini-version of the Matterhorn for the kids to climb on, and a few other cool features. It's well worth a short visit!
Our boys loved it so much that we had to go twice and try both rides. Of course, they liked the thrilling ride more than the scenic one.: 🙂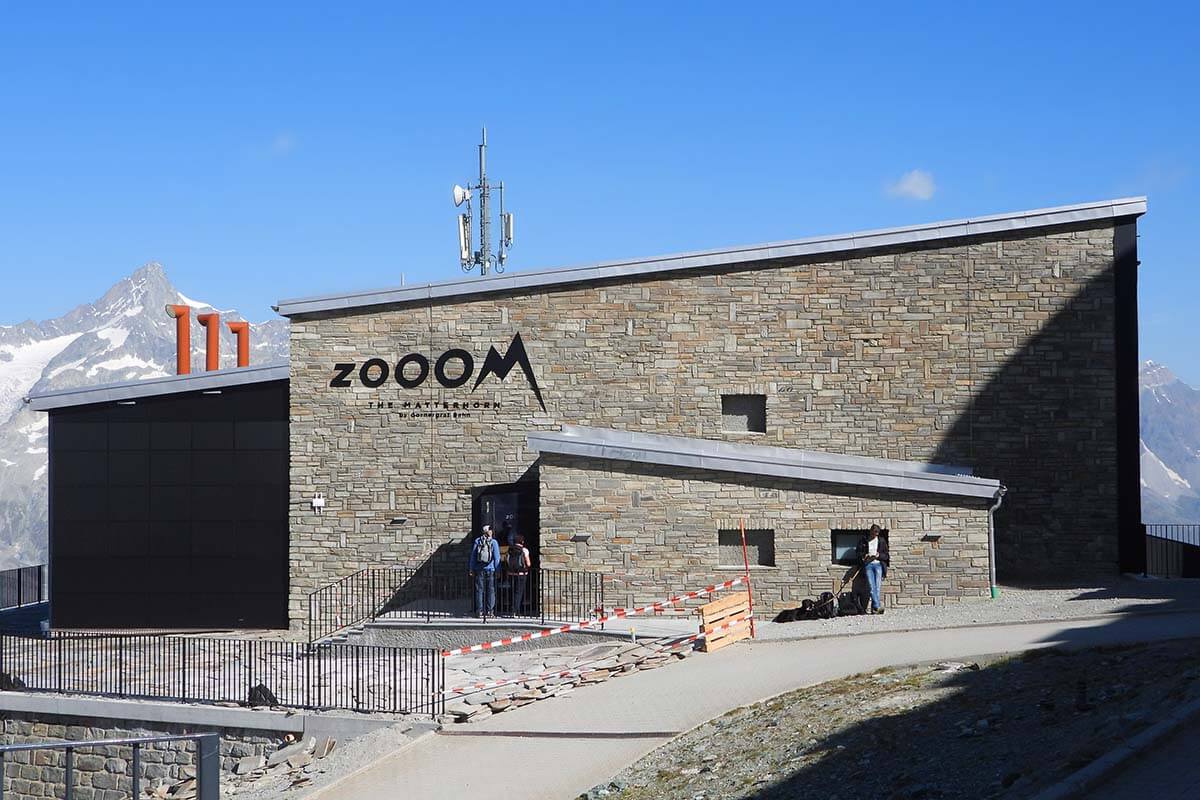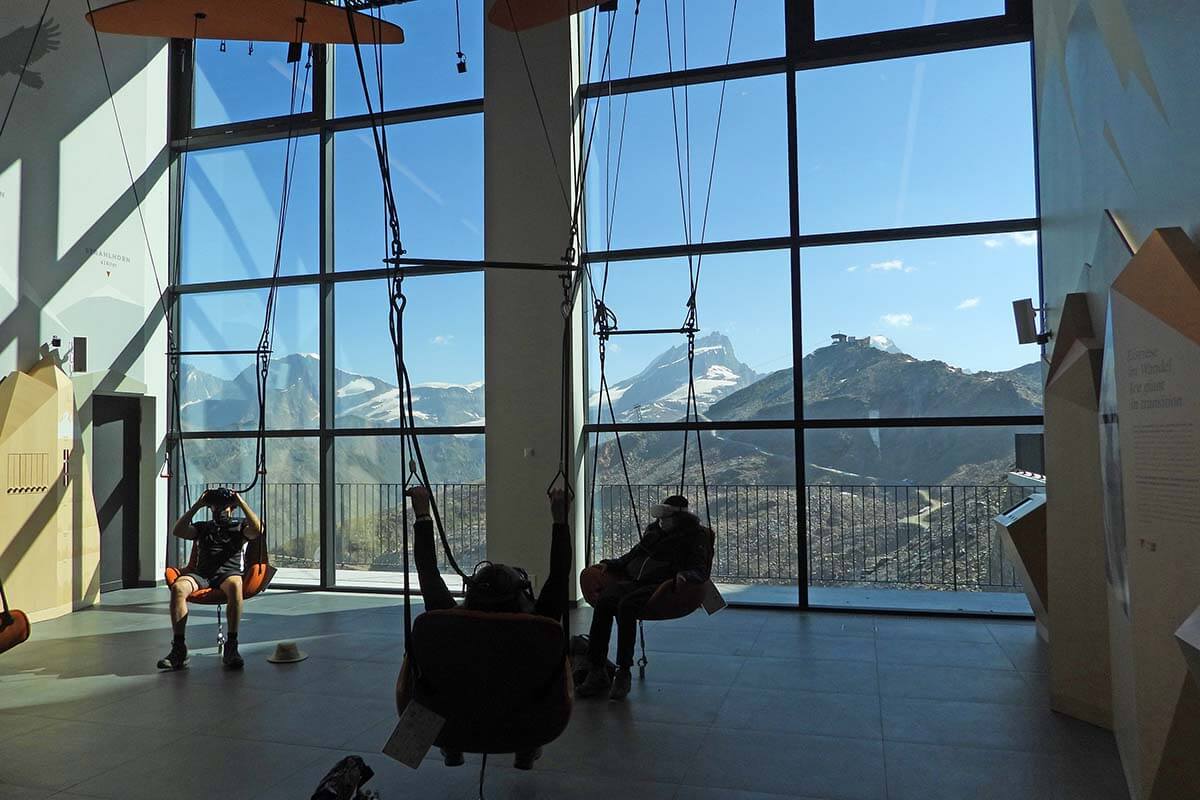 7. Gornergrat Chapel
Between the Gornergrat Hotel and the Zooom the Matterhorn experience stands a small chapel.
It's officially called Bernhard van Aosta Chapel. It was built in 1950 and was originally dark grey. Its rather simple exterior didn't attract much attention and most people seemed to just walk by without even noticing it. Maybe that's why the chapel is now painted in white so that it's more noticeable.
Apart from its unique location, the chapel itself is not really that special. But since you are here anyway, why not take a quick look inside or even light a candle.
Good to know: The chapel belongs to the municipality of Zermatt, is always open, and there's no entrance fee.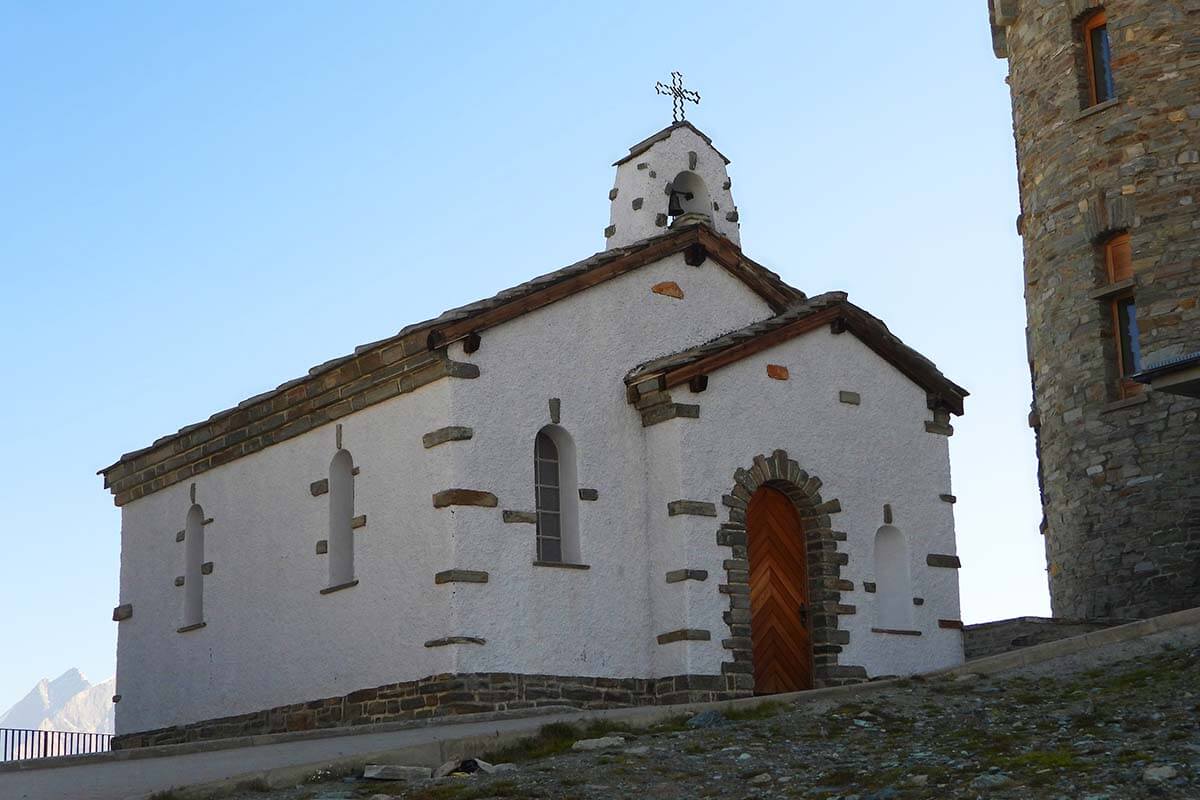 8. Hiking & Biking
Many hiking trails start at Gornergrat and if you have the time, it's well worth considering some of them.
However, if you are like most visitors, you'll likely not have half a day or a full day for some of the longer hikes in the area. The good news is that even with limited time, you can explore the area on foot a bit more – the views are stunning everywhere you go.
TIP: If you have an hour to spare and want to do some hiking at Gornergrat, we highly recommend the Gornergrat Scenic Trail – hike nr. 15 to Riffelsee and Rotenboden. Together with the 360°Scenic Loop mentioned earlier, this hike is one of the best ways to enjoy the phenomenal views around Gornergrat.
Gornergrat is also a great place for mountain bikers and the trails looked spectacular. We met quite a lot of people biking at Gornergrat and some trails at the top are used by both – hikers and bikers. From what I saw, most people brought their bikes to the top by train and then biked down. So much fun!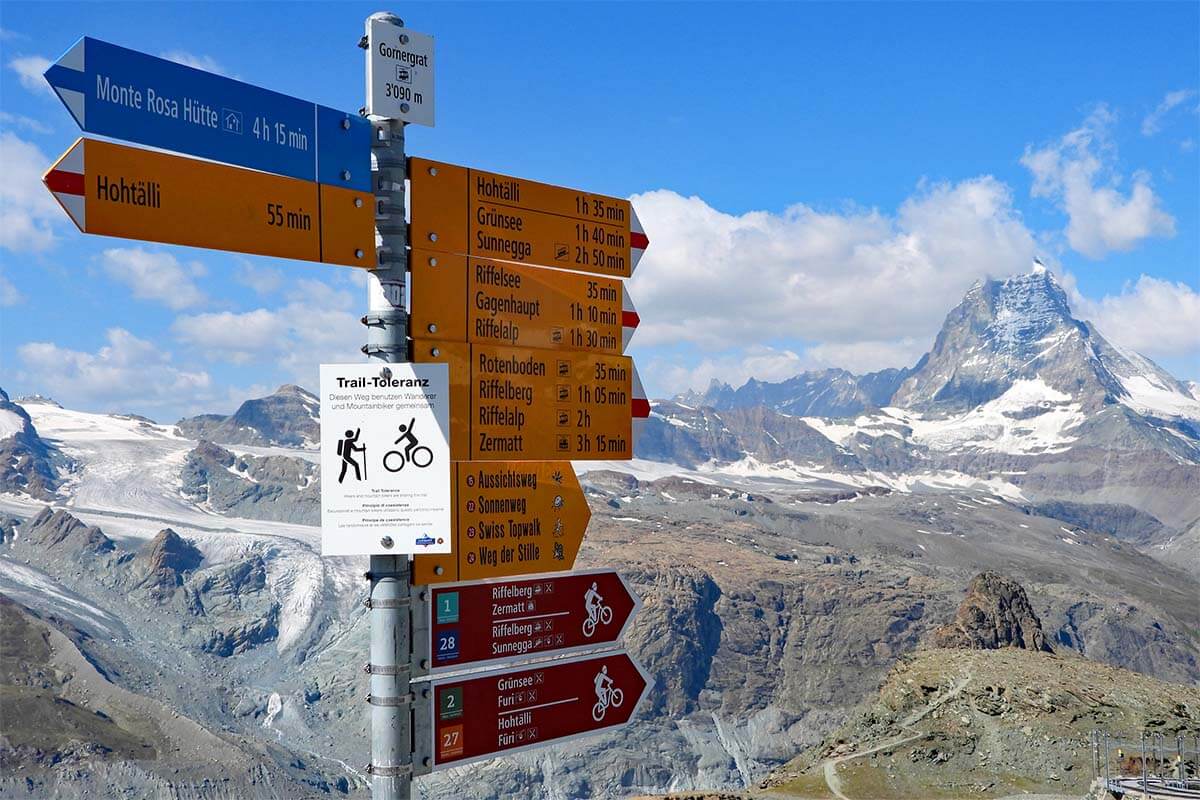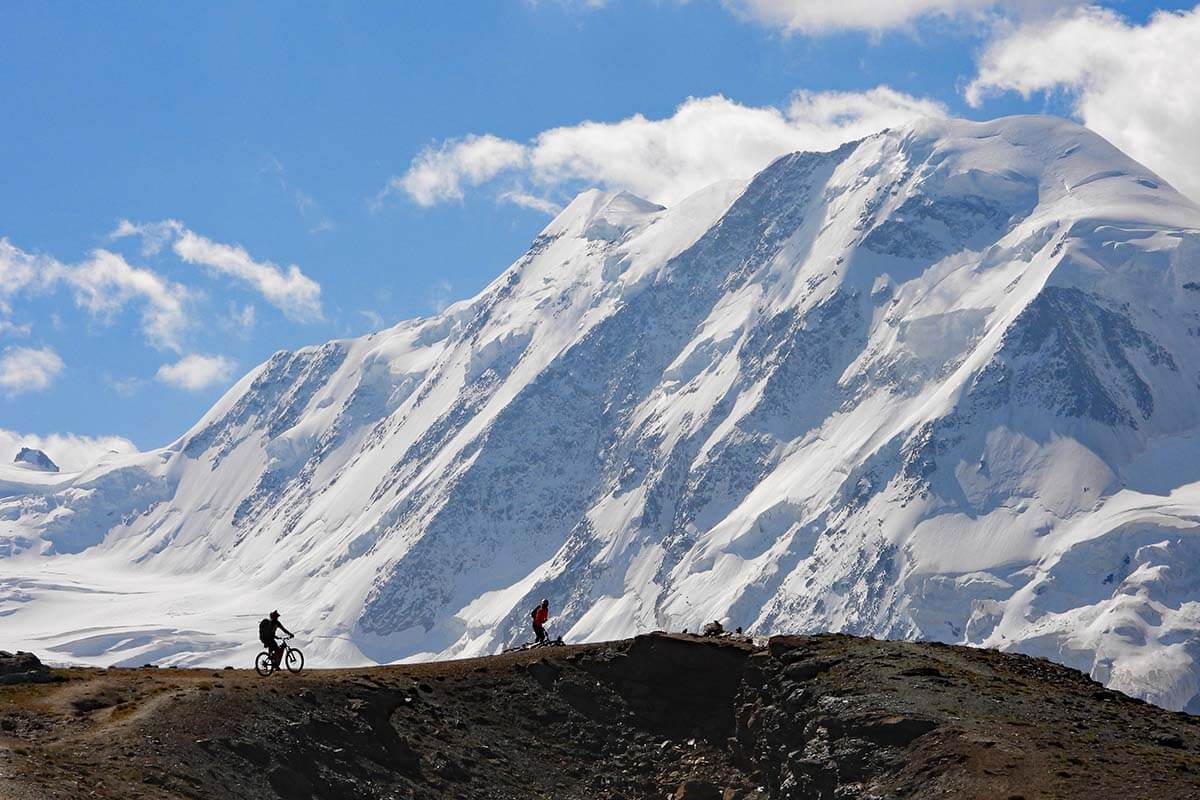 9. Meet the Sheep
Another fun thing to do when visiting Gornergrat in summer is trying to spot the sheep. There's a herd of blacknose sheep grazing in the area between June and September. This is a special breed of sheep from the Valais region and they are so cute!
Some of the sheep are equipped with GPS trackers. In summer, when the sheep are in the area, you can use this website to see the exact location of the sheep, plus all the info about them (the name, age, weight, etc.).
However (and I think it's a good thing), the GPS info has a few hours delay. So you have an idea of where the sheep could be, but not their precise location at that moment. This makes trying to find them a bit more exciting and also protects the sheep from too many tourists.
Of course, you may get lucky and just run into a couple of sheep when you are hiking in the area. And otherwise, you can always check the website and see if you can track them down.
This is such a fun thing to do when visiting Gornergrat with children! Our kids were so fascinated about the GPS-tracked sheep that they studied the website while we were on the train (there's free Wi-Fi on Gornergrat Railway), read everything about them, and eagerly looked through the windows trying to spot them. When we finally found a couple of sheep, the kids were over the moon!
Good to know: In summer, when it's very warm, the sheep will likely be around the Gornergrat – Rotenboden area. In late spring and early fall, they'll likely be much lower on the mountain, around Riffelberg. If you simply check the GPS tracker on the day of your visit, you get a much better idea of where they could be.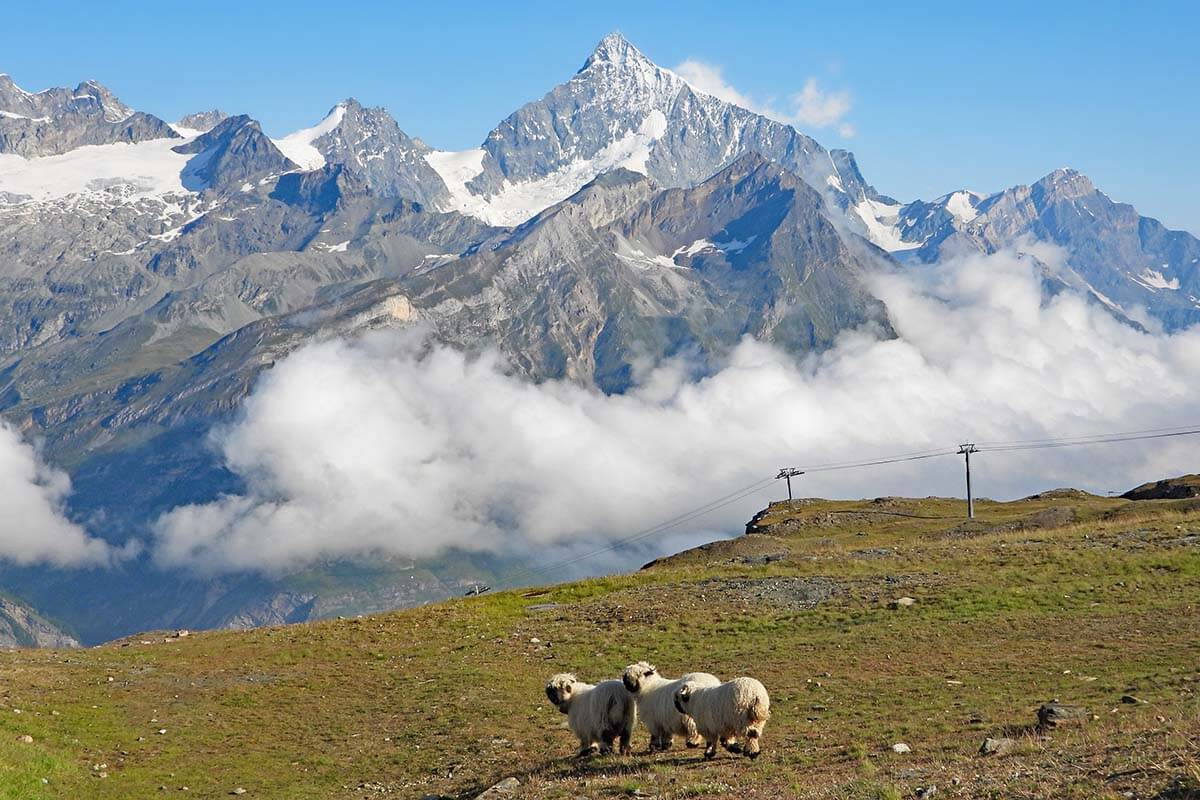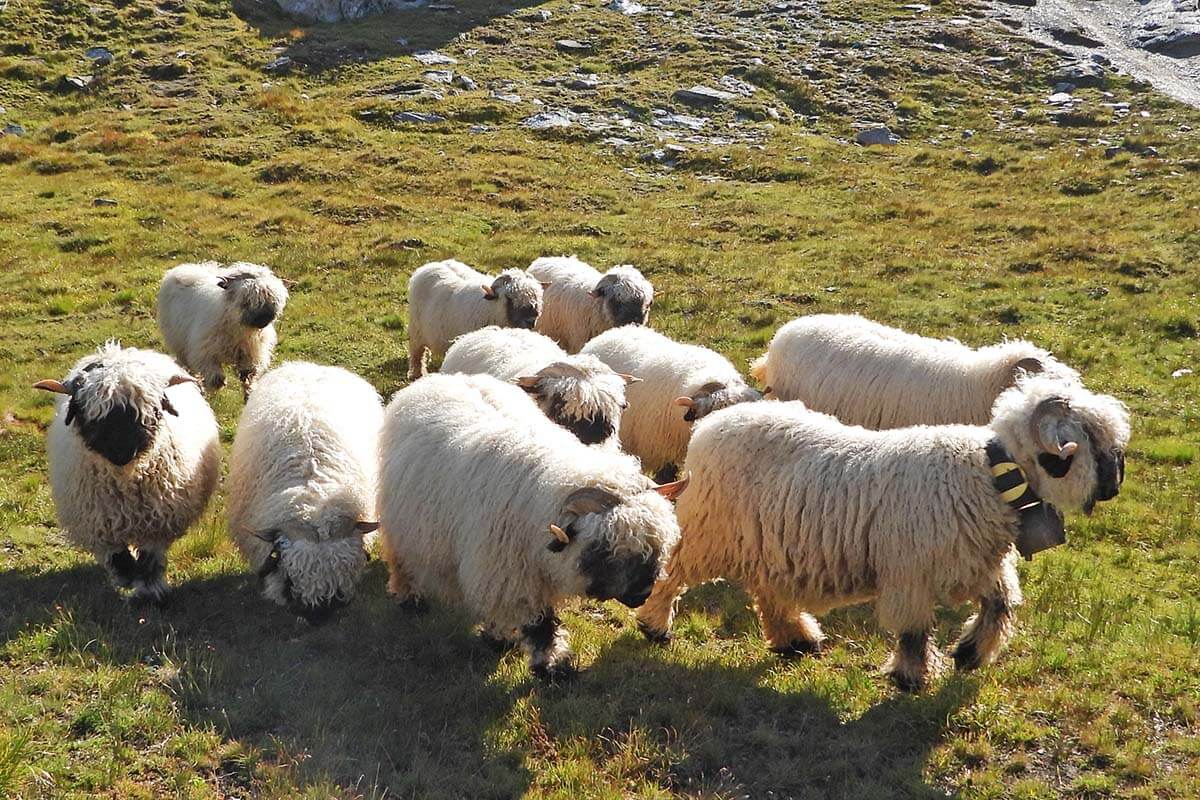 10. 3100 Kulmhotel Gornergrat: Shopping & Dining
If you want to have unique access to the most spectacular views and other activities at Gornergrat, you can opt to spend a night at the 3100 Kulmhotel Gornergrat.
Staying at the hotel, you'll have early and late access to the most phenomenal scenery and will also be able to walk to the nearby Riffelsee for sunrise or sunset. And in winter, in addition to the views, you'll have the best ski slopes right at your feet!
For day visitors, there is shopping and dining.
Panorama Self-Service Restaurant is usually open every day, from 9 AM to 5 PM. And there's also a more upscale restaurant 'VIS-À-VIS' that serves both Italian and regional specialties. It's open from 11 AM to 8 PM, but it's best to reserve if you are planning to have dinner here.
Gornergrat prides itself on being home to Europe's highest shopping mall. It's located on the ground floor of the hotel and is open daily throughout the year except in November.
Now, I wouldn't really call this a shopping mall, rather a few shops. But they do have all the typical Swiss shops that you usually find at all the tourist destinations in Switzerland. Swiss knives (you can get them engraved here too), watches, chocolates – you can find it all here. In addition, there's a shop selling gin from the Matterhorn Distillers – something you won't easily find elsewhere in Switzerland.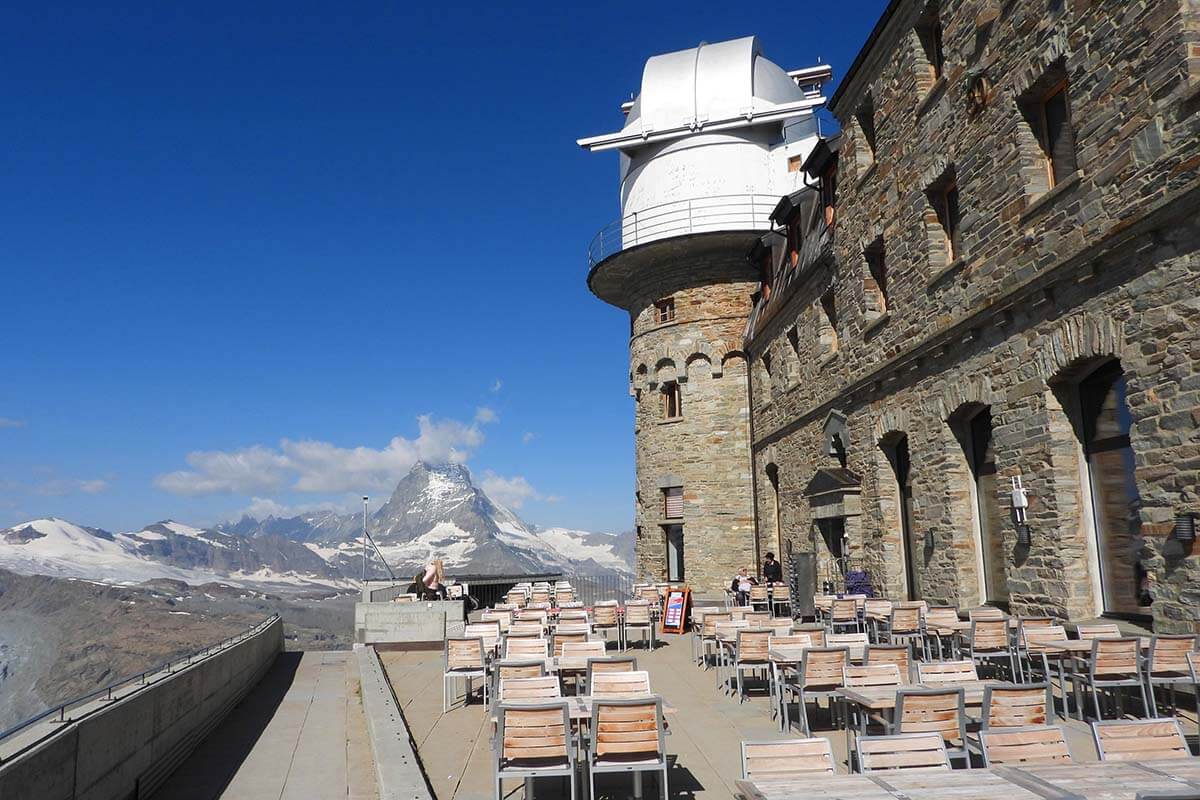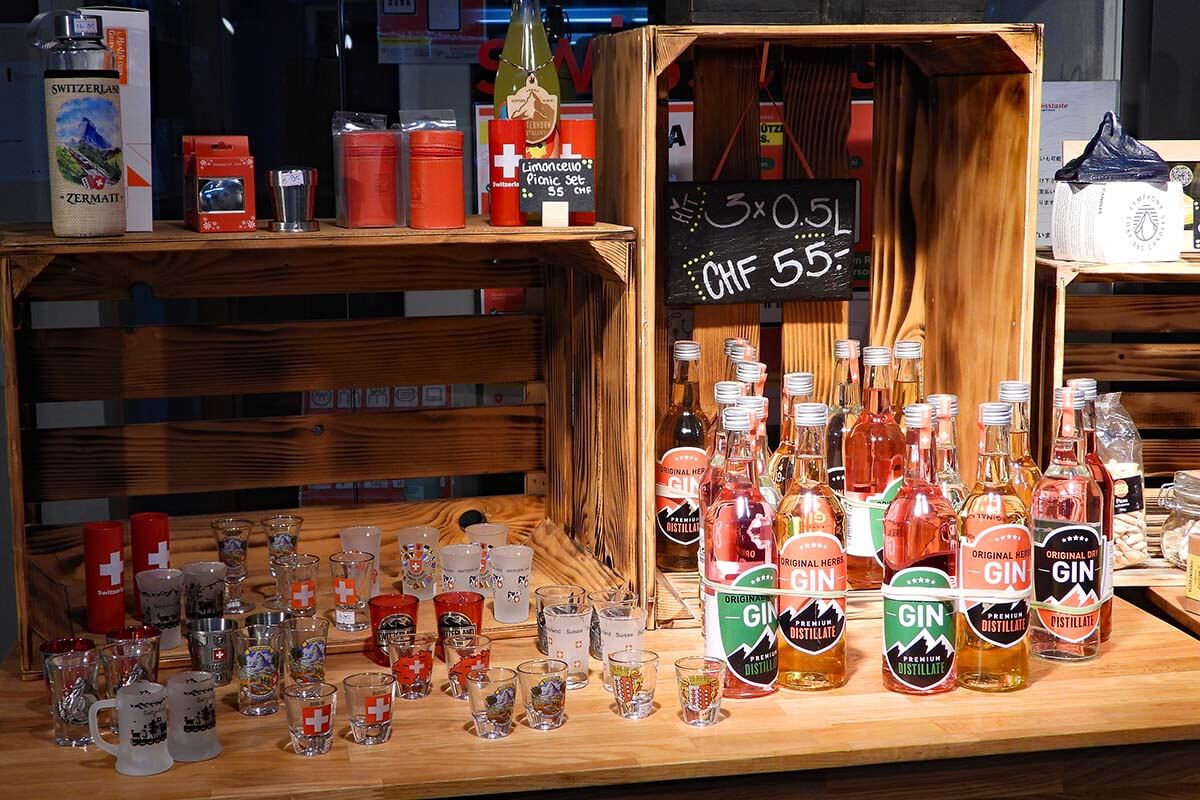 11. Stellarium & Star Gazing
At 3,100 meters altitude, Gornergrat is an incredible place for stargazing at night! It feels as if you can touch the Milky Way!
Stellarium is Gornergrat's planetarium. It's a research station and so normally not open to the public, with few exceptions. Group visits can be arranged and they also sometimes take hotel guests for a guided tour, but it's not a place you can normally visit. Their website says that you can always try asking the hotel staff if there's anyone that could show you around, but it's never guaranteed.
In autumn and exclusively to the guests of the hotel, they are now offering lectures/guided tours of the Stellarium. However, at this moment it's something they only offer for one week mid-October, and it's not very clear if it will be available in the future.
But while you can't easily visit inside, you can see the round dome of the planetarium from the outside. And, if you stay at the hotel, you can go stargazing at Gornergrat as much as you like – just step outside.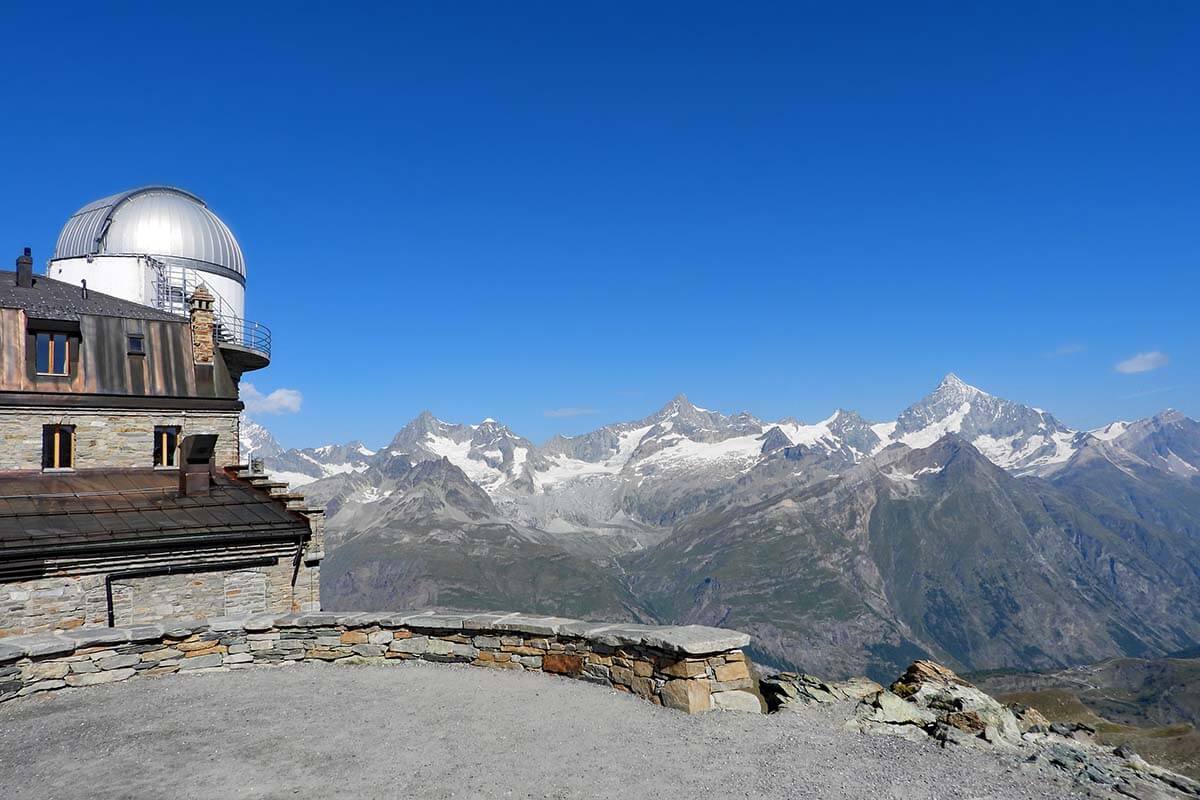 How to plan your time: itinerary for visiting Gornergrat
It's really easy to visit Gornergrat – you can just take a train to the top, walk around, and take the train back to Zermatt (or hike down to Rotenboden or Rffelberg and take a train from there). But we recommend that you plan your time a bit differently and explore more of the area.
The itinerary below might not look like the most logical way to do things, but if you want to see the reflections at Riffelsee or try to spot marmots, we recommend doing it this way.
Here's our suggested itinerary for Gornergrat (summer only):
In the morning, take a train from Zermatt to Gornergrat and disembark at Rotenboden, one before the last station.
Just near Rotenboden lies a tiny mountain lake – Riffelsee. When the conditions are right, you can see the most beautiful reflections of the Matterhorn here.
The earlier in the morning you visit, the better are your chances to see the reflections. Therefore, we recommend taking one of the first trains in the morning – at 7 AM or at the latest at 8 AM.
LEARN MORE: Riffelsee Lake
If you feel like hiking, you could take a short hike from Riffelsee to Riffelberg. On your way, you'll pass another even smaller lake with equally stunning reflections. Also, when hiking here in the morning, you have better chances of seeing marmots.
This hike takes about 1 hour and brings you back to the same train line, between Gornergrat and Zermatt.
LEARN MORE: Rotenboden – Riffelberg Hike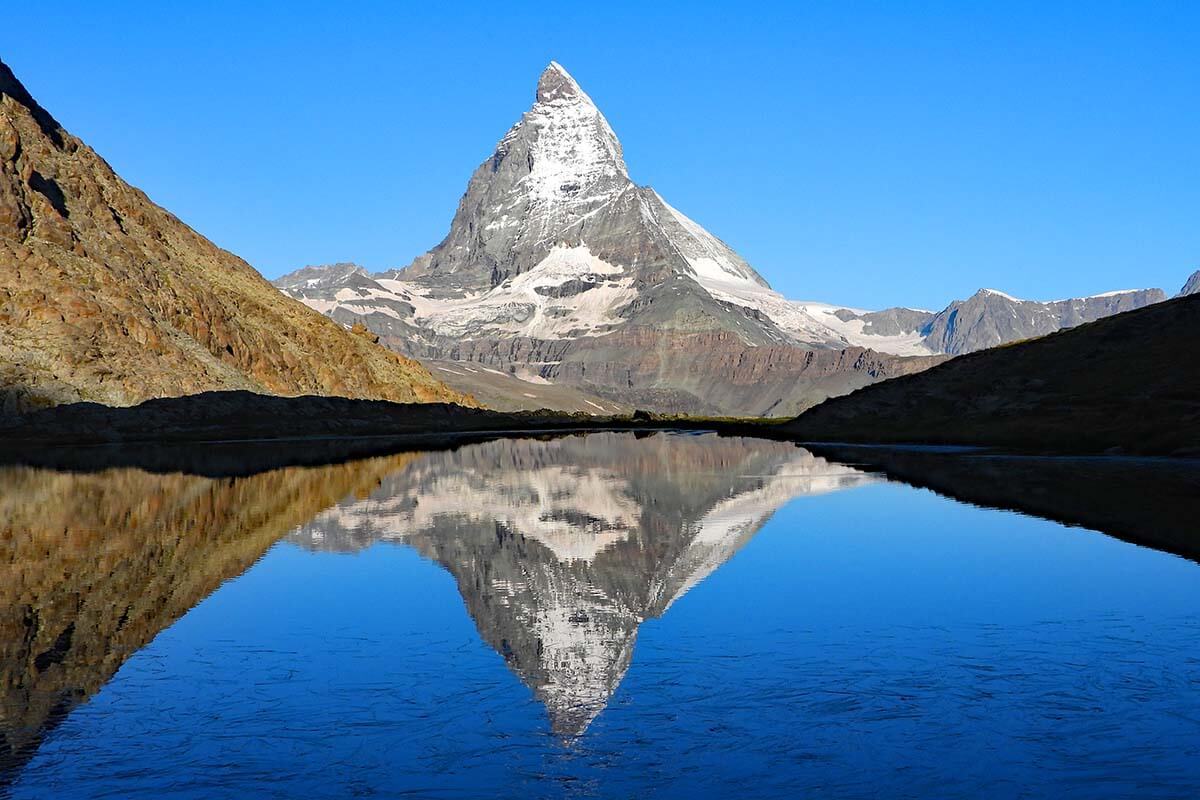 If you don't feel like hiking, you can also just return to the Rotenboden train station and take the train to Gornergrat from there.
If you hike to Riffelberg, you can take the train up to Gornergrat from this station. It's all located along the same railway line, just one stop higher or lower.
Then visit all the attractions at Gornergrat as described above: the viewpoints, the 360° Loop, Zooom the Matterhorn experience, and the hotel with shops and restaurants.
Once you are ready to go down, hike from Gornergrat to Rotenboden (trail nr. 15). As already mentioned, this is one of the best hikes in Zermatt, and the views are absolutely worth a small effort. It takes about 40 minutes.
LEARN MORE: Gornergrat – Rotenboden Hike (Zermatt Trail nr. 15)
From Rotenboden, you can take the train down to Zermatt and explore the town. You can also disembark at one of the other stations along the way and explore the area more or do some more hiking.
Alternatively, you could also take a cable car from Riffelberg to Furi, from where you can easily visit Matterhorn Glacier Paradise on the same day. Although, if you do have time, we do recommend that you plan a separate day for this area. Zermatt is worth more than a day!
TIP: Here you can find a very detailed itinerary for one day in Zermatt including all these areas. Check it out!
LEARN MORE: Best Things to Do in Zermatt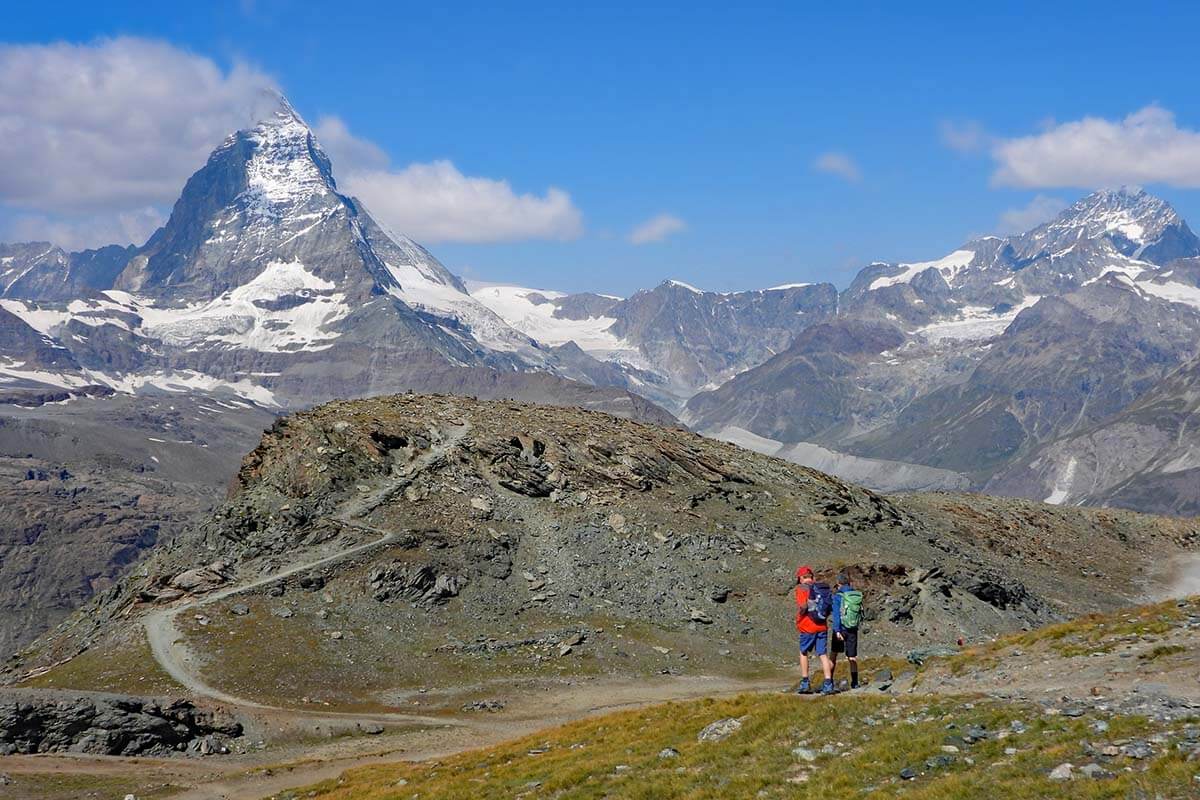 Practical Tips
At 3,089m, it's usually quite chilly at Gornergrat. Even in summer, be sure to pack a warm sweater and a windproof rain jacket.
Sturdy hiking shoes are recommended, even if you are only visiting the viewpoints at the Gornergrat itself. Hiking shoes are a must if you plan to do any hiking.
Gornergrat with kids
Gornergrat is a wonderful destination for families – you can reach the top by train and the best views are easily accessible. If your kids can walk for 10-15 minutes at a time, you can see all the best viewpoints at Gornergrat with them and also visit Riffelsee Lake.
If your kids are at least 4-5 years old and good hikers, you could do the short hikes between Gornergrat and Rotenboden (somewhat steeper hike) and/or from Rotenboden to Riffelberg (this one is easier).
In summer, you could even visit Gornergrat with a stroller – the viewing platform and the pathways to the upper viewpoints at Gornergrat should be doable. However, you won't be able to do much else, such as visit Riffelsee Lake, for example. So I'd recommend leaving a stroller at the hotel and packing a baby-carrier instead.
These are our kids' favorite things to do at Gornergrat: the train ride, the viewpoints and 360° loop at the top, Zooom the Matterhorn, and cuddling the blacknose sheep. They also enjoyed Riffelsee Lake and the hike to Riffelberg, mostly because we saw marmots along the way.
Good to know: Children under 6 can travel on Gornergrat Railway free of charge. Also kids between 6 and 16 (and when traveling with parents who have an adult ticket) are free with a Junior Travel Card. You can get this card in all major railway stations in Switzerland (also for foreigners). It costs just 30 CHF for the entire year, and is free from the 3rd child. It's a real bargain that will pay for itself after taking just one train ride. For Gornergrat, you'll need to show the Junior Travel Card at the ticket desk in order to get a scannable day ticket.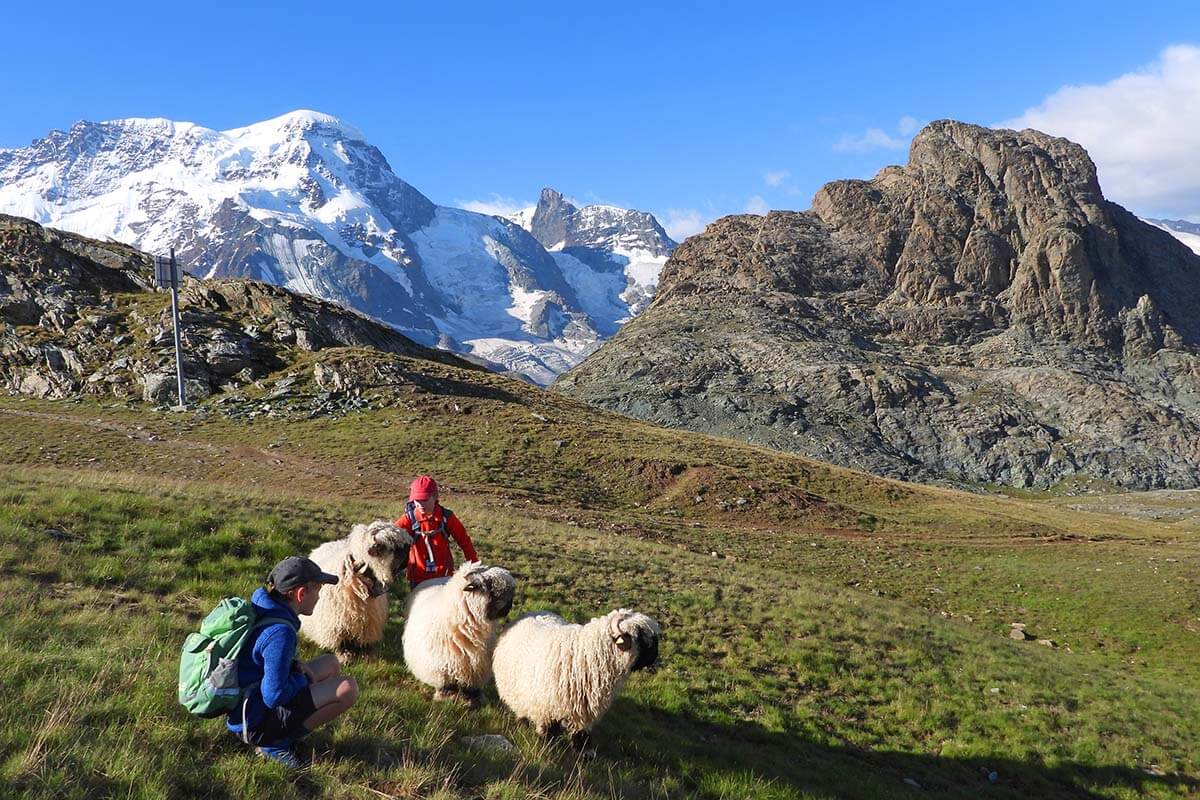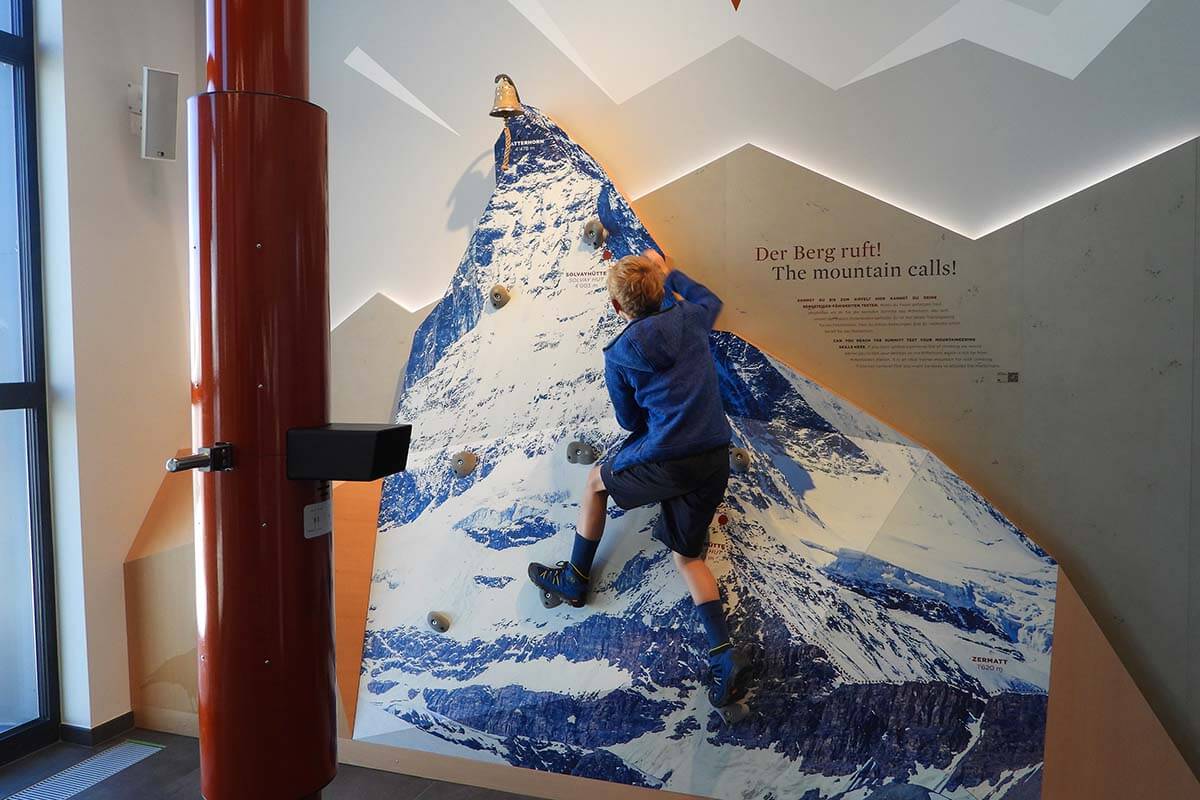 Is Gornergrat worth it?
With so many amazing mountain destinations in the Swiss Alps, a rather high price tag, and a long way to get to Zermatt, you might be wondering if Gornergrat is worth it.
A lot depends on the weather, of course. But if you are lucky to visit when the weather is nice and the views are open, yes, Gornergrat is absolutely worth visiting. It's one of the most unique destinations in the Swiss mountains. In addition, you'll likely visit the nearby Matterhorn Glacier Paradise and Zermatt town itself, and all this makes Gornergrat more than worth a trip.
Gornergrat in Winter
If you are visiting Gornergrat in winter, when the lakes are covered in snow and hiking trails have turned into ski slopes, your experience will obviously be very different. But it's still worth it and the views on a clear day are amazing!
In winter, you can go skiing here and there are some snowshoeing trails as well.
Gornergrat Railway runs the whole year round and the hotel and restaurant at the top are also open. So yes, you can visit Gornergrat in winter as well.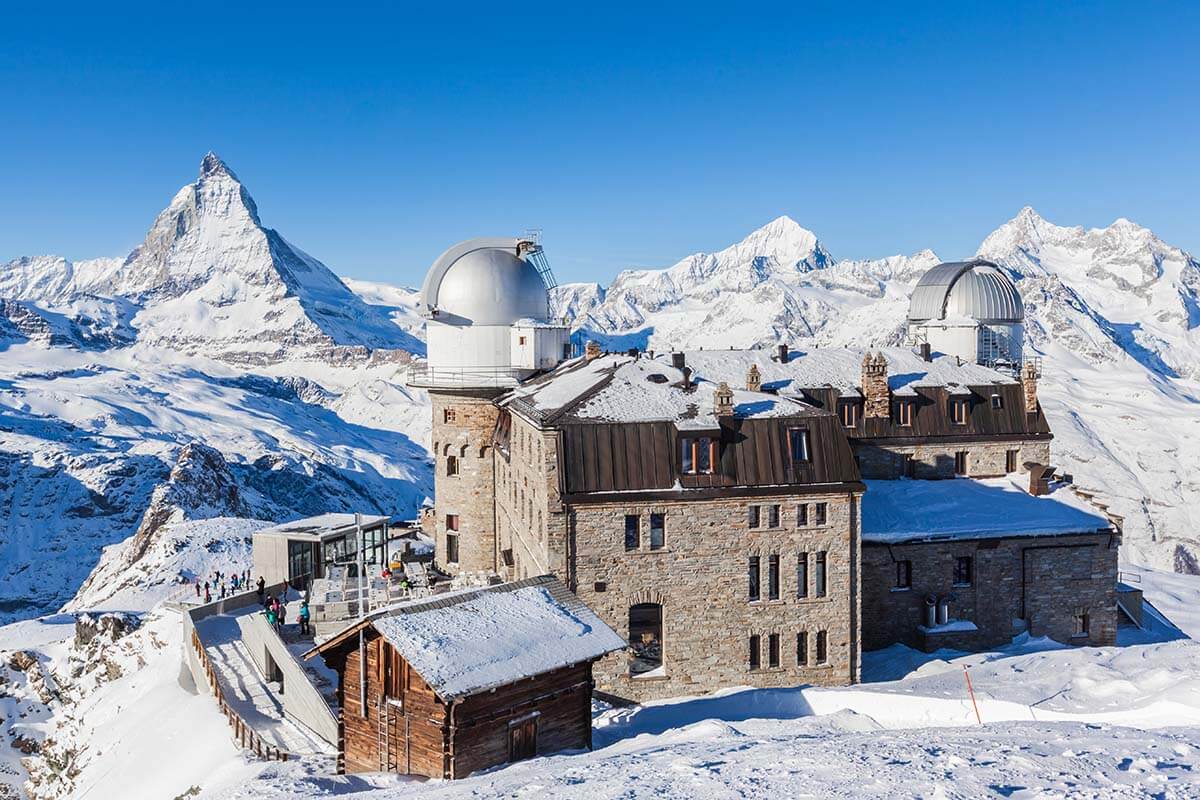 So, this is our guide to visiting Gornergrat. I hope that this gives you a better idea of what to expect and how to plan your time.
Have a great time in Zermatt!
FAQ
What is Gornergrat famous for?
Gornergrat is a rocky mountain ridge at 3,089 meters at the Gorner Glacier near Zermatt in the Valais region in Switzerland. It's famous for its Railway, the highest open-air cog railway in Europe, and for the fact that from here you can see 29 mountain peaks that are higher than 4000 meters.
When is Gornergrat open?
Gornergrat Railway is open every day, the whole year round. Gornergrat Railway runs from early morning until sunset. In summer, the first train from Zermatt departs at 7 AM and the last train from Gornergrat leaves at around 8 PM.
How long is the Gornergrat train ride?
The Gornergrat Railway train ride between Zermatt and Gornergrat is 9.4 km (5.85 mi) and takes 33 minutes. In just half an hour, Europe's steepest open-air cogwheel train covers an altitude difference of 1,484 meters.
When is the best time to visit Gornergat?
The best time to visit Gornergrat is on a sunny day when there are no clouds. That's when you can enjoy the best views at the top. For the best light for photography and fewer crowds, visit early in the morning or late in the afternoon. Gornergrat is a year-round destination and you can visit at any season.
When is the busiest time at Gornergrat?
Gornergat is a very popular day trip destination attracting big crowds. The busiest time to travel on Gornergrat Railway is in the morning, from around 9.30 AM to noon. If you can, try to avoid these peak times and take a train before 9 AM or later in the afternoon.
TIP: If you like hiking and want to explore the stunning scenery around Zermatt more, consider the Matterhorn Glacier Trail. It takes you to the foot of the Matterhorn and near a retreating glacier and is one of the best hikes in Zermatt! Highly recommended if visiting in summer. For more information, see our detailed guide via the link below. Check it out!
LEARN MORE: Matterhorn Glacier Trail
More inspiration for your trip to Switzerland:
Winter travel:
If you found this post useful, don't forget to bookmark it and share it with your friends. Are you on Pinterest? Pin these images!