Alsace Wine Route (Route des Vins d'Alsace) traverses one of the most beautiful regions in France. But with so many towns, villages, and vineyards dotted along the famous 170-km long Alsace wine trail, how do you decide which places are worth your time the most?
In this guide, you can read (and see lots of pictures) about the most beautiful towns and the nicest villages that you really shouldn't miss on the Alsace Wine Route. We also include our experience-based tips and information on how to visit (by car, by train, or on a tour).
To help you plan your visit, we also created a map indicating all the best towns and villages to see on the Alsace wine route, as well as some of the most scenic stretches of road that we think are worth a detour if you are traveling by car. At the bottom of the article, you can also find some general travel info and useful tips for visiting the Alsace Wine Route.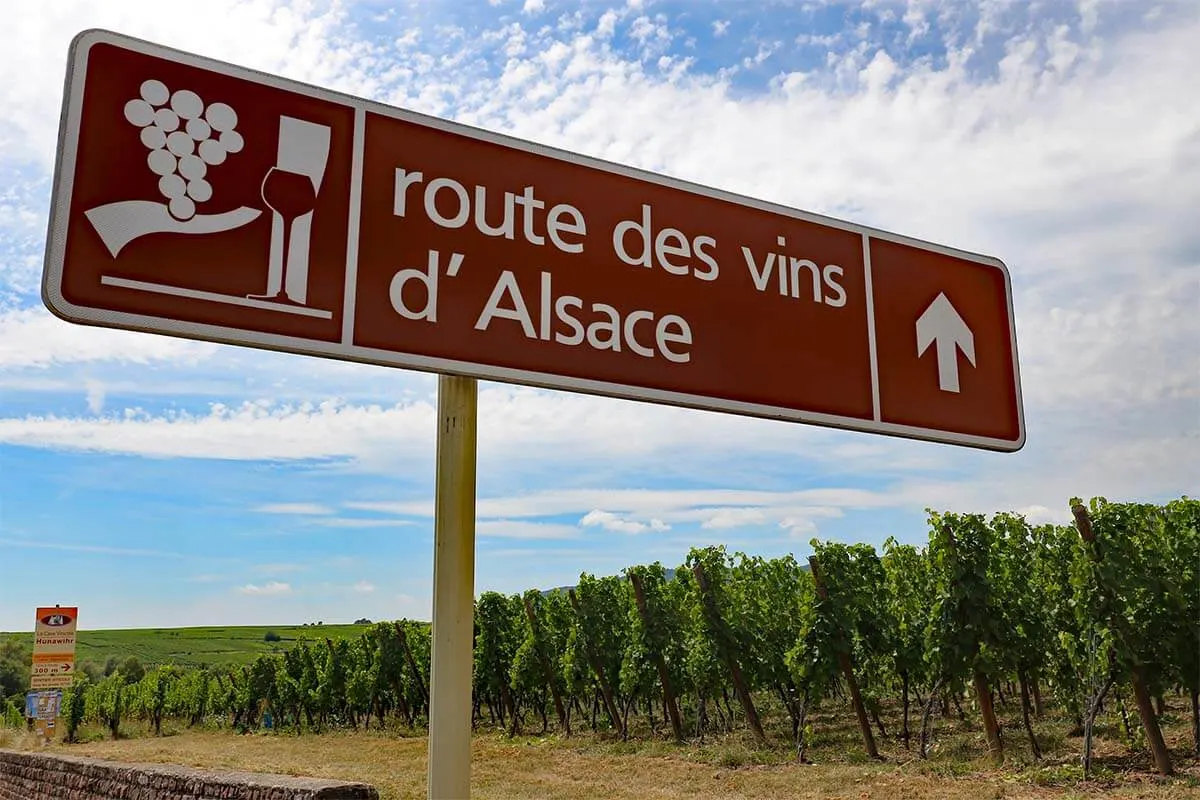 Good to know: Since there are more charming villages and pretty towns on Alsace Wine Route than anyone could visit in just a few days, in this guide we mainly focus on the places that are worth your time the most if you are visiting the region for the first time.
To help you choose where to go, for each place, we indicate how 'worthy' it is and how much time you need. Of course, everything is subjective and is based on our personal opinion, but I hope that it will give you a better idea of what to expect and help you make the most of your time in Alsace.
And since we visited many more villages than made it into this selection, I also share a bit of info on the ones that we found weren't really worth it if your time is limited. Some of them were mentioned in various guides as well worth a visit, but we found that it wasn't the case.
TIP: If you are visiting Strasbourg and/or Colmar and have some time to spare, definitely consider a day trip to the nicest villages in Alsace! This tour from Strasbourg brings you to 4 of the most beautiful towns on the Alsace Wine Route. This popular tour from Colmar visits the same towns and includes wine tasting as well.
If you are looking for a more personal experience and want to visit a few of the nicer smaller villages that most tours don't include, consider this private and customizable day tour from Colmar, and tell the driver exactly which places you want to see.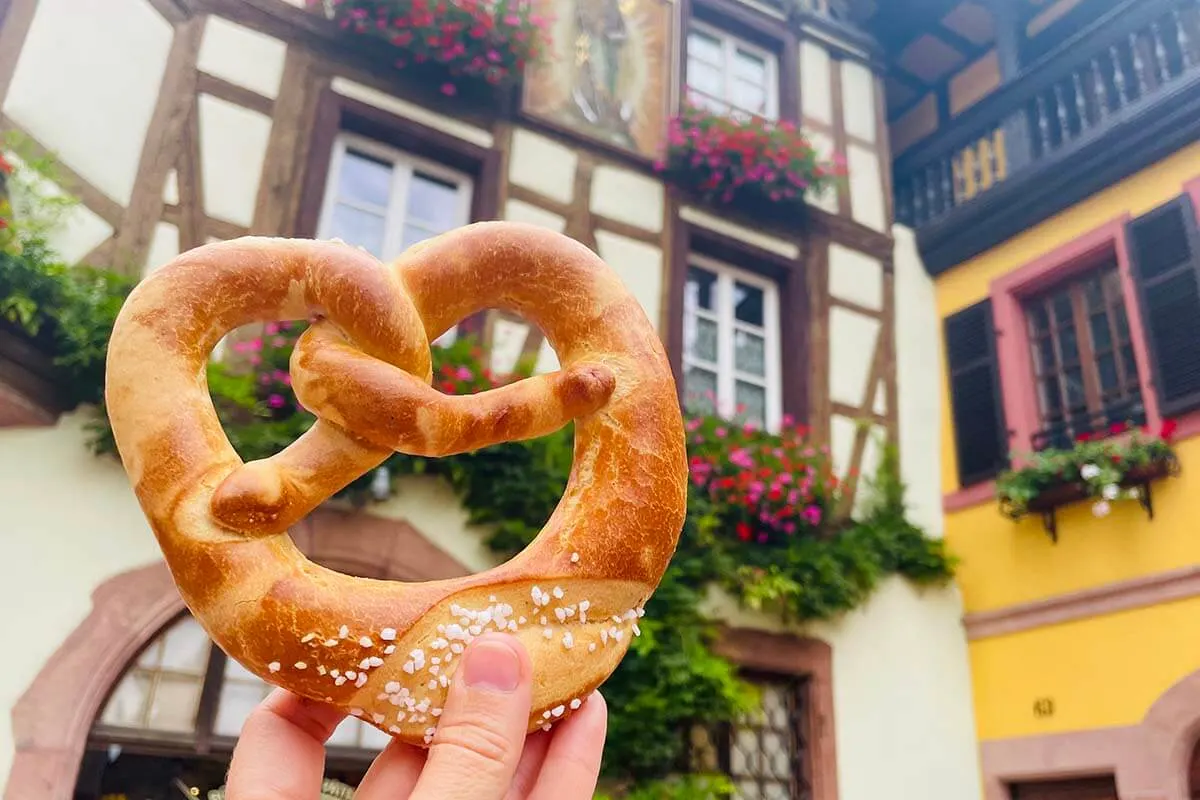 Here are the most beautiful towns and nicest villages to visit on the Alsace Wine Route:
1. Colmar
MUST SEE.
How much time do you need: You need at least 3-4 hours to do Colmar justice, but you can easily spend a full day here.
Getting there: By car, by train, or with a tour from Strasbourg.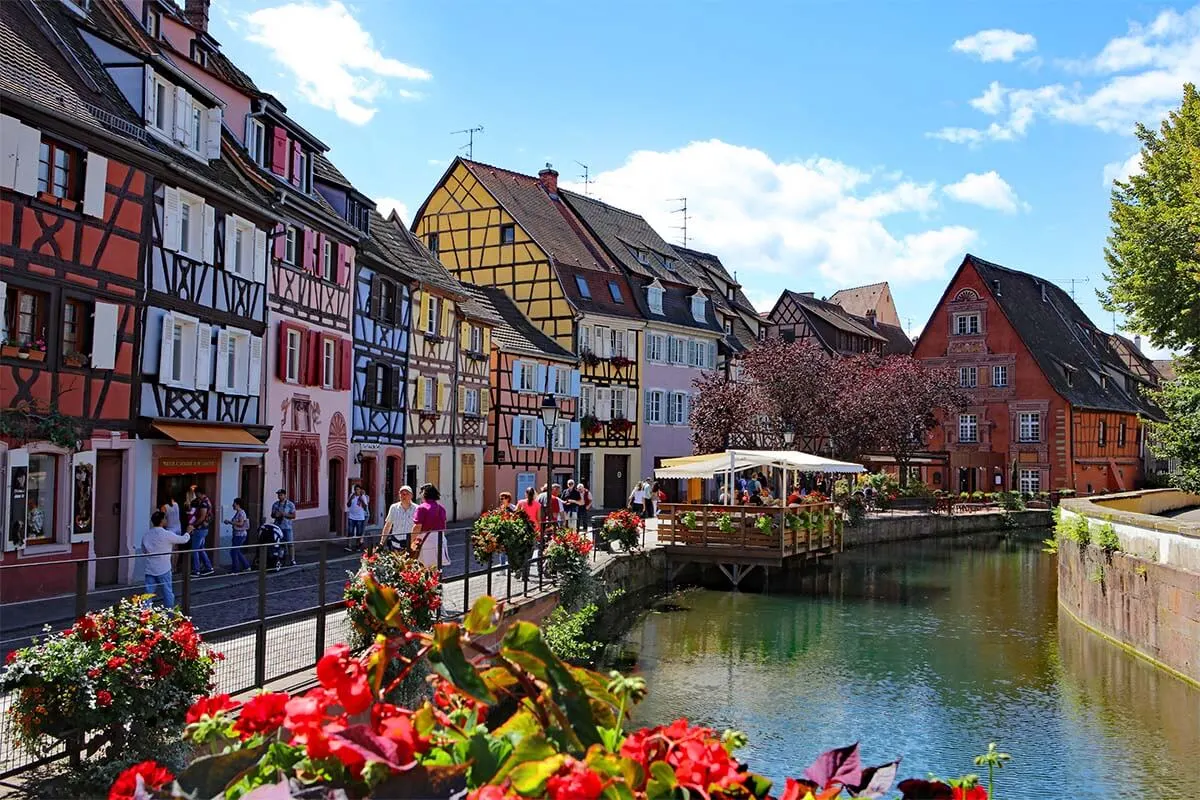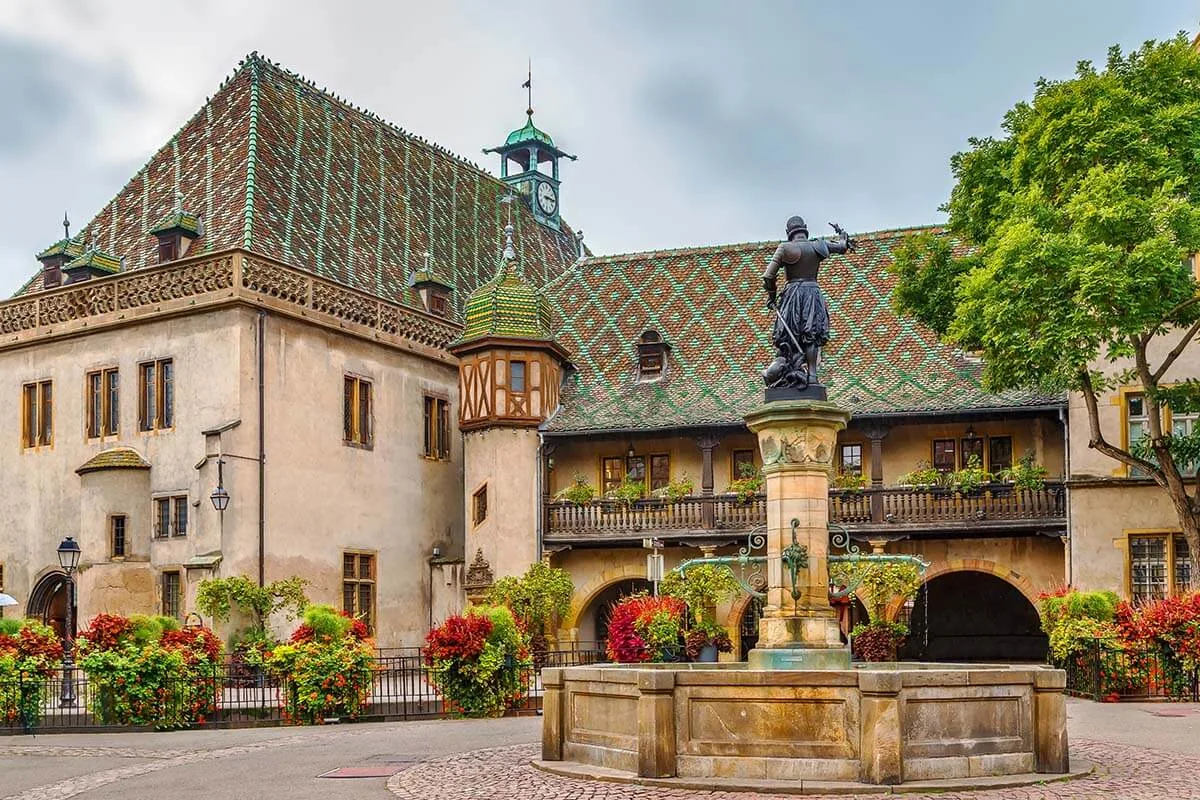 The biggest city on the Alsace Wine Route, Colmar is also one of the most beautiful Alsatian towns that you really shouldn't miss when visiting this part of France.
The old town center is so picturesque that you really feel like you stepped into a fairytale. Take your time to explore the cobbled streets and canals lined with colorful half-timbered houses, check out a few souvenir stores, and maybe visit a museum or two. There are also many restaurants where you can try all kinds of regional specialties.
A must-see in Colmar is a canal-side area called La Petite Venise, which can also be admired from a traditional boat ride on La Lauch River. Also, the old Tanners' District and the picturesque town square Place de l'Ancienne Douane are not to be missed.
TIP: For more information and tips on the main highlights not to miss in Colmar, please see our detailed guide to the city via the link below.
LEARN MORE: Best Things to Do in Colmar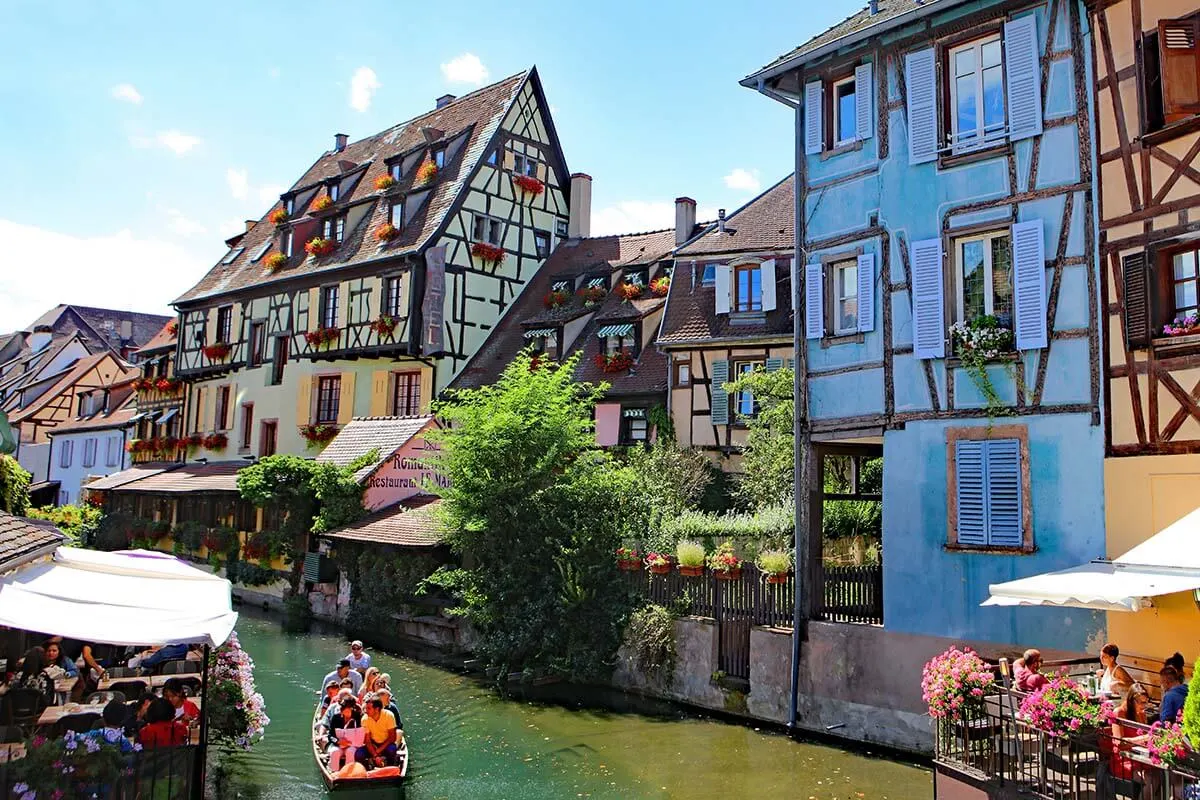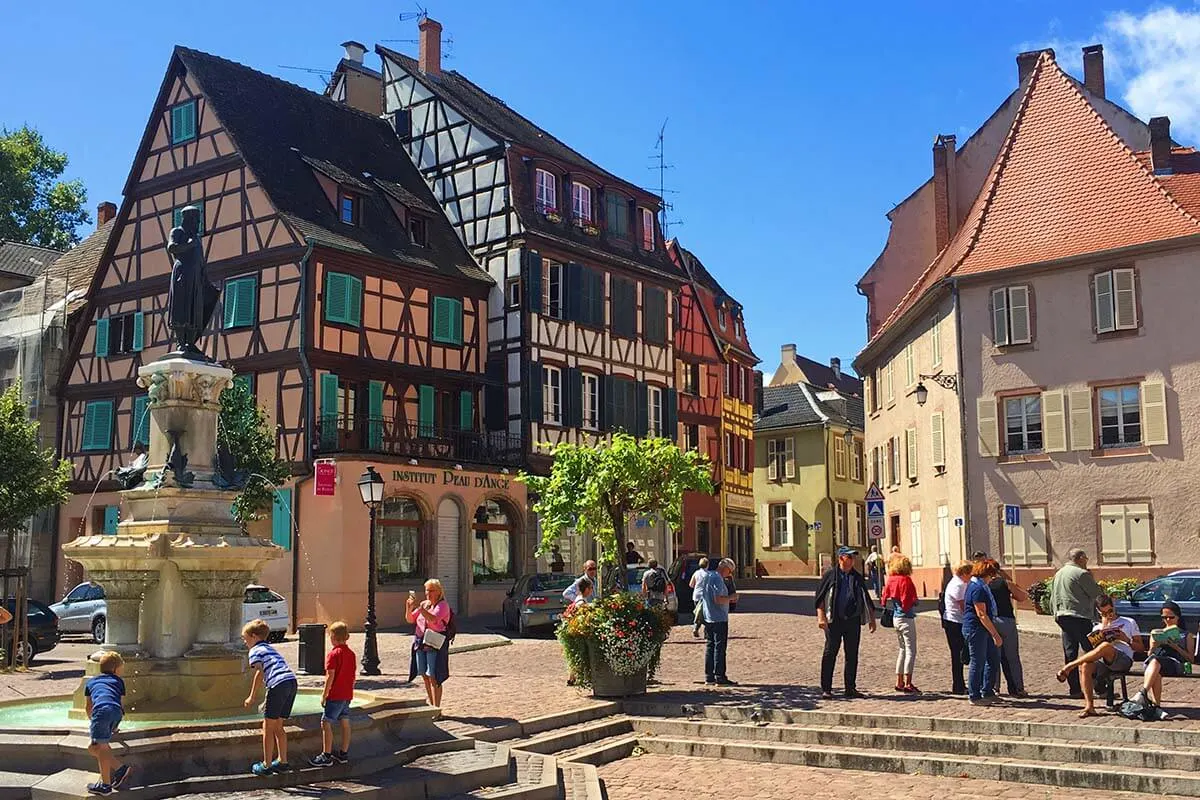 2. Eguisheim
HIGHLY RECOMMENDED.
How much time do you need: 1-3 hours depending on what you plan to do.
Getting there: By car, by bus, or by bike from Colmar, or with a tour from either Colmar or Strasbourg.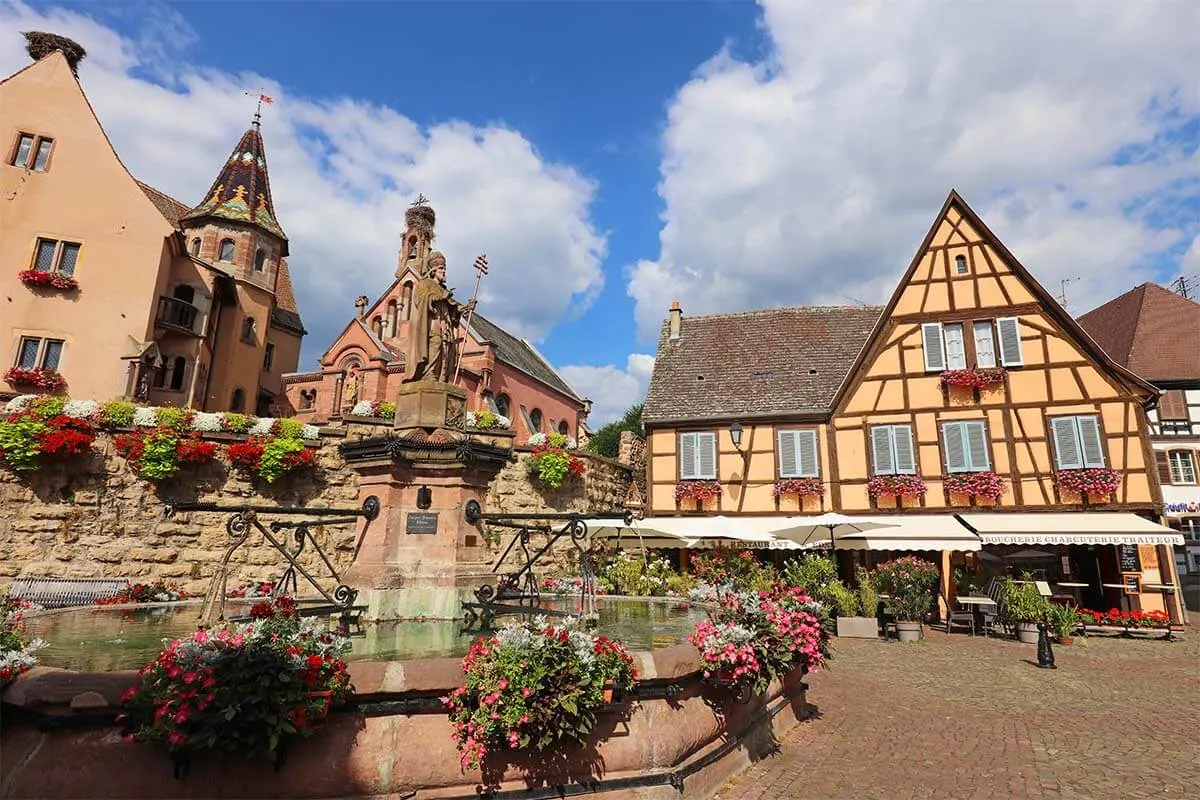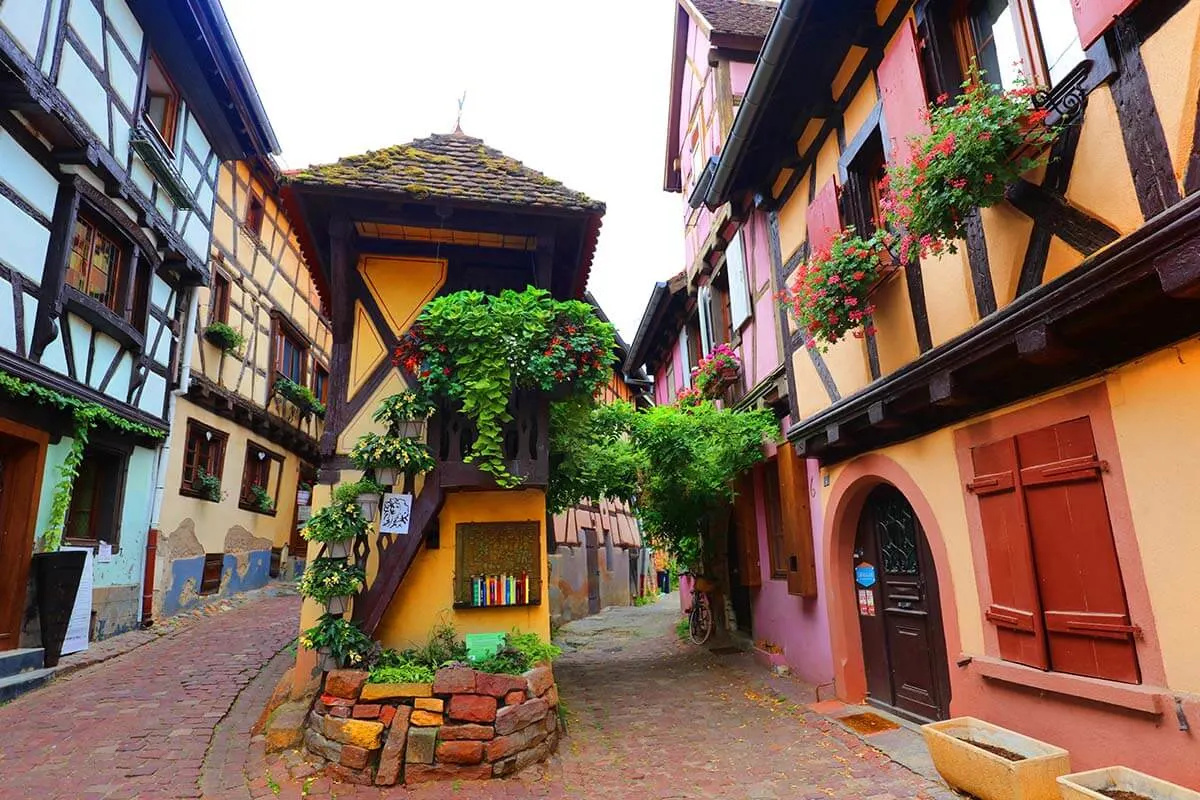 Our personal favorite, Eguisheim is not just one of the most picturesque villages on the Alsace Wine Route but has also been named one of the most beautiful villages in France. If you are looking for a charming Alsatian town that has it all, you really can't go wrong choosing to come here.
Eguisheim is located just 7 km (4.3 mi) from Colmar but feels a world apart. Surrounded by vineyards and with its unique medieval atmosphere, this charming little town has a totally different feel than all other bigger (and much busier) places nearby. And because it's so compact, you don't have to plan much or stress about missing something. Just walk around and enjoy!
On the other hand, if you want to join a bike or a segway tour of the vineyards here, it's best to do some research and book in advance.
We've been to Eguisheim on a quiet winter day and also in the peak summer season and found it just as lovely. One of our best memories here is having lunch at a tiny (and very low-key) local café called Creperie La Galinette and wandering around Rue du Rempart – the most picturesque quaint street that encircles the entire old town.
TIP: For more photos and helpful information for your visit to Eguisheim, please see our detailed guide via the link below.
Wine tip: Grand Cru Eichberg (Riesling, Gewurztraminer, or Pinot Gris).
LEARN MORE: Best Things to Do in Eguisheim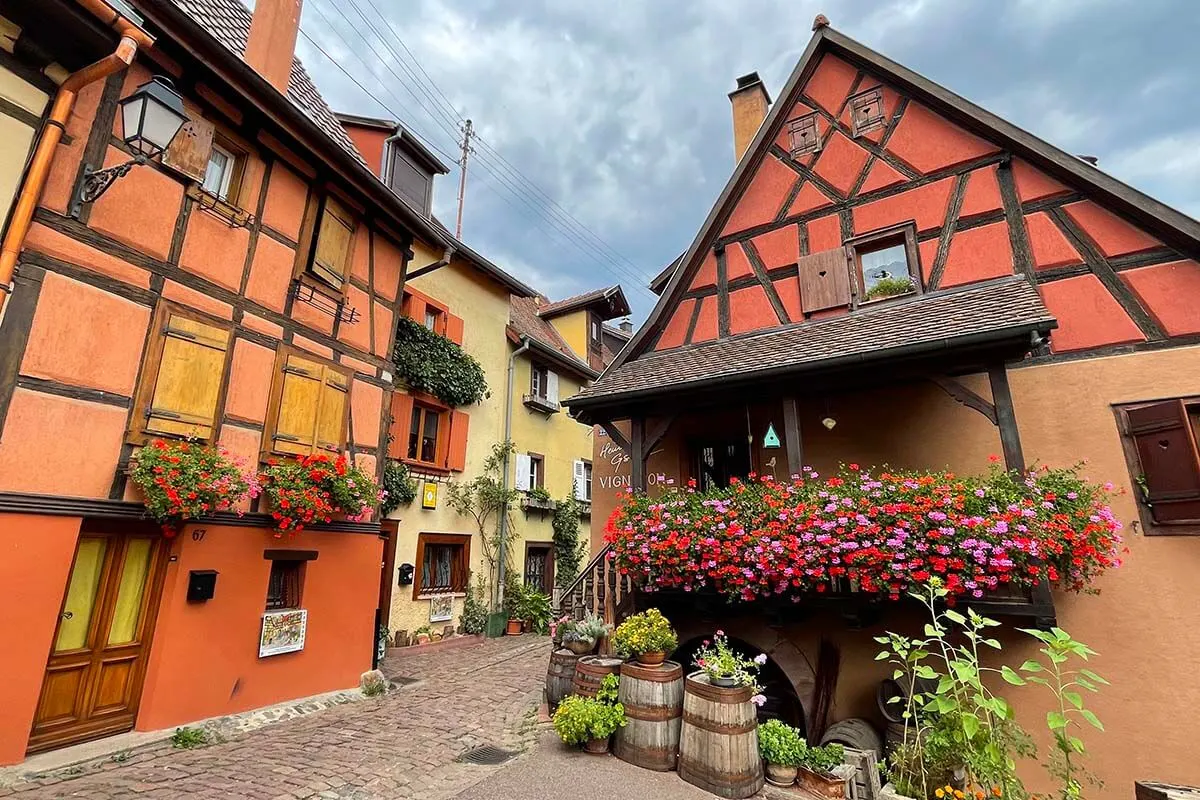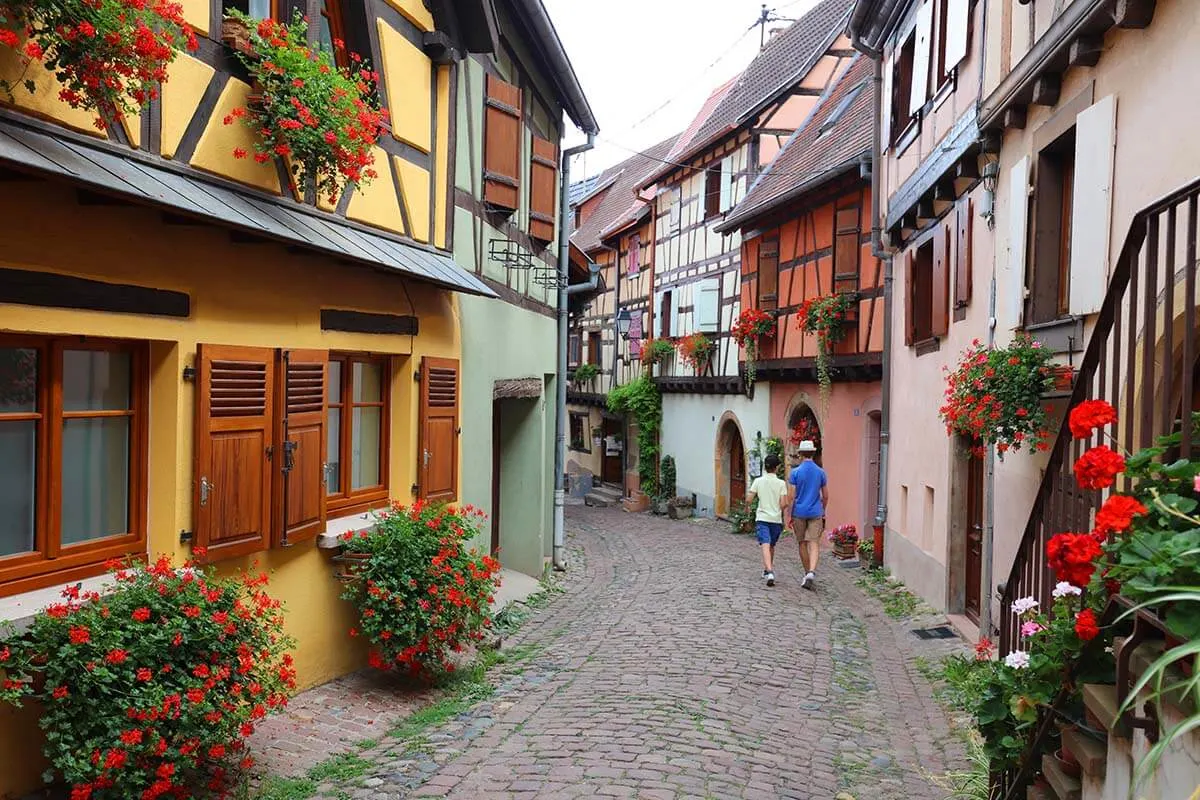 3. Riquewihr
HIGHLY RECOMMENDED.
How much time do you need: 1-3 hours.
Getting there: By car, by bus from Colmar, or with a tour from either Colmar or Strasbourg.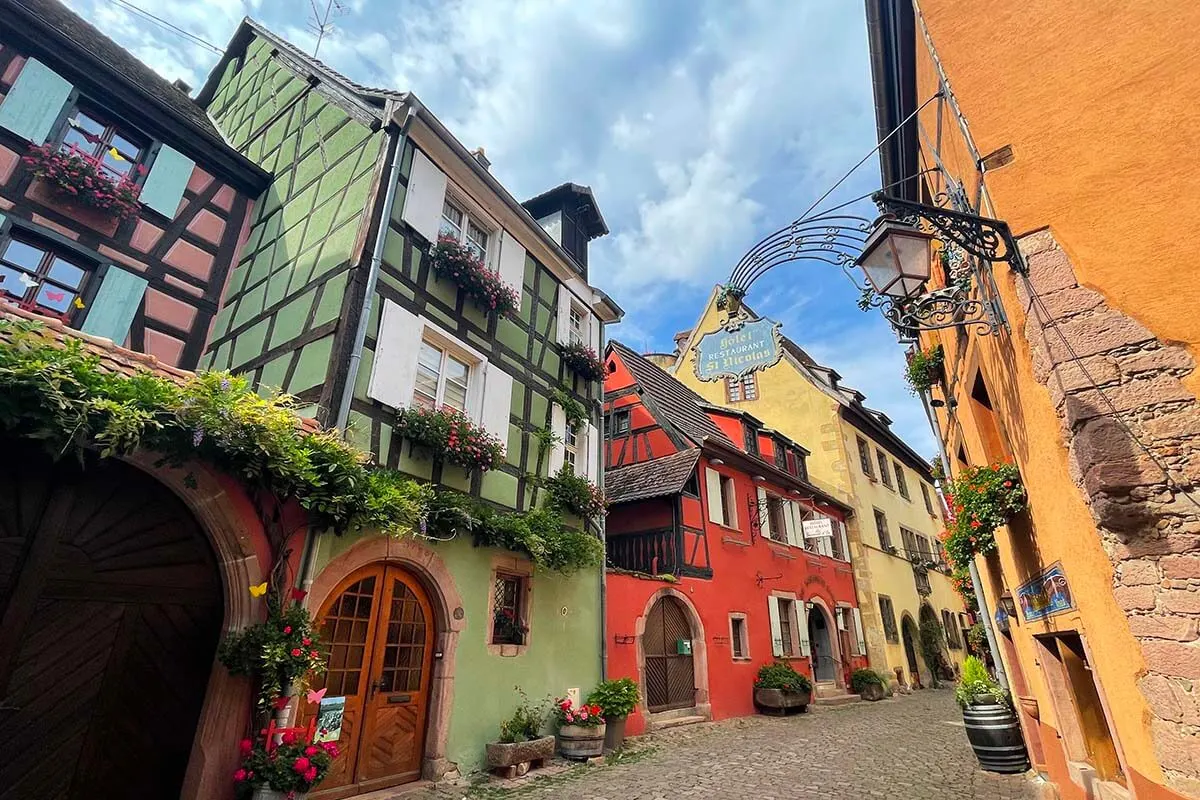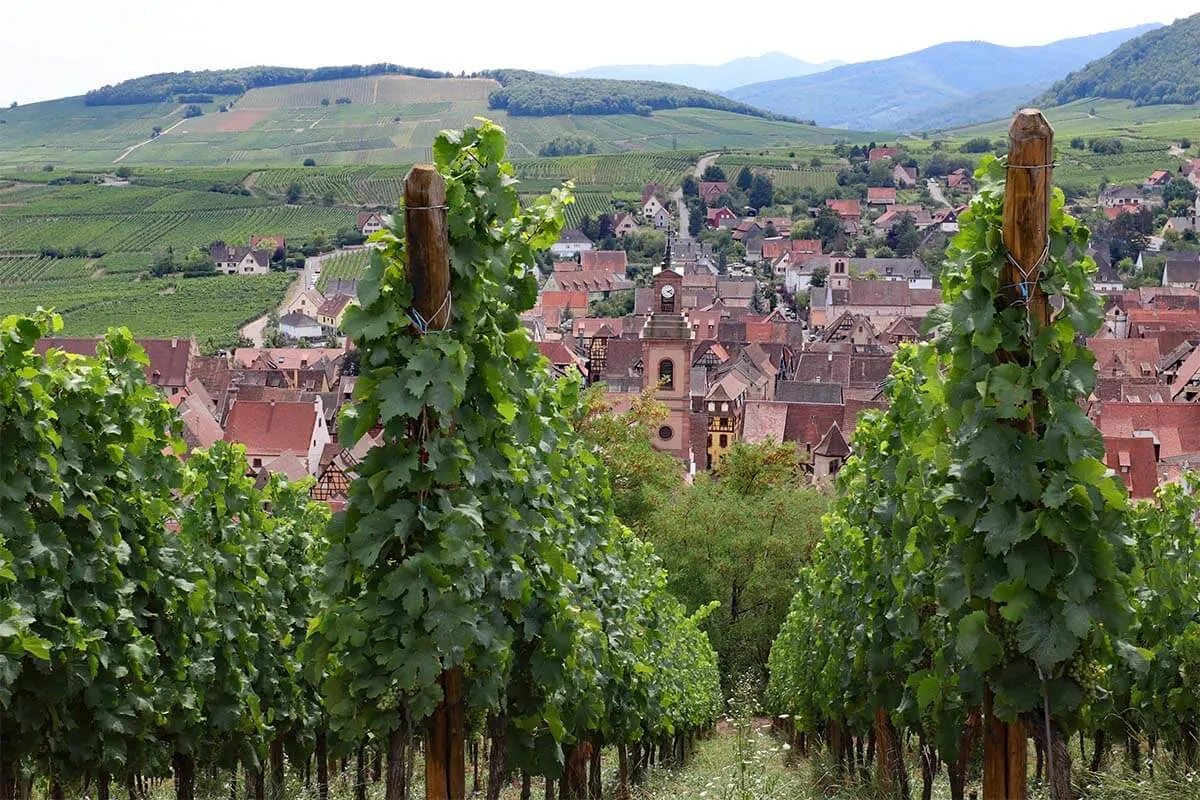 Riquewihr is located in the heart of the Alsace wine region and the vineyards are just a stone's throw from the center. If you come here in the summer when the vines are green and lush, be sure to get just a bit outside the village and see the vineyards (of course, be considerate of private property and don't go walking between the plants).
TIP: There is a beautiful viewpoint overlooking the vineyards and Riquewihr town just nearby. However, it's located on a hill and would be quite a walk. If you take the little tourist train, it will bring you there (it's also a nice way to learn a bit more about the town's history and see a bit of the surroundings).
Also the old town of Riquewihr is so picturesque that it definitely deserves a place among the top 5 of the most beautiful villages of the Alsace wine region!
Just like Eguisheim, it's a very small town, so you don't need much time to visit. There are a few tiny museums that you can see in like 5-10 minutes each; for the rest – just walk around the old town, try some wine and local food, and enjoy the cozy atmosphere.
Wine tip: Schoenenbourg Grand Cru (Riesling).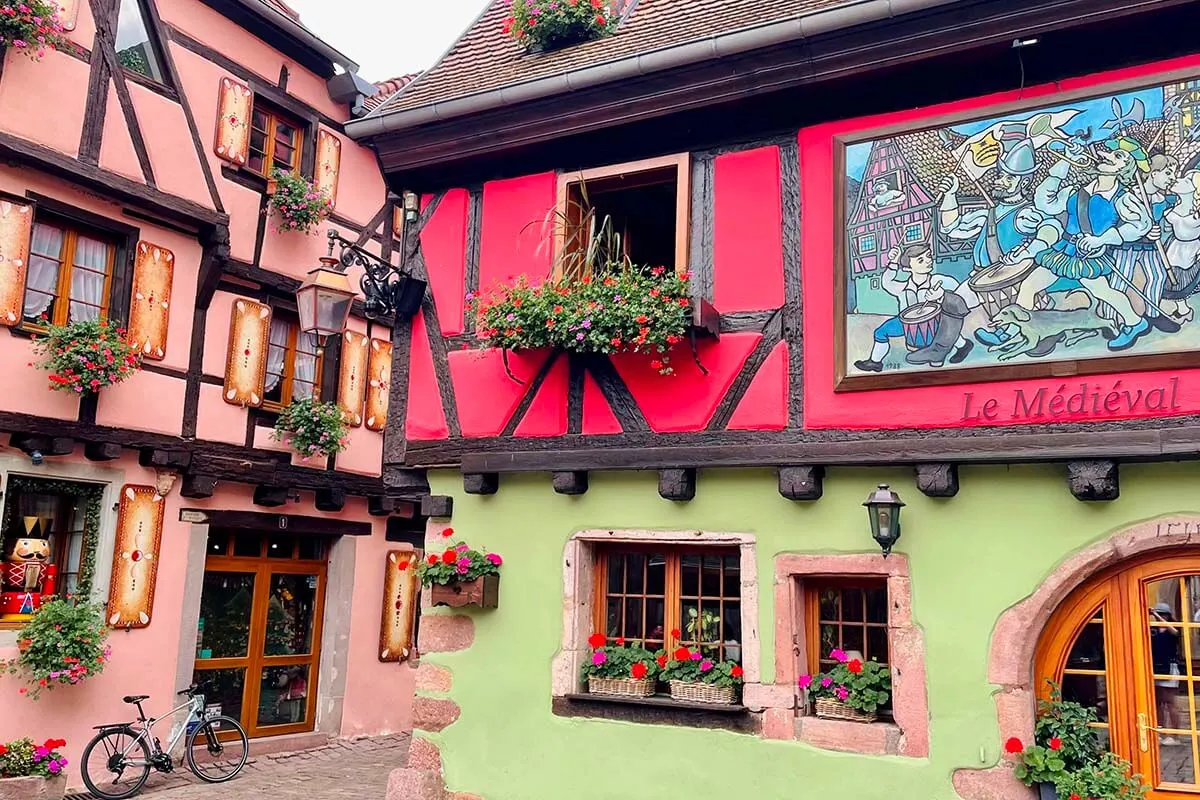 4. Ribeauvillé
HIGHLY RECOMMENDED.
How much time do you need: 1-3 hours.
Getting there: By car, by bus from Colmar, or with a tour from either Colmar or Strasbourg.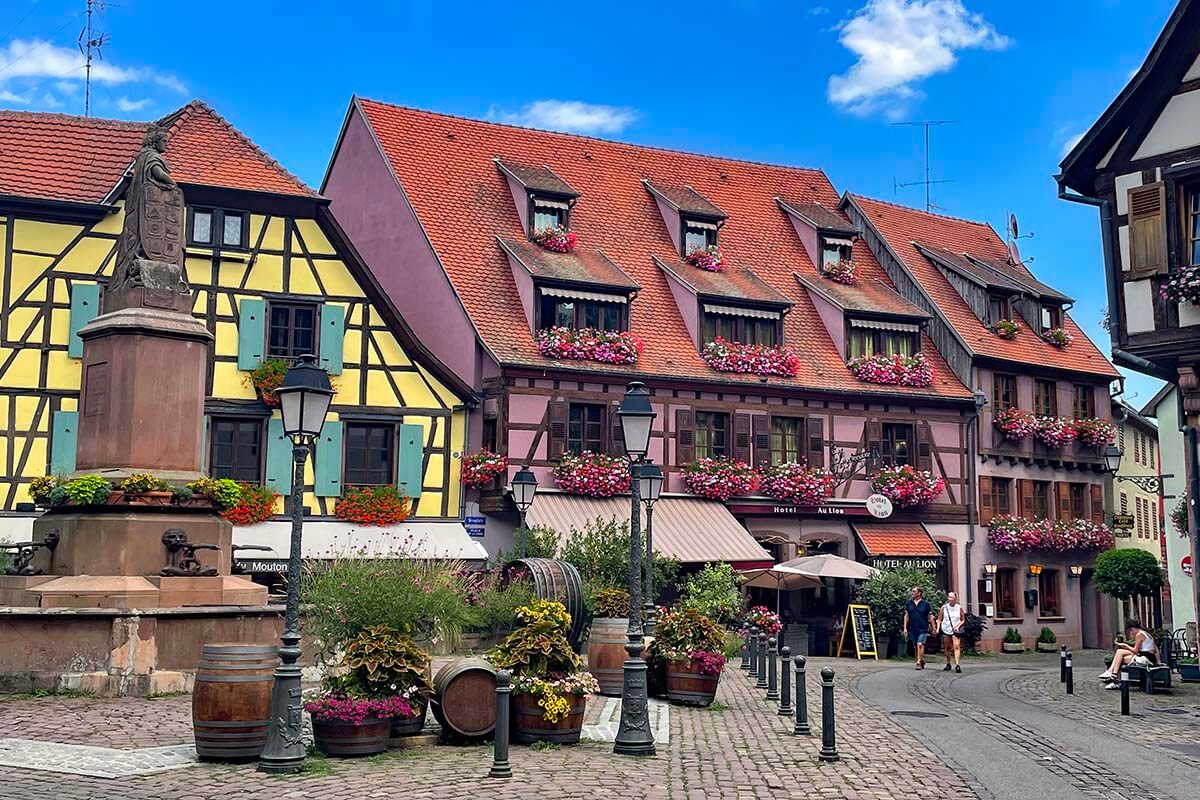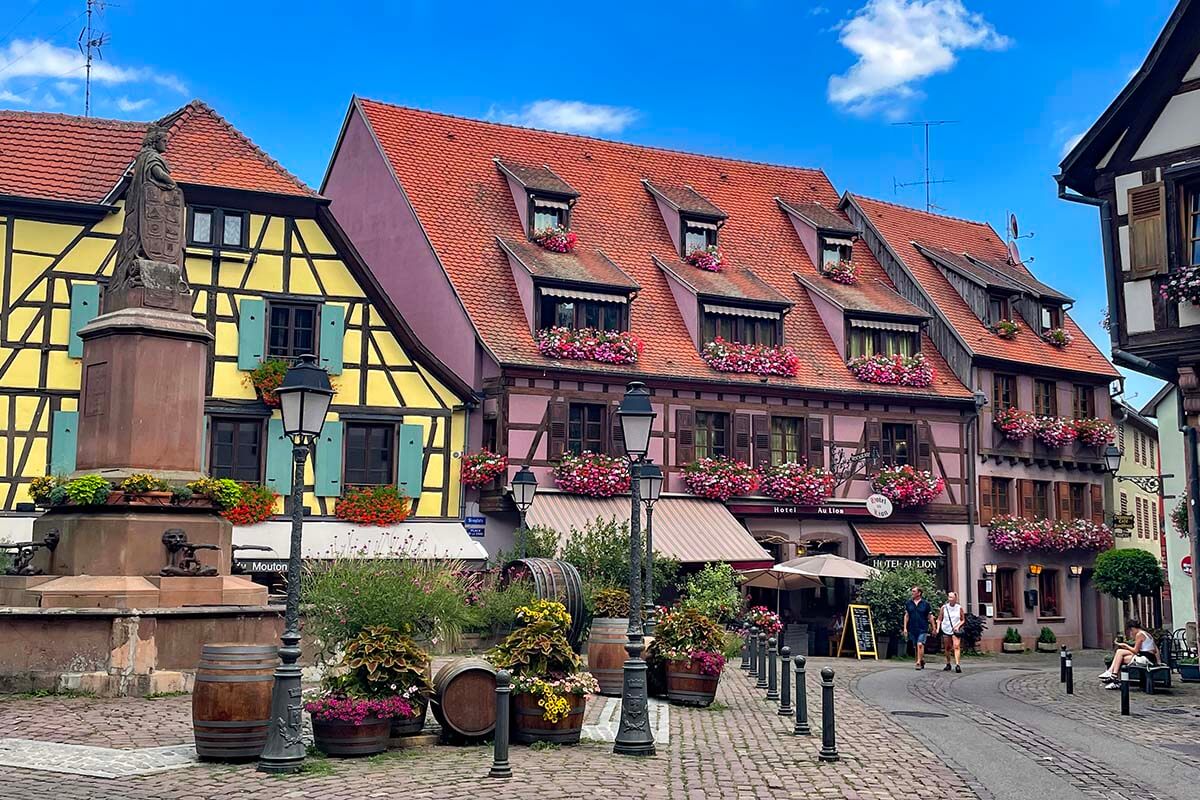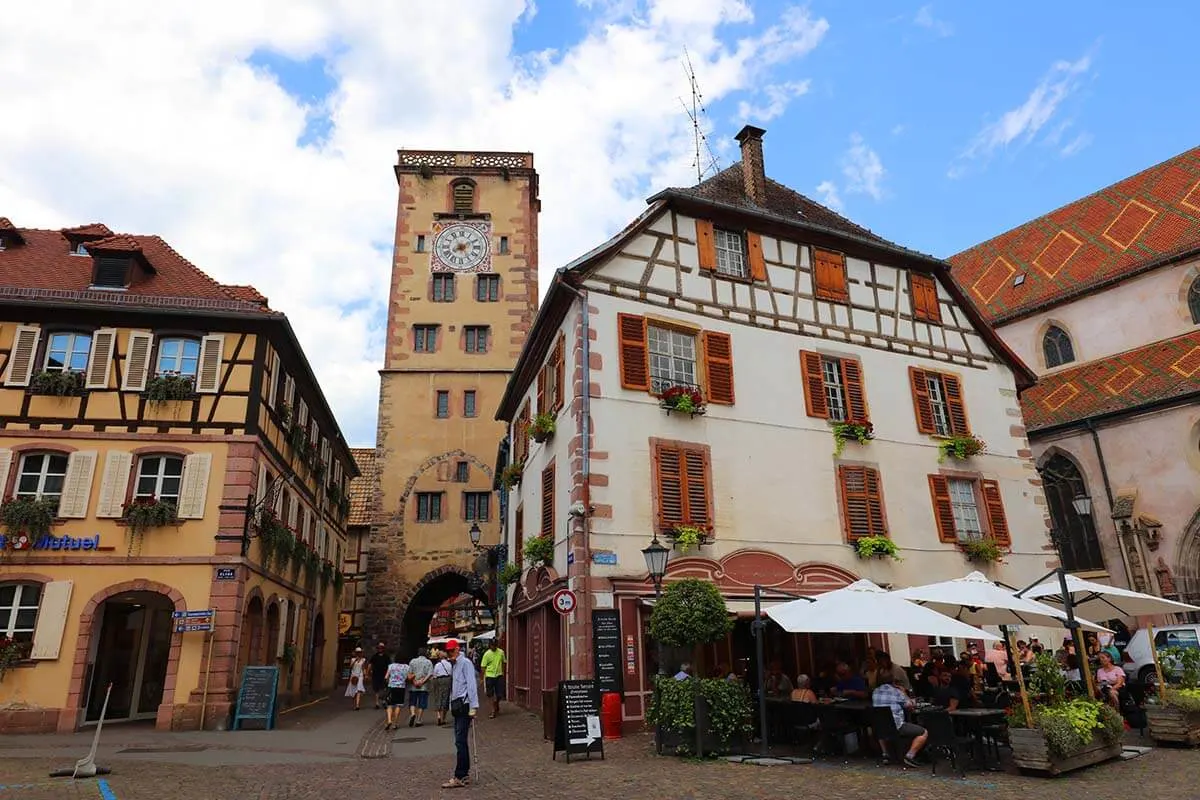 Somewhat bigger town, Ribeauvillé is much more charming than it looks at first sight. And it's a perfect place to visit for tourists because everything is located along one main street, Grand Rue. Just be sure to actually walk the entire length of it – the further west you walk, the nicer it gets.
We drove past this town before and it didn't look that special, so we visited without big expectations. But Ribeauvillé blew us away and quickly became one of our favorite towns in Alsace. It's picturesque, colorful, has a really nice local atmosphere, and is also very lively – something that we found many smaller villages lacked. Just like Colmar, this is a place you could visit at any time and any season, and it would be very enjoyable.
TIP: If traveling by car, park near Jardin de Ville (this is also where most buses will stop and where the Tourist Train starts). Then stop at the Tourism Office for a free sightseeing map (they have it in different languages including English). When we visited, you could just pick it up outside, which was handy because we were in Ribeauvillé at lunch and they were closed (you'll quickly learn that everything except restaurants in this part of France closes between +- 12.30 and 2 pm).
Anyway, this 'Discovery Tour' map indicates 24 top sights of Ribeauvillé with a very short description of each landmark. Of course, you can just walk around without any map (as I said, it's basically just one main street), but we found that looking for all the places and learning some background stories behind them made our visit to Ribeauvillé so much more enjoyable.
If you have more time and comfortable shoes, you could also hike to the three castles overlooking the city center.
Wine tip: Ribeauvillé has 3 Grand Crus: Le Geisberg, Osterberg, and Grand Cru Kirchberg de Ribeauvillé (mainly Riesling, but also other grape varieties).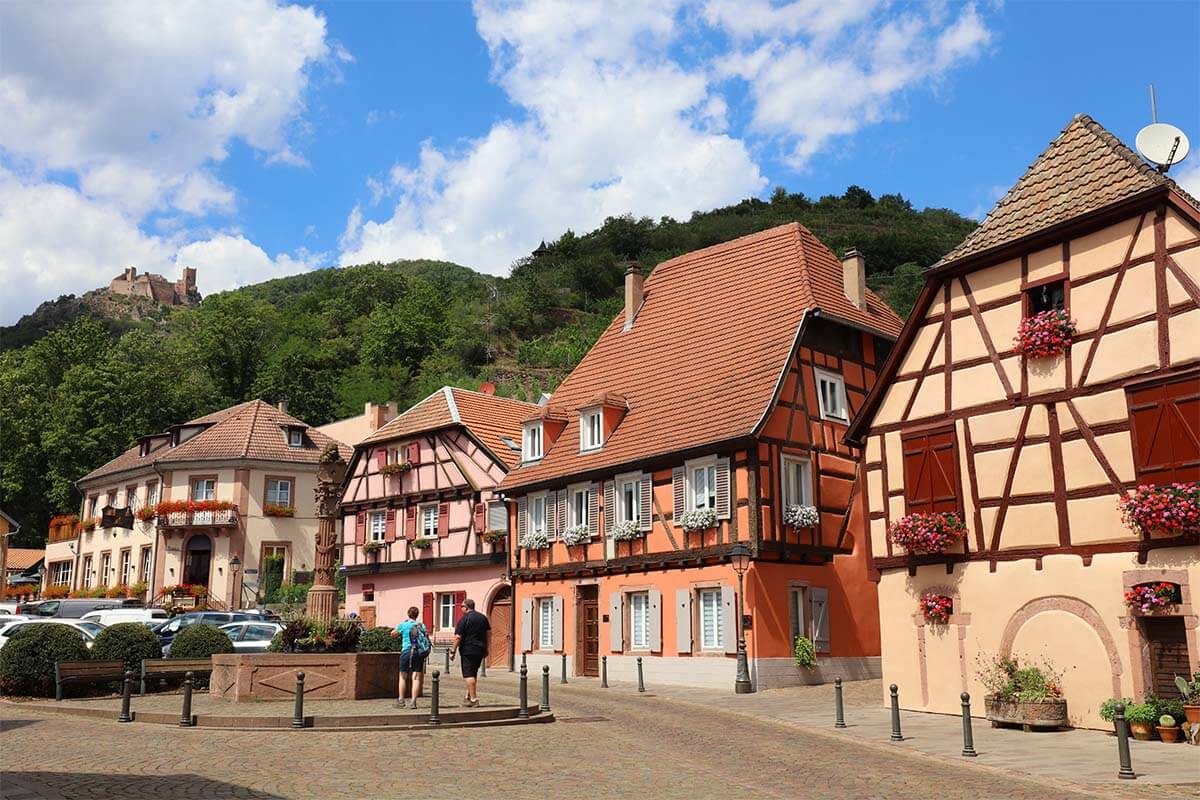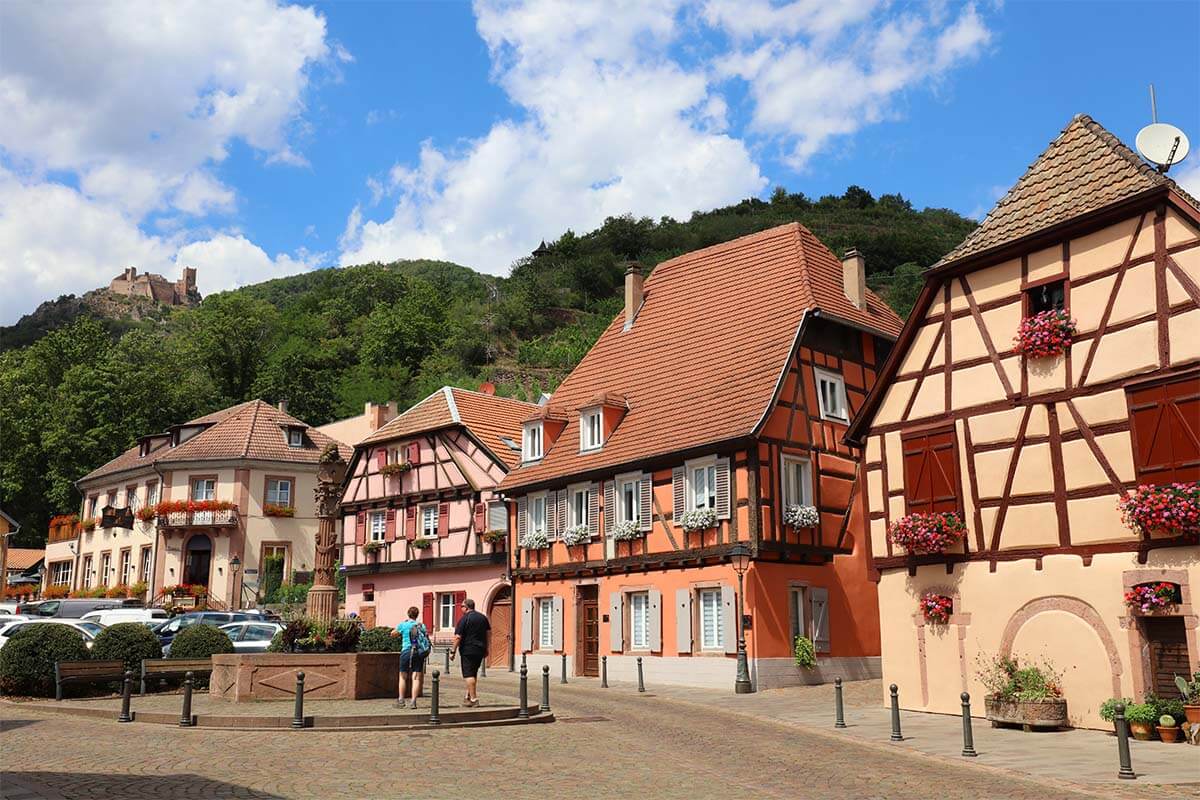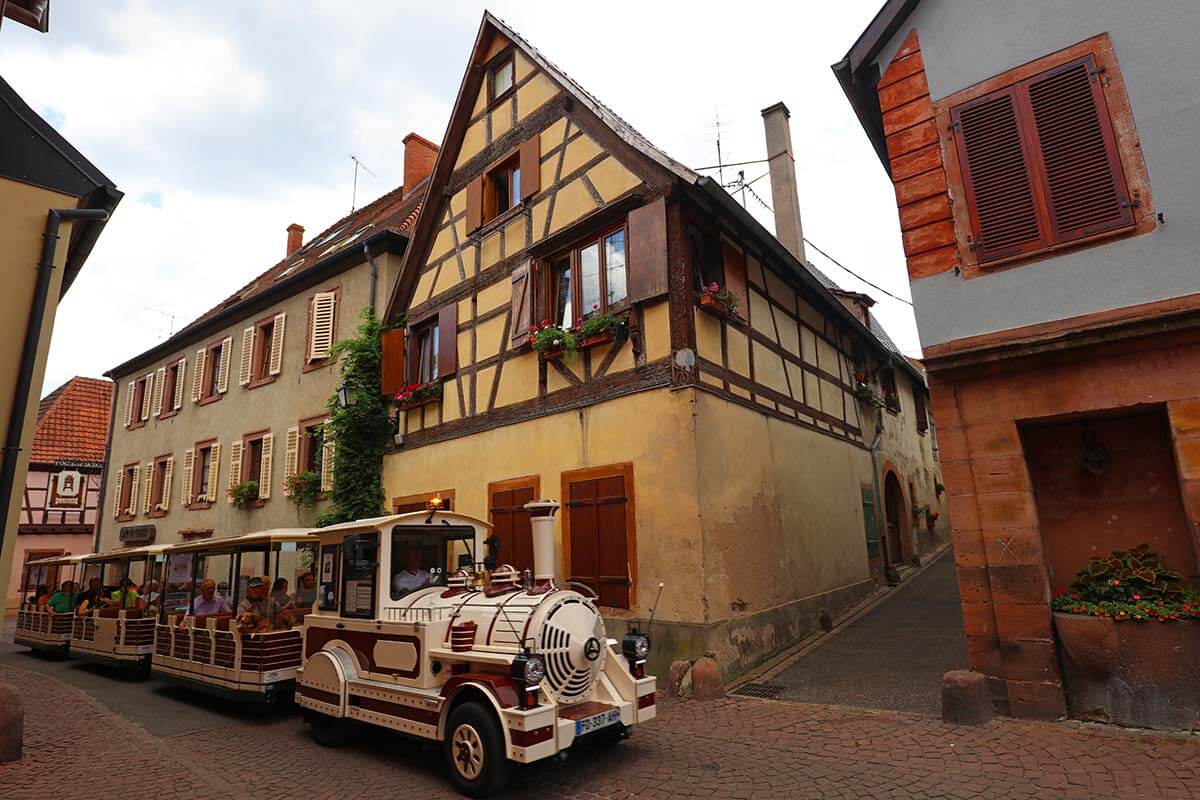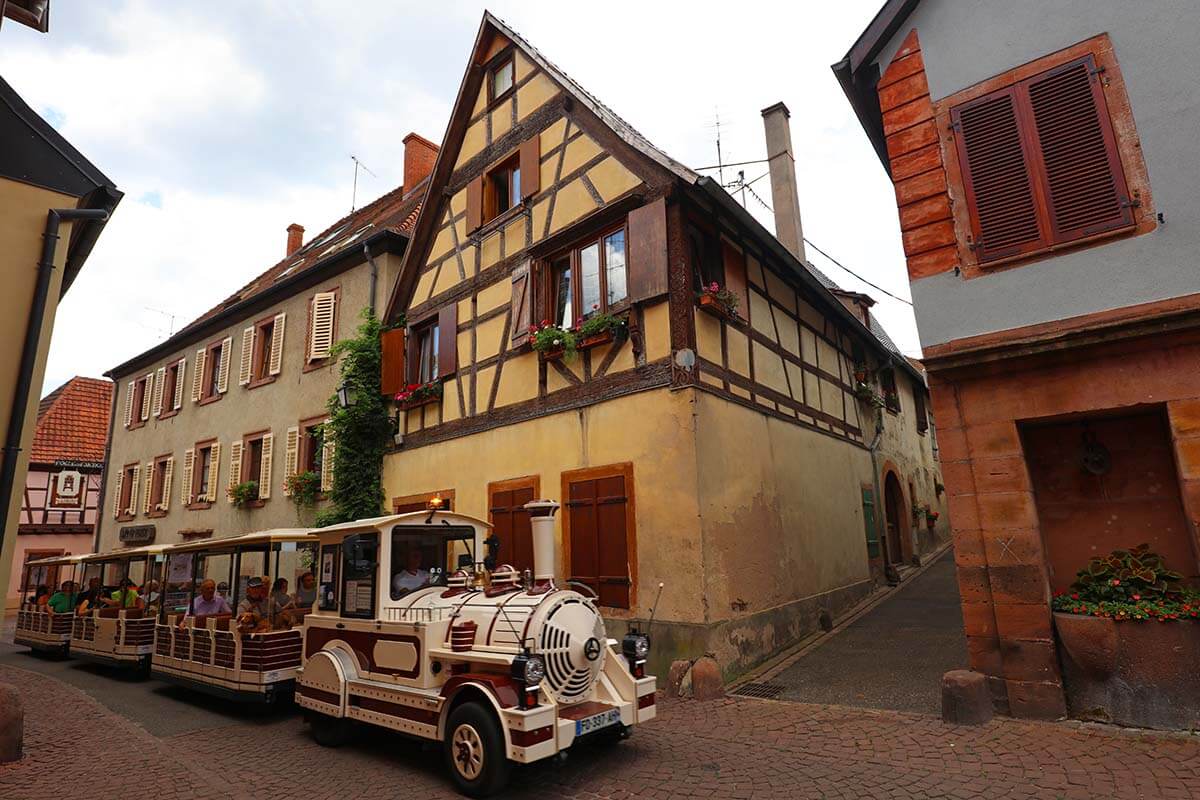 5. Kaysersberg
HIGHLY RECOMMENDED.
How much time do you need: 1.5-3 hours.
Getting there: By car, by bus or by bike from Colmar, or with a tour from either Strasbourg or Colmar.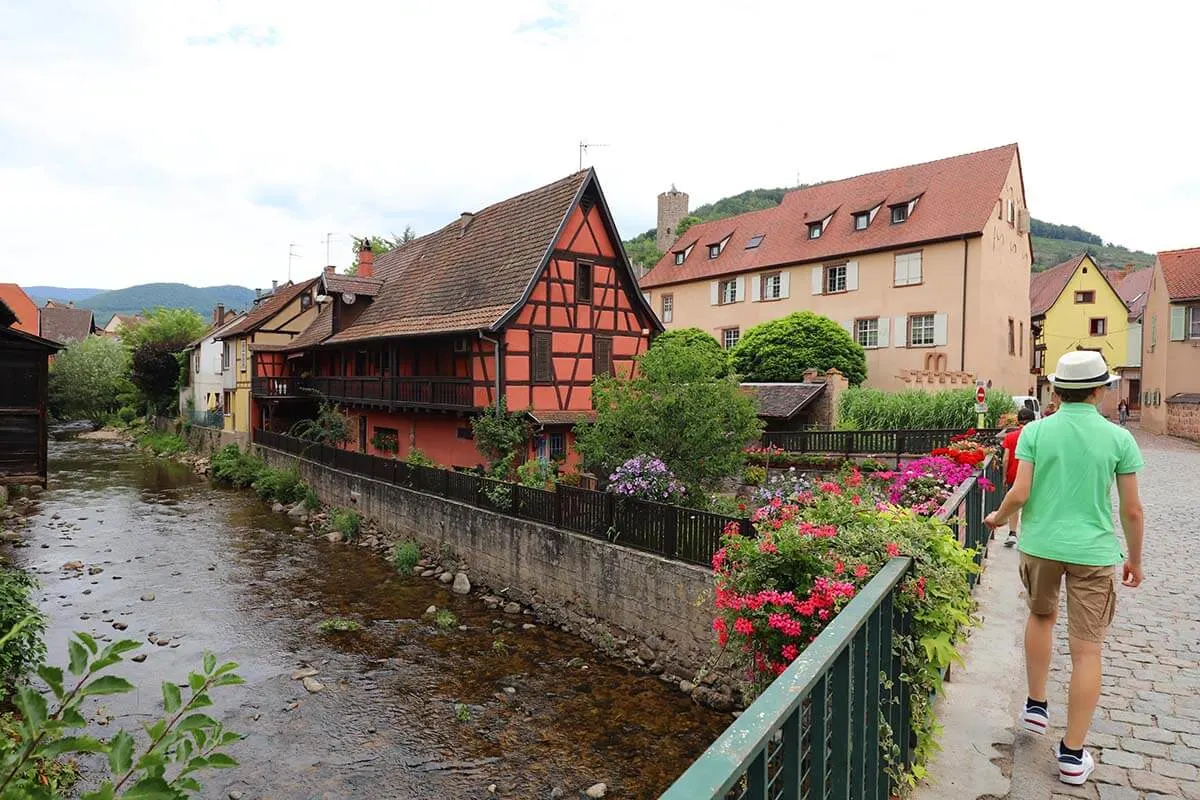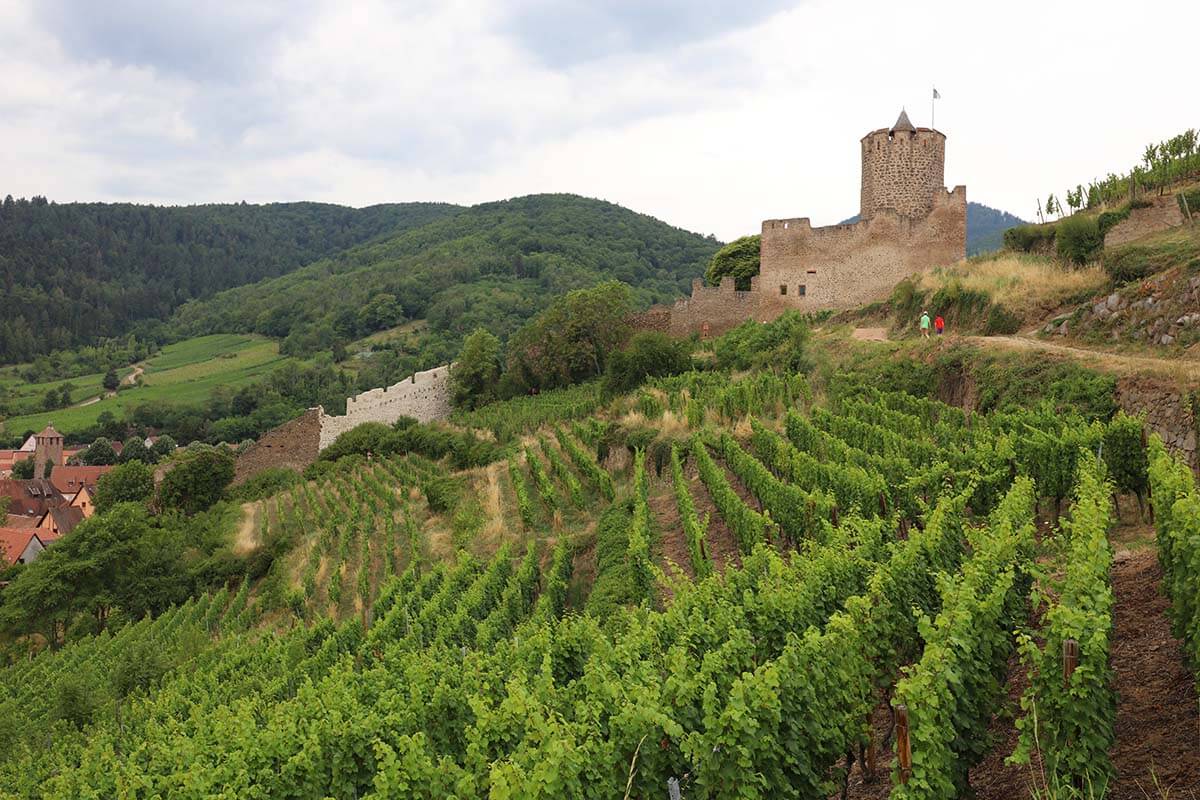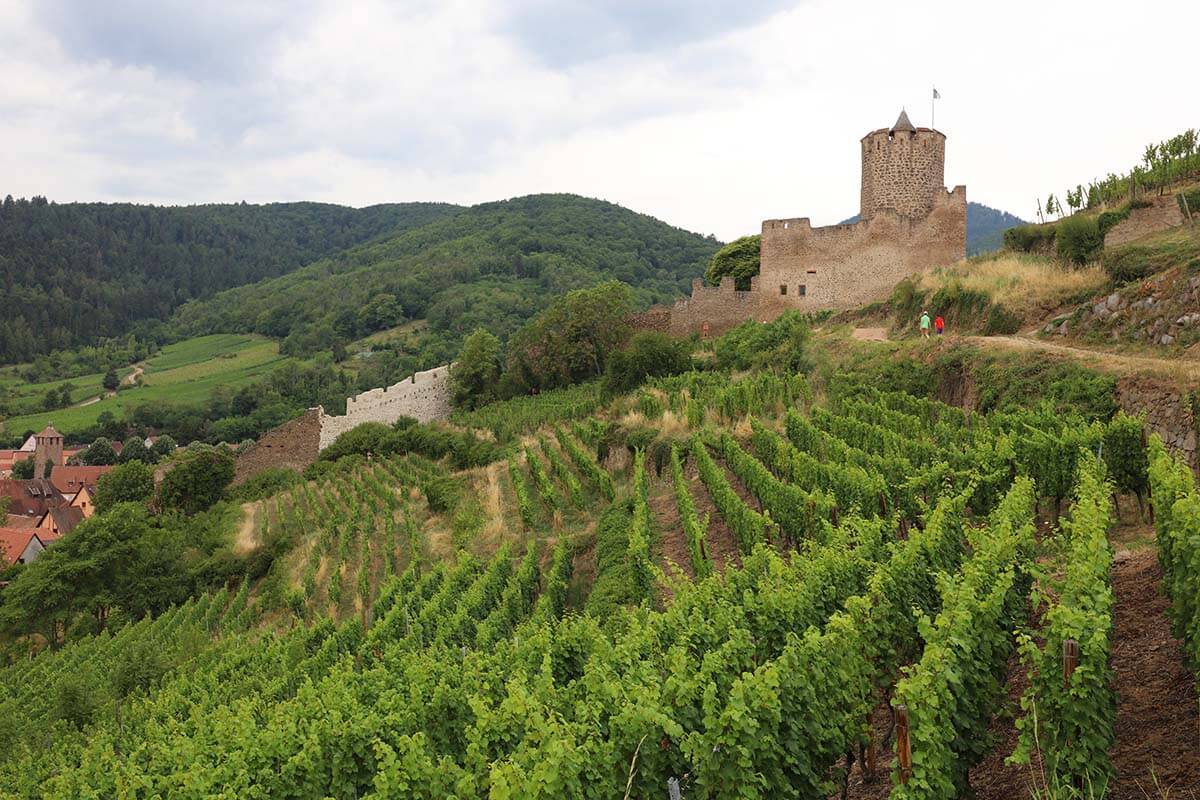 Kaysersberg (or Kaysersberg–Vignoble) is another town that is usually included in pretty much any Alsace wine route itinerary or excursion. And rightly so – it's absolutely worth a visit!
Best known for its Christmas Markets, Kaysersberg is not to be missed if you are visiting Alsace in the winter. But also in summer, the atmosphere in town is great.
Also here, you'll find plenty of traditional colorful half-timbered houses, but the town has a totally different layout than the others. There's a small river flowing through the center and that in itself makes it different from all the other towns and villages on the Alsace wine trail.
We also loved that the vineyards here are located just outside the city walls right at the Tourism Office. You exit the gate and wow – you're in a totally different world. Here, you can take a short walk (+-15-20 minutes) through the vineyards to the 12th-century Château du Schlossberg. You can also reach the castle by stairs in just a few minutes. Either way, it's well worth it and the views from the top are wonderful. The castle is just a ruin with a tower and it's free to visit.
TIP: Also here, the Tourism Office has a handy free map indicating all the main sights in Kayserberg, as well as a suggested walking route. We found that it missed one really pretty street next to the river, but for the rest, following this route, you'll be sure to see the nicest places in town.
Wine tip: Schlossberg Grand Cru from Kientzheim (mostly Riesling).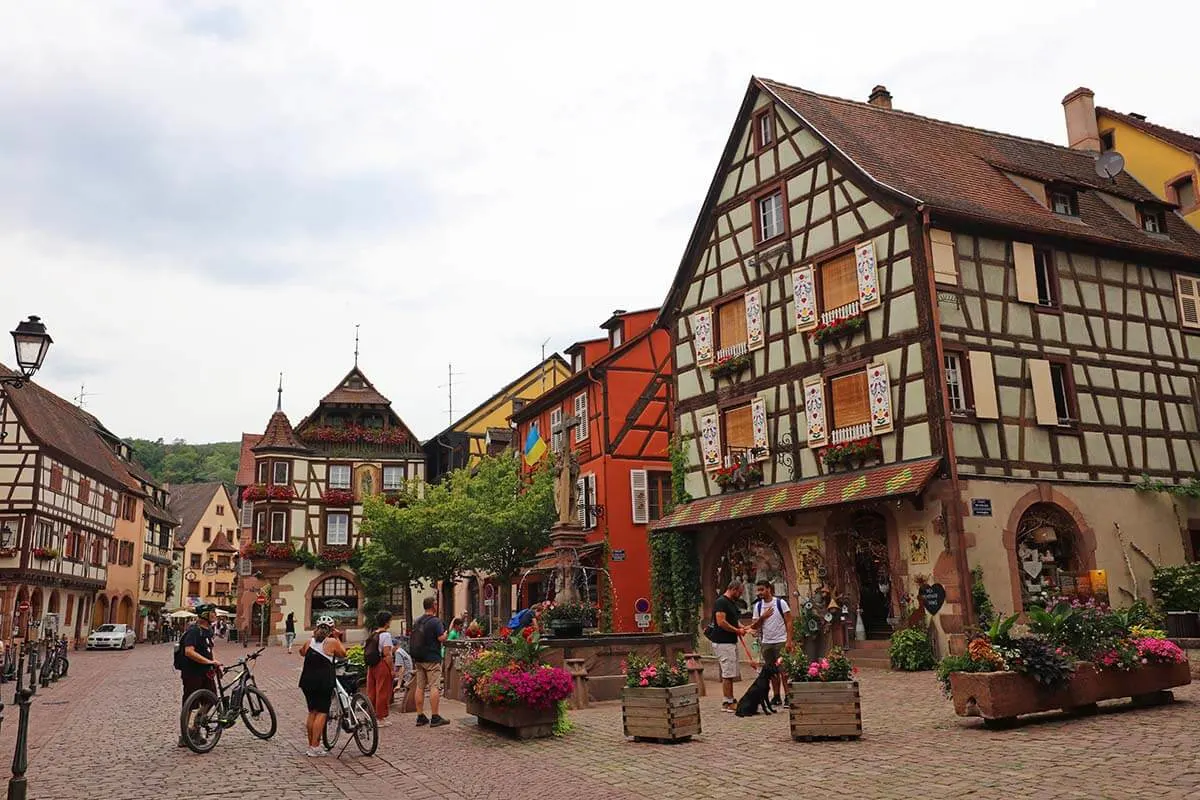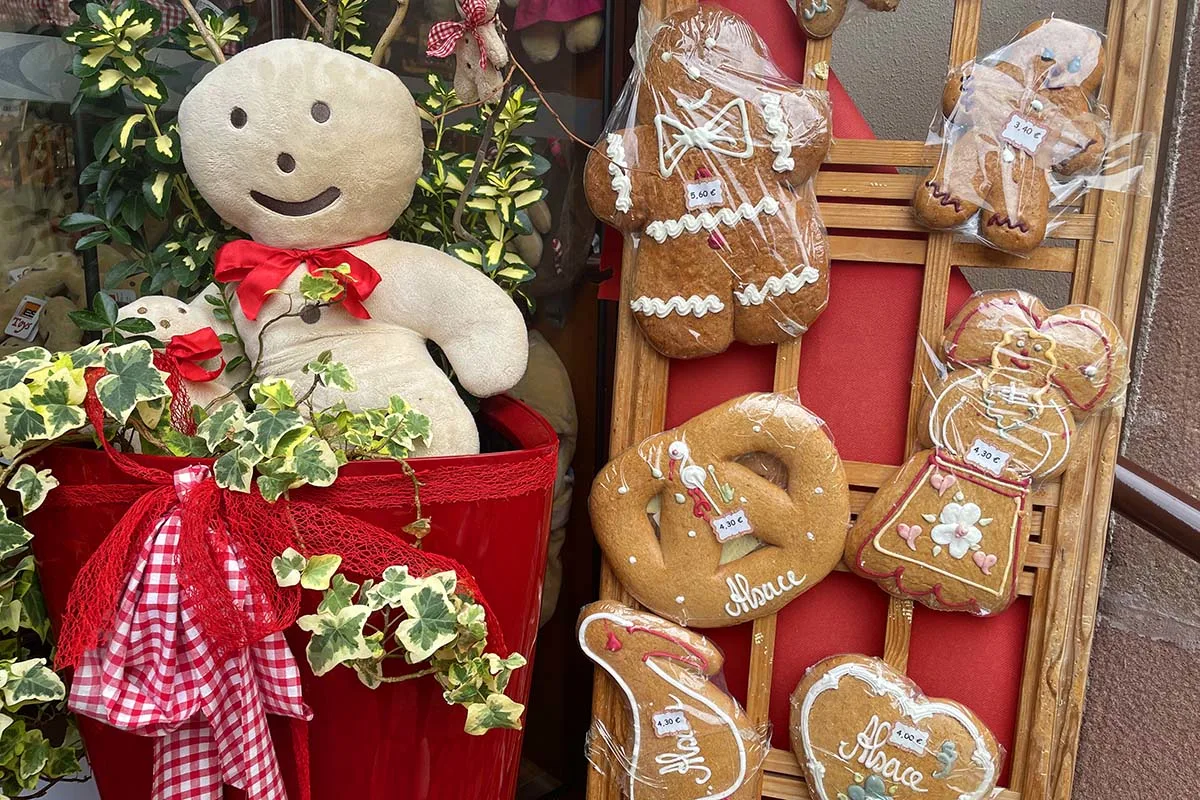 6. Obernai
RECOMMENDED.
How much time do you need: 1-2 hours.
Getting there: By car, by train from Strasbourg or Colmar, or with these tours from Strasbourg.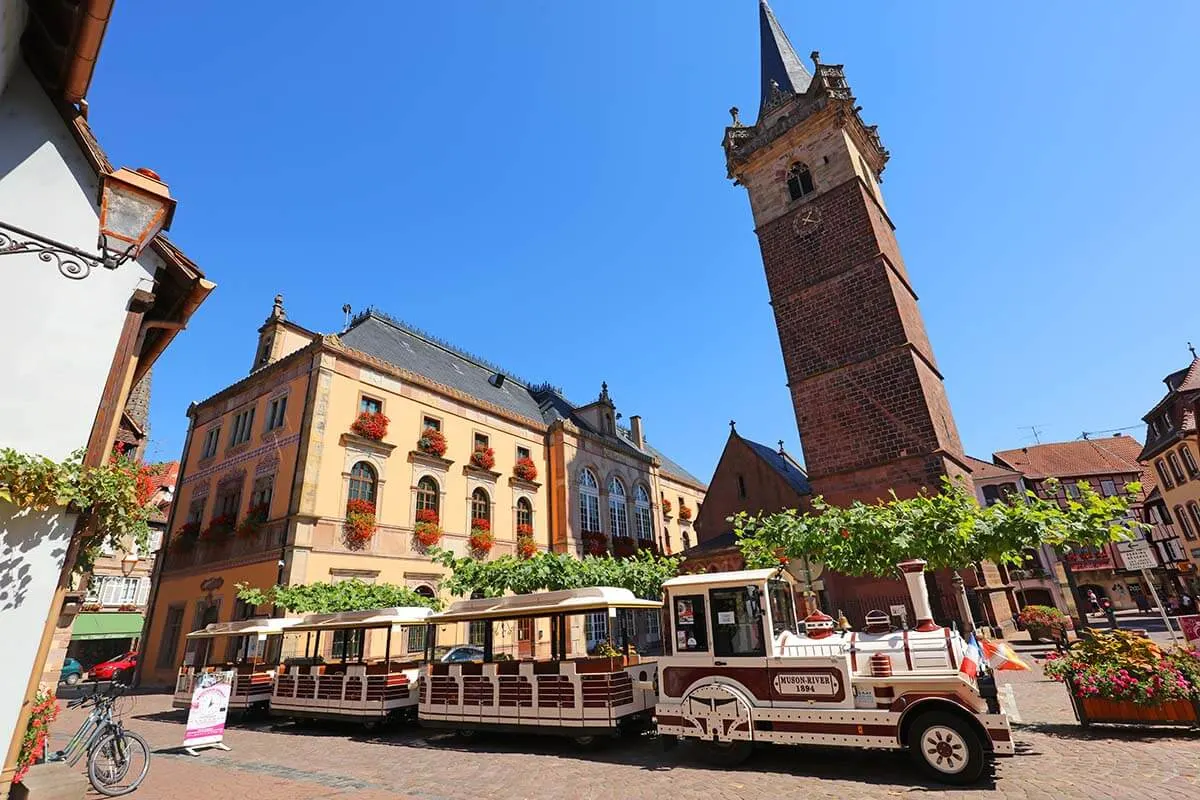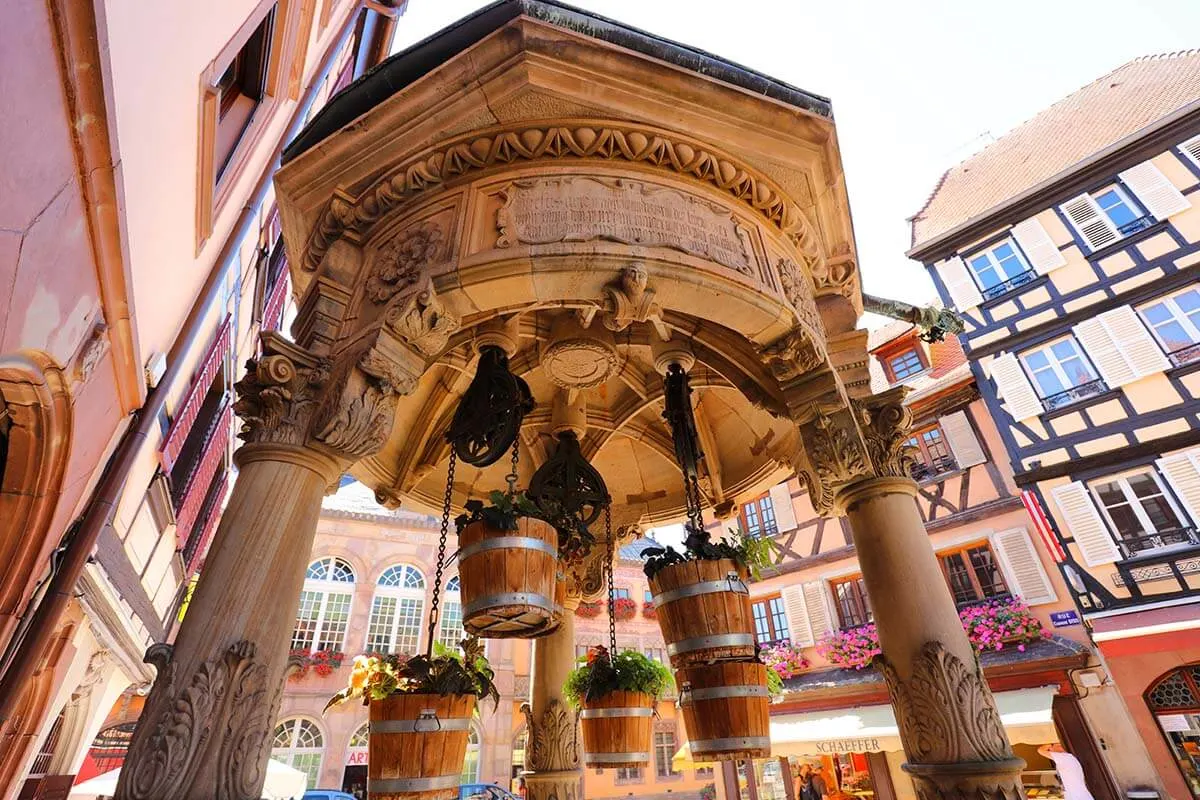 Obernai is one of the biggest towns in this selection and you'll find it mentioned on pretty much any guide to the best towns in Alsace. It's located just half an hour drive from Strasbourg, more on the northern end of the Alsace Wine Route. It's really nice, but the city center is much bigger here, while there are just a few areas that are really picturesque. So you can't compare it to Colmar where the entire old town is like a postcard.
One of the main places to see here is the main town square, Place du Marché. Here, you'll find the most important landmarks and the nicest buildings. Be sure not to miss the renaissance Well With Six Buckets (Puit aux Six Seaux) and the fountain with the Sainte-Odile statue. Also in Obernai, you can take a small tourist train that makes a scenic tour and brings you to a nice viewpoint just outside the city center.
You can also take a short walk on the few remaining walls of the Ramparts of Obernai. But one of the best things to do is try some traditional French food – there is a big number of really good restaurants in town. However, keep in mind that if you are coming here for dinner, it's best to reserve a table in advance. Almost every evening during our stay in July, every restaurant in town was completely booked and didn't take any walk-ins.
Obernai gives you a good local feel of a simple Alsatian town where locals seem to still outnumber the tourists. If you come here on a market day or when there are any special events or festivities, it can be quite busy, but you also get to experience the genuine local atmosphere.
We were staying in Obernai for a few days on the recent summer visit to Alsace, and it seemed like there was always something going on in town. One evening, there was a traditional folk dancing and food stalls, the next day – an artisan market, and yet another night – a pop/rock concert on the main square…
TIP: Check the official website of the city tourism office to see if there are any events planned, and visit Obernai in the evening, when there's something going on. I think it will be way more enjoyable than just coming here for sightseeing during the day, in which case, you can see all the musts in less than an hour, maybe stretch it to 2 hours if you also take the tourist train.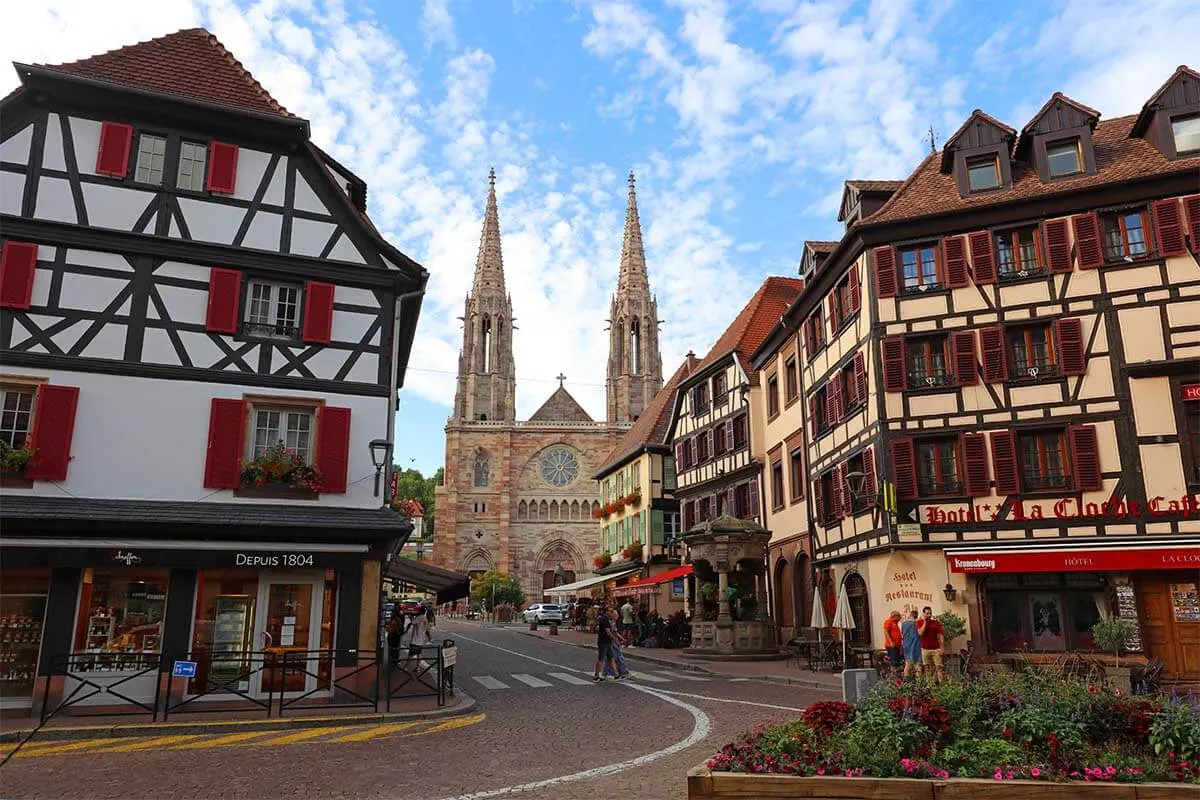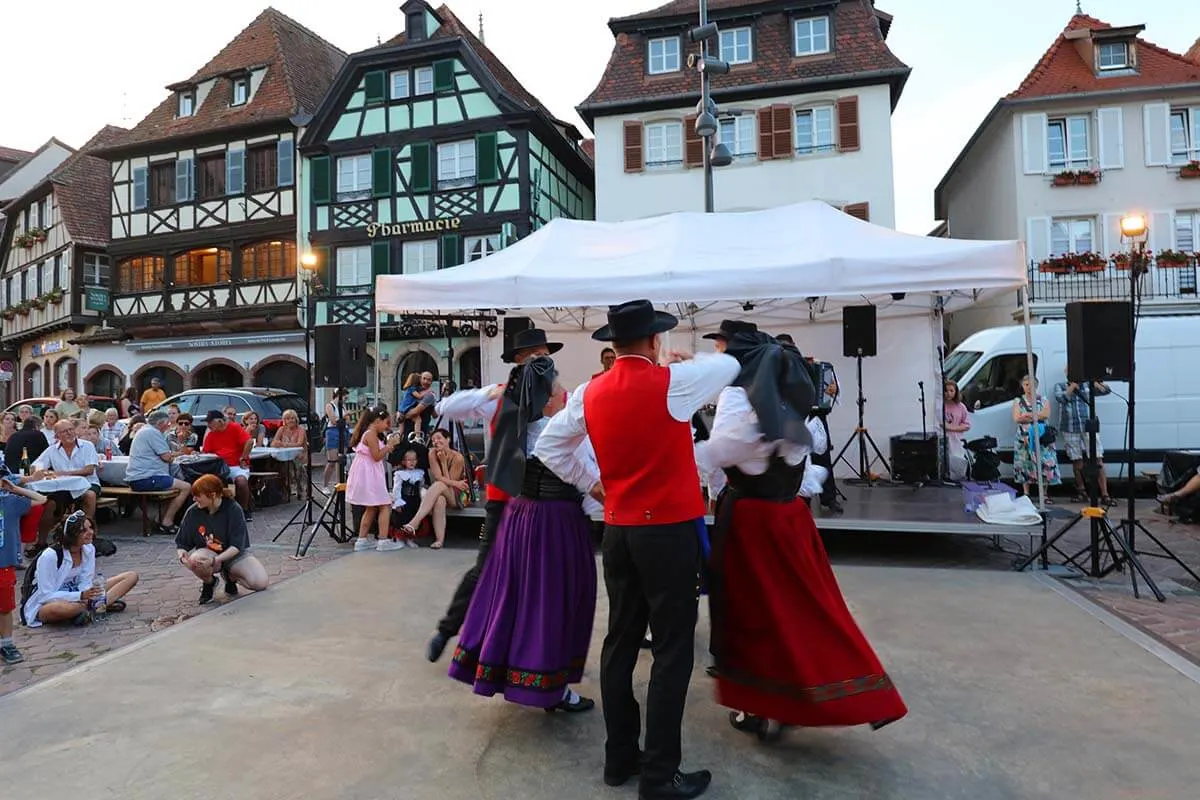 7. Bergheim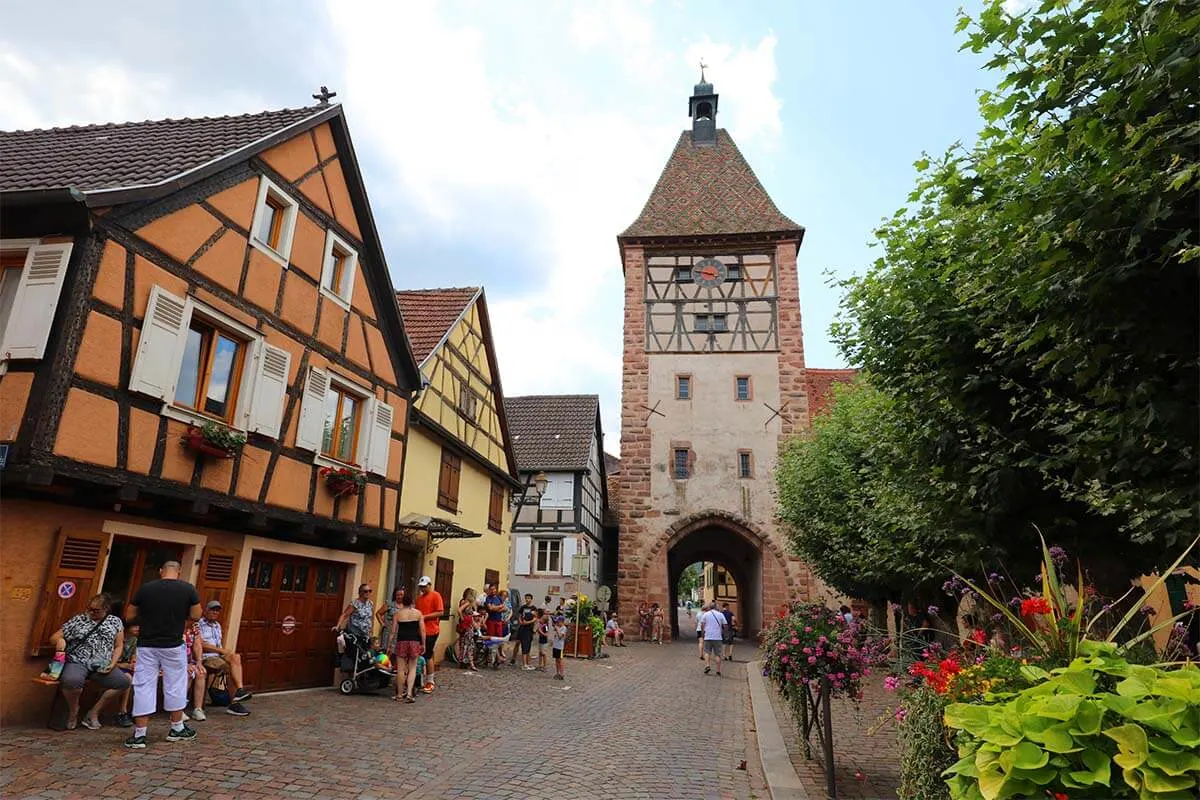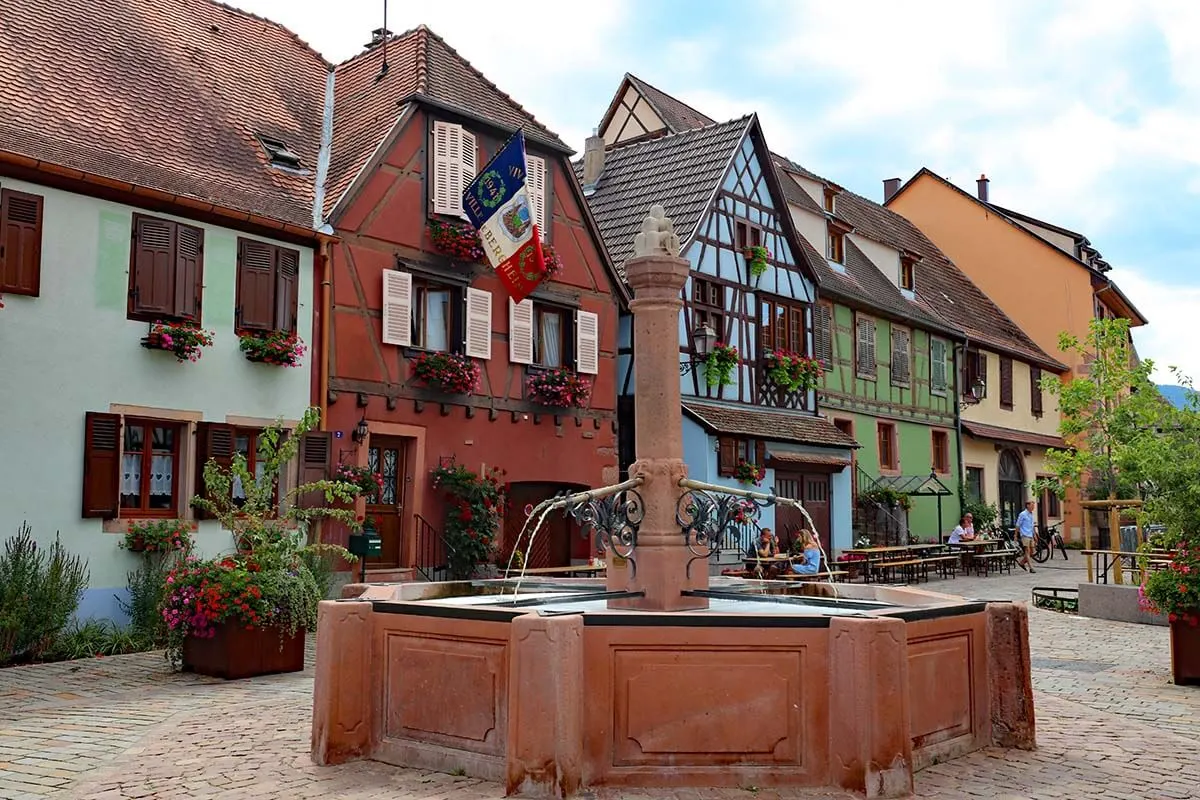 Encircled by medieval walls, Bergheim is another really pretty village on the Alsace Wine Route. If you are just passing by, it doesn't look that special at all and you would never believe that these brown walls are hiding such a charming old town.
Bergheim is rather compact with the nicest buildings concentrated along the two main streets and the main town square. You could enter the old town through the only remaining medieval city gate (Porte Haute), walk on Grand Rue to the church, passing the main square and the Town Hall. Then take the parallel street – Rue des Vignerons – back to where you started.
If you have some extra time and it's open, you could visit a small witches' museum La Maison des Sorcières. Here, you can learn how the perceived 'witches' were treated in the Middle Ages…
There was a local wine festival going on in Bergheim when we visited, and it was so fun to watch locals in such a festive mood. It looked like people from the entire town and surroundings were gathered to see the parade, and the main square was filled with tables and benches ready for the party in the evening.
Anyway, even if you come here on a quiet day and just walk around the main streets for a couple of minutes, we find that Bergheim is well worth a visit and you won't be disappointed! Because of the location, Bergheim would make a great combination with Ribeauvillé and Riquewihr. But also Château du Haut-Kœnigsbourg is nearby (the castle is not on the wine trail, but is absolutely worth a small detour too).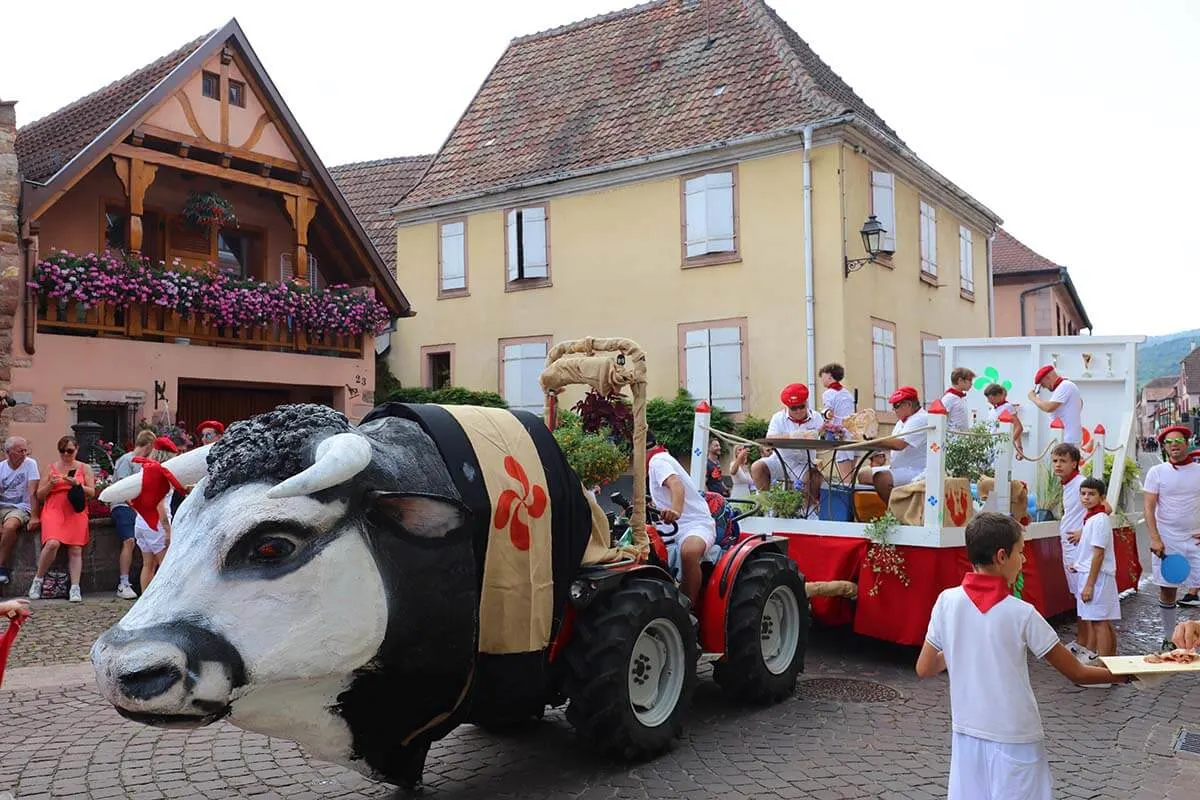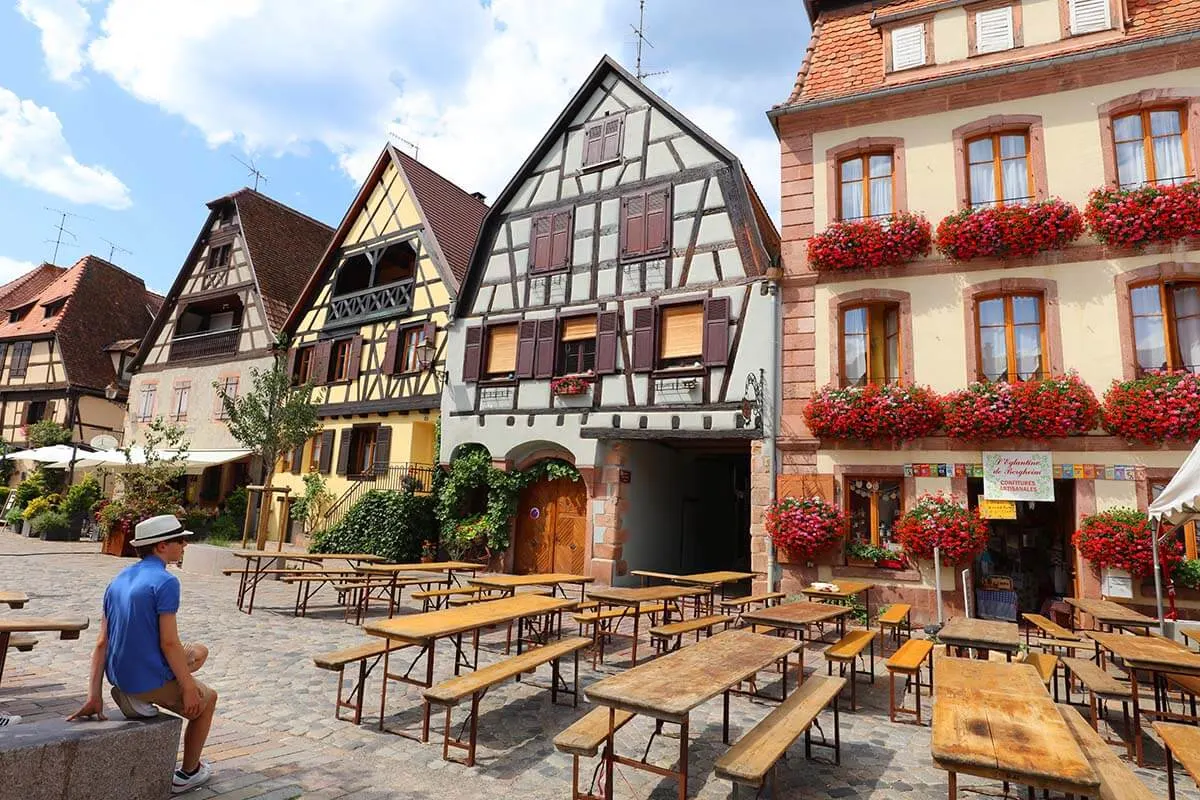 8. Barr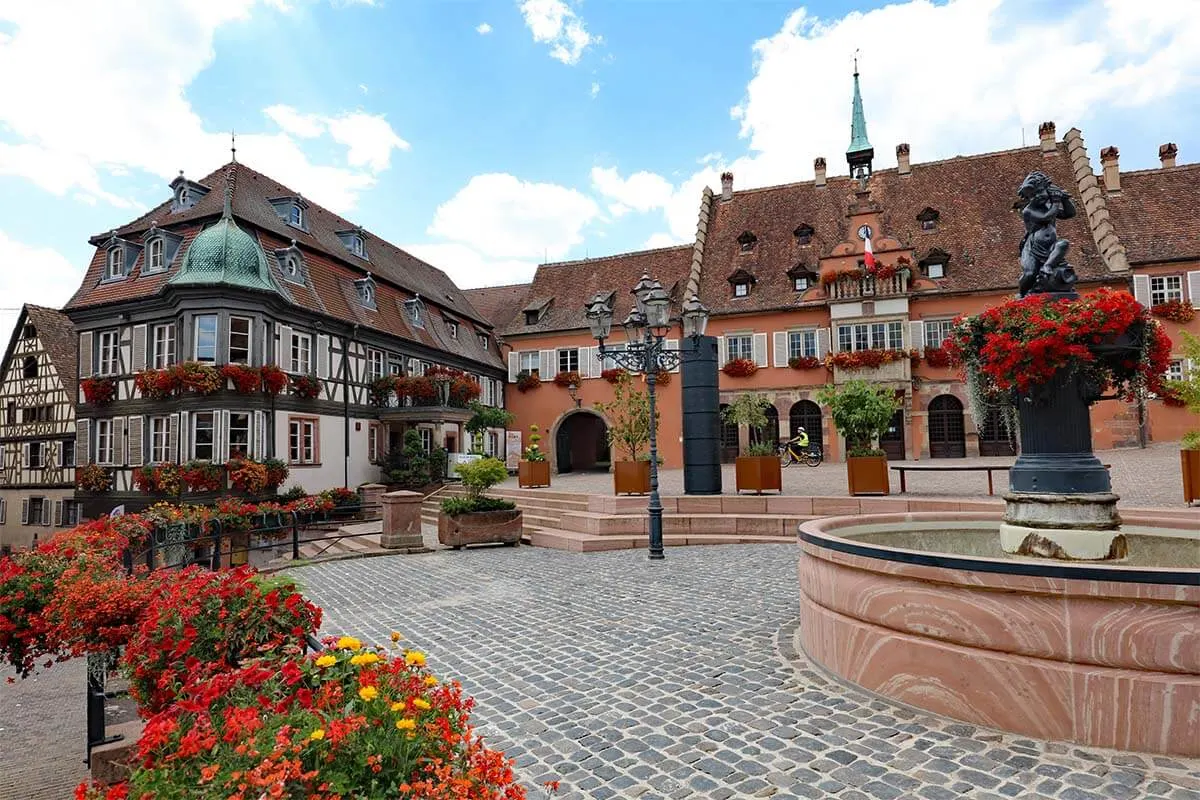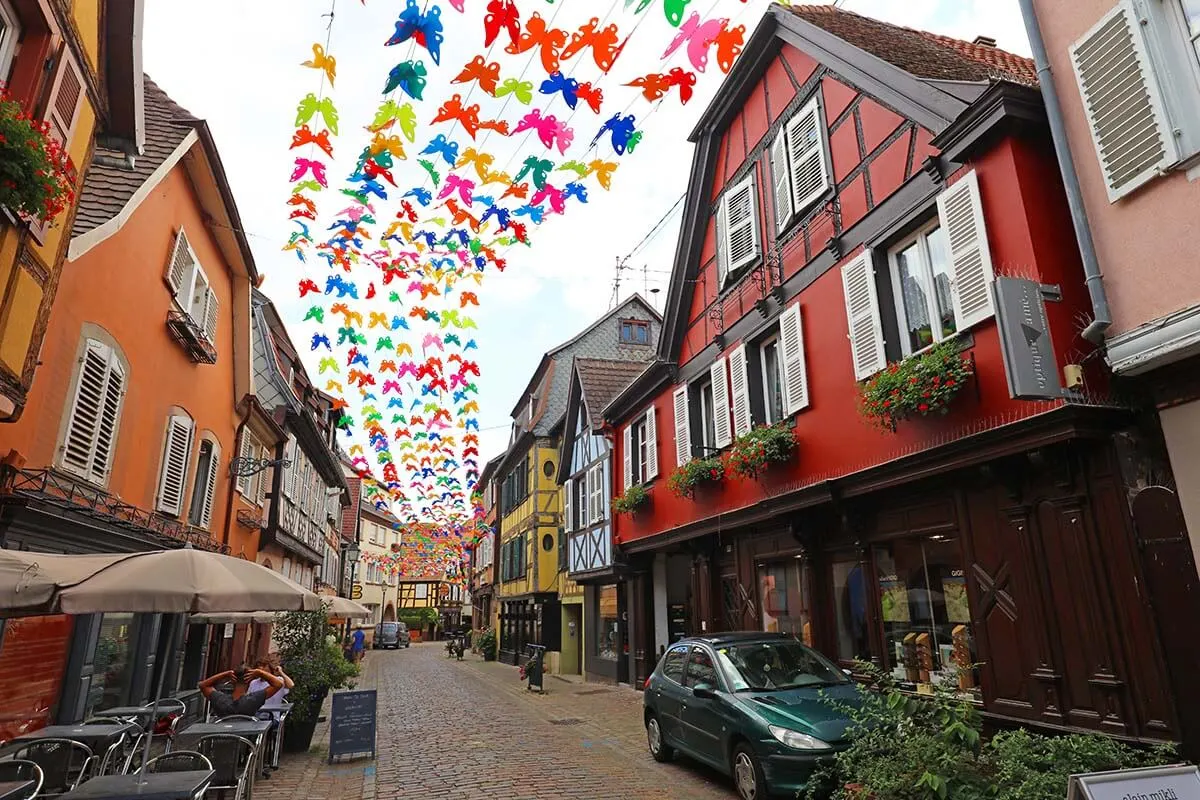 Located just 10 minutes drive from Obernai, Barr is mostly famous for its Grand Cru wines of Kirchberg de Barr. We weren't sure if the town itself was worth visiting, but we made a quick stop here and found that the center was really nice and worth it if you are passing by.
Also here, it's a place where you won't see that many tourists, but locals and people who are on a longer vacation in the Alsace wine region. So it's not really a place where you'd see many souvenir stores or a clear tourist route to tell you where to go. Luckily, the center is also not big, so you don't need much time here.
Don't miss the picturesque town square where the Town Hall and the Tourism Office are located. Also the main street – with a very original name Grand Rue (like in pretty much any other village in Alsace) – is nice to see.
We were in Barr in the early afternoon and it seemed that almost everything was closed, apart from a few cafes, restaurants, and wine houses. We just walked around, got some delicious ice cream, and were back in the car less than half an hour later. Still, it was a really nice stop.
Wine tip: Grand Cru of Kirchberg (mostly Gewurztraminer, but also Riesling or Pinot Gris).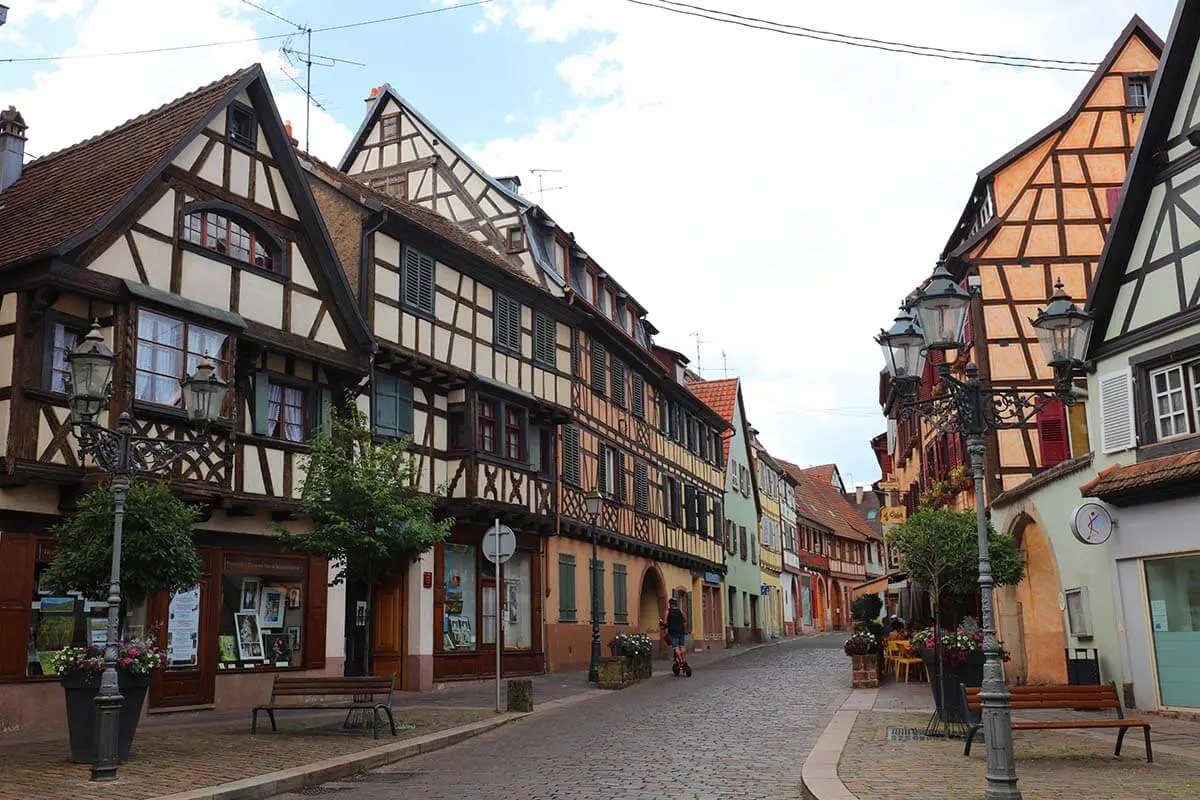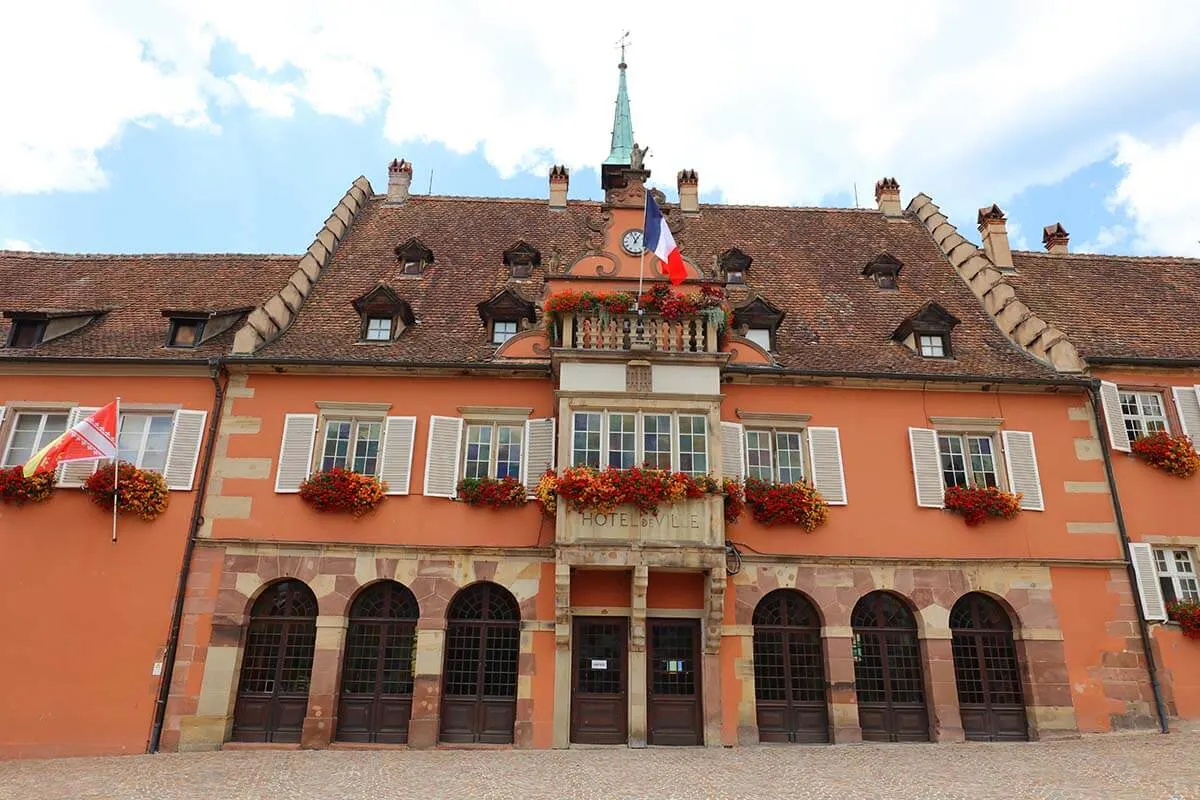 9. Turckheim
NICE TO SEE.
How much time do you need: 0.5-1 hour.
Getting there: By car, by train or this tour from Colmar.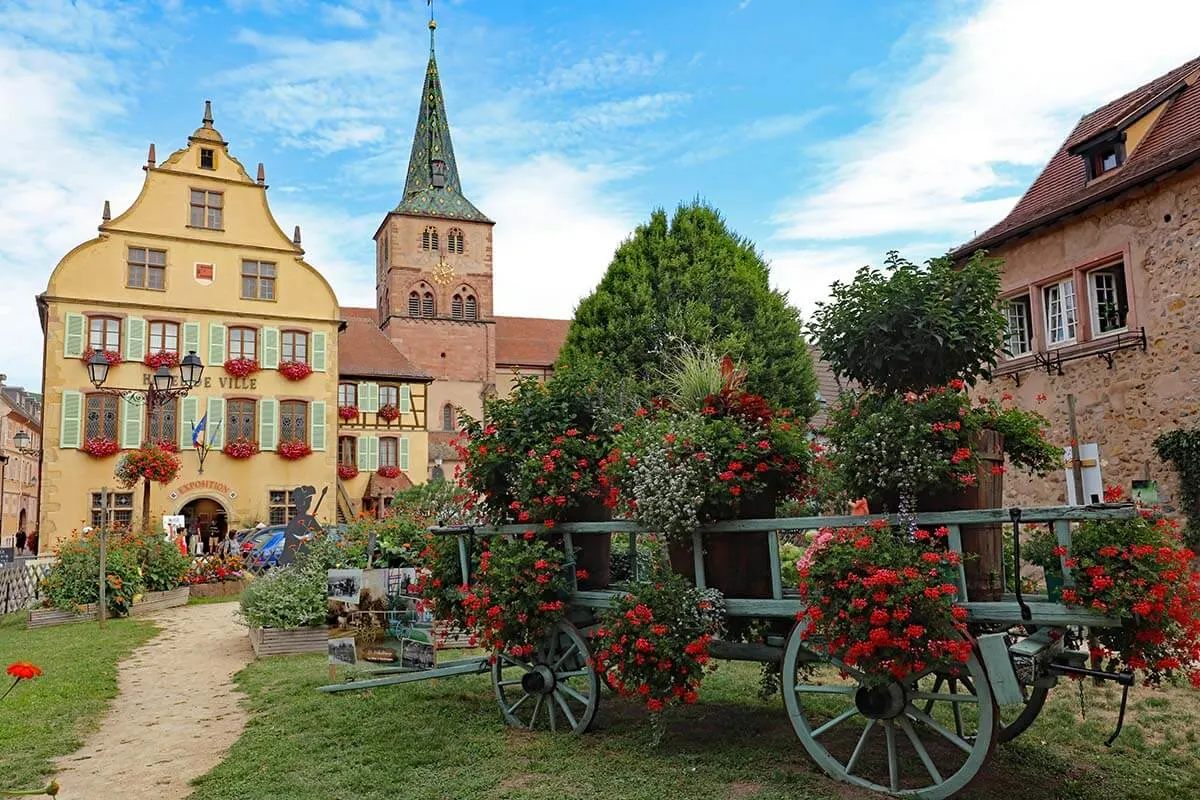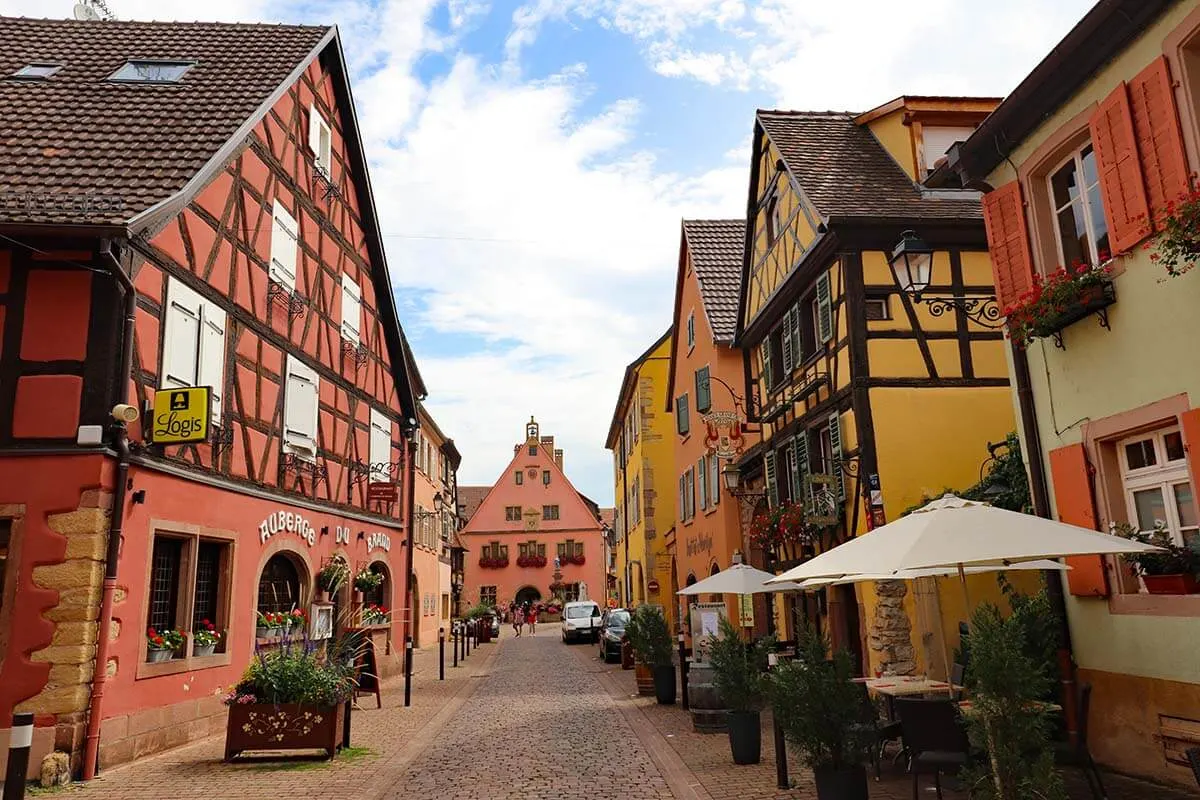 Just 15-minutes by train from Colmar, Turckheim is a little town that seems to be entirely overlooked by international tourists. I haven't seen it mentioned in any guides and most tours don't come here either, or only pass by without a stop.
Yet, it's one of the prettiest little towns we visited when driving the Alsace wine route, and I think it's well worth a short detour. That being said, the old town center is really compact, so a quick visit will be sufficient.
Enter the old town center via the main gate – Porte de France, check out the little square at Fontaine de Turckheim, and walk to the St. Anne Church and the Town Hall. if the church is open, definitely take a look inside. When we visited, the 18th-century organ was playing and it made the visit even more special.
Be sure to also check out the colorful buildings along Grand'rue. If you have more time, you can also visit the local history museum Musée Mémorial des combats de la Poche de Colmar, dedicated to the Colmar Pocket Battle during WWII. Also, check out the other city gates, such as Puerta de Brand on the east side or Porte de Munster on the west side of town.
We were in Turckheim on a Friday, which appears to be the market day, so I guess it was livelier than otherwise, but still – the town center was very quiet and very enjoyable. This is one of those places where you'll see more locals than tourists, so if you are looking for a more authentic experience away from the most popular touristy towns on the Wine Route, definitely consider a short stop here.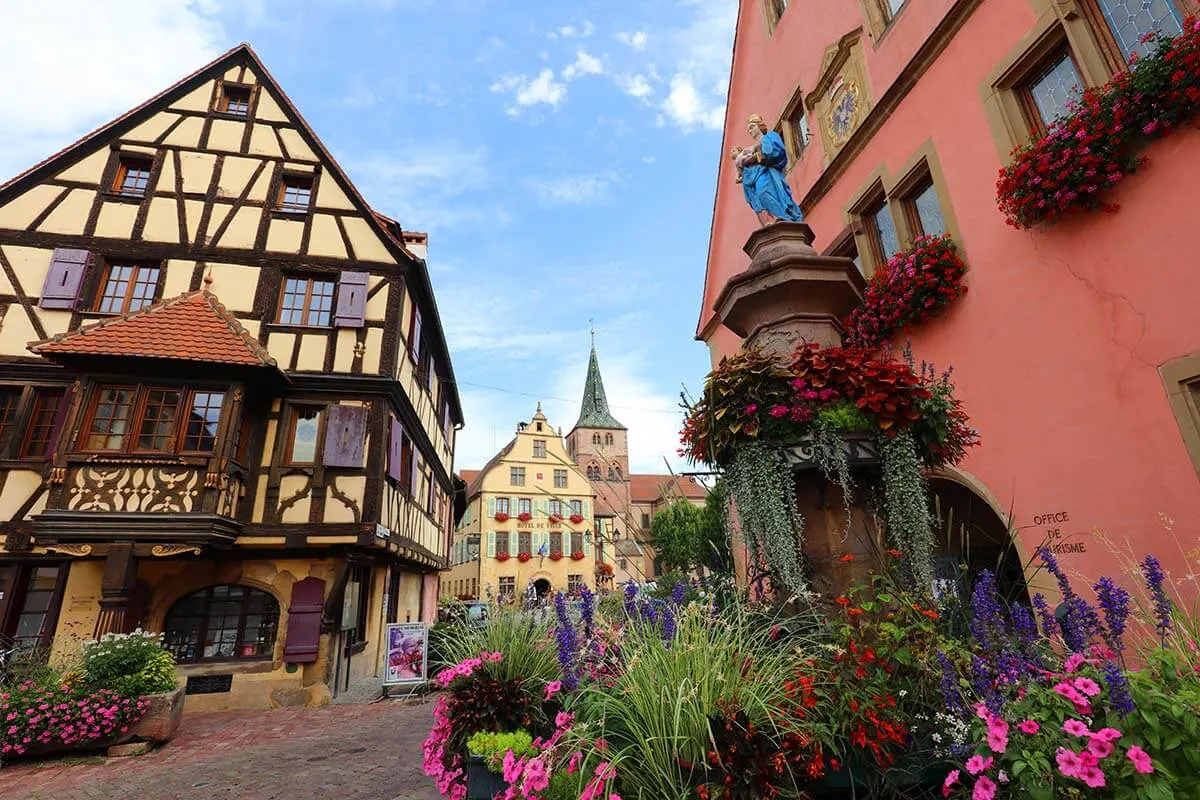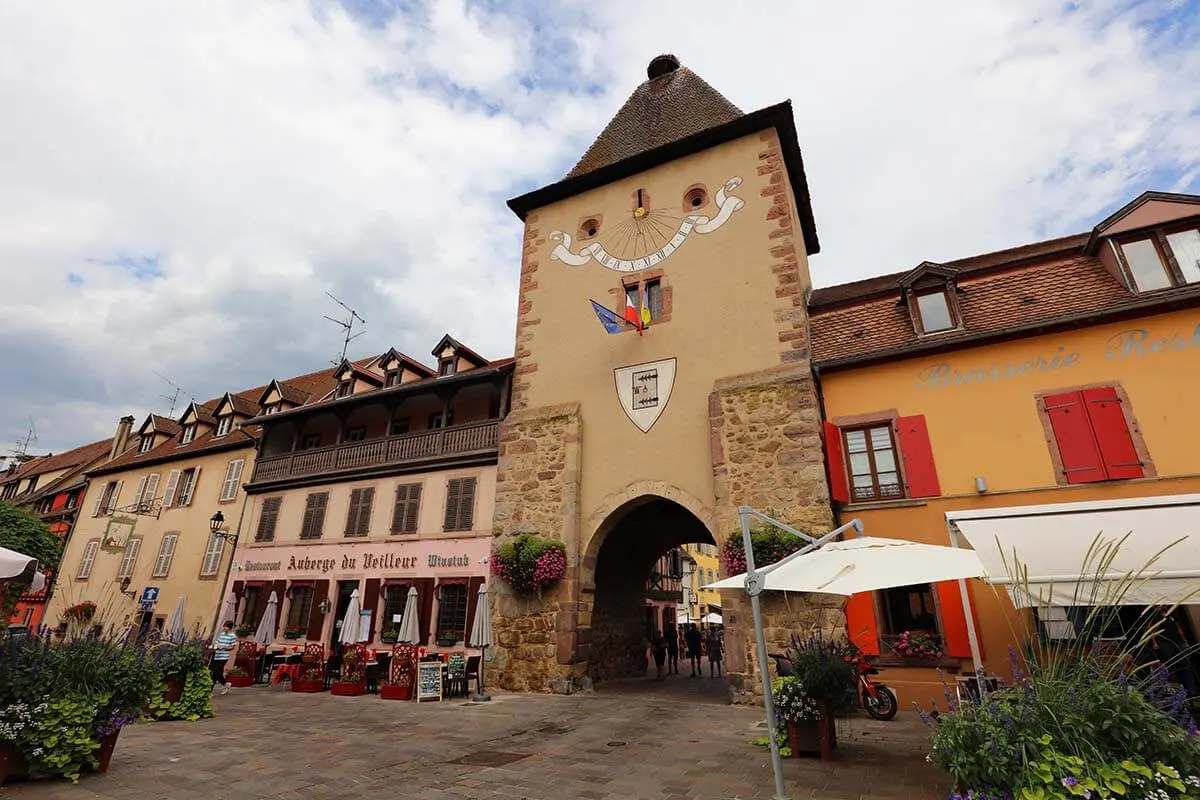 10. Niedermorschwihr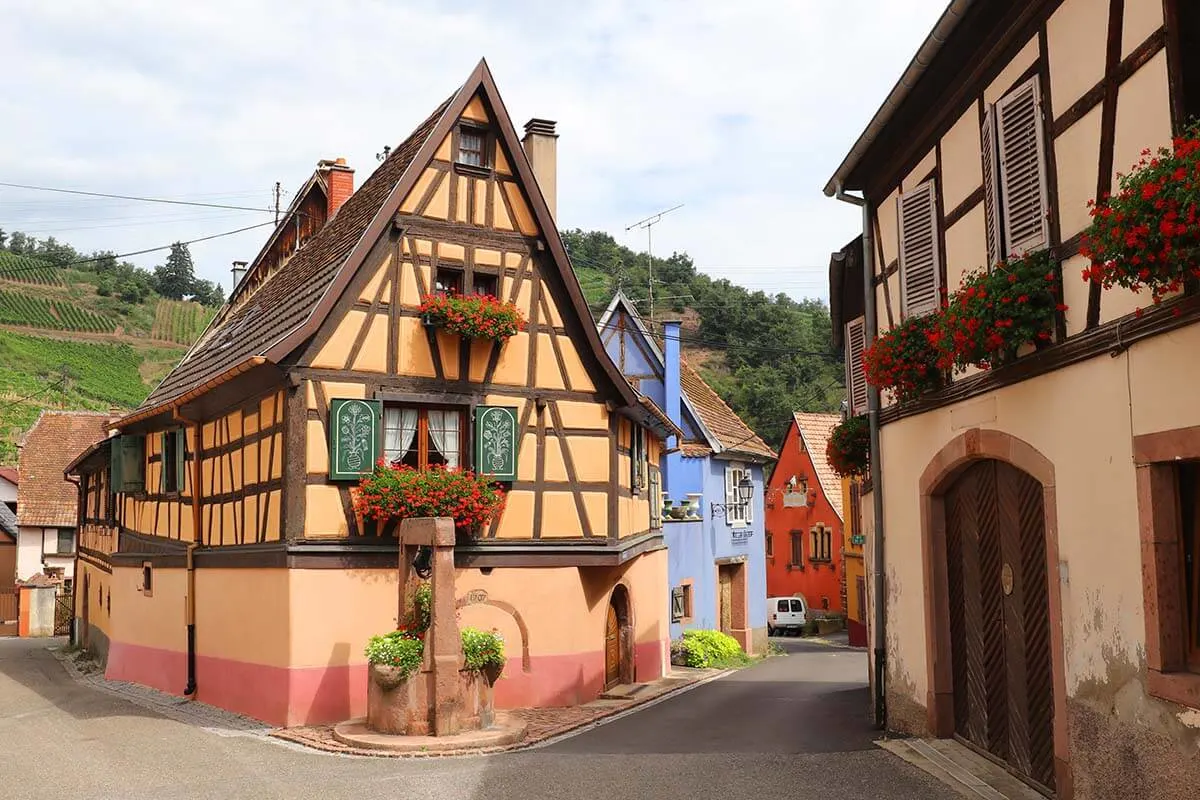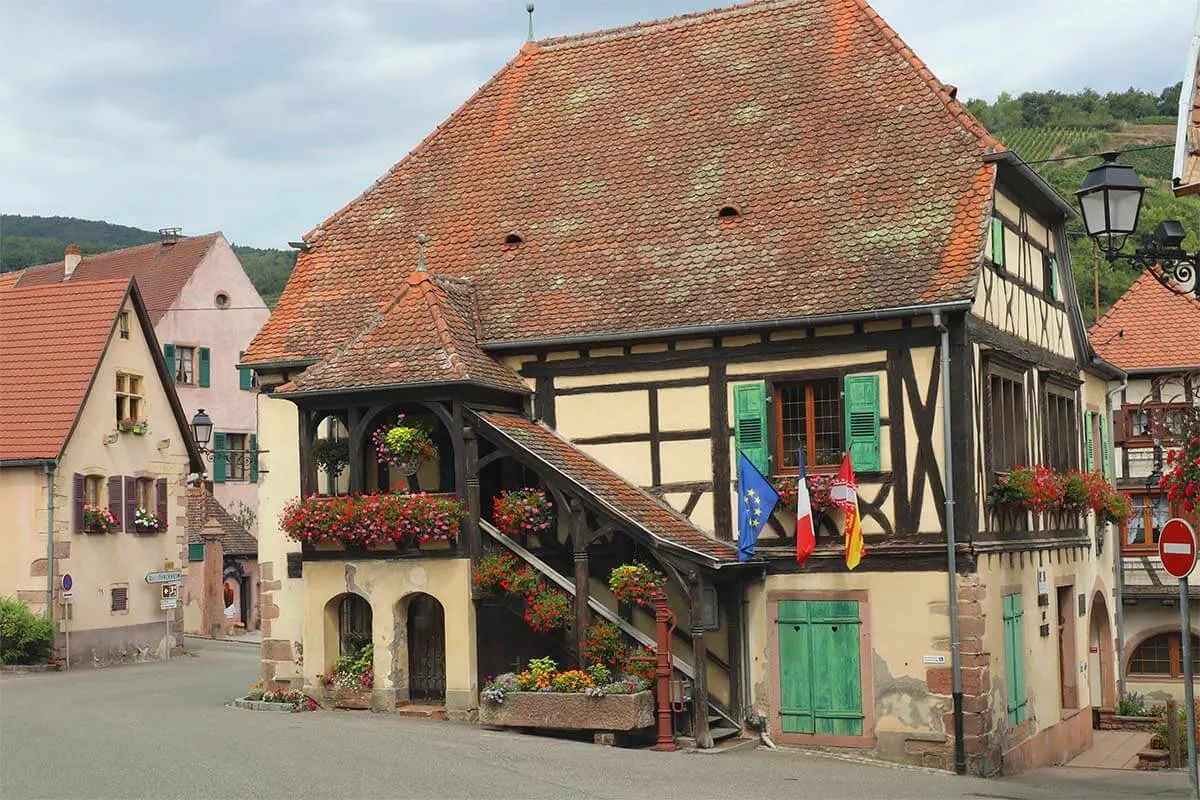 Just 2 km north of Turckheim, you'll find a picturesque little village called Niedermorschwihr. It's just a tiny village located right on the wine trail, but it has several really pretty colorful houses and makes a nice photo stop.
It's a perfect place to stop for those who are driving the Alsace Wine Route by car and are looking for quaint, charming villages that most tourists never visit.
There is a good pastry shop here that also sells some of the most delicious jams, traditional products, and even a few souvenirs (it's one of those wonderful one-stop local stores). There is also a nice restaurant in the village and a few wineries.
TIP: We found that the road between Turckheim and Niedermorschwihr is one of the most scenic stretches of the Alsace Wine Route. So even if you don't have the time to stop at any of these towns, it's well worth passing by, especially if you are driving in the Colmar area and have a car. Some Alsace villages tours that start in Colmar also pass here.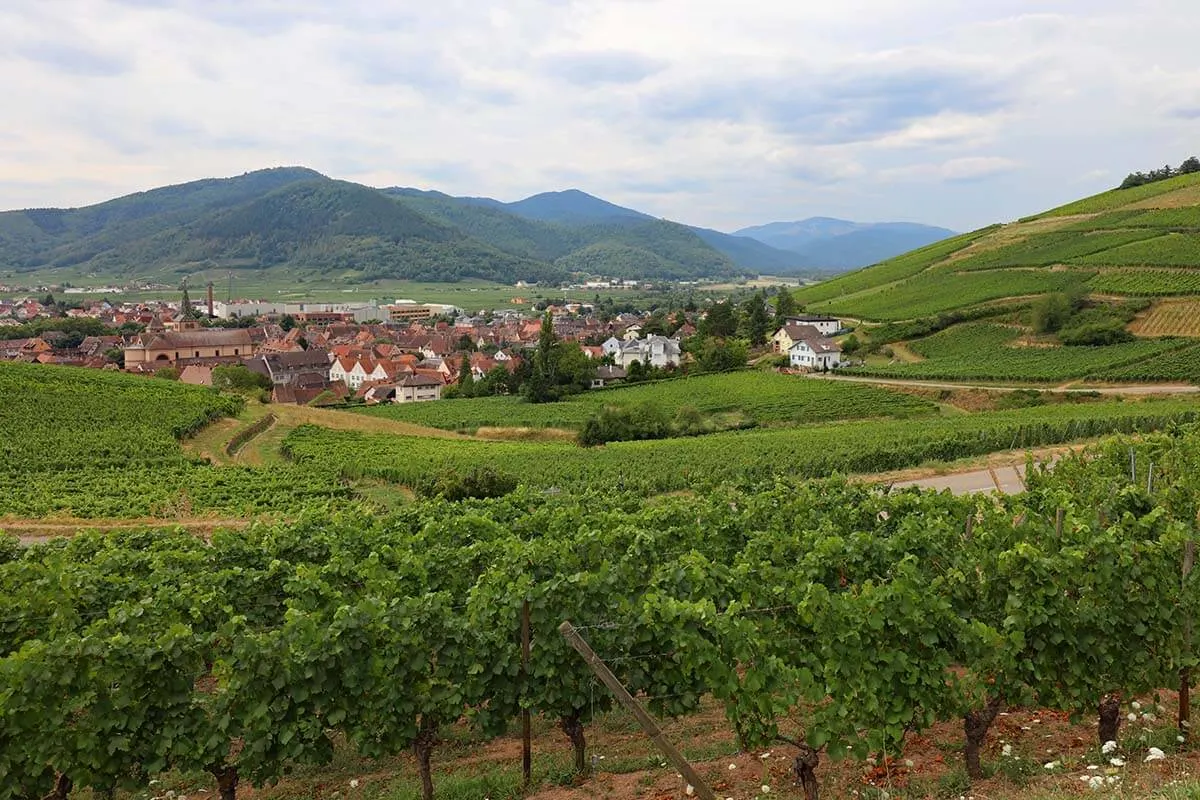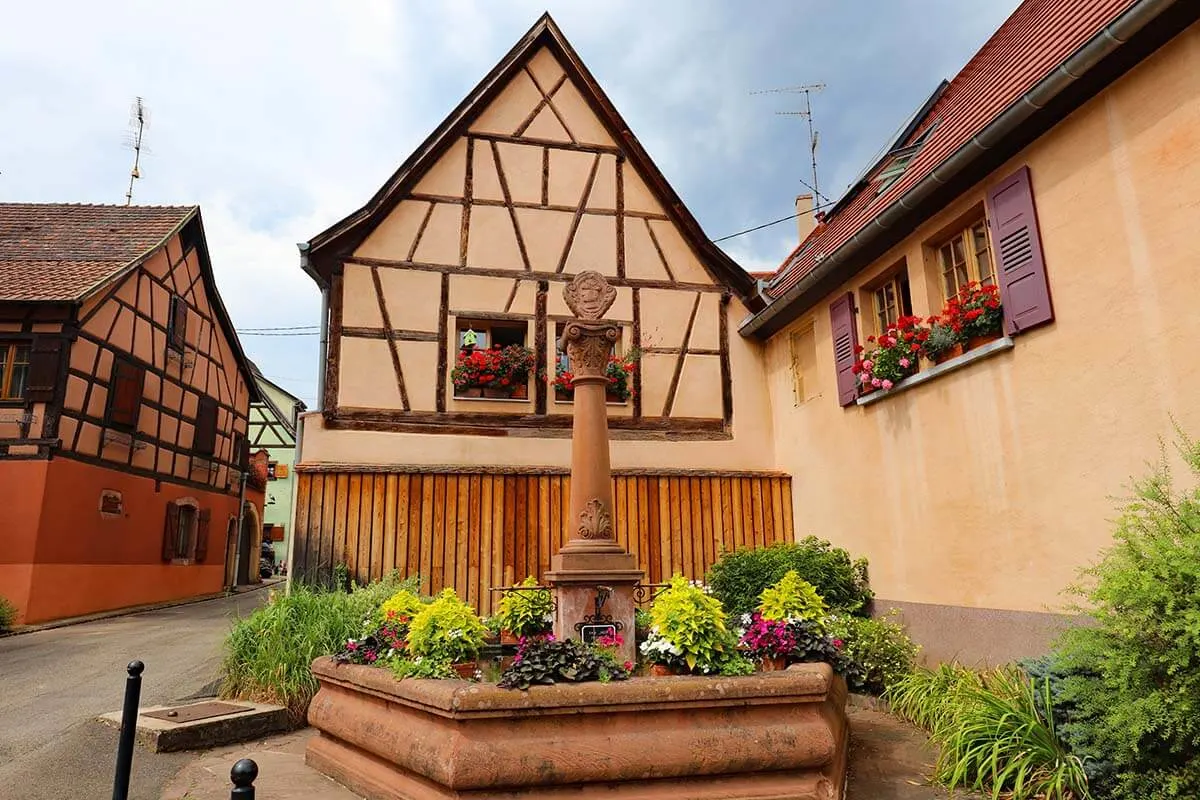 11. Itterswiller
QUICK PHOTO STOP.
Getting there: By car or by train from Obernai.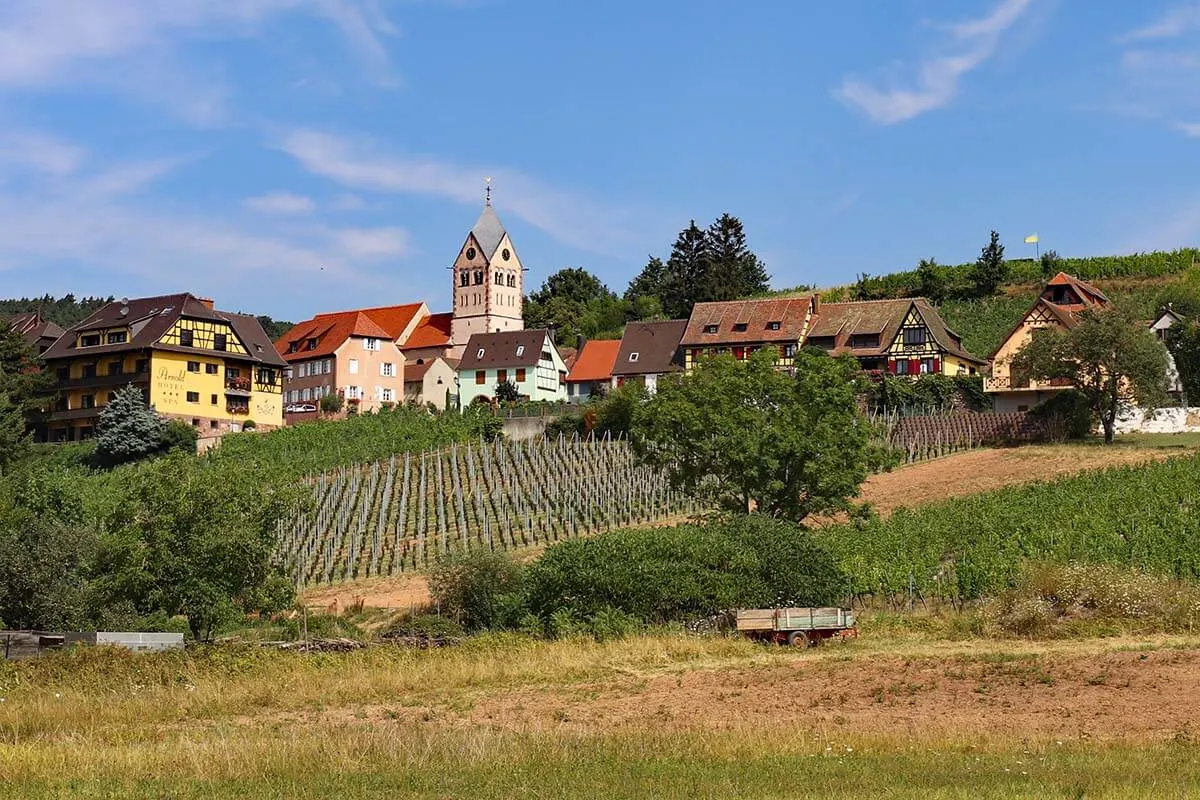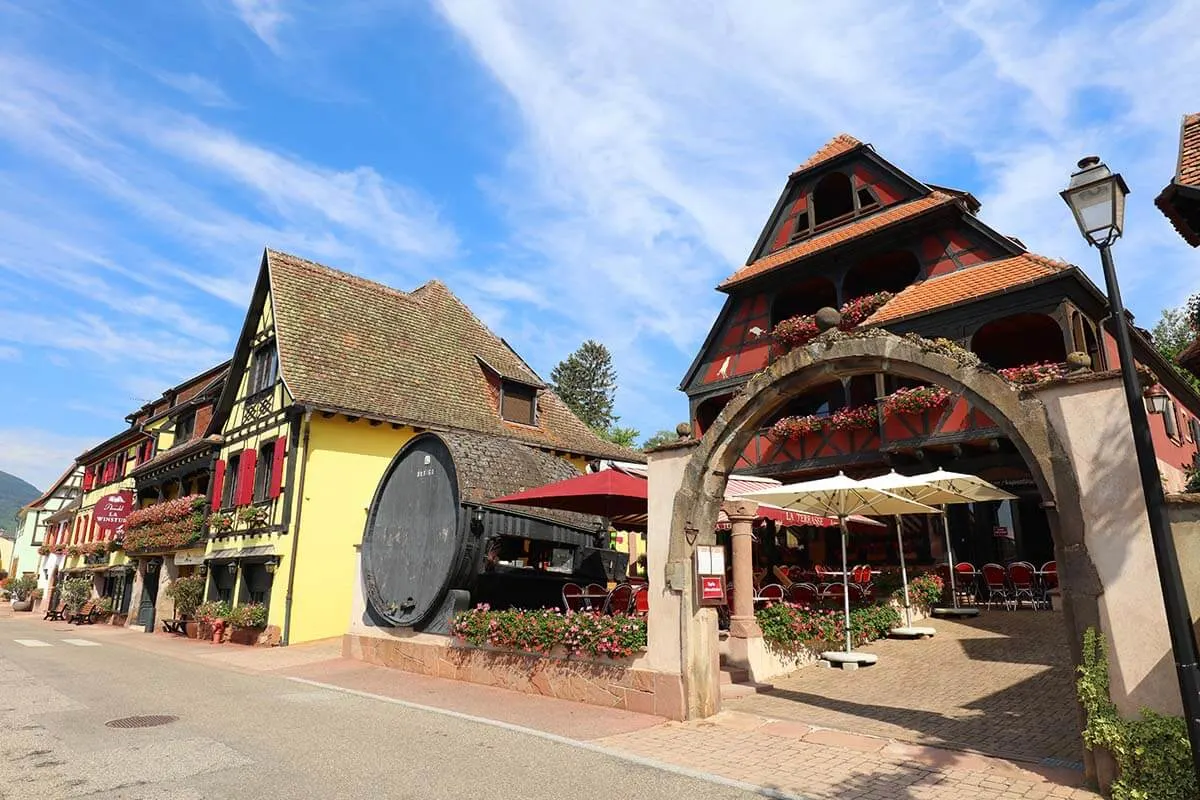 Itterswiller is a tiny but very picturesque village with fantastic panoramic views over the vineyards and the hills of the nearby Vosges mountains. We drove here from Obernai/ Barr and found that the Wine Route in this area is so scenic that it is well worth passing this stretch of the famous Alsatian wine trail for the jaw-dropping scenery.
The wine route includes the main street of Itterswiller, so this is a village where you can just drive by and see it from the car. On the other hand, the half-timbered houses with beautiful flowers are so picturesque that you may want to get out of the car and walk around here for a few minutes.
Itterswiller is also known for its gastronomy and the main road is lined with wine houses and several good restaurants. There are also a couple of very charming hotels here. So if you want to stay right on the wine route and enjoy a cozy atmosphere of a small village while at the same time having some great restaurants and wineries within a few minutes' walk from the hotel, this could be a nice place to stay for a night or two.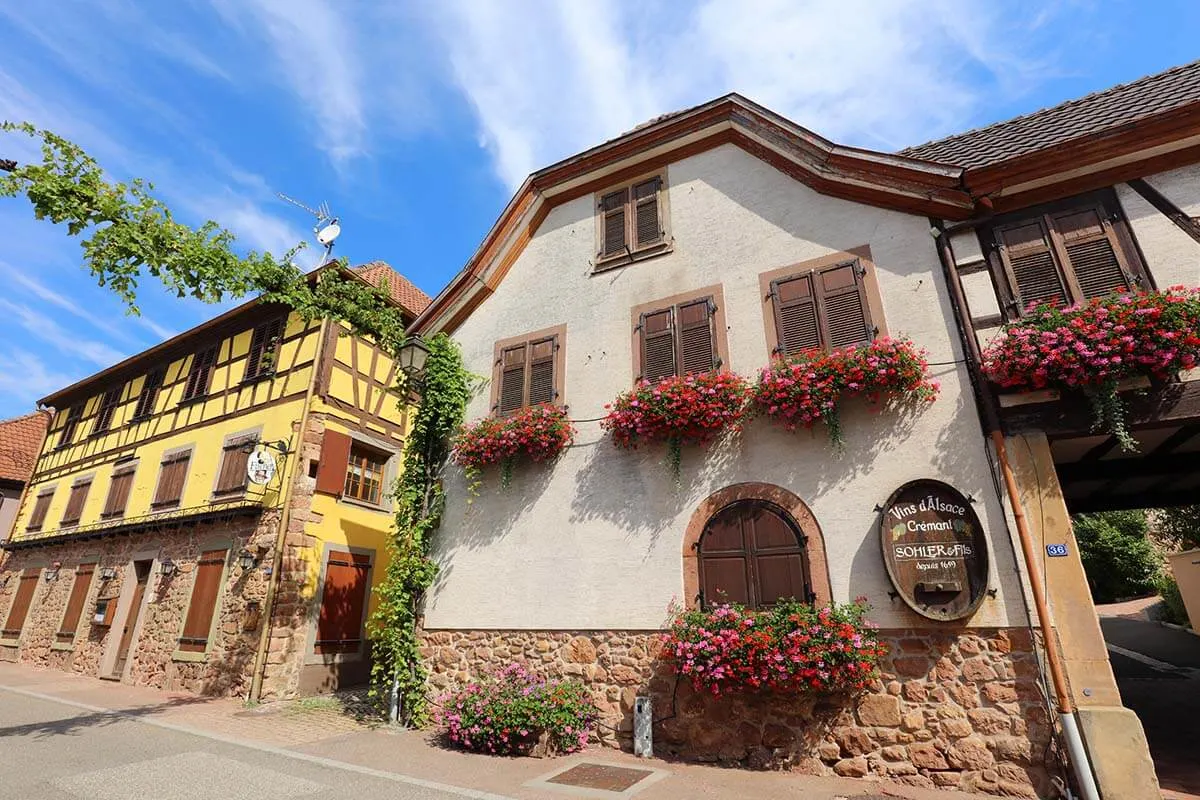 More Towns & Villages to See on Alsace Wine Route
IF YOU HAVE A LOT MORE TIME.
If you visit all the places mentioned above and are looking for even more towns to visit when driving the wine route in Alsace, below are some more places that you'll often see recommended.
Having stopped at each of them, we found that while nice, these are not the places I'd recommend if your time in Alsace is limited. But if you have more time, sure, why not check them out for yourselves…
Hunawihr
This is a tiny village surrounded by vineyards and located between Riquewihr and Ribeauvillé. You'll likely pass nearby, so this could be just a quick photo stop and a small detour. Hunawihr is mostly known for its picturesque fortified church and the scenery around it. With even more time, you can also visit Butterfly Gardens (Jardins des Papillons) here.
Kintzheim
Kintzheim is mostly known as the gateway to Château du Haut-Kœnigsbourg (this castle is a must-see in the area), Château de Kintzheim (castle ruins with birds of prey shows), and La Montagne des Singes (monkey park). Each of these places is more interesting than the town itself, so I'd rather spend the time there.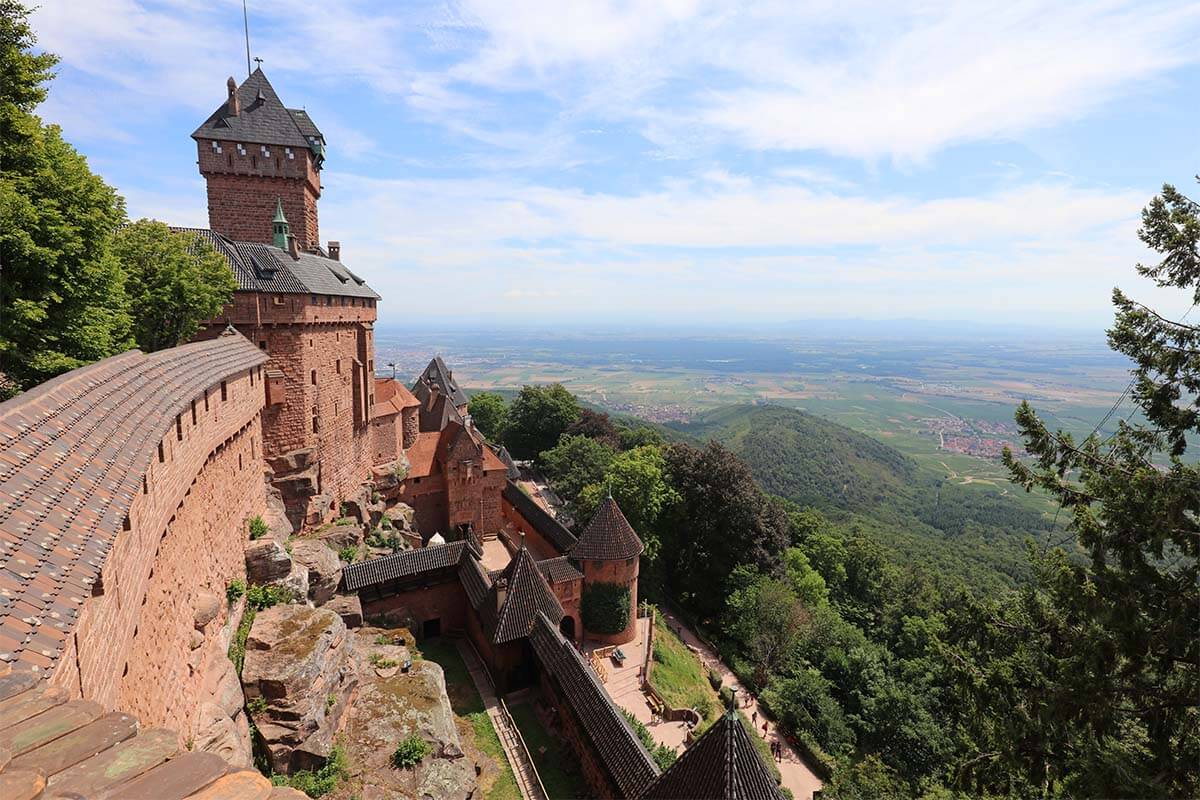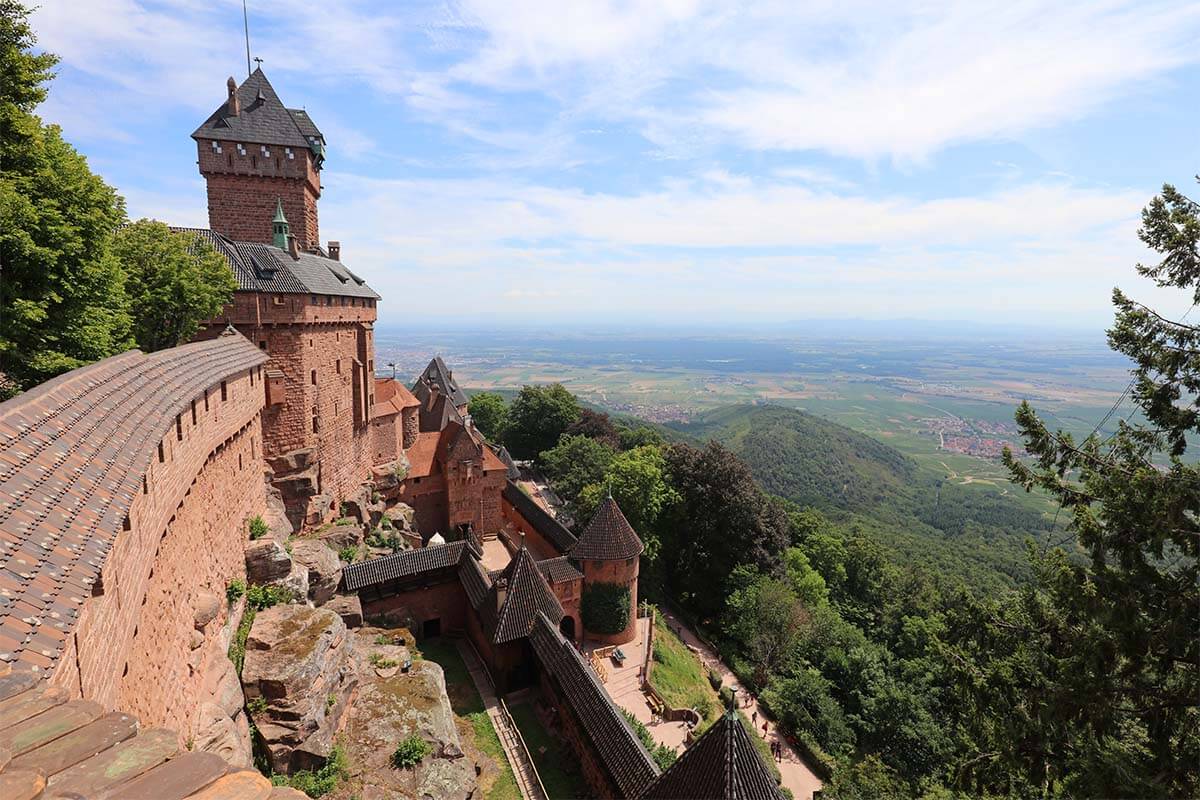 Mittelbergheim
This is a small village that is said to have the best-preserved medieval architecture. Mittelbergheim is also known for Zotzenberg Grand Cru wines. But apart from a couple of wine houses and one rather short main street with a few nice buildings, there's really not that much to do here for tourists.
Andlau
Best known for the 9th-century abbey, Andlau didn't impress us at all. It took us forever to find a parking spot here (everything was full even though there was not a soul in the entire town – go figure), and when we finally got out of the car, it wasn't really clear what to see here or where to go. We visited the church, took a picture of the bear statue on the main square, walked part of the 'ramparts walk' that was indicated on the map as one of the main attractions, and were wondering the whole time whether we missed something (maybe we did…).
If you want to visit a nice abbey, better go to the nearby Sanctuary of Mont Sainte-Odile instead.
More…
In addition to the places mentioned above, there are dozens of other towns and villages on the Alsace wine route. We haven't been able to visit all of them, so I can't comment on how picturesque or worthy they are. Sure, you could probably find quite a few other charming places that might be worth a stop…
But if you are visiting Alsace for the first time and want to see the most beautiful towns on the wine trail in just a few days, then just concentrate on the top 5-11 from our list above, and you won't be disappointed.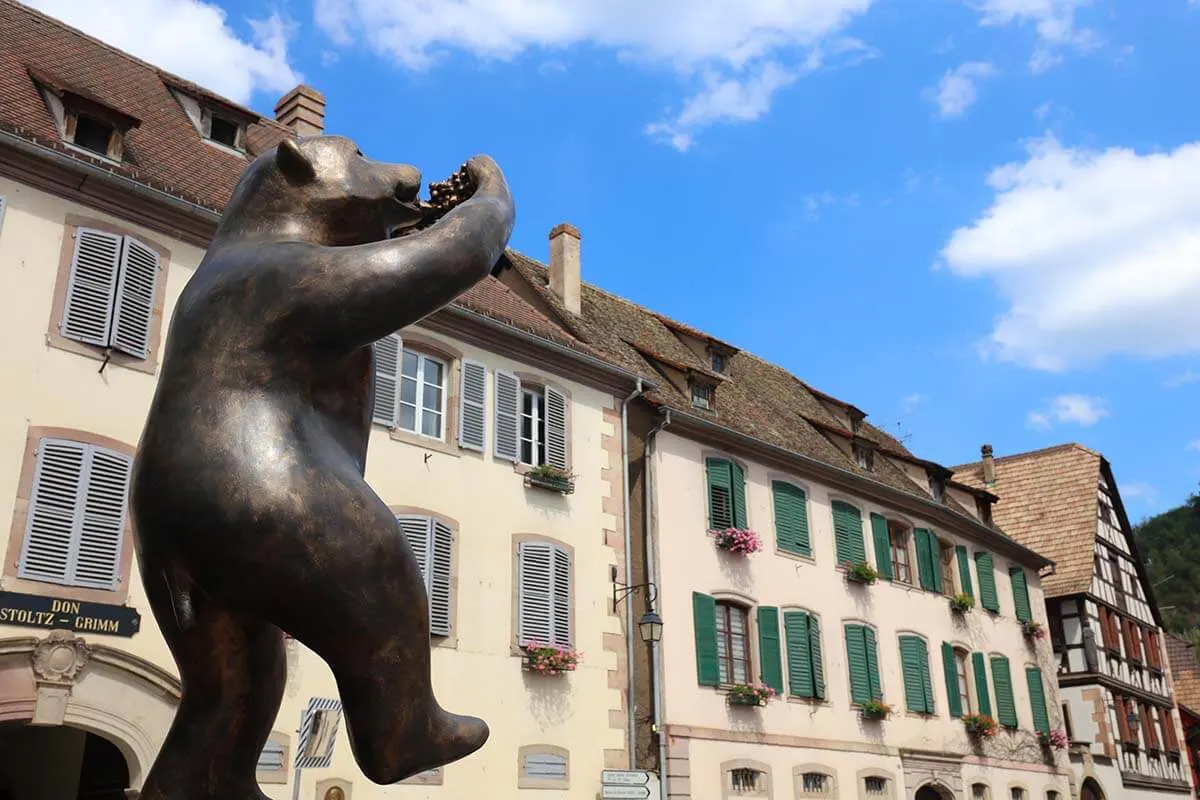 Map of the Best Places on the Alsace Wine Route
To help you plan your trip, we created this map indicating all the nicest villages and towns on the wine route in Alsace. In another color, we also indicated the ones that are nice to see, if you have plenty of time.
How to use this map: Use your computer mouse (or fingers) to zoom in or out. Click on the icons to get more information about each place. Click the arrow on the top left corner for the index. Click the star next to the map's title to add it to your Google Maps account. To view the saved map on your smartphone or PC, open Google Maps, click the menu and go to 'Your Places'/'Maps'. If you want to print the map or see it in a bigger window, click on 'View larger map' in the top right corner.
Where to Stay for Visiting the Alsace Wine Route
The Alsace Wine Route could be done as a road trip in its entirety. In that case, you may want to stay at different hotels along the way – depending on how many days you have and what you plan to see each day…
On the other hand, the region isn't that big and you can easily stay at just one place and visit all the other towns/villages from there. In that case, a lot depends on whether you have a car or not.
There are lots of advantages of staying in just one place. For one, you don't have to pack/unpack each day and are flexible with your plans. This was very helpful when we visited since the Tour de France for women was in the region on the same days as our visit, and many roads were closed in the afternoons. So we adjusted our plans each day in such a way that we avoided any road closures, while still being able to see/do everything we wanted.
Without a car, Colmar is the best place to stay for exploring the most beautiful towns and villages in the region. There are good bus/train connections to some of the main places, and you'll also find lots of organized tours to the most popular places. Strasbourg can also be a good place to stay if you are just planning a day trip to the wine region.
With a car, and if you want to be right in the middle of the wine region, consider staying in the area around Riquewihr/ Ribeauvillé. That way, you can minimize the driving times each day. This area or Kaysersberg would also be a good base for exploring the wine region by bike.
Best Western Hotel & SPA Le Schoenenbourg in Riquewihr is one of the best options if you are looking for a nice hotel with a good location, outdoor pool, etc. This was our first choice for the recent summer visit, but it wasn't available for our travel dates.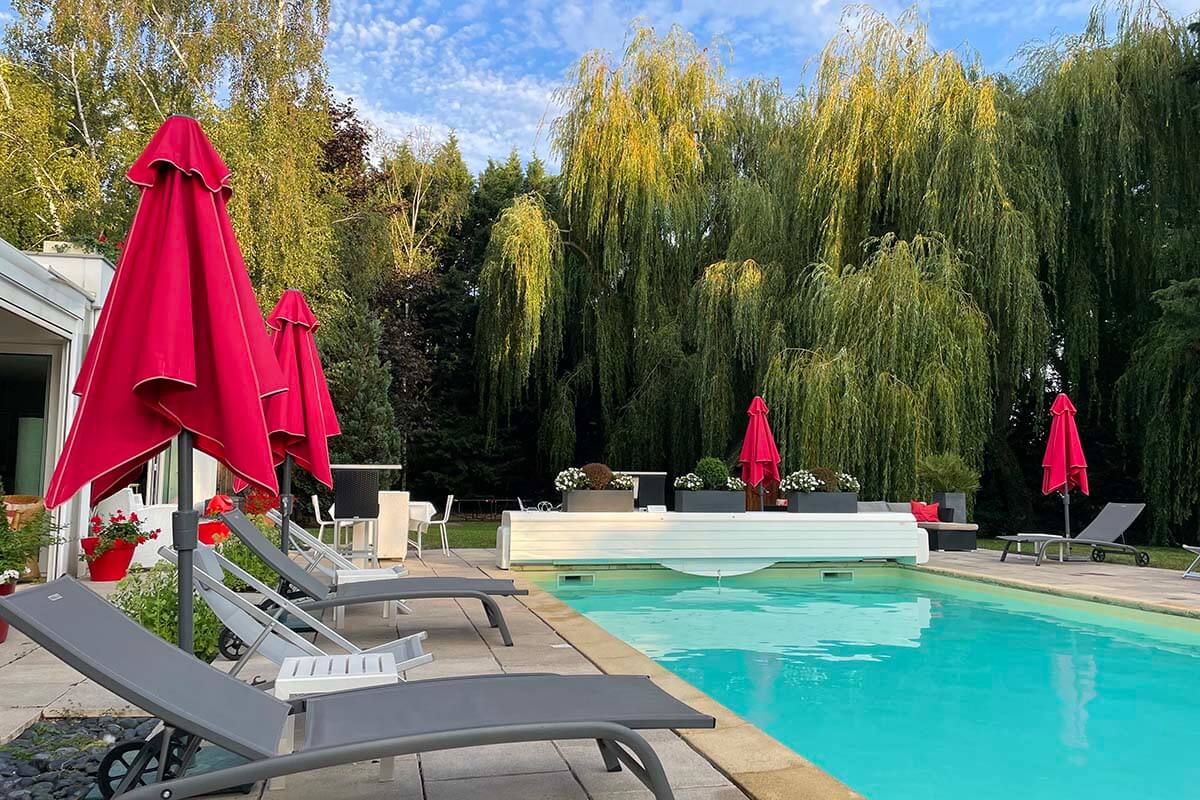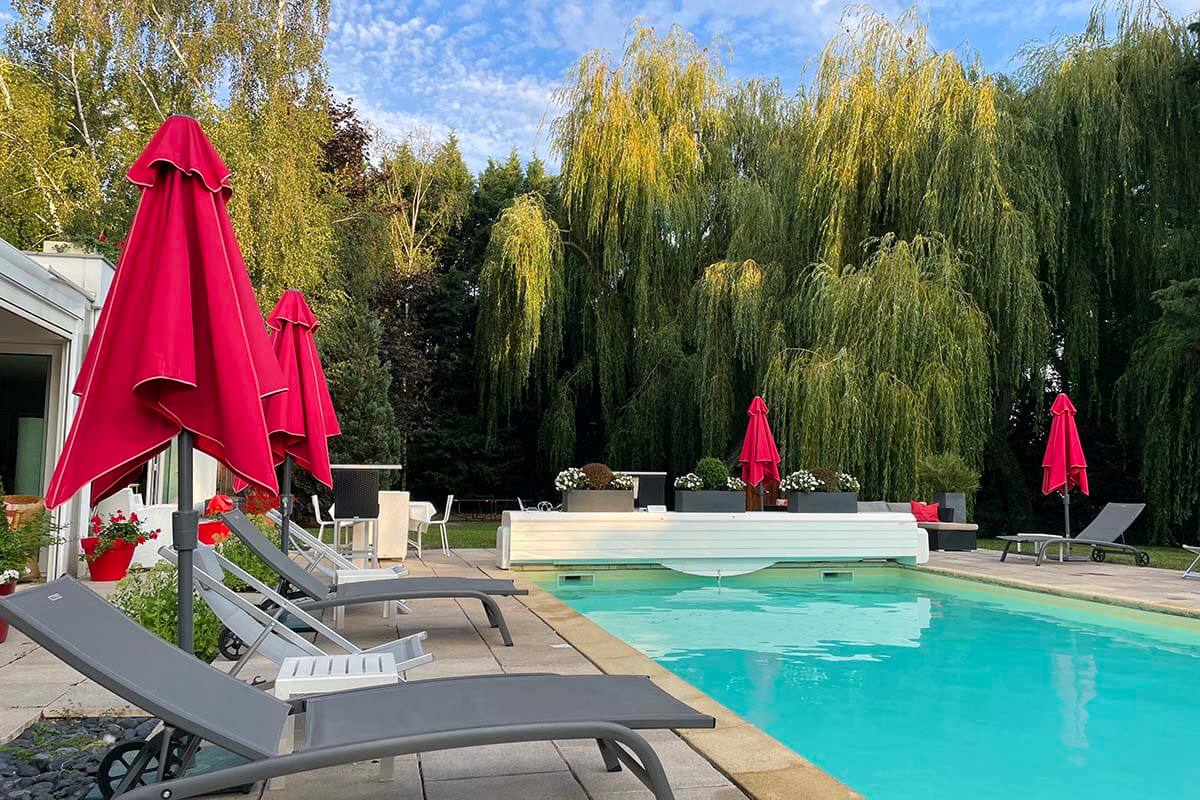 Our personal experience: We've been to Alsace multiple times and usually stayed in the area around Strasbourg. However, on the most recent trip that was focused purely on the wine route, we stayed at this family-run hotel in Obernai.
We chose it for other factors than location (outdoor pool, big family rooms, easy parking, etc.), but we found that the location was also ok for sightseeing anywhere in the region. Most places are within a 20-40 minutes drive, some others almost an hour.
TIP: Using the map below, you can compare hotels and accommodations all over the region. Simply insert your travel dates and group size, then zoom in and out on various villages to see what's available for your stay.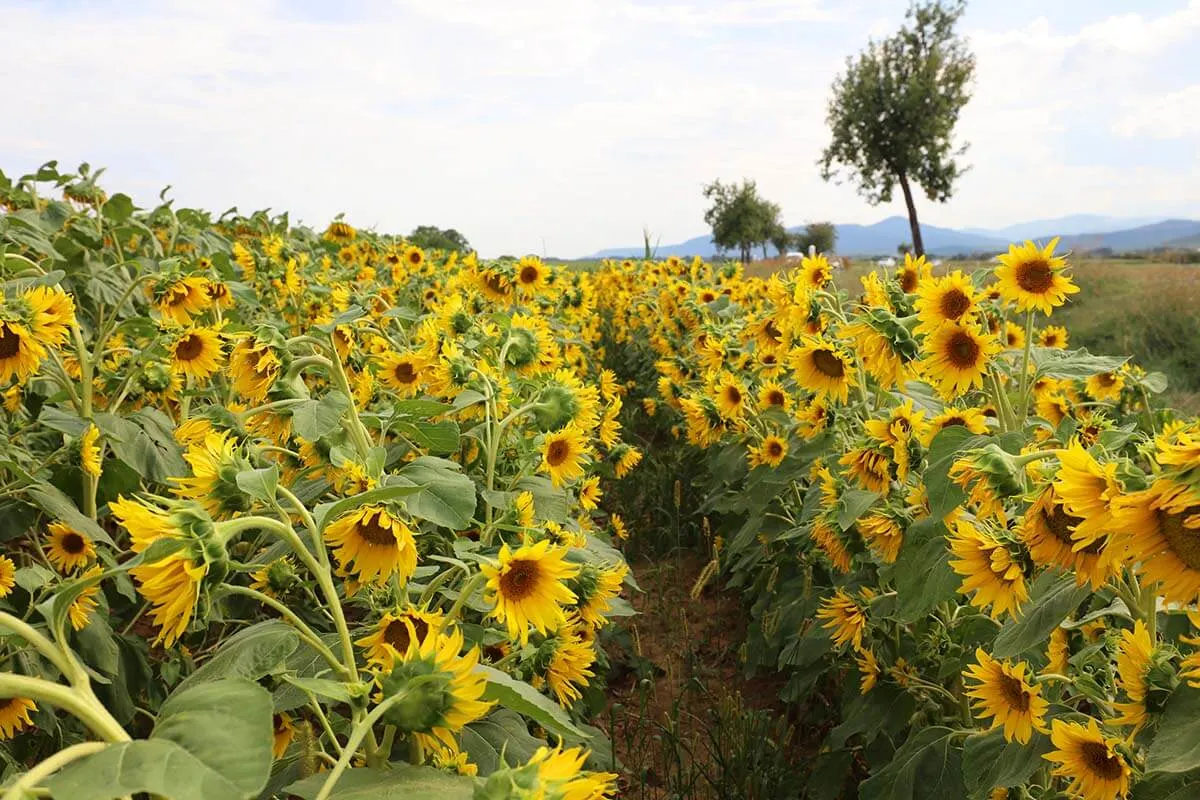 Practical Info & Tips
Here is some useful info you may want to know when visiting the Alsace Wine Route:
Alsace Wine Route extends for about 170 km (105 mi) from Marlenheim to Thann and passes dozens of picturesque towns, charming villages, and a countless number of wine domains and vineyards.
The Alsace wine region is perched in between the Vosges mountains on one side and the Rhine River and the Black Forest mountain range on the other side. Protected by the mountains from two sides, Alsace has a perfect climate for wine growing. The area around Colmar is one of the dryest regions in France.
You can quickly see Colmar and 1-2 villages OR 4 most popular villages on the Alsace Wine Route in a day, but to really appreciate this region, we recommend at least 2-3 days. If you want to drive the entire route and visit the most beautiful towns and villages, you can easily spend a week in Alsace.
The best way to explore the Alsace wine region is by car or motorbike, but you can also cycle, or visit several towns by train and/or bus. If you are short on time, the best way to see the highlights is by joining organized tours from Strasbourg or Colmar. If you have more time, you can also rent a bike to explore the vineyards near some of the most popular villages, but I highly recommend considering an e-bike since many areas are really hilly.
The nicest period to visit the Alsatian wine route is in the summer. That's when the vineyards are nice and green, there are lots of celebrations and festivals all over the region, and the locals are relaxed. It can be interesting to visit during the harvest season as well, but consider that everyone will be working hard and might not always appreciate having tourists around… Alsace towns are also famous for their fairytale-like Christmas markets, so December is also a wonderful time to be here.
7 grape varieties and several Grand Cru wines are produced in the Alsace region. In Alsace, wines get their names from the type of grape (and not from a village or the terroir as in the other regions). There are 6 white wine types here: Riesling, Pinot Gris, Gewurztraminer, Sylvaner, Pinot Blanc, and Muscat d'Alsace, and 1 red – Pinot Noir. My personal favorite is Pinot Gris (pretty much any domain and any wine – I don't think we ever had a Pinot Gris we didn't like). We also really enjoyed the Riesling Schoenenbourg Grand Cru from Riqewihr.
There's a lot more to see and do in Alsace than just the Wine Route. Castles, monasteries, nature reserves, theme parks, countless other towns, etc. In this guide, we only focus on the nicest places located directly on the Alsace Wine Route.
READ ALSO: What to See in Strasbourg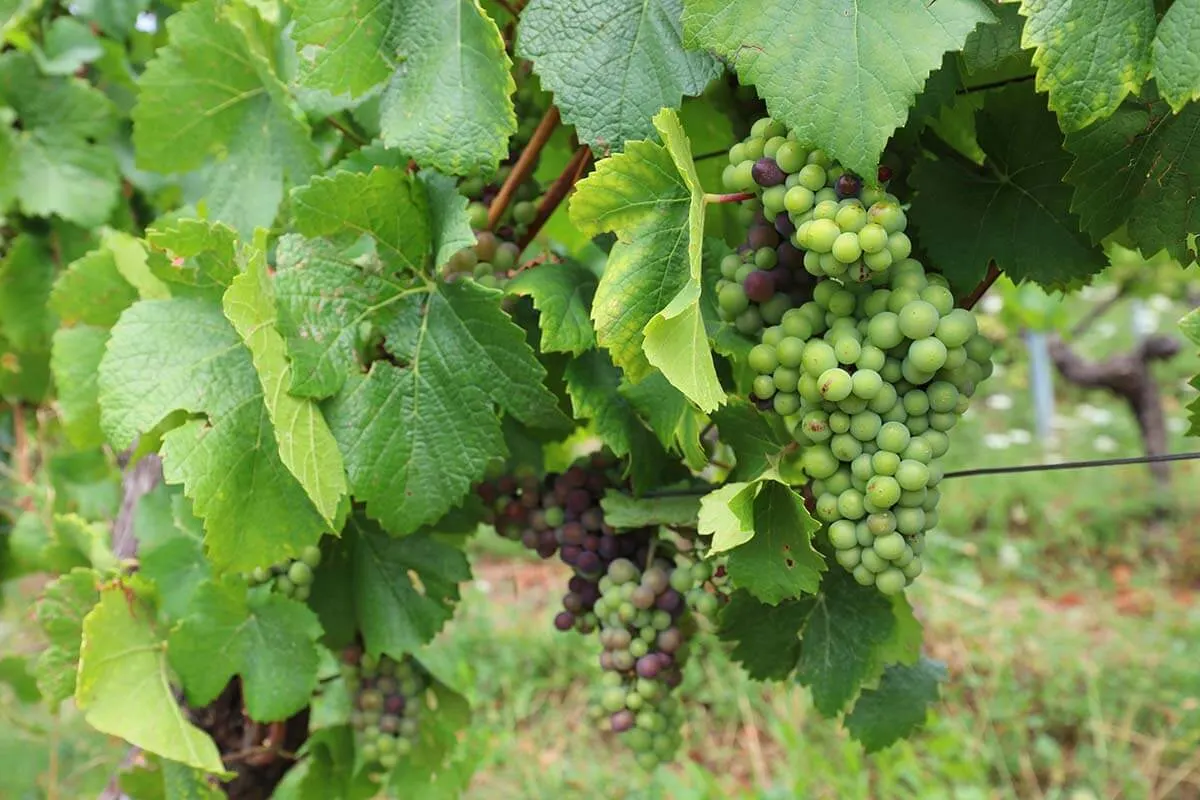 So, this is our guide to the nicest towns to see when driving the Alsace Wine Route.
I hope that it helps you plan a truly memorable visit and fall in love with this beautiful region, just as we did.
Have a great trip!
YOU MAY ALSO LIKE TO READ: Tips & Tricks for Visiting Paris
If you found this post useful, don't forget to bookmark it and share it with your friends. Are you on Pinterest? Pin these images!