Eguisheim is one of the most picturesque towns in France. It's located along the famous Alsace Wine Route, just a 10-15 minutes drive from Colmar, one of the most popular tourist destinations in the region, together with Strasbourg.
But while Strasbourg and Colmar are world-famous and attract lots of tourists from all over the world, the smaller Eguisheim is little-known. It's quite a popular place to visit in Alsace as well, but you'll mostly see more 'local' visitors from France and the neighboring countries here.
When you visit Eguisheim, you'll easily understand why it won the title of one of the most beautiful villages of France (by the organization 'Les Plus Beaux Villages de France'). Other pretty Alsatian villages that were awarded this title are Hunawihr and Riquewihr.
Eguisheim is extremely charming, colorful, and has managed to preserve a wonderful medieval atmosphere. Visiting this pretty little town is like taking a trip back in time… And as you walk its picturesque cobbled streets admiring colorful houses with pointed roofs and timber-framed facades, you feel like you stepped into a real-life fairytale. Yes, it's that beautiful!
In this guide, you can find all the information about visiting Eguisheim: what to expect, the best things to do, as well as practical tips for planning your trip. Take a look!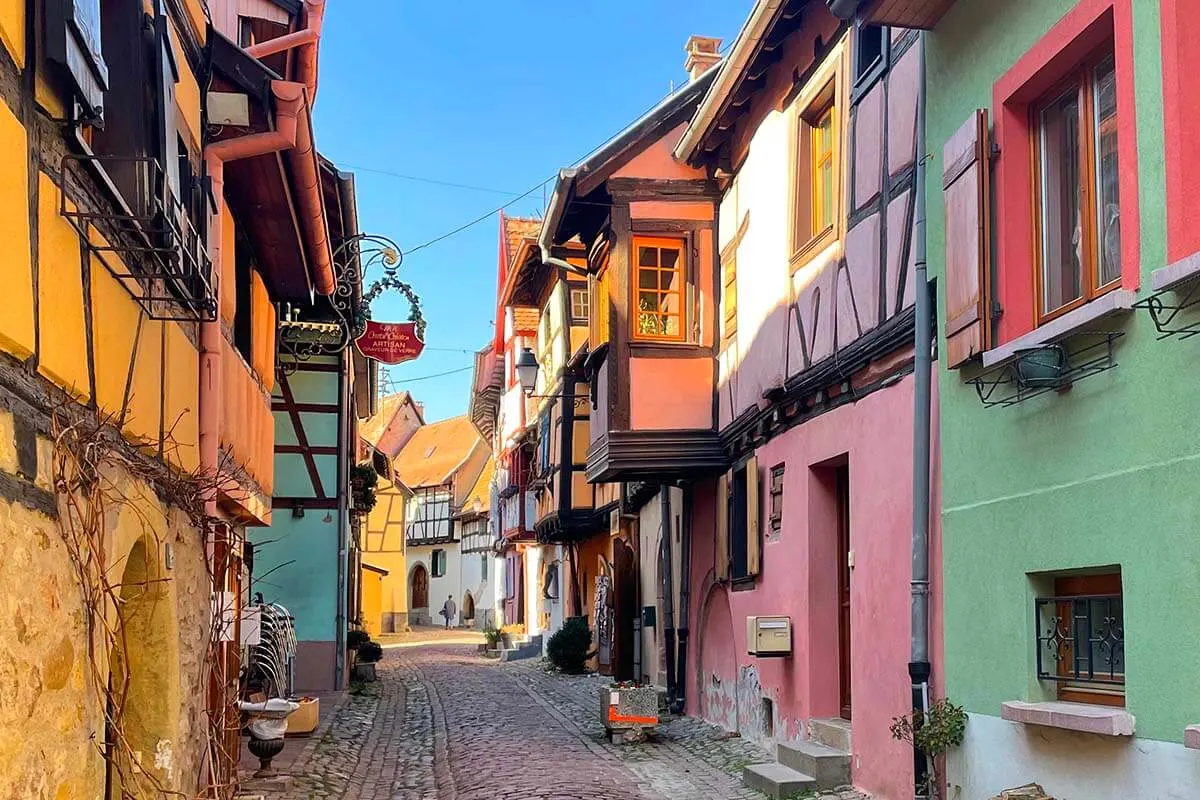 Why visit Eguisheim
As already mentioned, Eguisheim is a very pretty and charming medieval village with a unique atmosphere. It is amazing to see how this medieval city has been able to preserve its looks: the streets and colorful half-timbered houses are all built in concentric circles around the 13th century octagonal castle, Château de Sain-Léon-Pfalz.
Throughout the old town, you'll find cafés, restaurants, and lots of small shops selling local produce and traditional souvenirs. The people are friendly and the atmosphere is relaxed and inviting. So don't just rush through snapping a few pictures, but take your time to wander through the narrow streets, check out the stores, and sit down for a nice relaxing meal with some local wine.
It's Alsace vacation at its best!
If you are lucky to visit Eguisheim during the warmer months, you'll find flowers on every window, every building, and every street corner. But also in the other seasons, the village is picture-perfect. We visited on a cold day in March and it was lovely too!
In addition, Eguisheim is also known for its vineyards and some of the best wines in the Alsace region, including two Grand Crus, Eichberg and Pfersigberg. There are lots of wine houses in and around town where you can learn more about local wines and taste some of them.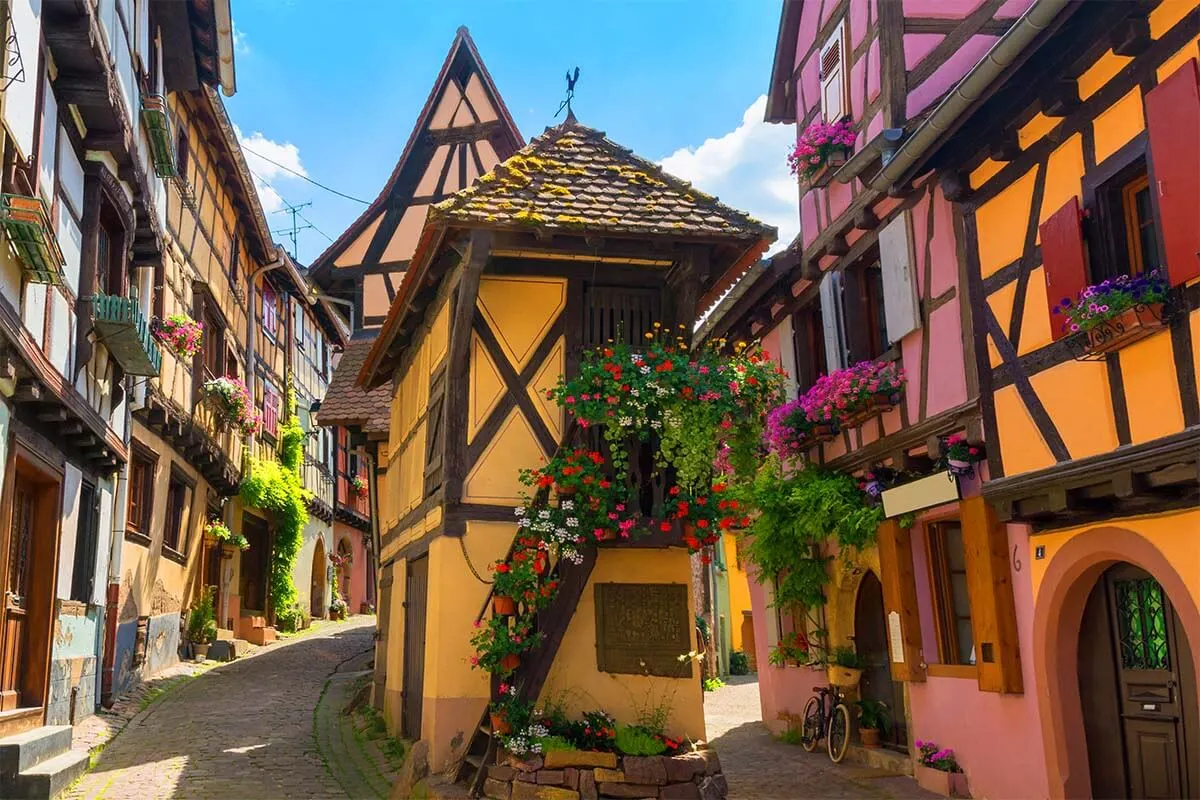 Things to do in Eguisheim
Eguisheim is a small town and the best thing to do is to follow the Eguisheim Discovery Trail that brings you to all the main sights. Since there are just a few streets and everything is located so close to each other, you can easily see all the musts in about an hour.
Good to know: You can start at the tourist office and get a map of the Discovery Trail. It indicates the main Eguisheim attractions and the recommended route. But there are also informational plaques with this map at all the main town entrances. Simply take a picture of the map with your phone (or scan the QR-code), and then follow the route.
Also, every place of interest has its own informational signs (also in English and with QR codes) so you can learn more about each landmark along the way.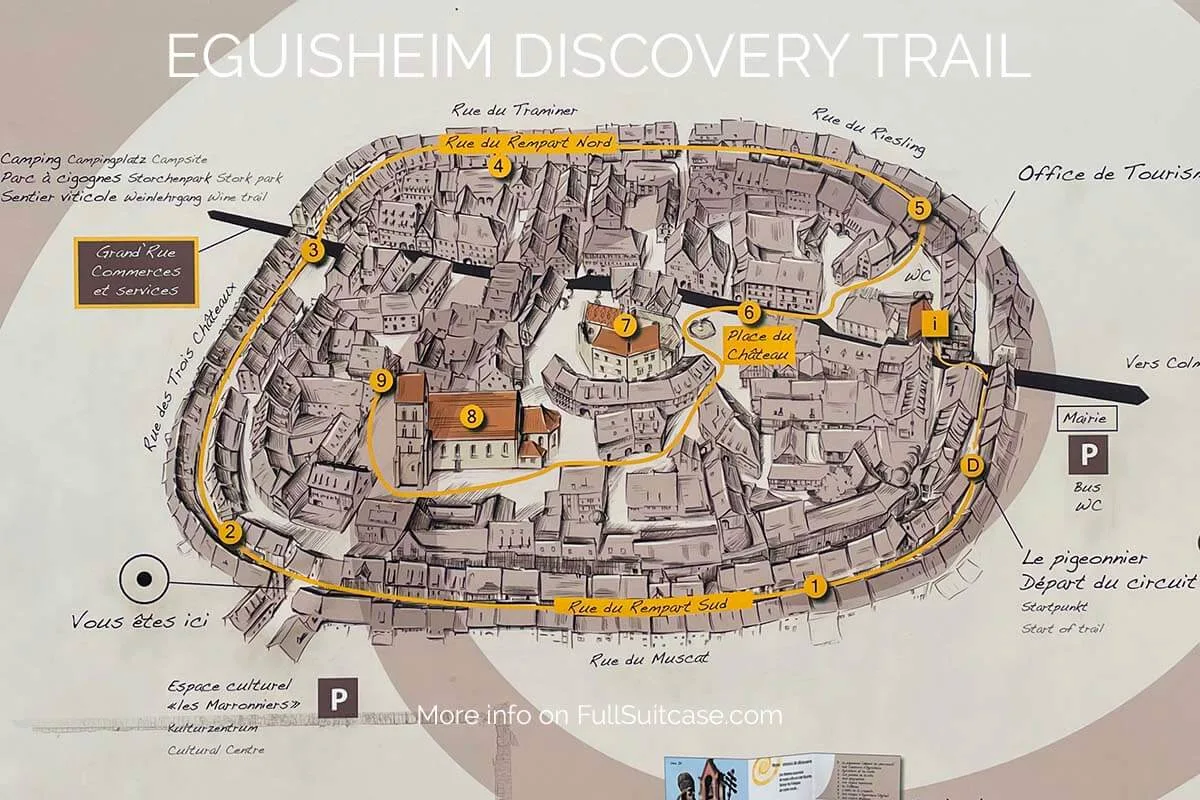 Here are some of the nicest places to see in Eguisheim old town:
Medieval Streets
As already mentioned, the main highlight in Eguisheim is its circular system of medieval streets. So the best thing you can do is simply walk around the town, admiring the traditional half-timbered houses and colorful buildings around you.
The main streets not to be missed in Eguisheim are Rue du Rempart (which takes you all around in a circle) and Grand Rue (the main street that crosses the old town). But there are really just a handful of streets in the old town, so be sure to check them all out!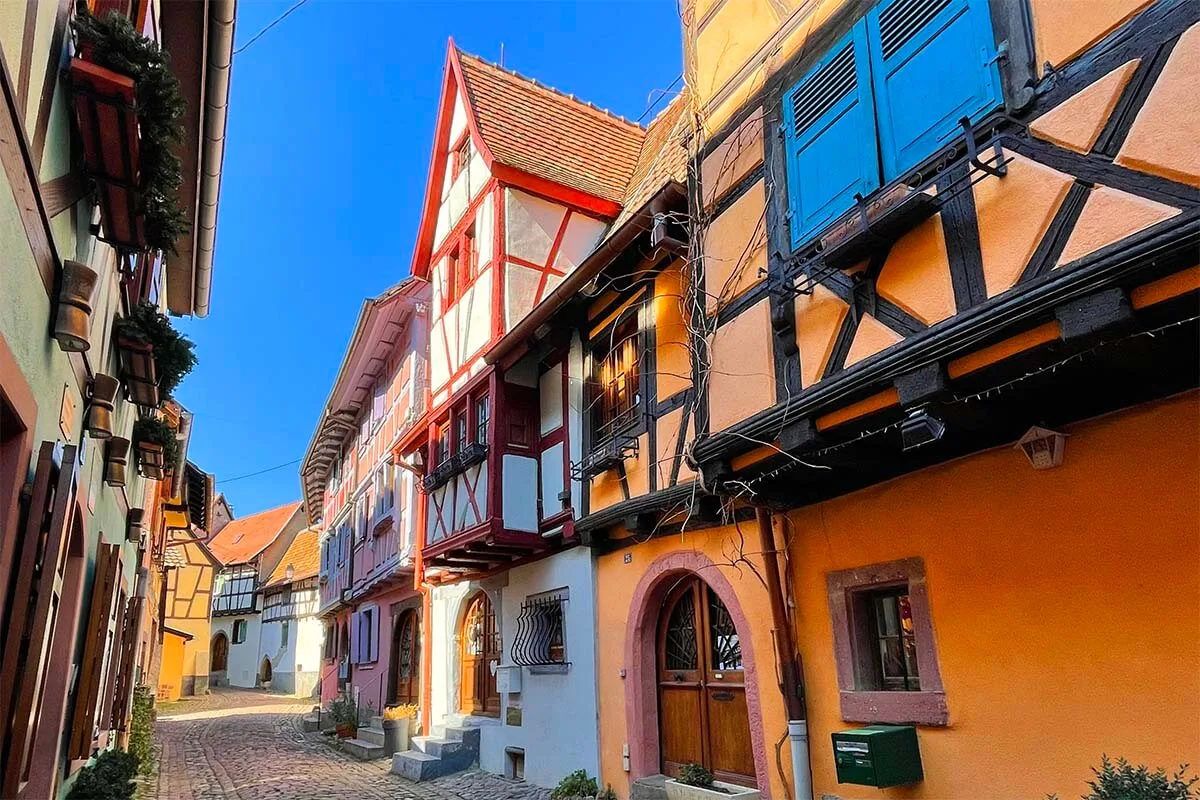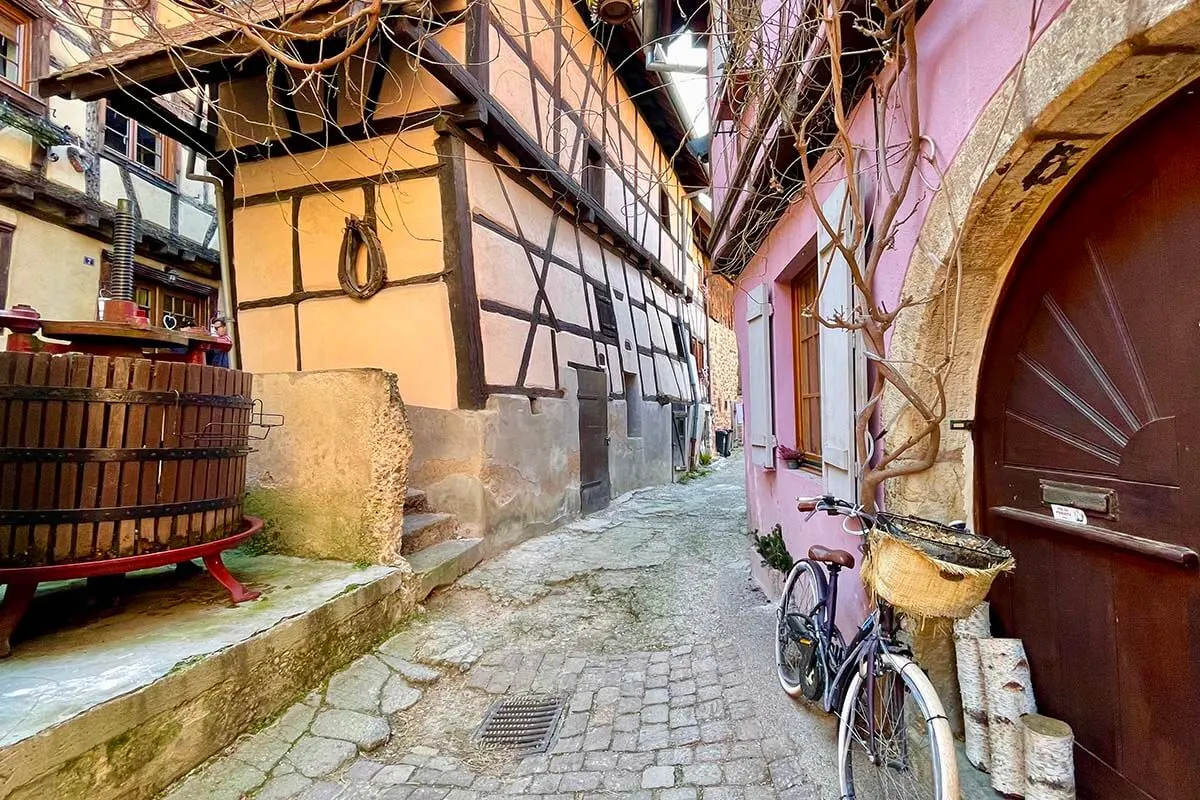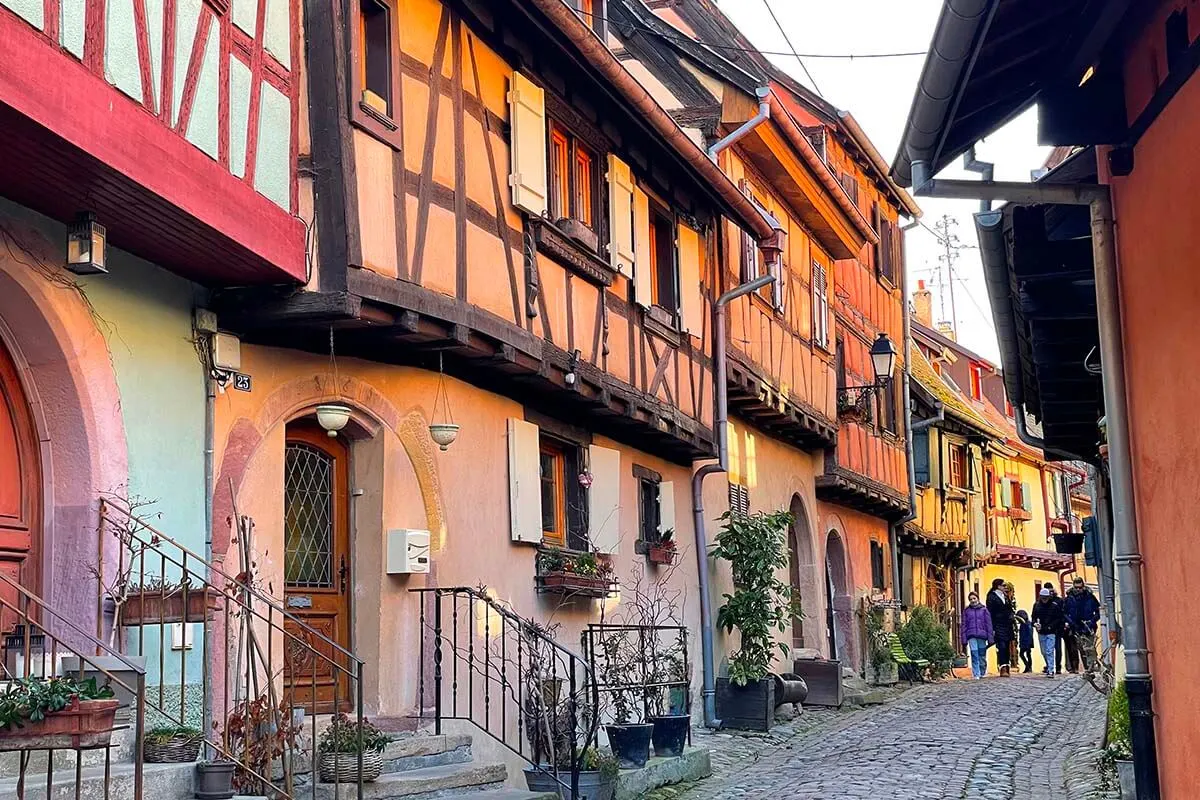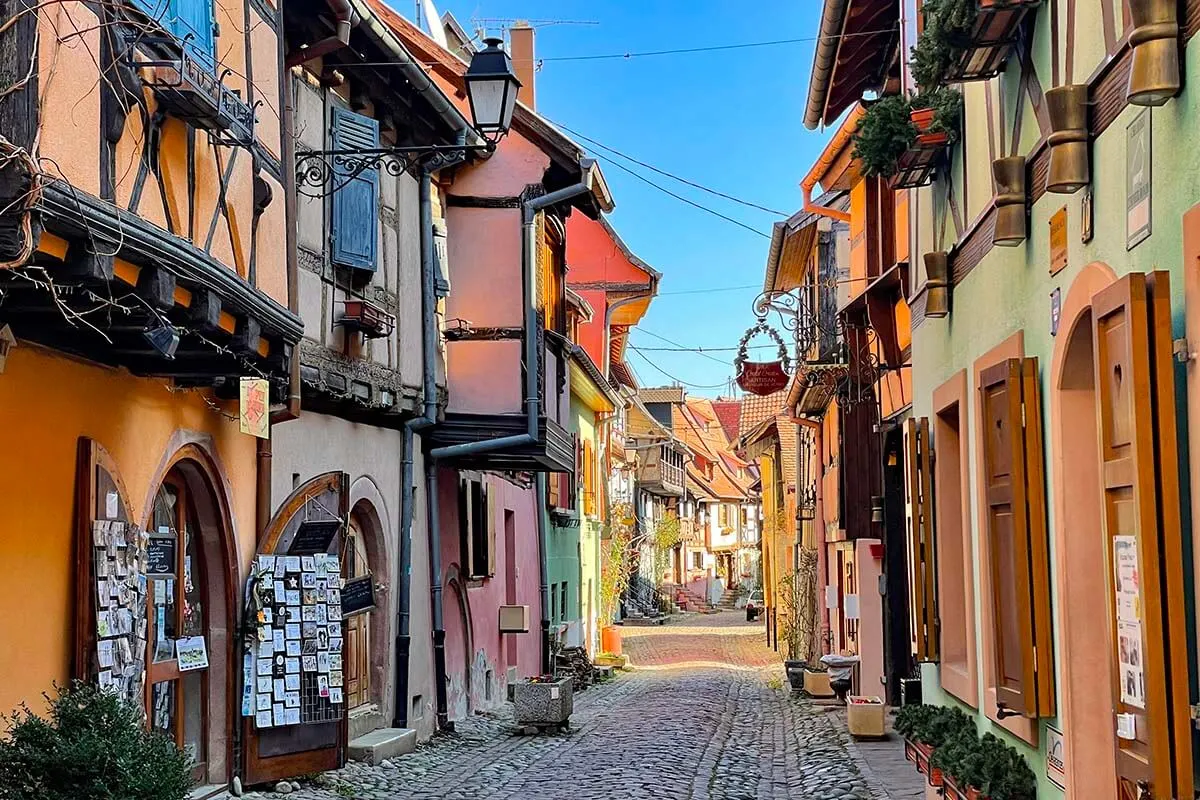 Saint-Léon Castle & Chapel
Château de Saint-Léon-Pfalz is the castle around which the town of Eguisheim was built. Its origins go back to the 8th century, but the castle was completely rebuilt at the beginning of the 13th century. It was restored in 1888.
The main place to see here is Chapelle Saint-Léon IX, a small chapel built in 1895 and dedicated to Pope Leo IX. He was born in Eguisheim in 1002 as Brunon d'Eguisheim, and is probably the most famous resident the town ever had. Leo IX was a pope from 1049 till his death in 1054.
Leo IX was one of the most significant popes of the Middle Ages, responsible for several of the most important reforms of the Catholic Church. He was declared a saint by the Catholic Church.
The chapel is really pretty, with a very impressive wooden door, ornate tile floors, and painted ceilings. It's a somewhat unusual combination of styles and colors, but somehow it all fits together and forms a nice whole. The nave is dedicated to the life of Leo IX.
Good to know: The chapel is free to visit and it seems to be open daily. I'm not really sure whether you can visit inside the castle itself since it was closed when we were in Eguisheim. Either way, from what I see, it's nicer from the outside than on the inside, but check if it's open when you are there and see if you can take a look inside.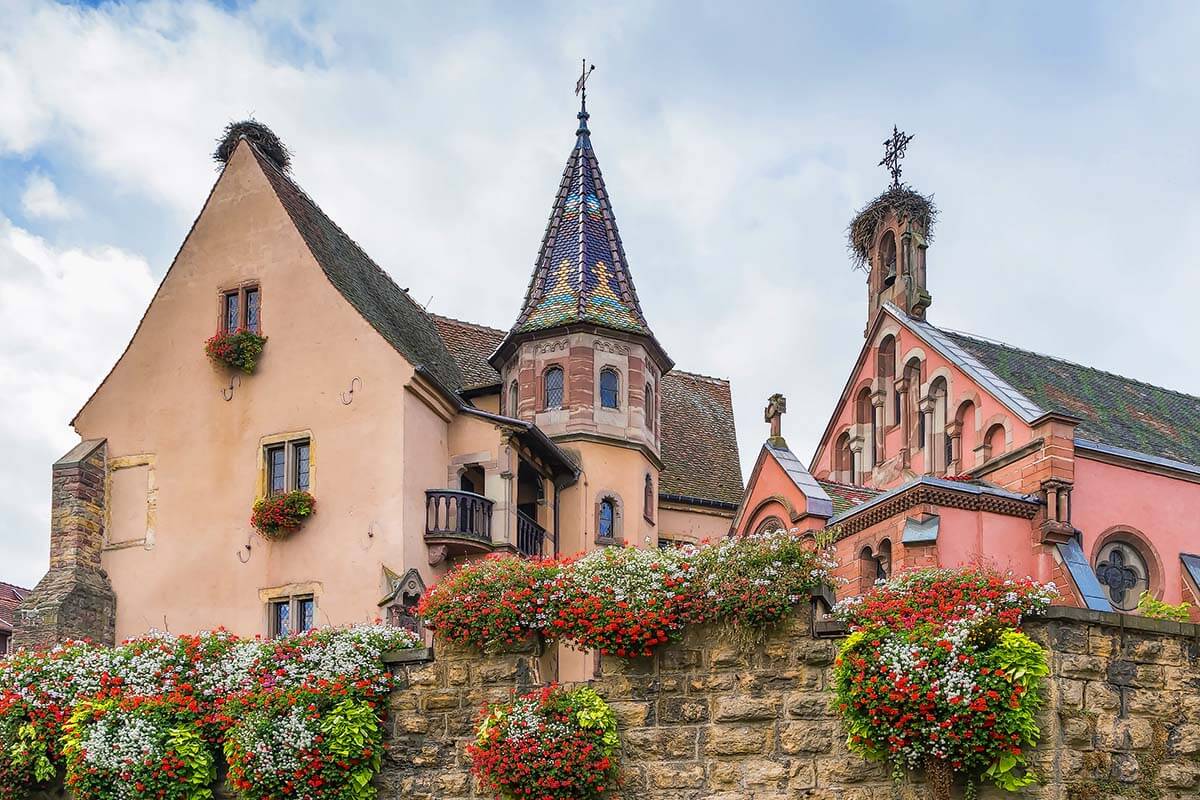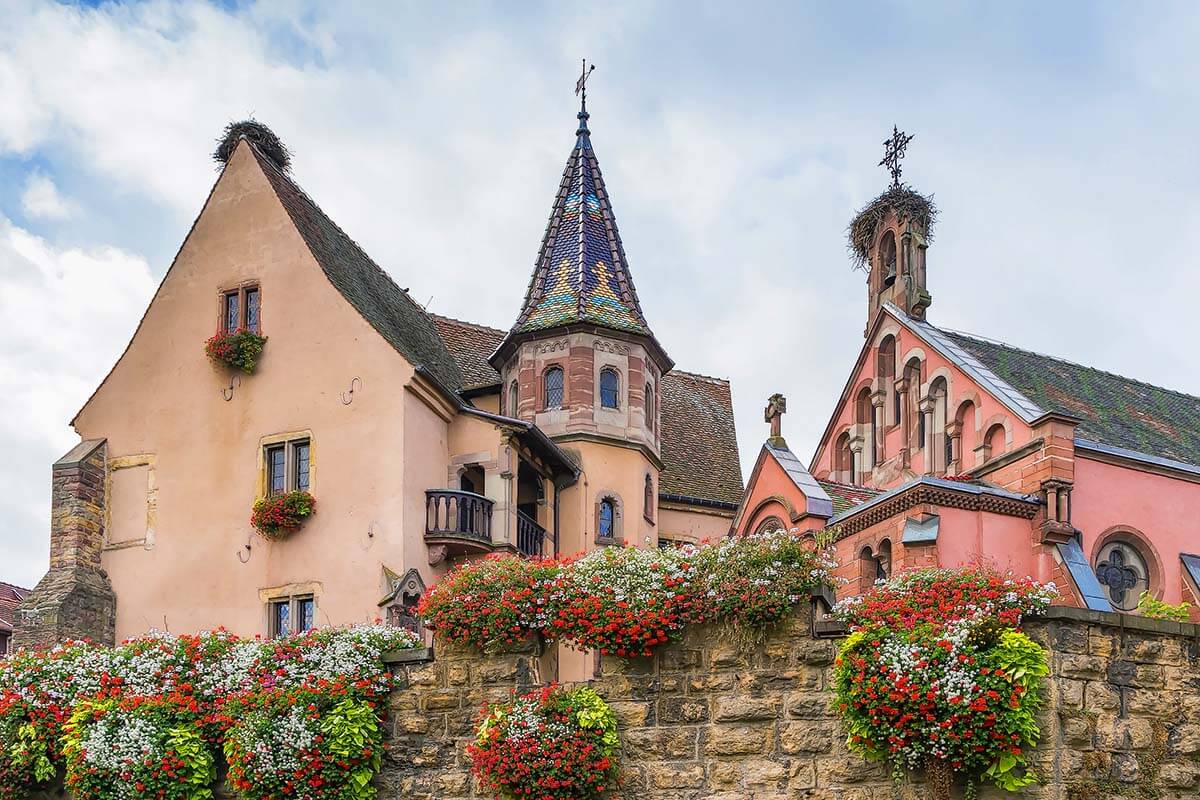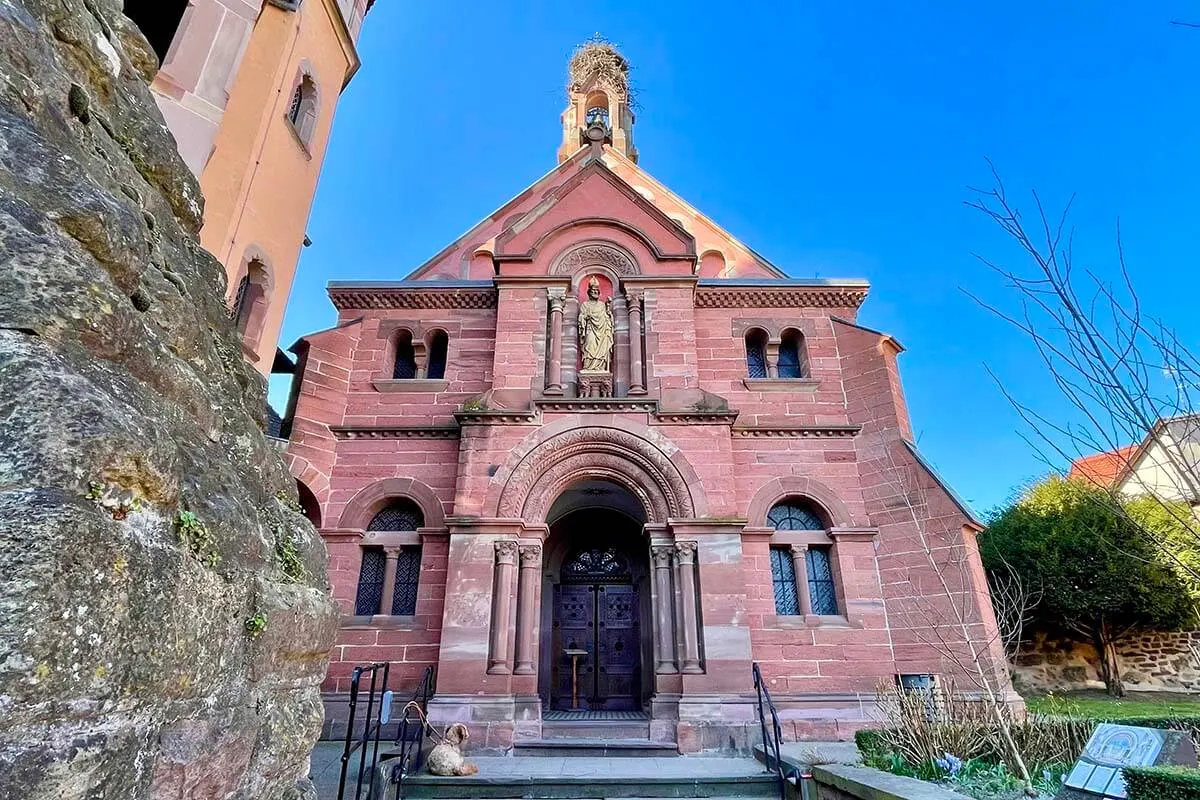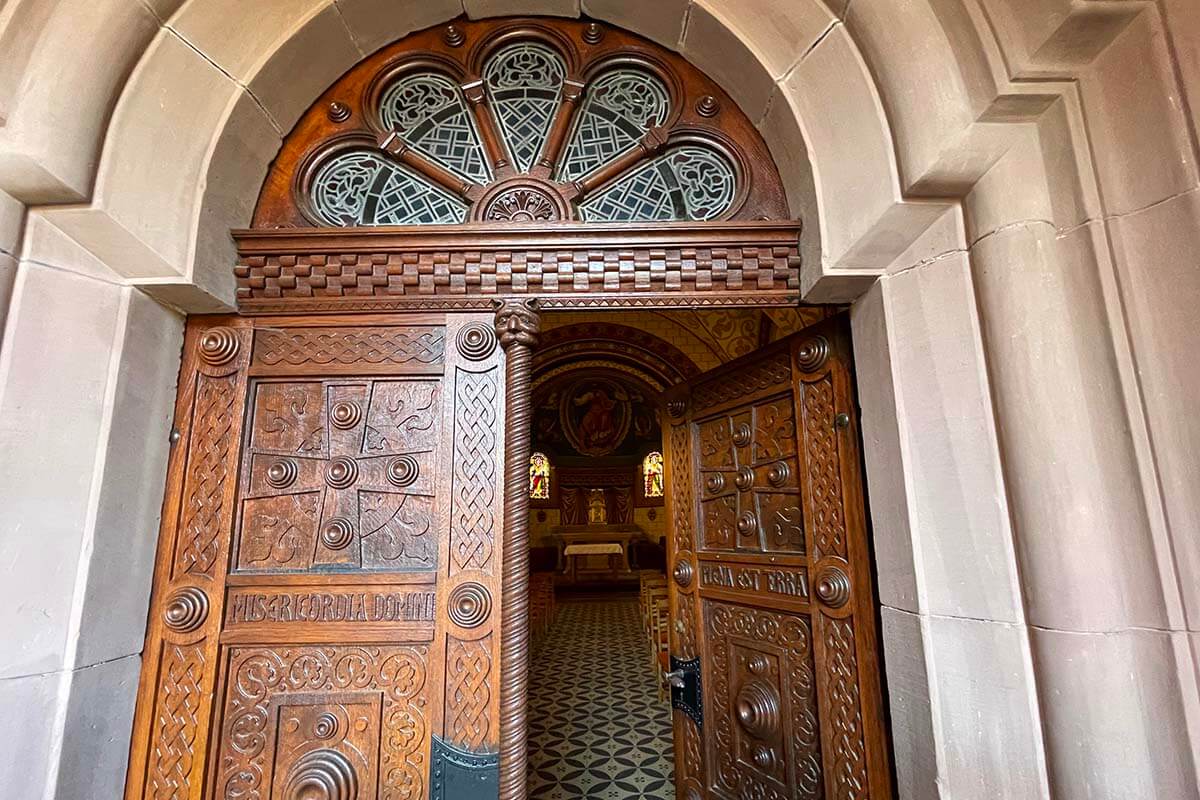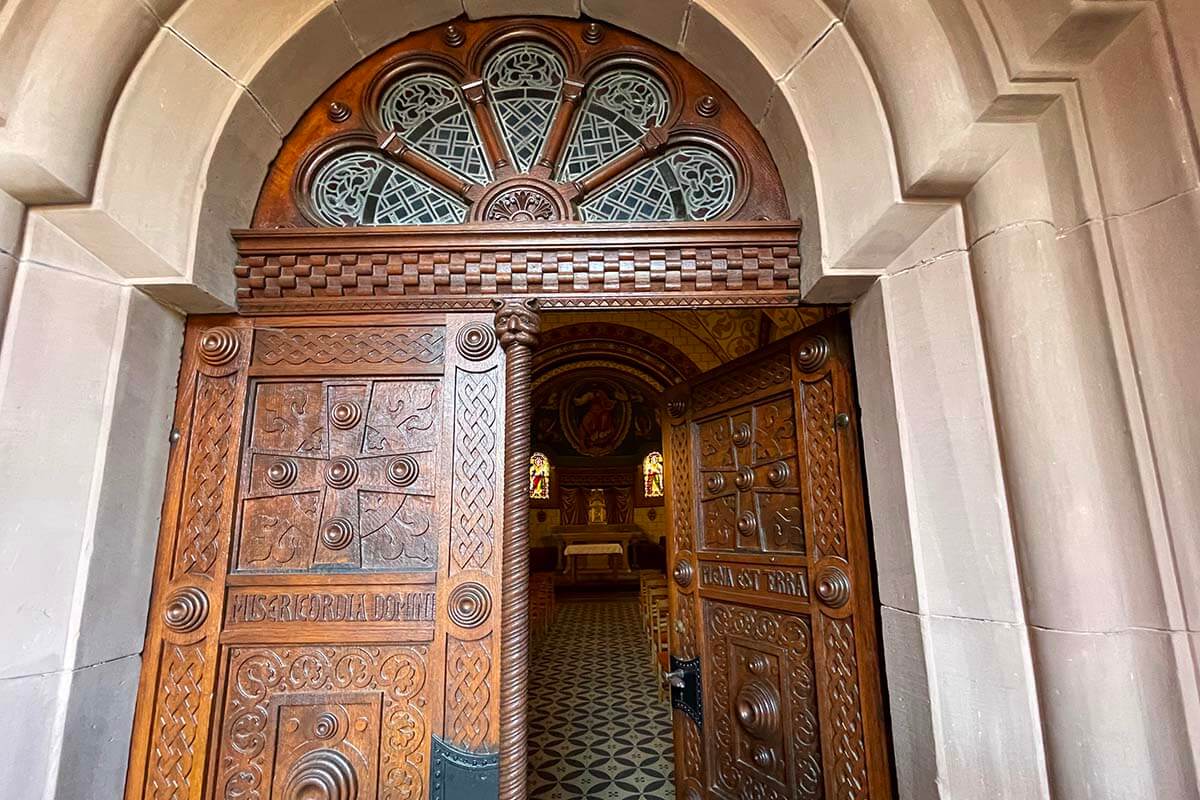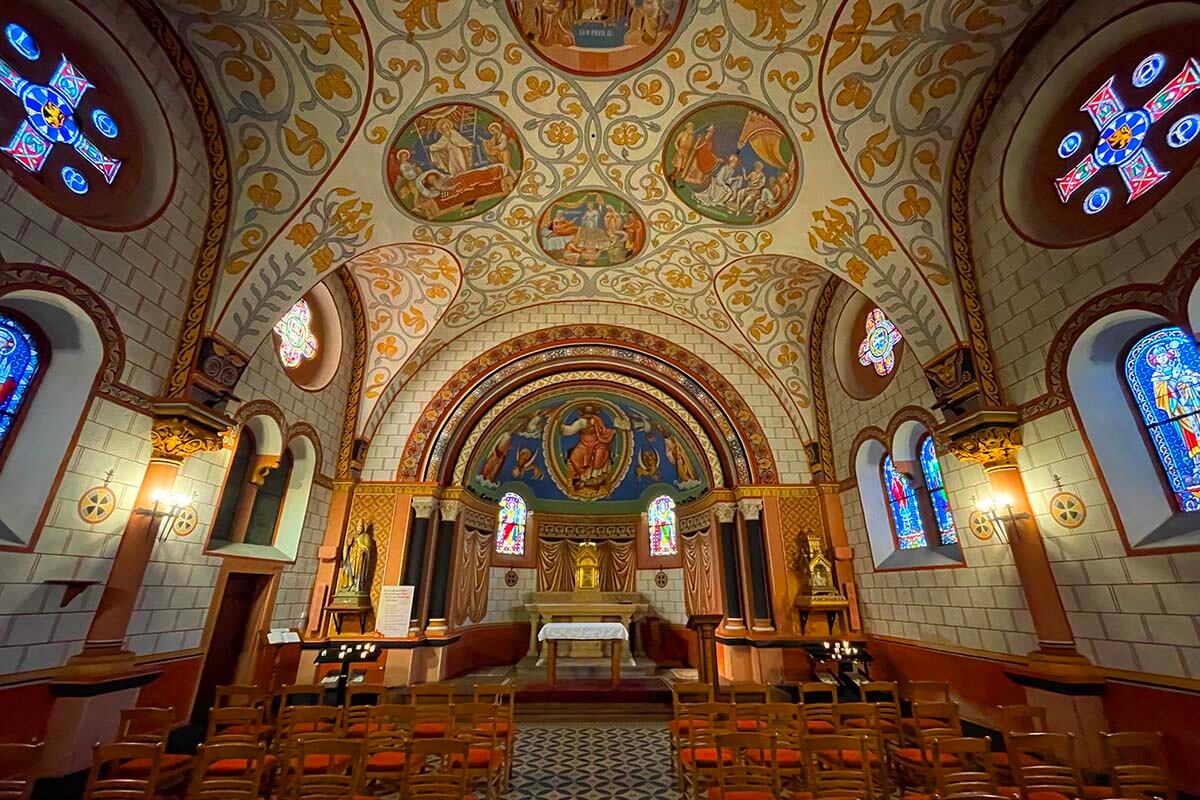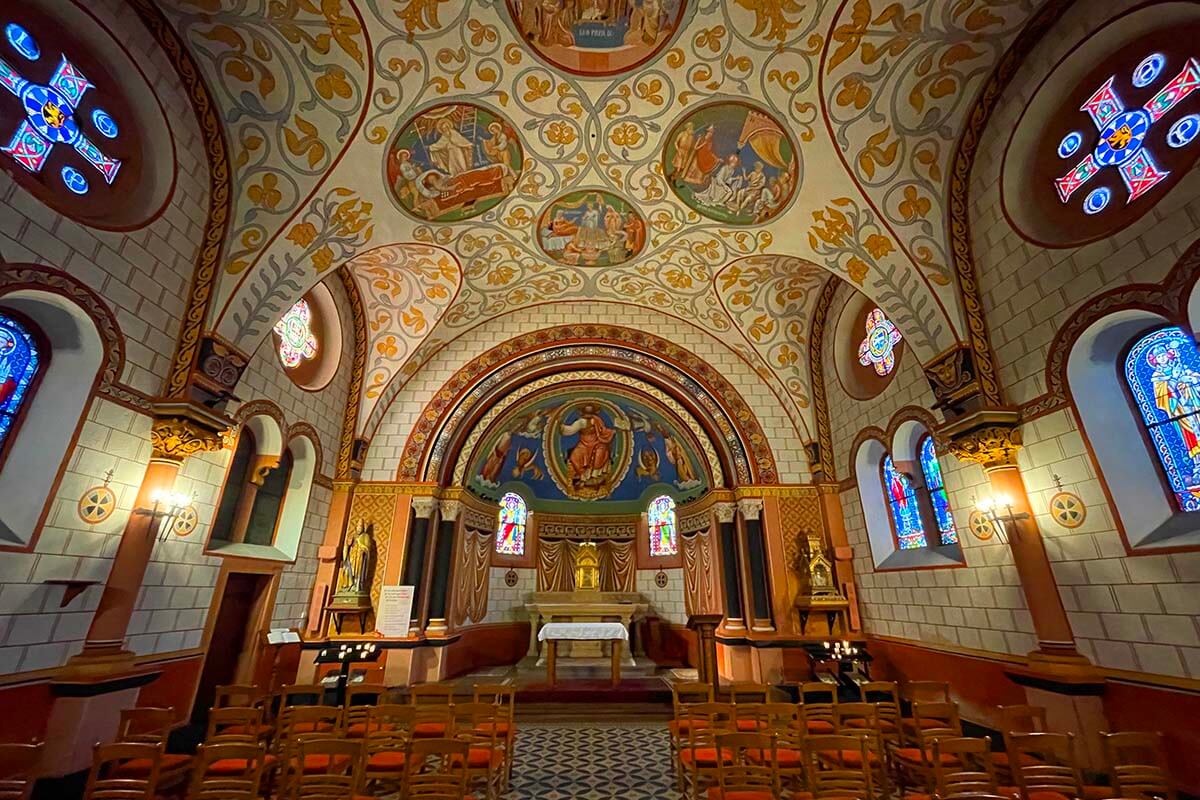 Saint-Léon Square & Fountain
Saint-Léon Square is probably the most beautiful place in Eguisheim. It's the heart of the town.
The square is dominated by the castle and in the middle stands a fountain with a statue of St. Leon. There are a couple of restaurants, cafés, and souvenir shops around.
In summer, the entire place is decorated with colorful flowers and is picture-perfect!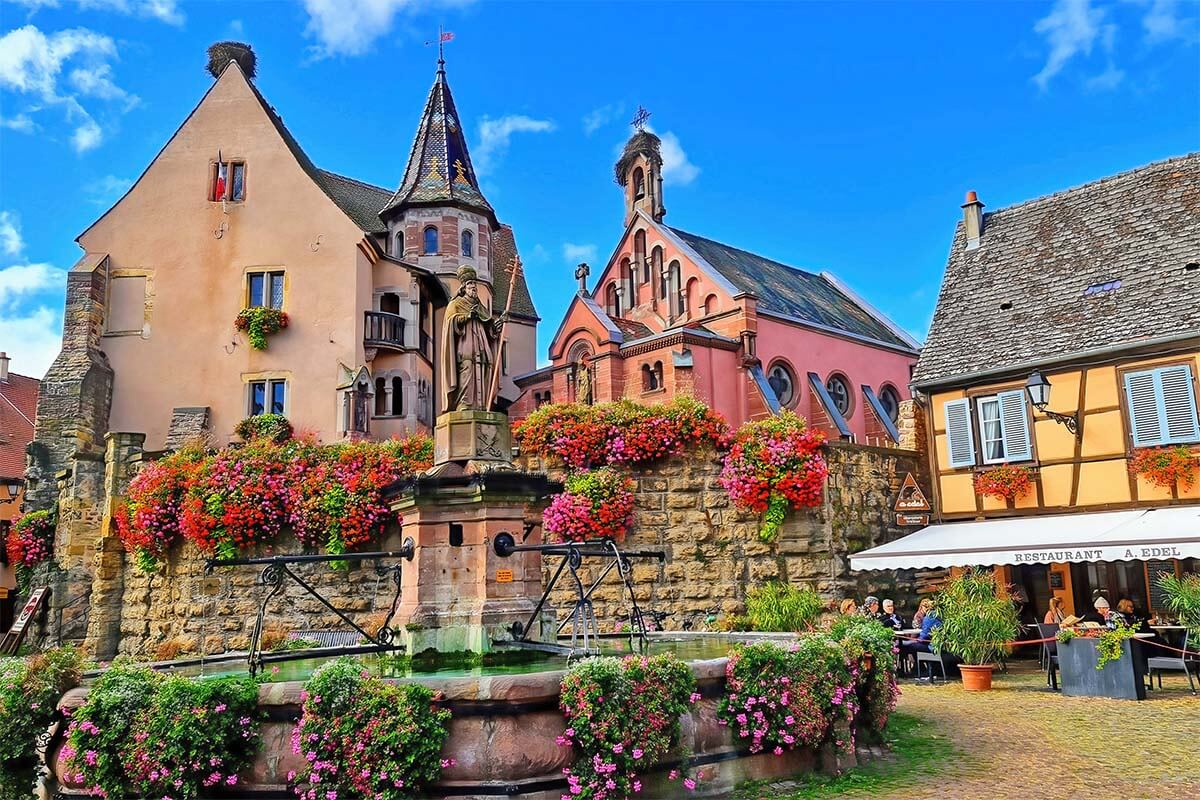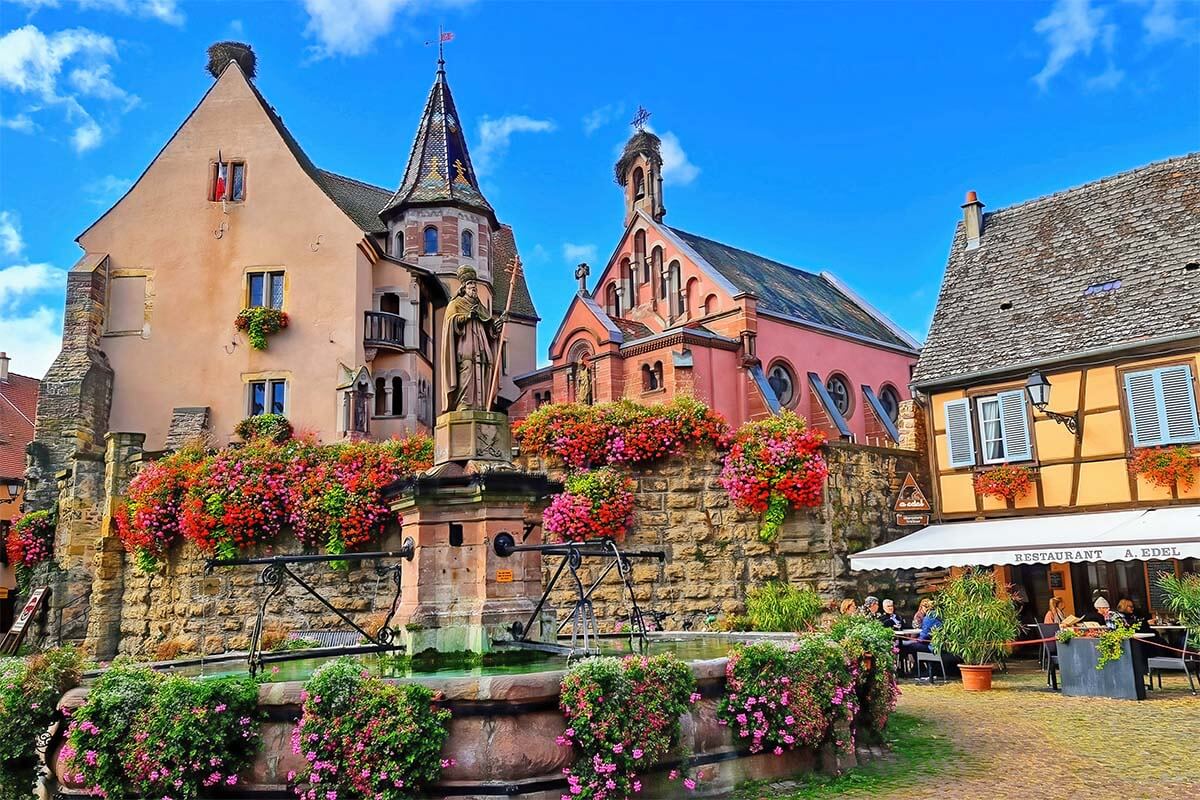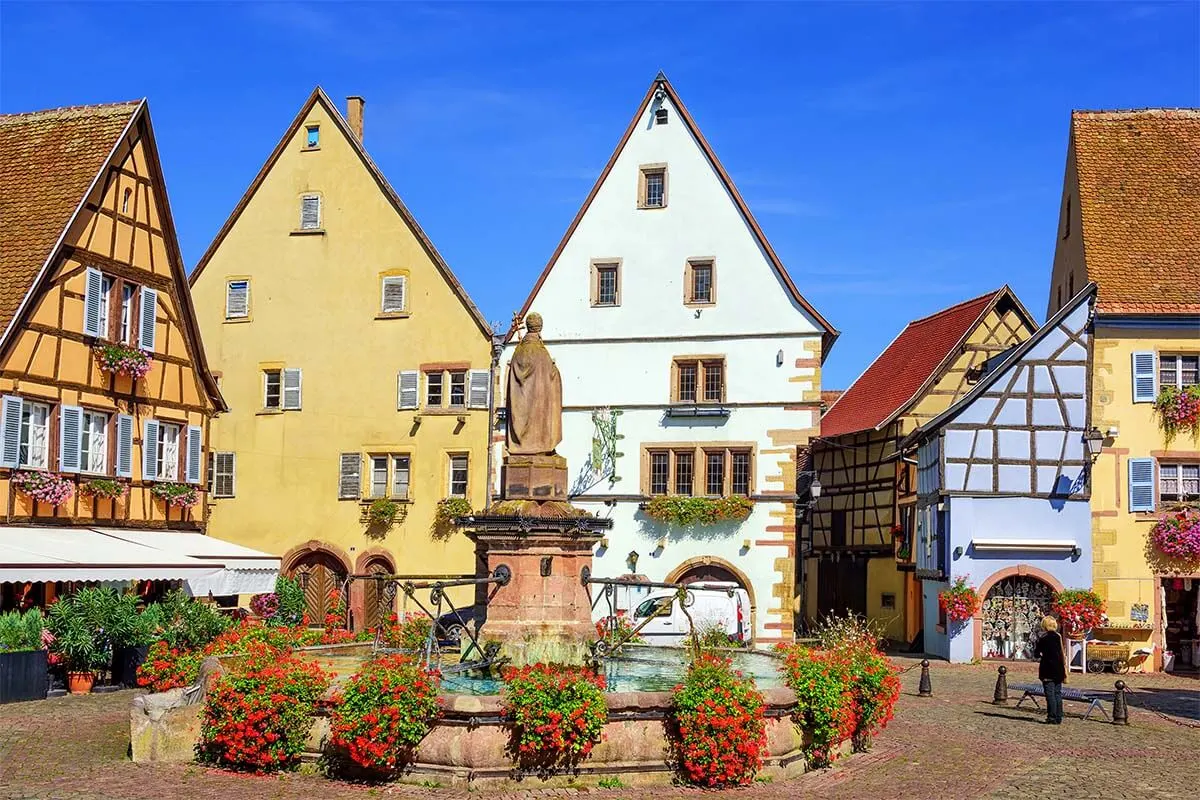 St. Peter & Paul Church
Église Saints-Pierre-et-Paul is another Eguisheim landmark that you shouldn't miss. It's the biggest church in town.
The main highlight here is a 13th-century small wooden statue Vierge ouvrante, the 'Opening Virgin'.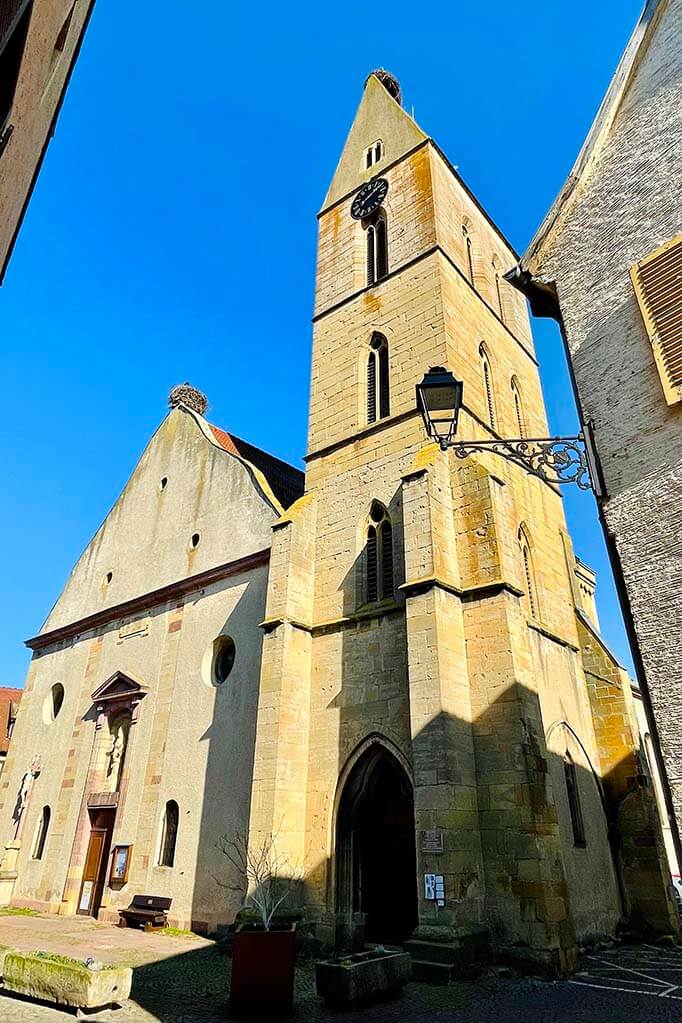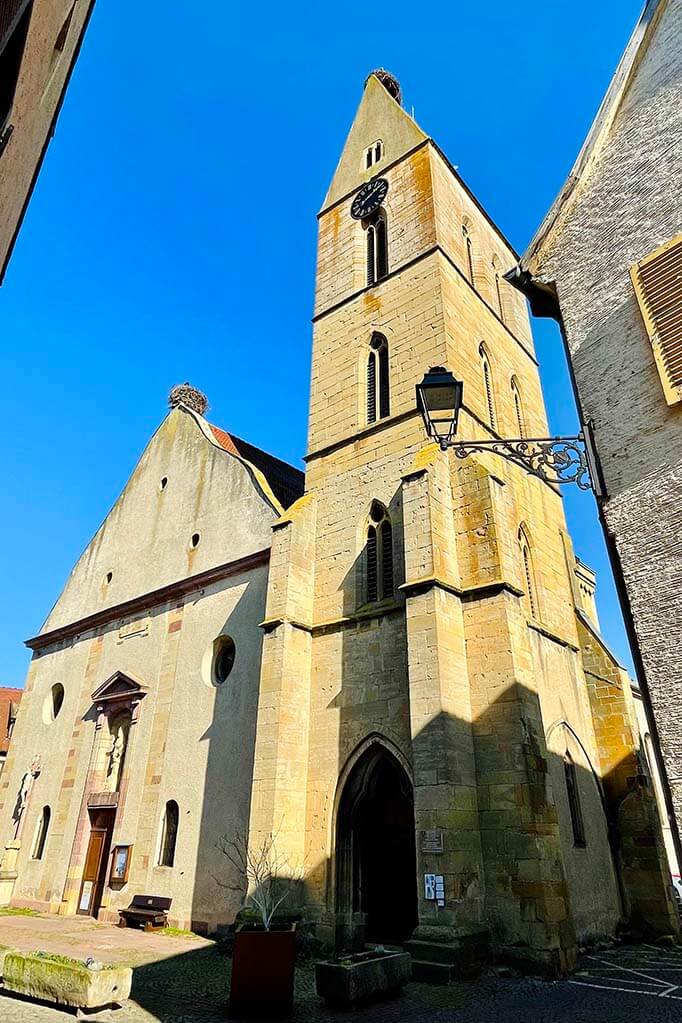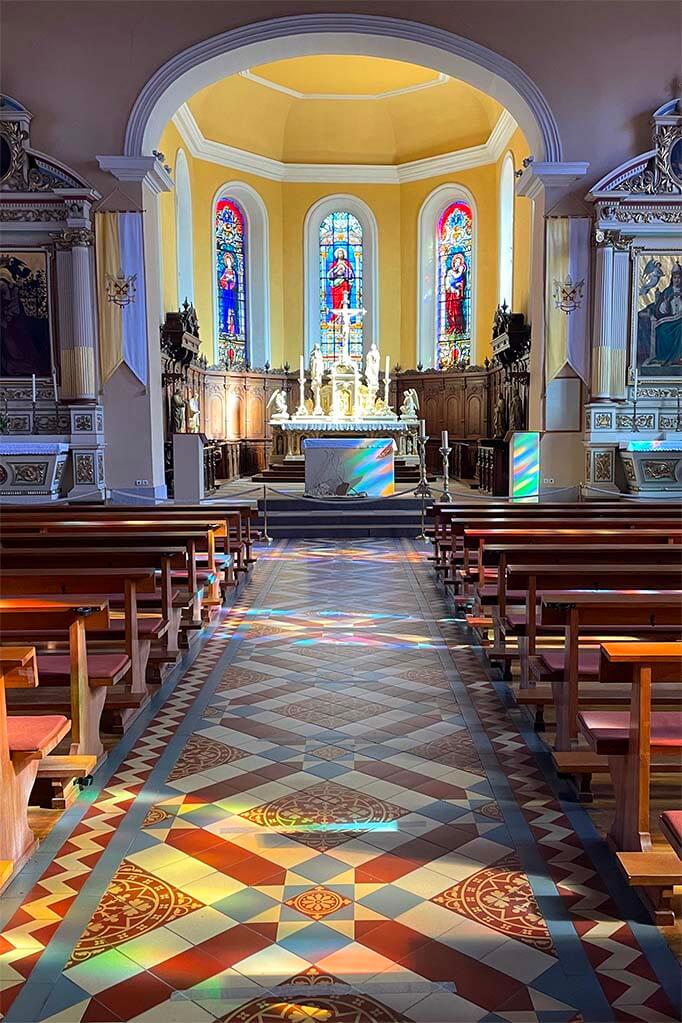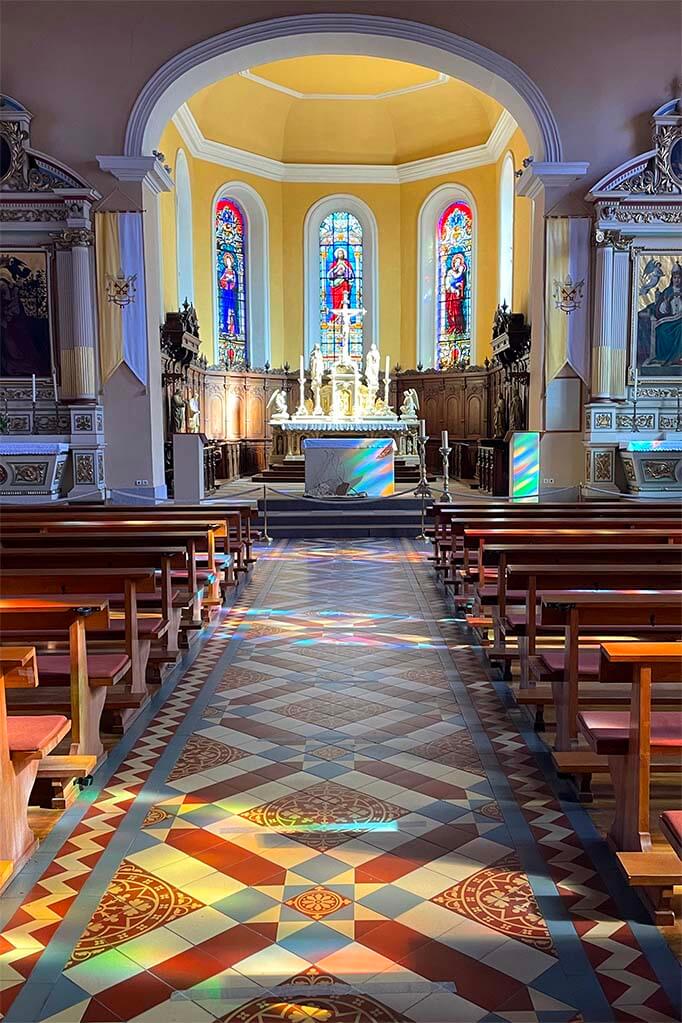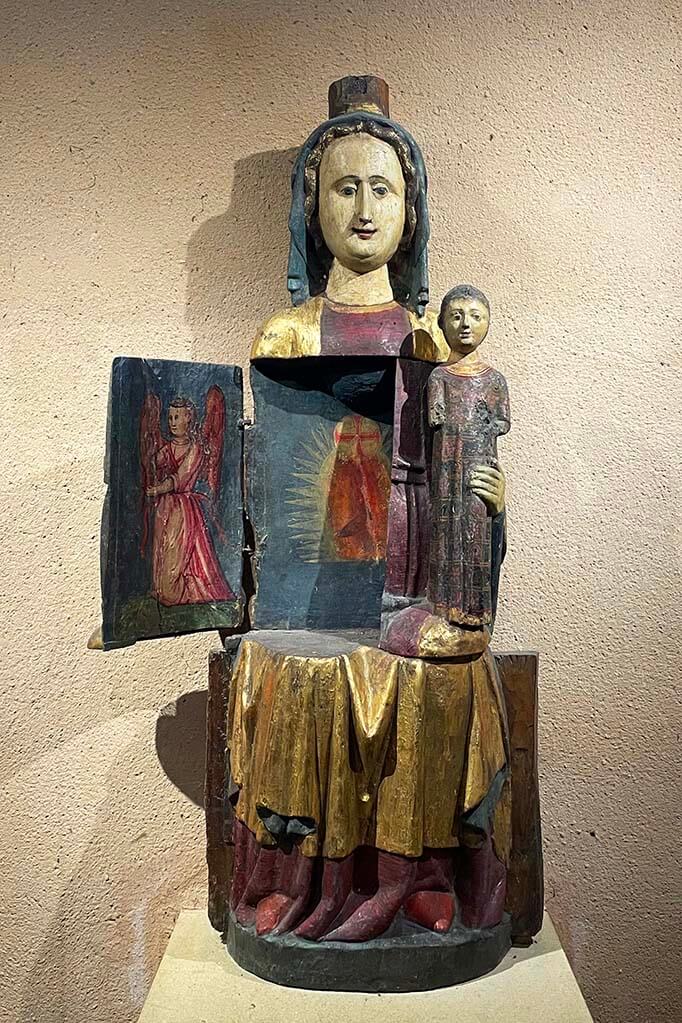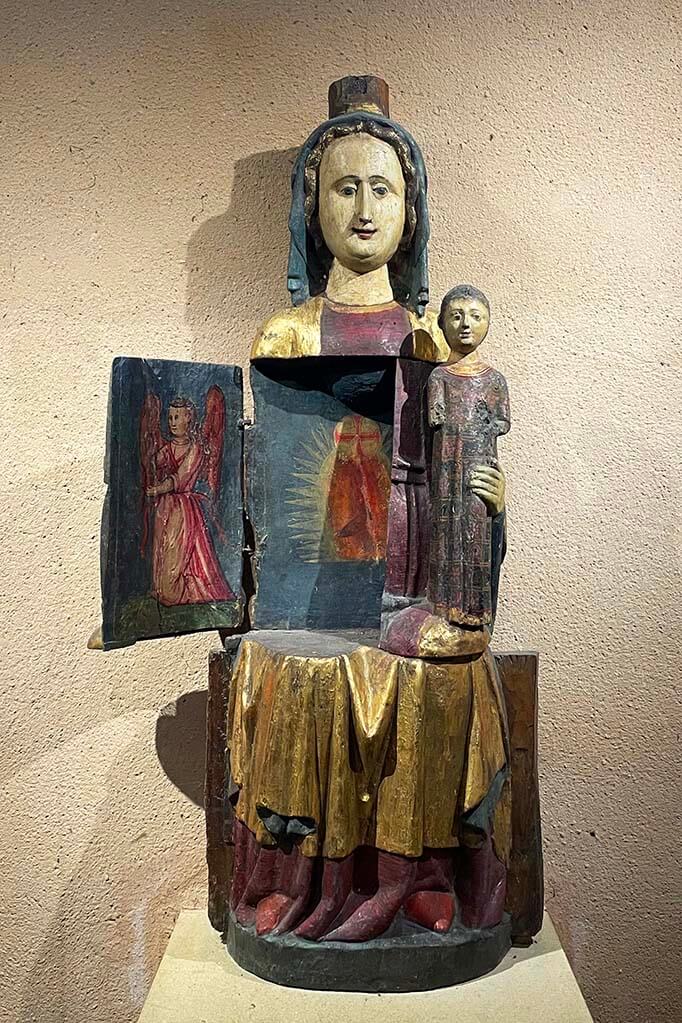 Town Gates
The medieval town of Eguisheim had four fortified entrances. They were used in order to control access to the city and collect entry tolls. These gates were mostly destroyed in the 19th century.
Today, you can still see the traces of two of the old town gates. One is located on the western side of the old town, in the direction of the vineyards, and the other – on the eastern side that gave access to an important trade route.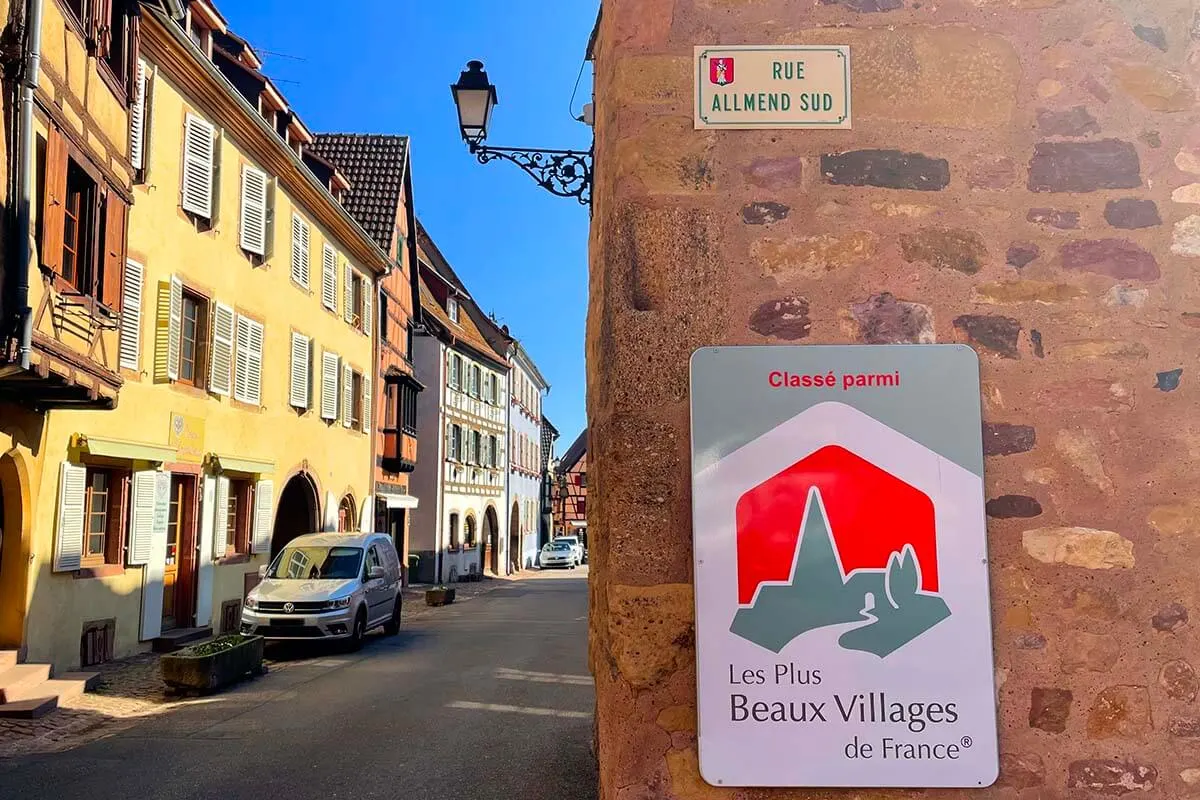 Souvenirs & Storks
As you walk around the old town of Eguisheim, you'll pass many local cafes, restaurants, quirky shops, and souvenir stores.
If you want to get some traditional souvenirs in Alsace or some artisan food, Eguisheim is a good place for that.
Everywhere you go, you'll see all kinds of objects with storks, which are the symbol of the Alsace region. And while you are at it, look up to the rooftops and chimneys – you'll likely see at least a few stork nests in any village in Alsace.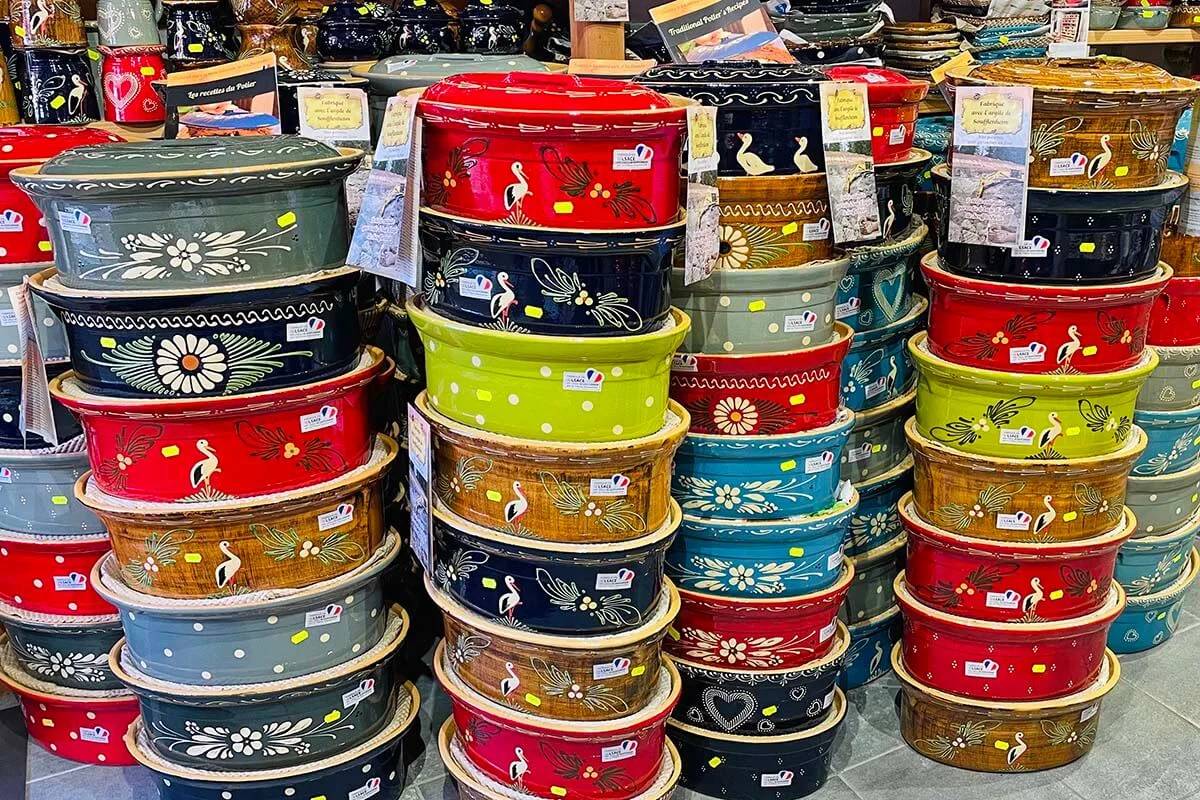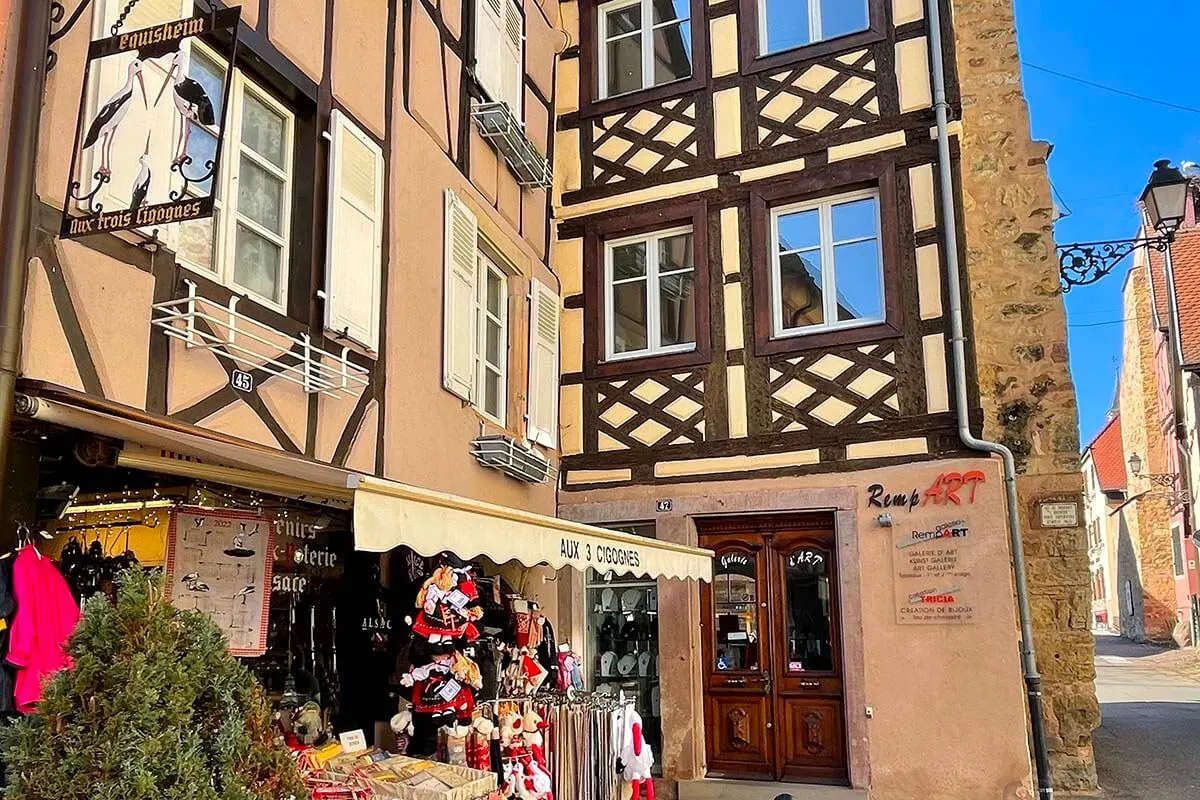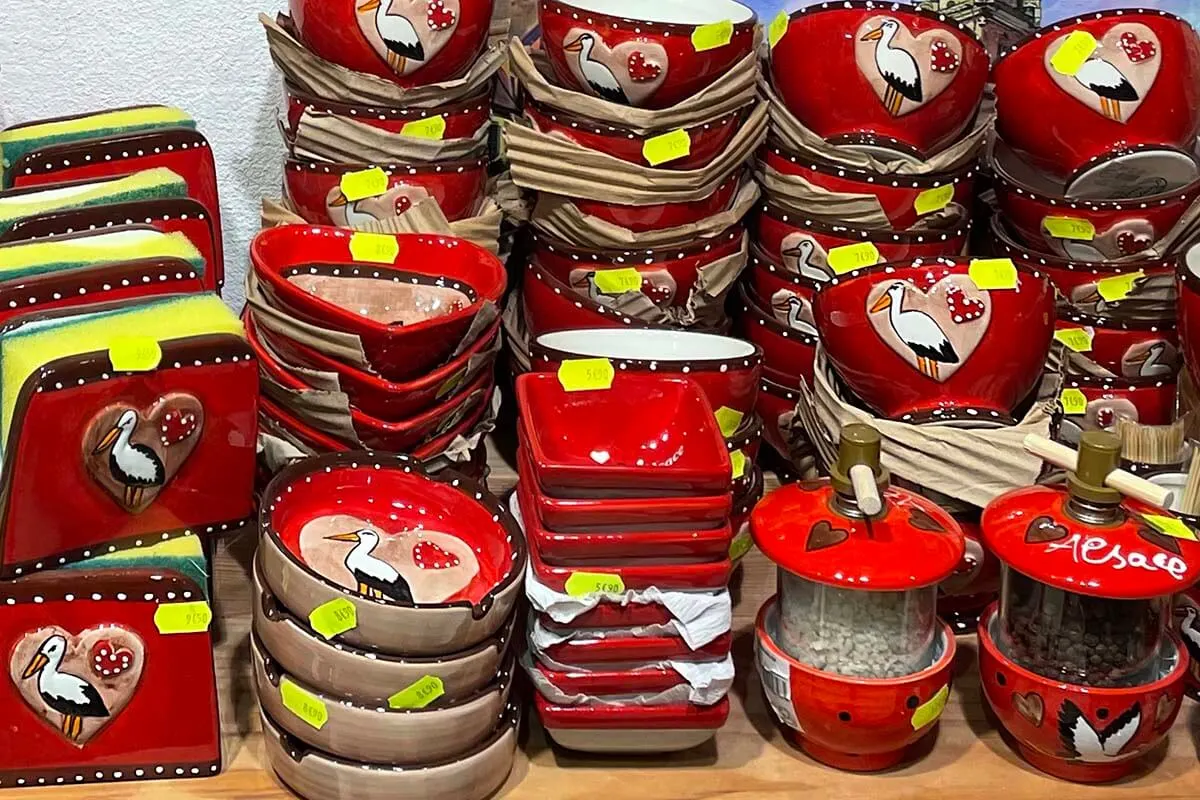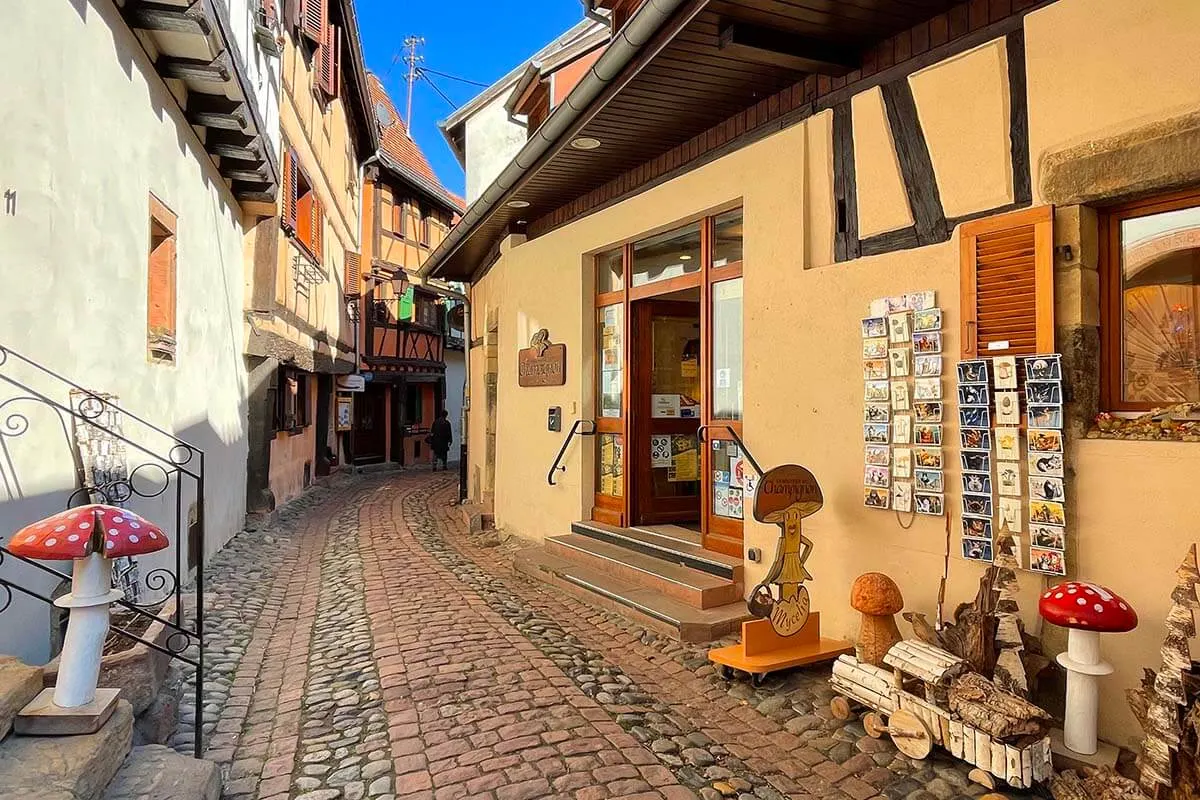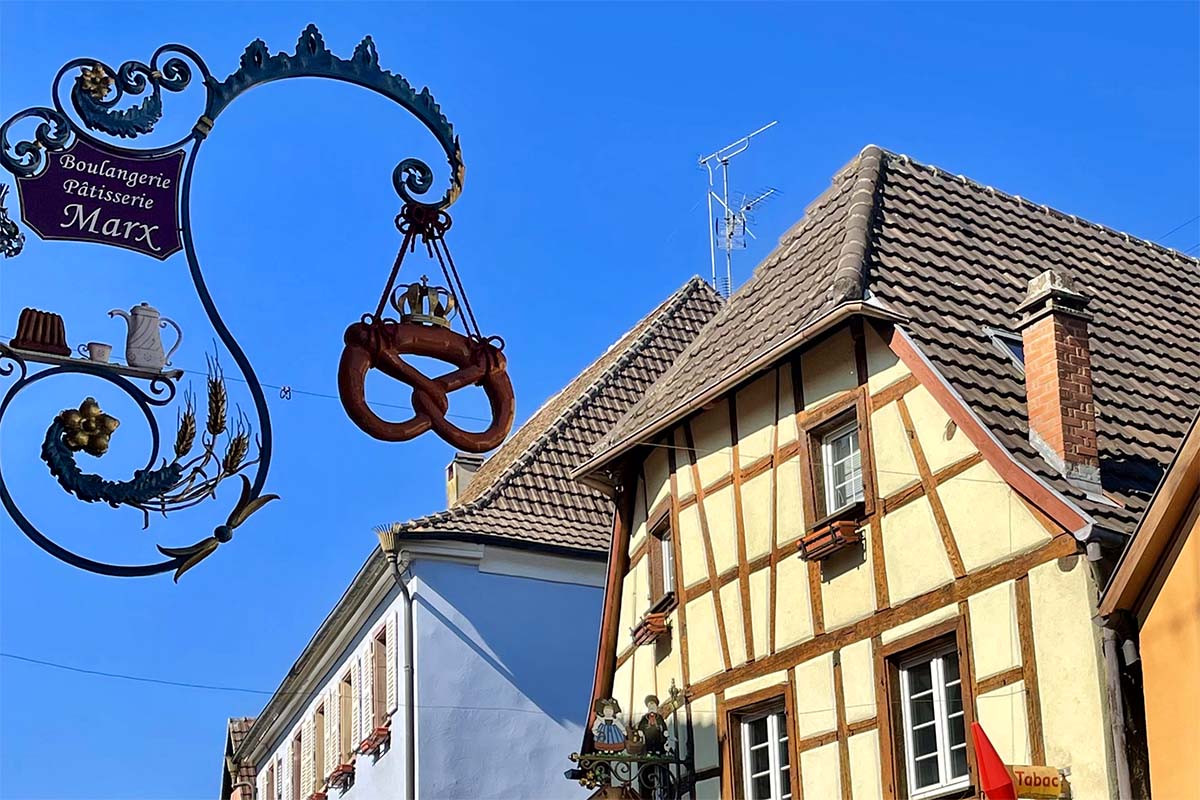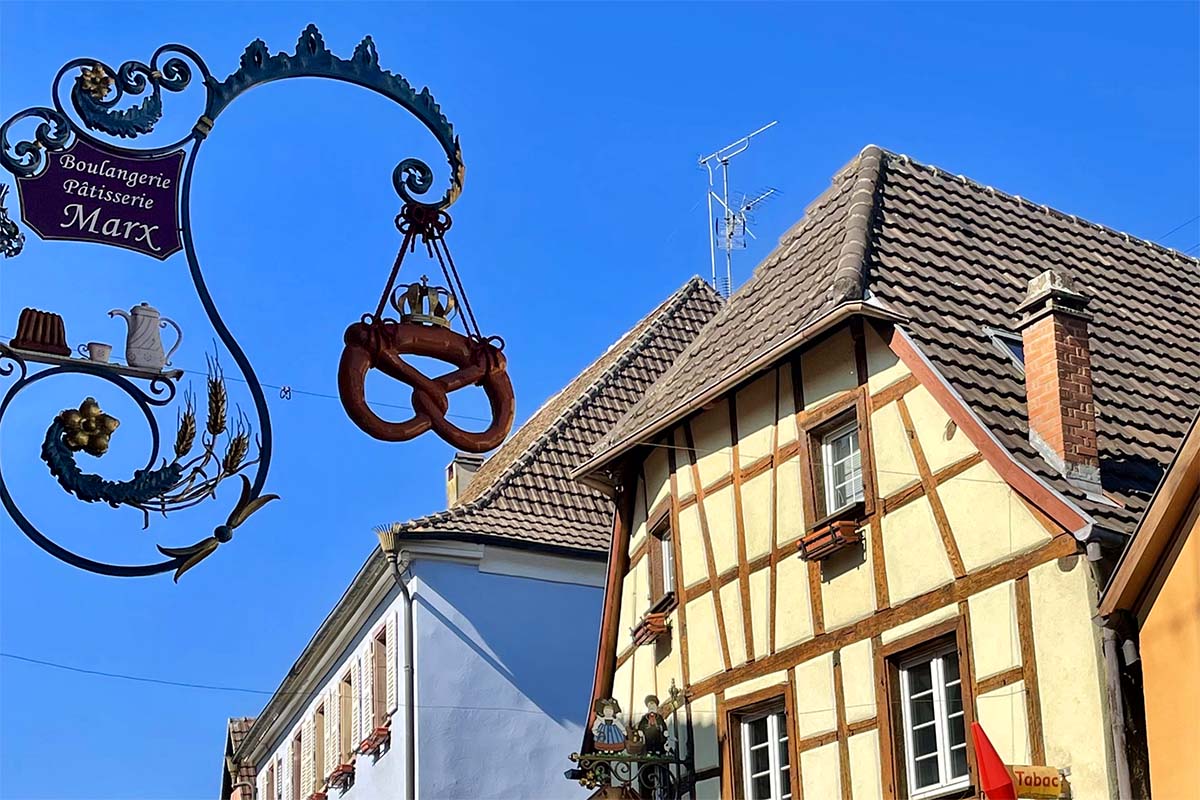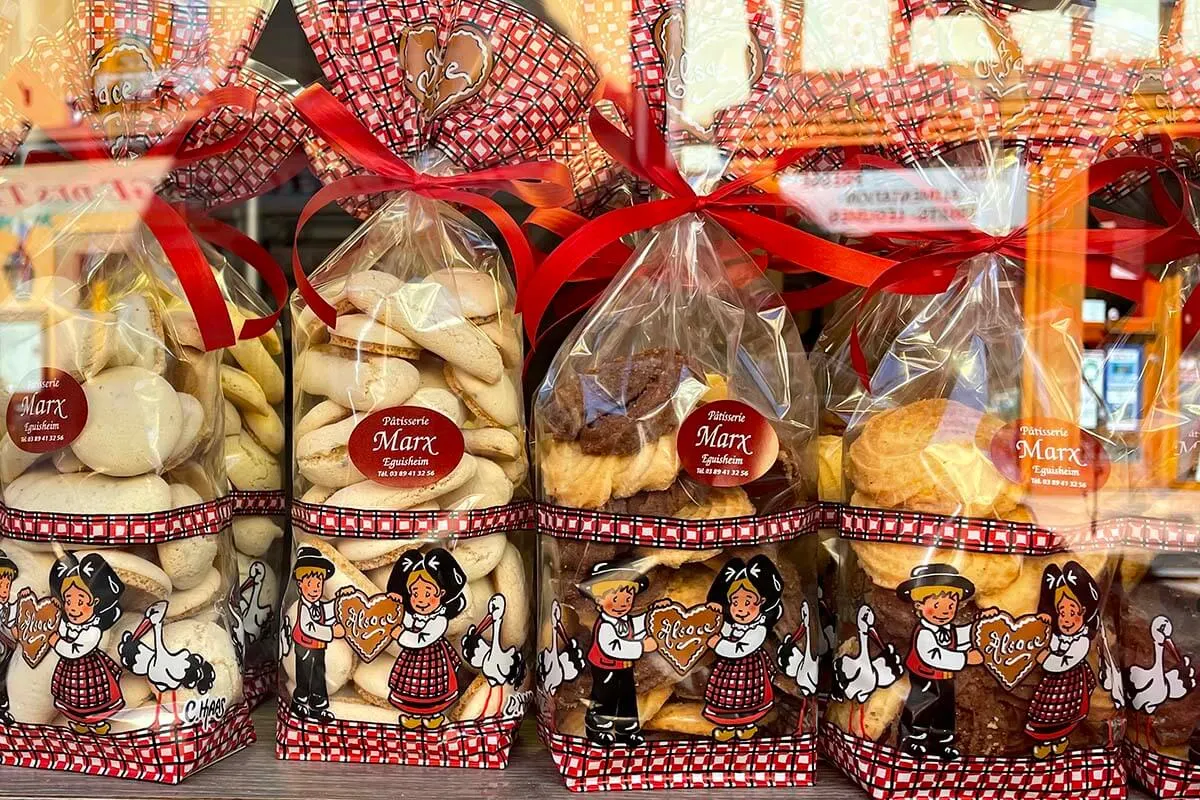 Local Food
If you have some time to spare, I highly recommend trying some Alsatian specialties at one of the local restaurants in Eguisheim!
We were in Eguisheim at around lunch and had tarte flambée or flammekueche (a sort of Alsatian pizza) and galettes de sarassin (savory pancakes), and the kids all opted for different kinds of crêpes sucrées (sweet pancakes). For drinks, try cider or local wines.
READ ALSO: Traditional Dishes to Try in France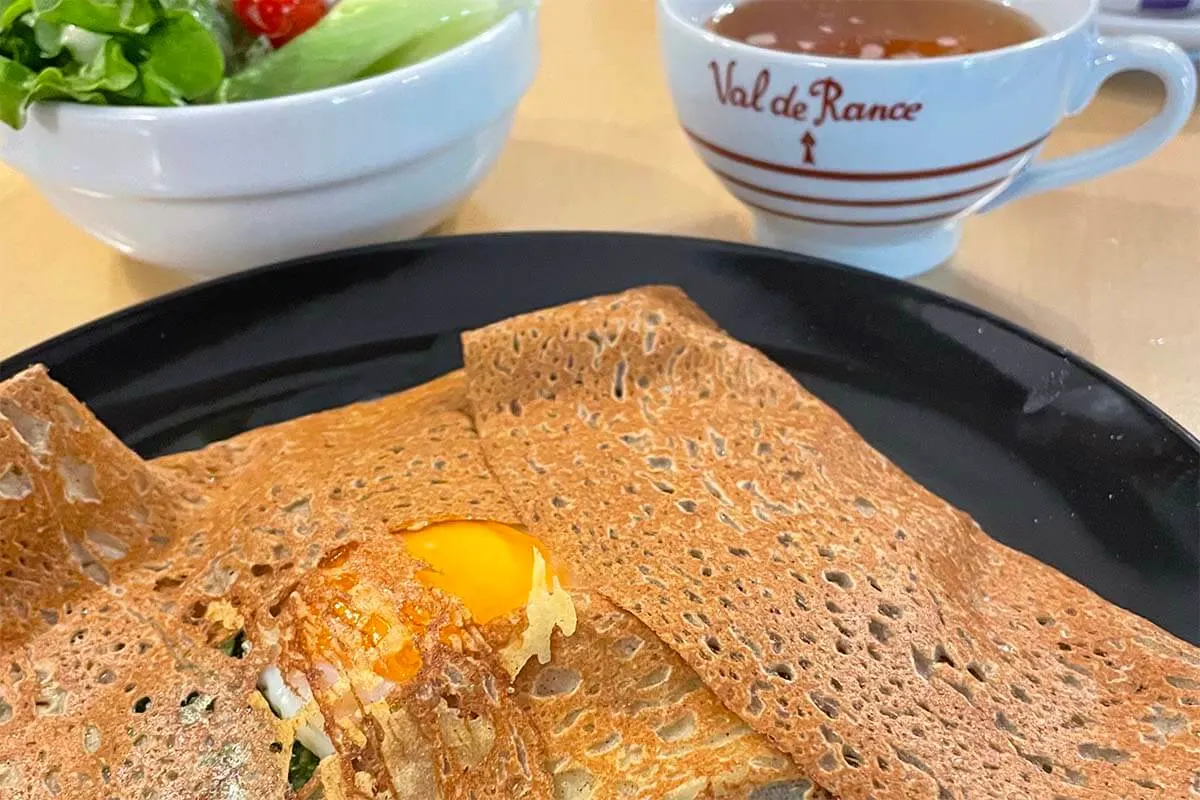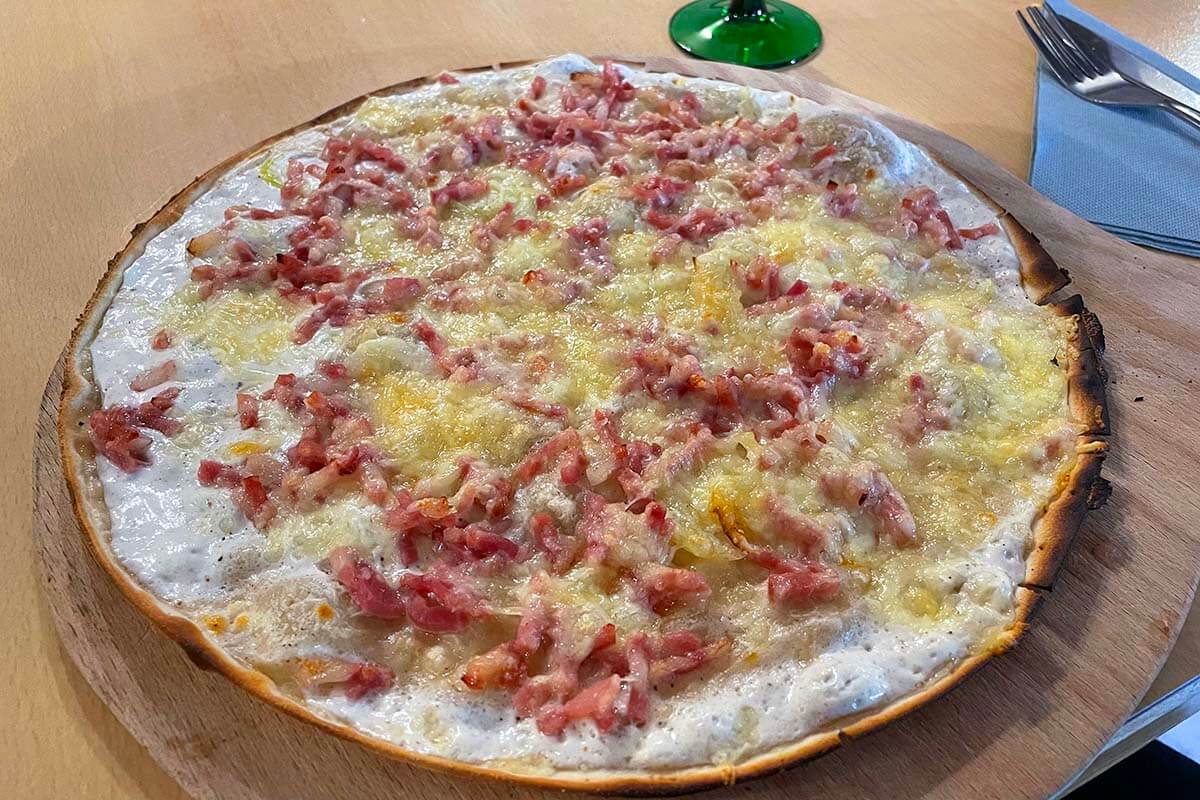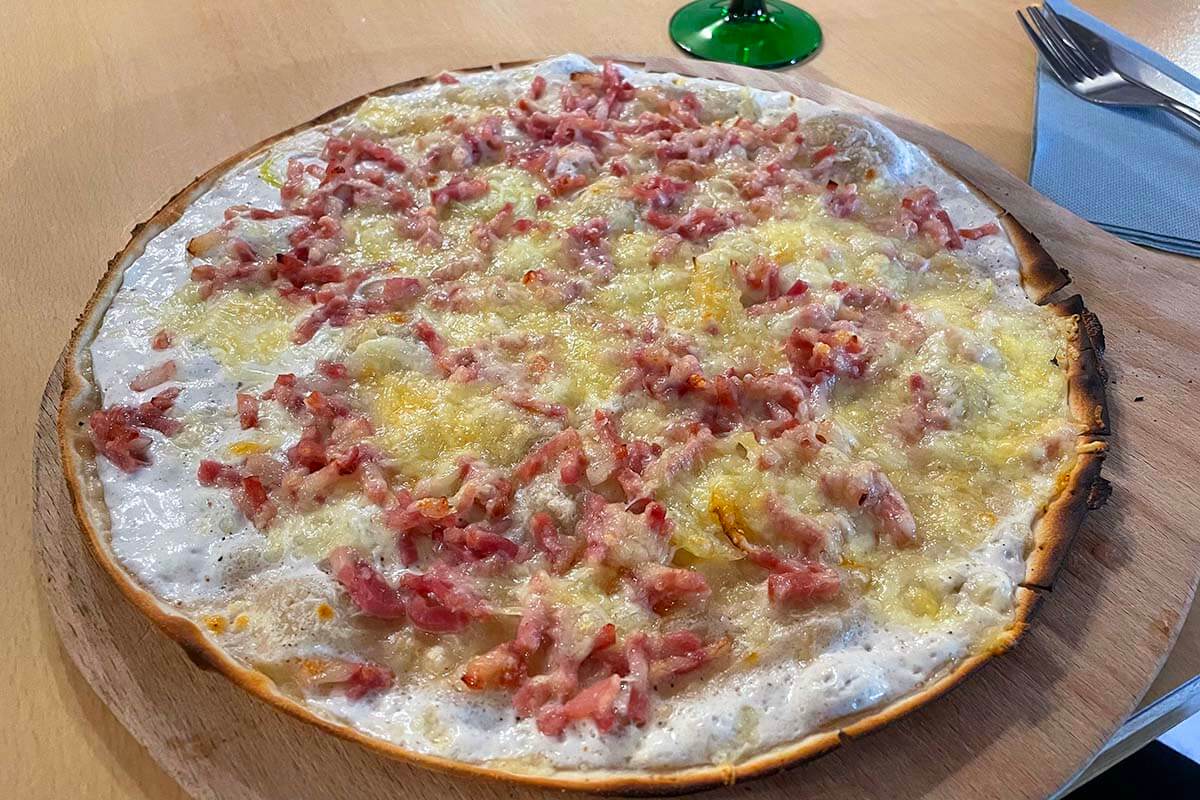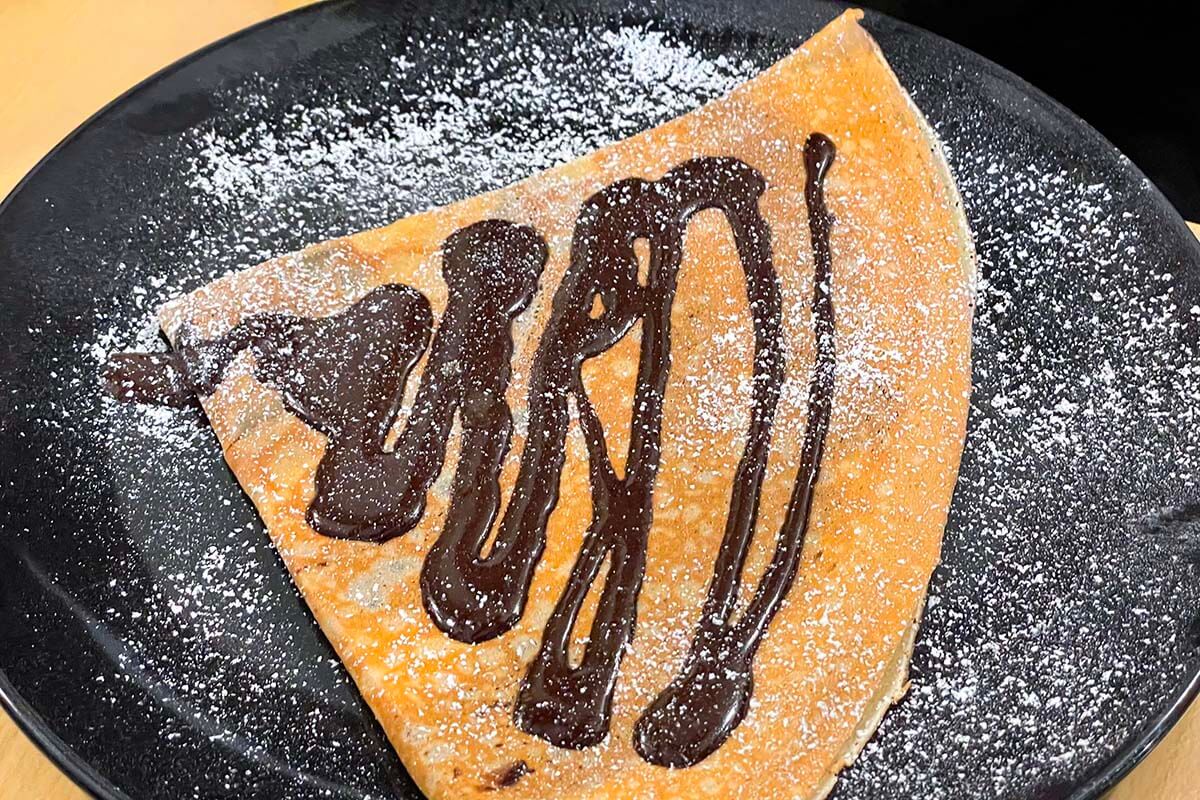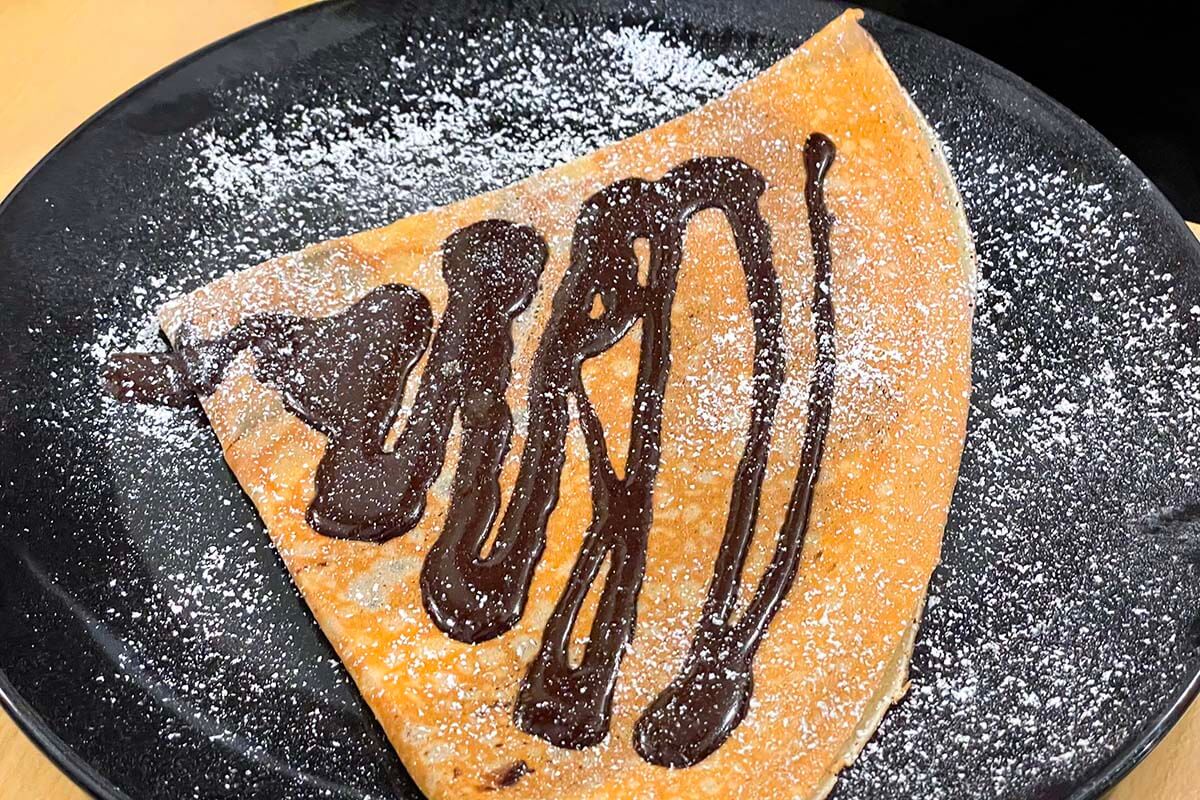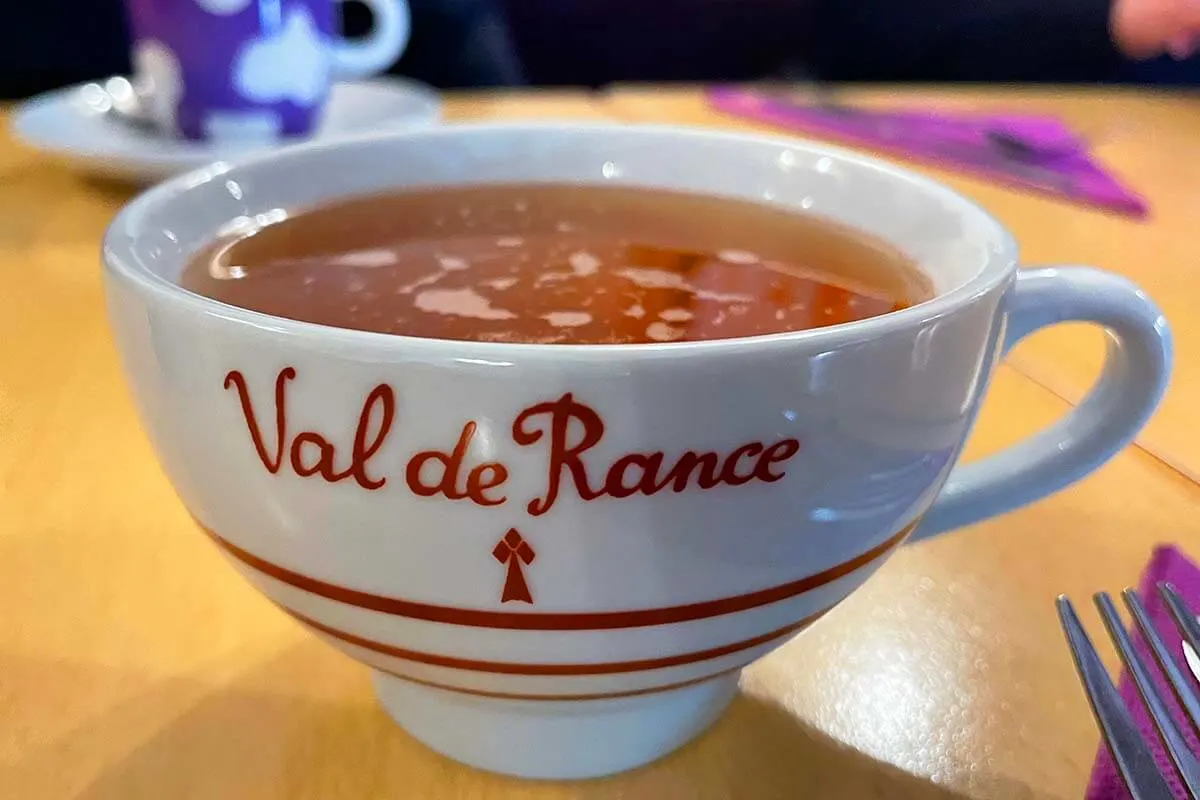 There are also several food stores selling local cheeses, cured meats, etc. They'll usually offer to taste something for free, but if you are tempted to buy something, beware that prices at some of them are really high.
TIP: If you want to buy something, look for a store that has a clear price indication per item rather than by weight. That way, you'll avoid very unpleasant surprises (talking from experience here where our kids were lured into one such shop and we ended up with a piece of cheese and a sausage for a total price of 38 EUR).
To put things into perspective, our wonderful lunch at a small local café called La Galinette cost just 55 EUR for the five of us.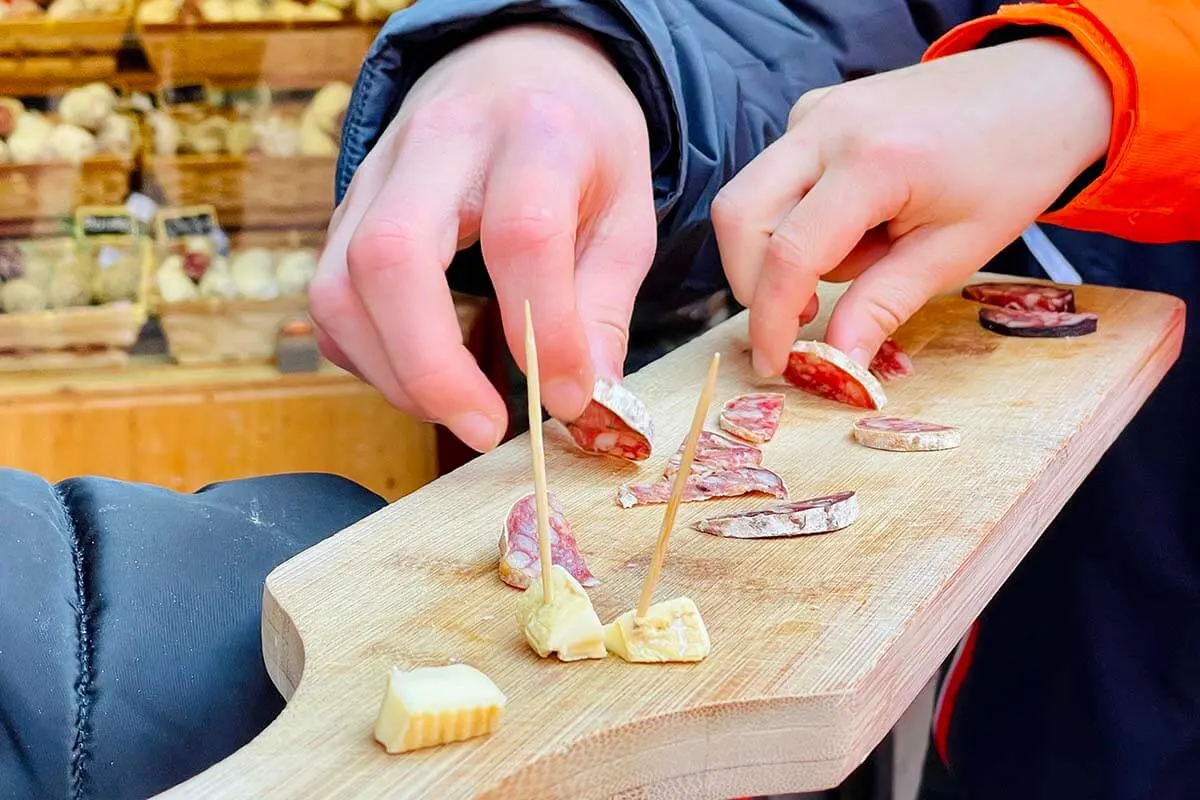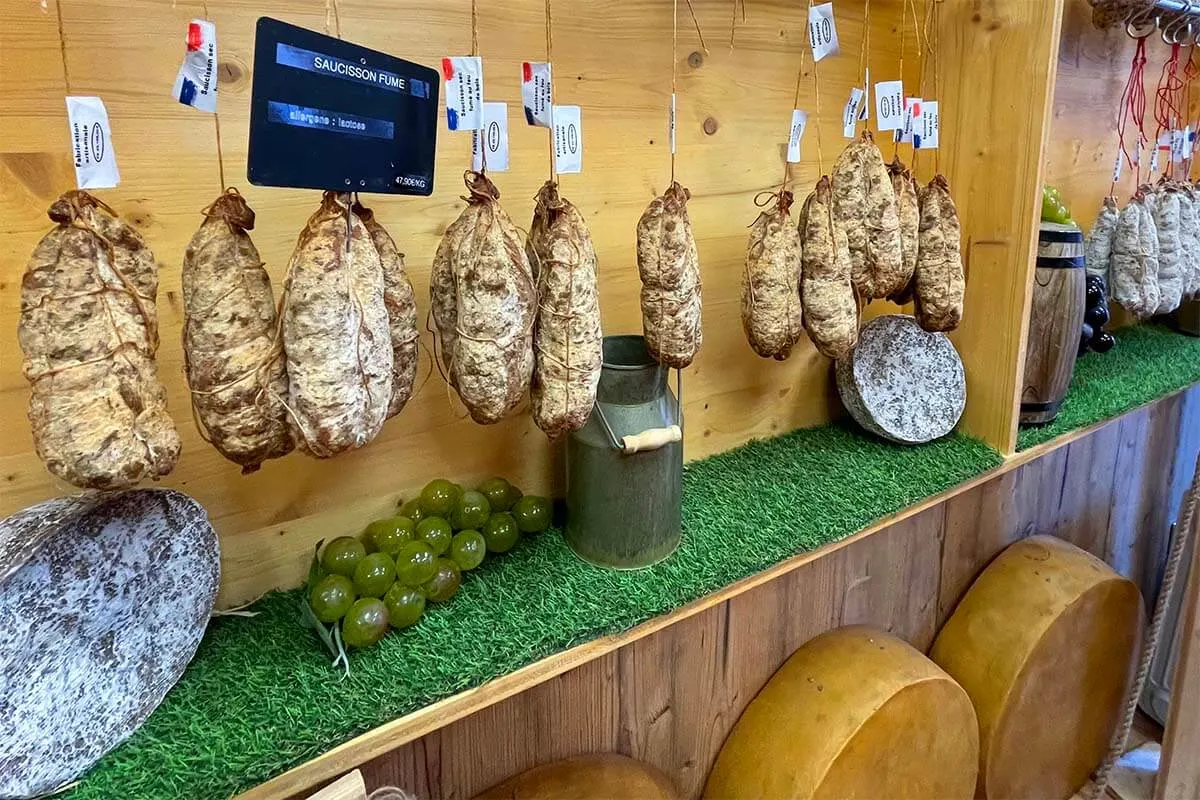 Wineries and vineyards
Eguisheim is known for its excellent wines. The easiest way to taste them is simply at one of the local restaurants, but you can also visit some wine houses/caves. Some of them might also offer a tour – ask at the local tourist office.
We also saw a local company organizing segway tours of the vineyards (located on the Grand Rue), and also a company that rents bikes and also offers some route suggestions (located close to the Tourism Office). So if you have some extra time, it might be something fun to do in Eguisheim, certainly if visiting in the summer.
You can also book a private bike tour of the vineyards in this area. Here's one highly-rated bike tour that I found that starts in Voegtlinshoffen, just 3km from Eguisheim, and it also includes wine tasting.
In the summer season, you can also take a little tourist train that brings you on a tour through the vineyards around Eguisheim. See their website for more info, but it's not something you can reserve anyway, so just see when you get there.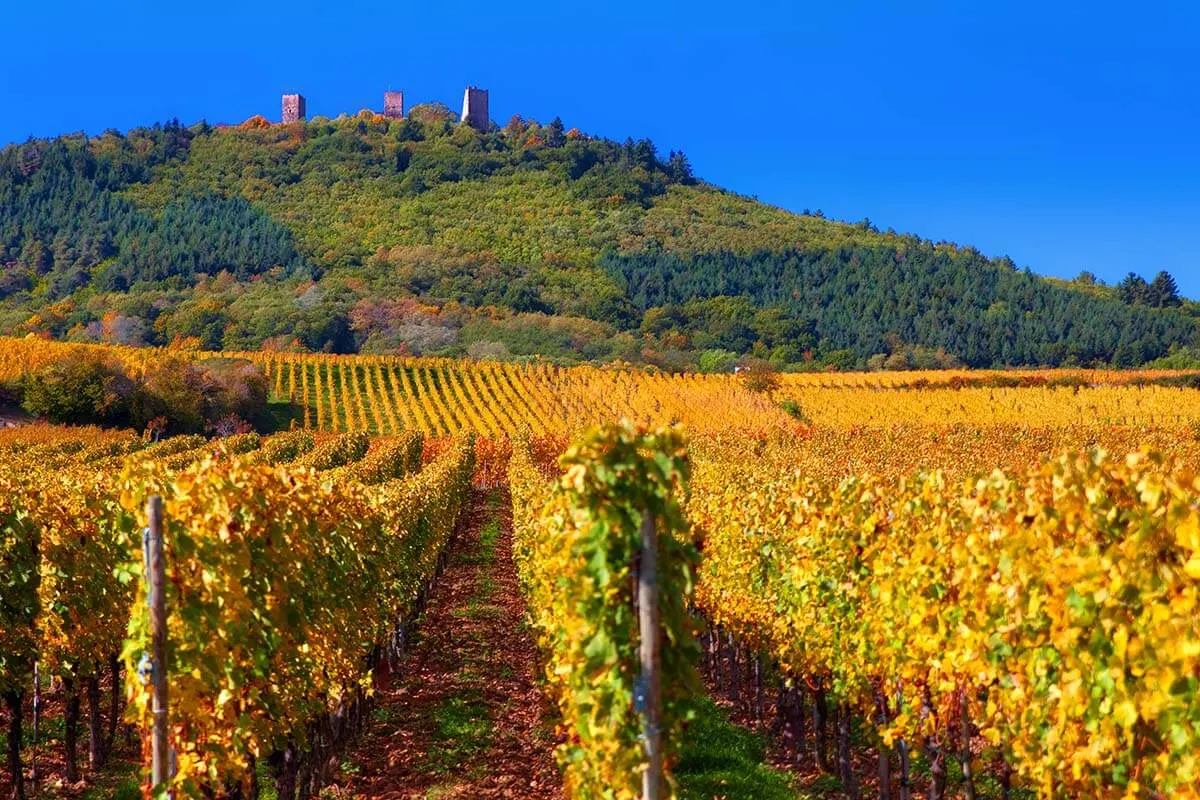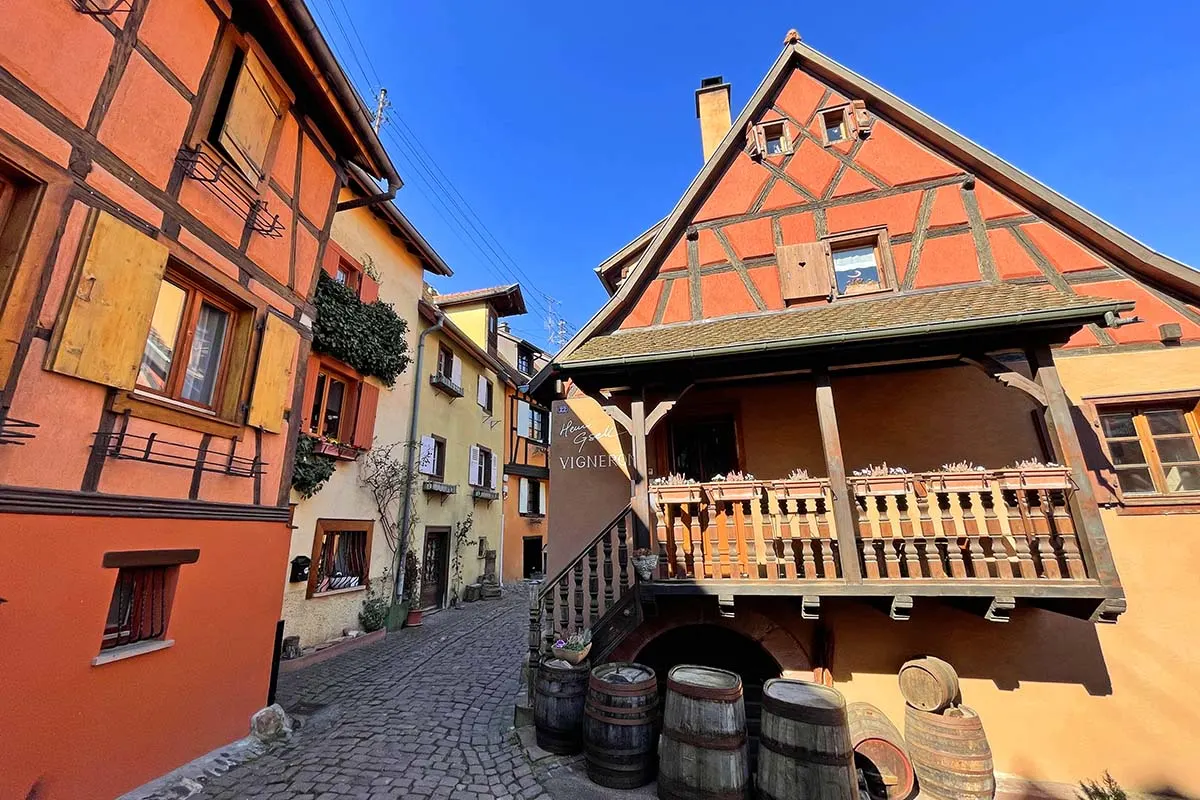 If you are traveling by car, you can also get some wine to take home with you (we always do when passing Alsace). In Eguisheim, we visited the big wine house Maison Wolfberger – Cave & Boutique d'Eguisheim. It's easy to reach by car and has big convenient parking.
They have a glass-floored room where you can see huge wine barrels in the basement and also watch a video about winemaking in the region. In addition, they offer a few tastings per person for free and have a big shop where you can walk around on your own and choose the wines that you like.
But if you are looking for a more authentic feel, check out one of the many independent 'vignerons'. You'll find quite a few of them in Esguihseim's old town.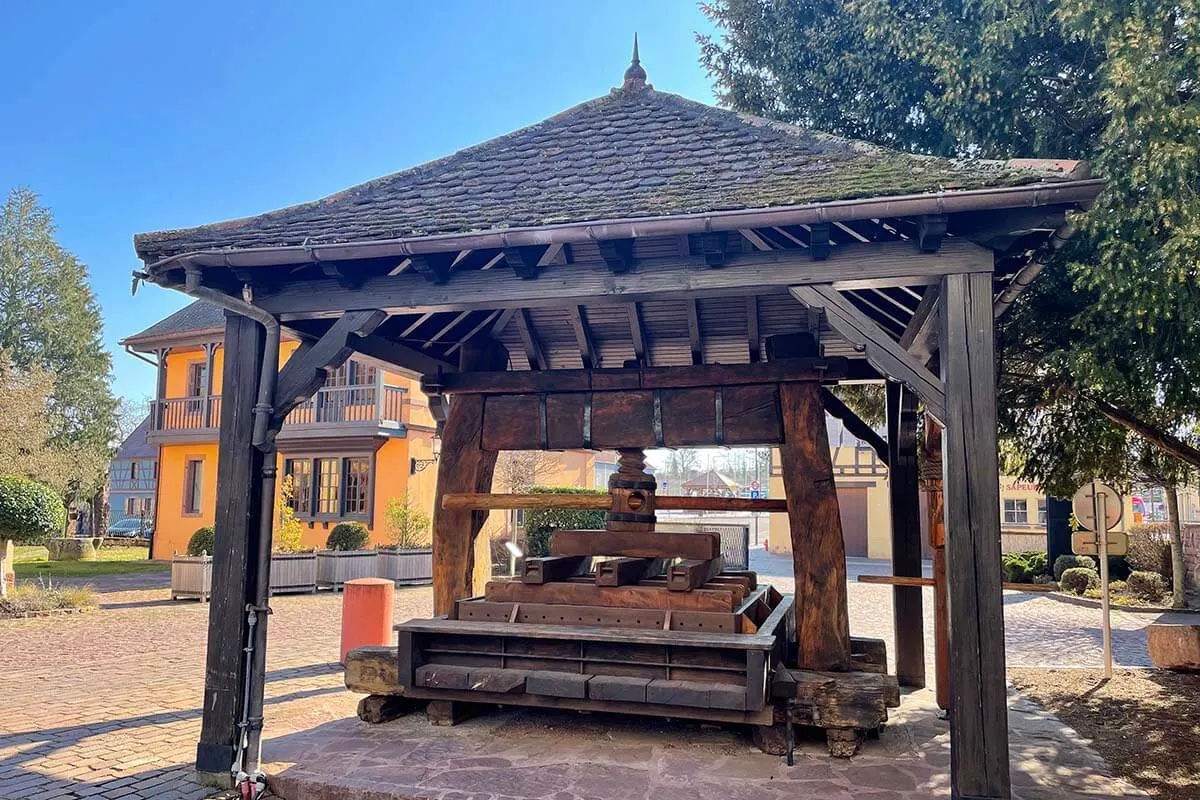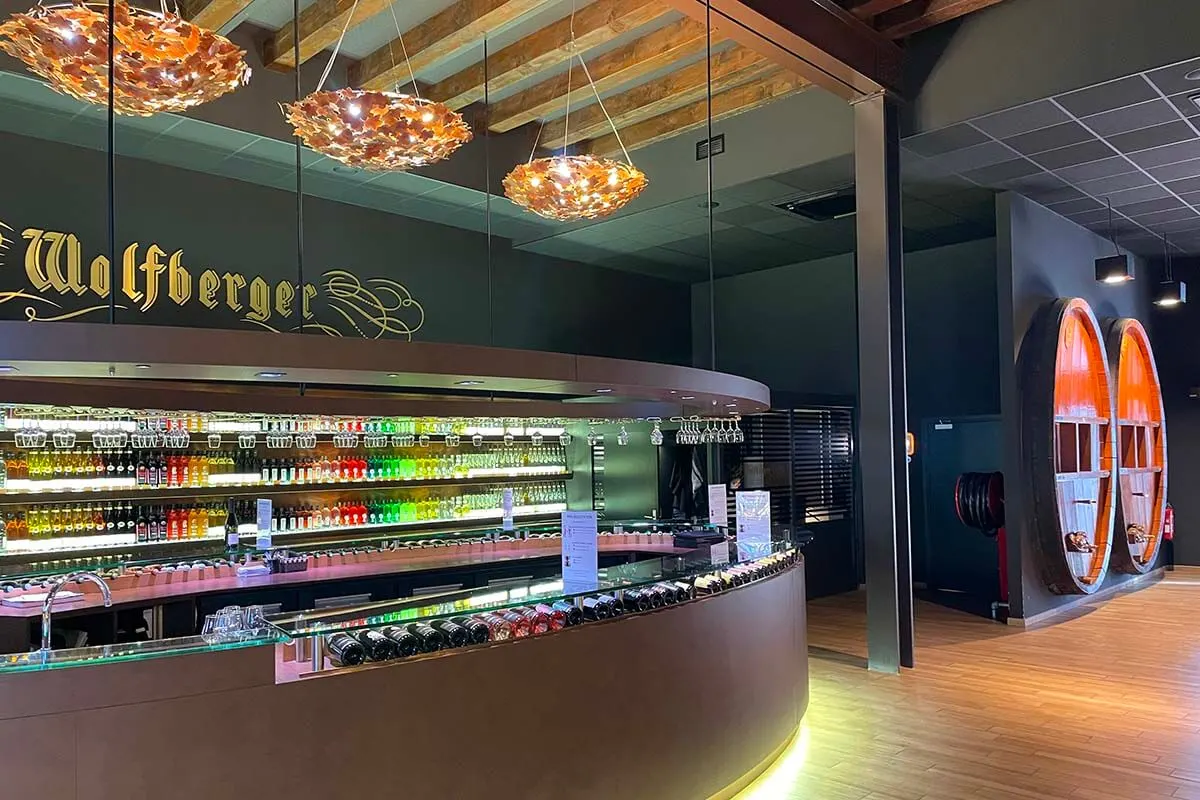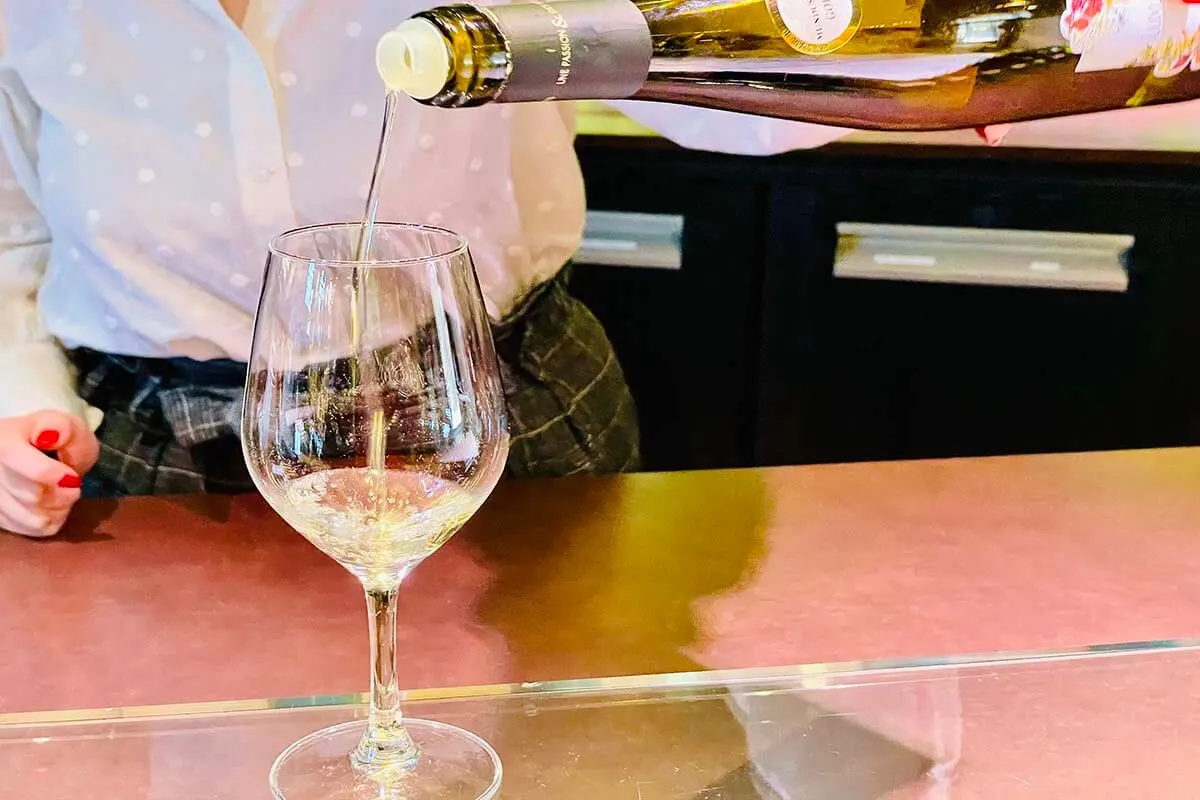 The Three Castles of Eguisheim
Les Trois Châteaux d'Eguisheim are the remains of three castles just 5 km west of Eguisheim town.
From the parking lot, a short and slightly steep path takes you to the ruins. The walk is just 5-10 minutes one way and offers nice views of the area.
There is no fee to visit.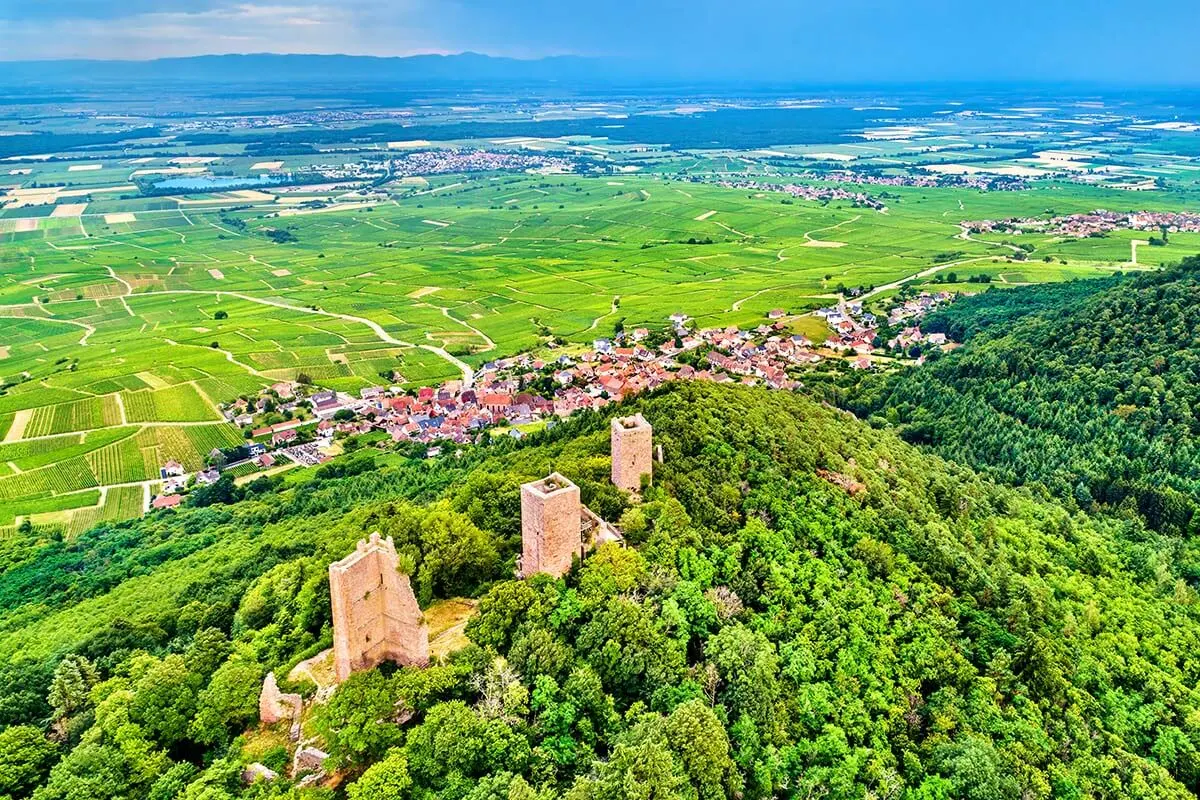 Festivals & Celebrations
Eguisheim also has some interesting festivals and celebrations – see some info about two of the most popular events below.
In summer the city is blooming with flowers and on the last weekend of August, Eguisheim hosts a wine festival, the 'Fête des Vignerons' (the Winegrowers Festival). There is a small entrance fee to be paid during this festival but you will be enchanted by the expositions, open wine cellars, folklore, music, concerts, etc.
In December, Eguisheim hosts a nice Christmas market, one of the coziest in Alsace. How could you not fall for its charms in this medieval environment?!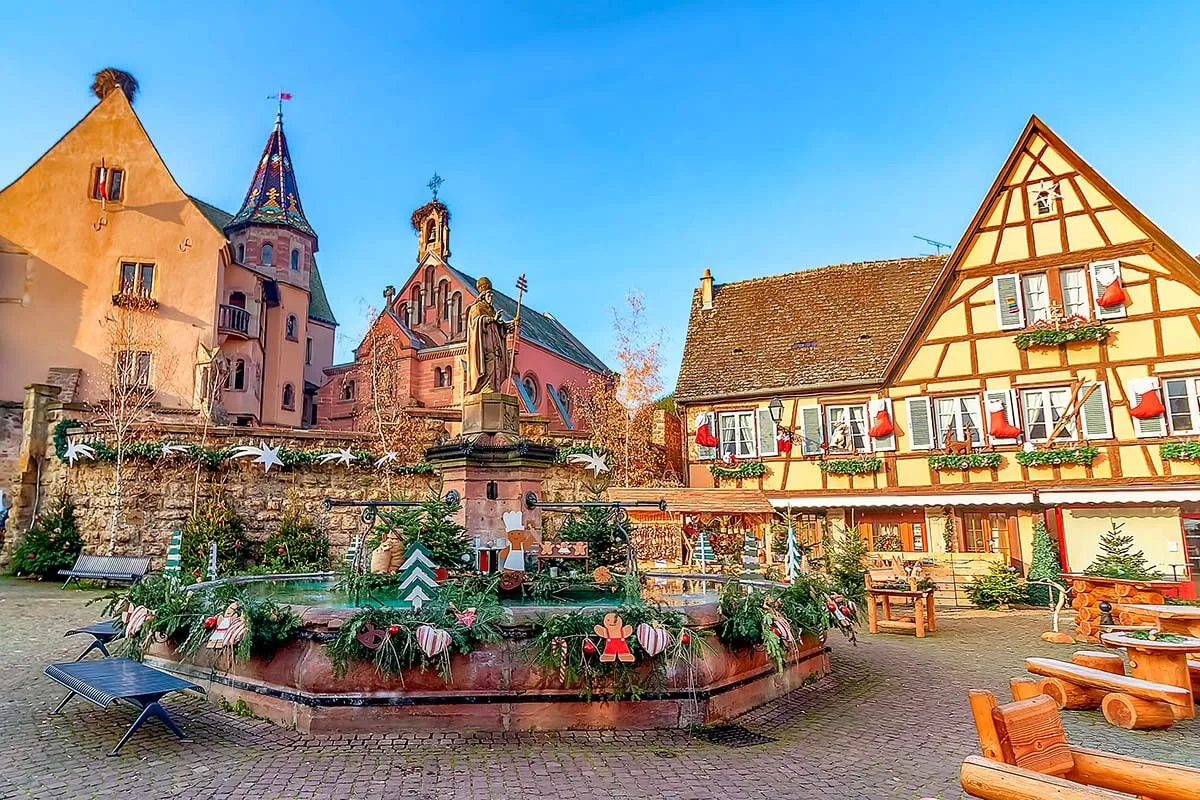 How much time do you need to visit Eguisheim?
Eguisheim's historic old town is very compact and all the main sights are located just next to each other. You can easily see everything in town in about 1 hour.
If you also take the time to check out some local stores, sit down for a drink or a meal at one of the restaurants, or try some regional wines, plan on spending 2-3 hours in Eguisheim.
TIP: If you have half a day or a day in Eguisheim, you can also rent a bike or join a tour of the nearby vineyards.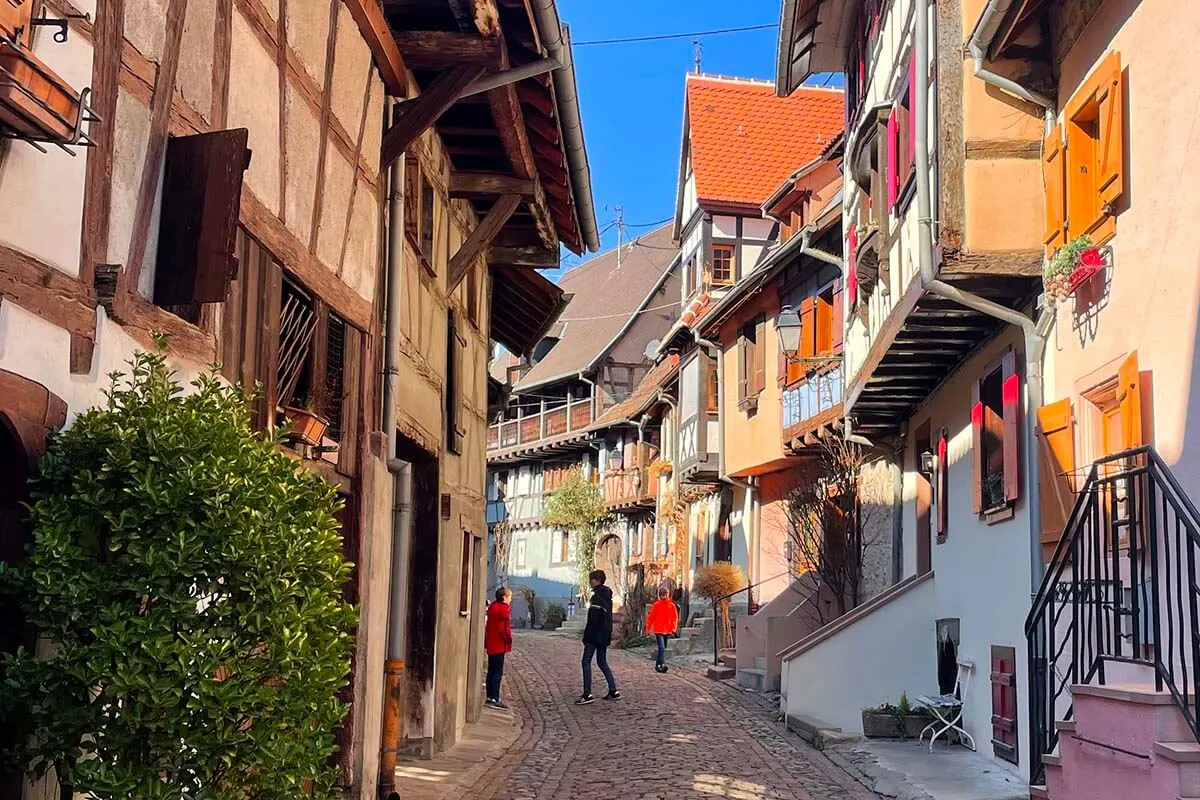 Getting there & tours
Eguisheim is located just 7 km southwest of Colmar. It can easily be reached by car, taxi, by bus (line 208 or 440 from Colmar), or even by bike from Colmar.
A popular way to visit Eguisheim – often in combination with several other amazing places nearby – is also with an organized tour. You can find great tours from Colmar, from Strasbourg, or even from Basel.
If you are planning on taking a bus, you can find the schedule here (website in French).
If you are traveling by car, keep in mind that parking in Eguisheim can be a bit challenging. There are several parking areas in Eguisheim, but they quickly fill up. At the moment of writing, parking costs 4 EUR per day, no matter how long you stay – an hour or half a day.
The parking on Rue du Muscat is the closest to the town center, but it's quite small. The bigger parking – Parking de la Mairie is located behind the Town Hall on Grand Rue, on the eastern side of town (see map). It can also accommodate campers and has charging stations for electric cars.
TIP: For fewer crowds, try to visit either early in the morning or late in the afternoon.
READ ALSO: Best Villages & Towns on the Alsace Wine Route
Where to stay
You don't really need to stay in Eguisheim in order to see it, and most people just come here for a day from Colmar, Strasbourg, or other surrounding areas.
But there are some really nice accommodations in this area, so if you have a bit more time and want to explore Alsace deeper, Eguisheim can be a nice place to stay. Here are just a few accommodation suggestions:
So, this is our guide to Eguisheim. I hope that it inspires you to visit this pretty little town and gives you a good idea of what to expect.
In short – if you are wondering if Eguisheim is worth a visit, my answer is yes, absolutely! It's a very nice little town that absolutely deserves the title of one of the most beautiful villages in France. Come here for the medieval charm, traditional Alsatian architecture, very cozy atmosphere, and not to forget – the food and the wine. And you only need a few hours – don't miss it!
READ ALSO: Best things to do in Colmar
Some travel inspiration for Paris:
If you found this post useful, don't forget to bookmark it and share it with your friends. Are you on Pinterest? Pin these images!