You probably already know that the charming bohemian Montmartre neighborhood is one of the must-see areas in Paris, France. But what to see and do in Montmartre and how to experience the very best that this fascinating area has to offer?
In this guide, we share all the best places to see and things to do in Montmartre on your first visit. To help you plan your time, we also include some practical tips and useful information, as well as a map of the main sights and attractions of Montmartre.
There is a unique charm about Montmartre that sets it apart from the rest of Paris. Once a hilltop village dotted with windmills and surrounded by vineyards, it retains a very old-world vibe. Its combination of cobbled streets and pretty stone buildings strewn with wisteria and roses makes you feel as if you're a million miles from the city!
Evidence of its artistic heritage can be seen and felt everywhere. This was once the place where 19th- and 20th-century artists like Pablo Picasso, Vincent van Gogh, Pierre-Auguste Renoir, Toulouse-Lautrec, and Edith Piaf lived and worked. Today contemporary artists vie for a spot on Place du Tertre where they paint in the open air, creating a scene straight from a postcard.
There are many wonderful places to visit and enchanting things to see in Montmartre. Below, are some of the musts as well as the map indicating all the top sights. Take a look!
Top Experiences in Paris: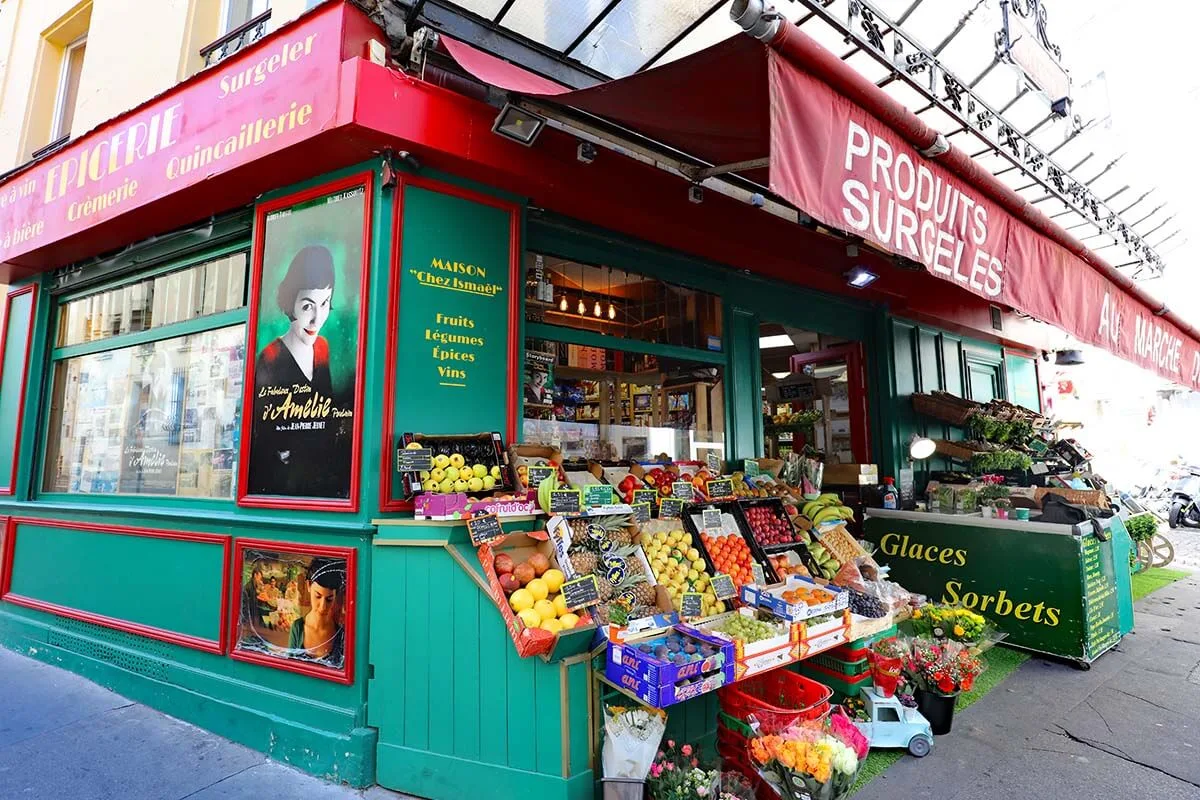 Map of the Best Places in Montmarte
To give you a better idea of where everything is located, we created this map indicating all the best spots to see in Montmartre.
You can find pictures and information about each place further below.
Good to know: Most of the landmarks in Montmartre are places that you just see from the outside, or where you just stop for a quick look and a few photos. So visiting Montmartre doesn't require a lot of time. If you don't go inside any of the museums, you can see all the best places in Montmartre in about 2-3 hours. With half a day, you can explore Montmartre quite thoroughly.
TIP: Be sure to come back in the evening to see the cabaret show at the iconic Moulin Rouge (more about it below)!
How to use this map: Use your computer mouse (or fingers) to zoom in or out. Click on the icons to get more information about each place. Click the arrow on the top left corner for the index. Click the star next to the map's title to add it to your Google Maps account. To view the saved map on your smartphone or PC, open Google Maps, click the menu and go to 'Your Places'/'Maps'. If you want to print the map or see it in a bigger window, click on 'View larger map' in the top right corner.
TIP: If you want to see all the best places in Montmartre without having to constantly look at the map and figure out where to go, you'll be glad to know that there are many really good (and very affordable) walking tours of this neighborhood.
Alternatively, you can also opt for a self-guided audio tour (via an app on your smartphone) that allows you to see the best spots in Montmartre at your own pace. We did this on our most recent visit to Paris and – despite having been to the area many times in the past – we discovered quite a few new places and learned a lot along the way. It's not comparable to just walking around on your own.
And if you have a bit more time, there are also some really nice food tours. It's a great way to get a bit off the beaten path and experience what makes this vibrant area tick.
READ ALSO: Traditional French Food & Dishes to Try in France
These are the best places to see and things to do in Montmartre:
1. Sacré-Coeur Basilica
Thanks to its hilltop location, the beautiful Basilica of the Sacred Heart (Sacré-Coeur Basilica) is visible across Paris and is one of its most famous landmarks. It's also the most popular place to visit in Montmarte, attracting big crowds.
The history of the Basilica is somewhat surprising. Located at an ancient sacred pagan site, this place is also associated with the early Christian church and religious martyrs. Interesting fact – the literal translation of 'Montmartre' means the 'Hill of the Martyrs'.
The Sacré-Coeur Basilica is an extraordinary place to visit, with one of the world's largest mosaics over the altar, a stunning pipe organ, and a crypt filled with statues and religious artifacts. Despite its appearance, this grand basilica was completed just over 100 years ago, in 1914 (for comparison, the Eiffel Tower dates from 1887).
Interesting fact: The white facade of the Sacre-Coeur Basilica has never been cleaned. It was built using a 'self-cleaning' travertine limestone that was also used for several other Parisian landmarks.
Practical information: The Basilica is open every day from 6.30 am to 10.30 pm and admission is free.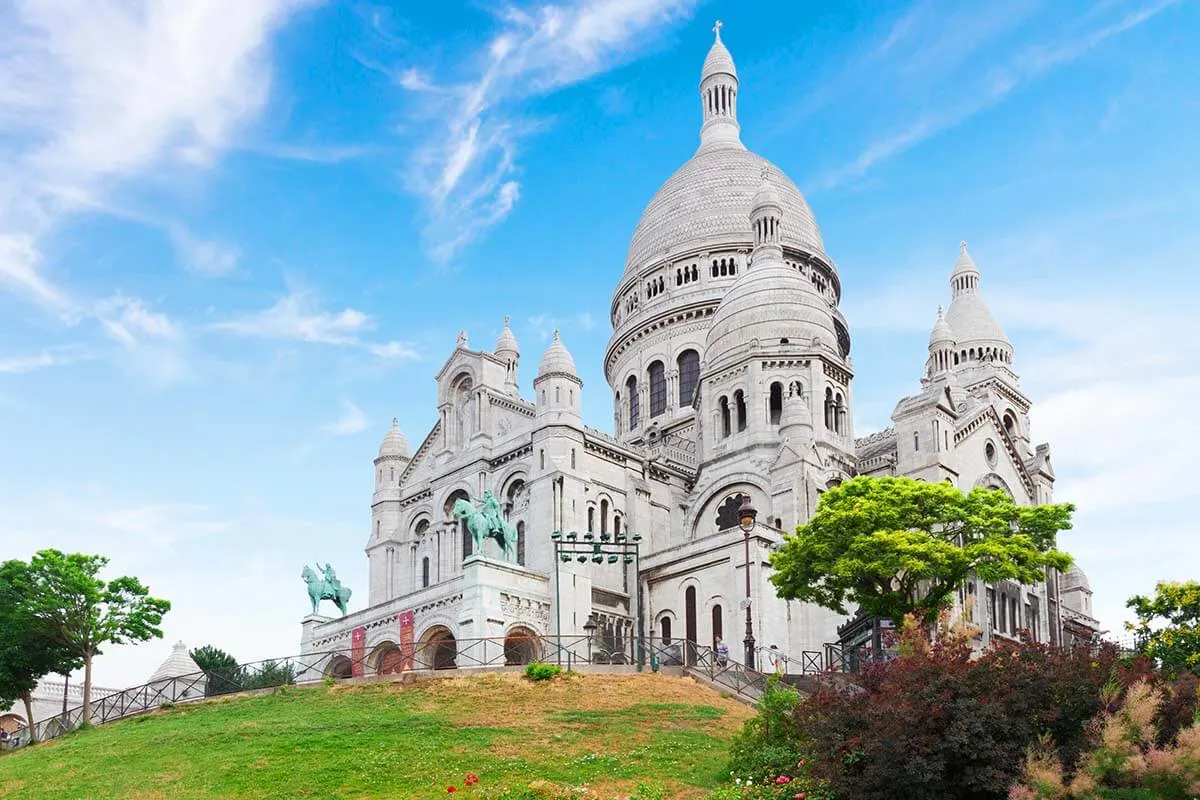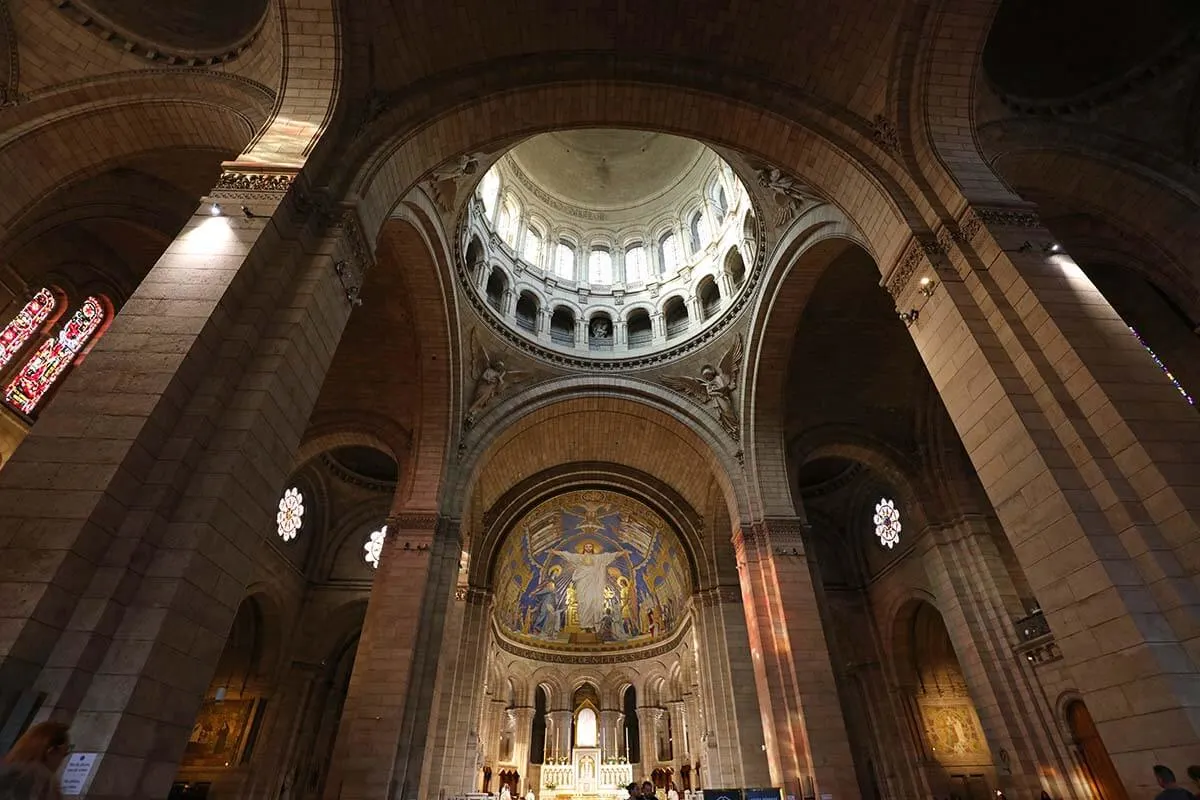 2. The Dome of Sacré-Coeur
In addition to visiting the Basilica, be sure to also climb to the top of the Sacré-Coeur dome for awesome 360° views across the city. This is one of the best views in Paris and – in my opinion – one of the best things to do in Montmartre. It also gives you a unique chance to admire the architecture of this remarkable church from a very different angle.
Aim to visit early in the morning or in the evening – preferably on a weekday – to avoid the crowds. If you can, time to climb the dome at around sunset – the views are even more impressive.
Practical information: The Sacre-Coeur Dome is normally open daily, with opening hours varying a bit depending on the season. There is a small charge to climb it. At the moment, you can only get the tickets on the spot. For up-to-date practical info, see the official website.
The entrance to the dome is outside, on the left side when looking towards the basilica.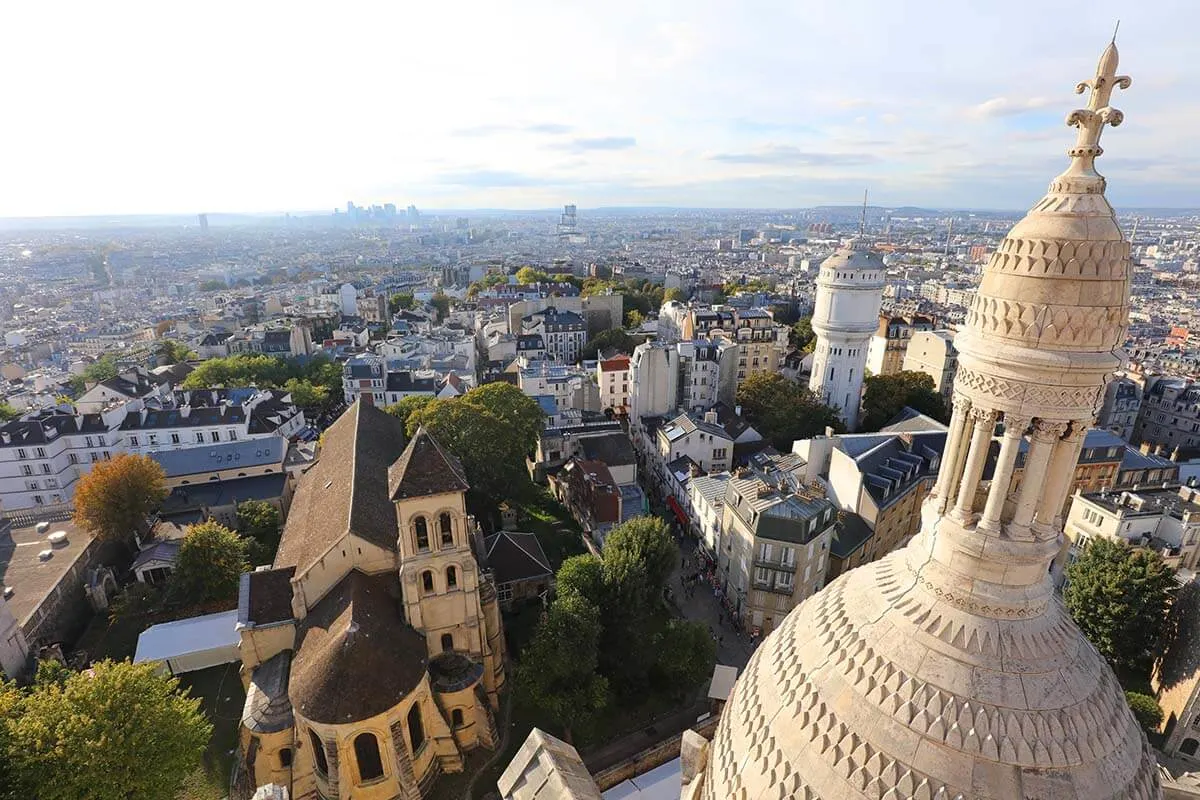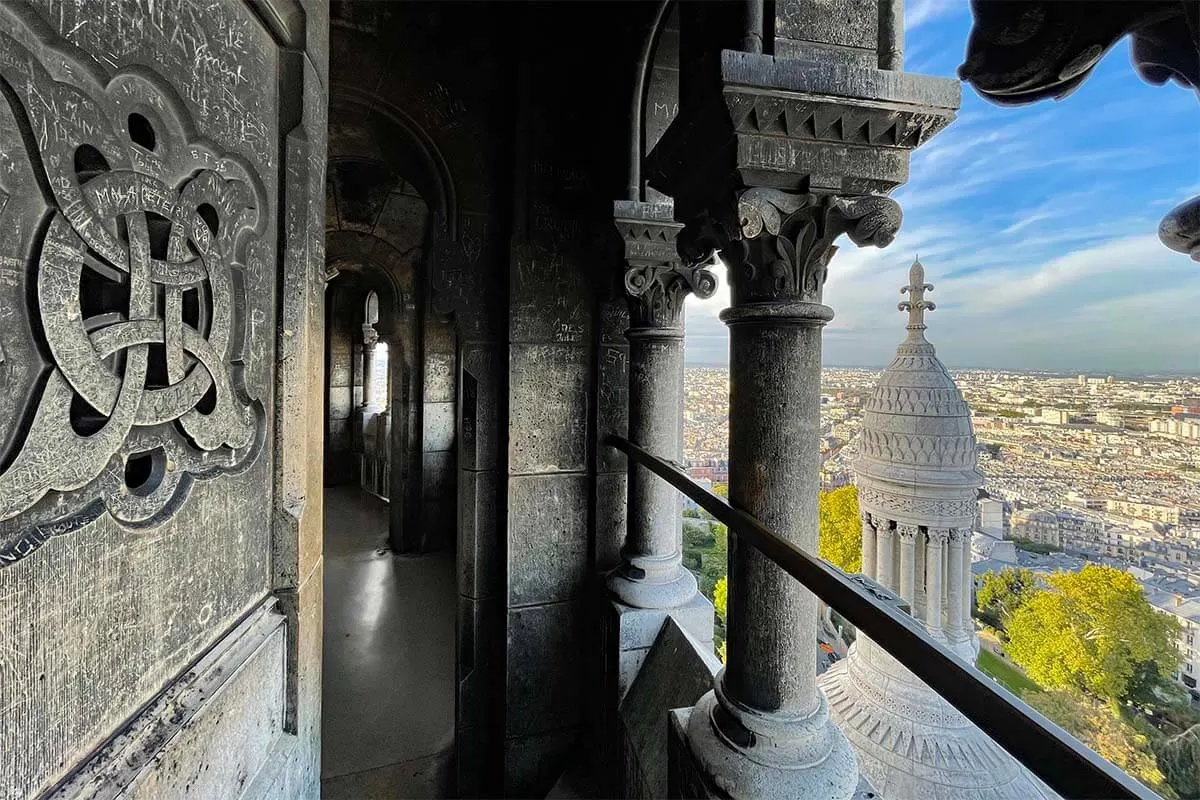 3. Place du Tertre
To the west of the Sacre-Coeur Basilica lies the lively Place du Tertre. This little cobblestoned square is the beating heart of Montmartre and truly one of the most remarkable places in Paris.
The atmosphere here is lively and relaxed. There are some historic 18th-century buildings to admire and many cafés and restaurants where you can sit and soak up the ambiance. And what an ambiance it is, indeed!
Where else can you have your portrait painted by a talented artist, surrounded by other painters at their easels and spectators admiring their work? When you consider that artists wait up to 10 years for the opportunity to work here, you begin to understand just how special this square really is! You can also buy some beautiful artwork from the many stalls here.
Interesting fact: The Chez la Mère Catherine (currently La Mère Catherine) brasserie on Place du Tertre is one of the oldest restaurants in Paris, established in 1793. It is believed to be the birthplace of the term 'bistro'. During the 1814 Paris occupation, Russian soldiers frequented the place and used to shout 'bystro' (Russian for 'quick') in order to get a drink quickly. Nowadays a bistro is a common term used to describe small simple restaurants where you can get a quick meal.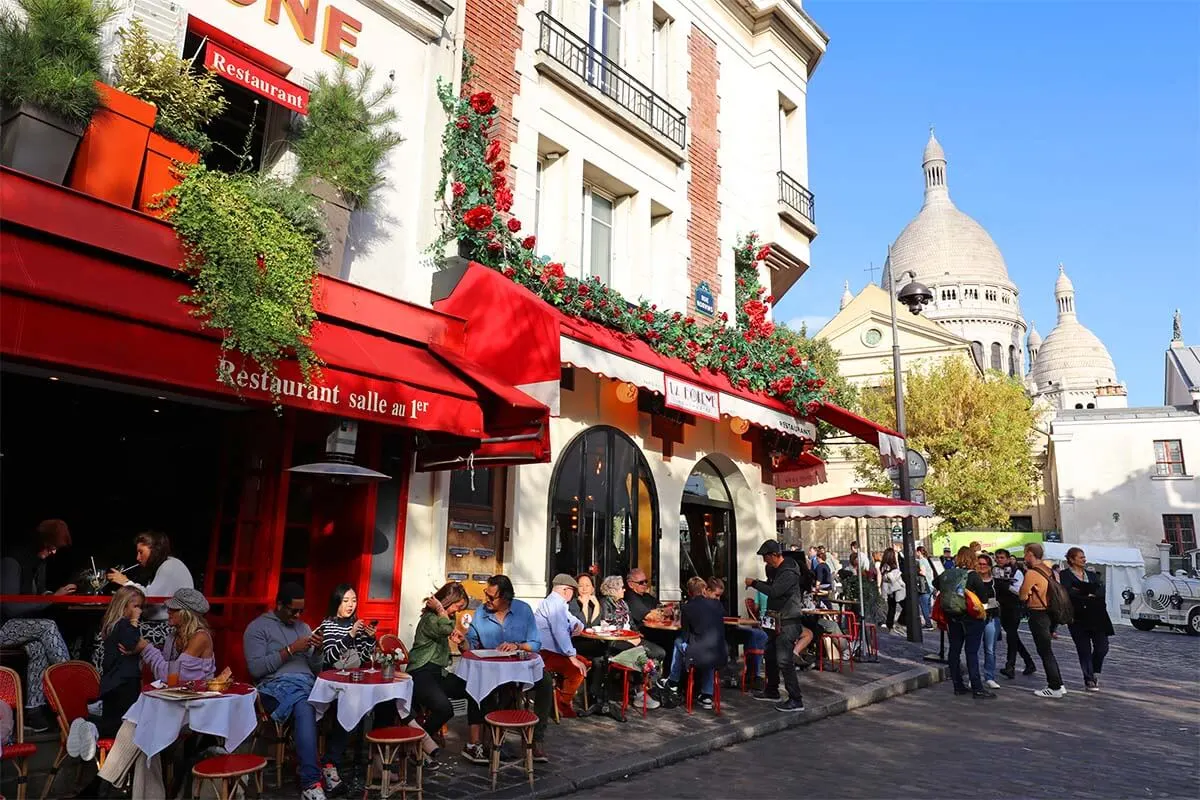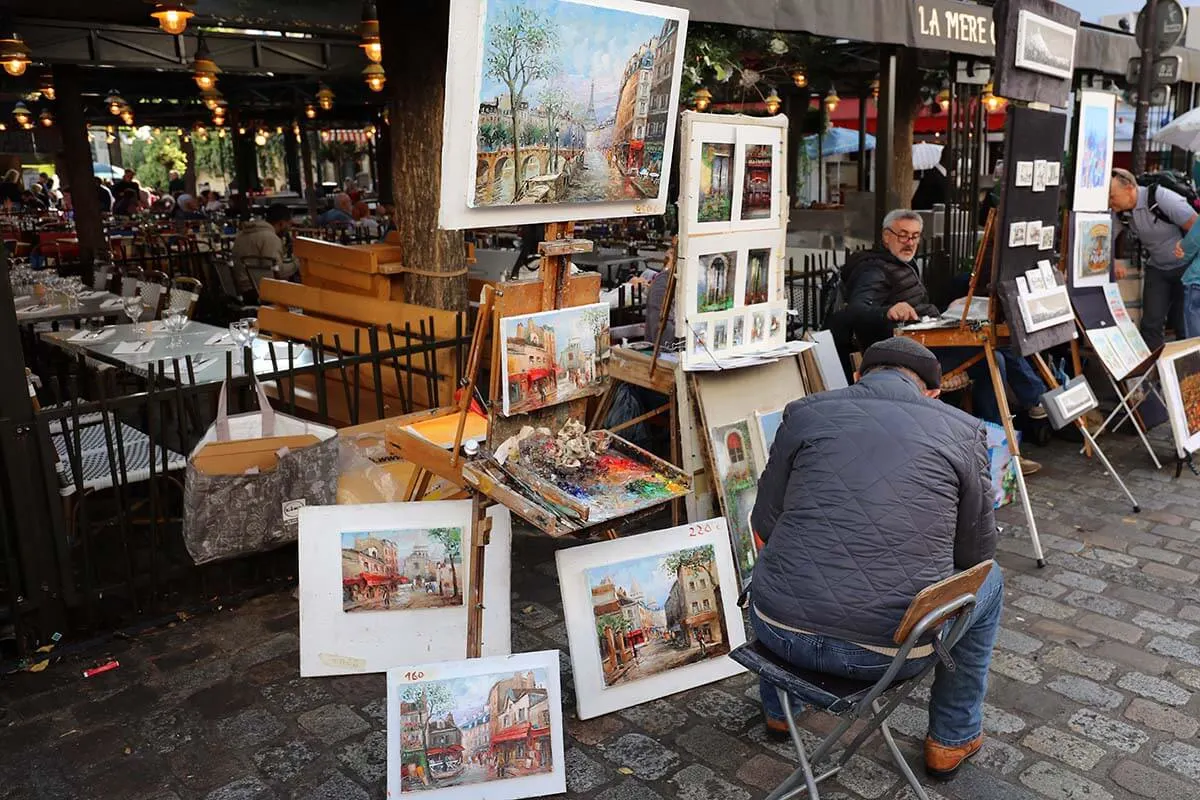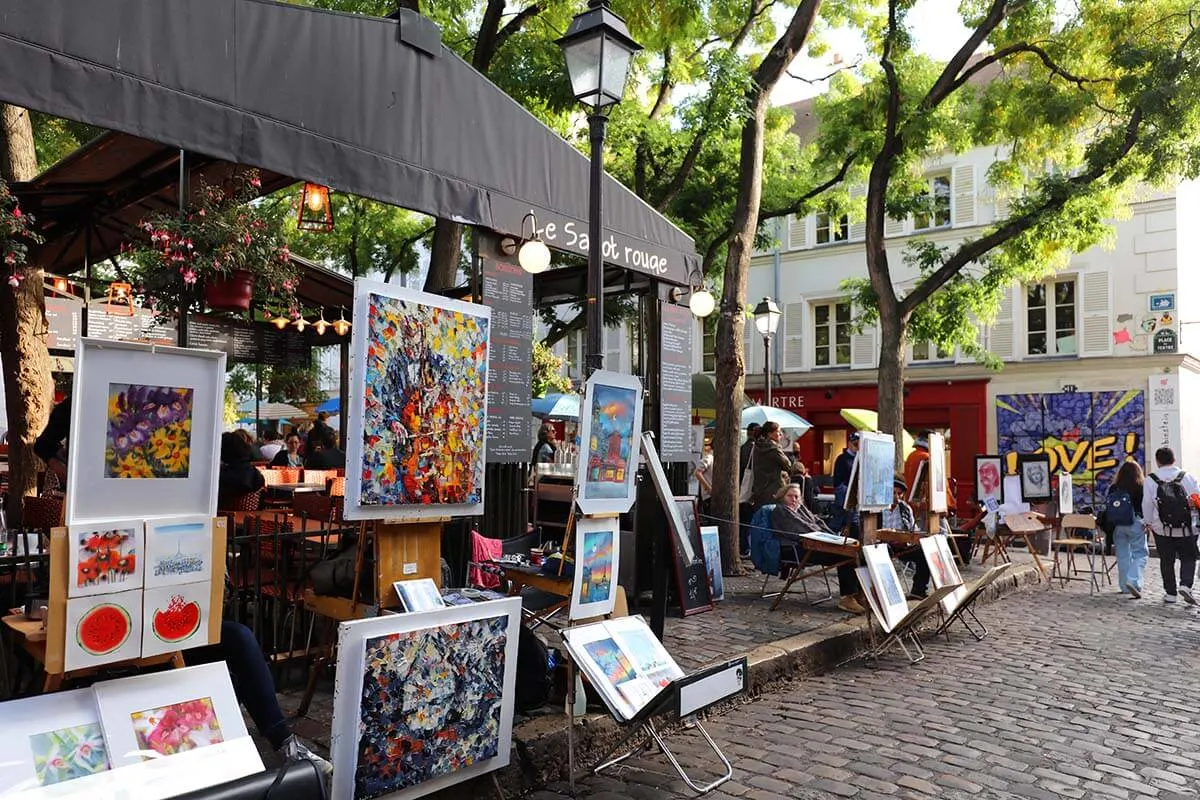 4. Square Louise Michel
Established in 1927, this popular terraced garden in front of the Sacre Coeur Basilica is a great place to sit and enjoy the city views. Square Louise Michel is built on a slope and has a monumental staircase leading up toward the basilica.
Here you often see performances from talented street entertainers and – from the top – you also have some nice views of Paris. These stairs are always crowded with tourists, locals, and street vendors.
Around this staircase, you'll also find some green spaces and several benches. If you have a moment, sit down and soak up the atmosphere.
Good to know: You don't absolutely have to climb these stairs in order to see them. You can also take the Montmartre funicular instead and then see the stairs from the top. You can use your metro ticket for this and it's an easy way to reach the top of the hill. You'll still have to do a few stairs to reach the Sacre-Coeur.
TIP: Square Louise Michel is also home to a charming and traditional Parisian carousel, Carrousel de Saint-Pierre. This is a popular spot for photos, as the Sacre Coeur in the background makes for a particularly scenic shot. If you are visiting Paris with kids – or if you want to feel like a child again – give it a try!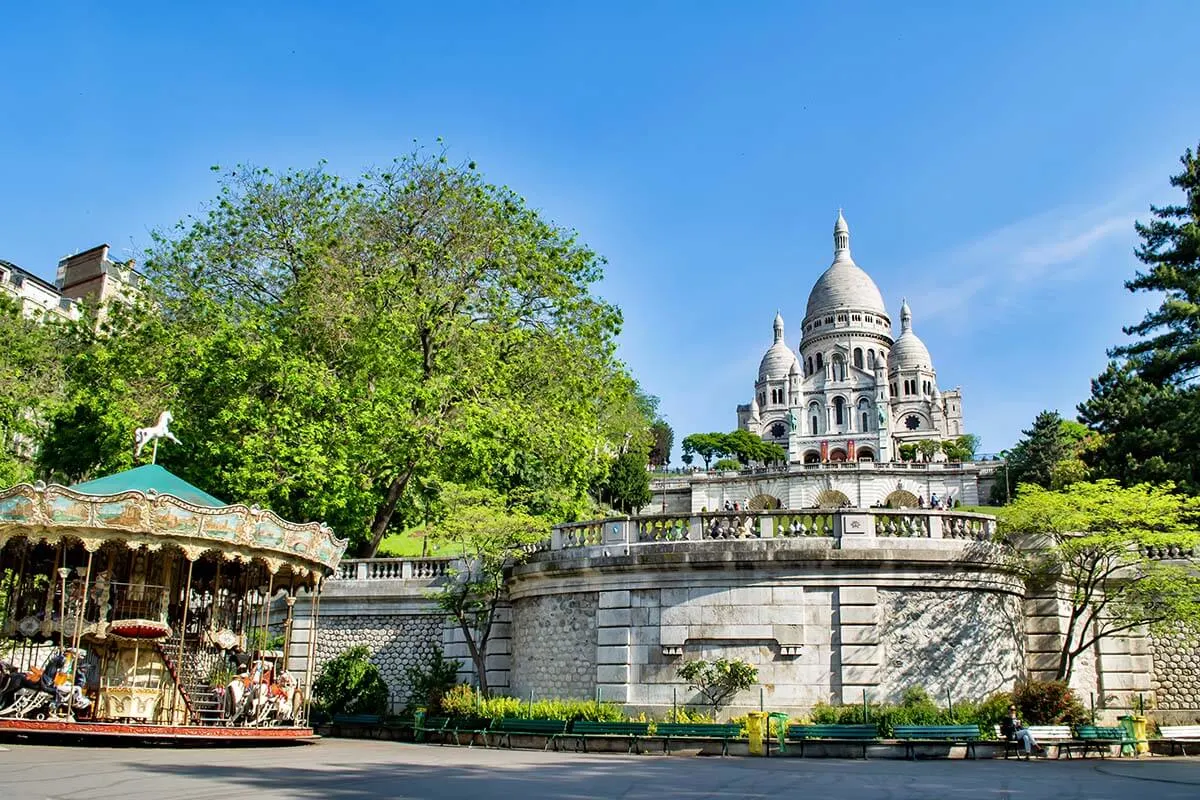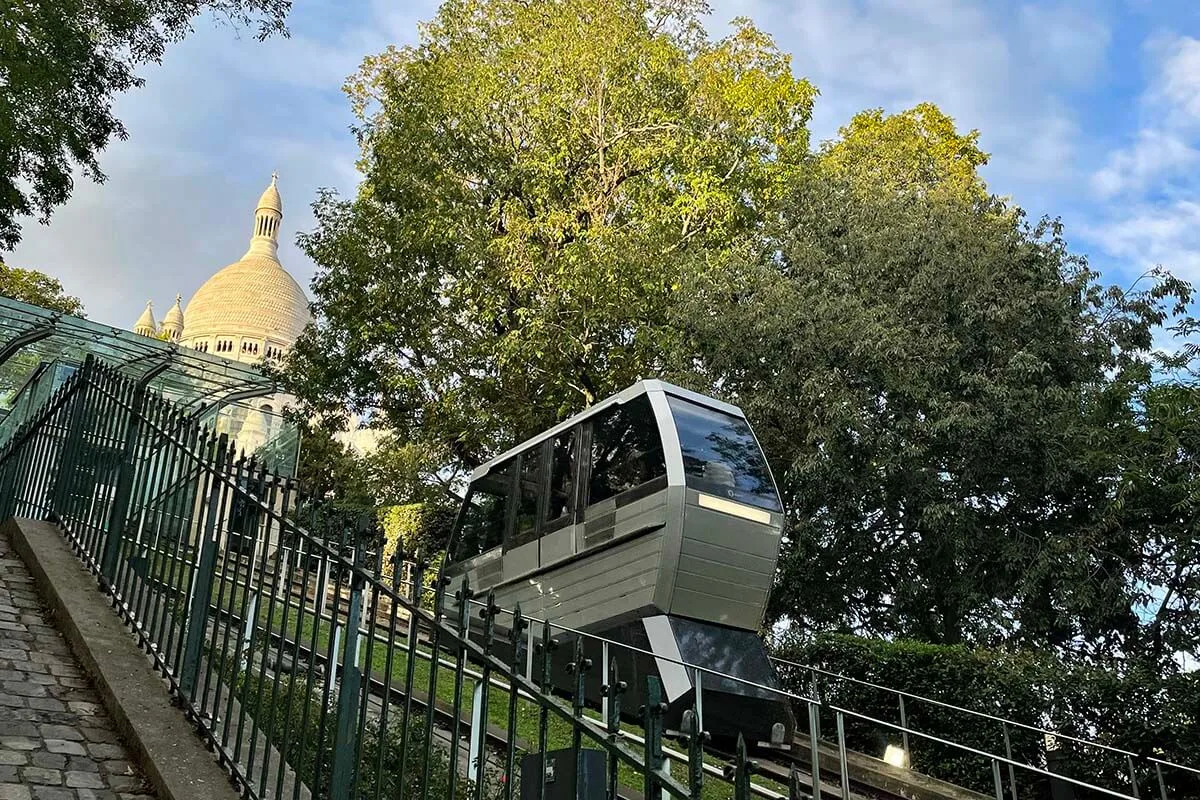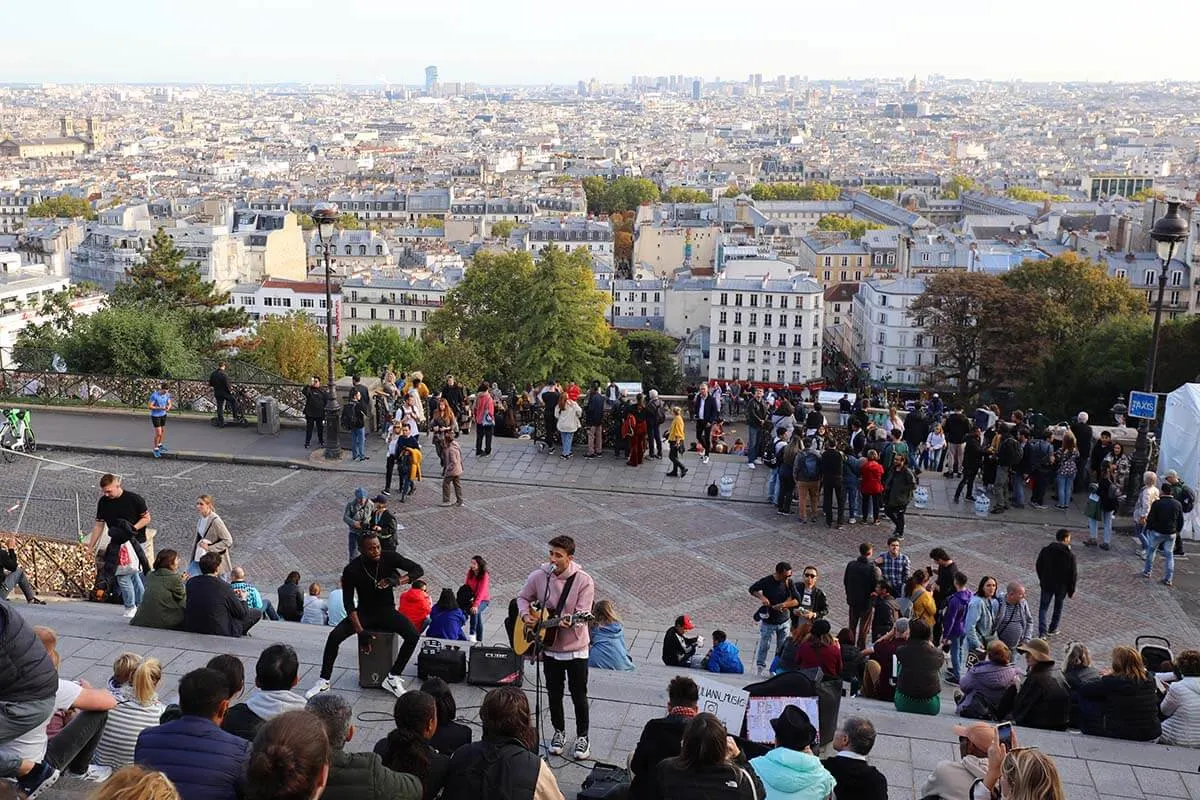 5. The Staircases of Montmartre
The highest hill in Paris, it will come as no surprise that Montmartre has many stairs. And while climbing them is not always fun, it's something you have to experience when visiting Montmartre.
The most famous of them all are the stairs leading to the Sacré-Coeur Basilica (see above for more info). But there are quite a few others.
Well worth seeing are the Calvaire Street Stairs. This staircase starts at the southwestern end of Place du Tertre, close to the Dali Museum and you can see it from the top.
Also, the colorful stairs of Rue Chappe are nice to see. The best view here is from the bottom up.
And don't worry about locating them. I indicated all these places on our map of Montmartre attractions (at the top of this article). It's all very close by too.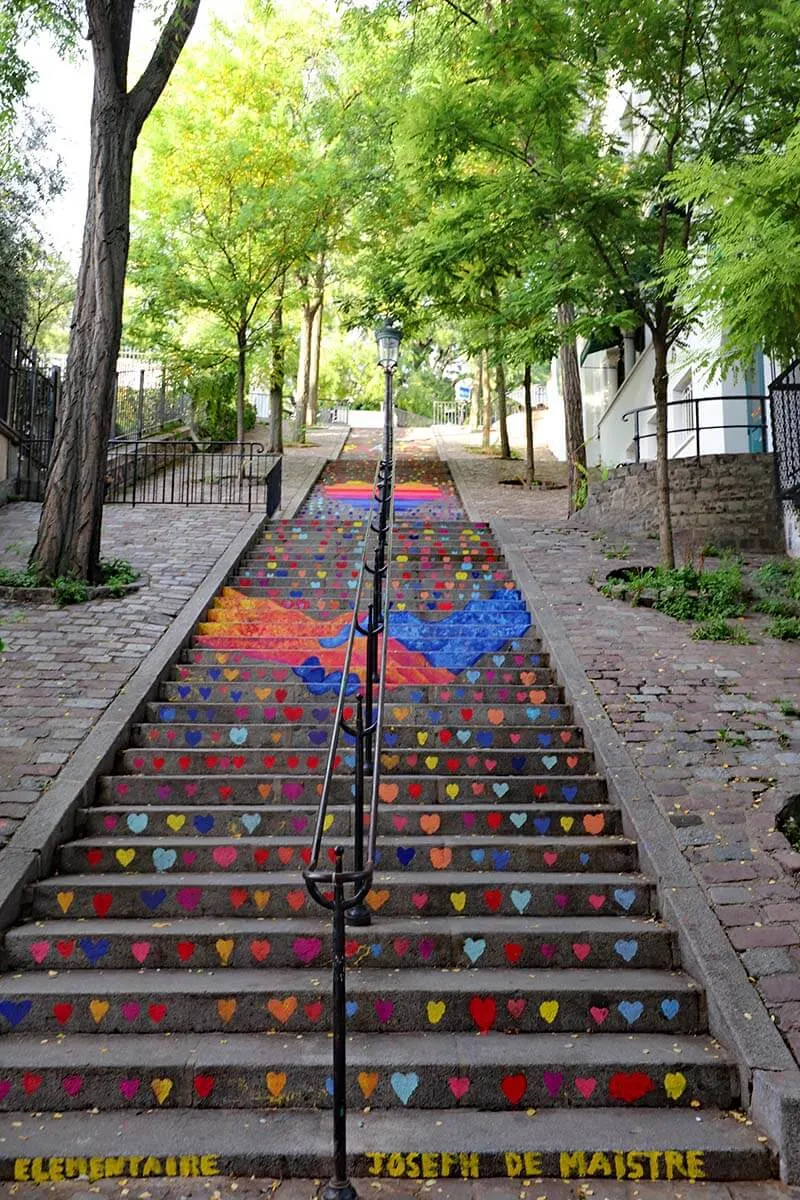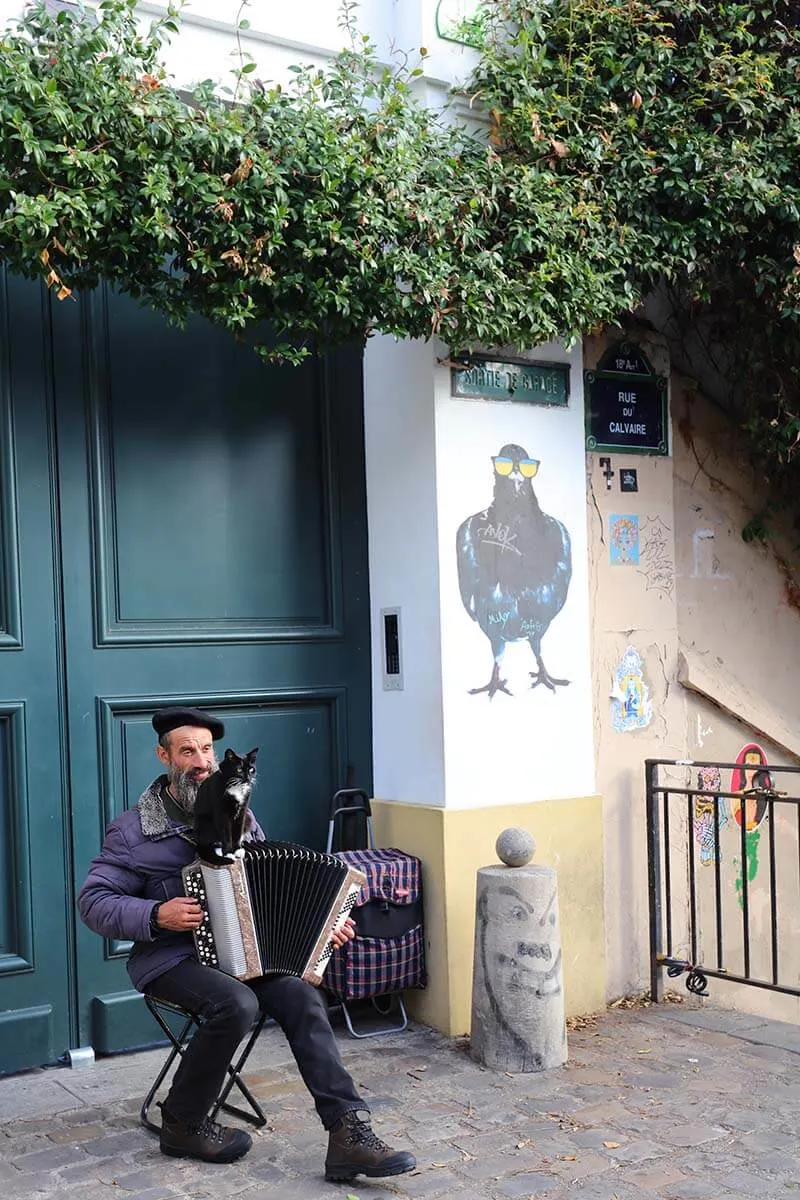 6. Wall of Love
Located on the square at Place des Abbesses, Le Mur des Je t'aime (Wall of Love) may be the most romantic spot in the City of Love. It's definitely one of the must-sees in Montmartre.
Created by artists Frédéric Baron and Claire Kito in 2000, this navy blue wall is made up of more than 600 enameled lava rock tiles. On its surface, the words 'I love you' are written in more than 250 languages.
On this blue wall, you will also note splashes of red color. These represent the broken hearts of a divided human race – ones that the wall aims to reunite.
If you are visiting Montmartre with a partner, then a selfie in front of this wall is a must!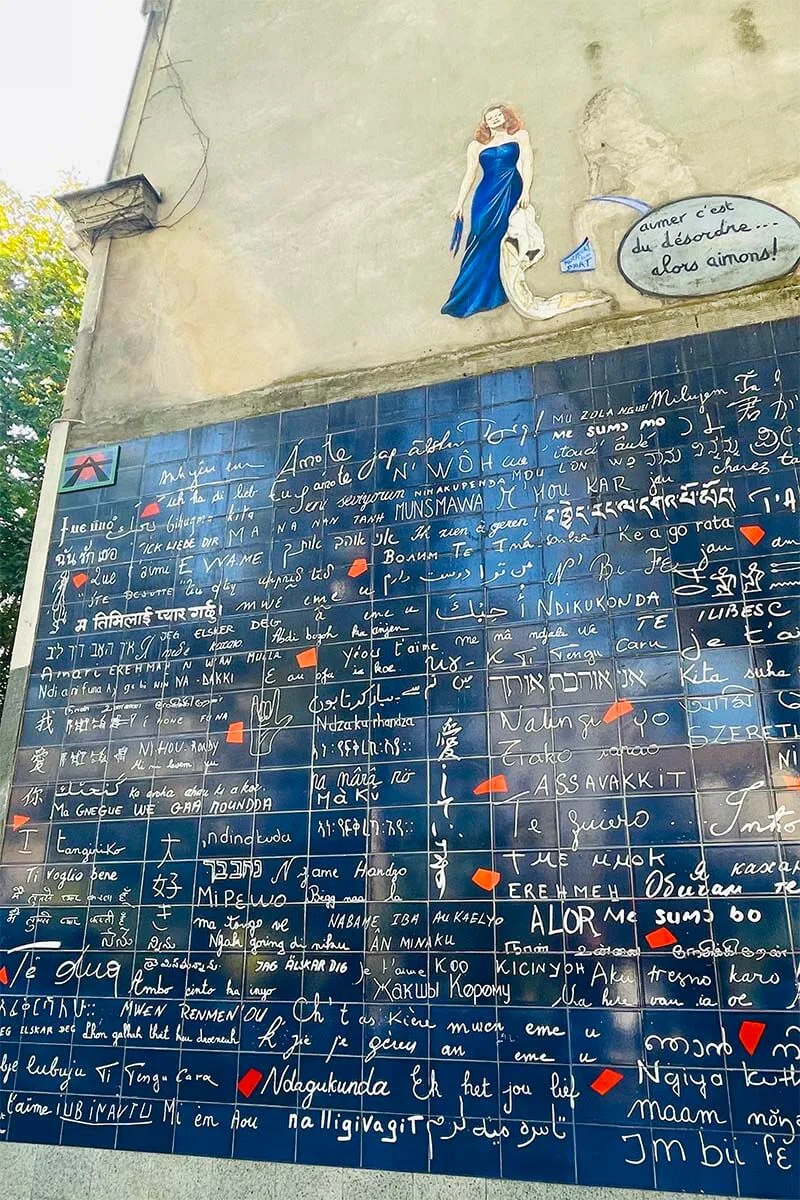 7. Montmartre Museum – Renoir Gardens
Musée de Montmartre – Jardins Renoir is a little museum set inside the former residence of famous artists like Renoir and Valadon. It was also a popular place for creative types at the time to meet and exchange ideas.
The building was opened as a museum in 1960 and is filled with paintings depicting Montmartre village in days gone by, with its farmland and many windmills.
Your ticket includes an audio app. It's a great way to learn more about the rich history of Montmartre and how this village that used to be on the outskirts of Paris has changed as the city grew.
The beautiful gardens overlooking the vineyards are inspired by Renoir masterpieces that were painted at the property. Stop for a drink at Café Renoir which opens out onto the Renoir Gardens and you almost feel as if you're part of a painting yourself!
Practical information: The museum is open every day from 10 am to 7 pm. The café is open from 11.30 am. You can find more info and get skip-the-line museum tickets here. In the low season, it's usually not a problem to just get tickets on the spot.
Good to know: The museum tickets also include the gardens, or you can get a ticket for the gardens only (the latter can only be bought on the spot).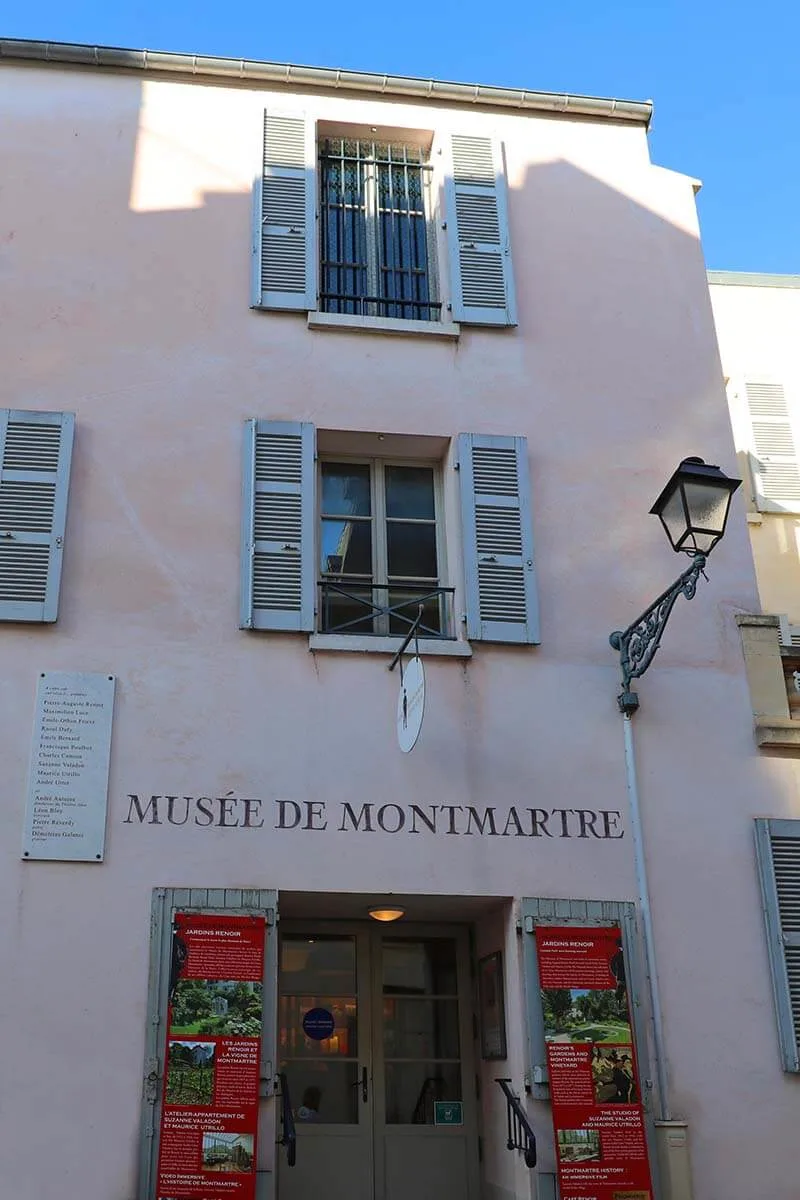 8. Moulin Rouge
No visit to Montmartre would be complete without catching a glimpse of the Moulin Rouge, located on the southwestern side of the neighborhood, at the bottom of the hill. This famous Parisian cabaret with a red windmill on its roof is one of the most iconic places in Paris.
The original venue was from 1889 when it was opened by Charles Zidler and Joseph Oller, the owners of the Paris Olympia. Unfortunately, it was destroyed by fire in 1915, then rebuilt and reopened in 1921.
The cabaret's biggest claim to fame is its status as the birthplace of the French Cancan – a dance that was considered to be rather scandalous at the time!
You can still see the Cancan performed there today and enjoy a meal at its onsite restaurant. It is very much a tourist attraction and the prices are high, but it's well worth a visit to see the turn-of-the-century decor, colorful costumes, and dazzling shows. This is a very Parisian experience – don't miss it!
PRO TIP: Book your tickets for the Moulin Rouge show well in advance! This is a very popular attraction and the shows sell out all the time. To give you an idea, when we recently visited Paris in October, the tickets for the 'early' evening shows were gone about 3 weeks upfront, and the midnight shows sold out soon after that. As far as Moulin Rouge is concerned, there is no low season. This is because the shows are popular with the locals and business travelers as well.
TIP: If your budget allows it and you are looking for a truly unique experience, opt for the dinner + show tickets. It's worth it!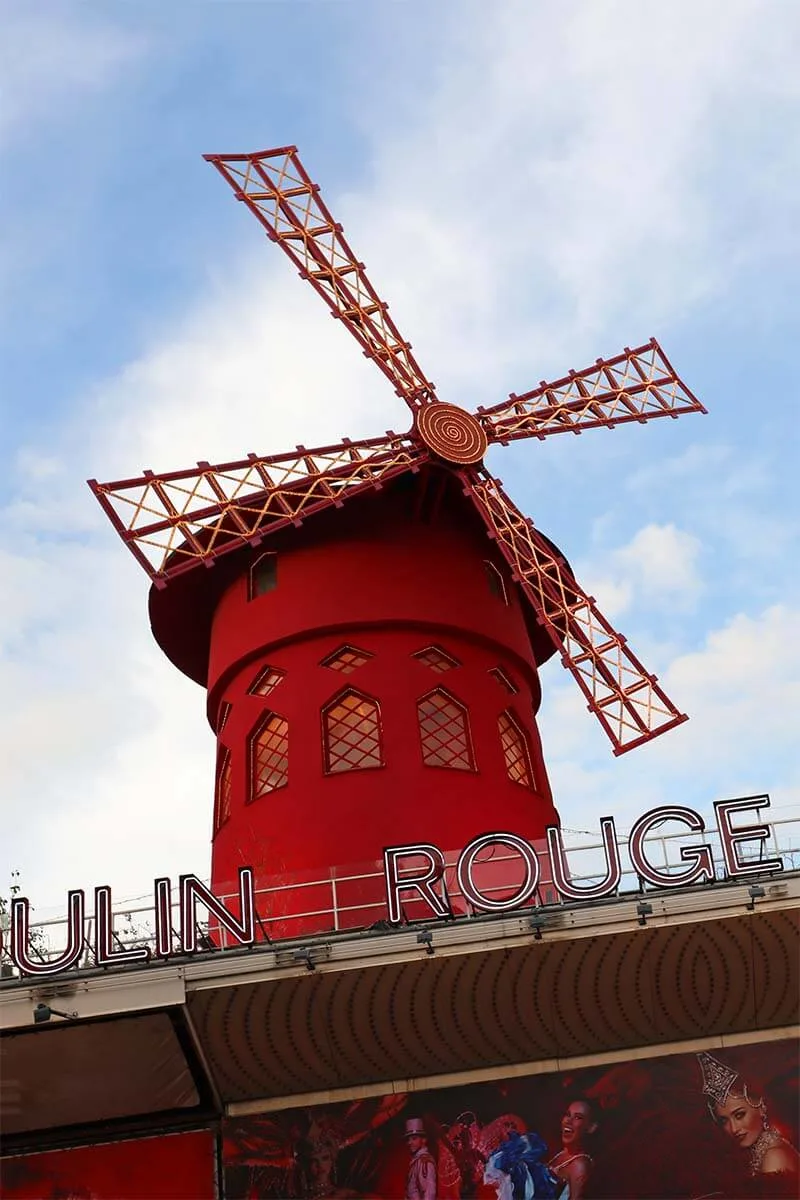 9. The Walker-Through-Walls
Le Passe-Muraille (Walker-Through-Walls) is one of the lesser-known gems to see in Montmartre. This is a very cool bronze sculpture of what appears to be a man walking through a wall.
This piece of art was inspired by the short story 'The Man Who Walked Through Walls' by the French writer Marcel Aymé. Its hero – a gentleman named Dutilleul – had the ability to walk straight through walls. He then went on to put his skill to a range of creative uses and became a sort of supervillain. Until one day, things didn't go as planned and he got stuck inside the wall…
TIP: If you want to read this fun story before visiting Montmartre, you can find it on Amazon (also available on Kindle).
Legend has it that touching the head of Le Passe-Muraille will bring you good luck (although it's so high that it's hard to reach!). You will also notice that he has a very shiny hand from all the people pretending to pull him from the wall and photographing the moment.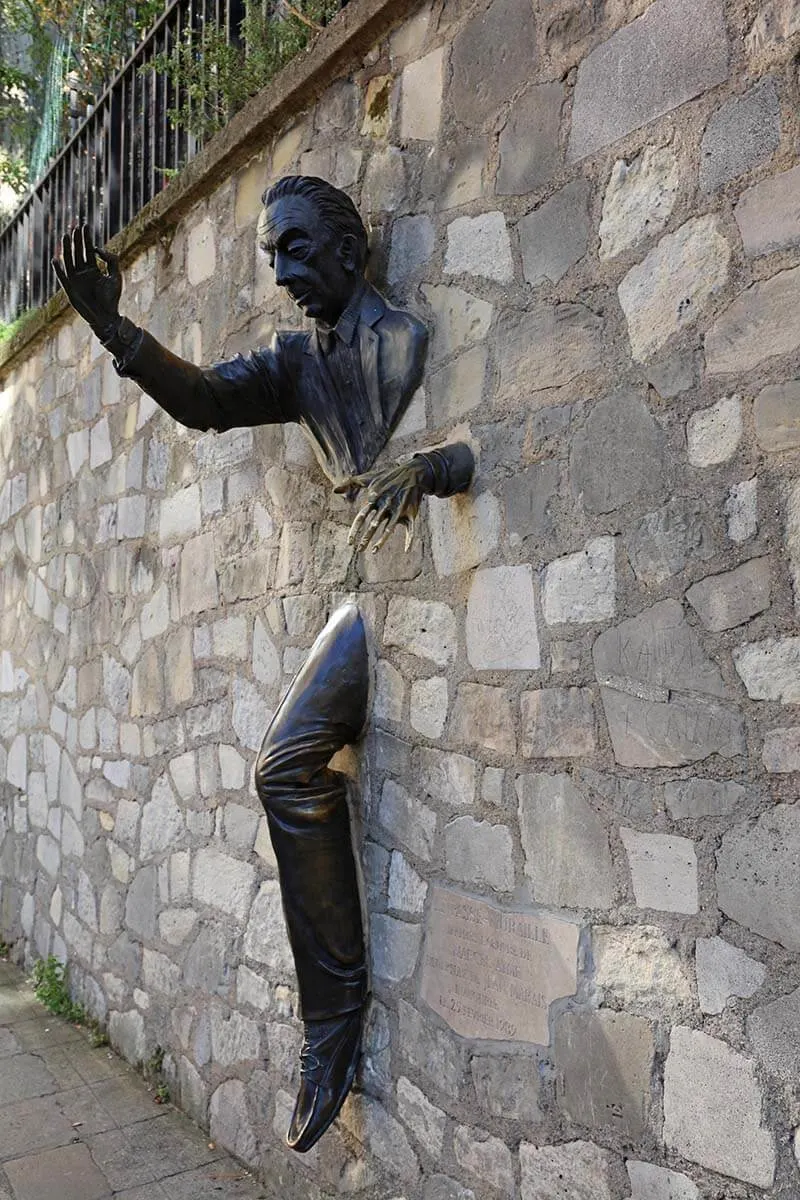 10. Le Moulin de la Galette
Although it's hard to imagine now, Paris was once surrounded by farmland and windmills dotted the horizon. These were used to grind the locally-produced grain and to press grapes.
Unfortunately, there are only a few windmills left in Paris today, but you can see them all in Montmartre!
The most famous of them is the red windmill atop the Moulin Rouge (see higher above).
Another is the restored Le Moulin de la Galette, located on Rue Lepic, above the restaurant with the same name. It's just a short walk from the Walker-Through-Walls sculpture. This particular windmill was immortalized in Renoir's painting 'Le Bal de la Moulin de la Galette', although the backdrop was rather different.
The last windmill — Le Moulin Blute-Fin— is behind the restaurant but located on private land, so it cannot be visited.
Good to know: You don't have to visit the restaurant in order to see the windmill. But the restaurant is really good and if you are looking for a special treat for lunch or dinner in Montmartre, it could be a nice choice.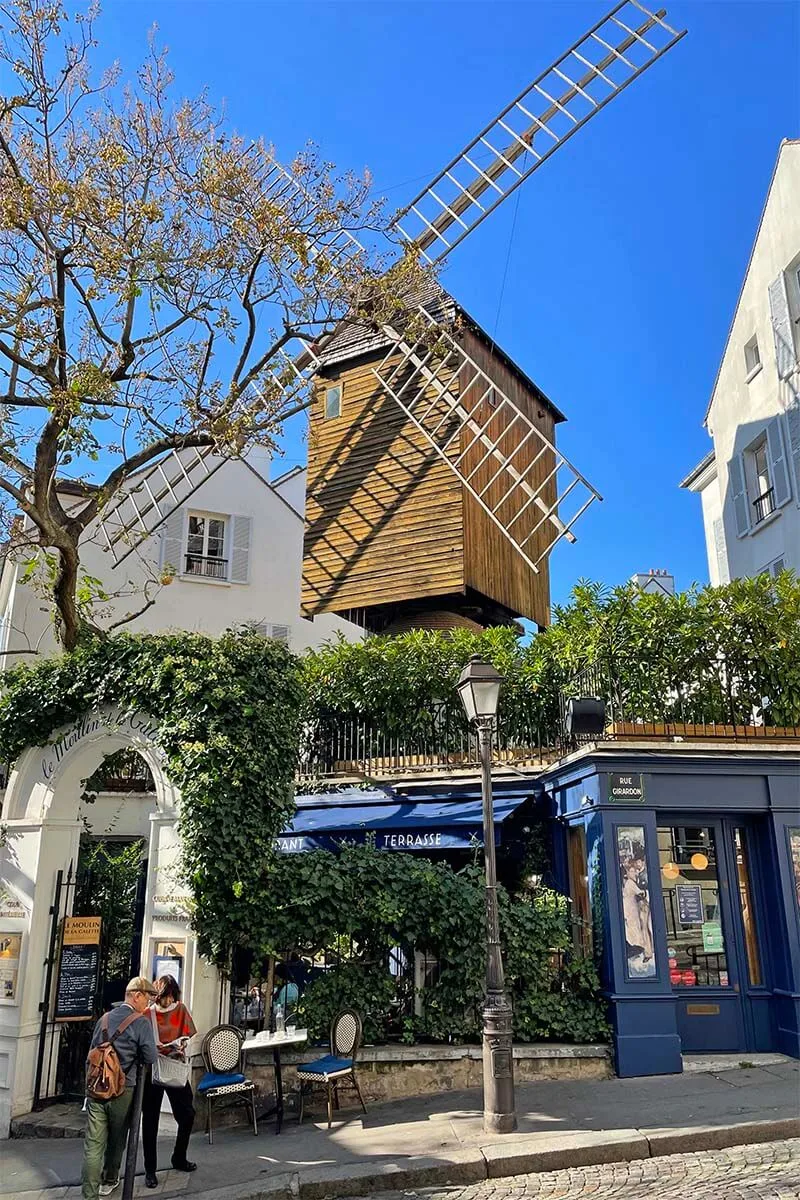 11. Saint-Denis Statue
When sightseeing around Paris you may have noticed the curious headless statues of Saint-Denis. They are all over the place.
These are in memory of the legendary Saint-Denis, originally the first Bishop of Paris, and one of the patron saints of the city. The story is that he was beheaded by the Roman rulers for preaching Christianity. This execution took place in the area we currently know as Montmartre and contributed to its name ('Hill of the Martyrs").
But what's really interesting is that Saint-Denis is said to have picked up his head and started walking with it in his hands. According to the legend, he then continued his journey all the way to St Denis in the north of Paris, to the site where St Denis Cathedral is today.
Montmartre's statue of Saint-Denis is located in the square Suzanne Buisson. This – according to the legend – is where he stopped to wash his head in a fountain.
Since this legend is also related to the origins of the name of the Montmartre, I find that it's worth a short detour coming to see the statue. The square where it's located is also very tranquil and there are some benches where you can rest a bit from all the uphill-downhill walking in Montmartre.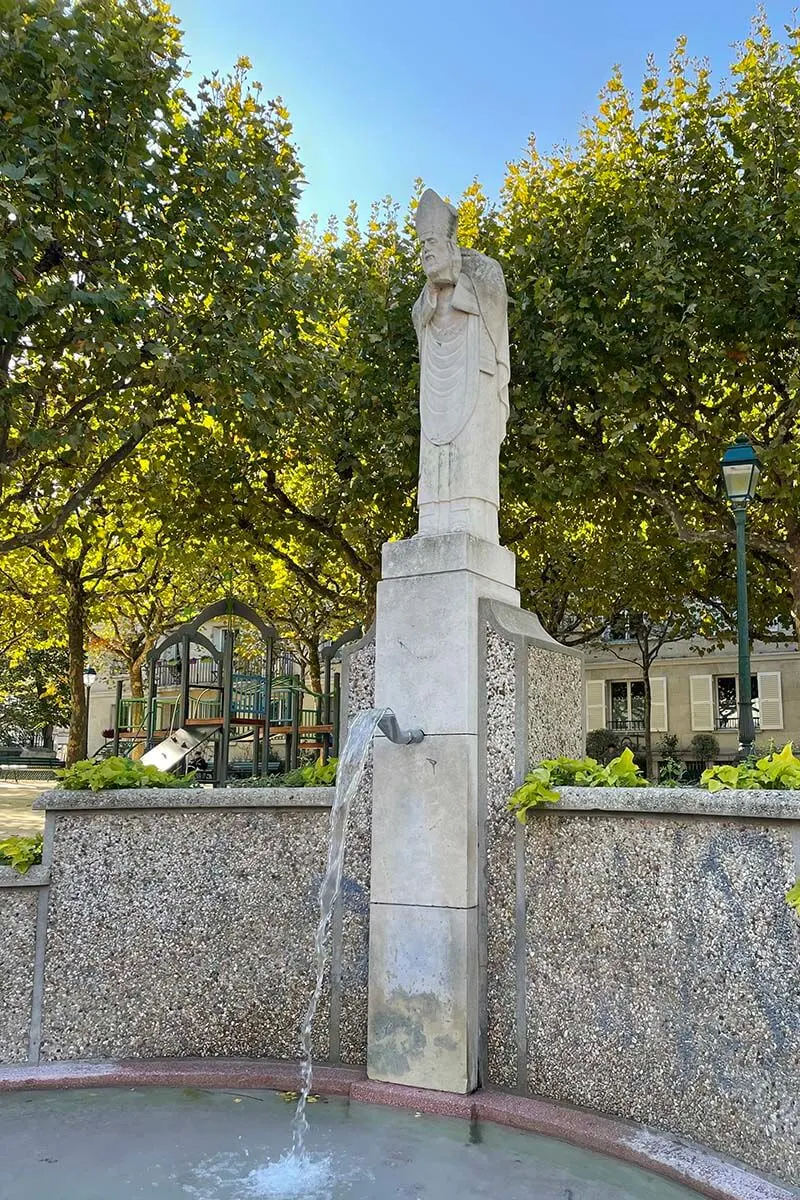 12. Saint-Pierre de Montmartre Church
One of the oldest churches in Paris, the Saint-Pierre de Montmartre dates back to the 12th century. It originally formed part of the ancient Abbey of the Benedictine Sisters of Montmartre. The Abbey was destroyed in the French Revolution and this is the only part still remaining.
The church has a Romanesque interior, with the finest architectural details to be found around the apse and choir. You can see a statue of Our Lady of Montmartre, a 16th-century oval baptismal font made in the form of Moses' cradle, and the painting 'Christ in the Garden of Olives' by Joseph-François Parrocel.
A gateway from the church leads to the Cimetière du Calvaire, the parish's old graveyard. It is filled with the tombs of important Montmartre citizens from centuries past, but is only open to the public once a year, on November 1st.
Practical information: The Saint-Pierre de Montmartre church is free to visit and open every day except Monday. Opening hours are from 9 am to 12 pm and from 3 pm to 6 pm. It's located just in between the Sacre-Coeur Basilica and Place du Tertre, so you can easily pop in here for a minute when passing by.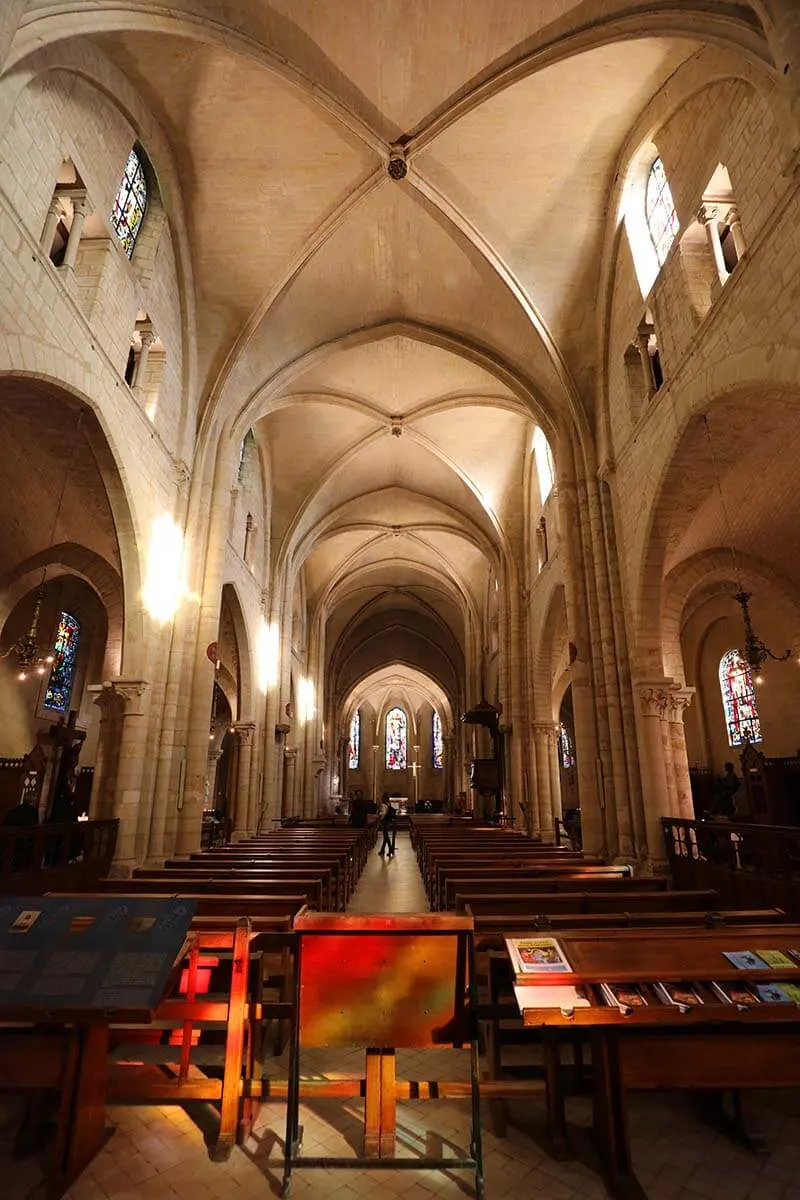 13. Dalí Museum
If you're familiar with the work of Salvador Dali, then the Dalí museum near Place du Tertre may be one of the places to visit in Montmartre.
This small museum has a collection of over 300 of Dali's artworks including surrealist sculptures, paintings, etchings, and some unique Dali furniture. This is the largest private collection of original artworks by Salvador Dali in France.
The museum is definitely a must-see for fans of Surrealism. If you have more time, you can also get an audio guide which is available in 8 languages.
The museum is tucked away in the side street behind Place du Tertre and is overlooked by most tourists. So it's usually not too busy, and it's a welcome respite from all the crowds in the surrounding areas.
However, I personally find that the ticket price is quite steep for a rather small exhibition which we visited in less than half an hour. So I'll leave it up to you to decide. If you love art and have plenty of time, check it out. If, however, you are short on time or find the ticket too expensive, don't feel bad if you give it a pass.
Practical information: The Dali Paris is open daily from 10 am to 6 pm. You can just get the tickets on the spot.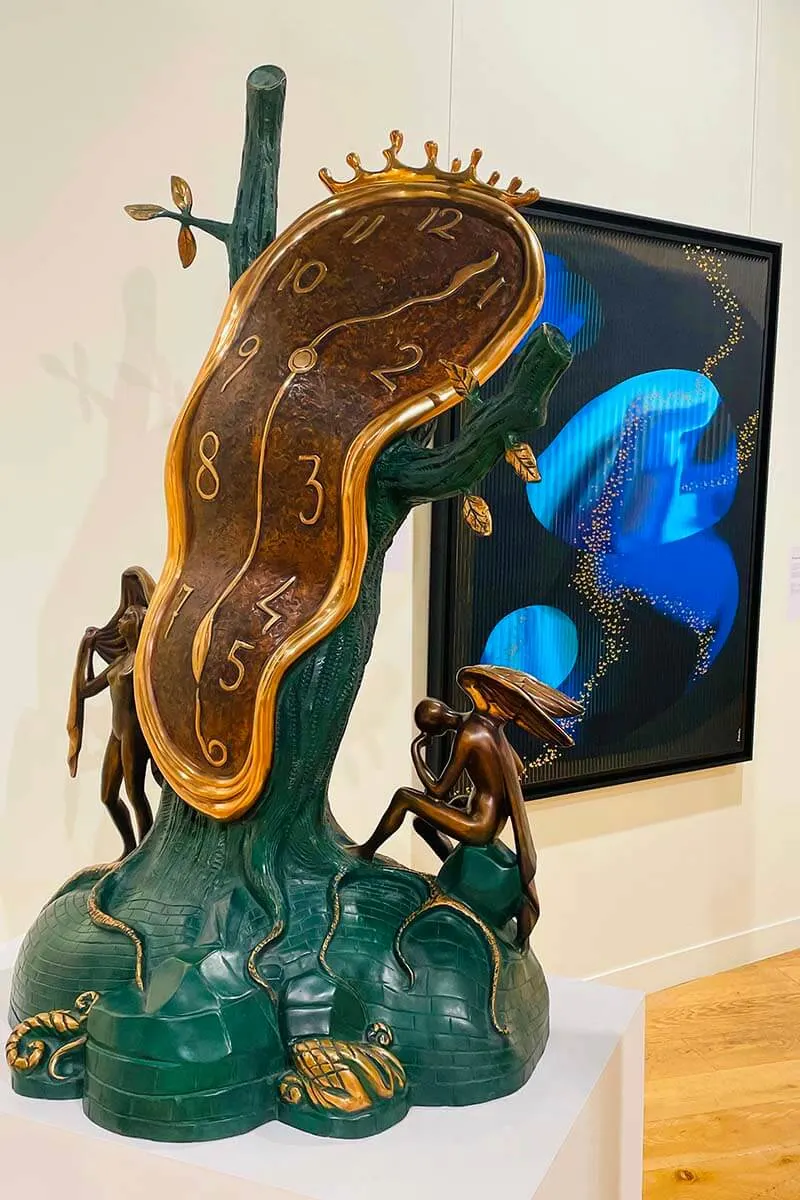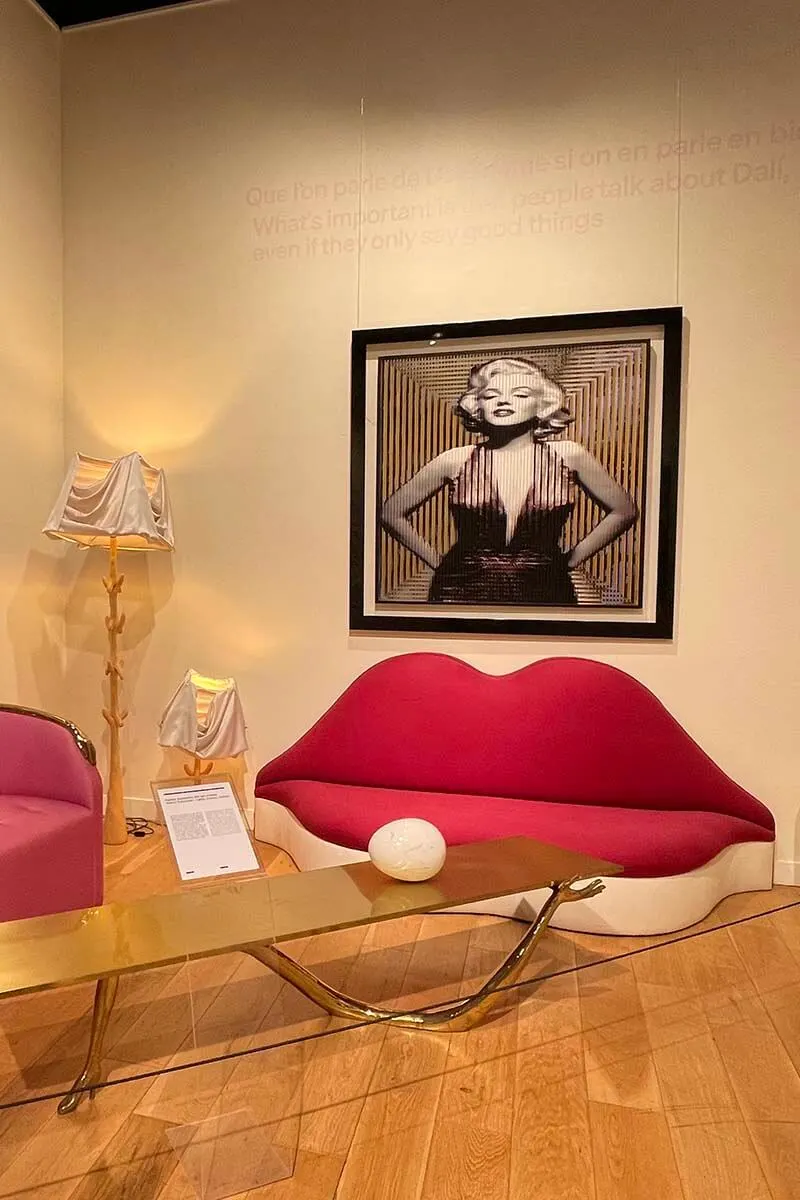 14. Cabaret Au Lapin Agile
The tiny Cabaret Au Lapin Agile is the oldest bar-cabaret in Paris. Its name literally translates to 'agile rabbit'. Originally opened in 1860, it was named after the logo for the venue, which was painted in 1875. This features a rabbit holding a bottle of wine and leaping from a saucepan, with a windmill in the background.
Despite the club's small size, it is known across the world and has had some very famous guests over the years. These include Lauren Bacall, Eleanor Roosevelt, Paul Newman, Joanne Woodward, and Charlie Chaplin! So intriguing is its interior that it was painted in 1905 by Picasso.
Good to know: From 9 pm almost every evening, you can go here to hear music played by exceptionally talented artists who invite the crowd to join them. The show runs continuously until 1 am. Just be aware that all the songs and conversations are in French. For more up-to-date practical information, see their website.
But even if you don't go to see the show, it's well worth passing by here to see this colorful building from the outside. It's one of the most iconic landmarks of Montmartre!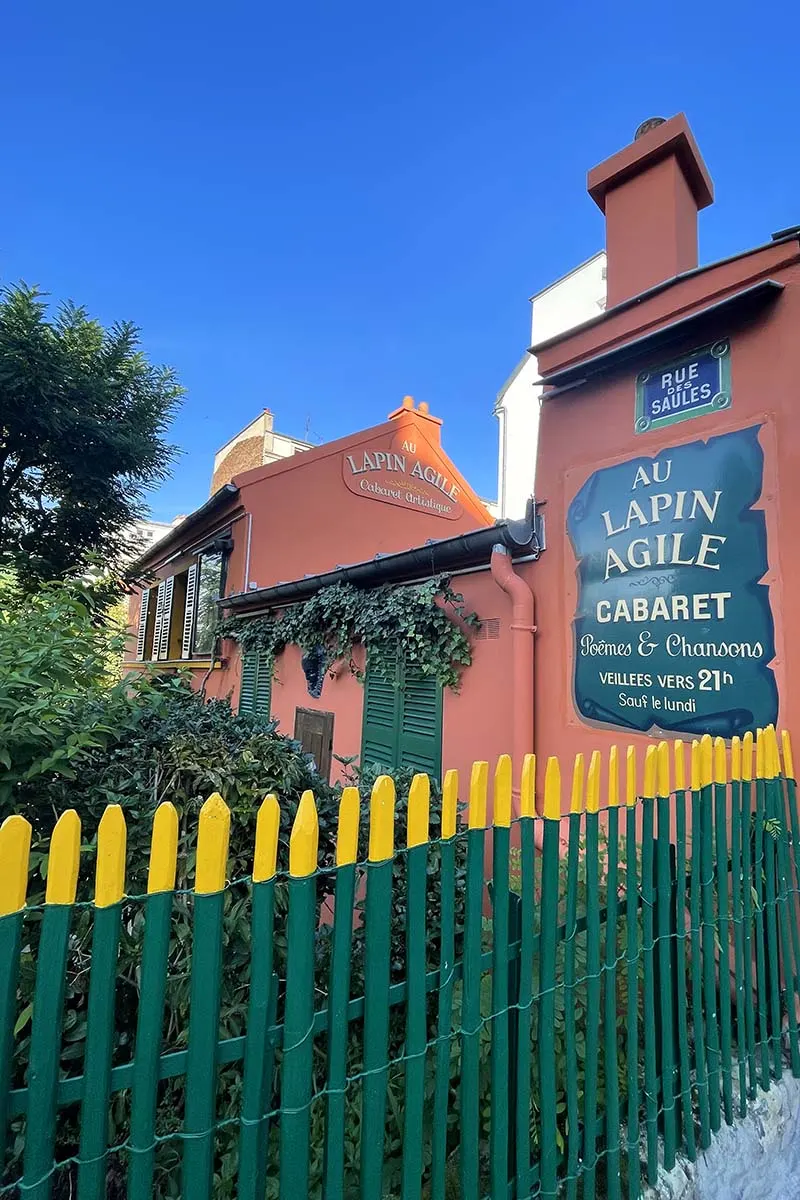 15. Montmartre Vineyard
Located just next to the Cabaret Au Lapin Agile, you'll find a little vineyard, Vigne du Clos Montmartre. A visit here gives you a glimpse into the past of Montmartre village and what the area looked like in the past.
The hill of Montmartre was home to the oldest vineyards in Paris, dating from the 12th century when the Abbey of Montmartre planted vines and developed wine production as one of the income sources to support itself.
The vineyards of Montmartre disappeared when the village was annexed by the city of Paris in the 19th century. The little vineyard that you can see here today was recreated by the City of Paris in 1933 as a means to block the development of the land for housing and to preserve the heritage of the village of Montmartre.
Nowadays Vigne du Clos Montmartre has about 1,700 vines of different varieties. It produces a small number of red and rosé wines. The proceeds from these are invested back into community projects. Every year at the beginning of October, the Grape Harvest Festival in Montmartre honors the wine produced at Clos Montmartre.
It's surprising – but delightful – to come across this tiny little vineyard, nestled between the houses on the streets of Montmartre. Although it is closed to the public, you can walk around the perimeter and see the vines. These look especially pretty in the summer when the air is filled with butterflies, or in the fall when the leaves start to change color.
Good to know: You can buy and taste Montmartre wine in the Montmartre museum shop.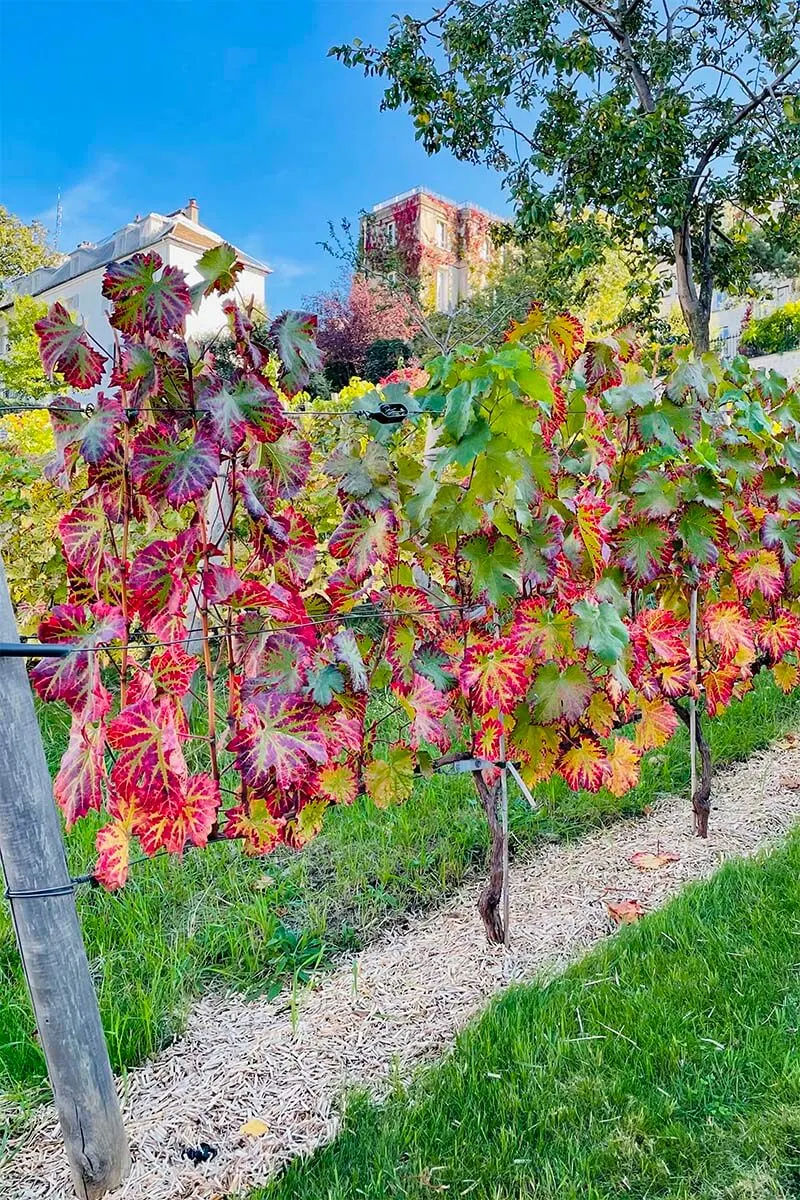 16. Rue de l'Abreuvoir & La Maison Rose
Rue de l'Abreuvoir is one of the prettiest streets in the Montmartre neighborhood. It's lined with charming old buildings and really takes you back in time to the old village near Paris. This quaint cobblestone alley is a must-see in Montmartre!
Don't miss La Maison Rose at the corner of Rue de l'Abreuvoir and Rue des Saules. This is one of the most iconic restaurants in Montmartre. In 1908, the house was painted pink and opened as a restaurant. It also served as a cabaret for a while. The restaurant has always been popular among many artists who lived in Montmartre and – among many others – played host to Picasso and Dali who were friends with the owner.
The charming building has kept the same look for over a century. Serving traditional French cuisine, it is hard to think of anywhere prettier to dine than at La Maison Rose. It is also one of the most photographed places in Montmartre (and you have to be very lucky to be able to take a picture without too many people around).
It is particularly inviting during the summer months when green tables are placed outside. You don't have to stop for a meal, but be sure to take a photo outside this iconic eatery in Montmartre.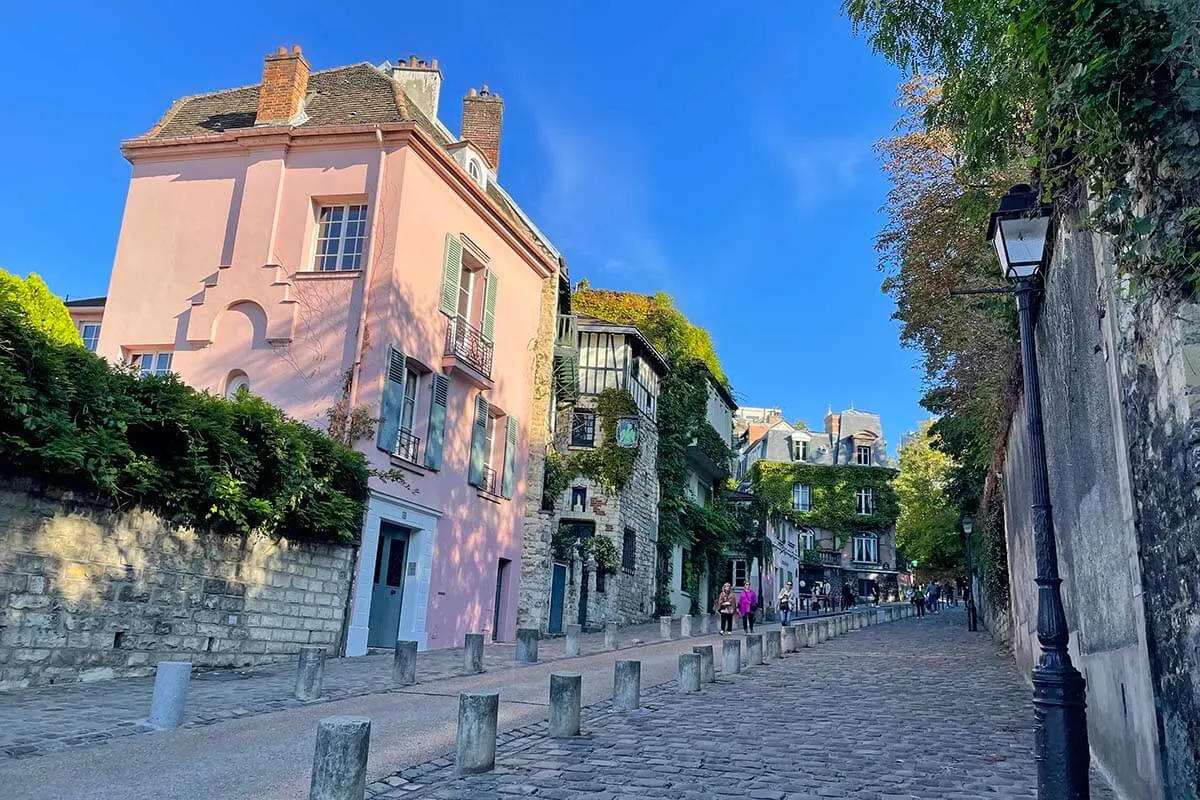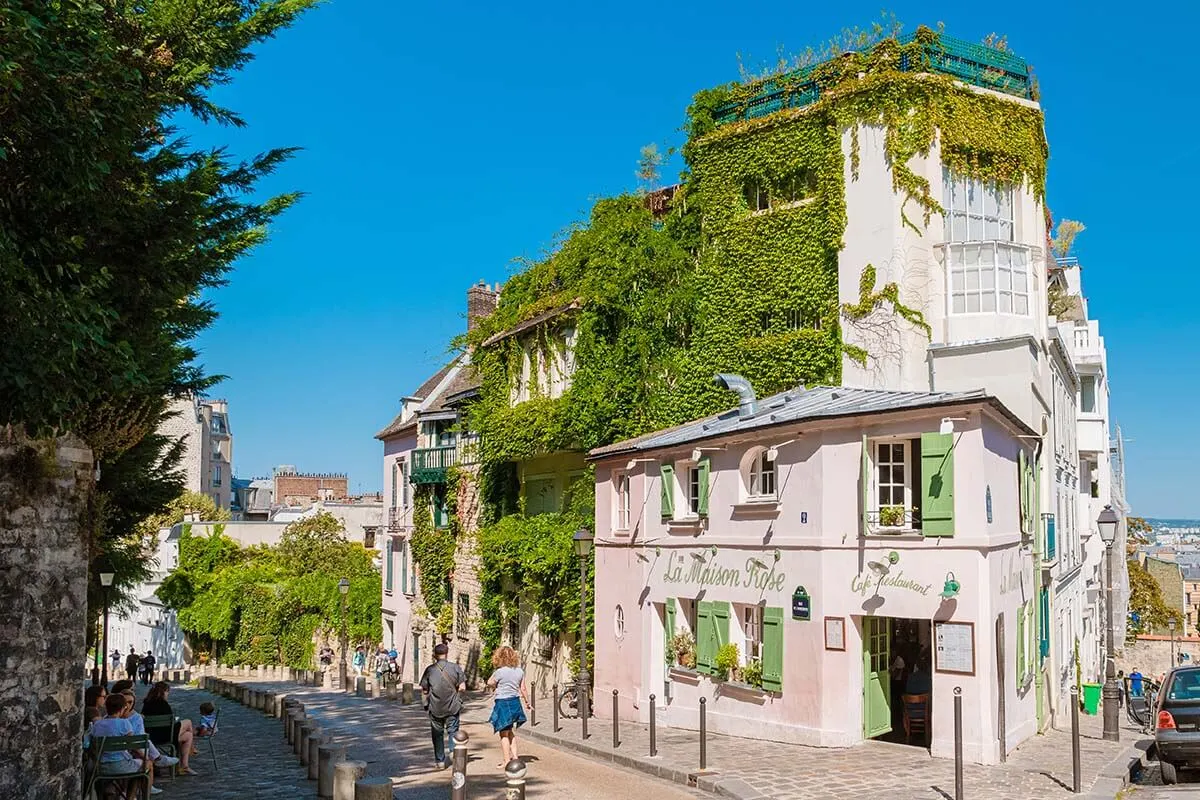 17. Dalida's House
Montmartre was the permanent home of the Paris-based singer Dalida, who was much loved in the region and is considered a true French music icon. Since her untimely death in 1987 at the age of 54, her memory has been held dear, especially in Montmartre.
Every sightseeing tour of the neighborhood includes a few Dalida stops in their itinerary. So if you want to see 'everything' in Montmartre, check out the house in which she lived. You can find it on Rue d'Orchampt (nr 11B), just up the hill from the Abbesses Métro station (the most convenient metro station from where to explore the Montmartre).
Dalida's house is not open to the public, but you can see a plaque outside placed in her memory and enjoy for a moment the tranquility of the pretty street in which it's located.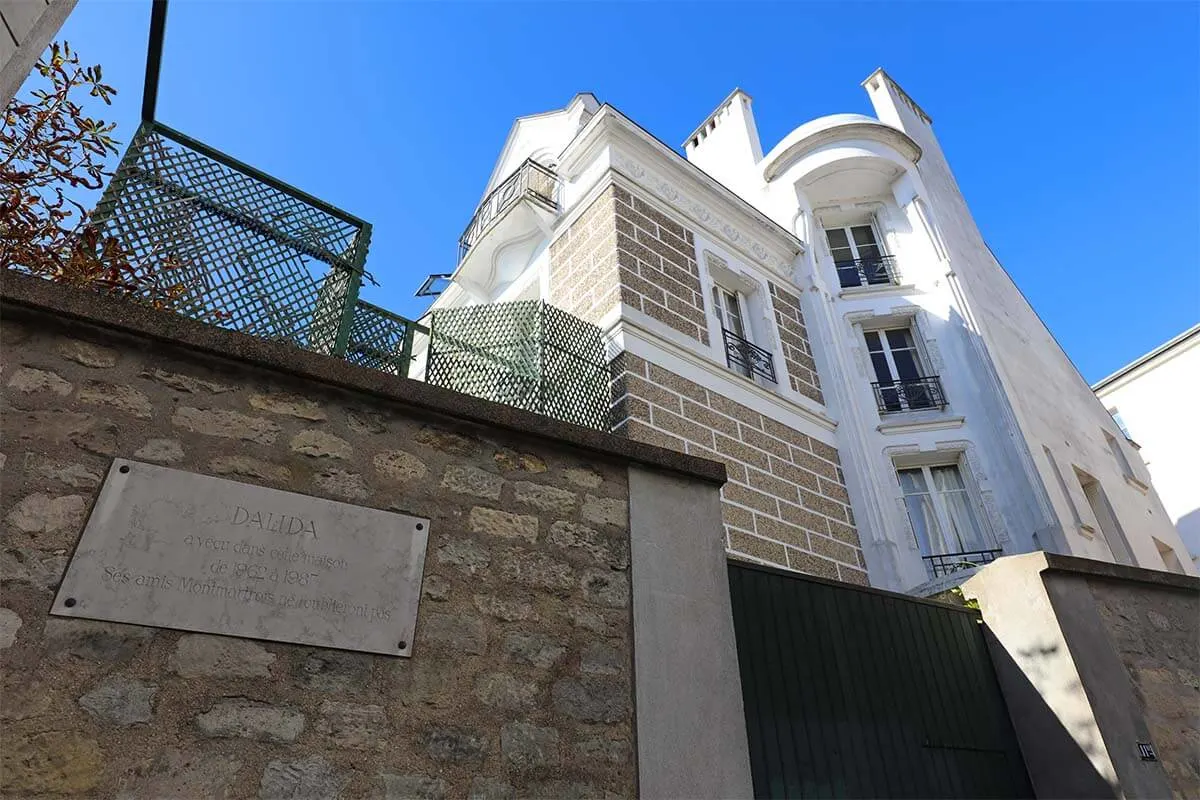 18. Dalida Bust at Place Dalida
Just a short walk from Dalida's house, you'll find another must-see in Montmartre – Dalida Square (Place Dalida).
In 1996, the city of Paris dedicated this square to the singer. Not only does it offer amazing views, but it is also home to a bronze bust of Dalida. It was revealed in 1997 to mark the 10th anniversary of her death. You might notice that the breasts of the statue have a burnished appearance, caused by visitors touching them for good luck.
Many fans come here to contemplate and it is a scenic, lovely spot in which to linger even if you're not familiar with the singer or her music.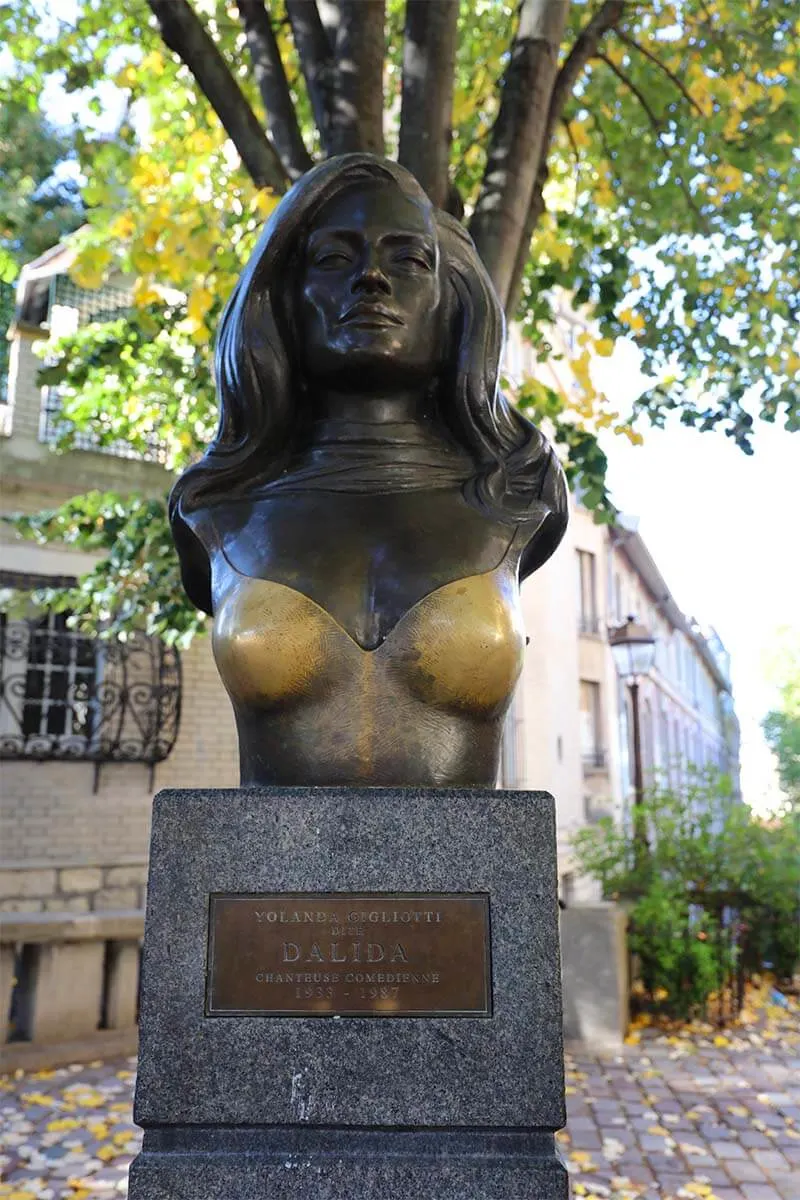 19. Place Émile Goudeau
Place Émile Goudeau is a small square in the heart of Montmartre. It's best known for Le Bateau-Lavoir, a house where many famous artists rented studios. Picasso painted 'Demoiselles d'Avignon' while living here.
Fire destroyed the original building in 1970 but Le Bateau-Lavoir was completely rebuilt and reopened in 1978. It is used as artists studio today too, but you'll have to be content to see it from the outside as it is not open to visitors.
Note also a small drinking fountain – Fontaine Wallace – at the top of the square. These cast-iron fountains date from the 19th century and are named after Sir Richard Wallace who financed them. Back in the day, it was a great relief to the poor citizens and the homeless to have easy access to free drinking water.
There are about 70 Wallace fountains scattered all over Paris and they have become one of the unmistakable symbols of the city.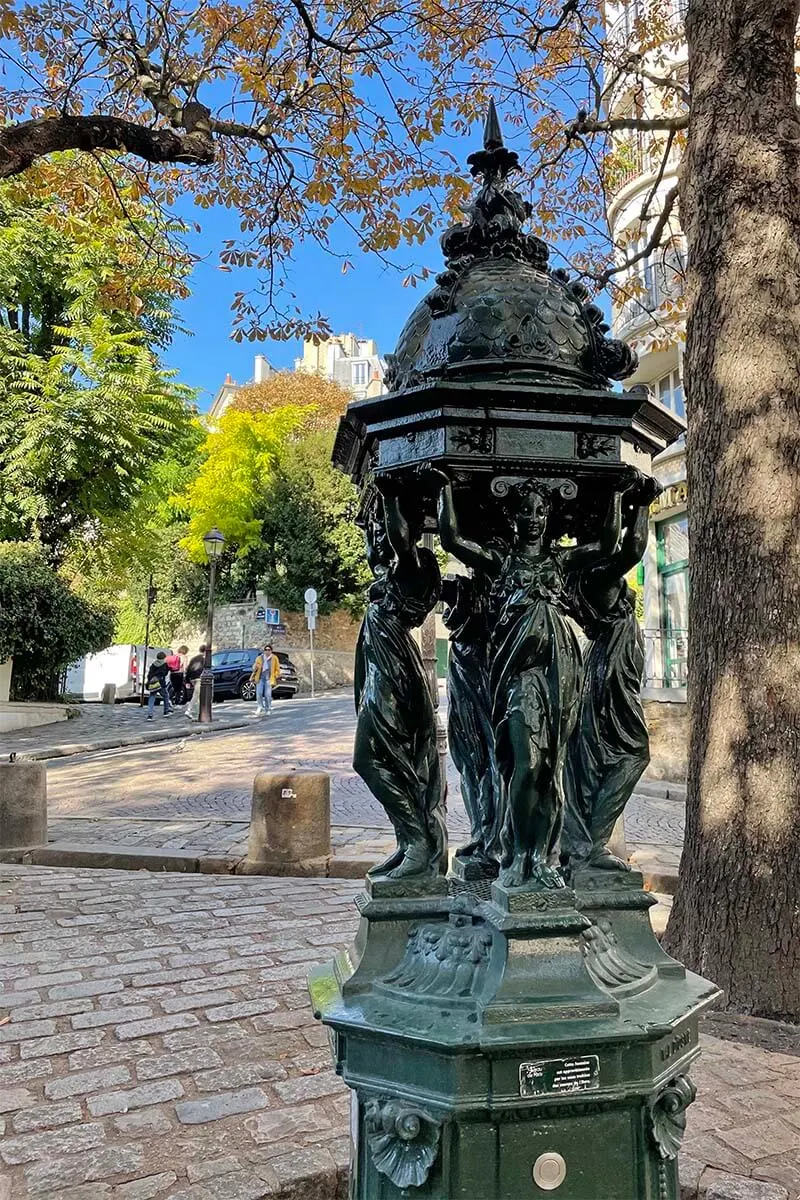 20. Saint-Jean de Montmartre Church
Located just at the Abbesses metro exit, Saint-Jean de Montmartre Church is one of Paris's few Art Nouveau churches.
It's also the first religious building to be made from reinforced concrete. Red bricks were used in the facade to please those who worried that a concrete church would look unattractive. You can also see some geometric designs that were added for visual appeal!
The interior features a theme based on the Johannine Writings – The 4th Gospel and the Apocalypse. With marble angels, Art Nouveau stained glass, a great organ, and a reinforced cement altar, it is unique and really impressive.
Practical information: The church is open daily from 9 to 6.30 pm and is free to visit. It's just a quick stop – well worth a few minutes of your time.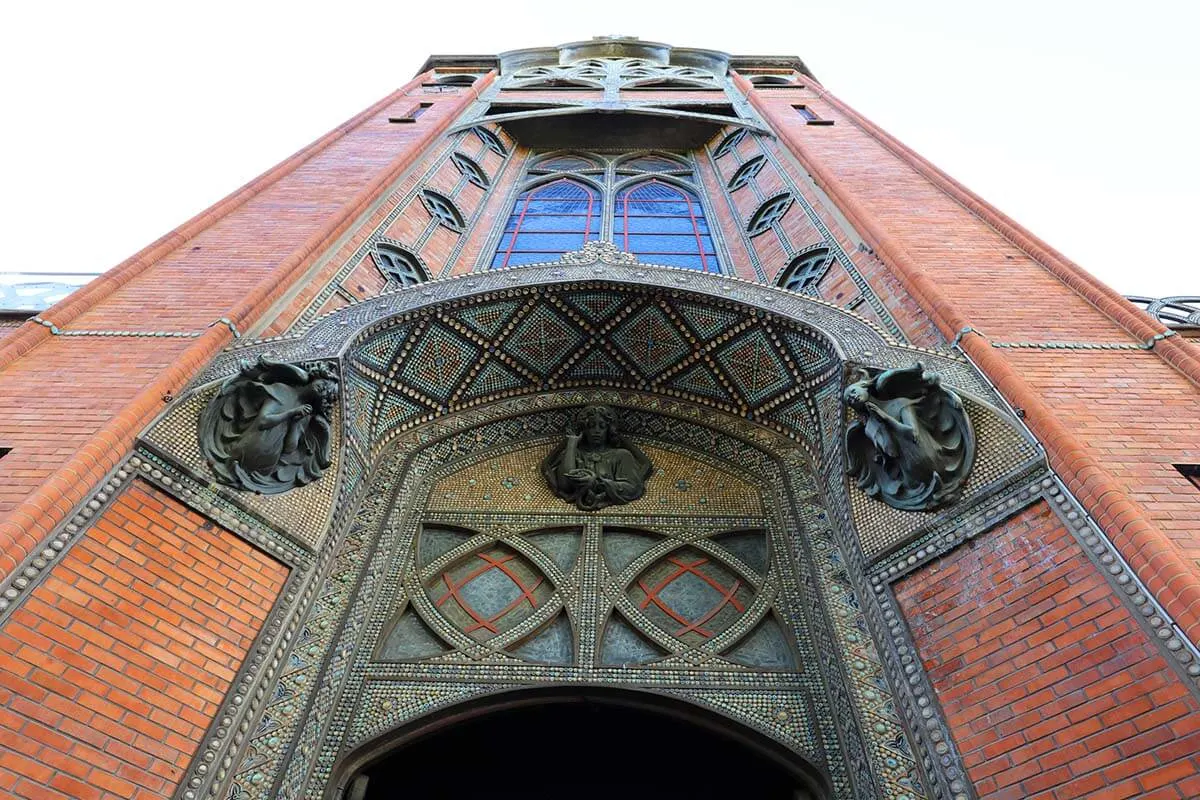 21. Montmartre Cemetery
If you find cemeteries interesting then don't miss the Montmartre Cemetery. This is one of the largest and most interesting cemeteries in Paris, dating back to 1825.
Montmartre cemetery is the final resting place of many famous people. These include the authors Stendhal and Émile Zola (although his remains have later been moved to the Pantheon), artist Edgar Degas, singer Dalida, the famous singer-songwriter duo Michel Berger and France Gall, and many others.
A visit here feels a bit like walking through an open-air museum or a park. You'll see people strolling around, even having lunch here, etc. It's a truly unique experience. If you are looking for something a bit different to do in Montmartre far away from the crowds, check it out!
Good to know: Montmartre Cemetery is open daily, usually from around 8-9 am to 6 pm. It's a bit further away from all the other Montmartre sights mentioned in this guide, but still, just a 10-15 minutes walk. Visiting here will likely add at least an hour to your overall sightseeing time in Montmartre.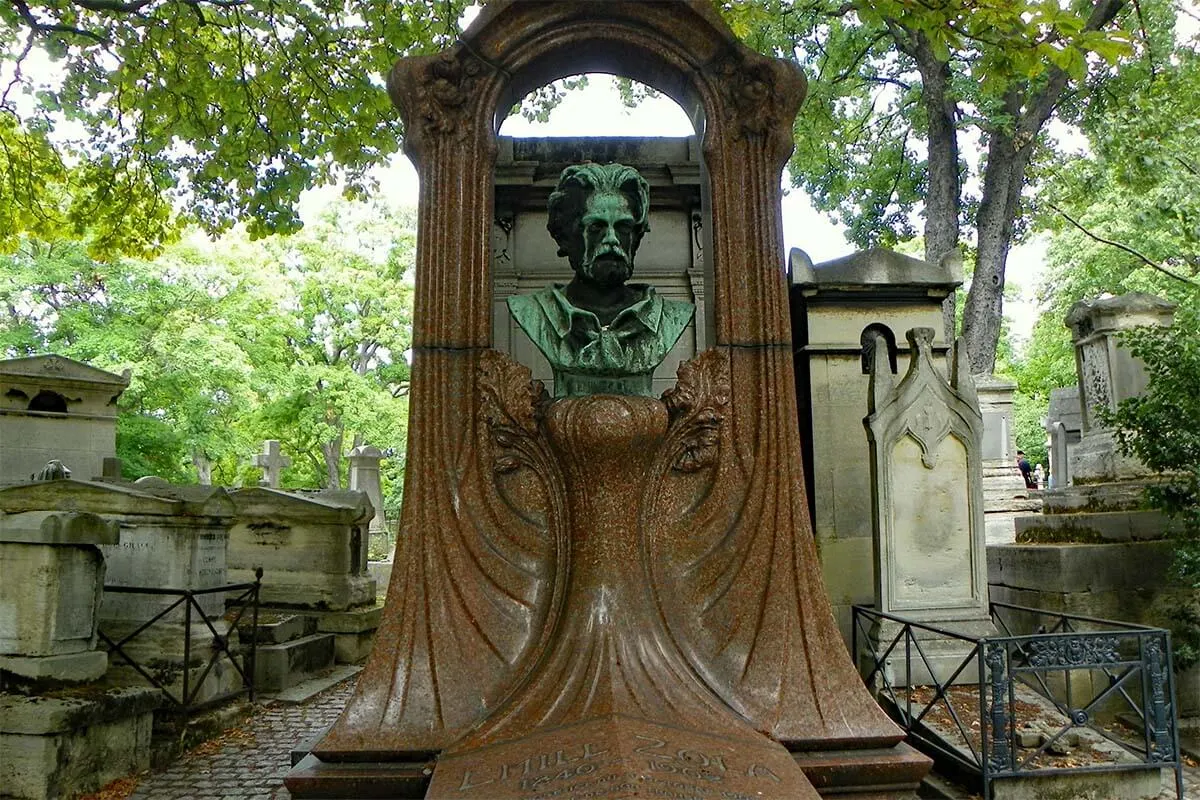 22. The Sinking House of Montmartre
This is a somewhat unusual Montmartre attraction that has become very popular in recent years due to the pictures shared on social media.
The Sinking House of Montmartre is simply an optical illusion of a building that seems to be tilted and 'sinking' into the grass.
Good to know: You can find this 'leaning' house just next to the Sacre-Coeur Basilica. As you walk on the final flight of stairs toward the church, you will see a green lawn on your right side. The orange building behind it is the 'sinking' house. The rest is simply a matter of holding your camera in such a way that the grass is level and – voila!
Keep in mind that the grass patch here is fenced, so try to take your pictures from the stairs.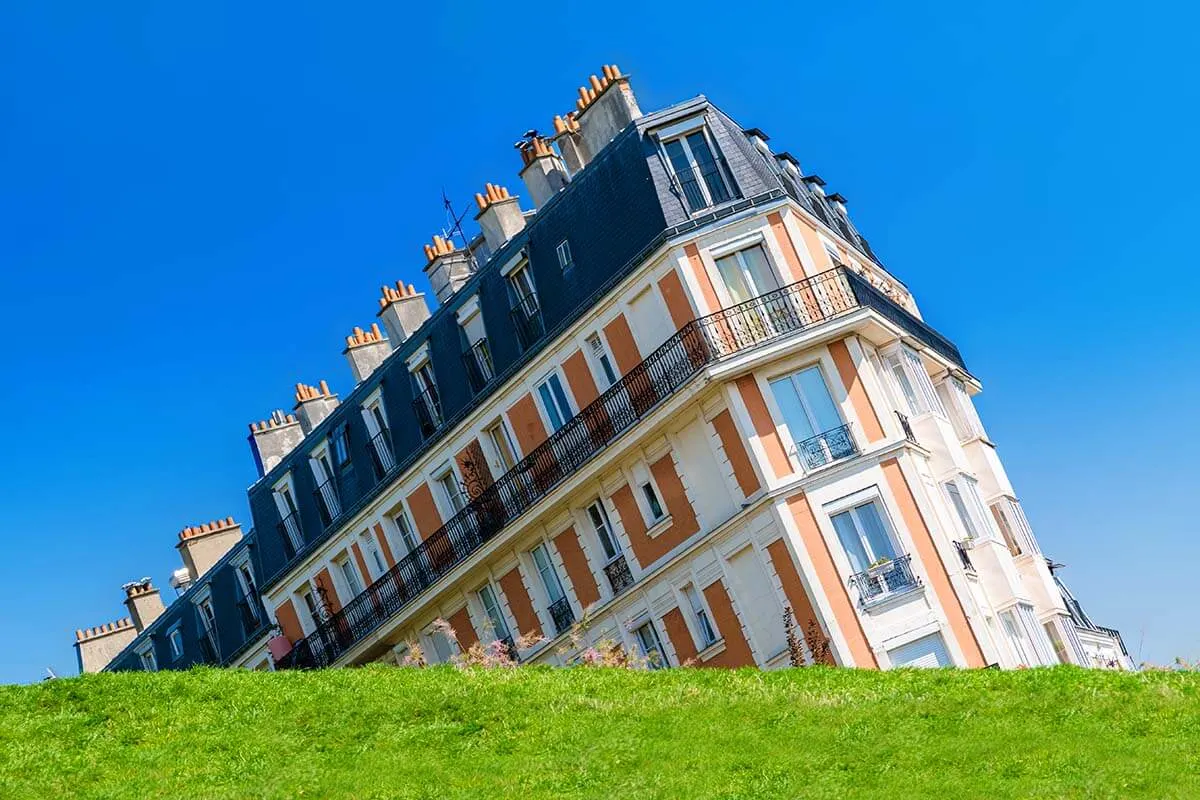 So, this is our guide to the must-see places in Montmartre. It might look like a lot, but – as said before – most of these sights are just short photo stops.
Depending on your overall itinerary, we recommend planning at least 3-4 hours for a visit to Montmartre. We found that it's really worth it taking a (self-) guided tour here – it's the stories behind the buildings and the places you see that really bring this iconic neighborhood to life.
I hope that this guide to the best things to do in Montmartre gives you a better idea of what to expect, and helps you plan your visit and enjoy every moment of your trip.
You can't help but fall in love with Montmartre and you'll never forget this charming part of Paris. Have a great trip!
TIP: If this is your first time in Paris and you want to experience the best of the City of Light, take a look at our detailed Paris itinerary for 4 days. It covers all the musts, a few lesser-known places, and – of course – includes a visit to Montmartre, but also Versailles, and so much more. Check it out!
READ ALSO: Tips & Useful Things to Know Before Visiting Paris
More tips for visiting Paris:
If you found this post useful, don't forget to bookmark it and share it with your friends. Are you on Pinterest? Pin these images!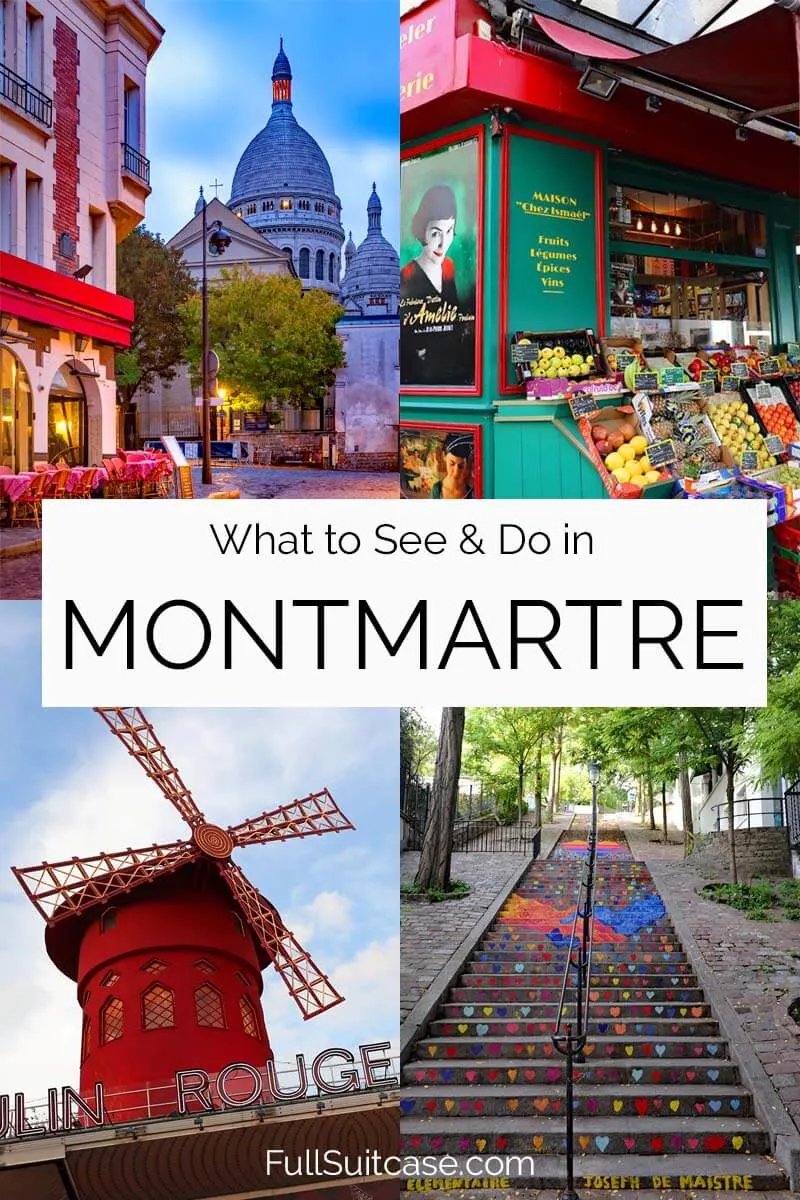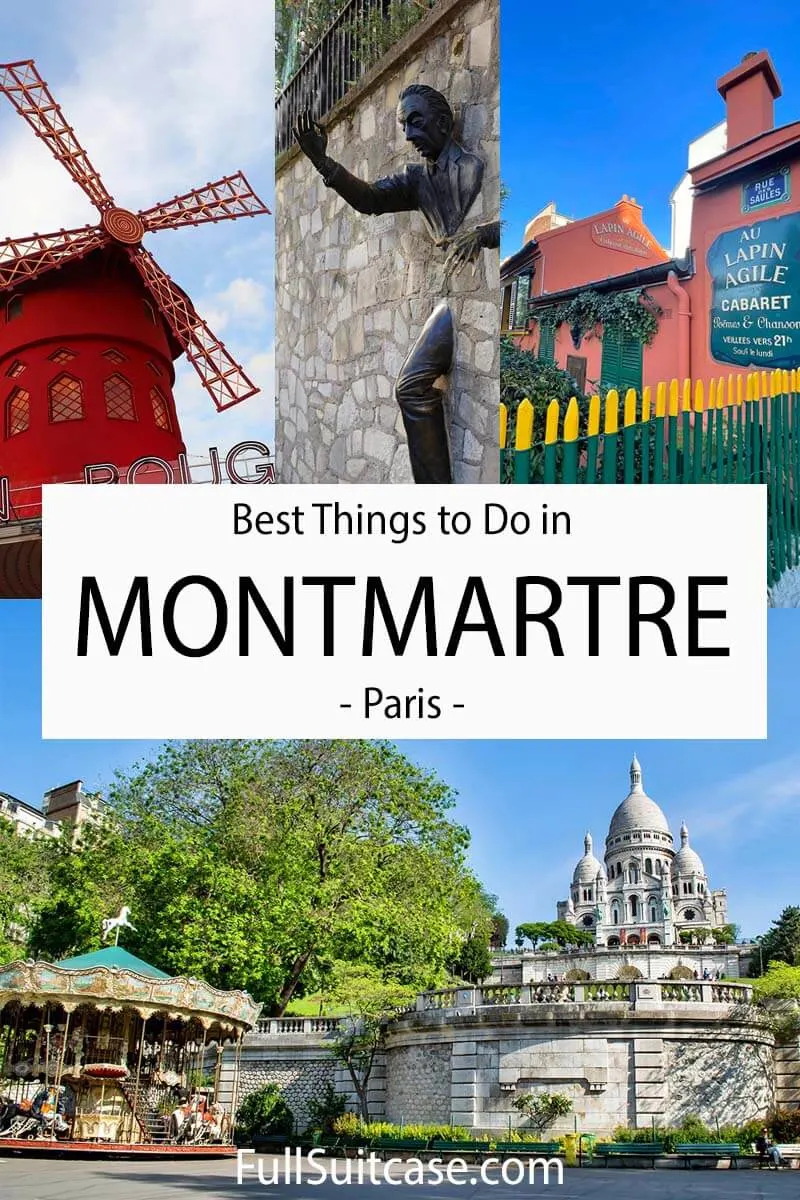 More travel inspiration for some of the nicest cities in Europe: